New Age Islam News Bureau
14 Nov 2009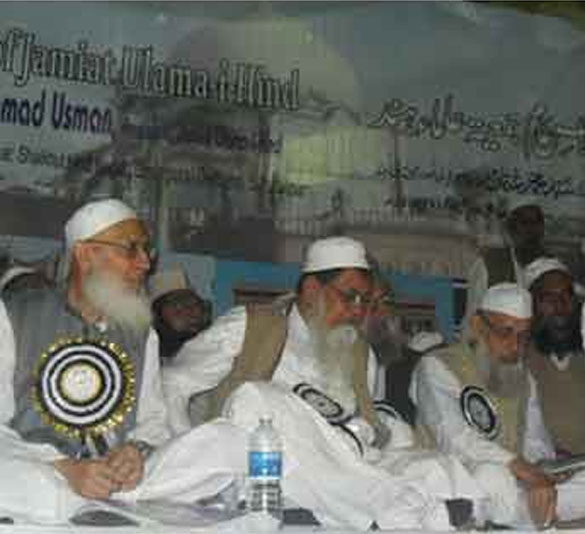 • LeT's HEADLEY WAS GUIDE TO 26/ 11 ATTACKERS
• Taliban target creator, blow up ISI jihad lab
• At least seven killed in suicide car blast in Peshawar
• 5,000 more EU troops expected for Afghan war
• Gunmen torch NATO tankers in Pakistan, kill driver
• 2 soldiers, 6 terrorists killed in Operation Rah-e-Nijat
• Jewish, Muslim congregations to participate in joint events
• Local Muslim vet hopes for understanding, not hate
• US Army Objector discharges rare
• November news has been hard on U.S. Muslim image
• Obama attacked: Is he or isn't he Muslim?
• Conference to highlight Muslim issues
• Ulema's priorities must change
• All For a Song: Vande Mataram and the Jamiat's Patriotism
• Pak rejects report of getting weapons-grade uranium from China
• Governor Sindh: Local Body system better than previous municipal structures
• 'Tension with India diverting Pak focus from war on terror': Pak PM
• Bangladesh: Muslim Woman outlaw 'confesses' to killing
• Riyadh urges UN to end double standard
• Mutawifeen: Proud to serve guests of Allah
• 50 workers rescued from fire in Makkah
• Lords of the Flies and Breeding Bin Ladens
• Muslims must quit British Forces, says Iranian envoy Abdolhossein Moezi
• Muslims need not be apologetic
• Put Osama bin Laden on trial
• Adam's plight a hard lesson in Islamic law
• Windsor chief is sorry male cop frisked Muslim woman
• Concern At a School In a Building Tied to Iran
• Rights group: Israel 'personally attacking' us over Gaza report
• Mundine takes a hit on Muslim retreat
• MoD probes new Iraq abuse claims
• Film about Muslims prompts dialogue
Compiled by New Age Islam News Bureau
URL of this page: https://newageislam.com/islamic-world-news/mahesh-bhatt-son-questioned-headley/d/2094
-------
Mahesh Bhatt's son questioned on Headley link
November 13, 2009
Mumbai police have questioned Bollywood filmmaker Mahesh Bhatt's son Rahul for his alleged friendship with David Coleman Headley, the Pakistan-born US national who is in FBI custody as a Lashkar-e-Taiba (LeT) suspect.
Rahul Bhatt, a fitness instructor, was let off after questioning as he was unaware of Headley's terror links, said sources in the Mumbai Police.
According to sources, during questioning Rahul admitted to having known Headley and also helping him rent a flat near Breach Candy Hospital.
However, the filmmaker's son was unaware of Headley's actual background and took him to be a foreign national in India on a job.
There were several references to "Rahul" in Headley's e-mail exchanges with his Pakistani handlers that sent the security establishment into a tizzy.
Information provided by the FBI has revealed that Headley operated a visa agency in Mumbai for almost two years until July 2008 and had travelled to India on business visas nine times between 2006 and 2009.
When contacted, Mahesh Bhatt neither confirmed nor denied that his son had been questioned by police in connection with the Headley case.
"This is an issue of national security and not something trivial related to Bollywood. Ask the agencies that deal with national security. I will not say anything more," Bhatt told a television channel.
Investigators initially feared that the 'Rahul' reference was to Congress General Secretary Rahul Gandhi but Home Minister P Chidambaram promptly denied this. There was even speculation that it could be a code name for Shah Rukh Khan, who has played characters named Rahul in several films.
Headley and his alleged accomplice Tahawwur Hussain Rana, a Canadian citizen of Pakistani origin, are being held on charges of plotting attacks in India at the behest of Lashkar.
Intelligence shared by the FBI following the interrogation of Headley revealed that two of India's most prestigious boarding schools -- Doon in Dehradun and Woodstock in Mussoorie -- and the National Defence College in New Delhi were supposed Lashkar targets.
India will ask the US to extradite Headley after the FBI files its report in January.
http://www.hindustantimes.com
-----
LeT' s HEADLEY WAS GUIDE TO 26/ 11 ATTACKERS
By Aman Sharma in New Delhi and Krishna Kumar in Mumbai
Intelligence agencies failed to pick up LeT operative's trail as he did arecce of Taj hotel &Trident which helped to plan attack
THE DAVID Coleman Headley terror trail took a sinister turn on Friday, with authorities finding a direct link between the Lashkar- e- Tayyeba ( LeT) operative and the November 26 attack on Mumbai last year.
Mumbai Police sources revealed that the now- jailed Headley stayed twice at the Taj Mahal Hotel, one of the six targets on 26/ 11 — once in April 2007 and then again in May the same year. He also stayed at the Trident, the other five- star hotel targeted during the attack.
The Taj was also the place where four of the terrorists had warded off National Security Guard commandos for the longest time — almost 59 hours. They could have done this only if they had advance intricate knowledge of the hotel's architecture.
Based on this new information, the Centre now believes that Headley used his stays at the Taj, the Trident and, two months before the attack, at Hotel Outram near Chhatrapati Shivaji Terminus — where the terrorists first began their massacre — to take photographs and meticulously record details of the buildings' architecture and floor plans.
Officials said his alleged LeT controller and financier, Tahawwur Hussain Rana, was also stationed in Mumbai, but left the city on November 21, 2008 — five days before the 26/ 11 strike. Intelligence agencies concede Headley and Rana were never on their radar; pointing yet again to a massive intelligence failure.
"Headley supplied all of this Mumbai information to his LeT bosses in Pakistan," home ministry officials said. "He later also guided the 26/ 11 attackers in their operation inside the hotels." While at the Taj, Headley reportedly stayed in Room 1809 (in the Intercontinental Wing) from April 28- 30, 2007, and later in the Heritage Wing's Room 343 on May 2 and 3. He stayed at the Oberoi Trident in the same month. Home ministry officials said the hotel stays point to his involvement because he had already rented a flat in Mumbai's posh Breach Candy area.
"There was no other reason for him to stay in the hotels," an official said.
Though these new revelations provide damning evidence of LeT's involvement and Pakistan's complicity in the 26/ 11 attack, it casts a shadow on the chargesheet in the case filed by the Mumbai Police, which details the role of two men — Faheem Ansari and Shahabuddin Ahmed — in carrying out reconnaissance of targets and mapping the routes.
The chargesheet could not explain as to how the terrorists knew the location of each and every room and restaurant inside the hotels. Headley's possible stay at these hotels in 2007 is providing some disconcerting answers. However, the special public prosecutor Ujjwal Nikam refused to comment on the variation in the chargesheet and the new findings.
The Mumbai Police crime branch — usually not reticent about giving information to the media — is also surprisingly quiet about Headley's alleged links with Rahul Bhatt, the son of film- maker Mahesh Bhatt.
The producer- director claimed on Friday that it was, in fact, he who informed joint commissioner of police Rakesh Maria a fortnight ago about his son being acquainted with Headley. "He was only acquainted, but was never friends with him," Bhatt said. " It was my son who voluntarily went to meet Maria. Rahul met Headley not at a gym, as claimed by some media organisations, but at a social gathering." Records now reveal that Headley came to India nine times between November 2006 and April 2008. His last visit to Mumbai was on April 9, 2008. After staying there for five months, he flew to Karachi. That year, he flew to Delhi from the UAE to stay at two hotels in Paharganj from March 7- 10 to do the groundwork for a 26/ 11 type assault on the National Defence College in the Capital.
Investigations also indicate that the two men in Pakistan with whom Headley was said to be in touch — called Individual A and LeT member A in the FBI court documents — are LeT's Hafiz Mohd Saeed and Sajid Mir.
The 26/ 11 case chargesheet implies the terrorists had complete knowledge of the internal structure of both the five- star hotels. The Taj has a relatively complex internal floor plan, which was also one of the reasons the NSG commandos took time to plan their assault.
Home ministry officials said it was only due to Headley's carefully prepared documents that the terrorists seemed to have a distinct advantage over the commandos.
The commandos took 42 hours to neutralise the Oberoi terrorists, and 59 hours to kill the four terrorists who had infiltrated the Taj from two separate entrances in groups of two. Thirty- five people died at the Oberoi- Trident and 36 were killed at the Taj before the six terrorists could be snared.
Officials said Headley could have also been involved in the reconnaissance of Nariman House in the Colaba area where two terrorists killed Rabbi Gavriel Holtzberg and his wife Rivkah, along with six other hostages. The building was used as a Chabad Lubavitch Centre where Jewish tourists from Israel could stay. " He could have visited the Jewish centre posing as a Jew," a source said.
This claim follows from the FBI affidavit to a Chicago court, which stated that the US investigative agency found a book titled How to Pray Like a Jew in Headley's possession following his arrest last month.
The Pradhan Committee, which looked into the 26/ 11 attack, had observed that Nariman House was a surprise target as even the Israeli Consulate in Mumbai was unaware of it being a Jewish centre.
So how did the 26/ 11 terrorists locate this building easily? The FBI affidavit said Headley had an eye for detail and had even conducted a meticulous reconnaissance mission of a newspaper office in Copenhagen earlier to plan a terror attack.
In the meantime, the National Investigation Agency ( NIA) has set up eight teams to coordinate the probe being conducted by various state police forces. It is also investigating CCTV footage from various hotels in Mumbai, Pune, Kochi, Agra, Delhi, Lucknow and Ahmedabad to track Headley's whereabouts during his India visits.
Headley's 2009 reconnaissance mission was for the LeT to plan and execute multiple strikes in various cities and locations, including the National Defence College in Delhi, the National Defence Academy near Pune and The Woodstock and Doon schools in Uttarakhand.
While the Centre wants to extradite both Headley and Rana from the US, it also plans to revisit all terror targets in India since 2007 following the suspicion that Headley was in touch with Indian Mujahedeen and SIMI operatives, and may have helped wanted terrorist Riyaz Bhaktal escape from India using his immigration firm in Mumbai's Tardeo area.
PASSPORT TRUTHS
Passport number 097536400 was issued by the US on March 10, 2006, for 10 years
Given Multiple Visit Business Visa by India on July 18, 2007, for five years
Arrival stamps of Mumbai airport on October 15, 2007, and April 5, 2008
Arrival stamps of Pakistan on October 25, 2007 and April 9, 2008
Arrival stamp of the UAE on September 3, 2007
In Delhi, checked into hotel De Holiday International on March 7, 2009.
Shifted to Hotel Anand in Paharganj on March 8, 2009 and checked out a day later
Hotel staff says he had few visitors. He said he was leaving for Rajasthan on March 10, 2009
-------
Taliban target creator, blow up ISI jihad lab
Omer Farooq Khan
14 November 2009
PESHAWAR: Mad that parts of the very institution that created it had now turned against the Taliban, Islamist suicide bombers on Friday completely destroyed the headquarters of the powerful Inter-Services Intelligence in Peshawar that was once the laboratory of jihad run by Pakistan army officers.
Taliban terrorists blew up an explosives-laden truck outside the three-story building on Khyber Road that leads to the gateway to Afghanistan and central Asia through which the ISI pushed in combatants, weapons and explosives for years to help its erstwhile ally, the Afghan Taliban to capture Kabul finally in 1996.
The dawn attack at 6.40am, the 19th in Peshawar in five months, razed the building to rubble. It was not clear how many security personnel were inside the building when the bomber struck on the road leading to the Khyber Pass just before the city's rush-hour.
``It was a suicide bombing outside the intelligence office building. Five security personnel have been martyred,'' Pakistan's chief military spokesman Major General Athar Abbas told reporters. Other officials said the toll was nine.
``First there was firing, then a huge blast. Then everything was turned into dust and thick smoke,'' said Haroon Jan, an eyewitness who was brought into the Lady Reading hospital with a broken shoulder and head injuries.
The lawless frontier town of Peshawar, criss-crossed by Great Game deal-makers, militias and armies as political histories on both sides of the Khyber changed, has borne the brunt of the Taliban reprisals. Suicide attacks have bloodied the town's marketplaces and streets daily as Pakistan's army, eager to be seen to be acting against the globally-despised Taliban, mounted offensives against South Waziristan tribespeople.
Several big tribes, such as the Mehsud, form the backbone of the Tehrik-e-Taliban and have been suppliers of warriors and weapons traditionally for the mujahideen and later for Osama bin Laden's Al-Qaida and several anti-India groups which operated openly with military support in Pakistan-occupied Kashmir. Most of these operations, even after Washington turned on the heat following 9/11, were supervised by Pakistani officers posted at the Peshawar ISI regional HQ on Khyber Road.
The last time an ISI building was targeted was in May, when 24 people were killed in a suicide attack in Lahore.
Minutes after Friday's attack, soldiers sealed off the area around the ISI headquarters but another suicide attack on a police station in Peshawar killed six other people and wounded 40. Scared residents whispered that more attacks were imminent since a fresh batch of suicide bombers had entered the town.
Khyber Road was shut to all traffic and security beefed up at residences and offices of the provincial chief minister, NWFP governor, the army corps commander and the American consulate, all located few hundred meters from the blast sight. Schools, which had barely opened after a two-week closure because of security threats, were ordered shut again on Friday.
The attack came on a day that Gen James L Jones, president Barack Obama's national security adviser, began a two-day trip to Pakistan and met with army chief Gen Ashfaq Parvez Kayani. Washington has goaded a reluctant Pakistan army into taking the war against terror seriously. That's led to the daily reprisals on both military and civilian targets.
http://timesofindia.indiatimes.com/world/pakistan/Taliban-target-creator-blow-up-ISI-jihad-lab/articleshow/5228393.cms
-----
At least seven killed in suicide car blast in Peshawar
14 Nov, 2009
PESHAWAR: A suicide bomber blew up his explosives-filled car Saturday at a police checkpoint in the north-western Pakistani city of Peshawar, killing at least seven people, officials said.
'At least seven people have been killed and more than 20 others wounded,' Peshawar police chief Liaqat Ali Khan told AFP.
'There are two policemen among the dead,' Khan said.
Peshawar district administration chief Sahibzada Anis said that the bomber detonated when policemen asked him to stop for the search.
'A suicide bomber exploded his car when police tried to search his car at a checkpoint at a big crossing at the outskirts of Peshawar,' Anis said.
Senior police official Mohammad Alim Shinwari also said that it was a suicide bombing.
Live television footage showed a huge cloud of smoke above the Pushta Khara neighbourhood of Peshawar and the wreckage of several cars.
http://www.dawn.com/wps/wcm/connect/dawn-content-library/dawn/news/pakistan/metropolitan/03-suicide-car-bomb-blast-in-peshawar-ss-08
-----
5,000 more EU troops expected for Afghan war
14 November 2009
Europe may send 5,000 more soldiers to Afghanistan, British PM said — affirming support for the NATO mission as the US nears a decision on increasing troop levels.
The announcement Friday came as the Taliban struck again in the capital. A suicide car bomber blasted a U.S. convoy near an American military base in Kabul, injuring nine American soldiers and 10 contract security guards. Three Afghans were killed in the attack — the biggest in Kabul in the last two weeks.
Brown said the NATO strategy must be to encourage a greater role for Afghan forces so that international troops "can start coming home."
His remarks were made a day after he met with NATO Secretary-General Anders Fogh Rasmussen. The NATO chief said that other allied nations have privately pledged more help, but Rasmussen stopped short of saying that countries would send more troops.
"We need our other NATO allies to help," Prime Minister Gordon Brown told the BBC in a London interview.
He said he has been contacting governments both inside and outside the 45-member NATO-led coalition, asking them to send more soldiers to train and mentor Afghan forces so they can take responsibility for security in their own country. He estimated as many as 5,000 troops could be raised from that effort.
Brown has already agreed to send 500 more soldiers to Britain's 9,000-member force in Afghanistan, despite declining support for the war among the British public.
His assurances that other countries would boost their own troop numbers appeared to be an attempt to show the British public that others are willing to assume a heavier burden in Afghanistan, despite public unease over rising casualties and an Afghan government perceived as corrupt and resistant to reform.
"There has got to be burden-sharing amongst the alliance, and I am sending people around Europe to persuade other countries that they should commit more troops," Brown said. "We are having some success. But as the debate over these last few months has shown, there is a lot more that we have to do."
NATO said on Friday that more troops and resources are needed, but other countries are unlikely to commit more forces until Obama announces his decision.
In Tokyo, Obama said on Friday he would soon announce his plan for Afghanistan. He told reporters that he has taken time to examine a new strategy because he wants "to get it right."
Full report at: http://khaleejtimes.com/DisplayArticle09.asp?xfile=data/international/2009/
-----
Gunmen torch NATO tankers in Pakistan, kill driver
November 14, 2009
Gunmen torch NATO tankers in Pakistan, kill driver QUETTA: Suspected Taliban militants on Friday torched five trucks carrying fuel from Pakistan to NATO forces in neighbouring Afghanistan, killing a driver, police said.
The attack took place at Bolan pass, some 70 kilometres (40 miles) south of Quetta, the capital of oil and gas-rich Baluchistan province bordering Iran and Afghanistan, where both separatist rebels and Taliban militants are active.
"A truck driver was killed and two others were wounded in the pre-dawn attack by around two dozen gunmen," Bolan district police chief Junaid Arshad told sources.
"There were about 13 tankers parked at a trucking station. Gunmen set five tankers on fire before fleeing," he added.
Asked about the attackers the police official said they could be "religious elements" in an indirect reference to Taliban militants.
Hundreds of people have died since Baluch insurgents rose up in 2004 demanding autonomy and a greater share of the profits from natural resources.
A security official confirmed the incident but said nobody claimed responsibility for the attack.
NATO and US-led forces in landlocked Afghanistan are hugely dependent on Pakistan for supplies, with about 80 percent passing through Pakistan.
The bulk of supplies and equipment required by foreign troops is shipped through northwest Pakistan's tribal region of Khyber, where Taliban militants have carried out a series of attacks on trucks.
http://www.thenews.jang.com.pk/11-14-2009/52890.htm
-----
2 soldiers, 6 terrorists killed in Operation Rah-e-Nijat
November 14, 2009
RAWALPINDI: At least 2 soldiers and six Taliban were killed in Operation Rah-e-Nijat in South Waziristan, an ISPR press release said on Friday.
The soldiers embraced shahadat during an exchange of fire with terrorists at Ahmed Wam. Two soldiers were also injured in the incident. A clearance operation at Khawasai is under way.
Security forces have fully secured the area from Makeen to Marobi Raghzai in South Waziristan. They also cleared Rogha and Mir Khoni.
Separately, security forces apprehended a terrorist, Qamar Ali in Shangla. They conducted search operations in Shalpin, Amankot, Ghalagai and apprehended three more terrorists.
They also completed Operation Elam Mountain successfully. A security official was also killed and three others were injured during the operation that continued for 48 hours. Taliban commanders Asmatullah, Habibur Rehman, Habib's wife and a son were also killed in the operation.
Meanwhile, security forces also arrested Taliban commander Tahir alias Hazrat Ali, a resident of Khwazakhela, from Jamia Masjid Swari. Separately, police arrested an alleged suicide bomber, Wahidullah, 15, from Aqba in Saidu Sharif. The police also seized explosives and material used in a bomb from him.
The body of Taliban commander, Ali Rehman alias Fauji, was recovered from tehsil Kabal. He was wanted in various heinous crimes.
* Police arrest 15-year-old 'suicide bomber' from Aqba in Saidu Sharif
http://www.dailytimes.com.pk/default.asp?page=2009\11\14\story_14-11-2009_pg7_7
-----
Jewish, Muslim congregations to participate in joint events
By Elizabeth Dunbar
November 13, 2009
St. Paul, Minn. — The conflict between Jews and Muslims in the Middle East has often caused tension between people of the two different faiths living in other parts of the world.
To ease that tension, Jewish rabbis and Muslim imams have established relationships with each other, hoping their dialogue will trickle down through their congregations and promote peace and understanding.
Those relationships, both new and old, will be celebrated this weekend in the Twin Cities at several events that are part of a larger effort in the United States, Canada and Europe to bring Jews and Muslims together.
Nine congregations in Minnesota, including one Catholic congregation, will participate in the so-called "twinnings" events. About 100 Jewish synagogues and 100 Muslim mosques in the U.S., Canada and Europe have joint events planned during the weekend.
Last year, about 50 synagogues and 50 mosques participated, and organizers with the New York-based Foundation for Ethnic Understanding said they expect interest in the program to keep growing.
"It says there's a real hunger out there for this in both communities," said Walter Ruby, Muslim-Jewish relations program officer with the foundation. "Both communities have a strong interest in working together.
The events in the Twin Cities include an interfaith prayer service, a discussion about the afterlife, a dialogue about faith and daily life, and scripture readings from the Torah and Koran.
The hope is that the relationships between the congregations will break down stereotypes and combat "Islamophobia" and anti-Semitism, said Rabbi Amy Eilberg, director of the Interfaith Conversation Project of the Jay Phillips Center in Minnesota.
Full report at: http://minnesota.publicradio.org/display/web/2009/11/13/jewish-muslim-meeting/
-----
Local Muslim vet hopes for understanding, not hate
By Sue Nowicki
Nov. 14, 2009
Mohamad Samir "Sam" Alsabagh, a retired 20-year Navy veteran, doesn't understand why a fellow Muslim, Army Maj. Nidal Malik Hasan, allegedly opened fire with two handguns at Fort Hood, Texas, last week.
Malik, a psychiatrist, was charged Thursday with 13 counts of premeditated murder.
"The media said he was an extremist Muslim. I don't know," said Alsabagh, a member of the Modesto Islamic Center's board who works as a benefits counselor for veterans.
The Manteca resident works mainly out of the Stockton Veterans Affairs clinic in French Camp but is in the Modesto office on Fridays.
"Here's an example right here," Alsabagh said. "I served 20 years honorably in the U.S. Navy. I'm still serving. Did I commit any terrorist acts? No. Would I? God, no. Because our religion is against terrorist acts. There are a lot of Muslims in the U.S. military these days. They're serving honorably."
According to the Defense Department, Muslims make up less than 0.3 percent of America's active-duty military forces. Of the roughly 548,000 soldiers in the Army, there are 2,500 Muslims, 1,500 of them on active duty. By comparison, 105,000 are Catholic and 99,000 are Baptists. More than 101,000, including Hasan, list no religious affiliation.
"Maybe being a psychiatrist, (Hasan) hit bottom," Alsabagh said. "Personally, dealing with Vietnam veterans, they come to me for help. They tell me about their problems and the horrible things they've done or seen or were forced to do. I've heard a lot of soldiers saying, 'I had no choice. I had to do what I was told to do.' You feel sorry. It's difficult and sad, hearing them."
Born in Damascus, Syria, Alsabagh came to the United States at age 20. He said he enjoyed his military service, despite occasional problems.
"This country provided me with a lot of opportunities," said Alsabagh, 49. "Being grateful, I wanted to serve this country in the best way I could. I had a hard time with some people who didn't like Muslims, didn't like Arabs. They used to mess with me and tease me. You get used to it and let it slide off your back. Most people weren't like that. And in any society, you've got the lows and the highs. If I would go back in time, I would never change anything I did."
Full report at: http://www.modbee.com/1618/story/933239.html?storylink=omni_popular
-----
US Army Objector discharges rare
By Abe Levy
Nov. 14, 2009
The officer charged with killing 13 Fort Hood soldiers told his family and associates he wanted out of the U.S. military because his interpretation of the Quran bans Muslims from participating in the killing of fellow Muslims.
In at least one class presentation a few years ago, Maj. Nidal Malik Hasan suggested that Muslims like himself be discharged as conscientious objectors because of their beliefs, according to published reports about the Army psychiatrist accused in last week's massacre at the military post.
But as a high-ranking officer whose medical training was paid for by the government, Hasan would have faced steep odds had he tried to get such a discharge, especially since he was recently promoted.
Out of an active-duty voluntary force of 1.4 million, a fraction apply or succeed. Of the 425 applications between 2002 and 2006, 224 were approved, according to the Government Accountability Office report in 2007.
On average, the process took about seven months, including interviews with a psychiatrist and a chaplain and having a hearing before an investigating officer. A single officer or board of officers decides.
All voluntary status
Conscientious objector status was more common during the Vietnam War when, because of the draft, many had no choice but to serve. The all-voluntary military changed that.
Applicants are not categorized by religious affiliation, but at least two Muslims found help through the Centre on Conscience & War, a Washington, D.C.-based non-profit that advocates for applicants.
Muslim pacificism, rooted in a Quranic warning not to "return anger with anger," formed the basis for their successful discharges, said J.E. McNeil, the organization's executive director.
If Hasan had applied for conscientious objection, she thinks his opposition to killing Muslims might have not met the legal test.
Generally, the law mandates that the applicant have an across-the-board opposition to war — not just ones in Iraq or Afghanistan, she said.
"Hasan might have been perfectly content going to Columbia," she said of a possible counterargument from the military.
McNeil said Hasan's suggestion about conscientious objector status for Muslims underscores the need for a policy change that would provide a "selective objection" to categories of war.
Jeffrey Addicott, a retired Army lawyer and director of the Centre for Terrorism Law at St. Mary's University in San Antonio, said he sees Hasan as a terrorist, not someone wrestling with his religious beliefs.
Most Muslims in the military are true patriots, but even they are likely to be subjected "to the absolute scorn and wrath of the radical Muslim extremists," Addicott said.
"That said, it is entirely possible that a handful are infected with the virus of radical Islam and are hiding amongst fellow soldiers waiting to strike."
He thinks Hasan is one.
Some Muslims disagree
A Department of Defence spokesman, Lt. Col. Les Melnyk, said it would be premature to comment about Hasan's case or any review of conscientious objector policies about Muslims in the military. Roughly, 3,500 people in the military self-identify as Muslim.
Full report at: http://www.chron.com/disp/story.mpl/metropolitan/6720098.html
-----
November news has been hard on U.S. Muslim image
By Gary Stern
Nov 13, 2009
This morning's news that federal prosecutors aim to seize four U.S. mosques must be the last thing that American Muslims want to hear so soon after the Fort Hood shootings.
The four mosques -- in New York, Maryland, California and Houston -- are owned by a nonprofit Muslim group, the Alavi Foundation, which prosecutors say is suspected of being controlled by the Iranian government.
They also want to seize a New York City skyscraper, known as the Piaget building, that is owned by the foundation.
Experts say that it is extremely rare for the federal government to try to seize any house of worship because of potential First Amendment conflicts. A federal complaint filed Thursday outlines the alleged involvement of Iranian officials in the Alavi Foundation's business.
Imam Mahdi Bray, executive director of the Muslim American Society, today expressed "serious concern" regarding the attempted seizure of the mosques:
The American Muslim and faith communities must not allow houses of worship to become pawns in geopolitical struggles. The tension between the United States and Iran must not be played out in the mosques of America. Muslim houses of worship in America are not secular government entities, but rather religious sanctuaries, and as such are sacred and should be respected.
Full report at: http://content.usatoday.com/communities/Religion/post/2009/11/novembers-delivered-a-beating-to-us-muslim-image/1
-----
Obama attacked: Is he or isn't he Muslim?
Doreen Alli Linder
November 13, 2009
Once again the Obama administration has slapped the families of victims of terrorism. First, this week Obama makes a poor attempt to comfort this country after the Fort Hood shooting and he will admit this is terrorism. Now, Obama's administration has decided to give five main plotters of the September 11th tragedy a civilians trial in New York City.
It is highly questionable as to where Obama's faith is. Is he the Christian he claims to be or is he a Muslim? Back during the campaign, Obama made a Statement to George Stephanopolous where he said, "My Muslim faith." It was later claimed to be a mishap. There are so many questions surrounding this president.
Some reports say Obama was raised went to a Muslim school in Indonesia for four years. When he first started at the White House, the family did not even attend church as most first families do. Also, in a speech in May at Georgetown, the school was made to cover up every reference to Christianity in the auditorium that he spoke in.
Now, his weakness on terrorism makes one really consider where his heart is? He said during his campaign he was a devout Christian. Also, he has not done much to continue the war on terror. His motives to do nothing or very little make him highly questionable.
Below is the video where Barack Obama slipped up on the Stephanopolous show back in September. Is it just a slip up or is he still a Muslim. If Barack Hussein Obama is not a Muslim then he sure has a strange way of showing the American people he is not.
http://www.examiner.com/x-19160-Bucks-County-Conservative-Examiner~y2009m11d13-Obama--Is-he-or-isnt-he-Muslim
------
Conference to highlight Muslim issues
Rachel De Lazzer
November 14, 2009
The creator of the CBC sitcom Little Mosque on the Prairie says the show's success is the unwitting result of a population curious about the Islamic faith that, in many cases, is mistakenly identified with terrorism because of events like Sept. 11.
"People are so confused by the community and who we are that, suddenly, you see normal Muslims doing normal things, it's such an aberration that it attracts attention," said Zarqa Nawaz, whose series is in its fourth season.
The sitcom is an internationally acclaimed comedy about Muslims and Christians trying to live amicably with each other in the small town of Mercy.
Nawaz is one panel member at a Muslim issues conference that is the first of its kind, being held at the Hamilton Convention Centre today.
The misunderstanding she speaks of is just one of many the conference seeks to change.
More than 400 people will gather for the day to hear Muslim women speak about topics that Muslim Canadians deal with regularly.
Inspired and Engaged Citizens: Canadian Muslims is put on by North American Spiritual Revival (NASR), a not-for-profit organization that, in part, helps develop awareness of Islamic tradition and foster civic engagement among Muslims.
Conference organizer and NASR project manager Farheen Khan says the event will highlight Muslims' contributions to society and discuss current Muslim issues, their challenges and solutions.
She points to subjects such as balancing faith and Canadian patriotism for new immigrants, Muslim identity for youth, parent-child conflicts and the importance of civic and political engagement.
Full report at: http://www.thespec.com/News/Local/article/672598
-------
Ulema's priorities must change
14 Nov 2009
Deoband has given birth to a number of scholars every year since its inception and is credited with bold sacrifices for India's independence. And
the Jamiat-i-Hind condemned terrorism, bloodshed, violence and oppression of human beings, irrespective of caste and religion, at its recent 30th general session. Thus, to label them 'anti-India' would be partisan. The Ulema of Deoband have documented a few resolutions regarding the economic uplift and social standards of Muslims. However, they have put the responsibility of solving the problems of the Muslim community on the government.
It would have been better if they placed a structured analysis of the plight of Muslims — in terms of their absolute or relative deprivation from the benefits of India's diversified growth — before the nation. It was expected that their presentations would focus on the reasons for Muslim poverty, unemployment and illiteracy. However, it is most deplorable to raise the issue of Muslims singing Vande Matram. These issues were settled long ago. Singing this song isn't mandatory but, equally, no one should show disrespect to this national song. It should also be remembered that Muslims also address India as Madre Vatan which means motherland.
There are some things proscribed in Islam, such as drinking wine, theft, robbery, gambling, oppressing women, raping and kidnapping, dishonesty et al. But it is a fact that Muslims are also prey to such deeds. And it was an act of omission that the Jamiat failed to address these ills. Equally, the fatwa on school-going girls should have been moderate, restricted to things like covering the head with a scarf. Today, Muslim women have to represent Islam through their character and moral behaviour, which includes a sensible dress. A veiled face certainly does not guarantee either a strong character or safety for women. The Maulvis of the Jamiat should not forget that Muslim women today have to face the same economic and other problems as women from other communities. Women can't face
Full report at: http://economictimes.indiatimes.com/Comments-Analysis/Ulemas-priorities-must-change/articleshow/5228489.cms
-------
All For a Song: Vande Mataram and the Jamiat's Patriotism
14 November 2009
By Yoginder Sikand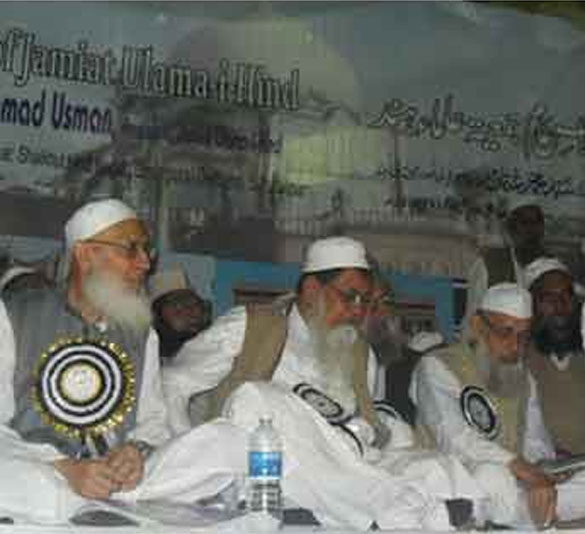 The furore stoked by the media over a recent declaration by a faction of the Jamiatul-Ulema- e Hind declaring the singing of the song Vande Matram to be un-Islamic has, not unexpectedly, been seized upon by vociferously anti-Muslim elements to press their claim of Muslims being 'anti-national'. The fact that this song is undeniably religious in nature, and that the novel of which it forms a part is unabashedly anti-Muslim is well-known, making the reservations that many Muslims (along with other monotheistic Indians) about it quite understandable. What many Muslims are asking, a legitimate question that the media has failed to seriously raise, is why one's attitude to a song (and that too in a language that few Indians understand) should be made the litmus test of Indian patriotism. What many Muslims also demand to know is how long they must continue to be forced by Hindu communalists to bear the burden of being compelled to prove their patriotic credentials.
At the same time, however, many Muslims are also asking why the Jamiat decided to rake a controversy about the Vande Mataram at this particular juncture. Was it to do with the ongoing rivalry within various factions of the Jamiat leadership of late that has delivered a major blow to the image of the organization among Muslims? Was it a clever ploy on the part of Mahmood Madani, the head of the Jamiat faction that passed the resolution, to grab media attention and to present himself as spokesperson for the Muslims of India? Was it a reflection of how out-of-tune the Jamiat's diehard mullahs are with contemporary social realities?
The Deobandi mullahs of the Jamiat may be irredeemably conservative, even obscurantist, on a whole host of issues, but one thing that they cannot be accused of is disloyalty to India. The role of leading ulema of the Jamiat in the anti-colonial struggle and in opposing the creation of Pakistan is a story of which the Jamiat is justly proud of, and one that should serve to silence critics who are now raising questions about its patriotic credentials. The pro-Hindu slant of our education system has, lamentably, led to this glorious story being wiped out of our school textbooks, leaving the vast majority of Indians completely ignorant of a very vital chapter in the country's history.
A recently-reprinted Urdu booklet published by the Jamiat provides the best guide to the Jamiat's committed patriotic stance since pre-1947 times. Those who, ignorant of the Jamiat's history, charge it for being allegedly anti-national simply for its position on Vande Mataram would do well to read it (Sadly, the Jamiat, despite the massive funds at its disposal, has not translated it into English or various other Indian languages). The booklet's title 'Hamara Hindustan Aur Uske Fazail' ('Our India and Its Glories'), brilliantly encapsulates the Jamiat's firm commitment to Indian patriotism.
The booklet consists of two essays, one by the late Maulana Hussain Ahmad Madani, former Jamiat President (and, incidentally, paternal grandfather of Mahmood Madani, head of the faction of the Jamiat that recently issued the statement about Vande Mataram), and the other by the late Maulana Syed Muhammad Miyan, one-time General-Secretary of the Jamiat. The essays were first published sometime in the early 1940s, in opposition to the Muslim League's demand for Pakistan and to rebut the claim (one that continues to be made today by Hindu chauvinists) that Indian nationalism is necessarily synonymous with 'Hindu nationalism' and that the Indian Muslims simply cannot not be loyal to their country.
Maulana Madani begins by arguing that India has a special place in Muslim tradition. Hence, he stresses, the Muslims of the country should consider themselves 'particularly honoured to have been born in India', and that they must also work for the welfare and unity of the country. Contrarily, to demand the partition of India, he argues, would be to defy the Divine Will itself. He writes that Muslim tradition has it that God directed Adam, the first man and the first prophet, to be sent down to earth to India. It was thus from India that the human race sprang from Adam's progeny. This implies, he writes, that the Indian Muslims must consider India as their 'ancient home' (watan al-qadim). In addition, he refers to the Quran as mentioning that God has sent prophets to every nation, taking this to mean that prophets must have also been sent to India as well. This, he says, is further suggested by the fact the numerous Muslim saints have 'discovered', through 'spiritual encounters', the graves of various prophets in India. Since, as the Quran says, the primal religion taught by all the prophets of God, including those who were possibly sent to India, was one and the same—al-Islam ('The Surrender')—it is obvious, he suggests, that from ancient times onwards, even prior to the advent of the last prophet, Muhammad, Islam has been present in India. In fact, Maulana Madani argues, 'it is an unchallengeable fact that from the very beginning India has been the land of Islam (islam ka watan)'.
India, Maulana Madani insists, is as much the motherland of the Muslims as it is of other communities in the country. He goes so far as to claim that Muslims do, or at least should, display an even greater concern for India's welfare than other communities because while many Hindus burn their dead and throw their ashes into rivers, and the Parsis let vultures feed on their dead, the Muslims bury their dead in the bosom of the earth, in the very soil of their motherland. In contrast to the Hindus and the Parsis of the country, the mortal remains of the Muslims remain in India in their graves and shall remain so till the Day of Judgment. The Hindus believe in reincarnation of the dead, and there is no guarantee that their dead would be reborn in India, while the Muslims believe they shall remain in their graves till the Day of Judgment. Hence, Maulana Madani argues, it is only the Muslims who remain faithful to India even after their death. This itself means, he writes, that Muslims are, or should be, even more attached to India and concerned about its welfare than people of other communities.
No community can, therefore, claim a monopoly of Indian patriotism, Maulana Madani insists, challenging Hindu assertions to the contrary. Just as the Aryans, the Huns and the Greeks came to India and settled here and made this their home, he writes, so did the early Muslims. The only difference between the Muslims and the others is that the former arrived in India earlier. In fact, Maulana Madani argues, the Muslims, as a whole, can be more legitimately said to be the original inhabitants of India, since the vast majority of the Indian Muslims are descendants of converts from India's pre-Aryan aboriginal people. Hence, he asserts, it is completely misleading to claim that India is not the land of the Muslims or that it belongs to the Hindus alone. The welfare of all the communities of India, including the Muslims, depends on the overall welfare of the country, and this is yet another reason why the Indian Muslims must love and serve their country, he argues.
Maulana Miyan's piece, titled 'Sarzamin-e Hindustan Ke Fazail' ('The Blessings of India'), echoes the same views as Madani's, stressing the claim that the Indian Muslims are bound to 'love' and 'serve' India primarily because Islam commands them to do so. Like Madani, Miyan claims that India has been accorded a special status by God Himself. He bases his thesis on an Arabic text written by the eighteenth-century Indian Muslim scholar, Ghulam Azad Bilgrami, which puts together reports attributed to the Prophet Muhammad that are said to refer to the 'glories' of India.
Quoting Bilgrami, Miyan writes that while Mecca, Medina and Jerusalem are, undoubtedly, the 'most holy' places in the world, Muslim tradition has it that India, too, is a 'blessed land'. According to narrations from such several early Muslim figures as Imam Ali (cousin and son-in-law of the Prophet) and Ayesha (one of the Prophet's wives), Adam was sent down to earth to India, to the island of Serendib or modern-day Sri Lanka, while Eve was sent to Jeddah. Adam then travelled to Arabia, where he met Eve at a place near Mecca. After building the Kaaba at Mecca, Adam took Eve with him and returned to India, where they settled down and had children. The incident involving the sons of Adam, Cain (Qabil) and Abel (Habil),occurred, or so Miyan says, in India. After Abel was killed by Cain,Adam had another son, Sheesh, who, according to some accounts, is buried in the town of Ayodhya, which is sacred to many Hindus today. Adam is said to have undertaken forty pilgrimages (haj) from India to Mecca on foot. He is also said, some ulema claim, so Miyan tells us,to have died in India and to have been buried here.
This close connection between Adam and India points to what Miyan claims to be the obvious fact that Muslim tradition accords to India the status of a 'blessed land'. This suggests, Miyan writes, that India had a special place in God's scheme of things for the world, which Muslims living in the country need to recognise. The fact that Adam first appeared in the world in India means that the world's first dar ul-khilafa ('abode of the Caliphate') was India, because this was where God's first khalifa or deputy was sent down. The island of Serendib or modern-day Sri Lanka, which can be said to be, in some sense, part of 'greater India', was the first place in the world where God sent his revelation. Adam, the first man and the first prophet,was made out of 'Indian soil'. Since Adam is the father of all human beings, including all the other prophets and the saints, the rest of humanity was also fashioned out of the 'mud of India', or so Miyan claims.
To reinforce his argument of India being accorded the status of a 'blessed land' in the Islamic tradition itself, Miyan notes that some Muslim scholars believe that the oath of 'alast', which the Quran refers to, also took place in India. On that occasion, God gathered all the souls of men who would appear in the world till the Day of Judgment and addressed them, asking them if He was not their Lord. All the souls answered that He indeed was. This shows, Miyan writes, that India was the country where the 'slaves' of God first acknowledged Him as Sustainer, from which started the long chain of spiritual advancement of humanity. Through this incident the land of India was 'brightened by the light of all the prophets', Miyan writes.
According to the Quran, Miyan adds, at the time of taking the above-mentioned oath, another oath was taken from all the prophets, in which each prophet testified to the prophet who would succeed him.
Since the chain of prophets ended with Muhammad, every other prophet testified on that occasion to Muhammad being a prophet, reposing faith in him and promising to help him. This second oath, too, was taken in India, Miyan claims. Hence, Miyan writes, 'India is that holy (muqaddas) land where the chain of religious instruction (rashd-o hidayat), and knowledge of the closeness of God (ma'arif-e qurb-e ilahi) and salvation in the hereafter (nijat-e akhiravi)' had their origins.
The claim of God having chosen India to send Adam to has other crucial implications, Miyan suggests, which reinforce the special place that India is said to occupy in the Muslim tradition. Miyan writes, echoing a view held by many Sufis, that the first thing God created was the noor-e muhammadi or the 'light of Muhammad'. This light was first put into Adam and was then transferred through all the prophets till it reached the Prophet Muhammad when he appeared in Mecca. Because Adam lived in India, the first time that the noor-e- Muhammadi appeared on earth was in India, and the last time that it appeared was in Arabia, this establishing a firm spiritual link between the two lands.
All these 'facts', Miyan argues, stresses the need for the Indian Muslims to ecognise that 'it is our good fortune that this India is our beloved country'. Because India is said to have held a special place in God's plan for the world, Miyan argues, God has blessed it with numerous assets. The source of all good things is heaven, and whatever good things are found on earth are a limited reflection of their heavenly counterparts. All good things that are found in the world were first brought by Adam to India, from where they spread to
the rest of the world, or so Miyan claims.
Besides the alleged Adam connection, Miyan marshals other 'evidence'to put forward his claim of India's special status in Islamic terms. Thus, he writes that some Muslim scholars believe that Noah built his ark in India, and that India was unaffected by the Great Flood in Noah's time. In addition, several companions of the prophet, thousands of Muslim saints, martyrs and pious ulema made India their home and died and were buried here. All these facts clearly suggest, Miyan contends, that from the Islamic point of view the 'greatness' of India is 'undeniable'. Hence, he stresses, it is the religious duty of the Muslims of India to work for the sake of the unity and prosperity of the country as a whole. Hence, too,he suggests, the claim of Hindu chauvinists that only Hindus can be genuine Indian patriots and that Muslims, by definition, cannot, must be challenged and countered.
Not being a national chauvinist, I do not agree with all that Maulanas Madani and Miyan wrote in fulsome praise of India. Nor do I share all of their interpretations of alleged Muslim traditions about India. Some of them I find, to put it mildly, completely outlandish. Be that as it may, they certainly serve as a resounding answer to those who have now pounced upon the Jamiat's resolution on the Vande Mataram song to brand the Jamiat, and, with it, the entire Indian Muslim community, as 'unpatriotic' and 'anti-nationalist'.
Source: http://www.twocircles.net/2009nov13/all_song_vande_mataram_and_jamiat_s_patriotism.html
------
Pak rejects report of getting weapons-grade uranium from China
13 November 2009
ISLAMABAD: Pakistan on Friday dismissed a media report about Beijing providing it with weapons-grade uranium and a blueprint for an atomic bomb
and described it as an effort to divert attention from support being extended by "some states" to India's nuclear programme.
Foreign office spokesman Abdul Basit described the allegations made in an article in the Washington Post newspaper as "baseless".
"Pakistan strongly rejects the assertions in the article that is evidently timed to malign Pakistan and China," he said.
"This is yet another attempt to divert attention from the overt and covert support being extended by some states to the Indian nuclear programme since its inception and intensified more recently in stark contradiction to their self-avowed commitment to the Nuclear Non-Proliferation Treaty," he said.
Pakistan and China have "comprehensive and all-dimensional cooperation", which includes civilian nuclear cooperation for peaceful purposes, Basit said.
"This has always been above board. Pakistan and China have always respected their respective international obligations and non-proliferation norms," he said.
Citing an account provided by disgraced nuclear scientist A Q Khan, the Washington Post reported on Friday that China provided Pakistan enough weapons-grade uranium for two atomic bombs and the blueprint for a simple nuclear weapon in 1982.
http://timesofindia.indiatimes.com/world/pakistan/Pak-rejects-report-of-getting-weapons-grade-uranium-from-China/articleshow/5227511.cms
------
Governor Sindh: Local Body system better than previous municipal structures
November 14, 2009
LB System better than previous municipal structures: Ishrat-ul-Ibad
KARACHI: Governor Sindh Dr Ishrat-ul-Ibad said except a few minor imperfections Local Body (LB) system is much more better than all the previous municipal structures.
He expressed theses views while talking to the participants of the 23rd Air War College Course at Governor House Karachi on Friday.
Dr Ishrat-ul-Ibad said Pakistan Army is handling terrorists successfully and much of the credit goes to the political harmony.
In the answer of a question Governor Sindh said we are making efforts to go on with LB System with positive changes, so that masses can enjoy its further benefits.
http://www.thenews.jang.com.pk/11-14-2009/52888.htm
------
'Tension with India diverting Pak focus from war on terror': Pak PM
By Sajjad Malik
November 14, 2009
ISLAMABAD: Pakistan's focus in the war on terror is being affected because of persistent tension with archrival India, Prime Minister Yousuf Raza Gilani said on Friday.
"While Pakistan is fully committed to taking to logical conclusion the ongoing operations against the Taliban, the country's forces are over-stretched because of perpetual tensions on the eastern border," Gilani said at a meeting with US National Security Adviser Gen (r) James Jones.
The prime minister said the US should be "sensitive" to Pakistan's core interests – including the Kashmir dispute, issues related to water, the Indian military's capability and the balance of power in South Asia.
Use influence: He said the US should use its influence with India to resume the composite dialogue process and bring down tensions with Pakistan, to enable Islamabad to concentrate on the war on terror.
Gilani welcomed the US initiative to take Pakistan into confidence and seek its input in the ongoing review of the Afghan policy, but expressed concerns over the possible effects of a surge in US forces in Afghanistan, especially in Helmand.
He said Hillary Clinton agreed to the resumption of result-oriented strategic dialogue during her recent visit to Pakistan, and the dialogue should be scheduled for the immediate future.
Gilani noted that reimbursement of Pakistani claims from the Coalition Support Fund had been "inordinately delayed".
Jones told Gilani that he was sent to Islamabad to convey to the leadership the US president's sincere intention to pursue a long-term strategic partnership.
US committed: He said the US was committed to assisting Pakistan economically in the reconstruction of areas affected by terrorism and the capacity building of its forces.
Jones assured Gilani that his country would continue urging the Indian leadership to resume the composite dialogue process.
The US official also called on President Asif Ali Zardari, and discussed matters related to Pakistan's struggle against militancy. Separately, Jones met Foreign Minister Shah Mahmood Qureshi, and conveyed a strong message of support from President Barack Obama for the Pak-US strategic partnership. Jones also met army chief Gen Ashfaq Kayani to discuss various matters of mutual interest.
http://www.dailytimes.com.pk/default.asp?page=2009\11\14\story_14-11-2009_pg1_4
------
Bangladesh: Muslim Woman outlaw 'confesses' to killing
November 14, 2009
Nahid Parvin Champa, detained cadre of outlawed Gono Mukti Fouz (GMF), admitted to police that she along with four other women activists took part in the killing of local Awami League leader Meherul on August 15, police said.
Anwar Hossain alias Chhoto Anu, commander of the party's killing mission unit, led the operation.
According to police, Champa gave the information to the investigators during a three-day remand that ended yesterday. She was sent to jail after the remand.
A group of 15 to 16 armed outlaws shot several rounds of bullet at Bheramara upazila unit AL joint secretary Meherul in front of his business centre in Railway Bazar area around 8:30pm on the day.
Fattah Mohon, college teacher and a friend of Meherul, also got killed in the incident. Six others including AL activists and a bank official were bullet injured.
Sources including in the police said the outfit took decision of killing the ruling party leader who came in conflict with GMF chief Aminul Islam Mukul over a dropping tender.
Meherul, reportedly a first class contractor, started attending biddings bypassing GMF directives, especially after the AL came to power, said the sources.
He was also patronising "another" outfit in the areas to trump GMF. Meherul was warned by the underground party several times but he ignored them all.
According to police, Gono Mukti Fouz engaged around 20 trained cadres including four women to keep an eye on Meherul.
Arms including AK-47 rifle recovered from Taslima Khan Ankhi on November 3 were used in the operation.
Champa, her sister Nasrin and two other women cadres carried the weapons to the spot and left with the arms after the operation. Nasrin has been absconding since the weapons were recovered.
Champa also named some persons including "important figures" involved with outlawed party activities in the district, said police. They, however, refused to give further details for the sake of investigation.
Police have so far arrested four women cadres in special drives launched on November 5 to nab suspected women activists of underground parties in the district.
Full report at: http://www.thedailystar.net/newDesign/news-details.php?nid=114027
------
Riyadh urges UN to end double standard
14 November 2009
NEW YORK: Saudi Arabia on Friday accused UN Security Council members and world powers of practicing a double standard while dealing with international conflicts.
"How can these countries call for the protection of civilians during military conflicts while they vote against a decision to protect those civilians?" asked Khaled Al-Nafeesi, the Kingdom's permanent representative to the United Nations.
He was referring to the rejection by some UN member countries of the Goldstone report on Israeli excesses against the Gazans during its three-week-long assault of Gaza early this year.
Judge Richard Goldstone and his commission members found that Israel had flagrantly violated the international law by killing 1,170 Palestinian civilians during the 22-day conflict, the Saudi official said while addressing a special session of the UN Security Council.
"Had such a commission been set up some 40 years ago and a thorough investigation conducted about Israeli atrocities since then, we would have received a very painful report that would have been shameful for Israel," Al-Nafeesi said. He said Saudi Arabia upholds the principles of sovereignty, territorial integrity, political independence and noninterference in the internal affairs of other countries.
Al-Nafeesi urged members of the UN Security Council to take into account the views of countries that don't have permanent seats on the council in order to strengthen its credibility and effectiveness and enhance the openness and transparency of its work.
"In order to achieve this goal, the Council members, especially the five permanent members, should have political will, firm determination and sincere desire," he said, adding that these countries bear the responsibility of realizing the aspirations of member countries and their peoples without any bias. Al-Nafeesi called for equal treatment in the protection of civilians during armed conflicts without prejudice toward different races or nations. "We should end double standard in this regard."
He said the debate on the issue of the protection of civilians must not be restricted to the Security Council but should also be done by other UN organizations.
http://arabnews.com/?page=1&section=0&article=128437&d=14&m=11&y=2009&pix=kingdom.jpg&category=Kingdom
------
Mutawifeen: Proud to serve guests of Allah
Badea Abu Al-Naja
14 November 2009
MAKKAH: Mutawifeen are people who guide pilgrims during their Tawaf (circumambulation of the Holy Kaaba) and when they perform the Saie between Safa and Marwah.
Mutawifeen have evolved and set up comprehensive service companies with ample and diversified resources to provide pilgrims with accommodation, transport and food. Guides are always available in the Grand Mosque and will help on request during the Tawaf.
In the past, a mutawif used to welcome pilgrims, accommodate them at his humble home and accompany them to Mina, Arafat and Muzdalifah to perform their Haj rites.
The pilgrims would go directly to their mutawif on arrival in Saudi Arabia. They would have been corresponding with him long before they start their Haj journey.
Older mutawifeen remember those days with both bitter and sweet memories. They reminisce about the glories of their fathers and grandfathers and feel proud about their dedication to serve the guests of God.
Amina Zawwawi, a Mutawif working with the Tawafa Establishment for Southeast Asian Pilgrims, remembers the old days when she used to work with her father in helping the pilgrims.
"In those bygone days, we used to prepare for the arrival of the pilgrims three months in advance," she said.
"The guests of God would start arriving for the Haj during Ramadan, which precedes the pilgrimage by a little over two months. They used to come by ships in a voyage that would take them about a month and a half."
She said a guide would receive them at the Jeddah seaport to finalize their arrival before contacting the mutawif to collect them. He would take them to his home in Makkah where his family would welcome them and provide accommodation and food during their entire stay.
The mutawif would then accompany male pilgrims to the Grand Mosque while female members of his family would look after the women. They would also accompany their guests to Madinah. Zawwawi said Indonesian pilgrims used to bring with them a large wooden box where they kept their clothes, food and other belongings.
Full report at: http://arabnews.com/?page=1&section=0&article=128429&d=14&m=11&y=2009&pix=kingdom.jpg&category=Kingdom
------
50 workers rescued from fire in Makkah
Ibtesam Sheqdar
14 November 2009
MAKKAH: Fifty workers of the Alawi Tunsi Driving School were rescued on Friday from a fire in Muzdalifah.
Ten Civil Defense teams responded to the inferno that was sparked at a warehouse on the school's compound at around 5 a.m. No injuries were reported. The cause of the fire is unknown.
This fire follows one early Thursday in Makkah where hundreds of Pakistani pilgrims were evacuated from a building. No injuries were reported in that fire but the building's security guard reportedly suffered smoke inhalation and was attended to at the scene.
http://arabnews.com/?page=1&section=0&article=128419&d=14&m=11&y=2009&pix=kingdom.jpg&category=Kingdom
------
Lords of the Flies and Breeding Bin Ladens
Jonathan Power
14 November 2009
A reader of a column of mine on the social consequences of abandoned street children wrote to point out that my prognosis that these little Lords of the Flies would grow up as the new Bin Ladens, primed to wreck vengeance on established societies, was mistaken.
"Osama bin Laden's anger did not develop out of poverty," she argued, "but out of a middle class malaise". Of course. And so did Che Guevara's and Stokely Carmichael's and that of Marx and Lenin.
But this does not exclude the undisputable, well-researched, fact that poverty, particularly when it exists in a society of gross inequalities, breeds violence, crime and the urge to deal out deadly punishment on conventional society. The leaders may be educated; the shock troops often come from the underclass.
Besides, humanity has never confronted before 100 million youngsters growing up on the street, without parents. Their anger, one day, will surely find a political channel as well as the inevitable criminal one.
I think, indeed, the argument can be taken even further: there are 800 million people living in hunger without sufficient nourishment. Many exist in a state of political torpor, barely able to summon the energy to plant next year's crop. But somewhere in the vast mass there are those who seethe with anger at their predicament. These days the mass media is ubiquitous, reaching even into the poorest villages, telling all. I'll never forget sitting on an African country bus, filled with peasants holding their live chickens, watching French-made videos portraying the most ghastly violence. Ideas travel. The only surprise is that it is has taken so long for a bin Laden type to hit us where it hurts.
Full report at: http://khaleejtimes.com/DisplayArticleNew.asp?xfile=/data/opinion/2009/November/opinion_November78.xml&section=opinion
-----
Muslims must quit British Forces, says Iranian envoy Abdolhossein Moezi
November 14, 2009
The Iranian Supreme Leader's representative in Britain has told Muslim servicemen and women to quit the Armed Forces, saying that their involvement in the Afghanistan and Iraq wars is forbidden by Islam.
The cleric, personally appointed by Iran's Supreme Leader, Ayatollah Ali Khamenei, to be his special envoy to the UK, also urged Muslims to defeat the opposition to the Iranian regime and keep the 30-year-old Islamic Republic alive.
In his first interview with an English language newspaper, Ayatollah Abdolhossein Moezi, director of the Islamic Centre of England, said he regretted that protesters were killed by the Iranian security forces after the presidential election in June but that their deaths were "unavoidable".
Ayatollah Moezi, the most senior Iranian spiritual leader in Britain with thousands of followers from the Shia sect, said that it was wrong for followers of Islam to serve in the Armed Forces, especially in Afghanistan and Iraq where Muslims were being killed.
Not only do I not accept it for Muslims to go there, I don't accept non-Muslims to go there as well," Ayatollah Moezi told The Times through an interpreter provided by him. "We say that Muslims are not allowed to go and kill Muslims. Do you think that Christians are allowed to go and kill Muslims?"
The cleric, 65, condemned the massacre in Texas last week of 13 American soldiers at the Fort Hood base by a Muslim military psychiatrist and insisted that it should not be used to tarnish the image of the world's 1.5 billion Muslim population.
He said the September 11 attacks and the London bombings were wrong but accused the forces of "Zionist imperialism" of using the atrocities to smear Islam and its followers.
Full report at: http://www.timesonline.co.uk/tol/news/world/middle_east/article6916382.ece
-----
Muslims need not be apologetic
By Linda S. Heard
November 14, 2009
Muslims make up roughly one quarter of the world's population. Just because one out of almost 1.5 billion ran amok, leaving 13 dead and 23 wounded, does not mean the entire Muslim nation is responsible. When Sergeant John M. Russell opened fire on his comrades at Camp Liberty in Baghdad, last May, killing five, the media did not even mention his religion. Instead, papers reported that the young man, who "had been broken by the army" was suicidal and in debt.
When National Guard soldier Joshua Cartwright shot and killed two Florida deputies in April he was characterized as "severely disturbed". No one investigated his spiritual beliefs. The media, likewise, took a soft approach, last year, when Dustin Thorson, an Air Force sergeant, shot his wife and son at Tinker Airbase and, in 1995, when Sergeant William Kreutzer killed one and injured 18 at Fort Bragg. But when an American-born major with the name Nidal Malek Hassan commits a similar crime he is judged in the court of public opinion based on his ethnicity and religion.
Bill O'Reilly of Fair and Balanced on Fox News has already decided that Hassan is either a "Muslim terrorist" or "crazy". Fox's Brian Kilmeade has made up his mind too. He asked a guest: "Do you think it is time for the military to have special debriefings of Muslim Army Officers …?" or "anyone enlisted"?
There are 3,572 Muslims in the U.S. military and it seems that Kilmeade wants all of them to fall under suspicion. Never mind that many have served their commander-in chief loyally in Afghanistan and Iraq!
Full report at: http://www.tehrantimes.com/index_View.asp?code=207830
-----
Put Osama bin Laden on trial
By Paul Cruickshank
November 13, 200
Editor's note: Paul Cruickshank, a Fellow at the NYU Center on Law and Security, regularly contributes to CNN's coverage of al Qaeda terrorism.
New York (CNN) -- The announcement that Khalid Sheikh Mohammed and four other men accused of the 9/11 attacks will soon be moved to New York to face trial in a federal court will be welcomed by some Americans as finally starting the process of bringing the perpetrators of these attacks to justice.
To date, not one person has been convicted for the attacks. But it also will be a reminder that their boss, the man most responsible for killing 3,000 civilians -- the majority of them Americans but many from all around the world -- is still at large.
President Obama has stated that it is vitally important for the country to put some of the controversial policies of the last eight years behind it. While the forthcoming trial of Khalid Sheikh Mohammed and several figures allegedly involved in plotting the 9/11 attacks in New York will be helpful, nothing would help more than if Osama bin Laden were captured, afforded full due process and put on trial.
It would be nothing short of a watershed moment, doing much to restore the public's confidence in American institutions and the rule of law after years of being told that they were too quaint for the challenges of a new era. And it would go a long way, too, in restoring the moral high ground for the United States in the court of global opinion.
An indictment dating back to 1998 awaits al Qaeda's leader in the Southern District Federal Court of New York, which can be easily updated by a grand jury to include his crimes since. This is where Mohammed and four others accused of the 9/11 attacks are also expected to be tried.
Full report at: http://edition.cnn.com/2009/OPINION/11/13/cruickshank.osama.bin.laden.trial/
-----
Adam's plight a hard lesson in Islamic law
By LES HORTON
November 14, 2009
No right-thinking person could be anything but outraged at the decision by a Doha judge to grant custody of 10-year-old Adam Jones to his elderly Qatari grandmother, instead of returning him to the mother who has nurtured him since birth.
That he has also apparently refused Rebecca Jones even the right to see her own child rubs salt into the wound inflicted on a decent, caring family.
It is impossible to understand how a court could allow a custody suit to go ahead while ignoring the fact that Adam was taken from his mother by trickery, after she was duped into taking him from Bahrain to Doha to visit his supposedly sick grandmother.
That the judge did not at least order that Adam be produced in court, if only to establish his well-being, is inexplicable.
To have denied his mother the right to even see him under the supervision of the court, to tell him she loves him and to explain that she had not willingly given him up, is inhuman.
Who knows what condition Adam is in, what his emotional state may be, what lies he may be being fed to poison him against the mother from whom he was allegedly snatched - or even where he is.
These are all questions the judge should have been demanding answers to.
But outrage will not help Mrs Jones in what will now be a protracted fight.
She will need legal, diplomatic, financial and moral support, along with constant pressure from the media to keep Adam's plight in the limelight.
But legally there is little hope, since what many non-Muslim women forget, or do not think about in the first place, is that when they marry a Muslim man, they and their children become subject to the Islamic Sharia law should that marriage hit the rocks.
Full report at: http://www.gulf-daily-news.com/NewsDetails.aspx?storyid=263909
-----
Windsor chief is sorry male cop frisked Muslim woman
BY NIRAJ WARIKOO
Nov. 14, 2009
Windsor Police Chief Gary Smith publicly apologized to the Muslim community this week after one of his officers allegedly patted down the wife of a suspect during a raid related to a case in metro Detroit that ended in the shooting death of an Islamic leader.
"The actions taken did cause embarrassment and did offend their religious beliefs," Smith said in a statement. "I sincerely apologize to the families and the Islamic community."
Windsor police assisted other Canadian law enforcement in an Oct. 31 raid to apprehend Windsor residents Mohammad Al-Sahli, 33, and Yassir Ali Khan, 30. U.S. authorities said they were part of a Detroit-based radical Muslim group that was led by Luqman Ameen Abdullah, who was killed by FBI agents in a shootout during an Oct. 28 raid in Dearborn. Federal officials also say the group was involved in stolen goods; family members and attorneys strongly deny both claims.
Khan's wife, Hiba Khan, was patted down by a male Windsor police officer during the raid, said Patrick Ducharme, the lawyer for the two suspects. Ducharme said Friday that the search was unnecessary because Hiba Khan was not being arrested. He added that if a woman, especially a Muslim, is to be searched, a female officer should do it. Some Muslim women say their religion doesn't allow them physical contact with men outside their family.
http://www.freep.com/article/20091114/NEWS05/911140313/1001/News/Windsor-chief-is-sorry-male-cop-frisked-Muslim-woman
-----
Concern At a School In a Building Tied to Iran
By ANNE BARNARD
November 13, 2009
Outside the Razi School on Queens Boulevard, a television truck idled all day. Images of the ordinarily quiet school were beaming across the nation, spotlighting it as the tenant of a building that federal authorities were trying to seize because they believed the owner illegally funneled money to Iran.
Inside, it was student government election day. Victory went to Aisha Sabar and Ahmed Elsamadisi, both 16, who ran on a platform of "realistic change" that included better lunches, better basketball equipment and a new science-fiction club.
"We are just a regular school, and all of a sudden it's in the news," said Aisha, the president-elect, who added that her family immigrated to Bayside, Queens, from Pakistan when she was 3 and now runs the city's only halal Kentucky Fried Chicken. "We are not terrorists. We are part of America."
In fact, no one has accused the school of terrorism. The school and the building's other tenant — the Islamic Institute of New York and its Imam Ali Mosque — have not been accused of wrongdoing. Federal authorities accused the building's owner, the Alavi Foundation, of violating federal laws that ban trade with Iran.
But in post-9/11 New York, students, teachers and parents at the school worry that any time a Muslim institution draws attention, however tangential, from the authorities, people will perceive it as somehow being tainted by terrorism.
"They're worried that the school is going to get treated differently or that there are going to be hate crimes," said Iyad Jaber, 21, a graduate of the school who studies public affairs at Baruch College and stopped by the building with his father, Hassan Jaber, for prayers on Friday, the holy day of the Muslim week.
Hassan Jaber, 50, who teaches Arabic at the United Nations and at New York University and has a 14-year-old daughter attending the school, said he had never perceived any Iranian influence or connection to the Iranian government at the school.
Full report at: http://www.nytimes.com/2009/11/14/nyregion/14mosque.html
-----
Rights group: Israel 'personally attacking' us over Gaza report
By Haaretz Service
November 14, 2009
Human Rights Watch has accused Israel of launching an "organized campaign" of lies and misinformation against it in the wake of the organization's support of the Goldstone report, British newspaper the Guardian reported Friday.
The Goldstone report claims Israel and Hamas both committed war crimes during the winter conflict in Gaza, but levels harsher criticism toward Israel.
"I really hesitate to use words like conspiracy, but there is a feeling that there is an organized campaign, and we're seeing from different places what would appear to be co-ordinated attacks...from some of the language and arguments used it would seem as if there has been discussion," Iain Levine, Human Rights Watch's program director, told the Guardian.
"We are having to spend a lot of time repudiating the lies, the falsehoods, the misinformation."
Human Rights Watch told the Guardian that the campaign to discredit it includes allegations that its reports on Israel are written by "anti-Israel ideologues" and that it has attempted to raised funds in Saudi Arabia by highlighting its criticism of Israel.
The group also said that it sees the campaign as part of the government's pledge over the summer to combat what it called "biased" human rights groups.
Levine told the Guardian he believes the criticism waged against Human Rights Watch is an attempt on Israel's part to distract attention from discussion of the Goldstone report. Richard Goldstone, who compiled the report that has since been endorsed by the United Nations Human Rights Coucil, is a former Human Rights Watch board member.
Full report at: http://www.haaretz.com/hasen/spages/1128056.html
-----
Mundine takes a hit on Muslim retreat
By Bronwen Gora
November 14, 2009
BOXER Anthony Mundine has lost money after selling the Central Coast holiday resort that he hoped to turn into a haven for Muslims.
Dooralong Valley Resort, inland from Gosford, was bought by a consortium of Muslim businessmen, headed by Mundine from receivers, for $5.5 million last July.
But it was sold last week to The Salvation Army, which is considering turning the 140ha resort into a drug and alcohol rehabilitation facility. Selling agents for the property said the price was "slightly less'' than the previous buyers paid.
McGrath Estate Agent's Stuart Davies said the undisclosed price was "in line with current market conditions'', but still the biggest sale on the Central Coast this year.
Residents had threatened legal action after reports that Mundine's consortium - which included lawyer Adam Houda and Bulldogs' star Hazem El Masri - planned to develop a youth rehabilitation centre and mosque, which residents feared would disrupt the tranquil valley.
Dooralong Valley Residents Association president Warwick Benjes said then that locals had no problems with their religion, but did not want any noise.
World IBO middleweight champion Mundine - currently starring on new Foxtel show, The Contender - installed a gym and boxing arena in the resort's stables area earlier this year, but sources said it had hardly been used.
El Masri quit as director of the purchasers' consortium last December.
Dooralong's facilities include 45 cottages, a salt water pool, sand volleyball court, a golf driving range, tennis courts and conference rooms.
Over the last four months, the accommodation facilities were reopened to the public. Its website still advertises horse-riding and a farm.
The Salvation Army says it had yet to decide how the property will be used.
The Salvo's Major Glenn Whittaker said he would be meeting residents to inform them of the purchase and the plans as they unfold.
"The Army's vision is to maximise the potential of the site with multiple campuses,'' he said.
"They may sell some other properties to develop it.''
http://www.dailytelegraph.com.au/news/mundine-takes-a-hit-on-muslim-retreat/story-e6freuy9-1225797743224
-----
MoD probes new Iraq abuse claims
Saturday, 14 Nov, 2009
The Ministry of Defence has said it is investigating new allegations of abuse by the UK military in Iraq.
Lawyers acting for former Iraqi detainees are calling for a full public inquiry into 33 abuse claims made during UK military involvement there.
One allegation is that two soldiers raped a 16-year-old boy in 2003.
Armed forces minister Bill Rammell said such claims were taken seriously but formal inquiries must be held "without judgements being made prematurely".
"Allegations of this nature are taken very seriously. However allegations must not be taken as fact," he said.
Mr Rammell told the BBC "about seven of them have come in within the last month".
"The rest of them are cases that date back significantly beyond that period and they are being investigated. Any allegation of abuse is taken with the utmost seriousness."
'Sexually humiliated'
A public inquiry is already under way into the death of Iraqi civilian Baha Mousa, who died in British custody with 93 separate injuries.
A report by the Independent newspaper said 33 cases of alleged abuse had now come to light.
One claimant alleges he was raped by two British soldiers, while others say they were stripped naked, abused and photographed, the Independent said.
Another detainee said that when he was arrested he was kicked and hit, and an electric baton was used on parts of his body.
A fellow Iraqi, detained in 2006, claimed he was sexually humiliated.
The lawyers said that since the British withdrawal from Basra in the summer, they had heard a host of allegations of abuse dating back to 2003.
Mr Rammell added: "Over 120,000 British troops have served in Iraq and the vast, vast majority have conducted themselves to the highest standards of behaviour, displaying integrity and selfless commitment," he said.
Full report at: http://news.bbc.co.uk/2/hi/uk_news/8360040.stm
-----
Film about Muslims prompts dialogue
November 14, 2009
By Nicholas C. Stern
Screening at Hood renews local religious leaders' calls for understanding
Every documentary begins with a question, film producer Alex Kronemer said. That question leads to a quest, which begets a film.
Kronemer on Monday was at Hood College to introduce a new documentary he produced titled "Inside Islam: What a Billion Muslims Really Think."
The title was based on a worldwide study of Muslims by the Gallup Poll that began essentially on Sept. 11, 2001, Kronemer said.
Over six years, pollsters asked Muslims in 35 nations what they think of democracy, terrorism and women's and human rights.
Muslims in the Middle East represent about 15 percent of the world's total population of Muslims, he said.
Instead of a clash of civilizations between Christians, Jews and Muslims, film producer Alex Kronemer said he sees a clash of misunderstandings that can lead to tragedy.
Local perspectives
Yahya Hendi, an imam at the Islamic Society of Frederick , said showing the film in Frederick represented an important call to intellectual debate, instead of flashing lights and political agendas.
"Americans need to know what Muslims think," he said. In turn, Muslims and others should learn what Americans and people of different faiths believe, he said.
Muslims, for example, have contributed and continue to contribute to scientific knowledge, not to the deeds of suicide bombers who act contrary to the beliefs of most Muslims, he said.
The recent shootings at Fort Hood are a tragic, heartbreaking event, but have nothing to do with Islam, he said.
Full report at: http://www.fredericknewspost.com/sections/art_life/display.htm?storyID=97785
URL of this page: https://newageislam.com/islamic-world-news/mahesh-bhatt-son-questioned-headley/d/2094