New Age Islam News Bureau
16 Jul 2017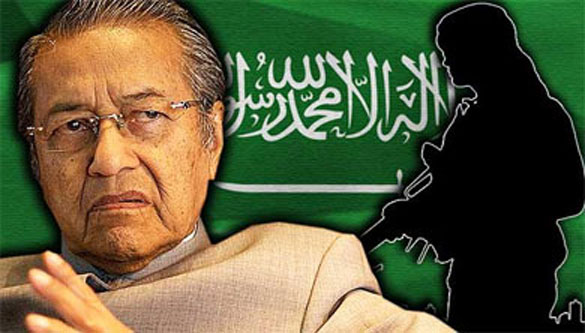 The former Malaysian PM, Dr Mahathir Mohamad, says anti-terror alliance must be with countries that are not involved in any war.
-----
• Mahathir: Saudis Not Suitable Partner to Fight Terrorism
• PM Modi Puts Onus on States, Says Check 'Communal Violence In Name Of Cow'
• Jaysh Al-Islam Agrees To Dissolve Itself to Form National Syrian Rebel Army
• Rohingya Villagers Tell Media of Abuses during Army Crackdown
Southeast Asia
• Mahathir: Saudis Not Suitable Partner to Fight Terrorism
• Telegram Blocks Terror Content after Indonesia Threatens Ban
• The real reason for the Malaysian travel ban
-------
India
• PM Modi Puts Onus on States, Says Check 'Communal Violence In Name Of Cow'
• Faridabad Lynching: Main Accused Sent To Judicial Custody, Cops Fail To Recover T-Shirt, Accused Says He Burnt It
• No safe zones, forces set to intensify hot pursuit of militants in Kashmir
• '39 Indians abducted in Iraq could be in jail near Mosul'
• Police: Two Hizb modules busted, cop in one of them
• Presidential poll: AIMIM to back Meira Kumar
-------
Arab World
• Jaysh Al-Islam Agrees To Dissolve Itself to Form National Syrian Rebel Army
• Syrian Opposition: We Haven't Eased Conditions Regarding Assad's Removal
• After Mosul, the next battle is for Tal Afar
• Iraqi officials deny intent to intervene militarily against ISIS in Syria
• How three Bahraini extremist brothers were captured and killed in Saudi Arabia
• Egypt kills nine militants in Sinai
'• Terrorist' suspect killed in eastern S Arabia
• Egypt says 1 killed, 50 injured in clashes on Nile islands
• Syrian state TV reports blast north of government-controlled Latakia
• Knifeman attacks Egypt church guard, arrested: Police
• Rival groups clash in Syria's rebel-packed Idlib
• Protesters demonstrate outside Qatar's embassy in Brussels
• Saudi Crown Prince discusses with French FM efforts to combat terrorism
--------
South Asia
• Rohingya Villagers Tell Media of Abuses during Army Crackdown
• Nature of US Engagement in Afghanistan Likely To Be Changed
• Four extremists surrender after shootout in B'desh
• NATO rejects Taliban's claims regarding airstrikes on Kunduz school
• Afghan MPs react at US envoy's remarks regarding Dostum-Ishchi case
• Gen. Nicholson reaffirms resolve to defeat ISIS in Afghanistan in 2017
--------
Mideast
• Stand by Terrorists or Win Turkey's Trust, Erdogan Tells West
• Erdogan Attacks EU, Promises To Bring Back Death Penalty
• Turkey urges US to search Gulen's communications
• Al-Aqsa officials refuse entry, Israel closes doors
• Israel to reopen al-Aqsa Mosque compound on Sunday
• Yemen troops killed in suspected Qaeda attack
• Israel reopens sensitive holy site, but Muslims refuse to enter
• Iranian president's brother arrested for financial violations
• Iran says jails US dual national for 10 years for spying
• Israeli forces shoot Palestinian gunman dead during arrest
--------
Pakistan
• Army Launches Operation Khyber-4 in Rajgal Valley
• Four Terrorists Killed In Balochistan as FC Foils Attack: ISPR
• Border attack from Pakistan kills 2 Iranians
• Ministry launches SMS service to prevent Haj fraud
• Army launches operation in tribal areas targeting ISIS
--------
North America
• Pentagon: Leader of Afghan ISIS branch killed in US raid
• 49 voters to decide fate of Muslim cemetery in Canada
--------
Europe
• Macron chides Netanyahu on settlements, urges new Mideast talks
• Merkel urges talks to resolve airbase row with Turkey
--------
Africa
• Thousands take to streets to protest Mauritania referendum
• Three soldiers killed in Ivory Coast barrack shooting
Compiled by New Age Islam News Bureau
URL: https://www.newageislam.com/islamic-world-news/mahathir-saudis-suitable-partner-fight/d/111840
--------
Mahathir: Saudis not suitable partner to fight terrorism
Adam Abu Bakar
July 16, 2017
KUALA LUMPUR: Saudi Arabia is not a suitable partner for Malaysia in promoting moderation in the Muslim world or in countering terrorism, says Dr Mahathir Mohamad.
The former prime minister said any such cooperation can only be with a country that is not involved in a war, a condition he said Riyadh had failed to fulfill.
"Any cooperation (to fight terror) must be with countries that are not involved in war, but we are now working with a country that is clearly taking part in a war.
"That is not proper," the Pakatan Harapan chairman said.
Saudi Arabia is currently engaged in a military operation in Yemen, backing its government's fight against the Houthi rebels.
Rights groups have condemned the Saudi-led bombardments of Yemen, which they said have killed tens of thousands of civilians. More than three million people have been displaced by the conflict.
Mahathir, who not long ago organised a global campaign to outlaw war under his Perdana Global Peace Foundation, was asked to comment on the government's decision to approve a 16ha piece of land in Putrajaya for a new "centre for peace" named after present Saudi ruler, Salman Abdulaziz.
It has recently emerged that the Muslim World League (MWL), an organisation heavily funded by the Saudi government to prop up the kingdom's Islamic image worldwide, is also involved in the new centre.
The group has for decades acted as Riyadh's chief mouthpiece through the publication of Islamic materials and the financing of mosques and Islamic centres from Asia to Europe.
But a recent report by a British think-tank linked MWL to extremist ideologies behind militant groups such as Al-Qaeda, Taliban and Islamic State (IS).
The plan for the centre also baffled Washington-based terrorism expert, Zachary Abuza, who said Saudi Arabia could not become a representative of moderate Islam.
"Saudis have been spreading Wahhabism throughout the world, especially Southeast Asia, from a more tolerant brand of Shafiite Islam to a more austere version," the professor from the National War College told FMT.
http://www.freemalaysiatoday.com/category/nation/2017/07/16/mahathir-saudi-arabia-not-appropriate-partner-to-counter-terrorism/
--------
PM Modi Puts Onus on States, Says Check 'Communal Violence In Name Of Cow'
By: Express News Service | New Delhi
July 17, 2017
PM Modi congratulates Ram Nath Kovind on presidential poll evePM Modi congratulates Ram Nath Kovind on presidential poll eve
With the Opposition preparing to take on the Government in Parliament over the recent spate of lynchings by cow vigilantes, and the alleged targeting of its leaders by central agencies, Prime Minister Narendra Modi addressed both issues, calling for "tough action" against violence in the name of protecting "gau mata" and appealing for support in action against the corrupt.
The Prime Minister was addressing an all-party meeting Sunday called by Parliamentary Affairs Minister Ananth Kumar, a day before the start of the Monsoon Session.
Speaking to reporters, Kumar quoted Modi as saying: "Gau raksha ko kuchch asaamajik tatvon ne arajakata failane ka madhyam bana liya hai. Desh ke chhavi par bhi iska asar ho raha hai. Hum sabhi rajnitik dalon ko gau raksha ke naam par ho rahi is gundagardi ki kadi bhartsana karni chaahiye (Some anti-social elements have made cow protection an excuse to spread anarchy. This is also affecting the nation's image. All political parties should strongly condemn this hooliganism in the name of cow protection)."
"He said that state governments should take the strongest action against the anti-social elements carrying out violence in the name of cow protection because law and order is the prime responsibility of state governments," Kumar quoted Modi as saying.
The Prime Minister later reiterated these remarks in a series of tweets on his official handle. "Rajya sarkaron ko yeh bhi dekhna chahiye ki kahin kuchh log gau raksha ke naam par apni vyaktigat dushmani ka badla toh nahin le rahe hain (The state governments should also see that nobody is using cow-protection to settle personal scores)," he posted.
After the all-party meeting, at Parliament House on Sunday. Express Photo by Prem Nath Pandey
On corruption, Modi appeared to have made a veiled reference to RJD chief Lalu Prasad, with Kumar quoting him as saying: "Kanoon agar apna kaam kar raha hai to siyasi saazish ki baat karke bachne ka raasta dekh rahe logon ke prati hamein ekjut hokar kaam karna hoga (If the law is doing its work, we need to join hands against those who are
looking for a way out in the name of a political conspiracy)."
Prasad, against whom a CBI FIR was registered this month on charges of corruption, had blamed the agency's action as part of a "political vendetta" — this line could be pursued in Parliament by the Congress and Trinamool Congress.
The Trinamool Congress boycotted Sunday's meeting. JD(U) parliamentary party leader Sharad Yadav, too, gave it a miss due to "some personal reason", said Kumar.
Asserting that the nation will not gain anything by "standing with those who have plundered the nation", Modi said that what is required is that "we have to be transparent in our public life and yet there should be action against corrupt leaders".
According to Kumar, the Prime Minister also said that the Government would ensure punishment for terrorists responsible for the attack on Amarnath yatris last week; he thanked all parties for the implementation of GST, which was a "fine example of cooperative federalism".
On the issue of Kashmir and China, Kumar said that all parties were with the Government "on the issue of national security".
The Prime Minister also said that a consensus on the presidential candidate "would have been better" but hailed the "decorum" maintained during the campaign.
However, after the meeting, the buzz was all about Modi's remarks on violence by cow vigilantes, particularly with the Government facing severe criticism from the Opposition on this issue.
Kumar said that the Government has sent an advisory to state governments in this regard. "The Prime Minister also said that a race has begun to gain political mileage by giving political and communal colour to issues like cow and protection and others, which will not do any good to the nation… everybody will have to join hands to check it," he said.
Quoting Modi, Kumar said: "There is a larger belief in the country that cow is the mother and should be protected but there is a law for it. Taking the law into one's hands for it and carrying out atrocities in its name to settle personal scores cannot be tolerated at all and strong action should be taken."
On corruption, the Parliamentary Affairs Minister quoted the Prime Minister as saying that the "fight against corruption had begun now". "The Prime Minister appealed to all parties to join hands in this fight against corruption," he said.
"There is a question mark now on the credibility of politicians and those in public life because of the rampant corruption that happened in the past and due to the ills and wrong intentions of those who indulged in corruption", Kumar quoted Modi as saying.
The Prime Minister said that people need to be convinced that "all politicians do not run after money", said Kumar.
Later, in one of his tweets, Modi posted: "Sarvajanik jeevan mein swachhata ke saath hi bhrasht netaon par karvahi avashyak hai. Har dal aise netaon ko pehachankar apne dal ko rajnitik yatra se alag kare (In public life, apart from being clean, it is essential to take action against the corrupt. Every party should identify such leaders and disassociate itself from them)."
Modi, who was the last to speak at the meeting, also told the gathering that the Government's decision to advance the presentation of the Union Budget has resulted in appreciation of 30 per cent in total expenditure and 49 per cent increase in infrastructure expenditure in three months.
The Opposition leaders present included Leader of Opposition in the Rajya Sabha Ghulam Nabi Azad (Congress), Sharad Pawar (NCP), Sitaram Yechury (CPI-M), Mulayam Singh Yadav (SP), Farooq Abdullah (NC) and D Raja (CPI).
Azad, later, made it clear that Opposition parties would target the Government over J&K as well as the stand-off with China. He said that the Government had "closed all doors for a dialogue" on Kashmir, which has led to "political suffocation".
The Prime Minister's visit to Israel is also likely to figure in the session, apart from the flood situation in Assam and other northeastern states, violence over Gorkhaland, the fallout of demonetisation, price rise, job losses and disinvestment of PSUs. Yechury demanded the immediate passage of the Women's Reservation Bill (108th Amendment Bill), 2008.
Kumar said that 21 bills were pending in Lok Sabha and 42 in Rajya Sabha. Nine of these, including The Whistle Blowers Protection (Amendment) Bill, 2015 and the National Commission for Backward Classes (Repeal) Bill, 2017, have been passed by the Lok Sabha and are listed for passage by Rajya Sabha.
Other important Bills include: Labour Code Bill, extension of GST in J&K Bill, Banking Resolution Bill and The Admiralty (Jurisdiction and Settlement of Maritime Claims) Bill, 2017.
The monsoon session is scheduled to conclude on August 11, with 19 sittings over 26 days. The presidential and vice-presidential elections will be held on the sidelines of the session.
On Monday, both Houses will mark the deaths of sitting members: former Union minister Anil Madhav Dave, Palvai Govardhan Reddy of the Congress (Rajya Sabha) and Vinod Khanna of the BJP (Lok Sabha).
Source: indianexpress.com/article/india/pm-modi-states-check-communal-violence-cow-protection-gau-rakshaks-4753558/
------
Jaysh al-Islam agrees to dissolve itself to form national Syrian rebel army
16 July 2017
On the initiative of the Damascus Military Council, Jaysh al-Islam rebel group has announced its agreement to dissolve itself and to integrate into the Syrian opposition national army.
By agreeing the initiative, Jaysh al-Islam has all but dissolved itself as the proposal stipulates for the dissolution of the military formations in al-Ghouta, which is a stronghold of the rebel group that is a coalition of Islamist and Salafist units.
The goal of the initiative, according to sources close to the Damascus Military Council, is to form a nucleus for a unified opposition national army, in addition to dissolving all civil and service institutions.
The decision was by Hamza Birekdar, who confirmed that Jaysh al-Islam was ready to cooperate fully to the success of the proposal, which aims to end the fighting between the group and the Failaq Rahman and Hae't Tahrir Sham rebel groups.
Jaysh al-Islam is one of the biggest rebel factions fighting President Bashar al-Assad in western Syria.
https://english.alarabiya.net/en/News/middle-east/2017/07/15/Syrian-army-takes-more-oil-fields-from-ISIS-in-Raqqa-and-eastern-desert.html
--------
Rohingya villagers tell media of abuses during army crackdown
July 17, 2017
Simon Lewis - KYAR GAUNG TAUNG - Rohingya Muslim women lined up to tell reporters of missing husbands, mothers and sons on Saturday as international media were escorted for the first time to a village in Myanmar's northern Rakhine state affected by violence since October.
"My son is not a terrorist. He was arrested while doing farm work," said one young mother, Sarbeda. She had bustled her way -- an infant in her arms -- through several other women telling reporters their husbands had been arrested on false grounds.
In November, Myanmar's army swept through villages where stateless Rohingya Muslims live in the area of Maungdaw.
Some 75,000 people fled across the nearby border to Bangladesh, according to the United Nations. UN investigators who interviewed refugees said allegations of gang rape, torture, arson and killings by security forces in the operation were likely crimes against humanity.
Myanmar's government, led by Nobel laureate Aung San Suu Kyi, has denied most of the claims, and is blocking entry to a U.N. fact-finding mission tasked with looking into the allegations.
The government has also kept independent journalists and human rights monitors out of the area for the past nine months. This week, the Ministry of Information escorted more than a dozen foreign and local journalists representing international media, including Reuters, to the area under a guard of officers from the paramilitary Border Guard Police
BRUTAL TACTICS
The reporters spent nearly two days in Buthidaung, a township in Maungdaw district of Rakhine state, where they were taken to sites of alleged militant activity. They were taken to Kyar Gaung Taung, one of three settlements requested by the journalists. Officials cited time constraints for the limited access.
Reuters had previously gathered accounts from residents by phone and from former residents who have fled to Bangladesh, of brutal counterinsurgency tactics unleashed in Kyar Gaung Taung and several nearby villages in mid-November. When a group of journalists insisted on speaking to villagers away from security forces, allegations of abuses by troops emerged almost immediately. Kyar Gaung Taung resident Sarbeda, 30, had been able to visit her son, Nawsee Mullah, 14, at a police camp where he is being held separately from adult detainees. She was not sure if he had a lawyer, she said.
Reuters reported in March that 13 boys under the age of 18 were detained during security operations. They were included in a list of 423 people charged under the colonial-era Unlawful Associations Act, which outlaws joining or aiding rebel groups. At least 32 people from Kyar Gaung Taung village had been arrested and 10 killed, said a village schoolteacher, who asked not to be named for fear of reprisals. He estimated that half the village's 6,000 residents had fled during the clearance operation.
BURNED TO DEATH
Another villager, Lalmuti, 23, pointed to a small pile of ashes where she said she found her father's remains. She described how he was bound and thrown into a house and burned to death. Her mother was later arrested when authorities deemed her complaint about the killings to be fabricated. She is serving a six-month jail sentence, Lalmuti and two other villagers said. Reporters were not given a chance to put these allegations to authorities, and Reuters was unable to reach officials to confirm the details of the cases by phone.
In a press briefing on Friday, Brigadier General Thura San Lwin, commander of Myanmar's Border Guard Police, said some villagers had made what he said were erroneous claims and were subsequently charged and jailed for lying to the authorities. "The media said we torched houses and that there were rape cases -- they give wrong information," Thura San Lwin told reporters. He also disputed the U.N.'s estimates for the number of people who fled, claiming local records showed that only 22,000 people were missing in the conflict. Myanmar officials say a domestic investigation, led by Vice President Myint Swe - a former lieutenant general in the army - and a commission headed for former U.N. chief Kofi Annan - which is not mandated to investigate human rights abuses - are the appropriate ways to address problems in Rakhine State. –Reuters
http://nation.com.pk/international/17-Jul-2017/rohingya-villagers-tell-media-of-abuses-during-army-crackdown
--------
Southeast Asia
Telegram blocks terror content after Indonesia threatens ban
July 17, 2017
The encrypted messaging app Telegram is forming a team of moderators who are familiar with Indonesian culture and language so it can remove "terrorist-related content" faster, its co-founder said Sunday, after Indonesia limited access to the app and threatened a total ban.
Pavel Durov, who with his brother Nikolai founded the app in 2013, said in a message to his 40,000 followers on Telegram that he'd been unaware of a failure to quickly respond to an Indonesian government request to block a number of offending channels chat groups on the app but was now rectifying the situation.
The Indonesian Ministry of Communications and Information Technology said Friday that it was preparing for the total closure of Telegram in Indonesia, where it has several million users if it didn't develop procedures to block unlawful content.
As a partial measure, it asked internet companies in the world's most populous Muslim nation to block access to 11 addresses offering the web version of Telegram.
Samuel Pangerapan, the director general of informatics applications at the ministry, said the app is used to recruit Indonesians into militant groups and to spread hate and methods for carrying out attacks including bomb making.
Suspected militants arrested by Indonesian police recently have told authorities that they communicated with each other via Telegram and received orders and directions to carry out attacks through the app, including from Bahrun Naim, an Indonesian with the militant Islamic State (IS) group in Syria accused of orchestrating several attacks in the past 18 months.
Durov said Telegram has now blocked the channels that were reported to it by the Indonesian government. "We are forming a dedicated team of moderators with knowledge of Indonesian culture and language to be able to process reports of terrorist-related content more quickly and accurately," he said.
Indonesia's Communications and Information Technology Minister Rudiantara, who goes by one name, said he had received an apology from Durov, who was apparently not aware of several requests from the ministry since 2016.
"I appreciate the response from Pavel Durov and the ministry will follow it up as soon as possible in terms of technical details so that standard operating procedures can be implemented immediately," Rudiantara said.
Indonesia's measures against Telegram come as the country step up efforts to combat radicalism following the capture of the southern Philippine city of Marawi by the IS-linked militants.
Nearly two months after the initial assault, Philippine forces are still battling to regain complete control of the city. Experts fear the southern Philippines could become a new base for the IS, including Indonesian and Malaysian militants returning from the Middle East, as an international coalition retakes territory held by the IS in Syria and Iraq.
But the government move sparked a public outcry in Indonesia, with Twitter and Facebook exploding with negative comments and some people reporting they were unable to access the web.telegram.org domain. Indonesians are among the world's biggest users of social media.
The free messaging service can be used as a smartphone app and on computers through a web interface or desktop messenger. It's strong encryption has contributed to its popularity with those concerned about privacy and secure communications in the digital era but also attracted militant groups and other criminal elements.
Durov said Telegram blocks thousands of IS-related channels a month and is "always open to ideas on how to get better at this."
http://nation.com.pk/international/16-Jul-2017/telegram-blocks-terror-content-after-indonesia-threatens-ban
--------
The real reason for the Malaysian travel ban
July 17, 2017
The travel bans imposed on a handful of influential Malaysians, to prevent them from travelling overseas, is a clever means to distract the rakyat from the issues plaguing Malaysia.
The international media is like a child with a short attention span. A Malaysian travel ban may cause a frisson of excitement, but the media will soon move on to a new story.
On the other hand, the ban may excite the lawyers, who will argue the merits of the constitutional rights of the banned individual.
To the man-in-the-street, a ban will restrict an individual's freedom, to travel, but for the owners and editors of papers, the bottom line is readership, and more importantly, money. To a lesser or greater extent, editors must respect their corporate partners/sponsors.
So, news about a travel ban is not as exciting, nor will it sell as many papers as a warped Malay male groping a cardboard cut-out of an attractive female who is promoting the products of a certain oil company. Blame it on the indoctrination of a nation that is driven by the testosterone of the mullahs.
All in all, the "Malaysian travel ban" and "Donald Trump's Muslim travel ban" have two things in common.
i) They are ineffective.
ii) They are a distraction.
The Malaysian travel ban is meant to wear down the people who are banned, by making them concentrate their efforts into appealing against the ban, thus depriving them of valuable time creating awareness about our problems.
Instead of being active in highlighting the many abuses of the system, the individual is more active in attending court or spending time with his lawyer preparing his case notes.
Full report at:
https://www.malaysiakini.com/news/388772
--------
India
Faridabad Lynching: Main Accused Sent To Judicial Custody, Cops Fail To Recover T-Shirt, Accused Says He Burnt It
Written by Sakshi Dayal | Gurgaon
July 17, 2017
In the five days that Naresh Kumar — the main accused in 15-year-old Junaid Khan's murder — spent in police custody, investigative agencies discovered that the bloodstained T-shirt they had hoped to retrieve had been "burnt" by the accused soon after the crime. On July 11, police had submitted an application in a Faridabad court seeking custody of Kumar for five days on grounds that they needed to recover his "bloodstained T-shirt". Kumar had claimed it was hidden in his rented accommodation in Sakri in Maharashtra's Dhule district, where he fled after the incident.
"While we were on our way to Maharashtra, Kumar admitted that he had actually burnt the garment soon after the crime in the hope of removing all evidence," Kamal Deep Goyal, SP, Haryana Railway Police, said, adding that Kumar had burnt the T-shirt the day after the incident in his home in Bhamrola village.
On Sunday afternoon, Kumar was produced in court again, and sent to judicial custody till July 25. "Investigative agencies did not request for custody of the accused since they have completed investigation.The accused has been sent to judicial custody and is now lodged in Neemka jail in Faridabad, along with the other five men who were arrested earlier in connection with the murder," Nibrash Ahmed, lawyer for the prosecution, said.
On June 22, Junaid was returning home to Ballabhgarh after Eid shopping in Sadar Bazar with three others. A fight over seats ensued in the Mathura-bound train the boys had boarded, with "15 to 20 people" allegedly hurling communal slurs at them. As the fight escalated, Junaid and his brothers Shaqir and Hashim were stabbed. Junaid succumbed to his injuries the same evening.
Police tracked Kumar down with the help of footage from a CCTV camera installed near Asaoti railway station, which showed him fleeing on a bike with two others. Police have, however, said the other two men were not involved in the incident. "We have eliminated the possibility of the other two men being involved in the incident. They only gave Kumar a ride to Palwal," Goyal said, adding, "However, we are on the lookout for anyone else who may have been a part of the mob."
Kumar had initially been remanded in police custody for two days, during which the murder weapon — a kitchen knife — was recovered. The shoes he was wearing on the day of the incident, and a gamcha he had on him, were also recovered. All items have been sent to a laboratory in Bhondsi, police said.
Source: indianexpress.com/article/india/faridabad-lynching-main-accused-sent-to-judicial-custody-cops-fail-to-recover-t-shirt-accused-says-he-burnt-it-4753772/
----
No safe zones, forces set to intensify hot pursuit of militants in Kashmir
Hakeem Irfan Rashid | ET Bureau
Jul 17, 2017
ANANTNAG/SRINAGAR: The PDP-BJP government in J&K believes that hot pursuit of militants, roaming mostly in the hinterlands of south Kashmir, is part of the final solution to this protracted conflict that's dogging the Valley.
The state, which has recorded over 170 killings in the first half of this year, including 97 militants, 39 army, paramilitary and police personnel and 35 civilians, continues to mark at least one killing almost every day.
And if a senior BJP functionary and some state police officials are to be believed, the operations against the militants and their sympathisers are likely to increase after the President's election on July 17, with New Delhi's renewed focus on the state.
The recent attack on a highway in Botengo area of Anantnag in south Kashmir in which eight Amarnath yatris were killed, has a given another 'reason' to act tough and go after the armed non-state actors, said sources in the police, adding that operations will escalate once the yatra ends in the first week of August.
"The military and operational engagement in south Kashmir for the past two months is less fearful of reprisals, not divided in priorities, and most importantly, keen on taking risks, where collateral damage cannot be a deterrent. Otherwise you would not see a cordon happening in a village only a day after the encounter," a senior police official told ET.
In this month alone, 14 militants were killed. Most of the famous commanders of Hizb-ul-Mujahideen and Lashkar-e-Toiba, which includes Sabzar, Junaid Matoo, BashirLaskhkari, and Majid were killed in the past two months. This year, according to police statistics, 58 youngsters joined the militant ranks till now, out of which 45 were from south Kashmir. Five of them have already been killed and seven arrested.
The operations against the militants, who enjoy the support of locals, risk further deepening of the divide between the pro-India politicians and people. This would also undermine any political process, more so in south Kashmir, the home of CM Mehbooba Mufti.
However, latent stability in the PDPBJP government despite a series of overt contradictions in a volatile atmosphere suggests that the alliance partners have an understanding and share a common wisdom about alliance management to complete a six-year term, which for many in and outside the state, was a mirage.
Full report at:
Source; http://timesofindia.indiatimes.com/india/no-safe-zones-forces-set-to-intensify-hot-pursuit-of-militants-in-kashmir/articleshow/59626329.cms
-----
'39 Indians abducted in Iraq could be in jail near Mosul'
TNN | Jul 17, 2017
NEW DELHI: Union foreign minister Sushma Swaraj on Sunday met family members of the 39 construction workers abducted from Mosul in 2014 and expressed hope that they would be released soon as India had received information that they were probably lodged in a jail near Mosul.
According to Swaraj, the missing Indians are likely in a jail at Badush, northwest of Mosul, where fighting is still on between Islamic State and Iraqi government forces.
She said Iraqi foreign minister Ibrahim Al Jaafari is scheduled to visit India on July 24 and could bring more information about the missing men. "East Mosul has been completely freed from IS and now buildings are being sanitised and authorities are not allowing civilians to go there as there may be bombs and other explosives," Swaraj said. Fighting is on west of Mosul, she added. Minister of state for external affairs V K Singh was sent to the Gulf nation after its PM announced the liberation of Mosul from IS.
"An official who quoted intelligence sources told Gen Singh that they (workers) were deployed for hospital construction and then in a farm. From there, they were sent to a jail in Badush west of Mosul, where fighting is still on. There has been no information since then," Swaraj told reporters. She briefed family members of the abducted men, who are mostly from Punjab, about the information gathered by V K Singh.
"We called family members of all those who were abducted in Iraq. I had already met them 10 or 12 times, but this time the situation was different as the Iraqi prime minister had declared that Mosul had been freed from the IS. That very day, I asked V K Singh to go to Iraq and collect details about the Indians," Swaraj said.
Source: timesofindia.indiatimes.com/india/39-indians-abducted-in-iraq-could-be-in-jail-near-mosul/articleshow/59624501.cms
-----
Police: Two Hizb modules busted, cop in one of them
Written by Bashaarat Masood
Srinagar | Published:July 17, 2017
Jammu and Kashmir police on Sunday claimed to have busted two militant modules of the Hizbul Mujahideen in south and north Kashmir and one of those arrested is a policeman. In north Kashmir, police said investigations revealed that Hizbul militants were planning to send youths to Pakistan for arms training. "The module had plans to send many boys to Pakistan on valid visas to get them trained in terrorist camps in Pakistan occupied Kashmir," said Mir Imtiyaz, Superintendent of Police, Baramulla.
The police said they had arrested three members of the militant module that was spearheaded by Hizbul militant Parvez Wani. "One of the arrested youths, Abdul Rashid Bhat, had visited Pakistan in May and obtained (arms) training in the Khalid bin Waleed camp of the Hizbul Mujahideen in PoK," Imtiyaz said.
Full report at:
Source: indianexpress.com/article/india/police-two-hizb-modules-busted-cop-in-one-of-them-4753807/
-----
Presidential poll: AIMIM to back Meira Kumar
Jul 17, 2017
All India Majlis-e-Ittehadul Muslimeen (AIMIM), a former constituent of United Progressive Alliance (UPA), will support Opposition's candidate Meira Kumar in the Presidential polls.
As per sources, AIMIM chief Asaduddin Owaisi and his nine legislators in Telangana and Maharashtra will cast their votes for the Congress leader.
The party has seven members in Telangana Assembly and two in Maharashtra Assembly.
The Presidential election will be held on July 17 as President Pranab Mukherjee's term is ending on July 24.
The Congress-led opposition nominated Kumar to face National Democratic Alliance (NDA) candidate Ram Nath Kovind.
Many of the Opposition parties including the Janata Dal (Secular), the Rashtriya Janata Dal (RJD), the Communist Party of India and CPI (Marxist) are backing Kumar.
Full report at:
Source: hindustantimes.com/india-news/presidential-poll-aimim-to-back-meira-kumar/story-OceS4EN0tO1kipUDC3j4YK.html
-----
Arab World
Syrian opposition: We haven't eased conditions regarding Assad's removal
16 July 2017
Syrian opposition leader, Riyad Hijab has expressed the opposition's resolve on the removal of Bashar al-Assad and his followers who are responsible for crimes against the Syrian people.
In a series of tweets, Hijab stated that claims by the Russian ambassador in Geneva about concessions by the opposition regarding Assad's future was "purely media fraud and is contrary to professionalism and credibility".
He also added that the Syrian people had already voiced their opinion regarding the regime, which the negotiating team has no right to ignore.
Meanwhile Spokesman for the opposition's High Negotiations Committee (HNC) Munther Makhos said no results were achieved after the Geneva talks and, therefore, the opposition is sticking to the initial transition plan stipulated in the Geneva Declaration.
https://english.alarabiya.net/en/News/middle-east/2017/07/16/Syrian-opposition-We-haven-t-eased-conditions-regarding-Assad-s-removal.html
--------
After Mosul, the next battle is for Tal Afar
17 July 2017
Discussions revolve around the future Iraqi government after it announced victory over ISIS in Mosul, while sources say that the next battle will be in Tal Afar and its surroundings.
Due to the city's complex population structure, Iraqi PM Haider Abadi will task joint forces to break into the city. Counterterrorism fighters, amid leaks of the involvement of 5,000 from the Abbas brigade militia, will lead the joint force.
The participation of the militia, according to parliamentary sources, is in response to the desire of the religious authority to put a moderate force in the fighting as well as resolve the dispute between the Popular Mobilization Forces and Abadi on the invasion of Tal Afar by other militias, which has long raised fears of possible violations against civilians.
Security and military sources said that the next battle, which will begin in two weeks, will be for Tal Afar and the areas of Al-Halabiya and Ayadiyah.
Full report at:
https://english.alarabiya.net/en/News/middle-east/2017/07/17/After-Mosul-the-next-battle-is-for-Tal-Afar.html
--------
Iraqi officials deny intent to intervene militarily against ISIS in Syria
16 July 2017
In an exclusive interview with Al-Arabiya television channel, Iraqi foreign ministry spokesperson Ahmad Jamal denied Baghdad's intention to militarily intervene in Syria to fight ISIS.
Jamal added that the Iraqi constitution prohibits intervening in the affairs of another country.
Iraq's ambassador to Tehran Rajih Al-Mousawi had told the Iranian News Agency Tasnim that Baghdad does not mind in militarily intervening in Syria to fight ISIS, adding that "Iraq has friends like Iran to help it."
Iraqi officials immediately denied Baghdad would intervene in Syria and condemned these statements. Others accused Iran of twisting the envoy's remarks.
Full report at:
https://english.alarabiya.net/en/News/middle-east/2017/07/16/Israeli-forces-shoot-Palestinian-gunman-dead-during-arrest-Army.html
--------
How three Bahraini extremist brothers were captured and killed in Saudi Arabia
15 July 2017
After a raid and exchange of fire, Al Arabiya sources revealed that Saudi emergency forces eliminated wanted Bahraini convict Hassan Mahmoud Ali al-Abdullah on Friday in Saihat, east of Saudi Arabia.
His brother Ali al-Abdullah was killed last year while the third brother, Hussein al-Abdullah, was arrested following a raid in Al-Awamiyah.
Hassan is one of the wanted names in the list of nine announced by Saudi Interior Ministry. Out of this, three have been eliminated - Fadel al-Hamada, Jaafar bin Hassan Makki al-Mubaireek, and Hassan al-Abdullah - leaving six wanted men remaining.
Reward
Saudi Arabia's Interior Ministry has announced a reward of a million riyals to those with information on the three remaining on the list.
In a previous statement, the General Directorate of the Department of Investigation and Criminal Evidence in the Bahraini Interior Ministry, had outlined the process of coordination and follow-up ongoing between the Department and its counterpart in Saudi Arabia.
According to the statement, Hassan Mahmoud Ali al-Abdullah was born in Syria, and carries his father's Bahraini nationality, while his mother is of Saudi nationality.
Qatif rioting
He actively took part in the riots in the Qatif area and along with two of his brothers committed terrorist acts. One of them was killed in an exchange of fire with the Saudi police. His father was also deported from Saudi Arabia and included on the prevention list from entering Saudi Arabia.
As for Ali al-Abdullah, the Saudi authorities announced his elimination while he was in a farm in Al-Awamiya in Al-Qatif governerate, where he committed many terrorist crimes, partnering with some elements of the list of 23 in Al-Qatif governorate. During his presence there two years ago, he was responsible for the deaths of the security men and citizens, in addition to setting fire to the oil pipelines north of Al-Awamiyah in 2014.
The sources explained that the three Bahraini brothers are related to those wanted in the list of the 23, with Salman Ali Salman al-Faraj, being their uncle.
Full report at:
https://english.alarabiya.net/en/features/2017/07/15/This-is-how-the-Bahraini-terrorist-brothers-were-eliminated.html
--------
Egypt kills nine militants in Sinai
July 17, 2017
CAIRO: Security forces have killed nine militants in the Sinai Peninsula and also destroyed 15 vehicles transporting weapons into Egypt across its western border, the military said in statements on Sunday.
The "extremists" were killed in two separate incidents in the middle Sinai, but the military did not say when they took place. Both involved the air force and "law enforcement forces". The military said a planned "hostile act" was foiled after "a highly dangerous terrorist" group was discovered and tracked, and six militants were killed in a mountainous area.
In a separate incident, three "highly dangerous" extremists were killed and another was arrested. A four-wheel-drive vehicle and five caches containing "large amounts of explosives and ammunition" were destroyed, the military added. On Egypt's western border with Libya, warplanes have attacked and destroyed 15 four-wheel-drive vehicles carrying weapons, ammunition and contraband over the past 24 hours, the military said on Sunday.
The air strikes took place following intelligence that "criminal subjects were gathering to sneak into Egypt", it said. The military has boosted its operations on the border, repeatedly expressing concern about militants crossing the frontier to launch attacks.
Libya has been wracked by chaos since the 2011 uprising that toppled and killed longtime dictator Moamer Kadhafi, with rival authorities and militias battling for control of the oil-rich country.
Full report at:
http://nation.com.pk/international/17-Jul-2017/egypt-kills-nine-militants-in-sinai
--------
'Terrorist' suspect killed in eastern S Arabia
July 17, 2017
RIYADH - Saudi police have killed a wanted "terrorist" in the eastern district of Qatif, where there has been a string of attacks on security forces, newspapers said Saturday.
Jaafar al-Mobireek was killed late Friday in an operation in the city of Saihat, in Eastern Province, al-Jazirah newspaper reported, adding that he was a member of a "Qatif cell."
The suspect was one of nine people wanted by the interior ministry and had been involved in targeting people and security forces and "vandalising public, security and economic installations," the paper said. Authorities have blamed the violence on "terrorists" and drug traffickers.
On Thursday, a border guard was shot dead and another wounded when their patrol came under fire on Al-Ramis coast in Qatif, Arab News daily reported citing an interior ministry statement.
Home to a significant number of the kingdom's minority Shias - who have traditionally complained of marginalisation - Qatif has recently seen mounting attacks on police.
Saudi authorities on Tuesday executed four men convicted of "terrorist crimes", including attacks on police and rioting in Qatif.
Full report at:
http://nation.com.pk/international/16-Jul-2017/terrorist-suspect-killed-in-eastern-s-arabia
--------
Egypt says 1 killed, 50 injured in clashes on Nile islands
16 July 2017
Egyptian police on Sunday fired tear gas to disperse a rock-pelting crowd of residents on a River Nile island in Cairo, clashes that left one person dead and 50 others injured, according to authorities.
The Health Ministry said a resident was killed and said 19 others were wounded in the clashes on al-Waraq island on the northern fringes of the Egyptian capital. It did not say how the man was killed.
An Interior Ministry statement said a total of 31 - policemen as well as contractors who arrived with them on the island - were injured in the clashes. The injured policemen included two generals, it said.
Ten residents were arrested, it added.
Video clips posted on social media networks showed hundreds of angry islanders, mostly young men, at the man's funeral, marching through farm fields while chanting "We will sacrifice the martyr with our soul and blood."
The violence broke out when police attempted to evict residents staying or utilizing state land without permission, part of an ongoing, nationwide campaign launched by President Abdel-Fattah el-Sissi to retake state property illegally controlled or run for profit by individuals or commercial enterprises.
The local media has for weeks been showing images of police and army troops demolishing buildings or commercial facilities illegally built or operating without a license.
In its statement, the Interior Ministry, which is in charge of the police, said the residents attacked the police force with firearms, birdshot guns and rocks and that they responded with tear gas. It said up to 700 building and land violations were recorded on the island. It acknowledged the death of one islander and that 19 others were injured.
Full report at:
https://english.alarabiya.net/en/News/middle-east/2017/07/16/Egypt-says-1-killed-50-injured-in-clashes-on-Nile-islands.html
--------
Syrian state TV reports blast north of government-controlled Latakia
16 July 2017
Syrian state television reported a "terrorist explosion" north of the government-held coastal city of Latakia on Sunday and cited reports of casualties.
The blast took place in Ras Shamra, a town about 12 km north of the city, state television said. It gave no further details.
https://english.alarabiya.net/en/News/middle-east/2017/07/16/Syrian-state-TV-reports-blast-north-of-government-controlled-Latakia-.html
--------
Knifeman attacks Egypt church guard, arrested: Police
15 July 2017
An Egyptian Muslim stabbed and wounded a security guard after being prevented from entering a church in the Mediterranean city of Alexandria on Saturday, a senior police official told AFP.
The man was quickly subdued by the guard and others who rushed to help and is being questioned, the official said.
The incident came days after Egypt's Christian minority leaders said they were suspending some activities such as conferences and religious trips for security reasons.
ISIS extremists have killed dozens of Coptic Christians in church bombings and shooting attacks in Egypt since December, and have threatened further attacks.
"We're still checking," the official, who requested anonymity, told AFP when asked whether the suspect in Saturday's incident was an extremist.
He gave no other details about the assailant, apart from his religion.
CCTV footage of the incident showed a man wearing earphones and with a bag trying to enter the church when he was called back by a guard who asked to check the bag.
The man took out a knife and slashed the face of the guard, who quickly recovered to subdue his attacker with the help of others.
On Friday, a man stabbed two German women to death and wounded four other Western women in an attack at a Red Sea beach resort.
Full report at:
https://english.alarabiya.net/en/News/middle-east/2017/07/15/Knifeman-attacks-Egypt-church-guard-arrested-Police-.html
--------
Rival groups clash in Syria's rebel-packed Idlib
15 July 2017
Clashes have broken out in northwestern Syria between two of the most powerful insurgent groups raising fears of widespread violence in the rebel-held province of Idlib.
The ultraconservative Ahrar al-Sham said in a statement Saturday that the al-Qaeda-linked Levant Liberation Committee is sending reinforcements to the town of Saraqeb and the Jabal al-Zawiya region in preparation for an attack.
The Ibaa News Agency of the al-Qaeda-linked group accused Ahrar al-Sham of setting up checkpoints and detaining one of its commanders and his bodyguard, adding that the Levant Liberation Committee removed the checkpoints later by force.
The Britain-based Syrian Observatory for Human Rights said the clashes late Friday were concentrated near the village of Tel Touqan.
Full report at:
https://english.alarabiya.net/en/News/middle-east/2017/07/15/Rival-groups-clash-in-Syria-s-rebel-packed-Idlib.html
--------
Protesters demonstrate outside Qatar's embassy in Brussels
16 July 2017
Demonstrators protested on Saturday outside Qatar's embassy in Brussels against Doha's support for terrorism and its approach to fuel conflicts around the world.
The demonstrators demanded that Qatar stops its funding of extremist group and change its policy of harboring terrorist, UAE news agency WAM reported.
Demonstrators waved signs that called for international action against states that support extremism, including Qatar.
The demonstrators expressed support to the steps taken by Saudi Arabia, the United Arab Emirates, Bahrain and the Egypt to confront Qatar's provocations and policies to foment tensions in the Arab region.
https://english.alarabiya.net/en/News/gulf/2017/07/16/Protesters-demonstrate-outside-Qatar-s-embassy-in-Brussels.html
--------
Saudi Crown Prince discusses with French FM efforts to combat terrorism
15 July 2017
Saudi Arabia's Crown Prince Mohammed bin Salman bin Abdulaziz has met with the French Minister of Foreign Affairs Jean-Yves Le Drian, who is currently on a visit to the kingdom.
During the meeting, both discussed bilateral relations, aspects of cooperation and ways to promote them, in addition to latest regional developments and the collective efforts exerted to counter terrorism and extremism and stop terror financing.
The reception was attended by Prince Abdulaziz bin Saud bin Naif bin Abdulaziz, Minister of Interior, Minister of Foreign Affairs Adel Al-Jubeir, Minister of Culture and Information Dr. Awwad Al-Awwad and other senior, civil and military, officials.
Le Drian commended Saudi Arabia's leadership in the fight against terrorism at a joint press conference with Saudi FM Jubeir in Jeddah.
Full report at:
https://english.alarabiya.net/en/News/gulf/2017/07/15/Saudi-crown-prince-discusses-efforts-to-combat-terrorism-with-French-FM.html
--------
South Asia
Nature of US engagement in Afghanistan likely to be changed
Anwar Iqbal
July 17, 2017
WASHINGTON: US Defence Secretary James Mattis has confirmed that the Trump administration's new strategy for Afghanistan will have a regional context, including a Pakistan angle.
At a news briefing, Secretary Mattis indicated that the new strategy could change the nature of US military engagement in Afghanistan.
Although media reports have suggested that the Trump administration is working on a strategy that may redefine its relations with both Pakistan and Afghanistan — this marks the first time that a cabinet-level US official has indicated that the review involves Pakistan as well.
Examine: Pakistan's anxiety
Responding to a question about the new strategy having a Pakistan angle, he said: "You're right to say that strategy is wrapping all that into a regional context." He said that while media speculations about the Trump administration sending close to 5,000 additional troops to Afghanistan "may turn out to be right", the new strategy "also involves, perhaps, changing somewhat what the troops on the ground are doing right now".
Media reports claim that the review is in its final stages and the administration could release it late this month, after sharing it with the US Congress.
Secretary Mattis also said that Senator John McCain, who heads the Senate Armed Services Committee, has a key role in formulating the new US policy for Afghanistan and Pakistan.
"Senator McCain is probably leading the effort to get us what we need in here, up on the Hill [Congress], as is appropriate for him in his role as the chairman of the Armed Services Committee," he said.
During a visit to the Pak-Afghan region earlier this month, Senator McCain urged Pakistan to confront the Afghan Taliban or face the consequences.
"We have made it very clear that we expect they [Pakistan] will cooperate with us, particularly against the Haqqani network and against terrorist organisations," he said at a July 4 news briefing in Kabul. "If they don't change their behaviour, maybe we should change our behaviour towards Pakistan as a nation."
Since then, Congress has adopted several measures binding US civil and military assistance to Pakistan to the severing of its alleged links to the Haqqani network. Some of these measures also require Pakistan to prevent militants from using its soil for launching attacks into neighbouring countries and to release Dr Shakil Afridi, who helped the CIA trace Osama bin Laden at a compound in Abbottabad.
Secretary Mattis said the new strategy would "align everything" to formulate a strong US response to militancy in Afghanistan.
President Donald Trump's national security adviser, Gen H.R. McMaster, leads the team that is making the new policy and its members are believed to have consulted both Pakistani and Afghan officials on the issue.
"The strategy and you know, what is the main effort…and what is a supporting effort. And in the supporting efforts is where you often find the most nuance and, as a result, where you have to sort things out in the interagency," said Secretary Mattis while explaining what was causing the delay.
Full report at:
https://www.dawn.com/news/1345853/nature-of-us-engagement-in-afghanistan-likely-to-be-changed
--------
Four extremists surrender after shootout in B'desh
July 17, 2017
DHAKA : Four suspected Islamist extremists surrendered Sunday after a night-long standoff with Bangladeshi police in which they detonated explosives and opened fire outside the capital Dhaka, an official said. Police said the armed militants belonged to a new faction of Jamayetul Mujahideen Bangladesh (JMB), an outlawed group blamed for a wave of attacks including the murder of 18 foreigners at a cafe in Dhaka last July.
Acting on a tip-off Bangladesh's Rapid Action Battalion surrounded a building in the garment district of Ashulia, around 25 kilometres (18 miles) west of Dhaka, just after midnight, RAB spokesman Mizanur Rahman Bhuiyan told AFP. "They rented the house posing as garment workers two months ago. When we raided the place, they fired back with live rounds and exploded IED (improvised explosive devices)," he said. No casualties were reported.
Ashulia is home to hundreds of garment factories turning out clothes for top European and American brands. The Islamic State group has claimed responsibility for the cafe attack on July 1 last year.
Full report at:
http://nation.com.pk/international/17-Jul-2017/four-extremists-surrender-after-shootout-in-b-desh
--------
NATO rejects Taliban's claims regarding airstrikes on Kunduz school
Jul 15 2017
The NATO-led Resolute Support Mission in Afghanistan rejected the claims by the Taliban group regarding the airstrikes by the US forces on a school in northern Kunduz province.
A spokesman for the alliance, Capt. William K. Salvin, said "Taliban allegations of US airstrikes on a school in Kunduz province are false."
Salvin further added "While US forces conducted airstrikes in Kunduz last night, according to Afghan officials the damage to the school was caused by a kitchen fire."
According to Salvin, a review of the gun camera footage confirms the area where the strikes occurred was clear of civilians at the time.
He also added that the strikes destroyed Taliban fighting positions and emplaced IEDs.
The Taliban spokesman Zabiullah Mujahid had earlier claimed that the school building was totally destroyed in the airstrike by the US forces on Friday night.
Mujahid also claimed that several people lost their lives while others were wounded in the airstrikes.
Full report at:
https://www.khaama.com/nato-rejects-talibans-claims-regarding-airstrikes-on-kunduz-school-03147
--------
Afghan MPs react at US envoy's remarks regarding Dostum-Ishchi case
Jul 15 2017
The lawmakers in the Lower House of the Parliament, Wolesi Jirga, reacted at the remarks of the US embassy Charge d'Affaires regarding the controversial case of the first vice president General Abdul Rashid Dostum and former Jawzjan governor Ahmad Khan Ishchi.
A member of the parliament, Nasrullah Sadiqizada, said the case has nothing to do with the embassy of the United States, stressing that the US envoy should focus on torture allegations of detainees in Iraq, Bagram, and Guantanamo, if he really cares about the abuse cases.
He also added that the supreme court of the country is either dealing with the case politically or it acts based on the recommendations of certain political figures and circles, warning that such approach could be very dangerous to the legal system of the country.
Ali Akbar Qasemi, another member of the parliament, said the case should be closed as soon as possible and called on Attorney General Office and supreme court to refrain from adopting political decisions.
In the meantime, Fatima Azizi, representing Kunduz, in the Lower House, said the US embassy has raised questions regarding the sovereignty of the country by giving such remarks.
However, another lawmaker said the sovereignty of the country will remain under question as long as the foreign forces are based in the country, insisting that the US forces do not have the right to bring the first vice president to court for the trial.
The US embassy Charge d'Affaires had earlier called for thorough investigation in the torture and sexual abuse case of Ahmad Khan Ishchi involving the first vice president General Abdul Rashid Dostum.
He said Tuesday that the allegations against the Vice President, including charges of rape and assault, are extremely serious and warrant close legal review by the Attorney General and other judicial authorities of the Islamic Republic of Afghanistan.
Full report at:
http://www.khaama.com/afghan-mps-react-at-us-envoys-remarks-regarding-dostum-ishchi-case-03145
--------
Gen. Nicholson reaffirms resolve to defeat ISIS in Afghanistan in 2017
Jul 15 2017
The commander of the US forces in Afghanistan General John Nicholson reaffirmed the resolve to defeat the Islamic State of Iraq and Syria, ISIS Khurasan, in Afghanistan.
Gen. Nicholson who is also in command of the NATO-led Resolute Support Mission in Afghanistan, made the remarks after the confirmation of the death of the newly appointed ISIS leader in Afghanistan.
"This operation is another success in our campaign to defeat ISIS-K in Afghanistan in 2017," he said in a statement after Pentagon confirmed the death of ISIS leader Abu Sayed.
Gen. Nicholson further added "Abu Sayed is the third ISIS-K Emir we have killed in the last year and we will continue until they are annihilated."
The US forces commander also added that there is no safe haven for ISIS-K in Afghanistan.
According to Pentagon, ISIS leaders chose Abu Sayed to lead the group after Afghan and U.S. forces killed the previous ISIS-K leaders – Hafiz Sayed Khan in late July 2016, and Abdul Hasib, in late April of this year.
"U.S. forces killed Abu Sayed, the emir of Islamic State of Iraq and Syria – Khorasan Province (ISIS-K), in a strike on the group's headquarters in Kunar Province, Afghanistan, July 11," Pentagon said in a statement on Friday.
Pentagon said the strike also killed other ISIS-K members and will significantly disrupt the terror group's plans to expand its presence in Afghanistan.
Full report at:
https://www.khaama.com/gen-nicholson-reaffirms-resolve-to-defeat-isis-in-afghanistan-in-2017-03144
--------
Mideast
Stand by terrorists or win Turkey's trust, Erdogan tells West
July 17, 2017
Ankara - Turkey's President Recep Tayyip Erdogan has asked western leaders to make a choice between Turkey and terrorist organisations in an article he wrote for the British daily The Guardian.
In the article published on Saturday – the first anniversary of the July 15 coup attempt – Erdogan wrote that there is "no way to sugar-coat this betrayal of Turkey's friendship", adding that it was incompatible with bilateral relations and fundamental values alike.
"Today, western leaders have a choice between standing in solidarity with terrorists or regaining the favour of the Turkish people," he said.
Turkey on Saturday marked one year since the defeat of the coup aimed at ousting President Erdogan, seeking to showcase national unity and his grip on power in an increasingly polarised society.
The authorities have declared July 15 an annual national holiday of "democracy and unity", billing the foiling of the putsch as a historic victory of Turkish democracy.
"It's one year since the darkest night was turned into an epic," Prime Minister Binali Yildirim told a special session of parliament that kicked off a day of celebrations set to last until dawn.
He said the night of July 15 was a "second War of Independence" after the war that led to the creation of the modern Turkish state in the ruins of the Ottoman Empire in 1923.
Two hundred and forty nine people, not including the plotters, were killed when a disgruntled faction in the army sent tanks into the streets and war planes into the sky in a bid to overthrow Erdogan after one-and-a-half decades in power.
But they were thwarted within hours as the authorities regrouped and people poured into the streets in support of Erdogan, who blamed followers of his ally turned nemesis, the US-based preacher Fethullah Gulen.
The authorities embarked on the biggest purge in Turkey's history, arresting 50,000 people and sacking over 100,000 more. Erdogan also shored up his position by winning a referendum on enhancing his powers earlier this year.
In the latest dismissals ordered just hours before the commemorations were due to begin, another 7,563 police, soldiers and other state employees were fired under the state of emergency that has been in place since July 20 last year.
The scale of the purge has intensified political divisions in Turkey, with the opposition accusing the authorities of seeking to silence anyone who dares criticise Erdogan. The celebrations come less than a week after the head of the Republican People's Party (CHP) Kemal Kilicdaroglu held the largest opposition rally in Turkey in years, pushing for "justice" in the country.
Turkey's opposition put political disputes aside on the night of the attempted coup. But this has frayed since the April 16 referendum that Erdogan narrowly won.
"Over the last year, the judicial proceedings... moved outside the framework of the law," Kilicdaroglu told the parliament.
He also called for full clarity over what happened on the night of July 15, with questions still remaining over when the authorities first found out an uprising was afoot.
"The details need to be made clear in the name of the martyrs and the heroes," he said, accusing the authorities of "hindering" efforts to find out the truth.
Erdogan, who was present at the session but was not scheduled to speak, gazed down stonily from the VIP balcony.
The coup bid also frayed ties between the United States and European Union with NATO member Turkey, which accused its allies of failing to show solidarity.
Gulen has always denied involvement in the coup bid and in a new statement Friday said the accusations were "baseless, politically motivated slanders" and slammed a "witch hunt" of Erdogan's critics.
The scale of Saturday's nationwide commemorations is aimed at etching July 15, 2016 into the minds of Turks as a key date in the history of the modern state.
Giant posters designed by the presidency have sprung up across billboards in Istanbul showing gaudy paintings that portray the key events of the coup night, including the surrender of the putschist soldiers.
"The epic of July 15," says the slogan. However some have criticised the posters for belittling the Turkish army. Public transport is free in Istanbul over the weekend while mobile operator Turkcell has sent text messages to clients promising them a free extra gigabyte of data from July 15.
Meanwhile, illuminated anti-coup slogans have been hung between the minarets of some of Istanbul's greatest Ottoman mosques.
Erdogan, at the centre of the events, will later take part in a people's march on the Istanbul bridge across the Bosphorus that saw bloody fighting a year ago.
The bridge has since been renamed Bridge of the Martyrs of July 15. At midnight local time (2100 GMT) people across Turkey will take part in "democracy watches", rallies commemorating how people poured out into the streets.
Erdogan will return to Ankara and at 2300 GMT give a speech in parliament to mark the time it was bombed. A monument to those killed will then be unveiled outside his palace in the capital as the dawn call to prayer rings out.
http://nation.com.pk/international/16-Jul-2017/stand-by-terrorists-or-win-turkey-s-trust-erdogan-tells-west'
--------
Erdogan attacks EU, promises to bring back death penalty
July 17, 2017
ANKARA/ISTANBUL - A defiant President Tayyip Erdogan on Sunday stepped up his attack on the European Union, saying Turkey had to go its own way and vowing to bring back the death penalty if parliament passes it.
Erdogan, who was at the opening ceremony for a memorial dedicated to the roughly 250 people who died during last year's failed coup, accused Brussels of "messing about" with Turkey's decades-long bid to join the bloc.
The speech, in front of the presidential palace in Ankara in the early hours of Sunday, wound up a marathon session of public appearances by Erdogan in both the capital and Istanbul to mark the anniversary of last year's failed coup.
"The stance of the European Union is clear to see... 54 years have passed and they are still messing us about," he said, citing what he said was Brussels' failure to keep promises on everything from a visa deal to aid for Syrian migrants. "We will sort things out for ourselves, there's no other option." Ties with Europe were strained after the coup, given the West's alarm about the scale of the government crackdown that followed. Some 150,000 people have been sacked or suspended from their jobs and more than 50,000 detained on suspicion of links to the U.S.-based Muslim cleric Fethullah Gulen, whom Ankara blames for the attempted putsch.
He also said he would approve, "without hesitation" the death penalty, if parliament voted to bring it back -- a move that would effectively end Turkey's bid to join the European Union.
"I don't look at what Hans and George say. I look at what Ahmet, Mehmet, Hasan, Huseyin, Ayse, Fatma and Hatice say," he said, to cheers from a flag-waving crowd. Erdogan, the most popular and divisive politician in recent Turkish history, sees himself as the liberator of pious millions who were deprived for decades of their rights and welfare by Turkey's secular elite.
European Commission chief Jean-Claude Juncker said the EU remained committed to dialogue with Turkey and called on Ankara to strengthen democracy and the rule of law. He also warned against reinstating the death penalty. "One year after the attempted coup, Europe's hand remains outstretched," Juncker wrote in Germany's Bild am Sonntag newspaper. "If Turkey were to introduce the death penalty, the Turkish government would finally slam the door to EU membership."
Addressing a crowd of hundreds of thousands in Istanbul on Saturday evening, Erdogan promised violent retribution against Turkey's enemies, including FETO - his term for Gulen's network - and the outlawed Kurdistan Workers Party (PKK).
Full report at:
http://nation.com.pk/international/17-Jul-2017/erdogan-attacks-eu-promises-to-bring-back-death-penalty
--------
Turkey urges US to search Gulen's communications
July 17, 2017
WASHINGTON - US authorities should search through any intercepted communications of Fethullah Gulen to seek evidence backing Turkey's accusation that the US-based Muslim cleric orchestrated last year's failed coup, Turkey's envoy to Washington said on Friday.
In an interview with Reuters almost a year after the coup attempt, Ambassador Serdar Kilic expressed frustration over the halting US response to its request for Gulen's extradition and urged Washington to use its data-collection capabilities to help prove Ankara's accusations against him.
"They should help us in this regard. We don't have national intelligence authority in the United States," he said at the Turkish embassy.
President Donald Trump's administration is taking Turkey's extradition request "more seriously" than Trump's predecessor, Barack Obama, Kilic told a news conference later on Friday, but he did not elaborate.
Kilic said the United States had not given any sign of when it would decide what to do with Gulen, who denies any involvement in the July 15, 2016, coup attempt.
Kilic cited confessions by some alleged coup plotters and visits he said they paid Gulen at his Pennsylvania compound in the days leading up to the failed putsch as proof that the 79-year-old cleric was behind the coup, in which more than 240 people were killed.
However, Kilic acknowledged in the Reuters interview that more concrete evidence of direct involvement by Gulen, who has lived in self-imposed exile since 1999, remains elusive.
"If you are asking for a written instruction by Fethullah Gulen to the members of the Fethullah Gulen Terrorist Organization in the army, that would be a futile request," Kilic said, adding that the planning was done in secrecy.
Alp Aslandogan, Gulen's media adviser, said the cleric does not own a cellphone, the land line at his compound is attended by staff members and he does not use email, suggesting that any effort to scour Gulen's communications might yield little.
He also said he had not seen any signs of the Trump administration giving the Gulen extradition case a higher priority.
He said confessions of coup plotters implicating Gulen were suspect because of accusations that their testimony was "obtained under duress and sometimes torture."
Ankara has repeatedly denied the accusations while saying a firm security posture is needed in the face of dangers it also faces from Kurdish militants as well as wars in neighboring Iraq and Syria.
The US Justice Department declined any comment on the case.
President Tayyip Erdogan said in May he would pursue "to the end" Gulen's extradition and has waged a post-coup crackdown on his followers.
Kilic told reporters on Friday that US officials had requested further evidence, in addition to 84 boxes of documents already provided, and that Turkey was working to comply.
He said in the meantime Turkey wants the United States to limit Gulen's freedom of movement.
Aslandogan said the call for such restrictions on Gulen, who is frail-looking and walks with a shuffle, was part of a "harassment campaign" by the Turkish government.
Prospects for the US extradition of Gulen appeared to dim in February when Trump's former national security adviser Michael Flynn resigned over his failure to disclose the extent of his contacts with Russia.
Full report at:
http://nation.com.pk/international/16-Jul-2017/turkey-urges-us-to-search-gulen-s-communications
--------
Al-Aqsa officials refuse entry, Israel closes doors
16 July 2017
Israel froze the entry of Palestinians to the Al-Aqsa Mosque because the Noble Sanctuary officials refused entry as long as metal detectors and cameras were installed on doors.
The noon prayer was held outside Al-Aqsa.
Previously, Israel said it will gradually reopen the Jerusalem holy site on Sunday after taking the rare step of shutting it down following a deadly assault there that sparked concerns of a fresh round of violence.
For the first time in decades, Israel closed the site on Friday after an attack by three Arab citizens of Israel who opened fire from the sacred site with automatic weapons and killed two police officers before being shot dead inside the compound.
Benjamin Netanyahu said that following consultations with security officials the site would be reopened Sunday afternoon with increased security measures that included metal detectors at the entrance gates and additional security cameras to make sure that no weapons are smuggled inside again.
Israeli forces conducted a security sweep early Sunday and began installing the detectors. Given the large number of worshippers expected to enter the site, the new measures could slow movement and spark tensions.
The attack triggered a rare phone conversation between Netanyahu and Palestinian President Mahmoud Abbas, who condemned the attack and called for the site to be reopened.
Jordan, a custodian of the sacred compound, also called for its immediate reopening.
Netanyahu acted quickly to allay Muslim fears, saying that the status quo at the Muslim-administered site "will be preserved." But Gaza's Hamas rulers called the act a "religious war" and urged Palestinians to carry out more attacks.
Early Sunday, Israeli police said security forces shot dead a Palestinian assailant behind a pair of recent shooting attacks.
Full report at:
https://english.alarabiya.net/en/News/middle-east/2017/07/16/Israel-to-reopen-Jerusalem-holy-site-after-deadly-assault.html
--------
Israel to reopen al-Aqsa Mosque compound on Sunday
15 July 2017
Israel said it would reopen the al-Aqsa Mosque compound starting from noon on Sunday, according to a statement attributed to Israeli Prime Minister Benjamin Netanyahu.
Israeli police banned last Friday's Muslim prayers at Jerusalem's holiest site after two Israeli policemen were shot dead in a shooting near the site.
Israeli forces then arrested the Mufti of Jerusalem Sheikh Mohammed Hussein who called on worshippers to defy the ban but was later released on the same day.
The compound is the holiest site in Judaism and third holiest in Islam and is one of the most politically sensitive sacred places in the world.
Full report at:
https://english.alarabiya.net/en/News/middle-east/2017/07/15/Israel-to-reopen-al-Aqsa-mosque-compound-on-Sunday.html
--------
Yemen troops killed in suspected Qaeda attack
July 17, 2017
ADEN : Five Yemeni soldiers were killed and three wounded Sunday when gunmen suspected of ties to Al-Qaeda opened fire on a military checkpoint, an army source said. The source said the gunmen managed to escape after the attack on the checkpoint in the northeast of Shabwa province, a southern stronghold of Yemen's powerful Al-Qaeda in the Arabian Peninsula (AQAP). Sunday's attack is the latest in a string of suspected AQAP shootings targeting military checkpoints and outposts in Yemen.
AQAP, seen by the United States as the global terror network's most dangerous branch, has exploited years of deadly conflict between Yemen's government and Huthi rebels to expand its presence, especially in Shabwa. A US air raid on the province last month killed AQAP emir Abu Khattab al-Awlaqi, according to the Pentagon. The United States has intensified its air attacks on suspected AQAP sites in Yemen since President Donald Trump took office in January.
Full report at:
http://nation.com.pk/international/17-Jul-2017/yemen-troops-killed-in-suspected-qaeda-attack
--------
Israel reopens sensitive holy site, but Muslims refuse to enter
July 17, 2017
JERUSALEM - Israel reopened an ultra-sensitive holy site Sunday closed after an attack that killed two policemen, but Muslim worshippers were refusing to enter due to new security measures including metal detectors and cameras.
Crowds chanted "Allahu Akbar" (God is Greatest) as a number of initial visitors entered Jerusalem's Haram al-Sharif compound, known to Jews as the Temple Mount.
The flashpoint holy site includes the Al-Aqsa mosque and the Dome of the Rock. A call to prayer rang out from Al-Aqsa, but Muslim worshippers held midday prayers outside the site in protest at the new security measures.
Dozens of worshippers gathered to pray at an entrance to the compound next to the Lions' Gate entry to the Old City. "We reject the changes imposed by the Israeli government," Sheikh Omar Kiswani, Al-Aqsa director, told reporters outside. "We will not enter through these metal detectors."
Some women wailed and cried while telling people not to enter. Three Arab Israeli assailants opened fire on Israeli police Friday in Jerusalem's Old City before fleeing to the compound, where they were shot dead by security forces.
Israeli authorities said the gunmen had come from the flashpoint holy site to carry out the attack. Israel took the highly unusual decision of closing the Al-Aqsa mosque compound for Friday prayers, triggering anger from Muslims and Jordan, the holy site's custodian.
The site remained closed on Saturday, while parts of Jerusalem's Old City were also under lockdown. Israeli authorities said the closure was necessary to carry out security checks and announced they would reopen the compound Sunday.
Police said Sunday that so far two gates leading to the holy site had been opened, equipped with metal detectors, adding that more than 200 people had entered.
Israeli Prime Minister Benjamin Netanyahu spoke of the security measures late Saturday before departing for a trip to Paris. "This evening I held a discussion with the top security leadership and I instructed that metal detectors be placed at the entrance gates to the Temple Mount," he said. "We will also install security cameras on poles outside the Temple Mount but which give almost complete control over what goes on there."
ISRAELI FORCES SHOOT PALESTINIAN DEAD
Israeli soldiers and police on an arrest mission in the town of Nabi Salah in the occupied West Bank shot dead a Palestinian who attempted to open fire at them early Sunday, the army said.
"The forces encountered the suspect, who attempted to open fire at them," a statement from the Israeli army read. "In response to the immediate threat forces fired towards the attacker resulting in his death."
Palestinian security forces and family identified the suspect as 34-year-old Amar Tirawi from Kafr Ein, a town near Nabi Salah in the central West Bank. Officials had earlier given another name for the suspect. Another Palestinian suspect was lightly wounded and arrested, the statement from the military read.
On Saturday, a gunman targeted a vehicle near an Israeli settlement north of Ramallah and wounded a foreign national of Palestinian descent who is residing in a Palestinian village.
In a separate incident, gunshots hit a military post near Nabi Salah. The army said Tirawi was behind both incidents. Israel's Shin Bet internal security agency named Tirawi as Amar Halil and said he had carried out the shootings along with his fiancee Rawan Ambar due to their families' refusal to accept their engagement.
According to the Shin Bet, Tirawi was a former member of the Palestinian preventive security who became an arms trader. Tirawi's fiancee had turned herself in to Palestinian security forces, the Shin Bet said, confirming to AFP she was in their custody since late Saturday, hours before the fatal raid.
Full report at:
http://nation.com.pk/international/17-Jul-2017/israel-reopens-sensitive-holy-site-but-muslims-refuse-to-enter
--------
Iranian president's brother arrested for financial violations
July 17, 2017
The younger brother of Iranian President Hassan Rouhani, Hossein Fereydoun, has been arrested on financial crime charges, deputy judiciary chief of Iran Gholamhossein Mohseni Ejeie said in a televised press conference on Sunday.
"Multiple investigations have been conducted regarding this person; other people have [also] been investigated, some of whom are in jail," Ejeie said.
"Yesterday, bail was issued for him but because he failed to secure it he was referred to prison," Ejeie said, adding that he would be released if he secures bail, pending trial.
News of Fereydoun's arrest comes a year after the head of the General Inspection Organisation, Naser Seraj, accused him of financial violations.
Full report at:
http://nation.com.pk/international/16-Jul-2017/iranian-president-s-brother-arrested-for-financial-violations
--------
Iran says jails US dual national for 10 years for spying
July 17, 2017
An Iranian court has sentenced US dual national to 10 years in jail on spying charges, Iran's Judiciary spokesman said on Sunday, the latest case of dual nationals held on security charges in the country.
The spokesman did not name the person or give details on when the sentence was passed but said the person was a citizen of the United States and an unnamed country other than Iran.
"This person, who was gathering information and was directly guided by America, was sentenced to 10 years in prison, but the sentence can be appealed," spokesman Gholamhossein Mohseni Ejei said on state television.
It was not immediately clear whether Mohseni Ejei was referring to Nizar Zakka, a Lebanese citizen with permanent US residency, who has been sentenced to 10 years in prison and a $4.2 million fine after he was found guilty of collaborating against the state, according to his US-based lawyer who spoke to reporters in September.
Full report at:
http://nation.com.pk/international/16-Jul-2017/iran-says-jails-us-dual-national-for-10-years-for-spying
--------
Israeli forces shoot Palestinian gunman dead during arrest
16 July 2017
Israeli soldiers and police on an arrest mission in West Bank town Nabi Salah shot dead a Palestinian who attempted to open fire at them early Sunday, the army said.
"The forces encountered the suspect, who attempted to open fire at them," a statement from the Israeli army read.
"In response to the immediate threat forces fired towards the attacker resulting in his death."
The Palestinian, identified by Israeli police as 34-year-old Amar Halil from Nabi Salah, was believed to have shot at Israelis in the West Bank in two separate incidents on Saturday, the army said.
Another Palestinian suspect was lightly wounded and arrested, the statement from the military read.
A wave of unrest that broke out in October 2015 has claimed the lives of at least 282 Palestinians or Arab Israelis, 44 Israelis, two Americans, two Jordanians, an Eritrean, a Sudanese and a Briton, according to an AFP toll.
Israeli authorities say most of the Palestinians killed were carrying out knife, gun or car-ramming attacks.
Others were shot dead in protests and clashes, while some were killed in Israeli air strikes on the Gaza Strip.
Full report at:
https://english.alarabiya.net/en/News/middle-east/2017/07/16/Jaysh-al-Islam-rebel-group-agrees-to-dissolve-itself-to-form-national-army.html
--------
Pakistan
Army launches Operation Khyber-4 in Rajgal Valley
July 16, 2017
Director General (DG) Inter-Services Public Relations (ISPR) Maj Gen Asif Ghafoor on Sunday announced the launch of Operation Khyber-4 under Radd-ul-Fasaad (RuF) to "wipe out terrorists" in the Rajgal Valley area of Khyber Agency.
"An operation to wipe out terrorists has been launched in Rajgal valley in Khyber Agency," Maj Gen Ghafoor said.
Khyber 4 seeks to target terrorist hideouts in what the DG ISPR called "the most critical area in the Federally Administered Tribal Areas (Fata)".
There is no timeline for the operation as yet, Ghafoor said in response to a question.
The army had informed Afghan forces ahead of the launch of the Khyber-4 operation in Rajgal, he said, which the Afghan army would be able to support on their side of the border if they wished.
"No other force will have boots on the ground in our country. All operations are conducted by Pakistani security forces," he asserted.
The army's spokesman observed that reports of a joint border operation with Afghan forces had surfaced during a visit made by a top-level United States Congressional delegation.
Clarifying the reports, Ghafoor said, "The true meaning of this [joint operation] is when both forces conduct operations at the same time. There is a coordinated and complementary operation on their respective sides of the border."
Information would be shared with Kabul if the Afghan leadership wished to conduct supporting operations and coordination in this regard is ongoing, he elaborated.
'No direct army involvement in JIT'
Maj Gen Asif Ghafoor, in response to queries about speculation regarding the army's involvement in the Supreme Court-sanctioned joint investigation team (JIT) probing the Sharif family's wealth in the Panamagate case, said there is "no direct army involvement".
"Every person has freedom of opinion," the DG ISPR said. People who believe that the army is doing its best for the country are not part of a campaign to discredit the institution on social media, he said, adding that those who believe otherwise "are under foreign influence".
"The JIT was made by the Supreme Court. Two of its members belong to the Inter-Services Intelligence and Military Intelligence. It is a subjudice case, and it will go to court."
"There is no direct army involvement in the JIT," he asserted, adding that the "Pakistan Army will continue playing its role for the security of Pakistan with other institutions."
"Political talk is in the political domain."
Fencing of Afghan border
"Under Operation RuF, we will strengthen our border. We will be able to check cross-border movement of terrorists, and our coordination with Afghanistan in this regard is ongoing," he said, as is the fencing of the border which is in its first phase.
"The shared border with Afghanistan and Iran are being fenced," Ghafoor said.
It will be physically and technically monitored, with either forts or a checkpost every 1.5 kilometres, he said. Alongside the border fencing, Pakistan and Afghanistan will maintain an open-door policy for cooperation and discussion on bilateral issues, particularly in order to remove what he said was "a trust deficit" on the Afghan side.
"If the Afghan army were as capable as the Pakistan Army, then maybe the issue [of terrorism] would be resolved sooner," Ghafoor said.
"No one wants peace in Afghanistan more than Pakistan," the DG ISPR said, adding, "We need to bring peace in our country first."
Daesh presence in Pakistan
Maj Gen Asif Ghafoor rejected claims that Daesh ─ or the militant Islamic State (IS) group ─ has any organised infrastructure in Pakistan.
"We will not allow them to establish themselves. In Afghanistan, yes, it is getting stronger, but we don't believe it is the same as the Daesh in the Middle East," he elaborated.
"In Pakistan, the Jamaat-ul-Ahrar has shown an alliance with Daesh ... Daesh as an organisation does not exist, but if splinter groups of the Tehreek-i-Taliban Pakistan and other terror groups try to jump on the Daesh bandwagon, we are already taking care of them through other means, like in the Khyber-4 operation," he said.
LoC violations
The situation along the Line of Control (LoC) has been "especially tense", Ghafoor said, with 580 ceasefire violations in this year alone.
There were 382 in 2016, 248 in 2015 and 315 in 2014, he said.
Current ceasefire violations have resulted in the highest number of civilian casualties than in the past, the DG ISPR said.
The LoC violations appeared to be spurred by the heated political struggle for freedom in India-held Kashmir, Ghafoor said, adding that the intensification of cross-border firing, particularly in Azad Jammu and Kashmir, showed that India is "scared" and trying to divert attention away from the Kashmir struggle.
"India targets civilians in ceasefire violations," Ghafoor said. "The Pakistan Army doesn't think this is a good method. We fire towards bunkers where we think the firing is coming from. We try to keep civilian casualties to a minimum," he added.
When questioned about the case of convicted Indian spy Kulbhushan Jadhav, the DG ISPR said that the Research and Analysis Wing agent's mercy appeal is pending before the Chief of Army Staff (COAS) Gen Qamar Jawed Bajwa.
"All evidence and case proceedings are being examined by the army chief, and he will make a decision on the basis of merit and justice," he said.
Terrorism in Pakistan
Incidents of terrorism in Pakistan have shown a drop over the three-year period from 2014-2017, he said.
Since the launch of Operation RuF, the army has launched 46 major operations in the country and over 9,000 intelligence-based operations (IBOs).
About 1,760 joint checkposts have been established in coordination with police and other law enforcement agencies.
Balochistan
13 major operations
There has been a decreasing trend in sectarian attacks, the DG ISPR said. In 2013, there were 201 sectarian attacks, which have now fallen to "only two sectarian attacks" this year.
Law enforcement personnel and 'soft targets' have become the new targets for militants, he added.
Sindh
In Sindh, 522 terrorists have "willingly surrendered" under RuF, he said, adding that 15 terrorists had been killed in operations in the province.
Terror incidents: 98pc decrease
Target killing: 97pc reduction
Extortion: 96pc reduction
Kidnapping: 96pc reduction
"In the coming days, we are hopeful the Karachi situation will see more improvement," Ghafoor said.
Karachi has other issues, however, like water, the DG ISPR explained.
Punjab
There have been six major operations conducted in the province with coordination with the police and Counter-Terrorism Department.
Over 7,000 IBOs have been conducted, and 22 terrorists killed in these operations, the DG ISPR said.
KP
There have been 27 major operations in Khyber Pakhtunkhwa, and 817 IBOs, Maj Gen Asif Ghafoor said.
There is no way to tell what the exact number of terrorists or terror groups in the country is, the DG ISPR said in response to a question.
"That's why this war is difficult. It is not written on anyone's face whether they are a terrorist, a facilitator or an abettor. However, we have to a large extent identified and targeted them. We are working brick by brick to bring normalcy back to Pakistan with the support and in support of other institutions," he elaborated.
CPEC security
Terming the China-Pakistan Economic Corridor (CPEC) as "very critical for the progress of Pakistan", the DG ISPR said the armed forces would "give it complete security and will not let it fail at any cost".
"The entire country, the state's institutions, are all one on CPEC," he assured.
Army chief's message
The DG ISPR read out a message from Chief of Army Staff Gen Qamar Jawed Bajwa during the press conference: "We are building peace in our country brick by brick and moving from relative stability towards enduring peace. For this, the army should continue to perform its role with support of all other state institutions."
https://www.dawn.com/news/1345690/army-launches-operation-khyber-4-in-rajgal-valley
--------
Four terrorists killed in Balochistan as FC foils attack: ISPR
Naveed Siddiqui
July 16, 2017
Four suspected terrorists were killed during an exchange of fire with the Frontier Constabulary (FC) troops late Saturday night after they attacked a post in Zhob, Balochistan, according to the Inter-Services Public Relations (ISPR).
The terrorists fired rockets and used machine guns during the attack on Shoaib Nikka post in the Qamar din Kerez area of Zhob, said the army's media wing. The FC troops, however, foiled the attack, killing four terrorists, said ISPR.
Balochistan has faced a number of security challenges in recent months, with security personnel in the province often being targeted in roadside explosions. Recently, police and security forces launched a crackdown in Quetta and adjoining areas, arresting 98 suspects after the target-killing spree that claimed five lives over a 24-hour period.
Earlier on Saturday, Chairman Joint Chiefs of Staff Committee Gen Zubair Mahmood Hayat said that Pakistan knew that Indian intelligence agency RAW was operating from Afghanistan to create unrest in Balochistan and other parts of the country.
Full report at:
https://www.dawn.com/news/1345697/four-terrorists-killed-in-balochistan-as-fc-foils-attack-ispr
--------
Border attack from Pakistan kills 2 Iranians
July 17, 2017
TEHRAN - Two Iranian civilians were killed in a cross-border attack by Pakistani insurgents, the Revolutionary Guards said.
"On Saturday evening, a terrorist team... fired (ammunition) from within Pakistani territory toward the Iranian border region of Saravan" in Sistan-Baluchistan province, the Guards said in a statement on their Sepahnews website.
"Two local workers in the region were martyred in this terrorist attack," it added.
Forces from the Quds force - the Guards' foreign operations wing - killed one of the attackers and wounded two, while others fled back into Pakistani territory, the statement said.
The insurgent group was not identified, but for years the region has been the site of frequent attacks by the Jaish al-Adl jihadist group, which Tehran says has links to Al-Qaeda and is based in the restive Pakistani province of Balochistan.
Jaish al-Adl was blamed for an attack in April that killed 10 Iranian border guards in the nearby Mirjaveh region.
President Hassan Rouhani wrote to Pakistan Prime Minister Nawaz Sharif calling for greater efforts to prevent insurgent attacks along the border.
Full report at:
http://nation.com.pk/national/17-Jul-2017/border-attack-from-pakistan-kills-2-iranians
--------
Ministry launches SMS service to prevent Haj fraud
July 17, 2017
ISLAMABAD - Federal Ministry of Religious Affairs and Interfaith Harmony has launched a Short Message Service (SMS) 8331 to help preventing private Haj scheme pilgrims from any swindling or fraud.
According to an official, the main aim of starting SMS service was to help preventing pilgrims from any deception, besides saving them from fictitious companies.
Elaborating about details of sending message to 8331, he said an intending pilgrim, desiring to perform the sacred religious ceremony through Haj Group Organiser (HGO) should send the first four digits of his HGO's enrolment number from his mobile phone to 8331 to check its authenticity.
The pilgrim would promptly receive a reply, containing details about the enrolment status of HGO, name of its chief executive, its allotted quota and address.
Furthermore, quota status of HGO could also be confirmed from Ministry's relevant department by contacting the Ministry on phone no 051-9207519; 051-9205212; 051-9205427.
The Ministry has warned the intending pilgrims to avoid inking agreement with any HGO or travel agent without checking its enrolment status of allotted Haj quota, he added.
Meanwhile, Ministry of Religious Affairs and Interfaith Harmony has urged intending pilgrims to ensure administering vaccines before leaving for Haj to prevent themselves from deadly infectious diseases.
An official of the Ministry asked intending pilgrims to carry medication certificates of administering polio, flu vaccines, etc atleast 10 days before departing to Saudi Arabia.
He asked intending pilgrims to get informative booklets "Rahnamai Haj" and "Haj Information Kit" from their respective Haji Camps. The pilgrims could also download mobile application to get important information about Haj.
Reminding pilgrims about importance of consulting their doctors before travelling to ensure their stable condition during Haj, he asked people with chronic conditions to carry sufficient doses of their medication with them during their pilgrimage to avoid any problems.
In a related development, an updated electronic monitoring system has been launched by the Ministry of Religious Affairs and Interfaith Harmony for instantly resolving complaints of Hujjaj during Haj days.
According to official sources, the system has been updated in collaboration with Punjab Infrastructure Technology Board (PITB) for Haj 2017.
The system is a comprehensive portal that comes with a variety of value-added features, all designed to cater to specific needs of the pilgrims.
The first feature is a helpline accessible both online and through an Android application named `Pak Haj Moavin'.
It allows users to register queries, complaints and suggestions in an effective manner. An SMS service has been developed to disseminate important information. Complaints may also be registered via an on-line complaint registration portal.
The system has an in-built mechanism that transfers unresolved complaints to the next tier of management, who can then take appropriate measures.
A daily situation report is generated for the information of senior management, the sources claimed.
The system was launched for the first time in 2013. Hundreds of inquiries and complaints were registered using the forum and were addressed in a satisfactory manner.
The mechanisms for monitoring and supervision Haj operations in Pakistan and Saudi Arabia would strengthen and help review the performance of the government and Haj Group Organiser (HGO) schemes, in accordance with contractual obligations and Saudi Arabian Taleemat.
In addition, pro forma based feedback, introduced last year, will be obtained from pilgrims of both government and private Haj schemes at the time of their return to Pakistan.
Further, the Haj Group Organisers-Management Information System (HGO-MIS) system would be updated and strengthened and more modules will be added in it on the basis of experience gained in Haj 2016.
Meanwhile, Director General of Haj Dr Sajid Yousaf in Jeddah said on Sunday that this year 179,210 Pakistani pilgrims will perform Haj.
The government Haj scheme includes 107,526 Hujjaj, while the rest would perform hajj through private Haj operators, said a Press release.
In order to provide greater opportunities to the people who have not performed this sacred duty, Government of Pakistan has announced that the person who has performed Haj in last seven years will not be eligible to Haj 2017.
He said that the Haj mission has made best possible arrangements with maximum facilitation of Hujjaj.
Previously the hajis used to get delayed at the airport due to the procedures of luggage clearance.
This year, the Haj mission has made special arrangements in collaboration with Maktab Al Wokala, for express clearance of the Hujjaj luggage at the Jeddah and Madina airports so that they reach their destination in time.
In order to provide better transportation services, companies having modern buses have been hired for Hajis to make their journey safe and comfortable.
In Madina, all the accommodation is hired in Markazia, which makes the Masjid-e-Nabawi within walking distance for all the Hujjaj.
In Makkah the accommodation has been hired in Aziziya and BthaQuraish, within the rates of accommodation approved by the government.
The transport will be available at the buildings, round the clock, to facilitate the Hajis to go to Haram.
The Haj mission has hired a number of kitchens in Makkah and Madina for provision of three time meals daily to the Hajis. The meals will be available to the Hajis in their building as well as at Arafat, Mina and Muzdalifah.
Full report at:
http://nation.com.pk/national/17-Jul-2017/ministry-launches-sms-service-to-prevent-haj-fraud
--------
Army launches operation in tribal areas targeting ISIS
July 16, 2017
Pakistan Army has launched a major operation in its volatile tribal areas to stop the Islamic State making inroads into areas bordering Afghanistan, the military's spokesman said on Sunday.
Military spokesman Lieutenant General Asif Ghafoor said Islamic State - also known as Daesh - was growing in strength inside Afghanistan, prompting Pakistan to launch an operation in Federally Administered Tribal Areas (Fata).
"This operation was necessary because Daesh is getting established there and we have to stop the influence of Daesh spreading into Pakistani territory through the Rajgal valley," Ghafoor said, referring to a valley surrounded by mountains reaching up to 14,000 feet.
He said that the "Khyber 4" operation, which would include the Pakistan Air Force, would focus on the border areas inside the Khyber Agency area, which is part of Fata.
Ghafoor said across the Khyber border there are safe havens for multiple "terrorist" organisations that are linked to recent attacks in Pakistan, including the Parachinar assault.
Northwestern Pakistan's ethnic Pashtun lands are awash with weapons and the area remains the most volatile region in the country despite the military's success in driving out many Al-Qaeda and Pakistani Taliban militants.
Fighting has subsided in Fata in recent years and many internally displaced people have been sent back to villages reduced to rubble due to military operations against the Islamists over the past 15 years.
"Once this operation is completed, we will first secure the international border on our side and eliminate the hideouts of various terrorist groups," Ghafoor added.
Islamic State has had more success in neighbouring Afghanistan, where it controls small chunks of land, but has also faced tough resistance from the US-backed government in Kabul and local Afghan Taliban militants.
Pakistan is seeking support from Afghanistan to control the border but Ghafoor made it clear that it will not allow "foreign boots on the ground" in its territory.
Full report at:
http://nation.com.pk/national/16-Jul-2017/dg-ispr-to-brief-about-developments-in-operation-radd-ul-fasaad-today
--------
North America
Pentagon: Leader of Afghan ISIS branch killed in US raid
15 July 2017
US forces killed the leader of the ISIS' Afghanistan branch in a raid earlier this week in the northeastern province of Kunar, the Pentagon said Friday.
"US forces killed Abu Sayed, the emir of Islamic State of Iraq and Syria -- Khorasan Province (ISIS-K) -- in a strike on the group's headquarters in Kunar Province, Afghanistan, July 11," Pentagon spokeswoman Dana White said in a statement.
"The raid also killed other ISIS-K members and will significantly disrupt the terror group's plans to expand its presence in Afghanistan."
First emerging in 2015, ISIS-K overran large parts of Nangarhar and Kunar provinces, near the Pakistan border, but their part in the Afghan conflict had been largely overshadowed by the operations against the Taliban.
Afghan and US forces had killed Abu Sayed's two predecessors atop the group's Afghan branch -- Hafiz Saeed in July 2016 and Abdul Hasib in late April of this year, the Pentagon said.
Hasib and other top militant commanders were killed in a joint raid by US Army Rangers and Afghan special forces.
At the time, the US military had said Hasib's death would "help reach our goal of destroying them in 2017."
The compound used by Hasib in Nangarhar province was not far from the spot where on April 13, the US military dropped the largest non-nuclear bomb it has ever used in combat, hitting ISIS positions.
The deployment of the so-called Mother Of All Bombs (MOAB) killed at least 95 jihadists, according to the Afghan defense ministry, but fighting in the area has continued.
https://english.alarabiya.net/en/News/world/2017/07/15/Pentagon-Leader-of-Afghan-ISIS-branch-killed-in-US-raid.html
--------
49 voters to decide fate of Muslim cemetery in Canada
16 July 2017
Whether the Quebec City region will get its first cemetery owned and operated by Muslims will be decided Sunday by 49 people in a referendum.
The land for the cemetery was purchased in February and the project was approved May 1 by the municipal council in the small town of Saint-Apollinaire that has a population of just 6,000 residents.
But an objection was raised and 17 people signed a petition to hold a referendum on the issue. The referendum meant the 49, who would become neighbors of the proposed cemetery, must approve it by a simple majority in Sunday's vote, Canadian media reported.
The initiative began last October by the Centre Culturel Islamique de Québec. But the project gained momentum after six Muslims were killed in January while at prayer in a Quebec City mosque and it was realized the closest Muslim cemetery was 250 kilometers (155 miles) away, north of Montreal.
Sunny Letourneau, head of the group opposing the project, wants the land to become a multi-confessional cemetery – for all faiths – with separate plots for Islamic burials, Canadian media reported.
But a spokesperson for the Centre Culturel Islamique de Québec, said the organization wanted the security that comes with owning the land.
"When you have land like that you own, families have a plot for eternity, Mohamed Kesri told the Canadian Press.
A cemetery in Quebec City was inaugurated July 9, with more than 500 plots set aside in an existing cemetery for Muslims.
Full report at:
http://www.worldbulletin.net/america-canada/191898/trump-losing-public-support
--------
Europe
Macron chides Netanyahu on settlements, urges new Mideast talks
July 17, 2017
PARIS - French President Emmanuel Macron told Israel's visiting Prime Minister Benjamin Netanyahu on Sunday that Paris opposes Israel's expansion of settlements in occupied Palestinian territory as he urged fresh Middle East peace talks.
Stressing that international law should be "respected by all", Macron said: "I am thinking here of (Israel's) continued building" in occupied Palestinian territory. Israelis and Palestinians should be able "to live side by side within secure and recognised borders with Jerusalem as the capital", Macron said after his first official talks with Netanyahu. "I hope everything will be done for negotiations to move forward," he said.
Talks between Israel and the Palestinians have been at a standstill since the failure of US mediation in the spring of 2014. Macron, elected in May, appears to be following the proactive line taken by his Socialist predecessor Francois Hollande, whose efforts to mobilise the international community on the peace process angered Israel.
The French leader met Palestinian leader Mahmud Abbas on Wednesday, when he said he backed a two-state solution and opposed Israeli settlements.
"France has always condemned the continuation of settlement building, which is illegal under international law and has reached an unprecedented level since the beginning of the year," he said in his first public remarks on the conflict since taking office. The United Nations reported in June that Israel had announced a substantial increase in settlements in the past three months despite a UN resolution demanding a halt to the Jewish outposts. Earlier Sunday, Macron and Netanyahu underscored their two countries' longstanding friendship as they marked the 75th anniversary of a notorious 1942 roundup of 13,000 Jews to be sent to Nazi death camps. Netanyahu was the first Israeli prime minister to attend a Vel d'Hiv commemoration, and he said the invitation was a "very, very strong gesture".
Macron addressed Netanyahu as "dear Bibi" and called "anti-Zionism" a new form of anti-Semitism. Netanyahu's presence at the event drew fire from some groups, notably the Union of French Jews for Peace, which accused the Israeli government of "usurping the memory of the victims of Nazism to make people believe that Israel represents all the world's Jews".
During their talks afterwards, Macron assured Netanyahu of his "vigilance" regarding the 2015 nuclear accord reached by Western powers with Israel's arch-enemy Iran. Netanyahu was a vocal opponent of the deal, which saw sanctions against Iran eased in return for curbs on its nuclear programme.
The French presidency said Sunday's meeting would be an occasion to "signal our lack of complacency towards Iran". Since taking office, Macron has drawn praise for his balanced but firm handling of encounters with world leaders such as US President Donald Trump and his Russian opposite number Vladimir Putin.
Macron rolled out the red carpet for Trump on Friday when he was guest of honour for France's Bastille Day festivities. The French leader criticised Trump over his renunciation of the Paris climate accord, but he stressed their close cooperation against the Islamic State group in Syria and Iraq.
Similarly with Putin, whom Macron hosted at the sumptuous Versailles palace in May, the French leader stood firm on French opposition to Russia's annexation of Ukraine in 2014.
Full report at:
http://nation.com.pk/international/17-Jul-2017/macron-chides-netanyahu-on-settlements-urges-new-mideast-talks
--------
Merkel urges talks to resolve airbase row with Turkey
17 July 2017
Chancellor Angela Merkel has urged talks to resolve ongoing disputes with Turkey on German lawmakers' visits to troops stationed in Turkey as part of NATO missions.
In an interview with public television ARD on Sunday, Merkel said current disputes between Berlin and Ankara should be resolved through bilateral talks, and talks among the allies at NATO.
"In terms of Konya, this is more about a NATO mission, for which Germany is providing significant contribution. Therefore, not only the German government, but also NATO would have talks with Turkey," said Merkel.
On Friday, Ankara postponed a planned visit by a group of German lawmakers to NATO base in central Konya province, saying that such a visit was not politically appropriate at this point in time.
NATO's mission in Konya provides intelligence support for international coalition fighting Daesh and around 20 German soldiers are stationed at the base.
Several German politicians called for withdrawing German soldiers from Konya airbase, due to Ankara's reluctance to give permission to such visits. However, Merkel declined to take hasty decisions and opted to wait for the result of talks with Turkey.
Germany's opposition lawmakers are pushing the government ahead of general elections in September to urge Turkey to give them unrestricted right to visit the troops in the country.
Full report at:
http://www.worldbulletin.net/europe/191917/merkel-urges-talks-to-resolve-airbase-row-with-turkey
--------
Africa
Thousands take to streets to protest Mauritania referendum
16 July 2017
Several thousand Mauritanians took to the streets on Saturday to protest a controversial constitutional referendum due on August 5, according to AFP journalists at the demonstration organized by an opposition coalition.
The "No" coalition is drawn from a broad political spectrum including Islamists and anti-slavery activists in the conservative west African nation, all of whom oppose measures including abolishing the senate and changing the national flag.
Saturday's march was followed by a rally where speakers denounced President Mohamed Ould Abdel Aziz for what was termed a "coup d'etat against the constitution."
Jemil Ould Mansour, head of the Islamic Tewassoul party spearheading the movement against the vote, described the protest's turnout as "giving the result in advance," calling it "a clear message to the regime to put an end to this useless venture."
Senators rejected the abolition of their own chamber in March, apparently to the government's surprise as a majority are from the ruling party, prompting Aziz to call the referendum.
But the opposition fears that despite Aziz's claims to the contrary he is laying the groundwork for a third term in power, with his own prime minister saying recently he supported the idea.
The march was the first action by the new "active boycott" movement, which has vowed to oppose the vote at every step.
https://english.alarabiya.net/en/News/north-africa/2017/07/16/Thousands-take-to-streets-to-protest-Mauritania-referendum.html
--------
Three soldiers killed in Ivory Coast barrack shooting
5 July 2017
Three soldiers died after shooting erupted overnight at a base in the West African state of Ivory Coast, which has been gripped by tensions within the military, security sources said Saturday.
"There are three dead soldiers," an officer told AFP separately, without giving further details.
A source at the local morgue said three bodies in military fatigues and with gunshot wounds had been taken to the facility.
In a separate incident, shooting was heard from a former UN base near Abidjan, lasting from about 1.30 am to after 3:00 am, a local resident in the nearby district of Abobo said.
"We were all very scared. We don't know what's going on," another resident said. Calm returned on Saturday morning.
The incident takes place against a backdrop of months-long tensions within the country's armed forces.
The former French colony suffered a decade-long civil war, splitting the country in two.
Thousands of rebels were then incorporated into the army after President Laurent Gbagbo was ousted in 2011 by Alassane Ouattara.
But a string of revolts erupted from January to May this year after they mutinied to press demands for a promised bonus. They eventually received a payoff of 12,000 CFA francs (18,000 euros) per head from the state.
There are also 6,000 "demobilised" rebels who have not been integrated into the military, and are also demanding a bonus.
Four of them were shot dead in May when security forces intervened to disperse a protest.
And on Tuesday, two former rebel leaders who obstructed a road in the central city of Bouake were jailed.
The government last year unveiled plans to modernise the 22,000-man military, part of which would involve the departure of several thousand men, particularly ex-rebels.
Full report at:
http://www.worldbulletin.net/africa/191872/three-soldiers-killed-in-ivory-coast-barrack-shooting
--------
URL: https://www.newageislam.com/islamic-world-news/mahathir-saudis-suitable-partner-fight/d/111840
New Age Islam, Islam Online, Islamic Website, African Muslim News, Arab World News, South Asia News, Indian Muslim News, World Muslim News, Women in Islam, Islamic Feminism, Arab Women, Women In Arab, Islamophobia in America, Muslim Women in West, Islam Women and Feminism