New Age Islam News Bureau
23 May 2022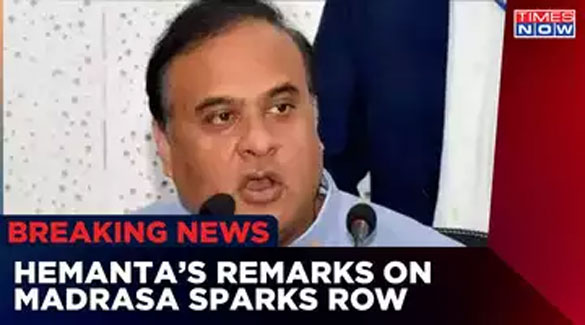 • Male Afghan Anchors Wear Black Masks to Protest the Restrictions on Their Female Colleagues
• Ulama Summit Recommends Review Of Fatwa Discouraging Muslims from Visiting Al-Aqsa
• Scotland Yard Arrests Two More Teenagers, Including a Girl, In Islamist Extremism Probe
• Tunisia's Ennahda Decries Exclusion of Parties from Drafting New Constitution
India
• Home of Five Muslim Families Demolished in India's Assam Allegedly Involved in Setting Fire to a Police Station in Assam
• At RSS Event, Yogi Adityanath Lists Highlights: No Eid Namaz on Road, Loudspeakers
• Gyanvapi Mosque issue: CPM disappointed with Supreme Court stand
• Hindu side cites 1936 British stand to bolster Gyanvapi claim
• Two 'hybrid' terrorist of LeT arrested in Srinagar
• No terror case against SIMI when I was with it: Khalid's dad
--------
South Asia
• Taliban Leader, Stanikzai: Women Should Be Provided With Their Rights Based On Afghan Culture, Islamic Values
• Taliban Chief Bans Polygamy, Calls It 'Unnecessary And An Expensive Affair'
• Taliban's 'atrocious' regime root cause of food scarcity in Afghanistan
• Food Inflation; a Sack of Flour Costs 2,800 Afghanis in Kabul
--------
Southeast Asia
• Thai Ruling Undermines Muslims' Trust in Judicial System
• Tens of millions in foundation belong to me, says Zahid
• 25 more waiting for diplomatic posts, says Saifuddin
• Weaker ringgit shows world losing confidence in Malaysia, says Anwar
• Malaysian Army Veterans Warned Of Stern Action over Unsanctioned Rally
--------
Europe
• Turkey's Erdogan urges Sweden, Finland to end support to 'terror' groups
• Israel bans member of European Parliament from visiting Palestine
• PKK/YPG terror group holds demonstration in Swedish capital
• Turkiye expects Sweden to take tangible steps against terror groups: President Erdogan
--------
Africa
• 30 terrorists, 5 soldiers killed in Burkina Faso clash
• Blasphemy: National mosque Imam, Maqari should not be sacked – Shehu Sani on Wole Soyinka's call
• Sudanese security forces kill one protester in Omdurman: Medics
• Tunisian parties vow to fight President Saied's 'autocratic rule'
• Ethiopian regional authority arrests four staff members of media group
• Algeria denies mediation to restore ties with Morocco
--------
North America
• Many Afghan Soldiers Fled to Pakistan after Kabul's fall, Says US Report
• Turkiye summons US envoy over embassy's Istanbul rally alert
• Turkiye advises citizens living in US to avoid gatherings
• Turkish Americans hold parade, festival in New York City
--------
Pakistan
• Senior Journalists Booked In Sedition Cases for Allegedly Criticising State Institutions
• Imran Khan owes apology not just to Maryam but to all women: Pak rights group
• Pakistan's ex-PM Imran Khan calls for march to Islamabad on May 25; seeks fresh elections
• Shehbaz Sharif govt wary of tough decisions to stabilise economy ahead of polls
• Imran out to start civil war: PM Shehbaz
• Pakistan: No-confidence motion against Punjab Assembly Speaker dismissed
--------
Arab World
• Houthi Top Official Says Group Not Against Extending Truce In Yemen
• Four killed in attempt to smuggle drugs from Syria: Jordan's armed forces
• Russia: Time to stop aid from Turkey to Syrian rebels
• Six killed in Iraq drone strikes blamed on Turkey
• Syria says 3 soldiers killed in Israeli missile attack
• UN envoy praises 'potential' of Syria prisoner amnesty
--------
Mideast
• Palestinians Slam US Removal of Radical Jewish Group from Terror Blacklist
• Hamas Chief Warns Israel against Jerusalem Flag March
• Over 120 extremist Jewish settlers defile Aqsa Mosque
• Iranian Foreign Ministry Condemns Assassination of IRGC Member by Terrorists
• IRGC Spokesman: Iran Not to Tolerate Israeli Bases in Region
• Israeli govt and court at odds over Jewish prayer at flashpoint shrine
• Israeli court sentences six Palestinian jailbreakers to five years
• Thousands protest Turkish opposition politician's conviction for insulting Erdogan
Compiled by New Age Islam News Bureau
URL: https://newageislam.com/islamic-world-news/madrasas-quran-muslim-children-hindu/d/127073
--------
Madrasas Should Cease To Exist, Quran Should Be Taught At Home, If Muslim Children Are Smart It Is Because Of Their "Hindu Past": Assam CM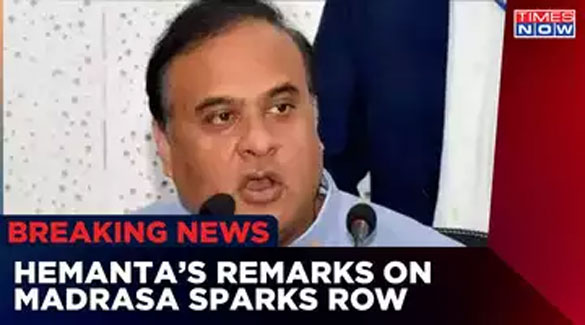 May 23, 2022
Assam (a state of India) chief minister Himanta Biswa Sarma has once again stoked a controversy by saying 'madrasas' (Muslims religious schools) should cease to exist and that Quran should be taught at home only.
He also opined that no one is a born Muslim in India and that if Muslim children are smart, it is because of their "Hindu past".
While addressing a gathering in Delhi, Sarma said children will not be able to think of becoming doctors and engineers till the word 'madrasa' exists.
"If you tell them that they will not become doctors or engineers if they study in madrasas, they themselves will refuse to go. Teach the Quran to your children, but at home. Admitting children in madrasas is a violation of their human rights," he pointed out.
The Assam CM said there should be stress on teaching science, maths, biology, botany, and zoology to all children but they should study to become doctors, engineers, professors and scientists.
Replying to a question that students in madrasas are extremely talented, they can memorise every word of the Quran easily, Sarma said, "All Muslims were Hindus. No one was born a Muslim (in India). Everyone was a Hindu in India. So, if a Muslim child is extremely meritorious, I will give partial credit to his Hindu past."
In 2020, the Assam government decided to dissolve all government-run madrassas and convert them into general educational institutions to facilitate a secular education system.
Source: ABNA24
Please click the following URL to read the text of the original story:
https://en.abna24.com/news//hindu-chief-minister-muslim-schools-should-cease-to-exist-quran-should-be-taught-at-home-all-muslims-were-hindus_1259946.html
--------
Male Afghan Anchors Wear Black Masks to Protest the Restrictions on Their Female Colleagues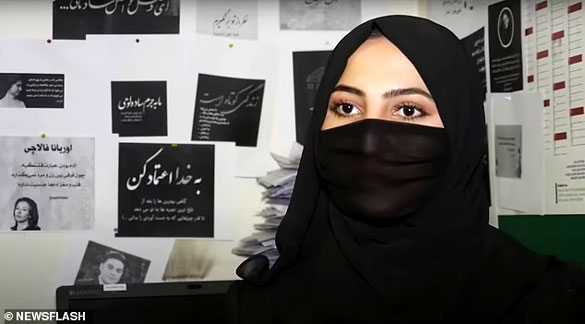 Male employees are at risk of being suspended if their spouses or daughters do not comply. Photo: Daily Mail UK
------
By Saqalain Eqbal
23 May 2022
Male presenters in the visual media protested after the restrictions were imposed on female presenters for covering their faces with masks. Male anchors protested by covering their faces with black masks.
The Taliban Ministry of Propagation of Virtue and Prohibition of Vice has ordered the visual media female presenters to wear black masks during their performance when on air.
The policy was earlier declared "final and non-negotiable" by the Ministry of Information and Culture.
In response to the Taliban's restrictions, male presenters in masks appeared on TOLONews and 1TV.
Following the Taliban's "mandatory hijab," which received public outrage, the Taliban's order for the female TV presenters also prompted widespread condemnation, and despite the protests, the Taliban warned that media officials and the guardians of the female presenters would be penalized if the order was disobeyed.
According to a tweet from TOLONews, the Taliban set the deadline for implementing this order, which has been implemented by this media, since yesterday, Sunday May 22.
Female presenters dressed in black and wearing black masks performed in TOLONews, yesterday, with only two eyes visible.
The Taliban ordered all women in public to wear head-to-toe clothes with only their eyes visible earlier this month. The edict said that women should only leave the house only "when necessary", and that male relatives would be punished for women's violating the dress code, beginning with a summons and advancing to court hearings and jail time.
Taliban leaders have also prohibited girls from attending school after sixth grade, reversing previous Taliban promises that girls of all ages would be permitted to attend school.
Source: Khaama Press
Please click the following URL to read the text of the original story:
https://www.khaama.com/male-anchors-wear-black-masks-to-protest-the-restrictions-on-their-female-colleagues473984/
--------
Ulama Summit Recommends Review Of Fatwa Discouraging Muslims From Visiting Al-Aqsa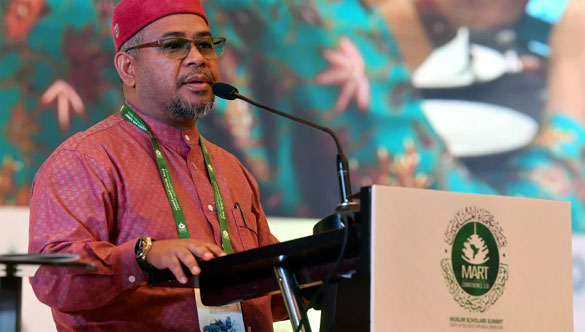 BERNAMA Pic
----
May 23, 2022
SEPANG: The 2022 Muslim Scholars Summit has recommended that a review be done on a fatwa discouraging Muslims from visiting the Al-Aqsa Mosque as the area is within the Israeli-occupied territory, says its programme committee chairman Datuk Dr Mohd Khairuddin Aman Razali.
He said the proposal was among 24 resolutions reached through a three-day conference organised by the MyAQSA Foundation and Yayasan Dakwah Islamiah Malaysia that began last Friday, and attended by more than 150 Muslim scholars from over 50 countries.
"The Muslims of Al-Aqsa desperately need moral support from Muslims around the world. We call for a review of the fatwa that discourages Muslims from heading to the land of Al-Aqsa on the grounds that it is a diplomatic recognition of the Zionist occupation.
"With the current developments when Muslims in Al-Aqsa need the support of the world, we call for a review of the fatwa based on the current changes and situation," he told reporters at a dinner in conjunction with the summit here yesterday.
According to Mohd Khairuddin, the summit also agreed to publish a special encyclopaedia related to Palestine, which, among others, serves to display scientific information related to the history and struggle of Palestine.
He said the publication of an encyclopedia by scholars was also very necessary as there were efforts to provide false information about Palestine at the global level.
Among other resolutions reached at the conference was encouraging the use of social media, including among non-Muslims, to expose Zionist atrocities on Palestinian soil.
"We urge the people to use social media as much as possible so that we can expose the atrocities that are occurring in Palestine, on humanitarian grounds," he said.
Mohd Khairuddin said a committee under the auspices of the International Union of Muslim Scholars would be set up in the near future to discuss the Palestinian issue.
Based in Kuala Lumpur, he said the committee, among other things, would work specifically to bring together all Muslim unions around the world under one forum and at the same time will ensure that all 24 resolutions decided in the conference could be achieved.—BERNAMA
Source: NST
Please click the following URL to read the text of the original story:
https://www.nst.com.my/news/nation/2022/05/798626/ulama-summit-recommends-review-fatwa-discouraging-muslims-visiting-al
--------
Scotland Yard Arrests Two More Teenagers, Including A Girl, In Islamist Extremism Probe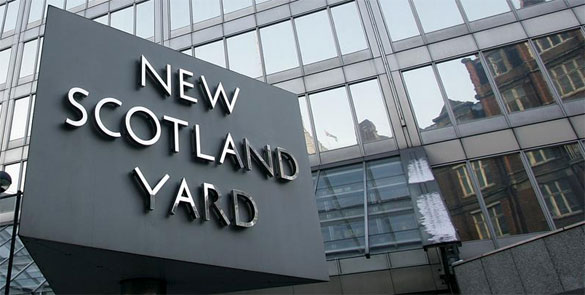 MAY 22, 2022
The arrest of the teenagers follow the arrest of a 13-year-old boy earlier this week on suspicion of dissemination of terrorist material contrary to Section 2 of TACT 2006.
Two teenagers, including a girl, have been arrested on suspicion of terrorism offences as part of an ongoing investigation linked to Islamist extremism, Scotland Yard said on Sunday.
The arrest of an 18-year-old man in Essex, near London, was made on suspicion of encouraging terrorism contrary to Section 1 of the UK Terrorism Act 2006 (TACT) and a 17-year-old girl was arrested at an address in east London as part of the same investigation.
It follows the arrest of a 13-year-old boy earlier this week on suspicion of dissemination of terrorist material contrary to Section 2 of TACT 2006.
"The investigation related to alleged offences linked to extreme Islamist ideology," the Metropolitan Police said.
Those arrested remain in custody while enquiries continue following the court granting the Met Police warrant of further detention.
"We have seen three teenagers arrested this week by Met officers for terrorism offences, albeit as part of separate investigations," said Commander Richard Smith, head of the Met Police's Counter Terrorism Command.
"We need to let this investigation run its course, but it is a further indication of a concerning upward trend in police action against younger people for terrorism-related matters. Across the country, police are working hard to try and prevent young people from being radicalised, and acting quickly when it is suspected that offences have been committed," he said.
"Police rely on information from the public in our mission to tackle terrorism. If you see or hear something unusual or suspicious and think someone may be engaging in terrorist activity, trust your instincts and contact police," he said.
The 18-year-old man was first arrested on Wednesday under the Police and Criminal Evidence Act (PACE) before being detained under TACT on Thursday.
A warrant of further detention application was granted by Westminster Magistrates' Court, allowing detectives to keep him in custody until May 25, the Met Police said.
The 17-year-old girl was arrested under Section 41 of the Terrorism Act 2000 and remains in custody for questioning until May 27.
The Met Police Counter Terrorism Command has called on anyone who thinks a friend or relative is becoming "radicalised or drawn into a path towards terrorism" to contact the force as part of the ACT Early strategy – or Action Counters Terrorism Early.
There is also an app called iREPORTit for people to report such terror related concerns.
Source: The Hindu
Please click the following URL to read the text of the original story:
https://www.thehindu.com/news/international/scotland-yard-arrests-two-more-teenagers-in-islamist-terror-probe/article65446631.ece
--------
Tunisia's Ennahda Decries Exclusion of Parties from Drafting New Constitution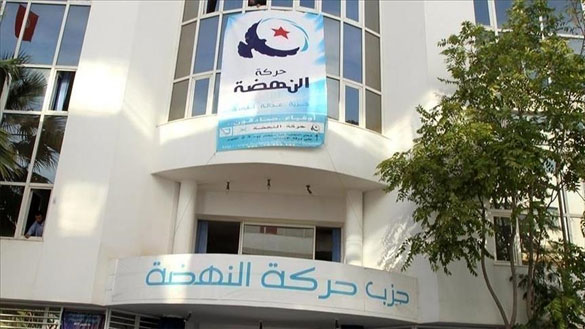 Photo: aa.com
-----
22.05.2022
Tunisia's Ennahda movement has decried a decree issued by President Kais Saied excluding political parties from drafting the country's new constitution.
On Friday, Saied named law professor Sadik Belaid to chair an advisory committee to draft a new constitution.
Belaid will be coordinating between two other advisory panels tasked with making proposals for drafting the country's new constitution. The two panels consist of deans of law and six national organizations, including the powerful UGTT Labor Union.
According to the decree, the two panels will prepare a constitution "that responds to the aspirations of the people and guarantees the principles of justice and freedom in a true democratic system."
In a statement, Ennahda termed Saied's move as "a complete departure from constitutional legitimacy and a consecration of the July 25 coup and one-man rule."
In January, Saied launched an online survey with the aim of "enhancing citizens' participation in the democratic transition process". He also plans to hold a referendum in July on the shape of the political system in the country.
Ennahda said a referendum planned by the Tunisian president "lacks legitimacy and credibility," citing the dissolution of the country's election commission and naming new members by Saied.
Ennahda called on Tunisia's political parties "to unify efforts to restore democracy and save the country from the dangers of economic collapse."
Tunisia has been in the throes of a deep political crisis since July 25, 2021, when Saied dismissed the government, suspended parliament, and assumed executive authority, in a move decried by opponents as a "coup." He later dissolved the parliament in March after lawmakers held a session to revoke his measures.
The North African country is also going through a severe economic crisis aggravated by the coronavirus pandemic amid the ongoing Russian war on Ukraine.
Source: Anadolu Agency
Please click the following URL to read the text of the original story:
https://www.aa.com.tr/en/africa/tunisia-s-ennahda-decries-exclusion-of-parties-from-drafting-new-constitution/2594726
--------
India
Home of Five Muslim Families Demolished in India's Assam Allegedly Involved in Setting Fire to a Police Station in Assam
May 23, 2022
Nagaon administration in Assam, India, demolished the residences of five families allegedly involved in setting fire to a police station.
A mob allegedly set Batadrava police station on fire in Nagaon district after a man allegedly died in police custody on Saturday.
"We are investigating the allegations. Three have been detained among persons who attacked the police station. Two police personnel have been injured in the attack," said Leena Doley, Superintendant of Police.
Meanwhile, Assam Police suspended the officer in charge of Batadraba police station to ensure fair probe in the matter of the death of Safiqul Islam in custody.
"We take the unfortunate death of Safiqul Islam very seriously and have put the OC of Batadraba thana on suspension and the rest of the staff closed. If there is any foul play at our end, we mean to find that and punish the guilty according to the law. No second thoughts," said Assam Director General of Police Bhaskar Jyoti Mahanta.
He claimed that the police station was set on fire as part of an organized attack.
"Local bad elements took law onto their own hands and burnt down the thana. These bad elements came in all forms: women, men, young and old. But the preparedness with which they came, the ferocious, organized attack they staged on police has made us think deeper. We do not think these are grieving relatives of the dead, but as we have identified, they were bad characters and their relatives have criminal records- records that were there within the thana. Proof, incrementing evidences - all burnt down," said the DGP.
Police said the police station fire was not just an action-reaction incident and the matter will be thoroughly investigated.
Source: ABNA24
Please click the following URL to read the full text of the original story:
https://en.abna24.com/news//home-of-five-muslim-families-demolished-in-india%e2%80%99s-assam_1259938.html
--------
At RSS event, Yogi Adityanath lists highlights: no Eid namaz on road, loudspeakers
by Deeptiman Tiwary | New Delhi |
May 23, 2022
The Eid Namaz was not conducted on roads for the first time in UP, and "the volume of the mosque loudspeaker has gone down" following the state's recent crackdown, Chief Minister Yogi Adityanath said on Sunday while referring to his government retaining power in the elections this year.
He was speaking at an event organised to celebrate 75 years of RSS-affiliated magazines Organiser and Panchjanya.
Other BJP chief ministers also spoke at the event, with Goa's Pramod Sawant calling for temples destroyed in the past to be rebuilt and Uttarakhand's Pushkar Singh Dhami reiterating that his state will form a "special committee" to implement Uniform Civil Code.
The chief ministers of Manipur (N Biren Singh), Himachal Pradesh (Jai Ram Thakur) and Haryana (M L Khattar) spoke mostly about various government schemes and development projects in their states.
Adityanath referred to the BJP retaining power in UP, and spoke about his government's achievements, especially in law and order in the context of communal clashes occuring in some other states amid a string of religious festivals last month.
"In many states, there were riots after the elections were over. There were no riots in UP during or after the elections," he said.
"After the formation of the government, Ram Navami was celebrated with fervour. Hanuman Jayanti celebrations passed off peacefully. This is the same UP where small issues led to riots. Now, you must have seen for the first time that Eid namaz was not held on roads. Now, you must have heard that either the volume of the mosque loudspeaker has gone down or the loudspeaker has been removed completely. Now these loudspeakers are being donated to schools and hospitals for their use," he said.
More than 1 lakh loudspeakers have had their volumes turned down or been removed, he said.
Adityanath also spoke on the issue of stray cattle in the state and detailed the steps taken by his government. "You may remember that when our government came to power in the state, it shut down all illegal slaughterhouses. But there was an adverse consequence of this that we had to bear — of stray cattle roaming on the roads and in the fields," he said.
"Earlier, they were smuggled into illegal slaughterhouses. To meet this challenge, we set up over 5,600 shelters for stray cattle. We are also setting up a new model where we will make CNG from cow dung, which will be bought at Rs 1 per kg from people. We have taken all necessary steps to protect cows," he said.
Adityanath spoke about how a "grand Ram temple" is being built in Ayodhya, the "splendour" with which the Kashi Vishwanath temple complex has been rejuvenated, and new life being injected into pilgrimage sites such as Mathura, Vrindavan and Chitrakoot.
According to the Chief Minister, UP has started moving towards becoming the No.2 economy in the country under a "double engine" government, with the BJP at the helm in the Centre too.
"In 70 years, UP has reached the sixth position among economies in the country. In the last 70 years, the per capita income of UP had remained one-fourth of the nation's. In the past five years, we have doubled it. In ease of doing business, UP has climbed up to No.2 spot in the country. And in ease of living, in 44 schemes, UP is No.1. The maximum infrastructure development is happening in UP and the state is now known as an expressway," he said.
Goa Chief Minister Sawant said his government has made a budgetary allocation for renovation of temples destroyed by the Portuguese.
"In the 450 years of Portuguese rule, there was destruction of Hindu culture and many people were converted. Temples of the state were destroyed. We are going to rejuvenate all of them… I believe wherever there are temples in destroyed condition, they should be rebuilt," he said.
Sawant said that beyond beaches, the Goa government was promoting cultural and spiritual tourism in the hinterland and coaxing people to go to temples. "In every village, there are a couple of temples. We have to take people from the beach to the temple," he said.
Sawant said Goa already has a Uniform Civil Code, and urged other states to implement it. "We have discussed the Goa UCC with other chief ministers also," he said. The Goa government is also working on restarting mining in the state, he said.
Uttarakhand's Dhami said that apart from moves to bring in the Uniform Civil Code, a special drive was on to identify infiltrators and that the anti-conversion law will be made "stronger".
"We have decided to form a committee on Uniform Civil Code. The committee will have legal experts and stakeholders. We will implement the draft that the committee submits… We will implement Uniform Civil Code for which we are making preparations and we want other states to follow suit," he said during an interaction with Hitesh Shankar, editor of Panchjanya.
Source: Indian Express
Please click the following URL to read the full text of the original story:
https://indianexpress.com/article/india/uttar-pradesh-cm-yogi-adityanath-namaz-mosques-loudspeakers-7930579/
--------
Gyanvapi Mosque issue: CPM disappointed with Supreme Court stand
22nd May 2022
KALABURAGI: The Communist Party of India (M) has expressed its dissatisfaction over the stand of the supreme Court of India on the Gyanvapi Mosque issue of Varanasi.
Speaking to the media here on Sunday, CPM Polit Bureau member Brinda Karat said the supreme court should not have allowed the lower court of Varanasi to conduct survey as it has amounted to a violation of the Place of worship (Special Provisions ) Act 1991 Act which has come precisely to ensure that such controversies over religious places are avoided and that efforts to change there existing character not be permitted.
Karat said that the Supreme Court during the passing of the orders on the construction of Ram Temple at Ayodhya has said that it is an exceptional case and the orders on Ayodhya can not be taken as an instance for other places of worship.
But by not intervening in the civil court order of conducting the survey of the Gyanvapi Mosque issue, the Supreme Court has ignored its own orders, it is disappointing Brinda Karat said.
Pro Hindu activists are approaching courts for surveys in Mathura and Qutub Minar arguing that there were temples. If the courts continue to admit the pleas and allow the survey, where should the people belonging to minorities go for offering prayers, she asked. Considering this issue, the Parliament passed the Act in 1991 which prohibits conversion of any place of worship and provides for the maintenance of the religious character of any place of worship as it existed on the 15th day of August 1947, Karat said.
She alleged that the BJP government is creating controversy through the activists just to divert the attention of the people about the real issues of unemployment and an increase in the prices of essential commodities abnormally. Answering a question on the passing of the orders on the Hijab issue by the High Court of Karnataka, she said it is not acceptable to a majority of the people in the country and a petition has been filed in the Supreme Court against the order of Karnataka High Court.
Source: New Indian Express
Please click the following URL to read the full text of the original story:
https://www.newindianexpress.com/states/karnataka/2022/may/22/gyanvapi-mosque-issue-cpm-disappointed-with-supreme-court-stand-2456671.html
--------
Hindu side cites 1936 British stand to bolster Gyanvapi claim
May 23, 2022
NEW DELHI: Five Hindu women plaintiffs have told the Supreme Court that entire Gyanvapi mosque land belonged to Kashi Vishwanath temple and cited the British government's trial court statement repudiating a Muslim's 1936 suit for a declaration that the mosque land was a wakf property.
In an affidavit responding to the petition by Committee of Management, Anjuman Intezamia Masjid, Varanasi, seeking quashing of survey of Gyanvapi mosque, the plaintiffs through advocate Vishnu Shankar Jain said the British government had rightly taken a stand that the land belonged to the temple because, as it was never a wakf property, the Muslims cannot claim it to be mosque.
The plaintiffs said, "Historians have confirmed that Mughal emperor Aurangzeb had issued 'farman' on April 9, 1669 for demolition of the temple of Adi Visheshwar (Kashi Vishwanath) at Varanasi. There is nothing on record to establish that the then ruler or any subsequent ruler has passed any order to create a Waqf over the land in question or for handing over the land to any Muslim or body of Muslims."
"A mosque can be constructed only over the property dedicated by waqif, who should be the rightful owner of the property. Construction raised under the orders of any Muslim ruler or by any Muslim over the land of a temple cannot be construed as mosque," they said.
The mosque management committee had claimed through senior advocate Huzefa Ahmadi that Muslims have been performing wuzu and offering namaz at the mosque since time immemorial or at least 500 years while seeking Muslims' access to the sealed wuzu khana where purportedly a Shivling was discovered recently during a court-ordered survey.
The plaintiffs said, "Any super structure created over the temple land, by Muslims, can will be only a structure and cannot be regarded as a mosque... Deity Adi Visheshwar is continuing as de jure owner of the entire land of Settlement Plot No 9130, 9131 and 9132 in Mauza Shahar Khas, Tahsil and District Varanasi. The land does not belong to any Muslim, body of Muslim or Waqf board," they said.
"Without impleading a Hindu party, one Deen Mohd had filed civil suit 62 of 1936 making the secretary of state for India through District Magistrate, Benares, and Anjuman Intezamia Masjid, Benares, through secretary, for granting a declaration that the Plot bearing No. 9130, measuring 1 Bigha 9 Biswa and 6 Dhurs together with enclosure all round described in the plaint, was Waqf in possession of that plaintiff and other Musalmans had right to say their prayers specially Alvida prayers and exercise other religious rights," they said.
In the suit, on behalf of the Secretary of State for India in Council, a written statement was filed refuting the plaint allegations. Annexing a copy of the statement on behalf of secretary of state with their affidavit, the plaintiff's quoted it - "the idols and the temple which stand there exist since long before the advent of the Mohammadan Rule in India."
In paragraph 11, the British government had said - "It is submitted that the non-Muslims have been using the land for their religious purposes as a matter of right and have got a right of way over it." In Paragraph 12, it had said - "The land in question was never stamped with the character of 'Waqf' land. It was never dedicated to God, nor could it have been dedicated and God has no proprietary interest."
It had further said that - "The Mohammadans of that time or for the matter of that Aurangzeb himself was not the owner of the site in which the old temple of Vishwanath existed and which was demolished by Aurangzeb owing to the religious antipathy, hence it could not have been dedicated according to the true spirit of the Mohammadan faith."
Source: Times Of India
Please click the following URL to read the full text of the original story:
https://timesofindia.indiatimes.com/india/hindu-side-cites-1936-british-stand-to-bolster-gyanvapi-claim/articleshow/91729286.cms
--------
Two 'hybrid' terrorist of LeT arrested in Srinagar
May 23, 2022
SRINAGAR: Two local 'hybrid' terrorist of the proscribed terror outfit Lashkar-e-Taiba (LeT) were arrested with arms and ammunition in Srinagar city on Monday, police said. 'Hybrid' terrorist are those who are not listed as ultras but persons radicalised enough to carry out a terror strike and then slip back into the routine life.
"Srinagar Police arrested two local hybrid terrorists of proscribed terror outfit LeT/TRF. Incriminating materials, arms and ammunition, including 15 pistols, 30 magazines, 300 rounds and a silencer were recovered," Inspector General of Police, Kashmir, Vijay Kumar said on Twitter.
TRF or The Resistance Front is an offshoot of the LeT.
Source: Times Of India
Please click the following URL to read the full text of the original story:
https://timesofindia.indiatimes.com/india/two-hybrid-terrorist-of-let-arrested-in-srinagar/articleshow/91733472.cms
--------
No terror case against SIMI when I was with it: Khalid's dad
May 23, 2022
NEW DELHI: Member of Gyanvapi Legal Committee constituted by the All India Muslim Personal Law Board (AIMPLB), S Q R Ilyas, on Sunday said there was no criminal or terror case against Students' Islamic Movement of India (SIMI) or any of its members while he was associated with the outfit and that the UAPA ban on it came almost one-and-a-half decades later.
Clarifying on a report in TOI headlined 'Gyanvapi: Intel lens on father of Umar Khalid' published on May 21, 2022, Ilyas told TOI that he was with SIMI only till 1985, while it was banned 16 years later in 2001. "Besides, the UAPA Tribunal's order upholding the ban on SIMI has been challenged in the Supreme Court and the matter is yet to be decided," he said.
Source: Times Of India
Please click the following URL to read the full text of the original story:
https://timesofindia.indiatimes.com/india/no-terror-case-against-simi-when-i-was-with-it-khalids-dad/articleshow/91730722.cms
--------
South Asia
Taliban Leader, Stanikzai: Women Should Be Provided With Their Rights Based On Afghan Culture, Islamic Values
May 23, 2022
Taliban's senior leader Sher Mohammad Abbas Stanikzai came out in support of women's education rights and said that it is the responsibility of the government to provide a safe education to them in the country.
Addressing a gathering to mark the death anniversary of Mullah Akhtar Mohammad Mansour, a former Islamic Emirate leader, Stanikzai said that women should be provided with their rights based on Afghan culture and Islamic values, Tolo News reported.
"Women can't even ask for their inheritance. They are deprived of the right to education. Where will women learn Shariah's lessons? Women make up half of Afghanistan's population," he said.
Stanikzai was critical of the small budget for development in economic sectors and also said that due to the economic challenges, people were forced to leave the country.
"We don't have a chair in the Organisation of Islamic Cooperation (OIC), we don't have a chair in the United Nations and we don't have a political office in Europe," he said.
Speaking at the same gathering, another Taliban leader, Mullah Mohammad Yaqub criticized the economic sanctions on Afghanistan, reported Tolo News.
"They imposed economic sanctions on Afghanistan and made a plot against us in Afghanistan," he said.
The Taliban's decision to ban female students above grade six from going to school has drawn widespread criticism at the national and international levels.
Source: Hindustan Times
Please click the following URL to read the full text of the original story:
https://www.hindustantimes.com/world-news/taliban-leader-says-women-should-be-provided-with-their-rights-based-on-afghan-culture-islamic-values-101653265242175.html
--------
Taliban chief bans polygamy, calls it 'unnecessary and an expensive affair'
SUKRITI VATS
21 May, 2022
New Delhi: Taliban leader Hibatullah Akhundzada has issued an order banning polygamy among members of the group terming it "unnecessary and costly," Kabul-based Bakhtar News Agency reported on Saturday.
The country, which is an 'Islamic emirate' governed under Sharia laws, allows for men to have up to four wives. Polygamy is widely practiced in Afghanistan. The absence of offspring from the first marriage is believed to be the primary reason Afghan men take multiple wives.
However, Akhundzada has emphasised how "Taliban members should avoid second, third and fourth marriages" as it's an expensive affair. The order further instructed the Amr-ul-Ma'ruf Ministry (Ministry of Enforcement of Virtue and Suppression of Vice) to "identify violators and report to the leadership."
In January 2021, a similar decree was issued by the Taliban when it was still in midst of peace negotiations with the Afghan government regarding the country's future. The leadership was concerned about rampant corruption among members who were looking to raise money to either pay the bride price (dowry paid by the groom to the bride's family) or sustain their many households.
The Taliban leadership also believed that spending a huge amount of money on wedding ceremonies could lead to criticism from their enemies/opponents or from within the group.
Source: The Print
Please click the following URL to read the full text of the original story:
https://theprint.in/world/taliban-chief-bans-polygamy-calls-it-unnecessary-and-an-expensive-affair/965600/
--------
Taliban's 'atrocious' regime root cause of food scarcity in Afghanistan
21 May, 2022
Kabul [Afghanistan], May 21 (ANI): Since the takeover, the Taliban's hard regime has waged war and constant unrest in the country with the newest one emerging in the form of wheat shortfall as the country now gears up to tackle the looming food crunch.
Due to the gripping crisis, the Taliban, in its latest order, authorized all customs offices on Thursday, May 19, to prevent wheat export or trade due to extreme food scarcity, Khaama Press reported.
This measure has been taken into consideration to avoid amplification of scarcity, Zabihullah Mujahid, the spokesperson for the Islamic Emirate of Afghanistan stated on his Twitter handle.
While the price for wheat has increased by 50% in different parts of Kandahar province, it is claimed that some people have begun smuggling wheat to Pakistan, the report added.
Furthermore, as a result of recent political developments, the Afghan people are experiencing a severe humanitarian crisis. In addition to that, food prices, particularly wheat, have risen substantially since Russia's invasion of Ukraine.
According to the UN, hunger and food shortages affect up to 97% of the Afghan population. Previously, World Food Programme (WFP) reported that since the fall of the former government to the Taliban, over 22 million people face severe hunger.
Absolute poverty, food crisis, and unemployment are being witnessed at an all-time high as families in Kabul are forced to move to the streets due to political unrest in the country since the Taliban took control.
According to Khaama Press, Afghanistan is estimated to require more than six million tonnes of wheat each year to feed its 33 million population as Wheat is the country's principal source of nutrition.
Meanwhile, India has pledged to provide 50,000 tonnes of wheat to Afghanistan as humanitarian aid in addition to medications as another consignment of the cereal from the government of India was dispatched to Afghanistan via the Attari Wagah Border on Monday.
Source: The Print
Please click the following URL to read the full text of the original story:
https://theprint.in/world/talibans-atrocious-regime-root-cause-of-food-scarcity-in-afghanistan/965460/
--------
Food Inflation; A Sack of Flour Costs 2,800 Afghanis in Kabul
By Saqalain Eqbal
22 May 2022
In less than three months, food prices in Afghanistan have soared more than double.
A sack of flour is now priced at 2,800 to 3,000 Afghanis, while previously, it was sold at 1,400 Afghanis, according to a number of Kabul locals.
According to them, food prices have risen as a result of the lack of price regulation in the marketplaces.
People stated that they used to purchase 20 liters of cooking oil at a cost of 2,000 Afghanis, but that now only 10 liters of cooking oil cost 2,200 Afghanis.
Food price, they added, had declined slightly from what it was in the previous six months but, it has soared more than double in recent days.
Sellers, on the other hand, blame the high inflation on rising commodities, explaining that when the Afghani depreciates against the dollar, food prices increase.
Source: Khaama Press
Please click the following URL to read the full text of the original story:
https://www.khaama.com/food-inflation-a-sack-of-flour-costs-2800-afghanis-in-kabul36822/
--------
Southeast Asia
Thai ruling undermines Muslims' trust in judicial system
May 23, 2022
A Thai court has ruled in a controversial decision that its inquest was inconclusive into the death of a Muslim man who died in military custody in Thailand's restive Muslim-majority region despite lingering fears that the man was tortured to death.
Abdullah Isomuso, who had been accused by security forces of being engaged in insurgent activities in the largely Muslim southern province of Pattani, was found unconscious in his cell after being detained and died in intensive care a few weeks later in August 2019.
His family has alleged that the man died as a result of injuries he suffered while being tortured during interrogation by the Thai military in what has become a high-profile case in Thailand, where the police and military have over the years been credibly accused of using torture techniques on some suspects.
Thai security forces have denied torturing the man and in a new ruling a provincial court in Songkhla, another one of the Muslim-majority provinces in Thailand's Deep South, has said that while Abdullah died of brain damage resulting from oxygen deprivation, there was insufficient evidence as to whether his death was caused by the actions of any officials.
Many Muslims in Thailand's southernmost region, where a separatist insurgency has been raging since 2004, have been following the case closely, seeing it as an example of official impunity.
Abdulkohar Awaeputeh, a lawyer who represents the dead man's relatives in their search for answers and justice, told a local newspaper that the court's ruling could further undermine trust in the judicial system among many local Muslims.
"I have been working here for a long time and in my status as a lawyer I want to see change. I use trust in the judicial process. I use the state channels. I want to show that there is a way out," Abdulkohar said.
"I understand that it's difficult because you have to fight the old system, but at this point I don't know how to explain it to the family so that they should still believe [in the justice system]. I think they want to know the real cause of death."
Rights groups have long accused Thai security forces of employing extrajudicial means such as "systematic torture" of some suspected militants in the restive region where well over 7,000 people have died over the years in violence perpetrated by Islamist militants and security forces.
Amnesty International, for one, has documented numerous cases in which suspected insurgents were allegedly tortured in detention.
"At about 1am I was ordered by the superior officer to get up. This officer punched me in the face, called me a terrorist and broke my national identification card, while another soldier kicked me from behind; there were three soldiers in addition to the superior," one man told the rights group.
A prominent rights advocate says that the inconclusive inquest into the cause of Abdullah's death leaves some important questions unanswered.
The court's inquest, which took two years to conclude, has not provided any answer as to whether he suffered a severe brain injury without external causes, noted Pornpen Khongkachonkiet, director of the Cross-Cultural Foundation, which seeks to foster multiethnic harmony in Thailand.
Source: UC News
Please click the following URL to read the full text of the original story:
https://www.ucanews.com/news/thai-ruling-undermines-muslims-trust-in-judicial-system/97352
--------
Tens of millions in foundation belong to me, says Zahid
May 23, 2022
KUALA LUMPUR: Former deputy prime minister Ahmad Zahid Hamidi told the High Court today that not a single sen of Yayasan Akalbudi's funds came from the government or the people.
Instead, he said, the tens of millions of ringgit in the foundation belonged to him.
Zahid, 69, said the source of the foundation's funds was from his income when he was in the corporate sector before becoming an administrative member in the government.
"Before I became a member of the administration, namely as deputy minister, minister and deputy prime minister, I was in the corporate business sector.
"I used to head four companies listed on Bursa Malaysia and used to be the chairman of Bank Simpanan Nasional.
"There were some contributions from friends and businessmen who had nothing to do with the portfolio I was holding, but not a single sen was from government contributions or the people's money or from the taxpayers."
He said this when questioned by his lawyer, Ahmad Zaidi Zainal, on the third day of his defence proceedings on 47 charges involving breach of trust, corruption and money laundering.
The Bagan Datuk MP also told the court his income and allowances as a chief executive officer, executive chairman and chairman of a corporate company exceeded his family's expenses and needs.
"So I was determined, on the advice of my father, who was a mudir or principal of a religious school in Bagan Datuk, to channel the surplus income to people in need through donations, alms, infak, tithes for welfare and religious purposes in Yayasan Akalbudi.
"The funds in the Akalbudi Foundation fund are from my personal income as well as the allowances I received during my corporate business activities," he said.
Apart from that, Zahid said, he received dividend payments from the companies concerned which he deposited into the foundation and also conducted stock market transactions for income.
Zahid is facing 47 charges, comprising 12 for breach of trust, eight charges of corruption and 27 charges of money laundering, involving tens of millions of ringgit in funds belonging to Yayasan Akalbudi.
Source: Free Malaysia Today
Please click the following URL to read the full text of the original story:
https://www.freemalaysiatoday.com/category/nation/2022/05/23/tens-of-millions-in-foundation-belong-to-me-says-zahid/
--------
25 more waiting for diplomatic posts, says Saifuddin
May 21, 2022
KUANTAN: The foreign ministry is in the process of having 25 more people appointed to Malaysian diplomatic missions abroad, foreign minister Saifuddin Abdullah said today.
He said the number was relatively large, as Malaysia had not been able to send new representatives abroad because of the Covid-19 pandemic, Bernama reported.
Saifuddin said several people were awaiting letters of appointment as heads of missions abroad. The ministry was awaiting a date from Istana Negara for the presentation ceremony with the Yang di-Pertuan Agong, Sultan Abdullah Sultan Ahmad Shah.
The foreign minister said a long process was involved in appointing a Malaysian head of mission, with various screenings of those nominated. The name of the person must also be sent to the host country for approval.
Saifuddin's remarks, made to reporters at a constituency event in Pahang, come in the wake of criticism of the appointment of Pasir Salak MP Tajuddin Abdul Rahman as ambassador to Indonesia.
Tajuddin said today that he had been hurt by comments made about his appointment. "I have served the government, the country and the people for more than 45 years, since I was 25. Now I'm being treated as if I were a homeless person," he said, according to Utusan Malaysia.
He is expected to leave for his posting to Jakarta next week.
Change of policy about ambassadors
Saifuddin said the current government had done away with the Pakatan Harapan (PH) policy of only choosing career diplomats as heads of missions.
"The government feels there is a need to appoint those who are not diplomatic officers (as heads of missions). They can be a politician, former politician, former police or military officer, and so on.
Source: Free Malaysia Today
Please click the following URL to read the full text of the original story:
https://www.freemalaysiatoday.com/category/nation/2022/05/21/25-more-waiting-for-diplomatic-posts-says-saifuddin/
--------
Weaker ringgit shows world losing confidence in Malaysia, says Anwar
May 22, 2022
PETALING JAYA: The ringgit's dissipating value has shown that the world has lost confidence in Malaysia, opposition leader Anwar Ibrahim said today.
In a Facebook post, Anwar said short-term solutions and quick fixes by the government were not enough.
"We need leadership that must first inspire the confidence of the people before we can dream of inspiring foreign confidence and then investment.
"A proper plan for a proper recovery requires complex thinking and an appreciation for the complexity of contemporary economics," he said.
The Port Dickson MP, who is a former finance minister, explained that Malaysians were trapped in a cycle where the people work harder and make less while the price of basic needs has risen exponentially.
"I compel the government to give the rakyat a long-term solution that can inspire the confidence we all deserve.
"The people's work is paramount to bringing this nation back and you, the people, deserve just reward for your labour," the PKR president said.
Source: Free Malaysia Today
Please click the following URL to read the full text of the original story:
https://www.freemalaysiatoday.com/category/nation/2022/05/22/weaker-ringgit-shows-world-losing-confidence-in-malaysia-says-anwar/
--------
Malaysian Army Veterans Warned Of Stern Action over Unsanctioned Rally
May 22, 2022
KUALA LUMPUR: Stern action will be taken against members of the Veterans' Association of Malaysian Armed Forces (PVATM) who are involved in organising rallies that were not recognised by the leadership, PVATM President Sharuddin Omar said.
He said recently there were a handful of veterans who had reportedly formed groups to fight for veterans' welfare issues which they thought needed to be resolved by the government immediately, but the struggle was different from each other.
"PVATM would like to stress that it is not involved with any group of veterans who fight for the welfare of veterans in the streets in an unbecoming manner.
"The concept of PVATM's struggle is very clear from the past until now in fighting for any issue of veterans' welfare, that is, we will always take a sensible approach and negotiate to jointly find a 'win-win' solution," he told reporters after the Army Veterans Anniversary parade of the 100th Malaysian Armed Forces at Dataran Pahlawan Negara in Putrajaya yesterday.
Sharuddin (above) said this when asked to comment on the issue of a peaceful rally in the capital scheduled for June 6 which is expected to be attended by about 5,000 armed forces veterans to express dissatisfaction with the government for allegedly not looking after the welfare of retired, non-pensionable, and retrenched soldiers.
He added that the five issues that PVATM fought for in appreciating their struggles and sacrifices were the adjustment of veterans' pensions, subsistence allowances for non-pensionable veterans, the Pardons Board for former service officers, and improving derivative pensions for military widows, and Pingat Jasa Malaysia commemorative allowance.
Sharuddin said the leadership and members of PVATM were mature and full of common sense in upholding the issues of veterans based on being firm in raising their issues, sensible in approach and open-minded as well as tolerant in dealing with decisions and constraints.
"PVATM has never acted or sponsored any group of veterans who made claims on veteran issues through reckless and unreasonable actions," he said.
PVATM is the oldest non-governmental organisation (NGO) in Malaysia. It was established on May 20, 1922, under the name Ex-Services Association of Malaya by former British soldiers in Malaya after the first world war.
The association became an affiliate member of the British Empire Services League on May 22, 1922. PVATM now has 173,000 registered members nationwide.
Source: Free Malaysia Today
Please click the following URL to read the full text of the original story:
https://www.freemalaysiatoday.com/category/nation/2022/05/22/army-veterans-warned-of-stern-action-over-unsanctioned-rally/
--------
Europe
Turkey's Erdogan urges Sweden, Finland to end support to 'terror' groups
21 May ,2022
President Recep Tayyip Erdogan urged Swedish and Finnish leaders in separate phone calls Saturday to abandon financial and political support for "terrorist" groups threatening Turkey's national security.
Erdogan has objected to the two Nordic nations becoming members of NATO over their failure to address Turkey's terror-related concerns.
Ankara in particular accused Stockholm of leniency toward the Kurdistan Workers' Party (PKK) listed as a "terrorist" group by Ankara and its Western allies, as well as members of the movement led by US-based Muslim preacher Fethullah Gulen, whom Ankara blames for an attempted 2016 coup.
Erdogan told Swedish Prime Minister Magdalena Andersson that "Sweden's political, financial and weapon support to terrorist organizations must end," the presidency said.
Turkey expects Sweden to "take concrete and serious steps" that show it shares Ankara's concerns over the PKK and its Iraqi and Syrian offshoots, Erdogan told the Swedish premier, according to the presidency.
Russia's invasion of Ukraine in February has shifted political opinion in both Nordic countries in favor of joining the Western military alliance.
Membership requires consent of all 30 existing members but Turkey is putting a spanner in the works.
Sweden and Finland, while solidly Western, have historically kept a distance from NATO as part of longstanding policies aimed at avoiding angering Russia.
But the two nations moved ahead with their membership bid in shock over their giant neighbor's invasion of Ukraine, which had unsuccessfully sought to join NATO.
Erdogan also told Andersson to "lift restrictions imposed on Turkey in the defense industry" after the army's Syria operation in 2019.
In another phone call with Finnish President Sauli Niinisto, Erdogan said turning a blind eye to "terror" organizations posing a threat to a NATO ally was "incompatible with the spirit of friendship and alliance."
Erdogan also said it was Turkey's most natural right to expect respect and support for its "legitimate and determined struggle against a clear threat to its national security and people," the presidency said.
Swedish and Finnish leaders on Thursday were welcomed by US President Joe Biden, who strongly backed their bid to join NATO.
Source: Al Arabiya
Please click the following URL to read the full text of the original story:
https://english.alarabiya.net/News/middle-east/2022/05/21/Turkey-s-Erdogan-urges-Swedish-PM-to-end-support-to-terror-groups
--------
Israel bans member of European Parliament from visiting Palestine
Zehra Nur Düz
23.05.2022
Israel has banned Manuel Pineda, a Spanish communist politician from the United Left coalition who is a member of the European Parliament (MEP) and also the head of the delegation for EU-Palestine relations, from entering the country.
Pineda in a Twitter post announced that he had canceled the mission he was going to lead on Monday to assess the current situation of the Palestinians.
He also shared the rejection statement delivered by the Israeli Foreign Ministry.
According to "the information received from the competent authorities in Israel," the ministry has decided "not to approve the arrival" of Pineda in the country, said the statement, without giving reasons.
Pineda accused Israel of "blocking the work of the European Parliament."
"The mission was planned to meet with the Palestinian authorities and civil society, to see the consequences of the occupation on the daily life of the Palestinian population on the territory, as well as to see the effects of the policies of EU cooperation," Pineda said.
European Parliament President Roberta Metsola also regretted the decision to refuse entry to Pineda to Israel.
Source: Anadolu Agency
Please click the following URL to read the full text of the original story:
https://www.aa.com.tr/en/europe/israel-bans-member-of-european-parliament-from-visiting-palestine/2594912
--------
PKK/YPG terror group holds demonstration in Swedish capital
21.05.2022
STOCKHOLM
Pro-PKK/YPG protesters on Saturday gathered in Swedish cities chanting slogans in support of the terrorist group in rallies organized to object to the country's membership in NATO.
Swedish police forces stood aside in Stockholm, Gothenburg and Malmo as the terror sympathizers chanted slogans in support of the terrorist organization.
PKK/YPG supporters carried banners displaying photos of the head terrorist, Abdullah Ocalan, as well as flags of PKK/YPG.
Such protests by the PKK/YPG were held in Sweden on many occasions in the past and have turned violent against Turkish officials and Turks.
The PKK/YPG/PYD has had an office in Sweden's Stockholm since 2016, and according to sources, who wish to remain anonymous, the PKK terror group also generates significant income in Sweden through theft, arms trafficking, drug dealing, and racketeering.
The terrorist group is believed to generate its income under organizations such as the NCDK and "Kurdiska Rode Halvmanen."
Sweden regularly sends official delegations to areas in eastern Syria occupied by the PKK/YPG for talks with terrorist leaders and holds regular meetings with the terror group.
Protests organized by the PKK/YPG are also held regularly in the Swedish neighboring country Finland.
Source: Anadolu Agency
Please click the following URL to read the full text of the original story:
https://www.aa.com.tr/en/europe/pkk-ypg-terror-group-holds-demonstration-in-swedish-capital/2594249
--------
Turkiye expects Sweden to take tangible steps against terror groups: President Erdogan
Ali Murat Alhas
21.05.2022
The Turkish president on Saturday spoke to the Swedish premier and discussed Stockholm's bid to join the NATO alliance, Turkiye's Communications Directorate said.
According to a statement, Recep Tayyip Erdogan informed Magdalena Andersson about Turkish concerns regarding activities of the PKK/YPG and FETO terror groups in Sweden, and said that the NATO-candidate country should put an end to its financial, political and weapon support to such groups.
The Turkish president said Ankara has always supported NATO's open-door policy, and that solidarity was essential for the security of member countries, as well as collective security.
Ankara expects Stockholm to take serious steps to address its concerns with regards to the terror groups, he said, adding that the claim that PKK/YPG was fighting the Daesh terror group, also known as ISIS, did not reflect the reality.
Swedish arms restrictions on Turkiye was another subject brought up during the conversation. Erdogan said Turkiye's cross-border military campaigns in northern Syria were a result of a necessity caused by terror threat in the region, and Ankara expects Stockholm to lift the restrictions.
Andersson in a tweet appreciated the call, and said that Sweden looked forward "to strengthening our bilateral relations, including on peace, security, and the fight against terrorism."
Speaking to public broadcaster SVT following the phone talk with Erdogan, Andersson said that her country openly supports the fight against terrorism and the PKK's inclusion on the terrorist list.
"I emphasized that Sweden welcomes the possibility of cooperation in the fight against international terrorism and emphasized that Sweden is clearly behind the fight against terrorism and the terrorist listing of the PKK," she said.
Sweden and Finland formally applied to join NATO on Wednesday – a decision spurred by Russia's war on Ukraine, which began in February.
But Turkiye, a longstanding member of the alliance, has voiced objections to the membership bids, criticizing the countries for tolerating and even supporting terrorist groups.
In its more than 35-year terror campaign against Turkiye, the PKK – listed as a terrorist organization by Turkiye, the US, and EU – has been responsible for the deaths of over 40,000 people. The YPG is PKK's Syrian offshoot.
FETO and its US-based leader Fetullah Gulen orchestrated the defeated coup of July 15, 2016 in Turkiye, in which 251 people were killed and 2,734 injured.
Source: Anadolu Agency
Please click the following URL to read the full text of the original story:
https://www.aa.com.tr/en/europe/turkiye-expects-sweden-to-take-tangible-steps-against-terror-groups-president-erdogan/2594126
--------
Africa
30 terrorists, 5 soldiers killed in Burkina Faso clash
James Tasamba
22.05.2022
KIGALI, Rwanda
At least 30 terrorists were killed in an attack early Saturday against a military detachment in northcentral Burkina Faso, according to the army.
The army said five soldiers were and 10 others injured during the clash.
The military detachment of Bourzanga in Bam province, Center-North Region, "vigorously retaliated" an attack against its base, is said in a statement.
"Coming in very large numbers and heavily equipped, the terrorists had to retreat before the firepower of the detachment members and the intervention of the air force," it said. "Search and security operations continue in the area to find the terrorists, some of them wounded, and disappeared into the civilian population to try to escape the pursuit of the military."
The army said several ammunitions, about 30 motorcycles, an armored vehicle and communication gargets and armed pickups, used by the terrorists to attack the base were seized.
Burkina Faso has been battling an insurgency that has spread from neighboring Mali in the last decade.
Source: Anadolu Agency
Please click the following URL to read the full text of the original story:
https://www.aa.com.tr/en/africa/30-terrorists-5-soldiers-killed-in-burkina-faso-clash/2594383
--------
Blasphemy: National mosque Imam, Maqari should not be sacked – Shehu Sani on Wole Soyinka's call
May 22, 2022
By Ochogwu Sunday
Former lawmaker, Senator Shehu Sani, has said that the Abuja Imam, Professor Ibrahim Maqari should not be sacked over his comment on the killing of Deborah Samuel.
Recall that the Imam, who is in charge of the National Mosque, Abuja, had while reacting to the killing of Deborah, a 200-level student of Shehu Shagari College of Education in Sokoto State, who was lynched over alleged blasphemy against Prophet Mohammed, said Muslims have line that must not be crossed.
Nobel laureate, Professor Wole Soyinka had on Saturday called for the sacking of the Imam, alleging that Maqari directed his supporters to take laws into their hands.
But Shehu Sani, a governorship aspirant in Kaduna State said the Imam should not be arrested, saying he is entitled to his own opinion.
In a post on his verified Facebook page, the former lawmaker said, "Professor Ibrahim Maqari should not be removed as Chief Iman of Abuja National mosque.
Source: Daily Post Nigeria
Please click the following URL to read the full text of the original story:
https://dailypost.ng/2022/05/22/blasphemy-national-mosque-imam-maqari-should-not-be-sacked-shehu-sani-on-wole-soyinkas-call/
--------
Sudanese security forces kill one protester in Omdurman: Medics
21 May, 2022
Sudanese security forces killed one protester on Saturday during renewed demonstrations against a military takeover that derailed a transition to civilian rule last year, medics said.
The victim, who was not identified, died as a result of "a bullet to the chest" in the capital's twin city of Omdurman, the pro-democracy Central Committee of Sudan Doctors said in a statement.
For the latest headlines, follow our Google News channel online or via the app.
The latest death brings to 96 the toll from a crackdown on anti-coup protests which have taken place regularly since the October 25 military putsch led by army chief Abdel Fattah al-Burhan, the committee said.
Saturday's protests came after thousands took to the streets Thursday to oppose the power grab, mainly in Khartoum but also elsewhere, renewing demands for civilian rule.
About 100 people were injured during Thursday's demonstrations, according to the doctors' committee.
At the same time two leading anti-coup figures from Sudan's Communist Party were arrested. They were released on Friday.
The United Nations, along with the African Union and regional bloc IGAD, have been pushing to facilitate Sudanese-led talks to resolve the crisis after the latest coup in the northeast African country, one of the world's poorest.
But civilian forces have refused to enter negotiations involving the military, while Burhan has repeatedly threatened to expel UN envoy Volker Perthes, accusing him of "interference" in the country's affairs.
Source: Al Arabiya
Please click the following URL to read the full text of the original story:
https://english.alarabiya.net/News/middle-east/2022/05/21/Sudanese-security-forces-kill-one-protester-in-Omdurman-Medics
--------
Tunisian parties vow to fight President Saied's 'autocratic rule'
21 May, 2022
Tunisia's political parties pledged to fight President Kais Saied's decision to exclude them from key political reforms including the drafting of a new constitution, accusing him of seeking to consolidate autocratic rule.
Saied, who took executive power last summer and dissolved parliament to rule by decree, has since said he will replace the democratic 2014 constitution with a new constitution via a July 25 referendum and hold new parliamentary elections in December.
On Friday, he named a law professor to head an advisory committee of legal and political science experts to draft the new constitution for a "new republic", excluding political parties from the process.
The National Salvation Front, an umbrella for several parties and activists including Ennahda, Heart of Tunisia, Karama and the Citizens Against the Coup coalition, decried the move as another dangerous step towards entrenching one-man rule.
"We will face the new step of his autocratic rule with protests in streets and by uniting the opposition front to overthrow the coup," Ennahda official Riadh Chaibi told Reuters.
Saied denies his opponents' accusations that he staged a coup to seize power, saying his intervention was legal and necessary to save Tunisia from years of political paralysis and economic stagnation at the hands of a corrupt, self-serving elite who had taken control of government.
The president has nonetheless attracted broad opposition across Tunisia's political spectrum.
The Free Constitutional Party, whose leader Abir Moussi is a supporter of the late autocratic president, Zine El Abidine Ben Ali, and a bitter foe of Ennahda, also rejected the move to exclude parties from the drafting of a new constitution and other reforms. It called for a mass protest on June 18.
"What is happening is a dictatorship but we will not leave Tunisia hostage in Saied hands," Moussi said.
Source: Al Arabiya
Please click the following URL to read the full text of the original story:
https://english.alarabiya.net/News/north-africa/2022/05/21/Tunisian-parties-vow-to-fight-President-Saied-s-autocratic-rule-
--------
Ethiopian regional authority arrests four staff members of media group
22 May, 2022
Authorities in Ethiopia's northern Amhara region have arrested four employees of a US-based online media outlet, while the whereabouts of two others was unclear, the outlet said on Sunday, in the latest round of arrests involving media.
The arrests would add to those of five journalists in another Amhara media outlet on Thursday over what their colleague said was the outlet's reporting of the activity of a local volunteer militia, known as Fano.
"We have four confirmed employees who are in jail and two unknown. Out of the four, one (is a) fulltime editor, one in the process of hiring for editor position, one fulltime reporter, one human resource and finance lead," Nisir International Broadcasting management, said in a message to Reuters on Sunday.
Nisir said three of the employees were arrested on Thursday, and two were in custody in the regional capital Bahir Dar. The third employee and a fourth one who was arrested on Friday are in the town of Gayint, some 160 km (100 miles) from Bahir Dar, Nisir said.
Gizachew Muluneh, spokesperson for the Amhara regional administration and government spokesperson Legesse Tulu did not immediately respond to requests for comment.
Nisir calls itself an impartial and independent online media agency focusing on Ethiopian news, paying close attention to Amhara region. It did not give a reason for the arrests.
Amhara is the second-most populous region in Ethiopia, and a key constituency for Prime Minister Abiy Ahmed. But recently some Amhara leaders who previously backed his government have publicly criticised his handling of a war with the neighbouring region of Tigray.
Amhara forces and the Fano militia backed Abiy's federal troops against rebellious forces in northern Tigray when fighting erupted there in 2020.
Critics say Abiy, who won a Nobel Peace Prize after taking office as a reformer in 2018, is cracking down on dissent around Ethiopia. He says he is guaranteeing stability and law and order in the multi-ethnic nation.
In another case, Solomon Shumiye, an Addis Ababa-based talk show host, was arrested on Friday, taken to court with three others and ordered detained for 14 days, his sister Tigist Shumiye told Reuters.
Solomon has been critical of the government and the war in Tigray.
Government spokesperson Legesse and Markos Tadesse, spokesperson for the Addis Ababa Police Commission, did not immediately respond to Reuters requests for comment on the arrest.
The arrests add to those of a prominent general critical of Abiy, and some ethnic Amhara activists in the last week.
Source: Al Arabiya
Please click the following URL to read the full text of the original story:
https://english.alarabiya.net/News/world/2022/05/22/Ethiopian-regional-authority-arrests-four-staff-members-of-media-group
--------
Algeria denies mediation to restore ties with Morocco
Hassan Jebril
22.05.2022
ALGIERS, Algeria
Algerian Foreign Minister Ramtane Lamamra has denied reports about mediation with Algeria to restore their diplomatic relations.
Lamamra told the state television Saturday that the crisis between Algiers and Rabat "does not tolerate mediation".
"There is no mediation, not yesterday, not today, not tomorrow," he said when asked about Saudi mediation between the two neighbors.
Moroccan media earlier suggested that Saudi Foreign Minister Faisal bin Farhan had discussed during his visit to Algeria on Wednesday a roadmap for reconciliation between Algeria and Morocco.
In August 2021, Algeria severed diplomatic relations with Morocco, accusing Rabat of having "hostile tendencies." Morocco dismissed the accusations.
Source: Anadolu Agency
Please click the following URL to read the full text of the original story:
https://www.aa.com.tr/en/middle-east/algeria-denies-mediation-to-restore-ties-with-morocco/2594631
--------
North America
Many Afghan soldiers fled to Pakistan after Kabul's fall, says US report
Anwar Iqbal
May 23, 2022
WASHINGTON: Many soldiers of the former Afghan government fled to Pakistan after the fall of Kabul, says an official US report while pointing out that the fall of border crossings into Pakistan and Iran also contributed to the collapse of the former Afghan government.
The office of the Special Inspector General for Afghanistan Reconstruction reported this week that in July 2021, the Taliban "started seizing border crossings with Pakistan and Iran, depriving the Afghan government of critical customs revenues".
The report noted that Afghan soldiers started crossing into Pakistan weeks before Kabul fell to the Taliban in August 2021.
"Many Afghan soldiers reportedly escaped to Pakistan as the Taliban attacks on districts and provincial capitals intensified weeks before the Afghan government's collapse," the report added.
The UN refugee agency UNHCR reported early this year that more than 300,000 Afghans had fled to Pakistan between August 2021 and January 2022. But it did not say how many of those were from the military.
Source: Dawn
Please click the following URL to read the full text of the original story:
https://www.dawn.com/news/1691041/many-afghan-soldiers-fled-to-pakistan-after-kabuls-fall-says-us-report
--------
Turkiye summons US envoy over embassy's Istanbul rally alert
Emre Karaca
22.05.2022
Turkiye's Foreign Ministry on Sunday summoned US Ambassador Jeffry Flake to express the country's grievances over a US Embassy warning regarding a rally held in Istanbul a day ago.
Flake was told the embassy's alert contained unfounded claims that Turkish authorities were likely to use force against the rally participants, according to Foreign Ministry sources.
It was conveyed to the envoy that the warning was unacceptable as it created a misperception that such actions are a serious problem in Turkiye, the sources said.
Ministry officials told Flake that political parties' rallies are a deep-rooted tradition of Turkish democracy and Saturday's gathering was without incident.
They reminded Flake of events where US law enforcement authorities had used disproportionate force, the sources said.
He was also told that Turkiye expects that any such US alerts in the future, whether travel advisories or warnings about demonstrations, will be based on facts, the sources added.
Earlier on Sunday, the Foreign Ministry warned Turkish citizens in the US to avoid large gatherings for their own safety.
Source: Anadolu Agency
Please click the following URL to read the full text of the original story:
https://www.aa.com.tr/en/americas/turkiye-summons-us-envoy-over-embassys-istanbul-rally-alert/2594734
--------
Turkiye advises citizens living in US to avoid gatherings
Seda Sevencan
22.05.2022
Turkiye's Foreign Ministry in a statement on Sunday advised its citizens living in the US to avoid gatherings with wide participation for their safety.
The ministry said the US security units take measures against rallies that may occur in large gatherings, but also recalled some violent acts in the past where real bullets, electroshocks, and tear gas were used.
It recommended to avoid large rallies and events unless necessary, considering the possibility of exposure to violence in such events that are difficult to keep under control.
Source: Anadolu Agency
Please click the following URL to read the full text of the original story:
https://www.aa.com.tr/en/americas/turkiye-advises-citizens-living-in-us-to-avoid-gatherings/2594601
--------
Turkish Americans hold parade, festival in New York City
Servet Günerigök
22.05.2022
WASHINGTON
Thousands of Turkish Americans joined the Turkish Day Parade on Saturday in New York City, to celebrate an annual festival that highlights Turkish culture and traditions.
With the support and coordination of the Turkish Presidency's Communications Directorate, the 39th annual parade saw participants carrying Turkish and American flags, and singing and dancing on Madison Avenue. A Turkish band Mehter (Ottoman Janissary Band) performance was also part of the parade.
In addition, a convoy of vehicles belonging to various nongovernmental organizations and Turkish soccer fan groups also made their way to the avenue.
The parade drew an estimated 5,000 people, according to organizers.
In a video message, Turkish Communications Director Fahrettin Altun said events like the parade are a beacon for Turkish people's unity and solidarity.
"In addition, these events have a function that introduces the richness of our country to the American society, and conveys the voice of our nation," said Altun.
The parade was attended by Turkish Ambassador to US Hasan Murat Mercan, Turkiye's UN envoy Feridun Sinirlioglu and Reyhan Ozgur, consul general of Turkiye in New York.
Source: Anadolu Agency
Please click the following URL to read the full text of the original story:
https://www.aa.com.tr/en/americas/turkish-americans-hold-parade-festival-in-new-york-city-/2594392
--------
Pakistan
Senior journalists booked in sedition cases for allegedly criticising state institutions
Imtiaz Ali | Mohammad Hussain Khan
May 22, 2022
Cases have been registered against journalists Imran Riaz Khan, Sabir Shakir and Arshad Sharif for allegedly criticising state institutions and "abetting mutiny", it emerged on Sunday.
The first information report (FIR) against Khan, a copy of which is available with Dawn.com, was registered in Thatta's Dhabeji police station under Sections 131 (incitement to mutiny), 153 (provoking to cause riot), 452 (trespassing) and 505 (statement conducing to public mischief) of the Pakistan Penal Code (PPC).
The FIR said that the complainant had heard Khan talking against the army and the institutions in a "derogatory and provocative language" on social media.
Meanwhile, a pair of FIRs were also registered against anchorperson Arshad Sharif on Friday and Thursday in Hyderabad and Karachi. The FIRs, copies of which are available with Dawn.com, were registered under Sections 131, 153 and 505 of the PPC.
They referred to Sharif's comments in a conversation with journalist Matiullah Jan on his YouTube channel wherein he allegedly "disrespected" state institutions and uttered statements that attempted to "spread hate in the army and create a hateful atmosphere".
Another FIR in Dadu, registered on Friday under PPC Sections 131, 153 and 505, mentioned Sharif and fellow ARY News journalist Sabir Shakir. The FIR said that "derogatory language" regarding state institutions was used in a conversation between the two and analogies were drawn to Mir Jafar and Mir Sadiq. It added that the two were inciting people against the army and state institutions.
It is pertinent to mention that a similar FIR was also recently registered against journalist Sami Ibrahim in Attock under Sections 505, 131 and 499 (defamation) of the PPC, which deal with statements creating or promoting enmity, hatred, attempting to seduce a soldier, sailor or airman from his duty.
The FIR was based on a complaint by Akhtar Javaid advocate, a resident of Attock city, who said he had viewed "Canadian Pak News", Ibrahim's Youtube channel. He said that Ibrahim had hatched a conspiracy and spread rumours against state institutions in a vlog.
Sharif claimed today that "multiple cases" were registered against the four journalists in various police stations across the country.
The journalists against whom the FIRs have been filed are commonly understood to be closer to the PTI.
Meanwhile, PTI Chairman Imran Khan condemned the filing of FIRs against the journalists and branded it "political retaliation". He alleged that the government was behind the "fake FIRs" and said it was "absolutely unacceptable".
The Pakistan Electronic Media Regulation Authority (Pemra) had warned TV channels on Monday against airing content that "ridicules" state institutions, especially the judiciary and the army, or face retribution such as suspension of transmission and imposition of a fine without any prior notice. Pemra's instruction had followed after a similar warning on May 9 ago wherein it warned private electronic media from airing content against the armed forces and judiciary.
The army also recently took a "strong exception" to "intensified and deliberate attempts" to drag its name into the country's ongoing political discourse by "some political leaders, journalists and analysts".
Source: Dawn
Please click the following URL to read the full text of the original story:
https://www.dawn.com/news/1690958/senior-journalists-booked-in-sedition-cases-for-allegedly-criticising-state-institutions
--------
Imran Khan owes apology not just to Maryam but to all women: Pak rights group
May 21, 2022
ISLAMABAD: The Human Rights Commission of Pakistan (HRCP) on Saturday came down heavily on former Pakistani Prime Minister Imran Khan after he made a sexist comment against Pakistan Muslim League-N Vice President Maryam Nawaz during his Multan rally which led to outrage in the country.
Severely criticising Imran, the rights group said Imran Khan's vile remarks about Maryam at the PTI's Multan rally have "plumbed the depths of misogyny."
"It is simply unacceptable that the political narrative should crumble into such glaring intolerance and sexism," the HRCP said in a tweet.
"Mr Khan is a national leader. He must learn to conduct national conversations with his political rivals. He owes an apology not just to Ms Sharif but to all women," the group added.
Earlier, while addressing the Multan rally, Imran Khan citing Maryam Nawaz's Sargodha rally said, "In that speech, she uttered my name with such passion that I would like to tell her, Maryam, please be careful, your husband may get upset because you were constantly repeating my name."
After his comment went viral, politicians, journalists and civil society members from around Pakistan criticized Khan for his "sexist and misogynist" statement.
Taking to Twitter, Pakistan Prime Minister Shehbaz Sharif, who also happens to be Nawaz's paternal uncle, expressed strong disapproval of Imran Khan's statement and said that the entire nation, especially women, should strongly condemn the "deplorable language used against the daughter of the nation Maryam Nawaz."
"Your crimes against the country and the nation cannot be hidden under your lowly humour. How could those -- who cannot respect the sanctity of Masjid Nabawi (PBUH) -- be expected to respect the honour of someone's mothers, sisters, and daughters?" Sharif tweeted.
"Imran is the first person in history to fall into this abyss of rudeness as the leader of a party. His party went out to make a nation but spoiled the morals of the people instead. To Allah, we belong and to Him, we shall return," he added.
Source: Times Of India
Please click the following URL to read the full text of the original story:
https://timesofindia.indiatimes.com/world/pakistan/imran-khan-owes-apology-not-just-to-maryam-but-to-all-women-pak-rights-group/articleshow/91707763.cms
--------
Pakistan's ex-PM Imran Khan calls for march to Islamabad on May 25; seeks fresh elections
May 22, 2022
PESHAWAR: Pakistan's ousted prime minister Imran Khan on Sunday asked his supporters to march peacefully to Islamabad on May 25 to press for the dissolution of the National Assembly and fresh elections in the country. Khan, 69, who served as prime minister for over three and half years, was removed from the position through a no-confidence vote in parliament by the Opposition parties last month. Since his removal, Khan has addressed several rallies in different cities.
Addressing a press conference after his party's core committee meeting in Peshawar, Khan said the march would convert into a sit-in and continue until his demands are accepted, the Dawn newspaper reported.
"The main demands for the march to the capital were the immediate dissolution of the National Assembly and a date for the next general election," he said during the press conference.
Khan said he wants people from all walks of life to participate in the march to raise clamour against his removal as the prime minister which he called as "illegal".
"On the 25th [of May] I will meet you in Islamabad on the Srinagar Highway. I want people from all [walks of life] to come because this is Jihad, and not politics. I've decided and told all my team that we have to be ready to sacrifice our lives," Khan said.
Source: Times Of India
Please click the following URL to read the full text of the original story:
https://timesofindia.indiatimes.com/world/pakistan/pakistans-ex-pm-imran-khan-calls-for-march-to-islamabad-on-may-25-seeks-fresh-elections/articleshow/91727681.cms
--------
Shehbaz Sharif govt wary of tough decisions to stabilise economy ahead of polls
May 22, 2022
ISLAMABAD: In the wake of the country's tanking economy, Pakistan Muslim League-Nawaz (PML-N) coalition refuses to take tough decisions.
Coalition partners think that taking difficult decisions on the economic front for the short term will cost them dearly if elections are held early and therefore require guaranteed backing of the powerful military establishment to help it see through the remaining period of its tenure till August next year, Dawn reported.
Prime Minister Shehbaz Sharif's role has been reduced to an 'interlocutor' among his elder brother Nawaz Sharif, the establishment and the coalition partners -- the PPP and JUI-F in particular, especially in key decision-making to tame the surging inflation in the country.
Political spats between PTI and PML-N also continue as ousted premier Imran Khan's massive rallies have forced main players of the coalition to review strategies, according to Dawn.
Meanwhile, the PPP leadership also recently reached out to Maulana Fazl and PML-Q chief Chaudhry Shujaat Hussain for a 'piece of advice' to negotiate the economic and political challenges.
Source: Times Of India
Please click the following URL to read the full text of the original story:
https://timesofindia.indiatimes.com/world/pakistan/shehbaz-sharif-govt-wary-of-tough-decisions-to-stabilise-economy-ahead-of-polls/articleshow/91719579.cms
--------
Imran out to start civil war: PM Shehbaz
Majeed Gill | Amjad Mahmood
May 23, 2022
LAHORE / BAHAWALPUR: Prime Minister Shehbaz Sharif has alleged that PTI chairman Imran Khan wants a civil war in the country, but warned him that the nation will hold him by the collar for his 'nefarious designs'.
"Imran Niazi wants to initiate a civil war in the country. But he is mistaken. The nation will never forgive him [for the sin] and will hold him by the collar," Prime Minister Sharif said on Sunday in reply to a question about the long march on Islamabad the opposition PTI is planning to take out on May 25. This was his third visit in a month to the Pakistan Kidney & Liver Institute.
When asked if the government would call in the army to stop the long march, visibly upset at the query the prime minister replied that a decision would be taken if and when needed.
Speaking on the same issue in Bahawalpur on Sunday, Interior Minister Rana Sanaullah said the government and its allies would decide whether the PTI long march should be allowed to enter Islamabad.
PPP confident people will reject PTI's march; Sana says coalition will decide on permission to enter Islamabad
"If the coalition goes for action, we will not allow protesters to even come out of their homes," he told media.
When told (in a TV talk in the evening) that the PTI leadership had promised to remain peaceful, Rana Sanaullah said he did not trust Imran Khan since he had a history of speaking "lies and taking U-turns".
"Keeping in view the past record of PTI and its workers, my apprehensions are that they will come to Islamabad with the intent to cause anarchy."
The minister said personally he wanted to detain Imran Khan for three days in the same cell where he was imprisoned for months in a cooked-up drug smuggling case. "Three days behind bars will wipe politics out of him."
The premier said Mr Niazi had devoted all his time to victimising political opponents during his three-and-a-half years in power and did not spare time for welfare projects.
"The former prime minister didn't have even a single moment to think about the welfare of the masses, while he remained riding the nerves of NAB [National Accountability Bureau] to victimise the opposition leaders."
He alleged that Mr Khan had directed his ex-adviser on accountability Shehzad Akbar to ensure that Shehbaz Sharif, suffering from backache problem, would sleep on the floor during the NAB custody.
The prime minister lambasted the PTI chairman for using inappropriate language against Maryam Nawaz in PTI's Multan rally and said it made the people hold their heads in shame.
He regretted that the PTI government had damaged the PKLI by blocking funds for the institute offering free treatment to the poor. He recalled that former chief justice of Pakistan Saqib Nisar visited the PKLI and asked about the Rs20 billion expenses incurred on the project, while corruption worth not a single penny could be detected in the project during the NAB probe.
About Shireen Mazari's arrest, Rana Sanaullah said there was no involvement of the government or anyone else in her arrest.
The minister questioned the effectiveness of the cybercrime law and suggested that the government, opposition and media decide the matter in a way that it did not gag freedom of speech and also prevented misuse of the law.
The minister visited Bahawalpur to see arrangements for the May 28 PML-N rally in connection with Yaum-i-Takbir. He said the party would make the rally a memorable event in Bahawalpur.
Accusing Imran Khan's government of burdening people with unprecedented price hike, PPP secretary general Nayyar Bokhari said people would fail the PTI's long march.
In a statement, he said Mr Khan's politics would not go ahead on the pretext of seeking support from the families of police officials, bureaucrats and military officials.
"Imran has turned hundreds of thousands of people jobless and now he will have to face their wrath," he said.
Source: Dawn
Please click the following URL to read the full text of the original story:
https://www.dawn.com/news/1691056/imran-out-to-start-civil-war-pm-shehbaz
--------
Pakistan: No-confidence motion against Punjab Assembly Speaker dismissed
23 May, 2022
Lahore [Pakistan], May 23 (ANI): The no-confidence motion against Pakistan's Punjab Assembly Speaker Pervaiz Elahi was dismissed on Sunday after Pakistan Muslim League-N MPA (Members of Provincial Assembly) Sami Ullah Khan, who had filed the motion against him, failed to show up.
As the result, the session of the assembly has been postponed till June 6, Geo News reported.
The session was chaired by Waseem Khan Badozai. As the assembly's proceedings started, the speaker called out the name of MPA Khan but he was not present in the House, after which Badozai disposed of the motion and deferred the session.
The security had been tightened around the assembly in Lahore on Sunday morning. Punjab Assembly Speaker Pervaiz Elahi called the session today while cancelling the previous date of the assembly session scheduled for May 30.
Following the dismissal of the no-trust motion against Elahi, PML-N has announced that it would again submit a motion against the speaker, according to Geo News.
Meanwhile, the political situation intensified on Sunday morning as Punjab Police arrested a senior official of the Assembly after conducting raids at the houses of multiple officials.
As per the reports by Pakistan media, the police conducted raids at the houses of Director General (DG) Parliamentary Affairs Rai Mumtaz, Secretary Coordination Inayat Ullah, and Secretary Punjab Assembly Muhammad Muhammad Khan Bhatti, a Punjab Assembly spokesman confirmed.
While the police arrested DG, the other two escaped, ARY News reported.
Following this, the Police have taken control of the Punjab Assembly building and deployed personnel at all entrances of the House.
Source: The Print
Please click the following URL to read the full text of the original story:
https://theprint.in/world/pakistan-no-confidence-motion-against-punjab-assembly-speaker-dismissed/967093/
--------
Arab World
Houthi top official says group not against extending truce in Yemen
22 May, 2022
The head of Yemen's Houthi Supreme Political Council, Mahdi al-Mashat, on Sunday said the group was not against extending a UN-brokered truce, despite describing it as "not encouraging enough".
The two-month nationwide truce between the Arab coalition and the Iran-aligned Houthi group, the first since 2016, went into effect on April 2 and has largely held.
The United Nations is now seeking an extension to pave the way for inclusive political negotiations to end a seven-year war that has killed tens of thousands and caused a humanitarian crisis.
"We affirm that we are not against the extension of the truce, but what is not possible is accepting any truce in which the suffering of our people continues," Mashat said in a speech carried by Al Masirah TV, the main television news outlet run by the Houthi movement.
"I call for a genuine and encouraging cooperation that leads to improving the humanitarian and economic benefits of any upcoming truce," he added.
The Arab coalition intervened in Yemen in 2015 against the Houthis after they ousted the government from the capital Sanaa.
Source: Al Arabiya
Please click the following URL to read the full text of the original story:
https://english.alarabiya.net/News/gulf/2022/05/22/Houthi-top-official-says-group-not-against-extending-truce-in-Yemen
--------
Four killed in attempt to smuggle drugs from Syria: Jordan's armed forces
22 May, 2022
Four people were killed in an attempt to smuggle large amounts of drugs from Syria to Jordan, the kingdom's armed forces said on Sunday.
Some smugglers were also wounded while others escaped by going back to Syria, it said.
The Jordanian armed forces did not specify who killed or wounded the people involved.
Jordan is both a destination and a main transit route to the oil-rich Gulf countries for Syrian-made cheap amphetamine drug known as captagon, also dubbed as poor-man cocaine.
War-torn Syria has become the region's main production site for a multi-billion dollar trade also destined for Iraq and Europe. Syrian President Bashar al-Assad's government denies involvement in drug making and smuggling.
Source: Al Arabiya
Please click the following URL to read the full text of the original story:
https://english.alarabiya.net/News/middle-east/2022/05/22/Four-killed-in-attempt-to-smuggle-drugs-from-Syria-Jordan-s-armed-forces
--------
Russia: Time to stop aid from Turkey to Syrian rebels
22 May, 2022
Russia's deputy UN ambassador says he sees no reason to continue humanitarian aid deliveries from Turkey to rebel-held northwest Syria, accusing the West and the United Nations of insufficient efforts to deliver aid from Damascus and failing to finance "early recovery projects" to improve life for millions of Syrians.
Dmitry Polyansky told the UN Security Council on Friday that "we are not okay" with preserving the status quo at any cost, and cannot "turn a blind eye to the fact that terrorists from HTS," the strongest militant group in northwest Idlib, "usurp the authority and manipulate humanitarian assistance."
He said supporters of cross-border aid deliveries "show no wish" to enable aid deliveries across conflict lines from Damascus which could be easily arranged, "which leaves us no reason to preserve the cross-border mechanism."
Polyansky said that fighters for al-Nusra, al-Qaida's branch in Syria, "openly state that they are not going to let through humanitarian cargo from Damascus to the detriment" of cross-border aid deliveries.
In early July 2020, China and Russia vetoed a UN resolution that would have maintained two border crossing points from Turkey to deliver humanitarian aid to Idlib.
Days later, the council authorized the delivery of aid through just one of those crossings, Bab al-Hawa. That one-year mandate was extended for a year on July 9, 2021 and expires in about six weeks.
UN humanitarian chief Martin Griffiths told the council Friday that the UN is doing its "utmost" to expand cross-line aid deliveries, and is working toward a fifth convoy this year. But he stressed that "cross-line operations cannot under current conditions replace the size or the scope of the massive UN cross-border operation."
"Failure to renew the authorization will disrupt life-saving aid for the people living in the northwest, including more than one million children," he said.
Last month, his deputy Joyce Msuya, told the council "a staggering 4.1 million people" in the northwest need humanitarian aid, with almost a million people, mainly women and children, living in tents, "half of which are beyond their normal lifespan."
She said last year the UN sent some 800 trucks of cross-border aid to the northwest each month, "consistently reaching 2.4 million people."
US Ambassador Linda Thomas-Greenfield, who said she will be making a return visit to the Bab al-Hawa crossing in the coming weeks, stressed that it is in the interest of everyone, including Russia and Syria, "to prevent a dire humanitarian situation in Syria from growing worse and more desperate."
Source: Al Arabiya
Please click the following URL to read the full text of the original story:
https://english.alarabiya.net/News/middle-east/2022/05/22/Russia-Time-to-stop-aid-from-Turkey-to-Syrian-rebels
--------
Six killed in Iraq drone strikes blamed on Turkey
21 May, 2022
Drone strikes targeting Kurdish rebels killed at least six people, including three civilians, in northern Iraq on Saturday, local officials and the rebels said, blaming Turkey for the attack.
Turkey routinely carries out attacks in northern Iraq, where the outlawed Kurdistan Workers' Party (PKK) has bases and training camps.
Saturday's drone strikes targeted mountainous areas of Chamchamal district, west of the city of Sulaimaniyah, the officials said.
There was no immediate comment from the Turkish authorities.
"Two Turkish drones struck twice," said Heimin Bahjat, mayor of the village of Agjalar. "The second strike hit a pick-up truck, killing five people, including two civilians."
A medical source confirmed that the bodies of two civilians had been brought to Chamchamal hospital.
A PKK spokesman said: "Three... guerrillas were targeted by the Turkish armed drones and heavily wounded. When the civilians ran to help them and take them to hospital, they were also targeted by the drones. Two civilians lost their lives, along with the three wounded guerrillas."
Later in the day, another suspected Turkish drone strike hit a vehicle in Makhmur refugee camp, killing a resident, camp director Nechirvan Mahmoud told AFP.
The camp, which houses Kurdish refugees who fled Turkey in the 1990s, has been a repeated target of attacks by the Turkish military, who claim it has become a recruiting ground for the PKK.
Repeated Turkish operations targeting Kurdish rebels in northern Iraq have tested relations between Baghdad and Ankara, key trade partners.
They have also complicated ties with authorities in Iraq's autonomous Kurdish region who have an uneasy relationship with the PKK.
In December, three Turkish soldiers were killed in an attack in northern Iraq which Ankara blamed on the PKK.
Source: Al Arabiya
Please click the following URL to read the full text of the original story:
https://english.alarabiya.net/News/middle-east/2022/05/21/Five-killed-in-Iraq-drone-attack-blamed-on-Turkey
--------
Syria says 3 soldiers killed in Israeli missile attack
21.05.2022
Three Syrian soldiers were killed in an Israeli missile attack south of the capital Damascus, according to the state news agency SANA.
SANA, citing a military source, said the Israeli army struck targets Friday night using surface-to-surface missiles from the direction of the occupied Golan Heights.
The broadcaster said some missiles were intercepted by Syrian air defenses. Material damage was reported in the attack.
There was no comment from the Israeli military on the report.
Israel launches airstrikes from time to time on positions of Syrian regime forces and Iranian troops in Syria.
Source: Anadolu Agency
Please click the following URL to read the full text of the original story:
https://www.aa.com.tr/en/middle-east/syria-says-3-soldiers-killed-in-israeli-missile-attack/2593970
--------
UN envoy praises 'potential' of Syria prisoner amnesty
May 22, 2022
DAMASCUS: UN special envoy Geir Pedersen has welcomed a general amnesty aimed at freeing thousands of Syrians convicted on terrorism charges.
President Bashar Assad has decreed several amnesties during the country's devastating 11-year war, but the latest in April was the most comprehensive related to terrorism charges since the conflict began, rights activists said.
Pedersen, speaking to reporters in Damascus after a meeting with the regime's Foreign Minister Faisal Mekdad, said he had been briefed "in quite some detail" on the latest measure.
"I am very much looking forward to being kept informed on the progress on the implementation for that amnesty," Pedersen said before talks on a new constitution for Syria are to resume in Geneva.
"That amnesty has potential, and we are looking forward to see how it develops," Pedersen said.
The regime's Justice Ministry has said hundreds of inmates had been released, and a military official, Ahmad Touzan, told local media this week that the amnesty would cover thousands, including those who are wanted but not detained.
Touzan refused to disclose the number of inmates freed, saying "numbers are changing by the hour."
The Syrian Observatory for Human Rights war monitor, which relies on a large network of sources inside Syria, says around 1,142 inmates have so far been released across the country under the amnesty, with hundreds more expected.
In the next few days Syria's warring parties are to hold the latest round of constitutional talks in Switzerland, under a process that began in 2019.
It is hoped the talks can pave the way toward a broader political process.
Pedersen said he is "hopeful that this will be a positive meeting that can help bring us forward so that we can start to see... some confidence building measures," Pedersen said.
Syria's civil war erupted in 2011 after the violent repression of protests demanding regime change.
Source: Arab News
Please click the following URL to read the full text of the original story:
https://www.arabnews.com/node/2087361/middle-east
--------
Mideast
Palestinians slam US removal of radical Jewish group from terror blacklist
Nour Abu Eisha
22.05.2022
GAZA CITY, Palestine
Palestinians have condemned a US decision to remove radical Jewish group Kach from the list of terror organizations.
On Friday, the US Department of State removed five extremist groups from its list of foreign terrorist organizations, including Kach movement.
In a statement, the Ramallah-based Palestinian Authority (PA) termed the US decision as a "reward for the operatives of this terrorist organization."
"The actions of the US administration contradict with its words and don't fit with its commitments to peace and stability," the statement said.
The PA went on to call on the US administration to reverse the move and take a "historic decision to remove the PLO (Palestine Liberation Organization) from its list of terrorist organizations."
Hamas group, which rules the Gaza Strip, said the Kach group was responsible for dozens of terrorist attacks against Palestinians.
The US decision "reflects its double-standard policy and the US inadequacy to be a fair mediator in the Palestinian-Israeli conflict," Hamas leader Basem Naim said in a statement.
Source: Anadolu Agency
Please click the following URL to read the full text of the original story:
https://www.aa.com.tr/en/middle-east/palestinians-slam-us-removal-of-radical-jewish-group-from-terror-blacklist/2594654
--------
Hamas chief warns Israel against Jerusalem flag march
Nour Abu Eisha
22.05.2022
GAZA CITY, Palestine
Hamas political chief Ismail Haniyeh on Sunday warned Israel against allowing a flag march by settlers in occupied East Jerusalem.
On Wednesday, Israeli Public Security Minister Omer Barlev and Police Commissioner Kobi Shabtai approved the march to pass through Jerusalem's Old City.
"We follow the threats of storming Al-Aqsa complex and we warn the enemy against taking such moves," Haniyeh said in a televised speech marking the first anniversary of an 11-day Israeli offensive on the Gaza Strip.
Haniyeh said Hamas "will not allow any desecration of the Al-Aqsa Mosque or settler arrogance in Jerusalem."
The Hamas leader called on the Palestinians "to protect Al-Aqsa Mosque and prevent settlers from moving ahead with their plans" against the mosque.
Al-Aqsa Mosque is the world's third-holiest site for Muslims. Jews call the area the "Temple Mount," claiming it was the site of two Jewish temples in ancient times.
Israeli settlers plan the flag march to mark what they call the day of unifying Jerusalem, in reference to Israel's occupation of the city in 1967.
Last year, settlers staged their march through the Damascus Gate, known as Bab al-Amud area and one of Jerusalem's Old City gates amid anti-Arab chants.
In May 2021, Israeli violations inside Al-Aqsa Mosque and in Sheikh Jarrah neighborhood in occupied East Jerusalem triggered the break-out of an Israeli military offensive on Gaza.
Source: Anadolu Agency
Please click the following URL to read the full text of the original story:
https://www.aa.com.tr/en/middle-east/hamas-chief-warns-israel-against-jerusalem-flag-march/2594628
--------
Over 120 extremist Jewish settlers defile Aqsa Mosque
May 23, 2022
Dozens of Jewish settlers desecrated the Aqsa Mosque in Occupied al-Quds (Jerusalem) under tight police protection on Sunday.
At least 129 settlers, including government employees, entered the Mosque in different groups through its Maghariba Gate and toured its courtyards under police guard, according to al-Qastal news website.
During their tours at the Islamic holy site, the settlers received lectures from rabbis about the alleged temple mount and a number of them provocatively performed Talmudic prayers.
Meanwhile, the Israeli occupation police imposed movement restrictions on Muslim worshipers at the Aqsa Mosque's entrances and gates.
Source: ABNA24
Please click the following URL to read the full text of the original story:
https://en.abna24.com/news//over-120-extremist-jewish-settlers-defile-aqsa-mosque_1259943.html
--------
Iranian Foreign Ministry Condemns Assassination of IRGC Member by Terrorists
2022-May-23
"The sworn enemies of the sacred establishment of the Islamic Republic of Iran once again revealed their evil nature through the assassination and martyrdom of an IRGC member," Khatibzadeh said in a statement on Sunday.
"This inhuman crime is committed by the terrorist agents that are affiliated with the global arrogance while those countries that claim to be fighting terrorism are regrettably silent and support it," he added.
Khatibzadeh said that the Islamic Republic of Iran has been a victim of terrorist attacks during more than four past decades.
He said terrorists think that they can impede the forward march of the "great nation of Iran toward achievement of its sublime ideals ... but the blood of these martyrs guarantees the survival and progress of this nation and country".
An IRGC member was assassinated on Sunday afternoon when he was dismounting his car to enter his home in Eastern Tehran.
Colonel Hassan Sayyad Khodayee was martyred after two motorcyclists shot him five times before fleeing the scene.
IRIB news agency reported that three bullets hit him in the head and two bullets hit his hand.
The IRGC issued a statement soon after the assassination, saying that its former member was assassinated in a terrorist attack by counterrevolutionary elements.
The statement condoled with his family, adding that necessary measures have been taken to identify and arrest the assailant or assailants.
Following the assassination, Head of Tehran Court of Justice Ali Alqasi ordered Tehran prosecutor to speed up efforts to identify and arrest those behind this criminal act.
He also stressed the need to expedite judicial measures aimed at the identification of the perpetrators of this assassination.
Source: Fars News Agency
Please click the following URL to read the full text of the original story:
https://www.farsnews.ir/en/news/14010302000214/Iranian-Freign-Minisry-Cndemns-Assassinain-f-IRGC-Member-by-Terrriss
--------
IRGC Spokesman: Iran Not to Tolerate Israeli Bases in Region
2022-May-22
The Zionists have officially announced everywhere that they are against Islamic Republic's interests, General Sharif said.
They've said that they seriously follow assassination of "our figures" and identification of "our bases", he stated, adding that in order to preserve its security and national interests, Iran does not stand their bases near "our land".
If assured of any evil act by the Zionists anywhere, the Islamic Republic of Iran will repeat its previous crushing responses, General Sharif warned.
"We'll never budge an inch on people's rights," he underlined.
In relevant remarks in March, IRGC Commander Major General Hossein Salami warned the Persian Gulf Arab states against the threat that Israeli presence poses to the security of the region.
"Unfortunately, some regimes to the south of the Persian Gulf have established political and security relations with the Zionist regime, which poses a serious threat to the security of the region and especially those regimes," General Salami said while referring to the security situation in the Persian Gulf region, the Strait of Hormuz and the Sea of Oman.
"We explicitly declare and warn that the continuation of such relations are not acceptable at all, and they should know that the existence of the evil Zionist regime everywhere is a cause of insecurity," he added.
Also in March, General Salami had warned Israel that repetition of its mischiefs against Iran will be retaliated crushingly.
Iran will retaliate because Iranians will not accept terrorism against their forces; so, retaliation is a real and serious message, General Salami said, addressing a ceremony in the Southwestern city of Dezfoul in Khuzestan province.
Source: Fars News Agency
Please click the following URL to read the full text of the original story:
https://www.farsnews.ir/en/news/14010301000439/IRGC-Spkesman-Iran-N-Tlerae-Israeli-Bases-in-Regin
--------
Israeli govt and court at odds over Jewish prayer at flashpoint shrine
22 May ,2022
Israel reaffirmed on Sunday a long-standing arrangement with Muslim authorities that prevents Jewish prayer at a contested Jerusalem holy site, pushing back against a lower Israeli court that questioned the legality of police action against violators.
Al Aqsa mosque compound, which Jews revere as a vestige of their two ancient temples, is a flashpoint of Israeli-Palestinian tensions. Under the decades-old "status quo", Israel allows Jews to visit only if they refrain from religious rites.
Three Jewish minors, ordered to stay away for 15 days by police after they prostrated themselves and intoned a biblical prayer during a compound tour, contested the ban at Jerusalem Magistrate's Court. It ruled in their favour on Sunday.
For the latest headlines, follow our Google News channel online or via the app.
Police argued that the appellants had disrupted officers' duties and threatened public order. But Judge Zion Saharai, while noting he did not intend to interfere in law enforcement policy, said they had not "raise(d) worry of harm befalling national security, public safety or individual security".
Palestinian President Mahmoud Abbas issued a statement calling the ruling "a grave assault against the historic status quo ... and a flagrant challenge to international law".
Jordan, a US-backed Israeli security partner that serves as custodian of Al Aqsa, has also voiced concern about the Jewish visits to the compound.
Israeli Prime Minister Naftali Bennett's office said the ruling would be appealed at the higher Jerusalem District Court.
"There is no change, nor is any change planned, on the status quo of the Temple Mount," it said in a statement, using the Jewish term for the site Muslims call the Noble Sanctuary.
"The magistrate's court decision is focused exclusively on the matter of the conduct of the minors brought before it, and does not include a broader determination regarding the freedom of worship on the Temple Mount."
With the Jewish visits increasing in number, including over the Muslim fasting month of Ramadan that coincided this year with the Jewish Passover festival, Palestinians have cried foul.
The ruling came a week before nationalist Jews are due to hold an annual flag march through Jerusalem's Old City, marking its capture by Israel in a 1967 Middle East war. The event is resented by Palestinians, who want the Old City and other parts of East Jerusalem as capital of their hoped-for future state.
Hamas, a Palestinian group that fought a Gaza war with Israel last year that was partly stoked by Jerusalem tensions, described the flag march's planned route through a Muslim quarter of the Old City as "adding fuel to the fire".
Source: Al Arabiya
Please click the following URL to read the full text of the original story:
https://english.alarabiya.net/News/middle-east/2022/05/23/Israeli-govt-and-court-at-odds-over-Jewish-prayer-at-flashpoint-shrine
--------
Israeli court sentences six Palestinian jailbreakers to five years
22 May, 2022
An Israeli court on Sunday sentenced six Palestinian inmates to five years in prison for tunneling out of their cell last year and escaping from a high-security facility in the biggest prison break of its kind in decades.
The jailbreak sparked a massive manhunt in the country's north and the occupied West Bank in search for the men, who were members of Palestinian militant groups. They were recaptured days later.
The bold escape dominated newscasts, sparked heavy criticism of Israel's prison service and prompted the government to launch an inquiry. According to various reports, the men dug a tunnel through the floor of their shared cell undetected over several months and managed to slip past a sleeping prison guard after emerging through a hole outside the facility.
The judge ruled that the sentence took into account the fact that the prison break paralyzed the nation for days, the costs it took to recapture the inmates and the harm to public security caused by having prisoners under life sentence and convicted of serious crimes escape.
The five-year sentence will be added to the prison terms the prisoners were already serving. Five other inmates charged with assisting the men were sentenced to an additional four years.
Israel considers all six of the escapees to be terrorists. Five of them are from the Islamic Jihad militant group, with four of them serving life sentences. The sixth, Zakaria Zubeidi, is a member of the secular Fatah group of Palestinian President Mahmoud Abbas.
Zubeidi was a militant leader during the second Palestinian uprising in the early 2000s and well known in Israel both for his militant activity and his love for giving media interviews.
Source: Al Arabiya
Please click the following URL to read the full text of the original story:
https://english.alarabiya.net/News/middle-east/2022/05/22/Israeli-court-sentences-six-Palestinian-jailbreakers-to-five-years
--------
Thousands protest Turkish opposition politician's conviction for insulting Erdogan
21 May, 2022
Thousands gathered for a rally in Istanbul on Saturday to protest the conviction of leading Turkish opposition politician Canan Kaftancioglu for insulting the president and the state.
Demonstrators in the central district of Maltepe chanted songs and waved the opposition and national flags.
Kaftancioglu, who was sentenced to just under five years in jail, heads Republican People's Party's (CHP) Istanbul branch and is one of the strongest voices in it.
In 2019, she played a significant role in municipal elections in the city that saw the CHP take over the mayoralty, which had been held by President Recep Tayyip Erdogan's AK Party and its Islamist predecessors for the last 25 years.
Turkey's judicial independence has been in the spotlight in recent years, notably since a crackdown on the judiciary and other state bodies after an abortive 2016 coup and a switch to an executive presidency last year.
The country's top court upheld three convictions in a ruling made public earlier this month, but reduced the prison term to four years, 11 months and 20 days.
Source: Al Arabiya
Please click the following URL to read the full text of the original story:
https://english.alarabiya.net/News/middle-east/2022/05/21/Thousands-protest-Turkish-opposition-politician-s-conviction-for-insulting-Erdogan
--------
URL: https://newageislam.com/islamic-world-news/madrasas-quran-muslim-children-hindu/d/127073
New Age Islam Islam Online, Islamic Website, African Muslim News, Arab World News, South Asia News, Indian Muslim News, World Muslim News, Women in Islam, Islamic Feminism, Arab Women, Women In Arab, Islamophobia in America, Muslim Women in West, Islam Women and Feminism