New Age Islam News Bureau
10 Jan 2018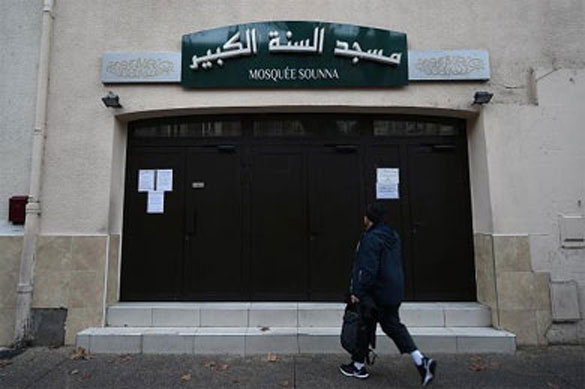 A man walks into a Mosque in France.
-----
• Madrasas Generate Terrorists: Uttar Pradesh Shia Waqf Board Chief
• Hafiz Saeed Stirred Up Muslim Youth to Become Jihadis in UK: Report
• Children at School Told To Eat Pork In Policy Called Anti-Muslim And Jewish In France
• Stop 'Name-And-Shame' To Instil Islamic Morality, Says Sisters in Islam
• New Mass Grave with 20 Tortured Bodies Unearthed near Iraq's Mosul
India
• Madrasas Generate Terrorists: Uttar Pradesh Shia Waqf Board Chief
• Appeal to Manan Bashir Wani to Return to AMU for Scholarly Pursuit
• AMU Scholar 'Militant Link': Two Jamia Students Questioned
• India: 'Love Jihad' Harassment Triggers Suicide
• Saudi increases India's Haj quota by 5,000; its 1.75L now
• Hizb chief confirms AMU scholar joined terror outfit
• Police discover ISIS chat group, learn that they killed first Kashmir IS member in 2017
• India, Indonesia hold 1st security dialogue, vow to combat terror
• Kashmir: Friends struggle to connect schoolboy they knew with fidayeen
--------
Pakistan
• Hafiz Saeed Stirred Up Muslim Youth to Become Jihadis in UK: Report
• Govt Plans To Enrol 3,000 Seminary Students to Get Modern Education
• 7 killed as suicide bomber targets police truck on Quetta's Zarghoon Road
• Pakistan: US Allegation Of Religious Freedom Violations 'Has No Merit'
• Pakistan struggles while Afghanistan celebrates Trump's cuts
• Pakistan saw decrease in terrorist incidents: Punjab CM
• KP education department to be responsible for seminaries: report
--------
Europe
• Children at School Told To Eat Pork In Policy Called Anti-Muslim And Jewish In France
• Hungary PM Calls Refugees in Europe 'Muslim Invaders'
• Greece Limits Sharia Law after European Court Challenge
• Germany Indicts Syrian on Charges of Promoting Islamic State
• Britain is seeking to 'overthrow' Tehran, Iran's supreme leader claims
• Late Moroccan King Honored for Protecting His Country's Jews
• Sweden warns against cutting US aid to Palestinians
--------
Southeast Asia
• Stop 'Name-And-Shame' To Instil Islamic Morality, Says Sisters in Islam
• No Place for Hatemongers, Says Malaysian Deputy Minister on Zakir Naik
• Malaysia PM visits Saudi king despite controversy over ties
• An Indonesian General's Political Aspirations
• Jamil Maidan Flores: As China Rises and the US Wilts, Asean Must Seize the Day
--------
Arab World
• New Mass Grave with 20 Tortured Bodies Unearthed near Iraq's Mosul
• Saudi King Salman Reaffirms Support for Palestinian Cause
• Boy's death shows danger for besieged Syrians seeking food
• Syrian Army Wins Back Control of Strategic Region in Hama
• ISIL Captures More Regions in Battle against Rival Terrorists in Syria's Hama
• More Terrorist-Held Regions Freed by Syrian Army in Idlib Province
• Syrian Army's Elite Forces Dispatched to Eastern Damascus
• Military Expert: Terrorists' Drone Attacks on Russian Base Supervised by US
• 'Syrian army hits Israeli jet, intercepts missiles near Damascus'
--------
Mideast
• Hamas, Islamic Jihad and Israel Make up Gaza's 'Unsolvable Equation'
• Erdogan's 'Soldiers' and Their Threat to Dissent
• New Saudi airstrike leaves dozen civilians dead in Yemen's Ta'izz
• Iran has foiled plot to use protests to overthrow system: Khamenei
• Turkey to continue Euphrates Shield operation in northern Syria, Erdogan says
• UNHCR says Israel should halt policy of relocating African refugees
• Turkey to continue military operation in northern Syria: Erdogan
• Saudis seeking to acquire Israeli Iron Dome missiles: Report
--------
North America
• Canada: Trudeau's Support for Islamists a Warning to America
• Washington Ready to Work with Islamabad to Combat Terrorism: US Officials
• US to decide on Iran sanctions waivers on Friday
• President Trump is right to bully the enemies of America
• US plots in region counter-attack against Islamic Revolution
• Quebec opposition parties against marking mosque shooting with day against Islamophobia
• Pakistan has not suspended military, intelligence cooperation with Washington: US
--------
South Asia
• Bill Clinton Joins Calls for Release of Reuters Journalists in Myanmar
• Airstrikes leave 3 ISIS militants dead in Kunar province of Afghanistan
• Rohingya Leaders Call on US to Ensure Refugees Are Not Forced Back to Myanmar
• Narrow sanctions won't help Rohingya Muslims: Activists
• New US Ambassador reaffirms support to Afghanistan
• Three key members of Taliban group arrested in Paktika province
• ISIS militants blown up by own explosives in East of Afghanistan
--------
Africa
• Nigerian Forces Attack Protesters Demanding Release Of Prominent Shia Cleric
• Tunisian opposition calls for more protests
• Sahel states to raise fund for anti-terrorism fight
• Nigerian military helicopter crashes
Compiled by New Age Islam News Bureau
URL: https://www.newageislam.com/islamic-world-news/madrasas-generate-terrorists-uttar-pradesh/d/113887
--------
Madrasas Generate Terrorists: Uttar Pradesh Shia Waqf Board Chief
By Maulshree Seth
January 10, 2018
ALLEGING THAT madrasas have become a business venture for mullahs (clerics) and generated terrorists instead of ensuring jobs for Muslims, Uttar Pradesh Shia Waqf Board Chairman Waseem Rizvi on Tuesday wrote to Prime Minister Narendra Modi and Chief Minister Yogi Adityanath, seeking abolition of the concept of madrasas. Instead, he demanded that madrasas be registered as mainstream schools under state CBSE, ICSE and state boards.
Citing example of West Bengal, Rizvi told mediapersons, "The example of West Bengal is before us… where it has been found that some madrasas were imparting training to make bombs. Madrasas have been turned into business by mullahs, who send their own children to convent schools. While they fail to ensure good jobs for these children, a large number of them have become terrorists."
In his letter to the PM and Adityanath, he wrote: "In India, certain organisations and 'Kattarpanthi Mullahs' are taking Muslim children away from the mainstream in the name of madrasa education. The level of education of Muslim children in madrasas is so low that instead of general society, they are moving towards radicalism."
Claiming that a large number of madrasas are not registered, lack basic facilities and have mostly untrained teachers, Rizvi wrote that such an education cannot be utilised to crack competitive examinations. He added that a large number of madrasas are funded through charity coming from different parts of India, Bangladesh and Pakistan. "Kuch aatankwadi sangathan bhi aise apanjikrit madarson ko paise se madad kar rahe hain (Some terror outfits are also helping such non-registered madrasas with funds)," he added.
Citing examples of madrasas in Uttar Pradesh, Rizvi said that most do not have a playground, washroom, canteen and a computer room. Alleging that the current madarsa education is making Muslim children backward, "who are becoming victims of terror groups", Rizvi wrote, "Gareeb aur pichhde bacche aatankiyon ke liye aasaan shikar ki tarah hote hain (Poor and backward children are like easy targets for terrorists)."
Rizvi, thereby, sought that madrasas be called "schools", where religious education would be made optional and non-Muslim students allowed admission.
The BJP, meanwhile, said that governments at the Centre and in Uttar Pradesh had no plans to shut down the madrasas and were, instead, working towards the modernisation of education imparted in these institutes.
BJP spokesperson Shahnawaz Hussain said: "Our governments have no plan to shut down the madrasas. We are in favour of their modernisation as well as modernisation of the education imparted there. We want that alongside religious teachings, modern education should also be imparted to madrasa students."
Rizvi, meanwhile, on Tuesday wrote to all district magistrates, SPs and managers or administrators of Shia Waqf properties, asking that all unregistered madrasas be removed from Shia Waqf lands in UP by January 31. He also warned that FIRs would be lodged against such institutions if they continue their activities.
http://indianexpress.com/article/india/madrasas-generate-terrorists-uttar-pradesh-shia-waqf-board-chief-5018284/
--------
Hafiz Saeed Stirred Up Muslim Youth to Become Jihadis In UK: Report
Jan 10, 2018
Hafiz Muhammad Saeed, the head of the banned Jamaat-ud-Dawa (JuD), during his 1990s tour to the UK, incited Muslim youth to indulge in militancy before the event of 9/11, according to a BBC investigation.
The Radio Four documentary, The Dawn of British Jihad, discovered that Hafiz Saeed toured British mosques in 1995.
In August that year, in Glasgow, Saeed said that when Muslims had the spirit of jihad they had ruled the whole world but today they were being humiliated.
Saeed is wanted for allegedly organising the Mumbai attacks in 2008.
He has always denied involvement in the attacks, which killed 166 people.
The BBC documentary sets out to examine the idea that radicalisation of British Muslims started well before the 9/11 bombings.
Sajid Iqbal, one of the programme's producers, told BBC Scotland that he spoke to people who were active in the 1980s and 1990s, "much earlier than commonly thought".
"These were different times. At that time, the theatres of Jihad were Bosnia and Afghanistan, where there was some sort of common cause," he said.
Hafiz Saeed's tour of Britain in 1995 was recorded in a magazine published by a militant group called Lashkar-e-Taiba (LeT) – a Pakistani-Kashmiri group.
The articles, written in Urdu and uncovered by the BBC investigation, were written by the Iman of a mosque in Oldham who accompanied Saeed.
Iqbal said, "There is non-stop talk about Jihad, encouraging British Muslims to join him."
In Glasgow, Saeed addressed a large gathering at Glasgow's Central Mosque. He claimed Zionists were using billions of dollars to kill the spirit of 'Jihad' among Muslims.
"They are trying to entice Muslims to the politics of power through democracy," he said. "They are also using the interest-based economy to keep Muslims in debt."
"Even in 1995, he was a known militant, active in Kashmir," Iqbal revealed.
Glasgow Central Mosque has not commented on the claims.
During the tour, Saeed also spoke in Birmingham where he urged his audience, "Let's all rise up for jihad" and denounced "Hindu dogs".
In Leicester, he spoke at a conference attended by 4,000 young people. His address was reported to have "infused a new spirit in the youth".
The article said, "hundreds of young men expressed intention to get jihad training."
In March 2001, Lashkar-E-Taiba, the Kashmiri militant group, promoted by Hafiz Saeed on his tour of Britain, was declared a terrorist organisation by the Home Office.
In September that year, New York and Washington came under attack by Al Qaeda.
In 2008 Lashkar-e-Taiba made its mark in the global jihad with a deadly wave of attacks across the Indian city of Mumbai.
Lashkar-e-Taiba's founder and leader Hafiz Saeed, who toured British mosques in the 1990s is now one of the world's most-wanted terrorists – though he has never faced trial for the Mumbai attacks and was recently released from house arrest by the government.
https://www.pakistantoday.com.pk/2018/01/10/hafiz-saeed-stirred-up-muslim-youth-to-become-jihadis-in-uk-report/
--------
Children At School Told To Eat Pork In Policy Called Anti-Muslim And Jewish In France
By Cristina Maza
1/9/18
Muslim and Jewish students in the small French town of Beaucarie will no longer be able to request pork-free school meals, according to a new rule passed by the town's far-right mayor.
The town, ruled by the far-right nationalist party the National Front, has banned pork-free meals from school menus in a move widely seen as discriminatory against Muslim and Jewish students. The town, ruled by the far-right nationalist party the National Front, has banned pork-free meals from school menus in a move widely seen as discriminatory against Muslim and Jewish students. The new rule is expected to affect around 150 students, most of whom are Muslim. Under Judaism and Islam, eating pork is considered forbidden.
The town's National Front Mayor Julien Sanchez said the decision would come into effect when the new school term begins on January 15. He said pork-free meals are against the French state's brand of secularism.
"Those who refuse to permit their children to eat [pork] can find another solution," Sanchez said in an announcement to a local newspaper. "Religious imperatives have no place in an educational establishment."
Many, however, criticized the decision as discriminatory. The decision was "a typical example of someone brandishing secularism as an anti-Muslim political weapon, or anti-Jewish for that matter," Marlene Schiappa, France's minister for sexual equality, told local television.
Some angry parents were expected to protest the decision on Monday and have said they would not permit their children to eat in school cafeterias.
The National Front did surprisingly well in the French general elections in May, and the party's leader Marine Le Pen made it to the second round of voting. Her campaign focused heavily on provoking a fear of Islam, migrants, refugees and open borders.
"We do not want to live under the rule or threat of Islamic fundamentalism. They are looking to impose on us gender discrimination in public places, full body veils or not, prayer rooms in the workplace, prayers in the streets, huge mosques … or the submission of women," Le Pen said of Muslims during the campaign.
She ultimately lost, however, to France's current President Emmanuel Macron by a wide margin. The party now governs in just a handful of towns and municipalities.
The National Front's members oppose immigration, diversity and France's membership in the European Union. They have been a major proponent of French nationalism since the 1980s.
http://www.newsweek.com/far-right-nationalists-france-ban-pork-free-meals-muslim-students-775282
--------
Stop 'Name-And-Shame' To Instil Islamic Morality, Says Sisters in Islam
January 9, 2018
PETALING JAYA: Islamic authorities should stop using the name and shame method as a way of instilling Islamic morality, Muslim women's rights group Sisters in Islam (SIS) said today.
It said this in response to a recent call by Perak's Sultan Nazrin Shah that proceedings in shariah courts should refrain from exposing details that could harm a person's dignity and honour.
SIS said persons in positions of authority use the name and shame method as a way of instilling Islamic morality.
"For example, relating to khalwat, children out of wedlock issues, marriage of children to persons who have committed sexual crimes against them, marriage of children to cover the shame of parents' dignity and particularly in relation to women's dressing and public space such as in criticising a woman's dressing and behaviour as a wife, mother, leader and so on."
The group said Prophet Muhammad had warned against such a method.
"Do not harm Muslims, and do not revile them, nor pursue their imperfections," it said quoting a hadith.
It said the Muslim community should adopt a more tolerant attitude towards what is considered 'moral misdeeds' under the religion, adding that state involvement must be for the sake of defending the marginalised.
On Jan 4, Sultan Nazrin said shariah court proceedings especially those involving family and personal issues must protect the good name of family members, parents and children.
"Noble values, with the focus on rationality, wisdom, good manners and order enjoined by the religion, should always be portrayed through actions taken in the name of Islam," the ruler said.
SIS said it shared the concerns raised by Sultan Nazrin, as they were issues championed by the group.
Meanwhile, SIS also called for fairer distribution of wealth in keeping with the spirit of Islamic laws.
"The situation is much changed from the days of our Prophet. Women in today's Malaysia are not necessarily supported by the men in their lives. They need to have a job, pay the bills, support their children and very often their parents.
"And yet their claims in assets are not recognised on par with their responsibilities," it added.
SIS said many Muslim countries had amended or added flexibilities in laws on distribution of assets.
"There is a flaw in understanding the laws on property and inheritance, compounded with bureaucratic red tapes by the government appointed endowment agencies, resulting in assets of Muslims being frozen for a long periods of time.
"We need a systemic transformation to facilitate assets claims and withdrawal and ensure that they are distributed swiftly and justly to family members," the group said.
http://www.freemalaysiatoday.com/category/nation/2018/01/09/stop-name-and-shame-to-instil-islamic-morality-says-sis/
--------
New mass grave with 20 tortured bodies unearthed near Iraq's Mosul
Jan 9, 2018
Iraqi security forces have unearthed yet another mass grave containing the bodies of at least 20 women tortured and slain by Daesh terrorists near the northern city of Mosul, which was once the terror group's main stronghold in the Arab country.
"Relics of 20 women were found inside a mass grave while removing debris in western Mosul," Iraqi Police Colonel Omar al-Hajjar said on Monday.
Al-Hajjar said that the victims were executed by the terrorists "as they were trying to escape toward the eastern side of the city during the liberation offensives last year."
He said that the bodies of the victims along with their identity cards "were transferred to forensic medicine department in Mosul to extradite them to their relatives."
Several mass graves have been found in the areas formerly controlled by Daesh militants since Iraqi forces launched their major offensive in October 2016 to liberate Mosul, the terror group's last urban stronghold in the Arab state.
Last week, Iraqi lawmaker Farah al-Siraj said "4,000 bodies are still under the debris in the Old City of Mosul."
Mosul had been under Daesh control since 2014, when the terrorist group started a terrorist blitz in Iraq.
Iraqi Prime Minister Haider al-Abadi declared in July 2017 the final victory over the Daesh terrorists in Mosul after eight months of combat against the extremists.
In mid-December, Al-Abadi declared the end of war against Daesh.
Daesh has gained notoriety for barbarity, heinous atrocities and sacrilegious acts. The terrorists of the group have been accused of committing gross human rights violations and war crimes in the areas they control in Iraq and neighboring Syria.
The United Nations said in a report in October that more than 21,000 Iraqis have lost their lives or sustained injuries due to the acts of violence and terrorism in Iraq since Daesh launched its campaign of terror in the embattled Arab country in 2014.
http://www.presstv.com/Detail/2018/01/09/548311/Iraq-Mosul-mass-grave-Daesh
--------
India
Appeal to Manan Bashir Wani to return to AMU for scholarly pursuit
January 10, 2018
The idea that the pen is mightier than the sword is a phrase repeated throughout history.
A famous hadith of Prophet Mohammed says: "The ink of the scholar is holier than the blood of the martyr".
It is unfortunate that in his commitment to bring justice to Kashmiris, Manan Bashir Wani, a PhD scholar at the Aligarh Muslim University, has chosen the sword over the pen.
Indian Muslims for Secular Democracy (IMSD) joins the parents of Mr. Wani and fellow Kashmiri scholars at AMU in their appeal to him to return to the AMU and continue his scholarly pursuit.
IMSD believes that violence must never be the means to resolve socio-political disputes.
Javed Anand (Mumbai), Convener, IMSD
(+919870402556)
Dr Saif Mahmood (Delhi), Member, National Executive, IMSD
(+919999564640)
Mohammed Jawad (Chennai), Co-convener, IMSD
(+919840087114)
Feroze Mithiborwala (Mumbai), Co-convener, IMSD (+91229277751)
--------
AMU Scholar 'Militant Link': Two Jamia Students Questioned
By Alok Singh
January 10, 2018
Two students of Jamia Milia Islamia were questioned in connection with expelled research scholar of Aligarh Muslim University, Mannan Wani, who reportedly joined Hizbul Mujahideen. The students, from Kashmir, were questioned Monday evening by officials of intelligence agencies and local police and later allowed to go.
Police sources said the two students live in the Jamia hostel were seen in CCTV footage recovered by UP Police during the probe. Wani had last paid a visit to Delhi on January 3 and reportedly met them. The two students had also visited AMU and met Wani during seminars, said sources.
Full report at:
http://indianexpress.com/article/india/amu-scholar-militant-link-two-jamia-students-questioned-5018289/
--------
India: 'Love jihad' harassment triggers suicide
09.01.2018
By Shuriah Niazi
New Delhi
A Hindu woman in southern India took her life after being harassed by members of a right-wing group who accused her of being in a relationship with a Muslim man, police said Tuesday.
The 20-year-old woman allegedly committed suicide last Saturday by hanging herself at her residence in Chikkamagaluru district in Karnataka state.
A suicide note was recovered from the scene in which she alleged that five youths had harassed her and her mother, said K. Annamalai, district superintendent of the police.
They had visited her house last Saturday, the day of the alleged suicide, and threatened her of being a victim of "Love Jihad" -- a term coined by the Hindu right-wing to accuse Muslim men of luring non-Muslim women to Islam by feigning love.
They included leader of the ruling Bharatiya Janata Party's youth wing M.V. Anil, who was arrested by police on Monday.
"She was harassed by these people for roaming around with a Muslim man, after which she decided to end her life," Annamalai said.
According to media reports, the victim had claimed on Whatsapp that she loved Muslims.
In her police complaint, the victim's mother said her daughter had received a call from an anonymous person who questioned her about the Whatsapp message and pictures on social media where she was wearing a head scarf.
Incidents of violence against Muslims in the name of "Love Jihad" are rising in the country currently being ruled by right-wing BJP.
Full report at:
http://aa.com.tr/en/asia-pacific/india-love-jihad-harassment-triggers-suicide/1026352
--------
Saudi increases India's Haj quota by 5,000; its 1.75L now
Mohammed Wajihuddin
Jan 10, 2018
MUMBAI: Saudi Arabia has increased India's Haj quota by 5,000, taking it to 1,75,025, the highest since Independence.
Union minority affairs minister Mukhtar Abbas Naqvi, who signed the bilateral annual Haj (2018) agreement with the Saudi authorities a few days ago, credited the increase in Haj quota, for the consecutive second year, to Prime Minister Narendra Modi's immense popularity with the Saudi regime, especially the Saudi monarch Salman bin Abdul Aziz al Saud.
"Last year, Saudi Arabia had increased India's Haj quota by 35,000 and this year they have increased it by 5,000. PM Modi's popularity with the Saudi authorities has helped us get this increase which will help us allow more pilgrims to proceed for Haj this year," said Naqvi.
In 2017, India's Haj quota was 1,70,025 out of which 1,25,000 went through the Haj Committee of India while 45,000 chose private tour operators (PTOs). Now with the 5,000 increase in the quota, even the PTOs are expecting increase in their share of the quota and feel elated.
"It is welcome news and we appreciate the efforts of the minority affairs minister who lobbied for this increase. The demand is three times more than the seats available to PTOs and this increase in the quota is certainly going to help us too," said Yusuf Kherada of Al Khalid Tours and Travels, a leading PTO.
For the Haj 2018, the Haj Committee has received around 3,55,000 applications. This year there is no reservation for those who have applied for the fourth time.
Full report at:
https://timesofindia.indiatimes.com/india/saudi-increases-indias-haj-quota-by-5000-its-1-75l-now/articleshow/62436268.cms
--------
Hizb chief confirms AMU scholar joined terror outfit
Anuja Jaiswal
Jan 9, 2018
AGRA: Hizbul Mujahideen has claimed that AMU PhD student Manaan Wani, whose photographs, carrying an AK-47 assault rifle, appeared on social media earlier this week, has indeed joined them and that they welcome his decision. Presenting Wani as the latest poster boy for the Hizbul, a statement issued by its chief, Syed Salahuddin, said this proved that educated youths, too, were joining the "struggle for freedom".
"Joining of Manaan Wani exposes the Indian propaganda that the youths of Kashmir are joining militant ranks due to unemployment and economic distress," Salahuddin said in the statement to a Srinagar-based news agency.
The outfit has described Wani's entry as a "good omen" for Kashmir's freedom struggle. "From years on, educated and qualified youths of Kashmir have been joining Hizbul Mujahideen to take this ongoing freedom movement to logical conclusion. This spirit of youths is laudable," Salahuddin said.
Meanwhile, UP ATS has begun the process of identifying the "core" group of people with whom Wani was in touch with. They traced Wani's "missing" roommate, Muzammil Hussain, to Nagpur, where he is working with a PSU. They are talking to him and scanning call detail records of around 50 people with whom the AMU student could have interacted in the recent past. Sources told TOI that the purpose of the exercise is to assess if more students or his associates have been radicalized, besides trying to understand the circumstances that led the researcher to join the terror outfit.
Aligarh SSP Rajesh Pandey confirmed that Muzammil Hussain has been traced to Nagpur. He said the university had initially claimed that they didn't have any of record of him, which led to suspicion that he had gone missing. Pandey said they would be questioning Muzammil, as he shared the hostel room with Wani for 9-10 months.
When contacted, Muzammil told TOI over phone that he had informed the university about his appointment as a geologist in Mineral Exploration Corporation Limited (MECL) and he doesn't know why the AMU administration had not deleted his name from their records.
He admitted that he knew Wani, who was his senior, and claimed that he never found anything "suspicious" about him during his stay with him. "I am shocked to know about this latest development," he said.
A senior police official said the ATS was examining the material seized from Wani's room, which includes books and religious writings in Urdu and English. He said that preliminary investigations have also revealed that Wani used to work on a laptop, which he always carried with him.
Meanwhile, a video of Wani, shot some time back, went viral on the social media on Tuesday. In the video, Wani, while speaking on the role of AMU in national politics, says, "This platform was created to provide leadership to the community, which was needed. Minority community needs a leader and the role of AMU is very important. Unfortunately, we haven't been able to produce leaders who can actually work for the community, represent it and raise its issues."
Full report at:
https://timesofindia.indiatimes.com/india/hizb-chief-confirms-amu-scholar-joined-terror-outfit/articleshow/62434668.cms
--------
Police discover ISIS chat group, learn that they killed first Kashmir IS member in 2017
M Saleem Pandit
Jan 9, 2018
SRINAGAR: The Jammu and Kashmir police recently unearthed a closed instant messaging group of the ISIS on "Telegram" and learned that they had killed the first IS member from Srinagar, Mugees Ahmad, alias Khattab, of Parimpora, in an encounter at Zukara, in Srinagar, on November 17, 2017. A police sub-inspector, Inam Tak, had been killed in that encounter and an SPO injured.
The Telegram chat group al-Qarar, according to the police, said Mugees Ahmad, the first Islamic State operative from Kashmir, was the terrorist killed on November 17 last year.
The chat group, which claims it is ISJK's official messaging channel, also calls for attacks in the state. It has claimed that Mugees Ahmad, alias Khattab, resident of Parimpora in Srinagar, who got killed in a shootout in Zakura area of Srinagar, was the first militant of the organisation," a top J&K police officer said in a communique to all state police chiefs.
Thousands had gathered at Parimpora on November 18 to attend the funeral prayers of Mugees Ahmad Mir. Though Mugees was considered a top commander of the Al-Qaeda linked Ansar Gazwat-ul-Hind, the Tehreek-ul-Mujahideen (TeM) had claimed Mugees was its district commander.
Interestingly, people at the funeral had raised slogans against the Hurriyat Conference. Eyewitnesses had said the militant's mother had been demanding that funeral prayers be deferred till people from south Kashmir arrived at the funeral because Mugees had several hideouts in south Kashmir.
Full report at:
https://timesofindia.indiatimes.com/india/police-discover-isis-chat-group-learn-that-they-killed-first-kashmir-is-member-in-2017/articleshow/62434351.cms
--------
India, Indonesia hold 1st security dialogue, vow to combat terror
Jan 9, 2018,
NEW DELHI: India and Indonesia on Tuesday held their first security dialogue during which they agreed on operational cooperation in security and counter-terrorism.
The dialogue was led by National Security Adviser Ajit Doval and Indonesia's Coordinating Minister for Political, Legal and Security Affairs H Wiranto.
"India and Indonesia hold the first Security Dialogue, ... Both agreed on operational cooperation in security and counter-terrorism fields," External Affairs Ministry Spokesperson Raveesh Kumar tweeted.
Ahead of the dialogue, the Indonesian foreign ministry had said the two countries will discuss cyber security, counter-terrorism efforts and transnational organised crime.
Full report at:
https://timesofindia.indiatimes.com/india/india-indonesia-hold-1st-security-dialogue-vow-to-combat-terror/articleshow/62431582.cms
--------
Kashmir: Friends struggle to connect schoolboy they knew with fidayeen
by Bashaarat Masood
January 10, 2018
THE 16-year-old who became only the third local militant to be part of a fidayeen attack in the Valley was the son of a police constable and died within 100 days of dropping out of school and picking up arms. Manzoor Ahmad Baba, 22, of Drabgam village died along with him in the December 31 attack on a CRPF training centre in Pulwama, making it the first suicide strike in Kashmir involving two locals. The third person to die was reportedly a Pakistani.
At Iqra Educational Institute, where Fardeen Ahmad Khanday studied in Class X, his classmates and friends, who don't want to be identified, struggle to associate the 16-year-old with fidayeen. "He was one of the brightest students of our class," says a friend, also in Class X. "He was unlike most of us. He would hardly talk about politics, and stayed away from stone-throwing protests. I never thought he would become a militant."
Apart from being good at studies, Fardeen was also among the best cricketers at school, they say. "He loved playing cricket. He was also a prefect," says a friend and neighbour.
Fardeen belonged to Hyuna village, which falls in slain Hizb-ul Mujahideen commander Burhan Wani's Tral, while another top Hizb-ul Mujahideen militant, Shabir Ahmad Bhat, was his neighbour. But family members say what badly affected him was the killing of another militant and neighbour, Aaqib Moulvi, in March last year.
Moulvi, an alleged Hizbul commander, was a hafiz (one who has memorised the Quran in full) and was Fardeen's Quran teacher at a local madrasa. "Fardeen had a religious bend, and prayed regularly. He sometimes even led prayers at the local mosque," says a friend. "He was disturbed by the killing of Aaqib. But we never had an idea what was on his mind."
Family members say Fardeen left home on September 17, a Sunday, without informing anybody. Days later, his picture surfaced on social networking sites holding a gun, with a banner of the Jaish-e-Mohammad behind him.
He was one of the two elder sons of Constable Ghulam Mohidin Khanday's four sons (two sets of twins). One of Fardeen's cousins says that after his picture holding a gun appeared, the family tried desperately to search for him. "His mother (Wazeera Begum) looked for him everywhere," he says. "She went village to village."
Pulwama SSP Choudhary Mohammad Aslam says Fardeen was likely influenced by Jaish local commander Noor Mohammad Tantray. "These boys are indoctrinated," says Choudhary. "He (Tantray) was notorious for this."
Tantray was incidentally killed six days before Fardeen, in a December 25 encounter at Samboora Pulwama.
The turn towards militancy of Manzoor Ahmad Baba was as sudden. SSP Aslam says that on November 4, a group of militants attacked a police station in Pulwama, killing an official. While they escaped, police were able to trace the taxi in which they arrived, and it was owned by Baba. "He went missing the same day," says Aslam.
Police officials admit though that they are not sure if Baba himself was involved in the attack, and Aslam says there was nothing in the police records against him till the attack.
Baba's whereabouts remained unknown till 50 days later, when he surfaced in the Jaish attack on the CRPF centre.
Baba's father died some years ago, after which his mother remarried. He and his two younger siblings lived separately in a house Baba had constructed in his Drabgam village, located near J&K Finance Minister Haseeb Drabu's native Rajpora.
"He was just 22 but supporting a family," says a neighbour. "He would often work till late. We never thought he would become a militant, let alone a fidayeen."
Police have said that the third militant to die in the suicide attack was Abdul Shakoor, a resident of Rawlakote in Pakistan.
Full report at:
http://indianexpress.com/article/india/kashmir-friends-struggle-to-connect-schoolboy-fardeen-khanday-they-knew-with-fidayeen-crpf-camp-attack-5018325/
--------
Pakistan
Govt plans to enrol 3,000 seminary students to get modern education
BY FARID SABRI
Jan 10, 2018
ISLAMABAD: In order to bring the country's religious seminaries in the mainstream education system, the federal government has enrolled hundred religious seminaries, to eliminate extremist tendencies, under the National Action Plan (NAP), it emerged on Tuesday.
According to details, 3,000 students enrolled in 100 madrassas across the country would learn modern subjects like science, mathematics, social studies and English as it will be included in the curriculum and made mandatory under 'Mainstreaming of Madaris' project of the federal government. It is in pursuance of Vision 2025 and NAP to eliminate extremist tendencies and arm the seminary students with worldly education, it has been learnt.
Pursuing Vision 2025 and NAP, the National Commission for Human Development (NCHD) and Ministry of Federal Education and Professional Training (MoFEPT) are all set to sign a Memorandum of Understanding (MoU) over already introduced primary education in 100 seminaries located in Islamabad (ICT), Gilgit-Baltistan (GB), Azad Jammu and Kashmir (AJK) and FATA.
A senior official of interior ministry requesting anonymity told Pakistan Today that the basic objective of the project is to introduce modern education system so that students can learn latest techniques in the modern era.
According to the official documents, initially, only 40 religious seminaries in Islamabad have initiated giving primary education to their students to enable them to pursue further studies in colleges and universities and to ensure a competitive edge in the job market for employment. These 40 madrassas do not include any from Lal Masjid or Jamia Hafsa affiliated madrassas which are accused to be breeding grounds of extremist mindset.
"Giving modern education to the students of seminaries at their initial stage will ultimately eliminate extremist approach and will help to produce well-educated individuals fit for both worldly and religious duties," said an official of ICT.
The Ministry of Interior wrote to the capital administration to verify that the 40 enlisted madrassas have no links with banned organisations. ICT administration, in this regard, has written a letter on Tuesday to the special branch seeking their report on the matter within three days to confirm if any of these madrassas enlisted in the programme are under the watch list of United Nations Security Council (UNSC) or have any links with prohibited organisations (i.e. Tehreek-e-Taliban Pakistan (TTP), Lashkar-e-Jhangvi (LeJ), Al-Qaeda, Jaish-e-Muhammad (JeM), Lashkar-e-Tayyaba (LeT), Sipah-e-Sahaba Pakistan (SSP), Baluchistan Liberation Army (BLA), ISIS etc.), and accused of 'terror funding'.
As soon as the special branch furnishes its report, a MoU will be signed by both FDE and NCHD, probably within this month.
According to further details, 40 seminaries have been established in Islamabad, 25 in FATA, 15 in Gilgit-Baltistan and 20 in AJK. "500 more madrassas would be enrolled in this project by the end of 2018," said an official privy to the development.
As per the unsigned draft MoU, and modus operandi, between FDE and NCHD available with Pakistan Today, it is stated that FDE would have six responsibilities including provision of free textbooks for the students of these madrassas as they are to be operated by the nearby government schools, issuance of registration number/silsila number to all enrolled students, monitoring of these madrassas, administration of teachers, conduction the annual exams through staff of the nearest government schools, and giving technical support to NCHD, if required.
Monitoring of the ongoing project in these madrassas would help the authorities to keep strong vigilance on the other activities in madrassas to curtail extremism.
On the other hand, NCHD would notify a district steering committee to meet on a monthly/quarterly basis, or whenever found necessary to monitor the progress of the project. The committee would be chaired by DG (NCHD) with members, focal person (FDE), focal person (CADD ministry), focal person (MoFEPT) and Madaris Project secretary in-charge.
Nine other responsibilities include social mobilisation for identification of establishment of madaris schools in Islamabad, facilitation in monitoring visit of madaris schools, carrying out a periodic assessment of the students, training of the madaris teachers to ensure minimum dropout, and developing recording and reporting formats for progress sharing with all concerned.
Furthermore, sharing the progress report of the project activities with FDE and the other two ministries, ensuring that the enrolled students qualify the minimum learning landmarks, sign MoU with all madaris (individually) for smooth running of project activities, and provide financial assistance to madaris teachers (Rs12,000 as honoraria) are also among the responsibilities.
The 40 religious seminaries located in Islamabad and enrolled in this project include Darul Uloom Muhammadia, Jamia Masjid Ayesha Siddiqa, Madrassa Taleemul Quran, Madrassa Ashraful Uloom, Jamia Jalalia, Madrassa Ziaul Uloom, Darul Uloom Ziaul Quran, Jamia Ghousia Rizvia, Jamia Rehmania, Jamia Nazeeria, Idara Noorul Imaan, Saddiqatul Anwarul Quran, Jamiah Ghousia, Madrassa Maraful Quran wal Sunnah and some others.
It is important to mention here that neither new infrastructure has been constructed, nor basic facilities have been provided for studying purposes like classrooms, playgrounds, libraries etc. for the students to these madrassas, but only chairs have been provided to some seminaries.
"Some enrolled madrassas have arranged rooms. Others are using open spaces and have no option but to study without any basic facility. All this shows that young students are eager to study modern subjects," said an official of NCHD.
This project is sponsored by FDE and executed by NCHD. Under this programme, 3,199 students –between the ages of 5-11 years – will get a chance to study modern education in their respective madrassas along with religious courses countrywide. So far, only 941 students have been enrolled in the 40 madrassas of Islamabad only.
This project was proposed by MoFEPT on December 2, 2014, and approved by Departmental Development Working Party (DDWP) on May 6, 2015, costing Rs50 Million. This was a three-year project (July 2015 to June 2018) which can be extended for another two years.
It is noted that during the last four-and-a-half years, the federal government did not open any new school in Islamabad but a number of madrassas cropped up in the capital.
According to a survey conducted by ICT administration in early 2017 on the direction of the then interior minister Chaudhry Nisar Ali Khan after a spike in terror activities in the country, the number of seminaries in the federal capital stood at 374, out of which 205 were unregistered.
Interestingly, the religious seminaries (374) outnumbered the capital's 348 educational institutions (191 primary, 60 middle and 97 high schools). However, 43 higher secondary schools, which are generally considered as inter-colleges, are not included in the list of schools.
The religious seminaries belonging to four schools of thought are operating in Islamabad with the Deobandi's topping the list followed by the Barelvi's, Ahl-i-Hadith and Shias.
A source said that over 25,000 students were pursuing education in the 374 madrassas having boarding facilities. The source said that around 12,000 students belonged to Islamabad and the remaining were from other cities and towns.
https://www.pakistantoday.com.pk/2018/01/09/govt-plans-to-enrol-3000-seminary-students-to-get-modern-education/
--------
7 killed as suicide bomber targets police truck on Quetta's Zarghoon Road
Syed Ali Shah | Hafizullah Sheerani
January 09, 2018
At least seven people were killed on Quetta's Zarghoon Road when a suicide bomber rammed into a parked police truck on Tuesday, injuring 16 people, police said.
Five policemen and two passers-by were among those killed, Inspector General of Balochistan Police Moazzam Jah Ansari told reporters. He said eight policemen were injured in the attack.
According to Associated Press, the banned Tehreek-i-Taliban Pakistan (TTP) claimed responsibility for the attack, saying a suicide bomber targeted a police contingent returning from duty at the provincial assembly building.
IG Ansari said the suicide bomber had walked up to the scene and blew himself up near the back of the police truck. He said the earlier impression that the attacker could have travelled to the truck on a motorcycle was not correct.
Bomb Disposal Squad officials said 10 kilograms of explosives had been used in the attack. Most deaths occurred due to the impact from ball bearings and pellets stored in the bomber's suicide jacket, said the IG.
IG Ansari while talking to reporters said he could "tell in advance" that the suicide bomber must have come from across the Afghan border, as DNA tests showed suicide bombers involved in previous attacks in Quetta were foreign nationals too.
He said the terrorists had targeted police in the attack and not the Balochistan Assembly, which is in the same area, as the blast occurred an hour after the assembly session had ended.
The injured, which include security personnel and civilians, were shifted to Quetta Civil Hospital's trauma centre after being administered first aid, the hospital's spokesman told DawnNews.
The explosion occurred near GPO Chowk in the vicinity of the Balochistan Assembly. The road also leads to the Chief Minister's Secretariat.
A large number of security personnel had been present near the site of the blast as a session of the Balochistan Assembly attended by almost all its members had just concluded. The area also houses several important government buildings, and is usually well secured.
A large number of security personnel and rescue services reached the site of the blast and shifted the injured to Civil Hospital Quetta, where an emergency was declared.
The area was cordoned off and media was stopped from moving near the blast site.
The incident comes less than a month after nine members of the Christian community lost their lives and 56 suffered injuries in a terrorist attack on the Bethel Memorial Methodist Church also located on Zarghoon Road. The militant Islamic State group had claimed responsibility for the attack through their Amaq news agency.
Quetta's security challenges
Balochistan has faced a number of security challenges in recent months, with security personnel in the province often being targeted in roadside explosions and suicide attacks.
Five people were killed and 27 others had suffered injuries in a suicide attack on a convoy of a paramilitary force in the Sariab Road area of Quetta in November last year.
In October, seven policemen belonging to the Rapid Response Group (RRG) of Balochistan Police and a passer-by were killed in a suicide blast, also in Sariab area.
Fifteen people, including eight soldiers, were martyred when a suicide bomber targeted a military truck near the Pishin bus stop in Quetta in August.
Earlier in June, 14 people ─ including seven policemen ─ lost their lives in a suicide blast that shook Shuhada Chowk in Quetta's Gulistan Road area.
Full report at:
https://www.dawn.com/news/1381835/7-killed-as-suicide-bomber-targets-police-truck-on-quettas-zarghoon-road
--------
Pakistan: US allegation of religious freedom violations 'has no merit'
10 January 2018
ISLAMABAD: Pakistan has rejected a US allegation that the country's religious freedom track record is tainted, claiming it reflected Washington's "double standard" and showed "political motives" that lacked credibility.
The Ministry of Foreign Affairs comments on Friday came a day after Pakistan was placed on a special watch list for "severe violations of religious freedom."
Federal Minister for Religious Affairs and Interfaith Harmony Sardar Muhammed Yousaf rejected America's claim and said "everyone can practice their religion freely," slamming the US designation as smear campaign "propaganda to malign Pakistan" internationally.
Yousaf told Arab News on Saturday that designating Pakistan as a violator of religious freedom further damaged bilateral relations between the countries. He added that the US "is shifting its responsibility for failure onto Pakistan" after losing the fight in Afghanistan and out of frustration is making baseless charges against the country.
"We celebrate non-Muslim traditions on a state level with the Prime Minister and President attending the celebrations such as Christmas or Diwali, therefore the US allegation has no merit," said Yousaf, pointing to the 1973 Constitution which protects religious rights and freedom.
His remarks follow the suspension of hundreds of millions of dollars in security assistance by the Trump administration.
The surprise move "was not a planned policy" wrote C. Christine Fair, a distinguished associate professor at Georgetown University's Security Studies Program within the Edmund A. Walsh School of Foreign Service, in an article on Monday.
She argues Washington's decision is justified, asserting that Pakistan took US taxpayers' money and handed it to terrorists, adding "there is still space for further escalation short of conflict" and that sanctions could be applied.
On Thursday, Heather Nauert, a US State Department spokesperson, announced that the US would freeze nearly all security aid to Pakistan until "the Pakistani government takes decisive action" against terrorist groups.
Pakistan's civil-military leadership has repeatedly maintained that payments are "reimbursement" under the Coalition Support Fund for the amount the country had spent in the war against terror.
Following reports that Pakistan's intelligence had denied US officials access to a terrorist linked to the Haqqani network who was apprehended during the rescue operation of an American-Canadian family in October 2017, Trump lambasted Pakistan in a tweet, accusing it of taking billions from the US and giving "nothing but lies & deceit." He said that Pakistan was playing a double game by sheltering terrorists that the US was trying to eliminate in Afghanistan.
Pakistan is seeking clarification from the US, surprised by the "new categorization." The Foreign Office said it is enquiring about the "rationale and implications" of the country's placement on the freshly constituted watchlist: Pakistan is the first and only country listed in the US Commission on International Religious Freedoms' annual report.
Pointing to countries with a record of systematic persecution of religious minorities absent from the US list, the Foreign Office added: "The designation overlooks the significant achievements of Pakistan in the area of human rights. Pakistan is firmly committed to the promotion and protection of human rights including the right of religious freedom, under its constitution."
However, Islamabad has reaffirmed its commitment to work "with the international community to ensure that internationally agreed standards on religious freedom are observed in Pakistan and the broader region."
But Fair told Arab News that Pakistan deserved to be on the watch, reasoning that the country's constitution "does not afford equal rights for Muslims and non-Muslims."
"Non-Muslims are routinely victimized through the use of Pakistan's horrific blasphemy law, particularly Christians. The blasphemy law is often used to murder families in an effort to take over their land or businesses. Ahmadis and Shi'a Muslims are murdered wantonly with no consequences for the murders."
Sufi shrines being attacked and its followers killed, and Hindu girls being "abducted, forced to convert to Islam and married against their will" all constituted religious violations which Pakistan's "own human rights organizations have remarked upon."
Analyst and legal expert Feisal Naqvi, who has worked on minority rights cases, explained that Pakistan already had ample laws to protect religious freedom of minorities.
Full report at:
http://www.arabnews.com/node/1222521/world
--------
Pakistan struggles while Afghanistan celebrates Trump's cuts
AHMED RASHID
Jan 10, 2018
President Donald Trump kicked off a fire storm across Pakistan when he suspended an estimated $2bn in security aid to Islamabad after accusing it of continuing to give sanctuary to the Afghan Taliban, despite months of warnings that the US is losing patience.
Pakistan's policy on Afghanistan has alienated Nato allies, which still have troops in Afghanistan. Only China, Russia and Turkey have so far stood up for Islamabad.
The long-term fall out from the spat could heighten Pakistan's domestic political crisis — complicated by a constitutional tangle in Baluchistan province — and increase the risks for the 14,000 US and Nato forces in Afghanistan that depend heavily on supply lines that stretch through Pakistan from the port of Karachi.
Mr Trump's move has caused jubilation in Kabul, where Afghan leaders have been pleading with the US for years to crack down on Pakistan's alleged sanctuaries, especially for the Taliban-affiliated Haqqani network. At least 80 people have been killed in suicide attacks in Kabul alone in the past two months.
America's failure to act earlier was the major reason for the rupture in relations between the former Afghan president Hamid Karzai and Washington and has been a big issue between President Ashraf Ghani and the US. But while Mr Trump's intervention will strengthen Mr Ghani's weak and vulnerable regime, it is having the opposite effect in Pakistan.
Islamabad has been in a state of political turmoil since the summer when Nawaz Sharif was forced to step down as prime minister over corruption charges. His Pakistan Muslim League continues to rule, but it is divided, faces a strident opposition and remains in conflict with the all-powerful military. Elections are due this summer but there is no certainty that they will be held on time.
Mr Sharif is bitter about his ousting and recent speeches have made clear his criticism of the army and its control over domestic and foreign policy. He has said he will disclose how the military refused to help him bring peace to Afghanistan and improve relations with India. While criticising Mr Trump, he said Pakistan should put its house in order and realise "why the world does not take us seriously".
Mr Trump is much disliked in Pakistan, but there is sharp political polarisation over how to tackle the issue of sanctuaries. Many blame the army for years of mollycoddling extremist groups from Afghanistan and Indian Kashmir while also harbouring local extremists.
The army and its supporters have repeatedly pointed to the heavy casualties among troops fighting the Pakistani Taliban. Yet only the army itself can change policy towards those Afghan Taliban hiding in Pakistan.
While the political rightwing, led by religious parties and Islamist extremist groups, and some politicians have spearheaded anti-US protests in the streets, the military initially took a sober though hard line against American demands on Islamabad.
But many in Pakistan, especially the army, are deeply concerned that Mr Trump's calls last year to tighten ties to India and partner with it in Afghanistan could lead to Pakistan being surrounded by its neighbour and perennial enemy.
So there have been threats of suspending US supplies into Afghanistan from the port of Karachi, shooting down US drones and restricting American use of Pakistani airspace for bombing runs across the border. The opposition leader Imran Khan and foreign minister Khawaja Asif have been particularly vociferous in anti-American sentiment, according to Reuters news agency.
Any such moves could not only widen the US-Pakistan split, but also endanger the US-led war against the Taliban and further weaken the Kabul government.
For Pakistan, deteriorating relations with the US and Nato, an economy in deep trouble and the Baluchistan situation could mean a postponement of elections for the Senate — the upper house of parliament — due in March and even the summer general election.
In Baluchistan, the chief minister Sardar Sanaullah Zehri was forced to resign on Tuesday after opposition parties brought a motion of no confidence against him.
Mr Zehri is allied to Mr Sharif's Pakistan Muslim League and it is feared that in the likely coming uncertainty, turmoil will spread to the other three provincial assemblies. The country could then find itself in uncharted constitutional territory, with a political vacuum that would almost certainly put the army in the driving seat.
Ahsan Iqbal, interior minister, warned last week that hidden forces were creating a crisis and ''the overall situation in the country remains a matter of concern''.
Full report at:
https://www.ft.com/content/8d2c16d6-f467-11e7-88f7-5465a6ce1a00
--------
Pakistan saw decrease in terrorist incidents: Punjab CM
Jan 10, 2018
LAHORE: Punjab Chief Minister Shehbaz Sharif said on Tuesday that Pakistan has witnessed a significant decrease in the number of terrorism incidents in the country.
He made these comments while addressing the media in Lahore after visiting Kidney and Liver Transplant Institute.
Sharif, in his remarks, also said that Pakistan has given immense sacrifices in the war against terrorism.
The Punjab chief minister added that Pakistan does not need United States of America (US) aid and can utilise its own resources in the war against terrorism.
According to reports, the Punjab government has also prepared its strategy to deal with the protests announced by Pakistan Awami Tehreek (PAT) over the Model Town tragedy.
The government will not intervene if the protest remains peaceful but it will spring into action if state assets are destroyed.
Full report at:
https://www.pakistantoday.com.pk/2018/01/09/pakistan-saw-decrease-in-terrorist-incidents-punjab-cm/
--------
KP education department to be responsible for seminaries: report
Jan 10, 2018
PESHAWAR: The Khyber Pakhtunkhwa (KP) government led by Pakistan Tehreek-e-Insaaf (PTI) placed seminaries in the province under the supervision of the elementary and secondary education department, according to a local English daily.
With this historical development, the province's education department will now bear the complete responsibility to handle the registration, curriculum, examination; monitoring and all other related activities of seminaries.
The province has some 3,028 seminaries in all, that are currently in a functional state.
To bring the seminaries under the umbrella of the education department, the establishment had also revised the KP Rules of Business a few days ago.
The amendment was made in Schedule-II, under the heading 'Elementary and Secondary Department', according to the relevant official documents. After Serial No 11, a new entry, 'registration, curriculum, examination, monitoring and other allied activities of Deeni Madaris' shall be incorporated.
The establishment department, in a letter, has said, "In exercise of the powers conferred by Article 139 of the constitution of the Islamic Republic of Pakistan, the Government of the Khyber Pakhtunkhwa is pleased to direct that in the Khyber Pakhtunkhwa Rules of Business 1985, the amendments shall be incorporated."
It was, however, initially believed that the education department will only be responsible for the registration of these seminaries.
Full report at:
https://www.pakistantoday.com.pk/2018/01/10/kp-education-department-to-be-responsible-for-seminaries-report/
--------
Europe
Hungary PM calls refugees in Europe 'Muslim invaders'
Jan 9, 2018
Hungarian Prime Minister Viktor Orban has described the Muslim refugees arriving in Europe from conflict zones in the Middle East and North Africa as "Muslim invaders."
"We don't consider these people to be Muslim refugees," said Orban during an interview with Germany-based Bild newspaper published Monday, rather calling them "Muslim invaders" merely motivated by economic reasons.
Orban — who has repeatedly rejected the validity of the refugees' humanitarian plight and once referred to groups of refugees as "a Trojan horse for terrorism" — further said the asylum seekers cross four countries from war-ravaged Syria to reach Hungary, none of which are as wealthy as Germany but remain economically stable.
"So, they are not running for their lives. They are merely economic migrants seeking a better life," he said, admitting, however, that he was only speaking for Hungarians who "don't want" immigration.
He further claimed that multiculturalism was only "an illusion," as Christian and Muslim societies "will never unite." He said the presence of a large number of Muslims would lead to the emergence of "parallel societies," which he said did not exist in his country's capital of Budapest due to the low numbers of refugees.
"The reason why people are in your country (Germany) is not because they are refugees, but because they want a German life," Orban told Bild, referring to the issue as a "political" one for Europe and a "sociological" one for Germany.
He targeted Germany and Chancellor Angela Merkel's "open-door" policy toward refugees, saying, "I've never understood how chaos, anarchy, and illegal border crossings are viewed as something good in a country like Germany, which we view as the best example of discipline and the rule of law."
Europe has faced an influx of refugees arriving from conflict zones since 2014. Many of the refugees have been fleeing wars and conflicts either directly waged or exacerbated by Western countries.
While Germany originally welcomed the refugees, it gradually imposed certain restrictions on the numbers of asylum seekers who could stay in the country.
In an attempt to justify his description of the flow of refugees to Europe as an "invasion," Orban said, "If someone wants to come to your house, he knocks on your door and asks: 'Can we come in, can we stay?' They (the refugees) didn't do that, they crossed the border illegally."
Last month, Budapest, along with Poland and the Czech Republic, defended its "right" to reject EU-imposed refugee quotas amid pressure from the European Commission (EC). Despite repeated EC warnings, the three countries continue to pursue a course of non-compliance, arguing that refugees pose a direct threat to public security.
In September, Hungary also claimed that fences erected on its borders with Croatia and Serbia had helped slash the inflow of refugees by over 99 percent since 2015. The country's border fence has been repeatedly censured by other European states, as well as by EU politicians, though Budapest has resisted pressures to remove it.
http://www.presstv.com/Detail/2018/01/09/548321/Hungary-Prime-Minister-Viktor-Orban-refugees-Muslim-invaders
--------
Greece limits Sharia law after European Court challenge
January 9, 2018
ATHENS, Greece — Lawmakers in Greece voted Tuesday to limit the powers of Islamic courts operating in a border region that is home to a 100,000-strong Muslim minority, scrapping procedures dating back more than 90 years.
The proposed law passed easily, with backing from parliament's largest political parties. It eliminates rules that referred many civil cases involving members of the Muslim community to Sharia law courts. Greek courts now will have priority in all cases.
The changes — considered long overdue by many Greek legal experts — follow a complaint a Muslim woman who lives in the northeastern Greek city of Komotini made to the Council of Europe's Court of Human Rights over an inheritance dispute.
Legislation concerning minority rights was based on international treaties following wars in the aftermath of the Ottoman empire's collapse. The Muslim minority in Greece is largely Turkish-speaking. Minority areas were visited last month by Turkish President Recep Tayyip Erdogan.
Prime Minister Alexis Tsipras said in a statement that the new law respects the "special characteristics" of Greece's Muslim minority, while redressing past injustices against community members "who were excluded from the legal guarantees and freedoms that all Greek citizens must enjoy."
Greek governments in the past have been reluctant to amend minority rights, as many disputes between Greece and Turkey remain unresolved.
Currently, Islamic court hearings are presided over by a single official, a state-appointed Muslim cleric.
In parliament Tuesday, Constantine Gavroglou, minister of education and religious affairs, praised opposition party support for the bill. He said the current rules stemmed "from policies that were hostile toward the minority and sought to create second-class citizens."
"This is not just a technical adjustment, it's a very important day for parliament ... because of the broad support that is key when addressing issues of democracy and people's rights," Gavroglou told lawmakers.
Full report at:
https://www.washingtonpost.com/world/europe/greece-to-limit-sharia-law-after-european-court-challenge/2018/01/09/317767da-f536-11e7-9af7-a50bc3300042_story.html?utm_term=.ebeec4bb9b27
--------
Germany Indicts Syrian on Charges of Promoting Islamic State
Jan. 9, 2018
BERLIN (AP) — A 37-year-old Syrian mathematician has been formally charged in Germany on allegations of promoting the Islamic State group, obtaining bomb-making instructions and other crimes, prosecutors said Tuesday.
The man, who wasn't identified, is alleged to have posted videos on social media between July and December 2016 in which he urged support for IS and attempted to solicit new recruits for the group.
German prosecutors said they considered another post, in which the suspect praised the killing of Jordanian author Nahed Hattar , a prominent critic of IS, to constitute incitement.
Frankfurt prosecutors, who are handling the case, said police also found manuals for making rifle silencers, explosives and detonators at the man's home and office at the Technical University of Darmstadt. The man, who came to Germany in 2005 on a Syrian government scholarship, has been in detention since February 2017.
Prosecutor Alexander Badle said while in prison the man tried to recruit a fellow inmate, who he believed to be a Muslim, to carry out a bomb attack that he claimed would be financed from Qatar. After learning the inmate was a Christian, the suspect is alleged to have threatened to kill him if he spoke to police.
Badle said the main charge, "recruitment or support for a foreign terrorist organization," carries a penalty of up to five years.
Full report at:
https://www.usnews.com/news/world/articles/2018-01-09/germany-indicts-syrian-on-charges-of-promoting-islamic-state
--------
Britain is seeking to 'overthrow' Tehran, Iran's supreme leader claims
9 Jan, 2018
Iran has foiled attempts by Britain and the US to create unrest during a wave of anti-regime protests, according to the country's supreme leader, who claims the UK government is trying to orchestrate a campaign against Tehran.
"The enemy now repeatedly makes moves and they are defeated each time," Ayatollah Ali Khamenei was quoted as saying by state media, according to Reuters. "It's because of the resistance, because of the strong populist and national dam."
In a series of tweets from his official account, Khamenei accused Iran's adversaries of supporting the rallies. "Once again, the nation tells the US, Britain, and those who seek to overthrow the Islamic Republic of Iran from abroad that 'you've failed, and you will fail in the future, too.'"
Khamenei has previously blamed the Israel and Saudi Arabia for the upheaval. According to the theocratic nation's attorney general, Mohammad Jafar Montazeri, a CIA plot for the anti-regime campaign in Iran began four years ago. The CIA was helped by Israeli spy agency Mossad and the entire anti-Iran campaign was funded by the Saudi regime, he said, according to the International Business Times.
Khamenei also thanked those who took part in the pro-government rallies and said: "These are not normal incidents. [These incidents] occur nowhere in the world," referring to the show of support. "It is not a matter of one or two or five years. [It is about] a battle between the nation and those hostile to the nation; a battle between Iran and those hostile to Iran; a battle between Islam and those hostile to Islam."
The supreme leader also took aim at US President Donald Trump. "The U.S. President says the Iranian establishment is terrified by their power. Well, if we were so terrified by you, how did we kick you out of Iran in late 70s and send you packing, out of the entire region, in the 2010s?" he said.
"This man who sits at the head of the White House – although, he seems to be a very unstable man – he must realize that these extreme and psychotic episodes won't be left without a response."
Protests criticizing the economic and political situation have spread to more than 80 cities since late December. At least 21 people have died.
A UK Foreign Office spokeswoman declined to comment on Khamenei's claim, referring to a previous statement by British Foreign Secretary Boris Johnson. Johnson said on January 1 that there should be "meaningful debate about the legitimate and important issues the protesters are raising." He added: "People should be able to have freedom of expression and to demonstrate peacefully within the law. We regret the loss of life that has occurred in the protests in Iran, and call on all concerned to refrain from violence and for international obligations on human rights to be observed."
Full report at:
https://www.rt.com/uk/415379-tehran-government-overthrow-britain/
--------
Late Moroccan king honored for protecting his country's Jews
24 December 2015
King Mohammed V of Morocco was honored posthumously for protecting his country's 250,000 Jews during World War II.
Kivunim: The Institute for World Jewish Studies presented the first Rev. Martin Luther King Jr.-Rabbi Abraham Heschel Award to the king's granddaughter, Princess Lalla Hasna of Morocco, on Sunday at B'nai Jeshurun synagogue in New York City. It was part of a three-day conference to mark the group's 10th anniversary.
The program ended with a joint concert of Jewish and Arabic music by David Broza and Mira Awad.
During World War II, King Mohammed V kept the lives and property of the country's Jews under his protection and did not subject them to the discriminatory laws set down by the pro-Nazi Vichy government in France; Morocco was then under French rule.
Later, in response to anti-Jewish rhetoric in the wake of the creation of the State of Israel, Mohammed V warned Muslims not to hurt Moroccan Jews, reminding them that Jews had always been protected in Morocco.
Andre Azoulay, counselor to Morocco's King Mohammed VI, said in a statement read on behalf of the country's current king, Mohammed VI: "Today, we need, more than ever, to ponder the lessons and relevance of this part of history in order to stand up more forcefully to the deadly aberrations of those who are hijacking our cultures, our faiths and our civilizations. We are living at a time and in a world in which the collective imagination of our societies is too often impaired, not to say poisoned, by regression and archaism. By capitalizing on the depth and resilience of the legacy left by my revered grandfather His Majesty Mohammed V, we can, together, set out to recover the lost expanses of reason and mutual respect which have vanished from many parts of the world."
Full report at:
https://www.timesofisrael.com/late-moroccan-king-honored-for-protecting-his-countrys-jews/
--------
Sweden warns against cutting US aid to Palestinians
January 10, 2018
UNITED NATIONS - Sweden , a big donor country that has recognized Palestine as a state, warned Tuesday that any US decision to withdraw funds to the UN agency for Palestinians would be destabilising for the Middle East.
Sweden's UN Ambassador Olof Skoog said he had raised his concerns with US Ambassador Nikki Haley following reports that the US administration had withheld $125 million in funds due on January 1 for the United Nations Relief and Works Agency (UNRWA) for Palestinians.
Trending: Seven killed, 23 injured in Quetta blast aimed at police truck
"My concern is that as we talk about regional stability, withdrawing funding for UNRWA would be very negative, both in terms of humanitarian needs of over five million people but also of course it would be destabilizing for the region," Skoog told reporters at UN headquarters.
The Swedish ambassador said he did not rule out raising the issue at the Security Council, which is scheduled to hold its regular meeting on the Israeli-Palestinian conflict on January 25.
Trending: Sanaullah Zehri resigns as CM Balochistan
Israel plans for 1,285
settlement units
Trending: Have I committed a crime for wanting to get married, asks Imran
Israeli Defence Minister Avigdor Lieberman said Tuesday he will present for approval a plan to build 1,285 housing units this year in West Bank settlements.
Israel's settlement project in the territories it has occupied or annexed since 1967 is illegal under international law and seen by the international community as a major obstacle to peace with the Palestinians. "The defence minister will on Wednesday present for approval by the Higher Planning Council an immediate construction plan for 2018 of 1,285 housing units in Judea and Samaria," his ministry said, using the biblical names Israeli authorities use for the West Bank.
Trending: Washington ready to work with Islamabad to combat terrorism: US officials
Lieberman would also seek to move forward projects for 2,500 additional housing units in more than 20 locations, it said.
The Higher Planning Council meets several times a year to examine and approve settlement construction projects.
According to Peace Now, an Israeli NGO that campaigns against the settlements, 6,742 housing projects were approved in the settlements last year, the highest figure since 2013.
In 2016, 2,629 housing units were approved.
In December, the central committee of Prime Minister Benjamin Netanyahu's Likud party unanimously adopted a resolution urging its own elected officials "to allow free construction and the application of (Israeli) legislation to all liberated Jewish settlement areas" in the territory.
If such a text were adopted by the government, it would definitively end the "two-state solution" by making a Palestinian state impossible.
Palestinian president Mahmud Abbas criticised the Likud resolution and the United States' refusal to condemn Israeli "crimes against the Palestinian people".
Abbas said the vote would not have taken place without "total support" from Washington.
About 400,000 Israelis live in illegal settlements in the West Bank, a Palestinian territory occupied by Israel for 50 years.
Full report at:
https://nation.com.pk/10-Jan-2018/sweden-warns-against-cutting-us-aid-to-palestinians
--------
Southeast Asia
No place for hatemongers, says Malaysian Deputy Minister on Zakir Naik
January 9, 2018
"We don't agree with extremism. Whoever speaks and destroys the fabric of pluralism and beauty of nationalism will have to be out of our country," S K Devamany, the Malaysian Deputy Minister in the Prime Minister's Office said responding to a question on Indian fugitive Zakir Naik.
Malaysia and India have been constantly engaged on the issue of extraditing the Muslim preacher although no formal request has been made by India.
The Malaysian Deputy Minister spoke to India Today on the sidelines of the PIO (Persons of Indian Origin) Parliamentarians Conference that was held in New Delhi on Tuesday. Naik who enjoys 'Permanent Resident' status in Malaysia has been a bone of contention between India and Malaysia.
Devamany said the country is yet to have clarity on the question of Naik's "citizenship". "In Zakir Naik's context, we don't know if the citizenship is through yet. We have to actually tell whether if he is right or wrong. But as far as we are concerned, nobody can come from outside and tell us what to do and how to practice our religion. We are united in harmony," he said.
Questioning Naik's teachings he said, "their Islam is not as is seen in our country. I am a Hindu so I don't want to comment on that because interpretations can be different. But we do not condone any form of extremism or people who want to break the beauty of Malaysian diversity and harmony."
Hinting towards the meeting that would take place on the sidelines of the India-ASEAN commemorative meet to be held on the January 25 where the two Prime Ministers would also hold bilateral meetings, he said that the two sides could work out a solution then. He said, "When the leaders meet, I hope the Indian side will raise it and the matter can be resolved amicably."
ASEAN LEADERS TO PARTICIPATE IN REPUBLIC DAY PARADE
ASEAN leaders would be in New Delhi as chief guests for the Republic Day parade. Much is pinned on the meeting between Prime Minister Narendra Modi and Malaysian Prime Minister Mohammad Najib bin Tun Haji Abdul Razak.The 52-year-old Muslim preacher, Zakir Naik, was reportedly charged under India's Unlawful Activities (Prevention) Act for heading an "unlawful association"; he was also charged with inciting youth to take up terror acts and to join global terror groups such as the Islamic State.
Deputy Minister Devamany also reiterated Malaysia's firm support in fighting terrorism with the policy of 'moderation' that the country has adopted to keep at bay extremist forces and voices.
Talking about Malaysia's stand of moderation which is called "wasatia" in Islam he said, "When my Prime Minister comes here on the January 25 and January 26, terrorism would be an important item on the agenda. We should come together as a regional coalition: ASEAN, India, China, Asia-Pacific so that terrorism is controlled, not just through rhetoric but also through creating a framework of efficient planning. That is necessary and through an agreement with all. The Prime Minister recently also has asked Islamic institutions to play a very important and serious role in curtailing extremism."
http://indiatoday.intoday.in/story/malaysia-zakir-naik-india-terror-islamic-preacher-asean/1/1127186.html
--------
Malaysia PM visits Saudi king despite controversy over ties
January 9, 2018
RIYADH, Saudi Arabia — Malaysia's Prime Minister Najib Razak met with Saudi King Salman in a visit to the kingdom on Tuesday that highlights their close and at times controversial ties.
Najib, who faces elections later this year, has clung to power despite a corruption scandal that involved nearly $700 million. Malaysia's attorney general cleared Najib of wrongdoing, saying the millions transferred to his personal bank account were a donation from the Saudi royal family and that most of it was returned.
Meanwhile, the state investment fund he established and once ran, 1MDB, is under investigation in the U.S. and several other countries amid allegations of a global money-laundering scheme and embezzlement. The U.S. Justice Department says people close to Najib stole billions of dollars, and the U.S. government is working to seize $1.7 billion it says were taken from the fund to buy assets in the U.S.
The state-run Saudi Press Agency said the two leaders discussed areas of cooperation during their meeting, which was attended by Saudi royal court advisers as well as Malaysia's minister of Islamic affairs.
King Salman's four-day visit to Malaysia last year was followed by an announcement that the King Salman Center for International Peace would be built on a 40-acre (16-hecatre) plot of land in Malaysia's administrative capital of Putrajaya. The center aims to draw scholars of Islam to combat extremist views and promote tolerance.
There have been concerns in recent years that under Najib, Saudi Arabia's ultraconservative interpretation of Islam has gained an expanded foothold in Malaysia. The kingdom has built mosques and schools across the region and offers scholarships to Malaysians and other Southeast Asian Muslims who want to study in Saudi Arabia.
Full report at:
https://www.washingtonpost.com/world/middle_east/malaysia-pm-visits-saudi-king-despite-controversy-over-ties/2018/01/09/7de9a100-f53b-11e7-9af7-a50bc3300042_story.html?utm_term=.d684e1339680
--------
An Indonesian General's Political Aspirations
January 09, 2018
After 19 years of reform, which was marked by the retreat of the Indonesian Military (TNI) from Indonesian daily political life, former TNI commander Gatot Nurmantyo has publicly displayed his political aspirations. Nurmatyo's political ambition can be seen as a reflection of how Indonesian political institutions have been weakened in their management of the legacy of military-backed authoritarianism under Suharto's New Order. As a result, the TNI has been grappling with how the institution constrains the political ambitions of its high-ranking officers, to what degree the military can respond to the growing concern of conservative religious identity, and the extent to which the military can achieve its defense policy to improve its force as a modern and professional military.
Nurmantyo's ambition to be active in political matters is not unique in Indonesia's period of democratic consolidation. In their waning days of serving the country as military officers, some high-ranking officers prefer to meddle in civilian politics instead of remaining neutral. This raises the question of how the TNI controls these political aspirations. Internal military reform, which was embarked on in 2002, could not generate strong institutional constraints over the political aspirations of senior military officers. Rather, the 2002 TNI Law merely provides normative guidelines to constrain the political aspirations of individual officers who want to compete in elections, by requiring those officers to be neutral and resign from their military positions. However, this law does not specifically address potential abuse of power by using military positions and facilities for political gains, particularly to boost an officer's profile prior to the election.
Since the end of the New Order, the TNI has redefined its role in Indonesian democracy. Politics in Indonesia is dominated by identity politics, including Islamic parties, which boast a strong mobilization capability that has developed during the past three years. In contrast to the early reform period, in which the military used Muslim groups to underpin its elements of previous dominance, such as bringing order, Indonesia's consolidated democracy provides an arena for both conservative Islamic groups and the military to express their complementary interests. For the Islamic conservative groups, TNI support boosts their bargaining power toward those they consider an "enemy of Islam," including the current administration. Likewise, the military presumably manipulates Islamic voices to underpin its role outside of its defense-related duties. As a result, civilian influence on defense oversight, regarding its primary functions, remains weak. Both Islamic conservative groups and the TNI have received larger public attention due partly to their understanding of how to exploit one political weakness of President Jokowi: the lack of a stronghold in either the Islamic grassroots or the military.
Enjoying this article? Click here to subscribe for full access. Just $5 a month.
In addition, Nurmantyo, during his reign as a TNI commander, did little regarding Jokowi's ambitious Global Maritime Fulcrum, and how the military will adjust to this plan is still unclear. As the TNI has set up its defense policy under Minimum Essential Force (MEF) 2024 in order to improve its capabilities in addressing current and future threats to Indonesian territorial integrity, Nurmantyo has displayed limited interest in deeply charting the extent to which TNI can achieve the ambition of Indonesia's being a regional power.
Full report at:
https://thediplomat.com/2018/01/an-indonesian-generals-political-aspirations/
--------
Jamil Maidan Flores: As China Rises and the US Wilts, Asean Must Seize the Day
January 09, 2018
Is it still the United States, or is it already China, that is the most powerful nation in the world?
No doubt China is still way behind the United States in terms of military strength and sophistication of weaponry, but that is not all that makes up power. The test to power is whether one has the ability to control or influence the behavior of others and to shape how events take place.
On this basis, China is now a global hegemon, not just a regional one, and it has eclipsed the United States as the world's most influential nation. And that presents both a problem and opportunity for the Association of Southeast Asian Nations (Asean).
In the following paragraphs, China's current aggrandizement is described and counterpointed by signs of rapid US decline under Donald Trump's leadership. This is followed through with a reflection on how Asean should respond to the resulting new world order.
How Did It Happen?
China's rise did not happen overnight: It has been going on for decades, since the late 1970s when its first modernizing leader, Deng Xiaoping, embraced globalization and opened the country's economy to foreign investors. Given China's meteoric economic growth and the increasing sophistication of its military establishment, the sixty-four-dollar question has always been whether China's rise will be benign or it will lead to a global war, or at least to a baleful disruption of the international order.
There were other questions: whether China could manage a soft landing for its overheated economy, and whether it could avoid a bursting of its economic bubble. There was also the question of whether widespread social unrest as a result of labor inefficiency will lead to the demise of the Communist Party.
These questions have been laid to rest: Not only has China managed the kinks in its economy, it has deployed the unique financial strength to gain global political advantage. And it has coped with the economy's "tech and labor shocks" by creating jobs designed for the sole purpose of alleviating social unrest, and which have nothing to do with the market.
The day is not far, according to a widely held view, when China wields the heftiest economy in the world. It is driving hard to become a world leader in technology – in space technology and artificial intelligence.
To be sure, if war should break out between the United States and China, the United States would prevail, but China could inflict such a heavy toll on American forces that the cost of victory would be unacceptable to the American people. For the day is past when the Chinese military was a bulky, land-bound force. The Chinese military today is leaner, meaner, more professional, much more high-tech and oriented to air and sea battles.
Moreover, in the likely theatres of armed conflict – the South China Sea, the East Sea and the Korean Peninsula – China would enjoy a huge geographical advantage and would be fighting with desperate ferocity because from its point of view, the stakes would be existential, which would not be the case with the United States.
On the other hand, the United States has been in gradual but unmistakable decline since it frittered away precious military resources waging wars in Iraq and Afghanistan. That decline was severely accented by the global financial and economic crisis of 2008, which also marked the year when the rest of the Western world began to fade under the bloom of emerging markets, such as the BRICS countries. (Why Indonesia has not been taken into that emerging group, somebody please tell me.)
Since the 2008 Crisis
Thus, when an expert on geopolitics like Wolfgang Ischinger of the Munich Security Conference says the world today is on the brink of the Post-Western Age, I suspect he must have been asleep for the better part of a decade. The Post-Western Age has been there since the global crisis of 2008, or earlier.
And its corroboration grows more pervasive as the days go by: Brexit, the centrifugal forces within the European Union, the rise of populism and the retreat of democracy in most of Europe, the Russian push-back against NATO expansion, the EU quarrel with Turkey, the Eurozone crisis, and of course Donald Trump.
Normally the president of the United States is the undisputed leader and moving spirit of the Western world. But not since Trump moved into the White House. He has personally done more damage to American prestige and capacity to shape the global environment than Xi Jinping, Vladimir Putin and Kim Jung-un combined. With him at the helm of the US government, America has no need for enemies. He will destroy the nation from within, if left unchecked.
What has he done? For starters, he had barely warmed his seat in the Oval Office when he ripped the United States away from the Trans-Pacific Partnership (TPP). Perhaps he thought that the pullout would effectively kill the partnership, but the 11 other members decided to carry on by themselves, exposing the United States as not all that essential for the viability of this massive free-trade platform.
Moreover, it weakened the United States' hand in dealing with Canada and Mexico, its partners in the three-member North American Free Trade Agreement (Nafta) that are also TPP members. If the TPP succeeds, Canada and Mexico are sure to survive the demolition of Nafta, which the Trump administration is trying to renegotiate in iron-fisted style. The collapse of Nafta will maul many an American multinational within an inch of its life.
Early Asean, Asian Response
In Asean, the US pullout from the TPP has irritated friends such as TPP members Vietnam and Singapore and pushed American credibility to a low ebb. It has also created a vacuum that China is gladly filling.
President Xi has been quick to pirouette as the champion of free multilateral trade and globalization, jostling to step up negotiations toward the 16-nation Regional Comprehensive Economic Partnership (RCEP). This partnership would involve all 10 Asean countries, plus China, India, Japan, South Korea, Australia and New Zealand.
The successful conclusion of the RCEP would leave the United States holding a pathetically empty bag: It has no answer to the RCEP and it has no compensation for being out in the cold from the TPP. It has lost its leverage in Nafta. And it has no answer to the Asian Infrastructure Investment Bank (AIIB) and the One Belt One Road (OBOR) initiative.
The AIIB is a Beijing-based multilateral development bank initially capitalized at $100 billion and designed to fund the building of infrastructure in the Indo-Pacific region. It already has 56 member states, with 24 more poised to join in the months ahead. Current members include three Asean states – Brunei, Myanmar and Singapore – as well as US allies such as Australia, Germany, Norway, South Korea and the United Kingdom.
The bank should have an important role in the OBOR initiative, on the basis of the idea that the historic Silk Road that runs across Central Asia could be given an adrenaline shot of development through infrastructure development supported by Chinese financiers. The building of land-based infrastructure will face many problems, not the least of which is the meager economic capacity of Central Asian states. Thus, the need for a more lucrative maritime component, the building and renovation of infrastructure on the sea routes stretching from coastal China through Southeast Asia to the Indian Ocean rim, then on to Africa, the Middle East and Europe.
This Maritime Silk Road, so much more economically promising than its landlocked counterpart, is also a perfect match to Indonesia's Maritime Fulcrum strategy. In fact, it is a perfect match for Asean's strategy of interconnectivity. There will be problems, of course, including China's tendency to use economic linkages as brazen political leverage – but if everyone involved exercised patience and prudence, there is no reason these problems cannot be resolved.
Once these problems are resolved, China's reserves of more than $3 trillion, now manacled to unproductive US debt, would be unleashed in a way that will tremendously benefit China in terms of financial profit and global political influence.
America's Downward Path
Meanwhile, what has the United States been busy at? In spite of his much-tweeted bromance with President Xi, Trump has blustered his way to the brink of a trade war with the Asian economic titan. In shotgun-blast fashion, the United States has carried out an array of provocations: It has argued that the World Trade Organization should not grant China market-economy status, investigated alleged Chinese dumping of aluminum sheets, probed China's practices in relation to intellectual property rights, sanctioned Chinese organizations and individuals that had traded with North Korea, and suspended the Comprehensive Economic Dialogue between the two countries, thereby making it almost hopeless for both sides to amicably resolve any of their disputes.
The two sides know that a full-blown trade war would be extremely damaging to both but Trump, without any sense of strategy, can be reckless. China however, has strategic patience, knowing that in the long run, it already has the inside track. Let us hope China's strategic patience and the counsel of the saner elements in Trump's circle of advisers could save the global economy from the ravages of a trade war between its two biggest economies.
Much worse than a trade war would be a shooting war, possibly a nuclear war, triggered by a preemptive strike by the United States against a North Korea that seems to be increasingly capable of hitting American territory with nuclear-armed missiles. The clear and present danger is that with an unpredictably impulsive President Trump in control of the US nuclear buttons, the preemptive strike could be premature and unnecessary.
One of the idiosyncrasies of Trump is that he believes in making one-sided deals, but not in diplomacy. For example, in Syria he has allowed Iran, Russia and Turkey to marginalize the United States from the political process that would determine the future of Syria in the wake of the expulsion of Islamic State from the country. And that was after carrying out an air strike campaign that cost the American taxpayer some $14 billion, and deploying some 2,000 special forces troops to train and advise the Syrian Democratic Forces militia. This is a case where so much US military power was unleashed without any political or diplomatic follow-up.
In Yemen, the United States continues to supply Saudi Arabia with deadly munitions in spite of an international uproar that the Saudi-led coalition is bombing civilian populations and facilities with impunity. This has gifted the Iran-backed Houthi rebels a huge propaganda advantage, while tens of thousands of civilians die or starve. At the same time, international observers see the Trump administration as complicit in the perpetration of a blatant violation of international laws on war.
As to Iran itself, Trump has threatened to scuttle the nuclear agreement between that country and the five nuclear states (United States, Britain, Russia, France and China) plus Germany. Called the Joint Comprehensive Plan of Action (JCPA), it has the effect of making it nearly impossible for Iran to surreptitiously develop a nuclear weapon for at least 15 years. As a first step towards scrapping that deal and negotiating a better one from the point of view of Trump, he is moving to decertify Iran's compliance with the provisions of the agreement.
That mistake will only give Iran justification for reneging on its part of the agreement, and restore the nuclear threat ruled out by the treaty. It will infuriate the other signatories – Britain, Russia, France and China – and the United States will be under pressure to mend fences with them. US credibility, already badly tattered by the country's pullout from the TPP, will hit rock bottom. In any case, Trump deceives himself in believing that decertification will coerce Iran to renegotiate the JCPA, as the United States cannot unilaterally impose the sanctions that the other signatories have lifted.
Today, Iran is in turmoil as people take to the streets to protest against the government over their economic plight, corruption and other issues that are yet unclear. Trump has tweeted support for the protesters, which is a gift to the government as it lends credence to the claim that the upheaval is the handiwork of foreign forces.
Fueling Terrorist Propaganda
As if Trump has not done enough damage to US diplomacy, he inflicts one more gaping wound – by announcing recognition of Jerusalem as the capital of Israel. Jerusalem is sacred not only to Jews but also Christians and Muslims, especially Muslims embittered by Israeli occupation of their ancestral homes. This decision is a knockout punch on the Palestinian-Israeli peace process and registers as intensity 9 on the Richter scale of international politics.
Apart from writing finis to US pretensions of being an honest broker in the Palestinian-Israeli peace process, it also has the effect of isolating both the United States and Israel from the international community, as evidenced by the United Nations General Assembly resolution condemning the US demarche on Jerusalem. The lopsided damning vote, 128 to nine, with 35 abstentions, took place in defiance of threats by the Trump administration of withholding aid to countries voting for the resolution.
The most profound injury this debacle has inflicted on world security however, is a resurgence of the jihadist propaganda line that the West, particularly the United States, is waging war against Islam. The capacity of Islamic State to recruit new fighters, recently diminished by its defeats in Iraq and Syria, now finds new strength as a sense of outrage on the Jerusalem issue spreads throughout the Muslim world. Among the beneficiaries of this grotesquerie are Islamic State, Al Qaeda and the terror groups in Mindanao, in the southern Philippines.
Naturally, China again, is quick to exploit Trump's brainlessness: It has offered to host a peace symposium between Palestinians and Israelis, while trumpeting its support for an independent Palestinian state with East Jerusalem as its capital. On this issue, so crucial to peace in the Middle East, China now stands squarely on a high moral ground where the United States once stood.
The slump in US global leadership coincides with a weakening of the national fabric as the Trump administration cozies up to a white supremacist political base and pampers the extremely wealthy 1 percent of American society. This has resulted in a divided United States that many countries will find difficult to trust and to support in its foreign policy initiatives.
What Should Asean Do?
What Asean needs to do should be fairly obvious to a dispassionate observer. It must change. While it should hasten its economic consolidation through the Asean Economic Community, it must also evolve its politics in the face of the much-altered geopolitical situation in the Asia-Pacific (now called Indo-Pacific) region.
Asean must face up to the reality of a Chinese hegemon without being swallowed by it. And Asean must find ways of compensating for the fact of life that the United States, which once built up the Asian trading economies through American consumerism, and which gifted the region with a military presence that translated into Pax Americana, is now largely history.
Asean must therefore ensure that its signals to the international community do not betray political timidity or internal discord in the face of China's remorseless assertiveness. This means that in the ongoing negotiations toward a code of conduct in the South China Sea, the Asean panel should push for a legally binding agreement. If China stands pat against this, then Asean must secure an offsetting concession or a particular language in the agreement that ensures China's compliance. At any rate, it should not look as if Asean simply caved in.
Asean will never earn universal respect until it achieves and maintains a stature based on a correct moral stand on issues. The grouping is thus called upon to address the issue of good governance, particularly human rights. At the very least, Asean must urgently address the plight of the Rohingya in Myanmar as a matter of collective moral responsibility, instead of resorting to a "pragmatic" silence on this issue.
In recent times, Asean senior officials have admitted with a fair amount of concern that dialogue partners often set the agenda in Asean meetings where they are participants. This should be immediately and tactfully stopped – by changing the procedure for proposing, evaluating and deciding on projects.
The decision-making of Asean today is such that each and every member has veto power over any project, initiative or administrative measure supported by the nine other members. This is an anachronism and a recipe for paralysis at a time when the bloc needs to move swiftly on emerging concerns and threats. There should be certain decisions that can already be implemented if they have the support of at least seven members.
Also badly needed is a strengthening of the Asean Secretariat and empowerment of the Asean Secretary General to act and speak on behalf of the bloc. Complementary to this would be a streamlining of the myriad Asean meetings to ease the demand for the secretariat's administrative and other contributions to these meetings.
With so many Asean bodies carrying out an array of projects, there have been quite a lot of duplication of efforts. Asean should take time to rationalize all the activities of the many Asean and Asean-led bodies so that these achieve synergy instead of enduring costly duplication.
Cold War Ruse
Above all, Asean must finally get its geopolitics right. In this regard, it would be a mistake for the bloc to put much stock on the so-called Quadrilateral Security Dialogue, or Quad, proposed by Japan and now supported by the United States and Australia, with India finally drawn in to complete the foursome.
The Quad's avowed purpose is to promote a free and open Indo-Pacific region, one that respects international law and "rules-based order," but this is a poor disguise for its Cold War character. Its real purpose is to contain China – but it is today a half-hearted effort and it will take many precious years before it evolves into a semblance of NATO in this part of the world.
No, there can be no countervailing ballast to China in the Indo-Pacific except an Asean-built regional architecture that has fully matured, one in which China itself is engaged and where the United States remains an important contributor, but with neither of these two powers dictating the regional agenda. This is the "centrality" that Asean has always aspired for, a centrality that is today largely hype and a formality but which can become a concrete reality if Asean member states are willing to earn it.
That means they will have to consolidate a principled stand on every global and regional issue, and speak with one voice on these issues, including and especially the South China Sea.
Asean must support China when the latter champions free trade and takes initiatives on climate change. With prudence and circumspection, it should help China shape its Maritime Silk Road venture to fit into the Asean connectivity program. But it should oppose China diplomatically and not be complicit when China grabs maritime territory and militarizes the South China Sea. And Asean should, as it once did, proactively support constructive dialogue between South Korea and North Korea. And it should call down both Kim Jung-un and Donald Trump when they talk thrash to each other about the size of their nuclear launch buttons.
These are some of the things that Asean should do if it is to be faithful to its own "centrality."
Meanwhile, the global situation is fluid: Chinese hegemony is still being shaped by the pressures of its own internal problems and by the actions of other nations, including Asean nations. The United States will not disappear. It will survive the Trump presidency and will probably stage a resurgence under better leadership, but not a full comeback to what it once was.
Full report at:
http://jakartaglobe.id/opinion/jamil-maidan-flores-china-rises-us-wilts-asean-must-seize-day/
--------
Arab World
Saudi King Salman reaffirms support for Palestinian cause
10 January 2018
JEDDAH: King Salman reaffirmed Saudi Arabia's support for the Palestinian people to establish an independent state, the Saudi Press Agency reported.
The king, in a phone conversation with Palestinian President Mahmoud Abbas, stressed the Kingdom's firm position on the legitimate rights of Palestinians and their wish to have Jerusalem as their capital.
Abbas thanked King Salman for his support for Palestine and its people and for supporting their cause.
http://www.arabnews.com/node/1222616/saudi-arabia
--------
Boy's death shows danger for besieged Syrians seeking food
January 09, 2018
Two-year-old Emir al-Bash's blood still showed on his mother's hand as she sat in a medical center in Syria's besieged eastern Ghouta where his body was taken after he died from a shellblast.
His family had left their home in the village of Kafr Batna on Monday for a market in a nearby village, seeking food for their malnourished children, but a mortar shell landed close to them, instantly killing the boy.
"My child died hungry. We wanted to feed him. He was crying from hunger when we left the house," said the mother, Heba Amouri. Emir is the second child she has lost since the war began six years ago.
Eastern Ghouta is the last big stronghold of rebels fighting President Bashar al-Assad near the capital Damascus and has been besieged for years.
The United Nations estimates it is home to 400,000 civilians and says food and medical supplies have run low. The army and its allies - Russia and Iran-backed militias - bombard it daily. Rebels there shell government-held Damascus.
After Emir's death, Amouri tried to quiet her surviving baby, a hungry two-month-old girl, by placing her finger in her mouth at the medical center. Malnutrition means she is unable to breastfeed, she said.
On Saturday, the International Committee of the Red Cross said it was alarmed by the ongoing violence in eastern Ghouta and the growing number of civilian casualties and displacement since the start of the year.
"Now I lost my second child. My baby daughter is the only surviving child," Mahmoud al-Bash, 27, Emir's father said. A year ago, the family lost another son to the bombardment.
The United Nations children's agency UNICEF said in November that 11.9 percent of children under five in eastern Ghouta suffered acute malnourishment.
Mothers of infants had reduced breastfeeding or stopped it altogether because of their own poor nutrition, it said.
On Monday evening, Emir's father carried Emir's tiny body wrapped in bright white cloth, marked with a big blood stain, to the village's cemetery.
Full report at:
https://nation.com.pk/09-Jan-2018/boy-s-death-shows-danger-for-besieged-syrians-seeking-food
--------
Syrian Army Wins Back Control of Strategic Region in Hama
Jan 09, 2018
The army forces engaged in fierce clashes with al-Nusra Front (Tahrir al-Sham Hay'at or the Levant Liberation Board) terrorists in Northeastern Hama, regaining control of the town of al-Rahjan.
The engineering units of the army then cleansed the region from mines and bombs planted by the militants.
Meantime, the Syrian army launched military operations in Ithriya front in Southern Aleppo to reach Abu al-Dhohour airbase.
Military sources said on Tuesday that the terrorists were driven out of three more regions in Southeastern Idlib within the framework of the Syrian army troops to liberate the strategic Abu al-Dhohour airbase.
The army men, backed up by the artillery and missile units, continued to target the defense lines of Al-Nusra Front in Southeastern Idlib and captured the villages of Nafileh, Sarouj and Um Tamakh in their push towards Abu al-Dhohour military airport.
Full report at:
http://en.farsnews.com/newstext.aspx?nn=13961019001558
--------
ISIL Captures More Regions in Battle against Rival Terrorists in Syria's Hama
Jan 09, 2018
The websites reported that ISIL stormed the strongholds of Al-Nusra in Eastern Hama and imposed control over the villages of Qasr Bin Vardan, Abla, Ab al-Qanat, Jubb al-Safa, Tal al-Halawah, Rasm al-Tineh, Talil al-Hamar, Madahi, Rasm al-Anz, Jubb al-Othman, Jubb al-Raman, Mas'ada and Tafawi.
The websites further said that a number of gunmen of both warring sides were killed in the clashes.
Dissident-affiliated websites reported in December that the ISIL stormed the positions of their Al-Nusra rivals in Northeastern Hama and later managed to drive them out of the village of Bashkoun in Southern Idlib.
Full report at:
http://en.farsnews.com/newstext.aspx?nn=13961019001326
--------
More Terrorist-Held Regions Freed by Syrian Army in Idlib Province
Jan 09, 2018
The army men, backed up by the artillery and missile units, continued to target the defense lines of Al-Nusra Front (Tahrir al-Sham Hay'at or the Levant Liberation Board) in Southeastern Idlib and captured the villages of Nafileh, Sarouj and Um Tamakh in their push towards Abu al-Dhohour military airport.
The army men killed and wounded a large number of militants and destroyed their equipment in the clashes.
Field sources said earlier today that the army troops beat Al-Nusra Front back from eleven more regions in Southeastern Idlib and managed to take position only three kilometers away from Abu al-Dhohour airbase.
The sources said that the army soldiers imposed control over the villages of al-Ojeh, Babi'eh Bornan, Um Mavilat Shamlaliyeh, Vard'aeh, Jaberiyeh, Mar'aya, al-Hiseh, Estilat, Zafar Saqir and Zafar Kabi, deploying 3 km away from Abu al-Dhohour airbase.
Full report at:
http://en.farsnews.com/newstext.aspx?nn=13961019001224
--------
Syrian Army's Elite Forces Dispatched to Eastern Damascus
Jan 09, 2018
The sources said that a large number of the army's presidential guards have been dispatched to Eastern Damascus from Deir Ezzur, to join their comrades in Harasta region to restore security to the region.
Military sources reported earlier today that the army men managed to advance against terrorists in the Grain Mill Company near the Vehicles Management Center in Eastern Ghouta and captured more positions, moving towards the Modira neighborhood and other Eastern neighborhoods in Harasta.
The sources went on to say that the army units managed to capture several buildings in al-Hada'eq neighborhood in Harasta, adding that the army soldiers targeted terrorists' movements in al-Ajami neighborhood in Harasta and destroyed a vehicle of Al-Nusra Front (Tahrir al-Sham Hay'at or the Levant Liberation Board), killing the entire terrorists on board.
Full report at:
http://en.farsnews.com/newstext.aspx?nn=13961019001173
--------
Military Expert: Terrorists' Drone Attacks on Russian Base Supervised by US
Jan 09, 2018
Aleksi Lionkov was quoted as saying by the Arabic-language website of Sputnik news agency that the terrorists' use of drones means that they have chosen a new tactic for their operations.
He added that the Russian military men at Humeimim airbase in Syria should be prepared for heavier drone attacks by the militants.
The Russian anti-aircraft defense systems warded off the terrorist groups' heavy drone attacks on its bases in Lattakia and Tartus, the Russian Defense Ministry announced on Tuesday.
The militants launched their assault during the night on Saturday, the ministry said in a statement, adding that the Russia-run Humeimim Airbase in the Syrian Lattakia province was attacked by 10 unmanned combat aerial vehicles, while three more attempted a strike against the Russian maritime logistics base in the port city of Tartus.
The extremists may have been aided by a "technologically advanced state," it added.
All of the drones were detected by anti-aircraft defense systems "at a considerable distance from the Russian military objects," the ministry said. Seven of them were then successfully shot down by the Russian Panzir-S air-defense system.
The Russian radio electronic warfare specialists also managed to override the operating systems of six more drones, and eventually gained control over the UAVs. Three of them were destroyed when they hit the ground, while another three were landed intact outside the base controlled by Russian forces.
The ministry also confirmed that the attack had resulted in no casualties among Russian military personnel, and the two bases "continue to operate as normal."
Full report at:
http://en.farsnews.com/newstext.aspx?nn=13961019000857
--------
'Syrian army hits Israeli jet, intercepts missiles near Damascus'
Jan 9, 2018 08
Syria's army says its air defense systems have hit an Israeli aircraft and intercepted a number of rockets fired at targets on Syrian soil as the Tel Aviv regime continues its acts of aggression against the Arab country.
In a statement carried by state media on Tuesday, the army said that Israeli jets had fired missiles at the al-Qutaifa area northeast of the capital, Damascus, from inside the Lebanese airspace at 2:40 a.m. (0040 GMT).
The target of the strike in al-Qutaifa was said to be a weapons depot.
According to the statement, Israel then fired ground-to-ground rockets from the Israeli-occupied Golan Heights, but the Syrian defenses brought the missiles down.
It said that Israeli jets had fired a final barrage of four rockets from inside Israel, and that the Syrian air defenses brought down one, but that the others caused material damage.
Syria's official news agency (SANA) cited the general command of the army as saying that the attack had been carried out to raise the morale of the "defeated" terrorists in the Arab country.
"This flagrant aggression reaffirms Israel's support for the armed terrorist groups in Syria and its desperate attempts to lift its morale," the statement read.
The Israeli military did not comment on the reports.
During the past few years, Israel has frequently attacked military targets in Syria in what is considered as an attempt to prop up terrorist groups that have been suffering defeats in their fight against Syrian government forces.
Back in April 2015, Israeli Prime Minister Benjamin Netanyahu officially admitted for the first time that the regime's military had conducted strikes in Syrian territory.
Damascus says Israel and its Western and regional allies are aiding Takfiri terrorist groups operating inside the Arab country, while the Tel Aviv regime's military carries out such sporadic strikes against Syrian government forces. The Israeli regime has even set up field hospitals to treat wounded militants evacuated from Syria.
Full report at:
http://www.presstv.com/Detail/2018/01/09/548330/Syria-Israel-jet-intercept-missile-alQatifa-Damascus
--------
Mideast
Hamas, Islamic Jihad and Israel make up Gaza's 'unsolvable equation'
January 9, 2018
A Hamas cease-fire with Israel is being undermined by the activities of the second-largest terrorist faction in the Gaza Strip, Palestinian Islamic Jihad (PIJ).
Both Hamas and PIJ are ideologically committed to the Islamist goal of destroying Israel, and dedicate major resources to being able to wage rounds of armed conflict.
Yet Hamas, which rules Gaza and maintains the largest terrorist-guerrilla army there, is keen on preserving a truce with Israel at this time. Its reasons for sticking with the cease-fire are based on self-preservation, as a new conflict now would jeopardize its base in the coastal territory.
PIJ, the closest Palestinian faction to Iran, seems to view things differently. On Dec.30, terrorists fired mortar shells at a Kibbutz Kfar Aza, a community near the Gaza border in southern Israel. The attackers targeted a birthday ceremony held for fallen IDF soldier Oron Shaul, whose body remains in Hamas's possession. Those who took part in the ceremony fled for cover as sirens sounded and mortars fell.
Following President Donald Trump's recent recognition of Jerusalem as Israel's capital, Hamas would find itself in a "very uncomfortable situation in the event of a clash with Palestinian Islamic Jihad, and therefore, we are continuing to live in the unsolvable equation in Gaza," Prof. Uzi Rabi, a Middle East expert from Tel Aviv University, told JNS.
An IDF investigation into the Dec. 30 attack revealed that the mortar shells used in the attack were manufactured in an Iranian weapons factory. They were smuggled into Gaza, via the Sinai Peninsula, in 2008. The investigation found that the mortars, of the 120-millimeter variety, were an exact match to those fired a month earlier in late November at IDF posts near Gaza. November's attack was conducted by PIJ as revenge for an Israeli military operation to demolish a cross-border PIJ tunnel. It took little time for the IDF to conclude that PIJ was behind both incidents.
The implications of these developments might threaten prospects for prolonging the current relative quiet along the Gaza border. PIJ is willing to take considerable risks to launch projectiles at Israel, and an Iranian hand seems to be pushing the 10,000-member-strong organization to step up attacks. Hamas's ability to restrain PIJ is nowhere to be seen.
Yet Israel continues to view Hamas as the ruling party in Gaza, and the Jewish state's retaliation policy—striking Hamas targets in response to all incidents of cross-border fire, no matter who conducts it—continues.
Some observers believe Hamas did not really lose its ability to rein in PIJ, but that it is in fact playing a double game of sorts, allowing PIJ "off the leash" every once in a while before pulling it back.
"Hamas is sovereign in Gaza," Prof. Boaz Ganor, founder and executive director of Israel's International Institute for Counter-Terrorism, told JNS.
"That is not a meaningless statement, but rather, a factual description of the situation. As a result, Hamas has the ability to restrain any rebellious organization, be it PIJ or the Salafi (Islamic State-affiliated) organizations. Yet this kind of restraint has a price, damaging Hamas's image among the Palestinian public, and the self-image of its operatives and leaders, who are meant to be the flag bearers of the 'resistance' to Israel," Ganor said.
Ganor also drew attention to Hamas's growing reliance on Iranian financing and Hezbollah assistance. According to IDF assessments, Iran has sent $100 million to Hamas and PIJ in recent months alone. This dependency, he said, "makes Hamas, on the one hand, more exposed to pressure by these elements regarding their protégé, PIJ."
"However," Ganor continued, "in Hamas's balance sheet of interests, the importance of Egypt is infinitely greater than Iran's importance, and an escalation against Israel runs contrary to the Egyptian interest."
As a result of this complex picture, Ganor said it is reasonable to assume that "Hamas will allow PIJ to conduct sporadic fire at Israel," but only as long as Hamas believes this will avoid a significant escalation, and so long as it assesses that it can continue to pursue its double game of satisfying "both its masters"—Iran and Egypt.
"This policy will continue so long as Hamas estimates that it can contain the incidents, without being portrayed as the defender of Israel and without aggravating the Egyptians," stated Ganor.
Tel Aviv University's Rabi doubted Hamas's ability to restrain PIJ.
"There is no doubt that Hamas's room to maneuver and take action against the rebellious organizations [in Gaza] is still in effect, but not when we are talking about Palestinian Islamic Jihad," Rabi said.
He added, "One must recall that [PIJ] is an organization with skills and capabilities, including 10,000 personnel, which is funded and equipped by Iran, and which has all of the reasons in the world to ignite the situation."
http://www.jns.org/latest-articles/2018/1/9/hamas-islamic-jihad-and-israel-make-up-gazas-unsolvable-equation#.WlWfoFSWazc=
--------
Erdogan's 'soldiers' and their threat to dissent
Sibel Hurtas
January 9, 2018
A legislative decree by the Turkish government granting judicial immunity to civilians involved in the suppression of terrorist acts has rekindled suspicions and concerns about pro-government "militia forces" taking shape in the country. The emergence of dubious groups that consider President Recep Tayyip Erdogan their "commander in chief," coupled with the impunity provision introduced Dec. 24, is seen by many as a mounting threat to opposition quarters and expressions of dissent.
The government maintains that the impunity decree is meant to protect ordinary citizens who took to the streets against the coup attempt on July 15, 2016, although no one has faced charges for such actions. According to the opposition, the vague wording of the order makes it applicable to future events and is intended to shield attacks on anti-government protests.
The alarm over the clause comes amid concerns about what some believe to be budding "militia" groups loyal to the government. One of the most controversial groups, the People's Special Forces (HOH), is officially registered as an association. With branches in 22 of Turkey's 81 provinces, and with thousands of members, the group made headlines with photos of its chairman, armed and in fatigues, and of cars equipped with emergency lights and painted to look like security forces vehicles. Statements by group leaders and social media posts by members have reinforced misgivings that HOH is not an ordinary association.
According to HOH chair Fatih Kaya, the group represents "this noble nation that stood steadfast against murderers and dashed to martyrdom." The association came to the broader public's attention during the coup attempt, when its members were among the thousands of Turks who took to the streets to stop the putschists. For Kaya, it was an act of "jihad." In an interview with a local news site in Trabzon, the location of HOH's main office, Kaya said, "People must know that this is jihad. … Jihad is not easily declared. The head of our state and our commander in chief, Recep Tayyip Erdogan, declared jihad for us. Thanks be to the Lord, we are aware of this."
Neither Erdogan nor any other government official has objected to Kaya's description of the event as a "jihad," or Islamic holy war. Meanwhile, pictures have emerged of Kaya in Erdogan's company.
So, who is Fatih Kaya? In his most striking photographs, he is seen armed and clad in military fatigues in Syria. He says he went there to "help the Turkmens." He also claims that he is a public servant, but has not specified what job he actually holds.
Some suspect that Kaya might be involved with the Islamic State (IS). In a parliamentary question to the interior minister last month, Meral Danis Bestas, a lawmaker for the pro-Kurdish Peoples' Democratic Party (HDP), drew attention to media reports that Kaya was linked to IS and urged the minister to clarify the matter. She called the HOH a "paramilitary organization" and asked a series of questions about its activities, including how group members were able to obtain arms and how many of them are members of the ruling Justice and Development Party (AKP). Bestas has yet to answer any questions.
Another entity at the center of the militia controversy is International Defense Consulting (SADAT), a company that claims that one of its objectives is to contribute to the military development of the Muslim world. SADAT came into the public eye in relation to security operations in Turkey's Kurdish-majority southeast.
In 2015, prominent Kurdish politician Sebahat Tuncel claimed that armed men from a group called SADAT had attempted to burn 34 villagers detained by the security forces in Diyarbakir province. The men were "bearded and had Arabic inscriptions on their arms," according to quotes in the Turkish press by Tuncel. "They brought gasoline and wanted to burn the villagers," she said, adding that an army officer had prevented the group from doing so.
Shortly afterward, SADAT's founder, Adnan Tanriverdi, became an adviser to Erdogan. Most recently, the company, which openly advertises training for irregular warfare and counterinsurgency, has been linked to alleged military training camps in several Turkish provinces.
In an interview with Sozcu in early January, former Interior Minister Meral Aksener, who in October founded her own party to challenge Erdogan and the AKP, voiced concerns about "men who have been recently roaming around with long-barreled weapons." Without disclosing her sources, she spoke of "very serious allegations" about those individuals.
"We hear that there are military training camps in Tokat and Konya, for instance," Aksener said. "There is intense talk that those people will play a role in the elections, that they will provoke chaos if the results are unfavorable [to the government]. The entity called SADAT is one of them. … I'm issuing a warning now and calling for measures." An aide to Aksener said he had received reports about a third camp in Kocaeli.
SADAT denied the allegations, but the Defense Ministry remains mum on opposition requests for information about the company's training activities in Turkey, how it is supervised, what activities in the realm of defense it engages in and whether the Turkish military is aware of it.
The Ottoman Hearths is another controversial group that came to public attention in 2015 with attacks on offices of the HDP and the main opposition Republican People's Party. The group is vocally pro-AKP and has taken to heart the slogan "Erdogan is our honor." Its chair, Kadir Canpolat, has expressed gratitude to Erdogan, saying, "We owe the Ottoman Hearths to him." Canpolat also has described the group as Erdogan's "soldiers." Of note, Canpolat was among several people rounded up in 2006 ahead of Pope Benedict's visit to Turkey on suspicion of planning a hostile action against the pontiff.
Full report at:
https://www.al-monitor.com/pulse/originals/2018/01/turkey-judicial-impunity-for-erdogan-supporters.html
--------
New Saudi airstrike leaves dozen civilians dead in Yemen's Ta'izz
Jan 9, 2018
At least a dozen more civilians have lost their lives when Saudi fighter jets carried out an airstrike in an area of Yemen's southwestern province of Ta'izz as the Riyadh regime presses ahead with its devastating aerial bombardment campaign against its conflict-plagued southern neighbor.
Local source, speaking on condition of anonymity, told Arabic-language al-Masirah television network that the victims were killed as Saudi military aircraft targeted trucks loaded with coal travelling along a road linking al-Najibiyah district and Hays region in the neighboring coastal province of al-Hudaydah on Tuesday afternoon.
The development came on the same day that Yemeni army forces and allied fighters from Popular Committees launched a barrage of artillery rounds at a gathering of Saudi-backed militiamen loyal to Yemen's resigned president, Abd Rabbuh Mansur Hadi in the city of Sirwah, which lies about 120 kilometers (75 miles) east of the capital Sana'a, leaving scores of them killed and injured.
In the As Silw district of Ta'izz province, several Saudi mercenaries were killed and wounded when an explosive device went off in their position.
Yemeni soldiers and their allies also fired a number of artillery rounds at Saudi troops in the al-Ghawiyah military base of Saudi Arabia's Jizan region, located 969 kilometers south of the capital Riyadh.
There were, however, no immediate reports on possible casualties and the extent of damage caused.
At least 13,600 people have been killed since the onset of Saudi Arabia's military campaign against Yemen in 2015. Much of the Arabian Peninsula country's infrastructure, including hospitals, schools and factories, has been reduced to rubble due to the war.
The Saudi-led war has also triggered deadly epidemics of infectious diseases, especially diphtheria and cholera, across Yemen.
According to the World Health Organization's latest tally, the cholera outbreak has killed 2,167 people since the end of April and is suspected to have infected 841,906.
WHO has also warned that at least 471 people in Yemen have contracted diphtheria, a bacterial disease that has been killing one in 10 Yemenis since the outbreak started in the war-torn country in mid-August last year.
The UN agency's spokesman, Tarik Jasarevic, made the disturbing announcement last Thursday, adding that the west-central province of Ibb and the western province of Hudaydah were the hardest hit by diphtheria, which is easily spread between people through direct physical contact or the air.
On November 26, the United Nations children's agency (UNICEF) said that more than 11 million children in Yemen were in acute need of aid, stressing that it was estimated that every 10 minutes a child died of a preventable disease there.
Additionally, the UN has described the current level of hunger in Yemen as "unprecedented," emphasizing that 17 million people are now food insecure in the country.
Full report at:
http://www.presstv.com/Detail/2018/01/09/548365/New-Saudi-airstrike-leaves-dozen-civilians-dead-in-Yemens-Taizz
--------
Iran has foiled plot to use protests to overthrow system: Khamenei
January 09, 2018'
Iran has foiled attempts by its foreign enemies to turn legitimate protests into an insurgency to overthrow the Islamic Republic, supreme leader Ayatollah Ali Khamenei said on Tuesday.
Comments on his Twitter feed and in Iranian media underscored the establishment's confidence that it has extinguished the unrest that spread to more than 80 cities in which at least 22 people died since late December.
"Once again, the nation tells the US, Britain, and those who seek to overthrow the Islamic Republic of Iran from abroad that 'you've failed, and you will fail in the future, too.'" Khamenei tweeted.
The Revolutionary Guards, the military force loyal to Khamenei , said on Sunday security forces had put an end to the unrest that it said had been whipped up by foreign enemies.
At least 1,000 people have been arrested in the biggest anti-government protests for nearly a decade, with the judiciary saying ringleaders could face the death penalty.
Khamenei said U.S. President Donald Trump was grandstanding when he tweeted support for protesters he said were trying "to take back their corrupt government" and promising "great support from the United States at the appropriate time!"
The Iranian leader tweeted: "... this man who sits at the head of the White House - although, he seems to be a very unstable man - he must realize that these extreme and psychotic episodes won't be left without a response."
As well as Washington and London, Khamenei blamed the violence on Israel, exiled dissident group People's Mujahedin of Iran and "a wealthy government" in the Gulf, a reference to Iran's regional rival, Saudi Arabia.
In a rare public appearance, the head of Israeli intelligence agency Mossad said the protests were due to Iranian President Hassan Rouhani's failure to improve people's economic or social circumstances, but he said they were unlikely to overthrow the establishment.
"In Iran too, we have eyes and ears," Yossi Cohen told a Finance Ministry conference in Jerusalem.
"One shouldn't develop high hopes, though I would be happy to see a meaningful revolution," he added.
Khamenei has called the protests - which were initially about the economy but soon turned political - "playing with fireworks", but he said citizens had a right to air legitimate concerns, a rare concession by a leader who usually voices clear support for security crackdowns.
"These concerns must be addressed. We must listen, we must hear. We must provide answers within our means," Khamenei was quoted as saying, hinting that not only the government of Rouhani, but his own clerical leadership must also respond.
Full report at:
https://nation.com.pk/09-Jan-2018/iran-has-foiled-plot-to-use-protests-to-overthrow-system-khamenei
--------
Turkey to continue Euphrates Shield operation in northern Syria, Erdogan says
9 January 2018
Turkey's military will continue its operation in Syria's Afrin and Manbij regions, President Recep Tayyip Erdogan said on Tuesday during a parliamentary address to his ruling AK Party.
In 2016, Turkey launched the Euphrates Shield operation on its Syrian border to eradicate what it called a "corridor of terror", made up by the dual threat of ISIS and Syrian Kurdish fighters.
https://english.alarabiya.net/en/News/middle-east/2018/01/09/Turkey-to-continue-Euphrates-Shield-operation-in-northern-Syria-Erdogan-says.html
--------
UNHCR says Israel should halt policy of relocating African refugees
Jan 9, 2018
The United Nations refugee agency has called on Israeli authorities to scrap a new program that forces thousands of African refugees out of the occupied territories.
William Spindler, spokesman for the UN High Commissioner for Refugees (UNHCR), said in a press briefing on Tuesday in the Swiss city of Geneva that the program was not "coherent" and "has been implemented not in a very transparent manner."
"We are again appealing to Israel to halt its policy of relocating Eritreans and Sudanese to sub-Saharan Africa," Spindler said.
"Official statements that the plans may eventually target families and those with pending asylum claims, or that asylum seekers might be taken to the airport in handcuffs, are particularly alarming."
Spindler said some 27,000 Eritreans and 7,700 Sudanese lived in Israel, but authorities there had only granted refugee status to 11 since 2009.
In Europe, Eritreans have a very high rate of recognition as refugees fleeing war or persecution, the UNHCR spokesman said. "So we would expect that among them, many would qualify for refugee status."
"What we would like to see in Israel, and we are willing to help in that respect, is to find legal alternatives for these people, through resettlement in other countries."
Elsewhere in his remarks, Spindler said over the past two years, the UNHCR had interviewed 80 Eritrean refugees in Rome who arrived in Italy after a hazardous journey across Africa following their departure from Israel to Rwanda. "Along the way, they suffered abuse, torture and extortion before risking their lives once again by crossing the Mediterranean to Italy."
Israel made arrangements to send the Sudanese and Eritrean migrants to Rwanda and Uganda over concerns that they may face danger if they return home.
The plan was widely criticized when it was first unveiled last year. Last week, Israel started the implementation of its plan to force thousands of African migrants out of the occupied territories, threatening to detain those who refuse to leave.
Large numbers of African refugees started coming to Israel though Egypt's Sinai Peninsula in 2007. Those arrested at the Egyptian border were jailed in the Negev desert in southern Israel.
Full report at:
http://www.presstv.com/Detail/2018/01/09/548372/UNHCR-Israel-African-refugees
--------
Turkey to continue military operation in northern Syria: Erdogan
Jan 9, 2018
President Recep Tayyip Erdogan says Turkey is to keep up its so-called Euphrates Shield military operation in northern Syria, which serves to keep Kurdish militants away from its borders.
The operation spans Syria's Afrin and Manbij regions. The country launched the mission in 2016, saying it sought to fight off the Takfiri Daesh terror group. Later, however, Ankara was seen using the drive to push against the Kurds.
Turkey associates the Kurdish militants in Syria with the homegrown Kurdistan Workers' Party (PKK), which has been fighting a decades-long separatist war against Ankara.
The Turkish operation, however, comes without the Syrian government's permission, prompting repeated calls by Damascus to stop its military intervention.
Despite angering Syria on the matter, Turkey, along with Russia and Iran, has made great diplomatic strides to help end the crisis in Syria.
The trio has been mediating a peace process in Astana, Kazakhstan, between Syria's warring sides since January 2016.
'US, Gulen in cahoots'
Separately, Erdogan branded a United States legal case against a Turkish banker as a "political coup attempt" and a joint effort by the CIA and the FBI to undermine Turkey.
Last week, a jury in New York found Mehmet Hakan Atilla guilty on five of six counts he faced, including bank fraud and conspiracy to violate US sanctions law.
Full report at:
http://www.presstv.com/Detail/2018/01/09/548341/Turkey-Syria-Euphrates-Shield-United-States-FBI-CIA-Gulen
--------
Saudis seeking to acquire Israeli Iron Dome missiles: Report
Jan 9, 2018
Saudi Arabia has reportedly been seeking to get its hands on Israel's so-called Iron Dome missile system amid reports that the two regimes have plans to normalize their relations and unite against Iran.
Basler Zeitung, a Swiss German-language newspaper published in the city of Basel, quoted a "European weapons dealer in the Saudi capital of Riyadh" as saying on Monday that the Saudis were seeking to buy Israeli military equipment, including the so-called Trophy Active Protection System (APS).
The vehicle-mounted system is capable of intercepting and destroying incoming missiles and rockets with a shotgun-like blast.
According to the report, Saudi military experts had even examined the Israeli anti-missile system in the United Arab Emirates' capital, Abu Dhabi.
Saudi Arabia is said to have wanted to acquire the system in an attempt to stop missile attacks by Yemen's Houthi Ansarullah movement, the report said.
The Houthi fighters regularly fire domestically-manufactured ballistic missiles at positions inside Saudi Arabia in retaliation for the Riyadh-led coalition war on Yemen.
Additionally, the Swiss daily noted that Riyadh and Tel Aviv were working together to confront Iran's growing presence in the Middle East.
The two regimes, it noted, were cooperating significantly in the military and security sectors, with their intelligence cooperation having registered "further progress."
Israel and Saudi Arabia have no diplomatic relations, but they are widely believed to have secret liaisons.
Numerous reports have suggested growing ties between Tel Aviv and Riyadh in the past few months.
In November 2017, Chief of Staff of Israeli military, Lieutenant General Gadi Eizenkot, expressed Tel Aviv's readiness "to exchange experiences with moderate Arab countries and exchange intelligence to confront Iran."
In an interview with the Saudi-owned Elaph online newspaper, Eizenkot claimed that Iran was the "biggest threat to the region," adding that Tel Aviv and Riyadh were in full agreement about Iran's intentions.
Israeli minister of military affairs also echoed Eizenkot's comments, saying that the Middle East now requires an anti-Iran coalition.
"The Middle East today needs, more than anything else, a coalition of moderate states against Iran. The coalition against Daesh [terror outfit] has finished its work, after Daesh, Iran," Avigdor Lieberman said.
Full report at:
http://www.presstv.com/Detail/2018/01/09/548327/Saudi-Arabia-Israel-missile
--------
North America
Canada: Trudeau's Support for Islamists a Warning to America
by Thomas Quiggin
January 9, 2018
Prime Minister Justin Trudeau of Canada has an nine-year long record of supporting the Islamist cause while refusing to engage with reformist Muslims. With respect to ISIS fighters returning to Canada, Trudeau has argued that they will be a "powerful voice for deradicalization" and that those who oppose their return are "Islamophobic." Furthermore, the Government of Canada is not adding the names of returning ISIS fighters to the UN committee responsible for the listing of international jihadists.
Many Canadians (and others) are starting to believe that Prime Minister Trudeau's position on reintegrating and deradicalizing ISIS fighters is unreasonable, if not delusional. Canada's "Centre for Community Engagement and Deradicalization" has no leader and no deradicalization centre. Nor does it appear to have plans for a program which could operate inside or outside of government. It is also not clear that the law of Canada could force a returning ISIS fighter to attend such a program, even if it did exist. In France, a similar government sponsored program was a failure.
Canada also has an unclear position on the arrest of returning ISIS fighters, with few facing any consequences to date. The number of ISIS fighters in Canada is unclear; estimates back in 2015 suggested that about 60 had returned. The Government of Canada has tried to claim that his number has not changed since 2015, despite the near total collapse of ISIS over the last several months.
Prime Minister Trudeau's earlier comments on politicians needing a position of "responsible neutrality" on the issues of wife beating and female genital mutilation render his current positions on Islamist groups such as ISIS even more troublesome. Perhaps most disturbing were Trudeau's comments to a gathering of Islamist front groups: he told them that he shared their beliefs, their set of values and their shared vision. Adding to this concern is his 2014 interview, as a Member of Parliament, to the Montreal-based newspaper Sada al-Mashrek. This paper is known to be Khomeneist in nature and supports Iran (as well as Hezbollah). In this interview, Trudeau told the paper that he would have a special immigration program that was more open to "Muslims and Arabs."
The degree to which Islamist extremism has spread in Canada can be demonstrated by the number of fighters who have travelled to ISIS. According to the Soufan Center, 180 Canadians went overseas to fight for for "terrorist groups" (ISIS) in Iraq & Syria while only 129 Americans did the same. Given that the US population is about ten times that of Canada, the American number should have been closer to 1800 rather that the 129 reported.
Prime Minister Trudeau's position on Islamists should be of concern to both Canadians and Americans. While the history of Canada and American relations is largely positive, Islamist attacks against America have been attempted from Canada. Among these attempted attacks have been Ahmed Ressam in 1999, Chiheb Esseghaier in 2013 and Abdulrahman El Bahnasawy, convicted of an attempted attack in New York City in 2016.
In addition to his support for Islamists, Prime Minister Trudeau appears to be re-engaging with Iran after the previous Prime Minister (Stephen Harper) closed the Embassy of Iran in Canada and deported all of its diplomats. During the 2015 federal election, Trudeau said he hoped Canada "would be able to reopen its mission" and he was "fairly certain that there are ways to re-engage." Progress to date on this has been uneven, but talks appear to be continuing.
Prime Minister Trudeau's support for the Islamist cause has been consistent since he was first elected as a Member of Parliament in 2008. This position appears to have been reinforced since he became Prime Minister in 2015. In addition to his own position, Canada's Liberal Party also has an entryist problem as it has been targeted by Islamist groups.
Unfortunately for all concerned, the global Islamist ideology and its inherent problems of confrontation, oppression and violence are growing. Canada appears to be doing little to address these issues while accommodating those who form the ideological basis of the problem. Canada will not be able to plead ignorance or inability while facing accusations of complicity from any future American terrorist victims. The price of Canada's submission to the Islamists may indeed be high.
https://www.gatestoneinstitute.org/11679/trudeau-support-islamists
--------
Washington ready to work with Islamabad to combat terrorism: US officials
January 09, 2018
The United States says it stands ready to work with Pakistan for the resolution of security aid suspension issue and to combat terrorist groups without distinction, reported Radio Pakistan .
Pentagon spokesperson Col. Rob Manning told reporters in Washington that United States hopes that Pakistan will take decisive action against the terrorist and militant groups.
He said the suspension was not a permanent cut off.
He said security funding and pending deliveries will be frozen, but not cancelled or reprogrammed at this time.
The spokesman said the United States would continue conversations in private with the Pakistani government.
Pakistan maintains that it is fighting the biggest war on terror in the world sacrificing the lives of tens of thousands of civilians and armed personnel with huge losses to the economy to the tune of 120 billion dollars.
Full report at:
https://nation.com.pk/09-Jan-2018/washington-ready-to-work-with-islamabad-to-combat-terrorism-us-officials
--------
US to decide on Iran sanctions waivers on Friday
10 January 2018
The Trump administration is expected to decide on Friday whether to continue to waive US penalties on Iran, as agreed under the 2015 Iran nuclear deal, the State Department said on Tuesday.
US President Donald Trump was expected to meet with Secretary of State Rex Tillerson and Defense Secretary Jim Mattis at the White House later in the week ahead of the decision, State Department spokesman Steve Goldstein told a briefing.
Full report at:
https://english.alarabiya.net/en/News/world/2018/01/10/Magnitude-7-6-earthquake-strikes-off-Honduras-triggering-tsunami-fears.html
--------
President Trump is right to bully the enemies of America
10 January 2018
In recent years, anti-bullying campaigns have become standard fare in high school and college. Our society has decided, rightly, that bullies should no longer be tolerated because their hurtful attacks can lead to lifelong scars and, in extreme cases, suicide by the victims.
Likewise, Donald Trump, as both a candidate and president, has been accused of being a bully, his critics attacking him for his bluster and insensitivity.
It seems the only bullies who remain off limits – in the eyes of media critics, numerous politicians and many other Americans – are rogue-nation dictators and terrorist organizations. We should treat those bullies with kid gloves, many say.
The latest example of this appeasing belief came in the first week of the new year, when North Korean leader Kim Jong Un boasted: "I have a nuclear button on the desk in my office. All of the mainland United States is within the range of our nuclear strike."
For several decades, and with various White House occupants, the U.S. response to such provocations has been one that could generously be called "restraint" but more accurately called "spinelessness."
Instead, Trump tweeted: "North Korean Leader Kim Jong Un just stated that the 'Nuclear Button is on his desk at all times.' Will someone from his depleted and food starved regime please inform him that I too have a Nuclear Button, but it is a much bigger & more powerful one than his, and my Button works!"
A typical round of outrage ensued, directed not at the North Korean dictator but at the president of the United States. How dare he respond in such a juvenile and irresponsible way?
"Spoken like a petulant 10 year old," Eliot Cohen, former adviser to Condoleezza Rice, wrote on Twitter, summing up the reaction from many. "But one with nuclear weapons – for real – at his disposal. How responsible people around him, or supporting him, can dismiss this or laugh it off is beyond me."
In fact, how to successfully deal with threats from abroad has been beyond many past administrations. It has long appeared to be U.S. policy to live in fear of upsetting our enemies.
Trump's approach – one for which millions of Americans have longed – is to treat them like the sniveling bullies they are. From his description of Kim as "Little Rocket Man" to his retorts to the dictator's nuclear threats, Trump refuses to feign respect. Trump has been admirably consistent in his approach to America's enemies, and his critics just as reliable in expressing their alarm. During the 2016 campaign, Hillary Clinton and many others claimed that Trump's blunt rhetoric on Islamist extremism was helping the Islamic State (also known as ISIS) recruit new members.
In May 2016, Clinton echoed what many others had said and would continue to claim: "I said months ago, what Donald Trump said is going to be used to recruit terrorists by ISIS. … Now just recently we have absolute evidence, yes, it is. They're taking his words, out of his mouth, denigrating Muslims and putting them into propaganda videos. Why are we making the world more dangerous for Americans?"
In other words, don't make Islamic State leaders mad. Don't insult them – they'll hate us even more!
The terrorists may have used Trump's words as a recruitment tool – and, yes, he could have done better differentiating between Islam as a religion and Islamist terrorism – but in recent months, according to multiple accounts, the Islamic State has been effectively vanquished in its former strongholds in Iraq and Syria. The claim that Trump's rhetoric would make the group stronger was off base.
While many accuse the president of engaging in playground taunts, Trump speaks to rogue dictators and terrorists in the language they understand. He demonstrates a stark shift in U.S. policy from one of fear and appeasement to treating such bullies in the fashion they deserve – with contempt and derision.
Trump's critics will wonder why the president seems to take a softer approach with Russian President Vladimir Putin, but Putin does not claim his goal is to obliterate the U.S. militarily or via terrorist attacks. The response the United States has employed for years with those who do – and the one preferred by Trump's critics – led to a far-reaching Islamic State, a North Korea that is armed with long-range missiles and a more dangerous world overall. A radically different response has been long overdue.
Full report at:
https://www.pressherald.com/2018/01/09/commentary-president-trump-is-right-to-bully-the-enemies-of-america/
--------
US plots in region counter-attack against Islamic Revolution
9 January 2018
"The Islamic Revolution destructed the US political foothold in Iran and all the moves of the enemies in the last forty years against US are the counter-attacks to the Islamic Revolution," asserted Ayatollah Seyed Ali Khamenei, the Leader of the Islamic Republic of Iran.
He made the remarks in Tehran on Tuesday while receiving a group of people from Qom on the anniversary of the historic uprising of the city in 1978.
"The Iranian nation started their rallies all over Iran concurrent with the start of the riots, fireworks and mischievous behaviors, on Dey 9th (December 30th)," said the Iranian Leader.
"Resistance and the fight between 'nation and the anti-nation', 'Iran and the anti-Iran,' and 'Islam and the anti-Islam,' will continue the same as it has been in the last 40 years, but the animosity of enemies should not make the officials ignore the shortcomings and the problems of people specially the lower classes of the society," asserted Ayatollah Khamenei.
Ayatollah Khamenei articulated that the motto of the Iranian nation and the revolutionary youth has been, in the last 40 years, 'resistance against bullyism and not bending to intimidations'.
He drew attentions to the recent days' events to see the real spirit of the Iranian nation and added that pro-Establishment rallies started the on same day with the riots and the nation did not give up as the rioters did not stop their anarchist behaviors.
"These rallies [in support of the Islamic Revolution] are not ordinary events because these huge, popular, and united movement against the plots of the enemies were conducted with so much regulation, insightfulness, and motivation that was unique in the world," noted the top authority of Iran.
"Once again, the nation resisted with a strong defensive wall with full might against US, UK, and London-based elements to tell them they are unable and will be unable to harm Iran," reiterated Ayatollah Khamenei.
"The current US officials whose gullibility in political affairs is quite explicit, have turned themselves in this time and admitted that they have made networks and trained mercenaries," underlined Ayatollah Khamenei, "they collected the costs for these plots with swindling the dependent countries of the Persian Gulf to probably recycle the trash who escaped Iran to find a second chance in the field."
Full report at:
https://en.mehrnews.com/news/131072/US-plots-in-region-counter-attack-against-Islamic-Revolution
--------
Quebec opposition parties against marking mosque shooting with day against Islamophobia
January 9, 2018
Nearly a year after six Muslim men were gunned down in a Quebec City mosque, political leaders are still struggling to reach agreement on how to commemorate the attack.
Both the Parti Québécois and Coalition Avenir Québec, the province's two main opposition parties, have come out against a proposal made last week by the National Council of Canadian Muslims, taking issue with the idea that the day should be devoted to action against Islamophobia.
CAQ spokesperson Samuel Poulin said that, instead, the anniversary should be "dedicated to commemorating the memory of the victims of this terrible tragedy."
"It is the intolerable act of one person and not that of an entire society. Quebecers are open and welcoming, they are not Islamophobic," he said in a statement.
The PQ contends the term Islamophobia is too controversial, and points out there is already an international day for the elimination of racial discrimination.
Spokesperson Bruno-Pierre Cyr said the party does, however, support a day of commemoration to mark the day of the attack, which he called a "despicable gesture."
Six Muslim men were shot and killed and 19 others were wounded in an attack on the mosque during prayers last Jan. 29.
Alexandre Bissonnette of Quebec City is to stand trial in March on six charges each of first-degree murder and attempted murder.
Liberals open to idea, but non-committal
Quebec's Liberal government said it is open to the council's proposal, but hasn't made any firm commitment.
In a year-end interview, Premier Philippe Couillard told CBC's Debra Arbec he plans to table a motion to express solidarity with the Muslim community when the National Assembly resumes in February, after the anniversary has passed.
"I suspect it will be adopted unanimously," he said last month.
The PQ is the largest opposition party in the Quebec legislature, holding 28 out of 125 total seats, while the CAQ has 21 seats. Quebec is holding provincial elections this October.
A smaller opposition party, Québec Solidaire, which holds three seats in the National Assembly, has said it supports the proposal.
The federal government said in a statement it has "received and noted" the proposal from the National Council of Canadian Muslims.
"We must condemn all forms of discrimination including Islamophobia," the statement from office of the minister of Canadian Heritage said.
Designation meant to start a conversation
Razia Hamidi, the Montreal representative for the National Council of Canadian Muslims, said Tuesday that criticism of the proposal is misguided.
Designating a day to counter Islamophobia isn't meant to suggest all Quebecers are Islamophobic, she told CBC Montreal's Daybreak.
Instead, she said, it would "enable a broader conversation about how to address underlying issues" in society.
Like the national council, Boufeldja Benabdallah, vice-president of the Quebec City mosque, wants the anniversary of the shooting to be more than just a commemoration.
Full report at:
http://www.cbc.ca/news/canada/montreal/quebec-mosque-shooting-islamophobia-1.4478861
--------
Pakistan has not suspended military, intelligence cooperation with Washington: US
Jan 10, 2018
ISLAMABAD: The US Embassy in Islamabad is denying Pakistan's stance that it has suspended military or intelligence cooperation with the United States.
Embassy spokesman Richard Snelsire said, "We have not received any formal communication regarding a suspension."
Earlier Tuesday, in a speech to the Islamabad-based, government-sponsored Institute for Strategic Studies, Defence Minister Khurram Dastgir Khan, said there is "… a wide field of intelligence cooperation and defence cooperation, which we have suspended." But he added, the supply lines for NATO troops in Afghanistan, formally known as the Ground Lines of Communication or the Air Lines of Communication were still open.
The statement came after Washington's decision to suspend security assistance to Islamabad.
In Washington, State Department's Under Secretary for Public Diplomacy and Public Affairs Steve Goldstein told VOA Tuesday the United States is "hopeful that Pakistan will come back to the table" and assist in US efforts to combat terrorism.
The US announced last Thursday that it would not deliver military equipment or transfer security-related funds to Pakistan, suspending the so-called Foreign Military Financing (FMF) and Coalition Support Funds (CSF) but not civilian assistance to that country.
Monday, a Pentagon spokesman said the United States had conveyed to Pakistan "concrete steps" to take before the United States would resume hundreds of millions of dollars in aid, which was suspended after US President Donald Trump indicated Pakistan had lied and deceived the United States while providing safe havens to terrorists fighting in Afghanistan.
Pakistan says the United States is scapegoating it for US failures in Afghanistan.
A senior State Department official said earlier "the success in Afghanistan relies on better" relations between Pakistan and Afghanistan, and "it relies on Pakistan being an active, constructive player" in South Asia.
Pakistan says the United States is scapegoating it for US failures in Afghanistan.
In his address, Khan also reminded the United States it needs Pakistan in its fight against terrorism in Afghanistan. "A reminder is in order. Logistics trump strategy," he said.
Pakistan blocked the Lines of Communication for months after a 2011 attack by the NATO air force accidentally hit two Pakistani check posts, killing more than two dozen Pakistani soldiers.
Pakistan is considered the safest and cheapest route to resupply NATO troops. Other possible routes that go through Central Asian countries are more expensive and pass through a region Russia considers its backyard. Tensions between the United States and Russia have been high since Russia was accused of meddling in the latest US presidential elections.
"We always look at that," said Goldstein when asked if Washington is assessing alternative routes should Pakistan blocks supply routes to Afghanistan, while adding the US is suspending but not cutting off permanently security aid to Pakistan.
But statements from senior US officials indicate that despite these limitations, the administration is serious in its stance that Pakistan needs to change its behaviour.
In a Sunday interview with CBS's Face the Nation, CIA Director Mike Pompeo said, "The president has made very clear that he needs Pakistan to cease being a safe haven for terrorists that threaten the United States of America. End. Period. Full stop."
Full report at:
https://www.pakistantoday.com.pk/2018/01/10/pakistan-has-not-suspended-military-intelligence-cooperation-with-washington-us/
--------
South Asia
Bill Clinton Joins Calls for Release of Reuters Journalists in Myanmar
January 10, 2018
Yangon. Calls grew on Tuesday (09/01) for the release of two Reuters journalists in Myanmar facing accusations of breaching the country's Official Secrets Act, with former US President Bill Clinton urging that they be freed immediately.
The reporters, Wa Lone, 31, and Kyaw Soe Oo, 27, were detained on Dec. 12. They are due to make their second appearance in court in the main city of Yangon on Wednesday.
The two had worked on Reuters coverage of a crisis in the western state of Rakhine, where an estimated 655,000 Rohingya Muslims have fled from a military crackdown that followed militant attacks on security forces.
"A free press is critical to a free society - the detention of journalists anywhere is unacceptable. The Reuters journalists being held in Myanmar should be released immediately," Clinton said in a Twitter post.
Clinton was US president for much of the 1990s when the United States pressed Myanmar's then military rulers to release democracy champion Aung San Suu Kyi from years of house arrest.
Suu Kyi won a 2015 election and formed a government in early 2016, although she is barred by the constitution from becoming president. She has made no public comment on the case of the two Reuters reporters. Her spokesman has said the case would be handled according to the law.
The Ministry of Information has cited the police as saying the two reporters were "arrested for possessing important and secret government documents related to Rakhine State and security forces".
It said they had "illegally acquired information with the intention to share it with foreign media".
The Official Secrets Act dates back to 1923, when Myanmar, then known as Burma, was a province of British India. It carries a maximum prison sentence of 14 years.
Former US ambassador to the United Nations Samantha Power referred in a post on Twitter to the detention of the two reporters as "an outrage & symptom of a world without credible US leadership".
Government officials from some of the world's major nations, including the United States, Britain and Canada, as well as top UN officials, have called for the release of the reporters.
'Innocent of Wrongdoing'
Reuters President and Editor-In-Chief Stephen J. Adler has called for the immediate release of the two.
"As they near their hearing date, it remains entirely clear that they are innocent of any wrongdoing," Adler said in a statement on Monday.
A group of Myanmar reporters asked the government on Monday for details about the arrest of the two, arguing that the case could have implications for the ability of journalists to do their jobs.
Authorities have blocked most media access to the north of Rakhine State, where Rohingya militant attacks on the security forces on Aug. 25 sparked the military crackdown.
The United Nations has condemned the Myanmar military campaign as ethnic cleansing. Buddhist-majority Myanmar has rejected the accusation.
The Committee to Protect Journalists (CPJ) also called on Myanmar to release the two reporters.
"The proceedings against Wa Lone and Kyaw Soe Oo are a transparent attempt to intimidate the media and to prevent coverage of the unfolding tragedy of the Rohingya people in Myanmar's Rakhine state," said Steven Butler, CPJ's Asia program coordinator, in a statement on Monday.
Separately, an independent Myanmar media outlet, the Development Media Group, which is based in and focuses on coverage of events in Rakhine State, also called for the release of the pair.
"The Myanmar government must do a great deal more than it does now to allow media organisations the freedom to form, collect and distribute news and information," the group said in statement on Tuesday.
http://jakartaglobe.id/international/bill-clinton-joins-calls-release-reuters-journalists-myanmar/
--------
Airstrikes leave 3 ISIS militants dead in Kunar province of Afghanistan
Jan 09 2018
At least three militants affiliated with the Islamic State of Iraq and Syria (ISIS) terrorist group were killed in airstrikes conducted in eastern Kunar province of Afghanistan.
The 201st Silab Corps in the East said the airstrikes were carried out on Monday in the vicinity of Suki district.
According to Silab Corps, a Dshk heavy machine gun, a PKM machine, and a rocket launcher belonging to the terrorists were also destroyed in the airstrike.
The anti-government armed militant groups including the ISIS militants have not commented regarding the report so far.
This comes as the 201st Silab Corps of the Afghan army in the East said Monday that the ISIS militants launched a coordinated attack on public uprising and Afghan local Police forces in Suki district.
A statement by the Silab Corps said the Afghan armed forces launched artillery and airstrikes in response to the ISIS attacks in Deriwa Gul valley.
The statement further added that twelve ISIS militants were killed and around thirty others were wounded during the operations.
Full report at:
https://www.khaama.com/airstrikes-leave-3-isis-militants-dead-in-kunar-province-of-afghanistan-04230
--------
Rohingya Leaders Call on US to Ensure Refugees Are Not Forced Back to Myanmar
2018-01-09
Rohingya leaders have called on the U.S. government to ensure that refugees from the Muslim minority who fled a military crackdown in Myanmar's northern Rakhine state to neighboring Bangladesh not be forced to return to the Southeast Asian country unless officials can guarantee their security and restore their citizenship.
The Myanmar military launched a brutal crackdown targeting the Rohingya in response to deadly terrorist attacks by a Muslim militant group in August 2017. The Rohingya endured killings, arson, rape, and torture during the campaign, which forced about 655,000 of them to flee to safety in Bangladesh.
"Rohingyas must not be sent back to the genocide zones of Burma without security and citizenship," said Abdul Malik Mujahid, chairman of Burma Task Force USA, a coalition of 19 U.S. and Canadian Muslim organizations dedicated to advocating for the Rohingya and ending genocide in Myanmar.
He was one of several Rohingya leaders from across the U.S. who participated in a panel discussion in Washington, D.C., on the situation in northern Rakhine state and were part of a delegation that met on Capitol Hill.
Saw Hlaing, executive member of the Burmese American Muslims Association based in California, told RFA's Myanmar Service that the government of Myanmar's de facto leader Aung San Suu Kyi cannot resolve the problems in ethnically and religiously divided Rakhine state without the collaboration of military leaders and the nation's former leaders.
He said that a relative told him how Myanmar army soldiers and ethnic Rakhine mobs attacked Rohingya villages during the crackdown.
"My sister saw with her own eyes in her village that the Myanmar army and [ethnic] Rakhine extremists set fires and killed people," Saw Hlaing said. "The village's name is Vasala in the Rohingya language."
The Myanmar government and army have denied allegations of atrocities committed by soldiers against the Rohingya, even though both the United Nations and United States say the crackdown amounts to ethnic cleansing.
Citizenship Law 'unfair'
Myanmar and Bangladesh signed an agreement in November to repatriate Rohingya refugees who wished to voluntarily return to Myanmar and who could prove prior residency there.
Myanmar is in the process of issuing the Rohingya national verification cards as part of a citizenship eligibility process for undocumented people in Rakhine state.
Kyaw Soe Aung, executive director of the Rohingya American Society, said that the Rohingya community rejects the cards because all Rohingya who live in Myanmar have other forms of identification and official lists documenting all family members
"We would like to ask the Myanmar government to determine citizenship according to these documents," he said.
Myanmar's 1982 Citizenship Law denies the Rohingya citizenship because they are not among the country's 135 official ethnic groups.
Kyaw Soe Aung told RFA that the Citizenship Law is unfair.
"That law was issued without people's consent," he said. "We want to ask whether this law was issued just for Muslims or all people in Myanmar. If it is only for Muslims, then it is discrimination."
He suggested that the government accept the Rohingya refugees back, help them resettle since most of their villages and homes were burned during the crackdown, and give them back their rights.
"If this is done, the problems in Rakhine state will disappear," he said.
Data verification
Myanmar plans to begin repatriating about 100,000 Rohingya refugees on Jan. 22, though rights groups, the U.N., and Rohingya leaders themselves have warned against a hasty return, saying that the Rohingya may not be able to produce documents proving prior residency since many fled in haste to escape violence by security forces.
They also have cautioned that Rohingya who return will continue to face repression and discrimination in Buddhist-majority Myanmar, where they are considered illegal immigrants from Bangladesh and are denied citizenship and access to basic services.
The plan that Myanmar and Bangladesh have come up with does not take into account the rights of the returning Rohingya, Kyaw Soe Aung said.
"The agreement said Myanmar will accept those who have documents or evidence that shows that they previously lived in Rakhine state before," he said. "Most of them don't have any documents or evidence because the Myanmar army and security guards burned their houses, and they had to flee to Bangladesh."
Myanmar officials, however, say they have documents to verify the residency of Rohingya who want to return but no longer possess official papers.
"The Myanmar government has to receive the Rohingya back by checking its immigration data and giving them their full rights," Kyaw Soe Aung said.
Kyaw Soe Aung also said the Myanmar government must implement the recommendations of the Advisory Commission on Rakhine State, a body led by former U.N. head Kofi Annan which called for reviews of the country's Citizenship Law and for an end to restrictions on the Rohingya to prevent further violence in the region.
Full report at:
http://www.rfa.org/english/news/myanmar/rohingya-leaders-call-on-us-to-ensure-refugees-are-not-forced-back-to-myanmar-01092018164408.html
--------
Narrow sanctions won't help Rohingya Muslims: Activists
09.01.2018
By Safvan Allahverdi
WASHINGTON
Targeted and partial sanctions will not stop Myanmar's campaign of oppressing Rohingya Muslims, the head of a prominent U.S.-based organization advocating for Rohingya Muslims argued Monday.
Speaking at a Washington press conference, Imam Abdul Malik Mujahid, chairman of Burma Task Force USA, said Myanmar's military would not end its constant attacks on Rohingya Muslims unless the U.S. and the UN impose full sanctions against Myanmar.
"Our request from America, the Senate, and the Congress is that they should pass a bill which requires full sanctions on Burma [another name for Myanmar], and they should use each and every means available," he said.
"Myanmar is not going to listen unless full economic sanctions are applied."
Over 656,000 Rohingya refugees, mostly children and women, have fled Bangladesh since Aug. 25, when Myanmar's forces launched a crackdown on the minority Muslim community, according to the UN.
The refugees, described by the UN as the world's most persecuted people, are fleeing a military operation in which security forces and Buddhist mobs have killed men, women and children, looted homes and torched Rohingya villages.
According to Doctors Without Borders, at least 9,000 Rohingya were killed in Rakhine state from Aug. 25 to Sept. 24.
In a report published on Dec. 12, the global humanitarian organization said that the deaths of 71.7 percent or 6,700 Rohingya were caused by violence. They include 730 children below the age of 5.
The UN has documented mass gang rapes, killings -- including of infants and young children -- brutal beatings, and disappearances committed by security personnel. In a report, UN investigators said such violations may have constituted crimes against humanity.
Mentioning how Myanmar's current State Counsellor Aung San Suu Kyi was also imprisoned for decades by its military, Mujahid said the military had to accept Suu Kyi as partial leader due to the U.S. sanctions.
This happened "because Myanmar's military-controlled economy felt the pain, which was caused by those sanctions," he stated, adding that food and medication should be the only things exempted from the sanctions.
New deal short on citizenship and ethnic rights
Shaukhat Ali, director of Rohingya American Society (RAS), also speaking at the press conference, strongly criticized last November's agreement between Bangladesh and Myanmar on sending the Rohingya refugees back to Myanmar, saying that it fails to properly address basic civil right issues, such as citizenship and ethnic rights.
"The only thing that is mentioned in the agreement is 'Myanmar resident.' This means temporary resident, and that they [the Rohingya] are not part of Myanmar. They do not belong to Myanmar. [Under the agreement] they are just visitors," said Ali.
"Myanmar's government is purposely accepting these people back to avoid international pressure."
He stressed that the Rohingya refugees are not ready to go back to Myanmar unless their security is fully provided, their citizenship is restored, and they are allowed to live on their land without suffering any abuse.
"Unless these conditions are met, this is a game, throwing people out and accepting [them back]," he added.
"They throw out hundreds of thousands of Rohingya people but they accept far fewer than that [back]. So each time more people are being thrown out and a smaller number is accepted back.
"That is how they wipe these people away."
In late November 2017, Myanmar and Bangladesh signed an agreement for the return of the Rohingya Muslims who crossed the border since late August.
Educating US lawmakers
"What we are trying to do here in Washington, is really to help better educate all the lawmakers in the U.S. Congress and Senate about what is going on in Rakhine state," Adam Marro, director of outreach at Burma Task Force, told Anadolu Agency.
Describing the group's work as "very successful," Marro said there has been a lot of interest about the situation of Rohingya Muslims particularly at the Senate Foreign Relations Committee.
"They are very keen to help support us and we will continue to have those meetings especially for sanctions against Myanmar," Marro added.
"We want to make sure that we can get sanctions that are actually going to be felt and cause pain in Myanmar."
The Burma Task Force NGO was launched in 2013 by a number of prominent American Muslim groups.
Full report at:
http://aa.com.tr/en/africa/narrow-sanctions-wont-help-rohingya-muslims-activists/1026259
--------
New US Ambassador reaffirms support to Afghanistan
Jan 10 2018
The newly-appointed US Ambassador to Afghanistan reaffirmed support to Afghanistan and the Afghan nation in a bid to help build a peaceful, secure, and prosperous future for the nation.
"I'm John Bass. I'm honored to be the new U.S. Ambassador to Afghanistan. I've had the privilege of serving my country as a diplomat for nearly three decades, I feel lucky to be representing the United States in this beautiful country," Ambassador Bass said in a statement.
He said "I look forward to working with everyone in this society, inside and outside government, to build a peaceful, secure, and prosperous future for all Afghans. So you may live and raise your families, in peace and dignity."
The US Ambassador further added that "Our work is often challenging, and when we face it together, we succeed. I am committed to strengthening our strategic partnership to improve peace and security, increasing trade and economic development, and fighting corruption and narcotics trafficking. I'm also committed to supporting Afghan efforts to promote education, gender equality, human rights, and the rule of law."
"My wife Holly and I thank you for the warm welcome we already received. We are looking forward to experiencing Afghanistan's famed hospitality and the incredible diversity and depth of Afghan culture,." he said.
The new US Ambassador to Afghanistan starts his new mission months after the Trump administration announced its new strategy for South Asia.
Full report at:
https://www.khaama.com/new-us-ambassador-reaffirms-support-to-afghanistan-04233
--------
Three key members of Taliban group arrested in Paktika province
Jan 09 2018
The Afghan national defense and security forces have arrested three key members of the Taliban group during an operation in Southeastern Paktika province of Afghanistan.
The Ministry of Interior (MoI) in a statement said Tuesday that the militants were arrested from the vicinity of Zeruk district.
"Yesterday, three senior members of armed Taliban were arrested during an Afghan National Police ambush in the Zirok district, southeastern Paktika province," the statement.
MoI further added "One vehicle, one radio handset and some amount of ammunition seized as well.
The group was the main planner and organizer of terrorist and destructive activities, armed assault and explosions in different parts of Paktika province."
The anti-government armed militant groups including the Taliban insurgents have not commented regarding the report so far.
Paktika is among the relatively restive province in southeastern parts of the country where the Taliban insurgents and militants belonging to the other groups including the notorious Haqqani terrorist network are actively operating in some of its remote and restive districts.
Full report at:
https://www.khaama.com/three-key-members-of-taliban-group-arrested-in-paktika-province-04231
--------
ISIS militants blown up by own explosives in East of Afghanistan
Jan 09 2018
At least three militants affiliated with the Islamic State of Iraq and Syria (ISIS) terrorist group were blown up by own explosives in eastern Nangarhar province of Afghanistan.
The local security officials said the incident took place late on Sunday in the vicinity of the restive Achin district.
The officials further added that the militants were looking to plant an Improvised Explosive Device in Ghani Khel area when the incident took place, leaving three of them dead.
The anti-government armed militant groups including the ISIS militants have not commented regarding the report so far.
The anti-government armed militant groups frequently use explosives materials for the roadside bombings and car bombings to target the government staff and security personnel.
However, in majority of such incidents the ordinary civilians are targeted besides such bombings incur casualties to the security personnel and in some cases the Taliban militants themselves are killed or wounded.
Earlier, a senior leader of the Pakistani Taliban, Tehrik-e-Taliban Pakistan (TTP), was killed in an explosion triggered by own explosives in eastern Kunar province of Afghanistan.
Full report at:
https://www.khaama.com/isis-militants-blown-up-by-own-explosives-in-east-of-afghanistan-04224
--------
Africa
Nigerian forces attack protesters demanding release of prominent Shia cleric
Jan 9, 2018
Nigerian government forces have opened fire on demonstrators demanding the release of prominent Shia cleric Sheikh Ibrahim Zakzaky.
On Tuesday, during the third day of consecutive protests, one person was severely injured during clashes with Nigerian forces and another 50 people were detained in Abuja.
Nigerian sources told Press TV on Monday that at least two young students were killed by the security forces during the ongoing protests in Kaduna which broke out on Sunday.
Meanwhile, the Islamic Human Rights Commission has called on Nigerian authorities to immediately release Shiekh Zakzaky over his deteriorating health condition.
"In view of his deteriorating health, it is now more urgent than ever to allow Sheikh Zakzaky to be allowed access to immediate medical attention in order to assess the extent of his injuries caused by the stroke and access the necessary medical treatment," read the statement.
Zakzaky lost his left eye sight in a raid, which was carried out by the Nigerian army on his residence in the northern town of Zaria back in December 2015.
During the raid, Zakzaky's wife sustained serious wounds too and more than 300 of his followers and three of his sons were killed. Zakzaky, his wife, and a large number of the cleric's followers have since been in custody.
The clergyman is said to have been charged with "criminal conspiracy and inciting public disturbances."
http://www.presstv.com/Detail/2018/01/09/548399/nigerian-protests-fire-zackzaky
--------
Tunisian opposition calls for more protests
Jan 9, 2018
Tunisia's main opposition party on Tuesday called for protests against the "unjust" 2018 budget including price and tax hikes to continue until the government scraps it, a day after one demonstrator was killed in clashes.
Protests erupted in more than 10 towns across Tunisia on Monday against the price and tax increases imposed by the government to reduce its ballooning deficit and satisfy its international lenders. One protestor was killed in Tebourba, a town 40 km (25 miles) west of the capital Tunis.
While Tunisia is widely seen as the only democratic success story among the "Arab Spring" nations where revolts took place in 2011, it has had nine governments since then and none of them have been able to tackle the country's growing economic problems.
Late last year, the current government agreed to a four-year loan program with the International Monetary Fund worth about $2.8 billion in return for economic reforms.
Public anger has been building since Jan. 1, when the government raised the prices of petrol and other items and hiked taxes on cars, phone calls, internet usage and hotel accommodation as part of those economic reforms.
"Today we have a meeting with the opposition parties to coordinate our movements, but we will stay on the street and we will increase the pace of the protests until the unjust financial law is dropped," Popular Front leader Hamma Hammami told reporters.
He said the government was unfairly targeting the poor and middle classes with its austerity measures.
Prime Minister Youssef Chahed called for calm, saying the economy would improve this year. Chahed heads a coalition of Islamic and secular parties but has been under constant pressure from powerful labor unions.
He told reporters that while demonstrations were acceptable, violence was not.
"People have to understand that the situation is extraordinary and their country is having difficulties, but we believe that 2018 will be the last difficult year for the Tunisians," Chahed said.
The 2011 uprising and two major militant attacks in Tunisia in 2015 damaged foreign investment and tourism, which accounts for 8 percent of its economic activity.
The trade deficit expanded by a quarter in the first 11 months of 2017 to a record $5.8 billion, data showed in December, and the dinar currency weakened to more than three per euro for the first time ever on Monday.
Europe is concerned about stability in Tunisia, partly because unemployment there has forced many young Tunisians to go abroad, while the number of boats smuggling refugees to Italy has risen and Tunisia has also produced the largest number of extremists heading for battlefields in Iraq, Syria and Libya.
Khelifa Chibani, a spokesman for the interior ministry, said 44 people had been arrested for carrying weapons such as knives, setting government buildings on fire and looting shops.
The government says it wants to cut the public sector wage bill to 12.5 percent of gross domestic product in 2020 from about 15 percent now by offering voluntary redundancies.
Full report at:
http://www.presstv.com/Detail/2018/01/09/548360/Tunisia-Opposition-Protest-Budget
--------
Sahel states to raise fund for anti-terrorism fight
Jan 9, 2018
Five Sahel countries that have pledged to pool military efforts to fight terrorism have set up a fiduciary fund to oversee donations for their campaign.
The decision was made by the defense and foreign ministers of Burkina Faso, Chad, Mali, Mauritania and Niger, Malian Foreign Minister Tieman Hubert Coulibaly said late Monday.
Their countries form the so-called G5 Sahel, a French-supported group that last year launched a joint military force to combat extremism plaguing the region.
Pledges last month brought total funding over the 250 million euros ($298 million) needed to get the force up and running following a maiden mission in the volatile border zone between Burkina Faso, Mali and Niger in November.
A summit of donor nations is scheduled to take place in Brussels on February 23 to top up funds.
Coulibaly said the fund would include an oversight committee to ensure "good management of the funds earmarked by partners."
Management of the fund would be "transparent... a guarantee of the success of the mission to fight insecurity in the Sahel," Coulibaly said after the meeting in Bamako, the Malian capital.
Full report at:
http://www.presstv.com/Detail/2018/01/09/548352/Sahel-Countries-Fund-Terrorism
--------
Nigerian military helicopter crashes
10 January 2018
A Nigerian military helicopter on Monday crashed in northeastern region as it embarked on a counterinsurgency mission against Boko Haram extremists, according to a military spokesman.
Olatokunbo Adesanya, spokesman for the Nigerian Air Force, said the crash resulted in 'significant damage' to the Mi-17 helicopter.
"There was, however, no loss of lives as a result of the incident. The Chief of the Air Staff, Air Marshal Sadique Abubakar, has immediately directed the constitution of a board of inquiry to determine the exact cause of the incident, in line with global best practices," according to Adesanya, an Air Vice Marshal.
Full report at:
http://www.worldbulletin.net/africa/197669/nigerian-military-helicopter-crashes
--------
URL: https://www.newageislam.com/islamic-world-news/madrasas-generate-terrorists-uttar-pradesh/d/113887
New Age Islam, Islam Online, Islamic Website, African Muslim News, Arab World News, South Asia News, Indian Muslim News, World Muslim News, Women in Islam, Islamic Feminism, Arab Women, Women In Arab, Islamophobia in America, Muslim Women in West, Islam Women and Feminism