New Age Islam News Bureau
15 Aug 2017
India
• Madrasas Celebrate Independence Day with Zeal, But Express Anguish Over 'Patriotism Test'
• India Treats All Citizens as Equals, Be Proud Of Your Religion, Region And Ethnicity, Says CJI JS Khehar
• P.M Modi urges India to reject violence in name of religion
• With facts and figures, PM Modi eyes the future but looks the other way on Pak, China
• Na goli se, na gaali se: Embrace Kashmir, says PM Narendra Modi in Independence Day speech
Pakistan
• Political party of Jamaatud Dawa to oppose PML-N candidate in NA-120 by-poll
• In an 'open letter' to Donald Trump, Taliban urges US to leave Afghanistan
• Explosion leaves 7 Pakistani FC soldiers dead, 3 others wounded
• Nawaz Sharif files 3 petitions against Panamagate verdict in SC
• PTI fails to upstage ruling party's 'unimpressive' show in Pindi
South Asia
• As it happened: Explosion, gunfire kills militant in Panthapath hotel
• Panthapath militant son of Jamaat leader
• Suicide car bombing targets Afghan forces convoy in Kunduz
• ISIS claims responsibility for massacre of civilians in north of Afghanistan
• Taliban spokesman Zabiullah Mujahid critically wounded: Shaheen Corps
• Bangladesh President, PM pay homage to Bangabandhu
Arab World
• New details of dissident Saudi princes' abductions emerge
• Iraq starts bombing Daesh-held Tal Afar, west of Mosul — Sumariya
• Lebanese army on alert for battle with Daesh
• UAE pushes for better ties with Al-Sadr amid efforts to contain Iran
• Saudi Arabia to launch joint trade council with Iraq
• Saudi-Iraqi border crossing to reopen after 27 years
• Royal Saudi Air Force aircraft arrive in US to participate in 'Red and Green Flag 2017' exercise
Europe
• Over 600,000 Syrians return home, mainly to Aleppo: UN
• Car ramming east of Paris kills girl, terrorism ruled out
Mideast
• Iran freezes assets of BBC Persian staff in crackdown on journalists
Compiled by New Age Islam News Bureau
URL: https://www.newageislam.com/islamic-world-news/madrasas-celebrate-independence-day-with/d/112206
-----
Madrasas Celebrate Independence Day with Zeal, But Express Anguish over 'Patriotism Test'
Aug 15, 2017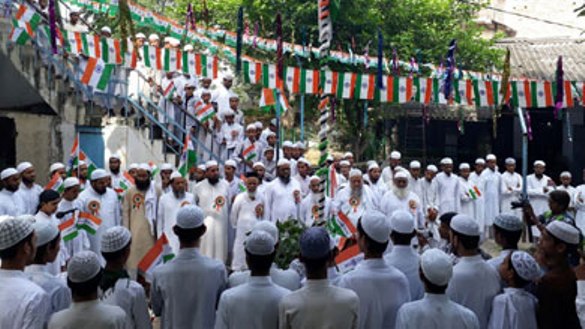 Grand celebrations of Independence Day at Madrasa Jamia Mahmoodia Ashraful Uloom in Jajmau.)
LUCKNOW: Amid the UP government's order to Madrasas to celebrate Independence Day and video-record it as a proof, most of them eastern and central parts of UP celebrated the occasion with traditional zeal, claiming they have always been doing so.
Madrasas TOI visited to in places like Lucknow, Varanasi, Kanpur, Allahabad, Faizabad, Gorakhpur and Jhansi, had organised colourful celebrations to mark the occasion. However, uneasiness over the UP Madrasa Board's order was palpable.
"We have been celebrating the Independence Day this way in our Madrasa since childhood," said Mohammad Manzoor Ahmad, the elderly manager of Jamia Arabia Matlaul-Uloom situated on Varanasi-Mughalsarai Road in Kamalgarha locality.
Scores of students with tradition white attire and skull cap gathered at the assembly ground in the morning to take part in flag hoisting ceremony. A teacher gave a command of attention before flag hoisting by the head of tanzeem, Baiysi Haji Abul Kalam. Following the national anthem students as well as teachers delivered speeches recalling the sacrifices of freedom fighters and great leaders.
This Madrasa has over 1600 students, mostly belonging of weaver community. The teachers have nothing to do with the ongoing debate over government's directive to the Madrasas. "You saw how we celebrated the national festival. It's worthless to indulge in such controversy. Being Indians we love our country and sing national anthem," said Ahmad. Girls of Madrasa Matlaul-Uloom Miswa in Jainpura locality also celebrated the occasion in a similar way.
In Faizabad, Madrasas' students, wearing tri-colour turbans, recited national anthem while flag was unfurled by chief mufti of Madrasas and gave sermons of love and patriotism for the country as instructed in Holi Qur'an. Students also recited self-composed patriotic songs in Urdu and also of famous poet Allama Iqbaal.
Talking to TOI, Hafiz Irfaan Ahmad, the principal of Madrasa Jamia Arabia Husainia, said: "In the struggle for freedom, Islamic Madrasas played a vital role , lots of our Ulema were killed by Britishers to suppress the freedom struggle."
Reacting to the government order to Madrasas for Inpendence Day, Irfaan said, "Government must correct itself. Since August 15, 1947 have, Madrasas have always celebrated Independence Day every year."
"This year's celebration is not due to the government's order. Please don't put a question mark on our patriotism. Do we always have to prove our love for motherland," he asked.
In Allahabad, students and teachers of Madrasa Imamia Anwarul Uloom celebrated the Independence Day with full patriotic fervour. Apart from hoisting national flag, the students chanted the national anthem and highlighted the contributions of martyrs.
"Every family has of the country one of two persons - in their 80s or 90s -- who have witnessed the freedom struggle and narrated stories to us. But after 10 or 15 years, there would be no one. So, children must be told stories about the struggle for freedom," said spokesman of the Madrasa Javed Rizvi, adding with an obvious reference "we have undoubtedly got independence from Britishers but the real independence would be observed only when we change our thinking and respect each other".
Students and staff of the Madrasa said that Independence Day celebrations were like Eid to them. Celebrations organised at all Madrasas and Islamic schools were videographed. Students were also seen taking selfies as well.
In Kanpur, the celebrations didn't lack on the grandeur and zeal but the shadow of the government order could very well be seen on celebrations. According to students and teachers, the order to videograph the event was like putting a question mark on their patriotism.
"Madrasa students are equally patriotic as any other student of any other institution of the nation. It was sad that government issued an order to check our patriotism through videography, especially when the order was only for Madrasas," said Maulana Mateen-ul-haq Usama Qasmi, director, Jamia Mahmoodia Ashraful Uloom Jajmau, adding "hoisting the national flag and singing the national anthem has always been a part of our Madrasas' culture."
"Since I had started studying five years ago, I never saw anyone not celebrating the Independence Day. There is no need for hiding our happiness and stay away from the celebrations of this important Day," said Mohammad Abdullah, a student of Madrasa Qaseemul Uloom and Academy in Parade area of the City.
(Inputs from Binay Singh, Faiz Rehman Siddiqui, Arshad Afzaal Khan and Mohammad Kamil)
Source: http://timesofindia.indiatimes.com/city/lucknow/Madrasas-celebrate-independence-day-with-zeal-but-express-anguish-over-patriotism-test/articleshow/60073780.cms
-----
India Treats All Citizens As Equals, Be Proud Of Your Religion, Region And Ethnicity, Says CJI JS Khehar
Amit Anand Choudhary | TNN | Aug 15, 2017, 05:53 PM IST
NEW DELHI: Hailing country's vibrant democracy and secularism, the Chief Justice of India JS Khehar said on Tuesday that every citizen should take pride in one's religion, region and ethnicity as Constitution confers same rights on them and all are equals —"neither inferior nor superior".
Speaking on Independence Day celebration in the Supreme Court premises, Justice Khehar said India is a unique country as it provides equal opportunity to all citizens and the current President, Vice-President and the Prime Minister are living examples of how people from humble backgrounds can rise to hold top constitutional posts in the country.
"All citizens are equal, they are neither inferior not superior to others. That is why we have a President who is a Dalit and who spent his childhood in a mud house, a Vice-President who was an agriculturist and used to put up posters and a Prime Minister who used to work as tea vendor. I was not born as a citizen of this country but when I became a citizen, I became equal to others and finally became Chief Justice of the country," he said.
"I am proud to be in this country which allows me to feel proud of my religion. I feel proud to be a Sikh by birth and by choice. People must feel proud of their religion, region and ethnicity. And this is what the Constitution is all about," he said. Justice Khehar, who belongs to a family of freedom fighters, was born in Kenya as his forefather had migrated there during British rule but they returned back to India after Independence.
Reiterating Centre's commitment not to tolerate any kind discrimination on the basis of religion, Law Minister Ravi Shankar Prasad said that secularism was a part of cultural heritage of the country and it would always remain there. "India is a secular country not because of Constitution which was amended during emergency to include the word secular but secularism is part of out cultural heritage. It is bound to be there," the law minister said.
The law minister also applauded the CJI for taking initiative for setting up centralised mechanism for selection of judges for lower judiciary, saying that it would ensure appointment of competent judges without any delay and would pave the way for an effective judiciary.
Source: timesofindia.indiatimes.com/india/india-treats-all-citizens-as-equals-be-proud-of-your-religion-region-and-ethnicity-says-cji-js-khehar/articleshow/60073862.cms
----
Political Party Of Jamaatud Dawa To Oppose PML-N Candidate In NA-120 By-Poll
Kalbe Ali, August 15, 2017
ISLAMABAD: The newly formed political party of Jamaatud Dawa (JuD), Milli Muslim League (MML), announced on Monday that it would oppose the Pakistan Muslim League-Nawaz's (PML-N) candidate in the by-election for National Assembly constituency NA-120 (Lahore).
The PML-N has fielded Kulsoom Nawaz in the by-election for the seat which was vacated after ouster of her husband, former prime minister Nawaz Sharif, by the Supreme Court.
During its first public rally here, the MML also expressed its support for JuD leader Hafiz Muhammad Saeed. At the time of its launch about a week ago, MML leaders had said that the new party would not have a direct link with the JuD or Mr Saeed.
Speakers at the rally organised to mark the Independence Day criticised the former prime minister for what they called putting Mr Saeed in illegal confinement.
MML leader Prof Hafiz Abdul Rauf alleged that the former premier tried to put Mr Saeed on the Fourth Schedule of the Anti-Terrorism Act, 1997 perhaps on account of his friendship with Indian Prime Minister Narendra Modi.
He alleged that Mr Sharif was not accepting the verdict of the apex court for his ouster.
He blamed the former prime minister for derailing the Kashmir cause.
"We expect the kind of attitude against us from the US and India but the treatment meted out to us under your regime was nothing short of treachery with the people of Kashmir, which is actually deviating from the vision of Quaid-i-Azam," he added.
He claimed that there was no case against Mr Saeed and courts had cleared him of all charges filed by the government, but he was still under house arrest.
Justifying the opposition to Kulsoom Nawaz's candidacy, he said: "We are fighters and prefer tough challenge that is why we chose the most difficult path during rescue work at various fronts — we would have preferred if there would have been a male candidate from your family."
"But since men in the family are on the run — we will not allow — 'Apa jee' get a walkover, we respect her but political opposition cannot be ignored," he added.
He also criticised the successive rulers of the country for not promoting the ideology of Pakistan.
"This country is a blessing from Almighty but it was obtained without efforts," Prof Rauf said and narrated the sacrifices rendered by those who migrated from India to Pakistan after partition of the sub-continent.
"Now we see that people are hoisting Pakistani flags but playing Indian songs — there is need to impart the knowledge related to ideology of Pakistan in the light of sayings of Quaid-i-Azam and Allama Iqbal," he said.
Pir Zaheer Hashmi, chairman of Jamiat Ulema-i-Mashaikh Pakistan, and Pir Azmatullah also spoke.
Source: dawn.com/news/1351630/mml-to-oppose-pml-n-candidate-in-na-120-by-poll
-----
As It Happened: Explosion, Gunfire Kills Militant In Panthapath Hotel
Adnan Akib Arifur Rahman Rabbi Zoglul Kamal Tilka Binte Mehtab Asif Islam Shaon
August 15, 2017
A 21-year-old militant died, possibly by his own bombs, which he was planning on using on processions to/from Bangabandhu Memorial Museum
3:00pm- Saiful used the nom de guerre "Khairul" when registering at the hotel on August 13, but signed with his original name, says OC Atikur Rahman.
2:20pm- New Market police station Officer-in-Charge Atikur Rahman tells the Dhaka Tribune: "We first conducted a block raid in the area. We entered Olio International around 2:45am.
"The hotel manager informed us that 13 of the rooms were occupied."
He continues: "When knocking on room 301, a voice from inside said it was too late at night, and that they would talk in the morning."
After switching a light on from the outside, police could see someone with a black trolley bag coming towards the door.
Immediately they dive on the floor and call for backup to conduct the raid.
IGP Shahidul Hoque says: "Saiful was a member of Chhatra Shibir before joining New JMB"
12:20pm- CTTC says the militant had planned to attack processions to Bangabandhu Memorial Museum on the National Mourning Day. The police have also found leaflets containing militancy propaganda among the deceased's belongings.
12:00pm- CTTC has confirmed that Monirul Islam, head of the unit, will brief the media at 12:15pm at Dhanmondi Road 32 about the raid.
11:50am- Three more explosions go off as the BDU neutralises them. Our staffs inside the office are ducking and taking cover. Our staffs on the ground have confirmed more may follow.
11:30am- Law enforcement agencies are saying there could be more militants inside or around the hotel. The Bomb Disposal Unit has found several bags filled with explosives.
11:15am- A security guard at the Al-Arafah Bank branch near the hotel has been found bleeding after the initial skirmish. He is being taken to Square Hospital for emergency treatment. One of our reporters overhears on the police scanner that he has been hit in the head. It has not been ascertained whether he has been shot or was struck by debris.
11:05am- CTTC has called off the raid after finding no other explosives. But they are still restricting entry, even to journalists at the Dhaka Tribune office. The raid titled "Operation August Bite" seems far from over as law enforcement agencies are still on site en force. Emergency services are beginning to clean up the area.
10:40am- A CTTC official says the explosion was from a bomb inside a trolley. The CTTC source identifies the attacker as Saiful Islam, a 21-year-old from Dumuria in Khulna. He was a student at BL College in Khulna and had set out for an attack on Dhanmondi Road 32 at the Bangabandhu Memorial Museum on Tuesday.
10:20am- The building next door has started to show cracks after the explosions. Law enforcement agencies are saying nobody else is inside. Inspector General (IGP) Shahidul Hoque has arrived and is briefing the media.
10:10am- Wazidur Rahman with the Special Security and Protection Battalion has confirmed that a militant was inside a hotel room and has been killed. From the roof of the Dhaka Tribune office, the militant looks to be in his early 20s, in a black shirt and blue jeans.
9:44am- Two explosions are heard inside the building followed by a staccato of gunfire. A room on the second floor has exploded and debris have strewn across the street.
9:35am- A SWAT team has entered the building just now, confirmed by the Dhaka Tribune staffs who are stranded on the street, unable to enter the office premises.
9:24am- DMP Additional Deputy Commissioner (CTTC) Abdul Mannan says police have had the area surrounded since 3am on Tuesday. He says no shots have been fired. He also tells the Dhaka Tribune that the police are trying to resolve the situation by compelling the militants to surrender.
9:05am- Home Minister Asaduzzaman Khan Kamal has confirmed that one or several militants are hiding in the building.
8:50am- No senior police personnel has commented on the matter as of yet. The hotel has been identified as Hotel Olio International, located between Square Hospital and the Russel Square intersection. It is directly across the street from the Dhaka Tribune office.
8:30am- A stretch of Panthapath from Square Hospital to the Russel Square intersection has been sealed off by law enforcement agencies. Police, including the Counter Terrorism and Transnational Crime (CTTC) unit, Detective Branch and regular members in riot gear, are present in numbers along with Rapid Action Battalion and fire service.
Source: http://www.dhakatribune.com/bangladesh/crime/2017/08/15/live-police-raid-panthapath-hotel/
-----
New Details Of Dissident Saudi Princes' Abductions Emerge
Tuesday 15 August 2017
New details have emerged about the abductions of three dissident Saudi princes in what appears to be a systematic state-run Saudi government programme to kidnap defectors and dissidents.
The three, all members of the Saudi regime before they became involved in peaceful political activities against the government in Riyadh, were kidnapped and taken against their will to Saudi Arabia between September 2015 and February 2016.
Their story, which was originally reported by the Guardian in March 2016, is the subject of a BBC Arabic documentary to be broadcast this week called Kidnapped! Saudi Arabia's Missing Princes.
The most senior of the princes, Prince Sultan bin Turki, was kidnapped by the Saudis on 1 February 2016 together with about 20 members of his entourage, many from western countries.
In the documentary, two westerners in the prince's entourage describe the moment they realised the plane they were travelling on was not landing in Cairo as planned, but had instead been diverted to Riyadh.
The westerners describe Prince Sultan screaming and fighting with the Saudi flight attendants, who produced concealed weapons in order to subdue him and control the other passengers as the plane touched down.
They said when the plane landed it was immediately surrounded by dozens of cars and military vehicles, as well as heavily armed Saudi soldiers and police. The prince was dragged kicking and screaming from the plane into an unmarked car, shouting to his entourage that they were all being kidnapped and that they should alert their embassies. The prince has not been seen in public since.
The rest of his entourage, which included a number of young female westerners, were then held for three days in Saudi Arabia.
First, all their electronic devices and passports were confiscated. Then they were escorted to a Riyadh hotel by Saudi soldiers, among whom were several of the flight attendants from the plane now wearing Saudi military uniforms and armed with machine guns.
Under constant armed guard, without their passports and, in the case of the women, without the proper attire to go outside, there was no way they could leave.
Their phones and electronic devices were later returned with all pictures and evidence of their kidnapping wiped – except one picture that had been missed.
On the third day the westerners were marched one by one into a room at the hotel by heavily armed Saudi soldiers where a Saudi military officer apologised for the inconvenience before making them sign documents in Arabic which they did not understand.
Their kidnappers then asked them where they wanted to travel. Later they were brought one by one to the airport, walked through security and on to a plane minutes before takeoff and then had their passports returned.
The documentary also presents new evidence about the previous alleged kidnap of Prince Sultan in 2003, including a medical record from King Faisal hospital in Riyadh.
The medical report indicates the prince was aspirated and intubated in Geneva before being put on a medevac plane to Saudi Arabia, which is consistent with the prince's claim that he was traumatically injected on the side of his neck as he was violently abducted by five masked men.
One British member of the prince's entourage describes how hours after the prince was kidnapped the Saudi ambassador in Geneva arrived at the prince's suite in the Intercontinental hotel in Geneva to tell his entourage they should all get out as the prince was now in Riyadh.
There has been no attempt by the Swiss government or any western authority to try to get access to Prince Sultan or any of the kidnapped princes in Saudi Arabia.
The criminal case for kidnap that Prince Sultan is pressing in Geneva against two senior Saudi officials – Prince Abdulaziz bin Fahd and the minister of Islamic affairs, Saleh al-Sheikh – remains open.
The documentary also reveals new details about the abduction of another dissident, Prince Turki bin Bandar. Prince Turki is a former senior police officer whose responsibilities once included policing the royal family.
In the documentary, a friend of Prince Turki presents a note the prince wrote to him before he disappeared in 2015, saying he feared the Saudi government was going to kidnap or assassinate him.
The Moroccan newspaper As Sabah reported that in November 2015 Prince Turki was arrested and detained at Sala prison in Morocco as he was leaving to return to France.
A few days later Prince Turki was deported to Saudi Arabia at the request of the kingdom's authorities.
In the documentary, a friend of a third disappeared prince, Saud bin Saif al-Nasr, tells how he too said before he disappeared that he thought the Saudis were going to kidnap or assassinate him for his opposition activities.
In 2015 Prince Saud was approached by a Russian-Italian business consortium which asked him to be their business partner in exchange for a fee. They persuaded him to board a private plane to Italy where he thought he was going to a business meeting to finalise the contract. Like the other princes, he has not been seen or heard of since.
The Saudi and Moroccan authorities have made no comment in response to the new evidence.
Source: https://www.theguardian.com/world/2017/aug/15/saudi-arabia-new-details-of-dissident-princes-abductions-emerge
-----
India
P.M Modi urges India to reject violence in name of religion
Reuters | Published — Tuesday 15 August 2017
NEW DELHI: Prime Minister Narendra Modi urged India on Tuesday to reject religious violence, after a series of attacks against minorities sparked debate about whether a surge of Hindu nationalism is undermining the country's secular ideals.
In a speech from the ramparts of Delhi's Red Fort marking the 70th anniversary of India's independence, Modi also listed his government's achievements, including a fight against corruption.
The speech was light on foreign policy, making no mention of arch-rival Pakistan or of China. India has for nearly two months stationed hundreds of troops along its northern border with China because of a territorial dispute.
Modi has spoken out against attacks by right-wing Hindus, many of whom back his Hindu-nationalist Bharatiya Janata Party (BJP), against minority Muslims and lower-caste Hindus accused of killing cows, considered holy by the majority Hindus.
But the setting of his denunciation of violence on Tuesday was significant.
"We will not tolerate violence in the name of faith," Modi said before a teeming crowd at the fort and a huge television audience.
Modi made much of the progress India has made since independence from British rule in 1947.
But he also expressed pain over the death of at least 60 children in a state-run hospital last week amid shortages of supplies — a reminder much remains to be done on India's journey to development.
'AURA OF PROGRESS'
Since coming to power in 2014, Modi has found it difficult to balance the competing demands of groups from his nationalist Hindu power base and those Indians striving to build a modern, secular country befitting its growing economic influence.
Manoj Joshi, a fellow at the Observer Research Foundation think-tank said Modi was playing "good cop, bad cop" by condemning communal violence but doing little to rein in elements of his ruling party.
"There is an obvious gap between slogan and implementation. It's a deliberate gap and it's just for the record," he said.
Modi also spoke at length about delivering a "new India" by 2022, underlining his confidence of winning the next general election, due by 2019.
Strong growth and economic reforms have bolstered Modi's popularity and helped his party sweep state elections in recent years, leaving the opposition severely weakened.
Still, to keep up with the demands of India's 1.3 billion people, the government needs to create millions more jobs a year, which it is struggling to do.
"A certain level of triumphalism ... brought Modi to power," analyst Ajai Shukla told NDTV. "Now he realizes people are expecting answers. He felt the need to convey an aura of progress."
Modi was conciliatory toward the Muslim-majority Himalayan region of Kashmir, where violent protests against Indian rule have erupted over the past year, saying neither "name-calling nor bullets" would be enough to pacify the region.
What was needed, he said, were "hugs" for Kashmiris.
Kashmir has been divided between Pakistan and India, and a source of conflict between them, since their creation upon the partition of British-ruled India in 1947.
Source: http://www.arabnews.com/node/1145111/world
-----
With facts and figures, PM Modi eyes the future but looks the other way on Pak, China
Written by Amrith Lal
New Delhi :August 15, 2017
Prime Minister Narendra Modi was at his rhetorical best when he delivered his fourth address to the nation on India's 71st Independence Day from the ramparts of the Delhi's Red Fort. He listed out his government's achievements over the past three years and, interestingly, promised to make a new India by 2022. In less than two years, Modi's term ends and general election is due in 2019. Not surprisingly, Modi's address had the trappings of a poll campaign speech.
Though he touched upon a gamut of issues, including reviving the economy, generating employment, building infrastructure, Kashmir, internal security and violence in the name of faith, it was corruption and the steps he has undertaken to make the country bhrashtachar-mukt that got maximum attention. He also gave a clear idea of the audience he intends to woo. The poor, women, youth, soldiers and the middle class were spoken to and about, and schemes and initiatives that targeted them found special mention in the prime minister's speech. He unleashed a torrent of data to support his claims that India has seen a dramatic transformation under his watch.
Demonetisation, he said, occupied prime place in the battle against black money. He offered figures to claim that a large sum of money that was stashed away has now come into the banking system. Banks are now flush with cash and ready to lend, including to youth who need not produce any guarantee to seek loans. Many more persons have come under the income tax network, which will now seek out people who have money in excess of their means. Benami wealth — Rs 8,000 crore was the figure he gave — has also been seized. GST too was highlighted as a transformative instrument that will improve efficiency and change lives. Governance, the PM recognises, is likely to a key factor that will influence people in elections. He talked at length how he has simplified the governance process and improved the lot of the poor and disempowered.
Two sensitive issues found reference in Modi's speech. He was emphatic in denouncing violence in the name of faith and said the land of Gandhi and Buddha will reject himsa in the name of aastha. He, of course, did not mention the political forces driving the lynchings, but nevertheless spelt out his disapproval of the violence. The restive situation in Kashmir too found a fleeting mention. Gaali (abuse) or goli (bullet) can't resolve the Kashmir issue, but people will need to sit and talk, he said. He invited everyone to join the political mainstream. This hints at a departure from the hardline the Modi government has pursued in the state for the past many months.
A glaring omission in the PM's speech was the absence of any reference to the neighbourhood. Considering that Pakistan had found extraordinary attention in his previous speeches, many expected him to refer to India's relations with China, considering the Doklam face-off. He didn't. There was not even a hint on how he perceived the evolving global dynamic, especially the rise of an assertive China. For a PM who has invested significantly in his foreign outreach, the silence is, least to say, intriguing.
Finally, Modi's call was to revive the spirit of the Quit India movement —he referred to its 75th anniversary — that forced the British leave India five years later. He drew from Hindu mythology — for instance, Krishna lifting the Govardhana — to remind the nation that unleashing the collective energy and channelising social will are necessary to build a divya, bhavya Bharat. Unlike in the past, there was no tone of triumphalism in the PM's address; in fact, a layer of sobriety ran through it as he pitched his gains to the nation, now reasonably familiar with his words and deeds.
Source: http://indianexpress.com/article/opinion/editorials/narendra-modi-independence-day-speech-red-fort-kashmir-corruption-gst-the-promise-of-future/
-----
Na goli se, na gaali se: Embrace Kashmir, says PM Narendra Modi in Independence Day speech
By: Express Web Desk |
New
Delhi: August 15, 2017
During his Independence Day speech on Tuesday, Prime Minister Narendra Modi said the problems faced in Kashmir can be resolved if the nation comes together and embraces the people of that state. He added that bullets and abuses will not help the state make progress. He further said that his government is committed to restoring the image of the state to 'heaven on earth'.
"Na goli se, na gaali se, Kashmir ki samasya suljhegi gale lagaane se (Kashmir's problems can be solved only with embracing the people of Kashmir, not with bullets or abuses)," PM Modi said. Earlier in his speech, the PM had added that India will not be soft on terrorists or on terrorism.
Speaking on the menace of terrorism, the PM added India will not be soft on terrorists. "India's stature in the world is rising. The world is with us in fighting the menace of terror. I thank all nations helping us doing so," he said.
In response to the Prime Minister's statement on Kashmir, former J&K chief minister Omar Abdullah tweeted, "On this Independence Day, let us all hug a Kashmiri."
On China and the standoff in Sikkim, he said the government's priority is national security. "National security is our priority. We are capable of defending our country in all spheres." He added India is capable of taking on any challenge, in any frontier, be it land, sea or cyber space.
In his address, PM Modi also spoke about demonetisation, saying he initiated the fight for the benefit of the poor people. "We are fighting corruption for the bright future of India and the well-being of our people," he said. "Our fight against corruption and black money will go on further.
On the practice of triple talaq, he expressed admiration at the courage of women who have been suffering. "India is about peace, unity and goodwill. Casteism and communalism will not help us," he said.
Source: http://indianexpress.com/article/india/na-goli-se-na-gaali-se-embrace-kashmir-says-pm-narendra-modi-in-independence-day-speech-4797241/
-----
Pakistan
In an 'open letter' to Donald Trump, Taliban urges US to leave Afghanistan
AP |Aug 15, 2017
ISLAMABAD: The Afghan Taliban on Tuesday released an "open letter" to US President Donald Trump, reiterating their calls for the withdrawal of American troops from Afghanistan after 16 years of war.
In a long and rambling note in English that was sent to journalists by Zabihullah Mujahid, the Taliban spokesman, the insurgents said Trump has recognized the errors of his predecessors by seeking a review of the US strategy for Afghanistan.
However, Mujahid said Trump should not hand control of the US Afghan policy to the military but rather announce the withdrawal of US forces - and not an increase in troops as the administration has planned.
The 1,600-word note said a US withdrawal would "truly deliver American troops from harm's way" and bring about "an end to an inherited war."
What is evident is that the Afghan government has struggled to halt Taliban advances on its own and is now also battling an Islamic State affiliate that has carved out a foothold mostly in eastern Afghanistan. In its most recent report, the US Special Inspector General for Afghanistan Reconstruction said the Taliban hold sway in nearly 50 per cent of the country.
The Taliban letter sought to flatter Trump for initiating the Afghan policy review while warning against handing it to "warmongering generals."
"We have noticed that you have understood the errors of your predecessors and have resolved to thoroughly rethinking your new strategy in Afghanistan," it said, addressing Trump. "You must also not hand over the Afghan issue to warmongering generals, but must make a decision where history shall remember you as an advocate of peace."
The letter also offered a long list of complaints against Afghanistan's US-orchestrated unity government and referenced a newly formed coalition of disgruntled warlords formed at a meeting last month in Turkey as an opposition bloc to Afghan President Ashraf Ghani.
Ghani has been under pressure from critics who have described him as divisive and accused him of stoking ethnic rivalries.
The opposition bloc includes Uzbek warlord and Afghanistan's first vice president, Rashid Dostum, who has been criticized by the U.S. for human rights abuses and is currently living in Turkey. Atta Mohammed Noor, a Tajik warlord and governor of northern Balkh province and Mohammed Mohaqiq, an ethnic Hazara lawmaker are also in the bloc.
Source: http://timesofindia.indiatimes.com/world/south-asia/in-an-open-letter-to-donald-trump-taliban-urges-us-to-leave-afghanistan/articleshow/60072891.cms
-----
Explosion leaves 7 Pakistani FC soldiers dead, 3 others wounded
By KHAAMA PRESS - Tue Aug 15 2017
0 Comments148 viewsEmail Email Print Print
A heavy explosion took place close to Quetta city Monday targeting a vehicle of the Frontier Constabulary forces of Pakistan.
According to the local officials in Balochistan province, at least seven Frontier Constabulary soldiers were killed in the explosion and four others including an officer were wounded.
A spokesman for Balochistan provincial government Anwar-ul-Haq Kakar confirmed the incident took place after an Improvised Explosive Device planted on a roadside Harnai district targeted a Frontier Constabulary forces vehicle.
He said the incident took place around 150 kilometers in northeast of Quetta city, the provincial capital of Balochistan, leaving at least seven Frontier Constabulary soldiers dead.
He said the driver of the forces along with an officer are among those wounded and there are fears that the death toll could rise as two of them are in critical condition.
A senior Levies official also confirmed the incident and said the blast was so powerful that was heard from long distances and the vehicle was targeted as it was patrolling the area.
No group or individual has so far claimed responsibility behind the incident which comes almost two days after a deadly suicide attack targeted a vehicle of the Pakistani soldiers leaving at least fifteen people dead.
Source: khaama.com/explosion-leaves-7-pakistani-fc-soldiers-dead-3-others-wounded-03362
-----
Nawaz Sharif files 3 petitions against Panamagate verdict in SC
Haseeb BhattiUpdated August 15, 2017
Ousted prime minister Nawaz Sharif on Tuesday filed three separate petitions in the Supreme Court to review and stay further implementation of the Panamagate verdict that resulted in his disqualification.
The appeal, in reply to the petition filed by Sirajul Haq, was submitted by Nawaz's lawyer Khawaja Harris. The five-member apex bench that took the unanimous July 28 decision last month is expected to hear the review petition.
One of the three applications has called for the court to stay further implementation of the Panamagate judgement until a decision on the above mentioned review petition is taken.
Harris, along with the review petition, has submitted relevant documents concerning the iqama — a United Arab Emirates work visa — that led the judges to declare Nawaz "unfit to hold office".
Nawaz, through his appeal, has argued that the July 28 decision should have been given by a three-member bench since Justice Asif Saeed Khosa and Justice Gulzar Ahmed's jurisdiction had expired after their dissenting judgement on April 20.
"By signing the the final order of the court" on July 28, Justice Ahmed and Justice Khosa "have actually passed two judgements in the same case, which is unprecedented in judicial history," reads the review petition, a copy of which is available with Dawn.
"On the face of the record, there are four final judgements passed in this case; the first of these final judgements being the minority judgement dated 20.04.2017 of the two members of the originally constituted 5-member bench, the second being the majority judgement dated 20.04.2017 passed by the 3-member bench, the third judgement [...] dated 29.07.2017 again passed by the 3-member bench of this court, and the fourth being the Final Order of the Court dated 28.07.2017 passed by the originally constituted 5-member bench," says the review appeal.
"The commendations and appreciations" of the joint investigation team (JIT) and their subordinate staff is "a gross transgression" of Nawaz's fundamental right to a fair trial, the review petition argues, calling for paragraph six of the final judgement to be expunged.
The appeal alleges that the members of the JIT considerably overstepped authority and that the bench of the SC assumed National Accountability Bureau's function by directing it.
The appeal also says that the non-disclosure of iqama in nomination papers for 2013 elections, which became the grounds for his disqualification, was not included in any of the petitions against Nawaz, therefore, the bench did not have any authority to rule over it.
Nawaz, through the appeal, also contested the definitions of the terms "receivable", "asset" and "salary" used by the bench in July 28 decision.
Five more petitions are expected to be filed soon by Nawaz's sons — Hassan and Hussain Nawaz; his daughter Maryam Nawaz; Captain Safdar; and Ishaq Dar.
'Still my PM'
Earlier on Tuesday, National Assembly Speaker Ayaz Sadiq said that he still considers Nawaz Sharif his prime minister, and that the entire country was waiting to welcome the former premier.
"In my heart, he [Sharif] is still the prime minister," declared Sadiq while speaking to reporters after attending a meeting of top PML-N leadership in Raiwind.
The meeting, chaired by Sharif, was also attended by Hamza Shahbaz, Foreign Minister Khawaja Asif, Railways Minister Saad Rafique, and Punjab Law Minister Rana Sanaullah, among others.
"Nawaz Sharif talked about his future strategy. He does not plan to create any friction between the institutions but he will fight for his right by taking his case to the public and protect the sanctity of their vote," the speaker told the reporters.
"The meeting also discussed ways to strengthen the Parliament and democracy; we talked about what legislation needs to be passed, by taking all political parties on board, in order to protect the sanctity of the votes cast by the public."
"Nawaz Sharif is the country's most popular leader. The masses love him and a sea of people came out [on streets] to show him their love and to show that they stand with him," Senator Asif Kirmani said after the meeting.
He attempted to dispel the impression that the PML-N had challenged the courts and said that they respect the courts. Nawaz "mentioned a conspiracy but he will elaborate on it when the time comes," Kirmani said.
He added that the reorganisation of the party had been the focus of Tuesday's meeting, while a decision on the new president of PML-N still pending.
Source: dawn.com/news/1351705/nawaz-sharif-files-3-petitions-against-panamagate-verdict-in-sc
-----
PTI fails to upstage ruling party's 'unimpressive' show in Pindi
Aamir Yasin
August 15, 2017
RAWALPINDI: Following the "poor showing" by the ruling PML-N during Nawaz Sharif's GT Road rally from Islamabad to Lahore, Pakistan Tehreek-i-Insaf's (PTI) public meeting at Liaquat Bagh was supposed to be an impressive show of power.
But the gathering attracted a much smaller number of people as compared to Imran Khan's previous outings, even though the public meeting was also attended by supporters of PTI-allied Awami Muslim League (AML).
However, Sheikh Rashid Ahmed's supporters were severely outnumbered by their PTI counterparts.
The rain, which reduced Liaquat Bagh to a muddy mess, was cited as the main reason for the conservative turnout.
Bad weather, lack of coordination with AML cited as main reasons for lower turnout than usual
"All our workers from all union councils of the city were present at the occasion," said AML leader Sheikh Rashid Shafiq, who is a former nazim of Rawal Town.
A senior PTI leader told Dawn that the party had been worried about the failure of the regional and local leadership to mobilise people in order to make the public meeting a big success, especially in the wake of PML-N's "poor show" in Rawalpindi.
"Imran Khan's public meeting exposed the rifts within the party and its organizational weaknesses. Though the district chapter mobilised workers from other tehsils of the district, the party's city chapter failed to rise to the occassion," he said.
A week before the public meeting, PTI City President Chaudhry Mohammad Asghar flew to London, leaving his general secretary Chaudhry Adnan to handle the mobilisation drive. Mr Adnan is a former worker of Shiekh Rashid's AML and is said to have concentrated on inviting their workers rather than contacting PTI supporters.
The PTI leader claimed that Shiekh Rashid had "infiltrated" Chaudhry Adnan into PTI to ensure more votes for himself in the next election.
He also claimed that three PTI members of the Punjab Assembly – Ijaz Khan Jazi, Arif Abbasi and Rashid Hafeez –were not taken into confidence over arrangements for the public meeting.
"Much like military disasters, the three main reasons for the unimpressive show included bad weather, bad planning and an improper supply line," he said.
PTI leaders claimed that more than 40,000 people showed up at the public meeting. However, independent sources say that the number of people in the rallies was not more than 12,000, while the local administration claimed the figure was closer to 8,000 people.
"The capacity of Liaquat Bagh is limited and cannot accommodate more than 10,000 people. If PTI's claim that they arranged 18,000 chairs Liaquat Bagh is accepted, they would have had to arrange seating across two to three square kilometers, an area much larger than the capacity of the venue," the PTI leader said.
When contacted, PTI District President Zahid Kazmi insisted that the public meeting was 10 times bigger than PML-N's show, adding that the turnout demonstrated that Rawalpindi belonged to Imran Khan.
He denied the impression that there was a rift in the party, adding that workers had joined the public meeting despite all odds.
"The district administration did not open the main gates of Liaquat Bagh and created two new gates, which meant that many party workers remained outside Liaquat Bagh," he said, added that it was an attempt to create problems for people entering the main site of the public meeting.
PTI MPA Arif Abbasi told Dawn that though Sunday's public meeting was an excellent show, bad weather and limited time to mobilise workers were the factors that prevented the party from drawing 100,000 people to Liaquat Bagh.
However, he insisted that it was a completely political public meeting and better than the ruling party's which he alleged had brought patwaris to fill the seats in their small rally.
Source: https://www.dawn.com/news/1351669/pti-fails-to-upstage-ruling-partys-unimpressive-show-in-pindi
-----
South Asia
Panthapath militant son of Jamaat leader
Md Hedait Hossain Molla Khulna
August 15, 2017
20-year-old Saiful reportedly blew himself at Hotel Olio in Panthapath area during a police raid
Khulna's Dumuria police station Officer-in-Charge (OC) Habil Hossain told the Bangla Tribune that Saiful, killed in Dhaka's Panthapath raid on Tuesday, was a resident of Noakati village and the son of Noakati Matherhat Jame mosque Imam Abul.
Identifying Abul as a Jamaat treasurer, he said: "We found Saiful's information in our documents. We called his father and asked him to come to the station for interrogation." After the questioning, Abul was allowed to leave. Meanwhile police is investigating his home in Noakati.
Quoting Abul, the OC also said: "Saiful was enrolled as an honours student in the Political Science department of Government BL College. He used to visit his family at Khulna's Naval Colony every week.
"He went to Dhaka for work on August 7. His family last heard from him on Sunday. He had told them that he would return home on Monday but did not."
Abul also told police that he and his son were not politically aligned and that Saiful disapproved of Jamaat's politics.
Nazrul Islam, a local of Noakati said: "Abul was terminated from his post as the Imam from Mollapara Jame Mosque because of his involvement with Jamaat. He later became the Imam at Matherhat Jame Mosque."
20-year-old Saiful reportedly blew himself up at Hotel Olio in Panthapath area during a police raid.
Briefing the journalists, IGP Shahidul Haque said Saiful was planning to attack the processions coming out of Bangabandhu Memorial Museum on the National Mourning Day.
Source: http://www.dhakatribune.com/bangladesh/2017/08/15/suicide-bomber-saifuls-father-local-jamaat-leader/
-----
Suicide car bombing targets Afghan forces convoy in Kunduz
By KHAAMA PRESS - Tue Aug 15 2017
A suicide car bomb attack targeted the convoy of the Afghan security forces in northern Kunduz province of Afghanistan earlier today.
According to the local officials, the incident took place in the vicinity of Chardara district after a suicide bomber rammed a vehicle-borne improvised explosive device into the convoy of the security forces.
The officials further added that the incident took place around 11:30 am local time as the security forces were on their way to participate in a clearance operation, claiming the lives of at least four soldiers while several others were wounded.
In the meantime, the provincial security chief Safar Mohammad Akbari, said at least five soldiers were killed or wounded in the attack.
He said one soldier lost his life and another four were wounded as they were planning to execute a special operation in the area.
The Taliban insurgents group claimed responsibility behind the attack.
Kunduz is among the relatively volatile provinces in northern Afghanistan where the Taliban insurgents are actively operating in its various districts and often carry out insurgency activities.
The Afghan security forces are busy conducting counter-terrorism operations in various restive districts of Kunduz, including the strategic Kunduz city as the Taliban insurgents are attempting to expand their insurgency in this key province.
Source: khaama.com/suicide-car-bombing-targets-afghan-forces-convoy-in-kunduz-03364
----
ISIS claims responsibility for massacre of civilians in north of Afghanistan
By KHAAMA PRESS - Tue Aug 15 2017
The Islamic State of Iraq and Syria (ISIS) terrorist group's offshoot in Afghanistan, ISIS Khurasan, has claimed responsibility for the massacre of scores of civilians in northern Sar-e-Pul province.
The terror group in a statement claimed that the massacre of was carried out in a Shi'ite dominated area.
The statement released in Arabic language further adds that fifty four people were killed by the fighters of the terror group in Mirza Olang area in Sayad district of Sar-e-Pul province.
This comes as earlier reports suggested that the massacre was jointly carried out by the Taliban insurgents and ISIS loyalists.
A governor's spokesman Zabiullah Amani had said the fighters of both the group had joined hands to massacre the civilian which also included women and children.
The Afghan government with the support of the tribal elders managed to evacuated around 235 civilians from area after almost four days of remaining in militants trap.
In the meantime, the security officials are saying that a clearance operation is underway in Mirza Olang as vast areas of the valley have been cleared and heavy casualties have been incurred to the militants.
This is not the first time the ISIS loyalists have claimed responsibility behind the attack on Shi'ites in Afghanistan but the group has claimed credit for the numerous other attacks including deadly bombings on gatherings and mosques.
Source: http://www.khaama.com/isis-claims-responsibility-for-massacre-of-civilians-in-north-of-afghanistan-03361
-----
Taliban spokesman Zabiullah Mujahid critically wounded: Shaheen Corps
By KHAAMA PRESS - Tue Aug 15 2017
The spokesman of the Taliban group Zabiullah Mujahid has been critically wounded during the operations in northern Faryab province of Afghanistan, the 209th Shaheen Corps of the Afghan national army said.
The commander of Shaheen Corps Gen. Amanullah Mubin confirmed that Mujahid has sustained critical injuries during the operations in Ghormach district.
He said the air and ground operations are still underway in Faryab and other northern and northeastern provinces.
The Taliban insurgents group has not commented regarding the report so far.
This is not the first time reports have emerged regarding the Taliban group spokesman suggesting his death, injury, or apprehension.
Few years earlier also reports emerged suggesting that Mujahid was arrested by the Afghan security forces.
The latest claims by Shaheen Corps officials came as the Taliban militants captured the control of Ghormach district few days earlier.
The Afghan security forces are still engaged in the fight with the Taliban insurgents in this province as the officials are saying that the control of the district center and other key areas have been recaptured from the Taliban insurgents.
Source: khaama.com/taliban-spokesman-zabiullah-mujahid-critically-wounded-shaheen-corps-03363
-----
Bangladesh President, PM pay homage to Bangabandhu
Tribune Desk
August 15, 2017
Bangabandhu, the father of the nation, was murdered along with most of his family members on this day in 1975
President Abdul Hamid and Prime Minister Sheikh Hasina have led the nation in paying homage to Bangladesh's founding father Bangabandhu Sheikh Mujibur Rahman, who was killed on this day 42 years ago.
They placed wreaths at the portrait of Bangabandhu in front of Bangabandhu Memorial Museum at Dhanmondi on Tuesday morning, reports BSS.
Bangabandhu and most of his family members were killed by a group of rogue army men on this day in 1975 at his residence. Bangabandhu's daughters Prime Minister Sheikh Hasina and her sister Sheikh Rehana survived as they were abroad at that time.
The day is being observed as the National Mourning Day.
As part of the state programme, the president and the prime minister laid wreaths separately at Bangabandhu's portrait.
President Hamid and Prime Minister Hasina stood in silence for some time to show respect to the man who led the country's struggle for independence.
A smartly turned out contingent of Armed Forces gave state salute, while bugle played tune of grief and somber to the last post.
Prayers were offered for the eternal peace of the souls lost in the August 15 carnage.
Sheikh Rehana, youngest daughter of Bangabandhu, Speaker Shirin Sharmin Chaudhury, Chief Justice SK Sinha, cabinet members, prime minister's advisors, senior leaders of Awami League and 14-Party and senior government officials were present there.
Speaker Chaudhury and Chief Justice Sinha followed the president and the prime minister in paying tributes.
Later, Sheikh Hasina, also the president of ruling Awami League, accompanied by party's General Secretary Obaidul Qader and senior leaders, placed wreath at the portrait of Bangabandhu on behalf of the Awami League.
After paying tributes, the prime minister along with her sister visited Bangabandhu's Dhanmondi residence where the father of the nation was brutally killed.
Sheikh Hasina and Sheikh Rehana spent some times in the house which now has been turned into Bangabandhu Memorial Museum.
Later, the prime minister went to Banani Graveyard where her mother Fazilatun Nesa Mujib, brothers Sheikh Kamal, Sheikh Jamal and Sheikh Russell and other martyrs of August 15 were laid to rest.
Sheikh Hasina and Sheikh Rehana placed floral wreaths and prayed for the eternal peace of the departed souls.
Source: http://www.dhakatribune.com/bangladesh/2017/08/15/president-pm-pay-homage-bangabandhu-2/
-----
Arab World
Iraq starts bombing Daesh-held Tal Afar, west of Mosul — Sumariya
Reuters | Published — Tuesday 15 August 2017
ERBIL, IRAQ: Iraq has begun an aerial bombardment of Tal Afar, a town under Daesh control west of Mosul, Baghdad-based Al-Sumariya TV said on Tuesday, citing an Iraqi Defense Ministry spokesman.
The ground attack to try to take the city should start when the air campaign is over, the spokesman, Mohammed Al-Khodari, said, according to the TV channel.
Iraqi authorities had said Tal Afar, 80 km (50 miles) west of Mosul, will be the next target in the war on the Islamist militant group that swept through swathes of Iraq and Syria in 2014.
Daesh's self-proclaimed "caliphate" effectively collapsed last month, when US-backed Iraqi forces completed the recapture of the militants' capital in Iraq, Mosul, after a nine-month campaign.
Tal Afar, which had about 200,000 residents before falling to Daesh, experienced cycles of sectarian violence between Sunnis and Shiites after the US-led invasion of Iraq in 2003, and has produced some of Daesh's most senior commanders.
Source: http://www.arabnews.com/node/1145126/middle-east
-----
Lebanese army on alert for battle with Daesh
NAJIA HOUSSARI | Special to Arab News | Published — Tuesday 15 August 2017
BEIRUT: Lebanese army units took up positions in the northeast of the country on Monday in preparation for a battle with Daesh militants occupying a 260 square km-area straddling the border with Syria.
The troops were deployed in Wadi Hmeid, Al-Malahi city and elevated positions surrounding the Lebanese border area of Arsal.
The troop movements are "a continuation of the tightening of the cordon and the siege on Daesh militants on the outskirts of Ras Baalbek and Al-Qaa," an army spokesman said.
The deployment is "a prelude to the expected battle with Daesh," a Lebanese military source told Arab News. "Zero hour for the start of the battle will be announced by the army commander, Gen. Joseph Aoun. There are signs that suggest the battle is imminent."
Lebanese artillery is already carrying out a daily bombardment of Daesh positions. "We have coordinates and we monitor movements," the source said.
The new military deployment came less than two hours after 165 armed fighters from Saraya Ahl Al-Sham, a militant group formerly linked with the Free Syrian Army (FSA), left with their families in a 34-bus convoy traveling from Arsal to the Syrian town of Al-Ruhaiba in eastern Qalamoun, which the opposition group holds in a truce with Syrian regime forces.
Lebanese security authorities and staff from the Lebanese Red Cross escorted the convoy as far as the border. Six of the militants wounded in previous fighting were taken by ambulance to the border, where they were met by the Syrian Red Cross.
The evacuation had been delayed for two days in a dispute over transport. The Syrian regime insisted that the militants could not travel in their own vehicles, and should instead use buses supplied by Syria.
The 165 militants who left Arsal were among 1,000 fighters and their families in the town. The others handed over their weapons to the Lebanese army and remained in Arsal with their families.
They will be accommodated in tents left vacant after the transfer of civilians to Idlib in the exchange deal last week between Hezbollah and the Jabhat Fateh Al-Sham militant group.
"Those who preferred to stay in the camps of Arsal considered that going out to Al-Ruhaiba, without their luggage and their cars, was a loss for them. So they preferred to stay safely in Arsal," a camp official said.
Source: http://www.arabnews.com/node/1144956/middle-east
------
UAE pushes for better ties with Al-Sadr amid efforts to contain Iran
Reuters | Published — Monday 14 August 2017
BAGHDAD: The UAE signaled its desire to strengthen ties with Iraq during weekend talks with influential Iraqi Shiite cleric Moqtada Al-Sadr as part of efforts by Sunni nations of the Middle East to halt Iran's growing regional influence.
Al-Sadr met Sheikh Mohammed bin Zayed Al-Nahyan, crown prince of Abu Dhabi and deputy commander of the UAE armed forces on Sunday in Abu Dhabi, according to a senior aide of the cleric.
Al-Sadr also discussed ways of improving understanding between the Sunni and Shiite branches of Islam, at a meeting on Monday with a prominent Sunni cleric in Abu Dhabi.
"The two sides emphasized the importance to act in true Islamic spirit and reject violence and extremist thought," Al-Sadr's office in Baghdad said in a statement on his website on Monday, reporting on his meeting with Emirati cleric Ahmed Al-Kubaisi.
Closer ties with Al-Sadr, who commands a large following among the urban poor of Baghdad and southern Iraq, would help Sunni states loosen Tehran's grip over Iraq's Shiite community and contain its influence.
The UAE, Saudi Arabia, Egypt and Bahrain severed relations with Qatar on June 5, accusing the major gas-exporting Gulf state of financing terrorism, meddling in the affairs of Arab countries and cozying up to their arch-rival Iran.
Al-Sadr is one of few Iraqi Shiite leaders to keep some distance from Iran. In April, he became the first Iraqi Shiite leader to call on Syrian President Bashar Assad to step down, marking his difference with Iran and Iranian-backed Iraqi militias backing the Syrian regime.
"Experience has taught us to always call for what brings Arabs and Muslims together, and to reject the advocates of division," the Abu Dhabi crown prince told Al-Sadr, according to report on the Emirati state-run news agency WAM.
The Iraqi cleric's trip to Abu Dhabi comes two weeks after a visit to Saudi Arabia, where he met Crown Prince Mohammed bin Salman.
Al-Sadr's office said his meeting with Mohammed bin Salman at the end of July resulted in an agreement to study possible investments in Shiite regions of southern Iraq.
The Saudis will consider the possibility of opening a consulate in Iraq's city of Najaf, it said. Al-Sadr also announced a Saudi decision to donate $10 million to help Iraqis displaced by the war on Daesh in Iraq, to be paid to the Iraqi government.
Source: http://www.arabnews.com/node/1144726/middle-east
-----
Saudi Arabia to launch joint trade council with Iraq
Arab News | Published — Tuesday 15 August 2017
RIYADH: The Saudi Cabinet, chaired by Crown Prince Mohammed bin Salman, decided on Monday to set up the General Authority for Military Industries, which enjoys legal status as well as financial and administrative independence.
The agency aims to regulate the military industry in the Kingdom, develop and monitor its performance, and do everything necessary to achieve its objectives.
The Cabinet decided that the authority shall have a board of directors chaired by the deputy prime minister and comprising the minister of energy, industry and mineral resources, the minister of finance, the minister of trade and investment, and the chairman of the board of directors of the Saudi Military Industries Co.
Last Wednesday, the state-owned Saudi Public Investment Fund (PIF) announced the launch of a national state company for arms manufacturing to produce thousands of jobs in the Kingdom. The new company, Saudi Arabian Military Industries (SAMI), is part of the Kingdom's Vision 2030, the sovereign wealth fund PIF said in a statement.
Saudi Arabia and Iraq will also launch a joint trade commission, the Saudi Cabinet announced on Monday. "The Cabinet has decided to approve the establishment of the Saudi-Iraqi Coordinating Commission and to delegate the Saudi minister of trade and investments to sign on behalf of the kingdom," read a statement carried by the press agency SPA.
The two countries had no diplomatic relations for a quarter of a century. They were severed in the wake of Saddam Hussein's 1990 invasion of Kuwait, after which Saudi Arabia was the launchpad for a US-led coalition to remove Iraqi forces.
The Cabinet praised the positive developments achieved by the state budget in the second quarter of the fiscal year 1438/1439 (2017), which were represented in progress in revenues, improvement in spending efficiency, a drop in the deficit, and maintaining the level of basic services provided to citizens.
The Cabinet also reviewed the quarterly financial report which reflected progress in the achievement of a balanced financial performance in the medium term, and the effectiveness of economic reforms under the National Transformation Program and Vision 2030, which contributed to the generation of more non-oil revenues.
The Cabinet was briefed on the preparations of ministries and sectors participating in serving pilgrims and providing comfort for pilgrims and visitors of the Two Holy Mosques and holy sites. In this context, the Cabinet vehemently rejected the politicization of Hajj.
The Cabinet expressed thanks and appreciation to the crown prince on his directives to support 14 charity organizations in the Riyadh region with SR23 million ($6.1 million) from his own account.
The Cabinet praised the graduation of the first batch of those participating in the operations Decisive Storm and Restore Hope. They represented non-regular students of Imam Mohammed bin Saud Islamic University. The Cabinet appreciated their determination to pursue their studies and, at the same time, defend the country.
On the global front, the Cabinet expressed the Kingdom's strong condemnation of terror acts in Egypt, Afghanistan, Pakistan, Burkina Faso and France, and its sympathy with the governments and peoples of these countries against all forms of terrorism and extremism.
Source: http://www.arabnews.com/node/1145026/saudi-arabia
-----
Saudi-Iraqi border crossing to reopen after 27 years
Arab News | Published — Tuesday 15 August 2017
JEDDAH: Al-Jadidah Arar border crossing between Saudi Arabia and Iraq, which has been closed for some 27 years, will soon reopen for trade following bilateral rapprochement, according to the Saudi Makkah Daily.
Iraqi pilgrims continued to use the crossing during the years of closure, while Saudi Arabia welcomed them and facilitated their pilgrimage.
In preparation for the crossing's inauguration, the Saudi chargé d'affaires in Baghdad, Abdul Aziz Al-Shammari, and the Iraqi ambassador in Riyadh, Rashidi Mahmoud Al-Ani, visited the Saudi Northern Borders Province and met its Gov. Prince Faisal bin Khalid in his office.
They toured the crossing facilities and talked to officials from both countries as well as Iraqi pilgrims. Al-Shammari told reporters that the Iraqi side is keen to cooperate.
Source: http://www.arabnews.com/node/1145006/saudi-arabia
-----
Royal Saudi Air Force aircraft arrive in US to participate in 'Red and Green Flag 2017' exercise
Rodolfo C. Estimo Jr. | Published — Tuesday 15 August 2017
RIYADH: Royal Saudi Air Force (RSAF) aircraft have arrived in the US to participate in the "Red and Green Flag 2017" exercise for the sixth time in a row.
The RSAF is participating in the exercise, held at Nellis air base, with 11 Typhoons, air and technical crews, and air control teams.
The aircraft flew 9,000 miles with newly graduated pilots who will participate in the training and engage in simulated battles.
The journey passed through difficult weather conditions, but the pilots' skill and technical support staff were of great help.
The exercise entails a number of day and night flights aimed at planning joint execution of advanced combat operations. It will also include the participation of combat aircraft for air protection functions; air interdiction and near-air support against stationary and mobile targets. They will counter hostile forces using advanced electronic systems. This will create a spirit of competition and challenge for participants, and create a near-combat environment.
The exercise is one of RSAF's most important with the US Air Force and those of other countries.
Source: http://www.arabnews.com/node/1144996/saudi-arabia
-----
Europe
Over 600,000 Syrians return home, mainly to Aleppo: UN
AN_Mobile Arab News | Published — Tuesday 15 August 2017
GENEVA: More than 600,000 displaced Syrians have returned to their homes since the beginning of the year, with most of them heading to Aleppo, according to figures from the International Organization for Migration (IOM).
Between January and the end of July, 602,759 displaced Syrians returned to their homes, many of them citing an improved economic and security situation in the areas they had fled from, the IOM said in a statement.
A total of 84 percent of those who have returned had taken refuge elsewhere within the war-ravaged country, while the remaining 16 percent returned from neighboring countries Turkey, Lebanon, Jordan and Iraq.
More than a quarter of returnees said they did so to protect their assets and properties, while nearly the same number referred to the improved economic situation in their place of origin, and 11 percent cited the improved security situation there.
Fourteen percent pointed to the worsening economic situation in their place of refuge, the IOM said.
But while most of the returns had been spontaneous, it warned they were "not necessarily voluntary, safe or sustainable," it said.
Aleppo governorate, the scene of the harshest battles of Syria's bloody six-year war, had received 67 percent of all returnees so far this year, the IOM said.
And within the governorate, Aleppo city, which was recaptured by the Syrian army last December after a suffocating five-month siege, has received most returnees, it said.
Many of those returning meanwhile must struggle to get bare necessities, with only 41 percent having access to clean water and 39 percent with access to health services.
This "is dangerously low as the country's infrastructure has been extremely damaged by the conflict," the IOM said.
And even as returns from within Syria especially appear to be on the rise, the agency warned that the war-torn country is still seeing high rates of fresh displacement.
"From January to July 2017, an estimated 808,661 people were displaced, many for the second or third time, and over 6 million in total currently remain displaced within the country," it said.
Separately, UN agencies have expressed "deep concern" for the safety and security of nearly 50,000 Syrians stranded in the desert near their war-wracked country's southern border with Jordan.
A statement issued on Sunday in Amman said an estimated 4,000 people at Hadalat and 45,000 mostly women and children at Rukban were stuck on the frontier.
A suicide bombing claimed by Daesh in June last year killed seven Jordanian soldiers in no-man's land near the Rukban border crossing.
Soon afterward, the army declared Jordan's desert regions that stretch northeast to Syria and east to Iraq "closed military zones."
Jordan is part of the US-led coalition fighting Daesh.
"Airstrikes have been reported in the area in the last few days, causing serious distress and panic among the population fearing for their lives with the heightened risk of escalated hostilities," Sunday's statement said.
It said that although no casualties have yet been reported among the stranded Syrians, "the area is increasingly unsafe," prompting some people to leave.
This exposed them to "further danger and deprivation in an inhospitable desert location, unsure of where to go in search of safety."
The UN said the most vulnerable, mostly women and children, were unable to return home because of the war in Syria.
Jordan shares a desert border of more than 370 km with Syria.
The UN refugee agency says it has registered more than 650,000 Syrian refugees in Jordan since the conflict began. Amman says it is hosting 1.3 million Syrian refugees.
Source: http://www.arabnews.com/node/1144981/middle-east
----
Car ramming east of Paris kills girl, terrorism ruled out
Agence France Presse | Published — Tuesday 15 August 2017
PARIS: A car smashed into a pizza restaurant east of Paris late Monday, killing a girl, but investigators said the young driver had tried to commit suicide and the incident was not terror-related.
The episode came just five days after a terror-linked car attack on soldiers, the latest assault in France since early 2015.
Investigators have "ruled out the terrorist hypothesis" behind the latest incident, which took place in the town of Sept-Sorts, 55 kilometers (34 miles) east of Paris, a source close to the inquiry said.
The man, who was arrested, said "he had tried to kill himself yesterday (Sunday) without success and decided to try again this way," the source said.
The public prosecutor's office in the town of Meaux also ruled out terrorism.
"There is no doubt he did this voluntarily," said deputy prosecutor Eric de Valroger, adding it was "highly likely" the driver was under the influence.
In Paris, interior ministry spokesman Pierre-Henry Brandet said the fatality was a girl aged 13, and not aged eight as initially reported.
Four people were seriously hurt, after a preliminary figure had been given of six.
The driver, born in 1985, "is not known to the intelligence services and has no criminal record," Brandet said.
One of the four injured was the girl's younger brother, police said.
French President Emmanuel Macron sent his condolences, tweeting with the hashtag #SeptSorts that his thoughts were with the victims and their loved ones.
France is on edge after suffering a series terror-related attacks, including the use of cars as weapons.
On August 9, six soldiers were injured after they were hit by a rented BMW in the western Paris suburb of Levallois-Perret. The suspect, a 36-year-old Algerian man, was later shot and wounded after a dramatic motorway chase.
A BMW was also involved in Monday's incident.
The death toll from jihadist attacks in France has exceeded 230 since January 2015.
The country has been under a state of emergency since the Daesh group attacked in Paris in November 2015, leaving 130 people dead.
Source: http://www.arabnews.com/node/1144866/world
-----
Mideast
Iran freezes assets of BBC Persian staff in crackdown on journalists
Saeed Kamali Dehghan Iran correspondent
15 August 2017 15.00 BST
The BBC has criticised Iran for imposing an asset freeze on staff at its London-based Persian-service, the latest crackdown against the corporation's Iranian employees.
Tehran's judicial authorities have issued a court order listing more than 150 BBC Persian journalists and former contributors, preventing them from conducting financial transactions or selling properties in their homeland because of their affiliation with the British media organisation.
BBC Persian is banned in Iran but its radio shows and TV channel are still popular with an audience hungry for news not reported by the state-run channels. They are watched by millions of Iranians via illegal satellite dishes on residential rooftops. The broadcaster says it has an audience of 13 million in Iran, making it BBC News' seventh-biggest market worldwide.
Its Iranian staff, who have been victims of a campaign of intimidation and smears in recent years, are unable to return to Iran for fear of reprisal, and most – if not all – BBC Persian staff cannot visit their families back home.
"We deplore what appears to be a targeted attack on BBC Persian staff, former staff, and some contributors. It is appalling that anyone should suffer legal or financial consequences because of their association with the BBC," said Francesca Unsworth, director of the BBC World Service.
"We call upon the Iranian authorities to reverse this order urgently and allow BBC staff and former staff to enjoy the same financial rights as their fellow citizens."
The latest crackdown is a sign that the authorities are renewing pressure on the corporation, and stepping up a wider crackdown on journalists following the re-election of Hassan Rouhani.
Iran is "one of the world's five biggest prisons for journalists", according to Reporters Without Borders. At least 10 journalists and 17 citizen-journalists are behind bars. It emerged earlier this week that Sasan Aghaei, an Iranian journalist with the reformist Etemaad newspaper, has been arrested.
Around 140 employees work for BBC Persian from outside the country, but authorities have maintained a campaign of harassment against them by summoning their family members who live in Iran. A number of staff have also been victims of false allegations of sexual misconduct, duplicated Facebook accounts, fake blogs and online identity theft designed to discredit them.
The Guardian understands that at least one BBC Persian employee is facing trial in Iran after visiting her home country. The UK has refused to grant visas to a number of family members to visit the journalists in the UK.
Britain, often dubbed by Iranian hardliners "the old fox", has a special place in Iranian official demonology. They consider BBC Persian as a subversive arm of the British intelligence service, MI6, aimed at fomenting regime change in Iran.
Historical suspicions dates back to the 1941 Anglo-Soviet invasion of Iran and later to the still unacknowledged MI6-engineered coup against the country's first democratically elected prime minister, Mohammad Mossadegh, who had dared to nationalise the Anglo-Iranian oil company.
BBC News said on its website that the latest ruling against BBC Persian staff was issued by Shahid Moghadas courthouse, which is based in Tehran's notorious Evin prison. "The BBC was not notified of the court order, and only learned about the asset freeze when a relative of a BBC Persian employee tried to sell a property on their behalf," said a news article carried by the BBC.
The imprisonment of British-Iranian woman Nazanin Zaghari-Ratcliffe, who has been sentenced to five years in jail, may also be connected to Iran's hostile view of the BBC. Her husband, who has condemned the criminal charges as "a self-serving fabrication", has indicated that her imprisonment might be connected to her previous work at the BBC in London.
Source: https://www.theguardian.com/world/2017/aug/15/iran-freezes-assets-bbc-persian-staff-crackdown-journalists
-----
URL: https://www.newageislam.com/islamic-world-news/madrasas-celebrate-independence-day-with/d/112206
New Age Islam, Islam Online, Islamic Website, African Muslim News, Arab World News, South Asia News, Indian Muslim News, World Muslim News, Women in Islam, Islamic Feminism, Arab Women, Women In Arab, Islamophobia in America, Muslim Women in West, Islam Women and Feminism