New Age Islam News Bureau
13 Feb 2019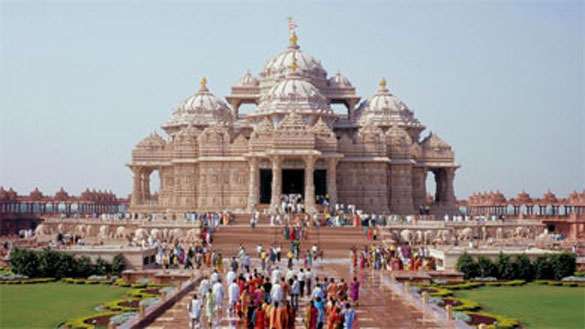 Abu Dhabi's first Hindu temple will be inspired by temples like the Akshardham shrine in New Delhi. Getty
------
• Madrasa of Horrors Shocks Tunisia into Realising It Faces A Problem
• Pakistan Censors NYTimes Article by Activist, Manzoor Pashteen, Critical Of Military
• Foundation Stone Ceremony to Be Held for UAE's First Hindu Temple
• MQM Chief Altaf Hussain Urges Indian Citizens to Help Mohajirs
• Rashida Tlaib and Ilhan Omar Are In the Crosshairs of the Saudi-Israel Axis
• Lavrov: US Peace Plan Should Include Palestinian State Based On 1967 Borders
• Taliban Induct Senior Leaders in Negotiation Team Ahead Of Talks
• Philippine Leader Asks Ex-Muslim Rebels to Help Battle IS-Linked Militants
• Israel Warns Iran That Its Missiles Can Travel 'Very Far'
Africa
• Madrasa of Horrors Shocks Tunisia into Realising It Faces A Problem
• Islamic Militants' Deadly Resurgence Threatens Nigeria Polls
• Tunisia ISIS-linked children must be brought home: HRW
• HRW releases footage of violence, abuse in Sudan
• Nigeria military will break Boko Haram, ISIS alliance — Buratai
-------
Pakistan
• Pakistan Censors NYTimes Article by Activist, Manzoor Pashteen, Critical Of Military
• PTI Voices Concern over Human Rights Situation in Sindh
• KP Govt Returns Temple Operating As School since 1993 To Hindu Community
• KP govt forms advisory committee to hold dialogue with PTM, other groups
• Govt to introduce drug testing of school students
-------
Arab World
• Foundation Stone Ceremony to Be Held for UAE's First Hindu Temple
• UAE's Minister of State: Pope Francis's Message Can Counter Extremism
• Hundreds flee US-backed Syria battle for last IS holdout
• Terrorists Launch Chemical Attack on Syrian Army Positions in Idlib
• Sources: US after Establishment of Permanent Base at Iraqi-Syrian Borders
• Syrian govt. swaps prisoners with militants as part of Astana Process
• Anti-Israel resistance front will free all Syrian territories from terrorism: Mekdad
-------
India
• MQM Chief Altaf Hussain Urges Indian Citizens to Help Mohajirs
• MIT Faces Backlash over Invited Speaker's Anti-Muslim Comments
• Saudi Arabia Crown Prince to Visit India on February 19
• Seven-Judge Bench to Decide Minority Status Of Aligarh Muslim University
• Police: Conspirator in Lashkar-e-Taiba Militant's Escape Killed
• J&K: Two militants killed in encounter with security forces in Budgam
-------
North America
• Rashida Tlaib and Ilhan Omar Are In the Crosshairs of the Saudi-Israel Axis
• Rep. Omar apologizes after US House leaders condemn comments as anti-Semitic
• Senators introduce resolution to block Saudi from developing nukes
• Trump: Omar should resign for anti-Israel comments
• Iran is a paper tiger with steel claws says Saudi's Prince Turki Al Faisal
-------
Europe
• Lavrov: US Peace Plan Should Include Palestinian State Based On 1967 Borders
• UK committee on arms sales ignores Saudi arms deals, Yemen war in key inquiry
• French victory ends long asylum battle of Afghan interpreters
• Syria constitution body should be inclusive: Germany
-------
South Asia
• Taliban Induct Senior Leaders in Negotiation Team Ahead Of Talks
• Fifty Injured As Islamist Groups Attack Ahmadis in Bangladesh
• Bangladesh seeks safe zone for Rohingya refugees
• Afghanistan bars 12 members of electoral bodies from leaving country
• NDS Special Forces arrest 2 Jaish-e-Mohammed members in Nangarhar province
• Taliban name negotiating team ahead of new talks with US
• Afghan mujahideen fighter turned president dies
-------
Southeast Asia
• Philippine Leader Asks Ex-Muslim Rebels to Help Battle IS-Linked Militants
• Pakistanis hail Dr M's leadership, says journalist
• MR DIY recalls footprint stickers with Arabic characters
• NGO opposes move to abolish death penalty, demands referendum
• Claiming threat to national security, PAS youth wants probe into DAP's alleged foreign funds
• Muhammadiyah warns of divided Indonesia ahead of April elections
-------
Mideast
• Israel Warns Iran That Its Missiles Can Travel 'Very Far'
• US Denies Telling Banks to Stop Working With Palestinians
• Houthi violations of Yemen's Hodeidah truce lead to 76 civilian deaths
• Saudi King: We stand by the Palestinians' right to establish their own state
• Trump says Iran Revolution brought repression, failure
• Trump objects to measure ending US support for Saudis in Yemen
• Turkey Arrests 729 over Ties To US-Based Cleric Gulen
• Palestinian teenage protester dies after being hit by tear gas canister
Compiled by New Age Islam News Bureau
URL: https://www.newageislam.com/islamic-world-news/madrasa-horrors-shocks-tunisia-realising/d/117736
-------
Madrasa of horrors shocks Tunisia into realising it faces a problem
10/02/2019
TUNIS - What seemed like an extremist-style madrasa in central Tunisia was closed after it was suspected of subjecting children to mistreatment, sexual abuse and extremist indoctrination.
The government, political parties and the public expressed shock when learning of the alleged horrors taking place at the self-professed Quranic School through a report by an independent Tunisian television channel.
Hidden-camera footage broadcast by El Hiwar Ettounsi television showed the school, near the village of Regueb in rural Sidi Bouzid province, housed children and adults in inappropriate conditions.
It was not clear what the school was teaching but there was suspicion the students were exposed to a radicalisation process.
It was later disclosed that nine students had been sexually abused at the school and that dozens of children were forced to work at construction and farm sites and kept in grossly unsanitary conditions as part of survivalist training. Some of the children were said to have contracted disease or infestation, including scabies and lice.
Mehiar Hammadi, the government's official in charge of child protection, told a parliamentary committee that the children suffered "many abuses" and had been deprived of an ordinary childhood.
"They have blisters on their feet soles from beatings. They have been also forced to do heavy farming work," Hammadi said.
The government fired the governor of Sidi Bouzid province and another local official. Tunisian Prime Minister Youssef Chahed vowed to prosecute the school's owner and others responsible for the abuses.
"Tunisia is a civil state. It does not accept the brainwashing of children or their exploitation in any form," Chahed said after visiting the children, who had been transferred to a shelter near Tunis.
Psychologists and educators at the shelter provided medical and psychological assistance for the children, who said they had been taught to avoid material pleasure and undergo hardship training to prepare for the "hard time," which was understood to mean jihad.
"They are all famished. They pounced on the food as if they had never eaten," said Lilia Bouguira, a doctor who visited the children.
Bouguira said the students told her: "They gave us rotten food filled with earthworms to prepare us for 'the hard time,' as the sheikh told us."
The "sheikh" is the owner of the school whose house next to the school reportedly had luxuries rare in Regueb, including a swimming pool, internet access and other modern technology.
"Making calluses hardens the heart" is part of the narrative repeated by radical Islamist leaders and preachers as they prepare young followers for so-called holy wars.
Many Tunisians said what surprised them most was the reaction of the children's parents, who urged authorities to return them to the madrasa, claiming the "government has kidnapped our children."
Female relatives of the children, protesting separately from male relatives, held a sign reading: "Only good comes from learning the Quran."
The children's relatives complained that the school's saga showed that Muslims in Tunisia are becoming a minority.
The issue released bottled-up anger of many Tunisians, political parties and liberal elites against Islamists and attempts at radicalisation in society.
One particular issue for concern was the uncertainty whether there were other similar schools in Tunisia. MP Sahbi Ben Fredj, whose bloc backs the Chahed government, said after meeting with the children: "Senior officials told me that dozens of schools similar to Regueb's exist across Tunisia in working-class and wealthy areas in many cities."
He asked: "Why did local authorities, whether they are government representatives, heads of police and national guards and intelligence officials, look the other way when those responsible for Regueb's school were recruiting and brainwashing children from almost all the regions of the country?"
"That school was a real terrorist training centre: brainwashing, isolation from society, family and education system environments, paramilitary training and ideological radicalisation. Why didn't the authorities react during all this time?"
He and other deputies said the state might be too late to save children under the sway of radical Islam in Tunisia.
MP Houda Slim said she asked one of the children why they were in bare feet and the boy answered: "Only a few days remain before we climb the mountains."
"Mountains" is a term for jihad among radical Islamists in Tunisia. Jihadist groups, such as al-Qaeda and Islamic affiliates, have been active in the mountains and rugged areas in north-western Tunisia.
Political analyst Zied Krichen said the main question the case brought up was: "Is the Regueb school an isolated case or are we in the presence of dozens or perhaps hundreds of such schools spreading jihadist Salafism?"
"In Tunisia, we have yet to draw a line between religious conservatism at the root of political Islam on the one hand and radical Islam that leads to violence and terrorism on the other," he said.
"We have not succeeded in thinking out how to seriously fight extremism, not only on the security level but in the social, cultural and ideological aspects, especially when we see that our children are lured to be fodder for wars that ruin nations and destroy the humanity of human beings."
Leaders of the Islamist Ennahda Movement, part of Chahed's coalition government, denounced the school for failing to respect the law but urged more Islamic education at state schools.
"What we experience now with such schools is the result of the blow dealt to the Zitouna mosque," said Ennahda leader Abdellatif Mekki.
He was referring to the education system that was replaced as part of reforms by Tunisian President Habib Bourguiba and continued by his successor Zine el-Abidine Ben Ali.
https://thearabweekly.com/madrasa-horrors-shocks-tunisia-realising-it-faces-problem
-------
Pakistan Censors NYTimes Article by Activist, Manzoor Pashteen, Critical Of Military
Feb 12, 2019
ISLAMABAD: An opinion piece in the International New York Times criticising Pakistan's powerful army was censored by its local publisher
Tuesday, replaced by a blank space in a country where it can be dangerous to reprimand the military.
The article by Manzoor Pashteen, the leader of a movement which calls for an end what it says are enforced disappearances and extra-judicial murders of ethnic Pashtuns by security officials, was widely available online, however.
It was headlined "The Military Says Pashtuns Are Traitors. We Just Want Our Rights".
In it, the former veterinary student detailed how the impoverished northwest, along the Afghan border, has been "desolated" in Pakistan's long fight with militancy.
He described his group, the Pashtun Protection Movement (PTM), as "peaceful".
"We held numerous sit-ins and protests and continued to hope that Pakistan's leaders would try to address our concerns.
Instead, they responded with intimidation and violence," he wrote.
"After every major protest, police arrests and charges PTM activists and supporters with rioting, treason or terrorism," he continued.
He also accused the security establishment of ensuring that "almost nothing is reported about our movement in the mainstream Pakistani newspapers and television networks".
The piece was "removed for print by our publishing alliance in Pakistan.
The New York Times and its editorial staff had no role in its removal," a note at the bottom of the empty-single column on the front page said.
The New York Times did not immediately respond to a request for comment from AFP.
The paper is printed in Pakistan by the local English-language Express Tribune, which regularly censors NY Times articles, including a 2017 piece on an anti-gay crackdown in Chechnya and a piece from 2016 entitled "Sex Talk for Muslim Women".
The Committee to Protect Journalists said in a report last year that the army had "quietly but effectively, set restrictions on reporting" in Pakistani media.
Last week, the country's top court warned the military and intelligence agencies to stop manipulating the media.
The PTM has rattled the military since it burst onto the scene early last year, unleashing festering anger over the alleged abuses against Pashtuns, who account for roughly 15 percent of Pakistan's population.
The movement remains peaceful, but has been notable for its direct verbal attacks on the armed forces in a country where such criticism is largely seen as a red line.
The military warned PTM last year that its patience is wearing thin.
"We realise their grief, their hardships, but (they) should not cross those lines, where the state has to use its force to control the situation," spokesman Major General Asif Ghafoor said in December.
Last week, over a dozen PTM protestors were detained including prominent rights activist Gulalai Ismail.
She was released a day later, but several others remain in detention.
https://timesofindia.indiatimes.com/world/pakistan/pakistan-censors-nytimes-article-by-activist-critical-of-military/articleshow/67963694.cms
-------
Foundation Stone Ceremony to Be Held for UAE's First Hindu Temple
February 12, 2019
Abu Dhabi, Feb 12, 2019: Thousands of worshippers from across the Middle East and beyond will turn out in celebration as the foundations are laid for the UAE's first traditional Hindu stone temple.
The foundation stones ceremony for the shrine in Abu Dhabi will take place on April 20, launching the countdown to the start of work on the 10.9-hectare site this year.
The ritual of Shilanyas – or foundation laying – will involve the stones being blessed by Hindu priests.
The ceremony will be held at the site in Abu Mureikha, near Al Rahba, by Baps Swaminarayan Sanstha, the religious and social organisation building the shrine.
"The shilanyas ceremony is a sacred Hindu ritual where the first foundation stones are sanctified and fixed in the ground as the base of the Mandir [temple]," said Swami Brahmavihari, a senior Hindu priest responsible for international relations at the Baps Swaminarayan Sanstha.
"The mandir's foundations will be on these sacred stones."
Mahant Swami Maharaj, the spiritual leader of the group, will preside over the ceremony and representatives from the UAE will attend, he said.
Worshippers will be encouraged to sprinkle flowers as part of prayers on the site from 2pm at the ceremony.
The organisation said that people will be able to register to attend the event from next week, by visiting the temple website, www.mandir.ae
People can also email outreach@mandir.ae for information about how they can contribute to building the temple.
Ahead of the foundation stone ceremony, prayers will be held in Dubai for 12 days from April 18. The location in Dubai will be announced later on the temple's website.
Construction work will begin soon after the foundation is laid. Architects have selected the material for intricate hand carvings that will be a distinctive feature of the shrine.
Marble from Macedonia has been chosen and will be sent to sculpting sites in western India for craftsmen to begin work.
Pink sandstone for the pillars and outer structure was selected from the state of Rajasthan.
The final design is being worked on for the temple that will showcase seven spires, to represent each emirate of the UAE.
The temple will be built according to ancient Sanskrit scriptures and its elaborate engravings will be inspired by nature.
Once the carvings are complete, tonnes of sandstone and marble will be shipped to the UAE to be assembled on site.
The organisation thanked the UAE government for recently granting additional land to the temple for parking space.
"The love and kindness shown by Sheikh Mohamed bin Zayed, the Crown Prince of Abu Dhabi, and the UAE government, cannot be expressed in words. Time and time again they have encouraged us and gone out of their way to aid us on this project," Swami Brahmavihari said.
"To ensure the temple premises can serve the Hindu and wider community effectively, they have graciously given an additional 13.5 acres of land for parking purposes."
This is in addition to the 13.7-acre plot granted in 2017.
Government licences to raise funds from the community were obtained last year by Mandir Limited, a company registered to build and manage the shrine, that will be located off the highway between Dubai and Abu Dhabi.
Local experts and international consultants have helped to devise the layout of the temple, that will also include a cultural complex to welcome people of all faiths and nationalities.
RSP Architects Planners and Engineers, a Singapore-based architectural firm, were appointed last year as lead consultants and designers.
The temple space will boast a visitors' centre, exhibition and prayer halls, sports and play areas for children, gardens, a food court, books and gift shop.
The temple planners have said the shrine will promote harmony between the people of the UAE and India and foster humanitarian values.
The BAPS Swaminarayan Sanstha manages about 1,200 temples in India, the US, UK, Canada, Australia and Africa.
The temple is a key part of efforts to promote interfaith harmony in the UAE. Swami Brahmavihari was one of the speakers at the Global Conference of Human Fraternity.
As part of the historic visit to the country by Pope Francis and the Grand Imam of Al Azhar, Dr Ahmed Al Tayeb, it was announced that a new mosque and church are to be built in Abu Dhabi.
http://mattersindia.com/2019/02/foundation-stone-ceremony-to-be-held-for-uaes-first-hindu-temple/
-------
MQM Chief Altaf Hussain Urges Indian Citizens to Help Mohajirs
By Neha
Feb 13, 2019
London [UK]: Muttahida Qaumi Movement (MQM) chief Altaf Hussain appealed to the Indian citizens to help Mohajirs in Pakistan.
The Mohajirs are Urdu-speaking people who had migrated to Pakistan after the Partition in 1947.
In his message to Hindus, Sikhs and Christians of India, Hussain said that Mohajirs were Indian citizens. "Pakistan was not founded by Mohajirs of Pakistan but they were their forefathers who did it. Mohajirs are facing genocide in Pakistan since 1947 and their children are a victim of sheer bias and discretion at the hands of the military establishment," he asserted.
He said that Pakistan is being sold to China and Pakistani military would stand the ultimate beneficiary instead.
The MQM founding leader also called upon the Indian parliamentarians to step forward for the help of Mohajirs in the name of humanity. "India and Mohajirs are of same origins and hence the Indian parliamentarians should recognise them as their own family," said Hussain.
He expressed hope that the Indian parliamentarians would ultimately raise their voice for the Mohajirs.
"The Indian parliamentarians should also raise their voice at the UN for the oppressed communities in Pakistan like Pashtuns, Balochs and religious minorities like Shiite, Hindu, Ahmadi, Parsi and others," he added.
Hussain asserted that Mohajirs had been duped in the garb of Islam, adding they chose to migrate to Pakistan while leaving their homes and graves of their forefathers, their culture and traditions behind in India.
He accused the Pakistani military of treating the Mohajirs like "animals", saying that the military "crossed all limits of cruelty."
Dubbing the Partition as a "vast blunder", the MQM chief asserted that the break-up divided the Mohajirs of both India and Pakistan.
Hussain urged the Mohajirs in Pakistan and across the globe that they should approach their relatives in India and inform them of the "devastating situation" they are passing through in Pakistan.
https://www.siasat.com/news/altaf-hussain-urges-indian-citizens-help-mohajirs-1466777/
-------
Rashida Tlaib and Ilhan Omar are in the crosshairs of the Saudi-Israel axis
CJ Werleman
12 February 2019
Hardly anything has been more disruptive to geopolitics as usual in the Middle East than the newly flourishing relationship between the Saudi monarchy and the state of Israel.
While the newfound coziness between the two states is built largely on shared enmity towards Iran, the normalising of ties comes at the expense of the Palestinians, who have become, once again, all but ignored in the world of Arab politics.
Smear campaign
Equally disruptive is the election of the first Muslim women to the US House of Representatives, with both Rashida Tlaib, the daughter to Palestinian immigrants, and Ilhan Omar, the daughter to Somali refugees, being sworn into the US Congress with their respective hands atop Islam's holiest book - the Quran.
While there are a total of 535 members of the House and Senate, with a total of 98 freshmen taking their place in the country's respective legislative chambers, no two rookies have caused as much of a backlash as the two Muslim congresswomen.
Both have been falsely smeared for "putting their allegiance to the Quran over the constitution", placing the United States into "civilizational decline", conducting "spiritual warfare", and for percolating "Sharia supremacism".
"What makes congresswomen like Rashida Tlaib and Ilhan Omar…so dangerous is that they are not simply talking to an outfit that I think is properly described as Hamas, doing business as [the Council on American-Islamic Relations], but that they fully share the Muslim Brotherhood's ideology and ambitions to achieve the triumph of Sharia in our country too," said Frank Gaffney, who's long considered the godfather of anti-Muslim activism in the US.
Phoney charges
Predictably, phony and scurrilous charges of anti-Semitism have been levelled at the two Muslim women representatives, despite the fact that neither has advocated for the oppression or discrimination against Jews anywhere in the world, including Israel.
While smear attacks from those aligned formally and informally with the Israel lobby, like Gaffney, are to be expected, it's the way in which the Saudi propaganda machine has come after the pair of them so venomously that has turned heads.
"Academics, media outlets, and commentators close to Persian Gulf governments have repeatedly accused Omar, Rashida Tlaib…of being secret members of the Muslim Brotherhood who are hostile to the governments of Saudi Arabia and the UAE," observed Foreign Policy in an article titled Saudi Arabia Declares War on America's Muslim Congresswomen.
The Saudi monarchy also fears that progressive American voters and sentiments will pull the pair towards undermining the uncritical and unfettered US support it has received and enjoyed courtesy of the Donald Trump administration.
Under his presidency, the kingdom has received continued military support for its war in Yemen, has been shielded from US criticism and punishment regarding the brutal murder of Washington Post journalist Jamal Khashoggi, and watched on gleefully when Trump rescinded US commitment to the Obama-era Iran nuclear deal.
This explains why the Saudi-owned Al Arabiya website published an attack piece on Omar by tying her to Saudi Arabia's arch-nemesis, the Muslim Brotherhood, because of her association with Muslim-American activist Linda Sarsour, while also describing her as "hostile to the Gulf".
Saudi-Israel nexus
So, this is where we are today, with the fledgling Saudi-Israel nexus working in tandem to smear and blunt the impact of two progressive Muslim women in the US Congress, with the former concerned with protecting its strategic interests, and the latter concerned with protecting and entrenching its illegal occupation of the Palestinian territories.
The first two months of their respective congressional terms have been nothing short of a baptism of fire, with smears and attacks coming in from all quarters.
And while the US Senate has advanced a bill that takes aim at the boycott Israel movement, otherwise known as Boycott, Divest, Sanctions (BDS), the intense pressure and scrutiny on congresswomen Tlaib and Omar is about to become ever more focused and vicious.
Last Tuesday, the US Senate voted overwhelmingly in favour of the bill that encourages states to cut off contractors who boycott Israel. Essentially, the Senate's bill aims to protect Israel from private US citizens and corporations who wish to boycott Israeli-owned businesses and goods. BDS is a means to pressure Israel into ending its more than 50-year long occupation and mistreatment of the Palestinian people.
Now that the Senate's bill has moved to the House, however, where Democrats hold a sizeable majority, internal debate regarding Israel threatens to drive a wedge between stalwart Democrats and the more progressive and pro-Palestinian voices within the party, including Tlaib and Omar.
Moral leaders
To that end, the pro-Israel establishment, backed by Republican Party leaders, has signalled its intention to target the two Muslim congresswomen, and will attempt to paint them as anti-Semitic in the hope that such phony accusations stick.
Meanwhile the Israel Lobby hopes it can push enough Democrats to vote in support of the Senate's anti-BDS bill.
On Friday, House Minority Leader Kevin McCarthy (R-CA) tried to conflate Tlaib and Omar's expressed support for BDS with anti-Semitism, while also mischievously equating their respective criticism of Israel's policies with the rabid racism and white supremacist rhetoric of Representative Steve King (R-IA), who has a long history of denigrating racial minorities.
"We took action on our own side [by rebuking King]. I think when they [Democrats] stay silent, they are just as guilty," McCarthy said, in reference to Tlaib and Omar. "I think this will not be the end of this."
In response, Tlaib described Republican attacks as "nothing more than an attempt to discredit my position as a member of Congress and distract from the real hate within their own party - including from the president himself."
In a statement to The New York Times she said: "I will never support the criminalisation of any form of speech protected under our First Amendment.
"This respect for free speech does not equate to anti-Semitism. I dream of my Palestinian grandmother living with equal rights and human dignity one day, and would never allow that dream to be tainted by any form of hate."
Despite the attacks, Tlaib and Omar have already established themselves as moral leaders in their party, championing universal human rights and equality for the Palestinian people.
In doing so, they place themselves in line with the more progressive and enlightened views of the next generation of this country's leaders, which scares the daylights out of two of the most illiberal and repressive regimes in the Middle East: Saudi Arabia and Israel.
https://www.middleeasteye.net/opinion/why-israel-and-saudi-arabia-target-rachida-tlaib-and-ilhan-omar
-------
Lavrov: US peace plan should include Palestinian state based on 1967 borders
12 February 2019
The US-proposed "deal of the century" on the Middle East peace process is not enough to guarantee a Palestinian state based on the 1967 borders, Russian Foreign Minister Sergey Lavrov has said.
"The United States proposes or rather deliberately pushes forward new approaches to solving the problem. It has been promising to propose the so-called deal of the century for more than two years," Lavrov was quoted as saying on Tuesday.
Lavrov's statement came amid a three-day intra-Palestinian meeting which began on Monday in Moscow aimed at unifying 12 different Palestinian movements and organizations.
According to Lavrov, the US proposal does not include the establishment of a Palestinian state with East Jerusalem as its capital.
"We, like most countries in the world, are fully committed to the criteria of resolving the Palestinian issue, which came through Security Council resolutions, the United Nations General Assembly and the Arab Peace Initiative," Lavrov said.
The Russian diplomat said that Moscow views Palestinian unity is an absolute priority for any progress in the Israeli-Palestinian peace talks.
Palestinian leaders have said in the past that any initiative short of a sovereign Palestinian state based on the pre-1967 boundaries with the entire East Jerusalem as its capital would fail.
"The information we have enables us to assess this future deal of the century as something undermining everything that has been achieved so far," Lavrov added.
Dubbed the 'deal of the century, the plan is being spearheaded by Trump's son-in-law Jared Kushner and US envoy Jason Greenblatt.
The plan is meant to revive stalled peace talks between Israel and Palestinian leaders, with the status of Jerusalem and the ongoing expansion of the illegal settlements in occupied territories of Palestine being the main obstacles to reaching a final deal.
For the Palestinians, the deal is being seen as a non-starter if their demand for East Jerusalem is not part of any negotiations.
"Rumors and leaks about the deal of the century, as well as ongoing attempts to find regional and international parties that would cooperate with this plan, are failed attempts that will reach a dead end," Nabil Abu Rudaineh, spokesman for the PA presidency in Ramallah, said back in January.
Kushner will travel to at least five Arab countries in late February to brief diplomats on the economic portions of the deal. Joined by State Department envoy Brian Hook and Kushner aide Avi Berkowitz, they are not expected to brief the diplomats on the "political component" of the peace plan, which covers all core issues of the decades-old conflict between Israel and the Palestinians.
https://english.alarabiya.net/en/News/middle-east/2019/02/12/Lavrov-US-peace-plan-should-include-Palestinian-state-based-on-1967-borders.html
-------
Taliban induct senior leaders in negotiation team ahead of talks
Tahir Khan
FEBRUARY 13, 2019
Days before a new round of talks, Afghan Taliban on Tuesday inducted several senior leaders in the negotiation team for political dialogue with the United States, the Taliban spokesman said.
The move by Taliban supreme leader Sheikh Haibtullah is being seen as very significant which aims at sending message to the US that Taliban are taking the ongoing negotiations very seriously and to the Taliban military commanders and foot soldiers that the leadership is now giving importance to the political process, according to several Taliban leaders.
Six of the 14-member political team are now from the Taliban powerful leadership council or 'Rehbari Shura', which is high-ranking decision making body of the Taliban.
Five leaders, freed from the infamous US prison at Guantanamo Bay in 2014, are now part of the team. Sher Abbas Stanekzai will be leading the team with new members announced by Mullah Abdul Ghani Baradar after approval by the supreme leader, Taliban spokesman Zabihullah Mujahid said in a statement. The Taliban leadership has tried to accommodate leaders from key sides that also include Anas Haqqani, the brother of Siraj-ud-Din Haqqani. Anas is still in an Afghan prison. Mujahid said Anas is a 'student, not military commander, so should be released to enable him to attend the negotiations'.
Presidential spokesman Haroon Chakhansuri was quick to write on Twitter that Anas is in jail and no decision has yet been taken to release him. He said the Afghan government will follow laws to deal with those who have 'committed crimes' against the people of Afghanistan.
Anas was detained by US security agents after he visited Qatar in October 2014 along with another Taliban leader, Hafiz Rashid, who had gone to Qatar to meet five Taliban leaders who had been freed from Guantanamo prison.
In January last year, the Taliban offered to release two foreign hostages, identified as American University of Afghanistan's professors Kevin King from the US and Timothy Weeks from Australia in exchange for Anas and other Taliban prisoners in Kabul. King and Weeks were kidnapped in August 2016 in Kabul.
Five Taliban leaders, who were released in exchange for US Army sergeant Bowe Bergdahl, including Mullah Fazil, Mullah Khairullah Khairkhwa, Maulvi Noorullah Nuri, Mualvi Nabi Umari and Maulvi Abdul Haq Waseeq are also now members of the negotiation team. Taliban founder Mullah Omar's brother Abdul Manan Omari, who is currently in-charge of a commission on complaints about civilian casualties, has also been made part of the political team.
Amir Khan Muttaqi, secretary of Taliban chief Sheikh Haibtullah, has also been included in the political team. He has served as information minister in the Taliban cabinet.
Muti ul Haq, son of Mujahideen leader Younas Khalis, has also secured membership in the team, in a move by the Taliban leadership to keep the support of Khalis Hizb-e-Islami.
Abdul Latif Mansour, a member of the leadership council, who has previously served as head of the political commission and governor of Helmand, has also become member of the team. Mansour was part of the Taliban team in the peace talks with the Afghan government in Murree in July 2015.
The Taliban spokesman said the new team will continue talks with the US and will take the process forward in accordance with the mandate given to them.
https://dailytimes.com.pk/354102/taliban-induct-senior-leaders-in-negotiation-team-ahead-of-talks/
-------
Philippine Leader Asks Ex-Muslim Rebels to Help Battle IS-Linked Militants
2019-02-12
Philippine President Rodrigo Duterte asked former Muslim rebels to fight alongside government soldiers against Islamic State-linked militants in the south, two weeks after a deadly bomb explosion in Jolo island, according to the presidential palace Tuesday.
In a visit to the southern town of Buluan in Maguindanao province Monday evening, Duterte rallied the Moro Islamic Liberation Front (MILF) to the government's side and said a breakaway faction – the Bangsamoro Islamic Freedom Fighters (BIFF) – knew nothing except to kill.
"The ISIS has violent ideology. It's not Muslim. Their interpretation of Quran was corrupt. They know nothing but to kill. They will teach us how to kill? What will happen to our children?" Duterte said, referring to the other acronym for the Islamic State (IS).
"It's the ideology of Arabs. Not ideology of Maguindanao. Our only commonality is Islam. But Islam does not say we should kill each other," he said, according to transcripts of his speech made available to reporters Wednesday.
Duterte made the appeal after the ratification of Bangsamoro Organic Law (BOL), which created an autonomous region known by its local acronym as BARMM, the final step in the 2014 peace agreement between the Manila government and the MILF.
The law aims to give the impoverished south an expanded autonomous area, offering self-determination to the nation's four million Muslims by empowering them to elect their own parliament.
Last month, two bombs exploded at the Catholic church in Jolo, killing 23 people and wounding more than 100 others. The attack was blamed on another group, the Islamic State-linked Abu Sayyaf, and was launched as thousands of troops had been deployed to Jolo to crush them.
Two days after the blast, unidentified men lobbed a grenade inside a mosque in nearby Zamboanga city, killing two Muslim religious leaders and wounding four people.
Duterte has blamed "suicide bombers" for the Jolo blast, and local police said the Abu Sayyaf had worked with two foreigners to launch the attack.
The military also blamed Abu Sayyaf commander Hatib Hajan Sawadjaan as the mastermind. Sawadjaan has been tagged by the United States as the likely next leader of the Islamic State in the country, after the death of Isnilon Hapilon in Marawi city two years ago.
"You will have to fight the ISIS. They would create hell for us," Duterte said. "We are not here talking to destroy the future and our family. We are here planning for what we can do to them, so that by the time they are the father and mothers of the community, they would know what to do and make it more comfortable for our children."
On Sunday, police arrested a suspected Abu Sayyaf member who was believed behind the bomb explosion that killed seven people and wounded dozens at a bus terminal in southern city of Kidapawan on Oct. 10, 2002.
National police director chief Oscar Albayalde said the suspect, Abdurahman Mataud Daiyung, who was also accused of involvement in the beheading of five plantation workers on June 11, 2001, in nearby Basilan island, was arrested in Manila.
National Capital Region police chief Guillermo Eleazar said Daiyung has been in Manila for only a few months and has been working as a welder.
"We are not clear yet as to his purpose here, but clearly he is one among the suspects and responsible in the bus terminal bombing," Eleazar told reporters in a news conference in Manila Tuesday.
Founded in the early 1990s, Abu Sayyaf is notorious for kidnappings, bombings and beheading in southern Philippines over the past decade. The group was blacklisted by the United States as a foreign terrorist organization.
It is the smallest, but considered the most brutal, of several armed groups that operate in the restive south. The BIFF, meanwhile, broke away from the MILF after the latter decided to negotiate peace and a Muslim autonomy in the south, dropping its bid for independence.
https://www.benarnews.org/english/news/philippine/philippines-militants-02122019113709.html
-------
Israel warns Iran that its missiles can travel 'very far'
12 February 2019
Prime Minister Benjamin Netanyahu warned Iran Tuesday that Israeli missiles can travel "very far", on the eve of a conference in Poland about peace and security in the Middle East.
Speaking during a visit to a naval base in the northern port of Haifa, Netanyahu said: "The missiles you see behind me can go very far, against any enemy, including Iran's proxies in our region" -- an apparent reference to Lebanon's powerful Hezbollah movement.
"We are constantly working according to our understanding and the need to prevent Iran and its proxies from entrenching on our northern boder and in our region in general," Netanyahu added.
"We are doing everything necessary," said Netanyahu, as he inspected Israel's Iron Dome aerial defence system.
Netanyahu has repeatedly said Israel would not allow Iran and its ally Hezbollah to entrench themselves in neighboring Syria where they are backing the Damascus regime against rebels and militants.
Israel has carried out hundreds of air strikes in Syria in the past few years against Iranian and Hezbollah targets.
International conference in Warsaw
On Wednesday, the Israeli prime minister is set to take part in an international conference in Warsaw co-organized by the United States and Poland.
US Secretary of State Mike Pompeo last month announced the two-day conference saying it would focus on the "destabilizing influence" of Iran in the Middle East.
During the conference US President Donald Trump son-in-law and adviser Jared Kushner, who has been putting final touches on a "deal of the century" for peace between Israel and the Palestinians, will make a rare speaking appearance.
Kushner may offer hints of the US peace proposal but is not expected to unveil the full deal until after the April 9 election in Israel.
https://english.alarabiya.net/en/News/middle-east/2019/02/12/Israel-warns-Iran-that-its-missiles-can-travel-very-far-.html
-------
Africa
Islamic militants' deadly resurgence threatens Nigeria polls
February 12, 2019
Baba Inuwa was pleased to move back to his vegetable farm in Nigeria's northeast, encouraged by the military's offensive against Boko Haram, the country's homegrown Islamic extremist rebels and by President Muhammadu Buhari's claim that the insurgency had been crushed.
"We thought all was over and Boko Haram can never return," Inuwa said. He joined thousands of others in leaving displacement camps to return to their homes.
But then last month the extremists rolled into Inuwa's hometown, Baga, firing into the air, hoisting flags and claiming it as their own. Suddenly residents were on the move again, fleeing with little more than the clothes on their backs. On a punishing two-day march through the arid Sahel, some pregnant women miscarried and other elderly people died.
Nigeria's government now acknowledges an extremist resurgence, this time by a Boko Haram offshoot, the Islamic State West Africa Province, the IS group's largest presence outside the Middle East, estimated to have more than 3,000 fighters. Their near-daily attacks have many traumatized Nigerians questioning whether they can vote for Buhari as he seeks a second term.
Others question how the elections can be held in the troubled northeast region. The National Assembly has approved a record $147 million for election security but some polling workers in remote areas have rejected their posts in fear of being attacked. The opposition objects that voting will be held in government-controlled camps, which in "liberated" communities are the safest locations.
Buhari, a former military dictator, returned to power in 2015 with an election victory in which he promised to tackle insecurity, corruption and the economy in Africa's most populous country with 190 million people. While he still has support in most states of his native north, enthusiasm has dimmed as it becomes clear that the decade-old extremist insurgency — killing more than 27,000, abducting hundreds of schoolgirls, displacing millions — is far from over.
Up against Atiku Abubakar, a fellow northern Muslim and former vice president, Buhari could end up like former President Goodluck Jonathan, who lost in 2015 after his failure to stop extremism.
At first, Nigeria's military appeared to deliver on Buhari's inaugural vow to eliminate Boko Haram, pushing fighters out of many communities. Residents were urged to return home.
But late last year the Islamic State-linked extremists roared back, attacking military bases, resupplying and causing a rare government admission of dozens of soldier deaths. Shaken, officials said the extremists had begun using drones, indicating links with ISIS fighters fleeing collapsing strongholds in Syria and Iraq.
"ISIS now has a strong foothold in West Africa, with Nigeria in the forefront of the battle," Information Minister Lai Mohammed declared last week. The fighters are more worrying than Boko Haram and at least triple its size, the U.S. Africa Command chief has said.
Some 59,000 people have fled attacks since November, the U.N. migration agency says. The now-deserted border town of Rann was hit twice last month, with humanitarian centers vandalized or burned. Aid workers fled. Five hid in a septic tank and survived.
As many as 39 attacks were recorded in Borno and Yobe states last month, the U.N. refugee agency says.
In early January the extremists captured Baga, near shrinking Lake Chad. They overran the nearby military camp and announced that people who wished to stay in peace could do so. Many residents, remembering past attacks, didn't buy it.
"We felt all was not well," Inuwa, the farmer, told The Associated Press. He now shelters again in Maiduguri, Borno state's capital, which already hosts more than 1 million displaced people.
The extremists still hold Baga, he said, citing residents who went back to retrieve their valuables. Fighters searched them at the edge of town before allowing them to enter.
Inuwa said he was not impressed with the president's performance on security but might support him anyway: "I'd rather vote for him so that he can build upon the foundation he has already laid."
Another Baga resident, Abba Mustapha, said the extremists' arrival met little resistance, reflecting concerns about government support for troops.
"We were running for our dear lives and the soldiers who were armed to protect us were even ahead of us fleeing," he told AP.
Now Mustapha is back in Maiduguri, seeking aid and finding little. Frustration is high. The spike in arrivals was so sudden that some people last month slept on the streets, finding no space in camps.
Falmata Modu said she was happy she grabbed her voter card when she fled Baga. She voted for Buhari in 2015. Not this time.
"I still cannot overcome the pain of running with some of my grandchildren who were crying for water and asking why we were in the bush," she said. "It is sad that I could not answer."
https://www.newdelhitimes.com/islamic-militants-deadly-resurgence-threatens-nigeria-polls/
-------
Tunisia ISIS-linked children must be brought home: HRW
13 February 2019
Officials in Tunisia have been "dragging their feet" on efforts to repatriate Tunisian children of ISIS group members from camps in Syria, Iraq and Libya, Human Rights Watch said on Tuesday.
The rights group, quoting Tunisia's ministry of women and children, said about 200 children and 100 women claiming Tunisian nationality were being held in "squalid" camps abroad.
Many of the children are six-year-olds or younger, the rights groups said, adding that most were being held with their mothers while at least six were orphans.
Around 2,000 children and 1,000 women from 46 nationalities are being detained in prisons in Iraq and Libya and three camps in northeast Syria for ties to ISIS, HRW said, and Tunisia has "one of the largest contingents".
"Tunisian officials are dragging their feet on helping bring (them) home."
Hundreds of civilians, including ISIS-linked family members, have been fleeing a US-backed offensive against the terrorist group's last holdout in eastern Syria.
HRW said it has interviewed family members of women and children detained in Libya and Syria, as well as government officials, human rights activists, lawyers, UN representatives and Western diplomats for its report.
The watchdog had also visited three camps in northeast Syria controlled by US-backed Kurdish forces and cited what is said were "rare calls and letters" to family members by mothers of some children.
"Legitimate security concerns are no license for governments to abandon young children and other nationals held without charge in squalid camps and prisons abroad," said Letta Tayler, senior terrorism and counterterrorism researcher at HRW.
"Tunisian children are stuck in these camps with no education, no future, and no way out while their governments seems to barely lift a finger to help them," Tayler said.
Upholding human rights
In response Tunisia's foreign ministry said it was "strongly attached to the values of human rights" and that authorities would not turn back Tunisians seeking to return home.
According to authorities in Tunis, 3,000 Tunisians have gone abroad to join militant organizations, while the UN puts the figure as high as 5,000.
Their return has been a cause of concern in Tunisia, which has been under a state of emergency following a string of ISIS-claimed terrorist attacks in 2015 and 2016.
Full report at:
https://english.alarabiya.net/en/News/north-africa/2019/02/13/Tunisia-ISIS-linked-children-must-be-brought-home-HRW-.html
-------
HRW releases footage of violence, abuse in Sudan
Feb 12, 2019
Human Rights Watch (HRW) has released footage of Sudanese government forces committing "shocking" acts of violence and abuse against protesters over the past weeks, calling on the United Nations Human Rights Council to probe the rights violations.
The footage, released on Monday and authenticated by the HRW, showed security forces running over people with vehicles, firing live ammunition and teargas at unarmed protesters, including in hospitals, brutally beating demonstrators and bystanders with sticks and gun butts, and arbitrarily arresting protesters.
The rights body said the footage "shows gruesome, bloody injuries from gunshots; evidence of harsh beatings and torture; and the effects of raids by security forces on hospitals, filling emergency rooms with teargas and hindering medical care."
"There is irrefutable evidence that Sudan is using ruthless violence and brutality against peaceful protesters and critics of the government," Jehanne Henry, the associate Africa director at the HRW, said.
She said the violent tactics had to end and those responsible be held to account.
Sudan has been the scene of demonstrations since December last year, when the government decided to triple the price of bread. The public display of anger has escalated into calls for President Omar al-Bashir to step down.
The protests — which are viewed as the biggest threat to Bashir's 30-year rule — have so far led to the deaths of 30 people, according to official figures. Sudanese activists estimate that over 50 people have died.
Rights groups say hundreds of people have been arrested since the protests began, including opposition leaders, activists, and journalists as well as demonstrators.
Bashir has acknowledged economic difficulties but has said allegations of a crisis in the country are exaggerated.
The HRW also called on the United Nations Human Rights Council to urgently respond to the unrest in Sudan at its March session and ensure that an independent investigation would be carried out into the violations committed since the beginning of the protests.
Full report at:
https://www.presstv.com/Detail/2019/02/12/588357/HRW-Sudan-violence-abuse-footage
-------
Nigeria military will break Boko Haram, ISIS alliance — Buratai
February 11, 2019
The Chief of Army Staff, Tukur Buratai, has vowed that the Nigerian military will break the unholy alliance between the Boko Haram terrorists and Islamic State West Africa or ISWA.
Mr Buratai, a lieutenant-general, spoke on Monday in Abuja when he declared open a two-day maiden "Career planning and management'' seminar for senior officers.
He maintained that the army was making gains in the counter-insurgency operations in the North-east.
"I am glad to note that we are making strides against the Islamic State West Africa or ISWA in our bid to unhinge the unholy union between them and remnants of the Boko Haram terrorists," he said.
"It is, therefore, imperative that we maintain the momentum while motivating our officers and men through an efficient and responsive career planning process.''
Represented by Aliyu Nani, a major-general and the Chief of Policy and Plans, Mr Buratai, however, noted that the army was being "stretched'' by its involvement in many operations nationwide, particularly in the North-east.
Okowa Campaign AD
He said such large scale involvement raised the need for good leadership and career planning and improved approach to human resource management to get the best from the officers and men.
"The career planning and management seminar is designed to avail you with contemporary approaches to human management.
"You would also be exposed to human resources management in a world of `Volatility, Uncertainty, Complexity and Ambiguity' (VUCA),'' he said.
According to him, the VUCA concept originated from attempts to develop strategic leaders at the US Army War College as a response to fourth generation warfare which is largely shapeless.
The army chief said understanding the concept would help the officers anticipate issues that shape events and give them a fair understanding of the consequences of issues and actions.
He expressed hope that at the end of the seminar, they would be better equipped to manage security challenges confronting the nation and provide effective leadership that take into cognisance career planning of all personnel.
The army chief again used the occasion to warn personnel to remain political during the February 16 and March 2 general elections.
"Great efforts have been put in place by way of sensitisation lectures and briefings to ensure the conduct of our officers and men before, during and after the election remains professional and above board.
Full report at:
https://www.premiumtimesng.com/news/top-news/311808-nigeria-military-will-break-boko-haram-isis-alliance-buratai.html
-------
Pakistan
PTI voices concern over human rights situation in Sindh
Amir Wasim
February 13, 2019
ISLAMABAD: Leaders of the Pakistan Tehreek-i-Insaf (PTI) from Sindh have expressed serious concern over the human rights situation in the province, alleging that "influential people" are patronising and protecting criminals.
Speaking at a news conference at the National Press Club here on Tuesday, parliamentary secretary for human rights in the National Assembly Lal Chand Malhi and secretary general of the party's Sindh chapter and MPA Haleem Adil Sheikh accused the ruling Pakistan Peoples Party (PPP) in Sindh of using police "to crush political opponents".
Referring to the honour-killing of 13-year-old girl Ramsha Wassan in Khairpur and the suspicious murder of nationalist leader Irshad Ranjhani in Karachi, Mr Malhi said the two incidents had created a sense of insecurity among the people of Sindh.
"People's rights are being snatched. We have very serious concerns over the situation in Sindh. The people of whole province are in a state of mourning over the two recent murders," he said.
Mr Malhi alleged that main accused Zulfiqar Wassan, who had allegedly killed Ramsha, was a professional criminal and was already facing 19 cases on murder, robbery and Hudood charges. He alleged that Zulfiqar Wassan had been carrying out criminal activities in the area for the past 22 years, but police had not been able to put hands on him.
The MNA, who belongs to Umerkot, called for formation of a joint investigation team (JIT) to investigate Zulfiqar Wassan and to find out those people who had been patronising and protecting him for the past 22 years.
"How a person had been allowed to commit crime continuously for 22 years? Who provided him protection? Who were the police officials who did not take any action against a criminal? All these people must be exposed so that in future, no Ramsha-like case can happen," Mr Malhi said.
He claimed that Ramsha's mother had told them that she was feeling insecure in the area and wanted to move to a safe place. He alleged that PPP MNA from the area Dr Nafeesa Shah could not visit the place for one week due to the fear that had gripped the whole area after the incident.
Mr Malhi also criticised the role of the Sindh police in handling the Irshad Ranjhani murder case. He said Mr Ranjhani, who was a nationalist leader, was taken to the police station instead of a hospital after he received multiple bullet wounds due to the firing by a politician. He said the police claimed that Irshad Ranjhani was a criminal and he had died during a robbery attempt. He said that even if he was a criminal, he should have been provided medical aid.
The PTI MNA said that the provincial government had already written a letter to the registrar of the Sindh High Court for holding a judicial inquiry into the incident, but police and some circles were still propagating that Irshad Ranjhani was a criminal. Speaking on the occasion, Haleem Adil Sheikh expressed the hope that PPP chairman Bilawal Bhutto-Zardari would take notice of the two incidents after becoming chairman of the NA Committee on Human Rights.
He said the PPP had already been turned into a provincial party from a federal entity and soon it would be restricted to a few constituencies.
https://www.dawn.com/news/1463501/pti-voices-concern-over-human-rights-situation-in-sindh
-------
KP govt returns temple operating as school since 1993 to Hindu community
February 13, 2019
The Khyber Pakhtunkhwa (KP) government's education department has directed that a Hindu temple being used as a girls primary school in Nowshera be vacated and its control returned to the local Hindu community.
KP Chief Minister Mehmood Khan, on the advice of Special Adviser for Education Ziaullah Bangash, directed the local education officers to make arrangements for the school to be shifted to another location.
A letter to the district education officer (female) in Nowshera has said that the school should be moved to a rented building in the meantime, and that return of the temple to the Hindu community be completed within a month, and a compliance report be filed with the education department once the transition is over.
The temple is being returned to the Hindu community after 25 years.
Full report at:
https://www.pakistantoday.com.pk/2019/02/12/kp-govt-returns-temple-operating-as-school-since-1993-to-hindu-community/
-------
KP govt forms advisory committee to hold dialogue with PTM, other groups
Arif Hayat
February 13, 2019
The Khyber Pakhtunkhwa government on Tuesday announced the formation of an advisory committee which will address all social, political, administrative, and development issues faced by the tribal areas of the province. It has also been tasked with holding talks with all aggrieved groups in the region including the Pashtun Tahaffuz Movement (PTM).
"We are ready to hold talks with them. The government is ready to accept all justifiable demands put forth by the PTM," KP government spokesperson Ajmal Wazir said at a news conference in Peshawar.
"We are trying to resolve all issues through dialogue," he added.
PTM is a rights-based alliance that, besides calling for the de-mining of the former tribal areas and greater freedom of movement in the latter, has insisted on an end to the practices of extrajudicial killings, enforced disappearances and unlawful detentions, and for their practitioners to be held to account within a truth and reconciliation framework.
Ajmal said the advisory committee headed by KP Chief Minister Mahmood Khan will be responsible for holding interactions with the PTM and relay their concerns to the provincial assembly which will then see how to resolve them.
He said the "beautiful thing" about the committee was that it did not only comprise MNAs and senators of the ruling Pakistan Tehreek-i-Insaf (PTI) but also those from Jamiat Ulema-i-Islam-Fazl (JUI-F), PPP, and PML-N.
Prior to the press conference, a meeting was held at Governor House between KP Governor Shah Farman, Chief Minister Khan and National Assembly members and senators belonging to the tribal areas to discuss matters pertaining to the recent KP-Fata merger along with all other issues the region is faced with.
However, no representatives from the PTM were present during the deliberations.
The formation of the committee was mutually agreed upon and it was named the 'advisory committee for redressals and development'.
It was decided that the body would be headed by the chief minister and will include senators and MNAs from the tribal districts along with representatives from various political parties.
'Temporary point-scoring'
When asked for a comment on the formation of the committee, independent MNA from South Waziristan and PTM leader Muhammad Ali Wazir told DawnNewsTV that PTM's demands are "not limited to the tribal areas. The movement now speaks for the entire region."
"When PTM speaks for the entire region, then how can this committee resolve our issues?" he questioned.
"This committee has simply been formed for temporary point-scoring," he alleged.
The PTM leader claimed that the government had acted in haste to merge Fata with KP and is now facing difficulties.
Full report at:
https://www.dawn.com/news/1463409/kp-govt-forms-advisory-committee-to-hold-dialogue-with-ptm-other-groups
-------
Govt to introduce drug testing of school students
February 13, 2019
LAHORE: The Punjab government has decided to introduce drug testing of students of all the public and private schools of the province whose reports will be shared with their parents. This is a part of a campaign that the government would launch against drug abuse in educational institutes.
The details were revealed by Punjab Minister for School Education Murad Raas during a press conference at the DGPR office here on Tuesday.
He said the government had chalked out a plan with the health department and the Anti-Narcotics Force (ANF) to carry out the campaign under which all the students would take the drug tests.
The minister said the government was receiving reports about the use of ice (slang for meth or crystal with crystal methamphetamine as its real name) in the schools and the department would visit all the schools and also getting affidavits from the chief executive officers (CEO) of the district education authorities (DEAs) about drug-free schools in their areas.
"As the authorities are getting affidavits from the CEOs, and if they found test of any child positive in school of the area of any CEO, action would be taken against him or her."
Mr Raas said the education ministry had also written to all the deputy commissioners of the province to close cigarette and betel leaf (Paan) shops within the 500 yard radius of any educational institute.
"We found that most of these shops were selling drugs to the students and are playing the role of facilitators," he claimed.
Regarding the matter of private schools fee issue, the minister said they would implement the order of the Supreme Court and its deadline would end today (Feb 13) and 20pc fee would be refunded to the parents. He said the private schools which were charging more than Rs5,000 monthly fee would have to decrease it by 20pc fee on the added amount after Rs5,000. He said the government would cancel registration of such schools and shut them as would fail to implement the court order till April 12.
"The parents should submit their complaints on 0336-7251214 if any private school does not reimburse the additional amount to them. Such complaints would be resolved on an emergent basis."
Mr Raas said the private school owners should ensure implementation of the Supreme Court's verdict regarding deduction in the fee; otherwise, legal action would be taken against them.
Talking about other measures to improve education standard, the minister said, "The latest computer technology would be used to improve the student-teacher ratio in classrooms. This will greatly help improve the quality of education."
He added under e-transfer policy, transfer of teachers would be made purely on merit and in a transparent manner and this initiative would help the authorities curb the mafia which used to take bribe in posting/transfer cases.
The minister claimed that for the first time in history of the country, schools education department was going to introduce teachers' friendly e-transfer policy. He said a modern software would also be used for posting/transfer of teachers and that under transfer policy, initial relief would be provided to female teachers.
Mr Raas said the new educational year would start from April 1 whereas enrolment campaign would start on March 1. Similarly, summer vacation would start from June 1 till end on August 11.
Answering a query about the reshuffling of secretaries in school education department, he said the PTI government would not bear any person in the department who would not be ready to work speedily or found involved in malpractices.
It's worth mentioning that during current government short tenure, five secretaries of the school education department were changed.
Deputy Commissioner Saleh Saeed said the Supreme Court orders would be implemented to provide relief to the parents and students and the schools which were not registered with the government would be got registered.
School Education Department Secretary Rana Abdul Qayyum were present there.
Full report at:
https://www.dawn.com/news/1463555/govt-to-introduce-drug-testing-of-school-students
-------
Arab World
UAE's Minister of State: Pope Francis's Message Can Counter Extremism
Shireena Al Nowais
February 12, 2019
A senior UAE minister has lamented the "tragic" collapse of societies in the Middle East and blamed the spread of hate-filled ideology.
Zaki Nusseibeh, Minister of State, warned that populist movements that fed on anger and marginalisation risked the fundamental breakup of social cohesion around the world.
Speaking in an exclusive interview with The National, he said extremist groups that have turned to terrorism had fast become an international plague.
Part of the solution, he argued, was an increased focus on a message of tolerance and interfaith dialogue, just as Pope Francis had advocated on his recent trip to the UAE.
"In the Middle East we have been witnessing the tragic disintegration of states and the collapse of societies induced by the spread of the ideologies of extremism, hate and violence," he said.
"We also see a process of violent social upheavals internationally – with the spread of populist movements that often feed on anger induced by the feelings of marginalisation or neglect.
"Terrorism feeding on extremism has become an international plague. It is vitally important therefore that we work together in concrete ways to promote the values of tolerance and interfaith dialogue in our own societies so as to combat the onslaught of extremism."
Mr Nusseibeh made his remarks a week after Pope Francis arrived in the UAE for a landmark, three-day visit.
Some 150,000 worshippers from across the seven emirates made their way to Abu Dhabi to join a public Mass led by the pontiff. Tens of thousands more watched the service via live television feeds.
During his stay, the Pope met with Dr Ahmed Al Tayeb, the Grand Imam of Al Azhar, a senior cleric, as well as numerous interfaith leaders including the Council of Muslim Elders.
Together they signed a human fraternity document, aiming to promote shared values, tolerance and the search for peace.
"I believe that this historic visit will have demonstrated globally that respecting other faiths does not mean undermining our own convictions and beliefs," said Mr Nusseibeh.
"Only those who feel insecure in the strength of their own faith fear being open to other world perspectives and are reluctant to show understanding and compassion to others who follow different cultures or paths.
"It is our responsibility to bring up our young generations with the values of tolerance and understanding, that we teach them the need to have respect for other cultures, beliefs and religions in the same way that we want others to respect and value our belief systems and values."
Mr Nusseibeh, who served as Assistant Minister of Foreign Affairs and International Co-operation at the Foreign Ministry, also broached the ongoing conflict in Yemen.
The war began in 2015 after the Houthi, an armed political movement established in northern Yemen in the 1990s, violently overturned the country's internationally recognised government, led by Abdrabbuh Mansur Hadi.
Mr Nusseibeh, a University of Cambridge graduate whose daughter is the UAE Permanent Representative at the United Nations, said the subject had come up in conversation with the pontiff, among other political issues.
He said he had personally been very moved on hearing the Pope say that Sheikh Mohammed Bin Zayed, the Crown Prince of Abu Dhabi and Deputy Supreme Commander of the UAE Armed Forces, discussed politics through the prism of a deep spiritual and humanitarian outlook.
"On the Yemen situation, our leadership has consistently expressed a clear position," Mr Nusseibeh said.
"Our mission, as underpinned by the United Nations Security Council Resolutions, is to work with the international alliance to bring back peace to that country and to ensure the safety of the Holy Places in Mecca from missile and drone attacks launched by the Houthi militias.
"We are truly hopeful that the United Nations and the international community can help in bringing about a peaceful and negotiated resolution to this conflict.
"There cannot but be a peaceful solution to the situation."
Mr Nusseibeh went on to describe his optimism for the Middle East's future and its growing relationship with international partners.
He stressed that the Pope's visit would have "monumental consequences" for the region and beyond, helping draw Christianity and Islam closer together.
Describing the pontiff's meeting in the Emirates with Dr Al Tayeb, he said their message of peace, charity and compassion was one which would help "combat the onslaught of extremism".
Bringing "the two leading spiritual leaders of the Christian and Muslim worlds together in Abu Dhabi as the capital of Tolerance in the region" would "build long overdue historic bridges between Christianity and Islam", he said.
https://www.thenational.ae/uae/government/uae-s-zaki-nusseibeh-pope-francis-s-message-can-counter-extremism-1.824721
-------
Hundreds flee US-backed Syria battle for last IS holdout
FEBRUARY 13, 2019
The ferocious battle for the Islamic State group's last bastion in eastern Syria entered its fifth day on Wednesday, as exhausted families left the ever-shrinking scrap of land where holdout jihadists have been boxed in by Kurdish-led forces.
Hundreds fled day and night from Baghouz, near the enclave where diehard IS fighters are making their last stand, as plumes of grey smoke billowed into the sky over the flat, desolate town.
The extremist group declared a cross-border "caliphate" in Syria and Iraq in 2014, but various military campaigns have chipped its territory down to less than four square kilometres (one square mile) on the Iraqi border.
After a pause of more than a week to allow out civilians, the Syrian Democratic Forces (SDF) declared a final push to retake the pocket of land from the extremists on Saturday, aided by the warplanes and artillery of a US-led coalition.
SDF spokesman Mustefa Bali said Tuesday that 600 civilians had fled the combat zone overnight and the Syrian Observatory for Human Rights, a Britain-based war monitor, said another 350 made it out that day.
The SDF have built up a pair of sand embankments on a scrubby plateau overlooking Baghouz.
Most of the neighbourhoods visible along the hazy horizon are under their control, but the southernmost parts of the small town — from which sounds of a firefight can be heard — are still held by IS.
– Russians and Ukrainians –
Suddenly, black dots appeared on the dirt road that snakes across the plain from the ruins of the town.
The SDF watched them warily at first, but as the group of about 25 people got closer, members of the Free Burma Rangers volunteer medical group scrambled down the hill to meet them.
There are no other NGOs or UN agencies at the site.
Half a dozen among the new arrivals were adult men. The rest were women, panting after their long trudge out of Baghouz, and young children with dirty hair.
About half were Ukrainian or Russian women and their children, while most of the others were Syrian.
A 34-year-old woman from Crimea tore pieces of bread to give her three children. She identified herself as Umm Khaled and said she came to Syria five years ago after divorcing her Tatar husband.
Once there, she married an Azeri IS member and had two other children. "They are all fatherless now," she told AFP in broken Arabic, her voice shaking.
Coalition spokesman Sean Ryan said US-backed forces were facing a fierce fightback.
"The progress is slow and methodical as the enemy is fully entrenched and IS fighters continue to conduct counter attacks," he said.
"The coalition continues to strike at IS targets whenever available."
– 'Six hours? In the cold?' –
On Monday, the Observatory said a coalition air strike killed 16 civilians.
An Italian journalist was also wounded as he covered the clashes and evacuated for treatment, a colleague said on Twitter.
The SDF launched the battle to expel IS from the eastern Syrian province of Deir Ezzor in September, slowly tightening the noose around the jihadists and their families since December.
In the past two months, more than 37,000 people, mostly wives and children of IS fighters, have fled into SDF-held areas, the Observatory says.
That figure includes some 3,400 suspected jihadists detained by the SDF, according to the monitor.
At a gathering point for new arrivals, dozens of men knelt on the ground.
Iraqi and Syrian women and children prepared to make the journey north to a Kurdish-held camp for the displaced, after spending the night in tents.
A very thin child with dark circles around his eyes stumbled onto a truck, as other children screamed out for water and their mothers asked how long the drive would take.
"Six hours? In the cold?" shouted a wrinkled Iraqi woman.
The SDF on Saturday said up to 600 jihadists could still be inside the pocket, adding their leader Abu Bakr al-Baghdadi was likely not there.
At the height of their proto-state, Baghdadi's followers implemented their brutal implementation of Islamic law in an area the size of Britain.
Once the "caliphate" is declared over, the fight will continue to tackle IS sleeper cells, the SDF and their allies have said.
US President Donald Trump on Monday said the coalition may declare victory over IS in the region within days.
During an unannounced visit to Baghdad on Tuesday, acting Pentagon chief Patrick Shanahan met Iraqi Prime Minister Adel Abdel Mahdi but the possibility of US troops in Iraq deploying into Syria for operations against IS "just did not come up" during their talks, Shanahan told reporters.
Full report at:
https://dailytimes.com.pk/354207/hundreds-flee-us-backed-syria-battle-for-last-is-holdout/
-------
Terrorists Launch Chemical Attack on Syrian Army Positions in Idlib
Feb 12, 2019
The Arabic-language service of Russian Sputnik news agency reported that the terrorists attacked Sham al-Hava region in Southeastern Idlib with missiles armed with toxic gases.
It noted that two Syrian Army troops were injured in the chemical attack.
In a relevant development in late January, the Russian Foreign Ministry said at a briefing that Moscow is concerned over the fact that terrorists have not abandoned their attempts to stage chemical attacks against Syrian civilians.
The White Helmets have deployed equipment in several hospitals in the Syrian province of Idlib to film false flag chemical attacks and blame it on Damascus, Russian Foreign Ministry Spokeswoman Maria Zakharova stated, Sputnik reported.
"There are also serious concerns about reports that terrorists are not abandoning attempts to fake the use of chemical weapons against civilians. According to available information, a group of activists, the notorious pseudo-humanitarian organisation, the White Helmets, have prepared the necessary equipment in several hospitals of Idlib to film such provocations", Zakharova added.
The spokeswoman elaborated that tensions were running high in the Idlib de-escalation zone, saying that Tahrir al-Sham militants are carrying out daily shelling of nearby settlments and actively building up their forces near the contact line with Syrian government forces.
Moscow and Damascus have on a multitude of occasions pointed out that the White Helmets have staged a number of provocations in Syria involving the use of chemical weapons in order to blame them on the Syrian government and provide Western countries with justification for intervention in the Arab Republic.
The notorious NGO has repeatedly been busted staging and filming false-flag attacks. last April, the group published footage featuring doctors in Douma hospitals treating patients that had suffered from an alleged chemical attack by the Syrian Arab Army.
Reports of the purported use of chemical agents in Eastern Ghouta surfaced in April 2018 in some media, citing militants on the ground. A number of Western countries, including France, the US and the UK, quickly picked up the claims, and instantly accused Syrian President Bashar al-Assad of having dropped a chlorine bomb on civilians.
Damascus vehemently denied the allegations, denouncing the attack as a staged provocation to justify potential foreign intervention. Immediately after the purported incident, Moscow dispatched its chemical corps commission to inspect the site and determine whether there had been an actual chemical attack; the expert group, however, found no traces of chemical agents in Ghouta.
Speaking of the envisaged US withdrawal from Syria, Zakharova added that Moscow had urged Washington to immediately pull its troops out of the al-Tanf zone and transfer the area to Damascus's control.
"We urge Washington to immediately withdraw its troops from At Tanf are and transfer control over this territory to the Syrian government, which could take care of its citizens as we see it can do," she stated.
Zakharova also drew attention to the "plight of the inhabitants of Rukban camp for internally displaced persons", which is located within the 55-kilometre security zone set by the Pentagon.
Full report at:
http://en.farsnews.com/newstext.aspx?nn=13971123000905
-------
Sources: US after Establishment of Permanent Base at Iraqi-Syrian Borders
Feb 12, 2019
The Arabic-language al-Ma'aloumeh news website quoted Barakat al-Issawi, a former member of al-Anbar provincial council, as saying on Monday that the US has sent weapons and military equipment from Ein al-Assad airbase in Western al-Anbar to al-Tanf region near the border with Syria to establish a permanent military base.
He added that the US move comes to balance Russia's military presence in Syria, which, in turn, means international confrontation between the US and Russia.
Al-Issawi said that the US forces are making these moves as the commanders of al-Jazeera Operations forces and Hashd al-Shaabi (Iraqi popular forces) are running final coordination to impose control over all bordering areas with Syria.
Earlier reports had informed on Sunday that the US army had sent a massive military convoy to its controlled regions in Western Iraq just behind the border with Syria at al-Tanf crossing.
"A massive US military convoy comprising military vehicles, artillery canons and heavy weapons has been dispatched to Iraq's Western border with the US-controlled al-Tanf region," local and military sources in al-Anbar province in Western Iraq reported.
Full report at:
http://en.farsnews.com/newstext.aspx?nn=13971123000780
-------
Syrian govt. swaps prisoners with militants as part of Astana Process
Feb 12, 2019
The Syrian government and the country's militants on Tuesday swapped prisoners as part of a peace process brokered by Iran, Russia and Turkey, Ankara said.
Turkey's foreign ministry said in a statement that "many people" detained by the two sides have been freed in the reciprocal and simultaneous move.
The UK-based Syrian Observatory for Human Rights said each side had released 20 prisoners.
The swap took place near the city of Al-Bab, in Aleppo province northwest Syria.
The prisoner swap was part of a peace process brokered by Iran, Russia, and Turkey, which are working to bring back peace to Syria, where the conflict that started in March 2011 has left more than 360,000 dead and displaced millions more.
The three countries, known as the guarantor states of a ceasefire regime in the Arab state, have been mediating peace negotiations between representatives from the Damascus government and opposition groups in a series of rounds held in Astana and other places since Jan. 2017.
Russian Foreign Minister Sergey Lavrov recently announced that the presidents of the three countries will meet in the Russian resort city of Sochi on February 14.
The first round of the Astana talks commenced a month after the three guarantors joined efforts and brought about an all-Syria ceasefire. The three states act as the guarantors of that truce.
The negotiations have helped significantly reduce the violence gripping the Arab country by establishing four de-escalation zones there. They have also paved the way for the formation of a Constitutional Committee.
This is while a parallel UN-backed peace process in Geneva, Switzerland, has failed to deliver much.
Full report at:
https://www.presstv.com/Detail/2019/02/12/588418/Syria-government-prisoner-swap-militants
-------
Anti-Israel resistance front will free all Syrian territories from terrorism: Mekdad
Feb 12, 2019
A high-ranking Syrian official says the anti-Israel resistance front has scored outstanding victories, stressing that such triumphs will continue until all of Syria is liberated from the grips of foreign-sponsored Takfiri terrorist groups.
"Syrian diplomacy does not lend itself to interpretations and media reports. It is completely independent," Syrian Deputy Foreign Minister Faisal al-Mekdad said in an exclusive interview with the website of Lebanon-based Arabic-language al-Manar television network on Tuesday.
Mekdad then condemned the "unlawful" presence of foreign military forces on the Syrian soil, emphasizing that only Syrian government troops and allied fighters from popular defense groups are entitled to such a right.
"It won't be long when we, God willing, will achieve our goals besides those of the Syrian nation and the resistance front and will capture the final victory over all our enemies," the Syrian diplomat pointed out.
The remarks came on the same day that Syrian army units pounded the positions of Takfiri militant groups in the country's west-central province of Hama.
Syria's official news agency SANA reported that government troops struck the gatherings of the Jabhat Fateh al-Sham, formerly known as al-Nusra Front, terrorist group and its affiliates following intelligence reports that the latter were preparing to launch offensive against military posts in the area.
The report added that Syrian soldiers used light and medium weapons besides snipers positioned on the hilltops of the al-Janabira town to target the extremists. Scores of Takfiri terrorists were killed and injured in the process.
Full report at:
https://www.presstv.com/Detail/2019/02/12/588412/AntiIsrael-resistance-front-will-free-all-Syrian-territories-from-terrorism-Mekdad
-------
India
MIT faces backlash over invited speaker's anti-Muslim comments
February 12, 2019
Aysha Khan
CAMBRIDGE, Mass. (RNS) — Indian-American and Muslim groups are pushing the Massachusetts Institute of Technology to revoke a speaking invitation given to a prominent Indian politician over his record of anti-Muslim remarks.
This year's sold-out MIT India Conference, planned for Saturday (Feb. 16) at the MIT Media Lab, will feature a keynote address from Subramanian Swamy, an economist and member of the Indian Parliament from the ruling Bharatiya Janata Party. Swamy has drawn controversy for his long history of inflammatory statements against Muslims, LGBT people, the mentally ill and members of India's repressed Dalit caste.
In interviews and public comments, Swamy has said that homosexuality is "not normal" and a "genetic flaw" and that bipolar people are violent and unfit to join politics. He has also called Dalit protesters "dogs" and said that hundreds of Indian mosques should be destroyed.
Two weeks ago, nine MIT faculty members launched a petition calling for MIT President Rafael Reif to revoke the university's invitation.
"Commitment to diversity and inclusion are fundamental values of MIT and it's disheartening to see MIT openly endorsing a person who not only engages in divisive hateful rhetoric but openly calls for violence against marginalized groups," the petition states. "It's evident that Swamy's participation in MIT India Conference is not commensurate with the core values of MIT or with broader humanitarian values of inclusion, diversity, and respect for life."
The petition, which has gained 1,800 signatures so far, has also been endorsed by Sadhana: Coalition of Progressive Hindus, the North American Indian Muslim Association, Boston-based Indian media company BDC TV, Muslim Peace Coalition USA, the Indian Minorities Advocacy Network and the Indian American Muslim Council, which led a phone campaign to push MIT to drop Swamy.
"He has openly called for the disenfranchisement of Muslims in India, and said they should be second-class citizens," Syed Ali, vice president of the Indian American Muslim Council, told Religion News Service. "It's not about free speech. It's about saving lives in India. His party's hate rhetoric has incited violence and lynchings of many innocent civilians."
MIT's Muslim chaplain, Nada Miqdadi El-Alami, also wrote a letter to Reif asking him to rescind the invitation, saying Swamy's "presence in the conference will make many groups on campus feel alienated and will question MIT's commitment to diversity and inclusion."
According to emails reviewed by RNS, an MIT faculty member who was helping lead the conference told school administrators that Swamy, who would appear via a video recording, had spoken at events held by other prominent universities, including Princeton University and New York University, in the past few years. The faculty member further said that the conference organizers do not endorse any speaker's views.
MIT and the MIT India Conference organizers did not respond to RNS' request for comment.
This is not the first time Swamy has landed in hot water in Cambridge.
In 2011, he was teaching summer classes at Harvard University, where he had earned his doctorate in economics, when he published an op-ed in an Indian publication calling for Hindu nationalists to stand up against "fanatic Muslims." The piece recommended destroying mosques, banning Hindus from converting to any other faith and barring non-Hindus from voting until they acknowledge Hindu ancestry. Swamy also suggested Hindu nationalists should be inspired by Jews, who in 10 years were "transformed from lambs walking meekly to the gas chambers to fiery lions."
More than 400 students at Harvard responded by signing a petition demanding Swamy's dismissal from the school. After the administration supported Swamy on the basis of free speech, a majority of Harvard's faculty also voted to stop offering the economics courses he taught, effectively removing him from the teaching roster.
"MIT cannot deny that they know about this," said Arif Hussain, a Boston political analyst and Harvard alumnus who co-wrote a column about the controversy for MIT's student newspaper. "The people here are familiar with him. How can you have a person like this on your campus? Hate speech is not free speech, and the Supreme Court has said so."
The controversy comes just days after MIT drew heat for its decision not to cut its close ties with Saudi Arabia, an association that brought the prestigious school $7.2 million last year, even after condemning the country for its role in the killing of journalist Jamal Khashoggi and other "brutal human rights violations." MIT also hosted Crown Prince Mohammed bin Salman last year despite student-led protests over the Saudi bombardment and blockade of Yemen.
Audrey Truschke, a historian of South Asia based at Rutgers University, suggested that perhaps MIT could not "see the full bite of (Swamy's) hateful rhetoric" because it was not in an American political context.
But Truschke said MIT should have nonetheless recognized that Swamy was unacceptable. "Imagine (if) a white supremacist suggested removing a few hundred synagogues in America," Truschke tweeted. "Honestly, it shows a distressing lack of international awareness that MIT has not rescinded this invitation already. I think they owe their students, faculty, and donors an explanation for how it was even issued in the first place."
https://religionnews.com/2019/02/12/mit-faces-backlash-over-invited-speakers-anti-muslim-comments/
-------
Saudi Arabia crown prince to visit India on February 19
February 13, 2019
SAUDI ARABIA'S Crown Prince and Defence Minister Mohammed bin Salman will visit India on February 19 and 20 for his first state visit to the country. Prime Minister Narendra Modi had visited Saudi Arabia in April 2016.
Accompanied by a high-level delegation comprising ministers, senior officials and leading Saudi businessmen, Crown Prince Salman will arrive on February 19 on his maiden trip to the country, the Ministry of External Affairs (MEA) said in a statement here. During the visit, the Crown Prince will hold talks with the Prime Minister on a wide range of issues of mutual interest. He will also call on President Ram Nath Kovind and Vice-President M Venkaiah Naidu.
Full report at:
https://indianexpress.com/article/india/s-arabia-crown-prince-to-visit-india-next-week-trade-energy-security-top-on-agenda-mohammed-bin-salman-5580390/
-------
Seven-judge bench to decide minority status of Aligarh Muslim University
by Younus
Feb 13, 2019
New Delhi: The Supreme Court on Tuesday referred to a seven-judge Constitution bench the question whether Aligarh Muslim University was a minority institution as it would take a relook at 1967 Azeez Basha case that had held that AMU was not a minority institution as it was set up by an Act of Parliament.
The bench of Chief Justice Ranjan Gogoi, Justice L. Nageswara Rao and Justice Sanjiv Khanna referred the matter to the seven-judge Constitution bench as senior counsel Rajeev Dhavan appearing for the AMU told it that the judgement in the Azeez Basha case was bad in law and needed a relook.
The larger bench would decide on the parameters for granting the minority status to an educational institution, what a minority institution is, how it is established and how it would run.
The larger bench will also decide whether a university, distinct from a college, can be treated as a minority institution. The Constitution bench will also discuss the TMA Pai judgement on a minority institution.
In 1981 the question of minority institution was referred to a seven-judge bench, which in turn referred it to an 11-judge bench but the question continues to hang fire.
The seven-judge bench would also look into the amendment to Minority Educational Institutions. Senior counsel Rajeev Dhavan told the court that Central legislation making AMU a university was just a technicality and this could not denude the AMU of its minority character.
The AMU argued that it was established by Sir Syed Ahmed Khan – long before Parliament passed the law making it a university. Having said this, Dhavan said the matter needs to be sent to a larger bench instead of being heard by the current bench.
Agreeing that the matter be referred to the seven-judge bench, Attorney General K.K. Venugopal suggested that they would frame the questions to be addressed by the larger bench. However, CJI Gogoi declined the request, saying that the questions have already been framed in the earlier judgement.
The current issue arose in the wake of an Allahabad High Court verdict holding that AMU being a Central university was not a minority institution.
Full report at:
https://www.siasat.com/news/seven-judge-bench-decide-minority-status-aligarh-muslim-university-2-1466764/
-------
Police: Conspirator in Lashkar-e-Taiba militant's escape killed
by Adil Akhzer
February 13, 2019
A HIZBUL Mujahideen (HM) militant, who helped slain Lashkar-e-Taiba (LeT) commander Naveed Jatt escape from a Srinagar hospital last year, was killed in an encounter between militants and security forces in South Kashmir's Pulwama district in the early hours of Tuesday. In the gunbattle, one Army soldier was also killed, while another sustained injuries, police said.
The Armyman who died was identified as Baljeet Singh (35), a resident of Karnal in Haryana.
Earlier, security forces launched a Cordon and Search Operation in Ratnipora area of Pulwama in the intervening night of February 11 and 12 following the presence of militants in the area.
"During the searches, the search party was fired upon by terrorists. The fire was retaliated leading to a gunfight," a J&K police spokesperson said.
The slain militant was identified as Hilal Ahmad Rather, a resident of Begambagh Kakapora in Pulwama district. Police sources said he had joined the militant ranks in early 2018.
During the exchange of fire, two Army men sustained injuries and were taken to hospital. However, one of them, Baljeet Singh, succumbed to his injuries.
The police spokesperson said incriminating materials, including arms and ammunition, were also recovered from the site of the encounter.
Soon after the encounter, locals clashed with the security forces near the encounter site.
According to police, Hilal, the slain militant, "had a long history of terror crime records" and was wanted in a series of cases.
One of the cases was an attack at the Shri Maharaja Hari Singh Hospital (SMHS) in Srinagar, in which two police personnel were killed and LeT commander Naveed Jatt managed to escape.
Jatt would be killed in an encounter with police on November 28, 2018 in Kashmir's Budgam district.
Full report at:
https://indianexpress.com/article/india/police-conspirator-in-lashkar-e-taiba-militants-escape-killed-5581027/
-------
J&K: Two militants killed in encounter with security forces in Budgam
February 13, 2019
Two militants were killed in an encounter between militants and security forces in Central Kashmir's Budgam district early Wednesday morning. This is the second encounter in the last 24 hours in the valley.
A J-K police spokesman said the encounter took place in Gopalpora area of Chadoora town in Budgam district in the early hours of Wednesday.
"Based on a credible input about the presence of terrorists, a cordon and search operation was launched in the intervening night jointly by Police and security forces in the area," the police spokesman said in a statement.
"As the searches were going on, the search party was fired upon by the terrorists. The fire was retaliated leading to a gunfight," he added.
In the ensuing encounter, police said two militants were killed. "Their identities and affiliations are being ascertained," said the police.
Full report at:
https://indianexpress.com/article/india/jk-militants-killed-in-encounter-with-security-forces-in-budgam-5581136/
-------
North America
Rep. Omar apologizes after US House leaders condemn comments as anti-Semitic
12 February 2019
Freshman Democratic Rep. Ilhan Omar "unequivocally" apologized Monday for tweets suggesting that members of Congress support Israel because they are being paid to do so, which drew bipartisan criticism and a rebuke from House Speaker Nancy Pelosi.
The Minnesota Democrat said she had no intention offending anyone, including Jewish Americans.
"We have to always be willing to step back and think through criticism, just as I expect people to hear me when others attack me about my identity," Omar tweeted. "This is why I unequivocally apologize."
The statement was the latest reckoning among Democrats of intense differences in their ranks over the US-Israeli relationship, highlighted by criticism from Omar and Rep. Rashida Tlaib of Michigan. They are the first Muslim women to serve in Congress. Pelosi and other Democrats, including leaders and chairmen, laid down a marker making clear that Omar had overstepped.
In a pair of tweets over the weekend, Omar criticized the American Israel Public Affairs Committee, or AIPAC. "It's all about the Benjamins baby," she wrote, invoking slang about $100 bills.
Asked on Twitter who she thought was paying members of Congress to support Israel, Omar responded, "AIPAC!"
That sparked Pelosi's first public rebuke of a freshman lawmaker who had helped flip the House from Republican control and is part of a record number of women in Congress.
"Congresswoman Omar's use of anti-Semitic tropes and prejudicial accusations about Israel's supporters is deeply offensive," Pelosi said in a statement issued by her office and signed by other Democratic leaders after a bipartisan backlash against the Minnesota Democrat. "We condemn these remarks, and we call upon Congresswoman Omar to immediately apologize for these hurtful comments."
It also was a stark exposure of an increasingly tense split among Democrats over US-Israeli policy ahead of the 2020 elections. None of the Democratic presidential hopefuls weighed in publicly as their party's House leaders chastised Omar.
https://english.alarabiya.net/en/News/world/2019/02/12/Rep-Omar-apologizes-for-tweets-dubbed-as-anti-Semitic.html
-------
Senators introduce resolution to block Saudi from developing nukes
Feb 13, 2019
US senators have introduced a resolution that would prevent Saudi Arabia from developing a nuclear weapon.
The measure was introduced by Democrats Jeff Merkley and Ed Markey and Republican Rand Paul on Tuesday, however, it is unclear whether a majority of the 100-member Senate would support it.
The resolution requires that any US civilian nuclear cooperation agreement with Riyadh preclude enrichment of uranium or reprocessing of plutonium made in reactors – both of which are routes to developing nuclear weapons.
"If Saudi Arabia is going to get its hands on nuclear technology, it's absolutely critical that we hold it to the gold standard for non-proliferation," Merkley said in a statement. "The last thing America should do is inadvertently help develop nuclear weapons for a bad actor on the world stage."
This comes as US Energy Secretary Rick Perry has been holding secret talks with Saudi officials on sharing US nuclear technology.
Meanwhile, Riyadh, which has said it wants to be self-sufficient in producing nuclear fuel, has refused to sign a deal with Washington that would deprive it of enriching uranium.
Last year, Saudi Crown Prince Mohammed bin Salman told CBS that the kingdom would make nuclear weapons if Iran does so. The Islamic Republic, which is a member of the Nuclear Non-Proliferation Treaty (NPT), has always said that it has no intention of developing nuclear arms.
Now, if the new measure receives significant congressional support, it would be symptomatic of concern in Congress over the Saudi-led brutal bombing in Yemen as well as the murder of US-based Saudi journalist Jamal Khashoggi in the Saudi consulate in Istanbul in October.
The Trump administration threatened Monday to veto a bid by Congress to end Saudi Arabia's military support for the onslaught against Yemen.
The administration claimed that the resolution was inappropriate, harming the country's regional relations as well as efforts to halt "violent extremism," according to Reuters.
Trump also ignored a Friday deadline by Congress to determine who had ordered the assassination of Khashoggi and whether he intended to impose related sanctions on Riyadh.
Under a US law, the president had 120 days to report to Congress about designating and punishing Saudi officials responsible for the murder.
Full report at:
https://www.presstv.com/Detail/2019/02/13/588433/US-Saudi-Arabia-nuclear-deal-nuclear-weapons
-------
Trump: Omar should resign for anti-Israel comments
12.02.2019
By Umar Farooq
WASHINGTON
U.S. President Donald Trump on Tuesday said freshman congresswoman Ilhan Omar should resign following comments she made that were critical of Israel's influence in American politics.
"I think she should either resign from Congress or she should certainly resign from the House Foreign Affairs Committee," Trump said in a Cabinet meeting.
"Anti-Semitism has no place in the United States Congress," Trump added, calling Omar's apology "lame."
Omar, along with Rashida Tlaib, is one of the first two Muslim women in Congress, said Sunday suggested congressional support for Israel is firmly rooted in political donations from pro-Israel groups, most prominently the powerful American Israel Public Affairs Committee, or AIPAC.
"It's all about the Benjamins baby 🎶," Omar wrote in a Twitter post that subtweeted a story about House Republican Leader Kevin McCarthy threatening "action" against Omar and Tlaib for comments critical of Israel.
The tweet received hefty criticism from Republicans and Democrats, who called the post "anti-Semitic".
Full report at:
https://www.aa.com.tr/en/americas/trump-omar-should-resign-for-anti-israel-comments/1390814
-------
Iran is a paper tiger with steel claws says Saudi's Prince Turki Al Faisal
February 12, 2019
Iran is a paper tiger with steel claws represented by its proxy militias from Hezbollah to the Houthis, Saudi Arabia's Prince Turki Al Faisal said on Tuesday.
The kingdom's former ambassador to Washington and London and previous head of intelligence said in an interview with broadcaster CNBC that Tehran's network of local armed groups across the region had the sole purpose of furthering their influence at the expense of impoverishing the nation.
"The leadership in Iran has developed into a paper tiger with steel claws, the steel claws are the militias that they have established throughout the Middle East," he said.
The main aim of these groups, he added, "is to further Iran's influence and its domination over the areas in the Middle East."
Prince Turki is currently chairman of King Faisal Foundation's Centre for Research and Islamic Studies. He is due to speak at the 2019 Milken Institute Mena Summit in Abu Dhabi on Wednesday.
However, the massive financial commitment these groups require, the long-serving senior diplomat said, was taking its toll at home.
"There are bread lines. There are demonstrations, spontaneous demonstrations in all of the cities in Iran. We've seen huge protests that have taken place with people chanting why are we helping Syria why are we helping Lebanon," he told CNBC's Hadley Gamble.
Prince Turki said he believed it was far too early to say that the regime would collapse under the weight of US-led international sanctions on Tehran but that it was important to listen to Iranian President Hassan Rouhani when he says the country is facing its worst economic situation in 40 years.
"The Iranian people are the first victims of this leadership," he said. "So I hope that with Mr Trump's sanctions against Iran we're going to see a change of the of the conduct of the leadership of Iran."
On other issues, Prince Turki said that while he warned against the US-led invasion of Iraq in 2003, he is also against Washington withdrawing troops today as Iran's "malevolent forces" would seek to take advantage.
He said he sees international criticism of Saudi Arabia's intervention in Yemen as "misinformed and misguided".
He pointed out that Riyadh was there to support the internationally recognised government of Yemen who had requested help repelling the Houthi takeover. He pointed to UN resolutions that supported the coalition mission to reinstate the government of Yemen in Sanaa as well as the fact that countries from around the world are involved in the coalition, not just Middle Eastern states.
"The war in Yemen was started by the Houthis not by Saudi Arabia and the humanitarian aspects of that war are influenced by what the Houthis are doing," he said.
"They are denying access for example to the grain silos in Hodeidah port that could be used to help the starving people of Yemen. And the kingdom is providing the largest amount of humanitarian aid to the people of Yemen."
Responding to a question from CNBC's Hadley Gamble on whether foreign firms were reluctant to invest in the kingdom given the string of negative stories coming from the country in recent years, Prince Turki said that he believed such investors were mistaken and that data did not support their view.
Following the killing of Saudi journalist Jamal Khashoggi, last year numerous high profile figures pulled out of the kingdom's PIF summit in Riyadh, dubbed the Davos in the Desert. The huge corruption purge carried out by the kingdom's Crown Prince Mohammed bin Salman that saw a string of high profile Saudi political and business figures detained in the Riyadh Ritz Carlton Hotel also initially worried investors.
Prince Turki said that the corruption purge was a good symbol of steps Riyadh is taking to ensure accountability and transparency.
"On the issue of the Ritz Carlton affair, in the kingdom that was a very welcome step because it showed the people that the government was concerned about corruption," he said.
"It brought in the high and not so high for questioning for accounting for their actions and literally reach accommodations with some of them and some of them I think have been transferred to the courts … so that's a sign of accountability."
He said the kingdom has come a long way in "providing the right atmosphere for people to invest in the country not just on issues of accountability but also on issues of transparency, on issues of rule of law, the fact that we are members of the World Trade Organisation."
All this, he said, contributed to the rise in foreign investment into Saudi Arabia in recent years, despite "the negative media hype."
He described Turkish regional policy as "a big puzzle".
He also said Ankara's involvement in Syria had initially focused on helping the people but was now focused on aligning with the pro-Damascus alliance.
Full report at:
https://www.thenational.ae/world/gcc/iran-is-a-paper-tiger-with-steel-claws-says-saudi-s-prince-turki-al-faisal-1.824909
-------
Europe
UK committee on arms sales ignores Saudi arms deals, Yemen war in key inquiry
Feb 12, 2019
A UK parliamentary panel tasked with scrutinizing the country's weapons sales in 2017 has come under fire for turning a blind eye on London's extensive arms deals with Saudi Arabia and their effects on the people of Yemen.
The Committees on Arms Export Controls (CAEC) launched its inquiry into Prime Minister Theresa May's government's latest 2017 Strategic Export Controls Annual Report in late 2018 and held its first evidence session by inviting a number of officials and sales experts to the House of Commons last week.
However, the committee's agenda seems to be void of any reference to London's dealings with the Riyadh regime, which has become the largest purchaser of UK-made weapons since 2015, the year it launched a deadly military aggression against its impoverished southern neighbor, Yemen.
The inquiry covers both the technicalities of the policy, such as the different types of arms export licenses issued by the government and its political aspect to answer questions such as the consequences of a no-deal Brexit on the country's weapons sales.
The exclusion of the conflict in Yemen has raised questions among activists and campaign groups, specially since the panel's previous work on the government's 2016 policy had raised concerns about the nature of arms deals with Saudi Arabia.
In fact, the previous report was so damaging that many lawmakers asked the government to end the weapons sales to Saudi Arabia. The growing divide over the issue eventually led to the dissolution of the CAEC.
The controversy continued after the current lineup of lawmakers took over the panel in October 2017 and made it clear that they were not going to remain neutral over the matter.
Graham Jones, a Labour MP and chair of the CAEC, said last week that neither the West nor Saudi Arabia were to blame for the war in Yemen, which has killed over 57,000 people since its onset in March 2015.
He went as far as calling "dishonest" campaign groups that bring attention to Saudi Arabia's atrocities in Yemen.
"We see it time and time again with regards to airstrikes – there is a gross exaggeration by NGOs as to what has happened. You just have to pick up the newspaper. The examples they finally do get to attribute, you suddenly find after investigating they are inaccurate and grossly inaccurate," said Jones (pictured above).
The comments came days after the CAEC received a highly critical report that spotted extensive flaws in the British government's arms sales strategy.
Put together by Control Arms UK, a coalition of non-governmental organizations (NGOs), urged May's government to reduce or altogether halt weapons sales to Saudi Arabia and other countries that violate human rights.
"Our conclusion is based on copious, authoritative information, and is compelling," said Roy Isbister of Saferworld, who contributed to the report. "All of the warring parties in Yemen are repeatedly in breach of international law. Yet our voice is ignored by a government that will quote our work as ballast to its own arguments in other countries when it suits."
Anna Stavrianakis, a senior lecturer at the University of Sussex, wrote in an article published by The Guardian on Monday that Jones would ignore such reports because he is in some ways linked to the Saudi Arabia and its regional allies – including the United Arab Emirates -- who have been relentlessly pounding Yemen.
"As an avid supporter of the Saudi-led coalition, vice-chair of the all-party parliamentary group on Saudi Arabia, MP for an arms-producing constituency and recipient of an expenses-paid trip to the UAE, Jones would do well to remember the edict that people in glass houses shouldn't throw stones when castigating others," Stavrianakis wrote.
The UK has licensed over £4.7 billion worth of arms exports, including missiles and fighter jets, to Riyadh since the deadly conflict began.
Britain has also been providing combat intelligence and target data to Saudi Arabia over the course of the war, which has killed thousands of Yemeni civilians and put millions more on the verge of famine.
The war is being led by Saudi Crown Prince Mohammed bin Salman, the kingdom's de facto ruler, who wishes to reinstate Yemen's fugitive former president, Abd Rabbuh Mansur Hadi, and destroy the Houthi Ansarullah movement.
The Saudi-led war has created a cholera epidemic as well as leading the country to the brink of an entirely preventable famine.
https://www.presstv.com/Detail/2019/02/12/588354/UK-Saudi-Arabia-arms-deals-Yemen-war-inquiry-CAEC-Jones
-------
French victory ends long asylum battle of Afghan interpreters
February 13, 2019
PARIS: They served the French army on the frontlines in Afghanistan, sometimes bearing arms during operations by international forces against the Taliban.
But for years after the French troops pulled out, many Afghan interpreters were left exposed to revenge attacks by Islamist fundamentalists and denied asylum by the country for which they worked.
Their long fight for protection from France ended on February 1 when a top French court ordered the state to give immediate protection to all those who had been previously turned away.
As Afghanistan sinks further into violence, those who serve or have served foreign militaries are particularly at risk from the Taliban, who view them as traitors.
Zainullah Oryakhail, 30, served as an interpreter for a French battalion from 2009 to 2013 — a role for which he was occasionally armed with a French assault rifle to use in the event of an ambush.
On January 7, his long quest for asylum ended when he arrived in France with his family, a year after he fled his village 38 kilometers (around 24 miles) north of Kabul.
Oryakhail, who had been denied asylum by France in 2015, had already survived a drive-by shooting at his home and then been wounded in a suicide motorcycle bombing as he spoke to a NATO patrol outside his house.
Convinced both attacks were linked to his work with the French military, over which he had received multiple threats, he moved to a freezing, one-room apartment in a suburb of Kabul.
He survived by doing odd jobs, living in constant fear, until December 2018, when France's Council of State, the country's highest administrative court, ordered he be given immediate protection, along with five other interpreters whose asylum requests had been rejected in 2015.
In the landmark ruling, the court said that the state owed local staff a duty of "functional protection."
In a follow-up decision on February 1 the council went further, extending the protection to all the interpreters whose asylum requests had been rejected, including those who missed a government deadline to apply.
The ruling, which also sets a precedent for local people employed by the French army in other conflict zones such as the Sahel region of West Africa, comes too late for some Afghans who sought safety in France.
Qader Daoudzai, an interpreter for the French military from 2010 to 2012 whose visa application was rejected in 2015, died in a bomb blast in Kabul on October 20.
He left behind a pregnant wife and three children.
Yusefi Z., another former interpreter who cannot be fully identified for safety reasons, was severely wounded, and his step-brother killed, in mid-January in a bomb blast in Kabul, where he remains in hiding.
France was the fifth-biggest contributor of troops to the NATO-led mission in Afghanistan from 2001 to 2014, when the last of its soldiers left the country.
Over the course of its long deployment, the military employed 770 local staff in positions such as interpreters, drivers and warehouse workers.
A total of 224 interpreters received visas to move to France in three waves of relocations between 2013 and 2018, according to the Association of the French Army's Afghan Interpreters, but many were then turned down.
France is not the only country accused of failing to provide adequate protection for former Afghan employees.
A British parliamentary committee last year found Britain had "dismally failed" to look after 7,000 former Afghan staff.
Defending France's record, a defense ministry source, who asked not to be identified, said French officials had spent a month in the region in late 2018 to hear new asylum requests and reopen old cases.
The mission was carried out "at the request of the French president, taking into account the deterioration of the situation during the past 12 months in Kabul and Kapisa," the province where most of the French troops were stationed, the official said.
At the end of the mission, 218 long-stay visas were granted to former employees and their families, the official said, adding: "France cannot be accused of doing nothing."
But for Quentin Mueller, co-author of a book entitled "Interpreter, a French Betrayal" ("Tarjuman, une Trahison française") published last week, France abandoned those who were its "eyes and ears in the fight" against the Taliban.
"It treated them like ordinary migrants who would like to take advantage of the French system," he said.
The book's other author Brice Andauer denounced the asylum process as "intentionally opaque and secretive," saying many applicants had been turned down with no reason given.
Noting that the French army's local Afghan staff were routinely subjected to background checks, he argued there were few chances of extremists slipping through the system into France.
"Furthermore, the Taliban have never advocated global jihad," he pointed out.
Full report at:
http://www.arabnews.com/node/1451336/world
-------
Syria constitution body should be inclusive: Germany
12.02.2019
By Ayhan Simsek
BERLIN
A committee tasked with drafting a new constitution for Syria should be balanced and inclusive of all Syrians, German Foreign Minister Heiko Maas said Tuesday.
Speaking to reporters ahead of his meeting with UN special envoy Geir Pedersen, Maas underlined that Germany, a member of the Small Group on Syria, would continue to support efforts for the formation of Syria's constitutional committee.
"The convening of a constitutional committee should be a door opener for further political changes in Syria. A balanced and inclusive composition of the constitutional committee is a prerequisite for its success," he stressed.
'We need to build trust'
UN special envoy Pedersen stressed that there was an urgent need for a new beginning in Syria to achieve progress in political efforts to find a solution.
"We need to build trust between the different communities and make sure that we move forward in parallel with the political process," he said.
Pedersen also underlined that the beginning of the constitutional committee's work would play a key role in the process.
Full report at:
https://www.aa.com.tr/en/europe/syria-constitution-body-should-be-inclusive-germany/1390505
-------
South Asia
Fifty injured as Islamist Groups attack Ahmadis in Bangladesh
EHSAN REHAN
February 13, 2019
Over 50 were injured as Islamist organizations coordinated protests against minority Ahmadiyya Muslims of Bangladesh. Protests led by three Islamist organizations — Sammilito Khatme Nabuwat Shangrakkhan Parishad, Iman Akida Rokkha Committee and Touhidi Janata turned ugly Tuesday afternoon as thousands of students from Islamic seminaries also joined in.
There mob vandalized several houses and burned down shops belonging to members of the Ahmadiyya community in Ahmednagar village of Panchagarh. Local media reported that at least 50 people, including police, were injured in the Tuesday night mob attack. Panchagarh Sadar Hospital's resident medical officer Pradip Kumar Banik said that at least of 1 of the injured was in critical condition.
The protestors demanded shutdown of the annual convention of Ahmadiyya community and urged the government to declare the community a non-Muslim minority.
On Wednesday, in a meeting with local Islamic clerics and police officers Panchagarh Deputy Commissioner Sabina Yasmin gave her assurance that the Ahmadi community would not be allowed to organize the convention in Panchagarh.
Golam Azad, additional deputy commissioner general of Panchagarh said that "Additional police force including paramilitary units of Border Guard Bangladesh have also been deployed in the village"
https://www.rabwah.net/50-injured-as-islamist-groups-attack-ahmadis-in-bangladesh/
-------
Bangladesh seeks safe zone for Rohingya refugees
12.02.2019
Bangladeshi Foreign Minister AK Abdul Momen has called on Russia, China and India to help the country tackle the Rohingya refugee crisis.
In an interview with Anadolu Agency on Sunday, Momen talked about a government proposal to establish a safe-zone in Rakhine State in Myanmar from where the refugees fled state persecution in late 2017.
"If a safe zone is created under the vigilance of China, Russia and India along with ASEAN states, Rohingya people will be encouraged to return to their own land," he said, adding that guaranteeing them citizenship upon their return is a pre-condition.
He said that India had appreciated the proposal and he hoped other countries followed suit.
Since Aug. 25, 2017, more than 750,000 Rohingya refugees, mostly women and children, have fled Myanmar and crossed into Bangladesh after Myanmar forces launched a crackdown on the minority Muslim community, according to Amnesty International.
The UN has also documented mass gang rapes, killings – including of infants and young children – brutal beatings and disappearances committed by Myanmar state forces.
Myanmar authorities are still treating Rohingya as unlawful citizen or illegal Bengalis based on a controversial 1982 Citizenship Law.
"Our main goal is to repatriate them to their country of origin with due dignity and safety," the minister said seeking help from Russia, India and China in this regard.
Bangladesh and Myanmar signed a repatriation deal on Nov. 23, 2017 with a two-year timeframe to return the Rohingya refugees to Myanmar.
The repatriation has been postponed due to global concerns about the safety of Rohingya in their home country.
Dearth of resources
Terming the Rohingya crisis a difficult issue, the minister said: "There are 1.2 million Rohingya now staying in Bangladesh. Although we are not a rich country, we are one of the most densely populated countries in the world. Yet she [Prime Minister Sheikh Hasina] has the benevolence, the big heart to allow them and by this she has saved humanity."
He offered to send some refugees to friendly countries of Myanmar so that the living conditions of the refugees improve and together these states can put pressure on Myanmar to take back the refugees.
The top diplomat termed Bangladesh's policy on Rohingya "a role model for humanity", calling their persecution "the biggest genocide since World War II".
Nearly 24,000 Rohingya Muslims have been killed by Myanmar's state forces, according to a report by the Ontario International Development Agency (OIDA).
More than 34,000 Rohingya were also thrown into fires, while over 114,000 others were beaten, said the OIDA report, titled "Forced Migration of Rohingya: The Untold Experience."
Some 18,000 Rohingya women and girls were raped by Myanmar's army and police and over 115,000 Rohingya homes were burned down and 113,000 others vandalized, it added.
The foreign minister said the influx of refugees was triggered by Myanmar's policy and it should be held accountable.
"Now the question is how long we give them temporary shelter. They must go back to their country of birth. The problem has been created by our friendly country Myanmar, and they should resolve it."
- Risk of radicalization
He warned that Rohingya refugees living in squalid makeshift settlements in the southern part of the country are at a risk of radicalization.
"If it lingers for a long period our fear is that there could be rise of radicalism, instability and uncertainty. This may cause difficulties not only for Myanmar and Bangladesh but also for the whole region."
Momen, however, assured that the Bangladesh government is dealing with the crisis with utmost sincerity and watchfulness, resulting in no report of radical activity until now.
Full report at:
https://www.aa.com.tr/en/asia-pacific/bangladesh-seeks-safe-zone-for-rohingya-refugees/1390522
-------
Afghanistan bars 12 members of electoral bodies from leaving country
13 Feb 2019
The Attorney General's Office on Tuesday announced that 12 members of the electoral bodies of the country including the former chiefs of the Independent Election Commission and Independent Electoral Complaints Commission have been barred from leaving country.
According to a statement released from Attorney General's Office, a delegation has been tasked to investigate the allegations levied by the detective institutions against the members of the electoral bodies including the chiefs of the Independent Election Commission and Independent Electoral Complaints Commission regarding the misuse of authority.
The statement further added that the Attorney General's Office has barred 12 members of the electoral bodies from leaving country in a bid to conduct a thorough investigation into the allegations.
This comes as the Office of the President on Tuesday announced that the draft amendments to election law was passed during the meeting of the cabinet and was signed by President Mohammad Ashraf.
President Ghani also issued a decree late on Tuesday and said the chiefs and members of the electoral bodies are considered as dismissed with the approval of amendments to electoral law.
Full report at:
https://www.khaama.com/afghanistan-bars-12-members-of-electoral-bodies-from-leaving-country-03298/
-------
NDS Special Forces arrest 2 Jaish-e-Mohammed members in Nangarhar province
12 Feb 2019
The Afghan Intelligence forces have arrested two members of Jaish-e-Mohammad group during an operation in eastern Nangarhar province.
According to a statement released by the National Directorate of Security (NDS) the two men were deployed to Nangarhar province to carry out suicide and coordinated attacks.
The statement further added that the detained men have been identified as sediq Akbar sson of Sahib Zar and Ataullah son of Dost Mohammad who are originally residents of Pakistan.
Both the men have confessed that they were recruited in Jaish-e-Mohammed ranks while they were working in Karachi and Lahore cities and were trained for a period of two months in the military camps of the group in Balakot area of Mansehra, NDS said adding that both the men were deployed to Afghanistan to carry out coordinated suicide attack but were arrested before they manage to execute the attacks.
The National Directorate of Security also added that the detained individuals are still being questioned to find more information.
Full report at:
https://www.khaama.com/nds-special-forces-arrest-2-jaish-e-mohammed-members-in-nangarhar-province-03294/
-------
Taliban name negotiating team ahead of new talks with US
Feb 12, 2019
KABUL: The Taliban have announced a 14-member negotiating team ahead of talks this month with US envoy Zalmay Khalilzad, who has been meeting with the insurgents to try to end America's longest war.
Mullah Abbas Stanikzai heads the Taliban team announced on Monday, which includes five former inmates of the US prison in Guantanamo Bay who were released in 2014 in exchange for a captured American soldier.
The team also includes Anas Haqqani, the jailed younger brother of the leader of the Haqqani network, a powerful Taliban faction.
Full report at:
https://timesofindia.indiatimes.com/world/south-asia/taliban-name-negotiating-team-ahead-of-new-talks-with-us/articleshow/67958506.cms
-------
Afghan mujahideen fighter turned president dies
12 February 2019
An Afghan mujahideen commander who fought the Soviets and rose to become the country's first president after the Red Army retreated has died aged 93, his family said Tuesday.
Sibghatullah Mojaddedi, who commanded a mujahideen faction during the decade-long insurgency against the Soviet occupiers, passed away late Monday in a Kabul hospital after a long illness.
Prominent Afghans, including former president Hamid Karzai, have begun visiting the Mojaddedi family home to pay their respects.
Afghanistan's de facto prime minister Abdullah Abdullah extended his condolences to the respected Mojaddedi clan.
"He has played a vital role in all national issues and his legacy will remain part of Afghanistan's history," he posted on Twitter.
Presidential candidate and former national security adviser Mohammad Haneef Atmar said Mojaddedi's passing "leaves a huge vacuum in Afghan politics and public life."
Mojaddedi's death comes three days before the 30th anniversary of the Soviet withdrawal from Afghanistan.
The Red Army crossed the Amu Darya river into Soviet Uzbekistan on February 15, 1989 having suffered 15,000 losses.
After the withdrawal, Afghanistan's communist regime collapsed in 1992 and Mojaddedi, who led the Afghan National Liberation Front, was chosen as interim president.
He served just two months under a power-sharing deal struck by mujahideen leaders. These factions later turned on each other and Afghanistan plunged into civil war.
But Mojaddedi continued to play a prominent role in Afghan politics, particularly after the fall of the Taliban in 2001.
In 2003, Mojaddedi served as chairman of the Loya Jirga -- or Grand Assembly -- that approved Afghanistan's new constitution for a post-Taliban era.
Full report at:
https://english.alarabiya.net/en/News/world/2019/02/12/Afghan-mujahideen-fighter-turned-president-dies.html
-------
Southeast Asia
Pakistanis hail Dr M's leadership, says journalist
13 February 2019
KUALA LUMPUR, Feb 13 — Many people in Pakistan regard Prime Minister Tun Dr Mahathir Mohamad as their idol and hail his leadership, according to a journalist from Pakistan.
Javaid Ur Rehman, the Kuala Lumpur correspondent for Pakistan's 92 News television news channel, said it came as no surprise when Pakistan Prime Minister Imran Khan extended an official invitation for Dr Mahathir to attend the Pakistan National Day celebration on March 23 as the chief guest.
Imran Khan, during his first official visit to Malaysia in November last year, had said that he looked to Dr Mahathir as an inspiration to transform his own country.
The Pakistan cricket legend had become Pakistan's 22nd prime minister in July 2018.
Javaid, who has been in Malaysia for almost 10 years, said: "Tun Dr Mahathir is one of the most popular leaders in Pakistan and we look up to Malaysia as an Asian (economic) Tiger. We hope for the best."
He said the close relations between Pakistan and Malaysia took a leap forward with the visit of Imran Khan.
"It was a visit long-awaited by the Pakistani people to ensure that the good relations and the solidarity between the two Muslim countries will continue," he told Bernama.
Javaid said Malaysia was a major focus for the Pakistanis, whether for work or travel, because they were drawn to the beauty of the environment and admired the multiracial and religious harmony of the country.
The journalist said that during his stay here he had sent about 90 to 100 articles on Malaysia to Pakistan.
He said there was much to write about in Malaysia because the country is one of the most important hubs in Southeast Asian and an Asian Tiger in economic terms.
He also said that Malaysia regularly organises major events such as the Langkawi International Maritime and Aerospace Exhibition (LIMA), Defence Services Asia Exhibition and Conference (DSA), and international sporting events.
"Apart from these, the yearly cultural events have been the main focus to show how Malaysians live together in this multiracial country, and this can be an example for the Pakistani people," he said.
Javaid suggested that the two countries conduct student-exchange and cultural-exchange programmes to strengthen ties, share experiences and learn the cultures of the two countries.
"I invite Malaysians to visit Pakistan so that they can experience its beautiful culture, people, food and its natural scenery while strengthening the relations between the two beautiful countries," he said.
Pakistan is Malaysia's third largest trading partner among the South Asian countries.
In 2017, the total trade between Malaysia and Pakistan was at RM5.76 billion, an increase of 3.5 per cent from the volume in 2016. — Bernama
https://www.malaymail.com/news/malaysia/2019/02/13/pakistanis-hail-dr-ms-leadership-says-journalist/1722530
-------
Pakistanis hail Dr M's leadership, says journalist
13 February 2019
KUALA LUMPUR, Feb 13 — Many people in Pakistan regard Prime Minister Tun Dr Mahathir Mohamad as their idol and hail his leadership, according to a journalist from Pakistan.
Javaid Ur Rehman, the Kuala Lumpur correspondent for Pakistan's 92 News television news channel, said it came as no surprise when Pakistan Prime Minister Imran Khan extended an official invitation for Dr Mahathir to attend the Pakistan National Day celebration on March 23 as the chief guest.
Imran Khan, during his first official visit to Malaysia in November last year, had said that he looked to Dr Mahathir as an inspiration to transform his own country.
The Pakistan cricket legend had become Pakistan's 22nd prime minister in July 2018.
Javaid, who has been in Malaysia for almost 10 years, said: "Tun Dr Mahathir is one of the most popular leaders in Pakistan and we look up to Malaysia as an Asian (economic) Tiger. We hope for the best."
He said the close relations between Pakistan and Malaysia took a leap forward with the visit of Imran Khan.
"It was a visit long-awaited by the Pakistani people to ensure that the good relations and the solidarity between the two Muslim countries will continue," he told Bernama.
Javaid said Malaysia was a major focus for the Pakistanis, whether for work or travel, because they were drawn to the beauty of the environment and admired the multiracial and religious harmony of the country.
The journalist said that during his stay here he had sent about 90 to 100 articles on Malaysia to Pakistan.
He said there was much to write about in Malaysia because the country is one of the most important hubs in Southeast Asian and an Asian Tiger in economic terms.
He also said that Malaysia regularly organises major events such as the Langkawi International Maritime and Aerospace Exhibition (LIMA), Defence Services Asia Exhibition and Conference (DSA), and international sporting events.
"Apart from these, the yearly cultural events have been the main focus to show how Malaysians live together in this multiracial country, and this can be an example for the Pakistani people," he said.
Javaid suggested that the two countries conduct student-exchange and cultural-exchange programmes to strengthen ties, share experiences and learn the cultures of the two countries.
"I invite Malaysians to visit Pakistan so that they can experience its beautiful culture, people, food and its natural scenery while strengthening the relations between the two beautiful countries," he said.
Pakistan is Malaysia's third largest trading partner among the South Asian countries.
Full report at:
https://www.malaymail.com/news/malaysia/2019/02/13/pakistanis-hail-dr-ms-leadership-says-journalist/1722530
-------
MR DIY recalls footprint stickers with Arabic characters
12 February 2019
By Yiswaree Palansamy
KUALA LUMPUR, Feb 12 — Hardware store MR DIY has recalled the sale of a footprint and "thumbs-up car sticker varieties from its store, after the outcry over Arabic wordings found on the item.
The company chairman, Datuk Azlam Shah Alias, said that customers who had purchased the "affected product" would also be given a refund.
In a press statement today, the company again apologised to the Muslim community, adding that it had also spoken to the supplier of the said stickers, who, according to the company, had also expressed regret.
"MR DIY wishes to thank our customers for their invaluable feedback. We would like to assure all stakeholders, especially our Muslim customers, friends and staff, that MR DIY has no intention of offending the Muslim community, and we deeply regret the matter," Azlam said.
"We have also introduced preventive measures by setting up a new committee and improved our standard operating procedures, to ensure that this does not happen again."
Customers who purchased the item can call MR DIY's customer service at 03-89611338 for their refunds.
Recently, a 27-second video clip showing the footprint car sticker was circulated on social media.
The Malaysian Islamic Consumers Association (PPIM) had last week urged Mr DIY to host a press conference to apologise for selling the car stickers.
Sinar Harian reported the Muslim group's special assistant Mat Ramlee Buang saying that the move was necessary to protect Muslims' sensitivities and at the same time protect public harmony and national security.
"We had raided one of the Mr DIY branches in Kuala Lumpur and I was informed that they have retracted the product.
Full report at:
https://www.malaymail.com/news/malaysia/2019/02/12/mr-diy-recalls-footprint-stickers-with-arabic-characters/1722281
-------
NGO opposes move to abolish death penalty, demands referendum
February 12, 2019
KUALA LUMPUR: Gerakan Pembela Ummah (Ummah) today called on the government to have a referendum on whether the death penalty is necessary.
At the same time, the NGO stated its stand that the death penalty should be retained to control crime which it said was "very high" at present.
It said in a statement that "precious taxpayers' money" was being used to keep criminals, especially those who committed heinous crimes alive, "compromising the public's access to funds for other higher priorities and compromising our rule of law and our safety".
Therefore, Ummah said the taxpayers' consent was "definitely needed" before the government decided to abolish the death penalty.
"The government should put the interests of the public, the interests of 33 million Malaysians, first — not the interests of the 1,281 inmates on death row.
"The human rights and safety of the majority public should come first."
Ummah said studies showed that capital punishment deterred crime and saved lives, but it did not give any details about these studies, including who conducted them and where.
It said, however, that the death penalty was "ineffective due to weak enforcement of our laws".
Noting that the country needed funds, Ummah said money used to house and care for criminals sentenced to death could be better spent on healthcare, welfare, education and infrastructure for the majority public.
It called on Putrajaya to follow the "good example" of Asian nations such as Singapore, China, Japan, Indonesia, Thailand and India in retaining the death penalty.
Ummah said the majority of Malaysians, being Muslim, followed Islamic law, which accepted capital punishment.
"We must not let our country and our laws to be manipulated by criminals or NGOs backed by criminals on the pretext of meeting international standards of human rights," it said.
Ummah said there was a conflict of interest in that lawyers who acted in the best interest of their clients, including criminals, were asking for the death penalty to be dropped.
It urged the Malaysian Anti-Corruption Commission to probe this conflict of interest.
The NGO called on the government to immediately lift the moratorium on the death penalty.
It wants the government to keep the death penalty and let judges have the discretion to decide on cases based on evidence and to let the Pardons Board review cases that may point to elements of miscarriage of justice.
"Address the areas of concern by redrafting the laws for drug-related cases separately."
Full report at:
https://www.freemalaysiatoday.com/category/nation/2019/02/12/ngo-opposes-move-to-abolish-death-penalty-demands-referendum/
-------
Claiming threat to national security, PAS youth wants probe into DAP's alleged foreign funds
12 February 2019
By Ida Nadirah Ibrahim
KUALA LUMPUR, Feb 12 — PAS Youth chief Muhammad Khalil Abdul Hadi has called for investigations into foreign funds allegedly channelled to DAP.
In a statement today, Muhammad Khalil said the probe is important as no action has been taken since the allegations surfaced, and neither had DAP denied the claims.
"The claims made are serious allegations as the alleged agreements were made discreetly, and this opposes integrity as well as the law and can affect the issue of governance.
"This political issue can become a threat to national security, and therefore the risk at hand must be managed by the authorities," he said.
Citing several examples, Muhammad Khalil said if the treacherous move, which he likened to "selling out" the country, is not curbed it would invite dangerous threats to the people and the nation's institutions.
Some of the examples of foreign funding he had cited included the statement by former Penang chief minister's political secretary, Mohamad Razali Abdul Rahman, who said DAP had received RM300 million bribery from Israel, and the police report lodged by former Royal Malaysian Air Force (RMAF) investigating officer Capt Abdul Rahmat Omar Tun Mohd Haniff claiming that the DAP Red Bean Army had received funds from Open Society Foundation, which is owned by billionaire financier George Soros.
Full report at:
https://www.malaymail.com/news/malaysia/2019/02/12/claiming-threat-to-national-security-pas-youth-wants-probe-into-daps-allege/1722349#
-------
Muhammadiyah warns of divided Indonesia ahead of April elections
February 13, 2019
In the lead up to the legislative and presidential elections in April, the country's second-largest Islamic organization, Muhammadiyah, is set to hold a leadership meeting that will include addressing the politicization of religion in electoral contests.
Slated to take place in Bengkulu from Feb. 15 to 17, the meeting is expected to gather hundreds of Muhammadiyah executives and high-profile guests, including President Joko "Jokowi" Widodo and his rival in the presidential election, Prabowo Subianto.
The meeting will carry the theme "Enlightening Way in Religious Life", as concerns have grown in the organization that religious practice in the country has been "unconstructive", Muhammadiyah secretary-general Abdul Mu'ti said.
Among issues in the spotlight is the politicization of religion, which has brought about polarization in the 2019 presidential election, creating the idea that one candidate pair represented Muslim society better than the other, Mu'ti said.
"We feel strong polarization in 2019," Mu'ti said during a recent visit to The Jakarta Post, "With the use of religious symbols and forums for political interests, such religious polarization is very apparent."
The divisiveness, he said, had created the assumption that the incumbent's camp represented Nahdlatul Ulama (NU), the nation's largest Islamic organization, of which Jokowi's running mate, Ma'ruf Amin, was a senior member, while Muhammadiyah was associated with Prabowo.
A number of Muhammadiyah figures, including former leader and National Mandate Party (PAN) patron Amien Rais and Muhammadiyah treasurer Suyatno, were on Prabowo-Sandiaga Uno's campaign team.
"The function of religion is to bring peace, but instead what has happened is that religion has become a source of disunity," Mu'ti said, "Religion is not supposed to be a subordinate of politics."
Muhammadiyah also aims to address other issues, such as "religious commodification" in which religion was exploited for profit, and "symptoms of spiritualization", where people practiced religion only to receive divine rewards.
The true value of religion, which served as guidance for the faithful, has yet to be institutionalized in social and political practices, Mu'ti said, and Muhammadiyah aimed to show Muslims how enlightening religious teachings were through the meeting.
"We want to assert that a religious person should be an individual who can contribute positively to society, a person who is able to hearten others with his or her presence instead of raising fears," Mu'ti said.
About 500 participants are set to attend the three-day meeting, including executives of Muhammadiyah's central board and leaders of the organization's regional boards.
In the meeting, Muhammadiyah is also set to address internal matters, including preparations for the 2020 national congress, which is held every five years to elect new leadership.
Vice President Jusuf Kalla is set to open the meeting on Friday and Muhammadiyah chairman Haedar Nasir will provide the keynote speech.
Unlike the previous leadership meeting, however, the upcoming meeting will not see the attendance of former Muhammadiyah leaders, including Amien Rais, Mu'ti said, because the event's schedule was packed.
Amien, a supporter of Prabowo in the 2019 election, has been an vocal critic of Jokowi, and has been seen as a controversial figure in Indonesia's political scene, although he is known as an icon behind 1998 reform, marking the downfall of Soeharto.
Jokowi and Prabowo, who were invited by Muhammadiyah in their capacity as national figures, are scheduled to address participants on separate occasions during the event, Mu'ti said.
The two are expected to speak about, among other things, mainstreaming moderate Islam, and how Indonesia must be more courageous in displaying itself as a political power in the Islamic world, he said.
"Indonesia, as the world's biggest Muslim-majority country, has a quite powerful modality," Mu'ti said, "We are also accepted by most Muslim countries […] so it should be a political modality for Indonesia, too."
Full report at:
https://www.thejakartapost.com/news/2019/02/13/muhammadiyah-warns-of-divided-indonesia-ahead-of-april-elections.html
-------
Mideast
US denies telling banks to stop working with Palestinians
12 February 2019
The United States has denied accusations it is pressuring banks to stop dealing with the Palestinian government, whose relations with Washington have been plummeting.
Several Palestinian officials have accused the US of trying to force banks not to deal with transactions linked to the Palestinian Authority, which has limited self-rule in the occupied West Bank.
"The United States has not requested that foreign donors restrict assistance to the Palestinians, nor has it requested that financial institutions cease transfers to Palestinian Authority (PA) bank accounts," a US official told AFP late Monday.
"We are aware of media reports suggesting this has occurred. Those reports are incorrect."
On Sunday, senior Palestinian official Hussein al-Sheikh charged that Washington was launching a "financial siege" on the PA.
"Major international financial institutions and parties have begun to accede to an American request to impose a tight financial siege on the Palestinian Authority," he told AFP.
"Washington has asked for financial aid given to the authority to be stopped, and it has also issued a circular to banks not to receive transfers for the authority's accounts."
Palestinian foreign minister Riyad al-Maliki has said on local radio that the US was using "all means to press Arab countries to stop financial support for our people."
Relations between the US and the Palestinians have broken down since President Donald Trump recognized Jerusalem as Israel's capital in late 2017.
The Palestinians consider the eastern part of the city their capital and have boycotted the Trump administration since.
In response the US has cut more than $500 million in annual aid to the Palestinians, mostly to the United Nations agency for Palestinian refugees.
The cuts have worsened long-term financial shortfalls for the PA, which is heavily reliant on international aid.
https://english.alarabiya.net/en/News/middle-east/2019/02/12/US-denies-telling-banks-to-stop-working-with-Palestinians.html
-------
Houthi violations of Yemen's Hodeidah truce lead to 76 civilian deaths
February 13, 2019
DUBAI: Houthi militia have committed 1,112 violations since the Hodeidah agreement came into force on Dec. 18, 2018, leading to 76 civilian deaths and 492 injuries, according to Saudi state-news agency SPA.
The report said the Houthis continued to target civilian homes, public areas and army positions, using a variety of weapons.
The report confirmed the continued escalation of the militia's activities, highlighting its targeting of the International Mission for the Implementation of the Stockholm Agreement, which is responsible for redeployment, and its recent targeting of United Nations mills used to store wheat, flour and other relief items.
Full report at:
http://www.arabnews.com/node/1451346/middle-east
-------
Saudi King: We stand by the Palestinians' right to establish their own state
12 February 2019
Saudi Arabia's King Salman assured President Mahmoud Abbas that Riyadh stands by the right of Palestinians to establish their own state with Jerusalem as its capital.
King Salman's statement came on Tuesday after formal talks between him and Abbas in which they discussed the latest developments on Palestine.
For his part, the Palestinian president expressed his appreciation to King Salman and for Saudi Arabia's support for Palestine.
From the Saudi side, the talks were attended by Riyadh Governor Prince Faisal Bin Bandar bin Abdulaziz, Minister of State and Member of the Council of Ministers Prince Mansour Bin Muteeb bin Abdulaziz, Minister of State for Foreign Affairs Adel al-Jubeir and Minister of Finance Mohammed al-Jadaan.
On the Palestinian side, Abbas' delegation consisted of Secretary of the Executive Committee of the Palestine Liberation Organization Dr. Saeb Erekat, the head of the Civil Affairs Authority Sheikh Hussein, the head of the General Intelligence Service Majid Faraj, the Presidential Advisor for Diplomatic Affairs Majdi Khalidi and Palestinian Ambassador to Saudi Arabia Bassem Abdullah Al-Agha.
https://english.alarabiya.net/en/News/gulf/2019/02/12/Saudi-King-We-stand-by-the-Palestinians-right-to-establish-their-own-state.html
-------
Trump says Iran Revolution brought repression, failure
12 February 2019
Iran's Islamic Revolution four decades ago has been a complete failure for the country, President Donald Trump said Monday.
In a tweet written on the anniversary of the upheaval that was also sent out in Farsi, Trump said: "40 years of corruption. 40 years of repression. 40 years of terror. The regime in Iran has produced only #40YearsofFailure.
"The long-suffering Iranian people deserve a much brighter future," he added.
Earlier, Trump's chief foreign policy advisor John Bolton issued a similar statement, tweeting that "it's been 40 yrs of failure. Now it's up to the Iranian regime to change its behavior, & ultimately up to the Iranian people to determine the direction of their country."
Bolton said Washington would support "the will of the Iranian people, & stand behind them to ensure their voices are heard."
Iranian President Hassan Rouhani told Iranians they should resist a "conspiracy" involving Washington. The Trump administration has pushed hard to weaken Iran and what it says is Tehran's "destabilizing" influence.
Full report at:
https://english.alarabiya.net/en/News/middle-east/2019/02/12/Trump-Iran-Revolution-brought-repression-failure.html
-------
Trump objects to measure ending US support for Saudis in Yemen
12 February 2019
The Trump administration threatened on Monday to veto an effort in the US Congress to end US military support for the Saudi-led coalition in the war in Yemen, continuing a standoff with lawmakers over policy toward the kingdom.
The administration said the resolution was inappropriate because US forces had provided aircraft refueling and other support in the Yemen conflict, not combat troops. It also said the measure would harm relationships in the region and hurt the US's ability to prevent the spread of violent extremism.
Meanwhile, Saudi Arabia's Minister of State for Foreign Affairs, Adel al-Jubeir, said: "I find it very strange that members of Congress would try to curtail allies like Saudi Arabia, the United Arab Emirates in trying to push back against terrorist organizations supported by Iran and Hezbollah".
"So basically what this legislation is doing is its providing ammunition to the 'Death to America' crowd," al-Jubeir told CBS News' Face the Nation program on Sunday.
The White House has angered many members of Congress, including some of President Donald Trump's fellow Republicans, by failing to provide a report by a Friday deadline on the killing of Jamal Khashoggi.
The United States has supported the Saudi-led air campaign with mid-air refueling support, intelligence and targeting assistance. Democrats view the war powers resolution as a way to assert Congress' constitutional right to authorize the use of military force in foreign conflicts.
The Republican-controlled US Senate passed the war powers resolution in December, the first time such a resolution had passed even one house of Congress. But Republicans, who then controlled the House, did not allow a vote in the lower chamber.
Full report at:
https://english.alarabiya.net/en/News/gulf/2019/02/12/Trump-objects-to-measure-ending-US-support-for-Saudis-in-Yemen.html
-------
Turkey arrests 729 over ties to US-based cleric Gulen
Feb 13, 2019
Turkish prosecutors on Tuesday ordered the arrest of 1,112 people, and arrested over 700 of them, over their suspected links to the network of US-based Muslim cleric Fethullah Gulen, who is accused of orchestrating an attempted coup in 2016.
Ankara's public prosecutor said officials had sent, to authorities in 75 provinces, the names of 1,112 people under investigation over suspected ties to Gulen and his movement.
During the nationwide raids, at least 729 people were arrested, state news agency Anadolu reported.
The operation was among the biggest that have been launched against alleged supporters of Gulen since the failed putsch.
Tuesday's operation was related to a police force examination in 2010 for those seeking to become deputy inspectors, and allegations that some of those taking part had received the questions in advance.
The Ankara public prosecutor's office, which leads the coup investigation, said 130 people on the list of suspects were deputy police chiefs still on active duty.
Interior Minister Suleyman Soylu said on Sunday a "big operation" was looming against Gulen supporters. "Devils would not perpetrate deceptions like they have," he said. "We will finish them off."
The government says his network over decades infiltrated state institutions including the security forces, judiciary and ministries, often helped by cheating in exams, to create a "parallel state".
There have been regular raids across Turkey in recent weeks against alleged members of the movement, despite criticism from human rights defenders and Ankara's Western allies over the scale of the crackdown.
The operations show authorities are not letting up on their crackdown two-and-a-half years after rogue soldiers used warplanes, helicopters and tanks in a bid to seize power.
More than 250 people were killed in the failed putsch, in which Gulen, a former ally of President Recep Tayyip Erdogan, has denied involvement. Gulen has lived in self-imposed exile in Pennsylvania since 1999.
The Turkish government is seeking Gulen's extradition from the United States. The Turkish foreign minister recently announced President Donald Trump of the United States had told President Erdogan that Washington is working on extraditing Gulen.
Tens of thousands of people have been taken into custody over suspected links to Gulen since 2016 while over 100,000 -- including teachers, police officers, and judges -- have been sacked or suspended from the public sector.
Full report at:
https://www.presstv.com/Detail/2019/02/13/588430/Turkey-crackdown-Gulen-arrest-coup
-------
Palestinian teenage protester dies after being hit by tear gas canister
Feb 12, 2019
A Palestinian teenager has died in the Gaza Strip four days after being hit by a tear gas canister during clashes between Palestinian protesters and Israeli soldiers stationed on the border between the eastern Gaza Strip and the occupied territories.
Spokesman for the Gaza Ministry of Health, Ashraf al-Qidra, said in a statement that Hassan Nabil Ahmed Nofal, 17, died late on Tuesday at al-Shifa Hospital in Gaza City from the wounds he suffered Friday when he hit in the head by the cartridge.
Nofal was hit when the canister was fired several meters from him during a "Great March of Return" protest east of Bureij refugee camp.
Fourteen-year-old Hassan Iyad Shalabi was fatally shot in the chest during an anti-occupation demonstration east of the city of Khan Yunis, located about 25 kilometers (15 miles) south of Gaza City.
Hamza Mohammed Roshdi Ashtiwi, 17, died east of the Gaza Strip after he was hit in the neck with a live bullet.
Another 17 demonstrators suffered gunshot wounds, while dozens of Palestinians suffered excessive tear gas inhalation after Israeli forces sought to suppress the protest rallies.
Palestinians have held weekly protests on the Gaza border, over the siege on the enclave and the right for refugees to return to their homes they were forcibly expelled from during the 1948 creation of Israel.
More than 250 Palestinians have been killed by Israeli forces ever since anti-occupation protest rallies began in the Gaza Strip on March 30. Over 26,000 Palestinians have also sustained injuries.
The Gaza clashes reached their peak on May 14 last year, on the eve of the 70th anniversary of the Nakba Day (Day of Catastrophe), which coincided this year with the US embassy relocation from Tel Aviv to occupied East Jerusalem al-Quds.
On June 13, 2018, the United Nations General Assembly adopted a resolution, sponsored by Turkey and Algeria, condemning the Israeli regime for the death of Palestinian civilians in the Gaza Strip.
The resolution, which had been put forward on behalf of Arab and Muslim countries, garnered a strong majority of 120 votes in the 193-member assembly, with eight votes against and 45 abstentions.
The resolution called on UN Secretary General Antonio Guterres to make proposals within 60 days "on ways and means for ensuring the safety, protection, and well-being of the Palestinian civilian population under Israeli occupation," including "recommendations regarding an international protection mechanism."
Full report at:
https://www.presstv.com/Detail/2019/02/12/588413/Palestinian-teenage-protester-dies-after-being-hit-by-tear-gas-canister
-------
URL: https://www.newageislam.com/islamic-world-news/madrasa-horrors-shocks-tunisia-realising/d/117736
New Age Islam, Islam Online, Islamic Website, African Muslim News, Arab World News, South Asia News, Indian Muslim News, World Muslim News, Women in Islam, Islamic Feminism, Arab Women, Women In Arab, Islamophobia in America, Muslim Women in West, Islam Women and Feminism