New Age Islam News Bureau
21 Aug 2014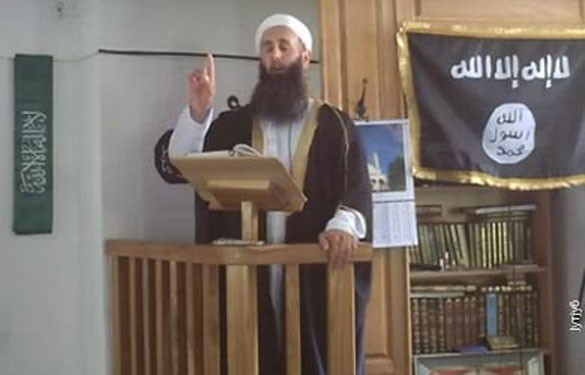 Wahhabi from Bosnia Urges Young Men to Join Islamic State, Bilal Bosnic – Photo: RTS
-----------
Southeast Asia
• M'sian Jihadist Mat Soh Killed In Syria Lauded As a Hero Back Home
• Indonesia President Says Islamic State Militants' Actions 'Embarrassing' Muslims
• It's Not Over! Church to Fight On For 'Allah'
Arab World
• ISIL Video Shows Conversion of Yazidis to Islam
• Iraqi Army Kills Dozens of ISIL Terrorists, Advances in Tikrit, Ramadi
• Scores of ISIL Terrorists Killed in Army Operation in Iraq's Babel
• 4 militants killed as Egypt's troops press on with daily offensives in Sinai
• 4 Beheaded Victims Found in Sinai, Signs of Islamic State
• IS opens new anti-US front with journalist's beheading
• Muslim Scholars Might Suspend Hostage Mediation with Jihadists
• Some see Qatar's hand in collapse of Gaza talks
• Arab League rejects Libyan call for foreign intervention
• Iraq's 'peaceful transition of power' not so peaceful so far
• UAE ruler approves lengthy counter-terrorism law
Europe
• Wahhabi from Bosnia Urges Young Men to Join Islamic State
• UK Muslims further support MI5 to quash ISIS
• Hollande: 'We need a global strategy to fight ISIS'
• 'British' jihadist who beheaded journalist is Londoner called John
• HRW says IS execution of US journalist is 'war crime'
• Interpol urges multinational response to 'barbaric' Foley murder
North America
• 'No Just God Would Stand For What IS Did': Obama
• US offer $30 million in search for Haqqani leaders
• Union of 300,000 Canadian students bids to shun Israel
• US tried but failed to free US hostages in Syria
• US does not support extra-constitutional changes in Pakistan: State Department
• Video of US journalist 'beheading' pulled from social media
• Indian-American journalist Fareed Zakaria faces fresh plagiarism charges
Mideast
• Gaza War Tests Relations between US, Israel Anew
• 3 top 'Gaza commanders' killed in Israeli air strike
• 4 Palestinians killed in Israeli raid on Gaza City funeral
• Foreign Ministry vehemently denies bargain with jihadists over Turkish territory
• Israel will 'pay price' for killing Al-Qassam commanders: Hamas
• Iran links Iraq role to lifting of Western sanctions
• Blow for Rouhani as parliament impeaches moderate minister
• Children of Gaza prepare for more violence
India
• Hurriyat has no stake in peace process, India counters Pakistan
• 'India Keen to Build Bridges with Arab World without Interference'
Pakistan
• Raging Imran Vows to Dharna till Death
• PPP decries 'lassitude' of govt, political 'extremism' of PTI, PAT
• I have never refused talks: Dr. Tahir ul Qadri
• Army has assured govt of protecting Constitution, says defence minister
• PPP says will oppose any movement to derail democracy
• Wind of dialogue starts blowing
• Nawaz calls Zardari, discusses prevailing political situation
• Pakistan social media abuzz with pro and anti government debates
• Altaf hails dialogue initiation
South Asia
• Bangladesh charges 13 Islamists over deadly 2001 attack
• Afghan army to receive over 200 MRAPs from US by 2014-end
• China pledged assistance for bridge project, says President Yameen
• Attack on NATO supplies convoy kills two on Pak-Afghan Highway
Africa
• HRW: Child Soldiers in South Sudan Rising
• Libya shuts TV stations taken over by militias
• Heavy fighting erupts in Libya's Benghazi, killing five
Compiled by New Age Islam News Bureau
URL: https://www.newageislam.com/islamic-world-news/new-age-islam-news-bureau/m-sian-jihadist-mat-soh-killed-in-syria-lauded-as-a-hero-back-home/d/98662
-----------
Southeast Asia
M'sian Jihadist Mat Soh Killed In Syria Lauded As A Hero Back Home
August 21, 2014
KUALA LUMPUR - Supporters of the jihadist cause in Syria lauded the death of a Muslim fighter from Selangor, known only as Mat Soh, who could soon become the first documented Malaysian killed while fighting in strife-torn Syria.
The 52-year-old jihadist fighter, also known by his nom de guerre Abu Turab, allegedly died from shelling in strife-torn Syria around 2pm local time yesterday, while defending the town of Arzeh with several other jihadist fighters.
Photos of Mat Soh's remains and the video of his burial have been shared by hundreds of supporters on social media and blogs. Some congratulated him on his "successful transaction".
The "transaction" is an euphemism which refers to a verse in Quran detailing a "contract", where Muslims are offered a place in Paradise in return for fighting and dying in the cause of Allah.
According to local daily The Star, Malaysia's Foreign Affairs Ministry is verifying reports that a Malaysian was killed and two more were injured while engaged in militant activities in Syria.
Fellow jihadist Akel Zainal, formerly famous for being the drummer in 90s rock band Ukays, said on his Facebook page that a car was seen coming from Arzeh carrying Mat Soh's remains, while he himself was on his way to the town.
"I had the opportunity to kiss his cheek and said 'we will meet again there brother, wait for me there brother'," wrote Akel in Malay, referring to the afterlife.
"He had never frowned on me, and was always cheerful among me and my friends. He always took the opportunity to touch my leg and hands anytime we were together," he said in a post which received over 2,000 likes.
Another fighter, calling himself Abu Nuroin, said that Mat Soh had been buried in a cemetery reserved for martyrs in the town of Kafer Zeta.
He said that there were three other fighters presumed to be Malaysian injured during the attack in Arzeh — Abu Aisyah, Abu Tolhah, and Abu Ain.
"Ustaz Lotfi is safe," added Abu Nuroin, referring to former Kedah PAS member Mohd Lotfi Ariffin who was sacked from the party for his jihadist activities.
In June, Malaysia's Ministry of Foreign Affairs said 15 nationals were allegedly killed in Syria after joining in terrorist and jihadist activities with the al-Qaeda offshoot, according to the Permanent Representative of Syria to the United Nations in New York.
Malaysian factory worker Ahmad Tarmimi Maliki, suspected of being a member of IS, was believed to have been the suicide bomber who killed 25 members of an Iraqi police team in May.
IS, formerly known as Islamic State in Iraq and the Levant (ISIL), made headlines the past few days for brutally beheading American journalist James Foley on video.
In Malaysia, police intelligence warned this month that Malaysians, who joined the Islamist militant group Islamic State (IS) to launch strikes in Iraq and Syria, are now training their sights on their home government and several other targets in the country.
Datuk Ayob Khan Mydin, assistant director-general of the Malaysian police counter-terrorism division, said 19 suspected local militants have been arrested between April and June this year while they were on their way to Turkey and Syria for training and support from IS under the guise of "humanitarian work".
The group was planning to establish a hard-line Southeast Asian Islamic caliphate which would include Malaysia, Indonesia, Thailand, the Philippines and Singapore, he said in the English daily The Star this week.
http://www.malaysia-chronicle.com/index.php?option=com_k2&view=item&id=344262:msian-jihadist-mat-soh-killed-in-syria-lauded-as-a-hero-back-home&Itemid=2#ixzz3B1O8RuIJ
-----------
Indonesia President Says Islamic State Militants' Actions 'Embarrassing' Muslims
August 21, 2014
President Susilo Bambang Yudhoyono on Thursday called the actions of Islamic State militants "embarrassing" to the religion and urged Islamic leaders to unite in tackling extremism.
Yudhoyono said the scale of the slaughter wrought by the extremists in overrunning large swathes of Iraq and Syria and the level of violence being used was appalling.
"It is shocking. It is becoming out of control," he said in an interview with The Australian, a day after IS released a video showing a masked militant beheading US reporter James Foley, provoking worldwide revulsion.
"We do not tolerate it, we forbid ISIS in Indonesia," he added, referring to the Islamic State of Iraq and the Levant, as IS was formerly known.
"Indonesia is not an Islamic state. We respect all religions."
He urged international leaders to work together to combat radicalization.
"This is a new wake-up call to international leaders all over the world, including Islamic leaders," he said, adding that the actions of IS were not only "embarrassing" to Islam but "humiliating", the newspaper reported.
"All leaders must review how to combat extremism. Changing paradigms on both sides are needed —how the West perceives Islam and how Islam perceives the West."
Indonesia is home to the world's biggest Muslim population of about 225 million and has long struggled with terrorism. But a successful clampdown in recent years has seen the end of major deadly attacks.
Jakarta has estimated that dozens of Indonesians have traveled to Syria and Iraq to fight and Yudhoyono said he was concerned about their return, adding that he had tasked agencies to oppose the spread of extremist ideology in the sprawling nation.
"Our citizens here in Indonesia are picking up recruitment messages from ISIS containing extremist ideas," said the president, whose decade in office comes to an end in October.
"The philosophy of ISIS stands against the fundamental values we embrace in Indonesia. Last Friday, in my state of the union address to the nation, I called on all Indonesians to reject ISIS and to stop the spread of its radical ideology.
"My government and security agencies have taken decisive steps to curtail the spread of ISIS in Indonesia, including by prohibiting Indonesians to join ISIS or to fight for ISIS, and also by blocking Internet sites that promote this idea."
http://www.thejakartaglobe.com/news/president-yudhoyono-says-islamic-state-embarrassing-muslims/
-----------
It's Not Over! Church to Fight On For 'Allah'
August 21, 2014
Malaysia's Catholic Church will continue its fight to use the word "Allah" in its weekly publication, Herald, when it files a review application next week to set aside the Federal Court's dismissal of its application to appeal the ban, one of its lawyers said.
The lawyer told The Malaysian Insider that the church's review application, which could be filed as early as Monday, will also seek a new bench to rehear the leave application.
"We are compelled to file this application due to serious errors of law in the majority judgment," the lawyer told The Malaysian Insider.
He said under Rule 137 of the Rules of the Federal Court 1995, a review application was allowed to prevent injustice or abuse of court process.
"The court papers are ready and we are waiting for the church authority to sign affidavits in support of the review," the lawyer said.
Four of the seven-member bench dismissed the church's application for appeal, citing that the Court of Appeal was right in its decision to ban the word in the Herald.
Chief Justice Tun Arifin Zakaria, president of Court of Appeal Tan Sri Md Raus Sharif, Chief Judge of Malaya Tan Sri Zulkefli Ahmad Makinuddin and Federal Court judge Tan Sri Suriyadi Halim Omar were in the majority.
Three other judges – Chief Judge of Sabah and Sarawak Tan Sri Richard Malanjum, and Federal Court judges Datuk Zainun Ali and Tan Sri Jeffrey Tan Kok Hwa – held that leave must be granted to the church.
Arifin, who delivered the majority judgment, said leave should be refused as the Court of Appeal had applied the correct test to determine that the home minister used his discretion to impose the ban.
However, the chief justice said the comment by the Court of Appeal that "Allah" was not an integral part of the Christian faith in support of the minister's decision to impose a ban was a mere passing remark.
Arifin said another reason for rejecting leave was that the church had used the wrong procedure in the High Court to challenge the validity of state enactments that sought to control and restrict the propagation of non-Islamic religions' doctrines among Muslims.
He said the correct procedure was provided under Article 4(3) of the Federal Constitution where proceedings must only begin with leave of a Federal Court judge.
Malanjum said although the challenge by the publisher was against the minister's decision, that word was widely used in Sabah and Sarawak.
"That alone calls for the review of the Court of Appeal ruling and leave ought to be granted," he had said.
He also said the Herald had been in circulation for 14 years before the ban was enforced by the home minister.
"There was also no evidence of prejudice to public order during that period and that the use of the word was also not prohibited in other publications like the Alkitab and the Sikh holy book."
He said although the case only involved the Bahasa Malaysia section of the Herald, yet the Court of Appeal ruling seemed to sanction a sweeping, general prohibition against the use of the word "Allah" by non-Muslims in all forms, on all occasions.
Zainun said the Court of Appeal went beyond the competence of judges of fact and law in touching on the religious practices of Christians.
She said judicial method was equipped to deal with only hard facts.
Tan said the church's application for leave could not be refused as all the requirements had been met.
"There should not be a rush to judge the issues and their merits which in the instant case have yet to be canvassed and argued," Tan said.
On October 14 last year, Court of Appeal judge Tan Sri Mohamad Apandi Ali, who chaired the bench, said the restrictions were imposed to prevent the propagation of non-Muslim faiths on Muslims in Malaysia.
He had also said that national security and public order could be threatened if the publisher of Herald was allowed to use the word "Allah".
Apandi had said the government did not violate the church's constitutional rights.
"It is our common finding that the name 'Allah' was not an integral part of the Christian faith and practice," he had said.
http://www.malaysia-chronicle.com/index.php?option=com_k2&view=item&id=344082:its-not-over-church-to-fight-on-for-allah&Itemid=2#ixzz3B1OJdaT1
-----------
Arab World
ISIL Video Shows Conversion of Yazidis To Islam
August 21, 2014
Militants of the Islamic State of Syria and the Levant (ISIL) have released a video that seeks to show it enlightened hundreds of members of the Yazidi minority by converting them to Islam.
The production was issued not long after the group on Aug. 19 released a video showing one of its black-clad fighters beheading American journalist James Foley, sparking international outrage.
The Yazidis, followers of an ancient religion derived from Zoroastrianism who are part of the country's Kurdish minority, have paid the highest price for Islamic State's dramatic advance through northern Iraq.
ISIL militants, widely seen as more hard-line than al-Qaeda, storm into villages armed with machine guns and give Yazidis a simple choice: convert to Islam or die. Witnesses have said most of their hundreds of victims were shot dead at close range, while others including women and children were buried alive. Women who avoided death were rounded up and taken away as slaves, witnesses said. The threat to the Yazidis was one reason cited by U.S. President Barack Obama when he launched U.S. air strikes against Islamic State in parts of Iraq earlier this month.
The video, which the group called "Hundreds of Yazidis convert to Islam", gives no indication of the bloodshed that prompted tens of thousands of people to flee. In the film, ISIL fighters say they are misunderstood as they sit on a wall in Mount Sinjar, the Yazidis' ancient homeland.
Witnesses earlier told Reuters that residents who dared to stay hung white flags on the homes to show their complete surrender to ISIL, which has declared a caliphate in parts of Iraq and Syria it controls and threatened to march on Baghdad.
In the video, two ISIL fighters - one a bearded middle-aged man dressed in black with an AK-47 assault rifle and another in a crisp grey military uniform and camouflage cap - field questions in Arabic from what appears to be an Islamic State interviewer.
"What has been said is the opposite of reality," the older man says. He also says that Islamic State has provided the Yazidis with everything they need.
"Men, women and children have converted and I was with them and they are happy with their conversions," he says, adding: "We advise the Yazidis to come down from the mountain and convert."
This was a reference to Mount Sinjar, where thousands who feared death at the hands of the militants took refuge.
"If they stay on the mountain, they will die of starvation and thirst. This talk about aid from Western and crusader countries is all lies. If they convert, we will give them everything they need. They will live a happy life."
The video then shows dozens of Yazidis getting off a bus, walking past a truck mounted with an anti-aircraft weapon and hugging Islamic State militants.
Second later, hundreds of people are sitting on the floor of what appears to be a school beneath black Islamic State flags, hoisted in every town the group has captured since it arrived from Syria in June and swept through the north almost unopposed by Iraq's army. Mostly young men, they prepare for the conversion ritual.
"Right now you are infidels. After this you will become Muslims and you will have rights," an Islamic State fighter tells them. "Repeat after me."
http://www.hurriyetdailynews.com/isil-video-shows-conversion-of-yazidis-to-islam.aspx?pageID=238&nID=70712&NewsCatID=352
-----------
Iraqi Army Kills Dozens of ISIL Terrorists, Advances in Tikrit, Ramadi
August 21, 2014
The Iraqi warplanes targeted ISIL strongholds in Nineveh, killing dozens of terrorists.
The Iraqi military also attacked ISIL terrorists in Tikrit and al-Ramadi, regaining control over several areas, Al-Manar reported.
The Iraqi army approved recruiting 15000 additional troops to liberate Anbar province from ISIL terrorists.
http://english.farsnews.com/newstext.aspx?nn=13930530000087
----------
Scores of ISIL Terrorists Killed in Army Operation in Iraq's Babel
August 21, 2014
Iraqi jet fighters attacked a parade held by the terrorists of the Islamic State of Iraq and Levant (ISIL) in the Northern parts of Babel province on Wednesday, killing and wounding a large number of them.
The Iraqi warplanes attacked the military parade of the ISIL terrorists in the rebel-controlled areas in the Northern Iraq which resulted in killing and injuring of a large number of anti-government fighters.
Meantime, several vehicles loaded with weapons and ammunitions were targeted in the operation.
http://english.farsnews.com/newstext.aspx?nn=13930529001253
-----------
4 militants killed as Egypt's troops press on with daily offensives in Sinai
August 21, 2014
Security forces have killed four militants in shoot-outs in the Sinai Peninsula, where troops have been battling an Islamist-oriented insurgency since the ouster of president Mohamed Morsi last summer, state news agency MENA reported.
Two suspected militant fighters were also arrested in the attacks on Wednesday, which took place in the northern Sinai towns of Sheikh Zuweid and Rafah.
Thirty-one buildings allegedly used as bases for the attacks were destroyed in the violence on Wednesday, as were nine cars and 16 motorbikes belonging to the insurgents.
Attacks by Sinai-based militants have increased dramatically since the ouster of Morsi, with attacks primarily targeting Egyptian security forces.
Full report at:
http://english.ahram.org.eg/NewsContent/1/64/108909/Egypt/Politics-/-militants-killed-as-Egypts-troops-press-on-with-d.aspx
-----------
4 Beheaded Victims Found in Sinai, Signs of Islamic State
August 21, 2014
Signs that Islamic State (ISIS – Islamic State in Iraq and Syria) terrorists have arrived in Egypt seem to have appeared just a few kilometers from Israel and Gaza: four beheaded bodies were found Wednesday in the Sinai Peninsula.
Security personnel in Sinai and Cairo said residents in Sheikh Zuweid discovered the disfigured bodies two days after the victims were kidnapped by armed terrorists while travelling through town in a car.
All four victims were civilians but it is believed they may have been targeted due to possible loyalty to local police or the military, the sources said. Their identity was not revealed, and their murderers were suspected terrorists battling against the Cairo government.
http://www.jewishpress.com/news/breaking-news/4-beheaded-victims-found-in-sinai/2014/08/20/
-----------
IS opens new anti-US front with journalist's beheading
August 21, 2014
BAGHDAD/BEIRUT: Islamic State's beheading of a US journalist and its threat to "destroy the American cross" suggests it has gained enough confidence seizing large areas of Iraq and Syria to take aim at American targets despite the risks.
On Tuesday night, Islamic State released a video purporting to show one of its fighters beheading James Foley, who was kidnapped in Syria nearly two years ago.
The black-clad executioner, who spoke English with a British accent, also produced another American journalist and said his fate depends on President Barack Obama's next move.
Obama on Wednesday called for a joint effort to eliminate the "cancer" posed by the militants.
Full report at:
http://www.arabnews.com/news/618691
-----------
Muslim Scholars Might Suspend Hostage Mediation with Jihadists
August 21, 2014
BEIRUT: The Committee of Muslim Scholars hinted Thursday that it might suspend its mediation in the ongoing negotiations to free missing military and security personnel believed held by jihadists, pending the government's response to the captors' demands.
Committee member Adnan Amama said the scholars were waiting for Lebanon's official answer to the demands put forward by the militants from Syria's Al-Qaeda-linked Nusra Front and Islamic State in Iraq and Greater Syria (ISIS) to free the captives seized during clashes in the border town of Arsal in early August.
"We are still awaiting an answer from the government. Depending on the response, we will decide whether to continue with our mediation initiative or suspend it, thus opening the way for other possible parties to intervene," Amama told The Daily Star.
Full report at:
http://www.dailystar.com.lb/News/Lebanon-News/2014/Aug-21/267950-machnouk-denies-foreign-help-in-hostage-talks.ashx#ixzz3B1WTCvgp
-----------
Some see Qatar's hand in collapse of Gaza talks
By the Associated Press | Dubai
21 August 2014
The explosions rocking the Gaza Strip may seem far removed from the flashy cars and skyscrapers of ultra-rich Qatar, but efforts to end fighting between Hamas and Israel could hinge on how the tiny Gulf Arab state wields its influence over a Palestinian militant group with few friends left.
Qatar has been home to Hamas chief-in-exile Khaled Mashaal since 2012 and has carved out a role as a key financial patron for Gaza, buying influence while shoring up an economy overseen by Hamas.
That support is prompting accusations that Qatar helped scuttle a lasting truce in the monthlong Gaza war, piling on pressure as the U.S. ally finds itself increasingly isolated as larger Mideast powers marginalize Islamists following the Arab Spring.
Full report at:
http://english.alarabiya.net/en/perspective/analysis/2014/08/21/Some-see-Qatar-s-hand-in-collapse-of-Gaza-talks.html
-----------
Arab League rejects Libyan call for foreign intervention
August 21, 2014
TRIPOLI — A senior Arab League official has criticized the call by the House of Representatives for foreign intervention to stem fighting between Libyan militias.
Arab countries should solve their problems without recourse to outsiders, said Fadel Mohammed Jawad, Arab League's assistant secretary general for political affairs. At the most, he said, they should only turn to other Arab states for assistance.
Jawad, who had attended the HoR inaugural meeting last week, said in a statement Tuesday that the Arab League was following events in Libya "with great interest and concern". It deeply regretted the death and destruction caused by rival militias. He also revealed that the organization had been discussing the crisis with Libya's neighbors.
Full report at:
http://www.saudigazette.com.sa/index.cfm?method=home.regcon&contentid=20140821215440
---------
Iraq's 'peaceful transition of power' not so peaceful so far
August 21, 2014
After eight years in office, Nouri Al-Maliki finally dropped his bid to stay in power, leading Iraq to the threshold — at least in theory — of a "peaceful transition of authority."
But a few days later the Iraqi crisis deepened when Iraqi Kurdish Peshmerga forces aided by US air strikes on Sunday retook the country's largest dam, outside Mosul, from the so-called Islamic State who seized it the previous week.
With the Islamic State far from defeated, and greater international focus on Kurdish calls for independence, which could inaugurate the partition of the country, many believe that Iraq's "transition" of power will not be so peaceful after all.
The continued threat of the Islamic State group is just one of the reasons new premier Haider Al-Abadi is being watched closely relative to his ability to bring peace to war-torn Iraq.
Did Maliki withdraw due to international pressure?
Full report at:
http://english.ahram.org.eg/NewsContent/2/8/108863/World/Region/Iraqs-peaceful-transition-of-power-not-so-peaceful.aspx
-----------
UAE ruler approves lengthy counter-terrorism law
August 21, 2014
DUBAI, United Arab Emirates: The ruler of the United Arab Emirates approved a new counter-terrorism law that strengthens existing laws against money laundering, while also expanding penalties to include the death penalty, life imprisonment and fines of up to $27 million, state media reported Wednesday.
The law, according to the state-backed The National newspaper, calls for establishing Saudi-style counseling and rehabilitation centers for people found "to be terrorism prone." Impersonating a public figure could lead to life imprisonment, the paper said.
The official Emirates News Agency reported that Abu Dhabi ruler and UAE President Sheik Khalifa bin Zayed Al Nahyan endorsed the law, but provided no further details. A draft of the law was approved in July by the country's Federal National Council, which acts largely as an advisory body.
Full report at:
http://www.arabnews.com/news/middle-east/618626
-----------
Europe
Wahhabi from Bosnia Urges Young Men to Join Islamic State
21 August 2014
Leader of one of the largest communities of radical Islam in Bosnia and Herzegovina, Bilal Bosnic, invited young men of the country to join armed groups of the terrorist organization Islamic state, RTS reports.
Bosnic's invitation was recorded on video from the last lecture he gave to his followers in the area of Cazinska Krajina in north-western Bosnia, reported Tanjug, quoting "Dnevni Avaz". Among other things, Bosnic said that "the truth and the Islamic state survive despite so many attacks of those who are confused and those who fight against the truth". When journalists from "Avaz" contacted him, so he could clarify why he supports the terrorist organization the Islamic state, Bosnic claimed that he did not say it and that everything is the result of different interpretations of his words. Even the Wahhabi community in BiH is divided when it comes to the relationship with the Islamic state. Nusret Imamovic, the leader of the second largest community of Wahhabi in Gornja Maoci near Brcko, went as a volunteer to Syria, but there, according to available information, he fights in the ranks of the organization Jabhat-al-Nusra, which distances itself from the Islamic state. Jabhat-al-Nusra is considered to be close to Al-Qaeda, and both organizations oppose to what the Islamic state is currently doing in Iraq and Syria, conducting mass killings, robberies and expulsion of the population that is not considered loyal. Authorities in BiH do not have precise data on how many citizens of the country is currently fighting in conflict areas, such as Syria. "Oslobodjenje" organization cites estimates by the police agencies, according to which about 50 young men went to Syria from BiH, and reportedly 32 have already returned to the country. BiH Parliament passed a law in June which treats participation of BiH citizens in conflicts abroad, including encouraging it, as a criminal offense, threatened with 10 years in prison, but so far no one has been prosecuted under that law.
http://inserbia.info/today/2014/08/wahhabi-from-bosnia-urges-young-men-to-join-islamic-state/
-----------
UK Muslims further support MI5 to quash ISIS
21 August 2014
Muslims in the United Kingdom have joined British intelligence in the hunt for extremists who have joined the Islamic State in Iraq and Syria, Metro news website reported.
One woman, whose son is reported to have joined ISIS in Syria, said the group not only betrayed Islam, but are also "killing humanity."
This follows a video released by ISIS reportedly showing the execution of U.S. photojournalist James Foley by a man who spoke in what has been identified to be a British accent.
In consequence, Muslims in the UK, including parents of those suspected to have joined extremist groups, said they would work with police and intelligence to help find these militants.
Chief executive of Britain's Ramadhan Foundation, Mohammed Shafiq, promised to help police and intelligence agencies find British-based extremists or those who return home from fighting for ISIS.
Full report at:
http://english.alarabiya.net/en/News/world/2014/08/21/British-Muslims-join-hunt-for-extremists-.html
-----------
Hollande: 'We need a global strategy to fight ISIS'
21 August 2014
French President Francois Hollande said Wednesday he would arrange a conference next month on the threat posed by fighters from the Islamic State of Iraq and Syria (ISIS) in Iraq, describing the current international situation as the most serious since 2001.
"I believe the international situation is the worst we've seen since 2001," Hollande said during an interview with the french daily newspapre Le Monde.
"We can no longer keep to the traditional debate of intervention or non-intervention," he told the French daily.
"We have to come up with a global strategy to fight this group, which is structured, has significant financing, very sophisticated weapons and threatens countries like Iraq, Syria and Lebanon," he said.
Full report at:
http://english.alarabiya.net/en/News/middle-east/2014/08/20/Hollande-International-situation-worst-we-ve-seen-since-2001-.html
-----------
'British' jihadist who beheaded journalist is Londoner called John
21 August 2014
The jihadist who beheaded the American journalist James Foley is believed to be British born militant from London who calls himself John, it can be revealed.
Intelligence agents in the UK and United States are urgently looking into reports that the Islamic State in Iraq and the Levant (Isil) fighter, whose brutal actions shocked the world, is the ringleader of group of British jihadists who have specialised in hostage taking.
Based in the Isil stronghold of Raqqa in Syria, 'John', is described as a well-educated, intelligent, but highly committed member of the extremist terror group.
Operating closely with two other British born militants, the group have been dubbed 'The Beatles', by fellow jihadists because of their nationality.
Full report at:
http://www.telegraph.co.uk/news/worldnews/middleeast/iraq/11047109/British-jihadist-who-beheaded-journalist-is-Londoner-called-John.html
-----------
HRW says IS execution of US journalist is 'war crime'
August 21, 2014
Human Rights Watch said in a statement released on Wednesday that, if confirmed, the execution of American journalist James Foley by the Islamic State one day earlier would be a war crime.
The statement comes in response to a video posted on Tuesday by the Islamic State, a Jihadist group formerly known as the Islamic State in Iraq and Sham, showing Foley being executed in Syria. In the video, IS also said they would execute another reporter unless the United States stops air strikes in Iraq.
Foley is a freelance journalist who was seized in Syria in November 2012, and has been missing since then.
Peter Bouckaert, emergencies director at HRW, said that Foley went to Syria "because of his commitment to exposing the horrors civilians faced" during the uprising against Syrian president Bashar Al-Assad's government.
"He, like the other journalists who are now held prisoner in Syria, courageously risked his life so that the world might know the truth and act to ease the suffering of the Syrian people," Bouckaert said.
HRW called on government authorities and non-government armed groups to "immediately release and stop arbitrarily arresting, abducting and detaining journalists as well as human rights activists, humanitarians, and medical professionals for their legitimate work."
HRW pointed out that, earlier this year, the United Nations Security Council unanimously adopted Resolution 2139, which demanded the release of all arbitrarily detained people in Syria.
Full report at:
http://english.ahram.org.eg/NewsContent/2/8/108917/World/Region/HRW-says-IS-execution-of-US-journalist-is-war-crim.aspx
----------
Interpol urges multinational response to 'barbaric' Foley murder
21 August 2014
The head of the international police organization Interpol condemned on Thursday the beheading of U.S. journalist James Foley and called for a global response to the threat posed by Islamic extremists.
"The barbaric murder of James Foley by the Islamic State in Iraq and Syria group underlines the depths of its depravity as it wages its campaign of terror across Syria and Iraq," Interpol chief Ronald Noble said in a statement.
Full report at:
http://english.alarabiya.net/en/News/world/2014/08/21/Interpol-urges-multinational-response-to-Barbaric-Foley-murder.html
-----------
North America
'No Just God Would Stand For What IS Did': Obama
August 21, 2014
US President Barack Obama called for joint efforts to eliminate the "cancer" of jihadist terror in Iraq and Syria on Wednesday, after Islamic State militants murdered an American journalist.
Speaking from Martha's Vineyard in Massachusetts, Obama said the entire world was appalled by the beheading of 40-year-old reporter James Foley, which IS fighters videotaped and published on the internet.
Obama said that "no just God would stand for what IS did," adding that IS's ideology is bankrupt.
http://english.ahram.org.eg/NewsContent/2/8/108880/World/Region/No-just-God-would-stand-for-what-IS-did-Obama.aspx
-----------
US offers $30 million in search for Haqqani leaders
August 21, 2014
WASHINGTON: The United States offered a total $30 million Wednesday in return for information on key leaders of the feared Haqqani militant network, blamed for numerous bloody attacks in Afghanistan.
"The Department has authorised rewards of up to $5 million each for information leading to the location of Aziz Haqqani, Khalil al-Rahman Haqqani, Yahya Haqqani, and Abdul Rauf Zakir," the State Department said in a statement.
It also increased its previous reward offer of up to $5 million for information on the group's leader, Sirajuddin Haqqani, to up to $10 million. This brings Haqqani into the same group as the likes of Afghan Taliban commander Mullah Omar and Jamaatud Dawa chief Hafiz Saeed.
The State Department added: "The group is allied with al Qaeda and the Afghan Taliban and cooperates with other terrorist organisations in the region."
It said that the Haqqani network was "the most lethal insurgent group" targeting the US-led NATO coalition and Afghan personnel in Afghanistan. The group is believed to be based in the tribal areas that extend across the border between Pakistan and Afghanistan.
http://tribune.com.pk/story/751644/us-offers-30-million-in-search-for-haqqani-leaders/
-----------
Union of 300,000 Canadian students bids to shun Israel
21 August 2014
The Canadian Federation of Students in Ontario, which represents more than 300,000 university students in the province, passed a resolution to boycott Israel, the Ottawa Citizen reported.
In the federation's annual general meeting held last week, a motion to take part in the Boycott, Divestment and Sanctions Movement (BDS) was unanimously adopted, executive member Anna Goldfinch said.
The resolution was presented by the Ryerson Students' Union (RSU), and it "endorses a number of solidarity tactics that have been called for by Palestinian civil society," she told the Canadian daily.
Full report at:
http://english.alarabiya.net/en/News/world/2014/08/21/Canadian-student-uinion-boycotts-Israel-.html
-----------
US tried but failed to free US hostages in Syria
21 August 2014
A US secret military mission had "recently" tried but failed "to free a number of American hostages held in Syria", the Pentagon has revealed.
It did not say whether the US troops had also tried to rescue US journalist James Foley, a video of whose beheading by Islamic State appeared on Tuesday.
However, senior US officials - speaking on condition of anonymity - said this was the case.
IS said Foley's death was revenge for US air strikes on its fighters in Iraq.
US President Barack Obama condemned the killing as "an act of violence that shocks the conscience of the entire world".
He compared IS militants, who control large parts of Syria and Iraq to a "cancer" and said the group's ideology was "bankrupt".
Full report at:
http://www.thedailystar.net/us-tried-but-failed-to-free-us-hostages-in-syria-38072
-----------
US does not support extra-constitutional changes in Pakistan: State Department
August 21, 2014
WASHINGTON: The United States has said that no extra-constitutional transfer of power in Pakistan was acceptable and warned that those "attempting to impose these changes" should not do so.
"Nawaz Sharif was elected and is prime minister. There is a government that was elected and is in place," State Department deputy spokesperson Marie Harf said at a briefing in Washington.
"We support the constitutional and electoral process in Pakistan...That was a process they followed, an election they had, and we are focused on working with Pakistan," said Harf.
"And we do not support any extra-constitutional changes to that democratic system or the people attempting to impose them."
Full report at:
http://www.dawn.com/news/1126759/no-extra-constitutional-changes-in-pakistan-acceptable-us
-----------
Video of US journalist 'beheading' pulled from social media
21 August 2014
Twitter and Facebook have taken steps to close down the accounts of militant Islamic State supporters after the publication of a video that appeared to show a man with a British accent "beheading" the American journalist James Foley.
The video is thought to have first surfaced on an account called @mujahid4life which was purportedly run by a convert to Islam who describes himself as "anti-democracy, loyal to the Caliphate, harsh on kuffar".
This account has now been belatedly blocked, even though it had promoted violent jihad in the name of the Middle Eastern terrorist organisation Islamic State, formerly known as the Islamic State of Iraq and Syria (ISIS), for several months.
Full report at:
http://www.theregister.co.uk/2014/08/20/james_foley_beheading_video_pulled_from_youtube_twitter_facebook/
--------
Indian-American journalist Fareed Zakaria faces fresh plagiarism charges
21 August 2014
Washington: Indian-American journalist Fareed Zakaria, who two years ago got away from a plagiarism controversy claiming he made a "terrible mistake", is facing fresh plagiarism charges from anonymous internet watchdogs.
The website Our Bad Media in a Tuesday report by @blippoblappo and @crushingbort cited 12 instances where Zakaria appears to have lifted passages wholesale from other authors.
"Their findings cast doubt on the three news outlets -- Time Magazine, CNN and The Washington Post -- which claimed to have conducted reviews of Zakaria's work and found the so-called 'mistake' to be an isolated incident," said Politico, an influential news site.
"Did CNN, The Washington Post, and TIME actually check Fareed Zakaria's work for plagiarism?" the two bloggers asked, noting that Zakaria was cleared "after what three of the biggest news outlets in America wrote off as an isolated, one-time mistake".
But the cited instances "seem unlikely to have been the result of another notes mix-up by Zakaria", said Bad Media which in July exposed Buzzfeed's Benny Johnson as a serial plagiarist, leading to his dismissal.
Full report at:
http://www.firstpost.com/world/indian-american-journalist-fareed-zakaria-faces-fresh-plagiarism-charges-1674153.html
-----------
Mideast
Gaza War Tests Relations between US, Israel Anew
August 21, 2014
OCCUPIED JERUSALEM — When Israel completes its damage assessment from its latest war with Hamas, it may conclude that one of the biggest casualties was its all-important relationship with the United States.
A recent American decision to hold back on the delivery of advanced Hellfire missiles offered dramatic manifestation of a relationship that appears to be deteriorating in large part due to strained ties between President Barack Obama and Prime Minister Benjamin Netanyahu.
Since both came into power in early 2009, they have been unable to see eye-to-eye on a host of issues — most notably on how to handle Iran's nuclear program and on peace talks with the Palestinians. There also seems to be little personal chemistry. Topping things off are mutual accusations of political meddling in each other's countries?
Full report at:
http://www.saudigazette.com.sa/index.cfm?method=home.regcon&contentid=20140821215441
-----------
3 top 'Gaza commanders' killed in Israeli air strike
Reuters, Gaza
August 21, 2014
An Israeli air strike killed three senior Hamas military commanders in the Gaza Strip on Thursday, the Islamist militant group said.
Hamas, which dominates the Gaza Strip, named the men as Mohammed Abu Shammala, Raed al-Attar and Mohammed Barhoum and said they were killed in a bombing of a house in the southern town of Rafah.
The Israeli military had no immediate comment on what would be the killing of the most senior Hamas men since Israel launched its offensive in the Palestinian enclave on July 8.
http://www.thedailystar.net/3-top-gaza-commanders-killed-in-israeli-air-strike-38079
-----------
4 Palestinians killed in Israeli raid on Gaza City funeral
August 21, 2014
An Israeli air strike killed four Palestinians at a graveyard in Gaza City on Thursday, with medics saying they were attending a funeral.
The raid hit a graveyard in Sheikh Radwan in northern Gaza City, emergency services spokesman Ashraf al-Qudra said, without giving further details.
Separately, the Israeli army said it had struck six militants from Islamic Jihad who were making "final preparations to launch rockets." It was not immediately clear if the two events were linked.
The six-week Israeli offensive on Gaza has killed at least 2,038 Palestinians so far.
http://english.ahram.org.eg/NewsContent/2/8/108905/World/Region/-Palestinians-killed-in-Israeli-raid-on-Gaza-City-.aspx
-----------
Foreign Ministry vehemently denies bargain with jihadists over Turkish territory
August 21, 2014
Turkey's Foreign Ministry has categorically denied a report that Ankara has agreed to hand over the tomb of Süleyman Shah, a speck of Turkish territory inside Syria, to jihadists in return for the release of 49 Turkish nationals who they have been keeping hostage since early June.
"The groundless claims are an example of huge irresponsibility," the Foreign Ministry said in a written press statement released on Aug. 21, the day when daily newspaper Taraf said the Islamic State of Iraq and the Levant (ISIL), which has been responsible for atrocities across northern Iraq and Syria and which recently renamed itself the Islamic State (IS), asked Turkey to withdraw its troops protecting the tomb in return for the hostages' release.
"The exploitation of issues such as national security and safety of our citizens is not a behavior which can be accepted in any way and which can be regarded within the framework of press freedom," the ministry said.
Full report at:
http://www.hurriyetdailynews.com/foreign-ministry-vehemently-denies-bargain-with-jihadists-over-turkish-territory-.aspx?pageID=238&nID=70720&NewsCatID=510
-----------
Israel will 'pay price' for killing Al-Qassam commanders: Hamas
August 21, 2014
Hamas vowed on Thursday that Israel "will pay the price" for killing three commanders of the Al-Qassam Brigades, the Islamist movement's military wing.
A pre-dawn Israeli air strike in southern Gaza killed the three senior commanders, identified as Mohammed Abu Shamala, Raed Al-Atar and Mohamed Barhum.
Hamas spokesman Sami Abu Zuhri said that the assassination of the men was "an Israeli crime," that will not "weaken the resistance or break the Palestinian people's determination," reported Egypt's state-run agency MENA.
Moussa Abu Marzouk, deputy leader of Hamas' political bureau and a member of the Palestinian negotiating team, had said Wednesday on Facebook that Israeli airstrikes had killed the wife and infant daughter of Mohamed Deif, a commander in the brigades.
Full report at:
http://english.ahram.org.eg/NewsContent/2/8/108907/World/Region/Israel-will-pay-price-for-killing-AlQassam-command.aspx
-----------
Iran links Iraq role to lifting of Western sanctions
August 21, 2014
Iran is ready to join international action against jihadists in Iraq provided the West lifts crippling sanctions, Foreign Minister Mohammad Javad Zarif said on Thursday.
His comments followed a call by French Foreign Minister Laurent Fabius on Wednesday for all countries in the region, including Iran, to join the fight against Islamic State (IS) fighters who have seized swathes of Iraq as well as neighbouring Syria.
"If we agree to do something in Iraq, the other side of the negotiations should do something in return," the official IRNA news agency quoted Zarif as saying.
"All the sanctions that are related to Iran's nuclear programme should be lifted," he said.
It is the first time that Iran has explicitly linked its readiness to work with the West in Iraq with a lifting of the crippling EU and US sanctions imposed over its nuclear programme.
Those sanctions are the subject of ongoing talks between Tehran and the major powers that are due to resume before the opening of the UN General Assembly next month.
Full report at:
http://english.ahram.org.eg/NewsContent/2/8/108918/World/Region/Iran-links-Iraq-role-to-lifting-of-Western-sanctio.aspx
-----------
Blow for Rohani as parliament impeaches moderate minister
August 21, 2014
TEHRAN — In a move led by hard-line lawmakers, Iran's parliament dismissed the country's science minister on Wednesday over his alleged support for pro-Western voices at universities, dealing a blow to moderate President Hassan Rohani.
The no-confidence vote against Science, Research and Technology Minister Reza Faraji Dana was a sharp rebuke of Rohani, who was elected last year on promises of greater openness and diplomatic engagement with the West.
The vote was also the first time a minister in Rohani's Cabinet was impeached. Out of 270 lawmakers who were present at the session, 145 voted to oust Dana, 110 voted to keep him on and 15 abstained. The chamber has 290 seats.
Full report at:
http://www.saudigazette.com.sa/index.cfm?method=home.regcon&contentid=20140821215443
---------
Children of Gaza prepare for more violence
August 21, 2014
A child as old as six will have experienced three wars in Gaza.
As fighting starts up again in Gaza, many Gazans tell the Middle East Eye about their concerns at the lack of normalcy in the lives of their children.
Father of five, Khalid Khalas, fled the Jabaliya refugee camp with his family earlier this month. They are sleeping in a four metre by four metre room at a UN school where, Khalas said, his son, Mohammed, barely sleeps.
"Since this war started and he came here, he rarely sleeps at night. Some nights, he wakes up screaming," Khalas said.
http://www.middleeasteye.net/news/video-children-gaza-prepare-more-violence-571311735#sthash.e05KgFvB.dpuf
----------
India
Hurriyat has no stake in peace process, India counters Pakistan
SUHASINI HAIDAR
August 21, 2014
It was another day of acrimonious exchanges between India and Pakistan on Wednesday with the External Affairs Ministry rejecting Pakistan High Commissioner Abdul Basit's statement calling the Hurriyat a "stakeholder" in the peace process.
The statement came a few hours after Mr. Basit held a press conference in New Delhi, defending his meeting with the Hurriyat leaders on August 18 and 19 that made India cancel the talks scheduled with Pakistan.
"There are only two stakeholders on the issue of Jammu & Kashmir — the Union of India and the Islamic Republic of Pakistan. None else," Ministry spokesperson Syed Akbaruddin said.
"The objective of interacting with Kashmiri leaders is precisely to talk to all the stakeholders to find a viable, peaceful solution to the problem," he said.
Each side has hardened its positions on the subject of meetings Pakistani officials had with Kashmiri separatists. Senior Pakistan government officials told The Hindu that they believed the Indian government had decided not to go ahead with the talks for the "foreseeable future." "Meeting with Kashmiri leaders is a part of Pakistan's core beliefs. No Pakistani government can accept the Indian government's decision to block that," one of them said.
Full report at:
http://www.thehindu.com/news/national/hurriyat-has-no-stake-in-peace-process-india-counters-pakistan/article6335531.ece
-----------
'India Keen to Build Bridges with Arab World without Interference'
Smriti Kak Ramachandran
August 21, 2014
New Delhi on Thursday put to rest "conflicting interpretations" of its stand on the Israel-Gaza conflict, with External Affairs Minister Sushma Swaraj reiterating that India's policy continues to be of extending "strong support to the Palestinian cause, while maintaining good relations with Israel."
"India is deeply concerned at the loss of large number of civilian lives in Gaza. We have called on both sides to exercise maximum restraint and work towards a comprehensive resolution of the Palestinian issue. Apart from strong political support to the Palestinian cause at international, regional and bilateral levels, India has been contributing budgetary, economic and developmental assistance to Palestine and its people," she said, addressing the first India-League of Arab States Media Symposium in New Delhi.
Underlining the need for peace and stability in the Arab world, she said the repercussions of instability and terrorism in the region are being felt far and wide and cited the case of Indian nationals in captivity in Mosul as an example.
"Being a long-standing partner of the Arab world, we in India are also deeply concerned with the rise of fanaticism, extremism and terrorism in parts of the region. We are concerned for the stability of these countries where terrorism and fanaticism are tearing apart the fabric of societies and also concerned over the spill-over effects on regional stability. This concern is but natural as the fates of our two regions are intertwined in many ways. Our national and energy interests are certainly important; but more important are the human bond. The continued captivity of 40 innocent Indian workers in Mosul and the holding of seven Indian sea farers in prolonged custody by pirates in Somalia have brought home to ordinary Indians searing impact of regional instability in parts of the Arab world," Ms. Swaraj said.
Full report at:
http://www.thehindu.com/news/national/india-keen-to-build-bridges-with-the-arab-world-without-interference-says-sushma/article6338641.ece
--------
Pakistan
Raging Imran Vows to Dharna till Death
August 21, 2014
ISLAMABAD: A visibly charged Pakistan Tehreek-i-Insaf (PTI) Chairman Imran Khan blasted the government, resorting to curses and threats while calling for a nation-wide protest.
The PTI Chairman called on his supporters to expand the civil disobedience movement into all the provinces.
Imran threatened both the interior secretary and newly appointed IG Islamabad, warning that they should not think they would be spared.
Imran said he would personally take the new IG of Islamabad to jail if any of his supporters were hurt.
"In my passion, I may punch you!" the PTI Chairman said, adding that he would stay in the Red Zone, "for as long as I live".
"It is our democratic right to protest…we are not breaking any laws. I request the Supreme Court to have these containers removed so that life can return to normal," Imran pleaded.
The PTI Chairman also reiterated many points from previous speeches, including his principle demand: that Prime Minister Nawaz Sharif has to resign.
http://www.dawn.com/news/1126784/raging-imran-vows-to-dharna-till-death
-----------
PPP decries 'lassitude' of govt, political 'extremism' of PTI, PAT
August 21, 2014
LAHORE: Pakistan People's Party (PPP) Punjab Secretary General Tanveer Ashraf Kaira has said that "inaptness" and "lassitude" of the government along with "political extremism" of PAT and PTI have brought the political situation at this pass that was wrought with dangers to democracy, constitution and the rule of law.
In a statement on Wednesday, the PPP Punjab secretary general regretted that the government had failed to read the gravity of deteriorating situation, adding its inordinate delay to handle it with political sagacity had led the political crisis to worsen to a dangerous level.
Kaira maintained that the recent panicky steps taken by the government to control the worsening political situation had further accentuated the already problematic political state of affairs in the country.
Full report at:
http://www.dailytimes.com.pk/punjab/21-Aug-2014/ppp-decries-lassitude-of-govt-political-extremism-of-pti-pat
-----------
I have never refused talks: Dr. Tahir ul Qadri
August 21, 2014
ISLAMABAD- Pakistan Awami Tehreek (PAT) head Dr. Tahir ul Qadri dispelled the impression that he was refusing to holding talks with the government.
Addressing participants of the Inqalab march in front of Parliament House today, Qadri termed as "false propaganda" that he was not willing to talk to end the political impasse.
"A false propaganda has been launched against me that I am refusing to talk with the team sent by the government." He said that no government's delegation has been sent to PAT.
"We have taken to the streets for the supremacy of law and constitution. We are not ruining the constitution," he said.
Full report at:
http://www.nation.com.pk/national/20-Aug-2014/i-have-never-refused-talks-qadri
-----------
Army has assured govt of protecting Constitution, says defence minister
August 21, 2014
ISLAMABAD: Federal Defence Minister Khawaja Asif said on Thursday that all state institutions, including Pakistan Army, have assured the government of protection of the Constitution and its supremacy.
"There is no doubt in it that army has assured the government over the protection of the Constitution", the federal defence minister told media personnel present at the lobby of the Parliament House.
Also read: Army advises parties to hold talks, refuses to mediate
He dismissed reports that government may use power to disperse sit ins staged by the Pakistan Tehreek-i-Insaf (PTI) and Pakistan Awami Tehreek (PAT) outside the Parliament.
"Why should government use power against PAT and PTI when it did not use power against them in Lahore", Asif said.
Full report at:
http://www.dawn.com/news/1126781/army-has-assured-govt-of-protecting-constitution-says-defence-minister
-----------
PPP says will oppose any movement to derail democracy
August 21, 2014
DUBAI: A meeting of the central executive committee of the Pakistan Peoples Party (PPP) held late on Wednesday decided that it will staunchly oppose any movement to derail democracy in the country, DawnNews reported.
The meeting held in Dubai was chaired by the party's patron-in-chief Bilawal Bhutto-Zardari and co-chaired by former president Asif Ali Zardari.
During the meeting, the party reiterated its support for a democratic dispensation in the country and decided that the supremacy of Constitution should be upheld at all times.
The party's huddle came as demonstrators led by the Pakistan Tehreek-i-Insaf (PTI) and the Pakistan Awami Tehrik (PAT) marching in the capital are demanding a resignation from the Nawaz government.
The premier will address the National Assembly on Thursday to take the Parliament into confidence over the prevailing political situation.
http://www.dawn.com/news/1126753/ppp-says-will-oppose-any-movement-to-derail-democracy
-----------
Wind of dialogue starts blowing
August 21, 2014
ISLAMABAD: The federal government led by Prime Minister Nawaz Sharif heaved a sigh of relief on Thursday as both the march leaders reluctantly agreed to start a dialogue on the heels of a subtle yet firm advice from the powerful military establishment of the country to cool down the political temperature.
As the twin marches held their ground all day on Thursday at the respective venues along the Constitution Avenue, PTI Chief Imran Khan and PAT chief Dr Tahirul Qadri continued back-to-back addresses to the respective crowds. Both parties meanwhile nominated separate committees that held initial parleys with respective government teams at different locations and presented their demands. But till the filing of this report, the insistence of both the parties on resignation of the prime minister as a pre-requisite remained the major roadblock in progress of the dialogue. The government side refused to accept the two demands of the PTI that related to resignation of the prime minister and dissolution of the National Assembly for holding fresh elections.
Full report at:
http://www.dailytimes.com.pk/national/21-Aug-2014/wind-of-dialogue-starts-blowing
-----------
Nawaz calls Zardari, discusses prevailing political situation
August 21, 2014
ISLAMABAD - Prime Minister Nawaz Sharif on Thursday telephoned former president and Pakistan People's Party (PPP) co-chairman Asif Ali Zardari and discussed prevailing political situation with him.
They exchanged views on the current political scenario. Both leaders agreed that they would not compromise on sanctity of the constitution.
http://www.dailytimes.com.pk/national/21-Aug-2014/nawaz-calls-zardari-discusses-prevailing-political-situation
-----------
Pakistan Social media abuzz with pro and anti government debates
August 21, 2014
Islamabad- As the Pakistan government and protesters were locked in an intense standoff in the capital, pitched battles were also being fought on the social media with 'IamNawaz' and 'GoNawazGo' trending on Twitter.
Social networking websites in Pakistan were abuzz with different trends, arguments and debates in support or opposition of political parties. Supporters of Imran Khan-led Pakistan Tehreek-e-Insaf (PTI) and Canada-based cleric Tahirul Qadri's Pakistan Awami Tehreek (PAT) are staging a sit-in outside the Parliament House in a bid to depose Prime Minister Nawaz Sharif over alleged rigging in last year's general election.
Full report at:
http://www.nation.com.pk/national/21-Aug-2014/pakistan-social-media-abuzz-with-pro-and-anti-government-debates
-----------
Altaf hails dialogue initiation
August 21, 2014
KARACHI- Muttahida Qaumi Movement chief Altaf Hussain has welcomed the dialogue between the negotiation team formed by the government and the leaders of Pakistan Awami Tehreek (PAT).
He said the dialogue would augur well for the country.
Altaf thanked PAT chief Dr Tahirul Qadri for graciously accepting the government offer for holding the dialogue. He also thanked Prime Minister Nawaz Sharif and his team who worked day and night for resolving the issues through dialogue instead of heading towards confrontation. He praised them for showing graciousness despite being present in the government.
http://www.nation.com.pk/karachi/21-Aug-2014/altaf-hails-dialogue-initiation
---------
South Asia
Bangladesh charges 13 Islamists over deadly 2001 attack
August 21, 2014
DHAKA: A Bangladesh court on Thursday charged 13 Islamists with murder over a 2001 bomb blast at a political rally in Dhaka that left five people dead.
A judge ruled the head of the Harkat ul Jihad al Islami (HuJI) outfit, and four other members of the banned group should stand trial for the attack, a prosecutor said.
All 13, including HuJI leader Mufti Abdul Hannan, face death by hanging if they are found guilty at trial of the attack.
"Of the accused, five including Mufti Hannan were present at the court room when the judge charged them for murder. The remaining eight are absconding, "Asaduzzaman Rochi told AFP.
The eight, who have long been on the run, were charged in absentia.
The blast targeting the Communist Party of Bangladesh rally instantly killed four people and injured at least 25, one of whom later died later in hospital, he said.
Full report at:
http://www.dawn.com/news/1126789/bangladesh-charges-13-islamists-over-deadly-2001-attack
-----------
Afghan army to receive over 200 MRAPs from US by 2014-end
August 21, 2014
The United States of America will deliver over 200 Mine-Resistant Ambush Protect (MRAP) vehicles to Afghan National Army (ANA) forces.
Defense officials said Thursday that the vehicles will delivered to Afghan armed force by the end of 2014
Gen. Zahir Azimi, spokesman for the Ministry of Defense of Afghanistan, confirmed that Afghan armed forces will receive 212 MRAP vehicles from the United States by the end this year.
MRAP vehicles are designed to withstand improvised explosive device (IED) attacks and ambushes.
Full report at:
http://www.khaama.com/afghan-army-to-receive-over-200-mraps-from-us-by-2014-end-8477
-----------
China pledged assistance for bridge project, says President Yameen
By Ahmed Naish | August 21st, 2014
The Chinese government has pledged assistance in building a bridge connecting the capital Malé and Hulhumalé, President Abdulla Yameen told the press last night upon returning from a visit to China.
"[Chinese President Xi Jinping] said let us form an economic council or committee. So we have come after determining representatives from our side on the joint committee," Yameen told reporters at the airport.
Once the high-level joint commission is set up, Yameen said a feasibility study would be conducted with a team of Chinese engineers due to arrive this year.
The team would study the strength of ocean currents, he explained, which was necessary to determine the "strength of the structure" of the bridge as well as an estimated cost.
Full report at:
http://minivannews.com/politics/china-pledged-assistance-for-bridge-project-says-president-yameen-89738
-----------
Attack on NATO supplies convoy kills two on Pak-Afghan Highway
August 21, 2014
PESHAWAR: At least two people were killed on Thursday when unidentified militants attacked a NATO supply convoy on the Pak-Afghan Highway in Jamrud tehsil of Khyber tribal region.
Pakistan is a key supply route for the US-led mission in landlocked Afghanistan, particularly as NATO forces prepare to withdraw troops and equipment by the end of this year.
ato supply trucks, which carry everything from fuel to munitions and food, often come under attack on their journey between Karachi and border crossing points.
Full report at:
http://www.dawn.com/news/1126755/attack-on-NATO -supplies-convoy-kills-two-on-pak-afghan-highway
--------
Africa
HRW: Child Soldiers in South Sudan Rising
August 21, 2014
The number of child soldiers in South Sudan has been on the rise following the clashes between the government and rebels, Human Rights Watch (HRW) said.
"South Sudan's army has returned to a terrible practice, once again throwing children into the battlefields," Daniel Bekele, HRW's Africa director, said on Wednesday, press tv reported.
"Civilian and military leaders should immediately remove all children from their ranks and return them to their families."
HRW quoted witnesses as saying that the government used children as soldiers during recent clashes in Bentiu, the capital of Unity state, and in the neighboring town of Rubkona.
According to HRW, the rebels have also used child soldiers, mostly by force.
Using child soldiers in conflicts is illegal both under South Sudanese and international war law.
South Sudan plunged into violence in December 2013, when fighting erupted between troops loyal to President Salva Kiir and defectors led by his former deputy Riek Machar around the capital Juba.
Full report at:
http://english.farsnews.com/newstext.aspx?nn=13930530000091
---------
Libya shuts TV stations taken over by militias
August 21, 2014
BENGHAZI — Libyan authorities have decided to shut down two public television stations taken over by militias embroiled in clashes in Tripoli, a government official said Tuesday.
"The authorities have closed 'Libya Al-Wataniya' which had been under the control of the provisional government and 'Libya Al-Rasmia' which was the voice of parliament," the official said, asking not to be named.
He said Nilesat had accepted requests from the heads of Libya's government and parliament to halt transmission of the two satellite channels.
The two channels have thrown their support behind militias battling since July 13 with rival militiamen for control of Tripoli international airport.
Wataniya was taken over on Aug. 4 by forces belonging to Abdul Rauf Kara, who is in effective control of Mitiga airbase. They ordered staff not to broadcast the inauguration that day of the new parliament and in future to support the Misratan-led Libya Dawn operation in Tripoli.
The boss of Rasmiya, Nizam Tayyari, likewise has pursued a determinedly anti-government line.
Full report at:
http://www.saudigazette.com.sa/index.cfm?method=home.regcon&contentid=20140821215439
---------
Heavy fighting erupts in Libya's Benghazi, killing five
21 August 2014
Clashes between irregular forces of a renegade general and Islamists erupted in Libya's eastern Benghazi city on Wednesday, killing at least five people, medical and military sources said.
Loud explosions and a war plane circling the port city could be heard in the evening in the Lithi district, where forces of renegade general Khalifa Haftar and Islamist brigades such as the Ansar al-Sharia were fighting.
Several families packed up to escape the fighting, which lasted for hours, residents said.
Both sides had battled already during the day in a suburb, during which five men from Haftar's units were killed and 16 wounded, a medic said.
Full report at:
http://english.alarabiya.net/en/News/middle-east/2014/08/21/Heavy-fighting-erupts-in-Libya-s-Benghazi-killing-five.html
-----------
URL: https://www.newageislam.com/islamic-world-news/new-age-islam-news-bureau/m-sian-jihadist-mat-soh-killed-in-syria-lauded-as-a-hero-back-home/d/98662