New Age Islam News Bureau
16 Dec 2012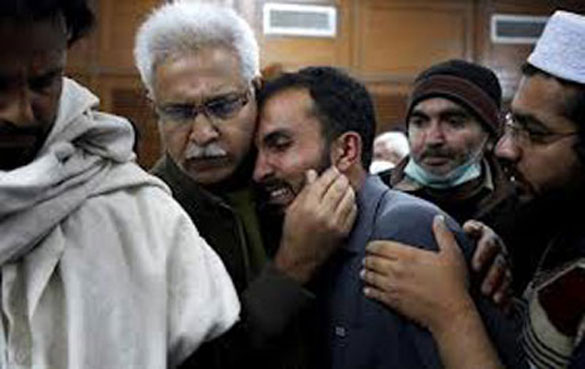 Arab World
• Libyans Say Sharia Will Be Law of the Land
• Man probed for assaulting preaching imam in Saudi Arabia
• Morsy allies claim Egyptians voted for draft constitution
• Syria crisis: Damascus al-Yarmouk camp 'attacked'
• Event on e-learning, distance education planned in Riyadh
• No progress made in Saudi diplomats' cases in Yemen
• Egyptians narrowly back constitution, Islamist official says
• Mubarak suffers head injury after fall
• Man gets 4 months jail, 70 lashes for indecency in Prophet's Mosque
• Car bomb kills two at Iraqi Kurd party office
• Free Syrian Army top commander killed in Syria's Aleppo
• Syria's Assad could yet defy pundits
India
• NIA to probe Samjhauta bomb suspect's hand in Mecca blast
• PM adds 26/11 rider to Pakistan visit
• INS Khukri survivor questions Navy's integrity
• GMR seeks over $800 million, Maldives insists on 'forensic' audit
• Rehman Malik prays for "peace" at Nizamuddin
• India pursuing Capt Kalia's case with Pakistan: Antony
• India Gate right place to build war memorial: Antony
• Malik meets PM; NIA team to visit Pakistan
• The troubled waters of Sir Creek
• Why three Hurriyats are better than one
• Capt Saurabh Kalia's father says no hopes from Pakistan
• 'Shinde should have rebutted Malik over Babri talk'
• Jundal is an Indian operative: Rehman Malik
• Kashmir University stops screening of documentary film on conflict victims
• UPA lacks spine to stand up to Rehman Malik's remarks: Modi
• PM ticks off his Pakistani guest
• Need to check how Afghan pullout will impact Kashmir, says Mirwaiz Umer Farooq
North America
• US Muslims to reclaim 'jihad' with ad campaign
• Latino Muslims carving a new American identity
• Canada's high court upholds anti-terror law
• US wants suit over US-born cleric's killing dismissed
• CIA agent who tracked Osama wept over body
Pakistan
• Three militants, one policeman killed in gun battle near Peshawar airport: Reports
• State blamed for failing to control attacks against Hazaras
• Pak-Bangladesh ties: 41 years on, still awaiting an apology
• 'MFN status can boost Indo-Pak trade to $6b'
• Terrorists attack Peshawar airport, 7 killed
• President condemns rocket attacks on Peshawar airport
• Love online challenges Pakistan taboos
• Balochistan promises compensation for heirs of victims
South Asia
• Sri Lankan bags first prize at Qur'an contest
• Khaleda pays tribute to martyred freedom fighters
• Bangladesh will ensure democracy, equity, justice
Mideast Asia
• Palestinians to decide which UN bodies to join
• Air raid on Damascus Palestinian camp kills eight: NGO
• Turkey seizes PKK marijuana stash in major crackdown
• Israel's Lieberman says turns focus to election campaign
Southeast Asia
• Nine Filipinos in Baha embrace Islam
• Male airport: Malaysia to discuss issue with PM
• Philippine police kill alleged Malaysian terrorist
• Helping Parents Fight for Legal Identity in Indonesia
Africa
• Nigerian governor, officials die in copter crash
Compiled by New Age Islam News Bureau
Photo: Three militants, one policeman killed in gun battle near Peshawar airport
URL: https://www.newageislam.com/islamic-world-news/new-age-islam-news-bureau/libyans-say-sharia-will-be-law-of-the-land/d/9705
------------
Arab World
Libyans Say Sharia Will Be Law of the Land
Dec 16, 2012
Most Libyans—even women's-rights activists—accept that their new Constitution will be based on Islamic law.
"Egypt is Islamic, it will not be secular!" Islamist supporters of Egyptian President Mohamed Morsi have taken to chanting this slogan during street protests in Cairo. While the mantra fills opponents of the Egyptian president with dread, as does a Morsi-backed draft Constitution ensuring laws and rights will be strictly subordinated to sharia law, such chants would hardly prove controversial in Libya, Egypt's neighboring Arab-Spring country—nor would they propel tens of thousands onto the streets of Tripoli or Benghazi to express dissent.
The constitutional debate that Libya is likely to have in the coming months—once its new rulers have decided on how to proceed with a draft—is going to be different from Egypt's, and less about whether Islamic law should figure in the Constitution. Across the political spectrum, there's a general acceptance that the country's new laws must reflect religion and that sharia will figure prominently—only a small minority question this.
During the campaign for the country's elections last July, party leaders—even those from moderate parties, such as Mahmoud Jibril, leader of the National Forces Alliance—acknowledged that sharia would significantly influence any Constitution. New laws should have a "reference to sharia," Jibril told The Daily Beast, arguing, "Sharia law, when it was understood in the proper way, managed to create one of the great civilizations in human history. The problem is not with sharia or Islam; the problem is with the interpretation of sharia."
Even among women agitating for a greater role in public and political life here, there's agreement that sharia law should be at the heart of the country's new Constitution. The only disputes are about the drafting process; whether the members of a 60-strong drafting panel should be elected or appointed by the country's new Parliament, the General National Congress; and whether sharia should be the "only source of law" or a "principal source of law," with the latter allowing greater possibility of adopting laws used in non-Muslim countries.
"Libyans wouldn't accept a Constitution that isn't informed by Sharia," says 20-year-old Issraa Murabit, a second-year medical student from the town of Zawiyah and vice president of The Voice of Libyan Women, an NGO campaigning for greater women's rights.
She says that a majority of women involved with civil-society activism are broadly comfortable with sharia and don't see any contradiction between Islamic law and their demands for gender equality and a bigger role for women in Libyan society. Some women activists argue that women's rights are, in certain cases, better protected under sharia than they are in the West. They cite property protections afforded to divorced spouses. "In the West, they think we are the oppressors of women and they have the best rights for women, but we have a different perspective," says Murabit, who was raised in Canada until her early teens. "Islam doesn't undermine women's rights—the problem is with Muslim men and how they try to use sharia against women."
For Western commentators, the mere mention of Islamic law prompts, at best, suspicion and oftentimes pure horror. "A dangerous pattern is emerging," Bonnie Erbe, host of the PBS show, To the Contrary, wrote recently. "Islamic countries more often than not replace tyrants with religious dictators who can become even more despotic than their predecessors. Look at Iran. Unfortunately, look at Egypt."
Libyan activists say such sentiments tarnish the Arab Spring and that the problem with Morsi's draft Constitution lies with the underhand manner of its drafting process, involving a lack of consultation by the country's Islamist-dominated Constituent Assembly. Islamists railroaded approval of the final draft in an all-night session on November 30 and although Morsi has now revoked a decree grabbing sweeping presidential powers—which triggered political and social turmoil—he refuses still to back down over his decision to hold a referendum on Dec. 15 on the draft.
When Libya's government—led by the new prime minister, Ali Zeidan, and the country's Congress—eventually decide on the process for the drafting the Libyan constitution, activists warn that Morsi's example shouldn't be followed. "If they are inclusive and consult and have women among the drafters, there won't be a problem," says Murabit.
One key area of contention could be over who interprets the Sharia provisions included in any Libyan constitution. Morsi's Egyptian opponents take issue with the draft Constitution's provision that Muslim clerics will be Sharia's arbiters. Under the charter, clerics from Egypt's conservative Al-Azhar University are "to be consulted on any matters related to Sharia." Libyan women activists say no religious body or figures should be allowed under Libya's Constitution oversight of the country's laws—only the courts should decide. Others argue that religious arbiters would be acceptable as long as women religious scholars were also included.
But there are few signs so far that the country's new rulers are looking to empower religious figures. In October, the president of the GNC, Mohammed Magarief, said the elected legislature in Libya should be the supreme law-making body and there should be no sharia courts. "It is obvious that our reality has no room for secularism or theocracy … it has no room for men of religion with absolute powers."
The country's Salafists may disagree, but they are likely to wield little influence on the GNC when it comes to the Constitution.
Libyan leaders anticipate Western politicians and the media reacting critically if the country adopts a sharia-based Constitution next year—but they say each Arab Spring nation is different in culture and history, and all are struggling to knit their secular and Islamic roots in ways that work for them. "Why does the West immediately react so badly when Sharia is mentioned? Our model is not the Taliban," says Sami al-Saadi, the head of Libya's Moderate Nation party and a former leader of the Libyan Islamic Fighting Group that mounted an insurgency in the 1990s against Col. Muammar Gaddafi.
"Many people misinterpret what we mean when we talk about sharia, thinking we will be sticklers for the literal, rigid interpretation of sharia," he says. "I believe in Islam because it creates a balance and a harmony. It is not a constricting force when properly understood and implemented. The West should understand that if we come up with a system based on sharia, this won't endanger them or harm our relations with the West. There should be a mutual understanding: we don't harm you and you don't harm us."
Like other political leaders—including luminaries in the Muslim Brotherhood—Saadi argues there are many interpretations of Islamic law. He says in the case of Libya, the Sharia provisions most likely to be enshrined in a Constitution would only be those that deal with behavior deemed haraam, or expressly forbidden. That would include usury, he acknowledges. "But some in the West may think in the aftermath of the financial crisis, banning usury may be useful," he muses.
If Libya's new constitution settles for sharia provisions focused on haraam, then women activists and many in civil society will likely go along with it. Their campaigning will focus on ensuring gender equality where it doesn't clash with sharia—especially in the workplace. Says 21-year-old Aram Alageli, a second-year language student at the University of Tripoli, "As long as they don't impose the veil, that's fine."
http://www.thedailybeast.com/articles/2012/12/16/libyans-say-sharia-will-be-law-of-the-land.html
------------
Morsy allies claim Egyptians voted for draft constitution
December 16, 2012
Islamists allied to President Mohamed Morsy on Sunday claimed that Egyptians have voted in favour of a controversial draft constitution during a referendum, but opposition accused them of "vote rigging" and irregularities.
Muslim Brotherhood members claimed that their tally showed the voters backed the draft constitution in the first round of a two-stage referendum held on Saturday.
The unofficial results showed that 61 per cent of the votes favoured the new charter while 38.7 per cent were against it, after counting 58 per cent of the ballots.
Majority of the voters in the capital Cairo have rejected the draft, with 57 per cent opposing it. In Gharbiya governorate, 52 per cent opposed the draft, the Egypt Independent newspaper reported.
However, the support for the draft was received in governorates like South Sinai (63 per cent), North Sinai (82 per cent), Sohag (79 per cent) Assiut (76 per cent) Sharqiya (66 per cent) and Aswan (74 per cent), it said.
The second round of the referendum is scheduled for next Saturday, after which the official result would be announced.
President Morsy and his allies have endorsed the draft and campaigned heavily in its favour. Mostly secular opponents say it is poorly drafted and overtly favours Islamists.
The National Salvation Front, the umbrella opposition group, said it was deeply concerned about irregularities, such as directing voters outside polling stations to vote 'yes'
In a statement, the group expressed "deep concern... over the number of irregularities and violations in the holding of the referendum". This, it alleged, pointed to a "clear desire for vote-rigging by the Muslim Brotherhood".
The allegations also include; unsealed ballot papers and absence of judges to monitor the polls.
During the polling yesterday, people queued in long lines at polling stations in Cairo, Alexandria, Daqahliya, Gharbiya, Sharqiya, Assiut, Sohag, Aswan, North Sinai and South Sinai.
The refrendum came after violent clashes that left eight people dead on December 5 amid a highly polarised political climate. Soldiers joined police outside polling stations to secure referendum after deadly protests.
http://www.thehindu.com/news/international/morsy-allies-claim-egyptians-voted-for-draft-constitution/article4206424.ece
------------
Man probed for assaulting preaching imam in Saudi Arabia
By Habib Toumi
December 16, 2012
Manama: Saudi police are questioning an Afghan man after he tried to bring down an imam delivering a sermon at a mosque pulpit in Taif.
Shaikh Rashid Bin Mofrih Al Shahri, the chief judge of Taif, in Western Saudi Arabia, was talking about the danger of consuming drugs and liquor and their negative effects on young people as part of a Friday sermon when the Afghan stood up, walked up to the pulpit and pulled him down, forcing him to suspend the preaching.
Shocked worshippers rushed to the Afghan national and took him away to a small room where he was kept until the police arrived and escorted him to their station for investigation.
The imam resumed his sermon, but insisted on a compassionate treatment of the Afghan expatriate, saying that he could be suffering from mental issues and that he was not armed, local news site Sabq reported on Sunday.
Muslims are expected to remain quiet and not engage in any form of conversation, even by whispering, throughout the sermon that may last from 15 to 30 minutes.
A police spokesperson confirmed the incident.
"An Asian man believed to be in his 50s assaulted the imam who was preaching at a mosque in the King Fahad area in Taif," Saleem Bin Sharaf Al Rabii, said. "Some of the people present at the mosque held him until the police took him to the station where he is being investigated. It seems that the Asian man is suffering from psychological issues, but we will wait until the conclusion of the procedures and investigation," he said.
http://gulfnews.com/news/gulf/saudi-arabia/man-probed-for-assaulting-preaching-imam-in-saudi-arabia-1.1119309
------------
Syria crisis: Damascus al-Yarmouk camp 'attacked'
December 16, 2012
A Palestinian refugee camp in the Syrian capital Damascus has been attacked, reportedly by war planes, activists say.
The number of people killed or injured is unclear, but the Syrian Observatory for Human Rights, a UK-based activist group, reported at least eight deaths.
The al-Yarmouk camp houses Palestinians and also Syrians displaced by fighting.
It is the first time the camp has been hit since the uprising against the Syrian government began in March 2011.
Full report at:
http://www.bbc.co.uk/news/world-middle-east-20747485
------------
Event on e-learning, distance education planned in Riyadh
15 December 2012
The National Center for E-Learning and Distance Education (NCELDE) will organize the third international conference on e-learning and distance education on Feb. 4-7, 2013, in Riyadh under the auspices of Custodian of the Two Holy Mosques King Abdullah.
The conference will bring together a selected group of local and global educationalists and researchers who will explore means on how to develop e-education, review the latest studies in this area and boost awareness on the importance of e-education, head of the NCELDE Abdullah Al-Miqran said.
Full report at:
http://www.arabnews.com/event-e-learning-distance-education-planned-riyadh
------------
No progress made in Saudi diplomats' cases in Yemen
16 December 2012
About three weeks have passed since the tragic murder of Saudi diplomat Khaled Al-Enazi, but Yemeni security officials are hitting dead ends in their search for the killer, Saudi and Yemeni officials here said yesterday. "The Yemeni side is exerting all efforts to nab the criminals, who indulged in the heinous crime of killing an innocent Saudi Embassy official and a guard," said a Yemeni diplomat who spoke on condition of anonymity.
Full report at:
http://www.arabnews.com/no-progress-made-saudi-diplomats%E2%80%99-cases-yemen
------------
Egyptians narrowly back constitution, Islamist official says
Dec 16, 2012
CAIRO: Egyptians voted narrowly in favour of a constitution shaped by Islamists and opposed by liberals in the first round of a two-stage vote, a member of the Muslim Brotherhood's party that sought a " yes" vote said on Sunday, citing its unofficial tally.
One opposition official also said the vote appeared to have gone in favour of Islamists who backed the constitution, after the opposition had said late on Saturday when voting ended that their exit polls indicated the "no" camp would win.
Full report at:
http://timesofindia.indiatimes.com/world/middle-east/Egyptians-narrowly-back-constitution-Islamist-official-says/articleshow/17634525.cms
------------
Mubarak suffers head injury after fall
Dec 16, 2012
CAIRO: Hosni Mubarak, the ousted Egyptian president who is serving a life sentence, has suffered a head injury and bruising after he fell in the bathroom.
84-year-old Mubarak fell in the bathroom of his hospital room, state-run MENA news agency quoted a security source in the Prisons Authority as saying.
A medical team supervising his condition attended him immediately, the source said, adding that Mubarak has suffered head injury and bruising. The source, however, did not disclose when the incident took place.
Full report at:
http://timesofindia.indiatimes.com/world/middle-east/Mubarak-suffers-head-injury-after-fall/articleshow/17635812.cms
------
Man gets 4 months jail, 70 lashes for indecency in Prophet's Mosque
Saudi appeals court upholds judgement against a man caught in an indecent position with a woman inside Medina mosque
16 Dec 2012
The appeals court in the eastern region of Saudi Arabia approved the verdict of a lower court in the Qatif province in the case of a 52-year-old man caught engaged in an indecent act with a 24-year-old girl in the Prophet's Mosque in Medina.
The man was sentenced to four months in jail, 70 whip lashes, and was made to pledge to never repeat his offense.
Full report at:
http://english.ahram.org.eg/NewsContent/2/8/60650/World/Region/Man-gets--months-jail,--lashes-for-indecency-in-Pr.aspx
----------
Car bomb kills two at Iraqi Kurd party office
Two Kurdish security recruits died and two were wounded when a car bomb exploded at an Iraqi Kurdish political party headquarters
16 Dec 2012
A car bomb at an Iraqi Kurdish political party headquarters in the town of Jalawla killed two Kurdish security recruits and wounded two on Sunday, security and medical officials said.
An officer in the Jalawla police said the bomb exploded at the local headquarters of Iraqi President Jalal Talabani's Patriotic Union of Kurdistan (PUK) after a number of people seeking to join the Kurdish peshmerga security forces had gathered, killing two and wounding two.
Full report at:
http://english.ahram.org.eg/NewsContent/2/8/60622/World/Region/Car-bomb-kills-two-at-Iraqi-Kurd-party-office.aspx
----------
Free Syrian Army top commander killed in Syria's Aleppo
Colonel Yusef al-Jader, Free Syrian Army's `top commander was killed in a major battle for a military academy
15 Dec 2012
A top rebel commander in the northern Syrian province of Aleppo was killed in a major battle for a military academy on Saturday, his brigade said.
"It is with pride that Liwa al-Tawhid (brigade) announces the death in combat of the hero martyr, Colonel Yusef al-Jader (Abu Furat)," the brigade said on its Facebook page.
Full report at:
http://english.ahram.org.eg/NewsContent/2/8/60568/World/Region/Free-Syrian-Army-top-commander-killed-in-Syrias-Al.aspx
----------
Syria's Assad could yet defy pundits
Even though Syrian rebels now hold vast swathes of territory and have struck the heart of Damascus; al-Assad's regime has so far stood firm despite Western predictions of its imminent fall
16 Dec 2012
The latest flurry of predictions by Western officials, and even by a top Russian diplomat, reflect the fact that the rebels are advancing on the ground but not that the regime is on the verge of collapse, analysts say.
"It will fall in a coup, by foreign intervention or a massive expansion of logistical support to the rebels by foreign countries," said Barah Mikail, a researcher at the Spanish Institute for Geopolitics (FRIDE).
Full report at:
http://english.ahram.org.eg/NewsContent/2/8/60619/World/Region/Syrias-Assad-could-yet-defy-pundits.aspx
----------
India
NIA to probe Samjhauta bomb suspect's hand in Mecca blast
December 16, 2012
Rajender Chaudhary, who allegedly planted a bomb in Samjhauta Express in 2007, may also be involved in the Mecca-Masjid blast in Hyderabad in which nine people died in May 2007 and could help NIA in solving the case, NIA sources said on Sunday.
Chaudhary, who is in his mid-30s, was arrested by the National Investigation Agency (NIA) last night from Nagda, 50 kilometres from Ujjain, where he was living under an assumed name, they said.
Full report at:
http://www.thehindu.com/news/national/nia-to-probe-samjhauta-bomb-suspects-hand-in-mecca-blast/article4206519.ece
------------
PM adds 26/11 rider to Pakistan visit
Dec 16, 2012
NEW DELHI: Prime Minister Manmohan Singh has made it plain that his visit to Pakistan would materialize only if there is substantive action against the 26/11 masterminds who planned and executed the terror strikes on Mumbai.
Singh put across his views when responding to Pakistan interior minister Rehman Malik's reiteration of a pending invitation, saying that he is answerable to the Indian public on the delay in bringing the 26/11 guilty to justice.
Full report at:
http://timesofindia.indiatimes.com/india/PM-adds-26/11-rider-to-Pakistan-visit/articleshow/17631895.cms
------------
INS Khukri survivor questions Navy's integrity
Dec 16, 2012
CHANDIGARH: Forty one years ago on December 16, 1971, Indo-Pak war at eastern theatre changed Asia's geographical map, giving birth to Bangladesh. But the ghost of Indian Navy's frigate - INS Khukri - that was torpedoed by a Pakistani submarine in the course of that battle, continues to haunt the defence department. Over 18 officers and 176 sailors lost their lives when the Khukri went down.
Full report at:
http://timesofindia.indiatimes.com/india/INS-Khukri-survivor-questions-Navys-integrity/articleshow/17632936.cms
------------
GMR seeks over $800 million, Maldives insists on 'forensic' audit
Dec 16, 2012
MALE: Indian infrastructure firm GMR will seek a compensation of over $800 million from Maldives for the termination of its airport deal but Male is insisting on a "forensic audit" as it feels the actual amount would be less than half.
"We have sent a letter to the Maldivian government indicating a number of more than $800 million as compensation amount. This is our initial estimate. The final figure would be based upon various calculations, loss of profit among others," GMR (Airports) CFO Sidharath Kapur said.
Full report at:
http://timesofindia.indiatimes.com/india/GMR-seeks-over-800-million-Maldives-insists-on-forensic-audit/articleshow/17636438.cms
------------
Rehman Malik prays for "peace" at Nizamuddin
December 16, 2012
New Delhi: Pakistan's Interior Minister Rehman Malik on Sunday offered prayers at the historic Nizamuddin shrine here before leaving for home at the end of his three-day visit to India.
"My dua (prayer) here is that there should be peace in Pakistan and Hindustan," Malik told reporters after visiting the dargah.
The Minister also said that all actions taken against terrorists should be successful.
"All the steps that we are taking against them and in favour of people in Pakistan and India, I pray that God gives us success in that," he said.
Full report at:
http://zeenews.india.com/news/nation/rehman-malik-prays-for-peace-at-nizamuddin_817088.html
------------
India pursuing Capt Kalia's case with Pakistan: Antony
PTDec 16, 2012
NEW DELHI: India is pursuing with Pakistan the case of Captain Saurabh Kalia, who was tortured and killed by Pakistani troops after being captured in the Kargil sector in May 1999, defence minister, AK Antony, said today.
"We are handling it in an appropriate manner. We will pursue it and now we are pursuing it with Pakistan," he told reporters here after laying a wreath at the Amar Jawan Jyoti to commemorate the 41st anniversary of the Indian victory in the 1971 war with Pakistan.
The minister was asked if India was pushing for a probe by Pakistan into the death of Captain Kalia.
Full report at:
http://timesofindia.indiatimes.com/india/India-pursuing-Capt-Kalias-case-with-Pakistan-Antony/articleshow/17635989.cms
------------
India Gate right place to build war memorial: Antony
December 16, 2012
India Gate is the right place to build a national war memorial, Defence Minister A.K. Antony on Sunday said, against the backdrop of opposition by Delhi Chief Minister Sheila Dikshit to the proposal.
"As far as we are concerned, this (India Gate) is the place to have a war memorial. We are very clear," he told reporters after laying wreath at the Amar Jawan Jyoti to commemorate the 41st anniversary of the Indian victory in the 1971 war with Pakistan.
Full report at:
http://www.thehindu.com/news/national/india-gate-right-place-to-build-war-memorial-antony/article4206325.ece
------------
Malik meets PM; NIA team to visit Pakistan
December 15, 2012
The country's National Investigation Agency (NIA) probing the 26/11 attack is likely to visit Pakistan in mid-January while a Pakistani judicial panel could visit the country next week, Pakistani interior minister Rehman Malik said in New Delhi on Saturday as he met Prime Minister Manmohan Singh
to press him to visit Pakistan and his native village.
"Whatever trust deficit was there, it was removed," he said of his talks with the country's leaders.
Full report at:
http://www.hindustantimes.com/India-news/NewDelhi/Malik-meets-PM-NIA-team-to-visit-Pakistan/Article1-973317.aspx
------------
THE TROUBLED WATERS OFSIR CREEK
By Manoj Joshi in New Delhi
December 16, 2012
Gujarat CM's demand for a freeze on the disputed creek complicates issue
IN itself, the Sir Creek dispute between India and Pakistan was considered the most " doable". Now, however, with the chief minister of Gujarat, Narendra Modi, demanding a freeze on the issue, the matter has become complicated. The actual dispute on where the boundary between India and Pakistan lies on Sir Creek, a 96- km water body that empties out into the Arabian Sea from the Rann of Kutch, is not very major — involving 100- 150 sq. km. of a swamp that remains flooded through half the year.
Full report at: Mail Today
------------
Why three Hurriyats are better than one
Dec 16, 2012
SRINAGAR: The winter winds blowing in Kashmir are at odds with the heat generated by the impending visit of Hurriyat leaders to Pakistan. To the average onlooker, it's the timing of the visit that inspires curiosity. The Zardari government is in its final lap, and the Hurriyat leaders are strangely at pains to emphasize that there is no agenda or roadmap they expect from their visit to Pakistan. But this rather insipid declaration of intent disguises a very significant development. The Hurriyat has split once again.
Full report at:
http://timesofindia.indiatimes.com/india/Why-three-Hurriyats-are-better-than-one/articleshow/17631932.cms
------------
Capt Saurabh Kalia's father says no hopes from Pakistan
Dec 16, 2012
PALAMPIR (Himachal Pradesh): The father of the Indian soldier tortured and mutilated in the Kargil conflict has no hopes from the not so sympathetic Pakistan.
"We pin our hopes only on the Supreme Court rather than on Pakistan," NK Kalia, 64, told IANS on Sunday.
Kalia's comments came after visiting Pakistan interior minister Rehman Malik said it was not clear if a bullet or the weather had led to the death of Capt. Saurabh Kalia.
The young Kalia's mutilated body was handed over to Indian authorities by Pakistani soldiers during the 1999 Kargil conflict.
Full report at:
http://timesofindia.indiatimes.com/india/Capt-Saurabh-Kalias-father-says-no-hopes-from-Pakistan/articleshow/17637298.cms
------------
'Shinde should have rebutted Malik over Babri talk'
Dec 16, 2012
NEW DELHI: BJP on Saturday came down heavily on the government for failing to categorically reject Pakistani interior minister Rehman Malik's controversial remarks apparently equating terrorist attacks like 26/11 carried out by Pakistan-based groups with the Babri Masjid demolition.
Full report at:
http://timesofindia.indiatimes.com/india/Shinde-should-have-rebutted-Malik-over-Babri-talk/articleshow/17631810.cms
------------
Jundal is an Indian operative: Rehman Malik
Dec 15, 2012
NEW DELHI: A day after he offended his hosts by seeking to draw a comparison between Babri demolition and Mumbai terror attack, Rehman Malik was at it again on Saturday. The visiting interior minister festered India's 26/11 wound by saying that Abu Jundal, who had coordinated the terror strikes of Ajmal Kasab and nine other Laskhar terrorists from the Karachi control room, worked for an Indian intelligence agency.
Full report at: Times of India
------------
Kashmir University stops screening of documentary film on conflict victims
December 16, 2012
Kashmir University authorities on Saturday stopped the screening of a film which contains heart-rending visuals of conflict victims and holds the Army and paramilitary responsible for human rights abuses in Kashmir. However, the documentary of 27-minute duration, made in Kashmiri and English, has been funded by subsidiaries of the Union Ministry of Information and Broadcasting (MIB), and has also been certified as legitimate by the Central Board of Film Certification (CBFC).
Full report at:
http://www.thehindu.com/news/national/kashmir-university-stops-screening-of-documentary-film-on-conflict-victims/article4204230.ece
------------
UPA lacks spine to stand up to Rehman Malik's remarks: Modi
Dec 15, 2012
PRANTIJ (Gujarat): Gujarat chief minister Narendra Modi today accused the PMO and Congress party of "keeping the country in dark" over Sir Creek issue and slammed UPA for "lacking the guts" to take on "authoritative" Pakistani interior minister Rehman Malik for his remarks.
The visiting Pakistani minister created a flutter yesterday when he equated 26/11 Mumbai attacks to the 1992 Babri Masjid demolition in Ayodhya.
Full report at:
http://timesofindia.indiatimes.com/india/UPA-lacks-spine-to-stand-up-to-Rehman-Maliks-remarks-Modi/articleshow/17627400.cms
------------
PM ticks off his Pakistani guest
By Saurabh Shukla in New Delhi
December 16, 2012
PRIME Minister Manmohan Singh is a gracious host. But for once, he ticked off the motormouth Pakistani interior minister Rehman Malik on Saturday for not doing enough on the 26/ 11 attack probe.
Malik, who is on a three- day visit to India, had a 15- minute meeting with the PM at his 7 Race Course Road residence on Saturday.
Full report at: Mail Today
------------
Need to check how Afghan pullout will impact Kashmir, says Mirwaiz Umer Farooq
Muzamil Jaleel
Dec 16 2012
New Delhi : When a seven-member Hurriyat delegation led by Mirwaiz Umar Farooq reaches Islamabad Saturday night, their week-long dialogue with top Pakistani leadership has an agenda: "check how US pullout from Afghanistan in 2014 impacts Kashmir, how to bring the Kashmir resolution at the centre of a possible post 2014 Indo-Pak co-operation in the region and to ascertain as to how Pakistan politicians think about bringing Kashmiri leadership in its otherwise bilateral engagement with New Delhi".
Full report at:
http://www.indianexpress.com/news/need-to-check-how-afghan-pullout-will-impact-kashmir-says-mirwaiz/1045939/
-----------
North America
US Muslims to reclaim 'jihad' with ad campaign
December 16, 2012
CHICAGO: US Muslims launched an advertising and social media campaign Friday in the hopes of reclaiming the word jihad from extremists who insist on equating the spiritual quest with terrorism.
The campaign features Muslims describing their personal struggles – the meaning of jihad – on bus ads, Twitter, Facebook and a dedicated website: myjihad.org.
"#MyJihad is to build friendships across the aisle," says one ad showing an African American man leaning on the shoulder of a Jewish friend.
Full report at:
http://dawn.com/2012/12/15/us-muslims-to-reclaim-jihad-with-ad-campaign/
------------
Latino Muslims carving a new American identity
ERIKA L. SÁNCHEZ
16 December 2012
Of Mexican heritage, Marta Khadija, president of LALMA, La Asociación Latino Musulmana de América (The Latino Muslim Association of America - LALMA), converted to Islam in 1983. She had been unhappy with her spiritual life and when she moved to the United States, her Muslim friends began sending her Islamic texts and she visited a mosque. Emotional and powerful, this experience gave her peace.
Another Latino American, writer, innovator and self-identified indigenous Muslim, Mark Gonzales, bases much of his work on the issue of identity. Gonzales, who is of Mexican and French Canadian descent and was raised Catholic, began to explore Islam after practicing Christianity in a very deep way. He says, "In that process, I realized I didn't like the idea of a gate keeper." At that time he was also working on restorative justice with families who were deported after 9/11. He began building relationships with people practicing Islam and converted.
Full report at:
http://www.arabnews.com/latino-muslims-carving-new-american-identity
------------
Canada's high court upholds anti-terror law
2012/12/15
TORONTO: The Supreme Court of Canada unanimously ruled Friday that the country's anti-terror law is constitutional in a series of decisions that affirm how terrorism is defined in the Criminal Code.
The court in a 7-0 ruling rejected constitutional challenges brought by three men, including Momin Khawaja, the first person charged under the anti-terror law that was passed in the wake of the Sept 11, 2001, terrorist attacks on the United States.
Khawaja was convicted of collaborating with a group of Britons in a thwarted 2004 bomb plot in London.
Full report at:
http://dawn.com/2012/12/15/canadas-high-court-upholds-anti-terror-law/
------------
US wants suit over US-born cleric's killing dismissed
16 December 2012
WASHINGTON: The Obama administration urged a federal court Friday to dismiss a damage lawsuit over the drone-strike killings of three US citizens in Yemen last year, including an Al-Qaeda cleric.
In a court filing, the Justice Department said the issue is best handled by the government's political branches, not the judiciary.
US-born Al-Qaeda leader Anwar Al-Awlaki and Samir Khan, an Al-Qaeda propagandist, were killed in a drone strike in September 2011. Al-Awlaki's son, Abdulrahman, was killed the following month.
Full report at:
http://www.arabnews.com/us-wants-suit-over-us-born-cleric%E2%80%99s-killing-dismissed
------------
CIA agent who tracked Osama wept over body
December 16, 2012
WITH its low- flying helicopters slipping under the radar into Pakistan and special forces commandos leaping into the dark compound below, last year's stunning operation to kill Osama bin Laden was a Boy's Own drama that had old- fashioned machismo written all over it.
The reality of America's battle against terrorism, it seemed, couldn't have been more different to the glamorised, politically- correct fiction of Homeland, the hit TV show in which Claire Danes plays a beautiful CIA agent who spots the al- Qaeda plot which her misguided male colleagues have missed.
Full report at: Mail Today
--------
Pakistan
Three militants, one policeman killed in gun battle near Peshawar airport: Reports
Dec 16, 2012
ISLAMABAD: Three Taliban militants and a policeman were killed on Sunday in a fire fight near the Peshawar airport in northwest Pakistan, during a search operation launched after the airport attack on Saturday night, media reports said.
At least 10 people — five civilians and five militants — were killed and over 40 others injured in the rocket attack at the Bacha Khan Airport, for which the Tehreek-e-Taliban Pakistan claimed responsibility.
Full report at:
http://timesofindia.indiatimes.com/world/pakistan/Three-militants-one-policeman-killed-in-gun-battle-near-Peshawar-airport-Reports/articleshow/17636409.cms
------------
State blamed for failing to control attacks against Hazaras
Saleem Javed
December 16, 2012
Three members of the minority Hazara community were shot dead in Quetta on Thursday. This, barely a week after two brothers were targeted in the same city.
The second and third weeks of November saw an attack on the Shia Hazaras every other day.
While the Human Rights Commission of Pakistan has stated that more than 800 Hazaras have been killed since 2001, the figure must surely have gone up given the increasing number of attacks. As it is, around 112 people have been killed and more than 148 Hazaras were injured in 58 incidents in 2012 alone.
Full report at:
http://dawn.com/2012/12/15/state-blamed-for-failing-to-control-attacks-against-hazaras/
------------
Pak-Bangladesh ties: 41 years on, still awaiting an apology
December 16, 2012
DHAKA: When Pakistan's Foreign Minister Hina Rabbani Khar visited Dhaka in November to invite Prime Minister Sheikh Hasina Wajid to attend the D-8 summit in Islamabad, a demand was put forward that Pakistan apologise over "crimes committed by the state in 1971."
Khar responded with the standard reply: Bangladesh should move on, build cordial relationships and "bury the past". Days later, Bangladesh announced Wajid would not attend the summit.
Full report at:
http://tribune.com.pk/story/480352/pak-bangladesh-ties-41-years-on-still-awaiting-an-apology/
------------
'MFN status can boost Indo-Pak trade to $6b'
December 16, 2012
KARACHI: With the Most Favoured Nation (MFN) status likely to be granted to India and phasing out of the negative list from 1,209 items in near future, the bilateral trade between India and Pakistan is expected to touch $6 billion in next three years from the present level of around $2 billion.
This was stated by Rafeeque Ahmed, president of the Federation of Indian Export Organisations (FIEO) who is going to lead a 65-member delegation of Indian business community to Karachi from December 21-23.
Full report at:
http://tribune.com.pk/story/480264/mfn-status-can-boost-indo-pak-trade-to-6b/
-------
Terrorists attack Peshawar airport, 7 killed
By Omer Farooq Khan
Dec 16, 2012
PESHAWAR: At least seven people were killed and more than 50 injured when militants launched a coordinated attack on Peshawar airport in Pakistan's northwest on Saturday.
According to police officials, militants fired a volley of rockets from the nearby Khyber tribal area on Peshawar airport. Soon after rockets hit the airport, at least five insurgents armed with explosives, rocket launchers, assault rifles, and suicide vests, attacked the airport.
Full report at:
http://timesofindia.indiatimes.com/world/pakistan/Terrorists-attack-Peshawar-airport-7-killed/articleshow/17630815.cms
------------
President condemns rocket attacks on Peshawar airport
December 16, 2012
ISLAMABAD: President Asif Ali Zardari strongly condemned rocket attacks on Peshawar airport on Saturday and expressed grief over the loss of innocent lives and injuries to many others.
The President sought report from the concerned authorities on the attack.
The President said such cowardly attack would not shake our resolve in fight against terrorism.
Expressing his sympathies, the President prayed Allah Almighty to rest the departed souls in eternal peace and grant courage to the bereaved families to bear the loss with fortitude.
The President directed the authorities to provide best medical treatment to the injured.
http://dawn.com/2012/12/16/president-condemns-rocket-attacks-on-peshawar-airport/
------------
Love online challenges Pakistan taboos
December 16, 2012
MUZAFFARABAD: Sania was just a schoolgirl when she logged onto an Internet chat room and met a young college student called Mohammad. They fell in love and decided to get married.
Internet dating in the West is now so common that it is no longer considered an act of shameful desperation but an acceptable way for busy professionals to discover a like-minded partner.
But for Sania, the 22-year-old daughter of a conservative truck driver in Pakistan, online romance and her subsequent marriage has meant repeated beatings and death threats at the hands of her relatives.
Full report at:
http://dawn.com/2012/12/16/love-online-challenges-pakistan-taboos/
------------
Balochistan promises compensation for heirs of victims
December 16, 2012
ISLAMABAD: A welfare scheme is to be introduced on Supreme Court directives for families of those who have been killed in attacks in Balochistan, said an official from the provincial government.
The families of the victims will be given financial compensation of Rs800,000, followed by a monthly stipend of Rs7,000. However, Chief Minister Nawab Aslam Raisani had promised a sum of Rs100,000 to victims' families at a news conference last month.
Full report at:
http://tribune.com.pk/story/480329/unrest-balochistan-promises-compensation-for-heirs-of-victims/
------------
South Asia
Sri Lankan bags first prize at Qur'an contest
15 December 2012
Sri Lankan Riski Mohamed Riskhan won the first prize at the 33rd King Abdul Aziz International Contest for Memorization of the Holy Qur'an, which concluded Wednesday in Makkah.
The competition, held under the auspices of Custodian of the Two Holy Mosques King Abdullah, was attended by participants from 53 countries throughout the globe. The award carried a cash proze of SR 100,000 for the first prize winner. Riskhan represented Madrasathul Ilm from the Colombo Grand Mosque.
Full report at:
http://www.arabnews.com/sri-lankan-bags-first-prize-qur%E2%80%99-contest
------------
Khaleda pays tribute to martyred freedom fighters
December 16, 2012
BNP Chairperson and Leader of the Opposition Khaleda Zia on Sunday paid glowing tributes to the freedom fighters who made supreme sacrifices during the Liberation War in 1971 for the country's independence.
Khaleda along with her party leaders and workers placed wreaths at the National Mausoleum in Savar on the outskirts of the capital at about 7:35am marking the country's 42nd Victory Day.
Full report at:
http://www.thedailystar.net/newDesign/latest_news.php?nid=43210
------------
Bangladesh will ensure democracy, equity, justice
December 16, 2012
Prime Minister Sheikh Hasina yesterday expressed her steadfast resolve to live up to the expectation of the international community by upholding the principles and values of equity, democracy, social justice, inclusive development and rule of law for which Bangladesh was born 41 years ago.
The world acknowledges Bangla-desh as a country where moderation and tolerance are practiced, she said.
Full report at:
http://www.thedailystar.net/newDesign/news-details.php?nid=261342
------
Mideast Asia
Palestinians to decide which UN bodies to join
15 December 2012
BEIT JALA: The Palestinians will shortly decide which international organizations to join in the wake of their new-found UN status, including courts likely to act against Israel, negotiator Mohammed Shtayeh says.
Full report at:
http://www.arabnews.com/palestinians-decide-which-un-bodies-join
---------
Air raid on Damascus Palestinian camp kills eight: NGO
16 Dec 2012
Syrian warplanes killed at least eight civilians in an unprecedented air strike on a Palestinian refugee camp in southern Damascus on Sunday, said a monitoring group.
"The toll may rise, because several of the injured are in a critical condition," said the Syrian Observatory for Human Rights.
http://english.ahram.org.eg/NewsContent/2/8/60652/World/Region/UPDATE-Air-raid-on-Damascus-Palestinian-camp-kills.aspx
------------
Turkey seizes PKK marijuana stash in major crackdown
15 December 2012
DIYARBAKIR, Turkey: The Turkish army has seized more than 20 tons of marijuana from Kurdish rebels in what local authorities said yesterday was one of the biggest ever crackdowns on "terrorist income."
"We have unearthed 21-tons of marijuana, as well as several cells filled with ammunition and explosives," said Mustafa Toprak, governor of the Kurdish-majority Diyarbakir province in Turkey's southeast.
Full report at:
http://www.arabnews.com/turkey-seizes-pkk-marijuana-stash-major-crackdown
------------
Israel's Lieberman says turns focus to election campaign
Avigdor Lieberman confirms that he would run in next month's Israeli election, despite a corruption charge that prompted him to resign as foreign minister
16 Dec 2012
Avigdor Lieberman formally tendered his resignation as Israel's foreign minister on Sunday and said he would focus on campaigning for next month's election on a joint ticket with Prime Minister Benjamin Netanyahu.
Although Netanyahu's rightist party alliance is expected to easily win the Jan. 22 ballot, an opinion poll showed a dip in electoral support after Israeli prosecutors said on Thursday they would charge Lieberman with breach of trust.
Full report at:
http://english.ahram.org.eg/NewsContent/2/8/60636/World/Region/Israels-Lieberman-says-turns-focus-to-election-cam.aspx
------------
Southeast Asia
Nine Filipinos in Baha embrace Islam
16 December 2012
Nine Filipino men and women in Baha embraced Islam during a function at Bani Sar Mosque in the city following Juma prayer on Friday.
Dr. Abdullah Makhayesh, imam of the mosque, helped the new Muslims recite the Shahada that there is no god but Allah and Muhammad (peace be upon him) is His Prophet.
Full report at:
http://www.arabnews.com/nine-filipinos-baha-embrace-islam
------------
Male airport: Malaysia to discuss issue with PM
December 16, 2012
Malaysian Prime Minister Najib Tun Razak, who is scheduled to visit New Delhi for India-Asean meet between December 20-21, is likely to discuss with Prime Minister Manmohan Singh the issue of GMR's now scrapped Male Airport project in which MAHB holds 23 per cent stake.
"The heads of the governments (Malaysia and India) are going to meet in New Delhi next week. There may be some discussion (on Male airport issue). There will be sideline meetings in Delhi," Malaysia's Consul General in Chennai Citra Devi Ramiyah told reporters in Hyderabad.
Full report at:
http://www.thehindu.com/news/national/male-airport-malaysia-to-discuss-issue-with-pm/article4206404.ece
------------
Philippine police kill alleged Malaysian terrorist
15 December 2012
MANILA: Philippine police have killed a suspected Malaysian terrorist who allegedly was planning a bomb attack in one of the largest cities in the country's south, police said Saturday.
The suspected terrorist, identified as Mohd Noor Fikrie Bin Abud Kahar, was fatally shot by police late Friday following a scuffle inside a hotel where he and his Filipino wife had checked in, Davao city police chief Ronald de la Rosa said.
Full report at:
http://www.arabnews.com/philippine-police-kill-alleged-malaysian-terrorist
------------
Helping Parents Fight for Legal Identity in Indonesia
Samantha Magick | December 16, 2012
It's late morning on a bustling street in South Jakarta and children are pouring out of a small neighborhood preschool to ride the bright yellow ducks of the odong-odong street ride parked nearby.
Among the throng is 3-year-old Anaya, who has been attending this small religious school for one year. She and her friends have been studying the alphabet and learning new songs, basic skills children need to enter school. But Anaya's transition to a state primary school is not assured. Like many Indonesian children, she does not have a birth certificate, and without one she is unable to enroll.
Full report at:
http://www.thejakartaglobe.com/home/helping-parents-fight-for-legal-identity-in-indonesia/561874
------------
Africa
Nigerian governor, officials die in copter crash
Dec 16, 2012
PAUL OHIA ABUJA: A governor of Nigerian state and a former National Security Adviser were among several people killed when a helicopter carrying government officials crashed in the country's southern delta region today.
The chopper was conveying officials who went for a funeral ceremony for the father of a presidential aide.
Full report at:
http://timesofindia.indiatimes.com/world/rest-of-world/Nigerian-governor-officials-die-in-copter-crash/articleshow/17631571.cms
---------
URL: https://www.newageislam.com/islamic-world-news/new-age-islam-news-bureau/libyans-say-sharia-will-be-law-of-the-land/d/9705