New Age Islam News Bureau
7Jan 2014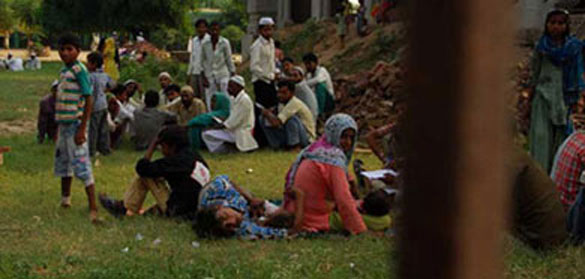 Two Haryana imams arrested last month for their suspected links to Lashkar-e-Toiba, and another LeT operative, had allegedly visited relief camps of the Muzaffarnagar communal riots and sought to recruit men to their module. (IE Photo)
----------
Africa
• Libya says aims to run economy, banking system on Islamic lines
• Gunmen kill 30 people in Nigerian village, says official
• Young Muslim in Mauritania convicted for criticising Prophet Mohammed
• South Sudan rebel Taban Deng eyes full reconciliation
India
• Muzaffarnagar riot victims echo Rahul's claim: Were approached by Lashkar
• Hasina has gone by the book, says India; U.S. favours fresh elections
• Pak for speedy action on Kashmir
• IITian's Urdu website completes 1 year
Pakistan
• Sindh-2 to become a reality, says Altaf
• Taliban talks: No one tasked to lead peace process, says Rashid
• Jamiat Ulema-e-Islam-Sami optimistic to get TTP's response on talks in fortnight
• Pakistan terror casualties up 20pc: report
• Six bodies found in Karachi; one alleged target killer arrested
• French restaurant in Islamabad shut down for 'no Pakistanis allowed' policy
Arab World
• Iraq missile strikes kill 25 militants - ministry
• Syria war fuelling illegal organ trade
• 34 jihadists dead after rebel clashes in Syria's Idlib: NGO
• 5 killed in suicide attack on Kirkuk police station
• Syrian rebels oust al-Qaida-affiliated jihadists from northern city of Raqqa
• Syria Continues to See Foreign Fighters Flocking to Help Front Lines
• Syria draft law would impose visas on Arabs: Report
• Saudi Arabia may restrict foreign workers' stay to eight years
• I have not come here for any deal regarding Musharraf: Prince Saud al Faisal
South Asia
• Houses of Hindus attacked in Dinajpur, Bangladesh by BNP-Jamaat
• Another senior Afghan Taliban leader killed in Pakistan
• Nine Taliban militants join peace process in Takhar and Badakhshan
• Will resolve pending issues with India through talks: Bangladesh PM
North America
• US working closely with Iraq to defeat al-Qaida: White House
• Bangladesh still can exhibit its democratic pledge: US
• 400 Washington State Muslims to Lobby 120 Lawmakers on MLK Day
• CIA Lawyer: Stopping Torture 'Would Have Been Easy,' But I Approved It Anyway
• Biden calls Iraq's al-Maliki about insurgent attacks
• U.S. wants Afghanistan to sign security deal in 'weeks not months'
Mideast
• Jewish settlers backed by police storm Al-Aqusa Mosque
• Report: Hezbollah, Islamic Jihad barred from anti-Zionist meeting
• Syria peace meet must seek future without Assad: Turkey PM
• 272 West Bank settler homes approved, settlement of Ofra gets 'master plan'
Europe
• Iran not on Syria peace conference list: UN
• UN decides to stop updating Syria death toll
• Edward Snowden has more US-Israel secrets to expose, Glenn Greenwald says
• Ban asks Bangladesh political parties to resume dialogue
• Muslim families in London encouraged to adopt children
Southeast Asia
• Tens of Thousands Mosques Built Without Building Permits in West Java
• Selangor councillor starts dialogue on 'Allah' issue
• Muslim groups rap NUCC for censuring Jais over seizure of Bibles
Compiled by New Age Islam News Bureau
URL: https://www.newageislam.com/islamic-world-news/new-age-islam-news-bureau/libya-says-aims-to-run-economy,-banking-system-on-islamic-lines/d/35176
------------
Africa
Libya Says Aims to Run Economy, Banking System on Islamic Lines
Jan 7, 2014
TRIPOLI, (Reuters) - Libya will transform its banking and economic system to comply fully with Islamic law that bans interest payments, the economy minister and other officials said on Monday, but they gave scant details on how the plans would be implemented.
Under Muammar Gaddafi, who was overthrown in 2011, the growth of Islamic banking was not encouraged and four state-controlled institutions dominated the relatively undeveloped financial sector of the OPEC oil producer.
Two years after Gaddafi's ouster, Prime Minister Ali Zeidan's government says it wants to attract foreign investment and develop the non-oil sector of the economy but is struggling to assert its authority against heavily-armed tribesmen and militias and parts of the country remain outside its control.
It has also been weakened by political wrangling with Islamists who dominate the parliament, the General National Congress (GNC), which strongly backs the plans to introduce Islamic law into the economy.
Economy Minister Mustafa Abu Fanas said experts would now study how best to apply Islamic Sharia law in the economy.
"Regarding a starting date, this will need studies ... to see how and when we will transform," he told reporters on the sidelines of a conference organised by his ministry to explore ways to introduce Islamic law.
"I can't give an exact start date," Fanas said.
"STRONG ECONOMY"
When asked whether banks could retain conventional business models, he said: "Many researchers say there could be a gradual transformation by the Islamic and other banks towards an Islamic system, but in the long-term it is in our interest to have it ... to build up a strong economy."
Some banking officials, technocrats and liberals privately fear a hasty transformation might add to the political turmoil in Libya, where militias use weapons seized in the 2011 uprising to lay siege to ministries or oil facilities to press their financial and political demands.
Fanas said the GNC had given the government time to ban interest payments, with the change to be in force by the start of 2015.
Salah Makhzoum, deputy head of the GNC, told the conference that Libya would be joining a growing international trend as more and more states turned to Islamic law following banking crises in the United States and Europe.
"The world is moving towards an Islamic economy," he said.
Libya has about 16 mostly conventional banks, which have few ties with the outside world, a legacy of its long isolation under Gaddafi.
As well as banning interest payments, Islamic law also forbids investment in the gambling industry and in firms producing alcoholic drinks or pornography.
Fanas said Libya had become too dependent on its oil sector and said the government wanted to boost investment to upgrade infrastructure including hospitals and universities. It is also overhauling a foreign investment law from the Gaddafi era.
http://www.reuters.com/article/2014/01/06/libya-islamic-banks-idUSL6N0KG1PR20140106
------------
Gunmen kill 30 people in Nigerian village, says official
Jan 7, 2014
Gunmen have killed 30 people in a village in central Nigeria, according to a local official.
Gunmen stormed the majority-Berom Shonong village in the Riyom local government area in the early hours of Monday, opening fire on residents and torching dozens of houses, a member of the state house of assembly Daniel Dem told Reuters.
A spokesman for the local military confirmed the attack, but said it was too early to give a death toll.
Violence in central Nigeria is frequently fuelled by long-running land disputes between semi-nomadic communities like the Muslim Fulani and farming settlers including mainly Christian Berom, both often armed with automatic weapons.
Thousands have been killed in the last three years in tit-for-tat clashes between rival ethnic groups in the middle belt, where the largely Christian south meets the mostly Muslim north in Africa's most populous nation.
Such battles, far from economic centres or oilfields in Africa's second-biggest economy and top oil producer, are largely ignored by central government, human rights groups say.
http://www.theguardian.com/world/2014/jan/06/gunmen-kill-30-people-nigeria
------------
Young Muslim in Mauritania convicted for criticising prophet Mohammed
Jan 7, 2014
Nouakchott: A young Muslim man in Mauritania is facing a possible death sentence after being convicted of apostasy and jailed for having written an article criticising the prophet Mohammed, a judicial source said on Monday.
He was arrested on Thursday in Nouadhibou in the northwest of the country, an Islamic republic, and "was convicted of lack of respect for the prophet," and jailed, the source told a news agency.
The author of the article will be brought before a judge and given the chance to repent but if he refuses, "he risks the death penalty," the source added.
In the article, which was published on several Mauritanian websites but later removed, he questioned the decisions taken by Islam's prophet and his companions during the holy wars.
He also accused Mauritanian society of perpetuating "a sinful social order" and defended those at the bottom rungs of society who he described as "marginalised and discriminated against from birth."
It marked the first time an article criticising Islam and the prophet had been published in Mauritania, where Sharia law is enforced -- although severe punishments like death sentences have not been applied since the 1980s.
http://zeenews.india.com/news/world/young-muslim-in-mauritania-convicted-for-criticising-prophet-mohammed_902036.html
------------
South Sudan rebel Taban Deng eyes full reconciliation
Jan 7, 2014
Rebels in South Sudan are confident that "full reconciliation" can be achieved with the government, their chief negotiator has said.
Taban Deng's comments came as the two sides hold ceasefire talks in Ethiopia's capital, Addis Ababa.
Information Minister Michel Makuel said the government was committed to ending the conflict.
About 1,000 people have been killed since violence erupted in South Sudan on 15 December.
Nearly 200,000 people have been displaced in the fighting, which has seen clashes between the Dinka and Nuer ethnic groups.
President Salva Kiir is a Dinka and rebel leader Riek Machar is a Nuer.
Direct talks between the two sides began in Addis Ababa on Sunday, after days of wrangling over procedural issues and the agenda.
On Tuesday, chief mediators Seyoum Mesfin and Lazurus Sumbeiywo flew to South Sudan's capital, Juba, for talks with Mr Kiir, reports BBC Ethiopia correspondent Emmanuel Inguza.
A major sticking point is the demand by Mr Machar - Mr Kiir's former deputy in government - for the release of 11 people detained over an alleged coup plot.
Mr Kiir has repeatedly ruled out their release, saying they will face justice.
Mr Machar denies there was a coup plot, saying Mr Kiir's forces unleashed the violence as a way of consolidating his grip on power ahead of elections due in 2015.
Diplomatic pressure
Both Mr Kiir and Mr Machar belong to the governing Sudan People's Liberation Movement (SPLM), which led the decades-long conflict against Sudan, leading to the South's independence in 2011.
"We are from the same family. We are all from the SPLM. They are leading the government. We are in the SPLM," said Mr Deng.
"We have disagreed and we believe that we can achieve a full reconciliation that will mean a meaningful peace to both parties and to our people in the Republic of South Sudan."
Mr Makuel expressed a similar view.
"We are committed to peace, and from here I hope that we will be in a position to stop this death, which is happening in our country," he said.
Both sides have been under intense diplomatic pressure to end the fighting in South Sudan, the world's newest state.
On Monday, China's Foreign Minister Wang Yi met the warring parties in Addis Ababa, urging them to negotiate a ceasefire.
China is a major investor in South Sudan's oil industry.
Sudan's President Omar al-Bashir also held talks on Monday with Mr Kiir.
The two leaders were "in consultations about the deployment of a mixed force to protect the oilfields in the South", Sudan's Foreign Minister Ali Karti said.
When it seceded from Sudan, the South ended up with most of the oilfields.
But it has to export the oil using pipelines through ports in Sudan's territory. The government in Khartoum now fears its oil revenue will be disrupted by the fighting in the South.
Also on Monday, the South Sudanese government announced it had agreed to a cessation of hostilities with a rebel leader it has been fighting for nearly two years, David Yau Yau.
It had been feared that Mr Yau Yau, who has troops in Jonglei state, would join the new rebellion.
Meanwhile, heavy fighting continued between Mr Kiir's and Mr Machar's forces near Bor, the capital of Jonglei state.
Army spokesman Philip Aguer said it was only a "matter of time" before Bor was recaptured from rebels.
In another development, the United Nations said militiamen had taken control of a UN food warehouse in Bentiu and that UN vehicles had been commandeered in the rebel-held town of Bor.
"This makes it very, very difficult for us to continue our work - the sole purpose of which is reaching civilians in need," said Toby Lanzer, the UN's humanitarian co-ordinator in South Sudan.
http://www.bbc.co.uk/news/world-africa-25636631
----------
India
Muzaffarnagar riot victims echo Rahul's claim: Were approached by Lashkar
Jan 07 2014
New Delhi: Two Haryana imams arrested last month for their suspected links to Lashkar-e-Toiba, and another LeT operative, had allegedly visited relief camps of victims of the Muzaffarnagar communal riots and sought to recruit men to their module.
Some of the men who were allegedly approached refused to join hands with the Pakistan-based terror group and instead informed the Special Cell of the Delhi Police.
On Monday, they recorded their detailed statements under section 164 CrPC in the chamber of a city magistrate at the Patiala House court. The sealed statements are now admissible as evidence in court.
Congress vice president Rahul Gandhi had at a rally in Indore in October claimed that vested interests were behind the Muzaffarnagar riots and that an intelligence officer had told him that Pakistan's ISI was trying to recruit disgruntled youths.
The statement had sparked a furore with the BJP, Muslim groups and even some victims living in the relief camps strongly criticising Rahul for his claim.
Sources said the men who recorded their statements in court and have turned witnesses against the imams were living on the fringes of relief camps in Muzaffarnagar and Shamli.
They are believed to have told investigators that the two imams from Mewat - Hafeez Rashidi and Shahid - allegedly made numerous visits along with a senior LeT operative, currently on the run.
They allegedly tried to radicalise the victims by encouraging them to be loyal to their religion and join hands with the Lashkar operatives for a good cause. They were apparently promised a good lifestyle and money for their families, but the victims refused and chose to approach the police, sources said.
Sources said the victims had claimed that the operatives had also approached other displaced people living near the camps but those people refused to come forward and give a statement in court.
"Thousands of villagers in Muzaffarnagar have been displaced, their return has been politicised, people are living under extreme conditions. This is a perfect situation for these operatives to exploit, to induct vulnerable youth in their module. We are hopeful some more victims will come forward to give their statement," a source said.
The two imams were arrested by the Special Cell from their houses in Choti Mewli, Mewat, and accused of being Lashkar members and plotting a terror attack on the capital.
The two, suspected to be linked to top Lashkar operative Javed Baluchi, allegedly told investigators that Baluchi had about eight months back tasked the module to recruit youths from Mewat and other vulnerable areas.
However, a few weeks after the Jat-Muslim riots broke out in Muzaffarnagar in September, they claimed they were ordered to visit the place and identify prospective field operatives.
http://www.indianexpress.com/news/some-muzaffarnagar-riot-victims-depose-lashkar-men--came-to-recruit-us/1216294/?India_top
------------
Hasina has gone by the book, says India; U.S. favours fresh elections
Jan 7, 2014
India and the United States have come out with diametrically opposite reactions to the elections in Bangladesh that have resulted in a victory for incumbent Prime Minister Sheikh Hasina's party, the Awami League, and non-participation by the main Opposition Bangladesh Nationalist Party and several other parties.
India said the elections, held on Sunday, were a "constitutional requirement" and part of the internal and constitutional process of Bangladesh. On the other hand, the U.S. expressed disappointment as more than half the seats went uncontested and most of the remainder offered "only token opposition." The results "do not appear to credibly express the will of the Bangladeshi people," said the U.S. State Department in a statement.
Full report at:
http://www.thehindu.com/news/international/south-asia/hasina-has-gone-by-the-book-says-india-us-favours-fresh-elections/article5546619.ece
------------
Pak for speedy action on Kashmir
By Javed M. Ansari in New Delhi
Jan 7, 2014
PAKISTAN Prime Minister Nawaz Sharif's special envoy Shaharyar M. Khan on Monday revealed that India and Pakistan had come close to a resolution on the Kashmir issue on two occasions — once during Prime Minister Atal Bihari Vajpayee's time and once with the Manmohan Singh government.
However, it was only during the discussion between the then PM Vajpayee and General Pervez Musharraf, who was then the President of Pakistan, that the question of territorial concessions came up.
Full report at:
Mail Today
------------
IITian's Urdu website completes 1 year
TNN | Jan 7, 2014
NEW DELHI: A non-profit online resource for promotion and propagation of Urdu literature and poetry, Rekhta, completes one year of serving numerous aficionados of ghazals and nazams on January 11. The website was launched on January 11, 2013, by then communications minister Kapil Sibal.
Rekhta, which is currently digitizing works of Urdu literature, offers a programme to provide young, upcoming poets a plank to share and showcase their compositions. An initiative of IIT Kharagpur alumnus Sanjiv Saraf, the website provides works of the largest number of poets in a single window, with global readership in 140 countries.
Full report at:
http://timesofindia.indiatimes.com/india/IITians-Urdu-website-completes-1-year/articleshow/28494784.cms
------------
Pakistan
Sindh-2 to become a reality, says Altaf
January 07, 2014
KARACHI: In yet another tumultuous statement, MQM chief Altaf Hussain has said whether anyone accepts or not Sindh two has become reality and its practical shape will also appear whether formally or in constitutional way.
Talking via telephone from London to members of MQM's Coordination Committee, Altaf Hussain treason trial case against former president General (r) Pervez Musharraf for imposing emergency or martial law was like putting burden only on one person and an effort to save those who were part of the act.
He said that this was a conspiracy against not only one person but against the whole country.
He said if the government wants to initiate the case against Musharraf under Article 6, it should be started since 12th October 1999 instead of 3rd November 2007. He said the trial should not be initiated only against Musharraf but also against those who supported him.
http://www.nation.com.pk/karachi/07-Jan-2014/sindh-2-to-become-a-reality-says-altaf
------------
Taliban talks: No one tasked to lead peace process, says Rashid
January 7, 2014
ISLAMABAD: Federal Information Minister Pervaiz Rashid on Monday clarified that the government has so far assigned no person the responsibility of spearheading peace talks with the Taliban.
"Prime Minister Nawaz Sharif has been leading the process of peace talks with the Tehreek-e-Taliban Pakistan (TTP) personally so far… No one [else] has been assigned this responsibility," he told The Express Tribune.
"According to the resolution of the all parties conference on terrorism, all parties authorised the prime minister to initiate negotiations with the Taliban to root out militancy from the country," he said, adding, "The prime minister accepted this task as a challenge and has requested all religious and political forces to assist him in this regard."
Full report at:
http://tribune.com.pk/story/655819/taliban-talks-no-one-tasked-to-lead-peace-process-says-rashid/
------------
Jamiat Ulema-e-Islam-Sami optimistic to get TTP's response on talks in fortnight
January 07, 2014
ISLAMABAD - Jamiat Ulema-e-Islam-Sami group is optimistic to get response of Tehreek-e-Taliban Pakistan (TTP) within fortnight on peace talks message conveyed by JUI-S Chief Maulana Sami-ul-Haq a few days ago.
Maulana Sami, who was assigned the task to manage peace talks with Taliban by Prime Minister Nawaz Sharif, after the gap of less than a week conveyed message to some of responsible groups of TTP. "The response of Taliban about the message of peace negotiation could take more than a week," said JUI-S spokesman talking to The Nation.
The PML-N government with the consent of all political parties last year decided through a resolution that negotiations with the militants should be pursued as their first option to counter terrorism. It was decided that peace talks will be the first option to avoid any confrontation.
Full report at:
http://www.nation.com.pk/islamabad/07-Jan-2014/jui-s-optimistic-to-get-ttp-s-response-on-talks-in-fortnight
------------
Pakistan terror casualties up 20pc: report
January 07, 2014
ISLAMABAD - Militant attacks in Pakistan killed nearly 2,500 people in 2013, up 20 percent from the year before, according to a think-tank which said the government's "appeasement approach" had let the Taliban make a comeback.
The rise ended a three-year fall in casualties that began in 2010, as insurgents carried out scores of attacks in the run-up to the May 2013 general election and sustained the level of violence until the end of the year. A total of 2,451 people were killed in acts of terror, said the annual security report from the Pak Institute for Peace Studies (PIPS), up from 2,050 in 2012.
Full report at:
http://www.nation.com.pk/islamabad/07-Jan-2014/pakistan-terror-casualties-up-20pc-report
------------
Six bodies found in Karachi; one alleged target killer arrested
2014-01-07
KARACHI: Six bodies bearing torture marks were recovered from Karachi's Gulshan-i-Maymar area on Tuesday, DawnNews reported.
According to the police, all the victims had been abducted and tortured before being killed with a sharp weapon.
Police said the victims were aged between 20-30 years. Five of the deceased persons were identified as Munawwar, Saleem, Javed, Ramzan and Abid, respectively.
One victim could not be identified.
Police cordoned off the area and investigation went underway to apprehend those responsible.
Full report at:
http://www.dawn.com/news/1078958/six-bodies-found-in-karachi-one-alleged-target-killer-arrested
------------
French restaurant in Islamabad shut down for 'no Pakistanis allowed' policy
PTI | Jan 7, 2014
ISLAMABAD: A French restaurant, running in a posh locality here, was raided and shut down by police following a public outcry over its policy of not allowing Pakistanis in.
'La Maison', running out of Islamabad's F7-1, was not allowing Pakistanis in, citing the French style of cooking that uses wine.
Also, the food was not halal and even pork was served.
The controversial policy had led to a storm on various social media networks, with many comparing the policy to apartheid and the infamous colonial boards outside clubs in India during British rule.
Full report at:
http://timesofindia.indiatimes.com/world/pakistan/French-restaurant-in-Islamabad-shut-down-for-no-Pakistanis-allowed-policy/articleshow/28512442.cms
------------
Arab World
Iraq missile strikes kill 25 militants - ministry
7 January 2014
Iraqi missile strikes on the city of Ramadi killed 25 militants Tuesday, the defence ministry spokesman said.
Iraqi forces targeted militants with "missile strikes, resulting in the killing of 25," Staff Lieutenant General Mohammed al-Askari told AFP.
http://voiceofrussia.com/news/2014_01_07/Iraq-missile-strikes-kill-25-militants-ministry-6917/
------------
Syria war fuelling illegal organ trade
World Bulletin / News Desk
Jan 7, 2014
As the Syrian civil war enters its third year, over 2 million Syrians have fled the conflict to neighboring countries. Lebanon hosts the most Syrian refugees with as many as 800,000 of them.
However, life in Lebanon, in which many of its people live in poverty, has not been easy for the refugees. A report has claimed that refugees in Lebanon are resorting to selling their organs to illegal dealers in order to make a month's salary.
Refugees are selling their organs for around 1 million Lebanese Pounds, which is equivalent to about $670. Kidneys are the most common organ on the market. Dealers who process the deal fetch the equivalent of a teacher's monthly salary for each kidney that is sold.
Full report at:
http://www.worldbulletin.net/?aType=haber&ArticleID=126417
------------
34 jihadists dead after rebel clashes in Syria's Idlib: NGO
Jan 7, 2014
At least 34 jihadists from the Islamic State of Iraq and the Levant and another group have been killed in clashes with other rebel movements in Syria's Idlib province, an NGO said Tuesday.
The Syrian Observatory for Human Rights said the casualties were discovered after the clashes in Jabal Zawiya, adding that all 34 were believed to be non-Syrian fighters.
http://english.ahram.org.eg/NewsContent/2/8/91022/World/Region/-jihadists-dead-after-rebel-clashes-in-Syrias-Idli.aspx
------------
5 killed in suicide attack on Kirkuk police station
World Bulletin / News Desk
Jan 7, 2014
At least five people were killed and 51 injured on Tuesday in a suicide bombing that targeted a local police station in Iraq's northern city of Kirkuk, a security official said.
A suicide bomber drove a truck into central Kirkuk's Al-Quriya Police Station, killing himself along with four others, including one policeman.
A number of policemen were also injured in the blast, Kirkuk Deputy Police Chief Turhan Abdel-Rahman told Anadolu Agency.
Full report at:
http://www.worldbulletin.net/?aType=haber&ArticleID=126395
------------
Syrian rebels oust al-Qaida-affiliated jihadists from northern city of Raqqa
Jan 7, 2014
Syrian rebels have ousted a hardline al-Qaida group from the provincial capital of Raqqa, freeing more than 50 hostages in a fourth day of clashes across the north of the country.
The fight against the group, the Islamic State of Iraq in Syria (Isis), comes as members of the same group remain in control of much of Ramadi and Falluja, despite similar attempts to oust them by the Iraqi military.
Rebel groups in Syria have made sweeping advances against Isis since first taking on the powerful militia on Friday. Since then, many of its members have withdrawn from most of the Turkish border areas it had held for at least six months.
Full report at:
http://www.theguardian.com/world/2014/jan/06/syrian-rebeal-oust-a-qaidi-jihadists-raqqa
------------
Syria Continues to See Foreign Fighters Flocking to Help Front Lines
Jan 7, 2014
According to the Military Intelligence Section 5 (MI5), Syria continues to see foreign fighters flocking, in order to help the front lines fight with Al Qaeda in their bloody civil war. Volunteers now make up around 10 percent of rebel forces, and intelligence sources suggest that around 100 British citizens have joined their ranks.
One British volunteer in Northern Syria, stated on a vice documentary that the government was the one committing crimes, and that people must leave their government to take control and ultimately remove it. He said that soldiers and "normal folk" are the ones taking the blame for crimes committed, and that this is why people have an obligation to fight, in order to protect their honor and their women.
Full report at:
http://guardianlv.com/2014/01/syria-continues-to-see-foreign-fighters-flocking-to-help-front-lines/
------------
Syria draft law would impose visas on Arabs: Report
Jan 7, 2014
The Syrian authorities have prepared a draft law under which previously exempt Arab nationals will now need a visa to visit the country, a pro-regime newspaper reported on Monday.
Parliament will discuss "a draft law that regulate the entry and residence of Arabs and foreigners", Al-Watan said.
If approved, the law would require "any person entering or leaving Syria to hold a valid passport" which "would need to be stamped with a visa from one of our diplomatic missions or consulates abroad".
Full report at:
http://english.ahram.org.eg/NewsContent/2/8/90992/World/Region/Syria-draft-law-would-impose-visas-on-Arabs-Report.aspx
------------
Saudi Arabia may restrict foreign workers' stay to eight years
PTI | Jan 7, 2014
RIYADH: Saudi Arabia might restrict foreign workers' stay in the country to a maximum of eight years under a proposed law to create jobs for its citizens, a move expected to affect a large number of Indians.
The proposed law has been floated by the Labour Ministry which is studying new proposals to expand the Nitaqat law in its bid to reduce the number of foreign workers and dependents besides creating more jobs for citizens with higher salaries.
An expat worker living in Saudi with his wife and two children will be considered as two foreign workers under the proposed system. A couple will accumulate 1.5 points and will incur a quarter of a point per child, the Arab News reported today.
Full report at:
http://timesofindia.indiatimes.com/world/middle-east/Saudi-Arabia-may-restrict-foreign-workers-stay-to-eight-years/articleshow/28518149.cms
------------
I have not come here for any deal regarding Musharraf: Prince Saud al Faisal
January 7, 2014
ISLAMABAD: I have not come here for any sort of deal with regards to the former president General (retd) Pervez Musharraf, stated Saudi Foreign Minister Prince Saud al Faisal during a press conference in Islamabad, Express News reported on Tuesday.
This is the first visit by any top Saudi official to Pakistan since Prime Minister Nawaz Sharif came to power in June last year following his party's thumping win in the parliamentary polls. It is a two-day official trip to hold talks with the Pakistani leadership on key bilateral, regional and international issues.
Full report at:
http://tribune.com.pk/story/655967/i-have-not-come-here-for-any-deal-regarding-musharraf-saudi-foreign-minister/
------------
South Asia
Houses of Hindus attacked in Dinajpur, Bangladesh by BNP-Jamaat
January 7, 2014
The BNP-Jamaat-led opposition alliance men yesterday vandalised, torched and looted valuables from the houses of Hindus in the northwestern districts of Dinajpur and Thakurgaon.
The attacks were carried out at the Laad Dabra village under Sator union of Birganj upazila of Dinajpur, reported our correspondent in the district.
Houses of Kailash Roy, Jotish Roy, Jotindro Roy, Promod Charan and former UP chairman Roopnarayn Sheel were smashed in the attack. The house of Md Mamun, son of Khoka Pramanik, was also attacked.
Witnesses and victims said properties worth almost Tk1 crore were damaged in the attack.
On the Election Day, BNP-Jamaat men attacked nearly all the 80 polling centres in the area. At least 40 educational institutions, which were used as polling centres, had been badly damaged.
Full report at:
http://www.dhakatribune.com/crime/2014/jan/07/houses-hindus-attacked-dinajpur-thakurgaon#sthash.PRpRklI6.dpuf
------------
Another senior Afghan Taliban leader killed in Pakistan
Jan 07 2014
According to reports, another senior Afghan Taliban leader was killed in Quetta city of Pakistan.
The Taliban leader, Mullah Salim was reportedly injured in an attack by his own security guards in Quetta city, and he succumbed to his injuries on Monday night.
Security officials in southern Zabul province of Afghanistan, said the Taliban leader, Mullah Salim died in a hospital around 11 pm on Monday night.
Provincial security chief for southern Zabul province of Afghanistan, Ghulam Jilani Farahi, said, Mullah Salim was one of the senior Taliban group leader, and was also shadow district governor in Mizan district.
Full report at:
http://www.khaama.com/another-senior-afghan-taliban-leader-killed-in-pakistan-3264
------------
Nine Taliban militants join peace process in Takhar and Badakhshan
January 7, 2014
Two group of armed Taliban militants joined peace process in north-eastern Takhar and Badakhshan provinces of Afghanistan, local officials said.
A spokesman for Takhar provincial security commandment, Khalilullah Asir, said five Taliban militants and their leader Sardar Moahmmad joined peace process after surrendering to Afghan government.
Mr. Asir further added that the group was involved in anti-government armed activities in Eshkamish district during the past six years.
Full report at:
http://www.khaama.com/nine-taliban-militants-join-peace-process-in-takhar-and-badakhshan-3265
------------
Will resolve pending issues with India through talks: Bangladesh PM
PTI | Jan 6, 2014
DHAKA: Fresh from victory in the controversial general elections, Bangladesh Premier Sheikh Hasina on Monday said she was confident of resolving all pending issues with India, including the Land Boundary Agreement, through talks.
Replying to a question about her government's ties with India in the past five years, Hasina said she wants good relations with all regional countries with the common interest of fighting poverty and deriving mutual benefits.
"We may have some problems on some bilateral issues like the pending Ganges Water treaty, water sharing in 53 other common rivers and the Land Boundary Agreement, but I believe we can settle them through talks," she said in her first comments to the media after the victory in yesterday's polls.
Full report at:
http://timesofindia.indiatimes.com/world/south-asia/Will-resolve-pending-issues-with-India-through-talks-Bangladesh-PM/articleshow/28479571.cms
---------
North America
US working closely with Iraq to defeat al-Qaida: White House
PTI | Jan 7, 2014
WASHINGTON: The US has said it is looking to accelerate foreign military sales deliveries, including of missiles and drones, to Iraq in its bid to work closely with the country to defeat al-Qaida.
"The US maintains a strong relationship and commitment with and to the government of Iraq. We remain in close contact both from Washington and our embassy in Baghdad with Iraq's political leaders about how we can continue to support the government's efforts to defeat al-Qaida — what's known now as the Islamic State of Iraq and the Levant, which is the al-Qaida umbrella group there," White House press secretary Jay Carney told reporters.
"We have made a significant commitment to helping the Iraqi government in dealing with that situation...this is something for the Iraqis to take the lead on and handle themselves, but that doesn't mean that we cannot assist them, and we have," he said in response to a question.
Full report at:
http://timesofindia.indiatimes.com/world/us/US-working-closely-with-Iraq-to-defeat-al-Qaida-White-House/articleshow/28513215.cms
-----------
Bangladesh still can exhibit its democratic pledge: US
January 7, 2014
The US believes Bangladesh still has an opportunity to demonstrate its commitment to democracy by organising fresh elections that are credible in the eyes of its people.
"We did note that we were disappointed by the recent parliamentary elections, especially because so many of the seats were uncontested or only had token opposition," Marie Harf, deputy spokesperson of the US Department of State, said while replying to queries on the current situation in Bangladesh at a press briefing in Washington DC on January 6.
"Obviously, we believe going forward things should be done very differently," she said adding that Bangladesh still has a chance to have a different future.
"We obviously condemn in the strongest terms the violence coming from all quarters, believe that violence has no place in a democratic process, and encourage Bangladesh going forward – the parties – all parties and all sides – to come together and move away from that kind of violence," she said.
Full report at:
http://www.thedailystar.net/bangladesh-still-can-exhibit-its-democratic-pledge-us-5806
------------
400 Washington State Muslims to Lobby 120 Lawmakers on MLK Day
Jan 7, 2014
(SEATTLE, WA, 1/6/2014) -- On Monday, January 20, an estimated 400 Washington state Muslims are scheduled to meet with some 120 of their state lawmakers in Olympia as part of the annual "Washington State Muslim Lobby Day" organized by that state's chapter of the Council on American-Islamic Relations (CAIR-WA), the nation's leading Muslim civil rights and advocacy organization.
WHAT: 5th Annual Washington State Muslim Lobby Day
WHERE: Morning assembly at Olympia Center, 222 Columbia St. NW, Olympia, WA. March to Capitol, rally on Capitol steps, and legislative visits on Capitol campus.
Full report at:
http://www.cair.com/press-center/press-releases/12308-400-washington-state-muslims-to-lobby-120-lawmakers-on-mlk-day.html
------------
CIA Lawyer: Stopping Torture 'Would Have Been Easy,' But I Approved It Anyway
Jan 7, 2014
John Rizzo, the chief legal counsel for the Central Intelligence Agency during the Bush presidency in the immediate aftermath of 9/11 has been opening up about what he experienced during those years as the administration, the agency, and its operatives, in the words of former Vice President Dick Cheney, "took the gloves off" in their war against terrorism.
In his latest confessional piece, titled "I Could Have Stopped Waterboarding Before It Happened," published in Politico Magazine, Rizzo recounts a visit from unnamed members of the White House's Office of Legal Council (OLC) in April of 2002 and how they described for him the series of what they called "enhanced interrogation techniques" or EITs they were hoping to employ on CIA-held detainees.
Full report at:
http://www.commondreams.org/headline/2014/01/06-1
------------
Biden calls Iraq's al-Maliki about insurgent attacks
Jan 7, 2014
US Vice President Joe Biden spoke with Iraqi Prime Minister Nuri al-Maliki on Monday to express support for Iraq's fight against al Qaeda-linked militants, a message Biden repeated in another call on Monday with Osama al-Nujaifi, speaker of the Iraqi Council of Representatives, the White House said.
"The Vice President expressed concern for those Iraqis who are suffering at the hands of terrorists and praised the recent security cooperation between Iraqi Security Forces and local and tribal forces in Anbar province," the White House said in a statement.
The White House said that the United States is accelerating its deliveries of military equipment to Iraq to help the country fight the Islamic State of Iraq and the Levant (ISIL).
The affiliate of the international al Qaeda network has been tightening its grip on the country's Anbar province, and last week captured positions in Ramadi and large parts of Falluja.
Full report at:
http://english.ahram.org.eg/NewsContent/2/8/91026/World/Region/Biden-calls-Iraqs-alMaliki-about-insurgent-attacks.aspx
------------
U.S. wants Afghanistan to sign security deal in 'weeks not months'
Jan 7, 2014
(Reuters) - The United States wants the Afghanistan government to sign a bilateral security agreement in matter of weeks if a contingent of U.S. troops is to remain there after 2014, the White House said on Monday.
The Afghan government had ignored U.S. demands for it to sign a framework security agreement by the end of 2013, after protracted negotiations that have strained relations between the two countries.
U.S. officials say unless a deal is reached to keep upwards of 8,000 U.S. troops inside the country after 2014, the United States might instead completely withdraw from the country.
Afghanistan President Hamid Karzai has expressed skepticism at the U.S. threat for a complete withdrawal.
Full report at:
http://www.reuters.com/article/2014/01/06/us-afghanistan-usa-idUSBREA050Z520140106
------------
Mideast
Jewish settlers backed by police storm Al-Aqsa Mosque
World Bulletin / News Desk
Jan 7, 2014
Jewish settlers backed by Israeli police stormed the Al-Aqsa Mosque compound in the city of Al-Quds (occupied East Jerusalem) on Tuesday.
"Nineteen settlers stormed the Al-Aqsa compound through the Al-Mgharba Gate under the watch of Israeli police," mosque guard Othman Abu Ghyarbiyeh told Anadolu Agency.
"Four settlers tried to perform Talmudic rituals inside the compound, but Al-Aqsa guards stopped them from doing so," he added.
According to the Al-Aqsa Foundation for Religious Endowments and Heritage, Israeli police evacuated the settlers from the area amid fears of violence after Palestinian students stood up to them.
Full report at:
http://www.worldbulletin.net/?aType=haber&ArticleID=126421
---------
Report: Hezbollah, Islamic Jihad barred from anti-Zionist meeting
Jan 7, 2014
Tunisian authorities over the weekend prevented two prominent figures from Hezbollah and Islamic Jihad from entering the country to attend an anti-Zionist conference in Tunis, Israel's Channel 10 reported Saturday.
According to Tunisian media, Islamic Jihad's Abu Imad al-Rifai and Hezbollah's Hasan Izz al-Din landed at Carthage International Airport, but were denied entry.
According to the German news agency Deutsche Presse Agentur, the two were supposed to participate in the National Sovereignty and Resistance Within the Arab Movements conference, scheduled to be held in Tunis on Saturday.
Full report at:
http://www.israelhayom.com/site/newsletter_article.php?id=14517
------------
Syria peace meet must seek future without Assad: Turkey PM
January 7, 2014
TOKYO: A UN-hosted peace conference on Syria must work to remove President Bashar al-Assad from power because of his culpability for tens of thousands of deaths, Turkey's Prime Minister said in Tokyo on Tuesday.
"In Geneva 2, we must make sure that… all the measures will not fail… so that we can (bring) in an era without Bashar al-Assad," he said, referring to peace talks planned later this month in Switzerland.
The Syrian conflict is estimated to have claimed more than 130,000 lives, and has forced millions more to flee their homes.
"A person who has allowed that to happen still remaining at the top of the country cannot be accepted," Erdogan said.
Full report at:
http://tribune.com.pk/story/655950/syria-peace-meet-must-seek-future-without-assad-turkey-pm/
------------
272 West Bank settler homes approved, settlement of Ofra gets 'master plan'
Jan 7, 2014
The Civil Administration authorized 272 new homes for settlers this week and gave the Ofra settlement a boost of legitimacy by approving the first-ever master plan for the West Bank community since it was created in 1975.
"After 40 years of waiting, this is a celebration," Ofra secretary Sami Karsenti said on Monday night. Both he and Peace Now spoke with The Jerusalem Post about the approvals.
Ofra is located 15 kilometers over the pre-1967 lines in the Binyamin region. It is outside the boundaries of the security barrier and is considered an isolated settlement.
Ofra is considered a legal settlement under Israeli law because the government approved it in the 1970s, even though it fails to meet all the technical criteria for an approved community.
A master plan for the settlement of 3,400 people was never approved and as such its buildings are considered unauthorized. The settlement's situation is particularly complicated because many of the homes are situated on land that is privately owned by Palestinians.
Full report at:
http://www.jpost.com/National-News/272-West-Bank-settler-homes-approved-settlement-of-Ofra-gets-master-plan-337311
------------
Europe
Iran not on Syria peace conference list: UN
January 07, 2014
UNITED NATIONS : UN leader Ban Ki-moon on Monday started sending out invitations to a Syria peace conference this month, but Iran was not on the list, a spokesman said. US Secretary of State John Kerry and Russian Foreign Minister Sergei Lavrov will meet on January 13 in a bid to decide Iran's role in ending the nearly three-year-old war, said UN deputy spokesman Farhan Haq. Russia backs the participation of Iran, a major backer of President Bashar al-Assad, at talks scheduled to start in Switzerland on January 22.
The United States and other western nations say Iran must first support a 2012 declaration by the major powers calling for a transitional government in Syria before it can play a frontline role in the peace talks. The role of Iran is one of many obstacles that have bedeviled efforts by Ban and UN-Arab League peace envoy Lakhdar Brahimi to organize the conference. The makeup of the Syrian opposition and government delegations has also called friction and details of their representatives have still not been released.
But Haq confirmed to reporters that Ban has started asking countries to attend, while adding: Full report at:
http://www.nation.com.pk/international/07-Jan-2014/iran-not-on-syria-peace-conference-list-un
------------
UN decides to stop updating Syria death toll
Jan 7, 2014
The UN's human rights office has stopped updating the death toll from Syria's civil war, confirming Tuesday that it can no longer verify the sources of information that led to its last count of at least 100,000 in late July.
Rupert Colville, a spokesman for the UN Office of the High Commissioner for Human Rights, blamed the failure to provide new figures on the organization's own lack of access on the ground in Syria and its inability to verify "source material" from others.
"It was always a very difficult figure," Colville said in answer to a question by The Associated Press. "It was always very close to the edge in terms of how much we could guarantee the source material was accurate. And it reached a point where we felt we could no longer cross that line. So for the time being, we're not updating those figures."
Full report at:
http://english.ahram.org.eg/NewsContent/2/8/91032/World/Region/UN-decides-to-stop-updating-Syria-death-toll.aspx
----------
Edward Snowden has more US-Israel secrets to expose, Glenn Greenwald says
Jan 7, 2014
JERUSALEM - Former US spy agency contractor Edward Snowden has more secrets to reveal that relate to Israel, the journalist who first brought his leaks to the world's attention said on Monday.
Among allegations aired by Snowden last year were that the US National Security Agency and its British counterpart GCHQ had in 2009 targeted an email address listed as belonging to then-Israeli Prime Minister Ehud Olmert and monitored emails of senior defense officials.
Israel played down the disclosures. But Prime Minister Benjamin Netanyahu said he had ordered the matter examined and that "there are things that must not be done" between allies.
Full report at:
http://www.jpost.com/Defense/Edward-Snowden-has-more-US-Israel-secrets-to-expose-Glenn-Greenwald-says-337306
------------
Ban asks Bangladesh political parties to resume dialogue
Jan 7, 2014
The U.N. chief Ban Ki-moon has expressed regret over the failure of Bangladesh's political parties to produce a "peaceful, all-inclusive election" and called for a meaningful dialogue to resolve the deadlock that has left over 160 people dead.
The U.N. Secretary-General expressed sadness at the loss of life and violent incidents that has marred the country's parliamentary elections, characterised by polarisation and low participation.
Prime Minister Sheikh Hasina's Awami League won 104 of the 147 seats for which polling was held on Sunday. Having won 127 seats uncontested, the party now has 231 seats, giving it a clear three-fourth majority in the 10th parliament.
Full report at:
http://www.thehindu.com/news/international/south-asia/ban-asks-bangladesh-political-parties-to-resume-dialogue/article5549157.ece
----------
Muslim families in London encouraged to adopt children
World Bulletin / News Desk
Jan 7, 2014
Muslims living in the UK capital London are being encouraged by the local authorities to adopt children. The local council in the east London borough of Tower Hamlets, which hosts a large Bangladeshi Muslim community, is urging Muslims, particularly from the Bangladeshi community, to step forward.
The Muslim population in London is growing, and as it grows, so does the need of Muslim children with troubled backgrounds for new families. As the adoption scheme prefers to give children to adoptive parents with a similar background, Muslim families are needed. So far, the number of Muslim families willing to adopt has not consistent with the increase of the demand for them.
Full report at:
http://www.worldbulletin.net/?aType=haber&ArticleID=126351
------------
Southeast Asia
Tens of Thousands Mosques Built Without Building Permits in West Java
January 07 2013
Tens of thousands mosques in West Java were built without building permits, head of the West Java chapter of the Indonesian Mosque Council Zulkarnaen said in Bandung on Tuesday.
Zulkarnaen explained that around 62 percent of no less than 162,000 mosques and prayer rooms in the province did not have land certificates. "It's rare for mosques to have building permits. Many of them do not have land certificates," he said.
Full report at:
http://www.thejakartapost.com/news/2014/01/07/tens-thousands-mosques-built-without-building-permits.html
------------
Selangor councillor starts dialogue on 'Allah' issue
January 7, 2014
The controversy over the use of the word "Allah" by Christians is far from over, but the Selangor government, at least, has initiated a dialogue over the issue.
State executive councillor in charge of religious affairs Sallehen Mukhyi had an hour-long meeting today with Catholic weekly Herald editor Rev Father Lawrence Andrew, Klang MP Charles Santiago and Seri Andalas assemblyman Xavier Jeyakumar at the state secretariat office in Shah Alam.
Sallehen later said he would be seeking an explanation from the Home Ministry on its stand on the 10-point solution, which allows the import of Bibles in Malay.
He said imported Bibles were given a stamp of approval from the Home Ministry when they are brought into the country.
"We need to follow the sultan's decree in Selangor but we must also see how it gels with the cabinet's 10-point solution."
Full report at:
http://www.themalaysianinsider.com/malaysia/article/selangor-councillor-starts-dialogue-on-allah-issue
------------
Muslim groups rap NUCC for censuring Jais over seizure of Bibles
January 7, 2014
Some Muslim groups have hit out at the National Unity Consultative Council for censuring the Selangor Islamic Religious Depatment (Jais) on its seizure of Bibles containing the word Allah from the Bible Society of Malaysia (BSM) last week.
Speaking on behalf of a coalition of nine pro-Umno Muslim NGOs, Perkasa deputy president Datuk Zulkifli Noordin (pic) said the NUCC's disapproval was a transgression of natural justice as Jais had acted according to the law.
He said the NUCC should have allowed Jais to explain its action.
He also said that the enforcement body did not seize Bibles per se, but had only seized publications which contravened section 9 of Selangor's Non-Islamic Religions (Control of Propagation Among Muslims) Enactment 1988.
Full report at:
http://www.themalaysianinsider.com/malaysia/article/muslim-groups-rap-nucc-for-censuring-jais-over-bbles-seizure
------------
URL: https://www.newageislam.com/islamic-world-news/new-age-islam-news-bureau/libya-says-aims-to-run-economy,-banking-system-on-islamic-lines/d/35176