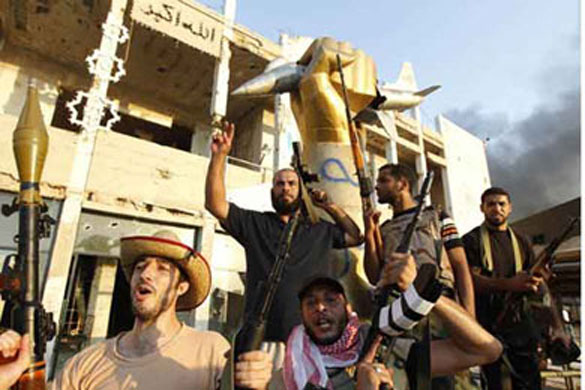 More than 400 killed, 2,000 hurt in Tripoli: Arabiya TV
Libyans Rejoice in a Castle Filled With Guns and the Trappings of Power
Gaddafi says he quit compound in 'tactical withdrawal'
Col Muammar Gaddafi has vowed death or victory in the fight against "aggression"
UN HR urged the Pakistan to investigate killings and disappearances in Balochistan
Iran tries 'Israeli spy' for scientist's murder
Syrians taunt Assad, saying regime next to unravel
Gaddafi ready to step down: ex-Croatian President
Intimidated no more, Libyans end Gaddafi's rule
Hunt for Gadhafi Begins as Compound Falls to Libyan Rebels
Death rains from above on Tripoli's streets
Tripoli 'under control' of Gaddafi forces: Seif al-Islam
What's next in Libya key to US politics, economy?
Indonesian mayor seeks to ban church construction
Women in Saudi Arabia demand their freedom and dignity
Women football making headway in Saudi Arabia
Libya conflict: Defiant Saif al-Islam Gaddafi reappears
Gadhafi will not admit defeat, says former Libyan PM
Gadhafi: Libya Not like Iraq
Rebels' Assault on Tripoli Began With Careful Work Inside
As Libyan regime crumbles, rebels begin a new struggle
Syrian troops kill 7 after UN team visit
Four target killers confess to 13 murders in Lyari, Karachi
Suspected drone strike kills 4 in northwest Pakistan, officials say
Calls for army grow as Karachi week toll hits 101
Turkey Says It Killed 100 Kurdish Separatists
Vatican message to Muslims: "We are spiritually very close to you…"
Sweden's Jews, Muslims face web hate rise: study
Oslo Terror Attacks and Dilemma of Globalisation
Tehrik-i-Taliban involved in Shahbaz Bhatti's murder: IG Islamabad
Push still on to kill Prime Minister Sheikh Hasina
European 'No-Go' Zones for Non-Muslims Proliferating
Ansar Burney announces Anna-style anti-corruption campaign in Pak
A truth panel can find answers to unmarked graves: Omar Abdullah
Karachi violence: 'Day of mourning' being observed, 5 killed in metropolis
'Bashar, you will be tried like Mubarak'
British campaigner battles media's cone of silence on Shariah law
Hundreds of Afghans slam UN in vote row
Syria unrest: UN rights body to investigate crackdown
Iran moves nuclear technology underground
Yemeni politician dies of wounds from attack on Saleh
First Day of Eid in Gulf Likely on Tuesday Aug 30
Al Qaeda in Yemen alienates local jihadists
Muslims see 'foreign law' bill as attack on Shariah
JEDDAH: Lawyer refutes evidence against schoolteacher in serial rape case
Reconciliation committee to take up case of Sri Lankan housemaid
Nitaqat a boon for Saudi job seekers
Philadelphia locals adopt Muslim-inspired menswear
Iranian Kurdistan: 32nd Anniversary of Khomeini's Jihad against Kurds
Jakarta's Tough on Terrorists But Not Other Radicals
26/11: India yet to get evidence related to Headley, says MHA
Why are Muslim leaders not condemning violence in Syria?
Compiled by New Age Islam News Bureau
URL: https://newageislam.com/islamic-world-news/libya-gaddafi-citadel-falls-his/d/5305
---------
Libya: Gaddafi citadel falls but his fate remains unknown
Luke Harding in Tripoli and Julian Borger
23 August 2011
Dictator and his family nowhere to be found as rebel fighters storm Bab al-Aziziya compound in Tripoli
Muammar Gaddafi's seat of power in Tripoli has fallen as rebel fighters swarmed into his fortified compound, stamping on a gilded bronze head of the deposed despot and setting fire to his famous tent in a cathartic end to his 42-year dictatorship.
The Libyan leader and his family, however, were nowhere to be found. If they had indeed spent the last days of their rule inside their walled citadel, Bab al-Aziziya, they had since melted away, possibly through the labyrinth of tunnels that lie beneath the compound, an insurance policy against such a day.
With Gaddafi's fate unknown, nobody could say for sure whether the bloodshed was over for good. In the streets beyond the compound, gunfire continued to ring out, although it was unclear whether it was a result of continued skirmishes or celebrations. There were also reports of sporadic looting as darkness fell.
Government strongholds remained in the coastal town of Sirte, Gaddafi's birthplace, and the southern desert city of Sabha, and there was no word last night on whether his supporters would carry on fighting. But the fall of Gaddafi's fortress-like city within a city, and the trampling of his likeness under the feet of Libya's new rulers, represented a symbolic moment of victory after a six-month civil war.
Earlier in the day, loyalist snipers and mortars had held the rebels at bay in the streets around Bab al-Aziziya. The rebels responded with every weapon in their possession: artillery, mortars and rocket-propelled grenades, sending plumes of thick black smoke into the sky. By the afternoon, bolstered by waves of opposition fighters who had streamed in from Libya's western mountains and the rebel enclave of Misrata to the east, they began to move forward on Bab al-Aziziya.
They massed at the pale-green outer walls and blew the gates off, pouring into what had once been the regime's inner sanctum on foot, in cars, even in requisitioned golf carts. Another two layers of fortifications were quickly breached and, as the sun set, the rebels reached Gaddafi's residence, climbing on its statue of a fist clutching a US warplane, a symbol of his defiance after an American bombing raid in 1986.
A handful of rebels also tore the golden face off Gaddafi's statue, throwing it to the ground, prodding it with rifles and kicking it, while others climbed on to the roof of the building, little more than a shell after repeated Nato bombing sorties, and unfurled the red, black and green flag of pre-Gaddafi Libya.
A few yards away, Gaddafi's trademark tent, where he would receive visiting dignitaries, burned furiously.
Outside, a rebel guerrilla had donned one of Gaddafi's grey and gold ceremonial caps and draped a gold chain around his neck. "Libyans will shock the world," he promised Sky News. "We want to start a new life, a new Libya."
In the midst of the triumph, however, it soon became clear that the man who had ruled Libya for 42 years had slipped away, as had his sons, who had helped maintain his grip on the country and who had expected to inherit his power.
On Monday, the rebels claimed to have detained two of his sons, Saif al-Islam and Muhammad, as they swept into the capital. But the boast soon crumbled. Loyalists stormed the villa where Muhammad was being held under house arrest and freed him, while Saif al-Islam appeared at Tripoli's luxury Rixos hotel on Monday night and took journalists on a tour of nearby streets, where regime supporters waved Gaddafi's flag and chanted his praise for the cameras.
The staged photo opportunity turned out to be a last hurrah for a regime that had always been skilled at manipulating the media. By the morning, the pro-Gaddafi crowd had evaporated, leaving the city to the rebels. But the manhunt for Gaddafi went on. Abdel-Salam Jalloud, one of the ousted leader's closest lieutenants until he defected earlier this month, told al-Jazeera that he thought Gaddafi was moving around the outskirts of Tripoli, taking shelter at private homes, small hotels and mosques. Others thought he might be in Sirte or in Sabha; most observers, including the Pentagon, believed Gaddafi was still somewhere in Libya, which he had vowed to defend to the death.
In the sky above Tripoli, Nato planes flew sorties but carried out no bombing raids. The coup de grâce to the Gaddafi regime was left to Libyan rebel fighters on the ground.
They started the day tentatively, but then a convoy of pickups arrived with anti-aircraft guns mounted at the back, and the offensive accelerated. Overnight, the rebels had been reinforced by hundreds of fighters from the opposition enclave of Misrata, who had broken through government lines along Libya's coastal road near the town of Zlitan, after months of trying, and driven under rocket fire the rest of the way to the capital.
Leaders of the National Transitional Council (NTC) who had orchestrated the anti-Gaddafi campaign from the eastern town of Benghazi had been taken aback by the speed of the offensive, and were struggling to keep up with the pace and prevent a power vacuum developing in Tripoli after the initial euphoria faded.
Mahmoud Shammam, an NTC spokesman, told the Guardian from Tunisia: "We are a bit late in our moves; we thought it would take longer. The swift movement of the battle has left our officials a little bit behind, but we are trying hard."
Members of the rebels' Tripoli Brigade, made up of city residents and specially trained in Qatar, had been assigned to guard the national museum in Tripoli and other cultural sites, although Shammam was unsure how many locations were secure.
The NTC broadcast repeated public messages urging the population to stay calm, and not to loot or carry out reprisals. Police officers had been quietly approached in the weeks running up to Tripoli's fall and urged to stay at their posts.
Shammam said that half the members of the NTC executive board, now functioning as an interim cabinet, would arrive in Tripoli in the morning to begin the work of reconstruction and the painful transition from an autocracy that had lasted longer than most Libyans' lifetimes.
He appealed to the international community to unblock Libyan funds frozen in western bank accounts since the fighting started, so that the new administration could pay civil servants and the police. The EU said it was poised to unfreeze the money as soon as it was approved by the United Nations, which will host a meeting of regional organisations on Friday in New York to discuss international support for the new Libya.
On Tuesday night, after hasty NTC negotiations with the Tunisian authorities over the supply of electricity into Libya, the lights came back on in Tripoli after two days of darkness, bringing some measure of relief to a beleaguered population, but the city's wariness remained of a new occupying army from distant towns and mountains, however friendly it seemed in daylight. The national unity promised by the rebels was about to be put to the test.
http://www.guardian.co.uk/world/2011/aug/23/libya-gaddafi-compound-rebel-fighters
----------
More than 400 killed, 2,000 hurt in Tripoli: Arabiya TV
Aug 24, 2011
CAIRO: Libyan rebels said on Wednesday more than 400 people were killed and at least 2,000 were injured in the fight to wrench control of the Libyan capital Tripoli from Muammar Gaddafi, Al Arabiya Television said.
Libyan rebels stormed Gaddafi's Bab al-Aziziya compound as part of efforts to end the Libyan leader's 42 years in power.
Reuters correspondents said there appeared to be some hostile fire around the centre of the capital as darkness descended and looting broke out.
http://timesofindia.indiatimes.com/world/middle-east/-More-than-400-killed-2000-hurt-in-Tripoli-Arabiya-TV/articleshow/9715274.cms
----------
Libyans Rejoice in a Castle Filled With Guns and the Trappings of Power
By KAREEM FAHIM
Aug 24, 2011
TRIPOLI, Libya — Its impenetrable walls breached at last, the people stripped the colonel's home of its treasures. They sauntered on the grassy grounds as if it were a public park, and swung on his statute of a fist crushing a plane, a symbol of defiance, as if it were a jungle gym.
They sat in Col. Muammar el-Qaddafi's chairs, reclaiming them as their own.
"This was his castle," said Walid Shanta, a dentist who joined the rebels to take over the compound, Bab al-Aziziya, on Tuesday morning.
Bab al-Aziziya had been Colonel Qaddafi's residence and a military barracks, at once a symbol of power and a monument to paranoia. It separated and also exalted him, serving as a backdrop to decades of absolute authority and to his many defiant and manic speeches.
On Monday, the colonel's son Seif al-Islam el-Qaddafi taunted the rebels from its sprawling grounds, far removed from the dusty city that fell into disrepair long before the war arrived at its doors.
On Tuesday, the Libyan rebels, aided by NATO warplanes, sent in thousands of fighters to capture it, in a pitched six-hour battle that filled the capital with black smoke and the boom of heavy weapons.
"This is our prize," said Mr. Shanta, as he held several guns taken from the base, as did hundreds of other men. The apparent fall of Bab al-Aziziya marked the symbolic end to the colonel's four decades in power.
Hundreds of people rushed in to savor the moment, trampling across forbidden ground, reclaiming two square miles of their city during an edgy stampede of joyful looting set against the sounds of machine-gun fire and explosions.
"Our people have arrived," said Col. Mohammed Ali Ethish, an army officer who defected several months ago to command a rebel fighting brigade. He left the compound with a brand-new 9-millimeter pistol in a smart black case that he held like a gift. "I am very, very happy."
The visitors were fighters who had risked their lives to take Bab al-Aziziya or neighbors who wanted to venture down notorious halls. Some people took out their anger on the famous totems of the colonel's bizarre dictatorship, or its vulgar trappings. Several men spent 10 minutes smashing a gold-plated tea trolley. A group around them cheered.
The penetration of the compound — and the symbolism of the victory — shocked the rebels.
They said it was ringed by crack Qaddafi troops protecting their Brother Leader, who was rumored to be hiding inside. As rebel attempts to exert control over the city faltered Tuesday, the rebels worried that Bab al-Aziziya, with its network of tunnels throughout the city, would become a base for the loyalists to wage a last stand against the rebels.
In the morning, rebel fighters from brigades throughout the country were sent on an urgent mission to capture the base. A mile away, their reinforcements were pinned down by snipers hiding in a water tower. NATO warplanes bombed the compound. Fighters from the coastal city of Misurata, armed with heavy weapons and deep experience in urban combat, turned the battle, several people said.
By midafternoon, Qaddafi forces abandoned large parts of the base.
The looters filed in even as sporadic fighting persisted. In a measure of the current mood in Tripoli, most people were looking for weapons. The golden pistols a man showed to reporters seemed like novelty items. Many walked out of the compound with cattle prods.
There seemed to be boxes marked Beretta — the handgun — available to anyone who wanted one. Young men threw shotguns in their backpacks or carried them out in both hands, posing for pictures as they went.
For some people, the hunt for weapons reflected fear for what the future holds.
Wael Sabri, from Tripoli, said he took the handguns "maybe to protect my family." Then referring to Colonel Qaddafi, he said, "Maybe he will come back."
Others went for luxury items. Flat-screen televisions were hauled away from private residences on the compound.
People cheered and laughed as they toyed with another of the eccentric symbols of the leader, an electric golf cart that Colonel Qaddafi used to drive around the compound.
Hisham al-Windi took what he said was the colonel's military cap. "Everyone knows this cap," he said.
Sidiq Rujbani ran off with a more intriguing souvenir, a sheaf of papers that he said were the medical records of members of the Qaddafi family.
The biggest attraction at the compound was the statute of the fist crushing an American warplane, a monument to defiance, installed by the colonel after attacks by President Ronald Reagan on the compound in 1986. Behind the statute, a building Colonel Qaddafi had called the House of Resistance, the bombed-out remains of the Reagan attack, took on new meaning as rebels rummaged through the debris and tried to sort out the meaning of this victory.
"The big head has fallen," said Al Wakidi Mohamed, a former journalist and rebel fighter, who sat on a jeep in front of the statute as the sun set.
"The world didn't know Libyans," he said. "They knew Qaddafi."
http://www.nytimes.com/2011/08/24/world/africa/24compound.html
----------
Gaddafi says he quit compound in 'tactical withdrawal'
Aug 24 2011
Tripoli : Hundreds of Libyan rebels stormed Moammar Gaddafi's compound Tuesday, charging wildly through the symbolic heart of the crumbling regime as they killed loyalist troops, looted armories and knocked the head off a statue of the besieged dictator. But they found no sign of the man himself.
The storming of Bab al-Aziziya, long the nexus of Gaddafi's power, marked the effective collapse of his 42-year-old regime. But with Gaddafi and his powerful sons still unaccounted for – and gunbattles flaring across the nervous city – the fighters cannot declare victory.
Hours after the battle erupted, a pro-Gaddafi TV channel quoted the Libyan leader as saying he retreated from his Tripoli compound in a "tactical move'' after 64 NATO airstrikes turned it to rubble. Al-Rai TV said Wednesday it would air the comments in full and reported an excerpt in which Gaddafi vowed his forces would resist "the aggression with all strength'' until either victory or death.
His government's chief spokesman also managed to get word out in a phone interview with the same station, promising "we will be back to take Tripoli back.''
The rebel force entered the compound after fighting for five hours with Gaddafi loyalists outside, using mortars, heavy machine guns and anti-aircraft guns. They killed some of those who defended the compound and hauled off thousands of rifles, crates of weapons and trucks with guns mounted on the back in a frenzy of looting.
"We're looking for Gaddafi now. We have to find him now,'' said Sohaib Nefati, a rebel sitting against a wall with a Kalashnikov rifle.
Abdel-Aziz Shafiya, a 19-year-old rebel dressed in camouflage with a rocket-propelled grenade slung over one shoulder and a Kalashnikov over the other, said the rebels believed Gaddafi was inside the compound but hiding underground.
"Wasn't he the one who called us rats? Now he is the rat underground,'' he said.
Shafiya said he felt "an explosion of joy'' to be standing inside Gaddafi's stronghold in the capital after a lightning-quick rebel advance. He had left the rebel-held western city of Misrata just two days earlier.
"I lost friends and relatives and now I can walk into Gaddafi's house,'' Shafiya said, choking up with emotion. "Many of my friends have died and now all of that meant something.''
Tripoli's new rebel military chief, Abdel-Hakim Belhaj, said at nightfall that a small area of the vast compound was still under the control of regime fighters and heavy shooting was heard across Tripoli toward midnight.
The atmosphere in the compound was a mix of joyful celebration and tension. The air was thick with smoke from the battles, and the boom of mortars and the crackle of gunfire was constant. Rebels chanted "Allahu akbar'' or "God is great'' and on loudspeakers they cried: "Al-Hamdullilah,'' or "Thank God.''
As the fighters stormed in, they captured a guard at the gates and threw him to the ground, slamming rifle butts into his back. A hostile crowd gathered around, punching and kicking him until one rebel stepped in, stood over him and kept the crowd at bay. Inside the walls, a few bodies of Gaddafi fighters – one with a gaping head wound from a gunshot – were sprawled on the ground.
Several young men wrenched the head from a statue of Gaddafi and kicked it around. One lifted it above his head while his jubilant comrades danced and yelled around him. Fighters with long beards hugged each other and flashed the "V'' for victory sign. Others carried injured rebels to ambulances.
A fighter climbed atop the iconic statue of a huge golden fist clenching a model of an American warplane and shot his machine gun in the air in celebration. The statue stands outside a building that was once Gaddafi's home, preserved with the pockmarks of an American bombing in 1986 as a symbol of his defiance.
Gaddafi delivered many fiery speeches from the balcony of that house, railing against the West. It was there that he appeared on television six months ago, at the beginning of the uprising, mocking his opponents and saying his supporters would "purify Libya inch by inch, house by house, alley by alley.''
Bab al-Aziziya has since been pummeled many times over by NATO bombings in the air campaign against the regime that began in March.
In Wednesday's TV interviews, Gaddafi and government spokesman Moussa Ibrahim called the withdrawal from the compound strategic.
"Bab al-Azaziya is nothing but slabs of concrete after 64 NATO airstrikes,'' Ibrahim said in a two-hour phone interview with Al-Rai TV. "Our departure from there is a strategic move and we will be back to take Tripoli back.''
He claimed Gaddafi's forces still controlled 80 percent of the capital, which he said was a "death trap'' and "ticking time bomb'' for the rebels.
Thousands of rebels converged on the compound after it was breached, snatching ammunition and arms from depots inside. They found brand-new rifles still in their paper wrappings.
Scuffles broke out among rebels pushing and shoving to get inside two white buildings where the rifles, machine guns and handguns are stored. They came out drenched in sweat from the struggles.
One fighter gleefully blasted rocket-propelled grenades over the compound's eastern wall, with little idea about what was happening on the other side.
Ali Sameer, a Tripoli resident, stood with three brand-new rifles resting on his legs.
"They are for my friends. I don't even know how to fight,'' he said.
The rebels carted out boxes of the weapons and ammunition, and some drove off with trucks mounted with anti-aircraft guns on the back.
One drove out with a golf cart. Another walked out with a fan. Others were busy ripping down posters of Gaddafi.
Near Gaddafi's old home with the statue outside, the body of a dead regime loyalist lay inside a round building with glass windows shot out. The body was partly covered by a blanket, the head sticking out with a gaping gunshot wound.
A large tent nearby was on fire.
Gaddafi has a famous penchant for Bedouin-style tents, meant to symbolize his roots as a simple desert dweller. He received guests in the tents inside Bab al-Aziziya.
The storming of the compound was a new high for the rebels in what has been an emotional roller coaster since they moved into Tripoli on Sunday night. It began with euphoria and claims that they had taken over most of the city with little resistance. The first night they partied in Green Square, a major symbol of the regime where Gaddafi supporters had held almost nightly rallies throughout the uprising. And it seemed Gaddafi rule was teetering on the brink of collapse.
In the early morning hours of Tuesday, there was a shocking setback. The rebels had claimed that they arrested Gaddafi's son and heir apparent, Seif al-Islam. It was confirmed by the International Criminal Court in the Netherlands, which has charged him and his father with crimes against humanity.
But inexplicably, Seif al-Islam showed up at the hotel where foreign journalists are staying under the close watch of regime minders in the early morning hours of Tuesday. He giddily took reporters on an eerie drive in the middle of the night to see hundreds of pro-regime gunmen around Bab al-Aziziya and at least a hundred more lined up outside, where guns were being handed out to volunteers.
The rebels waited hours to explain, saying word of his capture had come from secondhand reports from some rebels that were never confirmed and had been leaked to journalists. But in an indication that the announcement of his arrest might have been a ruse calculated to demoralize the regime, Mahmoud Jibril, head of the rebels' acting Cabinet, said the reports had some political and military benefits.
"About 30 officers and soldiers surrendered when they heard the news, which helped us take over Bab al-Aziziya swiftly,'' he said. "And 11 countries recognized the (rebels') National Transitional Council after receiving news of his arrest.''
By Tuesday morning, it looked like the capital might descend into bloody urban warfare. There was sporadic gunfire in many parts. The rebels were in control of parts of the city, though it was not clear how extensive their control really was. Then the fighting took focus around Gaddafi's compound.
Rebels were trying to establish civilian control in the chaotic city, even while fire fights continued.
In a deserted five-star hotel on the city's beachfront, a group of rebel leaders who had operated underground for the past six months announced that they had formed a 24-member city council and would now be in charge.
Deputy council chief Usama el-Abed el-Abed called on city workers to return their jobs so life could begin to return to normal. However, the founding members had not invited guests, saying the city was still too dangerous for large gatherings.
Kirsan Ilyumzhinov, the Russian head of the World Chess Federation who has known Gaddafi for years, said he spoke Tuesday by telephone with Gaddafi, who told him he was "alive and well and still in Tripoli.'' The report could not be independently confirmed.
In other parts of the capital, the rebels said they were also in control of state television. They raised their tricolor flag on the top of the building. Rebels claimed they also control the airport.
After the fall of Bab al-Aziziya, government forces were still holding out at the nearby Rixos hotel where dozens of international journalists were being prevented from leaving by armed government enforcers.
In Tripoli's Green Square, hundreds of rebels celebrated the storming of Bab al-Aziziya, dancing and clapping and waving the red, green and black rebel flag and firing celebratory gunfire in the air.
Libya's former deputy ambassador to the U.N. said he expected the entire country would be in rebel hands within 72 hours. Ambassador Ibrahim Dabbashi, who with other diplomats has continued to work at the Libyan mission since disavowing Gaddafi in February, said Tuesday he expects Libya will be "totally liberated.''
In the de facto rebel capital of Benghazi, hundreds of miles east of Tripoli, the news of the Bab al-Aziziya storming was greeted with celebratory gunfire and firecrackers. Men drove around waving rebel flags.
Wael Abu Khris, a shipping agent turned rebel fighter from Tripoli, was walking around Gaddafi's compound after the battle, carrying his Kalashnikov.
"I feel great satisfaction. We are at last free of this dictator,'' he said. "Libya is free at last. No more Gaddafi!''
http://www.indianexpress.com/news/gaddafi-says-he-quit-compound-in-tactical-withdrawal/836263/
----------
Col Muammar Gaddafi has vowed death or victory in the fight against "aggression"
Aug 24, 2011
Pro-Gaddafi al-Urubah TV said the colonel - whose whereabouts remain unknown - made an audio speech, saying the retreat from the Bab al-Aziziya compound was a "tactical move".
The compound was one of the final areas under Col Gaddafi's control in Tripoli.
The rebels have been celebrating their gains in the capital's Green Square.
TV footage also showed fighters breaking the head off a statue of the Libyan leader and kicking it along the ground after capturing Bab al-Aziziya on Tuesday. They also seized items from Col Gaddafi's home.
However, there are still pockets of resistance in the capital, including the Abu Salim and al-Hadba districts, and near the Hotel Rixos, where many foreign journalists are staying.
The BBC's Rana Jawad in Tripoli says there is a real sense that this is the end of Col Gaddafi's rule, but the proper celebrations will not begin until he and his family are found.
Many city residents are also still very much on edge, wary of what Col Gaddafi's regime might do, our correspondent says.
Full report at:
http://www.bbc.co.uk/news/world-africa-14641572
----------
UN human rights urged the Pakistan to investigate killings and disappearances in Balochistan
Aug 24, 2011
UNITED NATIONS (BNO NEWS) -- The United Nations human rights office on Friday urged the Pakistani government to investigate a series of killings and disappearances of journalists in the country, particularly in Balochistan province.
In the past week alone, there have been several reports of human rights violations against journalists, human rights defenders and political activists in the western province of Balochistan.
On Monday, the bodies of four missing activists of the Baloch Students Organization (BSO) were found in Mastung, about 50 kilometers (31 miles) south of the Balochistan capital of Quetta, the Express Tribune reported on Friday.
Meanwhile, the Office of the UN High Commissioner for Human Rights (OHCHR) received reports about the killing of a journalist, Munir Shakir, in Khuzdar of Balochistan on August 14, and the disappearance of another journalist, Rehmatullah Darpakhel, in North Waziristan on August 11.
"We are very concerned that such incidents are not abating in Pakistan," OHCHR spokesman Rupert Colville said. "We call on all responsible parties to immediately stop such violations of human rights, and we urge the Government to take immediate steps to independently investigate these cases."
Full report at:
http://channel6newsonline.com/2011/08/un-urges-pakistan-to-probe-journalist-killings/
----------
Iran tries 'Israeli spy' for scientist's murder
Aug 24, 2011
An Iranian man has gone on trial, charged with killing one of the country's nuclear scientists and having links to Israel's Mossad spy agency.
State media said Majid Jamali Fashi had confessed to the murder of Massoud Ali Mohammadi, a physics professor at Tehran University, on 12 January 2010.
Prosecutors said Mr Fashi had killed Mohammadi by detonating a bomb planted on a motorcycle left outside his home.
Iran has accused Israel and the US of trying to harm its nuclear programme.
The two countries believe Iran is trying to acquire the technology to build nuclear weapons, something Tehran vigorously denies.
'War against God'
On Tuesday, Iranian state television released details of the prosecutor's charges against Mr Fashi.
Full report at:
http://www.bbc.co.uk/news/world-middle-east-14636726
----------
Syrians taunt Assad, saying regime next to unravel
By Elizabeth A. Kennedy
Aug 24, 2011
BEIRUT: Taking inspiration from the rapid unraveling of the regime in Libya, thousands of Syrians poured into the streets and taunted President Bashar Assad with shouts that his family's 40-year dynasty will be the next dictatorship to crumble.
Assad, who has tried in vain to crush the 5-month-old revolt, appears increasingly out of touch as he refuses to acknowledge the hundreds of thousands of people demanding his ouster, analysts say. Instead, he blames the unrest on Islamic extremists and thugs.
But many observers say Assad should heed the lessons of Libya.
"Gadhafi is gone; now it's your turn, Bashar!" protesters shouted Monday in several cities across the country, hours after Assad dismissed calls to step down during an interview on state TV. Security forces opened fire in the central city of Homs, killing at least one person.
"Leaders should know that they will be able to remain in power as long as they remain sensitive to the demands of the people," Turkish Foreign Minister Ahmet Davutoglu said in Addis Ababa, Ethiopia, according to Turkey's Anatolia news agency.
Turkey, a former close ally of Syria and an important trade partner, has grown increasingly frustrated with Damascus over its deadly crackdown. The violence has left Syria facing the most serious international isolation in decades, with widespread calls for Assad to step down.
Full report at:
http://www.dailystar.com.lb/News/Middle-East/2011/Aug-23/Syrians-taunt-Assad-saying-regime-next-to-unravel.ashx#ixzz1VrXicgmr
----------
Gaddafi ready to step down: ex-Croatian President
Aug 24, 2011
Zagreb (Croatia) : Former Croatian President Stipe Mesic, who has close ties with Muammar Gaddafi, said the Libyan leader told him he was ready to step down from political life if NATO ended airstrikes.
"I can confirm that colonel Gaddafi is ready to retreat completely from political and public life with a firm engagement that we would impede the setting up of a multi party system but on the condition that the NATO airstrikes cease," Mesic said.
The former President added that he received a "personal verbal message" from Gaddafi last week with the offer and added he told the Chinese, Russian and American ambassadors to Croatia about it on Monday.
"The authorities in Tripoli have tried to get this message out via all the available channels to countries that have played a crucial role in the organisation and the operations in Libya," Mesic added.
http://www.indianexpress.com/news/gaddafi-ready-to-step-down-excroatian-president/835928/
---------
Intimidated no more, Libyans end Gaddafi's rule
By William Maclean
Aug 23, 2011
Planted joyously atop a gold-coloured bust of Muammar Gaddafi, a succession of dusty rebel boots on Tuesday symbolised not only the capture of his Tripoli headquarters but also the humiliating collapse of his power in Libya.
With the fall of his Bab al-Aziziyah military compound televised around the world, the spell of his authority at home and his influence abroad -- especially in Africa -- will have been definitively fractured.
For all Libyans know, the man who often bamboozled them with political speeches and hunted his opponents with death squads remains alive and perhaps holed up in his hometown of Sirte. Although on the run, he may have surprises yet in store.
But the breaching of Bab al-Aziziyah and the looting of the kitsch memorabilia of his rule crystallises for Libyans as few other actions could the end of a once-terrifying police state and what many will remember as a dark period in their history.
"If Gaddafi didn't have many places to hide before, he has even fewer now," said David Hartwell, a Middle East analyst at IHS Jane's.
Dictators try to create an aura of invincibility, a sense of awe to attract followers and facilitate their indefinite grip on power.
Full report at:
---------
Hunt for Gadhafi Begins as Compound Falls to Libyan Rebels
By Martin Gould
23 Aug 2011
The hunt for Moammar Gadhafi began in earnest on Tuesday after rebels stormed his massive Trioli compound and found no sign of him.
As the complex fell, the country's strongman told a Russian official by phone that he was in Tripoli and would stay there to fight on.
And Gadhafi's son Said al-Islam told journalists on Monday night that his father was still in the capital on the Mediterranean coast.
But after not being found in his 2.3 square mile Bab al-Aziziiya compound, speculation grew that the dictator had managed to slip out of Tripoli into the country's vast desert hinterland.
The rebels were ecstatic that they had captured the compound in the southern suburbs of the city. They came out with Gadhafi-signed documents as proof that the base was in their hands. Civilians later joined the fighters and drove off in looted cars.
Now Gadhafi's options are limited. Though he has vowed to fight to the death, the collapse of his regime around him makes that less likely.
The rebels gave him 72 hours to leave the country back in March, saying that they would not prosecute him if he stopped the bombardment and fled.
Full report at: © Newsmax. All rights reserved.
---------
Death rains from above on Tripoli's streets
23 August 2011
TRIPOLI — "Gaddafi is killing all the people, please help us," a Tripoli man wept after his family was wiped out by a mortar that hit his house near the Libyan leader's Bab al-Azizya compound on Tuesday.
The man stumbled through the dusty, empty streets of a district around two kilometres (over a mile) to the west of Bab al-Azizya, where rebel fighters massed at a nearby school said they would march on the compound imminently.
"It will all be over in 30 minutes, God willing" said Mohammed, his optimism undimmed by the drawn out finale of the Libyan revolution that most hoped would be over already, three days after the freedom fighters entered the capital.
With the rebels piling toward the heavily fortified compound, poorly armed and trained men are left to look after many city checkpoints, hoping for reinforcements amid confusion over who controls what in the battle-scarred city.
Salah is a 20-year-old former Gaddafi conscript who deserted the loyalist forces six weeks ago to join the revolution. He holds a 9 mm pistol in one hand, and a crutch in the other to relieve his foot injured in fighting with rebels.
"We are protecting the area now, it is under our control while they attack Bab al-Azizya. We are waiting for support to come from Zawiya (40 kilometres to the west)," he said, as flies buzzed around his unhealed wound.
Full report at:
http://www.khaleejtimes.com/DisplayArticle09.asp?xfile=data/international/2011/August/international_August1061.xml&section=international
---------
Tripoli 'under control' of Gaddafi forces: Seif al-Islam
Aug 23 2011
Tripoli : Muammar Gaddafi's regime is in control of his forces, Seif al-Islam, the strongman's son claimed on Tuesday.
"Tripoli is under our control. Everyone should rest assured. All is well in Tripoli," he said.
"You have seen how the Libyan people rose up" to fight the rebels who arrived in Tripoli, he said.
"The West has high-tech technology which disrupted telecommunications systems and sent messages to the people," declaring fall of the regime, he said, referring to text phone messages sent on Sunday to Tripoli residents.
"This is a technological and media war to cause chaos and terror in Libya," he added.
"They also infiltrate gangs of plunderers (in the capital) by sea and in cars," he added, referring to rebel reinforcements arriving in the capital.
Seif al-Islam, wanted by the International Criminal Court for crimes against humanity and who ICC prosecutor Luis Moreno-Ocampo earlier said had been arrested by the rebels, claimed the insurgents had suffered "heavy casualties" on Monday when they stormed Gaddafi's Bab al-Azizya compound in Tripoli.
"I am here to refute the lies," he said regarding reports of his arrest.
http://www.indianexpress.com/news/tripoli-under-control-of-gaddafi-forces-seif/835788/
---------
What's next in Libya key to US politics, economy
Aug 23 2011
Washington : The triumph of Libyan rebels over the forces of long-time strongman Moammar Gaddafi offers vindication, at least for now, for President Barack Obama's decision to refrain from using US troops on Libyan soil and to let NATO take the lead in degrading Gaddafi's military power. But there are still hazards for the White House.
How Libya moves from turmoil to stability presents a new challenge for Obama and could determine how the public views not only his foreign policy, but in some measure the economy as well.
Yet, the news for Obama on Monday could not have been better. The Libyan street was euphoric, Gaddafi was in hiding and the price of oil -- a contributor to dangerous economic lethargy -- was dropping.
"The Libyan intervention demonstrates what the international community can achieve when we stand together as one,'' Obama said at his vacation retreat in Martha's Vineyard.
Obama was careful to emphasize that uncertainty remained and that Gaddafi's regime could still pose a threat. What's more, it will take several months even under a stabilized Libya before its oil fields are producing enough crude to start exporting again. But any extra shipments could lower the price of gasoline, which has already come down from its peak in May.
Back in March, Obama gambled that the way to confront a potential civilian catastrophe in Libya was to build a coalition of NATO and Arab countries to use airpower ostensibly to protect Libyan citizens from a Gaddafi crackdown. But his intent was clear all along: Gaddafi had to go.
Full report at:
http://www.indianexpress.com/news/whats-next-in-libya-key-to-us-politics-economy/835821/
---------
Indonesian mayor seeks to ban church construction
By MICHAEL HOLTZ
August 23, 2011
JAKARTA, Indonesia (AP) — A mayor is trying to ban Christian churches on streets with Islamic names, the latest attempt to block construction of a new parish in the world's largest Muslim-majority country.
Critics say the proposal — however arbitrary — is another example of growing religious intolerance.
The Taman Yasmin Indonesian Christian Church was supposed to open in the city of Bogor in 2008, but residents protested, claiming its permit was illegal.
Though the Supreme Court ruled in favor of the church in December, Mayor Diani Budiarto refused to comply.
He argued he was pushing for a decree to make it illegal to open churches on streets with Islamic names.
Indonesia, a secular nation of 240 million, has a long history of religious tolerance, but a small extremist fringe has become more vocal — and violent — in recent years.
Full report at: Copyright © 2011 The Associated Press.
---------
Women in Saudi Arabia demand their freedom and dignity
Mai Yamani
23 August 2011
The unexpected visibility and assertiveness of women has helped propel what has become known as the Arab spring. Major changes have occurred in the minds and lives of women, helping them break the shackles of the past and demand their freedom and dignity.
Since January 2011, images of millions of women demonstrating alongside men have been beamed around the world. One saw women from all walks of life marching for a better future for themselves and their countries. They appeared prominently - eloquent and outspoken, chanting calls for democratic change. They walked, bused, telephoned, and tweeted, motivated partly by a desire for their own empowerment.
The contrast between this dynamic space for open protest and Saudi Arabia could hardly be starker. Saudi women find themselves living in a petrified system. Faces of the royal family are seen everywhere; the faces of women are shrouded, forcibly hidden.
Nowhere else in the world is modernity experienced as such a problem. Skyscrapers rise out of the desert, yet women are not permitted to share elevators with men. Nor are they allowed to walk in the streets, drive cars, or leave the country without the permission of a male guardian.
Full report at:
http://www.yementimes.com/defaultdet.aspx?SUB_ID=36497
---------
Women football making headway in Saudi Arabia
23 August 2011
Shaima Sabri, 12, dreams of the day when she plays football on a stadium field of green grass with her father and brothers in a crowd of thousands cheering her on to victory.
On the first day of Ramadan after Maghreb prayer, Shaima was running barefoot through a hardscrabble patch of dirt off Madinah Road in Jeddah. Playing with the neighborhood kids, she was kicking a frayed football. Her dreams at that moment of playing before thousands were as elusive as the sweeping green fields that she hopes to play on.
"Some day I will play like Salem Aldawsari with Saudia," said Shaima, referring to one of Saudi Arabia's leading footballers. "But sometimes I think this is as far as I will get."
Yet Shaima, and girls and women like her, have an unlikely ally in helping them organize football leagues: the men's Saudi Arabian Football Federation.
Ahmad Eid Al-Harbi, vice president of the Player Status Committee for the Saudi Arabian Football Federation, which plays under FIFA, has been quietly visiting university campuses to help women develop football teams. Al-Harbi said meetings have included consultations on how to negotiate with the international football unions from Germany, Brazil, the United States and the United Kingdom in order to help women qualify for trainer positions. The Federation has also developed a physical education curriculum for women's university campuses.
Full report at:
http://www.yementimes.com/defaultdet.aspx?SUB_ID=36465
---------
Libya conflict: Defiant Saif al-Islam Gaddafi reappears
23 August 2011
One of Col Muammar Gaddafi's sons, Saif al-Islam, has appeared in Tripoli and claimed the government had "broken the backbone" of the rebel offensive there.
He turned up in a government vehicle at a hotel held by loyalists, a day after the rebels said they had detained him.
A BBC correspondent said Saif al-Islam seemed confident and full of adrenalin.
Our correspondent reports renewed gunfire, mortars and grenades in the area around the Rixos hotel, one of the pockets still held by Gaddafi forces.
There are further reports of explosions and heavy artillery around Bab al-Azizia, Col Gaddafi's compound.
Both sides say they control most of the capital.
Saif al-Islam Gaddafi turned up in the early hours of Tuesday at the Rixos Hotel, where many international journalists are based.
He told the BBC: "We have broken the backbone of the rebels." He added that by moving into Tripoli, the rebels had fallen into "a trap".
"We gave them a hard time, so we're winning," he said.
Full report at:
http://www.bbc.co.uk/news/world-africa-14625205
---------
Gadhafi will not admit defeat, says former Libyan PM
By Bryony Jones and Susannah Palk
August 23, 2011
London (CNN) -- Embattled Libyan leader Moammar Gadhafi is unlikely to give in without a fight, despite rebels storming large areas of Tripoli in recent days, the country's ex-Prime Minister says.
"He will not admit defeat," Mustapha Ben Halim told CNN's Becky Anderson. "I think he might go outside Libya and say that he is going to continue his fight. But I doubt this guy will get the reason, the real thinking, that the circus is finished."
Ben Halim accused Gadhafi, whose exact whereabouts remained a mystery on Tuesday, of stripping Libya of much of its wealth.
Rebels hunt Gadhafi as battles rage
"There is only one way Gadhafi wants to achieve, to have Libya belonging to him," he said. "Not only has he grabbed everything, but there is no control in him, no responsibility, nothing. He does what he likes."
Ben Halim served as Prime Minister of Libya for three years, from 1954 to 1957, and after leaving office worked as an advisor to the country's ruler, King Idris.
Full report at:
http://edition.cnn.com/2011/WORLD/africa/08/22/libya.gadhafi.mustapha.ben.halim/index.
---------
Gadhafi Libya: Not like Iraq
By Yuriko Koike
23 August 2011
BENGHAZI – The endgame in the Libyan conflict has at last arrived. Much of Libya's capital is now in insurgent hands, with the rebel army itself entering from all directions.
The military impotence of forces loyal to Colonel Moammar Gadhafi – visible for a week - had been matched by the regime's growing political disarray. Senior Gadhafi cronies were defecting – most recently Deputy Interior Minister Nasser al-Mabrouk Abdullah, who fled to Cairo with nine family members, followed a few days later by Libya's oil chief, Omran Abukraa. Now a number of Gadhafi's sons, including Seif al-Islam, his putative heir, have been taken by the rebels. Like Saddam Hussein in 2003, Gadhafi appears to have gone into hiding.
So what, now, will become of post-Gadhafi Libya? Former US Secretary of State Colin Powell famously admonished President George W. Bush before the Iraq War that, "if you break it, you own it." Bush, however, shrugged off Powell's warning, and it was not long before the world watched in horror as it became clear that there was no detailed plan to govern or rebuild post-Saddam Iraq. Instead, the country endured a hideous war of all against all that left uncounted thousands dead.
Full report at:
http://globalpublicsquare.blogs.cnn.com/2011/08/22/post-gadhafi-libya-not-like-iraq/
---------
Rebels' Assault on Tripoli Began With Careful Work Inside
By KAREEM FAHIM and MARK MAZZETTI
23 August 2011
TRIPOLI, Libya — Among the rebel leaders it was referred to as zero hour, the moment when residents of Tripoli would rise up against Col. Muammar el-Qaddafi's forces after a six-month war in the desert that had failed to break his 42-year grip on power.
But an uprising never materialized, in part because a bloody crackdown on protesters in February by Colonel Qaddafi's forces had served as a grim deterrent to those inside Tripoli who might try to challenge the government's authority.
So, the rebel leaders began plotting their own revolt inside the capital. Over the past several weeks, they smuggled weapons into Tripoli and stashed them in safe houses. They spread the word among local revolutionaries that widespread protests would begin after the Ramadan evening prayers on the appointed day.
They chose Aug. 20, which also just happened to be the anniversary of the prophet Mohammed's liberation of Mecca.
In the end, it was Saturday's uprising inside Tripoli — combined with a rebel military advance toward the capital across three fronts — that overwhelmed Colonel Qaddafi's beleaguered soldiers, though fighting continues in the capital.
Full report at:
http://www.nytimes.com/2011/08/23/world/africa/23reconstruct.html
---------
As Libyan regime crumbles, rebels begin a new struggle
By Jim Michaels and Oren Dorell
23 August 2011
They did the unthinkable. A small band of Libyans launched a popular revolt six months ago that is close to toppling a powerful dictator whose support of terrorism frustrated world leaders for decades.
Now Libyans face an even tougher task: They must build a stable democracy on a shaky foundation.
Although forces loyal to Moammar Gadhafi continued to fight in the capital Monday, rebels extended their control over Tripoli and signs the regime was crumbling increased.
State TV, a key propaganda instrument for the regime, was off the air. Gadhafi's whereabouts were unknown. Rebels also had claimed to have captured three of Gadhafi's sons, though a rebel spokesman acknowledged that one escaped and the Associated Press reported that another turned up today at a hotel in Tripoli.
"This much is clear: The Gadhafi regime is coming to an end, and the future of Libya is in the hands of its people," President Obama declared in a statement read on Martha's Vineyard, where he is vacationing.
The president cautioned that fighting was continuing as Gadhafi loyalists still defended parts of the capital.
Full report at:
http://www.usatoday.com/news/world/story/2011-08-22/As-Libyan-regime-crumbles-rebels-begin-a-new-struggle/50099240/1
---------
Syrian troops kill 7 after UN team visit
By ZEINA KARAM
23 August 2011
BEIRUT (AP) — Syrian security forces killed at least seven people in a flashpoint central city following a visit by members of a U.N. humanitarian team, activists said Tuesday.
The United Nation's top human rights body, meanwhile, voted overwhelmingly Tuesday to demand that Syria end its bloody crackdown and cooperate with an international probe into possible crimes against humanity.
The U.N. has said the overall death toll from President Bashar Assad's crackdown on dissent has reached 2,200.
Seven people died on Monday, four of them when troops opened fire to disperse anti-government protesters in Homs. The protesters had gathered in the city's main square ahead of a the arrival of a U.N. humanitarian team.
Amateur videos posted by activists online showed crowds of people thronging several cars with the blue U.N. flag, flashing banners that read: "SOS" and "We will never stop until we get our freedom."
The protesters chanted for freedom and the downfall of the regime.
Syria granted a U.N. team permission to visit some of the centers of the protests and crackdown to assess humanitarian needs, but activists and a Western diplomat have accused the regime of trying to scrub away signs of the crackdown.
Full report at: Copyright © 2011 The Associated Press
---------
Four target killers confess to 13 murders in Lyari
Aug 23 2011
KARACHI: The Karachi police on Tuesday stated that the four target killers arrested from North Nazimabad have confessed to kidnapping and killing 13 people from Lyari in one month, DawnNews reported.
SSP North, Naeem Sheikh and SSP Central and SSP South held a news conference and presented the four alleged target killers in front of the media. They said that the killers, who had been arrested from the Pahari Ganj area, belonged to the Akram Baloch group, which is involved in the Lyari gang war.
The criminals said that they had dumped the 13 bodies in various areas of the city.
According to the police, raids are being conducted in search of the group's leader Akram Baloch.
http://www.dawn.com/2011/08/23/four-target-killers-confess-to-13-murders-in-lyari.html
---------
Suspected drone strike kills 4 in northwest Pakistan, officials say
23 August 2011
Islamabad, Pakistan (CNN) -- A suspected U.S. drone strike killed four suspected militants in northwestern Pakistan on Monday night, Pakistani intelligence officials told CNN.
The unmanned Predator drone fired two missiles at a vehicle driving on a main road in North Waziristan, one of seven districts in Pakistan's mostly ungoverned tribal region along the Afghan border, the two officials said. The officials asked not to be named because they are not authorized to speak to the media.
North Waziristan is the home base of the Pakistani Taliban and described by Washington as a safe haven for militant groups fueling the insurgency across the border in Afghanistan.
The attack occurred roughly an hour after locals ended their daily fast for the Muslim holy month of Ramadan.
Based on a count by CNN's Islamabad bureau, Monday's drone strike was the 48th this year, compared to 111 last year.
http://edition.cnn.com/2011/WORLD/asiapcf/08/22/pakistan.drone.strike/
---------
Calls for army grow as Karachi week toll hits 101
23 August 2011
KARACHI: Pakistani politicians, industrialists and citizens stepped up calls Tuesday for the army to intervene to quell violence destabilising Karachi, where more than 100 have been killed in a week.
"We demand the armed forces take over the city, restore law and order and ensure safety to innocent people's lives," Khalid Tawab, vice president of the Federation of Pakistan Chambers of Commerce and Industry (FPCCI), told AFP.
"Business activity has been disrupted because of incessant killing. People don't want to go to market because of risks to life," he said.
Ethnic and criminal violence blamed on gangs has killed 101 people in the last week, the latest bout in the worst criminal and ethnic violence to hit Pakistan's largest city and financial capital for 16 years.
"At least nine people were killed since Monday evening, so far 101 people have been killed since Wednesday morning," a senior security official told AFP on condition of anonymity because he was not authorised to speak to media.
Security officials said they had found the bodies of victims who had been kidnapped and tortured, stuffed into sacks and thrown on the streets with notes warning of more violence.
Full report at:
http://www.dawn.com/2011/08/23/karachi-life-cripples-on-%E2%80%98day-of-mourning%E2%80%99.html
---------
Turkey Says It Killed 100 Kurdish Separatists
By SEBNEM ARSU
23 August 2011
ISTANBUL — The Turkish military killed at least 100 Kurdish separatists and injured more than 80 during air strikes into northern Iraq during the past week, an army statement said on Tuesday. It added that the strikes would continue.
In an effort to eradicate militant bases, air forces hit 132 locations around mountainous Qandil, Hakurk, Avasin-Basyan, Zap and Metina regions while heavy artillery bombed 349 targets, the statement posted on the military headquarters' Web site said.
"North of Iraq and inside the country will be closely monitored for any separatist terror actions as air and land operations will continue," the statement read.
The intense operations inside and outside Turkey have continued for six days with brief pauses. They follow the escalating violence, since July, by the militants of the Kurdistan Workers Party, or P.K.K., which is seeking autonomy in the southeastern region neighboring Syria, Iran and Iraq. In various attacks that were attributed to the militant group, more than 40 security officials, including civilian village guards, were killed, adding up to more than 40,000 deaths since early 1980s.
In 2007, the United States agreed to provide intelligence to the Turkish military to pinpoint P.K.K. targets to prevent movements into Iraq, where territorial and political stability is still fragile.
Full report at:
http://www.nytimes.com/2011/08/24/world/europe/24turkey.html
---------
Vatican message to Muslims: "We are spiritually very close to you…"
Deacon Greg Kandra
23 August 2011
The traditional message for the conclusion of Ramadan this year includes a plea for peace and an end to fanatacism.
Christians and Muslims, beyond their differences, recognise the dignity of the human person endowed with both rights and duties. They think that intelligence and freedom are indeed gifts which must impel believers to recognize these values which are shared because they rest on the same human nature.
This is why the transmission of such human and moral values to theyounger generations constitutes a common concern. It is our duty to help them discover that there is both good and evil, that conscience is a sanctuary to berespected, and that cultivating the spiritual dimension makes us more responsible, more supportive, more available for the common good.
Christians and Muslims are too often witnesses to the violation of the sacred, of the mistrust of which those who call themselves believers are the target. We cannot but denounce all forms of fanaticism and intimidation, the prejudices and the polemics, as well as the discrimination of which, at times, believers are the object both in the social and political life as well as in the mass media. We are spiritually very close to you, dear Friends, asking God to give you renewed spiritual energy and we send you our very best wishes for peace and happiness.
http://www.patheos.com/community/deaconsbench/2011/08/22/vatican-message-to-muslims-we-are-spiritually-very-close-to-you/
---------
Sweden's Jews, Muslims face web hate rise: study
23 August 2011
The number of xenophobic web sites have almost doubled since 2007 and Jews and Muslims wearing apparent religious symbols are subjected to significant discrimination in Sweden today, according to a new report from the Living History Forum (Forum för levande historia).
"Sweden as a whole is a tolerant country but this report shows that racism is growing and is being professionalized on the internet. There is today a small but growing minority that harbour hatred against Muslims and Jews," minister for integration, Erik Ullenhag, wrote in a statement on Monday.
The report, which was requested by the government and carried out by the Forum, also shows that an increased number of racist web pages have been created in recent years and that prejudice is being spread through schoolbooks.
According to the report, the number of racist sites in Sweden has almost doubled in two years. In 2009 there were around 8,000 xenophobic Swedish sites whereas today the authors of the report estimate an increase to 15,000.
This follows a EU-wide trend where right wing extremist groups are using the internet to spread hate-propaganda.
Full report at:
http://www.thelocal.se/35692/20110822/
---------
Oslo Terror Attacks And Dilemma of Globalisation
Zainab Usman
23 August 2011
"...Cruelty is necessary...you should kill too many, not too few..." are some of Anders Behring Breivik's murderous recommendations for a European cultural renaissance of sorts that would prevent the "Islamic colonization" of Europe, listed in his manifesto: "The European Declaration of Independence". In said manifesto, Breivik - the ultra right-wing, white supremacist cum terrorist - detailed the meticulous preparation for his murderous carnage on July 22nd in Norway which left over 70 people - mostly teenagers - dead. Such far-right terrorism, along with the global economic crisis the world is still "recovering" from, is another blow to globalization and its core neo-liberal values and a crude wake-up call for developing countries especially in Africa.
Globalization generally refers to increased interconnectedness of economies, societies, people, culture and ideas across borders and boundaries through communication, transportation, trade and migration. The term came into popular usage in 1970s and 1980s with the breakthrough or revolution in Information, Communications and Transport Technologies (ICT) making the world a "global village". This was spurred by the general economic boom in the post World War II era, especially in the 1960s, known as the development decade not only in the developed world - North America, Western Europe and Japan - but also in many parts of the developing world, including the newly decolonized African countries, the East Asian Tigers and other places.
Full report at:
http://allafrica.com/stories/201108231005.html
---------
Tehrik-i-Taliban involved in Shahbaz Bhatti's murder: IG Islamabad
August 23, 2011
Bhatti was shot as he left his mother's home in a residential area of Islamabad. PHOTO: AFP/FILE
ISLAMABAD: Inspector General of Police (IG) Islamabad Bin Yamin on Tuesday said the Tehrik-i-Taliban Pakistan (TTP) were involved in the assassination of minorities minister Shahbaz Bhatti, Express 24/7 reported.
The IG was briefing a meeting of the Senate Standing Committee on Interior, chaired by Senator Talha Mahmood, in Islamabad.
It had earlier been reported that family rivalry and not religious victimisation had claimed Bhatti's life. In a report, police investigators had concluded that it was not a religiously-motivated murder despite the fact that the Punjabi Taliban had claimed responsibility for the assassination.
Bhatti was shot as he left his mother's home in a residential area of Islamabad. Police said the attackers fired at least 25 bullets at his vehicle.
Yamin said that the 'roots' of the Islamic University suicide attack extended to several countries.
He told the committee that a total of 21 acts of terror have been carried out in Islamabad in the last four years, whereas, street crimes have increased since last year.
The IG said lawyers following up on court cases were incompetent.
The committee expressed dissatisfaction over the IG's briefing and protested against the absence of Interior Minister Rehman Malik's absence from the meeting.
http://tribune.com.pk/story/237653/tehrik-i-taliban-involved-in-shahbaz-bhattis-murder-ig-
---------
Push still on to kill Prime Minister Sheikh Hasina
Alleges Ashraful
23 August 2011
Awami League General Secretary Syed Ashraful Islam yesterday alleged ground is being created to assassinate Prime Minister Sheikh Hasina.
Addressing a discussion meeting, he said some of the country's television channels and newspapers are publishing "exaggerated reports" that might create instability in the society and help the conspirators to create the ground for killing her.
Awami League arranged the discussion at Bangabandhu International Conference Centre in the afternoon in remembrance of the people killed in the August 21 grenade attack in 2004.
"A very deep conspiracy is on to destabilise the country and to kill
Sheikh Hasina," said Ashraful, also the LGRD minister.
He said the masterminds behind the August 15, 1975 bloodbath are still very much active in their bid to kill Hasina. "They know that Sheikh Hasina is in the centre of the spirit of all pro-liberation patriotic people."
Ashraful said that on August 15, 1975 the killers tried to annihilate the entire family of Father of the Nation Bangabandhu Sheikh Mujibur Rahman. But Sheikh Hasina and her sister Sheikh Rehana luckily escaped death as they were abroad.
"August 21 (in 2004) was another attempt to murder Sheikh Hasina," he said.
Chaired by AL presidium member Syeda Sajeda Chowdhury, the meeting was also addressed, among others, by party presidium members Suranjit Sengupta and Sheikh Fazlul Karim Selim
http://www.thedailystar.net/newDesign/news-details.php?nid=199886
---------
European 'No-Go' Zones for Non-Muslims Proliferating
Soeren Kern
23 August 2011
Islamic extremists are stepping up the creation of "no-go" areas in European cities that are off-limits to non-Muslims.
Many of the "no-go" zones function as microstates governed by Islamic Sharia law. Host-country authorities effectively have lost control in these areas and in many instances are unable to provide even basic public aid such as police, fire fighting and ambulance services.
The "no-go" areas are the by-product of decades of multicultural policies that have encouraged Muslim immigrants to create parallel societies and remain segregated rather than become integrated into their European host nations.
In Britain, for example, a Muslim group called Muslims Against the Crusades has launched a campaign to turn twelve British cities – including what it calls "Londonistan" – into independent Islamic states. The so-called Islamic Emirates would function as autonomous enclaves ruled by Islamic Sharia law and operate entirely outside British jurisprudence.
The Islamic Emirates Project names the British cities of Birmingham, Bradford, Derby, Dewsbury, Leeds, Leicester, Liverpool, Luton, Manchester, Sheffield, as well as Waltham Forest in northeast London and Tower Hamlets in East London as territories to be targeted for blanket Sharia rule.
Full report at:
http://www.hudson-ny.org/2367/european-muslim-no-go-zones
---------
Ansar Burney announces Anna-style anti-corruption campaign in Pak
23 August 2011
Islamabad : Pakistani rights activist Ansar Burney said today he would launch a campaign against corruption and terrorism in his country after Eid-ul-Fitr, mirroring an anti-graft drive by Anna Hazare in India that has
gained thousands of followers.
Pakistan is confronting a "dire and painful period in its history, with rampant and continuously growing corruption and terrorism destroying every fabric of our nation and any prospects of a decent future for our children and grandchildren", Burney said in a statement.
Burney made no reference to Hazare, whose movement has captured the public imagination in India, but said his movement would get underway after the Islamic festival of Eid-ul-Fitr that will be celebrated at the end of this month.
"It is now up to civil society to take steps to rid the country of this evil before it is too late, and the Ansar Burney Trust will kick-start a massive anti-corruption campaign and anti-terrorism movement following Eid as a first step towards saving our country," he said.
Burney said his proposed movement is aimed at bringing "the nation together and making a stand that corruption will no longer be tolerated".
The campaign will "expose the corrupt, whether they are in politics, our bureaucracy, education institutions, law enforcement agencies, businesses, charities, sports or even the judiciary", he said.
He alleged that politicians had "joined hands and completely plundered this country to the brink of destruction".
Burney's announcement came at a time when Hazare is leading a major anti-corruption movement in India galvanising massive support.
http://www.indianexpress.com/news/ansar-burney-announces-annastyle-anticorruption-campaign-in-pak/835339/
---------
A truth panel can find answers to unmarked graves: Omar Abdullah
Bashaarat Masood
Aug 23 2011
Srinagar : Jammu and Kashmir Chief Minister Omar Abdullah said here today that a "Truth and Reconciliation Commission is the only way to find answers" to "who have been buried in these (unmarked) graves".
He was responding to a question on the recent report submitted by the State Human Rights Commission's (SHRC) investigating wing that said it is "beyond doubt" that there are 2,156 unidentified bodies buried in 38 unmarked graves in four north Kashmir districts. This was first reported by The Sunday Express on August 21.
"We also want to know who are buried in these graves. Even before taking oath, I have been saying that it is not that easy to get answers to these questions... A truth and reconciliation commission should be given the agenda that whichever incidents have happened in last 20-21 years whether (because of) militants or security forces, wherever questions have been raised... to find answer to those questions, there is no other way than a truth and reconciliation commission," he said. "We would also want that the question raised by the SHRC regarding these graves should be answered."
Full report at:
http://www.indianexpress.com/news/a-truth-panel-can-find-answers-to-unmarked-graves-omar-abdullah/835692/
---------
Karachi violence: 'Day of mourning' being observed, 5 killed in metropolis
August 23, 2011
KARACHI: Karachi and Interior Sindh are witnessing a shutter down to observe the Muttahida Qaumi Movement's (MQM) 'day of mourning' over violence in the metropolis, Express 24/7 reported on Tuesday.
All markets, educational institutions and gas stations remain closed in Karachi and interior Sindh.
MQM activists clad in black have hoisted black flags on buildings and squares as a sign of mourning. Scenes of protests and tyre-burning were reported from different areas of Hyderabad.
Public transport has been shut down, and the Karachi Industrial Zone, petrol and CNG stations across the city are also closed.
Police and Rangers have been deployed to maintain law and order in the city.
5 killed across Karachi
Full report at:
http://tribune.com.pk/story/237634/karachi-violence-day-of-mourning-being-observed-5-killed-in-metropolis/
---------
'Bashar, you will be tried like Mubarak'
By Bassel Oudat
23 August 2011
TRADITIONAL Ramadan mesaharatis in Syrian cities have been chanting phrases associated with the uprising in the country.
Until last year, Damascus would wake up to the sound of traditional mesaharatis, or Ramadan drummers, calling on people to eat Sohour (the pre-dawn meal) about one hour before fasting begins.
The mesaharati's voice is accompanied by the beat of a drum, and his calls have been part of a tradition that goes back some 1,400 years, echoing through the streets of one of the world's oldest inhabited cities.
Today, however, in an atmosphere of protests and demands for freedom and democracy in the country, Syrian young people in the cities of Damascus, Aleppo and Homs have volunteered to play the part of the mesaharati, waking people not from their night's sleep but from the tyranny and oppression of the regime.
Using online social networks, activists have called this new breed of mesaharati the "revolution's mesaharati", since instead of singing the traditional verses associated with Ramadan he sings phrases inspired by anti-regime demonstrators calling for freedom, democracy and the overthrow of the regime.
Full report at:
http://weekly.ahram.org.eg/2011/1061/re5.htm
---------
British campaigner battles media's cone of silence on sharia law
Chris Merritt
August 23, 2011
IN Britain, Maryam Namazie's campaign against sharia law has earned her plenty of hate mail.
But what really bothers her is the silence of parts of the media and the inaction by the British government over what she says are sharia's attacks on the fundamental rights of Britain's Muslim citizens.
Her group, One Law for All, has been fighting since 2008 to stop what she describes as the rise of political Islamism in Britain.
She is in Australia for a week-long speaking tour in the hope of helping ensure this country learns from the mistakes of Britain, where sharia tribunals enjoy a form of legal recognition in family law.
"You are facing quite a lot of similar issues in Australia. It might not be as entrenched as it is in Britain, but you can see a lot of similarities," Ms Namazie said.
Her arrival comes soon after Ikebal Patel, president of the Australian Federation of Islamic Councils, called for Australia to "compromise with Islam" and introduce "legal pluralism".
After a backlash within the Muslim community, Mr Patel backed down, saying it had been a mistake to mention sharia law and legal pluralism.
Ms Namazie, who is an Iranian exile, said any form of legal accommodation with sharia "is like trying to incorporate apartheid into a non-racist system of law -- they are simply incompatible".
Full report at:
http://www.theaustralian.com.au/national-affairs/british-campaigner-battles-medias-cone-of-silence-on-sharia-law/story-fn59niix-1226119994024
---------
Hundreds of Afghans slam UN in vote row
23 August 2011
KABUL — Up to 700 Afghans marched through Kabul on Tuesday to protest against a decision by the country's election commission to throw nine lawmakers out of parliament in a dispute over vote fraud.
The protestors condemned the United Nations, accusing its mission in Afghanistan, UNAMA, of interference, an AFP reporter said.
'Death to UNAMA which supported this evil process,' and 'Death to those who oppose democracy,' the crowd shouted as they marched towards the presidential palace and the main UN compound.
The UN mission welcomed Sunday's decision by the Independent Election Commission (IEC) to dismiss nine lawmakers after last September's parliamentary election, saying a 'long institutional impasse' had come to an end.
'The real work must now begin,' it added, calling on Afghan politicians and officials to work for 'peace, progress and prosperity' in their country.
The IEC was handed authority by President Hamid Karzai to make the final ruling in the nearly year-long row over ballot stuffing.
But the issue is highly controversial in Afghanistan and has prompted a string of angry protests on the streets of Kabul by supporters of rival politicians in recent months.
In June, a special election tribunal backed by Karzai ruled that 62 lawmakers, a quarter of lower house of parliament, should be expelled.
However, the IEC's final ruling fell well short of that figure.
http://www.khaleejtimes.com/DisplayArticle08.asp?xfile=data/international/2011/August/international_August1057.xml&section=international
---------
Syria unrest: UN rights body to investigate crackdown
23 Aug 2011
Human Rights Council launches commission of inquiry into crackdown on protesters and possible crimes against humanity.
The UN Human Rights Council has launched a new commission of inquiry into Syria's crackdown on anti-government protesters, including possible crimes against humanity.
By 33 votes in favour to four against and nine abstentions, the council passed a resolution to "urgently dispatch an independent international commission of inquiry... to investigate violations of international human rights law in Syria since July 2011".
"The resolution is adopted," Uruguay's ambassador Laura Dupuy Lasserre who chairs the council, announced after the vote on Tuesday.
The remaining countries on the 47-nation council abstained or were absent. China and Russia said they opposed the measure as unnecessary intervention.
Fayssal al-Hamwi, the Syrian Ambassador, called the action "100 per cent political".
Violence continues
Meanwhile, activists say Syrian security forces killed at least seven people in Homs following a visit by members of a UN humanitarian team.
They say Monday's casualties included four people who died when troops opened fire to disperse anti-government protesters in Homs.
Full report at:
http://www.bbc.co.uk/news/world-middle-east-14628573
---------
Iran moves nuclear technology underground
23 Aug 2011
Iran has moved some of its centrifuges to an underground uranium enrichment site that offers better protection from possible air strikes, the country's vice president said.
Engineers are "hard at work" preparing the facility in Fordo, which is carved into a mountain to protect it against possible attacks, to house the centrifuges, Fereidoun Abbasi was quoted as saying by state TV on Monday.
Abbasi, who is also Iran's nuclear chief, did not say how many centrifuges have been moved to Fordo nor whether the machines installed are the new, more efficient centrifuges Iran has promised or the old IR-1 types.
He did specify that the centrifuges will be taken to Fordo from Iran's main uranium enrichment facility in Natanz, central Iran.
Uranium enrichment lies at the heart of Iran's dispute with the West, a technology that can be used to produce nuclear fuel or materials for atomic bombs.
The United States and some of its allies accuse Iran of using its civilian nuclear program as a cover to develop atomic weapons. Iran has denied the charges, saying its nuclear program is peaceful and solely aimed at generating electricity.
On Monday, US State Department spokeswoman Victoria Nuland said the new programme raises suspicions.
Full report at:
http://english.aljazeera.net/news/middleeast/2011/08/201182302214416542.html
---------
Yemeni politician dies of wounds from attack on Saleh
23 Aug 2011
The speaker of Yemen's upper house of parliament has died of injuries from an assassination attempt on President Ali Abdullah Saleh in June.
Abdulaziz Abdulghani is the first senior politician to die as a result of the explosion at Mr Saleh's compound.
In a TV address last week, Mr Saleh said would return to Sanaa "soon" from Riyadh, where he and several aides are receiving medical treatment.
Yemen has been paralysed by months of protests against his 33-year rule.
Yemeni state television reported on Monday that Mr Abdulghani - a former prime minister and vice-president of North Yemen - had died in a Riyadh hospital, hailing him as "a great martyr of the country".
Meanwhile, Yemen's prime minister, Ali Mohammed Mujawar, was expected to fly home from Saudi Arabia, the Reuters news agency reported, which would make him the first of Mr Saleh's aides to return since the attack more than two months ago.
The impoverished Arabian Gulf state of 23 million people has been in turmoil since January, when protesters took to the streets demanding that Mr Saleh leave office.
Since then, hundreds have died in battles between security forces and protesters, while in the southern Abyan province, gunmen have seized control of several cities, including the provincial capital Zinjibar, Jaar, and Shaqra.
The international community has expressed fears that the power vacuum could play into the hands of al-Qaeda in the Arabian Peninsula (AQAP), the local branch of the network.
http://www.bbc.co.uk/news/world-14629185
---------
First Day of Eid in Gulf Likely on Tuesday Aug 30
23 August 2011
Dubai, Aug 23: The UAE authorities have already announced the Eid holidays for the public sector beginning from Monday August 29. Working days will resume on Sunday September 4.
According to Kuwait-based astronomer Adel Al-Sadoon, the first day of Eid will fall on August 30 because the Shawwal crescent (Hijira month) will not be visible on August 29.
The well-known astronomer explains that it is impossible to see the crescent in Kuwait, Saudi Arabia and other GCC countries, except through telescopes in nations in the southern part of the equator in Africa.
"August 30 will most likely be the first day of Eid according to the visibility of the crescent." he explains.
According to UAE labour ministry the first and the second day of the month of Shawwal – which marks the start of Eid-ul-Fitr - will be a paid holiday for all private sector employees.
Most likely UAE private sector is expected to get Eid holidays on August 30 and 31.
http://www.daijiworld.com/news/news_disp.asp?n_id=113047
---------
Al Qaeda in Yemen alienates local jihaddists
23 August 2011
SANA'A — Local jihaddists in Abyan, Yemen are fighting their former allies, al Qaeda militants from other countries and other Yemeni provinces, for control of Ja'ar City. The combined group, which calls itself "Ansar al Shariah," has been in control of areas of Abyan since May when the military withdrew.
Clashes between local jihaddists and al Qaeda erupted Monday morning, al Teef reported. The local militants' commander, Abullatif Al Sayed, tried to expel the non-resident terrorists who had earlier joined their operations for control of the province. Many came from Marib and are linked to al Qaeda in the Arabian Peninsula (AQAP). The gun battle that ensued raged for hours and the number of casualties is unknown.
Al Sayed objected to the "vast destruction" and "looting" that the AQAP members inflicted on the city.
In May, President Saleh warned of an al Qaeda take over if he was removed from power. Days later military units withdrew from Abyan, leaving behind a vast cache of weapons. Extremists from across the country moved in to seize control of the capital Zinjibar and other cities including Ja'ar, using the state's abandoned arms. The group branded itself as Ansar al Sharia, and declared the establishment of an Islamic Emirate.
AQAP touted the battles in Abyan in the last issue of its magazine, Inspire, and noted the deaths of long time jihaddists Ali Abdullah al Harithi and Ammar al Waeli in a June 3rd US air strike in Znijibar.
Full report at:
http://www.yementimes.com/defaultdet.aspx?SUB_ID=36482
---------
Muslims see 'foreign law' bill as attack on Shariah
23 August 2011
DETROIT — A national drive against citing "foreign" laws in U.S. courts - one that critics say is a veiled attack on Islamic Shariah law - has reached the state with the nation's largest concentration of Muslims.
The Michigan bill, which mirrors "American Laws for American Courts" legislation introduced in more than 20 other states, was introduced in June by state Rep. Dave Agema, Grandville Republican. He has argued that it has nothing to do with Islam or the faith's Koran-based Shariah law, but is designed to stop anyone who seeks to invoke a foreign law in state courts.
Mr. Agema's proposal has not made it out of committee, but still has raised cries of racism, xenophobia and Islamophobia from groups such as the National Association for the Advancement of Colored People and the Michigan chapters of the American Civil Liberties Union and the Council of American-Islamic Relations, which have threatened to file a lawsuit if state lawmakers approve the measure.
"If anybody has a problem with this, that means they don't agree with U.S. laws," Mr. Agema told the Detroit News. "If they don't want it passed, then they have an ulterior agenda. It shows the people accusing me of bigotry are guilty of it themselves."
Mr. Agema did not respond to several requests from The Washington Times to comment on his bill.
Full report at:
http://www.washingtontimes.com/news/2011/aug/22/muslims-see-foreign-law-bill-as-attack-on-shariah/print/
---------
JEDDAH: Lawyer refutes evidence against schoolteacher in serial rape case
Aug 23, 2011
JEDDAH: The lawyer of a Saudi schoolteacher accused of raping a number of young girls has said 11 of the charges against his client should be dropped due to a lack of solid evidence, local Arabic daily Al-Watan reported Monday.
Wael Jawharji reportedly made the claims in a letter to the Prosecution and Investigation Commission (PIC).
"There is no proof to condemn my client who is detained at Briman prison," the lawyer wrote in his letter. He said the lack of solid criminal evidence meant there was no chance the schoolteacher had committed the attacks.
The lawyer believed that the evidence collected so far against his client was not enough to incriminate him. He added that he had other pieces of evidence proving the schoolteacher's innocence that he would use if the case was taken to court.
Jawharji recalled that a number of victims had withdrawn testimonies they gave to police against the suspect and said three of the rape attacks that he was accused of took place while he was outside the Kingdom.
Full report at:
http://arabnews.com/saudiarabia/article492338.ece
---------
Reconciliation committee to take up case of Sri Lankan housemaid
Aug 23, 2011
RIYADH: The Royal Court has forwarded the case of Sri Lankan death row housemaid Rizana Nafeek for an amicable settlement with the Saudi parents of the child she was convicted of killing, reliable sources told Arab News on Monday.
Arab News learned that the case had been referred from the Royal Court to the Riyadh governorate through the Ministry of Interior during the first week of the holy month of Ramadan.
On June 16, 2007, Nafeek was sentenced to death by a three-member bench at the Dawadmi High Court for killing the baby she was entrusted to look after in the absence of her Saudi employers at home. The accused maintained that the newborn choked during bottle-feeding, and that she tried to seek help.
During an appeal made on behalf of the accused, the judgment was upheld by the Supreme Court in Riyadh on Sept. 25, last year. Subsequently, the case was forwarded to the Royal Court for necessary action.
Full report at:
http://arabnews.com/saudiarabia/article492352.ece
---------
Nitaqat a boon for Saudi job seekers
Aug 23, 2011
DAMMAM: As companies race to meet Saudization targets before they incur penalties, young Saudis find themselves in great demand in the job market.
The Labor Ministry's Nitaqat program outlines different Saudization targets for various business sectors. Companies are ranked by different color bands depending on the number of Saudis they have on their payrolls. Penalty assessment begins next month.
Jarallah Mohammad Al-Asiri is among the young Saudis being wooed by a number of companies. "I am 26 years old and come from a family of decent means. I am the eldest of four brothers and one sister. My father teaches social sciences at a government-run secondary school. I completed my graduation four years ago from King Faisal University (now Dammam University). I did a nine-month management diploma from Malaysia."
For the last two years, Al-Asiri has been struggling to get a proper job. "I applied at various companies in and around the Eastern Province. I also posted my CV on various job sites in hopes of getting a good job. Last year I got three calls for interviews from three good companies, including a multinational based in Jubail, but at each place I could not land the job for one reason or another."
Full report at:
http://arabnews.com/saudiarabia/article492322.ece
---------
Philadelphia locals adopt Muslim-inspired menswear
By Jenice Armstrong
23 August 2011
THERE'S NOT a woman in Philly who would rock a burka just to make a fashion statement.
But when it comes to Muslim-inspired menswear, well, that's another story. Regardless of their religious affiliations, certain Philadelphia men, mainly African-Americans, have adopted the style of wearing long, old-world-style beards, sometimes pairing them with calf-length trousers and long shirts - all looks inspired by traditional Muslim attire.
For many, this convergence of hip-hop with Islamic style is purely a fashion statement and has nothing to do with whether a guy worships in a church or mosque. Some jokingly refer to non-Muslims who adopt this mode of dress as "asalama-fakems," a play off the traditional Arabic greeting of "as-salaam alaikum," meaning "peace be upon you."
Whatever you call it, the Islamic-style aesthetic has been around for a while, and the beard in particular - often referred to as a "Philly beard" or a "Sunni" - has come to be identified with the City of Brotherly Love. My friend Anthony Henderson, the fashion stylist who divides his time between Philly and Los Angeles, makes a point of wearing it because of hometown pride.
Full report at:
http://www.philly.com/philly/entertainment/20110823_Jenice_Armstrong__Philadelphia_locals_adopt_Muslim-inspired_menswear.html#ixzz1VqxqjzDI
---------
Iranian Kurdistan: 32nd Anniversary of Khomeini's Jihad against Kurds
23 August 2011
Regional colonialism and state sponsored terrorism are a result of 32 years of rhetoric used by the Iranian Islamic regime which declared jihad against the 'infidel' Kurdish population.
Today 19th August is the 32nd anniversary of Jihad declared by the founder of the Iranian Islamic Regime against the Kurdish people in East of Kurdistan.
After the declaration of Jihad (wholly war) by the founder of the Islamic Republic, the Kurdish people particularly the civilian were met with a cataclysmic round of state terrorism which after 32 years still haunts the Kurdish society.
On 19th August 1980 the supreme leader of the Iranian Islamic Revolution declared a Jihad against the Kurds while the Kurdish people were only pressing for their democratic rights within the Iranian borders.
Within the Jihad order, Khomeini ordered the Iranian Revolution Guards Corps (IRGC) to clear Kurdistan off the 'infidels', referring to the Kurds.
Following the Jihad order, thousands of IRGC as well as other state militias including Basij, invaded Kurdistan from various points and a great numbers of cities and villages were heinously attacked.
Full report at:
http://www.unpo.org/article/13065
---------
Jakarta's Tough on Terrorists But Not Other Radicals
John McBeth
23 August 2011
When criminal court judges are fearful of dishing out tough punishment or, worse, allow a certain empathy for the accused to colour their judgment, it is important to look higher up the chain for the underlying reason.
In the case of the leaders of the mob who murdered three members of the Ahmadiyah sect last February, it comes down to the way the Government treats Islamic terrorists differently from other religious radicals who may not bomb but terrorize all the same.
President Susilo Bambang Yudhoyono's administration clearly sees the terrorists as a direct challenge to the state, ignoring the more insidious threat mainstream extremists pose to the Constitution and the rule of law.
As a result, while Indonesia gets deserved praise for the success of its anti-terrorism campaign, its much-vaunted reputation for moderation and religious tolerance has paradoxically undergone a significant erosion at the same time.
There may well be a connection. Anxious not to appear as if it is at war with Islam, the government is consciously leaning the other way when it comes to other hardline groups who flirt with the law.
Full report at:
http://www.thejakartaglobe.com/opinion/jakartas-tough-on-terrorists-but-not-other-radicals/461094
---------
26/11: India yet to get evidence related to Headley, says MHA
Aug 23 2011
New Delhi : India is yet to receive from the United States some evidence related to 26/11 terror attack accused David Headley, Lok Sabha was informed on Tuesday.
Minister of State for Home Jitendra Singh said investigation in India on Headley's involvement in terrorist acts here was complete.
"The transfer of some evidence from the USA is awaited. Similarly, transfer of evidence from Pakistan with regard to some other accused persons is awaited. The final report in the case accordingly will be filed in the competent court," he said.
The minister said on the basis of the examination of Headley in Chicago and on other revelations in the case during investigation, two Mutual Legal Assistance Treaty (MLAT) requests to USA and one Letter Rogatory request to Pakistan were sent.
"The MLAT to USA stands partially executed and evidence was transferred to the National Investigation Agency," he said.
The Pakistani American national had conducted surveillance of the 26/11 Mumbai terror attack targets for LeT. Headley has pleaded guilty to plotting the attacks. Subsequently, he had entered into plea bargain with the US authorities.
http://www.indianexpress.com/news/26-11-india-yet-to-get-evidence-related-to-headle.../835857/
---------
Why are Muslim leaders not condemning violence in Syria?
August 23, 2011
The world, and Muslim world in particular is on a boil. Libya, Egypt, Yemen, Syria, Bahrain, the entire arc of middle east countries are witnessing a revolution. It is a historic moment of assertion against tyranny which has drawn world wide support.
Yet, as I trawl through the opinions and news on the issue, I wonder why are Muslim leaders silent on the issue? Where is the popular outpourings, the prayers for the oppressed?
When Afghanistan and Iraq were attacked by the US there was considerable anti Americanism here. People prayed for the Afghanis, and the Iraqis. During the first Gulf war, Saddam became a hero in the Indian subcontinent. Children were named after him. Israeli raids on Palestine draws equally heated reactions. Yet, when it comes to supporting the common people against home grown dictators this public outrage, and public opinion is curiously missing.
This I believe shows notable lack within the community. We look for enemies on the outside. Those within, somehow don't qualify for the same opprobrium, even though to see what is going on in Syria is to know that this a regime that is doing as much, and more harm to its people than any attack by Israel could have done. More than 2000 people have died in the bloodiest crackdown in the middle-east. President Bashar al Assad has revived memories of his father's merciless attack on the city of Hama, which had left 20000 to 30000 people dead. Hama is once more the epicenter of the revolt against the regime. While Hafez Assad had fought armed Islamists, Bashar al Assad's regime is killing unarmed people, who have come out in peaceful protests. He calls them terrorists, and armed gangs, but terrorism is an epithet that is better applied to the government's tactics.
Full report at:
http://nvonews.com/2011/08/23/why-are-muslim-leaders-not-condemning-violence-in-
URL: https://newageislam.com/islamic-world-news/libya-gaddafi-citadel-falls-his/d/5305