New Age Islam News Bureau
22 March 2019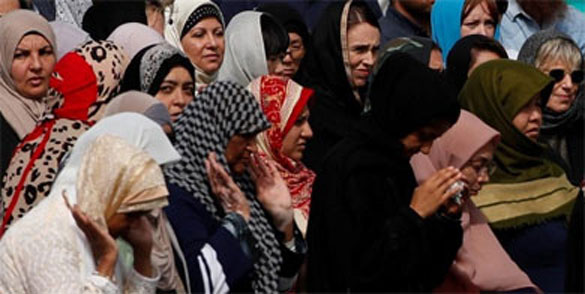 Prime Minister Jacinda Ardern led an estimated 5,000 people standing quietly at Hagley Park in front of the Al Noor mosque, where most of the victims died.
------
• 'Lesson for World Leaders': Imam Thanks New Zealand PM after Prayers
• EU Weighs Designating Pakistani Militant a Terrorist
• London Mosque Warned Over 'Kill Ahmadis' Leaflets
• Indian Govt to Not Send Representative to Pakistan National Day in Delhi
• Rights Groups Join To Fight Hate Ahead Of Indian Election
• Burkina Faso Forces, Militants Execute Dozens of Civilians: HRW
• Trump Says US Recognises Israeli Control of Golan Heights
• Post-Daesh, North Iraq's Minority Mosaic Blown Apart By Trauma
Europe
• 'Lesson for World Leaders': Imam Thanks New Zealand PM after Prayers
• EU Weighs Designating Pakistani Militant a Terrorist
• London Mosque Warned Over 'Kill Ahmadis' Leaflets
• UN And OIC Urged To Curb Islamophobia
• Survivors of Christchurch mosque attacks recount moments of terror
• Five Mosques Vandalized In Central England
• British police to continue protection of London mosques
• British funding for Syrian war crimes investigators
--------
India
• Indian Govt to Not Send Representative to Pakistan National Day in Delhi
• Rights Groups Join To Fight Hate Ahead Of Indian Election
• 2 militants killed in encounter with Army personnel in J-K's Baramulla
• Before New Zealand shooting, visitors from India nearly doubled in four years
• Militant killed in South Kashmir's Shopian, search operation underway
--------
Africa
• Burkina Faso Forces, Militants Execute Dozens of Civilians: HRW
• At Least 30 Migrants Believed Missing After Boat Sinking Off Libya
• Sudanese cities rocked by fresh wave of protest
• Four farmers killed in Boko Haram attack in Nigeria: Witnesses
--------
North America
• Trump Says US Recognises Israeli Control of Golan Heights
• Pompeo hopes that pressure on Iran will return Houthis to the political table
• In Israel, Pompeo Resorts to Iranophobia to Boost Netanyahu's Reelection Bid
• 16 years into US invasion, Iraq carries war traces
• American soldiers should remain in Iraq: US delegation
• US envoy Brian Hook: Sanctions are hurting Iran's $700m support for Hezbollah
--------
Arab World
• Post-Daesh, North Iraq's Minority Mosaic Blown Apart By Trauma
• Pompeo calls Hezbollah risk to Middle East stability
• Syria says it's determined to recover Israeli-occupied Golan, slams Trump
• 94 killed, mostly women and children, after ferry capsizes on the Tigris river near Mosul, Iraq
• 12 killed in Egypt chemical plant blast, say security sources
• US-backed force denies report of final ISIS defeat
• Abu Dhabi crown prince proposed killing Taliban leaders: Report
--------
Pakistan
• CII Chairman for Mechanism to Implement 'Paigham-e-Pakistan'
• Turkey & Pakistan Join Forces to Combat Islamophobia
• Zardari calls on JUI-F chief for one-on-one meeting
• Pakistan convicts two over Mashal Khan blasphemy lynching case
• Shikarpur police succeed again, five terrorists with heavy munitions arrested
--------
South Asia
• Six Killed, 23 Injured in Several Explosions during New Year Festival in Afghan's Kabul
• Barbers in BD Town Face Fines for 'Foreign' Cuts
• Christchurch shooting: NZ sports minister hopes Bangladesh cricket team returns to country in future
• ISIS Khurasan militants killed in Nangarhar drone strike: 201st Silab Corps
• NDS Special Forces thwart ISIS plot to carry out suicide attacks in Kabul city
• Blasts in Afghan capital kill 6 during New Year festival
• Two US service members killed in Afghanistan
--------
Southeast Asia
• Race and Religion Persist In 'New Malaysia', Says Suhakam Commissioner
• Report: Weak laws behind religious discrimination in Malaysia
• Foreign minister to attend emergency OIC meeting on NZ mosque attacks
• Turkey treads tricky path with China's Muslim minorities
--------
Mideast
• Iran Will Boost Defence Capabilities despite US Pressure, Says Khamenei
• Pompeo Heads for Lebanon to Step up Pressure On Iran, Hezbollah
• Israeli gunfire kills Palestinian in West Bank
• Iran FM heads to Istanbul to attend emergency OIC session on NZ massacre
• Palestinian killed in West Bank by Israeli gunfire
• US blames Houthis for stalling Yemen peace deal
• NZ's foreign minister arrives in Turkey for Muslim summit
Compiled by New Age Islam News Bureau
URL: https://www.newageislam.com/islamic-world-news/lesson-world-leaders-imam-thanks/d/118097
--------
'Lesson for World Leaders': Imam Thanks New Zealand PM after Prayers
March 22, 2019
The Muslim call to prayer rang out over Christchurch and around New Zealand on Friday, as thousands gathered to remember the 50 people killed by a lone gunman at two mosques a week ago.
New Zealand Prime Minister Jacinda Ardern led an estimated 5,000 people standing quietly at Hagley Park in front of the Al Noor mosque, where most of the victims died.
"New Zealand mourns with you. We are one," she said in a short speech, followed by two minutes of silence.
Most victims of New Zealand's worst mass shooting were migrants or refugees from countries such as Pakistan, India, Malaysia, Indonesia, Turkey, Somalia, Afghanistan and Bangladesh.
"We are broken-hearted, but we are not broken. We are alive, we are together, we are determined to not let anyone divide us," Imam Gamal Fouda told the gathered crowd, many wearing headscarves in support of the grieving Muslim community.
"To the families of the victims, your loved ones did not die in vain. Their blood has watered the seeds of hope," he said in prayers broadcast nationally.
Ardern, who swiftly denounced the attack as terrorism, announced a ban on military-style semi-automatic and assault rifles under tough new gun laws on Thursday.
Australian Brenton Tarrant, 28, a suspected white supremacist, has been charged with one murder following the Christchurch attack and was remanded without a plea.
Tarrant is due back in court on April 5, when police said he was likely to face more charges.
Islamophobia
Ardern, surrounded by ministers and security officials, wore a black headscarf and a black suit. Female police at the park also wore headscarfs, with a red rose on their body suit.
In a powerful speech that lasted about 20 minutes, Imam Gamal said through its love and compassion, New Zealand is unbreakable. He thanked Ardern for her compassion.
"It has been a lesson for world leaders," the Imam said about the prime minister.
"Thank you for holding our families close and honouring us with a simple scarf," he added.
He said Islamophobia dehumanises Muslims, and called on the world to end hate speech and the politics of fear.
"Last week's event is proof and evidence to entire world that terrorism has no colour, race or religion. The rise of white supremacy is a great global threat to humanity and this must end now," he said.
Thousands of people gathered at mosques in Wellington, Auckland and other cities for the prayers, with many non-Muslims wearing headscarves.
"We are wearing headscarves showing our support, love and solidarity, and hope that by everybody doing this it will demonstrate to Muslim women ... that they are one with us," said Robyn Molony, 65, with a group of friend wearing headscarves at Hagley Park, where they walked daily.
A #headscarfforharmony movement was trending on Twitter.
Muslims account for just over 1 percent of New Zealand's population, most of whom were born overseas.
"We're not moving on. This grieving is going to take a long time," said 52-year-old Christchurch resident Bell Sibly, who wore a headscarf to show her support.
"But what he's done, he was hoping to divide us, and instead, he's brought us all together in one big hug."
Burials of the victims begun on Wednesday, with a final mass burial expected after prayers on Friday.
Residents of Christchurch are still recovering from a devastating earthquake that hit in 2011, killing 185 and injured thousands.
"Since the earthquakes, we've gone through a lot as a city and we're a lot more caring and looking out for one another," said James Sheehan, 62.
https://www.ndtv.com/world-news/new-zealand-prime-minister-jacinda-ardern-mourns-with-people-after-christchurch-attack-2011090?utm_source=email&utm_medium=newsletter&utm_campaign=mailchimp&pfrom=mailchimp
--------
EU Weighs Designating Pakistani Militant a Terrorist
March 21, 2019
Madeeha Anwar
The European Union is reportedly contemplating designating the leader of Pakistan-based militant group Jaish-e-Mohammad (JeM) a terrorist.
The EU's decision comes nearly a week after a push by France and India to declare JeM leader Masood Azhar a terrorist and freeze his assets.
JeM is already a U.S.- and U.N.-designated terror group.
Focus on Kashmir
Azhar is an Islamist extremist who wants to end Indian control of a portion of the disputed Kashmir area and merge it with Pakistan. He was born in 1968 in Pakistan's Punjab province in a Deobandi (Sunni sect) Muslim family.
He reportedly received his early education in Bahawalpur, Punjab, and later enrolled in Jamia-ul-Uloom, an Islamic seminary in Karachi, where he became a teacher.
Azhar founded Jaish-e-Mohammad in 2000 and maintained his affiliation with several terror groups, including al-Qaida, Hurkat-ul-Mujahideen (HuM) and Harkat-ul-Ansar (HuA), all U.S.-designated terror groups.
JeM is believed to be based in the Peshawar region of Pakistan's Khyber Pakhtunkhwa province and in Muzaffarabad, the capital of Pakistani-administered Kashmir.
Azhar received his militant training in Afghanistan in the 1980s and fought Soviet troops there.
Spurred by jihad decree
Azhar reportedly traveled to Afghanistan in 1988 with his brother, Ibrahim Azhar, who according to analysts played a key role in shaping Masood's religious ideology.
"Azhar himself mentioned in one of the articles that his inclination towards jihad started when Mufti Nizamuddin Shamzai, head of the Karachi Jamia-ul-Uloom at that time, issued an Islamic decree for students to go and participate in Afghan jihad," Mujahid Hussain, an author and expert on terror outfits, told VOA.
It was during his time in Afghanistan that Azhar developed a relationship with al-Qaida and its leadership, and later worked closely with the terror group.
Azhar traveled to several countries, including Britain, Saudi Arabia, Zambia, India and Bangladesh, to raise funds and recruit youth toward jihad.
He has written over 20 books on Islamic history and the importance of jihad.
Location a mystery
Azhar's current whereabouts are unknown. Some experts in Pakistan believe he is living in Bahawalpur, a city in southern Punjab.
"I personally know many people who have met Azhar in Bahawalpur. Azhar reportedly goes to the mosques, gives sermons and greets people. And he continues to write for JeM's magazine," Hussain said.
On Feb. 5, when various religious parties throughout Pakistan marked Kashmir Day, an audio clip of Azhar was played during a JeM rally in Karachi. In the audio, Azhar invited people toward jihad.
"Stay determined," he said. "And instead of going one by one, if you all go out there together as a group, India won't be able to stand us for even one month."
https://www.voanews.com/a/eu-weighs-designating-pakistani-militant-a-terrorist-/4841922.html
--------
London mosque warned over 'kill Ahmadis' leaflets
21 March 2019
A mosque has received an official warning after leaflets calling for the killing of a sect of Muslims were found on display.
Piles of the flyers, which say Ahmadis should face death if they refuse to convert to mainstream Islam, were found in Stockwell Green mosque.
The Charity Commission found the mosque had failed in its duties, and had no control over literature on display.
The mosque in south London has been approached for comment.
A BBC investigation found the leaflets were authored by an ex-head of Khatme Nabuwwat, a group based in Pakistan which lists the mosque as its "overseas office".
Previously a mosque trustee said he had never seen the leaflets before and suggested they were fakes or had been left there maliciously.
Islamic missionary group Khatme Nabuwwat believes Ahmadis are apostates, commonly defined as people who have abandoned their religion.
The leaflets said those who refuse to convert to mainstream Islam within three days should face a "capital sentence" - or death penalty.
Stockwell Green mosque claims there is no connection with Khatme Nabuwwat, despite sharing the same name and evidence suggesting the Pakistani organisation had control over its Imam.
The mosque was unable to disprove its links to the Pakistani organisation, according to the Charity Commission.
The Charity Commission was unable to establish who left the literature at the mosque, or "whether the literature referred to by the BBC was ever available from the charity's premises".
It also concluded the mosque had no controls over who could leave literature or host speakers at events.
An official warning was issued over the mosque's "failure to ensure that they comply with charity law".
Under the warning trustees must take all reasonable steps to ensure that future statutory accounts and annual returns are submitted on time.
Following several interventions by the Charity Commission, new rules have since been put in place.
https://www.bbc.com/news/uk-england-london-47654430
--------
Indian govt to not send representative to Pakistan National Day in Delhi
Mar 21, 2019
The Indian government will not send any official representative to the Pakistan National Day event at the Pakistan Mission in New Delhi on Friday.
It is learnt that the government decided against sending any representative to the reception because Pakistan had invited the representatives of the Hurriyat Conference to the event.
The Pakistan National Day is observed every year on March 23, though the Pakistan high commission had decided to organise the reception this year on March 22.
An Indian minister usually represents the government at the event.
Amid downturn in bilateral ties following the Pulwama terror attack last month, India had formally complained to the Pakistan government about instances of its diplomats and officials in Islamabad being harassed by security personnel.
In a note verbale – an unsigned diplomatic correspondence – submitted to Pakistan's foreign ministry on March 18, the Indian high commission in Islamabad detailed the incidents that occurred last week and sought an investigation, people familiar with developments said.
https://www.hindustantimes.com/india-news/indian-govt-to-not-send-representative-to-pakistan-national-day-in-delhi/story-HddPDkCuz7cw6MVSZ5rmnM.html
--------
Rights Groups Join To Fight Hate Ahead Of Indian Election
March 22, 2019
Groups of Indians including Christians are on a campaign to popularize a "manifesto against hate" aiming to block political efforts to garner votes by dividing citizens on religious lines though hate speeches.
Indians are set to elect members to their 543-seat national parliament in a seven-phase election from April 11 to May 19. The world's largest democratic exercise has almost 900 million eligible voters, an estimated 80 percent of them Hindus.
Prime Minister Narendra Modi's Bharatiya Janata Party (BJP), which won the 2014 election primarily on a plank of pro-Hindu promises, is seeking a second term covertly campaigning for majority Hindu votes.
"This election is not about a minority or majority. It is about ensuring the basic rights of every Indian irrespective of religion," said Christian leader A.C. Michael, who has joined the campaign. "We need to ensure secular democratic rights, working beyond caste, creed and religion."
Michael, a former member of the Delhi Minorities Commission, represented the United Christian Forum at a March 18 meeting of 100 civil rights leaders in New Delhi to discuss ways to popularize the manifesto against hate.
The manifesto was prepared by United Against Hate, a confederation of rights group formed in 2017 after a series of incidents of mob lynchings and violence targeting religious minorities, tribal and Dalit people.
The manifesto demands the revocation of certain laws enacted by the Modi government that target and discriminate against religious minorities such as Christians and Muslims. The new government should make a law to prevent violence targeting particular communities, it says.
Christian and Muslim leaders complain that BJP governments in New Delhi and several northern states tacitly approve of Hindu groups targeting Christians, Muslims and socially poor Dalit and tribal people.
An atmosphere of intolerance spread across the nation after pro-Hindu groups began to push for establishing a nation of Hindu hegemony after they took the BJP's election victory as a mandate to step up their actions, critics say.
Fawaz Shaheen, a rights activist and Muslim leader, said his Quill Foundation has recorded 759 hate crimes during the BJP's five-year rule.
"Crimes of this proportion are a national crisis … it is being perpetuated in a planned manner" targeting religious minorities. Hate speeches are "a prominent constituent of such violence," he said at the New Delhi meeting.
Persecution Relief, an ecumenical Christian forum, claims it recorded 600 incidents in 2017 of violence against Christians, including destruction of churches, threats and harassment, social boycotts, hate campaigns, abductions, murder, physical violence and attempted murder.
Soni Sori, a tribal rights activist from Chhattisgarh, told the meeting that they will work in the villages to help people understand "the time has come to use votes to choose a person who will fight for our rights and safeguard our livelihoods.
Rajeev Yadav of Rihai Manch, which fights hate crimes in Uttar Pradesh, pointed out the need to organize more people to work in villages to counter the hate propaganda of pro-Hindu groups.
Political party leader Yogendra Yadav of Swaraj India stressed the need to safeguard India's composite culture through progressive and secular forces. People need to stand together against fanatical forces, he said.
Swaraj (self-rule) was the slogan and movement when Indians, forgetting their differences of religion, language, caste and culture, stood together against British colonialism.
https://www.ucanews.com/news/rights-groups-join-to-fight-hate-ahead-of-indian-election/84794
--------
Burkina Faso forces, militants execute dozens of civilians: HRW
March 22, 2019
OUAGADOUGOU: Burkina Faso security forces have summarily executed more than 115 civilians since mid-last year during operations against militants who themselves have killed over a third of that number, Human Rights Watch (HRW) said on Friday.
Burkina Faso has seen a sharp rise in extremist attacks in the past three months, as militant groups seek to increase their influence across the Sahel.
A Burkinabe government spokesman declined to comment, but said authorities would issue a statement shortly. None of the multiple militant groups operating in Burkina Faso could be reached for comment.
HRW documented "the execution by Burkinabe security forces of over 115 men accused of supporting or harboring the armed Islamists," as well as 42 killings carried out by militants of suspected government collaborators.
All the violence occurred near the northern borders with Mali and Niger, between April 2018 and January 2019.
"Scores of people have been murdered," Corinne Dufka, Sahel director at Human Rights Watch, said. "Villagers are living in fear as both armed Islamists and government forces have demonstrated utter disregard for human life."
Burkina Faso has become the latest focal point for a determined regional militant campaign, seven years after well-armed extremists took over northern Mali in 2012, prompting the French to intervene the following year to push them back.
However, any evidence of reprisals would present an uncomfortable dilemma for Western allies such as France and the United States: backing security forces in countries such as Burkina Faso is key to containing the militant threat, but that support is meant to be conditional on respect for human rights.
Burkina declared a state of emergency in several provinces in December following an attack by an Al-Qaeda-linked group. The state of emergency was extended by six months in January after an dozens died in ethnic violence triggered by the suspected militant killing of a traditional ruler.
Thousands of people have fled their homes as a result of militant attacks and reprisals by Burkinabe forces.
According to the HRW report, in the village of Gasseliki, about 230 km north of the capital Ouagadougou, militants killed 12 people.
"They kicked the door in, went room to room and found us hiding," the report quoted a witness as saying. Reprisals by security forces were mostly carried out by a detachment of about 100 gendarmes, or military police, based in the town of Arbinda, since late August, it said.
Most were from the Fulani ethnic group, whom the militants have targeted heavily for recruitment.
Earlier this month, Burkina Faso acknowledged accusations of abuse, saying the army was committed to human rights and that it "investigations are ongoing into the facts."
http://www.arabnews.com/node/1470696/world
--------
Trump says US recognises Israeli control of Golan Heights
March 21, 2019
President Donald Trump said on Thursday that it's time for the United States to recognize Israel's control over the disputed Golan Heights, an announcement that signals a shift in US policy and comes ahead of the Israeli prime minister's planned visit next week to the White House.
The administration has been considering recognising Israel's sovereignty over the Golan, which Israel captured from Syria in 1967. Last week, in its annual human rights report, the State Department dropped the phrase "Israeli-occupied" from the Golan Heights section, instead calling it "Israeli-controlled."
"After 52 years it is time for the United States to fully recognise Israel's Sovereignty over the Golan Heights, which is of critical strategic and security importance to the State of Israel and Regional Stability!" Trump tweeted.
Minutes later, Israeli Prime Minister Benjamin Netanyahu tweeted his appreciation. "At a time when Iran seeks to use Syria as a platform to destroy Israel, President Trump boldly recognises Israeli sovereignty over the Golan Heights. Thank you President Trump!"
In addition to its policies toward the Palestinians, the US has taken a hard line toward Iran, much to Netanyahu's delight.
Trump's announcement came as Secretary of State Mike Pompeo is in Jerusalem, lauding warm ties with Israel and promising to step up pressure on Iran. Pompeo's words gave a public boost to the Israeli leader at the height of a tight re-election campaign. Netanyahu is to be in Washington for two days next week two weeks before Israel's April 9 ballot.
Standing together in Jerusalem Thursday, neither Netanyahu nor Pompeo mentioned the heated Israeli election campaign. But Netanyahu, facing a tough challenge from a popular former military chief and reeling from a series of corruption allegations, has repeatedly sought to focus attention on his foreign policy record and strong ties with Trump.
Pompeo has said his trip has nothing to do with politics.
Netanyahu thanked Pompeo for the Trump administration's strong stance against Iran, which Israel regards as an existential threat.
Explore: Welcome to Golan Heights, where Al Qaeda is helped out by Israeli troops
Netanyahu has accused Iran of attempting to set up a terrorist network to target Israel from the Golan Heights, using the incident to repeat his goal of international recognition for Israel's claim on the area.
"You could imagine what would have happened if Israel were not in the Golan," he said. "You would have Iran on the shores of the Sea of Galilee."
Pompeo paid a solemn visit Thursday to Jerusalem's Western Wall along with Netanyahu in an apparent sign of support for Israel's control of the contested city.
Pompeo is the highest-ranking American official to tour the holy site with any Israeli leader. His visit was likely to further infuriate the Palestinians, who already have severed ties with the US over its Jerusalem policies.
Pompeo and Netanyahu prayed at the wall, the holiest site where Jews can pray, before depositing written prayers in its crevices and then touring nearby tunnels and synagogue. Neither made any public comment at the site.
The secretary said he thought it was important to visit the wall with the Israeli leader as a show of support for Israel.
"I think it's symbolic that a senior American official go there with a prime minister of Israel," he said before making the trip. "It's a place that's important to many faiths and I'm looking forward to it. I think it will be very special."
Read next: US votes against UN censure of Israel over Golan
Israel captured east Jerusalem and the Old City in the 1967 Mideast war, and for decades, US officials refrained from visiting the Western Wall with Israeli leaders to avoid the appearance of recognising Israeli sovereignty over the city's most sensitive holy sites. The Palestinians seek east Jerusalem as the capital of a future state.
But the Trump administration has upended the longstanding policy, moving the US Embassy to Jerusalem last year after recognising the city as Israel's capital. Israel claims all of Jerusalem as its eternal and indivisible capital.
Senior US officials, including Trump and numerous predecessors, have visited the wall privately in the past, but never with an Israeli leader.
The Old City is home to Jerusalem's most sensitive holy sites, including the Western Wall and the Church of the Holy Sepulcher, where tradition says Jesus was entombed and resurrected. Pompeo, a devout Christian, also stopped at the church.
Next to the Western Wall is a hilltop compound revered by Jews as the Temple Mount and by Muslims as the Noble Sanctuary. The spot, which once housed the biblical Temples, is the holiest site in Judaism and today is home to the Al Aqsa Mosque, the third-holiest site in Islam.
The competing claims to the site are a frequent source of tension and lie at the heart of the Israeli-Palestinian conflict.
When Trump recognised Jerusalem as Israel's capital, he said it did not determine the city's final borders. But the gesture was perceived as unfairly siding with Israel and prompted the Palestinians to sever ties with the US. The Palestinians already have rejected a planned Mideast peace initiative by the administration.
Nabil Abu Rudeineh, spokesman for Palestinian President Mahmoud Abbas, said Pompeo's visit added additional obstacles to peace hopes. "While they are claiming to be trying to solve the conflict, such acts only make it more difficult to resolve," he said.
While previous secretaries of state have traditionally met with the Palestinians when visiting the region, Pompeo has no such talks planned.
"The Israelis and Palestinians live side-by-side. We need to help them figure out how to do that," Pompeo said. "It's a fact, and this administration wishes well for the Palestinian people."
In addition to the Jerusalem recognition, the administration also has cut hundreds of millions of dollars in aid to the Palestinians, helping fuel a financial crisis for Abbas' Palestinian Authority.
At a meeting with Pompeo, Israel's President Reuven Rivlin expressed his deep concern about the Palestinians, both in the Hamas-ruled Gaza Strip and under the internationally backed Palestinian Authority in the West Bank.
"If the Palestinian Authority will collapse, we will have to take care about what is going on," he said.
https://www.dawn.com/news/1471026/trump-says-us-recognises-israeli-control-of-golan-heights
--------
Post-Daesh, north Iraq's minority mosaic blown apart by trauma
March 21, 2019
SINJAR: For decades, his land was his life. Now, like other Sunni Arab farmers in Iraq's diverse north, Mahdi Abu Enad is cut off from his fields, fearing reprisal attacks.
He hails from the mountainous region of Sinjar, which borders Syria and is home to an array of communities — Shiite and Sunni Arabs, Kurds, and Yazidis.
That patchwork was ripped apart when Daesh rampaged across the area in 2014, and has not reconciled even long after Iraqi forces ousted IS in 2017.
Yazidis, whose men Daesh killed en masse and whose women and girls were enslaved by the group, say they have suffered the most.
They accuse their Sunni Arab neighbors of granting the extremists of Daesh a foothold in Sinjar.
Displaced Sunni Arabs, on the other hand, slam the sweeping accusation as unfair and say looting and the threat of retaliatory violence have kept them from coming home.
"We stand accused of belonging to IS (Daesh) because they settled in Sunni areas, but IS doesn't represent Sunnis," said Abu Enad, displaced from his hometown to Al-Baaj since 2014.
"We all lost our livelihoods. It's been four years since we cultivated our land because we fear for our lives," he said.
In 2017, Human Rights Watch said Yazidi armed groups reportedly abducted and executed 52 Sunni Arab civilians in retaliation for Daesh abuses.
Fearing similar abuses, Abu Enad still lives about 10 km from his farm, and was only able to tend to it during planting season with a paramilitary escort.
"We had to leave at 4:00 p.m. every day because the situation was not safe enough. So how could you come back with your family to resume farming and living here?" he said.
Across Iraq, around a third of the population relies on farming to survive, and the ratio was even higher in Sinjar.
For centuries, the region's diverse farmers jointly sold their fig and wheat harvests in the provincial capital of Mosul, 120 km to the east.
But in the wake of Daesh, farming equipment was stolen, orchards burned, and rubble stuffed into irrigation wells.
Now, the area's once-lush farming hamlets have been reduced to ruined ghost towns, with most Arab villages including Abu Enad's left flattened.
A few kilometers to the north, the main town of Sinjar is also still rubble, with little power, water, or health services available.
A few thousand Yazidi families have come back, but tens of thousands more are still stuck in displacement camps elsewhere in Iraq and Syria, while others fled to Europe.
And more than 3,000 Yazidis remain missing, many of them believed to be women and girls taken as sex slaves.
That has made it difficult for the community to forgive or forget the mass crimes against them.
"The Arabs of Sinjar were involved in the abduction of our women," said Yazidi cleric Sheikh Fakher Khalaf.
"They betrayed the co-existence we had, so they can no longer live among us," said Khalaf, who returned home to Sinjar after three years of displacement.
"Those who have done nothing, we respect them. But those who have blood on their hands, they must face justice. Sinjar is not a place for them."
Several local initiatives have made minimal progress on reconciliation, but efforts have not gone far enough, said the Norwegian Refugee Council.
"We are seeing plans to rebuild and rehabilitate some parts, but we're not seeing any concrete process toward reconciliations," said spokesman Tom Peyre-Costa.
He called for more dialogue between communities, transparent and fair trials, and accountability for all perpetrators of crimes.
Iraqi courts have tried hundreds for belonging to Daesh, handing down at least 300 death sentences.
"People who used to be able to live together are not able to do so anymore because of the tension between communities, so this is why reconciliation must be prioritized," he said.
While the communal fissures in Sinjar are particularly deep, the challenge of rebuilding trust after Daesh is one faced across Iraqi society.
Displaced Sunnis with perceived ties to Daesh undergo tough screening processes to return to their hometowns, where they sometimes face harassment.
Abu Enad, the displaced farmer, still hopes that Sinjar can return to its harmonious past.
"We Sunnis have been hurt by Daesh like Yazidis were hurt," he said.
"We want to come back to our land so we can farm and live off the fruits of our labor alongside them."
http://www.arabnews.com/node/1470551/middle-east
--------
Europe
UN and OIC urged to curb Islamophobia
MARCH 22, 2019
A moot held on Thursday by a non-government organisation, demanded the international community and the UN to unequivocally condemn the rise in Islamophobia.
The round-table discussion titled, "Islamophobia: prevailing trends and measures" highlighted prevailing trends of Islamophobia and aimed to suggest possible remedial measures. Islamophobia was defined as an increasing prejudice against Islam and Muslims. Distinguished speakers present on the occasion included Senator Raja Zafar ul Haq, renowned expert on international laws, Ahmer Bilal Soofi, former law minister, Sahibzada Sultan Ahmad Ali, Muslim Institute Chairman, Sahibzada Ameer Sultan, Member of the National Assembly (MNA) Prof Dr Tughral Yamin, Dr Sarwat Rauf from National University of Modern Languages (NUML), former ambassador, Amir Anwar Shadani, South Asian Strategic Stability Institute (SASI) Director General, Dr Maria Sultan, Dr Bakare Najimdeen and Prof Dr Muhammad Khan from International Islamic University, Islamabad (IIUI).
Islamophobia can be categorized into two broad categories: private and structural. While private Islamophobia relates to prejudice manifested against individual Muslims, which was inspired by right-wing ideologies, structural Islamophobia represents the fear of Muslims exhibited by foreign governments. Such fears are manifested through the enactment of laws as well as strict actions against Islam. Governments facilitate actions through state-sponsored policies or at least under government directives. Hence, hampering the process of peace across the globe.
Islamophobia has emerged as one of the most unfortunate realities of the 21st century. Muslims across the world have been subject to worst forms of discrimination and terrorism because of their religion. The menace of Islamophobia is widening the gap between the Muslim communities and the West. This grave issue cannot be merely addressed by condemnation, but additionally requires a thorough analysis to helps chalk out remedial measures.
While Islamophobia has unfortunately existed since long, the post-9/11 misinformation campaign played a significant role in the exacerbation of prejudice against Muslims.
Websites, activists, media, publishing industry and politicians have all cast Islam as a diabolical threat.
The University of Huddersfield, UK's Dr Leonie Jackson wrote in her 2017 book, 'Islamophobia in Britain: The Making of a Muslim Enemy',
"Since 2001, Muslims in Britain have been constructed as the nation's significant'other' – an internal and external enemy that threatened both social cohesion and national security." Spreading of Islamophobic content by media and publishing industry is adding fuel to the fire due to constant exposure of non-Muslims to years of news coverage, TV shows, movies as well as books and journal articles filled with political rhetoric and misrepresentation of Muslims and Islam as "bad" and "evil."
Another reason behind the increased hostility was the language used by political leaders against Muslims. Following the end of the discussion, speakers highlighted remedial measures.
Speakers emphasised that digital and social media, as well as the publishing industry, should be held accountable for the dissemination of non-factual and discriminatory content and information. The true image of Islam should be brought forward, which remained the values of peace, tolerance and harmony as advocated by Sufis for centuries. Civil groups should also play an active role in spreading this true image of Islam.
The international legal framework should be introduced in this regard to address not just Islamophobia but all types of religious discrimination. Muslim leadership needs to be galvanized in countering Islamophobia via political and diplomatic channels. Scholars and academia should make a conscious effort to tackle and counter the right-wing ideologies, including the notorious Clash of Civilizations.
Academic and research studies should also be presented to international organizations like the OIC and UN for further consideration and action.
https://dailytimes.com.pk/368136/un-and-oic-urged-to-curb-islamophobia/
--------
Survivors of Christchurch mosque attacks recount moments of terror
21 March 2019
Two survivors of the Christchurch terror attacks spoke about their close encounter with the terrorist who targeted two mosques on Friday morning, and their providential escape.
Al Arabiya spoke with the survivors of the attacks which killed at least 50 people and injured dozens others.
Anwar al-Saleh, a resident of Christchurch, said that he arrived at the mosque while the imam was delivering the Friday sermon but he had to go to the toilet to perform 'wudu' (ritual washing performed by Muslims before prayer) when he heard the gunshots. He first thought they were firecrackers.
"I then heard heavy gunfire and realized it was a terror attack. I tried calling the police but the lines were busy," al-Saleh said, adding that he called the ambulance for help.
The ambulance department told him to remain calm and keep his cellular phone silent and not speak with anyone until the police arrives at the scene. The police arrived around 20 minutes later, said al-Saleh.
His wife had called him to check on him as he waited for the police. While policemen escorted him out of the toilet to take him to a secure place outside the mosque, he saw around six bodies on the floor.
Al-Saleh thanked God that he survived the attack and said what happened was tragic and shocking. He also thanked New Zealand authorities for all their help and support.
Taj Mohammed, another survivor of the attack at Al-Noor Mosque, told Al-Arabiya.net that there were around 500 people inside the mosque when the attack happened.
Mohammed, from Afghanistan, said he saw the gunman enter from the mosque's main door and open fire on everyone, adding that he saw people get shot so he tried to escape from another door but was shot in his leg.
Full report at:
https://english.alarabiya.net/en/features/2019/03/21/Survivors-of-Christchurch-mosque-attacks-recount-moments-of-terror.html
--------
Five mosques vandalized in central England
21 March 2019
Counter-terrorism officers in central England are investigating attacks on five mosques in which windows were apparently shattered by a sledgehammer.
The attacks in Birmingham are being treated as linked. No motive has been established.
The incidents in Birmingham come just days after an attacker killed 50 worshippers in two mosques in New Zealand. The attack last week prompted many leaders in the UK to reach out to Muslims and offer support and reassurance.
British Home Secretary Sajid Javid says that the Birmingham attacks are "deeply concerning."
In a tweet, Javid stressed that "hateful behavior has absolutely no place in our society & will never be accepted."
Full report at:
https://english.alarabiya.net/en/News/world/2019/03/21/Five-mosques-vandalized-in-central-England.html
--------
British police to continue protection of London mosques
Ahmet Gürhan Kartal
21.03.2019
LONDON
British police will continue to protect mosques in London during Friday prayers and keep a communicative approach with faith leaders, a Metropolitan Police commander said Thursday.
"Our thoughts throughout the week have been with all those affected by the attacks in New Zealand and I'm proud that the reaction of Londoners has once again been to stand together in the face of this display of extremism, hate and terrorism," Commander Marc McEwan said in a statement.
McEwan underlined that "since the terror attack in New Zealand last week the Met Police has been working closely with local Muslim communities, faith leaders and with partners to provide reassurance via increased patrols, regular engagement, and providing security advice."
Police teams in London protected mosques last week during Friday prayers after mayor Sadiq Khan's order following the deadly terror attack in two mosques in New Zealand.
"This approach will continue tomorrow as well as over the week ahead with policing tailored in response to local community concerns and needs," McEwan said.
"This has specifically taken into account Friday prayers and vigils in response to the attack in New Zealand," he said, adding: "There continues to be no intelligence linking the appalling events in Christchurch with the U.K., however we understand how some people will be feeling concerned and vulnerable."
"The Met's absolute priority is to keep the public safe," he said.
Five mosques have been vandalised as their windows were broken overnight and Thursday morning, according to a statement from British police.
Full report at:
https://www.aa.com.tr/en/europe/british-police-to-continue-protection-of-london-mosques/1425190
--------
British funding for Syrian war crimes investigators
Claire Corkery
March 21, 2019
The British government boosted its support on Thursday for United Nations-backed investigators that collect evidence of human rights violations committed during Syria's devastating eight-year civil war.
Julian Braithwaite, the UK's ambassador to the UN, signed an agreement with the head of the International, Impartial and Independent Mechanism (IIIM) pledging to fund and work with the organisation.
"The IIIM is key to the efforts to hold those responsible for the crimes committed in Syria to account," Mr Braithwaite wrote on Twitter.
What does the IIIM do?
Founded in 2016, the IIIM has a mandate to "to collect, consolidate, preserve and analyse evidence" of human rights violations in the war-torn country, a statement on its website reads.
Although IIIM cannot as a body bring criminal proceedings against suspected war criminals itself, it has been set up to co-operate with prosecutors in national, regional and international courts.
IIIM head Catherine Marchi-Uhel told Reuters earlier this month that her office had received 15 requests for assistance from prosecution authorities in five countries.
It is estimated that between 370,000 and 400,000 people have been killed because of the conflict, which began in 2011, according to the Syrian Observatory for Human Rights and UN agencies. Exact figures are difficult to establish because the Syrian government have restricted access to many areas of the country.
The Britain-based Syrian Observatory estimates that 112,000 civilians have died, some of whom were caught up in air strikes, bombardment of their homes and chemical weapons attacks. The UN has publicly accused the Syrian government of using chemical weapons against its own people on multiple occasions.
However, attempts to hold the Syrian regime to account for its crimes have been challenging because Syria is not a signatory to the International Criminal Court (ICC).
While it is possible for the ICC to investigate international crimes in other countries if requested by a member of the UN Security Council, US efforts to bring Syria before the court in 2014 were vetoed by Bashar Al Assad's allies, Russia and China.
Earlier in March, victims of the Syrian government's brutality were offered a glimmer of hope as British lawyers used a previous ICC ruling regarding Rohingya refugees who had fled to Bangladesh to file the first cases against President Assad.
The court found in September that it had jurisdiction over the case even though Myanmar is not a signatory of the ICC because the crime happened in Bangladesh, which is a member.
The lawyers are representing 28 Syrian refugees who claim to have been forced to flee to Jordan by Assad's forces.
Full report at:
https://www.thenational.ae/world/europe/british-funding-for-syrian-war-crimes-investigators-1.839984
--------
India
2 militants killed in encounter with Army personnel in J-K's Baramulla
Mar 22, 2019
Two militants were killed and three Army personnel, including an officer, were injured in an encounter in Jammu and Kashmir's in Baramulla district on Thursday, a defence spokesman said.
"Two terrorists have been eliminated in Nambalnar operation in Kalantara area of Baramulla," Srinagar-based Defence Spokesman Colonel Rajesh Kalia said. He said the encounter was in progress.
Colonel Kalia said an officer and two soldiers were injured in the operation.
The injured personnel have been sent to the Army's 92 Base Hospital at Badamibagh Cantonment in Srinagar.
Security forces launched a cordon and search operation in the area earlier in the day based on information on the presence of terrorists here.
The terrorists had opened fire on the security forces, who retaliated, triggering a gun battle, he said.
https://www.hindustantimes.com/india-news/2-militants-killed-in-encounter-with-army-personnel-in-j-k-s-baramulla/story-hKXKQjgkP1FyGuDJSK5sVI.html
--------
Before New Zealand shooting, visitors from India nearly doubled in four years
Written by Shubhajit Roy
March 22, 2019
The deaths of five Indian nationals among the 50 killed in the Christchurch terrorist attack has brought into focus another set of numbers that reveals how New Zealand is increasingly becoming an attractive destination for visitors from India — they add up to a 93 per cent hike in the last four years.
Known for its beautiful locales, quality of higher education, low corruption and clean air, New Zealand has a population of 47 lakh of which around 2 lakh are Indians and those of Indian origin. But it's the number of Indians visiting the country that's telling.
According to data available with the New Zealand government, 34,672 Indian nationals visited New Zealand between September 2013-October 2014. This number has since increased steadily and now stands at 67,072 between September 2017 and October 2018.
While 70 to 80 per cent visit New Zealand for vacationing, and visiting family and friends, the remaining 20 per cent is linked to business, education and conferences.
The data also show that India is the second largest source of students to the country — after China — with over 30,000 Indian students. And in 2018, India was ranked ninth among the top 10 countries in terms of visitors to New Zealand, which includes all nationalities. Australia, China and the US were the top three "source countries".
New Zealand is a hot destination for Indians. Students go there for high-quality global education," says Deepali Patel, a licensed immigration advisor for New Zealand.
"Comparatively, I have to use the word comparatively after the latest incident in Christchurch, it is a very safe and peaceful place. For girls who travel alone, it is very safe. There is no racial discrimination there," she says.
The number of students, however, has dropped in the last few years, particularly in the second half of 2016 and in 2018, due to tighter rules and monitoring of student visa applications from India.
According to Patel, New Zealand "wants high quality students", and it is offering a good deal for those who want to do their Masters and PhDs. "The spouse gets work visa, and a child above 5 years is treated as a domestic student, which means that its education is almost free," says Patel, who was earlier with the New Zealand High Commission's visa section.
Rajni Garg, another New Zealand government-licensed immigration advisor, says that before the year 2000, New Zealand was not high on the radar. "The Bollywood movie, 'Kaho Na Pyaar Hai', which was shot in New Zealand, changed that. After that, tourists started going there," Garg said.
"There is clean air, no crowds, only sheep and cows if one drives for miles, so there is solitude. And it is very immigrant-friendly. I recently came across a well-off Delhi-based businessman, who wants to migrate since his children are suffering due to air pollution," says Garg, who was also with the High Commission's visa section.
In 2016, New Zealand was ranked second in the Ease of Doing business index, and in 2018 was ranked the second least corrupt country in the world according to Transparency International. It also ranks first in political freedoms, according to international rankings.
Full report at:
https://indianexpress.com/article/india/before-new-zealand-shooting-visitors-from-india-nearly-doubled-in-4-years-5637361/
--------
Militant killed in South Kashmir's Shopian, search operation underway
March 22, 2019
A militant was killed on Friday in an encounter between militants and security forces in South Kashmir's Shopian district. Shopian's Imam Sahib area is still under Cordon and search operation is underway.
A tweet from Kashmir police range this morning read: "Exchange of fire at #ImamSahib #Shopian. Area under Cordon. Details will follow. @JmuKmrPolice."
In a separate incident, an encounter between militants and security forces has started in Warpora area of Sopore in North Kashmir. A cordon and search operation was going on in Warpora area, said police.
On Thursday, two separate encounters broke out between militants and security forces in Baramulla and Bandipora district of north Kashmir. Two civilians were held hostage by militants in the Bandipora encounter of which one of was rescued.
"Efforts are on to rescue the other civilian, reportedly a minor, who is held hostage by militants," police said.
Full report at:
https://indianexpress.com/article/india/jk-shoipan-encounter-live-updates-third-in-last-24-hours-in-valley-5637406/
--------
Africa
At least 30 migrants believed missing after boat sinking off Libya
21 March 2019
At least 30 migrants are believed to be missing after their boat sank off the western Libyan city of Sabratha this week, a coastguard spokesperson said on Thursday.
According to a survivor, the boat was carrying almost 50 migrants, coastguard spokesperson Ayoub Qassem said. The body of one child was recovered, and 16 migrants were rescued, he added.
Previously, officials had said that at least 10 migrants were thought to have died in the incident.
Libya's western coast is one of the main departure point for migrants trying to reach Europe, though numbers have dropped since an Italian-led effort to disrupt smuggling networks and support Libya's coast guard.
https://english.alarabiya.net/en/News/north-africa/2019/03/21/At-least-30-migrants-believed-missing-after-boat-sinking-off-Libya-.html
--------
Sudanese cities rocked by fresh wave of protest
Mohammed Amin
21.03.2019
Anti-regime demonstrations resumed Thursday in Khartoum and in several other Sudanese cities, the Sudanese Professional Association, a major trade union that has led the protests for the last three months, said in statement.
According to witnesses, protests erupted Thursday in more than 20 districts of the capital, with demonstrators chanting slogans against President Omar al-Bashir and his ruling National Congress Party.
"Thousands of people took to the streets of Khartoum in the Burri, Sahafa, Shambat, Oshara and Shagara neighborhoods, among others," one witness told Anadolu Agency.
According to the same witness, who spoke anonymously due to security concerns, similar demonstrations also occurred in Omdurman's Old City district.
One witness in Khartoum's Burri district, also insisting on anonymity, said police had used "excessive force" to disperse protesters, including the use of teargas and batons.
Sudan's parliament, meanwhile, censured calls by some opposition groups to boycott talks with the government.
In a statement, the assembly accused the "Sudan Call" -- an umbrella grouping of opposition movements -- of "jeopardizing the country's peace and stability".
On Wednesday evening, the Sudan Call announced plans to halt all talks with the government until it was prepared to hand over the reins of power.
Sudan has witnessed more than three months of nationwide protests, with demonstrators demanding al-Bashir's resignation.
Full report at:
https://www.aa.com.tr/en/africa/sudanese-cities-rocked-by-fresh-wave-of-protest/1425149
--------
Four farmers killed in Boko Haram attack in Nigeria: Witnesses
March 21, 2019
Four farmers were killed in an attack by Boko Haram insurgents in northeast Nigeria's Borno state, witnesses said here.
The attack came a day after the jihadists killed three people in a raid in neighbouring Adamawa state.
Fighters in trucks on Tuesday opened fire on the farmers as they worked in their fields outside Lassa village on the fringes of the group's Sambisa forest enclave.
"We lost four of our kinsmen to Boko Haram who came around 2:00 pm (1300 GMT) yesterday and shot them dead in their farm outside the village," Adamu Galadima, a militia leader assisting the military to fight the Islamists, said Wednesday.
"They (Boko Haram) tried to enter the village but our vigilantes mobilised and chased them away," he said.
Resident Danjuma Ijaduwa who gave a similar account, told AFP the attack was a reprisal after the jihadis incurred heavy losses the previous day.
On Tuesday, vigilantes in Lassa laid an ambush on Boko Haram fighters as they fled a military pursuit.
The insurgents were retreating to Sambisa forest after an attack on Michika town in Adamawa state where they killed three and robbed a bank.
Residents said the jihadists lost men and equipment in the attack by vigilantes and troops.
The Lassa area which lies near Sambisa forest has been repeatedly attacked.
Boko Haram militants have repeatedly targeted farmers, loggers and herders, accusing them of passing information to the military and the pro-government militia fighting them.
Boko Haram's decade-long uprising to establish a hardline Islamic state in remote northeast Nigeria has killed more than 27,000 people and displaced 1.8 million.
Full report at:
https://www.business-standard.com/article/pti-stories/four-farmers-killed-in-boko-haram-attack-in-nigeria-witnesses-119032100068_1.html
--------
North America
Pompeo hopes that pressure on Iran will return Houthis to the political table
21 March 2019
The US Secretary of State Mike Pompeo said that Iran provides not only resources but also missiles to Houthis, adding that he hopes pressure on Iran will convince Houthis to return to the political table, in an exclusive interview with Al Arabiya on Thursday.
During his time in Jerusalem, Pompeo told Al Arabiya: "We're very hopeful that this pressure will convince the Houthis that they need to return to the political table, they need to have a discussion, they cannot win this militarily, and we're determined to ensure that order is restored in Yemen."
Asked on whether he believes that Iran instructed the Houthis from the Stockholm Agreement, Pompeo said that he believes that there's very little that Houthis do without directions from Khomeini and Soleimani.
A part of Pompeo's tour was a visit to Lebanon, where Hezbollah, enlisted by the US as a terrorist group, is part of the government.
"We want good things for the people of Lebanon. It's a once truly proud successful economic powerhouse. It can be that again. It can't do so with terrorists as part of their government," he said.
Pompeo also spoke of a plan that will soon be presented by the US for a solution between Palestinians and Israelis, saying that the US wants a better life for Palestinians and that soon "the whole world will see how America is thinking about this."
https://english.alarabiya.net/en/News/world/2019/03/21/Pompeo.html
--------
In Israel, Pompeo resorts to Iranophobia to boost Netanyahu's reelection bid
Mar 21, 2019
On a trip to the occupied Palestinian territories ahead of Israeli general elections, US Secretary of State Mike Pompeo has vowed to step up pressure against Iran in an apparent bid to help Prime Minister Benjamin Netanyahu retain his position.
Pompeo and Netanyahu said during a joint press conference on Wednesday that they were going to use all in their power to counter what they referred to as the Iranian "aggression."
"With such threats a daily reality of Israeli life, we maintain our unparalleled commitment to Israel's security and firmly support your right to defend yourself," said the top US diplomat.
Pompeo claimed that the US-led anti-Iran conference in the Polish capital of Warsaw last month, which was attended by Israel and some Arab nations, was focused mainly on exploring possible options "to stop Iran's regional rampage."
The meeting turned into an embarrassing failure for Washington as many countries either refused to attend or decided to send low-level officials to show their discontent with Trump's Iran policy.
Israel and the US have been desperately looking for ways to end Iran's influence in the Middle East region, where it has helped the Iraqi and Syrian governments purge foreign-backed terrorists from most of their territories.
While US President Donald Trump has chosen to drop out of the 2015 Iran nuclear deal and impose more economic sanctions on the Islamic Republic to force Tehran to leave Syria and Iraq, Tel Aviv has chosen a more direct path by mounting numerous attacks against Syrian government positions that it claims are being used by Iranian military advisers.
Flanking Pompeo, Netanyahu reiterated his pledge to prevent Iranian advisers' presence in Syria and thanked the Trump administration for its support.
"There is no limitation to our freedom of action, and we appreciate very much the fact that the United States backs up our actions as we do them," Netanyahu said.
Pompeo's regional tour is focused largely on Iran, but his meeting with Netanyahu has been viewed as a move to help Netanyahu with his re-election fight, especially since he has turned down requests to meet with the Israeli premier's political opponents.
Facing a stiff competition from a centrist alliance in April 9 polls while under threat of indictment for corruption, Netanyahu is slated to arrive in Washington next week, where he will meet Trump twice.
Pompeo said before touching down in Tel Aviv that his trip to Israel was not related to politics, arguing that the "relationship matters, no matter who the leaders are."
'Arab NATO' alliance against Iran
Pompeo, who planned to travel to Lebanon next, began his regional tour in Kuwait where he met Emir Sheikh Sabah al-Ahmad Al-Sabah to discuss the Middle East Strategic Alliance (MESA), a NATO-style bloc aimed at uniting Washington's Arab allies against Tehran.
Pompeo in Mideast to corner Iran but Tehran not cowed
He has called on Qatar and Saudi Arabia, both members of MESA, to end their ongoing political dispute, where Riyadh and some of its regional allies – including Bahrain and the United Arab Emirates (UAE)—have boycotted Doha since 2017 for funding terrorism and maintaining close ties to Iran.
Qatar denies the allegations and says the rival states aim to incite regime change in Doha.
Israeli-Palestinian conflict
The Israeli parliamentary elections also start the countdown to the presentation of an Israeli-Palestinian agreement that Trump has long been referring to as the "deal of the century."
The product of a Whit House team led by Trump's son-in-law, Jared Kushner, the deal is said to be strongly pro-Israeli.
Pompeo had announced ahead of the trip that he would not meet with representatives of the Palestinian Authority to discuss peace talks.
The PA has cut all ties with Washington in the wake of several hostile moves by the Trump administration, including cutting most of the US aid to the UN agency for Palestinian refugees and the American president's decision in December 2017 to recognize Jerusalem al-Quds as the capital of Israel.
The decision caused uproar among Palestinians, who say the eastern part of the city will be the capital of a future Palestinian state.
Pompeo would also make a stop at the new US embassy in al-Quds during the two-day visit.
Syria's Golan Heights
The trip is also overshadowed by a controversial decision by the White House to change the wording it uses to refer to Golan Heights, Syrian territories that have fallen under Israeli control in 1967.
While the UN refuses to recognize the area as Israeli territory, Washington has announced that it will refer to the Golan Heights as "Israeli-occupied" and calls the territory seized from Syria "controlled" by Israel.
The move has been viewed by observers as a prelude to full recognition of the strategic plateau as Israeli land.
Full report at:
https://www.presstv.com/Detail/2019/03/21/591596/US-Pompeo-Israel-Netanyahu-Iran
--------
16 years into US invasion, Iraq carries war traces
21.03.2019
BAGHDAD
Although 16 years have passed since a coalition led by the U.S. and the U.K. invaded Iraq on the pretext Saddam Hussein's had biological weapons, the traces of war are still fresh in the war-ravished country.
The Iraqi people, who were fed up with 13- year-long sanctions prior to the invasion, were promised "democracy" and "stability", hence the operation was titled "Operation Iraqi Freedom".
However, sectarian conflicts and acts of terrorism that emerged after the invasion led to the death of tens of thousands of civilians, and the spending of billions of dollars. It also triggered an environment in which the terror group Daesh emerged.
With a view to getting the support of other countries to invade Iraq, Washington and London claimed Saddam developed nuclear weapons that could be used as weapons of mass destruction.
"There can be no doubt that Saddam Hussein has biological weapons and the capability to rapidly produce more, many more," former U.S. State Secretary Colin Powell said Feb. 5, 2003, at the UN Security Council (UNSC).
U.S. President George W. Bush, between 2001-2003, sought to justify the invasion by preparing reports regarding Baghdad's possession of weapons of mass destructions.
Contrary to the allegations, UN investigators in Iraq did not find any traces of biological weapons. Then, the U.K and the U.S. invaded without the approval of the UNSC, violating the international laws.
On March 17, 2003, Bush gave 48 hours to Saddam and his family to leave Iraq and said he would take military action if they did not exit the county. On March 19, coalition forces announced the commencement of the operation.
Military forces in Iraq gained control Baghdad on April 9 and toppled the statue of Saddam located in Firdos Square. Meanwhile, Saddam had reportedly escaped Baghdad. On May 1, Bush stated the majority of the warfare in Iraq was finished.
While the operations were ongoing, the UNSC adopted a resolution recognizing the invasion right of the U.S and the U.K on May 22. Hussein was captured Dec. 13, 2003, while hiding underground in Tikrit, northwest of Baghdad. Meanwhile, many of Hussein's family and high-profile members of the Baath regime fled to Jordan.
On April 2004, prisoners tortured by the U.S. forces in Abu Ghraib prison in Baghdad were covered by the global media, unveiling the truth about the damage and chaos Iraqis suffered.
On Jun. 28, 2004, the U.S. abolished the temporary administration and Paul Bremer, who led the Coalition Provisional Authority (CPA), left Iraq.
The first general elections were held Jan. 30, 2005, which was boycotted by the Sunni Arabs of Iraq. Shia Arabs in the country captured the government and Jalal Talabani became the first Kurdish president of Iraq.
In 2005, the federal structure was adopted in Iraq and Kurds were given "Iraqi Kurdish Regional Government" (KRG).
Sectarianism, which was triggered following the invasion, soon transformed into a civil war. The turning point of the sectarian civil war began Jan. 22, 2006, when the Al-Askari Shrine in Samarra -- one of the holiest sites for Shia sect -- was bombed.
Afterward, Nouri al-Maliki, who is known for his sectarian policies, announced he formed the government May 20, 2006.
After being tried for some three years, Hussein was executed Dec. 30, 2006.
On Jan 10, 2007, Washington announced it would send an additional 20,000 troops to Iraq where the violence continued with momentum. On Feb. 27, 2009, President Barrack Obama said U.S. troops would withdraw from Iraq by late 2011.
British troops left Iraq May 22, 2011 and U.S. troops left Dec. 18 same year.
During Maliki's eight-year term, the country turned into a bloodbath with terror attacks and sectarian conflicts. Therefore, war-weary Iraqis fled to other countries.
According to "Iraqcountybody", an independent organization studying Iraqi Health Ministry's data, more than 100,000 civilians were killed between 2003-2011 due to conflict-related reasons. The same organization said the civilian death toll reached 200,000 in 2018.
Weary Iraqis
Taxi driver Abdulwahed Ebrahim, 67, who was living in Baghdad when the sectarian tension peaked, said: "Sectarianism and sectarian war occurred with the arrival of the U.S. Haifa street [in Baghdad] was called 'death street' back then. I lost my son Omar to the sectarian war."
He said Iraqis could only enjoy relief after the U.S. troops left the country. But he added, "there is no stability in the country."
Dilemma of "invasion" and "liberation"
Mostafa Mohammed Hashem, an Iraqi living in Baghdad, said: "March 20 is equal to the date of destruction and invasion. I lost many people I knew to the sectarian war. Our social and economic life was disrupted," he said. "The invasion brought nothing but war, sectarianism and damage."
"False democracy"
Iraqi political analysist Ali Suhayl said the U.S. claimed it would bring democracy and freedom to Iraq following the toppling of Saddam Hussein regime.
"Nevertheless, that never happened. There is no such thing as freedom in Iraq now. The U.S. brought a false democracy. Dominant parties of Iraq [referring to Shia] can easily manipulate the election," he stated.
"Plundering and collapsed system"
Murad Zeya, 40, an interpreter living in Turkey, said: "I was in Iraq on April 14, 2003, a short while after the fall of Baghdad. There was literally no system in the country, it was total chaos with no policemen or any state officials around to provide security."
"On 15th, when I entered Kirkuk, there was this nice April rain and lovely trees around. But I could see some buildings burning as a result of plundering around in the city."
Suheyr Zeya, 36, Murad's wife, said the instability in the country peaked following the U.S. invasion. "Men would wait on the streets and women would protect their houses against any possible plundering, which was the result of the fall of central administration."
Daesh terror and 5 million internally displaced Iraqis
In May 2014, the second Shia administration assumed power. Haider al-Abadi, known for his moderate views compared to Maliki, was elected prime minister.
"Daesh occupation" and "financial crisis" were among the most challenging troubles the fresh premier faced.
Terror groups in Iraq thrived due to the chaos, corruption and sectarian policies in the country. Daesh terror group quickly spread in the regions where Sunni Muslims were the majority. Daesh seized Mosul, Iraq's second largest province, without encountering any resistance Jun. 10, 2014.
Daesh gained dominance in one-third of Iraq, having a superior presence in Mosul, Anbar, Saladin and some parts of Diyala and Kirkuk.
Backed by the U.S.-led coalition, Iraqi forces recaptured Tikrit. In 2016, Iraqi forces gained control in Anbar's Fallujah.
The battle in Mosul was more challenging, it took nine months for the Iraqi authorities to take it back from Daesh terrorists. However, Mosul turned into a "ghost city" following intense clashes.
On Dec. 18, 2017, Abadi announced Daesh presence in Iraq was eradicated. Some five million Iraqis became internally displaced people. The cost of destruction in Mosul, Anbar and Saladin amounted to some $80 billion. Furthermore, tens of thousands of civilians lost their lives due to Daesh atrocities.
Iraq on the verge of division
While Iraq was ravaged by terrorism, Masoud Barzani, the former president of Kurdish Regional Government, sought to draw apart from the central administration via "independence referendum" held Sept. 25, 2017.
Iraqi government shifted military forces to Kirkuk and controversial territories, then the peshmerga presence in Kirkuk ceased to exist after 14 years.
Isolated following the political developments, Barzani announced he was stepping down from the presidency of KRG on Oct. 29.
5,200 US troops in Iraq
Despite Obama's withdrawal decision in late 2011, the U.S. army returned to Iraq in 2014 as Iraqi forces and peshmerga struggled to fight Daesh.
Full report at:
https://www.aa.com.tr/en/americas/16-years-into-us-invasion-iraq-carries-war-traces/1424289
--------
American soldiers should remain in Iraq: US delegation
Idris Okuducu
21.03.2019
Remaining U.S. troops in Iraq should stay as the part of the international coalition fight against the Daesh terror group, an American delegation said Wednesday.
The U.S. delegation led by congressman John Garamendi met top Iraqi officials, including premier Adil Abdul-Mahdi, parliament speaker Mohammad al-Halbousi and Kurdish leader Nechirvan Barzani on Wednesday, according to statement.
"U.S. military servicemen give support for Iraqi security forces by the request of Iraqi government, and they should remain in Iraq as the part of international coalition in order to completely remove Daesh," the statement said.
After a meeting with Garamendi Tuesday, the head of Iraqi Kurdish Regional Government, Barzani, emphasized the importance of the U.S. military presence to prevent the threat of terrorism.
The U.S. military presence has been a hot issue in Iraq. Some parties want the U.S. removed from the country and 55 Iraqi lawmakers tabled a motion to the parliament for a decision.
The U.S. occupied Iraq in 2003 with 165,000 troops until December 2011, after which then-U.S. President Barack Obama ordered all troops withdrawn from Iraq.
Full report at:
https://www.aa.com.tr/en/americas/american-soldiers-should-remain-in-iraq-us-delegation/1424285
--------
US envoy Brian Hook: Sanctions are hurting Iran's $700m support for Hezbollah
Joyce Karam
March 22, 2019
The Trump administration told The National that it is seeing an impact from its sanctions on Iran in constraining its estimated annual $700 million budget for the Lebanese militant group Hezbollah.
With US Secretary of State Mike Pompeo making his first visit to Lebanon on Friday, the US Special Representative for Iran, Brian Hook, told The National in an exclusive interview from the State Department, that Washington is determined to keep up the pressure on Hezbollah.
Mr Hook said the message to the Lebanese government is that Hezbollah is a "terrorist organisation [designated by the US in 1997] that is holding back the lives and creating a safety risk for the Lebanese people in its dedication to a war with Israel".
He said that Washington "is not looking to grant any exceptions or waivers" when it comes to the energy sanctions enforced on Iran since November. Instead he pointed to momentum following the recent Warsaw conference in setting up working groups with Arab states, Europeans and Israel to counter the Iranian threat on several levels.
Mr Hook did not comment on President Donald Trump's decision to recognise Israeli sovereignty over the occupied Golan Heights.
He said that Hezbollah had enjoyed a huge inflow of funding from Iran but this was now strained. "We know historically that Iran has given Hezbollah an average of $700 million a year; that money we believe is better spent on Iranian people," he said.
"An average Hezbollah fighter makes more money than an Iranian firefighter," the US official added, accusing Iran of trying to create "Shiite corridor" through a web of paramilitary organisations it funds and controls from Baghdad to Beirut.
"We have seen evidence of the impact [of the sanctions] when the leader of Hezbollah [Hassan Nasrallah] makes a public appeal for charity.
"It speaks for itself. This is the kind of impact that we want," he added.
In his most recent public speech this month, Mr Nasrallah urged his support base to donate money for the group to reverse the tightening grip of sanctions. But the US is believed to be preparing for more sanctions on the party, and will be warning the Lebanese government on funds going to Hezbollah's budget through the three government ministries that it controls.
Asked about Iran's continued expansion and deep influence in the region despite the sanctions, Mr Hook said it "has only been 11 months" and pointed to a current "radically different approach from what previous administrations have taken."
"We know that we have denied the [Iranian] regime even in the short amount of time many billions of dollars in revenue," he said. "Getting out of the [nuclear] deal gives us enormous leverage over the regime to change its behaviour."
But when asked about oil smuggling between Iraq and Iran, Mr Hook said the Trump administration was "in talks with any government where we see sanctions violations or even potential sanctions violations".
"We are not looking to grant any exceptions or waivers from our campaign," the official added.
Mr Hook said there is no change in the US mission to Syria, despite questions about how the US can counter Iran's influence and presence there while also planning to withdraw from the country and leave a only small force of 400 personnel in the country. "We have a change in tactics. Troop levels go up and down as circumstances dictate," he said. At the moment, he added, the US "is looking for others to help, and we will complete the mission using different tactics".
He added that Iran's presence will affect US decisions on where and how many troops it leaves in Syria. "We do take into account Iran's role in Syria when we discuss US presence … we are also committed to ensuring that troops under Iranian command are out of Syria is part of an irreversible political process," he said, calling it an "incentive for both the Russians and the Syrians to want the same goal." Mr Hook warned that "as long as Iran is using Syria as a platform for war against Israel, Syria will not be stable."
The US envoy said the strategy against Iran was helping to unite countries in the region. "It is also the case that Iran's foreign policy is doing an excellent job of bringing Arabs and Israelis closer together … we saw that in Warsaw."
In the post-Warsaw phase, Mr Hook spoke of working groups being set up "at the expert level to include the Gulf states and all those who were invited to Poland", including Israel. He said they would be tasked to "counter Iran's maritime aggression, cyber attacks, terrorism finance, missile testing and missile proliferation".
Following the Senate vote to end a US combat role in the Yemen conflict, Mr Hook did not comment on what would happen if that legislation becomes a law. "That day may or may not come. I don't comment on legislations." The bill is expected to pass a House vote in the next two weeks, but Mr Trump's advisers said he would veto it.
The US envoy also warned of Iran's "vastly under-reported role in Yemen".
"They have given the Houthis hundreds of millions of dollars" since the war began in 2015, he said.
"Iran has no legitimate interest in Yemen. The Houthis are being used. The same Shiite fighters' sect [Zaidi] that [Iran] is funding in Yemen, they discriminate against them in Iran."
For the US, he stressed that "we will not allow Iran to do in Yemen what it has done in Lebanon by becoming a power broker and having a paramilitary organisation that threatens the Gulf region".
Full report at:
https://www.thenational.ae/world/the-americas/us-envoy-brian-hook-sanctions-are-hurting-iran-s-700m-support-for-hezbollah-1.840133
--------
Arab World
Pompeo calls Hezbollah risk to Middle East stability
March 21, 2019
JERUSALEM: US Secretary of State Mike Pompeo described Hezbollah on Wednesday as a risk to Middle East stability and conferred with Israel about the heavily armed, Iranian-backed Lebanese group ahead of a trip to Beirut.
Pompeo, who has been on a regional tour to promote the Trump administration's hard tack against Iran, received a warning from Israel which worries it may again be in the sights of Hezbollah forces winding down their intervention in Syria's war.
Meeting Israeli President Reuven Rivlin in Jerusalem, Pompeo listed Hezbollah, Palestinian Hamas and Yemen's Houthis — all recipients of Iranian support — as "entities that present risks to Middle East stability and to Israel."
"They are determined to wipe this country off the face of the planet and we have a moral obligation and a political one to prevent that from happening. You should know that the United States is prepared to do that," Pompeo said in public remarks at the meeting.
For its part, Israel has carried out repeated airstrikes on Hezbollah in Syria, where the Shiite militia — along with Russian air power — helped President Bashar Assad turn the tables against rebels and militants.
In a speech broadcast on the Persian new year on Thursday, Iranian Supreme Leader Ayatollah Ali Khamenei said the Islamic Republic had successfully resisted "unprecedented, strong" US sanctions.
Iran has faced economic hardship since US President Donald Trump withdrew last year from the 2015 nuclear deal between Tehran and world powers and reimposed sanctions.
Pompeo's visit to Jerusalem was widely seen in Israel as a boost for Netanyahu, who enjoys a close relationship with Trump, just three weeks before closely contested Israeli election.
In a further signal of solidarity with Israel, Pompeo was later scheduled, accompanied by Netanyahu, to visit Judaism's Western Wall in Jerusalem's Old City.
In May 2017, Trump became the first sitting U.S. president to visit the wall, but did not ask Netanyahu to join him.
Seven months later, Trump broke with decades of U.S. policy and recognised Jerusalem as Israel's capital, incensing Palestinians who claim the city's eastern sector as the capital of a future state they seek.
Last May, Washington moved its embassy from Tel Aviv to Jerusalem. Pompeo also visited the embassy on Thursday.
http://www.arabnews.com/node/1470511/middle-east
--------
Syria says it's determined to recover Israeli-occupied Golan, slams Trump
March 22, 2019
BEIRUT: The Syrian government condemned on Friday US President Donald Trump's statement that it was time to recognize Israeli sovereignty over the Golan Heights and said Syria was determined to recover the area "through all available means."
In a statement published by the Syrian state news agency, a foreign ministry source said the statement showed "the blind bias of the United States" toward Israel. The statements did not change "the reality that the Golan was and will remain Syrian, Arab," it said.
"The Syrian nation is more determined to liberate this precious piece of Syrian national land through all available means," the statement said.
http://www.arabnews.com/node/1470701/middle-east
--------
94 killed, mostly women and children, after ferry capsizes on the Tigris river near Mosul, Iraq
March 21, 2019
MOSUL: Almost 100 people, mostly women and children, died Thursday as a ferry packed with families celebrating Kurdish New Year sank in a swollen river in the former Daesh stronghold of Mosul, in Iraq's worst accident in years.
There was an outpouring of grief among residents who only this year resumed the annual festivities on the banks of the Tigris after the northern city's recapture from the Daesh group.
Prime Minister Adel Abdel Mahdi decreed three days of national mourning as he visited the site of the tragedy. He ordered a swift investigation "to determine responsibilities."
The vessel was crammed with men, women and children crossing the Tigris to go to a popular picnic area to celebrate Nowruz, the Kurdish New Year and a holiday across Iraq marking the start of spring.
The accident, which struck as the overloaded vessel turned back, also coincided with Mother's Day in Iraq.
The interior ministry, issuing a fresh toll, said 94 people had died and 55 were rescued, after its spokesman Saad Maan said at least 19 children were among the dead.
The premier said 61 women had died in the accident.
While war and extremist attacks have claimed hundreds of thousands of lives in Iraq in recent years, such accidents are relatively rare.
"It's a disaster, no one expected that," said a young man who had just managed to reach the shore.
"There were a lot of people on the boat, especially women and children," he told AFP.
A Mosul security source said the high water levels and overcrowding on the boat, with well over 100 people on board, had been to blame for the disaster.
"The boat sank because there were too many passengers on board," another security official based in Mosul told AFP.
Iraq's justice ministry said it had ordered the arrest of nine ferry company officials and banned the owners of the vessel and the tourist site from leaving the country.
The authorities had warned people to be cautious after several days of heavy rains led to water being released through the Mosul dam, causing the river level to rise.
Videos shared on social media showed a fast-flowing, bloated river and dozens of people floating in the water or trying to swim around the partly submerged boat.
Search operations stretched far downstream from the site where the boat sank, according to an AFP journalist.
Hundreds of people who had flocked to the forested area for the first days of spring gathered on the river banks as the disaster unfolded.
Ambulances and police vehicles transported the dead and wounded to hospitals in the city of nearly two million people.
Photos of victims, many of them women and children, were posted on the walls of a morgue for families unable to enter because of the large crowd who had gathered to identify their relatives.
One man, scanning over the pictures, stopped abruptly at the image of a woman.
In shock, he gasped: "It's my wife," before collapsing in tears.
IS turned Mosul into their de facto Iraqi capital after the jihadists swept across much of the country's north in 2014.
The city spent three years under the group's iron-fisted rule until it was recaptured by Iraqi troops backed by a US-led coalition in 2017.
Nawar, who had been aboard the craft, said it had capsized in mid-stream.
"It was carrying too many passengers, so the water began to rush onboard and the ferry became heavier and overturned," he said. "With my own eyes I saw dead children in the water."
As ambulances shuttled back and forth to the morgue, three young girls and a boy were huddled together in a blanket, in tears, waiting for news of their missing parents.
"All we wanted was to celebrate the New Year and it turned into a catastrophe," a man passing the scene protested.
Iraq's last major boat disaster was in March 2013 when a floating restaurant sank in Baghdad, killing five people.
Full report at:
http://www.arabnews.com/node/1470406/middle-east
--------
12 killed in Egypt chemical plant blast, say security sources
21 March 2019
At least 12 people were killed on Thursday after a gas tank exploded at an Egyptian fertilizer factory on the Red Sea port of Ain Sokhna, according to security sources.
No final numbers of the casualties in Ain Sokhna have been officially confirmed, but medical sources told AFP 10 bodies had been received at a nearby morgue following an incident. Egypt's official news agency MENA said a total of 15 have been killed and wounded.
https://english.alarabiya.net/en/News/middle-east/2019/03/21/12-killed-in-Egypt-chemical-plant-blast-say-security-sources.html
--------
US-backed force denies report of final ISIS defeat
21 March 2019
The US-backed Syrian Democratic Forces (SDF) denied a report on Thursday that all of ISIS's final enclave has been captured after a Kurdish media outlet said the militant group had been finally defeated there.
"Combing continues in the Baghouz camp and there is no truth (to the report) about the complete liberation of the village," an SDF media official said, quoting the commanders of the offensive.
Earlier, Hawar News reported the SDF had "liberated all of Baghouz from the ISIS mercenaries" and with that the campaign had "ended with the defeat of ISIS and the victory of the SDF", quoting its correspondents.
ISIS's final defeat at Baghouz will end its territorial rule that once spanned a third of Iraq and Syria.
The SDF on Tuesday captured an encampment where the militants had been mounting a last defense of the tiny enclave, pushing fighters onto a sliver of land at the Euphrates riverside.
US President Donald Trump said on Wednesday that a "tiny spot" of remaining ISIS territory would be "gone by tonight".
Full report at:
https://english.alarabiya.net/en/News/middle-east/2019/03/21/US-backed-force-denies-report-of-ISIS-final-defeat.html
--------
Abu Dhabi crown prince proposed killing Taliban leaders: Report
Mar 22, 2019
Mohammed bin Zayed, the crown prince of Abu Dhabi, proposed to US Secretary of State Mike Pompeo to set up a covert program to assassinate Taliban leaders, a report says.
He made the offer on January 12 during a meeting with Pompeo in the UAE capital amid disagreements between the two over peace talks between the Taliban and the US, London-based Middle East Eye reported Thursday.
Bin Zayed warned Pompeo that US pullout of troops from Afghanistan risked a regression to 2001, prior to the US invasion, the online portal cited an unknown source with detailed knowledge of the meeting as saying.
Washington hopes a negotiated deal with the Taliban could allow it to start withdrawing some of its 14,000 troops still in the war-wracked country before the end of the year.
Bin Zayed said the pullout risked allowing Afghanistan to fall back into the hands of the "backward, bearded bad guys" and proposed hiring mercenaries to kill Taliban leaders to weaken the group's negotiating position.
The prince suggested that organizing and funding a "Blackwater-style" operation to "wage an assassination campaign against the first-line leadership of the Taliban" can give the US the upper hand in the talks, the source said.
Blackwater, founded in 1997, received hundreds of millions of dollars in US government contracts during the wars in Iraq and Afghanistan.
The company found notoriety for its wanton killing of civilians in broad daylight, including 14 unarmed people in a famous Baghdad square in 2007.
According to the report, the Taliban reacted to bin Zayed's assassination proposal with a Taliban spokesperson in Doha saying, "Any threat and blackmailing whatsoever and from anywhere will eliminate the present chance for peace and will create irreparable mistrust".
The UAE government has publicly supported the US-led peace talks with the Taliban as it hosted a two-day "reconciliation conference" in December with also Saudi and Pakistani officials in attendance.
Subsequent rounds of negotiations were moved to Qatar's capital, Doha, at the insistence of the Taliban, which has maintained a political office there since 2013.
The source said the move by the Taliban irked the UAE crown prince.
The source said that US President Donald Trump's December announcement to withdraw all 2,000 troops from Syria also infuriated the UAE crown prince.
"You are leaving Syria to be under Iranian and Turkish influence and that will bring everyone back. They will act against your acts and our interests," he told the US secretary of state.
The crown prince had said if the US changed its mind, the United Arab Emirates would be prepared to fund the cost of keeping US troops in Syria from its own budget.
On Monday, the Wall Street Journal, citing American officials, said Washington plans to keep about 1,000 troops in Syria.
However, US Joint Chiefs Chairman, General Joseph F. Dunford, recently rejected the journal's report as "factually incorrect", stressing that there has been no change to the planned 400 troops the White House announced last month.
Full report at:
https://www.presstv.com/Detail/2019/03/22/591647/UAE-US-Taliban-blackwater--peace-talks
--------
Pakistan
Turkey & Pakistan join forces to combat Islamophobia
March 18, 2019
Foreign Minister Shah Mehmood Qureshi announced Pakistan's decision to join forces with Turkey in investigating the underlying foundations that are breeding Islamophobia in the West. He announced that Pakistan and Turkey have called an emergency meeting of the OIC in Istanbul, which will be attended by the Foreign Ministers of all member Muslim states to discuss the causes of anti-Islamic sentiments and hatred against Muslims spreading across the West.
Foreign Minister Qureshi made this announcement while addressing a press briefing in the capital. He revealed that this decision was made after his conversation with the Turkish Foreign Minister in the aftermath of the New Zealand terrorist attacks. He informed of Turkey's decision to call an OIC meeting of the Foreign Ministers to devise a strategy of combatting the germs of Islamophobia that are driving violence against Muslims across the world.
He said, "During the meeting, efforts will be made to unify the Ummah and devise a strategy to know the root causes of growing Islamophobia in the West and its implications for Muslims around the world."
While addressing the UN Commission on Status of Women last week, Pakistan's UN representative Dr. Maleeha Lodhi asserted Pakistan's stance against Islamophobia. She reminded the international community that the brutal terrorist attack on innocent Muslim worshippers is yet another reminder that the hatred sown by Islamophobia is manifesting its violence across the world.
Dr. Maleeha Lodhi associated the New Zealand attack with the forces of stereotyping, and she built a strong case that misperceptions, sentiments of violence and demonization of any religious community tends to have horrid consequences for the society and world at large. She highlighted that it is a "slippery slope" when Muslims all over the globe are "stereotyped and mischaracterized" by those who utter hate slurs and promote anti-Islamic narratives.
Erdogan Calls out West for Aligning Terrorism with Islam
While addressing a rally in Izmir, Turkish President Recep Tayyip Erdogan shed light on the West's contrasting principles when it comes to aligning terrorist attacks with Muslims and Islam. He asserted that instead of labelling the attacker as a "Christian terrorist", they chose to highlight the tragedy as an attack on Muslims. President Erdogan accused the western community of exercising double standards while defining terrorism.
Turkish newspaper Daily Sabah reports that President Erdogan also condemned Australian Senator Fraser Anning for his comments that linked the New Zealand attack with the Muslim immigrants. Throughout his public addresses in the past week, Erdogan has been asserting the fact that terrorism is not associated with any religion, least of all Islam, a religion that preaches peace.
Daily Sabah reports that President Erdogan also raised questions about Brenton Tarrant, the New Zealand attacker, and his visit to Istanbul. "He visited Istanbul twice, his first trip was three-day long while his second trip lasted for 40 days. We will find out who his connections are." Erdogan also shed light on the manifesto published by Tarrant prior to the attack, and how it targeted Turkey. "Erdogan quoted Tarrant's words, "We will kill you if you cross west of the Bosporus, we will come to Istanbul and destroy all the mosques and minarets…"
Read more: Christchurch mosque shootings must end New Zealand's innocence about right-wing terrorism
Turkish President also highlighted that many of the names scribbled across Tarrant's gun were of some of the greatest adversaries of Muslims and the Turkish people, including the barbarians of the Crusades. Erdogan voiced his apprehension over how Brenton Tarrant, a violent mass murderer living on the other side of the globe be consumed with so much hatred for Turks and Muslims of this world.
https://www.globalvillagespace.com/turkey-pakistan-join-forces-to-combat-islamophobia/
--------
Zardari calls on JUI-F chief for one-on-one meeting
Amir Wasim
March 22, 2019
ISLAMABAD: Pakistan Peoples Party (PPP) leader Asif Zardari called on Jamiat Ulema-i-Islam (JUI-F) chief Maulana Fazlur Rehman at the latter's residence here on Wednesday night.
Without informing PPP leaders and members, Mr Zardari reached the residence of the Maulana hours after appearing before the National Accountability Bureau with his son Bilawal Bhutto-Zardari in connection with an investigation into fake bank accounts case and remained there for some time.
Take a look: Zardari says he's ready to face all NAB cases
When contacted, PPP secretary general Farhatullah Babar initially expressed his ignorance about the meeting, but later confirmed that the former president had paid a visit to the JUI-F chief. Mr Babar said that since Mr Zardari was not accompanied by any PPP leader and they had a one-on-one meeting, therefore, he was not privy to what exactly had been discussed between the two leaders.
PPP cadre in the dark about meeting which took place hours after former president, Bilawal appeared before NAB
Mr Babar, however, said it was not for the first time that the two leaders had privately met. In the past too, he said, Mr Zardari had visited the Maulana's residence several times and similarly the Maulana had visited Zardari House regularly without any aide.
Know more: Fazl says no more interested in Nawaz-Zardari patch-up
Mr Babar said since the Maulana had been trying to unite the opposition parties on one platform, it could be assumed that the two leaders would have discussed possibilities of cooperation among the opposition parties.
Speaking at a news conference in Islamabad on Wednesday, Maulana Fazl had threatened to stage a sit-in in Islamabad against the government, saying if they came to the capital, they would not return without achieving their objectives. The JUI-F chief had also announced his party would stage a million march in Sargodha on March 31 against the government's alleged move to make the country a secular state.
Besides, the JUI-F chief has also declared that his party would boycott a government briefing on the implementation of the National Action Plan to counter terrorism on March 28.
Following the announcement by the Maulana, the PPP and the main opposition Pakistan Muslim League-Nawaz (PML-N) have also indicated that they too might stay away from the briefing.
Following a series of similar meetings between Mr Zardari and the JUI-F chief in January, the media had reported that the Maulana had tried to convince the former president to have a meeting with PML-N supreme leader Nawaz Sharif, presently undergoing a sentence at Kot Lakhpat jail in the Al-Azizia corruption reference.
A PPP spokesman later denied such reports and claimed that the issue of "meeting with Nawaz Sharif" did not come under discussion in the meeting.
However, the JUI-F chief himself admitted last month that he had tried to arrange a meeting between Mr Zardari and Mr Sharif, but all his efforts had failed. He announced that he was no more interested in mediating further between the two parties.
Full report at:
https://www.dawn.com/news/1471145/zardari-calls-on-jui-f-chief-for-one-on-one-meeting
--------
Pakistan convicts two over Mashal Khan blasphemy lynching case
March 22, 2019
A Pakistani anti-terrorism court sentenced two men, including a local government official, to life in prison on Thursday for their role in the brutal campus lynching two years ago of a university student accused of blasphemy.
Mashal Khan, 23, was attacked and killed by a mob on the campus of a university in Mardan, in Khyber-Pakhtunkhwa province, following a dormitory debate about religion.
In February last year, the court convicted 31 people, sentencing one person to death, while acquitting 26 others.
A joint investigation team had later found the blasphemy allegations against Mashal Khan to be false.
Outrage over the killing raised concerns about the misuse of Pakistan's draconian blasphemy laws, which stipulate the death sentence for insulting Islam or the Prophet Muhammad.
On Thursday the court sentenced two more men to life imprisonment, while acquitting two others.
Arif Khan, a local government official who had been a member of Prime Minister Imran Khan's ruling Pakistan Tehreek-e-Insaf party, was convicted for provoking and participating in the lynch mob.
The court ruling noted two videos in which Khan is seen "torturing Mashal" and "congratulating his co-accused for committing the murder".
Khan's grave continues to be guarded by police, due to fears that it will be defaced by religious hardliners despite his name being cleared of blasphemy.
In a separate case in the eastern city of Bahawalpur, a college student was arrested and charged on Wednesday for stabbing his English professor to death.
Police said the student was angered by a farewell party that the professor was organising, believing it was un-Islamic as women would attend.
In a video of his pre-interrogation released on social media, the student confessed to stabbing his professor Khalid Hameed, saying he "spoke against Islam" and that "it's a good thing" he died.
Full report at:
https://www.aljazeera.com/news/2019/03/pakistan-convicts-mashal-khan-blasphemy-lynching-case-190321110355206.html
--------
Shikarpur police succeed again, five terrorists with heavy munitions arrested
MARCH 22, 2019
A police party, here on Thursday, arrested five terrorists; recovering bombs, hand grenades, explosives and weapons from their possession.
Acting on an intelligence tip-off, police launched a crackdown in Jaggan area of Shikarpur district. Two terrorists, Abdul Shakoor and Abdul Hakeem Banglani, were apprehended, during the operation, with two pressure-cooker bombs, 35 hand grenades, 20 kilogrammes of explosives and weapons.
The detainees also led the police to three more accomplices. During the preliminary investigation, the nabbed men have admitted to raising funds from Afghanistan for terrorist activities. They also revealed having 10 trained terrorists in the network while adding that its operations had somewhat been affected after the killing of its chief.
https://dailytimes.com.pk/368159/shikarpur-police-succeed-again-five-terrorists-with-heavy-munitions-arrested/
--------
South Asia
Six killed, 23 injured in several explosions during new year festival in Afghan's Kabul
March 22, 2019
Several explosions in the Afghan capital of Kabul on Thursday killed six people and wounded 23 in an attack during celebrations to mark the Persian new year, government spokesmen said.
The attacks came on Nowruz, an ancient Persian festival to mark the start of spring that is widely celebrated in Afghanistan but has also faced opposition from some hardline Islamists, who say it is un-Islamic.
There were conflicting reports about of the cause of the blasts near the Kart-e Sakhi shrine, in a heavily Shi'ite Muslim area in the west of Kabul.
An interior ministry spokesman said mortar bombs had been fired. The defence ministry said in a post on twitter that three rockets were fired at civilian homes and Nowruz gatherings.
Gunmen armed with assault rifles and grenade launchers stormed the heavily fortified headquarters of the Afghan interior ministry on Wednesday, battling security forces for more than two hours in the latest attack on the capital Kabul.
Islamic State claimed responsibility for the attack, the group's news agency AMAQ said, without providing evidence of its claim.
Broken windows and collapsed walls were visible on homes and shops near the blast site. Blood stained the side of the road.
"It was terrible," said Sayed Samim Sadat, a shopkeeper, who said he and his family were unhurt. "We were all sitting in our home and all the glass blew in on us."
Elderly resident Haji Rajab Ali said he saw two explosions in front of him and later awoke to find himself in hospital.
Afghanistan's defence ministry said police had arrested Thursday's attacker and secured the area.
The attack happened two weeks after a mortar attack on a Shi'ite Muslim gathering in Kabul that killed 11 people. Islamic State also claimed responsibility for that attack.
Shi'ites are a minority group in Afghanistan and they have been repeatedly attacked by Sunni Muslim militant groups.
Violence has been relentless in Afghanistan even though Taliban militants are in talks with U.S. officials.
The latest round of talks wrapped up this month, with both sides citing progress, but no agreement to end the 17-year war.
The Taliban are fighting to expel foreign forces and to oust the Western-backed government of President Ashraf Ghani.
https://indianexpress.com/article/world/explosions-in-kabul-afghanistan-capital-nowruz-celebrations-new-year-5637688/
--------
Barbers in BD town face fines for 'foreign' cuts
March 22, 2019
DHAKA: A barber's association in a northern Bangladesh town has warned its members not to give "foreign" haircuts or beard styles on pain of fines, an official said on Thursday.
An association order has been hung up at every barber shop in the town of Bhuapur in the conservative Muslim-majority South Asian nation of 165 million people.
Any stylists infringing the directive face fines of 40,000 taka ($480).
Flamboyant hairstyles adopted by some of the Bollywood and Hollywood movie heroes and top cricketers have become increasingly popular among young men in Bangladesh, where short and neat cuts used to be the norm.
The head of the association Shekhar Chandra Sheel said they took the measure following a request from the local police chief.
"He asked us not to cut hair and beards following the Western model. He said these hairstyles are spoiling our young generation," he said.
He said barber shops in the neighbouring towns of Sakhipur and Basail have also adopted similar measures.
Full report at:
https://www.dawn.com/news/1471176
--------
Christchurch shooting: NZ sports minister hopes Bangladesh cricket team returns to country in future
March 22, 2019
New Zealand sports minister Grant Robertson on Friday expressed hopes that Bangladesh's cricketers and supporters continue to feel safe to return to the country, after their narrow escape from the Christchurch mosque terror attack. Speaking at the New Zealand Cricket's awards on Thursday evening in Auckland, Robertson said that he had written a letter to the Bangladesh Minister of Youth and Sport and the Bangladesh Cricket Board president expressing relief that the players and the staff members all safely returned home.
Robertson said: "Violence and hatred shown by one individual must not be allowed to destroy the friendship and respect that the New Zealand and Bangladesh cricket teams and our nations have long shared."
"My hope is that in time the players and supporters will feel safe enough to return to New Zealand and I know that they know that they will be welcomed with open arms," he said.
Robertson further added that he hopes that cricket will play a crucial role in bringing the country together. "There is hope to be found in dark days and cricket and sport will once again play a critical role in drawing together our country at this time." He further expressed his grief for the families who lost their loved ones in the attack. "We cannot know your grief but we can walk alongside you at every stage of that grief, and we can show you the aroha and the manaakitanga for which New Zealand is known and our resolve that we will find light from this darkest day. We will be with you forever," he said.
The Bangladesh cricket team's tour of New Zealand was called off on March 15 after the players had a narrow escape from a shooting attack on a Christchurch mosque which left 50 people dead.
The BlackCaps skipper Kane Williamson, who was named the Player of the Year, after the awards ceremony, added: "It had been a nice competitive series for a month and for things to end the way it did, cricket as a whole became insignificant. There was an opposition team we'd spent time with on the park who have pretty much witnessed what went on and felt threatened in a place you want anybody to feel comfortable. To end like that, it was such a shame and I know all the guys felt terrible."
"It becomes so much about your neighbour, and just the love and care you send for the people that are involved and the victims and the victims' families in Christchurch and the Muslim community not only there in Christchurch but all around New Zealand. I do think it comes down to the good human qualities that are so important," he added.
Full report at:
https://indianexpress.com/article/sports/cricket/christchurch-shooting-new-zealand-bangladesh-cricket-sports-minister-5637561/
--------
ISIS Khurasan militants killed in Nangarhar drone strike: 201st Silab Corps
22 Mar 2019
The Afghan Military in the East has announced that three militants of ISIS Khurasan were killed in a drone strike in eastern Nangarhar province.
The 201st Silab Corps of the Afghan Military in the East in a statement said the airstrike was carried out on Wednesday in Achin district.
The statement further added that the militants were targeted in the vicinity of Pekha Valley of Achin.
The anti-government armed elements including ISIS Khurasan sympathizers have not commented in this regard so far.
Full report at:
https://www.khaama.com/isis-khurasan-militants-killed-in-nangarhar-drone-strike-201st-silab-corps-03542/
--------
NDS Special Forces thwart ISIS plot to carry out suicide attacks in Kabul city
21 Mar 2019
The Special Forces of the Afghan Intelligence, National Directorate of Security (NDS), thwarted ISIS plot to carry out a series of suicide attacks on the eve of the new Afghan year.
The National Directorate of Security (NDS) in a statement said six ISIS Khurasan militants who were looking to carry out attacks on the eve of Nowruz, the start of new solar year, were arrested in Kabul city.
The statement further added that 44 militants were arrested during similar operations conducted in Khost, Kandahar, Zabul, Herat, Farah, Paktika, Badakhshan, Ghazni, Helmand, Balkh, and Sar-e-Pul provinces over the past one week.
The National Directorate of Security also added that 11 militants were killed during the same operations and some weapons and munitions were confiscated.
This comes as back to back explosions took place in Karte Sakhi area of Kabul city earlier today, leaving at least 30 people dead or wounded.
Full report at:
https://www.khaama.com/nds-special-forces-thwart-isis-plot-to-carry-out-suicide-attacks-in-kabul-city-03540/
--------
Blasts in Afghan capital kill 6 during New Year festival
Mar 21, 2019
At least six people have been killed and 23 others wounded in multiple explosions in Afghanistan's capital of Kabul during celebrations to mark Nowruz, the start of the Persian New Year.
The blasts reportedly occurred near Kabul University and the Kart-e Sakhi shrine on Thursday.
Afghan Health Ministry spokesman Wahidullah Mayar announced the casualty figures, which were confirmed by the Afghan Interior Ministry as well.
The official accounts of what caused the explosions, however, were conflicting.
Police in Kabul said the blasts were caused by a total of three remote-controlled explosive devices. Police spokesman Basir Mujahid said a fourth device was defused near the university, and searches were underway for any other potential bombs. A spokesman for the Interior Ministry said mortar shells had been fired. And the Defense Ministry said on Twitter that three rockets had been fired.
Afghan President Ashraf Ghani called the perpetrators the "coward enemy," without specifying who they were.
Ashraf Ghani
✔
@ashrafghani
• Mar 21, 2019
Today I have come to this beautiful city of #Mazar to wish everyone a happy #Nawruz. When we come together in unison we proclaim to be a nation united under one flag, free of differences, we embrace our strength in national unity, solidarity and peace.
Ashraf Ghani
✔
@ashrafghani
As we celebrate this auspicious day to bind us together our fellow citizens witnessed another devastating day in #Kabul. We lost peaceful citizens to a coward enemy that knows no bounds. I send my heartfelt condolences to the bereaving families & wish the wounded quick recovery.
670
12:48 PM - Mar 21, 2019
Twitter Ads info and privacy
117 people are talking about this
The Afghan Defense Ministry also said police had arrested one suspect and secured the area.
While there was no immediate claim of responsibility for the attacks, AFP said the Taliban militant group had denied responsibly in a message to the news agency.
Last year on Nowruz, a bomb attack carried out by Daesh terrorists killed 33 people celebrating near the shrine.
Full report at:
https://www.presstv.com/Detail/2019/03/21/591601/Afghanistan-Kabul-blasts-Nowruz-Persian-New-Year
--------
Two US service members killed in Afghanistan
March 22, 2019
KABUL: Two US service members were killed in Afghanistan on Friday while conducting an operation, the NATO-led Resolute Support mission said in a statement.
It gave no further details and withheld the names of the service members until next of kin were informed.
The US military's mission is focused on guiding and aiding Afghan forces battling the Taliban, who were ousted from power in 2001.
Violence has been relentless in Afghanistan even though Taliban militants have held several rounds of talks with US officials about a peace settlement.
The latest talks wrapped up this month with both sides citing progress, but no agreement to end the 17-year war.
Full report at:
http://www.arabnews.com/node/1470686/world
--------
Southeast Asia
Race and religion persist in 'New Malaysia', says Suhakam commissioner
21 March 2019
By Danial Dzulkifly
KUALA LUMPUR, March 21 — Race and religious discrimination continues to prevail in "New Malaysia", a Human Rights Commission of Malaysia (Suhakam) commissioner said today.
Speaking as a panellist at a public forum following the launch of Pusat Komas' 2018 Malaysia Racial Discrimination report, Prof Datuk Aishah Bidin opined that if Malaysians were not careful in dealing with race and religious rhetoric, it could cause the country further harm.
Aishah said this was evident after racial and religious rhetoric was used to drive the conversation surrounding the planned but ultimately abandoned ratification of the International Convention on the Elimination of All Forms of Racial Discrimination (ICERD).
"The recent incident in New Zealand is a lesson to learn for us. From one aspect it talks about white supremacy, it talks about issues related to superiority and that is something very much integrated into the preamble to ICERD.
"If we are not careful in dealing with remarks or statements by certain quarters pertaining to racial and religious issues, it can lead to a very much wider issue,'' she said.
Aishah was referring to the recent Christchurch mosque terror attack that occurred last March 15.
Another panellist, Datuk Johan Arrifin A. Samad, CEO of the Institute of Development Studies Sabah, said many racial narratives have no basis and are merely propagated to benefit certain parties.
"If you look at the narrative of Malay and Islamic right being threatened, it is complete nonsense. Have you ever heard the news that a Muslim is prevented from going to the mosque or that someone had disrupted a Malay wedding?
"This narrative is being driven by a certain group of people and especially the media,'' he said.
Johan then explained that the media played a vital role in reporting the news, but urged journalists not to focus on sensationalising stories and instead to focus on positive news.
Johan said he noticed that the Pakatan Harapan (PH) administration has considered entertaining racial and religious politics following their loss in the recent Cameron Highlands and Semenyih by-elections, but urged the government to remain firm and confident that they have the support of the people.
Other panellists of the forum also included Bersih 2.0 director Yap Swee Seng, while Suhakam commissioner Jerald Joseph moderated the forum.
The report released by Pusat Komas today compiled local media reports for cases of religious and racial intolerance in the education, employment and political sphere.
The report stated that there was saw a spike of media reports and cases of racial discrimination following the 14th general election (GE14) and the debacle surrounding the ratification of ICERD.
The report also stated that racial politics was a major concern in 2018 as politicians and political parties from both political divides had utilised race and religion for political mileage.
https://www.malaymail.com/news/malaysia/2019/03/21/race-and-religion-persist-in-new-malaysia-says-suhakam-commissioner/1735081
--------
Report: Weak laws behind religious discrimination in Malaysia
20 March 2019
BY KENNETH TEE
legislation, a report by international judges and lawyers revealed.
The report by the Geneva-based International Commission of Jurists (ICJ) pointed out that even though the right to equality and freedom from discrimination was recognised under Article 8 of the Federal Constitution, there were no laws that specifically protected religious minorities from unequal treatment.
"Under international law, the principle of non-discrimination applies and is integral to the enjoyment of all human rights. Thus it applies to the right to freedom of thought, conscience, religion or belief.
"The Constitution however provides no specific protections for the freedom of 'thought and conscience', which includes the freedom to have a theistic, non-theistic or atheistic beliefs and the freedom from coercion to adopt a religion or belief of one's own choice," said ICJ in its report titled "Challenges to Freedom of Religion or Belief in Malaysia" released last night.
The report produced with support from the International Panel of Parliamentarians for Freedom of Religion and Belief said the State was obligated to take necessary measures to prevent discrimination as such principles were part of customary international laws.
"'Fatwa' effectively criminalised both communities while discriminatory rhetoric exacerbates religious hatred," said ICJ, referring to edicts issued by Muslim clerics.
"Malaysia's treatment of the Shiah and Ahmadiyah minorities is directly contrary to its obligations to guarantee the rights to freedom of religion or belief and to equality under the law and non-discrimination of religious minorities," it added.
The report noted that while both communities were not the only minorities facing persecution, their situation were seen as emblematic of the situation faced by those in minority sects in Malaysia.
As part of its recommendation, the ICJ said harassment, detention and forced rehabilitation of religious minorities must be stopped to allow these individuals to exercise their right to freedom of belief without the state intervention.
The Shiahs and Ahmadis are barred from practising their faiths here and are also pursued for Shariah offences, even though the latter are not recognised as Muslims.
States such as Selangor and Sabah have lumped Shiahs and Ahmadis together with "liberalism" and "pluralism" as deviant teachings and extremists.
Disputes under dual legal system
ICJ's report also highlighted jurisdictional disputes concerning cases of religious freedom due to Malaysia's dual legal system comprising common and Shariah law.
"Jurisdictional disputes affecting the adjudication of matters relating to religion and belief — between civil courts which apply federal and state laws and Shariah courts which apply Islamic laws — have become a main arena of contestation," it said.
The report further suggested that the dual jurisdiction has also resulted in negative implications on the protection of the rights of children and exacerbated child marriages in Malaysia.
Citing the marriage between a 41-year-old man and an 11-year-old girl widely reported in the media last year, it said that the man was instead tried under Islamic jurisprudence for solemnising the polygamous marriage without the permission of the Shariah Court.
Under the Law Reform (Marriage and Divorce) Act 1976, a marriage is void if either party to the marriage is below 18 years of age.
Muslim marriages, however, are governed by state Shariah laws that often allow for girls under the age of 16 to be married with the approval of a Shariah court judge.
"Furthermore, no clear guidelines exist for Shariah judges who have full discretion to determine whether a child is 'suitable' for marriage," the report said.
The Pakatan Harapan (PH) government has yet to ban child marriage, although Deputy Minister in the Prime Minister's Department Fuziah Salleh reportedly said stricter standard operating procedures (SOPs) would be put in place.
ICJ also noted that jurisdictional disputes arose in religious conversion cases, as such cases are often ceded to the Shariah court when they are brought before a civil court.
"Shariah courts have the power to deny applications submitted by Muslims to convert out of Islam and have often ordered applicants into 'rehabilitation', counselling sessions and other interventions.
"The criminalisation of apostasy also violates the principles of non-discrimination and equality before the law in indiscriminately targeting those who wish to leave the religion of Islam," it said.
Pointing out the widening of Shariah courts' jurisdiction in matters of renouncing religion, ICJ said such circumstances have resulted in encouraging and prolonging discriminatory practices by authorities, social stigmatisation, and threats to the safety of individuals wishing to change their religion.
"The ICJ therefore recommends Malaysia to amend or repeal all laws that criminalise the propagation of religious beliefs among people of all faiths.
"The right to freedom of religion or belief is guaranteed in international human rights law, including in a number of core human rights instruments," it said.
Full report at:
https://www.malaymail.com/news/malaysia/2019/03/20/report-weak-laws-behind-religious-discrimination-in-malaysia/1734401
--------
Foreign minister to attend emergency OIC meeting on NZ mosque attacks
22 March 2019
PUTRAJAYA, March 22 — Malaysian Foreign Minister Datuk Saifuddin Abdullah is to attend an emergency meeting of the Organisation of Islamic Cooperation (OIC) in Istanbul today on the Christchurch mosque attacks, said Wisma Putra.
Saifuddin will deliver Malaysia's statement at the open-ended emergency meeting of the OIC Executive Committee at the level of Foreign Ministers, it said.
"Malaysia's participation at the meeting is a testament to the importance it places on the role of the OIC in addressing the plight of the Muslim Ummah as well as to express Malaysia's support and solidarity with the victims of the attack in Christchurch and their families and the people of New Zealand," it said.
The meeting is to issue a Final Communique at the end of the session as the outcome document.
The terrorist attack on two mosques in Christchurch, New Zealand, on March 15 left 50 people dead and scores of others injured.
Full report at:
https://www.malaymail.com/news/malaysia/2019/03/22/foreign-minister-to-attend-oic-emergency-meeting-on-nz-mosque-attacks/1735355
--------
Turkey treads tricky path with China's Muslim minorities
March 22, 2019
ISTANBUL: When Abdulweli Ayup, a Chinese ethnic Uyghur, fled his home in 2015 after he was jailed, he found refuge like other exiles in Istanbul where Turkey's government prides itself as a defender of oppressed Muslim minorities.
After years of frustration, Ayup, who was imprisoned for promoting his native Uyghur Turkic language in schools at home, says Turkey finally appears to be fulfilling a promise to take up the banner for China's minorities.
Last month Turkish authorities broke several years of silence and launched a blistering attack on China over how it treats its Muslim population, reviving hopes among exiles in Turkey that change had come.
"I was so happy when Turkey reacted," said Ayup. "Hopefully they will do more... they can do more."
A UN panel of experts says nearly one million Uyghurs and other Turkic-speaking minorities are being held in extrajudicial detention in camps in Xinjiang, where most of China's more than 10 million Uyghurs live.
Beijing at first denied the allegation, but later admitted running "vocational education centres."
After initially championing the cause, Turkish President Recep Tayyip Erdogan's government recently toned down criticism of China as Ankara deals with economic troubles and its increasing isolation from the West after a run of diplomatic disputes.
Now rights groups and critics are once again bringing up the plight of Chinese minorities, pressuring Erdogan's government to balance the economic benefits from closer ties with China against a rights issue that stirs passions in Turkey.
Turkish officials in February had described as a "shame for humanity" the "systematic assimilation policy" employed against ethnic Uyghurs and other Turkic-speaking minorities in China.
Those remarks rekindled hope in the large community of minority exiles in Istanbul who have been divided between disappointment and anger and want Ankara to do more.
"I have never asked the government to go to war for us or to give us money. The only thing I asked was that they make some fuss," said Omir Bekali, an ethnic Kazakh who fled a year ago after being released from a Chinese re-education camp.
Turkey's position contrasts with Egypt, where rights groups say hundreds of ethnic Uyghur have been rounded up in the last few years, questioned about their beliefs and some sent back to China.
The plight of the Uyghurs has in the past provoked virulent reactions in Turkey, from protesters burning Chinese flags in front of the Chinese embassy to South Korean tourists getting beaten up in the street after being mistaken for Chinese.
In 2009, Erdogan even accused Beijing of committing a "kind of genocide" against the Uyghurs.
Turkish reactions have since been more muted.
Since 2016, when Turkey faced an attempted coup, crises with the West and worsening economic difficulties, Ankara has been drawing closer to Beijing, says Selcuk Colakoglu, at the Center for Asia-Pacific Studies in Ankara.
In 2017, Turkey promised to "eliminate" anti-Chinese forces from its territory, a reference to pro-Uyghur activists.
Last December, Erdogan's party blocked a proposal in parliament calling for the creation of a commission to examine the situation of Uyghurs in China.
Erdogan "faces a dilemma: to defend the economic interests of the country or respond to this concern of voters," Colakoglu said referring to the minorities.
Turkey's reaction last month was triggered by the announcement in some media, denied by Beijing, about the death of a famous Uyghur poet, Abdurehim Heyit.
The Muslim world in particular had been conspicuously quiet over the issue, possibly to avoid Chinese diplomatic or economic retaliation.
Turkish officials said they had learned that Heyit died serving an eight-year prison sentence "over one of his songs." China rejected that, calling the Turkish statement "vile."
Turkey's government is already aware the price could be high if it goes too far: after that criticism last month, Beijing temporarily closed its consulate in Izmir and called on its citizens to "strengthen their vigilance" in Turkey.
Turkey's voice will be important, Ayup said, because it can influence public opinion in other Muslim countries, which have remained silent on the issue.
Full report at:
https://www.nst.com.my/world/2019/03/471854/turkey-treads-tricky-path-chinas-muslim-minorities
--------
Mideast
Iran Will Boost Defence Capabilities despite US Pressure, Says Khamenei
21 March 2019
Iran is determined to boost its defense capabilities despite mounting pressure from the United States and its allies to curb its ballistic missile program, Supreme Leader Ayatollah Ali Khamenei said on Thursday.
"We need to take Iran to a point that enemy understands that they cannot threaten Iran ... America's sanctions will make Iran self-sufficient," Khamenei said in a speech broadcast live on state TV.
President Donald Trump withdrew the United States last May from a 2015 nuclear deal between Iran and six major powers, saying it gave too much away to Iran and reimposed far-reaching US sanctions.
The US sanctions aim to force Iran to accept tougher restrictions on its nuclear work, drop its ballistic missile program and scale back support for militant proxies in Middle East conflicts from Yemen to Syria.
Iran says its missile program is purely defensive and has rejected the curbs on it demanded by the United States. Tehran says it has missiles with a range of up to 2,000 km, which puts Israel and US military bases in the region within reach.
The other signatories to the nuclear deal - Germany, France, Britain, the European Union, Russia, and China - have remained committed to the agreement and have been trying to salvage the pact by a mechanism to circumvent Trump's sanctions.
Khamenei, a hardliner who has the ultimate say on all major foreign and domestic policy in the Islamic Republic, said the European signatories of the deal had failed to maintain Iran's economic interests.
"They have always stabbed Iran in the back ... The Western countries have proved they cannot be trusted," he said in the speech in the city of Mashhad.
Iranian leaders have threatened to exit the nuclear deal unless the European powers enable Tehran to receive economic benefits.
"This mechanism set by the Europeans is like a bitter joke," Khamenei said, referring to a channel opened by the European signatories of the deal for non-dollar trade with Iran to get around the US sanctions.
https://english.alarabiya.net/en/News/middle-east/2019/03/21/-Trump-Time-for-US-to-recognize-Israel-s-sovereignty-over-Golan-Heights.html
--------
Pompeo heads for Lebanon to step up pressure on Iran, Hezbollah
21 March 2019
US Secretary of State Mike Pompeo hopes to use his first visit to Lebanon this week to step up pressure on Iran and its local ally, Hezbollah.
Pompeo will meet Friday with President Michel Aoun and will also hold talks with Lebanon's parliament speaker and foreign minister - all three of whom are close Hezbollah allies.
He will also meet with Prime Minister Saad Hariri, a close Western ally who has been reluctant to confront Hezbollah.
"We'll spend a lot of time talking with the Lebanese government about how we can help them disconnect from the threat that Iran and Hezbollah present to them," Pompeo told reporters earlier this week.
The Iran-backed group has an arsenal of tens of thousands of rockets and missiles. Its battle-hardened cadres fought Israel to a stalemate in 2006, and have fought alongside President Bashar Assad's army since the early days of the Syrian civil war.
Hezbollah and its allies today control a majority of seats in parliament and the Cabinet, after it managed in 2016 to help Aoun, an allied Christian leader, be elected president.
The group has three Cabinet seats, the largest number it has ever taken, including the Health Ministry, which has one of the largest budgets.
That has angered Washington, where US officials have called on Hariri's national unity government to ensure Hezbollah does not tap into public resources.
Lebanon has long been a political battleground in the region-wide struggle between Washington and Tehran. But tensions have risen since President Donald Trump withdrew from Iran's nuclear deal with world powers and re-imposed sanctions on Tehran.
The United States backs a coalition of groups opposed to Hezbollah led by Hariri's Sunni-led Future Movement and the right-wing Christian Lebanese Forces, but Washington's local allies are proceeding with caution. Memories are fresh of the clashes that erupted in May 2008, when the Shiite Hezbollah rapidly defeated a group of Sunni opponents on the streets of Beirut.
"Washington should be careful not to push Lebanon to the brink, as Hezbollah would retaliate if its survival is at stake," said Joe Macaron, a resident fellow at the Arab Center in Washington. "In the current status quo, the most effective way to restrain Hezbollah remains within the intricate parameters of the Lebanese political system," he said.
The United States is a strong supporter of Lebanon's national army, supplying it with arms and more than $1.5 billion in aid over the past decade.
During his visit to Lebanon, Pompeo is expected to reiterate Washington's support to the Lebanese army. In return, he is expected to demand that Lebanon's Central Bank act to prevent Iran from using the country's banking sector to evade sanctions.
Aoun is scheduled to visit Russia later this month for talks with President Vladimir Putin. The two are expected to discuss a number of topics, including the return of Syrian refugees and oil and gas exploration in the Mediterranean, which has been a source of tension between Lebanon and Israel.
Full report at:
https://english.alarabiya.net/en/News/middle-east/2019/03/21/Pompeo-heads-to-Lebanon-to-step-up-pressure-on-Iran-Hezbollah.html
--------
Israeli gunfire kills Palestinian in West Bank
21 March 2019
A Palestinian was killed by Israeli gunfire in the occupied West Bank, Palestinian medics said, and the military announced on Thursday that a soldier had discharged his weapon and it was reviewing the incident.
The Palestinian Red Crescent said one of its crews treated a man with two bullet wounds at an Israeli military roadblock near the city of Bethlehem on Wednesday and that Israeli forces had shot him.
It gave no details about the circumstances of the night-time shooting. The Palestinian Health Ministry identified the man as a 26-year-old from Bethlehem and said another Palestinian had also been shot and critically wounded. Hours later, the Israeli military issued a statement saying that a soldier stationed at a post near Bethlehem had "identified rocks being thrown at Israeli vehicles (and) in response, he fired his weapon."
The statement did not identify the soldier's intended target and some Israeli media reports said warning shots were fired in the air, suggesting the two Palestinians may have been hit unintentionally. "A report was received regarding injured Palestinians, details regarding the incident are being reviewed and the incident will be examined," the military said.
Tensions have been high in the West Bank since a Palestinian killed an Israeli soldier and a rabbi in a stabbing and shooting attack in the territory on Sunday.
Full report at:
https://english.alarabiya.net/en/News/middle-east/2019/03/21/Israeli-forces-kill-Palestinian-in-West-Bank-say-Palestinian-medics.html
--------
Iran FM heads to Istanbul to attend emergency OIC session on NZ massacre
Mar 21, 2019
Iran's Foreign Minister Mohammad Javad Zarif headed to Istanbul Thursday evening to attend an emergency meeting of the Organization of Islamic Cooperation (OIC) on terrorist massacre of Muslims in New Zealand.
The meeting will be held on Friday to condemn the attack on two mosques in Christchurch, which left at least 50 worshipers dead and wounded dozens others last Friday.
Turkey's foreign ministry said in a statement on Thursday that Foreign Minister Mevlut Cavusoglu would chair the meeting.
Representatives from the UN, the European Union, and the Organization for Security and Cooperation in Europe (OSCE) have reportedly been invited to the event.
The emergency meeting comes following a phone conversation between Zarif and Cavusoglu earlier this week, in which they censured the "heinous crime".
Full report at:
https://www.presstv.com/Detail/2019/03/21/591623/OIC-Zarif-Iran-Turkey-New-Zealand
--------
Palestinian killed in West Bank by Israeli gunfire
Mar 20, 2019
Israeli soldiers have attacked a civilian vehicle near the West Bank city of Bethlehem, killing a Palestinian man.
The Palestinian health ministry said Ahmed Manasara, 26, was shot dead on Wednesday near a checkpoint close to Bethlehem, without providing further details.
The Israeli military claimed that a soldier had "opened fire after identifying rocks being thrown at Israeli vehicles."
"The incident will be examined," the army said in a statement early Thursday.
Official Palestinian news agency Wafa said Manasara was in the car when he was shot dead, with another Palestinian in the car seriously wounded.
Tensions are high in the West Bank over ongoing Israeli aggression at the al-Aqsa Mosque compound in the Old City of Jerusalem al-Quds.
On Sunday, the Jerusalem al-Quds Magistrate's Court announced that it had accepted a request by Israeli officials to temporarily close Bab al-Rahma (Gate of Mercy) prayer area at the al-Aqsa Mosque compound.
The prayer area of the al-Rahma Gate was closed on February 25 upon an order by Israeli Prime Minister Benjamin Netanyahu, and reopened the following day.
Israel had closed the gate that leads to the prayer space in al-Aqsa Mosque since 2003 in the face of the Second Intifada (uprising) against the regime's occupation.
On February 22, however, the Waqf Council, which oversees the holy sites at the al-Aqsa Mosque compound, decided to re-open the prayer space at the Bab al-Rahma Gate in defiance of Israel's 16-year-old ban. Hundreds of worshipers, led by the Grand Mufti of Jerusalem al-Quds, Sheikh Muhammad Hussein, entered the area for the first time since 2003 for Friday prayers.
Angered by the move, the Tel Aviv regime launched an arrest campaign against Palestinians. The arrests drew criticisms from Palestinians and Jordan. The Islamic Waqf organization and Palestinian institutions have insisted on keeping the Bab al-Rahma prayer area open for Muslim worship.
Full report at:
https://www.presstv.com/Detail/2019/03/20/591577/Palestine-West-Bank-Israel-Ahmed-Manasara
--------
US blames Houthis for stalling Yemen peace deal
March 21, 2019
LONDON: The US ambassador to Yemen blamed the Houthis on Thursday for impeding a UN-led peace deal in the main port of Hodeidah.
Matthew Tueller also said the Iran-backed militia's weapons pose a threat to other countries in the region.
The Yemeni government and the Houthis reached a ceasefire and troop withdrawal deal for Hodeidah at talks in Sweden in December. The pact was the first major breakthrough in efforts to end the four year war.
While the truce has largely held, the troop withdrawal by both parties has yet to materialise.
"We are greatly frustrated by what we see as delays and stalling on the part of the Houthis in implementing what they agreed to in Sweden, but I have great confidence in the UN envoy and what he is doing," Tueller said in the southern port of Aden, where the internationally recognised government is based.
"We are willing to work with others in order to try to implement these (Sweden) agreements and see whether the Houthis can in fact demonstrate a political maturity and start to serve the interests of Yemen rather than acting on behalf of those who seek to weaken and destroy Yemen," he said.
Tueller said he had "not given up hope" that the deal would be implemented in Hodeidah, where thousands of Yemeni forces backed by the Arab coalition are massed on the outskirts.
Meanwhile, US Secretary of State Mike Pompeo said that putting pressure on Iran will force the Houthis to abide by the Stockholm Agreement.
Speaking to Al Arabiya during a regional tour focused largely on Iran, Pompeo added that the Houthis should know that they will not win the war in Yemen, and that the Iran-backed militia only work under the guidance of the Supreme Leader of Iran Ali Khamenei and the commander of Islamic Revolution Guard Corps' (IRGC) Al-Quds Force Qassem Soleimani.
Tueller also added that Washington was concerned about the situation in Yemen, and reiterated US support for the Yemeni government.
"We are making every possible effort to end the conflict in Yemen," Tuellersaid, emphasizing Washington's interest in Yemen's unity and stability.
Tueller said the US was working with Yemeni authorities to prevent arms smuggling from Iran and to strengthen local security institutions. He added that the possession of weapons should be limited to the state.
"The fact that there are groups that have weapons, including heavy weapons and even weapons that can threaten neighboring countries, and those weapons are not under the control of the institutions of the state - this is a severe danger to the region as well as to Yemen," he said.
Tueller added that Washington hopes to reopen the US embassy in Sanaa considering that it is the capital of Yemen.
Full report at:
http://www.arabnews.com/node/1470216/middle-east
--------
NZ's foreign minister arrives in Turkey for Muslim summit
March 22, 2019
ISTANBUL: New Zealand's deputy prime minister is attending an emergency session of an umbrella organization of Muslim nations in Turkey after a gunman killed 50 people in two mosques in the South Pacific nation.
Winston Peters was in Istanbul on Friday for the 57-member Organization of Islamic Cooperation's executive committee meeting.
Australian Brenton Harrison Tarrant was arrested and charged with murder. Tarrant livestreamed the attack and released a manifesto describing his white supremacist views and how he planned the shootings.
Full report at:
http://www.arabnews.com/node/1470706/middle-east
--------
URL: https://www.newageislam.com/islamic-world-news/lesson-world-leaders-imam-thanks/d/118097
New Age Islam, Islam Online, Islamic Website, African Muslim News, Arab World News, South Asia News, Indian Muslim News, World Muslim News, Women in Islam, Islamic Feminism, Arab Women, Women In Arab, Islamophobia in America, Muslim Women in West, Islam Women and Feminism