New Age Islam News Bureau
13 Jan 2019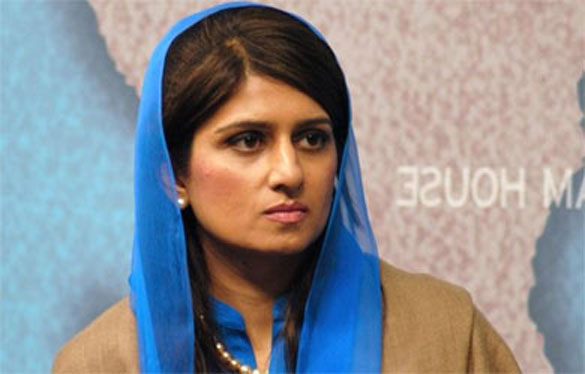 Former foreign minister Hina Rabbani Khar
------
• Leader Calls for Scientific 'Jihad' To Make Iran Self-Sufficient
• Why No Muslim Party in SP-BSP Coalition, Asks Aligarh Muslim University Students' Union
• Pakistan Should Strengthen Ties with Neighbours Instead Of US: Hina Rabbani Khar
• Migrant Recalls 'Daily Beatings, Starvation and Suffocation' By Libyan Forces
• What the Founder of TOMS, Ancient Greeks And Muslim Inventors Have In Common
Mideast
• Leader Calls for Scientific 'Jihad' To Make Iran Self-Sufficient
• Palestinian President Plans Anti-Hamas Measures As Split Widens
• Five Palestinian families face eviction in favour of Israeli settlers
• Brian Hook: We won't permit Iran to Lebanonize Yemen
• Delegations in Cairo preparing Netanyahu-MbS summit: Sources
• Turkey deploys further military reinforcements to Syrian border
--------
India
• Why No Muslim Party in SP-BSP Coalition, Asks Aligarh Muslim University Students' Union
• Government Repromulgates Triple Talaq Ordinance after Rajya Sabha Snub
• Al-Badr commander Zeenat-ul-Islam among two terrorists killed in Kulgam encounter
• ISIS module: NIA arrests man from UP's Meerut
• NIA to question Imam in south Kashmir's Tral
--------
Pakistan
• Pakistan Should Strengthen Ties with Neighbours Instead Of US: Hina Rabbani Khar
• Is PSGPC general secretary a JuD Man?
• Bill to terminate Pakistan designation as major non-Nato ally introduced in Congress
• Fazl upbeat about forging opposition's alliance
• JI chief Sirajul Haq denounces govt over ineffective policies
• Saudi minister says crown prince will sign oil refinery deal
• Asia Bibi's acquittal: SC tells govt to compensate riot victims in 30 days
• Two 'terrorists' held with arms in Mardan
--------
Africa
• Migrant Recalls 'Daily Beatings, Starvation and Suffocation' By Libyan Forces
• Protesters raise pressure on Bashir to step down as unrest continues
• Comoros leader lauds Muslim World League's efforts in Africa
• Death toll from Sudan protests rises to 24
• DR Congo presidential runner-up appeals against result
• Burkina Faso: militants slay civilians in daylight market attack
--------
Europe
• What the Founder Of TOMS, Ancient Greeks And Muslim Inventors Have In Common
• Armed peacekeepers no longer needed: Turkish Cyprus
• Tehran summons Polish envoy over anti-Iran summit
• Israeli PM invited to anti-Iran summit in Poland
• Why is Poland Washington's choice for its Iran-focused global summit?
--------
South Asia
• Taliban's Top Commander for Khawaja Sabz Posh of Faryab Killed with His 20 Fighters
• Rohingya Muslims flee India for Bangladesh fearing repatriation
• 2 Taliban militants killed, 3 wounded in a premature IED explosion Zabul
• 10 ISIS-K militants killed, 16 foreign fighters arrested in Badghis province
• Ahmed Shafi's remarks slated
• Human Rights Watch demands action against new Afghan defense minister
--------
Southeast Asia
• Malaysia Chooses New Sultan, Expected To Be Elected King
• Indonesian graftbusters hit with bomb threat
• So what if a building shows a cross? says PKR rep
• Jokowi challenger Prabowo moots Trump's tax-cut formula to spur Indonesian economy
--------
Arab World
• US Army Fortifies Military Bases in Raqqa, Aleppo despite Trump's Call for Troops Pullout from Syria
• Kurdish Politician: Washington Trying Hard to Make Damascus-Kurd Talks Fail
• Analyst: Over 20,000 US Forces Deployed in Iraq
• 600 people leave in first evacuation from Syria ISIS holdout
• Egypt police kill 6 militants in shootout, says interior ministry
• High-profile opposition leader ready to visit Damascus
--------
North America
• Egyptian Politician Blasts Pompeo for Anti-Iran Remarks in Cairo
• US Secretary of State Pompeo meets UAE leadership in Abu Dhabi
• Pompeo vows to 'expel' Iranians from Syria, calls US pullout 'tactical' anti-Iran bid
• Syria: US starts pulling equipment but not soldiers
Compiled by New Age Islam News Bureau
URL: https://www.newageislam.com/islamic-world-news/leader-calls-scientific-jihad-make/d/117443
--------
Leader Calls for Scientific 'Jihad' To Make Iran Self-Sufficient
Jan 13, 2019
Leader of the Islamic Revolution Ayatollah Seyyed Ali Khamenei has called on Iranian students across the globe to contribute to the country's independence from foreigners.
In a message to the 53rd meeting of the Union of University Students Islamic Associations in Europe on Saturday, Ayatollah Khamenei encouraged the Iranian youth studying abroad to engage in scientific jihad (endeavor for the sake of God) aimed at boosting the nation's self-reliance.
"We all know that you, the university students, are the best hopes for the future of our country. What everyone needs to know is that today - by the grace of God - numerous students of yesterday are engaged in great tasks and deeply feel the joy and satisfaction of contributing to the advancement of knowledge and technology in their homeland," the message read.
"Our university students today - in any corner of the world - have the opportunity to join these faithful and devout groups and make the country fully independent from foreigners," the message said.
"This action, when undertaken with sincerity and for the sake of God, is jihad in the path of God. You, the youths in the Islamic Associations, can be the frontrunners and leaders of this jihad. I ask God to bestow increased success on you," it added.
https://www.presstv.com/Detail/2019/01/13/585640/Iran-Leader-Ayatollah-Khamenei-students
--------
Why No Muslim Party In SP-BSP Coalition, Asks Aligarh Muslim University Students' Union
Jan 12, 2019
Agra: Aligarh Muslim University Students' Union (AMUSU) threatened to put together its own "front" to fight the 2019 Lok Sabha elections if the tie-up of Bahujan Samaj Party (BSP) and Samajwadi Party (SP) in Uttar Pradesh didn't include any Muslim outfit.
Vice president of the union, Hamza Sufyan, said that both these parties had been in power in UP for a significant amount of time but had failed to fulfill their poll promises. "Most importantly, the 18% reservation promised to Muslims by the Samajwadi Party in 2012 was never fulfilled," he said.
"Even though these two parties want Muslims to vote en-masse for them to defeat the BJP, they are not coming up with any concrete agenda for social welfare of the community. According to the Sachar Committee report, the status of Muslims in India is worse than that of Schedule Castes and Schedule Tribes," he added.
Secretary of the union Huzaifa Amir dubbed this "Gathbandhan" (alliance) a "Thugbandhan". He said it had been planned with the motive of strengthening the electoral base of the SP and BSP but Muslims of the state had not been given their due share in it.
"There are several Muslim political outfits like Rashtriya Ulema Council, Peace Party, MIM and others who have been active at the ground level for years and have significant electoral bases in many parts of the state. They have not been included in this coalition, which raises serious questions on the 'secular' nature of these parties," he added.
https://timesofindia.indiatimes.com/city/agra/why-no-muslim-party-in-coalition-asks-amusu/articleshow/67506190.cms
--------
Pakistan Should Strengthen Ties with Neighbours Instead Of US: Hina Rabbani Khar
January 13, 2019
LAHORE: Former foreign minister Hina Rabbani Khar said Pakistan always chose to be a client state instead of becoming strategic partner of one country or the other. With a begging bowl in both hands, Pakistan cannot command respect in the comity of nations.
Speaking in a session on the US-Pakistan relationship at ThinkFest here on Saturday, she said Pakistan always imagined itself as a complete strategic partner, which was far-fetched. Pakistan's most important relations should be with its neighbouring countries like Afghanistan, India, Iran and China instead of the US. "The US does not deserve that much importance as is given in Pakistan because our economy is not dependent on US aid, as is widely believed."
Referring to the incumbent rulers' claims of copying China, she said Beijing had brought its people out of poverty, while the Islamabad rulers were doing the opposite.
United States Institute of Peace Associate Vice President Moeed Yusuf said the US-Pakistan relations were non-existent during the past 18 months. Regretting that Pakistan was looking elsewhere instead of involving itself in the region to resolve local and regional issues, he said there could be no conversation on the US-Pak ties till the Afghanistan issue was resolved. For Pakistan, he said, the idea was to consider how to work with the US and China simultaneously.
Speaking on the future of democracy in Pakistan, author Aqil Shah from Oklahoma University said democracy gave the freedom to speak up and enabled accommodating ethnic divisions peacefully. He, however, said the democracy in vogue in Pakistan was a hybrid regime where elected representatives were answerable to both the people and army generals.
He alleged that the 2018 general elections were manoeuvered to ensure that former prime minister Nawaz Sharif and his party did not come back to power and that the rule was given to the Pakistan Tehreek-i-Insaf (PTI), calling the ruling party "Pakistan Tehreek-i-Establishment".
He further said that the corruption narrative was a universal phenomenon and not exclusive to Pakistan.
Federal Education Minister Shafqat Mahmood claimed that democracy in Pakistan was getting stronger and robust. While the PTI government took over just a few months ago, people had high expectations from them to resolve serious issues, including the economic crisis.
He said education had faced a serious neglect in the past and was separated into different streams to create a divide among people. He said there was a small pool of audience attending the ThinkFest, but even this much crowd could not be attracted if the event took place in Dera Ghazi Khan or Sibbi.
https://www.dawn.com/news/1457153/pakistan-should-strengthen-ties-with-neighbours-instead-of-us-hina-rabbani-khar
--------
Migrant recalls 'daily beatings, starvation and suffocation' by Libyan forces
12 January 2019
While he dreamed of having a decent life in Europe, Osama Murad traveled from Palestine to Libya, but he found himself in a "slave center" after being held by Libyan intelligence, who he said exploited him to do hard labor by beating and torturing him and other immigrants.
Murad shared his story with Al Arabiya, revealing the role of Libyan state institutions (including its employees and members of armed groups) in abusing and exploiting vulnerable immigrants and using them for forced labor.
The young Palestinian's story began in July 2018 when he left his country and went to Libya, through Egypt, in order to eventually reach Europe, seeking job opportunities and security. However, once he reached Libyan territory, he was kidnapped and arrested by an armed group that took him to Libyan intelligence in Tripoli along with ten other immigrants.
Despite their legal entry into Libya, the immigrants were imprisoned in detention centers and were subjected to "unimaginable horrors, including emotional and physical torture, electrecution, and starvation."
"We were treated like slaves," Murad recalls. "We were ten Palestinians and about 30 African migrants in one center where we were tortured daily with iron tools, electric shocks, and we were also subjected to daily beatings, starvation, and suffocation," he told Al Arabiya. "We were put into tiny solitary rooms where we were unable to move or breathe."
Tortured, threatened with death
They were forced to work long daily hours of hard labor and were threatened with death if they refused to work. One immigrant was shot to death when he refused to work, according to Murad.
"They transferred us from one place to another like animals, working in farms and construction sites in terrible conditions without getting paid."
Murad and the other Palestinians were held for four months before the Palestinian embassy in Libya intervened to release them, but other immigrants are still being held in such detention centers in inhumane conditions suffering from abuse, exploitation, and death threats.
Despite clear evidence of violations and abuses against migrants and refugees in Libya, little has been done by the Libyan authorities to stop this.
https://english.alarabiya.net/en/features/2019/01/12/Immigrant-recalls-beaten-and-enslaved-by-Libyan-intelligence.html
--------
What the founder of TOMS, ancient Greeks and Muslim inventors have in common
Manar Al Hinai
January 13, 2019
For thousands of years, the concept of one's life's purpose has been discussed in culture and philosophy. In Islam, the first word revealed from Allah upon Prophet Mohammed was Iqra', or read, emphasising the importance of pursuing learning and knowledge in our daily lives. Long before that, Greek philosophers, such as Aristotle, have also sought to shed light on life's purpose and often questioned what we are meant to do on this earth.
If we think about it, many Muslim inventors, for example, have worked with a sense of community purpose hundreds of years ago, before this became something that entrepreneurs aspire to nowadays. They invented things that we take for granted today such as algebra, optics, and the flying machine. As they went about inventing, they did so with the goal to better the livelihood of humanity, and not for their sole benefit.
Today, many entrepreneurs are adopting this purpose-driven mindset. Dubai based Arab-American entrepreneur Sahar Wehbeh is a good example. Her doll-making business, Dumye, founded in 2013, is built on the model of buy-one and we will donate one. Dumye is all about giving back to the community. The dolls are manufactured by underprivileged women in North India, who through their work are provided with a chance to better their livelihoods. And with every doll purchased, a doll is gifted to an orphan or another child.
TOMS is another example of a successful international business with a strong sense of purpose. Founded in 2006 by American entrepreneur Blake Mycoskie, the footwear and sunglasses brand is dedicated to improving lives. Through customers' purchases, TOMS help provide shoes, water, prescription glasses and bullying prevention services in over 70 countries worldwide.
Emirati artpreneur Noor Shamma, started the Postcard Initiative in 2015. It all began when she was frustrated with how she was constantly glued to her phone, and she longed for the old school way of communication. She announced on her Instagram that she would send a postcard to those who were interested. Shortly after, she received hundreds of addresses from people worldwide. This tempted her to start her Postcard Initiative. Noor now sells stacks of postcards with illustrations by artists from around the world with 20 per cent of profits donated to Noor Dubai Foundation, a non-governmental, non-profit organization with the goal to eliminate blindness everywhere. By doing so, Noor is not only supporting a charity, but also empowering artists worldwide by showcasing their work.
These are all powerful examples of entrepreneurs who incorporated purpose into their business mission, and who developed business plans with the stakeholders - the community - in mind.
When your business has a strong sense of purpose that is clearly communicated, the benefits will begin to multiply, beginning with your customers. A study by Cone/Porter Novelli reveals that 79 per cent of Americans are more loyal to purpose-driven brands and 67 per cent of them feel that purpose-driven brands care more about them and their families versus other traditional brands. The study also revealed how 78 per cent of Americans would endorse and tell their peers to purchase from purpose-driven brands.
Here are some ways you can take today to incorporate higher purpose in your business or organisation:
Define your purpose
Work with your team to set and declare a higher purpose that is serving your community. A survey by Deloitte revealed how purpose-driven organisations have higher employee engagement. This should be publicly stated and your corporate culture should revolve around it. Embrace your purpose. Make sure it's highlighted everywhere: in your email signatures, in your company's reception, newsletters, website and even plastered in your pantry. Assign some employees as your brand ambassadors, who can communicate your business's goal to the community.
Learn from non-profits
Non-profits provide a great learning opportunity and you can get a front row seat by serving on the board of a non-profit or by setting a meeting with a non-profit leader you admire to see how you can learn from their approach. Examine the way they set their strategy and how they are involved in the communities they serve.
Ask your clients to participate in your purpose
If your brand serves a community or a cause - whether by building schools, helping refugees or donating clothes - chances are, many of your customers would love to take part. It would also provide them with an up-close and personal connection to your brand, to learn more about your work and communicate back to their social circles.
When it comes to developing your business, and setting its purpose, it wouldn't hurt to think like the Greeks and early Muslim inventors.
https://www.thenational.ae/business/comment/what-the-founder-of-toms-ancient-greeks-and-muslim-inventors-have-in-common-1.812255
--------
Mideast
Palestinian president plans anti-Hamas measures as split widens
January 13, 2019
The decade-long Palestinian split looks set to deepen in the coming months, with President Mahmoud Abbas poised to take multiple measures against Gaza to squeeze its Islamist rulers Hamas.
The moves raise concerns of more suffering for Gaza's two million residents, already under an Israeli blockade and facing severe electricity shortages, while a cornered Hamas could renew violence against Israel.
Analysts say the measures will also widen the gap between Hamas-run Gaza and the occupied West Bank, where Abbas's government has limited self-rule.
Hamas and Abbas's secular Fatah party have been at loggerheads since the Islamists seized control of Gaza from Abbas's forces in a near civil war in 2007, a year after sweeping parliamentary elections.
Hamas has since fought three bloody wars with Israel and fears of a fourth remain.
Multiple reconciliation attempts between the Palestinian factions have failed but Egypt thought it had made a breakthrough in late 2017 when the two sides agreed to eventually share power.
As part of that agreement, Hamas withdrew from border crossings between Gaza and Egypt and Israel, allowing the Fatah-dominated Palestinian Authority (PA) to return and the Egyptian border to be reopened regularly.
The reconciliation agreement has since collapsed acrimoniously.
On Sunday, the PA announced it would withdraw from the Egyptian border crossing, creating a dilemma for Cairo about whether to leave it open with Hamas in control.
So far they have indicated they will.
Senior officials close to Abbas say he is looking for other measures to punish Hamas.
'Very important decisions'
Among these could be removing staff from the crossings between Israel and Gaza — making it hard for the Jewish state to allow anything into the territory without dealing directly with Hamas, which it and many other countries label a terrorist organisation.
They could also include cutting salaries to families of Hamas prisoners or rescinding Palestinian passports for Hamas employees.
Abbas has also pledged to dissolve the Hamas-dominated Palestinian parliament, which though it hasn't met since the 2007 split is still nominally the basis for new laws.
"Very important decisions against Hamas are being discussed," a senior official said on condition of anonymity.
It follows a series of arrests of those affiliated with Fatah in Gaza, according to Abbas allies.
The official said the PA spent around $100 million per month in Gaza, including for electricity subsidies, and was looking to cut back significantly.
"Those that want to rule Gaza must bear the responsibility of governing it," the official said.
Azzam al-Ahmad, a senior Abbas ally and negotiator of the 2017 reconciliation agreement, told AFP "the leadership is considering a number of measures".
Senior Hamas official Bassem Naim said the Islamists had seen similar threats before.
"Any type of sanctions such as electricity, preventing medicine, closing the border or cutting the salaries are intended to blackmail residents into rising against Hamas and they fail," he told AFP.
"This is the most that Abbas can do."
##'Short-term thinking'
The Palestinians have faced stark challenges over the past two years, with US President Donald Trump leading what he has called the most pro-Israel administration in the country's history.
Israeli Prime Minister Benjamin Netanyahu's right-wing government has meanwhile continued to expand settlements in the West Bank.
Abbas's government froze contacts with the Trump administration after it recognised the disputed city of Jerusalem as Israel's capital in December 2017.
"The deepening split between the two factions weakens their ability to respond to such pressure," said Hugh Lovatt of the European Council on Foreign Relations think-tank.
He said the PA withdrawal from the border crossings was part of a "package of measures designed to try and squeeze Hamas".
"It is not irreversible but it is certainly a very negative step. This is short-term thinking triumphing longer-term strategy."
Nadia Hijab, president of the Al-Shabaka Palestinian think-tank, said the infighting prevented a united front against Israeli policies.
"Palestinians fear that this latest move will cement the division and lead to a complete break between Gaza and the West Bank, something Israel has been pushing," she said.
Both sides were "playing politics with people's lives instead of taking on Israel's 50-year-plus occupation," she said.
At least 241 Palestinians have been killed by Israeli fire in Gaza since mass protests along the border began in March 2018. Two Israeli soldiers have been killed.
The protests had calmed in recent months after Hamas and Israel struck an agreement that saw Qatari aid allowed into the territory.
This week, it was reported that Israel had blocked a third tranche of Qatari funding, which could lead to increased tensions.
"If the Israelis do block the money, then I think it is almost a certainty you will see Hamas increasing the tension on the border," Lovatt said.
https://www.dawn.com/news/1457281/palestinian-president-plans-anti-hamas-measures-as-split-widens
--------
Five Palestinian families face eviction in favour of Israeli settlers
Jan 12, 2019
Israeli officials have handed down orders to five Palestinian families residing inside a building in occupied East Jerusalem al-Quds to evacuate their homes by the end of the month.
The Civic Coalition for Palestinian Rights in Jerusalem (CCPRJ) said on Saturday that Israel's so-called Law Enforcement Department had given the order to the Sabbagh family to leave the building in the Sheikh Jarrah neighborhood of occupied East Jerusalem al-Quds, and turn it over to the extremist settlers who had claimed its ownership by January 23.
Established in 2005, the CCPRJ is a Palestinian non-governmental organization that aims to contribute to effective mobilization and cooperation of civil society vis-à-vis Israeli policies undermining Palestinian rights in occupied East Jerusalem al-Quds.
In 2012, the Sabbagh family lodged a lawsuit at the Israeli District Court in Jerusalem al-Quds against the Israeli settlers' claim that they owned the land in question.
Even though the family provided the court with conclusive evidence proving ownership of the land and that Israeli setters' land registration process done in 1972 was illegal, the court ruled in favor of the settlers.
The family appealed the decision to the High Court on November 15, 2018, and requested to open the file of land ownership. However, the High Court rejected the appeal and upheld the District Court's decision.
The family, through its lawyers, then re-appealed against the High Court's ruling through asking for a five-judge panel instead of three. The attempt failed as well, which left the eviction of the five families imminent.
More than half a million Israelis live in over 120 settlements built since Israel's occupation of the Palestinian territories of the West Bank in 1967. This is while much of the international community considers the settler units illegal and subject to the Geneva Conventions, which forbid construction on occupied land.
Less than a month before US President Donald Trump took office in January 2017, the United Nations Security Council adopted Resolution 2334, calling on Israel to "immediately and completely cease all settlement activities in the occupied Palestinian territories, including East Jerusalem" al-Quds.
About 600,000 Israelis live in over 230 illegal settlements built since the 1967 Israeli occupation of the Palestinian territories of the West Bank and East Jerusalem al-Quds.
Palestinians want the West Bank as part of a future independent Palestinian state with East Jerusalem al-Quds as its capital.
The last round of Israeli-Palestinian talks collapsed in 2014. Among the major sticking points in those negotiations was Israel's continued settlement expansion on Palestinian territories.
Trump backtracked on Washington's support for a "two-state solution two years ago, saying he would support any solution favored by both sides.
"Looking at two-state or one-state, I like the one that both parties like. I'm very happy with the one both parties like. I can live with either one," the US president said during a joint press conference with Israeli Prime Minister Benjamin Netanyahu in Washington in February 2017.
Palestinian laid to rest in Gaza
Meanwhile, Palestinians on Saturday held a funeral procession for a woman killed by Israeli forces in Gaza.
Israeli forces killed the Palestinian woman, Aml Moustafa Ahmed, 43, and injured at least 25 people during protests along the border between the besieged Gaza Strip and the occupied territories on Friday.
Tensions have been running high near the fence separating Gaza from the occupied territories since March 30, which marked the start of the protests.
Palestinian protesters demand the right to return for those driven out of their homeland.
The clashes in Gaza reached their peak on May 14, the eve of the 70th anniversary of Nakba Day, or the Day of Catastrophe, which coincided this year with Washington's relocation of the US embassy from Tel Aviv to occupied Jerusalem al-Quds.
Full report at:
https://www.presstv.com/Detail/2019/01/12/585594/Five-Palestinian-families-face-eviction-in-favor-of-Israeli-settlers
--------
Brian Hook: We won't permit Iran to Lebanonize Yemen
12 January 2019
United States Special Representative for Iran Brian Hook told Al Arabiya English that Washington "would save no effort to prevent Iran from Lebanonizing Yemen".
He added in an exclusive interview with Al Arabiya English that US is committed to the efforts led by UN Special Envoy Martin Griffiths and that they have called to an urgent end to the fighting in Yemen.
However, he added that "we have also said that Saudi Arabia and the Emirates need to defend themselves against the Iranian-backed Houthi attacks. And the Houthis continue to violate the ceasefire".
He said that "what has been underreported especially by the US press is the role Iran has played to prolong and deepen the war in Yemen".
"Iran bears a lot of responsibility for the humanitarian catastrophe in Yemen and I think the blame had been misallocated, and it's important for people to understand that Iran has spent hundreds of millions of dollars organizing training and equipment for the Houthis to fight at a level well beyond what makes any sense for the Houthis," he said.
The US Special Representative for Iran stressed that US is working toward "bringing an end to the fighting and a political solution, however we have to keep our eye on Iran. We cannot allow Iran to do in Yemen what it accomplished in Lebanon, we cannot permit them to Lebanonize Yemen on Saudi's southern border".
He said that the United States and its coalition partners have provided billions in aid to the Yemenis, while Iran has provided nothing but weapons and fighters.
He emphasized that Washington "is aware that Iran will try to become a power broker in Yemen, they have no legitimate interest in Yemen and they need to get out" asserting that Iran must leave all regions which it destabilized.
Previously US Secretary of State Mike Pompeo said, in a speech to the American University in Cairo, that US will work with allies to "expel every last Iranian boot" from Syria.
Pompeo warned there would be no US reconstruction aid for areas controlled by Syrian President Bashar al-Assad until Iran and its proxies had left.
Full report at:
https://english.alarabiya.net/en/News/gulf/2019/01/13/Top-Yemeni-intelligence-official-injured-in-Houthi-drone-strike-dies-.html
--------
Delegations in Cairo preparing Netanyahu-MbS summit: Sources
Jan 13, 2019
Senior diplomatic sources in Egypt have revealed that delegations from Arab countries, the United States and Israel are holding intensive meetings in the Egyptian capital Cairo to prepare a summit between Israeli Prime Minister Benjamin Netanyahu and Saudi Crown Prince Mohammed bin Salman, known to many in the West as MbS.
The sources revealed to the Khalij Online that at least three meetings had been held over the last 25 days in Cairo between Egyptian, Saudi, US and Israeli officials to work out the details of a meeting between Netanyahu and MbS.
The sources said that the initiative for holding a meeting between MbS and Netanyahu was encouraged by Saudi Arabia's massive enthusiasm for such a diplomatic encounter.
"There is an official inclination from Saudi officials to open the door for political and public relations with the occupying regime to the highest level that one can possibly imagine," said the sources in a statement to the online newspaper.
They added that Riyadh was trying to set a precedent for Arab-Israeli relations so that other Arab countries could follow the suit and establish ties with the Tel Aviv regime.
The sources said there was a mutual consensus among Saudis, the Egyptians and the Americans that there should be a major diplomatic breakthrough in 2019 regarding the state of Israeli-Arab relations, adding that the summit between Netanyahu and MbS could also include US President Donald Trump.
Is it understood that a key theme of the recent meetings in Cairo was to outline plans for selling the Netanyahu-MbS summit to the public in the Arab world, especially in Saudi Arabia.
If the summit between Netnayahu and bin Salman takes places, it would be the first of its kind in the history of Arab-Israeli relations. Most of the Arab countries have isolated Israel since the Six-Day War in 1967 in which the regime occupied more Palestinian and Arab territories.
However, a raft of diplomatic efforts over the past years led by the United States and meant to unite Arab countries and Israel against what Washington calls Iran's growing influence in the Middle East has helped the Israelis to better reach out to the Arabs.
Full report at:
https://www.presstv.com/Detail/2019/01/13/585630/Saudi-Israeli-rapprochement-Netanyahu-Salman-meeting
--------
Turkey deploys further military reinforcements to Syrian border
Jan 12, 2019
The Turkish military has sent new reinforcements to the country's areas on the border with Syria's militant-held province of Idlib as Ankara is preparing for a military operation against US-backed Kurdish People's Protection Units (YPG) in the wake of US President Donald Trump's decision to withdraw American troops from the war-torn country.
Turkey's private Demiroren news agency reported that battle tanks and armored vehicles were loaded onto trucks on Saturday, and dispatched to the southern Turkish province of Hatay.
The development came on the same day that Turkey's Defense Minister Hulusi Akar and top-brass military officials, namely Chief of General Staff General Yasar Guler and Land Forces Commander General Umit Dundar, in addition to Head of Turkey's National Intelligence Organization Hakan Fidan, held a meeting in Hatay and exchanged viewpoints on the latest developments in Syria's Idlib.
"All efforts are being made to maintain ceasefire, stability under Sochi agreement. Our close cooperation with Russia continues in this manner," Akar said.
On September 17, 2018, Russian President Vladimir Putin and his Turkish counterpart Recep Tayyip Erdogan met in Russia's coastal city of Sochi, and agreed to divide Idlib into a demilitarized zone between militant-held and government-controlled areas.
Also on Saturday, Turkish Foreign Minister Mevlut Cavusoglu held a telephone conversation with his US counterpart Mike Pompeo, and the pair discussed latest developments in Syria.
On Thursday, Cavusoglu said his country would launch an offensive against YPG forces, in case the US delayed the planned withdrawal of its troops from Syria.
"If the (pullout) is put off with ridiculous excuses like Turks are massacring Kurds, which do not reflect the reality, we will implement this decision," Cavusoglu told Turkish-language NTV television news network in an exclusive interview.
The top Turkish diplomat then underlined that the Ankara government would go ahead with its incursion plan.
Cavusoglu said Ankara would fight the YPG whether or not US soldiers pulled out of Syria.
Trump said last month that he was bringing home the American troops deployed in Syria - some 2,000 - alleging they had succeeded in their mission to defeat the Daesh Takfiri terrorist group.
His abrupt move sparked concern among officials in Washington, prompting Defense Secretary Jim Mattis to step down in protest.
Some commanders in the so-called Syrian Democratic Forces (SDF), which has the YPG as its backbone, have described Washington's move as "a stab in the back."
Turkey considers the YPG a terrorist organization and an extension of the outlawed the Kurdistan Workers' Party (PKK), which has been fighting for an autonomous region inside Turkey since 1984.
Full report at:
https://www.presstv.com/Detail/2019/01/12/585609/Turkey-deploys-further-military-reinforcements-to-Syrian-border
--------
India
Government repromulgates Triple Talaq ordinance after Rajya Sabha snub
Jan 13, 2019
New Delhi: Amid the row over the non-passage of the Triple Talaq Bill in the Rajya Sabha in the recently-concluded Winter Session of Parliament and the triple talaq ordinance which is about to get lapsed later this month, the central government on Saturday repromulgated the ordinance. The ordinance was approved by the Cabinet during a meeting on January 10.
Under the Muslim Women (Protection of Rights on Marriage) Ordinance, 2019 issued by the current National Democratic Alliance government, the practice of giving instant triple talaq (talaq-e-biddat) will become unlawful and void. Anyone indulging in it will face a jail term of three years.
The triple talaq ordinance aims at making the Islamic practice of instant divorce a penal offence. The ordinance was reissued as the Narendra Modi government failed in its bid to get it converted it into law. While the Lok Sabha has passed the Bill on triple talaq, the move got stuck in the Rajya Sabha.
An ordinance is valid for a period of six months unless repromulgated. However, the ordinance has to be replaced by a bill which should be cleared by Parliament within 42 days (six weeks) of the start of the session, otherwise, it lapses.
The proposed law will empower women to approach a magistrate and seek custody of minor children, along with seeking 'subsistence allowance' for them and their children, news agency PTI reported.
The women will be made entitled to financial assistance, and three new amendments have been introduced, on the recommendation from the opposition earlier, that will ensure that the proposed law will not be misused.
https://www.timesnownews.com/india/article/triple-talaq-bill-triple-talaq-ordinance-nda-government-bjp-narendra-modi-rajya-sabha-lok-sabha-parliament-muslim-women-protection-of-rights-on/346613
--------
Al-Badr commander Zeenat-ul-Islam among two terrorists killed in Kulgam encounter
Jan 13, 2019
SRINAGAR: Top Al-Badr commander Zeenat-ul-Islam was among the two terrorists killed in an encounter with security forces in Kulgam district of Jammu and Kashmir, police said Sunday.
"The two terrorists killed in the Katpora encounter have been identified as Zeenat-ul-Islam and Shakeel Ahmad Dar. Both were involved in several terror crimes," a police official said.
Islam, a category A++ terrorist, was a top commander who had switched over to Al-Badr from Hizbul Mujahideen in November last year following consensus between the two outfits to strengthen the Al-Badr, he said.
The official said security forces launched a cordon and search operation in Katpora area of Yaripora in south Kashmir's Kulgam district Saturday evening after receiving specific information about the presence of terrorists there.
He said as the forces were conducting the searches, the terrorists fired upon them.
As per policy, the terrorists were given an opportunity to surrender, but they continued to fire upon the forces, the official said.
The forces retaliated, ensuing an encounter in which two the terrorists were killed, he said.
Meanwhile, a police spokesman said both the killed terrorists were affiliated with Al-Badr and were wanted by the law for "their complicity in a series of terror crimes including attack on security establishments and civilian atrocities".
"Islam, according to police records had a long history of terror crime records since 2006 when he got affiliated with Al-Badr and was later arrested," he said.
The spokesman said after Islam was released, he again got recycled in 2016 and subsequently affiliated with HM and then recently joined the Al-Badr outfit in Shopian District.
"Consequently, he became the chief of the said outfit. Several terror crime cases were registered against him. He was also involved in a weapon snatching case at Tukroo Shopian. Similarly, Shakeel Ahmad Dar was also involved in terror related crimes as well," the spokesman said.
He said incriminating material such as arms and ammunition was recovered from the site of encounter and all these materials have been taken in the case records for the purpose of investigation.
The spokesman said no collateral damage took place during the encounter.
Full report at:
https://timesofindia.indiatimes.com/india/dreaded-militant-zeenat-ul-islam-killed-in-encounter-with-security-forces-in-kulgam/articleshow/67508402.cms
--------
ISIS module: NIA arrests man from UP's Meerut
January 12, 2019
The National Investigation Agency (NIA) Saturday arrested a 24-year-old man named Muhammad Absar from Meerut in UP, another accused in the case of ISIS-inspired Harkut-ul-Harb-e-Islam module.
The National Investigation Agency said Saturday it has made a fresh arrest from Meerut in Uttar Pradesh in connection with its probe against an ISIS-inspired group, which was allegedly planning suicide attacks and serial blasts, targeting politicians and government installations, in Delhi and other parts of north India. The agency arrested a 24-year-old man named Muhammad Absar, another accused in the case.
They also conducted fresh searches at three locations in Meerut, Hapur and Ghaziabad in connection with the latest arrest. With the latest arrest, the NIA has nabbed 12 people so far in this connection.
On January 5, the NIA arrested a 21-year-old man named Mohammed Nayeem was arrested for supplying weapons to the module.
On December 26, the agency conducted raids after carrying out searches in 17 locations, wherein it claimed to have siezed a huge cache of arms and explosives. The recovered items included 25 kg explosive material, 150 rounds of live ammunition, 12 pistols, 112 alarm clocks, mobile phone circuits, remote control car triggering switch, electric wires, 91 mobile phones, three laptops, knife, 134 SIM cards, and Rs 7.5 lakh as cash.
Full report at:
https://indianexpress.com/article/india/national-investigation-agency-accused-arrested-harkat-ul-harb-e-islam-islamic-state-5535303/
--------
NIA to question Imam in south Kashmir's Tral
January 10, 2019
The National Investigation Agency (NIA) is in Kashmir to question an Imam in south Kashmir's Tral.
Saqib, one of the 11 accused traveled to Kashmir in search of weapons.
According to sources, Saqib who was the right hand of Mufti Mohammed Suhail, the kingpin of the group, was given the task of arranging weapons for the ISIS terror module. He went to Jammu and Kashmir twice- First in May to North Kashmir's Bandipora and also went to Rajouri. The second time he went to Tral to meet an Imam in August. The Imam from Ameerabad was called to Awantipora by a team of the National Investigation Agency(NIA).
According to the local police, Saqib and the young Imam were said to have done their religious studies together in Amroha.
Saqib Iftekar, a resident of Hapur in Uttar Pradesh was himself working as an Imam in Jama Masjid, Baksar. According to sources, Saqib who knew the Imam from Kashmir traveled to south Kashmir for a meeting, where he allegedly expressed a desire to meet a militant in Kashmir to procure weapons. The NIA team believes though the Imam showed his inability to procure weapons, promised for arranging a meeting with a militant.
The sources said that NIA has found links to Kashmir in the ISIS-inspired module styled as Harkat-ul-Harb-e-Islam". The earlier seized items include 25 kg of explosive material, country- made rocket launcher, 112 alarm clocks, mobile phone circuits, batteries, 51 pipes, remote control car triggering switch, wireless digital doorbell for remote switch, steel containers, electric wires, 91 mobile phones, 134 SIM cards, 3 laptops, knife, sword, ISIS-related literature and a cash amount of Rs 7.5 lacs approximately.
Meanwhile, the investigating team identified four men - Abu Bashir Al Khurasani, Anas aka Talha, Zubair aka Abu Dujana and Zaffar Abu aka Al Kitab.
Full report at:
https://www.indiatoday.in/india/story/nia-to-question-imam-in-south-kashmir-s-tral-1428189-2019-01-10
--------
Pakistan
Is PSGPC general secretary a JuD Man?
Jan 12, 2019
AMRITSAR: Is the general secretary of Pakistan Sikh Gurdwara Parbandhak Committee (PSGPC) Gopal Singh Chawal a Jamaat-ud-Dawa (JuD) , UN-designated terrorist organisation , man ?
Chawla who is already known to have cordial relations with Mumbai terror mastermind Hafiz Sayed ,in a video which has gone viral on net , is not only seen honouring Milli Muslim League,(MML) , a front of JuD, president Saifullaha Khalid but is a also heard heaping praise upon him and openly proclaiming JuD as his organisation.
Believed to have been recorded in Nankana Sahib, birth place of Sikh's first master Guru Nanak Dev on Friday ,Chawla is heard as saying "By the grace of Allah , the emir (chief of Muslim body) of our Jamaat is a nobel person and we have to impart his teachings to our children."
While eulogising MML ,the PGPC's general secretary is also heard saying that he felt proud to say that the 'enemy' was as much scared of JuD as it was scared of Pakistan army.
Referring to India, Chawla , while sharing the platform with militant leaders, boasts that it was due to JuD that the 'enemy' had not been able harm them following which the audience broke into religious slogans and other militant leaders are seen encouraging Chawla.
On Friday, the external affairs ministry spokesperson , in response to Pakistan's statement that India was not responding to its peace overtures had stated that Pakistan was not serious about dialogue and instead their ministers had been sharing the stage with JuD chief and other leaders.
In 2017, JuD under the leadership of Sayed had launched its political wing MML. A close associate of Sayed, Saifullah Khalid, a religious preacher, announced that Pakistan would be made a true 'Islamic' state and also contested the general elections even as Election Commission of Pakistan (ECP) rejected registration of MML.
Recently Gopal Chawla had been photographed with many Indian political leaders who had gone there to attend the ground breaking ceremony of Kartarpur Corridor.
https://timesofindia.indiatimes.com/world/pakistan/is-psgpc-general-secretary-a-jud-man/articleshow/67503472.cms
--------
Bill to terminate Pakistan designation as major non-Nato ally introduced in Congress
Jan 12, 2019
WASHINGTON: An influential US lawmaker has introduced a legislation in Congress to terminate the designation of Pakistan as a major non-Nato ally.
Introduced by Republican Congressman Andy Briggs, the resolution 73, introduced in the House of Representatives, seeks termination of Pakistan as a major non-Nato ally and also sets conditions for its re-designation if any.
The resolution has been sent to the house foreign affairs committee for necessary action.
It states, for future redesignation, the US President need to certify to the Congress that Pakistan continues to conduct military operations that are contributing to significantly disrupting the safe haven and freedom of movement of the Haqqani Network in that country.
It also seeks certification from the Congress that Pakistan has taken steps to demonstrate its commitment to prevent the Haqqani Network from using any Pakistani territory as a safe haven and that the Government of Pakistan actively coordinates with the Government of Afghanistan to restrict the movement of militants, such as the Haqqani Network, along the AfghanistanPakistan border.
Full report at:
https://timesofindia.indiatimes.com/world/pakistan/bill-to-terminate-pakistan-designation-as-major-non-nato-ally-introduced-in-congress/articleshow/67503598.cms
--------
Fazl upbeat about forging opposition's alliance
By Mureeb Mohammad
January 13, 2019
PESHAWAR: The Jamiat Ulema-e-Islam-Fazl (JUI-F) chief Maulana Fazl Rehman has said he will succeed in uniting both the main opposition parties – the Pakistan Muslim League-Nawaz (PML-N) and the Pakistan Peoples Party (PPP) – against the Pakistan Tehreek-e-Insaf's (PTI) federal government.
"Right now when one of these parties agrees to a coalition the other one quits. However, I will succeed in forging an alliance between them," Fazl said while speaking to media on Saturday after the JUI-F central executive committee meeting.
The JUI-F chief, however, clarified that he did not discuss forming an anti-government coalition during his last meeting with the PPP supremo Asif Ali Zardari. Fazl claimed that the PTI government is planning to recognise the State of Israel while also declaring Ahmadis as Muslims in violation of the Constitution.
Fazl calls on Dagai Babaji
"The government also is planning to ban Islamic seminaries and is creating hurdle in their registration. However, if the government increased these hurdle then we would establish madrassas without formal registration," he said.
He said when seminaries are abiding by the law then the government should also facilitate them instead of creating hurdles. "We will never compromise on the madrassa issue. Negotiation with the government on the issue is suspended."
Fazl said Pakistan is allowing Sikh pilgrims to come to Pakistan without a visa while the Afghan government is also allowing tribal people to enter Afghanistan without papers.
NA session: With joint strategy, Opposition set to give govt a hard time
Talking with reference to the JUI-F meeting, he said the party discussed the prevailing political and economic situation and effects of the price hike on the common man.
"We also discussed the election for the Khyber-Pakhtunkhwa (K-P) Assembly seats in former tribal areas and have allowed the tribal leadership to decide whether or not they want to participate in these polls."
Full report at:
https://tribune.com.pk/story/1887171/1-fazl-upbeat-forging-oppositions-alliance/
--------
JI chief Sirajul Haq denounces govt over ineffective policies
Jan 13, 2019
LAHORE: Jamat-e-Islami (JI) chief Sirajul Haq on Saturday lashed out on the Pakistan Tehreek-e-Insaf (PTI)-led government over its ineffective policies regarding the welfare of the general public.
While addressing the media in the Mansura headquarters, the JI chief said that "the government has failed to recover the looted wealth from the corrupt politicians".
Furthermore, he said that "the government had promised construction of 5 million houses, and instead only tents could be seen".
He also criticised the PTI over the inflation and said that the 15 per cent rise in costs of medicines has hit hard among the public.
"We cannot see the government working towards its promise of 10 million job opportunities for youths," he added while outlining rise in unemployment in Pakistan.
Full report at:
https://www.pakistantoday.com.pk/2019/01/12/ji-chief-sirajul-haq-denounces-govt-over-ineffective-policies/
--------
Saudi minister says crown prince will sign oil refinery deal
Behram Baloch
January 13, 2019
GWADAR: Saudi Minister for Petroleum and Energy Khalid Bin Abdul Aziz said on Saturday that his country's crown prince would visit Pakistan in February to sign an agreement with Pakistan on setting up an oil refinery in Gwadar at a cost of $10 billion.
The Saudi minister said this after arriving here along with a delegation to inspect the site for the proposed oil refinery in the port city, the ultimate destination of the China-Pakistan Economic Corridor (CPEC). The delegation included Chief Executive Officer of Aramco Associated Company Al Buainain Ibrahim Qassim.
Federal Minister for Petroleum Ghulam Sarwar Khan, Federal Minister for Marine Affairs Ali Zaidi and Balochistan Information Minister Mir Zahoor Ahmed Buledi received the Saudi delegation at Gwadar airport.
Later the Saudi delegation attended a meeting in which the oil refinery project and other issues were discussed.
The Saudi minister said that his country wanted to contribute to Pakistan's economic development through establishing an oil refinery and partnership in the CPEC. He said that Saudi Arabia was also interested in investing in other sectors.
Referring to the proposed oil refinery, Mr Abdul Aziz said that it would prove to be a landmark development for the entire region as a centre point for changes in purchase, import and export of oil.
He said that the Saudi government would complete installation of the oil refinery in minimum time.
The Saudi minister said that Pakistan and his country enjoyed cordial economic, social and deep-rooted friendly relations since a long time. Saudi Arabia had always provided financial and economic help to Pakistan and would continue to do so in future.
He said that he was visiting Gwadar on the instruction of the Saudi king.
Ghulam Sarwar Khan welcomed the Saudi delegation and appreciated the efforts Saudi Arabia was making to contribute to economic development of Pakistan. He termed the Saudi delegation's visit to Gwadar a significant event.
The petroleum minister said that the federal cabinet had already approved the Saudi government's plan for establishing an oil refinery in Gwadar. With the setting up of the oil refinery, Saudi Arab would become an important partner in the CPEC, he added.
He said that the project would not only prove a milestone in the development of Pakistan but also write a new history of prosperity and economic development in the entire region.
The minister for maritime affairs suggested that Saudi Arabia should also invest in the agriculture sector.
Earlier, Gwadar Port Authority Chairman Dostain Jamaldini, Gwadar Development Authority Chairman Dr Sajjad Baloch and China Overseas Port Holding Company Chairman Zhang Baozong briefed the Saudi delegation about the CPEC and the development projects launched in Gwadar.
Additional Secretary of Petroleum Tanvir Qureshi, Balochistan Minister for Revenue Mir Saleem Ahmed Khosa, Provincial Energy Secretary Mir Pasand Khan Buledi, MPA Mobin Khan Khilji and officials concerned also attended the meeting.
GWADAR: A delegation of Saudi Arabia, led by Minister for Energy, Industry and Mineral Resources Khalid Abdul Aziz D. Al Falih, arrived here on Saturday to inspect the site for the proposed oil refinery at the deep seaport city, the ultimate destination of the China Pakistan Economic Corridor.
Federal Minister for Petroleum and Natural Resources Ghulam Sarwar Khan, Federal Minister for Marine Affairs and Balochistan Information Minister received the delegation, which included Chief Executive Officer of Aramco Associated Company Al Buainain Ibrahim Qassim.
Mr Khan said Pakistan and Saudi Arabia enjoyed cordial relations, a press release said.
Full report at:
https://www.dawn.com/news/1457177/saudi-minister-says-crown-prince-will-sign-oil-refinery-deal
--------
Asia Bibi's acquittal: SC tells govt to compensate riot victims in 30 days
JANUARY 13, 2019
The Supreme Court on Saturday directed the federal and provincial governments to compensate within a month those who suffered losses during religious parties' protests following Asia Bibi's acquittal, a private TV channel reported.
A two-judge bench headed by Chief Justice Mian Saqib Nisar heard at the Lahore registry a suo motu case pertaining to losses and damages to property during the three-day long countrywide sit-ins staged by religious parties following a top court verdict acquitting Asia Bibi in a blasphemy case. During the hearing, the chief justice remarked, "Reports have been submitted, we should be informed when and how compensatory payments will be made."
The advocate general Punjab informed the court that the federal cabinet has approved a compensation package amounting to Rs262 million. At this, Justice Ijazul Ahsan asked, "Has a compensation plan been prepared or is this just on paper?" The chief justice remarked, "Over two months have passed but a complete plan regarding compensation packages has not been submitted. If the court hadn't ordered then this plan wouldn't have come either."
Full report at:
https://dailytimes.com.pk/343578/asia-bibis-acquittal-sc-tells-govt-to-compensate-riot-victims-in-30-days/
--------
Two 'terrorists' held with arms in Mardan
JANUARY 13, 2019
Police foiled a major terror bid as it arrested two suspected terrorists and seized grenades, arms and other explosives here on Saturday.
Police, on a tip-off regarding presence of suspected terrorists, launched operation in Shergarh area of Mardan. During operation, two suspects were apprehended with hand grenades, four dynamites, two shotguns and safety fuses. Police claimed the detainees were planning a terror attack but timely action foiled the bid. The detained suspects were shifted to an undisclosed location for further investigation.
https://dailytimes.com.pk/343592/two-terrorists-held-with-arms-in-mardan/
--------
Africa
Protesters raise pressure on Bashir to step down as unrest continues
Jan 12, 2019
Sudanese riot police have fired tear gas at angry protesters who called for an end to President Omar al-Bashir's 30-year old rule over the county.
Police on Friday used rubber bullets, tear gas, and live ammunition to disperse protesters who were peacefully protesting in the capital Khartoum on Friday.
Hundreds of protesters emerged from a mosque in the Jabra district of southern Khartoum after midday prayers, calling for "the fall of the regime."
At least three people were killed and several others injured in protests earlier on Thursday, after police opened fire on them, according to Sudan's top human rights body.
Sudan's National Human Rights Commission condemned on Friday the killing "by bullets" of protesters, calling upon the government to investigate the use of lethal force and bring the criminals to court.
"We condemn using bullets against citizens," said the commission in a statement. "We are also deeply sorry about the killing of citizens by bullets."
This was the first time a state body acknowledged that live ammunition had been used against protesters, since a wave of protests started last month over price hikes.
A group of doctors from the main hospital in Khartoum said separately that police had fired tear gas at the facility and there was also "shooting inside the hospital."
Images on social media also show riot police entered the hospital and shot live bullets at people. Videos showed tear gas billowing in rooms in at least two hospitals.
Demonstrations have quickly rocked cities across the country and turned into demands for Bashir's resignation, after he talked about an alleged improvement of ties with Israel under the pretext that it would help stabilize Sudan.
Sudan has forged close relations with Saudi Arabia in recent years, reportedly sending troops to Yemen to help the kingdom's invasion of the impoverished nation.
https://www.presstv.com/Detail/2019/01/12/585582/Sudan-unrest-Omar-alBashir
--------
Comoros leader lauds Muslim World League's efforts in Africa
January 12, 2019
JEDDAH: Comoros President Azali Assoumani hosted a delegation from the Muslim World League (MWL) headed by Mohammed bin Abdul Karim Al-Issa, MWL secretary-general, in the Comoros Islands capital, Moroni.
Assoumani lauded the efforts of the MWL in Africa, while Al-Issa praised the president for sponsoring a symposium held by the MWL, which was attended by a large congregation of African scientists.
He said the league would be ready to liaise with Comorian scientists and intellectuals to tackle all forms of extremist thought, while adding that the MWL was keen on raising awareness about Islam, especially among youth.
Full report at:
http://www.arabnews.com/node/1434506/saudi-arabia
--------
Death toll from Sudan protests rises to 24
13 January 2019
Anti-government protests that have rocked Sudan since last month have left 24 people dead, an official said on Saturday, without specifying how they died.
Demonstrations that erupted in the provinces on December 19 after the government tripled the price of bread have escalated into nationwide anti-government rallies, with protesters calling for President Omar al-Bashir to resign.
"The total number of people who have died in incidents from December 19 until now is 24," Amer Ibrahim, head of a panel set up by the prosecutor's office to investigate the violence during these rallies told reporters.
Authorities had earlier said that 22 people, including two security personnel, had been killed in the unrest.
Ibrahim said that two additional protesters who were being treated in hospital in Gadaraf, an impoverished agricultural town, had passed away, taking the overall death toll to 24.
He did give details on the cause of the protesters' deaths.
Rights groups have put the overall death toll much higher, with Human Rights Watch saying that at least 40 people have been killed in clashes during the demonstrations, including children and medical staff.
Protesters have staged hundreds of demonstrations so far but riot police and security agents have broken up their rallies with volleys of tear gas.
Rights groups and the European Union have said that security forces used "live ammunition" on protesters.
The European Union said Friday that the "use of force by security forces against civilians - including the use of live ammunition - has led to further casualties over the last few days".
Sudan's own human rights body has condemned the killing "by bullets" of protesters, but stopped short of saying who fired the deadly rounds.
Bashir has blamed the violence during the protests on "conspirators" without naming them.
Full report at:
https://english.alarabiya.net/en/News/middle-east/2019/01/13/Death-toll-from-Sudan-protests-rises-to-24.html
--------
DR Congo presidential runner-up appeals against result
Jan 12, 2019
Martin Fayulu, the runner-up in the Democratic Republic of the Congo's presidential election, has filed an appeal against the result of the election.
On Thursday, the country's electoral commission declared Felix Tshisekedi as the winner of the December 30 election.
On Friday, Fayulu's legal team appealed to the Constitutional Court to annul the announced result.
"The request seeks the annulment of the result declaring Felix Tshisekedi president," Fayulu's lawyer Feli Ekombe told reporters on Saturday.
The presidential election, which was intended to be Congo's first democratic transfer of power in six decades, is now threatening to reawaken violence in the huge and tumultuous nation, where millions have died during civil wars since the 1990s.
Despite pre-election polls predicting a landslide victory for Fayulu, the national election board (CENI) declared Tshisekedi as the winner of the vote.
Fayulu's supporters, who took part in a protest rally in Kinshasa on Friday to contest the election result, claim the businessman-turned-politician won the vote.
The tally by Fayulu's camp showed that he won 62 percent of the votes, with Tshisekedi taking only 19 percent of the ballots.
Fayulu's supporters say authorities rigged the result in a deal to protect members of President Joseph Kabila's outgoing administration and maintain his influence over security forces.
The influential Catholic Church has also rejected the official result based on tallies by its 40,000-strong observer team. France and former colonial power Belgium also expressed doubts. Russia and China, however, called on foreign countries to stay out of the dispute.
Fayulu urges supporters to 'rise up'
Fayulu has asked his supporters to take action and defend his votes in the presidential election.
"When you know you are in the right, you are not allowed to remain home," Fayulu said, urging supporters to "rise up."
Fayulu's camp has asked the CENI electoral authority to publish results from every polling station.
Full report at:
https://www.presstv.com/Detail/2019/01/12/585605/Congo-election-appeal
--------
Burkina Faso: militants slay civilians in daylight market attack
January 12, 2019
Twelve civilians were killed on Thursday during a militant attack in the north of Burkina Faso, which has been battling a wave of extremist violence, officials said on Friday.
The West African country declared a state of emergency in several provinces at the end of last year and on Thursday replaced its army chief as it struggled to stop a spate of such attacks.
In the latest violence, gunmen attacked a village market in broad daylight, the security ministry said on Friday.
"Around 30 armed individuals perpetrated … a terrorist attack in the village of Gasseliki," it said, giving a toll of 12 dead and two wounded.
"A barn, a cart and six shops were also set alight," it said .
A local source told AFP that the attackers "ransacked stores and opened fire on people who had gathered for the weekly market".
Militant attacks began in northern Burkina Faso in 2015 but spread to the east, near the border with Togo and Benin.
The country is part of the vast sub-Sahara region and one of the poorest states in the world.
The region turned into a hotbed of violent extremism and lawlessness after chaos engulfed Libya in 2011, which was followed by an extremist insurgency in northern Mali and the rise of Boko Haram in northern Nigeria.
Most attacks in Burkina Faso have been attributed to the militant group Ansarul Islam, which emerged near the Mali border in December 2016, and to the JNIM (the Group to Support Islam and Muslims), which has sworn allegiance to Al Qaeda in the Islamic Maghreb.
Ansarul Islam emerged as violence spilt over from Mali, where extremists seized key Sahara towns in 2012 before being ousted by French troops.
Smaller groups are also active, with the overall number of fighters estimated to be in the hundreds, according to security sources.
The groups are believed to be responsible for more than 270 deaths since 2015. The capital Ouagadougou has been hit three times and almost 60 people have died there.
The militants extend their hold gradually, forcing government workers and others who oppose them to flee. The violence has so far displaced some 40,000 people.
In the north, armed groups move freely through the country's porous borders.
The militants mainly target the security forces, but also attack government officials and local chiefs who oppose them.
Teachers are vulnerable due to the militants' fierce opposition to secular, French education, with their threats and attacks sparking the closure of hundreds of schools in the north and the east.
Full report at:
https://www.thenational.ae/world/africa/burkina-faso-militants-slay-civilians-in-daylight-market-attack-1.812253
--------
Europe
Armed peacekeepers no longer needed: Turkish Cyprus
12.01.2019
The foreign minister of the Turkish Republic of Northern Cyprus has called for turning the UN peacekeeping mission on the island into a civilian mission.
In an interview with Anadolu Agency, Kudret Ozersay, who held meetings with UN officials and diplomats in the U.S., said the military mission was no longer necessary, adding the "changing circumstances" required a revision of the current peacekeeping forces on the eastern Mediterranean island.
Ozersay travelled to New York on Jan. 7 to express the TRNC's views to the UN and members of the Security Council, where the issue is expected to be discussed by the end of January.
Underlining that the presence of the roughly 800 UN forces on the island was costly, the minister stressed its role as a deterrent against armed confrontation could be achieved by a civilian mission at half the current cost.
"We believe there is no need for a [military] operation that costs nearly $22-23 million in one year," he said, adding that $54 million is expected to be spent for the UN presence on the island in 2019.
The minister said there is a general opinion in the UN that the functions, powers and number of UN peacekeeping troops on the island need to be revised, even if their mandate is extended in February.
Drilling in Eastern Mediterranean
Touching upon the current dispute on hydrocarbon extraction in the eastern Mediterranean, Ozersay noted that the issue could become an opportunity for dialogue between the two sides.
He underlined that in the absence of bilateral agreement on drilling rights, companies could lose resources and time, and tensions could escalate in the region.
Turkey has consistently contested the Greek Cypriot administration's unilateral drilling in the Eastern Mediterranean, saying Turkish Cypriots also have rights to the resources in the area.
Bilateral cooperation over federation
Suggesting that a partnership based on cooperation may be more feasible between the north and the south of the island, Ozersay said the Greek Cypriots' reluctance to share power and wealth made a federal model "impossible."
"If you do not want to share governance and wealth you cannot make a federal partnership," he said, adding that cooperation in energy and fighting terrorism and organized crime could lead to interdependency between the two sides and "ultimately lead to a comprehensive solution to the dispute."
https://www.aa.com.tr/en/europe/armed-peacekeepers-no-longer-needed-turkish-cyprus-/1363061
--------
Tehran summons Polish envoy over anti-Iran summit
13.01.2019
The Iranian Foreign Ministry on Sunday summoned the Polish Charges D'Affairs, Wojciech Unolt, to protest an Iran-focused conference in Warsaw next month.
In a statement, the ministry said it lodged an official protest with Warsaw for hosting the event.
On Friday, U.S. Secretary of State Mike Pompeo announced that the U.S. and Poland will jointly host the Ministerial to Promote a Future of Peace and Security in the Middle East in Warsaw from Feb. 13-14 with a focus on Iran.
Israeli and Arab officials have been invited to the summit, which was denounced on Saturday by Iranian Foreign Minister Javad Zarif.
On Thursday, Pompeo said the U.S. is pursuing plans to establish a new security alliance of Arab countries aimed at countering Iran's influence in the Middle East.
https://www.aa.com.tr/en/europe/tehran-summons-polish-envoy-over-anti-iran-summit/1363274
--------
Israeli PM invited to anti-Iran summit in Poland
12.01.2019
Israeli Prime Minister Benjamin Netanyahu has been invited to participate in an Iran-focused conference in Poland, according to Israeli media.
Israeli Channel 10 said Netanyahu received an invitation two weeks ago to attend the meeting, but he has not announced whether he is going to participate.
Arab foreign ministers have also been invited to attend the summit.
Earlier Friday, U.S. Secretary of State Mike Pompeo announced that the U.S. and Poland will jointly host the Ministerial to Promote a Future of Peace and Security in the Middle East in Warsaw from Feb. 13-14 with a focus on Iran.
The summit was denounced by Iranian Foreign Minister Javad Zarif.
"Polish Gov't can't wash the shame: while Iran saved Poles in WWII, it now hosts desperate anti-Iran circus," Zarif said on Twitter.
Full report at:
https://www.aa.com.tr/en/europe/israeli-pm-invited-to-anti-iran-summit-in-poland/1362873
--------
Why is Poland Washington's choice for its Iran-focused global summit?
January 12, 2019
US Secretary of State Mike Pompeo, on his eight-country tour of the Middle East, announced a global summit to address the threat posed by the Iranian regime, bringing together countries from across the world. But the gathering will take place in a lesser renowned location than usual – Warsaw.
Poland's capital will be the site where dozens of countries are to gather at the February 13-14 meeting to "focus on Middle East stability and peace and freedom and security here in this region," he said on Friday.
But why the EU member state of Poland and not traditional US allies such as Britain, France or Germany?
Poland, led by a right-wing populist government, is a longstanding US ally that has better relations with Mr Trump than key European powers such as Germany and France.
He has criticised a series of European leaders and Washington even moved to downgrade the European Union mission's diplomatic status in the US last week, without informing Brussels.
A State Department spokesman acknowledged that Poland, like other European nations, supports the international accord from which Mr Trump exited last year on ending the Iranian nuclear program.
The Warsaw meeting "sends an important signal that countries with differing views on the nuclear deal can come together to address other critical issues in the region," the spokesman said.
Iran poured scorn on the meeting and pointed out that the country, then impoverished after invasion by Britain and the Soviet Union, welcomed more than 100,000 Polish refugees during World War II.
"Polish Govt can't wash the shame: while Iran saved Poles in WWII, it now hosts a desperate anti-Iran circus," Iranian Foreign Minister Mohammad Javad Zarif tweeted.
Polish Foreign Minister Jacek Czaputowicz appeared unfazed by a backlash from Tehran, however, saying in a statement that while his country supported the EU's efforts to maintain the nuclear deal, the agreement "does not stop Iran from activities destabilising the region" and he hoped the conference would bring closer the EU and US positions.
He said more than 70 countries were invited to the conference, including all EU members.
It appears that Warsaw has hedged its bets by siding with Washington. The US stations the majority of the 900 troops in Poland on a Nato rotation and the Nato ally has requested that the US establish a permanent military base in the country as a bulwark against Russian influence.
Polish President Andrzej Duda joked at a press conference with the American leader that the base could be called "Fort Trump". The US president has since ordered a review of the costs of American troops being stationed in Germany, a sign that he may pivot to eastern Europe.
Full report at:
https://www.thenational.ae/world/europe/why-is-poland-washington-s-choice-for-its-iran-focused-global-summit-1.812343
--------
South Asia
Taliban's Top Commander for Khawaja Sabz Posh of Faryab Killed with His 20 Fighters
13 Jan 2019
A top commander of the Taliban group who was in charge of overall activities of the group in Khawaja Sabz Posh district of Faryab has been killed along with his twenty fighters.
The 209th Shaheen Corps of the Afghan Military in the North said in a statement that Qari Tajuddin was killed in an operation of the Special Unit of the Afghan Security Forces backed by close air support of the coallition forces.
The statement further added that 15 militants also sustained injuries during the opertion and at least 12 others were arrested.
The operation was conducted on Saturday morning, the 209th Shaheen Corps said, adding that three compounds of the militants were destroyed and several weapons, munitions, and vehicles have been confiscated..
Qari Tajuddin was one of the most prominent commanders of Taliban who had roles in planning and coordinating attacks in Khwaja Sab Posh district, the 209th Shaheen Corps added in its statement.
https://www.khaama.com/talibans-top-commander-for-khawaja-sabz-posh-of-faryab-killed-with-his-20-fighters-03102/
--------
Rohingya Muslims flee India for Bangladesh fearing repatriation
January 13, 2019
Dozens of Rohingya arrived in Bangladesh from India, days after New Delhi deported five members of Myanmar's minority Muslim community amid concerns from rights groups, officials said.
The UN Refugee Agency had regretted India's decision to deport a second group of Rohingya.
"This is the second such incident since October 2018, when India returned seven Rohingya to Rakhine State in Myanmar, where conditions are not conducive for return," it had said on Jan. 4.
Abul Khayer, in-charge of Ukhiya police station, told Anadolu Agency they received 48 Rohingya people, including women and children, last week and that they were transferred to refugee camp authorities in Cox's Bazar.
Md Abul Kalam, head of Bangladesh's Refugee Relief and Repatriation Commission (RRRC), told Anadolu Agency that they have information of "fresh influx" of Rohingya, who have arrived from India.
He said the high-ups of the commission are in Cox's Bazar to look into the fresh developments.
Bangla Tribune, a local media outlet, reported that at least 468 Rohingya have crossed Indian border to enter Bangladesh over the last 10 days.
Persecuted people
The Rohingya, described by the UN as the world's most persecuted people, have faced heightened fears of attack since dozens were killed in communal violence in 2012.
According to Amnesty International, more than 750,000 Rohingya refugees, mostly women and children, have fled Myanmar and crossed into Bangladesh after Myanmar forces launched a crackdown on the minority Muslim community in August 2017.
Since Aug. 25, 2017, nearly 24,000 Rohingya Muslims have been killed by Myanmar's state forces, according to a report by the Ontario International Development Agency (OIDA).
More than 34,000 Rohingya were also thrown into fires, while over 114,000 others were beaten, said the OIDA report, titled "Forced Migration of Rohingya: The Untold Experience."
Some 18,000 Rohingya women and girls were raped by Myanmar's army and police and over 115,000 Rohingya homes were burned down and 113,000 others vandalized, it added.
The UN has also documented mass gang rapes, killings – including of infants and young children – brutal beatings and disappearances committed by Myanmar state forces.
Full report at:
https://www.yenisafak.com/en/world/rohingya-fearing-repatriation-flee-india-for-bangladesh-3471570
--------
2 Taliban militants killed, 3 wounded in a premature IED explosion Zabul
12 Jan 2019
At least two Taliban militants were killed and three others sustained injuries in an explosion triggered by an Improvised Explosive Device (IED).
The 205th Atal Corps of the Afghan Military in the South said in a statement that the incident has taken place in the vicinity of Shaikan area of Meezan district.
The statement further added that the militants were busy planting an Improvised Explosive Device when the incident took place.
According to 205th Maiwand Corps, at least two militants were killed in the explosion and three others sustained injuries.
The Taliban militants and other militants including ISIS often use improvised explosive device as the weapon of their choice to target the security forces and government officials.
However, in majority of such attacks the ordinary civilians are killed while in some cases the Taliban militants are themselves blown up in premature explosions.
Anti-government elements must immediately end the indiscriminate and disproportionate use of all improvised explosive devices (IEDs) in areas frequented by civilians, said UNAMA in a special human rights report released in late 2018.
Full report at:
https://www.khaama.com/2-taliban-militants-killed-3-wounded-in-a-premature-ied-explosion-zabul-03099/
--------
10 ISIS-K militants killed, 16 foreign fighters arrested in Badghis province
13 Jan 2019
At least ten militants of the Islamic State of Iraq and Syria Khurasan (ISIS-K) were killed and 16 foreign fighters of the group were arrested during an operation in northeastern Badghis province of Afghanistan.
The Ministry of Afghanistan (MoD) in a statement confirmed that the militants were killed during a planned and coordinated operation conducted by the Special Forces in Jund district of the province.
The statement further added that the militants were targeted in Chashma-e-Sherin Village, leaving 10 militants dead while 16 foreign fighters of the group were arrested.
The anti-government armed militant and terrorist groups including ISIS-K sympathizers have not commented regarding the killing and arrest of the militants so far.
Full report at:
https://www.khaama.com/10-isis-k-militants-killed-16-foreign-fighters-arrested-in-badghis-province-03104/
--------
Ahmed Shafi's remarks slated
Jan 13,2019
Rights activists and educationists have demanded government action against Bangladesh Qawmi Madrasah Education Board chairman Shah Ahmed Shafi for his derogatory remarks about women education.
They say Shafi's comments go against the spirit of the liberation war, constitution and government's policy of empowering women and demand that Shafi should be tried for his one after another insulting comments on women.
Islamic clerics have termed Shafi's call for not sending girls to schools after grade five his personal and not reflecting the spirit of Islam.
Addressing the annual meeting (Mahfil), organised by Darul Ulum Moinul Islam Madrassa, Hathazari, Chattogram on January 11, Hefazet-e-Islam top leader Ahmed Shafi said, 'Please don't send your daughters to schools. You can allow them to study up to Class IV or V so that they can count their husband's money and write letters. If you let them study beyond that — up to Class IX, X, MA and BA — they would be no more your daughters. You have been seeing all these in newspapers. Other people would snatch her away.'
Shafi should be punished as his remarks go against the spirit of the country's liberation war, basic principles of the constitution and the incumbent government's efforts of empowering the women in society and ensuring gender equality, Ekattorer Ghatak Dalal Nirmul Committee president Shahriar Kabir told New Age on Saturday.
'He has been continuously making derogative remarks about women but was not punished. He had earlier threatened to pull down the government and termed the government atheist. But, the hypocrite [Shafi] at the same time honoured the prime minister last year after getting government recognition of qoumi education,' Shahriar said.
'How come Shafi make such comment when the government has remarkable achievements in the global index of women education and empowerment? He must be removed from the post of chairman of Qoumi Madrassah Education Board as the government recognised it,' he demanded.
Campaign for Popular Education executive director Rasheda K Chowdhury demands specific statement from the government on the issue.
'When the PM is a women and the education minister is a women, we expect the government to give a specific statement on his remarks about women education. The government cannot ignore it as the government has recognised Qoumi Madrassah Education Board last September and Shafi is its chairman,' she says.
Popular author and Shahjalal University of Science and Technology professor Muhammed Zafar Iqbal says, 'People will not accept what Shafi has said. And he will become an unacceptable and controversial person in society for making such stupid comment at a time when they are voluntarily sending their daughters to educational institutes.'
He, however, does not think the government will take any action as it happened before.
'I don't know what the government will do but I personally condemn Shafi's remark,' Dhaka University professor Muntasir Mamoon says.
Earlier Shafi compared women with tamarind for which he became infamous as 'Tetul Huzur'.
Famous Islamic cleric and also Qoumi Madrassah Education Law Review Committee co-chairman Maulana Farid Uddin Masud termed Ahmed Shafi's remarks his personal.
'I don't know anything like this and I never read
anything stating Islam imposes restriction on women education,' Farid Uddin tells New Age.
Islamic Foundation director general Shamim Mohammad Afzal said he did not know in which context Shafi said so.
'Bibi Ayesha (Ra) is the source of 2210 hadith, which is one third of the total available hadiths of the Prophet Muhammad (SM). Both women and men will take education,' he says.
Discussants at a programme organised by Shammilita Samajik Andolan on Saturday at its central office in Shahbagh wanted Shafi to apologise to the nation for his remarks on women education.
Dhaka University's professor emeritus Serajul Islam Chowdhury, DU professor Robaet Ferdous, Samajik Andolan's presidium member Pankaj Bhattacharya, among others were present at the programme.
In separate written statements Naripakkha and Samajtantrik Mahila Forum protested at Shafi's derogative remarks and demanded his punishment.
Azizul Haque Islamabadi, organising secretary of Hefazat-e-Islam Bangladesh, claimed that Maulana Shafi was partially quoted with ill motives.
Full report at:
http://www.newagebd.net/article/61641/ahmed-shafis-remarks-slated
--------
Human Rights Watch demands action against new Afghan defense minister
January 12, 2019
KABUL: Human Rights Watch (HRW) called on Saturday for the prosecution of new Afghan defense minister Assadullah Khalid over what it termed grave rights abuses and war crimes.
In a statement, the group said Khalid's appointment by President Ashraf Ghani last month "should have rung alarm bells not only in Kabul, but in the capitals of Afghanistan's major donors."
"Credible evidence of serious human rights abuses and war crimes linked to Khalid have followed him throughout his government career," HRW said. "Reports first came to light during Khalid's tenure as governor of Kandahar – a time when thousands of Canadian troops were based in the province."
Khalid's office made no immediate comment to the HRW statement.
Officials with HRW had expressed concern immediately after Khalid's appointment but Saturday's statement detailed the alleged abuses.
Khalid, a former spy chief, has also served as governor for Ghazni province and was badly wounded by a Taliban suicide bomber in 2012. He is known to oppose the Taliban and is considered a virulently anti-Pakistan figure.
He was picked by President Ghani as defense minister last month following a rise in deadly attacks by the Taliban against Afghan troops and after insurgents refused direct talks with the Kabul government to end the 18-year-long war in Afghanistan.
"An official internal Canadian document described the allegations of human rights abuses attributable to Khalid as numerous and consistent," the statement said.
Canadian diplomat Richard Colvin had testified before a Canadian parliamentary commission in 2009 that Khalid perpetrated enforced disappearances and held people in private prisons.
"The testimony included evidence of Khalid's personal involvement in the torture of detainees. Chris Alexander, a senior Canadian official working with the United Nations in Afghanistan at the time, alleged that Khalid ordered the killing of five UN workers in a roadside bombing in Kandahar in April 2007."
The statement further noted that there was also strong evidence directly implicating Khalid in acts of sexual violence against women and girls when he was governor of Ghazni and Kandahar. Khalid allegedly threatened his victims, saying "they would be killed and their families destroyed if they told anyone what had happened."
"Ghani's opportunistic and callous move in appointing Khalid appears aimed to score short-term gains in the upcoming presidential election," HRW said.
Ghani's office did not answer repeated calls seeking comment.
HRW said the Afghan government had proved unwilling to criminally investigate Khalid, but Afghanistan's donors could act.
"The US and Canada have authority under their respective Magnitsky laws to impose sanctions on any foreign official against whom there is credible evidence of responsibility for serious human rights abuses," the statement said.
Full report at:
http://www.arabnews.com/node/1434426/world
--------
Southeast Asia
Malaysia chooses new sultan, expected to be elected king
January 13, 2019
KUALA LUMPUR: A Malaysian state announced it had a new sultan on Saturday, who is expected to be elected king after the former monarch abdicated following his reported marriage to a Russian former beauty queen.
Tengku Abdullah Shah has replaced his father, Sultan Ahmad Shah as the ruler of Pahang state, the official Bernama news agency said, citing a senior palace official.
Local reports said the move was designed to pave the way for Sultan Abdullah to be chosen as the next king of Malaysia by the Council of Rulers, who will chose a new king on January 24.
Malaysia is a constitutional monarchy with a unique arrangement where the national throne changes hands every five years between rulers of the country's nine states. Pahang state is due to provide the next ruler.
The country was thrown into shock Sunday when reigning king Sultan Muhammad V abdicated unexpectedly after just two years of rule, following reports that he married an ex-beauty queen in Russia in November during a purported two-month medical leave. The abdication was the first for the country since its independence from British rule in 1957.
Royal officials have not commented on the reported wedding, or said what condition prompted the former king to take the leave.
Sultan Abdullah Shah, 59, is a popular figure in the sports scene and is currently president of the Asian Hockey Federation and a council member of football's world governing body, FIFA.
While their role is ceremonial, Malaysia's royalty command great respect, especially from Malaysia's predominantly Muslim Malays, and criticising them is regarded as offensive.
Portraits of the king and queen adorn government buildings throughout the country. The king is also the symbolic head of Islam in the nation, as well as the nominal chief of the military.
Malaysia's sultans trace a lineage back to the Malay sultanates of the 15th century. The king is referred to as Yang di-Pertuan Agong, or "He Who Is Made Lord".
https://www.thenews.com.pk/print/418237-malaysia-chooses-new-sultan-expected-to-be-elected-king
--------
Indonesian graftbusters hit with bomb threat
January 10, 2019
Security has been stepped up for leaders of Indonesia's anti-corruption agency following a terror threat in which unknown assailants left what appeared to be bombs outside their homes on Jan. 9.
At least one petrol bomb was also reportedly thrown at one of their homes.
A bag containing materials resembling bomb components, such as detonators, cables, nails, and pipes, was found outside the Bekasi, West Java house of Corruption Eradication Commission chairman Agus Rahardjo. It was later made safe by the bomb squad.
The remains of two Molotov cocktails were also found at the house of the commission's deputy chairman, Laode Muhammad Syarif in South Jakarta where one of them exploded.
Syarif said that he observed suspicious people near his home earlier that morning on his security cameras.
The apparent threat against the anti-graft officials sparked concern from religious leaders and anti-corruption campaigners.
Father Paulus Christian Siswantoko, executive secretary of the Indonesian Bishops' Commission for Laity said the incident appeared to be a message from people worried about the commission's recent effort to eradicate corruption, which has put many officials behind bars.
"The goal is to weaken the fight against corruption. If the attackers can frighten the commission's leaders, they will emerge victorious," he told ucanews.com.
The commission recently revealed that it has successfully investigated 178 alleged corruption cases over the last few years, which involved hundreds of local leaders, lawmakers, and businessmen.
One case involved former parliament speaker Setya Novanto, who was jailed for 15 years last year for his role in a $170 million corruption scandal.
Transparency International said in a statement that all those concerned about the security and prosperity of Indonesia should condemn the bomb threat against the two anti-graft crusaders.
"It is essential that the commission is able to carry out its activities without fear or intimidation," said Delia Ferreira Rubio, the group's chairwoman.
Adnan Topan Husodo, coordinator of Indonesia Corruption Watch linked the threat to a previous attack in which a senior commission investigator, Novel Baswedan, was seriously injured in an acid attack in April 2017.
"If these attacks are left unpunished, the lives of more people could be endangered which could weaken the fight against corruption in the long run," he said.
Commission spokesman Febri Diansyah, said appropriate measures were being taken to improve security in the wake of the incident.
"We will improve security measures where necessary," he said.
Full report at:
https://www.ucanews.com/news/indonesian-graftbusters-hit-with-bomb-threat/84255
--------
So what if a building shows a cross? says PKR rep
13 January 2019
KUALA LUMPUR, Jan 13 — Umno MP Datuk Seri Reezal Merican Naina disregarded non-Muslim sensitivities by calling for state action over a building in Jelutong that has been lit up like a cross, Bukit Tengah assemblyman Gooi Hsiao Leung said today.
Gooi slammed the Kepala Batas MP for turning a non-issue into a racial and religious one.
"Even if the building was lighted up like a cross intentionally (which I believe was not the case), I see nothing wrong with it, as everyone should be free to express their own religious affinity publicly and openly without fear and or having to do so in hiding," Gooi said in a statement.
"This was not a case where someone had, with deliberate provocation, erected a cross in front of a kampong, mosque or a Muslim cemetery to hurt the feelings of Muslims.
"There was absolutely nothing to suggest that this incident was carried out with any deliberate intention to provoke the sensitivities of Muslims in the first place, and hence it is a non-issue to call on the authorities to take corrective action on the matter. This matter should just end there," added the PKR state lawmaker.
An image of a cross formed by lights in a building in Jelutong has caused consternation among some residents in the surrounding area and it is understood that they have also lodged a police report on the matter.
Full report at:
https://www.malaymail.com/s/1712027/so-what-if-a-building-shows-a-cross-says-pkr-rep
--------
Jokowi challenger Prabowo moots Trump's tax-cut formula to spur Indonesian economy
JAN 12, 2019
JAKARTA (BLOOMBERG) - Indonesian presidential candidate Prabowo Subianto is proposing deep tax cuts to stimulate South-east Asia's largest economy, copying the playbook successfully used by US President Donald Trump.
Subianto and his running mate Sandiaga Uno will lower company and individual taxes by between 5 and 8 percentage points over five years and widen the tax-to-gross domestic product ratio to at least 16 per cent from about 11 per cent, according to Anthony Budiawan, a member of the pair's election campaign team.
Lower taxes will lead to greater compliance and allow the government to cut its borrowings to fund its budget, he said.
The economy has taken centre stage in Indonesia's presidential election campaign, with Subianto targeting incumbent Joko Widodo's policy of adding to record government debt to finance building roads, ports and dams worth billions.
The swelling of government debt and its high foreign ownership were factors in a market sell-off last year, which saw the rupiah tumble to levels not seen since the 1997-98 Asian financial crisis.
"Our corporate tax is one of the most expensive in the region," Rizal Ramli, a former finance minister, told reporters in Jakarta on Friday.
''Lower tax rates will make Indonesia more competitive."
Indonesia now has a top personal income tax rate of 30 per cent and a corporate tax rate of 25 per cent.
Prabowo is taking on President Joko, popularly known as Jokowi, in a rematch of the 2014 election, which he narrowly lost to the former furniture businessman and the first non-elite to occupy the presidential office.
The former general has picked Uno, a business-savvy former private equity investor, and has blamed the high public debt and slump in the currency as examples of Jokowi's mismanagement of the economy.
If elected, Prabowo will also introduce a progressive individual tax rate, with the rich paying more to ensure a more equitable society, Budiawan said. A cut of between 5 and 8 percentage points in corporate tax can boost economic growth by as much as 0.7 percentage point a year in the short term and deliver a 1 percentage point increase in the tax-to GDP-ratio, said Harryadin Mahardika, another member of Prabowo's economic team.
While Jokowi's government has failed to increase the tax ratio despite introducing an amnesty plan while it continued to rely on revenue from commodities and debt to finance the budget, a Prabowo administration will overhaul the tax bureaucracy to make it more efficient, Mahardika said.
"Everyone understands the capability of Prabowo and Sandi. They are entrepreneurs and know what they are doing," Mahardika said. "The current administration gives false hope. We won't do that. We can make Indonesia great again as Prabowo said."
Jokowi, who came into office promising to deliver annual growth of 7 per cent, is set to miss the target by a wide margin as the economy has expanded at about 5 per cent during his tenure.
But the incumbent enjoys a lead of 20 percentage points in opinion polls over Prabowo after he created millions of new jobs and spent billions of dollars to add roads, ports and airports to cut logistic costs in the archipelago.
The incumbent, who's paired with Ma'ruf Amin, a conservative Muslim cleric, will focus on fiscal and structural reform and development of manufacturing and export-oriented industries to create more jobs, according to Jokowi's election manifesto.
The Prabowo-Uno combination will also involve more private sector participation and end the dominance of state-owned enterprises in projects and opt for more multilateral free-trade agreements than bilateral pacts.
The pair's agenda also includes more protection for certain local industries like Trump has done. Mahardika said Uno will act as an economic ambassador travelling the world to further Indonesia's trade and economic interests.
Highlights of Prabowo's economic plan include pledges to:
- Reduce reliance on palm oil for bioenergy and tap about 10 million hectares of available land to produce crops that can make ethanol
- Tourism, energy and creative industries to be opened up for private investment
- Promote industrialisation and ensure backward and forward linkage
Full report at:
https://www.straitstimes.com/asia/se-asia/jokowi-challenger-moots-trumps-tax-cut-formula-to-spur-economy
--------
Arab World
US Army Fortifies Military Bases in Raqqa, Aleppo Despite Trump's Call for Troops Pullout from Syria
Jan 13, 2019
The London-based Syrian Observatory for Human Rights (SOHR) reported on Saturday that a US military convoy comprising 150 military and armored vehicles as well as logistic equipment of the US-led coalition forces moved towards al-Jalbieh Base in Northern Raqqa and Ain al-Arab (Kobani) military base in Northeastern Aleppo.
The SOHR dismissed media reports that the US Army withdrew from part of its troops from Syria on Friday, and said the US military bases in Eastern Syria and along the Iraq-Syria borders are only witnessing troops' replacement.
The news comes as the US-led anti-ISIL coalition forces Spokesman Sean Ryan said on Friday that the US Army has started the retreat from Syria.
In a similar report last Monday, the SOHR said the US had dispatched hundreds of military trucks comprising weapons and military equipment to Deir Ezzur province in Eastern Syria since President Donald Trump declared his decision to withdraw troops from the country.
The SOHR said that a military convoy comprising a sum of 150 trucks carrying cars and logistic military equipment has been dispatched to the regions under the control of the Syrian Democratic Forces (SDF) specially on Eastern Euphrates from the Iraqi Kurdistan Region.
The SOHR noted that it was the third US military convoy sent to Syria after Trump's decision on exit of the American troops from Syria, and said that a total number of 500 trucks containing weapons and military equipment have been dispatched to Eastern Syria so far.
In a relevant development on Saturday, the Arabic-language Xeber 24 news website affiliated to the Kurds reported that a large military convoy, consisting of 120 trucks carrying weapons and military equipment have arrived at al-Shadadi base in Hasaka province.
It added that despite US President Donald Trump's claims of withdrawing troops from Syria, the American military men are still in their bases and no soldier has left the region.
Meantime, the London-based Syrian Observatory for Human Rights (SOHR) reported that withdrawal of the US heavy military vehicles from Eastern Euphrates towards Iraq has not yet been monitored officially.
The SOHR reported that the Turkish media reports sating that the US has withdrawn its forces from a base at the Syrian-Iraqi-Turkish border were related to the US forces' traffic between Syria and Iraq.
The SOHR had also reported on Sunday that a long convoy of almost 200 US army trucks, carrying weapons, munitions and logistical equipment, left the US bases in Iraq on Saturday and arrived in coalition bases in Raqqa, Manbij and Ein Issa in Northeastern Syria.
In the meantime, the Kurdish militia reported that the trucks arrived in the town of Amouda and left then for the US-run bases in Northeastern Syria, adding that the arms and ammunition cargo is to be delivered to the SDF.
The convoy arrived after the US military decided to withdraw from Syria but leave the SDF armed in the region.
http://en.farsnews.com/newstext.aspx?nn=13971022000700
--------
Kurdish Politician: Washington Trying Hard to Make Damascus-Kurd Talks Fail
Jan 12, 2019
"Washington is trying hard to prevent the talks between the Damascus government and Kurdish forces from bearing fruits," the Arabic-language Russia Today (RT) quoted Rizan Hodu as saying on Saturday.
Yet, he said Syrian-Kurdish talks are underway under a positive atmosphere.
Hodu, also former media advisor of the People's Protection Units (YPG) in Afrin region of Aleppo province, said that US Special Envoy to Syria James Franklin Jeffrey in several messages to the Kurdish forces in Northern Syria has advised them show no haste for holding talks with the Damascus government.
The Kurdish politician, meantime, pointed to the imminent developments as reported by Jeffrey in favor of the Kurdish troops in Syria in the near future, specially after an upcoming NATO Summit in February, and said, "Jeffrey in his messages has pointed to the imposition of a no-fly zone in Northern Syria."
Hodu described the US officials' remarks as worrying, and warned negotiators that any delay in decision-making will be harmful to the Council of the Syrian Democratic Forces (SDF) and the YPG.
In relevant remarks last Friday, Kurdish sources warned that Washington's decision to withdraw the US forces from Eastern Euphrates does not mean losing the card to pressure Damascus as Washington aims to resurrect the ISIL terrorist group at the Iraqi-Syrian borders.
"The US aims to revive the ISIL at the strategic region of Eastern Euphrates, specially at the common borders of Syria and Iraq to cut the contacts between the two countries and other members of the resistance front; this issue has been one of the US strategic goals since the start of war against Syria in 2011," the sources were quoted as saying by the Arabic-language al-Akhbar newspaper.
The Americans have claimed that their deployment in Eastern Euphrates is aimed at fighting against the ISIL and supporting their Kurdish allies, but in practice Washington has left the Kurds without any support against the ISIL, said the paper.
The report came as the Syrian army forwarded more troops and military equipment to the Eastern deserts of Deir Ezzur last Wednesday, preparing for a large-scale operation to hunt down the remaining pockets of the ISIL terrorists.
The army dispatched the 4th Division and a part of Presidential Guard Forces to the Eastern desert of Syria from the small town of al-Dowayer up to the town of al-Hari near border with Iraq in Southeastern Deir Ezzur.
Full report at:
The army's main objective is restoring sustainable security to the borders with Iraq.
http://en.farsnews.com/newstext.aspx?nn=13971022000598
--------
Analyst: Over 20,000 US Forces Deployed in Iraq
Jan 12, 2019
"Washington is attempting to clearly declare its military presence in Iraq by patrolling missions near Samarra, Fallujah and al-Anbar," Hashim al-Kandi told the Arabic-language al-Ma'aloumeh news website on Saturday.
He said the fact that US Deputy Commander in Iraq Austin Rim Furth conductts patrol in Baghdad along with the US forces, and that US Secretary of State Mike Pompeo arrived in Iraq on a military plane indicates Washington's attempts to occupy the country again, saying that Pompeo and Trump's trip to Iraq showed that the US has no intention of playing an advisory or training role.
The analyst said that the recent talks between Pompeo and Iraqi Prime Minister Adel Abdul Mahdi were focused on the US forces' withdrawal from Syria and finding a new base for them, adding that relocation of these forces to Iraq will endanger its security as Washington plans to threaten the neighboring states from Iraq.
In relevant remarks last Saturday, a senior Iraqi lawmaker disclosed that Israel's intelligence forces had arrived in Baghdad along with the US troops.
"Israel's intelligence forces have been witnessed patrolling with the US troops in Baghdad," al-Maloumeh quoted member of Iraqi Parliament's National Security and Defense Committee Karim Alivi Javish as saying.
Alivi Javish reiterated that the Iraqi Parliament's National and Defense Committee would probe the US troops' presence in the Iraqi capital.
Full report at:
http://en.farsnews.com/newstext.aspx?nn=13971022000864
--------
600 people leave in first evacuation from Syria ISIS holdout
13 January 2019
Over 600 people were evacuated Saturday from ISIS's remaining holdout in eastern Syria, a monitor said, as US-backed fighters prepare for a final assault on the area.
"More than 600 people, mainly women and children, were evacuated on 25 buses sent" by the Syrian Democratic Forces (SDF), the Britain-based Syrian Observatory for Human Rights said.
Observatory head Rami Abdel Rahman said that several dozen extremist fighters were among those evacuated to areas held by the Kurdish-Arab alliance.
The SDF, backed by air strikes from a US-led coalition, in September launched an offensive to oust ISIS from the rump of the once-sprawling "caliphate" it proclaimed in 2014.
Abdel Rahman said some 16,000 people, including 760 ISIS fighters, have fled the area since the start of December.
But "this is the first time that buses have been provided by the SDF and coalition", he said, suggesting a potential deal had been struck between the warring sides.
The United Nations said Friday that overall some 25,000 people have fled the violence over the last six months as the die-hard extremists have battled to defend their dwindling bastions.
An estimated 2,000 civilians remain trapped in the area around the town of Hajin, the UN said.
The US-led coalition on Saturday fired over 20 missiles against extremist positions, the Observatory said.
The monitor said some 300 SDF combatants had deployed near the village of Sousa in preparations for a final assault.
The fight to eliminate the remaining pockets of ISIS has been shaken by President Donald Trump's shock December announcement that he is withdrawing US troops from Syria.
Full report at:
https://english.alarabiya.net/en/News/middle-east/2019/01/13/600-people-leave-in-first-evacuation-from-Syria-ISIS-holdout-.html
--------
Egypt police kill 6 militants in shootout, says interior ministry
12 January 2019
Egyptian police killed six suspected extremists in a shootout early Saturday in the country's south, the interior ministry said.
The clashes broke out during a police raid on a militant hideout in a mountainous area on the edge of the southern province of Sohag, some 460 kilometres (285 miles) south of Cairo, the ministry said in a statement.
Police seized weapons and ammunition, it added.
The operation is part of "the interior ministry's efforts to confront terrorist organizations aiming to undermine security and stability" in Egypt, it said.
Egypt has been battling an Islamist insurgency following the 2013 ouster of Islamist President Mohammed Morsi, who was forced out by the military in the face of mass protests against his rule.
Attacks have largely been concentrated in the turbulent northern Sinai region, but have also taken place elsewhere across the country.
Full report at:
https://english.alarabiya.net/en/News/middle-east/2019/01/12/Egypt-police-kill-6-militants-in-shootout-says-interior-ministry.html
--------
High-profile opposition leader ready to visit Damascus
Jan 13, 2019
The head of a foreign-backed Syrian opposition group says he is ready to visit Damascus for talks with the government after reports that the US has started its withdrawal from the country.
Ahmad Jarba, leader of Cairo-based Tomorrow Movement, made the announcement during a visit to Baghdad, Lebanon's al-Mayadeen television channel reported on Sunday.
"He said he expected the Iraqi government to help establish dialog with Syrian authorities," the channel said, citing Jarba.
Jabra's group supports tribal militants within the so-called Syrian Democratic Forces (SDF) which is mostly comprised of Kurdish militants armed and equipped by the United States.
"The initiative that he plans to suggest to the Syrian government envisages the creation of tribal groups to protect the border with Iraq following the withdrawal of US military forces from Syria," al-Mayadeen added.
US President Donald Trump last month unexpectedly announced his plan to withdraw troops from Syria, with US military spokesman Colonel Sean Ryan announcing on Friday that the pullout had begun.
Pentagon officials later said the US military had started withdrawing some equipment, but not yet troops, amid continuing confusion over Washington's claims to disengage from the complex war which it has helped to drag on.
Washington and many of its Western and regional allies have been supporting militant and terrorist groups in a bid to topple the Syrian government since 2011.
Damascus, however, has decisively pushed against the violent outfits with the help of its allies, most notably Russia and Iran as well as Lebanon's Hezbollah.
The combined effort has reversed the trend of the conflict in favor of the Arab country, which has now re-established control over much of the territories held by terrorists.
Recent calls by Syrian Kurds for a deal with the Syrian government regardless of US plans to withdraw could mark perhaps the most important milestone in the war if negotiations bore fruit.
If a deal is reached, the two biggest chunks of Syria splintered by seven years of war will be pieced together, leaving only a small corner in the northwest in the hands of Turkish-backed militants.
Jabra was among the organizers of the first round of intra-Syrian talks in Geneva in 2014, and supported the idea of holding the Congress of the Syrian National Dialog, which took place in Russia's Black Sea resort city of Sochi last January.
His request to go to Damascus came after Saudi-backed militant groups called on world nations to stop rebuilding ties with the government of Syrian President Bashar al-Assad.
Nasr al-Hariri, the head of the so-called High Negotiations Committee (HNC), said this month he was surprised that some Arab leaders who used to support anti-Assad forces, were seeking reconciliation with Damascus.
Last month, Sudanese President Omar al-Bashir became the first Arab head of state to pay an official visit to Damascus and sit down for talks with Assad.
Bashir currently has very intimate relations with Saudi Arabia and the United Arab Emirates and many analysts believe he would not have visited Damascus without coordinating it with Riyadh.
Full report at:
https://www.presstv.com/Detail/2019/01/13/585647/Syria-opposition-leader-visit-Damascus-talks-Ahmad-Jarba-Arab-normalization
--------
North America
Egyptian Politician Blasts Pompeo for Anti-Iran Remarks in Cairo
Jan 13, 2019
"By declaring clear enmity towards Tehran from the Egyptian capital, Pompeo aims to draw Egypt and the Persian Gulf littoral states into a war against Iran and he, hence, referred to the US withdrawal from Syria to entrap the Arabs," Hatam Noaman was quoted by the Arabic-language al-Misryon as saying on Saturday.
He called on the Egyptian officials, including President al-Sisi, and the foreign ministry to protest at Pompeo's remarks as well as his comments that the ISIL is present in the Sinai peninsula.
Noaman said that the US policies are prone to no change for partisan differences between the Democrats and Republicans as they see such policies in line with national interests.
In a speech at the American University in Cairo, Pompeo delivered a scathing rebuke of the Obama administration's Mideast policies on Thursday as he denounced the former president for "misguided" and "wishful" thinking that according to him diminished America's role in the region, harmed its longtime friends and emboldened its main foe, Iran.
The US withdrew from the internationally-endorsed 2015 nuclear deal in May 2018 and imposed the toughest-ever sanctions against the country.
http://en.farsnews.com/newstext.aspx?nn=13971023000284
--------
US Secretary of State Pompeo meets UAE leadership in Abu Dhabi
12 January 2019
US Secretary of State Mike Pompeo met with Abu Dhabi Crown Prince Mohammed bin Zayed Al Nahyan and UAE Foreign Minister Sheikh Abdullah bin Zayed Al Nahyan during his visit to the country on Saturday.
Pompeo was greeted at Abu Dhabi International Airport by the UAE's Minister of State Ahmed Ali Al Sayegh and US Charge d'Affaires Steven Bondy.
The diplomat flew in to Abu Dhabi from Manama and has already visited Amman, Cairo, Baghdad and the Iraqi Kurdish regional capital of Erbil, as part of his ongoing tour in the Middle East which Washington believes is "critical" to confronting Iran and extremist groups.
"The leaders discussed ways to expand bilateral ties, including trade and investment. The Secretary thanked the Crown Prince and the foreign minister for the United Arab Emirates' engagement on critical regional issues, including achieving lasting peace in Yemen," State Department Deputy Spokesperson Robert Palladino said.
Pompeo will also visit the other four members of the Gulf Cooperation Council - Qatar, Kuwait, Oman and Saudi Arabia.
Full report at:
https://english.alarabiya.net/en/News/gulf/2019/01/12/Mike-Pompeo-arrives-in-Abu-Dhabi-to-meet-UAE-leadership.html
--------
Pompeo vows to 'expel' Iranians from Syria, calls US pullout 'tactical' anti-Iran bid
Jan 13, 2019
US Secretary of State Mike Pompeo has threatened to "expel" all Iranian forces in Syria, describing Washington's declared troop withdrawal from Syria as a "tactical change" of its mission to counter Iran's influence in the Arab country amid bolstering American military presence in the region.
Speaking Saturday in the United Arab Emirates capital Abu Dhabi as part of an anti-Iran regional lobbying tour, Pompeo insisted that the US troop withdrawal bid from Syria was a "tactical change" and that the American mission to counter Iranian influence there remained the same.
The top US diplomat had earlier vowed in a speech in the Egyptian capital Cairo that the US would "expel every last Iranian boot" from Syria, where American troops have reportedly begun a force withdrawal as US military presence in the region has been expanded to purportedly support the pull-out process.
"It's an ambitious objective, but it is ours, and it is our mission," Pompeo admitted in his Thursday remarks at the American University in Cairo, further vowing that "our airstrikes in the region will continue as targets arise."
Pointing to persisting disagreements between the US and Turkey over the American backing of Syria-based Kurdish terrorists, Pompeo claimed: "We recognize the Turkish people's right to defend their country from terrorists, but we also know that those ... who are not terrorists and fighting alongside us for all this time deserve to be protected."
"There are many details to be worked out but I am optimistic we can achieve a good outcome," he further added during a Saturday press briefing while ties between the two NATO allies have been deteriorating over the US backing of Kurdish YPG militants, who Turkey regards as an extension of the outlawed Kurdistan Workers Party (PKK).
Pompeo also unveiled that Washington's envoy for Syria, Jim Jeffrey, had traveled to northeast Syria this week and would soon visit Ankara for talks on a variety of issues, including the UN-led political process to end the foreign-backed conflict in Syria, hinting that talks between Damascus and the Syrian Kurds could be part of a wider political solution.
'Precautionary' US military buildup in region
The development came as US press reports said the American troop withdrawal from Syria had begun amid what they described as "a precautionary buildup of US forces in the region" amid renewed threats from Turkey about waging an offensive against Washington-backed, mostly Kurdish militants labeled as Syrian Democratic Forces (SDF).
According to a report by the US-based military.com news outlet, The Kearsarge Amphibious Ready Group (ARG), carrying nearly 2,000 US Marines from the 22nd Marine Expeditionary Unit (MEU), has been deployed in the Mediterranean "to guard against any threats to the withdrawal."
It further noted that the ARG -- which includes the 22nd MEU, the amphibious assault ship Kearsarge, the amphibious transport dock Arlington and the dock landing ship Fort McHenry -- entered the 6th Fleet's area of operations, including the Mediterranean, last month.
"Teaming with the Kearsarge ARG, we look forward to training with allied and partner military forces while also providing versatile, amphibious response options to our combatant commanders as we face myriad global challenges," said the 22nd MEU Commander Colonel Michael Perez in a statement as quoted in the report.
Additionally, the report added, US warplanes from aircraft carrier USS Stennis -- currently deployed in the Persian Gulf -- were flying missions over Syria and Iraq.
This is while the UK-based so-called Syrian Observatory for Human Rights, which claims to use a network of frontline activists to monitor the Syrian conflict, reported that nearly 10 US armored vehicles and several trucks pulled out of the northeastern Syria town of Rmelan on Thursday night and crossed into Iraq.
Spokesman for the US regional command -- Combined Joint Task Force-Operation Inherent Resolve -- Colonel Sean Ryan, announced on Friday that the US had begun "the process of our deliberate withdrawal from Syria."
"Out of concern for operational security, we will not discuss specific timelines, locations or troop movements," he added.
An AP report citing an unnamed American defense official, also pointed out that the pullout thus far has involved only equipment and not the estimated 2,000 US troops currently stationed in Syria.
The beginning of the US withdrawal followed a Tuesday meeting in Ankara between the US Joint Chiefs Chairman General Joseph Dunford and his Turkish counterpart General Yasar Guler as well as Defense Minister Hulusi Akar.
A readout of the meeting from the Joint Staff said that Dunford, Guler and Akar "discussed the security situation in Syria, the completion of the Manbij roadmap [on security cooperation], and the deliberate, coordinated effort to withdraw US ground forces from Syria."
"We have no problems with our Kurdish brothers, Arab brothers in Syria, Turkmens and other ethnic and religious groups. Our only targets are terrorists, Daesh (ISIL) and PKK/YPG," Akar reportedly said after the meeting.
Turkey threatens offensive if US delays pull-out
Meanwhile, Turkish Foreign Minister Mevlut Cavusoglu threatened earlier in the week that Ankara would carry out the long-planned offensive against the YPG, regardless of the US withdrawal pace.
"If the [withdrawal] is put off with ridiculous excuses like Turks are massacring Kurds, which do not reflect the reality, we will implement this decision," Cavusoglu added as quoted by local news station NTV.
US President Donald Trump announced via Twitter on December 19 that all American troops in Syria would be withdrawn from the Arab country.
Trump initially indicated that the withdrawal would be quick but has since stated that it would be "slow and coordinated" with allies.
However, Russia's Foreign Ministry spokeswoman Maria Zakharova expressed doubt on Friday that the US would continue with its declared withdrawal plan.
Full report at:
https://www.presstv.com/Detail/2019/01/13/585636/US-Secretary-of-State-Mike-Pompeo-Syria-troop-withdrawal-Iran-influence-Abu-Dhabi
--------
Syria: US starts pulling equipment but not soldiers
January 12, 2019
The US military has begun moving non-essential gear out of Syria but is not withdrawing troops for now, defence officials said amid uncertainty over America's planned exit from the war-battered nation.
President Donald Trump last month claimed that ISIS had been defeated in Syria and said all US troops were "coming back now."
But in the weeks since he gave the order, and the Pentagon began to implement it, Mr Trump himself and members of his administration have delivered mixed messages about when a troop withdrawal may actually occur.
Mr Trump's national security advisor John Bolton on Sunday announced conditions for a withdrawal that appeared to delay it indefinitely.
Adding to the confusion, a military spokesman said the US had already begun "the process of our deliberate withdrawal" from Syria.
Late Friday, Pentagon spokesman Cmdr Sean Robertson said that Operation Inherent Resolve "is implementing the orderly withdrawal of forces from northeast Syria within a framework coordinated across the US government."
The withdrawal, Cmdr Robertson said, "is based on operational conditions on the ground, including conversation with our allies and partners, and is not be subject to an arbitrary timeline."
He added: "For purposes of operational security, we will not discuss specific troop movements or timelines.
"However, we will confirm that there has been no redeployment of military personnel from Syria to date. The mission has not changed."
US defence officials said the withdrawal was only of certain types of gear, and not troops.
"We are not withdrawing troops at this stage," one US defence official said.
A second US defence official said that the military had conducted a number of preparations for a deliberate withdrawal.
"That includes planning for the moving of people and equipment, preparation of facilities to accept retrograde equipment," the official said, noting that no troops had been withdrawn.
The Syrian Observatory for Human Rights, a UK based war monitor, reported earlier that the US-led coalition in Syria had started scaling down its presence at Rmeilan airfield in the Hasakeh province of northeastern Syria.
But the first defence official said this was merely part of a regular troop movement.
The US-led coalition has several other bases across northeastern Syria, as well as in neighbouring Iraq, where Mr Trump has said American forces will remain.
The coalition, which also includes countries such as France and Britain, was formed in mid-2014 to counter ISIS, which had seized swathes of Iraq and Syria and proclaimed a "caliphate."
Air strikes and special forces have played key roles in efforts to claw back the territory lost to ISIS.
A Kurdish-led group, the Syrian Democratic Forces, is currently flushing the jihadists from the last pockets of land they control in the Euphrates River Valley.
The battle against die-hard militants in remote areas along the Iraqi-Syrian border and the hunt for ISIS supremo Abu Bakr al-Baghdadi, the world's most wanted man, could last indefinitely.
The start of the drawdown coincided with a Middle East tour by US Secretary of State Mike Pompeo, who insisted in Cairo on Thursday that the withdrawal would go ahead despite widespread criticism.
On the same day, however, Mr Pompeo said in a speech that "when America retreats, chaos often follows."
Mr Bolton's conditions for a withdrawal included the defeat of ISIS in Syria and guarantees for the safety of Washington's Kurdish allies, who have been threatened with an imminent offensive by Turkey.
Turkish President Recep Tayyip Erdogan labelled Mr Bolton's comments unacceptable and a "grave mistake."
The People's Protection Units (YPG), which have spearheaded ground operations against ISIS in Syria, are an offshoot of the Kurdish PKK, which has waged an insurgency against the Turkish state since 1984.
Turkey considers the YPG a terrorist movement and has repeatedly threatened to move into Syria to create a buffer zone along the border.
The group has already started reaching out to Damascus and its Russian sponsor. Russian Military Police were reportedly seen on the ground in the contentions SDF held town of Manbij last week.
Critics of Trump's decision, including within his own Republican party, have said a precipitous withdrawal would shatter US policy in Syria and allow ISIS to rebuild.
They have also argued that it would further allow Syrian regime ally Iran to extend its influence across the country and potentially threaten Israel.
Democratic Congressman Adam Schiff, who chairs the House Intelligence Committee, blasted the withdrawal plans.
"The Trump Administration's foreign policy is as deeply flawed in its conception as it is dangerously incompetent in its execution," Mr Schiff said on Twitter.
Though Mr Trump has said he wants a withdrawal to be coordinated, gradual and "prudent," observers have stressed that his announcement was having the same impact as a withdrawal itself.
Full report at:
https://www.thenational.ae/world/mena/syria-us-starts-pulling-equipment-but-not-soldiers-1.812250
--------
URL: https://www.newageislam.com/islamic-world-news/leader-calls-scientific-jihad-make/d/117443
New Age Islam, Islam Online, Islamic Website, African Muslim News, Arab World News, South Asia News, Indian Muslim News, World Muslim News, Women in Islam, Islamic Feminism, Arab Women, Women In Arab, Islamophobia in America, Muslim Women in West, Islam Women and Feminism