New Age Islam News Bureau
11 Dec 2017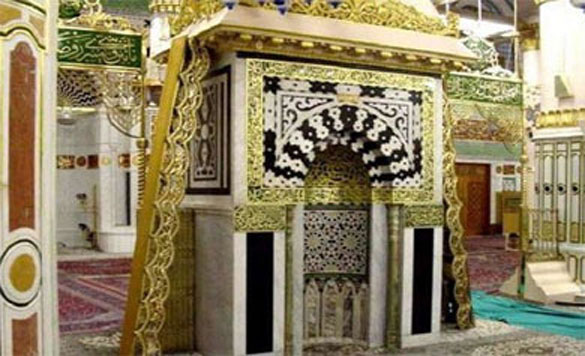 The Mihrab in the Prophet's Mosque, (Courtesy photo)
----
• Lashkar-e-Taiba's Charity Wing reaches out to Rohingya Muslims in Rakhine
• JUI-F Chief Maulana Fazlur Rahman Says He Won't Allow Anyone to Make Pakistan Secular
• Malaysian Defence Minister Says Army 'Ready' To Play Role in Jerusalem
• Vatican Voices Concern over Trump's Jerusalem Move
• Foreign Jihadists Begin Swarming Afghan Theater As ISIS Presence Grows
India
• Lashkar-e-Taiba's Charity Wing reaches out to Rohingya Muslims in Rakhine
• Human Rights Day: Scholars, Artistes Urge Indo-Pak Govts to Abandon Confrontation and Initiate Dialogue
• Professor Abdul Gani Bhat's Muslim Conference in Turmoil over Meeting with Interlocutor on Kashmir
• Three terrorists killed in encounter in Handwara
--------
Pakistan
• JUI-F Chief Maulana Fazlur Rahman Says He Won't Allow Anyone to Make Pakistan Secular
• Cowardly Muslim Rulers Are Biggest Hurdle in Liberation of Jerusalem: JI Chief
• Over 300 anti-state militants surrender arms in Balochistan
• Religious groups hold pro-Palestinian protests in Karachi, burn US flags
• Patriotic Balochs reject foreign sponsored terrorism: DG ISPR
• 'Pakistan should have sided with Saudi Arabia and UAE against Qatar', says Pervez Musharraf
• Five PML-N MPs hand over resignations to Pir Sialvi
• Tahirul Qadri to go all-out against PML-N with 'joint opposition alliance'
--------
Southeast Asia
• Malaysian Defence Minister Says Army 'Ready' To Play Role in Jerusalem
• Umno's Aims to Burnish Its Role as Defender of Islam and Malays, Say Observers
• Thousands of Indonesians again protest Trump's Jerusalem move
• Philippines' Duterte seeks martial law extension for south to contain Daesh supporters
--------
Europe
• Vatican Voices Concern over Trump's Jerusalem Move
• Christian and Muslim Leaders Express Support for Sweden's Jewish Community
• Three Arrested After Firebomb Attack on Swedish Synagogue
• US jets tried to hinder victory over Daesh in Syria: Russia's military
• Two Swiss-French firm officials charged with financing Daesh in Syria
• UK accomplice to Saudi crimes in Yemen: Rights group
--------
South Asia
• Foreign Jihadists Begin Swarming Afghan Theater As ISIS Presence Grows
• Bangladesh Seeks Int'l Community's Urgent Action to Resolve the Rohingya Crisis
• World Vision calls for aid for Rohingya refugees to ensure basic human rights
• Arrests made in connection to killing of 10 members of a Kabul family
• Afghan Ambassador optimistic Pak-Afghan ties will improve
--------
Arab World
• After 25 Years, Imam of Prophet's Mosque Back To Original Mihrab
• Arab Analyst: Regional Nations' Wrath over Quds to Isolate Jordan, S. Arabia, Egypt
• Shiite armed groups in Iraq decide to disband
• How ISIS Produced Its Cruel Arsenal on an Industrial Scale
• Iraq holds military parade to celebrate win over IS
• Israeli Intelligence Agent One of Founders of ISIL Terrorist Group in Syria
• Fresh Wave of Infighting Erupts among Terrorists in Southern Damascus
• Saudi, UAE and British foreign ministers meet on Yemen crisis
--------
Mideast
• New Protests Erupt in Muslim, Arab World against Trump's Jerusalem Decision
• Turkish President Slams Israel As 'Terrorist State', 'Killer Of Children'
• Iran's Larijani urges Muslims to cut political, trade ties with US
• Air raids on Yemen rebel training camp kill 26
• Yemen's Houthis loot funds allocated for orphans in Sanaa
• Netanyahu faces pressure in Europe amid Jerusalem protests
• Israeli, French leaders tangle over US Jerusalem decision
--------
Africa
• African Union Warns 6,000 Jihadists Who Fought For Islamic State Could Return Home
• Zimbabwe: Religious Intolerance Must Come to an End
• Thousands rally in Nigeria against US Jerusalem move
--------
North America
• Al Qaida Seeks to Capitalize on Muslim Anger over Jerusalem
Compiled by New Age Islam News Bureau
URL: https://www.newageislam.com/islamic-world-news/lashkar-e-taibas-charity-wing/d/113529
--------
Lashkar-e-Taiba's Charity Wing reaches out to Rohingya Muslims in Rakhine
By Praveen Swami
December 11, 2017
The Lashkar-e-Taiba's charitable wing, the Falah-i-Insaniat Foundation, has established operations reaching out to Muslim populations inside Myanmar have troubled Rakhine state, the organisation has claimed in propaganda material released online. FIF volunteers, the organisation has said, "distributed millions in cash money and blankets among more than 300 besieged Rohingya Muslims".
The claim was backed by Bangladesh-based intelligence officials, who told The Indian Express that the group had been operating in refugee camps near the town of Cox's Bazaar, with the help of local Islamist groups.
Shahid Mahmood, FIF's head of foreign operations, said in an online statement that a relief convoy raised by the organisation had succeeded in entering Rakhine "in extremely risky conditions" — an evident reference to the illegal crossing of the Bangladesh border. He said FIF intended to "start its relief activities in all areas of Burma where Muslims are besieged".
The FIF's operations, a senior Bangladesh intelligence official said, "could mark a dangerous new phase in the Myanmar conflict", where transnational jihadist groups become more heavily involved in the fighting, so far spearheaded by the poorly trained and equipped Arakan Rohingya Salvation Army (ARSA), also known as the Harakah al-Yakin.
Lashkar links to the Rohingya conflict are known to date back to at least 2012, when its chief, Hafiz Muhammad Saeed, shared a stage with jihadist commander Abdul Qudoos Burmi. FIF operations in the region began when it built homes and a madrasa for a community of over 1,000 refugees in Indonesia.
"ARSA hoped it could overwhelm the Myanmar state using a few bombs and villagers armed with spades and sickles," the official said. "That was a disastrous calculation, and now others from Pakistan are stepping in".
Bangladesh had, in October, shut down relief operations among local Rohingya by two controversial international Islamic charities, Muslim Aid and Islamic Relief, as the local Fazlullah Foundation. However, the groups continue to be free to operate elsewhere in Bangladesh, raising concerns that groups like the FIF may be able to use their work as cover.
Myanmar's military has long alleged that ARSA insurgents were trained in fabricating improvised explosive devices — used during its first wave of strikes on police and army outposts in August — by trainers brought in from Pakistan. In May, an IED accidentally blew up while al-Yakin cadre were gathered in Kyaung Taung, north of Buthidaung, killing seven men and their Pakistani instructor.
From August 25, ARSA's cadre began human-wave attacks against over 30 police and military outposts, using WhatsApp messages and announcements by local clerics to mobilise villagers
Three days later, ARSA's Pakistan-born, Saudi Arabia-raised leader, Muhammad Ataullah, also issued WhatsApp messages asking villagers to burn down ethnic-Buddhist villages, apparently in retaliation against attacks by vigilantes.
Police sources in Bangladesh say much of the FIF's work in the Cox's Bazaar area have centred around the Imam Muslim Islamic Centre, run by local cleric Hafiz Salahul Islam, the first military chief of an earlier Rohingya jihadist group called the Rohingya Solidarity Organisation.
Abdul Rehman, an Islamic Centre official on the run and a cleric handling finances arriving from the large Rohingya diaspora in Saudi Arabia and Pakistan, was responsible for knitting together ARSA's assault plans, the sources said. He, in turn, drew in a Karachi-based jihadist who used the name "Umar Farooq".
Facing sanctions from the United Nations and the United States, the FIF's continued operations inside Pakistan have led to intense pressure on Pakistan's banks and financial systems. In March, Pakistan's State Bank, the equivalent of India's Reserve Bank, is scheduled to make a presentation on action it has taken to deny the FIF and other sanctioned groups access to the banking system, or risk being blacklisted.
http://indianexpress.com/article/india/lashkar-e-taibas-charity-wing-reaches-out-to-rohingya-muslims-in-rakhine-4977068/
--------
JUI-F Chief Maulana Fazlur Rahman Says He Won't Allow Anyone to Make Pakistan Secular
December 11, 2017
LAHORE: JUI-F chief Maulana Fazlur Rahman has said his party is going to defeat every secular force and will not allow anyone to turn Pakistan into a secular state.
Addressing the 'Islam-o-Aman Conference' at Jamia Tauheedia, Sheikhupura, the Maulana said ulema are the heirs of prophets and they will not allow any secular force enforcing its agenda in Islamic
Republic of Pakistan. He stressed that the US and its allies have blood of millions of Muslims on their hands and the US will have to take back its decision regarding Jerusalem. The Western culture is nothing but a dark pit of ignorance, he added.
He said the state institutions have played a vital role in eliminating lawlessness and uncertainty from the country and it would not have been possible without the cooperation of madrassas.
Ulema have the rightful claim to politics in the country and those working to implement foreign agenda will be rejected by the people. "We are fighting for an ideology of Islamic equality and as long as the landlords and capitalists are holding the country's economy hostage, the people will not get their rights," he added.
He said the JUI-F has always fought for the supremacy of Islam and against the domination of Western cultural dominance in the country. "In the coming elections we are up against the secular forces," he further added.
Calling on his workers and supporters to step up their campaign for the 2018 elections, he said the JUI-F has always called for national unity and believes that in present time there is a need of national reconciliation and unity instead of anarchist actions based on vested interests.
Talking about the issue of finality of Prophethood, he said it's the integral part of every Muslim's faith. "We are living in a democracy where there is a parliament, judiciary and other institutions.
"Whatever issue there was has been solved by these institutions; therefore, inciting masses would not be in country's interest," he said. Maulana Fazlur Rahman said the government has almost completed its tenure and it would not be wise for some political parties to focus their energy on toppling the government.
https://www.thenews.com.pk/print/254639-fazl-says-he-won-t-allow-anyone-to-make-pakistan-secular
--------
Malaysian defence minister says army 'ready' to play role in Jerusalem
Dec 11, 2017
KUALA LUMPUR: Malaysian defence minister, calling the US' decision to make Jerusalem the capital of Israel "a slap in the face for the entire Muslim world", pointed out that his country's military is prepared to perform its duty if its services are required.
"We have to be prepared for any possibilities. The ATM [Malaysian Armed Forces] has always been ready, waiting for instructions from the top leadership," the Malaysian state news agency Bernama quoted Hishammuddin Hussein as saying.
"Let us pray that this dispute would not lead to chaos," Hussein added.
The dramatic shift in Washington's Jerusalem policy triggered demonstrations in the occupied Palestinian territories, Turkey, Egypt, Jordan, Tunisia, Algeria, Iraq and countries around the world.
On Sunday, about 10,000 Indonesians rallied outside the US Embassy in Jakarta in support of Palestinians, agencies reported.
The protesters were carrying banners reading "US Embassy, Gets Out from Al Quds," "Free Jerusalem and Palestinians" and "We are with the Palestinians." Al-Quds is the Arabic name for Jerusalem.
Sunday's protest, organised by the Islamist Prosperous Justice Party, was the second since Trump's decision on Thursday.
President Joko "Jokowi" Widodo has strongly condemned Trump's move, which he described as a violation of UN resolutions.
Indonesia, as the world's most populous Muslim nation, has long been a strong supporter of Palestinians and has no diplomatic ties with the Jewish state.
MALAYSIA PM REQUESTS TO POSTPONE SINGAPORE-MALAYSIA LEADERS' RETREAT:
Earlier, on Saturday, Malaysian premier Najib Razak requested for next week's 8th Singapore-Malaysia Leaders' Retreat between him and Prime Minister Lee Hsien Loong to be postponed.
This is due to Najib having to attend a special meeting of the Organisation of Islamic Cooperation (OIC) in Turkey on Dec 13.
The OIC meeting, convened by Turkey President Recep Tayyip Erdogan, was called following the recognition of Jerusalem as the capital of Israel by the United States government.
A Singapore Ministry of Foreign Affairs (MFA) spokesman confirmed that the Retreat was postponed at Najib's request, following Malaysia media reports of the OIC meeting.
Najib, who is also the United Malays National Organisation (UMNO) president, revealed this at a press conference after his party's 71st general assembly.
"President Erdogan called me and asked me to attend. He said the voice of Malaysia is important," said Mr Najib.
"Coincidentally, I have the annual consultation with the Singapore Prime Minister, and called Lee Hsien Loong to ask for his understanding as this affects not only my faith as a Muslim but the faith of all Muslims."
At the press conference, Najib said the recognition of Jerusalem as the capital of Israel by the United States government would not affect the bilateral ties between Malaysia and the US.
He said Malaysia can still work with the US government in many different aspects while holding strong to their principles in objecting the recognition.
"Our relationship with the US is multidimensional and there are many other areas where we can work together on.
"But the principle is that we must stand tall in our stance," said Najib.
He said if the announcement made by US President Donald Trump was implemented, the repercussions might mean more tension and possible serious bloodshed if action is not taken beforehand.
"This pertains to the issue of sovereignty that was set by the United Nations Security Council resolution.
"It would also complicate the two-state solution," said Najib in reference to the Israeli-Palestine conflict.
Najib said it was not only the Muslim communities that were upset with Trump's decision, but said many Christian nations were unhappy too.
When asked what military preparations were in place, Najib said, "We hope that it does not reach the stage that requires military involvement. At the moment, it is still at the diplomacy and discussion stage."
A mass protest was held outside the US embassy on Jalan Tun Razak in Kuala Lumpur after Friday prayers
https://www.pakistantoday.com.pk/2017/12/10/malaysian-defence-minister-says-army-ready-to-play-role-in-jerusalem/
--------
Vatican voices concern over Trump's Jerusalem move
Vatican City, Dec 10, 2017 / 09:34 am (CNA/EWTN News).- Following U.S. President Donald Trump's Dec. 6 notice that he will be moving the U.S. embassy in Israel to Jerusalem, the Holy See has expressed its concern for recent violent outbreaks and urged leaders to promote peace and security.
A Vatican communique Dec. 10 pointed to concerns for peace and security in Jerusalem and reiterated its belief that "only a negotiated solution between Israelis and Palestinians can bring a stable and lasting peace," as well as "guarantee the peaceful co-existence of two states within internationally recognized borders."
The brief statement was published just days after the news broke that President Trump would recognize Jerusalem as the capital of Israel and move the U.S. embassy from Tel Aviv to Jerusalem – a widely controversial decision that has provoked a mixed reaction from the international community.
The Vatican said it is watching the development of the situation closely, especially in Jerusalem, which is a "Sacred city for Christians, Jews and Muslims from all over the world."
The statement also reiterated the Holy See's position on the importance of maintaining the status quo in Jerusalem, as per the repeated requests of the international community, and the hierarchies of the Catholic and Christian communities of the Holy Land.
Renewing an appeal made by Pope Francis during his general audience on Dec. 6, the statement reiterated the Pope's "fervent prayers" for national leaders, that they be committed to promoting peace, justice and security and averting "a new spiral of violence" in the nation.
Israel has traditionally always recognized Jerusalem as its capital. However, Palestinians claim that the eastern portion of the city is the capital of the future Palestinian state. In recognizing Jerusalem as Israel's capital, the U.S. is the first country to do so since the state was established in 1948.
Debate on the issue is in many ways the crux of the conflict between Israel and Palestine, which is backed by Arab leaders, including Saudi Arabia, and the wider Islamic world.
According to the 1993 Israel-Palestinian peace accords, the final status of Jerusalem is to be discussed in the late stages of peace talks. Israeli sovereignty over Jerusalem has never been recognized by the international community, and all countries with diplomatic relations have their embassies in Tel Aviv.
More than 30 Palestinians have been injured in clashes across the West Bank and the Gaza Strip amid protests against Trump's decision.
The position of the U.N. on the Jerusalem issue is that East Jerusalem is occupied Palestinian territory, and that the city should eventually become the capital of the two states of Israel and Palestine.
The Vatican has long supported a two-state solution to the Israel-Palestinian conflict, and on a diplomatic level recognizes and refers to both "the State of Israel" and "the State of Palestine."
https://www.catholicnewsagency.com/news/vatican-voices-concern-over-trumps-jerusalem-move-55442?utm_source=CNA&utm_medium=email&utm_campaign=daily_newsletter
--------
Foreign jihadists begin swarming Afghan theater as ISIS presence grows
By Izat Charkatli
11/12/2017
DAMASCUS, SYRIA (1:46 A.M.) – Several foreign militants affiliated with the Islamic State terror group including French and Algerian nationals have moved to Afghanistan after they were suppress during the operations in Syria and Iraq, it has been reported.
Several French and Algerian IS fighters have been observed in the northern Jawzjan province of Afghanistan.
Darzab district administrative chief Mohammad Dawar has told the paper that "A number" of Algerian and French nationals entered the largely IS-controlled district of Darzab in northern Jowzjan province in November.
He said at least two women were among the arrivals, who were travelling with a translator from Tajikistan as well as Chechens and Uzbeks, Dawar added.
European and Afghan security sources in Kabul confirmed Dawar's claim that French citizens were among the fighters — though, one cautioned, "we do not know how many there are", according to AFP.
In the meantime, the provincial governor's spokesman Mohammad Reza Ghafoori has said the terror group has so far recruited around 50 children in their ranks in this province, including some children who are as young as 10-year-old.
This comes as earlier reports emerged from Jawzjan province suggesting that the terror group is training almost 300 children to be recruited in their ranks in Jawzjan province.
https://www.almasdarnews.com/article/foreign-jihadists-begin-swarming-afghan-theater-isis-grows-presence/
--------
India
Human Rights Day: Scholars, artistes urge Indo-Pak govts to abandon confrontation and initiate dialogue
December 10, 2017
As people observed the International Human Rights Day on Sunday, several scholars, writers, artists, filmmakers and social activists came together under the banner of Pakistan-India People's Forum for Peace and Democracy calling on the two nuclear nations to resume meaningful dialogue, abandoning the confrontational tactics being followed.
Advocating for peace, the forum in a statement said that the present confrontation and jingoism between the two nations has to stop as it harms the lives of the people on both sides. Even after 70 years of independence, a large proportion of the population of both countries is still steeped in poverty, hunger, disease and homelessness, the Forum added.
The group with signatories from various walks of life urged the governments of both neighbouring countries to settle their issues with dialogue and negotiations.
International Human Rights Day is observed worldwide to mark the proclamation of the Universal Declaration of Human Rights (UDHR) by the United Nations.
The forum went on to propose that the dialogue should not be limited to politicians, armies and the bureaucratic system of the two nations. Instead, its scope should be widened with civil societies from both countries being included in the process. The forum urged people from India and Pakistan to exert pressure on their governments to divert from the course of "confrontation and self-destruction".
http://indianexpress.com/article/india/scholars-artistes-urge-indo-pak-governments-to-abandon-confrontation-and-initiate-dialogue-on-human-rights-day-4976887/
--------
Professor Abdul Gani Bhat's Muslim Conference in turmoil over meeting with interlocutor on Kashmir
10th December 2017
Senior separatist leader Prof Abdul Gani Bhat (File | PTI)
SRINAGAR: Senior separatist leader Prof Abdul Gani Bhat's party - Muslim Conference (MC) - is in turmoil in Kashmir over his reported meeting with interlocutor Dineshwar Sharma.
Some disgruntled party leaders have revolted against Prof Bhat and removed him as party president but he has hit back by expelling them from the party.
Claiming himself to be acting chairman of Muslim Conference, Mohammed Sultan Magray on December 9 wrote a letter to Mirwaiz Umar Farooq, chairman of moderate Hurriyat Conference, informing him about removal of Prof Abdul Gani Bhat as chairman of the party.
Muslim Conference is a constituent of Hurriyat led by Mirwaiz and Prof Bhat is executive member of the separatist conglomerate.
"As you know, former president of MC Prof Abdul Gani Bhat held a secret meeting with Government of India's interlocutor on Kashmir, which is a cause of concern for the party and united separatist leadership. In this backdrop, an emergency meeting of office bearers of the party was held in Srinagar in which it was unanimously decided that Muhammad Sultan Magray will be the acting president, Manzoor-ul-Haq Bhat vice president, Mehraj-ud-Din general secretary of MC," reads the letter written by Magray to Mirwaiz.
It further states that the party leaders have decided to follow the programmes of united separatist leadership and asked Mirwaiz to contact the acting president in future for all programmes.
While Magray is based in Srinagar, Manzoor was representative of Muslim Conference in Pakistan administered Kashmir.
However, in order to retain his grip on the party, Prof Bhat today hit back at the disgruntled leaders and expelled Magray, Manzoor and Mehraj from the basic membership of the party for anti-party activities.
"Magrey was an ex-CIK Branch Inspector from 1996----2000 and had been already expelled from Muslim Conference. He was expelled from the party in 2011," Jehangir Bhat, spokesman of Muslim Conference and son of Prof Bhat told New Indian Express.
He said Manzoor, who was party's representative in PaK, has also been expelled.
"Prof Bhat continues to be the chairman of the party and he will continue to be executive member of Hurriyat led by Mirwaiz," Jehangir said.
Asked whether his father had met interlocutor Dineshwar Sharma, he said Prof Bhat did not meet the interlocutor.
"Two people from administration visited his residence on November 27 and told him that they want to facilitate his meeting with interlocutor Sharma. However, Prof Bhat told them that we have already decided not to meet him," he said.
He, however, said Prof Bhat told them during five-minute meeting that they favour dialogue as it was the only option to resolve the Kashmir issue.
"He told them that Kashmir issue cannot be resolved through wars but by dialogue," Jehangir said.
Meanwhile, sources said Mirwaiz has issued a show cause notice to Prof Bhat asking him to clear his position on media reports about his meeting with interlocutor Dineshwar Sharma.
"Prof Bhat should have abided by the JRL's decision on no talks with Sharma. We believe in sincere and result oriented dialogue as a means of conflict resolution of Kashmir dispute but the talks have to include India, Pakistan and most importantly people of Jammu and Kashmir. Sharma's interlocution process is an attempt to buy time and continue with status quo," Mirwaiz has said.
After being appointed interlocutor by central government on October 23, Sharma has twice visited Jammu and Kashmir and met the mainstream politicians, traders, civil society members, youth, etc.
However, separatist leaders, traders bodies and civil society groups in Kashmir have refused to meet Sharma. The opposition National Conference leaders have also not met him during his two visits to the State.
Full report at:
http://www.newindianexpress.com/nation/2017/dec/10/professor-abdul-gani-bhats-muslim-conference-in-turmoil-over-meeting-with-interlocutor-on-kashmir-1723762.html
--------
Three terrorists killed in encounter in Handwara
Dec 11, 2017
SRINAGAR: Three terrorists were on Monday killed in an encounter with security forces in Handwara area of north Kashmir, police said here.
Director General of Police (DGP) S P Vaid said the slain terrorists were "apparently Pakistanis".
Security forces launched a cordon and search operation in the early hours in Unisoo village of Handwara following specific intelligence inputs about the presence of terrorists in the area, a police official said.
He said the search operation turned into an encounter as the hiding terrorists fired upon the forces conducting the searches.
During the gunfight, three terrorists were killed, the official said.
He said their bodies along with three weapons have been recovered from the encounter site.
Full report at:
https://timesofindia.indiatimes.com/india/two-terrorists-killed-in-jk-gunfight/articleshow/62016221.cms
--------
Pakistan
Cowardly Muslim rulers are biggest hurdle in liberation of Jerusalem: JI chief
Dec 11, 2017
LAKKI MARWAT: Pakistan Jamaat-e-Islami (JI) leader Senator Sirajul Haq has said that the cowardly Muslim rulers who did not make any move without the dictation of US were the biggest hurdle in the liberation of Jerusalem.
Addressing a large public meeting at Lakki Marwat on Sunday, he said that on the issue of Jerusalem, the Muslim masses and the Muslim rulers stood at opposite ends. The Muslim masses were on the roads while their rulers were confined to their palaces, he added.
He said that the people of Karachi would hold a 'million march' on December 17 against the US decision regarding Jerusalem, and expressed hope that this would be a historic march.
Sirajul Haq said that the US had imposed a new war on the Muslim world. However, he said that not only the Muslims states but the US itself would not remain safe in this conflict. He added that the Zionists would not remain content with raising Solomon's temple in Jerusalem, as they were also aspiring to grab holy Madina as well.
The JI chief stated that the liberation of Jerusalem was an article of faith with each and every believer and no Muslim could lag behind in it. He added that this was purely an ideological war and the Zionists were considering it a religious conflict and were taking part in it in every respect.
The JI chief lamented that the enemy had not only occupied resources of the Muslim world but had also enslaved its leadership. Therefore, he said that the real test was not of the rulers but the masses and it was to be seen how long it would take them to be free from the coterie of the US slaves.
Sirajul Haq further stated that the secular rulers of the country had never considered the issues of the Muslim world as their own. The Muslims of Kashmir, Palestine, Burma etc., were being killed liked insects but the Muslim rulers remained silent spectators, he added.
Even if the rulers uttered a word on public pressure, they did not have the courage to take any practical steps, JI chief said.
Commenting on the country's political scenario, Sirajul Haq said that the democratic system was in danger because of the behaviour of the rulers. He added the JI had suggested to Nawaz Sharif and Ishaq Dar to resign at a much earlier stage but they had not heeded the advice.
https://www.pakistantoday.com.pk/2017/12/10/cowardly-muslim-rulers-are-biggest-hurdle-in-liberation-of-jerusalem-ji-chief/
--------
Over 300 anti-state militants surrender arms in Balochistan
Syed Ali Shah
December 09, 2017
As part of the ongoing political reconciliation in Balochistan, more than 300 suspected militants laid down arms before the government and security forces on Saturday.
The militants, who reportedly belonged to various banned groups, surrendered before Balochistan Chief Minister Nawab Sanaullah Zehri and Commander Southern Command Lt Gen Asim Saleem Bajwa during a ceremony held at the Balochistan Assembly hall.
Home Minister Sarfaraz Bugti and other high-level officials were also present on the occasion.
The suspected militants, including 17 commanders, vowed to work for the peace and development of the country while laying down arms.
Waving Pakistani flags during the ceremony, the men said they had been misled by some elements to serve their personal agendas at the cost of poor people.
Appreciating their overtures for peace, Chief Minister Zehri said the reconciliation process will continue despite all odds.
"We welcome you all," he told the crowd.
Zehri said the country has a "big heart" to accept those whose hands were coloured with the blood of innocent people.
"Now it is your turn to struggle for stability and development of the country," he said.
The fighters who gave up their weapons were involved in subversive activities for more than a decade in various parts of Balochistan, security officials who declined to be named told DawnNews.
"Some elements were threatening us not to surrender," Dur Muhammad, a former militant from Naseerabad said. Another militant commander from Harnai also shared the same information.
The Balochistan reconciliation process was launched by former chief minister Dr Abdul Malik Baloch a few years ago. So far, 1800 Ferraris have surrendered since the process was initiated, Balochistan government spokesperson Anwarul Haq Kakar told DawnNews.
Full report at:
https://www.dawn.com/news/1375529/over-300-anti-state-militants-surrender-arms-in-balochistan
--------
Religious groups hold pro-Palestinian protests in Karachi, burn US flags
Imtiaz Ali
December 10, 2017
Various religious and political groups held protests in Karachi on Sunday against the recent decision by US President Donald Trump to recognise Jerusalem as the capital of Israel.
The main protest was held near the US Consulate in Karachi where the religious activists burnt flags of the United States and Israel and chanted slogans.
The rallies caused massive traffic jams in the downtown area of the metropolis, as several arteries were closed particularly in the South district leading to the American consulate.
Majlis Wahdat-i-Muslimeen (MWM) started their protest rally from Numaish Chowrangi on main M.A. Jinnah Road and travelled through various routes before arrived on M.T. Khan Road, which leads to the US consulate.
The police had already placed containers and created temporary hurdles, preventing the protesters from moving toward the consulate.
Karachi-South DIG Azad Khan said that the protesters did not try to move further on M.T. Khan Road and dispersed peacefully after delivering speeches.
The MWM activists also set flags of US and Israel on fire, however, no untoward incident was reported from any area.
Speaking on the occasion, the MWM leaders accused that if Arab states had not done "collusion" with the US, Washington would not have "dared to declare the Muslims' first Qibla as the capital of a Jewish state".
Donald Trump has violated the international law and hatched a conspiracy to engulf the Middle East in flames, they added.
The religious leaders asked the Muslim rulers to go beyond their narrow interests and chalk out a joint future line of action.
They were of the view that since the Arab states were major procures of arms from the US, their [Arab's] possible decision of ending diplomatic ties may force Trump to take back his decision.
Separately, Difa-i-Pakistan Council took out a rally against the US president. The rally started from Safari Park on main University Road and culminated at Islamia College near Jail Chowrangi.
Furthermore, Tehreek-i-Labbaik Pakistan also took out a rally from Bahadurabad Chowrangi to Numaish roundabout and denounced the decision of declaring Jerusalem as the capital of Israel.
Full report at:
https://www.dawn.com/news/1375758/religious-groups-hold-pro-palestinian-protests-in-karachi-burn-us-flags
--------
Patriotic Balochs reject foreign sponsored terrorism: DG ISPR
December 10, 2017
Director General ISPR Major General Asif Ghafoor says patriotic Baloch people continue to reintegrate voluntarily with mainstream society rejecting foreign-sponsored terrorism in Balochistan, reported Radio Pakistan.
In a statement, Director General, Inter-Services Public Relations, Major General, Asif Ghafoor said self-realization by misled Balochs reflects the success of the relentless efforts of civil-military leadership towards Khushal Balochistan.
http://nation.com.pk/10-Dec-2017/patriotic-balochs-reject-foreign-sponsored-terrorism-dg-ispr
--------
'Pakistan should have sided with Saudi Arabia and UAE against Qatar', says Pervez Musharraf
AMNA EHTESHAM KHAISHGI
11 December 2017
DUBAI: Former Pakistani President Pervez Musharraf continues to make headlines with his outspoken views.
At 74, the former army chief, who lives with his mother and wife in a tastefully decorated apartment in downtown Dubai, still displays the toughness associated with a soldier.
He runs his own political party, the All Pakistan Muslim League (APML), and is facing several court cases.
In an exclusive interview with Arab News, he spoke about various issues facing Pakistan and beyond.
Jerusalem
Musharraf described President Donald Trump's decision to move the US Embassy in Israel from Tel Aviv to Jerusalem as "disastrous."
He said: "Trump has been saying he wants to do something to settle the Palestinian issue, but this isn't the way forward. This issue is extremely sensitive in the Muslim world."
Musharraf expressed disappointment with the Muslim world's reaction to the US move. "Unfortunately, the Muslim world doesn't have a forum to give a unified voice," he said.
"Organizations such as the OIC (Organization of Islamic Cooperation) are toothless. The OIC should've reacted strongly because it's (supposed to be) the voice of 57 Muslim nations and a quarter of the world's population."
Muslim countries "are dependent on the West in different ways, and hence are pulled in different directions. We need to strengthen the OIC again and make our voice united," he said.
"Maybe in this multipolar world we (Muslim countries) need to use China and Russia to counter this decision. We can only do this through diplomacy."
Qatar
Musharraf criticized the Pakistani government for not siding with the Anti-Terror Quartet (ATQ) — comprising Saudi Arabia, the UAE, Egypt and Bahrain — against Qatar.
"I'm shocked at how the Pakistani government dealt with the Qatar crisis. Qatar was never with Pakistan, and we witnessed this many a time," he said.
Saudi Arabia and the UAE "have always been Pakistan's great friends. We must never do anything that's against either country — both have always stood by us, and we must value their friendship."
Citing the Pakistani ruling party's business interests in Qatar, he said his country's "larger interests were ignored over personal business interests. If that's the priority, then God save our country."
Kashmir
Musharraf's words and deeds on Kashmir continue to be an area of interest for most observers and stakeholders.
"I've started working for the cause by taking a big initiative on the resolution of the Kashmir issue," he said.
"Me and other like-minded people have formed a group that consists of popular and prominent people from Pakistan, India and both sides of Kashmir. We'll go to the UN, and the Indian and Pakistani governments," he said.
"The Kashmir issue can be resolved, and I strongly believe that the present Indian government is capable of doing it because they represent the hard-liners."
Kargil
Musharraf described Kargil — an armed conflict between India and Pakistan between May and July 1999 — as a successful operation militarily even though it failed politically.
"We failed politically because (then-Prime Minister) Nawaz Sharif's government came under US and Indian pressure, because of which we had to withdraw," Musharraf said.
"Just two days before the withdrawal, I — as army chief — gave a briefing to Sharif. We shared pros and cons, and I satisfied him and his Cabinet. But then things changed."
During the operation, Pakistani troops "were inside India in five places, and at some points they didn't even know we were there," Musharraf said.
"I had to go there to meet my soldiers, who were at 19,000 feet above sea level. How could I leave them alone? I went there to boost their morale."
Indian Army
"There's no doubt that India has a bigger army compared to us. We mustn't underplay that," Musharraf said.
"But we maintain equality because of our skills and experience in different kinds of wars, which enable us to engage with them conventionally. With a superior strategy, we can change the situation to our favor."
He said the Indian Army is facing challenges. "They're weak on leadership. There are so many deaths and suicides in the army. We often hear many internal issues via the media, such as lack of proper food," he said.
Maintaining such a large army is not easy for India, he said. "They require lots of logistical support for maintenance. Siachen, for example, is a liability because of communications and logistics issues," he said.
"From our side, approaching Siachen is much easier. It just takes a day to reach our highest post, whereas the Indian Army takes five to seven days to reach its highest position because there's a glacier and so many weather hazards on its side."
Trump administration
"We should stop blaming Trump" for the state of US-Pakistani relations, Musharraf said. "I take Trump's presidency positively. He started his regime with a clean slate," he said.
"He may not have a clear idea about Kashmir, Pakistan, Afghanistan or the Islamic world. We could've used this opportunity to fill the slate," Musharraf said.
"If we allow India, or for that matter any other country, to influence Trump, it's our failure. We shouldn't blame others for that," he added.
"Everyone will use the opportunity for their own good. If we're not using the opportunity, it's only our loss."
China
Musharraf rejected the notion that Pakistan is over-romanticizing the China-Pakistan Economic Corridor (CPEC) and Chinese investment in the port city of Gwadar.
"In this multipolar world, all three leading superpowers have strategic interests in Pakistan. We must use this interest in our own favor. For example…Gwadar provides China with access to the Indian Ocean," he said.
"In today's world, geo-economics will determine geopolitics and geo-strategies. CPEC gives us an excellent opportunity to use our strategic location to our favor," he said.
But Musharraf is unconvinced about how Gwadar is shaping up. "I don't know whether we're using this opportunity in the right way or not," he said.
"Gwadar is one of the world's few deep-sea ports. We need container terminals and ship repair facilities there."
Infrastructure needs to be built, as per international standards, to run the port efficiently, he said.
"Roads and bridges come in the second stage when trade starts. First we need to establish the port with high-class facilities. There's certainly a lack of vision from our side."
Lashkar-e-Taiba
Musharraf said he banned the organization Lashkar-e-Taiba (LeT) because he wanted to continue political dialogue with India.
"It was the time when we were having peace negotiations with (then-Indian Prime Minister Atal Bihari) Vajpayee," he said.
"When you follow a political line, you need to drop the military side. At that point, I decided to ban several organizations, including LeT. We wanted to achieve a solution to Kashmir via political means."
The governments of former Pakistani Prime Ministers "Benazir Bhutto and Sharif supported LeT and its involvement in the Kashmir struggle," Musharraf said.
"When I came to power, I continued supporting it. I always believe that mujahideen aren't terrorists," he said.
"Unlike Al-Qaeda and Tehrik-e-Taliban Pakistan (TTP), LeT has never been involved in any terrorist activities in Pakistan," he said.
LeT co-founder Hafiz Saeed "is against Al-Qaeda and the Taliban. He has taken hundreds of thousands of religious youth toward welfare work," said Musharraf.
"I saw how hard LeT worked on the ground following the 2005 earthquake. Its social welfare wing Jamaat-ud-Dawa is one of the best NGOs in Pakistan," he said.
"If we push these religious welfare people to the wall, they could join the Taliban and take up arms, which could become a huge problem," he said.
"There are many religious organizations in Pakistan that are very moderate. They don't believe in terrorism, and are against Al-Qaeda," he said.
LeT has been declared as terrorist "because India is influencing the whole world, including the US and UN," Musharraf said.
He added that it is unfair to question his secular image because he supports a religious organization's welfare work.
"I'm very secular. I'm proud of that. My parents are secular. My family is secular. I have best friends from other faiths," he said.
"We need to understand all the dynamics at the macro-level before coming up with any conclusion," he said, adding that unfortunately people do not look at the larger picture before criticizing. "We should engage these forces (LeT) for the betterment of society."
Pakistan's religious social fabric
To understand Pakistan, one needs to understand its religious environment, Musharraf said. "Pakistan can be divided into four groups religiously. The first are the moderates, who are enlightened, progressive and educated, but are a minority based in urban areas," he said.
The second group are conservatives, the vast majority of whom are in rural areas. "They're religious and come from poor, backward, less-educated segments. They're the masses of Pakistan," he said.
The third group are fundamentalists, who are a growing minority that is drawing in conservatives and wants to impose its ritualistic ideas on others, Musharraf said.
"If we leave (conservatives) with no education and in poor economic condition, they'll become fundamentalist, but if you educate conservatives and bring socioeconomic changes, they'll become moderates," he said.
"My focus was to bring socioeconomic changes in rural areas, but this is a long-term strategic plan," he said.
"It requires at least 20-25 years of strategy, not one or two years. We need to think long-term."
The fourth group are extremists and terrorists. "They're very few in number compared to conservatives and fundamentalists," he said.
Party's future
Musharraf said he is optimistic about his party's future. "The APML can make a difference if I return to Pakistan. I have support on the ground but I need to talk to my supporters," he said.
"I firmly believe people's affection for me can translate into votes. I feel I can make a difference, but I have to lead from the front. I have to be in Pakistan," he said.
Full report at:
http://www.arabnews.com/node/1206996/middle-east
--------
Five PML-N MPs hand over resignations to Pir Sialvi
Sardar Akhtar
December 11, 2017
FAISALABAD: Five parliamentarians and 50 union council chairmen belonging to the Pakistan Muslim League-Nawaz (PML-N) on Sunday submitted their resignations to Pir Hameeduddin Sialvi, a spiritual leader and custodian of the Sial Sharif shrine.
Sahibzada Hamid Raza, Chairman of Sunni Ittehad Council, addressing the Khatm-e-Nabuwwat conference, held at the Iqbal Park here, said that Pir Sialvi would decide the political future of these parliamentarians and UC chairmen. The MPs submitting resignations include Dr Nisar Ahmad, MNA from Faisalabad;
Ghulam Bibi Bharwna, MNA from Jhang, Nizamuddin Sialvi, MPA from Sargodha; and MPA Mohammad Khan Baloch (PP-81).
These parliamentarians said they would not backtrack on their decision to sacrifice the assembly seats for the sake of sanctity of Khatm-e-Nabuwwat (PBUH). The one-point demand of the two members of the National Assembly and three members of the Punjab Assembly is the resignation of Punjab Law Minister Rana Sanaullah.
The son of MPA Maulana Muhammad Rehmat Ullah (PP-74), Qamarul Haq, announced the decision to 'sacrifice the provincial assembly seat' on behalf of his father.
During the conference, MPA Ghulam Nizamuddin Sialvi said he was willing to sacrifice thousands of 'seats' for Khatm-e-Nabuwwat (PBUH).
Hamid Raza also demanded the resignation of Punjab Law Minister Rana Sanaullah, warning that they would demand resignations of the Punjab and federal governments en-bloc if the Punjab law minister did not tender his resignation.
Later on, Pir Hameeduddin Sialvi, addressing the conference, appealed to the government to introduce Nizam-e-Mustafa in the country "to weed out social evils and ensure parity and equality".
He said he was not there to say something on political affairs, but to seek implementation of Nizam-e-Mustafa, because only through this system, the lives of Muslims of Pakistan could be changed.
Continuing, Pir Sialvi said that at the time of creation of Pakistan, the Muslim leaders had promised to implement Nizam-e-Mustafa in the country. But the rulers deviated from this pledge later on, he added.
Mufti Ashraf Asif Jalali, Chairman Tehreek-e-Labbaik Pakistan, in his address demanded immediate resignation of Rana Sanaullah; otherwise, he warned, the next sit-in would be held in Lahore on January 4, 2018.
Former Punjab chief minister Dost Mohammad Khosa also spoke on the occasion. He said the resignations of federal and Punjab law ministers were not enough, and the government should find out all the persons who played a role in altering the affidavit of the elected representatives.
The Iqbal Park was filled to its capacity and even a large number of workers listened to the speeches of speakers while standing on roads in the proximity.
Strict security arrangements were made by the local administration by posting 650 policemen and 200 wardens at the venue of the conference.
Tehreek-e-Labbaik central leader Allama Farooqul Hassan, Amjad Ali Waraich, President National Muslim League, Pir Ghulam Hussain from Hafizabad also spoke on the occasion.
Syed Muhammad Zameer adds from Hafizabad: Speakers at Khatm-e-Nabuwwat conference, held here Sunday, pledged to safeguard the Khatm-e-Nabuwwat laws. The speakers included Pir Syed Ijaz Ahmad Hashmi, central president and general secretary, JUP-N, Muhammad Awais Noorani, MPA Pir Mehfooz Ahmad Mashahadi of Bhikki Sharif and others.
They said they would not forget the supreme sacrifices offered for the protection of Namoos-e-Risalat and declared that the Muslims of Pakistan would foil any conspiracies to change the law regarding Khatm-e-Nabuwwat (PBUH).
They said that anti-Islam forces were hatching conspiracies to shatter the unity of the Muslim Ummah and abolish the Khatm-e-Nabuwat laws. But the lovers of Holy Prophet Hazrat Muhammad (PBUH) would foil their attempts. They called upon the Muslims to transform their lives truly in accordance with the teachings of Holy Quran and Sunnah.
Full report at:
https://www.thenews.com.pk/print/254633-khatm-e-nabuwat-moot-five-pml-n-mps-hand-over-resignations-to-pir-sialvi
--------
Tahirul Qadri to go all-out against PML-N with 'joint opposition alliance'
By Amir Khan
December 10, 2017
KARACHI: After a number of political parties have joined hands with the Pakistan Awami Tehreek (PAT), its chief Allama Tahirul Qadri has finalised formation of a 'joint opposition alliance' to launch a 'decisive' movement against the Pakistan Muslim League-Nawaz (PML-N) government.
Highly credible sources told Daily Express on Sunday that formation of the alliance will formally be announced soon.
The key demands of the alliance will include immediate dissolution of the national and provincial assemblies, instant arrest and trial of Punjab Chief Minister Shehbaz Sharif, Law Minister Rana Sanaullah and others allegedly involved in the Model Town tragedy. The incident in 2014 left 14 dead and many injured at the hands of the Punjab police, all members of the PAT.
The alliance is likely to demand establishment of an interim government in consultation with the opposition parties, leading to early elections in the country.
'Container ready if Shehbaz won't go'
According to sources, Pakistan Peoples Party (PPP), Pakistan Tehreek-e-Insaf (PTI), Pakistan Muslim League-Quaid (PML-Q), Awami Muslim League (AML) and Pak Sarzameen Party (PSP) have agreed to join the alliance.
Meanwhile, the Qadri-led PAT is also in touch with Jamaat-e-Isalmi (JI) and Muttahida Qaumi Movement-Pakistan (MQM-P) among other parties in this regard.
The united front would pressurise the PML-N to dissolve its governments in the federation, Punjab and Balochistan, said the sources, adding that the PPP will dissolve its government in Sindh and PTI in Khyber-Pakhtunkhwa (K-P) soon after achieving this goal.
However, if the ruling party did not accept the demands, protests will be launched across the country including one in front of the Parliament House in the federal capital.
The opposition parties can also use the option of resignation of their lawmakers in consultation with each other.
Meanwhile, the PPP is in contact with the ruling party and trying to convince the PML-N leadership in holding early elections through dialogue, the sources also said.
The PML-N has been conveyed a message that the governments should be dissolved for the sake of 'continuity of democracy' and the PPP will not become a part of any anti-government protest movement if the ruling party had agreed to resolve the issue on the negotiation table.
PM Abbasi scoffs at anti-government alliances
Highly-placed sources in the PML-N said the party is seriously considering the PPP message at the highest level, adding that the ruling party has forwarded a 'secret message' to Zardari's party that it must support the delimitation bill in Senate before the league leadership can consider talks on early elections.
The sources also said that Dr Qadri is also planning to turn this coalition into an electoral alliance once all his demands are met. And in case the PTI decided against joining the alliance, the firebrand cleric would try to woo PPP and other 'like-minded parties' for the same.
Sources in the PML-N said any decision on the issue would only be made after the party chief and deposed prime minister Nawaz Sharif return home. Sharif is currently with his ailing wife Kusloom Nawaz, who is getting medical treatment in London.
Full report at:
https://tribune.com.pk/story/1580759/1-tahirul-qadri-go-pml-n-joint-opposition-alliance/
--------
Southeast Asia
Umno's aims to burnish its role as defender of Islam and Malays, say observers
By EILEEN NG
10 DECEMBER, 2017
SINGAPORE — Malaysia's recent denouncement of atheists is a ploy to burnish ruling United Malays National Organisation's (Umno) credentials as the defender of Islam and the Malay community, say observers, as a looming general election entrenches the party's hardline stand.
While the employment of Islam as a political tool and the condemnation of non-mainstream groups is not new, this has taken on a sharper focus now as the country heads towards a crucial election due in a few months, analysts and politicians told TODAY .
"The recent interest in atheists is topical but unsurprising that they are now made out to be the latest 'threat' to Muslims and public harmony," said Mr Rashaad Ali, a research analyst at the S Rajaratnam School of International Studies' (RSIS) Malaysia Programme.
"Considering the (just concluded) Umno general assembly and the elections next year, the party is busy reminding Malay-Muslims that they're looking out for their interests."
Atheism is the rejection of belief in the existence of a God, gods or deities.
A Malaysian atheist group told TODAY that they believed the attacks against them was not only politically motivated, but also due to increasing intolerance against the minorities in the Muslim-majority country.
"The (coming general) election may have a role to play in it (the attacks against atheists), but there is also a rising trend of intolerant religious extremism in Malaysia, both at a grassroots and government level," a spokesperson for the Malaysian Atheists and Secular Humanists (MASH) group said.
"Ideas antithetical to their narratives are all attacked, including atheism."
The group, which is committed to the values of secular humanism, has about 200 supporters on its Facebook page since it was launched last week.
Atheism was in the spotlight in August after a photo of a gathering by the Kuala Lumpur chapter of Atheist Republic caused an uproar among some in the Muslim community, prompting Mr Shahidan Kassim, a minister in the Prime Minister's Department, to say that atheists should be "hunted down" as they allegedly did not fit in with Malaysian society.
Last month, Mr Asyraf Wajdi Dusuki, a deputy minister in the Prime Minister's Department, warned that atheism is a "very dangerous" ideology. He claimed that the freedom of religion in the Constitution which guarantees the freedom to worship does not include the freedom to not believe.
"The use of religion has always been a very power tool in the country especially to influence the Malay community. It is a very raw and emotive issue," said Mr Asrul Hadi Abdullah Sani, an analyst with risk consultancy firm BowerGroupAsia.
"Islam is a key identity factor for the Malays. Many see themselves as Muslim first, Malay second and Malaysian third."
Pointing out that attacks against atheists or atheism is not new as this has been a "common narrative" in religious Islamic classes and sermons, Mr Asrul said this has led a majority of Muslims in Malaysia to believe that "what is worse than a non-Muslim is a person who doesn't believe in God."
And it is this sentiment that Umno leaders are tapping into to secure its large Malay vote bank ahead of the polls that has to be called by August.
This is especially so since Umno is facing a resurgent Opposition that has re-grouped under 93-year-old former prime minister Mahathir Mohamad — who led Malaysia for 22 years — and the challenge of appeasing angry urbanites suffering from stagnant wages and rising cost of living.
Speaking at the Umno general assembly on Thursday (Dec 7), president Najib Razak warned that if the opposition won the election then Muslim Malays, about 60 percent of the country's 32 million people, "will become homeless and despised in their own country".
He said this despite a warning by a United Nations cultural rights expert in September that there is growing pressure to adopt a more narrow interpretation of the Islamic religion and identity in Malaysia. This excludes the country's cross-cultural history, marginalises religious minorities, and fails to take account of the diversity of Malay Muslims.
And earlier this week, the Malay-majority country was singled out and listed among seven countries worldwide that practice "active persecution" of the non-religious in this year's Freedom of Thought Report by the International Humanist and Ethical Union (IHEU).
Malaysia was given a score of 4.5, with 5 being the worst possible score.
"This (report) clearly proves that Najib's 'moderation' agenda is all smoke and mirrors. At the world stage, he talks about moderation and inclusiveness but clearly the way the religious bureaucracy has been behaving the last few years showed that we are on a slippery slope towards religious bigotry," said Mr Zairil Khir Johari, a Member of Parliament from the Malaysian opposition Democratic Action Party (DAP).
"There is less space for religious minorities including Muslim minorities, as more and more religious bureaucracy is defining Islam in a narrow and parochial manner, limiting the freedom of conscience of Muslims," he said, adding that
beliefs such as atheism is quite alien and misunderstood by Muslim community.
The politicisation of Islam is expected to increase as Umno seeks to appease the ultra Malays among its ranks.
Umno leaders have stepped up the rhetoric emphasising Malay identity and bumiputra privilege, alongside a renewed Islamic vigour that in contemporary times has become associated with "Malayness".
RSIS' Mr Rashaad said the statements made by Umno leaders about atheism will bolster the party's image in the lead up to the national polls
"I believe the Malay electorate would largely buy into the discourse because as an idea it seems attractive that Islam can be constitutionally protected from atheism, despite the arguments made being spurious at best," he said.
"Atheism is a threat to public harmony in as much as one believes that converting out of a religion is a social ill that needs to be eradicated. That logic is sufficient to contribute to a burgeoning siege mentality."
Still, some Malaysians are quite sanguine about the issue.
"Atheism isn't a problem to me because what other people believe or don't believe in is entirely up to them... it doesn't affect my faith at all," said administrative assistant Anne Shurfa.
Businessman Hata Wahari said every Malaysian has the right to practise their beliefs and this includes atheists.
"Everyone should have an open mind about this... we cannot force anyone to follow any religion as this will contravene the Federal Constitution which prescribe that although Islam is the official religion, others are free to practice their respective beliefs as well."
https://www.todayonline.com/world/umnos-war-against-atheists-aims-burnishing-its-role-defender-islam-and-malays-say-observers
--------
Thousands of Indonesians again protest Trump's Jerusalem move
DECEMBER 10, 2017
JAKARTA (Reuters) - Thousands protested outside the U.S. Embassy in the Indonesian capital on Sunday against U.S. President Donald Trump's decision to recognize Jerusalem as Israel's capital, many waving banners saying "Palestine is in our hearts".
Leaders in Indonesia, home to the world's largest Muslim population, have joined a global chorus of condemnation of Trump's announcement, including Western allies who say it is a blow to peace efforts and risks sparking more violence.
Thousands of protesters in Muslim-majority countries in Asia have rallied in recent days to condemn the U.S. move.
Israel maintains that all of Jerusalem is its capital. Palestinians want East Jerusalem as the capital of a future independent state and say Trump's move has left them completely sidelined.
Palestinian people were among the first to recognize Indonesia's independence in 1945, Sohibul Iman, president of the controversial Islamist opposition Prosperous Justice Party which organized the rally, told protesters.
Indonesia should be more proactive in "urging the Organisation of Islamic Conference (OIC) member states and U.N. Security Council and the international community to respond immediately with more decisive and concrete political and diplomatic actions in saving the Palestinians from the Israeli occupation and its collaborator, the United States of America," Iman said.
"Indonesia as the world's largest Muslim country has the largest responsibility toward the independence of Palestine and the management of Jerusalem," he told reporters, adding that he hoped Indonesia would take a leading role within the OIC on the matter.
"Trump has disrupted world peace. It's terrible," one protester, Yusri, told Reuters.
The decision was "a major disaster for the Palestinian people, while the Palestinian's own rights have been taken away for a long time," said Septi, a student at the rally.
Violence erupted for a third day in Gaza on Saturday in response to Trump's decision, which overturned decades of U.S. policy towards the Middle East.
Full report at:
https://www.reuters.com/article/us-usa-trump-israel-indonesia/thousands-of-indonesians-again-protest-trumps-jerusalem-move-idUSKBN1E405Y
--------
Philippines' Duterte seeks martial law extension for south to contain Daesh supporters
11 December 2017
MANILA: Philippine President Rodrigo Duterte asked Congress on Monday to extend martial law across the southern third of the country until the end of next year.
In a letter to lawmakers released by his office, Duterte said extending martial law was necessary in the southern region of Mindanao to contain an ongoing rebellion by Daesh supporters as well as a rising threat from communist guerrillas.
http://www.arabnews.com/node/1207206/world
--------
Europe
Christian and Muslim leaders express support for Sweden's Jewish community
10 December 2017
Malmö's Archbishop and representatives from Muslim organisations have expressed their support for those who have suffered from anti-Semitic incidents this weekend, while Interior Minister Morgan Johansson said the threat against the Jewish community is being taken seriously.
Archbishop Antje Jackelén expressed his sympathy for those affected by ugly scenes in Malmö and Gothenburg this weekend in a column published in newspaper Dagen.
"I would like to assure you of the solidarity of the Swedish church in the fight against anti-Semitism and violence in the name of religion," Jackelén wrote in an address to the Jewish communities in Malmö and Gothenburg.
Protestors were heard chanting anti-Semitic slogans at an unofficial protest in Malmö on Friday, while three people were arrested on suspicion of attempted arson against a synagogue in Gothenburg.
Protestors also burned an Israeli flag at a demonstration in Stockholm on Saturday.
In Malmö, Muslim representatives visited the city's synagogue on Sunday to show their compassion for the Jewish congregation.
"We want to show sympathy and solidarity with Jews in Malmö and condemn all forms of racism and anti-Semitism in society," Alaeddin al-Qut, head of the Ibn Rushd society, an Islamic study group, told SVT Nyheter Skåne.
A spokesperson for the Jewish community reacted positively to the gesture.
"This is a very good initiative. We may have different views, but it is important that we can have a normal conversation and speak to each other," said Freddy Gellberg, spokesperson for Malmö's Jewish community.
Per Eckerberg, bishop in the Gothenburg diocese, expressed his concern at the weekend's events but added that dialogue and respect are the way forward.
"Today we have included the synagogue, the Jewish community and all Jewish citizens in our prayers. We stand by you and will defend your right to security, faith and identity in this city of yours and all of ours," Eckerdal wrote in a press statement.
Minister for Justice and Home Affairs Johansson said on Sunday that authorities were aware of the existing threat against Jewish individuals and organisations in Sweden.
Saturday's attempted arson attack in Gothenburg has gained attention abroad, including that of the American Jewish Committee (AJC), one of the oldest Jewish organisations in the United States.
The AJC wrote in a message on Twitter that, when it spoke to Prime Minister Stefan Löfven and Foreign Minister Margot Wallström eighteen months ago, the two leading Swedish politicians "seemed quite oblivious" to the threat of anti-Semitic sentiment in the Scandinavian country.
"Over the last few years we have increased the capacity of the police security service [Säkerhetspolisens, Säpo, ed.]. I met representatives of the Jewish World Congress a month ago. This type of criticism was not made then," interior minister Johansson said.
Johansson also said that good working relations between the police and individual communities were key, and that it is difficult to completely prevent incidents of the type seen.
The threat against Jewish communities also comes from different elements – white supremacist movements, Islamist groups and the extreme left, the minister said.
"White supremacist activity has also increased in recent times," Johansson said.
Erik Nord, the leader of Greater Gothenburg Police, also said that the threat against Jews was multilateral.
"[Jewish communities] could be affected by violence from all of these three groups. The far left can be against Jewish interests because they are pro-Palestinian so take a strong anti-Israel stance. And that can also mean an anti-Jewish stance. The NMR [Neo-Nazi organisation Nordic Resistance Movement, ed.] and other extreme right wing groups are a threat to them, and religious extremism from Muslims can also be aimed at Jews," Nord said.
"We have now had churches set on fire in Gothenburg and there have been attacks on mosques across Sweden. This shows that what is happening around the world quickly catches on and can have consequences for local society," he continued.
Johansson said that there will now be discussion as to whether it is necessary to make changes to security measures already in place.
"It is always possible to do more. But we have a high level of alert and have allocated more money to the police and security services. We have given them better resources to gain more control over groups that can present a threat," he said.
https://www.thelocal.se/20171210/muslim-and-christian-leaders-express-support-for-swedens-jewish-community
--------
Three Arrested After Firebomb Attack on Swedish Synagogue
By CHRISTINA ANDERSON
DEC. 10, 2017
GOTHENBURG, Sweden — The Swedish police arrested three people on Sunday after a masked gang hurled Molotov cocktails at a synagogue in the port city of Gothenburg as it hosted an event on Saturday night.
The attack set the yard ablaze, but the building did not catch fire and no one was injured. The authorities said the people gathered on the premises had fled to safety in the basement.
A police spokeswoman, Ulla Brehm, said: "It might become a hate crime. The crime is attempted arson. But that may change during the investigation."
The Police Authority's commissioner, Dan Eliasson, told the Aftonbladet newspaper that the threat level against Jewish interests in Sweden had increased since President Trump's announcement that the United States would recognize Jerusalem as the capital of Israel.
The attack in Gothenburg, a city on the country's west coast, came a day after demonstrators took to the streets of Malmo, Sweden's third-largest city, shouting slogans about killing or shooting Jews.
Allan Stutzinsky, chairman of the synagogue, who witnessed the fire, told a local newspaper, Dagens Nyheter, that about 10 young people who had gathered outside the gate began setting fire to objects and throwing them at the synagogue.
"They were masked and setting fire to things and then throwing them over the gate into the courtyard," he said. "There was an actual fire in the yard, but then a heavy rainfall came, and the fire was put out quite quickly."
Ms. Brehm, a spokeswoman for the police in Region West, said Gothenburg officers received a call about the episode after 10 p.m. Saturday. She said the suspects were dressed in black and wearing hoodies.
"They ran away, and shortly thereafter we got hold of three of them," she said.
The police arrested three men in their 20s on suspicion of arson, Ms. Brehm said, adding that they were looking for other suspects. The police did not release further details about the suspects.
Swedish leaders condemned the attack on the synagogue. Prime Minister Stefan Lofven said in a statement on Sunday: "There is no place for anti-Semitism in our Swedish society. The perpetrators will answer for their crimes."
Foreign Minister Margot Wallstrom tweeted: "The attack against the synagogue in Gothenburg and threat of violence against Jews in Malmo is deplorable and totally unacceptable. Anti-Semitism, threats and violence have no place in our society."
Calle Persson, a spokesman for the police in Malmo, said about 200 people gathered in the Mollevangstorget square in central Malmo on Friday afternoon to demonstrate against Israel.
"They had Palestinian flags," he said. "They sang and among other things they yelled that they were going to shoot Jews."
He said officers were scouring video footage of the demonstration and investigating reports of hate speech. A similar demonstration was held on Thursday, he said.
According to Radio Sweden in Malmo, which reported from the scene of Friday's demonstration, protesters said in Arabic, "We've called for intifada from Malmo."
But at a demonstration outside the United States Embassy in Stockholm on Saturday, a speaker with a Palestinian scarf wrapped around his neck told the crowd: "There is no room for anti-Semitism here. Anyone who expresses those sentiments should leave."
Fredrik Sieradzki, a spokesman for the Jewish Community Center in Malmo, said the threat against Jews had been heightened after the demonstrations. "Then this happened in Gothenburg," he said.
He said Jewish leaders had met recently with representatives with Muslim and Palestinian organizations in Malmo. "They wanted to show that they do not accept violence, threats of violence or discrimination against Jews in Malmo," Mr. Sieradzki said.
Malmo, about 169 miles south of Gothenburg, has seen the highest incidence of anti-Semitic incidents in recent years. "That's why we're trying to do something about it together with the City of Malmo," Mr. Sieradzki said.
The Jewish population in Sweden numbers about 18,000, according to the Jewish Museum in Stockholm.
A police chief in Gothenburg told the TT wire agency that Jews in Sweden might fall victim to attacks from leftist extremists angry at Israel, from anti-Semitic right-wing groups or from Muslim extremist groups.
Full report at:
https://www.nytimes.com/2017/12/10/world/europe/sweden-synagogue-molotov-cocktail.html?mtrref=www.google.co.in&gwh=3B268C0DE860D644FDF347D03D474611&gwt=pay
--------
US jets tried to hinder victory over Daesh in Syria: Russia's military
Dec 9, 2017
Russian authorities have indicated how the US military attempted in a latest incident to hinder the full defeat of the Daesh Takfiri terrorist group in Syria.
Igor Konashenkov, the Russian Defense Ministry's spokesman, said on Saturday that American warplanes in Syria had tried in late November to disrupt a Russian air operation against the positions of Daesh in eastern Syria.
"An American F-22 fighter actively prevented the Russian pair of Su-25 attack aircraft from carrying out a combat mission to destroy the Daesh stronghold in the suburbs of the city of Mayadin in the airspace over the western bank of the Euphrates River on November 23," said Konashenkov.
The official added that the American fighter jet had attempted to escalate the situation and engage in a battle with the Russian jets.
"The F-22 aircraft fired off heat flares and released brake shields with permanent maneuvering, imitating an air battle," Konashenkov said, adding that the US plane then stopped dangerous maneuvers and fled to the Iraqi territory after a Russian Su-35S fighter appeared in the scene.
He said similar incidents had occurred in the final weeks of a multi-throng battle against Daesh in eastern Syria, adding that those incidents showed Washington was trying to hinder a full defeat of the terrorist group in the territory.
Russia started its military campaign against the terrorists in Syria in September 2015 when the Syrian government submitted an official request to the Kremlin. Russian President Vladimir Putin last Wednesday declared a "complete victory" over Daesh on both banks of the Euphrates River in Syria.
Konashenkov said US military authorities had failed to provide clear answers to Russian military authorities based in Syria about the dangerous maneuver of the US F-22 fighter on November 23.
Full report at:
http://www.presstv.com/Detail/2017/12/09/545024/Russia-US-air-confrontation-Syria
--------
Two Swiss-French firm officials charged with financing Daesh in Syria
Dec 9, 2017
Two top managers of the Swiss-French industrial company LafargeHolcim have been charged with funneling money to the Daesh Takfiri terrorist group through the company's activities in conflict-ridden Syria.
A judicial source, who spoke on condition of anonymity, said the two senior executives at LafargeHolcim, including its former CEO, were charged on Friday over accusations of paying the Takfiri outfit and other foreign-backed militant groups through a middleman between 2013 and 2014 in an attempt to allow the company's factory in Jalabiyah in northern Syria to continue to operate.
The duo, identified as Bruno Lafont, chief executive from 2007 to 2015, and the group's former Syria chief Christian Herrault, appeared in court for hearings and were remanded in custody over charges of "financing a terrorist organization," and "endangering the lives of others."
Eric Olsen, who took over from Lafont as CEO after the company merged with Switzerland's Holcim, was charged with the same crimes a day earlier. The three officials have been in detention since Wednesday.
Three other top managers at the Jalabiya factory were charged in the case last week.
The company, which produces cement, construction aggregates and concrete, was initially founded as Lafarge in France in 1833. In 2015, however, it merged with Holcim, a Swiss building supplies company, and began to be called LafargeHolcim henceforth.
The Swiss-French firm is also suspected of employing fake consulting contracts to purchase oil from Daesh in mid-2013, when the terror organization took control of most of Syria's strategic oil reserves.
The Takfiri terrorists, who have now lost all the territory formerly under their control in Syria, had taken control of the Jalabiyah plant in September 2014.
Prosecutors opened a probe in June into the company's operations and its possible "financing of a terrorist enterprise." The investigation has gained pace in recent weeks, with police conducting an extensive search at the company's Paris headquarters last month.
Along with France, several European countries, particularly Britain, have been supporting the militants operating against the government of Syrian President Bashar al-Assad since 2011.
They are also party to a US-led coalition, which has been bombing so-called Daesh targets in Syria since 2014. Those raids, which have done little to eliminate the terrorists, have led to a high number of civilian deaths in Syria and caused damage to its infrastructure.
Last week, Britain suspended an aid program for the war-ravaged country to investigate reports that the money is ending up in the wrong hands.
The British newscaster BBC revealed that the cash used to form an unarmed police force in militant-held areas was being diverted to extremist groups.
Full report at:
http://www.presstv.com/Detail/2017/12/09/544988/LafargeHolcim-Daesh-Syria-Jalabiyah
--------
UK accomplice to Saudi crimes in Yemen: Rights group
Dec 9, 2017
Britain's arms sales to Saudi Arabia has been unlawful, making the UK an accomplice to Riyadh's war crimes in Yemen, according to a British rights group.
In an interview with The Independent on Friday, Andrew Smith of the UK-based Campaign Against the Arms Trade (CAAT) said weapons sold to the Saudi regime have been used for killing civilians in Yemen.
According to the UN, more than 12,000 people have been killed since Saudi Arabia launched its deadly military campaign in Yemen more than two and a half years ago.
"The scale of the destruction that has been inflicted upon Yemen is appalling," said Smith as quoted by The Independent.
Smith said supplying weapons to Saudi Arabia was unlawful and the UK government, which was selling arms to Riyadh, was a complicit in this illegal act.
The Saudi-led bombing campaign has created all sorts of shortages, triggering a variety of issues across Yemen, including water, food and medicine shortage, as well as a deadly cholera epidemic which has killed nearly 22-hundred people and is suspected to have infected more than 840,000 others.
The United Nations children's agency (UNICEF) estimated that every 10 minutes a child in Yemen dies of preventable causes.
CAAT accuses the British government of complicity with the Saudis in the atrocities against Yemeni people.
Confessions of a minister
Alistair Burt, the UK's Minister of State for the Foreign and Commonwealth office, told lawmakers at the House of Commons that his ministry has "been tracking 318 incidents of potential concern" since the Saudi's deadly campaign kicked off.
He said that "sensitive information" was provided by liaison officers and used for the analysis of incidents of potential concern which result from air operations in Yemen.
Burt, however, claimed that not one of the 318 incidents tracked by the ministry had hit civilian targets.
However, Burt claimed that in all these attacks no civilians were killed and international law remained unbroken.
"We have a rigorous legal and parliamentary process, and ensuring that international humanitarian law is not breached is clearly a vital part of that. The information supplied by those liaison officers is crucial to ensuring that our international obligations are observed. That is why they are there," he said.
One lawmaker in parliament protested to the minister's blatant cover-up of the truth. Alison Thewliss asked how it was possible that innumerous Saudi airstrikes had not left even one civilian casualty.
"The Minister mentioned 318 incidents of concern, and he may wish to clarify that. How many more incidents are acceptable to the Government, given that 318 incidents of concern have been picked up by the people involved and the armed forces on the ground in Yemen? That is a huge amount of "concern" to have," asked Thewliss from the Scottish National Party.
'Stop arms sales now'
Given the ample proof and positive evidence of civilian deaths and war crimes committed by Saudi Arabia on the Yemeni nation and the humanitarian crisis triggered by Riyadh in the poverty-stricken Arab state, UK and international law forbid Britain from selling weapons to Saudi Arabia.
Full report at:
http://www.presstv.com/Detail/2017/12/09/545046/UK-Saudi-Arabia-Yemen-Arms-Sales
--------
South Asia
Bangladesh seeks int'l community's urgent action to resolve the Rohingya crisis
December 11, 2017
The number of Rohingyas who fled to Bangladesh from Myanmar since August 25 has now risen to 646,000, says the United Nations
Bangladesh has said not only bilateral, but the international community's urgent action is needed for the permanent solution to the Rohingya crisis.
Permanent Representative of Bangladesh to the UN Ambassador Masud Bin Momen made the remark at an event titled 'Strengthening of the Coordination of Humanitarian and Disaster Relief Assistance of the United Nations, including Special Economic Assistance' held at General Assembly, UN Headquarter in New York, said the Bangladesh Mission on Monday.
Also Read- UN: New Rohingya arrivals from Myanmar now 646,000
Mentioning Bangladesh government's continued engagement with the Myanmar authorities in good faith, the Ambassador said: "We stress that Bangladesh can bilaterally address only the issue of the possible voluntary repatriation of the Rohingya to Myanmar, but all related larger questions and issues would have to be addressed by Myanmar with the international community's continued support and monitoring on behalf of the Rohingya".
He urged the donor countries and organisations to respond to the pressing and increasing needs for resources identified by the concerned humanitarian actors, in the spirit of responsibility and burden sharing.
Ambassador Masud reiterated Bangladesh's appreciation for humanitarian assistance provided so far, and pledged made in response to the UN revised response plan to the tune of $434 million for the first six-month period.
He thanked the EU and Kuwait for convening the high-level Pledging Conference in Geneva on October 23 in 2017.
http://www.dhakatribune.com/bangladesh/2017/12/11/bangladesh-seeks-bilateral-global-action-resolve-rohingya-crisis/
--------
World Vision calls for aid for Rohingya refugees to ensure basic human rights
December 10, 2017
The international NGO has also called for donations from both the public and government to maintain emergency services, proper shelter, medical care, sanitation, education and protection services that meet international humanitarian standards.
World Vision has called on the people, organisations and the government of Bangladesh to help enforce basic human rights of Rohingya refugees.
The international NGO has also called for donations from both the public and government to maintain emergency services, proper shelter, medical care, sanitation, education and protection services that meet international humanitarian standards.
"It's a nightmare within a nightmare for many," said Fred Witteveen, national director for World Vision Bangladesh.
"Their wounds are literally quite fresh and mostly still untreated. Many are in shock. Our priority remains to stabilize as much of the camp population as we can reach and ensure protection at every step- no matter where they are. The refugees still find themselves in holding spaces with unclear orders."
World Vision has joined other aid groups to advocate for a safe, dignified, voluntary repatriation process that is in line with international humanitarian law.
Several waves of refugees have fled Myanmar and have ended up in Cox's Bazar and the number is still rising. So far 835,000 refugees, compromising primarily of women and children have been given refuge in Cox's Bazar.
Of them, more than half a million children are in urgent need of physical and psychological care. The camps are overcrowded with unsanitary conditions that have become breeding grounds for waterborne diseases.
Aid workers are desperately trying to find adequate space to deliver basic services in Cox's Bazar.
Full report at:
http://www.dhakatribune.com/bangladesh/2017/12/10/world-vision-aid-rohingya/
--------
Arrests made in connection to killing of 10 members of a Kabul family
Dec 11 2017
The Kabul security officials inform regarding the developments made in the probe into a deadly murder case in Kabul city which left at least ten members of a family dead.
The head of the Criminal Investigation Department (CID) Mohammad Salem Almas said Sunday that three suspects have been arrested in connection to the incident.
He said the suspects were arrested by the security forces from Kabul-Baghlan highway as they were on their back to Kabul after fleeing to Balkh province following the attack.
According to CID chief, the identities of the detained individuals have been ascertained by the relatives of the victims and an investigation is under from the alleged perpetrators as they are beign kept in the police custody.
In the meantime, another security official said at least four individual have been arrested in connection to the incident.
At least ten people including women and children were killed after the gunmen stormed into a house close to Khair Khana area of the city late on Friday night.
The main motive behind the attack has not been ascertained so far but police officials are saying that the bloody incident may have links to enmity between the perpetrators and the family.
Full report at:
http://www.khaama.com/arrests-made-in-connection-to-killing-of-10-members-of-a-kabul-family-04022
--------
Afghan Ambassador optimistic Pak-Afghan ties will improve
Dec 10 2017
The Afghan Ambassador to Islamabad Hazrat Omar Zakhilwal is optimistic that the bilateral ties between Kabul and Islamabad will improve in the near future.
Zakhilwal expressed his optimisms in this regard while speaking to reporters on Saturday.
According to Zakhilwal, the current misgivings and grievances are short-lived and will soon end, emphasizing that were facing the same challenges and enemies.
Insisting on bilateral cooperation to resolve the issues, Zakhilwal said things were moving in the right direction on the diplomatic front.
This comes as the relations between Kabul and Islamabad remains strained mainly due to the circumstances in the fight against the terrorism.
Afghan and US officials have long been criticizing Pakistan for its failure to act against the terror network although they have said that the country has take strict actions against the terror groups posing threat to the Pakistani government.
The director of the US Central Intelligence Agency (CIA) earlier had warned that the United States will take necessary steps if Pakistan fails to destroy terror safe havens in its soil.
In response to a question during a forum in California, Mike Pameo said the defense secretary James Mattis was travelling to Pakistan to "make clear the president's intent" and "will deliver the message that we would love you to do that.
"And that the safe haven inside of Pakistan has worked to the detriment of our capacity to do what we needed to do in Afghanistan," he added.
Full report at:
http://www.k haama.com/afghan-ambassador-optimistic-pak-afghan-ties-will-improve-04021
--------
Arab World
After 25 Years, Imam of Prophet's Mosque Back To Original Mihrab
Yusuf Mohammed
10 December 2017
MADINAH: The General Presidency for the Affairs of Two Holy Mosques has prepared the place for greeting the Prophet (peace be upon him) by asking the imam to go back to the Mihrab of the Prophet, the presidency announced on its website.
Friday prayers at the Prophet's Mosque witnessed the return of the imam to the mihrab in the Prophet's Mosque.
Sheikh Abdullah Al-Biaijan led Friday prayers in the Prophet's Mosque.
The presidency has already prepared the pathway leading to the place for greeting the Prophet and his two companions to allow visitors to greet the Prophet without crowding and harassment, in light of the density of worshippers recently witnessed by the mosque. This comes in line with directives of the leadership to allow visitors perform prayers in the Prophet's Mosque and easily and comfortably greet the Prophet and His companions.
Sources said the directives were issued saying that that leading worshippers in the Prophet's Mosque during Friday prayers, the two Eids, Taraweeh, and midnight prayers will be held in the old mihrab of the Prophet's Mosque.
The sources said the reason behind the decision was to avoid the occurrence of stampeding during the visit of the tomb of the Prophet and his two companions Abu Bakr and Omar.
Leading worshippers from the Prophet's Mihrab ceased 25 years ago. Sheikh Ali Al-Huzaifi was the last imam who led prayers from the Prophet's Mihrab in 1414H.
http://www.arabnews.com/node/1207186/saudi-arabia
--------
Arab Analyst: Regional Nations' Wrath over Quds to Isolate Jordan, S. Arabia, Egypt
Dec 10, 2017
"Trump is not the only one who has made a mistake in his calculations and assessments of the Arab and Islamic world's reaction to the recognition of the occupied Quds as the capital of the Israeli occupying regime. It is clear that Trump's closest allies in the region, including Saudi Arabia, Egypt and the UAE, have also made a big mistake because they have adopted no strong and deterrent position against it, didn't warn Trump about the consequences of his decision and showed no support for the Islamic Ummah's principles," Atwan wrote on Sunday.
"When thousands of angry protestors across Jordan for the first time in the country's history chant slogans against Saudi Crown Prince Mohammed bin Salman and call him as the US mercenary and Egyptian President Abdel Fattah el-Sisi is faced with similar slogans in several Arab states, it means that the so-called moderate Arab states have lined up with the US and Israel their collapse and isolation has started," he concluded.
In relevant remarks earlier today, Iranian Parliament Speaker Ali Larijani called on the Arab countries to declare their refusal to abide by Washington's decision to recognize Juresalem al-Quds as Israel's capital or face their nations' wrath.
"None of the former US presidents showed such an improper behavior but the current US president impudently did such a thing after phone conversations with a number of Arab leaders," Larijani said, addressing an open session of the parliament in Tehran on Sunday.
He added that based on behind-the-scene reports, the measure was taken following certain coordination with the Arab states to normalize ties with Israel and forget the tragedy of the Palestinian people, saying that if the reports are true, the Arab countries have sold their dignity for nothing.
"If the Islamic and Arab states don't go a different path from the US, no dignity will remain for them and they will see the Muslims nations rising against them," Larijani said.
The US president last Wednesday defied global warnings, and said Washington formally recognizes Jerusalem al-Quds as the "capital" of Israel, and will begin the process of moving its embassy to the occupied city, breaking with decades of American policy despite widespread international opposition.
In anticipation of Trump's move, 151 members of the UN General Assembly voted last week to adopt a rare resolution that denounced Israel as the "occupying power" of Jerusalem al-Quds, a city that is holy to Muslims, Christians, and Jews alike.
The city has seen heightened tensions since 2015, when the Israeli military introduced restrictions on the entry of Palestinian worshipers into the al-Aqsa Mosque — Islam's third holiest site.
Over 300 Palestinians have lost their lives at the hands of Israeli soldiers ever since.
Trump announced late on Wednesday that he would relocate the US diplomatic mission in Israel, a decision that the US Congress made in 1995 but all of his successors have deferred ever since.
Israel lays claim to the entirety of al-Quds (Jerusalem) as its capital while Palestinians want its Eastern part as the capital of a future state for themselves.
Palestinian leaders have warned that the potential relocation would fuel strong reaction in the region and deliver a death blow to any prospect of resolving the Israeli-Palestinian conflict.
Full report at:
http://en.farsnews.com/newstext.aspx?nn=13960919001215
--------
Shiite armed groups in Iraq decide to disband
SUADAD AL-SALHY
11 December 2017
BAGHDAD: A number of armed Shiite factions that fought Daesh alongside Iraqi government forces have voluntarily announced their dissolution and placed their fighters under the commander-in-chief of the armed forces, Iraqi officials and Shiite leaders told Arab News on Sunday.
Iraqi Prime Minister Haider Abadi, commander-in-chief of the armed forces, announced on Saturday the liberation of all Iraqi territories and the end of the three-year war against Daesh, which seized almost a third of the territories in the west and north in summer 2014.
"At least four (armed) factions have voluntarily decided to disband their troops and gave the prime minister full authority to determine the fate of their fighters," a senior security Iraqi official told Arab News on condition of anonymity.
"The procedures for disbanding these forces and the implementation mechanisms have not yet been decided, but 90 percent of them are likely to be disbanded and the remainder will be appointed to be a part of the regular security services," the official said.
"No weapon will remain in the hands of anyone outside the control of the state. The decision to disarm the irregular armed factions will be issued in a few weeks and those who refuse to hand over their weapons will be considered outlaw," he added.
Some of these details have been confirmed to Arab News by Karim Al-Nuri, a member of the Popular Mobilization Forces (PMF) and a senior Badr Brigade leader; Aws Al-Khafaji, the head of the Abu Fadhal Al-Abbas armed faction; and Hisham Al-Hashimi, a security expert and one of the national security advisers.
In a statement on Saturday, Al-Khafaji said: "After the final and big victory against Daesh, we are putting all these troops (Abu Fadhal Al-Abass troops) — which are a part of the PMF — fully under the command of the commander in chief of the armed forces."
Shiite armed factions have played a vital role in the fighting against Daesh. They had been fighting under the umbrella of the Popular Mobilization Forces (PMF) which was established by Nuri Al-Maliki, the former Iraqi prime minister, in June 2014, to cover the armed factions who volunteered to fight Daesh alongside the government. More than 120,000 is the number of fighters officially registered in the payroll of the PMF.
Related reports — Page 5
Saraya Al-Salam, or the Battalions of Peace, the biggest Shiite armed faction linked to the powerful Shiite cleric Muqtada Al-Sadr; Kataib Al-Imam Ali and the Battalions of Imam Ali, which is linked to the Shiite clergymen in Najaf, led by Ayatollah Ali Al-Sistani, are among these factions, officials said.
"To restrict the arms at the hand of the state and limit the unjustified militarization of the society, Sadr has called to legalize all the armed factions in Iraq, including the Popular Mobilization Forces," Safa'a Al-Timimi, the spokesman of Saraya Al-Salam, told Arab News.
"Of course we are included in this (Sadr's) call," Al-Timimi said.
"We have already begun discussions with the ministers of defense and interior weeks ago to put in place a mechanism to include a number of our fighters in their formations," he added.
Saraya Al-Salam has 6,000 fighters who are formally registered within the PMF, and they have been deployed in northwestern Karbala, central Samarra, Balad and Ishaqi, Al-Timimi said.
Full report at:
http://www.arabnews.com/node/1207136/middle-east
--------
How ISIS Produced Its Cruel Arsenal on an Industrial Scale
Dec 11, 2017
By JOHN ISMAY, THOMAS GIBBONS-NEFF and C. J. CHIVERS
WASHINGTON — Late this spring, Iraqi forces fighting the Islamic State in Mosul discovered three unfired rocket-propelled grenades with an unusual feature — a heavy liquid sloshing inside their warheads. Tests later found that the warheads contained a crude blister agent resembling sulfur mustard, a banned chemical weapon intended to burn a victim's skin and respiratory tract.
The improvised chemical rockets were the latest in a procession of weapons developed by the Islamic State during a jihadist arms-manufacturing spree without recent analogue.
Irregular fighting forces, with limited access to global arms markets, routinely manufacture their own weapons. But the Islamic State took the practice to new levels, with outputs "unlike anything we've ever seen" from a nonstate force, said Solomon H. Black, a State Department official who tracks and analyzes weapons.
Humanitarian de-miners, former military explosive ordnance disposal technicians and arms analysts working in areas captured from the Islamic State provided The New York Times with dozens of reports and scores of photographs and drawings detailing weapons that the militant organization has developed since 2014, when it established a self-declared caliphate in Syria and Iraq.
The records show the work of a jihadist hive mind — a system of armaments production that combined research and development, mass production and organized distribution to amplify the militant organization's endurance and power.
The resulting weapons, used against the Islamic State's armed foes on many fronts and against civilians who did not support its rule, were variously novel and familiar. At times they were exceptionally cruel.
One report noted that before being expelled from Ramadi, Islamic State fighters buried a massive explosive charge under a group of homes and wired it to the electrical system in one of the buildings.
The houses were thought to be safe. But when a family returned and connected a generator, their home was blown apart in an enormous blast, according to Snoor Tofiq, national operations manager for Norwegian People's Aid, which is clearing improvised weapons from areas that the Islamic State left. The entire family, he said, was killed.
Craig McInally, also an operations manager for the Norwegian demining organization, described indiscriminate inventions elsewhere — including four seemingly abandoned space heaters and a generator recovered near Mosul.
The heaters and generator, useful to displaced civilians and combatants alike, were packed with hidden explosives. The bombs had been configured, Mr. McInally said, so that if a person approached them or tried to move them, they would explode.
Taken together, the scope and scale of Islamic State production demonstrated the perils of a determined militant organization allowed to pursue its ambitions in a large, ungoverned space.
Some weapon components, for example, were essentially standardized, including locally manufactured injection-molded munition fuzes, shoulder-fired rockets, mortar ammunition, modular bomb parts and plastic-bodied land mines that underwent generations of upgrades. Many were produced in industrial quantities.
The findings also included apparent prototypes of weapons that either were not selected for mass production or were abandoned in development, including projectiles loaded with caustic soda and shoulder-fired rockets containing blister agent.
While the Islamic State has been routed from almost all its territory in Iraq and Syria, security officials say that its advances pose risks elsewhere, as its members move on to other countries, its foreign members return home and veterans of its arms-production network pool and share knowledge and techniques online.
"They're spreading this knowledge all over the world," said Ernest Barajas Jr., a former Marine explosive ordnance disposal technician who has worked with ordnance-clearing organizations in areas occupied by the Islamic State. "It's going to the Philippines, it's in Africa." He added, "This stuff's going to continue to grow."
Born of Insurgency
One reason for the Islamic State's level of sophistication was clear: Its armaments programs grew out of the insurgencies fighting the American occupation of Iraq from 2003 through 2011.
Sunni and Shiite militant groups became adept at making improvised bombs, both from conventional munitions abandoned in 2003 by Iraq's defeated military, and with ingredients that bomb-makers prepared themselves. American officials say certain Shiite groups received technical assistance and components from Iran.
Sunni bomb makers also fielded chemical weapons, sometimes by combining explosive devices with chlorine, a toxic substance with legal applications, and other times in bombs made from degraded chemical rockets or shells left from Iraq's defunct chemical warfare program.
The Islamic State, which evolved from Al Qaeda in Iraq, built upon its predecessors' lethal industry.
The group's larger success since also played a role. When the Islamic State seized swaths of territory and major cities in 2014, it took control of shops and factories with hydraulic presses, forges, computer-driven machine tools and plastic injection-molding machines. It also moved into at least one technical college and university lab. This infrastructure positioned the Islamic State for an arms-production breakout.
Behind the capacity was an armaments bureaucracy that supervised product development and manufacture, said Damien Spleeters, head of operations in Iraq and Syria for Conflict Armament Research, a private arms-monitoring and investigative firm that has done field work in both countries during the war.
The system was resilient, Mr. Spleeters said. One of the Islamic State's projects, a series of recoilless launchers that gained prominence late in the battle for Mosul, in northern Iraq, was built from the ground up even while militants were pressured in combat from multiple foes on multiple fronts.
"It just kept going," Mr. Spleeters said of the technical advancements. "They could develop stuff even as they lost territories."
The Islamic State's arms bureaucracy was also disciplined. Detonating cord used in improvised explosive devices was measured and allotted down to the centimeter, Mr. Spleeters said. When a stock ran out, management would fill out a request form for more. The material would be resupplied.
Mr. McInally said the group's armament production appeared centralized and carefully considered.
As de-miners have found weapons, he said, they have routinely encountered improvised devices with a modular design that allowed for the Islamic State's fighters to choose from uniform parts and assemble devices quickly. The separate parts were issued distinctly, to be combined before use.
"It's a collection of pressure plates, a collection of charges, a collection of switches," Mr. McInally said. "Components that can be connected as necessary. It's clever. It's impressive."
The New York Times is withholding technical details of weapons and explosive mixtures described in this article to prevent the spread of information useful to copycats.
Mr. Barajas said the explosive charges themselves were further standardized — via a so-called homemade explosive with a recipe the group tweaked and produced at an industrial scale.
The mixture, he said, is a widely known combination of ammonium nitrate fertilizer and aluminum with a long history of use in many conflicts, including in Iraq. But the Islamic State improved the explosive with the addition of another material that makes it easier to detonate. The Times previously documented the Islamic State's importation of large amounts of ammonium nitrate from Turkey, along with sections of heavy pipe.
Mr. McInally said the group also standardized other items: supplemental charges for mortar rounds to extend their range; a common fuze with a spring-loaded striker assembly machined from an over-the-counter bolt; and an improvised bomb — he said de-miners refer to it as a land mine — that was fielded in a standard-sized plastic tub.
The mines resemble an Italian-made antipersonnel mine called the VS-50, though the Islamic State's version is much larger, prompting de-miners to dryly refer to it as the "VS-500."
As time passed, newly produced VS-500 mines became increasingly water-resistant, extending their life in the ground. Similarly, the striker fuzes that the Islamic State has fielded show signs of being made resistant to moisture and rust.
The first-generation land mines, Mr. McInally said, were not well made. "They didn't weather well," he said. But by the time the Islamic State was defeated in Mosul, he said, it had improved the design and salted the battlefield and villages with weapons "that last a long, long time."
The Islamic State has also engaged in organized scavenging, including collecting dud American-made bombs dropped by coalition warplanes and repurposing their explosive power. One set of photos provided by a de-miner show how the group set up an open-air chop shop to cut open unexploded American aircraft bombs and remove the explosive inside.
These explosives tend to be more powerful and more reliable than homemade explosives. Mr. Barajas said the Islamic State put what it had scavenged to priority use — in suicide attacks.
"Every time I'd run an explosive test on the ordnance buried in the ground, if I found it connected to the pressure switches, it would come back as 'homemade explosives,'" he said. But the explosives in suicide vests and belts, he added, were compounds, including RDX and TNT, extracted from conventional ordnance.
Not all of the Islamic State's developments have been effective. When experimental designs failed, Islamic State engineers made changes or moved on.
According to an American government official who examined an analysis of the rocket-propelled grenade filled with blister agent, the weapons would probably not fly a predictable and accurate path. X-rays, he said, showed that they had been only partly filled, and were unbalanced.
Similarly, the Islamic State seemed to struggle with a series of mortars filled with caustic soda, or lye, a strongly alkaline compound that is sold in a heavy flake form and sometimes used as a drain cleaner.
Dozens of locally produced mortar projectiles filled with caustic soda were found by de-miners in Manbij, Syria, in late 2016. Mr. Barajas analyzed the discovery.
"Caustic soda is extremely hazardous. It'll burn your skin," he said. "If you inhale it, it'll cause death." But the material is also corrosive, so much so that it damaged the interior of the shells the Islamic State had used to hold it.
He said that the Islamic State tried loading 120-millimeter mortar rounds with caustic soda, but that the munitions rusted to the point of exuding salts. They could not be safely fired. "I think once they got this bad reaction, they moved away from this," Mr. Barajas said.
Put to Brutal Use
Many of the Islamic State's bombs have been used against the military and police forces fighting it. Aso Mohammed, a Kurdish de-miner with the Swiss Foundation for Mine Action, said that by his estimates, improvised explosive devices have been responsible for 60 percent of casualties of Kurdish pesh merga soldiers in Iraq's north.
But other uses were consistent with the Islamic State's well-documented disregard for international law and humanitarian concerns evident in their abductions, public executions, production of snuff films and bombings of public spaces.
In a prepared statement, the American military in Baghdad noted that coalition forces have recovered and destroyed booby-trapped teddy bears. De-miners and their supervisors in Iraq frequently trade reports and details of other Islamic State-made booby traps, among them dolls, stuffed animals and plastic trucks, as well as teapots, fire extinguishers, flashlights and copies of the Quran.
Two de-miners, Steve Kosier and Mr. Mohammed, of the Swiss demining organization, said that the Islamic State's locally made weapons had evolved in a predictably sinister fashion. Improvised devices that once were connected to a single plate that would cause the bomb to explode were later in the campaign connected to several plates — an adaptation intended to slow de-miners as they cleared buildings, roads and terrain.
Mr. Kosier said he had disabled one makeshift bomb that "had four pressure plates surrounding the container with a 9-volt battery for each plate." Each plate was connected by a separate electrical circuit to a container of homemade high explosives, which in turn had an "anti-lift device" beneath it — essentially a booby trap added to an already complex booby trap.
Full report at:
https://www.nytimes.com/2017/12/10/world/middleeast/isis-bombs.html
--------
Iraq holds military parade to celebrate win over IS
December 11, 2017
BAGHDAD - Iraq 's armed forces held a military parade in Baghdad on Sunday to celebrate the victory announced by Prime Minister Haider al-Abadi over the Islamic State group.
Abadi on Saturday declared victory in Iraq 's three-year war to expel the jihadist group that at its height endangered the country's very existence. Iraqi army units marched through the main square in Baghdad as helicopters and fighter jets flew overhead, witnesses said. The parade was not broadcast live and only state media were allowed to attend. Abadi had declared Sunday a public holiday after making his announcement, in which he said Iraq had defeated the jihadists "through our unity and our determination". Iraqis took to the streets to celebrate , including in second city Mosul and the capital Baghdad, singing patriotic songs, waving the national flag and shouting "Iraq, Iraq!" The Sunni extremists of IS seized control of large parts of Iraq and neighbouring Syria in 2014.
Backed by a US-led coalition, Iraqi forces gradually retook control of all territory lost to the jihadists over the past three years. The head of the coalition on Sunday congratulated the Baghdad government for defeating IS, but warned that more work needed to be done to ensure the jihadists do not strike again.
Full report at:
http://nation.com.pk/11-Dec-2017/iraq-holds-military-parade-to-celebrate-win-over-is
--------
Israeli Intelligence Agent One of Founders of ISIL Terrorist Group in Syria
Dec 10, 2017
The Arabic-language Al-Hadath news quoted the Tunisian Intelligence Services as disclosing that Qassan Bin Ali Abdul Salam nom de guerre Abu Abdul Rahman al-Tunisi, from Tunisia, that was an emir and a senior commander of the ISIL terrorist group in Deir Ezzur had worked once as an agent of Mossad.
Al-Hadath reported that al-Tunisi was a resident of Italy, suspected of trafficking drugs, adding that al-Tunisi further traveled to Sweden and was employed by the national intelligence agency of Israel.
Abu Abdul Rahman al-Tunisi returned to Tunisia in 2012 and later moved to Syria, where he took up several posts in the ISIL terrorist group, including Emir of ISIL in Deir Ezzur province.
Based on reports, Qassan Bin Ali Abdul Salam was one of the founders of the ISIL in Syria.
Al-Tunisi tried to escape ISIL-held regions with a hefty amount of money, but was arrested and executed by the ISIL.
The Syrian Permanent Representative to the UN told the Security Council in April that Israel provided air support to the ISIL terror group fighting the Syrian Army in Palmyra.
"Israel provided air support to ISIL with airstrikes in Palmyra," Bashar al-Jafari told the audience during the Security Council session on Syria.
Jafari made his remarks during a UN Security Council session held to discuss a draft resolution submitted by the US, Britain and France on the use of Chemical weapons in Khan Sheikhoun in Idlib province.
Jafari was apparently alluding to the Israeli airstrikes that were conducted near the T-4 Military Airport in March.
Full report at:
http://en.farsnews.com/newstext.aspx?nn=13960919001286
--------
Fresh Wave of Infighting Erupts among Terrorists in Southern Damascus
Dec 10, 2017
The websites reported that Al-Nusra attacked the positions and a command center of Ajnad al-Sham affiliated to the Free Syrian Army in al-Qadam region in the Southern countryside of Damascus, killing and injuring each others' fighters.
The websites further said that Ajnad al-Sham later attacked Al-Nusra's command centers and laid siege on them in al-Qadam.
Dissident-affiliated websites reported on Saturday that the Al-Nusra Front was to exit Eastern Ghouta and move towards militant-held regions in Northern Syria following an agreement with Russia.
The websites reported that the Al-Nusra militants were to leave Eastern Ghouta for Northern Syria in the coming days after the militant group and the Russian reconciliation center reached an agreement over the relocation of the Al-Nusra fighters to other militant-held regions.
The websites went on to say that while a large number of terrorists were waiting for the start of the plan, a fresh wave of disunity has surfaced among them.
In the meantime, a source close to the Al-Nusra said that some of the foreign members of the group and commanders were just due to leave the region.
Full report at:
http://en.farsnews.com/newstext.aspx?nn=13960919001074
--------
Saudi, UAE and British foreign ministers meet on Yemen crisis
11 December 2017
The foreign ministers of Saudi Arabia, UAE and Britain met in Abu Dhabi on Sunday night to discuss the latest developments in Yemen.
Saudi Foreign Minister Adel al-Jubeir arrived in the UAE capital Abu Dhabi, which hosted the meeting, earlier on Sunday evening.
According to the Saudi Press Agency, the meeting included the UAE, UK and United States. The statement did not specify who represented the US during the quartet meeting on Yemen.
The international quartet was established in June 2016 by the US, Britain, Saudi Arabia and the UAE and was joined last December by Oman, which has attended several of the consultative body's past meetings.
Full report at:
https://english.alarabiya.net/en/News/gulf/2017/12/11/Saudi-UAE-and-British-foreign-ministers-meet-on-Yemen-crisis.html
--------
Mideast
New Protests Erupt in Muslim, Arab World Against Trump's Jerusalem Decision
December 10, 2017
A new wave of protests against U.S. President Donald Trump's decision to recognize Jerusalem as the Israeli capital erupted Sunday in parts of the Muslim and Arab world.
Lebanese security forces outside the U.S. Embassy in Beirut fired water cannons and tear gas to beat back Lebanese and Palestinian protesters who hurled projectiles at the embassy and burned Trump in effigy, along with U.S. and Israeli flags.
In Indonesia, home to the world's largest population of Muslims, thousands of protesters mounted a demonstration outside the U.S. Embassy in the capital, Jakarta, while other protests occurred in Jordan, Turkey, Pakistan, Malaysia, Egypt and the Palestinian territories bordering Israel.
Police in the Swedish city of Gothenburg arrested three people for allegedly throwing firebombs at a synagogue. A police spokesman said Sunday the incident is being investigated as attempted arson. No one was hurt in the incident.
Officials in Stockholm say security has been tightened around a synagogue in the capital.
Israeli police said a security guard was stabbed and seriously wounded near the Jerusalem bus terminal. His attacker was arrested.
Netanyahu in Paris
Before he left late Saturday for meetings with European leaders, Israeli Prime Minister Benjamin Netanyahu attacked what he said was their hypocrisy in condemning Trump's decision to eventually move the U.S. Embassy from Tel Aviv, where most foreign governments have their embassies in Israel.
"While I respect Europe, I am not prepared to accept a double standard from it," Netanyahu said. "I hear voices from there condemning President Trump's historic statement, but I have not heard condemnations of the rockets fired at Israel or the terrible incitement against it. I am not prepared to accept this hypocrisy."
After meeting with Netanyahu, French President Emmanuel Macron condemned attacks on Israel, but said he opposes Trump's decision on Jerusalem. Macron described it as a "breach of international law and at risk for peace. In risk for peace because I believe these statements do not serve security, including the security of Israel and the Israelis."
Nikki Haley, the U.S. ambassador to the United Nations, defended Trump's decision in an interview on CNN. She said Israel already has numerous government agencies in Jerusalem, adding, "Why shouldn't we have the embassy there?" She said Trump "did the will of the [American] people" by making a decision that previous U.S. presidents refused to do.
Arab League meeting
Earlier Sunday, the Arab League called Trump's decision "a dangerous development that places the United States at a position of bias in favor of the occupation and the violation of international law and resolutions."
The statement was issued early Sunday after an emergency meeting of league foreign ministers in Cairo and went on to say that Trump's decision also strips the U.S. of its role as a "sponsor and broker" in the Mideast peace process.
The resolution also said Trump's Jerusalem decision "undermines efforts to bring about peace, deepens tension and will spark anger that will threaten to push the region to the edge of the abyss of violence, chaos and bloodshed."
The head of the Arab League called on the nations of the world to recognize Palestine as a sovereign state with Jerusalem as its capital, in response to Trump's announcement.
The foreign ministers also called on the U.N. Security Council to adopt a resolution condemning Trump's decision.
The meeting in Cairo took place after days of street protests in the West Bank and Gaza Strip, as well as protests at Al-Azhar Mosque in the Egyptian capital.
A report in Foreign Policy magazine says the White House, in a recent meeting with Palestinian diplomats, failed to tell them about Trump's Jerusalem decision even as the delegation asked if Trump would sign the waiver to prevent the U.S. Embassy from moving to Jerusalem.
The heads of the largest Christian church in Cairo and Al-Azhar University have said they will not meet with U.S. Vice President Mike Pence when he visits Cairo on December 20. Palestinian President Mahmoud Abbas has also announced he will not meet with Pence, saying "the U.S. has crossed red lines" on Jerusalem.
A statement from the Coptic Orthodox Church called the Trump decision "inappropriate and without consideration for the feelings of millions of people."
In Paris, pro-Palestinian demonstrators marched ahead of Netanyahu's visit. Netanyahu met with French President Emmanuel Macron, who has called Trump's decision "regrettable."
https://www.voanews.com/a/lebanon-protest-met-with-tear-gas-water-canons/4157244.html
--------
Turkish president slams Israel as 'terrorist state', 'killer of children'
Dec 10, 2017
Turkish President Recep Tayyip Erdogan has taken a sharp jab at Israel in the wake of the recent decision by US President Donald Trump to recognize Israeli-occupied Jerusalem al-Quds as the capital of the Tel Aviv regime, describing Israel as a "terrorist entity" and "killer of children."
Speaking at a ruling Justice and Development Party's congress in the central Turkish province of Sivas on Sunday, Erdogan blasted the "disproportionate" force being used by Israeli forces against Palestinian protesters, saying that Israel was an "oppressive and occupation" regime.
The remarks came only a day after the Turkish leader decried Trump's decision on Jerusalem al-Quds, stressing that the move "contradicts international law and regional facts."
"America's decision does not comply with international law and human conscience, justice and regional facts. This statement is a big blow to the United Nations Security Council, to which the US is also a member," Erdogan said, adding, "The United Nations cannot have any credibility when its Security Council's permanent members do not respect it."
"Israel is an occupying state, and their police are shooting the youth and the kids... They are striking Gaza with their F-16s. They are striking Palestine in the meantime," Erdogan said.
"I am saying this loud and clear, being strong does not mean being right," the Turkish president pointed out.
Meanwhile, the de facto leader of the United Arab Emirates (UAE) has warned that Trump's decision to recognize Jerusalem al-Quds as Israel's capital could provide a lifeline to militants, who have been dealt stinging blows this year.
"The US move could throw a lifebuoy to terrorist and armed groups, which have begun to lose ground in the region," Abu Dhabi Crown Prince Sheikh Mohammed bin Zayed Al Nahyan told a delegation from the Washington Institute for Near East Policy on Saturday evening.
He stated that Washington's unilateral decision violated UN resolutions.
Sheikh Mohammed also urged the US administration to "reconsider its move and work basically in an effective and neutral manner to draft true principles for peace that serve all and realize development and stability in the region."
On Wednesday, Trump announced his decision to recognize Jerusalem al-Quds as Israel's capital and relocate the US embassy in the occupied lands from Tel Aviv to Jerusalem al-Quds.
The dramatic shift in Washington's Jerusalem al-Quds policy triggered demonstrations in the occupied Palestinian territories, Iran, Turkey, Egypt, Jordan, Tunisia, Algeria, Iraq, Morocco and other Muslim countries.
On Sunday, violent clashes erupted outside the US Embassy in the Lebanese capital city of Beirut during a protest against US president's decision to officially recognize Jerusalem al-Quds as Israel's capital.
Demonstrators burnt tires as well as the US and Israeli flags as they pushed to break through a barbed wire erected by security forces around the embassy complex.
Security forces fired tear gas and water cannon to disperse the angry protesters.
Full report at:
http://www.presstv.com/Detail/2017/12/10/545117/Turkish-presidents-slams-Israel-as-terrorist-state-and-killer-of-children
--------
Iran's Larijani urges Muslims to cut political, trade ties with US
Dec 10, 2017
Iran's Parliament Speaker Ali Larijani has called on Muslim nations to halt their political and trade ties with the US in response to President Donald Trump's "imprudent" recognition of Jerusalem al-Quds as the Israeli "capital."
"Nothing has broken the hearts of Muslims more than Trump's move," Larijani told a parliament session on Sunday. He said even Washington's friends have condemned the "unacceptable and irrational" declaration.
"None of the former US presidents had such an unacceptable behavior, but the incumbent president took the imprudent measure after phone calls with several leaders of the Arab states," he said.
Trump on Wednesday declared that the US was recognizing Jerusalem al-Quds as the "capital" of Israel and had instructed his administration to begin the process of moving the American embassy from Tel Aviv to the ancient city.
The decision has sparked a wave of condemnations, protests and warnings of further conflagration in the Middle East and led to violent clashes between Palestinian protesters and Israeli forces.
Larijani said, "The least expectation from Muslim nations vis-à-vis this imprudence is that they suspend their political ties with the US until Mr. Trump understands the depth of his humiliating behavior towards Muslims.
"And if they have a higher will, Muslims are expected to halt their trade relations with the US so that this fraudulent businessman of a president understands that he cannot trade with the dignity of Muslims," he added.
Larijani said according to confidential reports, Trump's decision was "already coordinated with some countries as part of shoring up the Zionist regime, normalizing relations with the regime, and consigning the tragic drama of the Palestinian nation to oblivion, which means the countries involved have put all their dignity up for auction."
"We wouldn't like to believe these reports but simple calculations show what a scandal America has created through this adventure and that if Muslim and Arab countries do not distance themselves from it, nothing will be left of their dignity and they will have Muslim nations stand up against them."
On Friday, Palestinian officials expressed worries that Saudi Arabia is forgoing their vital rights as it acts behind the scenes to advance a US "grand bargain" over the conflict with Israel that heavily favors Israel.
Larijani said that "apart from the American idiocy, these [Arab] countries suffered the biggest damage because the US took its decision without informing them, which shows America's absolute distrust in these states."
Full report at:
http://www.presstv.com/Detail/2017/12/10/545093/Iran-AliLarijani-Jerusalem-Isarel
--------
Air raids on Yemen rebel training camp kill 26
December 11, 2017
ADEN - Saudi-led coalition air trikes on a Yemen rebel training camp northwest of the capital on Sunday killed at least 26 Huthi fighters, security sources said.
The head of the training camp in Hajjah province, Amar al-Jarab, was among those killed in the strikes, the sources close to the Shiite rebels told AFP. A warehouse where rockets were stocked was also hit, the sources added.
The raids come with the war-torn country plunged deeper into turmoil by Monday's killing of ex-president Ali Abdullah Saleh at the hands of the Huthis after his alliance with the rebels collapsed.
Forces of the Saudi-backed Yemeni government retook the Red Sea town of Khokha from the rebels on Thursday after clashes that killed dozens, local officials and medical sources said. On Sunday, Katyusha rockets believed to have been fired by the Iran-backed Huthis hit Khokha, killing a six-year-old girl and wounding five other civilians, residents said.
Further east in the town of Hays and north in Tuhayta, rebels clashed with loyalists on Sunday, pro-government forces said. Khokha lies between rebel-held Hodeida and government-controlled Mokha on the Red Sea, and is central to the government expanding its control over the strategic coastline.
The port of Hodeida is the main conduit for UN-supervised deliveries of food and medicine to Yemen , where poverty has been compounded by war and a blockade on ports and airports imposed by the Saudi-led coalition.
The International Committee of the Red Cross on Saturday warned against fighting intensifying along the Red Sea coast near what it called densely populated urban areas. ICRC regional head of operations Robert Mardini called on all sides to protect civilians. More than 8,750 people have been killed in Yemen since the Saudi-led coalition intervened in March 2015, to help the government of Abedrabbo Hadi Mansour fight the Huthis.
Full report at:
http://nation.com.pk/11-Dec-2017/air-raids-on-yemen-rebel-training-camp-kill-26
--------
Yemen's Houthis loot funds allocated for orphans in Sanaa
10 December 2017
Houthi militias in Sanaa looted money allocated for sponsoring and looking after orphans, Yemeni sources said on Saturday.
Houthis stole the money from the house of Roqaya al-Hajri, the chairman of Al Rahma Foundation for Human Development and who's also in charge of Dar al-Rahma orphanage in Sanaa.
Houthis raided Hajri's house on Friday night. They looted 30 million Yemeni rials and kidnapped her sons Younes and Elias.
According to the sources, the Houthi militants who stormed Hajri's house searched the entire house as they looked for Hajri to detain her because she is the sister of one of late President Ali Abdullah Saleh's wives.
The Houthis also stole three cars and jewelry and confiscated all cellular phones and laptops.
Full report at:
https://english.alarabiya.net/en/News/gulf/2017/12/10/Yemen-s-Houthis-loot-funds-allocated-for-orphans-in-Sanaa.html
--------
Netanyahu faces pressure in Europe amid Jerusalem protests
11 December 2017
BRUSSELS: Israel's leader faces renewed pressure from Europe on Monday to reboot the Middle East's moribund peace process following widespread criticism of the US decision to recognize Jerusalem as the Jewish state's capital.
Prime Minister Benjamin Netanyahu will be in Brussels for an informal breakfast with EU foreign ministers who will urge him to "resume meaningful negotiations," according to the bloc's diplomatic chief Federica Mogherini.
The talks come after French President Emmanuel Macron met Netanyahu in Paris on Sunday and called on him to freeze settlement building and to re-engage with Palestinians following widespread protests over the US move.
Last week's decision by the administration of US President Donald Trump upended decades of US diplomacy and broke with international consensus.
Speaking alongside Netanyahu on Sunday, Macron again condemned the decision as "contrary to international law and dangerous for the peace process."
"I urged the prime minister to show courage in his dealings with the Palestinians to get us out of the current dead end," Macron said after talks in Paris with the Israeli leader.
"Peace does not depend on the United States alone... it depends on the capacity of the two Israeli and Palestinian leaders to do so," the French leader said.
Netanyahu has praised Trump's decision as "historic" and he explained Sunday that Jerusalem "has always been our capital and it has never been the capital of any other people."
"It has been the capital of Israel for 3,000 years, it has been the capital of the Jewish state for 70 years. We respect your history and your choices and we know that as friends you respect ours. I think this is also central for peace," he said.
"The sooner the Palestinians come to grips with this reality, the sooner we'll move toward peace."
Before leaving Israel, Netanyahu had taken aim at what he called Europe's "hypocrisy," for condemning Trump's statement, but not "the rockets fired at Israel or the terrible incitement against it."
Pointedly, Macron began his pre-prepared remarks with a clear condemnation "with the greatest of clarity of all forms of attacks in the last hours and days against Israel."
Despite the obvious differences between the 39-year-old French leader and the Israeli hard-liner, there were also attempts to show they had developed a good early working relationship and held common views.
"Does this mean Emmanuel Macron and me agree on everything? No, not all of it, but we're working it," Netanyahu said at one point, joking later: "The lunch in the Elysee is superb, the conversation is superb too."
The two countries are keen to reset ties after often difficult exchanges under ex-president Francois Hollande.
Most EU members, including the bloc's biggest countries, have expressed alarm over the Trump administration's policy shift.
Mogherini has warned the decision on Jerusalem "has the potential to send us backwards to even darker times than the ones we're already living in."
Speaking to reporters in Brussels on Friday, she repeated Europe's stance that "the only realistic solution" for peace was two states — Israel and Palestine — with Jerusalem as the capital of both and the borders returned to their status before the 1967 Arab-Israeli War.
"It is in Israel's security interest to find a lasting solution to this decades-long conflict," she added.
But the 28-member block is not unified on the issue — Hungary, Greece, Lithuania and the Czech Republic in particular favor warmer ties with Israel.
Last week Hungary broke ranks to block a joint statement from the EU that was critical of Washington's Jerusalem shift.
Trump's announcement on Wednesday has been followed by days of protests and clashes in the Palestinian territories.
Four Palestinians were killed either in clashes or from Israeli air strikes in retaliation for rockets fired from the Gaza Strip.
Tens of thousands have also protested in Muslim and Arab countries, including Jordan, Turkey, Pakistan and Malaysia.
Further protests were held in Lebanon, Indonesia, Egypt and the Palestinian territories on Sunday.
Macron was also asked if France would attempt to launch another peace initiative to resolve the Israeli-Palestinian conflict following failed efforts in the past.
"There's a desire by the Americans to mediate which remains and I don't want to condemn it ab initio (from the beginning)," he said. "We need to wait for the next few weeks, the next months to see what will be proposed.
"And I think we have to wait to see whether the interested parties accept it or not."
Full report at:
http://www.arabnews.com/node/1207171/middle-east
--------
Israeli, French leaders tangle over US Jerusalem decision
11 December 2017
JERUSALEM: The French and Israeli leaders sparred verbally Sunday over the US decision to recognize Jerusalem as Israel's capital, while new violence rippled across the region following the move by US President Donald Trump.
In Jerusalem, a Palestinian stabbed an Israeli security guard, seriously wounding him in the first attack in the volatile city since Trump's pronouncement Wednesday. In Beirut, scores of Lebanese and Palestinian demonstrators clashed with security forces outside the heavily guarded US Embassy, and Arab foreign ministers meeting in Cairo demanded that the United States rescind the decision.
The move upended decades of US policy, and a longstanding international consensus, that the fate of Jerusalem be decided in negotiations. Israeli and Palestinian claims to the city's eastern sector form the emotional core of their conflict, and Trump's announcement was seen as siding with the Israelis and has drawn wide international criticism.
At a meeting in Paris with Israel's visiting prime minister, French President Emmanuel Macron condemned recent violence against Israelis. But he also expressed "disapproval" of Trump's decision, calling it "dangerous for peace."
"It doesn't seem to serve, in the short term, the cause of Israel's security and the Israelis themselves," Macron said.
He urged Israel to freeze its construction of settlements on occupied lands and called for other confidence-building measures toward the Palestinians.
Israeli Prime Minister Benjamin Netanyahu, who has called Trump's decision "historic," said Israel has maintained its capital in the city for 70 years and the Jewish connection to Jerusalem goes back 3,000 years.
"Paris is the capital of France, Jerusalem is the capital of Israel," he said. "We respect your history and your choices. And we know that as friends, you respect ours."
"I think the sooner the Palestinians come to grips with this reality, the sooner we move toward peace," he added.
The exchange between the two allies set the stage for what could be a tense meeting Monday for Netanyahu with European Union foreign ministers in Brussels. The Jerusalem issue and the moribund peace process are expected to be high on the agenda.
Last week, EU foreign policy chief Federica Mogherini warned that Trump's decision "has the potential to send us backward to even darker times than the one we are already living in."
She also warned that Trump's "move could diminish the potential role that the United States could play in the region and create more confusion around this."
The meeting could be a precursor for what seems to be an emerging rift between Israel and the US on one side, and Europe and the Palestinians on the other.
Palestinian President Mahmoud Abbas has said Trump's decision has in effect disqualified the US from continuing in its role as the traditional mediator of peace talks. The Palestinians have spent recent days trying to rally Arab and broader international opposition to the decision.
After Abbas political adviser Majdi Khaldi said Saturday that the Palestinian leader won't meet with Vice President Mike Pence when he visits the region this month, a spokeswoman for Pence said Sunday it was "unfortunate that the Palestinian Authority is walking away again from an opportunity to discuss the future of the region."
EU leaders, including Macron, have reiterated support for establishing an independent Palestinian state alongside Israel. Trump has said he would support the idea if both sides endorse it — effectively giving Israel a veto over any peace proposal. Netanyahu's government is dominated by opponents to Palestinian independence. Trump's Middle East team, headed by his son-in-law Jared Kushner, has been working for months on a peace plan but has not yet released it.
Israel captured east Jerusalem from Jordan in the 1967 Middle East war and annexed the area to its capital in a move that was not internationally recognized. The Palestinians claim east Jerusalem as the capital of a future state, along with the West Bank and Gaza Strip.
East Jerusalem is home to Judaism's most sacred site, as well as key holy places for Christians and Muslims. These conflicting claims have erupted into deadly bloodshed in the past.
A senior US official appealed to world leaders, especially in the Middle East, to calm regional tensions.
Acting Assistant Secretary of State David Satterfield told Arab journalists that Trump's pronouncement was merely a "recognition of simple reality" that Israel's government already is in Jerusalem.
He said the US was not prejudging final-status negotiations about the city's final borders and expressed hope that world leaders understand the US is committed to moving forward with a peace plan he expects to be unveiled in the new year.
"This is a question of choice: Do leaders choose to speak to their peoples, to their regions in terms that reflect reality or in terms that incite or inflame?" he said. "We hope it's the former."
The Palestinians staged three "days of rage" after Trump's dramatic announcement, with clashes breaking out in flashpoints across the West Bank, east Jerusalem and the Gaza Strip, and Gaza militants firing rockets into Israel. Four people in Gaza were killed. In the West Bank, there were dozens of injuries, but no deaths.
There were indications that Sunday's stabbing at the Jerusalem bus station was motivated by Trump's move, although police did not officially confirm it.
They said the attacker was a 24-year-old Palestinian from the West Bank city of Nablus. Israeli media identified him as Yassin Abu Al-Qarah, who posted on his Facebook page in recent days about Jerusalem, saying "our blood is devoted" to the holy city. Comments on his profile called him a hero for the alleged attack.
Police spokesman Micky Rosenfeld said the guard sustained a serious wound to his upper body and the attacker was apprehended.
Palestinian youths also clashed in the West Bank city of Bethlehem, hurling stones at Israeli soldiers, who fired back with rubber bullets and tear gas.
In Beirut, Lebanese security forces broke up the protest outside the US Embassy after demonstrators pelted them with stones. After a rowdy start, the protest drew several hundred people and became more peaceful, with demonstrators chanting and singing.
Clashes resumed in the afternoon, with security forces chasing and arresting a handful of protesters and lobbing tear gas. Lebanon is home to 450,000 Palestinian refugees, nearly 10 percent of the population.
In a resolution long on rhetoric but short on concrete actions, Arab foreign ministers demanded the recognition decision be rescinded and urged the UN Security Council to adopt a resolution condemning Trump's decision. They acknowledged that Washington would most likely veto it.
If the US vetoes such a resolution, the Arabs would seek a similar resolution in the UN General Assembly, Palestinian Foreign Minister Riyad Malki told a news conference in Cairo.
With few options for the Palestinians, and the Arab world preoccupied by other crises, Arab willingness to press the issue may be limited. In Paris, Netanyahu talked about his quiet but improving relations with Arab countries that look to Israel as an ally against Iran.
"There is in this a blessing, because this could help pave the way to an ultimate peace between us and our Palestinian neighbors and between us and the rest of the Arab world," he said.
Nikki Haley, the US ambassador to the UN, defended Trump's move.
Full report at:
http://www.arabnews.com/node/1207146/middle-east
--------
Africa
African Union warns 6,000 jihadists who fought for Islamic State could return home
11th December 2017
ALGIERS: Up to 6,000 Africans who fought for the Islamic State (IS) jihadist group in Iraq and Syria could return home, the African Union's top security official warned Sunday, calling on countries to prepare for the threat.
Smail Chergui, the AU's commissioner for peace and security, said African nations would need to work closely with each other and share intelligence to counter returning militants.
"There are reports of 6,000 African fighters among the 30,000 foreign elements who joined this terrorist group in the Middle East," Chergui told a meeting in Algiers, according to the Algeria Press Service news agency.
"The return of these elements to Africa poses a serious threat to our national security and stability and requires specific treatment and intense cooperation between African countries," he said.
Tens of thousands of foreign fighters joined the Sunni extremist group after it seized vast swathes of Iraq and Syria and declared a caliphate in 2014.
But the group has suffered a host of losses to both its territory and military capabilities in the last year.
Backed by a US-led coalition, Iraqi forces gradually retook control of all territory lost to the jihadists, declaring on Saturday that the country was now liberated from its control.
In Syria, the group faces western-backed Syrian rebels, jihadist rivals and government forces that are supported by Russia and Iran.
But the losses have sparked fears that IS's remaining foreign fighters may now relocate, bringing their extremist ideology and violence with them.
http://www.newindianexpress.com/world/2017/dec/11/african-union-warns-6000-jihadists-who-fought-for-islamic-state-could-return-home-1724125.html
--------
Zimbabwe: Religious Intolerance Must Come to an End
8 DECEMBER 2017
By Leroy Dzenga
In compiling leading topics that have characterised public debate in Zimbabwe in 2017, ignoring the new primary and secondary education curriculum would be dishonest.
The policy's implementation has inspired conversations in varying spaces - from pubs, churches, public transport and any other place - where Zimbabweans were able to meet and engage.
Of all concerns raised, one flew higher than the rest. There were claims that through the new curriculum, "Lazarus Dokora, a bearded Muslim, wants to smuggle his religion into the national education system."
Names were called and the resultant anger was clearly visible. The former Primary and Secondary Education Minister, Dokora, carried the cross for trying to liberalise religious education from a linear Christian monopoly, opening up spaces for other religions to be taught to learners.
In doing so, he sparked the ire of a significant number of Zimbabweans, who believe that it is Christianity or nothing when it comes to belief. It is difficult to blame people for a seemingly allergic stance to anything that is not within their naturalised religion without historical context. Years of colonisation always leave the host country spiritually violated and quite often paranoid.
People will condemn each other, trying to defend a belief system that was brought by colonisers, but not say a word in defence of their indigenous systems.
While everyone has a right to follow their conscience and pledge allegiance to ideas they find fit, some end up believing they have bigger rights of worship than others.
Freedom of thought, expression and religion should be a visible beacon in a country known for its educational endowment, but it seems some in Zimbabwe are not ready for alternative perspectives.
Is there anything wrong with Islam as a belief to the extent that people would reject ideas meant to improve the education system based on rumours of its introduction?
Several attempts to set the record straight by the Ministry of Primary and Secondary Education did not do much to change the perspective of a people who had already made conclusions.
Instead of appreciating that learners would have a chance to grow exposed to different religious and make informed decisions, people insisted on the colonial way of confining people to singular religious ideas.
Religious intolerance is an elephant in the room threatening to stomp the Zimbabwean society. There is need to address it properly; the Islam confusion in local education can be an apt reference point. Wasn't our past education system complicit in nurturing protracted ignorance about other religions?
In primary school, Religious and Moral Education - a lot of coverage was given to Christianity, while other religions like Hindi, Islam and the African Traditional Religion were given peripheral treatment.
The system has moulded adults who are uninformed on the fundamentals of religions they do not subscribe to, as a result they do not want their children to be introduced to new ideas.
Some have argued that religious calibration should not be a central process, every family can teach their child ideas they believe are best for them.
Following this trajectory would do away with other religious groups feeling under-represented, the opportunity cost is the moral fabric which may get tested.
The Constitution defines Zimbabwe as a secular republic, this means that there is freedom of worship and trying to teach a few because of their popularity is a disservice to the numerically under-represented.
There is a concept in democracy known as the tyranny of the majority. This is when the people who make up most of a certain demographic have more audible voices in society. Agitations by Christian groups over the new curriculum have shown that they are not willing to share space with other religions, an element of the tyranny in numbers.
When the debate was raging, some churches had rebuttals thinly veiled as sermons, urging members to "pray for our children", turning a blind eye to the chance afforded to choose a religion.
In one extreme social media video clip, there was a supposed demon that confessed to be Dokora. If that was not mischief or borderline madness, it was both.
If Christianity is good, then it should be allowed to compete with other ideas of faith and transcend through its doctrine not interpellation. The country is gliding into a new dispensation and as in other spheres, there should be dialogue around religious tolerance. Ideas are not mutually exclusive and there is enough space for everyone to believe in their own religion.
There is already a long list of polarising factors in the world, Zimbabwe could benefit from striking religion off the list. Just like racism, religious exclusion leaves minority groups exposed to prejudice, which may result in limited opportunities for them.
For inclusive development and growth, there has to be a culture of respect despite one's religious standing. The Ministry of Primary and Secondary Education's plan to ensure that all religions are given an equal platform, creating foundations for improved social relations and co-existence has been met with resistance.
Full report at:
http://allafrica.com/stories/201712080163.html
--------
Thousands rally in Nigeria against US Jerusalem move
10.12.2017
No fewer than three thousand Nigerian Muslims on Sunday staged a rally in the commercial capital city of Lagos to reject U.S. Donald Trump's decision to recognize of Jerusalem as the capital of Israel.
The protest, called by three major Muslim organizations, also urged world leaders to form a united front to confront the "unilateral and counterproductive" declaration as well as hold the US leader responsible for the violence that has broken out in the region.
On Wednesday, U.S. President Donald Trump announced the U.S.'s recognition of Jerusalem as Israel's "undivided" capital and said the U.S. Embassy would relocate from Tel Aviv to Jerusalem.
The dramatic shift in Washington's Jerusalem policy triggered demonstrations in the occupied Palestinian territories, Turkey, Egypt, Jordan, Tunisia, Algeria, Iraq and other Muslim countries.
Jerusalem remains at the heart of the Israel-Palestine conflict, with Palestinians hoping that East Jerusalem -- now occupied by Israel -- might eventually serve as the capital of a future Palestinian state.
"The unilateral declaration is a threat to world peace and we urge a united global action to stop it," Lukman AbdurRaheem, president of the influential Muslim Congress (TMC), said at the rally.
Displaying placards condemning the development, the protesters also called on the Nigerian leader Muhammadu Buhari to break his silence over the 'glaring injustice' done to the Palestinians and the Muslim world.
They also urged local Christian leaders to get off the "erroneous belief" that Trump's action served any Christian agenda.
Abdul Waheed Adetoyebi, head of Muslim Awareness International, called on world leaders to boycott the U.S. and Israel in a bid to force them to reverse the policy.
"We welcome Turkey and Lebanon's suggestion of a diplomatic boycott of Israel over this unfortunate course of action, and we strongly encourage other Arab and Muslim nations to follow suit," Adetoyebi added.
Saheed Ashafa, president of Muslim Students Society of Nigeria in Lagos, said Trump's recognition of Jerusalem as Israeli capital was a slap on the Muslim world and lovers of justice.
Full report at:
http://aa.com.tr/en/africa/thousands-rally-in-nigeria-against-us-jerusalem-move/1000632
--------
North America
Al Qaida Seeks to Capitalize on Muslim Anger Over Jerusalem
December 10, 2017
Al Qaida is seeking to to exploit Muslim anger over President Donald Trump's decision to recognize Jerusalem as the capital of Israel and to present itself as the true defender of Islam and the Palestinians.
The jihadist group posted Saturday a 17-minute audio message from Osama bin Laden son's, Hamza, in which he lambasts Saudi Arabia's royal family, accusing the House of Saud of betraying the cause of Palestine.
Analysts suspect the audio message was recorded by Hamza, who's been dubbed by the media the 'Crown Prince of Terror," before President Trump's midweek announcement, in which the U.S. leader said his administration would start the process of moving the American embassy from Tel Aviv to Jerusalem.
His message — the third in a series of three inciting violence against the Saudi establishment — makes no mention of President Trump's decision, but the timing of its release appears to be a bid to capitalize on it, according to the Middle East Media Research Institute, a U.S. research group that monitors jihadist online activity.
Hamza bin Laden, who analysts say is likely being groomed eventually to lead al Qaida, claims in the audio message that the Saudi royal family has betrayed the Palestinians since the Ottoman era.
In 2014, Hamza was reportedly directing al Qaida's Syria-based Khorasan Group. He lived in Iran for many years along with other family members after fleeing Afghanistan in the wake of the 9/11 terror attacks on New York and Washington.
The timing of the release of his message may have been prompted by criticism of al Qaida by its rival the Islamic State.
While condemning Trump's decision to reverse long-standing U.S. policy on Jerusalem, IS also took aim at its jihadist competitor and other militants as well as Arab leaders, sneering at them for having done little to back the Palestinians and for using Palestine to suit their own purposes.
In an editorial in the Islamic State's weekly online newspaper, the group complained of the hypocrisy of rivals, charging, "Sixty years [have passed] and Al-Quds has been in the Jews' hands, and then people are crying the moment the Crusaders declared it today a capital for them [i.e. for the Jews]."
IS claimed to be the true guardian of Jerusalem and the city's Al Aqsa Mosque.
Palestine and Israel's occupation of the West Bank and Gaza have been key themes of jihadist narratives going back to Hamza's father, Osama bin Laden. Al Qaida's central leadership invoked the group's founder in its initial statement condemning Trump, quoting him as saying once, "I swear by Allah, America and those who live in America shall never even dream of peace until we experience it as a reality in Palestine."
In response to Trump's decision to recognize Jerusalem as Israel's capital, al Qaida leaders declared: "The surest and shortest way to confront the aggression and arrogance of America, the Pharaoh of this age, is through Jihad."
Previous U.S. administrations have declined to honor a 1995 vote in Congress to move the embassy to Jerusalem for fear both of undermining Mideast peace negotiations and of playing into the hands of militants.
Last week, when urging the Trump administration against reversing U.S. policy, Jordan's King Abdullah warned that moving the U.S. Embassy from Tel Aviv to Jerusalem would provoke extremists and cause anguish across the already volatile Middle East.
During a meeting with U.S. congressmen, the Jordanian monarch warned the decision would be exploited by terrorists and used "to stoke anger, frustration and despair to spread their ideologies." Jordanian intelligence officials say they warned their American counterparts that by recognizing Jerusalem, hostility against the U.S. would increase, making it harder for Jordan and other moderate Arab governments to cooperate openly with America.
In the wake of Trump's decision, Palestinian militants have threatened to target U.S. "interests and installations throughout our occupied land."Al Qaida affiliates have been quick to fan the flames of Muslim anger.
The spokesman of Somalia-based Harakat Al-Shabab Al-Mujahideen urged Muslims to take up weapons and conquer Jerusalem by force. Al Qaida in the Arabian Peninsula said Jerusalem was not Trump's property to sell to "the Jews," and it vowed to provide Palestinians with any support they require.
"Bin Laden's outfit has long sought to tie the Israeli-Palestinian conflict to its mission, even though the group has had little to do with it," argues Thomas Joscelyn, an analyst at the Foundation for Defense of Democracies, a Washington-based think tank. Writing in the Long War Journal, he cautioned, "That could change in the future."
https://www.voanews.com/a/al-qaida-seeks-to-capitalize-on-muslim-anger-over-jerusalem/4157692.html
--------
URL: https://www.newageislam.com/islamic-world-news/lashkar-e-taibas-charity-wing/d/113529
New Age Islam, Islam Online, Islamic Website, African Muslim News, Arab World News, South Asia News, Indian Muslim News, World Muslim News, Women in Islam, Islamic Feminism, Arab Women, Women In Arab, Islamophobia in America, Muslim Women in West, Islam Women and Feminism