New Age Islam News Bureau
22 Dec 2016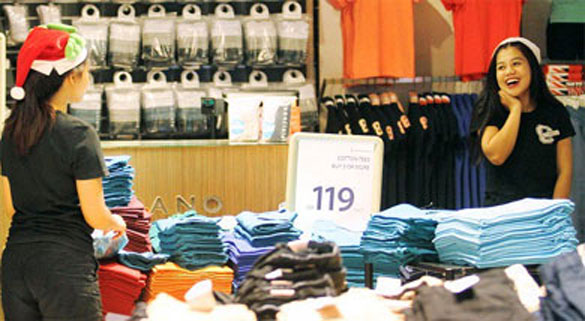 Tone it down: Two employees chat in a CLOTHING store at Bandung Indah Plaza shopping center in Bandung, West Java, on Wednesday. Bandung Mayor Ridwan Kamil has issued a circular appealing to companies not to force non-Christian employees to wear Christmas attributes. (JP/Arya Dipa)
----------
• Kuwait Urges Response to Terror by Manifesting Islamic Heritage
• Alloush: 'Moscow Declaration' Is a Crime; Must Get Ready For Post-Aleppo
• Erdogan: Killer of Russian Envoy Was Member of Gulen Group
• Shocking! This Party Is Seeking Votes to Establish 'Islamic Rule in India'
• Staff in Jakarta Malls Object to Santa Hats for Style Reasons
Arab World
• Kuwait Urges Response to Terror by Manifesting Islamic Heritage
• Alloush: 'Moscow Declaration' Is a Crime; Must Get Ready For Post-Aleppo
• 138 ISIS Militants Killed In Syria's Al-Bab
• UN votes to set up panel to prepare Syria war crimes cases
• Seven killed by bombs near Iranian Kurdish Party HQ in Iraq
• Syria: US-backed war crimes panel flagrant interference
• ISIS in Mosul targets civilians as it retreats
• Canada fights off court challenge over Saudi arms
• Aleppo On Verge of Full Liberation: Terrorists' Evacuation Resumes
• Turkish Army, Militant Allies Enter Key Town in Northern Syria
• Aleppo: Militants Start Releasing Captured Syrian Soldiers
• Syrian Army Continues Anti-Terrorism Operation in South to Seal Border with Jordan
--------
Mideast
• Erdogan: Killer of Russian Envoy Was Member of Gulen Group
• 14 Turkish Soldiers Killed In Battle for ISIS-Held Town
• Iran executes 'most atrocious' war crimes in Aleppo
• Iran's president rejects military solution to Karabakh dispute
• UN to vote on resolution against Israeli settlements
• Probe launched into why Turkish assassin wasn't taken alive
• Turkey suspends 2k education staff over coup plot
--------
India
• Shocking! This Party Is Seeking Votes to Establish 'Islamic Rule in India'
• China Sticks to Its Stand on Masood Azhar despite NIA Chargesheet
• No interim relief for Pak-born man seeking Indian citizenship; HC to hear his plea in January
• IS A Threat, Be Alert In India: US to Citizens
• Muslim Reservations – Consultations with Retired Judges and Noted Lawyers
• India, Kyrgyzstan share common concerns on threat of terrorism, extremism: President Mukherjee
--------
Southeast Asia
• Staff in Jakarta Malls Object to Santa Hats for Style Reasons
• Indonesia Police Foil Christmas Bomb Plot, Kill Three 'Militants'
• Indonesia Prepares for Anti-Christmas Muslim Mobs as Jihadis Arrested for Bomb Plot
• Police Arrest Islamic State-Linked Terrorist in N. Sumatra
• Umno veterans claim Shah Alam varsity breeding terrorists, calls for closure
• Malaysia Arrests Seven Suspects with Islamic State Links
• Now, PAS says Hadi visited Iran to represent party
• Police: IS bomb maker from Perak recruiting Malaysians
• Framing of Uighurs as terrorist threat for Indonesia
• Halal products are catching on as Muslim population booms
--------
Pakistan
• Kabul's Anti-Pakistan Diatribe Can Affect Ties, Warns Nisar
• My Son Is Innocent, Says Father of Pakistani Asylum Seeker Suspected Of Berlin Attack
• Pakistan is the only country where terrorism is seeing a downward trend: Ch Nisar
• Jhangvi's son distances himself from anti-Shia tirade
• Daish flag, hate material seized in raid in district Sargodha
• 364 Pakistanis behind bars in Saudi Arabia
• Pakistan should talk to Trump in business language: Kasuri
--------
South Asia
• US React On Taliban's Demands for Direct Talks, Saying 'We Support Afghan-Led Process'
• Taliban attack home of Afghan lawmaker in capital, killing 8
• Myanmar Border Guards Say Local and Foreign Muslims Carried Out Rakhine Attacks
• Deadly attacks foiled in Kabul city, suicide bombing vests, explosives seized: NDS
• 5 Taliban leaders critically injured in premature bomb explosion
--------
Africa
• Al Shabaab Militants Kill Senior Official in Somalia's Puntland
• Nigerian troops rescue 1,880 civilians from Boko Haram in one week
• 11 kids killed when bus runs into Muslim procession in Nigeria
• 19 protesters killed in DR Congo's capital: UN
• Interfaith platform given peace award
• Nigerian troops rescue at least 1 880 civilians from Boko Haram
--------
North America
• Two Muslim Americans Kicked Off Delta Flight for Speaking Arabic
• Why Muslim-Jewish cooperation matters for America
• Trump: European Attacks 'Prove' He Is 'Right' on Need for Muslim Screening
• U.S. Rep. Jared Polis pledges to support Muslims
--------
Europe
• The UK Muslim Community Feels under Attack
• Russian Envoy's Murder Blow to Turkey's Prestige: Kremlin
• King Mohammed VI Attends Synagogue Inauguration, Shows Commitment to Moroccan Jewish Community
• Fake suicide vest sparks terror scare in Paris heist
• German police question Tunisian suspect's family over Berlin attack
• French mayor to be tried for Muslim 'problem' comments
• Muslims and Christians team up to help homeless
Compiled by New Age Islam News Bureau
URL: https://www.newageislam.com/islamic-world-news/new-age-islam-news-bureau/kuwait-urges-response-to-terror-by-manifesting-islamic-heritage/d/109458
--------
Kuwait Urges Response to Terror by Manifesting Islamic Heritage
Dec 22, 2016
JEDDAH: Kuwait said yesterday it is imperative to confront terrorism by promoting Islamic cultural heritage in order to debunk stereotypes about the religion of Islam. The remark was made by Assistant Undersecretary of Minister of Information for the Sector of Press, Publication and Printing Khaled Al-Rashedi in a speech he delivered on behalf of the Minister of Information during the Islamic Conference of Ministers of Information of Islamic Cooperation Organization (OIC) member states.
He expressed belief that response to extremism and terrorism should proceed from promoting Islamic cultural heritage and correcting stereotypes of Islam as well as establishing the concepts of amity, tolerance and fraternity.
He also called for cementing cooperation among the OIC member states through a single media and cultural discourse based on decrying sectarianism and intolerance but promoting togetherness and tolerance.
They are further required to boost cultural exchange and integration among their media and cultural organizations as a springboard for defending the Muslim nation's issues and rights, mainly Jerusalem and Al-Aqsa Mosque. In this context, the Kuwaiti official emphasized that it is necessary to attach more attention to the African continent which constitutes a considerably weighty Islamic depth for Arab and Islamic issues.
Kuwait has taken tangible steps in this regard by hosting an Arab-African summit in 2013 and providing $1 billion in grants and concessionary development loans valued at $5 billion to development projects in Africa, he boasted.
Rashedi pointed to a $1 million annual award in the name of the late Dr Abdulrahman Al-Sumait for development and intellectual research in the African continent. Furthermore, there should be some sort of cooperation and coordination between media and diplomatic channels with a view to backing the OIC's internal and external media orientations and programs, he urged.
Kuwait attaches much significance to the question of pushing forward the culture of peace and encouraging dialogue among religions, civilizations and cultures, particularly as waves of extremism, intolerance and terrorism are remarkably growing, he added. All the news agencies of the OIC member states are required to work together in earnest in order to play a more effective part in manifesting the real image of the tolerant religion of Islam, he noted. The Islamic Conference of Ministers of Information of Islamic Cooperation Organization (OIC) member states started its 11th session in the Saudi city of Jeddah earlier yesterday under the title 'Renewed Media Role in Countering Terrorism and Islamophobia'. It is CHAIRED by Saudi Minister of Culture and Information Dr Adel bin Zaid Altoraifi and mainly attended by OIC Secretary General Dr Yusuf bin Ahmed Al-Othaimeen and OIC Ministers of Information. – KUNA
http://news.kuwaittimes.net/website/kuwait-urges-response-terror-manifesting-islamic-heritage/
--------
Alloush: 'Moscow Declaration' Is a Crime; Must Get Ready For Post-Aleppo
21 December 2016
The Syrian opposition delegation's chief negotiator, Mohammad Alloush, told Al Arabiya's sister channels Al Hadath on Wednesday that the 'Moscow Declaration' is a crime against humanity.
He added that such a declaration is exploitive to the max by Russia and Iran, and a major crime, described as a shame on the international community.
He said: "We are counting on Turkey's role in resolving the Syrian crisis." He called on the Arab states and the brothers of the Syrian people to stand by Turkey in such negotiations.
As for the scene in Aleppo, he said: "We have to learn from mistakes in the battle of Aleppo for the upcoming battles, in Idlib, Hama, Ghouta, and the south."
He also called on militant factions in Syria to activate the southern front in the shield. He stressed the need to unite and start again, stressing that the fall of Aleppo does not mean the end of the revolution.
Alloush added: "US President Obama's administration abandoned the Syrian people and did not provide help, they prevented the arming of the opposition, and is now withdrawing from the political scene in favor of the Russians."
The "Moscow Declaration" has been in the making since Tuesday following a tripartite meeting between the foreign ministers of Turkey, Russia, and Iran.
https://english.alarabiya.net/en/News/middle-east/2016/12/21/Alloush-Moscow-Declaration-is-a-crime-must-get-ready-for-post-Aleppo-.html
--------
Erdogan: Killer of Russian envoy was member of Gulen group
21 December 2016
President Recep Tayyip Erdogan on Wednesday said for the first time the Turkish policeman who assassinated the Russian ambassador to Ankara was a member of the group of the US-based preacher blamed for the July coup.
"There is no need to make a secret out of the fact he was a member of FETO," Erdogan said at a news conference, two days after the killing of ambassador Andrei Karlov in Ankara.
Turkey has embarked on a massive crackdown on what it calls the Fethullah Terror Organisation (FETO) in the wake of the July 15 coup aimed at unseating Erdogan.
But Erdogan said the assassination of Karlov showed Gulen supporters were still present within the security forces.
"I have to say this very clearly -- this dirty organisation is still within the military, still within the police," he said.
"We of course are continuing and will continue to carry out purges. We will do this with sensitivity," he added.
But the Kremlin, which has sent 18 Russian investigators to Ankara, indicated earlier that it was not the time for hurried pronouncements on responsibility.
"In this case it is hardly worth hurrying to any conclusions until the investigation determines -- as our president said -- who was behind the murder of our ambassador," Kremlin spokesman Dmitry Peskov told reporters.
Gulen himself has condemned Monday's assassination of ambassador Karlov and had denied any involvement in the July 15 coup.
https://english.alarabiya.net/en/News/middle-east/2016/12/21/Erdogan-says-killer-of-Russian-envoy-was-member-of-Gulen-group-.html
--------
Shocking! This party is seeking votes to establish 'Islamic rule in India'
December 15, 2016
Azamgarh: While several TOP political parties are eyeing Muslim votes in the upcoming assembly elections in Uttar Pradesh, a newly floated political outfit is seeking votes in the name of Islam, promising to establish Islamic rule in the country.
According to reports, a poster released by the party reads: ''There is only one way to establish Islamic rule in India – Islam Party''.
The poster, while urging the local voters to vote in the name of Islam, also carries a picture of the party's national general secretary Aftab Qamar Ansari.
Interestingly, the party has fielded Ansari for 346 Mubarakpur Assembly constituency of Azamgarh.
Azamgarh city in the eastern UP of India has a rich history and a substantial Muslim population.
Samajwadi Party (SP), mainly backed by Muslims, had emerged as the single largest party with clear majority and formed the government in the state by defeating its main rival Bahujan Samaj Party (BSP) in 2012 assembly polls in the state.
The Muslim representation in the 403-seat assembly after the 2012 polls is now nearly 17.12%, which is close to Muslim population share (18.50%) in the total population of the state.
http://zeenews.india.com/uttar-pradesh/shocking-this-party-is-seeking-votes-to-establish-islamic-rule-in-india_1958726.html
--------
Staff in Jakarta malls object to Santa hats for style reasons
December 22, 2016
Despite an edict issued by the influential Indonesia Ulema Council (MUI), many Muslim employees in the capital say that appearance, rather than religious objections, is the main reason they have a problem with wearing Christmas-related paraphernalia.
A female supervisor of a department store in Taman Anggrek mall in West Jakarta, for example, said she wore a Santa hat while working at the shop's children's clothing section because she wanted to enliven the season's festivity.
The mall itself is already decorated with colorful Christmas trees along with other paraphernalia.
"I am okay with a Santa hat because I don't believe it will encourage me to convert," said the supervisor, who declined to be named, on Wednesday.
She acknowledged, however, the hassle she had to endure while wearing the hat because she needed to loosen her hair, which made her look less attractive and professional.
"Most of us actually refuse to wear them not because of the edict issued by the MUI, but because of our appearance," she said, adding that this year the department store did not request employees to wear such paraphernalia.
Similar to the supervisor, Ratna Tri Mulyani, a Muslim sales assistant at the Korean-based Lotte department store in Central Jakarta, said she did not mind wearing Christmas-themed accessories as part of her uniform. "It doesn't bother me. It's part of mutual respect for other religions," Ratna said.
However, she said, the mall management had never obliged employees to wear them since the store opened three years ago. Santa hats were provided by the management for the sales employees to wear during Christmas in 2015, she added, even though many chose not to wear them for performance reasons.
"I didn't wear one myself. I think for some SPGs [sales promotion girls], like me, we didn't wear them maybe more because we weren't sure they SUITEDour look," she said with an embarrassed laugh.
The MUI recently issued an edict, or fatwa, prohibiting companies and business owners from forcing their employees to wear Christmas-related paraphernalia.
The council said the fatwa was drawn up after it received feedback from Muslim employees complaining that many bosses, including hoteliers, shop owners and government officials, had required their workers, including Muslims, to wear the paraphernalia.
Following the fatwa, Bekasi Police in West Java and Kulonprogo Police in Yogyakarta issued circulars instructing owners and businesses not to force their employees to wear Christmas attributes.
National Police chief Gen. Tito Karnavian ordered on Tuesday the chiefs of the two police forces to revoke the circulars, saying the fatwa was merely for reference and was not the law.
The edict also triggered raids by the Islam Defenders Front (FPI) of a number of malls in Surabaya, East Java, to prevent employees wearing Santa hats.
Such raids, however, did not occur in Jakarta perhaps because most store employees have ditched the attributes for style reasons.
Based on The Jakarta Post's observation of several malls in West Jakarta, Central Jakarta and South Jakarta, employees only wore their usual uniforms without Christmas attributes.
Ellen Hidayat, the chairwoman of the Jakarta branch of the Indonesian Shopping Center Association (APPBI), said the association had never issued any guidance suggesting stores avoid Christmas attire, even for security reasons.
The association, she said, had advised them to put up CHRISTMAS DECORATIONS, as well as providing discounts and promotions to boost their sales amid the sluggish economy.
"With the decorations, we want to improve our shopping malls, like those in other countries. Christmas paraphernalia is not always related to religion," she said.
http://www.thejakartapost.com/news/2016/12/22/staff-in-jakarta-malls-object-to-santa-hats-for-style-reasons.html
--------
Arab World
138 ISIS militants killed in Syria's al-Bab
21 December 2016
Fourteen Turkish soldiers were killed and 33 wounded in clashes with ISIS extremists - 138 of whom were killed - in Syria on Wednesday in the military's highest single day toll of its four-month campaign inside the country.
The fighting came as Turkey and allied pro-Ankara Syria rebels faced increasing resistance from the extremists in a battle to take a key town ISIS-held town of al-Bab, 25 kilometres (15 miles) from the Turkish border.
The toll, the heaviest single day loss for the Turkish army in its Syria operation that started in August, came in fighting with extremists that included three suicide car bomb attacks, the army said in a statement quoted by Turkish media.
Four soldiers were killed in attacks earlier in the day, the army had previously announced. The other 10 were killed later Wednesday.
Six of the 33 wounded were said to be in a serious condition.
The fierce fighting erupted as Turkish officials said the army was entering into a key phase in the fight for al-Bab.
"Once this area has been seized, Daesh's dominance of al-Bab will to a large extent be broken," it said in a statement, using an Arabic acronym for the group. ISIS was using suicide bombers and vehicle-borne explosives intensively, it added.
Turkey's military was pressing on with the operation after its foreign minister and his Russian and Iranian counterparts said in Moscow on Tuesday that they were ready to help broker a deal to end Syria's almost six-year-old war.
The talks came as Syrian government forces neared their biggest victory in the conflict, closing in on the last rebel enclave in the long-embattled city of Aleppo.
Around 20 Turkish soldiers have been killed in the course of the "Euphrates Shield" operation, launched nearly four months ago, to push ISIS and a Kurdish militia away from Syria's border with Turkey.
In the latest clashes, four Turkish soldiers were killed and 15 soldiers wounded, some of them seriously, the military said.
"Currently clashes are continuing intensively in the area," the military statement said, describing the hospital area, on the slope of a hill overlooking al-Bab, as having long been used by ISIS as a weapons and ammunition store.
Turkish air strikes on Wednesday morning destroyed 24 ISIS targets and killed more than 40 militants, according to estimates by the army. It added that some 15 extremists had been killed in the previous 24 hours.
Four Turkish soldiers were slightly wounded when the vehicle they were traveling in was damaged by a roadside blast.
https://english.alarabiya.net/en/News/middle-east/2016/12/21/Battle-for-Syria-s-al-Bab-intensifies-4-Turkish-soldiers-killed.html
--------
UN votes to set up panel to prepare Syria war crimes cases
22 December 2016
The United Nations endorsed the formation of a special team to gather evidence and prepare cases of war crimes and human rights violations committed during the conflict in Syria.
A resolution on establishing the investigative mechanism was adopted in the 193-nation assembly by a vote of 105 to 15, with 52 abstentions.
The team will work in coordination with the United Nations Commission of Inquiry on Syria.
Civil society groups have also been compiling documents, lists of witnesses and video footage that could one day be used in a court of law.
The draft resolution was initially co-sponsored by 54 countries, including the United States, France, Britain, Germany, Italy, Turkey and Saudi Arabia.
Full report at:
https://english.alarabiya.net/en/News/middle-east/2016/12/22/UN-votes-to-set-up-panel-to-prepare-Syria-war-crimes-cases-.html
--------
Seven killed by bombs near Iranian Kurdish Party HQ in Iraq
21 December 2016
Seven people were killed in a double bomb attack Tuesday near the headquarters of an Iranian Kurdish opposition party, in a rare assault in Iraq's relatively secure autonomous Kurdish region, a senior security official said.
The blasts hit the town of Koysinjaq about 10:00 pm (1900 GMT), killing five members of the Kurdistan Democratic Party-Iran, a member of the security forces and a child, said Jalal Karim, the Kurdish region's deputy interior minister. The attack also left people wounded, said Karim, who did not provide a specific figure.
Also read: ISIS place million-dollar bounty on Danish fighter
Iraq's Kurdistan region, which has its own government, security forces and flag but is still part of Iraq, has largely been spared the horrific violence that has plagued other parts of the country in the years after 2003.
ISIS militants, which Kurdish forces have battled in the north, including as part of the still ongoing operation to recapture Mosul, is the usual culprit for attacks in the Kurdistan region. But the fact that the bombings apparently targeted the Iranian party headquarters raises the possibility that another organization or country may be responsible.
Full report at:
https://english.alarabiya.net/en/News/middle-east/2016/12/21/Seven-killed-by-bombs-near-Iranian-Kurdish-Party-HQ-in-Iraq-.html
--------
Syria: US-backed war crimes panel flagrant interference
Dec 22, 2016
Syria has denounced the formation of a UN panel to gather evidence on war crimes in the war-ravaged Arab state, terming the measure as a flagrant interference in his country's domestic affairs.
Syria's Ambassador to the UN Bashar al-Ja'afari told the UN General Assembly that the proposed panel would scupper all available chances to come up with a political solution to the six-year-old conflict.
The General Assembly adopted the resolution drafted by Lichtenstein and co-sponsored by such countries as the US, France, Britain, Turkey, Saudi Arabia and Qatar, which are known for aiding militants in their bid to topple the Syrian government.
Ja'afari said the plan runs contrary to the campaign against terrorism, and only increases financial support for Takfiri militants wreaking havoc inside Syria.
According to the resolution, the panel will "assist in the investigation and prosecution of those responsible for the most serious crimes" in Syria.
Russia, China and Iran were among the countries that opposed the measure, coming the in wake of the Syrian government's liberation of Aleppo.
On Wednesday, France and Britain were reported to be pushing the UN Security Council to ban the sale of helicopters to Syria and to impose the first sanctions over the use of chemical weapons in the war.
A draft resolution reportedly calls for asset freezes and travel bans against four Syrian officials and 10 entities including a Syrian research allegedly center tied to chemical weapons development.
A vote at the council is expected as early as next week but diplomats said the measure is certain to be vetoed by Russia.
British Ambassador Matthew Rycroft said there must be "significant measures" to follow up on the findings of a UN panel that blamed some units of the Syrian army for toxic attacks against three villages in northern Syria in 2014 and 2015.
"We'll be pursuing that with our council colleagues and circulating a draft SHORTLY," he told reporters.
Full report at:
http://www.presstv.ir/Detail/2016/12/22/501922/Syria-UN-ambassador-Bashar-alJaafari-condemnation-UN-panel-war-crimes
--------
ISIS in Mosul targets civilians as it retreats
21 December 2016
ISIS militants in Mosul are deliberately targeting civilians who refuse to join them as they retreat ahead of advancing Iraqi forces involved in a large-scale government operation to retake the militant-held city, an international watchdog said on Wednesday.
The statement from Human Rights Watch also said that Mosul civilians were increasingly being caught in the crossfire, with at least 19 killed and dozens wounded in the period from the third week of November into the first week of December.
The New York-based group said the fatalities incurred from ISIS mortar or sniper fire, car bombs, roadside bombings and direct attacks, as well as in airstrikes by the Iraqi forces and the U.S.-led coalition. The findings were based on interviews with more than 50 residents who had fled eastern Mosul, HRW said.
It cited instances of ISIS militants telling residents that those who stay behind are "unbelievers" and therefore valid targets beside the Iraqi and coalition forces. HRW warned that targeting civilians or using them as human shields is a war crime, and appealed on both sides to spare civilians.
Full report at:
https://english.alarabiya.net/en/News/middle-east/2016/12/21/ISIS-in-Mosul-targets-civilians-as-it-retreats.html
--------
Canada fights off court challenge over Saudi arms
Dec 22, 2016
The Canadian government has been fighting a court battle filed by an anti-war activist for sealing the largest arms deal in the history of the country with Saudi Arabia.
The $11-billion deal for EXPORTING light armored vehicles (LAVs) to Saudi Arabia was negotiated by Canada's former conservative government and endorsed by the liberal government of Justin Trudeau in April.
Anti-war activist and law professor Daniel Turp, who is challenging the contract to halt the military export, argues that the Saudi monarchy could use the armored vehicles to violate human rights, including in its war on Yemen.
The federal government lawyers say Turp is not entitled to fight the case in court because he is not personally a victim of a crime under humanitarian law.
The government also countered Turp's argument, saying there was no evidence that Riyadh had ever used previously-purchased Canadian LAVs against civilians.
The lawyers of the Canadian government say the arms deal is aimed at helping Saudi Arabia as Ottawa's "key military ally who backs efforts of the international community … in Iraq and Syria and the instability in Yemen."
"To give arms to a country that uses them to violate human rights is to contribute to that violation," Andre Lesperance, a former federal lawyer representing Turp, told a federal court in Montreal.
Full report at:
http://www.presstv.ir/Detail/2016/12/22/501956/saudi-Arabia-Canada-arms-deal
--------
Aleppo On Verge of Full Liberation: Terrorists' Evacuation Resumes
Dec 21, 2016
The implementation of the Aleppo agreement started last Thursday morning, but it was halted for two days due to the violation of the ceasefire agreement by the terrorists on Friday. On Sunday the implementation of Aleppo agreement resumed and again on Tuesday night it was suspended due to the terrorists' lack of commitment to the contents of the agreement.
Militants had accepted to release thousands of civilian hostages in the two besieged towns of Fua'a and Kafraya in Northern Idlib province in return for the government's permission to their besieged comrades in Eastern Aleppo to evacuate the city for Idlib. But the militants have blocked the exit of civilians from the two towns repeatedly.
Yet, after after repeated violations by the terrorists, now the Syrian state TV reports that the final phase of the exit of the last group of about 2,500 terrorists started minutes ago, meaning that Aleppo city will be fully evacuated from the militants in the coming hours.
Several buses which are stationed in Kafraya and Fua'a (in Idlib province) are slated to evacuate a group of other patients and injured people from the two towns in return as per the agreement.
The Syrian state television also reported that a number of people who had been kidnapped by terrorists in recent years have been released.
Syrian Army troops urged terrorist groups on Tuesday to speed up their evacuation from Eastern Aleppo as engineering units are preparing to start defusing bombs and mines in the newly-liberated districts as soon as evacuation ends, as the army soldiers deployed around the besieged neighborhoods in Eastern Aleppo called on the militants to leave the region faster.
Based on the reports, while over 20,000 civilians and their families have thus far been evacuated from the Eastern neighborhoods of Aleppo city, the army has called on terrorist groups to leave Aleppo along with their families as soon as possible because the engineering units are waiting for the moment to start defusing bombs and mines planted by militants in the newly-liberated districts.
A security source disclosed on Wednesday that terrorists groups' lack of commitment to an agreement on exit of injured civilians from the two towns in Idlib pushed evacuation of militants and their families from the Eastern neighborhoods of Aleppo into suspension.
The source said that the terrorist groups that have laid siege on Fua'a and Kafraya towns in Northern Idlib once again violated the evacuation agreement's terms, leaving negative impact on the trend of transferring militants and their families from Eastern Aleppo.
The source further added that it was agreed that the last group of militants and their families leave Aleppo in return for evacuation of the injured and patient civilians from Fua'a and Kafraya, but terrorists prevented exit of buses carrying the injured and patients from the two towns in Idlib, violating the terms of the evacuation agreement.
Another military source said Wednesday that terrorists trapped in the Eastern neighborhoods of Aleppo city have ironically demanded even more and set more conditions for evacuating the city, complicating the situation more.
The source added that terrorists' demand to leave Aleppo in their own cars without any inspection have halted evacuation agreement.
The Syrian army warned that it will enter the Eastern neighborhoods of Aleppo after the militants called for adding new terms to the already endorsed evacuation agreement.
The Syrian government has rejected terrorists' request, but has announced that a bus carrying injured or patient civilians must leave Fua'a and Kafraya in return for exit of 10 militant cars that leave Aleppo.
Full report at:
http://en.farsnews.com/newstext.aspx?nn=13951001001400
--------
Turkish Army, Militant Allies Enter Key Town in Northern Syria
Dec 21, 2016
As field sources had previously said that the ISIL intended to hand over al-Bab to the Euphrates Shield Forces, including FSA, and push towards Manbij and capture it.
Now military sources reported that the Turkish army men and FSA militants have moved through the gates of al-Bab Northeast of Aleppo province.
The Turkish Armed Forces said on Wednesday that four Turkish servicemen were killed while 15 were injured in the clashes with ISIL in the city of al-Bab in Northern Syria.
The Turkish army announced earlier today that the FSA and Turkish army troops seized control of a key road connecting Aleppo city to al-Bab town after hours of clashes with the ISIL.
The army announced in a statement that the forces of the Euphrates Shield managed to take control of Aleppo-Al-Bab road after they could advance against ISIL in the nearby silos and captured Jabal Aqil heights.
Full report at:
http://en.farsnews.com/newstext.aspx?nn=13951001001273
--------
Aleppo: Militants Start Releasing Captured Syrian Soldiers
Dec 21, 2016
The Arabic language al-Watan newspaper reported that the first POW soldier was handed over to the Syrian army at the al-Amiriyeh checkpoint in the Southern part of the city on Tuesday.
The soldier spent over four years in captivity, and his release is the first step toward the implementation of the local ceasefire agreement.
In the meantime, the drivers of the buses that were arrested by Fatah al-Sham Front (previously known as the al-Nusra Front) and Ahrar al-Sham on their way to Fua'a and Kafraya to take the injured or patient civilians out of the two towns have been released.
The sources said that two inured people and two dead bodies were also sent back with the drivers that have been released.
On December 18, terrorists of Fatah al-Sham and Ahrar al-Sham targeted vehicles heading to Fua'a and Kafraya. Many buses were burned and a number of drivers were held by the terrorists.
A security source disclosed earlier today that terrorists groups' lack of commitment to an agreement on exit of injured civilians from two militant-held towns in Idlib pushed evacuation of militants and their families from the Eastern neighborhoods of Aleppo into suspension.
The source said that the terrorist groups that have laid siege on Fua'a and Kafraya towns in Northern Idlib once again violated the evacuation agreement's terms, leaving negative impact on the trend of transferring militants and their families from Eastern Aleppo.
Full report at:
http://en.farsnews.com/newstext.aspx?nn=13951001001327
--------
Syrian Army Continues Anti-Terrorism Operation in South to Seal Border with Jordan
Dec 21, 2016
The army troops started a fresh round of offensives on the supply roads of terrorist groups in the Southern territories of Dara'a province along the border with Jordan to end intensified movements of militants in the region and shipments of weapons, munition and fresh fighters into the country from Jordan.
The army men targeted and destroyed terrorists' bases in the Northern and Western directions of the refugee camp in al-Bajabjah neighborhood in Dara'a al-Balad, inflicting major death toll on the terrorists.
The Syrian Air Force has also been targeting terrorists' centers and gatherings South of the Technical Faculty in the Southern part of Dara'a city.
Over 70 percent of Dara'a city, including Northern, Western and Eastern districts are under full control of the government forces.
The Terrorists that have gone under military training in Jordan cross the border into Dara'a province and join their comrade to fight against Syrian army.
Full report at:
http://en.farsnews.com/newstext.aspx?nn=13951001000330
--------
Mideast
14 Turkish soldiers killed in battle for ISIS-held town
22 December 2016
Fourteen Turkish soldiers were killed and 33 wounded in clashes with ISIS militants in Syria on Wednesday in the military's highest single day toll of its four-month campaign inside the country.
The fighting came as Turkey and allied pro-Ankara Syria rebels faced increasing resistance from the extremists in a battle to take a key town ISIS-held town of Al-Bab, 25 kilometers from the Turkish border.
The toll, the heaviest single day loss for the Turkish army in its Syria operation that started in August, came in fighting with militants that included three suicide car bomb attacks, the army said in a statement quoted by Turkish media.
Also read: Russia, Iran & Turkey reach Syria peace deal
Four soldiers were killed in attacks earlier in the day, the army had previously announced. The other 10 were killed later Wednesday. Six of the 33 wounded were said to be in a serious condition.
The fierce fighting erupted as Turkish officials said the army was entering into a key phase in the fight for Al-Bab. The town has become the main target of the army's campaign inside Syria, in support of the pro-Ankara Syrian rebels opposed both to the militants and President Bashar al-Assad, that started on August 24.
The army said the clashes erupted around a weapons depot that had been used by ISIS for the last two years. It said that 138 ISIS jihadists were killed in the fighting. The army's toll for the extremists could not be verified independently.
Also read: Turkey to set up camp for 80,000 Aleppo evacuees
President Recep Tayyip Erdogan acknowledged there had been "martyrs" in the fighting, at an earlier news conference before the toll was announced, but expressed confidence that Al-Bab would be taken from ISIS.
"Al Bab has been completely besieged by the Free Syrian Army (FSA) and our soldiers," he said. He expressed hope that the town "would fall entirely sooner or later". ISIS claimed to have killed or injured at least 70 Turkish soldiers in three suicide bombings carried out by its fighters and in fighting on the ground.
France, Britain push for helicopter ban, sanctions
France and Britain are pushing the UN Security Council to ban the sale of helicopters to Syria and to impose the first sanctions over the use of chemical weapons in the five-year war. A draft resolution obtained by AFP on Wednesday calls for asset freezes and travel bans against four Syrian officials and 10 entities including a Syrian research center tied to chemical weapons development.
Diplomats however said the measure is certain to be vetoed by Russia, Syria's ally, which has blocked council action on Syria with six vetoes so far. A vote at the council is expected as early as next week.
https://english.alarabiya.net/en/News/middle-east/2016/12/22/14-Turkish-soldiers-killed-in-fight-for-Syria-ISIS-held-town-.html
--------
Iran executes 'most atrocious' war crimes in Aleppo
21 December 2016
Iran's Islamic Revolutionary Guard Corps Quds Force is accused of playing an extensive role in the destruction of Aleppo, an Iranian opposition group says in a new intelligence report.
Among other things, the country is building a network of stations around the city and sending militia troops from Afghanistan, Iraq and Lebanon in to execute the brutal killings, the report – which was provided to the Washington Post - read.
"The fact is that Aleppo has been occupied by the IRGC and its mercenaries," the People's Mujahedeen of Iran, the largest opposition group to the Islamic mullahs who rule Iran, said.
"Mass executions, preventing the transfer of the civilians, including women and children, [and] attacking the civilians has all been done by the forces of the mullahs' regime," they added.
Full report at:
https://english.alarabiya.net/en/News/middle-east/2016/12/21/Iran-brutalizing-Aleppo-executing-most-atrocious-war-crimes.html
--------
Iran's president rejects military solution to Karabakh dispute
Dec 21, 2016
Iranian President Hassan Rouhani has expressed hoped for the restoration of peace to the disputed Caucasus region of Nagorno-Karabakh through dialog.
Describing Armenia and Azerbaijan as Iran's "friendly neighboring countries," Rouhani expressed optimism that "a lasting peace" would be established in the Karabakh region "through negotiations and political means."
"Such lasting peace would serve the interests of all regional countries," Rouhani said during a joint press conference with his Armenian counterpart Serzh Sargsyan in Armenia's capital, Yerevan, on Wednesday.
Peace cannot be established through military means, the Iranian president said, adding, "We can witness security and stability in the region through dialog within the framework of international law."
The Nagorno-Karabakh conflict began in 1988 and escalated into armed clashes after the collapse of the Soviet Union in the early 1990s. Sporadic tensions and border skirmishes have continued in the region despite a ceasefire signed in 1994.
Nagorno-Karabakh is internationally recognized as part of Azerbaijan; however, it is governed by the self-proclaimed Nagorno-Karabakh Republic.
In April, a new wave of unrest erupted in the region and surrounding areas in Azerbaijan, which killed at least 110 people.
A shaky Moscow-brokered ceasefire took effect on April 5 and stopped the huge fighting, but the two sides still continue to accuse one another of violating the truce.
Elsewhere in his remarks, the Iranian president touched on the issue of terrorism and called for a collective campaign against the menace until it is fully eradicated.
Rouhani said Iran and Armenia saw eye to eye on the necessity of rendering assistance to Iraq and Syria, which are both grappling with terrorism, as well as the need for delivering humanitarian aid to conflict-hit nations, especially people from the Syrian city of Aleppo.
Rouhani also pointed to the development of Tehran-Yerevan ties in the sector of energy and said the two sides had reached an agreement to enhance cooperation on a deal for Iran to swap gas between Turkmenistan and Armenia, as well as to exchange electricity and complete the third electricity transmission line between the two sides.
He said the railroad links between Iran and Armenia connecting the Persian Gulf to the Black Sea would facilitate the expansion of trade and economic ties between the two countries and also with other countries.
The Iranian president said the two countries had also agreed to facilitate the activities of businessmen and investors, including in Aras Free Zone, located in the northwest of Iran at the border point with Armenia and Azerbaijan.
The Armenian president, for his part, said the two countries were determined to implement their agreements on gas and electricity cooperation.
Sargsyan said the railroads connecting the Persian Gulf with the Black Sea would facilitate the transition of goods and the EXPORT of Iranian commodities to European markets.
Before their joint press conference, the Iranian and Armenian presidents held a meeting to discuss bilateral ties, regional developments and issues of mutual interest.
Iranian President Hassan Rouhani (L) and his Armenian counterpart Serzh Sargsyan hold a meeting in Yerevan on December 21, 2016. (Photo by president.ir)
Following the meeting, Iran and Armenia issued a joint statement stressing two sides' determination to boost bilateral ties.
Full report at:
http://www.presstv.ir/Detail/2016/12/21/500861/Iran-Armenia-Rouhani-Sargsyan-Nagorno
--------
UN to vote on resolution against Israeli settlements
Dec 22, 2016
The United Nations Security Council is due to vote on a resolution on Thursday, demanding that Israel put an immediate end to its settlement expansion in the occupied Palestinian territories.
The Egyptian-drafted resolution demands that "Israel immediately and completely cease all settlement activities in the occupied Palestinian territory, including East Jerusalem" al-Quds.
It says the Israeli settlements are "dangerously imperiling the viability of the two-state solution", calling for "affirmative steps to be taken immediately to reverse the negative trends on the ground."
Israeli Prime Minister Benjamin Netanyahu has issued a message, urging the US to veto the resolution.
"The US should veto the anti-Israel resolution at the UN Security Council on Thursday," Netanyahu tweeted.
Moreover, Israel's Ambassador to the United Nations Danny Danon called for the draft resolution to be vetoed.
"We expect our greatest ally not to allow this one-sided and anti-Israel resolution to be adopted by the council," Danon said in a statement.
Washington has shielded Tel Aviv against such moves at the Security Council on several other occasions in the past, including a similar one in 2011.
On Tuesday, the European Union and the Arab League denounced Israel's illegal settlement activities, calling for international efforts to end Tel Aviv's decades-long occupation of Palestinian lands.
Last month, Israel resumed plans to construct 500 new settler units in Jerusalem al-Quds, after Donald Trump won the US presidential election.
A general view shows buildings under construction in the illegal Israeli settlement of Har Homa in the occupied East Jerusalem al-Quds on March 7, 2016. (Photo by AFP)
Settlement expansion has surged under Netanyahu's government with some 15,000 settlers moving into the West Bank over the past year alone.
Full report at:
http://www.presstv.ir/Detail/2016/12/22/501929/Israel-UN-Palestine
--------
Probe launched into why Turkish assassin wasn't taken alive
Dec 22, 2016
An investigation has been launched into why Turkish police did not capture the Russian ambassador to Turkey's assassin alive.
The Russian ambassador, Andrei Karlov, was killed during the opening of a photo exhibition at a gallery in the Turkish capital Ankara on Monday. The assassin, off-duty policeman Mevlut Mert Altintas was shot dead at the scene by police.
Following the incident both Turkish President Tayyip Erdogan and his Russian counterpart Vladimir Putin said that assassination was an act of provocation by those seeking to ruin relations between both countries.
Turkey's Anadolu Agency said on Wednesday that prosecutors had launched an investigation into why Turkish special forces, who stormed the exhibition after Karlov's killing, gunned down Altintas, instead of capturing him alive.
The probe's initial findings have shown that Altintas had kept firing at the police even after being shot in both legs, while shouting "You cannot capture me alive!"
The police's actions have been deafened by Erdogan.
"There is some speculation about why he wasn't captured alive. Look what happened in Besiktas when they tried to capture an attacker alive," he said, referring to this month's bombings outside Istanbul's Besiktas football stadium.
Turkish emergency workers, police officers and forensic teams work on the site where a car bomb exploded near the stadium of football club Besiktas in central Istanbul on December 10, 2016.
Full report at:
http://www.presstv.ir/Detail/2016/12/22/500911/turkey-russia-assassin-killed-erdogan
--------
Turkey suspends 2k education staff over coup plot
Dec 21, 2016
Turkey has sacked nearly 2,000 education employees over their alleged links to the coup attempt of July 15.
An official from the Turkish Ministry of Education said 1,980 teachers and school employees had been placed under suspension pending investigation. There was no further information available.
Ankara has been engaged in a crackdown on people it accuses of having connections to US-based cleric Fethullah Gulen. The government of Turkish President Recep Tayyip Erdogan accuses Gulen of having masterminded the coup. The Pennsylvania-based cleric denies the allegation.
President Erdogan on Wednesday said the off-duty police officer who gunned down Russia's ambassador to Turkey on December 19 had connections with Gulen. The cleric, who has denounced the assassination, denies any involvement.
Full report at:
http://www.presstv.ir/Detail/2016/12/21/500881/Turkey-suspends-education-staff
--------
India
China sticks to its stand on Masood Azhar despite NIA chargesheet
Dec 21, 2016
BEIJING: Pathankot attack: NIA files chargesheet+ against JeM chief Masood Azhar in the Pathankot terror attack appears to have not made much impact on China as Beijing on Wednesday said any move by New Delhi to bring about a UN ban on the JeM chief must be in line with rules and procedures laid down by the Security Council.
"On the question of listing in the 1267 Committee, I have expressed the Chinese position many times," foreign ministry spokesperson Hua Chunying said in response to a question on NIA listing Azhar, the head of Pakistan-based terror group Jaish-e-Mohammad, as terrorist in the chargesheet on the attack on an Air Force base in Pathankot in January this year.
"Listing in the 1267 Committee must be in line with the relevant resolutions of the UNSC and the rules of procedure of the Committee," Hua said in a written reply here.
NIA on Monday filed a chargesheet against Azhar, his brother and two others for hatching the conspiracy of the attack that killed seven personnel and injured 37 others.
Hua's reply came as China's second technical hold in the UN blocking India's move to list Azhar as a terrorist under the 1267 committee rules of the UNSC is set to expire towards the end of this month.
On March 31, China, a veto-wielding permanent member of the UN Security Council, had blocked India's move to impose a ban on Azhar under the Sanctions Committee of the Council.
China was the only member in the 15-nation UN body to put a hold on India's application with all other 14 members of the Council supporting New Delhi's bid to place Azhar on the 1267 sanctions list that would subject him to an assets freeze and travel ban.
Officials here say that India may have to apply again to the 1267 committee with the chargesheet details to press for its case as its present application will lapse following Beijing's two technical holds.
The two countries have been holding talks on China's blocking Azhar's case as well as India's application to join the Nuclear Suppliers Group (NSG).
The talks appears to have not made much headway as China on December 12 said there is no change in both the cases.
"As for India's application for Nuclear Suppliers Group and listing issue pursuant to resolution of 1267 (to list Azhar as terrorist) China's position remains unchanged," another foreign ministry spokesman Geng Shuang had said.
His assertion that China's stand remained unchanged in both NSG and Azhar's cases was made while answering a question on foreign secretary S Jaishankar's remarks last week at India-China think tank forum in New Delhi that China should not give a political colour to New Delhi's efforts to access civilian nuclear technology, in reference to Beijing's opposition to its NSG bid.
Jaishankar had also expressed dismay over the two countries not being able to come together on the issue at critical international forums, a reference to China blocking the ban in the UN on Azhar.
http://timesofindia.indiatimes.com/india/china-sticks-to-its-stand-on-masood-azhar-despite-nia-chargesheet/articleshow/56107025.cms
--------
No interim relief for Pak-born man seeking Indian citizenship; HC to hear his plea in January
Dec 21, 2016
MUMBAI: The Bombay high court on Wednesday declined to pass any interim orders to extend a long term visa as sought by a person born to Pakistani mother who has been residing in India for nearly five decades, since soon after his birth. The court adjourned to January 9, a petition by Abbas Kaladia, an Indian citizen and his son Asif Kaladia for grant of Indian citizenship to the son. They wanted the HC to direct the ministry of home and external affairs to grant an Indian citizenship to Asif whose name was stamped on his mother's Pakistani passport after his birth in Karachi.
The case of the Petitioners said their lawyers Sujay Kantawala and Ashish Mehta is that Asif, "though born in Karachi was brought to India as child in arms and his name was endorsed on the Pakistani Passport of his mother." The Government of India granted citizenship to his mother in 1972. Asif's father was always an Indian Citizen. Asif, said Kantawala married an Indian Citizen and has 3 children who are all Indian Citizens. The Petitioner has been applying for Citizenship but has received no response, Kantawala said and in the meantime he had applied also for long term visa, "which was deemed to have been granted."
Under the Citizenship Act, Asif's case is that he is entitled to citizenship by descent, registration and naturalization. Under Article 5 of the Constitution of India, since he is domiciled in the territory of India and either of his parents having been born in India, statutorily entitles him to a Citizenship of India, argued Kantawala.
Full report at:
http://timesofindia.indiatimes.com/india/no-interim-relief-for-pak-born-man-seeking-indian-citizenship-hc-to-hear-his-plea-in-january/articleshow/56108016.cms
--------
IS A Threat, Be Alert In India: US to Citizens
Dec 22, 2016
NEW DELHI: In an advisory, the United States embassy has warned its citizens in India to remain vigilant and stay away from places frequented by Westerners after certain media reports that the Islamic State terror group may be planning to attack such targets.
"As we head into holiday season, please be reminded that recent Indian media reports indicate ISIL's (Islamic State's) desire to attack targets in India. The US embassy warns of an increased threat to places in India frequented by Westerners, such as religious sites, markets, and festival venues," said the American embassy in a statement.
Full report at:
http://timesofindia.indiatimes.com/india/is-a-threat-be-alert-in-india-us-to-citizens/articleshow/56112444.cms
--------
Muslim reservations – Consultations with retired judges and noted lawyers
December 22, 2016
Hyderabad: BCs Commission has decided to consult legal experts and retired bureaucrats. Authentic sources indicated that the commission desires to commission the services of two retire judges and two senior advocates so that no lacuna is left out in the report. It is reported that BCs Commission is considering to prepare a report taking into consideration previous judgments of Supreme Court and High Court in order to save the recommendations from legal complications. It is expected that the legal experts would soon have a meeting with the commission so as to guide it.
Govt. is anxious to get the report of BCs Commission as early as possible. BCs Commission, therefore, is in favour of submitting its recommendations based on Sudhir Commission's report. BCs Commission has not yet finalized the visit to districts. The chairman of the commission, Mr. B.S. Ramulu is in favour of visiting the districts. Govt. has indicated that BCs Commission may submit its report by modifying some of the clauses of Sudhir Commission's report.
It is reported that some of the Govt. officials made an objection that the statistics presented by Sudhir Commission have been taken from some private institutions. Perhaps due to this reason, Govt. of Telangana sent Sudhir Commission's report to BCs Commission and displayed it on website without presenting it in Telangana Assembly.
Full report at:
http://www.siasat.com/news/muslim-reservations-consultations-retired-judges-noted-lawyers-1091737/
--------
India, Kyrgyzstan share common concerns on threat of terrorism, extremism: President Mukherjee
December 21, 2016
New Delhi [India]: President Pranab Mukherjee has said India and Kyrgyzstan share common concerns on the threat of terrorism, extremism and drug-trafficking.
Welcoming his Kyrgyzstan counterpart Almazbek Sharshenovich Atambaev and his wife Raisa Atambaeva at the Rashtrapati Bhavan yesterday, President Mukherjee complimented him on the successful conduct of the parliamentary elections in October 2015 and for successfully steering a referendum on constitutional amendments earlier this month.
The President also hosted a banquet in their honour.
The President said India values its longstanding friendly relations with Kyrgyzstan.
"India has had civilizational ties with Central Asia, especially countries which were part of the ancient Silk Route, including Kyrgyzstan. Political ties with the Kyrgyzstan have been traditionally warm and friendly. Next year India and Kyrgyzstan will celebrate the 25th anniversary of establishment of diplomatic relations," he added.
The President expressed confidence that the Kyrgyz President's visit would give a fillip to the efforts to enhance the multi faceted relations between the two countries.
Subsequently, in his banquet speech, President Mukherjee said India has always considered the Kyrgyz Republic to be an important part of its extended neighbourhood.
"Bishkek is closer to New Delhi than many major cities of India. New Delhi is the closest world capital to Bishkek. Our proximity is not only geographical but also historical and civilisational. We have a shared past, reflected in many elements of our culture," President Mukherjee said.
"Our friendship flourished during the Soviet era and our Parliamentarians and leaders have maintained regular contacts since then. After Kyrgyzstan became an independent state, it was but natural for India to continue and strengthen its long standing co-operative relationship," he added.
Full report at:
http://www.siasat.com/news/india-kyrgyzstan-share-common-concerns-threat-terrorism-extremism-president-mukherjee-1091369/
--------
Southeast Asia
Indonesia police foil Christmas bomb plot, kill three 'militants'
December 22, 2016
JAKARTA - Indonesian police have foiled plans by an IS-linked group for a Christmas-time suicide bombing after killing three suspected militants Wednesday and discovering a cache of bombs, authorities said.
A firefight erupted at a house in South Tangerang 25 kilometres (15 miles) west of the capital Jakarta, with police saying the alleged militants had opened fire at officers.
"We asked the three men to surrender but they fought, with one of them throwing a bomb (at officers). Thankfully the bomb didn't explode and we took firm action against them," said national police spokesman Rikwanto, who goes by one name.
He said the group to which the three belong, which is linked to the Islamic State group (IS), had planned to stab a police officer at a police station and wait for crowds to gather before launching a suicide bomb attack around the Christmas holidays. The targeted location is near a private hospital west of Jakarta, police added.
Bomb squad officers in protective gear have so far detonated six bombs seized from the house and more are expected to be blown up before investigators can enter the building. Police have yet to disclose the total number of bombs discovered on Wednesday.
The plot was disclosed by a group member who was arrested earlier on Wednesday and tipped off police about the three militants and their whereabouts, police said. The raid came less than two weeks after police arrested four Islamic militants including a female suicide bomber in Bekasi east of Jakarta. They were plotting to bomb one of the guard posts at the presidential palace.
Police said the men in South Tangerang have links to the Bekasi group and to Bahrun Naim, a leading Indonesian militant fighting with IS in Syria who was allegedly responsible for several botched assaults in his homeland.
"These groups are linked to ISIS. Some recruit, some donate, some assemble the bombs and some carried out the attack," another national police spokesman Martinus Sitompul said, using another acronym for IS.
A security analyst said Indonesians fighting for IS in Syria appeared to have designated the Philippines the safe house for IS-related groups in the region. Indonesia, the world's most populous Muslim-majority country, had become the main target of terror attacks.
"Indonesia is easier to be a target because (the militants) think it's easier here. Law enforcement is weak and it's easy to get a fake ID," analyst Al Chaidar told AFP.
Police said investigations are continuing into the larger network and its agenda.
In separate raids police also arrested two suspected militants on Sumatra island. It was not clear whether they were part of the group that plotted the Christmas attack.
Nearly a year ago a suicide bomber blew himself up in a Starbucks cafe while others blew up a police post and attacked police in Jakarta's main thoroughfare, in the first attack claimed by IS in Southeast Asia.
The attack killed four civilians and four militants.
Indonesia suffered a string of deadly homegrown attacks during the 2000s - including the 2002 Bali bombings which killed over 200 people.
A sustained crackdown has weakened many of the most dangerous extremist networks but there have been fears of a resurgence in militancy.
http://nation.com.pk/international/22-Dec-2016/indonesia-police-foil-christmas-bomb-plot-kill-three-militants
--------
Indonesia Prepares for Anti-Christmas Muslim Mobs as Jihadis Arrested for Bomb Plot
21 Dec 2016
Police in Indonesia announced Wednesday that they had thwarted a plot to attack Christmas celebrations in Jakarta after a gunfight left three suspects believed to be tied to the Islamic State dead.
An investigation had led police to a home on the outskirts of the capital city Wednesday, where they launched a raid and demanded the suspected terror cell surrender. The men — whom the Jakarta Post identifies as "Omen," "Helmi," and "Irwan" — instead threw an explosive at police, leading officers to kill them at the scene.
"We asked them to surrender, but the three suspects threw a bomb at our personnel," police spokesman Brigadier General Rikwanto explained.
Police found a variety of explosives in the house upon neutralizing the suspected terrorists and were forced to diffuse two that the suspects had apparently activated.
Police explained that the evidence that led them to the house indicated that the three were planning on attacking a police station in a stabbing spree. That attack was meant to lure observers and more police, who would then be in the line of fire of their explosives. The Jakarta Post quotes Rikwanto saying that "their targets were police personnel guarding the crime scene" that would be created by the stabbing. The dual bomb tactic has been used throughout the world by Islamic State jihadis, intended to kill first responders.
Australia's ABC News reports that police suspect this particular terror cell was radicalized by the Islamic State, though they have not clarified whether the men were in direct contact with Islamic State leaders in the Middle East or merely enthusiasts of the Islamic State's propaganda work online. Police did note that they had evidence linking this group to another group of jihadis arrested earlier this week for allegedly plotting a suicide bombing targeting Jakarta's presidential palace.
The news of jihadis potentially planning a Christmas attack follows an announcement by the Indonesian Ulema Council (MUI), the nation's highest Muslim authority, of a fatwa against Christmas-themed decorations or costume. "Religious images and accessories are used intentionally to show the identity of a certain religion… for this reason, the use of non-Islamic accessories is against the law, as it is asking Muslims to wear them," MUI head Hasanuddin said this week.
Full report at:
http://www.breitbart.com/national-security/2016/12/21/indonesia-thwarts-jihadi-plan-attack-chrsitmas/
--------
Police Arrest Islamic State-Linked Terrorist in N. Sumatra
Dec 22, 2016
Jakarta. Police have nabbed an alleged terrorist in Deli Serdang, North Sumatra, on Wednesday (21/12), believed to be a member of a group affiliated with the Islamic State, a police spokeswoman said.
Five months ago, six terror suspects were rounded up in Batam, Riau Islands, where they were reportedly trying to launch a rocket attack on Marina Bay in Singapore. The man arrested in North Sumatra is suspected of being linked to the group.
Identified as S.Y., he was nabbed at noon in Sibiru-Biru, North Sumatra Police spokeswoman Sr. Comr. Rina Sari Ginting said in Medan, as reported by Antara news agency.
According to the police, the Batam group had close links to Bahrun Naim, an Indonesian militant believed to be in Syria fighting for the Islamic State.
Full report at:
http://jakartaglobe.id/news/police-arrest-islamic-state-linked-terrorist-n-sumatra/
--------
Umno veterans claim Shah Alam varsity breeding terrorists, calls for closure
December 21, 2016
KUALA LUMPUR, Dec 21 ― The federal government and Islamic authorities must shutter Universiti Islam Antarabangsa Madinah (Mediu) immediately, the Umno Veterans Association of Malaysia demanded tonight.
The political group's secretary-general Datuk Mustapha Yaakub claimed that the Shah Alam, Selangor institution is not a branch of the famous Islamic University of al-Madinah al-Munawarah in Medina established by the Saudi royal family, but a private one breeding militants that sought to camouflage its clandestine activities under a similar name.
"Veterans do not want Mediu to become a breeding ground for ISIS and Wahabbism in this country," he said in a statement to express the association's shock at the recent police disclosure that two students from the university were arrested on suspicion of involvement with Islamic State (IS) terror activities.
The IS terror network is also called ISIS and Daesh by others while Wahabbism is an ultra conservative strain of the Sunni Islam group that is said to be spread by the Saudi government globally.
Mustapha has previously alleged the the belief to be against the mainstream Sunni school recognised by Malaysia and called for it to be curbed.
"The arrests prove Mediu is a nest of dangerous IS agents," he said.
Mustapha also cast doubt on Mediu's accreditation status and urged the Ministry of Higher Education (MOHE) to immediately investigate its status and if it has abided by the conditions, including student recruitment, subjects offered and taught there.
"Veterans also urge MOHE, MAIS and His Highness the Selangor Sultan to take stern action against Mediu, including revoking its licence and shutting its operation in this country," he said.
Full report at:
http://www.themalaymailonline.com/malaysia/article/umno-veterans-claim-shah-alam-varsity-breeding-terrorists-calls-for-closure
--------
Malaysia Arrests Seven Suspects with Islamic State Links
Dec 22, 2016
BANGKOK – Malaysian authorities arrested seven people, including four foreigners, over suspected links to the Islamic State and for planning several attacks for this militant organization, local press reported on Wednesday.
The anti-terrorist unit of the police detained the suspects between Nov. 3 and Dec. 16 in several raids in the states of Malacca, Selangor, Sabah and Johor, according to The Star newspaper.
Police chief Khalid Abu Bakar said two of the foreigners were students at a university in Selangor, just outside Kuala Lumpur, and that one of them was being investigated for trying to obtain security information from a school.
The third foreign suspect had been previously arrested in 2010 in the Middle East over his involvement with the Al-Qaeda network.
The police chief added that Malaysia deported these three suspects to their home countries in late November.
The fourth foreign suspect was a 26-year-old man who was employed at a FACTORY in Johor. He was arrested for trying to smuggle weapons to the Indonesian town of Poso, a stronghold of the East Asian terrorist group Mujahideen, allied to the IS.
Full report at:
http://www.laht.com/article.asp?ArticleId=2427606&CategoryId=12395
--------
Now, PAS says Hadi visited Iran to represent party
December 22, 2016
KUALA LUMPUR, Dec 22 — PAS insisted yesterday that its president Datuk Seri Abdul Hadi Awang visited Iran to attend an annual congress on behalf of the Islamist party, following a rebuke from the International Union of Muslim Scholars itself.
Datuk Dr Khairuddin Aman Razali, who had escorted Hadi to a similar trip last year, said the latter had spoken on how Syria became a victim of a proxy war among foreign powers.
"PAS stressed that what happened in Syria is a consequence of a proxy war that wish to tear apart the unity of the community, and the influence of foreign powers in a conflict zone," the PAS Ulama wing information chief said in a statement.
Khairuddin said PAS also believed that Muslim terrorists are funded by foreign powers, while the conflicts in the Middle East are allegedly perpetrated for the benefits of foreign powers and the Zionist regime.
"Hadi's presence in the congress was as a speaker to stress that principle and stand," he added.
Khairuddin said the congress, now in its 30th reiteration, has been held since the 1980s, and Hadi had attended it for decades.
The Kuala Nerus MP also blamed the media and social media for skewing the perception against Hadi, causing others to slam the PAS president.
Earlier this week, an international group of Sunni scholars has condemned Hadi for attending a conference in Iran, a key backer of Syrian president Bashar al-Assad's regime amid violence in the strife-torn country.
The International Union of Muslim Scholars said in a statement that it was baffled by Hadi — who is the deputy president of the body — calling the move insensitive especially at a time when the Muslim world is grief-stricken and angered by Assad's regime. Under fire for the Iran visit, Hadi's political secretary Ahmad Samsuri Mokhtar told Malay paper Sinar Harian that his attendance at the conference was made following an invitation by Dr Abdurrahman Bayraan, said to be an Iranian representative of the Union.
Full report at:
http://www.themalaymailonline.com/malaysia/article/now-pas-says-hadi-visited-iran-to-represent-party
--------
Police: IS bomb maker from Perak recruiting Malaysians
December 22, 2016
KUALA LUMPUR, Dec 22 — A Islamic State (IS) militant from Pengkalan Hulu, Perak is actively recruiting other Malaysians for the terrorist group, according to Bukit Aman's Special Branch Counter Terrorism Division head Datuk Ayob Khan.
In a report by The Star newspaper, he said Muhammad Nasrullah Abd Latif, or better known as Abu Gomes, was a bomb expert based in Syria who has been trying to enlist Malaysians for at least the last two years.
"He has been an IS militant since early 2014. He managed to go to Syria in September 2014 to join the terror group," Ayob was quoted as saying.
Full report at:
http://www.themalaymailonline.com/malaysia/article/police-is-bomb-maker-from-perak-recruiting-malaysians
--------
Framing of Uighurs as terrorist threat for Indonesia
December 22, 2016
"Securitization" is a process that most people are unfamiliar with, despite most governments using it extensively, rightfully or not, to convince their populations that their country is facing some sort of major security threat that needs to be addressed using exceptional measures.
In academia, securitization is defined as "a discursive process that takes politics beyond the established rules of the [political] game […] and argues that emergency measures" are needed.
In other words, securitization can be implemented by actors with authority (mostly governments) by using different media outlets to gradually transform environmental, economic, religious social, cultural and health issues into security threats. And once this transformative process has been successfully completed, i.e. audiences have accepted the government's arguments, the authorities can legitimately implement exceptional measures to deal with these "threats".
Examples of successful securitizations are the cases of the American government convincing its people that Afghanistan and Iraq represented existential threats to the United States to then legitimately invade those countries. And this despite these invasions contravening domestic and international laws.
A more constructive use of securitization are the global warming and HIV awareness campaigns that resulted in numerous people realizing that they represented global security threats and that exceptional measures were needed to address them.
Similarly, Beijing has successfully used the securitization strategy to gradually convince most Chinese that the Uighurs, a predominately Muslim Chinese ethnic group, represent a domestic and international security threats. This has allowed the Chinese government to legitimately restrict numerous of the constitutionally protected religious and cultural rights of the Uighurs. While such restrictions undeniably go against the Chinese constitution and laws, which robustly protect ethnic minorities' cultural and religious rights, the Chinese population considers these harsh restrictions legitimate because they help protect the homeland from an alleged national security threat.
Numerous Muslim communities around the world feel deeply angered by these restrictions that result in the Uighurs being unable to fulfill basic Islamic duties such as praying, studying Quran and fasting. Indonesia's massive Muslim population is no exception in this outcry against Beijing 's religious restrictions imposed on the Uighurs, which is reflected in the numerous news criticizing China's religious policies, such as: "Chinese government should allow Uighur Muslims to fast: Indonesian Ulema."
Most of Indonesia's over 220 million Muslims are very sensitive about their Uighur brethren having their religious rights harshly repressed by the Chinese communist leaders. Even the China-friendly Indonesian government is unwilling to fully cooperate with Beijing when it comes to the rights and safety of the Uighurs.
This reticence was shown when the Indonesian government turned down Beijing's request to repatriate a group of Uighurs that an Indonesian curt had sentenced to six years in prison for "terrorism in Indonesia". A high-ranking security official explained that Indonesia refused to hand over its Chinese detainees because "giving Uighurs back to China is the same as killing them. Most probably, the Chinese government will execute them instantly".
This statement clearly reveals Indonesia's concern over the mistreatment of Uighurs in China. Therefore, China had to find a way to convince the Indonesian people and government that Beijing's repressive measures curtailing Uighurs rights were legitimate and that the Uighurs did not deserve Indonesia's empathy.
To legitimize in the eyes of the Indonesian people the harsh restriction imposed on the Uighurs' religious and cultural rights, the Chinese government has been framing the Uighur people in general as a terrorist threat for Indonesia. For instance, under the headlines "Southeast Asian Terrorism: Rise of the Uighur Factor" and "Is There a Uighur Terrorist Buildup Taking Place in Southeast Asia?" Uighurs are broadly accused of networking with Indonesian terrorist groups and partaking in terrorism activities.
To reinforce the idea that Uighurs are national security threat for Indonesia, China explicitly accuses them of being violent militants: "After shootout, China says Uighur militants a threat to Indonesia." None of these articles distinguishes between the alleged handful of Uighur extremists and the Uighur community as a whole.
The Indonesian government seems to have been persuaded by China's sweeping claims accusing Uighurs of being terrorists. Numerous headlines, such as The Jakarta Post's "Uighur militants infiltrating Indonesia" and The Star's "Indonesia concerned with ease of entry by Uighur," reinforce China's "Uighur threat" discourse without questioning it at any point.
A steady flow of discriminatory articles such as "Indonesia turns to China as ethnic Uighurs join would be jihadist," "Uighurs look to Indonesia for terror guidance," and "4 ISIS suspects arrested by Indonesia are Uighurs FROM CHINA: Police" further construct and consolidate in the Indonesian people's minds an unfunded fear from Uighurs.
Full report at:
http://www.thejakartapost.com/academia/2016/12/22/framing-of-uighurs-as-terrorist-threat-for-indonesia.html
--------
Halal products are catching on as Muslim population booms
Dec 21st, 2016
In a visit this fall to BASF's FACTORY in Dusseldorf, Germany, Abdullah Hito inspected production lines and met with managers to discuss ingredients for soaps, shampoos, and conditioners. Hito isn't an engineer or a health department official; he's an Islamic scholar who certifies the goods as halal — or fit for use by observant Muslims.
"We control everything from the first step, when they buy raw materials, to the end," says Hito, who holds a Ph.D. in Islamic studies from Kuwait University. Manufacturers "are not allowed to change raw materials or SUPPLIERSwithout informing us."
His company, Halal Quality Control, is one of dozens across Europe that certify products as halal. They can't contain alcohol or additives of animal origin, and production must be isolated from substances considered impure under Islamic law, even cleaning products.
BASF, which four years ago got its first such certifications for COSMETICSingredients, today makes 145 chemicals deemed halal for products like facial cleansers, bubble bath, or household detergents. While BASF's largest markets for the ingredients are Indonesia and other mostly Muslim countries, the company said demand is growing in the West.
Even as U.S. President-elect Donald Trump threatens to restrict Muslim immigration to the U.S., companies from BASF to sandwich maker Subway to FASHION house DKNY are embracing the group's growing buying power.
Muslims make up almost a quarter of the world's population — 1.6 billion people-and will outnumber Christians by the end of the century, according to the Pew Research Center in Washington. Consumers will spend about $27 billion on halal cosmetics this year, and sales could jump to $39 billion by 2019, researcher Technavio estimates.
"This is a market that's going to grow hugely," says Shafiq Shafi, managing director of a consulting firm called Muslim Marketing.
Halal products go far beyond traditionally butchered meat. There's halal foie gras and halal wine (alcohol-free, of course, but also guaranteed to not have come into contact with any banned substances). U.K. retailer John Lewis offers a school uniform with a hijab, and CLOTHING chain Uniqlo sold a line by designer Hana Tajima that includes printed and dyed hijabs.
When France's Groupe Bertrand bought the Quick hamburger CHAIN last year, it converted most of the 500 outlets to Burger Kings but left the Quick brand on about 50 of them in Muslim neighborhoods, serving Halal food.
Some companies don't do much to trumpet their Halal cred for fear of a backlash among non-Muslims, says Shelina Janmohamed, a vice president of Islamic branding agency Ogilvy Noor and author of "Generation M," a book about millennial Muslims.
"The challenge is a social and political climate that makes it difficult for businesses" to broadcast that they're catering to Muslims, Janmohamed says.
Animal welfare activists have called for a boycott of stores and restaurants serving halal meat because they say the halal method of slaughtering livestock is inhumane. And British retailer Marks & Spencer took some heat when it offered body-covering swimsuits called burkinis — the same SUITS that became a point of controversy in France last summer when the mayors of beach towns such as Cannes and Nice banned them.
Although Pierre Bergé, co-founder of the Yves Saint Laurent fashion house, deemed the suits an "abominable thing used to hide women," M&S says it sold out of them.
An Illinois company called Maya Cosmetics makes nail polish that's permeable — IMPORTANT to Muslims, who are barred from wearing anything that repels water while performing ablutions at prayer time. The website, though, trumpets the product's health benefits as prominently as its halal certification.
While word-of-mouth on Muslim websites and Facebook has helped sales in Britain and the Middle East, "halal carries a certain stigma with the average American," said co-founder Javed Younis.
Full report at:
http://www.heraldnet.com/business/halal-products-are-catching-on-as-muslim-population-booms/
--------
Pakistan
Kabul's anti-Pakistan diatribe can affect ties, warns Nisar
IBRAHIM SHINWARI
Dec 22, 2016
LANDI KOTAL: Interior Minister Chaudhry Nisar Ali Khan said on Wednesday that the Afghan leadership's anti-Pakistan diatribe in an 'enemy country' could jeopardise the friendly relationship between the two neighbouring countries.
He said this during his first visit to the Pak-Afghan border at Torkham where he shook hands with Afghan border guards as a friendly gesture.
"The Afghan leadership should refrain from levelling baseless allegations of abetting terrorism and harbouring militant organisations while speaking at our enemy's soil," he said, referring to Afghan President Ashraf Ghani's recent remarks against Pakistan in India.
Six additional routes to be established along Afghan border
Chaudhry Nisar said Pakistan had provided shelter and every possible help to millions of Afghans for more than 30 years and would continue to support the Afghan government for rebuilding the war-ravaged country.
"Pakistan has always considered enemies of Afghanistan as its own enemies and would continue to further strengthen the brotherly relationship with the latter despite suspected terrorists taking shelter in Afghanistan and carrying out terrorist attacks inside Pakistan," he said.
The minister said the federal government had allocated Rs70 billion to raise a new border force for effectively monitoring the 2,000km border with Afghanistan, implementing the border management policy and preventing suspected elements from entering Pakistan from Afghanistan.
He announced that six additional routes would be established along the Afghan border to keep a vigil on the cross-border movement of suspected elements.
Chaudhry Nisar said a Nadra (National Database and Registration Authority) centre would soon be set up at the Torkham border to check and detect fake Pakistani CNICs used by some Afghan nationals for entering Pakistan.
He also announced the installation of a computerised vehicle scanner machine at the border for checking heavy vehicles and containers at the border crossing. He directed the border security officials to show maximum restrain and leniency with Afghans visiting Pakistan with legal travel documents and extend cooperation to Afghan patients.
Earlier upon his arrival at the Michni checkpost, which overlooks the Torkham border, the interior minister was briefed by Khyber Rifles Commandant Col Umar Farooq on security arrangements at the border and the importance of the historic Khyber Pass.
Chaudhry Nisar supported the Khyber Agency political administration's idea of repairing the Khyber railway track and reviving the historic steam safari train. He assured political agent Khalid Mehmud that he would take up the matter with the federal railway minister.
Published in Dawn December 22nd, 2016
http://www.dawn.com/news/1303804/kabuls-anti-pakistan-diatribe-can-affect-ties-warns-nisar
--------
My son is innocent, says father of Pakistani asylum seeker suspected of Berlin attack
SYED ALI SHAH
Dec 22, 2016
The father of Naveed Baloch, a Pakistani asylum seeker briefly held on suspicion of driving a lorry into a Berlin Christmas market, says he refuses to believe his son could have been involved in what authorities have been calling a 'terrorist attack'.
Hassan Baloch, Naveed Baloch's father, said his son had been a daily wage worker employed in the fishing industry in Gwadar.
"Out of frustration and fed up with unemployment, my son went to Germany 17 months ago," said Baloch.
Hassan added that he has yet to talk to his son after his release by German authorities.
The family is a resident of Labnan in Mand tehsil of district Kech in Balochistan.
Naveed Baloch had been released for lack of evidence on Tuesday after being arrested earlier on suspicion of ploughing a lorry into a Berlin Christmas market.
"The accused, detained over the attack on the Berlin Christmas market on December 19, 2016, was let go on this evening on the orders of the federal prosecutor," said the German prosecutor's office in a statement.
Full report at:
http://www.dawn.com/news/1303654/my-son-is-innocent-says-father-of-pakistani-asylum-seeker-suspected-of-berlin-attack
--------
Pakistan is the only country where terrorism is seeing a downward trend: Ch Nisar
Dec 22, 2016
Interior Minister Chaudhry Nisar Ali Khan said on Wednesday that Pakistan was the only country in the world where terrorism was seeing a downward trend. He also said that the government was making untiring efforts to eliminate the remnants of terrorism from the country.
Talking to media persons after visiting Torkhum border at Landi Kotal in Khyber Agency here on Wednesday, the Interior Minister said the incidents of terrorism have been significantly reduced in the country due to effective policies of the federal government and sacrifices of our valiant security forces.
The interior minister also visited Michni Check Post at Landi Kotal, Khyber Agency, and headquarters of FC at Bala Hisar Fort in Peshawar.
"The graph of terrorism has seen a significant downward trend in the country due to government's result oriented policies and persistent and timely actions of our security forces," he remarked.
Pakistan has consistently seen a decline in number of terrorism incidents over the past few years. According to US Department of State's annual report on terrorism, the total number of terrorist attacks reported in Pakistan decreased 45%, total number of deaths decreased 39%, and the total number of people injured decreased 53% in comparison to 2014.
He said majority of terrorists have been exterminated due to successful Zarb-e-Azab operation while those who escaped from the wrath of security forces had crossed the border, adding that they are the ones 'who enter Pakistan and play with the lives of our innocent people'.
To counter this challenge, he said, efforts are being made to secure and monitor the long and porous Pakistan-Afghan border.
The Interior Minister said the government has decided to control and monitor the movement of people on border by establishing six controlled routes by 2020.
Ch Nisar said that terrorism was yet to be exterminated completely and close coordination among all the stakeholders was required to that.
He clarified that no terrorist network was operating in Khyber Agency and the writ of government has been completely restored.
The Interior Minister said Pakistan and Afghanistan have historical, cultural and religious relations as the former had welcomed over 3.5 million Afghan refugees when the USSR invaded Afghanistan.
He said whenever an incident of terrorism takes place in Afghanistan, unfortunately Pakistan is blamed without any evidence and investigation, which is totally unjustified.
He said allegations leveled on the instigation of our enemies are not acceptable to us. Ch Nisar said that Pakistan is a powerful and resourceful country with one of the most professional army in the world, adding that nobody can dictate terms or defeat us.
He said, "We should all forget previous mistakes and look forward for progress and prosperity of the region."
He said that tribal people had faced the brunt of terrorism with steadfastness and courage and appreciated their extended cooperation and support in establishment of peace in FATA.
The tribal elders of Khyber Agency and Landi Kotal also met with the Interior Minister for the solution of their problems.
Chaudhry Nisar visits Michni Check Post
The Interior Minister also visited Michni Check Post where he was briefed regarding overall security situation and measure taken by Frontier Corps for effective border management with Afghanistan at Torkham crossing point in Khyber Agency.
The interior minister appreciated efforts of the FC for effective border management saying he was happy over peace in bordering town of Landi Kotal and credited it to FC, said a press release issued here by FC Media Cell.
Full report at:
http://www.pakistantoday.com.pk/blog/2016/12/21/pakistan-is-the-only-country-where-terrorism-is-seeing-a-downward-trend-ch-nisar/
--------
Jhangvi's son distances himself from anti-Shia tirade
22-Dec-16
ISLAMABAD: Masroor Jhangvi said he has become more moderate and distanced himself from his previous anti-Shia rhetoric after winning a Punjab Assembly seat.
Jhangvi's December election caused a stir due to fears his political ascent would increase sectarian divides in Jhang, a dusty town with a history of Shia-Sunni violence.
The 29-year-old is also on a list of people with suspected ties to terrorist groups. Jhangvi's assassinated father, Haq Nawaz Jhangvi, was a firebrand anti-Shia cleric who founded the now proscribed Sipah-e-Sahaba Pakistan. He was killed in 1990.
The banned Lashkar-e-Jhangvi (Jhangvi's army), which has carried out some of the worst sectarian attacks in Pakistan's history, was named after his father.
Full report at:
http://dailytimes.com.pk/islamabad/22-Dec-16/jhangvis-son-distances--himself--from-anti-shia-tirade-
--------
364 Pakistanis behind bars in Saudi Arabia
December 21, 2016
Adviser on Foreign Affairs Sartaj Aziz on Wednesday said that there are 364 Pakistani imprisoned in Saudi jails.
Replying to a question in Senate, he said these jails include Riyadh, Jubail, Buridah, Dammam, Khober and Oniza.
Aziz also said the embassy of Pakistan is extending all possible assistance to Pakistani prisoners present in jails and deportation centres in the Kingdom.
"Embassy has sought consular access for the detainees, to inquire about their welfare and extended to them all possible assistance and has also forwarded clemency requests from their relatives to the Royal Court."
Full report at:
http://nation.com.pk/national/21-Dec-2016/364-pakistanis-behind-bars-in-saudi-arabia-sartaj
--------
Pakistan should talk to Trump in business language: Kasuri
December 22, 2016
LAHORE - Pakistan will have to talk to new US administration in the business jargon because the President-elect, Donald Trump was primarily a businessman who challenged traditional ways of thinking and won.
"Trump will not be interested in human rights. He will be concerned more about material gains, business and trade than anything else," Pakistan's ex-foreign minister Khurshid Mehmud Kasuri said yesterday. Addressing a seminar on Pak-Us relations under new US administration at Hameed Nizami Press Institute of Pakistan (HNPIP), the ex-foreign minister said that Pakistan will have to adopt a totally different approach while dealing with the US on different issues.
Director, HNPIP, Absar Abdul Ali moderated the seminar also addressed by Qayyum Nizami and Dr Ejaz Butt.
In the new situation, Kasuri urged the need for a balanced foreign policy devised after consulting all the stakeholders including the military and the ISI. He said there was no denying the fact that intelligence agencies do have a role in the foreign policy of big powers.
He also supported the popular demand for appointment of a full-time foreign minister.
"After the prime minister, country's foreign minister is the only important office whom the world recognizes as its face". All the foreign ministers, he added, fight for their country's interests by cultivating friendly relations with different countries. "We are a big nation, a nuclear power with one of the strongest armies in the world besides having a population majority of which comprises the youth", he said, adding that only an able foreign minister could project such a good image of the country at the international level.
Khurshid said that India was doing terrorism in held Kashmir, but Pakistan did not have a full-time foreign minister to highlight it at the world foras.
Talking about the US foreign policy under Trump administration, he said that Pakistan's nuclear program, Pak-China collaboration, Indo-China relations and its dealings with Russia will continue to remain under the spotlight but with a different approach this time.
He said Trump wanted friendly relations with Russia as he has stated this many a time. He said he had heard people saying that US and China were enemies. "They don't know that there is 600b dollar trade between them and they will never fight to harm their interests gained through mutual trade.
"In foreign relations, countries don't have friends or foes; it is all about protecting their national interests.", he affirmed. Kasuri said it would be interesting to see the US response towards an emerging axis of three countries-Pakistan, China and Russia- against Taliban as the three powers would not like permanent US bases in Afghanistan.
Full report at:
http://nation.com.pk/lahore/22-Dec-2016/pakistan-should-talk-to-trump-in-business-language-kasuri
--------
South Asia
US react on Taliban's demands for direct talks, saying 'We support Afghan-led process'
Dec 22 2016
The United States has said Washington supports an Afghan-led peace process while responding to Taliban's call for direct talks with US.
"I haven't seen those comments either, but I would tell you that nothing has changed about our view that what we support is an Afghan-led reconciliation process," State Department spokesperson John Kirby said in response a question regarding Taliban's statement to hold direct talks with US if their demands are met.
Kirby further added "We believe that's the right approach. We've always believed that that's the right approach."
"President Ghani, more IMPORTANTLY, also believes in the criticality of that approach, and that's where our support will go to," he added.
The group offered new demands earlier this month for ending its insurgency in the country, including direct talks with the United States.
The other new conditions include recognition of the political office of the group in Qatar and Full report at:
http://www.khaama.com/us-react-on-talibans-demands-for-direct-talks-saying-we-support-afghan-led-process-02525
--------
Taliban attack home of Afghan lawmaker in capital, killing 8
December 22, 2016
Afghan police say gunmen have stormed the home of a lawmaker in the capital, killing eight people and leaving the parliamentarian wounded after he jumped from the roof to escape. The Taliban claimed the attack, which began late Wednesday, saying they targeted a meeting of military officials.
Police officer Sadiq Muradi says the gunmen attacked the house of Mir Wali, a lawmaker from the restive southern Helmand province. They battled his guards for several hours, eventually killing eight people, including family members, friends and members of his security detail. Three attackers were killed.
Full report at:
http://indianexpress.com/article/india/taliban-attack-home-of-afghan-lawmaker-in-capital-killing-8-4439594/
--------
Myanmar Border Guards Say Local And Foreign Muslims Carried Out Rakhine Attacks
2016-12-21
Border guard police in Maungdaw township in Myanmar's Rakhine state told journalists visiting the violence-ravaged area on Wednesday that assailants responsible for a deadly attack on border guard posts in early October included both local Muslims and ones from neighboring Bangladesh.
Major General San Lwin, chief of the border guard police, told a group of local and international reporters at the Kyikanpyin border guard headquarters that those who attacked three border patrol stations in Maungdaw and Rathedaung townships on Oct. 9 received training from the Rohingya Solidarity Organization (RSO), a small local militant group active in the 1980s and the 1990s but believed to be defunct. Nine officers were killed in the raids.
The attackers also organized local Muslims to participate in subsequent clashes with security forces, which were intended to drive ethnic Rakhine people from their homes in the area, he said in remarks that could not independently be confirmed.
Myanmar army soldiers and border police, who swept into Maungdaw to lock down the area and search for the assailants, have arrested 609 people believe to be connected to the initial attacks and subsequent clashes between villagers and security forces, San Lwin said.
Seventy-three people have been found dead, and 106 have been sentenced, he said.
Authorities allowed in the government-selected group of local and international journalists from independent media organizations for a three-day visit to the affected areas on Dec. 19-21. Security forces have escort the team to Maungdaw, where a dusk-to-dawn curfew has been in place since Oct. 10.
The team of 13 journalists, including a reporter from RFA's Myanmar Service, said that most houses in Rohingya villages in Muslim-majority Maungdaw remain empty.
About 27,000 Rohingya have fled their homes to seek refuge in Bangladesh, where authorities have previously denied that any attackers came from the country and crossed into Myanmar.
Some of them have accused Myanmar security forces of extrajudicial killings of villagers, rape, torture and arson, though the Myanmar government has denied the claims.
Maungdaw district administrator Ye Htut told the reporters that government authorities have granted permission to build seven ethnic villages in Maungdaw township for ethnic Rakhine Buddhists.
The reporters also visited villages where authorities say attackers fired on government troops and set fire to houses.
In the run-up to the visit, the United Nations, Western countries, and international human rights groups had called on the Myanmar government to open Maungdaw to independent journalists to investigate reports of killings, rape, torture, and arson by army soldiers who conducted security sweeps of Rohingya villages.
The Myanmar government has rejected allegations of misconduct and abuse by security forces in Maungdaw.
Report calls for ASEAN action
Researchers at Singapore's Institute of Southeast Asian Studies-Yusof Ishak Institute, meanwhile, issued a report on Wednesday, urging members of the Association of Southeast Asian Nations (ASEAN) to pay close attention to the situation of Muslims in Maungdaw in the aftermath of the attacks.
Though ASEAN members adhere to a principle of non-interference in the internal affairs of others in the regional organization, the researchers called on them to persuade Myanmar to allow ASEAN representatives to access Maungdaw, deliver humanitarian assistance to people there, and encourage initiatives to promote peaceful coexistence between ethnic Rakhine people and the Muslims.
"The October armed attacks in Rakhine and subsequent developments have taken on new dynamics that have region-wide security ramifications and that affect ASEAN unity and credibility," the report said. "It is increasingly untenable for ASEAN to insulate itself from this unfolding crisis behind the shield of noninterference."
Researchers also urged ASEAN to step up efforts to combat human smuggling and prevent traffickers from exploiting the situation in Rakhine, and enhance regional cooperation in border management and promote antiradicalism among Muslims in Myanmar and in other countries.
Full report at:
http://www.rfa.org/english/news/myanmar/myanmar-border-guards-say-local-and-foreign-muslims-carried-out-rakhine-attacks-12212016150032.html
--------
Deadly attacks foiled in Kabul city, suicide bombing vests, explosives seized: NDS
Dec 22 2016
The Afghan intelligence operatives foiled a series of deadly attacks in capital Kabul by seizing some suicide bombing vests along with several other types of weapons and explosives.
The National Directorate of Security (NDS) said the operatives of the agency seized at least three suicide bombing vests, six magnetic bombs, an improvised explosive device, six mobile sets to be used in explosions, six hand grenades, two remote controls, 70 rounds of pistol ammunition, and several other types of explosives.
NDS further added that the explosives and suicide vests were confiscated from the vicinity of 7th police district of the city and were defused.
According to NDS, the militants were looking to use the explosives for a series of deadly attacks in Kabul city.
Full report at:
http://www.khaama.com/deadly-attacks-foiled-in-kabul-city-suicide-bombing-vests-explosives-seized-nds-02524
--------
5 Taliban leaders critically injured in premature bomb explosion
Dec 22 2016
At least five leaders of the Taliban group were wounded in a premature bomb explosion in eastern Nuristan province of Afghanistan.
The Ministry of Defense (MoD) said the incident took place in the vicinity of Duab district after an Improvised Explosive Device (IED) went off prematurely.
MoD further added that the wounded Taliban leaders have been identified as Qari Mohammad Hanif, Salahuddin, Juma, Mohammad Shah, and Dad Mohammad.
According to MoD, the Taliban leaders have sustained serious injuries in the explosion.
The Taliban militants group has not commented regarding the report so far.
Taliban militants and insurgents belonging to other militant groups are frequently using Improvised Explosive Device (IED) as the weapon of their choice to target the security forces and government officials.
Full report at:
http://www.khaama.com/5-taliban-leaders-critically-injured-in-premature-bomb-explosion-02526
--------
Africa
Al Shabaab militants kill senior official in Somalia's Puntland
By Abdiqani Hassan and Feisal Omar
Dec 22, 2016
BOSASSO, Somalia (Reuters) - Al Qaeda-affiliated al Shabaab militants shot dead an aide to a regional official in Somalia's semi-autonomous Puntland region on Tuesday, the second such attack in a week, police said.
Aden Huruse, a director in Puntland's presidential palace, was attacked at a restaurant in its main city Bosasso, police told Reuters. "Two men armed with pistols fired several bullets into his head. He died on the spot," said Major Mohamed Hassan, a Bosasso police officer.
Al Shabaab regularly targets officials throughout Somalia. Its insurgency aims to drive out African Union peacekeepers, topple Somalia's Western-backed government and impose its strict version of Islam on the Horn of Africa state.
Tuesday's shooting occurred six days after al Shabaab gunmen killed the region's deputy police commander Jamac Sahardiid outside a hotel in Bosasso.
"This evening we killed the director in Bosasso. We were also behind the killing of Puntland's deputy police commander days ago," said Sheikh Abdiasis Abu Musab, the militant's military operation spokesman.
The al Shabaab insurgency persists in Somalia as it pursues reconstruction after more than two decades of conflict and chaos that have left the nation in tatters.
Somalis are now voting across the country for a new parliament, which will choose a new president.
http://www.businessinsider.com/r-al-shabaab-militants-kill-senior-official-in-somalias-puntland-2016-12?IR=T
--------
Nigerian troops rescue 1,880 civilians from Boko Haram in one week
22 December 2016
LAGOS - Nigerian troops have rescued 1,880 civilians from a Boko Haram redoubt in the restive northeast in the past week and arrested hundreds of insurgents, a military commander said on Wednesday.
The Sambisa forest, covering about 1,300 square kilometres (500 square miles), is a stronghold of the notorious jihadist group, who kidnapped more than 200 schoolgirls in 2014.
"During our operations in the period 14-21 December 2016, a total of 1,880 civilians were rescued from Boko Haram enclaves," Major-general Leo Irabor said in a statement after a news conference in the northeastern city of Maiduguri on Wednesday.
Irabor added: "564 Boko Haram terrorists were arrested while 19 others surrendered to our troops. Also, seven suspected kidnappers and 37 foreigners were equally arrested."
He said several Boko Haram fighters were killed and a cache of arms and ammunitions was discovered in the operation, part of a military campaign launched last year to clear the area of the jihadists.
Hundreds of civilians, including women and children, have also been freed in neighbouring Cameroon, said Irabor. Eight jihadist suspects were subsequently identified among them and taken into custody.
Boko Haram seeks to impose a hardline Islamic legal system in Nigeria's mainly-Muslim north.
It has been blamed for the deaths of at least 20,000 people since 2009. The rebellion has also displaced some 2.6 million people, sparking a humanitarian crisis in the region.
The United Nations has warned that the affected region faces the "largest crisis in Africa".
The UN estimates that 14 million people will need outside help next year because of the ongoing violence, particularly in Borno State in northeastern Nigeria, the country's jihadist heartland.
Full report at:
https://www.enca.com/africa/nigerian-troops-rescue-1880-civilians-from-boko-haram-in-one-week
--------
11 kids killed when bus runs into Muslim procession in Nigeria
Dec 21, 2016
Nearly a dozen children have been killed in an incident in northern Nigeria, where a bus driver ploughed the vehicle into a Muslim procession marking the birthday anniversary of the Prophet Mohammed (peace be upon him).
Police spokesman Ahmed Usman said on Wednesday that the incident in the village of Malam Sidi in Gombe state on Tuesday was due to a brake failure.
"A total of 11 children died in the incident while 17 others were seriously injured," media outlets quoted the spokesman as saying.
Usman said the victims were aged between 11 and 15.
The accident prompted an angry mob to beat the driver to death.
Police have launched an investigation into the accident.
Full report at:
http://www.presstv.ir/Detail/2016/12/21/500849/Nigeria-Gombe
--------
19 protesters killed in DR Congo's capital: UN
Dec 21, 2016
At least 19 protesters have been killed in recent clashes in the Democratic Republic of the Congo's capital, Kinshasa, amid growing tensions over the refusal of President Joseph Kabila to quit after the expiration of his term in office.
According to a UN provisional toll on Wednesday, at least 45 demonstrators have also been injured in violent clashes between protesters and security forces since Tuesday.
Reports of the death toll are different.
Human Rights WATCH said security forces had killed at least 26 demonstrators in the capital and arrested scores of others.
The government said nine people had been killed in Kinshasa.
On Tuesday, the director of the UN mission in the DR Congo, Maman Sambo Sidikou, said his office had documented 113 arrests of opposition leaders and civil society activists, human rights campaigners and journalists by police and intelligence authorities since December 16.
Fears are growing about the eruption of new violence across the country.
State television recently announced the establishment of a new government in line with an October deal between the ruling party and tiny opposition groups to leave Kabila in office pending elections in April 2018.
Full report at:
http://www.presstv.ir/Detail/2016/12/21/500859/DR-Congo-Kinshasa-UN
--------
Interfaith platform given peace award
December 22, 2016
DUBAI: Sheikh Abdullah Bin Zayed Al Nahyan, Minister of Foreign Affairs and International Cooperation and Shaykh Abdallah Bin Bayyah, President of the Forum for Promoting Peace , have awarded the 2016 'Imam Al Hassan Bin Ali Award for Promoting Peace' to the Central Africa Republic-based National Interfaith Peace Platform (NIPP), in recognition of its approach to violence prevention. The award was presented at the 3rd Forum for Promoting Peace in Muslim Societies, which concluded in Abu Dhabi on Dec.20 after two days of in-depth discussions on the role of the Muslim nation-state in the modern world.
NIPP was named as winner of the award for its significant role in rebuilding the community and promoting values of peace through direct communication with the citizens in mosques and churches, following the civil war which broke out in Central Africa in 2012. Among the honorees were NIPP leaders, including Archbishop Dieudonne Nzapalainga, Imam Oumar Kobine Layama and Pastor Nicolas Guerekoyame-Gbangou.
Addressing the awards ceremony, Sheikh Abdallah Bin Bayyah said: "Fire is raging in many of the Muslim communities around the globe. We are acting as extinguishers who typically would not ask who had been responsible for the fire; it's rather the responsibility of the police and the judiciary in a later stage. Rather, the fire extinguisher leaves no stone unturned to completely extinguish the flames and this is exactly our mission. We're not asking people for to explain their dilemma, doctrine, call of duty or religion.
"We ask them to do one thing: stop fighting. We believe that putting an end to wars and paving the way for peace is the essence of justice and the TOP priority of life. Whosoever wants religion to be established by war and seeks to achieve earthly gains through conflict, most certainly has gone astray, leading dissipated ways and ultimately shall end as the loser in both this world and the Hereafter."
The renowned scholar thanked and praised the UAE for setting an example of a peaceful state in such turbulent times. He said the two-day forum was a perfect, pioneering example that embodied the UAE as a nation state which inculcates the pillars of tolerance, unity and power of reason through the rule of law. "The UAE is a model for all other nations to follow and benefit from in terms of tolerance and peaceful coexistence," he reiterated.
Full report at:
http://gulftoday.ae/portal/ff7722f4-c429-42e6-b4b1-a04eb2b3acfd.aspx
--------
Nigerian troops rescue at least 1 880 civilians from Boko Haram
2016-12-22
Lagos - Nigerian troops have rescued 1 880 civilians from a Boko Haram redoubt in the restive northeast in the past week and arrested hundreds of insurgents, a military commander said on Wednesday.
The Sambisa forest, covering about 1 300 square kilometres, is a stronghold of the notorious jihadist group, who kidnapped more than 200 schoolgirls in 2014.
"During our operations in the period 14 - 21 December 2016, a total of 1 880 civilians were rescued from Boko Haram enclaves," Major-general Leo Irabor said in a statement after a news conference in the northeastern city of Maiduguri on Wednesday.
He said the operation was part of a military campaign launched last year to clear the area of the jihadists.
Irabor added: "564 Boko Haram terrorists were arrested while 19 others surrendered to our troops. Also, seven suspected kidnappers and 37 foreigners were equally arrested."
He said several Boko Haram fighters were killed and a cache of arms and ammunitions was discovered.
Full report at:
http://www.news24.com/Africa/News/nigerian-troops-rescue-at-least-1-880-civilians-from-boko-haram-20161222
--------
North America
Two Muslim Americans kicked off Delta flight for speaking Arabic
Dec 22, 2016
Two Muslim American YouTube stars were escorted off a US airline in London after several British passengers complained when one of them spoke Arabic to his mother on the PHONE.
Adam Saleh, 23, an Internet personality, and his friend Slim Albaher, 22, were returning home to New York City on Wednesday when they were asked by the captain of the Delta flight to leave the plane at Heathrow Airport.
Saleh, who was born in New York City to Yemeni parents, said several passengers voiced their support for him while others approved of his removal from the plane.
The passengers who were on the flight when it landed in New York confirmed the men's story.
Saleh posted a video of the incident on Twitter. The news was met on social media with anger at the airline industry.
"You guys are racist. I cannot believe my eyes," Saleh shouts in the video as he describes the confrontation. "Six white people against us bearded men."
"This is 2016. 2016. Look, Delta Air Lines are kicking us out because we spoke a different language," he says in the video.
He can be seen asking one his fellow passengers: "I spoke a word [of Arabic], and you said you feel uncomfortable?"
After an hours-long delay involving more security checks, Saleh said he was finally able to board a flight to New York with a different airline.
However, he said he would seek legal counsel to file charges against the airline.
In August, Delta removed a Muslim American couple travelling from Paris, France to Cincinnati, Ohio, after a flight attendant complained of feeling uncomfortable with them on board.
Incidents of Muslims and Arabs being asked to leave planes have increased in recent months amid rising Islamophobia in the West, according to advocacy groups.
"More and more reports have been made of Muslims or Arabs, or people who were perceived to be Muslim or Arabs, who were removed from planes by airline personnel," said Zainab Chaudry, a spokeswoman for the Council on American-Islamic Relations (CAIR), the United States' largest Muslim civil rights group.
There has been a spate of hate crimes targeting Muslims and other minorities in the US after the election of President-elect Donald Trump.
Trump won the US presidency despite extreme unpopularity among minorities, underscoring deep national divisions that have fuelled incidents of racial and political confrontation across the country.
http://www.presstv.ir/Detail/2016/12/22/501935/US-Delta-Adam-Saleh
--------
Why Muslim-Jewish cooperation matters for America
Dec 22, 2016
(RNS) Imagine receiving this message on your voicemail: "Dear Mr. Gonzalez, we regret to inform you that your heart surgery has been canceled. The medical professionals scheduled to perform it, Doctors Sarna and Latif, have discovered that they have serious disagreements about Middle East politics. Consequently, they are refusing to work together. We will do our best to find you other doctors before your condition becomes fatal."
Seem far-fetched? In my mind, it is the logical outcome of the manner in which many Jewish and Muslim groups have chosen to engage each other in recent years. Or, rather, not engage.
From college campuses to national advocacy organizations, many Muslim and Jewish groups have made it not just a practice but also a matter of honor to boycott each other because of different views on Israel.
They refuse to meet or even join associations that the other group is in, and regularly badmouth their Abrahamic siblings to civic leaders, college presidents and elected officials.
But if it begins with Muslims and Jews refusing to work on a volunteer project on a college campus, where does it end?
Do Muslims and Jews refuse to do research in labs together, or play on the same athletic teams, or partner on school fundraisers, or engage in business deals? Do they even, as in the example above, refuse to perform lifesaving surgeries with one another?
And it's not as if the Middle East is the only contested territory on the planet. What if other diaspora groups in America — Indians and Pakistanis, Sinhalese Buddhists and Tamil Hindus, Turks and Greeks, Bosnians and Serbians — caught the bug that is infecting American Muslims and Jews and decided to boycott the other in professional and civic life?
In my view, refusing to work with another group because of its identity is treason against the American idea. As Martin Luther King Jr., said, "The American dream (is) the dream of men of all races, creeds, national backgrounds, living together as brothers."
How do you have an immigrant society when people put conflicts from elsewhere at the center of their relations here? How do you have a diverse democracy if people cannot bracket their disagreements on some fundamental things in order to work together on other fundamental things?
In recent weeks, the shifting ground of American politics has created some promising new possibilities. A group of prominent Muslims and Jews just launched a high-profile council against Islamophobia and anti-Semitism. The New York Times recently profiled a meeting of a group called the Sisterhood of Salaam Shalom that gathered nearly 500 participants.
RELATED: Jewish-Muslim alliance formed against anti-Semitism, Islamophobia
Personally, I'm most inspired by the shift that I've seen among campus-based groups. I have just returned from the Hillel International conference, where President Eric Fingerhut stated unequivocally that Hillels around the country would stand up against Islamophobia.
He received a rousing round of applause. This past summer at an Interfaith Leadership Institute organized by my organization, Interfaith Youth Core, I met Muslim students who took a particular interest in the partnership that King forged with rabbis during his 1966 Fair Housing March in Chicago.
Full report at:
http://religionnews.com/2016/12/21/why-muslim-jewish-cooperation-matters-for-america/
--------
Trump: European Attacks 'Prove' He Is 'Right' on Need for Muslim Screening
December 21, 2016
U.S. President-elect Donald Trump said Wednesday that the violent attacks in Europe this week "prove" that he is "right" about his plans to institute tough screening of Muslims attempting to enter the United States after he assumes power next month.
"You know my plans. All along, I've been proven to be right. 100 percent correct. What's happening is disgraceful," Trump said in a BRIEF exchange with reporters in Florida, where he is continuing to interview candidates to fill key positions in his administration.
Asked about the truck attack on a Christmas market in Berlin that killed 12 people and the assassination of a Russian diplomat in Ankara, Trump said, "Terrible. Terrible. What's going on is terrible, terrible."
He described the violence as "an attack on humanity. That's what it is. An attack on humanity, and it's got to be stopped."
Full report at:
http://www.voanews.com/a/trump-european-attacks-prove-right-need-muslim-screening/3645646.html
--------
U.S. Rep. Jared Polis pledges to support Muslims
December 21, 2016
FORT COLLINS — A Colorado congressman has pledged to support Muslim citizens amid fears about future policies that may be created by president-elect Donald Trump.
The Reporter-Herald reports that U.S. Rep. Jared Polis, D-Colo., on Tuesday met with officials at the Islamic Center for Fort Collins, where he spoke to members of the congregation about their concerns about the future president, including those about a Muslim registry.
Polis, who is Jewish, said Tuesday that he would oppose any faith-based registry and if one were created he would register himself as Muslim as an act of civil disobedience.
Full report at:
http://www.denverpost.com/2016/12/21/jared-polis-pledges-support-muslims/
--------
Europe
The UK Muslim community feels under attack
December 21, 2016
A few weeks ago, Judith Kerr gave a talk at my daughter's school. The author of the classic children's book The Tiger Who Came to Tea talked of her Jewish father's hurried exit from Germany, days ahead of Adolf Hitler's accession to power in 1933, after a tip-off that he was on the new führer's hitlist.
The rest of the family followed and settled in the UK. When war came, as Jewish Germans, they were tagged as 'friendly enemy aliens', more Jewish than German. They were spared internment, treated decently by those around them and her brother joined the RAF to fight his rejected homeland.
There was a time, then, when we welcomed refugees.
It no longer seems overly dramatic to see our current times as being echoes of the 1930s. This week's murders of Muslims in Zurich, of the Russian Ambassador in Turkey and of shoppers in a Berlin Christmas market were both shocking and familiar – echoes of both our recent and distant pasts – while the rise of populist nationalism has obvious parallels.
What seems less obvious is the sense of inclusiveness that welcomed Kerr into the country even as we fought with her country of birth. There are many within our borders, within the Muslim community, who feel under attack themselves.
The social media analysis company Impact Social looked at social media posts and comments on open news forums within the last 24 hours (post Berlin / Ankara / Zurich, with Aleppo as a continuing soundtrack), covering the activity of 37,000 people who self-identify as members of the UK's Muslim community, to see how they viewed the attacks, and the reactions to them.
Within that grouping, 4,000 posts were connected to the attacks, which equated to 43% of the 'share of voice'. The first thing to note is that is very high, demonstrating a high level of feeling (normally the discussion of terrorism and related issues would cover about 15% of all posts, with the rest the sort of general hubbub common across all social media).
The mood within those posts is pretty grim – 61% of posts were negative, only 12% positive (the rest, neutral commentary of news). That's understandable. The news hasn't been cheering.
Within that positive sector, 63% were talking of UK charity work and 29% about support for the victims of violence. Humane values walk amongst us, if in small numbers.
Within the much bigger number of negative posts, the commentary was spread around the atrocities with Zurich attracting 6% of posts (even though that was an extremist attack specifically against Muslims), the Russian ambassador's murder attracting 8% and Berlin 12%.
Those figures seem low, but the pattern reflects the wider media coverage. The media gave those events the same ascending order of IMPORTANCE, the social posts simply reflected that.
But what is striking is the topics that really drove the conversations. Three per cent talk of far-right extremism, 7% feel that 'politics is broken' and another 7% feel that the UK is racist. Another 14% speak of Islamophobia.
These are the numbers of a community that feels under attack. And there's a real feeling that they know who is driving those attacks. The 'Three Horsemen of Intolerance' drive a very significant part of the online chat. Leading from the front. Katie Hopkins and the Daily Mail, in the wake of the settlement on the Mahmood family debacle, take a full 25% of the conversation. That might seem driven by a special case in the wake of Hopkins' apology and the Mail's payment – but there's always a special case with Hopkins and the Mail. And so long as she has a deadline to hit and for as long as she is well-rewarded for her bigotry, there will be revulsion somewhere at what she says, while the Mail is the spiritual homeland for her kind of bile.
That's not to forget their political leader, Nigel Farage, who takes up another 11% of the posts. His attack on Brendan Cox, who he has accused of politicising his own wife's murder and supporting extremism, was a peak in charmlessness even for him, but it's far from out of character.
The connection made from such sources between the Muslim faith and violent extremism is as dangerous as it is false. The Muslim community within the UK clearly feels under attack from such statements (and that is, indeed, the intention). And they are the sub-edited, 'respectable' versions of far greater bile – even worse extremism in the trolling of an entire religion by members of the public online.
Such a process leads to a divided country. A country facing the pressures of extremism and economic uncertainty survives better when it unites.
http://www.ibtimes.co.uk/uk-muslim-community-feels-under-attack-1597624
--------
Russian envoy's murder blow to Turkey's prestige: Kremlin
Dec 21, 2016
The Kremlin says the assassination of the Russian ambassador to Ankara is a serious blow to the image of Turkey, whose government is said to have gambled on the conflict in Syria by supporting anti-Damascus militants.
"This is certainly a blow to the country's prestige," Kremlin spokesman, Dmitry Peskov, said on Wednesday.
The Russian ambassador, Andrei Karlov, was killed during the opening of a photo exhibition at a gallery in the Turkish capital, Ankara, on Monday. The assassin, off-duty policeman, Mevlut Mert Altintas, was shot dead at the scene.
Following the murder, the cop shouted in Turkish and Arabic, "Don't forget Aleppo, don't forget Syria."
This picture taken on December 19, 2016 shows Andrei Karlov (L), the Russian ambassador to Ankara, lying on the floor after being shot by a gunman (R) in Ankara, Turkey. (Photo by AFP)
Elsewhere in his remarks, Peskov said Moscow does not believe that the gunman acted on his own, without elaborating on the reasons behind the suspicion.
"We shouldn't rush with any theories before the investigators establish who were behind the assassination of our ambassador," he said.
An unidentified Turkish government official also confirmed that it was unlikely Altintas acted alone as the killing had all the marks of being "fully professional, not a one-man action."
Meanwhile, Turkish newspaper, Hurriyet, identified the assailant as a member of the team providing security for Turkish President Recep Tayyip Erdogan.
Moreover, the Jordan-based al-Bawaba news and media website reported that the Takfiri Jabhat Fateh al-Sham militant group, formerly known as al-Nusra Front, has claimed responsibility for the attack.
Turkish Foreign Minister Mevlut Cavusoglu told US Secretary of State John Kerry in a Tuesday PHONE call that Ankara and Moscow believe a movement led by opposition cleric Fethullah Gulen was behind the incident, according to ministry sources.
Being asked about the assertion, the Kremlin spokesman, however, said it was too early to draw any conclusions about who may have orchestrated the murder.
Full report at:
http://www.presstv.ir/Detail/2016/12/21/500850/Russia-Turkey-Syria-Peskov-Karlov
--------
King Mohammed VI Attends Synagogue Inauguration, Shows Commitment to Moroccan Jewish Community
Dec 22, 2016
Serge Berugo, Secretary-General of the Council of Moroccan Jewish Communities, tells the MAP that the restoration of the synagogue and the museum, "where are exhibited paintings retracing the history of Judaism in Morocco, will also preserve the authentic Moroccan identity."
The synagogue and museum's restoration display the King's commitment to conserving spaces of cultural dialogue and coexistence, Berugo added.
These restorations were carried out as part of the second phase of the rehabilitation program of Casablanca's old medina, which also restored the Sidi Allal Al Karaouani Mausoleum, the Dar Annassij (weaving house) and the July 9 Health Center. The program, so far, has invested 3.1 million dirhams in the rehabilitation of these important and historic cultural spaces.
"All these projects," adds the statement, "are part of the Grand Royal Plan for Casablanca Metropolis Development."
Full report at:
https://www.moroccoworldnews.com/2016/12/203910/king-mohammed-vi-attends-synagogue-inauguration-shows-commitment-moroccan-jewish-community/
--------
Fake suicide vest sparks terror scare in Paris heist
December 22, 2016
PARIS - Would-be bank robbers in Paris on Wednesday fitted their victim with what he and police arriving on the scene thought was a suicide vest, sparking a brief terror scare, police sources said.
Two individuals who planned to steal the cash delivery fled empty-handed when the man managed to raise the alarm. But police took fright on arrival at the scene and called in bomb-squad reinforcements, before confirming that he was in fact the victim of a foiled heist and the vest was fake. Fears of attacks by militants are running high in France, where more than 230 people have been killed in assaults in two years.
Full report at:
http://nation.com.pk/international/22-Dec-2016/fake-suicide-vest-sparks-terror-scare-in-paris-heist
--------
German police question Tunisian suspect's family over Berlin attack
21 December 2016
A spokesman for Tunisia's anti-terrorism judicial police says they have questioned the family of Anis Amri, the suspect that German authorities are searching for in the deadly truck attack on a Berlin Christmas market.
Spokesman Sofiane Selliti told The Associated Press that officials from two specialized brigades in Tunis and Kairouan interrogated family members of the suspect Wednesday at their home in the central Tunisian town of Oueslatia.
He did not say how many people were present at the interrogation. The suspect's family lives in poverty and his parents are divorced, according to Tunisia's Mosaique FM radio.
His brother is urging Anis Amri to turn himself in to police.
German police conitnue searching for the 21-year-old Tunisian man in connection with the deadly truck attack.
Ameri entered Germany in 2015 and was on a temporary asylum permit, but in June a court ruling refused his asylum and denmanded he left. It is not know yet whether Ameri left Germany and reentered before the attack, however, reports said that asylum office papers believed to belong to him were found in the cab of the truck.
The documents, which announced a stay of deportation, were found under the driver's seat of the 40-tonne lorry that barrelled through the Christmas market in the heart of the German capital.
Police were reportedly searching for the suspect, who was born in the southern Tunisian city of Tataouine, in the western state of North Rhine-Westphalia. However, before Germany, Ameri was living in Oueslatia - a town in the Kairouan Governorate, Tunisian security sources said.
Twelve people were killed in what German authorities have called a "terrorist attack" in Berlin late Monday, including the Polish driver of the truck.
The scenes instantly revived nightmarish memories of the July 14 truck assault in the French Riviera city of Nice, where 86 people were killed by a Tunisian Islamist.
The ISIS-linked Amaq news agency said "a soldier of the Islamic State" carried out the Berlin carnage "in response to appeals to target citizens of coalition countries".
Full report at:
https://english.alarabiya.net/en/News/world/2016/12/22/Muslim-woman-married-to-a-Syrian-could-be-Romania-s-PM.html
--------
French mayor to be tried for Muslim 'problem' comments
2016-12-22
A far-right French mayor will be tried on hate charges over comments that include a claim the number of Muslim students in his city was a "problem", a judicial source said Wednesday.
Robert Menard, who is an ally of France's anti-immigrant National Front party, will face a charge in a Paris court of incitement to hatred or discrimination, the source said.
"In a class in the city centre in my town, 91 percent of the children are Muslims. Obviously, this is a problem. There are limits to tolerance", he said in September 5 comments on French news channel LCI.
Also in September, on France's first day back to school, he tweeted his regret at witnessing "the great replacement", using a term by xenophobic writer Renaud Camus to describe the country's white, Christian population being overtaken by foreign-born Muslims.
Menard, who is the mayor of southern France town Beziers, denied his comments were discriminatory.
"I just described the situation in my town," he told AFP. "It is not a value judgement, it's a fact. It's what I can see."
Full report at:
http://www.france24.com/en/20161222-french-mayor-be-tried-muslim-problem-comments
--------
Muslims and Christians team up to help homeless
Dec 22, 2016
Muslim and Christian groups in Britain are joining forces to help the country's homeless and other vulnerable groups during the Christmas period.
Organisations including Muslim Aid, the Al-Khair Foundation, Streetlytes, and churches across the English capital of London are expanding their efforts by providing meals and shelter packs to rough sleepers.
Their aim is to make sure those most in need are protected from cold weather and hunger during the holidays when many shops and services are closed or operating at reduced capacity.
More than 100 homeless people attended a Christmas dinner event organised by the groups at the Church of St Stephen and St Thomas in Shepherd's Bush, west London.
READ MORE: UK families open doors to refugees
Alongside the seasonal staple of Turkey, volunteers dished out servings of South Asian dishes such as biryani.
"As Muslims, Islam teaches us that we can't go to bed on a full stomach while our neighbour goes hungry," said the Al-Khair Foundation's Syed Hussain, as he managed a stall stacked with containers full of food.
"We're working with people of all different backgrounds to show that Muslims care and we want to solve the problems facing everyone, not just our own."
Streetlytes volunteer Chris Hatch, a Presbyterian priest, explained that while many of those working to help the homeless were religious, the project was not "inherently faith-based".
"We've had Muslim and Jewish groups come help here, so it's not limited to one particular faith, but the main aim is just to serve those in need," Hatch said.
As volunteers rushed past with plates of food to hand out, Hatch, originally from the US city of St Louis, said the project showed how different faith groups could join hands to help those most in need.
"We can have different belief systems but we can get along together and there can be unity in the way we serve our community, especially the poor," he said.
"Everybody needs to eat and we all need a place to sleep ... so it's IMPORTANT to serve, whatever your faith."
Providing warm meals is just one way in which the groups are helping.
The charity Muslim Aid was at the event handing out shelter packs to those that needed them.
The kit includes sleeping bags, multipurpose utensils, and PHONE numbers on which rough sleepers can contact the charity in emergencies.
Jehangir Malik, the charity's CEO, said he was shocked at the scale of homelessness in the UK.
"I've become accustomed to giving out these kits in different parts of the world and it's a reality check that I'm having to do this in the United Kingdom," Malik said.
"Doing the same here in London in the sixth richest country in the world, it's touching."
Abu Akeem, also from Muslim Aid, said that the group was handing out more than 1,000 sleeping packs during the winter period and planning to feed thousands more.
Full report at:
http://www.aljazeera.com/news/2016/12/muslims-christians-team-homeless-161219213135022.html
--------
URL: https://www.newageislam.com/islamic-world-news/new-age-islam-news-bureau/kuwait-urges-response-to-terror-by-manifesting-islamic-heritage/d/109458
New Age Islam, Islam Online, Islamic Website, African Muslim News, Arab World News, South Asia News, Indian Muslim News, World Muslim News, Womens in Islam, Islamic Feminism, Arab Women, Womens In Arab, Islamphobia in America, Muslim Women in West, Islam Women and Feminism, Moderate Islam, Moderate Muslims, Progressive Islam, Progressive Muslims, Liberal Islam