New Age Islam News Bureau
1 Nov 2013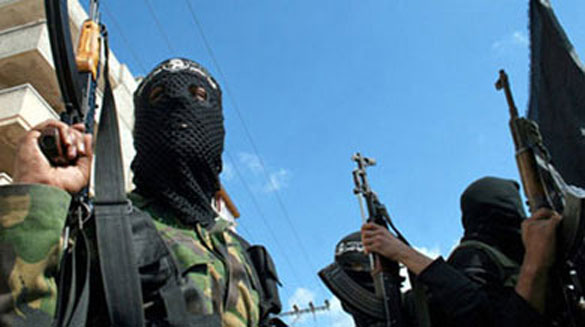 4 Gaza militants killed in clash with Israeli troops, Photo: RIA Novosti
------------
Arab World
• Kurds in Iraq, Syria work as shield against al-Qaeda
• Attacks leave 26 dead in Iraq
• Salafist Nour Party condemns Egypt constitution ban on religious parties
• On massacre anniversary Muslims urge Christians to stay in Iraq
• Iraqi PM: Terror 'got a second chance' in Iraq
• Egypt Sets New Limits on Mosque Activities
• Iraqi Shiites Join Syria War
India
• Sardar Patel had saved Muslims during 1947 riots: Tharoor
• Peace at LoC precondition for bilateral ties with Pak
• Western clothes do not accommodate with our eyes, don't wear them: CPM leader Rezzak
Southeast Asia
• In London, Najib defends Allah ruling for security, harmony reasons
• Indonesian Minister's Call to Give Islamists a 'Public Role' Draws Criticism
• PAS Dewan Ulema unchallenged, incumbents retain top posts
• Intolerance and disrespect prevalent among communities in Malaysia
North America
• NYPD's Top Cop Booed Off Stage at Brown University
• 'White House official confirms Israeli attack on Syrian missile site'
• Five Reasons Why US Should Change Its Policies toward Syria's Kurds
Mideast
• 4 Gaza militants killed in clash with Israeli troops - officials
• 4 Palestinian gunmen killed, 5 Israeli soldiers hurt as IDF, Hamas clash on Gaza border
• Israel wants militant funding exposed except when it involves major trade partner China
• Turkish PM praises 'end of discrimination' with removal of ban on headscarves in Parliament
Pakistan
• Govt, opposition, army on same track over Taliban talks: Rashid
• Nawaz Sharif gave 'no assurance' to Obama on Hafiz Saeed
• Baradar in Pakistan, but 'free to meet, contact anyone': FO
• Pakistan urges India to resume composite dialogue
• Pakistan says only 3% of drone strike victims were civilians
Africa
• Social Media Jihad: Ansar al Sharia Libya's new Twitter feed
• Africa: Young People Encouraged to Tackle Intolerance
• Kenya claims 'many dead' as jets strike Shebab camp
• Saddam's former Basra palace faces new life as Iraqi cultural hub
South Asia
• BNP banks on Hefazat: Plans to back Islamist group's Nov 15 rally
• East Turkestan Islamic Movement behind Tiananmen crash: China
• Wedding bomb in Afghanistan wounds nine: officials
• PM Sheikh Hasina: Youths can choose self employment
Europe
• 120,000 killed in Syria war: Monitor
• Russia ready to donate $2mn to Syrian chemical weapons destruction
• UN envoy hopes for Syria peace conference within weeks
• Russian PM sees Syria peace talks by end of year
Compiled by New Age Islam News Bureau
URL: https://newageislam.com/islamic-world-news/kurds-iraq,-syria-work-shield/d/14249
----------
Arab World
Kurds in Iraq, Syria Work as Shield against Al-Qaeda
Nov 01 2013
Despite differences between Kurdish parties in Iraq and Syria, they have come together to prevent groups linked to al-Qaeda from infiltrating their territories.
Syrian Kurdish fighters were able to stop them from controlling Yaaroubiyeh, a strategic border crossing with Iraq, on Sunday.
Analysts say Kurds are refusing to provide fertile ground for radical Islamist groups.
Kurdish parties in Syria and Iraq "are nationalist parties" that "believe in liberalism and secularism, and there's no way that the Kurdish Muslim nation could accept the Islamization of the region or their areas," journalist and political analyst Haval Khozaei told Al Arabiya.
"Kurdish citizens themselves work like police, and report if they find anything suspicious," added Khozaei, who is based in the semi-autonomous Iraqi Kurdistan.
The fight against groups linked to al-Qaeda has been welcomed by Arabs in Syria's mixed northwestern city of Ras al-Ain, where Kurdish fighters of the People's Defense Units (YPG) routed radical Islamists last month.
In neighboring Iraqi Kurdistan, the Kurdish government has heightened security measures after al-Qaeda claimed responsibility for an attack that killed at least six people in Erbil in September.
"Stability is the main reason that international investments are heading to Kurdistan, including oil companies," rather than the rest of Iraq, Kurdish journalist Abdulrahman Basha told Al Arabiya.
Meanwhile, commentators say they do not believe that the Syrian conflict's spill-over has exacerbated tensions between groups in Iraqi Kurdistan.
"Differences between Kurdish parties have long been there," Khozaei said.
The Democratic Union Party (PYD), a Syrian-Kurdish group accused of links with the Syrian government, has been at loggerheads with other Syrian-Kurdish factions over control of Kurdish areas in the country.
In 2012, the PYD signed an agreement with all other Kurdish groups in Syria to form a united force and a joint administration in Erbil.
However, the PYD does not want any control from Iraqi-Kurdish political parties, commentators added.
"There are for sure differences between Kurdish parties, but these parties could easily stop their schism when it comes to their common denominator, and that's striving for the rights of Kurdish people in Syria," Basha said.
On Oct. 13, Iraqi Kurdistan's President Massoud Barzani said his government "won't hesitate in directing strikes" against "terrorist criminals in any place," including neighboring Syria. "Our duty is to protect the Kurds if we are able."
http://english.alarabiya.net/en/perspective/analysis/2013/10/31/Kurds-in-Iraq-Syria-work-as-shield-against-al-Qaeda.html
---------
Attacks leave 26 dead in Iraq
2013-11-01
BAGHDAD, Oct 31: Five car bombs north of Baghdad killed 19 people on Thursday, while attacks elsewhere in Iraq left seven more dead, officials said, the latest casualties in a nationwide spike in unrest.
The attacks, which wounded dozens, come as Iraq witnesses its worst violence since 2008, a surge in bloodshed that has killed more than 5,400 people this year despite authorities having carried out a swathe of operations and implemented tightened security measures.
They struck as Prime Minister Nuri al-Maliki visits Washington to press for military equipment and greater cooperation with the United States in fighting militants.
In Thursday's deadliest attack, twin car bombs in a residential area in Tuz Khurmatu, a disputed town north of Baghdad, killed seven people and wounded 42 others. Three of the dead were from the same family.
As emergency responders rushed to the scene of the attack, a third bomb went off, but did not cause any casualties, Mayor Shallal Abdul said.
"The two car bombs went off simultaneously, and bear the fingerprints of Al Qaeda," a police major, who spoke on condition of anonymity, said.
Tuz Khurmatu is a majority Kurdish town which lies in a disputed area of northern Iraq, where both Iraq's autonomous Kurdish region and the central government in Baghdad vie for power. It is frequently hit by deadly attacks.
Two more near-simultaneous car bombs went off in Khales, a restive town north of Baghdad, as a police patrol was passing, killing five people, including a policeman, officials said.
The attack, which struck in area filled with car dealerships, also wounded 15 others, including four policemen.
Another car bomb in Muqdadiyah, north of Baghdad, killed four people.
Police meanwhile found the bodies of three blindfolded women bearing multiple gunshot wounds to the head, execution-style, at an empty plot in northeast Baghdad.
A police officer and a medical official said initial investigations showed the women were shot earlier on Thursday.
Summary executions were commonplace at the height of the sectarian conflict in 2006-2007, when many thousands died.
Also on Thursday, gunmen killed a soldier and wounded two others in an attack targeting their patrol in the northern city of Mosul, while a roadside bomb targeting an army patrol northwest of the city left a soldier dead and two others wounded, officials said.
And two separate gun attacks and a roadside bombing north of the capital killed five people, including an anti-Qaeda militiaman, police and doctors said.
From late 2006 onwards, Sunni tribal militias, known as the Sahwa, turned against their co-religionists in Al Qaeda and sided with the US military, helping to turn the tide of Iraq's bloody insurgency. The government has come under criticism for not doing more to address grievances in the Sunni Arab community over alleged ill treatment at the hands of the Shiite-led authorities.—AFP
http://www.dawn.com/news/1053299/attacks-leave-26-dead-in-iraq
--------
Salafist Nour Party condemns Egypt constitution ban on religious parties
Nov 01 2013
Younes Makhioun, head of the ultra-conservative Salafist Nour Party, condemned on Thursday the decision by Egypt's constitutional committee to ban the formation of political parties on a religious basis, Al-Ahram's Arabic website reported.
Earlier on Thursday, the 50-member committee tasked with amending the 2012 Islamist-backed constitution announced on Twitter that article 54 of the charter would ban parties founded on a religious basis.
The decision mainly affects the Islamist parties that emerged after the January 2011 popular uprising that ousted long-time autocrat Hosni Mubarak. Those parties, including the Muslim Brotherhood's Freedom and Justice Party and the Salafist Nour Party, won sweeping victories in the country's 2011 legislative elections. Former president Mohamed Morsi, ousted in July, himself hailed from the Muslim Brotherhood.
Describing the ban as "exclusionary," Makhioun said it was reminiscent of Mubarak's "fascist dictatorial regime" that prevailed before the 2011 uprising.
"Why do we ban the formation of parties on a religious basis, despite the fact that there are parties who have a socialist, secular or Nasserist background?" Makhioun asked. "Could an article in the constitution that bans parties on those grounds be allowed?"
Makhioun underlined the difficulty of differentiating between a religious and a non-religious party, suggesting that the ban was open to various judicial interpretations that could change with the judge's mood.
The article could also be used by the authorities against parties it wanted to dissolve, Makhioun argued.
Makhioun called for a return to the 2012 constitution's text on this matter, which banned parties built on religious, sexual, or racial discrimination.
While the 2012 constitution was drafted by an Islamist-dominated assembly, the current constitutional committee includes only one Islamist representative, hailing from the Nour Party.
Other Islamist parties, who do not acknowledge the legitimacy of Morsi's ouster, have refused to participate in the committee, calling instead for the former president's reinstatement.
http://english.ahram.org.eg/NewsContent/1/64/85293/Egypt/Politics-/Salafist-Nour-Party-condemns-Egypt-constitution-ba.aspx
---------
On massacre anniversary Muslims urge Christians to stay in Iraq
Nov 01 2013
Dozens of Muslims gathered Thursday outside a Baghdad church where an Islamist assault killed 44 worshippers and two priests three years ago, appealing for Christians to stay in Iraq.
Clergy led low-key prayers inside Our Lady of Salvation church in the capital's main commercial district of Karrada, on the anniversary of the October 31, 2010 attack.
There was a heavy security presence outside, and people were barred from entering unless they could produce documents showing they were Christian.
At the same time, journalists were not allowed to take photographs or film in the vicinity.
"It is a wound that will never heal, and a crime that I will never forget," said Rafid, a Christian man who was walking to the church.
"On this day, with all this pain, all I can think of is leaving the country, because the country is finished," said the 56-year-old carpenter, two of whose cousins were killed on that day.
The attack, the single bloodiest one against Christians since the 2003 US-led invasion, shocked Iraq and the international community and sparked a massive flight of Iraqi Christians from the country.
Another worshipper, a 37-year-old who gave his name as Abu Yaqub, or father of Yaqub, recalled the attack as a "terrifying day."
"Their only sin is that they were praying," the accountant said, referring to the victims.
"What had they done?" he continued. "How can we forget this day? We will never forget it. We will never forget it."
Outside the church, both Sunni and Shiite Iraqi Muslims lit candles and held up banners appealing for their Christian countrymen to resist emigrating, and said they stood by the religious minority.
Abbas Hassan, a retired civil servant, said "the Christians are the people of Iraq, for thousands of years, and Christianity is one of the oldest religions in Iraq."
"We invite them not to leave Iraq, because all Iraqis share their pain."
Another retiree, 65-year-old Faruq Baban, said: "I ask them not to emigrate, to hold their ground, because they are the people of Iraq, the original citizens."
"It was an ugly crime that made me cry," he said of the attack, which was later claimed by an Al-Qaeda front group. "I suffered because they are my brethren, my fellow countrymen."
Estimates of the number of Christians living in Iraq before 2003 vary from more than one million to around 1.5 million. But now they are estimated at fewer than 500,000.
One of the oldest Christian communities in the world is the Chaldean church, which has 700,000 followers worldwide and uses Aramaic, the language that Jesus Christ spoke
http://english.ahram.org.eg/NewsContent/2/8/85273/World/Region/On-massacre-anniversary-Muslims-urge-Christians-to.aspx
---------
Iraqi PM: Terror 'got a second chance' in Iraq
Nov 01 2013
Iraq's prime minister says terrorists "got a second chance" to thrive in Iraq, largely as the result of the rise of al-Qaida fighters in neighboring Syria's civil war.
Prime Minister Nouri al-Maliki said the world needs to help Iraq deal with its growing insurgency that U.S. officials estimate has killed 6,000 people so far this year.
Al-Maliki spoke at the U.S. Institute of Peace. He said he was in Washington to seek U.S. aid, including weapons, intelligence and other assistance.
Full report at:
http://english.ahram.org.eg/NewsContent/2/8/85267/World/Region/Iraqi-PM-Terror-got-a-second-chance-in-Iraq.aspx
---------
Egypt Sets New Limits On Mosque Activities
Nov 01 2013
Forbidding imams without Al-Azhar credentials from taking the pulpits of Egyptian mosques, and closing down mosques of less than 80 square meters (862 square feet) in size during Friday prayers, were decisions that have had quite an impact lately. The Egyptian Ministry of Awqaf (Islamic Religious Affairs) considered the move necessary to stop the exploitation of pulpits for political motives, and allowed it to put an end to the phenomenon of using the Egyptian pulpits for the dissemination of political speeches, through the implementation of strict measures that the ministry adopted in prosecuting and preventing preachers with known political orientations from giving sermons. The facts on the ground, however, demonstrate that the phenomenon, which for years remained the most useful tool for the forces of political Islam to gain popularity, has not been completely eradicated, and was only temporarily sidelined.
Full report at:
http://www.al-monitor.com/pulse/originals/2013/10/egypt-authorities-restrictions-mosque-activity.html#ixzz2jRGNhBdu
----------
Iraqi Shiites Join Syria War
Nov 01 2013
On his Facebook page, Saad al-Matlabi — a member of the Baghdad Provincial Council from the State of Law Coalition — appeared happy to see a video showing the arrival of a leader of the Asaib Ahl al-Haq militia, Mohammad al-Tabatabai, to fight in Syria.
Matlabi commented on the video, "May God greet everyone who cares about our holy places, may God have mercy on the soul of our martyrs and may God bless all resistors fighting terrorism and al-Qaeda."
Immediately after the outbreak of fighting between the Syrian opposition and the regime in 2011, the former accused Sadrist leader Muqtada al-Sadr of sending fighters to Syria to support the regime of President Bashar al-Assad. But the Iraqi government quickly denied that Sadr was involved in the Syrian crisis, emphasizing, "Iraq is keen not to be a party to the conflict in Syria."
Full report at:
http://www.al-monitor.com/pulse/originals/2013/10/iraqi-shiites-join-syrian-war.html#ixzz2jRHBhJJE
----------
India
Sardar Patel had saved Muslims during 1947 riots: Tharoor
PTI | Oct 31, 2013
NEW DELHI: Accusing Narendra Modi of using Sardar Patel's name for his political goals, Union minister Shashi Tharoor on Thursday said Patel saved lives of thousands of Muslims during 1947 riots, a veiled comparison to 2002 Gujarat riots during Modi's rule.
"He (Patel) was a Gandhian and a tremendous devotee of the Mahatma. I am sorry to hear that some people are choosing his name as a battleground for their political objectives," he said, attacking the BJP prime ministerial candidate.
"The fact is that secularism of Sardar Patel was anchored in real genuine Gandhian compassion for all Indians, for all religions, every castes," he said on the sidelines of an event.
Asked about Modi's alleged attempts to appropriate the legacy of Patel, Tharoor said it was a "shame" that his name should be used for disunity today as "he did more than anyone else to promote the unity of our country".
Full report at:
http://timesofindia.indiatimes.com/india/Sardel-Patel-had-saved-Muslims-during-1947-riots-Tharoor/articleshow/25008402.cms
----------
Peace at LoC precondition for bilateral ties with Pak
TNN | Nov 1, 2013
NEW DELHI: Foreign minister Salman Khurshid will meet Pakistani PM's foreign policy adviser, Sartaj Aziz, on November 14. But, this will not presage a resumption of official dialogue with Pakistan, said MEA spokesperson.
India reiterated on Thursday that an improvement in the situation on the Line of Control (LoC) was a pre-condition for a forward movement in bilateral ties.
With ceasefire violations by Pakistan continuing along the LoC in Jammu & Kashmir, India on Thursday made it clear that improvement of the border situation was a "pre-condition" for a forward movement in ties with that country.
Full report at:
http://timesofindia.indiatimes.com/india/Peace-at-LoC-precondition-for-bilateral-ties-with-Pak/articleshow/25019710.cms
---------
Western clothes do not accommodate with our eyes, don't wear them: CPM leader Rezzak
Nov 01 2013
Veteran leader and CPM MLA Rezzak Mollah has once again courted controversy by telling how Indian women should dress up. Mollah said that women should avoid wearing western clothing, like jeans and tops, as such clothes tempt men.
Mollah came up with this bizarre suggestion when asked about the growing crime against women.
Speaking on the sidelines of a Muslim conference on women in Kolkata on Wednesday, Mollah said, women should avoid western clothing as it is not in sync with the moral standards of Indian society.
Mollah was at a women's conference organised by Jamaat-e-Islami Hind to protest against "misinterpretation of women independence and their rights, which is leading to a lot of violence against women".
Mollah courted another controversy during the programme when he criticised the Left and congratulated the ruling Trinamool Congress over introducing women empowerment schemes.
"Although the state government trumpets its achievements, we will have to admit it is doing a lot of work for women empowerment. Look at all the scholarships and the Kanyasree scheme. The CPM did not do much during its tenure and when it started announcing schemes for the welfare of women, it was too late," Mollah was quoted by The Indian Express as saying.
http://indiatoday.intoday.in/story/cpm-mla-rezzak-mollah-jamaat-e-islami-hind-trinamool-congress/1/321127.html
----------
Southeast Asia
In London, Najib defends Allah ruling for security, harmony reasons
Nov 01 2013
Once again, Prime Minister Datuk Seri Najib Razak has chosen to open up on a touchy subject in Malaysia while travelling abroad, defending the court ruling which effectively banned Christians here from using the word Allah.
He said that the curb against the Catholic weekly, Herald, using the word Allah was necessary to protect public security and national harmony, going as far to describe the Herald as a publication with wide circulation.
The Herald publishes 14,000 copies every week and all are sold within the confines of churches.
Full report at:
http://www.themalaysianinsider.com/malaysia/article/in-london-najib-affirms-christians-can-use-allah-in-east-malaysia
----------
Indonesian Minister's Call to Give Islamists a 'Public Role' Draws Criticism
Nov 01 2013
Jakarta (AsiaNews) - Many Indonesians and civil society groups have reacted with astonishment and dismay to a recent appeal made by the Indonesian Interior Minister Gamawan Fauzi who wants regional governors and local administrators to cooperate with the Islamic Defenders Front (FPI).
Many on social media have come out against Fauzi. For them, the minister is deliberately ignoring the Islamist group's radicalism and the repeated acts of intolerance by its members against religious minorities, especially Protestants and Catholics.
Full report at:
http://www.asianews.it/news-en/Interior-Minister's-call-to-give-Islamists-a-'public-role'-draws-criticism-29410.html
----------
PAS Dewan Ulama unchallenged, incumbents retain top posts
Nov 01 2013
The leaders of the PAS Dewan Ulama have retained their respective positions unchallenged after only one candidate was nominated for each of the positions of head, deputy and vice-head.
Datuk Harun Taib was chosen as Dewan head, Kelantan Menteri Besar Datuk Ahmad Yakob as his deputy and Datuk Dr Mahfodz Mohamed as vice-head.
PAS central committee nomination chairman Asmuni Awi said only five nomination forms from five states were received and validated, Harakahdaily reported.
There were no nominations for the position of Dewan Ulama permanent deputy chairman while the auditor's position received only one nomination.
Full report at:
http://www.themalaysianinsider.com/malaysia/article/pas-dewan-ulama-unchallenged-incumbents-retain-top-posts
----------
Intolerance and disrespect prevalent among communities in Malaysia, says Chandra Muzaffar
Nov 01 2013
Thirty to 40 years ago, there was greater understanding between the various communities in the country and Malaysians valued the concept of give and take, unlike today's charged atmosphere where even a small issue can trigger a harsh exchange of words between communities, said political scientist Dr Chandra Muzaffar.
Chandra, who is president of the International Movement for a Just World (JUST), said intolerance and disrespect between the different communities in Malaysia are very prevalent in the present climate.
Full report at:
http://www.themalaysianinsider.com/malaysia/article/intolerance-and-disrespect-prevalent-among-communities-in-malaysia
----------
North America
NYPD's Top Cop Booed Off Stage at Brown University
Nov 01 2013
New York Police Commissioner Ray Kelly was booed and heckled so vigorously at a Tuesday speaking engagement at Brown University that he was forced off the stage.
Kelly, known for implementing and vigorously defending the stop-and-frisk policies of the NYPD, was slated to give a talk for Brown's Taubman Center for Public Policy and American Institutions entitled "Proactive Policing in America's Biggest City." Students say there's nothing redeeming about the city's widely criticized stop-and-frisk program, which was ruled unconstitutional by a federal court earlier this year for codifying and worsening already-rampant racial profiling by the NYPD.
Over 100 students showed up to declare that they do not approve of their school being used as a platform for Kelly's ideas, and from the moment the speech began protesters filled the lecture hall with shouts and chants.
Full report at:
http://www.commondreams.org/headline/2013/10/31-2
----------
'White House official confirms Israeli attack on Syrian missile site'
Nov 01 2013
Obama administration official confirms to CNN that Israel attacked missiles and equipment it felt might be transferred to Hezbollah; Al-Arabiya reports Israel destroyed SA-8 missiles in Damascus and Latakia.
Israel conducted air raids against a Syrian missile base near the port city of Latakia early on Thursday, according to an anonymous US administration official.
The official, speaking to CNN, said Israel targeted missiles and related equipment out of concern that they would be transferred to Hezbollah.
It is unclear why the US would leak such information, as it could increase the pressure on Syria to retaliate against Israel.
The Syrian Observatory for Human Rights, which collates reports from opposition activists, said there had been an explosion at a Syrian air defense base near Jableh, in the Mediterranean coastal province of Latakia. The Latakia area is an Alawite and regime stronghold.
Full report at:
http://www.jpost.com/Defense/Israel-struck-two-sites-in-Syria-destroying-surface-to-air-missiles-330301
----------
Five Reasons Why US Should Change Its Policies Toward Syria's Kurds
Nov 01 2013
Syria's most influential Kurdish group, the Democratic Union Party (PYD), which has been running a belt of mainly Kurdish settlements along the Turkish border since July 2012, has been knocking on Washington's door for some time, but it remains firmly shut. The situation was driven home on Oct. 28 when Kurds from across the globe gathered for a groundbreaking conference called "The Kurdish Role in the New Middle East" held at the National Press Club in Washington, DC.
Full report at:
http://www.al-monitor.com/pulse/originals/2013/10/us-change-policy-syria-kurds.html#ixzz2jRGGAfQz
----------
Mideast
4 Gaza militants killed in clash with Israeli troops - officials
Nov 01 2013
A total of four Gaza militants were killed overnight in a firefight with Israeli troops sent into to destroy Hamas tunnels, officials on both sides said.
A total of four Gaza militants were killed overnight in a firefight with Israeli troops sent to destroy Hamas tunnels, officials on both sides said.
Four local commanders of Hamas's military wing were killed by tank fire, Palestinian officials said, while the Israeli military said that five soldiers were injured by an explosive device.
Palestinian officials said that Rabieh Barikeh was killed instantly in the firefight late Thursday night and Khaled Abu Bakr died of his wounds during the night.
Full report at:
http://voiceofrussia.com/news/2013_11_01/4-Gaza-militants-killed-in-clash-with-Israeli-troops-officials-3369/
----------
4 Palestinian gunmen killed, 5 Israeli soldiers hurt as IDF, Hamas clash on Gaza border
Nov 01 2013
IDF soldiers who were carrying out work to destroy a a tunnel built by Hamas for terrorism on the Israel-Gaza border came under fire from a Palestinian terrorist cell overnight Friday.
The IDF stated that terrorists detonated an explosive device targeting the soldiers during the operation. The attack left five soldiers injured. One is suffering from serious injuries, one was moderately wounded and three soldiers were lightly hurt, an army source said. The wounded were airlifted to the Soroka Medical Center in Beersheba.
In response to the attack, the IDF fired a shell at terror suspects in the nearby Gazan district of Khan Younis. One Palestinian gunman was killed and a second was wounded, according to Palestinian medical sources.
Full report at:
http://www.jpost.com/Defense/Palestinians-say-one-man-killed-one-wounded-by-IDF-shelling-in-Gaza-330325
----------
Israel wants militant funding exposed except when it involves major trade partner China
Nov 01 2013
Long determined to deprive Islamist groups of funding, Israel has hit the brakes in a US court case centred on allegations that the Bank of China knowingly let cash flow to Palestinian militants.
Reluctant to send a former Israeli intelligence official to testify in New York, Prime Minister Benjamin Netanyahu (pic) faces accusations from his critics that he might let the case unravel rather than put bilateral trade ties with Beijing at risk.
The law suit against the Bank of China was brought by the American family of Daniel Wultz, a 16-year-old killed while on holiday in the Israeli city of Tel Aviv in a 2006 suicide attack claimed by the Islamic Jihad faction during a Palestinian uprising.
Full report at:
http://www.themalaysianinsider.com/world/article/israel-gung-ho-on-stopping-militant-funding-except-when-it-involves-major-t
---------
Turkish PM praises 'end of discrimination' with removal of ban on headscarves in Parliament
Nov 01 2013
Prime Minister Recep Tayyip Erdoğan has praised the entry of lawmakers wearing headscarves into the Parliament in his pre-recorded monthly address to the nation aired on Oct. 31, saying that the government had put an end to a "discriminatory practice."
"The new democratization package aims to strengthen our economy, stability, peace and security. With this package we are doing away with meaningless bans and outdated practices that have lost their purpose or importance, as well as impositions that restrict freedoms and that create unease among varying segments across society," Erdoğan said.
"Those who don't wear headscarves are as much this country's citizens as those who wear headscarves. Both have the same rights and freedoms. Displaying favoritism to one against the other is not in line with the principles of equality and justice. Seeing one as an accepted citizen while disdaining the other is against the public conscience and human values," he added.
Full report at:
http://www.hurriyetdailynews.com/turkish-pm-praises-end-of-discrimination-with-removal-of-ban-on-headscarves-in-parliament.aspx?pageID=238&nID=57189&NewsCatID=338
----------
Pakistan
Govt, opposition, army on same track over Taliban talks: Rashid
Nov 01 2013
ISLAMABAD: Information Minister Pervez Rashid on Friday said the government, the opposition and the army were on the same track on the issue of talks with militants, DawnNews reported.
Speaking to media representatives at the Parliament House, the minister said consensus on a decision will be developed as the talks progress.
"Discussions with the Taliban are in progress. The government is doing its utmost to establish peace in the region which is crucial for the country's economic prosperity," the minister said.
He downplayed opposition criticism, saying they had nothing better to do than to launch verbal attacks on the government by resorting to futile censure.
Earlier on Thursday, Interior Minister Chaudhry Nisar Ali Khan said the government was in contact with the Taliban and would soon start 'structured and formal' talks with them in line with a decision taken by the all-party conference on Sept 9.
Full report at:
http://www.dawn.com/news/1053387/govt-opposition-army-on-same-track-over-taliban-talks-rashid
--------
Nawaz Sharif gave 'no assurance' to Obama on Hafiz Saeed
Nov 01 2013
Washington : Pakistani Prime Minister Nawaz Sharif gave "no assurance" to US President Barack Obama when he was virtually grilled by his host for not taking action against the 26/11 mastermind Hafeez Saeed.
After his meeting with Obama at the White House on October 23 and before he flew out of the Andrews Air Force Base, Sharif is understood to have told his close aides that he "stood his ground" and "did not budge under pressure" on the issue of Saeed, sources said.
Another source, familiar with Sharif's meetings, said the Obama administration is aware of the difficulties the new Prime Minister is facing with regard to taking strong action against terrorists like Saeed given their close proximity with the military establishment.
While Obama himself is determined to bring justice to the 26/11 perpetrators, given that six of those killed were American nationals, Sharif is believed to have received the "benefit of doubt", a third source said.
Full report at:
http://www.indianexpress.com/news/nawaz-sharif-gave--no-assurance--to-obama-on-hafiz-saeed/1189912/
----------
Baradar in Pakistan, but 'free to meet, contact anyone': FO
October 31, 2013
ISLAMABAD: Pakistan on Thursday reiterated that Taliban leader Mullah Baradar was in Pakistan, but was free to meet anyone to advance talks aimed at bringing peace in Afghanistan, but denied it had received confirmation over a high peace council that was due to meet him.
"Pakistan has released Mullah Baradar to facilitate peace and reconciliation in Afghanistan," read a transcript of the Foreign Office Spokesperson Aizaz Ahmed Chaudhry's weekly briefing in Islamabad on Thursday.
Full report at:
http://tribune.com.pk/story/625238/baradar-in-pakistan-but-free-to-meet-contact-anyone-fo/
----------
Pakistan urges India to resume composite dialogue
October 31, 2013
Pakistan has urged India to resume the composite dialogue for resolution of all outstanding issues including the lingering Kashmir dispute.
Briefing media persons in Islamabad Thursday' Foreign Office Spokesperson Aizaz Ahmad Chaudhry said Pakistan wants resolution of Kashmir dispute through dialogue. He' however' said Pakistan believes that third-party mediation can also be productive in this regard.
He said Prime Minister's Advisor on Foreign Affairs Sartaj Aziz will visit India on the tenth of next month to attend Asia-Europe summit in New Delhi.
Full report at:
http://www.nation.com.pk/pakistan-news-newspaper-daily-english-online/islamabad/31-Oct-2013/pakistan-urges-india-to-resume-composite-dialogue
----------
Pakistan says only 3% of drone strike victims were civilians
Nov 01 2013
Pakistan's government has come up with new data on US drone strikes: only 3 percent killed since 2008 are civilians. The figure is dramatically lower than the numbers provided not only by independent organizations, but also by past Pakistani governments.
According to the Defense Ministry's data, 317 drone strikes have killed 2,160 Islamist militants and 67 civilians over the last five years. The latest report also stated that not a single civilian died in the 59 strikes conducted in 2012 and 2013, but 319 militants were killed.
Those figures are significantly lower than past independent, and, more surprisingly, government estimates.
Full report at:
http://rt.com/news/pakistan-strikes-killed-civilians-016/
----------
Africa
Social Media Jihad: Ansar al Sharia Libya's new Twitter feed
By THOMAS JOSCELYN
Nov 01 2013
Ansar al Sharia Libya, the al Qaeda-linked group that was involved in the Sept. 11, 2012 terrorist attack in Benghazi, has a new Twitter feed. The Twitter page, which can be found here, was apparently launched in the last 24 hours. The group announced its new Twitter presence on its Facebook page.
In related news, the SITE Intelligence Group reports that Ansar al Sharia Libya has "released three albums of photos that documented its first open event" in Derna, an eastern Libyan city known as a hotbed for jihadism. The event was titled, "A Step Towards Building an Islamic State."
Full report at:
http://www.longwarjournal.org/threat-matrix/archives/2013/10/social_media_jihad_ansar_al_sh_1.php#ixzz2jR8MSS3N
----------
Africa: Young People Encouraged to Tackle Intolerance
BY SIHAM ALI, 31 OCTOBER 2013
Rabat — A new international campaign plans to combat xenophobia and genocide by gathering online videos from young people across the globe.
The "Exit Genocide" project involves producing a feature-length film made up of thousands of original videos from the internet.
The initiative was launched in Morocco on Friday (October 25th) and is being led by American NGO World Memory Film Project (WMFP), in partnership with the National Human Rights Council (CNDH) and the Islamic Educational, Scientific and Cultural Organization (ISESCO). The venture is sponsored by Adama Dieng, the special advisor on the prevention of genocide to the UN secretary-general.
Full report at:
http://allafrica.com/stories/201311010162.html?viewall=1
----------
Kenya claims 'many dead' as jets strike Shebab camp
Nov 01 2013
Kenyan warplanes have destroyed a Shebab rebel camp in southern Somalia used to train gunmen who attacked Nairobi's Westgate shopping mall in September, Kenya's defence ministry said.
Many rebels were killed in the "major aerial offensive" conducted on Thursday, said a ministry statement issued later the same day.
The airstrike "completely destroyed an Al-Shebab training camp," located in the Dinsoor region some 300 kilometers (190 miles) west of Somalia's capital Mogadishu, the statement said.
Full report at:
http://english.ahram.org.eg/NewsContent/2/9/85311/World/International/Kenya-claims-many-dead-as-jets-strike-Shebab-camp.aspx
-------------
Saddam's former Basra palace faces new life as Iraqi cultural hub
Nov 01 2013
"I used to look at it and think of Ozymandias," said Lieutenant General Sir Barney White-Spunner, recalling the sight of Saddam Hussein's riverside palace in Basra. "It was designed to overpower, for the greater glory of the regime." It had, he said, ghastly gauche decoration and "vulgar, awful imitation rococo interiors".
But now Saddam's vainglorious stronghold is to be turned over to a different use. Work is nearing completion on the new Basra Museum, relocated from a wrecked and squatted historic building in the centre of the city with the help of British army engineers. John Curtis, a curator at the British Museum who has advised on the project, said: "It will be the principal museum in southern Iraq and we hope people will look to it as the model museum in the region."
Full report at:
http://www.theguardian.com/world/2013/oct/31/saddam-hussein-basra-iraq-museum
------------
South Asia
BNP banks on Hefazat: Plans to back Islamist group's Nov 15 rally
Nov 01 2013
The main opposition BNP is looking to intensify its anti-government movement by cashing in on the Hefajat-e Islam's planned rally in the capital on November 15.
The BNP-led 18-party alliance has decided to start a nonstop agitation from November 10 for a non-party interim administration to oversee the next general election.
To add to the pressure on the Hasina government, the opposition wants the Islamist group to stage a show of strength through the rally.
The Hefajat-e Islam will press home its 13-point demand, including punishment of "atheist bloggers" and cancellation of women policy, on November 15.
BNP Chairperson Khaleda Zia has advised them to ensure a massive gathering that day, Hefajat sources said. On this issue, she talked with two Dhaka city unit leaders of Hefajat at her Gulshan office recently.
Full report at:
http://www.thedailystar.net/beta2/news/bnp-banks-on-hefajat/
----------
East Turkestan Islamic Movement behind Tiananmen crash: China
Nov 01 2013
Police said they found flags imprinted with religious slogans among items in the SUV used in the attack and at the temporary lodgings of five arrested suspects.
China's top security official blamed a little-known militant group for this week's suicide car crash that killed five people in the heart of the capital.
Meng Jianzhu offered no details of the allegations against the East Turkestan Islamic Movement (ETIM), which, Beijing says, is dedicated to the violent overthrow of Chinese rule in the northwestern region of Xinjiang that is home to the country's Turkic Muslim Uighur minority.
Police said they found flags imprinted with religious slogans among items in the SUV used in the attack and at the temporary lodgings of five arrested suspects.
China's government has said previous attacks in Xinjiang were inspired by jihadi propaganda and has linked several of them directly to the ETIM.
Full report at:
http://www.thehindu.com/news/international/world/east-turkestan-movement-behind-tiananmen-crash-china/article5304986.ece
----------
Wedding bomb in Afghanistan wounds nine: officials
Nov 01 2013
KUNDUZ: At least nine people, including children, have been wounded in a bomb blast at a wedding party in northern Afghanistan, provincial officials said Friday.
No group has claimed responsibility for the attack, but similar incidents in the past have been blamed on the Taliban, who regard music and other entertainment at wedding parties as unacceptable.
Full report at:
http://www.dawn.com/news/1053392/wedding-bomb-in-afghanistan-wounds-nine-officials
----------
PM Sheikh Hasina: Youths can choose self employment
Nov 01 2013
Prime Minister Sheikh Hasina on Friday urged the young generation of the country to opt for self employment, exploiting the opportunities offered by the government instead of depending on others for a job.
She said: "Youths can take initiative for fisheries, poultry and dairy farming, horticulture, cultivation of cash crops, food processing industries and other self employment occupations."
"Youths can make more money from these professions than they can earn from a job," she added.
Full report at:
http://www.dhakatribune.com/bangladesh/2013/nov/01/pm-youths-can-choose-self-employment#sthash.6Mqg34cs.dpuf
----------
Europe
120,000 killed in Syria war: Monitor
Nov 01 2013
Syria's civil war has killed more than 120,000 people in 31 months, the Syrian Observatory for Human Rights said Thursday.
"We have documented the killing of 120,296 people since the start of the revolution in March 2011," said the Britain-based monitoring group.
Of the dead, 42,495 were civilians, including 6,365 children and 4,269 women, it said.
Another 25,699 rebel fighters were killed, as were 48,880 loyalists.
Among the opposition fighters, 18,122 were civilians who had taken up arms against President Bashar al-Assad's regime following a crackdown on Arab Spring-inspired protests in the spring of 2011.
Full report at:
http://english.ahram.org.eg/NewsContent/2/8/85274/World/Region/,-killed-in-Syria-war-Monitor.aspx
----------
Russia ready to donate $2mn to Syrian chemical weapons destruction
Nov 01 2013
Russia could contribute US$2 million to the destruction of chemical weapons in Syria, Kommersant newspaper reported on Friday, citing a diplomatic source. According to the Russia-US backed plan to avert military intervention in Syria, all chemical weapons in the country must be destroyed by mid-2014. The source also stated that Russia could provide transportation of the weapons arsenal to Albania, where the stockpiles could be eliminated. More details are expected to be discussed Friday in Moscow during talks between Special Coordinator of the UN-OPCW mission in Syria, Sigrid Kaag, and Russian Deputy Foreign Minister Sergey Ryabkov. Syria has met the November 1 deadline and "functionally destroyed the critical equipment which is needed to run their chemical weapons production facilities. All of that has now been rendered inoperable," Michael Luhan, spokesman for the Organisation for the Prohibition of Chemical Weapons, told RT on Thursday.
http://rt.com/news/line/2013-11-01/#52152
----------
UN envoy hopes for Syria peace conference within weeks
Nov 01 2013
Beirut : The United Nations envoy to Syria said on Friday he hoped a long-delayed peace conference could still be held in the next few weeks despite obstacles that have held it up for months.
The so-called Geneva 2 conference, intended to bring Syria's warring sides to the negotiating table, has been repeatedly delayed because of disputes between world powers, divisions among the opposition and the inflexible positions of both sides.
Arab and Western officials said this week that international powers were unlikely to meet their goal of holding the conference in November.
UN envoy Lakhdar Brahimi, speaking at a news conference in Damascus after a trip to shore up support for the talks, said he would go to Geneva to meet US and Russian representatives.
They would later be joined by representatives from the other three permanent UN Security Council members – Britain, China and France – to prepare for the conference and agree on a date.
Full report at:
http://www.indianexpress.com/news/un-envoy-hopes-for-syria-peace-conference-within-weeks/1189947/
---------
Russian PM sees Syria peace talks by end of year
Reuters, Moscow
Nov 01 2013
Russia hopes an international peace conference on Syria will be held before the end of this year, Prime Minister Dmitry Medvedev said, despite reported differences with the United States over opposition representation.
He appealed to both sides in Syria's civil war to compromise and criticized the opposition for demanding assurances of President Bashar al-Assad's departure as a condition for the talks.
"I hope it will be possible to hold the conference by the end of this year but we understand that the influence of all sides taking part is limited," Medvedev told Reuters in an interview late on Thursday.
Full report at:
http://english.alarabiya.net/en/News/middle-east/2013/11/01/Russian-PM-sees-Syria-peace-talks-by-end-of-year.html
---------
URL: https://newageislam.com/islamic-world-news/kurds-iraq,-syria-work-shield/d/14249