New Age Islam News Bureau
26 August 2020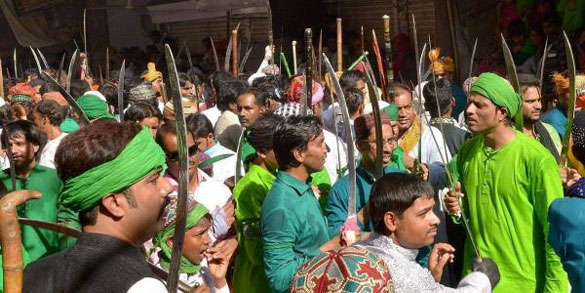 Muslim devotees participate in procession on Muharram in Kolkata in 2018 | PTI
-----
• Pakistani TikTok Video Calls on Christians To Convert to Islam For US$ 6,000
• Bangladeshi Blogger, Asad Noor, Faces Death Threats for Criticizing Islamic Fundamentalism
• No Normalization with Israel Until Palestine Establishes Viable State: OIC
• Outspoken Atheist, arrested in Nigeria for Blasphemy, Hasn't Been Seen Since
• Indian Goes on Trial for Spying on Sikhs, Kashmiris In Germany
India
• Kolkata Khilafat Committee Appeals Muslims Not to Bring Out Akhara, Tazia And Mourning Procession in Muharram This Year
• Plea in SC Seeks Direction for Appointment of Govt Nominee to Ayodhya Mosque Trust
• In Russia, India to take part in combat drills with China, Pakistan
• Pulwama probe: NIA used DNA, other forensic tests to trace evidence that had 'blown to pieces'
• Pak 'masquerading' as a terror victim: India at UN
• ISI wanted a Hurriyat-like body in Kashmir, says NIA
• ISI pushed Jaish for intel on IAF bases after Balakot
• India, Bangladesh to launch new riverine trade route on September 3
• India indicts Pakistani militant in 2019 Kashmir bombing
--------
Pakistan
• Pakistani TikTok Video Calls on Christians To Convert to Islam For US$ 6,000
• Mian Muhammad Aslam Praises Role Of Non-Muslims In National Development
• Pakistan minister claims corrupt opposition politicians are liable to be killed
• US to probe Pak's ISIS terrorists in Syria, may complicate Imran Khan woes
• Opposition-ruled Senate rejects two FATF bills
• Pakistan hopeful intra-Afghan talks will begin soon
• Pakistan, China agree to boost industrial cooperation under CPEC
• PPP wants CJP to take notice of minister's 'provocative' statement
--------
South Asia
• Bangladeshi Blogger, Asad Noor, Faces Death Threats for Criticizing Islamic Fundamentalism
• Afghanistan asks Pakistan to carry out UN sanctions on Taliban
• Taliban chief negotiator says 20-member council finalized for intra-Afghan talks
• Rohingya mark genocide anniversary with silent prayers
• 6 Rohingyas detained over clash, shooting at a Cox's Bazar camp
• Afghan Film Festival Attracts Local, Int'l Nominees
• Balkh Blast Claims 2 Lives, Injures 35 Civilians
• Taliban stage deadly bomb attack on Afghan commandos, civilians
--------
Mideast
• No Normalization with Israel Until Palestine Establishes Viable State: OIC
• 42 Prominent US, European Figures Sign Petition Condemning UAE's Normalization Deal with Israel
• Al-Qaeda Blows Up Clinic After Executing Dentist in Yemen's Al-Baida
• Iran's N. Chief Terms Talks with IAEA Head "Constructive"
• Official: No Military Solution to Problems in Afghanistan
• Turkey, Greece ready for dialogue on East Med energy resources dispute, says Germany
• Four Islamic Jihad fighters killed in bomb-handling mishap: Report
• Hamas-Israel talks failure 'threatens escalation of border confrontations'
--------
Africa
• Outspoken Atheist, arrested in Nigeria for Blasphemy, Hasn't Been Seen Since
• Sudan PM To Pompeo: Govt. Has No Mandate to Normalize with Israel
• For Third Day, Hundreds of Libyans Protest Corruption, Living Conditions
• Somalia: Al-Shabaab Executes Four Men for Spying
--------
Europe
• Indian Goes on Trial for Spying on Sikhs, Kashmiris In Germany
• France's Macron will return to Beirut and reiterate need for change: Le Drian
• New IRA investigation: Six terror suspects appear in court
• UK drone terror attack plotter accused acquitted
--------
New Zealand
• New Zealand Mosque Shooter Will Not Speak at Sentencing Court Session
• 'The Fire Awaits You': Father of New Zealand Mosque Attack Victim Tells Gunman
• Victims Vent Fury At 'Devil' NZ Mosque Shooter
• Court hears 3rd day of testimony from grief-stricken relatives of Christchurch's slain
--------
Southeast Asia
• Indonesia Leads UN Security Council Meeting on Islamic State Threat
• Zahid jumped the gun on grand coalition in Sabah, says analyst
• Johor religious department deputy director and officer claim trial to cheating RM100,000
• IS militants claim responsibility for Sulu blasts
--------
Arab World
• In Latest UAE-Israel Talks, Defense Ministers Pledge to Strengthen Communications
• Abu Dhabi Crown Prince and Pompeo discuss strengthening UAE-Israel deal
• UN: Over 10,000 Islamic State Fighters Active in Iraq, Syria
• Iraqi MP: US Embassy Masterminding Unrests in Basra
• Israel strikes Lebanon Hezbollah posts after shots fired towards troops: Military
• Lebanon's leading candidate to form a new government withdraws from race
• Lebanon central bank governor says he hopes depositors will recuperate their money
• A collapsing economy and a family feud pile pressure on Syria's Assad
• Iraqi protesters brace for more violence in wake of assassinations
--------
North America
• US Criticizes Erdogan For Meeting with Hamas Leadership, Warns of Turkish Isolation
• US Secretary Pompeo says he hopes for improved Israel-Arab ties during Mideast trip
• Pompeo pulls aerial stunt to push Sudan-Israel ties
Compiled by New Age Islam News Bureau
URL: https://www.newageislam.com/islamic-world-news/kolkata-khilafat-committee-appeals-muslims/d/122727
--------
Kolkata Khilafat Committee appeals Muslims not to bring out akhara, tazia and mourning procession in Muharram this year
New Age Islam News Bureau, August 26, 2020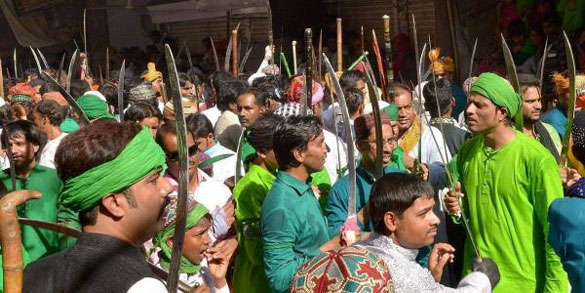 Muslim devotees participate in procession on Muharram in Kolkata in 2018 | PTI
-----
The Kolkata Khilafat Committee has appealed to the Muslims of the state not to bring out tazia, akhara and processions during Muharram this year in compliance with the lockdown rules in West Bengal. The state government has announced lockdown dates for the month and the Muharram falls on those dates. That's why, the Kolkata Khilafat Committee has appealed to the Muslims of all sects to follow the lockdown restrictions and abstain from unnecessary gathering and other un-Islamic activities. The press release said that Muharram is an occasion of mourning the martyrdom of Hadhrat Imam Hussain and other family members of the holy Prophet Pbuh and the occasion should be observed with dignity and with a sense of grief.
--------
Pakistani TikTok Video Calls on Christians To Convert to Islam For US$ 6,000
by Shafique Khokhar
08/24/2020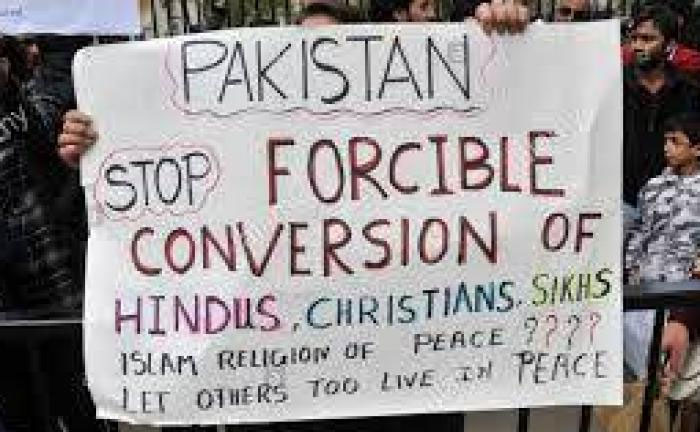 A video posted on TikTok two days ago has gone viral. In it Mian Kashif Zameer Chohadary, a Muslim textile businessman, urges Christians to convert to Islam
----
Lahore (AsiaNews) – A video posted on TikTok two days ago has gone viral. In it Mian Kashif Zameer Chohadary, a Muslim textile businessman, urges Christians to convert to Islam. If they do, he will give them each 200,000 rupees (about US$ 1,186), a million (US$ 5,930) if an entire Christian family converts.
The video was posted by account n. 9999. The author, with a gold chain around his neck (which might weigh a few kilos), says: "Hi! My name is Mian Kashif Zameer. Here on TikTok, people issue stupid challenges to others. But now I'm about to announce an offer that has never been made [. . .]. If a Christian accepts Islam, I will give him 200,000 rupees; if a whole family converts to Islam, I will give a million rupees. Please accept Islam, which is the best religion."
Mr Kashif, who belongs to the MD Group, also says that everyone must help and support those who convert to Islam because this work will help them on the day of salvation.
Yesterday in another video, he offers his best wishes to the Governor of Punjab, Chaudhary Muhammad Sarwar, showing that he has important ties with the authorities.
Many Christians feel offended by Kashif's proselytising. But forced conversions to Islam also affects Pakistan's Hindu and Sikh minorities.
In late July, another video on TikTok went viral. It shows a group of young Muslim men trying to force a young Christian to reject Christianity and recite the Kalima, the Islamic beliefs.
The video was posted on the Bilal Maher 479 account. In it, a young Christian says that he will never recite the Muslim beliefs and that he would never reject his Christian faith. When the Muslim men threaten him, he says he is ready to face all the consequences, but that he will not give up his religion.
Mariyam Kashif Anthony, a human rights advocate and teacher in Karachi, slammed these incidents, calling on Pakistan's telecoms authorities to find their authors through their TikTok accounts and prosecute them in accordance with the law.
"These hatemongers must be taught a lesson by police. We Christians are very weak and we are not rich, but our faith in Jesus Christ is stronger than theirs," she said.
"Jesus Christ has the power to save and protect us. We believe in the Lord Jesus Christ, the Living One, that no [worldly] power can defeat."
http://www.asianews.it/news-en/TikTok-video-calls-on-Christians-to-convert-to-Islam-for-US$-6,000-(video)-50854.html
--------
Bangladeshi Blogger, Asad Noor, Faces Death Threats for Criticizing Islamic Fundamentalism
Arafatul Islam
24.08.2020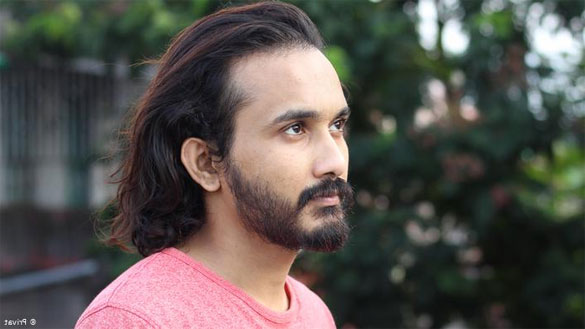 Bangladeshi blogger Asad Noor
----
Asad Noor, an outspoken Bangladeshi blogger, has been facing threats and intimidation from both state and non-state actors for supporting minorities and criticizing Islamic fundamentalism.
The atheist blogger crossed the Bangladesh-India border illegally on February 14, 2019, with the help of an agent after intelligence officers confiscated his passport. He has been living in India ever since.
"In my YouTube and Facebook videos, I have been criticizing Islam and Prophet Mohammad, referencing the Quran and the Hadith. At the same time, I am critical about political Islam. That's why Islamists are angry with me," Noor told DW.
"Local police frequently search our house (in Bangladesh) to try and arrest me … my family has been paying the price for my activism," he added.
Alleged attack on monastery
In July, Noor published several video blogs protesting the persecution of Bangladesh's minority Buddhist community in Rangunia, a town in the southeastern part of the country.
A local leader of the country's ruling party Awami League (AL) sued the blogger in July 2020 under the Digital Security Act, accusing him of "hurting religious sentiments" and "running propaganda against the spirit of the liberation war."
One of Noor's video blogs featured the apparent vandalism of a Buddhist statue under construction in a Buddhist monastery in Rangunia. Noor claimed that the attackers were supported by forest officials and the local MP of the AL party because they wanted to evict the monks from the area.
After Noor published his videos, local Islamist groups protested against the blogger and accused him of damaging religious harmony between Muslims and Buddhists.
Police raided Noor's family house in Rangunia and allegedly harassed his family members while he was in India. "On the early morning of July 18, police forcefully picked up my parents as well as four other family members, and kept them in illegal detention for nearly 48 hours," Noor said.
'Nothing to do with religion'
Both the Buddhist monastery and an AL leader claim ownership over the disputed land in Rangunia.
Abu Jafar, a former official in the disputed area, told DW that the land belongs to the government and "has nothing to do with religion."
"The Buddhist monastery was built two years ago without any permission from the government. Some local political leaders also use some parts of the area without any permission," he said.
Noor said he wanted to support the area's minority Buddhist community and "save Rangunia from another Ramu incident." He referred to the September 2012 attack on a Buddhist community in the southeastern town of Ramu. A mob of Islamist fundamentalists vandalized at least four temples and set fire to dozens of homes after a photo they considered defamatory to Islam was circulated online.
https://www.dw.com/en/blogger-faces-death-threats-for-criticizing-islam/a-54678246
--------
No normalization with Israel until Palestine establishes viable state: OIC
25 August 2020
The Organization of Islamic Cooperation (OIC) says its member states would not follow the United Arab Emirates in normalizing ties with Israel until the regime ends the occupation of Palestinian territories, including East Jerusalem al-Quds, which Palestine wants as the capital of its sovereign state.
In a statement issued on Monday, OIC Secretary General Yusuf bin Ahmed al-Uthaymeen highlighted the issue of Palestine and Israeli-occupied Jerusalem al-Quds as the organization's raison d'être and pivotal cause.
"It is at the heart of the OIC's joint Islamic action and the main consensus of all Member States, which all endeavor to end the Israeli occupation and help the Palestinian people realize their legitimate rights," he said.
He further pointed to the so-called Arab Peace Initiative as "a strategic choice, a historic opportunity, and a common reference on which a peaceful, just and comprehensive solution to the Arab-Israeli conflict must be based."
The Initiative calls on Israel to agree to a "two-state solution" along the 1967 borders and a "just" solution to the Palestinian refugee issue.
"The OIC supports all efforts exerted to enable the Palestinian people to exercise their inalienable national rights, including the right of return, self-determination, and the establishment of their independent and sovereign state on the borders of June 4, 1967," he said.
He further censured unilateral Israeli measures to annex Palestinian territories and build settlements on occupied land, saying the illegal moves undermine the so-called two-state solution.
The OIC chief said normalization "will never take place until after the end of the Israeli occupation of the Arab and Palestinian lands occupied since 1967, including al-Quds, and the establishment of the viable Palestinian State with East al-Quds as its capital."
On August 13, the UAE and the Israeli regime reached the deal for a full normalization of their relations. The deal was apparently brokered by US President Donald Trump.
The intended normalization has angered Muslim nations and supporters of the Palestinian cause against Israel's occupation.
Palestinian leaders have described the Emirates' deal with Israel as a betrayal of the Palestinian cause and a "stab in the back" of the Palestinian people.
The Emirati officials have described the peace deal as a step toward helping Palestinian statehood by halting annexation plans. Palestine, however, rejects that claim, saying normalization attempts had been in the offing for a long time.
British FM to visit Israeli, Palestinian officials
Meanwhile, Britain's Foreign Secretary Dominic Raab is due to visit Israel and the occupied West Bank on Tuesday for meetings with top Israeli and Palestinian officials to reportedly express London's opposition to any future Israeli annexation in the West Bank.
According to a statement by the British embassy in Israel, he would "press for renewed dialogue" between the sides.
He is slated to meet with Israeli Prime Minister Benjamin Netanyahu, minister of military affairs Benny Gantz and Foreign Minister Gabi Ashkenazi.
In Ramallah, he is scheduled to sit down with Palestinian President Mahmoud Abbas and Prime Minister Mohammad Shtayyeh.
"Israel's suspension of annexation is an important step towards a more peaceful Middle East," Raab said in a statement released by his office.
He was referring to Netanyahu's agreement to suspend his plan to annex some 30 percent of the West Bank, including all the settlements and the Jordan Valley, as one of the conditions of the August 13 normalization deal between Israel and the United Arab Emirates.
"It is now time for both sides to come together and engage in the dialogue that's needed to deliver the negotiated two-state solution that can secure lasting peace, security and justice for both Israelis and Palestinians," Raab said.
On his visit to Ramallah, Raab "will reaffirm UK opposition to annexation — which is illegal under international law," and "call on the Palestinians to resume cooperation with Israel and pursue direct negotiations, as a step towards a negotiated two-state solution and a viable, sovereign Palestinian state," according to the press release.
https://www.presstv.com/Detail/2020/08/25/632547/OIC-Israel-normalization-Palestine
--------
Outspoken Atheist, Arrested in Nigeria for Blasphemy, Hasn't Been Seen Since
By Ruth Maclean
Aug. 25, 2020
DAKAR, Senegal — Amina Ahmed knew her atheist husband was taking enormous risks with some of his Facebook posts criticizing Christianity and Islam in Nigeria, a deeply religious country.
She wanted him to be free to believe whatever he wanted. But she worried that if he kept up his commentary, the staunchly Muslim community he was born into would eventually retaliate.
"You should just calm down," she remembers telling him. "They don't care. They can just kill you and nothing happens."
But her husband, Mubarak Bala, president of the Humanist Association of Nigeria, was not one to filter his words. On April 25, he logged on to Facebook again and typed a post calling the Prophet Muhammad a terrorist.
Three days later he was arrested by the state police after being accused of violating anti-blasphemy laws, which can carry a death sentence. He has not been seen since.
"We are concerned that he may be prosecuted under anti-blasphemy laws that provide for capital punishment in Nigeria," wrote a group of United Nations experts who have called for his release.
Mr. Bala, 36, was arrested after lawyers in private practice in his conservative birthplace, the Muslim-majority city of Kano, complained about his Prophet Muhammad post to the police. Other nonbelievers are worried that these same lawyers are drawing up a list of other Nigerian atheists to be prosecuted and that more arrests may be coming.
The Nobel Prize-winning writer Wole Soyinka wrote that Mr. Bala's arrest was part of a "plague of religious extremism" that has in recent decades encroached on the harmonious Nigeria he grew up in.
While it was Mr. Bala's post on Facebook that led to his arrest, the social media site was also the platform where he and Ms. Ahmed met. She messaged him there after reading that his deeply religious family had locked him up in a psychiatric hospital when he first came out to them as an atheist. She, too, was from a staunchly Muslim family, and she was curious.
"I didn't want to judge him," she said in an interview. "I was just like — I want to hear his own side of the story."
Growing up in Kano, Nigeria's second-biggest city and an ancient center of Islamic learning in the country, Mr. Bala was from a highly respected family, descended from generations of Islamic scholars.
But as he got older, Mr. Bala came into contact with people outside Kano, and little by little he lost his faith. And as terror attacks increased in Nigeria, he became more vocal in his criticism.
"What finally made me come out as atheist was a video of a beheading of a female Christian back in 2013 by boys around my age, speaking my language," he wrote in an article about his personal journey that was published in 2016. "It hit me that the time for silence is over. Either someone speaks out or we all sink."
But even just speaking out to his close friends and family was dangerous. His father and elder brother thought he was sick, and got a doctor who believed that all atheists were mentally disturbed to admit him to a hospital. He was beaten, sedated and threatened with death if he tried to leave, he said.
Mr. Bala has yet to be officially charged with any crime, according to Leo Igwe, the founder of the Humanist Association of Nigeria. And in violation of a June court ruling, he has not been allowed to see his lawyer. There have been repeated delays in the legal proceedings, partly caused by Covid-19 restrictions. Calls to the police in Kano seeking comment went unanswered.
Mr. Bala is believed to be the first atheist arrested in Nigeria for blasphemy, but Muslims often fall afoul of the blasphemy laws in the Islamic legal system adopted 20 years ago by the country's northern states.
This month, Yahaya Sharif Aminu, 22, a singer in Kano was found guilty of blasphemy and sentenced to death for circulating a song he had composed, which critics said elevated a Senegalese imam above the Prophet Muhammad. He was arrested in March after protesters burned down his family home.
There is also a blasphemy law under Nigeria's nationwide customary legal system, which operates in parallel to Islamic and common law. Blasphemy under Islamic law can be punished by death — though such sentences are rarely carried out — while blasphemy under customary law carries a maximum sentence of two years.
It is still unclear under which of these laws Mr. Bala might be charged. But if charged under either legal system, his could be a watershed case since atheists previously had not been prosecuted on blasphemy charges.
Over a third of the 71 countries that have legislation against blasphemy, in violation of international human rights laws, are in Africa. Nigeria's own blasphemy laws would seem to clash with its Constitution, which entitles every Nigerian to freedom of thought, conscience, and religion, and the right to freedom of expression.
Nigeria's population is roughly split between Muslims and Christians.
Growing internet access and the worlds it can open up to people pose a threat to the power that many imams, clerics and bishops have traditionally enjoyed in Nigeria, according to Mr. Igwe.
"They are feeling jittery because they know they're going to lose their power base, they're going to lose their credibility," Mr. Igwe said. "That's why they want to do anything they can to silence Mubarak, or to make sure that nobody emulates him."
Mr. Bala was living and working as an engineer in the city of Kaduna when he was arrested. But the police told Mr. Igwe that he had been taken 150 miles away to Kano.
Some say Mr. Bala's arrest may have little to do with his atheism per se. Rather, he is being punished in ways a former Muslim from another part of Nigeria would not be because he very publicly turned against his prominent Kano family and his Hausa-Fulani Muslim community, the dominant ethnic groups in northern Nigeria.
"It's perceived as an assault on Hausa-Fulani Muslim society and virtue, by one of them," said Olufemi O. Vaughan, a professor focused on African, and particularly Nigerian, politics and society at Amherst College. "It's not just simply a critique coming from an atheist."
Professor Vaughan said Mr. Bala's arrest should be seen in that context, not as an indication that attacks on atheists are about to escalate.
"There's a personal dimension to this which is so tragic," Professor Vaughan said. "He's got a family, a wife and he's got a baby. Just set him free."
Ms. Ahmed gave birth to the couple's first child six weeks before her husband was arrested. She has cried so much since then, she said, that she has strained her left eye. She is worried about her own safety.
Her efforts to find out where her husband was — petitioning Nigeria's Senate, and traveling to the national Police Headquarters in the capital, Abuja — have yielded no information. Her expectations have shrunk over the past four months.
"I just need proof of life," she said. "That is all."
https://www.nytimes.com/2020/08/25/world/africa/nigeria-blasphemy-atheist-islam.html
--------
Indian goes on trial for spying on Sikhs, Kashmiris in Germany
26 Aug 2020
FRANKFURT MAIN: An Indian national accused of spying on Sikh and Kashmiri communities in Germany for New Delhi's secret services went on trial in Frankfurt on Tuesday.
The suspect, identified as 54-year-old Balvir S., is accused of working for the Research and Analysis Wing (RAW), India's foreign intelligence agency, since at least January 2015.
Prosecutors say he "obtained information about figures in the Sikh opposition scene and the Kashmiri movement and their relatives in Germany, and passed this on to his handlers who were working at the Indian consulate general in Frankfurt".
A total of 10 hearings before the regional superior court are scheduled, with the trial due to conclude on October 29.
The same Frankfurt court convicted an Indian couple of spying on the same communities last December. The husband was handed a suspended prison sentence of 18 months for acting as a foreign intelligence agent and his wife fined 180 days' wages for aiding him.
India and Pakistan have disputed Kashmir since they became independent in 1947, with the nuclear rivals fighting two out of three wars over the region.
An uprising against Indian occupation has been waged since 1989 in Kashmir, claiming tens of thousands of lives.
Frankfurt is of particular interest to the Indian secret services because western Germany is home to the largest Sikh community in the country, estimated at between 10,000 and 20,000 people, and one of the largest in Europe.
https://www.dawn.com/news/1576495/indian-goes-on-trial-for-spying-on-sikhs-kashmiris-in-germany
--------
India
Plea in SC seeks direction for appointment of govt nominee to Ayodhya mosque trust
Aug 26, 2020
Posted by: Harshit Sabarwal
A petition has been moved in the Supreme Court seeking a direction for the appointment of a government nominee to the Ayodhya mosque trust constituted for the construction of the mosque.
The petition was filed by one of the lawyers from Hindu side in the Ayodhya case, Karunesh Shukla, through his lawyer, Vishnu Jain.
The Uttar Pradesh Sunni Central Waqf Board has created an 'Indo-Islamic Cultural Foundation', a 15-member trust for building a mosque and other facilities on the land allotted in Ayodhya by the Uttar Pradesh Government on the Supreme Court's instructions.
In the Ayodhya-Babri Masjid land case, the Supreme Court had, on November 9 last year, directed the Central government to hand over the site at Ayodhya for the construction of a temple and set up a trust for the same.
The apex court had further directed the government to allocate an alternative five acres of land at a prominent location in Ayodhya for the construction of a mosque to the Sunni Waqf Board.
According to a press release by the Board, "In compliance of the Judgment and order of the Supreme Court of India, in Babri Masjid case, the Government of Uttar Pradesh had allotted 5 Acres of land in village Dhannipur, Ayodhya and the Board had accepted it in February 2020. The Board has created a Trust named, Indo Islamic Cultural Foundation, for building the Mosque and other facilities for the benefit of the general public."
The Trust will have a maximum of 15 trustees, the Uttar Pradesh Sunni Central Waqf Board being its founder trustee, while Zufar Ahmad Faruqi will be chief trustee/president.
In February, the Uttar Pradesh Sunni Central Waqf Board accepted the five acres of land provided for construction of the mosque in Ayodhya.
Apart from this, the Trust will also construct a charitable hospital, public library and a centre showcasing the heritage of Indo-Islamic civilisation which will also serve as a research and study centre for the same, according to a press release by the Board.
https://www.hindustantimes.com/india-news/plea-in-sc-seeks-direction-for-appointment-of-govt-nominee-to-ayodhya-mosque-trust/story-xa5rqxn01ElG9J1sOmMSNN.html
--------
In Russia, India to take part in combat drills with China, Pakistan
Aug 26, 2020
NEW DELHI: Indian soldiers will take part in combat drills with troops from China and Pakistan, amidst the ongoing military confrontation with the former and border hostilities with the latter, in a multi-nation exercise being organised by Russia next month.
A tri-Service Indian contingent of around 200 officers and troops will take part in the Kavkaz 2020 (Caucasus 2020) "strategic command-post exercise" in the Astrakhan region of south Russia from September 15 to 26.
With Indian and Chinese soldiers locked in the military confrontation in eastern Ladakh since early-May, which even led to a bloody skirmish with casualties on both sides in Galwan Valley on June 15, India's participation in the exercise has raised some eyebrows. China, in fact, is learnt to be sending a large contingent, along with three ships, for the exercise.
"But it's not as if our troops are going to exercise with just Chinese and Pakistani soldiers. It's a multilateral exercise being hosted by Russia, with participation from at least 18 countries," said a senior officer.
"Like India, Pakistan and China have also been invited as members of the Shanghai Cooperation Organisation. We have participated in such exercises, which have included China and Pakistan, in the past," he added.
https://timesofindia.indiatimes.com/india/in-russia-india-to-take-part-in-combat-drills-with-china-pak/articleshow/77754565.cms
--------
Pulwama probe: NIA used DNA, other forensic tests to trace evidence that had 'blown to pieces'
Aug 25, 2020
NEW DELHI: When the National Investigation Agency (NIA) began its probe into the Pulwama terror attack in which 40 CRPF personnel were killed last year, it faced a "blind case" in the absence of any solid proof against the perpetrators.
The case posed unique challenges, such as a lot of evidence having blown to pieces in the suicide attack and seven accused being subsequently killed in encounters. However, the central agency used forensic tests including DNA profiling of the meagre evidence to breach the dead ends.
"It was a blind case for us. There were a lot of murmurs but everything needs to be established beyond doubt in the court of law," a senior official, who was part of the probe, said.
The first challenge was to establish the ownership of the car used by Adil Ahmad Dar, the suicide bomber, according to the chargesheet in the case filed by the NIA in a special court in Jammu on Tuesday.
There was nothing available from the vehicle which carried a cocktail of 200 kgs of high-grade explosives — RDX, Calcium-Ammonium Nitrate, Gelatin Sticks and Aluminium Powder.
As per the chargesheet, with the help of forensic methods and painstaking investigations, the serial number of the car that was blown into pieces beyond recognition was extracted and within no time the ownership of the vehicle was established - from the first to the last owner.
However, the last owner of the car, Sajjad Bhat (named in the chargesheet) of Bijbehara in Anantnag district, had disappeared hours before the February 14, 2019 attack and joined Jaish-e-Muhammed. He was subsequently killed in an encounter in June last year.
"While it was clear that the suicide attacker was Adil Ahmed Dar, the same had to be established with evidence. After picking up human remains from various spots, they were sent for DNA profiling," the official, who requested anonymity, said.
"The suicide attacker was identified and confirmed by matching the DNA extracted from the meagre car fragments with that of the DNA of his father," he said.
Moreover, seven accused wanted in the case by the NIA were killed during different encounters in 2019.
The chargesheet has named Mohammed Umar Farooq, the nephew of Jaish-e-Muhammed chief Masood Azhar, as the main conspirator of the suicide mission. According to officials, Farooq had infiltrated into India in April 2018 and was subsequently killed in one of the encounters in South Kashmir last year.
Officials said the role of conspirators which included Mudasir Ahmed Khan, Qari Mufti Yasser and Mohd Kamran came to light but all of them were killed in different encounters with security forces.
Khan was killed on March 10, Kamran on March 29, Sajjad Bhat on June 18 of last year while Qari Yasser was shot in an encounter on January 25 this year.
A team led by joint director of the NIA Anil Shukla gathered evidences and statements of terrorists and their sympathisers arrested in different cases in order to expose the conspiracy hatched for executing the audacious attack on the para-military convoy, officials said.
After JeM spokesperson Mohd Hassan in a video claimed that his group was responsible for the attack, it was sent for forensic examination and the Internet Protocol address was traced to a computer based in Pakistan.
"A lot of digital, forensic, documentary and oral evidence establishing a fool-proof case against the accused for this dastardly and barbaric attack has been collected," NIA Deputy Inspector General and spokesperson Sonia Narang said.
"The chargesheet has brought on record the all-out involvement of Pakistan-based entities to carry out terrorist strikes in India and to incite and provoke Kashmiri youth," she said.
Culminating its 18-month long probe into the fatal terror attack that left 40 CRPF personnel dead in South Kashmir last year, the NIA on Tuesday filed a chargesheet in a special court in Jammu against 19 people including Masood Azhar, the chief of banned terror group Jaish-e-Muhammed, for planning the suicide operation.
Giving details of the 13,500-page chargesheet, Narang said it marks the culmination of a year-and-a-half long "painstaking and meticulous investigation with valuable inputs received from other central and state government agencies as well as foreign law-enforcement agencies."
https://timesofindia.indiatimes.com/india/pulwama-probe-nia-used-dna-other-forensic-tests-to-trace-evidence-that-had-blown-to-pieces/articleshow/77747640.cms
--------
Pak 'masquerading' as a terror victim: India at UN
Posted by Susmita Pakrasi
Aug 26, 2020
India hit out at Pakistan for its litany of lies at the United Nations after Islamabad's UN envoy claimed to have given a statement in a Security Council meeting not open to non-Council members and said that the biggest sponsor of cross-border terrorism against it now tries to "masquerade" itself as a victim of terror.
Calling out Pakistan's lie that it has been a target of cross-border terrorism for decades, India said "a lie repeated a hundred times will not become truth. The biggest sponsor of cross-border terrorism against India now tries to masquerade itself as a victim of terrorism by India," India's Permanent Mission to the UN said on Monday. The Pakistan Mission falsely claimed that its UN envoy Munir Akram gave a statement at a Security Council debate on Report of the Secretary General on Threats to International Peace and Security posed by Terrorism Actions. However, the Security Council meeting on threats to international peace and security was not open to non-members of the Council. A photograph of the meeting tweeted by the German Mission to the UN showed only envoys of the 15 Security Council members participating in the meeting. Pakistan is not a member of the Council.
"We fail to comprehend where exactly did the Permanent Representative of Pakistan make his statement since the Security Council session today was not open to non-members of the Security Council. Be that as it may, the five big lies of Pakistan lies exposed," India's Mission to the UN said in a post on Twitter.
On Akram's claim that Pakistan has decimated Al-Qaeda from the region, India said perhaps the Permanent Representative of Pakistan is "not aware that Osama bin Laden was hiding in their own country in plain sight, and it is the US forces which got him inside Pakistan. Nor have they heard their Prime Minister refer to Osama bin Laden as a martyr." Giving a strong rebuttal to Pakistan's lies, New Delhi termed Pakistan's claim that India has hired terrorists as mercenaries to hit them as "laughable".
"Coming from a country which is a known sponsor of cross-border terrorism which has made the world suffer due to its actions, this claim is nothing short of being preposterous!", India said. India also said that Pakistan is home to the largest number of terrorists proscribed by the UN and many of the sanctioned terrorists and entities continue to operate with impunity inside Pakistan.
Prime Minister Imran Khan himself had admitted at the General Assembly last year about the presence of 40,000-50,000 terrorists inside Pakistan.
Laying bare another lie by Pakistan about Indian nationals in the 1267 Al-Qaeda Sanctions List of the UN Security Council, India said the Sanctions List is "public and the world can see none of these individuals are in it. The 1267 Committee works on the basis of evidence and not random accusations thrown in to divert their time and attention," India said in response to a lie made by Pakistan that it has submitted names of some Indians to be proscribed under the Sanctions list.
https://www.hindustantimes.com/india-news/pak-masquerading-as-a-terror-victim-india-at-un/story-O7KvD5kDEPCQwnMWqT4Z8I.html
--------
ISI wanted a Hurriyat-like body in Kashmir, says NIA
Neeraj Chauhan
Aug 26, 2020
Inter-Services Intelligence (ISI), Pakistan's spy agency, sought to create a non-government organisation (NGO) parallel to the All Parties Hurriyat Conference (APHC) because of a perception that Kashmiris had lost faith in the latter , according to a charge sheet filed by the National Investigation Agency (NIA) in July against Davinder Singh, deputy superintendent of police (DSP), J&K Police, and four others.
ISI authorities delegated the job to Irfan Shafi Mir, 31, a lawyer from Kashmir, who was trusted by both the Pakistani establishment and the Hizbul Mujahideen (HM), the primary terrorist group in the Valley, the charge sheet says.
According to the charge sheet, a copy of which has been reviewed by HT, the Central anti-terror probe agency has named at least six ISI officials – Umar Cheema, Eshan Chaudhary, Faizal, Sohail Abbas, Arbaaz and Sheikh Sahab – who were in touch with Mir.
Shafkat Jatoi alias Hussain, a Pakistani high commission official, who was repatriated from New Delhi to Islamabad in June for allegedly engaging in anti-India activities, paid Rs 2.5 lakh to Mir in two instalments to organise two seminars to fuel separatist sentiment -- How to defend Article 370, and Violation of Human Rights in the Kashmir Valley -- the charge sheet said.
These seminars were allegedly chaired by Hameeda Bano, an academician based in Kashmir and the wife of the separatist activist Nayeem Khan, who was charged in 2017 in the NIA's Jammu & Kashmir (J&K) terror funding case, it added.
Professor Bano, however, denied that she chaired these seminars. "It's a white lie. I have not attended any such seminar".
Mir is alleged to be the key person in the conspiracy to revive HM's activities in the Valley; he used to regularly visit the Pakistan high commission in New Delhi "to receive instructions and money, and also facilitated the (Pakistani) visa applications for a number of Kashmiris," according to the charge-sheet.
He was arrested along with Davinder Singh, deputy superintendent of police (DSP), J&K Police, and two HM terrorists – Syed Naveed Mushtaq alias Naveed Babu and Rafi Ahmad Rather -- on January 11 in Shopian, south Kashmir. Davinder Singh was suspended from Jammu and Kashmir (J&K) police after he was arrested while ferrying the two HM terrorists in a vehicle on the Srinagar-Jammu Highway.
APHC, an alliance of 26 political, social and religious organisations from Kashmir, was formed in March 1993 as a united front to raise the cause of Kashmiri separatism, but has been ineffective in Kashmir for over the past two years. APHC's leader Syed Ali Shah Geelani , 90, the face of Kashmir's separatist movement for over three decades, resigned in June.
There has been consistent action against separatist leaders by the NIA and Jammu and Kashmir Police in the past two-three years and many of them have either been jailed or put under house arrest.
The NIA charge sheet stated that Mir has known senior ISI operatives since 2016 through a person identified as Majeed, who invited him to Pakistan to meet the HM leadership.
During his 10-day trip to Pakistan four years ago, Mir met HM chief Syed Salahuddin, Khurshid Alam, Najar Mahmood, who are HM's operations and finance heads, respectively, among others.
In 2018, he made two trips – in February and September– to Pakistan, during which he was instructed by Alam to find a contact in West Asia, preferably in Dubai, the United Arab Emirates (UAE), for obtaining funds transferred through hawala channels for keeping terror activities alive in Kashmir, the charge sheet said.
Mir's father Mohammad Shafi Mir used to be a J&K police constable who turned rogue and joined HM and was eventually killed near the Line of Control (LoC) in the 1990s by Indian security forces while trying to cross over to Pakistan.
Mir used secure messaging applications such as BBM, Zangi, KiK, Just Talk, Corp Chat, Cover Me and Sure Spot in a bid to keep in touch with HM terrorists in the valley, the charge sheet added.
Sameer Patil, a fellow at the International Security Studies Programme at Gateway House, a think tank, said: "A combination of factors such as the action by the NIA against its leaders, their inability to hold large gatherings and address the public, a decline in stone pelting incidents etc, shows that the Hurriyat leadership has definitely lost its sheen. This is evident from Geelani's decision to quit the organisation. He wouldn't have done so if the Hurriyat had any influence left over (the Kashmiri) people."
https://www.hindustantimes.com/india-news/isi-wanted-a-hurriyat-like-body-in-kashmir-says-nia/story-L3P8HlrQK5FNQTJPGkGpoI.html
--------
ISI pushed Jaish for intel on IAF bases after Balakot
Neeraj Chauhan
Aug 26, 2020
Around the time New Delhi and Islamabad scrambled fighter jets at their borders following India's airstrike on a terror camp in Balakot in February last year, Pakistani spy agency Inter-Services Intelligence (ISI) asked Jaish-e-Mohammed (JeM) operatives in Jammu and Kashmir to find out and pass on information on the location of Indian Air Force (IAF) bases, according to a charge sheet filed by the National Investigation Agency (NIA) in the Pulwama terror attack case on Tuesday.
The audacious February 14 strike by the Jaish in southern Kashmir's Pulwama killed 40 Indian security personnel, triggered the IAF action against the terror camp deep inside Pakistan 12 days later, resulted in a dogfight between fighter jets of the two nations on February 27, and brought them on the brink of a war.
In its 13,500-page charge sheet filed in a special NIA court in Jammu, NIA named 19 people, including Jaish leader Masood Azhar and four of his relatives, for planning and carrying out the attack on a Central Reserve Police Force (CRPF) convoy at the behest of Pakistan. Of the 19, six are dead, three are absconding, and seven have been arrested. Azhar and his two brothers are believed to be in Pakistan.
According to the charge sheet, Azhar's 24-year-old nephew Mohammad Umar Farooq was sent to Kashmir in 2018 to execute the bombing. Farooq, who was killed in an encounter by security forces on March 29, 2019, was in constant touch with Azhar's brothers Abdul Rouf Asghar Alvi and Ammar Alvi, and received directions from them before, during and after the attack, the charge sheet said. It also included transcripts of the chats between them.
Alvi told Farooq, the key figure behind the blasts, during one of these chats after the Balakot strike that ISI wanted Jaish operatives on the Indian side to find out about IAF's bases from where the fighter jets were being scrambled, said an official who asked not to be named, sharing details of the charge sheet.
NIA's charge sheet also said Jaish planned to carry out a second suicide attack after the Pulwama bombing, but aborted its plans due to international pressure for action against the Pakistan-based terror group.
"Mufti (a reference to Azhar) has asked for the (second) attack to be put on hold," read a message received by Farooq from Pakistan, according to the agency.
"The Pakistan-based leadership of Masood Azhar, Asghar, and Ammar Alvi, alias Chota Masood, were continuously giving directions and guidance to the JeM terrorists (who infiltrated into India) both before and after the attack. They also planned to carry out another suicide attack, which was averted due to Balakot strikes and due to the killing of main conspirator Umar Farooq by the security forces," said NIA spokesperson Sonia Narang, who was involved in the investigation into the case.
Farooq, according to NIA, was the son of Azhar's younger brother Ibrahim Athar. Athar and four others hijacked the IC-814 Indian Airlines flight in December 1999, seeking Azhar's release. Azhar was freed from an Indian prison in exchange for the 155 passengers of the hijacked aircraft, and went on to found the Jaish in 2000.
Farooq infiltrated into India using a tunnel in the Jammu-Samba sector in April 2018, and took over as the Jaish commander of Pulwama, according to the agency. Since then, he spent most of his time planning, arranging for logistics and convincing the suicide bomber, Adil Ahmad Dar.
Another Pakistani terrorist related to Azhar's family, 25-year-old Mohammad Ismail, alias Saifullah, who is currently said to be hiding in the Kashmir valley, infiltrated along with Farooq. He is believed to be heading the Jaish in the Valley.
"After infiltrating into India, Umar Farooq took over as Jaish-e-Mohammad commander of Pulwama and along with his Pakistani compatriots — Kamran Ali, Ismail, Qari Yasir — and local associates Sameer Dar and Adil Ahmad Dar planned and prepared for the attack on security forces using IEDs," Narang said.
"Investigation also revealed a well-crafted mechanism by Pakistani establishment to push terrorists into the Indian territory from the launch pads located in Shakargarh (Pakistan) opposite Samba-Kathua sector in Jammu," she added.
Apart from Azhar, Asghar Alvi, Ammar Alvi, Farooq, Mohammad Ismail, Kamran Ali and Qari Yasir – all Pakistani nationals – and Indian nationals Adil Ahmad Dar and Sameer Dar, the NIA charge sheet also named Shakir Bashir Magray, Insha Jan, her father Peer Tariq Ahmed Shah, Waiz-ul-Islam, Mohammad Abbas Rather, Mohammad Iqbal Rather, Bilal Ahmed Kuchhey, Sajjad Ahmed Bhat, Mudasir Ahmad Khan and Ashaq Ahmed Nengroo.
Farooq, Kamran Ali, Sajjad Ahmed Bhat, Mudasir Ahmad Khan and Qari Yasir have been killed in encounters. Shakir Bashir Magray, Insha Jan, Peer Tariq Ahmed Shah, Mohammad Iqbal Rather, Mohammad Abbas Rather, Bilal Ahmed Kuchhey and Waiz-ul-Islam were arrested. Mohammad Ismail Alvi, Sameer Ahmad Dar and Ashaq Ahmed Nengroo are absconding.
Farooq, a skilled bomb-maker trained in hybrid camps of al Qaeda, Taliban, Jaish and the Haqqani network inside Afghanistan in 2016-17, prepared improvised explosive devices (IEDs) using two jerrycans (one weighing 160kg and another 40kg), gelatin sticks, ammonium nitrate, ammonium powder and RDX on February 5 night, according to the charge sheet.
Ali, also killed in the same encounter as Farooq, Sameer Ahmad Dar and Magray, helped Farooq at Magray's house. While the RDX was smuggled into India from Pakistan, other explosives were collected by Jaish operatives and overground workers from stone quarries in Kashmir, according to the NIA probe.
On February 6, 2019, the jerrycans filled with explosives were loaded in a Maruti Eeco car that would eventually ram the CRPF convoy eight days later, according to the charge sheet.
HT reported exclusively on March 4 this year that Jaish planned to carry out the attack in the first week of February, but postponed its plans since roads were closed and convoy movement stopped due to inclement weather.
According to the NIA probe, Adil Ahmad Dar drove along with the CRPF convoy for a while before ramming it in the bus that was carrying the maximum number of troops.
He was inspired to become a suicide bomber after watching a vitriolic video of Azhar, recorded in October 2018 after the killing of his nephew Usman Haider in Tral by security forces, the NIA said. In the video, the Jaish chief exhorted young Kashmiris to sacrifice their lives for jihad. "Lot of digital, forensic, documentary and oral evidence establishing a fool-proof case for this dastardly and barbaric attack has been collected. The charge sheet has brought on record the all-out involvement of Pakistan-based entities to carry out terrorist strikes in India and to incite and provoke Kashmiri youth," Narang said. She added that non-bailable warrants were issued against Azhar, Alvi, Asghar and other absconding accused persons.
Officials said the charge sheet was an irrefutable piece of evidence — technical, material and circumstantial — on Pakistan's role in the attack.
https://www.hindustantimes.com/india-news/isi-pushed-jaish-for-intel-on-iaf-bases-after-balakot/story-aVOWAlwnCil37OOKzikdGJ.html
--------
India, Bangladesh to launch new riverine trade route on September 3
Rezaul H Laskar
Aug 26, 2020
India and Bangladesh are set to operationalise a new riverine trade route on September 3, when a Bangladeshi vessel will transport a cargo of cement to Tripura as part of efforts to boost connectivity between the two countries.
The route connecting Sonamura in Tripura to Daudkandi in Bangladesh is being operationalised under an agreement signed by the two sides in May to boost riverine trade by adding two new routes and five more ports in order to improve connectivity to India's north-eastern states and reduce transportation costs.
Following discussions between the Inland Water Authority of India and Bangladesh Inland Water Transport Authority, the first pilot movement on the 93-km Daudkandi-Sonamura route is expected to be conducted on September 3, people familiar with developments said on condition of anonymity.
The Bangladeshi vessel MV Premier will carry 50 metric tonnes of cement from Premier Cement Ltd of Bangladesh to Tripura via Gumti River, the people said. Customs formalities will be completed at the land customs station at Srimantapur-Bibirbazar, they added.
"The new route will facilitate bilateral trade with improved reliability and cost effectiveness for the business community," said one of the people cited above.
India and Bangladesh signed the Protocol for Inland Water Trade and Transit in 1972 for inland waterways connectivity between the two sides for bilateral trade and to improve connectivity to India's north-eastern states. The protocol was expanded with the signing of a second addendum on May 20 that added two new routes and five ports of call to takes the total number of routes to 10 and ports of call to 11.
During fiscal 2019-20, about 3.5 million metric tonnes of cargo were transported via the inland waterways.
"The connectivity provided by the existing and the newly added routes is all the more pertinent amid the Covid-19 crisis as it will be key to economical, faster, safer and greener transportation for the business communities of both countries," the person said.
The other new route – Rajshahi-Dhulian-Rajshahi – will help augment infrastructure in Bangladesh and reduce the cost of transporting goods such as stone chips to northern Bangladesh. It is also expected to decongest land customs stations on both sides.
The new riverine trade route is being operationalised against the backdrop of India's concerted efforts to boost economic aid and connectivity with key neighbours amid the border standoff with China.
Last month, India handed over 10 railway locomotives to Bangladesh, reflecting a renewed focus on its "neighbourhood first" policy. This came close on the heels of the first cross-border container train reaching Bangladesh with 50 containers of FMCG goods and fabrics and the first trans-shipment of container cargo from Kolkata to Agartala in the landlocked north-eastern region via Bangladesh's Chattogram port.
https://www.hindustantimes.com/india-news/india-bangladesh-to-launch-new-riverine-trade-route-on-september-3/story-1y2UkA6GXcg4mWXxYWwQBN.html
--------
India indicts Pakistani militant in 2019 Kashmir bombing
August 26, 2020
NEW DELHI: India's anti-terrorism agency named a Pakistan-based militant leader as the prime mastermind of a 2019 car bombing in Indian-controlled Kashmir that killed 40 Indian soldiers and brought the nuclear-armed rivals to the brink of war.
The National Investigation Agency filed a charge sheet on Tuesday that named Masood Azhar, chief of Jaish-e-Mohammed, and 19 others among the accused.
"The investigation has revealed that the Pulwama attack was the result of a well-planned criminal conspiracy hatched by Pakistan-based leadership of terrorist organization Jaish-e-Mohammad," the document says.
Jaish-e-Mohammad, which is based in Pakistan, had claimed responsibility for the bombing, according to media reports, even though the attacker was identified as a Kashmiri militant. A prerecorded nine-minute video, circulated on social media, showed the purported attacker in combat clothes and surrounded by guns and grenades hours before he rammed an explosives-laden van into a paramilitary convoy.
The Feb. 14, 2019, bombing was the single deadliest attack in the divided region, and escalated tensions between India and Pakistan. In response, India launched an airstrike against suspected militant training camps inside Pakistan, saying it hit one and killed "a very large number" of militants. Pakistan said the strike only damaged three trees in a forest.
Islamabad then responded by shooting down an Indian warplane and capturing a pilot, who was then returned to India as a peace gesture.
India has long accused Pakistan of cultivating militant groups in a proxy war against New Delhi. Pakistan denies the charge.
The conflict in Kashmir dates back to the late 1940s, when India and Pakistan won independence from Britain and fought two wars over the Himalayan region.
https://www.arabnews.com/node/1724811/world
--------
Pakistan
Mian Muhammad Aslam Praises Role Of Non-Muslims In National Development
August 26, 2020
Islamabad: Deputy Ameer of Jamaat-i-Islami Pakistan and former member of the National Assembly Mian Muhammad Aslam has praised non-Muslims, especially Christians, for playing a significant role in the country's progress and said his party had included a revolutionary programme for their development in its election manifesto.
Addressing a function organised by the Jamaat-i-Islami Ahle Kitab Wing here on Tuesday, the JI leader said the Islamic State was responsible for the protection of the lives and property of its citizens without religious distinction or discrimination.
He said the founder of Pakistan Quaid-i-Azam Mohammad Ali Jinnah had declared that Muslims and non-Muslims would have equal rights in Pakistan and that the state would guarantee the protection of life and property of both Muslims and non-Muslims.
Deputy ameer of Jamaat-i-Islami Muhammad Kashif Chaudhry said all citizens of Pakistan were entitled to equal rights and that the protection of their life and property was the responsibility of the state.
"Everyone should have equal access to education, healthcare, and employment. The only way to eradicate terrorism is to eradicate economic and political terrorism from the country," he said.
The JI leader said as long as the people's rights continued to be violated, the end of unrest and chaos would be a dream come true. He said his party had played an unforgettable role in bridging the gap among religions.
"We share each other's grief and joys and will work together to protect each other's rights," he said.
President of JI Ahle Kitab Wing Jamil Kho Khar and Bishop Shahid Mahmood also spoke on the occasion.
https://www.thenews.com.pk/print/705950-role-of-non-muslims-in-national-development-eulogised
--------
Pakistan minister claims corrupt opposition politicians are liable to be killed
Aug 25, 2020
ISLAMABAD: After causing massive losses to Pakistan International Airlines (PIA) by claiming that a third of the country's pilots had fake degrees, country's aviation minister Ghulam Sarwar Khan has now sparked another controversy by saying that corrupt politicians from Opposition Pakistan Muslim League–Nawaz (PML-N) and Pakistan Peoples Party (PPP) were liable to be killed.
"PML-N and PPP had looted the country's wealth during their tenures in power. They looted the national exchequer ruthlessly. All these people are 'wajibul qatl' (liable to be killed)," Sarwar told reporters after inspecting a Labor Complex in Taxila, a town famous for ruins of several settlements, including remains dating from around 1000 BCE.
Condemning Sarwar's statement, science and technology minister Fawad Chaudhry termed it "very inappropriate". "It appears the aviation minister has failed to ascertain the gravity of such statements," Chaudhry posted on Twitter. "Politics is a war of ideas; it's no more the era of killing opponents. Such statements are in bad taste and cannot be approved," he added.
Slamming Sarwar for his "irresponsible" statement, PML-N spokesperson Marriyum Aurangzeb alleged that the people who had actually looted the national wealth were all sitting in prime minister Imran Khan's cabinet.
Similarly, PPP secretary general Nayyar Bukhari pointed out that Sarwar had been a part of the PPP during its previous government and should offer himself up for punishment as a first step. He said the language used by Sarwar did not suit a man with the portfolio of a minister.
https://timesofindia.indiatimes.com/world/pakistan/pakistan-minister-claims-corrupt-opposition-politicians-are-liable-to-be-killed/articleshow/77748672.cms
--------
US to probe Pak's ISIS terrorists in Syria, may complicate Imran Khan woes
Shishir Gupta
Aug 26, 2020
The United States has started an investigation into the role of Pakistanis in the Islamic State movement in Syria, complicating the situation for Prime Minister Imran Khan who is still to emerge from Tuesday's setback to his attempt to get two "critical" FATF-linked legislations enacted, people familiar with the matter said.
The US backed and predominantly Kurd Syrian Democratic Forces have shared a list of 29 Pakistanis among others who are in their custody for fighting for the Islamic State, the ultra-conservative radical Sunni movement that swept Iraq-Syria in the past decade. The shortlist, according to counter-terror officials in Delhi and Washington, include four Pakistanis who had acquired citizenship of another country such as Turkey and Sudan. Nine of the 29 captured ISIS fighters are women.
"The American security forces are currently interrogating these Pakistani nationals including who sent them to fight for IS in Syria and their past affiliations with terrorist groups like the Al Qaida or any other pan-Islamic group based in Pakistan. As the Pakistani deep state is involved with the so-called Islamic State of Khorasan Province in Afghanistan, the interrogation will also reveal its role if any," said a counter-terror official in know of the list.
The reference to the IS presence in Afghanistan is a pointer to the Islamic State-Khorasan Province, or ISKP, which had carried out several attacks on civilian installations including a gurdwara in the heart of Kabul. ISKP chief Aslam Farooqui, also a Pakistani national with clear links to Pakistan's Inter-Services Intelligence, was arrested for this bombing. Farooqui was earlier associated with the terror group Lashkar-e-Taiba before switching over to the ISKP. Farooqui is currently in custody of Afghan government after it rejected the Pakistani request to extradite him.
While Pakistan with the help of China wants to exit out of the FATF Grey List, this new revelation substantiates the Indian claim that Islamabad is the epicentre of terrorism. While two Punjab based terrorist groups—Jaish-e-Mohammed and Lashkar-e-Tayebba—target India, Rawalpindi supports Taliban through Haqqani Network and ISKP to cause mayhem in Afghanistan. The Pakistani involvement in attacks in US, UK and the Middle-East have come out in the open in the past.
While the Islamic State does not hold any territory in Iraq or Syria, the remnant fighters are operating as free-lancers in the Syrian civil war and its ultra conservative Sunni ideology is still radicalizes the Muslim community in the name of puritan Islam.
https://www.hindustantimes.com/india-news/us-to-probe-pak-s-isis-terrorists-in-syria-may-complicate-imran-khan-woes/story-MeMBUffYP8ObWnSxmPNLKO.html
--------
Opposition-ruled Senate rejects two FATF bills
Iftikhar A. Khan
26 Aug 2020
ISLAMABAD: The 104-member Senate, where the opposition enjoys majority, on Tuesday rejected two FATF-related bills after Leader of the House Dr Shahzad Waseem refused to tender an apology for remarks that he made against the opposition leadership last week.
The Anti-Money Laundering (Second Amendment) Bill and the Islamabad Capital Territory (ICT) Waqf Properties Bill, passed by the National Assembly a day before, were rejected through a voice vote after the opposition linked its cooperation to retraction of Mr Waseem's remarks and an apology by him and the government side accused the opposition of trying to blackmail it. The bills will now be taken up for voting at a joint session of parliament.
What made the environment more tense was Dr Waseem's stance that he stood by his words and insistence that he had only narrated facts.
Not surprisingly, the opposition's attitude drew an immediate, strong reaction from Prime Minister Imran Khan who issued a series of tweets to attack the opposition parties.
Imran lashes out at opposition, says no NRO for them; PPP, PML-N defend their stance
"Today in Senate the opposition defeated 2 critical FATF-related bills: Anti Money Laundering & ICT Waqf bills. From day one I have maintained that the self-serving interests of the opposition leaders & the country's interests are divergent. As accountability noose has tightened," he said, adding, "the opposition ldrs have become desperate to save their corrupt money by trying to prevent parliament from functioning; by seeking to undermine govt's effective Covid 19 strategy — a recognised global success story — & now by trying to sabotage Pak efforts to exit FATF grey list."
The PM continued: "Opposition tries to hide behind facade of democracy to protect their loot & plunder. To blackmail for NRO by defanging NAB, they would even have Pak put on FATF black list to destroy nation's economy & increase poverty. They keep threatening to bring down govt unless given NRO.
"Let me make clear: No matter what happens, my govt will not allow any NRO as it would be betrayal of nation's trust in holding plunderers of public wealth accountable. Musharraf gave NROs to the 2 pol ldrs which quadrupled our debt & destroyed economy. There will be no more NROs," he declared.
Speaking in the house on Wednesday, Dr Waseem had not only targeted the religious parties, but also attacked the PPP and the PML-N despite the fact that the two parties had supported the government on the FATF-related legislations.
Mr Waseem had said that Pakistan was already on the FATF grey list when the PTI came to power due to bad policies of previous governments.
Amid noisy protest by opposition members, he had said everyone knew the people who were facing money-laundering charges and appearing in the courts.
Responding to the opposition's insistence for withdrawal of his remarks on Tuesday, Mr Waseem said he had not named anybody. Some opposition members however said he did name Shahbaz Sharif and Asif Ali Zardari.
At last Mr Waseem said he had no intention of hurting sentiments of anybody, but the opposition was not ready to accept anything short of an apology.
The house also witnessed a heated debate on the discretionary power of the chairman to allow the law minister to table a motion seeking suspension of rules to introduce the bills at once.
The chairman finally rejected the opposition's view that it was for the house to decide whether this was to be allowed or not.
The tension between the government and the opposition has been continuing for days over allegations that top opposition leaders were seeking NRO.
Information Minister Shibli Faraz on Sunday had posted on his official Twitter account the drafts of the proposals made by the opposition parties for bringing changes to the country's accountability laws, terming them a "proof" of Prime Minister Imran Khan's claim that the opposition had tried to make a bargain with the government during negotiations on the FATF-related legislation.
In his tweet, the minister had said he was posting the documents as "the PML-N limited" had been asking the government to tell the nation as to who had sought an "NRO".
Foreign Minister Shah Mehmood Qureshi also recently said the opposition wanted to bargain over FATF-related legislation.
Earlier the opposition staged a walkout from the Senate as a mark of protest against suspension of question hour session, saying the government was evading parliamentary accountability.
The opposition protested at the start of the session when Senate Chairman Sadiq Sanjrani asked the leader of house to move the motion under the rules of business that question hour session should be suspended for today (Aug 25).
The Leader of the Opposition Raja Zafarul Haq was the first one who raised the issue and said it had been an old parliamentary tradition that questions were asked . "The leader of the house should inform why the question is being suspended and why the government is running away from parliamentary accountability?" questioned PPP stalwart Mian Raza Rabbani.
As the leader of house moved the motion, the opposition staged a walkout while raising slogans of "no, no". Mr Sanjrani assured the members that there would be a regular question hour session from onwards and it was suspended only for today as the house was not scheduled to meet today but the session had to be held because two FATF-related bills came from the National Assembly at the eleventh hour.
Meanwhile, PPP's Sherry Rehman pointed out the quorum and the chairman ordered the staff to ring bells thrice as the house was not in quorum. Later, the chairman adjourned the house for minutes as only 24 members were present in the house when the last count was made.
The house resumed its business after the break as the opposition had ended its boycott.
Soon after the prime minister's tweets, both the PPP and the PML-N defended their act of opposing the legislations.
Sherry Rehman while replying to the PM, also through tweets, said they had opposed the bills as powers to arrest without warrants were being given to the police and investigators, saying "this is neither required by FATF nor is it defensible in any even the most illiberal democracy."
"These laws are being pushed as draconian laws," she said. Moreover, she added, FATF was being used "to expand the scope of NAB to witch hunt the opposition".
PML-N's vice-chairman Shahid Khaqan Abbasi, in a statement, said that opposition had foiled the attempts by "puppet and selected chairman (Senate)" to get the bills passed through illegal means. He vowed that they would not allow any legislation against the Constitution and fundamental rights of people.
Mr Abbasi declared that the opposition would block the bills in the present form, if the government made attempt to bring them again in the parliament.
https://www.dawn.com/news/1576499/opposition-ruled-senate-rejects-two-fatf-bills
--------
Pakistan hopeful intra-Afghan talks will begin soon
Baqir Sajjad Syed
26 Aug 2020
ISLAMABAD: Foreign Minister Shah Mehmood Qureshi on Tuesday looked hopeful about intra-Afghan talks commencing soon.
"After listening to Taliban delegation, I'm optimistic of progress in the near future despite problems and the presence of spoilers. Hopefully a way out would be found," Mr Qureshi said while talking to journalists after meeting an Afghan Taliban delegation led by Mullah Abdul Ghani Baradar, the director of Taliban's Doha-based political office, at the Foreign Office.
The Taliban delegation, besides Mullah Baradar, included Khairullah Khairkhwa, Nabi Omari, Shahabuddin Dilawar, Abdul Latif Mansoor and Qari Din Mohammad.
Mr Qureshi was assisted in the talks by ISI Director General Lt Gen Faiz Hameed, Foreign Secretary Sohail Mahmood, Prime Minister's Special Representative for Afghanistan Ambassador Mohammad Sadiq and other senior officials.
This is the Taliban's second visit to Islamabad. A delegation led by Mullah Baradar had visited Pakistan in October last year.
FM Qureshi warns Taliban delegation of potential dangers of sabotage of peace process by 'spoilers'
The talks at the Foreign Office were largely focused on recent developments in the Afghan peace process and convening of intra-Afghan talks. Other issues related to Afghan refugees were also discussed during the meeting.
The delay in the release of the remaining 320 Taliban prisoners by the Afghan government is holding back the start of the crucial intra-Afghan dialogue. Kabul was to release 5,000 Taliban fighters in exchange for its 1,000 security personnel held by the insurgents under an agreement signed between the United States and Taliban in February. It is, however, dragging its feet on the release of the remaining 320 prisoners despite an approval by the Loya Jirga and a subsequent presidential decree ordering their liberation. Kabul has been making different excuses for not setting them free.
The FO in a statement said Foreign Minister Qureshi had stressed the need for implementing the US-Taliban agreement in entirety for paving the way for intra-Afghan talks. He was apparently referring to Kabul not fulfilling its part of the deal.
The Taliban delegation shared their view with the foreign minister on the latest developments in the implementation of the agreement reached between the Taliban and the US and the impediments to the start of the intra-Afghan dialogue.
"The Taliban look ready and agreeable to moving in the direction of a settlement of the outstanding issues through dialogue," Mr Qureshi told journalists.
He did not explain the basis of his optimism.
Violence in Afghanistan has continued. Dozens were killed and injured in a vehicle-borne suicide attack at a military base in Balkh province on Tuesday. The attack was claimed by Taliban insurgents. Earlier on Sunday, there was another attack by Taliban in Deh Yak district of Ghazni province in which several security personnel were killed.
The foreign minister noted: "It has been Pakistan's position that a lasting and permanent solution to the Afghan problem is possible only through an Afghan-led dialogue. Pakistan's sincere efforts contributed to the signing of the agreement between Taliban and the US in Doha on Feb 29."
During the meeting, Mr Qureshi urged the Taliban to take full advantage of the rare opportunity provided by the agreement with the US for peace in Afghanistan. He said Pakistan wished early holding of intra-Afghan talks to ensure peace and stability in the region.
Pakistan, he said, would continue its conciliatory efforts to ensure lasting peace and stability in the region, including the Afghan peace process.
The foreign minister also warned the Taliban delegation of the potential dangers of sabotage of the Afghan peace process by the "spoilers".
According to foreign news agency AP, Pakistan has recently issued sweeping financial sanctions against the Afghan Taliban, just as the militant group is in the midst of a US-led peace process in the warn-torn country. The timing of the decision to issue the sanctions could be seen as a move to pressure the Taliban into a quick start to intra-Afghan negotiations.
Taliban's political spokesman Suhail Shaheen had said on Saturday that the financial sanctions had been in place for some time. But he said any tightening of a ban on travel could hurt peace negotiations.
"There is a need for a relaxation of such curbs and embargoes because we are entering into another phase of [finding a] peaceful solution of the Afghan issue," Shaheen had said in an interview.
https://www.dawn.com/news/1576503/pakistan-hopeful-intra-afghan-talks-will-begin-soon
--------
Pakistan, China agree to boost industrial cooperation under CPEC
Amin Ahmed
26 Aug 2020
ISLAMABAD: Pakistan and China on Tuesday agreed to elevate the memorandum of understanding on industrial cooperation to the framework agreement under the China-Pakistan Economic Corridor to realise the vision for development of special economic zones (SEZs).
Speaking at a consultative forum on draft framework agreement on industrial cooperation on Tuesday, Board of Investment Chairman Atif R. Bokhari said that the first phase of CPEC required leading role of the government, while the second phase requires a 180-degree shift in management and roles.
"It calls for enhanced role of industrialists, private sector, and business community, while the government's role would only be that of a facilitator by devising effective policies, laws and efficient infrastructure, to facilitate business-to-business and people-to-people linkages", Bokhari said.
He explained that the draft framework agreement on industrial cooperation is being aligned with the long-term CPEC framework. "A world of opportunities will open up by setting the fundamentals of industrial cooperation under the CPEC and it is high time for all of us to tap the right opportunities at the right time," he affirmed.
Bokhari said significant progress has been achieved on development and colonization of the SEZs in the last few months wherein four CPEC SEZs at Rashakai in Khyber- Pakhtunkhwa, Dhabeji in Sindh, M-3 Allama Iqbal in Punjab, and Bostan in Balochistan are now in advance stage of development.
The geographic proximity between China and Pakistan will allow these zones to foster economic interdependence for mutual economic advantage, he added.
The framework is being developed with a special focus to enhance industrial competitiveness of Pakistan, ensure technology transfer, relocate Chinese businesses and skill development and labour productivity.
The modus operandi of the cooperation would likely enhance business-to-business and project-to-project ties ensuring projectised mode of medium- and long-term projects in industrial cooperation, balance and modernise existing industry, make joint efforts to expedite SEZ development and promotion, seek technical and financial assistance from China, enhance production capacity, facilitate businesses by financial institutions from both sides and ensure joint marketing and media efforts to promote industrial cooperation and SEZs.
BOI Secretary Fareena Mazhar, while highlighting board's role as lead agency for industrial cooperation under CPEC, shared the corridor's journey and its future action plan, conceived for its second phase that includes development of SEZs, agricultural cooperation, relocation of Chinese industries into Pakistan, public private partnerships for business prospects and creation of vocational training and employment opportunities.
She said that Pakistan and China have agreed to elevate the MoU on industrial cooperation into a framework agreement focusing on SEZs development of SEZs and B2B joint ventures as core elements of industrial cooperation under CPEC. Serious efforts for provision of gas and electricity are underway to ensure these basic utilities are provided at zones, she said.
https://www.dawn.com/news/1576528/pakistan-china-agree-to-boost-industrial-cooperation-under-cpec
--------
PPP wants CJP to take notice of minister's 'provocative' statement
Amir Wasim
26 Aug 2020
ISLAMABAD: The PPP has blasted government ministers for allegedly making "irresponsible statements" and using harsh language against opposition parties, and has asked the chief justice of Pakistan to take notice of a statement made by Minister for Aviation Ghulam Sarwar Khan which, according to the party, amounts to inciting the public to kill political opponents.
At a news conference on Tuesday, PPP Information Secretary Dr Nafisa Shah, accompanied by her deputy Palwasha Khan and the party's media coordinator Nazir Dhoki, said that Prime Minister Imran Khan had contaminated the political environment of the country by using "container language".
She said it seemed that there was no law in the country as one federal minister was "openly inciting people of killing political opponents".
The PPP leaders held the press conference a day after Aviation Minister Ghulam Sarwar Khan during a media talk in his hometown Taxila, during which he alleged that the PPP and the PML-N had stolen the wealth of the country, stating that "all those who have plundered the national wealth are liable to be killed."
Mr Khan, who had previously served as the minister in one of the PPP governments, said the politics of the PPP and the PML-N leaderships were based on corruption and money laundering and they had looted the national exchequer ruthlessly during their terms in government.
Referring to the controversy over the issue of Pakistani pilots' licences, Dr Shah said the aviation minister through his "irresponsible statement" had already destroyed the Pakistan International Airlines (PIA).
Dr Shah also referred to the recent remarks by Foreign Minister Shah Mehmood Qureshi in which he had criticised Saudi Arabia and the Organisation of Islamic Conference (OIC) for not fully supporting the country on the Kashmir issue. She said that just one statement by the foreign minister had upset friends of Pakistan.
In response to a recent controversy over the health condition of former prime minister Nawaz Sharif, Dr Shah said it was Prime Minister Imran Khan who had himself sent him abroad and was now making hue and cry.
After sending Nawaz Sharif abroad, she said, the prime minister was now saying that he would not give an NRO (a term used in place of deal) to him.
"One Niazi surrendered in 1971 [in East Pakistan] and the other has surrendered Kashmir," she said.
Dr Shah also called for constituting a commission to probe the use of $11 billion that the present government obtained through foreign loans. She criticised the government's economic policies, saying the prices of sugar were highest in the last 12 years. She said the growth rate was negative for the first time in the history of Pakistan.
The PPP leaders said that this year, unprecedented rainfall had disturbed Karachi, Lahore, Rawalpindi and other cities. They said the National Disaster Management Authority should treat every area equally.
In response to the aviation minister's remarks, PML-N spokesperson Marriyum Aurangzeb had also lambasted the government and said the PTI leadership was still using the "language of containers" — a reference to the speeches made by Imran Khan during the 126-day sit-in in Islamabad in 2014.
She alleged that those who had plundered the national wealth were actually sitting with Mr Khan in his cabinet. She said that for the last two years, people had been plundered through unemployment, inflation and ever increasing prices of sugar and wheat flour.
"If [the PML-N] had looted the wealth then why was sugar available for Rs52 per kilogram while its price is now Rs110 per kilogram, and wheat flour, which was available at Rs50 per kilogram, is now being sold at Rs100 per kilogram," she asked.
PPP Secretary General Nayyar Bukhari, responding to the aviation minister's statement, said that Ghulam Sarwar Khan had also remained part of the PPP for years and, therefore, he should face the same fate. He said the language used by Mr Khan did not suit a man with the portfolio of a minister.
He said if someone had committed a crime or corruption, state institutions like the National Accountability Bureau and the courts were there and he should be brought to justice, instead of indulging in a blame game.
https://www.dawn.com/news/1576414/ppp-wants-cjp-to-take-notice-of-ministers-provocative-statement
--------
South Asia
Afghanistan asks Pakistan to carry out UN sanctions on Taliban
Rezaul H Laskar
Aug 26, 2020
Afghanistan asked Pakistan on Tuesday to fully implement UN Security Council sanctions on terrorist groups and individuals even as foreign minister Shah Mahmood Qureshi held talks with a Taliban delegation that included several sanctioned leaders.
On August 18, Pakistan's Foreign Office issued a statutory regulatory order to enforce UN sanctions, which include a freeze on assets, a travel ban and denying access to weapons, against scores of operatives of the Taliban and Haqqani Network.
Less than a week later, a Taliban delegation led by Mullah Abdul Ghani Baradar, the deputy political chief of the group, arrived in Islamabad on Monday at the Pakistan government's invitation for talks on the Afghan peace process.
A statement issued by Afghanistan's foreign ministry, the notification issued by Pakistan on implementing the UN Security Council sanctions had been "carefully considered and thoroughly reviewed". All nations are bound to comply with UN Security Council Resolutions 2255, 1988, 1267 and 2253, and Afghanistan "urges the government of...Pakistan to abide by its obligations and its international responsibilities to implement the above-mentioned resolutions and to be committed to their full implementation", said the statement in Dari.
The statement noted the Pakistan government has pledged to implement the UN Security Council sanctions, including travel restrictions, arms embargo and freezing of funding for individuals and groups affiliated with the Taliban. "The Islamic Republic of Afghanistan will continuously monitor and follow the process of implementation of this document and the implementation of its resolutions," it added.
Implementation of all UN Security Council sanction, "especially those that cut off funding and equip terrorist activities and prevent war and bloodshed, is mandatory for all governments", the statement said.
The Afghan government also called on the Taliban to "start peace talks as soon as possible and not to expose themselves to international sanctions by stopping the bloodshed and [making a] full commitment to a lasting and dignified peace".
Pakistan foreign minister Qureshi personally received the Taliban delegation when it arrived at the foreign ministry on Tuesday evening. The talks between the two sides lasted almost two hours.
At least six members of the Taliban delegation, including Mullah Baradar, have been sanctioned by the UN Security Council. While Baradar and three others were allowed to travel under a special exemption to participate in "peace and reconciliation discussions", two members aren't allowed to travel abroad, people familiar with developments said.
Pakistan's recent move to enforce the UN sanctions, which also apply to Lashkar-e-Taiba (LeT) founder Hafiz Saeed, Jaish-e-Mohammed chief Masood Azhar, Dawood Ibrahim and hundreds of terrorists, was widely perceived as having been taken with an eye on an upcoming assessment of the country's counter-terror financing regime by the Financial Action Task Force (FATF).
https://www.hindustantimes.com/india-news/afghanistan-asks-pak-to-carry-out-un-sanctions-on-taliban/story-xBUATyydr4fW6NNWUXL8DN.html
--------
Taliban chief negotiator says 20-member council finalized for intra-Afghan talks
TAHIR KHAN
August 26, 2020
ISLAMABAD: The Taliban's top commander has finalized a 20-member negotiating team for upcoming intra-Afghan talks, the group's chief negotiator Sher Abbas Stanekzai told Arab News on Tuesday.
Stanekzai said that the team, appointed by Sheikh Hibatullah Akhunzada, would have sweeping powers, including the authority to devise a strategy and sign agreements with President Ashraf Ghani's government in Kabul.
"All decision-making powers are with the negotiation team, which has a 65 percent representation from the Rehbari Shura (leadership council)," he said. "They will take the process forward ... and are now involved in internal consultations to chalk out a strategy." The group of 20 includes several of Akhunzada's close aides such as Sheikh Abdul Hakeem, Maulvi Abdul Kabeer, Maulvi Noor Mohammad Saqib, Mullah Shireen Noorzai, Sheikh Qasim Turkmen, and Abdul Manan Omari, who is the brother of the Taliban's founder, Mullah Omar.
The crucial intra-Afghan talks – the first high-level meeting between Kabul and the Taliban after years of fighting – are part of a historic peace deal signed between the Taliban and Washington in Doha earlier this year.
No date has been announced for the meeting yet, but it was set to begin following the release of all 5,000 Taliban prisoners by the Afghan government.
While Ghani announced on Aug. 9 that he would free the remaining 400 Taliban inmates "soon," Stanekzai said the program had hit a snag after the Afghan government "stopped the release of about 320 prisoners," despite the Taliban keeping their end of the deal by releasing all 1,000 government troops.
The delay in fulfilling the final condition for the start of the talks is due to France and Australia opposing the move, after it emerged that several of the unreleased Taliban inmates were involved in attacks on their citizens in Afghanistan. "France asks the Afghan government not to proceed with the release of several terrorists convicted of killing French citizens in Afghanistan, in particular soldiers and humanitarian workers," the French Embassy in Kabul tweeted on Aug. 16.
Stanekzai questioned the timing of the objections, accusing France and Australia of trying to sabotage the peace process.
"Kabul had agreed to release prisoners but later deviated from its commitment. We will not start intra-Afghan dialogue even if our one prisoner stays in jail. Every prisoner is a hero as they fought invaders whether they were from Australia or France."
In a tit-for-tat move, the Afghan government is now demanding that the Taliban release nearly 20 commandos held by the group.
The intra-Afghan talks, which have now reached a stalemate, were expected to set the road map for post-war Afghanistan, with several countries including Pakistan making efforts to take the peace process forward.
A high-level Taliban delegation arrived in Islamabad on Monday to explore options, just days after Pakistan imposed UN sanctions on the insurgents.
The six-member Taliban delegation, led by the head of its political office in Qatar, Mullah Abdul Ghani Baradar, will discuss recent developments in Afghanistan's peace process with Pakistani leaders.
Talks with Pakistan's Foreign Minister Shah Mehmood Qureshi are expected on Tuesday.
https://www.arabnews.com/node/1724591/world
--------
Rohingya mark genocide anniversary with silent prayers
August 26, 2020
Rohingya refugees in Bangladesh's crammed camps Tuesday commemorated the third anniversary of genocide with silent prayers within tents due to the coronavirus pandemic and the host country's embargo on gathering at camps.
More than 1.2 million Rohingya have been living in makeshift settlements in Bangladesh's southeastern district of Cox's Bazar for years.
Since 2018, the world's most persecuted people has been observing Aug. 25 as "Rohingya Genocide Remembrance Day" as on the same day in 2017, Myanmar army began a brutal crackdown against Rohingya civilians, forcing more than 750,000 people to flee to neighboring Bangladesh within a few days.
After surge in coronavirus cases, the authorities imposed more restraints in the overcrowded camps to contain the spread of the pandemic.
"Honoring the decision of the host country and considering the pandemic, we are observing the genocide day this year through silent prayers to Almighty Allah for our martyrs and oppressed people," said Rohingya community leader Rahmat Karim.
Meanwhile, 10 Rohingya rights organizations, including Arakan Rohingya Society for Peace & Human Rights and Rohingya Women for Justice and Peace, in a joint statement urged the UN to recognize Myanmar's atrocities against Rohingya as "Genocide".
"We still have not got our rights and still all Rohingya people and other ethnic groups in Myanmar are continuously facing this threat. It's because still the UN officially has not declared it as GENOCIDE," said the statement.
Referring to the long cycles of persecutions faced by Rohingya, it added: "We, Rohingya people, have been under the threat of hidden genocide through a systematic plan and the structural intention of the Burmese government and Burmese extremist politicians since 1960 after General U Ne Win seized the power to rule the country."
The statement accused the Burmese [Myanmar] government's "joint armed brutal groups" of mass killing, burning down the houses including villages and seminaries, throwing the children into fire, burning people alive in houses by locking doors, slaughtering both men and women, robbing the properties, raping the underage girls and women and arresting people without any reason.
The Rohingya diaspora also urged the world's actors including the UN, EU and other influential organizations to ensure justice for Rohingya.
"Please stand by innocent Rohingya, and then hopefully we can return to our homes with our denied equal rights," the statement said.
On Aug. 25, 2019, thousands of Rohingya held a peaceful rally at the biggest Kutupalang camps in Cox's Bazar to mark the "Genocide Day" and pray for their martyrs.
After the gathering, the Bangladesh government imposed an embargo on any gathering at any of the 34 refugee camps in Cox's Bazar to avert any untoward incident.
Persecuted people
The Rohingya, described by the UN as the world's most persecuted people, have faced heightened fears of attack since dozens were killed in communal violence in 2012.
According to Amnesty International, more than 750,000 Rohingya refugees, mostly women and children, fled Myanmar and crossed into Bangladesh after Myanmar forces launched a crackdown on the minority Muslim community in August 2017, pushing the number of persecuted people in Bangladesh above 1.2 million.
Since Aug. 25, 2017, nearly 24,000 Rohingya Muslims have been killed by Myanmar's state forces, according to a report by the Ontario International Development Agency (OIDA).
More than 34,000 Rohingya were also thrown into fires while over 114,000 others were beaten, said the OIDA report, entitled Forced Migration of Rohingya: The Untold Experience.
As many as 18,000 Rohingya women and girls were raped by Myanmar's army and police and over 115,000 Rohingya homes burned down, while 113,000 others vandalized, it added.
https://nation.com.pk/26-Aug-2020/rohingya-mark-genocide-anniversary-with-silent-prayers
--------
6 Rohingyas detained over clash, shooting at a Cox's Bazar camp
Syed Samiul Basher Anik
August 25th, 2020
Two groups vying for supremacy was the reason behind the clash
Police on Tuesday detained at least six Rohingya nationals from a camp in Cox's Bazar for their alleged involvement in an internal clash between two Rohingya groups.
They were arrested from Unchiprang area under camp 22, confirmed Mohammad Hemayetul Islam, commanding officer of 16th APBn.
"A team was sent to the camp 22 following news of gunshots between two Rohingya groups just after the Fajr prayer on Tuesday. We detained nine people from the jungles and will take legal action against them," said Islam.
The gunshots were exchanged on the eve of August 25 that marks the three year anniversary when hundreds of thousands of Rohingya started fleeing from their homeland in Myanmar following a military crackdown, aided by local Buddhist mobs and miscreants from other ethnic groups in northwest Rakhine in 2017.
Sources at the camp confirmed to Dhaka Tribune that the nine people were initially detained for their connection with arson but the three were later released.
Two locally made arms, two sharp weapons, and seven cartridges were seized when they were arrested.
Rashedul Hasan, camp in charge of camp 22, said the Rohingyas were detained for an internal clash.
But sources said the situation was tense in the camp for a few days over two groups trying to establish their supremacy.
The groups are the separatist group Harakah al-Yaqin, and another group who left the Yakin group and is trying o form a separate group.
APBn CO Islam also said two groups trying to establish supremacy was the reason behind the clash but failed to confirm whether it was Harakah al-Yakin or not.
He said proceedings are underway to file a case with Teknaf police station.
Yaqin is the former name of a group of Rohingya militants who renamed themselves Arakan Rohingya Salvation Army in 2016 and its mission is to establish self-governance for the Rohingya.
The detention came at a time when Indian media reports stated that the Arakan Rohingya Salvation Army (ARSA) is active in the Rohingya camps, and training is being conducted with the backing of Pakistan's intelligence agency ISI.
However, Bangladesh officials categorically said there was no existence of ARSA in the camps, so questions could not arise about their activities, including training militants.
On August 15, several Indian media outlets published reports that the Inter-Services Intelligence (ISI), the intelligence agency of Pakistan, was backing ARSA in Myanmar and was aiding a Bangladeshi terrorist outfit to train militants. The reports also said that Bangladeshi and Indian security forces were jointly fighting back against ARSA.
These reports were based on a report run by German news agency Deutsche Welle (DW) on February 13. The DW report itself was based on an Indian newspaper.
However, the Refugee Relief and Repatriation Commissioner (RRRC), the government body responsible for dealing with the Rohingya crisis, including managing the camps, and the police chief in Cox's Bazar, dismissed the claim.
Additional RRRC Kazi Mohammad Mozammel Hoque and superintendent of police in Cox's Bazar, Masud Hossain, dismissed the notion of any presence of ARSA in the camp, when talking to Dhaka Tribune.
https://www.dhakatribune.com/bangladesh/rohingya-crisis/2020/08/25/6-rohingyas-detained-for-alleged-ties-to-gunshots-in-rohingya-camps
--------
Afghan Film Festival Attracts Local, Int'l Nominees
26 Aug 2020
The Afghan government backs its cinema to host a national film festival in the country, in a bid to encourage the struggling cinematographers, actors, producers, and film industry artists.
The national film festival will be the country's first project after decades and is expected to be held upcoming November.
The Festival is planned to take place Saturday 21st of November at the different saloons across Afghan capital, with a total budget of estimated 350,000 Afghanis.
"Afghan film definitely senses urgency for the support from both government and private sectors," Mariam Jahanbeen festival's project manager said to Khaama press. "Private sectors have held ceremonies before but this time the persuasion comes from the government side."
Filmmakers from both inside and outside of the country are welcome to participate in this iconic event.
Main objective of the 10-day festival is to encourage the culture of film making and promoting filmmakers to compete for the bests in the future.
The films ready for nomination are categorized into five aspects as indicated by the Afghan film officials, giving filmmakers two months to submit their unlimited entries to Lajaward film festival.
"A total number of 30 movies will be selected in the nominations," Maryam further said.
The selection list will include dramatic films, short films, documentary films, short documentary movies, and animation movies. The festival will help the filmmakers produce good movies as they will be assessed every year and the country's cinema will be reviewed through it.
"By now the Afghan film department has received 40 films which are currently under review for selections". Maryam added.
Movies between 2003 and 2020 are to be selected as nominees and the festival will continue for 10 days followed by the final awards to be given on the last day.
The Afghan government backs its cinema to host a national film festival in the country, in a bid to encourage the struggling cinematographers, actors, producers and film industry artists.
The national film festival will be the country's first project afterdecades, and is expected to be held upcoming November.
The Festival is planned to take place Saturday 21st of Novemberat the different saloons across Afghan capital, with a total budget of estimated 350,000 Afghanis.
"Afghan film definitely senses urgency for the support from both government and private sectors," Mariam Jahanbeen festival's project manager said toKhaama press. "Private sectors have heldceremonies before but this time the persuasion comes from the government side."
Filmmakers from both inside and outside of the country are welcome toparticipate in this iconic event.
Main objective of the 10-day festival is to encourage the culture of filmmaking and promoting filmmakers to compete for the bests in the future.
The films ready for nomination are categorized into five aspects asindicated by the Afghan film officials, giving filmmakers two months to submit their unlimited entries to Lajaward film festival.
"A total number of 30 movies will be selected in the nominations,"Maryam further said.
The selection list will include dramatic films, short films, documentaryfilms, short documentary movies, and animation movies. The festival will help the filmmakers produce good movies as they will be assessed every year and the country's cinema will be reviewed through it.
"By now the Afghan film department has received 40 films which arecurrently under review for selections". Maryam added.
Movies between 2003 and 2020 are to be selected as nominees and the festival will continue for 10 days followed by the final awards to be given on the last day.
https://www.khaama.com/biggest-film-festival-yet-to-come-727378/
--------
Balkh Blast Claims 2 Lives, Injures 35 Civilians
25 Aug 2020
BALKH, Afghanistan – At least two civilians are killed and further 35 injured, as a vehicle fully loaded with Improvised Explosive Devices went off early Tuesday morning near veterinary clinic in Balkh district of Balkh province, said Shaheen Military Corps head Mohammad Hanif Rezaie.
The authorities identified the vehicle, saying the attacked was carried on by a Mazda at around 8:45am local time, disrupting a relative calm morning.
Tens of residential houses are destroyed.
A number of victims are in severe condition, which may increase the death toll to an unpredicted figure, the statement read.
Meanwhile, at least one Afghan commando killed and further six suffered minor injuries.
The officials of the defense ministry convey their condolences to victims' families, and wishes a swift recovery for those struggling for their lives in local hospitals.
No group or individual has immediately claimed responsibility for the attack.
https://www.khaama.com/balkh-blast-claims-2-injures-35-civilians-124344/
--------
Taliban stage deadly bomb attack on Afghan commandos, civilians
25 August 2020
At least three people have been killed and dozens of others injured in a truck bomb attack near a military base in Afghanistan's northern province of Balkh.
The Afghan Defense Ministry said in a statement that 41 people, including civilians, had been injured in the truck bomb explosion, which occurred early on Tuesday morning.
The Taliban claimed responsibility for the blast, saying on Twitter they had attacked commando units.
According to the ministry, the attack killed two members of the commando force and wounded six others, while the rest of the casualties were civilians.
The blast came even as Taliban representatives visited Pakistan to discuss a promise to open talks with the Afghan government.
According to Afghan official data, the Taliban have increased their bombings and other assaults by 70 percent since they signed a "peace" deal with the United States in February.
Under that agreement, the US will withdraw its forces from Afghanistan, and the Taliban will refrain from attacking international occupying forces.
The militants have not been required to make a pledge to avoid attacking Afghan forces and civilians.
https://www.presstv.com/Detail/2020/08/25/632564/Afghanistan-Taliban-attack-commando-units
--------
Mideast
42 Prominent US, European Figures Sign Petition Condemning UAE's Normalization Deal with Israel
Aug 25, 2020
The petition released on the Facebook page of Dr. Philip Giraldi, a former CIA officer, argues that the peace deal between the UAE and Israel is "another black mark on the faces of some Arab rulers".
"The sinister alliance of the UAE with Zionist Israel, occupier of Palestine, is yet another black mark on the faces of some Arab rulers. This agreement did not just come from talks between Israel and the UAE. Rather, it came also out of the US' efforts to continue its hegemony in the region. The more than 70 years' colonization of a land, concomitant with murdering, torturing and imprisoning its inhabitants is indeed an undeniable crime and shouldn't be tolerated by the international community. However, this new chapter in the history, this new pact between the Apartheid Entity of Israel and the UAE goes beyond the shameful past. It is, in fact, much more dangerous for the future. It distorts and misinforms the real chronicle of the region," the petition said.
"The UAE rulers and those behind the scenes have targeted the Muslims solidarity and resistance while they try to normalize having ties with an apartheid and illegal regime, legitimizing its presence among the area's nations. Did the 1978 acceptance of the Zionist regime by Egypt - self-proclaimed Arab world leader - help solve Israel's security problems? Did the Oslo Accords with the PLO in 1993 stop Israel's crimes? Could the peace treaty with Jordan in 1994 legitimate Israel's existence for all the Arabs and Muslims there? And will the recent arrangement with the UAE limit unlawful Zionist settlements? Will Trump politicize that deal and take some benefit from it in the upcoming US presidential elections?" it asked.
The petition noted that this recent incident is not a strategic development in West Asia, but a geo-strategic mistake by Abu Dhabi and its nature is now clear not only to all governments across the globe but particularly to those nations in the region, adding, "This is certainly an occasion to show dignity, independence, and honor for Muslim countries as well as all free peoples and independent thinkers globally. How can they do this? They can declare their opposition to this disgraceful coalition."
"Hence, we urge you to join your voice to ours in condemning this agreement," the signatories demanded.
The petition has been signed by the following 42 figures so far:
Pr. Francis Boyle (USA); human rights lawyer, professor of international law at the University of Illinois College of Law
Pr. Farid Esack (South Africa); Professor in the Study of Islam at University of Johannesburg, appointed by as a gender equity commissioner by Nelson Mandela
Pr. Mazin Qumsiyeh (Palestine); Professor at Bethlehem University, director of the Palestine Museum of Natural History
Pr. Claudio Mutti (Italy); former professor of University of Bologna, Director of "Eurasia" quarterly journal of geopolitics
Pr. Rodney Shakespeare (UK); Political commentator & visiting professor of binary economics at Trisakti University
Pr. Lawrence Davidson (US) retired professor of history from West Chester University in Pennsylvania
Pr. Pierre Dortiguier (France); Philosopher and former University Professor
Dr. Michael Springmann (USA); Attorney, author, political commentator, and former diplomat
Dr. Philip Giraldi (USA); former CIA military intelligence officer, Director of the Council for the National Interest
Dr. Kevin Barrett (USA); One of the best-known critics of the War on Terror, former professor of Wisconsin University
Dr. Maria Poumier (France); former professor of Sorbonne University, Journalist & Documentary filmmaker
Dr. Bruno Drweski (France); Professor at National Institute for Oriental Languages and Civilizations
Dr. Christian Bouchet (France); former politician, journalist, PhD in antropology
Michael Maloof (USA); Former Senior Security Policy Analyst at the office of secretary of Defense
Lord Nazir Ahmed (UK); member of the House of Lords
Samu Tamás Gergő (Hungary); former MP
Sara Flounders (USA); Co-Director for the International Action Center, antiwar activist
Abby Martin (USA); Journalist, TV presenter, host of "Breaking the Set" on RT & "The Empire Files" on Telesur
Iurie Roșca (Moldova); former Deputy Prime Minister & president of the Christian-Democratic People's Party
David Rovics (USA); Singer & Songwriter, antiwar musician
Edward Corrigan (Canada); The only lawyer certified by the Law Society of Upper Canada as a specialist in Citizenship & Immigration Law
David Lawley Wakelin (UK); documentary filmmaker
Greta Berlin (USA); Co-Founder: Free Gaza movement, Author: Freedom Sailors
Isabelle Coutant Peyre (France); International Lawyer
Muhammad al-Asi (USA); former led prayer at the Islamic Center of Washington, religious leader, commentator of Quran
Richard Labévière (France); Writer and investigative Journalist, operational reserve officer of the French Navy
Ken O'keefe (Ireland); former US marine, antiwar activist and documentary maker
Father Dave Smith (Australia); Anglican priest & social activist
Eric Walberg (Canada); Writer and geopolitical expert
Jacob Cohen (France); Writer and Researcher on Freemasonry and Israel's secret agencies
Gilles Munier (France); Investigative journalist and writer
Elizabeth Murray (USA); former Deputy National Intelligence Officer for the Middle East & former CIA analyst
Imad Hamrouni (France); Geopolitical commentator for France24, Al-Mayadeen, professor at Paris Geopolitics Academy
Dogan Bermek (Turkey); President of Alevi Philosophy Center, Religious Leader
Konrad Rekas (Scotland); Chairman of the Polish Yes for Scotland Association, Journalist
Tesha Teshanovic (Poland); Editor-in-chief of Balkan Info, Journalist
Andrew Korybko (USA); Political Analyst, GlobalResearch contributor
Jeff J. Brown (France); the China Trilogy, China Rising Radio Sinoland, China Tech News Flash! Bioweapon Truth Commission
James Perloff (USA); author and journalist
Tony Gosling (UK); Investigative Journalist
Bartosz Bekier (Poland); Editor in Chief of Xportal.pl
Sander Hicks (USA); Political Activist
https://en.farsnews.ir/newstext.aspx?nn=13990604000199
--------
Al-Qaeda blows up clinic after executing dentist in Yemen's al-Baida
25 August 2020
Al-Qaeda blew up a medical center in war-torn Yemen on Tuesday, 10 days after executing a dentist it accused of guiding US drone strikes against its militants.
The clinic in the Somaa district of Al-Baida province was where the dentist worked before his execution, a local official told AFP.
For all the latest headlines follow our Google News channel online or via the app.
The extremists shot Motthar al-Youssoufi, then crucified his body and left it outside the health center on August 15.
On Tuesday, they blew up the clinic.
Al-Qaeda in the Arabian Peninsula (AQAP), which is active in Yemen, is considered by the United States as the radical group's most dangerous branch.
Washington has carried out a drone campaign against its leaders for the past two decades. But the extremist group has thrived in the war-ravaged country.
https://english.alarabiya.net/en/News/gulf/2020/08/25/Al-Qaeda-blows-up-clinic-after-executing-dentist-in-Yemen-s-al-Baida-.html
--------
Iran's N. Chief Terms Talks with IAEA Head "Constructive"
Aug 25, 2020
Salehi made the remarks in a joint press conference with Grossi after holding negotiations with him in Tehran on Tuesday.
"Iran has well shown that it does not accept demands beyond its undertakings. We act based on our undertakings and the Agency acts within the framework of the agreements with Iran," Salehi said.
He appreciated Grossi and the IAEA for cooperation with a spirit of understanding, and said, "Good agreements were made between the two sides and a statement is due to be issued and both sides are working on it."
Salehi underlined the need for the IAEA to act based on principles of independence and professionalism.
Grossi, for his part, said that the IAEA acts based on documents and not the desires of the director-general, and added, "We guarantee that the Agency is not influenced but it is under pressure. We do not allow these pressures to affect our activities as much as we can."
Grossi had last week declared his visit to Iran.
"I will travel to Tehran on Monday for meetings with Iranian authorities to address outstanding questions related to safeguards in Iran. I hope to establish a fruitful and cooperative channel of direct dialogue. It is necessary," he wrote.
In relevant remarks on Monday, Iranian Foreign Minister Mohammad Javad Zarif ruled out any relation between the visit to Tehran by Grossi and the so-called trigger mechanism that has been requested by the US to re-impose UN Security Council on Iran.
"The visit of Grossi has nothing to do with the United States' recent attempt to apply the so-called snapback mechanism to return UN sanctions against Tehran," Zarif said, adding, "We will not allow the US and the Israeli regime, which possess nuclear weapons in the region and have already used such weapons, to ridicule the IAEA's goals."
Referring to the recent failure of the US at the UN Security Council to re-impose illegal sanctions on Iran, he said that 13 out of 15 UNSC member states are against such a move.
The top diplomat also touched upon the US' unilateral and illegal pullout from the nuclear deal in 2018 and its lack of eligibility to use the deal, saying, "They [UNSC member states] are not only against this move, but they also believe the US has no right to enter this issue."
Once again, Zarif rejected any allegations of non-cooperation with the IAEA, insisting, "The Islamic Republic's cooperation with the agency is based on transparency. We have never been after weapons of mass destruction."
https://en.farsnews.ir/newstext.aspx?nn=13990604000684
--------
Official: No Military Solution to Problems in Afghanistan
Aug 25, 2020
"We support the peace process by Afghans with the participation of all Afghan groups, including the Taliban, and without any foreign influence and interference," Mousavi said, addressing a meeting of the Heart of Asia - Istanbul Process via a video conference on Tuesday.
He underlined that the problems in Afghanistan have no military solution, adding, "We consider the responsible withdrawal of foreign forces from Afghanistan as a necessary step towards peace."
Mousavi said that Iran invites the Taliban to join the Afghan-Afghan talks, view peace talks as the only way to reach an acceptable political solution and avoid violence during the negotiations.
"We are ready to help strengthening the peace negotiations by the help of our capacity and capability upon the demand of participants," he said.
In relevant remarks on Sunday, Iran's Special Envoy on Afghanistan Mohammad Ebrahim Taherian Fard voiced concern about increased insecurities in Afghanistan, after the Saturday blasts in Kabul, stressing Tehran's readiness to help the country in holding intra-Afghan talks.
"Establishment of peace and stability not only is the general demand of people, government and different Afghan streams but also is considered as a need on the path of development of regional cooperation and collective security," Taherian said.
He referred to the recent approvals of the Loya Jirga (the grand tribal council) in Afghanistan to establish peace, and underlined the necessity for paving the ground for holding Afghan-Afghan talks with the aim of reaching an agreement.
Taherian reiterated the Islamic Republic of Iran's preparedness for cooperation in holding the intra-Afghan talks.
Kabul witnessed four explosions on Saturday that killed at least one security force member and wounded six others--including a civilian--and an assault by gunmen on a vehicle killing an MoD official and his driver, amid hopes for potential peace talks between the Afghan government and the Taliban.
Also, in mid-July, Iranian Deputy Foreign Minister for Political Affairs Abbas Araqchi had also underscored Tehran's commitment to help the Afghan government to establish peace in the war-hit country.
Araqchi made the remarks in a meeting with Afghanistan's Acting Minister of Foreign Affairs Mohammad Hanif Atmar in Kabul on July 15.
He reiterated Iran's support for the peace process in Afghanistan, led by its government, and expressed hope that the intra-Afghan talks would soon kick off with the participation of all political factions.
Araqchi also stressed that the Islamic Republic of Iran stands ready to assist the Afghan government with advancing the peace process given the mutual concerns and interests of the two neighboring countries.
He further said Iran attaches importance to preserving the achievements made by the Afghan people regarding the constitution and democratic structures of their country after four decades of war.
During the meeting, the two sides discussed bilateral ties, peace process in Afghanistan, regional and international issues, problems caused by the coronavirus pandemic, and economic cooperation.
They also agreed on a roadmap and the time schedule to finalize a comprehensive strategic cooperation deal.
https://en.farsnews.ir/newstext.aspx?nn=13990604001065
--------
Turkey, Greece ready for dialogue on East Med energy resources dispute, says Germany
25 August 2020
Germany's top diplomat said after whirlwind meetings in Turkey and Greece on Tuesday the two were ready for dialogue to defuse an worsening dispute over energy resources in the Mediterranean, even as the NATO allies traded new barbs.
Turkey and Greece vehemently disagree over natural gas reserves off Cyprus and the extent of their continental shelves. They have drawn the European Union and nearby countries into the dispute, which earlier this month flared into a light collision between Turkish and Greek frigates.
On Tuesday, the foreign ministers of Greece and Turkey both said they wanted to solve the issue through dialogue following talks with German Foreign Minister Heiko Maas, but each warned that they would continue to defend their rights in the region.
Tensions between Turkey and Greece escalated after Ankara sent its Oruc Reis survey vessel to disputed eastern Mediterranean waters this month, a move Athens called illegal.
After talks in Athens and Ankara, Maas urged Greece and Turkey to turn to dialogue, though added that Germany and the EU stood with fellow member state Greece.
"In both meetings in Athens as well as in Ankara I kept hearing that the only way to reach an understanding was to start a dialogue in which both differing standpoints were put on the table," Maas told a news conference in Ankara.
"No one wants to settle this conflict militarily, which would be absolute madness," he said, speaking alongside Turkish Foreign Minister Mevlut Cavusoglu.
Turkey and Greece meanwhile held rival military drills in the same theatre of the Mediterranean. Maas likened the dispute to "playing with fire" and warned that "every little spark can lead to catastrophe."
Greece on Monday issued an advisory, known as a Navtex, that it will hold naval exercises in an area off the Greek island of Crete, after Turkey said on Sunday the Oruc Reis would operate in the same area until August 27.
Greece's advisory then prompted a rival Navtex from Turkey that it would also hold drills there on Tuesday.
Turkish President Tayyip Erdogan accused Greece on Monday of "sowing chaos" in the Mediterranean and warned Athens would find itself having to face the Turkish navy on its own.
War of words
Despite voicing readiness for dialogue, Cavusoglu said this could only happen if Greece abandoned its "maximalist demands," adding it was not realistic to expect Turkey to drop its rights with threats of sanctions.
"We are open to talks without pre-conditions. But, when one side starts imposing pre-conditions, then there are many things we will put forth too," he said.
"If you make statements like 'We will defend our rights. We carry out drills,' if you take wrong steps, we don't want to say we will make a mistake, but we will do what is necessary without hesitation."
Greek Foreign Minister Nikos Dendias said Greece wanted to talk with Turkey but would not do so "under threats." Athens stood ready to defend its rights, he said, adding the dispute was an issue for the entire EU and its security.
Germany also intervened last month, prompting Ankara to pause operations for talks with Athens. After Greece and Egypt agreed a maritime demarcation deal, however, Turkey resumed operations.
EU foreign ministers are scheduled to meet in Berlin on Aug. 27-28 to discuss the issue. A senior EU official told reporters that the bloc's EU foreign policy chief, Josep Borrell, would put "all options" on the table, including economic sanctions on Turkey and formally ending Turkey's status as an EU candidate.
Asked about the bloc's ties with Turkey, Maas said these were at a "crossroads" but Germany wanted to contribute to a positive dialogue. He said the course of EU-Turkey ties will "largely be decided" by the end of the year.
https://english.alarabiya.net/en/News/middle-east/2020/08/25/Greece-ready-for-dialogue-with-Turkey-but-will-defend-sovereign-rights.html
--------
Four Islamic Jihad fighters killed in bomb-handling mishap: Report
25 August 2020
Four members of Palestinian militant group Islamic Jihad were killed in Gaza overnight by the accidental explosion of a bomb they were handling, witnesses and security sources said Tuesday.
A statement from the group said that "four martyrs" died while "performing their duty."
It said that those killed in the "accidental" blast included Iyad Jamas al-Jadi, 42, a commander linked to missile manufacturing units.
According to witnesses and Palestinian security sources, the militants were preparing an improvised bomb which went off prematurely.
Palestinian militants have recently attacked Israel with incendiary devices attached to balloons.
The balloons have so far caused more than 400 fires in scrub, nature reserves and farmland, according to a tally of daily reports by Israeli fire services.
Israel has responded with almost nightly air strikes.
In addition, it has banned Gaza fishermen from going to sea and closed its goods crossing with the territory, prompting the closure of Gaza's sole power plant for want of fuel.
The cross-border exchanges have caused some injuries but no deaths on either side, according to the Palestinian and Israeli authorities.
Hamas in a statement called the closure of the goods crossing a "crime against humanity" and called on the international community and "decision-makers in the region" to "break their silence to bring an end" to the blockade.
The United Nations agency for Palestinian refugees, UNRWA, said the closure of the Gaza power plant would have "devastating effects" on the impoverished territory of some two million people.
"The closure of the power plant has caused the power feed to decline to two to three hours per day," it said.
"Such poor power feed will negatively impact on the wellbeing and safety of the people of Gaza."
https://english.alarabiya.net/en/News/middle-east/2020/08/25/Four-Islamic-Jihad-fighters-killed-in-bomb-handling-mishap-Report.html
--------
Hamas-Israel talks failure 'threatens escalation of border confrontations'
HAZEM BALOUSHA
August 26, 2020
GAZA CITY: The continued standoff between Hamas and Israel and the failure of international mediation attempts to bring the two sides together threatened a further escalation of border confrontations, officials warned on Tuesday.
Israeli airstrikes on the Gaza Strip, and the launch of incendiary balloons and rockets from Gaza targeting Israeli communities adjacent to the border, have intensified in recent days despite ongoing efforts by Egypt, Qatar, and the UN to calm tensions.
With no sign of an imminent breakthrough in negotiations, activists are now believed to be planning a resumption of popular border protests.
A source on the Great Return March committee told Arab News that members were discussing options for a return to public activities on the border if Israel continued to flout its obligations toward "truce understandings."
Late last year, the committee decided to limit its activities to national events before completely suspending action at the beginning of this year due to the coronavirus disease (COVID-19) pandemic.
Hamas official Ismail Radwan said that international mediation attempts, although continuing, faced severe difficulties due to what he described as Israeli intransigence.
An Egyptian-led security delegation which visited Gaza and Israel last week, conveyed messages exchanged between the two parties but returned to Cairo without securing an agreement.
A Palestinian source told Arab News that Israel had refused to positively deal with demands relayed by the Egyptian delegation after meeting with Hamas leaders in Gaza and had threatened to broaden the scope of its response.
On Tuesday, Israel strengthened its military presence along the eastern border of Gaza with Israeli media reporting that army plans had been drawn up to combat various scenarios regarding security tensions in Gaza.
Radwan said: "The threats of the occupation will not frighten us, and we will break the unjust siege with all our strength. "The resistance is ready to move forward to the farthest extent, and it is no longer possible to remain silent on the catastrophic situation in Gaza because of the blockade."
Israel moved on Sunday to block all goods from entering the enclave through Kerem Shalom, the only commercial crossing, with the exception of food and medical supplies.
For more than a week, Israel has stopped fishing crews from heading out to sea, and it has also prevented the supply of building materials and fuel which has caused the only power station in Gaza to stop operating and electricity output to be cut off for around 20 hours a day.
Hamas has demanded that Israel stick to stated understandings reached last year under Egyptian and international auspices.
However, experts believe that Israeli Prime Minister Benjamin Netanyahu could be engineering the Gaza situation to detract attention from internal calls for his dismissal and trial on corruption charges.
Ron Ben-Yishai, military analyst for the Israeli newspaper Yediot Aharonot, said the recent exchange of threats were unlikely to result in a major confrontation in Gaza.
He questioned the seriousness of sabre rattling by Israel, attributing this to what he called "the convictions in Hamas, that Israel will not rush into a comprehensive confrontation in light of the worsening of the COVID-19 crisis and its economic and political repercussions, the fragility of the government coalition, and the possibility of heading to fourth elections in the near future."
The military correspondent for the Israeli Walla website, Amir Bukhbout, said the Israeli army was preparing for a scenario of comprehensive escalation but could not "exclude the possibility of deterring Hamas by returning to the policy of assassinations," despite factions warning that such action would lead to rocket attacks on Tel Aviv.
Bukhbout claimed the negotiations conducted by Egyptian intelligence between Hamas and Israel had stalled due to each party's adherence to its position and the lack of any concessions.
Husam Al-Dajani, professor of political science at Al-Ummah University, told Arab News that both sides had more important priorities than open confrontation.
https://www.arabnews.com/node/1724641/middle-east
--------
Africa
Sudan PM to Pompeo: Govt. has no mandate to normalize with Israel
26 August 2020
Sudan's Prime Minister Abdalla Hamdok has dashed America's hopes for quick normalization with Israel, saying his government has no mandate to establish ties with Tel Aviv and any such a decision should wait until after the transitional period ends in the African country.
During talks in the capital Khartoum on Tuesday, Hamdok "clarified" to US Secretary of State Mike Pompeo that the country's transitional period "is being led by a wide alliance with a specific agenda — to complete the transition, achieve peace and stability in the country and hold free elections," Sudanese government spokesman Faisal Saleh said in a statement.
It "does not have a mandate beyond these tasks or to decide on normalization with Israel," Hamdok was quoted as saying.
The Sudanese prime minister also reaffirmed the importance of separating normalization of ties from a US decision to remove Sudan's designation as a state sponsor of terrorism, Saleh pointed out.
Sudan's interim government took power last year after longtime leader Omar al-Bashir was overthrown by the army following mass popular protests. It is set to remain in office until elections in 2022.
Pompeo arrived in Khartoum on Tuesday to push for Sudan's normalization with Israel, two weeks the US brokered a highly contentious peace deal between the regime and the United Arab Emirates (UAE).
Following the talks, the US State Department said in a statement that Pompeo and Hamdok discussed "positive developments in the Sudan-Israel relationship."
Sudan that has no formal relations with Israel has been cozying up to the regime over the past year.
In February, Sudan's leader, General Abdel Fattah al-Burhan, the chairman of the ruling council in the country, met with Israeli Prime Minister Netanyahu in Uganda, sparking anger among politicians and public at home, where anti-Israel and pro-Palestine sentiments run high.
After the US announced the UAE-Israel deal, Sudanese Foreign Ministry spokesperson Haidar Badawi Sadiq said in an interview with Sky News Arabic that "there is no reason for the hostility to continue between Sudan and Israel," in comments that drew Netanyahu's praise and raised speculation that Khartoum may be the next in line to normalize with Tel Aviv.
The Sudanese official was, however, sacked shortly afterwards over "unauthorized" comments, with Sudanese Foreign Minister Omer Ismail saying that his ministry "didn't discuss the possibility of relations with Israel in any way."
Palestinians have derided the UAE's decision to normalize with Israel as "backstabbing," with President Mahmoud Abbas warning other Arab countries against following Abu Dhabi's lead.
Pompeo in Bahrain to talk normalization
Pompeo visited the Israeli-occupied territories before arrival in Sudan.
Later on Tuesday, Pompeo left Sudan for Bahrain as part of a tour aimed at getting more Arab countries to follow in the UAE's footsteps.
Palestinians have denounced the agreement as a "betrayal" of their cause.
Meanwhile, there are reports that an Israeli delegation and top aides to US President Donald Trump will fly together on board an Israeli airliner directly from Tel Aviv to Abu Dhabi on Monday for talks on cementing UAE-Israel normalization deal.
Netanyahu said in a video statement that White House senior adviser Jared Kushner, national security adviser Robert O'Brien, US Middle East envoy Avi Berkowitz and other US officials will escort the Israeli delegation led by national security adviser Meir Ben-Shabbat.
A high-ranking US administration official confirmed the participation of Kushner, O'Brien and Berkowitz, and said former US Special Representative for Iran Brian Hook would also be on the flight.
Talks will focus on ways to promote Israeli-UAE cooperation in various sectors, Netanyahu added.
https://www.presstv.com/Detail/2020/08/26/632624/Sudan-Israel-normalization-Pompeo
--------
For third day, hundreds of Libyans protest corruption, living conditions
26 August 2020
Hundreds of young Libyans protested in Tripoli for a third consecutive day to decry deteriorating living conditions and corruption amid a heavy security presence, an AFP correspondent said.
Voicing anger at extended shortages of power, water and fuel in the oil-rich North African country, the demonstrators, including teenagers and children, marched through the capital again on Tuesday and converged on Martyrs' Square.
They are also taking aim at what they say is official corruption, and some carried signs bearing slogans including "the corrupt must be put on trial."
The demonstration took place even after Fayez al-Sarraj, head of the UN-recognized Government of National Accord (GNA), sought to appease protesters on Monday by announcing he would conduct a cabinet reshuffle.
During a speech broadcast on the GNA's official Al-Rasmiya television channel, Sarraj backed Libyans' "legitimate right" to protest and said he was determined to fight graft.
"New ministers will be chosen based on their competence, abilities and integrity," Sarraj said, vowing to take "exceptional measures" to carry out the reshuffle if it were opposed.
"We acknowledge... our share of responsibility" for the deterioration of the situation, he added, but also said the crisis "has been going on for years."
For all the latest headlines follow our Google News channel online or via the app
Interior ministry security personnel deployed heavily at Tuesday's protest after men in military uniform fired into the air to disperse demonstrators on Sunday, prompting the UN mission in Libya to urge the government to investigate.
Interior Minister Fathi Bashagha had called those responsible for Sunday's violence "outlaws who infiltrated the security forces."
The protests began days after the country's warring rival administrations announced separately that they would cease all hostilities and hold nationwide elections.
https://english.alarabiya.net/en/News/north-africa/2020/08/26/For-third-day-hundreds-of-Libyans-protest-corruption-living-conditions-.html
--------
Somalia: Al-Shabaab Executes Four Men for Spying
23 AUGUST 2020
Alshabab militants have publicly executed four men on Sunday for spying for Somali intelligence agencies, Ethiopia, the U.S. and one working for the federal government according to the militants, which supports the Islamist group that's linked to al-Qaeda on the group in El-Adde of Gedo region.
The extremist group said it had publicly executed Dini Abdiqadir Mohamed, Isse Osman Gelle, Adan Hassan Mohamed and Abdiaziz Hassan Abdi after they were reportedly found guilty by the local militant leader of spying in a what was described as a hurriedly constituted hearing held in front of residents and children.
The executions follow recent precision attack that was carried out by US drones and killed Alshabab bomb maker in the vicinity of KunturWarey Lower Shabelle region on Thursday.
The militants who are affiliated to Alqaeda control much territory in rural areas in Somalia and are fighting the internationally recognised central government since 2008 to establish Islamic Sharia-based in their own interpretation.
The militants are known for killing suspected informers including those accused of spying for the U.S and the foreign countries.
https://allafrica.com/stories/202008240490.html?utm_source=iterable&utm_medium=email&utm_campaign=1468106_
--------
Europe
France's Macron will return to Beirut and reiterate need for change: Le Drian
25 August 2020
Lebanon's leaders should not use the explosion that destroyed parts of Beirut earlier this month as an excuse to hide the reality that the country was on the edge of a precipice, France's foreign minister said on Tuesday.
"The catastrophe should not be used as a pretext to obscure the reality that existed before ... that is, a country on the brink of collapse," Jean-Yves Le Drian told reporters in the southern port city of Marseille before a ship with 2,500 tonnes of aid set sail for the Lebanese capital.
For all the latest headlines, follow our Google News channel online or via the app.
"We hope that this moment will be the moment which allows the Lebanese authorities, the Lebanese officials, to take the necessary leap for a government with a mission to initiate the essential reforms that everyone knows (are needed)."
France has been leading diplomatic efforts for almost two years to persuade Lebanon to push through reforms and secure foreign aid needed to offset a financial meltdown.
In the immediate aftermath of the Aug. 4 blast that destroyed whole neighborhoods, killed more than 170 people and made 250,000 homeless, Macron rushed to Beirut hoping to use the leverage of international reconstruction aid to persuade Lebanon's factions to choose a new administration led by individuals untainted by corruption and backed by foreign donors.
However, progress has been slow with some diplomats increasingly frustrated over the situation.
The outgoing government comprised mostly technocrat ministers, but these were nominated by sectarian leaders who exerted influence on them and obstructed reforms. Politicians fear reforms would end their system of patronage.
When asked whether the process to form a new government was too slow, Le Drian said there had to be an awakening now.
"That is what the president (Macron) indicated to the Lebanese politicians a few days ago and it's what he will tell them again when he returns soon," Le Drian said.
Macron is expected in Beirut on Sept 1.
Diplomatic sources have said that Macron is pushing Lebanon's political leaders to install an interim technocratic government able to enact reforms, win back public confidence and persuade donors to release billions of dollars in aid.
"I think the awareness is happening and we are ready to help. But we are not going to take the place of the Lebanese officials," Le Drian said.
A diplomatic source said much of the aid being sent to Lebanon this week was food, but also healthcare goods to help the country tackle a spike in COVID-19 cases. It would be distributed directly to humanitarian groups by the French embassy to ensure it did not fall into the wrong hands, one official said.
https://english.alarabiya.net/en/News/middle-east/2020/08/25/France-s-Macron-will-return-to-Beirut-and-reiterate-need-for-change-Le-Drian.html
--------
New IRA investigation: Six terror suspects appear in court
24 August 2020
Six people have appeared in court charged under the Terrorism Act.
They were arrested as part of a major PSNI and MI5 investigation into dissident republican group the New IRA.
All six have been accused of belonging to a proscribed organisation and of directing terrorism.
They are also charged with being at two meetings, both held in County Tyrone, with the intent of committing acts of terrorism.
One of the meetings took place close to the townland of Creggan, the other about a mile from the village of Gortin.
A senior police officer told the court that the two meetings were filmed and recorded by MI5, operating under the direction of the PSNI.
The six were charged as part of Operation Arbacia, which is targeting the New IRA, an organisation considered to be the largest dissident republican group.
So far, 10 people have been charged as part of the investigation.
On Saturday, two men, one from Lurgan and the other from Derry, appeared in court.
On Monday, a 49-year-old man from the Dungannon area and a 62-year-old man from Scotland became the ninth and 10th people to be charged. Both are due in court on Tuesday.
The 49-year-old has been charged with offences including membership of a proscribed organisation, directing terrorism and two separate charges of preparatory acts of terrorism.
The 62-year-old man, who was detained at Heathrow Airport on Saturday, has been charged with preparatory acts of terrorism.
Entrapment claim
The six people who appeared in court on Monday via videolink were:
Sharon Jordan, 45, of Cappagh Road, Dungannon
Kevin Barry Murphy, 50, of Altowen Park, Coalisland
Amanda McCabe, 49, of Ailsbury Gardens, Lurgan
Gary Hayden, 48, of Tyrconnell Street, Londonderry
Joseph Patrick Barr, 32, of Cecilia's Walk, Londonderry
Damien Joseph McLaughlin, 44, of Kilmascally Road, in Dungannon,
They are of belonging to a proscribed organisation, of directing terrorism and of being at two meetings with the intent of committing acts of terrorism.
Mr McLaughlin is also charged with conspiracy to possess explosives, including a quantity of Semtex, and conspiracy to possess 100 rounds of ammunition.
Defence lawyers alleged there was entrapment and claimed in court that one man who has has not been charged was operating as an undercover agent for MI5.
All six were remanded in custody.
'Longer-term investigation'
On Monday afternoon, the PSNI said Operation Arbacia will continue into the longer term.
Assistant Chief Constable Barbara Gray told a press conference that the operation "did not start last week, nor will it end this week".
She added: "It is a longer-term investigation which will look into every aspect of the activities of the New IRA in its entirety.
"Time and time again we have seen the New IRA does not care who it hurts or what it destroys.
"They do not care about the communities they come from - they care for no one. They are reckless, manipulative and they exploit."
The New IRA has been behind numerous attempted attacks on police officers and journalist Lyra McKee was shot dead by a New IRA gunman while observing a riot in Derry on 18 April 2019.
https://www.bbc.com/news/uk-northern-ireland-53883302?utm_source=iterable&utm_medium=email&utm_campaign=1468106_
--------
UK drone terror attack plotter accused acquitted
24 August 2020
A former chicken shop worker has been cleared of planning a drone terrorism attack after a trial at the Old Bailey.
Hisham Muhammad, 26, was accused of having a stash of weapons and devising a contraption with lollipop sticks to drop a projectile from a small drone.
He was arrested in June 2018 after his landlord became suspicious after seeing knives, a tub of wires and a soldering iron at his home in Bury.
He had denied engaging in conduct in preparation for acts of terrorism.
His cousin Faisal Abu Ahmad, 25, who lived with him in Victoria Avenue, Whitefield, was cleared of failing to disclose a plot to authorities.
Fake escort agency
A jury last October failed to reach a verdict and following a retrial Mr Muhammad was found not guilty of preparing for an act of terrorism.
He admitted making £8,000 from a fake escort agency, but said most of it was sent to his wife and family living in Senegal.
The Old Bailey heard he had an interest in weapons and his collection included axes, bear-claws, a tomahawk, a machete, and Japanese "ninja eggs" packed with glass shards and chilli seeds.
Mr Muhammad explained he liked to invent household gadgets, such as a "coconut hammer" and a "fly zapper".
The jury deliberated over four days before acquitting him of the terror charge.
https://www.bbc.com/news/uk-england-manchester-53891097?utm_source=iterable&utm_medium=email&utm_campaign=1468106_
--------
New Zealand
New Zealand mosque shooter will not speak at sentencing court session
26 August 2020
The Australian man who killed 51 Muslim worshipers at two mosques in New Zealand last year has opted not to speak at his sentencing.
Brenton Tarrant, 29, who sacked his lawyers and represented himself at the first session of a four-day hearing at the Christchurch High Court on Monday, has decided not to personally address the last sentencing hearing, court officials said on Wednesday.
However, a court-appointed lawyer would make a brief statement on his behalf on Thursday, before a final verdict is announced.
On March 15, 2019, Tarrant opened fire on Muslim worshipers attending prayers at two mosques in Christchurch. He live-streamed parts of the shooting rampage on Facebook.
Shortly before the terrorist attacks, Tarrant, an Australian national, had published an ideological "manifesto" filled with extreme views in which he described Muslim immigrants in Europe as "invaders."
The white supremacist has pleaded guilty to 51 counts of murder, 40 of attempted murder, and one of terrorism.
During the last three sessions of the court, dozens of survivors and families of victims recounted the horrors of New Zealand's worst mass shooting.
Aden Ibrahim Diriye, the father of slain three-year-old Mucaad Ibrahim, the youngest victim in the attacks, told the gunman that "true justice" awaited him in the next life, stressing that it would be more severe than prison.
"You have killed my son, and to me, it is as if you have killed the whole of New Zealand," Diriye said in a statement read by a family member.
"Know that true justice is waiting for you in the next life and that will be far more severe. I will never forgive you for what you have done," he said.
Ahad Nabi, who lost his 71-year-old father in the attack, demanded that Tarrant never be allowed to walk free.
"Allah allowed your small plan to go ahead for the people to see the bigger picture and to be aware of our evil surrounding," Nabi said. "Your actions on that day displayed what a coward you are. You shot at defenseless people that were not aware of what was going on until they knew it was too late."
"There's nothing heroic about shooting people from behind and people not having a chance of defending themselves," he added. "You will be remembered but as a scared killer, and nothing more."
Sara Qasem, the daughter of victim Abdelfattah Qasem, said her father could have left but he stayed behind to help others. Qasem said she wished more than anything in the world she had been there to hold his father's hand and tell him it would all be okay.
"You made a choice here — a conscious, stupid, irresponsible, cold-blooded, selfish, disgusting, heinous, evil choice," Qasem said, looking at Tarrant, who was seated and surrounded by guards.
"I never would have ever imagined that the country my parents immigrated to for safety and for a successful future for their children would result in this," she added. "I urge you to take a look around this court room and ask yourself who exactly is the other here right now? Is it us or is it you? I think the answer's pretty clear."
The Christchurch mosque attacks prompted New Zealand's government to tighten the country's gun laws and review laws dealing with hate speech.
Tarrant is expected to face an unprecedented sentence of life in prison with no parole.
https://www.presstv.com/Detail/2020/08/26/632629/New-Zealand-mosque-attack-sentencing-hearing
--------
'The Fire Awaits You': Father of New Zealand Mosque Attack Victim Tells Gunman
August 26, 2020
The father of a three-year-old boy shot dead in last year's New Zealand mosque attacks told gunman Brenton Tarrant Wednesday that he was an "evil man" whose atrocity had failed in its goal to sow hatred and fear.
Australian white supremacist Tarrant is expected to become the first person in New Zealand imprisoned for life without prospect of parole when his sentence is handed down on Thursday at a Christchurch court.
Aden Diriye, father to three-year-old Mucaad Ibrahim, the youngest person to die in Tarrant's rampage, was among survivors and bereaved families giving testimony on day three of his sentencing.
Diriye told Tarrant to "know that true justice is waiting for you in the next life and that will be far more severe (than prison). I will never forgive you for what you have done."
Hasmine Mohamedhosen, whose brother Mohamed was killed, called Tarrant the "son of a devil" who she wanted to "rot in hell between the four walls of your cell for eternity".
Ahad Nabi, whose father Haji Daoud Nabi was killed in Al Noor mosque, called Tarrant a coward who should never be allowed to walk free.
"While you are in prison you will come to realise that you are now in hell and only the fire awaits you," he said.
Tarrant, 29, has admitted 51 charges of murder, 40 of attempted murder and one of terrorism during the attacks at two Christchurch mosques on March 15, 2019.
He has remained impassive throughout the hearing as members of the Muslim community confront him, some furious and demanding justice and others distraught.
"You have killed my son and to me that is as though you have killed the whole of New Zealand," Diriye told Tarrant with a steady voice.
"I will never forget how he would play in the mosque and make friends with every worshipper who attended, young and old. He was adored by all.
"Your atrocity and hatred did not turn out the way you expected. Instead it has united our Christchurch community, strengthened our faith, raised the honour of our families and brought our peaceful nation together."
The court was earlier told that as Tarrant moved through the Al Noor mosque, shooting the wounded and ignoring their cries for help, he saw toddler Mucaad clinging to his father's leg "and shot him with two precisely aimed shots".
Mustafa Boztas, who was shot in the leg, likened Tarrant to "a rotten cloth that has been thrown away after dirty work.
"You are not even a human, not even an animal, since animals are beneficial to the world," he said.
John Milne, whose 14-year-old son Sayyad was murdered, said since the killings his mental health had suffered, leading to a spell in a psychiatric ward.
"There is a huge hole in my heart that will only heal when I meet Sayyad again in heaven," he said.
"I hope to see you there too, Brenton, and if you get the chance I'd love you to say sorry to Sayyad. I'm sure he's forgiven you too."
Showing a photo of his son to the man in the dock, Milne implored: "Please, just remember his name."
https://www.indiatoday.in/world/story/-the-fire-awaits-you-new-zealand-mosque-killer-told-1715152-2020-08-26
--------
Victims vent fury at 'devil' NZ mosque shooter
26 Aug 2020
CHRISTCHURCH: Two survivors of the New Zealand mosque massacre abandoned prepared statements to vent their anger directly at gunman Brenton Tarrant in a Christchurch court on Tuesday, drawing applause from fellow victims as they called him a terrorist who deserved to die.
Tarrant, coming face-to-face with his victims for the first time, has admitted 51 charges of murder, 40 of attempted murder and one of terrorism over the attacks at two Christ­church mosques on March 15, 2019.
The 29-year-old — who is expected to be the first person jailed for life without parole in New Zealand — has maintained an impassive demeanour throughout the hearing, which began on Monday, as the grief-stricken survivors unleashed their anger in an outpouring of emotion.
"I did not see any regrets and shame in the eyes of this terrorist and he does not regret anything, so I decided not to read my impact statement but to show him the pain I suffered," an incensed Mirwais Waziri told judge Cameron Mander on day two of Tarrant's sentencing.
Tarrant expected to be the first person jailed for life without parole
White supremacist Tarrant did not flinch as the gallery applauded when Waziri turned to him and said: "Today you are a terrorist and us as Muslims are not terrorists." Zuhair Darwish, whose brother died in the attacks, told Tarrant: "You act like a coward and you are a coward. You live like a rat and you deserve that.
You're going to die alone, like a virus everybody avoids being with.
"The fair punishment for him would be the death penalty. I know under New Zealand law they removed the death penalty for humans, but unfortunately he is not a human, he doesn't deserve to be judged like a human." A witness whose name has been suppressed by the court appealed to the judge to give Tarrant "the highest punishment that you can. I want you not to let this man see the sun, never, ever.
"This man has to stay in prison forever. As his mother said, something in his head, he is a sick man, he is not a human being." Tarrant occasionally stroked his chin as speakers referred to him as "a devil" and a "hateful lowlife" who had destroyed lives but made the New Zealand Muslim community stronger.
Ambreen Naeem, hero's wife
Ambreen Naeem lost both her husband Naeem Rashid and son Talha in the rampage.
Naeem Rashid was hailed as a hero who saved lives when he charged at Tarrant in Christchurch's central Al Noor mosque and partially knocked him down, allowing others to escape while Tarrant stood up and shot him dead.
"Since my husband and son passed away, I've never had a proper, normal sleep. I don't think I ever will," Ambreen Naeem said.
"It is an irreparable damage to me that is why his punishment should continue forever.
"Every time I think of him, I think of the biggest loser. For myself and my family, I feel victorious." There was no reaction from Tarrant when Noraini Milne, whose son Sayyad was killed, pointed at him and said: "You are already dead to me. Whatever punishment you are going to receive in this world will never be enough." Mohammad Siddiqui was shot in the arm when "the devil" arrived at Al Noor mosque.
"Yes, I call him a devil because you entered the house of God with evil intentions to kill innocent people. You've killed the dreams of my friends and family with... your gutless action." Tarrant, a former gym instructor in Australia, has said he wanted to instil fear into those he described as "invaders", including New Zealand's Muslim population.
But Raesha Ismail, who lost her brother Junaid in the attack, said it had only strengthened her beliefs and she was now "more open with practising my faith in the workplace".
More than 60 people are to give victim impact statements before Tarrant, who has dismissed his lawyers, is allowed to address the court.
Judge Cameron Mander expects to deliver his sentence on Thursday.
https://www.dawn.com/news/1576496/victims-vent-fury-at-devil-nz-mosque-shooter
--------
Court hears 3rd day of testimony from grief-stricken relatives of Christchurch's slain
DAVID COHEN
August 26, 2020
CHRISTCHURCH, NEW ZEALAND: Three days of frequently wrenching victim-impact statements from survivors of last year's attacks at two mosques in the New Zealand city have ended at the Christchurch's High Court.
The court has heard testimony from the victims who survived Brenton Tarrant's March 15, 2019 attack, as well as the grieving relatives of those who died.
Each has recalled how indiscriminately shot men, women – even young children as he calmly walked through the mosques, broadcasting his trail of horror on Facebook.
On Wednesday the court heard a statement from Aden Ibrahim Diriye, whose three-year-old son, Ibrahim, was killed at the Al Noor Mosque.
"I don't know you, I never hurt you, your father, mother and any of your friends. Rather I am the type of person who would help you and your family with anything," Diriye said in a statement read by another family member.
"Know that true justice is waiting for you in the next life and that will be far more severe. I will never forgive you for what you have done."
Brenton Harrison Tarrant, 29, now faces the prospect of life in prison without the possibility of parole. His sentencing will probably take place Thursday at the end of the four-day sentencing hearing.
The proceedings have been attended by hundreds of members of the local Muslim community, some striding purposefully through the heavily guarded doors each morning — while others have hobbled through the metal detectors or else pushed into the building in wheelchairs.
In local terms, it has been an outsize legal event — but so were the crimes.
Over the last three days Tarrant has been confronted with a flow of survivors, and the relatives of those who died.
"Allah allowed your small plan to go ahead for the people to see the bigger picture and to be aware of our evil surrounding," said Ahad Nabi, the son of Haji Mohemmed Daoud Nabi, who was killed at the Al Noor Mosque.
"Your actions on that day displayed what a coward you are. You shot at defenceless people that were not aware of what was going on until they knew it was too late. My 71-year-old dad would have broken you in half if you had challenged him to a fight. But you are weak, a sheep with a wolf's jacket on for only 10 minutes of your whole life."
Tarrant pleaded guilty to all 51 murder charges, 41 counts of attempted murder and one of committing a terrorist act that he livestreamed on Facebook. An independent counsel with whom the self-proclaimed white supremacist has had no contact has been in the court to assist with the law as it relates to the facts.
Nearly 80 survivors and family members, including a number of teenagers, gave victim-impact statements — some of them pre-recorded, some given in person while facing the defendant directly.
Some speakers said Tarrant was beyond redemption. Others said the Quran obligated one to leave that judgment to God.
Nobody suggested the defendant should receive any sentence less than life in prison without any possibility of parole, which is the most severe penalty permitted in what has been a legally novel case.
For the third day, Tarrant listened to the testimonies as impassively as he appeared to have gone about his business in the mosques on March 15, 2019 when he opened fire on his victims.
Accounts of the carnage he wreaked have included detailed descriptions of him calmly reloading an AR-15 rifle and pump-action shotgun before strolling back to carefully inspect the condition of the dead and the dying, pumping additional bullets into many of them as he went.
On the day, Tarrant also saved some of his breath for speaking directly into the GoPro camera he had attached pointing towards his face as though he was narrating a reality television documentary.
This week, however, the reality show ended. The diminutive 29-year-old appeared in baggy prison garb — looking "like a penguin," in the words of one of the final testifiers — and dwarfed by four officers surrounding him as others did the speaking.
Sara Qasem, a 25-year-old Palestinian, said New Zealand would always be home, but the home had changed since the murder of her father, one of six Palestinians who died that day. "I don't get it," she said. She still wonders what her father's final thoughts as life ended for him at the "disgusting" assailant
She said she missed the herb-infused recipes from Jenin that her father used to whip up in the kitchen. The scent of his cologne. The stories about the olive groves of Arabia. Their road trips along New Zealand's curvy highways. Most of all, the 25-year-old said, she missed "my baba's voice." Which along with 50 other voices had been permanently silenced because of the defendant's "coarse and tainted heart."
Qasem urged the Australian-born national who wanted to kill as many "outsiders" as possible to take one final look around the courtroom and ask himself who the real stranger was.
Hamimah Tuyan, the wife of Zekeriya Tuyan, who was killed at Al Noor Mosque spoke of the long battle her husband fought to stay alive.
"You put bullets into my husband and he fought death for 48 days, 18 surgeries until his last breath. His status then was uplifted to martyr from hero and for me from wife to martyr's widow."
"He deserves not a life imprisonment of 17, 20, 25 or 30 years but a life imprisonment until his last gasp, his last breath. It will be grave injustice if he should be ever given a second chance to walk in society again."
Earlier, another speaker, Ahad Nab, riffed on the father theme, said that Tarrant, the son of a garbage collector, was himself a piece of trash who deserved to die and be "buried in a landfill."
That may not happen. The chances are, however, that the defendant's death, whenever it happens, will take place behind prison bars.
https://www.arabnews.com/node/1724751/world
--------
Southeast Asia
Indonesia Leads UN Security Council Meeting on Islamic State Threat
BY THE JAKARTA GLOBE
AUGUST 26, 2020
New York. UN Security Council President Dian Triansyah Djani of Indonesia presided over a meeting on the threat posed by terror network Islamic State to international security and peace on Monday. Indonesia holds the rotating presidency of the Council for the month.
The video-teleconference discussed a recent report by Secretary-General António Guterres regarding the issue and UN efforts in support of member states in countering the threat.
Vladimir Voronkov, the head of the UN Office of Counter-Terrorism, told Council members that the Islamic State and other terrorist groups continued to pose a serious threat to the global security during the Covid-19 pandemic.
"Since the start of the year, we have seen contrasting regional disparities in the threat trajectory. In conflict zones, the threat has increased, as evidenced by ISIL's regrouping and increasing activity in Iraq and the Syrian Arab Republic, and among some of its regional affiliates," Voronkov told the conference, using another acronym of the terror network.
"However, in non-conflict zones, the threat appears to have decreased in the short term. Measures to minimize the spread of Covid-19, such as lockdowns and restrictions on movement, seem to have reduced the risk of terrorist attacks in many countries," he added.
"Yet, there is a continued trend of attacks by individuals inspired online and acting alone or in small groups, which could be fueled by ISIL's opportunistic propaganda efforts during the COVID-19 crisis," he warned.
It remains unclear how the pandemic is affecting IS' recruitment and fundraising efforts, or whether there is a change in strategic direction under its new leader, Amir Muhammad Sa'id Abdal-Rahman al-Mawla, Voronkov said.
The previous IS leader, Abu Bakr al-Baghdadi, was killed during a US military operation in Syria in 2019.
Voronkov warned that the IS continues to consolidate its position in some parts of the Middle East previously under its control, "operating increasingly confidently and openly".
More than 10,000 IS fighters are estimated to be active in Iraq and Syria, moving freely in small cells between the two countries, he said, adding that 2020 has seen a "significant increase" in IS attacks in both countries compared to 2019.
"The global threat from ISIL is likely to increase if the international community fails to meet this challenge," Voronkov said.
That does the Secretary-General report say?
The 17-page report of the Secretary-General said that while coronavirus-related curfews and travel restrictions "have complicated terrorist planning and operations making it harder for terrorists to move, recruit, raise funds and mount" in many countries, there is "a surge in ISIL activity in Iraq, the Syrian Arab Republic and some of its regional affiliates".
It cautions that "terrorist groups see the uncertainty created by the pandemic as a tactical advantage and a window of opportunity to strike while the attention of most governments is turned towards the pandemic."
The report cites an estimate that the IS financial reserves stood at around $100 million.
"The group continues to fundraise through different avenues, including kidnapping for ransom, private donations, and some extortion of commercial activity. Funds are also believed to accrue through crowd-sourced, online fundraising," it says.
"Appeals to assist IS fighters and their families in camps are seen regularly across social media platforms."
The impact from the Covid-19 pandemic could lead to humanitarian crisis related to individuals with suspected links to IS, especially women and children, who are stranded in camps or being held in the northeast of Syria.
"Member states report concern among detainees and camp residents about contracting the virus, adding to the existing problem of escapes and other uncontrolled departures. Only limited progress has been made in overcoming legal, political and practical hurdles for repatriation," the report says.
"The pandemic has diverted limited resources to address related issues and further complicated access to and transport from holding facilities. The global threat from ISIL is likely to increase in the medium- to long-term if the international community fails to meet this challenge."
Indonesian Contribution
Many countries are against the repatriation of IS fighters and their dependents from Syria, but Indonesia is "working to facilitate the return of orphaned minors", the report says.
In Southeast Asia, Indonesia and the Philippines have maintained pressure on IS activities through counter-terrorism operations, many of which have succeeded in disrupting planned attacks at early stages, the report says, warning that IS affiliates continue to operate and find safe haven in the southern Philippines.
In January, Indonesia hosted a regional meeting on "Gathering admissible evidence in high-risk situations in order to bring terrorists to justice before national criminal courts" arranged by the Counter-Terrorism Committee Executive Directorate (CTED). The meeting was attended by participants from Indonesia, Malaysia, the Philippines and Thailand.
In the following month, CTED and Indonesia convened experts from Southeast Asian member states to share regional good practices and identify gaps and challenges in developing comprehensive and tailored prosecution, rehabilitation and reintegration strategies.
https://jakartaglobe.id/news/indonesia-leads-un-security-council-meeting-on-islamic-state-threat
--------
Zahid jumped the gun on grand coalition in Sabah, says analyst
Durie Rainer Fong
August 26, 2020
KOTA KINABALU: A political analyst said Barisan Nasional (BN) chairman Ahmad Zahid Hamidi jumped the gun by announcing his grand coalition proposal without first speaking to Sabah political parties.
Romzi Ationg of Universiti Malaysia Sabah said as a result, the announcement backfired on Zahid after several Sabah parties thumbed their noses at the suggestion.
"This turn of events could have been avoided because it has now tarnished his image and that of BN as well," he told FMT.
"Sabah politicians and parties view his call as a move to dominate them, thus, suggesting that it is against the interest of all Sabahans in terms of greater autonomy.
"This also gives the impression that these leaders are not making any effort to understand, respect and work with each other without someone trying to lead or dominate them.
"Early discussions should be held and only after a consensus is reached should any announcement be made."
Zahid, who is also Umno president, had said over the weekend that talks were being held with several parties in Sabah on the distribution of 73 seats ahead of the Sabah state election.
"God willing we will form a coalition of all these parties together with Sabah BN so that there is only one coalition of political parties in Sabah," he was reported to have said.
The parties he was referring to include Parti Perpaduan Rakyat Sabah (PPRS), STAR, Parti Bersatu Sabah (PBS), Liberal Democratic Party (LDP), SAPP and Parti Cinta Sabah (PCS).
However, PCS, LDP and SAPP responded immediately, speaking up against his proposal.
PCS president Anifah Aman replied that the party would contest on its own, in line with its policy of working alone while LDP secretary-general Yong Wui Chung said the party rejected any cooperation with BN and was adamant about remaining an independent party.
SAPP president Yong Teck Lee said his party has not held any talks with others, including BN, aside from some informal meetings with Sabah PPBM chief Hajiji Noor and STAR president Jeffrey Kitingan.
Meanwhile, Universiti Malaya's Awang Azman Pawi believes the proposal for a grand coalition is an idea that may have come spontaneously from Zahid.
The Bagan Datuk MP, he said, might have thought such an idea to unite the parties would be easily accepted as it was the best way to achieve victory.
Awang Azman said Zahid might have felt the smaller parties going it alone at the polls next month would make it more difficult for BN to bring down their political rivals.
"When there is no solidarity between them, then it could be harder to go against Warisan and its allies," he said.
Awang Azman, however, does not believe it is a question of parties from the peninsula wanting to be dominant or taking charge.
"Don't forget DAP is also working with Warisan. This is a question of politicians being greedy and confident but forgetting that without political cooperation, it would be difficult to win," he said.
https://www.freemalaysiatoday.com/category/nation/2020/08/26/zahid-jumped-the-gun-on-grand-coalition-in-sabah-says-analyst/
--------
Johor religious department deputy director and officer claim trial to cheating RM100,000
26 Aug 2020
BY BEN TAN
JOHOR BARU, Aug 26 — A former Johor Islamic Religious Department (JAINJ) deputy director and officer claimed trial at the Sessions Court here today to charges of deceiving the owner of a book printing company involving a loss of RM100,000 about four years ago.
The two accused, attached to the department's education division, pleaded not guilty before Judge Kamarudin Kamsun after the charges were read separately.
According to the charge sheet, Mohd Nasir Amir, 58, was charged with three counts of cheating which prompted the owner of the company to hand over RM50,000 separately for payment of contributions to the Johor Religious Department Education Division Welfare Body.
The accused was charged with committing the offence from February 29 to September 30, 2016 between 7.30pm and 11.30pm at several different locations in Johor Baru.
Meanwhile, the second accused, Mohd Fauzi Arshad, 52, who is also a former JAINJ education division officer, was charged with one count of cheating and deceiving the same individual with a sum of RM50,000 allegedly for the royalty payment of the authors of Buku Latihan Aktiviti (BLA) issued by the Johor Religious Teachers Association.
The accused was charged with committing the offence from April 18 to 20, 2016 at the Iskandar Islamic Centre.
The charges were under Section 420 of the Penal Code for cheating.
Kamarudin set bail at RM15,000 for both accused with one surety and the accused are required to report to the nearest Malaysian Anti-Corruption Commission (MACC) office every month.
The prosecution was conducted by MACC public prosecutor Zander Lim, while the two accused were represented by lawyer Rosli Kamaruddin.
The court set September 29 for the re-mention date.
https://www.malaymail.com/news/malaysia/2020/08/26/johor-religious-department-deputy-director-and-officer-claim-trial-to-cheat/1897351
--------
IS militants claim responsibility for Sulu blasts
Jeoffrey Maitem
August 25, 2020
Islamic State militants claimed responsibility for the two powerful bomb explosions that killed 15 people and wounded 75 more – many of them civilians – on Jolo island in Sulu on Monday. Shortly after the blasts that were blamed on Abu Sayyaf in Jolo, Sulu, SITE Intelligence, a U.S.-based group that monitors online communications among Muslim militant groups, reported that the IS East Asia province had issued a statement claiming responsibility for the attacks. The SITE also cited IS supporters across the globe rejoicing over the casualties as a result of the bombings. Six civilians, seven soldiers, and a police officer were killed in the blasts that went off in a busy street of Jolo on Sunday, while 75 other people – including at least 48 civilians, 21 soldiers, and six police officers – were injured. One of the fatalities, according to the military, was the "suicide bomber" who set off the secondary bomb an hour after the first blast. Rommel Banlaoi, head of the Philippine Institute for Peace, Violence and Terrorism Research, said the female militant was an Indonesian national. "We suspect the female bomber was the daughter of the suicide bomber who perpetrated the Jolo cathedral bombing last year," Banlaoi told a local radio station. "The Cathedral bombing happened recently, and they are very familiar with the area. They'd known when to launch the attack," he added. The twin blast occurred just a few meters away from a Catholic church where suicide bombers detonated bombs in January last year, killing 23 people.
https://www.thejakartapost.com/seasia/2020/08/25/is-militants-claim-responsibility-for-sulu-blasts.html
--------
Arab World
In latest UAE-Israel talks, defense ministers pledge to strengthen communications
Emily Judd
25 August 2020
Defense ministers of the UAE and Israel discussed peace and stability in the Middle East during a phone call on Tuesday, state news agency WAM reported.
Emirati Minister of State for Defense Affairs Mohammed bin Ahmad Al Bawardi and Israeli Defense Minister Benny Gantz discussed the historic peace agreement between the two countries, which was announced on August 13.
"Both ministers expressed their conviction that this accord will enhance the chances of peace and stability in the region as it represents a positive step in this direction," WAM reported.
The ministers also discussed strengthening communication channels as well as establishing "solid bilateral relations" to benefit the UAE, Israel, and the wider region.
On Monday health ministers of the two countries discussed collaboration in the healthcare field, especially the coronavirus pandemic.
UAE Minister of Health and Prevention Abdul Rahman bin Mohammad Al Owais and Israeli Minister of Health Yuli Edelstein discussed in a phone call "ways to strengthen cooperation in the medical field," with a focus on the pharmaceutical industry and medical research, according to WAM.
"They also discussed frameworks for cooperation in the fight against the COVID-19 pandemic," the report said, adding that vaccine trials and treatments for the coronavirus were also a topic of conversation.
Two private companies in the UAE have already signed an agreement with two companies in Israel to develop research and technology to fight COVID-19.
Known as the "Abraham Accord," the diplomatic agreement between the UAE and Israel is set to establish bilateral agreements regarding investment, tourism, security, telecommunications, technology, energy, healthcare, culture, and other areas.
https://english.alarabiya.net/en/News/gulf/2020/08/25/In-latest-UAE-Israel-talks-defense-ministers-discuss-peace-in-the-Middle-East.html
--------
Abu Dhabi Crown Prince and Pompeo discuss strengthening UAE-Israel deal
August 25, 2020
DUBAI: Abu Dhabi Crown Prince Sheikh Mohammed bin Zayed and the US secretary of state have discussed how to strengthen the UAE's peace deal with Israel.
Sheikh Mohammed spoke with Mike Pompeo on the phone ahead of his visit to the Emirates this week and after he met Benjamin Netanyahu in Israel on Monday.
They discussed "strategic relations" between the US and the Emirates, UAE state news agency WAM reported, as well as the deal signed with Israel on Aug.13.
The agreement, brokered by Donald Trump, makes the UAE the third Arab country to have full diplomatic relations with Israel in return for an end to Israeli threats to annex Palestinian land.
In Jerusalem on Monday, Pompeo said he hoped more Arab countries would reach similar agreements with Israel.
In the call with Sheikh Mohammed, they discussed the prospects for strengthening the deal "in a way that serves the foundations of peace and stability in the region."
Pompeo visited Sudan on Tuesday as part of his regional tour. He arrived in Bahrain in the evening and, after leaving Manama, he will travel to the UAE where he will meet UAE Minister of Foreign Affairs and International Cooperation Sheikh Abdullah bin Zayed in Abu Dhabi.
https://www.arabnews.com/node/1724506/middle-east
--------
UN: Over 10,000 Islamic State Fighters Active in Iraq, Syria
Aug. 24, 2020
UNITED NATIONS — More than 10,000 Islamic State fighters are estimated to remain active in Iraq and Syria two years after the militant group's defeat, and their attacks have significantly increased this year, the U.N. counter-terrorism chief said Monday.
Vladimir Voronkov told the U.N. Security Council that Islamic State fighters move freely "in small cells between the two countries."
He said the Islamic State extremist group — also known as IS, ISIL and ISIS — has regrouped and its activity has increased not only in conflict zones like Iraq and Syria but also in some regional affiliates.
"However, in non-conflict zones, the threat appears to have decreased in the short term," he said. "Measures to minimize the spread of COVID-19, such as lockdowns and restrictions on movement, seem to have reduced the risk of terrorist attacks in many countries."
Nonetheless, Voronkov said, "there is a continued trend of attacks by individuals inspired online and acting alone or in small groups, which could be fueled by ISIL's opportunistic propaganda efforts during the COVID-19 crisis."
He said the COVID-19 crisis has highlighted the challenges of eliminating the threat of terrorism, pointing to actions by IS and other terrorist groups seeking "to exploit the far-reaching disruption and negative socioeconomic and political impacts of the pandemic."
But Voronkov said the pandemic's impact on IS recruitment and fundraising activities remains unclear, and there is no clear indication of a change in the extremist group's strategic direction under its leader, Abu Ibrahim al-Hashimi al-Quraishi.
Turning to Africa, Voronkov said the Islamic State in West Africa Province "remains a major focus of ISIL global propaganda, and its total membership of approximately 3,500 makes it one of the largest of the remote `provinces.'" He said it continues to reinforce links with the Islamic State in the Greater Sahara, "which remains the most dangerous group in the tri-border area of Burkina Faso, Mali, and the Niger."
While IS only has "a few hundred fighters in Libya," he said, they have been exploiting ethnic tensions and represent "a potent threat capable of broader regional impact." He also pointed to worrying attacks by the Islamic State Central Africa Province in Congo and Mozambique, "including complex attacks and brief takeovers of villages."
In Europe, Voronkov said, the main threat comes from "Internet-driven, homegrown terrorist radicalization," citing three ISIL-inspired attacks in France and two in the United Kingdom. He also noted "acute concerns ... about radicalization and failed rehabilitation in prisons, and the imminent release of dangerous inmates with a terrorism background or connections."
In Afghanistan, Voronkov said, ISIL's affiliate has conducted high-profile attacks in various parts of the country, including Kabul, and seeks to use Afghan territory "to spread its influence across the region" and to attract fighters who oppose the recent peace agreement between the U.S. and the Taliban.
Elsewhere in Asia, ISIL claimed its first attack in the Maldives in April, he said, and attacks on security forces in southeast Asia occur regularly though government counter-terrorism operations have kept up pressure on the extremists.
Voronkov said the COVID-19 crisis has further complicated "the already dire and unsustainable situation" of thousands of people with suspected links to IS who are stranded in camps in Syria and Iraq, especially women and children.
"Repatriation, prosecution, rehabilitation, and reintegration and the protection of the vulnerable have become ever more urgent," he said.
While some countries have repatriated their nationals, especially children, many have not.
Voronkov reiterated U.N. Secretary-General Antonio Guterres' call for all countries to implement international law and bring home all their stranded women, men and children.
"The global threat from ISIL is likely to increase if the international community fails to meet this challenge," the head of the U.N. Office of Counter-Terrorism warned.
U.S. Ambassador Kelly Craft said the United States shares the secretary-general's concern and has brought back American citizens and prosecuted them where appropriate.
Despite the Islamic State's defeat on the battlefield, she said, "we must work together to ensure that the population of detained foreign terrorist fighters as well as their family members displaced in Syria and Iraq do not become the nucleus of an ISIS 2.0."
Russia's U.N. Ambassador Vassily Nebenzia, whose country is Syria's main ally, said the global terrorist threat from ISIL remains high, and its leadership is planning terrorist attacks in the border area between Syria and Iraq.
"At the same time, the terrorists do not intend to give up plans to revive the `caliphate' in Iraq," he said. "ISIL continues to build up its combat potential and is seeking to expand the area and scope of terrorist attacks in the country."
Nebenzia said ISIL's organization and tactics suggest "that it has now fully transformed into a network structure with a high degree of autonomy of branches and `sleeping cells' in various countries and regions of the world."
https://www.nytimes.com/aponline/2020/08/24/world/middleeast/ap-un-united-nations-fighting-terrorism.html?searchResultPosition=6&utm_source=iterable&utm_medium=email&utm_campaign=1468106_
--------
Iraqi MP: US Embassy Masterminding Unrests in Basra
Aug 25, 2020
"The violence and sabotage acts against the governmental bodies in al-Nasseriyah and Basra are similar to those in al-Anbar," Mohammed al-Baldawi was quoted by the Arabic-language al-Ma'alomeh news website as saying on Tuesday.
He blamed the US embassy and the CIA for designing and implementating terrorist acts and plots to foment insecurity and chaos in Southern Iraq, warning that Washington wants to change the equations in the country with the help of its mercenaries.
Al-Baldawi called on the security authorities to keep vigilant about the moves made by the US mission in Basra and Baghdad.
Iraqi Prime Minister Mustafa Al Kadhimi arrived in Basra to meet with security officials on Saturday night, just hours after returning from his official visit to the US, following days of protests in the Southern city.
The prime minister was accompanied by a high-ranking security delegation that included the defesce minister, and the heads of the national security agency and Counter-Terrorism Services.
Demonstrators clashed with security forces, hurling Molotov cocktails. At least eight security personnel were injured in the clashes, said Ali Al Bayati, spokesman for the Independent High Commission for Human Rights.
In similar remarks on Sunday, al-Baldawi had said that the US and certain Persian Gulf Arab states are involved in the chaos and unrests in Basra in Southern Iraq.
"Those who coax people into violence are the mercenaries of the US and the Persian Gulf Arab states and they aim to carry out acts of sabotage and stir chaos," Mohammed al-Baldawi was quoted by the Arabic-language al-Mawazin news website as saying on Sunday.
He added that the US and its Arab allies have started plots to set fire to Southern Iraq after implementing similar plots in the Northern and Western provinces of the country by using the ISIL terrorist group.
"The regional powers are behind the violence and chaos witnessed in Basra and Dhi Qar provinces," al-Baldawi said.
https://en.farsnews.ir/newstext.aspx?nn=13990604000424
--------
Israel strikes Lebanon Hezbollah posts after shots fired towards troops: Military
26 August 2020
Israeli aircraft struck posts belonging to the Lebanese Shia group Hezbollah early on Wednesday after shots were fired from Lebanon towards its troops, Israel's military said.
For all the latest headlines, follow our Google News channel online or via the app.
No Israeli troops were wounded in the firing, the military said. Soldiers deployed illumination flares, smoke shells and live fire after the shots from the Lebanese side of the frontier, it said.
"In response, overnight, IDF attack helicopters and aircraft struck observation posts belonging to the Hezbollah terror organization in the border area," the military said in a statement, referring to the Israel Defense Forces.
There was no immediate comment from Hezbollah.
Tension has been running high on the border. Last month, Israel said Hezbollah carried out an infiltration attempt, which the Iran-backed group denied.
The Israeli military said it lifted a curfew it had imposed overnight.
https://english.alarabiya.net/en/News/middle-east/2020/08/26/Israel-strikes-Lebanon-Hezbollah-posts-after-shots-fired-towards-troops-Military.html
--------
Lebanon's leading candidate to form a new government withdraws from race
25 August 2020
The leading candidate to form a new government in Lebanon withdrew his name and backed out of the race Tuesday, amid growing calls by protesters for an independent government free of traditional political parties.
Former Prime Minister Saad Hariri asked all MPs to withdraw his name from any potential political consultations with the president aimed at designating a new premier.
For all the latest headlines, follow our Google News channel online or via the app.
"I had committed not to take a political position before … having completed contacts with friendly countries, the international community and Lebanese political forces," Hariri said in a statement.
Lebanon has been without a government since Aug. 10 when now caretaker-Prime Minister Hassan Diab announced his resignation as a result of the Beirut explosions, which left close to 200 people dead and thousands more injured.
French President Emmanuel Macron visited Beirut in the days after the deadly blasts and called for a national unity government agreed upon by all political sides.
Read more: French President Macron rips into Lebanese political elite after Beirut explosions
However, protesters expressed their frustration with the entire ruling elite and called for a government independent of traditional political parties, allied with various regional and international axes.
Hariri stepped down as prime minister in October 2019 after nationwide anti-government protests erupted in Lebanon, demanding an end to corruption and frustrated with a crumbling economy and dire living standards.
In the days and weeks after the Aug. 4 explosions, the international community has rushed to send humanitarian aid to the Lebanese people, often stressing willingness to deal directly with the residents and not the government.
"I consider that the renewed international interest in our country … represents an opportunity which could be the last … to achieve a series of reforms that the Lebanese have demanded," Hariri said Tuesday.
Hariri thanked those who put his name forward as a candidate to head a new government, while he criticized "certain political forces" for still being in a state of "several denial of the reality of Lebanon."
"I declare that I am not a candidate to head the new government and I call on everyone to withdraw my name from the deliberations in this regard.," Hariri said.
https://english.alarabiya.net/en/2020/08/25/Lebanon-s-leading-candidate-to-form-a-new-government-withdraws-from-race.html
--------
Lebanon central bank governor says he hopes depositors will recuperate their money
25 August 2020
Lebanon's Central Bank Riad Salameh on Tuesday said that he is opposed to a haircut being imposed on depositors, and that he hopes that Lebanese will recuperate their money - though warning that this may take time.
Speaking on Arab News' French edition, Salameh said he supports French President Emmanuel Macron's proposal for a central bank audit by experts from the Banque du France, the French central bank.
In July, it was reported that Salameh had inflated the central bank's assets by over $6 billion in 2018. Beginning in 2016, a series of unprecedented and shadowy financial engineering mechanisms were used to prop up the country's economy, with recent findings highlighting the extent of the unorthodox financial system.
Salameh, in the same interview, said the central bank cannot use its obligatory reserve to finance trade.
"Once we reach the threshold of these reserves we are obliged to stop providing finance," he said.
For all the latest headlines follow our Google News channel online or via the app.
The country's foreign reserves have remained critically low for a nearly a year now, and, in March 2020, the country defaulted on its $1.2 billion Eurobond payment, citing the need to pay for essential goods. The central bank had said that it would only honor the official pegged exchange rate for imports of wheat, medicine, and fuel. Food imports are now brought in at a rate more than double the pegged rate of 1,507 Lebanese lira to the US dollar.
As the country's banking system slips further into chaos, the long-serving central bank governor also said he opposed a haircut on depositors.
However, because of the rapid devaluation of the currency and a series of ad hoc capital controls on bank accounts, Lebanese have already seen the value of their savings plummet.
Salameh said the intention is for depositors to recuperate their money, although he also said it could be a while before the money is returned.
Lebanon is currently in the midst of its worst economic crisis since the end of its 15-year civil war in 1990. A deadly explosion at the Port of Beirut August 4 that left 181 dead and vast swaths of the city destroyed as added insult to injury, with the economy expected to sink further into recession following the blast.
https://english.alarabiya.net/en/News/middle-east/2020/08/25/Lebanon-central-bank-governor-says-he-favors-French-proposal-for-central-bank-audit.html
--------
A collapsing economy and a family feud pile pressure on Syria's Assad
26 August 2020
In May, Syrian tycoon Rami Makhlouf, a cousin and long-time ally of President Bashar al-Assad, took a once unimaginable step.
In a video he published on social media, he lashed out against Assad's "inhumane" state security forces. "Mr. President, the security forces have started attacking people's freedoms," Makhlouf said.
For all the latest headlines, follow our Google News channel online or via the app.
The outburst shocked Syrians and exposed a rift at the heart of the ruling elite. Never before had such a senior figure spoken out against the regime from within Damascus.
Through Syria's 10-year civil war, Makhlouf had helped Assad evade Western sanctions on fuel and other goods vital to his military campaign. He was part of the president's inner circle, accused by the United States of exploiting his proximity to power to enrich himself "at the expense of ordinary Syrians." His business empire spanned telecoms, energy, real estate and hotels, looming large over Syria's economy.
But now the two men were locked in a battle over money. Security forces had recently raided Makhlouf's telecoms company, Syriatel, in a tax dispute and detained dozens of employees for questioning.
Makhlouf's public defiance showed that a threat to Assad's iron rule may ultimately come, not from the battlefield, but from once loyal allies and Syria's collapsing economy. In a nation where criticism of the ruler is rarely tolerated, Makhlouf has been able to speak out, people familiar with the matter say, because of the family connection and because he is well regarded in the Alawite Muslim community that dominates the top echelons of Syria's leadership. Makhlouf and Assad are both Alawite.
Reuters spoke to more than 30 sources - including people close to the Assad and Makhlouf families, local businessmen, and Western intelligence officials - and reviewed official documents to chart the breakdown of a family alliance that stretched back two generations. Many of the sources declined to be named because of the sensitivity of the matter.
In interviews, these sources described how:
• In expanding his business empire over two decades, Makhlouf kept some of his wealth hidden from the president.
• In May 2019, Assad instructed Syria's intelligence chief to track down Makhlouf's estimated billions of dollars of riches stashed abroad.
• After a decade of war, Assad is so desperate for cash that in Sept 2019 the central bank summoned Syrian tycoons to a meeting and ordered them to hand over some of their fortunes.
"Makhlouf has brought into the open the feud within the regime," said a person with ties to the Assad family.
The Syrian Information Ministry didn't respond to detailed questions for this story. Questions emailed to Makhlouf via his son went unanswered. Syriatel didn't comment.
The rise
The financial arrangement between the Assad and Makhlouf families began with the fathers.
Assad's father, Hafez, an air force officer from a mountain village, seized power in a military coup in 1970. He turned to Makhlouf's father, Mohamed, to manage the money, derived from state-controlled industries and contract commissions, that would shore up his rule. Mohamed, known as Abu Rami, had financial skills that Hafez lacked.
"The Makhlouf side was generally better educated and refined, so they could help out with the finances, which is something the Assads were not good at and didn't have the education for," said Joshua Landis, a Syria specialist and head of the Center for Middle East Studies at the University of Oklahoma. "They were also better at dealing with the people of Damascus and Aleppo, who dominate Syria's economy."
Makhlouf senior reaped extensive rewards from the relationship. In the 1970s, he was appointed head of the General Organization of Tobacco, which had a monopoly over the industry in Syria. A decade later he expanded his business interests as chief of the state-owned Real Estate Bank and acted as middleman for government contracts.
The sons grew up together and were close. As a young man, Rami Makhlouf "used to go to Assad's residence and open the fridge like any family member," said a former business associate of Makhlouf.
Ayman Abdel Nour met both men at Damascus University in the 1980s when he was a teaching assistant and they were students. Abdel Nour now lives in the United States. Makhlouf and Assad were so close that even their mannerisms were similar, Abdel Nour said. "Rami would sit very calmly, in a way that was similar to Bashar. He copied his personality because they grew up together."
Bashar's mother, Anisa, was Rami's aunt. With a strong personality and deep political influence, she lobbied for her nephew within the family and was instrumental in his rise, said people who know the family. As his father aged, Rami smoothly took over the responsibilities as money manager for the Assads.
In the early 2000s Syria enjoyed rapid economic growth and Makhlouf's business flourished. The jewel in the crown was telecoms firm Syriatel. The company has grown from a few hundred thousand subscribers in the early 2000s to around 11 million, according to Makhlouf. "Rami built Syriatel into a sophisticated business that many of Syria's best and brightest wanted to work for," said Landis.
Makhlouf drew the attention of the United States. In 2008, the US Treasury imposed sanctions on the tycoon, describing him as "one of the primary centers of corruption in Syria." The Treasury alleged he manipulated the justice system and used state intelligence officials to intimidate rivals and acquire exclusive licenses to represent foreign firms in Syria. His ties to Assad brought him lucrative oil exploration and power plant projects, the Treasury said.
"Rami Makhlouf has used intimidation and his close ties to the Assad regime to obtain improper business advantages at the expense of ordinary Syrians," Stuart Levey, then Under Secretary for Terrorism and Financial Intelligence, said at the time.
Makhlouf, who rarely spoke in public, didn't respond to the sanctions.
When protesters took to the streets calling for Assad's overthrow in 2011, their chants were also directed against "the thief" Makhlouf. As the popular uprising turned into a civil war and then a multifaceted conflict, Makhlouf helped power Assad's military campaign with fuel and other imports.
Behind Assad's back, he was also feathering his own nest, said more than a dozen sources with knowledge of the matter. A former business associate and a banker said Makhlouf had created a network of front companies, including in neighboring Lebanon, where he generated his own money separate from the funds Assad asked him to place in safe havens on behalf of the ruling family. They didn't quantify the sums of money involved.
In a post on social media on July 26 of this year, Makhlouf conceded that he set up such firms, but insisted "these companies' role and aim is to circumvent sanctions," not to enrich himself.
Among Makhlouf's interests outside Syria was a Beirut law practice called Middle East Law Firm SAL. Publicly available data show the firm was set up in 2001 by Makhlouf, his brother and Lebanese partners. According to Lebanon's Commercial Register, the law firm continues to operate, and its activities include the management of companies inside and outside Lebanon and foreign trade transactions. Reuters couldn't reach the law firm or its partners for comment, nor could the agency determine whether Makhlouf plays any role there today.
One former business associate with first-hand knowledge said that Makhlouf set up entities in Jersey and the Virgin Islands. "Makhlouf would buy supplies and equipment for the government from companies that he ultimately owns. He would create these shell companies that would be suppliers," said the former associate, a shareholder in Makhlouf's Cham Holding, a real estate developer.
Makhlouf's personal wealth has been estimated by Syrian business associates at between $5 billion and $15 billion. Its true scale is a closely held secret. In one of his recent video appearances, Makhlouf said profits from his businesses were used for charitable causes, such as funding injured war veterans and bereaved families, via a holding company he owns.
The fall
With the help of Russia and Iran, Assad has turned the tide of Syria's war. But victory on the battlefield has come at a cost.
Syria's economy is in ruins. The Syrian pound has lost almost 80 percent of its value over a decade of war. The fighting has caused tens of billions of dollars' worth of damage, disrupted agriculture, devastated industry and wiped out foreign currency flows from tourism and oil exports. Inflation is rampant and many Syrians are struggling to afford even basics such as food and power. Eight in 10 people live below the poverty line in Syria, according to the United Nations.
While Russia has backed Assad militarily and with food supplies, its intervention isn't for free. Syria has to pay for much of the Russian wheat it imports and for weaponry.
In recent months, a banking crisis in neighboring Lebanon has cut off a vital source of dollars for the regime, worsening the economic shock and aggravating already strained money relations between Assad and Makhlouf.
While much of Syria lies in ruin, two of Makhlouf's sons have been living lives of luxury. On social media, they posted pictures, many since deleted, of fancy sports cars, a private jet and opulent homes.
In one video, in the summer of 2019, Mohamed Makhlouf, one of Rami's sons, appeared driving a Ferrari in the South of France. The camera zoomed in on the speedometer as he revved the engine. Another video showed him at a beach party on the Greek island of Mykonos. Someone commented beneath the post: "It's been 45 years and they are still stealing from the people."
As the economy imploded, Assad became determined to bring home the billions of dollars held by Makhlouf in offshore companies, said more than a dozen sources. These sources include well-connected people in Syria's financial community, an official with ties to Assad's government and Western intelligence sources.
In the summer of 2019, Assad and his brother Maher, head of the Republican Guard that defends Assad's seat of power in Damascus, met with Ali Mamlouk, the head of Syria's intelligence agency, the General Intelligence Directorate. At that meeting, the Assads told Mamlouk to track down Makhlouf's wealth overseas, said a person allied with the Syrian government and a Western intelligence source who was briefed about the meeting. Reuters couldn't independently verify this account. Syrian authorities didn't respond to questions about the matter.
"It was time to put the house in order" now that the security pressures on the regime had eased after containing the insurgency, said the Western intelligence source.
A first sign of Makhlouf's fall from grace came in December 2019, when Syria's customs directorate accused Makhlouf and some other businessmen of importing goods without declaring their real value. The order, which was reviewed by Reuters, froze the assets of Makhlouf and his wife. It was signed by Syria's finance minister. Makhlouf has since said he paid seven billion Syrian pounds ($3 million) to settle the dispute. Syrian authorities didn't comment.
The sums accumulated abroad by Makhlouf - estimated in excess of $10 billion by members of Syria's business community - are of real economic consequence. One Western diplomat said repatriating the money "is of existential importance for the regime."
Though he caved in the customs dispute, Makhlouf has resisted surrendering his vast holdings. He told the president to seek dollars elsewhere, from other tycoons, said bankers and business associates familiar with the matter.
Starting early this year, Syrian security forces began a campaign of arrests that netted dozens of employees at Makhlouf's Syriatel, without legal explanation. Sources in Syria said people were arrested, sometimes released and then re-arrested. Reuters couldn't determine whether any charges have been brought. A Damascus banker with knowledge of the matter said the employees were questioned about fund transfers to front companies set up by Makhlouf in the British Virgin Islands and Jersey.
"They were interrogating them over the details of offshore companies that have signed management deals with Syriatel," said the Damascus banker. He did not elaborate, and Reuters couldn't determine whether any money had been repatriated.
A businessman said the detentions were designed to send a message to those working for Makhlouf "that he is in disgrace."
The rift between Assad and Makhlouf burst into public view on April 30, when Makhlouf posted the first of three videos to social media. In the videos, he said the government had asked him to step down from his companies, including Syriatel. He also spoke of threats by unspecified people in the regime to revoke Syriatel's license and seize its assets if he did not comply.
On May 19, 2020, the finance ministry froze the assets of Makhlouf, his wife and an unspecified number of his at least two children, according to a document reviewed by Reuters. It also ordered that overseas assets should be seized "to guarantee payment of dues to the telecom regulatory authority." The government has said Syriatel owes the telecom regulator 134 billion Syrian pounds ($60 million) relating to the terms of the company's license. Makhlouf insisted in one of his social media posts that he stands ready to pay.
A separate order banned Makhlouf from obtaining government contracts for five years.
A former business associate said years of acting as Assad's trusted money keeper and family treasurer made Makhlouf feel like a partner. "Makhlouf was telling his cousins (the Assads), 'we are partners,' and it has shocked him they are now telling him, 'no you are not, you are just serving us,'" said the associate, who used to work with Makhlouf.
Hunt for cash
As Makhlouf has fallen, others have stepped into his place.
One powerful man who has emerged at the top of a new elite is Samer Foz, a building contractor turned commodities trader. Foz, a Sunni Muslim, was sanctioned by the United States in June 2019, along with more than a dozen individuals and companies, for providing financial support to Assad.
"Samer Foz, his relatives, and his business empire have leveraged the atrocities of the Syrian conflict into a profit-generating enterprise," then Undersecretary for Terrorism and Financial Intelligence Sigal Mandelker, said in a statement. "This Syrian oligarch is directly supporting the murderous Assad regime and building luxury developments on land stolen from those fleeing his brutality."
Foz didn't comment for this article, telling Reuters: "You can write what you want. I have nothing to say to the press."
In September 2019, central bank governor Hazem Karfoul assembled some of Syria's wealthiest players for a closed-door meeting at the Damascus Sheraton. Syrian media have previously reported that the meeting took place, but details of what was discussed are revealed here for the first time.
On the surface, the gathering was projected to the public as an effort to strengthen the struggling currency through donations from Syria's wealthy elite. But the meeting was not about charity, said three sources briefed by people who attended.
The central bank governor listed the businessmen's properties and other assets, and the lucrative deals they had struck. He suggested their fortunes could be seized if they did not give a significant contribution to state coffers.
Foz pledged $10 million, according to the sources. The central bank governor told him that wasn't enough, to which Foz replied, "consider it a first payment," one of the sources said. Foz didn't comment.
"This was to show that these merchants of war were being pressured to do their bit for the country," said a business executive who is close to some of the attendees and a personal friend of the central bank governor. "Everyone knows who they are and how they made their wealth and who they work for."
Syria's central bank didn't respond to Reuters' questions about the meeting.
"We shouldn't disagree"
In recent months, Makhlouf has been projecting himself as a spiritual man, in an apparent attempt to appeal to members of the faith practiced by the minority Alawite sect, an offshoot of Shi'ite Islam, to which Makhlouf and Assad belong. Reuters couldn't determine how Makhlouf's messages are being received in the community. People were reluctant to discuss the matter with Reuters by phone.
The Alawites rose to dominate the political system in majority Sunni Syria after controlling the army following a coup that brought the Baath Party to power in 1963. The Alawites' influence has spread to business, undermining a Sunni merchant establishment that had traditionally dominated commerce.
One of Makhlouf's social media posts after the rift became public was a prayer asking God to end the injustice against him, written in the Alawite dialect.
Commenting on Makhlouf's social media posts and his messaging, a financial adviser involved in transactions with him before 2011 said the videos were clearly made to appeal to the loyalist Alawite camp.
"He is telling Bashar, 'We are defenders of our community, we should not disagree.'"
In a recent post, on July 9, Makhlouf remained defiant. Arrests of his employees, he said, hadn't stopped. "Now it's only our women who are left," he said. "Even so, they didn't get what they wanted to force us to surrender."
https://english.alarabiya.net/en/features/2020/08/26/A-collapsing-economy-and-a-family-feud-pile-pressure-on-Syria-s-Assad.html
--------
Iraqi protesters brace for more violence in wake of assassinations
Ali Mamouri
Aug 24, 2020
Violence against protesters in Iraq has been rising sharply in recent days, especially after Iraqi Prime Minister Mustafa al-Kadhimi traveled to Washington for the second round of the country's strategic dialogue with the United States.
Immediately after returning from the United States, Kadhimi traveled to Basra with a number of his ministers to follow up on the rising violence against protesters in the oil-rich southern province.
He visited the family of Riham Yacoub, a female doctor and activist who was assassinated in Basra on Aug. 19.
Speaking to Yacoub's family during his visit, Kadhimi said, "I swear by the blood of the martyr (Yacoub) that the criminals will not escape punishment no matter how long it takes, and that the blood of the martyr Hisham al-Hashimi and the martyr Tahseen Osama (a female activist killed in Basra by unidentified gunmen on Aug. 19) will not be wasted."
Kadhimi had made the same promise when he visited the family of murdered Iraqi analyst Hisham al-Hashimi on July. 6. No one has been charged with his killing, nor have the results of any investigation been released.
This rise in the number of assassinations comes in conjunction with dissatisfaction expressed by some Iraqi militias with Kadhimi's trip to the United States and the lack of a timetable for the departure of US troops. Although US President Donald Trump repeated earlier claims that US troops will eventually leave Iraq, those calling for an imminent withdrawal nonetheless criticized Kadhimi, and the militias resumed their attacks inside Iraq.
The Iraqi government's failure to bring the perpetrators of these recent assassinations to justice has led many public figures and groups to call for taking up arms to protect protesters and activists.
Famous Iraqi novelist Ahmed Saadawi, who in 2014 won the International Prize for Arabic Fiction, published a Facebook post on Aug. 20 calling on Iraqi tribes to take up arms to defend protesters, who are being killed in southern provinces.
"O brave warrior tribes! Where are your arms and your courage for your protesting children who are killed in daylight and in cold blood?" Saadawi wrote. "If the government is not undertaking its responsibility to protect the citizens, are you unable to protect your children from these criminal gangs?!"
Omar al-Jammal, a prominent activist, tweeted on Aug. 22, "It is now time to form 'The Revolution Protection Brigades' and stop the killers of the October heroes" — referring to those participating in the ongoing protests that started last October. He also posted on his Facebook page: "Take up your arm into your pocket and protect yourself … they had killed Hisham al-Hashimi and Riham Yacoub and many others before you."
Following the increase in assassinations and the call to take up arms, several tribal men from Muthanna governorate appeared in a video on Aug. 23 holding weapons in their hands, condemning the recent assassinations and declaring their readiness to protect the protesters against the killers.
The current situation is very similar to the Sunni uprising in 2013 before the rise of the Islamic State that took over a third of Iraq in the middle of 2014. The uprising started when groups of civil protesters began demanding their civil rights in Sunni provinces in northern and western Iraq.
At the time, the Shiite religious authority in Najaf expressed full support to the protesters and their legitimate demands, calling upon former Prime Minister Nouri al-Maliki's government to respond to their demands and avoid using violence against them.
But Maliki's government not only neglected their demands but also suppressed protests by violent methods, leading to hundreds being killed in Hawija in Kirkuk province and other Sunni areas. This came in conjunction with a rise of unidentified gunmen killing activists and public figures in the Sunni areas. These developments gradually led to rising sympathy toward armed groups calling for confrontation with the government forces and unidentified militias. Finally, the expansion of chaos and violence prepared for the quick fall of Sunni areas into the hands of terrorist groups.
The current protests have also been following the same patterns. The civil, peaceful protests that started last year have faced severe violence, and the government turned deaf ears to it despite the support of the religious authority in Najaf. The violence and chaos have been increasing, while the government is unable to impose order and stop the violence, identify the perpetrators and prosecute them.
https://www.al-monitor.com/pulse/originals/2020/08/iraq-basra-protests-militias.html?utm_source=iterable&utm_medium=email&utm_campaign=1468106_
--------
North America
US criticizes Erdogan for meeting with Hamas leadership, warns of Turkish isolation
25 August 2020
The United States Tuesday publicly criticized Turkish President Recep Tayyip Erdogan for meeting with a Palestinian extremist group's leaders who are designated terrorists by Washington and have a $5 million bounty for any information on their whereabouts.
Erdogan met with Hamas leader Ismail Haniyeh and his deputy, Saleh al-Arouri, last weekend in Istanbul and posted a picture of the meeting on the Turkish presidency's social media.
For all the latest headlines, follow our Google News channel online or via the app.
"President Erdogan's continued outreach to this terrorist organization only serves to isolate Turkey from the international community, harms the interests of the Palestinian people, and undercuts global efforts to prevent terrorist attacks launched from Gaza," a statement from the US State Department said.
The statement made note that this was the second time Erdogan hosted the Hamas delegation to Turkey. The first public meeting was Feb. 1.
Read more: Turkey provides Hamas militant operatives with citizenship: Telegraph
"The United States strongly objects to Turkish President Erdogan hosting two Hamas leaders in Istanbul on August 22," the statement added.
Erdogan has come under increased scrutiny for his political and military moves in recent months. The European Union has expressed its frustration with Erdogan and his policies of interference in foreign nations. France has been one of the most outspoken critics. French President Emmanuel Macron has lambasted Turkey for its "aggressive" behavior.
Turkey has also defied US calls to refrain from purchasing Russian air defense systems. This led to the US kicking Turkey out of its F-35 fighter jet program.
"We continue to raise our concerns about the Turkish government's relationship with Hamas at the highest levels," the State Department said Tuesday.
Al Arabiya English previously reported about growing calls in Washington to condemn Turkey's behavior. Bipartisan efforts are mounting to change US policy toward Ankara.
https://english.alarabiya.net/en/News/middle-east/2020/08/25/US-criticizes-Erdogan-for-meeting-with-Hamas-leadership-warns-of-Turkish-isolation.html
--------
US Secretary Pompeo says he hopes for improved Israel-Arab ties during Mideast trip
24 August 2020
US Secretary of State Mike Pompeo on Monday said he hoped other Arab countries would soon establish diplomatic relations with Israel as he kicked off a Mideast tour to build on the momentum of the recent US-brokered deal between Israel and the United Arab Emirates.
Pompeo spoke during a joint statement with Israeli Prime Minister Benjamin Netanyahu in Jerusalem, the first stop on a multi-country tour of the region following the Aug. 13 agreement by Israel and the UAE to establish diplomatic ties.
"I am hopeful that we will see other Arab nations join in this," Pompeo said. "The opportunity for them to work alongside, to recognize the state of Israel and to work alongside them will not only increase Middle East stability, but it will improve the lives for the people of their own countries as well."
Both Pompeo and Netanyahu criticized the lack of international support for the US demand for the restoration of UN sanctions against Iran.
After failing to extend an arms embargo on Iran, the Trump administration has been pushing at the Security Council to have "snapback" sanctions imposed over what Washington says is Iran's violation of the 2015 nuclear deal with world powers. The Trump administration withdrew the US from that agreement in 2018.
"We are determined to use every tool that we have to ensure they can't get access to high-end weapon systems," Pompeo said. "The rest of the world should join us."
Earlier this month, the US, Israel and the UAE announced the deal to establish full diplomatic relations, which also requires Israel to freeze its plans to annex parts of the occupied West Bank sought by the Palestinians as part of their future state.
Netanyahu called the agreement "a boon to peace and regional stability" that "heralds a new era where we could have other nations join."
He also said the agreement does not include Israel's acceptance of the sale of sophisticated weaponry to the Emirates.
President Donald Trump said last week that the US is now reviewing an Emirati request to buy advanced F-35 warplanes.
Pompeo later met Netanyahu's partner in the government, Defense Minister Benny Gantz, as well as Foreign Minister Gabi Ashkenazi.
After his Israel stop, Pompeo was slated to visit Sudan, the UAE and Bahrain, with additional stops in the Gulf possible, the State Department had said.
https://english.alarabiya.net/en/News/middle-east/2020/08/24/US-Secretary-Pompeo-says-he-hopes-for-improved-Israel-Arab-ties-during-Mideast-trip.html
--------
Pompeo pulls aerial stunt to push Sudan-Israel ties
25 August 2020
US Secretary of State Mike Pompeo flies directly from Tel Aviv to the Sudanese capital of Khartoum and uses the flight, which he called an "official" first, to push the establishment of relations between the Israeli regime and the Sudanese government.
Pompeo's airplane took off on a direct flight from the Ben Gurion airport in Tel Aviv to the Sudanese capital on Tuesday, a day after he met with Israeli Prime Minister Benjamin Netanyahu in the occupied Jerusalem al-Quds and amid Washington's bid to push a normalization of relations between Israel and Sudan.
"Happy to announce that we are on the FIRST official NONSTOP flight from Israel to Sudan!," Pompeo tweeted midair on Tuesday, before landing in Khartoum and meeting with Abdalla Hamdok, the prime minister of the transitional government there.
The Tel Aviv regime and Khartoum do not have diplomatic relations, but Sudan's leader, General Abdel Fattah al-Burhan, who heads the ruling council in the country, met with Netanyahu in Uganda in February.
That meeting was not immediately made public. Public and government support for the Palestinian cause runs strong in Sudan. The Khartoum-Tel Aviv relationship has also historically been hostile.
Netanyahu revealed the meeting only later, when he also spoke of an agreement he said had been reached with Sudan to "begin cooperation that will lead to the normalization of relations."
Also in February, Netanyahu said Sudan had opened its airspace to Israeli aircraft for the first time. He said a private Israeli jet had used Sudanese airspace to travel from the Democratic Republic of the Congo to Tel Aviv.
Sudan has long been part of a decades-old Arab boycott of Israel over its treatment of the Palestinians and its occupation of Arab lands. Recently, however, some Arab governments have been cozying up to the Israeli regime.
The US recently announced that the United Arab Emirates (UAE) had "normalized" relations with the Tel Aviv regime, becoming the third Arab government — after Egypt and Jordan — to establish relations with Israel.
The announcement was met with strong backlash on the Arab street.
The Sudanese government seems to be still testing the waters.
Last Tuesday, Sudanese Foreign Ministry spokesperson Haidar Badawi Sadiq revealed in an interview with Sky News Arabic that "there is no reason for the hostility to continue between Sudan and Israel."
He said the ministry "does not deny the existence of communication between the two" sides.
Netanyahu was quick to express his enthusiasm, saying Tel Aviv would "do everything to make this vision [of relations] a reality."
However, Sadiq was relieved of his duties over "unauthorized" comments a day later, with Sudanese Foreign Minister Omer Ismail saying that his ministry "didn't discuss the possibility of relations with Israel in any way."
Meanwhile, during his stopover in Khartoum, Pompeo among other things discussed the removal of Sudan's name from the US government's list of "state sponsors of terrorism," according to Hamdok, the Sudanese prime minister.
The Sudanese military staged a coup in April last year, ousting long-time ruler Omar al-Bashir.
https://www.presstv.com/Detail/2020/08/25/632581/Pompeo-flight-Israel-Sudan
--------
URL: https://www.newageislam.com/islamic-world-news/kolkata-khilafat-committee-appeals-muslims/d/122727
New Age Islam, Islam Online, Islamic Website, African Muslim News, Arab World News, South Asia News, Indian Muslim News, World Muslim News, Women in Islam, Islamic Feminism, Arab Women, Women In Arab, Islamophobia in America, Muslim Women in West, Islam Women and Feminism