New Age Islam News Bureau
9 Apr 2015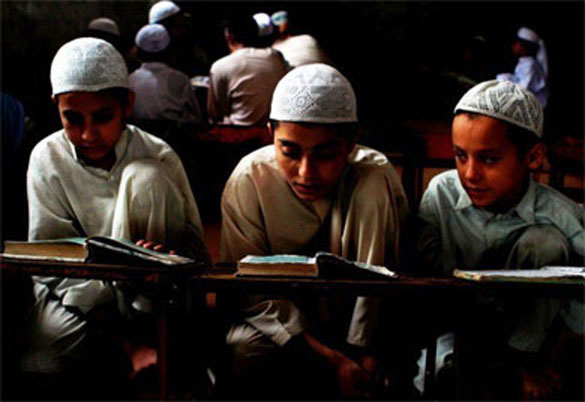 10 Madrasa Students Recovered In Lahore before Being Trafficked To Kabul, PHOTO: EXPRESS
--------------
Southeast Asia
• Kedah State Government Fears Wahhabism Will Lead To Extremism
• Exercise Moderation, Avoid Extremism, Malaysian Deputy PM Tells Muslims
• After G25, prominent Sabahans tell Putrajaya to fight extremism
• A divided Islam will threaten Indonesia
Arab World
• Ansarullah: Hundreds of Missiles, Drones Ready to Strike Saudi Arabia
• Iraqi Forces Kill 22 ISIL Terrorists
• Syrian Army Inflicts Losses on Militants in Homs
• Mortar fire kills 11 civilians in Egypt's Sinai
• 5 Civilians Killed in Car Bomb Blast in Syria
• ISIS revenues hit after it loses 'large oil fields' in Iraq
Mideast
• Yemen's Qaeda Offers Gold Bounties for Houthi, Saleh
• At Least 20 Yemen Rebels Killed In Air Raids, Ambush
• Iran Warns against Repercussions of Supporting Terrorism
• Zionist soldiers kill Palestinian attacker
• Erdogan: Islamic world risks 'disintegration'
• Two Turkish journalists face jail terms for Charlie Hebdo cover
Pakistan
• 10 Madrasa Students Recovered In Lahore before Being Trafficked To Kabul
• Lahore High Court Orders Lakhvi's Release
• Pakistan expresses concern over military imbalance in S. Asia
• Pakistan, Iran wants to resolve Yemen crisis through political dialogue: FO
South Asia
• Senior Taliban Commander among 10 Killed In Laghman
• Two Soldiers Martyred, Four Insurgents Killed In Military Operations
• AL leaders: Stop Khaleda from campaigning for city polls
• Bangladesh's JI leader on death row faces final plea
Africa
• Kenya Freezes Assets Suspected Of Funding Islamic Extremists
• Algeria Army Kills Four Armed Islamists
• After Bardo attack, Tunisia treads line between security and freedoms
• International pressure mounts to end S. Sudan war: Diplomats
India
• Zones for Pandits Will Turn Valley into Palestine: Hurriyat
• Jihadi Twitter accounts say third Indian 'dies' fighting for IS in Syria
Europe
• Nearly half of European jihadists in Syria, Iraq are French: Report
• Russia objects to U.N. draft banning arms to Houthis
• Sweden to send troops to Iraq to support fight against Islamic State
• Swiss police arrest aspiring jihadist at Zurich airport
North America
• US Sharing 'Unique Capabilities' With Saudis
• US Will Not Stand By As Iran Backs Houthis in Yemen: Kerry
• Tsarnaev guilty on 30 counts over 2013 Boston bombings
• U.S. begins aerial refuelling for Decisive Storm
• Canada launches its first anti-ISIS airstrikes in Syria
• Pakistan can make its own decision about participating in Yemen war: US
Compiled by New Age Islam News Bureau
URL: https://www.newageislam.com/islamic-world-news/new-age-islam-news-bureau/kedah-state-government-fears-wahhabism-will-lead-to-extremism/d/102369
----------
Southeast Asia
Kedah State Government Fears Wahhabism Will Lead To Extremism
April 9, 2015
ALOR SETAR: The Kedah state government is worried Wahhabism extremist groups could lead to more Malaysians joining IS sympathisers in the country.
State Religious, Indian and Siamese Community Affairs, Human Resources and Tourism Committee chairman Mohd Rawi Abd Hamid said what was even more worrying was youths being influenced to join Salafist Jihadist groups which embraced Wahhabism teachings.
"We do not want the extremist thinking they acquired from abroad into Malaysia for fear it can cause the disintegration of the multi-racial and multi-religious communities in the country.
"We are afraid Wahhabism will destroy the country as we uphold the Ahli Sunnah Wal-Jamaah teachings which do not encourage violence such as killing of people," he said when replying to a question from a PAS assemblyman at the Kedah state assembly sitting at Wisma Darul Aman here yesterday.
Mohd Rawi said even though Wahhabism teachings were not detected in Kedah at the moment, the government could not take the matter lightly as various parties were trying to spread Wahhabism to destroy the peace in the country.
"The Mufti's Department said it would not tolerate such matters and we have discussed with the department on alerting members of the community on the dangers of such teaching lurking into private religious schools," he said.
http://www.freemalaysiatoday.com/category/nation/2015/04/08/kedah-fears-wahhabism-will-lead-to-extremism/
----------
Exercise Moderation, Avoid Extremism, Malaysian Deputy PM Tells Muslims
April 9, 2015
The principle of moderation is key in preventing Muslims all over the world from being dragged into extremism, said Deputy Prime Minister Tan Sri Muhyiddin Yassin today.
He said the principle was not created by man but that Allah had described the Muslims as a special being as mentioned in the Quran and that Islam opposed all kinds of extremism.
"Elements of extremism exist at least in two forms, that is the stream that considers Islam as being loose to the extent of disposing of its originality and identity, while another stream understands Islam as being very rigid to the extent that its followers appear to be rough and old-fashioned," he said when opening the Malaysia-Indonesia Conference of Ulama and Preachers 2015 today.
Muhyiddin said both extremist streams had deviated from the true teachings of Islam and divided Muslim solidarity besides forming the wrong perception of the religion to the extent of creating Islamophobia at the global level.
He said Islam had never promoted or supported any form of violence or terrorism because this was a crime whereas Islam was a peaceful religion and brought prosperity to man.
http://www.themalaysianinsider.com/malaysia/article/exercise-moderation-avoid-extremism-muhyiddin-tells-muslims-bernama#sthash.HrQEH9cd.dpuf
----------
After G25, prominent Sabahans tell Putrajaya to fight extremism
April 9, 2015
Following in the footsteps of the 25 prominent Malays dubbed G25, a group of 47 Sabahans have sent an open letter to Putrajaya urging an end to extremism in the country, The Star reported today.
The group from Sabah raised concerns about Islamisation, attempts to convert natives of the state, polarisation, growing intolerance and federal government bodies asserting authority beyond their powers.
They said in their letter that "extreme and misguided actions in the name of Islamisation and religious intolerance is nothing but a threat to our national peace and stability".
The group said they were concerned over the "aggressive Islamisation", whether covert or overt, targeted at the natives in Sabah.
"Conversion ceremonies are being carried out under the guise of providing 'financial assistance to poor natives and native school children' especially those living in government hostels."
Another concern raised was the National Registration Department's move to label native Christians carrying the words "bin" or "binti" in their names as Muslims in their MyKads without their knowledge or consent.
"We are not against conversions out of free will but we condemn conversions through deceit, intimidation and bribery.
"We Sabahans know that at the heart of it all is an exercise to suppress the voice of the majority genuine non-Muslim Sabahans, and to degenerate our native population and our freedom of religion," the group said.
Among those who signed the letter were former Sabah state secretary and Suhakam vice-chairman Tan Sri Simon Sipaun, former Sabah finance minister Datuk Mohd Noor Mansor, former senior civil servants Datuk Wilfred Lingham and Datuk Gregory Joitol and former state attorney-general Datuk Stephen Foo.
Other signatories included politicians, environmentalists, trade unionists and lawyers.
The signatories also said that government departments and bodies had been asserting authority beyond their legitimate powers for far too long, and that such unlawful and oppressive practices must cease immediately.
In the letter, the Sabahans also said there must be mutual tolerance and respect for others' backgrounds and beliefs.
"Ideologies promoted by political parties and especially their leaders must be based on fairness, tolerance and respect for others.
"Politicisation of a particular religion for narrow partisan gains simply has no place in this pluralistic society of Malaysia," they said.
The Star quoted lawyer Gayle Jokinin, who drafted the letter, as saying that the move came about after the group of 25 prominent Malays, dubbed G25, spoke out against extremism and the growing religious and racial divide in the country late last year.
The lawyer said a major concern among Sabahans was how the country was tilting towards extremism.
"Our founding fathers did not agree to any religion or race to be supreme over others," Gayle told The Star, adding that this was being seen in some policies.
"We felt that it is only right to speak up," she said.
In December last year, the 25 prominent Malays, consisting of former secretaries-general, directors-general, ambassadors and others, sent the government an open letter asking for a rational dialogue on the position of Islam in a constitutional democracy.
The letter came as race and religious relations worsened following the 2013 general election, which saw the ruling Barisan Nasional (BN) pinning its losses on the Chinese minority, fuelled by Malay-Muslim groups seeking more puritanical Islamic laws across Malaysia.
"Given the impact of such vitriolic rhetoric on race relations and political stability of this country, we feel it is incumbent on us to take a public position," Datuk Noor Farida Ariffin, former Malaysian ambassador to the Netherlands, said in a 19-paragraph statement issued on behalf of the 25 signatories.
Noor Farida, who was once director-general of the Foreign Ministry's Research, Treaties and International Law Department, said she and the others "are deeply concerned about the state of the debate on many issues of conflict on the position and application of Islamic laws in Malaysia".
"It is high time moderate Malays and Muslims speak out. Extremist, immoderate and intolerant voices as represented by Perkasa and Isma do not speak in our name.
"Given the impact of such vitriolic rhetoric on race relations and political stability of this country, we feel it is incumbent on us to take a public position and urge for an informed and rational dialogue on the ways Islam is used as a source of public law and policy in Malaysia.
"More importantly, we call on the prime minister to exercise his leadership and political will to establish an inclusive consultative committee to find solutions to these intractable problems that have been allowed to fester for too long.
"We also urge more moderate Malaysians to speak up and contribute to a better informed and rational public discussion on the place of Islamic laws within a constitutional democracy and the urgency to address the breakdown of federal-state division of powers and finding solutions to the heart-wrenching stories of lives and relationships damaged and put in limbo because of battles over turf and identity."
http://www.themalaysianinsider.com/malaysia/article/after-g25-prominent-sabahans-send-letter-to-putrajaya-to-fight-extremism
----------
A divided Islam will threaten Indonesia
April 9, 2015
The global conflict between Shias and Sunnis is being felt here in Indonesia.
The country has witnessed a series of clashes and deadly attacks across the archipelago, while its majority Sunni population continues to deliver public statements of condemnation.
Some preachers have even gone so far as to claim the Shias are not part of Islam, and must therefore be expelled from the country – with violence if need be.
This growing animosity is unprecedented. Never before in the history of this nation have these two groups displayed so much aggression toward one another.
Indonesia has been a refuge for Sunnis and Shias even before its independence from colonial rule. The two Muslim communities lived side by side in peace, and even fought together in pursuit of independence. In the 70 years since then, the conflict between the Sunnis and Shias has been a very recent phenomenon.
It's not a coincidence that tensions arose in Indonesia at almost the exact same time that clashes between the two groups peaked into a series of wars in the Middle East.
We fear that as fighting in the region escalates, so will the hostility in Indonesia. It is, therefore, crucial for the government to maintain a watchful eye on "hot spots" of violence between the two groups in order to successfully intervene and prevent further chaos. However, the state – including the police and military – must remember to remain neutral in the conflict.
Indonesia cannot tolerate even the slightest religious conflict within its borders, and must act swiftly against those spreading hatred. We call on both Shias and Sunnis to live peacefully as Indonesian Muslim brothers and sisters. – The Jakarta Globe, April 8, 2015.
http://www.themalaysianinsider.com/sideviews/article/a-divided-islam-will-threaten-indonesia-the-jakarta-globe#sthash.JQTi88rl.dpuf
--------
Arab World
Ansarullah: Hundreds of Missiles, Drones Ready to Strike Saudi Arabia
April 9, 2015
Senior Ansarullah officials said on Wednesday they have a large number of ready-to-launch missiles and drones to strike at Saudi Arabia, warning that the Saudi aggressors should wait for the movement's crushing response.
"This movement has hundreds of precision missiles and unmanned aerial vehicles (UAVs) that can be used against Saudi Arabia at any time," Mohanad Mohammad al-Salami told FNA on Wednesday.
He noted that the Al Saud regime has been terrified by the recent military advances of Ansarullah in Yemen because the revolutionary committees and Yemeni fighters have succeeded in cracking down on terrorists in the Southern province of Aden.
Last week, a senior member of the Yemeni Ansarullah movement warned that his country's crushing response to the Saudi aggression will devastate the Arab kingdom and change the geopolitics of the region.
Full report at:
http://english.farsnews.com/newstext.aspx?nn=13940119000742
----------
Iraqi Forces Kill 22 ISIL Terrorists
April 9, 2015
Iraqi security forces killed 22 terrorists of the Islamic State of Iraq and the Levant (ISIL) group in Hamrin Hills, East of Salahuddin province.
The Iraqi police, backed by the popular forces, conducted a security operation in Hamrin hills, East of Salahuddin province, last night, and killed 22 ISIL terrorists and destroyed 2 vehicles loaded with weapons, a security source said.
http://english.farsnews.com/newstext.aspx?nn=13940119001371
----------
Syrian Army Inflicts Losses on Militants in Homs
April 9, 2015
Syrian army continued its mop-up operations against the foreign-backed militants in many areas across Homs, inflicting heavy losses on them.
The army targeted concentration centers of the Takfiri militants in the Northern countryside of Homs province, killing a number of terrorists.
Many terrorists were killed or injured in military operations in Habra al-Gharbiye, al-Sultaniye, Abu Hawadit, Rajm al-Qaser, Khatamlo, Salam Gharbi, and Beir Kafa farms in the Eastern countryside of Homs. Terrorists' weapons and ammo were also destroyed in the operation.
The army also targeted hideouts and concentration centers of ISIL terrorists in the vicinity of al-Shaer field and Jazal village, leaving a number of the terrorists dead.
http://english.farsnews.com/newstext.aspx?nn=13940119001485
----------
Mortar fire kills 11 civilians in Egypt's Sinai
9 April 2015
Mortar fire has killed 11 civilians, all but one of them women and children in Egypt's North Sinai, where the government is battling an Islamist insurgency, police and medics said Thursday.
The mortar rounds, which hit two houses in a village southeast of the provincial capital El-Arish Wednesday night, also wounded six people, the officials said without specifying who was behind the attack.
Sinai is a hotbed of a militant group once known as Ansar Beit al-Maqdis, which changed its named to Sinai Province after pledging allegiance last year to the Islamic State of Iraq and Syria (ISIS) group.
Full report at:
http://english.alarabiya.net/en/News/middle-east/2015/04/09/Mortar-fire-kills-11-civilians-in-Egypt-s-Sinai-.html
---------
5 Civilians Killed in Car Bomb Blast in Syria
April 9, 2015
The foreign-backed militants detonated a car bomb near al-Bared village in al-Ghab area in the Northwestern countryside of Hama province, killing 5 civilians and injuring others on Wednesday.
The blast also caused material damages, an informed source said.
"Ahrar al-Sham" terrorist group claimed responsibility for the attack.
http://english.farsnews.com/newstext.aspx?nn=13940119001420
----------
ISIS revenues hit after it loses 'large oil fields' in Iraq
9 April 2015
The Islamic State of Iraq and Syria (ISIS) group has lost control of "at least three large oil fields" in Iraq, depriving the militants of a crucial source of income, a German newspaper report said Thursday.
In the face of a large-scale Iraqi counteroffensive, the extremist group now controls just a single oil field in the country, the Sueddeutsche Zeitung said in its Thursday edition, citing the BND federal intelligence services.
Ousted from the strategic northern city of Tikrit by Iraqi security forces and militias just over a week ago -- in Baghdad's biggest victory to date after the militants overran large parts of the country last June -- the militants now have only "five percent" of the extraction capabilities they had before, according to the BND report seen by Sueddeutsche Zeitung.
The group had lost "at least three large oil fields," the daily said, adding that satellite images from last month showed the group had set fire to two of them -- the Himrin and Ajil fields -- in the face of the advancing counteroffensive.
Full report at:
http://english.alarabiya.net/en/News/middle-east/2015/04/09/ISIS-revenues-hit-by-lost-Iraqi-oil-fields-Report-.html
----------
Mideast
Yemen's Qaeda offers gold bounties for Houthi, Saleh
April 9, 2015
Al-Qaeda is offering a bounty of gold for the killing or capture of Yemen's ex-president Ali Abdullah Saleh and Shiite rebel leader Abdulmalik al-Houthi, in a message posted online Wednesday.
The Yemen-based Al-Qaeda in the Arabian Peninsula (AQAP), classified by the United States as the network's deadliest franchise, said the two men were "heads of evil".
"In support of the jihad of our Muslim brothers in Yemen," AQAP said it was offering a "reward of 20 kilograms (44 pounds) of gold to whoever kills or captures" Saleh or Houthi.
It posted the pictures of both leaders, who belong to the Zaidi sect of Shiite Islam -- a minority in Yemen where almost 70 percent of the population is Sunni.
Full report at:
http://english.ahram.org.eg/NewsContent/2/8/127244/World/Region/Yemens-Qaeda-offers-gold-bounties-for-Houthi,-Sale.aspx
----------
At least 20 Yemen rebels killed in air raids, ambush
April 9, 2015
At least 20 Shia Houthi rebels were killed in southern Yemen Thursday by Saudi-led coalition air strikes and an ambush by pro-government militia, army and loyalist militia sources said.
"Fourteen Houthis were killed in eight dawn air raids by the coalition on their positions near Dar Saad," a northern district of the port city of Aden, a loyalist army source told AFP.
In the nearby city of Daleh, fighters allied with fugitive President Abedrabbo Mansour Hadi attacked a Houthi position, killing six militants, said Southern Movement chief Nasser al-Shuaibi.
AFP could not immediately obtain independent confirmation, and the Houthis rarely acknowledge their losses.
Full report at:
http://english.ahram.org.eg/NewsContent/2/8/127274/World/Region/At-least--Yemen-rebels-killed-in-air-raids,-ambush.aspx
---------
Iran Warns against Repercussions of Supporting Terrorism
April 9, 2015
Iranian Deputy Foreign Minister Hossein Amir Abdollahian renewed Tehran's support for political solution to the Yemeni crisis, and warned the supporters of terrorism and extremism in the region that their actions will backfire on them.
"Supporters of terrorism and militarism in the region will become victim of their own wrong policies," Amir Abdollahian said in a meeting with a Dutch foreign ministry delegation in Tehran on Wednesday.
He reiterated that Iran supports political solution to the ongoing crisis in Yemen which has been by the Saudi aggression against the Arab country.
Full report at:
http://english.farsnews.com/newstext.aspx?nn=13940119001540
----------
Zionist soldiers kill Palestinian attacker
April 9, 2015
JERUSALEM: A Palestinian stabbed two Israeli soldiers in the northern West Bank on Wednesday, wounding one seriously before being shot dead, the army said.
It was the second knife attack in a week targeting Israeli soldiers and the latest in a wave of lone-wolf attacks which have been on the rise since last summer's 50-day war in the Gaza Strip.
"Earlier today, two IDF soldiers were stabbed by a Palestinian attacker near the Sinjil junction. One soldier was seriously wounded, the second soldier was lightly wounded," a military statement said. "Forces at the site neutralized the assailant."
The incident took place near the entrance to Shilo settlement, not far from the Palestinian village of Sinjil, on route 60, which is the main road linking the West Bank cities of Ramallah and Nablus.
Full report at:
http://www.arabnews.com/middle-east/news/729821
----------
Erdogan: Islamic world risks 'disintegration'
9 April 2015
The Islamic world is at risk of "disintegration" due to the current conflicts in the region between the Sunni and Shiite strands of the Muslim faith, Turkish President Recep Tayyip Erdogan said in comments published Thursday.
Erdogan, who is increasingly touting himself as a leader of the Muslim world, said he would take steps to calm the tensions by meeting Islamic leaders.
The Turkish president, a devout Sunni Muslim, made the comments in a closed briefing to Turkish reporters while returning on his visit to Shiite Iran earlier this week.
"At this moment the Islamic world is facing the risk of disintegration," Erdogan was quoted as saying by Turkish dailies including Hurriyet and Sabah.
"Steps need to be taken quickly to thwart these attempts" to cause the disintegration, he added.
Full report at:
http://english.alarabiya.net/en/News/middle-east/2015/04/09/Erdogan-Islamic-world-risks-disintegration-.html
----------
Two Turkish journalists face jail terms for Charlie Hebdo cover
April 9, 2015
Two Turkish journalists face up to four-and-a-half years in prison for republishing the cover of the French satirical magazine Charlie Hebdo featuring an image of the Prophet Muhammad.
Ceyda Karan and Hikmet Çetinkaya, both columnists at daily Cumhuriyet, face jail terms for allegedly "insulting people's religious values" for reprinting the caricature of Islam's prophet following the Jan. 7 attacks on Charlie Hebdo in Paris that killed 12 people.
The indictment prepared by the Istanbul Chief Public Prosecutor's office charges both Karan and Çetinkaya with "openly insulting religious values accepted by a section of the society" and "openly encouraging hate and enmity among people" by republishing the cartoon in their columns on Jan. 14.
Full report at:
http://www.hurriyetdailynews.com/two-turkish-journalists-face-jail-terms-for-charlie-hebdo-cover.aspx?pageID=238&nID=80810&NewsCatID=341
----------
Pakistan
10 Madrasah students recovered in Lahore before being trafficked to Kabul
April 9, 2015
ISLAMABAD: Law enforcement agencies on Thursday recovered 10 students of a Lahore-based madrassah who were to be trafficked to Kabul this week.
"An Afghan citizen picked up the students from a Sunni-Madrassah, located around two kilometers away from Punjab Chief Minister Shahbaz Sharif's office," a senior official of home department said.
The official claimed, "It is believed that the purpose behind trafficking these students was to train them as jihadists in Afghanistan."
Seconding the official's claim, Home Minister Punjab Col (retd) Shuja Khanzada said, "Yes, we have arrested an Afghan who was smuggling 10 madrassah students to Afghanistan." confirmed.
Khanzada further added the students are all male and and have been sent to Punjab Child Protection Bureau.
"We've booked many Afghan refugees who were involved in such business," he said.
Around 1, 600 clerics have been arrested since the implementation of the National Action Plan. The clerics were arrested for violation of loudspeakers, delivering hate speeches and distribution of hate materials.
Further, as many as 13,802 madrassahs have been registered in the province.
"By the end of this month a newly modified syllabus will be distributed across the province," the home minister upheld.
http://tribune.com.pk/story/866964/10-lahore-madrassah-students-caught-before-being-trafficked-to-kabul/
----------
Lahore High Court orders Lakhvi's release
April 9, 2015
LAHORE: The Lahore High Court on Thursday dismissed the detention orders of Zakiur Rehman Lakhvi, one of the key accused in the 2008 Mumbai attacks case, and ordered his release.
The court was hearing a petition of Lakhvi challenging his fourth one-month detention ordered by the Okara DCO on March 14.
The Punjab government had previously maintained the stance that Lakhvi has been detained based on 'sensitive information' provided by intelligence agencies. Justice Anwarul Haq had directed the government's counsel to submit records of the information to the court, which was also presented in the Islamabad High Court in the past based on which the IHC had ordered Lakhvi's bail.
The court upheld the stance that if this sensitive information was reliable, the IHC would not have accepted Lakhvi's bail. Therefore, the LHC ordered Lakhvi's release based on the lack of reliability of the sensitive information provided and directed the accused to play Rs20 lakhs in surety bonds to Adiala jail.
Full report at:
http://www.dawn.com/news/1174892/lahore-high-court-orders-lakhvis-release
----------
Pakistan expresses concern over military imbalance in S. Asia
April 9, 2015
UNITED NATIONS: Pakistan has voiced concern over policies of certain countries that have contributed to instability and military imbalances in South Asia.
Addressing the opening session of the UN's Disarmament Commission, Pakistan's Permanent Representative Maleeha Lodhi said that "waivers and exemptions to long-held non-proliferation principles", were contributing to insecurity in certain regions — especially South Asia.
She pointed to a disturbing trend in many parts of the world, including South Asia, where military expenditures were rising and conventional weapons inventories expanding.
Ambassador Lodhi also lamented the present impasse in the disarmament agenda, asserting that progress on nuclear disarmament remained stalled as "some nuclear weapon states were neither willing to give up their large inventories of nuclear weapons nor their modernisation programmes, even as they pursue non-proliferation with "messianic zeal".
Full report at:
http://www.dawn.com/news/1174777/pakistan-expresses-concern-over-military-imbalance-in-s-asia
----------
Pakistan, Iran wants to resolve Yemen crisis through political dialogue: FO
April 9, 2015
ISLAMABAD - Pakistan on Thursday clarified that there is no disagreement between Pakistan and Iran to resolve the issue of Yemen as both the countries are willing to resolve it through political dialogue and want peaceful solution to the issue.
Foreign Office Spokesperson Tasnim Aslam in her weekly press briefing here at Foreign Office today said, "Pakistan and Iran are ready to continue their efforts for peaceful resolution of Yemen crisis." She said that the Iranian Foreign Minister Javad Zarif who is visiting Pakistan had held detailed discussions with Pakistani leadership and exchanged views on regional situation especially the Yemen crisis and its possible solutions. Replying to a question, the spokesperson said, "Pakistan wants an early end of war in Yemen. In this regard Pakistan is in touch with different Islamic countries including Saudi Arabia, Turkey, Oman, Iran and other countries." She clarified that the visit of Iranian foreign minister to Pakistan was earlier scheduled before the crisis in Yemen was erupted. He said that both Pakistan and Iran have agreed to encourage the warring factions in Yemen to move towards dialogue for de-escalation of situation.
Full report at:
http://www.dailytimes.com.pk/national/09-Apr-2015/pakistan-iran-wants-to-resolve-yemen-crisis-through-political-dialogue-fo
---------
South Asia
Senior Taliban commander among 10 killed in Laghman
April 9, 2015
A senior Taliban commander has been killed with nine of his companions in an aerial strike in eastern Laghman province.
A statement issued by the media office of Laghman province states that the strike was conducted on a group of insurgents in the mountainous area of Bomby in Dawlat Shah area around 11:30 AM today.
The statement adds that Noor Shah Chapaw, Zakir and Sadullah were among the ones killed in the strike.
According to the statement Noor Shah Chapaw was the so-called Taliban governor for Dawlat Shah District and general commander for Dawlat Shah, Alishang and Badpakh districts.
The statement further states that the group was involved in several terrorist activities in the area.
http://www.khaama.com/senior-taliban-commander-among-10-killed-in-laghman-3142
----------
Two soldiers martyred, four insurgents killed in military operations
Apr 09 2015
Two Afghan National Army soldiers have embraced martyrdom in insurgent actions while four militants were killed in separate military operations across the country in past 24 hours, Ministry of Defense (MoD) said in a statement issued today.
MoD statement states that the two soldiers embraced martyrdom in explosion and enemy fire in past 24 hours but the exact location of the enemy actions have not been specified.
The statement adds that four insurgents were also killed in separate military operations in past 24 hours.
MoD statement furthers states that four insurgents were also wounded and five others arrested in the operations.
20 Improvised Explosive Devices (IEDs) were also discovered and defused by the security forces, the statement adds.
http://www.khaama.com/two-soldier-martyred-four-insurgents-killed-in-military-operations-3140
----------
AL leaders: Stop Khaleda from campaigning for city polls
April 9, 2015
Wary that Khaleda Zia and her followers could impede the city corporation elections, Shipping Minister Shajahan Khan has urged Awami League supporters to restrict Khaleda Zia from campaigning for BNP-backed candidates in the lead up to the mayoral elections of Dhaka and Chittagong.
Other notable leaders from the Awami League also made similar statements from separate Awami League events in the capital yesterday. They also urged people to vote for competent and qualified candidates in the elections scheduled on April 28.
"Khaleda is trying to denigrate the city polls; everyone should protest Khaleda if she were to take to the political fields for election campaigns," Shajahan said, addressing a discussion at the Shilpakala Academy organised by Bangabandhu Sangskritik Jote.
Referring to Khaleda's return home, the shipping minister said: "She returned home achieving nothing…She took to the field depending on lies. Lies are temporary, truth prevails ultimately."
Full report at:
http://www.dhakatribune.com/politics/2015/apr/09/al-leaders-stop-khaleda-campaigning-city-polls#sthash.8g7tbtVh.dpuf
----------
Bangladesh's JI leader on death row faces final plea
April 9, 2015
DHAKA: Bangladesh's Jamaat-e-Islami (JI) leader has a final chance Thursday to avoid the gallows by appealing to the president for clemency against his death sentence for war crimes, an official said.
Mohammad Kamaruzzaman, the third most senior figure in the JI party, lost his last legal appeal on Monday against hanging for overseeing a massacre during the country's 1971 war.
Bangladesh's junior home minister Asaduzzaman Khan said the leader would be asked later Thursday whether he would seek presidential clemency, adding that prison authorities were prepared for his execution.
"A magistrate will go to him and ask him finally whether he would seek a mercy pardon," Khan told AFP.
Full report at:
http://tribune.com.pk/story/867030/bangladeshs-ji-leader-on-death-row-faces-final-plea/
---------
Africa
Kenya freezes assets suspected of funding Islamic extremists
April 9, 2015
A senior Kenyan official says the government is freezing assets of dozens of organizations and individuals that he said are suspected of financing Islamic extremist activities.
Treasury Principal Secretary Kamau Thugge said Wednesday the freeze of assets applies to a list of 85 companies and individuals identified by the government's Financial Reporting Center because of suspicious transactions. The list includes organizations dealing in remittances to Somalia and human rights groups.
Kenyan President Uhuru Kenyatta has vowed a sharp response to last week's attack on Garissa University College by four gunmen. Al-Shabab, an Islamic extremist group from Somalia, claimed responsibility for the attack that killed 148 people.
http://indianexpress.com/article/world/middle-east-africa/kenya-freezes-assets-suspected-of-funding-islamic-extremists/
-----------
Algeria army kills four armed Islamists
April 9, 2015
Algerian troops killed four armed Islamists and recovered weapons and ammunition during an operation not far from the capital on Thursday, the defence ministry said.
The four were shot in Oued Ouakser, some 40 kilometres (25 miles) west of Algiers, a statement said.
Among the materiel seized were two rifles, a pistol, along with a significant amount of ammunition, as well as explosives, radios, mobile telephones and a pair of handcuffs.
Violence involving Islamists in Algeria has fallen considerably since the civil war of the 1990s, but groups linked to Al-Qaeda in the Islamic Maghreb still carry out some attacks, mostly on security forces.
The army says more than 100 armed Islamists were killed in 2014.
http://english.ahram.org.eg/NewsContent/2/8/127293/World/Region/Algeria-army-kills-four-armed-Islamists.aspx
----------
International pressure mounts to end S.Sudan war: Diplomats
April 9, 2015
Heavyweight international powers will pressure South Sudan's leaders to end civil war, diplomats said Thursday, with the African Union, United Nations, United States and China to kickstart stalled peace talks.
Over a year of talks mediated by East Africa's eight-country IGAD bloc have failed to make headway, with the last attempt breaking down last month, and rebel forces accusing regional nations of bias.
The UN Security Council has passed a resolution paving the way for targeted sanctions.
Now diplomats have told AFP they plan a boosted "IGAD-plus" to bring in extra powers to add pressure.
Full report at:
http://english.ahram.org.eg/NewsContent/2/8/127260/World/Region/International-pressure-mounts-to-end-SSudan-war-Di.aspx
----------
After Bardo attack, Tunisia treads line between security and freedoms
8 April 2015
Soon after Islamst militants gunned down 21 foreign tourists in Tunisia's Bardo museum last month, newspaper columnists, radio hosts and politicians swiftly called for a merciless crackdown to save their young democracy.
In the cafes and mosques of working-class Tunis, fears are now emerging that a campaign against militants may a spiral into repression like the old days of Tunisia's police state before the freedoms won in a 2011 revolt.
Tunisia has since been held up as a model of democratic transition, the only country where an uprising during what came to be known as the "Arab Spring" did not end in large scale violence or civil war.
Full report at:
http://english.alarabiya.net/en/perspective/analysis/2015/04/08/After-Bardo-attack-Tunisia-treads-line-between-security-and-freedoms.html
----------
India
Zones for Pandits will turn Valley into Palestine: Hurriyat
ZAHID RAFIQ
April 9, 2015
The row over the State government's nod for creation of separate zones for Kashmiri Pandits is snowballing with the separatists unanimously calling for a shutdown in the Valley on Saturday.
"The PDP has now accepted the RSS plan of creating Israeli-type settlements in Jammu and Kashmir," Hurriyat Conference (G) chairman Syed Ali Shah Geelani told The Hindu. Jammu Kashmir Liberation Front chairman Yasin Malik issued a call for a protest on Friday and a shutdown on Saturday. He too drew parallels between the proposed zones and Israeli settlements in Palestine.
All-Parties Hurriyat Conference chairman Mirwaiz Umar saw an attempt to "divide the Valley along religious lines." Pandit organisations also said the plan would divide the people.
Mufti govt. faces first shutdown call
Jammu and Kashmir Chief Minister Mufti Mohammad Sayeed's nod for creating separate zones for Kashmiri Pandits, which the PDP calls "composite townships", has led to the first shutdown call in the Valley after the new government came to power. The separatists, united in their opposition to the plan, have called for the shutdown on Saturday.
Full report at:
http://www.thehindu.com/news/national/other-states/zones-for-pandits-will-turn-valley-into-palestine-hurriyat/article7082275.ece
----------
Jihadi Twitter accounts say third Indian 'dies' fighting for IS in Syria
April 9, 2015 3:47 am
Social media accounts linked to known supporters of Islamic State have claimed that another Indian has died fighting for the jihadi group in its stronghold of Raqqa in Syria.
One such Twitter handle — @mukminSharia — identified the Indian on Tuesday night as Abdul Rahman. Another handle — @magnetgas16 — claimed that he was the third Indian to die fighting for the group. Security agencies believe that this handle is being operated by one of the four youths from Thane who went to Iraq last year to fight for IS — one of them, Areeb Majeed, returned last November.
IS supporters have also posted a photograph, purportedly of Rahman standing alone on a rocky hillside.
"2 indian in IS Performed martyrdom operation 1 is abu Abdullah Al hindi and 2nd Abu Uthman al hindi. 3rd was killed. May ALLAH accept them # IS," tweeted @magnetgas16, at 10.24 pm on Tuesday.
At 12.04 pm on Wednesday, the Twitter handle @mukminSharia posted the photograph with this tweet: '#IS Raqqah – Martyrs – Brother Abdul Rahman Indian".
Full report at:
http://indianexpress.com/article/india/india-others/jihadi-twitter-accounts-say-third-indian-dies-fighting-for-is-in-syria/
----------
Europe
Nearly half of European jihadists in Syria, Iraq are French: Report
April 9, 2015
Nearly half of European jihadists known to have travelled to territory held by the extremist Islamic State group are French, a report by the country's upper house Senate revealed Wednesday.
Just over 1,430 French people have made their way to Iraq and Syria, representing 47 percent of jihadists from Europe that are known and accounted for, Senator Jean-Pierre Sueur, who spearheaded a parliamentary probe into jihadist networks, told reporters.
According to Sueur, French domestic intelligence services are currently monitoring more than 3,000 people suspected of being involved in one way or another in Syrian networks -- a 24-percent increase since November last year.
Some 85 French nationals are thought to have died in IS-held zones while two are being held in Syria, the report said.
Full report at:
http://english.ahram.org.eg/NewsContent/2/9/127230/World/International/Nearly-half-of-European-jihadists-in-Syria,-Iraq-a.aspx
--------
Russia objects to U.N. draft banning arms to Houthis
9 April 2015
Russia and Venezuela have objected to a draft United Nations resolution that would ban arms shipments to leaders of Yemen's Houthi Shiite rebels and the country's former president and his son to try to halt their military campaign against supporters of the embattled president.
U.N. diplomats said Russia wants the Security Council resolution to include an arms embargo on all parties in the Yemen conflict - not just the Houthis and their supporters. It also wants the resolution to authorize "humanitarian pauses" in airstrikes by a Saudi-led military coalition supporting the president, which Moscow called for on Saturday, they said.
The diplomats, speaking on condition of anonymity because negotiations have been private, said talks between key parties were continuing to try to reach agreement on the draft resolution, sponsored by Jordan.
http://english.alarabiya.net/en/News/middle-east/2015/04/09/Russia-objects-to-draft-banning-arms-to-Houthis-.html
----------
Sweden to send troops to Iraq to support fight against Islamic State
April 9, 2015
Swedish government said on Thursday the Nordic country will send armed forces to Iraq to support the operations against Islamic State fighters after a request from the Iraqi government
The government said 35 Swedish troops would be sent to form part of the international forces in northern Iraq, helping to train Iraqi forces who are battling the insurgents.
"Cooperation against terrorism is the key to success. Sweden will continue to support to these common efforts", Foreign Minister Margot Wallstrom and Minister of Defence Peter Hultqvist said in a signed article in daily Dagens Nyheter.
The two ministers also said that if the situation in Iraq were to worsen, the Swedish contingent in the country might be expanded to 120 soldiers.
http://english.ahram.org.eg/NewsContent/2/8/127266/World/Region/Sweden-to-send-troops-to-Iraq-to-support-fight-aga.aspx
----------
Swiss police arrest aspiring jihadist at Zurich airport
April 9, 2015
A 25-year-old Swiss man suspected of trying to travel to Syria or Iraq to join jihadists has been arrested at Zurich airport, the federal prosecutor's office said on Wednesday.
The man, from the Zurich area, was arrested on Tuesday while seeking to board a plane to Istanbul, Turkey.
The unidentified man was accused of having links to a group banned in Switzerland and supporting a criminal organisation.
The arrest demonstrates "the systematic legal pursuit of all people in Switzerland who are trying to take part in jihadist terrorism," the prosecutors said.
Last year, two people were sentenced to prison for backing a criminal organisation and public appeals to violence -- a reference to Internet propaganda.
Three Iraqi men also arrested last year on suspicion of backing the Islamic State group are facing charges.
The rising numbers of Europeans going to fight in Iraq and Syria have worried governments who fear that battle-hardened veterans could return and unleash terror attacks and violence.
http://english.ahram.org.eg/NewsContent/2/9/127235/World/International/Swiss-police-arrest-aspiring-jihadist-at-Zurich-ai.aspx
----------
North America
US sharing 'unique capabilities' with Saudis
April 9, 2015
WASHINGTON: The United States has confirmed media reports that the Obama administration was providing military assistance to the Saudi-led coalition.
"Because of our close security relationship with Saudi Arabia, the United States is using some of our unique capabilities to support this ongoing mission," White House Press Secretary Josh Earnest told a briefing in Washington.
Asked how did the Obama administration feel about the Saudi request for Pakistani troops, he said: "There are a number of … countries that have pledged to support the Saudis in this effort (and) … many are doing (that) at the specific request of the Saudis."
The White House official said that the Saudis had also requested the United States to provide military support to the coalition fighting the Houthis and Washington had agreed to do so.
He said that the Saudi mission in Yemen was "dedicated to addressing legitimate security concerns that they have along their border with Yemen" and that's why the US agreed to help them.
Full report at:
http://www.dawn.com/news/1174799/us-sharing-unique-capabilities-with-saudis
----------
US will not stand by as Iran backs Houthis in Yemen: Kerry
April 9, 2015
WASHINGTON: The US will not stand by while Iran provides support to terrorists who have seized much of Yemen, Secretary of State John Kerry said.
"There have been — there are, obviously — flights coming from Iran. Every single week there are flights from Iran and we've traced it and know this," Kerry told PBS television in an interview.
"Iran needs to recognize that the US is not going to stand by while the region is destabilized or while people engage in overt warfare across lines, international boundaries in other countries."
Full report at:
http://www.arabnews.com/middle-east/news/730021
----------
Tsarnaev guilty on 30 counts over 2013 Boston bombings
April 9, 2015
Boston: Boston bomber Dzhokhar Tsarnaev faces the death penalty after a jury unanimously convicted him Wednesday of carrying out the worst attack in the United States since the 9/11 hijackings.
The jury took a day and a half to find the 21-year-old former student guilty on all 30 counts related to the April 15, 2013 attacks, the murder of a police officer, a car jacking and a shootout while on the run.
The Muslim immigrant of Chechen descent, who took US citizenship in 2012, stood in a dark blazer, occasionally fidgeting and hooking one hand into his trouser pocket as the clerk read out the verdict.
Full report at:
http://www.arabnews.com/world/news/729871
----------
U.S. begins aerial refueling for Decisive Storm
9 April 2015
The United States has started daily aerial refueling for warplanes in the Saudi-led coalition carrying out air strikes against the Iranian-backed Houthi rebels in Yemen, the Pentagon said Wednesday.
The first refueling flight took place on Tuesday night with a U.S. Air Force KC-135 Stratotanker providing fuel for a F-15 fighter jet operated by Saudi Arabia and an F-16 flown by the United Arab Emirates, spokesman Colonel Steven Warren told reporters.
"We will have a tanker sortie every day," Warren said, adding that all flights will be outside of Yemeni air space.
Pentagon had announced plans for aerial refueling earlier and officials say American forces stand ready to fly early warning radar aircraft if necessary.
Full report at:
http://english.alarabiya.net/en/News/middle-east/2015/04/09/U-S-begins-aerial-refueling-for-Decisive-Storm-.html
----------
Canada launches its first anti-ISIS airstrikes in Syria
9 April 2015
Canada conducted its first air strikes against the Islamic State of Iraq and Syria (ISIS) militants on Wednesday, expanding its role in the U.S. coalition against the militant group in Syria.
Two F-18 fighters targeted former Syrian military buildings that had been taken over by ISIS near the northern city of Raqa, the Globe and Mail newspaper reported. The strikes were carried out with a group of 10 aircraft, including six U.S. planes.
The warplanes also used precision-guided munitions before safely returning to base, the Canadian military said.
Full report at:
http://english.alarabiya.net/en/News/middle-east/2015/04/09/Canada-jets-begin-bombing-ISIS-in-Syria.html
----------
Pakistan can make its own decision about participating in Yemen war: US
April 9, 2015
WASHINGTON DC: As lawmakers continue to debate whether to join the Saudi-led coalition against Houthi rebels in Yemen, the United States said on Thursday Pakistan 'can make its own decision and it is not for us to decide'.
According to US State Department Deputy Spokesperson Marie Harf, every country can make their own decisions about 'how they – if and how they participate in the Saudi-led military operation'.
"We have said that we are supporting them (Pakistan) logistically, as I said, with munitions and other arms as well," Harf added.
Full report at:
http://tribune.com.pk/story/866920/pakistan-can-make-its-own-decision-about-participating-in-yemen-war-us/
----------
URL: https://www.newageislam.com/islamic-world-news/new-age-islam-news-bureau/kedah-state-government-fears-wahhabism-will-lead-to-extremism/d/102369