Age Islam News Bureau
22 May 2017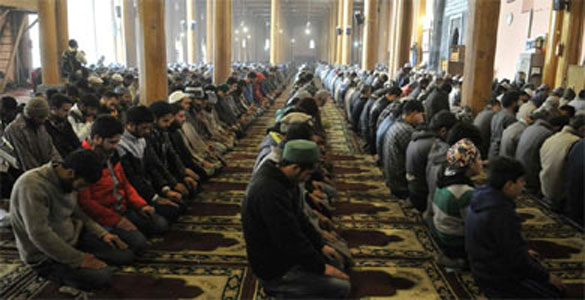 Students University of East Anglia on Saturday took part in a public prayer session in the main university square in peaceful protest against the move.(HT Representative Photo)
-----
• Kashmir Conflict Shifts with Top Militant Vowing Fight Is For Islam, Not Independence
• US-Arab-Islamic Summit to Resolve Ummah's Confronting Challenges: Pakistan Ulema Council
• Trump Offers Muslim Leaders Message Of Friendship
• UK University Removes Muslim Prayer Space Ahead Of Ramadan
• Ansarullah Leader: Trump's Visit to Riyadh Aimed at Disintegration of Arab States
India
• Kashmir Conflict Shifts with Top Militant Vowing Fight Is For Islam, Not Independence
• Triple Talaq Din: Moderate Malerkotla Shows the Way
• J&K cop who fled with rifles has joined us, says Hizbul Mujahideen spokesman
• Over 2,000 Dalits Threaten To Convert To Islam In UP
• Naugam operation: 4 terrorists killed, 3 soldiers martyred
• Muzaffarnagar: Police find footage of assault on two Muslims, no complaint yet
• Punjab: Terror module with links in Pakistan, Canada busted, two held
--------
Pakistan
• US-Arab-Islamic Summit to Resolve Ummah's Confronting Challenges: Pakistan Ulema Council
• Fragmented Religious Parties Destined To Play 2nd Fiddle Even In Future
• JI leader blames PML-N for Pakistan's 'isolation'
• Pakistan agency to quiz 200 over anti-army posts on social media
• MQM, Mohajir community inseparable: Dr Sattar
• Kalbushan destined to be hanged: JI
--------
North America
• Trump Offers Muslim Leaders Message Of Friendship
• Trump Accuses Iran of Fuelling 'Fires of Sectarian Conflict and Terror'
• Trump Tells Middle East to 'Drive out' Islamist Extremists
• New US Islamic institute prioritizes outreach, education
• CNN show tells stories of Arab, Muslim Americans from Metro Detroit
• India a Victim of Terror, Says Donald Trump, Calls Upon Muslim Nations to Do Their Bit to Defeat Terrorism
--------
Europe
• UK University Removes Muslim Prayer Space Ahead Of Ramadan
• Will Germany Preserve Western Culture From Islam?
• Politicians need to realise the value of Muslim votes in the upcoming election
• A poorly tailored federalism: The biggest ills of the Russian territorial system
--------
Arab World
• Ansarullah Leader: Trump's Visit to Riyadh Aimed at Disintegration of Arab States
• Bahrain Court Convicts Top Shiite Cleric in Money Laundering Case
• Bombing kills 14 Ahrar al-Sham militants in NW Syria: SOHR
• Iraqi Hashd al-Sha'abi fighters take back 7 villages west of Mosul
• Aleppo: People in Al-Bab Rally against Turkish Army, Allies
• More Turkey-Backed Militants Killed in Clashes with Kurdish Fighters in Northern Syria
• Syria: ISIL Bans Trade in Syrian, Other Currencies in Deir Ezzur, Raqqa
• Terrorists Fail to Prevail over Syrian Army Positions in Western Sweida
• Terrorist Groups Send More Forces to Southern Homs to Slow Down Syrian Army Advances
• Syrian Army to Restore Full Security to Homs City Soon
• Iraqi Units Open Fire at US Jets Operating over Syrian Desert
• Syrian regime regains total control of Homs city
• Egypt refers 48 church bombing suspects to military judiciary
• Trump accepts invitation to visit Egypt from President Sisi
--------
Africa
• South Africa Youth Vulnerable to Jihadists like Islamic State
• UN Urges Leaders in Africa To Join War On Al Shabaab
• Envoy sees greater growth for Malaysia-Africa ties
• Haftar forces bombard rivals after Libya airbase attack
• Almajiri system of begging is anti-Islam, Sultan says
• Sudan: President Not Attending Saudi Summit
--------
Mideast
• Israel Makes Some Concessions to Palestinians before Trump Visit
• Hamas Rejects Trump's Description of Group as Terror Outfit
• Some 220 Prisoners Join Jailed Palestinian Hunger Strikers
• Hamas sentences three Palestinians to death over commander's killing
• Deputy Top Commander Blasts US Secretary of State's Anti-Iran Remarks
• Turkey to Set Up New Militant Army in Northern Syria
• Iran foreign minister scorns Trump after speech, arms deal
• Erdogan vows fight against enemies as returns to lead party
• Ankara police kill two suspected ISIS members planning attack: governor
• Iran reformists sweep Tehran council elections
• US administration 'mentally impeded': Top Hezbollah official
--------
South Asia
• ANA Artillery Units Pound Taliban Hideouts in Ghazni, Leaving Scores Dead
• Rise of Radical Groups in Maldives Raises Fear of Terror Attack in India
• Taliban Suffer Heavy Casualties in Uruzgan Airstrikes
• Bangladesh 'militants' surrender after Facebook plea
• Hasina meets Trump, invites him to Bangladesh
• Trump calls Afghan soldiers courageous for their sacrifices in fight against terror
• Hekmatyar acting as if the Afghan government has surrendered: Noor
--------
Southeast Asia
• Riyadh Summit signals Muslim countries united in eradicating terrorism, Najib says
• Ex-judge: Protect Malaysia's secular status
• Sarawak government sets up non-Islamic affairs unit
Compiled by New Age Islam News Bureau
URL: https://www.newageislam.com/islamic-world-news/kashmir-conflict-shifts-with-top/d/111240
-------
Kashmir Conflict Shifts with Top Militant Vowing Fight Is For Islam, Not Independence
Michael Safi in Srinagar
22 May 2017
A serious rift has emerged within the decades-old insurgency against Indian rule in Kashmir, with a top militant commander vowing to establish a Islamic system in the disputed Himalayan region and repudiating the goal of an independent state.
Zakir Musa, the commander of Kashmir's largest anti-India militia, has explicitly distanced himself from the 70-year-old independence movement in the valley as well as from elements who wish to merge with Pakistan, declaring his fight is "exclusively for Islam, so that Sharia [Islamic law] is established here".
The pronouncements, issued in audio statements posted on social media in the past weeks, signal a growing ideological divide between Kashmir's old guard of separatist leaders, their traditional sponsor Pakistan, and a new, social-media savvy generation of rebels heavily influenced by radical Islam.
Musa, 22, has emerged in the past year as the leading face of the ongoing militancy in the Indian-controlled section of the former princedom that was divided between India and Pakistan in 1947 and is still claimed by both.
He succeeded another militant, Burhan Wani, as the commander of the militant group Hizbul Mujahideen. Wani's death last July in a clash with Indian soldiers triggered weeks of protests that paralysed the valley. Security forces killed more than 90 civilians and injured around 15,000, many permanently blinded by pellet guns.
Protests – including some led for the first time by young women – have broken out again in past weeks and by-elections in April saw record low turnouts, pointing to deep disillusionment among Kashmiris and raising fears of another bloody summer ahead.
Musa is part of a new generation of anti-India fighters whose numbers are small – roughly 210, according to police estimates – but who enjoy strong support among the public, and whose exploits and opinions are widely shared on social media.
"Everyone is with him," a student, Yawir, told the Guardian this week at Government Degree College in Pulwama, where last month students clashed with Indian security forces, triggering a wave of protests across the region.
"He is out there for martyrdom, he's out there for a sacred cause, how can I oppose him?" Amir, another student, said.
In a video statement circulated online in March, the bearded, softly-spoken Musa appealed to protesters such as the Pulwama students "not to fall for nationalism". "I see that many people in Kashmir are engaged in a war of nationalism, which is forbidden in Islam," he said.
The fight in the region should "not be for the sake of Kashmir," he said. "It should be exclusively for Islam so that Sharia is established here."
Another video released by the group in April went further, criticising Pakistan, a traditional source of money, militants and equipment for separatist groups in the valley.
Appropriating the slogan of Al-Qaida in the Indian Subcontinent, a local branch of the terrorist group, an unnamed militant is shown telling villagers: "This war is for Sharia or Shahadat (martyrdom)."
"Pakistani flag is not part of Sharia," he says. "Why do you wave the Pakistani flag? Anyone who waves the Pakistan flag will be our enemy."
The militant praises the Taliban "because [it] wants an Islamic system in Pakistan", adding: "We do love Pakistan because that country was created in the name of Islam. But there is no Islam [there] at present, so we are unhappy with it. We have to do jihad with Pakistan as well."
Before his death, Wani had appeared to drift towards the rhetoric of global Islamist movements such as al-Qaida, calling in 2015 for a "caliphate [to be] established in Kashmir". But he had stopped short of disowning the independence movement or criticising Pakistan.
The hardening position of the militant group has put pressure on older leaders, some of who took up arms during the first wave of militancy in the 1990s, but have since turned to politics to achieve their ends.
Last week the All Parties Hurriyat Conference, an alliance of Kashmiri separatist groups comprising the traditional leaders of the movement, issued a careful press release that appeared to distance itself from the militants' comments.
"Terrorism and freedom movement are poles apart," it said. "Our movement has nothing to do with these world level groups [Islamic State and al-Qaida] and practically they are non-existent in our state."
Their statement drew a response from Musa labelling the leaders of the alliance hypocrites and warning he would "chop off their heads and hang them at Lal Chowk" – a main street in Srinagar – if they became "a thorn in our way to establishing Sharia".
After Hizbul Mujahideen's supreme leaders in Pakistan distanced themselves from his comments Musa announced he had quit the movement.
Indicating the tension around the dispute, one senior separatist leader abruptly terminated an interview with the Guardian when pressed on the issue. "Everybody wants India to quit Kashmir, that is a collective voice, whether it's young, old, this is the message," he said.
"In every movement, every society, in every nation, there are different thoughts ... We have said and we will reiterate it: let the people first decide, the right of self-determination, what they want, then people can decide themselves about the system."
Police said they were watching the dispute closely. "Time will tell, but it is definitely an important shift," said SP Vaid, the director-general of the Jammu and Kashmir police service.
In his office in Srinagar, Vaid said the embrace of a more radical ideology by Musa's militants presented an opportunity for authorities to peel away their public support. "The average person in the valley is not a radical," he said. "If militants take this course, people will definitely get alienated from them."
He said he was unconcerned about the other risk: that Musa's identification with jihadi movements such as al-Qaida might increase the terrorist group's support in a region where it has struggled to gain traction. "I don't think it will happen, knowing the mind of Kashmir people," he said.
Ayesha Siddiqa, an expert in Pakistan military policy, said the shift towards global jihadi ideology reflected "a lot of disappointment with Pakistan by these militant groups".
She said the supply line between Islamabad and Kashmir "was cut, or at least had a sizeable reduction" in the years after the 11 September 2001 terrorist attacks, as Pakistan came under pressure to abandon its support for overseas militancies.
"There has been the realisation [among militants] that Pakistan is another country, and ultimately it will compromise based on its national interest," Siddiqa said.
She said the argument between Musa and older leaders was "a very interesting debate worth watching". "If it gets popularised, it will completely change the character of the Kashmir struggle, which was secular, to something that a lot of people would not want," she said.
"What is worth watching is the capacity [of younger militants] to push out the old stakeholders. It's the youth, it's the new, and digital warriors are today very dangerous. These are the warriors who have managed to get people out on the street."
In Tral, Musa's southern home town, a close family member expressed concern for the safety of the former engineering student.
"He has become Islamist and it will create more problems for him," they said, requesting not to be identified to avoid scrutiny by Indian security forces. "Now I am more worried for him. He will have enemies on all sides."
They added, of his recent statements: "Whatever he has said is true."
https://www.theguardian.com/world/2017/may/22/kashmir-conflict-shifts-top-militant-fight-islam-independence-zakir-musa
--------
US-Arab-Islamic Summit to Resolve Ummah's Confronting Challenges: Pakistan Ulema Council
May 22, 2017
Islamabad: Arab-Islamic-US Summit will prove a positive step to resolve confronting challenges of Muslim Ummah. The world leadership should have to play crucial and vital role to address prevailing challenges of Kashmir, Palestine, Iraq and Syria. In a joint statement, leadership of Pakistan Ulema Council including Chairman Hafiz Muhammad Tahir Mehmood Ashrafi, Maulana Ayub Safdar, Maulana Abdul Hameed Watto, Maulana Abdul Kareem Nadeem, Maulana Abdul Haq Mujahid, Maulana Abdul Hameed Sabri, Maulana Shafi Qasmi, Maulana Saad Zikriya, Maulana Nauman Hashir, Haji Muhammad Tayyab Qadri and Maulana Ashfaq Patafi said that criticism on arrival of US President Donald Trump to Saudi Arabia is irrational as Saudi leadership has made realize US leadership to disassociate terrorism and extremism with any particular religion and religious sect.
Saudi leadership has made it clear on Wester and US leadership that terrorism and extremism should not be affiliate with any particular religion and region. The joint statement also pointed out that if objections are not being made on Iran, India and Russian relationship then no one should raise fingers on US and Arab Islamic countries relationship. Arab-Islamic Summit is being held to contain increasing influence of Daesh and such terrorists outfits.
Islamic Military Alliance, Arab-Islamic-US Summit and World Islamic Ideological Alliance will prove positive forums to annihilate menace of terrorism and extremism from Muslim world, said Joint statement of Pakistan Ulema Council. Leadership of Pakistan Ulema Council also lauded stance of Saudi government for not issuing visas to Israel-based journalists for coverage of Arab-Islamic-US Summit.
Saudi leadership expressed solidarity with people of Palestine and support Palestinian cause by not issuing visas to Israeli media personal despite US pressure, said Joint statement of Pakistan Ulema Council. The Joint statement also condemned Missile attack at Al-Riyadh by Houthi tribes and urged on leadership of Muslim world to take immediate action against Houthi tribes for making missile attack in Al-Riyadh.
http://pakobserver.net/us-arab-islamic-summit-resolve-ummahs-confronting-challenges-puc/
--------
Trump offers Muslim leaders message of friendship
21st May 2017
RIYADH: US President Donald Trump told dozens of Muslim leaders Sunday he brought "a message of friendship and hope and love", in a keenly awaited speech on Islam in Saudi Arabia.
He urged Muslim countries to ensure that "terrorists find no sanctuary on their soil" and announced an agreement with Gulf countries to fight financing for extremists.
http://www.newindianexpress.com/world/2017/may/21/trump-offers-muslim-leaders-message-of-friendship-1607440.html
--------
UK university removes Muslim prayer space ahead of Ramadan
May 21, 2017
Ahead of Ramadan, a top UK university has decided to remove prayer space available on campus for Muslims, citing a "lack of space" during exam season as the reason behind its move.
The only daily prayer space available on campus of the University of East Anglia (UEA) is to be permanently removed and replaced with a corridor to the university Library, Independent reported.
Muslim students at the university were told that their Friday prayer space was to be taken away due to a "lack of space" during exam season, the paper said.
Students yesterday took part in a public prayer session in the main university square in peaceful protest against the move.
A spokesperson from the UEA Islamic Society said: "We are shocked and appalled that the University, who re-located us… on the condition that they would investigate a permanent solution which they have failed to produce, would take away our only prayer spaces during exam period and before Ramadan".
Over the past few years, Muslim students at the university have used a lecture theatre for prayer and worship. The larger Friday worship sessions take place at a separate location by the Blackdale student residences.
Both arrangements were set up as a temporary solution while the university discussed plans for a permanent prayer space.
From Sunday, however, the Muslim student community are to be left with no designated prayer space, a move students say they had not been invited to discuss.
UEA's Student Union has accused the university of discrimination, failing its duties under the Equality Act.
Union spokesperson for welfare, community and diversity, Jo Swo, was quoted as saying by the report that the situation had caused "a tremendous amount of anxiety and inconvenience for Muslim students as it has made them feel observed and treated like an inconvenience to the University".
UEA has begun dramatic plans for expansion over the next few years, pledging to recruit up to 3,000 new students by 2030 – a rise of 20 per cent.
A UEA spokesperson said the Vice Chancellor would be meeting with students imminently to discuss the matter.
In a statement, the university said: "As part of a 2 million pound investment in new library study spaces and the complete refurbishment of the University's main lecture theatres the use of a prayer facility near Lecture Theatre 2 will be temporarily unavailable for safety reasons during the building works".
http://indianexpress.com/article/world/uk-university-removes-muslim-prayer-space-ahead-of-ramadan-4666448/
--------
Ansarullah Leader: Trump's Visit to Riyadh Aimed at Disintegration of Arab States
May 21, 2017
"Trump's trip to Riyadh is in line with implementing the US and Israel's plots to annihilate the Arab states after weakening and disintegrating them," al-Houthi said on Sunday.
"Saudi Arabia and the UAE are financial sponsors of these plots and when their role ends, it will be their own turn to become annihilated by poverty," he added.
In relevant remarks earlier today, Abdel Bari Atwan, the editor-in-chief of Rai al-Youm newspaper, referred to Trump's visit to Riyadh, and warned that Washington is using Saudi Arabia's wealth and petrodollars to implement its plots in the region.
"In such conditions, Saudi Arabia's wealth is at the service of a plot whose goal is securing Israel's stability in the next decades and fighting anyone who opposes this plan," Atwan wrote on Sunday.
"Also, the Saudi money is being used to save the US economy and help Trump to act upon his promises during his presidential campaign on massive investment on the US infrastructures," he added.
Warning that the Saudi-US strategic view focuses on annihilation of any resistance groups against Israel, Atwan added that the reason for Riyadh's invitation to Saad Hariri, the Lebanese prime minister, who is an enemy of Hezbollah, and not Lebanese President Michel Aoun to the Arab leaders' meeting with Trump has been the same.
Trump landed in Saudi Arabia on Saturday.
Beneath the symbolism remains the antagonism that Trump has fueled with his anti-Muslim views expressed both on the campaign trail and in the White House.
During the campaign, Trump said "Islam hates us," proposed "a total and complete shutdown of Muslims entering the United States," floated the idea of monitoring US mosques and officially re-introduced the term "Islamic terrorism" in the American political parlance.
And, just seven days after taking office on January 20, Trump signed an executive order banning people from seven Muslim-majority countries from entering the US.
http://en.farsnews.com/newstext.aspx?nn=13960231001276
--------
India
Triple talaq din: Moderate Malerkotla shows the way
By Parvesh Sharma
The Muslim-majority town has not seen even one case of 'instant divorce' thanks to family bonding and better education for girls
Unlike in many parts of the country, like this one from Thane (Maharashtra), Malerkotla women reject 'triple talaq.' PTI
THE Muslim-majority town of Malerkotla in Punjab could perhaps be the only place in the country unmoved by the heat over 'triple talaq, being debated in the Supreme Court. No one — community lawyers, the police and NGOs working there — can recall even one such case in decades. "It's because the community believes that such 'instant divorces' bring a bad name to it. It's an insult to us," says Dr Rubina Shabnam, head of Nawab Sher Mohammad Khan Institute of Advance Studies in Urdu, Persian and Arabic. Of 1.49 lakh voters, 60% are Muslims in Malerkotla.
It is the only town in the state where Urdu is taught in schools. It is the vegetable capital of Punjab. Famous for its badge-making industry, it has a history of producing excellent poets and qawwals. The town is also known for its local Idgah, Shaheedi Smarak built in the memory of Kuka martyrs, the Shahi Maqbara of Sufi saint Haider Sheikh and the tombs of various rulers.
The town presents contrasting pictures: burqa-clad women walk alongside their family members in all parts of the city, unmindful of the jeans-wearing girls in markets. Local Muslims prefer to duck any debate over 'triple talaq'. But what they do say is that the issue is being blown out of proportion to divert the attention of the nation from important matters. "Our main problems are lack of basic amenities such as water, sewerage, education, jobs and healthcare," says Shehzad Hussain, who heads Sikh-Muslim Front in the city against drug addiction.
"We have heard about 'triple talaq', but I have not met any woman victim of it in Malerkotla. Since the issue has drawn national attention, we generally wonder with our family members and friends that why such a fuss is being created. Yes, there are divorce cases in the community, but these are sorted out through a system devised in our religion," says Dr Rubina Shabnam. A recipient of Shiromani Urdu Sahitkar Award in 2008, she says though there are differences between couples in the community, but instant divorce is not a preferred option.
Malerkotla Bar secretary Mohammad Ayaz says in his many years of practice, he has heard only about instant divorce. "I have not seen any such case in court." He blames politicians for whipping up emotions without any knowledge about basic tenets of Islam. There are bad elements in our community too, who at times take refuge in 'triple talaq' because of their own weakness. Such men are not liked by the community," says Ayaz.
Police records have no complaint of inquiry in a triple talaq case. One of the reasons for this could be better education. The number of Muslim girls enrolled in local Islamia Girls Senior Secondary School has increased each year. "In 2010, we had around 1,200 girl students. Currently we have 2,000 students out of which most are Muslims. Things for Muslim girls are changing fast and today all parents want to provide education to their daughters. We haven't seen any instant divorce," says Saba Shaheen, the school principal.
Mufti-e-Aazam Punjab, Mohd Ertiqa-Ul-Hasan Kandhlavi, says 'triple talaq' is most hated in Islam. I have been receiving divorce cases from across Punjab, but instant divorce is rare. We have been advising the community to avoid divorce, but if circumstances force it, then one should consult the Mufti," he says.
Malerkotla MLA and cabinet minister Razia Sultana says she usually receives cases of family disputes, but has not received any 'triple talaq' complaint.
"We have heard about 'triple talaq', but I have not met any woman victim of it in Malerkotla. Since the issue has drawn national attention, we generally wonder with our family members and friends that why such a fuss is being created. Yes, there are divorce cases in the community, but these are sorted out through a system devised in our religion. —Dr Rubina Shabnam, Head of NSMK Institute of Advance Studies in Urdu, Persian and Arabic
http://www.tribuneindia.com/news/sunday-special/perspective/triple-talaq-din-moderate-malerkotla-shows-the-way/410213.html
--------
J&K cop who fled with rifles has joined us, says Hizbul Mujahideen spokesman
by Bashaarat Masood
May 22, 2017
A DAY after a Jammu and Kashmir Police constable decamped with four assault rifles, the Hizbul Mujahideen claimed on Sunday that he had joined the militant outfit. "We welcome Syed Naveed (Mushtaq) Shah in our fold," Hizbul Mujahideen's operational spokesman Burhanuddin told a local news agency in Srinagar, while congratulating the policeman for fleeing with four rifles. "People like Naveed will continue to join our struggle," he said, adding that the Hizbul Mujahideen "salutes the valour and bravery" of the constable.
On Saturday evening, Shah fled with four rifles — his service weapon and those of three colleagues — from Chandpora village in Budgam district, where he was deployed to guard a facility of the Food Corporation of India (FCI). A resident of Shopian district in South Kashmir, Shah had joined the police force as a constable in 2012.
Police officials said they could not confirm if Shah had joined the militant outfit. However, police sources said he seemed to have decamped with that intention. "Why would somebody escape with four rifles if he doesn't plan to join militants," said a senior police officer. Police have launched a manhunt to track him.
Full report at:
http://indianexpress.com/article/india/jammu-kashmir-cop-syed-naveed-mushtaq-shah-who-fled-with-rifles-has-joined-us-says-hizbul-mujahideen-spokesman-4667353/
--------
Over 2,000 Dalits threaten to convert to Islam in UP
May 22, 2017
AGRA: More than 2,000 Dalits from Aligarh have threatened to give up Hinduism and convert to Islam, alleging constant persecution by members of the local Thakur community, identified as an "upper caste".
On Sunday, they immersed pictures of Hindu deities in a rivulet close to their village, Keshopur Jhopri, as a symbolic farewell to the faith. The threat has of late found resonance among Dalits in other parts of Uttar Pradesh as well, with alleged harassment by the so-called upper castes driving members of the community in Moradabad and Sambhal to warn of mass conversion too.
What sparked the Aligarh protest was a clash last week over the construction of a Bhairav Baba temple at the site of an abandoned well after their Thakur neighbours objected to it.
Talking to TOI, local Dalit leader Bunty Singh said they had decided to convert to Islam on account of the continued "discrimination and harassment" they suffered at the hands of "upper caste" Hindus. "They don't consider us a part of the Hindu community and use abusive language against us. It is better for Dalits to convert," Bunty said.
Another Dalit, Jaiveer Singh, alleged that Thakurs had dug up drains that led from their toilets to the spot where they were planning to install a Bhairav Baba idol. Devendra Chauhan, the village pradhan's husband, claimed the Thakurs had done no wrong. He admitted that the drains had been dug up, "but the matter was resolved after the intervention of the local administration".
He alleged that some local Dalit leaders "are trying to create disharmony".
Full report at:
http://timesofindia.indiatimes.com/india/over-2000-dalits-threaten-to-convert-to-islam-in-up/articleshow/58781064.cms
--------
Naugam operation: 4 terrorists killed, 3 soldiers martyred
May 21, 2017
NEW DELHI: Four terrorists were killed and three soldiers lost their lives after the Indian Army launched an operation to foil an infiltration bid+ in Jammu and Kashmir's Naugam sector on Saturday.
The fierce encounter began when alert troops intercepted a group of infiltrators near the Line of Control in Kupwara district's Naugam on Saturday. While two terrorists were gunned down on Saturday, two soldiers were martyred+ in the operation.
"An infiltration bid was foiled by alert troops along the LoC in Naugam sector. Two infiltrating terrorists were killed," an army official had said.
After battling the infiltrators for over 36 hours, the army killed another terrorist even as another jawan sacrificed his life.
"Two more terrorists were killed today while another soldier attained martyrdom," the official said.
Read this story in Gujarati
A sanitisation operation is currently underway along the LoC. Four weapons and other war-like stores have also been recovered from the encounter site.
The Kashmir valley has witnessed a spurt in incidents of violence and infiltrarion attempts in the last couple of months.
Full report at:
http://timesofindia.indiatimes.com/india/naugam-operation-4-terrorists-killed-3-soldiers-martyred/articleshow/58775992.cms
--------
Muzaffarnagar: Police find footage of assault on two Muslims, no complaint yet
May 22, 2017
Muzaffarnagar, Muzaffarnagar muslims, Muzaffarnagar assault on muslims, attack on muslims, hate crime, India hate crime cases, hindu-muslim clash, Muzaffarnagar hindu-muslim clash, indian express news
Advertisement Muzaffarnagar police booked four people for fighting in a public place, a video of the incident has surfaced that shows the two accused Muslim youths being assaulted by a group, police said. (Source: Google Maps)
TWO days after Muzaffarnagar police booked four people — two Hindus and two Muslims — for fighting in a public place, a video of the incident has surfaced that shows the two accused Muslim youths being assaulted by a group, police said. However, they are yet to receive any complaint in the matter. The incident took place on May 19. All four youths — identified as Shiva, Kashish, Abdulla and Amir — were booked under Section 151 of the CrPC (arrest to prevent commission of cognizable offences) and granted bail the same day.
According to the police, after seeing the video, which has gone viral, they contacted the families of Abdulla and Amir to file an FIR in the matter, but they refused to do. Additional SP, Muzaffarnagar, Aditya Prakash Verma said: "The families of Abdulla and Amir have so far not submitted any complaint to get an FIR registered."
Neither family seemed interested in pursuing the matter, he said. Abdulla and Amir are residents of Muslim-dominated Bagheri village. Station House Officer of Nai Mandi police station, Prabhakar Kentura, said that on May 19 afternoon the police got information about a clash between two groups near Kamla farmhouse over eve-teasing. The police went to the spot and caught four persons.
"All four then told the police that their dispute had been resolved and they did not want to initiate legal formalities…They gave it in writing in the court that the dispute between them had been resolved," Kentura said. "Yesterday, when I saw the video of the incident, I was surprised. Abdulla and Amir had not told us that they were beaten up by the group." Abdulla's father is a farmer, while Amir Ali's family runs a grocery store.
The pradhan of Bagheri village, Sabir Hasan, said, "I spoke to both families. They are not ready to file a complaint. Both families are avoiding the issue out of fear." VHP's Muzaffarnagar district president Sachin Singhal did not deny that the two Muslim youths were thrashed but said Shiva and Kashish did not belong to the Bajrang Dal, a youth wing of the VHP.
Full report at:
http://indianexpress.com/article/india/muzaffarnagar-police-find-footage-of-assault-on-two-muslims-no-complaint-yet-4667292/
--------
Punjab: Terror module with links in Pakistan, Canada busted, two held
By Navjeevan Gopal
May 22, 2017
A man believed to have been part of a jatha (delegation) to Nankana Sahib in Pakistan in 2005, led by CM Capt Amarinder Singh, was on Sunday arrested at the India-Pakistan border for allegedly being connected to a terror module with links in Canada and Pakistan. Mann Singh (40) was among the two people arrested by the BSF on Sunday. "The arrested terrorists were identified as Mann Singh (40) and Sher Singh (28) from Sri Hargobindpur (Gurdaspur) and Kartarpur (Jalandhar), respectively," a Punjab government release said.
Deep Singh, father of Mann Singh, told The Indian Express that his son was part of the "jatha led by Capt Amarinder Singh". "Due to some differences in the family, we have no links with Mann Singh. I cannot say anything on his arrest, his conduct and the recoveries," Singh said. An official of Punjab Police's counter-intelligence wing said, "At this stage, we cannot confirm this (whether Mann Singh was part of Palki delegation)."
Full report at:
http://indianexpress.com/article/india/punjab-terror-module-with-links-in-pakistan-canada-busted-two-held-4667309/
--------
Pakistan
Fragmented religious parties destined to play 2nd fiddle even in future
May 22, 2017
Do the fragmented religious parties have a future in the Islamic Republic of Pakistan? Can they sink their differences to emerge as a force to reckon with?
No, perhaps never. They are destined to play second fiddle to the leftist or rightist parties that have a better following. If they could not play the lead role during the past many decades of their existence, they are not expected to do miracles in the future.
The religious parties have divided the society in Shia, Sunni, Deobandi, Brelvi and Ahle Hadith schools of thought and followers of one sect don't support the other even in election.
And then each sect has a number of groups, because of which no party can claim to be the sole representative of that sect.
Divisions are so deep-rooted among the "preachers of unity among the Ummah" that followers of one sect don't like even to offer prayers behind the Imam of a rival sect. And if someone is highly tolerant, he will do so only with a heavy heart.
This is the on-ground situation when religious parties have to project themselves as a better alternative to the PML-N, the PPP and the PTI. If they can't rise above their sectarian difference and get united for their collective good, they should better shut down their separate "political kiosks" and merge themselves into the major parties they think are closer to their ideologies.
The religious parties had set up the Muttahida Majlis-i-Amal, an alliance that succeeded in forming its government in KP during the Musharraf era. JUI-F leader Akram Durrani became the chief minister, mainly because the Musharraf government wanted to show the world that the elections held during the era of his "enlightened moderation" were so transparent that religious forces had captured a province. (Durrani, now a federal minister in the PML- N government, remained chief minister from November 2003 to October 2007. The performance of this government can be gauged by the fact that it was replaced by a secular Amir Haider Hoti (who ran the province from March 2008 to March 2013).
The JUI-F, which held centennial celebrations only a few weeks ago, had bagged only 1.4 million votes in the 2013 elections, which speaks volumes about the "popularity" of this party despite decades of its existence. It has about a dozen seats in the National Assembly.
There is little realisation among the religious parties about the need for unity. Roughly a million statements have been published quoting various leaders that the MMA, dormant since long, is being revived. But, so far, it is hard to say that the "resuscitation efforts" will bring it back to life.
Ideology, it appears, has never been a major consideration for the JUI-F and it is open to joining hands with any other party that gives it its due share. It's a coalition partner with the current PML-N-led setup, it worked with the PPP during the Benazir rule, and even with Gen Musharraf.
Interestingly, at a time when it was sharing power with the PML-N it also succeeded in getting Maulana Abdul Ghafoor Haidri elected as Senate deputy chairman with PPP's support.
Thus, it has established itself as a party that can join hands with two rivals at the same time.
(Because of its adaptability some people liken the JUI-F to potato, that can be cooked with mutton as well as many other vegetables).
Despite the fact that the JUI-F leadership is good at bargaining, it has not been able to raise its parliamentary strength. It got about 1.4 million votes (or 3.2 percent of the cast votes) in 2013 elections. It has about a dozen seats in the National Assembly, which is not a good performance.
The JUI has another faction, led by Maulana Samiul Haq. Despite several efforts the two have not been able to iron out their differences.
The Jamaat-i-Islami is another major religious party. But it has also not been able to expand its political base over the past decades, probably because it has involved itself in a number of activities and can't focus on politics. It has votes in many constituencies, but not enough to get its candidates elected.
After the 2013 election, the JI has been a partner of the PTI in KP, which is a factor that has widened the gulf between the JI and JUI-F. Maulana Fazlur Rehman regards PTI Chairman Imran Khan as his enemy No 1 and an agent of the Jews.
In case some miracle happens and a religious parties' alliance comes into being, Maulana Fazl will like it to join hands with anti-PTI forces to contain Imran Khan. But the way the JI leaders are lashing out at Nawaz Sharif, especially after the apex court's interim verdict in Panama Papers case, it appears very difficult for the JI leadership to join hands with the PML-N.
But this doesn't mean that the Jamaat is sticking to some principles. Not long ago, the Jamaat had made adjustments both with the PML-N and the PTI when by-election was being held on NA-122 (Lahore). In this election PML-N's Sardar Ayaz Sadiq was contesting against PTI's Aleem Khan.
Jamiat Ahle Hadith, like other religious parties, is also a divided house. One faction, headed by Professor Sajid Mir, has reduced itself to the religious wing of the PML-N and will remain so in the foreseeable future. Senator Mir can't dream of reaching the upper house of the bicameral legislature without the PML-N's support.
The other faction is led by Hafiz Ibtisam Elahi Zaheer, which is just a non-entity.
Like other religious parties, the Jamiat Ulema-i-Pakistan is also a divided house and stands no future. One faction is headed by Pir Ijaz Hashmi, a trusted aide to the late Maulana Shah Ahmed Noorani, the other is headed by Sahibzada Abolkhair Muhammad Zubair and the third by Maulana Masoom Naqvi.
There are also many Sunni factions led by various leaders in the field. Regrettably, these leaders have never realised that they have done a great disservice to the Sunnis by dividing them into countless groups. Shias are also no exception as far as disunity in their ranks is concerned.
One faction is led by Allama Raja Abbas Nasir, which is an ally of the PML-Q.
The other faction called Islami Tehrik, headed by Allama Sajid Ali Naqvi, is closer to the JUI-F.
There is another party – Pakistan Awami Tehrik led by firebrand Dr Tahirul Qadri. Interestingly, it does not like to be called a religious party. The party has pockets of support in various parts of the country – but not enough to get elected its nominees. And since Dr Qadri and both his sons are foreign nationals, under the law they can't contest the election.
Unless Dr Qadri returns to Pakistan and surrenders his foreign nationality, he can't reach the parliament. And the party will have little interest in getting somebody else as a legislator. The PAT, therefore, is expected to stay away from the legislature in the foreseeable future.
http://nation.com.pk/national/22-May-2017/fragmented-religious-parties-destined-to-play-2nd-fiddle-even-in-future
--------
JI leader blames PML-N for Pakistan's 'isolation'
May 22, 2017
ISLAMABAD - Naib Amir Jamaat-e-Islami Mian Aslam held ruling Pakistan Muslim League-Nawaz (PML-N) responsible for the growing "isolation" of the country as the government had failed to appoint a full-fledge foreign minister for the past four years.
Addressing a function organised here on Sunday, Aslam, who also remained MNA from the federal capital, claimed that it was due to the indifference of Nawaz League that the country was slipping into isolation in the comity of nations.
Referring to the Indian spy case Gulbushan Jhadav, the JI naib amir said that Pakistan had to face setback at the International Court of Justice (ICJ) because the foreign office in the absence of a foreign minister could not prepare the case well nor they have projected the case at available international forums in an appropriate fashion.
Aslam said that right now the country was in serious crisis as on the one hand India was bent upon keeping the Line of Control (LoC) and working boundary hot by repeated border violations, while on the other hand the issues mainly pertaining to border issues with Afghanistan could not be effectively tackled in the absence of the foreign minister.
Similarly the growing uneasiness with Iran also needed to be looked after properly but all this could only be done by a vibrant and robust foreign policy under a full-fledge foreign minister.
Aslam said that Pakistan was created in the name of Islam and no power on earth could make it a secular state.
He reiterated his party's policy to continue struggle for transforming Pakistan into a true Islamic state.
Full report at:
http://nation.com.pk/national/22-May-2017/ji-leader-blames-pml-n-for-pakistan-s-isolation
--------
Pakistan agency to quiz 200 over anti-army posts on social media
May 22, 2017
ISLAMABAD: Pakistan's Federal Investigation Agency (FIA) has finalised a list of 200 people, including reporters, to question them for their tweets and posts against the powerful army on social media, a media report has said.
Among those named in the list include some social media activists of the ruling Pakistan Muslim League- Nawaz and opposition Pakistan Tehreek-e-Insaaf.
Citing its sources, the Samaa TV re¬ported that 40 people have already been grilled by the investigation agency while their laptops, mobile phones and IPads have been seized and sent for forensic evaluation.
The agency has finalised a list of 200 people, the channel said, quoting a govern¬ment's source.
The move comes despite Tehreek-e- Insaaf chief Imran Khan's threat to launch street protests against the social media crackdown.
Khan said he would be forced to take to the streets if the government touched his workers or banned the social media.
Salar Kakar, a social media activ¬ist of Khan's party, was detained from Quetta and shifted to Islamabad for investigation before being released a day later.
Dr Faisal Ranjha, an active supporter of the PML-N on social media, has also report¬edly been arrested by the FIA.
In a statement, the Human Rights Commission of Pakistan voiced serious alarm over arbitrary curbs on freedom of expression, a climate of intimidation and the authorities' stated intent to act against any perceived slight to the armed forces through the social media.
Full report at:
http://kashmirreader.com/2017/05/22/pakistan-agency-quiz-200-anti-army-posts-social-media/
--------
MQM, Mohajir community inseparable: Dr Sattar
AZFAR-UL-ASHFAQUE
May 22, 2017
KARACHI: Muttahida Qaumi Movement-Pakistan chief Dr Farooq Sattar on Saturday said that the MQM and Mohajir community could not be separated and the party would retain its traditional vote bank whenever elections were held.
Speaking at a press conference at the temporary headquarters in Bahadurabad, Dr Sattar said those doing politics for the Urdu-speaking community could be divided, but the MQM proved that the Mohajir vote remained undivided. "The people were with us yesterday and they are with us today ... those considering MQM a dead entity will be disappointed in the 2018 general elections," he said.
Dr Sattar said that he respected the judiciary and legal consultations with regard to his arrest were under way when he was asked if he would surrender before an antiterrorism court that had recently directed the Rangers' director general to arrest him and Amir Khan in a case pertaining to the Aug 22 incendiary speech of MQM founder Altaf Hussain and subsequent violence.
Full report at:
https://www.dawn.com/news/1334345/mqm-mohajir-community-inseparable-dr-sattar
--------
Kalbushan destined to be hanged: JI
May 22, 2017
LAHORE - Jamaat-e-Islami chief Sirajul Haq has said Indian spy Kulbhushan Jhadav is destined to be executed whether the government liked it or not.
Replying to media queries at the JI Youth election camp at Mohlanwal on Sunday, the JI amir held that Kulbhushan was a terrorist and had been deputed in Pakistan for sabotage and killing and hundreds of innocent people in terrorist activities. "Pakistan is a sovereign state, not a slave of any world power," he added.
He assured the young men that Jamaat-e-Islami would issue fifty per cent of its party tickets to the youth in the next election. The JI alone could ensure a bright future for the young generation, he claimed. Earlier, while addressing the central advisory council at Mansoora, Sirajul Haq said that the past and the present rulers had driven the country into the mire of problems and the JI was striving hard to steer the country out of it through democratic mans. "The present regime has not provided any relief to the masses during its four years rule. The Panama leaks, Dubai Leaks and the London leaks have fully exposed the past and the present rulers." Siraj went on to say that conspiracies were going on to derive the country of its ideological foundations.
However, he said, the JI was trying its best to foil these conspiracies with the support of the religious parties.
Full report at:
http://nation.com.pk/lahore/22-May-2017/kalbushan-destined-to-be-hanged-ji
--------
North America
Trump accuses Iran of fuelling 'fires of sectarian conflict and terror'
May 22, 2017
US President Donald Trump on Sunday urged Islamic leaders to take a stand against violence done in the name of religion, describing the struggle against extremism as a "battle between good and evil".
Explore: The Saudi temptation
In a highly anticipated speech in Saudi Arabia, Trump lashed out at Iran, accusing Tehran of fuelling "the fires of sectarian conflict and terror" and calling for its international isolation.
Saying he came with "a message of friendship and hope and love", Trump told dozens of Muslim leaders that the time had come for "honestly confronting the crisis of religious extremism".
"This is a battle between barbaric criminals who seek to obliterate human life, and decent people of all religions who seek to protect it. This is a battle between good and evil."
The speech came on the second day of a visit to Saudi Arabia, part of Trump's first foreign tour that will take him next to Israel and the Palestinian territories and then to Europe.
The White House has sought to draw a clear distinction during the visit with Trump's predecessor Barack Obama, who Saudi Arabia and its Arab allies saw as lecturing and soft on their rival Iran.
Trump did not hesitate to single out Iran in his speech.
"From Lebanon to Iraq to Yemen, Iran funds, arms and trains terrorists, militias and other extremist groups that spread destruction and chaos across the region," Trump said.
"Until the Iranian regime is willing to be a partner for peace, all nations of conscience must work together to isolate it." He appealed to Muslim nations to ensure that "terrorists find no sanctuary on their soil" and announced an agreement with Gulf countries to fight financing for extremists.
Introducing Trump, Saudi King Salman called Iran "the spearhead of global terrorism".
Unlike the Obama administration which would often raise concerns over civil liberties with longstanding Arab allies, Trump had made no mention of human rights during his visit so far.
"We are not here to lecture — we are not here to tell other people how to live... or how to worship. Instead, we are here to offer partnership — based on shared interests and values," Trump said.
Some 35 heads of state and government from Muslim-majority countries were in Riyadh for the Arab Islamic American Summit, mainly from states friendly to Saudi Arabia.
Much of the focus during the summit was on countering what Gulf states see as the threat from Iran, which opposes Saudi Arabia in a range of regional conflicts from Syria to Yemen.
'Tremendous' first day
Trump's speech was touted as a major event — along the lines of a landmark address to the Islamic world by Obama in Cairo in 2009.
It was especially sensitive given tensions sparked by the Trump administration's attempted travel ban targeting several Muslim-majority nations and his previous remarks on Islam.
In December 2015, Trump told a campaign rally he was calling for a "total shutdown" of Muslims entering the United States "until our country's representatives can figure out what the hell is going on".
His words shocked many Americans, with Trump detractors noting that the US Constitution prohibits religious discrimination.
"I think Islam hates us. There is a tremendous hatred there. We have to get to the bottom of it," Trump said in a March 2016 interview with CNN.
Still, Trump was welcomed warmly in Saudi Arabia, where he and first lady Melania Trump were given an extravagant reception by King Salman and the rest of the Saudi royal family.
The first day saw the announcement of hundreds of billions of dollars in trade deals, welcome news for Trump as he faces mounting troubles at home linked with the probe into alleged Russian meddling during last year's election campaign.
Among the agreements was an arms deal worth almost $110 billion with Saudi Arabia, described as the largest in US history.
The trade deals announced on Saturday were said to be worth in excess of $380 billion, and Trump proudly declared the first day of his visit "tremendous".
On Sunday he held a series of meetings with other Arab leaders, including Egyptian President Abdel Fattah al-Sisi, Qatar's Emir Sheikh Tamim bin Hamad Al-Thani and Bahrain's King Hamad.
Warm talks with 'friend' Sisi
The meeting with Sisi — an avowed fan of the president — was especially warm and Trump said he would "absolutely" be putting Egypt on his list of countries to visit "very soon".
Trump referred to Sisi as "my friend" and Sisi said the US president was a "unique personality" and "capable of doing the impossible", to which Trump responded: "I agree!" Trump even complimented Sisi on his footwear, saying: "Love your shoes.
Boy, those shoes. Man..." Sisi has faced harsh criticism of his human rights record since he led the military overthrow of Islamist predecessor Mohamed Morsi in 2013.
Trump, who travels on Monday to Israel and the Palestinian territories before visiting the Vatican, Brussels and Italy for Nato and G7 meetings, is taking his first steps on the world stage as he faces increasing scandal at home.
The last week has seen a string of major developments in Trump's domestic woes, including the announcement that James Comey, the former FBI chief fired by Trump, has agreed to testify publicly about Russian interference in the US elections.
Reports have also emerged that Trump called Comey "a nut job" and that the FBI has identified a senior White House official as a "significant person of interest" in its probe of Russian meddling.
https://www.dawn.com/news/1334519/trump-accuses-iran-of-fuelling-fires-of-sectarian-conflict-and-terror
--------
Trump Tells Middle East to 'Drive Out' Islamist Extremists
May 22, 2017
Riyadh. President Donald Trump urged Arab and Islamic leaders on Sunday (21/05) to unite and do their share to defeat Islamist extremists, making an impassioned plea to "drive out" terrorists while toning down his own harsh rhetoric about Muslims.
Trump singled out Iran as a key source of funding and support for militant groups. His words aligned with the views of his Saudi Arabian hosts and sent a tough message to Tehran the day after Hassan Rouhani won a second term as Iran's president.
The United States president did not use his signature term "radical Islamic terrorism" in the speech, a signal that he heeded advice to employ a more moderate tone in the region after using the phrase repeatedly as a presidential candidate.
"Terrorism has spread all across the world. But the path to peace begins right here, on this ancient soil, in this sacred land," Trump told leaders from about 50 Muslim-majority countries representing more than a billion people.
"A better future is only possible if your nations drive out the terrorists and drive out the extremists. Drive them out! Drive them out of your places of worship, drive them out of your communities, drive them out of your holy land and drive them out of this earth."
The president's first speech abroad provided an opportunity to show his strength and resolve, in contrast to his struggle to contain a mushrooming scandal at home after his firing of former FBI Director James Comey nearly two weeks ago.
He portrayed the conflict as one between good and evil, not between civilizations, and made clear in a forceful tone that Washington would partner with the Middle East but expected more action in return.
"There is still much work to be done. That means honestly confronting the crisis of Islamic extremism, and the Islamists, and Islamic terror of all kinds," he said in his speech.
The advance excerpts of the speech had him saying "Islamist extremism." A White House official blamed Trump's fatigue for the switch. "Just an exhausted guy," she told reporters.
The term "Islamist extremism" refers to Islamism as a political movement rather than Islam as a religion, a distinction that the Republican president had frequently criticized the administration of his Democratic predecessor, Barack Obama, for making.
As a candidate, Trump proposed temporarily banning Muslims from entering the United States. In office, he ordered temporary bans on people from several Muslim-majority countries, which have been blocked by courts that ruled they were discriminatory.
The speech in a gilded hall bedecked with chandeliers is part of an effort to redefine his relationship with the Muslim world. Trump's "America first" philosophy helped him win the 2016 election and has rattled allies who depend on US support for their defense.
Trump received a warm welcome from Arab leaders, who set aside his campaign rhetoric and focused on his desire to crack down on Iran's influence in the region, a commitment they found wanting in Obama.
"For decades, Iran has fueled the fires of sectarian conflict and terror," Trump said. "It is a government that speaks openly of mass murder, vowing the destruction of Israel, death to America, and ruin for many leaders and nations in this very room."
Trump did not make overt mentions of human rights abuses in Saudi Arabia or the other Gulf nations in his speech. White House officials has said he did not want to lecture, something they believe Obama did, unsuccessfully.
Iranian Foreign Minister Mohammad Javad Zarif fired back at Trump in a tweet that Trump had attacked Iran in "that bastion of democracy & moderation" of Saudi Arabia and suggested he had "milked" his hosts for hundreds of billions of dollars in business deals.
Joint Fight, Royal Welcome
Introducing Trump, Saudi King Salman described their mutual foe Iran as the source of terrorism they must confront together.
"Our responsibility before God and our people and the whole world is to stand united to fight the forces of evil and extremism wherever they are [...] The Iranian regime represents the tip of the spear of global terrorism," the king said.
Iran is a Shi'ite Muslim country. The groups the United States has been fighting in Afghanistan, Iraq and elsewhere since the Sept. 11, 2001, attacks on Washington and New York are mostly Sunni Muslims, and enemies of Iran. Iranian-backed militia are also fighting Islamic State militants in Iraq.
The United States and Gulf Arab countries announced an agreement to coordinate efforts against the financing of terrorist groups.
Trump's welcome in the region was put on display during a series of individual meetings with Arab leaders.
He praised Egyptian President Abdel Fattah al-Sisi, telling him: "You have done a tremendous job under trying circumstances." The Obama administration had a difficult relationship with Sisi, who came to power after leading a military coup in 2013 during which hundreds of demonstrators were killed, and has since jailed thousands of opponents.
Full report at:
http://jakartaglobe.id/international/trump-tells-middle-east-drive-islamist-extremists/
--------
New US Islamic institute prioritizes outreach, education
BY JEFF KAROUB
May 22, 2017
DEARBORN HEIGHTS, Mich. (AP) — When the Islamic Institute of America bought a Baptist church, the plan initially was to remove the pews — until the mosque's leader objected, in part because he saw keeping the benches as a way of showing Islam's compatibility with its sister faith.
"We're sending a message to non-Muslim visitors and friends — particularly our interfaith community and Christians," Imam Hassan Qazwini, one of the top Shiite Muslim leaders in the US, said from what is now the institute's lecture hall.
"We use the same benches you sat on. We're using the same stage your pastor used to disseminate our message, which is not too different from your message," he added. "The gap that exists between us is not that huge."
Qazwini said reaching out to Christians, Jews and others has never been more important, with a US president who has said Islam hates the US and polls finding most Americans holding negative views of the faith. He sees education and outreach as the primary missions of the Islamic Institute of America in the Detroit suburb of Dearborn Heights, which has one of the largest and oldest Arab-Muslim communities outside the Middle East.
Qazwini, who comes from a family of prominent American Shiite scholars and is of Iraqi descent, said he hopes to quell fears and misunderstandings through regular interfaith gatherings and a media division that will produce short videos and other internet-based programming.
Next year, the center plans to launch a seminary aimed at equipping a new generation of Muslim leaders who can help forge a better understanding of Islam in the West. He said the seminary would not only help produce well-rounded scholars who can engage with the wider world, but also better serve their US-born congregants.
"One of the issues we Muslims face in the country is … the huge gap that exists between leaders coming from the Middle East to lead our Islamic institutions and their congregations. For most of those leaders, including myself, it takes years to adapt with the environment, with the American psyche, mentality and even lifestyle," he said.
Qazwini's new institute is just a few miles from the Islamic Center of America, one of North America's largest mosques and where he served for 18 years before leaving in 2015.
Liyakat Takim, a professor of global Islam at McMaster University in the Canadian city of Hamilton, Ontario, said the US has one or two Islamic educational institutions, but "none with the same vision" offered by Qazwini.
"For the longest time, the Muslim community has imported scholars from abroad or sent them abroad to study," said Takim, who knows Qazwini. "They're not always conducive to the environment we have in America. This can create a younger generation that can preach a message which is amenable to the American environment."
Takim said Qazwini is "a man of great vision," and delivering on his plans for the institute will be "an exceptional feat and a great challenge," given rising anti-Muslim sentiment.
A Pew Research Center survey conducted in 2014 found Americans view Islam less favorably than other major religions and atheism. Another Pew survey found 38 percent of Americans think Islam is more likely than others to encourage violence among its followers, while 50 percent think it is not more likely.
President Donald Trump's campaign was marked by anti-Muslim rhetoric and, since being inaugurated, he's sought to enact a travel ban from several Muslim-majority countries.
Qazwini said perceptions of Islam are hurt by acts of violence or terror committed by people who call themselves Muslim. He criticizes the media for rushing to associate someone's crime with his religion if that person is or appears to be Muslim. Just because somebody acts "in the name of religion," it "doesn't mean the religion is acting," he said.
Still, he can understand the fears.
Full report at:
http://www.timesofisrael.com/new-us-islamic-institute-prioritizes-outreach-education/
--------
CNN show tells stories of Arab, Muslim Americans from Metro Detroit
May 21, 2017
Comedian and CNN host W. Kamau Bell visited Detroit shortly after the presidential election to film an episode of "United Shades of America" focused on Arab American and Muslim communities.
The show airs Sunday at 10 p.m.
Bell said that once he heard about the Detroit suburb of Dearborn and its uniquely high concentration of Arabs and Muslim Americans, he wanted to share the community's stories.
"When I got 'United Shades of America' the TV show, knowing how politicized Arabs and Muslims are, knowing how the media talks about them and how candidate Trump was demonizing Arab and Muslims, I knew we had to go there," Bell said.
"I was trying to demystify the real talking points, the real hatred points and the tension points about Muslims."
The CNN host aims to "find the real stories and hand people the mic" in communities facing challenges. During his visit, he went to a local mosque and participated in a prayer alongside Muslims.
"Most people don't realize Muslims would allow people to do that, to be able to go in there and do the prayer," Bell said. "I was blown away and really honored."
Bell met with several area leaders, including Hamtramck Mayor Karen Majewski, millennial Muslim men at a Dearborn hookah lounge, a non-Muslim in Hamtramck who has issues with the loud call to prayer in her neighborhood, an Imam who voted for Trump and an openly gay, devout Muslim.
"I will never forget the conversation with Hussein Ayoub of how he believes he can be a devout Muslim and also be openly gay," Bell said. "There's nothing in his voice that he sounds afraid or nervous. That's a really powerful discussion I'm really excited to see.
"Through his faith and through his connection, he and his mom built their relationship back together. Islam is the most homophobic religion and that was what they used to bring them back together."
When Bell asked a local Imam about his vote in the last presidential election, he told Bell he "voted for the Republican," because he thought Trump would be tougher on ISIS than Democratic nominee Hillary Clinton.
"We had a good conversation, even though we definitely disagreed on that," Bell said.
He met with various women to learn about what it's like to be a young Muslim female in America and to answer questions about hijab. The women discussed how they express their religious virtues, how they choose to dress and ways to feel safe from Islamophobia.
Full report at:
http://www.mlive.com/news/detroit/index.ssf/2017/05/cnn_show_highlights_arab-ameri.html
--------
India a Victim of Terror, Says Donald Trump, Calls Upon Muslim Nations to Do Their Bit to Defeat Terrorism
May 22, 2017
United States President Donald Trump, during his speech at the Arab-Islamic-US summit in Riyadh, Saudi Arabia, acknowledged that India is a victim of terrorism and said that every country must ensure that terrorists don't find sanctuaries within their borders.
"India, Russia, China, and Australia have all been victims" of terrorism, Trump said, adding that the countries, as well as the US and Europe, have "suffered repeated barbaric attacks" and have "endured unspeakable horror".
In a carefully worded speech delivered at a gathering of about 50 leaders of Muslim-majority countries, Trump did not use his signature phrase "radical Islamic terrorism", a term he often used during his campaign for the US president.
Trump, however, called upon the Middle East and Muslim countries to do their bit to defeat terrorism.
"Terrorism has spread all across the world. But the path to peace begins right here, on this ancient soil, in this sacred land", Trump said. "Muslim nations must be willing to take on the burden if we are going to defeat terrorism and send its wicked ideology into oblivion."
Urging countries to deny terrorists space to operate, Trump said, "The first task in this joint effort is for your nations to deny all territory to the foot soldiers of evil...Every country in the region has an absolute duty to ensure that terrorists find no sanctuary on their soil."
Terming the Middle East as a holy land, Trump urged countries in the region to "drive out" terrorists.
"A better future is only possible if your nations drive out the terrorists and drive out the extremists. Drive them out! Drive them out of your places of worship, drive them out of your communities, drive them out of your holy land and drive them out of this earth," the president said.
ATTACKS IRAN
Trump went on to criticise Iran, which just saw President Hassan Rouhani win a re-election bid, saying the country has "for decades...fueled the fires of sectarian conflict and terror." "It is a government that speaks openly of mass murder, vowing the destruction of Israel, death to America, and ruin for many leaders and nations in this very room", Trump added.
Iran's Foreign Minister Mohammad Javad Zarif hit back on Twitter, posting a seemingly sarcastic tweet that read " Iran-fresh from real elections-attacked by @POTUS in that bastion of democracy & moderation" Saudi Arabia.
Zarif indicated that Trump had during his Saudi Arabia visit milked his hosts of hundreds of billions of dollars in business deals.
Trump signed deals worth nearly $400 billion. In his speech, Trump said the agreements will "create many hundreds of thousands of jobs in America and Saudi Arabia." The agreements include a $110 billion Saudi-funded defense purchase.
Full report at:
http://indiatoday.intoday.in/story/india-a-victim-of-terror-donald-trump-acknowledges/1/959666.html
--------
Europe
Will Germany preserve Western culture from Islam?
22/05/17
The first to intervene, a month ago, was the German Finance Minister, Wolfgang Schäuble. Muslims in Germany "must accept our way of life", Schäuble said. And if they do not like European culture they made the "wrong" decision to come. "There are better places than Europe to live under Islamic law".
Now another politician, the Interior Minister Thomas de Maiziere,has shaken German public opinion.
He did it with an article published by Bild called "Wir sind nicht Burqa" - We are not burqa. And he promoted the revival of "Leitkultur", the dominant culture made of hard work, respect for others, confidence in Europe, arts and education, including Bach and Goethe, and Christianity.
"We are an open society, we are part of Nato, Europe and the West; we show our face, we are not the burqa", wrote De Maiziere. According to De Maiziere, the dominant culture must be paramount when measured against parallel Islamic societies, the "Parallelgesellschaften".
In a Yougov survey, half of Germans agree with De Maiziere. The Berlin daily Tagesspiegel, on the other hand, accused him of flirting with the right wing Afd. Green Leader Juergen Trittin has accused him of "right wing demagoguery". Sawsan Chebli, Berlin's state secretary, charged him of stigmatizing migrants, while former President Christian Wulff said the constitution has everything Germany needs. No Leitkultur is necessary. The Spd, a government ally of the Cdu, also attacked De Maiziere.
The term Leitkultur was not coined by a xenophobic militant, but by Bassam Tibi, a sociologist of Syrian origin, who in a 1998 book argued that Beethoven and Thomas Mann should play a more important role in Germany than foreign voices. This week, in Cicero, Bassam Tibi wrote "we in Islam call the people who speak without reading, djahil, ignorant. The integration of Muslims can not be met without a dominant culture". The leftist philosopher Jürgen Habermas also intervened, accusing De Maiziere of being "unrealistic." Critically, but from conservative positions, is Henryk Broder, who in the Die Welt declared: "It is about a dominant culture, but not about Islam".
Strongly opposed is also the Federal Commissioner for Integration, Aydan Ozoguz, who in Tagesspiegel wrote that Germany must be inspired by "diversity". "German Leitkultur is freedom, justice and a positive relationship in the community", said Social Democrat candidate Martin Schulz.
The term entered the political debate for the first time in 2000 when Cdu politician Friedrich Merz told Welt that immigrants had to assimilate in the "liberal German culture". The left has not moved from the positions expressed thirteen years ago by then Chancellor Gerhard Schroeder, who said that "Leitkultur has no meaning". While for the liberal weekly Die Zeit "talking of a dominant culture is disturbing", the Frankfurter Allgemeine was positive: "The unshakable conviction that after Auschwitz there is nothing specifically 'German' has affected entire generations".
A year ago, Leitkultur's theme was revived by a great writer and playwright, Botho Strauss, who wrote in Der Spiegel: "Sometimes I have the impression that I am German only among my ancestors". The "ancestors" he referred to are the great spirits of German culture, destined to dissolve in a multicultural society.
In 2000, the Cdu abandoned the "deutsche Leitkultur" (German dominant culture) in favor of "Leitkultur in Deutschland" (guiding culture in Germany). A sophism to mitigate the controversy.
One million migrants and several terror attacks later, the words are somewhat blurred.
But will Germany be really able to preserve German culture from the Islamic suprematists?
German cultlure did not prevent the torture and murder of six million Jews. But Germans can prevent throwing German culture into the dustbin of history in favor of another genocidal ideology, that of Radical Islam.
http://www.israelnationalnews.com/Articles/Article.aspx/20534
--------
Politicians need to realise the value of Muslim votes in the upcoming election
Imam Qari Asim
May 22, 2017
If you want to vote in the general election this year, you have until one-minute-to-midnight on Monday night to register. As citizens, the right to vote is something we shouldn't take for granted. It's striking to think that a century ago, most adult men – and all women – couldn't vote. They had to fight hard to win the right to do so and would be staggered to see that today some of their descendants can't be bothered to use it.
As a Muslim citizen, I strongly believe in the right to vote and that we should exercise that right – not least because we have a duty to try to make our society better, not just for Muslims but for all of us. I have faith in God and in democracy.
There is a small minority of Muslims who disagree, and who question whether voting for "man-made law" is fundamentally Islamic, but these arguments are unconvincing and completely outdated in 21st century Britain. Abstention from voting is essentially indirect voting, and can lead to your less-preferred option winning. The repercussions of this general election will be felt for many years, so the result should be down to conscious choice, not the by-product of apathy.
Another problem is that the British Muslim community is young, and young people are less likely to vote. Of the three million Muslims in the UK, nearly half of them are under 25. If we want the political parties and the next government to engage with Muslims in a more constructive way, British Muslims must get involved. We must play our part in engaging with political discourse at a national level.
In such a young community, many of those who do vote on 8 June will do so for the first time, and parties should be fighting over those votes. First-time voters are less encumbered by the baggage of existing party allegiance, so their votes are "up for grabs", yet I've seen little in the manifestos launched last week, nor on the campaign trail, that looks to be targeting the Muslim or broader BME communities.
The votes of British Muslims will count in more constituencies than ever before this year, yet the mainstream political parties have largely either ignored this ethnic group or not courted its votes in an effective way.
There is no such thing as a Muslim block vote: Muslims are split by ethnicity, class and region, according to Runnymede Trust's 2012 Ethnic Minority British Election study. To a great extent, Muslim voters have similar political concerns to their white British peers – a thriving economy, lower taxes, a strong NHS, Brexit and law and order.
Yet British Muslims also have distinct political concerns around safety and security in their everyday lives. These are not necessarily Muslim-only issues, but broader societal ones. We believe Britain to be our home and addressing these concerns will not only meaningfully engage the Muslim vote but unlock the full contribution that we can make to our shared home, for the common good of all.
One issue political parties must address is anti-Muslim prejudice. From London Mayoral elections to Brexit, Trump's journey to the White House to Le Pen's political defeat, political campaigns seem to have legitimised hatred and bigotry towards Muslims, but our political leaders have not been fast or forthright enough in their condemnation. Those who fuel hatred against any ethnic or faith minority should be publically challenged.
Another important factor to address when courting the British Muslim vote is social and economic inequality. Disproportionate levels of unemployment, poor housing and educational disadvantage are of huge concern for young British minorities, and Muslims are arguably the least well-resourced and somewhat more isolated section of the community. It is not by choice that the vast majority of British Muslims live in what the Casey Review termed as social enclaves – rather this segregation is largely a product of social and economic exclusion. Young Muslims will warm to those parties that promise to invest in their neighbourhoods, create job opportunities and bring prosperity to their lives, leading to better economic and social integration.
Integration isn't only about economics, though. We need an honest debate around immigration and integration but British Muslims can feel very much at the sharp end of these debates. Getting integration right matters to all of us but politicians who focus on Muslims exclusively when integration isn't working are unlikely to attract their support on polling day. Issues within Muslim communities are just one of the barriers to integration and we need to find constructive solutions, together, to build a shared British identity that we all feel part of.
Full report at:
http://www.independent.co.uk/voices/muslim-voting-general-election-islam-a7748026.html
--------
A poorly tailored federalism: The biggest ills of the Russian territorial system
22 May 2017
This article originally appeared in "Meanwhile in the Baltics...", a collection of articles written by the graduates of 2016 Solidarity Academy - Baltic Sea Youth Dialogue, organised by the European Solidarity Centre in partnership with the Council of the Baltic Sea States.
Russia is a federation of a special sort – a so-called ethno-federation, whose boundaries are based on ethno-national divisions within the country. Moreover, Russian federalism is often referred to as Soviet federalism. These enigmatic concepts have important implications and require, if not force, the Russian authorities to conduct a "flexible" regional policy, often conflicting with international standards and the basic constitutional rules upon which the Russian state is founded. In consequence, it deems the Russian federalism anachronistic. Arguably, even democratisation of the state would not solve the issue.
How Russia became a federation
Russian federalism did not develop organically, as was the case in Germany and the United States. It was forcefully imposed after the 1917 October Revolution. Bolshevik propaganda used slogans of decentralisation and the right of nations to self-determination. The Bolsheviks had a special interest in it: first, they wanted to gain the support of the various groups and nations of the Russian Empire, often repressed by the tsardom. Second, they aimed to speed up the process of decay of the old public system, which was meant to ease the creation of the state almost from scratch, based on the new rules. This was mostly achieved.
The Bolsheviks used federalism as a tool of governance. However, paradoxically, this did not lead to decentralisation, but helped to concentrate power in the hands of a few top-level Communist Party officials. Neither the Soviet Union, nor the Russian Soviet Federative Socialist Republic broke away with the absolutism of the previous era that they widely condemned, and did not convey real power to the people.
For almost all of the 20th century, the Soviet Union remained a federation, although only on paper. This lasted until 1991 when the thaw came and the ice conserving the old, rigid system melted. Changes were so rapid that there was no time for a deeper legal-systemic reflection. Russia, therefore, inherited the federal system from the Soviet Union, but in the new quasi-democratic reality it has largely failed. In the turmoil of the 1990s it became a tool of the almost unconstrained power of local elites allied with the criminal underworld.
In some regions, and especially in north Caucasus, separatist forces rose in prominence, which resulted in two Chechen wars. Only the rise to power by Vladimir Putin and the following centralisation reforms ended the free-riding of the local cliques. At the same time, however, the reforms distorted the idea of federalism based on the decentralisation of power.
The shape of Russian federalism
Federations can be generally classified as symmetric and asymmetric. In case of the former, the subjects are equal in their relations with the centre, which means that each has the same rights and obligations. The US is an example of such a federation. On the contrary, in asymmetrical federations, some regions have wider competences, such as the Halabdja region of Iraq dominated by Kurds, which has bigger powers than the other 18 regions and is the only one to possess its own government.
Formally, Russia is a symmetrical federation – despite the existence of several types of territorial units (such as republics, kraie, oblasti) they are all equal in mutual relations and in relations with the central authority. Similarly, the constitution of the Russian Federation from 1993 divides competences between the central and local governments equally without privileging any region. The differences remain only on the symbolic level – for example only republics have their own constitutions, while other units have ustavy.
However, from the beginning of the 1990s, Russia's domestic policy did not reflect this arrangement. For instance, Moscow has had a special approach towards north Caucasus. The same has been the case with other regions dominated by one national, ethnic or religious group, such as Tuva and Tatarstan, where local particularities naturally call for such a policy. Because of the lack of formal tools, the Kremlin has been forced to resort to informal or ever extralegal solutions. It has been especially visible in its relationship with Chechnya.
Russia and Chechnya
The subjugation of Chechnya in the 19th century took several dozens of years. However, it has never ceased to be a flash point. Chechen society, mainly due to its tribal structure, ethnic distinctness, adherence to a special Sufi version of Islam, the Chechen language and the rule of customary law called adat, has been particularly alienated within Russia. Public opinion polls suggest that Russia's inhabitants would rather consider a Ukrainian or a Belarusian as "their own" rather than a person from the Caucasus.
To understand the special relationship between Russia and Chechnya, it is worth looking at the specific nature of the north-Caucasian republic. Importantly, it has to be stressed that there is no one single legal order in place, as next to the official Russian state law, people adhere to Islamic law (of the Hanafi school, the most liberal and accepting customary law) and adat, which is firmly based on the tradition and which was in place before the region's conversion to Islam.
On the one hand, the three legal systems are contradictory and in competition with one another, but on the other, they are complementary. They are spelled out in three different languages, Russian, Arabic and Chechen, and they have become the bases for different institutions. For instance, the recently created body with the aim of overseeing adherence to rules related to marriage ceremonies, which has invoked many controversies, does not originate in the Islamic tradition, but in adat, where family law and customs play an extremely significant role.
The current regime of Ramzan Kadyrov treats each legal source instrumentally and uses them interchangeably depending on the situation and its particular interests. As both the Sharia law and adat have been in operation in Chechnya several times longer than the Russian law, it is unlikely that the latter will sideline or even dominate the other two anytime soon.
Chechen society adheres to the Sufi version of Islam, far from Middle Eastern legalism, based on brotherhoods passing on knowledge verbally from generation to generation. Sufism has no generally accepted theology and every order (tariqa) has a wide independence. This has been accompanied by a complicated tribal structure, which makes governing Chechnya from the centre extremely difficult.
Informal relations and agreements, often based on ties of blood, play an important role. Although Ramzan Kadyrov has tried to forcefully break the traditional dependencies in order to strengthen his power, over the course of history, no one has yet succeeded in the task. Nevertheless, such a distinct organisation of Chechen society calls for a special approach.
The tackling of the Chechen crisis from the 1990s, accompanied by two wars and the existence of an independent Chechen state for nearly three years, ruled by Islamic fundamentalists, was ended after the Russian intervention with the Putin-Kadyrov agreement in 1999. It provided that the Russians will grant Chechnya a high level of independence in return for loyalty and dealing with the problem of Islamic extremism.
After the assassination of Akhmat Kadyrov, he was replaced by his son Ramzan, who meticulously fulfills the decisions of the agreement, at the same time fully enjoying the rights it has guaranteed him. It is worth noting that the arrangement is based on the personal relationship and has no formal basis. Moreover, the current Chechen leader more often refers to his personal loyalty towards Putin, rather than the Russian state.
The head of Chechnya also controls the power structures in the republic, which formally are answerable to the central federal resorts. One of the most scandalous cases in point was when the police from the Stavropol krai conducted an action on Chechnya's territory and Kadyrov urged his people to shoot the "foreign" officers if such a situation repeats in the future. It was met with strong criticism from Russia's Ministry of Internal Affairs, but no legal consequences followed.
The free riding of Kadyrov's regime is visible also in his nearly independent foreign policy. In particular, he maintains relations with the wealthy states of the Persian Gulf. He also declared that he will conduct his own fight against the Islamic State. Kadyrov receives funds not only from Moscow, but also from abroad, from the above-mentioned states, and directly from his citizens, who, as human rights defenders report, are forced to pay a certain percentage of their salaries a month to the Akhmat Kadyrov Foundation. It is therefore a de facto unofficial tax imposed on the inhabitants of Chechnya, which has been tolerated by the central authorities.
A similar phenomenon can be observed in other republics in the North Caucasus, as well as in Tatarstan, Bashkiria and Tuva. Back in the day, separatist movements were also visible in Siberia, which too has a distinct identity from the traditional Russian one. Such a diversity requires a distinct philosophy of the state's territorial organisation.
What is the solution?
Centralised management of Russia seems impossible. Moreover, the development of unofficial channels of cooperation between Moscow and the regions, as it is the case with Chechnya, does not facilitate the building of stability, trust for the law and the state, and therefore a democratic system. Currently, communication is largely conducted through the ruling party – United Russia. Both in Chechnya and in the majority of other regions, paradoxically, no strong regional political forces were formed.
In the former, Kadyrov's regime, in return for a nearly unlimited stream of funds coming from the federal centre, makes sure that the ruling party maintains almost 100 per cent of support in the republic. United Russia has dominated not only in the Chechen parliament, but also in legislative bodies of the other regions. The strong position of the ruling party in most of the country, regardless of any national or religious divisions, somehow ensures the cohesion of state policy and is a one-off remedy for the ills of the Russian territorial system.
An alternative to the current situation could be the remodeling of the federal system into an asymmetric one, which would grant different regions more freedom or, depending on local conditions, reshaping of relations between the core and the region on an individual basis. A similar process was taking place in the 1990s, when Moscow signed bilateral agreements with the regions, however, at the time it was dictated by the need of the moment and the attempt to keep territorial integrity of the state. It was understood that these were only short-term, ad hoc solutions.
Understandably, such a change would be connected with certain threats and risks. Above all, those regions which aspired or aspire to independence, would surely try to use the opportunity and claim more independence, which in a long run could turn out to be a first step to secession. For it should not be forgotten that since the collapse of the Soviet Union, many republics have formally declared state sovereignty or created their own citizenships, existing in parallel with the Russian one.
The central authorities deemed such acts to be illegal and the position has been backed by the rulings of the Constitutional Court of the Russian Federation. Acknowledging the sovereignty of some regions or the existence of a parallel citizenship would be an entry point to the development of their own national identity and therefore the strengthening of separatist tendencies. These tendencies would be only reinforced by the pro-secession stance of regional leaders.
It should be remembered that those threats have not been curtailed thanks to structural systemic reforms. On the contrary, they were possible because of the firm rule of Vladimir Putin, who does not lead the country towards democratisation. It can be argued that the current stability is the result of Vladimir Putin's authoritarian governing style. And it does not refer to Chechnya alone. For instance, although on the symbolic level Tatarstan did not comply with the federal law requesting the change of the title of republic's leaders from "president" to something else, Tatarstan is still headed by a president.
Vladimir Putin was asked about the issue during the yearly "direct line" in 2015 (a call-in show with Russian president, where he answers preselected questions from citizens on live television) by the representatives of the republic, and said: "You decide for yourself there, okay?" This shows that there are extralegal relations between Putin and regional leaders. It also shows that the word "rulers" is still more important than the letter of law.
There are a number of similar examples, but it is important to point to a yet another relationship. The consequence of the lack of thorough reform of the federal system in Russia will be the impossibility of implementing democracy and the rule of law in the country. Governing such a diverse state within the existing legal framework will be simply impossible, as the current regulations will not provide any appropriate tools. Moreover, they are not flexible enough to respond to the real needs of the various communities.
Undeniably, a serious public debate about the state system would be needed. However, it is unlikely that it will take place under current conditions. The leaders in the Kremlin will not allow for democratisation and real decentralisation because of the state's weakness and the related risk of disintegration. A reform based on granting a wider autonomy to the regions could prove effective, and bring positive results, only if it provided the nations and religious groups with better conditions for the development of their traditions, culture and identity.
Full report at:
http://www.neweasterneurope.eu/articles-and-commentary/2362-a-poorly-tailored-federalism-the-biggest-ills-of-the-russian-territorial-system
--------
Arab World
Bahrain court convicts top Shiite cleric in money laundering case
May 22, 2017
A top Shiite cleric was on Sunday convicted on charges of money laundering and collecting funds illegally by Bahraini High Criminal Court.
The High Criminal Court in a key verdict announced a one year in suspended jail sentence to Shaikh Isa Qassim, spiritual leader of now defunct opposition group Al Wefaq National Islamic Society.
The same sentences were given to the cleric's two accomplices.
The Public Prosecution Advocate General in a statement posted on Bahrain News Agency said on Sunday that the court ruled a fine of 100,000 Bahraini Dinars for three people and the confiscation of the seized assets related to the case.
"The Public Prosecution will undertake the legal measures to enforce the verdicts once they are final," the statement said.
The advocate general said, "The Public Prosecution is currently looking into the verdicts to determine whether it will appeal."
The 75-year-old and two of his office employees are accused of setting up an unlicensed office for illegal fundraising and depositing 10 million US dollars in a bank account which was frozen in June last year.
The government on June 20 last year revoked the cleric's nationality for setting up an "extremist sectarian environment" and establishing organisations linked to foreign authorities.
http://nation.com.pk/international/21-May-2017/bahrain-court-convicts-top-shiite-cleric-in-money-laundering-case
--------
Bombing kills 14 Ahrar al-Sham militants in NW Syria: SOHR
May 21, 2017
A so-called monitoring group says more than a dozen members of the foreign-sponsored Ahrar al-Sham Takfiri militant group have been killed when a bomb attack targeted their headquarter in Syria's embattled northwestern province of Idlib.
The Syrian Observatory for Human Rights (SOHR) reported that two simultaneous blasts hit the base in Tal al-Toqan area, which lies about 11 kilometers east of Saraqib city, on Sunday, killing at least 14 terrorists and wounding dozens of others.
The Britain-based Observatory said a local militant commander was among the slain Takfiris, noting that two dismembered bodies were at the site. They are believed to belong to the two people who blew themselves up in the headquarter.
Ahrar al-Sham, however, said in a statement that a single attacker had driven a motorbike up to the building, detonating explosives attached to himself and a bomb on the bike at the same time.
Even though there was no immediate claim of responsibility, the Salafist terrorist group blamed Daesh terrorists for the attack.
Idlib is a militant stronghold, but some terror groups aligned with Ahrar al-Sham have engaged in bloody clashes with allied groups of Jabhat Fateh al-Sham, formerly known as al-Nusra Front, there this year.
In February, the two previously allied terror groups of Jabhat Fateh al-Sham and Jund al-Aqsa, which is said to be affiliated with Daesh, engaged in a deadly infighting that killed nearly 70 militants from both sides in Idlib Province.
Dozens of militants had been killed a month earlier after Fateh al-Sham terrorists engaged in a 10-day-long fighting with other militant factions in the same Syrian province.
Full report at:
http://217.218.67.231/Detail/2017/05/21/522732/Bomb-attack-Takfiri-Ahrar-alSham-terrorists-Idlib
--------
Iraqi Hashd al-Sha'abi fighters take back 7 villages west of Mosul
May 21, 2017
Iraqi fighters from Popular Mobilization Units have liberated seven villages on the western outskirts of Mosul as pro-government forces and army soldiers cooperate to expel Takfiri Daesh terrorists out of their last urban stronghold in the country.
The media bureau of the volunteer forces, commonly known by the Arabic name Hashd al-Sha'abi, announced in a statement on Sunday that the fighters had established full control over al-Mesabas, al-Niliya, Sadet Zawbaa and Thara al-Owaiset villages south of Qairawan region, Arabic-language Shafaaq news agency reported.
Hashd al-Sha'abi forces later won back the village of Northern Ayn Fathi west of Mosul following bitter clashes with Daesh militants. The fighters also shot down a Daesh drone as it was flying over the village of Hatamiya north of Qairawan.
The Popular Mobilization Units also managed to liberate Tal Qasab village north of Qairawan, killing 10 Daesh members and destroying two vehicles rigged with explosives.
Additionally, Hashd al-Sha'abi fighters reclaimed control over Ayn Ghazal village north of Qairawan, and began an operation to clear the area of hidden bombs.
Director of Daesh administrative affairs killed in airstrike
Meanwhile, Director of Daesh Administrative Affairs for Iraq's Nineveh and northern Syrian Raqqah provinces has been killed in an airstrike carried out by Iraqi fighter jets in the western part of Mosul.
The Directorate of General Military Intelligence said in a statement on Sunday that Muhammed Mujbil al-Jawari died in an aerial assault against al-Zanjili neighborhood last night.
Brigadier General Mohamed al-Jubouri from the Interior Ministry's elite rapid response forces also said the troops had killed 20 Daesh Takfiris, including senior militant commanders, as they repelled a terrorist attack against Mosul's Old Bridge.
Iraqi army soldiers and volunteer fighters from the Popular Mobilization Units have made sweeping gains against the Takfiri elements since launching the Mosul operation.
The Iraqi forces took control of eastern Mosul in January after 100 days of fighting, and launched the battle in the west on February 19.
The Iraqi Ministry of Migration and Displacement says over 526,000 people have been displaced amid an operation by Iraq's military and volunteer fighters to drive Daesh terrorists out of western Mosul.
Full report at:
http://217.218.67.231/Detail/2017/05/21/522717/Iraqi-Hashd-alShaabi-fighters-retake-villages-west-of-Mosul-Qairawan
--------
Aleppo: People in Al-Bab Rally against Turkish Army, Allies
May 22, 2017
Local sources in al-Bab reported that people held protest rallies in Sheikh Aqil district of al-Bab which has been occupied by the Turkish army and Ankara-backed militants.
They added that tens of people in the region carried placards to protest at Ankara and President Recep Tayyip Erdogan's policies.
They also chanted slogans including "Erdogan listen! We don't obey your cruel army. This place belongs to us".
The rally was held after Turkey's Deputy Prime Minister Veysi Kaynak said the country is considering establishing a base near the Syrian city of al-Bab.
Kaynak said location of the base currently being considered by the Turkish General Staff is Aqil Hill, West of al-Bab.
The Turkish military established a temporary base at the strategic site after capturing it in February and has been considering turning it into something more permanent since.
Speaking after a trip to Bosnia and Herzegovina, Kaynak added that Turkish military presence in the area has been reduced from 8,000 at the peak of the Operation Euphrates Shield to 1,500.
Full report at:
http://en.farsnews.com/newstext.aspx?nn=13960231001320
--------
More Turkey-Backed Militants Killed in Clashes with Kurdish Fighters in Northern Syria
May 21, 2017
The sources said that the Ankara-backed militants stormed the defense lines of the YPG in the village of Iska near the town of Afrin from two Southern directions, starting heavy exchange of fire.
The sources further said that three Turkey-backed militants were killed and six more were wounded, while a large volume of weapons and ammunition were seized by the YPG fighters.
In the meantime, the Ankara-backed mercenaries attacked the positions of the predominately Kurdish Syrian Democratic Forces (SDF) in the villages of Hasiyeh, Samouqeh, Qowsrouj and Tal Shayeer, the sources said, adding clashes between the SDF and the Ankara-backed militants spread towards the surroundings of the villages of Harbal and Tal Madhiq.
Local sources earlier this month said that the Ankara-backed militant groups deployed in the villages of Toweis and Tal Maled and the town of Mare'a attacked the positions of the SDF in the villages of Hasiyeh, Samouqeh, Tal Madhiq and Qolsorouj in al-Shahba dam region.
Full report at:
http://en.farsnews.com/newstext.aspx?nn=13960231001291
--------
Syria: ISIL Bans Trade in Syrian, Other Currencies in Deir Ezzur, Raqqa
May 21, 2017
The sources said that ISIL's financial department has issued a new directive based on which residents of Raqqa and Deir Ezzur are committed to trade only in gold, silver and copper coins and are not allowed to change them into any currency.
The sources further said that the entire coins and currencies of ISIL have been evaluated based on the US dollar, adding ISIL intends to get rid of its currency and is trying to earn as much as possible before loosing the regions under its control.
ISIL has also banned exchange shops from changing other currencies, vowing to punish violators.
Reports said on Friday that the predominately Kurdish Syrian Democratic Forces (SDF) continued the fourth phase of the anti-ISIL Euphrates Rage Operation in Raqqa and managed to capture three more villages, closing off the last supply line of the terrorists to the ISIL-held city of Raqqa in Northeastern Syria.
The SDF engaged in fierce clashes with the ISIL East of Raqqa city and managed to seize control over the villages of Hamra Qanam, Hamra Ablu Yatiyeh and Madar.
Field sources confirmed that the last supply line of ISIL terrorists to Raqqa city was cut off after the SDF took control over the village of Hamra Qanam.
The ISIL lost a number of forces in the SDF advances.
Local residents said on Sunday that the ISIL's mortar attacks on residential areas and execution of innocent people have turned the Eastern province of Deir Ezzur into a new bloodbath.
Local people said that simultaneous with the Syrian Army's rapid advances against terrorists in different battlefields the ISIL's mortar units shelled residential areas in Harabesh region near Deir Ezzur's airbase and al-Joureh region Northwest of the city, killing at least 15 and wounding 63 more.
Also hospital sources said that casualties may rise due to the bad health conditions of some of the injured.
The Human Rights Watchdog, meantime, announced that ISIL executed 19 civilians in Eastern Syrian, including two children and two women.
Full report at:
http://en.farsnews.com/newstext.aspx?nn=13960231001239
--------
Terrorists Fail to Prevail over Syrian Army Positions in Western Sweida
May 21, 2017
The terrorists of Tahrir al-Sham Hay'at (the Levant Liberation Board) launched a surprise attack along the Sweida-Dara'a road, targeting the army's defense lines near the historical town of Busra al-Sham.
Tahrir al-Sham and its terrorists allies attempted to advance into the Southwestern countryside of Sweida, but, they would find themselves overwhelmed by the army's 5th Armored Division and pro-government National Defense Forces (NDF).
According to a military source in Sweida, the terrorists suffered heavy casualties during their ill-fated assault East of Busra al-Sham.
Reports said earlier today that the army troops continued their anti-terrorism operation towards the border region near al-Tanf passageway and managed to recapture a key region in Sweida province near the border with Jordan.
The army men engaged in tough battle with Jeish al-Hor terrorists in Eastern Sweida and managed to take back control over the strategic region of al-Zalaf Dam region at Sweida-Jordan border.
The army men also drove terrorists out of Zahra Um al-Salasel and al-Eiseh.
Full report at:
http://en.farsnews.com/newstext.aspx?nn=13960231001155
--------
Terrorist Groups Send More Forces to Southern Homs to Slow Down Syrian Army Advances
May 21, 2017
ARA news quoted sources linked with the terrorists groups as saying that the army soldiers managed to take control of Aqda al-Zarqa'a region near the border passageway of al-Tanf at Homs' border with Iraq.
ARA news also said that the terrorist groups have forwarded a large number of forces and a large volume of military equipment to al-Tanf region to push the army men back from the newly-liberated region of Aqda al-Zarqa'a towards Zaza checkpoint and al-Saba'a Bayar region.
The terrorist sources also disclosed that they have recently received a new series of heavy arms and equipment, including anti-tank missile and heavy military vehicles and other equipment from the US.
Reports said earlier today that the army troops continued their anti-terrorism operation towards the border region near al-Tanf passageway and managed to recapture a key region in Sweida province near the border with Jordan.
The army men engaged in tough battle with Jeish al-Hor terrorists in Eastern Sweida and managed to take back control over the strategic region of al-Zalaf Dam region at Sweida-Jordan border.
The army men also drove terrorists out of Zahra Um al-Salasel and al-Eiseh.
Full report at:
http://en.farsnews.com/newstext.aspx?nn=13960231000997
--------
Syrian Army to Restore Full Security to Homs City Soon
May 21, 2017
The sources said that the Syrian Army soldiers will soon restore full security to Homs city as the last phase of the evacuation of gunmen that refused to endorse the peace agreement with the Syrian Army from al-Wa'er district is underway.
They added that Homs city will be emptied of terrorists and weapon as soon as the last phase of the evacuation of gunmen and their family members from al-Wa'er ends.
The 12th phase of the peace agreement in al-Wa'er is under way.
Homs Governor General Talal al-Barazi said some units of the interior security forces will enter al-Wa'er and will be deployed in the district's main parts to guard civilians' rights.
He further added that peace talks with gunmen in al-Rastan and al-Houleh are also underway.
Local sources confirmed earlier today that a sum of 780 gunmen and their family members were evacuated from al-Wa'er district near Homs city to be relocated to militant-held regions in Idlib and Aleppo provinces.
The sources said that 250 gunmen that had not endorsed the peace agreement with the Syrian Army left al-Wa'er district along with 623 of their family members for Idlib province and the border town of Jarabulus in Northern Aleppo on 20 buses within the framework of the last phase of an evacuation deal between militants and the army.
Full report at:
http://en.farsnews.com/newstext.aspx?nn=13960231000924
--------
Iraqi Units Open Fire at US Jets Operating over Syrian Desert
May 21, 2017
An amateur video released by a fighter of the Badr Movement, an Iraqi contingent, showed that the Iraqi pro-government forces opened heavy fire at the coalition's fighter jet.
The Badr Movement operates alongside the Syrian Army, Syrian Social Nationalist Party (SSNP), 313 Forces (Syrian militia), the Lebanese Hezbollah fighters, Harakat al-Abdal (Iraqi paramilitary), Kata'ib al-Imam Ali (Iraqi paramilitary), Kata'ib Hezbollah (Iraqi paramilitary) along the Damascus-Baghdad highway.
A report said on Friday that the Syrian Army sent a large number of fresh forces to the Damascus-Baghdad highway in the Southern part of the country to reinforce contingents bombed by the United States Air Force on Thursday.
The newly arrived reinforcements would spearhead a drive towards the al-Tanf border crossing with Iraq alongside the National Defense Forces (NDF), the Lebanese Hezbollah fighters, Imam Al-Ali Battalions (Iraqi paramilitary) and the Syrian Social Nationalist Party (Syrian paramilitary), AMN reported.
However, government forces must stiffen their salient East of Damascus and deploy anti-aircraft units if they were to avoid renewed attacks from US jets and US-trained Free Syrian Army (FSA) proxies lurking in the vast Syrian desert.
Meanwhile, the army units were also advancing against FSA militants in Eastern Sweida, capturing a large swath of rural territory on Thursday.
Full report at:
http://en.farsnews.com/newstext.aspx?nn=13960231000841
--------
Syrian regime regains total control of Homs city
22 May 2017
The Syrian regime on Sunday regained total control of the central city of Homs with the evacuation of rebels from the last area they had controlled.
The Russian-supervised evacuation of the Waer district was the latest blow to the rebels by regime troops backed by their Russian and Iranian allies.
Since December, the rebels have lost their former bastion of Aleppo and nearly all of the areas they controlled in Damascus.
This latest setback is mostly symbolic, however, as most of the rebels had been driven out of Homs in 2014 after two years of bombardment and stifling siege.
"The last bus (with evacuees on board) has left the Waer neighborhood," Homs provincial governor Talal Barazi told AFP.
On Saturday, he had said that 3,000 evacuees, including 700 rebels, were due to be taken out of Waer.
"There are no more weapons or armed men in Waer... we can declare Homs to be a secure city," Barazi said, referring to the rebels.
He added that the Syrian security services had now entered the former rebel bastion.
An AFP correspondent said the evacuees left on board 50 buses as more than 30 trucks packed with household belongings trailed behind.
Many rebels wore black scarves to conceal their faces, some holding light weapons authorized under the deal while families lugged suitcases and children carried toys.
"I feel like I am dying inside. I wanted to stay but I was afraid of being arrested," one rebel, who shielded his eyes behind sunglasses, told AFP.
The Russian-supervised operation began two months ago and has been carried out over several weeks.
Under the deal, opposition fighters are granted safe passage by the government out of Homs to militia-held areas elsewhere in Syria, including the northwestern Idlib province.
Between 600 and 100 Russian soldiers will deploy in Waer to provide security for residents who still live there or for those who were displaced by fighting and wish to return home.
The evacuation of Waer will bring Syria's government closer to cementing its control over more parts of the war-wracked country.
Full report at:
https://english.alarabiya.net/en/News/middle-east/2017/05/22/Syria-regime-regains-total-control-of-Homs-city-.html
--------
Egypt refers 48 church bombing suspects to military judiciary
21 May 2017
Egyptian authorities have referred 48 suspected ISIS members to military trial over three deadly church bombings, the public prosecutor's office said in a statement on Sunday.
Of the 48 suspects, 31 are in custody and 17 still at large, it said.
ISIS claimed responsibility for the three suicide attacks that targeted the churches in December and April.
A December 11 attack in the heart of Cairo on the Saint Peter and Saint Paul church, adjacent to the headquarters of Coptic Pope Tawadros II, killed 29 people.
On April 9, 45 people were killed in twin church bombings claimed by IS as Christians gathered to celebrate Palm Sunday in the cities of Tanta and Alexandria.
ISIS has threatened to carry out more attacks against Egypt's Christians, who make up around 10 percent of its population of about 90 million.
Full report at:
https://english.alarabiya.net/en/News/middle-east/2017/05/21/Egypt-refers-church-bombing-suspects-to-military-judiciary.html
--------
Trump accepts invitation to visit Egypt from President Sisi
21 May 2017
President Donald Trump is making plans for another foreign trip as he eases into his first.
Trump said Sunday he would accept an invitation made by Egyptian President Abdel Fattah el-Sissi to visit Egypt. Trump said the visit would happen before long.
Trump is also calling al-Sisi his "friend" and praising him for the release of US aid worker Aya Hijazi, who had been held captive for three years.
Through a translator, al-Sisi said Trump "had a unique personality" that allowed him "to do the impossible."
Trump smiled and said "I agree."
Full report at:
https://english.alarabiya.net/en/News/middle-east/2017/05/21/Trump-accepts-invitation-to-visit-Egypt-from-President-Sisi.html
--------
Africa
South Africa Youth Vulnerable to Jihadists like Islamic State
21 May 2017
Cape Town - Minister of Police Fikile Mbalula says civil organisations are putting pressure on the government to combat the threat of extremism in the country - and especially within the Western Cape.
Mbalula was speaking at the 7th Annual Wasatiyyah Symposium at the Castle of Good Hope on Saturday, where the topic of 'Isis in South Africa' was discussed.
He said the root of terrorism groups was within the province - a sentiment echoed by many of the noted Muslim academics and political commentators in attendance.
"Our country has certainly been affected, not only by the Western war on terror, but also the manifestation of global jihadist movements. These are not theories - it is true."
Mbalula added that his ministry was at the forefront of rolling out effective security responses to combat terrorism groups from recruiting South Africans - especially youth - to their cause.
The symposium included discussions on the threat of the Islamic State within South Africa, as well as ways religious groups and government could work together to mitigate the terrorist organisation's political theologies among Muslims within the country.
Raeesah Cachalia of the Institute for Security Studies painted a grim picture of how some Muslim youth become affiliated with groups such as IS.
She said there were three factors that led to youth radicalisation: politics, the economy and social factors.
"There are a number of political factors that are understood to play a role in radicalisation - countries with weak democratic structures or those that lack democracy entirely are more likely conditions conducive to radicalisation," Cachalia said.
According to her research, in countries where political spaces did not allow for youth participation and engagement, young people often resorted to other, more radical means to be heard by government.
Cachalia added that in some cases, this involved passive forms of engagement, while in others, violence was the chosen alternative.
Her findings covered youth between the ages of 15 to 24 in war-torn areas in the north, east and west of Africa, and South Africa.
The country was taken into consideration due to the recent coverage of high-profile cases of South Africans Brandon-Lee and Tony-Lee Thulsie, and siblings Ebrahim and Fatima Patel, who have all been linked to Islamic terrorist organisations.
Cachalia urged parents of teenagers in particular to be vigilant of changes in their children's behaviour as well as their attitudes towards extremist groups, as these organisations "capitalise on the sense of hopelessness."
Imam Dr Rashied Omar of the Masjid Mosque in Claremont, known for its inclusive philosophy, said the Muslim community should not deny that the country's youth - and especially those within Cape Town - are being drawn to and recruited by extremist groups.
"Young South Africans are being swayed by the teaching and toxic theology by groups such as Isis (another name for Islamic State).
"This must have our attention," he said.
He urged the Muslim community to acknowledge and unite against extremism.
"It is possible there is a crisis of extremism gripping the local South African Muslim community.
'We would be irresponsible if we buried our heads in the sand or if we said it's just a small group or if we remained silent about it."
http://www.iol.co.za/news/politics/sa-youth-vulnerable-to-jihadists-like-islamic-state-9254554
--------
UN urges leaders in Africa to join war on Al Shabaab
21st May 2017
A UN official has urged Muslim leaders in Africa to join the fight against violent extremism, warning that its continued growth on the continent will reverse the development gains.
Rosa Malango, the United Nation's Coordinator in Uganda, on May 15 said if the extremism is not addressed, it threatens to curtail Africa's development prospects for decades to come.
She was speaking to a meeting of Muslim leaders and scholars from eastern and southern Africa who had convened in Uganda to discuss countering, responding and preventing violent extremism.
The two-day meeting was organized by International Interfaith Peace Corps and the United Nations Development Programme (UNDP)'s Regional Service Centre for Africa.
Malango said Muslim religious leaders must get involved noting that fighting against violent extremism was a collective responsibility.
"The fact that violent extremism has been affecting Muslims and Muslim communities most, highlights the need for the engagement of Muslim religious leaders if we are to help communities that are vulnerable to the activities and operations of violent extremist groups," she said.
She said communities need to be empowered to be a vital part of the solution to the growth of violent extremism.
Sheikh Shaban Mubajje, the head of Muslims in Uganda said it is the responsibility of Muslims to stand up and educate the people about Islam and the fact that it does not promote violent extremism.
"Terrorism is the epitome of injustice because it takes innocent lives and the Koran calls all Muslims to act justly. Acts of terrorism are therefore 'Haram', forbidden in Islam," Mubajje said.
At the end of the meeting, the Muslim leaders and scholars agreed on a framework to enable them to work together to fight against all forms of extremist activities in the name of Islam.
They also reaffirmed a declaration made by Muslim leaders in West Africa against all forms of extremism in the name of Islam.
According to the UN, violent extremism has had a devastating social and economic impact across the Africa. Groups such as Boko Haram in Nigeria and Al-Shabaab in Somalia have forced hundreds of thousands of people from their homes, increasing instability in the region.
UNDP figures show that since 2011, more than 21,000 people have been killed in over 4,000 terrorist attacks in Africa. The operations of Boko Haram, for example, have internally displaced 1.2 million people and forced more than 200,000 Nigerians to flee to Cameroon, Chad and Niger.
In Kenya, Al-Shabaab activities have resulted in an estimated 25 percent drop in the tourism sector, a vital source of jobs and income for the country.
According to the global body, countries must address issues that drive youths away from productive lives and draw them to mayhem and destruction.
In late 2015, the UNDP launched a four-year program to help African countries prevent the growth of violent extremism.
UNDP argues that violent extremism can be prevented or responded to through a development approach where by individuals and institutions are constantly engaged to understand the drivers of extremism.
Full report at:
http://mareeg.com/un-urges-leaders-in-africa-to-join-war-on-al-shabaab/
--------
Envoy sees greater growth for Malaysia-Africa ties
22 May 2017
KUALA LUMPUR: African countries are "very open to cooperation" with Malaysia in various fields to further develop their bilateral relations as well as people-to-people relations, said an African envoy.
South African High Commissioner to Malaysia Samkelisiwe I. Mhlanga (pix) said a stronger people-to-people relations could be one way of creating awareness among Malaysians of the many opportunities in African countries, besides dispelling the perception that the continent was unsafe for visitors.
"The African countries note the good and excellent relations that exist between Kuala Lumpur and them in many areas such as education, (thus) making Malaysia a popular education destination for thousands of African students.
"Apart from that, there are successful Malaysians who have studied and have worked in and have businesses in Africa, and we want them to share their experiences with Malaysians here and convince them that the people (of Africa) are friendly and the continent has a lot to offer," she told Bernama in an interview at Wisma Bernama in conjunction with the 54th Africa Day which falls on May 25.
The envoy also said that the African continent was also Muslim-friendly, whereby Muslims would have no difficulty in finding a place to pray or eat.
Mhlanga said there was a need to portray the many positive aspects of Africa and its people to address the issue of stereotypes about Africans in Malaysia.
She said that apart from an education hub with 20,000 African students in Malaysia, more Africans were also expected to visit Malaysia's tourist assets as they were now more familiar with Malaysia as an attractive tourist destination.
Besides tourism, Mhlanga said, Africa looking forward to diversifying partnerships and cooperation with Malaysia, especially in trade.
"Trade with Malaysia is definitely going forward over the next five years, with projected growth of between 10% and 15%. That is why we see more Africans coming to Malaysia to buy products and more Malaysians going to African countries for partnerships in trade," she said.
Asked about Africa's biggest strength, she said the young people of the continent can offer the much-needed human capital to speed up economic growth and social development.
Mhlanga said, however, that Africa continued to be confronted with challenges, such as high levels of unemployment and poverty.
"Unemployment is a general problem in Africa and we are working on it. There must be a partnership between governments and the private sector to address this problem," she said.
Full report at:
http://www.thesundaily.my/news/2017/05/22/envoy-sees-greater-growth-malaysia-africa-ties
--------
Haftar forces bombard rivals after Libya airbase attack
21 May 2017
Forces loyal to Libyan military strongman Khalifa Haftar have bombed rival forces in retaliation for a deadly attack on an airbase in the south of the country, media reported Sunday.
"Warplanes launched air strikes overnight Saturday as part of the Martyrs of Brak al-Shati operation," the LANA news agency said in reference to the airbase where at least 141 people, mostly forces loyal to Haftar, were killed on Thursday.
LANA, which is loyal to authorities based in eastern Libya, said MIG-23 jets carried out seven air strikes, targeting "terrorists in Hun and Jufra", two areas in southern Libya.
The agency, quoting Colonel Mohammad al-Manfour of the pro-Haftar Benina airbase in Benghazi, said "several weapons depots, vehicles and centres of operations" were destroyed.
On Thursday, members of the Third Force militia loyal to the UN-backed Government of National Accord (GNA) in Tripoli attacked the base used by Haftar's self-proclaimed Libyan National Army (LNA).
Pro-Haftar forces said on Friday the victims included civilians who worked at the Brak al-Shati airbase or were in the nearby area, adding that summary executions took place.
On Sunday, Human Rights Watch said in a statement forces aligned with the GNA "allegedly executed at least 30 captured soldiers".
"The Government of National Accord should act on its promise to investigate allegations that its troops executed opposing forces who had already been rounded up," said Eric Goldstein, Middle East and North Africa deputy director at HRW.
"The authorities need to send a strong message that such crimes will not be tolerated, which means that if the allegations are true, they should try those responsible," Goldstein added.
UN special envoy Martin Kobler, the British ambassador to Libya, Peter Millet, and the European Union have denounced the assault.
On Friday, Kobler said he was "outraged by reports of significant numbers of fatalities, including civilians and by reports that summary executions may have taken place".
Full report at:
http://www.worldbulletin.net/africa/189837/angolan-apartheid-troops-battle-to-survive-in-safrica
--------
Almajiri system of begging is anti-Islam, Sultan says
May 22, 2017
The Sultan of Sokoto, Sa'ad Abubakar, said on Sunday that street begging by children has no basis in Islam and challenged those engaging in the act to find other means of earning a living.
Mr. Abubakar, who is also the President-General of Jama'atu Nasril Islam, JNI, stated this while presiding over the pre-Ramadan meeting of JNI's Central Committee, held at the JNI headquarters, Kaduna.
According to him, "Almajiri system of begging is not representing Islam and must, therefore, be dissociate from Islam.
"Islam encourages scholarship and entrepreneurship and frowns at laziness and idleness as exemplified by itinerant Almajiri.
"Therefore, attempt must be made to stop the practice of Almajiri system of begging among Muslim faithful,'' he said.
He noted that hunger and poverty were responsible for children begging on the streets, urging the government, particularly at the state level to prioritise welfare of their citizens to address hunger and poverty.
He also urged state governments to strengthen the institution of 'Zakkat' and endowment to address wanton poverty.
The Sultan urged the government at all levels, particularly at the state level to rise to their responsibilities of ensuring welfare of every citizen.
Full report at:
http://www.premiumtimesng.com/news/top-news/231772-almajiri-system-of-begging-is-anti-islam-sultan-says.html
--------
Sudan: President Not Attending Saudi Summit
20 MAY 2017
Khartoum — President Omar Al Bashir will not take part in the Islamic-American Summit in the Saudi capital Riyadh this weekend.
Taha El Hussein, Minister of State at the Presidency, will represent him.
On Friday, the Sudanese News Agency (SUNA) announced that Al Bashir will not participate in the meeting, to be attended by US President Donald Trump, because of "special reasons".
Earlier this month, Saudi King Salman bin Abdulaziz invited the Sudanese president, together with more than 50 leaders of Muslim countries, to attend the Islamic-American summit on extremism and terrorism in Riyadh on 20-21 May.
US officials had urged the country not to invite the president, indicted by the International Criminal Court (ICC) in 2009 and 2010 for war crimes, crimes against humanity, and genocide in Darfur.
Full report at:
http://allafrica.com/stories/201705210023.html
--------
Mideast
Israel makes some concessions to Palestinians before Trump visit
May 22, 2017
Israel on Sunday authorized a few economic concessions to the Palestinians requested by President Donald Trump, hours before the U.S. leader begins a visit in which he hopes to revive peace talks frozen since 2014.
As well as the concessions, Prime Minister Benjamin Netanyahu's Security Cabinet - a forum of senior ministers - voted to establish a committee to examine legalizing outposts built without formal approval in the occupied West Bank.
"The security cabinet has approved economic measures that will ease daily civilian life in the Palestinian Authority after (Trump) who arrives tomorrow, asked to see some confidence building steps," the cabinet statement said.
Trump arrives in Israel on Monday and will meet Netanyahu. On Tuesday, he will go briefly to the West Bank to see Palestinian President Mahmoud Abbas and will later speak in Jerusalem before heading to Rome and then Brussels.
"These are concessions ahead of Trump's visit that do not harm Israel's interests," an Israeli diplomatic source said.
The concessions include the building of two industrial zones at Jalameh in the northern West Bank and Tarqumiyeh in the south and would keep the Allenby Bridge crossing that connects the West Bank and Jordan open 24 hours a day.
It said it would also ease restrictions on Palestinian construction in areas where it retains overall control at places that abut Palestinian urban areas.
Among the main bones of contention between Israelis and Palestinians are Netanyahu's insistence that the Palestinians recognize Israel as the nation state of the Jewish people and the Palestinians calling for a halt to Israeli settlement building in the West Bank.
The committee to examine legalizing Israeli outposts would work for three years, although its exact mandate was still to be defined, the statement said. Over decades, settlers have built scores of hilltop outposts without receiving government approval.
Most countries consider all Israeli settlements, including those built with official sanction, to be illegal. Israel disagrees, citing historical and political links to the land - which the Palestinians also assert - as well as security interests.
The Palestinians want to establish a state in the West Bank and in the Gaza Strip, which Israeli forces and settlers left in 2005, with East Jerusalem as its capital.
Trump began his first international trip since taking office in January with a visit to Saudi Arabia on Saturday. The trip has been billed as a chance to visit places sacred to three of the world's major religions.
http://nation.com.pk/international/22-May-2017/israel-makes-some-concessions-to-palestinians-before-trump-visit
--------
Hamas rejects Trump's description of group as terror outfit
May 22, 2017
The Islamist Palestinian group which controls the Gaza Strip on Sunday rejected US President Donald Trump's linking it to terrorism and said his description of the group showed his "complete bias" towards Israel.
Trump addressed the leaders of 55 Muslim countries in Riyadh, Saudi Arabia and said they must take the lead in combating radicalisation.
Full report at:
http://nation.com.pk/international/21-May-2017/hamas-rejects-trump-s-description-of-group-as-terror-outfit
--------
Some 220 prisoners join jailed Palestinian hunger strikers
May 22, 2017
Some 220 Palestinian prisoners have joined the "Freedom and Dignity" mass hunger strike which began last month.
The mass protest action began on April 17 in response to a call by Marwan Barghouti, a popular Palestinian leader, over inhumane conditions in Israeli prisons.
The strikers are demanding basic rights, such as an end to the policies of administrative detention, solitary confinement and deliberate medical negligence. The much criticized administrative detention is a policy under which Palestinian inmates are kept in Israeli detention facilities without trial or charge.
The media committee set up to support the hunger striking prisoners released a statement on Sunday announcing that the new Palestinian prisoners from various political factions had joined the estimated 1,300 hunger strikers.
The committee also urged media outlets to "remain cautious" when dealing with information on negotiations between prisoners and Israeli authorities.
Last week, reports emerged over talks between Israeli and Palestinian officials aimed at ending the strike. The talks were later denied by both sides.
Full report at:
http://217.218.67.231/Detail/2017/05/22/522752/palestine-hunger-strike-committee
--------
Hamas sentences three Palestinians to death over commander's killing
May 22, 2017
Gaza's ruling Hamas movement delivered death sentences on Sunday to three Palestinians it ruled had taken part in what it said was an Israeli-directed assassination of one of the Islamist group's senior commanders.
A Hamas security court said the three men had confessed to the killing of Mazen Fuqaha, a Hamas military wing commander, who was shot in the head and the chest in his car on March 24 near his Gaza home.
"The field court has sentenced the three convicted of carrying out the crime of the assassination of martyr Mazen Fuqaha to death," said Brigadier-General Naser Suleiman, chairman of the Hamas-run military judiciary.
Hamas convicted all three, aged 44, 38 and 38, of collaborating with Israel. It said that one of the men carried out the actual shooting and the other two had provided Israeli security agencies with information about Fuqaha's whereabouts.
Israel's Shin Bet security service, which carries out covert operations against Palestinian militants, did not respond to a request by Reuters for comment on Hamas's allegations.
Israeli Defense Minister Avigdor Lieberman, in an interview with Israel's Yedioth Ahronoth newspaper soon after the killing, attributed the death to an internal power dispute in Hamas.
Israel jailed Fuqaha in 2003 for planning attacks against Israelis and sentenced him to nine life terms. He was released in 2011, as part of a group of more than 1,000 Palestinian prisoners whom Israel freed in exchange for a captive soldier.
Israeli media said that after Fuqaha's release and exile to Gaza that he continued to plan attacks by Palestinian militants in the occupied West Bank.
Over the years, Israel has established a network of contacts in the Palestinian territories, using a combination of pressure and sweeteners to entice Palestinians to divulge intelligence.
Palestinian and International Human Rights groups have repeatedly condemned the death penalty, and urged Hamas and the Palestinian Authority to suspend it. Palestinian law says President Mahmoud Abbas, who has no actual control over Gaza, has the final word on whether executions can be carried out.
Full report at:
http://nation.com.pk/international/21-May-2017/hamas-sentences-three-palestinians-to-death-over-commander-s-killing
--------
Deputy Top Commander Blasts US Secretary of State's Anti-Iran Remarks
May 21, 2017
His remarks came after Tillerson called on Iranian President Hassan Rouhani to end the country's ballistic missile tests in what was Washington's first reaction to his re-election.
"The US secretary of state's expectations of the Iranian president indicate the US officials' non-understanding of the Islamic Republic of Iran," General Jazzayeri said in response on Sunday.
Stressing that the only way for the establishment of peace and tranquility in the region is the US withdrawal of its forces, he said that Iran is implementing its policies in a specified course of action and nothing can impede or stop it.
General Jazzayeri stressed that Iran will continue and accelerate its defense programs, including development of missile defense systems, as a priority.
In relevant remarks earlier this month, General Jazzayeri said that the US spy agencies cannot understand the extent of Iran's progress in defensive fields.
"We can conclude from the news and information which are presented and released by the US bodies and influential people that the US military and intelligence bodies are not able to understand the depth of Iran's defense capabilities," Jazzayeri said.
He underlined that Iran enjoys an "active deterrence power" which chases any aggressor until annihilation or surrender.
Full report at:
http://en.farsnews.com/newstext.aspx?nn=13960231000838
--------
Turkey to Set Up New Militant Army in Northern Syria
May 22, 2017
The military sources revealed that the Turkish army has been strenuously training the Free Syrian Army (FSA) forces after ending the Turkish-led Euphrates Shield operations in Aleppo province in Northern Syria and has established a training base in Northern Syria near the border with Turkey.
Meantime, the Turkish military officials deployed in the training field said that a "new free army" will be formed with new capabilities for future operations in Syria.
Earlier, the media sources in Idlib had revealed that Turkey has formed an army named 'al-Faylaq al-Awwal'.
Also, sources close to militants in Idlib said that certain terrorist commanders in the region have called for Turkey's military intervention and occupation of Idlib to make al-Nusra Front (also known as Fatah al-Sham Front or the Levant Liberation Board) withdraw from the region.
The report came after Turkey's Deputy Prime Minister Veysi Kaynak said the country is considering establishing a base near the Syrian city of al-Bab.
Kaynak said location of the base currently being considered by the Turkish General Staff is Aqil Hill, West of al-Bab.
The Turkish military established a temporary base at the strategic site after capturing it in February and has been considering turning it into something more permanent since.
Speaking after a trip to Bosnia and Herzegovina, Kaynak added that Turkish military presence in the area has been reduced from 8,000 at the peak of the Operation Euphrates Shield to 1,500.
Full report at:
http://en.farsnews.com/newstext.aspx?nn=13960231001403
--------
Iran foreign minister scorns Trump after speech, arms deal
May 22, 2017
Iranian Foreign Minister Mohammad Javad Zarif on Sunday criticized U.S. President Donald Trump for sealing an arms deal and other investments worth hundreds of billions of dollars with Saudi Arabia, Tehran's arch-rival in the Middle East.
Zarif's comments came hours after Trump, who is visiting Saudi Arabia, urged Arab and Islamic leaders to unite and defeat Islamist extremists. Trump singled out Iran as a key sponsor of militant groups, sending a tough message to Tehran the day after Hassan Rouhani won a second term as Iran's president.
"Iran - fresh from real elections - attacked by @POTUS in that bastion of democracy & moderation. Foreign Policy or simply milking KSA of $480B?," Zarif wrote in a Twitter post, referring to the Kingdom of Saudi Arabia.
Iran and Saudi Arabia have long accused each other of sponsoring militias aligned to their competing sects of Islam in conflicts across the Middle East.
Introducing Trump, Saudi King Salman described Tehran as a mutual foe and a source of terrorism they must confront together.
Full report at:
http://nation.com.pk/international/22-May-2017/iran-foreign-minister-scorns-trump-after-speech-arms-deal
--------
Erdogan vows fight against enemies as returns to lead party
May 22, 2017
President Tayyip Erdogan pledged to fight Turkey's enemies at home and abroad on Sunday as he was elected leader of the ruling AK Party, a move enabling him to reassert his grip on the party and its legislative work.
Erdogan, who founded the Islamist-rooted AKP in 2001 and led it to victory in a general election a year later, had to give up its leadership nearly three years ago when he was elected president, a position traditionally above party politics.
That changed with April's referendum in which Turks narrowly backed constitutional changes creating an executive presidency with sweeping new powers. Allowing the head of state to be a party member or leader was among the reforms.
Erdogan's renewed control of the party, which came in a near unanimous vote at an AKP congress where he faced no opposition, coincides with growing foreign policy challenges and tensions with NATO allies.
"Rather than facing our people with our heads down tomorrow, we prefer to stand tall today against the scum at home and abroad," he told thousands of cheering supporters in the Ankara sports arena.
"The months ahead will be a leap forward for Turkey, from its fight against terrorism to the economy, from the broadening of rights and freedoms to investments," he said in a brief speech after the vote.
Erdogan vowed to keep Turkey's state of emergency until peace is achieved against Kurdish and Islamist insurgents.
He became the first president to lead a party since 1950, taking back the AKP reins from Binali Yildirim, who remains prime minister until elections set for 2019.
Such sweeping political changes, he says, are vital to ensure stability in the face of militant threats and after an attempted coup last year that Ankara attributed to supporters of the U.S.-based cleric Fethullah Gulen.
On the eve of the congress, police killed two suspected Islamic State militants during a raid on an apartment in Ankara, state-run Anadolu news agency reported. The two men killed were believed to be planning an attack, it said.
Opposition parties, which want the referendum annulled because of alleged irregularities, say the reforms push Turkey towards one-man rule. Some of its NATO allies and the European Union, which it aspires to join, have also expressed concern.
TRUMP TALKS
Last week, Erdogan met US President Donald Trump in Washington and sought to reconcile deep disagreement over US support for a Syrian Kurdish militia that Ankara regards as a terrorist group.
Ties with European Union countries soured in the build-up to the April referendum. Tensions with Germany have been additionally exacerbated by a dispute over the stationing of German troops at Turkey's Incirlik air base.
Erdogan kept up his fierce criticism of the bloc on Sunday.
"We don't have to put up with the European Union's double standards anymore," he said, demanding the EU keep its word on visa-free travel for Turks, aid for migrants and progress in accession talks if it wants relations to improve.
As party leader once again, Erdogan is expected to streamline his economic team to try to speed up decisions and reassure markets that ministers are working to the same plan, sources said.
In a speech lasting an hour and 45 minutes before the vote, he said he wanted a "serious renewal" of the party by year-end. Nineteen of the AKP's 50-member executive board were changed on Sunday.
Once regarded as one of the world's most promising emerging markets, Turkey has been hit by a sell-off of the lira TRYTOM=D3 on concerns about the erosion of institutions and the slow implementation of promised change.
Erdogan rejoined the AKP this month, implementing the first of 18 constitutional amendments bolstering his powers. In a second step, lawmakers elected seven members to a reshaped judicial authority on Wednesday.
Full report at:
http://nation.com.pk/international/21-May-2017/turkey-ruling-party-elects-erdogan-as-chairman-after-referendum-win
--------
Ankara police kill two suspected ISIS members planning attack: governor
May 22, 2017
Turkish police on Sunday killed in Ankara two suspected members of the Islamic State jihadist group believed to have been planning an attack in the capital, the regional governor said.
The two were killed during a police operation on their residence in the Etimesgut district of Ankara after a gunfight with officers, state-run news agency Anadolu quoted regional governor Ercan Topaca as saying.
The raid was launched on the basis of testimony from a suspected Azerbaijani ISIS member who was detained by Istanbul police after allegedly driving the two men to Ankara.
"This (police) operation was quickly planned after this suspect said they and the two others he left in Ankara were Daesh (ISIS) members and planning an attack," Topaca said.
He said police opened fire after the two suspects themselves fired on the security forces.
After "neutralising" the two men, guns and hand grenades were found, Topaca said.
Although the identities and nationalities of the two men have yet to be confirmed, Topaca said they believed they were aged between 25 and 30.
"We believe they were planning an attack likely in the next few days. The weapons, explosives were effective and powerful," he said.
During the past 18 months, Turkey has been hit by a wave of attacks blamed on ISIS and Kurdish militants, killing hundreds in cities like Istanbul, Ankara and the southeastern city of Gaziantep.
The raid comes nearly six months after an ISIS gunman killed 39 people in attack on the elite Reina nightclub during New Year celebrations in Istanbul.
Full report at:
http://nation.com.pk/international/21-May-2017/ankara-police-kill-two-suspected-isis-members-planning-attack-governor
--------
Iran reformists sweep Tehran council elections
21 May 2017
Iran's reformists have swept to the power in Tehran's city council, winning all 21 seats and knocking the conservatives from power, local media reported on Sunday.
It was another boost to the reformist camp after the resounding re-election of President Hassan Rouhani announced the day before.
The results of the council elections, which were held alongside the presidential ballot on Friday, were announced by the governor's office.
Voters in Tehran had to choose 21 councillors for the city of nine million, and stuck resolutely to the names put forward by the moderate-reformist camp.
At the top of the list was Mohsen Hashemi, son of one of the Islamic revolution's founding fathers, Akbar Hashemi Rafsanjani, who died in January.
Rafsanjani was the key backroom figure behind the recent alliance of moderates and reformists that propelled Rouhani to power in 2013.
The victory in Tehran knocks the conservatives from power in the city for the first time in 14 years.
The incumbent mayor, Mohammad Bagher Ghalibaf, stood for the presidential election but dropped out just before the vote to back hardliner Ebrahim Raisi.
Full report at:
https://english.alarabiya.net/en/News/world/2017/05/21/Iran-reformists-sweep-Tehran-council-elections.html
--------
US administration 'mentally impeded': Top Hezbollah official
May 21, 2017
A high-ranking figure of the Lebanese Hezbollah resistance movement has branded US President Donald Trump's administration as "mentally impeded and crazy," two days after Washington and Saudi Arabia placed the leading official on a "terrorism" blacklist.
"America's contempt and blockading that targets our region, countries and communities are proof that it is much weaker than it was in past decades, especially since Trump continues to lead," said Hashem Safieddine, the head of Hezbollah's executive council, in a statement on Sunday.
Safieddine's remarks were apparently in response to a first joint decision made by the US and the Arab kingdom on designating him as a "terrorist," the news of which was announced by the US State Department and Riyadh on Friday, just a day before Trump began his two-day visit to Saudi Arabia.
The senior Hezbollah leader's name was posted on the so-called counter-terrorism blacklist compiled by the US Treasury Department website, which declared that his "assets held in Saudi Arabia are frozen, and transfers through the kingdom's financial sector are prohibited."
Safieddine, whose council runs Hezbollah's political affairs and social and economic programs in Lebanon's Shia community, further blasted the decision, saying, "This mentally impeded, crazy US administration headed by Trump will not be able (to harm) the resistance (Hezbollah) and will achieve nothing more than further media clamor."
He added that the US was evidently much weaker than it had been in the past years and Hezbollah would have "stronger resolve than before" and it would achieve victories "in the months and years ahead," which would be "way better than all those made in the past."
Hezbollah was founded in the 1980s following the Israeli invasion and occupation of southern Lebanon. The movement waged a long resistance campaign against Israeli Zionist troops and pushed them out of southern Lebanon in May 2000.
Since then, the group has grown into a powerful military force and has successfully defeated the Zionist regime several times.
Full report at:
http://217.218.67.231/Detail/2017/05/21/522722/Hezbollah-Safieddine-US-Saudi-Arabia-Lebanon
--------
South Asia
ANA artillery units pound Taliban hideouts in Ghazni, leaving scores dead
May 21 2017
The Afghan National Army (ANA) artillery units pounded the hideouts of the Taliban insurgents in southeastern Ghazni province of Afghanistan, leaving scores of militants dead.
The Ministry of Defense (MoD) said the ANA artillery units pounded the hideouts of the Taliban insurgents in Waghez district of Ghazni.
MoD further added that 48 insurgents were killed in the artillery strikes and at least 28 others were wounded.
In the meantime, MoD said at least 5 insurgents were killed and 6 others were wounded in a similar operation in northern Kunduz province of Afghanistan.
According to MoD, the hideouts of the Taliban insurgents were pounded by the artillery units of the Afghan army in Gortapa area of Kunduz.
Both the northern Kunduz and southeastern Ghazni provinces are among the volatile provinces where the Taliban insurgents and militants belonging to the other insurgent groups are actively operating.
The Taliban insurgents frequently carry out attacks in Kunduz city and the group managed to take control of the strategic Kunduz city for at least two times.
The Taliban insurgents often carry out insurgency activities including roadside bombings, target killings, coordinated attacks, and other types of insurgency activities in Ghazni province which links Kabul through Maidan Wardak province to the southern provinces of the country.
http://www.khaama.com/ana-artillery-units-pound-taliban-hideouts-in-ghazni-leaving-scores-dead-02798
--------
Rise of radical groups in Maldives raises fear of terror attack in India
May 22, 2017
NEW DELHI: Maldives, India's southernmost neighbour, is fast becoming a radical state with high degree of intolerance encouraged by the regime of President Abdullah Yameen, alleged Hussain Rasheed, father of the slain blogger Yameen Rasheed. The father who visited Delhi this week to talk about the circumstances leading to the brutal murder of his son, a liberal and popular blogger, told ET that President Yameen is encouraging radical forces in the name of religion.
"Days after my son's murder, the President stated that God will punish those who abuse religion. This implied that the regime is giving tacit support to radical groups. Maldives is fast becoming a haven for radicalism with support from certain quarters abroad."
Hussain alleged that over 200 Maldivian youths have travelled to Syria to join the ISIS, and hardline preachers have a free run in the remote islands of Maldives. He sought India's intervention to prevent Maldives from becoming a radical state .
There were earlier reports that Maldivian youth are being lured by madrassas in Pakistan through scholarships. While the Chinese presence in Maldives is a cause for worry in Delhi, the rise of radical groups in Maldives yet again raises the fear of terror attack in India through the seas. Hussain will travel to Geneva next month to move the UN Human Rights Council to seek justice for his son's murder.
"Yameen was an impassioned critic who reported on issues related to corruption and radicalism, mainly through his popular blog The Daily Panic… His witty and relentless condemnation of systemic injustice earned him praise, but also drew the attention of religious extremists and government officials who felt threatened by his social and political commentary," said Hussain.
Yameen, who grew up in India and studied in Bangalore before he went back to work in the Maldives Stock Exchange, had reported numerous death threats before this attack. The police refused to act on any of his complaints, alleged Hussain, a former hotelier. Hussain further accused that reports since his killing suggest that the crime scene had been tampered with before a thorough review of evidence could be carried out.
Full report at:
http://timesofindia.indiatimes.com/india/rise-of-radical-groups-in-maldives-raises-fear-of-terror-attack-in-india/articleshow/58783694.cms
--------
Taliban suffer heavy casualties in Uruzgan airstrikes
May 21 2017
The Taliban insurgents suffered heavy casualties in a series of airstrikes conducted in southern Uruzgan province of Afghanistan.
The Ministry of Defense (MoD) said at least 53 insurgents were killed after they were targeted in the vicinity of Tarinkot, the provincial capital of Uruzgan province.
According to MoD, the airstrikes were carried out in Shah Mansoori area, in the outskirts of Tarinkot city.
The anti-government armed militant groups have not commented regarding the report so far.
This comes as at least twenty five insurgents were killed and a vehicle packed with explosives was destroyed in a similar airstrike conducted in Tarinkot city earlier last month.
Uruzgan is among the relatively volatile provinces in southern Afghanistan where the Taliban insurgents and militants belonging to the other insurgent groups are actively operating in its various districts.
The Afghan forces have stepped up counter-terrorism operations amid rampant Taliban-led insurgency across the country.
Full report at:
http://www.khaama.com/taliban-suffer-heavy-casualties-in-uruzgan-airstrikes-02797
--------
Bangladesh 'militants' surrender after Facebook plea
May 22, 2017
DHAKA - Five young Bangladeshis accused of being Islamist militants surrendered to authorities Sunday, an official said, after a lengthy siege that prompted questions about heavy-handed police tactics.
Elite counter-terror troops surrounded a one-storey house in the central district of Narsingdi on Saturday afternoon after a tip-off that Islamist extremists were holed up there.
The information came from militants arrested in April after a raid on an extremist hideout that left 10 people including a senior police officer dead, said Rapid Action Battalion spokesman Mufti Mahmud Khan. The five young men in Narsingdi had "surrendered peacefully, which was our main goal", after a siege that lasted more than 20 hours, he told AFP. But the incident raised questions about police tactics after one of the five alleged Islamists took to Facebook to profess his innocence, urging authorities not to storm the building. "Attention journalists and law enforcers, we are innocent. Please search us if you can find anything. We are locked from outside. Please rescue us," Abuzafar Mia wrote on the social media website. Suspected militants in Bangladesh -- and sometimes their families -- are often killed during police raids on so-called hideouts. An estimated 70 extremists have been killed by police since July when authorities launched a crackdown in the wake of a cafe attack that left 22 dead. "There are serious doubts about these counter-terrorism operations and the official narratives of these raids," said one rights activist, speaking on condition of anonymity. Nur Khan Liton, another prominent activist, said the police version of events was always provided after raids but little questioning occurred beyond that.
"Most of the alleged militants get killed in the raids. Those who are arrested are not made available to talk publicly," he told AFP, adding it was not always clear whether those killed were actually extremists.
RAB commander Lieutenant Colonel Kamrul Hasan said the accused would be released from custody if proven innocent. "We've found some jihadi books and leaflets inside the residence. We'll interrogate them and if they are actually innocent, we'll definitely release them immediately," Hasan told AFP.
Full report at:
http://nation.com.pk/international/22-May-2017/bangladesh-militants-surrender-after-facebook-plea
--------
Hasina meets Trump, invites him to Bangladesh
May 22, 2017
US President Donald Trump has expressed his hope to visit Bangladesh as he exchanged greetings with Prime Minister Sheikh Hasina during the Arab Islamic-American (AIA) Summit in Riyadh, the capital of Saudi Arabia, on Sunday.
"Yes, I would come (to Bangladesh)," Foreign Secretary Md Shahidul Haque quoted the US president as saying while briefing reporters after the summit.
Prime Minister's Press Secretary Ihsanul Karim and Deputy Press Secretary Md Nazrul Islam were present at the press briefing.
The foreign secretary said the two leaders exchanged pleasantries at the holding room of King Abdul Aziz International Conference Centre in Riyadh before the start of the Arab Islamic-American (AIA) Summit, when the Prime Minister invited the US President to visit Bangladesh.
"Accepting the invitation, Trump expressed the hope that he would visit to Bangladesh," Haque said.
Donald Trump was in Riyadh on his first foreign tour after taking office.
While delivering his speech at the summit, Trump said the fight against extremism is "a battle between good and evil," calling on Muslim nations to take a lead in stamping out terror.
"The path to peace begins right here," he said.
Meanwhile, Sheikh Hasina and Tajik President Emomalii Rahmon had a meeting at the King Abdulaziz Conference Center on the sidelines of the summit.
The Tajik president invited Sheikh Hasina to visit Tajikistan at her convenient.
"We hope that the Tajik President may visit Bangladesh or the Bangladesh Prime Minister may visit Tajikistan by this year," the foreign secretary said.
He said Tajikistan considers Bangladesh as a potential country of boosting its trade.
Full report at:
http://www.thedailystar.net/country/sheikh-hasina-meets-donald-trump-in-saudi-arabia-invites-him-bangladesh-1409023
--------
Trump calls Afghan soldiers courageous for their sacrifices in fight against terror
May 22 2017
The US President Donald Trump has called the Afghan National Defense and Security Forces (ANDSF) courageous as he hailed their sacrifices in the fight against the terrorism.
In his speech to the Arab Islamic American Summit in Riyadh, Trump said many are already making significant contributions to regional security, mentioning Jordanian, Saudi Arabia, Lebanese army, American soldiers, and Qatar for their contribution to eliminate the menace of terror.
He said "And courageous Afghan soldiers are making tremendous sacrifices in the fight against the Taliban, and others, in the fight for their country."
The US President further added that as terrorist organizations are denied control of territory and populations, steps must be taken to strip them of their access to funds and must cut off the financial channels that let ISIS sell oil, let extremists pay their fighters, and help terrorists smuggle their reinforcements.
"I am proud to announce that the nations here today will be signing an agreement to prevent the financing of terrorism, called the Terrorist Financing Targeting Center – co-chaired by the United States and Saudi Arabia, and joined by every member of the Gulf Cooperation Council. It is another historic step in a day that will be long remembered," he added.
He also emphasized that there is still much work to do and said "That means honestly confronting the crisis of Islamist extremism and the Islamist terror groups it inspires. And it means standing together against the murder of innocent Muslims, the oppression of women, the persecution of Jews, and the slaughter of Christians."
Full report at:
http://www.khaama.com/trump-calls-afghan-soldiers-courageous-for-their-sacrifices-in-fight-against-terror-02800
--------
Hekmatyar acting as if the Afghan government has surrendered: Noor
May 21 2017
The provincial governor for the northern Balkh province and chief executive of Jamiat-e-Islami Ata Mohammad Noor has said the leader of Hezb-e-Islami Gulbuddin Hekmatyar is acting as if the government has surrendered to his party.
"We welcomed the peace deal, but instead of surrendering to the government, Mr. Hekmatyar is acting as if the government has surrendered to him," Noor was quoted as saying in a report by the Washington Post.
Hekmatyar arrived in Kabul earlier this month after almost 20 years and months after signing a peace agreement with the Afghan government.
The Afghan officials are optimistic that the signing and implementation of peace agreement with Hezb-e-Islami may help to encourage other insurgent and militant groups to join reconciliation process and end the war through negotiations.
Abdul Hadi Argandiwal, a moderate Hizb leader, told The Washington post that he is optimistic that Hekmatyar's welcome into public life will eventually persuade the Taliban insurgents to come to the negotiating table, but he also said the unrepentant warrior needs to transform himself first.
Full report at:
http://www.khaama.com/hekmatyar-acting-as-if-the-afghan-government-has-surrendered-noor-02799
--------
Southeast Asia
Riyadh Summit signals Muslim countries united in eradicating terrorism, Najib says
May 22, 2017
RIYADH, May 22 — Malaysia has joined more than 50 Muslim countries in the Riyadh Summit in sending signals to the world that they are united in eradicating terrorism.
Prime Minister Datuk Seri Najib Razak said the world needed to be reminded that the Muslim leaders attending the meeting yesterday completely condemned terrorism and violent extremism.
"The world should have no doubt that we stand collectively with the international community in the fight to eradicate this menace," he told the gathering which included United States President Donald Trump at the Arab-Islamic-US Summit at the King Abdulaziz International Centre here, named after Saudi Arabia's first monarch.
In thanking Saudi Arabia's King Salman bin Abdulaziz Al Saud for his initiative in hosting the summit, Najib said the gathering had sent signals to the world community on the united effort by Muslim countries in combating terrorism.
However, Najib cautioned the meeting held in the Middle East region that the current instability in the region had thus, raised much concern to them.
"Unstable regions are fertile grounds for terrorism to flourish," said the Malaysian prime minister.
Training his sights on Iran, Najib said he was aware there was widespread belief in the region that Iran had contributed somewhat to the instability in the region.
As Malaysia enjoyed and valued good relations with countries in the region, he said, Malaysia felt that Iran should avoid any action that could be interpreted as interfering in the internal affairs of its neighbours.
"This is not only for the sake of regional stability but also for the unity of the ummah," he added.
In drawing his attention on the terrorism matter, he said the fight against terrorism was not just military but also about winning hearts and minds.
To do this, Najib said, a credible narrative needed to be told, in which Islam and modernity were compatible; material progress and religious devotion go hand-in-hand; and religious knowledge and scientific inquiry mutually reinforced one another.
"We must, however, emphasise and reinforce our stories so that true Islam is known the world over, while at the same time we coordinate to crush Daesh and their allies wherever their malign presence is felt," he said.
Najib also shared with the gathering that Kuala Lumpur had not flagged in its effort to combat the spread of radicalisation through the promotion of 'wasatiyyah' (moderation) and the establishment of the Global Movement of Moderation.
Further substantiating his point over the issue, he said the country's deradicalisation programme had had a remarkable 95 per cent success rate in reintegrating former extremists.
He also said Malaysia and the United States had worked to establish the Digital Strategic Communications Division to counter the negative messaging of terrorism.
Citing other initiatives taken by Malaysia, Najib said the country also worked with Australia to stop the flow of funding for terrorist groups; with the United Kingdom and France in seven flagship areas including cyber-terrorism.
He said the recent state visit by King Salman to Malaysia had resulted in the establishment of the King Salman Centre for International Peace in Kuala Lumpur, a landmark collabouration between the two countries in fighting against terrorism.
He said the centre was scheduled to be in operation next month, adding that Kuala Lumpur was willing to share its expertise addressing extremism and terrorism with others.
Najib also thanked US President Donald Trump for reaching out to the Muslim world in fighting global terrorism.
Trump, in addressing the gathering, among others called on the Muslim world to take the lead in fighting radicalisation.
"Drive them out of this world," he said. — Bernama
http://www.themalaymailonline.com/malaysia/article/riyadh-summit-signals-muslim-countries-united-in-eradicating-terrorism-naji
--------
Ex-judge: Protect Malaysia's secular status
May 21, 2017
KUALA LUMPUR: A former Appeals Court judge has called on all Malaysians to defend the country's status as a secular nation as aspired by Malaysia's first prime minister Tunku Abdul Rahman.
Mohd Hishamudin Yunus, who retired in 2015 after serving the bench for 24 years, said the status had been agreed to in the Malaysia Agreement 1963 and stipulated in the Federal Constitution, and therefore must be respected by all.
"Freedom to practise religion was guaranteed during the negotiations to establish Malaysia.
"The issue of hudud (Islamic criminal punishment) never cropped up," he was quoted as saying by The Star Online today.
"If it did then, certainly the proposal would have been overruled by the people of North Borneo (Sabah) and Sarawak," he said at a forum organised by Sisters in Islam yesterday.
Referring to PAS president Abdul Hadi Awang's motion in the Dewan Rakyat on April 6 to increase shariah punishments through amendments to the Syariah Courts (Criminal Jurisdiction) Act 1965 (Act 355), he said the move was not suitable and will not be accepted by most Malaysians.
Hishamudin said the explanation that the amendments would not affect non-Muslims was also unacceptable.
He pointed to cases where the Orang Asli were incorrectly registered as Muslims and non-Muslim minors were converted to Islam without the consent of both parents.
There have also been instances of religious authorities taking away bodies of the deceased despite there being no concrete proof that the dead person had been a Muslim, he added.
"Recently, traders in Kelantan, including non-Muslims, were ordered to close shop during Maghrib prayers," he was quoted as saying.
"In such cases, the argument that shariah law does not affect non-Muslims cannot be accepted."
Hishamudin also said the amendments to Act 355 ignored the principle of proportional justice in criminal law.
He described the proposed maximum punishments for shariah courts of 30 years' jail, RM100,000 fine and 100 lashes as "very extreme".
He said the current limit of three years' jail, RM5,000 fine and six lashes as adequate for the limited scope of shariah offences.
On April 8, the Bar Council had said Parliament should not push ahead with the bill's debate but instead establish a select committee, as had been mooted in November last year, to undertake extensive and in-depth study of the proposals.
On Nov 22, 2016, Deputy Prime Minister Ahmad Zahid Hamidi had announced that a select committee with Muslim and non-Muslim MPs would be formed to iron out issues on the bill and explain the separation of powers between the civil and shariah courts.
Full report at:
http://www.freemalaysiatoday.com/category/nation/2017/05/21/ex-judge-protect-malaysias-secular-status/
--------
Sarawak government sets up non-Islamic affairs unit
Bede Hong
May 22, 2017
KUCHING: Sarawak's non-Islamic affairs unit, a state agency to regulate policies to promote religious harmony, has been officially established.
The state government has approved the creation of 17 new posts of various grades including a full-time director, Deputy Chief Minister Douglas Uggah Embas said in his winding-up speech at the Sarawak state assembly today.
"This is a full-fledged unit, equivalent in status with other units in the chief minister's department," Douglas said.
The agency is the brainchild of the late Adenan Satem and was also in response to issues raised by DAP's Bukit Assek assemblywoman Irene Chang, he said.
The non-Islamic affairs unit is set up to evaluate, propose and formulate policies, laws and regulations with regard to non-Islamic religious affairs in the state.
It would also act as a focal point for various religious bodies to liaise and interact with the state or federal government agencies when it comes to various matters, including their application for land and funding for the construction of buildings.
The unit has received eight approvals for land application for the construction of various non-Islamic religious institutions.
Douglas said the state government has been processing 30 applications for funding for both new construction and maintenance of existing buildings.
Full report at:
http://www.freemalaysiatoday.com/category/nation/2017/05/22/sarawak-government-sets-up-non-islamic-affairs-unit/
--------
URL: https://www.newageislam.com/islamic-world-news/kashmir-conflict-shifts-with-top/d/111240
New Age Islam, Islam Online, Islamic Website, African Muslim News, Arab World News, South Asia News, Indian Muslim News, World Muslim News, Women in Islam, Islamic Feminism, Arab Women, Women In Arab, Islamophobia in America, Muslim Women in West, Islam Women and Feminism