New Age Islam News Bureau
2 May 2020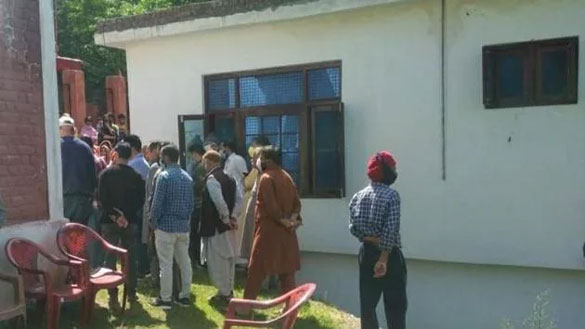 Muslims residing in the neighbourhood come forward to help the grief-stricken family.(HT Photo)
--------
• Karnataka: Muslim IAS Officer Gets Show-Cause Notice for Tweet on Tablighi Jamaat Members
• Muslim Men Help Hindu Man's Kin Conduct His Funeral Rites in North Kashmir's Uri
• ran Islamic Seminaries Ready to Cooperate with Int'l Religious Centers
• Ramadan 2020: Dubai-Based Medical Frontliner Fasts in Solidarity with Colleagues
• French Muslims Face a Cruel Coronavirus Shortage: Burial Grounds
• "We're Dropping Off Food Parcels For People In Need": How Torontonians Are Observing Ramadan This Year
• Ramadan Calls for Sober Reflection, Says National President of ALGON
• Top Ansar Al-Islam Militant Gives Confessional Statement
• Spotlight: COVID-19 Affects Traditions In Pakistan During Ramadan
----------
India
• Karnataka: Muslim IAS Officer Gets Show-Cause Notice for Tweet on Tablighi Jamaat Members
• Muslim Men Help Hindu Man's Kin Conduct His Funeral Rites in North Kashmir's Uri
• Karnataka: Official Halts Group Prayer In Mosque, The Group Thought That New Relaxations • Announced Included Congregational Prayers, They Expressed Regret
• Coronavirus: 8 Attendees Of Delhi Mosque Event Charged In Uttarakhand
• Covid-19 Doesn't See A Difference Between Hindu And Muslim: Actor Teaches His Daughters, 'Love Is the Only Religion
• Covid-19: 122 Men from Single CRPF Battalion InDelhi Test Positive
-----
Mideast
• Iran Islamic Seminaries Ready to Cooperate with Int'l Religious Centers
• Palestine's Islamic Jihad condemns Germany for blacklisting Hezbollah
• Muslims in Jerusalem hold Ramadan prayers outdoors amid virus lockdown
• East Azarbaijan historical tomb, mosques being restored
• Chief ICC Prosecutor Affirms Palestinian Statehood, Says Court Can Probe Israeli Crimes
• European ambassadors warn Israel against annexing West Bank
------
Arab world
• Ramadan 2020: Dubai-Based Medical Frontliner Fasts in Solidarity with Colleagues
• Ras Al Khaimah Police Cracks Down on Beggars During Ramadan
• Horrific crime in Mosul, child killed inside a mosque
• IS Kills 10 Iraqi Shia Militias in Multi-Pronged Attack
• Islamic Development Bank Group hosts virtual meeting to discuss COVID-19 response
• QCM online workshops focus on Ramadan-related activities
-----
Europe
• French Muslims Face a Cruel Coronavirus Shortage: Burial Grounds
• 'Justice is Indivisible': Placing Palestine Back at the Center of Muslim Discourse in the West
• How Burton mosques are getting on with Ramadan during lockdown
• 'It's A Very Lonely Prayer': What It's Like To Celebrate Ramadan During Lockdown
• Danish court detains Islamic militant plot suspect
-----
North America
• "We're Dropping Off Food Parcels For People In Need": How Torontonians Are Observing Ramadan This Year
• Food giveaway, as part of Project Ramadan 2020, set for Saturday
• Today in History, May 2, 2011: Osama bin Laden killed by American Navy SEALS
-------
Africa
• Ramadan Calls for Sober Reflection, Says National President of ALGON
• KSRelief Distributes 4,711 Ramadan Food Baskets to Needy People in Sudan
• Fears ForNigerian Humanist Held For Blasphemy In Sharia State
------
South Asia
• Top Ansar Al-Islam Militant Gives Confessional Statement
• Explosion close to a prison leaves 3 dead in Laghman province of Afghanistan
• Kabul Police arrest 6 who had destroyed electricity transmission tower in Kabul
• 2 Afghan police officers died of coronavirus: Interior Ministry
------
Pakistan
• Spotlight: COVID-19 Affects Traditions In Pakistan During Ramadan
• CPI-Based Monthly Inflation Reduced in April, Prices Soared With Onset Of Ramadan: Report
• 3,000 cops deputed for mosques' security
• SOPs violation continues in most of Islamabad mosques
• PBM inks accord with Muslim Aid for distributing ration
• Minority MPA distributes ration among Muslims
------
Southeast Asia
• On May Day, Workers Marches Go Online To Avoid Coronavirus Risk
• Volunteers travel 80 km to give COVID-19 aid to shackled mental health patients in NTT
Getting Malaysia back to work
• Petition to cancel conditional MCO garners over 133K signatures
• Police to reduce roadblocks from May 4, says IGP
• Finance minister asks banks to consider abolishing accrued interest on hire purchase loans, profits on fixed-rate Islamic financing during moratorium
Compiled by New Age Islam News Bureau
URL; https://www.newageislam.com/islamic-world-news/karnataka-muslim-ias-officer-gets/d/121739
------
Karnataka: Muslim IAS Officer Gets Show-Cause Notice for Tweet on Tablighi Jamaat Members
May 2, 2020
BENGALURU (KARNATAKA): Karnataka government has issued a show-cause notice to IAS officer Mohammad Mohsin over his social media post about donating of plasma by Tablighi Jamaat members for treatment of COVID-19 patients.
In his tweet on April 27, Mohammad Mohsin wrote, "More than 300 Tablighi heroes are donating their plasma to serve the country in New Delhi only. What about it? Godi Media? They will not show you the works of humanity done by these heroes."
"The adverse coverage this tweet has got in the media has been taken note of seriously by the government, given the serious nature of COVID-19 and the sensitivities involved," the show cause notice said.
The state government has sought a written explanation from the officer within five days for violating the All India Services (Conduct) Rules, 1968.
It has also warned of action against the officer as per the All India Services (Discipline and Appeal) Rules, 1969 if he fails to submit his reply before the deadline.
https://timesofindia.indiatimes.com/india/karnataka-ias-officer-gets-show-cause-notice-for-tweet-on-tablighi-jamaat-members/articleshowprint/75502976.cms
------
Muslim men help Hindu man's kin conduct his funeral rites in north Kashmir's Uri
May 01, 2020
Idrees Bukhtiyar
Members of the Muslim community helped in performing the last rites of their Hindu neighbour in north Kashmir's Uri town amid the nationwide lockdown.
When 54-year-old Shekhar Kumar died in Lagama village of Uri on Thursday, and it was time to perform the last rites and the funeral, his family members realised that they needed help. That's when they approached the Muslim community.
Due to the lockdown, the relatives of the deceased could not reach the place for his funeral and no vehicle was available to carry the body to the cremation ground.
Deceased's son Ghautam Kumar said that the Muslim community has always helped them in tough times. "It was not possible to perform my father's last rites without their support," he said.
Abdul Majid Banday who helped Shekhar's family conduct his last rites said, "We all will help each other, and caste, creed or religion should never come in the way."
Chairman of Uri municipal committee Bharat Kumar Sharma said that in times like this, it shows that humanity and kindness are the only things that matter at the end of the day.
Over 300 pandit families living in Lagama village stayed back and didn't migrate to date since the 90's when the militancy was on peak and despite the turbulent days that the valley has seen.
As most of the pandits live in Lagama village while the rest of them are settled in neighbouringBandi and Dyari villages of Uri. These villages have six temples. Three are in Lagama, two in Bandi, and one in Dayar.
https://www.hindustantimes.com/cities/muslim-men-help-hindu-man-s-kin-conduct-his-funeral-rites-in-north-kashmir-s-uri/story-4rnldRLYIIPrlanpZ7sqsI.html
-----
Iran Islamic Seminaries ready to cooperate with int'l religious centers
May 2, 2020
Qom, May 2, IRNA - Head of Islamic Seminaries of Iran voiced readiness for opening a new chapter of cooperation and consultation with the international scientific and religious centers and leaders of different religions across the world, particularly in India.
Referring to the current critical situation created in the world after the deadly coronavirus pandemic, he said that the religious leaders and clerics are responsible for advising people on how to face the situation and avoid division between science and religion.
He added that international cooperation is needed to fight against coronavirus pandemic, inhuman sanctions, injustice, discrimination, war, and terrorism.
Also, all should stand against unilateralism and be loyal to human principles and religious guidelines to counter corruption, sanctions, and injustice, he noted.
Clerics, elites, and students at Islamic seminaries are ready to exchange cultural, research, and scientific experiences with international religious and scientific centers to take common measures of interaction to establish a new religious and divine civilization that will help serve humanity, he added.
The deadly coronavirus radiating from Wuhan, China, in December 2019 has affected over 3,400,000 people across the world and killed near 340,000.
Different Iranian officials have already stressed over and over that the successful fight against the deadly virus needs collective global efforts.
https://en.irna.ir/news/83772316/Iran-Islamic-Seminaries-ready-to-cooperate-with-int-l-religious
-----
Ramadan 2020: Dubai-based medical frontliner fasts in solidarity with colleagues
Ashwani Kumar
May 2, 2020
A Dubai-based nurse is setting new standards by fasting while working as frontline healthcare worker during the holy month. For Shini Joseph, fasting is a means to express solidarity with her Muslim colleagues - a ritual which over the years has become a habit.
"I have been in the UAE for the last 11 years and started fasting from my first year itself. At the hospital, most of my colleagues fast during Ramadan. So, I join them in solidarity. I believe this upholds unity and imparts tolerance among communities. During the initial years, fasting meant joining my friends in their religious observance. However, in the past few years, it has become a habit," said Shini, nursing supervisor, Medeor Hospital, Dubai.
Shini praises the UAE's commitment to the values of tolerance and co-existence, which has made a deep impact on her. "Living here for over a decade, the culture and observations of this nation have become an inalienable part of my life."
However, Shini noted that unlike previous years, now the medical staff has to put in long hours of work, which is tiresome and may also become a hindrance in observing fast on all days.
"Due to Covid-19 outbreak, our workload is huge. I am not sure if I would be able to fast every day. But I am trying to observe fasting on as many days I can."
https://www.khaleejtimes.com/ramadan-2020/ramadan-2020-dubai-based-medical-frontliner-fasts-in-solidarity-with-colleagues
------
French Muslims Face a Cruel Coronavirus Shortage: Burial Grounds
May 2, 2020
PARIS — The middle-aged men, some wearing masks and gloves, leaned over a freshly excavated grave and gingerly slid a coffin into it. Arching their backs and bending their knees, they were burying a 60-year-old French-Moroccan woman in the Muslim section of a cemetery in a town north of Paris.
But it was more than 1,800 miles from where the woman had wanted to be laid to rest: Ifrane Atlas-Saghir, her home village in Morocco.
"We buried her there, but we don't know if we'll ever repatriate her or not," said the woman's son Hakim, who insisted on being identified only by his first name out of respect for his family's privacy.
The pandemic that has upended much of the world has halted the tradition of many French Muslim immigrant families of repatriating bodies to their country of origin. And as most countries have closed their borders, it has also highlighted the challenging task of finding proper Muslim burial plots that are oriented toward Mecca.
Such plots are significantly lacking in French cemeteries, a concern that many families from Northwest and sub-Saharan Africa have raised for decades. But the pandemic has helped reveal the full extent of the shortage while underscoring the broader struggle over the integration of Muslims in France.
"Covid-19 has, unfortunately, hit the Muslim community with full force," said Chems-Eddine Hafiz, the rector of the Grand Mosque of Paris. "This situation has been going on for years, and we are now paying a high price for it."
Every year, thousands of bodies are sent back to the Maghreb — Northwest Africa — and sub-Saharan Africa, an operation involving specialized funeral homes, charter flights and consular services. But the coronavirus put a stop to this well-functioning system.
Morocco and Tunisia have suspended all repatriations, while Algeria and Mali allow only people who have not died of the disease to return. The repatriation bans have pushed more Muslim families to turn to French cemeteries to bury their relatives.
In 2016, about six million Muslims were living in France, close to 9 percent of the total population and the highest concentration in Europe, according to a Pew Research Center study. But barely 2 percent of the total number of graveyards in France have Muslim sections, Mr. Hafiz said.
French Muslim communities have been calling for more space in cemeteries for years. But because of France's strict secular laws, town councils — which manage the country's cemeteries — are not required to create or extend religious plots.
With about 25,000 coronavirus-related fatalities, France ranks among the top five most affected countries in the world. Although it is not known how many Muslims are among the dead, Muslim undertakers have reported being inundated with requests to arrange emergency burials or deal with repatriation.
ImageWorkers at a coffin warehouse in the northern suburbs of Paris. The majority of the coffins here were delivered to Muslims families.
Workers at a coffin warehouse in the northern suburbs of Paris. The majority of the coffins here were delivered to Muslims families.Credit...Mauricio Lima for The New York Times
"A serious crisis is underway," said Djamel Djemai, the 42-year-old owner of Al Janaza Muslim funeral home in the Seine-Saint-Denis district. The area is home to many immigrant families and the mortality rate there has soared in recent weeks. Mr. Djemai said that activity at his business had more than doubled since the beginning of the crisis because of "bodies who in normal circumstances should have been repatriated."
For families whose parents emigrated from former French colonies in Africa to France in the second half of the 20th century, repatriating the bodies of loved ones is a tradition undergirded by a desire to keep strong ties with the home country.
"There is a symbolic and restorative dimension," said Valérie Cuzol, a researcher at the Max-Weber Center in Lyon, who estimates that about 80 percent of Muslims who die in France are repatriated to their countries of origin. Ms. Cuzol added that some immigrant families in France have been "forced" to repatriate bodies for lack of a Muslim section in a cemetery.
Mamadou Diagouraga, 32, lost his father in late March. Mr. Diagouraga's father, who emigrated from Mali to France in the 1970s, died at 70 in a hospital after several strokes. Fear of infection made it impossible to repatriate and bury him near the bodies of his brothers and sisters in his home village.
Hakim's mother, Yamina, who died of cancer, was to be buried in Ifrane Atlas-Saghir, the village in southern Morocco that she left at 20 to join her Moroccan husband who was already working as a metallurgist in France.
Faced with the ban, her family decided to bury her in the Muslim section of the cemetery in the town of Garges-lès-Gonesse. Near her grave, a dozen wooden grave markers pegged in fresh piles of earth showed the recent upsurge of activity in the section.
"Few people have had the same luck," he said, referring to families who were still looking for a cemetery with available Muslim graves.
Several towns, mainly in the Paris suburbs, have agreed to expand their cemeteries but many regions are still facing a shortage of Muslim burial plots.
There are 100 graves still available for about 100,000 Muslim inhabitants in the district surrounding Lyon, where the council of imams issued a fatwa, or religious edict, temporarily allowing burials outside Muslim sections, said Kamel Kabtane, the rector of the Grand Mosque of Lyon. Families can later exhume the bodies and rebury them — or even repatriate them — in accordance with religious traditions.
"We needed Covid-19 to raise awareness," said Samad Akrach, 32, the head of Tahara, an organization that helps Muslim families with funeral rites. Mr. Akrach recently filed an appeal asking for the expansion of the Muslim section of the Montreuil cemetery, east of Paris.
Mr. Akrach, whose family is from Morocco, said that he was fighting not only for the older generation who migrated to France, but also for members of his own generation who were born in France and do not intend to be buried elsewhere.
Mr. Hafiz, the rector of the Grand Mosque of Paris, said that for the younger generations, "the country of origin" tradition held much less significance.
https://www.nytimes.com/2020/05/02/world/europe/france-muslims-burials-coronavirus.html
------
"We're dropping off food parcels for people in need": How Torontonians are observing Ramadan this year
02-05-2020
Ramadan, which goes this year until May 23, is usually a time of togetherness: each day, Muslims fast from dawn to dusk, then flock to mosques to eat, pray and spend time with their community. The end of the month is marked by Eid al-Fitr, or the Festival of Breaking the Fast, a joyous celebration of feasts and dressing up. This year, of course, many of those practices are taking a different shape. We spoke to Torontonians celebrating Ramadan about how they're observing the holy month in the age of social distancing.
Sarah Khetty, marketing director for Maple Lodge Foods and spokesperson for Zabiha Halal
"If you're home by yourself during Ramadan, people are what you miss the most. Usually, many people go to iftars, which is the meal where you break fast in the evening with friends and family; this year, we're encouraging people to get creative and host iftars via Zoom. Many iftars are potlucks, so you might want to send a parcel of food to friends' or relatives' houses, then enjoy those items together over video chat. My family is doing iftar via app, and it's unusual because usually my father spends a lot of time at the mosque, and now he's home much more often. Ramadan is feeling very strange, but it's nice to have that extra layer of family time."
Basmah Ramadan, international relations student at U of T
"Usually, I would spend the summer back home in Syria, but this year I'm staying in Toronto because of Covid. I live with my sublings, and for Ramadan, we've been preparing our own food at home rather than going to iftars where we break our fasts together. It's been super weird, not gonna lie. This is usually a time where everybody gets together and you see people you don't usually see. For Eid, I think we'll get dressed up either way and pretend we're going somewhere to celebrate making it through the month."
Yasin Dwyer, executive director of the Muslim Chaplaincy of Toronto
"This Ramadan, much of our worship has returned home; many of our educational activities have gone online. Within our chaplaincy, we normally speak about the potential dysfunction of spending most of your time on social media, but now we've done a 180. We're encouraging people to go on social media and plug into their spiritual organizations. I think religious communities have an important role to play to give hope to people, especially those who are vulnerable. Our imams are leading prayers over livestream in order to help the community feel connected. There's a saying that we should never let our grievances overshadow our opportunities. We've discovered that online, people have access to our services that they would have never had before."
Marium Nur Vahed, U of T student and chairperson of Green Ummah
"Even though Ramadan is about fasting, it also can be about being together when you're breaking your fast. So my grandparents have come to my house and stood at the bottom of the steps, and we've exchanged food by placing it at the end of the porch. This Ramadan, my sister and I are also doing a daily one-hour faith time over FaceTime with our grandmother. She's teaching us Urdu, and giving us lessons about religious poetry and the significance of different traditions. I haven't had the time to do this before. I've also never spent an Eid at home; I would still love to dress up and mark it as a special occasion."
Imran Ally, Imam at TARIC Islamic Centre
"Physical closeness has always been such a hallmark of Ramadan, and this year it will definitely be bittersweet. I've never done Ramadan like this before. We usually gather at the mosque daily with friends and relatives, and we all eat, catch up and pray. Now that doesn't happen, obviously. Families are using FaceTime or Zoom to connect with other families at the time to break the fast. And we are thinking about the less fortunate. Ramadan is about fasting, but it's about helping people who need food but don't have it. So we're still trying to connect to those families by dropping off food at their places, and those who are able to make it to the mosque can get one of our food baskets."
Memona Hossain, volunteer at the Muslim Association of Canada
"Usually, after fasting the whole day, we meet up with my family—we all cook a little something and eat together. Now, we video chat while we're eating and preparing our meals, and we receive the call to prayer virtually. This year, the city of Toronto has permitted a few mosques in downtown Toronto to play the call to prayer over a speaker, so one day we packed some food, drove down from Brampton and parked in front of the mosque just to hear it. I don't think my two-year-old son has ever heard that—in Canada, it's not the norm to hear the call to prayer in the middle of the city. That was special for all of us."
Shiraz Mohamed, Imam at Madinah Masjid
"An important aspect of Ramadan is socializing, and that's been lost. Sunset, when we open the fast, is usually the busiest time: people come to the mosque in large numbers. This year at our mosque, we decided we should do something to recognize that spirit of sunset. So we thought, Let's call the azan, the call to prayer, on a loudspeaker, so that everybody can hear it. We took that idea to our city councillor, and she got us permission. Now, many mosques have followed suit. It's a great achievement for us because we never had the permission to call the azan in public, and it enlivens the spirit of Ramadan a little. Not much, but a little."
https://torontolife.com/city/were-dropping-off-food-parcels-for-people-in-need/
------
Ramadan Calls For Sober Reflection, Says National President of ALGON
May 2, 2020
By Tajudeen Adebanjo
The National President of Association of Local Government of Nigeria (ALGON), MrKolade Alabi, has described the month of Ramadan as a period of sober reflection.
Alabi in a Ramadan message said the Holy month provides another opportunity for the nation, Muslims in particular to uplift their spirituality.
"Ramadan encourages building a sense of reconciliation, forgiveness, restitution and empathy. The month is a period to cultivate higher sense of spirituality in all believers serves as a catalyst to live a righteous and fulfilled life.
It is instructive to note that this year's Ramadan is indeed on a collision course with the Coronavirus pandemic that has thrown the world into the 'mood of war'," he said.
The ALGON President urged the Muslims not to falter in their faith, rather comply with the rules of containing the spread of the virus.
"The usual fraternal togetherness in and outside the places of worship should be limited as advised by the Federal and state governments, the World Health Organisation (WHO) and indeed the Holy Land.
Although, this could be difficult as "isolation" is alien to our culture and religion but it has become a matter of life or death should the rules be ignored," Alabi cautioned.
https://thenationonlineng.net/ramadan-calls-for-sober-reflection-says-algon/
----
Top Ansar al-Islam militant gives confessional statement
May 1, 2020
DHAKA– An alleged leader of banned militant outfit
Ansar al-Islam today gave confessional statement before a Dhaka court in an
anti-terror act case.
Khaled Saifullah alias Sagir Ahmed, 39, gave his statement under section
164 of the penal code as police produced him before the court of Dhaka
Metropolitan Magistrate Masudur Rahman.
The court after recording his confessional statement sent him to jail.
Dhaka Metropolitan Police's Counter Terrorism and Transnational Crime
(CTTC) unit arrested one of the top leaders of Ansar al-Islam from capital's
Arambagh T&T College area yesterday.
Police later filed the case under anti-terror act with Motijheel Police
Station.
According to CTTC, Khaled used to propagate his extremist ideology through
social networking sites and recruit likeminded people for his group. He used
to maintain contact between militants in different countries.
https://www.bssnews.net/?p=384120
-----
Spotlight: COVID-19 affects traditions in Pakistan during Ramadan
2020-05-02
by Misbah Saba Malik
ISLAMABAD, May 1 (Xinhua) -- Pakistan is celebrating the Ramadan, the ninth month of the Islamic calendar. In the religious month, families and friends gather for lavish meals or "iftar" at the post-dusk time to break the fast, hours-long congregation prayers at night and affluent people also hold iftar for the poor and needy.
Apart from social and religious sides, Ramadan also has a strong economic effect as the economic activities during the month are at their peak as compared to the whole year. People especially women and kids throng to markets to shop for iftar dinners and the Eid festival which follows the 29 or 30-day fasting month.
This year, Ramadan is not the same for the Pakistanis. COVID-19 outbreak in the country has affected the rituals and celebrations of the month in the same way as it affected other social activities across the country.
Currently over 13,000 people have been tested positive of COVID-19 across the country, and the federal and provincial governments imposed a lockdown and asked for social distancing nationwide with an aim to curb the spread of COVID-19.
"I do not have time in normal office days to meet or dine with friends and relatives, so Ramadan iftar dinners are a good opportunity to meet and greet people," Shaukat Abbas, an Islamabad-based businessman told Xinhua.
"Every year in Ramadan I invite my relatives, friends and even business contacts to break fast together, and most of the Ramadan evenings remain occupied, as I am either host or guest of the iftar dinners. But this year I prefer staying at home, and not inviting anyone because of the disease (COVID-19) scare," the businessman said.
The virus has not only affected the individual life style of people, but also had its impact on society as a whole. Every year during the month, affluent people and philanthropists organize iftar for poor laborers working on daily wages in markets or factories. The charity act is part of social and religious responsibility in Pakistan.
Rauf Ijaz, a trader in Rawalpindi city, is among the people who used to arrange iftar and pre-dawn breakfast for laborers every year in Ramadan, but this year the situation is different.
"Every year, traders collaborate to jointly organize iftar for laborers working in markets with us, and the poor people, but this year, iftar arrangements are not allowed as a part of the precautionary measures taken by the government to stop the disease spread. Besides, there are not many laborers in the city as most of them went back to their villages due to short of work opportunities and money in the market," Ijaz told Xinhua.
Ijaz added that unlike the past, "the traders are also not so enthusiastic to contribute fund for the poor laborers as they themselves are facing financial crisis due to the lockdown that already exceeded a month."
The COVID-19 has impacted the economic activities in Ramadan too, with restaurants and retail sector being worst hit this year because of a ban on restaurants to arrange Iftar dinner, a major economic drive during the month, and all retailers related to lifestyle sectors are required to be closed.
Shaukat Ali, manager of a famous restaurant-chain in Islamabad, told Xinhua that this year the government stops dine in service and they are only allowed to operate in take-away and home delivery. Now the sales are less than 10 percent of the usual routine and 2 percent of normal Ramadan sale.
"People are not interested in Ramadan take away because of the disease outbreak, every coming day is worse than earlier for the people working in restaurant sector. We have 30 employees here, we did not lay off any fulltime employee yet, but daily wagers had to leave due to non-availability of work," Ali said.
"There used to be a crowd of customers during iftar every year, but now we receive very little orders for takeaway," the manager said, adding that "but if we open dine in service it will put the restaurant employees and visitors at risk too."
"We hope that there should be a policy for the restaurant sector to allow dining in of a limited number of customers, lest a large number of people will lose jobs," said the manager.
In a bid to provide direct financial assistance to the people losing jobs, in Ramadan and the following months, the government has extended outreach of its cash transfers to 12 million households from the existing five million, which were already getting financial support through different relief programs in the pre-COVID-19 time.
The country's Prime Minister Imran Khan has announced a 1.2 trillion-rupee-relief package (over 7.196 billion U.S. dollars) to support the poor and jobless and business sector. Under the government's scheme poor households have already started getting money by an easy registration process through mobile messages.
Khan also formed a "Corona Tiger Relief Force" of volunteers to reach the deserving families with ration and to facilitate daily wagers and laborers who are unable to register for the government's cash disbursement program.
In a conversation with Xinhua, Abid Hameed, a resident of Punjab province's Chakwal district, who lost his job as a barber in a renowned hotel in provincial capital of Lahore, said that he lost hope and all the resources when he became jobless as he is the only bread-winner of his five-member family.
"I had no choice, but to come back to my hometown rather than sitting idle in Lahore, but at the time of despair, the government provided me financial assistance of 12,000 rupees to help me continue my life cycle for the time being," Hameed said, adding that the money and some savings by his wife will help him survive.
http://www.xinhuanet.com/english/2020-05/02/c_139024425.htm
-----
India
Karnataka: Official Halts Group Prayer In Mosque, The Group Thought That New Relaxations Announced Included Congregational Prayers, They Expressed Regret
May 2, 2020
KOLAR: A government official stopped a group of people praying inside a mosque in Kolar, about 66km from Bengaluru, on Thursday evening, reminding them that large gatherings were not allowed during the lockdown. The official, tahsildar Shobhitha, asked Kolar police to register a case for the violation.
The group included workers from a nearby vegetable market. They told officials that they had not prayed at the mosque for a month and thought that new relaxations announced included congregational prayers. They expressed regret.
Shobhitha told TOI that a resident called her office, alleging that restrictions were being violated. Because of the sensitivity of the issue, she personally visited the mosque and found people praying inside. "I respect all religions. However, people must understand that the risk of coronavirus infection increases in large gatherings," she said.
The local community supported Shobhitha's actions. Afrose Pasha, a former president of Kolar City Municipal Council, said the tahsildar had entered the mosque in her capacity as the taluk magistrate and there was nothing wrong with it. "She intervened with the sole intention of preventing the spread of coronavirus," he added.
https://timesofindia.indiatimes.com/city/bengaluru/karnataka-official-halts-group-prayer-in-mosque/articleshowprint/75502162.cms
-----
Coronavirus: 8 Attendees Of Delhi Mosque Event Charged In Uttarakhand
May 02, 2020
Dehradun: Eight people, who attended Delhi's Tablighi Jamaat event, have been charged for attempt to murder charges as they did not declare themselves either before the state administration or the police, a top official said on Friday.
"A total of 16 people have been charged for attempt to murder, of which 8 people were booked today. Earlier we had clearly announced that those who have attended the Tablighi Jamaat event need to declare themselves or face murder charges," said Ashok Kumar, Director General (Law and Order).
"Till now, a total of 2,431 prosecutions have been registered and 12,081 people have been arrested for violating lockdown norms. A total of 29,156 people have been challaned, 5,748 vehicles were seized and Rs 1.47 crore fine has been collected under the Motor Vehicle Act," the DG added.
As per the latest update by the Ministry of Health and Family Welfare, the total number of coronavirus cases in Uttarakhand stands at 57, of which 36 have recovered or migrated.
https://www.ndtv.com/india-news/coronavirus-8-attendees-of-delhi-mosque-event-charged-in-uttarakhand-2221940
-----
Covid-19 Doesn't See A Difference Between Hindu And Muslim: Actor Teaches His Daughters, 'Love Is The Only Religion
May 01, 2020
Radhika Bhirani
Actor Karanvir Bohra and Teejay Sidhu's twin daughters, three-year-old Bella and Vienna, made for a heartwarming frame, signifiying the importance of unity in diversity and in adversity, via a picture where they prayed together for everyone's good health and happiness, on Ramzan.
The proud father says, "They know the Gayatri Mantra, they know the PehliPauri, they are learning the Hanuman Chalisa, the National Anthem, they recognise the sound of the Azaan. What we want to inculcate is that love is the (only) religion, and nothing else. They go to the church also... we take them everywhere."
Bohra also points out how one of the girls prayed the way Muslims pray with their arms open, and the other with folded hands. Recounting his own childhood, he says he was always surrounded by people of all religions, and he himself "used to fast for a day during Ramzan time" with his friends.
Talking about how in present times, Covid-19 has become a common enemy for everyone, religion notwithstanding, Bohra says, "This virus or God doesn't see a difference between Hindu and Muslim... they take whoever they want." He further questions why when both the negative and the positive -- the virus and God respectively -- don't discriminate, humans fight over "ye meradeshhai, yeh meridhartihai, ye mera mandir hai".
As a matter of seeing the silver lining, however, the actor mulls over how the Covid-19 cooled down the wave of communal angst that was the widely spoken about issue in the capital earlier this year.
For Bohra, this Covid-19 crisis and the ensuing lockdown, has taught him something new. "I've learnt to be a patient father... I've tried to understand the needs and wants of the girls better, and I'm loving every moment spent with them. It's a blessing in disguise."
"Who knows when they grow up, what they will do.. but now is the time they can imbibe these true values about love, spirituality and about loving Mother Nature. We make them grow small plants. They keep saying 'I didn't water my plants today! Oh my plant is hungry.' It teaches them about caring, love and harmony," adds the doting date, who also wants the kids to learn how to speak Marwari and Punjabi.
https://www.hindustantimes.com/tv/covid-19-doesn-t-see-a-difference-between-hindu-and-muslim-karanvir-bohra-who-teaches-his-daughters-love-is-the-only-religion/story-fNpNg6RYDzfBcYSil5Y2lM.html
------
Covid-19: 122 men from single CRPF battalion in Delhi test positive
May 2, 2020
NEW DELHI: As many as 122 personnel of CRPF's 31st battalion based at Mayur Vihar have tested positive for Covid-19 so far. The swabs of all personnel based at the battalion's Mayur Vihar facility were subjected to testing following the death of a sub-inspector and 46 other personnel having tested positive.
The primary source of the infection within the battalion is suspected to be a nursing attendant who had joined duty on April 7 after leave and was advised only a five-day quarantine — as against the 14-day period advised by health ministry — by Director (Medical) of CRPF. Though his quarantine was extended by 5 more days, CRPF suspects it was not enforced strictly, which may have led to the infected nursing staff coming in contact with other personnel in common facilities like canteen/toilets.
The 122 positive cases in the 31st battalion constitute around one-third of the total 368 test results that are in. The results of 112 of the total 480 personnel tested are still awaited.
CRPF officers told TOI that the all the 122 Covid-19-positive personnel are lodged at the Mandoli quarantine centre run by Delhi government. These infected personnel are largely symptomatic, they added.
The battalion's facility at Mayur Vihar was sealed after the death of a sub-inspector earlier this week and all troops quarantined. The personnel who have tested negative are being observed during the quarantine period and will undergo repeat testing as per laid down health protocols.
https://timesofindia.indiatimes.com/india/covid-19-122-men-from-single-crpf-battalion-in-delhi-test-positive/articleshowprint/75501993.cms
-----
Mideast
Palestine's Islamic Jihad condemns Germany for blacklisting Hezbollah
May 2, 2020
The Palestinian resistance group Islamic Jihad condemned Germany's decision to designate Lebanon's Hezbollah resistance movement as a "terrorist" outfit.
In a statement on Saturday, the resistance movement said the decision shows that Berlin is serving the Israeli regime's interests, a regime that commits terror acts and destabilizes the whole region, Al Manar reported.
The Islamic Jihad voiced solidarity with Hezbollah, describing it as one of the most effective forces in the fight against terrorism in the region.
On Thursday, Germany designated the Lebanese Hezbollah as a terror organization, banned all of its activities in the European country and ordered raids on sites linked to the Lebanese group.
https://en.abna24.com/news//palestine%e2%80%99s-islamic-jihad-condemns-germany-for-blacklisting-hezbollah_1032381.html
-----
Muslims in Jerusalem hold Ramadan prayers outdoors amid virus lockdown
1 May 2020
Muslims in Jerusalem are praying outside in small groups during the holy month of Ramadan as measures aimed at curbing the coronavirus pandemic remain in place, including a halt to prayers at the Al-Aqsa Mosque compound on the Temple Mount, the third holiest site in Islam.
Prayers at Jerusalem's world-famous religious sites, sacred to Jews, Muslims and Christians were halted or heavily restricted last month as Israel and the Palestinian Authority imposed sweeping lockdowns to prevent the spread of the virus.
Some regulations have been lifted in recent days, allowing many non-essential businesses to reopen. But the ban on large gatherings remains in place. Group prayers can only be held outside by up to 19 people standing at least two meters (yards) apart.
Ramadan usually brings tens of thousands of worshippers to the Al-Aqsa Mosque and the adjacent Dome of the Rock for evening prayers known as "taraweeh." The site is administered by an Islamic endowment, which halted prayers there several weeks ago.
Al-Aqsa is the third holiest site in Islam, after Mecca and Medina. The sprawling esplanade is the location of the ancient Jewish temples and is the holiest site for Jews.
A Muslim woman wears a mask and gloves in East Jerusalem's Mount of Olives, overlooking the Dome of the Rock and Al-Aqsa Mosque compound on the Temple Mount, which remains shut to prevent the spread of coronavirus during the holy month of Ramadan, Friday, May 1, 2020. (AP Photo/Ariel Schalit)
Shops in Muslim-majority areas are required to close at 6 p.m. every night but can make deliveries. The measure is aimed at preventing people from gathering after the daily dawn-to-dusk fast. After nightfall, Muslims traditionally feast with family and friends.
Israel imposed similar measures to prevent gatherings during recent Jewish and national holidays. The Palestinian Authority, which governs parts of the West Bank, has also heavily restricted movement over the last six weeks.
Muslim men pray in the Old City of Jerusalem during the Friday pray of the holy month of Ramadan under restrictions following the spread of the Coronavirus, May 01, 2020.
The virus causes mild to moderate symptoms in most patients, who recover within a few weeks, but it can cause severe illness or death, particularly older people and those with underlying health problems.
Israel has reported more than 16,000 cases and 223 deaths. More than half of those infected in Israel have recovered. The Palestinian Authority has reported nearly 330 cases and two fatalities.
https://www.timesofisrael.com/muslims-in-jerusalem-hold-ramadan-prayers-outdoors-amid-virus-lockdown/
-----
East Azarbaijan historical tomb, mosques being restored
May 1, 2020
TEHRAN – Historical sites of Pir-e Khamush Tomb, Jameh Mosque of Marand and Pirbala or Bazaar Mosque in Marand county, northwestern East Azarbaijan province, are under restoration, provincial tourism chief has said.
The restoration projects are scheduled to be completed by the end of the current Iranian calendar year 1399, which ends on March 20, 2021, Ahmad Hamzezadeh said on Thursday, CHTN reported.
Pir-e Khamush Tomb dates back to Seljuk era (1037–1194). Seljuk, also spelled, Seljuq, was a ruling military family of the Oguz (Ghuzz) Turkic tribes that invaded southwestern Asia in the 11th century and eventually founded an empire that included Mesopotamia, Syria, Palestine, and most of Iran. Their advance marked the beginning of Turkish power in the Middle East.
Jameh Mosque of Marand is estimated to date back to the Ilkhanate times (1256–1335/1353). Hulegu, a grandson of Genghis Khan, was given the task of capturing Iran by the paramount Mongol chieftain Mongke. Hulegu set out in about 1253 with a Mongol army of about 130,000. He founded the Il-Khanid dynasty in 1256, and by 1258 he had captured Baghdad and all of Iran. The Il-Khans consolidated their position in Iran and reunited the region as a political and territorial entity after several centuries of fragmented rule by petty dynasties.
Pirbala or Bazaar Mosque was built during the Qajar period (1789–1925). Local people believe that it is built on the tomb of the wife of Prophet Noah (AS).
https://www.tehrantimes.com/news/447367/East-Azarbaijan-historical-tomb-mosques-being-restored
-----
Chief ICC prosecutor affirms Palestinian statehood, says court can probe Israeli crimes
02 May 2020
Chief prosecutor of the International Criminal Court Fatou Bensouda has reiterated her position affirming the statehood of Palestine, and granting the court's jurisdiction to probe Israeli war crimes against Palestinians.
"The Prosecution has carefully considered the observations of the participants and remains of the view that the Court has jurisdiction over the Occupied Palestinian Territory," Bensouda wrote in a 60-document published on Thursday.
The ICC chief argued in detail in the document that the State of Palestine – an ICC member - fulfills all required criteria to file a criminal case in the court.
"We trust that the facts of this issue will prevail and that the long-awaited investigation into war crimes committed in the territory of the State of Palestine will soon be launched," it said in a statement.
Israeli Energy Minister Yuval Steinitz, who has been appointed by the Israeli regime to handle the ICC file, disregarded the ruling as being "influenced" by pro-Palestinian groups such as the global Boycott, Divestment and Sanctions (BDS) movement.
The document published on Thursday came in response to so-called amicus curiae (friends of the court) documents submitted to the court by various states, international organizations and experts offering their views on the matter in February.
More than 180 human rights bodies urge the ICC chief prosecutor to investigate Israeli crimes in the occupied Palestinian territories.
Bensouda noted in the document that the submissions offered "a wide variety of perspectives" on the matter, consequentially affording "considerable legitimacy to the Court's ultimate decision".
Back on December 19, 2019, Bensouda said in a statement that the court would launch a full investigation into war crimes in the Palestinian territories, as there is a "reasonable basis" to probe into the situation in Palestine.
However, the chief prosecutor asked the ICC Pretrial Chamber to endorse her view. The chamber has yet to pronounce its final decision on the matter and is expected to do so within 120 days.
The Palestinian Authority, which signed up to the ICC in 2015, has already accepted the court's jurisdiction, but has repeatedly urged the court to act faster.
A full ICC investigation could possibly lead to charges being brought against Israeli leaders implicated in crimes against Palestinians.
Gaza, with a population of more than 1.8 million, has been under an all-out siege by the Israeli regime since June 2007. The blockade has caused a decline in the standards of living as well as unprecedented levels of unemployment and unrelenting poverty.
The US and Israel are reportedly coordinating a joint campaign against the International Criminal Court as both face potential war crimes charges at the Hague.
Israel and the US have both refused to sign up to the court, which was set up in 2002 to be the only global tribunal trying the world's worst crimes, war crimes and crimes against humanity.
https://www.presstv.com/Detail/2020/05/01/624351/Chief-ICC-prosecutor-Palestinian-statehood-Israel-war-crimes
-----
European ambassadors warn Israel against annexing West Bank
01 May 2020
The ambassadors of 11 European countries have warned the Israeli regime that its planned annexation of the occupied West Bank is a "clear violation of international law" that would have "grave consequences" for the regime.
Envoys from the UK, Germany, France, Ireland, the Netherlands, Italy, Spain, Sweden, Belgium, Denmark, and Finland as well as, notably, the European Union (EU) presented their formal objection to the plan on Thursday, a Channel 13 report said, according to the Times of Israel.
The protest by the European envoys came during a video conference with the Israeli foreign ministry's deputy for Europe Anna Azari.
"We are very concerned about the clause in the coalition agreement that paves the way for annexing parts of the West Bank. The annexation of any part of the West Bank constitutes a clear violation of international law," the ambassadors said.
Last month, Israeli Prime Minister Benjamin Netanyahu and his main rival, Benny Gantz, agreed to start plans for annexing parts of the occupied West Bank on July 1 as part of a deal setting up a future coalition cabinet.
Until then, elections after elections had left the respective parties of both Netanyahu and Gantz short of a solid parliamentary majority to choose a new prime minister, and no coalition talks had also failed.
"Such unilateral steps will harm efforts to renew the peace process and will have grave consequences for regional stability and for Israel's standing in the international arena," the European diplomats said.
Israel was encouraged to annex settlements and other strategic territory in the occupied West Bank by United States President Donald Trump under a plan that he unveiled in January. The initiative also designated Jerusalem al-Quds as "Israel's undivided capital," among other privileges granted to Israel.
While the plan was supposed to be a deal between the Israelis and the Palestinians, no Palestinian official had been involved in preparing it, and all Palestinian factions rejected the plan soon after it was announced.
https://www.presstv.com/Detail/2020/05/01/624367/Israel-West-Bank-annex-European-ambassadors
----
Arab world
Ras Al Khaimah Police Cracks Down on Beggars During Ramadan
Ahmed Shaaban
A campaign to catch beggars has been launched by the Ras Al Khaimah Police as the mendicancy menace sees a surge during the holy month of Ramadan.
Major-General Ali Abdullah bin Alwan Al Nuaimi, general commander of the RAK Police, said the campaign is targeting all segments of the society to help the police curb the negative phenomenon. The public is being urged to report to police any case of begging they encounter.
"The campaign has been launched in collaboration with CID and police stations across the emirate to ensure security for the community."
Security patrols and staffers have been deployed at all markets and residential areas where beggars are mostly spotted and reported, he added.
Al Nuaimi exhorted the public to contribute their charities to licenced charity associations which have a clear and verified track of all disadvantaged cases and low-income people.
"The listed widows, orphans and poor patients are more eligible for these charities," he said, noting that the "professional beggars" exploit people's sentiments during the holy month."
https://www.khaleejtimes.com/uae/ras-al-khaimah/ras-al-khaimah-cracks-down-on-beggars-during-ramadan
-----
Horrific crime in Mosul, child killed inside a mosque
2020/05/02
Shafaq News / A local official said on Saturday that the dead body of an 11-year-old boy was found killed in a horrific way in a mosque in Zammar district, northwest of Mosul, the local capital of Nineveh Governorate said.
"A child left home in "Domiz" housing complex at 11:00 p.m. to buy something from one the nearby stores and he did not return back," The director of the district, Ahmed Jaafar said in a statement to Shafaq News.
He added that the parents started search for him, noting that the child was found at 2 a.m., killed with his head smashed by a stone inside an abandoned mosque in the housing complex.
Jaafar ruled out the possibility that the incident was terrorist, saying, "We expect this crime to be a criminal, but we let's not anticipate the incidents, as the police started investigations to reveal the circumstances of the incident."
https://www.shafaaq.com/en/iraq-news/horrific-crime-in-mosul-child-killed-inside-a-mosque/
-----
IS Kills 10 Iraqi Shia Militias in Multi-Pronged Attack
02/05/2020
ERBIL — Islamic State (IS) militants carried out a large-scale multi-pronged attack on Hashd al-Shaabi positions in Iraq's central province of Salahaddin, killing at least 10 militiamen.
Hashd al-Shaabi, a paramilitary group linked to Iran, said in a statement that their positions in Tikrit, Samarra, al-Dur, and Balad came under attack early hours on Saturday.
There were fierce fire exchanges reported between the Shia militias and the Sunni jihadists which lasted for hours before the Iraqi army deployed reinforcement to thwart the IS attacks.
Military sources said Iraqi jets provided aerial support to the ground forces during the confrontation.
http://www.basnews.com/index.php/en/news/iraq/600661?__cf_chl_jschl_tk__=51b799b0db12212ed15ca9122698d57393a31188-1588411442-0-AcdM5LtDL0EfLFD6sInMaRTBXualYFKnDk7GZZ400hKfMaB5uLX7IMZcYGv9TfUHUNT8K5eSYFOdKadiR0Bn14IL7qOI300Md4cJuMifJAl42akkuuT8-lgqzSP9ivnIcEfNvEmYcQcSC2QQbbiCL0Rv1j9Qwp0Qy3aA2hWCg4TTUK9917lXxverG14QtW1Epkdefyzax3ls1NRGkEtpKApRZ-GqiH_iSV0ZANRWhaevbRDw82CzfKPRRMTMD-UnhnW9yr3TE3REXfLRULtPWerGJDzoqkWgqSxj0FDHqj1EhZVLfvZq01rwoEyamdDIAQ
------
Islamic Development Bank Group hosts virtual meeting to discuss COVID-19 response
May 02, 2020
RIYADH: Dr. Bandar Hajjar, president of the Islamic Development Bank Group, on Friday hosted a virtual meeting with the heads of the International Monetary Fund (IMF) and 10 other multilateral development banks (MDBs).
Hajjar said it was important to have open dialogue and a results-oriented shared vision between forum members, particularly in drawing up an effective response to the health, economic and financial challenges posed by the coronavirus disease (COVID-19) outbreak in member countries.
Lauding the momentum of solidarity created by the international community toward the elimination of COVID-19, participants stressed that the pandemic should not allow focus to be shifted away from realizing the collectively developed 2030 Agenda.
Hajjar said: "As we enter the decade of action toward the 2030 Agenda, MDBs need to showcase their collective crucial role in supporting member countries to achieve the SDGs (sustainable development goals)."
Delegates reiterated their commitment to stepping up efforts to explore new ways of preserving the MDB model in order to provide low-cost financing to their members and scale up their collective response to the crisis.
Hajjar said: "MDBs need to grasp the full extent of the situation and its effects."
https://www.arabnews.com/node/1668266/saudi-arabia
-----
QCM online workshops focus on Ramadan-related activities
May 02 2020
Qatar Children's Museum (QCM) continues to focus on Ramadan-related activities on its live online workshops, attracting more families and children in the country and abroad amid the coronavirus (Covid-19) pandemic.
"We see families doing an amazing job and even adding their own creative touches to the ideas we offer. The activities are more based around Ramadan whether it's story-telling about good manners or different prophet stories with a strong message," QCM's head of Learning and Outreach Eman Abdulla told 'Gulf Times'.
Story-telling, she added, is followed by an activity related to the topic or other educational workshops such as Iftar cooking or arts, and crafts, among others. According to Abdulla, participants have the opportunity to select and do the activities they want as they visit and explore QCM's social media posts. This Ramadan, the museum changed the timing of its online activity video between 3.30pm and 4.30pm three times a week (Sunday, Tuesday, and Thursday). She said they see families and children interact with all their digital contents whether recent or new, and being on Instagram helped them reached local and global audiences.
QCM is also preparing to share its content with children from across the globe, Abdulla stressed. "We didn't think it would happen too soon, especially we just announced our museum project," said Abdulla, who also takes part in these workshops with her children.
"In the last few weeks, I have been very busy playing and learning with my five children at home. Of course, this is tiring but it is also a blessing for me to be able to witness first-hand, all of my children's growth and development."
"This Ramadan, my wish is for families to find their rhythm, be mindful towards each other and have a peaceful and productive holy month," Abdulla posted on QCM's Instagram (@childrensmuseum.qa)
Recent QCM posts also showed Mohamed and Khalifa making some healthy and delicious pasta for the family for Iftar with hashtags #FromOurFamilyToYours and #ChildrensMuseumQatar.
"Preparing food together in our family is an important tradition for us, especially during Ramadan. Growing up, I helped my mother preparing for daily Iftar and I want my children to have this experience," the participants said. "Many of the traditional dishes we prepare can be complicated but getting in the kitchen and building confidence is as important as having a role to play a part in our family celebration."
Live online workshops, hosted by QCM and being developed by Qatar Museums, engage families in Qatar (Arabic and English), along with museum staff, to combine playing and learning while staying home during this current situation. Farah Altaweel, who is responsible for Visual Communications and Design at QCM, said she loves playing and learning through play. "My wish is to support parents and grown-ups to re-learn how to play – it's good fun, helps with bonding and strengthening relationships, a great stress relief, and a terrific way to learn new skills."
"Recently, I have been playing Animal Crossing which my nephew also loves, allowing us to bond over the game and cope with the challenges of quarantine. I wish all families a blessed month of Ramadan and I hope that whilst this Ramadan will be so unlike all previous years, families will still be able to make positive memories of this time," she said on her post.
https://www.gulf-times.com/story/662159/QCM-online-workshops-focus-on-Ramadan-related-acti
-----
Europe
'Justice is Indivisible': Placing Palestine Back at the Center of Muslim Discourse in the West
May 1, 2020
It was nearly twenty years ago at a Muslim conference in Washington D.C. that I heard the distressing argument that Palestine should not be made a central topic in the American Muslim political agenda.
The point, which took many by surprise, was enunciated by a young American Pakistani Muslim academic, whose name is not important for my purpose here.
What I found reassuring then, however, was that almost everyone at the gathering shook their head in disagreement. The young academic was clearly an intellectual pariah. It was clear that Muslims, at least the attendees of that specific conference, will not be abandoning their advocacy for the freedom of the Palestinian people anytime soon.
A few months later, the September 11 attacks took place, unleashing a Pandora's Box of violence, racism, orientalism, and Islamophobia, the outcome of which would continue to be felt for years to come.
A less discussed portion of the American war on Islam and Muslims in the last twenty years is the systematic and centralized attempt at breaking down the American Muslim society. The same can, of course, be said of the anti-Muslim sentiment that flourished in Europe during the West's wars on Afghanistan and Iraq, and other Muslim countries.
Since then and till today, American Muslims found themselves forced to make bleak choices to avoid media demonization and government persecution.
Some chose to toe the line, in fact, to become an advocate of the very colonial, savage powers that were unleashed against Muslims everywhere – killing, torturing, imprisoning and sanctioning with no regard whatsoever for the very international law that the West itself had fashioned following World War II.
The likes of Hamza Yusuf, formally known as Mark Hanson, was and, perhaps, remains the best example of the so-called 'pet Muslim', as he became known due to his collaboration with the George W. Bush regime during the genocidal wars in Iraq and Afghanistan.
The likes of Yusuf became immensely crucial to the American-Western designs in Muslim countries, being the ideal amalgamation between the 'native informer' – as a supposedly learned Muslim, although a white person himself – and the typical orientalist – the Western scholar that can be trusted in deciphering and dissecting the Muslim 'Orient' to the colonialist West.
According to the Guardian newspaper, Yusuf once told Muslim political dissidents, "If you hate the west, emigrate to a Muslim country", thus displaying the same racist sentiment often lobbed by far-right chauvinists to anyone who dares question government policies on war, immigration, or anything else.
This very sentiment was repeated by US President, Donald Trump, when he tweeted last July, "In America, if you hate our Country, you are free to leave."
According to the infinite wisdom of Yusuf and Trump, one can only earn the right to be a fully bonified citizen if one fully abandons one's right to display any disagreement with one's government's policies.
In Yusuf's shameful thinking, it also follows that a Muslim can never truly be a permanent citizen in any western polity, a sentiment embraced by the very neo-fascist movements that are currently plaguing Europe.
It should come as no surprise, then, that when US Secretary of State and well-known anti-Muslim bigot, Mike Pompeo, announced the formation of the Commission on Unalienable Rights – another platform for political and religious prejudices targeting Trump's enemies around the world – Yusuf was immediately handpicked to be a member of that commission.
The problem, however, is bigger than a single orientalist. It has become clear that the terrible consequences of September 11 – the bloody wars that followed, and the tragic but predictable backlash of anti-Western militancy in the US, Europe and elsewhere – have, sadly, emasculated mainstream Muslim discourse in Western countries, the US especially.
Once upon a time, every Friday, hundreds of Imams throughout American mosques would breach solidarity with Palestine, Kashmir, Afghanistan, Chechnya, and so on. Money would be raised for various organizations that provided aid for victims of wars throughout the Muslim world. In fact, unity around Palestine seemed to bring millions of Muslims together despite their vastly different cultures, classes, and even their very own interpretations of Islam itself.
The outcome of September 11, namely the so-called 'war on terror', has changed all of that, imposing a new paradigm and a stark choice on Muslim communities all across the country.
The shutting down of the Holy Land Foundation, because of its support of Palestinian and other victims of Israeli violence, was only the tip of the iceberg. The accounts of many Muslim charities and organizations were drained, while hundreds, if not thousands of well-educated and outspoken Muslim intellectuals were either detained, deported, fired from their jobs or forced into silence by other means.
Sadly, it was the dawn of a new and tragic era where the self-loathing, self-seeking and opportunistic Muslim intellectual peddlers reigned supreme.
It is through this compromising bunch, that Western governments managed to tailor their own version of the 'good Muslim', to be juxtaposed with the radical, God-forbid, free-thinking Muslim, unfairly but incessantly seen as a terrorist sympathizer.
I had the displeasure of knowing or learning about many of these 'good Muslims' in the last twenty years, who are so keen at claiming the spots at phony 'interfaith dialogue' conferences, giddily serving the role of the well-behaved Muslim whenever demanded of them.
For this odd breed of Muslims, Palestine is an obstacle and Kashmir is a forgotten, wasteland, for their mission is not to advocate on behalf of the oppressed. Instead, they are often used as middlemen who convey the official diktats of governments, states, and city councils to their fellow Muslims. In other words, they become the 'official' Muslims, whose agenda is not that of their own community – helping to mobilize, organize and advocate while building solidarity with other marginalized groups – but, as in the case of Yusuf, embracing the agenda of Trump himself.
The problem with these spiritual charlatans is that they feed the misguided view that Muslims can only be either quisling hacks or potential terrorists; that Muslims must be subdued or they become a danger to society; and that Muslims cannot be part of a larger collective of political dissidents who advocate justice and equality in their own society, and the world over.
Currently, at many mosques across the US, Palestine, Kashmir, Afghanistan, and other places of great and perpetual injustice are hardly mentioned. Many shy away even from political advocacy and intersectionality within their own communities. Perhaps, they fear that doing so would place them at the radar of the FBI or local enforcement agencies.
In one Quranic verse (5:8), God says, "O you who have believed, be persistently standing firm for God, witnesses in justice, and do not let the hatred of a people prevent you from being just. Be just; that is nearer to righteousness".
The emphasis on justice, and the building of communities and nations that stand for what is right is at the core of Islamic values, and neither Mark Hansen nor any other self-proclaimed Muslims can possibly change that.
As for governments that are constantly caricaturing Muslims and Islam to fit their own agendas, they are not doing themselves any favors either, for a strong society is predicated on the freedom of individuals and groups to operate within a legal and democratic framework, with the overriding goal of advancing the interests of the entire nation.
Freedom for Palestine, Kashmir, Afghanistan, as well as the rights of minorities, social justice, gender and racial equality, all go hand–in-hand. No sincere justice advocate, self-respecting scholar, and needless to say, true Muslim, would disagree with the notion that justice is indivisible, a moral doctrine has defined Islam and Muslims for fifteen centuries.
https://www.middleeastmonitor.com/20200501-justice-is-indivisible-placing-palestine-back-at-the-center-of-muslim-discourse-in-the-west/
----
How Burton mosques are getting on with Ramadan during lockdown
By Adnan Rashid
1 MAY 2020
Ramadan is the ninth month of the Islamic calendar, observed by Muslims worldwide as a month of fasting, prayer, reflection and community.
However, matters have been complicated by the coronavirus pandemic, with mosques and other places of worship being urged to close by the Government.
And with Ramadan starting almost a week ago, Burton Live spoke to mosques in town about what it has been like so far.
The Jamia Masjid HanfiaGhausia - the first mosque built in Burton - has had to adapt to continue serving the Muslim community.
"On this device, you'll be able to hear Dr Sahibzada Habib Ahmed, our imam, delivering speeches, as well as the translation of the Quran from Arabic to Urdu.
"This takes place from the mosque daily at 3pm. It's proving very successful and I can see it carrying on even after lockdown."
https://www.derbytelegraph.co.uk/burton/how-burton-mosques-getting-ramadan-4091530
------
'It's A Very Lonely Prayer': What It's Like To Celebrate Ramadan During Lockdown
BY HARRIET KEAN
17 HOURS AGO
'I thought Ramadan would be easier in quarantine,' says Basma Khalifa, a Sudanese Muslim who is isolating in East London. 'You don't have to go outside. You're not running around. You're not doing as much. But you're not as distracted. Ramadan is much easier when you're distracted.'
Basma, who is a stylist, journalist and documentary filmmaker, adds that spending hours on Zoom calls can feel 'full-on when you're fasting.' '3pm-5pm are my tricky hours, so I try and make sure I do most of my work calls in the morning.'
Basma explains that she misses the community aspect of Ramadan. 'The best thing about Ramadan is being together with people and breaking your fast together, sitting up throughout the night watching TV and chatting and sharing stories,' she says, adding that she usually spends her weekends at her cousin's house in Manchester during the religious festival. 'We'd all just be together and get through it together. We would break our fast with a date or a bowl of soup and then we would all pray together. My uncle or my brother or my cousin would lead the prayers and there would be like 20 or 30 of us. Now, it's a very, very lonely prayer.'
Social media, however, is helping her feel connected to her family. 'We video call each other on the weekends; we're everywhere from Australia to Washington DC to Sudan. We share stories and ask everyone how they're doing. And I play quizzes with my little cousins.'
She's also involved with Facebook and Instagram's global campaign #RamadanTogether – where Muslim creators, including lifestyle influencer Dina Tokio and model Mariah Idrissi, are highlighting the power of community by virtually sharing their experiences of Ramadan. 'Facebook approached us and we came up with the idea of bringing lots of different people together to chat about what it's like to be a Muslim in this day and age,' she says. 'It was important to represent all the different types of Muslims, so lots of different ages and races, people who have babies and people that are single entrepreneurs that are still living at home. I wanted everyone to be different.'
As well as writing a poem about Ramadan for a short film, Basma also took part in a virtual conversation, where the creators ate a meal together, debunked some 'myths' associated with Ramadan and chatted about how every year people ask them the same questions. 'People always ask us - even my flatmate asked me yesterday - so you can't even have water?' she says. 'We were joking that we should put that phrase on a T-shirt.'
'It was nice to feel like we're all in this together and care about each other, even if we do come from different walks of life. And that there are different Muslims doing different things, wearing different things, eating different things, we're not all the same person, but the practice of the religion unites us. It was nice to share that.'
Yet Basma's relationship with her faith hasn't always been straightforward. 'I've always had a quite complicated relationship with religion,' she says. 'I grew up in Northern Ireland, and there was no one around me that ever was like me. And I've always had this kind of thinking 'oh, does religion hold you back' or 'does it create more problems than it's worth' - I always, always felt like that.'
'But as I've gotten older,' she continues. 'I started to understand the huge benefits of having a faith and some sort of guidance. Ramadan Together was personally the first piece of religious content I've ever put out. So I wanted to get involved so I could speak to people like me – so that we can just say, "you know what, there's no reason that having a religion holds you back, it's a part of us, it's not who you are."
https://graziadaily.co.uk/life/real-life/ramadan-isolation-lockdown/
-----
Danish court detains Islamic militant plot suspect
1 May 2020
COPENHAGEN, Denmark (AP) - A 23-year-old man appeared in a Danish court on Friday, a day after being arrested on suspicion of plotting an extremist attack. He was ordered jailed until May 28 as investigations continue.
The man, who cannot be named under a court order, is suspected of attempting to acquire one or more firearms for what police have called "a terror attack with a militant Islamic motive."
He denied the accusations when he appeared at a behind-closed-doors court hearing in the capital, Copenhagen, along with his defense lawyer, Steffen Thorborg.
Danish authorities have reported foiling several extremist attacks in recent years, including ones linked to the 2005 publication in a newspaper of 12 cartoons by various artists depicting the Prophet Muhammad.
https://www.dailymail.co.uk/wires/ap/article-8278129/Danish-court-detains-Islamic-militant-plot-suspect.html
-----
North America
Food giveaway, as part of Project Ramadan 2020, set for Saturday
By Harold McNeil
May 2, 2020
Amherst Helping Hands, in collaboration with H.E.A.L. International, is sponsoring a food giveaway from 2 to 4 p.m. Saturday at H.E.A.L. International's offices at 240 W. Ferry St.
The food giveaway is part of the local Project Ramadan 2020. Ramadan is a holy, month-long period for Muslims around the world, during which the devout fast from dawn to sunset.
While there are those who can afford to attend to their daily food needs during this period, many others in the community cannot because they are experiencing financial difficulty as a result of the effects of the Covid-19 pandemic, said Helping Hands founder Yasmin Dara.
"We're bringing the food and everything, and we're going to park in H.E.A.L. International's parking lot, and they're going to provide us some volunteers to help us out to distribute food to the people in that area," said Dara.
While most of the residents in the surrounding area are Muslim, Dara said the food giveaway is open to all, regardless of faith.
https://buffalonews.com/2020/05/01/food-giveaway-as-part-of-project-ramadan-2020-set-for-saturday/
----
Today in History, May 2, 2011: Osama bin Laden killed by American Navy SEALS
Today is May 2. On this date in:
1536
Anne Boleyn, second wife of King Henry VIII, was arrested and charged with adultery; she was beheaded 17 days later.
1863
During the Civil War, Confederate Gen. Thomas "Stonewall" Jackson was accidentally wounded by his own men at Chancellorsville, Virginia; he died eight days later.
1908
The original version of "Take Me Out to the Ball Game" was published by Von Tilzer's York Music Co.
1927
The U.S. Supreme Court upheld 8-1 a Virginia law allowing the forced sterilization of people to promote the "health of the patient and the welfare of society."
1941
General Mills began shipping its new cereal, "Cheerioats," to six test markets. (The cereal was later renamed "Cheerios.")
1970
Jockey Diane Crump became the first woman to ride in the Kentucky Derby; she finished in 15th place aboard Fathom.
1982
The Weather Channel made its debut.
1994
Nelson Mandela claimed victory in the wake of South Africa's first democratic elections; President F.W. de Klerk acknowledged defeat.
2008
Tropical Cyclone Nargis struck Myanmar, leading to an eventual official death toll of 84,537, with 53,836 listed as missing.
Get the Coronavirus Watch newsletter in your inbox.
Updates on how the coronavirus is affecting your community and the nation
Delivery: Varies
Your Email
2011
Osama bin Laden was killed by elite American forces at his Pakistan compound, then quickly buried at sea after a decade on the run.
2017
Michael Slager, a white former police officer whose killing of Walter Scott, an unarmed black man running from a traffic stop, was captured on cellphone video, pleaded guilty to federal civil rights charges in Charleston, South Carolina. (Slager was sentenced to 20 years in prison.)
2018
The Boy Scouts of America announced that the group's flagship program would undergo a name change; after being known simply as the Boy Scouts for 108 years, the program would now be called Scouts BSA. (The change came as girls were about
https://www.cincinnati.com/story/news/2019/05/02/osama-bin-laden-killed-american-navy-seals/3641109002/
-----
Africa
KSRelief Distributes 4,711 Ramadan Food Baskets to Needy People in Sudan
2020/05/01
Khartoum, May 01, 2020, SPA -- The King Salman Humanitarian Aid and Relief Center (KSRelief), in cooperation with the Al-Igtinam Organization for Human Development, distributed here yesterday 4,711 food baskets to those in need, benefiting 28,266 individuals.
The Center followed the necessary procedures to stop the spread of the novel Coronavirus (Covid-19) during the distribution.
This comes within the framework of a project to distribute 38,211 food baskets during the holy month of Ramadan in Sudan.
https://www.spa.gov.sa/viewfullstory.php?lang=en&newsid=2081229
-----
Fears for Nigerian humanist held for blasphemy in sharia state
Emmanuel Akinwotu
Fri 1 May 2020
A prominent Nigerian humanist accused of blasphemy has been arrested and taken to the northern city of Kano, according to figures close to him.
Mubarak Bala, the president of the Humanist Association of Nigeria, was taken from his home on 28 April in neighbouring Kaduna state and taken to Kano, where a warrant for his arrest was issued, Leo Igwe, a fellow Nigerian humanist and human rights advocate, said.
"We condemn his arrest and are extremely worried because this came after several threats made by the religious community in Kano," Igwe said. "They are likely to try him under sharia law in Kano, which could lead to capital punishment."
Sharia law is applied in 12 states across the predominantly Muslim north of Nigeria, including Kano where blasphemy is punishable by death.
"Our worst fear is that he would be taken to Kano because there are many figures who have been threatening him and promising to end his life," Igwe said. "The Kano police told me he was in their custody, but for days now they haven't given us any more information."
In a statement, Humanist UK, the leading British humanist society, said: "We condemn in the strongest terms the arrest of our humanist colleague Mubarak Bala by the Nigerian authorities, who have accused him of 'blasphemy', which can carry the death penalty."
Bala, the son of a widely regarded Islamic scholar, has been an outspoken religious critic in a staunchly conservative region, where open religious dissent is uncommon. After renouncing Islam in 2014, he was forcibly committed to a psychiatric facility by his family in Kano before being discharged.
After Bala posted comments critical of Islam and religion on his Facebook profile recently he had received a surge of online accusations of blasphemy and threats, Igwe said, largely from figures in Kano.
Igwe said Bala had helped create a community for thousands of atheists, particularly in northern Nigeria. "To speak out and say you're an atheist or humanist in Nigeria can be dangerous, but Bala is very passionate about creating a space for those who do not subscribe to Islam or religion," he said.
… just when we need it the most. Millions of readers around the world are flocking to the Guardian in search of honest, authoritative, fact-based reporting that can help them understand the biggest challenge we have faced in our lifetime. But at this crucial moment, news organisations are facing an unprecedented existential challenge. As businesses everywhere feel the pinch, the advertising revenue that has long helped sustain our journalism continues to plummet. We need your help to fill the gap.
You've read 454 articles in the last six months. We believe every one of us deserves equal access to vital public service journalism. So, unlike many others, we made a different choice: to keep Guardian journalism open for all, regardless of where they live or what they can afford to pay. This would not be possible without financial contributions from those who can afford to pay, who now support our work from 180 countries around the world.
We have upheld our editorial independence in the face of the disintegration of traditional media – with social platforms giving rise to misinformation, the seemingly unstoppable rise of big tech and independent voices being squashed by commercial ownership. The Guardian's independence means we can set our own agenda and voice our own opinions. Our journalism is free from commercial and political bias – never influenced by billionaire owners or shareholders. This makes us different. It means we can challenge the powerful without fear and give a voice to those less heard.
Reader financial support has meant we can keep investigating, disentangling and interrogating. It has protected our independence, which has never been so critical. We are so grateful.
We need your support so we can keep delivering quality journalism that's open and independent. And that is here for the long term. Every reader contribution, however big or small, is so valuable.
https://www.theguardian.com/world/2020/may/01/fears-for-nigerian-humanist-held-for-blasphemy-in-sharia-law-state
------
South Asia
Explosion close to a prison leaves 3 dead in Laghman province of Afghanistan
02 May 2020
An explosion took place close to a prison in eastern Laghman province of Afghanistan leaving at least three dead, the local officials said.
Asadullah Dawlatzai, a spokesperson for the provincial government, said a bomb exploded close to a prison in Mehtarlam city earlier today.
According to Dawlatzai, the explosives were placed in a bike which went off as the head of the prison was crossing the area.
He also added that the explosion killed 3 civilians and wounded 4 others.
No individual or group including Taliban has so far claimed responsibility for the incident.
Laghman is among the relatively calm provinces in East of Afghanistan but the anti-government armed militants including Taliban are active in some of its remote districts where they often attempt to carry out terrorist related activities.
https://www.khaama.com/explosion-close-to-a-prison-leaves-3-dead-in-laghman-province-of-afghanistan-04757/
------
Kabul Police arrest 6 who had destroyed electricity transmission tower in Kabul
02 May 2020
The police forces in Kabul arrested six militants who destroyed an electricity transmission tower in capital Kabul last week.
The Ministry of Interior (MoI) in a statement said the Kabul police forces arrested the six suspects during a raid which they conducted last night.
The statement further added that the suspects planned to carry out another attack on security posts in Mir Bacha Kot district at around 11 pm local time.
The group was led by Gul Padshah, the shadow district chief of Taliban group for Qarabagh district of Kabul, the Ministry of Interior added.
The anti-government armed militants destroyed a transmission tower in capital Kabul late on Sunday night and disrupted the supply of electricity to the capital.
The militants had earlier destroyed a transmission tower in northern Baghlan province few days ago which halted the supply of electricity to Kabul and some other provinces.
https://www.khaama.com/kabul-police-arrest-6-who-had-destroyed-electricity-transmission-tower-in-kabul-04756/
-----
2 Afghan police officers died of coronavirus: Interior Ministry
02 May 2020
The Ministry of Interior confirmed that the novel coronavirus (COVID-19) has so far killed two soldiers of the Afghan National Police (ANP) forces.
Tariq Arian, a spokesperson for the Ministry of Interior, confirmed the deaths of the two police soldiers during a press conference in Kabul.
This comes as the Ministry of Public Health announced Friday that the total number of COVID-19 cases has reached 2,335 across the country.
WaheedullahMayar, a spokesperson for the Ministry of Public Health, told reporters in Kabul on Friday that authorities recorded 50 new positive cases in the past 24 hours.
khaama.com/2-afghan-police-officers-died-of-coronavirus-interior-ministry-04755/
-----
Pakistan
CPI-based monthly inflation reduced in April, prices soared with onset of Ramadan: report
May 02 2020
ISLAMABAD: The Consumer Price Index (CPI)-based monthly inflation reduced in April but has gone out of control in Ramadan, The News reported on Saturday.
Pulses, fruits, meat, medicines, sugar have got more expensive while the prices of vegetables, milk, tomatoes, wheat, petroleum products and electricity have been lowered in the holy month.
Different business community leaders on Friday demanded that the State Bank of Pakistan (SBP) further lower interest rate to give a boost to the business in the country.
The CPI decelerated to 8.5% on year-on-year (YoY) basis in April 2020, from 10.2% during February, Pakistan Bureau of Statistics (PBS) reported on Friday.
On month-on-month basis, it decreased by 0.8% in April as compared to an increase of 0.04% in the previous month and an increase of 0.7% in April 2019.
The Urban CPI inflation increased by 7.7% on year-on-year basis in April 2020 as compared to an increase of 9.3% in the previous month and 8.4% in April 2019.
On month-on-month (MOM) basis, it decreased by 0.7% in April 2020 as compared to an increase of 0.1% in the previous month and an increase of 0.8% in April 2019.
On the other hand, the Rural CPI inflation increased by 9.8% on year-on-year basis in April 2020 as compared to an increase of 11.7% in the previous month and 8.1% in April 2019.
On month-on-month basis, it decreased by 1.1% in April 2020 as compared to a decrease of 0.1% in the previous month and an increase of 0.6% in April 2019.
Meanwhile, the Sensitive Price Indicator (SPI) based inflation on YoY increased by 9.0% in April 2020 as compared to an increase of 11.8 % a month earlier and an increase of 10.0% in April 2019.
On MoM basis, it decreased by 2.0% in April 2020 as compared to a decrease of 0.3% a month earlier and an increase of 0.5% in April 2019.
The Wholesale Price Index (WPI) based inflation on YoY basis increased by 5.1% in April 2020 as compared to an increase of 9.2% a month earlier and an increase of 17.1% in April 2019.
The WPI inflation on MoM basis decreased by 2.1% in April 2020 as compared to a decrease of 0.9% a month earlier and an increase of 1.8% in corresponding month of last year.
The core inflation measured by non-food non-energy Urban CPI (Core NFNE) increased by 6.4% on YoY basis in April 2020 as compared to an increase of 7.4% in the previous month and 7.0 percent in April 2019.
https://www.geo.tv/latest/285992-cpi-based-monthly-inflation-reduced-in-april-prices-soared-with-onset-ramadan-report
----
3,000 cops deputed for mosques' security
May 02, 2020
LAHORE-DIG Operations Lahore Rai Babar Saeed said on Friday that Lahore Police had provided foolproof security to all mosques, Imambargahs and other religious places during the holy month of Ramazan and ensuring safety of citizens from coronavirus during prayers in the wake of COVID-19 pandemic.
He said that 3,000 police personnel had been deputed for security of mosques. He said there are 218 mosques of category A, 775 of category B and 4,064 mosques of C category in the city. As many as 277 special enforcement teams had been constituted by the Lahore Police to ensure implementation of the 20-point instruction issued by the government for prayer hours in mosques.
The Lahore Police, in coordination with the district government, Masajid and Imambargah committees and their administrations had ensured complete implementation of the instructions regarding social distancing and precautionary measures.
The DIG Operations, meanwhile, paid visits to different mosques of the city on the first Juma of Ramazan to review implementation of 20-point instructions of the government as well as the security arrangements made by the Lahore Police.
Rai Babar Saeed visited Jamia Masjid Ghousia Main Market, Jamia Masjid Sarkaar-e-Madina Centre Point, Jamia Masjid Ittefaq Model Town, Jamia Masjid A Block, Jamia Masjid Taqwah K Block Model Town, Jamia Masjid Barkat Market, Jamia Masjid Main Bazaar Ichhra, Jamia Masjid Tajjali-e-Ka'aba and other mosques of the city.
https://nation.com.pk/02-May-2020/3-000-cops-deputed-for-mosques-security
-----
SOPs violation continues in most of Islamabad mosques
MANSOOR ALI
May 02, 2020
ISLAMABAD -Despite frequent warning from the government and the health experts, the violation of SOPs continued in majority of mosques in Islamabad on Friday. However, few of the mosques were following the directives of the government and were fully adopting the precautionary measures during the Friday prayer here in the capital. It is important to mention that the mosques in city side were following the precautionary measures but in the outskirts of Islamabad, the lack of adopting the precautionary measures has been greatly witnessed. It was seen that the number of people offering prayers in some of the mosques was in hundreds and they were not following the SOPs, the report said. After a consensus between the government and religious clerics on April 18, the prayer leaders and the mosque committees were given the duty to convince people for following the directives of the government but so far they have failed to do so. Meanwhile, the Islamabad Police arrested MaulanaMasoodAlviafter violation of SOPs and was shortly released.
https://nation.com.pk/02-May-2020/sops-violation-continues-in-most-of-islamabad-mosques
-----
PBM inks accord with Muslim Aid for distributing ration
May 2, 2020
Islamabad: Pakistan Bait-ul-Mal (PBM) and Muslim Aid joined hands to distribute ration bags among the deserving persons during holy month of Ramazan. Managing Director PBM, Aon Abbas Buppi and Country Director Muslim Aid, Syed Shahnawaz Ali inked the MoU in a ceremony held here at PBM Head Office.
Appreciating the global humanitarian services of Muslim Aid, Managing Director PBM admired its support to PBM in social protection area. He said that our cooperative efforts will enable many vulnerable persons to battle the economic crisis during COVID-19 pandemic. Managing Director also anticipated long-term partnership between both organizations, attaining the goals of improving lives of poor populace of the country.
Country Director Muslim Aid, Syed Shahnawaz Ali expressed his willingness for further collaborations with PBM, while commending PBM's initiatives for the betterment of deprived persons throughout the country.
On the occasion, Muslim Aid handed over ration bags to PBM for the deserving persons. Sewing Machines, cutting table and embroidery machines were also presented to PBM for its Women Empowerment Centres.
https://www.thenews.com.pk/print/652994-pbm-inks-accord-with-muslim-aid-for-distributing-ration
----
Minority MPA distributes ration among Muslims
May 2, 2020
The minority member of National assembly (MPA) Wilson Wazir distributed Ramazan food package among some fifty Muslim deserved families of his neighborhood in Landikotal on Saturday.
Talking this scribe MPA Wilson said that he arranged and bought this Ramazan Food package including flour, sugar and grains with his own salary money to motivate other stakeholders and philanthropists of our minority and Muslim community to help poor during the Corona virus lockdown.
He said that Ramazan food package was given to those deserving persons from Muslims who were widows, orphans, disable, jobless and poor.
These activities to support and provide ration to the needy families of our Muslim and minority community would continue throughout Ramazan.
Wilson said and added that He had provided ration to some 160 families of Christian community whose work have affected during Corona virus lockdown.
https://pakobserver.net/minority-mpa-distributes-ration-among-muslims/?utm_source=rss&utm_medium=rss&utm_campaign=minority-mpa-distributes-ration-among-muslims
------
Southeast Asia
On May Day, workers marches go online to avoid coronavirus risk
GhinaGhaliya
May 1, 2020
Many Indonesian workers went online to celebrate Labor Day, also known as or May Day, on Friday to avoid spreading and contracting the coronavirus, reiterating their rejection of the job creation bill and demanding protection during the economic crisis caused by the pandemic.
Since Friday morning, hashtags to commemorate the day, created by workers and unions, have taken up the Twitter world: #TolakOmnibusLaw (RejectOmnibusBill), demanding an end to the deliberation of the omnibus bill on job creation and #BacotanBuruh (WorkersSpeak), which voices the need for labor rights, job protection amid the COVID-19 pandemics.
Workers also participated in the #TuntutanChallenge (DemandsChallenge), which adopts the new TikTok trend known as the "pass the brush challenge." Instead of "passing" the brush, the workers pass banners bearing their demands to the government and the employers, such as to stop massive layoffs, and to pay full IdulFitri holiday bonuses (THR) and wages.
The latest Manpower Ministry data show that more than 1.9 million workers in both the formal and informal sectors had either been furloughed or laid off as of April 19, as companies temporarily halt operations to comply with large-scale social restrictions (PSBB).
Stop segalabentukkekerasanberbasis gender di tempatkerja, karenasetiapperempuanadalahpekerja! #TolakOmnibusLaw #HariBuruh #GerakPerempuan
The workers also demand better protections for workers on the front line in the battle against COVID-19, especially essential workers at hospitals.
Workers take part in a protest on May Day, or International Workers' Day, in Tangerang, Banten on May 1 to call on lawmakers to drop omnibus law discussions and focus on handling the COVID-19 coronavirus outbreak. (AFP/FajrinRaharjo)
A coalition of three major labor unions in the country calling itself the Indonesian Labor Workers Assembly (MPBI), which previously planned to hold the rally on the streets, on Friday distributed protective equipment and hand sanitizer to hospitals in Greater Jakarta and other regions across the country.
"We pitched in our money for them, the frontliners working in the hospital," said Prihanani, deputy chairwoman of the Confederation of Indonesian Trade Unions (KSPI) and a MPBI member.
Other labor groups under the Labor with the People Movement (Gebrak), which includes various organizations such as farmers and media workers, voiced their demands via YouTube broadcast.
To fuel the digital rally, the workers from Gebrak also called on fellow workers to send texts to the leaders of the House of Representatives Legislation Body (Baleg) containing messages against the controversial bill, also known as the omnibus bill.
A similar initiative was carried out in early April following a closed-door meeting held by lawmakers to discuss the bill, causing some politicians' cell phones to stop working.

Baleg chairman Willy Aditya of the NasDem Party told the Post that he had received thousands of texts from the workers since Friday morning. "I've received WhatsApp messages and missed calls."
The NasDem Party and the ruling Indonesian Democratic Party of Struggle (PDI-P) pushed the government to drop labor provisions from the omnibus bill on job creation following growing public opposition.
The workers later agreed to cancel the street protests after President Joko "Jokowi" Widodo announced last Friday that the government had reached a deal with the House to delay deliberation of the labor provisions within the bill.
In Medan, North Sumatra several workers celebrated May Day by holding a "social distancing rally" to the province's Legislative Council building, guarded by the police. The protesters maintained their distance and wore masks during the 30-minute rally.
Tuntutannyajelas: Batalkan Omnibus Law &tangani virus covid19!#AtasiVirusCabutOmnibus #TolakOmnibusLaw #RakyatBantuRakyat @DPR_RI @jokowi
In Central Java, hundreds of workers worked with the government to distribute staple food packages to laid-off and furloughed workers on Friday.
Said Iqbal, president of the KSPI demanded the government require public audits of companies that claimed losses. He believed not all sectors had been equally hit by the pandemic.
"We want public audits for companies that claim losses. For those that survive, we demand they pay full THR and wages so that their purchasing power can be maintained and the economy can grow positively," he said on Friday.
Iqbal said the MPBI leaders had also asked the government to issue a presidential decree to allow trade unions to join the drafting team of the omnibus bill so that it could accommodate the public's interests.
https://www.thejakartapost.com/news/2020/05/01/on-may-day-workers-marches-go-online-to-avoid-coronavirus-risk.html
-----
Petition to cancel conditional MCO garners over 133K signatures
02 May 2020
By ZAKIAH KOYA
PETALING JAYA: A petition urging the government to maintain the movement control order (MCO) and not allow businesses and other activities to commence on May 4 has collected more than 133,000 signatures just 17 hours after it was put up.
They stated that the decision by the government to ease restrictions on the MCO could result in mistakes such as those made by other countries, which saw new waves of Covid-19 cases after lockdowns were eased.
"We do not want the government to bow to the capitalists who put priority on profit above that of the health and welfare of workers.
The three countries saw a return of Covid-19 wave after opening up their economies despite the initial success in containing the pandemic to a manageable state.
On Friday (May 1), Prime Minister Tan Sri Muhyiddin Yassin announced the easing of the MCO to a conditional MCO on May 4 to allow most industries and economic activities to resume with standard operating procedures set by the authorities.
https://www.thestar.com.my/news/nation/2020/05/02/petition-to-cancel-conditional-mco-garners-over-133k-signatures
-----
Police to reduce roadblocks from May 4, says IGP
02 May 2020
KUALA LUMPUR (Bernama): The police will reduce roadblocks from Monday (May 4), and will focus on enforcement of social distance compliance, as well as curbing the entry of illegal immigrants and smuggling activities.
This is in line with the government's conditional movement control order (CMCO) on Friday (May 1), which gave some flexibility in the enforcement of MCO.
Inspector-General Of Police Tan Sri Abdul Hamid Bador said several roadblocks would also be shifted to locations found to be the entry routes for illegals and smuggling activities.
"In line with the government's recent directive, the police and the Armed Forces will increase their control of the main routes identified as being used by the human smugglers to bring in illegal immigrants.
"The routes will be strengthned with new roadblocks which are tightly guarded to ensure the spread of Covid-19 can be curbed in accordance with the directive of the MCO," he said.
Hamid said police welcomed the government's decision to allow the operations of almost all sectors of the economy during the MCO but would continue to monitor all activities to ensure social distancing was followed.
Prime Minister Tan Sri Muhyiddin Yassin in a special message on Labour Day said most economic and social activities would be allowed to operate from May 4, subject to the stipulated standard operating procedures (SOPs).
For example, restaurants are allowed to operate in accordance with the business SOP, outdoor sports activities such as playing badminton or outdoor tennis without spectators, jogging, bicycling, golf and running of not more than 10 persons were allowed on the condition social distancing was observed.
Meanwhile, Hamid said the government's conditional MCO to be implemented starting Monday (May 4) was not a ticket for the people to move freely.
"The decision made by the government is not a guarantee that the disease has been successfully overcomed. The government has given the flexibility in the economic interest and as such the people have to be patient and not be hasty," he said.
He said the government would actually relax further the conditions of the MCO in the future so that people could go out and do leisure activities.
"That is already in the works, but it has not yet been decided when the right time is. But it (the government) must ensure that the situation is completely safe to do so and social distancing is always practiced.
"So I reiterate, don't let the situation on Monday become chaotic, long congestions take place and that the people emerge in droves to the point the situation becomes uncontrollable," he said.
https://www.thestar.com.my/news/nation/2020/05/02/police-to-reduce-roadblocks-from-may-4-says-igp
-----
Finance minister asks banks to consider abolishing accrued interest on hire purchase loans, profits on fixed-rate Islamic financing during moratorium
02 May 2020
KUALA LUMPUR, May 2 — Finance Minister Tengku Datuk Seri Zafrul Abdul Aziz today requested that financial institutions consider abolishing the accrued interest on hire purchase (HP) loans, as well as profit from their fixed-rate Islamic financing, during the six-month moratorium period on loan repayments.
Taking to his Facebook page today, Zafrul said that though there are many banks that offer loan deferment without imposing the accrued or compounded interest, the leeway does not cover all loan products.
"Each bank, meanwhile, sets its own approach on matters related to interest imposition, during the moratorium.
"Taking into cognisance that there is a possibility that it can be implemented, and taking the people's request into account, I would like to suggest that all financial institutions, especially those involved in this moratorium, to consider abolishing the accrued interest for hire purchase loans or profits for fixed-rate Islamic financing, for this six-month moratorium period," Zafrul said.
https://www.malaymail.com/news/malaysia/2020/05/02/finance-minister-asks-banks-to-consider-abolishing-accrued-interest-on-hire/1862269
-----
URL: https://www.newageislam.com/islamic-world-news/karnataka-muslim-ias-officer-gets/d/121739
New Age Islam, Islam Online, Islamic Website, African Muslim News, Arab World News, South Asia News, Indian Muslim News, World Muslim News, Women in Islam, Islamic Feminism, Arab Women, Women In Arab, Islamophobia in America, Muslim Women in West, Islam Women and Feminism