New Age Islam News Bureau
10 September 2022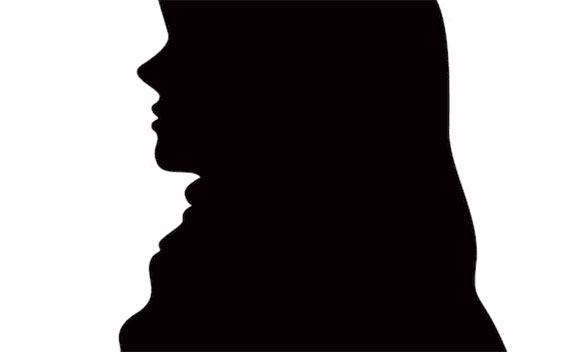 A protest seeking the right to wear hijabs in educational institutions for Muslim women in Karnataka. | PTI
----
• "Humanitarian Catastrophe": Senior US Commander Sounds Alarm over Syria's Islamic State Prison Camps
• Afghanistan Taliban Government Employees Must Pass Test to Gauge Knowledge of Islam to Stay Employed
• Fled Afghan Journalists Face an Uncertain Future in Pakistan
• Swedish Far-Right Politicians Exposed For Wanting To 'Eradicate' Muslims; Pay Tributes To Nazis
India
• BJP 'Terrorising' Muslims on Pretext of Conducting Madrassa Survey, Says Mayawati
• Opposition, activists welcome SC order granting bail to Kappan
--------
Arab World
• Al-Azhar Grand Imam Says Queen Elizabeth 'Dedicated Her Life to Serving Her Nation and People'
• Syria's Aleppo airport to reopen after Israel strikes
• UAE announces three days of mourning on death of Queen Elizabeth II
• US mediator points to 'progress' in Israeli-Lebanese maritime border talks
• Turkish forces neutralize 4 YPG/PKK terrorists in northern Syria
• Israeli drone crashes into sea near Lebanon border
--------
South Asia
• Afghan Taliban Urged To Work for Inclusive Govt
• Taliban Make Little Progress in Countering Drugs
--------
Pakistan
• 'Nobody knows where their village is': New inland sea swamps in Pakistan
• Pakistan PM Shehbaz Sharif appears before HC in missing persons case
• President for ensuring harassment-free environment for women at workplace
• Swatis mourn Queen Elizabeth's death recalling her 1961 visit
• SC rules against appointments made behind closed doors
--------
Europe
• Queen Elizabeth II: Scunthorpe Islamic Leader Recalls Mosque Visit
• Attackers throw stones at Turkish mosque in southern Sweden
• Swedish far-right politicians exposed for wanting to 'eradicate' Muslims, paying tribute to Nazis
• What the Middle East could expect from the UK's Liz Truss government
• Afghan child reunites with twin brother in Britain after year-long delay
--------
Southeast Asia
• Gov't Supports Move To Gazette Kampung Laut Mosque as UNESCO World Heritage Site: Prime Minister
• Singapore to host study visits for minority Muslim communities to exchange ideas
• PAS's botched attempt at polygamy
• Sultan of Brunei becomes world's longest-serving monarch after Elizabeth II's passing
--------
Mideast
• Iran: US Must Avoid Ambiguities to Reach Agreement in Vienna Talks
• Muslims in Balkans hail Islamic centre inaugurated by Erdoğan
• Iran Blasts US, UK for Keeping Silent on Anti-Iran Cyberattacks
• Iranian Army Ground Force Test-Fires Strategic 'Fath 360' Missile
• Iran Condemns Rights Violation of Iranian Diplomats in Albania
• Iran strongly condemns US sanctions over Albania hacking
--------
Africa
• Dozens Reportedly Killed In Islamic State Attack in Mali
• Government slams commission for demanding action against Ethiopia after resumption of war in north
• Nigeria military kills 420 terrorists during month-long operations
• Poverty has increased in Somalia amid terror attacks: World Bank
--------
North America
• US Sanctions Iran's Intelligence Ministry, Its Chief Over Cyber Activities
• Senate public hearings on Islamophobia hears testimony from Muslims in Edmonton
• How the 'war on terror' obscures America's alliance with right-wing Islam
• Iran's latest reply on nuclear deal is a step 'backward,' says Blinken
Compiled by New Age Islam News Bureau
URL: https://newageislam.com/islamic-world-news/karnataka-hijab-ban-muslim-girls-education/d/127922
--------
Karnataka Hijab Ban Robbed Thousands of Muslim Girls of Access to Education, Says Human Rights Organisation Report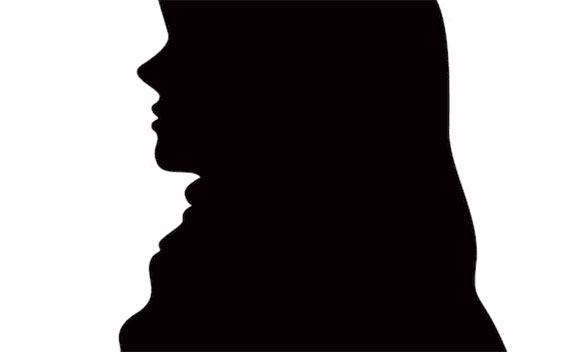 A protest seeking the right to wear hijabs in educational institutions for Muslim women in Karnataka. | PTI
----
Sep 09, 2022
Thousands of Muslim girls and women across Karnataka were robbed of their access to education due to the state government order banning hijabs in educational institutions and the High Court ruling that upheld the directive, human rights organisation People's Union for Civil Liberties said in a report.
The organisation, citing testimonies from students across the state, said that a range of rights were "comprehensively violated" after the High Court's judgement.
"These rights which have been violated include Right to Education without Discrimination, Right to Equality, Right to Dignity, Right to Privacy, Right to Expression, Right to Non-Discrimination and Freedom from Arbitrary State Action," the PUCL report said.
The organisation alleged that the Karnataka government completely ignored its constitutional obligation in its "single-minded focus on ensuring that the hijab was prohibited in colleges". It said that several students had to drop out of educational institutes because of the directive.
The PUCL urged Chief Minister Basavaraj Bommai to rescind the notification that banned the wearing of the hijab in schools and colleges. It also urged the judiciary to carry out an inquiry to look into why the government took such a "sudden, arbitrary and unconstitutional" action.
"The human rights commission and minority commission should register suo motu complaints against the principals and CDCs [college development committees] for violating the fundamental rights of the concerned students and initiate actions at the earliest," the organisation said.
The study by the PUCL said that security measures put in place in educational institutions on account of the court case made students fearful of going to schools and colleges. It also took note of instances where Hindu boys allegedly posted threatening messages on WhatsApp groups.
The study quoted a student as saying: "They said that they wanted to punish us and kill us, and other similar threats."
Students also told the organisation that some boys harassed them in public and used words such as "O Hijab" and "O Burkha" towards them. According to the study, some colleges perpetuated the harassment rather than protecting the students.
The PUCL report quoted a student as saying: "When the principal sees us, he admonishes us, asks me why we continue to study here. Why we continue to wear the hijab, and other such taunting questions."
Hijab ban case
A controversy had erupted after, in December and January, a group of Muslim students of the Government Women's Pre-University College in Udupi city were not allowed to attend classes for being dressed in hijab. The students staged a protest, and similar demonstrations were held in other parts of Karnataka.
Hindu students and mobs of men protested against Muslim women wearing hijabs to educational institutes. At some colleges, Muslim students were heckled, while in another case, some men climbed up a flagpole to plant a saffron flag and broke into classrooms.
On February 5, the Karnataka government passed an order banning clothes that "disturb equality, integrity and public order".
On March 15, the Karnataka High Court had upheld the state government's ban on hijabs in schools and colleges and held that headscarves were not essential to Islam.
A group of petitions challenging the High Court order are pending before the Supreme Court.
Source: Scroll
Please click the following URL to read the text of the original story:
https://scroll.in/latest/1032480/karnataka-hijab-ban-robbed-thousands-of-muslim-girls-of-access-to-education-says-pucl-report
--------
"Humanitarian Catastrophe": Senior US Commander Sounds Alarm over Syria's Islamic State Prison Camps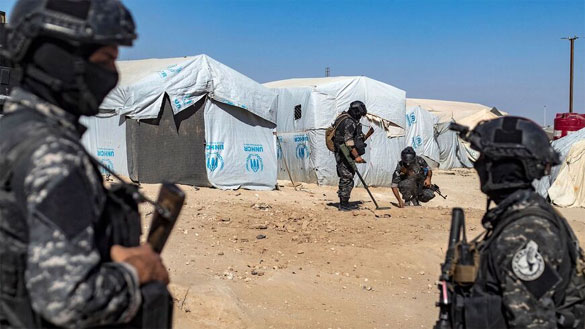 Members of the Syrian Kurdish Asayish security forces use a metal detector to sweep the ground during an inspection of tents at the Kurdish-run al-Hol camp, which holds relatives of suspected Islamic State (IS) group fighters in the northeastern Hasakeh governorate, on Aug. 28, 2022, as the Syrian Democratic Forces mount a security campaign against IS "sleeper cells" in the camp. - DELIL SOULEIMAN/AFP via Getty Images
---
Jared Szuba
September 10, 2022
The commander of all US military forces in the Middle East made an urgent appeal to the international community after visiting the al-Hol camp for Islamic State detainees in northeast Syria on Friday.
Describing al-Hol as a "humanitarian catastrophe" and a "flashpoint of human suffering," US Army Gen. Michael "Erik" Kurilla urged governments around the world to repatriate their citizens from the camp "and rehabilitate them if needed."
More than 90% of al-Hol's detainees are women and children, with 70% under the age of 12, Kurilla noted in a statement following his visit Friday. Most lack sufficient access to running water and other basic necessities to support life.
"ISIS seeks to exploit these horrific conditions. With approximately 80 births in the camp each month, this place is a literal breeding ground for the next generation of ISIS," Kurilla said.
Why it Matters: The four-star general's visit marked the first time ever an American official has entered into the al-Hol camp and spoken with detainees, a military official told Al-Monitor.
Kurilla previously stopped at the camp in April during his first tour of the Middle East as CENTCOM commander. US Senator Lindsey Graham (R-GA) also visited the camp in July, though that trip was not coordinated with Kurilla's trips, the official said.
The general on Friday was accompanied by the commander of Syria's Kurdish-led forces, Mazlum Kobane. Other US government personnel were also present, according to a well-placed source on the ground in Syria.
Al-Hol is the largest of more than a dozen makeshift facilities holding IS detainees across the country's Kurdish-controlled northeast. Some 56,000 suspected family members of IS fighters continue to languish at the site more than three years after the US and Syrian Kurdish-led forces defeated the jihadist group on the battlefield in 2019.
The majority of those in al-Hol were sent there following the mass surrenders of IS fighters and families making a last-stand at the battle of Baghouz, Syria, in March 2019.
"Most residents of the camp reject ISIS," Kurilla stated after meeting with detainees and camp security officials. "Many want to contribute to society. Many wish to return to their homelands, to reenter the workforce and return their children to school," the commander said.
"There are women and children who can be returned to society. They can and want to be productive," he said, acknowledging that those he spoke to had arrived in 2017, prior to the 2019 prisoner influx.
Race against time: The CENTCOM chief's moral appeal comes as US defense officials continue to say that IS is down, but not out.
In January, the jihadist group launched a bloody assault on the main detention facility holding captured fighters in the city of Hasakah. The resulting battle left hundreds dead, including at least 300 among the Syrian-led forces.
The group continues to recruit among the population of al-Hol and is likely planning attacks on other facilities that hold their fellow jihadists.
"ISIS views the detention facilities where its fighters are housed as the population to reconstitute its army," the Pentagon's top Middle East policy official Dana Stroul said during an event Washington in July.
"It looks at al-Hol and al-Raj, and the youth in those camps, as the next generation of ISIS," Stroul said.
Without US funding and the promise of military backup, officials say the Kurdish-led guard force that runs the makeshift prisons would not be up to the task. Though some receive US training, the guards operate without US supervision. They are also inadequately paid, leaving them susceptible to bribery, the Defense Intelligence Agency reported in June.
A running series of murders and even beheadings of camp residents believed to be carried out by a network of IS enforcers known as the hisba have been discovered by security forces at al-Hol in recent years.
Violence in the camp has also driven away humanitarian workers. The Norwegian Refugee Council temporarily abandoned most of its humanitarian work in al-Hol earlier this year "following an armed raid and beatings of its staff," the US-led coalition told a Pentagon inspector general in June. The coalition did not specify who was responsible for those incidents.
Over the past two weeks in al-Hol, the Syrian Kurdish-led forces said they've arrested "hundreds" of IS operatives during US-coordinated raids into the camp's patchwork maze of tents.
US Central Command said the Kurdish-led operation had rounded up "dozens" of IS agents and disrupted a major "ISIS facilitation network, both within the camp and throughout Syria."
Four women bearing signs of torture were also discovered chained in tunnels in the camp earlier this week, CENTCOM said in a statement. At least one member of the local Syrian security force was killed in a firefight with IS in al-Hol Thursday.
The latest clearing operation follows arrests of some 130 suspected IS members in al-Hol between May and June of this year, the US-led coalition reported in June.
Trickle of repatriations: Kurilla on Friday praised Baghdad's recent effort to repatriate its citizens, noting that roughly half of the camp's detainees are from Iraq.
The Iraqi government has brought back nearly 2,500 citizens from the camp since last year, including 683 people (among them 203 children) in the month of June, according to the latest inspector general report. Detainees have also been returned to Kosovo, Russia and other European countries in recent months.
"There's a need to accelerate this progress," Kurilla said in the statement. "Should Iraq repatriate, rehabilitate and reintegrate its citizens, the problem would immediately become much more manageable."
Roughly a third of camp residents are believed to be from Syria, posing an even greater problem for the international repatriation effort. International law forbids returning prisoners to the custody of governments likely to violate their basic human rights.
What's next: In the long term, US officials see repatriation as the only viable solution to the IS detainee problem. The State Department is leading that effort, but it is unlikely to be resolved within the next two or three years.
For that reason, Pentagon and State Department officials have been working with lawmakers in Congress to increase funding for construction of new "purpose-built" facilities to hold IS detainees in more secure and humane settings.
The US-led coalition cycled in a new commander, Army Maj. Gen. Matthew McFarlane, at a ceremony in Baghdad on Thursday.
Know more: Pentagon officials are warning that Turkey's stated plans to invade northeast Syria and attack the Kurdish-led forces will almost certainly spring IS jihadists from their prisons.
Source: Al Monitor
Please click the following URL to read the text of the original story:
https://www.al-monitor.com/originals/2022/09/senior-us-commander-sounds-alarm-over-syrias-islamic-state-prison-camps
--------
Afghanistan Taliban Government Employees Must Pass Test to Gauge Knowledge of Islam to Stay Employed
Photo: Business Standard
----
September 10, 2022
The Taliban's Finance Ministry in Afghanistan wants its employees to be more than number crunchers -- it's requiring that everyone in its ranks must pass a test of faith to stay employed, a media report said.
A letter has been issued detailing orders for all employees to be given a test to gauge their knowledge of Islam. The letter, which bore Taliban stamps and insignias and was signed by officials, was delivered by the ministry's Directorate of Invitation and Guidance, RFE/RL reported.
It says all ministry employees are required to take the test, which appears to be based on a 10-page booklet that covers issues related to Islam. The booklet, which was reviewed by RFE/RL, addresses 53 topics, ranging from asking to describe the five pillars of Islam are to explaining the difference between a prophet and a messenger of God to describing the signs that Judgment Day has arrived.
According to the ministry source, who did not give his name due to fears of retribution, the booklet is being distributed to employees before they take the test. One ministry employee, also speaking on condition of anonymity, wrote by text message that he took the seven-question test last week and was awaiting the results.
During its first stint in power from 1996 to 2001, the Taliban also tested the religious knowledge of state employees who were not members of the hard-line group. But this is the first time the Taliban has quizzed public employees since it regained power in August 2021.
In July, the Finance Ministry requested that female employees send a male relative to work in their stead, in keeping with the Taliban government's decision to bar most women from working in the public sector and government. Only women in the health and education sectors are permitted to work.
The ministry said it had made the request in order to speed up processes and reduce pressures on employees, RFE/RL reported.
Source: Business Standard
Please click the following URL to read the text of the original story:
https://www.business-standard.com/article/international/govt-employees-under-taliban-must-pass-test-to-gauge-knowledge-of-islam-122091000014_1.html
--------
Fled Afghan Journalists Face An Uncertain Future In Pakistan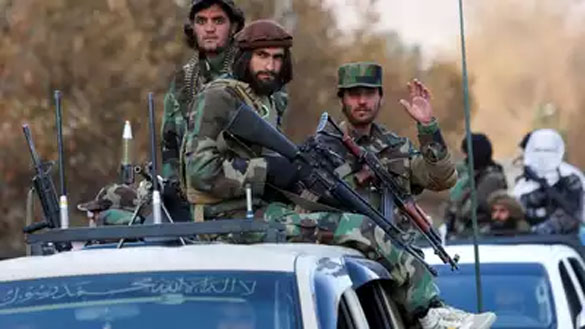 Last year, after the Taliban took over Kabul, many Afghan journalists fled to Pakistan (Reuters)
-----
Sep 10, 2022
KARACHI: Dozens of Afghan journalists who fled from their country last year after the Taliban took over Kabul face an uncertain future in Pakistan as they wait anxiously for the renewal of their visas to remain in the country and continue their struggle to repatriate to European countries or the US. Journalists who fled from Afghanistan to mainly Islamabad, Karachi, Quetta complain that they are getting no help from even the international organisations and NGOs.
Malik Muhammad Afzal, an official who works for the Pakistani Interior Ministry's visa department said the visas could be extended this week but they had to get approval from the country's intelligence agencies.
"The Pakistan interior ministry had given clearance for special issuance of visas for all media personnel who wanted to move from Afghanistan after the Taliban takeover fearing repercussions for their reporting and work," Nasrin Shirazad who worked for the Ariana News in Kabul said.
The mother of three fled via the eastern province of Nangarhar immediately after the Taliban took power in August 2021 and she got a letter on her doorstep threatening her with dire consequences for her "sins" and "infidel" work.
The Taliban have denied issuing any such letter and termed it as a 'fake'.
The female anchor and broadcaster says now NGOs and other western countries and organisations whom she had approached to move to another country say there is no proof she faces any threat in Afghanistan.
But Shirzad said her work as a journalist has earned her and her family many such threats over the years.
"It was a big relief for my family when we finally got a visa to evacuate to Pakistan in February but now the visa has expired."
Other Afghan journalists are also awaiting visa extensions from the Pakistan government and for the moment they have been told by their landlords to leave their premises or they will be evicted.
"Without a valid visa I can't rent any place in Pakistan neither can I receive any financial help from any NGO or relatives, friends in Afghanistan," Abdullah Hameem, a journalist with leading Afghan broadcaster Tolo TV said.
Currently, there are said to be around 200 Afghan journalists on the run and they all communicate through a WhatsApp group.
Hameem said many journalists who worked full-time in the more progressive landscape in Afghanistan for more than a decade before the Taliban took power have fled to Pakistan or some other neighbouring countries for fear of retribution for their work.
Many of these journalists are former female broadcasters and anchors like 26-year-old Sodaba Nasiry who worked for the former Afghan parliament's television channel and left Kabul for Pakistan the day the Taliban stormed Kabul.
She said her visa expired this month, leaving her unable to rent a room legally. For now, she is staying with an Afghan widow in Islamabad.
Nasiry is presently undergoing treatment for depression and is facing acute financial problems which have also not allowed her to take proper medical treatment.
She said all her e-mails and applications to the International Federation of Journalists, Reporters Without Borders, the Committee to Protect Journalists, and the German, French, Italian, and Canadian embassies have given no positive replies to requests for any assistance.
A report by media watchdogs last month confirms that Afghanistan has lost nearly 40 percent of its media outlets and just under 60 per cent of its journalists since the Taliban takeover.
There were 2,756 women journalists and media workers working in Afghanistan prior to the Taliban take over now only 656 are still working under restrictions.
Some Afghan journalists who fled to Pakistan have even paid bribes in US dollars to private agents or middlemen to get new documents or visa extensions
"The emotional, legal, and financial pressures are getting too much for us now," said another journalist.
Source: Times Of India
Please click the following URL to read the text of the original story:
https://timesofindia.indiatimes.com/world/pakistan/fled-afghan-journalists-face-an-uncertain-future-in-pakistan/articleshow/94112052.cms
--------
Swedish Far-Right Politicians Exposed For Wanting To 'Eradicate' Muslims; Pay Tributes To Nazis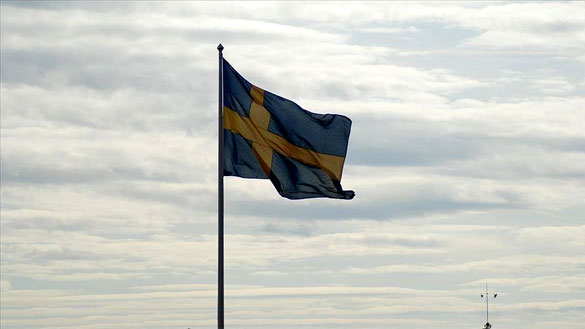 Photo: aa.com
----
09 September, 2022
Swedish far-right politicians who are set to participate in Sunday's elections have been exposed for wanting to eradicate Muslims and "blackheads".
Swedish magazine Expo, along with news outlet, Expressen, on Thursday outlined many right-wing candidates who openly pay tributes to Nazis.
Sweden Democrats (SD) politician Bjorn Halldin has been disseminating anti-Muslim discourse and spreading hate for years, according to the report.
He wrote that Muslims do not belong to a civilised world and that he wants to kill them.
Halldin shared insulting pictures of Black people using terms such as the N-word and has portrayed them as lazy.
He wrote that Sweden should exterminate "blackheads," a derogatory term for Black people.
The SD politician has also participated in a hate campaign against Centre Party leader Annie Loof by spreading "an inappropriate message" about her.
Hate speech against Muslims
SD politician Sonja Hellstrom, who has spread propaganda in a Nazi demonstration resigned saying: "A conspiracy theorist? Yes, I may be, but I am not anti-Semitic," referring to claims that she is conspiratorial.
Goran Nordin, who is running for SD in municipal elections, has been spreading hate speech against Muslims, and Somalis in particular..
Lena Cederlid, who is running for the SD in Falun said she is a proud member of the racist Nazi group, DFS.
In 2018, she verbally attacked refugees in a forum when she said: "You burn, rape, murder, plunder, steal, subsidise cheaters, and hate our country."
During the 2014 elections, she deemed members of the Neo-Nazi Party of Swedes' as "a group who dare to say what others think."
Several politicians are also believed to be members of other racists groups led by individuals with Nazi backgrounds.
Source: TRT World
Please click the following URL to read the text of the original story:
https://www.trtworld.com/europe/swedish-politicians-exposed-for-wanting-to-eradicate-muslims-60632
--------
India
BJP 'terrorising' Muslims on pretext of conducting madrassa survey, says Mayawati
September 09, 2022
Lucknow: Bahujan Samaj Party (BSP) chief Mayawati on Friday accused the BJP government of interfering in the running of private madrassas in Uttar Pradesh on the pretext of conducting surveys and "terrorising" the Muslim community.
In a tweet in Hindi, Mayawati said, "The complaints of the Muslim community being exploited, neglected and being affected by riots have been common since the time of the Congress, and now they are being oppressed and terrorised by the BJP who came to power by doing narrow politics in the name of appeasement. This is sad and condemnable."
"The BJP government has an evil intent on madrassas in Uttar Pradesh. The attempts to interfere in the private madrassas, which run on donations by the community, in the name of survey is inappropriate. They should focus on improving the condition of the government and government-aided madrassas," she said.
The Uttar Pradesh government recently announced that a survey of unrecognised madrassas would be conducted in the state to gather information about the number of teachers, curriculum and basic facilities available there.
Minister of State for Minority Affairs Danish Azad Ansari said the government will conduct the survey according to the requirement of the National Commission for Protection of Child Rights in connection with the availability of basic facilities to the students in madrassas.
During the survey, details such as the name of the madrassa and the institution operating it, whether it is running in a private or rented building, number of students studying there, and information regarding facilities of drinking water, furniture, electricity supply and toilet will be collected, Ansari said.
Information regarding the number of teachers in a madrassa, its curriculum, source of income and its affiliation with any non-government organisation will also be gathered, he said.
To a question whether the state government would start the process of recognising new madrassas after this survey, the minister said that at present, the government's aim is to collect information only about unrecognized madrassas.
Criticising the move, Jamiat Ulama-i-Hind, a prominent Muslim socio-religious group, had recently said the move to conduct a survey of madrassas in the state is a malicious attempt to disparage the education system.
Source: Firstpost
Please click the following URL to read the full text of the original story:
https://www.firstpost.com/india/bjp-terrorising-muslims-on-pretext-of-conducting-madrassa-survey-says-mayawati-11218041.html
--------
Opposition, activists welcome SC order granting bail to Kappan
Pheroze L. Vincent | New Delhi
10.09.22
Opposition parties and civil society activists on Friday hailed the bail granted by the Supreme Court to Malayalam journalist Siddique Kappan, who was arrested on terror charges in Uttar Pradesh 23 months ago on his way to cover the gang rape and murder of a Dalit teen in Hathras.
Congress MP Shashi Tharoor tweeted: "Glad the Supreme Court has stood against indefinite detention at last."
Trinamul Congress spokesman Saket Gokhale tweeted: "Long pending but finally justice has been done!"
"The arrest of a journalist from Kerala for covering the brutal rape & murder of a Dalit woman in BJP-ruled UP and his detention for two years is a telling commentary on the BJP and the state of India under Modi-Shah-Yogi," CPIML-Liberation general secretary Dipankar Bhattacharya wrote on Twitter.
Former reporter Prashant Kanojia, who was behind bars for two months on charges of defamation for a tweet in 2020, rued the delay in justice.
"SC Granted bail to Journalist Siddique Kappan, who was in jail under draconian UAPA for performing his Journalistic duty. Finally he will be out but justice is delayed," he tweeted.
Kanojia is now president of the SC/ST wing of the Rashtriya Lok Dal.
Taking to Twitter, senior advocate and activist Prashant Bhushan said: "Great! Finally the SC beginning to undo the enormous injustice done to countless people like Kappan by the totally malafide incarceration by Govts who are hell bent on quelling dissent by hook or crook. Hope we see this trend continuing."
Delhi University professor Apoorvanand termed Kappan's bail as a first step in the right direction.
"It is only the first step in the direction of undoing a grave injustice done by the state to Kappan. Other firm steps must be taken," he tweeted.
Delhi-based activist Safoora Zargar, who is out on bail in a case linking the citizenship protests to the 2020 Delhi riots, highlighted the plight of Kappan's co-accused.
"Bail after 2 years of unfair and illegal incarceration in a bogus FIR for #SiddiquiKappan. Masood Ahmed and Atik Ur Rahman continue to languish in jail in the same case. Kappan's mother breathed her last longing for her son. Half of Atik's body is paralysed," Zargar tweeted.
Earlier this week, Amnesty International had appealed for the release of Rahman, who had been diagnosed with heart and nerve disorders.
The Left-leaning Delhi Union of Journalists welcomed the bail order.
Source: Telegraph India
Please click the following URL to read the full text of the original story:
https://www.telegraphindia.com/india/opposition-parties-civil-society-activists-hail-bail-to-siddique-kappan/cid/1885693
--------
Arab World
Al-Azhar Grand Imam Says Queen Elizabeth 'Dedicated Her Life To Serving Her Nation And People'
9 Sep 2022
"I offer my deepest condolences to His Majesty King Charles, the Royal family, and the British people on the passing of Queen Elizabeth II," El-Tayyeb tweeted on Friday.
"Her Majesty was such a unique, committed and deeply respected head of state. She dedicated her life to serving her nation and people," he added.
Egyptian President Abdel-Fattah El-Sisi and the Coptic Orthodox Church also mourned the late queen yesterday.
In July 2018, El-Tayyeb met Queen elizabeth at Windsor Castle during his visit official visit to the United Kingdom.
Queen Elizabeth II, the UK's longest serving monarch passed away Thursday afternoon at the age of 96 at Scotland's Balmoral Castle after reigning for 70 years.
Her son, the 73-year-old Prince of Wales Charles, was immediately crowned King Charles III.
In November 2021, the then-prince visited Egypt along with his wife Camilla Parker in his his third visit to the country after previous visits in 2006 and 1981.
Source: Ahram
Please click the following URL to read the full text of the original story:
https://english.ahram.org.eg/News/475747.aspx
--------
Syria's Aleppo airport to reopen after Israel strikes
09 September, 2022
Flights were to resume from Aleppo Friday after repairs were carried out to Syria's second largest airport following an Israeli airstrike earlier this week.
Damage to the main runway in Tuesday's raid had put the airport out of service but the transport ministry said repairs had now been completed and the airport was ready to reopen.
In a statement carried by the state SANA news agency, the ministry said that air traffic would resume from midday (0900 GMT).
The Israeli strike, which Britain-based war monitor the Syrian Observatory for Human Rights said targeted a warehouse used by Iran-backed groups, was the second to hit the airport in just a week.
Since war erupted in Syria in 2011, Israel has carried out hundreds of strikes against its northern neighbor, targeting government troops as well as allied Iran-backed forces and Hezbollah fighters.
Source: Al Arabiya
Please click the following URL to read the full text of the original story:
https://english.alarabiya.net/News/middle-east/2022/09/09/Syria-s-Aleppo-airport-to-reopen-after-Israel-strikes-
--------
UAE announces three days of mourning on death of Queen Elizabeth II
09 September, 2022
The UAE announced that the flags in the public and private sectors and in the country's embassies abroad will be lowered to half-mast for a period of three days, starting Friday, to mourn the death of Queen Elizabeth II.
In a statement, the Presidential Court said that the flags will fly at half-mast for three days, ending next Monday, September 12, state news agency WAM reported.
The Court expressed its sincere condolences to King Charles III, the royal family and to the British people on the death of Queen Elizabeth.
The queen died at her home in Scotland on Thursday aged 96. The world's oldest and longest-serving head of state came to the throne following the death of her father King George VI on February 6, 1952, when she was just 25.
UAE President Sheikh Mohamed bin Zayed on Thursday sent his condolences to the British royal family, tweeting: "I extend my sincere condolences to the family of Queen Elizabeth II and the people of the UK. Her Majesty was a close friend of the UAE and a beloved & respected leader whose long reign was characterized by dignity, compassion & a tireless commitment to serving her country."
Source: Al Arabiya
Please click the following URL to read the full text of the original story:
https://english.alarabiya.net/News/gulf/2022/09/09/UAE-announces-three-days-of-mourning-on-death-of-Queen-Elizabeth-II
--------
US mediator points to 'progress' in Israeli-Lebanese maritime border talks
Wassim Seif El Din
09.09.2022
BEIRUT
A US mediator in negotiations for the demarcation of maritime borders between Lebanon and Israel announced "progress" on Friday.
"Optimistic about reaching an agreement" on the demarcation of the border "soon," Amos Hochstein said at a press conference following his meeting with Lebanese President Michel Aoun in Beirut.
"It was an excellent meeting, and I believe that we have made good progress in this field," Hochstein said, adding that he would continue his talks with officials.
According to the official Lebanese news agency, the US mediator "presented the results of the contacts he made with the Israeli side and some points related to the negotiations."
Lebanon and Israel are engaged in a dispute over a maritime area of 860 square kilometers (332 square miles), according to maps sent by both counties to the UN in 2011.
Source: Anadolu Agency
Please click the following URL to read the full text of the original story:
https://www.aa.com.tr/en/middle-east/us-mediator-points-to-progress-in-israeli-lebanese-maritime-border-talks/2681672
--------
Turkish forces neutralize 4 YPG/PKK terrorists in northern Syria
Sevilay Beki
09.09.2022
Turkish security forces "neutralized" four YPG/PKK terrorists in northern Syria, Türkiye's National Defense Ministry said on Friday.
The terrorists, who opened harassing fire on Turkish soldiers, were targeted in areas of Operation Olive Branch and Euphrates Shield, according to the ministry.
Turkish authorities use the term "neutralize" to imply the terrorists in question surrendered or were killed or captured.
Since 2016, Ankara has launched a trio of successful anti-terror operations across its border in northern Syria to prevent the formation of a terror corridor and enable the peaceful settlement of residents: Euphrates Shield (2016), Olive Branch (2018), and Peace Spring (2019).
Source: Anadolu Agency
Please click the following URL to read the full text of the original story:
https://www.aa.com.tr/en/middle-east/turkish-forces-neutralize-4-ypg-pkk-terrorists-in-northern-syria/2681435
--------
Israeli drone crashes into sea near Lebanon border
Abdelraouf Arna'out
09.09.2022
An Israeli drone crashed into the sea near the northern maritime border with Lebanon on Thursday, the military announced Friday.
In a statement, the Israeli Defense Forces said the drone crashed due to a malfunction, adding that the incident is being investigated and the entire fleet of this type of drone, which it did not specify, has been grounded until the end of the review.
Source: Anadolu Agency
Please click the following URL to read the full text of the original story:
https://www.aa.com.tr/en/middle-east/israeli-drone-crashes-into-sea-near-lebanon-border/2680943
--------
South Asia
Afghan Taliban urged to work for inclusive govt
September 10, 2022
ISLAMABAD:
Speakers have urged the Afghan Taliban to create an inclusive government to accommodate various ethnic, sectarian and gender groups to get international recognition and take the war-torn country forward.
They were speaking at a one-day conference titled "Future Prospects for Afghanistan and the Region", organised by the Institute of Regional Studies (IRS) in Islamabad.
"The inclusive government, as well as a focus on ethnic, sectarian and gender inclusivity, is important for the Afghan government to match its pace with the developed and the developing world," said ISSI Director-General Aizaz Chaudary.
He that good governance and international recognition was major challenge for the Afghan Taliban-led government.
Pak Afghan Youth Forum Director-General Salman Javed said that there exists a resented mindset among Afghans against Pakistan that the latter was a British legacy. He asserted that such propaganda hindered good relations between the two neighbours and that it was imperative to them into account to remove misconceptions. He also said that Pakistan had increased trade with Afghanistan which was good for bilateral relations.
Senior journalist Hassan Khan shed light on the economic and humanitarian crisis in Afghanistan stating that people in the neighbouring country were struggling to buy basic commodities whereas, women and children were specifically deprived of food, which would be impacting the next generation as well.
He also added that with brain-drain, people were also taking money out of the country leading to a shortage of currency in Afghanistan.
Director CAMEA at ISSI Amina Khan said that the Taliban's performance despite their claims had been debatable, particularly in the realm of human rights.
"The extraordinary situation of humanitarian crisis and weak institutions was exacerbated by the global financial sanctions," she said adding that the biggest threat to the region was the presence of terrorist groups in Afghanistan. "Taliban must counter the terrorism otherwise, the frustration in the region including within Afghanistan and its immediate neighbours would accentuate further, as the region has already expressed its uneasiness about militant activities there."
Source: Tribune Pakistan
Please click the following URL to read the full text of the original story:
https://tribune.com.pk/story/2375829/afghan-taliban-urged-to-work-for-inclusive-govt
--------
Taliban Make Little Progress in Countering Drugs
September 09, 2022
Unlike his predecessor, who almost terminated opium production in Afghanistan in the last year of Taliban rule with one decree in 2000, the current supreme leader of the Taliban appears to be unsuccessful in implementing his ban on opium production.
In April, shortly after Afghan famers harvested opium from their 2021 poppy cultivation, Hibatullah Akhundzada issued a decree outlawing poppy cultivation and the production, sale and use of all other drugs.
As this year's poppy cultivation season approaches, the Taliban have presented a modest scorecard for their counternarcotics achievements.
Over the past year, less than 100 hectares of poppy fields were destroyed, about 2,000 drug dealers and traffickers were arrested, and 4,270 kilograms of opium were seized, according to figures from the Taliban's Interior Ministry.
These figures put the Taliban regime far behind the previous Afghan government, which presided over two decades of soaring drug production in Afghanistan, in counternarcotics performance.
In 2020, the Afghan government made more than 3,100 drug-related arrests, seized about 80,000 kilograms of opium and eradicated almost 1,000 hectares of poppy fields, according to the U.N. and Afghan officials.
"There is serious doubt on the intentions of the current rulers whether they really want to eradicate poppy," said Javid Qaem, a former deputy minister for counternarcotics in Afghanistan and now a researcher at Arizona State University.
"At the time of the Republic, security was a big challenge. Police could not go to the areas where poppy was cultivated. Taliban claim that they have all the areas under their control. They should be able to do it easily," he told VOA.
The U.N. Office on Drugs and Crime (UNODC) has yet to release its annual assessment of the Afghan opium production for 2022 but says the trend appears unchanged.
"Although the peace process in Colombia and the Taliban's return to power in Afghanistan have essentially ended insurgencies, both countries have to date retained prominent roles in illicit drug cultivation and production," the UNODC reported in June.
Economic considerations?
Income from opium production, estimated between $1.8 billion to $2.7 billion, made up about 12% to 14% of Afghanistan's GDP in 2021.
With the Taliban's return to power, Afghanistan has plunged deep into an economic crisis that has pushed nearly all Afghans into poverty. The U.N. says more than half of the Afghan population is in need of urgent humanitarian assistance.
"Drugs have been a critical source of economic revenue in this impoverished country," Vanda Felbab-Brown, a senior fellow at the Brookings Institution, told VOA, adding that the drug money was also going to members of the Taliban.
Taking serious action against the powerful drug trade, particularly under current economic conditions, will worsen the poverty in Afghanistan and could result in local opposition to the Taliban, experts say.
The Taliban reportedly pocketed hundreds of millions of dollars from Afghanistan's illicit drug trade. Between 2018 and 2019, the group earned more than $400 million from the trade, according to U.N. and U.S. officials.
The Taliban, however, deny involvement in the drug trade.
The Taliban's war against drugs may also be slow because of internal frictions, Qaem said.
"Certain groups of Taliban are involved in this trade. It will be difficult for them to control their own ranks and files. It could lead to internal rifts, and I do not think the Taliban leadership will take this risk at this time," he said.
Not only a Taliban job
The U.S. has spent more than $8.82 billion on counternarcotics projects in Afghanistan over the past two decades, according to the Special Inspector General for the Reconstruction of Afghanistan (SIGAR).
Because Afghanistan produces more than 80% of the heroin consumed globally, other donors such as the U.N., the World Bank and the European Union also aided counter-narcotics efforts in Afghanistan.
The former Afghan government even created a Ministry of Counternarcotics to deal with the problem, but despite all the efforts made and money spent, Afghanistan remained the world's No. 1 opium producer.
Foreign donors have ceased development assistance to Afghanistan, including funding counternarcotics programs, since the Taliban seized power last year.
"The State Department's current policy prohibits direct assistance to the Taliban. While some counternarcotic programs remain active indirectly — administered through implementing partners and NGOs — other programs have been terminated or paused following the Taliban takeover in August 2021," a spokesperson for SIGAR told VOA.
Isolated and pressed under economic sanctions, Taliban officials say they need foreign assistance, mostly in creating alternative sources of livelihood for poppy farmers and employment opportunities for poppy field laborers, in order for them to effectively rid the country of its illicit drug economy.
Source: VOA News
Please click the following URL to read the full text of the original story:
https://www.voanews.com/a/taliban-make-little-progress-in-countering-drugs/6737630.html
--------
Pakistan
'Nobody knows where their village is': New inland sea swamps in Pakistan
Sep 10, 2022
MEHAR: From a hastily erected embankment protecting Mehar city, mosque minarets and the price board of a gas station poke above a vast lake that has emerged, growing to tens of kilometres wide.
Beyond this shoreline in southern Sindh, hundreds of villages and swathes of farmland are lost beneath the water, destroyed by floods that have affected nearly a third of Pakistan.
"Nobody knows where their village is anymore, the common man can no longer recognise his own home," Ayaz Ali, whose village is submerged under nearly seven metres (23 feet) of water, told AFP.
The Sindh government says more than 100,000 people have been displaced by this new body of water, brought by record rains and the Indus River overflowing its banks.
Across the country, about 33 million people have been affected by the flooding, nearly two million homes and businesses destroyed, 7,000 kilometres (1.3 miles) of roads washed away and 256 bridges knocked out.
A bus conductor with a sharp memory, Ali acts as a navigator for the navy, identifying each submerged village by the pattern of electricity pylons and distinct tree lines.
Navy volunteers cruise the waters on two lifeboats delivering aid donated by locals, ferrying people in need of medical care back to the city.
With Ali's help, they search out patches of high ground where families still shelter, refusing to evacuate despite a desperate situation worsened by the scorching heat.
"Their homes and belongings are so precious to them," said one serviceman, who asked not to be named, looking out at the expanse of water.
"When I joined the navy, I could never have imagined doing this," he added.
Engine cut, the boat navigates slowly through the tops of trees, and heads duck under power lines ahead of a hamlet of crumbling houses encircled by water.
This time, dozens of people are waiting.
Many still refuse to leave their homes, concerned their livestock, all that they have left, will be stolen or will die, and fearing a worse situation at the makeshift relief camps that have sprung up all over the country.
"Our life and death is linked with our village, how can we leave?" said Aseer Ali, knee-deep in water, refusing to let his wife, who is eight months pregnant, evacuate.
Some relent, men with fever, toddlers with diarrhoea, and an elderly woman silent in her anguish, are among those helped onto the boat that carries double its capacity on a weighed-down journey back to the city.
Among them is a young mother who had only recently lost her newborn when the water rose around her home last week.
She sways dizzily from the effects of heat stroke, her two-year-old child also distressed by the burning midday sun, both repeatedly drenched in water by a navy serviceman.
A new 10-kilometre mud embankment has so far held back the flood from Mehar city, with a population of hundreds of thousands.
But the city has swelled with displaced victims who over the past three weeks have fled to makeshift camps in car parks, schools and on motorways.
"More families keep arriving at the camp. They are in a terrible condition," Muhammad Iqbal, from the Alkhidmat Foundation, a Pakistan-based humanitarian organisation that is the only welfare presence at the city's largest camp, which hosts about 400 people.
"There is an immense need for drinking water and toilet facilities," he added, but they may have to wait longer as the government's priority is to drain the flooded areas.
Pressure has heaped on swollen dams and reservoirs, forcing engineers to make intentional breaches to save densely populated areas at the cost of worsening the situation in the countryside.
Source: Times Of India
Please click the following URL to read the full text of the original story:
https://timesofindia.indiatimes.com/world/pakistan/nobody-knows-where-their-village-is-new-inland-sea-swamps-in-pakistan/articleshow/94110116.cms
--------
Pakistan PM Shehbaz Sharif appears before HC in missing persons case
Sep 10, 2022
ISLAMABAD: Pakistan Prime Minister Shehbaz Sharif appeared in the Islamabad high court on Friday and assured the chief justice of making all-out efforts for the recovery of missing persons who were allegedly picked up by security agencies on suspicion of being involved in anti-state activities.
The Pakistan PM was asked by the court to take the matter of enforced disappearances to parliament to legislate on it, as "India and other countries" have done.
Last July, Chief Justice Athar Minallah had warned that if the missing persons were not recovered, it would summon the incumbent chief executive, PM Shehbaz Sharif.
As Sharif appeared before the court, Justice Minallah told him that he was summoned as the issue at hand was a big one. The judge recalled that the court had referred the matter of missing persons to the federal cabinet multiple times but the cabinet's response "had not been what it should be".
Making a reference to former military ruler Pervez Musharraf, he said, "A chief executive ruled in this country for nine years. He proudly wrote in his book that we sold our people to foreign countries." The court emphasised that there should not be an impression that law enforcement agencies were picking up citizens.
Addressing the PM, the chief justice remarked, "You are the prime minister and the national security of this country is in your hands. This court trusts you. Give us a solution for this issue." He directed Sharif to take the matters to parliament and legislate on them. "India and other countries did the same," he said.
PM Shehbaz Sharif replied that solving the issue was his duty. "I cannot say that all of the missing persons will be recovered, but we will leave no stone unturned in this matter," the PM told the court.
Law minister Azam Nazeer Tarar, who was also summoned by the court along with the PM and home minister Rana Sanaullah, asked the court for eight to 10 more weeks to introduce reforms in the criminal justice system. The court subsequently granted the government more time and adjourned the hearing till November 14.
Enforced disappearances are a persistent problem across Pakistan. Human right activists and observers claim that the law enforcement agencies, particularly Inter-Services Intelligence (ISI), are responsible for forced disappearances in Pakistan. The security agencies, however, deny such claims and insist that many of the missing persons have either joined militant organisations such as the Pakistani Taliban. Law enforcement agencies also contend that many had died en route to Europe as illegal immigrants.
Source: Times Of India
Please click the following URL to read the full text of the original story:
https://timesofindia.indiatimes.com/world/pakistan/pakistan-pm-shebaz-sharif-appears-before-hc-in-missing-persons-case/articleshow/94106036.cms
--------
President for ensuring harassment-free environment for women at workplace
Sep 09, 2022
ISLAMABAD: President Arif Alvi has called for economic and financial empowerment, property rights, health and nutrition, coupled with quality education and skills and a harassment-free workplace to motivate the women who make up almost 50 per cent of the population to play their due and active role in business, trade, and services sectors of the country.
The president expressed these views while addressing the launching ceremony of the Federal Ombudsperson Secretariat for Protection against Harassment (FOSPAH)'s Annual Report, launched in coordination with the UN Women, at Aiwan-e-Sadr on Friday.
The president expressed his solidarity with flood victims around the country and expressed his condolences and offered prayers for those who had lost their lives during devastating floods. The participants also observed one minute of silence in solidarity with the flood victims.
Federal Ombudsperson for Protection against Harassment Kashmala Khan, UN Women's Country's Representative in Pakistan Sharmila Rasool, and Country Director of United Institute of Peace (USIP), Pakistan Adnan Rafiq, also addressed the occasion.
Members of the diplomatic community, media persons and women from different walks of life attended the ceremony. The president, along with Kashmala Khan and other speakers launched the Annual Report of FOSPAH.
Addressing the ceremony, the president said that our social and cultural attitudes and intellectual biases toward women's rights, their economic and financial empowerment and gainful employment, and our moral and ethical values needed correction on the basis of Islamic teachings which called for equal education opportunities for both man and women and allowed women to seek gainful employment by following Hazrat Khadija (RA) as a role model who was a successful businesswoman.
The president said that women's inclusion in the economy could be enhanced by improving their mobility and providing them equal opportunities in the business, trade and services sectors and creating a safe and secure work environment to enable them to realise their fullest potential and by taking affirmative action wherever necessary.
He said that in Pakistan, only 24 percent of women were working in the formal and informal sectors of the economy which was very low compared to men whose economic participation was around 90 percent. He said that no country can make meaningful socio-economic progress without the full participation of women in the economy.
He further said that women should be treated as equal citizens as ordained in Islam and in the Constitution of Pakistan. He said that the practice of women voluntarily resigning from their property rights in favour of their male family members should be discouraged to stop the exploitation of women's rights on inherited properties.
The president said that over 80 percent of the admission taken in professional colleges were by women but their retention in gainful employment was very low due to social and domestic constraints. This trend, he said, needed to be reversed on a priority basis through collective action by the government, families and women themselves.
He also called upon the industrial and services sectors to create a harassment-free work environment in their establishments where their own women family members and their women employees could contribute their share in creating wealth for their company and for the country.
The president appreciated the Federal Ombudsperson for taking concrete steps for the expansion of its offices to Peshawar, Karachi, and Lahore to provide relief to women complainants at their doorstep. He also commended the Federal Ombudsperson for its hard work, commitment and introducing IT-based solutions for filing appeals, taking statements and recording evidence, which had increased the number of 500 cases filed from 2010-2018 to 5,000 cases from 2018-2022.
The president advised FOSPAH to continue its efforts and improve upon it to create awareness in the society on the importance of women's education and their economic role in society and to encourage them to approach Women Ombudsperson for resolution of their issues relating to property rights and workplace harassment.
Earlier, Kashmala addressed the ceremony and highlighted that FOSPAH was an autonomous quasi-judicial body that provided justice to aggrieved persons in cases involving harassment at the workplace and denial of property rights to women within 60 days.
She said that the establishment of a women-specific institution was indicative of the state's resolve toward protecting women's rights and ensuring their participation in the workforce.
Sharmila in her address said that enhancing women's participation in the workforce would help improve Pakistan's economy, besides helping it achieve the Sustainable Development Goals.
Source: Brecorder
Please click the following URL to read the full text of the original story:
https://www.brecorder.com/news/40196699
--------
Swatis mourn Queen Elizabeth's death recalling her 1961 visit
Fazal Khaliq
September 10, 2022
SWAT: Grief swept through Swat after the death of Britain's Queen Elizabeth II on Thursday with the local elders recalling her 1961 visit to the region, which was a princely state at that time. Accompanied by her husband, Prince Philip, the queen stayed here for three days.
She got so fascinated by the natural and scenic beauty of Swat that she called the area 'the Switzerland of the east'.
The local elders, who were schoolchildren at that time, told Dawn that the residents accorded a warm welcome to the royal couple on arrival.
"We [residents] were properly trained for the [Queen Elizabeth II's] visit and were told to greet her with the yell 'long live the queen'. So, when she appeared on the road, we did that. The queen responded with waving hands and a smile on her face," said Mohammad Ismail, an elder of Saidu Sharif, who was a sixth grader in the Government Wadudia High School at that time.
He said the last Wali of Swat, Miangul Abdul Haq Jahanzeb, had invited the local elders, ministers and his family members to her house to welcome Queen Elizabeth.
Before the queen's arrival, the ruler of Swat summoned the state's official tailor and asked him to make the Swati cap and a purse for the guest.
"Wali-i-Swat [Miangul Abdul Haq Jahanzeb] summoned my father and asked him to make a Swati cap and a unique purse for the British visitors," said Malik Aurangzeb, owner of the Swat Cap House, whose father Malik Fazal Karim Jan was the official tailor of the Swat state. He said his father followed the orders and when Queen Elizabeth II showed up at the Wali's residence, she was presented with an elegant cap and a matching purse from the Swat Cap House.
The local elders said Britain's queen was received a warm welcome wherever she went during three days visit.
Source: Dawn
Please click the following URL to read the full text of the original story:
https://www.dawn.com/news/1709285/swatis-mourn-queen-elizabeths-death-recalling-her-1961-visit
--------
SC rules against appointments made behind closed doors
Nasir Iqbal
September 10, 2022
ISLAMABAD: The Supreme Court has ruled that public appointments made behind closed doors raise eyebrows since they encourage the possibility of partisan intervention and patronage.
On the other hand, an open selection process for offices like the chairperson and members of the Council of Complaints (CoC) of Pakistan Electronic Media Regula­tory Authority (Pemra) prioritises competition and helps discover best possible candidates, observed Justice Syed Mansoor Ali Shah in the judgement he wrote.
Justice Shah was member of a two-judge Supreme Court bench, headed by Chief Jus­tice of Pakistan Umar Ata Bandial, which up­­held the Feb 8 Sindh High Court order while hearing an appeal moved by Pemra against the ARY Communications Ltd.
The controversy at hand revolves around the question of whether honorary appointments to public offices like the chairperson and members of CoC be made after advertising the positions or not.
Verdict in Pemra-ARY case calls for selection by advertising posts
Justice Shah observed that the constitutional imperative of equality and non-discrimination demands that public sector appointments be made through an open and competitive process.
The judgement noted that neither Pemra Ordinance nor Pemra (CoC) Rules 2010 expressly require public advertisements for appointment to be made to CoC.
The idea is that CoC will consist of "resp­ected, qualified and experienced members of society" who will work independently under facilitation of Pemra and take action on complaints received against broadcast media and distribution service providers.
The verdict said that any suitable candidates identified during the executive search may be approached with the prospective offer of serving in the CoC.
Source: Dawn
Please click the following URL to read the full text of the original story:
https://www.dawn.com/news/1709321/sc-rules-against-appointments-made-behind-closed-doors
--------
Europe
Queen Elizabeth II: Scunthorpe Islamic leader recalls mosque visit
09 September, 2022
A Scunthorpe Islamic leader has reflected on the day "history was made" when the Queen visited a town mosque.
The 2002 visit to the town's Islamic Centre was the first time the Queen had set foot inside a British mosque.
Abid Khan, chairman of the North Lincolnshire Multi-Faith Partnership, said of the visit: "We felt recognised."
He described the Queen as "a wonderful individual", adding her legacy will be felt for years to come.
Reflecting on the significance of the visit, Mr Khan said: "History was made that day. People still talk about it."
Mr Khan remembered the monarch asking, "This is aligned to Mecca?", in reference to the prayer mat pattern woven into the carpet.
"I remember clearly talking to her for a few minutes," he said. "Obviously, there were a lot of people and lots going on."
The Queen was presented with a copy of the Quran.
Mr Khan believes the visit, part of the Queen's Golden Jubilee tour, "built bridges" between communities, not just in Scunthorpe but further afield.
'Keep up the good work'
Scunthorpe would forever remember the Queen with fondness, he said.
"All of us, of all faith and non-faith, will remember Her Majesty's legacy of public service and celebrate her achievements," Mr Khan said.
Source: BBC
Please click the following URL to read the full text of the original story:
https://www.bbc.com/news/uk-england-humber-62849119
--------
Attackers throw stones at Turkish mosque in southern Sweden
Atila Altuntas
09.09.2022
STOCKHOLM
A mosque in Sweden affiliated with Türkiye's Presidency of Religious Affairs was pelted with stones in an attack on the place of worship, an official said on Friday.
Mehmet Ozer, an official from the Jonkoping Mosque in southern Sweden, told Anadolu Agency that they noticed the attack when they went for Friday prayers.
"The incident was reported to the police and relevant authorities," Ozer added. "This is the third attack on our mosque in the last three months. We're filing our complaint, but we aren't too hopeful, as we didn't get any results from the previous complaints."
Source: Anadolu Agency
Please click the following URL to read the full text of the original story:
https://www.aa.com.tr/en/europe/attackers-throw-stones-at-turkish-mosque-in-southern-sweden/2681587
--------
Swedish far-right politicians exposed for wanting to 'eradicate' Muslims, paying tribute to Nazis
Leila Nezirevic
09.09.2022
STOCKHOLM
Swedish far-right politicians participating in this year's elections have been exposed for wanting to eradicate Muslims and "blackheads," a derogatory term for Black people.
Anti-racist magazine Expo, along with news outlet, Expressen, revealed Thursday right-wing candidates who also openly pay tribute to Nazis.
Sweden Democrats (SD) politician Björn Halldin in Amal has been expressing anger at Muslims for years, according to the report.
He wrote that Muslims do not belong in a civilized world and he wants to kill them.
"It is time we eradicate these (expletive) Muslims," he wrote on Facebook in 2015.
Halldin shared insulting pictures of Black people using terms such as the N-word and has portrayed them as lazy.
He wrote that Sweden should exterminate "blackheads."
When a female police officer showed solidarity with the Black Life Matter movement, he posted an image of the officer's face on a pornographic image.
The SD politician has also participated in a hate campaign against Center leader Annie Loof by spreading an inappropriate message about her.
One politician has already announced that she is resigning, according to the report.
SD politician Sonja Hellström, who has spread propaganda in a Nazi demonstration resigned saying: "Consspiral? Yes, I may be, but I am not anti-Semitic," referring to claims that she is conspiratorial.
Goran Nordin, who is running for SD in municipal elections, has been spreading hate speech against Muslims, and Somalis in particular.
He wrote on Facebook that they are lazy and violent.
After rap artist Nils Gronberg was shot dead last year, Nordin wrote: "It's no victory to live like a Negro."
Lena Cederlid, who is running for the SD in Falun said she is a proud member of the racist Nazi group, DFS.
In 2018, she verbally attacked refugees in a forum when she said: "You burn, rape, murder, plunder, steal, subsidy cheaters, and hate our country."
During the 2014 elections, she deemed members of the Nazi Swedes' Party as "some who dare to say what others think."
Source: Anadolu Agency
Please click the following URL to read the full text of the original story:
https://www.aa.com.tr/en/europe/swedish-far-right-politicians-exposed-for-wanting-to-eradicate-muslims-paying-tribute-to-nazis/2680776
--------
What the Middle East could expect from the UK's Liz Truss government
September 09, 2022
LONDON: The appointment of Liz Truss as the UK's new prime minister represents as much an opportunity as a moment of suspense for Gulf relations, with her enthusiasm for the region matched by her being perceived as a "wild card," according to analysts.
An early challenge arrived with the passing of the longest serving monarch in British history in Truss' very first week in office. The death of Queen Elizabeth II at Balmoral Castle on Thursday thrust the country into a royal succession at a time of economic upheaval and political transition.
Paying homage to a figure who was viewed by Britons as a beacon of stability and a rare symbol of continuity and national unity, Truss described the late queen as "the rock on which modern Britain was built" while expressing hope that "in the difficult days ahead, we will come together with our friends ... to celebrate her extraordinary lifetime of service."
Although her immediate focus will undoubtedly be on the domestic cost-of-living crisis and spiraling energy bills, there are growing calls for Truss to ensure continuity in strengthening relations with the Gulf states.
Chris Doyle, director of the Council for Arab-British Understanding, expects Truss will prioritize the finalization of the UK-GCC free trade agreement announced in June, which is potentially worth £33.5 billion ($38.5 billion) in new deals.
"Trade deals will speak to her primary objective upon taking office, and that'll be getting the economy sorted," said Doyle. "There are warm relations between the UK and the GCC and I do not see that changing dramatically. On this, it'll likely be a 'steady as you go' relationship."
Concurring with this assessment, David Jones MP, a Conservative and Truss supporter who chairs the UK-UAE All-Party Parliamentary Group, said the new prime minister "recognizes the importance" of the GCC countries.
"As former international trade secretary and foreign secretary, Ms. Truss fully appreciates the crucial importance to the UK of maintaining strong relations with our steadfast regional ally, the UAE," Jones told Arab News.
"I have no doubt that, under her leadership, those relations will be strengthened still further into a mainstay of regional and global security."
While hosting the GCC foreign ministers in December last year, Truss herself stressed that "closer economic and security ties with our Gulf partners will deliver jobs and opportunities for British people and help make us all safer."
But for Doyle, these comments also exposed areas of concern, notably the new prime minister's "transactional" approach to foreign policy, which tends to ignore the importance of building strong interpersonal relationships.
"Truss showed during her time in the foreign office a very transactional nature when dealing with other countries — one devoted to trade, the economy, and what Britain could get out (of) it. It was looking very much at the short-term benefits," said Doyle.
"I don't expect to see that change as she steps up into the new role and I think her focus when it comes to the Middle East will be very much about getting the free trade deal over the line."
Such a short-term focus in strategy ties in with what Bronwen Maddox, director and chief executive of Chatham House, considers the core of Truss' perceived political identity as a "disruptor" or even a "wild card."
For Maddox, the new prime minister's reputation and apparent desire to deliberately inject unpredictability into proceedings could be "both a strength and a potentially calamitous weakness."
"A degree of improvisation in a leadership campaign is inevitable, but the priority of the next UK prime minister should be serious. If she indulges this (disruptor approach) without good judgment, she could do real damage to Britain's prospects and world standing," she added.
Such concerns appear well-founded and widely shared. According to Doyle, Truss demonstrated a distinct lack of interest or commitment to global affairs during her time at the foreign office.
"Foreign relations should be about building relations, long-term, but she does not seem to have a vision for foreign relations and quite what that means remains an unknown. But her time in the post lacked any real investment in these things. I'd expect her to be a pretty domestic-focused prime minister."
Lina Khatib, director of the Middle East and North Africa program at Chatham House, says she would like to see this change, suggesting a priority for Truss and her new foreign secretary, James Cleverly, would be to restore a dedicated cabinet position for the region.
"The Middle East portfolio remains hefty and complex and requires diplomatic engagement to match," Khatib told Arab News.
"This not only means restoring diplomatic cabinet distribution to give the region the attention it requires but also revising the UK's approach, putting Iran's regional interventions high on the agenda and in parallel to efforts on the Iran nuclear deal."
Cleverly takes up the UK government's foreign brief having previously served in a junior foreign office post managing the Middle East and North Africa portfolio, which included responsibility for dealing with Iran over the detention of Nazanin Zaghari-Ratcliffe.
He traveled extensively in the Middle East during this time, including trips to the UAE, Kuwait, Oman and Qatar. He was in Bahrain when the country appointed its first ambassador to Israel under the Abraham Accords, which he described as "genuinely a joyous occasion."
Cleverly was an early supporter of Truss' bid for the leadership, believing she would lay down a more robust challenge to Iran than her predecessors.
Truss won the grueling two-month battle to replace Boris Johnson on Sept. 5, beating her rival Rishi Sunak with 57 percent of the vote — the tightest margin of victory since Iain Duncan Smith was elected party leader in 2001 while the Conservatives were in opposition.
Doyle agrees that Truss will likely "take a more hawkish view than Johnson" when it comes to Iran. "Where I do expect that a Truss premiership will be even tougher and take a less helpful line is on Israel-Palestine," he told Arab News.
"Under Johnson, government policy was dire and extremely partisan to one side: Israel. Truss will go even further, including reviewing moving the UK's embassy to Jerusalem. It will be a deeply unfair and wrong approach to adopt."
There are some Middle East watchers who are broadly optimistic about relations under Truss' stewardship. Charlotte Leslie, director of the Conservative Middle East Council, believes Truss proved her bona fides during her time as foreign secretary.
"Personalities really matter in negotiations and Truss has demonstrated that she sees the GCC as close allies and friends, so I expect to see solid agreements reached that will quickly grow the almost £30 billion ($34.5 billion) already invested in each other's economies," Leslie told Arab News.
Source: Arab News
Please click the following URL to read the full text of the original story:
https://www.arabnews.com/node/2159591/world
--------
Afghan child reunites with twin brother in Britain after year-long delay
September 09, 2022
LONDON: An Afghan boy has been reunited with his twin brother in Britain after enduring a year of being stranded in France.
Obaidullah Jabarkhyl, 11, was separated from his parents and siblings during the evacuation from Afghanistan after the Taliban took over in August 2021.
The young boy then spent a year living in fear in Strasbourg, a French city on the German border, while the Home Office processed his asylum application.
Obaidullah's wait finally came to an end on Wednesday after he arrived at London's St. Pancras train station, the Metro newspaper reported.
His twin brother, Irfanullah, greeted him at the station in Britain's capital, where he had been living with their UK-based family.
Arriving at the Eurostar train station, Obaidullah said: "I'm tired but happy.
"I'm most looking forward to learning English at school and meeting new friends here."
His cousin, Qamar, criticized the government delays that kept families separated.
Qamar added that the family's case being widely reported along with the support of MP Bob Blackman led to action being taken.
The 28-year-old British citizen and engineer told the Metro: "As soon as the news went viral the Home Office managed to make a contact on Monday.
"They promised back in March or February to take swift action and they didn't.
"We are still thankful for the way they helped but I think they should help others because there are many other Afghans in the same situation, little kids living away from home."
Qamar said that Obaidullah was ready to "put it all behind him" and live a new life in Britain.
"When he arrived on the train Irfanullah cried for him, it was very emotional," he said.
"He says he still doesn't believe he's arrived in the UK. He's so excited to be here and he wants to put it all behind him now.
"When he left Afghanistan he told me he didn't feel any happiness for escaping the Taliban regime because he'd left his family behind.
"Coming here was the first time he realized. He was upset that his parents are left behind and he may never see them again."
The family's lawyer, Nick O'Loughlan, welcomed the Home Office's intervention to recover the Afghan boy, but warned that family reunion delays are increasing.
"Home Office guidance states that decisions in family reunion applications should be made within 12 weeks," O'Loughlan said.
"However, we are routinely seeing these applications take up to a year, often with no reason at all being offered as justification.
"The long delays we are seeing can be extremely damaging to the mental health of applicants, particularly to those who are vulnerable and are left stranded without their family members.
"I hope that the Home Office will acknowledge this and take steps to ensure that their service standards are upheld."
A Home Office spokesperson did not respond to this criticism, but told the Metro: "Obaidullah Jabar Khil has arrived safely in the UK and reunited with his family.
"We have worked closely with the local authority and social services throughout, who will continue to support Obaidullah and his family.
Source: Arab News
Please click the following URL to read the full text of the original story:
https://www.arabnews.com/node/2159366/world
--------
Southeast Asia
Gov't Supports Move To Gazette Kampung Laut Mosque as UNESCO World Heritage Site: Prime Minister
09- 10- 2022
KOTA BHARU: The government fully supports the move to gazette the Kampung Laut Mosque as a National Monument under the National Heritage Department and as a United Nations Educational, Scientific and Cultural Organisation (Unesco) World Heritage Site, says Prime Minister Datuk Seri Ismail Sabri Yaakob.
Ismail Sabri, in his Facebook post today, also described the move as being very significant.
"I am very happy, because after more than 50 years, the desire of the people of Kelantan to bring back the old Mosque of Kampung Laut (to its place of origin) has become a reality.
"The government has also spent RM40 million on the Kampung Laut Redevelopment Project which consists of the Serunding Heritage Site, the Art Heritage Site and the relocation of the Old Kampung Laut Mosque," he said.
The Kampung Laut Mosque - the oldest in Malaysia at 400 years old - was brought back to its original location along with original components such as the tower structure and pulpit, some 50 years after it was relocated to Nilam Puri, due to floods.
Meanwhile, Ismail Sabri said the Palekbang Bridge construction project to connect Kota Bharu with Tumpat scheduled to begin at the end of this year could solve the traffic congestion issue in the area.
He added that the four-kilometre-long bridge would also be the main catalyst for Kelantan as an investment and tourism destination, apart from improving the socioeconomic status of the local population.
Source: The Sun Daily
Please click the following URL to read the full text of the original story:
https://www.thesundaily.my/local/gov-t-supports-move-to-gazette-kampung-laut-mosque-as-unesco-world-heritage-site-ismail-sabri-IH9801093
--------
Singapore to host study visits for minority Muslim communities to exchange ideas
Tham Yuen-C
SEP 9, 2022
SINGAPORE - A foundation started by Singapore's Muslim community will host study visits for individuals from countries where Muslims are a minority to share best practices and exchange ideas.
The Rahmatan Lil Alamin Foundation, set up in 2009, will organise the visits under the Singapore Cooperation Programme, which aims to help other countries develop human capital, Minister-in-charge of Muslim Affairs Masagos Zulkifli said on Friday.
He made the announcement at the start of the two-day International Conference on Communities of Success (ICCOS) held at Raffles City Convention Centre.
The study visits will promote mutual exchange of ideas and practices to develop successful minority Muslim communities globally and boost cooperation in this area between countries. More details will be announced later this year.
Mr Masagos said Muslims living as minorities around the world, especially in open, secular and progressive societies under the rule of law, face different considerations and challenges compared with societies where they are the majority.
It is important for such minority Muslim communities to be able to refer to relevant guidance on how to practise their faith confidently," the minister added.
To this end, Singapore's Mufti Nazirudin Mohd Nasir urged Islamic leaders and scholars to work out the principles and values that can help their community make their own decisions when faced with their own problems.
He cited the example of how some Muslims had called Muis to ask if they could eat at particular restaurants when travelling, and said people should be educated on the meaning of food that is halal, or prepared according to Muslim law, so they are empowered to make such decisions themselves.
He also spoke about Singapore's experience during the Covid-19 pandemic, noting the religious positions taken then were unprecedented and even controversial initially, such as shutting mosques.
"We worked closely with medical experts and listened carefully to scientific insights before issuing the positions, or fatwa," he added, noting that some communities around the world mistakenly saw medical guidance as being in opposition to faith. "We needed to find ways to reconcile between science and faith: they complement, not conflict with one another."
Whether for a small but diverse nation like Singapore, or for faith communities, success hinges on the ability to adapt quickly to changing circumstances and conditions, guided by principles and values, he added. He noted that during Singapore's circuit breaker in 2020, when places of worship had to close, some worried that faith communities would lose relevance.
But if one knew where to look in scripture, there was guidance on social distancing, mask-wearing and vaccination, Dr Nazirudin said, citing a verse from the Quran: "Whoever saves a life, it is as if he has saved all humanity."
He added that faith groups here adapted and implemented safe measures for the greater good of society and to protect lives.
"Beyond that, religious leaders expressed solidarity and support for each other. Faith communities could draw strength from this togetherness at a time when anxieties were high," he said.
Source: Straits Times
Please click the following URL to read the full text of the original story:
https://www.straitstimes.com/singapore/politics/singapore-to-host-study-visits-on-minority-muslim-communities-to-exchange-ideas
--------
PAS's botched attempt at polygamy
September 10, 2022
PAS' stance of wooing Umno while cohabiting with Bersatu is being called out for what it is: plain-faced double dealing.
The Islamic party's attempt at running with the foxes and hunting with the hounds as an electoral strategy in preparation for GE15 has been pooh-poohed by significant Umno personages over the last six months.
But because there are Umno malcontents sympathetic to PAS' expressed goal of uniting the ummah to go against Pakatan Harapan at the polls, the party can foment the impression their overtures to Umno are for a noble cause.
However, this facade of nobility is now wearing thin.
In the face of PAS spiritual leader Hashim Jasin's disclosure that the party has been talking to unnamed Umno leaders about electoral cooperation, Muhyiddin Yassin, president of PAS' ally, Bersatu, which Umno finds anathema, did not seem too pleased.
He said he proposed to ask PAS about the overtures but Muhyiddin is unlikely to obtain candid answers.
That is because PAS regards Umno's implacable antagonism towards Bersatu as something that can be conjured away under the siren call of Islamic unity.
The unity of the ummah has been a fiction that Islamist politicians find convenient to trot out whenever they want to camouflage ambition under the drapery of religion.
Time was when Umno and PAS were the only two Malay/Muslim parties in the country.
But now there is a plethora of Malay/Muslim parties, the result of multiple schisms in parent parties, Umno and PAS.
Incidentally, there was no shortage of fervent calls for Islamic/Malay unity as the splinterings occurred.
From the late 1970s, the formation of such political vehicles as Berjasa, then Semangat 46 in the late 1980s followed by Bersatu in the mid-2010s, and then Pejuang and now, Gerakan Pejuang Tanah Air, in the early 2020s, has exposed Islamic, or even for that matter, Malay unity, for what it is: a convenient fiction championed by driven politicians out to discharge rancour over developments that disfavoured them.
PAS is calling on Umno to prioritise the unity of the ummah over its desire to settle scores with Bersatu, to whom PAS seems unalterably wedded.
It is a marriage that PAS appears unable to disengage from, which is the proviso Umno has set the party if it wants a tie-up going into GE15.
But PAS won't ditch Bersatu, an alliance that has brought PAS its highest haul of federal power and perquisites in its 68-year history.
Thirty months and counting of a federal cohabitation with Bersatu and an Umno rump have given PAS a taste of what it is like to enjoy federal power.
Power seduces, more so when the wielder has not had a taste of it in a long time.
Umno, which has had a decades-old dalliance with federal power and then lost it, and now on course to retake it, knows what's motivating PAS to sue for Umno's electoral collaboration at GE15.
It's baiting PAS in order to finish off a splinter it considers responsible for its ouster from federal power.
But PAS won't bite the bait.
To Umno, that's just as well because the Islamic party has become too much of a hot potato on cultural issues.
Source: Free Malaysia Today
Please click the following URL to read the full text of the original story:
https://www.freemalaysiatoday.com/category/opinion/2022/09/10/pass-botched-attempt-at-polygamy/
--------
Sultan of Brunei becomes world's longest-serving monarch after Elizabeth II's passing
September 09, 2022
LONDON: The sultan of Brunei is now the world's longest-serving monarch following the death on Thursday of Elizabeth II, who was the queen of the UK and 15 other Commonwealth realms.
Hassanal Bolkiah, who ascended to the throne in 1967, has reigned for 54 years and 339 days.
His reign is four years longer than that of Danish Queen Margrethe II, who is now the world's second-longest reigning monarch.
Before her sudden passing on Thursday, Queen Elizabeth II was the longest-serving monarch in the world. Her platinum jubilee — marking 70 years since her coronation — was celebrated in June.
Bolkiah was reportedly good friends with the queen, with the sultanate and Britain enjoying a close relationship marked by several ceremonial associations.
Members of the Brunei royal family hold several honorary positions in the British Armed Forces.
Source: Arab News
Please click the following URL to read the full text of the original story:
https://www.arabnews.com/node/2159456/world
--------
Mideast
Iran: US Must Avoid Ambiguities to Reach Agreement in Vienna Talks
2022-September-9
"We are still serious in our efforts to reach a good, strong, and sustainable agreement, but the Americans must refrain from using ambiguous phrases on the text to reach an agreement in shortest possible time," Amir Abdollahian said during the phone talk with Wang Yi on Thurtsday night.
The Chinese foreign minister, for his part, conveyed the Chinese president's warmest regards to Iranian President Seyed Ebrahim Rayeesi.
Wang Yi reiterated that Beijing favors expansion of relations and cooperation with Tehran.
The top Chinese diplomat voiced Beijing's strong rejection to unilateralism in the international field, and said that his country supports Iran's righteous demands in the Vienna talks.
On Wednesday, Amir-Abdollahian vowed that Tehran will not take a step back from its redlines in the ongoing talks with the world powers.
Amir-Abdollahian made the remarks on Wednesday during an address to the Assembly of Experts, Iran's top leadership supervisory body.
The top diplomat assured that while partaking in the talks, the Iranian government was carefully observing "the lines that have been drawn by Leader of the Islamic Revolution [Ayatollah Seyed Ali Khamenei]" towards neutralization of the sanctions in parallel with the negotiation process.
The red lines "are subject of emphasis by President [Ebrahim Raeisi]", the foreign minister said, adding, "The Foreign Ministry [too] is following the same path seriously and strongly."
Describing the government's economic performance, Amir-Abdollahian also said the administration was not tying up the country's economy and the Iranian people's livelihood with the issue of the Joint Comprehensive Plan of Action (JCPOA), the nuclear deal's official title, and potential removal of the sanctions.
The foreign minister then turned to the issue of Iran's status as a major regional and international player, saying that "no party is able to ignore the role and important position of the Islamic Republic of Iran in any regional security and political arrangement".
He also hailed that the country's foreign policy was following a "very hopeful" and "forward-looking" trend across the various political, economic, commercial, cultural, and security fields.
Regarding the issue of the Islamic Republic's economic ties with the outside world, Amir Abdollahian noted the Iranian government was leading a "balanced foreign policy", which prioritizes ties with the country's neighbors as well as Asian countries.
The senior diplomat added that all of the United States' efforts aimed at setting up new political and security arrangements in the region that would factor the Islamic Republic out "have resulted in defeat".
Tehran and the five remaining parties to the nuclear deal have held several rounds of negotiations since April last year to restore the agreement, which was unilaterally abandoned by former US President Donald Trump in May 2018.
In quitting the agreement, Trump restored sanctions on Iran as part of what he called the "maximum pressure" campaign against the country. Those sanctions are being enforced to this day by the Joe Biden administration, even though it has repeatedly acknowledged that the policy has been a mistake and a failure.
Iranian officials say the ball is in the US' court, and the Biden administration should assure Tehran that it will not repeat Trump's past mistakes.
Diplomats have also criticized Washington for raising excessive demands from Tehran during the nuclear talks, and blocking efforts to reach an agreement on the JCPOA. They emphasized the Tehran's will to reach a good, strong and lasting agreement, and stressed that the US should lift unilateral sanctions, and assure Iran that it will not repeat its past mistakes.
Source: Fars News Agency
Please click the following URL to read the full text of the original story:
https://www.farsnews.ir/en/news/14010618000415/Iran-US-Ms-Avid-Ambigiies-Reach-Agreemen-in-Vienna-Talks
--------
Muslims in Balkans hail Islamic centre inaugurated by Erdoğan
SEP 09, 2022
Muslims across Balkan nations welcomed the inauguration of an Islamic center funded by Türkiye.
Earlier this week, Erdoğan concluded his three-day tour with stops in Bosnia and Herzegovina, Croatia and Serbia. In Croatia's central city of Sisak, Erdoğan opened the Islamic Cultural Center, which was funded by Türkiye.
Those who participated in the opening ceremony shared their joy with Anadolu Agency (AA).
Mirsada Biljeskovic, who lives in Germany but traveled to Croatia for the opening ceremony, said the center will benefit Muslims in the region. "I am very proud here. Many people, including me, think it would be beneficial for all of us because it is a positive situation. I dedicate today to our President Erdogan," said Biljeskovic. Zikrija Hodzic, who has been serving as an imam for eight years in Slovenia, said Erdogan's visit and support are of great importance for the Muslims of the region. "The opening of the Islamic Cultural Center represents a great opportunity for Muslims to spread our good faith, establish dialogue, promote our culture and religion," said Hodzic.
Imam Aljo Cikotic, who traveled to Sisak from Bosnia and Herzegovina for the opening, said the center will be a bridge connecting Türkiye and the Balkans. "The opening of the center is the 55-year-old dream of the Muslims of Sisak. I am very happy to participate in this historical program ... This is a project that will last for generations. "Today's opening actually shows the desire to build places where Muslims can pray freely throughout history."
"Today, Recep Tayyip Erdoğan gave great support here and this is the place in return. It will bear his name. This will also be a bridge connecting Türkiye and the Balkans," said Cikotic. Erdoğan, at the inauguration ceremony on Thursday, said Croatia is among the countries in Europe which sets itself apart with respect to the freedom and peace it offers Muslims.
Source: Daily Sabah
Please click the following URL to read the full text of the original story:
https://www.dailysabah.com/turkey/muslims-in-balkans-hail-islamic-center-inaugurated-by-erdogan/news
--------
Iran Blasts US, UK for Keeping Silent on Anti-Iran Cyberattacks
2022-September-9
In a statement issued on Thursday, Iran's mission blasted the US-UK attempt to accuse Iran of playing any role in a cyberattack against Albania.
It said reiterated that Washington and London lack the legitimacy and competency to put forward such allegations against Iran.
The full text of the Iranian mission's statement is as follows:
As a victim of cyber-attacks, Iran strongly condemns any cyber-attack targeting civilian infrastructure in all its forms & manifestations. We rejected the baseless accusations of the US and the UK against the Islamic Republic of Iran regarding an alleged cyberattack on Albania.
The US and the UK, that had previously remained silent in numerous cyberattacks against Iran's infrastructures and its nuclear facilities, and had even directly or indirectly supported those measures, lack any legitimacy to level such accusations against Iran.
As the main victim of terrorism, Iran urges the Member States of the UN to uphold their international obligations in combating terrorism by not harboring or supporting terrorist groups within their territory.
Source: Fars News Agency
Please click the following URL to read the full text of the original story:
https://www.farsnews.ir/en/news/14010618000478/Iran-Blass-US-UK-fr-Keeping-Silen-n-Ani-Iran-Cyberaacks
--------
Iranian Army Ground Force Test-Fires Strategic 'Fath 360' Missile
2022-September-9
"The missile, codenamed Fath (Conquest) 360, was launched in the second stage of Eghtedar (Authority) 1401 drills, which are underway in the Nasrabad region of the province," Iranian Army Ground Force Deputy Commander Brigadier General Nozar Nemati said.
"The Iranian Army units also fired volleys of indigenous Fajr-5 (Dawn-5) missiles. The missile reportedly has a range of 75 kilometers (50 miles) and can carry 175-kilogram fragmentation warheads with 90 kilograms of high explosives," he added.
Fath 360 missile can hit strategic targets at the speed of 3,704 kilometers per hour, and its velocity can be increased to some 5,000 km/h while communicating with satellites for quick navigation and fast strikes against enemy targets.
Iranian Army Ground Force started the two-day Eqtedar (Strength) 1401 exercises on Wednesday.
According to Commander of the Khatam al-Anbiya Central Headquarters Major General Gholamali Rashid, the drills have been designed and executed according to potential future wars and predicted threats.
Source: Fars News Agency
Please click the following URL to read the full text of the original story:
https://www.farsnews.ir/en/news/14010618000205/Iranian-Army-Grnd-Frce-Tes-Fires-Sraegic-'Fah-360'-Missile
--------
Iran Condemns Rights Violation of Iranian Diplomats in Albania
2022-September-9
Kana'ani has expressed concern after media reports said local officials in the Albanian capital Tirana had interacted improperly with the Iranian Embassy and its staff.
"If the media reports are true, the way the Iranian diplomats were treated was in violation of international law and the Vienna Convention concerning diplomatic rights, and the Albanian government will be responsible for the consequences of breaching the convention," he added.
Albanian Prime Minister Edi Rama said on Wednesday that Albania is ending diplomatic relations with Iran and has ordered Iranian diplomats and embassy staff to leave within 24 hours.
"The government has decided with immediate effect to end diplomatic relations with the Islamic Republic of Iran," Rama said in a video statement sent to the media.
Albania, which is a safe heaven for anti-Iran terrorist organizations, accused Iran of carrying out cyber attacks on the country.
Some Saudi sources also claimed that the Albanian government has expelled the Iranian ambassador in Tirana, while Iran has not had an ambassador in this country since 2017.
Since 2013, Albania has been home to members of the notorious Mujahedin-e-Khalq Organization (MKO) terrorist organization, which has killed more than 12,000 Iranian civilians and authorities throughout its brutal campaign since the 1979 revolution in Iran.
Previously, the MKO terror group which is known in Iran as "Hypocrites" carried out numerous cyber attacks against Iran's infrastructure and network from Albania.
Earlier on Wednesday, Albania's Prime Minister Edi Rama announced the decision, giving Iranian diplomats and embassy staff 24 hours to leave the Southeastern European country.
In a relevant development on Wednesday, Kana'ani strongly denounced Albania's severance of diplomatic ties with Tehran, and dismissed the anti-Iran allegations over cyberattack against Tirana as unfounded.
Kana'ani condemned Albania's decision to cut ties with Iran and send back Iranian diplomats as "injudicious" and "lacking in foresight".
He also termed allegations leveled against Tehran as "baseless" and "unsubstantiated", blaming it on "third parties".
Refuting the allegation, Kana'ani said as one of the victims of rampant cyberattacks, Tehran condemns any use of cyberspace toward infringement on other countries' vital infrastructures.
The spokesperson identified the United States, the Israeli regime, and the Mujahedin-e-Khalq Organization (MKO), an anti-Iran terrorist group that has been hosted by Albania since 2016, as the "third parties" that have propelled Tirana into taking the decision.
The statement cited the United States' National Security Council and Israeli media outlets' expeditious welcoming of the Albanian government's move, noting that this "bespeaks existence of a choreographed plan aimed at political atmosphere against the Islamic Republic".
The United States' National Security Council and the British Foreign Office have echoed accusations thrown by Albania against Iran of conducting cyberattacks against the European country's infrastructures.
In response, Kana'ani stated the US and the UK are not in a position to accuse Iran of cyberspace violations, given their previous silence and even support in the face of such transgressions against Tehran.
The United States and the UK lack whatever right "to level such accusations against Iran in light of their silence and even support in the face of numerous previous cyberattacks against Iran's infrastructure", the spokesman said in early Thursday.
The official cited the instance of Washington and London's mum on previous cyberattacks and even direct or indirect espousal of them against Iran's nuclear facilities.
The diplomat warned against any "political adventurism" against Iran under such "ridiculous" accusations.
He added the Islamic Republic was completely ready to deliver a "decisive, instantaneous, and regret-inducing response" to whatever plot that could start targeting the country.
It comes as the US National Security Agency (NSA), its spy service CIA, and Israel's military had worked together to launch Stuxnet against Iran's nuclear facilities.
Source: Fars News Agency
Please click the following URL to read the full text of the original story:
https://www.farsnews.ir/en/news/14010618000265/Iran-Cndemns-Righs-Vilain-f-Iranian-Diplmas-in-Albania
--------
Iran strongly condemns US sanctions over Albania hacking
10 September, 2022
Iran on Saturday strongly condemned a US decision to impose sanctions on its intelligence ministry, blamed for a major cyber-attack on NATO ally Albania.
Albania severed diplomatic ties with Iran on Wednesday after accusing it of the July 15 cyber-attack that sought, but failed, to paralyze public services and access data and government communications systems.
In response on Friday, the United States slapped sanctions on Iran's intelligence ministry and its minister Esmail Khatib, saying the attack "disregards norms of responsible peacetime state behavior in cyberspace."
On Saturday, Iran's foreign ministry spokesman Nasser Kanani said: "The ministry of foreign affairs strongly condemns the action of the US treasury department in repeatedly sanctioning the ministry of intelligence of the Islamic republic.
"America's immediate support for the false accusation of the Albanian government... shows that the designer of this scenario is not the latter, but the American government," he added in a statement.
Kanani accused the US of "giving full support to a terrorist sect," referring to the opposition People's Mujahedeen of Iran, or Mujahedeen-e-Khalq (MEK), members of which are hosted by Albania.
Albania agreed in 2013 to take in members of the MEK from Iraq at the request of Washington and the United Nations, with thousands settling in the Balkan country over the years.
"This criminal organization continues to play a role as one of America's tools in perpetrating terrorist acts, cyber attacks" against Iran, the statement added.
Source: Al Arabiya
Please click the following URL to read the full text of the original story:
https://english.alarabiya.net/News/middle-east/2022/09/10/Iran-strongly-condemns-US-sanctions-over-Albania-hacking-
--------
Africa
Dozens Reportedly Killed In Islamic State Attack in Mali
September 09, 2022
BAMAKO, MALI —
Dozens of civilians were killed this week in a northern Malian town attacked by jihadists affiliated with the Islamic State group, a local elected official and the leader of an armed group told AFP Friday.
It was the first time the town of Talataye, about 150 kilometers (90 miles) from the city of Gao, has been attacked on such a scale by the Islamic State in the Greater Sahara (ISGS).
On Tuesday, the jihadists fought a fierce battle with rivals from the al-Qaida-affiliated Support Group for Islam and Muslims (GSIM) and other armed groups, including the Tuareg-dominated Movement for the Salvation of Azawad (MSA), people familiar with the events told AFP.
The ISGS fighters, who emerged from the bush on motorbikes, took control of the town Tuesday evening after more than three hours of fighting, AFP learned earlier this week.
The situation on the ground remains unclear, as information is difficult to come by in the dangerous and remote Sahel area, largely cut off from communication networks.
The death toll also varies according to different accounts.
A local official said that 45 civilians had been killed, while an MSA leader put the civilian death toll at 30. Both spoke to AFP on condition of anonymity and added that houses and the market had been torched.
An international humanitarian worker in the region said "several dozen" civilians had been killed.
It is unclear whether the civilians were deliberately killed or caught in crossfire.
Both the local politician and the MSA leader said there had been at least a partial withdrawal of ISGS fighters since Tuesday.
MSA fighters entered the town on Thursday, the group said. It says it now controls one part of the area while the GSIM controls another part.
MSA fighters have "gathered information and bodies," he added.
"What really worries us is the humanitarian situation — the people are left to fend for themselves," the local politician said.
A women's association from the area, but based in Gao, launched an "urgent appeal" on Friday to "come to the aid of the battered population."
Caught in the crossfire
Talataye, an agglomeration of hamlets, lies at the heart of competing areas of influence, and clashes are frequent. It had some 13,000 inhabitants in 2009, the date of the last census in Mali.
The area is mainly inhabited by Tuareg Dahoussahak nomads, with few urban centers and a sparse population.
The GSIM is said to be influential there.
Other armed groups consisting mainly of MSA fighters that signed a 2015 peace accord are also based there.
The regions of Gao and Menaka, to its east, have for months suffered infighting among jihadist groups as well as violence between jihadists and other armed groups.
The state has a very weak presence, and civilians, mainly nomads living in camps scattered across the desert, are frequently caught in the crossfire.
Jihadists attack the civilians, often on suspicion of siding with the enemy.
Hundreds of civilians have died, and tens of thousands have been displaced.
The Malian government on Tuesday said it had carried out a "reconnaissance offensive" of Talataye from the air.
The army's communications chief, Colonel Souleymane Dembele, told the Malian press Friday that the occupation of Talataye by ISGS jihadists was "fake news."
ISGS, formed after a split with other jihadist groups in 2015, has flourished in recent years in the border area between Mali, Burkina Faso and Niger.
It recruits largely from historically marginalized nomadic communities, and is responsible for numerous civilian massacres, notably in Seytenga, Burkina Faso, where 86 civilians were killed in June.
Source: VOA News
Please click the following URL to read the full text of the original story:
https://www.voanews.com/a/dozens-reportedly-killed-in-islamic-state-attack-in-mali/6738708.html
--------
Government slams commission for demanding action against Ethiopia after resumption of war in north
Addis Getachew
10.09.2022
ADDIS ABABA, Ethiopia
Ethiopia slammed a request Friday by the International Commission of Human Rights Experts on Ethiopia who urged the UN Security Council to "take action" against the country.
The experts made the request Sept. 7, two weeks after the resumption of fighting between federal forces and the Tigray People's Liberation Front (TPLF) rebels, shattering a five-month humanitarian truce.
"The Commission has no competence or proper appreciation of the conflict triggered by the TPLF in violation of the humanitarian truce," the Foreign Ministry said in a statement. "The Commission's ultra vires and blatant call for action against Ethiopia by the Security Council only show the reckless behavior of the Commission and vindicates the Government's assertion that the resolution establishing the Commission, and the works of the Commission are politically motivated."
"The Commission weaponized human rights for political pressure and exposed its true intentions, foreclosing all doors of cooperation with the Government," according to the statement.
Source: Anadolu Agency
Please click the following URL to read the full text of the original story:
https://www.aa.com.tr/en/africa/government-slams-commission-for-demanding-action-against-ethiopia-after-resumption-of-war-in-north/2681731
--------
Nigeria military kills 420 terrorists during month-long operations
Olanrewaju Kola
10.09.2022
MAIDUGURI, Nigeria
More than 400 Boko Haram and Daesh/ISIS in West Africa Province (ISWAP) terrorists have been killed by Nigeria forces in operations in northeast Borno State, an army commander said Friday.
"Our ground troops have killed at least 420 Boko Haram and ISWAP terrorists in many of our operations in Borno State within August," said Maj. Gen Christopher Musa, commander of the Counter-terrorism Joint Task Force Northeast.
He said the air force conducted airstrikes on terrorist locations, leading to the deaths of dozens and the military received an order from the president to stop terrorism in the region before the end of 2023.
Nigeria has faced 13 years of terrorism activities by Boko Haram and its affiliate, ISWAP, in the northern region.
Source: Anadolu Agency
Please click the following URL to read the full text of the original story:
https://www.aa.com.tr/en/africa/nigeria-military-kills-420-terrorists-during-month-long-operations/2681729
--------
Poverty has increased in Somalia amid terror attacks: World Bank
Mohammed Dhaysane?
09.09.2022
MOGADISHU, Somalia
Poverty among the poor in Somalia has increased as terror attacks are threatening the government and limiting its capacity to implement effective development policies, the World Bank said.
In a statement, the bank said that the consumption of households exposed to terrorist incidents decreased by 33%, mainly on food items.

"As a result, poverty and the depth of poverty among the poor increases. The decline in consumption seems to be explained by a smaller share of household members working and earning income after an attack", the statement added.
"The decline in consumption seems to be explained by a smaller share of household members working and earning income after an attack," it said, adding the effect on consumption is restricted to a 4-kilometer (2.5-mile) radius from incidents.
"Achieving peace is a fundamental first step to increase welfare conditions that will also bring other wider long-term benefits in Somalia", the bank said.

Somalia is one of the poorest countries in Sub-Saharan Africa that still faces many challenges and remains "fragile", it added.

The country has been grappling with increasing insecurity for years, with the al-Shabaab terror group being one of the main threats in the Horn of Africa country.
Since at least 2007, al-Shabaab has waged a deadly campaign against the Somali government and international forces that has claimed thousands of lives.
The UN has warned of growing instability in the country, with its periodic reports on Somalia this year detailing attacks by al-Shabaab and pro-Daesh/ISIS groups.
Source: Anadolu Agency
Please click the following URL to read the full text of the original story:
https://www.aa.com.tr/en/africa/poverty-has-increased-in-somalia-amid-terror-attacks-world-bank/2681646
--------
North America
US sanctions Iran's Intelligence Ministry, its chief over cyber activities
Ovunc Kutlu
09.09.2022
The US imposed sanctions on Iran's Ministry of Intelligence and Security (MOIS) and its Minister of Intelligence for engaging in cyber-enabled activities against the US and its allies, the Treasury Department announced on Friday.
The department said in a statement the MOIS and its cyber actor proxies have conducted malicious cyber operations since at least 2007, targeting a range of government and private-sector organizations around the world.
It said cyber threat actors assessed to be sponsored by the Iranian government and MOIS disrupted Albanian government computer systems in July this year, forcing the government to suspend online public services for its citizens.
"Iran's cyber-attack against Albania disregards norms of responsible peacetime State behavior in cyberspace, which includes a norm on refraining from damaging critical infrastructure that provides services to the public," Brian Nelson, Treasury under secretary for terrorism and financial intelligence, said in the statement.
The department said the US identified a group earlier this year, known as MuddyWater, and added that it is a subordinate element within MOIS that has been conducting cyber campaigns in support of the organization's objectives since 2018.
Source: Anadolu Agency
Please click the following URL to read the full text of the original story:
https://www.aa.com.tr/en/americas/us-sanctions-irans-intelligence-ministry-its-chief-over-cyber-activities/2681526
--------
Senate public hearings on Islamophobia hears testimony from Muslims in Edmonton
By Nicole Stillger
September 9, 2022
At a public hearing in Edmonton, members of the local Muslim community shared powerful testimonies with senators about their experiences with racism and hate-motivated crimes.
It's part of a Canada-wide study on Islamophobia conducted by the Senate Committee on Human Rights — proposed by Sen. Salma Ataullahjan.
"I was looking at the stats and I found out the most Muslims killed in a G7 country were in Canada — I was shocked," Ataullahjan said Thursday.
Committee member and first Muslim senator, Mobina Jaffer, said they want to make the community feel like they are being heard.
"When you come to a city and hear from the people who are dealing with it, it makes me think this is not the country I know — this is not the country I came to," Jaffer explained.
It's an escalating issue in Edmonton.
Earlier this year, police charged four people in connection with six assaults over the span of several months — all believed to be motivated by hate.
In 2020, Edmonton recorded 79 hate crimes. In 2021, that number jumped to 116.
Jibril Ibrahim, president of the Somali-Canadian Cultural Society of Edmonton, spoke at the hearing — one of many witnesses calling for concrete action on the issue.
"Unless there is a consequence of these actions, then we will see more and more," Ibrahim said.
Ibrahim said those crimes are largely underreported because of historically negative interactions with police, including not being taken seriously.
The Edmonton Police Service said it takes these crimes seriously and its hate crimes investigators want to know about hate incidents.
"Hate impacts everyone and has far reaching impacts for victims and entire communities," a spokesperson for EPS said in a statement.
"For this reason, we continue to work closely with our community partners to build trust and encourage citizens to feel safe reporting these crimes and incidents to police."
EPS acknowledges hate crimes are underreported and noted an online reporting system is currently in development.
Police hope the tool will make reporting more accessible for those who feel uncomfortable calling police.
"There are people who have encountered hate crime, but they are afraid to report it, because of they're afraid that the perpetrators might follow them to their house and do harm to them," Ibrahim added.
One of his suggestions to senators is to put those charged with a hate-crime in a database — similar to sex offenders.
"What cannot be measured cannot be improved," Ibrahim said.
"The only way they can come out of that database, if they want to, is to do community work of 200 hours — to work with the same community that they offended."
Senators said it's clear there are many aspect of the study to be closely examined, including changing the term Islamophobia.
"I'm re-thinking this whole name now — Islamophobia," Ataullahjan said.
"We've had speakers express concern — to have a phobia means you're scared of someone, but it doesn't address the issues of the Muslims."
Source: Global News
Please click the following URL to read the full text of the original story:
https://globalnews.ca/news/9118382/edmonton-senate-public-hearings-islamophobia/
--------
How the 'war on terror' obscures America's alliance with right-wing Islam
Nazia Kazi
9 September 2022
There's an oft-repeated refrain by Muslim American multiculturalists: "Indonesia is the world's most populous Muslim country." You'll hear it at conventions and panel discussions or read it in pamphlets that remind American audiences that Muslims are not just Arab or South Asian, that the global Muslim population is vast and varied.
Yet, there's a provocative tale buried here, in the history of this most-populous Muslim nation, and it gets lost in platitudes about the diversity of the Muslim world.
It's a story that indicts not only imperialist violence and capitalist expansion, but the manipulation of Muslim identity itself in enabling each of these.
A widespread exuberance swept Indonesia following its 1949 independence from a brutal Dutch colonialism. Independence brought a robust labour movement, thriving trade unions, a leap in the status of women, and a marked improvement in the national standard of living.
The communist party, the PKI, flourished, ushering in literacy in the countryside and the nationalisation of foreign-owned businesses. Most PKI members were observant Muslims, continuing the tradition of Tan Malaka, who had sought to propagate through the Dutch colony the notion of Islam's compatibility with Marxism-Leninism.
Malaka wrote: "Alongside the crescent, the star of the soviets will be the great battle emblem of approximately 250 million Muslims of the Sahara, Arabia, Hindustan and our Indies…let us realise that the millions of proletarian Muslims are as little attracted to an imperialist pan-Islamism as to Western imperialism."
Though Indonesian President Sukarno was himself no communist, he recognised the strengths of various forces in Indonesia: communist, nationalist, and religious, and believed a tripartite blend of these ought to shape the nation's political system.
This was enough for the CIA to make moves to end Sukarno's rule. At times, these efforts were cartoonish: the agency once produced a false pornographic video, featuring a Sukarno body double, in a ploy to deflate his popularity.
Practising, observant Muslims populated Indonesia's trade union, progressive, and communist movements. But their right-wing opposition was also overtly religious, and it was in them that the CIA and State Department saw key allies.
These US-backed right-wing Muslim forces would use explicitly religious justifications - despite the overwhelming Muslim composition of the Indonesian left – in their assaults on the PKI and other left elements.
What happened next is well-known: a bloody reign of terror under Suharto that, under the banner of anti-communism, carried out a genocidal purge in Indonesia. Hundreds of thousands, if not a million, were brutally murdered.
The US hailed the outcome a great success. US News & World Report ran a headline: "Indonesia: Hope Where There Once Was None." As recently as 2011, presidential candidate Mitt Romney assessed the US role in this devastating history, proclaiming, "We helped them move toward modernity."
Indonesia, where observant Muslim leftists were stamped out by US-backed right-wing Muslim forces, is an object lesson for how we might rethink our fundamental conceptions of Islamophobia.
The CIA's Afghan jihad
Perhaps the most insidious case of the security state's relationship with Islam is in Afghanistan, where the US carefully sponsored a regressive brand of Islamic practise in order to weaken and provoke its Soviet foe.
This sponsorship would come home to roost decades later in the most spectacular instance of blowback in US history, the 11 September attacks.
And Islam wasn't just a backdrop for the manoeuvrings of US policy in Afghanistan; it was its raw material.
The CIA printed and circulated "jihadi" schoolbooks for Afghan children, books that used the language of Islam and holy war to indoctrinate young Afghans to wage battle against the Soviets.
CIA Director Bill Casey explicitly named Islam a natural ally for the US against communism, printing and circulating thousands of copies of the Quran in Afghanistan.
This reality, in which right-wing alliances serve the whims of empire, is lost when Islamophobia is flattened into a uniform global pogrom against Muslims. Instead, we ought to take seriously the nuances between, for instance, the Indian ethno-nationalist current, China's response to separatist Islamist movements, and the apparatus of homeland security in the US.
As in the case of Indonesia or Afghanistan, we see nothing inherently at odds between Islam or Muslims and the ambitions of the US national security state. At times, it is the opposite.
The Islamophobia of intelligence
One motive of the CIA itself during the years known as the "cultural Cold War '' was to urge Americans to think in personal, experiential, identitarian terms, not material ones.
At the CIA-backed Iowa Writers' Workshop, authors were taught to reflect on their lived experiences and sensations, rather than political dynamics and critique.
And in the art world, the agency saw to it that the paint splotches of Jackson Pollock – far more innocuous than the politicised, anti-imperialist art of the time – garnered fame.
Even today, the CIA pushes individualised narratives of identity and inclusion in what some would regard as a cynical ploy to distract us from their continued transgressions in the terror decades.
Last year, a "woke" CIA recruitment video featured a neurodivergent Latinx agent, to which journalist Natasha Lennard quipped, "This is not the old CIA of suited men – it's a diverse and feminist agency of neo-imperial violence!"
More recently, an op-ed by a trans CIA agent in The Washington Blade celebrated the diversity and inclusivity of the agency.
It follows, then, that liberal understandings of racism often zero in on identity and lived experiences. In the case of Islamophobia, the analysis often starts and ends with anti-Muslim violence and discrimination – a reified sense of hostility – rather than the material conditions that produced it.
Anti-imperialist scholars have written extensively on the material conditions of Islamophobia and the ways Islam has figured in US foreign policy calculus.
Their reminders, that alliances and sponsorship along with antipathy and state violence, comprise Islamophobia, remain absent from popular understandings of anti-Muslim racism.
But history shows us that it was not Islam qua Islam that earned US support for anti-Sukarno Muslim forces in Indonesia, nor in the case of the right-wing mujahideen in Afghanistan.
And in Saudi Arabia, where the royal family has enjoyed decades of bipartisan American support, it is not the Saudi brand of Wahhabi Islam that guarantees undying support from the US.
Where the US relationship to the "Muslim world" is concerned, it is leveraged in whichever direction best serves the dictates of capital.
America's right-wing Islam
In fact, popular discourse on Islamophobia rarely mentions terms like "leftist," "right wing," or the economic ambitions of US empire – an astonishing omission given the very motivations for American Islamophobia.
As historian Michael Parenti reminds us, "The terms 'Right' and 'Left' are seldom specifically defined by policymakers or media commentators - and with good reason. To explicate the politico-economic content of leftist governments and movements is to reveal their egalitarian and usually democratic goals, making it much harder to demonise them."
With this rejoinder, we might reconsider the US alliance with Afghan warlords during the Cold War or with Saudi monarchs today.
Such alliances are not shameful foreign policy blunders on the part of the US. They are, by design, in service of the economic establishment.
The Muslims targeted by the nascent CIA were autonomous, progressive, and left-leaning Muslims - those who posed a threat to the expanding tentacles of empire.
History has proven that the US would just as easily sanctify Muslims and Islam as it would demonise them, and the allies of American capital have run the gamut from bourgeois democracy to Islamist theocracy.
Regarding the Taliban government's Unocal pipeline deal with the US in the mid-1990s, a State Department official said, "The Taliban will probably develop like the Saudis did. There will be Aramco, pipelines, an emir, no parliament, and lots of shariah law. We can live with that."
Author Vijay Prashad reminds us that because of such machinations by Washington, a "belligerent, orthodox Islam seeded what would later emerge in force against socialism and against the modern world."
This is precisely why "client states emerged throughout the Global South that became ventriloquists for white supremacy, spewing the language of the market … and extending new forms of coloniality and racial capitalism that sought to undermine…other projects of radical decolonization," write scholars Sohail Daulatzai and Junaid Rana.
What if?
A more comprehensive framing of Islamophobia would ask as its central question, "What if?"
What if, for instance, every Muslim attempt towards worker dignity, land reform, and resource autonomy had not been met by the crushing foreign policy consensus in Washington?
What might have flourished for Muslims in an Afghanistan or Indonesia not targeted by the US's firm commitment to right-wing tendencies around the world?
America's mercurial relationship with the world's Muslims ought to be the raw material of our understanding of Islamophobia.
The US's eager sponsorship, at times even authorship, of versions of Islam that are now anathema to the liberal West should not be a mere addendum to our understanding of Islamophobia, but an integral feature of it.
We sit now at a moment in history - more than two decades after the 9/11 attacks - when the Islamophobic features of the war on terror fade in much of America's collective memory. Without a correction to the existing narrative on Islamophobia, we risk essentialising this anti-Muslim hostility, recording it as a matter of identities and intolerances rather than material realities.
Source: Middle East Eye
Please click the following URL to read the full text of the original story:
https://www.middleeasteye.net/opinion/america-war-terror-obscures-US-alliance-rightwing-islam
--------
Iran's latest reply on nuclear deal is a step 'backward,' says Blinken
09 September, 2022
Iran's latest reply on a nuclear deal is a step "backward," US Secretary of State Antony Blinken said Friday, insisting Washington would not rush to rejoin at any cost.
European mediators last month appeared to make progress in restoring the 2015 accord as Iran largely agreed to a proposed final text.
But optimism dimmed when the United States sent a reply, to which Iran in turn responded.
"In past weeks, we've closed some gaps. Iran has moved away from some extraneous demands -- demands unrelated to the JCPOA itself," Blinken told reporters, using the acronym for the 2015 Joint Comprehensive Plan of Action.
"However, the latest response takes us backwards. And we're not about to agree to a deal that doesn't meet our bottom-line requirements," he said.
"If we conclude a deal, it's only because it will advance our national security."
President Joe Biden supports restoring the agreement, under which Iran will enjoy sanctions relief and again be able to sell its oil worldwide in return for tough restrictions on its nuclear program.
Biden's predecessor Donald Trump trashed the agreement and instead imposed sweeping new sanctions.
Diplomats say Iran has dropped a demand that Biden lift Trump's designation of the Revolutionary Guards (IRGC) as a terrorist group, a key sticking point.
But disputes include Iran's insistence that the UN nuclear watchdog close a probe into three undeclared sites suspected in previous nuclear work.
Source: Al Arabiya
Please click the following URL to read the full text of the original story:
https://english.alarabiya.net/News/middle-east/2022/09/09/US-state-secretary-Blinken-says-Iran-moved-backwards-in-nuclear-deal-talks
--------
URL: https://newageislam.com/islamic-world-news/karnataka-hijab-ban-muslim-girls-education/d/127922
New Age Islam, Islam Online, Islamic Website, African Muslim News, Arab World News, South Asia News, Indian Muslim News, World Muslim News, Women in Islam, Islamic Feminism, Arab Women, Women In Arab, Islamophobia in America, Muslim Women in West, Islam Women and Feminism