New Age Islam News Bureau
30 Nov 2019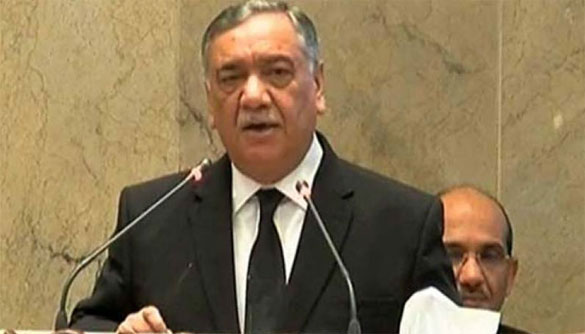 Chief Justice Asif Saeed Khan Khosa
------
• Judge Not Different From Qasid, (Peon or Helper), If He Doesn't Deliver Justice: Chief Justice of Pakistan
• Muslims Must Show Noble Traits to Attract Non-Muslims - Dr Mahathir
• U.S. Organization Calls for Boycott Of Beijing Olympics Over Muslims' Abuse
• TikTok, Huawei Helping Chinese Oppression against Uighur Muslims, Report Reveals
• Israel Denounces Myanmar Atrocities against Muslim Minority
• London Bridge Attacker Identified As Usman Khan of Pakistani Origin
• Iraqi PM Abdul Mahdi Says He Will Resign after Top Shiite Muslim Cleric's Call For Change
• Israel Warns Islamic Jihad to Stop Gaza Attacks Or 'Absorb More And More Blows'
• Why Sharia Council Reject Power Rotation– Baba Ahmed
• Pakistan Has Chosen Proxy War through Terrorism, Will Be Defeated: Defence Minister
Compiled By New Age Islam News Bureau
URL: https://www.newageislam.com/islamic-world-news/judge-different-qasid-peon-helper/d/120404
------
Pakistan
• Maulana Fazlur Rehman Asks ECP to Decide Foreign Funding Case To Maintain Its Credibility
• Teachers, Ulema Role Vital In Character Building Of Students: Training Workshop
• Pre-arrest bail should be granted with caution: SC
• Army chief's extension/ appointment issue: Opposition parties stay away from the issue
• Rickshaw blast injures 10 in Lahore
------
Southeast Asia
• Dr M: Muslim Nations Have the Capability to Compete Against Developed Countries
• Meeting at the International Islamic University Malaysia
------
North America
• WW1 Muslim Soldiers Research Project Scoops Prestigious Award
• Donald Trump makes secret visit to Afghanistan, confirms talks resumption with Taliban
• White House condemns attack in London, pledges "full support" to Britain
• The Story Of the "Famous" Renderings of the Secretive Stealth Black Hawk revealed by the Osama Bin Laden raid
------
South Asia
• Too Early For Resumption of Talks with US: Taliban
• Special Forces destroy Taliban tunnels; kill 7 militants in Kandahar raids
• Premature car bomb explosion damages 10 houses, injures 13 civilians in Sar-e Pul
• Kabul Police EOD team defuse bomb planted close to a school building
• Afghan President Says Trump Defeating al-Baghdadi 'Greater Accomplishment' Than Bin Laden's Death
------
Europe
• The Kremlin's Political Prisoners: List of Prosecuted Muslims – Hizb Ut-Tahrir Al-Islami Members
• London stabbing: Attacker named, was previously convicted of terrorism offences
• Cops kill man on London Bridge in 'terrorist incident'
• London Bridge terrorist's 'links to Islamic extremism' probed by cops
• Bradford brothers who 'adopted ideology' of Islamic State jailed
• Birmingham mosque sending team to help Syrian refugees survive winter in Jordan
• Green Party accused of 'Muslim-bashing' after co-leader says he would ban halal slaughter
• Man jailed for religiously aggravated attacks on five Birmingham mosques
------
Arab World
• Muslim World Could Ally With Russia to Settle Palestine Issue - Jordanian Ex-Minister
• Sudan Disbands Bashir's NCP Party, Overturns Moral Policing Law
• 'Source of pride' as investors scramble for Saudi Aramco shares
• King of Bahrain Congratulates Custodian of the Two Holy Mosques
• Doha Willing to Sever Ties with Muslim Brotherhood
• Saudi Media Forum set to offer global platform for collaboration
• KSRelief provides shelter support for displaced in Yemen
------
Mideast
• Supreme Leader: US Insulting Regional Countries' Independence
• Iran: US Sanctions Obstructing Medications Imports for CW Victims
• Tehran Marks Int'l Day of Solidarity with Palestine
• Turkey-Libya maritime agreement draws Greek ire
• Young Lebanese protesters share their spirited messages
• Israeli troops kill Palestinian teen at Gaza protest
• Iran protests point to turmoil in the future
• Imam Khamenei pardons 34 convicts in Hormuzgan
• Ayatollah Sistani warns of plot to bring back 'dictatorship'
------
Africa
• Islamic State Claimed Responsibility for the Mali Helicopter Incident
------
India
• Kashmiri Students Can't Pay Fees, Hit With Fines
• Let me live in peace and focus on work, says BHU's Muslim Sanskrit teacher
• 'Muslims Must Voluntarily Hand Over Gyanvapi Mosque, Mathura Complex To Hindus': KK Muhammed
------
Judge Not Different From Qasid, (Peon or Helper), If He Doesn't Deliver Justice: Chief Justice of Pakistan
November 30, 2019
MULTAN: Chief Justice Asif Saeed Khan Khosa has said the only thing that differentiates a judge in a courtroom from a Qasid (peon or helper), is that he decides cases and gives verdicts.
He was speaking at the Multan Colloquium-2019, held on the topic of 'Dispensation of Justice: Changing Frontiers' at the Lahore High Court Multan Bench, by the Multan High Court Bar Association (MHCBA) on Friday. MHCBA President Malik Haider Osman presided over the colloquium, while lawyers read out their papers. The chief justice remarked, "Being a judge, I decided that none of the cases will be adjourned in my court. In my court, a case can only be adjourned on two conditions, if a lawyer dies or if a judge passes away."
Khosa urged young lawyers to not only protect the past rich traditions of legal fraternity but also pass it on to the next generation, as not keeping up with past traditions is the major cause of decline in lawyers' profession. He said lawyers should be committed to their profession to keep intact the relationship between a client and a lawyer.
The chief justice refreshed his memories when he was a practicing lawyer in Multan with Dera Ghazi Khan district as part of the Multan division. He said those were great times of rich traditions, when he spent time with senior lawyers and learnt a lot from them. He said today there is no bond of mutual respect between senior and junior lawyers, which was the core value in the past. When the tradition of mutual respect was alive, never any incident of frustration occurred in the courtroom. But now frustration is visible during day to day court proceedings due to ignorance of rich traditions of the past, he added.
The CJ said that the situation had brought imbalances in the profession. No lawyers want in-depth pleading of a case, but shortage of judges, who are overburdened with cases, demands precise presentation of arguments. This situation increases frustration among lawyers. The second imbalance is related to mushroom growth of law colleges and induction of fresh law graduates in the profession. Seniors are not available in the profession to meet the number of fresh law graduates each year. There was a practice in the past that junior lawyers used to spend five to six years with their seniors before starting their career independently.
The CJP said that now the situation is that junior lawyers have their juniors in the profession, who have no proficiency and link with the past traditions and they are creating problems in the profession. The junior lawyers lack opportunities to learn from their seniors.
The CJ said bar associations should play their role in minimising the imbalances and arrange trainings for young law-graduates, which should be compulsory before starting independent practice. He said he spent 40-45 years in law profession and he was feeling deeply about transfer of the past traditions to juniors.
The CJ highlighted three basics to become a good lawyer, including proficiency in history, mathematics and literature. When a lawyer is drafting his petition, he must care about the history and be aware of law interpretations, made by superior judiciary from time to time. A lawyer needs solid quotes from the history, so he must be proficient in history, he added. A lawyer needs to furnish arguments in his petition, so he must be proficient in mathematics to prove his stance in his petition. A lawyer uses variety of words in his petition and he would not do it until he has proficiency in literature.
The chief justice said that often they use an incomplete sentence that bars and benches are two wheels of cart, but there is a third character of horse in the cart and he is the litigant. The lawyers must care about the interests of litigants, he added.
Our Lahore correspondent adds: Chief Justice of Pakistan-designate Gulzar Ahmad on Friday said women judges played a crucial role in development and encouragement of women in eliminating gender bias.
He said the women working in judiciary had become a role model for the women sitting at homes. "Role of men and women is equally important for the prosperity of the country," said Justice Ahmad speaking at 3rd Women Judges Conference held by Punjab Judicial Academy (PJA) and Lahore High Court (LHC).
He stressed on the need to have true representation of women on all levels of the judiciary. He applauded efforts and work of the women judges and promised to work towards improving the court environment, making it more accessible and sensitive.
He noted that the women judges in district judiciary had been dealing with complicated cases regarding women and children. He said the women judges needed to be encouraged more so that they could dispense with justice without any fear.
Justice Ahmad was of the view that no society could excel without encouraging its women. He said the conference hosted by the Punjab Judicial Academy was in fact a voice of whole judiciary.
LHC Chief Justice Sardar Muhammad Shamim Khan discussed issues of gender discrimination and said the high court was in process of establishing gender-based violence and juvenile courts throughout the province. He emphasised the need to improve accessibility to courts and stated that efforts were being made to improve the court environment.
Justice Ayesha A Malik of the LHC underlined the importance of the gender perspective in upholding the rule of law. She focused on the use of gender neutral language and providing a more gender sensitive court environment for women, children and the differently-able persons.
She said gender perspective was an all inclusive concept which was not just for women but for all judges and that the women judges had a role to play in bringing this perspective to the forefront.
Speaking on the occasion, PJA Director General Habibullah Amir and Director Programmes Ms Jazeela Aslam recognised the efforts of the Justice Ayesha A Malik for the initiative of the conference.
The conference was attended by the women judges of Punjab who will spend next two days discussing issues of the Gender Perspective in the Civil Justice System, Criminal Justice System, and the Digital World.
https://www.thenews.com.pk/print/576219-judge-not-different-from-qasid-if-he-doesn-t-decide-cases-cjp
------
Muslims must show noble traits to attract non-Muslims - Dr Mahathir
30/11/2019
PETALING JAYA, Nov 29 -- Muslims must show noble traits to attract non-Muslims towards Islamic teachings, said Prime Minister Tun Dr Mahathir Mohamad.
He urged that negative practices such as being inconsiderate, insulting other races and religions, and squabbling over differences in opinion be cast aside in order to achieve the objectives of Muslims as propagators.
"The acceptance from non-Muslims will diminish if we display negative characteristics and fail in life.
"We have to show good characteristics, Insya Allah they will be drawn to our deeds and believe in Islamic teachings, " Dr Mahathir who is also the President of the Muslim Welfare Organisation of Malaysia (Perkim) said that in a speech during a dinner event held in conjunction with Perkim's 58th Annual General Meeting here today.
Also present were Tun Dr Siti Hasmah Mohd Ali and honorary secretary-general of Perkim, Tan Sri Dr Mohd Yusof Noor.
Dr Mahathir also wanted Muslims to live with the spirit of consensus without being influenced by self-centredness which would cause unease among other communities.
"Humans live in communities, not alone, in isolation. Do not be influenced by our emotions which could lead to chaos as this will be a loss," he said.
He said a nation would lose if its people were fighting (among themselves), giving others the chance to worsen the situation.
"When we fight among ourselves, others can take advantage, and the country will not be peaceful. We have to be good at controlling our emotions and curb our hatred and anger, and accept the opinions of others," he said.
On Perkim, Dr Mahathir wanted the organisation to move as a body that is actively carrying out its responsibilities in spreading the message of Islam to all communities.
"Perkim is already 58 years old. Perkim's role is to carry out 'dakwah' (propagation) and uplift the image of Islam.
"I feel Perkim can carry out the responsibility of this mission by focusing on its original objectives," Dr Mahathir said.
Meanwhile, Perkim Vice-President 1, Datuk Seri Shahidan Kassim welcomed the call by Dr Mahathir for Muslims to unite by obeying the teachings of Islams in the true sense.
"We must have a leader who works to unite the Muslims. This is the time, Dr Mahathir as prime minister must carry out this responsibility. He needs everyone's cooperation," he said.
http://www.bernama.com/en/general/news.php?id=1794886
------
U.S. organization calls for boycott of Beijing Olympics over Muslims' abuse
2019-11-29
By Mariam Nabbout
Activists are calling on the U.S. Olympic National Committee to boycott the upcoming 2022 Winter Olympics set to be held in Beijing, China.
Wa'el Alzayat, the CEO of a group working to increase Muslim-American involvement in politics called Emgage, believes China is violating the ideals of the international sports event as it continues to violate the most basic rights of its Uyghur Muslim community. State-sponsored oppression has been affecting Muslims in the country for decades. To many people, it doesn't make sense for the country to host an event that promotes "peace, friendship and understanding in the world."
Taking part in the winter games while China continues to jail and horrifically abuse millions of Muslims would be unfathomable, Alzayat said, according to HuffPost.
"We cannot as Americans participate in good conscience in these Games as long as these concentration camps are operational," he added.
The U.S. has been taking clear measures against China over its treatment of its Muslim community. Earlier this year, the country restricted visas for the Chinese government and Communist Party officials involved in these inhumane persecutions.
The restrictions came soon after the U.S. commerce department implemented export limitations on local companies, preventing them from selling their products to 28 Chinese entities.
The export restrictions mostly affect face recognition and other surveillance technology products. China's Public Security Bureau and several firms involved in surveilling Xinjiang residents were on the list of barred companies.
Activists and human rights groups have called the Chinese government's conduct as a "campaign of ethnic genocide." The East Asian country has always strongly denied committing any abuses, reiterating that measures taken by them are an attempt to crack down on "extremism."
However, just last week, leaked documents exposed China's systematic brainwashing of Muslims in prison camps across the country, something the government has previously denied.
The documents revealed that the Xinjiang population, to which the country's Uyghur Muslim population belongs to, are monitored, abused, and locked up in camps under strict rules.
There have been multiple reports in recent months confirming the state of abuse in these prison camps. People who escaped the so-called "re-education camps" in China have reported torture, rape, and abuse.
Last month, a Muslim woman who escaped - after being detained in November 2017 - said inmates were "gang raped, subjected to torture and medical experiments and forced to eat pork."
Other documents in the recently leaked report confirmed that 15,000 people from southern Xinjiang were sent to the camps over the course of just one week in 2017. A report released earlier this year also noted that a mobile "tracking" application was being used by police officers and authorities to monitor Uyghur citizens.
The persecution of Muslims in the country has been well-documented by top human rights organizations, especially when it comes to the Uyghur community. Uyghurs make up about 45 percent of China's Muslim-majority province Xinjiang.
Muslims living in the province are barred from giving their kids certain Islamic names, wearing burqas, and donning "abnormal beards." Under regulations passed in recent years, people of the faith are forced to watch state television and provided guidelines on how children can be educated.
In 2017, Xinjiang's Muslims were reportedly ordered to turn in all religious items to police, including prayer mats and copies of the Holy Quran.
https://stepfeed.com/u-s-organization-calls-for-boycott-of-beijing-olympics-over-muslims-abuse-2691
------
TikTok, Huawei helping Chinese oppression against Uighur Muslims, report reveals
29.11.2019
China's prominent tech giants ByteDance, the owner of hugely popular social media platform TikTok, and Huawei are helping the Chinese government in its efforts to censor and surveil minority Uighur Muslims in western Xinjiang region, the Washington Post said in a piece late Friday citing a report.
The report comes just days after the dancing- and music-focused app TikTok, which claims to be a apolitical platform weighing on fun, apologized for banning a U.S. teen who criticized China's oppressive stance against the Uighurs.
"Many Chinese tech companies 'are engaged in deeply unethical behavior in Xinjiang, where their work directly supports and enables mass human rights abuses,'" experts at the Australian Strategic Policy Institute's International Cyber Policy Centre were quoted as saying in the article.
"Some of these companies lead the world in cutting-edge technology development, particularly in the AI and surveillance sectors. But this technology development is focused on servicing authoritarian needs, and as these companies go global (an expansion often funded by [Chinese] loans and aid) this technology is going global as well," Fergus Ryan, Danielle Cave and Vicky Xiuzhong Xu state in the report according to the Washington Post.
"Beijing has demonstrated a propensity for controlling and shaping overseas Chinese-language media. The meteoric growth of TikTok now puts the CCP in a position where it can attempt to do the same on a largely non-Chinese speaking platform — with the help of an advanced AI-powered algorithm," the experts were quoted as saying.
A rare and huge leak of Chinese government documents has shed new light on a security crackdown on Muslims in China's Xinjiang region, where President Xi Jinping ordered officials to act with "absolutely no mercy" against "separatism and extremism," The New York Times recently reported.
The 403 pages of internal papers obtained by the Times provide an unprecedented look into the highly-secretive Communist Party's controversial crackdown, which has come under increasing international criticism, especially from the United States.
The internment camps where Uighur Muslims are held in prison-like conditions, expanded rapidly following the appointment in 2016 of a new party chief in Xinjiang, Chen Quanguo.
China, after initially denying the camps, has described them as "vocational schools aimed at dampening the allure of extremism and violence through education and job training."
But rights groups and foreign media have reported that official documents and satellite images show the facilities are equipped and run like prisons.
https://www.dailysabah.com/technology/2019/11/29/tiktok-huawei-helping-chinese-oppression-against-uighur-muslims-report-reveals
------
Israel denounces Myanmar atrocities against Muslim minority
29/11/19
Israel's Ministry of Foreign Affairs condemned the atrocities that occurred in Myanmar against the Rohingya, a Muslim minority group, after an Israeli diplomat there tweeted support for Burmese government officials facing a genocide trial in international court.
"Encouragement for a good verdict and good luck!," Israel's ambassador to Myanmar, Ronen Gilor tweeted at the beginning of the week, specifically Myanmar State Councellor Aung San Suu Kyi,the Nobel Prize winner who also serves as the country's foreign minister.
The tweet later was deleted, after a query from the Israeli daily Haaretz, the newspaper and news website reported.
On Thursday, the ministry said in a statement that the tweet was written "in error, and was corrected immediately." The statement also said that "Israel strongly condemns the atrocities that took place in the Rakhine region against the Rohingya. About a week ago, Israel voted in favor of a resolution to denounce the atrocities."
Myanmar has been accused of allowing mass rape and murder, as well as the burning down of homes in supressing the Muslim Rohingya minority in the west of the country in August 2017. The country's leaders will face genocide charges in the International Court of Justice in The Hague starting on Dec. 10
http://www.israelnationalnews.com/News/News.aspx/272458
------
London Bridge attacker identified as Usman Khan of Pakistani origin
Atika Rehman
November 30, 2019
Metropolitan Police on Saturday identified the London Bridge attacker as British national Usman Khan, a 28-year-old male from Staffordshire. Khan was born in London and is of Pakistani ethnicity.
"We are now in a position to confirm the identity of the suspect as 28-year-old Usman Khan, who had been residing in the Staffordshire area. As a result, officers are, tonight, carrying out searches at an address in Staffordshire," Assistant Commissioner Neil Basu said in a statement issued past midnight.
Khan stabbed two people to death and left three injured a day earlier in an attack that caused fear and panic across the city as residents revisited the spectre of terror returning to London.
"This individual was known to authorities, having been convicted in 2012 for terrorism offences," Basu said. "He was released from prison in December 2018 on licence and clearly, a key line of enquiry now is to establish how he came to carry out this attack.
He added that Khan was shot by specialist armed forces and died at the scene.
"The circumstances, as we currently understand them, are that the attacker attended an event earlier on Friday afternoon at Fishmonger's Hall called 'Learning Together'.
He added that police believe the attack began inside before Khan left the building and proceeded onto London Bridge, where he was detained and subsequently confronted and shot by armed officers.
According to The Telegraph, Khan — a British citizen born in the UK — left school with no qualifications after spending part of his late teens in Pakistan, where he lived with his mother when she became ill.? On his return to the UK, he started preaching extremism on the internet and attracted a significant following.
In January 2012, Khan pleaded guilty to engaging in conduct in preparation for acts of terrorism contrary to section 5(1) of the UK's Terrorism Act 2006. Khan was among nine men charged with conspiracy to bomb high-profile London targets in the run-up to Christmas in 2010. At the time, the men were described as an al Qaeda-inspired group that wanted to send mail bombs to various targets and launch a "Mumbai-style" atrocity. At the time of his arrest, Khan lived in Stoke-on-Trent, a city in central England.
At the time, a hand-written target list found at one of the defendant's homes listed the names and addresses of then London mayor Boris Johnson, the American Embassy and the Stock Exchange. The British police counter-terror operation which led to their arrests was the biggest of 2010.
Khan was sentenced to detention for public protection with a minimum custodial term of 8 years — a sentenced designed by UK authorities to protect the public from serious offenders whose crimes did not merit a life sentence.
Offenders sentenced to an IPP are set a minimum term which they must spend in prison. After they have completed their tariff they can apply to a parole board for release. The Parole Board releases an offender only if it is satisfied that it is no longer necessary for the protection of the public for the convict to be confined. If offenders are given parole they will be on supervised licence for at least 10 years.
The judge who had examined the sentencing appeals of Khan and the other convicts in 2013 had said: "They wished to support and commit acts of terrorism in furtherance of their religious beliefs. They came to the attention of the security services who monitored them using covert surveillance techniques and devices and were able to effect their arrest prior to advanced steps having been taken to implement their plans."
He also noted that although they were from different parts of the country (Stoke, Cardiff and London), the groups managed to meet together.
The judge had also said that the Stoke defendants, which included Khan, were recorded discussing terror attacks overseas. On December 15, 2010, Khan had been monitored by UK authorities in conversation about how to construct a pipe bomb from a recipe referred to in an Al Qaeda publication.
Authorities also heard Khan seeking to radicalise another male and making clear his intentions to travel abroad to a training camp which outwardly appeared to be a madrassah. The Stoke group, which included Khan, were to fund the camp and recruit men for it. The court noted that "Khan expected only victory, martyrdom or imprisonment".
https://www.dawn.com/news/1519693/london-bridge-attacker-identified-as-usman-khan-of-pakistani-origin
------
Iraqi PM Abdul Mahdi says he will resign after top Shiite Muslim cleric's call for change
29 Nov, 2019
Iraqi Prime Minister Adel Abdul Mahdi said on Friday he would tender his resignation to parliament so lawmakers could choose a new government, Reuters reported, citing his office.
Abdul Mahdi's decision came in response to a call for a change of leadership on Friday by Iraq's top Shia Muslim cleric Grand Ayatollah Ali al-Sistani, the statement said.
On October 31, Iraqi President Barham Salih said that PM Abdul Mahdi would only resign in response to mass protests if parliamentary blocs were to agree on his replacement to avoid a constitutional vacuum. The prime minister "had previously agreed to submit his resignation," Salih said.
Iraq's protests are the most complex challenge to a Shiite Muslim-dominated ruling class that has controlled state institutions and patronage networks since a US-led invasion in 2003.
https://www.rt.com/newsline/474660-iraq-pm-resign-cleric/
------
Israel warns Islamic Jihad to stop Gaza attacks or 'absorb more and more blows'
13 Nov, 2019
Exchanges of fire triggered by Israel's targeted killing of a top militant in Gaza raged for a second day on Wednesday and showed little sign of easing, with at least 22 Palestinians killed.
Fresh rocket barrages were fired at Israel, which responded with strikes on what it said were Islamic Jihad militant sites and rocket-launching squads in the Gaza Strip.
Air raid sirens wailed and fireballs exploded as air defence missiles intercepted rockets, sending Israelis rushing to bomb shelters. In Gaza, residents surveyed damage and mourned the dead outside a mortuary and at funerals.
UN envoy Nickolay Mladenov was expected in Cairo for talks on halting the fighting, a diplomatic source said, but a source close to the discussions warned the risk of further escalation remained high.
In comments on Wednesday morning, Israeli Prime Minister Benjamin Netanyahu said Islamic Jihad must stop its rocket attacks or "absorb more and more blows".
He reiterated his warning that "this could take time" and said Israel would respond to attacks "without mercy".
Islamic Jihad spokesman Musab al-Barayem said the group was not interested in mediation for now as it responded to the killing of one of its commanders.
Israel killed senior Islamic Jihad commander Baha Abu al-Ata and his wife Asma in a targeted strike early on Tuesday, prompting barrages of rocket fire in revenge and retaliatory Israeli air strikes.
According to Israel, Ata was responsible for rocket fire at Israel as well as other attacks and was planning more violence, with the military calling him a "ticking bomb".
The flare-up raised fears of a new conflict between Israel and Palestinian militants in Gaza, who have fought three wars since 2008.
A total of 22 Palestinians have been killed so far, including Ata and his wife, according to Gaza's Hamas-run health ministry.
Islamic Jihad confirmed that the dead included other members of its armed wing.
Gaza militants fire rockets after Israel kills Islamic Jihad commander
Since Israel's killing of Ata in what was believed to be a drone strike, at least 220 rockets have been fired into Israel from Gaza and dozens have been intercepted by air defences, according to the army.
There have been no Israeli deaths, though damage has been caused and one rocket narrowly missed cars on a busy highway.
Israeli medics said they had treated 48 people with light wounds, while schools were closed in areas near the Gaza border for a second day running. On Tuesday, school closures included the commercial capital Tel Aviv.
Unusually and in a sign it was seeking to avoid a wider conflict, Israel's announced targets were confined to Islamic Jihad sites and not those belonging to Hamas.
It normally holds Hamas, the Islamist movement that rules the Gaza Strip, responsible for all rocket fire from the enclave as the territory's de facto rulers.
Israeli analysts were quick to highlight the change of approach. "For the first time in the current era, Israel drew a distinction between Hamas and Islamic Jihad," commentator Ben Caspit wrote in Israeli newspaper Maariv.
"By so doing, Israel deviated from its ironclad principle that Hamas, as the sovereign power in Gaza, has to pay the price for any action taken by anyone in the Gaza Strip. That is now no longer the case."
Islamic Jihad is the second most powerful militant group in the Gaza Strip after Hamas.
The flare-up comes at a politically sensitive time for Israel. A September 17 general election ended in a deadlock and a new government is yet to be formed.
It was the second election since April, when polls also ended inconclusively.
The violence drew international calls for calm. Britain's foreign office said "we call on all sides to rapidly de-escalate the situation, and support the UN and Egyptian efforts to achieve that objective".
https://www.scmp.com/news/world/middle-east/article/3037602/israel-warns-islamic-jihad-stop-gaza-attacks-or-absorb-more
------
Why sharia council reject power rotation– Baba Ahmed
30th November 2019
Dr. Nafiu Baba Ahmed, is a lawyer and Secretary General of the Supreme Council for Sharia in Nigeria. In this interview with ABDULLAHI HASSAN, he warned that his organisation would not support power rotation between the North and South in 2023, insisting that the side with the largest population of voters should have it. He also spoke on the need to extend the implementation of sharia laws to Southwest Nigeria because of the predominance of Muslims in at least four of the six states in the zone.
Many Nigerians don't know the difference between your organization and Supreme Council for Islamic Affairs, can you educate them?
Quite honestly, many people mistake Supreme Council for Sharia with Supreme Council for Islamic Affairs. Supreme Council of Islamic Affairs is an extension of Jama'atul Nasirul Islam, JNI, because previously JNI was an umbrella organization for all Islamic groups in the country and it is led by Emirs with Sultan as president. During late Sultan Ibrahim Dasuki, it was extended, and late Abdullateef Adegbite became the Secretary- General. Gradually, the Southwest Muslims considered the Supreme Council for Islamic Affairs, SCIA, as umbrella organization. But SCIA is largely made up of Emirs led by the Sultan. So it has severe limitations because all the Emirs including the Sultan are all appointees of government, so when the issue of sharia came up around 2001, we felt the Supreme Council for Islamic Affairs and Jama'atul Nasrul Islam cannot take the mantle of leadership of protecting the interest of Nigerian Muslims particularly for canvassing sharia as right for Muslims because they tilt towards the interest of government for fear of losing their position or status. So we formed the supreme council for sharia in Nigeria. We approached Supreme Council for Islamic affairs and told them that you know your limitations, you cannot handle the issue we can handle though we can partner. Later, we parted ways because we realized that they wanted us to get clearance from them for anything we want to do, and of course, they cannot engage in any controversial issues that will entail criticizing government policies even if those are against the interest of Muslims. We parted ways and took our independent path. In short, SCIA and our organization are two independent bodies. Sometimes, we get united when we agree and we sometimes part ways when we disagree on some issues that concern Muslims. In other words, Supreme Council for Islamic Affairs is more of governmental control while Supreme Council for Sharia is entirely private. It brings all Islamic groups together where there is an issue at hand especially critical issues affecting Muslims and Islam regardless of what the government will feel about it, once it is on teaching of and commandment of Allah.
Would you say that the purpose of setting up your organization has been achieved because not all the states in the North practise sharia law , and where it's practiced , it's not really effective?
When the issue of sharia came up, a lot of devoted Muslims who know the true teaching of Islam were excited about it because it is a long dream; when and how we can format our lives to conform with the teaching of Islam, sharia. Nigeria since colonial history was considered to be a secular state, which means that Nigeria is a country with no any single religion adopted as law of governance. But we do not believe that there is no any authority that will reject religion in its affairs. In any case, it could be a self deceit to do that after all government has engaged in matters relating to religion all the time. It is a half-truth to claim that Nigeria has no business with religion. So Sharia is the right of all Muslims. It does not affect the right of other non- Muslims to that extent, we felt that we need to take necessary steps to ensure that the dream is actualized. A lot of governors that time did not understand it or did not like it for political reasons. In other words, they didn't want to be seen as too religious but because of the pressure, a lot of governors were forced to adopt it. For example, the Kano state governor, Rabiu Musa Kwankwaso; he had no choice than to adopt it, though he did not believe in it, and he did not like it, he had no choice than to bend to the wish of the people while necessary structures like penal code were fully adopted. The penal code inherited from Northern Nigeria in at least ten states were amended to suite the provision of sharia. To that extent, I can say Sharia was successful because the laws were there only, we needed people with political will and commitment to the people to ensure that it is implemented.
Secondly, the feeling that sharia was going to violate or tamper with the right of non Muslims is false. There is need to understand that sharia only affects Muslims. So all these issues had been cleared. We can say that the implementation of sharia was successful, but the argument could be the absence of leaders with the political will to fully implement it. Even the first governor who muted the idea and started it , did not have the commitment , he was saying one thing but doing another thing differently. We thank God, Allah has helped his religion by getting sharia back as right of Muslims. We have got some institutions which some religious groups are fighting against, like the Islamic economic system, Islamic banking and Islamic insurance. These were some issues that were rejected before but now accepted as best system. The movement for sharia has succeeded , at least it is now a reality. The question of implementation is a different thing. I am not saying it's a total success but it has to be gradually. It is common to any struggle, if you go through the life of Prophet Muhammad (SAW), you will discover he has passed through difficulties in preaching and other tests but eventually, he succeeded. As at now, we have scaled through the first stage, that those who believe that Nigeria is a secular country are beginning to change, the Muslims are beginning to accept the Sharia as Muslims while non-Muslims have understood that sharia is the right of Muslims, not theirs. You see, Sharia can operate in isolation with certain societal values, and system or laws, for example, Usery (Riba).
There is a controversy over the elimination of death penalty in the constitution of Nigeria, what is the position of your organization?
Well , the position of Islam I guess is the same position with Christianity, because when the controversy arose, I could remember when UN passed a convention against violation of human rights, by eliminating death penalty, Muslims and Christians rose against it, a lot of Christians believe that it should be as it is in the bible; an eye for an eye , truth for truth. Criminal law, law of retribution is there, they are borrowed from religious teachings; both Bible and Qur'an to act as deterrent, if you kill a person intentionally. If you are not punished, then it will be an encouragement to perpetuate the act. So Islam is strongly in support of the death penalty and that is our position. If you kill a person intentionally, you shall be killed.
Though, in Islam, there is a provision for pardon, you can say we pardon you in lieu, then you pay some amount as " Diyya''. It is a criminal case against a state but those aggrieved, the relations or parents of the deceased are right owners of the negations. You see, with weak laws, we can see the impunity. People are always killing people, the soldiers take criminals and shoot them, nobody is saying anything. So impunity has become part of the Nigerian psyche, unfortunately. From religious perspective, death penalty should remain.
Some people argue that your group was set up to promote Islamic extremism, what do you have to say on this?
People are entitled to their opinion and point of view, and no matter what we do, some people cannot get over their personal prejudices, bigotry.
You see, we'll be going against the teaching of Islam if we insist on Islamizing Nigeria, because the doctrines of sharia in the Qur'an is that there is no compulsion in Islam. The Jews would have been finished, wiped out from the earth, but the protection they received from Islamic teachings saved them. They were allowed to retain their religion. The Christians in Egypt, Lebanon and Syria have been Christians for over 1000 or 2000 years living with Muslims, there was never a time when attempt was made to compel them to join Islam. They are protected because they had scriptures. It is not true that we are trying to Islamize Nigeria, it is a statement based on prejudice, and desire to give us a bad name. We are not concerned about that, our concern is to protect right of Muslims and project it in limelight.
Whether some people saw it that way or not, it's not our business because there is nothing you can do with some people's perception, no matter, good or bad.
Would your organization want to see sharia practiced across Nigeria, in the 36 states?
No, no. You cannot implement sharia in Cross River, Akwa Ibom or Enugu, Anambra or Ebonyi. It 'll look absurd, and it's against the teaching of Islam. We'll live together with those states who are predominantly Christians because that is how God wants it and told us what to do. We respect people's religion as I respect my own.
Our mission is to see the implementation of sharia in states that are predominantly Muslims. In the North, seven states, Southwest, four states, only Ondo and Ekiti have lesser Muslims numbers. Even if it is implemented in those states only Muslims will be applied to.
Police recently rescued some children from Kano city allegedly kidnapped and converted into Christianity in one of the states in South- East. How do you react to that?
Well, the issue of kidnapping is a new phenomenon. If you were to reverse the situation, Muslims, kidnapping one or two of Christian children, the world would have been shouting about it. But the Christians have been doing it and government of Nigeria is not doing anything. We are happy that the police have made moves and intervened to ensure that the children had been taken back to their parents. But up till now, we have not seen any report stating that the suspects have been arraigned before court of law. This has been the practice in Nigeria, the government allows it for political reasons. Our own brothers; Muslims in position will not do anything. That is the tragedy in Nigeria. Government must put a stop to this because if they do not , it can escalate to unfortunate situation. The recent cases that involved children from Kano, Gombe, Bauchi ,Kaduna and others is a continuation of what has been going on for a long time. A few years ago, a church in Benin went and took children from the Camp of Internally Displaced persons (IDPs) in Borno and Yobe states to Benin city in Edo state. We sent people who met in the church and some of us wanted to interview some of the pastors on why the children were converted to Christianity and indoctrinated against their religion and people, but the government has not done anything. Unless the government responds to its primary responsibility by being fair and just, as well as protecting the right of individuals in respective of his or her religion, it is a recipe for crises. So we appeal to government, before people begin to take laws into their hands , those apprehended in committing the act of kidnapping should be punished so that people should know and learn lessons. A similar case happened 15 year ago, in Plateau state. After the massacre of muslims in Yelwan Shedam in 2004, the Christians took away over 250 girl children as booties. We at the Supreme Council for Sharia, have taken up the case to all security agencies, we even met Jonathan when he was acting President, and the then National Security Adviser.We also wrote several letters to the Inspector General of Police but nothing was done. They were taken as slaves and forced to convert to Christianity all in Plateau state. Any government that allows this will not achieve meaningful progress in peaceful co-existence. There can never peace without justice.
Why didn't you approach Christian Association of Nigeria, CAN instead of insisting on government to solve the problem?
You see our experience with CAN is more with leaders. The leaders are not religious. Because they will you tell untrue stories, with their prejudice or defend their faith. In Islam if we are wrong we accept when somebody tells you, you are wrong. It is necessary for government to come in because it is either they are defending or trying to justify what's happening. In fact the government of Plateau state and leaders of Christian churches have all denied it yet it is an undeniable fact. So of what use if we engage them? We had no option than to inform the state to protect its citizens. Save the right of these girls and their parents who have been in grief for 15 years.
What should be the role of religious leaders in Nigeria's politics?
I can only speak about Muslim leaders. My own view on the kind of role they should play, because I have seen the role of the Christian leaders, now let me talk about my own perspective. We had a governor, a Christian cleric in Taraba state who died, who had numerous cases with EFCC. We have had another one in Plateau who is claimed to be a religious bigot. They had bad records. Their religious teaching or faith has not impacted on their leadership role as leaders. In my view, Muslim leaders should not engage in partisan politics ,seeking political office. This is against the background that the democracy we practice harps on perpetual division within the society through political parties that are struggling for power. This is bound to cause a division. If a respected Islamic scholar contests for position under a particular party, then others will begin to see you from that party, not as a scholar or clergy; whatever you say, they will look at it from party angle. What they should do is to remain as successor of Prophet who teaches and stands for the truth and justice irrespectiveof whoever, whether the government or the governed. Tell the people what and how they should live. That is their role and any move to join partisan politics will cost them their respect and reputation. But equally, they should actively be involved in ensuring the emergence of credible leadership at the different levels in the country. If scholars remain with true teaching on the religious doctrines, they will exert serious influence in determining who is to be what in politics, rather than going to governors' offices for favour.
What's your view on Ruga settlement and the controversy it generated?
There is nothing new about Ruga settlement, but the people of the South and a section of Christians have made up their mind on the issue and this is very unfortunate. There is no any tribe that has the adaptability to settle anywhere in the world like Fulani. The communities have been living in peace with them. All of a sudden, problem cropped up which has social and political undertone. The political undertone now; is that people saying we don't want Fulani to live in our area because of their religious background.
With the expansion of population, the colonial government drew grazing areas for the cattle and there was never any problem. But with the growing population, a lot these lands had been taken away. When they move they have no choice than to allow animals pass through farms. There is nothing wrong with the concept of Ruga. It is just animal husbandry in an organized way. It's an important aspect of agriculture which is the main stream of the nation's economy. Some people are against it because of the people involved. Governors of Benue, Taraba and to some extent Plateau were against it because of the Fulani tribe only. Fulani had been living in many settlements for years, Mambila zone in Taraba state is typical example of an area where Fulani live for years but what happened, many were killed there for no reason. So you see when government allows people to be killed with no reason there is tendency for violence.
Do you support power rotation or zoning arrangement between the North and the South?
My view and that of my Council and other Muslim organizations we relate with is that democracy is a game of numbers. Henceforth, we'll not associate with any political party that seeks to subvert the fundamental principles of democracy which is numbers. Why should the majority accept minority leadership just for a principle of zoning. Let anybody qualified to contest for any position or feels he has sufficient numbers of support and credibility get it, so be it. We'll not support any zoning. Anybody that comes with parochial thought of zoning or rotation, we'll reject. Any credible person, be he Hausa, Yoruba or any person could canvass for support and free to be elected. The argument of the advocates for rotation does not hold water , it is self-serving and I feel that they don't have the numbers so the only way for them to scale through is hide under this, with negative propaganda. Nobody can intimidate us , we 'll never accept this arrangement.
If you meet Buhari today, what will you tell him?
Well, I know President Muhammadu Buhari very well. With all sense of humility, I personally, the Council and affiliate groups worked for Buhari more than any political party with the help of God to attain the position of President. What I will say to him is that I pray for him to succeed and strongly urge him to have the fear of God. He should not allow political expediency to dictate decision; fairness and justice should be his guiding principles.
https://www.sunnewsonline.com/why-sharia-council-reject-power-rotation-baba-ahmed/
------
Pakistan Has Chosen Proxy War through Terrorism, Will Be Defeated: Defence Minister
November 30, 2019
Defence Minister Rajnath Singh said on Saturday in Pune that Pakistan has chosen a path of proxy war through terrorism and will not get "anything but defeat".
He was addressing the passing out cadets of the 137th course of the NDA on Saturday.
"Our neighbour has realised right from 1948 through 1965, 1971 and 1999 that it can not win against India in any conventional or limited warfare. Pakistan has chosen a path of proxy war through terrorism and I can tell you with full responsibility that the country will not get anything but defeat," he said.
Singh said that India has always had peaceful and friendly ties with other countries. "India never had any extra-territorial ambitions but if provoked, the country will not spare anyone," he said.
Singh reviewed Autumn term passing out parade of the tri-services academy on Saturday morning.
https://indianexpress.com/article/india/pakistan-has-chosen-proxy-war-through-terrorism-will-be-defeated-rajnath-singh-6143772/
------
Pakistan
Maulana Fazlur Rehman Asks ECP To Decide Foreign Funding Case To Maintain Its Credibility
November 30, 2019
KARACHI: Chief of his own faction of the Jamiat Ulema-i-Islam (JUI-F) Maulana Fazlur Rehman on Friday warned that the Election Commission of Pakistan would lose its credibility if it failed to decide the foreign funding case against the ruling Pakistan Tehreek-i-Insaf.
He reiterated his demand that "fair and transparent" elections be held as early as possible since it was the only solution to the recent crisis in the country.
Addressing a protest demonstration in front of the ECP office here, Maulana Fazl was seen to stand firm on his demand of removing the PTI government and announcement of early elections, calling it a consensus decision of all opposition parties which had recently met in Islamabad.
He said the protest in Karachi was also part of the same strategy devised by the opposition parties, which decided to organise joint protest rallies and public meetings at district level throughout the country as part of their ongoing anti-government campaign.
"After a series of blunders, this incompetent government has now made the appointment on the most important and sensitive post in the country [chief of the army staff] a joke," he said referring to the recent order of the Supreme Court that suspended the federal government's Aug 19 notification for extension/reappointment of Army Chief Gen Qamar Javed Bajwa for another three-year term after completion of his tenure on Nov 28.
The JUI-F along with other opposition parties holds a demonstration outside the election commission's office
A breather for the federal government, however, came after three days of heightened uncertainty when the Supreme Court allowed extension/reappointment of Gen Bajwa for another six months.
"The Supreme Court has ordered [the government] for all relevant legislation within six months in this regard. But my question is to the people of Pakistan that how can we allow this bunch of incompetent people [to make] any law on this important and sensitive subject?" thundered the JUI-F supremo.
"The need of early general election has become more important following the recent episodes," he added.
He also urged the ECP to "meet the challenge and fulfil its responsibility" by completing the inquiry into the foreign funding case, which he said could set the future course of democracy and "throw out" incompetent and "unclean" people from mainstream politics.
"And let's submit with all respect and regard that if the Election Commission fails to complete its job [investigation into the foreign funding case], the people of Pakistan would lose their trust in one of the most key institutions of the country and it would lose all its credibility. It's not the demand of any individual or any party but it's the need of the hour to expose those elements that got illegal foreign funding to toe a certain agenda," he added.
He said that his party wanted no relief for any individual but for each and every countryman, but this government could not provide it and that's why he wanted them to pack up.
The protest was also addressed by local leaders of the Pakistan Muslim League-Nawaz (PML-N), Pakhtunkhwa Milli Awami Party (PkMAP), Jamiat Ulema-i-Pakistan-Noorani and others.
https://www.dawn.com/news/1519609/fazl-asks-ecp-to-decide-foreign-funding-case-to-maintain-its-credibility
------
Teachers, Ulema Role Vital In Character Building Of Students: Training Workshop
November 30, 201
Speakers at a one-day workshop on Friday highlighted the role teachers can play in reining in the growing tendency of extreme behaviours among the vulnerable younger generation in the country.
The training workshop titled 'Principles of Effective Leadership for Peace Building and National Cohesion' was organised at the Jinnah Jam-e School and College, Haripur, by the Department of Islamic and Religious Studies, The University of Haripur, in collaboration with Center for Peace, Reconciliation and Reconstruction, Islamabad.
A large number of intellectuals, academicians, faculty members and students participated in the workshop.
Speaking on the occasion, Dr Abdul Muhamin said the faculty of schools can hugely contribute towards nation building and making Pakistan a place where wisdom, peace and harmony prevails. He said the teachers as agents of peace can address the legacy of violent behaviours in contexts where religion, sect and ethnicity have mitigated against the promotion of social cohesion in the society.
'School and classroom need to be used to engage students for bringing about a mindset change. Students need to be taught about tolerance and how they can live and co-exist with other people from other faiths and from other cultures,' he said.
Other speakers stressed that fundamental education is the primary source of positive change in the society and that peace can't be maintained in a society without education.
They emphasized the need for positive co-curricular activities at educational institutions and urged the faculty to play their positive role in character building of their students.
They urged the educational institutions to create a peaceful environment so that the students not only get education but also get the knowledge of peace and tolerance.
The speakers maintained that the role of teachers and ulema is of vital importance in character building of students at educational institutions and madaris to achieve lasting peace and tranquility through elimination of extremism, sectarianism and terrorism from the society.
They said Pakistan is facing multiple political, ethnic, social, religious and sectarian conflicts at present, which require immediate attention and prompt redressal, adding that peace and conflict resolution are vital preconditions for a sustainable economic growth, democracy and development.
https://pakobserver.net/teachers-ulema-role-vital-in-character-building-of-students/
------
Pre-arrest bail should be granted with caution: SC
Nasir Iqbal
November 30, 2019
ISLAMABAD: The Sup­r­eme Court has held that pre-arrest bail, being a judicial power and rooted in equity, is an extraordinary remedy and, therefore, should be exercised cautiously only to protect innocent people from the horrors of abuse of process of law.
Authored by Justice Qazi Mohammad Amin Ahmed, a three-page judgement on a set of appeals against a Nov 5 Sindh High Court verdict has explained that any prosecution initiated by considerations for the purpose stained with the taints of mala fide was the abuse of process of law.
The appeals were moved by Sindh irrigation department officials Tariq Hussain, Sher Mohammad, Ayaz Ahmed Soomro, Ali Gul Phull and Ghulam Nabi and contractors Ghulam Sarwar, Tariq Hussain and Mir Mohammad Sodoro to seek bail in anticipation of their arrest in a corruption reference initiated by the National Acc­ountability Bureau on the SHC directive in connection with alleged misappropriation of funds in execution of the annual development plan for irrigation in Khairpur for 2013-15.
It turned out that except for some partial work, no work was executed at all which caused a loss of Rs89 million.
The Supreme Court, while dismissing the appeals, observed that the judicial protection of the pre-arrest bail should not be extended in every run-of-the-mill criminal case, with pleas structured on bald denials and parallel stories. It was on a complaint alleging violation of rules as well as embezzlement in the project that the SHC directed a probe on the basis of physical verification by the experts who found non-execution of different plans of the project as well as partial completion of the work, much less than the required standards, it added.
Against this backdrop, the judgement said, mala fide cannot be conceivably attributed to the initiation of proceedings against the petitioners and, therefore, they cannot claim judicial protection in a prosecution that otherwise sans relief of bail.
The verdict recalled that while refusing bail to the petitioners, the SHC had directed the accountability court to conclude the trial within three months, requiring the accused to cooperate in the conclusion, an option to conveniently vindicate their position sooner rather than later.
The project was executed in 2014 and there was no occasion down the road in August 2018 when the canal ran in full swing to physically detect any flaw/deficiency in the executed work.
After an in-depth hearing, the Supreme Court dismissed the appeals with an observation that the view taken by the SHC was well within the remit of law and, therefore, does not call for interference by the Supreme Court. Thus the apex court refused to grant leave to appeal.
https://www.dawn.com/news/1519624/pre-arrest-bail-should-be-granted-with-caution-sc
------
Army chief's extension/ appointment issue: Opposition parties stay away from the issue
Tariq Butt
November 30, 2019
ISLAMABAD: All the major and smaller political parties got together in the anti-government opposition grouping exhibited restraint on the issue of extension/ reappointment of General Qamar Javed Bajwa as the Chief of the Army Staff by avoiding any adverse observation on it.
As a lot of hype persisted for three days when the Supreme Court heard the petition, not a single opposition politician commented on it. However, most of them did denounce the government's actions meant to satisfy the highest judicial forum, dubbing them as sheer incompetence, which was repeatedly highlighted by the court, public circles and commentators.
The opposition parties let it to be a matter between the apex court and official legal brains. However, like everybody they anxiously waited for the outcome of the judicial proceedings with bated breath.
The opposition's deliberate strategy was a clear departure from the past when those having such political position had been jumping in the similar fracas to take mileage out of it and hurt their rivals.
When the nonstop proceedings were in progress in the Supreme Court, an all parties' conference (APC), hosted by Jamiat Ulemae Islam-Fazl (JUI-F) chief Maulana Fazlur Rehman, was also held in the federal capital, but the huddle withheld its opinion on the row. No report suggested that it discussed the issue. Senior opposition leaders during their presser made no remarks on it.
However, a few weeks back, when Fazlur Rehman was asked about Bajwa's extension, he had dismissed the question as inconsequential saying that it was a service matter of an officer and he would not talk about it.
After the Supreme Court resolved the matter by allowing Gen Bajwa to stay as the army chief for six months and leaving it to the government and parliament to do necessary legislation, the JUI-F chief said the new parliament coming in place as a result of the immediate fresh general elections should decide the issue of extension in the top commander's tenure. "Although we respect the court's order, this fake parliament does not have the right, the nation's mandate and trust to legislate."
Most of other opposition leaders are still cautious and have not commented on the issue of extension/ reappointment but have profusely spoken about the approach of certain government leaders in doing the requisite legislation.
On the other hand, cabinet members have expressed jubilation over the court decision and some of them have even provoked the opposition parties by saying that the grouping has no option but to vote for the proposed amendments which will specify the tenure of extension and reappointment, salary, perks, privileges and other related matters which are missing from both the Constitution and the relevant law that were recurrently pointed out by the Supreme Court during the hearings.
Railways Minister Sheikh Rashid's remark that the Pakistan Muslim League-Nawaz (PML-N) will vote for the proposed amendments with "folded hands" especially irked the opposition parties. Some of their leaders, referring to his comment, said that such ministers are playing the role of spoilers and trying to harm future talks.
Dr Farogh Naseem, who was sworn in as the federal law minister again on Friday, said that the opposition parties would commit contempt of court if they did not back the approval of the amendments in the parliament, ordered by the apex court.
"We can't be forced to back any change, and it will be our decision whether to support it or not," senior Pakistan People's Party (PPP) leader Qamar Zaman Kaira said.
Commenting on Naseem's "threat", he said that no MP can be compelled to vote for any amendment. However, it is clear that the apex court has left it to the government and parliament to fill up the gaps in the Constitution and law, he said and added that not only the PPP but also the opposition parties would take a stand on the proposed changes when the government will unfold them.
A tall talk is going on by a set of federal ministers when they know it well that the ruling alliance has no majority to pass any legislation in the parliament.
https://www.thenews.com.pk/print/576225-army-chief-s-extension-appointment-issue-opposition-parties-stay-away-from-the-issue
------
Rickshaw blast injures 10 in Lahore
November 29, 2019
AhlulBayt News Agency (ABNA): At least 10 people were injured in an explosion that occurred in a rickshaw near Chauberji in Lahore on Friday.
According to a Punjab Counterterrorism Department (CTD) spokesperson, the blast occurred at around 11:25 am. Initial reports suggested that it was a cylinder explosion.
"Ten persons have been injured including the driver of the rickshaw. All sustained minor injuries. All injured were walking near the rickshaw at the time of the blast," he said.
While there has been no confirmation on the cause but the spokesperson said a "terrorism angle" could not be ruled out at this stage.
According to police officials, there were also clear marks of ball bearings on the charred and mangled wreckage of the rickshaw. However, they said forensic teams and investigators are still working to ascertain the cause.
https://en.abna24.com/news//rickshaw-blast-injures-10-in-lahore_990006.html
------
Southeast Asia
Dr M: Muslim nations have the capability to compete against developed countries
Saturday, 30 Nov 201
KUALA LUMPUR, Nov 30 ? Muslim nations have the capability, strength and could compete against the other developed nations but do not have the will to do it, said Prime Minister Tun Dr Mahathir Mohamad.
This resulted in the Muslim nations being perceived as weak and the Muslims continued to be suppressed, controlled and abused by the other countries.
"With a total of 52 Muslim nations in the world, none of them can be considered to be a developed nation, is this because of prohibition from our religion so that we do not progress? Does this mean that people professing Islam do not progress, are not allowed to develop?
"I wish to clarify that we are capable of competing with them. We are equal to the foreigners...in terms of the ability to think but we do not utilise this blessing from Allah SWT in the proper manner...in a manner that enables us to protect the Islamic religion," he said.
He said this when speaking at the 58th Annual General Meeting of the Malaysian Muslim Welfare Organisation (Perkim), here today.
Taking South Korea as an example, Dr Mahathir said the country which was previously behind Malaysia in terms of administrative development was now far ahead with her per capita income three times that of this country.
He said this was due to several factors including the mastery of knowledge particularly on the development industry to the extent that it became one of the most developed nations in the world.
"When I compare our country with Korea and other Islamic nations, I feel very disappointed because we are not incapable. But because of our mistake in making certain interpretations we cannot achieve the development made by Korea and the other countries.
"I believe that the mistake does not lie with our religion...the religion does not prevent us from seeking wealth as long as we find it in a legalised manner. and we use our wealth to assist those who are weak," he said.
He said actually all conflicts faced by the Muslim nations currently could be resolved if they return to the true teachings based on the al-Quran. ? Bernama
https://www.malaymail.com/news/malaysia/2019/11/30/dr-m-muslim-nations-have-the-capability-to-compete-against-developed-countr/1814725
------
Meeting at the International Islamic University Malaysia
30.11.2019
Ambassador of Uzbekistan to Malaysia Ravshan Usmanov met with Deputy Rector of the International Islamic University Malaysia (IIUM) Isarji Sarudin, Uzbekistan MFA reports.
At the meeting, the Malaysian side became familiar with activities of the International Islamic Academy of Uzbekistan, as well as reforms carried out in Uzbekistan in education, religion, youth policy and socio-economic development. Participants were informed about opening of the Center for Islamic Civilization in Tashkent, Imam Bukhari International Research Center and Hadith Science School.
In turn, Isarji Sarudin expressed interest in establishing close cooperation between IIUM and International Islamic Academy of Uzbekistan in training and professional development of teaching staff. The Malaysian side expressed readiness to attract specialists and teachers from Uzbekistan to deliver lectures at this University on a contractual basis, as well as exchange students for short-term courses on a parity basis.
http://uza.uz/en/education/meeting-at-the-international-islamic-university-malaysia-30-11-2019
------
North America
WW1 Muslim soldiers research project scoops prestigious award
29 NOVEMBER
A Birmingham researcher who found that twice as many Muslim soldiers fought in the First World War as had been previously reported, has picked up a top award recognising the impact of his research.
Dr Islam Issa, Senior Lecturer in English Literature at Birmingham City University, scooped the accolade for 'Research Project of the Year: Arts, Humanities and Social Sciences' at the Times Higher Education Awards, renowned as the 'Oscars' of the Higher Education sector.
Dr Issa's research found that at least 885,000 Muslim soldiers were recruited by the Allies, more than double the 400,000 which had previously been estimated.
The studies saw him trawl through thousands of personal letters, historic archives, regimental diaries and census reports to produce the first-ever exhibition dedicated to the contribution of Muslim soldiers fighting in the Great War.
The exhibition named 'Stories of Sacrifice' was commissioned by the British Muslim Heritage Centre based in Manchester.
The findings in the study have been used by major institutions including the Armed Forces, British police forces and by hundreds of school pupils as part of a programme of diversity training.
Findings in the study also revealed personal stories of soldiers' first experiences visiting London, the role football played during the war and the varied roles undertaken by the troops – including trench building and transporting vital goods and materials.
The exhibition has been visited by an array of high profile attendees including HRH The Prince of Wales and London Mayor Sadiq Khan.
https://www.bcu.ac.uk/news-events/news/acclaimed-ww1-muslim-soldiers-research-project-scoops-prestigious-award
------
Donald Trump makes secret visit to Afghanistan, confirms talks resumption with Taliban
Nov 29, 2019
Washington: US President Donald Trump announced that Washington is re-engaging Taliban in talks after a secretive 36-hour trip to Afghanistan where he spent only three and half hours on the ground.
The visit was Trump's first to the country that has mired the United States in the longest war in its history, going into its 19th year. 'Just returned to the United States after spending a GREAT Thanksgiving with our Courageous American Warriors in Afghanistan!,' he tweeted a few hours after he returned to his home in Florida after the surprise trip.
Just returned to the United States after spending a GREAT Thanksgiving with our Courageous American Warriors in Afg… https://t.co/qdzzgdg91c
Trump met briefly with Afghan President Ashraf Ghani and a lot longer with US troops at a military base, serving them a Thanksgiving meal and thanking them for their service.
'There is nowhere that I'd rather celebrate this Thanksgiving than right here with the toughest, strongest best and bravest warriors on the face of the Earth,' he told soldiers at Bagram Air Field.
The big takeaway from the political-diplomatic sortie, which included a decoy plane and a stopover at an airbase in Germany for an aircraft and crew change to save time, was confirmation that US is once again engaging Taliban after Trump abruptly canned talks - and scrapped their visit t Camp David - in September citing a brutal terrorist attack in Kabul.
But although such attacks continue - one of them resulting the death of Indian-American UNDP worker Anil Raj last Sunday - the US President has given a green light for resumption, suggesting it is Taliban that now wants a ceasefire and a deal.
"The Taliban wants to make a deal and we're meeting with them and we're saying it has to be a cease-fire and they didn't want to do a cease-fire, and now they do want to do a cease-fire," Trump said. "I believe it'll probably work out that way."
"We are winning like we haven't won in a long time," he told US troops assembled in an aircraft hangar at Bagram Air Base, while at the same time explaining that success would not be achieved on the battlefield but rather through a political solution determined by people in the region.
Compounding the confusion, a pool reporter quoted him as saying after talks with Ghani, "The Taliban wants to make a deal — we'll see if they make a deal. If they do they do, and if they don't they don't. That's fine."
This was Trump's first visit to Afghanistan (he went to Iraq last Thanksgiving) and the White House went to great lengths to keep the visit a secret even as the media was distracted by the President's tweet showing his face superimposed on a muscular Rocky like figure.
His confidantes, including his son gloated about how the media misreported (or was misled) that he was spending the Thanksgiving weekend playing golf in Florida while he was hard at work bringing peace to the world.
https://timesofindia.indiatimes.com/world/us/donald-trump-makes-secret-visit-to-afghanistan-confirms-talks-resumption-with-taliban/articleshow/72299042.cms
------
White House condemns attack in London, pledges "full support" to Britain
Nov 29, 2019
WASHINGTON: The White House condemned an attack that took place in the area of the London Bridge on Friday, and pledged "full support to our ally, the United Kingdom," said White House spokesperson Judd Deere.
British police shot a man after a number of people were stabbed in the London Bridge area. A video posted on Twitter shows a group of about half a dozen men wrestling with someone on the ground on the sidewalk of the bridge.
"President (Donald) Trump has been briefed on this morning's attack at the London Bridge and is monitoring the situation," Deere said in a written statement. "The United States strongly condemns all horrific acts of violence on innocent people, and we pledge our full support to our ally, the United Kingdom."
https://timesofindia.indiatimes.com/world/us/us-and-world/white-house-condemns-attack-in-london-pledges-full-support-to-britain/articleshow/72299229.cms
------
The Story Of The "Famous" Renderings Of The Secretive Stealth Black Hawk revealed by the Osama Bin Laden raid
November 29, 2019
David Cenciotti
As the first images of the remains of one of the helicopters used by the U.S. Navy SEALs in the raid that killed Osama Bin Laden, started to spread through the social media on May 2, 2011, aviation experts and enthusiasts around the world immediately noticed something pretty weird: those parts, didn't seem to belong to any known type of chopper. Few hours later, on May 3, 2011, this Author was probably the world's first to write that the helicopter that had crashed in Pakistan had some stealthy features.
Indeed, the tail rotor had an unusual cover that could be anything from an armor plate to a noise reduction cover sheltering the motion-control technology used to input low-frequency variations of rotor blade pitch-angle, as tested by NASA; the blades were flatter, and not wing-shaped, whereas the paint job was extremely similar to the kind of anti-radar paint and Radar-Absorbing Material coating used by the most modern stealth fighters: nothing common to either Black Hawks, Chinooks or Apaches helicopters.
According to the few official statements released in the aftermath of the raid, the helicopter did not suffer any failure but skittered around uncontrollably in the heat-thinned air forcing the pilot to crash-land. As it did, the tail and rotor hit on one of the compound's 12-foot walls.
Whatever the cause of the crash (human error while flying with NVGs, wake turbulence generated by the other chopper or "recirculation"), the SEALs reportedly tried to destroy the crashed helicopter to hide its technology, but the tail section survived the attempt to blow it up because it had fallen outside of the compound giving the world the opportunity to have a glance at an advanced technology developed since the Cold War era, when the U.S. ran a series of black programs aimed at making the Navy Special teams penetration of Soviet naval installation and harbors easier.
Although it is extremely difficult to say whether the one involved in Operation Neptune's Spear (also known as Operation Geronimo by the codeword used to designate Bin Laden) was a heavily modified existing type or a brand new type of helicopter, the images prove two things: first, that the so-called black projects, secret projects involving new technologies, are not only rumors or speculations; second, Osama Bin Laden was such an important target to justify the use of an extra-secret technology inside an "enemy" territory.
The possible shape
This Author begun studying the possible shape of what the so-called "Stealth Black Hawk" or "Silent Hawk", immediately after the first pictures of the helicopter's tail section appeared online. With the help of Ugo Crisponi, an artist at AviationGraphic.com, I imagined what the full stealthy chopper would have looked like after applying the tail section and rotor revealed by the photographs, along with imaginary engine shields, rotor covers, an extra main rotor blade (to slow down the rotor speed making blades quieter) and some imagination.
This was the very first rendering, published by The Aviationist hours after the raid.
Although it was based on a few surviving chunk of metal and fantasy (hence fairly inaccurate and resembling an S-76 more than an MH-60), the initial sketch went viral. I was interviewed by media all around the world and the sketch itself was used by news agencies, newspapers, TV broadcasters, documentaries, as if it was the real portrayal of the still secret Stealth Black Hawk. Model kits and diecast helicopters were also based on that concept image. If you Google "Stealth Black Hawk" and search by images, you'll find many occurrences of the first and subsequent reviews of the rendering, as well as many other artist impressions influenced by them.
While fictional, it's worth noticing that the various reviews of the original rendering appear to have something in common with an in-depth study by the Sikorsky Aircraft Division, dated 1978. Indeed, as once again The Aviationist first discovered and reported on May 17, 2011, a document titled: "STRUCTURAL CONCEPTS AND AERODYNAMIC ANALYSIS FOR LOW RADAR CROSS SECTION (LRCS) FUSELAGE CONFIGURATIONS", issued by Sikorsky Aircraft Division for the US Army Research and Technology Laboratories in 1978 provides tsome details about a project for a Low Observability UH-60.
Even though the fuselage concepts for low radar cross section aircraft configurations were designed at the end of the '70s, the first attempts to give the UH-60 some stealthy capabilities are still useful to imagine a few modifications to the "classic" Black Hawk profile that might have made their way into the final Stealth Black Hawk.
Three LRCS fuselage configuration were developed by the Applied Technology Laboratory, both based on tail surfaces and main rotor pylon fairing of the baseline UH-60A.
The first configuration slightly altered the baseline fuselage forward of the mid-cabin section (the cockpit) producing a modified nose and a consequent slightly increased overall length.
The second configuration changed the fuselage shape along the lines of a truncated triangular prism with an increased overall length, width and height, a narrower cockpit space, and a vertical climb rate at 15 percent of the baseline UH-60A that did not meet the air transportability requirements of the baseline Black Hawk.
The third extended canted flat side shaping throughout the fuselage. The narrow cockpit caused the pilot and copilot seats to be spaced closer to each other, while the slope of the windshield was believed to cause problems of visibility for the flight crew.
The document did not identify a specific LRCS configuration to be used to get a radar-evading Black Hawk but the structural concepts developed for the study and aerodynamic analysis suggested a shape reminding more that of an F-117 than that of a more modern stealth, like the F-22 or F-35.
The Low Observability project may have not been the only study to inspire the shape of the Stealth Black Hawk flying in 2011. Some sources suggest the MH-X may have similarities with the YEH-60B SOTAS (Stand-Off Target Acquisition System) a particular Black Hawk version designed to detect moving targets on the battlefield and downlink the information to an Army ground station.
The only SOTAS built for the U.S. Army (flown in the early 1980s before the program was cancelled in favor of the E-8 JSTARS) had a retractable main gear whose shape could have been used on the MH-X as well. Few more upgrades may have been based on past prototypes, as the ACAP, the Army's Advanced Composite Airframe Programme, whose goal was the development of an all-composite helicopter fuselage lighter and less costly to build than the predominantly metal airframes in general use.
Other upgrades were probably embedded to reduce the overall Radar Cross Section: a flat windshield with a gold layer for electrical continuity, fairings to cover the push rods and main rotor hub, retractable IFR (In-Flight Refueling) probe, as well as IR suppressors.
The rendering made in 2011 few hours after the raid that exposed the existence of the Stealth Black Hawk.
In 2015, a book titled "Relentless Strike" by Sean Naylor provided further details about the history of the MH-X. According to Naylor, an award-winning defense journalist, the two helicopters that took part in the Osama Bin Laden raid were the first prototypes of a classified program whose aim was to make the original Black Hawks less visible to radars through a series of modifications that rendered the helicopters harder to control in certain conditions. Two test examples were built and tested in Area 51, Nevada, before the program was cancelled; once the need to infiltrate the Pakistani airspace emerged, the two almost-experimental airframes were chosen to bring the Special Forces to Abbottabad.
This is the latest version of the Stealth Black Hawk, dating back to 2012.
Interestingly, according to Naylor, the raid to kill Osama Bin Laden was not the last time the Stealth Black Hawk was used in combat: reinvigorated by the successful outcome of the operation in Pakistan, the "Night Stalkers" flew the MH-X to Syria where they took part in the failed raid to free captured American journalist James Foley and other captives from ISIS, on July 4, 2014.
Although it has never been confirmed, the presence of the MH-X derivatives in Syria was also rumored in the aftermath of a daring raid that killed ISIS high level operative Abu Sayyaf at Deir Ezzor, southeast of Raqqa, in eastern Syria, in the night between May 15 and 16.
Other theories
In 2012, in a report written for a global intelligence newsletter, F. Michael Maloof, a former Pentagon senior policy analyst, suggested that the Israeli Air Force was equipped with the same Stealth Black Hawk helicopter used by the U.S. Navy SEALs to kill Osama Bin Laden. According to Maloof, the secret radar-evading choppers had been used by the IAF to drop Iranian dissidents into Iran to gather intelligence on the Tehran's nuclear program.
It was the first time someone reported about the Stealth Black Hawk in the hands of Israel. Even though this information has never been confirmed we can't completely rule out the possibility that, alone or with the help of Washington, the Israeli are operating (or have operated for a certain period in the past) a modified, stealthy variant of the IAF Black Hawks (nicknamed "Yanshuf", English for "Owl").
Needless to say, we made a rendering of the Stealth Yahshuf too!
https://theaviationist.com/2019/11/29/the-story-of-the-famous-renderings-of-the-secretive-stealth-black-hawk-revealed-by-the-osama-bin-laden-raid/
------
South Asia
Too early for resumption of talks with US: Taliban
November 30, 2019
KABUL: The Taliban said on Friday it was "way too early" to speak of resuming direct talks with Washington, a day after President Donald Trump suggested negotiations to end America's longest war were back on track during a surprise visit to Afghanistan.
The statement from Taliban spokesman Zabihullah Mujahid sounded a note of caution after Mr Trump said during a lightning visit to Bagram Airfield on Thursday that the Taliban want "to make a deal".
"We're meeting with them and we're saying it has to be a ceasefire," he told reporters during the visit to mark the Thanksgiving holiday with troops at the base.
His statement indicated progress, though Mr Mujahid's remarks suggested roadblocks remained.
"It is way too early to talk about the resumption of talks for now," the spokesman said in a WhatsApp message, adding that the Islamist group would give an official reaction later.
In September the US and the Taliban had appeared on the verge of signing a deal that would have seen Washington begin pulling troops out of Afghanistan in return for security guarantees.
It was also expected to pave the way to direct talks between the Taliban and the government in Kabul. But that month Mr Trump abruptly called the year-long effort "dead", and withdrew an invitation to the insurgents to meet in the United States due to the killing of an American soldier.
"We were getting close and we pulled back. We didn't want to do it because of what they did," President Trump said at Bagram during a meeting with Afghan President Ashraf Ghani, referring to the death of the soldier.
"Since then, we've hit them so hard, they've never been hit this hard," he added.
Most observers agree that a political settlement is the only way towards a lasting peace in Afghanistan, and since September diplomatic efforts to foster dialogue have continued.
The Taliban last week handed over two hostages — an American and an Australian — after three years in captivity in exchange for three high-ranking militant prisoners, a move seen as a boost to resuming negotiations.
About 13,000 US troops remain in Afghanistan, 18 years after the United States invaded following the September 11, 2001 attacks.
Mr Trump said he planned to reduce the number to 8,600, and later added "we can go much further than that", without giving details.
The president also said on Thursday the war in Afghanistan "will not be decided on the battlefield" and that "ultimately there will need to be a political solution" decided by people in the region.
The militants have long refused to talk to Afghan government officials, however, declaring the administration a "puppet" of the US.
A simmering political crisis over the most recent Afghan presidential election will not help.
The September 28 poll has already been marred by a record-low turnout and bickering between the incumbent, Mr Ghani, and his chief rival, Abdullah Abdullah.
Two months later, election officials have not yet released even a preliminary count. Without a result, it is not yet clear whether it will be Mr Ghani or Mr Abdullah who eventually faces the militants across the negotiating table.
A ceasefire could also be part of the delay.
"That would be a major shift in policy. Violence is leverage for the Taliban," tweeted the Wilson Centre's South Asia analyst Michael Kugelman.
https://www.dawn.com/news/1519613/too-early-for-resumption-of-talks-with-us-taliban
------
Special Forces destroy Taliban tunnels, kill 7 militants in Kandahar raids
Thursday, 28 Nov 2019
The Special Forces killed 7 Taliban militants during separate raids in southern Kandahar province, the Afghan military said.
According to a statement released by 205th Atal Corps, the Special Forces conducted the raids in Sur Baghal, Qabr-e Malai and Deh Maiwand Villages of Maiwand district.
The statement further added that the Special Forces also destroyed 13 fighting positions, 8 tunnels and 2 compounds of the group during the operations.
The Special Forces also discovered and defused 13 improvised explosive devices during the same operations, the 205th Atal Corps added in its statement.
The Taliban group has not commented regarding the operations so far.
https://www.khaama.com/special-forces-destroy-taliban-tunnels-kill-7-militants-in-kandahar-raids-04417/
------
Premature car bomb explosion damages 10 houses, injures 13 civilians in Sar-e Pul
Thursday, 28 Nov 2019
A Taliban car bomb went off prematurely in a residential area in northern Sar-e Pul province of Afghanistan which damaged 10 houses and injured 13 civilians, the Afghan military said.
According to a statement released by 209th Shaheen Corps in the North, the Taliban militants were looking to carry out a car bomb attack using a Jeep vehicle packed with explosives.
However, the Afghan forces identified the car bomb before the militants could drive it to the provincial capital where they wanted to detonate it.
The statement further added that a clash broke out after along Sayad district highway after the Afghan forces traced the car bomb which went off prematurely.
The explosion damaged ten houses and injured at least 13 residents of the area, the 209th Shaheen Corps added in its statement.
The Taliban group has not commented in this regard so far.
https://www.khaama.com/premature-car-bomb-explosion-damages-10-houses-injures-13-civilians-in-sar-e-pul-04415/
------
Kabul Police EOD team defuse bomb planted close to a school building
Thursday, 28 Nov 2019
The Explosive Ordnance Disposal (EOD) team defused an improvised explosive device which the militants had planted close to a school in Kabul city.
The Kabul Police Headquarters said in a statement that EOD team of Kabul Police discovered and defused the bomb on Wednesday morning.
The statement further added that the militants had planted the bomb close to Naheed Shaheed School in the 5th district of Kabul city.
The Kabul Police also added that the militants had planted the bomb with an intention to inflict casualties on ordinary civilians.
The anti-government armed militants including Taliban have not commented in this regard so far.
Taliban and militants of the other groups frequently use improvised explosive device as the weapon of their choice to target the security forces and government officials.
However, the majority of roadside bombings inflict casualties on ordinary civilians.
The officials in northern Kunduz province said a Taliban roadside bomb killed 15 civilians and wounded 2 others late on Wednesday afternoon.
https://www.khaama.com/kabul-police-eod-team-defuse-bomb-planted-close-to-a-school-building-04413/
------
Afghan President Says Trump Defeating al-Baghdadi 'Greater Accomplishment' Than Bin Laden's Death
BY JACK PHILLIPS
November 29, 2019
Afghanistan President Ashraf Ghani said that President Donald Trump's move to kill ISIS leader Abu Bakr al-Baghdadi was a more significant event than the 2011 killing of al-Qaeda leader Osama bin Laden.
Bin Laden was shot and killed during a Navy SEAL raid in Pakistan in May 2011, 10 years after he played a role in the Sept. 11, 2001, terrorist attacks.
"President Trump, people talked a lot about bin Laden, but what you did to eliminate al-Baghdadi—who was an organizer and not a talker—is a much greater accomplishment," Ghani said during his talk with President Trump.
He, along with Trump, spoke to the troops at Bagram, Afghanistan, on Thanksgiving, thanking U.S. troops for their sacrifices in the country.
"More than a million Americans have served here in uniform. We've paid tribute to their families and to your families," he said. "I would like a special request: Please thank your families for agreeing to miss you at this special occasion at home, and for being here, defending United States security and our freedom."
He noted that some 2,298 American soldiers died and more than 20,000 have been wounded during fighting in the country.
"Since President Trump has been President of the United States … only 52 American men and women in uniform have died compared to thousands before. This is a tribute to our joint partnership and to the sacrifice that Afghan soldiers, your brothers and sisters in uniform, are making," Ghani remarked.
Trump told Americans that peace talks with the Taliban have restarted, months after they were scuppered after the group launched terrorist attacks in Afghanistan.
"We're going to stay until such time as we have a deal or we have total victory, and they want to make a deal very badly," the president said. "The Taliban wants to make a deal—we'll see if they make a deal. If they do they do, and if they don't they don't. That's fine."
Trump also reiterated his commitment to bring down the total number of soldiers in Afghanistan amid the 18-year-long conflict.
"There's nowhere I'd rather celebrate this Thanksgiving than right here with the toughest, strongest, best, and bravest warriors on the face of the Earth," Trump told the soldiers. "I'm here to say Happy Thanksgiving and thank you very much. As president of the United States, I have no higher honor than serving as commander-in-chief."
He added: "We will continue to work tirelessly for the day when all of you can go home to your families, and that day is coming very soon."
The Associated Press reported that about 12,000 U.S. soldiers remain in Afghanistan.
During the 2016 election, Trump included a campaign promise to do away with the country's "endless wars" and has been pushing for troop withdrawals in Afghanistan and the Middle East, saying that other countries should pay their fair share. Years before, he criticized the U.S. invasion of Iraq in 2003.
https://www.theepochtimes.com/afghan-president-says-defeating-al-baghdadi-greater-accomplishment-than-bin-ladens-death_3160658.html
------
Europe
THE KREMLIN'S POLITICAL PRISONERS: LIST OF PROSECUTED MUSLIMS – HIZB UT-TAHRIR AL-ISLAMI MEMBERS
nov 29 2019
We are presenting a summary of the most complete list of people prosecuted for their involvement in the Hizb ut-Tahrir al-Islami organization (hereinafter referred to as HT) in Russia and the annexed Crimea. Hizb ut-Tahrir al-Islami organization was recognized in Russia as a terrorist organization and banned on this basis.
The charges relate exclusively to the participation of the defendants in the international religious organization Hizb ut-Tahrir al-Islami, designated a terrorist organization by the Russian Supreme Court in 2003. But neither the decision of the Supreme Court, nor the materials of criminal cases in Russia and other countries of the Commonwealth of Independent States indicate concrete facts that the organization engages in terrorism or any other kind of violent activities. Nor is there any information to show the involvement of the organization in the activities of jihadist groups in Europe or the Middle East.
Memorial Human Rights Center has repeatedly stated that it does not agree with the decision of the Supreme Court to designate Hizb ut-Tahrir as a terrorist organisation and considers the decision to be unjustified.
As of now, the list contains 311 names of people prosecuted in connection with the activities of Hizb ut-Tahrir al-Islami.
204 people were convicted, 53 of them received sentences of 10 to 15 years, 60 of them received sentences of 15 years or more.
Over 24 defendants are currently on trial.
65 people are under investigation. Information regarding some of these may be outdated. Also, we do not know some names of persons who are under investigation.
19 people were released after serving the appointed term of imprisonment, 1 person was released from serving his sentence for health reasons, and from 1 person charges were dropped.
Memorial Human Right Center recognized 168 persons involved in Hizb ut-Tahrir cases as political prisoners. The recognition as political prisoners of other defendants will be considered upon receiving of procedural documents on their cases.
Tatarstan
We are currently aware of 71 residents of Tatarstan persecuted due to their activities connected to Hizb ut-Tahrir (67 of them under terrorist articles). 38 people are in pre-trial detention centers: 15 people are under investigation, 15 cases are being examined by court, 8 people were convicted. 7 persons involved in Hizb ut-Tahrir cases were arrested in absentia and put on the wanted list. Among of those who we know, 34 people were sentenced, and 21 of them received sentences of 15 years of prison and more.
Bashkortostan
We're aware of 66 people detained in Bashkortostan in connection with the activities of Hizb ut-Tahrir. 62 of them were sentenced to prison terms: 10 of them for terms of 20 years or more, eight people – for terms from 15 to 20 years, 22 people – for terms from 10 to 15 years. Four persons involved in Hizb ut-Tahrir cases were arrested in absentia and put on the wanted list.
Moscow
We are aware of 32 persons detained in Moscow for their involvement with Hizb ut-Tahrir. There are probably more people sentenced. Usually, these are immigrants from Central Asia, mainly from Tajikistan and Kyrgyzstan. At least 30 people were sentenced to prison terms: nine people – for sentences of 15 years, 13 people – for sentences from 10 to 15 years. We have not received the details of two court cases yet.
St. Petersburg
There are 19 known persons deprived of their liberty in connection with their involvement with Hizb ut-Tahrir in St. Petersburg. All of them were sentenced to different prison terms: three – for terms of over 15 years, 4 – for terms from 10 to 15 years.
Chelyabinsk region
We know the names of 20 people prosecuted in the Chelyabinsk region for participation in Hizb ut-Tahrir. 19 people were convicted, of which three people received 15 years in prison and more. At least one person is under investigation.
Dagestan
We know the names of 11 people convicted in connection with the activities of Hizb ut-Tahrir in Dagestan. There is no information about people under investigation in Dagestan.
Tyumen region
Ten Muslims were detained in Tyumen on November 18, 2019. On November 21, 2019 they were arrested under Part 2 of the Article 205.5 ('Participation in the activities of an organization designated as
terrorist under Russian law') of the Russian Criminal Code.
Khanty-Mansi Autonomous Area
In addition to participating in the activities of Hizb ut-Tahrir, most of the defendants are charged with inciting hatred or enmity – this was due to the anti-American demonstration after a release of a film "Innocence of Muslims" and a publication of a video of this demonstration on VKontakte.
Nizhny Novgorod Region
Four Tajik citizens were detained and sentenced for terms from 8 to 10 years.
Samara Region
Two people were sentenced to 4 years and 4 months and to 6 years in prison. Four Muslims were detained on September 23, 2019 in Tolyatti and charged under the Art. 205.5 of the Criminal Code.
Crimea and Sevastopol
In cases of involvement in the activities of Hizb ut-Tahrir, the Russian authorities imprisoned 62 residents of annexed Crimea and two Kyrgyz citizens. 21 people were convicted, six of them – for periods of 15 years in prison, five – for periods of 10 to 15 years in prison. Nine people are on trial, 34 people are under investigation.
https://www.4freerussia.org/the-kremlin-s-political-prisoners-list-of-prosecuted-muslims-hizb-ut-tahrir-al-islami-members/
------
London stabbing: Attacker named, was previously convicted of terrorism offences
November 30, 2019
British police named the man who stabbed two people to death in London on Friday in what the authorities called a terrorist attack as 28-year-old Usman Khan, who had been convicted of terrorism offences and was released from prison last year.
"This individual was known to authorities, having been convicted in 2012 for terrorism offences," Britain's top counter-terrorism police officer, Neil Basu, said in a statement."He was released from prison in December 2018 on licence and clearly, a key line of enquiry now is to establish how he came to carry out this attack," Basu said.
A person who is released on licence is subject to conditions for the duration of their sentence after leaving prison. The Times newspaper reported that Khan had agreed to wear an electronic tag.
The attacker went on the rampage just before 2 pm, targeting people at Fishmongers' Hall near London Bridge in the heart of the city's financial district — the scene of a deadly attack by Islamist militants two years ago.
In addition to the man and the woman who were killed, a man and two women were injured and remain in hospital, Basu said.
Just before news broke of the suspect's previous conviction, Prime Minister Boris Johnson, who is seeking re-election on Dec. 12, said criminals must be made to serve their sentences.
"It is a mistake to allow serious and violent criminals to come out of prison early, and it is very important that we get out of that habit and that we enforce the appropriate sentences for dangerous criminals, especially for terrorists," he said.
Johnson leads opposition leader Jeremy Corbyn, according to opinion polls.
During the 2017 election campaign, London Bridge was the scene of an attack when three militants drove a van into pedestrians and then attacked people in the surrounding area, killing eight and injuring at least 48. The attack focused attention on cuts to policing since the governing Conservatives took power in 2010.
"We owe a deep debt of gratitude to our police and emergency services, and the brave members of the public who put themselves in harm's way to protect others," Corbyn said late on Friday.
https://indianexpress.com/article/world/london-stabbing-attacker-named-was-previously-convicted-of-terrorism-offences-6143570/
------
Cops kill man on London Bridge in 'terrorist incident'
Nov 30, 2019
LONDON: British police on Friday shot dead a man who had strapped a fake bomb to his body and stabbed a number of people in what they said was a terrorism incident in the London Bridge area of the capital. Police said they had been alerted just before 2pm (local time) to a stabbing at a premises near London Bridge, the scene of a deadly attack by Islamist terrorists two years ago.
"A male suspect was shot by specialist armed officers from the City of London police and I can confirm that this suspect died at the scene," the UK's top counter-terrorism officer, Neil Basu, told reporters. "A number of other people received injuries during this incident," Basu said. "We believe a device that was strapped to the body of the suspect was a hoax explosive device."
A video posted on Twitter showed a group of about half a dozen men wrestling with someone on the ground on the sidewalk of the bridge. One of them backs away from the scene carrying a knife. As he looks towards the melee, an armed police officer drags another person away from the man on the floor. Soon after, what sound like two gunshots ring out, and the man on the ground stops moving. Reuters couldn't immediately verify the footage.
London mayor Sadiq Khan praised Londoners "breathtaking heroism" in disarming the attacker. "What's remarkable about the images we've seen is the breath-taking heroism of members of the public who literally ran towards danger not knowing what confronted them," Khan told reporters.
The ambulance service declared a "major incident" and London Bridge station, a busy commuter hub, was closed. People in buildings around the scene were evacuated to the north side of the River Thames by security services.
PM Boris Johnson, in a statement said, "I'm being kept updated on the incident at London Bridge and want to thank the police and all emergency services for their immediate response."
London Bridge was the scene of an attack in June 2017 when three terrorists drove a van into pedestrians and then attacked people in the surrounding area, killing 8 people and injuring at least 48. Islamic State said its fighters were responsible. Earlier this month, UK had lowered its national terrorism threat level to "substantial" from "severe", its lowest level since 2014.
https://timesofindia.indiatimes.com/world/uk/cops-kill-man-on-london-bridge-in-terrorist-incident/articleshow/72300628.cms
------
London Bridge terrorist's 'links to Islamic extremism' probed by cops
29 NOV 2019
Police are probing the London Bridge terrorist's links to Islamic extremism – after he was revealed as a convicted terrorist.
Met Police chief Cressida Dick said they will be working tirelessly to find out who the terrorist was and his motives.
She said: "We are working round the clock to find out who he is, where he's from and who he's connected to."
Neil Basu, head of UK counter-terrorism policing, confirmed that it is being treated as a "terror incident".
Security sources have told The Sun that Islamic terrorism is now "a key line of enquiry".
Security sources told the BBC the man who carried out the attack was a former prisoner who was released a year ago.
The con had been held on terrorist offences and let out after he agreed to be monitored by authorities with an electronic tag.
Asst Commissioner Mr Bassu said: "As you would expect due to the nature of the incident, we responded as though this was terrorist related.
"I'm now in a position to confirm that it has been declared a terrorist incident.
"We are working jointly with the City of London police as we continue to respond."
He said that they are still keeping an "open mind" as to the motive behind the attack.
Mr Basu continued: "Officers from the Met counterterrorism command are now leading this investigation, but I must stress we retain an open mind as to any motive.
"It would be inappropriate to speculate further at this time."
Britain has suffered a series of Islamic terrorist attacks including the 2005 London bombings, the Glasgow Airport attack in 2007 and the murder of soldier Lee Rigby in 2013.
In 2017 alone there were three big Islamic terror attacks at Westminster Bridge, Manchester Arena and London Bridge were a total of 34 people were killed.
He said: "I've been briefed by the Commissioner and the Assistant Commissioner of the Metropolitan Police about the events at London Bridge this afternoon.
"While this is an ongoing investigation, the police can confirm that this was a terrorist incident.
"My thoughts are first with the emergency services, with the police, the bravery that they showed in going towards danger as they do.
"I also want to pay tribute to the extraordinary bravery of those members of the public who physically intervened to protect the lives of others and for me, they represent the very best of our country and I thank them on behalf of all of our country."
Daily Star Online has approached Met Police for comment.
https://www.dailystar.co.uk/news/latest-news/london-bridge-terrorists-links-islamic-20992191
------
Bradford brothers who 'adopted ideology' of Islamic State jailed
By Michael Black
Two brothers who shared extreme material with one another and "adopted the ideology" of terrorist organisation so-called Islamic State, have been jailed.
Safaan Ali was just 16 when he started attempting to radicalise his older brother, Mohammed Shehzad, 21, Leeds Crown Court heard on Friday.
Prosecutors said that as part of his campaign, the younger defendant sent his brother an English transcript of a "call to arms" from Abu Bakr al-Baghdadi, once the leader of Islamic State (IS), in which the extremist says: "Terrify the enemies of Allah and seek death in the places you expect to find it."
Ali, now 18, downloaded what a judge described as "chilling documents speaking about the killing of innocent people".
These included volumes of the IS magazine Rumiyah, one of which gave instructions on how to carry out vehicle attacks similar to that in Nice on Bastille Day 2016, which cost more than 80 lives, the court heard.
Other documents possessed by the teenager included one on the best way to carry out knife attacks, another on "target locations" for large-scale attacks, and various explosives guides, prosecutors said.
The court heard how, as Ali sent more content to Shehzad, the older brother started to adopt the extremist ideology.
In April, father-of-two Shehzad sent Ali a video of al-Baghdadi - who died last month - reading documents, with music playing in the background, the court heard.
Some of the lyrics included: "Our swords are shining, our tunes are the cannons."
Shehzad, of Upper Woodlands Road, Girlington, Bradford, admitted a single charge of disseminating terrorist publications, while Ali, of Fairbank Road, also Girlington, Bradford, pleaded guilty to one count of the same offence and eight of possessing material likely to be useful to a person committing or preparing an act of terrorism.
On Friday, Shehzad was given a 15-month sentence, while Ali was handed three and a half years in jail.
Sentencing them, Judge Tom Bayliss QC said: "Both of you have the ability, should you choose, to become law-abiding members of the community.
"But instead, regrettably, you have adopted the ideology espoused by the terrorist organisation known as Islamic State.
"Those who commit terrorist offences and those who involve themselves in terrorism, even to the extent that you have, must expect severe sentences."
Prosecutor Denise Breen-Lawton said the offending started in October 2017, when Ali began sending Shehzad IS-inspired material to "educate him".
The court heard how Ali told his brother "it is better to live one day as a lion than 100 years as a sheep" during their text conversations, with Shehzad developing more of an interest in the ideology over time.
Ms Breen-Lawton said that Ali was "technically and forensically aware" of the need to cover his tracks, and attempted to use encryption techniques to hide conversations with his sibling.
https://www.thetelegraphandargus.co.uk/news/18070553.bradford-brothers-adopted-ideology-islamic-state-jailed/
------
Birmingham mosque sending team to help Syrian refugees survive winter in Jordan
29 NOV 2019
A Birmingham mosque is sending a task force to Jordan to help thousands of Syrian refugees survive the winter.
Green Lane Masjid and Community Centre (GLMCC) will be distributing heaters, fuel, clothing, food parcels and other winter aid.
The mosque, in Small Heath, also sent its Green Lane Task Force to offer assistance last year.
The team will be going back this December to continue their work.
A spokesman said: "This year, as the winter sets in, the situation of Syrian and other refugees living in Jordan still raises many concerns including health issues and lack of food.
"Winter in Jordan can be very harsh and include prolonged periods of snow and temperatures below zero.
"Out of the 665,000 Syrians who are estimated to be internally displaced, many have left without adequate clothing and have to stay in makeshift shelters, which leaves them extremely vulnerable to rain, snow and freezing temperatures."
GLMCC says Jordan remains the second largest refugee host per capita worldwide with roughly 750,000 refugees, of 57 different nationalities, according to a UNHCR report released in June.
In Lebanon, one in six individuals is a refugee; in Jordan, one in every 14 is a refugee.
Figures show that 84 per cent of Syrian refugees in Jordan live in urban areas in dire conditions and 16 per cent in refugee camps.
Almost half (48 per cent) of refugees are children, and 4.5 per cent are elderly. All aid is procured locally to help boost the local economy.
The aid will be given primarily to the most vulnerable, prioritising female-headed households, the elderly and child refugees.
To help by donating a winter pack for an individual or a family to help them survive the winter, visit the mosque's Task Force winter appeal page.
https://www.birminghammail.co.uk/news/midlands-news/birmingham-mosque-sending-team-help-17338373
------
Green Party accused of 'Muslim-bashing' after co-leader says he would ban halal slaughter
ByJonathan Walker
29 NOV 2019
The Green Party have been accused of "Muslim bashing" after co-leader Jonathan Bartley said he supported banning halal slaughter.
Halal slaughter is an Islamic practice which involves using a sharp knife to cut the throat of an animal. Critics point out animals killed in accordance with Islamic tradition are not always stunned before being killed, although stunning is permitted and many are.
It is common practices in slaughter houses in Europe for animals to be stunned, to minimise the pain and fear they experience.
Birmingham candidate Khalid Mahmood (Lab), who is defending the seat of Perry Barr, said: "This is nothing to do with the green agenda. This is purely to do with scapegoating the Muslim community.
"Every party now wants to jump on the band-wagon of Muslim bashing and this exactly what they are doing."
He pointed out that the comments, in an interview with BBC Radio Five Live, appeared to refer specifically to Muslim dietary laws and there was no mention of Jewish practices which are very similar.
Mr Mahmood said: "Banning for just one community is disgraceful.
"The Jewish community actually goes through a similar process. Are they just going to ban for Muslims? That is the question they have to answer."
Mr Bartley was asked during the radio interview whether he supported banning halal slaughter. He said: "I think yes. I'm afraid I have to be honest about it.
"When we are talking about care for animals and animal sentience, we are the strongest party on animal rights and I don't think religious observance should ever trump our care for the planet, our care for sentient animals."
Interviewer Nicky Campbell gave him an opportunity make his position clear, asking: "You would ban Halal slaughter?"
Mr Bartley replied: "Personally yeah I would"
The comments go beyond the official Green Party policy. The Green Party say they will ensure meat and other animal products are labelled so that buyers know how the animal was slaughtered. They also say they will "work empathetically and respectfully with relevant medical, scientific and religious groups to bring about reduction in fear, pain and discomfort for all animals that are bred and maintained for food".
As Mr Mahmood says, Jewish dietary law calls for animals to be slaughtered in a similar way. However, Jewish rules are actually far stricter in banning the practice of stunning animals in advance.
https://www.birminghammail.co.uk/news/midlands-news/green-party-accused-muslim-bashing-17336741
------
Man jailed for religiously aggravated attacks on five Birmingham mosques
UPDATED:
29TH NOVEMBER 2019
28 November update: Rezazadeh was today jailed for three years and nine months at Birmingham Crown Court.
A man who attacked five Birmingham mosques with a sledgehammer has admitted religiously aggravated criminal damage.
Arman Rezazadeh, aged 34, smashed windows of five north Birmingham mosques in the early hours of 21 March this year, sparking widespread concern in the community.
Rezazadeh first struck at the Witton Islamic Centre on Witton Road, Aston, at around 1.25am on March 21.
CCTV showed him smashing through a window with a sledgehammer, which then fell into the building as he lost grip.
Rezazadeh, a Muslim of Iranian descent who has lived in the UK for around 20 years, returned 30 minutes later and continued the attack, leaving all outside windows broken and causing £3,100 of damage.
Minutes later, he struck at the Masjid Madrassa Faziul Islam Centre on The Broadway, Perry Barr, smashing three more windows, causing £300 of damage.
At around 2.15am, he attacked the Al-Habib Trust on Birchfield Road, Aston.
Again, he was caught on CCTV as he smashed nine windows, causing £1,000 of damage.
Around 15 minutes later, he struck at the Jamia Masjid Ghausia on Albert Road, smashing five windows and causing £5,000 of damage.
Finally, at around 3am, he smashed the front windows of the Jam-E-Masjid Qiblah Hadhrat Sahib Gulhar Shareef on Slade Road, Erdington, smashing windows at the side of the mosque.
A major hate crime investigation was launched, with support from the West Midlands Counter Terrorism Unit, and Rezazadeh handed himself in at Birmingham Central police station at around 1.30pm the following day.
In interview, Rezazadeh behaved erratically and initially denied responsibility.
He later said he disagreed with the teachings of an Imam at another mosque, and said he only handed himself in so he could have an audience with a judge to tell him about the imam.
Rezazadeh was detained under the Mental Health Act, before being deemed fit to stand trial. Today (31 October) he pleaded guilty to five charges of religiously aggravated damage. He was bailed to come back for sentencing in four weeks.
Ch Supt Kenny Bell, in charge of policing in Birmingham East, said: "We fully understand the major impact that these attacks on sacred places of worship had on the Muslim community in Birmingham, especially as they happened just days after the appalling terrorist attack at mosques in Christchurch.
"They were quite understandably left worried and angry by what had happened.
"We offered all our support and assistance to the affected mosques right from the outset, and that support in terms of security advice and listening to their concerns continues right to this day.
"It has rightly been treated as a hate crime, something we take incredibly seriously.
"There are great relationships between faith communities, and between those communities and the police in the West Midlands, and we will not allow isolated incidents like this to in any way damage those relationships."
If anyone has concerns about the behaviour of individuals around places of worship, get in touch via Live Chat at west-midlands.police.uk. If you are worried about change in behaviour or beliefs of someone, you can get in touch with us and speak to your local Prevent officer on 101. Alternatively, visit Let's Talk About It.
https://www.west-midlands.police.uk/news/man-jailed-religiously-aggravated-attacks-five-birmingham-mosques-0
------
Arab World
Muslim World Could Ally With Russia To Settle Palestine Issue - Jordanian Ex-Minister
30th November 2019
Faizan Hashmi
UFA (UrduPoint News / Sputnik - 29th November, 2019) Muslim countries could create a strategic alliance with Russia to resolve the long-standing conflict between Palestine and Israel, Marwan Kasim, a former Jordanian foreign minister, said on Friday.
"History of positive relations with Russia, and [its] positive position regarding the Islamic world makes us think about a possibility for creating a strategic alliance that could become a decisive force to solve the Palestinian issue, which is especially important in the light of one US politicians supporting the domination of Israel, which occupies Arab territories," Kasim said during a meeting of the Group of Strategic Vision "Russia - Islamic world" in the Russian city of Ufa.
The former official was referring to US Secretary of State Mike Pompeo and his announcement from earlier this month that Washington no longer considered the construction of civilian settlements by Israel in the West Bank "inconsistent with international law.
Kasim reminded everyone at the meeting of Pompeo's statement and chastised the United States' policy in the region.
"In this way, the West is following not the international law but the law of the jungle," Kasim said.
Israel's continued construction of settlements in the West Bank is one of the main issues that has hindered any progress in settling the conflict between Palestinians and Israelis. Palestine has been demanding that its borders be reset to those that existed prior to the Six-Day War, but Israel has refused to concede.
https://www.urdupoint.com/en/world/muslim-world-could-ally-with-russia-to-settle-774980.html
------
Sudan disbands Bashir's NCP party, overturns moral policing law
November 30, 2019
CAIRO: Sudan's transitional government announced on Friday that it has overturned a moral policing law and moved to dissolve the country's former ruling party, fulfilling two major demands from the country's pro-democracy protesters.
Rights groups say the Public Order Act (POA) targets women and is a holdover from the three-decade rule of toppled Omar Bashir.
"This law is notorious for being used as a tool of exploitation, humiliation & violation of rights," Prime Minister Abdallah Hamdok tweeted in reference to the overturned law. "I pay tribute to the women and youth of my country who have endured the atrocities that resulted from the implementation of this law."
The authorities have also slapped a ban on any "symbols" of the former regime from taking part in political activities for 10 years.
The new ruling sovereign council and Cabinet led by Hamdok passed the decisions under a law named "Dismantling of the regime of 30th June, 1989."
"The National Congress Party (NCP) is dissolved and its registration is canceled from the list of political parties in Sudan," the decree said, adding that a committee would be formed to confiscate all its assets.
Move condemned
Bashir's NCP condemned the new "illegal government" for ordering its closure and the dismantling of his regime.
The NCP accused the authorities of trying to confiscate its properties and assets to tackle Sudan's economic crisis which it said the new government had failed to tackle.
"To rely on the assets of the party, if there are any, is nothing more than a moral scandal, an act of intellectual bankruptcy and a total failure on the part of the illegal government," the NCP said on its Facebook page.
"The party is not bothered by any law or decision issued against it as the NCP is a strong party and its ideas will prevail."
Hamdok however said the law to dissolve the party and dismantle the regime was "not revenge" against the former rulers.
"But it aims to preserve the dignity of Sudanese people which was crushed by dishonest people," he wrote on Twitter.
"This law aims to recover the plundered wealth of the people."
The sovereign council grew out of a power-sharing agreement between the country's ruling generals and protesters demanding sweeping political change.
Under the deal, the council and the civilian-led Cabinet share legislative powers until a new Parliament is formed.
Pro-democracy groups in the country have also held fresh protests demanding the former ruling party's disbandment and the exclusion of all its remnants from different state institutions.
Hamdok tweeted that the bill dismantling Bashir's party is not the outcome of "a quest of vengeance but rather to preserve and restore the dignity of our people who have grown weary of the injustice under the hands of NCP, who have looted & hindered the development of this great nation."
Sudan's Justice Minister Nasr-Eddin Abdul-Bari announced that the law passed by the interim government on Friday would transfer all assets and funds of Bashir's party to the state treasury.
"With this law, we will be able to retrieve a lot of funds that were taken from the public treasury to create institutions that acted as a parallel state," he said.
The Sudanese Professionals Association, which spearheaded the uprising against Bashir, hailed the move as "an important step" toward the establishment of a civil and democratic state in Sudan. Bashir was arrested after his overthrow in April and is currently on trial for charges of corruption and money laundering.
https://www.arabnews.com/node/1591516/middle-east
------
'Source of pride' as investors scramble for Saudi Aramco shares
29 November 2019
DUBAI: Saudi Arabian and international investors have subscribed to the initial public offering of Saudi Aramco in huge numbers, with demand for shares in the world's most profitable company exceeding the number of shares on offer.
Financial advisers to the biggest IPO in history announced that bids to the value of $44.3bn (166.275bn riyals) have been received in total from institutional and private investors for the $25.6bn worth of shares on offer.
With the order books open to institutions until next Wednesday, that means the IPO will definitely be the biggest in financial history, and should, in theory, lead to a jump in the share price when trading starts on Tadawul the following week.
Institutional demand for the shares even bigger than from private individuals. Corporates in the Kingdom account for more than half (54 percent) of the bid value, with Saudi funds and investment institutions comprising another big chunk (24.1 percent).
Non-Saudi investors are looking for 10 percent of the offer - a comparatively big figure given the fact the IPO was not marketed outside the region.
Rania Nashar, deputy chairman of Samba Capital, one of the advisers, said the IPO was "a source of pride" for the Kingdom.
"It is an indication of success and a signal of confidence, further bolstering the reputation and prestige of a company that has unrivaled standing globally in the energy sector. This success corroborates the foresight and depth of the strategic decision behind this landmark moment not just in Aramco's history, but also in the development of the Kingdom's economy," she added.
Sarah Al Suhaimi, chief executive officer of NCB Capital and chair of the Tadawul where Aramco will be listed, said: "The success of the retail tranche is mirrored in the institutional tranche where bids reflect strong demand coming from across the spectrum of investor categories, reflective of Saudi Aramco's compelling investment proposition.
"We are confident that this will be maintained throughout the remainder of the institutional book-building period. This institutional demand also speaks well of the depth and diversification of the Saudi capital markets and its investor base," she added.
https://www.arabnews.com/node/1591366/business-economy
------
King of Bahrain Congratulates Custodian of the Two Holy Mosques
2019/11/30
Manama, Nov 29, 2019, SPA -- King Hamad bin Isa Al Khalifa of the Kingdom of Bahrain has sent a cable of congratulations to the Custodian of the Two Holy Mosques King Salman bin Abdulaziz Al Saud on the 5th anniversary of his Accession to the Throne in the Kingdom of Saudi Arabia.
Prince Khalifa bin Salman Al Khalifa, the Prime Minister of the Kingdom of Bahrain also congratulated the Custodian of the Two Holy Mosques King Salman bin Abdulaziz Al Saud on the 5th anniversary of his accession to power.
For his part, Prince Salman bin Hamad Al Khalifa, Crown Prince, Deputy Supreme Commander and First Deputy Prime Minister of the Kingdom of Bahrain congratulated the Custodian of the Two Holy Mosques King Salman bin Abdulaziz Al Saud on the 5th anniversary of his reign.
https://www.spa.gov.sa/viewfullstory.php?lang=en&newsid=2004731
------
Doha Willing to Sever Ties with Muslim Brotherhood
Friday, 29 November, 2019
US media outlets have revealed Qatar's willingness to sever ties with the Muslim Brotherhood, classified by Gulf countries as a terrorist group, in an endeavor to bridge the rift.
Qatari Foreign Minister Mohammed bin Abdul Rahman Al-Thani made an unannounced visit to Saudi Arabia in October to meet top Saudi officials in an effort to end a two-year dispute, The Wall Street Journal reported.
It quoted an Arab official who confirmed the visit as saying that the Qatari Foreign Minister made a surprise offer to end the crisis, saying Doha was ready to sever ties with the Muslim Brotherhood.
The newspaper said the proposal would satisfy the huge demand made by the Arab quartet when it cut diplomatic relations with Qatar in 2017, accusing it of supporting terrorism.
"Saudi Arabia is considering Qatar's proposal, but so far it is not clear whether the parties can agree," the Arab official said.
Current and former US diplomats and officials from the region have expressed doubts about the possibility of bridging the rift in the near future.
The Qatari diplomat's visit to Riyadh was preceded by several intensive diplomatic rounds, many of which were mediated by Kuwait, said reliable sources, adding that some meetings were held on the sidelines of the G20 summit in Japan this summer, without giving further details.
On June 5, 2017, Saudi Arabia, the United Arab Emirates, Bahrain and Egypt severed ties with Qatar.
https://aawsat.com/english/home/article/2013491/doha-willing-sever-ties-muslim-brotherhood
------
Saudi Media Forum set to offer global platform for collaboration
30 November 2019
RIYADH: The upcoming Saudi Media Forum will provide an important global platform for media professionals to discuss the opportunities and challenges facing the industry, according to experts.
More than 1,000 media leaders from around the world are expected to attend the high-profile gathering taking place in Riyadh from Dec. 2 to 3.
Media specialists, intellectuals and diplomats will participate in panels, workshops and meetings to exchange ideas and discuss current developments in the sector, which is facing a difficult period in terms of structuring and media economy challenges.
Former Saudi Ambassador to Lebanon Ali Awad Asiri noted that Riyadh's hosting of the event reflected confidence and pride in the great strides made in the Kingdom in recent years under the leadership of King Salman and Crown Prince Mohammed bin Salman.
Asiri said that the chance for print and digital media professionals from the capital to interact with their Saudi counterparts at the forum would provide professional, cultural and social opportunities, along with exchanges of expertise, that would have positive international repercussions.
Dr. Fahad Al-Orabi Al-Harthi, the president of Asbar Center for Studies, Research and Communications, praised forum organizers for selecting research centers and think tanks as a discussion topic for one of the sessions.
He said such bodies helped decision-makers plan for the future and identify risks and opportunities in working to achieve their goals.
"Today there are research centers and think tanks that are capable of setting their ways and having the required impact in what they produce to ensure more progress in this regard."
Lebanese journalist Samir Atallah stressed that the Saudi Media Forum was a natural byproduct of a path guided by King Salman.
He pointed out that the Kingdom's media had consistently moved forward and planned for the future, achieving a leading position and contributing to the promotion of Arab unity.
"The Saudi media was late in having its own forum, yet we should not forget that the Saudi media began its mission with other Arab newspapers in Egypt, Iraq and Lebanon, from modest beginnings and potentials to transcontinental outreach, with steady pace and great future planning, and was the first to establish Arab printed press in Europe and America," said Atallah.
"In addition, it was also the first to launch the most important Arab television networks from London and via satellites."
https://www.arabnews.com/node/1591576/saudi-arabia
------
KSRelief provides shelter support for displaced in Yemen
30 November 2019
RIYADH: The King Salman Humanitarian Aid and Relief Center (KSRelief) has launched a shelter assistance project for displaced people in the Amran and Joaf governorates of Yemen, consisting of 800 blankets and 200 rugs, benefiting some 4,800 people.
The program, launched in cooperation with Al-Khair Group for Humanitarian Relief, seeks to improve the living conditions of the displaced families.
Meanwhile, the general medical clinics of KSRelief have recently provided medical services to 7,347 people lodged in Zaatari refugee camp in Amman.
This is part of the comprehensive medical care program provided by the center to Syrian refugees in Jordan.
https://www.arabnews.com/node/1591571/saudi-arabia
------
Mideast
Supreme Leader: US Insulting Regional Countries' Independence
Fri Nov 29, 2019
TEHRAN (FNA)- Supreme Leader of the Islamic Revolution Ayatollah Seyed Ali Khamenei lashed out at US officials' unauthorized trips to their military bases in the countries of the region, describing such moves as insulting to the regional nations' independence and freedom.
"Americans come [to the region] and enter a country like Iraq without any permission, do not visit the country's government, do not go to the country's capital; they have bases there, and just go to their own base," Ayatollah Khamenei's official website tweeted early on Friday, apparently in a fresh reaction to US President Donald Trump's unannounced visit to Afghanistan on Thursday.
"This means they officially insult the freedom of nations and the independence of nation," the tweet added.
On Wednesday, Ayatollah Khamenei pointed to the former Soviet Union's invasion of Afghanistan in early 1980s, and recalled that Imam Khomeini, the late founder of the Islamic Republic, had ordered the Iranian government to summon the Soviet ambassador over the illegal entry.
"At that time, the world said 'you are countering the United States, do not confront the USSR for now', but the Imam did not accept such a point of view," Ayatollah Khamenei said.
Trump landed at the US base Bagram airfield in Afghanistan on Thursday and served Thanksgiving dinner to American troops before meeting with Afghan President Ashraf Ghani.
During the visit, the US president claimed the Taliban militant group had accepted a ceasefire to facilitate talks with Washington.
"The Taliban wants to make a deal and we're meeting with them and we're saying it has to be a cease fire," the US president, on his first trip to the war-torn country, told reporters.
"We are talking to the Taliban," Trump said.
"We will see if the Taliban wants to make a deal," he said during his meeting with Ghani. "If they do, they do. If they don't they don't. We were getting close."
The Taliban, however, rejected Trump's gesture of ceasefire on Friday, saying it was "way too early" to speak of resuming direct talks with Washington.
"It is way too early to talk about the resumption of talks for now. We will give our official reaction later," Taliban official spokesman Zabihullah Mujahid said.
There are some 13,000 US troops still deployed to Afghanistan, 18 years after the United States invaded after the September 11, 2001 attacks. Trump claimed he planned to reduce the number to 8,600.
During his surprise visit, Trump said US troops will remain in Afghanistan until a peace deal is made or a total victory is achieved.
Washington wants the Taliban to stop attacking its forces in Afghanistan under a peace deal, but the militants want American forces to leave the country.
The US invaded Afghanistan in October 2001 under the pretext of eliminating the Taliban militant group.
Late in October, Iran's Judiciary Chief Seyed Ebrahim Rayeesi lashed out at Washington for pursuing a seditious policy in the Middle East, saying that the US is implicated in all miseries and crimes in the region.
Speaking in Tabriz, the regional capital city of Northwestern province of East Azerbaijan, Rayeesi said that all the crimes in the region are committed by the US.
The top judge of the country reiterated that Iran's main policy is having cooperation with all world countries but in case a country takes hostiles stances against Iran, the Islamic Republic will resist with all its power against it.
"Americans have face failure in all the measures they have taken against us and if they do not do anything more it means they can do no more," he said.
https://en.farsnews.com/newstext.aspx?nn=13980908000446
------
Iran: US Sanctions Obstructing Medications Imports for CW Victims
Fri Nov 29, 2019
TEHRAN (FNA)- Iranian Deputy Foreign Minister for Legal and International Affairs Gholam Hossein Dehqani lashed out at Washington for worsening the situation for his compatriot victims of chemical weapons.
In a meeting with Director General of the Organization for the Prohibition of Chemical Weapons (OPCW) Fernando Arias on the sidelines of the 24th session of the Conference of the States Parties to the Chemical Weapons Convention (CWC), Dehqani Condemned the US economic terrorism against Iran, and elaborated on its impacts on providing chemical victims with necessary medicine and equipment, saying that it is against the country's commitments as well as the other countries obeying the US under its pressure.
he discussed avenues for exploring cooperation between Iran and the entity, and stressed the need for nondiscriminatory implementation of all provisions of the Chemical Weapons Convention (CWC).
Dehqani also called on the countries to do fulfill their commitments over exchanging chemical materials and equipment for peaceful uses, remove obstacles in the way of trade among the countries and not impose economic sanctions on member states.
Highlighting the role of consensus in making decisions in organizations dealing with mass destruction weapons, he reiterated strategic role of director general in promoting consensus within the organization.
The 24th session of the Conference of the States Parties to the Chemical Weapons Convention opened in The Hague on Monday and will continue until Friday.
Iranian NGOs whose activities are related to victims of chemical arms have set up an exhibition on the fringes of the conference to make member states familiar with the latest developments pertaining to victims of chemical weapons.
The Conference of the States Parties to the Chemical Weapons Convention is the most important policy-making forum of the OPCW.
The annual conferences bring together 193 member states which discuss the latest international developments and policies with regards to countering the use of chemical weapons.
ack in October, Iran's ambassador and permanent representative to the OPCW said that unilateral US sanctions have prevented the country's access to medical and health services required to treat victims of chemical attacks carried out by former Iraqi dictator Saddam Hussein in the 1980s.
"The inhumane sanctions have negatively impacted the supply of medicines and treatment for more than 70,000 victims of chemical weapons in our country and have in fact hindered the treatment of chemical attacks victims," Alireza Kazemi Abadi said.
Late in June, Iran's Foreign Minister Mohammad Javad Zarif said that the US is the only country in the world owning chemical weapons, adding that the world will not be free from those weapons unless Washington destroys its arsenal of prohibited arms.
Iran believes that a main step toward having a world free of weapons of mass destruction (WMD) is "to completely destroy the chemical weapons arsenal of the US as the only owner of such weapons in the world", Zarif said on June 28, in a message on the anniversary of the chemical attacks on the Northwestern Iranian city of Sardasht.
There he added, "Iran, once more, emphasizes its principal policy of condemnation of using chemical weapons anywhere, anytime and under any circumstances."
Criticizing the US for "being addicted to using inhumane tool of economic sanctions and terrorism" against Iran, Zarif said that the move has made the access of the victims of the chemical attack to the required medication much more difficult.
The former regime of Iraq, backed by some Western countries, particularly the US, attacked various parts of Iran by chemical weapons during the eight-year war (1980-1988) against Iran.
The regime of Saddam was provided with the chemical weapons by Western countries, mainly Germany, France, the UK and the US.
The Iranian foreign minister said the US sanctions are imposed on Iran in violation of the international humanitarian law, and the spirit of non-proliferation conventions, and called on the Organization for the Prohibition of Chemical Weapons (OPCW) to find an immediate solution for removing obstacles on the way to supplying the medications needed by the patients.
"The intentional negligence and ignorance of the international community and the member-states of the chemical weapons convention in the face of such harassing moves by the US, like their silence thirty-one years ago on the savage attack of the Baath dictator, backed by the US, against the defenseless civilians in Sardasht is deeply regrettable," he said in the message.
Then European states, over the eight-year war, either kept silent in the face of the chemical attacks or turned down Iran's frequent request for deployment of experts for field investigations. The declassified documents in the US, however, show that Washington was aware of the chemical weapons use by Saddam regime since the onset of the war, and it had backed the usage of the chemical weapons over the years.
Zarif also said that not holding accountable the perpetrators of the chemical attacks along with their accomplices and supporters has given way to the extremist groups in the Middle East region to commit similar crimes.
Recounting some related achievements and measures on the treatment of the chemical attacks victims taken by Iran at the international level, he affirmed that Tehran will spare no effort in restoring the rights of the injured people through legal and international channels.
In 1988, Iran presented the UN the full information on the chemical attacks committed by the Iraqi Baathist regime since January 1981 till March 1988; a report with striking data: more than 56,700 people lost their lives in the attacks.
Zarif's message was read out by Iran's Foreign Ministry's Spokesman Abbas Mousavi at a commemoration ceremony in Sardasht.
https://en.farsnews.com/newstext.aspx?nn=13980908000402
------
Tehran Marks Int'l Day of Solidarity with Palestine
Fri Nov 29, 2019
TEHRAN (FNA)- Iranian Foreign Ministry Spokesman Seyed Abbas Mousavi, in a tweet to mark the UN-organized International Day of Solidarity with the Palestinian People on November 29, condemned 7 decades of Palestine's occupation by Israel, and lashed out at the international community for allowing heinous crimes to happen against Palestinians.
"Seven decades of disgracefulness of a regime and seven decades of shamelessness of the world community for 'occupation, assassination, deception, crimes, looting, and genocide' of the Zionist regime," Mousavi written in Farsi in a tweet to commemorate the UN-organized International Day of Solidarity with the Palestinian People on November 29.
Last month, Mousavi rapped Germany for supporting Israeli crimes against the Palestinians, saying that confronting the regime's aggressions will restore tranquility in the region.
The spokesman condemned a statement issued a day earlier by the German Federal Foreign Office that underscored the German government's support for the Tel Aviv regime and called for Iran's "practical steps to deescalate tensions" in the region.
He said the only way to bring calm back to the Middle East and end all escalations in the region was by countering Israel's aggression.
Late in January, Iran's Ambassador and Deputy Permanent Representative to the UN Eshaq Al-e Habib denounced the deteriorating humanitarian situation in Palestine.
Iran's Chargé d'affaires to the United Nations in a statement urged the world to put an end to Israel impunity of its crimes against Palestinians
Addressing the United Nations Security Council meeting on the situation in the Middle East, including the Palestinian question, Al-e Habib said, "Now the only option is to put an end to such impunity through holding Israel accountable for their crimes against the Palestinians."
He added, "This can ensure the application of law and deter its future violation."
"Welcoming Palestine for assuming chairmanship of Group of 77, we call for Palestine's full membership in the UN," he said.
Describing the situation in Palestine deteriorating, Al-e Habib said, "More than 295 Palestinian civilians were brutally killed and over 29,000 were injured by Israel."
He regretted that "many of those killed and about 7,000 of those injured were under 18 years of age".
"This proves that Israel is a child-killer regime," he underlined, adding, "This is a clear manifestation of war crimes and crime against humanity."
The Iranian diplomat also regretted that in 2018, more Palestinian homes were demolished and more illegal Israeli settlements were built, which according to him amounted to "the blatant violation of international law".
"There are yet new plans to demolish more Palestinian homes, to confiscate more Palestinian lands and to build more illegal Israeli settlements. This means the forced displacement of even more Palestinian families," he went on saying.
"Last year, Israel also aggravated its decade-long illegal inhumane blockade on Gaza, the continuation of which will drastically deteriorate the already grave humanitarian situation," he added.
He denounced enacting a law to ensure Jewish supremacy over others by Tel Aviv, adding that with the move Israel legalized racism.
Israel was created in 1948 after a Western-backed military seizure of vast expanses of Arab territories. In 1967, Israel occupied the entire West Bank, including East al-Quds, during full-frontal military operations. It later annexed the territories. Upon annexation, it also began propping up settlements, deemed as illegal by the international community due to their construction on occupied land.
More than 600,000 Israelis now live in over 230 settlements. Tel Aviv has defied calls to stop settlement expansion in the occupied Palestinian territories.
On June 5, 1967, remembered by Palestinians as "Naksa (Setback) Day," Israeli forces also captured Lebanon's Shebaa Farms, Syria's Golan Heights, Egypt's Sinai and Palestine's Gaza Strip.
Tel Aviv has withdrawn from the latter two, but has kept Gaza under insufferable conditions, featuring a stifling blockade and unremitting military attacks.
The international community views the occupation of East Jerusalem and the West Bank since 1967 as illegal, but many Palestinians believe all historic Palestine has been occupied since the creation of Israel in 1948.
https://en.farsnews.com/newstext.aspx?nn=13980908000353
------
Turkey-Libya maritime agreement draws Greek ire
November 30, 2019
ANKARA: A memorandum of understanding (MoU) signed between Turkey and Libya on Wednesday to demarcate maritime zones in the Eastern Mediterranean has sparked condemnation from Greece.
Athens sees the MoU as an attempt to block Greek and Cypriot energy drilling activities in the zone.Turkey and Greece, although allies under the NATO umbrella, have long been at loggerheads over Cyprus and especially about the maritime zones they both claim as their own.
Hailing the MoU as a victory, Ankara claims that the move aims to "protect Turkey's rights deriving from international law," while Athens considers it a violation of the sovereign rights of third countries and of the good neighborliness principle. On Friday, the Greek Foreign Ministry summoned Turkish Ambassador Burak Ozugergin.
Ahmet Sozen, who chairs the department of international relations at the Eastern Mediterranean University in Nicosia, thinks Turkey is trying to get out of the isolation that it has been facing in the Eastern Mediterranean.
"Israel, Egypt, Greece and the Greek Cypriots have been forging bilateral and trilateral agreements keeping Turkey out of the equation for some time. Now, with the MoU with Libya, Turkey has been retaliating to this strategy," he told Arab News.
Libya's neighbor Egypt has been closely cooperating with Greece and Cyprus on energy resources in the Eastern Mediterranean, including a possible establishment of a regional gas market. Egyptian relations with Turkey have been especially frosty since 2013. Cairo condemned the deal as "illegal."
The controversial move came just two weeks after the EU agreed on restrictive measures against Turkey in response to its drilling activities near the Cypriot coast in violation of the established maritime economic zone off the divided island.
Mona Sukkarieh, a political risk consultant and cofounder of Middle East Strategic Perspectives, said little regard is given to the presence of a number of Greek islands — especially Crete, located between the coasts of Turkey and Libya — along the corridor between Libyan and Turkish shores.
"This is not surprising because Turkey's longstanding position is that islands' capacity to generate maritime zones should be limited, compared with states with longer coastal fronts," she told Arab News.
Turkey is among a handful of countries that did not ratify the UN Convention on the Law of the Sea. According to Sukkarieh, Ankara opposed the move "specifically because it opposes provisions governing the regime of islands."
Last year, Wess Mitchell, US assistant secretary of state for European and Eurasian affairs, sent a message to Ankara over the drilling activities for hydrocarbons underway in Cyprus's exclusive economic zone. He said that "Turkey's view is a minority of one versus the rest of the world."
Sukkarieh said: "The deal is significant for Turkey because Ankara was finally able to find a partner in the Eastern Mediterranean that shares its views on the demarcation of maritime areas. On paper, Turkey is no longer alone."
https://www.arabnews.com/node/1591616/middle-east
------
Young Lebanese protesters share their spirited messages
30 November 2019
NAJIA HOUSSARI
BEIRUT: Activists in the civil movement in Lebanon have stuck to the peacefulness of their protests, despite attempts to demonize them by the political forces.
The best example of this peacefulness was the reaction of Farah Merhi, 30, after her car was torched aggressors in Riad Al-Solh and Martyrs' Square. "I did not feel angry or frustrated, I just smiled," she told Arab News.
Farah's smile was transmitted by social media as she stood by her torched car, a Datsun, which she bought by installment ten years ago when she worked as an accountant. Farah used to drive her car every day to go to work, as she lives in the mountains, and it was her only method of transport.
Farah said that she was keen on parking her car last Saturday in a secure area. Supporters of the "Amal Movement" and Hezbollah attacked in the evening and torched tents, shops and cars in the streets neighboring the squares. When she came back to her car the following morning, she found it burnt.
Farah's cousin started a social media account calling for $10,000 of donations to buy a car for her. In less than 24 hours, 50 percent of the amount was raised. Farah said that the "donations came from people I know and those I do not know in and out of Lebanon. It was really touching. The amount now exceeds $10,000 and I am astonished by the love shown to me."
She said that she is participating in the protests to call for a "decent life for the people, away from politics, I am not against anyone but I am demanding human rights."
While activists were lifting debris from the squares the day after the aggression, they adorned their tents and Farah's torched car with flowers.
Many other stories from the revolutionary squares have been gathered in a newspaper titled "October 17," which refers to the day when the revolution broke out in Lebanon. The newspaper was issued on Friday with 16 pages. Its front page was covered with a photo of activists, captioned: "I am the people who knows nothing is impossible."
Inside, readers discovered articles and activist stories — including one titled "the people who is getting back its country" — and another on "the sanctity of the leader when it gets shaken."
Bachir Abou Zayd, 27, one of the founders of the newspaper, told Arab News: "I am a cinema director and was part of the movement from the beginning. The idea of issuing the newspaper was agreed on with five friends and Ibrahim Halawi, a university professor in London who we are in contact with."
He added: "we aim to record what is going on in the squares and the achievements of the revolution, so that the newspaper reflects the experiences of the various activist groups so that we could formulate one voice that expresses all opinions."
Abou Zayd, from Kfar Roummane, noted that "the newspaper was produced in collaboration with media and social activists, and that the only condition to write in it was for the article not to have a political background or direction, everyone is free to have his own beliefs but we want something that expresses everyone's opinions." It was estimated to cost between $1,000 and $1,500 for 3,000 copies.
https://www.arabnews.com/node/1591541/middle-east
------
Israeli troops kill Palestinian teen at Gaza protest
November 30, 2019
GAZA CITY: Israeli soldiers shot and killed a Palestinian teenager near the border fence with the Gaza Strip on Friday, according to Palestinian officials.
Israel's military said soldiers had been fending off Palestinians who had approached and tried to sabotage its security fence. The military also said the demonstrators threw a number of explosive devices.
Residents in Gaza said a few dozen Palestinians had approached the border fence, an area in which Israel's military, citing security concerns, enforces a "no go" zone.
Some in the crowd hurled stones at the barrier, residents said. One 16-year-old was killed and four other people were wounded by live fire, Gaza's Health Ministry said.
An Israeli army spokesman said soldiers had "identified a number of attempts to approach the fence as well as a number of attempts to sabotage it."
"Troops responded with riot dispersal means and 0.22 caliber rounds," the spokesman said. "A report regarding the death of a Palestinian is being looked into."
Israeli soldiers have been confronted by frequent Palestinian protests that often turn violent along the Gaza border. They have used tear gas, rubber bullets and live ammunition against demonstrators who the military said hurled rocks or petrol bombs at them.
The organizers of those protests said they had called off this week's mass-demonstration, but a smaller crowd still gathered.
Egypt, Qatar and the UN have been working to keep the border calm. "We are looking into information about the death of a Palestinian," an Israeli army spokesman told AFP.
At least 348 Palestinians have been killed by Israeli fire in Gaza since weekly protests began in March 2018, more than half of them during demonstrations. Others have been killed in airstrikes or by tank fire.
The often violent protests are demanding that Israel ease its blockade of the Strip and that Palestinians be allowed to return to their ancestral homes now inside Israel.
Israel accuses Hamas of orchestrating the protests. Israel and Hamas have fought three wars since 2008.
Israel accuses the coastal enclave's Islamist rulers Hamas of orchestrating the protests and using them as cover to carry out attacks.
https://www.arabnews.com/node/1591521/middle-east
------
Iran protests point to turmoil in the future
November 30, 2019
DUBAI: Even among hard-liners in Iran, there seems to be an acknowledgment of one fact after widespread protests, violence and a security force crackdown following a spike in government-set gasoline prices: This will not be the last time demonstrators come out on the street.
As Iran struggles under crushing US sanctions following President Donald Trump's unilateral withdrawal of America from Tehran's nuclear deal with world powers, its elected civilian government and those in its Shiite theocracy will face ever-tougher decisions on where to cut costs.
Those cuts will more than likely target its vast system of government subsidies that make life affordable for its poor, from low-cost electricity in their homes to the bread on their plates. Any move to increase those prices will draw further protests. But the government may not have any other option.
The protests that struck some 100 cities and towns across Iran beginning Nov. 15 came after Iran raised minimum gasoline prices by 50 percent to 15,000 rials per liter. That is 12 cents a liter, or about 50 cents a gallon. After a monthly 60-liter quota, it costs 30,000 rials a liter. That is nearly 24 cents a liter or 90 cents a gallon. An average gallon of regular gas in the US costs $2.58 by comparison, according to AAA.
Cheap gasoline is practically considered a birthright in Iran, home to the world's fourth-largest crude oil reserves despite decades of economic woes since its 1979 Islamic Revolution. Gasoline there remains among the cheapest in the world, in part to help keep costs low for its underemployed, who often drive taxis to make ends meet.
Iran's per-capita gross domestic product, often used as a rough sense of a nation's standard of living, is just over $6,000, compared to over $62,000 in the US, according to the World Bank. That disparity, especially given Iran's oil wealth, fueled the anger felt by demonstrators.
Iran's government, however, likely saw little choice in trying to push through changes to its gasoline subsidies. Iran spent $26.6 billion on oil subsidies in 2018, according to the Paris-based International Energy Agency, the most of any country in the world. Iran spent 15 percent of its overall GDP, or $69.2 billion, that year on oil, electricity and natural gas subsidies.
Keeping gas costs low also benefits the wealthy, as well as those who smuggle Iranian fuel into other countries.
US sanctions, reimposed by Trump, largely have stopped Iran from selling its crude oil abroad, cutting into a crucial source of government income. While Iranian President Hassan Rouhani pledged the money saved from cutting gasoline subsidies would go to the poor, Tehran also needs to cut back spending in order to weather the sanctions.
Already, Iranians have seen their savings chewed away by the rial's collapse from 32,000 to $1 at the time of the 2015 atomic accord to 126,000 to $1 today. Daily staples also have risen in price.
Even with the hike in gasoline prices, Iran still subsidizes fuel costs. Its economy remains largely state-planned despite privatization efforts. Among other major subsidies are bread and wheat, diesel fuel, heating oil and electricity.
Iran's minister of industry and trade, Reza Rahmani, pledged on Tuesday that prices will not be increased through the end of the current Iranian year on March 21. However, the gasoline prices came suddenly and without warning overnight, signaling further cuts likely would follow the same way in order to try and control the outcry.
The scale of the gasoline price demonstrations remains unclear even today as Iran so far has not offered nationwide statistics for the number of people arrested, injured or killed in the protests. Amnesty International believes the protests and the security crackdown killed at least 161 people.
One Iranian lawmaker said he thought that over 7,000 people had been arrested, while the country's interior minister said as many as 200,000 people took part in the demonstrations.
While demonstrators attacked gas stations, the target of choice appeared to be banks. Protesters attacked over 700 banks, smashing ATMs and setting some ablaze, Interior Minister Abdolreza Rahmani Fazli said. That anger doesn't come as a surprise.
In recent years, banks burdened by bad debts or circled by corruption allegations have collapsed in Iran, sparking sporadic protests by depositors who lost their money. Some of those banks had ties to powerful people within Iran, leading to allegations of cronyism.
Supreme Leader Ayatollah Ali Khamenei called those who attacked the banks "thugs" in his first comments on the demonstrations. His website published a cartoon showing masked rioters attacking a bank, while another frame showed a family and an elderly man with a cane peacefully waiting to withdraw money from an ATM.
"Setting fire to such and such bank is not the action of the people, it is the action of thugs," Khamenei said, according to his website. "These acts of sabotage do not solve any problem. In fact, they add insecurity to the problems that exist."
However, bank attacks were widespread in 1978 in the months ahead of Shah Mohammad Reza Pahlavi's abandoning the throne and the Islamic revolution. Marxists who hated capitalism, Islamists who opposed usury rates and others taking advantage of the chaos ransacked hundreds of banks, angry over corruption. The Iranian economy nosedived as money flooded out of the country.
The revolution saw millions on the street, something not seen in these recent protests. However, these demonstrations turned violent in the span of a day, showing the danger looming ahead for Iran's government as it likely faces further hard choices ahead as sanctions look unlikely to be lifted as it has begun breaking centrifuges, enrichment and stockpile limitations in the nuclear deal.
"These riots are not the last ones and it definitely will happen in the future," Revolutionary Guard acting commander Gen. Ali Fadavi has warned.
https://www.arabnews.com/node/1591511/middle-east
------
Imam Khamenei pardons 34 convicts in Hormuzgan
November 29, 2019
AhlulBayt News Agency (ABNA): Supreme Leader of the Islamic Revolution Ayatollah Seyyed Ali Khamenei pardoned 34 prisoners sentenced by the Public and Revolutionary Courts, the Judicial Organization of the Armed Forces, and the State Discretionary Punishment Organization.
The clemency was granted on Thursday on the occasion of the birth anniversaries of Prophet Muhammad (PBUH) and Imam Sadeq (AS), sixth Shia Imam.
Hurmozgan Justice Chief Ali Salehi said that Ayatollah Khamenei pardoned them in compliance with Article 11 of Iran's Constitution, which grants the Leader the right to pardon or reduce the sentences of convicts upon the recommendation of the judiciary chief.
The pardoned inmates had their cases investigated by relevant commissions and were identified as meeting the necessary conditions.
The objective behind the move is to control and reduce the population of prisons.
https://en.abna24.com/news//imam-khamenei-pardons-34-convicts-in-hormuzgan_990007.html
------
Ayatollah Sistani warns of plot to bring back 'dictatorship'
November 29, 2019
AhlulBayt News Agency (ABNA): Iraq's top cleric has warned that enemies of Iraq and affiliated groups in the country are plotting to create internal strife and bring the country back to the "era of dictatorship", an apparent reference to the former rule of Saddam Hussein.
Addressing worshipers during Friday prayers in the holy city of Karbala, Grand Ayatollah Ali al-Sistani urged protesters to prevent attacks on people and property and distance themselves from those committing such acts.
Protesters "must not allow peaceful demonstrations to be turned into attacks on property or people ... and peaceful demonstrators should coordinate to eject vandals," a representative of Ayatollah Sistani said as he delivered the top cleric's sermon.
"The enemies and their levers, in order to achieve their malicious ends, plan to spread chaos and plunge the country into internal strife and then return it to dictatorship, so everyone must work together to take away this opportunity from them," he added.
The remarks come two days after rioters, who have been wreaking havoc in various parts of Iraq over the past weeks by infiltrating peaceful protests against corruption and poverty, stormed and set fire to Iran's diplomatic mission in Najaf.
Observers have expressed concern that the incident is part of a larger US-backed push to destabilize the country.
A few months ago, the Lebanese Arabic-language daily newspaper al-Akhbar reported that Iraqi security sources have uncovered a plan seeking to install a military strongman favored by the US by creating a power vacuum in the country.
The current provocations come amid two months of widespread economic protects and calls for political reform in Iraq.
Also during his statements on Friday, Ayatollah Sistani called on the country's lawmakers to drop support for the country's ruling cabinet.
"The parliament, from which this current government is drawn, is asked to reconsider its choice in this regard and act according to Iraq's interest... (to) preserve the blood of its children," the top cleric said.
Ayatollah Sistani also reiterated his support for the people's demands and condemned the use of lethal force against protesters peacefully calling for reforms in the country.
Over 300 people have been killed in the Iraq unrest since October 1, according to the Iraqi parliament's human rights commission.
Earlier this month, Iraqi Defense Minister Najah al-Shammari told France 24's Arabic-language channel that a "third party" was behind shootings targeting demonstrators.
https://en.abna24.com/news//ayatollah-sistani-warns-of-plot-to-bring-back-dictatorship_990004.html
------
Africa
Islamic State Claimed Responsibility for the Mali Helicopter Incident
ovember 29, 2019
Islamic State said on Thursday that its West African branch had caused a helicopter collision in Mali days ago, that killed 13 French soldiers. However, the jihadists did not provide any evidence to support their claim, the SITE intelligence group reported, quoted by Reuters.
The Islamic State in West Africa claims helicopters collided after one of them retreated under fire from ISWAP fighters.
SITE is a US based organization that monitors jihadist websites.
https://www.novinite.com/articles/201961/Islamic+State+Claimed+Responsibility+for+the+Mali+Helicopter+Incident
------
India
Kashmiri students can't pay fees, hit with fines
Nov 30, 2019
DEHRADUN: Many Kashmiri students studying in Dehradun and parts of Punjab have alleged that their colleges charged them late fee and fined them for short attendance as they were not able to manage their academic schedule due to the clampdown in the Valley after Article 370 was revoked.
The students said they were being charged "random amounts ranging from Rs 5,000 to Rs 12,000" for failing to submit their fee on time.
The management of the colleges told TOI that "late fee is a norm that has always been in place and Kashmiri students are not specifically being targeted". However, students said that even when they had approached the administration of their institutions citing their concerns, they were asked to "either pay the fine or forget sitting in the exams".
Uttarakhand cabinet minister Madan Kaushik told TOI that "the matter of harassment of Kashmiri students is a sensitive one and the Uttarakhand government will ensure that these students get all possible help and support".
Late on Friday evening, Punjab chief minister Captain Amarinder Singh tweeted: "Will not allow this to happen in my state. It was not the fault of the students and I will ensure that they do not suffer on account of the delay in payment of fee or attendance shortage resulting from the clampdown in Kashmir, which was never in their control."
College administrations had an opportunity to display empathy for the plight of Kashmiri students, who were unable to pay their fees owing to circumstances completely beyond their control. Instead, they chose to throw the rulebook at these students, displaying a complete lack of compassion, and making an already stressful situation for these students even more fraught. One can only hope that better sense prevails and the 'late fee' and 'attendance' rules are eased so that the students can continue their studies without any problems. There is a time to apply rules strictly, and a time to show humanity. This scenario very definitely calls for the latter.
Irfan Mohammed, a student of B Tech at Maya College in Dehradun, told TOI that his late fee fine was Rs 8,000 till last week, and has been increased to Rs 12,000 by the college administration this week. "My father is a driver in Kupwara. He hasn't earned a penny since the clampdown as there is no work for him in the valley because the situation is still not normal. I am ashamed of asking money from my parents and now if I have to pay Rs 12,000, I don't know where I will get the money from."
He added that he had approached the college administration for some rebate but was asked to either pay the fine or forgo the exams.
Nasir Khuehami, spokesperson of the Jammu and Kashmir Students Association, claimed that like Irfan, there are over 300 Kashmiri students in Dehradun who are being asked to pay late fees and short attendance fines by the colleges. "Most of the students in Dehradun are from Uttaranchal College, Sai Institute and Maya College to name a few. The situation is almost the same in Punjab from where the J&K Students Association has received over a thousand complaints of late fee fines imposed on Kashmiri students," Khuehami alleged.
Khuehami added that it was impossible for students to pay the fee on time considering that connectivity was snapped in the valley and everything had come to a standstill for many weeks. "We have made a fervent appeal to the college administrations to waive the fine and to conduct extra classes so that all topics are covered, but they are least bothered," Khuehami said, adding that the association has also urged the governments of Uttarakhand and Punjab to take action against colleges that are "harassing students in this manner."
GDS Warne, managing director of Uttaranchal (PG) College in Dehradun, said that late fee and short attendance fine had been levied on students as per norms of the institution without any bias. "We have fined 27 students for depositing late fee and short attendance, among which only six are Kashmiris. So, we aren't targeting them specifically. But yes, if the students have some genuine problems and approach us regarding it, we will surely waive the fine," he added.
Ashutosh Badola, HR head of Maya College, and Himanshu Kumar from Sai Institute denied that students of their respective institutions had ever approached them regarding this issue.
Kunal Kant, admission associate from Desh Bhagat University in Chandigarh, said that "no student hailing from Kashmir was charged late fee".
https://timesofindia.indiatimes.com/india/kashmiri-students-cant-pay-fees-hit-with-fines/articleshow/72301600.cms
------
Let me live in peace and focus on work, says BHU's Muslim Sanskrit teacher
Nov 30, 2019
Dr Firoz Khan, who is facing protests over his appointment as an assistant professor in the department of Sahitya of the faculty of Sanskrit Vidya Dharma Vijnan (SVDV), Banaras Hindu University (BHU), on Friday said that more than the controversy he was hurt by the speculative news about him in the media.
"Baseless stories on where I am living, with whom I am meeting and what not, are being published. This is unfair," he said.
"Some say I have gone underground, some say I am missing and some have used the word 'vanish' for me in local, national and international media. I am deeply pained by such words. They are far from the truth," Dr Khan said.
"I want to make it clear that I have no reason to leave the city (Varanasi)," he said while insisting that stories on him applying to various other departments were also baseless.
"I am a responsible teacher of a prestigious university like Banaras Hindu University. I want to study and I want to teach," he said while making an appeal to all to let him live in peace and focus on work.
"I am fortunate to have been appointed at BHU. It is a lifetime opportunity to teach at Mahamana Ki Bagia (BHU). I firmly believe that with my hard work, I will fulfil the expectations of teachers, seniors, students and my colleagues at this great university," he said.
Meanwhile, BHU sources said he appeared in the interview for the post of assistant professor at the department of Samhita and Sanskrit of faculty of Ayurveda, BHU on Friday.
As many as 10 candidates appeared in the interview, which was conducted by the selection committee chaired by vice chancellor Prof Rakesh Bhatnagar.
"Dr Firoz appeared in the interview today. He was on top of the list of candidates shortlisted for the post of assistant professor," confirmed a senior BHU official.
https://www.hindustantimes.com/lucknow/let-me-live-in-peace-and-focus-on-work-says-bhu-s-muslim-sanskrit-teacher/story-aRSXAEaqZATuB4rbaT0J9N.html
------
'Muslims Must Voluntarily Hand Over Gyanvapi Mosque, Mathura Complex To Hindus': KK Muhammed
Nov 29, 2019
MANGALURU: Karingamannu Kuzhiyil Muhammed aka KK Muhammed, part of first ASI team that excavated the historical site at Ayodhya averred that the Muslim community should now voluntarily come forward to hand over Gyanvapi mosque in Varanasi and Krishna Janmastham Complex in Mathura to Hindus. They missed a (good) opportunity to do so at Ayodhya thanks to the influence that the Marxist historians had on them, Muhammed averred.
In an interaction with Harsha Bhat at a session on 'Excavating Truth' at Mangaluru Lit Fest on Friday, said various excavations carried out at Ayodhya by ASI pointed to just one truth that a temple existed there. "When I did state this to the media first, uncharacteristic for government servant to do so, I did bear in mind that an archaeologist is speaking about the issue, and me being a Muslim, I had double the responsibility to speak only the truth," he said.
"We must strive for united India rather than fight about it," Muhammed, who retired as regional Director with ASI in 2012, said. Dwelling on his madrasa schooling, Muhammed said his open mindedness that Abubakkar, his Islamic teacher showed in exposing them to Ramayan that helped shape his personality. "Hinduism is a greatly tolerant religion and because India is a Hindu majority country, India remains secular in truest sense of the term," he said.
Espousing the need for capsuled course on Indian art, culture, architecture, painting as part of Indian education system, Muhammed said a system bereft of these characteristics will not help the youth relate to their own culture. "We need to adopt Indian heroes such as Lord Ram, which Muslim countries have done," he said, adding it was such references that excavations threw up which tipped Supreme Court in coming out with a 'fair judgement' on the case.
Expressing disappointment that the present BJP government had in a way belied expectation that one had about promoting Indian culture, Muhammed said it is imperative to market our heritage. Nepal and Sri Lanka are doing this far better than India with their world heritage sites, he said, adding that India with its Buddhist connections, can have half the world's Buddhist tourists lining up on Indian shores if it follow's Nepal and Sri Lanka's lead.
https://timesofindia.indiatimes.com/india/muslims-must-voluntarily-hand-over-gyanvapi-mosque-mathura-complex-to-hindus/articleshow/72292869.cms
------
URL: https://www.newageislam.com/islamic-world-news/judge-different-qasid-peon-helper/d/120404
New Age Islam, Islam Online, Islamic Website, African Muslim News, Arab World News, South Asia News, Indian Muslim News, World Muslim News, Women in Islam, Islamic Feminism, Arab Women, Women In Arab, Islamophobia in America, Muslim Women in West, Islam Women and Feminism