New Age Islam News Bureau
22 Jun 2018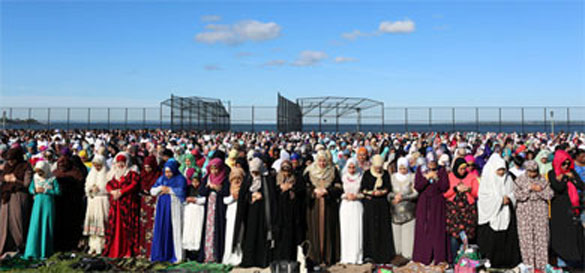 GABRIELA BHASKAR / REUTERS
Muslim women pray at Bensonhurst Park to celebrate Eid al-Fitr, the end of Ramadan, in Brooklyn on June 15.
----
• JuD to Field Hafiz's Son in July Polls, Vows to Make Pakistan 'Citadel of Islam'
• Taliban Neither Good nor Bad, Will Be Hunted Down, Pakistan Reaffirms
• Muslim Bodies Question Procedural Anomalies in Citizens' List in Assam; NRC Secretariat Rubbishes Allegations
• As Bangladesh Killings Intensify, Why Is The World Keeping Quiet?
• Malaysia's Conservative Islamic Party Will Not Oppress Other Faiths
• New York City's Muslims, Sikhs Experience High Levels of Harassment: Study
Pakistan
• JuD to field Hafiz's Son in July Polls, Vows to Make Pakistan 'Citadel of Islam'
• Taliban Neither Good nor Bad, Will Be Hunted Down, Pakistan Reaffirms
• U.S Reputs Pakistan on Notice for 'Inaction' Against Taliban Sanctuaries
• Panel to decide if names of Nawaz, Maryam should be on ECL
• 'Can't polish Hamza's boots', will contest election as independent candidate, says Zaeem Qadri
• Sikh pilgrims reach Lahore to mark Maharaja's death anniversary
• JI workers' clash leaves one dead in Mohmand
• Pakistan daily Dawn says govt officials are barring its circulation in Sindh, Punjab and Balochistan ahead of polls
• UNHCR appreciates Pakistan for hosting millions of Afghan refugees
--------
India
• Muslim Bodies Question Procedural Anomalies in Citizens' List in Assam; NRC Secretariat Rubbishes Allegations
• Home Ministry Invokes UAPA, Bans New Offshoots of Al-Qaeda and Islamic State
• How Muslims in Bangalore Made It An Eid For All To Remember
• Indian Official Transferred For 'Humiliating' Hindu-Muslim Couple
• Yoga Shouldn't Be Used As Political Tool, Say Muslim Bodies
• Airtel India under fire after complying with anti-Muslim request
• 'Yoga Not Linked To Religion, Practised In Muslim Nations'
• Elite NSG commandos to be drafted for war on J&K terror
--------
South Asia
• As Bangladesh Killings Intensify, Why Is The World Keeping Quiet?
• Saudi Arabia's King Salman Demands Extension of Ceasefire in Afghanistan
• ICC gives Myanmar deadline over Rohingya case jurisdiction
• US rules out direct negotiations with the Taliban group
• Militants suffer heavy casualties in Sari Pul artillery and airstrikes
• New UN envoy calls for 'genuine reconciliation' in Myanmar
--------
Southeast Asia
• Malaysia's Conservative Islamic Party Will Not Oppress Other Faiths
• Indonesia Court Sentences Islamic State-Linked Cleric to Death
• Philippines, Muslim Rebel Group Close to Landmark Power-Sharing Deal
• Terengganu says no bikini ban on its islands and beaches
• Malaysia's Anwar Ibrahim voices support for 'most popular Muslim leader' Erdoğan
• Join us in defending Islam, PAS tells Umno members
• Indonesian cleric's call for compassion lost in controversy over Jerusalem visit
• Malaysia reopens grisly murder case linked to former PM Najib
--------
North America
• New York City's Muslims, Sikhs Experience High Levels of Harassment: Study
• How Trump's Muslim Bans Have Impacted US Immigration
• US mulls plans to hold Congressional hearing on the Muslim Brotherhood
• White House officials in Egypt to discuss Mideast peace
• Canada: Quebec mosque shooter could serve life in prison
--------
Mideast
• Education and Islam Become Hot-Button Issues in Turkey
• Erdogan Doesn't Rule Out Coalition If No Majority
• Army reinforcements roll into Yemen's embattled Hodeida
• Khamenei objects Iran's joining anti-terror treaty
• Yemeni army shoots down Iranian-made drone near Hodeidah airport
• Yemen Army inflicts heavy losses among Houthi militias in Sadaa
• Turkey detains 14 ISIS suspects 'planning election attack'
• US gives Turkey first F-35 despite opposition at home
• Houthis still in control of Hudaydah airport: Yemeni officials
• Turkish military will continue striking PKK bases in northern Iraq, says Erdogan
--------
Arab World
• UAE 'A Living Example for the Peaceful Coexistence of All Faiths'
• Popular Uprising against Ankara-Backed Militants in Afrin
• Syrian Army Drives ISIL out of 12 Regions in Badiyeh of Sweida
• Thousands flee as regime steps up shelling in south Syria
• Syrian Army Imposes Full Control over ISIL-Occupied Region in Southern Deir Ezzur
• ISIL Fails to Retake Control of Lost Positions in Homs
• Iraqis fill the Mosul airwaves after Daesh radio silence
• Syrian Army Isolates Terrorists' Key Base in Dara'a
• Tahrir Al-Sham Commander Assassinated as Tensions Soar in Aleppo
• Army Repels Tahrir Al-Sham Offensive in Quneitra
• FSA-Affiliated Terrorist Groups Form Coalition in Southern Syria against Army
• Iraq police in armed clash with pro-Iran Hezbollah militia in Baghdad
--------
Africa
• Nigeria Returns Boko Haram Victims to Own Communities
• Nigerian Army Officer Fighting Boko Haram Commits Suicide
• Mozambique's own version of Boko Haram is tightening its deadly grip
• US strongly condemns attacks on Libyan oil ports - State Department
• Kaduna High Court postpones Sheikh Zakzaky's trial
• Libya's Haftar forces say recaptured two key oil export terminals
• Bomb attack kills 4 members loyal to Libya's Haftar
• Libyan coastguard rescues 237 migrants off Tripoli
• Somalia: Kenya Urged to Prevent Al Shabaab Cross-Border Attacks
--------
Europe
• UK 'Complicit' In Israeli Crimes against Palestinians: London-Based Charity
• Germany's Merkel calls for solutions to Iran's 'aggressive tendencies'
• Survivors say at least 60 refugees died in Mediterranean
Compiled by New Age Islam News Bureau
URL: https://www.newageislam.com/islamic-world-news/jud-field-hafizs-son-july/d/115614
--------
JuD to field Hafiz's son in July polls, vows to make Pakistan 'citadel of Islam'
Jun 22, 2018
LAHORE: Mumbai-terror attack mastermind Hafiz Saeed's son and his son-in-law are among 265 candidates fielded by the Jamaat-ud -Dawah for national and provincial assembly seats across Pakistan in the July 25 general election, with the banned group's political wing vowing to make the country a "citadel of Islam."
Saeed, who also carries a $10 million American bounty on his head for his role in terror activities, is not contesting the election.
The JuD, a front for the Lashkar-e-Taiba terror group that carried out the deadly 2008 Mumbai attack, launched its political front Milli Muslim League (MML).
The Election Commission of Pakistan (ECP) denied registration of the MML as a political party following objections from the Interior Ministry which argued that the entity was an offshoot of the JuD, led by Saeed, banned by a UN resolution.
With general elections approaching, the group decided to contest on the platform of a little known "dormant" political entity, Allah-u-Akbar Tehreek (AAT), registered with the ECP.
The nomination papers of all the MML backed candidates have been accepted by the Returning Officers during the scrutiny process, the MML said.
"The nomination papers of 265 candidates - 80 on National Assembly (NA) and 185 on provincial assembly seats - including that of Hafiz Saeed's son Hafiz Talha Saeed and son-in-law Hafiz Khalid Waleed have been accepted by the Returning Officers," a MML official told PTI on.
Talha is contesting from NA-91 seat from Sargodha (about 200-km from Lahore) while Khalid Waleed from NA-133 in Lahore on AAT's election symbol 'Chair', he said.
Sargodha is the home town of Hafiz Saeed.
Also, our candidates are contesting on Lahore's four NA seats and 15 Punjab Assembly seats, apart from these, the MML-backed candidates would be contesting on Islamabad and Rawalpindi NA seats, he said.
"Similarly, the MML-backed candidates have been fielded in Karachi, interior Sindh and Kyber-Pakhtunkhawa and other parts of the country," he added.
MML President Saifullah Khalid said that his party would not leave vacuum in July 25 elections for the secular forces as the country was "created in the name of Islam."
"We have entered the political arena not to get power, but to fight corruption, eliminate politics of opportunism, strengthening ideology of Pakistan and making the country citadel of Islam," he said.
Another senior JuD leader, Qari Muhammad Sheikh Yaqoob, who is on the US-designate terror list, has also been given AAT ticket for NA-125 Lahore. In September last year, he had contested a bypoll as an independent candidate on NA-120 Lahore seat, from where wife of ousted prime minister Nawaz Sharif, Begum Kulsoom Sharif had won.
According to the US Treasury Department: "Qari Muhammad Yaqoob Sheikh, a member of LeT's central advisory committee, has held several different leadership positions in the group since 2006. Sheikh has served as a leader in LeT's foreign affairs department since 2006, including acting as the department's deputy director of political and foreign affairs between 2008 and 2009."
The AAT was registered with the ECP in 2011 and it got the election symbol after 2013.
The JuD had formed MML when Saeed was under detention by the Punjab government in Lahore. Saeed and his four aides - Abdullah Ubaid, Malik Zafar Iqbal, Abdul Rehman Abid and Qazi Kashif Hussain - were placed under house arrest in Lahore on January 30 under anti- terrorism act.
The JuD was declared as a foreign terrorist organisation by the US in June 2014.
https://timesofindia.indiatimes.com/world/pakistan/hafiz-saeeds-son-son-in-law-among-265-jud-candidates-in-pak-elections/articleshow/64682007.cms
--------
Taliban neither good nor bad, will be hunted down, Pakistan reaffirms
Jun 22, 2018
ISLAMABAD: The Foreign Office (FO) on Thursday reiterated that Pakistan does not discriminate between good or bad Taliban and would continue to hunt all Tehreek-e-Taliban Pakistan (TTP) terrorists indiscriminately.
"Pakistan will continue to hunt 'all' the TTP persons if need be," Foreign Office Spokesman Dr Muhammad Faisal said when asked to clarify whether the chase would limit to Pakistan's territory only or extend to Afghanistan's soil as well.
Speaking at a media briefing at the FO, the spokesman said that the ceasefire truce between the Afghan government and Taliban on the eve of Eid was a "step in right direction, which Pakistan supported and welcomed".
He said Pakistan's position on Afghanistan's stability was clear and it believed that the only viable solution lied in an Afghan-led and Afghan-owned peace process.
The spokesman officially confirmed the killing of terrorist Mullah Fazlullah in Afghanistan and said that the news was received in Pakistan with relief especially among the families who lost their loved ones including the martyrs of Army Public School.
On the recent report by the UN High Commission for Human Rights, the spokesman said that Pakistan was ready to facilitate the visit of international observers to the areas of Kashmir linked with Pakistan, provided India offered to do the same. He went on to say that Pakistan had nothing to hide from the world while India was shying away and was trying to cover its blatant human rights violations.
"If India really has nothing to hide, it can address its claims of the report being based on unverified information by allowing the COI and OIC IPHRC access to IOK," he said.
Dr Faisal further said that Pakistan welcomed the OHCHR report's recommendation for an independent, international commission of Inquiry to assess the situation in Indian occupied Kashmir which was consistent with several calls by Pakistan since 2016.
The spokesman mentioned that the report was sharply critical of the human rights atrocities including the use of pellet guns, draconian laws including the Armed Forces Special Powers Act (AFSPA) and the SPA, use of rape to subjugate dissent, communication blockade and violation of the right to life, health, education and peaceful protests.
"India's knee-jerk rejection of the report indicates its complete insensitivity to international law and its deplorable intransigence, which has delayed the resolution of the Jammu and Kashmir dispute since the last seven decades and holds the regional peace and development hostage," he said.
https://www.pakistantoday.com.pk/2018/06/21/taliban-neither-good-nor-bad-will-be-hunted-down-pakistan-reaffirms/
--------
Muslim bodies question procedural anomalies in citizens' list in Assam; NRC secretariat rubbishes allegations
Rajeev Bhattacharyya
Jun 21, 2018
Muslim organisations in Assam have opposed the procedure followed in the update of the National Register of Citizens (NRC), terming it as a process that lacks consistency and transparency.
A press release issued by the Coordination Committee of Minority Organisations, Assam, representing 23 groups, has listed twelve questions which they believe have revealed the 'anomalies' in the exercise undertaken by the NRC Secretariat. Functionaries of these organisations alleged that the frequent changing of rules after every month have only thwarted the goal of an error-free register of citizens.
"We are cooperating with the updates of the NRC. But the NRC authority is acting arbitrarily, with new rules and regulations every month. There is a gap between what is on paper and what is being done by officials," claimed Azizur Rahman, convener of the coordination committee.
He added that a petition has already been prepared for submission to the Supreme Court next month. "If the petition is not accepted, then we will have to prepare the next course of action after consultation with our activists and intellectuals. Everything depends upon what the majority would prefer but we don't want any bloodshed," Rahman explained.
The exercise, which began three years ago, will be completed on 30 June. The first draft covering 1.9 crore citizens was published on 31 December last year out of a total of 3.29 crore applicants. Documents were received from 68.27 lakh families across the state.
The opposition by the Muslim groups on the procedure followed in the NRC also comes in the midst of sweeping protests in Assam against the Citizenship (Amendment) Bill 2016, which seeks to give citizenship to some sections of non-Muslims from neighbouring countries. Local groups are apprehensive that the amendment would not only nullify the Assam Accord but the entire process of detecting illegal migrants in the state. Some prominent Muslim leaders in Assam including chief of All India United Democratic Front (AIUDF) Badruddin Ajmal have also opposed the Bill.
Memoranda detailing the objections against the process followed in the NRC update have also been submitted by the Muslim groups to the Registrar General of India, home ministry and the home department of the Assam government. The groups are yet to receive a response from these departments.
Some Objections Raised by Muslim Groups
- Why hasn't the NRC Secretariat made the voters' lists published till 1971 public?
- NRC Secretariat had said that those who do not have legacy data can give certified copies of their names in voters' lists as proof of citizenship. But why are these copies not being accepted now?
- What is the reason that the NRC Secretariat has issued some directives to its district officials on 1 and 2 May 2018 on the rules and procedures of the update when they are supposed to be the same as earlier?
- Why are the district cells of NRC Secretariat assuming the role of the border police in detecting illegal migrants?
- Why hasn't the NRC Secretariat issued advertisements informing the people that anybody born in India as per the provisions in the Citizenship Act 1955, Section 3, are liable to be included in the register?
- Why has the NRC Secretariat not accepted the certificates issued by gaon buras (village chiefs) if these documents can be used for registration of land and other work?
-What is the reason that the NRC Secretariat has issued new directions after the first draft of the register was published on 31 December last year?
- Why haven't DNA tests been carried out on persons with doubtful citizenship claims?
- On 2 May last year, the Gauhati High Court had ordered that the border police must investigate cases of illegal migrants and their relatives detected by the NRC and forward them to the Foreigners' Tribunal. Why hasn't the NRC Secretariat made this order public before the draft was published on 31 December 2017?
- Why hasn't the NRC Secretariat declared that another list of citizens whose names do not find mention in the final list would be subsequently published?
NRC Secretariat's Response
Speaking to Firstpost, NRC coordinator Prateek Hajela clarified that the exercise has been conducted in accordance with law and stipulations laid down by the Supreme Court in a transparent process. He dismissed several allegations leveled by the groups as baseless that were being focused upon when the entire exercise is drawing to a close.
"Why have issues like DNA test and publication of the voters' lists surfaced now when the exercise was initiated in 2015? What were these groups doing all this while? There is no change in the rules. We have clear instructions that all documents have to be matched and this applies to legacy data and electoral rolls," said Hajela.
The coordinator explained that an order of Gauhati High Court on the transfer of cases to the border police was known only after the first draft was published on 31 December last year. He explained that the matter was sub-judice since a writ petition had been filed by some groups on the court's judgment.
Hajela agreed that certificates issued by village chiefs were not being accepted as proof of citizenship since they lacked credibility. He referred to an order of Supreme Court last year which said that certificates issued by the gaon village panchayat secretary could be a proof of citizenship if they are supported by evidence of family linkages. Around 48 lakh claims were made using such certificates.
On the inclusion of names that do not find mention in the final list, he underscored the legal process that would be applicable in all the cases and the policy of entertaining objections after the process has been completed.
https://www.firstpost.com/india/muslim-bodies-question-procedural-anomalies-in-citizens-list-in-assam-nrc-secretariat-rubbishes-allegations-4564761.html
--------
As Bangladesh killings intensify, why is the world keeping quiet?
Sudhanshu Ranjan
Jun 21, 2018
The killing of secular writer-publisher Shahjahan Bachchu in Munshiganj district of Bangladesh on June 11 has revived bitter memories of the barbaric murders of secular bloggers and writers as well as members of minority communities in Bangladesh. Bachchu was known for his forthright views on religion and other issues. His killing has broken the lull that persisted for some time, specially after the gruesome killings of 20 people on July 1, 2016 at the Holey Artisan Restaurant in Dhaka's elite Gulshan area at the hands of homegrown Islamic terrorists of the Jamat-ul-Mujahideen Bangladesh (JMB) under the macabre influence of Islamic State. Of those killed, 17 were foreigners, including Japanese, Italians and one Indian. They targeted non-Muslims and identified them by asking them to read the verses of the Quran. It is shocking that while the UN high commissioner for human rights has demanded the "establishment of a commission of inquiry to conduct a comprehensive, independent international investigation into allegations of human rights violations in Kashmir", it is silent on the barbaric and cold-blooded murders of freethinkers, bloggers and writers and members of minorities elsewhere. The silence of the international community in this regard is appalling too. In 2012, Bangladesh PM Sheikh Hasina published The Unfinished Memoir, the autobiography of her father Sheikh Mujibur Rehman. In it, Mujib has recounted an incident of 1946 when Calcutta was engulfed in communal conflagrations and Hindus and Muslims were killing each other. Mujib, then 26, and his photographer friend Yakub met Mahatma Gandhi and collected some pictures. He writes: "Among the photographs we had collected were some of Muslim women whose breasts had been cut off, little babies who had been beheaded, burning mosques, corpses lying in the streets and many such gruesome scenes from the riots. We wanted the Mahatma to see how his people had been guilty of such crimes, and how they had killed innocents... There can be little doubt that the photographs we presented to the Mahatma left a deep impression on his mind."
Mujib's philosophy was firmly rooted in secularism as he had witnessed the bloody communal riots and seen how his co-religionists from West Pakistan tortured and killed Bengali Muslims in what was then East Pakistan. Nearly five lakh people were massacred between 1952 and 1971 in East Pakistan; according to the Awami League, this figure is 30 lakhs. Bangladesh came into existence in 1971 in the name of Bengali nationalism. Its citizens had not accepted the Islamic nationalism which had led to the creation of Pakistan. So there was a bloody protest when Muhammad Ali Jinnah declared Urdu as the national language of Pakistan, though only seven per cent of the population knew that language. East Pakistan rejected this, and demanded parity for Bengali. Students of Dhaka University led a massive protest. On February 21, 1952, many of them were killed when the police opened fire on them.
When Bangladesh framed its Constitution in 1972, it embraced the basic tenets of democracy, socialism, secularism and Bengali nationalism. Later, the junta government, led by Gen. Zia-ur Rahman, usurped power by having Sheikh Mujib and several members of his family brutally murdered in 1975. In 1977, the country introduced sweeping constitutional changes through the Fifth Amendment, virtually destroying the soul of the Constitution. It substituted "Bengali nationalism" with "Bangladeshi nationalism", striking at the very raison d'être of the new nation erected on the plinth of the Bengali language and culture. The phrase "Bangladeshi nationalism" has the overt hint of Islamic nationalism, and this became evident as secularism was replaced with "absolute trust and faith in Almighty Allah". In 1988, Islam was declared the state religion.
However, in 2010, the Bangladesh Supreme Court ordered the restoration of secularism as a basic tenet of the Constitution. The Sheikh Hasina government brought in the 15th Amendment in 2011 for this, but she did not change Islam as the state religion. In fact, the amendment reinforced it by inserting a new sentence above the preamble: "Param karunamoy name shuru korilam" (In the name of the all compassionate, we begin). It is atravesty that Sheikh Hasina, Mujib's daughter, is not following in the footsteps of her father as firmly as she is expected to.
The world community is maintaining an eerie silence. Global human rights bodies have spoken up, but only in the context of Rohingya Muslims, pressuring Bangladesh to permit their entry. In 1990s, a sizeable number of Rohingyas, facing persecution in Myanmar, crossed over to Bangladesh and settled in Chittagong district and the Cox's Bazar region. The irony is that many Islamist militants are from those Rohingyas who fled to escape persecution. They were indoctrinated by the Jamat-e-Islami and it is this class of terrorists which is totally opposed to liberal values and politics. It's not that Sheikh Hasina has not done anything, but it is far from being adequate. She got Canadian-born mastermind Tamim Chaudhary and six of his trusted lieutenants eliminated. He was sent to Bangladesh by the islamic State with the aim of killing non-believers, as he himself articulated in a rare interview, "It is not the methodology of the Khilafat soldiers to send mere threats to enemies of Allah. Rather, we let our actions do the talking. Our soldiers are sharpening their knives to slaughter the atheists and apostates of the region."
For these obscurantists, anyone not believing in Allah is a heretic. Thus they target not only Hindus, Buddhists, Christians, etc, but also Muslims who are atheists. The government sulks after each incident and invariably blames the victim for hurting the religious sentiments of the people. It is not at all serious about protecting Hindus. Irrepressible blogger Arif Jebtik, who faces death threats for his fearless writings, had explained the Hasina government's stand on Hindus to an Indian newspaper thus: "Thaakley vote paabo, gele jomi paabo."(If Hindus stay, we shall get their votes, and if they leave, we shall get their land.)
When will the world community wake up? Article 29 of the Universal Declaration of Human Rights reads: "Everyone has duties to the community in which alone the free and full development of his personality is possible." The Universal Declaration had to be adopted as the United Nations Charter has utterly failed to protect human rights.
http://www.asianage.com/opinion/oped/210618/as-bangladesh-killings-intensify-why-is-the-world-keeping-quiet.html
--------
Malaysia's conservative Islamic party will not oppress other faiths
June 21, 2018
MARANG, Malaysia -- The Malaysian Islamic Party (PAS), a conservative Muslim political group that won an influential position in the May 9 general election, has no agenda to oppress people of other religions or links to radical religious groups, according Hadi Awang, the party's president.
PAS won 18 among a total of 222 parliamentary seats -- five more than previously. That made it the third largest group after Prime Minister Mahathir Mohamad's Alliance of Hope coalition with 113 seats, and former Prime Minister Najib Razak's National Front coalition with 79 seats.
The four parties in the Alliance of Hope came together for the general election, and Mahathir set aside his differences to partner with among others Anwar Ibrahim, his estranged and imprisoned former deputy prime minister. The departure of any of the four parties from the coalition would deprive it of its parliamentary majority, possibly opening the door to PAS involvement and its political agenda. PAS could potentially hold the casting votes if the ruling coalition fractured.
PAS President Hadi Awang told the Nikkei Asian Review that his party's "back to Islam" mission was intended to return "a spirit of Islam" to the government. As an example of what that means, he said government leaders should bear in mind that they will be punished for corruption in the next world by God, even if they are not charged for it in this world due to lack of evidence.
Islamic influence in government "does not mean suppressing people of other religions," he said. "They are free to practice their own religions, and they are free to worship." He said that "justice for everybody" is a basic precept of Islam.
Hadi said Islamic ideas can fit in with the administration of the multi-ethnic country with 23% of its citizens Chinese and 7% Indian. He said PAS even has non-Muslim supporters. "This is proof that non-Muslims can be part of us," he said.
There is an increasing presence of hardline Islamic groups elsewhere in Southeast Asia, such as Indonesia's Islamic Defenders Front (FPI). FPI appears to be expanding ahead of next year's presidential election in the world's most populous Muslim nation. The group has demonstrated against religious tolerance in government and been involved in violence against non-Muslims.
PAS is careful to distance itself from hardline religious zealots or extremists such as Islamic State from the Middle East, which has been expanding its footprint in Southeast Asia and was involved in last year's fighting on Mindanao in the southern Philippines.
"Extremism is not part of Islam," Hadi told Nikkei. "It does not represent Islam at all."
Norshahril Saat, a fellow at the ISEAS-Yusof Ishak Institute in Singapore, said that PAS is a political party whereas FPI remains a movement. "FPI's appeal is more populist, and its influence on policies centers on lobbying and forging alliances with politicians," he said. "PAS can change policies in the states it controls. It can make alliances at political party level, and became a king maker in some of the states it lost marginally. Even if PAS pushes for hard-line policies, it may be halted by the federal government," he said, noting that Mahathir has never supported harsh Islamic laws.
Bridget Welsh, an associate professor at Italy's John Cabot University and an expert on Malaysia, told Nikkei that PAS and FPI share the goal of introducing Sharia law (Islamic law) to their nations, but PAS's "tactics are different." PAS will try to influence government policy by using its position and electoral weight.
In his interview with Nikkei, Hadi said PAS will not enter a coalition, but cooperate with other parties on an issue-by-issue basis. "We go on our own," he stressed. "Our concept is to cooperate with everybody. If something is good, whether it is from Alliance of Hope or National Front, we can cooperate. For something which is negative, we cannot cooperate with anybody."
Hadi said his party supports the Mahathir government's decision to scrap a high-speed rail project connecting Kuala Lumpur to Singapore. "Singapore benefits more than Malaysia from that particular project," he said.
Welsh said an important focus now is on the United Malay National Organization, the main party in the National Front, which has its presidential election on June 30. "The outcome will determine what sort of opposition pact emerges," she told Nikkei.
Hadi said his party will continue to expand its support base ahead of the next general election. PAS currently governs two of the 13 states in the country -- Terengganu and Kelantan on the east coast -- and plans to "activate party branches all over the country." He declined to evaluate Mahathir's new government on the grounds that it is "too early."
https://asia.nikkei.com/Politics/Malaysia-in-transition/Malaysia-s-conservative-Islamic-party-will-not-oppress-other-faiths
--------
New York City's Muslims, Sikhs Experience High Levels Of Harassment: Study
22/06/2018
Muslims and Sikhs in New York City have experienced a significant level of harassment in recent years, a new survey published by a city agency has found.
Nearly half of Sikh respondents to the study and 42 percent of Muslim respondents reported experiencing verbal harassment, threats or taunting that referred to their race, ethnicity or religion.
The survey of 3,105 Muslim, Arab, South Asian, Jewish and Sikh New Yorkers, published Tuesday by the city's Commission on Human Rights, is an attempt to capture the experiences of these minority communities, and to quantify how often bias incidents are reported to community or governmental organizations.
The participants, who were all at least 16 years old, were asked about incidents that occurred between July 2016 and late 2017, "a timeframe that encapsulates the climate pre- and post-election," the authors said. The report refers to policy changes enacted during this time that were "threatening" to some New York communities. As an example, the commission cited President Donald Trump's announcement of a travel ban that affected nationals from several Muslim-majority countries.
Nearly 2 in 5 respondents, 39 percent, said they had been verbally harassed in reference to their race, ethnicity or religion, with some people ― 27 percent ― saying that they had experienced this abuse more than once.
Just 9 percent of respondents claimed they'd been physically assaulted because of their race, ethnicity or religion. Black, predominantly Muslim women living in the Bronx were particularly vulnerable to bias-motivated assault, with 19 percent claiming they'd been physically attacked.
In focus groups conducted before the survey, the researchers found that two specific incidents were frequently brought up by religious minorities: being followed by a security guard or salesperson in a store, or being purposefully pushed or shoved on a subway platform. The commission incorporated questions about these two situations into its study. The survey found that 18 percent of participants claimed they were followed by store staff, while 14 percent reported being shoved on a subway platform.
About 23 percent of both Muslims and Sikhs reported being followed by store staff. Sixteen percent of the survey's Muslim participants said they'd been intentionally shoved on a subway platform. Specifically, 27 percent of Muslim Arab women wearing a hijab reported being intentionally pushed.
Albert Fox Cahn, legal director for the New York chapter of the Council on American-Islamic Relations, said it's "completely unacceptable" that Muslim New Yorkers who wear a hijab are encountering these attacks.
"While we all have been jostled on the subway, let's be clear that we're talking about the number of respondents who report being 'intentionally shoved,'" Cahn told HuffPost in an email. "I think that critics need to recognize how dangerous any physical altercation on our subway platforms can be, and how quickly a shove can escalate into something life-threatening."
The study also sought to measure how often religious minorities in the city reported harassment to community or faith-based organizations, the NYPD, the Commission on Human Rights or other groups. Overall, nearly 71 percent of participants said they chose not to report bias incidents. The biggest barrier to alerting a community or governmental organization was respondents' belief that no one would take their claim seriously.
Cahn said he hopes the fact that so many victims fail to report their experiences is a "wake-up call" for the city.
The city's human rights commissioner, Carmelyn P. Malalis, said that her agency plans to use the data from the survey to better address and prevent these incidents. The commission has launched an ad campaign on social media and on 15 ethnic media outlets to help spread awareness about where people can go for help.
"No one in New York City has permission to discriminate against or harass others because of who they are, where they pray, or what country they come from," Malalis said in a statement. "The NYC Commission on Human Rights takes bias-motivated incidents very seriously and we are dedicated to combating them."
Nationwide, the FBI found that religious bias motivated 1,538, or 21 percent, of hate crimes in 2016, the latest year for which federal data is available. Twenty-five percent of the incidents were anti-Muslim, while 0.5 percent were anti-Sikh.
But the advocacy group Sikh Coalition believes the actual number of hate crimes is much higher ― since the FBI's data is based on voluntary reports by U.S. law enforcement. The Sikh Coalition estimates that the Sikh community in the U.S. is experiencing an average of one hate crime per week since the start of 2018.
A 2017 report from CAIR found that the 2016 election coincided with a nearly 600 percent increase in hate crimes targeting Muslims since 2014.
https://www.huffingtonpost.in/entry/some-muslim-women-in-hijab-get-pushed-on-subway-platforms-in-new-york-study-finds_us_5b2bde39e4b0321a01cf15cb
--------
Pakistan
U.S Reputs Pakistan on Notice for 'Inaction' Against Taliban Sanctuaries
Jun 22, 2018
WASHINGTON: In another blow to the already strained ties between Islamabad and Washington, the United States on Wednesday announced that it was putting Pakistan on notice, for one more time.
In an official testimony before the House Foreign Affairs Committee, Alice Wells, the senior bureau official for South and Central Asian Affairs, said that the US expects unequivocal cooperation in ending the sanctuaries the Taliban have been enjoying in Pakistan — a claim Islamabad vehemently denies.
"Pakistan is on notice that we expect its unequivocal cooperation ending sanctuaries that the Taliban have enjoyed since the remnants of their toppled regime fled into Pakistan in 2001," Ambassador Alice Wells said, acknowledging that Pakistan can play an important role in the Afghan peace process.
She added that the US was also working to end the sanctuary that the 'Taliban have enjoyed for decades in Pakistan'.
The official expressed that US provided full support to develop the Afghanistan-Pakistan Action Plan for Peace and Solidarity (APAPPS) and repeated the allegations that "despite some positive indicators, the [US] administration has not yet seen Pakistan take the sustained or decisive steps that it would have expected to see 10 months after the announcement of the South Asia strategy.
The steps which Wells alluded to include arresting or expelling Taliban elements who will not come to the negotiating table.
The ambassador claimed that Trump administration's conditions-based strategy on South Asia was yielding positive results because the Afghan security forces were fighting with renewed confidence.
"If Afghan troops and Taliban foot-soldiers can pray together, then the Afghan people have every reason to believe that their leaders can come together and negotiate an end to this war," she asserted.
She also clarified that the Trump leadership acknowledged a conflict resolution would come through a negotiated political settlement.
"The Taliban must renounce violence, break ties with al-Qaida, and accept the Afghan Constitution including its protections for women and minorities," Wells declared.
The Us official continued that they will support the government and all Afghan stakeholders for reaching a mutually agreeable negotiated settlement that ends the Afghan conflict once and for all.
"There have been signs that the Taliban's Pakistan-based leaders are debating the merits of joining a peace process, however, the group has not responded to President Ghani's offer of unconditional talks," wondered Wells.
The Trump administration had put Pakistan on notice in August last year and US National Security Council (NSC) Spokesperson Michael Anton had confirmed the development then.
Speaking to newsmen, Anton had said that business as usual with Pakistan was now over.
The spokesman threatened that the Trump administration could impose sanctions on terrorist groups, including the Haqqani network, and any Pakistani officials 'who are tied to these kinds of groups, you know, in ways that they shouldn't be'.
The US official that visibly sounded rude expressed that the United States was really patient with Pakistan over the years but it was not getting a good deal in return.
Responding to the notice, the military's spokesperson had said that allies and partners do not give notices to each other, neither do they indulge in a blame game.
Ghafoor noted that Pakistan had supported the US before and after 9/11 and the relations should be kept intact.
"Pakistan Army defeated terrorists within the country, keeping in view the local culture and geography, similarly, Afghanistan has its own history, culture, and geography which foreign forces fighting militants must deal with," Ghafoor observed.
He continued that the war in Afghanistan has entered into a final phase and the US, allied and Afghan forces will have to fight the war.
"The US wants Pakistan's role in Afghanistan but we cannot go and fight for them inside Afghanistan. They will have to complete their tasks in Afghanistan on their own", he said in an interview to a private TV channel.
https://www.pakistantoday.com.pk/2018/06/21/us-re-puts-pakistan-on-notice-for-inaction-against-taliban-sanctuaries/
--------
Panel to decide if names of Nawaz, Maryam should be on ECL
June 22, 2018
ISLAMABAD: Caretaker Minister for Law and Justice Barrister Syed Ali Zafar said on Thursday the prime minister had constituted a three-member committee to decide about placing the names of former prime minister Nawaz Sharif and his daughter Maryam Nawaz on the Exit Control List (ECL).
Talking to reporters outside the Islamabad High Court, he said the government had received an application from the National Accountability Bureau seeking placement of the names of Mr Sharif and his daughter on the ECL, but no decision had so far been taken in this regard.
Take a look: Nawaz, Maryam postpone return due to Kulsoom's health condition, sources say
The law minister said the committee comprising Interior Minister Mohammad Azam, Finance Minister Shamshad Akhtar and himself would review the matter once the two Pakistan Muslim League-Nawaz leaders returned to the country. He said that since both were outside the country due to the illness of Begum Kalsoom Nawaz, the issue of placing their names on the ECL could not be raised at this time.
In reply to a question, Mr Zafar clarified that the name of Imran Khan's friend Zulfiqar Bokhari had never been on the ECL and, therefore, he could not be stopped from travelling abroad.
He expressed his ignorance about the presence of any law under which the names of people were placed on the so-called "blacklist". Mr Zafar said his ministry was reviewing the matter and looking for the laws regarding the blacklist. However, he said the practice of putting the names of people on the blacklist had been going on for a long time.
The minister explained that if someone's name was present in the ECL, he or she could not go outside the country without the approval of the federal cabinet. He said the approval of the cabinet was not required for inclusion or withdrawal of a name from the blacklist.
Responding to a question about the Pakistan Tehreek-i-Insaf's demand for removing Khyber Pakhtunkhwa Governor Iqbal Zafar Jhagra, the minister said anybody could be removed if the government found interference in and influence on the next elections.
He ruled out the possibility of any delay in the general elections and said the caretaker government would utilise all its energies and resources to ensure that the elections were held on time and in a free and transparent manner. "This is our promise with the nation," he reiterated.
Full report at:
https://www.dawn.com/news/1415319/panel-to-decide-if-names-of-nawaz-maryam-should-be-on-ecl
--------
'Can't polish Hamza's boots', will contest election as independent candidate, says Zaeem Qadri
June 21, 2018
PML-N leader Zaeem Qadri on Thursday became vocal about his differences with the party leadership and announced that he will contest the upcoming general election from Lahore's NA-133 seat as an independent candidate.
"I cannot polish Hamza Shahbaz's boots," Qadri said during a press conference in Lahore. He further announced that two of his aides — Syed Imran Ali Shah and Asif Raza Baig — would also contest the election independently from PP-166 and PP-167 constituencies, respectively.
"I have given my life and money [to PML-N], and spent time in jails for you," Qadri said.
Before the press conference, Qadri met senior PML-N leader Khawaja Saad Rafique who reportedly tried to convince Qadri to rethink his decision of going against the party. However, the meeting evidently bore no fruit as soon after the meeting Qadri announced his grievances with the party leadership.
"Bring on your employees, boot polishers and masseurs; my election is against you Hamza Shahbaz," Qadri thundered.
Recounting his family's struggles for democracy and the PML-N, he warned: "Hear Hamza Shahbaz! Lahore is neither your, nor your father's property."
"You have ruled Punjab for 10 years, bring on the unit that you have made in Punjab comprising of your employees and contest the election [against me]."
Qadri, who has reportedly not been awarded the party's ticket, said it was not about the elections but that his patience had run out because of what has happened in the province during the past 10 years.
"People know that you were nowhere to be seen in the last 10 years," he said, addressing Hamza.
Qadri also claimed that one PML-N leader told him that he could not be given the ticket because he "does not have enough money to contest the elections".
Qadri has served as the provincial minister and an adviser to the chief minister, as well as Punjab government's spokesman. He has also served at important positions within the PML-N's party structure.
Full report at:
https://www.dawn.com/news/1415230/cant-polish-hamzas-boots-will-contest-election-as-independent-candidate-says-zaeem-qadri
--------
Sikh pilgrims reach Lahore to mark Maharaja's death anniversary
June 22, 2018
LAHORE: 284 Sikh pilgrims arrived in Lahore from India via Wagah border on Thursday to participate in the week-long rituals to mark the 179th death anniversary of Maharaja Ranjeet Singh.
Headed by their group leader, Sardar Balvinder Singh, the pilgrims arrived at the Wagah railway station through a special train at about 12:30pm.
They were given a warm welcome by the Evacuee Trust Property Board (ETPB) officials, including Secretary Tariq Wazir, Deputy Secretary Imran Gondal, Public Relation's chief Amir Hashmi, Pakistan Gurdawra Parbandhak Committee's former chairman Sardar Bashan Singh and others.
"We really want that both Pakistan and India should have unprecedented friendly relations with each other. We also desire that there should be no visa for the citizens of the two countries," said Balvinder Singh while speaking to the media on the occasion.
"Such an ideal situation will enable us to visit Pakistan anytime for observing religious rituals at temples of our spiritual leaders," he added.
Under an agreement between India and Pakistan, 500 Sikh pilgrims may visit Pakistan to mark the death anniversary of Maharaja Ranjeet Singh. This time, according to an official source, 307 people applied for visa at Pakistan's high commission (New Delhi). "The Pakistan High Commission issued visas to all 307 applicants. But 284 of them reached Lahore via Wahga," an official told Dawn.
Amid tight security, the Sikh pilgrims reached the Lahore railway station. Later, they left for Hasanabdal to visit the Panja Sahjib temple through another special train.
"They will stay in Hasanabdal for two days and then reach Nankana Sahib. Here they will stay for two days for performing rituals at the temple of Baba Gurunanak Dev Jee. They will also visit temples in Narowal and Aimanabad. And finally, they will return to Lahore on June 29 to attend the main ceremony in this regard. On 30th, they will return to India," the official said while giving details of the 10-day schedule of the pilgrims.
Earlier, the ETPB secretary while speaking to the pilgrims and the media at Wagah appreciated Pakistan's embassy for facilitating the pilgrims by issuing them visas.
Full report at:
https://www.dawn.com/news/1415283/sikh-pilgrims-reach-lahore-to-mark-maharajas-death-anniversary
--------
JI workers' clash leaves one dead in Mohmand
June 21, 2018
GHALANAI: One person was killed and three others were injured as participants of a Jamaat-i-Islami rally pelted stones at one another while returning from a party gathering in Soran Dara area of Baizai tehsil of Mohmand on Wednesday.
Local residents said Malik Rehman Gul and Ghafoor Khan, the JI activists, brawled with each other after a party's corner meeting.
Afterwards the supporters of the two leaders started pelting stones at one another. In the melee, one Araf Shah was killed while three others, including Rehman Gul, Gulistan Khan and Ghafoor Khan, received injuries. The injured were shifted to a hospital in Bajaur.
Full report at:
https://www.dawn.com/news/1415037/ji-workers-clash-leaves-one-dead-in-mohmand
--------
Pakistan daily Dawn says govt officials are barring its circulation in Sindh, Punjab and Balochistan ahead of polls
Jun 21, 2018
Pakistani newspaper Dawn has been facing disruptions in its circulation in "targeted cities and towns" for the past month ahead of the July general election, its management said in a statement on Tuesday.
The management of Pakistan's oldest newspaper has also alleged that vans and hawkers distributing its copies have been denied entry to cantonment areas for "several months" and government officials in parts of Sindh, Punjab, and Balochistan are now also stopping them from delivering copies to regular subscribers ahead of the 25 July polls.
"Multiple reports are also coming in of officials posted in many cities and towns in Punjab, arbitrarily summoning newspaper agents, hawkers and salesmen, and warning them not to distribute copies of Dawn, threatening them with consequences if disobeyed," it added.
Calling attempts to forcibly deny newspaper access to the citizens a "categorical violation of the Article 19", Dawn urged caretaker prime minister Nasirul Mulk, Chief of Army Staff General Qamar Bajwa and Chief Justice of Pakistan Mian Saqib Nisar to take strong notice "without any further delay of this hostile situation".
'Cannot withstand an engineered election'
In Pakistan, Article 19 of the Constitution grants its citizens the right to freedom of speech and expression, and the freedom of the press. This freedom is subject to any "reasonable restrictions imposed by law in the interest of the glory of Islam or the integrity, security or defence of Pakistan or any part thereof friendly relations with foreign States, public order, decency or morality, or in relation to contempt of court, (commission of) or incitement to an offence."
Reacting to Dawn's allegations, former Senate chairman Mian Raza Rabbani said that "such actions (attempts to intimidate the media) are also denial of the fundamental right guaranteed under Article 19(A)," Pakistan Today reported. Article 19(A) grants every citizen the right to have access to information in all matters of public interest.
He added that if this campaign continued, the holding "free, fair and just elections" will become next to impossible. "Let such forces be warned that the social and political fibre of Pakistani society and the polarisation within the Federation cannot withstand an engineered election," he said.
Committee to Protect Journalists Asia also criticised authorities in Pakistan:
The background
In May, several reports stated that copies of Dawn "vanished" from Balochistan. It was reported then that the distributors were told to stop its circulation because the newspaper was 'pro-Nawaz Sharif'.
On 12 May, Dawn published an interview with the former prime minister which purportedly did not go down well with the Pakistan's military establishment; Nawaz questioned the military's commitment to curbing terrorism. "Militant organisations are active. Call them non-State actors, should we allow them to cross the border and kill 150 people in Mumbai (2008 attack)? Explain it to me. Why can't we complete the trial?" Sharif asked in the interview.
The Pakistan Army enjoys considerable influence over policy decisions in Pakistan and has virtually ruled the country for much of its life since it gained independence 70 years ago.
Following the Dawn interview, the Press Council of Pakistan notified the newspaper's editor that the publication has breached the ethical code. Media watchdog Reporters Without Borders lashed out at the authorities over the reports of blocking of Dawn's circulation. "It is clear that the military high command does not want to allow a democratic debate in the months preceding a general election," it said in a statement.
Other media organisations cry censorship
Apart from Dawn, journalists and other media organisations have claimed censorship and acts threatening their freedom ahead of the July election.
On 6 June, senior journalist Gul Bukhari — known for her criticism of the Pakistan Army — was abducted for several hours while on her way to record a TV programme late at night. Another journalist Asad Kharal was physically assaulted in Lahore the same day.
In April, Geo News was blocked in many parts of Pakistan. Reports claimed that cable operators were being forced to suspend the channel on orders of the Pakistan military.
Media watchdogs such as Amnesty and International Press Institute (IPI) expressed their concerns over these incidents.
"These actions deny the public's fundamental right to receive news and information and to participate in informed debate about matters of public interest, in particular the military's role in civilian affairs", IPI executive director Barbara Trionfi said in a letter sent to Mulk, Nisar, Chief Election Commissioner Sardar Muhammad Raza, Senate chairman Muhammad Sadiq Sanjrani, and the Leader of Opposition Sherry Rehman.
Full report at:
https://www.firstpost.com/world/pakistan-daily-dawn-says-govt-officials-are-barring-its-circulation-in-sindh-punjab-and-balochistan-ahead-of-polls-4559131.html
--------
UNHCR appreciates Pakistan for hosting millions of Afghan refugees
June 22, 2018
The United Nations High Commissioner for Refugees has appreciated the people and government of Pakistan for hosting millions of Afghan refugees for the last four decades, reported by Radio Pakistan.
Speaking at an event in Islamabad, UNHCR's Representative, Ms. Ruvendrini Menikdiwela, urged international community to support Afghan refugees and their host communities in Pakistan.
Addressing the event, Minister for SAFRON, Roshan Khursheed Bharucha said Pakistan has taken several steps to protect Afghan refugees in the country.
She said the growing numbers of displacement globally and shifting humanitarian focus have impacted Pakistan.
The Minister reiterated Pakistan's commitment to the voluntary, gradual, safe and dignified return of Afghan refugees back to their country.
Full report at:
https://nation.com.pk/22-Jun-2018/unhcr-appreciates-pakistan-for-hosting-millions-of-afghan-refugees
--------
India
Home Ministry invokes UAPA, bans new offshoots of al-Qaeda and Islamic State
by Rahul Tripathi
June 22, 2018
The Union Home Ministry has banned new offshoots of the al-Qaeda and Islamic State under the anti-terror Unlawful Activities (Prevention) Act (UAPA).
Both al-Qaeda in Indian Subcontinent (AQIS) and Islamic State of Iraq and the Sham-Khorasan (ISIS-K), an Afghanistan-based affiliate of ISIS, have been declared unlawful.
According to the ministry's order, AQIS has been promoting and encouraging terrorist acts in the Indian Sub-continent and has been attempting to radicalise and recruit Indian youths.
There are 39 banned outfits under UAPA, including the Islamic State, Lashkar-e-Toiba, Jaish-e-Mohammad (JeM) and others.
Known as Maulana Asim Umar, the chief of AQIS, Sanaul Haq, belongs to UP's Sambhal. He was appointed the chief of al-Qaeda in the Indian Subcontinent in 2016. Al-Qaeda's South Asian wing has been attempting to infiltrate India since September 2014, when the al-Qaeda overall chief Ayman al-Zawahiri announced the formation of the South Asia branch.
the group has had little success and was exposed in 2015, when nearly a dozen of its operatives, including Muhammed Asif, Abdur Rehman and Abdul Sami were arrested from Uttar Pradesh, Odisha and Jharkhand. Rehman's brother was a suspect in the American Centre blast in Kolkata in 2002. He was later acquitted. Another attempt to establish AQIS was made in south India when a group called "Base Movement" (BM) came to public attention with a series of bomb blasts in 2016.
The group existed since 2014 and was responsible for a series of blasts in courts in Tamil Nadu, Kerala and Andhra Pradesh. Three suspects were identified — Abbas Ali (27), Suleiman Mohd Abdullah (23) and Samsun Karim Raja. The trio claimed affiliation to AQIS, not Islamic State. According to the ministry, the ISIS-K, also known as Islamic State in Khorasan Province (ISKP)/ISIS Wilayat Khorasan, is also promoting terrorism in the Indian subcontinent.
It has been committing terrorist acts to consolidate its position by recruiting youths for "global jihad" and to achieve the objective of establishing its own "caliphate" by overthrowing democratically elected governments, the order said.
The outfit considers India and Indian interests as its targets and is engaged in radicalising and recruiting Indian youths for terror activities, the ministry order said.
The UAPA has strict penal provisions to deal with banned organisations and their members. In 2016, twenty-two Keralites, including six women and three children, reached the bastion of Islamic State terror operations in Afghanistan. Intelligence reports claim that four of them from Kasaragod, including a child, were killed in bombings by the US. They were identified as Mohammad Mansad, Shihas, his wife Ajmala and their child.
https://indianexpress.com/article/india/home-ministry-invokes-uapa-bans-new-offshoots-of-al-qaeda-and-islamic-state-5227961/
--------
How Muslims in Bangalore made it an Eid for all to remember
June 21, 2018
By Nikhat Fatima, TwoCircles.net
Ramadan is the month which Muslims all over the world observe with piety and spend the entire month doing good, praying and being kind and generous. Many of them go out of their way and spend generously on the poor and the needy irrespective of their religious background. Ramadan is the month in which Allah has promised to multiply each sincere act of the believer many folds. Therefore even a small gesture of kindness in this month has a great magnitude and its reward multifold.
Eid ul Fitr- the day when all the Roza/ saum/fasting is completed and Muslims celebrate it with much pomp and splendour. It is also the time when people greet each other and gift their loved ones. This year saw Muslims of Bangalore giving away gifts to unknown yet people who matter in our daily lives.
The idea was born in the mind of Tanveer Ahmed resident of Bangalore who shared it with his friend Ameen e Mudassar, a career expert. And together they contacted around 500 people to contribute and in a short period of four days managed to mobilise 2,800 gifts.
"The entire planning, execution, organizing and implementing was done in WhatsApp. Never in my life was I on WhatsApp for non-stop 8-10 hours every day," said the organisers.
And finally, on the day of Eid, more than 150 volunteers took to the streets distributing the sweets and dates to people from all walks of life. These people were someone we see and run into daily without giving a second thought. These were police personnel, auto drivers, bus drivers, conductors, and people from the fire department, temple and church priests, BBMP (Bruhat Bengaluru Mahanagara Palike) pourakarmikas – who are sweepers, garbage collectors and sewage workers.
Distributing Eid gifts to these people was not a mere gesture of generosity but a way of appreciation and spreading the spirit of Ramadan which is kindness, charity and love. The day of Eid in Bangalore witnessed the true spirit of Ramadan through this rare and remarkable act by a group of people who got together to extend the happiness of Eid and bring smiles on the faces of those people who contribute to our well being in one way or the other, directly or indirectly.
Full report at:
http://twocircles.net/2018jun21/423848.html?utm_source=feedburner&utm_medium=email&utm_campaign=Feed%3A+Twocirclesnet-IndianMuslim+%28TwoCircles.net+-+Indian+Muslim+News%29
--------
Indian official transferred for 'humiliating' Hindu-Muslim couple
21 June 2018
A passport official in the northern Indian city of Lucknow has been transferred after a couple complained that he harassed them because they were not from the same religion.
The woman, Tanvi Seth, who is a Hindu, tweeted to the foreign minister, saying the officer asked her husband, who is Muslim, to convert to Hinduism.
She added their passport application was also "put on hold" and they were "humiliated" by the experience.
Her tweets had sparked outrage online.
The story was picked up by many media outlets and online, prompting the passport office to take action, reports BBC Hindi's Samiratraj Mishra.
"The couple's documents were complete and they have been issued their passports," Lucknow's regional passport officer Peeyush Verma told a news conference.
"Religion of an applicant doesn't matter while we're processing passport applications."
Marriages between Hindus and Muslims have long attracted censure in conservative Indian families, but recently there has been an attachment of a deeper, sinister motive to them.
In recent years, they are increasingly being labelled as examples of alleged "love jihad" - a term popularised by radical Hindu fringe groups, who accuse Muslim men of participating in a "conspiracy to turn Hindu women from their religion by seducing them".
Mr Verma added that a report of the incident had been sent to the Ministry of External Affairs.
The couple married in 2007 but Ms Seth never changed her name.
In her tweets, she had also alleged that the officer told her that it was her "duty to change your name after marriage".
Her husband, Mohammad Anas Siddiqui told the Indian Express newspaper that when his wife refused to change her name, the officer "started shouting at her in front of everyone".
Full report at:
https://www.bbc.com/news/world-asia-india-44558138
--------
Yoga Shouldn't Be Used As Political Tool, Say Muslim Bodies
June 20, 2018
LUCKNOW: Yoga should not be used as a political tool or linked to a particular community, top Muslim bodies said today on the eve of International Day for Yoga.
The organisations also said that Yoga should be seen as form of exercise and not through the prism of religion.
"Islam lays special emphasis on physical fitness and considers things related to fitness as good. Yoga as an exercise is good, but it should not be made compulsory which may not be acceptable to people of other religions.
"The most important thing is that Yoga should not be used as a political tool. But, sadly this practice is going on," All India Muslim Personal Law Board spokesman Sajjad Nomani told PTI here.
He also said that people of every religion and section of society should be encouraged to celebrate Yoga Day tomorrow.
"It is unfair to force upon someone any particular exercise. There should be no dispute vis-a-vis Yoga. People of every religion and section of the society should be encouraged to celebrate International Yoga Day.
"It is important that Yoga should be perceived as a rahmat (mercy) and not a 'zahmat' (worry)," the spokesman said.
The All India Shia Personal Law Board (AISPLB) was of the view that Yoga should not be linked to a community.
"Yoga should not be seen as something linked to a particular community. It is related to the body only. People who have the habit of seeing Yoga through the prism of religion, actually want to see humanity in a sick state of affairs," AISPLB spokesperson Yasoob Abbas said.
He said several Islamic nations celebrate International Day for Yoga and people participate happily in events.
Full report at:
https://www.ndtv.com/india-news/yoga-shouldnt-be-used-as-political-tool-say-muslim-bodies-1870629
--------
Airtel India under fire after complying with anti-Muslim request
June 21st, 2018
The telecom company has been heavily criticized after it failed to defend a Muslim employee against discrimination from a customer
Airtel India has been heavily criticized after it failed to defend a Muslim employee against discrimination from a customer.
According to the BBC, the row began on Monday when Pooja Singh – the customer in question - tweeted that she had a terrible experience with a call centre employee. When an Airtel customer service representative with a Muslim name replied, she asked for a "Hindu representative" as she had "no faith" in the Muslim employee's "working ethics" since "the Koran may have a different version for customer service."
Scant hours had passed before another Airtel customer representative – this time, not a Muslim – responded in compliance with Pooja's request and offered to accommodate her.
The exchange received intense backlash online as many interpreted the move as extremely anti-Muslim. The former chief minister of Indian-administered Kashmir denounced the company, saying he would stop using Airtel.
After it was widely condemned on social media, Airtel issued a statement on Twitter claiming to be above discrimination.
However, many users have continued to criticize the company over the initial response complying with the discriminatory request.
Many people have also trolled the customer for her tweet - one called her a "Hindu bigot" and another referred to her as a "hatemonger."
Pooja has since responded, claiming that those who have criticized her have only proven her right.
The incident happened a day after Ola, an Indian taxicab aggregator, landed in controversy when one of its drivers refused to drop a Muslim customer at his location.
Full report at:
https://www.dhakatribune.com/around-the-web/2018/06/21/airtel-india-under-fire-complying-with-anti-muslim-request
--------
'Yoga not linked to religion, practised in Muslim nations'
Jun 22, 2018
LUCKNOW: Union home minister Rajnath Singh, who participated in yoga day celebrations at Raj Bhawan on Thursday said that yoga transcended all religions and was not limited to Hinduism.
"Earlier, people thought that yoga is only connected with religion. But if it were true, people from more than 192 countries across the world would not have adopted it. This also includes 46 Muslim countries. India has recently awarded the Padmashri to a woman from Saudi Arabia who practises yoga. Prime Minister Narendra Modi calls it cultural diplomacy," the MP from Lucknow said.
Rajnath, along with governor Ram Naik, chief minister Yogi Adityanath and deputy CM Dinesh Sharma, led hundreds of people in an hour-long yoga session at the governor house lawns.
Singh added that Modi was single-handedly responsible for getting international recognition to yoga. "The entire world has accepted and adopted it. US is one of the richest countries in the world and even there, more than 2.5 crore people practise yoga. It surprises people to know that yoga finds mention even in the Rig Veda," he said.
The chief minister, who marked a departure from tradition and wore a saffron tshirt instead of his trademark saffron robe, told the gathered crowd that yoga has been a way of life for rishis or Hindu seers for centuries.
"Within a few years, people from across the world have become connected with this tradition. Yoga is an umbrella term which encompasses various other traditions. All those who practise yoga appear to be at least 10 years younger than they actually are. This itself explains the connection between practising yoga and being free of illnesses. By practising yoga regularly, one can save a lot of money that would have otherwise been spent on treatment of various illnesses. Yoga is the balance in one's life and it is for this balance that everyone must come forward along with PM Modi and accept yoga as a way of life," he said.
Full report at:
https://timesofindia.indiatimes.com/city/lucknow/yoga-not-linked-to-religion-practised-in-muslim-nations/articleshow/64690755.cms
--------
Elite NSG commandos to be drafted for war on J&K terror
Bharti Jain
Jun 22, 2018
NEW DELHI: The Centre has decided to deploy National Security Guard commandos in Srinagar to fortify the counter-terror grid as security forces look to step up action against terror outfits after the state was placed under governor's rule with BJP snapping its alliance with PDP.
NSG will be training the state police and other paramilitary forces in special anti-terror skills, oversee anti-hijack operations at Srinagar airport and deploy commandos for intelligence-based operations where needed, with the elite unit being deployed in pinpointed operations.
While NSG has been training CRPF as well J&K police for counter-terror operations, there is a view within the central security establishment that its equipment, expertise and skills could be put to more active use.
"It's a sizeable force equipped with the latest weapons and equipment for counter-terror actions, and many feel that its deployment should not be limited to extraordinary situations like the 26/11 attacks or the Pathankot strike. They can be actively involved to tackle terrorism in J&K and be a strong force multiplier. The situation is apt to put their superior training, skills and arms to use," said an official.
Full report at:
https://timesofindia.indiatimes.com/india/elite-nsg-commandos-to-be-drafted-for-war-on-jk-terror/articleshow/64689296.cms
--------
South Asia
Saudi Arabia's King Salman demands extension of ceasefire in Afghanistan
Jun 21 2018
The King of Saudi Arabia Salman bin Abdulaziz has demanded the extension of the ceasefire by all parties involved in the conflict in Afghanistan.
Welcoming the announcement of ceasefire by the Taliban and Afghan government during Eid Al-Fitr, King Salman said hoped that the truce would be renewed and built upon for a longer period so that all parties could work together to achieve peace for the Afghan people.
King Salman further added that the Afghan people, who had suffered so much from the horrors of war were looking forward to turn the page of the past and to open a new one based on tolerance and reconciliation, renounce violence and preserve the lives of innocent people.
This comes as President Mohammad Ashraf Ghani has said the government is prepared to extend the ceasefire for one year if the Taliban leadership is ready for a ceasefire extension.
Ghani made the remarks during a meeting with the members of Helmand peace convoy who arrived in Kabul on Tuesday.
He said if the Taliban group for a three day ceasefire then they can agree for a one year ceasefire as well as he emphasized that the government announced the ceasefire based on the Fatwa of the religious clerics which reflects the will of the entire nation.
However, the Taliban issued a statement late on Sunday and said the fighters of the group will continue to their attacks on Afghan and foreign forces as well as against the government.
The group has refrained from extending the ceasefire despite the Afghan government announced late on Sunday that the ceasefire with the Taliban has been extended for another ten days.
https://www.khaama.com/saudi-arabias-king-salman-demands-extension-of-ceasefire-in-afghanistan-05403/
--------
ICC gives Myanmar deadline over Rohingya case jurisdiction
June 21, 2018
Judges at the International Criminal Court have given Myanmar a deadline to respond to a prosecution request that they consider hearing a case on the alleged deportation of Rohingya minorities to Bangladesh.
In a decision published on Thursday, the judges asked Myanmar to reply by July 27 to the request made in April that the ICC should exercise jurisdiction over the alleged crimes.
About 700,000 mostly Muslim Rohingya have fled largely Buddhist Myanmar to Bangladesh after a military crackdown in August 2017 that the United Nations has called ethnic cleansing.
"Considering that the crime of deportation is alleged to have commenced on the territory of Myanmar, the chamber deems it appropriate to seek observations from the competent authorities of Myanmar on the prosecutor's request," the decision said.
The world's first permanent war crimes court does not have automatic jurisdiction in Myanmar because it is not a member state. However, the prosecutor asked the court to look into the Rohingya crisis and a possible prosecution through Bangladesh, which is a member.
Prosecutor Fatou Bensouda has argued that, given the cross-border nature of the crime of deportation, a ruling in favour of ICC jurisdiction would be in line with established legal principles. However, she acknowledged uncertainty around the definition of the crime of deportation and limits of the court's jurisdiction.
Full report at:
https://www.thedailystar.net/rohingya-crisis/judges-icc-gives-myanmar-deadline-over-rohingya-case-jurisdiction-repatriation-refugees-bangladesh-1593361
--------
US rules out direct negotiations with the Taliban group
Jun 21 2018
Ambassador Alice Wells, the senior bureau official for South and Central Asian Affairs, has said the United States government is prepared to support, facilitate, and participate in direct negotiations between the Afghan government and the Taliban.
In an official testimony before the House Foreign Affairs Committee on Wednesday, Ambassador Wells said "Our desired outcomes for any peace process are clear and have not changed. The Taliban must renounce violence, break ties with al-Qaida, and accept the Afghan Constitution – including its protections for women and minorities."
"There have been signs that the Taliban's Pakistan-based leaders are debating the merits of joining a peace process; however, the group has not responded to President Ghani's offer of unconditional talks," she added.
This comes as the Taliban group leadership has been emphasizing on direct talks with the US officials in a bid to end the ongoing conflict in Afghanistan.
"The only path to rescuing ourselves from all these calamities is for all American and other occupying forces to leave our country and for an independent, Islamic, intra-Afghan government to take root. Our Jihad began for this exact purpose and in conjunction to our armed Jihad, we have kept the doors of understanding and negotiations open to reach this objective and appointed the Political Office of the Islamic Emirate as the exclusive avenue of activity in this regard," the Taliban supreme leader Mullah Hebatullah Akhundzada said in a message released ahead of Eid Al-Fitr.
Full report at:
https://www.khaama.com/us-rules-out-direct-negotiations-with-the-taliban-group-05362/
--------
Militants suffer heavy casualties in Sari Pul artillery and airstrikes
Jun 20 2018
Several militants were killed during the artillery and airstrikes carried out by the Afghan armed forces in the vicinity of Sayad district in northern Sari Pul province.
The Ministry of Defense of Afghanistan (MoD) said Wednesday that the latest artillery and airstrikes left at least 16 militants dead.
The source further added that at least 11 militants also sustained injuries and their five motorcycles along with some weapons and munitions were destroyed.
The 209th Shaheen Corps of the Afghan military in the North had said earlier that the artillery and airstrike have left at least six militants dead while six others have sustained injuries.
The anti-government armed militant groups including Taliban militants have not commented regarding the report so far.
The latest operations have apparently been carried out in response to the coordinated attacks launched by the militants at the end of a three day ceasefire announced by the Taliban during the Eid days.
Full report at:
https://www.khaama.com/militants-suffer-heavy-casualties-in-sari-pul-artillery-and-airstrikes-05396/
--------
New UN envoy calls for 'genuine reconciliation' in Myanmar
Jun 21, 2018
The new UN envoy for Myanmar has told authorities in her first visit to the country that those behind atrocities and attacks against persecuted Rohingya Muslims in Rakhine state "must be held accountable."
According to a UN statement released on Thursday, Christine Schraner Burgener said credible measures were needed to establish accountability for the violence that has engulfed Rakhine and driven thousands of Rohingya from their homes.
"In all discussions, the special envoy underlined the importance of accountability, which she highlighted was essential for genuine reconciliation," the statement read.
The UN envoy "urged for credible fact-finding measures" and said the United Nations was ready to cooperate to establish such steps.
Schraner Burgener held talks with Myanmar's de facto leader Aung San Suu Kyi and commander-in-chief General Min Aung Hlaing during a nine-day visit to the country.
After visiting the camps of displaced Rohingya in Rakhine, she also suggested that authorities hold public meetings with the affected communities to encourage "reconciliation and healing."
The former Swiss ambassador to Germany, who was appointed special envoy in April, will travel soon to neighboring Bangladesh where 700,000 Rohingya live in overcrowded camps after being driven from their homes. She also plans to visit Thailand and China.
The United Nations has described the military campaign in Rakhine as "ethnic cleansing" and is pushing for a full investigation into allegations of atrocities.
Suu Kyi has come under fire for doing virtually nothing to stop the crimes. Her government has also snubbed and obstructed UN officials seeking to investigate the situation and prevented aid agencies from delivering food, water and medicines to the refugees.
The Security Council visited Myanmar and Rakhine state in early May, meeting with refugees who gave detailed accounts of killings, rape and torching of villages at the hands of Myanmar's military.
The United Nations has said it has strong suspicions that "acts of genocide" have taken place against the Rohingya.
The Rohingya have lived in Myanmar for generations but are denied citizenship and are branded illegal immigrants from Bangladesh, which likewise denies them citizenship.
Full report at:
http://www.presstv.com/Detail/2018/06/21/565669/UN-Myanmar-Rohingya-Rakhine-state-Christine-Schraner-Burgener
--------
Southeast Asia
Indonesia court sentences Islamic State-linked cleric to death
June 22, 2018
JAKARTA: An Indonesian court on Friday sentenced to death a cleric linked to Islamic State, for masterminding from his jail cell a string of deadly militant attacks across the world's largest Muslim-majority country.
The ruling comes as Indonesia struggles to rein in a rising tide of homegrown militancy, inspired in part by the extremist group Islamic State, with parliament approving tougher anti-terrorism laws last month.
Aman Abdurrahman, 46, is considered the ideological leader of Jemaah Ansharut Daulah (JAD) – a loose grouping of Islamic State sympathizers in Indonesia.
"The court sentences the defendant to death," said the judge, Ahmad Zaini, adding that Abdurrahman had been proved guilty of "carrying out terrorism".
Abdurrahman bowed and touched his forehead to the floor on hearing the verdict, but did not respond to the judge's query whether he would appeal against the ruling.
He was convicted of planning a 2016 gun-and-bomb attack in the heart of Jakarta, the capital, that killed eight people, including four attackers.
Abdurrahman was also proved to be behind a suicide attack last year that killed three police officers at a Jakarta bus station and the bombing of a church in Samarinda on Borneo island that wounded four children.
He was serving a sentence in a maximum security prison at the time.
Abdurrahman's defence team told reporters the sentence was "too harsh".
"He himself does not have the desire to appeal because he does not recognise the court or Indonesian laws," said Asludin Hatjani, a lawyer for Abdurrahman, adding that the defence team had a week to consider filing an appeal.
Earlier, dozens of masked and heavily armed police officers stood guard as Abdurrahman, handcuffed and wearing an orange prison jacket over a blue shirt and black trousers, was escorted into the South Jakarta courthouse by counter-terrorism officers.
Security experts have raised concerns that a harsh penalty for the cleric could trigger retaliatory attacks by followers.
"The verdict provides moral support for the counter-terrorism community, but it will also make Abdurrahman a martyr to the jihadist community, whether he is executed or allowed to spend years on death row," Concord Consulting, a risk advisory group based in Jakarta, said in a note.
Suicide bombings last month in Indonesia's second largest city of Surabaya that killed more than 30 people and were carried out by families with young children, were linked to JAD cells and were the country's deadliest in nearly two decades.
The US State department says the JAD grouping is a "terrorist" organisation linked to numerous attacks.
http://www.freemalaysiatoday.com/category/world/2018/06/22/indonesia-court-sentences-islamic-state-linked-cleric-to-death/
--------
Philippines, Muslim Rebel Group Close to Landmark Power-Sharing Deal
June 21, 2018
TAIPEI, TAIWAN —
After four years of talks and one deadly setback, the Philippines is finalizing a law that would offer some autonomy to a flagship Muslim separatist group on the historically troubled southern island of Mindanao.
Both houses of the Philippine legislature have passed initial versions of the law, and President Rodrigo Duterte is to sign a final draft July 23 just before a state-of-the-nation speech, according to domestic media reports. The law would give at least one major rebel group, the Moro Islamic Liberation Front (MILF) autonomy over land use in a segment of Mindanao, the country's southernmost major island.
However, lawmakers may remove some of the clauses that the front wants, said Ramon Casiple, executive director of Philippine advocacy organization Institute for Political and Electoral Reform in Metro Manila. The group might protest the law if too many items are taken out but ultimately they will go along with it, he said.
"The MILF might not get what they want," Casiple said, using the rebel group's acronym. "But at the least it would end the MILF rebellion if you're talking about the leadership itself."
Four years of effort
Muslim rebel negotiators, the government and lawmakers have haggled over the law since the rebel front and the state reached a peace deal in 2014 requiring the Moro front to lay down arms.
Today's legislation called the Bangsamoro Basic Law, or BBL, would create an autonomous political entity called the Bangsamoro Autonomous Region. That region would in turn replace an existing 12,536-square-kilometer tract carved out for Muslim groups in Mindanao and come with more rights for its inhabitants.
The law should inspire the Moro front to shun any further violence, said Enrico Cau, Ph.D. student in international affairs and strategic studies at Tamkang University in Taiwan.
"None of them are looking for war," Cau said. "President Duterte will say he doesn't want to go to war with his own kin, and MILF seems very reasonable. Basically, they have no reason, no rational reason, not to want peace in the region."
Muslims have lived in the 21 million population Mindanao's west and outlying islands for more than 500 years. Many live in poverty and resent the country's Christian majority control of resources. About 121,000 people have died in related conflicts since the 1960s.
The Philippine Congress was set to pass a law in 2015 but stopped after the Moro Islamic Liberation Front ambushed troops near its holdings in Mindanao and killed 44 commandos. Duterte, himself from Mindanao and in office since 2016, has pushed for negotiations and told Congress this year to make it an urgent priority.
Moro group peace panel chair Mohagher Iqbal has urged passage of a law that reflects the peace deal.
"The only BBL acceptable to us is a BBL compliant to the peace agreement," Iqbal said in a video statement posted on the group's official Facebook site. "The MILF position is, let the BBL pass Congress and the Senate now."
Sticking points
Negotiations are expected to continue until the final signing, Casiple said. The Moro front and the government would haggle over rights to the autonomous region's exact boundaries and rights to any oil and gas discoveries. The proposal calls for equal sharing of coal, natural gas and petroleum.
Congress has also lowered from 6 to 5 percent the Bangsamoro region's proposed annual share of national internal revenue, allotting it $1.1 billion, Philippine media reports say.
Duterte has said the region would not be allowed to keep a separate military.
Another sticking point: whether autonomy sharing covers a separate rebel group, the Moro National Liberation Front. The group has expressed reservations about the process, and one of its factions plotted a deadly attack in Mindanao in 2013.
The Moro National Liberation Front wants the law to allow job placement, scholarships and permission for its founder, Nur Misuari, to join talks with the government, a group representative said for this report.
"To soften my pragmatic attitude against BBL, I only want a scholarship abroad on skill courses such as beer making, Mandarin language, alternative clean energy, and whatever that could help me learn new skills to go back to peaceful mainstream livelihood," the representative said.
Analysts expect the law to omit smaller, more violent Mindanao-based Muslim groups such as the Abu Sayyaf known for kidnapping foreigners, and the Maute Group that battled troops for five months in 2017.
Those left out might rebel, scholars have said in the past. Separatist groups in Mindanao have shown a pattern of reappearing under new names or locations to stage attacks.
Full report at:
https://www.voanews.com/a/philippines-muslim-rebel-group-close-to-landmark-power-sharing-deal/4449826.html
--------
Terengganu says no bikini ban on its islands and beaches
22 June 2018
KUALA LUMPUR, June 22 — The PAS government in Terengganu stressed that it will not restrict non-Muslims from donning bikini swimwear on the state's beaches and islands.
Malay daily Kosmo! reported Terengganu Humanity, Preaching, and Information committee chairman Mohd Nor Hamzah as saying the decision gelled with the state government's stance of being tolerant and maintaining harmony among the state folk.
"Furthermore, the decision to dress in bikinis is the right of non-Muslim tourists, and it is also considered common practice at holiday spots.
"We also do not plan to implement harsh punishments or restrictions on non-Muslim visitors including those dressed in bikinis," he was quoted saying in the daily.
However, he conceded that authorities may, from time to time, approach the tourists for "discussions" on the matter, but did not explain what this would entail.
Terengganu is home to many holiday islands on the east coast of the peninsula, including Pulau Perhentian Kecil & Besar, Pulau Kapas, Pulau Tenggol, and Pulau Redang.
Around five million visitors were recorded in the state last year, with the local government aiming at achieving 6.5million visitors, raking in a total of RM6 billion come 2025.
Full report at:
https://www.malaymail.com/s/1644379/terengganu-says-no-bikini-ban-on-its-islands-and-beaches
--------
Malaysia's Anwar Ibrahim voices support for 'most popular Muslim leader' Erdoğan
June 20, 2018
Leader of the Pakatan Harapan coalition that now governs Malaysia, Anwar Ibrahim has voiced his support for President Recep Tayyip Erdoğan in Turkey's upcoming elections.
Ibrahim, 70, formerly served as Malaysian Prime Minister Mahathir Mohamad's deputy. He came to Turkey with Erdoğan's invitation upon his release from prison last month after being sentenced to five years behind bars in February 2015.
His release marked the first major success of the newly-elected Pakatan Harapan coalition.
Mahathir, 92, has promised to hand over the premiership to Ibrahim within a year or two.
In an interview with Anadolu Agency, Ibrahim described Erdoğan as "the most popular leader among Muslims of Malaysia and outside Malaysia because of his position on Palestine and on what happened to the Middle East."
Ibrahim said he supports Erdoğan in the upcoming presidential and parliamentary elections in Turkey "because there is one leader who shows courage against the powers in the world."
"Very few leaders of the world would have that courage to go and fight for justice," he said.
Ibrahim recalled that the Turkish president invited his wife and daughter to Turkey while he was in jail.
"Every time [Erdoğan] meets [former] Prime Minister Najib [Razak] or Deputy Prime Minister Zahid [Hamidi], he always makes it a point to remind [them] about my release," Ibrahim said, recalling that Erdoğan also invited him to Turkey as soon as he was freed from jail.
"Jail is, of course, a hell on earth, but as I always say, God is kind and supportive. But the rules are difficult. You lose weight, you become sick, you have injuries, lots of problems," Ibrahim said.
"Many of us experienced jail. President Tayyip Erdoğan experienced jail and that makes us more patient, wiser and hopefully a better leader."
'Sole voice of courage'
In a separate event organized by the Political, Economic and Social Research Foundation (SETA) in Istanbul, Ibrahim reiterated his praise for Erdoğan as a leader who speaks against atrocities in the world.
"… In Tunisia, Pakistan, India every time I speak, I mention [Recep] Tayyip Erdoğan, [I tell them] 'see him as the sole voice of courage in the Islamic world.'"
"You can agree or disagree [with Erdoğan] politically; it is a different issue. But he is the one person who has the courage to speak up against atrocities facing the Palestinians, even the Rohingya [Muslims]," he said.
He said every country should be able to make their own future.
"I do not want my country or myself to be dictated by the western agenda or the eastern agenda, not by the Chinese, not by the Americans, not by the U.K."
Ibrahim said it should be people of Turkey who "decide the future of Turkey, not the west or the liberal agenda."
He also said: "By all means, criticize president [Recep] Tayyip Erdoğan, by all means, criticize the policies of AK Party, all the government, all the opposition, but be consistent."
"Why are you soft on what Trump is doing with the immigrants? Why are you soft on the atrocities in other countries?" he asked.
Ibrahim recalled he was in prison during the defeated coup of 2016, which left 251 people martyred and nearly 2,200 injured. He said he learned about the coup bid from a prison officer. "I had no TV, no radio, no newspapers. I just prayed, read the Quran and prayed and prayed and prayed for the safety for my brothers and sisters and safety for this great country."
He added: "If there is an attempt… to sabotage democracy and democratic process, I will not compromise.
Full report at:
https://www.dailysabah.com/politics/2018/06/20/malaysias-anwar-ibrahim-voices-support-for-most-popular-muslim-leader-erdogan
--------
Join us in defending Islam, PAS tells Umno members
June 20, 2018
KOTA BHARU: PAS is calling on Umno members to join the party in its struggle to uphold Islam.
Its vice-president Mohd Amar Nik Abdullah said PAS' door was always open to anyone who could accept the party's policies.
"We do not have any plans to draw Umno members to PAS but our doors are always open. We welcome anyone who can accept our struggle because we have no personal enemies. We are only enemies in politics.
"We invite those who aspire to defend Islam to come sit down with us, fortify our Islamic struggle in Malaysia for the future.
"We believe many Umno members have high Islamic ideals and are interested to see Islam succeed, only they had chosen Umno (as the vehicle in the struggle)," he said after attending a state exco meeting at Kota Darul Naim Complex here, today.
Asked about Umno's future, Amar, who is also Kelantan deputy menteri besar, said Umno should be dissolved as it had nothing left to offer the people.
He said Umno no longer had any leader who could revive the party following its loss in the 14th general election on May 9.
Full report at:
http://www.freemalaysiatoday.com/category/nation/2018/06/20/join-us-in-defending-islam-pas-tells-umno-members/
--------
Indonesian cleric's call for compassion lost in controversy over Jerusalem visit
June 19, 2018
Yahya Staquf, an Indonesian cleric and secretary-general of the Jakarta-based Nahdlatul Ulama (NU), the world's largest Muslim organization, believes that "rahma," meaning "compassion" or "mercy" in Arabic, can provide the basis for a political solution to the conflict between Israel and the Muslim world.
Leading a small group of Indonesian Islamic scholars, Staquf was in Israel from June 10-13, invited to speak at the American Jewish Committee's annual Global Conference, which was held in Jerusalem. During his stay, Staquf met briefly with Prime Minister Benjamin Netanyahu; spoke at several forums, including at the Israel Council on Foreign Affairs and the Hebrew University; visited with a delegation of Women Wage Peace, an Arab-Jewish peace group; and was guest of honor at a song fest at the Tower of David in Jerusalem's Old City, where he delivered a convocation of peace together with a priest and a rabbi.
Indonesia and Israel do not maintain diplomatic relations, but according to the Israeli Ministry of Tourism, some 30,000 Indonesians, mostly Christian pilgrims, obtain visas to visit Israel each year. In addition, several dozen Israelis visit Indonesia, mostly for business purposes. Staquf repeatedly emphasized that his was a "private visit." Yet, given his position as an adviser to Indonesian President Joko Widodo and Staquf's leadership of the Nahdlatul Ulama — a Sunni group founded in 1926 and with more than 50 million registered members — his visit stood to have political implications, especially as Indonesia continues its efforts to assert itself in world politics, including in attempts to resolve the Arab-Israeli conflict.
Diminutive, with a gentle appearance, Staquf wore a religious cap and most often dressed in Western attire, only occasionally wearing an Indonesian-style shirt. He speaks softly yet decisively.
Using a metaphor, he explained his concept of rahma to Al-Monitor. "If a person is sick with diabetes or heart disease, he will not gain any advantage from medication unless he changes his lifestyle," Staquf said. "The 'lifestyle' of this conflict must change, too. We have tried everything — negotiations, talks, maps, and constant conflict. If operationalized as a political tool, rahma could be a new start."
Staquf visited with Netanyahu, although their meeting was not listed on the prime minister's official schedule. A knowledgeable source told Al-Monitor that the meeting had been hastily arranged. The Prime Minister's Office said in a press release that Netanyahu had told Staquf, "Muslim states are becoming closer to Israel because of the common struggle against the Iranian regime and because of Israeli technology. … The prime minister hopes that there will be progress in our relationship with Indonesia, too."
In an interview with Al-Monitor, Staquf said, "I am a religious man, but I am not naive. Political leaders must find solutions, but only if they bring rahma to their negotiations will they ever find those solutions."
He emphasized that he was not in Israel as a government representative, but that Widodo was "aware" of his visit. "My country wants to promote relations between Israel and Indonesia," Staquf said, "because the conflict is part of complex world problems that must be dealt with comprehensively in a global manner. But for there to be full normalization between Israel and Indonesia, the world's largest Muslim country, Israel must also address the global context of the problem and recognize that it must make peace with its Muslim neighbors."
During the interview, as in his speeches, Staquf also expressed his strong support for the Palestinian cause. "It must be obvious that I stand by Palestine and the Palestinian people. What else could be expected from an Indonesia Muslim like me? I stand here on the basis that we all have to honor Palestine's sovereignty as a free country."
Staquf's visit to Israel, however, was denounced in Indonesia, especially on social media. Before his trip, the Indonesian government had canceled all Israeli visas to protest the recent killings of Palestinians by the Israeli military on the Gaza border. "The Palestinian ambassador to Indonesia personally asked that I not come," Staquf said. "They do not understand that my message of rahma is for the good of the Palestinians."
Giora Eliraz of the Henry M. Jackson School of International Studies at the University of Washington and the Truman Research Institute at the Hebrew University said Staquf's visit must be viewed in terms of Indonesia's domestic and international contexts. "Within the Muslim community, there is a struggle between moderates and conservatives over the nature of Indonesian Islam and its manifestations in political and social structures, institutions, and culture. Opposing factions have two very different views for the future of Indonesia: one side, which Staquf represents, wants to continue the democratic Indonesia of today, where no religion has primacy over another, while the other wants a state that reflects the majority Muslim demographic by being governed under Islamic law. That [latter] side tends to support the Palestinian cause very strongly."
The Palestinian Authority also denounced Staquf's visit. Fatah spokesman Osama al-Qawasmi said in a June 11 press statement, "The participation of an Indonesian delegation of religious scholars in a conference of the American Jewish Committee in occupied Jerusalem is a crime against Jerusalem, against the Palestinians and Muslims in the world, and constitutes support for the criminal Israeli occupier against our fighting and resolute people." Qawasmi demanded that senior Indonesian officials and the Indonesian people "settle the account with those who have sold their souls to the devil and agreed to serve as pawns in the hands of the Zionists and Israelis."
Staquf met in Jerusalem with Mohammed Dajani Daoudi, founder of the Wasatia movement, which is similar to the Nahdlatul Ulama in outlook. Dajani, who in 2014 lost his position at Al-Quds University after taking a group of Palestinian students to Auschwitz, responded sharply to the official Palestinian position. "Why do we not embrace this visit and consider it a step toward peace, reconciliation, rapprochement and dialogue between religions at a time we are in urgent need of a glimmer of hope?" Dajani said to Al-Monitor. "Because of our condemnation of the visit, the Indonesian religious scholars have heard only the Israeli view. ... We did not listen to their ideas and their call for mercy, love and peace."
On a more personal level, Staquf spoke almost ecstatically about his visit to the Temple Mount/Haram al-Sharif, and unusually, had difficulty articulating the depth of his experience. "Ahh, as a Muslim, to pray at this holy site, just to be there. … The feeling went into my soul. I do not have words," Shaquf said.
He acknowledged that efforts to bring religion into the political arena could sometimes be problematic. "Too often, religion is used as a justification for conflict. In Islam, like in so many other religions, it is possible to interpret certain texts and hadiths [acts or statements of the Prophet Muhammad] in a problematic way," he said. "The Quran and hadiths were written in the context of reality at the time. They are historical documents that contain the canons of morality to guide us in spirit. … As the reality changes, the manifestations of that spirit must change, too."
Eliraz said of Shaquf's teachings, which weave traditional Indonesian tolerance into Islam, "are very controversial, especially since Indonesia is located on the geographic periphery, far from the centers in the Middle East considered to be most central to the development of Islam. He is a very brave man, navigating very stormy waters, always having to carefully balance between opposing forces, condemning terrorism while asserting his loyalty to the Palestinian cause. … But until there is a resolution to the conflict, and a Palestinian state is established, Indonesia and this form of Islam cannot take a leading role."
Full report at:
https://www.al-monitor.com/pulse/originals/2018/06/indonesian-muslim-cleric-in-jerusalem.html
--------
Malaysia reopens grisly murder case linked to former PM Najib
June 22, 2018
KUALA LUMPUR: Malaysian police have reopened an investigation into the grisly murder of a young Mongolian woman in 2006 which has been linked to the country's ousted leader, reports said Friday.
Altantuya Shaariibuu was shot dead and her body blown up with military-grade plastic explosives near Kuala Lumpur.
The murder was the most shocking aspect in a scandal involving allegations that an associate of recently toppled Prime Minister Najib Razak arranged huge kickbacks for the purchase of French submarines in 2002.
The case captivated Malaysia for years and there have long been allegations that Najib — defense minister at the time of the deal — and his wife Rosmah Mansor were involved. They have steadfastly denied the claims.
Two government bodyguards were convicted of the killing and sentenced to death. One subsequently fled to Australia, where he is in detention, and maintains he was ordered by "important people" to carry out the murder.
Altantuya's father visited Malaysia this week. He met new Prime Minister Mahathir Mohamad, who backed re-opening the investigation, and lodged a fresh police report about the murder.
"I can confirm we are reopening investigations," national police chief Mohamad Fuzi Harun was cited as saying by The Star newspaper.
"We will conduct our duties without fear or favor."
Eric Paulsen, head of local rights group Lawyers for Liberty, said that Najib should be among the new witnesses to be interviewed by the police.
"We want to know why Altantuya was killed and who ordered her killing," he said.
Malaysians broke the six-decade stranglehold on power of Najib's coalition at elections last month, and voted in a reformist alliance headed by 92-year-old Mahathir.
Altantuya was the mistress of Najib's associate, Abdul Razak Baginda, and was alleged to have demanded a cut in the submarine deal for translating during negotiations.
Abdul Razak was cleared in 2008 of abetting the murder.
Full report at:
http://www.arabnews.com/node/1325861/world
--------
North America
How Trump's Muslim bans have impacted US immigration
Jun 22, 2018
When U.S. President Donald Trump came into office in January 2017, he brandished his pen to make good on a string of campaign promises, including "a total and complete shutdown of Muslims entering the United States."
In 2017, Trump signed two executive orders and a presidential proclamation to ban immigrants from certain Muslim-majority countries – Executive Order 13769 on Jan. 27, EO 13780 on March 6 and Presidential Proclamation 9645 on Sept. 24.
Altogether, they've been struck down 10 times by courts and brought five times before the Supreme Court. Over 90 legal challenges have been filed against the orders.
Despite the well-armed opposition to Trump's so-called Muslim bans, have they still managed to make an impact?
A study by Georgetown University's The Bridge Initiative says they have – significantly.
The Bridge Initiative found that between 60,000 and 100,000 visas have been revoked since the first order in January 2017.
There was a 13 percent decrease in immigrant visas and 20 percent decrease in non-immigrant visas issued to citizens of Muslim-majority countries between March and October 2017.
Non-immigrant visas issued to citizens of Arab countries plunged 30 percent in April 2017 compared to the previous year. Non-immigrant visas issued to Iranian nationals fell by half (52 percent) and for citizens of Somalia, that number decreased 68 percent.
Non-immigrant visas issued to citizens of countries listed in the March 6 order – including Iran, Libya, Somalia, Sudan, Syria and Yemen – fell by 55 percent.
As to be expected, the religious background of refugees entering the U.S. shifted drastically in the first half of 2017. In February, 50 percent of refugees were Muslim and 41 percent were Christian. By June, those percentages had shifted to 31 percent Muslim and 57 percent Christian.
By November 2017, less than 10 percent of all refugees resettled in the U.S. were Muslim.
Though the countries on the list have changed since the first order, 10 countries in total have been affected since January 2017: Chad, Iraq, Iran, Libya, North Korea, Somalia, Sudan, Syria, Venezuela and Yemen.
It's important to note that Chad, Iraq and Sudan were spared Trump's wrath in the third proclamation, and that the scope of the restrictions on nationals from North Korea and Venezuela, both non-Muslim majority countries, differ drastically from others on the list.
Trump has certainly made the most of his controversial orders, referencing the ban 34 times on Twitter, 19 times after terror attacks where initial suspect was a Muslim.
The Trump administration has defended the bans by pointing to a waiver provision allowing people from targeted countries to seek entry if they meet certain criteria. However, the Georgetown initiative found that out of 8,406 visa waiver applications received in December 2017, only two were approved.
A final verdict on the legality of the bans is awaited any day now from the Supreme Court, who heard arguments on the case on April 25. Based on justices' responses, analysts expect the ban will pass.
https://www.dailysabah.com/americas/2018/06/22/how-trumps-muslim-bans-have-impacted-us-immigration
--------
US mulls plans to hold Congressional hearing on the Muslim Brotherhood
20 June 2018
The United States is mulling plans to hold a Congressional hearing on the Muslim Brotherhood, sometime between July and early August before the summer recess, according to two sources who spoke to Al Arabiya English.
The Muslim Brotherhood, a banned group in several Arab countries, will be the central topic of the hearing in which several Washington DC-based analysts are expected to speak as witnesses.
According to political observers, the possibility of the hearing comes as no surprise especially given the current US administration's stance against hostile groups in the Middle East and North Africa.
John Bolton, the National Security Advisor under President Donald Trump's administration, said in July 2017 that one of the ways to force Qatar to halt its support for the Muslim Brotherhood, the US must designate the group as a terrorist organization.
"My reaction is, 'Great, let's take this opportunity and do what we should have done anyway. Let's declare the Brotherhood a terrorist organization.' Having done that, we turn back to Qatar and say, 'Now, you follow suit,'" Bolton told Breitbart News at the time.
The same goes for current US Secretary of State Mike Pompeo, who as a congressman in the past fought and co-sponsored legislation to designate the Muslim Brotherhood a terrorist organization.
Full report at:
https://english.alarabiya.net/en/News/world/2018/06/20/US-mulls-plans-to-hold-Congressional-hearing-on-the-Muslim-Brotherhood.html
--------
White House officials in Egypt to discuss Mideast peace
21 June 2018
Two top-level White House officials arrived in Cairo on Thursday to discuss the stalled Palestine-Israel peace process and other regional developments.
Jared Kushner and Jason Greenblatt, two top advisers for U.S. President Donald Trump, arrived in Cairo on Thursday after making earlier stops in Jordan and Saudi Arabia.
According to a diplomatic source at Cairo International Airport, the visit is expected to last several hours.
The visit is expected to include meetings with top Egyptian officials, with whom they plan to discuss regional developments, especially those pertaining to Palestine-Israel.
Full report at:
http://www.worldbulletin.net/america-canada/203288/white-house-officials-in-egypt-to-discuss-mideast-peace
--------
Canada: Quebec mosque shooter could serve life in prison
20th Jun 2018
By Barry Ellsworth
TRENTON, Canada (AA): Alexandre Bissonnette, who murdered six people at a Quebec City mosque last year, should spend the rest of his life in prison, the prosecution said Tuesday.
Thomas Jacques told Justice Francois Huot that the 28-year-old should be sentenced to 150 years, 25 years for each victim in a shooting spree at the mosque on Jan. 29, 2017.
"This unprecedented crime merits a punishment that reflects its horrible implications," Jacques said in a Quebec City courtroom.
It would be the longest sentence given since Canada did away with the death penalty in the 1960s.
Six men died after Bissonnette went on a shooting rampage inside the Quebec City mosque in January 2017, injuring five others. Thirty-five people, including four children, witnessed the shooting that evening.
The defense argued that Bissonnette's sentences should be concurrent, meaning the 25-year sentences would be served together, and that he would spend 25 years in prison before he would be eligible for parole.
"The crimes committed by Alexandre Bissonnette are unprecedented," said prosecutor Thomas Jacques, qualifying his behaviour as "base and repugnant," and his actions as "unspeakable violence."
Jacques said Bissonnette targeted his victims because of their religion, which should result in a tougher sentence.
"It was clearly motivated by hate," he said, suggesting that should be considered an aggravating factor.
While Bissonnette was not charged with terrorism, Jacques said the impact of his crime on society was identical.
"It's a black eye, a scar on our Canadian values," he said.
In a statement Tuesday, the National Council of Canadian Muslims (NCCM) urged supporters to call for the sentencing to be consecutive, meaning 150 years in prison, effectively a death sentence.
"(W)hat it could do is set a strong precedent that violent acts of Islamophobia and other forms of anti-religious or racial hatred will be dealt with using the full force of the law," NCCM executive director Ihsaan Gardee said in the statement. "It's imperative our communities speak out to apply pressure in this regard."
He asked supporters to write letters to the editors of their local newspapers to advocate for the 150-year sentence.
Full report at:
http://muslimnews.co.uk/news/campaign-on-terror/canada-quebec-mosque-shooter-serve-life-prison/
--------
Mideast
Education and Islam become hot-button issues in Turkey
21.06.2018
In just four days, Turkey will be hosting what is arguably the most crucial election showdown in its contemporary history. Amid increasing economic uncertainties, waning democratic reflexes and international isolation, the Turkish electorate is also divided on a deeper, more existential issue: the role of religion in shaping the minds of the future.
In a widely attended rally in Istanbul on Monday afternoon President Recep Tayyip Erdogan addressed a sea of supporters and vowed to raise "a pious generation of Muslims," a consistent commitment from the conservative leader during his 15 years in power.
The Turkish president has long revealed his desire to fundamentally reshape Turkey under a new dogma of religious nationalism, in many ways a direct antithesis to the cosmopolitan, strictly secular legacy of Kemal Ataturk, the modern country's founder.
At the heart of this transformation lies education, and one of Erdogan's most powerful weapons are the so-called "Imam Hatip" – religious schools where the study of Islam and the memorization of its holy script take precedence.
Under Erdogan's rule, religious schools have increased tenfold, now approximating 4,500 and oftentimes replacing regular schools across the country. In the latest budget proposal, the Turkish government approved to increase the funding of religious education by 68 percent, which now totals $1.5 billion. By comparison, the average secular school currently receives less than half the money that goes to an Imam Hatip.
On top of that, school curriculums are being reformed indiscriminately, with a newly found focus on Islam. It was recently decided that the theory of evolution will no longer be taught in public schools – according to the government, it was deemed too complex for the students to follow.
Though Erdogan's educational reform has been welcomed with enthusiasm by thousands of pious Muslims, who feel that his policy is correcting decades of oppression under secular rule, religious schools have proved to be particularly divisive in Turkey.
Countless parents have been protesting the changes and are scrambling to find new schools for their children, as unemployment figures are rising throughout the country. Despite their mushrooming across Turkey, more than seven out of 10 slots in Imam Hatip schools are still vacant.
In a clever move, Erdogan's main rival in Sunday's elections – and, coincidentally, a former teacher at a religious school – Muharrem Ince pledged that under his presidency religious studies would no longer be compulsory.
"If parents desire more religious education for their children they will be able to choose it, but without compromising on other parents' decisions," he declared in a passionate election speech last Sunday, while addressing a cheering crowd of Alevis, one of Turkey's most significant religious minorities.
A retired physics teacher, Ince has placed particular emphasis on education during his explosive campaign. He has vowed to shape a generation of scientists and engineers that will usher the country to the digital age, and promised to transform Erdogan's mammoth presidential palace into a university.
It remains to be seen, perhaps as early as Sunday, what kind of future Turkish voters envision for their children.
http://www.ekathimerini.com/229866/article/ekathimerini/community/education-and-islam-become-hot-button-issues-in-turkey
--------
Erdogan doesn't rule out coalition if no majority
June 22, 2018
ANKARA : Turkish President Recep Tayyip Erdogan has said he does not rule out forming a coalition in parliament if his ruling-party led alliance does not win an overall majority in tight polls this weekend.
Erdogan's Justice and Development Party (AKP) - running together with its junior partner the Nationalist Movement Party (MHP) in the so-called People's Alliance - is expected to win the most seats in Sunday's dual parliamentary and presidential polls.
But some analysts believe the AKP-led alliance will fail to win a majority in the 600-seat parliament in the face of a strong challenge by the opposition, which has formed its own election pact.
"If the People's Alliance gets over 300 seats, the issue of (coalitions) is finished," Erdogan said in an interview with Kral FM and Kral Pop Radio late Wednesday.
"If it is under 300, then we could seek a coalition. That's a separate matter," Erdogan said.
The comments were the first clear acknowledgement in the campaign by Erdogan that his election alliance may not be able to win an overall majority in parliament.
However, Erdogan did not indicate with which party he could form a coalition or how difficult the task could be.
"(Coalitions) can be formed. But the possibility of one coming into existence is very, very small," he added.
The main opposition Republican People's Party (CHP) has allied with the Islamic Saadet (Felicity) Party and the new Iyi (Good) Party for the elections. All these parties are currently staunchly anti-Erdogan.
The pro-Kurdish Peoples' Democratic Party (HDP) is not part of any alliance but despises Erdogan who it accuses of launching a crackdown on its leaders and members.
After the polls, Turkey's parliamentary system will transform into an executive presidency following constitutional changes approved by a referendum in April 2017.
These changes will expand the powers of the president but also increase the size of Turkey's parliament from the current 550 MPs to 600.
Losing the parliamentary majority would be seen as a blow to Erdogan, who also faces presidential elections on the same day.
Full report at:
https://nation.com.pk/22-Jun-2018/erdogan-doesnt-rule-out-coalition-if-no-majority
--------
Army reinforcements roll into Yemen's embattled Hodeida
June 22, 2018
KHOKHA - Reinforcements rolled into Yemen's Hodeida Thursday as the army and its regional allies set their sights on the city's port held by rebels who have vowed to fight to the end.
Military sources said the army, backed by troops from the United Arab Emirates, had been sending backup troops to the area ahead of a major offensive to close in on the Red Sea port.
"Our preparations are in their final stages for the advance on the port," a military source told AFP, requesting anonymity.
The Iran-allied Huthi rebels have refused to cede control of Hodeida port, the entry point of three quarters of imports to impoverished Yemen.
The Huthis have controlled the port since 2014, when they drove the government out of the capital and seized much of northern Yemen and a string of Red Sea ports.
On June 13, Yemen's army and its allies launched their offensive to clear Hodeida of the rebels, raising UN concerns for vital aid shipments and food imports through the city's docks.
The pro-government forces announced the capture of the Hodeida airport on Wednesday morning.
The airport had been disused but it housed a major rebel base just inland from the coastal road into the city.
Rebel leader Abdulmalik al-Huthi on Wednesday night called for reinforcements to repel the advance of the UAE-backed government forces, after ongoing fighting left nearly 350 people dead in one week.
Hodeida's residents are now bracing for what they fear will be devastating street fighting, as tanks and buses carrying uniformed troops roll through the empty streets of the once-bustling city.
The Hodeida offensive, dubbed Operation Golden Victory, is the most intense battlefront in the already-brutal Yemen war which has left millions displaced.
Full report at:
https://nation.com.pk/22-Jun-2018/army-reinforcements-roll-into-yemens-embattled-hodeida
--------
Khamenei objects Iran's joining anti-terror treaty
20 June 2018
Iran's Supreme Leader Ali Khamenei announced his objection of Iran's joining an International treaty put forward by the global Financial Action Task Force "FATF".
In a speech to members of parliament on Wednesday, Ali Khamenei advised them to prepare their own draft law. The Iranian parliament has failed last month to pass a law based on requirements by the global Financial Action Task Force "FATF" to fight money laundering and financing terror.
"Some of these treaties have useful parts, it's not a problem" Aytollah Ali Khamenei said in a speech to members of parliament, according to a transcript published on his official website.
He said: "The solution for this issue is that the parliament should make up its own law. For example, a law for fighting money laundry. There is no need for us to accept things that we don't know where they will end up" as reported by Reuters.
Iranian hardliners considered "FATF" law a "colonial" treaty and will ban Iran's continuous support for allied militias under accountability of terrorist organizations.
Whereas the European countries are pressing the Iranian government during talks to join "FATF" which is considered part of the clauses in the Iranian nuclear deal, which Iran has failed to implement.
Full report at:
https://english.alarabiya.net/en/News/middle-east/2018/06/20/Khamenei-objects-Iran-s-joining-anti-terror-treaty.html
--------
Yemeni army shoots down Iranian-made drone near Hodeidah airport
21 June 2018
The Yemeni Army shot down an Iranian-made drone belonging to the Houthi militias near Hodeidah airport, the second incident in last few days, when it shot a similar one in the western coast of the port city of Hodeidah.
The Yemeni al Amalikah brigade said in a statement that the drone was shot down near Hodeidah International airport, publishing pictures of the Iranian made-drone used by the Houthis to spy on the Yemeni legitimate army positioned in liberated Hodeidah airport.
Recently, a report published by a London's research center for armed conflict pointed out that Iran's technologies have reached the Houthis by teaching them how to use drones. They had previously said it was locally made, but later it was proved that these drones were Iranian-made and were smuggled in for the Houthi militias, along with other weapons, among them ballistic long-range missiles, according to the report.
https://english.alarabiya.net/en/News/gulf/2018/06/21/Yemeni-army-shoots-down-Iranian-made-drone-near-Hodeidah-airport.html
--------
Yemen Army inflicts heavy losses among Houthi militias in Sadaa
21 June 2018
The Yemeni legitimate army, with the backing of the Arab coalition, advanced on Thursday in the city of Sadaa in an operation named 'Beheading the Snake' headed by military General Abdulkareem al-Sadee.
The coalition-backed brigade liberated the villages of Roqi, al-Gharza, Haram, Rubaan and other military camps in a combing operation of Houthi militia pockets which is still going on.
The Yemeni army, backed by the Arab coalition, liberated new positions in Almalahiz front in Az Zahir district in southwestern Sadaa governorate, the stronghold of Houthi militias.
The Yemeni army inflicted heavy losses among the Houthis at many locations in Sadaa.
https://english.alarabiya.net/en/News/gulf/2018/06/21/Yemeni-army-shoots-down-Iranian-made-drone-near-Hodeidah-airport.html
--------
Turkey detains 14 ISIS suspects 'planning election attack'
22 June 2018
Turkish authorities Friday detained in Ankara 14 suspected members of ISIS accused of planning an attack on elections this weekend, the state-run Anadolu news agency said.
The 14, all foreign nationals, were detained in simultaneous morning raids on their residences in the capital, the news agency said.
President Recep Tayyip Erdogan will seek a new mandate as well as a parliamentary majority for his ruling party in Sunday's polls, which are expected to take place under tight security.
The report said large amounts of material were seized in the raids. But it gave no details on the nature of the attack's timing and location, or the nationality of the suspects.
Turkey was in 2015 and 2016 hit by a string of attacks blamed on ISIS, as well as Kurdish militants, that claimed hundreds of lives.
Full report at:
https://english.alarabiya.net/en/News/world/2018/06/22/Turkey-detains-14-ISIS-suspects-planning-election-attack-.html
--------
US gives Turkey first F-35 despite opposition at home
Jun 22, 2018
The United States has delivered the first of the six F-35 warplanes it has contracted to give to Turkey, despite domestic opposition over Ankara's decision to buy the Russian S-400 anti-aircraft missile system.
Manufacturer Lockheed Martin officially handed over the first plane to Turkish officials during a ceremony in Fort Worth, Texas, various media outlets reported on Thursday.
A second plane will be brought "at a later date" to Luke Air Force Base in Arizona, said Lieutenant Colonel Mike Andrews, a Pentagon spokesman. The remaining four will be staying in the US until 2020.
Turkey, which is a NATO member, has been a partner in the F-35 Joint Strike Fighter project, a consortium financing the warplanes, since 1999.
To Washington's disappointment, the country is also to start taking delivery of the Russian surface-to-air defense system between by early 2020. For now, Russia is producing the defense systems for Turkey under a loan agreement concluded between the countries last December.
US senators have opposed F-35's delivery in the light of Ankara's plans to purchase the Russian systems.
In a defense budget bill approved on Tuesday, the Senate demanded that F-35 sales be scrapped if Turkey went ahead with its S-400 purchase plan.
"Any effort by the government of the Republic of Turkey to further enhance their relationship with Russia will degrade the general security of the NATO alliance, and NATO member countries, and degrade interoperability of the alliance," the bill reads.
If both chambers of the US Congress approve that version of the bill, US President Donald Trump's administration will be obliged to exclude Turkey from the F-35 project, remove from the aircraft all parts made in Turkey, and ban the Turkish F-35s from leaving US territory.
Ankara's close ties with Russia are just one bone of contention in the Turkish-American relations.
Full report at:
http://www.presstv.com/Detail/2018/06/22/565700/Turkey-United-States-F35-Russia-S400
--------
Houthis still in control of Hudaydah airport: Yemeni officials
Jun 21, 2018
Yemeni officials say the airport in the strategic port city of Hudaydah is still under the control of the Houthi Ansarullah movement, rejecting reports that the facility had fallen to the hands of Saudi-backed forces.
Yemen's army spokesman Brigadier General Sharaf Luqman on Thursday dismissed claims that the invaders had gained ground in Hudaydah as he showed photos of enemy armored vehicles blown up in the city.
He also hailed the Yemeni fighters' achievements in the country's western coast as a "miracle."
The Yemeni fighters, Luqman said, have been fighting against Daesh and al-Qaeda militants in Hudaydah's al-Durayhimi district, and have surrounded all Saudi-backed forces and mercenaries in the al-Jah neighborhood.
The mercenaries have two choices, either to surrender or die, he pointed out.
His remarks came after Saudi commander Brigadier Abdul Salam al-Shehi claimed on Wednesday that the Hudaydah airport had been "completely cleared" and was "under control" of his forces.
Houthi spokesman Mohammed Abdulsalam stressed that the aggressors had been defeated in Yemen's western coast despite possessing numerous weapons and enjoying financial and media support.
He further described the invaders' battle as "a mass suicide," saying the offensive is aimed at killing Yemenis and end their sovereignty.
The Yemeni people will not give in to any pressure, Abdulsalam said, emphasizing that Houthi fighters had foiled the enemies' "foolish" plots with a swift attack.
Separately, Mohammad al-Bukhaiti, a top figure in the Houthi movement's Supreme Political Council, released a video from the Hudaydah airport that purportedly showed claims of the Saudi-backed forces' presence there were false.
The enemies have suffered heavy blows and been forced to retreat eight kilometers off the airport, he added.
In the al-Duraihimi district, Bukhaiti said, 20 armored vehicles belonging to the Saudi-backed forces had been destroyed and 10 more seized. Yemeni drones had also destroyed six armored vehicles.
The Hudaydah airport lies just eight kilometers from the city's port, through which three-quarters of Yemen's imports pass, providing a lifeline for millions of people.
Yemenis down spy drone, Emirati reconnaissance plane
On Thursday, Arabic-language al-Masirah television network reported that Yemen's air defense system had shot down an enemy spy drone in the northwestern Sa'ada province.
Also on Thursday, Yemeni sources said an Emirati reconnaissance plane was shot down near Saudi Arabia's southwestern Jizan region, killing the crew.
They added that the plane was returning to its base after carrying out an aerial operation in Yemen's western coast.
The media bureau of Yemen's Operations Command quoted Yemeni military sources as saying that the Emirati jet, which had two pilots, was brought down by Yemeni air defense system.
Backed by Saudi-led airstrikes, Emirate forces and militants loyal to the former Yemeni government launched the Hudaydah assault on June 13 despite warnings that it would compound the impoverished nation's humanitarian crisis.
The Houthis and allied armed forces, however, have managed to inflict heavy losses on the invaders.
The UN says fierce clashes in the port city have driven 5,200 families from their homes.
The Saudi-led coalition, which has been waging a war against Yemen since early 2015, claims that the Houthis are using Hudaydah for weapons delivery, an allegation rejected by the fighters.
Full report at:
http://www.presstv.com/Detail/2018/06/21/565657/Yemen-Houthi-Hudaydah
--------
Turkish military will continue striking PKK bases in northern Iraq, says Erdogan
Jun 21, 2018
Turkish President Recep Tayyip Erdogan says his country's military forces will continue aerial attacks against the positions of the Kurdistan Workers' Party (PKK) militant group in Iraq's northern semi-autonomous Kurdistan region.
"We have struck 10 critical points in Qandil. We have also finished off a number of [PKK] leaders who were in a meeting," Erdogan said at an election campaign rally in Turkey's southeastern province of Sanliurfa.
Meanwhile, Prime Minister Binali Yildirim said Turkish forces were making progress in their military operation against PKK militants in northern Iraq, and had seized 400 square kilometers of land.
"The military operation against [the] PKK in the Qandil Mountains is progressing step by step," Yildirim said in an interview with Turkish-language CNN Turk television news network.
"Turkish forces have advanced 40 kilometers in the area and established control there. It is estimated to be 400 square kilometers," he added.
The Turkish prime minister then pointed to the recent Turkish airstrike against a gathering of high-profile PKK figures in the Qandil Mountains, saying, "An air raid was carried out on the terror network's premises. We know that there are significant losses, and the details will become clear over time."
The Turkish General Staff, in a statement released on June 17, announced that Turkish fighter jets had bombarded Qandil region, neutralizing 35 Kurdish militants in the process.
The Turkish military generally uses the term "neutralize" to signify that the militants were killed, captured or surrendered.
PKK militants regularly clash with Turkish forces in the Kurdish-dominated southeast of Turkey attached to northern Iraq.
Turkey, along with the European Union and the United States, has declared the PKK a terrorist group and banned it. The militant group has been seeking an autonomous Kurdish region since 1984.
A shaky ceasefire between the PKK and the Turkish government collapsed in July 2015. Attacks on Turkish security forces have soared ever since.
Over the past few months, Turkish ground and air forces have been carrying out operations against PKK positions in the country as well as in northern Iraq and neighboring Syria.
Full report at:
http://www.presstv.com/Detail/2018/06/21/565644/Turkish-military-will-continue-striking-PKK-bases-in-northern-Iraq-Erdogan-says
--------
Arab World
UAE 'A Living Example for the Peaceful Coexistence Of All Faiths'
June 21, 2018
DUBAI: The UAE has shown the world how people of all faiths and nationalities can live together in peace, which is in line with the teachings of Islam, according to Dubai's leading religious scholar.
Speaking exclusively to Arab News, Dr. Mohammed Al-Kobaisi, grand mufti of the Department of Islamic Affairs and Charitable Activities of Dubai, said that Islam includes the principles of peaceful coexistence and cooperation among all people for goodness and righteousness, to benefit everyone.
"The UAE put these principles into practice and legalized the system in such a way that it not only became a case study but a reality that many people live here," he said.
"We have more than 200 nationalities who are witnessing that and are a testimony to it.
"Allah Almighty has said repeatedly that all mankind are made from one single male and female, and they are made into races and tribes to know one and other. Prophet Muhammad (peace be upon him) also repeated the same by saying: 'Oh mankind you are all from Adam,' and there is no distinction or superiority over Arab or non-Arab, neither white over black or black over white, except by righteousness and good deeds."
Al-Kobaisi said these principals of peaceful coexistence are deeply rooted in the teachings of Islam.
"Muslims worldwide abide and practice them," he said. "The UAE has made huge advancement in this area. It works on multiple levels: The education system, preaching within guidelines, the legal system and many others. All these put together make it a beautiful reality that all people in the UAE enjoy and benefit from the practice (of treating everyone equally.)"
The grand mufti said Muslims who live with non-muslims or in non-Muslim countries must be especially responsible with their behavior as they face particular challenges.
"The first (challenges) are those that Muslims are facing with regard to their faith and other worldly matters," he said. "The other major issue is their reaction towards these (challenges) — their own behavior."
He added that like it or not, every Muslim is an ambassador of Islam, and how each individual acts and presents himself or herself affects the perception and image of all Muslims.
"(In this regard) Islam actually stands out among many other religions," said Al-Kobaisi. "If a non-Muslim does something, it does not reflect on his religion but if a Muslim does, then it usually reflects on the image of Islam.
"That's why the messenger of Allah, Prophet Muhammad, has guided us that we need to stand out among people with our characters, behaviors and morals. A Muslim should be known immediately as a Muslim because he is peaceful, respects the system and laws, is helpful to his community and neighbors, is truthful, and does not lie or cheat."
He said this etiquette of Islam is very important everywhere but becomes even more crucial when dealing with non-Muslims.
"Now you are representing Islam," said Al-Kobaisi. "Even if you are not a good Muslim, they will take it that this is what actual Muslims do. So you need to be careful and represent the real Islamic values. Muslims should always be ready to cooperate for the goodness and benefit of society."
Responding to social media outcry over Dubai-based Indian origin chef Atul Kochhar's tweet on Islam, Al-Kobaisi said such issues should be considered on two levels.
"First, a person who is living as a guest in a country should respect local cultural values and customs to ensure a peaceful coexistence.
"It does not make sense for a person living as a guest to attack local customs and traditions — let alone religious values or Islam at large, categorizing all Muslims and Islam through a narrow prism based on false information they read somewhere," he said.
The second consideration is legal, given that the UAE has strict laws governing public comments, online or otherwise, about religion and anyone who breaks them can be prosecuted.
As for how Muslims should react to such cases, Al-Kobaisi said they should realize that the person involved is either ignorant or does not have the right information.
In the particular case of the chef, he said it is the duty of Muslims to educate him and share the real values of Islam, while offering forgiveness when warranted.
"We should forgive him and guide, if we realize that his opinion was based on wrong information and wrong experiences he had in the past," he said.
However, if a person doing such things deliberately to disturb the peace in society, or to gain attention or sympathy, then the case should be referred to the authorities who will deal with it according to the rule of law, he added.
http://www.arabnews.com/node/1325606/middle-east
--------
Popular Uprising against Ankara-Backed Militants in Afrin
Jun 21, 2018
Field sources in Northern Aleppo reported on Thursday that the popular uprising was triggered after a number of militants affiliated to the Turkish army killed a member of a family and wounded several others in a move to steal their properties and car.
During the protest rallies, the people of Afrin called on the Turkish army and Ankara-backed militants to leave the region.
Meantime, reports from the town of al-Bab in Northern Aleppo also said that the residents of the region are enfuriated over the Turkey-backed militants' crimes, plundering and infighting, and plan to stage similar protests.
Local sources reported on Monday that a number of gunmen were killed or wounded in a fresh wave of tensions and infighting between two Ankara-backed militant groups in the town of Afrin in Northwestern Aleppo.
The sources said that the al-Shamiyeh Front engaged in fierce clashes with the militants of the Free Police, both affiliated to the Turkish army, in a Park in Afrin.
The sources said that the clashes left two al-Shamiyeh gunmen dead as well as a number of casualties among civilians
Full report at:
http://en.farsnews.com/newstext.aspx?nn=13970331000632
--------
Syrian Army Drives ISIL out of 12 Regions in Badiyeh of Sweida
Jun 21, 2018
The army forces continued clashes with remnants of the ISIL terrorists in Northeastern Badiyeh of Sweida on Thursday, and captured Tal Qabr Sayah, Tal al-Zahaya, Tal Darbas, Tal al-Zabab, Tal Lathawi, Tal al-Kheyal, Tal Um al-Janbaris, Tal al-Zars, Tal Ali, Tal al-Habariyeh and Khabrat Hawi Hossein.
Meantime, the Syrian army's artillery and missile units targeted the terrorists' positions in the region, inflicting heavy damage and tolls on them.
In a relevant development on Wednesday, the Syrian army troops stormed the remaining pockets of ISIL in the Eastern Badiyeh of Sweida and managed to make remarkable advance against terrorists in three flanks.
The army men engaged in fierce clashes with ISIL in Rasm al-Hatiti flank and captured Wadi Shatayeb Suleiman, Tal Lathawi, Souh al-Majidi, Arazi Joweis and Wadi al-Sahal regions.
Other units of the army soldiers stormed ISIL in a region between al-Shaqiyeh and Khirbet al-Ambashi and seized control over Tal Qabr Sayah, Rasm Abu Rour and Tal Zahaya.
The army men further advanced and drove ISIL out of Khirbet al-Ambashi.
Full report at:
http://en.farsnews.com/newstext.aspx?nn=13970331000573
--------
Thousands flee as regime steps up shelling in south Syria
June 22, 2018
BEIRUT - Thousands of civilians have fled "intensified" regime bombardments of rebel-held areas in southern Syria in the past three days, a monitor said Thursday, as fears mount of a full-blown assault.
President Bashar al-Assad has set his sights on retaking rebel-controlled parts of southern Syria, whether through negotiations or a military operation, and has been amassing troops there in recent weeks.
So far, no deal has been struck to avert fighting over the southern opposition stronghold that borders Jordan and the Israeli-occupied Golan Heights.
On Thursday, a Britain-based war monitor said the regime had ramped up its bombardment of Daraa province, leading thousands to flee for their lives.
"More than 12,000 civilians have fled their homes in the last three days after regime forces intensified their shelling and air strikes on eastern" Daraa, the Britain-based Syrian Observatory for Human Rights monitor said.
The civilians fleeing areas including Nahta, Al-Herak and Basr al-Harir were "heading to nearby villages under rebel control not affected by the bombardment near the Jordanian border" to the south, Observatory head Rami Abdel Rahman said.
Opposition fighters control around two-thirds of Daraa, which borders Jordan, but the regime holds a sliver of territory in the centre of the province.
The Islamic State jihadist group also holds a pocket of ground in the province.
The areas in eastern Daraa bombarded in recent days lie on a strip of land flanked by regime-held territory to the east and west.
A media activist in Basr al-Harir told AFP thousands had escaped their homes in areas near his village.
"Entire villages have fled," Mohammad Ibrahim said.
The UN humanitarian coordination office (OCHA) reported that 2,500 people had fled one of these areas, Nahta, as of Wednesday.
OCHA said the United Nations was "concerned about reports of an escalation of violence in Daraa... which is endangering civilians and causing hundreds of families to become displaced".
Daraa is largely considered to be the birthplace of the Syrian uprising in 2011 that eventually spiralled into civil war after a brutal crackdown, and the regime retaking it would be a symbolic victory.
State news agency SANA, using its customary term for rebels, said the army was shelling positions of "terrorists" in Al-Herak and Basr al-Harir on Thursday, and had killed a number of them.
In the neighbouring province of Sweida to the east, two civilians were killed on Thursday in rebel bombardment of the provincial capital of the same name, SANA said.
After a string of military victories against rebels earlier this year near Damascus, the regime has turned its attention to ousting rebels from areas of southern Syria.
These include parts of Daraa and the neighbouring province of Quneitra to the west, which is largely controlled by rebels and borders the Israeli-occupied Golan Heights.
Daraa, Quneitra and Sweida are included in a "de-escalation zone" agreed by the United States, Russia and neighbour Jordan last year.
Last week, the US State Department warned Damascus against any military action in the de-escalation zone.
In an interview with Iran's Al-Alam television channel also last week, Syria's Assad said contacts were ongoing between Russia, the United States and Israel over the southern front.
"We are giving the political talks a chance, but if they fail, there will be no choice but liberation by force," he said.
The regime has retaken large parts of Syria from the opposition since Russia intervened militarily on its side in 2015.
Earlier this year, Assad scored a major victory by retaking the former rebel bastion of Eastern Ghouta outside Damascus, after a blistering assault and a string of so-called evacuation deals.
That regime blitz displaced tens of thousands of civilians.
Full report at:
https://nation.com.pk/22-Jun-2018/thousands-flee-as-regime-steps-up-shelling-in-south-syria
--------
Syrian Army Imposes Full Control over ISIL-Occupied Region in Southern Deir Ezzur
Jun 21, 2018
Field sources reported that the army forces won back control of a region extending from areas near the T2 station in Southeastern Homs to Mo'eizileh region in Southern Deir Ezzur which was occupied by the ISIL.
They added that 1,200sq/km of lands have been purged of terrorists by the army, saying that the army forces killed over 50 militants in the operations and destroyed their military equipment.
In a relevant development on Tuesday, the Syrian army troops stormed the strongholds of the remaining pockets of ISIL terrorists in Western Deir Ezzur and Eastern Homs, and managed to restore security to more regions at the border with Iraq.
The army men managed to advance against ISIL in a vast region some 45km wide and 60km long in Eastern Homs after purging Ba'ar Atshan, Wadi al-Lawizeh and Tal Shadid regions of terrorists.
The army men further managed to reinvigorate security of a large region between T2 Oil Pumping Station in Southwestern Deir Ezzur and T3 Oil Pumping Station in Eastern Homs and between Humeimeh and al-Wa'ar Dam up to the borders with Iraq.
Full report at:
http://en.farsnews.com/newstext.aspx?nn=13970331000605
--------
ISIL Fails to Retake Control of Lost Positions in Homs
Jun 21, 2018
The army forces engaged in clashes with the ISIL terrorists who had earlier attacked their positions in Awiraz Dam in Eastern T3 oil pumping station, East of Homs, inflicting heavy tolls on them. There is yet no report on the precise number of ISIL casualties, but early reports said more than 40 terrorists have been killed in the clashes.
Meantime, the army units in Badiyeh (desert) region of al-Sukhnah in Eastern Palmyra launched missile and artillery attacks on a group of ISIL terrorists in Badiyeh al-Sukhnah in Eastern Palmyra (Tadmur), killing all its members and seizing their military equipment.
Also, field sources underlined the terrorists' failed attempts to retake control of the areas lost in the past two days, noting that the army forces warded off their offensives and inflicted heavy damage on them.
In a relevant development on Tuesday, the Syrian army troops, backed up by the country's Air Force, fended off a number of attacks by the ISIL in Badiyeh of the ancient city of Palmyra in Eastern Homs, inflicting major losses on the terrorists.
The army men fended off ISIL's attacks in Humeimeh region, near T2 Oil Pumping Station, al-Wa'ab Dam, al-Mo'ayzeliyeh, near Awiraz Dam and East of T3 Oil Pumping Station in Eastern Badiyeh of Homs.
The army men inflicted heavy casualties on the terrorists and forced their remaining pockets to retreat.
Full report at:
http://en.farsnews.com/newstext.aspx?nn=13970331000654
--------
Iraqis fill the Mosul airwaves after Daesh radio silence
June 22, 2018
MOSUL: During the Daesh group's rule in Mosul, radio stations were banned and replaced with broadcasts of militant propaganda. Today, young Iraqis are filling the city's airwaves.
One budding presenter is Nour Tai, who at 16 years old faces the microphone with a confident tone and a professional style.
She hosts a weekly program on One FM, a Mosul station launched in February that broadcasts a mix of music, entertainment and current affairs debates.
Her career began a year ago thanks to a talent show organized by Al-Ghad, a station in the Kurdish city of Irbil which hosted many of those displaced from Iraq's second city.
She said at the time that she was passionate about radio because "it touches everyone."
"I want to be part of it," she said.
She now sits in the One FM studio, accompanied by her father, as a degenerative illness left her blind three years ago.
She says her aim is to "give people hope, especially those who suffer from a handicap."
"I want to tell everyone that we can all contribute something and that we can realize our dreams," she says from the cramped studio.
The launch of One FM came six months after Iraqi forces declared victory over Daesh following three years of brutal militant rule in Iraq's second city.
Daesh had shut down independent radio stations and anyone caught tuning in could expect severe physical punishment.
The emergence of stations such as One FM is a step in the city's transformation since Daesh was ousted following a vast, months-long operation.
Young presenters are busy 24 hours a day, producing and broadcasting shows which are also filmed for broadcast on the radio's website and social media accounts.
The channel is run by volunteers who bought the necessary equipment by pooling their savings, some selling their own belongings to fund the station.
Yassir Al-Qaissi, One FM's head of communications, says their aim is to "denounce violence and extremism, and broaden people's minds."
There is a need to "erase the terrorist ideology and end the sickness of our society, such as sectarianism and racism," the 28-year-old says.
Ahmad Al-Jaffal, 30, says the militant occupation "created a vacuum of thought."
"With my program, I try to promote ideas of coexistence, of mutual understanding, and of acceptance of the other," says Jaffal, who worked as a journalist prior to the Daesh takeover in 2014.
One FM is not the only ambitious new station on the local airwaves.
Mosul residents who took refuge in Irbil after the Daesh takeover of their city launched two stations: Al-Ghad and Start FM.
After Iraqi forces drove the militants from Mosul, One FM was launched and Mosul FM started broadcasting from the nearby region of Dohuk.
That means it has more radio stations than the two state-run channels it had under former dictator Saddam Hussein.
All currently broadcast analogue signals and can only reach Mosul and its surroundings.
The US invasion in 2003 brought a multitude of new options for listeners, although these were co-opted by American occupying forces or political parties.
The period before the Daesh offensive was risky for journalists and presenters in Mosul, who were regularly targeted by Al-Qaeda and other militant groups.
Mohammad Salem, a sociologist, says the new stations will need government supervision to ensure that this time they are not misused for political or religious purposes — "especially as some of their funding sources are unknown."
On the streets of Mosul, the radio shows bring a distraction from the struggles of life in the war-scarred city.
Taxi driver Mohammad Qassem, 27, says the music and entertainment shows are a welcome addition to his long days.
Full report at:
http://www.arabnews.com/node/1325886/middle-east
--------
Syrian Army Isolates Terrorists' Key Base in Dara'a
Jun 21, 2018
The army units, backed by artillery fire, continued clashes against the terrorists in Northern Dara'a on Thursday, regaining control of the two towns of Mosaikeh and al-Dalafeh.
Field sources reported that the army forces have isolated al-Lajah, one of the most important terrorist bases, from other villages in the South and East of Dara'a, fully surrounding the town of Basar al-Harir.
Meantime, the army's artillery units pounded the terrorists' positions in the town of Nahetah, the town of al-Harak in Northeastern Dara'a and the town of Basar al-Harir in South of al-Lajah in Northern Dara'a, destroying several terrorist points and military equipment and killing and wounding a number of militants.
In a relevant development on Wednesday, the Syrian army troops continued to advance in Northern Dara'a, seizing control over several points and inflicting major losses on the terrorists.
The army men engaged in fierce clashes with the terrorists in al-Lajah flank near the Masikeh and al-Dalafeh townships in Northeastern Dara'a, capturing several key points.
In the meantime, other units of the army stormed terrorists' positions in Basar al-Harir settlement in Western Sweida and managed to advance against them.
The army's artillery and missile units, meantime, pounded terrorists' positions in Basar al-Harir, al-Lajah in Northeastern Dara'a and near the small town of al-Harra and Kafr al-Shams region in Western Dara'a, inflicting major losses on the militants.
Full report at:
http://en.farsnews.com/newstext.aspx?nn=13970331000550
--------
Tahrir Al-Sham Commander Assassinated as Tensions Soar in Aleppo
Jun 21, 2018
Local sources in Western Aleppo reported on Thursday that unknown assailants attacked Tahrir al-Sham commander Abu Ahmad al-Sharoukh at the entrance of al-Mohandeseen region, and killed him.
Meantime, Tahrir al-Sham terrorists gained control of farms near the village of al-Jineh in Western Aleppo, erecting several checkpoints at its entrances.
The sources said that Tahrir al-Sham and Syria's Tahrir Front militants are now on alert in the region, adding that the latter has given a one-day ultimatum to Tahrir to leave the region.
Also, a number of Syria's Tahrir Front terrorists were killed in a bomb explosion in the village of al-Saharah in North of the town of al-Artab.
Tensions have heightened in the region and the militants.
In a similar development on Tuesday, Mohammad Soleiman, a notorious commander of Syria's Liberation Front, was gunned down by unknown assailants in Aleppo province, local sources reported.
Mohammad Soleiman, the senior commander of Syria's Liberation Front, was assassinated by unidentified raiders near the village of Sheikh Ali, the sources in Western Aleppo said.
They went on to say that a fresh wave of tensions has covered terrorist-held regions in Aleppo and Idlib, adding that the terrorist groups' commanders have kept fighters on alert in the Northern provinces.
They further said that Faylaq al-Rahman and Jeish al-Ahrar have embarked on arresting people after assassination of Khalil Ismayeel Arsan, the deputy commander of Jeish al-Ahrar in Jobas in Eastern Idlib.
The sources said that Tahrir al-Sham Hay'at has put its militants on alert and set up more checkpoints after assassination of tens of its members and commanders in Idlib.
Full report at:
http://en.farsnews.com/newstext.aspx?nn=13970331000458
--------
Army Repels Tahrir Al-Sham Offensive in Quneitra
Jun 21, 2018
The Syrian army forces engaged in fierce clashes with Tahrir al-Sham militants who had attacked a number of military bases in the town of al-Ba'ath in Northern Quneitra from the village of al-Hamidiyeh on Thursday.
The army units killed and wounded a large number of militants during the clashes, destroying their weapons and military equipment.
Other terrorists fled towards al-Hamidiyeh and adjacent areas after the heavy defeat.
The army troops also pounded the terrorists' moves in the road between the two towns of Masharah and Naba'a al-Sakhar in Quneitra, killing and wounding a number of militants.
Meantime, the terrorists targeted civilians' houses in the village of Jaba in Northeastern Quneitra with mortar fire, killing one civilian and wounding 10 others.
In a relevant development on Tuesday, the Syrian army troops engaged in heavy fighting with terrorists in Northern Quneitra and repelled their attack.
The army men exchanged heavy fire with terrorists deployed in Un Bateneh region and fended off their attack on the village of Jaba and Tal Koroum Jaba in Northern Quneitra.
The terrorists suffered heavy casualties and retreated after leaving behind their military equipment.
Full report at:
http://en.farsnews.com/newstext.aspx?nn=13970331000423
--------
FSA-Affiliated Terrorist Groups Form Coalition in Southern Syria against Army
Jun 21, 2018
Field sources reported on Wednesday that the operations room of al-Bonyan al-Marsous, Ras al-Safouf, Tohid al-Safouf, Sad al-Qazat, Death Triangle, Sad al-Baqa and Nasr al-Mobin terrorist groups in Dara'a were merged.
They added that the 'Central Operations Room in the South' will plan and command the military operations against the army in Southern Syria.
Meantime, reports from Quneitra province said that the FSA terrorists have formed a united operations room named al-Nasr al-Mobin with the aim of fight against the Syrian army.
The Syrian army had in a short time retaken control of several terrorist positions in Northern Dara'a.
Local sources in Dara'a said that the militants in the region are in deep fright and have asked comrades in other regions to help them repel the army attacks.
Militant sources stated on Tuesday that the terrorist groups in Dara'a province set up new operation rooms and launched an offensive as the Syrian Army is preparing for an imminent major operation to end militancy in the Southern part of the country.
Commander of Firqa al-Soud al-Sunah terrorist group Abu Omar al-Zaqloul said gunmen of the Southern Front and other groups deployed in Dara'a have embarked on setting up operation rooms to face the army's imminent attack.
In the meantime, the terrorists, deployed in Dara'a al-Balad and Mokhim al-Nazehin districts in Dara'a city, launched artillery and missile attacks on residential areas in the neighborhoods of al-Sahari, al-Matar, Shamal al-Khat and al-Kashef, killing a child and wounding several others.
Several residential units were also destroyed in terrorists' attack on al-Dhahiyeh region in Dara'a city.
Also, terrorists of Eastern Dara'a launched missile attacks on several neighborhoods in Sweida city.
Full report at:
http://en.farsnews.com/newstext.aspx?nn=13970331000302
--------
Iraq police in armed clash with pro-Iran Hezbollah militia in Baghdad
21 June 2018
Iraqi police surrounded the headquarters of an Iran-backed militia and detained one of its members after an armed clash Wednesday left three people wounded in Baghdad, a security official said.
A shootout erupted after a police patrol in the Iraqi capital stopped a car, only for a convoy of Hezbollah Brigades members to arrive, an interior ministry official said on condition of anonymity.
"The men in five vehicles opened fire and the police responded. Two policemen were wounded and one of the members of Hezbollah Brigades," he said.
The police then quickly surrounded the militia headquarters "where the fighters had holed up", the official said, closing down one of Baghdad's main thoroughfares.
The siege was lifted after the "person behind the shooting" was arrested, the official said.
The flare-up in violence was rare for the Iraqi capital, which has seen clashes drop off dramatically since a sectarian conflict over a decade ago.
Independent of the authorities in Baghdad, the Hezbollah Brigades are also fighting on the side of President Bashar al-Assad in Syria.
The group was targeted Sunday in air raids laid at Israel's door that reportedly left some 50 people dead in eastern Syria, where forces on the ground are battling ISIS remnants.
Full report at:
https://english.alarabiya.net/en/News/world/2018/06/21/Iraq-police-in-armed-clash-with-pro-Iran-Hezbollah-militia-in-Baghdad.html
--------
Africa
Nigeria returns Boko Haram victims to own communities
20 June 2018
Over 2,000 persons displaced by Boko Haram violence were on Tuesday returned to their communities in Nigeria's northeast after years of living in camps, the army said.
The returnees are mainly internally displaced persons (IDPs) from Guzamala local government of Borno state who had been quartered at the Bakassi camp in state capital Maiduguri.
"The IDPs numbering about 2,043 individuals, making up 378 households, constitute the first batch of IDPs who willingly expressed the desire to return to their communities to resettle and resume their traditional occupation of farming and fishing, as well as other socio-economic activities," army spokesman Onyema Nwachukwu said in a statement, following a ceremony flagging off their resettlement.
Nwachukwu said modalities for their return had been worked out by the army and the local authorities, while security has been beefed up to help the returnees commence their socioeconomic activities in their communities.
"Well meaning Nigerians and non-governmental organizations (NGOs) are urged to support returnee IDPs with farming implements and other relief materials to enable them settle back quickly into their respective communities," said army commander Rogers Nicholas as quoted in the statement.
Despite government's claim of victory over the militants, analysts have warned that most remote villages remain unsafe and cautioned against forcing IDPs to return to their ancestral communities.
Various estimates -- including UN's -- say the Boko Haram crisis has claimed over 20,000 lives and displaced at least 2.5 million people across the three states of Adamawa, Borno and Yobe that were mostly hit by the violence, with millions of others affected by the insurgency or in need of humanitarian help.
http://www.worldbulletin.net/africa/203265/kenyas-kakuma-camp-gives-refugees-hope
--------
Nigerian Army officer fighting Boko Haram commits suicide
June 21, 2018
A Nigerian Army captain on deployment in the North-east has committed suicide, PREMIUM TIMES can report.
The officer flipped his rifle towards own stomach and opened fired. The incident occurred at the 7 Division Medical Centre in Maiduguri on June 18, military sources said.
He was referred to the facility for medical examination and treatments.
PREMIUM TIMES is withholding the officer's name because it is not clear whether his family members have been notified.
He was drafted to the North-east as part of the war against Boko Haram from the Nigerian Army 22 Armoured Brigade in Ilorin.
The brigade has notified appropriate authorities of the development, including the Defence Headquarters.
Before the officer killed himself, he threatened shooting a storekeeper at the medical centre armoury, who fled for safety.
After the scare, the captain killed himself. He was rushed for treatment, but passed on shortly thereafter.
The officer was attached to troops operating in Mafa Local Government Area, Borno State, the heart of Boko Haram onslaught. He collected his gun from the armoury on June 18, saying he was returning to Mafa to join his team the next day.
The nature of his ailments prior to the suicide could not be ascertained before this story was completed.
The Defence Headquarters and the 7 Division spokespersons did not return requests for comments Wednesday night and Thursday morning.
The incident occurred seven months after a soldier opened fire on a captain, killing him before killing himself. That sparked renewed fears about post traumatic stress disorder amongst troops combating insurgents.
The military said the matter would be investigated, but the outcome remained unknown.
Full report at:
https://www.premiumtimesng.com/news/top-news/273200-nigerian-army-officer-fighting-boko-haram-commits-suicide.html
--------
Mozambique's own version of Boko Haram is tightening its deadly grip
Jun 22, 2018
Mozambique's Cabo Delgado province is being held to ransom by an Islamist guerrilla movement. After months of skirmishes between police and members of the Al Sunnah wa Jama'ah, the region has now erupted into full violence.
Since mid-May, 35 people have died in a series of brutal attacks. Various people have been beheaded, hundreds of houses have been burnt and residents have been advised to be cautious.
On 8 June local staff at Anadarko, an international oil and gas company, refused to go to work because they feared an attack.
The company then asked its foreign staff not to leave their compound. The US embassy also asked its nationals to leave the province immediately.
The state has in recent months responded forcefully to the emergence of this threat. Hundreds of men and women have been arrested. Some mosques have been closed and others have been destroyed.
In some areas, Muslims have been discouraged from wearing religious garb. This has prompted some sheikhs to warn that Mozambique's government must not alienate all Muslims because of a fringe group's activities.
There are economic as well as religious and security issues at play. Cabo Delgado province borders Tanzania and is home to 2.3 million people, 58 per cent of whom are Muslim. In the past few years massive oil and gas reserves have been discovered.
These resources are set to lead to the development of a multibillion dollar industry in Cabo Delgado, and a rosier future for Mozambique's economy as a whole.
The prospect of a full-scale war has alarmed many people. The state, civil society and oil explorers are worried about what the violence will mean.
How did it reach this point? Several factors – social, economic and political – have allowed an Islamist insurgency to develop in the north of Mozambique. Most are local issues rather than the outcome of an international, cross-border conspiracy.
The birth of Al Sunnah wa Jama'ah is very similar to what was seen with Boko Haram in Nigeria. It started as a religious sect which transformed into a guerrilla group.
Al Sunnah wa Jama'ah is Arabic for "people of the Sunnah community". The group is also known as Al-Shabaab (The Youth), even though it has no connections with the Somali movement of the same name.
It is estimated that the movement now has between about 350 and 1,500 members who are organised in small cells along the coast of northern Mozambique.
The sect's initial goal was to enforce sharia law. It tried to do so by withdrawing from society and the state whose schooling, health system and laws it rejected. Such posture led to much tension.
Some suggest that the movement also calls itself "Swahili Sunna" (Swahili path) to reflect a dream to restore the Swahili grandeur of the 19th century when sheikdoms and sultanates dominated the area.
Despite the movement's lofty ideals, some analysts still argue that it is motivated by greed rather than grievance. The group is even said to have become involved in illegal mining, logging, poaching, and contraband, making millions of dollars a week through these criminal activities.
But these assertions are not backed by hard evidence and it's difficult to imagine that a guerrilla group which would make $3m (£2.3m) a week still fights with only machetes and very few guns.
The genesis of the current crisis has its roots in the militarisation of the Al Sunnah wa Jama'ah in 2016. In that year, tensions with other Muslims and the state increased and the movement began to prepare for armed action.
In October 2017 a group of 30 men attacked three police stations in Mocimboa da Praia. They killed two policemen, stole arms and ammunition, and occupied the town. Promising not to harm the residents, the guerrillas eventually withdrew to set up military bases in the forest.
Some scholars have suggested that the group is part of a broader international Islamist terrorist network. It is true that there are cross-border linkages at play: Mozambique's police have said that the guerrillas received military training in Tanzania and the Democratic Republic of the Congo.
But I would argue that Mozambique's new guerrilla movement is primarily a local phenomenon with very specific historical and social dynamics. The movement emerged within a particular religious, social and ethnic group known as the Mwani.
They feel they have been marginalised for decades by migration into their area, a lack of economic development, and their neighbours' political clout.
Ultimately, if the movement sustains its current levels of violence, oil and gas firms might move processing plants offshore. This would probably lead to a loss of jobs locally. Violence could also lead to a displacement crisis as hundreds flee the area.
The Mozambican state has responded to the latest crisis by entering into security agreements with the governments of Tanzania, DRC and Uganda; by setting up a regional military command; and by moving more troops into the north.
But the state and its partners need to also devise non-military measures.
Full report at:
https://www.independent.co.uk/news/world/politics/mozambique-cabo-delgado-boko-haram-islamist-extremism-africa-guerrilla-movement-a8397111.html
--------
US strongly condemns attacks on Libyan oil ports - State Department
21 June 2018
The United States on Wednesday strongly condemned recent attacks on Libyan oil ports by militia loyal to Ibrahim Jathran and called for "all armed actors" to withdraw immediately from oil installations, the US State Department said.
"The United States believes these vital Libyan resources must remain under the exclusive control of the National Oil Corporation and the sole oversight of the Government of National Accord," the statement said.
https://english.alarabiya.net/en/News/north-africa/2018/06/21/US-strongly-condemns-attacks-on-Libyan-oil-ports-State-Department.html
--------
Kaduna High Court postpones Sheikh Zakzaky's trial
Jun 22, 2018
A high court in Nigeria's central state of Kaduna has postponed the trial of Muslims Cleric Sheikh Ibrahim Zakzaky. The decision was made following a hearing held amid tight security. Our correspondent Danjuma Abdullahi has more from Kaduna.
http://www.presstv.com/Detail/2018/06/22/565690/Kaduna-High-Court-postpones-Sheikh-Zakzakys-trial-
--------
Libya's Haftar forces say recaptured two key oil export terminals
Jun 21, 2018
Forces loyal to Libya's military strongman general Khalifa Haftar say they have managed to recapture two main oil export terminals in the northeast of the country from rival militia forces.
Ahmed al-Mesmari, a spokesman for the self-styled Libyan National Army, said Thursday that LNA forces had now full control over the Ras Lanuf and al-Sidra terminals, both located about 650 kilometers east of Tripoli on the Mediterranean.
This came a week after forces loyal to Ibrahim Jadhran, a militia commander based in eastern Libya, attacked terminals.
Libya's National Oil Company (NOC) said on Wednesday that more than a week of fierce fighting had caused the Ras Lanuf and al-Sidra terminals to close. It also said that the violence had slashed the output by almost a half.
"Production has seen a reduction by 450,000 barrels per day, plus 70 million cubic feet of natural gas, equivalent to $33 million in sales based on market prices," Sanallah said, adding that fires caused by the clashes inflicted heavy loss on the facility.
"Maintenance teams are still dealing with the aftermath of the blaze and are trying to ascertain the extent of the damage to the terminal," Sanallah noted.
The Ras Lanuf and Al-Sidra terminals had been under LNA control since 2016, when Haftar ordered an offensive to purge Jadhran's Petroleum Facilities Guard forces who had dominated the region since the ouster and killing of long-time dictator Muammar Gaddafi in 2011. That enabled Libya to re-establish the badly-needed oil exports from the Mediterranean ports.
The LNA is currently the dominant force in eastern Libya although groups like the Benghazi Defense Brigades and those loyal to Jadhran continue to challenge LNA's clout.
Haftar, a general under Gaddafi, has been mostly opposed to United Nations efforts to establish a unity government in Libya. He has openly challenged the rule of one such administration in the capital Tripoli since it was established in 2015 while his forces continue to remain close to the rival government and parliament in the east of Libya.
Full report at:
http://www.presstv.com/Detail/2018/06/21/565645/Libya-oil-terminals-LNA-recapture
--------
Bomb attack kills 4 members loyal to Libya's Haftar
Jun 20, 2018
Four members of security forces loyal to Libya's eastern-based commander Khalifa Haftar have been killed in the city of Derna after an attacker drove his booby-trapped vehicle toward a group of soldiers.
A spokesman for Haftar's Libyan National Army (LNA) said the assailant was bearing a white flag as he drove toward the troops on Wednesday.
Ahmed al-Mismari added that the white Chevrolet approached the troops in central Derna and asked to leave the combat zone, but the bomber set off explosives packed into the vehicle when he got close.
Derna is the only major city in eastern Libyan that has remained alien to LNA. It has been under the LNA siege for almost two years and the Derna Protection Force (DPF) has been mostly in control.
To gain more support for its massive ground offensive, LNA has labeled DPF as a group linked to al-Qaeda, saying the Derna operation is aimed at purging the city of terrorists. DPF, however, has brushed aside those claims and says it is resisting Haftar's push to dominate the entire Libya through military assistance from certain countries.
Haftar, a general under former dictator Muammar Gaddafi, has been mostly opposed to efforts by the United Nations to establish a unity government in Libya. He has openly opposed the rule of one such administration in the capital Tripoli since it was established in 2015 and continues to remain close to the rival government and parliament in the east of Libya.
Full report at:
http://www.presstv.com/Detail/2018/06/20/565585/Libya-bomb-attack-Haftar-
--------
Libyan coastguard rescues 237 migrants off Tripoli
22 June 2018
Libya's coastguard has rescued more than 230 undocumented migrants off the country's northern shore, the Libyan Navy said Friday.
A statement by navy forces affiliated with the National Consensus Government said 237 undocumented migrants, including women and children, were saved in two separate operations off the coast of Al-Qaraboli city.
The operations were carried out 20 kilometers (12.4 miles) and 26 km (16 miles) north of the city, it said, adding the majority of those rescued were Somalian nationals.
They were later transferred to an asylum center in Tripoli's Tajura district after receiving necessary humanitarian aid.
Around 785 migrants have died in the Mediterranean Sea this year while trying to sail to Europe, according to the UN Migration Agency (IOM).
According to the Libyan Navy, 16,000 undocumented migrants were rescued in 2017.
Ever since the collapse of the central authority in Libya in 2011, the country's northwestern coast has become a hub for illegal migration to Italy and other countries in Europe.
Full report at:
http://www.worldbulletin.net/africa/203310/libyan-coastguard-rescues-237-migrants-off-tripoli
--------
Somalia: Kenya Urged to Prevent Al Shabaab Cross-Border Attacks
20 JUNE 2018
Five MPs from Northeastern yesterday urged the government to strengthen security on the Kenya-Somalia border to prevent more attacks by al Shabaab.
On Sunday eight security officers were killed after their vehicle hit an improvised explosive device in Bojigaras, Wajir. They were five Administration Police officers and three police reservists.
The militants made off with six AK-47s, two G3 rifles and at least 540 bullets.
Al Shabaab militants have claimed responsibility for the attack. In a video released on Monday night, they claimed they had killed more than 10 security officers and injured 23.
The one-hour-long video in Arabic features multiple attacks over six months in Lamu, Mandera and Wajir. The purpose of the video, it said was "to honour slain fighters". They include an unidentified Briton killed while fighting alongside them.
The life of militants in Boni Forest is also featured.
Militants launch attacks in Kenya to pressure the government to withdraw its troops from Amisom, the peacekeeping force in Somalia.
They attack police and security agents, non-local teachers and quarry workers, among others.
Those calling for more security included legislators Adan Keynan (Eldas), Rashid Amin (Wajir West), Mohammed Omar (Wajir South), Amed Kolosh (Wajir East) and nominated Senator Farhiya Haji.
They spoke during a press conference at Parliament Buildings.
"Security agents have done a good job in Somalia in dealing with al Shabaab and we should not allow remnants of the militant group to cause havoc in our country," Keynan said.
He said leaders from Northeastern support all government efforts to fight the criminals.
"We are ready to work with the state to secure the lives of our people. We are also asking the locals to cooperate with the security agencies and report to authorities whenever they see people they suspect to be criminals," Keynan said.
Senator Haji said anyone facilitating the movement of the militants should be punished. She urged residents to share information with security officials.
Full report at:
http://allafrica.com/stories/201806210301.html
--------
Europe
UK 'complicit' in Israeli crimes against Palestinians: London-based charity
Jun 18, 2018
A London-based charity has said the British government is "complicit in the violence" perpetrated against Palestinians as it continues to provide arms to Israel.
British charity War on Want made the comment in an interview with The Independent on Monday, denouncing a recent move by the UK government to abstain from a United Nations vote on Israeli violence in the besieged Gaza Strip.
The vote condemned Israel's "use of any excessive, disproportionate and indiscriminate force" against peaceful Palestinian protesters.
"In abstaining from this vote, the UK government has yet again refused to commit to the protection of Palestinians' human rights as they are targeted with the brutal and unlawful use of force by the Israeli military," Ryvka Barnard, senior campaigns officer for War on Want, told the British newspaper.
"But make no mistake, the UK is not sitting aside and remaining neutral. While the world calls for violent attacks on Palestinians to end, the UK government continues to approve arms exports to Israel, making it complicit in the violence," she added.
The UN General Assembly adopted the resolution last month with 120 votes in favor, eight against and 45 abstentions, including Britain, Switzerland and Germany.
The resolution condemned the "use of live ammunition against civilian protesters, including children, as well as medical personnel and journalists" and underscored its "grave concern at the loss of innocent lives."
The UN convened a special meeting after more than 100 Gazans were killed by Israeli snipers in six weeks of protests dubbed the "Great March of Return," which began on March 30 and climaxed on May 15, coinciding with the 70th anniversary of Nakba Day (Day of Catastrophe), when Israel was created.
The UK said it "could not support a resolution that was partial and imbalanced. Such investigations heightened the risk on both sides," calling on Israel to conduct its own independent inquiry into the atrocities instead.
Tens of thousands of people have been protesting along the border between the besieged Gaza Strip and Israeli-occupied territories, calling for Palestinian refugees and their descendants to be allowed to return to their homes now inside Israel. Israeli forces killed at least 62 Gazans in a single day of protests that coincided with the relocation of the US embassy from Tel Aviv to occupied Jerusalem al-Quds on May 14.
Stressing that the use of lethal force may constitute war crimes, Human Rights Watch said in a statement on Wednesday that the overwhelming majority of those killed and wounded in the Gaza protests were unarmed.
The New York-based rights group said eyewitnesses reported seeing Palestinians shot from a great distance from border fences without posing any immediate threat to Israeli troops.
Britain has sold record amounts of weapons to Israel over the past year, new data shows, prompting backlash from human rights groups amid the Tel Aviv regime's ongoing crackdown of Palestinian protesters.
Last year, the government of Prime Minister Theresa May granted £221 million worth of arms licenses to military contractors exporting to Israel, the Campaign Against Arms Trade (CAAT) revealed Saturday.
That is almost 3 times the previous year's figure of £86 million and a significant increase from the £20 million in arms licenses in 2015.
The UK has also ignored international calls to halt its weapons sales to Saudi Arabia over the course of its deadly war against Yemen, which began in 2015 and has put the poverty-stricken country on the verge of a humanitarian disaster.
London views arms deals with Israel and Middle Eastern countries as one of the main pillars of its economy after it quits the European Union in 2019.
http://www.presstv.com/Detail/2018/06/18/565369/UK-charity-War-on-Want-Israel-violence-Gaza-Strip
--------
Germany's Merkel calls for solutions to Iran's 'aggressive tendencies'
21 June 2018
German Chancellor Angela Merkel on Thursday said European countries shared concerns over Iran's ballistic missile program and called for solutions to its "aggressive tendencies" in the Middle East.
"Iran's aggressive tendencies must not only be discussed, but rather we need solutions urgently" she said after meeting Jordan's King Abdullah in Amman.
Germany remained party to the Iran nuclear deal, which lifted sanctions on Tehran in exchange for curbing its atomic program, after US President Donald Trump withdrew from it in May.
Merkel said on Thursday that while European countries wanted to maintain the 2015 accord, they shared concerns over Iran's ballistic missile program, its presence in Syria and its role in the war in Yemen.
In Syria, Iran is a big military supporter of President Bashar al-Assad, sending some of its own forces there and backing Shi'ite militias from Lebanon and Iraq who are fighting on the ground. Gulf and Western countries accuse Tehran of arming the Houthi group in Yemen, which it denies.
She also voiced support for Jordanian concern about Iranian activity in southwestern Syria, near its border and that of the Israeli-occupied Golan Heights, where Tehran's ally Damascus is ramping up a military operation.
"You live not just with the Syria conflict, but also we see Iran's activities with regard to Israel's security and with regard to Jordan's border" she said. Merkel said earlier this month after meeting Israeli Prime Minister Benjamin Netanyahu that the question of Iran's regional influence was "worrying, especially for Israel's security".
Abdullah, who met Netanyahu on Monday and spoke by phone with Trump's son-in-law and regional envoy Jared Kushner on Tuesday, said there could be no peace in the Middle East without a Palestinian state with Jerusalem as its capital.
The United States is preparing a new peace plan, which has not yet been made public, but has already angered Palestinians by recognizing Jerusalem as the capital of Israel.
Abdullah this month appointed a new prime minister after the country's biggest protests in years over taxes and price increases pushed by the International Monetary Fund. Merkel said reforms should be balanced and "not hit the wrong people", as reported by Reuters.
In another development, Merkel promised a $100 million loan to troubled Jordan, where mass protests over austerity measures forced the prime minister to resign earlier this month. the Associated Press reported.
The chancellor said Germany will provide the $100 million loan in addition to bilateral aid of 442 mln US dollars this year, as reported by the Associated Press. She said she hopes the additional funds will help Jordan carry out economic reforms sought by the International Monetary Fund.
Full report at:
https://english.alarabiya.net/en/News/middle-east/2018/06/21/Germany-s-Merkel-calls-for-solutions-to-Iran-s-aggressive-tendencies-.html
--------
Survivors say at least 60 refugees died in Mediterranean
Jun 20, 2018
At least 60 refugees were killed after their rubber dinghy sank in the Mediterranean Sea off the coast of Libya last week, survivors have said.
Nearly 40 survivors from the boat, which capsized on June 12 off the coast of Libya, were among more than 500 refugees on board the Diciotti, an Italian coastguard ship, which docked Tuesday night at the Sicilian port of Pozzallo.
Survivors interviewed by volunteers from the human rights association Medu in Sicily said their boat was transporting 117 people, which would put the death toll at more than 70.
However, the Doctors Without Borders (MSF) NGO put the toll slightly lower at 60, also citing accounts from survivors, who said 100 people were aboard the dinghy.
At the time of the accident, the US Navy came to the aid of drowning refugees, reporting spotting about 12 bodies in the water but it was unable to locate them after the rescue.
"I have never seen such frightened and traumatized eyes after a landing," said Teo di Piazza, coordinator of MSF psychologists. "The people had no strength left."
The most recent refugee arrival in Sicily comes as several European leaders will hold talks on asylum issues in Brussels on Sunday.
Europe's refugee crisis escalated last week after Italy and Malta turned away Aquarius rescue ship carrying 629 refugees and kept it waiting in international waters between the two countries for over 30 hours with limited food and drink supplies and in bad weather conditions, facing potential death.
Spain eventually offered to take in the ship amid safety fears due to deteriorating weather conditions and offered its port in Valencia as a place for the asylum seekers to land in Europe.
Europe has faced its worst refugee crisis since World War II. The continent has been hit since 2014 by an unprecedented influx of refugees fleeing conflict-ridden zones in North Africa and the Middle East, in particular Syria.
Over the past five years, more than 600,000 refugees have reached Italy by risking their lives on rickety human smuggler boats at the sea. Some 500,000 of them are still staying in the country.
According to the UN migration agency (IOM), over 3,000 refugees lost their lives crossing the Mediterranean in 2017.
Full report at:
http://www.presstv.com/Detail/2018/06/20/565577/refugees-boat-sinks-Libya
--------
URL: https://www.newageislam.com/islamic-world-news/jud-field-hafizs-son-july/d/115614
New Age Islam, Islam Online, Islamic Website, African Muslim News, Arab World News, South Asia News, Indian Muslim News, World Muslim News, Women in Islam, Islamic Feminism, Arab Women, Women In Arab, Islamophobia in America, Muslim Women in West, Islam Women and Feminism