New Age Islam News Bureau
1 May 2017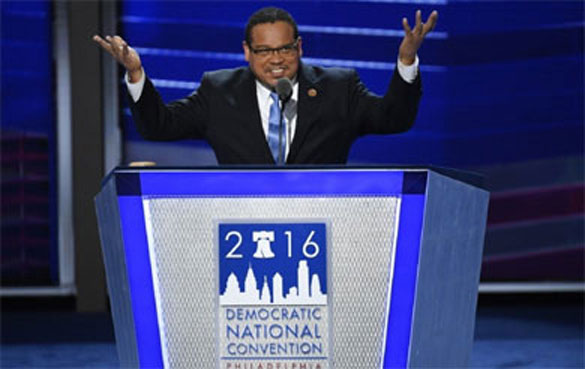 Rep. Keith Ellison, the first Muslim elected to Congress, speaks during the Democratic National Convention in Philadelphia on July 25, 2016. (David Paul Morris/Bloomberg)
------
• Jokowi: Islam and Democracy Could Coexist in Parallel
• Jamaat-e-Islami Chief for Uniting Religious Forces for Safeguarding the Islamic identity
• It's Time for Muslim Americans to Do Politics like Other Minorities
• 40 UN-Linked Organizations Implicated For Supporting Yemen Coup, Says Report
• Turkish President Suggests Multilateral Dialogue on Kashmir Issue
• Converted Youths of Bangladesh Who Became Militants
Southeast Asia
• Jokowi: Islam and Democracy Could Coexist in Parallel
• Malaysia's Islamic Battle takes A 'Heavenly' Path
• KL's first Halal hotel a mega attraction to Muslim travellers
• 'MB's Chinese aide proof PAS not against non-Muslims'
• Najib Lauds Duterte's Aggressive Action against Extremists
--------
Pakistan
• Jamaat-e-Islami Chief for Uniting Religious Forces for Safeguarding the Islamic identity
• Govt Must Not Nullify Kashmiris' Sacrifices, Says Muttahida Jihad Council Chairman
• PML-N discusses ways to allay army's concerns
• US should persuade Pakistan to rethink Afghan policy: ICG
• Mufti Naeem asks citizens to unite after meeting Kamal
• Former CJP endorses ISPR's stand on security breach probe report
--------
North America
• It's Time for Muslim Americans to Do Politics like Other Minorities
• Meet Hasan Minhaj, the Muslim Comedian Who Roasted Trump In Front Of Reporters
--------
Mideast
• 40 UN-Linked Organizations Implicated For Supporting Yemen Coup, Says Report
• Israel Troops Break Up Sit-In Protest Held in Solidarity With Hunger Strikers
• Turkey threatens more attacks on US-allied Kurdish forces
• Drone strike kills 5 Qaeda suspects in Yemen
• Head of Iranian TV channel gunned down in Istanbul
• Erdogan 'saddened' by US flags with Syrian YPG
• Iran's leader rebuffs Rouhani's detente policy
--------
India
• Turkish President Suggests Multilateral Dialogue on Kashmir Issue
• Two Indians who joined IS, al-Qaida killed in Syria, Afghanistan
• Debate on Triple Talaq Unnecessary: AIMPLB VP Sayed Jalaluddin Umri
• Anti-terror squad spreads net wider after UP arrests
--------
South Asia
• Converted Youths of Bangladesh Who Became Militants
• Scores Killed In ISIS and Taliban Clash in Nangarhar Province
• Afghan President had serious negotiations with Pakistani delegation: Muslimyar
• Afghan Special Forces seize 1000 kgs of explosives in Parwan
• Abdullah reacts at Taliban's spring offensive, saying Afghan forces ready to respond
--------
Arab World
• White Helmets Preparing another False-Flag Operation Similar to Idlib's Chemical Incident
• 'Unidentified Militias' Kidnap around 100 Iraqis Fleeing Mosul Town
• New leadership of Palestinian Hamas to be announced soon
• Iraqi commander says to complete capture of Mosul in May
• Syrian Army Pre-empts ISIL Attack in Deir Ezzur
• Syrian Army Laying Siege on Terrorists in Eastern Damascus
• Syrian Army Scores More Victories against ISIL in Eastern Homs
• A waterway lifeline for US-backed Syria force fighting IS
• More Civilians Killed in US-Led Coalition Airstrikes in North-eastern Syria
• ISIL Starts Vast Retreat from Eastern Homs under Army Attacks
• Kurdish-Arab alliance advances against ISIS near Syria's Raqqa
• US-backed Syria force advances against ISIS in Tabqa
• Saudi Arabia 'busts terrorists' responsible for 2016 Medina, Jeddah bombings
--------
Africa
• French Soldiers 'Kill; Capture 20 Militants' In Mali
• Tunisia says two militants killed in security sweep
• Police kill 2 suspected terrorists in central Tunisian town
• Imam Advises Muslims to Acquire Islamic Knowledge
• Africa: The Forgotten War in the Central African Republic
--------
Australia
• Australia Probes 'Jihadi Child Threat' Video
--------
Europe
• Germany's Merkel Tells Saudis to Stop War on Yemen as Arms Sales Go On
• Morocco's Christian converts emerge from the shadows
Compiled by New Age Islam News Bureau
URL: https://www.newageislam.com/islamic-world-news/jokowi-islam-democracy-coexist-parallel/d/110980
--------
Jokowi: Islam and Democracy Could Coexist in Parallel
30 April 2017
NETRALNEWS.COM - On paper, Indonesia seems doubly disadvantaged by the new dispensation in Washington DC.
It is the sort of emerging Asian economy that Donald Trump's base believes is stealing jobs from Americans. And it is home to the world's largest population of Muslims, who the same constituency distrusts as a threat to peace and security.
The president of Indonesia, though, is sanguine about the prospects for working with the United States. Joko Widodo revealed that he had a phone call of seven to eight minutes with Trump after the November election.
He described the conversation as damai, Indonesian for peaceful. On trade, Widodo believes he and Trump share a similar results-driven approach, which will enable them to resolve differences.
- Gloom in Indonesia over 'difficult' Trump presidency -
Both are former businessmen, he noted. Widodo ran a successful furniture business in his home town of Solo before venturing into politics. "This is about deal-making," he said. "Deal, move on." The Trump administration this month identified Indonesia as one of 16 countries "under review" for having a trade imbalance and practising anti-competitive policies.
Widodo said he was preparing a team to discuss a bilateral trade deal. The officials will meet their US counterparts in a month's time. The trade negotiations could amount to a comprehensive trade pact, a free-trade agreement or a preferential trade agreement.
He said his discussions with US Vice-President Mike Pence last week gave him the sense that an agreement was within reach. "We will speed this up and not delay it," he said on the negotiations.
Pence's Jakarta visit was the first by a senior member of the Trump administration to a Southeast Asian capital. It was part of his swing through Asia that included visits to South Korea, Japan and Australia.
- Trump's executive disorder: how 'Muslim ban' undermines the US in Asia -
On the security front, Widodo downplayed concerns about the Muslim-bashing rhetoric that has flowed from Trump and his coterie. The administration has been trying to restrict the entry of immigrants from a handful of Muslim-majority countries. But Widodo noted that Indonesia was not on the list.
"The target is not Indonesia," he said. "I conveyed to Vice-President Pence that Islam in Indonesia is one that is tolerant, moderate, one that believes in mercy and blessings."
He recalled that while Pence was in Indonesia, he visited Southeast Asia's largest mosque, met religious leaders from various communities, and came away impressed. "He said that Indonesia serves as an inspiration of the religious diversity and pluralism of a society," said Widodo.
- Jakarta's ethnic Chinese leader is gone, is it Widodo next? -
He did not agree that the heated religious rhetoric of the recent Jakarta gubernatorial election should have given the visiting Americans cause for alarm. The election saw the defeat of the incumbent, ethnic Chinese Christian Basuki Tjahaja Purnama, after he was accused of blasphemy by Islamist hardliners.
Widodo said the takeaway was that the largely peaceful election showed "Islam and democracy could coexist in parallel".
http://www.en.netralnews.com/news/opinion/read/4987/jokowi....islam.and.democracy.could.coexist.in.parallel...
--------
Jamaat-e-Islami Chief for Uniting Religious Forces for Safeguarding the Islamic identity
May 01, 2017
LAHORE - Jamaat-e-Islami chief Senator Sirajul Haq has said that the unity of the religious forces was inevitable for safeguarding the Islamic identity of the country.
Addressing meeting of the Jamiat-e-Talaba Arabia at JI head office Mansoora yesterday, he said that the colonial powers and international establishment were conspiring to undo the Islamic identity of this country and unfortunately, the country's rulers were also advancing the enemy agenda.
He said the row between the state institutions on Dawn leak was due to the incompetence and mishandling of the issue by the government. He said that the leak report was out a day before its being made public. He asked the Interior Minister to explain who was responsible for this lapse.
The JI chief impressed upon the religious leadership to sink their petty differences and unite on one platform. He said that the safeguarding the country's identity was far more important at this stage than the personal and party considerations. He said if the religious forces did not realize their real role at this juncture and stuck to their minor differences, the new generation of those loyal to the East India Company would not hesitate in playing with the country's solidarity.
Haq said that the poor masses had always offered sacrifices for the country while the so called elite had been compromising on vital national interests for personal gains.
He said that the country at present was facing conspiracies both from within and outside and its defense was a sacred Jehad.
He said there was no obstacle in the unity of the religious forces as the common goal before them was the enforcement of the Shariah. He said that the differences of the Ulema always benefitted the vested interests.
He said that the JIT investigations would reveal the corruption of the ruling family and it was honorable for the Prime Minister to resign at this stage. He said the lesson of history was that Pride hath a fall, and the present rulers should also learn from this.
http://nation.com.pk/lahore/01-May-2017/ji-for-uniting-religious-forces
--------
It's time for Muslim Americans to do politics like other minorities
By Alia Salem
May 1, 2017
One thing I can say about being Muslim American: We're good at building mosques. I've visited mosques of every shape and size, sometimes multi-million dollar facilities that cater to form as well as function. Well-executed fundraising drives have made it possible to build outstanding facilities, even in localities where Muslims are few and far between. In many parts of the country, they're not just our houses of worship, they double as cultural hubs and, often, as refuges from the derision many Muslim Americans have sensed in the years since 9/11. In the different places I've lived, I've been grateful to have access to mosques as a canopy of self-protection, but I've also worried that they can become bubbles of self-segregation. Our political engagement is often defensive, not proactive or strategic, and it isn't very effective.
If Muslim Americans want politicians to take us seriously as a constituency — if we want policy outcomes that reflect our priorities and an end to scapegoating and harassment — we need to start building political capital the way other minority and immigrant groups do.
Nearly every immigrant or minority group has had to overcome some form of oppression or scrutiny while fighting for acceptance and equality — Italian Americans, Jewish Americans, Chinese Americans and Mexican Americans all have their immigrant narrative. African Americans still contend with the legacy of slavery and American Indians with colonialism. In some ways, for immigrant and minority groups, it's less a story of the American Dream and more the story of the ability of different groups to sink, float or swim, and Muslim Americans are taking our turn trying to overcome this hurdle.
Where perhaps at one time we were misunderstood but largely ignored, since 9/11 we've been a convenient scapegoat for politicians who encourage Americans' xenophobia by telling us to fear "radical Islamic terrorism." We've responded with interfaith dialogue and now almost rote condemnation of despicable violent acts such as last year's shootings at Orlando's Pulse nightclub — expressions meant to emphasize the message that Islam is a religion of peace, but that often fall short of changing Americans' perceptions of our faith.
Despite a January study from UNC Chapel Hill finding that terrorist acts committed by Muslims amounted to "one-third of 1 percent" of murders in the U.S. in 2016, then-candidate Donald Trump won the White House in no small part by exploiting Islamophobia. Hillary Clinton opposed Trump's proposed Muslim travel ban, of course, but still "othered" Muslim Americans by addressing us primarily in the national security context, saying, in her third debate with Trump, "We need American Muslims to be part of our eyes and ears on our front lines." It was a statement that, as Ismat Sarah Mangla explained for Quartz, imputed "special knowledge of terror attacks" to Muslim Americans that we don't have. As Mangla notes, we're simply trying to "live unsensational lives, serving as doctors, engineers, lawyers, teachers, artists and journalists." Our citizenship isn't "contingent on how 'useful'" we "are in the war on terror."
If we want this dynamic to change, we can't just inveigh against President Trump's hostility or wait around for sympathetic politicians to press our case. We must build mechanisms for mobilizing as a voting bloc. We need to develop institutions like EMILY's List, the fundraising organization that promotes Democratic women candidates; J Street and AIPAC, Jewish American advocacy groups that lobby on Israel policy; and Latino Victory Fund, a political action committee that backs Latinos running for office.
When we want to build an Islamic center, we come together. Activists bring together Muslim immigrants with American-born Muslims, blue-collar and upper middle class Muslims, devout and not-so-devout Muslims to acquire land, raise funds for construction and develop staff and programming. We often work successfully with leaders of other faith communities to immediately integrate our mosques into the fabric of local congregations. Why not replicate this approach in the context of partisan politics? Muslim Americans have made scattered forays throughout the country — in the Dallas area, where I live, the Good Citizen Committee, a local Muslim American political group, has exerted its influence in recent local elections through its voter registration and mobilization efforts. But to achieve broader impact, we'll need build a nationwide, professional political strategy apparatus. We're a small percentage of the electorate, but we have the wherewithal to make this happen — according to Pew Research, 20 percent of Muslim American households have income of $100,000 or more per year; by 2050, Pew projects, we'll be the largest religious minority.
In 2016, however, Muslims were still aggregated in the "other" category in exit polls and even Pew's tabulation of "Presidential vote by religious affiliation and race" (in which 62 percent of "Other faiths" chose Clinton over Trump). We've got a way to go in terms of being counted — and courted — as a stand-alone constituency.
Last year, the Council on American-Islamic Relations polled Muslims shortly before Election Day and found that 86 percent of eligible voters said they would vote in 2016. Any turnout close to that would far surpass Americans' overall voter turnout. An informal survey of Muslim Americans in Dallas, which has a relatively large Muslim community, found, however, that Muslim turnout for local and midterm elections is likely somewhere under 20 percent, greatly diminishing our influence in down-ballot races.
Muslim American contributions to political campaigns and issued-based lobbying is similarly not robust. One estimate showed that in a 10-year period ending in 2012, Muslim American/Arab American PACs invested just over $500,000 on candidate- and issues-based advocacy. Compare that figure to the estimated $18 million invested in the same period by Jewish American PACs.
In exercising our clout, Muslim Americans don't have to reinvent the wheel. Other marginalized groups, in overcoming obstacles, have already fought for and shown the way forward. Greater voter participation and more proactive resourcing in elections have the potential to further policy priorities favored by Muslim voters. Investments such as these would not only strengthen the Muslim community's position, but make insulting and harmful rhetoric about Muslim Americans a negative, not a positive for aspiring politicians.
Our system rewards communities when we use our resources to amplify our voice in the political process. And, in turn, America is rewarded when minorities, formerly on the outside, become invested in that process.
https://www.washingtonpost.com/posteverything/wp/2017/05/01/muslim-americans-must-amplify-our-voice-in-the-political-process/?utm_term=.ad1242624070
--------
40 UN-linked organizations implicated for supporting Yemen coup, says report
30 April 2017
The official newspaper of the Yemeni National Army has revealed that more than 40 local organizations in Sana'a, that have links with the United Nations, have been implicated in the funding of the coup against Yemeni people.
The "26 September" weekly newspaper, said that the alliance that staged the coup managed to seize the business of the international organizations with a green light from the United Nations.
The most notable of these organizations, as mentioned in the newspaper, were "The Foundation For Yemen", "Mouatana", "Young Leadership Development Foundation", "Life Makers Forum", "National Relief and Development Foundation".
"National Development and Response Foundation," "Samaa Sana'a organization," "Sam Organization," "Saver World organization," "Raneen Sana'a foundtion," and others.
It also mentioned that the Ministries of Planning and International Cooperation and Foreign Affairs who are responsible for issuing permits and supervising the work of international organizations have been deliberately suspended due to political reasons pursued by the leaders of the coup in the capital Sana'a.
https://english.alarabiya.net/en/News/middle-east/2017/04/30/40-organizations-funded-by-the-UN-backed-up-Yemen-s-coup.html
--------
Turkish President suggests multilateral dialogue on Kashmir issue
Apr 30, 2017
NEW DELHI: Turkish President Recep Tayyip Erdogan on Sunday suggested a multilateral dialogue to resolve the Kashmir issue to ensure peace in the region.
Erdogen, who arrived in India this evening ahead of talks with Prime Minister Narendra Modi, also favoured India's bid for membership of the Nuclear Suppliers Group (NSG) besides that of Pakistan, saying India should not have objection to it.
"We should not allow more casualties to occur (in Kashmir). By having a multilateral dialogue, (in which) we can be involved, we can seek ways to settle the issue once and for all," he said in an interview.
The Turkish leader said that it is in the interest of India and Pakistan that they should resolve this issue and not leave it for the future generations who will have to suffer.
"All around the world, there is no better option than keeping the channel of dialogue open. If we contribute towards global peace, we can get a very positive result," he said.
Erdogen said India and Pakistan were both friends of Turkey and he wanted to help strengthen the dialogue process among the stakeholders for resolving the Kashmir issue which has been festering for the last 70 years.
Replying to questions on the Kurdish problem in Turkey, he said it could not be compared with the Kashmir issue.
"We have no problem with the Kurdish people. We have a problem with a terrorist organisation," he said.
"It (the Kurdish problem) is a territorial dispute. In Jammu and Kashmir, the situation is different. Let's not make the mistake of comparing them," he said.
http://timesofindia.indiatimes.com/india/turkish-president-suggests-multilateral-dialogue-on-kashmir-issue/articleshow/58449232.cms
--------
Converted Youths of Bangladesh Who Became Militants
April 30, 2017
During the recent raids, law enforcers busted several militant dens set up by such converted youths to teach how to operate arms and make explosives
The number of converted Muslim youths being radicalised is increasing day by day. Some of them have joined banned militant outfits JMB and Ansarullah, who are responsible for the recent targeted killings across the country, detectives say.
During the recent raids, law enforcers busted several militant dens set up by such converted youths to teach how to operate arms and make explosives.
Regarding the link between militancy and the converted youths, experts say the people who have little knowledge about Islam and those who are not well off are being targeted by the militant recruiters, reports Bangla Tribune.
1. Probhat Kumar alias Abdullah (converted to Islam and holds a bomb-making factory in his house)
The Counter-Terrorism and Transnational Crime (CTTC) unit recovered a large number of Improvised Explosive Devices (IEDs) and three suicide vests along with explosives from a militant den at Porahath village in Jhenaidah on April 21.
They discovered that the house was owned by Probhat Kumar who changed his name to Abdullah after converting to Islam five years ago. Police estimate that Abdullah, who is a member of Ansarullah Bangla Team (now known as Ansar al-Islam), was using the tin-shed house to make bombs.
Abdullah lived in Thonthonpara with his parents – Chaitanya Baul and Shondhya Rani – and two siblings. He did not have terms with the neighbours. His parents rejected him after his conversion to Islam. He married a Muslim woman.
According to CTTC, Abdullah had fled the Jhenaidah hideout with his wife before the raid.
Later, 20 drums of hydrogen peroxide, 100 packets of metal balls, three suicide vests, nine suicide belts, a large cache of electric circuit, 15 jihadi books, one 9mm pistol, one magazine, seven rounds of bullets, one motorcycle, one machete, a large amount of IEDs and detonators were recovered from the den.
2. Saifullah Ozaki is one of the 10 militants whose picture was published by the law enforcers after the Gulshan and Sholakia attacks last year asking them to return home.
Ozaki is the son of Janardan Debnath and Anita Rani Debi of Koroibari village under Nobinagar upazila and was called Sujit Kumar before he was converted to Islam.
He got a scholarship, went to Japan for studies in 2001 and converted to Islam soon after. He married a Muslim woman. The couple has three sons and a daughter. After completing his education, he started teaching at Ritsumeikan University in Kyoto Prefecture as an assistant professor of business administration.
According to a report of The Japan Times, Ozaki has been missing since he left Japan for Bulgaria with his family in 2015.
He has also been named in case No 23 filed under Anti-Terrorism Act with Dhaka's Uttara (north) police station on May 24, 2015.
Quoting The Japan Times, Canada-based online newspaper Bengal Times on July 23, 2016 reported that Ozaki had fled to Syria via Europe with his family to join the Islamic State.
3. Jhulon Debnath, a resident of Chittagong's Hatia village, converted to Islam a year ago. Even though he went missing on September 30, 2015, his father Khagendra Debnath filed a General Diary regarding the matter last July.
In the GD, Khagendra said his family would not be liable if his son was found involved in any activities against the country.
Jhulon was jailed in a case filed by his wife under the Women and Child Repression Act on May 25, 2015. He converted to Islam after being released from the jail on November 2 the same year and named himself as Mohammad Ibrahim.
4. In a similar manner, Kajol Kanti Nath filed a GD with Chittagong's Akbar Shah police station last year where he stated that his brother Ujjal Kantinath had been missing since 2015.
According to the GD, Ujjal owns three salons. He left his salon for some work and never returned home. Later, a GD was filed on June 10 the same year.
Ujjal had converted to Islam before he went missing but his family had no idea about his new Islamic name.
5. Pukul Das, son of Arun Kanti and Jhorna Rani Das of Chhonhara village of Chittagong district, joined banned militant outfit Ansarullah Bangla Team and took the name of Musayab Ibn Umayer. He used to work at Young One garments factory.
Umayer fell in love with a Muslim girl during his college days and converted to Islam before joining the militant group.
A diary was discovered from his table drawer after he left his house in 2011, and the first page of the diary read Allah is the owner.
Law enforcers arrested Pikul last July along with four other Ansarullah members. Police say he had plans to attack foreign citizens. He is now in jail.
6. Thirty-two-year-old Gauri Kumar Modol of Satkhira converted to Islam while he was in higher secondary in 2003 and came to be known as Tamim Dawri alias Abdullah Hassan alias Azizur Rahma alias Abdullah Al Jafri alias Amir Hamza.
He is the son of Chaitanya Kumar Mondol and Renuka Rani Mondol. Tamim met one Tanvir Kabir when he joined Tabligh Jamaat after converting to Islam and started living with him.
Meanwhile, Tanvir's father Humayun Kabir Sarker adopted Tamim as his son. Tamim joined Shahjalal Science and Technology University (SUST) in 2005 and shifted to Chittagong Marine Academy after studying at SUST for seven to eight months.
He completed his studies in 2007 and worked as an engineer at various ships including Bangladesh Shipping Corporation's Bangla Kakli from 2010 to 2014.
One of Tamim's academic juniors Abu Bakkar worked in the same ship as him. Tamim sailed to Pakistan on Bangla Kakli in 2013 during the Arab spring where Abu Bakkar and he talked about jihad.
Abu Bakkar introduced Tamim Dawri to New JMB military commander Tamim Ahmed Chowdhury in December, 2013. They planned to conduct subversive activities in the water route when Tamim visited Tamim Dawri at Bangla Dut ship in 2014. Tamim Chowdhury suggested a lot of youths working in the sector to join militancy and also made fake passports for them.
The duo held a couple of meetings in Dhaka in 2015. He joined Bashundhara Ship 4 in 2016 and later left for hijrah this year.
He was arrested with two others from a bus in Savar on April 27. RAB nabbed them before they could execute their plans of subversive activities in Dhaka.
Regarding the matter, CTTC unit chief Monirul Islam told the media that these youths had been misled because of wrong explanation of the Qur'an and the hadiths.
He said: "They are being lured to militancy by saying that they can go to heaven directly by choosing this path."
http://www.dhakatribune.com/bangladesh/crime/2017/04/30/converted-youths-became-militants/
--------
Southeast Asia
Malaysia's Islamic Battle takes A 'Heavenly' Path
By Cordoba.Ali
May 1, 2017
In the Islamists version of hell, that is the one in Malaysia, voting against the PAS is a vote to hell.
This is part of the campaign to promote a united PAS-UMNO front in Malaysia, and the elite of the Islamist party are going national in their attacks against Muslims who are resistant to the idea.
"It is important to unite PAS and UMNO in order to eliminate the DAP," says a WhatsApp group message.
The group – unknown since the name is not published on the posting in a pro-opposition Facebook page – changed its Icon to that of a PAS-UMNO hand shake.
The message continues: "If you want to enter hell, you can vote DAP."
But if you wan to enter paradise."Vote PAS"
The message does not end there.
It goes further into declaring – similar to an Islamic edict or Fatwa – that people who does not vote the PAS will be made 'Kafir Harbi."
The threats are not new in Malaysia.
On 23 June 2016, the Mufti of Pahang shocked Malaysians by stating that it is a sin for Muslims to support the Democratic Action Party (DAP), which he labelled as Kafir Harbi (infidels against whom war can be waged).
The statement received mixed reactions from the Muslims: some voiced their support while many opposed it. For non-Muslims, it became a source of fear, given recent threats announced by the Malaysian Islamic State (IS) based in Syria, and the first bombing incident by IS in Malaysia.
Following the overall rejection of the labelling by Muslim scholars and intellectuals who claimed that the label was invalid and unsuitable under contemporary circumstances, the Prime Minister's Office announced that no Malaysians should be placed under the Kafir Harbi category.
There is in Malaysia an unfortunate practice of using the term Kafir Harbi for political reasons, and for demonising certain opposition political parties and certain non-Muslim groups.
http://www.theindependent.sg/malaysias-islamic-battle-takes-a-heavenly-path/
--------
KL's First Halal Hotel a Mega Attraction to Muslim Travellers
May 1, 2017
PETALING JAYA: There's a "first" for everything in the world, and PNB Perdana Hotel has carved a name for itself as being the first hotel in Malaysia to hold full Halal certification, a mega attraction to Muslim travellers the world over.
Just a stone's throw away from the iconic Petronas Towers in the heart of Kuala Lumpur, all food served at PNB Perdana Hotel is cooked according to strict Halal specifications.
Non-Muslim guests however are allowed to consume non-Halal food and drinks, provided they do so in the privacy of their rooms. Once they check out, their rooms undergo a rigorous and special cleaning process to ensure it is restored to its original halal state for the next occupant.
"It's like a normal hotel," general manager Ismail Hisham Ahmad Zambri told CNNMoney.
But… this particular definition of "normal" comes with special specifications that one would never encounter under any circumstances at non-Halal hotels.
The hotel gym for instance, has a dedicated time for women who wish to workout i.e. between 9pm and 11pm. At other times males and females can mix freely if they so choose.
The hotel even has a Shariah law academic, who ensures all business operations are compliant with Islamic principles.
Halal tourism is a growing and lucrative industry, attracting both locals and foreign visitors. In Malaysia, practising Muslims account for more than 60% of the population, CNNMoney said.
Director of the Department of Islamic Development Malaysia's (Jakim) Halal Hub Division, Sirajuddin Suhaimee said the increase in the number of applications for Halal certification has been "drastic", jumping about 25% to 30% each year since 2012.
He told CNNMoney that obtaining the certification was a good marketing tool for Malaysian businesses as it could, for example, help a hotel attract Muslim travellers from around the world.
Full report at:
http://www.freemalaysiatoday.com/category/nation/2017/05/01/kls-first-halal-hotel-a-mega-attraction-to-muslim-travellers/
--------
'MB's Chinese aide proof PAS not against non-Muslims'
Faiz Zainudin
April 30, 2017
ALOR SETAR: A Kelantan PAS delegate has reiterated that PAS does not have an aversion towards non-Muslims but is only against DAP.
Speaking at PAS' 63rd muktamar (general assembly), Abdullah Yaakob said proof of this included Kelantan Menteri Besar Ahmad Yakob's appointment of a Chinese, Lau Chin Chua, as his special officer.
Abdullah said PAS was only anti-DAP as the party was seen to have rejected Islam, as was shown in its opposition to the move to amend the Syariah Courts (Criminal Jurisdiction) Act 1965.
"In Kelantan, there aren't many Chinese or Indians, but we have appointed non-Muslims as village heads and district councillors," he said when debating the PAS president's opening address.
Elaborating on DAP's alleged rejection of Islam, Abdullah said in 2015, when both parties were still part of the now-defunct Pakatan Rakyat (PR), PAS had tabled a motion in the Kelantan state assembly to amend the act.
"In March 2015, three Kelantan PAS leaders were invited by PR MPs to explain the contents of the proposed amendments," he said, naming them as Takiyudin Hassan, Fadhli Hassan and Nasruddin Daud.
"But after the briefing, they (DAP) said that if we carried on (with the amendments), PR will be finished. We told them that if we don't, PR will also be finished."
He said PAS stood its ground and DAP proceeded to terminate the PR.
Dewan Ulama delegate Nik Bakri Nik Mat, from Selangor, had said on April 28 that PAS did not hate non-Muslims just because they professed a different religion.
He said PAS only opposed DAP because it had "oppressed" Muslims by going against PAS' struggles.
Full report at:
http://www.freemalaysiatoday.com/category/nation/2017/04/30/mbs-chinese-aide-proof-pas-not-against-non-muslims/
--------
Najib lauds Duterte's aggressive action against extremists
April 30, 2017
MANILA: Prime Minister Najib Razak hopes the more aggressive stand taken by Philippines President Rodrigo Duterte against extremists such as the Abu Sayyaf in the southern Philippines will improve the security in that region.
"I congratulate the government of the Philippines for having successfully killed an Abu Sayyaf leader two days ago.
"With the more aggressive action taken by President Duterte, we hope security in the southern Philippines will be improved," he told Malaysian journalists after the Asean Summit 2017 here.
According to some reports, the Philippines marines had killed Al-Habsi Misaya, a commander of the extremist Abu Sayyaf.
The prime minister said he had also expressed his gratitude to President Duterte for helping to rescue five Malaysian hostages kidnapped by the Abu Sayyaf.
Najib said Malaysia had also committed to continue assisting in the process to conclude the "Comprehensive Peace Plan" involving the Bangsa Moro.
In addition, he said the issue of terrorism had also drawn attention at the summit in which Malaysia said the country's contribution, including the deradicalization programme, had achieved a high level of success.
"This success shows that we can also contribute as we have a digital counter messaging centre.
Full report at:
http://www.freemalaysiatoday.com/category/nation/2017/04/30/najib-lauds-dutertes-aggressive-action-against-extremists/
--------
Pakistan
Govt Must Not Nullify Kashmiris' Sacrifices, Says Muttahida Jihad Council Chairman
May 01, 2017
LAHORE - Muttahida Jihad Council Chairman Syed Salahuddin has stressed upon the Pakistan government not to nullify the sacrifices of Kashmiris on the altar of friendship with India.
Addressing a press conference at Lahore Press Club yesterday, he said the BJP government in New Delhi was a staunch and biased Hindu regime whose sole agenda was to destabilise Pakistan. He said the Modi government was working on the agenda of Akhand Bharat.
Salahuddin said Kashmiris were fighting war of the completion of Pakistan. The third generation of the Kashmiris was now offering its blood for this country and they were being buried in the Pakistani flags. He said it was high time that the rulers in Islamabad should raise their voice against India's terrorism at international fora.
He said the solution of the Kashmir issue was vital for the peace and progress of the region. India, he said, was deputing workers of extremist Hindu body R.S.S. in Held Kashmir for the genocide of the Kashmiris.
The Mujahideen commander said that Modi's manifesto was to make Azad Kashmir also a part of India and same plan had been announced by Indian Foreign Minister in the Indian parliament in response to Prime Minister Nawaz Sharif's speech. Besides, he said, India was working on the plan to convert Pakistan into a desert by blocking its river water and it was already changing the course of the Pakistani rivers.
He said that Pakistan was not complete without Kashmir and the Kashmiris would continue their liberation struggle till the presence of the last Indian soldier on their soil and added that India could not crush the Kashmiris freedom spirit.
He said the entire world had come to know from the confessions of Kulbohshan that India was carrying out terrorist and subversive activities through its terrorists.
http://nation.com.pk/national/01-May-2017/govt-must-not-nullify-kashmiris-sacrifices-says-salahuddin
--------
PML-N discusses ways to allay army's concerns
AMIR WASIM | AMJAD MAHMOOD
May 1, 2017
LAHORE / ISLAMABAD: A meeting of the Pakistan Muslim League-Nawaz (PML-N) bigwigs was held on Sunday, ostensibly to chart out a course of action following the military's reaction to the PM's directives, issued in the light of the report of an inquiry into a story published in Dawn last year.
Finance Minister Ishaq Dar and Interior Minister Chaudhry Nisar Ali Khan specially flew in to Lahore to attend the consultative meeting, chaired by Prime Minister Nawaz Sharif at his Jati Umra residence in Raiwind.
The meeting, which lasted more than two hours, was also attended by Punjab Chief Minister Shahbaz Sharif, his son Hamza Shahbaz and Principal Secretary to PM Fawad Hasan Fawad.
There was no official word on what was discussed, nor did any of the participants speak to the journalists anxiously awaiting comment outside the PM's sprawling residence after the meeting.
But sources and media reports suggested the meeting discussed the situation created in the aftermath of the ISPR tweet on the issue.
A day earlier, the head of the military's media wing had tweeted the military's disapproval of the PM's directives, prompting Chaudhry Nisar to observe at a press conference that "institutions don't talk to each other [over Twitter]".
Sources said the prime minister tasked Mr Dar and Chaudhry Nisar to engage the army and allay its reservations regarding actions taken so far in the light of the recommendations of the inquiry committee, while Shahbaz Sharif has been asked to assist the duo.
No one 'tasked' with anything, Maryam tweets; PPP seeks debate on news report row
A meeting between the military and civilian leaderships is expected within the next 24 hours, sources say.
Chaudhry Nisar and the Punjab chief minister are said to enjoy a good rapport among army circles and have met the then army chief Gen Raheel Sharif on a number of occasions to resolve differences between the two sides over certain issues.
But in a message from her Twitter account, the prime minister's daughter Maryam Nawaz denied that any such task was assigned to anyone.
"All statements being attributed to PM on media after the consultative meeting are incorrect. No one has been assigned any task by the PM," her tweet read.
Sources say that some participants of the meeting had agreed to issue a new notification on Tuesday, encompassing "some of the reservations".
A number of TV channels reported that the meeting also discussed various aspects of the proposed legal action against Pakistan Tehreek-i-Insaf chairman Imran Khan, who had recently accused the prime minister of offering him a Rs10 billion bribe in exchange for backing off from the Panama Papers case.
The prime minister was quoted as saying that he had and would always avoid confrontational politics, adding that his government had always prioritised the national interest and democracy above anything else.
Immediately after the meeting, National Assembly Speaker Sardar Ayaz Sadiq also called on the prime minister to discuss the role of parliament with reference to the ongoing political crises.
A senior party leader, who requested not to be named, admitted that the government would have to formulate a concrete stance on the matter of the inquiry into the Dawn story if it wanted to settle the issue, once and for all.
However, he said, the upcoming general elections were the focus of the discussion in the PML-N circles, not this issue. Another official said that the party was monitoring reaction from civil society to the ISPR tweet to gauge how the public was reacting. PPP seeks debate
Meanwhile, the Pakistan People's Party (PPP) has urged the government to make public the inquiry committee's report, calling for parliamentary debate on the matter to allay "doubts and misgivings".
In a carefully-worded statement released on Sunday, PPP spokesperson Senator Farhatullah Babar said the "unceremonious sacking" of Special Assistant on Foreign Affairs Tariq Fatemi and Principal Information Officer Rao Tehseen Ali, as well as the "unprecedented advice" to the All Pakistan Newspapers Society (APNS) to proceed against the editor and reporter concerned had made it "absolutely necessary" that the report should immediately be made public.
oreover, Mr Babar said, the "highly unprecedented public rejection" by the ISPR, which dubbed the PM's actions "incomplete and not in line with the recommendations" of the inquiry committee had further compounded the problem.
"The statement of Interior Minister Chaudhry Nisar Ali Khan that his ministry had not yet issued any notification, just when the PM Office had indeed issued orders [has] given rise to several questions that need answer[ing]," he said.
"The botching up of the incident is a measure of the incompetence of the government and [insisting on keeping] the inquiry report under wraps will only complicate matters further," he said, recalling an earlier statement by the interior minister, claiming the report would be made public.
Moreover, he said, asking the APNS to take action against an editor and reporter for allegedly breaching national security took the issue of stifling freedom of expression in the name of national security to new heights.
Full report at:
https://www.dawn.com/news/1330306/pml-n-discusses-ways-to-allay-armys-concerns
--------
US should persuade Pakistan to rethink Afghan policy: ICG
ANWAR IQBAL
May 1, 2017
WASHINGTON: The United States should condition its military aid to Pakistan to force Islamabad to rethink its alleged support to the Afghan insurgency, says a report released by the International Crisis Group (ICG) on Sunday.
The transnational think tank, which provides policy inputs to the World Bank, the United Nations and the European Union, emphasises the need for the international community to get more actively involved in resolving the Afghan conflict.
In a report released simultaneously in Europe and the United States, the group warns that "no internationally-led negotiations will work unless there is a consensus among Afghans, both those backing and opposing the government, to pursue a negotiated peace rather than continued conflict".
The first condition for restoring peace to Afghanistan is to contain the insurgency, the ICG argues, and the second is to develop a consensus among Afghan groups. "A third essential element is for Pakistan to become convinced that its interests would be better served by a political settlement in Afghanistan than by continued Taliban insurgency," it adds.
The report points out that after the transition to Afghan security forces in 2014, the thinly stretched official Afghan forces have been battling a growing insurgency on several fronts.
Quoting from the US Special Inspector General for Afghanis­tan Reconstruction's observation, the ICG points out only 57.2 per cent of 375 districts were under government control or influence by Feb 1, 2017, an almost 15pc decline since end-2015.
According to the special inspector general, 6,785 Afghan personnel were killed and another 11,777 wounded from January to November 2016, significant losses at a time when security forces are struggling with personnel retention.
The UN Mission in Afghanistan (UNAMA) also reported a 3pc increase in civilian casualties (3,498 killed and 7,920 wounded) in 2016 over the previous year. The number of high-profile attacks in Kabul also was higher during the first three months of 2017 as compared to equivalent periods in previous years. On April 21, Taliban gunmen and suicide bombers attacked an Afghan army base in the northern Balkh province, killing over 100 military and other personnel and injuring scores more.
The army chief and defence minister both resigned the following day. Two attacks in March targeted police stations and a military hospital, killing 73 and wounding over 240 people.
To prevent the insurgency from spreading further, the report emphasises the need for limiting the scope of ungoverned spaces that could be exploited by regional extremists and transnational terrorist groups.
The report urges the United States and other international players in Afghanistan to address the widening internal disagreements and political partisanship in Afghanistan as these "permeate all levels of the security apparatus and have undermined the official Afghan forces command and control structures".
The report points out that intra-governmental divisions in Afghanistan have also impeded the implementation of reforms necessary to mitigate the effects of corruption, nepotism and factionalism in the Afghan National Army and particularly the Afghan National Police.
The report claims that Afghanistan's neighbours are more aggressively promoting what they perceive to be their own national security interests.
"This most notably is the case of Pakistan, whose relations with Afghanistan continue to be strained. Islamabad remains unwilling to facilitate talks between the Taliban and Kabul, and continues supporting its Afghan proxies, allowing them to recruit, fundraise, as well as plan and conduct operations from safe havens inside Pakistan," the report alleges.
"Pakistan in turn accuses Kabul of at best turning a blind eye, if not actively supporting, Pakistani tribal militants conducting cross-border attacks from Afghan territory," it adds.
The report notes that deteriorating relations between Pakistan and Afghanistan have had other consequences. In 2016, Islamabad forcibly repatriated more than 550,000 Afghans as relations with Kabul deteriorated.
The report also notes that a February 2017 major terror attack on a shrine in southern Pakistan was claimed by a Pakistani Taliban faction reportedly based in eastern Afghanistan.
In retaliation, Pakistan closed its two main border crossings with Afghanistan — Torkham and Chaman — for over a month and has begun to fence the border, "a move certain to aggravate tensions insofar as Kabul does not recognise the Durand Line as the international boundary".
The report notes that Pakistan views closer ties between Kabul and New Delhi as provocative while Iran has long been suspected of providing military hardware to some Taliban factions.
Full report at:
https://www.dawn.com/news/1330311/us-should-persuade-pakistan-to-rethink-afghan-policy-icg
--------
Mufti Naeem asks citizens to unite after meeting Kamal
HABIB KHAN GHORI
May 1, 2017
KARACHI: Jamia Binoria Aalimiyah chief Mufti Naeem has said that if the Urdu-speaking community wants their problems to be solved, they should forget their political differences and unite, become patriot citizens and love the country.
Mufti Naeem was speaking to Pak Sarzameen Party chief Mustafa Kamal who led a delegation to meet him on Sunday.
The PSP chief extended an invitation to him to join his 'Million March' that the party would hold on May 14 to put pressure on the government for resolution of pressing civic problems of Karachi.
Responding to the PSP invitation, Mufti Naeem said that Mr Kamal also served earlier the people of Karachi. He staged a sit-in outside the Karachi Press Club and highlighted the problems of the people of Karachi, he said. "I fully support their million march and ask all Ulema to fully support them," Mufti Naeem added.
"If Urdu-speaking people want to get their problems resolved, they ought to forget their political difference and unite, become patriot citizens, love the country and don't include those in their ranks who are against the country and the armed forces of Pakistan.
"The city of Karachi was pushed towards war of sectarianism and ethnicity, but Mustafa Kamal and Anees Qaimkhani played a role to overcome hatred among citizens of Karachi and brought brothers closer to each other and now they have started a struggle for resolution of problems of Karachi and we support him and his party in this regard."
"If Pakistani armed forces did not offer sacrifices, there could be no peace in the country and one who is against the armed forces, is not sincere with the country," he said.
Later, PSP chief Mustafa Kamal told the media that the meeting was part of their campaign to extend invitations to Ulema, lawyers, traders and civil society members to muster support for their 16 demands formulated to solve problems of Karachi.
Mr Kamal, who was accompanied by PSP leaders Anis Qaimkhani, Waseem Aftab and others, claimed the ruling party that used to claim having a mandate of the city bargained over the mandate for personal benefits.
Full report at:
https://www.dawn.com/news/1330252/mufti-naeem-asks-citizens-to-unite-after-meeting-kamal
--------
Former CJP endorses ISPR's stand on security breach probe report
May 1, 2017
HYDERABAD: Former Chief Justice of Pakistan Iftikhar Mohammad Chaudhry has endorsed ISPR's stand on Dawnleaks probe report purportedly released by the prime minister secretariat and said the security institutions' objection is valid because they are a party to the issue and it is a complainant's right that his grievance is redressed.
The offence of this nature -- in which minutes of a high-profile meeting on national security were leaked to media -- was dealt with in accordance with the Special Secretary Act, 1923, under which Indian spy Kulbhushan Jadhav was recently convicted by a military court, said Mr Chaudhry, who is also chief of Pakistan Justice Democratic Critic Party (PJDCP).
He was talking to journalists at the residence of the Sindh United Party head Syed Jalal Mehmood Shah in Jamshoro on Saturday morning.
He said the DG ISPR did not reject prime minister's directives. Since the security institutions were complainant in the case it was their right that their grievance was redressed, he said.
Mr Chaudhry said that it was very unfortunate that if heads of security institutions attended a meeting in prime minister's office its minutes were leaked. "If the situation has come to such a pass then it will become difficult to hold such meetings in PM's office where issues of national security and integrity are to be discussed," he said.
He said the security institutions had taken the position that the news about the meeting was leaked by civilian authorities and "Their objection is valid".
He advised the government to make public the inquiry report on Dawnleaks and said it could even declare some portions of the report that dealt with national security as classified.
Mr Chaudhry said that if the government had released the report it would not have made much difference. When successive governments withheld Hamdoodur Rehman Commission report it was leaked in India, he said.
He said the prime minister should tender resignation in the wake of Supreme Court verdict in Panamagate case since two of the judges had disqualified PM under Article 62(I)(f) and the other three judges had also not given him a clean chit.
He said that a transparent inquiry could not be ensures if Nawaz Sharif held onto the office of prime minister.
The former CJP advised Nawaz Sharif to avoid showing intransigence because stubbornness had caused greater harm to Pakistan in 1971 and made room for martial laws in 1968-69 and 1977. Again in 1999 when Nawaz Sharif did not respect merit in the appointment of army chief martial law was declared, he said.
SUP chief Syed Jalal Shah said that there were some common grounds between his and Justice Chaudhry's party. The SUP had launched a campaign against corruption, religious extremism and terrorism and would hold a big show in Karachi in August, he said.
'Uncertainty prevails in country'
The former CJP said while speaking to media persons at the Sindh Taraqqi-pasand House on Sunday that there was uncertainty in the country and everyone would have to play his role for change.
The same people came to power again and again, he said after meeting STP chief Dr Qadir Magsi. "We have the same agenda for development and progress as STP and other nationalist parties," he said.
He said the mother tongue issue was debatable. The Constitution had clear-cut provisions guaranteeing that provinces should have first right over their own natural resources.
Dr Magsi called for implementation of 1940 Resolution to settle all important issues and said that politics and religion should be separated.
Talking to journalists after meeting Qaumi Awami Tehreek president Ayaz Latif Palijo at his residence, Mr Chaudhry said that he was in contact with political leadership of Sindh to save people from corrupt rulers.
Full report at:
https://www.dawn.com/news/1330241/former-cjp-endorses-isprs-stand-on-security-breach-probe-report
--------
North America
Meet Hasan Minhaj, The Muslim Comedian Who Roasted Trump In Front Of Reporters
May 01, 2017
Hasan Minhaj asked the question himself when he hosted the White House Correspondents' Association dinner Saturday night: "Who would have thought, with everything going on in the country right now, that a Muslim would be standing on this stage?"
Even with the typical guest of honor noticeably absent, "The Daily Show" senior correspondent was a notable pick for the event - the first Muslim and first South Asian American to headline the annual Washington roast.
It took him just 30 seconds into his 25-minute set to bring up his religion.
Minhaj pulled from a comedy repertoire built on his experience as a member of a marginalized minority in America, from racist bullying in high school to recent hate crimes against Muslims.
Over the past few months, the 31-year-old has watched the Trump administration reshape the news media that his show comments on. Events have intensified his brand of socially conscious comedy and affected his own immigrant family. After the election, Minhaj told viewers that his mother was afraid that the ban on Muslims that Trump proposed during the campaign would keep her from returning to the country.
The comedian, who considers himself an "angry optimist," voiced both frustration and honor on behalf of his faith during Saturday's speech. "As a Muslim, I like to watch Fox News for the same reason I like to play 'Call of Duty.' Sometimes, I like to turn my brain off and watch strangers insult my family and my heritage," he jabbed.
At the end of the night, he said, "Only in America can a first-generation Indian Muslim kid get on this stage and make fun of the president."
Though he isn't as high-profile as many of the previous hosts, Minhaj represents what he calls "New Brown America." The Comedy Central star joins a new generation of young performers like Aziz Ansari ("Parks and Recreation," "Master of None") and Riz Ahmed ("The Night Of," "Rogue One") who aim to reclaim their Muslim heritage from post-9/11 stereotypes and instead offer a richer view of navigating two cultures.
Minhaj's one-man-show-turned-comedy-special "Homecoming King"premieres on Netflix on May 23. Filmed in his hometown of Davis, California, the show features real stories from Minhaj's upbringing, like sneaking out of the house to go to prom.
Muslims make up about 1 percent of the U.S. population, according to the Pew Research Center. That number is expected to double by 2050, making Islam the second-largest religion in the country, after Christianity. Only about 3 percent of Muslims in the United States come from India, like Minhaj's family.
"I'm a first-generation kid in this country. I so identify with America and its culture. I'm a citizen, I was born here. I'm American," Minhaj told the Daily Beast. "At the same time, like most first-generation kids, I have this other identity to another country back home, which is India. What's interesting is from a young age, because I had to have this dual narrative, I've always had a soft spot for other marginalized groups, whether that's LGBTQ people, women, the African American community, the Latino community, I've been able to connect to their civil rights struggle through my own feelings of racism or disenfranchisement."
Growing up in a mostly white community in Northern California - the only brown kid in his class - he became interested in politics after the Sept 11, 2001, terrorist attacks on the United States, when he was reeling from prank calls, vandalism and a sense of America's growing anti-Muslim sentiment.
He recounted on the "Mash-Up Americans" podcast, however, that his father told him to do the exact opposite: "Whatever you do, don't tell people you're Muslim, and don't talk about politics." Needless to say, he didn't follow his dad's advice.
Minhaj's religion-savvy satire got him his "Daily Show" gig. He came on staff in 2014 - one of Jon Stewart's last hires - after auditioning with a segment about Ben Affleck defending Muslims to atheist Sam Harris on "Real Time With Bill Maher." On "The Daily Show," now hosted by Trevor Noah, Minhaj has covered religious issues on punnily named segments called "Halal Things Considered" and "Hasan the Record."
In recent months, Minhaj has asked supporters to donate to the American Civil Liberties Union and the Council on American-Islamic Relations to help support those affected by the new administration's policies.
In addition to addressing instances of discrimination and violence against Muslims, Minhaj spoke out in the wake of the 2012 Sikh temple shooting and the Orlando nightclub massacre. The latter he brought up during last year's Radio and Television Correspondents' Association dinner, telling members of Congress that American needs them to "make our society better - not tweet, not tell us about your 'thoughts and prayers.'"
Along with Reza Aslan - the Muslim scholar who hosts the CNN show "Believer" - Minhaj advocated for the American Muslim community to fight for LGBT rights. Fewer than half of Muslim-Americans, 42 percent according to a Public Religion Research Institute poll, support same-sex marriage.
Minhaj and Aslan's open letter said:
"Think about the way people look at your hijabi sister or your bearded brother when they walk through the mall. Think about the grumbles and stares you get at airports. Think about the vitriol that's spewed on you by your own elected political leaders. That's how your LGBT brothers and sisters feel every day of their lives. Are you OK with that?
"No one is asking you to change your beliefs. If you feel your faith tells you that homosexuality is haram, fine. We disagree with your interpretation, but you're entitled to it .... Bottom line is this: Standing up for marginalized communities, even when you disagree with them, is not just the right thing to do, it's the Muslim thing to do."
At the correspondents' dinner, as well as on Facebook, Minhaj joked that Barack Obama was the first "Muslim president," referencing the segment of the population who falsely believed he was a Muslim. Beneath a picture of his family posing with the Obamas and Bidens, Minhaj wrote, "Muslim family with the first Muslim President. What a run we had!"
http://www.ndtv.com/indians-abroad/meet-hasan-minhaj-the-muslim-comedian-who-roasted-trump-in-front-of-reporters-1687947
--------
Mideast
Israel troops break up sit-in protest held in solidarity with hunger strikers
May 1, 2017
Israel troops have forcibly broken up a peaceful sit-in protest held in occupied East Jerusalem al-Quds in solidarity with hunger striking prisoners in Israeli jails.
According to the Ma'an News Agency on Sunday, Israeli police raided the sit-in which was being held outside the Damascus Gate in the city.
During the raid, Israel forces also took down tents which had been set up for the peaceful protesters and confiscated pictures of Palestinian prisoners. Several people were also detained.
The Palestinian Journalists' Syndicate noted that 13 Palestinian reporters were wounded while attempting to cover the Israeli regime's aggression against the demonstrators.
"This attack is just one of series of attacks committed by Israeli forces against journalists in an attempt to prevent them from exposing Israeli crimes. These attacks will not prevent journalists from delivering Palestinians' message to the world," read a statement released by the group.
The syndicate also noted that the journalist's cameras and equipment were confiscated by Israeli police.
Since April 17, over 1,500 Palestinian prisoners have gone on a mass hunger strike in protest at the conditions of Israeli prisons initially called for by former Fatah leader, Marwan Barghouti.
Palestinian inmates regularly stage hunger strikes in protest at Israel's administrative detention policy and their harsh prison conditions.
http://www.presstv.ir/Detail/2017/05/01/520105/israel-palestine-hunger-strike-sit-in
--------
Turkey threatens more attacks on US-allied Kurdish forces
Apr 30, 2017
Turkish President Recep Tayyip Erdogan has threatened to take further military actions against the US-backed Kurdish People's Protection Units (YPG) forces in the far northeastern corner of Syria and the militant Kurdistan Workers' Party (PKK) in northern Iraq, calling on the US administration to put an end to its support for such groups.
"We will be forced to continue (our offensives).We won't provide a date and time for when we'll come. But they will know that the Turkish military can come," Erdogan said in a press conference at Ataturk International Airport in Istanbul ahead of his departure for India on Sunday.
He further slammed the patrolling of US troops along with YPG fighters near the northeastern Syria border town of Darbasiyah earlier this week.
"We are seriously concerned to see US flags in a convoy that has YPG rags on it. We will mention these issues to President [Donald Trump] during our visit to the United States on May 16," the Turkish leader pointed out.
The remarks came a day after Turkey's private Ihlas news agency reported that Turkish military had relocated a convoy of armored vehicles and personnel carriers to a base near the border with Syria.
Video footage shot on Friday night showed a long line of trucks carrying military vehicles en route from the southern Turkish border town of Kilis to an unknown location in the southeastern province of Sanliurfa.
Ankara views YPG as the Syrian branch of the PKK, which has been fighting for an autonomous region inside Turkey since 1984,
Turkey has stepped up its attacks against PKK positions in northern Iraq and YPG outposts in Syria over the past few weeks.
Earlier this week, Turkish fighter jets bombed Kurdish forces in Syria and Iraq, drawing rebukes from the US State Department and the Pentagon.
The Turkish military said the April 25 attacks centered on Mount Sinjar in Iraq and Mount Karakoc in Syria.
The strike in Syria reportedly hit the area, where YPG headquarters are located, killing nearly 30 YPG fighters and officials.
The US administration is set to use YPG forces in a planned US-led offensive to retake Daesh's Syrian stronghold of Raqqah. Turkish President Recep Tayyip Erdogan has made it clear that he expects a turnaround from Washington on such a move.
On August 24, 2016, Turkish air force and special ground forces kicked off Operation Euphrates Shield inside Syria in a bid to support the so-called Free Syrian Army militants and rid the border area of Daesh terrorists in addition to fighters from the YPG and Democratic Union Party (PYD).
Full report at:
http://www.presstv.ir/Detail/2017/04/30/520072/Turkey-Erdogan-threat-strikes-Kurdish-forces-YPG-PKK-Syria-Iraq-US-Trump
--------
Drone strike kills 5 Qaeda suspects in Yemen
May 1, 2017
ADEN: Five suspected members of Yemen's Al-Qaeda branch were killed Sunday in what local authorities said was a US drone strike east of the capital Sanaa. The early morning strike targeted a car in central Marib province that had been transporting arms from Yakla in Baida province, a military official told AFP on condition of anonymity.
The official said the car belonged to a known local leader of Yemen's Al-Qaeda in the Arabian Peninsula, which the United States views as the radical group's most dangerous branch. Sunday's strike comes 24 hours after a similar raid killed three suspected AQAP operatives in southern Shabwa province, which has been a central target of the US military. Yakla was the target of the controversial January 29 air raid ordered by US President Donald Trump, his first since taking office. That raid, during which US special operations forces entered an AQAP compound in Yakla, killed a Navy SEAL and several Yemeni civilians, including a child with US citizenship.
The Pentagon has confirmed more than 70 strikes against jihadist targets in Yemen since February 28. Al-Qaeda has taken advantage of the chaos caused by more than two years of civil war in Yemen to expand its presence in the war-torn country. The conflict pits Huthi Shiite rebels, backed by Iran, against government forces allied with a Gulf coalition led by Saudi Arabia.
Full report at:
http://nation.com.pk/international/01-May-2017/drone-strike-kills-5-qaeda-suspects-in-yemen
--------
Head of Iranian TV channel gunned down in Istanbul
May 1, 2017
ISTANBUL: The head of an Iranian satellite television network who last year was sentenced in absentia to six years in prison by a Tehran court was shot dead in Istanbul together with a business partner, Turkey's Dogan news agency said on Sunday.
GEM TV founder Saeed Karimian and an associate were driving in Istanbul's Maslak neighbourhood after 8pm (1700 GMT) on Saturday when their car was blocked by a jeep and shots were fired, Dogan said.
Mr Karimian was found dead by emergency services arriving at the scene, it said. His associate was taken to hospital but could not be revived.
Victim was sentenced in absentia by a Tehran court to six years in prison
Dogan described both victims as being of Iranian origin. The Hurriyet Daily News identified Mr Karimian as a British national and his associate as a Kuwaiti.
Masked shooters
Two masked shooters got out of the jeep before opening fire, Hurriyet said. The jeep was later found abandoned and burned. Istanbul police declined to comment on the shooting.
Dogan quoted the mayor of Istanbul's Sariyer district as saying initial police findings suggested the shooting may have been prompted by a financial disagreement involving Mr Karimian.
GEM TV is known for entertainment satellite channels that dub foreign films and Western television programmes into Farsi for Iranians. It also produces movies and TV series.
But in Iran, where the government tries to instil Islamic values, the satellite broadcaster's programmes have angered authorities, who view it as part of a cultural "soft war" waged by the West.
Full report at:
https://www.dawn.com/news/1330300/head-of-iranian-tv-channel-gunned-down-in-istanbul
--------
Erdogan 'saddened' by US flags with Syrian YPG
May 1, 2017
ISTANBUL : President Recep Tayyip Erdogan on Sunday said Ankara was "seriously saddened" by footage showing American military vehicles operating close to the border with Syrian Kurdish fighters Turkey sees as a terror group. The Syrian Kurdish Peoples' Protection Units (YPG) are seen by Washington as the most effective fighting force in the battle against jihadists in Syria.
Ankara says the fighters of the YPG are merely the Syrian branch of the Kurdistan Workers' Party (PKK), who have waged an insurgency since 1984 inside Turkey that has left tens of thousands dead. Turkish forces last week carried out air strikes on YPG positions in Syria, angering the United States and sparking days of border clashes with the Kurdish fighters.
The US sent military vehicles with American flags to the Syrian side of the frontier accompanied by YPG fighters to carry out patrols, in an apparent bid to prevent further fighting.
"Unfortunately... the presence of an American flag along with the (insignia) of a terror organisation called YPG in a convoy has seriously saddened us," Erdogan told reporters in Istanbul before heading on a trip to India.
Full report at:
http://nation.com.pk/international/01-May-2017/erdogan-saddened-by-us-flags-with-syrian-ypg
--------
Iran's leader rebuffs Rouhani's detente policy
May 1, 2017
LONDON : Iran's Supreme Leader Ayatollah Ali Khamenei has criticised President Hassan Rouhani for saying his detente policy with the West had caused the threat of war to fade as tensions intensify in Tehran before May election. Rouhani, a pragmatist whose election in 2013 led to a diplomatic thaw between Iran and the West, championed in 2015 a landmark deal in which Tehran agreed to curb its nuclear activities in return for lifting of international sanctions.
A standoff between Rouhani, who is seeking a second term, and Khamenei's allies, who opposed the nuclear deal, has intensified in recent months ahead of the May 19 vote.
"Some say since we took office the shadow of war has been faded away. This is not correct," Khamenei was quoted as saying by the state media on Sunday. "It's been people's presence in the political scene that has removed the shadow of war from the country," he added.
Rouhani faces competition from hardliners who have criticised his economic record, saying detente with the West and the nuclear concessions had yet to yield economic benefits. "The nuclear deal was a national achievement. We should make use of its advantages. But some have started a fight over it," Rouhani said on Sunday.
Full report at:
http://nation.com.pk/international/01-May-2017/iran-s-leader-rebuffs-rouhani-s-detente-policy
--------
India
Two Indians who joined IS, al-Qaida killed in Syria, Afghanistan
Apr 30, 2017
PALAKKAD/KASARGOD: Two Keralites, who allegedly joined terror groups last year, have reportedly been killed in Syria and Afghanistan in airstrikes by the US.
The deceased were identified as Yahya and Abu Thahir, both hailing from Palakkad, and had reportedly joined Islamic State and al-Qaida, respectively, police said.
They were among the 21 people, including women and children from Kerala, who had travelled to the Middle East and went missing in 2016.
17 of them were from Kasargod and the rest from Palakkad.
Police said they received an information last night about the death of Thahir in Syria.
A message received by a social worker in Kasargod said: "Yahya has been martyred while fighting in Afghanistan".
The sender of the message, Asfak, said Yahya was "martyred" in the US attack.
"He was killed while fighting the US forces," the message read.
It, however, did not specify when he was killed.
A fortnight ago, one Murshid Muhammed from Padna in the district was killed in a drone attack in Afghanistan.
http://timesofindia.indiatimes.com/india/two-indians-who-joined-is-al-qaida-killed-in-syria-afghanistan/articleshow/58447417.cms
--------
Debate on triple talaq unnecessary: AIMPLB VP Sayed Jalaluddin Umri
April 30, 2017
Jamaat-e-Islami Hind chief and All India Muslim Personal Law Board vice-president Sayed Jalaluddin Umri today said the nationwide debate on the triple talaq issue was "unnecessary" and there will be no dispute if Muslims follow the Sharia law.
"There will be no dispute or discord if Muslims follow the Sharia law in true spirit with regard to the issues of marriage, divorce, inheritance, Mehar (right of a wife) and Nafqa (monthly stipend). The debate is unnecessary," he said.
The muslim personal law is "balanced and justified" and it helps and promotes healthy family traditions, the Jamat chief told reporters here. It not only gives respect and freedom to women but also protects their dignity and rights, Umri said.
Jamaat has set up 11 counselling centres and a helpine in Bihar to provide advice to Muslims with regard to marital problems.
"Jamaat has set up a helpline 0612-2370863 and also set up 11 counselling centres in Bihar, including in Patna to provide counselling to the people with regard to all types of marital and other related problems," he said.
The centres will provide counselling to Muslim couples before marriage to make them aware about the Islamic laws on marital life, about provisions of muslim personal laws and related issues.
As part of the counselling programme, Jamaat's volunteers and members will tell couples about the rights and duties of men and women and how to lead a marital life as per the Sharia law so that they can find solution as per it if problems arise, the Jamaat chief said.
Full report at:
http://indianexpress.com/article/india/debate-on-triple-talaq-unnecessary-aimplb-vp-sayed-jalaluddin-umri-4634671/
--------
Anti-terror squad spreads net wider after UP arrests
May 1, 2017
A team of the UP anti-terror squad will go to Bihar, Mumbai, Bijnor and Muzaffarnagar to verify claims of four suspects who were arrested during a nationwide raid on April 20. The four accused identified as Umar alias Nazim Shamsad Ahmed, Zeeshan alias Ghazi Baba alias Muzammil, Faizan alias Mufti, and Ahtesham alias SK alias Pintoo, who were in police custody remand, were sent back to Lucknow district jail on Saturday, said IG, ATS, Asim Kumar Arun.
Ahtesham and Faizan were in police custody for eight days while Umar and Ghazi Baba were in four days' police custody. The police said that during their interrogation, the four told them they had planned to attack Pakistan-born Canadian writer Tarek Fatah when he would have visited India.
They also reportedly said they had planned to target a crowded market or a fair in Hardwar, Shia Eidgah at Naugawan Sadat in Amroha, torch a sugar mill at Narkatiaganj in Bihar and also target cylinder or battery shops in any market.
Full report at:
http://indianexpress.com/article/india/anti-terror-squad-spreads-net-wider-after-up-arrests-4634962/
--------
South Asia
Scores killed in ISIS and Taliban clash in Nangarhar province
May 01 2017
A clash broke out between the Taliban insurgents and militants affiliated with the Islamic State o Iraq and Syria (ISIS) terrorist group in eastern Nangarhar province of Afghanistan, causing casualties to the local residents and the militants.
The provincial government in a statement said the clash broke out in Chaparhar district of Nangarhar on Sunday afternoon.
The statement further added that a child was killed and three civilians including two children were wounded during the clash.
The ISIS and Taliban insurgents also suffered heavy casualties during the clash, the statement said, adding that 21 Taliban insurgents and 7 ISIS militants killed while 9 others from the both sides were wounded.
The provincial government said the ISIS militants started clash with the Taliban insurgents at a time when they are underway heavy pressure from the security forces in other districts and continuously being targeted during the ground operations and airstrikes.
In the meantime, the 201st Silab Corps of the Afghan National Army said at least 28 ISIS and Taliban insurgents were killed or wounded along with 7 civilians which includes a child and elder.
The Afghan security forces are currently conducting counter-terrorism operations under the name of Hamza, covering the restive districts of Nangarhar, including Achin and Haska Mina.
The operations were launched amid concerns that the ISIS militants are attempting to expand foothold in the region.
http://www.khaama.com/scores-killed-in-isis-and-taliban-clash-in-nangarhar-province-02685
--------
Afghan President had serious negotiations with Pakistani delegation: Muslimyar
Apr 30 2017
The speaker of the Upper House of the Afghan Parliament, Meshrano Jirga, Fazal Hadi Muslimyar, said President Ghani had serious negotiations with the delegation of the Pakistani Parliament during their visit to Kabul.
Speaking during the general session of the Upper House of the Parliament, Muslimyar, said President Ghani shared the concerns and issues of Afghanistan with the Pakistani delegation.
He said the Pakistani delegation has taken a note of the concerns shared by Afghanistan and they submit the Afghan concerns and issues to the Pakistani authorities upon their return.
The Afghan Ambassador to Pakistan Hazrat Omar Zakhilwal had earlier said in a Twitter post "A high-powered broad rep parliamentary delegation from Islbd led by Speaker of Pak National Assembly, Sardar A. Sadiq arrived in Kabul."
Zakhilwal further added "This is first time in many years that a delegation of this nature visits Kabul to get involved directly in Afg-Pak bilateral relations."
Full report at:
http://www.khaama.com/afghan-president-had-serious-negotiations-with-pakistani-delegation-muslimyar-02683
--------
Afghan Special Forces seize 1000 kgs of explosives in Parwan
Apr 30 2017
Afghan National Defense and Security Forces (ANDSF) Special Operations personnel seized at least 1,000 kilograms of explosives during an operation in northern Parwan province.
The Ministry of Interior (MoI) said "Based on intelligence report, General Command of Police Special Units carried out a security operation in the Sayad village, Bagram district of Parwan province."
A statement by MoI said "As a result, General Command of Police Special Units has seized 1,000 kg of explosives."
"The timely discovery of the explosives has foiled terror attacks and saved the city from an expected tragedy," the statement said, adding that "Discoveries like this demonstrate the ever-increasing capability of Afghan National Security Forces to protect the civilians from indiscriminate IED attacks."
The anti-government armed militant groups including the Taliban insurgents have not commented regarding the report so far.
Taliban insurgents and militants belonging to other insurgent groups frequently use explosives to produce Improvised Explosive Devices which are the weapon of the choice of the militants to carry out roadside bombings.
Full report at:
http://www.khaama.com/afghan-special-forces-seize-1000-kgs-of-explosives-in-parwan-02682
--------
Abdullah reacts at Taliban's spring offensive, saying Afghan forces ready to respond
May 01 2017
The Chief Executive of the Government of National Unity Dr. Abdullah Abdullah reacted at the announcement of spring offensive by the Taliban group, emphasizing that the Afghan forces are ready to respond and the defend the country.
Speaking during the council of ministers meeting, Abdullah slammed Taliban for the launch of the offensive, saying such offensives will only serve the foreign interests.
Abdullah further added that the Afghan security forces are ready not only to defend the Afghan people and sovereignty but will also destroy the enemies of the country.
He said the announcement of spring offensive by the Taliban shows that the group has no intention for an Afghan-led reconciliation but are committed to continue to their violence against the nation.
The Taliban insurgents on Friday announced the launch of their spring offensive under the name of Mansoori operations as the group vowed to carry out more attacks across the country with the insurgency-led by the group entering to its 17th year.
The offensive was launched despite ongoing efforts to end the war through reconciliation as the violence mainly claiming the lives of the ordinary civilians.
Full report at:
http://www.khaama.com/abdullah-reacts-at-talibans-spring-offensive-saying-afghan-forces-ready-to-respond-02686
--------
Arab World
White Helmets Preparing Another False-Flag Operation Similar to Idlib's Chemical Incident
Apr 30, 2017
The sources reported that several White Helmets along with a number of civilians, including children, have arrived in Ariha in Idlib province.
The sources said that the White Helmets are in Ariha to possibly conduct another false-flag operation similar to Khan Sheikhoun chemical incident to create a fresh wave of accusations against the Syrian government's involvement in a chemical attack on civilians.
On April 4, a chemical weapons incident in Syria's Idlib province claimed the lives of some 80 people and inflicted harm on an additional 200 civilians. The Syrian National Coalition of Revolutionary and Opposition Forces, as well as a number of Western states, accused the Syrian government troops of carrying out the attack, while Damascus refuted these allegations, with a Syrian army source telling Sputnik that the army did not possess chemical weapons.
Local sources in Idlib province reported earlier today that each member of the White Helmets Organization receives almost $2,000 for making clips about their so-called humanitarian activities in the Northwestern province.
The sources that have been operating in one of the regions in Idlib in which the White Helmets have also been present said that the White Helmets have been receiving between $1,500 up to $2,000 to make a clip about pulling children out of the debris in Idlib.
The sources also said that a large number of the White Helmets along with their partners in Turkey are trading human body-organs in the region.
Earlier this month, Swedish Doctors for Human Rights (SWEDHR), a non governmental research organization, disclosed that White Helmets are risking civilian lives, rather than rescuing them, for false flag operations against the Syrian government.
Swedish Doctors For Human Rights analyzed videos, the rescue operation by White Helmets after an alleged attack by Syrian government forces, and found that the life-saving procedures seen in the film were incorrect – in fact life-threatening – or simply fake.
Dr. Leif Elinder, Swedish medical doctor profile, author and specialist in pediatrics, disclosed that "after examination of the video material, I found that the measures inflicted upon those children, some of them lifeless, were bizarre, non-medical, non-lifesaving, and even counterproductive in terms of life-saving purposes of children."
In a statement by Dr. Lena Oske, Swedish medical doctor and general practitioner, she referred to the presumed, adrenaline injection, performed in the White Helmet video. Her specialist opinion dismisses the procedure conducted in the White Helmet video, as unqualified and incorrect.
"If not already dead, this injection would have killed the child!," She said, adding, "Intracutaneous injection with adrenalin may be used if any other resuscitation measure does not succeed. Especially under precarious circumstances – such as in field emergency settings– where safer ways for the administration of medication might be difficult or unavailable. But not in the way shown in the video."
The Swedish specialist stressed, "In order to perform the injection, CPR (cardiopulmonary resuscitation) has to be interrupted, and then the CPR resumed immediately after. Which is not done in the procedures shown in the video."
She referred to a correct medical procedure, emphasizing that "the technique is simple. Long needle, syringe with 1 mg adrenaline, find the 4th or 5th intercostal space and insert the needle just adjacent to the sternum, left side, deposit the medication after checking you are in the right position (aspiration of blood and no resistance), take out the needle and immediately resume CPR! So, the doctor who wrote the comment, 'If not already dead, this injection would have killed the child' was right! What a macabre scene; and how sad."
According to the analysis provided by doctors, "the video should be life-saving measures after a chemical attack with chlorine gas (now claimed to be Sarin-not possible), including injection of adrenaline via syringe with a long needle into the heart of an infant. In no way were treatments correctly given for any potential chemical agent."
"The handling and treatment of the child was done in a manner that was careless, dangerous and likely to cause serious harm," it said, adding that "none of the children in the videos showed any sign of being a victim of a chemical attack."
The medical personnel also said that they could safely call them actors at this point, failed to push the plunger on the needle. Thus, the contents of the syringe were never injected as is clearly visible in the video itself.
They added that the most telling was the fake repeated shots of adrenalin, supposedly into the heart.
The visible diagnosis by a team of actual medical experts, based on what was observed in the video, indicated that "the child was suffering from an injection of opiates and was likely dying of an overdose. There is no evidence of any other agent, chemical or otherwise."
Based on the investigation by experts, "It was clear that the faked injection with the long needle administered through the stitches murdered the child in the video. This was a purposeful killing staged to appear as medical treatment."
Despite the White Helmets claim, the organization is not an independent body and receives financial supports from several Western states that back terrorist groups in Syria and also has overt links with Al-Qaeda affiliated Al-Nusra Front.
A Russian newspaper said in a report in December 2016 that the White Helmets Organization was behind the fake reports about Russia's airstrikes in Syria, adding that the organization was run by British agents.
Vzglyad daily disclosed in a report that there was reason to believe that the organization was supervised by the British intelligence service and the Soros Fund.
"The Government of the United Kingdom had allocated around 32 million pounds for the needs of the White Helmets in 2013 while another 12.5 million pounds has been paid to the organization only in the year 2016," a source close to the organization told Tass news agency.
According to the source, the whole budget of the organization was about 50 million dollars a year.
The White Helmets should have also received an additional US $13 million from the United States and the United Kingdom, including the companies associated with George Soros, he added, saying that the organization also received $23 from the US International Development agency.
The source also underlined that one of the leaders of the White Helmets, Mosab Obeidat, was identified to have contributed a major role in the financing of the terrorist groups.
According to some reports, Obeidat played the role of a mediator in providing the Syrian militants with around 2.2 million dollars to pay for weapons and ammunition supplies.
Speaking about the founder of White Helmets James Le Mesurier, the source pointed out that, in all probability, "he is a graduate of the Royal Military Academy at Sandhurst, which to this day is at the service of Her Majesty (the British Queen), to be exact - in the British military intelligence."
According to reports, also, the western media refer to the London-based Syrian Observatory for Human Rights and the White Helmets to report on what they call as the Syrian army's civilians' execution or detentions.
These sheer lies are told as many people in Aleppo remember the time that the so-called supporters of human rights occupied the people's houses and threw them into rubbles immediately after turning off the cameras.
Vanessa Beeley, a British investigative journalist focused on the Middle East, disclosed November 2016 that the White Helmets Organization was not an independent body despite their claims and receive financial supports from several Western states that back terrorist groups in Syria.
"The White Helmets cannot be an independent organization because it works for the interests of the western countries that back terrorist groups in Syria and receives financial support from the US, Britain and Germany instead," Beeley said, adding that "It seems to be strange that the White Helmets are constantly in the regions controlled by the ISIL and Fatah al-Sham Front (the al-Qaeda-affiliated terrorist group previously known as the al-Nusra Front) and their affiliated groups. Videos and images taken in these regions prove that the White Helmets cooperate with the terrorists".
"The White Helmets not only offer medical services to terrorists and take part in their assassination and execution of civilians, but also work for overthrowing the Syrian government," the journalist stressed.
A Syrian journalist proved in November 2016 via release of several images of a Syrian child that the US-linked White Helmet Humanitarian Organization's claims of saving civilians in the war-hit country were mere lies.
Abbas Jom'eh released three images of a little girl that had been allegedly rescued by members of the White Helmet Organization in three different locations, disclosing the organization's lies about rescuing civilians in Syria.
In his twitter page, the Syrian journalist placed three images form the girl that was rescued by the White Helmet's agents in different places.
"Actors in the White Helmet rescue one girl in three different places! Can't they play their role any better on this stage," Abbas Jom'eh asked.
Moscow also said in November 2016 that the so-called reports about "hospitals" and "schools" allegedly located in terrorist-held Syrian territory were created by the "White Helmets" group financed by London.
"After three days it is absolutely clear for everyone that the allegedly bombed "hospitals" and "mobile clinics" in Aleppo exist only in US State Department spokesman John Kirby's imagination. This "information blooper" will certainly remain a stain on Admiral Kirby's biography," Russian Defense Ministry Spokesman Maj. Gen. Igor Konashekov said, adding that if all the "bombed" "hospitals" and "mobile clinics" were counted, that would mean there is nothing else in Syria apart from them.
US State Department spokesman John Kirby blamed the Russian Aerospace Forces for allegedly "bombing hospitals" in Syria.
The Russian side requested international organizations to provide data on the presence of any medical facilities and schools in terrorist-held territories in Syria but the organizations said they did not have information on the existence of any of such facilities.
"We have repeatedly asked representatives of the United States, Great Britain, France, Germany, other countries and international organizations to provide any information on the location of medical aid posts ('hospitals') or schools in Syrian areas controlled by terrorists," Konashenkov underlined.
"The answer is always the same — no one has such information," he said.
"There are only reports by the "White Helmets" or anonymous local "journalists" ("activists")," the spokesman added.
Konashenkov underscored that the UK government officially allocated funds for the activity of "White Helmets", and so-called "mass media" in Syria which were tasked with posting on Facebook and Twitter information about chemical attacks and reports provided by locals and "White Helmets".
Full report at:
http://en.farsnews.com/newstext.aspx?nn=13960210001362
--------
'Unidentified militias' kidnap around 100 Iraqis fleeing Mosul town
30 April 2017
Ali al-Saleh, an official at Al-Hadar district south of Mosul, said on Saturday that around 100 young men were kidnapped after they fled to the town of Hamam al-Alil.
Saleh told Al-Hadath television channel that these men were abducted by militias, adding, however, that it's not clear whom these militias are affiliated with.
Meanwhile, other sources said that more than 250 young men have been abducted by Popular Mobilization forces after they fled to Hamam al-Alil.
Full report at:
https://english.alarabiya.net/en/News/middle-east/2017/04/30/-Unidentified-militias-kidnap-around-100-Iraqis-fleeing-Mosul-town.html
--------
New leadership of Palestinian Hamas to be announced soon
30 April 2017
The new leadership of Palestinian group Hamas will be announced in the coming days, officials said Sunday, while it also prepared to unveil a new version of its charter.
Ismail Haniya, until recently head of Hamas in the Gaza Strip, said the results of internal elections will be announced "in the coming days". A high-ranking Hamas official told AFP that the new leadership will be announced before May 15.
The official said Haniya is likely to be named the new head of the movement, replacing Khaled Meshaal who lives in Doha in exile and has completed the maximum two terms in office.
Supplementary charter
Hamas runs the Gaza Strip, while the Palestinian Authority dominated by president Mahmud Abbas's Fatah party controls the occupied West Bank.
On Monday in Qatar, Hamas will unveil a supplementary charter that will formally accept the idea of a state in the territories occupied by Israel in the Six-Day War of 1967. Some analysts say the move is a bid to ease Hamas's international isolation.
Full report at:
https://english.alarabiya.net/en/News/middle-east/2017/04/30/New-leadership-of-Palestinian-Hamas-to-be-announced-soon.html
--------
Iraqi commander says to complete capture of Mosul in May
May 1, 2017
BAGHDAD - An Iraqi commander expects to dislodge Islamic State from Mosul in May despite resistance from militants in the densely populated Old City district.
The battle should be completed "in a maximum of three weeks", the Iraqi army's chief of staff, Lieutenant General Othman al-Ghanmi, was quoted as saying by state-run newspaper al-Sabah on Sunday. A U.S.-led international coalition is providing air and ground support for the offensive in Mosul, the largest city in northern Iraq, which fell to hardline Sunni Muslim fighters in June 2014. Islamic State has lost most of the city's districts since the offensive began in October and is now surrounded in the northwestern districts, including the historic Old City centre.
The United Nations believes up to half a million people remain in the area controlled by the militants, 400,000 of whom are in the Old City with little food and water and no access to hospitals. The militants have dug in between the civilians, often launching deadly counter-attacks to repel forces closing in on the Old City's Grand al-Nuri Mosque, from where Islamic State leader Abu Bakr al-Baghdadi declared a caliphate over parts of Iraq and Syria. The hardline group persecuted non-Sunni Muslim communities and inflicted harsh punishments on Sunnis who do not abide by its extreme interpretation of Islam. A group of 36 Yazidi survivors had been rescued after three years of "slavery" under Islamic State's rule, the United Nations said on Sunday.
Since Friday, the women and girls from the group had been receiving lodging, clothing, medical and psychological aid in Duhok, a Kurdish city north of Mosul, said a statement from U.N. Humanitarian Coordinator for Iraq Lise Grande.
The Yazidis, whose beliefs combine elements from several Middle Eastern religions, were the most persecuted community under Islamic State which considered them devil-worshippers. The U.N. estimates that up to 1,500 Yazidi women and girls remain in captivity, suffering abuse. Iraqi forces estimate the number of Islamic State fighters still in Mosul at 200 to 300, mostly foreigners, down from nearly 6,000 when the offensive started but they are still capable of deadly counter-attacks on the tens of thousands of soldiers and paramilitary groups arrayed against them.
A Federal Police brigade commander and 18 other members of the Interior Ministry force were killed in attacks on two positions at the edge of the Old City on Friday, military sources said on Sunday.
Federal Police took back the positions on Saturday but the ministry has sacked a commander for failing to fend off the counter-attacks, the sources said. The U.S.-trained Counter Terrorism Service and Federal Police are the main forces fighting inside Mosul. Regular Iraqi army units are taking part in battles outside the city, alongside Shi'ite volunteers trained and armed by Iran, Kurdish Peshmerga fighters and Sunni tribes.
The total number of fighters aligned against Islamic State in Mosul exceeds 100,000. Several thousand have been killed so far in the battle, both civilians and military, according to international aid organisations. The total number of people displaced from Mosul since October is close to 400,000, about a fifth of Mosul's population before its capture by Islamic State.
Full report at:
http://nation.com.pk/international/01-May-2017/iraqi-commander-says-to-complete-capture-of-mosul-in-may
--------
Syrian Army Pre-empts ISIL Attack in Deir Ezzur
Apr 30, 2017
The artillery and missile units shelled the concentration centers of ISIL terrorists that were planning to prevail over the army positions near the Euphrates river that goes through the Deir Ezzur city, killing 12 terrorists and destroying a military vehicle.
In the meantime, the artillery and missile units targeted ISIL's positions and movements in Panorama army base West of Deir Ezzur, killing seven terrorists and destroying a military vehicle and three of their positions.
Local sources said that the army men, meantime, destroyed an ISIL tunnel in al-Sina'ah region near al-Makateb region, killing the entire terrorists inside and also killing any chance for the terrorists to move their bomb-laden vehicles to the region via the tunnel.
The Syrian Air Force also carried out repeated air attacks on ISIL's positions on Hill 17, Hill Aloush, Mount al-Thardah, the power company, al-Mohandeseen and Jonayd division regions South of Deir Ezzur city.
Full report at:
http://en.farsnews.com/newstext.aspx?nn=13960210001180
--------
Syrian Army Laying Siege on Terrorists in Eastern Damascus
Apr 30, 2017
The sources said that recent advances of the government forces in the Eastern part of al-Qaboun district have enabled the army men to almost encircle the militants in the Western direction of al-Qaboun, and complete the siege on terrorist-held region in al-Qaboun district from the North and Tishrin district from the South.
The sources pointed out that the siege of the terrorists in al-Qaboun and Tishrin means that militants' continued battle would amount to mass suicide as all their routes to the outside world have now been cut off.
They underlined that withdrawal of forces from al-Qaboun and Tishrin whose tunnels have been mostly destroyed in the army attack will also be very dangerous for the militants.
Base on field reports, the army units plan to continue their advances from South to the South-East towards Abdul Qani Bajeqni school which is the largest and the most important base of al-Nusra in the Eastern countryside of Damascus.
Full report at:
http://en.farsnews.com/newstext.aspx?nn=13960210000987
--------
Syrian Army Scores More Victories against ISIL in Eastern Homs
Apr 30, 2017
The army soldiers stormed ISIL's defense lines and drove the terrorists back from the villages of al-Tadmuriyeh, Jubab Hamd, Rajm al-Qasr, Rajm al-Darqam, al-Rajm al-Aali and al-Rajm al-Madareji.
The army units further took control of the hills of al-Rarkas and al-Elam that overlook the villages of Um al-Sahrij and al-Moshayrifeh al-Janoubi.
A local source said that ISIL suffered heavy casualties in the attack, adding the army soldiers continue their advances in the region.
Arab media reported earlier today that a group of Syrian-Lebanese popular forces called Dar'a al-Watan (Country's Shield) launched a heavy attack on ISIL's defense lines near the ancient city of Palmyra (Tadmur) in Eastern Homs and managed to seize control over a number of positions.
The Arabic-language al-Hadath news reported that the Syrian-Lebanese popular forces of "The Country's Shield" attacked ISIL's positions Northeast of Palmyra from three directions and drove the terrorists out of the strategic hill of al-San and its surrounding areas in al-Kasarat region.
Full report at:
http://en.farsnews.com/newstext.aspx?nn=13960210001088
--------
A waterway lifeline for US-backed Syria force fighting IS
May 1, 2017
LAKE ASSAD - Delil Souleiman - As US-backed fighters advance on the Islamic State group's de facto Syrian stronghold Raqa, a waterway "corridor" has become a key supply line, and an escape route for displaced civilians. An AFP team accompanied fighters from the Syrian Democratic Forces, a Kurdish-Arab alliance that is fighting to capture the strategic town of Tabqa, some 55 kilometres (35 miles) west of Raqa.
Their direct land route from the territory they hold in the north is blocked by the Tabqa dam, which remains under IS control. So instead, they are running supplies across Lake Assad, an enormous reservoir created by the dam, as well as ferrying civilians fleeing Tabqa back across to safety.
The main means of transport is a makeshift ferry, made out of a piece of floating bridge that has been lashed to four small boats, two on each side.
The boats, borrowed from local fishermen and attached with orange rope, drive the "ferry" and its occupants across the lake multiple times a day on an hour-long journey.
On Saturday, several dozen civilians waited on the northern side of the lake, hours after crossing to safety, as fighters loaded up the floating bridge moored near the Jaabar Castle, a local historical site.
A woman in her thirties, her face loosely wrapped in a beige headscarf, distributed bread to her children in the back of a pick-up truck.
Nearby, a child and his father stood by the water's edge, washing their faces after an exhausting trip. A rusty boat bobbed by them in the shallows.
Many of the arrivals looked exhausted, and some still seemed afraid, wary of their new surroundings.
'A WATER CORRIDOR'
"We were besieged in Tabqa. The humanitarian situation was really bad," said Ismail Mohamed, 39, who had arrived hours earlier with his family. "People are hungry and tired. Everyone is psychologically shattered, crushed," he told AFP. "When we got on the water, riding the boat, we truly couldn't believe it, we were so happy."
As the arrivals waited for permission to move north into SDF-held territory, fighters loaded vehicles with food and other supplies and drove them onto the makeshift ferry. "The... dam is not safe yet, we don't control it fully, there are still some mercenaries there, so we can't move civilians through," an SDF commander told AFP, referring to IS fighters.
"So we have opened a water corridor to rescue civilians, including via small boats and this ferry," he said. Fighters offered civilians loaves of flat bread as they waited. The makeshift craft relies on local fishermen who have lent the SDF their boats.
They fish in the morning, but their boats spend the rest of the day serving as motors to get the floating bridge back and forth. The hour-long trip to the southern shore, where more civilians are waiting to escape, is a sharp contrast with the fierce fighting that awaits SDF forces in Tabqa.
The US-backed force now controls more than 50 percent of the town, but has faced fierce resistance from IS, with the jihadists deploying suicide attackers, car bombs and weaponised drones.
Capturing Tabqa will be a key step towards the advance on Raqa, which the SDF is seeking to encircle before beginning a final assault.
SIPPING TEA, TAKING PHOTOS
On the water though, there is little sound except the engines of the boats and the thump of two US-led coalition helicopters overhead, helping secure the corridor.
One SDF fighter heads to the edge of the makeshift craft and closes his eyes for a moment, inhaling deeply and then sighing.
"How beautiful the water is, when you stand and look into the distance and all you see is water." As the craft moved forward, the sun began to set, with the almost-still water reflecting the orange rays.
Relaxed fighters, men and women, sipped tea and took photos, some looking towards the smoke rising from Tabqa in the distance. "There is not fear like there was before," said SDF fighter Amed Qamishlo.
Full report at:
http://nation.com.pk/international/01-May-2017/a-waterway-lifeline-for-us-backed-syria-force-fighting-is
--------
More Civilians Killed in US-Led Coalition Airstrikes in North-eastern Syria
Apr 30, 2017
The Syrian TV reported that 8 civilians, including five members of a family, were killed in the US-led coalition warplanes' attacks on two neighborhoods of al-Mansoureh and al-Wahab in al-Tabaqa.
In the meantime, six more civilians were killed in the fighter jets' raid on Raqqa city, the TV report added.
Reports also said that five civilians were killed and several more were wounded in the coalition warplanes' attacks on the village of al-Sweidiyeh Kabirh in Western Raqqa in the recent days.
In relevant developments on Tuesday, the coalition warplanes targeted a vehicle carrying civilians near al-Tabaqa city in Western Raqqa, killing all the civilians on board, including several children.
Full report at:
http://en.farsnews.com/newstext.aspx?nn=13960210001412
--------
ISIL Starts Vast Retreat from Eastern Homs under Army Attacks
Apr 30, 2017
The army soldiers engaged in a fresh round of clashes with ISIL in energy-rich regions in Eastern Homs and captured al-Sha'er communication station, al-Sha'er factory, Qara al-Baak region, Thaniyat al-Raz mount, Wells 103, 108,110 and 112 near the main well, 105, in al-Sha'er oilfield.
Tens of ISIL militants were killed and tens of their vehicles were damaged in the attacks.
Reports said earlier today that the army soldiers stormed ISIL's defense lines and drove the terrorists back from the villages of al-Tadmuriyeh, Jubab Hamd, Rajm al-Qasr, Rajm al-Darqam, al-Rajm al-Aali and al-Rajm al-Madareji.
The army units further took control of the hills of al-Rarkas and al-Elam that overlook the villages of Um al-Sahrij and al-Moshayrifeh al-Janoubi.
Full report at:
http://en.farsnews.com/newstext.aspx?nn=13960210001247
--------
Kurdish-Arab alliance advances against ISIS near Syria's Raqqa
1 May 2017
A US-backed Kurdish-Arab alliance is advancing against ISIS in the key town of Tabqa near the militant bastion of Raqqa in northern Syria, a monitor said Sunday.
The Syrian Democratic Forces now control "more than 70 percent of Tabqa," the Syrian Observatory for Human Rights monitor said.
Observatory director Rami Abdel Rahman said: "The Old City has been entirely taken and there is fierce fighting going on at the gates of the new town."
He said the alliance was bombing ISIS positions in the new town.
The SDF published photos Sunday it said showed items retrieved from newly captured parts of the town, including at least a dozen guns, as well as missiles, ammunition, and an ISIS flag.
The SDF entered Tabqa on Monday as part of their offensive against Raqa, ISIS's de facto Syrian capital.
Supported by US-led coalition air strikes and special forces advisers, the SDF surrounded Tabqa in early April.
The town sits on a strategic supply route about 55 kilometres (35 miles) west of Raqa, and served as an important ISIS command base, housing the group's main prison.
It is also adjacent to the Tabqa dam, another important strategic prize which remains under ISIS control.
The assault on Tabqa began in late March when SDF forces and their US-led coalition allies were airlifted behind ISIS lines.
The city is home to an estimated 85,000 people, including ISIS fighters from other areas.
ISIS has put up fierce resistance, including using weaponised drones, a tactic the group perfected in neighbouring Iraq.
The group is also fighting street-to-street and using suicide attackers and car bombs to slow the SDF's advance, according to the Observatory.
Full report at:
https://english.alarabiya.net/en/News/middle-east/2017/05/01/US-backed-Syria-force-advances-against-ISIS-near-Raqqa.html
--------
US-backed Syria force advances against ISIS in Tabqa
30 April 2017
A US-backed Kurdish-Arab alliance is advancing against ISIS in the key town of Tabqa near the militant bastion of Raqa in northern Syria, a monitor said Sunday.
The Syrian Democratic Forces now control over half the town of Tabqa, including most of its heart, the Old City, the Syrian Observatory for Human Rights monitor said.
Observatory director Rami Abdel Rahman said fighting was continuing in the town on Sunday morning.
The SDF published photos Sunday it said showed items retrieved from newly captured parts of the town, including at least a dozen guns, as well as missiles, ammunition, and an ISIS flag.
The SDF entered Tabqa on Monday as part of their offensive against Raqa, ISIS's de facto Syrian capital.
Supported by US-led coalition air strikes and Special Forces advisers, the SDF surrounded Tabqa in early April.
The town sits on a strategic supply route about 55 kilometers (35 miles) west of Raqa, and served as an important IS command base, housing the group's main prison.
It is also adjacent to the Tabqa dam, another important strategic prize which remains under ISIS control.
The assault on Tabqa began in late March when SDF forces and their US-led coalition allies were airlifted behind ISIS lines.
The city is home to an estimated 85,000 people, including ISIS fighters from other areas. ISIS has put up fierce resistance, including using weaponized drones, a tactic the group perfected in neighboring Iraq.
Full report at:
https://english.alarabiya.net/en/News/middle-east/2017/04/30/US-backed-Syria-force-advances-against-ISIS-in-Tabqa.html
--------
Saudi Arabia 'busts terrorists' responsible for 2016 Medina, Jeddah bombings
May 1, 2017
Saudi Arabian authorities say they have arrested members of a terrorist cell responsible for bombing attacks in Medina and Jeddah last year.
The suspects, who included both Saudi and foreign nationals, were detained in the Western port city of Jeddah, the Saudi Press Agency reported.
"Thirty two of those arrested are Saudis, while... 14 others are from Egypt, Pakistan, Yemen, Afghanistan, Sudan, and Jordan," Interior Ministry spokesman Major General Mansour al-Turki told reporters in the country's capital city, Riyadh, on Sunday.
An assailant carried out a bombing attack on the Prophet's Mosque in the holy city of Medina on July 4, 2016, killing himself and four security officials.
Turki did not specifically link the cell to any known militant organization but said it had also been behind a bombing near the US Consulate in Jeddah that similarly took place in July 4 last year.
Two security guards were injured in that attack.
The Saudi Interior Ministry previously identified the Medina assailant as a Saudi national and the one in the Jeddah attack as a Pakistani individual.
Full report at:
In his Sunday remarks, Turki provided no updates on the investigations into those attacks.
http://www.presstv.ir/Detail/2017/05/01/520122/Saudi-Arabia-Mansour-alTurki-Medina-Jeddah-bombings
--------
Africa
French Soldiers 'Kill; Capture 20 Militants' In Mali
May 1, 2017
French forces in Western Africa say they have killed or captured about 20 militants in a restive region in Mali near Burkina Faso.
French troops, fighting militant groups in the Sahel region south of the Sahara Desert, launched an operation in the forest of Foulsare on Saturday, a statement by the regional forces said on Sunday.
Troops from Operation Barkhane killed or captured the 20 militants and discovered large amounts of arms, ammunition, rocket launchers, and explosives in the forest, according to the statement.
French fighter jets also bombed several arms depots in the forest.
According to a local resident, many militants fled on foot when planes arrived to drop bombs in the area.
Early last month, a French soldier was killed in clashes with the militants in the area.
Around 4,000 French soldiers have been deployed across five countries in the region in an operation launched in 2014. France says the goal of the mission is to fight militants in Mauritania, Mali, Niger, Chad, and Burkina Faso.
Mali's north fell to militant groups in 2012. A French-led military intervention in January 2013 drove out the militants and Mali regained control of the region, but insurgents still remain active across large parts of the restive north.
The United Nations also set up a mission in Mali in 2013.
The region remains unstable, however.
http://www.presstv.ir/Detail/2017/05/01/520113/Mali-France-Operation-Barkhane-Foulsare
--------
Tunisia says two militants killed in security sweep
30 April 2017
A militant linked to Al-Qaeda in the Islamic Maghreb blew himself up and another was shot dead on Sunday during an operation by Tunisian security forces, the national guard said.
Both were "dangerous terrorist elements", and one, probably a foreigner, was a leader in a group linked to AQIM, national guard spokesman Khalifa Chibani told AFP. The operation took place in the central town of Sidi Bouzid when a house was raided in a security sweep after weeks of surveillance, he said.
"A terrorist group was attacked in a national guard operation," Chibani said. "Units had discovered contacts between the Okba Ibn Nafaa Battalion (a group connected to Al-Qaeda) and people inside Sidi Bouzid." An AFP correspondent said security forces surrounded a house in the Ouled Chebli district and shots were heard. During the assault, one militant "was hit and blew himself up", Chibani said.
The other man killed had also been wearing an explosives belt but was shot dead before he could detonate it. Chibani said the group had been planning "terrorist operations during Ramadan", the holy Muslim fasting month that begins at the end of May.
Another three people suspected of links with the group were detained and security forces were hunting for other suspects. Prime Minister Youssef Chahed later told reporters the two men killed had been wanted, and "praised the courage" of the security forces.
Full report at:
https://english.alarabiya.net/en/News/middle-east/2017/04/30/Tunisia-says-two-militants-killed-in-security-sweep-.html
--------
Police kill 2 suspected terrorists in central Tunisian town
Apr 30, 2017
The Tunisian National Guard has killed two suspected terrorists in a security operation in the central town of Sidi Bouzid.
A Tunisian government official, speaking on condition of anonymity, announced the news, adding that a gun battle broke out on Sunday in Ouled Chebli district of the city after security forces with the country's National Guard raided a house where terrorists had hidden.
"They killed one and another blew up his explosive belt," the official said, adding that some other suspects fled the scene but were still being pursued.
The house had been under surveillance for some time before being surrounded and stormed by the security forces, he added.
Tunisia has increased anti-terror operations following a truck attack claimed by the Daesh Takfiri terrorist group at a Christmas market in the German capital, Berlin, on December 19. Anis Amri, a Tunisian national, was identified as the main suspect in the ramming, which killed a dozen people.
Tunisia has experienced violence since the 2011 uprising that ousted the country's dictator Zine El Abidine Ben Ali, who was in power for over two decades. The country has also been affected by the growing instability in neighboring Libya, which has been in chaos since former dictator Muammar Gaddafi was toppled and later killed in 2011.
During the past six years, Tunisia has witnessed multiple terrorist attacks that have claimed the lives of dozens of members of the security forces and also nearly 60 tourists. Since November 2015, when a bomb attack claimed by Daesh Takfiri terrorists killed 12 presidential guards, the country has been under a state of emergency.
Tunisia is among the countries with the highest per capita number of extremist militants operating in other countries. As many as 7,000 Tunisians have reportedly left their country since 2011 to fight alongside extremist groups in Iraq and Syria.
In recent months, Daesh has been under intense pressure by government troops in Iraq and Syria, where the Takfiri group once occupied parts of territory. The terrorist group has been increasingly losing members and areas it once held. Daesh is also losing its main stronghold of Sirte in Libya.
Full report at:
http://www.presstv.ir/Detail/2017/04/30/520085/Tunisia-Sidi-Bouzid-terrorists
--------
Imam Advises Muslims To Acquire Islamic Knowledge
May 1, 2017
Dr Rafee El-Jebuwi, the Deputy Chief Imam of Kubwa In FCT, has advised Muslims to acquire Islamic knowledge through reputable Islamic scholars and avoid sourcing knowledge via Islamic websites.
El-Jebuwi made the call at the graduation ceremony of Cimcom Islamic Academy Kubwa, FCT, on Sunday.
He said acquiring knowledge in Islam required the guidance of a scholar.
According to him, there are some Islamic websites which distort the real Islamic messages.
"We also have orientalists who did not receive Islamic education from Muslims but produce websites with negative messages on Islam," he said.
El-Jebuwi who spoke on "knowledge is power, let's acquire it", said Islam as the way of life of a Muslim hinged on knowledge.
He said that without knowledge, a Muslim would never master the performance of his or her religion; adding that the first quranic revelation was an invitation to knowledge acquisition.
He, therefore, urged parents to comply with the teachings of the holy Prophet that made it compulsory for every muslim to acquire knowledge by ensuring that children were enrolled into Islamic schools.
Alhaji Umar Danladi, the traditional leader of the Muslim community in Kubwa, FCT, said knowledge was paramount to the life of a Muslim.
He said "knowledge guides the day-to-day affairs of Muslims."
Full report at:
https://www.pmnewsnigeria.com/2017/04/30/imam-advises-muslims-acquire-islamic-knowledge/
--------
Africa: The Forgotten War in the Central African Republic
30 APRIL 2017
By Jan-Philipp Scholz, Adrian Kriesch
Violent conflict between rebel groups has been raging in the Central African Republic for years. Aid agencies are warning that the humanitarian situation is worsening dramatically.
Holding a hammer, Marcel Hamat walks through his house, or what remains of it. For the first time, the 52-year-old has returned to his hometown, Iyeda, after it was attacked and nearly razed to the ground in October 2016.
The village is located between two fronts. In the west, the Koui neighborhood is controlled by the 3R militia (retour, reclamation, rehabilitation), an armed group of predominantly Muslim cattle-herders of the Peuhl community (also called Fulbe). In the east, lies the city of Makunzi Wali, ruled by the anti-Balaka, a majority Christian militia.
Iyeda is now a ghost town. Hamat's house was burnt down and so was that of his relatives next door. "That's what the Peuhl [people] did here," says Hamat as he breaks the last metal remnants from the wall, which he still hopes to use. With the scrap metal, Hamat makes his way to Makunzi Wali, where he has now found refuge. As a Christian, he is under the protection of the anti-Balaka. They earn money by accepting bribes at checkpoints and receiving cash payments from businessmen in exchange for securing their business premises.
Colonel Goumou Passy is one of the anti-Balaka leaders. His troops look intimidating: woozy from drugs, armed with hunting guns and covered with charms and amulets to protect them from the bullets of their opponents. Passy's biggest enemy is the 3R militia in Koui. For weeks now he has blocked aid supplies to Koui, which has aggravated the humanitarian situation in the region. "This is a war and each side has its own strategies," he told DW. "We have just decided to cut off the [aid] supply for a while."
Caught between the fronts
For years, a war has been raging in the Central African Republic. In October 2013, the Seleka group, made up of a Muslim majority, rebelled against the government, accusing it of neglect and marginalization. They plundered entire towns and villages, leading to the formation of the anti-Balaka movement. Originally, a defense group comprising a majority of Christians, over time, the militia fell into the hands of uncontrollable gangs of armed youth.
In 2016, CAR voters elected an official government, but its power and control does not extend outside the capital, Bangui. Instead, the country has become increasingly polarized along religious and ethnic lines. Fourteen armed rebel groups are now active in the country. There are frequent clashes in which the civilian population is caught between the fronts. In the region around Koui alone, 15,000 people have had to flee their homes in recent months.
In Koui, Commander Sidiki Abass is the man in charge. Wearing a turban and white robe, he stands in front of his house, guarded by heavily armed men. Once a cattle herder, Abass is now the leader of the 3R rebel group. According to his own account, he has more than 1,000 fighters.
International rights group, Human Rights Watch, has accused the group of carrying out human rights violations which include torture and rape. Abass has denied this. "We Peuhl are not safe here. We are constantly being attacked by bandits and anti-Balaka," Abass told DW. "The government does not take responsibility, so we have to do that."
"If the 3Rs disappeared, it would be a disaster," explains the mayor and sultan of Koui, while receiving representatives from relief organizations, as well as journalists, in his sparse palace. "The anti-Balaka wants to expel all Muslims here. They have brought so much disaster. Countless Muslim houses and villages have been burned down."
Adamou Dawda Yaya fears another anti-Balaka attack could be imminent. The 3R recently attacked a nearby anti-Balaka stronghold. But the sultan chooses his words cautiously, avoiding any criticism of the 3R.
Full report at:
http://allafrica.com/stories/201705010079.html
--------
Australia
Australia probes 'jihadi child threat' video
May 1, 2017
SYDNEY: Police in Australia said Sunday they were investigating a report that the eight-year-old son of a notorious Islamic State fighter was filmed wearing a suicide vest and threatening to kill its nationals. The footage was allegedly of the youngest son of Khaled Sharrouf, who in February became the first Australian to be stripped of his citizenship under anti-terrorism laws.
The young boy was recently filmed holding two guns and a knife and making threats as a voice off-camera asked him, "How do you kill an Australian?" Sydney's Sunday Telegraph reported. Sharrouf, who left Australia for Syria in 2013 with his family, made international headlines in 2014 when he posted an image on Twitter of another son holding a severed head.
"The NSW Joint Counter Terrorism Team (JCTT) is aware of a video emanating from the Middle East depicting a minor making threats in the name of ISIS," New South Wales state police said in a statement.
"The JCTT is investigating the video. However, there is no specific threat. The current national terrorism threat level remains at probable."
After Sharrouf's wife Tara Nettleton reportedly died last year, there were failed efforts by her mother to bring their five children back home. Sharrouf was also believed to have been killed in a drone strike in Iraq in 2015 but media reports later cast doubt on whether he was dead. Canberra lifted the terror threat alert level in September 2014 and introduced new national security laws amid concerns of attacks by individuals inspired by organisations such as IS.
It also cracked down on Australians attempting to travel to conflict zones including Syria and Iraq. Authorities believe 110 Australians have travelled to Syria or Iraq to fight with terror groups, of which around 60 have been killed.
http://nation.com.pk/international/01-May-2017/australia-probes-jihadi-child-threat-video
--------
Europe
Germany's Merkel tells Saudis to stop war on Yemen as arms sales go on
May 1, 2017
German Chancellor Angela Merkel has called on Riyadh to halt its military aggression against Yemen, despite Berlin continuing its arms sales to the kingdom.
"We believe in the UN-led process of diplomatic resolution…We do not think that there can be a military solution to this conflict," said Merkel during a visit to the Saudi port city of Jeddah on Sunday.
She added that measures must be taken to reverse the "extremely bad humanitarian situation" in Yemen.
This as an agreement was signed for Saudi troops to receive training from German soldiers at unified armed forces facilities.
A separate deal was also made for German federal police to instruct and train Saudi border police and other security forces.
During the trip, Merkel met with Saudi Arabia's King Salman, Crown Prince Mohammed bin Nayef, and Deputy Crown Prince Mohammed bin Salman.
Saudi Arabia has been incessantly pounding Yemen since March 2015 in an attempt to bring back to power the resigned president, Abd Rabbuh Mansur Hadi, who is a staunch ally of Riyadh, and to undermine the Houthi Ansarullah movement. The Riyadh regime has, however, failed to reach its goals despite suffering great expense.
The military aggression has claimed the lives of more than 12,000 people, most of them civilians.
Germany, one of kingdom's largest arms suppliers, sold Saudi Arabia around half a billion euros worth of armaments in 2016. Earlier this month, Berlin also approved millions of dollars worth of arms sales to the United Arab Emirates which is assisting Saudi Arabia in its onslaught against Yemen.
http://www.presstv.ir/Detail/2017/05/01/520103/yemen-saudi-arabia-germany-merkel
--------
Morocco's Christian converts emerge from the shadows
2017-04-30
Agadir - Moroccans who secretly converted to Christianity are demanding the right to practise their faith openly in a country where Islam is the state religion and "apostasy" is condemned.
At an apartment in a working-class part of the southern town of Agadir, Mustapha listened to hymns emanating from a hi-fi under a silver crucifix hung on the wall.
The 46-year-old civil servant, son of an expert on Islamic law from nearby Taroudant, was once an active member of the banned but tolerated Islamist Charity and Justice movement.
He said he converted in 1994 to "fill a spiritual void".
"I was tired of the contradictions in Islam," said Mustapha.
"I became interested in Christianity through a long correspondence with a religious centre in Spain in the late 1980s."
He went on to qualify as a Protestant pastor and received a certificate from the United States after taking a correspondence course.
Mustapha kept his faith secret for two decades, but a year and a half ago he published a video online in which he spoke openly about his conversion. The reaction was immediate.
"Family and close friends turned their backs on me, I was shunned at work. My children were bullied at school," he said.
Converts to Christianity form a tiny minority of Moroccans. While no official statistics exist, the American State Department estimates their numbers at between 2 000 and 6 000.
'Persecution'
Over the Easter weekend, Mustapha and a dozen fellow converts met for an "afternoon of prayers" in the living room of Rachid, who like Mustapha did not wish to give his full name.
Rachid, who hails from a family of Sufis - a mystical trend of Islam - embraced Christianity in 2004 and eventually became a Protestant pastor.
A father of two, Rachid said he became interested in Christianity when he was a teenager after listening to a programme broadcast by a Paris-based radio station.
He researched Christianity at a cyber-cafe, contacted a specialised website and they sent him a copy of the Bible.
"I read the entire thing, studied the word of God, took courses," he said. "At the age of 24, I was baptised in a Casablanca apartment."
In April, Mustapha, Rachid and other Moroccan converts submitted a request to the official National Council of Human Rights (CNDH) calling for "an end to persecution" against them.
"We demand the right to give our children Christian names, to pray in churches, to be buried in Christian cemeteries and to marry according to our religion," Mustapha said.
Islam is the state faith of Morocco but the country's 2011 constitution, drafted after it was rocked by Arab Spring-inspired demonstrations, guarantees freedom of religion.
Foreign Christians and the country's tiny Jewish community - of about 2 500 people - practise their faiths openly.
Moroccan authorities boast of promoting religious tolerance and a "moderate" form of Islam, and the country's penal code does not explicitly prohibit apostasy - the act of rejecting Islam or any of its main tenets.
'Ultra-sensitive'
But in Morocco proselytising is punishable by law and anyone found guilty of "attempting to undermine the faith of a Muslim or convert him to another religion" can be jailed for up to three years.
"The subject is ultra-sensitive because it relates to the history of colonisation and to the idea that Christianity constitutes a danger to the unity of Morocco," a sociologist of religion told AFP.
But Rachid said the lines are shifting.
"The arrests have almost stopped, which is a big step," he said. "Harassment has become scarce."
Full report at:
http://www.news24.com/Africa/News/moroccos-christian-converts-emerge-from-the-shadows-20170430
--------
URL: https://www.newageislam.com/islamic-world-news/jokowi-islam-democracy-coexist-parallel/d/110980
New Age Islam, Islam Online, Islamic Website, African Muslim News, Arab World News, South Asia News, Indian Muslim News, World Muslim News, Women in Islam, Islamic Feminism, Arab Women, Women In Arab, Islamophobia in America, Muslim Women in West, Islam Women and Feminism