New Age Islam News Bureau
25 Jun 2018
• Joint Hindu-Muslim 'Urs' Of 'Pirs' Reinforces India's Inter-Faith Bond
• Hafiz Saeed Urges Youth to Play Its Role in Protecting Nation's Ideology at Party's Social Media Moot
• The Friday Sermon as an Educational Tool for Unity in Multi-Faith Malaysia
• Mirwaiz Umar All Praise For Turkish President Erdogan
• Jews, Muslims in Berlin Team Up On Bike Rides against Hatred
India
• Joint Hindu-Muslim 'Urs' Of 'Pirs' Reinforces India's Inter-Faith Bond
• India to Put Rohingya Refugees under Surveillance
• Shia Board Chief Donates For Ram Temple
• Cops seek to ensure low-key funeral of terrorists in J&K
• Communal Clashes Might Break Out In Karnataka If Haj Bhavan Named After • Tipu Sultan: BJP Leader KG Bopaiah
• J&K encounter: LeT commander among two killed, one surrenders
• Pakistan denies allegation of preventing Indian envoy from visiting Gurdwara
--------
Pakistan
• Hafiz Saeed Urges Youth to Play Its Role in Protecting Nation's Ideology at Party's Social Media Moot
• MMA Seeks Votes to Impose Sharia In Country
• Previous Provincial Govt Destroyed KP's Economy: Maulana Fazl
• Pakistan elections: Independent candidate declares over Rs 400 billion in assets
• The militancy threat to 2018 general elections should not be taken lightly
• JUI-F workers, elders protest Fata-KP merger
• ECP unable to ascertain if contestants have ties to terrorism
--------
Southeast Asia
• The Friday Sermon as an Educational Tool for Unity in Multi-Faith Malaysia
• New Umno Youth Chief Pledges Moderate Approach to Islam
• Anwar: Erdogan's win a victory for the Islamic world
• Sabah Muslim Group Wants Action against Tourists Caught Dancing At Mosque
• West Java Catholics have faith in Muslim mayor
• Malaysian-Saudi relations: A lesson in the pitfalls of authoritarianism and autocracy
• Hottest contest being fought in Indonesia's most populous province
--------
Mideast
• Mirwaiz Umar All Praise For Turkish President Erdogan
• Iranians Urged To Unite To Counter US 'Economic War'
• Non-Muslim Religious Leaders Hail Erdogan's Victory
• Erdogan proclaimed winner of Turkey's presidential election
• In election victory speech, Erdogan says Turkey will advance in Syria
• Israel fires Patriot missile at drone from Syria, but misses target
• Yemeni forces launch missile attack on Saudi capital
• Erdogan and his party win Turkey's presidential and parliamentary elections
--------
Europe
• Jews, Muslims in Berlin Team Up On Bike Rides against Hatred
• Italian Troops Sent To Back YPG/PKK Terrorists in Syria
• France arrests 10 ultra-right suspects over plot to attack Muslims
• '1,000 migrants in boats off Libya' as Italy tells rescue ships to stop
• Britain's Prince William heads for historic Middle East tour
--------
South Asia
• NATO Commander Hopes Pakistan Will Persuade Taliban to Join Peace Talks
• Imam of Grand Mosque of Mecca Urges For Extension Of Ceasefire In Afghanistan
• Heavy airstrikes target militant compounds in Badghis after last week's major attack
• ISIS leader responsible for recent deadly attacks in Jalalabad has been killed
--------
Arab World
• US Backtracks from Supporting Militants in Southern Syria
• Senior ISIL Commander, Aides Hunted in Baghdad
• Turkish Army, Allied Militants in Panic over Kurds' Attacks in Northern Syria
• FSA militiamen join Syrian army units to fight Daesh, Jabhat Fateh al-Sham
• Syria censures US financial support to White Helmets
• Hashd Al-Shaabi Commander Dismisses JOC's Statement on US Attack
• Syrian Army Driving Wedge between Terrorist-Held Regions in Dara'a Province
• Saudi Air Defences Foil New Houthi Missile Attack on Riyadh
• Syrian rebels say US tells them it won't intervene in south Syria
• Israel claims fires anti-aircraft missile at drone from Syria, forces retreat
--------
Africa
• Somalia, US Especial Forces Seize Key Town from Al Shabaab
• 86 Dead in Nigerian Communal Clashes, Govt Terms Violence as 'Deeply Unfortunate Killings'
• Arrests announced as death toll rises in Ethiopia attack
• Libyan coast guard picks up almost 1,000 migrants in one day
• Jordan says unable to host new wave of Syria refugees
• Group faults CAN on recruitment of Ex- Boko Haram members into Army
--------
North America
• US Rips Reported Syria Cease-Fire Violations
• Supreme Court poised to rule on Trump travel ban, other cases
• What Canadians Need To Know About Our Peacekeeping Mission in Mali
Compiled by New Age Islam News Bureau
URL: https://www.newageislam.com/islamic-world-news/joint-hindu-muslim-urs-pirs/d/115637
--------
Joint Hindu-Muslim 'Urs' Of 'Pirs' Reinforces India's Inter-Faith Bond
June 24, 2018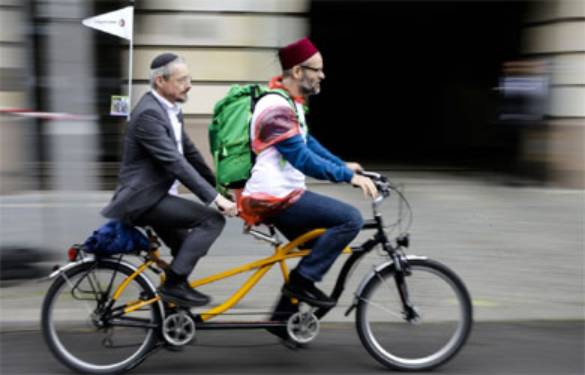 A Muslim and a Jewish man rides a tandem together during a bicycle tandem tour of Jews and Moslems against anti-Semitism and hatred of Muslims in Berlin, Sunday, June 24, 2018. (Markus Schreiber/Associated Press)
-----
Amid the growing perception of rising communal tiff in the country, a 75-year-old tradition of joint 'Urs' of two Muslim 'Pirs' with a Lord Hanuman idol overseeing the last two days of function from his perch near the Dargah here, has reinforced the intrinsic, inter-faith, Hindu-Muslim bonds.
The five-day 'urs' (the death anniversary function) of Muslim 'Pirs,' Syed Pahalwan Karamshah and Judian Baba, equally revered by the two communities, was kicked off here on June 19 with holding of a joint cultural function at the dargah on the first day, both by the Hindus and the Muslims.
Known as "Salana Urs Evam Jawabi Kirtan tournament" and held by the 'Hindu-Muslim Bhaichara samiti,' the first day's prayer of the function was followed by a popular two-day Qawwali contest, coinciding with the 'urs' (death anniversaries) of Syed Pahalwan Karamshah and Judian Baba respectively on June 20 and 21, 'Samiti' Chairmain Rustam Bhai told PTI.
The last two days of function saw holding of 'jawabi kirtan tournament,' comprising of joint singing of Hindu Bhajans at the Dargah, said Rustam Bhai.
"The event has been going on at least for the last 75 years, and has been an example of Hindu-Muslim amity, which seems to be fast disappearing from our social fabric. The five-day event started on June 19, and jawabi qawwalis were held on June 20 and June 21," he said.
"This time Qawwali troupes from Madhya Pradesh and Nagpur came to participate in the event. Subsequently jawabi kirtans were held on June 22 and June 23 in which troupes from Allahabad, Hathras and Madhya Pradesh participated," he added.
"This is an unique event, where the Hindus and Muslims participate together and reinforce the deep bond amongst themselves. Through this event, we would pray to the Almighty that peace may prevail across the country and people of different religions live amicably," he explained.
Samiti member Raj Kumar said, "At a time when communal animosity seems to be raising its ugly head (in the state), this may provide some solace to us, as members of both the communities (Hindus and Muslims) join hands and virtually immerse themselves in divine music emanating from the programme venue."
He added, "An idol of Lord Hanuman is also installed barely a few metres from the dargah (within the programme venue), and people from different walks of life come and offer prayers at the idol of Lord Hanuman. In fact, before the jawabi keertan commences, prayers are offered to Lord Hanuman and his blessings sought."
The idol of Lord Hanuman stays at the programme venue for last two days, and flowers, fruits and other items are offered to Him, Raj Kumar said.
When asked to recall the situation in the vicinity of the Dargah on December 6, 1992, when reports of demolition of Babri Masjid came in, Raj Kumar said, "Even at the height of Ram temple movement, communal amity among the local Hindus and Muslims remained intact."
"We want to send a message of peace, goodwill, religious bonhomie and communal amity through this event to the society," Raj Kumar said.
He also drew attention towards Hanuman Chaalisaa being played, hours before the grand finale, as organisers geared up to give final touches to the event on the last day of the event.
Deputy patron Sunil Tantua who was also present at the programme venue said that the event will go a long way in helping to strengthen the social fabric and bond among Hindus and Muslims.
https://www.business-standard.com/article/pti-stories/joint-hindu-muslim-urs-of-pirs-reinforces-india-s-inter-faith-bond-118062400472_1.html
--------
Hafiz Saeed urges youth to play its role in protecting nation's ideology at party's social media moot
June 25, 2018
LAHORE: Jamaatud Dawa (JuD) emir Hafiz Muhammad Saeed has urged the youth to play their due role in protecting ideological boundaries of the country.
"The enthusiasm the youth showed at the time of creation of Pakistan needed to be instilled again," he said while speaking at social media workshop of the Milli Muslim League (MML), JuD's political face, which is taking part in the next month elections from the platform of Allah-o-Akbar Tehreek.
https://www.dawn.com/news/1415986/mmls-social-media-moot
--------
The Friday sermon as an educational tool for unity in multi-faith Malaysia
25 Jun 2018
AS Islam is "ugama rasmi" or the official religion in Malaysia, it has to play a major role in nation building with respect to forging racial and religious harmony. The Friday sermon serves as an informal "teacher" to all Muslim males in Malaysia, and what it says or does not say and how it says it is of paramount importance to the construction of the social and political web of the country.
The Friday sermon is a 1,500 year old legacy of the Prophet Muhammad himself to mould Muslim society into being the best kind of humanity there is. It used to be that each mosque would have a khatib who was knowledgeable in Islam write the sermon and preach about good habits, practices and acts in relation to achieving the status of mukminun or a high spiritual believer.
In the present day, Muslim countries such as Malaysia have a Department of Religious Affairs that would prepare the sermons and require that the elected khatib reads from it. The exceptions are mosques that are not under the jurisdiction of the department and which were run by the Tabligh, political parties or luminaries such as the the late Harun Din who passed away recently. The main focus of this essay is to suggest better ways for the sermons to be a force in educating Muslims to be larger than their parochial "Islamic self" which is borne of the traditional mindset of the villages and settlements. Malaysia is a nation and a state with half the population subscribing to a belief system different than Islam. At the moment, the sermons serve only to educate Muslims in a narrow context which results in an "isolated mindset" concerning their worshipper's relationship vis-a-vis the world.
I have taken the liberty of reading 110 sermons produced in 2015-2017 by the Selangor Department of Religious Affairs to check if:
1. Other races or religions are mentioned in a derogatory manner;
2. Extremist groups and acts of extremism such as bombings, killings, shouting or speaking about other races or religions in a derogatory way are mentioned;
3. Values and goodness of other faiths similar to those of Islam are mentioned to inculcate understanding and mutual respect.
With respect to the first, I have established that sermons do not include derogatory remarks about another race or religious belief. This is a positive and excellent factor that will preserve religious and racial harmony. Furthermore, each sermon ends with a repeated message of reminding Muslims to preserve the racial and religious harmony in the country.
With respect to the second, I could only find one sermon dealing with the Islamic State, a known terrorist organisation (IS: Pengganas Bertopengkan Islam, November 27, 2015). I found only three other sermons that mention IS and its atrocities in passing. There was no mention of each atrocity as they occurred, such as the Orlando shooting on June 12, 2016 which left 50 dead; the Nice lorry attack that killed 84 people; the Egypt church bombings on April 9, 2017 that left 44 dead; and the Manchester Arena concert bombing on May 22, 2017 that killed 22 people. I checked the dates of the incidents and tracked down the sermons that were read in the following weeks.
I have also not found any reference to the "Cina-babi" incident of the Red Shirts rally on September 16, 2016, or the "kafir harbi "pronouncement of the Pahang mufti who had called for death to all who opposed the RUU 355 shariah amendments proposed by PAS, on June 22, 2016.
With respect to the third, not a single sermon mentioned that other religions shared the values of Islam.
During a tragedy, show humanity
The Friday sermon writers should consider seriously giving time and emphasis to each heinous act committed in the name of Islam. Although sermons are prepared beforehand, in the age of the internet, there is no excuse for not dealing with such atrocious acts as the killing of innocent human beings under the guise of religious piety. When the Friday sermon is silent on the matter, most Muslims will not think twice about it nor discuss it with their friends and family. In this manner, Muslims can never exercise their ihsan attitude of compassion for all if they were not made aware of this incident. Even though the media might report a heinous acts, if the Friday sermons do not make mention of it then there are many negative implications of such a silence. The silence of the Sermons can be interpreted as a kind of indifference about the deaths of non-Muslim which would make the Muslim totally apathetic about the fate of others. From the perspective of the non-Muslim they might be wondering if Muslims subscribe to decent human values or, worse, if the Muslims somehow 'agree' silently to these acts of aggression.
Thus, it is imperative that the khatib through a well written khutba or sermon take time to explain the events and the message of hatred and sin of killing innocent lives as extolled in the Quran and the hadith.
The sermons must also deal with the events occurring at home, such as the Cina-babi name calling and and the call for Bible burning. There was absolutely no mention of this and the message of silence would make it seem that the official position is of agreement or indifference. Both positions are totally unacceptable if the nation is to forge ahead in the future with more meaningful issues other than the tired rhetoric of Malay-Chinese or Islam-Christian antagonism. The sermons must clearly rebuke those practicing religious and racial slurs or extremist acts of burning churches or desecrating cemeteries perpetrated. The Prophet had never taught such acts of "devotion" to Islam by desecrating properties or shouting racial slurs.
Teach that other faiths share Islam's values
With respect to the third issue, this is where the Friday sermon can do the most good. iIn a multi-faith and multi-cultural nation like Malaysia, the people must understand each others' belief systems and tolerate or celebrate each others' difference. The primary and secondary as well as the tertiary educational system of this country have failed to deliver this fundamental of character and attribute in the citizenry. With the existence of Islamic religious schools and non-Malay vernacular schools that promises total isolation from one another's belief and culture, this is a recipe or a time bomb to disaster in race and religious management in this country. The Friday Sermon can deal with the similar values of spirituality and social consciousness that exists in all teachings such as Buddhism, Confucianism, Taoism, Hinduism, Christianity and others. If the force of the Friday sermon can be used then many Muslims would look more kindly on other races and religious adherents and we would have a more peaceful country.
The Friday sermons also never dealt with such actions by civil movements like the Green Planet movement, the Red Cross or the Human Rights Watchers. Although there may some small differences between the attitudes of these organisations with Islam, there are many more good acts and things that can be celebrated together. If Muslims were to share these ideas and thoughts with these many groups, then the stigma of being an isolated religion can be dispelled.
More compassion, love and acceptance
I have found that the Friday sermons deal with three things generally; the acts of rituals, the meaning of Islamic history and the Muslim as a loyal citizen and a productive worker. There is hardly any sermon that deals with compassion for humanity and tolerance of others. In my random sampling of hundreds of religious lectures by Muslim ustaz, the topic would be rituals and history. Again the subject of compassion to all human kind is not a favourite topic. It seems that Muslims have been educated that forms of devotions such as solat, fasting, performing the haj supersede all other concerns; that if these forms were perfect, one can go to heaven. In my understanding of Islam, these acts of devotions must result in the attitude of compassion and tolerance as well as love for all and it is those that would determine once place in the hereafter.
The Prophet Muhammad has shown much compassion and tolerance in his life. He did not take any action against the Taif people who pelted him with stones. He did not hang or behead any citizen of Mecca when he liberated it as the head of of 10,000 strong Muslims. The Meccan leaders and relatives had mistreated him and his family in the most despicable manner and yet he bore them no malice or sought vengeance .
In my random listening of many sermons, lectures and speeches by non-Muslim personalities who are Buddhists, Christians, Hindus or Atheists, these people concentrate on the issue of compassion, tolerance and love for all and never mention anything of formalistic rituals as acts of devotions that supersede acts of the heart. The Muslim scholars give speeches, sermons and teachings that are of the opposite content.
In the 21st century, Islam is at a crossroads. It will either be accepted as a civilised faith or it will be shunned as a faith that tolerates and encourages atrocities against others. It can be known also as a religion that is self indulgent of its own virtues. It can be known as a religion that rejects all teachings and lessons of human civilisation and accepts only its own sources of teachings. It will be the most parochial, narrow, intolerant and non-accepting of all. Unless Muslims are educated by teachings in schools or mosques to be what the Prophet Muhammad wants, as a mercy to mankind, Islam will not have a bright future. The Friday sermon is a key educational tool to transform a selfish, intolerant and dispassionate Muslim into a human being that shines with forgiveness, acceptance and love for all mankind. – June 25, 2018.
https://www.themalaysianinsight.com/s/56733
--------
Mirwaiz Umar all praise for Turkish President Erdogan
June 25, 2018
Chairman Hurriyat Conference (M) Mirwaiz Umar Farooq has congratulated President of Turkey, Recep Erdogan, on winning the 2018 Presidential elections.
Mirwaiz Umar called him "an ardent supporter of Kashmiris right to self-determination."
President Recep Erdogan had 52.9 percent of the vote with 93.7 percent of the votes counted in Turkey's presidential election on Sunday, TRT World reported.
The main opposition's presidential candidate, Muharrem Ince, was runner up in the election results at 30.6 percent votes.
https://nation.com.pk/25-Jun-2018/mirwaiz-umar-all-praise-for-turkish-president-erdogan
--------
Jews, Muslims in Berlin team up on bike rides against hatred
June 24, 2018
Berlin, Jun 24 (AP) Some 25 Jews and Muslims teamed up on tandem bicycle rides through the German capital today in a protest against growing anti-Semitism and attacks on Muslims in the country.
Some were rabbis and imams, others included women in headscarves and Jewish community members donning skullcaps from Berlin and beyond who shared the bikes on a tour through the city.
Rabbi Elias Dray, one of the organizers of the ride that started at Berlin's Holocaust memorial, said the interfaith tour was intended to boost contacts between Jews and Muslims and other Germans.
"There's often prejudice in places where there's little contact," said Dray, who works as a community rabbi in the Bavarian town of Amberg. "Anywhere it's a big gain to get to know Judaism and Islam." He rode a tandem together with Berlin Imam Ender Cetin. They and others wore white vests with the words: "Jews and Muslims for respect and tolerance." In addition to the 25 interfaith-bikers, dozens of people joined the bicycle tour through Berlin's downtown in a show of solidarity.
Anti-Semitism has been on the rise in Germany lately and while attacks on Muslims have increased.
The rising tensions come as Germany grapples with an influx of more than 1 million mostly Muslim migrants, along with the rise of a nationalist party, the Alternative for Germany, which was elected to Parliament last year for the first time. Its leaders are known for their openly anti-Muslim stance, while anti-Semitism has also featured in their statements, but less often.
To further complicate things, some of the newly arrived Muslim migrants have added a new strain of anti-Semitism by holding Jews responsible for the Israeli-Palestinian conflict.
Reports of bullying of Jewish children by Muslim immigrant kids in schools across the country have scared many Jews, while Muslim women among others often report slurs and discrimination against them for wearing headscarves.
Despite these tensions, Imam Cetin said, "the majority of Muslims and Jews want to live peacefully together." "It must become a natural thing that we live together in this city and, that we can be able to express our religion openly," Cetin added. (AP) CPS CPS
https://www.indiatoday.in/pti-feed/story/jews-muslims-in-berlin-team-up-on-bike-rides-against-hatred-1268779-2018-06-24
--------
India
India to put Rohingya refugees under surveillance
June 22, 2018
The administration in Jammu and Kashmir state plans to impose stricter surveillance on Rohingya refugees following a call by Hindu groups to evict them from the sensitive Indian region bordering Pakistan.
The decision comes after an early June instruction from the federal government run by the pro-Hindu Bharatiya Janata Party (BJP) to check activities of refugees in the Muslim-dominated state.
Police and agencies will record the biometric details and activities of the Rohingya, a state government official told ucanews.com on June 18.
Media reports said the federal Home Ministry had written to the state chief secretary asking not to allow the movement of Rohingya Muslims beyond certain locations.
The letter said Rohingya are involved in crimes, anti-national activities, money laundering and procuring fake or fabricated Indian documents, according to a report on website greaterkashmir.com.
According to government figures, 1,219 Rohingya families comprising 5,107 people live in Jammu and Kashmir. Among them, 4,912 hold UNHCR cards giving them refugee status.
Hindu groups claim the number of refugees could be much higher as hundreds of thousands of Rohingya fled their native Rakhine State in Myanmar following violence and discriminatory treatment in the Buddhist-majority state.
The Myanmar government refuses to accept them as natives and considers them as migrants from Bangladesh. Estimates say some 40,000 have arrived in India, mostly living in the slums of big cities like Mumbai, Delhi and Hyderabad.
Kashmir's pro-Hindu parties accuse Rohingya refugees of sheltering separatist militants, allegedly funded by Pakistan, and being involved in terrorism and illegal activities.
The instruction came when a coalition of the BJP and the regional Peoples Democratic Party was ruling the state. The BJP withdrew support for the government on June 19, resulting in the state coming directly under federal rule.
BJP leaders have been demanding immediate repatriation of all Rohingya refugees, saying they support Muslim groups fighting to free the region from Indian rule.
BJP leader Kulvinder Gupta accused the Rohingya of being involved in the February suicide attack on Sunjuwan army camp that killed 10 people — six army personnel, one civilian and three insurgents.
BJP state president Ravinder Raina supported the government move. "Our stand is very clear. We want Rohingya to move out of the state. The situation is already volatile and the presence of such suspicious elements could put the state at risk," he told ucanews.com.
However, Muslim groups have objected to such assertions, terming them as part of a deeper conspiracy against Muslims.
"These refugees have already lost everything and now the government is inventing new ways to harass them," said Shakeel Ahmad, a social activist based in Kashmir.
He said surveillance is a ploy to coerce refugees to leave. "It is no longer political. It has now been made an administrative issue and a problem of national security. Such a process will expose the refugees to greater threats and intimidation," he said. Rights activists and officials said the change of government will only make the move against the Rohingya tougher as the state now comes directly under federal rule.
"Now the administration has to report to New Delhi about actions taken," said a senior state government official who asked to remain anonymous.
Altaf Ahmad Khan, a senior lawyer and rights activist, told ucanews.com that "the core focus" of the BJP will be its anti-Muslim stance because it can turn that into votes in the 2019 general election.
"The stricter the action the BJP takes against these already ill-fated Rohingya, the more it will hope for good Hindu votes. This is what it has been doing so far," Khan said.
https://www.ucanews.com/news/india-to-put-rohingya-refugees-under-surveillance/82608
--------
Shia board chief donates for Ram temple
Jun 25, 2018
LUCKNOW: Chairperson of the UP Shia Central Waqf Board (UPSWB), who recently also formed a political party donated Rs 10,000 for the construction of the Ram temple in Ayodhya while visiting the temple construction workshop on Sunday. Rizvi was in Ayodhya to meet and greet Mahant Nritya Gopal Das, the president of Ramjanmbhoomi Nyas, on his birth day.
He also said that extremist Muslims are free to "debar me from Islam for this, like they always do.' Rizvi said that his contribution was only a beginning and once the construction for the Ram temple at the disputed site begins, several secular Muslims would and should be donating huge sums of money.
By my status, I have made my first contribution for Ram temple," he said while addressing the media in Ayodhya.
Full report at:
https://timesofindia.indiatimes.com/city/lucknow/shia-board-chief-donates-for-ram-temple/articleshow/64726816.cms
--------
Cops seek to ensure low-key funeral of terrorists in J&K
Bharti Jain
Jun 25, 2018
NEW DELHI: While there is no change in policy under governor's rule in Jammu and Kashmir on handing over bodies of local terrorists killed in anti-terror operations to their families, J&K police are ensuring that their funerals remain uneventful with only close relatives and limited number of people from the village in attendance.
"The bodies of all four Islamic State-influenced terrorists killed in Anantnag on Friday were handed over to their respective families. Mobile internet services in the home village/town of the slain terrorists as well as adjoining areas were suspended to rule out efforts to mobilise large crowds by playing on emotions. Access routes to the village were monitored by J&K police personnel to ensure that outsiders did not converge in huge numbers at the funeral site. As a result, the funerals of all four terrorists, including two from Anantnag and one each from Srinagar and Pulwama, were understated, quiet affairs with no open celebration of their 'martyrdom' or flashing of Islamic State flags," an officer of the security establishment in J&K said.
When contacted, J&K DGP Shesh Paul Vaid acknowledged that a "lot of effort" had gone to ensure peaceful last rites of the four ISJK terrorists. He added that J&K police was following standard operating procedures for cordon-and-search operations by making sure that terrorists engaged in encounters were given a fair opportunity to surrender before being neutralised. "That is why in the encounter in Kulgam on Sunday, one of the terrorists, a local Kashmiri who had joined Lashker-e-Taiba barely two months ago, agreed to surrender along with his weapons," Vaid said.
There is a view within BJP that bodies of local Kashmiri terrorists killed in counter-terror operations should not be handed over to their families and instead be buried at the village/town where the encounter took place. This, argue some party leaders, will ensure that funerals do not become a forum to eulogise slain terrorists as 'martyrs', fan hatred against security forces, radicalise young Kashmiris gathered at the funeral site and recruit them into terror outfits.
Full report at:
https://timesofindia.indiatimes.com/india/cops-seek-to-ensure-low-key-funeral-of-terrorists-in-jk/articleshow/64725477.cms
--------
Communal clashes might break out in Karnataka if Haj Bhavan named after Tipu Sultan: BJP leader KG Bopaiah
June 25, 2018
The row over plans to rename 'Haj Bhavan' in Bengaluru after Tipu Sultan, the 18th-century ruler of the Mysore kingdom, shows no signs of ending with BJP leader K G Bopaiah saying his party wanted it renamed after late President APJ Abdul Kalam.
"Our party leaders, including B S Yeddyurappa, who is our state BJP president, want Haj Bhavan renamed after Abdul Kalamji, instead of Tipu Sultan," he told PTI.
Bopaiah, a former Speaker, fears that communal clashes might break out across Karnataka if the state government renames Haj Bhavan after Tipu Sultan.
The BJP leader was replying to a query on Minority Welfare and Wakf Minister B Z Zameer Ahmed Khan's June 22 statement that he would discuss with the chief minister the demand for renaming of Haj Bhavan to 'Hazrat Tipu Sultan Haj Ghar'.
Khan had said that officials at a recent Haj committee review meeting told him there were several requests to rename the Haj Bhavan, which accommodates Haj pilgrims, and that he would discuss it with the chief minister.
The BJP is opposed to the plan to rename Haj Bhavan, saying it was a building for the entire Muslim community and not just for Tipu's followers.
Senior BJP leader and former deputy chief minister R Ashoka had said Haj Bhavan was among the development projects of the Yeddyurappa government and that Congress was now trying to 'hijack' it by naming it after Tipu.
Full report at:
https://indianexpress.com/article/india/communal-clashes-might-break-out-in-karnataka-if-haj-bhavan-named-after-tipu-sultan-bjp-leader-kg-bopaiah-5232288/
--------
J&K encounter: LeT commander among two killed, one surrenders
by Bashaarat Masood
June 25, 2018
Two militants, including a top Lashkar-e-Toiba (LeT) commander, were killed during a gunfight with security forces, while another "surrendered" in Kulgam district of south Kashmir on Sunday, police said.
According to the police, the terror outfit's divisional commander, Shakoor Ahmad Dar, was killed in the operation. Categorised as A+ militant, Dar was on a list of most-wanted militants that was released by the security agencies recently. A resident of Tengpora in Kulgam, he had joined militant ranks in September 2016 after the killing of Hizbul commander Burhan Muzaffar Wani. DGP S P Vaid has confirmed that Dar was the divisional commander of LeT.
The second militant killed in the gunfight has been identified as Muaviya, a Pakistani national.
A joint team of J&K Police, Special Operations Group (SOG), Army and the paramilitary forces had cordoned off Chadder village in Kulgam's Qaimoh on Sunday following inputs about presence of militants in the area. As the security forces started combing operations in the village, the militants opened fire at the security forces, which triggered a gunfight, the police said.
A third militant, who was injured in the gunfight, "surrendered" before the forces. Police sources identified him as Shakir Ahmad, a local, who had joined militant ranks two months ago.
"…security forces once again motivated a local youth, who had recently joined the terrorist cadre, to surrender today in Kulgam," said Defence spokesman Col Rajesh Kalia.
Meanwhile, several youths from Qaimoh and surrounding villages took to streets and lobbed stones at security personnel soon after they launched search operations. Yawar Ahmad (23), resident of Gassipora, was killed as security forces opened fired to quell protests. Over two dozen protestors were also injured in the clash.
Full report at:
https://indianexpress.com/article/india/jk-encounter-let-commander-among-two-killed-one-surrenders-5231850/
--------
Pakistan denies allegation of preventing Indian envoy from visiting Gurdwara
June 24, 2018
Rejecting the allegations that Indian High Commissioner Ajay Bisaria was denied access to a famous Sikh Gurdwara near Islamabad, Pakistan on Sunday said the diplomat had agreed to cancel his visit following the protests by the Sikh pilgrims against the release of controversial movies in India.
The response from Islamabad came a day after India summoned Pakistan's Deputy High Commissioner in New Delhi Syed Haider Shah and lodged a strong protest over the denial of access to its envoy in Islamabad and consular officials to visit Gurdwara Panja Sahib and meet visiting Indian pilgrims.
Reacting to the incident, Indian envoy Bisaria said he was not allowed to meet the Indian pilgrims and added that the matter has been taken up with Pakistan. "I was not allowed to go in to meet with the Indian pilgrims (visiting the Gurdwara Panja Sahib near Islamabad) which is a normal diplomatic duty of an envoy. It has been taken up at all levels. We hope such things are not repeated," Bisaria was quoted as saying by ANI.
New Delhi also conveyed to the Pakistan side that preventing the Indian High Commission officials from discharging their consular responsibilities was in violation of the Vienna Convention on Diplomatic Relations of 1961, and the 1974 bilateral Protocol on visit to religious shrines. This was the second consecutive time Pakistan has denied access to the Indian High Commissioner to meet the Indian pilgrims.
Earlier in the day, Foreign Office spokesman Dr Mohammad Faisal tweeted that Sikh pilgrims "were protesting against maltreatment in India & release of controversial movies." He said the Indian high commissioner agreed to cancel his visit after being informed about the heightened pilgrim sentiments.
He also said that more than 300 Indian Sikhs are visiting Pakistan for the death anniversary of Raja Ranjit Singh and a special train was arranged from Attari to Wagah for the Sikh yatris "who are always welcome to Pakistan for their religious and cultural ceremonies".
Full report at:
https://indianexpress.com/article/india/pakistan-rejects-allegation-of-preventing-indian-envoy-from-visiting-gurduwara-5231575/
--------
Pakistan
MMA seeks votes to impose Sharia in country
Nader Buneri
June 25, 2018
PESHAWAR - Muttahida Majlis-e-Amal central leader Maulana Fazlur Rehman said on Sunday that the Islamic world was adhering great hopes from Pakistan and the day was not far when Pakistan would come up to their expectations to lead the Islamic world.
"Real change will come through the imposition of Islamic laws in the country and if Muttahida Majlis Amal was given the opportunity in July 25 elections, we will impose Islamic Sharia in the country," he said while addressing the first ever election rally in Peshawar.
He congratulated the success of Recep Tayyip Erdogan in Turkish is presidential elections and hoped that the Turkish president would keep up his efforts for the unity of the Islamic world. He said that alliance of the religious political parties was the need of the hour and through this alliance, the religious parties would succeed to form a government.
He urged the masses to consider their vote as a sacred trust and elect those who were really sincere to the country. He said that the economy Khyber-Pakhtunkhwa has baldy suffered during the PTI government tenure and it would take time to restore the old glory of the Peshawar city.
He said that their rivals were preaching western agenda in Pakistan but they would not succeed in their mission. He said that the MMA would foil the designs of those who put hurdles in the way of imposing Islamic laws and were introducing western culture to the country.
"We want to make Pakistan more modern, developed and true welfare Islamic state," the MMA leader said. He said that they would lay the foundation for an independent and sovereign country, where everyone will get free and speedy justice.
He said that western powers want to snatch their freedom and push them towards anarchy but with the help of Allah Almighty, no one could defeat the Islamic ideology and Muslims could better defend their life and honour.
Addressing on the rally, JI chief Sirjul Haq said the 'status-quo' politics has nurtured since the inception of the country. He said the country's debt had escalated to $185 billion during last 70-years. He alleged the rulers had received loans in the name of Pakistan but accumulated it in their foreign accounts.
He said corruption was rampant in the country. He added that major issues like energy crisis, provision of clean drinking water, best health and education facilities to everyone and establishment of better road-infrastructure raimed unresolved.
He added that the MMA would generate employment opportunities for the youth and those who were unemployed would be given special allowances while five percent of the budget would be allocated for education.
"We have failed to establish Pakistan as an independent and sovereign country during last 72 years," he lamented. He said that the MMA's prime objective was to make Pakistan a true Islamic welfare country, followed by elimination interest-based economic system, raising the core issues of Kashmir and Palestine, bringing back the looted national wealth to the country as well as the provision of other basic amenities to the masses.
He said that the MMA was Islamic alliance aimed to make Pakistan an Islamic welfare state and get the country rid of international agents.
https://nation.com.pk/25-Jun-2018/mma-seeks-votes-to-impose-sharia-in-country
--------
Previous provincial govt destroyed KP's economy: Maulana Fazl
Jun 25 2018
PESHAWAR: Muttahida Majlis-e-Amal (MMA) leader Maulana Fazlur Rehman claimed that the Khyber Pakhtunkhwa's economy has been completely destroyed by the previous provincial government.
Addressing a public rally at Ring road, Rehman said that the PTI government indebted the people of the province by Rs325 billion.
"The Muslim world looks towards Pakistan for the resolution of persisting issues," he said to a charged crowd, adding, "change will only come if we raise the flag of Islam in country."
The Jamiat Ulema-e-Islam F chief also congratulated Tayyap Erdogan on the recently-held polls in Turkey.
Earlier Jamaat-e-Islami Chief Siraj-ul-Haq addressed the gathering, saying that the public needs to get the country rid of corrupt mafia through vote.
He said that the leaders of the parties included in the coalition don't have their names in Panama.
The JI emir said that the National Accountability Bureau failed to hold accountable corrupt people and now public will do it.
Siraj said that the coalition will implement Shariah in the country even if its given a-day to govern the country.
"We need real democracy here not a Lotacracy," he said.
MMA introduces 12-point election manifesto
On June 5, the revived religious political parties' alliance had announced its 12-point manifesto for general elections 2018.
Addressing a press conference, the MMA leader Maulana Fazlur Rehman said that the alliance's manifesto includes implementation of Nizam-e-Mustafa (PBUH), safeguarding all Islamic provisions in the constitution, empowered parliament, ensuring free and fair judiciary and devolution of power.
"A dignified and independent foreign policy will be ensured in the country if the people of Pakistan choose MMA in coming polls," Rehman added, "new provinces should not be made on ethnic and linguistic basis but the alliance won't oppose any movement calling for new provinces."
The MMA leader said that education, provision of employment and abolition of unnecessary direct and indirect taxes, and subsidy on necessity items have been prioritised by the alliance.
Rehman said that the religious alliance would ensure construction of new dams, effective mechanism for generation and distribution of power and will make a concrete strategy to counter India's aggression over water supply to Pakistan.
"We stand for giving employment opportunities to the native population in CPEC projects and for farmer-friendly policies," he said.
Responding to a question over the ongoing case in the Supreme Court on his security protocol, Rehman challenged Chief Justice of Pakistan to swap his security protocol with him.
Full report at:
https://www.geo.tv/latest/200535-kp-economy-destroyed-by-previous-provincial-govt-maulana-fazl
--------
Pakistan elections: Independent candidate declares over Rs 400 billion in assets
Jun 24, 2018
ISLAMABAD: An independent candidate contesting the National Assembly and Punjab province elections in Pakistan has declared around Rs 403 billion in assets, according to a media report.
Mohammad Hussain Shaikh, contesting from NA-182 and PP-270 in Muzaffargarh, claims that he owns land comprising almost 40 per cent of Muzaffargarh city as well as the Lang Malana, Taliri, Chak Taliri and Latkaran areas, Dawn reported.
He claims that the land had previously been disputed, but a Supreme Court bench comprising the chief justice, Justice Faisal Arab and Justice Umar Atta Bandial recently decided in his favour in a case that had went on for around 88 years, the paper said. Shaikh said the land owned by him was worth approximately Rs 403.11 billion.
His nomination papers also state the worth of the previously disputed land at between Rs 300 and Rs 400 billion, in addition to other pieces of land valued in tens of millions of rupees.
Shaikh is now the richest candidate according to details of assets declared in the nomination papers that have come forward so far.
Full report at:
https://timesofindia.indiatimes.com/world/pakistan/pakistan-elections-independent-candidate-declares-over-rs-400-billion-in-assets/articleshow/64717841.cms
--------
The militancy threat to 2018 general elections should not be taken lightly
June 25, 2018
THERE have been numerous successes in the long fight against militancy and the country is undeniably more stable and secure than it was just a few years ago. But two events in recent days have indicated that past and present achievements will not automatically guarantee continuing and future success in the long war.
The killing of several militants in South Waziristan, who according to security officials allegedly returned to Pakistan from Afghanistan along with other recently returning refugees, has underlined the difficult of fully securing a region where a major military operation was carried out nearly a decade ago.
Meanwhile, the banned TTP in exile quickly identifying and seemingly arriving at a consensus for a new leader, Noor Wali Mehsud, has underlined that the mere elimination of a senior militant leader will not necessarily lead to an unravelling of the group. Indeed, the Pakistani security and intelligence apparatus will need to be on the highest alert in the days and weeks ahead. New militant leaderships often need to demonstrate a willingness and ability to launch terrorist attacks and the case of the current TTP head may be no different.
The upcoming general election and what is expected to be frenetic campaigning in the final weeks ahead of the election will surely be the target of militants.
The challenge for the state to hold elections in a climate relatively free from the threat of militant violence will be immense. But the accumulated experience of a decade of regularly scheduled elections, counter-insurgency campaigns and counterterrorism operations ought to help the state in providing stability and security.
It is hoped that the ECP and the caretaker governments will work closely and effectively with political parties to coordinate election-related activities. Mutual cooperation is in everyone's interest.
The path to addressing the longer-term threat that the TTP presents is clear. Reciprocal steps between Pakistan and the Afghan government, supported by the US in particular, for regional peace and stability are needed.
The US has helped Pakistan by eliminating several successive Pakistani militant chiefs in drone strikes, but it has been inconsistent in its policies in the region and has put too much of an onus on this country to 'do more' at all times.
A short-lived Afghan Taliban ceasefire at the end of Ramazan, however, illuminated the possibilities of peace in Afghanistan. The memorable images of Afghan government officials and security personnel embracing members of the Afghan Taliban demonstrated, albeit briefly, that a better future for Afghanistan is within grasp.
Full report at:
https://www.dawn.com/news/1415943/the-militancy-threat
--------
JUI-F workers, elders protest Fata-KP merger
June 25, 2018
LANDI KOTAL: Activists of Jamiat Ulema-i-Islam-F and tribal elders affiliated with Fata Grand Alliance demonstrated here on Sunday against the merger of the tribal region with Khyber Pakhtunkhwa.
Speaking on the occasion, JUI-F candidate from NA-43 Mufti Ejaz, Malak Salahuddin, Mirajuddin Shinwari and Malak Abdur Razzaq said that the merger plan would deprive tribal students of their legitimate quota in educational institutions, professional colleges and of jobs.
They said the Khyber Pakhtunkhwa government in connivance with the federal government wanted to unlawfully take control of unexplored natural resources of tribal areas.
The speakers said the merger was imposed on the people at the behest of some foreign powers and that the tribesmen would not succumb to any pressure. They said the tribesmen wanted either an independent legislative council or a separate province instead of the region's merger with KP.
They said the tribesmen would start demonstrations in Fata and all major cities of Pakistan if the merger plan was not reversed.
Full report at:
https://www.dawn.com/news/1415886/jui-f-workers-elders-protest-fata-kp-merger
--------
ECP unable to ascertain if contestants have ties to terrorism
Jun 25, 2018
ISLAMABAD: The Election Commission of Pakistan (ECP) lacks a proper mechanism to determine if candidates contesting in the upcoming general elections are included in the Fourth Schedule list (involvement/suspicion for involvement in terrorism), a local media outlet reported on Sunday.
The National Counterterrorism Authority (NACTA) which holds the relevant data and the Federal Investigation Agency (FIA) which analyses the candidates, has not yet been approached by the ECP.
NACTA chief Ihsan Ghani accused provincial home departments, arguing that they held the updated data while an ECP official blamed the FIA, saying that the agency should know if someone is placed on the list.
A meeting between ECP and NACTA official was agreed to but the subject of the discussion was to determine security threats against particular candidates.
However, an FIA official said that the agency had not yet been requested by the ECP to provide information on candidates placed on the Fourth Schedule list.
A list from May, 2018 shows that a total of 7,779 people and 4,808 bank accounts were mentioned in the list.
Full report at:
https://www.pakistantoday.com.pk/2018/06/25/ecp-unable-to-ascertain-if-contestants-have-ties-to-terrorism/
--------
Southeast Asia
New Umno Youth chief pledges moderate approach to Islam
24 Jun 2018
KUALA LUMPUR: Newly-elected Umno Youth chief Datuk Dr Asyraf Wajdi Dusuki (pic) said he faced an "uphill battle" when campaigning for the post.
"It was a daunting and uphill battle as I was considered as an outsider to the wing.
"But when I announced my candidacy, everyone volunteered and teamed up to form WhatsApp groups. It was a very organic machinery," he told reporters at a press conference at the Umno headquarters at Putra World Trade Centre (PWTC) here on Sunday (June 24). The results of the party youth wing polls is an indication that grassroot members wanted change, he noted.
Dr Asyraf, who was a deputy minister in the Prime Minister's Department in charge of Islam, vowed to adopt a moderate approach towards Islam.
"Umno has been preaching Islam, but not the version preached by PAS.
"We need to explain to the people that we have never preached an extreme version of Islam," he said.
He cited Sabah as example of where Umno has to adopt a more "flexible approach" in managing the state.
"It is not all Islam in Sabah as you can see the different faces of Malaysia.
"The new Tenom Umno Youth leader (in Sabah), for example, is a Christian," he said.
On Umno losing ground in the polls, Dr Asyraf opined the party lost support because it was viewed as arrogant and corrupted.
"While the people were complaining about the high cost of living, some people were living in luxury.
"Whether it is right or wrong, that has become the perception of the people," he said.
He stressed that leaders "must not only be clean but seen to be clean" by the rakyat.
He noted that Umno is now the Opposition and owes a responsibility to the rakyat to be an effective check and balance to the new Pakatan Harapan government.
Meanwhile, new Wanita Umno chief Dr Noraini Ahmad thanked the outgoing chief Tan Sri Shahrizat Jalil for her contributions to the wing.
"Wanita is the backbone of Barisan, and I vow to continue the legacy that was left behind by Shahrizat," she said.
"I will face a hard challenge, and work to return the trust of the rakyat to Umno, the party we love," said Dr Noraini.
"We are no longer the government, but we will continue moving forward," she added.
https://www.thestar.com.my/news/nation/2018/06/24/new-umno-youth-chief-pledges-moderate-approach-to-islam/
--------
Anwar: Erdogan's win a victory for the Islamic world
25 Jun 2018
PETALING JAYA: PKR adviser Datuk Seri Anwar Ibrahim has hailed Turkish President Recep Tayyip Erdogan's recent electoral win as a "victory for the Islamic world".
In a letter congratulating Erdogan on winning a second term in the recent presidential election, Anwar said Turkey's progress and its place in the world would be more assured under Erdogan's "dynamic stewardship".
"I am also convinced that your victory is also a victory for the Islamic world in portraying a modern and progressive face of Islam that embraces change while not compromising on the values of our faith and the fundamental teachings of the Holy Prophet," he said.
Anwar also congratulated the people of Turkey for their peaceful participation in their nation's democratic process.
"The resounding mandate given by the people is a testament to your leadership of not only Turkey, but the region during trying times," he said.
"I am convinced that your commitment to democracy, the continued betterment of the Turkish people, the promotion of peace and the eradication of subversive elements which were key election promises by the AK party contributed greatly to your victory this second time around," he added.
Under Erdogan, the Turkish government has either taken over or shut down media organisations, while thousands of people have been detained since a coup attempt in 2016.
Thanks to a referendum last year, Erdogan will assume major new powers under Turkey's new constitution, among them the power to directly appoint top public officials and to intervene in the country's judiciary.
His critics say this would place too much power in the executive, undermining the checks and balances needed for a properly functioning democracy.
Erdogan however argues that he needs this kind of authority to address the country's economic woes and to defeat Kurdish rebels.
Meanwhile, Anwar said Erdogan's declaration of "one nation, one flag, one country, one state" in his victory speech is the true mark of a statesman in bringing together opposing sides after a hard-fought election.
"As you know, we here in Malaysia too are going through an unprecedented chapter in our nation's history following the victory of my coalition party for the first time.
"Closing ranks and uniting different factions is our first task in taking our nation forward.
Full report at:
https://www.thestar.com.my/news/nation/2018/06/25/anwar-erdogan-victory-a-victory-for-the-islamic-world/
--------
Sabah Muslim group wants action against tourists caught dancing at mosque
24 June 2018
KOTA KINABALU, June 24 —The Pertubuhan Penyatuan Islam Sabah (PPIS) has called for appropriate action against the two tourists who were caught dancing in a viral video taken in front of the Kota Kinabalu City Mosque.
Its president Datuk Nani Sakam said the association had also lodged a police report against the tourists at the Kota Kinabalu police headquarters here today.
"We lodged a police report today to urge relevant quarters especially the Sabah Tourism, Culture and Environment Ministry to take appropriate action against the two individuals," he told reporters after lodging the report.
Full report at:
https://www.malaymail.com/s/1645124/sabah-muslim-group-wants-action-against-tourists-caught-dancing-at-mosque
--------
West Java Catholics have faith in Muslim mayor
June 25, 2018
It took more than 17 years for St. Clara Church to get its permit and final approval from the municipal authorities in Bekasi, West Java.
One of those who fought hard to get support from local Muslims was Antonius Giri Martanto, who now sits on the parish council. He said it was quite an ordeal.
To legally build a church in Indonesia one requirement is to win approval from local Muslims, which means gathering at least 60 signatures as an endorsement of support.
"Intolerant groups, however accused us of many things to stop us being becoming legal, including forging the signatures," he told ucanews.com.
As a result local Catholics' efforts to build a church dragged on for years.
However, they were rewarded when the Mayor of Bekasi, Rahmat Effendi, finally approved the permit in 2015. It paved the way for the construction of the church and other facilities.
Effendi, 54, was elected mayor in 2013, but despite harboring hopes of change, Catholics were also wary because previous mayors were not willing to defy hardliners.
Luckily, Effendi was made of sterner stuff and "looked into our appeals personally and led the signature verification team," Martanto said.
He wanted to know every detail of the permit application process to make sure it abided by a 2006 joint ministerial decree on the establishment of worship places, which stipulated the 60-signature rule.
He discovered that the original signatures collected by church officials in 1999 were valid, not fabricated as claimed by hard-line groups.
However, even as construction of St. Clara Church began, groups such as the notorious Islamic Defenders Front (FPI) continued to protest. During a protest in March 2017, several people were injured, including five policemen.
Effendi confronted the hardliners and defended the church, saying it would be better to shoot him rather than demand he revoke the permit.
That commitment won the overwhelming support of Catholics, according to Martanto, adding that they will be fully behind him in upcoming elections on June 27.
Bekasi has a population of 2.4 million, mostly Muslims, while Protestants comprise 196,000 and Catholics about 71,000, of which 9,400 go to St. Clara Church.
Against the odds
Two years ago, according to a study by the Setara Institute for Democracy and Peace, Bekasi ranked second worst, or 93rd on a list of 94 of Indonesia's most intolerant cities.
Bogor, also in West Java province was the worst.
However, Effendi has transformed the city's bad image.
Last year Bekasi's ranking improved significantly, coming in at 53, while nearby Jakarta dropped due to Muslim protests against former Christian governor Basuki Tjahaja Purnama.
According to Walili, a researcher at the Setara Institute, the improvement was down to Effendi who stood up to defend the constitutional rights of the people.
Defending the rights of the St. Clara Catholics was a bold move considering the level of intolerance minority religions faced by hardliners who wanted to make Bekasi a kota santri, or Muslim city, he said.
Many more local leaders like are needed, he added.
Since being elected mayor, Effendi has pledged to make Bekasi a city of tolerance and peace, and eliminate the oppression by the majority over minorities.
According to Effendi "diversity is irresistible and everyone must accept and live with it."
Last year the National Human Rights Commission (Komnas HAM) presented him with an award his for his "unceasing efforts to transform Bekasi into a multi-religious friendly city."
Abdul Manan, head of the local chapter of the Interfaith Harmony Forum also praised Effendi for transforming the city and educating people about diversity.
Reverend Pati Stefanus Ginting of the Synod of Gospel Churches of Indonesia, said Effendi is a true leader who wants to serve and make all people safe.
"Effendi once said that he is like a bus driver, who does not ask people's ethnic, race or religion when he picks them up, but just drives them to their destination," he said.
Islam for all
Effendi says he steadfastly defends Indonesia's pluralistic society because it is a God-given reality for its people.
He said public office to him is a means to promote the so-called Islam of rahmattan lil alami, or Islam for all mankind.
"My conviction is that the Prophet Muhammad was asked by God to mend the broken behavior of people, and this applies even up to now," said Effendi.
"He inspires me to continue to stand for something fundamental for other people."
He strongly criticized other Muslims who think that they are better than others and take the law into their hands, which he said were acts of anarchy.
Supported by nationalist parties
On June 27, about 160 million Indonesians will head to the polls to elect 17 new governors as well as more than 150 district heads and mayors.
Effendi is seeking a second term and many issues such as unemployment, education and poverty need to be addressed.
But for Christians, freedom of religion is a major concern and they are pinning their hopes on Effendi who is supported by parties defending pluralism, including the Golkar Party and President Joko Widodo's Indonesian Democratic Struggle Party (PDIP)
His rival, however, is supported by more Islamic-centered groups, such as the Prosperous Justice Party (PKS) and Great Indonesia Movement Party (Gerindra), led by former presidential candidate, Prabowo Subiyanto.
In May, the PKS was accused of harboring extremists.
Besides electing a new mayor, voters in Bekasi will also elect new West Java governor. The province is known as a stronghold for conservative and radical Muslims, and recorded the most acts of intolerance in Indonesia according to a 2016 study by the Wahid Foundation.
Full report at:
https://www.ucanews.com/news/west-java-catholics-have-faith-in-muslim-mayor/82578
--------
Malaysian-Saudi relations: A lesson in the pitfalls of authoritarianism and autocracy
June 24, 2018
By Dr. James M. Dorsey
Embattled former Malaysian prime minister Najib Razak was the main loser in last month's election upset that returned Mahathir Mohamad to power as his country's anti-corruption crusader. Yet, Mr. Razak is not the only one who may be paying the price for allegedly non-transparent and unaccountable governance.
So is Saudi Arabia with a Saudi company having played a key role in the 1Malaysia Development Berhad (1MDB) scandal in which Mr. Razak is suspected to have overseen the siphoning off of at least US$4.5 billion and the Saudi government seemingly having gone out of its way to provide him political cover.
While attention has focussed largely on the re-opening of the investigation of Mr. Razak and his wife, Rosmah Mansor, both of whom have been banned from travel abroad and have seen their homes raided by law enforcement, Saudi Arabia has not escaped policymakers' consideration. Mr. Razak has denied all allegations of wrongdoing.
The geopolitical fallout of the scandal is becoming increasingly evident. Defence Minister Mohamad Sabu suggested this week that Malaysia was re-evaluating the presence of Malaysian troops in Saudi Arabia, dispatched to the kingdom as part of the 41-nation, Saudi-sponsored Islamic Military Counter Terrorism Coalition (IMCTC).
"The ATM (Malaysian Armed Forces) presence in Saudi Arabia has indirectly mired Malaysia in the Middle East conflict… The government will make a decision on the matter in the near future after a re-evaluation has been completed," said Mr. Sabu, who is known for his critical view of Saudi Arabia.
In a commentary published late last year that suggests a potential Malaysian re-alignment of its Middle Eastern relationships, Mr. Sabu noted that Saudi wrath has been directed "oddly, (at) Turkey, Qatar, and Iran…three countries that have undertaken some modicum of political and economic reforms. Instead of encouraging all sides to work together, Saudi Arabia has gone on an offensive in Yemen, too. Therein the danger posed to Malaysia: if Malaysia is too close to Saudi Arabia, Putrajaya would be asked to choose a side."
Putrajaya, a city south of Kuala Lumpur, is home to the prime minister's residence.
Mr. Sabu went on to say that "Malaysia should not be too close to a country whose internal politics are getting toxic… For the lack of a better word, Saudi Arabia is a cesspool of constant rivalry among the princes. By this token, it is also a vortex that could suck any country into its black hole if one is not careful. Indeed, Saudi Arabia is governed by hyper-orthodox Salafi or Wahhabi ideology, where Islam is taken in a literal form. Yet true Islam requires understanding Islam, not merely in its Quranic form, but Quranic spirit."
Since coming to office, Mr. Sabu has said that he was also reviewing plans for a Saudi-funded anti-terrorism centre, the King Salman Centre for International Peace (KSCIP), which was allocated 16 hectares of land in Putrajaya by the Razak government. Mr. Sabu was echoing statements by Mr. Mahathir before the election.
Compounding potential strains in relations with Saudi Arabia, Seri Mohd Shukri Abdull, Mr. Mahathir's newly appointed anti-corruption czar, who resigned from the Malaysian Anti-Corruption Commission (MACC) in 2016 as a result of pressure to drop plans to indict Mr. Razak, noted that "we have had difficulties dealing with Arab countries (such as)…Saudi Arabia…"
The investigation is likely to revisit 1MDB relationship's with Saudi energy company PetroSaudi International Ltd, owned by Saudi businessman Tarek Essam Ahmad Obaid as well as prominent members of the kingdom's ruling family who allegedly funded Mr. Razak.
It will not have been lost on Saudi Arabia that Mr. Mahathir met with former PetroSaudi executive and whistle blower Xavier Andre Justo less than two weeks after his election victory.
A three-part BBC documentary, The House of Saud: A Family at War, suggested that Mr. Razak had worked with Prince Turki bin Abdullah, the son of former Saudi King Abdullah, to syphon off funds from 1MDB.
Saudi foreign minister Adel al-Jubeir came to Mr. Razak's rescue in 2016 by declaring that US$681 million transferred into the prime minister's personal bank account was a "genuine donation with nothing expected in return."
The Malaysian election as well as seeming Saudi complicity in the corruption scandal that toppled Mr. Razak has global implications, particularly for the United States and China, global powers who see support of autocratic and/or corrupt regimes as the best guarantee to maintain stability.
It is a lesson that initially was apparent in the 2011 popular Arab revolts that toppled the leaders of Tunisia, Egypt, Libya and Yemen.
The rollback of the achievements of most of those revolts backed by autocratic leaders in Saudi Arabia and the United Arab Emirates bent on reshaping the Middle East and North Africa in their mould has contributed to the mayhem, violence and brutal repression engulfing the region.
In addition, autocratic rule has failed to squash widespread economic and social discontent. Middle Eastern states, including Algeria, Morocco, Egypt, Lebanon Iran, and most recently Jordan have witnessed protests against rising prices, cuts in public spending and corruption.
"The public dissatisfaction, bubbling up in several countries, is a reminder that even more urgent action is needed," warned Christine Lagarde, the managing director of the International Monetary Fund (IMF).
Elections, if held at all, more often than not fail to serve as a corrective in the Middle East and North Africa because they are engineered rather than a free and fair reflection of popular will. Elections in countries like Iraq and Lebanon serve as exceptions that confirm the rule while Iran represents a hybrid.
As a result, street protests, militancy and violence are often the only options available to those seeking change.
Against that backdrop, Malaysia stands out as an example of change that does not jeopardize stability. It is but the latest example of Southeast Asian nations having led the way in producing relatively peaceful political transitions starting with the 1986 popular revolt in the Philippines, the 1998 toppling of Suharto in Indonesia, and Myanmar's 2010 transition away from military dictatorship.
This is true even if Southeast Asia also demonstrates that political transition is a decades-long process that marches to the tune of Vladimir Lenin's principle of two steps forward, one step backwards as it witnesses a backslide with the rise in the Philippines of President Rodrigo Duterte's authoritarianism, stepped up jihadist activity, the 2014 military coup in Thailand, increasingly autocratic rule in Cambodia, the rise of conservatism and intolerance in Indonesia, and the plight of the Rohingya in Myanmar.
If anything, Malaysia constitutes an anti-dote.
Full report at:
https://moderndiplomacy.eu/2018/06/24/malaysian-saudi-relations-a-lesson-in-the-pitfalls-of-authoritarianism-and-autocracy/
--------
Hottest contest being fought in Indonesia's most populous province
Jun 25, 2018
The hottest contest in Indonesia's regional polls on Wednesday is being fought in West Java.
The province is home to more than 30 million voters - some 21 per cent of 152 million who will vote on Wednesday - and is where opposition leader Prabowo Subianto won more ballots than President Joko Widodo in the 2014 presidential race before the former lost the national popular vote.
While the gubernatorial contest is a four-way race, the front runners are clear: Bandung mayor Ridwan Kamil, 46, and his running mate, Tasikmalaya regent Uu Ruzhanul Ulum, 49; and the pair of veteran actor Deddy Mizwar, 63, and Purwakarta regent Dedi Mulyadi, 47.
The Ridwan/Uu pair is backed by political party NasDem, founded by Mr Joko's closest ally and media magnate Surya Paloh, as well as the National Awakening Party (PKB), United Development Party (PPP) and the nationalist Hanura Party.
Mr Ridwan earned a master's degree in urban design from the University of California, Berkeley. In 2006, he was the Indonesian winner of the British Council's Young Creative Entrepreneur award, and was awarded architect of the year by Elle Decor magazine three years later.
In 1994, he was selected as a Singapore International Foundation-Asean fellow and spent time at the National University of Singapore (NUS). "My stint as an exchange student in NUS was the first time I had ventured out of Indonesia," Mr Ridwan wrote in an article published by The Jakarta Post in August 2015.
The architect was based in New York, San Francisco and Hong Kong, and has worked on major projects around the world. His projects include being involved in planning work to develop an urban area in Singapore that would later be known as the Marina Bay Waterfront Promenade.
The Deddy/Dedi pair is backed by Golkar, Indonesia's second-largest political party, and former president Susilo Bambang Yudhoyono's Democratic Party.
Mr Deddy was until recently West Java deputy governor and widely believed to be the vote-getter in his electoral win with governor Ahmad Heryawan five years ago, when they were backed by the Islam-leaning Prosperous Justice Party (PKS).
The actor, who regularly plays the role of an Islamic cleric in movies and advertisements, had earlier hoped to get the backing of PKS and Mr Prabowo's Gerindra for the polls, but never saw it realised.
The Ridwan/Uu and Deddy/Dedi pairings are seen to be largely inclined to support Mr Joko's re-election bid next year.
The latest poll by Saiful Mujani Research Centre showed the Ridwan/ Uu pair with 43.1 per cent support, and Deddy/Dedi with 34.1 per cent.
Full report at:
https://www.straitstimes.com/asia/se-asia/hottest-contest-being-fought-in-indonesias-most-populous-province
--------
Mideast
Iranians urged to unite to counter US 'economic war'
Jun 24, 2018
First Vice President Es'haq Jahangiri has called on all Iranians to close ranks and counter a "serious economic war" launched by the United States against the Islamic Republic.
"The Americans, in their opinion, have begun a serious war against our country, thinking they can succeed in crippling our economy so that Iran, in the words of the US president, is forced back to the negotiating table," Jahangiri said Sunday.
US President Donald Trump has left a landmark nuclear deal with Iran and called for fresh negotiations to include the Islamic Republic's missile capabilities and its role in the Middle East, which Tehran has rejected.
"Under the circumstances, all state officials including the government, Majlis, the elite and political currents and all Iranian people are required to unite against the big plot which has started and help pass this stage with dignity and fulfillment."
Jahangiri said one of the areas "on the enemy's agenda to strike" is Iran's transportation sector, where aviation, shipping and indemnity insurance are the first to come under sanctions when the US reimposes them on the country.
Last month, Trump announced Washington's exit from the 2015 nuclear deal, officially called the Joint Comprehensive Plan of Action (JCPOA), and vowed to impose "the highest level" of economic bans on the Islamic Republic.
US Secretary of State Mike Pompeo also threatened Iran with the "strongest sanctions in history" if it did not comply with a list of steep demands, including ending uranium enrichment.
Jahangiri further underlined the need for swift action and decision-making in the the industry and commerce sectors because they deal with the people's immediate needs.
Under the JCPOA, Tehran agreed to put limits on certain aspects of its nuclear energy program in exchange for the lifting of all nuclear-related sanctions.
Iran has said it will remain committed to the deal for the time being, pending negotiations with other signatories to the JCPOA to see if Tehran's interests are protected under an accord without the US.
Iranian Deputy Foreign Minister Abbas Araqchi said on Saturday that the Islamic Republic expects the European Union to put forward by the end of June its package of proposals to save the multilateral agreement.
http://www.presstv.com/Detail/2018/06/24/565929/Iran-Eshaq-Jahangiri-JCPOA
--------
Non-Muslim religious leaders hail Erdogan's victory
24.06.2018
By Sorwar Alam
ANKARA
Religious leaders of non-Muslim communities in Turkey congratulated President Recep Tayyip Erdogan on his success in presidential and parliamentary elections on Sunday.
Istanbul's Armenian Catholic Archbishop Levon Zekiyan, Vicar of Armenian Patriarch of Turkey Aram Ateshian, the head of the Jewish Community of Turkey Ishak Ibrahimzadeh, Turkish Syriac-Catholic Church Patriarchal Vicar Orhan Canli, the head of the Armenian Foundations Union Bedros Sirinoglu, chief rabbi of the Jewish community in Turkey Ishak Haleva are among the religious leaders who congratulated Erdogan.
According to unofficial results, with 96.31 percent of ballots counted, Erdogan received 52.68 percent of the vote.
Full report at:
https://www.aa.com.tr/en/todays-headlines/non-muslim-religious-leaders-hail-erdogan-s-victory/1185887
--------
Erdogan proclaimed winner of Turkey's presidential election
June 24, 2018
ISTANBUL: President Recep Tayyip Erdogan won Turkey's landmark election Sunday, the country's electoral commission said, ushering in a new system granting the president sweeping new powers which critics say will cement what they call a one-man rule.
The presidential and parliamentary elections, held more than a year early, complete NATO-member Turkey's transition from a parliamentary system of government to a presidential one in a process started with a referendum last year.
"The nation has entrusted to me the responsibility of the presidency and the executive duty," Erdogan said in televised remarks from Istanbul after a near-complete count carried by the state-run Anadolu news agency gave him the majority needed to avoid a runoff.
Speaking early Monday, Supreme Election Council head Sadi Guven said 97.7 of votes had been counted and declared Erdogan the winner.
Guven said that based on unofficial results, five parties passed the threshold of 10 percent of votes required for parties to enter parliament.
Cheering Erdogan supporters waving Turkish flags gathered outside the president's official residence in Istanbul, chanting, "Here's the president, here's the commander."
"Justice has been served!" said Cihan Yigici, an Erdogan supporter in the crowd.
Thousands of jubilant supporters of the pro-Kurdish Peoples' Democratic Party, or HDP, also spilled into the streets of the predominantly Kurdish southeastern city of Diyarbakir after unofficial results from Anadolu showed the party coming in third with 11.5 percent of the legislative vote — surpassing the 10 percent threshold needed to enter parliament.
The HDP's performance was a particular success since presidential candidate Selahattin Demirtas, eight more of its lawmakers and thousands of party members campaigned from jails and prisons. HDP says more than 350 of its election workers have been detained since April 28.
The imprisoned Demirtas, who has been jailed pending trial on terrorism-related charges he has called trumped-up and politically motivated, was in third place in the presidential race with 8.3 percent of the vote, according to Anadolu.
Revelers waved HDP flags and blared car horns. One party supporter, Nejdet Erke, said he had been "waiting for this emotion" since morning.
Erdogan insisted the expanded powers of the Turkish presidency will bring prosperity and stability to the country, especially after a failed military coup attempt in 2016. A state of emergency imposed after the coup remains in place.
Some 50,000 people have been arrested and 110,000 civil servants have been fired under the emergency, which opposition lawmakers say Erdogan has used to stifle dissent.
The new system of government abolished the office of prime minister and empowers the president to take over an executive branch and form the government. He will appoint ministers, vice presidents and high-level bureaucrats, issue decrees, prepare the budget and decide on security policies.
The Turkish Parliament will legislate and have the right to ratify or reject the budget. With Erdogan remaining at the helm of his party, a loyal parliamentary majority could reduce checks and balances on his power unless the opposition can wield an effective challenge.
The president's critics have warned that Erdogan's re-election would cement his already firm grip on power and embolden a leader they accuse of showing increasingly autocratic tendencies.
Erdogan's apparent win comes at a critical time for Turkey. He recently has led a high-stakes foreign affairs gamble, cozying up to Russian President Vladimir Putin with pledges to install a Russian missile defense system in the NATO-member country.
Ince said the results carried on Anadolu misrepresented the official vote count by the country's electoral board. The main opposition party that nominated him for the presidency, the CHP, said it was waiting for an official announcement from the country's electoral board.
Erdogan also declared victory for the People's Alliance, an electoral coalition between his ruling Justice and Development Party and the small Nationalist Movement Party, saying they had secured a "parliamentary majority" in the 600-member assembly.
The unofficial results for the parliamentary election showed Erdogan's Justice and Development Party, or AKP, losing its majority, with 293 seats in the 600-seat legislature. However, the small nationalist party the AKP allied with garnered 49 seats.
"Even though we could not reach out goal in parliament, God willing we will be working to solve that with all our efforts in the People's Alliance," Erdogan said.
The president, who has never lost an election and has been in power since 2003, initially as prime minister, had faced a more robust, united opposition than ever before. Opposition candidates had vowed to return Turkey to a parliamentary democracy with strong checks and balances and have decried what they call Erdogan's "one-man rule."
A combative president, Erdogan enjoys considerable support in the conservative and pious heartland, having empowered previously disenfranchised groups. From a modest background himself, he presided over an infrastructure boom that modernized Turkey and lifted many out of poverty while also raising Islam's profile, for instance by lifting a ban on Islamic headscarves in schools and public offices.
But critics say he has become increasingly autocratic and intolerant of dissent. The election campaign was heavily skewed in his favor, with opposition candidates struggling to get their speeches aired on television in a country where Erdogan directly or indirectly controls most of the media.
Ince, a 54-year-old former physics teacher, was backed by the center-left opposition Republican People's Party, or CHP. He wooed crowds with an unexpectedly engaging campaign, drawing massive numbers at his rallies in Turkey's three main cities of Istanbul, Ankara and Izmir.
Full report at:
http://www.arabnews.com/node/1327301/middle-east
--------
In election victory speech, Erdogan says Turkey will advance in Syria
25 June 2018
Turkey will continue to "liberate Syrian lands" so that refugees can return to Syria safely, President Tayyip Erdogan said in an election victory speech on Monday.
Speaking to supporters from the balcony of his ruling AK Party's headquarters in Ankara after Sunday's presidential and parliamentary elections, Erdogan said Turkey would also act more decisively against terrorist organizations.
Erdogan won a new mandate in presidential elections in the first round of voting by winning more than half of the votes, the chief of Turkey's election authority said Monday.
"President Recep Tayyip Erdogan received the absolute majority of all valid votes," the head of the Supreme Election Committee (YSK) Sadi Guven told reporters in Ankara, without giving further details or numbers after Sunday's polls.
Results released by Turkey's state-run Anadolu news agency based on data from the YSK also gave Erdogan a clear majority of votes.
Erdogan won 52.5 percent in the presidential poll while his main rival Muharrem Ince, of the secular Republican People's Party (CHP), was on 31.7 percent, Anadolu news agency said, based on a 99 percent vote count.
Full report at:
https://english.alarabiya.net/en/News/middle-east/2018/06/25/In-election-victory-speech-Erdogan-says-Turkey-will-advance-in-Syria.html
--------
Israel fires Patriot missile at drone from Syria, but misses target
24 June 2018
The Israeli military says it fired a Patriot missile at an unmanned aircraft that approached its airspace near the Syrian frontier in the Golan Heights.
The army said on Sunday that the missile did not hit the drone, and the aircraft "retreated from the border."
It was not immediately clear who launched the drone, but in February Israel shot down what it said was an Iranian drone that entered its airspace. It bombed Iranian targets in Syria in response.
Syrian troops have launched an offensive against rebel forces in southwestern Syria, near the Israeli-occupied Golan Heights.
Israel has expressed concerns about Iranian troops supporting Syrian President Bashar Assad's forces, and says it will not allow a permanent Iranian military presence in Syria.
Full report at:
https://english.alarabiya.net/en/News/middle-east/2018/06/24/Israel-says-fires-Patriot-at-drone-from-Syria-misses-drone-quits.html
--------
Yemeni forces launch missile attack on Saudi capital
Jun 24, 2018
Yemeni troops have targeted the Saudi capital Riyadh with a ballistic missile attack while the kingdom claims to have intercepted the missiles.
Yemen's Arabic-language al-Masirah television network on Sunday announced that the missiles had hit Saudi Arabia's Ministry of Defense Information Center and several other key locations in the city.
The Saudi military claims to have intercepted the missiles.
"Two ballistic missiles fired by Huthi were intercepted over Riyadh," state-run al-Ekhbariya television said, without specifying whether there were any casualties or damage.
The Houthis have fired salvos of missiles at Saudi Arabia in recent months, including the capital Riyadh, while the kingdom launched thousands of airstrikes on Yemen, killing hundreds of civilians at hospitals, schools and markets.
Riyadh frequently reports intercepting missiles fired from Yemen, but various reports have pointed out that US-made Patriot interceptors were repeatedly failing against the counterattacks.
The Houthi movement, which is a significant aid to the Yemeni army in defending the country against the invading forces, has been running state affairs in the absence of an effective administration during the past three years.
Saudi Arabia and its allies launched the war on Yemen in March 2015 to reinstall the former Saudi-backed Hadi regime and crush the Houthi movement.
Full report at:
http://www.presstv.com/Detail/2018/06/24/565992/yemen-saudi-arabia-riyadh
--------
Erdogan and his party win Turkey's presidential and parliamentary elections
Jun 24, 2018
Recep Tayyip Erdogan and his ruling Justice and Development (AK) Party have claimed victory in Turkey's presidential and parliamentary elections.
"Our people have given us the job of carrying out the presidential and executive posts," said Erdogan in a speech from Istanbul on early on Monday.
"I hope nobody will try to cast a shadow on the results and harm democracy in order to hide their own failure," he added.
The country's main opposition party initially said that Erdogan would fall well short of a first-round victory, but after the results were announced that it would carry on its democratic struggle "whatever the result."
With 99 percent of votes counted in the presidential race, Erdogan had 52.5 percent.
Polls across the country of 81 million people officially closed at 5 pm (1400 GMT). There are no exit polls in Turkey and initial results are expected during the early evening.
Votes were cast in 180,065 polling places across the country.
Votes by Turks living abroad who cast their ballots in 60 countries at 123 embassies and consulates will be counted at the same time in the capital Ankara.
Turkey's main opposition presidential candidate Muharrem Ince said on Sunday Turkish citizens should protect ballot boxes against possible fraud by President Erdogan's ruling AK Party.
Erdogan called the snap elections, bringing forward a vote that was expected to be held in November 2019.
Six candidates were vying for the Turkish presidency. If a candidate wins just over 50 percent of the vote, he will win the presidency, but if not, there will be a runoff on July 8.
Erdogan won the last presidential election in 2014 after completing two terms as prime minister.
In April 2017, 51 percent of Turkish voters endorsed constitutional changes backed by Erdogan, which grant new executive powers to the president and scrap the post of prime minister.
Supporters of the reforms argue that they will modernize the country, but opponents fear a possible authoritarian rule.
Full report at:
http://www.presstv.com/Detail/2018/06/24/565985/turkey-erdogan-elections-win
--------
Europe
Italian troops sent to back YPG/PKK terrorists in Syria
24.06.2018
Italian troops are continuing their support in eastern Syria for the YPG/PKK terrorist group, according to local sources.
Sources in the province of Deir Ez-Zor told Anadolu Agency on Sunday that the Italian army sent 20 more soldiers to the area on Saturday evening.
According to the sources -- requesting anonymity due to security concerns -- Italian soldiers first traveled early this month from Iraq to the city of Al-Hasakah before heading to Deir Ez-Zor.
The soldiers were sent to the U.S. military base in the oil-rich Al-Omar region, the sources said.
The Italian soldiers, whose number is unknown, include military advisors who supported U.S. and French forces in anti-Daesh terrorist group operations.
To date the soldiers have not participated in any military operations against Daesh.
The Daesh terrorist group has been besieged in two separated border areas near the Iraqi border, particularly near Deir Ez-Zor and Al-Hasakah.
In May, the YPG/PKK, backed by the U.S. and France, began an anti-Daesh operation. However, no gains against Daesh have yet been made.
In its more than 30-year terrorist campaign against Turkey, the terrorist PKK has taken some 40,000 lives. The YPG/PKK is its Syrian branch.
https://www.aa.com.tr/en/europe/italian-troops-sent-to-back-ypg-pkk-terrorists-in-syria/1185173
--------
France arrests 10 ultra-right suspects over plot to attack Muslims
June 25, 2018
Paris, Jun 24 (AFP) Ten people with links to the radical far-right have been arrested by anti-terrorist police in France over an alleged plot to attack Muslims, judical sources said today.
The arrests were made Saturday in operations across France but mainly on the Mediterranean island of Corsica, the sources told AFP.
The suspects had an "plan to commit a violent act targeting people of the Muslim faith," one source close to the probe said.
Another source said the gang was looking to hit "targets linked to radical Islam".
France has been hit by a string of jihadist attacks since early 2015, often by people who have become radicalised or claim to have acted in the name of the Islamic State group.
Full report at:
https://www.indiatoday.in/pti-feed/story/france-arrests-10-ultra-right-suspects-over-plot-to-attack-muslims-1268803-2018-06-25
--------
'1,000 migrants in boats off Libya' as Italy tells rescue ships to stop
June 25, 2018
ROME - Italy's far-right Interior Minister Matteo Salvini on Sunday told foreign charities to stop rescuing migrants off Libya even as one group said 1,000 people were on boats in distress in the Mediterranean. With Italy - long the frontline in Europe's migration crisis - vowing a new hardline stance, Salvini told the aid groups to back off and let the Libyan coastguard take care of rescue operations.
"Let the Libyan authorities do their work of rescue, recovery and return (of migrants) to their country, as they have been doing for some time, without the ships of the voracious NGOs disturbing them or causing trouble," he said.
"Italian ports are and will be closed to those who aid human traffickers," he said.
Spanish group Proactiva Open Arms said it had received "seven or eight" messages alerting them to boats in distress in the Mediterranean on Sunday. "Combining all the notifications, it would add up to 1,000 people" near the coast of Libya, spokeswoman Laura Lanuza told AFP.
But she said the Italian coastguard had told the group they "weren't needed" and "the operation was being handled by the Libyan coastguard".
"If the Libyan coastguard coordinates this effort, all these people will be sent back to Libya," she said. The Libyan coastguard said it had rescued 97 migrants on Sunday and "other operations are under way", but did not give further details.
In recent weeks, Italy's new populist government has cracked down on foreign rescue ships operating in the Mediterranean. Salvini has repeatedly accused the charities of being complicit with human smugglers. "These boats can forget about reaching Italy, I want to stop the business of trafficking and mafia," Salvini said Saturday. The Italian coastguard also sent a message to rescue boats operating in the Mediterranean Friday informing them it would no longer be coordinating rescue operations in the Libya search and rescue area.
"From now on, under the Solas Convention (Safety of life at Sea), captains who are at sea in the area near Libya will have to turn to the Tripoli Centre and the Libyan Coast Guard for help," according to the message cited in the Italian media.
The groups, which have been chartering boats to rescue migrants, point to the very difficult conditions for migrants in Libya as they attempt to reach Europe on the perilous Mediterranean crossing.
Rome once played an important role coordinating rescue missions but but Salvini wants to drastically reduce Italy's involvement.
Earlier this month Salvini triggered an EU-wide row when he barred the Aquarius rescue ship, chartered by French charity SOS Mediterranee, carrying around 630 migrants, from docking in Italy. Nearby Malta also turned the boat away and the ship was later accepted by Spain.
Two other ships carrying hundreds of migrants - the German NGO ship Lifeline and Danish container ship Alexander Maersk - are currently in the Mediterranean awaiting instructions on where they will be allowed to dock.
Both Italy and Malta have refused to take them in.
Barcelona mayor Ada Colau called on the Spanish government to help.
"Right now more than 1,000 people adrift in seven boats and Italy intends to leave them in the hands of Libya, where people are tortured, raped and enslaved," she said on Twitter.
She urged her own country to "help save lives" and said the migrants could would be welcomed in her city.
"Barcelona is offered as a safe harbour."
Full report at:
https://nation.com.pk/25-Jun-2018/1-000-migrants-in-boats-off-libya-as-italy-tells-rescue-ships-to-stop
--------
Britain's Prince William heads for historic Middle East tour
24 June 2018
Prince William flies to Jordan Sunday on a trip that will see him become the first member of Britain's royal family to pay an official visit to both Israel and the Palestinian territories.
The 36-year-old Duke of Cambridge touches down in Amman for a first leg billed as a chance to bond with Jordan's Crown Prince Hussein bin Abdullah, 23, a fellow graduate of Britain's Royal Sandhurst Military Academy.
The second in line to the British throne will then head to Israel Monday evening to begin his history-making visit to the Jewish state and occupied West Bank.
He will hold talks with both Israel's Prime Minister Benjamin Netanyahu and Palestinian president Mahmud Abbas.
Kensington Palace has underlined the "non-political nature of His Royal Highness's role -- in common with all royal visits overseas".
But the region is a minefield of sensitivities.
The visit comes at a particularly volatile time after US President Donald Trump recognised Jerusalem as capital of Israel and moved Washington's embassy there, sparking Arab outrage and deadly clashes.
Britain governed the region under a League of Nations mandate for almost three decades until Israel's independence 70 years ago, and is still blamed by both sides for sowing the seeds of a conflict that continues to wrack the region.
Ahead of William's arrival, the official schedule's reference to east Jerusalem as "in the Occupied Palestinian Territories" sparked particular anger among some right-wing Israeli politicians.
Official visits by British royals take place at the request of the UK government, but statements from the prince's household have given little explanation for the timing of this trip.
Israel has long pushed for an official visit by a member of the British monarchy.
Other members of William's family -- including his father Prince Charles -- have made unofficial visits to Israel and east Jerusalem in the past.
During the trip, William will have plenty of reminders of the British role in the region.
In Jerusalem he will stay at the King David hotel, which was Britain's administrative headquarters during its rule of Palestine prior to Israeli statehood in 1948.
In 1946 militant Jews waging violent resistance against British rule bombed the building, killing and wounding scores of people, many of them British civil servants or military personnel.
A packed schedule will also see William meet with young people, British servicemen and Syrian refugees while in Jordan.
In Israel he will lay a wreath at the Yad Vashem Holocaust Memorial.
He will visit the Mount of Olives in Jerusalem and pay tribute at the tomb of his great-grandmother Princess Alice of Greece, who was honoured by Israel for sheltering Jews during World War II.
Full report at:
https://english.alarabiya.net/en/News/world/2018/06/24/Britain-s-Prince-William-heads-for-historic-Middle-East-tour.html
--------
South Asia
NATO commander hopes Pakistan will persuade Taliban to join peace talks
Jun 25 2018
The commander of the NATO-led Resolute Support Mission and the US forces in Afghanistan General Nicholson has said that he is hopeful that Pakistan will persuade Taliban to join peace talks.
Gen. Nicholson made the remarks during a visit to eastern Nangarhar province of Afghanistan where he met with the provincial government officials to discuss peace process, Afghan government's ceasefire initiative, fight against ISIS, and upcoming elections, according Nangarhar governor's office.
He said direct negotiations have not taken place with the Taliban group members but diplomatic efforts are underway to persuade the Taliban group to participate in peace talks.
The NATO commander welcomed the recent announcement by the Kingdom of Saudi Arabia and said he is hopeful that Pakistan will also step up efforts for the Afghan peace and reconciliation process.
Gen. Nicholson also hailed the recent contacts between the Afghan and Pakistani officials and called it a major effort for the Afghan peace process.
In regards to the fight against ISIS loyalists, Gen. Nicholson said the coalition forces remains committed to support the Afghan government in the fight against the terror group.
The governor of Nangarhar Hayatullah Hayat said a meeting was organized in the presence of the provincial military officials to discuss the security of elections, ceasefire with the Taliban, and fight against ISIS group.
Hayat further added that Gen. Nicholson has promised to support the Afghan government regarding the security related issues.
https://www.khaama.com/nato-commander-hopes-pakistan-will-persuade-taliban-to-join-peace-talks-05427/
--------
Imam of Grand Mosque of Mecca urges for extension of ceasefire in Afghanistan
Jun 24 2018
The Imam of the Grand Mosque of Mecca Sheikh Abdul Rahman Al-Sudais has urged the Afghans to extend the ceasefire after the successful declaration of a ceasefire during Eid days.
In his speech during the Friday prayers, Sheikh Al-Sudais said the Afghans must consider the national interests of their country more than any other interests and extend ceasefire in a bid to pave the way for intra-Afghan cooperation, preserve the achievements of the country and contribute in reconstruction of the country.
Al-Sudais further added that the declaration of ceasefire was welcomed by the leadership of the Kingdom of Saudi Arabia and they have demanded for the extension of ceasefire by all parties involved in the conflict in a bid to pave the way for peace and stability for the Afghan nation.
He also added that the Afghan nation faces major issues due to the years of war and the Islamic World supports the closure of the previous chapters and start of a new chapter based on tolerance that would prevent further bloodshed, prevent violence, and preserve the lives of the innocent people.
Full report at:
https://www.khaama.com/imam-of-grand-mosque-of-mecca-urges-for-extension-of-ceasefire-in-afghanistan-05425/
--------
Heavy airstrikes target militant compounds in Badghis after last week's major attack
Jun 24 2018
The Afghan Air Force has carried out a series of heavy airstrikes targeting at least four compounds of the anti-government armed militants in Badghis province.
The Ministry of Defense (MoD) in a statement said the airstrike were carried out in the vicinity of Bala Morghab district.
The statement further added that four compounds of the anti-government armed militants were targeted during the airstrikes.
According to MoD, the airstrikes were carried out in Noorzai, Barekzai, Ishaqzai, and Alizai villages, and as a result at least four compounds of the militants were destroyed.
The Ministry of Defense also added that the militants have suffered heavy casualties during the airstrikes but did not elaborate further.
MoD said an investigation is underway and reports regarding the militants casualties will be disclosed later.
This comes as the anti-government armed militants launched a coordinated attack on security posts in Bala Morghab and Aab Kamari districts last week.
Full report at:
https://www.khaama.com/heavy-airstrikes-target-militant-compounds-in-badghis-after-last-weeks-major-attack-05423/
--------
ISIS leader responsible for recent deadly attacks in Jalalabad has been killed
Jun 24 2018
A senior leader of the Islamic State of Iraq and Syria Khurasan (ISIS-K) has been killed during an operation of the Afghan Intelligence, National Directorate of Security (NDS).
The provincial government media office in a statement said Sunday that the ISIS-K leader Adam Khan was killed on Saturday night in the vicinity of Chaparhar district.
The statement further added that the Special Forces of the Afghan Intelligence conducted a raid in Safari area of the district, leading to the killing of Adam Khan, a prominent ISIS-K leader, who was involved behind the recent attacks in Jalalabad city.
According to the provincial government, the recent deadly attacks in Jalalabad were planned and carried out under the leadership of Adam Khan.
The provincial government mainly pointed towards the attack on Jalalabad cricket ground, customs department, medical faculty, and education directorate, which were carried out by Adam Khan.
The National Directorate of Security in Nangarhar has said that Adam Khan has also carried out a number of attacks in other parts of Jalalabad city.
The NDS Special Forces also confiscated some weapons, motorcycles, and munitions during the operation, the provincial government added in its statement.
Full report at:
https://www.khaama.com/isis-leader-responsible-for-recent-deadly-attacks-in-jalalabad-has-been-killed-05420/
--------
Arab World
US Backtracks from Supporting Militants in Southern Syria
Jun 24, 2018
A copy of a message sent by Washington to heads of the FSA terrorist group, which was seen by Reuters and other media outlets, said the US government wanted to make clear that "you should not base your decisions on the assumption or expectation of a military intervention by us".
The US message also told the militants it was left to them alone to take the right decision on how to face the Syrian army's military campaign based on what they saw was best for themselves and their people.
"We in the United States government understand the difficult conditions you are facing and still advise the Russians and the Syrian regime not to undertake a military measure that violates the zone," the message also said.
The United States has supported the FSA with millions of dollars worth of arms and paid monthly salaries to thousands of rebels in the course of the seven-year war under a military aid program run by the Central Intelligence Agency.
But analysts believe the aid has dropped after US President Donald Trump decided last year to shut down the program.
Meantime, the Arabic-language al-Mayadeen news channel reported that a wave of chaos and collapse has started among the terrorist groups in Southern Syria after the US declared its position and backtracked from supporting them.
The terrorist groups affiliated to the FSA had earlier this month formed a coalition in Quneitra and Dara'a against the Syrian army after the latter's rapid advances in several points in Southern Syria.
Field sources reported on Wednesday that the operations room of al-Bonyan al-Marsous, Ras al-Safouf, Tohid al-Safouf, Sad al-Qazat, Death Triangle, Sad al-Baqa and Nasr al-Mobin terrorist groups in Dara'a were merged.
They added that the 'Central Operations Room in the South' will plan and command the military operations against the army in Southern Syria.
Meantime, reports from Quneitra province said that the FSA terrorists have formed a united operations room named al-Nasr al-Mobin with the aim of fight against the Syrian army.
The Syrian army had in a short time retaken control of several terrorist positions in Northern Dara'a.
Local sources in Dara'a said that the militants in the region are in deep fright and have asked comrades in other regions to help them repel the army attacks.
http://en.farsnews.com/newstext.aspx?nn=13970403000903
--------
Senior ISIL Commander, Aides Hunted in Baghdad
Jun 24, 2018
The Iraqi police reported that its forces launched an attack on ISIL in the town of al-Sharaqat North of Baghdad, killing Abu Salam Araqi, a notorious field commander of the ISIL nom de guerre Asab of Daesh (ISIL), and five of his aides.
The police further said that Abu Salam was a mastermind in ISIL, adding that he was behind planning ISIL's bomb operations.
Abu Salam and his aides were killed in a hideout in al-Sharaqat Jazeera.
Press tv reported earlier today that he Iraqi military conducted an airstrike against the Daesh (ISIL or ISIS) Takfiri terrorist group in Syria's Eastern Deir Ezzur province, killing 45 terrorists.
"Iraqi F-16 jets carried out a successful airstrike that targeted a meeting of Daesh leaders ... in … Hajin area within Syrian territory. The operation resulted in the complete destruction of the targets, and the killing of around 45 terrorists," the military's joint operations command said in statement on Saturday.
Daesh's "deputy war minister", one of its "media emirs", the personal courier of Daesh leader Abu Bakr al-Baghdadi and the group's chief of police were among those killed, the statement added.
Three houses linked by an underground tunnel were also destroyed, it said, adding that the airstrike was carried out based on "intelligence" and at the request of Prime Minister Haider al-Abadi.
The Iraqi Air Force has carried out several such raids against the Takfiri militant group in Syria since last year.
Full report at:
http://en.farsnews.com/newstext.aspx?nn=13970403000987
--------
Turkish Army, Allied Militants in Panic over Kurds' Attacks in Northern Syria
Jun 24, 2018
The sources said that the Ankara forces have started closing off all the streets across the town of Jandaris in Northeastern Aleppo.
The sources pointed to anguish felt by the Turkish soldiers and their allied militants over the Kurdish militias' surprise attack, adding that the Ankara forces prefer not to wear military uniforms to avoid becoming the target of Kurdish attacks.
The sources further said that the Kurdish militias launched eight heavy offensives against Turkish troops and their allied militants in the region in the past week.
In the meantime, local sources in Rajou in Afrin reported that the Ankara forces have plundered three power generators and telecommunication masts.
The sources also claimed that the Ankara forces have stolen the entire assets of the people in Sheikh Balou in Rajou as well.
Field sources in Northern Aleppo reported on Thursday that the popular uprising was triggered after a number of militants affiliated to the Turkish army killed a member of a family and wounded several others in a move to steal their properties and car.
During the protest rallies, the people of Afrin called on the Turkish army and Ankara-backed militants to leave the region.
Full report at:
http://en.farsnews.com/newstext.aspx?nn=13970403000884
--------
FSA militiamen join Syrian army units to fight Daesh, Jabhat Fateh al-Sham
Jun 24, 2018
Militiamen from the so-called Free Syrian Army (FSA) have joined forces with Syrian government forces in the country's southern de-escalation zone to fight foreign-sponsored and Takfiri Daesh and Jabhat Fateh al-Sham, formerly known as al-Nusra Front, militant groups.
The Russian Defense Ministry announced in statement that the Turkish-backed militiamen had forged an alliance with Syrian army troops in 11 districts of the southern Syrian provinces of Quneitra and Dara'a over the past 24 hours, and have managed to repel a string of militant attacks.
Army foils Jabhat Fateh al-Sham attack in Hama, further advances in Dara'a
Meanwhile, Syrian army soldiers, supported by allied fighters from popular defense groups, have thwarted an assault by Jabhat Fateh al-Sham terrorists on military posts near Ziblin village in Syria's west-central province of Hama, inflicting heavy losses on the Takfiris.
Syrian forces and their allies also targeted militant positions in the province, destroying many vehicles belonging to foreign-backed terrorists. Some of the pickup trucks were equipped with heavy machineguns.
Separately, army units continued military operations against terrorist redoubts in the eastern part of Dara'a province.
Syria's official news agency SANA reported that government forces carried out attacks against the gatherings of terrorist groups affiliated to Jabhat Fateh al-Sham in the Lajat area, killing and injuring scores of terrorists.
Syria has been gripped by foreign-backed militancy since March 2011. The Syrian government says the Israeli regime and its Western and regional allies are aiding Takfiri terrorist groups that are wreaking havoc in the country.
Russia has been helping Syrian forces in an ongoing battle in the province of Dayr al-Zawr as the Daesh terrorist group struggles to keep its last positions in eastern Syria.
The Russian military assistance, which began in September 2015 at the official request of the Syrian government, has proved effective as the Syrians continue to recapture key areas from Daesh and other terrorist groups across the country with the backing of Russian air cover.
On May 21, the General Command of the Syrian Army and Armed Forces announced in a statement that complete security was restored to Damascus and its countryside after al-Hajar al-Aswad district and al-Yarmouk camp had been totally purged of Daesh terrorists.
Full report at:
http://www.presstv.com/Detail/2018/06/24/565954/FSA-militiamen-join-Syrian-army-units-to-fight-Daesh-Jabhat-Fateh-alSham
--------
Syria censures US financial support to White Helmets
Jun 24, 2018
Syria has strongly denounced a recent decision by the administration of US President Donald Trump to resume financial support for the so-called civil defense group White Helmets, which has been blamed for staging suspected chemical attacks in the Arab country.
The Syrian Foreign Ministry said in a statement on Sunday that the additional financial support was a clear piece of evidence that Washington has been playing a leading role in supporting anti-Syria militants since 2011.
"The Syrian Arab Republic condemns the recent US decision to provide USD 6.6 million in financial aid to the White Helmets terrorist organization," the Syrian Foreign Ministry statement read.
Washington's attempts to embolden the White Helmets have shamelessly exposed its relationship to the terrorist organization, the statement added.
Elsewhere in the statement, the ministry blamed the United States and its Western allies for using the organization to practice terrorism, particularly in alleged chemical attacks that were staged to tarnish the image of the Syrian government and prolong the conflict.
The White Helmets are part of the al-Qaeda-linked Nusra Front, the statement said.
Syria and Russia have accused the volunteer group of having staged a gas attack in the town of Douma in Syria's Eastern Ghouta on April 7.
Syrian President Bashar al-Assad has also described the White Helmets as "a branch of al-Qaeda and al-Nusra" militant groups and a "PR stunt" by the United States, Britain and France. One week after the Douma incident, the trio launched a coordinated missile attack against sites and research facilities near Damascus and Homs with the purported goal of paralyzing the Syrian government's capability to produce chemicals.
President Trump has authorized the release of $6.6 million in previously frozen funding for the organization. US State Department spokeswoman Heather Nauert recently said Washington "strongly supports" the White Helmets.
Back in March, Trump ordered the State Department to suspend $200 million in recovery funds for Syria, including aid to the White Helmets, amid a review of the future of the US role in the war-torn Arab country.
Full report at:
http://www.presstv.com/Detail/2018/06/24/565974/Syria-White-Helmets-US
--------
Hashd Al-Shaabi Commander Dismisses JOC's Statement on US Attack
Jun 24, 2018
"The JOC's statement which said that the forces who were targeted at the Syria-Iraq borders were stationed outside Iraqi territories and had no relations with Hashd al-Shaabi was hasty and wrong," Abu Muhandis was quoted as saying by Shafaq news in a press conference on Sunday.
He explained that the forces who were targeted by missiles were members of Hashd al-Shaabi who had been deployed in the defense line created since al-Qa'em operations, adding that Iraq's joint operations command center had in its latest meeting in the holy month of Ramadan underscored the necessity for maintenance of this defense line.
The US-led coalition warplanes on Monday bombed a Syrian army base near the town of Albu Kamal in Southeastern Deir Ezzur in a move deemed as flagrant support for the ISIL terrorists who plan to attack the government forces in the region.
Syria's state news agency, SANA, quoted a military source as saying earlier today that the fighter jets bombed an army base in al-Harra settlement Southeast of the border town of Albu Kamal.
A number of forces were killed or wounded in the air raid, the news agency reported.
Full report at:
http://en.farsnews.com/newstext.aspx?nn=13970403000765
--------
Syrian Army Driving Wedge between Terrorist-Held Regions in Dara'a Province
Jun 24, 2018
The sources said that the army has sent a large convoy of forces and equipment to the small town of Deir al-Bakht in Northwestern Dara'a, adding that the convoy included 140 military vehicles carrying a large number of elite troops.
The sources said that the army convoy arrived in the Death Triangle Region among Damascus, Dara'a and Quneitra provinces.
The sources further said that the army's artillery and missile units pounded terrorists' positions in the town of Basr al-Hariri, adding that the government forces are planning to drive a wedge between Northeastern Dara'a and other militant-held regions in the province.
In the meantime, local sources said that other units of the army intend to launch fresh attacks and advance in militant-held regions in al-Qariyeh Sharqi and al-Qariyeh Qarbi.
Full report at:
http://en.farsnews.com/newstext.aspx?nn=13970403000707
--------
Saudi Air Defences Foil New Houthi Missile Attack on Riyadh
June 24, 2018
RIYADH: Saudi Arabia's air defense forces intercepted and destroyed two ballistic missiles over Riyadh on Sunday, launched by Iran-backed Houthi militia in Yemen.
Homes in the Saudi capital shook and there were at least six loud blasts, bright flashes in the sky and puffs of smoke above the city. There were no reports of casualties.
The Iran-backed rebels' news outlet Al-Masirah boasted that the missiles had struck the Saudi defense ministry and other sites in the capital.
But Col. Turki Al-Maliki, spokesman for the Saudi-led coalition fighting the rebels, denied that the defense ministry had been hit.
The attacks were the latest in a series of missile launches targeting densely populated residential areas of Saudi Arabia, including Riyadh and the southern cities of Jazan and Najran, close to the border with Yemen.
The latest missile attack on Riyadh has brought new urgency to the military operation by forces from the Saudi-led coalition in Yemen to capture the Red Sea port city of Hodeidah.
Hodeidah port is a lifeline for humanitarian aid to Yemen, but it is also a conduit for the supply of Iranian weapons to the Houthis, including missiles fired at Saudi Arabia.
The coalition has produced evidence to show that, as well as arms and ammunition, Tehran illegally smuggles missile parts to the Houthis through the port. They are then reassembled and launched at Saudi cities from sites in northern Yemen.
A coalition military operation began two weeks ago to dislodge the Houthis from Hodeidah and halt the supply of weapons and missile parts.
On Sunday, coalition forces moved closer to the city center.
There was fierce fighting near Hodeidah University, about 3 km west of the city center, on the coastal road linking the city's airport to the port.
Coalition forces took control of the airport last week and have been consolidating their hold in the area as UN efforts continued to reach a political deal that would avert a full military assault on the port.
Capturing Hodeidah would allow the coalition to cut the supply line to the Houthis in the capital, Sanaa, and the militias are devoting all their resources to retaining control.
"There is a heavy deployment of armed Houthis in the city and new check points have been set up in neighborhoods where there are supporters of the Tehama brigades," said one resident. The Tehama are a Yemeni faction from the Red Sea coastal plain who are fighting with coalition forces to restore Yemen's legitimate government.
The coalition has pledged a swift military operation to take over the airport and seaport without entering the city center, to minimize civilian casualties and maintain the flow of goods.
Some civilians have been injured or made homeless in the fighting. The medical charity Medecins Sans Frontieres has received 151 injured people in recent days at Al-Thawrah Hospital, the main public medical facility serving Hodeidah, and expects to receive more as the fighting moves toward the city.
"There are 86 beds in Al-Thawrah and we desperately need more. We hope to set up a field hospital with 20 beds in the next two weeks," said Caroline Seguin, the charity's program manager for Yemen.
"The battle for Hodeidah is reaching the point of no return," the International Crisis Group said in a conflict alert.
Full report at:
http://www.arabnews.com/node/1327271/saudi-arabia
--------
Syrian rebels say US tells them it won't intervene in south Syria
24 June 2018
The United States has told Syrian rebel factions they should not expect military support to help them resist a Russian-backed government offensive to regain opposition-held parts of Syria bordering Jordan and the Israeli-occupied Golan Heights.
A copy of a message sent by Washington to heads of Free Syrian Army (FSA) groups, which was seen by Reuters, said the US government wanted to make clear that "you should not base your decisions on the assumption or expectation of a military intervention by us".
The United States had earlier warned Syrian President Bashar al-Assad and his Russian allies that violations of a "de-escalation" zone agreed by the United States and Russia last year would have "serious repercussions" and pledged "firm and appropriate measures."
The toughly worded statements coming from the administration had raised the hopes of the Western-backed opposition of a possible American military intervention in the event the Syrian army's several days long bombing campaign broadens to an all-out offensive across the southwest.
The US message also told the rebels it was left to them alone to take the right decision on how to face the Syrian army's military campaign based on what they saw was best for themselves and their people.
"We in the United States government understand the difficult conditions you are facing and still advise the Russians and the Syrian regime not to undertake a military measure that violates the zone," the message also said.
The United States has supported the moderate mainstream FSA faction with millions of dollars worth of arms and paid monthly salaries to thousands of rebels in the course of the seven-year war under a military aid program run by the Central Intelligence Agency.
Full report at:
https://english.alarabiya.net/en/News/middle-east/2018/06/24/Syrian-rebels-say-US-tells-them-it-won-t-intervene-in-south-Syria.html
--------
Israel claims fires anti-aircraft missile at drone from Syria, forces retreat
Jun 24, 2018
Israel claims that it has fired an anti-aircraft missile at an unmanned aerial vehicle (UAV), which was approaching the northern borders of the occupied Palestinian territories from Syria, saying the projectile missed its target but forced the pilotless plane to turn back.
The Israeli military said in a statement on Sunday that it had launched "a Patriot aerial defense system missile" toward a drone, "approaching the Israeli border from Syria", earlier in the day, implying that the projectile had missed its target since "a hit was not identified."
The statement did not provide further details. However, Israeli settlers in and out of the city of Safed, in the Upper Galilee region, reported hearing an explosion and witnessing a white smoke trail in the sky. They also began sharing photographs and videos showing the white trail left behind, apparently by the Patriot launch.
Meanwhile, the Syrian government's central military media quoted an unnamed government's commander as saying that earlier in the day a drone had been targeted by an Israeli anti-aircraft missile. He added that the aircraft had engaged in ongoing operations by the Syrian army in Quneitra province near the Israeli-occupied Syrian Golan Heights.
The Israeli regime waged a full-scale war against Arab territories in 1967, occupying the West Bank, Lebanon's Shebaa Farms, and the mountainous Golan Heights.
Back on May 10, Israel conducted what it called its most intensive airstrikes on Syria in decades. According to Russia's Defense Ministry, Israel had used 28 warplanes in its airstrikes on Syria and fired 70 missiles. Both Damascus and Moscow said that the Syrian army managed to shoot down over half of the missiles.
The Tel Aviv regime, at the time, claimed that its assault was a response to a barrage of 20 rockets fired from Syria at Israeli military outposts in Golan.
Over the past few years, Israel has frequently attacked military targets in Syria in what is considered an attempt to prop up terrorist groups that have been suffering heavy defeats against Syrian government forces.
Israel has been providing weapons to anti-Damascus militants as well as medical treatment to the Takfiri elements wounded in Syria.
Full report at:
http://www.presstv.com/Detail/2018/06/24/565944/Israel-Syria-drone
--------
Africa
Somalia, US especial forces seize key town from Al Shabaab
June 2018
Somali army forces, along United State Especial Forces have launched joint military oĂensive against targets held by Al Shabaab in Arare town.
The coalition forces reportedly captured Arare town, without Ąghting, after the Al Shabaab militants retreated, a military oćcer, who asked to be unnamed said.
He says the Somalia forces and US troops had moved into the towns, meeting with local residents.
"We have captured Arare town. But this operation will continue untill Al Shabaab militants are elaminated", he said.
There was no immediate comment from Al Shabaab over the claims.
Ealier this month, a US soldier was killed and 4 others were also injured in mortar and ambush attack by Al Shabaab near Kismayo town. https://mareeg.com/somalia-us-especial-forces-seize-key-town-from-al-shabaab/
--------
86 dead in Nigerian communal clashes, govt terms violence as 'deeply unfortunate killings'
June 25, 2018
Nigeria's pesidency late Sunday announced a "deeply unfortunate killings across a number of communities" in central Plateau State as one report cited police as saying 86 people were dead in clashes between mostly Muslim herders and Christian farmers.
President Muhammadu Buhari appealed for calm as the military and police tried to end the bloodshed, and said "no efforts will be spared" to find the attackers and prevent reprisal attacks.
Nigeria's government did not announce a death toll. But the independent Channels Television cited a Plateau State police spokesman, Mathias Tyopev, as saying 86 people had been killed, with at least 50 houses destroyed, in violence that appeared to have started overnight.
Deadly clashes between herders and farmers in central Nigeria are a growing security concern in Africa's most populous country, which is roughly split between Muslims in the north and Christians in the south.
The fighting between herders and farmers by some accounts has been deadlier than Nigeria's Boko Haram extremist insurgency, which continues to carry out attacks in the northeast.
That extremist threat has been cited as one cause of the growing tensions in central Nigeria as herders — also feeling the effects of climate change — are forced south into more populated farming communities in search of safe grazing.
The widespread security issues pose a major challenge to Buhari, a Muslim former military ruler who won office in a democratic transfer of power in 2015, as elections approach next year.
While few details emerged immediately of the latest killings, Nigerians for hours Sunday on social media shared a growing sense that something awful had occurred.
Earlier in the day the Plateau State governor, Simon Bako Lalong, announced a 6 p.m. to 6 a.m. curfew after saying had woken up to the "shocking news" of the attacks. In a series of message posted on Twitter he gave few details about "this horrible situation."
Full report at:
https://www.indiatvnews.com/news/world-86-dead-in-nigerian-communal-clashes-govt-terms-violence-as-deeply-unfortunate-killings-449228
--------
Arrests announced as death toll rises in Ethiopia attack
June 25, 2018
ADDIS ABABA - The death toll from a grenade attack on a pro-government rally in Ethiopia's capital climbed to two on Sunday, a cabinet minister said, as police announced arrests over the blast. "I'm so sorry to learn that we have lost another Ethiopian victim of yesterday's attack," health minister Amir Aman tweeted. "My sincere sympathy and condolences to the family, friends and all Ethiopians." The blast occurred in a packed public square as Ethiopia's new prime minister Abiy Ahmed was wrapping up a speech before tens of thousands of people.
The ensuing chaos injured more than 150 people and marred an event meant to build public support for Abiy's ambitious reform agenda. State-run Ethiopian News Agency reported police had arrested six people suspected of involvement in the blast, but gave few details.
Event organiser Seyoum Teshome on Saturday told AFP police grappled with someone attempting to hurl a grenade at the prime minister as he concluded his speech.
The explosive detonated amid the scuffle, though most of the injuries were caused in the ensuing panic, he said.
On Saturday evening, the prime minister visited hospitals where victims of the attack were being treated, his chief of staff said on Twitter, while on Sunday one of Addis Ababa's largest football teams organised a blood drive for the injured.
No group has publicly claimed responsibility for the attack, a rare instance of violence in the heavily policed capital.
Grenade attacks were reported last year in the northern city of Gondar, but it was unclear if those incidents were connected to Saturday's blast.
Abiy took office in April after years of anti-government unrest that pushed his predecessor to resign and the government to declare a nationwide state of emergency.
He has since announced plans to liberalise the economy and reconcile with neighbouring arch-enemy Eritrea.
Abiy also lifted the state of emergency and released scores of jailed dissidents.
Ethiopia is completely controlled by the secretive Ethiopia People's Revolutionary Democratic Front (EPRDF), and it is unclear how much support Abiy has within the party.
The 42-year-old former government minister and army officer is the first prime minister in modern Ethiopia from the country's largest ethnicity the Oromo, which spearheaded the anti-government protests.
While Abiy is popular, anti-government fervour still remains.
Full report at:
https://nation.com.pk/25-Jun-2018/arrests-announced-as-death-toll-rises-in-ethiopia-attack
--------
Libyan coast guard picks up almost 1,000 migrants in one day
June 25, 2018
TRIPOLI: Libyan coast guards picked up 948 African migrants on inflatable boats in several operations and also recovered 10 bodies on Sunday, officials and a witness at a naval base said.
The operations brings the number, since last week, of mainly African migrants trying to head to Italy but brought back to Libya to almost 2,000.
The western coast of Libya is the main departure point for thousands of migrants fleeing wars and poverty and trying to reach Europe.
The number of crossings has dropped sharply since July 2017 when an armed group expelled human traffickers from a smuggling hub after an Italy-backed deal.
"The coast guards picked up illegal migrants in different groups. The first group is 97 on one inflatable boat and the second group is 361 migrants on two inflatable boats," Naval forces spokesman Ayoub Qassem told Reuters.
"The second group was taken to Khums town," Qassem said, adding that the two groups included 110 women and 70 children.
A witness watching the arrival of another coast guard ship at Tripoli's Abu Sittah naval base said a third group included 490 migrants picked up off Qarabulli town. Among them were 75 women and 20 children.
Libya plunged into chaos following the NATO-backed uprising that toppled Muammar Qaddafi in 2011, with many armed groups and two administrations vying for power.
Most migrants try to head across the Mediterranean toward Italy, hoping they will be picked up by ships run by aid groups and taken there, although many drown before they are rescued.
Earlier this month, Italy's interior minister Matteo Salvini vowed to no longer let charity ships offload rescued migrants in Italy, leaving one ship stranded at sea for several days with more than 600 migrants until Spain offered them safe harbor.
Full report at:
http://www.arabnews.com/node/1327466/middle-east
--------
Jordan says unable to host new wave of Syria refugees
24 June 2018
Jordan said Sunday it would be unable to host a new wave of Syrian refugees, as troops loyal to Damascus prepare an offensive for the war-torn country's rebel-held south.
"The large number of Syrians we're hosting in terms of financial resources and infrastructure does not allow for the reception of a new wave of asylum seekers," Jumana Ghanimat, minister of state for media affairs, told AFP.
Some 650,000 Syrian refugees have registered with the United Nations in Jordan since fleeing their country's seven-year war which was sparked by peaceful anti-government protests in 2011.
Amman estimates the actual number is closer to 1.3 million people and says it has spent more than $10 billion (8.5 billion euros) hosting them. "Jordan has not and will not abandon its humanitarian role and its commitment to international charters, but it has exceeded its ability to absorb (more refugees)," said Ghanimat, who also serves as a spokesperson for the government. "Everyone should cooperate to deal with any new wave of displacement within Syria's borders," she said, adding Jordan would work with "concerned organisations" to find an arrangement for the displaced inside Syria.
Her comments came as Syrian government forces ready an offensive to retake the southern provinces of Daraa, Quneitra and parts of Sweida, still mostly held by rebels.
Southern Syria is a strategically vital zone: it borders both Jordan and the Israeli-occupied Golan Heights, and also lies close to Damascus.
After neutralizing rebel strongholds on the edge of the capital earlier this year, President Bashar al-Assad is now turning his attention to the south.In recent weeks, regime forces have dropped leaflets over Daraa and Quneitra, warning of impending military operations and calling on the rebels to surrender.
"Jordan is in close contact with Washington and Moscow to maintain an agreement to reduce the escalation in southern Syrian," Ghoneim said. She said the kingdom was "following the current developments in southern Syrian to reach a formula that protects Jordanian interests along the border and the waves of asylum seekers".
Full report at:
https://english.alarabiya.net/en/News/middle-east/2018/06/24/Jordan-says-unable-to-host-new-wave-of-Syria-refugees-.html
--------
Group faults CAN on recruitment of Ex- Boko Haram members into Army
Jun 24 2018
The National Inter-Faith and Religious Organizations for Peace (NIFROP) has faulted recent claim by the Christian Association of Nigeria (CAN) that President Muhammadu Buhari has directed the Nigerian Army and the Police to recruit rehabilitated Boko Haram members into their ranks.
Pastor Adebayo Oladeji, Special Assistant on Media to the CAN President, Rev Dr. Samson Olasupo Ayokunle, said last week it had information that a number of ex-insurgents were allegedly being considered for recruitment into the Police and Army.
Reacting to the claim, NIFROP in a statement by its National President, Bishop Edward Chanami, said it is worried that religious groups are now being deployed as canon fodder by political clerics.
The group said Oladeji's claim is targeted at stirring the fire of hatred among Nigerians.
According to him, the claim was the handiwork of the devil and not deserving of being associated with any group that professes faith in God.
He said, "There is none of the testaments in God's name that promotes the kind of wicked lie contained in the misleading claim. We can only thank God that the sectarian crisis that those behind this lie hoped to trigger did not materialize while praying that Nigerians will continue to be discerning and not allow themselves to be deceived into engaging in self destruction.
Full report at:
https://www.dailytrust.com.ng/group-faults-can-on-recruitment-of-ex-boko-haram-members-into-army-257811.html
--------
North America
US rips reported Syria cease-fire violations
21.06.2018
The U.S. said Thursday it is "deeply troubled" by the Syrian regime's reported violations of a cease-fire governing southwestern Syria, warning of "serious repercussions" if Russia fails to hold Damascus to account.
"Syrian regime military and militia units, according to our reports, have violated the southwest de-escalation zone and initiated airstrikes, artillery, and rocket attacks," State Department spokeswoman Heather Nauert said in a statement.
"The United States continues to warn both the Russian government and the Assad regime of the serious repercussions of these violations and demands that Russia restrain pro-regime forces from further actions within the southwest de-escalation zone," she added.
The de-escalation zone Nauert is referring to was agreed to by the U.S., Jordan and Russia in July 2017.
Regime forces along with Iranian-backed militias launched an operation against opposition groups in southwestern Daraa province on Wednesday, killing eight civilians, according to the Syrian civil defense, also known as the White Helmets.
Amar Abadzayd from a civil defense unit in Daraa told Anadolu Agency 15 more civilians were also injured in the attacks targeting rural areas in northern and eastern part of the province.
The Daraa operation had targeted an area declared a "safe zone" and a de-escalation zone -- where fighting is supposed to be prohibited.
Most of southwestern Syria is incorporated in the zone and Nauert said Secretary of State Mike Pompeo emphasized to his Russian counterpart, Sergey Larov, during a telephone call last weekend "the critical nature of mutual adherence to this arrangement and the unacceptable nature of any unilateral activity by the Assad regime or Russia."
She added: "The United States expects all parties to respect the ceasefire, protect civilian populations, and avoid broadening of the conflict. We remain committed to maintaining the stability of the southwest de-escalation zone and to the ceasefire underpinning it."
https://www.aa.com.tr/en/americas/us-rips-reported-syria-cease-fire-violations/1181639
--------
Supreme Court poised to rule on Trump travel ban, other cases
JUNE 24, 2018
WASHINGTON (Reuters) - The U.S. Supreme Court, winding down its nine-month term, will issue rulings this week in its few remaining cases including a major one on the legality of President Donald Trump's ban on people from five Muslim-majority nations entering the country.
The nine justices are due to decide other politically sensitive cases on whether non-union workers have to pay fees to unions representing certain public-sector workers such as police and teachers, and the legality of California regulations on clinics that steer women with unplanned pregnancies away from abortion.
The justices began their term in October and, as is their usual practice, aim to make all their rulings by the end of June, with more due on Monday. Six cases remain to be decided.
The travel ban case was argued on April 25, with the court's conservative majority signaling support for Trump's policy in a significant test of presidential powers.
Trump has said the ban is needed to protect the United States from attacks by Islamic militants. Conservative justices indicated an unwillingness to second-guess Trump on his national security rationale.
Lower courts had blocked the travel ban, the third version of a policy Trump first pursued a week after taking office last year. But the high court on Dec. 4 allowed it to go fully into effect while the legal challenge continued.
The challengers, led by the state of Hawaii, have argued the policy was motivated by Trump's enmity toward Muslims. Lower courts have decided the ban violated federal immigration law and the U.S. Constitution's prohibition on the government favoring one religion over another.
The current ban, announced in September, prohibits entry into the United States by most people from Iran, Libya, Somalia, Syria and Yemen.
In a significant case for organized labor, the court's conservatives indicated opposition during arguments on Feb. 26 to so-called agency fees that some states require non-members to pay to public-sector unions.
Workers who decide not to join unions representing certain state and local employees must pay the fees in two dozen states in lieu of union dues to help cover the cost of non-political activities such as collective bargaining. The fees provide millions of dollars annually to these unions.
Full report at:
https://www.reuters.com/article/us-usa-court-immigration/supreme-court-poised-to-rule-on-trump-travel-ban-other-cases-idUSKBN1JK0F7
--------
What Canadians need to know about our peacekeeping mission in Mali
Jun 24, 2018
Canadian troops are set to join the UN peacekeeping mission in Mali, a country that's been torn apart by violence since 2012.
They will be teaming up with around 13,000 authorized international troops as part of the UN Multidimensional Integrated Stabilization Mission in Mali (MINUSMA) that's trying to stabilize the landlocked West African country amid an ethnic and jihadist insurgency.
Despite UN peacekeeping and French-led counterterrorism efforts that began in 2013 and a peace deal signed in 2015, Mali remains a "war zone," according to UN Secretary General Antonio Guterres.
According to the UN, 170 peacekeepers have been killed there since 2013, making it one of the organization's deadliest peacekeeping missions to date.
The mission has 57 partner countries and is based in the northeastern city of Gao.
Key groups in the conflict
Bruno Charbonneau, an associate professor at Laurentian University and an expert in peacekeeping and military intervention in francophone Africa, says the groups involved in the conflict can be divided into two categories: those that signed the 2015 peace agreement and those that didn't.
The signatories include the Malian government; Platform, a pro-government coalition; and Co-ordination of Azawad Movements (CMA), a pro-separatist alliance that includes the Tuaregs, a traditionally nomadic ethnic group that has long felt marginalized and excluded in the country.
Both Platform and CMA are armed groups without representation in the legislature.
The non-signatory groups, Charbonneau says, are "fluid in membership" and include militias, bandits, jihadists and gangs. Members of each group are not mutually exclusive, further complicating counterterrorism efforts.
G5 Sahel is also an important player in the conflict. Developed in 2014, its members — Burkina Faso, Chad, Mali, Niger and Mauritania — support the French counterterrorism mission.
A history of violence
A former French colony, Mali became independent in 1960. It moved from a single-party state to a multiparty democracy in 1991 in the wake of anti-government riots. But a lack of autonomy and services for the sparsely populated northern region remained a problem.
In 2012, the anger in northern Mali boiled over as Tuareg rebels waged an insurgency against the Malian government in Bamako, located in the south. The Malian military took over the state and deposed President Amadou Toumani Touré for failing to quell the Tuareg rebellion.
The rebels and other insurgents took advantage of the chaos and seized control of the north, but French troops and airstrikes pushed the rebels back in January 2013, allowing the Malian government to regain control.
The UN authorized the MINUSMA peacekeeping mission three months after the French-led counterterrorism efforts began.
In 2015, Mali declared a state of emergency as attacks spread to the south, particularly in the Sikasso region.
"We focus a lot on terrorism in the north of Mali in the Sahel, while the actual problems within Mali right now are in the centre where you have a lot more people living there," Charbonneau said. "This is where it is really, really worrisome and yet the focus is still on the north and terrorism."
Persistent problems
Today, the coalitions remain factious, and the violence has only intensified. Northern jihadist groups have unified while Platform and CMA continue to splinter.
The al-Qaeda-linked Group for the Support of Islam and Muslims, for example, was formed in 2017 and has since captured territory in the north.
Charbonneau said two big problems that help fuel the conflict are the lack of state services, including a functioning and impartial justice system and the army's "history of human rights abuses."
There's also the fact the government has yet to successfully implement the 2015 peace deal.
"There is definitely a lack of leadership within the government of Mali," Charbonneau said.
Risks for peacekeepers
In March, Canadian Defence Minister Harjit Sajjan and Foreign Affairs Minister Chrystia Freeland announced Canada would deploy an aviation task force to Mali for a period of 12 months.
The task force will include up to 250 troops, two Chinook helicopters to provide needed transport and logistics capacity and four Griffon helicopters to provide armed escort and protection.
Charbonneau suspects the task force will have little interaction with people on the ground. However, he does anticipate the separation of roles between the peacekeeping mission and French-led counterterrorist operation could be a challenge.
The climate could also be an issue, he said.
"It definitely takes a toll on equipment to fly around in that region," he said, referring to the heat and dust storms.
And, of course, there is always the threat of violence.
Full report at:
https://www.cbc.ca/news/world/what-canadians-need-to-know-about-our-peacekeeping-mission-in-mali-1.4719127
--------
URL: https://www.newageislam.com/islamic-world-news/joint-hindu-muslim-urs-pirs/d/115637
New Age Islam, Islam Online, Islamic Website, African Muslim News, Arab World News, South Asia News, Indian Muslim News, World Muslim News, Women in Islam, Islamic Feminism, Arab Women, Women In Arab, Islamophobia in America, Muslim Women in West, Islam Women and Feminism