New Age Islam News Bureau
3 May 2014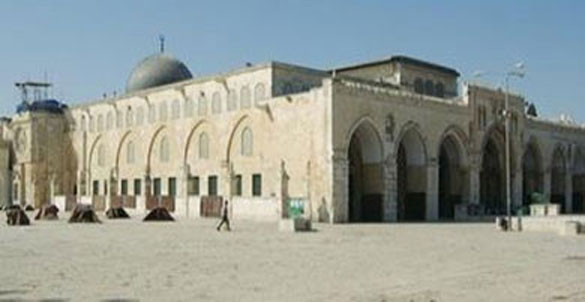 Al-Aqusa mosque
-----------
Arab World
• Jihadist Group 'Crucifies' Bodies to Send Message
• Growing number of Americans fighting in Syria's civil war
• Friday clashes in Egypt leave 10 dead
• Israel, Iran mafia flood Saudi market with fake products
• Saudis can now petition and lodge complaints directly to the King
• Syrian Army Achieves More Success against Militants in Homs
• Al-Qaeda says US colluded with Egypt in 'coup'
• Al Qaeda chief calls on ISIL forces to retreat from Syria
• Deal allows Syrian fighters to withdraw from Homs bastion
North America
• US Panel Urges Action on Pak Religious Freedom
• Possible Boko Haram attack likely in Lagos - US
• Syrian war spawning new generation of terrorists: US
• Iran outlaws WhatsApp, says Zuckerberg is an 'American Zionist'
Pakistan
• Sajna Planning To Overthrow Fazlullah, Chief of Pakistani Taliban
• Imran Khan demands an apology from Jang and Geo Group
• Ideology of Pakistan only source of peace: Hafiz Saeed
• Blast targets FC vehicle in Bolan; one killed
• Grouping within TTP a bane for businessmen
• Sindh Rangers tasks special unit to probe MQM allegations
• Karachi: Iran's fleet of warships arrives
Africa
• Girls Kidnap Would End Boko Haram: Controversial Islamic Scholar
• Gunmen kill 15 in raid on Central African Republic border town
• Kenyan police kill 2 Al-Shabaab suspects
• Moroccan youth were forcibly recruited, funds extorted for Syrian war
• Nigeria says more schoolgirls held by Boko Haram Islamic militants than thought
India
• To Develop 6 Lakh Acres, Waqf PSU Set To Launch IPO by Year-End
• Jamaat-ud-Dawa leader forms new terror outfit for India operations
• Elections on, India denies visas to 500 Pak pilgrims to visit the shrine at Ajmer
• Alleged IM operative deported from UAE
Mideast
• Iran: At Least 34 Executed In 11 Days
• Al-Aqusa mosque Imam says Arab legions to liberate Haifa, Safed, Jaffa, Beit Shean
• Mideast peace talks dead, no resumption on horizon
• Minister won't rule out talks with Hamas, reminds 'PLO was once a terrorist organization'
• Mashaal: Hamas remains committed to jihad against Israel
South Asia
• China's President Orders 'Crushing Blow' to Terrorism
• 20 Taliban militants killed in separate operations in Afghan
• Death Stalks Muslims as Myanmar Cuts Off Aid
• Over 2,100 confirmed dead in landslide in northeast Afghanistan
Europe
• Islamist plot to infiltrate schools 'widespread across UK', heads warn
• France Launches Anti-Jihadist Plan
• Palestinians formally join five international treaties, UN announces
• Online Commentary in Uzbekistan Divided on Crimea
Southeast Asia
• Prepare to be voted out if Hudud implemented, Pakatan warned
• Malaysian police arrest 11 suspects in terrorism during special operation
• Brunei's Sharia mixed news for countries with Muslim communities
• Barisan policies have helped Chinese prosper, says Najib
• Lift ban on Shia novel, says 1Malaysia Foundation
Compiled by New Age Islam News Bureau
URL: https://www.newageislam.com/islamic-world-news/new-age-islam-news-bureau/jihadist-group--crucifies--bodies-to-send-message/d/76858
------------
Arab World
Jihadist Group 'Crucifies' Bodies to Send Message
May 3, 2014
(CNN) -- It is a scene seared forever into the memory of an eyewitness:
Masked men drag the bloodied body of a man across a public square, and tie it to a make-shift cross on a metal pole.
Green string holds the body's arms outstretched across a wood plank as blood oozes from the gunshot wound to his head.
Militiamen wrap the body's black "WhatsApp" shirt with a sign in red letters that reads in Arabic: "This man fought Muslims and detonated an IED here."
The eyewitness -- a man we will call Abu Ibrahim -- does more than watch. He steps closer and snaps a picture with his cell phone; the children around him gawk at the horrific spectacle with quiet curiosity.
Abu Ibrahim asked that his identity be kept secret for fear of reprisals. His photographs document the story of a body staged to look like a crucifixion -- and to send a message -- in the northern Syrian city of Raqqa. An al Qaeda splinter group, Islamic State of Iraq and Syria (ISIS), says the brutal display serves as a lesson to anyone who dares challenge its rule.
Three days on, the "crucified" body of the man and another victim were reportedly still hanging in Raqqa.
"What they are conveying is those who oppose ISIS rule oppose God's rule, and those who are enemies of ISIS are enemies of God and deserve the highest form of punishment possible," says Abbas Barzegar, assistant professor of Islamic studies at Georgia State University.
The jihadist group carried out a total of seven public executions in Raqqa on Tuesday, but only two bodies were displayed afterward, according to the Syrian Observatory for Human Rights, a London-based monitoring group.
Abu Ibrahim, a member of a recently formed anti-ISIS activist group in Raqqa, says the remaining five victims were children under the age of 18, one of them a seventh-grade student.
The crucifixion displays began in March, when ISIS accused a shepherd of murder and theft, then shot him in the head and tied his lifeless body to a wooden cross. Video on social media showed the body leaning up against a small building painted to bear the group's flag and name.
"These violent acts are part of a fundamentalist revival campaign, but these forms of ancient punishment were rarely if ever seen in the Muslim world in recent centuries," Barzegar says. "It has become a standard feature of fringe Islamist groups to revive these outdated practices in an effort to bring back what they believe is authentic."
There's been no evidence of actual crucifixion, a painful form of execution in which victims were bound or nailed through the hands and feet to a heavy wooden cross and left to suffer until death.
All three men in Raqqa were shot in the head prior to being affixed to crosses. The displays of their bodies appear to be largely symbolic acts by ISIS followers against members of their own Sunni Muslim sect for perceived acts of treason.
"ISIS needs to attach meaning to their killing. Simply murdering in a state of constant warfare is void of value, so they must attach a message or propaganda to what they are doing," Barzegar says.
As Syria's civil war creates a power vacuum, groups like ISIS have stepped in with their own form of radical Sharia law to rule over an exhausted and terrorized civilian population. Edicts often appear overnight on inconspicuous flyers, with dire warnings:
"All shop owners must close their stores immediately upon the announcement of prayer and go to the mosque," a decree posted this week reportedly reads. "Any violators after the issuance of this announcement will face consequences."
According to a set of rules issued to Raqqa's Christian minority, members of the faith must pay a special tax to the militants and may not expose crosses, repair churches, or recite prayers in the presence of Muslims, the Syrian Observatory for Human Rights reported in February.
But while crucifixion holds specific biblical resonance, the bold and brutal displays in Raqqa hold no direct correlation to Christian symbolism, Barzegar says. The ISIS victims whose bodies were strung up on crosses were all Muslim.
After nearly a year under the repression of ISIS, Abu Ibrahim and about 20 other activists formed a campaign in April that they called "Raqqa is Being Slaughtered Silently" to push the vigilante group out of their hometown.
"After we reached the solid conviction, without the shadow of a doubt, that (Raqqa) served as the stage of a horrific spectacle that deformed the real core of the Syrian revolution," the campaigns founding document reads, "we decided it was about time we stood against those forces of evil."
ISIS reacted almost immediately to the campaign, sentencing the activists to death for "non-belief in Islam and their advocacy of secularism," and offering a large cash prize for any information on their whereabouts, according to the Syrian Observatory for Human Rights.
"It is our obligation to confront them (ISIS) and if we remain scared of them then they will rule us forever. It is true this is dangerous and we have received more than one death threat, but we are relying on the popularity of our Facebook page as protection," Abu Ibrahim told CNN via a choppy Skype connection.
On their Facebook page with nearly 12,000 followers, activists post updates on alleged crimes committed against the people of Raqqa and issue calls to action such as proposing a strike by store owners on Saturday to protest an ISIS tax hike.
"Life here is very hard. People are tired and they hate everything. If you don't close your shop during prayer time you get lashes, if you smoke you get lashed, if you say one wrong thing you can be executed. Just like that. It's that easy for ISIS," Abu Ibrahim says.
The United Nations, the Syrian opposition and human rights groups have corroborated the scenes of horror in Raqqa. Earlier this year, U.N. High Commissioner for Human Rights Navi Pillay said reported mass executions in Raqqa may amount to war crimes, and in a separate report issued last month, her office documented torture and mistreatment, including repeated beatings, of prisoners at schools and hospitals controlled by ISIS.
"So many families have had people disappear and they have no idea where they are or what happened to them. The worst part is people are too afraid to ask about their husbands or sons," Abu Ibrahim says.
After nearly every Friday prayer, a few of these prisoners appear in a public roundabout where dozens of onlookers stand by as charges are hurriedly read and the sentences against the accused carried out, ranging from lashes to executions. Images of the harrowing scenes often circulate on social-media sites, sometimes posted by accounts claiming to be linked to the extremist group.
"It is like a waterfall of blood. There are more and more executions and now the children watch like they are used to it. It is a strange and exciting scene and they are not afraid to look," Abu Ibrahim says.
ISIS's military offensive against even its former allies and its savage form of justice led the central al Qaeda command to disown its affiliate earlier this year, but the group's leader, Abu Bakr al Baghdadi, vowed to remain in Syria and fight all who oppose him, even fellow jihadists.
The founders of the peaceful campaign "Raqqa is Being Slaughtered Silently" say they will succeed where others have failed.
"The word is often more powerful than the bullet, and the will of the people is the most powerful of all," Abu Ibrahim says.
http://www.cnn.com/2014/05/01/world/meast/syria-bodies-crucifixions/
------------
Growing number of Americans fighting in Syria's civil war
May 3, 2014
'Washington Post' reports FBI considers problem a challenge because recruits could return to US to perpetuate acts of terror.
The Federal Bureau of Investigation said that it considers Americans fighting in the Syrian civil war a "growing problem for US intelligence and law enforcement," the Washington Post reported Friday.
The report stated the FBI's central concern was that Americans who affiliate themselves with al-Qaida linked rebel forces in Syria could return to the US and perpetuate acts of terror.
The FBI source did not tell the Washington Post an estimate of how many Americans there are believed to be fighting in Syria. However, a study by the Meir Amit Intelligence and Terrorism Information Center at the Israeli Intelligence and Heritage Commemoration Center estimated the number of foreign combatants fighting in Syria between 6,000 and 7,000.
Researchers, who spent several months putting together the study, warned that in Syria, foreign jihadis gain military experience and undergo a process of radicalization.
The two central jihadi organizations, the Nusra Front, headed by al-Qaida's central leader, Ayman al-Zawahiri, and its competitor, the Islamic State in Iraq and Greater Syria, a branch of al-Qaida in Iraq, have a combined membership of 9,000, of which an estimated 6,000 are foreign volunteers, according to the study.
http://www.jpost.com/Syria/Growing-number-of-Americans-fighting-in-Syrias-civil-war-351195
------------
Friday clashes in Egypt leave 10 dead
World Bulletin / News Desk
May 3, 2014
The death toll from Friday clashes between Egyptian police and anti-coup protesters has risen to ten, all of them Morsi supporters, according to Morsi's main support bloc.
In a statement, the anti-coup National Alliance for the Defense of Legitimacy said at least eight people had been killed "at the hands of the coup's security forces" in southern Cairo's Helwan district.
One of those killed was Hozaifa Nader, the brother of Abdel-Rahman Nader, who was slain during last August's forcible dispersal of an anti-coup sit-in in eastern Cairo that left hundreds of Morsi backers dead, the alliance said.
Earlier in the day, an alliance source said that Egyptian security forces had attacked an anti-coup march on the outskirts of Helwan with live ammunition, birdshot and teargas.
A security official, meanwhile, denied that security forces had killed any protesters on Friday, saying instead that three policemen had been injured in clashes with demonstrators.
Earlier Friday, a source with the anti-coup alliance in Alexandria said that two anti-coup demonstrators had been killed when security forces dispersed their rally in the west of the coastal city.
Mohamed Abdullah, 18, was fatally struck with birdshot, while Hossam Magdi, 17, was killed after being shot in the stomach during clashes with security forces, the source said.
More than 11 other protesters were injured, according to the source.
The Interior Ministry, for its part, said the two young men had been killed in clashes between members of Morsi's Muslim Brotherhood group and local residents.
Friday's was the highest death toll from clashes between Morsi supporters and security forces within the past several weeks, as the ousted president's backers continue to defy a sustained crackdown by Egypt's military-backed government.
Protesters staged fresh rallies on Friday as part of a "third revolutionary wave" called by the a anti-coup alliance, which has also called on supporters to boycott Egypt's May 26-27 presidential polls.
Egypt has been dogged by instability since the army forcibly removed Morsi, the country's first freely elected president, from office last July on the back of opposition demonstrations.
Anti-coup protesters have staged almost daily rallies ever since to demand his reinstatement.
ANTI-COUP PROTESTER DIES IN PRISON
A detained supporter of ousted president Mohamed Morsi died in his jail cell in Egypt's coastal Alexandria province, rights lawyers and a security official said Friday.
Gomaa Hemeida, 64, died in his cell in Alexandria's Borg al-Arab prison on Friday morning, a security official told Anadolu Agency.
In a Friday joint statement, lawyers representing Hemeida said their client had died as a result of "negligence" by prison authorities who had failed to tend to the inmate's deteriorating health condition.
"[Hemeida] suffered from diabetes, Hepatitis C and high blood pressure," the statement read.
"After prison authorities failed to provide him with medical care, his family urged prosecutors to let him be transferred to a hospital, but he died before this could be done," it added.
Hemeida was imprisoned on charges of "inciting violence" against opponents of Morsi, who the army forcibly removed from office last July on the back of opposition protests.
He had been arrested late last December, when security forces raided his home.
Although they had been searching for his son (who had not been home at the time), they arrested Hemeida instead, according to the deceased man's lawyers, who held security forces responsible for his death.
The security official attributed Hemeida's death to a sudden drop in blood circulation that caused his heart to stop.
A recent report by the Egyptian Center for Economic and Social Rights, a local NGO, documented 21,317 cases of individuals who had been subject to prosecution since Morsi's ouster last summer.
According to the report, 16,387 of these were arrested while participating in political activities, such as pro-Morsi street demonstrations.
The report also documented 50 detainees who had died inside Egyptian detention facilities since Morsi's ouster ten months ago.
ONE KILLED IN CENTRAL CAIRO BOMBING
At least one person was killed and two others injured in a bombing that shook central Cairo on Friday night, the Interior Ministry has said.
According to the ministry, the bomb struck a private car without license plates in Cairo's Ramses district, killing the driver.
Another man who had been in the car when the bomb went off survived, the ministry said in a statement, citing eyewitness accounts.
The explosion did not cause any injuries among passersby, the ministry added, noting that an investigation had been launched to determine the cause of the blast.
Bomb-disposal squads cordoned off the area while citizens and journalists were prevented from approaching the blast site, according to an Anadolu Agency reporter at the scene.
Earlier in the day, an Egyptian soldier was killed and three others were injured by a bomb that went off in eastern Cairo, a security source said.
The blast came shortly after two suicide bombers blew themselves up in the southern Sinai Peninsula, killing one soldier and injuring eight others.
http://www.worldbulletin.net/headlines/135337/friday-clashes-in-egypt-leave-10-dead
-----------
Israel, Iran mafia flood Saudi market with fake products
May 3, 2014
Substandard and fake products worth billions of dollars are being dumped in the Kingdom by mafias in Israel and Iran, said Abdul Rahman Al-Zamil, president of the Council of Saudi Chambers (CSC).
Al-Zamil urged the cooperation of Saudis and expats to prevent such products from entering the market.
"You can see such products everywhere and most of these products come from Israel and Iran with the support of mafias," Al-Zamil told Arab News.
He urged expats to be cautious of such products. "Ignorant consumers purchase these products, only to bin them after two or three days."
Al-Zamil, a prominent businessman and a former deputy minister of commerce, commended officials at the Ministry of Commerce and Industry for inspecting markets to remove such products. He advised members of the public to inform the ministry when they come across such fake products.
"The ministry alone will not be able to solve this problem," the CSC chief said, adding that such fake products are marketed even in the US. "They smuggle these goods to countries like drugs," he said.
"We can say Israel is the main source of such substandard products," Al-Zamil said, who added that Israeli mafias sell such products in Egypt, Jordan and Syria. The Jebel Ali free zone is also used to re-export fake products to the Kingdom, he said. "We can get rid of these products only through the vigilance of ministry officials and public awareness."
Al-Zamil, who is also chairman of the Riyadh Chamber of Commerce and Industry, said foreign companies involved in corruptive practices would not be able to stay long in the Kingdom, as they would be subject to punishment sooner or later.
"I feel relieved to witness the tough stance society members have taken against corruption," he said.
http://www.arabnews.com/news/564501
------------
Al Qaeda chief calls on ISIL forces to retreat from Syria
World Bulletin / News Desk
May 3, 2014
Iraqi al Qaeda's entry into Syria's civil war caused "a political disaster" there, the movement's global leader Ayman al-Zawahri said in a video message, urging the faction to redouble its efforts in Iraq instead.
Zawahri has repeatedly tried to end infighting between the Islamic State in Iraq and the Levant (ISIL) and another al Qaeda-aligned group, the Nusra Front.
He said on Friday in a message translated by SITE Monitoring that if ISIL had accepted his decision not to get involved in Syria and had instead worked to "busy itself with Iraq, which needs double its efforts" then it could have avoided the "waterfall of blood" caused by militant infighting.
Full report at:
http://www.worldbulletin.net/headlines/135353/al-qaeda-chief-calls-on-isil-forces-to-retreat-from-syria
-----------
Saudis can now petition and lodge complaints directly to the King
May 3, 2014
RIYADH: Saudi citizens can now petition 90-year-old King Abdullah directly and lodge complaints through an internet site set up at the initiative of the monarch himself.
The portal tawasol.royalcourt.gov.sa, named after the Arabic word for "communication", was launched on an experimental basis on Wednesday.
All messages are to be forwarded to the king.
"People will be able to inform the king about any shortcomings in the services offered by government agencies, and to take suitable action for the benefit of all citizens," the website says.
More and more Saudis in the conservative state are turning to social networking sites to demand improved living conditions.
However, the authorities, who block access to politically sensitive or pornographic websites, made several arrests in March for tweets deemed offensive to the king.
http://www.dawn.com/news/1103857/saudis-get-internet-hotline-to-king
------------
Deal allows Syrian fighters to withdraw from Homs bastion
May 3, 2014
DAMASCUS: The Syrian government and rebels have reached a deal under which opposition fighters besieged in the central city of Homs will withdraw during a cease-fire, an NGO said on Friday.
The accord will mean all but one district of the city, once dubbed the "capital of the revolution," will be back in government control.
In Hama province, further north, 20 people, including 12 children were killed in two bombings targeting towns that are majority Alawite, the religious community to which President Bashar Assad belongs.
Full report at:
http://www.arabnews.com/news/564896
------------
Al-Qaeda says US colluded with Egypt in 'coup'
May 3, 2014
Al-Qaeda's American spokesman has accused the United States of colluding with military leaders in Egypt to topple the democratically-elected president last summer, saying the US supports the Egyptian army because it "protects the borders of the Jewish state."
In a video posted on militant websites on Friday, Adam Gadahn, a former Osama bin Laden spokesman, also criticised Egypt's current rulers, saying the regime has been unchanged for 60 years.
He described the army-backed overthrow of Islamist President Mohammed Morsi in July as a "bloody secular and fascist coup."
He also urged Muslims around the world to fight the United States to diminish its power and influence so they can choose their own governments.
Gadahn uses the name "Azzam the American."
http://english.ahram.org.eg/NewsContent/1/64/100352/Egypt/Politics-/AlQaeda-says-US-colluded-with-Egypt-in-coup.aspx
------------
Syrian Army Achieves More Success against Militants in Homs
May 3, 2014
The Syrian army achieved more success in its operations against foreign-backed militants in the Western city of Homs.
Army units on Friday discovered and dismantled three explosive charges planted by militants in the vicinity of Homs, press tv reported.
The explosives weighed between 20 and 40 kilograms and were set to be detonated wirelessly.
This came after foreign-backed militants were forced to agree to a ceasefire with the government to evacuate the city.
Meanwhile, in Damascus Countryside, Syrian forces still have control of al-Dmeir airport. Militants had earlier claimed that they had taken control of the airport.
Press TV's exclusive footage shows aviation activities are normal at the airport and security is being provided by the Syrian army.
Syria has been the scene of a deadly turmoil since March 2011. Reports say over 150,000 people have so far been killed and millions of others displaced because of the foreign-backed militancy plaguing the country.
http://english.farsnews.com/newstext.aspx?nn=13930213000332
-----------
North America
US Panel Urges Action on Pak Religious Freedom
May 3, 2014
WASHINGTON - An expert panel urged the United States to add Pakistan to a blacklist of violators of religious freedom, saying that the Ahmadi minority suffers "apartheid-like" conditions.
The US Commission on International Religious Freedom, which advises the government on policy but does not take action on its own, urged the State Department to add Pakistan to its list of "countries of particular concern" subject to potential sanctions.
In an annual report, the commission said Pakistan "represents the worst situation in the world for religious freedom" among countries that are not already on the US blacklist and those conditions in the past year "hit an all-time low."
Robert George, chairman of the commission, voiced alarm over treatment of the Ahmadis, who were declared by Pakistan to be non-Muslims in 1974.
"The Ahmadi minority in Pakistan lives under something really resembling an apartheid-like system subject to severe legal restrictions," said George, comparing the situation to South Africa's 1948-1994 system of forced racial separation.
"They suffer from officially sanctioned discrimination, not just social or cultural prejudice," he told reporters.
Full report at:
http://www.nation.com.pk/national/01-May-2014/us-panel-urges-action-on-pak-religious-freedom
------------
Possible Boko Haram attack likely in Lagos - US
May 3, 2014
US diplomats in Nigeria has claimed that "groups associated with terrorism" could be planning to attack a hotel in the financial capital, Lagos, in a travel note to citizens warning of security risks.
"As of late April, groups associated with terrorism allegedly planned to mount an unspecified attack against the Sheraton Hotel in Nigeria, near the city of Lagos," the US Consulate General in Lagos said in an emailed advisory.
"There was no further information regarding which of the two Sheraton Hotels in Lagos was the possible target, or if both of the Sheraton Hotels are possible targets.
"There is no further information regarding the timing or method of attack. US citizens are cautioned to avoid these hotels at this time," A statement on AFP reads.
The warning comes a day after a car bomb exploded in Nigeria's capital Abuja, killing 19 people and wounding scores more, just yards (metres) from a bus station where a previous bombing on April 14 killed at least 75.
Full report at:
http://dailytimes.com.ng/article/possible-boko-haram-attack-likely-lagos-us
------------
Iran outlaws WhatsApp, says Zuckerberg is an 'American Zionist'
May 3, 2014
US Commission on International Religious Freedom blasts Tehran for anti-Semitism and "targeting members of the Jewish community."
Iran's Committee on Internet Crimes says the Facebook co- founder Mark Zuckerberg is a Zionist and banned his recently acquired messaging system WhatsApp.
Fox News reported Iran's criminalization of WhatsApp on Friday.
According to the report, Abdolsamad Khorramabadi, head of the country's Committee on Internet Crimes, said "The reason for this is the acquisition of WhatsApp by the Facebook founder Mark Zuckerberg, who is an American Zionist."
The US Commission on International Religious Freedom (USCIRF) blasted Iran last week in its new report on the repression of religious freedom. According to the report, Iran continues to propagate anti-Semitism and target members of the Jewish community on the basis of real or perceived 'ties to Israel.'
Full report at:
http://www.jpost.com/Iranian-Threat/News/Iran-outlaws-WhatsApp-because-Zuckerberg-is-an-American-Zionist-351198
------------
Syrian war spawning new generation of terrorists: US
May 3, 2014
WASHINGTON: The worldwide terror threat is evolving as Al Qaeda linked groups and other militants become increasingly violent and Syria spawns a new generation of global terrorists, the US warned.
The State Department's 2013 Country Reports on Terrorism showed the number of attacks around the world rose last year to more than 9,700 — up some 43 per cent from 6,700 in 2012.
But officials cautioned that even though some 17,800 people had been killed — up from 11,000 in 2012 — most of the attacks were smaller and more localized than in past years.
US counter-terrorism efforts to combat Al Qaeda have "degraded" the core leadership, but "subsequently 2013 saw the rise of increasingly aggressive and autonomous Al Qaeda affiliates and like-minded groups in the Middle East and Africa, "the report said.
Al Qaeda's leadership was also struggling "to maintain discipline within the network and communicate guidance to its affiliated groups," said Counter-terrorism coordinator Tina Kaidanow.
Full report at:
http://www.dawn.com/news/1103408/syrian-war-spawning-new-generation-of-terrorists-us
------------
Pakistan
Sajna Planning To Overthrow Fazlullah, Chief of Pakistani Taliban
May 03, 2014
LAHORE - Against the backdrop of infighting among the outlawed Tehreek-i-Taliban Pakistan (TTP) ranks, some of its militant leaders are planning to kill Maulvi Fazlullah – the disputed chief of Pakistani Taliban who is hiding in Afghanistan, The Nation has learnt.
Tribesmen close to TTP commander Khan Said Mehsud alias Sajna talking to this correspondent from an undisclosed location in a tribal area informed on Friday that Sajna is making bids to unite all the anti-Fazalullah militants in TTP under his command, apparently to dethrone the disputed Fazlullah.
Sajna was tipped as the strongest contender for assuming Taliban leadership after Hakimullah Mehsud's killing in a US drone strike, claiming himself as being the most suitable candidate to run the militant organisation comprising as many as 43 different militant outfits.
The sources said Sajna now emerging as a rival to the present TTP leader. They said he is exploiting the differences among the Mehsud tribe over the leadership issue, and he is even contacting with the militant groups outside the TTP to bring them under his command.
When asked whether assassinating disputed chief could be the only motive of Sajna, they said, "Apparently, his efforts are focused on eliminating the command of Maulvi Fazalullah, as he never accepted his leadership.
Full report at:
http://www.nation.com.pk/editors-picks/03-May-2014/sajna-planning-to-overthrow-fazlullah
------------
Imran Khan demands an apology from Jang and Geo Group
May 02, 2014
ISLAMABAD- Pakistan Tehreek-e-Insaf (PTI) Chairman Imran Khan has urged Chief Justice of Pakistan, Tassaduq Hussain Jillani to take suo moto notice of the rigging in May 11, 2013 general election and demanded verification of thumb prints in four constituencies.
Addressing a press conference at Central Secretariat today, Imran Khan demanded action against those who were involved in rigging in the
general polls. "Today, I will present to you the extent of the rigging that took place, which was even more than we had expected," said Imran. Khan mentioned that the PTI representative from NA-118 Hamid Zaman, put in Rs5.7 million of his own money to acquire information about the vote count. Khan also mentioned that Zaman had received threats following his request to use fingerprint verification during the polls.
Full report at:
http://www.nation.com.pk/national/02-May-2014/imran-khan-demands-an-apology-from-jang-and-geo-group
------------
Ideology of Pakistan only source of peace: Hafiz Saeed
May 03, 2014
LAHORE - Strongly criticising the US and India, Jamatud Dawa Ameer Hafiz Muhammad Saeed said the countries are creating unrest in Pakistan. "Ideology of Pakistan is the only source of peace," he said.
Hafiz Saeed expressed these views while addressing a gathering of lawyers at the Lahore High Court Bar Association here on Friday. He further said that it was a high time to implement "Ideology of Pakistan" to bring peace in the country. He urged that all segments of society should come forward to save the country from increasing terrorism. He said that the government should take Indian conspiracies as serious and focus on development in the county, so that the impression of deprivation could be eliminated. He said the situation would have been different in Balochistan if the government had taken serious steps to uplift the province.
Full report at:
http://www.nation.com.pk/lahore/03-May-2014/ideology-of-pakistan-only-source-of-peace-hafiz-saeed
------------
Ideological battle brews in Pakistan between religious, secular factions
May 3, 2014
ISLAMABAD: Pakistan's top religious body, the Council of Islamic Ideology, is not new to controversies.
It recently spoke in favour of child marriage and asked the government to review a law that requires a man to seek permission from his wife before marrying another woman.
An ideological battle has been brewing in Pakistan between the religious and secular factions of society.
From the outset, a large number of its people believe that the country should become an Islamic state.
But many others strongly contest the idea, arguing that the country's religious and ethnic diversity requires it to be a secular and democratic state.
This ideological conflict was brought to the fore with recent controversies over some rulings of the Council of Islamic Ideology.
Full report at:
http://www.channelnewsasia.com/news/asiapacific/ideological-battle-brews/1092492.html
------------
Sindh Rangers tasks special unit to probe MQM allegations
May 3, 2014
KARACHI: Taking the allegations levelled by the Muttahida Qaumi Movement into account, the Sindh Rangers has tasked a special unit to probe the party's claims that personnel from the paramilitary force were involved in the "extrajudicial killing" of four MQM workers, DawnNews reported.
A spokesman for the Sindh Rangers said in a statement that the unit would investigate the claims of the party and legal action would be taken against those found responsible of using the force's uniforms for the purpose.
The statement added that the Rangers have in the past arrested groups who used the force's uniforms to extort money out of the families of arrested men.
Full report at:
http://www.dawn.com/news/1103921/sindh-rangers-tasks-special-unit-to-probe-mqm-allegations
------------
Karachi: Iran's fleet of warships arrives
May 03, 2014
Tehran- Iran's flotilla of warships berthed at the Pakistani Karachi port to expand naval cooperation between the two friendly nations.
Commander of Iranian fleet First Captain Ali Jahanbakhsh said that the flotilla, comprising of four naval ships and a submarine, arrived at Karachi port and was warmly welcomed by the Pakistan Navy officers.
"The mission is aimed at enhancing defensive cooperation and interaction with the regional countries, particularly neighboring Pakistan," Jahanbakhsh was quoted as saying by FARS news agency.
Full report at:
http://www.nation.com.pk/national/03-May-2014/karachi-iran-s-fleet-of-warships-arrives
------------
Blast targets FC vehicle in Bolan; one killed
May 3, 2014
QUETTA: One Frontier Corps (FC) man was killed and another was injured in a bomb explosion in Balochistan province's Bolan district on Saturday, a security official said.
Khan Wasey, a spokesman for the FC, told Dawn that a security forces' vehicle was on routine patrolling when it was attacked in Bolan's Dhadar area in the morning.
"A loud and powerful explosion was heard in the area. It appeared to be a remote-controlled blast," Wasey said.
Full report at:
http://www.dawn.com/news/1103936/blast-targets-fc-vehicle-in-bolan-one-killed
------------
Grouping within TTP a bane for businessmen
May 3, 2014
ISLAMABAD: The recent grouping in the outlawed Tehrik-i-Taliban Pakistan (TTP) may help the government and security forces to deal with the militants but it has created more trouble for businessmen in the twin cities of Rawalpindi and Islamabad.
In the recent past, the businessmen had paid extortions to the TTP but a few days later they again received calls for payment of more money, officials in the police said.
The second calls, they added, came even though middlemen of the militants had given assurances that the businessmen would not be threatened.
The officials said the TTP groups worked under Shehryar Mehsud and Khan Said alias Sajna.
The differences among them cropped up in the run-up to the selection of the successor to Hakimullah Mehsud who was killed in a US drone attack last year.
Full report at:
http://www.dawn.com/news/1103891/grouping-within-ttp-a-bane-for-businessmen
------------
Africa
Girls Kidnap Would End Boko Haram: Controversial Islamic Scholar
May 3, 2014
Controversial Islamic Scholar Sheikh Ahmed Abubakar Gumi has said that the kidnap of school girls by the Boko Haram insurgents will end the group's activities.
In a statement in Kaduna, Gumi said security agents should encircle the Sambisa forest and use aerial surveillance that would lead to the capture of the abductors, adding that time was running out fast on them.
He wondered why it has taken the military so long to use the drone developed and manufactured by the Nigeria Air Force Institute of Technology in Kaduna. If the drone is working, said Gunmi, this is the right time to use it.
To him, it is ironic that "nobody wants to take responsibility and honorably resign for more responsible officials to clear the mess".
He said: "When there was a bomb blast in Jaji cantonment during the hey days of explosions in the northern capital cities, the cantonment commandant was sacked and retired from the Army. This spirit of accountability has suddenly vanished.
"This abduction is an end game for whoever is responsible for the killings, bombings and terror all over in general. The abductors – whoever they may be- are confined in space and time for the first time. The abducted girls are known, therefore, lies will have to end. The abductors must be identified. These girls hold the answers to all the melodrama that is called war against Book Haram.
Full report at:
http://dailytimes.com.ng/article/girls-kidnap-would-end-boko-haram
------------
Gunmen kill 15 in raid on Central African Republic border town
World Bulletin/News Desk
May 3, 2014
Gunmen killed about 15 people, including children, in an attack on a town in Central African Republic near the border with Chad, a local official and aid workers said on Friday.
The raid in the town of Markounda on Thursday was about 30 km (18 miles) from the site of an attack on a health clinic run by medical charity Medecins Sans Frontieres last week which killed 16 people.
It coincided with a visit by U.N. peacekeeping chief Herve Ladsous who is in the country for three days ahead of the deployment of a 12,000-strong mission in mid-September.
Despite the presence of French and African peacekeepers, thousands have died in inter-communal violence in the vast, former French colony and close to a million have been displaced.
Full report at:
http://www.worldbulletin.net/headlines/135315/gunmen-kill-15-in-raid-on-central-african-republic-border-town
--------------
Nigeria says more schoolgirls held by Boko Haram Islamic militants than thought
May 3, 2014
MAIDUGURI, Nigeria -- The number of kidnapped schoolgirls missing in Nigeria has risen to 276, up by more than 30 from a previous estimate, police said, adding that the actual number abducted by Islamic extremists on April 14 was more than 300.
Police Commissioner Tanko Lawan said the number of girls and young women who have escaped also has risen, to 53.
He told a news conference Thursday night in Maiduguri, the northeastern capital of Borno state, that the figures keep increasing because students from other schools were brought into one school for final exams last month after all schools in Borno state were shut because of attacks by Islamic extremists. Communications are difficult with the military often cutting cell phone service under a state of emergency and travel made dangerous on roads frequently attacked by the militants.
Full report at:
http://www.cbsnews.com/news/nigeria-says-more-schoolgirls-held-by-boko-haram-islamic-militants-than-thought/
------------
Kenyan police kill 2 Al-Shabaab suspects
World Bulletin / News Desk
May 3, 2014
Security forces killed two suspected rebels affiliated with Somalia's Al-Shabaab group on Friday during a failed attack on a power station in northern Kenya.
"Police accosted the militants. Two militants were killed. The rest, numbering roughly 30, managed to escape with gunshot wounds," local police commander Noah Mwavanda told Anadolu Agency.
The two rebels are believed to have crossed into Kenya from Somalia with the aim of attacking a power station in the northern town of Mandera.
Police recovered an AK-47 rifle, ammunition and several explosive devices.
Friday's attack came one day after another power plant was attacked in neighboring Wajir County.
Full report at:
http://www.worldbulletin.net/world/135340/kenyan-police-kill-2-al-shabaab-suspects
-----------
Moroccan youth were forcibly recruited, funds extorted for Syrian war
May 3, 2014
CAIRO — Thousands of Moroccans have been recruited for the civil war in Syria.
Diplomatic sources and analysts said that Al Qaida and other Islamist militias were focusing on recruiting Moroccans and other North
Africans to fight the regime of Syrian President Bashar Assad, according to a report by Middle East Newsline.
The sources said many of the Moroccans were approached by Al Qaida's Nusra Front for the Defense and the Levant and Saudi-sponsored militias.
"At first, the Moroccans were joining rebel militias in the war against Assad," a source said. "Over the last few months, the Moroccans were forcibly recruited by Islamic State of Iraq and the Levant."
Full report at:
http://www.worldtribune.com/2014/05/02/moroccan-youth-forcibly-recruited-funds-extorted-syrian-war/
--------------
India
To Develop 6 Lakh Acres, Waqf PSU Set To Launch IPO by Year-End
New Delhi | May 3, 2014
The National Waqf development Corporation (NAWADCO), a three-month-old public sector firm set up by the UPA government to develop six lakh acres of Waqf land, is set to launch its IPO by the end of the year.
NAWADCO was inaugurated by Prime Minister Manmohan Singh and UPA chairperson Sonia Gandhi in January. It is the first step in setting up Shariah compliant financial institutions for building infrastructure for the welfare of the community.
India has the largest number of Waqf properties in the world. There are more than 4.9 lakh registered Waqf properties and the annual income from these is about Rs 163 crore. The IPO would be the first time a corporation tasked with the development of Waqf properties is entering the market.
The Sachar Committee had estimated that such properties, if properly developed, with a minimum return of 10 per cent, would be capable of generating an income of Rs 12,000 crore per annum. NAWADCO, a central PSU under the ministry of minority affairs, was established with an authorised share capital of Rs 500 crore and a paid up capital of Rs 100 crore. It was one of the recommendations of the Sachar Committee.
"We are preparing a land bank of Waqf properties and by making the Waqf Management System of India GPS enabled, we can keep track of any illegal occupation at the click of a mouse," said a senior NAWADCO official.
Full report at:
http://indianexpress.com/article/india/india-others/to-develop-6-lakh-acres-waqf-psu-set-to-launch-ipo-by-year-end-3/
------------
Jamaat-ud-Dawa leader forms new terror outfit for India operations
Neeraj Chauhan,TNN | May 3, 2014
NEW DELHI: Days ahead of the formation of a new government in India, intelligence inputs gathered by central agencies say a leader of Pak-based terror outfit Jamaat-ud-Dawa Zameer Khan has formed a new outfit- Ansar-ul-Uma- forconducting operations in India.
According to the inputs, the new outfit was formed three days ago and 80-100 terrorists had already joined it. Sleuths are busy gathering more information about the new outfit and its members.
A secret document of the intelligence agencies, accessed by TOI, claims that the new outfit has its office located in Bagh district in Pakistan.
The intelligence agencies have also informed that Maulana Masood Azhar, founder of Jaish-e-Mohammad (JeM), last week held a conference -'Jehad-e-Kashmir'- with senior members of various Tanzeems. Masood Azhar was released by India in the wake of the 1999 Kandahar hijack.
This is for the second time, the intelligence agencies have tracked that Masood Azhar is active again. In January, agencies found that Azhar had held a rally in Muzzarabad in Pak-occupied Kashmir.
Full report at:
http://timesofindia.indiatimes.com/india/Jamaat-ud-Dawa-leader-forms-new-terror-outfit-for-India-operations/articleshow/34555545.cms
--------
Alleged IM operative deported from UAE
PRAVEEN SWAMI
May 3, 2014
Faizan Ahmad Sultan, named by the National Investigation Agency as a key Indian Mujahideen organiser, was deported by the UAE late on Friday, in what investigators describe as a key breakthrough in foiling the Islamist terror group's recruitment and fundraising operations in West Asia.
Faizan was escorted to New Delhi by Research and Analysis Wing (RAW) officials and was arrested by the NIA soon after his arrival.
Police sources told The Hindu that UAE authorities detained Faizan soon after he was located by RAW in February, based on leads developed through the interrogation of alleged Indian Mujahideen commander Mohammad Ahmad Zarar Siddibapa. Siddibapa, held while crossing the India-Nepal border last year, is now awaiting trial.
Full report at:
http://www.thehindu.com/news/national/alleged-im-operative-deported-from-uae/article5971265.ece
------------
Elections on, India denies visas to 500 Pak pilgrims to visit the shrine at Ajmer
Written by Shubhajit Roy | New Delhi | May 3, 2014
India and Pakistan locked horns on Friday over 500 Pakistani pilgrims being denied visas to visit the shrine of Hazrat Khwaja Moinuddin Chishti at Ajmer. While Pakistan lodged a protest by summoning the Indian deputy high commissioner in Islamabad, New Delhi said they took the decision in view of the "safety" of these pilgrims.
Ministry of External Affairs (MEA) spokesperson Syed Akbaruddin said since India is in the midst of its general elections, a visit of a large group of Zaireen (pilgrims) would have required more elaborate arrangements than usual. He said the decision was taken as a "measure of abundant precaution", aimed at ensuring the safety and welfare of the pilgrims.
Earlier in the day, Pakistan summoned Indian deputy high commissioner Gopal Baglay to lodge a protest over the denial of visas. A Pakistan Foreign Office statement said Pakistan conveyed its deep disappointment and concern. This is the fourth time that visas have been denied to Pakistani pilgrims in the past one year, it said.
Full report at:
http://indianexpress.com/article/india/india-others/elections-on-india-denies-visas-to-500-pak-pilgrims/
------------
Mideast
Iran: At Least 34 Executed In 11 Days
May 3, 2014
NCRI - The Iranian regime has executed at least 34 prisoners in past 11 days in 7 cities across Iran including many young prisoners in their early 20s.On Thursday, May 1, the International Workers' Day, hanged Mostafa Nazi Chalavi, Amir Rouzdar and Babak Vavani in Bandar Abbas Prison bring.
In the city of Karaj, on April 1 and 2, eleven prisoners were executed in two group executions in Ghezel Hessar and Gohardasht prisons. Rasoul Talebei executed in Ghezel Hessar Prison, was 20.
In the city of Kermanshah, on April 27, at least seven prisoners were executed in Diezelabad Prison. Two of those executed identifies as Fariborz Siabani and Fattahi.
In the city of Mashhad, on April 21, 28 and 29, six prisoners were executed including a 20-year-old.
Full report at:
http://irannewsupdate.com/news/iranian-opposition/1074-iran-at-least-34-executed-in-11-days.html
------------
Al-Aqusa mosque Imam says Arab legions to liberate Haifa, Safed, Jaffa, Beit Shean
May 3, 2014
Al-Aqusa Mosque Imam Raed Al-Daan said at an Islamic conference in Milan, Italy that the Arab armies would liberate Haifa, Safed, Jaffa, Lod, and Beit Shean.
"We will return to the sea of Jaffa, to the sands of Haifa, to the palm trees of Beit Shean, and to the hills of Lod and Ramle. We in the blessed Al-Aqsa Mosque await the legions of the conquerors. We await the armies from Tunisia, from Jordan, from Egypt, from Iraq, from the Maghreb, and from the Hijaz," said Daan according to a report by MEMRI (the Middle East Media Research Institute).
The speech was aired on Al-Jazeera TV on April 27.
Daan said that in Gaza, orphans have "sprouted wings" and there are "great and proud men" there "who have realized that darkness and the Jewish state would vanish," said the report. "And that morning, the sun will rise on Palestine."
Full report at:
http://www.jpost.com/Middle-East/Al-Aqusa-mosque-Imam-says-Arab-legions-to-liberate-Haifa-Safed-Jaffa-Beit-Shean-351161
------------
Mideast peace talks dead, no resumption on horizon
May 3, 2014
US Secretary of State John Kerry's nine-month effort to broker an Israeli-Palestinian peace deal formally collapsed this week, with no revival on the horizon because each side appears firmly entrenched in its positions.
Kerry said Thursday it was time for Washington to "pause, take a hard look at these things, and find out what is possible and what is not possible in the days ahead."
He was speaking two days after the expiration of a Tuesday deadline by which the sides had committed themselves to seek a peace deal.
But the talks had already unraveled last week when Israel suspended them after Hamas, which is sworn to the Jewish state's destruction, and president Mahmoud Abbas's Palestine Liberation Organisation (PLO), dominated by the Fatah movement, reached a reconciliation deal.
Full report at:
http://english.ahram.org.eg/NewsContent/2/8/100318/World/Region/Mideast-peace-talks-dead,-no-resumption-on-horizon.aspx
------------
Minister won't rule out talks with Hamas, reminds 'PLO was once a terrorist organization'
May 3, 2014
Finance Minister Yair Lapid believes negotiations between Israel and Hamas are still possible, despite what other members of the coalition, such as Prime Minister Binyamin Netanyahu, believe.
In a conversation with the Wall Street Journal, Lapid answered the question as to whether or not talks with the terror group would ever be possible, replying "It's not like it didn't happen before."
The Yesh Atid chairman continued by saying that "the PLO used to be a terror organization," insinuating his openness to change in organizations and the possibility that in the future, talks between Israel and Hamas may be possible.
Full report at:
http://www.jpost.com/Diplomacy-and-Politics/Lapid-doesnt-rule-out-talks-with-Hamas-reminds-PLO-was-once-a-designated-terrorist-organization-351208
------------
Mashaal: Hamas remains committed to jihad against Israel
May 3, 2014
Hamas is committed to holy war against Israel, its leader Khaled Mashaal affirmed one week after it signed a reconciliation pact with Fatah.
"Our path is resistance and the rifle, and our choice is jihad," he said, in his first public comments since the deal with Fatah was announced.
Mashaal spoke by phone to hundreds of Palestinians who attended the funeral of Hamas terrorists Adel and Imad Awadallah.
Israel handed the bodies of the two brothers to the Palestinian Authority more that 16 years after IDF soldiers killed them outside Hebron.
Full report at:
http://www.jpost.com/Diplomacy-and-Politics/Khaled-Mashaal-Hamas-remains-committed-to-jihad-against-Israel-350937
-----------
South Asia
China's President Orders 'Crushing Blow' to Terrorism
May 3, 2014
Chinese President Xi Jinping ordered troops stationed in Xinjiang to deal a "crushing blow" to terrorists.
Xi, chairman of the Central Military Commission, made the remarks when visiting the People's Liberation Army (PLA) troops stationed in Xinjiang, Xinhua reported. Speaking with senior PLA officials on Sunday, Xi ordered PLA forces to assist local government and party departments in combating terrorism and safeguarding social stability.
"All forms of terrorism should be rooted out in an early phase, while decisive action must be taken to stop terrorists gaining momentum," he said.
Full report at:
http://english.farsnews.com/newstext.aspx?nn=13930213000408
------------
20 Taliban militants killed in separate operations in Afghan
May 03 2014
At least 20 Taliban militants were killed in separate military operations conducted by Afghan national security forces in the past 24 hours.
The interior ministry of Afghanistan following a statement said Saturday at least 9 Taliban militants were killed during military operations in Ghazni and Paktia provinces.
The statement further added that the operations were conducted by Afghan national police forces in cooperation with the Afghan national army and Afghan intelligence – national directorate of security (NDS) operatives.
Afghan security forces also confiscated various types of weapons, ammunition and explosives during the military operations.
Full report at:
http://www.khaama.com/20-taliban-militants-killed-in-separate-operations-6044
------------
Death Stalks Muslims as Myanmar Cuts Off Aid
May 3, 2014
SITTWE, Myanmar — By the time the baby girl was brought to the makeshift pharmacy, her chest was heaving, her temperature soaring. The supply of oxygen that might have helped was now off limits, in a Doctors Without Borders clinic shut down by the government in February.
A hospital visit was out of the question; admission for Rohingya Muslims, a long-persecuted minority, always requires a lengthy approval process — time that the baby, named Parmin, did not have. In desperation, the pharmacy owner sent the family to the rarely staffed Dapaing clinic, the only government emergency health center for the tens of thousands of Rohingya Muslims herded into displaced people's camps. Although it was just 4 p.m., the doors were shuttered.
Full report at:
http://www.nytimes.com/2014/05/03/world/asia/death-stalks-muslims-as-myanmar-cuts-off-aid.html
------------
Over 2,100 confirmed dead in landslide in northeast Afghanistan
May 3, 2014
More than 2,100 are confirmed to have been killed after a landslide crashed into a remote mountain village in northeast Afghanistan, a spokesman for the provincial governor said on Saturday. "More then 2,100 people from 300 families are all dead," Naweed Forotan, a spokesman for the Badakhshan provincial governor, told Reuters.
The United Nations said the focus was now on the more than 4,000 displaced by Friday's disaster. There is a risk of further landslides in the area, officials say.
More than 300 people were killed and hundreds of others feared dead after a landslide buried an Afghan village, officials said, as rescue teams on Saturday rushed to the scene in the hope of finding any survivors. Local people used shovels to search for anyone trapped under a massive river of mud and rocks that engulfed the village in Badakhshan province, leaving little sign of the hundreds of homes it destroyed.
Full report at:
http://voiceofrussia.com/news/2014_05_03/Over-2-100-confirmed-dead-in-landslide-in-northeast-Afghanistan-4792/
----------
Europe
Islamist plot to infiltrate schools 'widespread across UK', heads warn
May 3, 2014
Schools across Britain are likely to have been targeted in an alleged Islamist plot to take over classrooms, head teachers have warned.
The National Association of Head Teachers said it had found "concerted efforts" to infiltrate at least six schools in Birmingham.
But the union also said that the scandal had "connections" to other large cities.
The Telegraph understands that there are growing concerns about the possible infiltration of schools in Bradford, Manchester and parts of east London.
The acknowledgement from the professional body follows a series of exposés by The Telegraph which disclosed how a "Trojan Horse" plot in Birmingham had put schools under pressure illegally to segregate classrooms and change teaching to reflect radical Islamic beliefs.
Full report at:
http://www.telegraph.co.uk/education/educationnews/10804289/Head-teachers-raise-serious-concerns-over-Islamic-school-take-over.html
------------
Online Commentary in Uzbekistan Divided on Crimea
May 3, 2014
The official mass media in Uzbekistan is not discussing or analyzing the situation surrounding Crimea. Therefore, from the outside, it is difficult to discern the local people's perspectives on this issue. Nevertheless, an analysis of the online comments on local websites reveals that pro-Russian sentiment only somewhat surpasses anti-Russian sentiment regarding the turbulent situation in southeastern Ukraine. This might come as a surprise considering the lack or even absence of local debate, as well as the dominance of Russian TV channels and Russian online news in Uzbekistan's media space.
Full report at:
The Jamestown Foundation
------------
France Launches Anti-Jihadist Plan
May 3, 2014
Marine Le Pen told RTL Radio that the government's plan to fight against French jihadists was "cosmetic" and will remain ineffective as long as border controls are not restored within the European Union.
Others are wondering who will control the data collected by the new website and hotline, and how the information will be used, especially when it involves young people who have not been convicted of a crime.
The French government has unveiled a new plan aimed at preventing French citizens or residents from waging jihad in Syria and other conflict zones in the Muslim world.
More than 700 French nationals and residents are now believed to be fighting in different parts of the Middle East and North Africa, including at least 500 in Syria alone, according to French intelligence estimates.
Full report at:
http://www.gatestoneinstitute.org/4296/france-anti-jihadist-plan
------------
Palestinians formally join five international treaties, UN announces
May 3, 2014
The Palestinian Authority formally joined five international human rights treaties, the United Nations told the AFP news agency on Friday.
A spokesman for the UN human rights office told members of the press on Friday that the treaties banned torture and racial discrimination. The Palestinians also joined treaties promoting women's rights, children's rights, and the rights of the disabled.
Later this week, the Palestinians are also expected to gain formal entry into a treaty which protects children in conflict zones. In July, it is expected to ratify two agreements governing civil, political, economic, social, and cultural rights, AFP reported.
"This accession to seven core human rights treaties and a key protocol is a significant step towards enhancing the promotion and protection of human rights in Palestine," the UN spokesperson said.
Full report at:
http://www.jpost.com/Diplomacy-and-Politics/Palestinians-formally-join-five-international-treaties-UN-announces-351174
------------
Southeast Asia
Prepare to be voted out if hudud implemented, Pakatan warned
BY ZURAIRI ARMAY 3, 2014
May 3, 2014
KUALA LUMPUR, May 3 ? Participants at a forum on hudud last night threatened to withdraw their support for Pakatan Rakyat (PR) should Islamist party PAS go through with its plan to implement the controversial Islamic penal code in Kelantan.
Voicing their concern that the venomous issue will tear the opposition pact apart, the participants urged PAS to focus instead on righting social justice in the country and wresting Putrajaya from ruling coalition Barisan Nasional (BN).
"For the last seven years we have been fighting to get rid of demons in Putrajaya. Do not for one moment imagine it is because we love PAS.
"You get our vote by default. Continue on the path you're taking, and be prepared to face peril at the ballot box," warned political activist Haris Ibrahim, who is linked to the Anything But Umno movement.
Full report at:
http://www.themalaymailonline.com/malaysia/article/prepare-to-be-voted-out-if-hudud-implemented-pakatan-warned#sthash.HpW1kzul.dpuf
------------
Brunei's sharia mixed news for countries with Muslim communities
May 3, 2014
After years of creeping fundamentalism, Brunei's Sultan has decided to say it like it is: the country has opted for the Islamic sharia legal code in full. At a time when the Uniform Civil Code is in the news here, Brunei's decision has little immediate impact considering the limited application of sharia throughout the Islamic world.
The worrying factor for countries with significant Islamic minorities including India, Sri Lanka and the West, however, is the increasing radicalisation that tipped the balance in Brunei. On the other hand, large parts of the Islamic world which have opted not to have sharia at all, like European or Central Asian Islamic majority states, have also not seen radicalisation.
On the face of it, Brunei is not a significant power: its twin claims to fame being the one barrel of crude oil it produces for every four of its citizens every day, and a Sultan known for his very conspicuous consumption, gold-plated bathrooms, car collections, the works. Despite the kind of lifestyle that would leave radical Islamists apoplectic, or perhaps because of it, the aging sultan had been displaying signs of Islamisation for some time.
Full report at:
http://ibnlive.in.com/news/bruneis-sharia-mixed-news-for-countries-with-muslim-communities/469092-2.html
------------
Barisan policies have helped Chinese prosper, says Najib
May 3, 2014
Policies set by the ruling Barisan Nasional government have helped to ensure the Chinese community's success in Malaysia, Prime Minister Datuk Seri Najib Razak said today.
While acknowledging that the community's drive, industriousness and entrepreneurial skills have contributed to the country's development all these years, Najib said BN's policies had contributed to peace and harmony that enabled them to flourish.
"But we have to admit that BN's policies ensure peace and harmony here, ensure a fair share of opportunities in the country that led to most Chinese being relatively successful here," he said in his speech at MCA's "Stronger Together" campaign aimed at reviving the fortunes and uniting the senior BN party after its dismal performance in the 13th general election last year.
Full report at:
http://www.themalaysianinsider.com/malaysia/article/bn-policies-have-helped-chinese-prosper-says-najib
------------
Malaysian police arrest 11 suspects in terrorism during special operation
May 3, 2014
Malaysian police have arrested an 11th suspect in an operation to break up Islamic terror groups posing as humanitarian organisations, an official said on Saturday.
Police arrested 10 Malaysians earlier in the week during raids in and around the capital Kuala Lumpur and the northern state of Kedah before a man attempting to flee the country was detained on Thursday, said a Home Ministry official.
"Our biggest worry is organisations using humanitarian missions as the basis to train militants," said Home Minister Zahid Hamidi as cited by Malay-language daily Berita Harian in comments confirmed by the official.
Full report at:
http://voiceofrussia.com/2014_05_03/Malaysian-police-arrest-11-suspects-in-terrorism-during-special-operation-3206/
------------
Lift ban on Shia novel, says 1Malaysia Foundation
May 3, 2014
Writings on Shiism, including the banned novel "Perempuan Nan Bercinta", should not be deemed deviant as the school of thought is integral to Islam, independent foundation Yayasan 1 Malaysia says today.
In calling for the lifting of the ban on local author Faisal Tehrani's book, 1Malaysia Foundation chairman Dr Chandra Muzaffar said Shiism was a legitimate part of Islam.
"Writings on Shiism should not be construed as deviant. The Malaysian government, like all other members of the Organisation of Islamic Cooperation (OIC), subscribes to this position," said Chandra in a statement yesterday.
"After all, a number of our leaders have endorsed the Amman Message of 2005 which recognises the validity of all eight mazhabs, including Shiism."
Yesterday, the Home Ministry said in a statement that it had banned the novel to "stop an attempt to inject Shia propaganda through creative works which might be targeted towards academics and youth".
Full report at:
http://www.themalaysianinsider.com/malaysia/article/lift-ban-on-shia-novel-says-1malaysia-foundation
----------
URL: https://www.newageislam.com/islamic-world-news/new-age-islam-news-bureau/jihadist-group--crucifies--bodies-to-send-message/d/76858