New Age Islam News Bureau
2 May 2012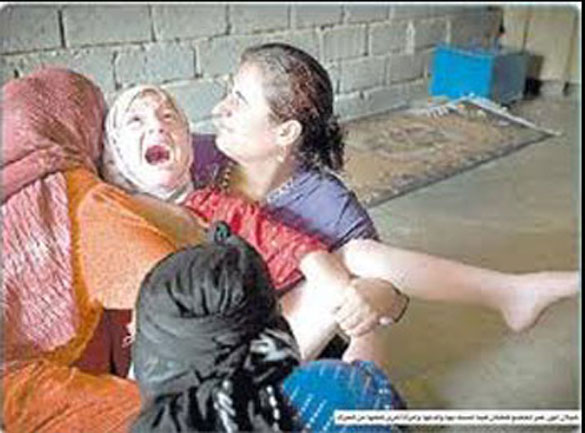 • UK Muslim leader misunderstands Islam, advocates female genital mutilation
• Pakistan's terror safe havens remain security challenge, says US
• Taliban enforcer squads accused of ruthless control in Nuristan
• Brazil Churches and Homosexuality, New Bible Version
• Sect publishes video of Nigeria newspaper attack by suicide bomber
• 'Body bombs' the new terror threat?
• UK for end to external support for violence in J&K
• Saudi students lend labourers a helping hand
• Iran plot to kill Saudi envoy in Cairo foiled
• Obama frustrated with Pakistan: Expert
• Rise of Muslim Brotherhood frays Saudi-Egypt ties
• Pak, other SAARC nations to emulate India's poll practices
• 2 Bangladeshis beheaded in Saudi Arabia
• J&K: NTRO cracks Voice Over Internet Protocol terror path
• 11 Dead at protest at start of Egyptian presidential campaigns
• Defeat of al-Qaida within reach, Obama says
• 'No serious attempt to find out the Abbottabad truth'
• US pact no threat to Afghanistan's neighbours: Hamid Karzai
• Congress mouthpiece backs Indo-Pak talks
• India accepts Afghan offer to use Wagah border for trade
• J&K CM in jam over blocking Tricolour
• Taliban attack in Kabul kills at least 11 after Obama's visit
• Suicide bomber kills MPs in central Somalia
• Syria Accused of War Crimes, Rebels Kill 15
• Israel Defence Force closes probe into deaths of 21 Gazans
• A year on, Pak keeps Osama mystery alive
• ATM machines, rail tracks targeted in 16 blasts in Pak's Sindh
• 'Tsunami' march: Imran threatens protest if Gilani fails to step down
• Pakistan singer Ali Zafar to receive the Dadasaheb Phalke Award
• Amnesty calls for Afghan journalist's release
• By 2014 Afghans will be fully responsible for their security: Obama
• Taliban announce 'spring offensive' across Afghanistan
• King Abdullah's SR 81.5 bn fillip to education
• Israel closes inquiry into Palestinian family killed during Gaza war
• Adis Medunjanin convicted of plotting to wage jihad on city subways in 2009
• Libya urges ICC to abandon legal claim to try Saif Gaddafi, ex spy chief
• Syrian president grants amnesty for military penalties only
• Osama keeps an eye on earth from hell!
• Iran seeks end to sanctions at talks with world powers
Complied by New Age Islam News Bureau
Photo: British Muslim leader caught on camera advocating for Female Genital
URL: https://newageislam.com/islamic-world-news/jamiat-ulema-e-pakistan-declares/d/7206
----------
Jamiat Ulema-e-Pakistan declares 'Jihad' against vulgarity
May 02, 2012
Karachi, May 1 (ANI): Jamiat Ulema-e-Pakistan (JUP) leader Dr Siddique Rathore, while addressing an All Party Conference (APC) here, has condemned the spread of vulgarity and nudity in Pakistan and said that raising a voice against vulgarity is "Jihad".
According to Jamaat-e-Islami Pakistan (JI) deputy chief Prof Ghafoor Ahmed, immodesty is a horrible evil, which, if allowed to prevail, would eliminate all good aspects of a society.
Pakistan Tehreek-e Insaf (PTI) leader Aslam Rajput said the promoters of vulgarity had invited the Taliban to come and take over.
Syed Zia Abbas said nude posters were widely displayed in the city, but the government has taken no action against it. Mir Nawaz khan Marwat accused the electronic and even the print media of promoting nudity.
According to The Nation, the APC said that immediate steps should be taken to stop the promotion of vulgarity, as it is a violation of the Constitution, adding that the Pakistan Electronic Media Regularity Authority (PEMRA) should ensure complete implementation of the code of ethics and initiate stern action against those that violate it. The APC also demanded that the Pakistan Telecommunication Authority block all pornographic websites. (ANI)
http://www.newstrackindia.com/newsdetails/2012/05/01/212-Pak-hardline-party-leader-declares-Jihad-against-vulgarity-.html
----------
UK Muslim leader misunderstands Islam, advocates female genital mutilation
02 May, 2012
"Circumcision is obligatory (O: for both men and women. For men it consists of removing the prepuce from the penis, and for women, removing the prepuce (Ar. bazr) of the clitoris (n: not the clitoris itself, as some mistakenly assert). (A: Hanbalis hold that circumcision of women is not obligatory but Sunna, while Hanafis consider it a mere courtesy to the husband.)" -- 'Umdat al-Salik e4.3
We're constantly told that female genital mutilation is a cultural practice that has nothing to do with Islam, and are warned that only greasy Islamophobes think otherwise. Yet Mohammed Abdul not only didn't get this memo, but apparently he assumes that his hearers all share his point of view. What are the Vast Majority of Moderate Muslims planning to do about this spectacular misunderstanding of Islam?
"'Cheat genital mutilation ban by going abroad': British Muslim leader caught on camera advocating female circumcision," by Ian Garland for the Daily Mail, April 29 (thanks to all who sent this in):
A British Muslim leader has been caught on camera advocating female genital mutilation.
Mohammed Abdul, the Imam of a Bristol mosque, was filmed urging a follower to take women and girls abroad so they can be circumcised legally.
The practise was banned by law in 2003, and it's illegal to help or encourage anyone to carry out the barbaric procedure overseas.
The Masjid al-Huda mosque in Bristol, where Muhammed Abdul is an Imam
The Masjid al-Huda mosque in Bristol, where Muhammed Abdul is an Imam
The footage was obtained by an undercover reporter working for the Sunday Times newspaper, who posed as a Muslim seeking advice.
During a meeting with Mohammed Abdul at the Masjid al-Huda mosque: 'In this country, it is not possible, we cannot do that. (For) any other Muslim who likes to practise the way of Prophet Muhammad, the best way is to go to other countries.
'Some families, they go to Africa or Arab countries.
'In this country you have to fight for your religion, your cultures, They (the British) don't like your Muslim cultures.'
Although female genital mutilation (FGM) has not been advocated by Muslim scripture, a number of clerics encourage it....
"Not been advocated by Muslim scripture, and yet supported by Muhammad's words: Muhammad is depicted in the Hadith as not condemning it, but merely cautioning against going overboard: "A woman used to perform circumcision in Medina. The Prophet (peace_be_upon_him) said to her: Do not cut severely as that is better for a woman and more desirable for a husband." - Sunan Abu Dawud 41.5251
http://www.jihadwatch.org/2012/04/uk-muslim-leader-misunderstands-islam-advocates-female-genital-mutilation.html
--------
Pakistan's terror safe havens remain security challenge, says US
02 MAY 2012
US-led coalition forces have weakened the Taliban in Afghanistan, but terrorist safe havens in Pakistan and endemic corruption still pose tough challenges, a new Pentagon report says.
"The Taliban-led insurgency's safe haven in Pakistan, as well as the limited capacity of the Afghan Government, remain the biggest risks to the process of turning security gains into a durable and sustainable Afghanistan," the latest semi-annual Pentagon report to the Congress Tuesday said.
Insurgents "still operate with impunity from sanctuaries in Pakistan," the report said. For example, insurgents slip across the border from Pakistan into Logar and Wardak provinces in the east, and from there stage attacks on Kabul.
"Challenges remain," a senior defence official told reporters in a background briefing on the report. "The most important of those challenges, of course, remains the sanctuaries in Pakistan and the ability of the Taliban to refit, regroup and rearm there."
The Taliban and the Haqqani network use areas in Pakistan's federally administered tribal areas to attack Afghan and NATO troops. Afghan and NATO leaders continue to urge Pakistan to address this problem.
"It's Pakistan's duty as a responsible international country to control all violence that emanates from its borders into other areas," the official said. "And we continue to urge them to do so."
NATO's campaign plan is designed to work at reducing the ability of the Taliban and the Haqqani network to infiltrate over the border launch attacks in Afghanistan.
"It's not perfect, so we're going to have to continue to work to shield Afghanistan and work to build the capacity of the Afghans to shield them from these things, from these attacks, but I think we will continue the efforts as well with Pakistan," he said.
http://www.dailypioneer.com/home/online-channel/top-story/62130-pakistans-terror-safe-havens-remain-security-challenge-says-us.html
----------
Taliban enforcer squads accused of ruthless control in Nuristan
May 2, 2012
Isolated Afghan border area heavily regulated by shrouded 'vice and virtue police' said to surpass even hardline Taliban
Villagers in the more remote parts of Afghanistan's mountainous north-east region, tucked up against the lawless border with Pakistan, have long ago adjusted to living alongside insurgents.
But the Taliban enforcers who started filing into their mosques two months ago to check that beard and trouser lengths met standards of religious propriety, and to hunt for government employees, still chilled the congregations.
The Taliban were shrouded from head to toe in black, barely any flesh showing, some also wearing sunglasses. "At Friday prayers the uniformed unit comes and stands in the last line, and then waits at the gate of the mosque to ask people questions like 'why is your beard short?', 'do you work for the government or national police?'," said Haj Sayed Ahmad, a 51-year-old teacher who fled to Kabul a week ago to escape the fallout of a battle between the insurgents and government forces.
"They have black face masks, and even their feet and hands are covered. You can't see anything at all," he added of the men, who also set up checkpoints to search travellers on the roads of the district in the much contested province of Nuristan.
The Taliban spoke in accents from outside the area, refugees said, and anyone who questioned the enforcers risked a dangerous assault.
"The uniformed group, when they stop people, they don't say much. If you try to make a longer conversation they will give you a beating that will nearly kill you," said Hussain Ali, 30, a lawyer. "We call them the 'vice and virtue police'."
Even by the standards of the hardline Taliban, famous for their tight control on everything, from kite flying to music, when they ruled Afghanistan, the uniformed squads are oppressive, said Michael Semple, a fellow at Harvard University, an expert on the Taliban.
He added: "The force now ruthlessly regulating the population's behaviour in Nuristan is out of line with Taliban practice in southern Afghanistan and the provinces where fighters are more directly controlled by the high command. It is at odds with the movement's attempt to project a more moderate image."
There are no known photographs of the men to independently verify the accounts of refugees and Afghan officials; an aversion to cameras means they have not been captured on film, local journalists say.
But the Taliban did confirm they had set up a squad of "morality police" in Nuristan, although they denied it was uniformed or violent, and said it had happened in response to local requests.
"We formed a unit, but they don't have a uniform, and they treat the people with respect," said Zabihullah Mujaheed, a Taliban spokesman, speaking by phone. "It's just to reform the character of the people, because our [Taliban shadow] governor was receiving a lot of complaints from the elders." He added: "They take orders from the [Taliban] provincial governor, to observe the people and check they aren't doing things like watching bad movies on their phones, using drugs or alcoholic drinks." The Taliban policing was just one sign of confidence among insurgents, who came close this year to taking over all of Kamdish district, part of isolated and mountainous Nuristan province, the refugees and Nuristan officials said.
Nuristan is strategically critical. Forested, sparsely populated terrain provides good cover and vantage points. It is also near an easily crossed border that for insurgents serves as the start of a twisting corridor of mountain passes and valleys descending into the heart of Afghanistan, where the officials and troops they aim to confront are based. But the region has been neglected by the central government and Nato-led coalition, which has focused on ousting the Taliban from its southern heartlands and other parts of the east.
The steep valleys for years have been garrisoned solely with police; development projects such as roads have been abandoned because of security worries; and Nato closed its last permanent bases there in 2010 to focus resources on Afghanistan's more populous areas.
The region had already been subjected to some of the bloodiest fighting of the decade-long war; in 2009 a Taliban assault with 300 combatants attacked a US-manned outpost and eight American troops were killed. In neighbouring Waygal district, a year earlier, a similar attack left nine US soldiers dead.
When the defence minister finally ordered in Afghan army commandos this month, the district's only security forces were already close to being overwhelmed, said Tamim Nuristani, the recently appointed provincial governor. Nuristani, who went to Kabul to personally beg the country's president, Hamid Karzai, for help for his "forgotten province", added: "The [Afghan national] police were surrounded and nearly overrun. They forgot about us, the Nuristani people, because we are an ethnic minority, and we didn't have any warlord to push for these things in Kabul."
"The army and defence ministry never had any interest in Nuristan before, but the president specifically told the minister to help us with the situation."
The Afghan army subsequently killed 65 insurgents in a few days of fighting. The area's plight is a reminder of the challenges of fighting an insurgency that can count on safe havens inside Pakistan and a steady supply of fighters, as western troops and money are draining out of the country, and the national police and army are still building up numbers and experience.
Nuristani admits one district of his province, Waygal, is still under Taliban control, and he estimates insurgents hold about 40% of Barge Matal, and 60% of Kamdish districts, bolstered by their black-clad, masked police. "These are the religious police, they have two aims – to control the civilians but also their own Taliban, so that no one can talk back to or disobey the commander." Nuristani has pledged to claw back control of his homeland, and about 250 Afghan national army troops have been moved to permanent bases in the province to help. One company will stay in Kamdish and it will expect to see more fighting. "This operation will continue until the winter," he said.
But the Taliban, also well aware of the area's strategic importance, are ready to fight hard to control the region.
"We were told that the leader of Nuristan's Taliban had requested that all forces come to support him, because he felt it was such a critical battle," said Chris Leonard, a first lieutenant who led a platoon in Nuristan in support of the Afghan army during the operation in Kamdish. "We knew that it was a key piece of terrain in the province, and it was a major goal for the Taliban to take it."
Leonard, whose forces were not called upon to join the fighting, in what was a largely Afghan assault, added: "There was lots of reporting that people were coming to reinforce from other districts and provinces."
The centre of Kamdish is now back under government control, after the action of elite commandos – cited by western officers as a sign of their confidence that Afghan forces will be able to hold back the Taliban. "The momentum of the insurgency is reversed as of 2011," one argued this week.
But the Taliban's uniformed police are more likely to have disappeared across a hilltop or the Pakistani border than laid down their weapons for ever, and refugees keen to return say it is still too risky, as the western military structure there to support them is being dismantled.
"The road is full of Taliban so we cannot go back," said Ahmad. "We will go home when we get security."
http://www.guardian.co.uk/world/2012/may/01/taliban-squads-control-nuristan-afghanistan
----------
Brazil Churches and Homosexuality, New Bible Version
May 02, 2012
Churches willing to overlook traditional scriptural beliefs with regards to homosexuality are experiencing growth in Brazil, according to a new report. However, they are being criticized by evangelical and Catholic Churches in the country as watering down scripture, with one apologist even calling them an "apostasy." According to the BBC the study reveals that there are at least 10 different congregations that now accept and welcome homosexuality as a normal lifestyle. The BBC says these combined churches have over 10,000 registered attendants in the country.
Construction on the new One World Trade Center in New York is moving along. The skyscraper is being built about a pace of about one floor per week. This time lapse photography gives us a quick look at the effort from the beginning. The Port Authority plans to open the building in late 2013.
An abandoned van containing a device with 600 pounds of explosives has been found in Newry, Northern Ireland . Police say it may be linked to I-R-A groups. Journalist Peter Taggart has details.
Full report at:
http://www.christianpost.com/news/cp-world-report-brazil-churches-and-homosexuality-world-trade-center-nigeria-bombing-new-bible-version-74156/
----------
Sect publishes video of Nigeria newspaper attack by suicide bomber
May 2, 2012
LAGOS: A radical Islamist sect published a video on Tuesday showing a smiling suicide bomber drive into the offices of a major Nigerian newspaper and blow himself up, an attack that killed at least three people and made journalists a new target of the extremist group.
The 18-minute video posted on YouTube includes new threats against journalists and major Nigerian newspapers, as well as the Hausa language services of Voice of America and Radio France International. An unnamed male speaker also threatens new attacks against Nigeria's weak central government, saying security forces continue to hold the wives and children of its followers hostage.
"If they destroy one brick from our building, we will destroy 500 from theirs," the man says in Hausa.
Full report at:
http://timesofindia.indiatimes.com/world/rest-of-world/Sect-publishes-video-of-Nigeria-newspaper-attack-by-suicide-bomber/articleshow/12957198.cms
----------
'Body bombs' the new terror threat?
May 2, 2012
WASHINGTON: American and European authorities have said that they fear an al-Qaida terror terror attack on US-bound aircraft with explosives hidden inside the bodies of terrorists, as the first death anniversary of Osama bin laden looms.
Security at several airports in the UK and at many other airports in Europe and Middle East has been beefed up, with special focus on US carriers, ABC News reports.
Additional federal air marshals have also been shifted overseas in advance of the death anniversary.
US officials have said, however, that there is no credible information of an impending attack.
Medical experts have said that there is plenty of scope for planting a bomb in the stomach area of the body surgically. In a released statement, department of homeland security spokesman Peter Boogaard said, "We have no indication of any specific, credible threats or plots against the US tied to the one-year anniversary of bin Laden's death."
Since last year, US and European authorities have warned that Qaida in the Arabian Peninsula, al-Qaida's Yemeni affiliate, and its master bomb-maker, Ibrahim al-Asiri, have been designing body bombs with no metal parts to get clearance from airport security. But earlier on Monday, White House counter-terrorism advisor John Brennan called the Qaida in Yemen as the greatest threat to US.
"AQAP continues to be al Qaeda's most active affiliate, and itcontinues to seek the opportunity to strike our homeland," Brennan said during a speech at the Woodrow Wilson International Center in Washington.
http://timesofindia.indiatimes.com/world/us/Body-bombs-the-new-terror-threat/articleshow/12958567.cms
----------
UK for end to external support for violence in J&K
May 2, 2012
London: Britain on Monday asked Pakistan to take action against militant groups in Pakistan-occupied Kashmir (PoK) and sought an end to "all external support" for violence in Jammu and Kashmir.
In its annual report on the issue of human rights, titled 'Human Rights and Democracy', the Foreign Office said levels of reported violence in Jammu and Kashmir had been declining since 2008, but noted that India authorities reported continued infiltration across the Line of Control.
The report, released by Foreign Secretary William Hague, said: "We called for an end to all external support for violence in Kashmir. We continue to urge the government of Pakistan to take action against the presence and activities of militant groups in Pakistan-administered Kashmir".
"Levels of reported militant violence in Indian-administered Kashmir have been declining since 2008, but Indian authorities report continued infiltration across the Line of Control," it added.
Officials in the British high commissions in New Delhi and Islamabad regularly discussed the situation with the Indian and Pakistani governments, "and with our contacts in Indian and Pakistan-administered Kashmir".
"We continue to encourage India and Pakistan to seek a lasting resolution that takes into account the wishes of the Kashmiri people", the report said.
During 2011, the report said that the British high commission funded an innovative information and communications technology project with the aim of improving coordination and communication between those agencies dealing with the prevention, rescue and rehabilitation of women and children who are victims of trafficking.
"The project has been directly responsible for the rescue of a number of trafficking victims, and the new system is being used by various Indian authorities and civil society," the report added.
http://post.jagran.com/uk-for-end-to-external-support-for-violence-in-jk-1335801907
----------
Saudi students lend labourers a helping hand
MOHAMMED IQBAL
May 2, 2012
The group of 12 students is helping in the construction of low-cost houses for two poor families
May Day, that celebrates the dignity of labour, turned out to be a unique occasion this year for the residents of the nondescript Naya Barkheda village in Bharatpur district of Rajasthan.
In their midst was a group of young students from a far-off land playing the role of labourers for the construction of low-cost houses for two poor families.
Houses for BPL families
This is the third group of students from a West Asian country taking part in the house construction, initiated the Habitat for Humanity-India in association with the Lupin Human Welfare and Research Foundation, as a philanthropic gesture.
The Habitat for Humanity-India recently sanctioned loans on easy terms for the construction of over 250 brick houses for below the poverty line families living in huts and mud structures in Bharatpur district. The Lupin Foundation selected two beneficiaries, Devi Singh and Karan Raibari, in Naya Barkheda village.
Full report at:
http://www.thehindu.com/news/national/article3374515.ece
----------
Iran plot to kill Saudi envoy in Cairo foiled
May 2, 2012
RIYADH: Egyptian security services foiled an Iranian plot to assassinate the Saudi ambassador to Cairo, the legal advisor of the kingdom's embassy said in local dailies on Tuesday. Egypt "arrested three Iranians planning to assassinate envoy, Ahmed Qattan," Al-Hayat quoted Sami Jamal as saying.
"Egyptian authorities informed concerned parties at the Saudi foreign ministry of the details of the plot, but the Saudi side opted to keep silent on the matter," Jamal said. The arrests were made three months ago.
"Everybody was concerned that foreign parties would exploit demonstrations by some (Egyptians) outside the embassy (in Cairo) to attack members of the mission," Al-Sharq daily quoted him as saying.
Riyadh on Saturday recalled its ambassador from Cairo after angry protests outside the Saudi embassy in Cairo over the arrest of an Egyptian human rights lawyer in the Gulf kingdom.
Saudi state news agency SPA said the Cairo embassy as well as the kingdom's consulates in the Mediterranean cities of Alexandria and Suez were closed. In October, US accused Iran of plotting to kill the Saudi ambassador to Washington. Iran has fiercely denied any involvement in the alleged plot.
http://timesofindia.indiatimes.com/world/middle-east/Iran-plot-to-kill-Saudi-envoy-in-Cairo-foiled/articleshow/12958524.cms
----------
Obama frustrated with Pakistan: Expert
May 2, 2012
WASHINGTON:US President Barack Obama appears to be frustrated with Pakistan, which is reflected in his address to the nation from Afghanistan, an eminent American expert on South Asian issues said today.
"The President's frustration with Pakistan and its lack of cooperation in Afghanistan came through in his remarks. He said Pakistan should be part of the process to stabilise Afghanistan," said Lisa Curtis of The Heritage Foundation.
She was commenting after the US President delivered his remarks from Bagram Air Base in Afghanistan marking the first death anniversary of al-Qaida leader Osama bin Laden.
"I have made it clear to Afghanistan's neighbour - Pakistan - that it can and should be an equal partner in this process in a way that respects Pakistan's sovereignty, interests and democratic institutions. In pursuit of a durable peace, America has no designs beyond an end to al-Qaida safe-havens, and respect for Afghan sovereignty," Obama said.
Curtis said a major attack in Kabul a few weeks ago linked to the Pakistan-based Haqqani network is a reminder that terrorist sanctuaries in Pakistan continue to threaten stability in Afghanistan.
Full report at:
http://timesofindia.indiatimes.com/world/us/Obama-frustrated-with-Pakistan-Expert/articleshow/12962779.cms
----------
Rise of Muslim Brotherhood frays Saudi-Egypt ties
May 2, 2012
Egypt seems keen to have Kattan back, judging by government statements and reports in state-owned newspapers of Egyptians waving Saudi flags at the embassy calling for his return
Saudi Arabia frets that Egypt, its strongest Arab ally and a major recipient of Saudi funding, is falling under what it sees as the baleful influence of the Muslim Brotherhood.
Riyadh recalled its ambassador from Cairo at the weekend in a spat that underlines the misgivings of the robed princes who rule the world's top oil exporter and who have watched Egypt's revolution and its often chaotic aftermath with alarm. They fear that political uncertainty in Egypt, which votes in a presidential election this month, may undermine a decades-old strategic bond between the two pro-US Arab allies, a bond already shaken when Egyptians toppled their ruler last year. "The Saudis viewed the ouster of (President) Hosni Mubarak as a very negative development," said Robert Jordan, the US ambassador in Riyadh from 2001-03. "They're concerned about the Muslim Brotherhood and the uncertainty of the leadership. And they're very sensitive at any hint that that movement could spread to Saudi or other Gulf countries."
Full report at:
http://www.dailytimes.com.pk/default.asp?page=2012\05\02\story_2-5-2012_pg4_7
----------
Pak, other SAARC nations to emulate India's poll practices
May 2, 2012
NEW DELHI: India's success in holding elections through tech-savvy systems including the use of EVMs, has caught the fancy of Pakistan and other SAARC countries, which have expressed the desire to emulate it in their respective areas.
As heads of poll management bodies of SAARC countries got together to evolve solutions to common problems at the ongoing 3rd conference of heads of election management bodies of SAARC nations here, India showcased its use of modern technology for strengthening democracy and election management systems.
India made a presentation on use of technology in election management which generated encouraging response from Election Commissions of SAARC countries.
"Yes, we would like to follow the best practices followed by India. We are inspired by India's controls on use of money power and help us increase voter turnouts, as our voter turnout is very low...," Justice (Retd) Muhammad Roshan Essani, member of Election Commission of Pakistan told PTI today.
Full report at:
http://timesofindia.indiatimes.com/india/Pak-other-SAARC-nations-to-emulate-Indias-poll-practices/articleshow/12952513.cms
----------
2 Bangladeshis beheaded in Saudi Arabia
May 2nd, 2012
Dhaka, May 1 (bdnews24.com) – Nearly seven months after beheading eight Bangladeshis over murder charges, Saudi Arabia executed two more on Tuesday for killing and theft, the local media said.
The duo, Najoum Mohammad Amin Abdul-Sharif and Abdul-Majid Abu Bakr Hamza, were accused of killing another Bangladeshi national Mohammed Shaheen Mohammad Kabir and stealing his money and mobile phones, Saudi Press Agency (SPA) reported quoting a Ministry of Interior statement.
The statement said the Bangladeshis were executed in the city of Jazan.
"The General Court issued the sentence against them. It was approved by the Cassation Court and the Supreme Court. A royal order was issued to implement the sentence," it read.
The statement underlined the keenness of the government of Saudi Arabia on 'achievement of security and justice and implementation of rules of Sharia against anyone who attacks innocent people and sheds their blood'.
The ministry also warned of punishment against anyone who tried to commit crimes.
On Oct 7 last year, death sentences to eight Bangladeshis, found guilty of robbing a warehouse and murdering the security guard, were carried out at Saudi Arabia's Riyadh.
The beheading had attracted condemnation from Bangladesh and elsewhere.
http://www.bdnews24.com/details.php?id=223663&cid=2
----------
J&K: NTRO cracks Voice Over Internet Protocol terror path
May 02, 2012
Rajnish Sharma
Sometime back the nation's elite intelligence and security agencies noticed a new phenomenon among terror outfits operating in Jammu and Kashmir. There was a sudden drop in communication, either via wireless or email, between terrorists operating on both sides of the border. A detailed probe indicated that subversive elements had switched over to Voice Over Internet Protocol (VoIP) as their preferred mode of communication.
The terrorists knew Indian intelligence could easily snoop on their wireless messages and track their emails. But VoIP is much more difficult to crack particularly as almost all terror outfits in Kashmir have a dedicated VoIP address which is extremely difficult to break into. A few months ago this task was given to the National Technical Research Organisation, and after painstaking investigations its sleuths have finally managed to crack the VoIP path used by the terror groups operating out of Pakistan, top intelligence sources said.
Full report at:
http://www.asianage.com/india/ntro-cracks-voip-terror-path-133
----------
11 Dead at protest at start of Egyptian presidential campaigns
May 2, 2012
CAIRO -- At least 11 people were killed in clashes that broke out early Wednesday at demonstrations outside the Egyptian Defense Ministry, the Health Ministry said.
The demonstrations evolved from a sit-in convened to decry the way the Egypt's generals have been ruling the country,
Men armed with guns and handmade explosives attacked dozens of protesters who have been camped out in front of the ministry in the Abbasiya district of Cairo since Friday night, according to state television news reports.
The protesters were voicing their dissatisfaction with the disqualification last month of several presidential candidates, a decision for which they hold the generals responsible. The majority of protesters are supporters of banned candidate Hazem Abu Ismail, a hardline Salafi preacher. Liberal groups also took part in the demonstration.
Full report at:
http://www.washingtonpost.com/world/middle_east/deadly-clashes-at-protest-mar-start-of-egyptian-presidential-campaigns/2012/05/02/gIQAlxQ8vT_story.html
----------
Defeat of al-Qaida within reach, Obama says on bin Laden's death anniversary
May 2, 2012
BAGRAM AIRBASE, AFGHANISTAN: US President Barack Obama marked the anniversary of Osama bin Laden's death with a speedy trip to Afghanistan, signing a strategic pact with Kabul on Wednesday and delivering an election-year message to Americans that the war is winding down.
Shortly after arriving under the cover of darkness, Obama and Afghan President Hamid Karzai signed a strategic partnership agreement at the Afghan leader's palace that sets out a long-term U.S. role in Afghanistan, including aid and advisers.
The deal may provide Afghans with reassurances that they will not be abandoned when most NATO combat troops leave in 2014. For Obama, it was an opportunity to draw a line under a war started by his predecessor in response to the Sept. 11, 2001 attacks, but which is now widely unpopular at home.
"My fellow Americans, we have traveled through more than a decade under the dark cloud of war. Yet here, in the pre-dawn darkness of Afghanistan, we can see the light of a new day on the horizon," Obama said in a televised address to the American people against the backdrop of armored vehicles and a US flag.
"As we emerge from a decade of conflict abroad and economic crisis at home, it's time to renew America," he said. "This time of war began in Afghanistan, and this is where it will end."
Full report at:
http://timesofindia.indiatimes.com/world/south-asia/Defeat-of-al-Qaida-within-reach-Obama-says-on-bin-Ladens-death-anniversary/articleshow/12959063.cms
----------
'No serious attempt to find out the Abbottabad truth'
By Badar Alam
May 2, 2012
AYEAR after Osama bin Laden was assassinated in a US raid in Abbottabad, Pakistan is still asking the question: how did the world's most dreaded terrorist come to hide and live undetected in their country? A judicial commission set up by the government to look into the circumstances of bin Laden's stay in Pakistan is yet to arrive at any conclusion despite dozens of hearings over the past year.
"We are yet to say conclusively as to how and when bin Laden arrived in Abbottabad.
We also don't know all the details about how the Americans found him and took him out," a senior interior ministry official said. "The Americans haven't shared any details with us and our own Abbottabad commission is yet to arrive at any conclusion on questions regarding bin Laden's presence here," the official added.
The commission, headed by a retired judge of the Pakistan Supreme Court, has gone through hundreds of documents and heard scores of testimonies. But there are no answers. " Instead of finding about bin Laden, the focus has always been to see how the Americans could breach Pakistan's defence to reach Abbottabad," the official said.
" Many see the setting up of the commission more as a government measure aimed at assuaging internal political opinion rather than a serious attempt to find out the truth," said Dr Abid Qaiyum Suleri, a political analyst in Islamabad.
The only official action has been against government surgeon Shakil Afridi, who through a fake vaccination campaign, is reported to have helped the Americans establish that bin Laden was living in the Abbottabad compound.
Afridi has been sacked from his job and the government is planning to try him for high treason.
Mail Today
----------
US pact no threat to Afghanistan's neighbours: Hamid Karzai
May 2, 2012
KABUL: Afghan president Hamid Karzai said Wednesday the long-term strategic pact he signed overnight with visiting US President Barack Obama would pose no threat to neighbouring countries.
The deal "is not only not threatening any third country, including the neighbouring countries, but we are hoping that this leads to stability, prosperity and development in the region," he said.
Karzai was speaking at a signing ceremony in the presidential palace with Obama, who made a secret visit to Kabul to sign the pact and mark the anniversary of the death of Al-Qaeda leader Osama bin Laden.
The document covers relations between the two countries after US-led NATO troops pull out in 2014, more than a decade after invading Afghanistan to overthrow the Taliban regime for harbouring Bin Laden after the 9/11 attacks.
"The agreement provides for the possibility of US forces in Afghanistan after 2014, for the purposes of training Afghan forces and targeting the remnants of Al-Qaida," a White House fact sheet said.
Full report at:
http://timesofindia.indiatimes.com/world/south-asia/US-pact-no-threat-to-Afghanistans-neighbours-Hamid-Karzai/articleshow/12959361.cms
----------
Congress mouthpiece backs Indo-Pak talks
May 2, 2012
NEW DELHI: Congress said India can never turn its back on dialogue with Pakistan if its wants peace in the region, a significant assertion in the backdrop of Pakistani President's visit and talks with the PM last month.
In a brief editorial, Congress mouthpiece Sandesh says, "Dialogue has no parallel in resolving disputes and improvement of bilateral relationship. We can never close our doors to dialogue if we want to maintain peace in the region."
The statement is important in view of indications to the contrary after Congress chief Sonia Gandhi skipped the PM's lunch for Pakistani President Asif Ali Zardari. A section of partymen said the absence was aimed at tempering the enthusiasm over the Pakistan head's visit, lest it put India on a weak footing on its prime concern about terrorism. The lunch, though, was attended by the party's heir apparent Rahul Gandhi.
Full report at:
http://timesofindia.indiatimes.com/india/Congress-mouthpiece-backs-Indo-Pak-talks/articleshow/12958141.cms
----------
India accepts Afghan offer to use Wagah border for trade
May 2, 2012
NEW DELHI: As India and Afghanistan on Monday got down to implementing their strategic partnership pact in the form of the first Partnership Council meeting, which was chaired by foreign minister S M Krishna and his counterpart Zalmai Rassoul, Afghan authorities sought go-ahead to export their most cherished product - dry fruits and sweets - to India via the Wagah border. Government sources said that India had willingly accepted the offer, and that both the countries will try and convince Pakistan to facilitate the move.
Now, most of India's dry fruit imports from Afghanistan are routed through Iran. The Afghan delegation said in the meeting that transporting these directly to India through the India-Pakistan land border will ensure better returns for Afghan businessmen.
Full report at:
http://timesofindia.indiatimes.com/india/India-accepts-Afghan-offer-to-use-Wagah-border-for-trade/articleshow/12957806.cms
----------
J&K CM in jam over blocking Tricolour
May 2, 2012
THE NATIONAL Human Rights Commission ( NHRC) has pulled up the Omar Abdullah- led government in Jammu and Kashmir for " disallowing" BJP leaders Sushma Swaraj, Arun Jaitley, Ananth Kumar and a host of party supporters from hoisting the national flag in Srinagar's Lal Chowk on Republic Day last year.
" Every citizen enjoys the fundamental right to go to J& K and hoist the national flag in Srinagar on Republic Day. This right is guaranteed by Article 19 of the Constitution. It is not the case of the state government that the petitioners ( BJP) were trying to flout any provision of the Emblems and Names Act 1950 or the Prevention of Insults to National Honour Act 1971," the commission said.
The three leaders were surreptitiously detained at Jammu airport when their chartered flight landed there on the eve of Republic Day. They were to proceed by road to Srinagar to hoist the Tri- colour the next day.
The incident reached a crescendo when Swaraj tweeted: " Arrested — cars — separate — don't know where to?" They were forcibly escorted away from Jammu and released in Madhopur on the J& K- Punjab border. A livid Jaitley then claimed that action was illegal, unconstitutional and undemocratic.
More than a year later, a full bench of the human rights commission, headed by retired Supreme Court Chief Justice K. G. Balakrishnan, said the state government violated an apex court order that states that hoisting the national flag was a fundamental right.
Full report at: Mail Today
----------
Taliban attack in Kabul kills at least 11 soon after Obama's Afghanistan visit
May 2, 2012
KABUL, AFGHANISTAN: A suicide car bomber and Taliban militants disguised in burqas attacked a compound housing hundreds of foreigners in the Afghan capital on Wednesday, officials and witnesses said. The Taliban said the attack was a response to US President Barack Obama's surprise visit just hours earlier.
At least 11 people were killed in the early morning attacks, officials said, as blasts and gunfire continued to ring out from the privately guarded compound known as Green Village that houses hundreds of international contractors.
A series of explosions and gunfire rang out near the complex in eastern Kabul at around 6 a.m. and shooting continued for hours later. Another large explosion was heard coming from inside Green Village shortly after 9 am and a large plume of smoke was seen rising from the compound.
An Afghan police official said two suicide attackers were still inside Green Village and were "resisting." The official spoke on condition of anonymity because he was not authorized to release the information.
One of the first blasts was a suicide car bomb that exploded near Jalalabad road - one of the main thoroughfares out of the city, said Interior Ministry spokesman Sediq Sediqi. A station wagon that was driving past was caught up in the explosion and four people inside were killed, Sediqi said. A passer-by and a security guard for a nearby building also were killed.
A young man who saw the explosion said the dead pedestrian was one of his fellow classmates.
Full report at:
http://timesofindia.indiatimes.com/world/rest-of-world/Taliban-attack-in-Kabul-kills-at-least-6-soon-after-Obamas-Afghanistan-visit/articleshow/12961199.cms
----------
Suicide bomber kills MPs in central Somalia
May 2, 2012
MOGADISHU: A suicide bomber killed at least three people and wounded more on Tuesday at a hotel in the central Somali town of Dusamareb, where lawmakers visiting from the capital had gathered, witnesses and officials said.
While suicide bombers sent by Islamist rebels Al-Shabab have struck government targets and African Union troops in the capital Mogadishu often in recent years, such attacks are rare in central Galgadud region.
Member of parliament Dahir Amin Gesow told Reuters he was in the hotel cafe when the bomber walked in blew himself up. He said several people were killed, including some lawmakers.
The commander of the pro-government militia which controls Dusamareb, the capital of Galgadud, said at least three were killed in the blast.
"The bomber targeted these officials from Mogadishu at the hotel. We are now busy collecting casualties," Abdiweli Siyad, commander of the Sufi militia group Ahlu Sunna Waljamaca, told Reuters.
"At least three people died, including a legislator, and five others were injured," he said.
Dusamareb, 560 km (350 miles) north of Mogadishu has been under the control of the Ahlu Sunna militia group for years, although Al-Shabab fighters have seized the town briefly on several occasions, including in March this year.
http://arabnews.com/world/article622875.ece
----------
Syria Accused of War Crimes, Rebels Kill 15
May 2, 2012
BEIRUT (Reuters) - Syrian rebels killed 15 members of the security forces in an ambush on Wednesday, a monitoring group said, as a human rights organization accused Damascus of war crimes in last month's run-up to a U.N.-brokered truce.
The Britain-based Syrian Observatory for Human Rights, which has been tracking the 14-month-old uprising against President Bashar al-Assad, said two rebel militiamen also died in clashes that followed the ambush in the northern province of Aleppo.
State media carried no news of the attack, the latest in a series of heavy losses inflicted on pro-Assad forces in the last week by some of the disparate militias fighting for his downfall.
Twelve soldiers died in a firefight in the eastern town of Deir al-Zor on Tuesday, the Observatory said, and nine more, including security officials, died in twin suicide bombs in the restive town of Idlib on Monday, according to state media.
Most independent media are barred from Syria or have their movements restricted, making it hard to verify such reports.
Full report at:
http://www.nytimes.com/reuters/2012/05/02/world/middleeast/02reuters-syria.html?ref=global-home
---------
Israel Defence Force closes probe into deaths of 21 Gazans
May 2, 2012
JERUSALEM: The Israeli military said on Wednesday it has closed its investigation into the shelling deaths of 21 members of a single Palestinian family and would not file any charges in what was one of the gravest incidents in the 2009 war in the Gaza Strip.
The military's move, which exonerates Israeli soldiers from any responsibility in the killings, outraged relatives of the killed Palestinians and the Israeli human rights group that had pressed for the investigation. They said the findings proved the army is not capable of investigating the conduct of its soldiers.
"We are talking about a crime against civilians," said Salah Samouni, 34, whose 2-year-old daughter was killed when Israeli shells slammed into the Gaza City house where the family had gathered.
"We know that God above will punish the killers. If they escaped trial, they can't escape God's punishment," said Samouni, who survived the shelling.
Israel launched the three-week offensive in Gaza in response to months of rocket fire by the ruling Hamas militant group. About 1,400 Palestinians were killed in the fighting, including hundreds of civilians, and thousands of buildings were destroyed or damaged. Thirteen Israelis also died.
Surviving members of the Samouni family had claimed the family was ordered by Israeli soldiers to take refuge in a house that was then shelled, killing 21 people.
Israel has argued that Hamas was responsible for civilian deaths during the fighting, saying the militant group used schools, homes and mosques for cover while attacking Israeli troops.
Full report at:
http://timesofindia.indiatimes.com/world/middle-east/Israel-Defence-Force-closes-probe-into-deaths-of-21-Gazans/articleshow/12965996.cms
-------
A year on, Pak keeps Osama mystery alive
May 2, 2012
ABBOTTABAD: One year since US commandos flew into this Pakistani army town and killed Osama bin Laden, Islamabad has failed to answer tough questions over whether its security forces were protecting the world's most wanted terrorist.
Partly as a result, fallout from the raid still poisons relations between Washington and Islamabad, where anti-US sentiment, support for Islamist extremism and anger at the violation of sovereignty in the operation can be summed up by a Twitter hashtag doing the rounds: 02MayBlackDay.
The Pakistani government initially welcomed the raid that killed bin Laden in his three-storey compound, but within hours the mood changed as it became clear that Pakistan's army was cut out of the operation. Any discussions over how bin Laden managed to stay undetected in Pakistan were drowned out in anger at what the army portrayed as a treacherous act by a supposed ally.
That bin Laden was living with his family near Pakistan's version of West Point - not in a cave in the mountains as many had guessed - raised eyebrows in the West. The %Pakistani army was already accused of playing both sides in the campaign against militancy, providing some support against al-Qaida but keeping the Afghan Taliban as strategic allies.
Full report at:
http://timesofindia.indiatimes.com/world/pakistan/A-year-on-Pak-keeps-Osama-mystery-alive/articleshow/12958870.cms
----------
ATM machines, rail tracks targeted in 16 blasts in Pak's Sindh
02 May, 2012
HYDERABAD: Several people including a policeman were injured when more than sixteen blasts rocked various cities of Sindh including Karachi on Wednesday, our sources reported.
Four persons were injured when blasts targeted the ATM machines of National Bank in Anaj Mandi, Fatima Jinnah Road, Naseem Nagar and Latifabad No.7 of Hyderabad early morning. All the blasts occurred outside the National Bank branches in Hyderabad.
Blasts also rocked Kotri, Dadu, Badin, Sukkur, Nawabshah, Qazi Ahmed Shahdadkot, Thatta, Ranipur, Khairpur Nathan Shah and Tando Mohammad Khan areas of Sindh. One out of two expolsions occurred outside a bank in Larkana. Several people were reported injured as a result of multiple blasts.
A cracker's explosion at a railway track near Ghotki damaged 3-feet of track while the Jaffar Express, traveling to Sindh from Punjab, survived an accident.
Officials of Railways administration have reached the affected area where the rescue efforts are underway, police told.
At least six people including a policeman were injured in multiple blasts who were transferred to hospital for medical treatment.
A blast was also reported at Gulistan-e-Johar Block 15 area of Karachi near the KESC office, however, no harm was reported.
http://paktribune.com/news/Sindh-cities-rocked-by-more-than-16-blasts-249441.html
----------
'Tsunami' march: Imran threatens protest if Gilani fails to step down
May 2, 2012
ISLAMABAD: Calling it a 'tsunami march', Pakistan Tehreek-e-Insaf (PTI) Chairman Imran Khan said the party will launch Pakistan's largest protest against Gilani if he refuses to accept his disqualification, Express News reported on Tuesday.
"We will wait until the Election Commission of Pakistan (ECP) completes the process of Gilani's disqualification, said Imran, adding his party doesn't consider him the Prime Minister of Pakistan.
Speaking during a press conference, Imran also acknowledged Gilani's right to appeal against the court verdict and said that the party will respond only after all the legal processes are completed.
Gilani was convicted on April 26 with contempt of court charges for not writing a letter to reopen corruption cases against President Asif Ali Zardari.
The chairman of PTI also said that he would talk to Pakistan Muslim League – Nawaz (PML-N) only if their members resign from government in the centre and in Punjab.
Imran further announced that a three-member committee consisting of PTI Vice Chairman Shah Mehmood Qureshi, PTI President Javed Hashmi and Dr Arif Alvi has been formed to hold talks with leaders of different political parties regarding future course of action.
http://tribune.com.pk/story/372617/tsunami-march-imran-threatens-protest-if-gilani-fails-to-step-down/
----------
Pakistan singer Ali Zafar to receive the Dadasaheb Phalke Award
May 2, 2012
With three consecutive hit movies in a row, Pakistan singer turned singer Ali Zafar has earned himself immense respect and goodwill in Bollywood over just two years. The actor will be receiving this year the most prestigious Dadasaheb Phalke academy award at Mumbai on 3rd May.
This event is held annually regarding the celebration of Dada Saheb Phalke Jayanti where most senior members of various craft of film production sector including producers, distributors, exhibitors and actors are honored by presenting trophies for their outstanding services to the film Industry. It is a prestigious event for Indian cinema and every Bollywood actor dreams of being honored with the award.
According to Ammara Hikmat, Ali Zafar's publicist who spoke to us from Pakistan confirmed us, " Ali was in Dubai and has just flown down to India today . He shall be present at the award ceremony in Mumbai. Its a prestigious award and Ali is extremely happy and excited to receive the award."
Some of the other prominent awardees at this 143 rd Dadasaheb Phalke academy award event are Amitabh Bachchan, Tanuja, Vinod Khanna,Ajay Devgan (Singham),Vidya Balan ( The Dirty Picture),aheeda Rehman,Saira Banu - Dilip Kumar, Rohit Shetty,Dilip Sen- Sameer Sen - Parivar,Chaitanya Padukone,Ekta Kapoor,Ram Kapoor,(Bade Achhe Lagte Hain),Saakshi Tanvar(Bade Achhe Lagte Hain), Parineeti Chopra,Farhan Akhtar(Zindagi Naa Milegi Dobara),Prakash Raj,Ram Gopal Gupta,Gurudas Maan,Neila Devi(Shammi Kapoor's wife).
http://timesofindia.indiatimes.com/entertainment/bollywood/news-interviews/Ali-Zafar-to-receive-the-Dadasaheb-Phalke-Award/articleshow/12963620.cms
--------
Amnesty calls for Afghan journalist's release
May 2, 2012
KABUL: Amnesty International has launched a campaign for the release of an Afghan journalist detained for what authorities Tuesday called "false accusations" against government officials.
The UK-based rights watchdog accused President Hamid Karzai's government of detaining Noorin television's Nasto Naderi without charge on April 21, saying he was "at grave risk of torture or death".
But the attorney general's office said the reporter was serving a short jail sentence for drinking alcohol — a crime in the Islamic Republic of Afghanistan — and had also been charged with making false accusations against officials.
Naderi hosts a programme called "Salaam to my homeland" which is "known for revealing cases of corruption, criminality and other controversial issues, often implicating high-profile Afghan government figures", Amnesty said.
Naderi "may have been arrested and detained solely for exposing corruption in the awarding of road-construction contracts by Kabul municipality", the rights group said.
Transparency International rates Afghanistan as one of the world's most corrupt countries, behind only Somalia and North Korea. Abdul Rahman Koshan, the head of the criminal investigation department in the attorney general's office, said Naderi's case was referred to his department by a government media oversight body, the Media Violation Inquiry Commission.
"He has been detained based on complaints by individuals and government officials for making false accusations against them," Koshan said.
http://www.dailytimes.com.pk/default.asp?page=2012\05\02\story_2-5-2012_pg14_6
----------
By 2014 Afghans will be fully responsible for their security: Obama
May 02 2012
Washington : Afghan security forces would be "fully responsible" for the security of the country by 2014, US President Barack Obama said today.
"Already, nearly half the Afghan people live in places where Afghan Security Forces are moving into the lead. This month, at a NATO Summit in Chicago, our coalition will set a goal for Afghan forces to be in the lead for combat operations across the country next year," Obama said in a nationally televised address to the nation from Bagram air force base in Afghanistan, where he made an unannounced visit last night.
International troops will continue to train, advise and assist the Afghans, and fight alongside them when needed. But US will shift into a support role as Afghans step forward, he said.
"As we do, our troops will be coming home. Last year, we removed 10,000 US troops from Afghanistan. Another 23,000 will leave by the end of the summer. After that, reductions will continue at a steady pace, with more of our troops coming home. And as our coalition agreed, by the end of 2014 the Afghans will be fully responsible for the security of their country," he said.
Full report at:
http://www.indianexpress.com/story-print/944301/
----------
Taliban announce 'spring offensive' across Afghanistan
May 2, 2012
KABUL: The Taliban militia announced their "spring offensive" would begin across Afghanistan on Thursday.
Code-named al Farouq, the primary targets of the offensive would be "foreign invaders, their advisors, their contractors, all those who help them militarily and in intelligence", the militants said on their website.
"Al Farouq spring offensive will be launched on May 3 all over Afghanistan," the militant group said.
The militia said the code name came from Islam's second caliph, Omar al Farouq known for his military advances in Asia and the Arab world during the seventh century.
The announcement comes hours after Taliban insurgents armed with guns, suicide vests and a bomb-laden car attacked a heavily fortified compound used by Westerners in Kabul, killing seven people and wounding more than a dozen.
The militants claimed the attack in defiance of US President Barack Obama's call that the war was ending during a visit to Afghanistan on the first anniversary of Osama bin Laden's death on Wednesday.
http://dawn.com/2012/05/02/taliban-announce-spring-offensive-across-afghanistan-fm/
----------
King Abdullah's SR 81.5 bn fillip to education
May 2, 2012
Custodian of the Two Holy Mosques King Abdullah inaugurated here yesterday the first phase of the university and education city projects with an aim to create world-class higher education infrastructure across the country and to boost higher education and research capacities in the process.
King Abdullah also laid the foundation stone for the second phase of the higher education project, which will cumulatively cost SR 81.5 billion on completion of different schemes in various regions of the country.
A ceremony to launch these higher education projects was organized here at Al-Yamamah Palace and attended by high-ranking Saudi officials including Minister of Higher Education Khalid Al-Anqari. "This major step backed by King Abdullah will help to support higher education projects in the Kingdom, which in turn, would eventually help to improve teaching, learning and research environment," said Al-Anqari, while speaking on this occasion.
"We are celebrating the inauguration of these new higher education projects," said Al-Anqari, adding that a total of 18 higher education cities and academies will be built following the inauguration yesterday. These projects — separately for male and female students — will be implemented in different regions of the Kingdom including Jazan, Baha, Najran, the region near northern borders, Tabuk, Jouf, Hail, Shaqra, Majmaah, Taibah, Qassim, Taif and Kharj.
This will be in addition to the construction of King Abdullah Bin Abdulaziz City for Female Students at Imam Muhammad bin Saud Islamic University, a female hostel at King Saud University and another female hostel in Umm Al-Qura University.
"The inauguration of these projects will also help to boost quality assurance and management of higher education institutions in the Kingdom," said Al-Anqari, while appreciating the efforts of the king and his commitment to the cause of higher education.
Full report at:
http://arabnews.com/saudiarabia/article622349.ece
----------
Israel closes inquiry into Palestinian family killed during Gaza war
May 2, 2012
Military says no action will be taken against soldiers responsible for shelling that killed 21 members of the Samouni family in 2009
The Israeli military has closed its file on the killing of 21 members of a Palestinian family during the Gaza war in 2009, saying there were no grounds for criminal or disciplinary action against those responsible for the shelling of the house in which civilians were sheltering.
"None of the persons involved … acted negligently in a manner giving rise to criminal responsibility," concluded the military advocate general following an internal investigation. The decisions of the brigade commander "did not deviate from the boundaries of discretion that a 'reasonable military commander' operating in similar circumstances possesses".
The investigation "comprehensively refuted" claims that the Israeli Defence Forces (IDF) had intentionally targeted civilians or had acted in a reckless manner, it said.
Twenty-one members of the extended Samouni family were killed on 5 January 2009, nine days after Israel's onslaught on Gaza began. About 100 members of the family, including women, children, babies and the elderly, had been ordered by the IDF to crowd into a house amid fierce fighting.
Survivors said they felt relatively secure because they were following IDF instructions. However, the following day, three or four missiles struck the house. Nine children were among the dead and medical access to the dozens of injured was denied for two days.
Full report at:
http://www.guardian.co.uk/world/2012/may/02/israel-closes-inquiry-gaza-family-killing
----------
Adis Medunjanin convicted of plotting to wage jihad on city subways in 2009
May 02, 2012
Would-be subway bomber Adis Medunjanin was convicted Tuesday of plotting to wage jihad in the city with two other homegrown terrorists.
The Queens man was also found guilty of conspiring to join the Taliban and training with Al Qaeda.
"It's okay," Medunjanin whispered to his parents, after the verdict was read.
Medunjanin, 28, faces life in prison when he is sentenced on Sept. 7.
Police Commissioner Raymond Kelly congratulated prosecutors "for the conviction of Adis Medunjanin."
"His conviction stands as a stark reminder of terrorists' desire long after 9/11 to return to the city to kill more New Yorkers," said Kelly.
Brooklyn U.S. Attorney Loretta Lynch said the Medunjanin case was a window into how Al Qaeda worked.
"This case has afforded a rare glimpse into the inner workings of Al Qaeda," she said. "How they recruit the disaffected and will stop at nothing to implement further attacks on our soil."
Full report at:
http://www.nydailynews.com/new-york/adis-medunjanin-convicted-plotting-wage-jihad-city-subways-2009-article-1.1070733#ixzz1tiMlaLsX
----------
Libya urges ICC to abandon legal claim to try Saif Gaddafi, ex spy chief
02 May 2012
Tripoli, May 2 (ANI): Libyan authorities have formally asked the Hague-based International Criminal Court (ICC) to abandon its legal action against Saif al-Islam Gaddafi and the nation's former intelligence chief so that both men can face trial in Tripoli, where they are likely to face the death penalty.
The Libyan Governmet insisted that the son of slain dictator Muammar Gaddafi has been held in 'adequate conditions of detention' in Zintan city, 'which will improved even further' once he is transferred to a prison in Tripoli.
Abdullah al-Senussi, Gaddafi's brother-in-law and former head of intelligence, was arrested by the government of Mauritania in March.
Tripoli was earlier assured that al-Senussi, who is suffering from a liver disease, would be returned to Libya.
According to The Guardian, the Libyan submission to the ICC said that 'the severity of al-Senussi's liver disease has become apparent and his health condition is now such that it is understood that he cannot presently be investigated domestically for breaches of Mauritanian law, let alone transferred back to Libya.'
"The national proceedings are consistent with the Libyan government's commitment to post-conflict transitional justice and national reconciliation," the submission to ICC said.
"It reflects a genuine willingness and ability to bring the persons concerned to justice in furtherance of building a new and democratic Libya governed by the rule of law," it said.
According to the paper, Libya is asking for the ICC to declare its claim to try the two men as 'inadmissible' and to abandon its request for their surrender. (ANI)
http://www.newstrackindia.com/newsdetails/2012/05/02/281-Libya-urges-ICC-to-abandon-legal-claim-to-try-Saif-Gaddafi-ex-spy-chief.html
----------
Syrian president grants amnesty for military penalties only
02 May 2012
Damascus, May 2 (Xinhua-ANI): Syrian President Bashar al-Assad granted Wednesday a general amnesty that covers only the penalties provided in for some articles of the law of military service and military sanctions, state-run SANA news agency reported.
The state TV will host a symposium to explain the details of this amnesty, said SANA.
The Syrian government is facing mounting international criticism over its alleged crackdown on opposition strongholds.
To ease the simmering tension, Assad has granted a set of amnesties that pardoned wanted people who hadn't committed homicide during the year-long crisis. But Wednesday's amnesty came specifically for military penalties only.
More than 2,000 wanted people have turned themselves to the authorities over the past month, said SANA.
http://www.newstrackindia.com/newsdetails/2012/05/02/284-Syrian-president-grants-amnesty-for-military-penalties-only-.html
----------
Osama keeps an eye on earth from hell!
May 02 2012
Islamabad : A year after Osama bin Laden was killed by US Navy SEALS in the Pakistani garrison city of Abbottabad, the world's number one terrorist is keeping busy tweeting from hell!
Dozens of fake accounts were floated on Twitter shortly after bin Laden's death and ever since, there has been no stopping the updates and "fatwas" from "hell".
"My ex-wife is talking to ABC News. This is even more disrespectful than the time she asked to look out a window...," read a tweet by a fake account operated by "Osama".
Another one pronounces that "hot chocolate is haram".
The descriptions of Osama on the many fake accounts are hilarious.
One such account describes him as "former public enemy #1".
One tweet on a fake account went: "...faked my own death, now travelling the world. Maybe I'm coming to your city! Check your local al-Qaeda branch!"
On other accounts, the messages are matter-of-fact: "I was the leader of al-Qaeda. Now I'm dead" or "Those still alive can reach me at OsamaInHell" or "I was once the best terrorist of all time! Greatest ever at hide and seek!"
Sometimes the tweets are scary.
"I may be dead...but life continues!!!" or "71% of the Earth is covered in oceans. So I may be anywhere!! (Remember that!)"
The American commandos took away bin Laden's body after shooting him in his compound located a short distance from the Pakistan Military Academy. His body was later buried at sea.
Bin Laden's three widows and 11 members of his family were recently deported to Saudi Arabia.
Full report at:
http://www.indianexpress.com/story-print/944405/
----------
Iran seeks end to sanctions at talks with world powers
May 2, 2012
VIENNA: Iran said on Wednesday it was seeking an end to Western sanctions over its arms program during talks with world powers and criticized France for helping Israel, the only country in the Middle East widely believed to have atomic weapons.
An adviser to Iran's Supreme Leader Ayatollah Ali Khamenei said the talks in Baghdad on May 23 should lead to the lifting of sanctions, according to Iranian media.
The comments reflect increasing emphasis in the Islamic Republic that an end to sanctions is vital to the success of the talks. It was also the first time an influential political figure explicitly said he expects progress on the issue.
"At the least, our expectation is the lifting of sanctions," Gholam-Ali Haddad Adel said in answer to a question.
The United States and its allies say Iran's nuclear program is a cover for developing atomic weapons, a charge Tehran denies.
They have imposed new sanctions against Iran's energy and banking sectors since the beginning of this year and the European Union is set to impose a total embargo on the purchase of Iranian crude oil in July.
Full report at:
http://timesofindia.indiatimes.com/world/middle-east/Iran-seeks-end-to-sanctions-at-talks-with-world-powers/articleshow/12966448.cms
----------
URL: https://newageislam.com/islamic-world-news/jamiat-ulema-e-pakistan-declares/d/7206