New Age Islam News Bureau
7 Apr 2020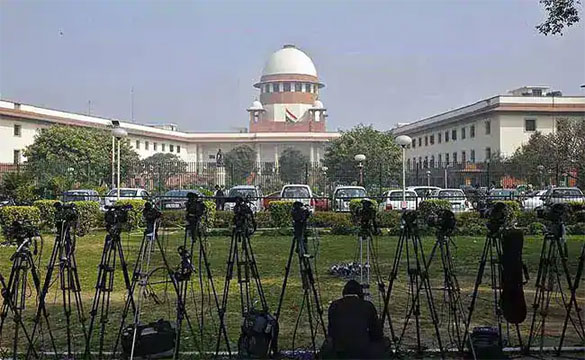 The plea says that "demonisation" of community has led to serious threat to life and liberty of Muslims.
------
• Jamiat Ulema-e-Hind Has Moved the Supreme Court Over Spread Of 'Fake News' On Delhi Mosque Event
• Nizamuddin Cluster: Muslim Group Seeks Apology from Tablighi Jamaat
• Ramadan In Solitude: Indonesia Urges Muslims To Scrap Joint Iftar Plans, Mass Prayers Amid Coronavirus
• Praying in Time Of COVID-19: How World's Largest Mosques Adapted
• Covid-19: Mosque Converted into Mask Factory in Virus-Hit Iran
• Hifazat's Shafi Supports Govt Call to Avoid Going to Mosques Amid Virus Shutdown
• Coronavirus Crisis: Mosques Could Go Bankrupt in Germany As Muslim Leaders Plead For State Aid
• At 27, Amani Al-Khatahtbeh Just Made History As New Jersey's First Muslim Woman To Run For Congress
-------
India
• Jamiat Ulema-e-Hind Has Moved the Supreme Court Over Spread Of 'Fake News' On Delhi Mosque Event
• Nizamuddin Cluster: Muslim Group Seeks Apology from Tablighi Jamaat
• Tablighi Fallout: Fake Videos Across Social Media Affecting Muslim Vendors In Hyderabad
• Shahi Imam of the Fatehpuri Masjid's Plea: Stay Home on Shab-e-Barat
Covid-19: Maharashtra CM Uddhav Thackeray Warns Against Spreading Fake News, Communal Hatred
• Police 'terrorising' north-east Delhi neighbourhoods in name of probe
• Delhi Cops probe 'ban' on entry of Muslims in Shastri Nagar Area
• Four held for attack on Muslims in Jind
------
Southeast Asia
• Ramadan In Solitude: Indonesia Urges Muslims To Scrap Joint Iftar Plans, Mass Prayers Amid Coronavirus
• Mosques remain closed for another week
• Zakat payment can still be made in mosques
------
Arab world
• Praying in Time Of COVID-19: How World's Largest Mosques Adapted
• 24-Hour Curfew in Riyadh, Jeddah And Other Cities
• Saudi Employers Given Green Light to Cut Wages, Hours
• Islamic finance body grants $850mn for combating coronavirus in member states
• Egypt to launch virtual tour of Old Cairo mosque complex
• Blockchain paves the way for genuine innovation in Islamic finance
• Emirates NBD and Emirates Islamic donate $1.1m to UAE Ministry of Education
• Oil crisis puts 300m livelihoods at risk, says IEA chief
-----
Mideast
• Covid-19: Mosque Converted into Mask Factory in Virus-Hit Iran
• Imam Khamenei agrees with withdrawal of €1bn from NDFI for battling coronavirus
• Jordan: Muslim group hails Anadolu Agency's 100th year
• Turkey's COVID-19 Recovery Coming at Ramadan's End, Coronavirus Task Force Says
• Instagram Model Exploiting Virus Measures in Istanbul Mosques Removed By Police
• Pakistani speaker calls for lifting of anti-Iran sanctions
-------
South Asia
• Hifazat's Shafi Supports Govt Call to Avoid Going to Mosques Amid Virus Shutdown
• Taliban warn deal with US in Afghanistan near breaking point
• Bangladesh bans more than 5 people in mosques over virus
• Taliban halts negotiations with Afghan government over release of prisoners
• Taliban militants suffer heavy casualties as Afghan forces repulse attack in Helmand
• Impact of COVID19 on Afghan Economy
------
Europe
• Coronavirus Crisis: Mosques Could Go Bankrupt in Germany As Muslim Leaders Plead For State Aid
• We Stopped EU "Imposing Foreign Culture of Islam On Us", Says Polish Minister Following ECJ Ruling
• 'School Closures Affect Muslims More Than Most'
-------
North America
• At 27, Amani Al-Khatahtbeh Just Made History As New Jersey's First Muslim Woman To Run For Congress
• Coronavirus Is Changing How American Muslims Hold Funerals
• Coronavirus And Ramadan: How The Muslim Month Of Fasting Will Differ This Year
• NJ car dealership discriminated against the disabled, women, Muslims: suit
-------
Africa
• Mali's Army Contains Attack with High Casualties
-----------
Pakistan
• CJP Bemoans Closure of OPDs For Non-Corona Patients
• President directs authorities to improve internet connectivity for students
• Second test suggests deceased Hyderabad patient was wrongly declared Covid-19 positive
• NAB urged to act against those behind sugar, wheat crises
• Imran wants PPE given to health professionals
• Capital to remain under lockdown for another eight days until April 14
• 19 relatives of 2 patients contract Covid-19 in Gujar Khan
PDMA to regulate philanthropy in Punjab
• Compiled by New Age Islam News Bureau
URL: https://www.newageislam.com/islamic-world-news/jamiat-ulema-e-hind-moved/d/121513
------
Jamiat Ulema-E-Hind Has Moved the Supreme Court Over Spread Of "Fake News" On Delhi Mosque Event
April 07, 2020
New Delhi: Alleging that a section of the media is spreading communal hatred over last month's Tablighi Jamaat congregation in Delhi, the Jamiat Ulema-e-Hind has moved the Supreme Court seeking directions to the Centre to stop dissemination of "fake news" and take strict action against those responsible for it.
The plea filed by Jamiat Ulema-e-Hind and the secretary of its legal cell, through lawyer Ejaz Maqbool, contended that the unfortunate incident of the Tablighi Jamaat was being used to "demonise" and blame the entire Muslim community.
At least 9,000 people had participated in the religious gathering at Tablighi Jamaat's headquarters in Nizamuddin West last month. The congregation became a key source for the spread of COVID-19 in India as many of the participants travelled to various parts of the country for missionary works.
Out of the over 4,000 cases of coronavirus in the country, at least 1,445 have been found to be linked to the Tablighi Jamaat congregation in Delhi, the Union health ministry said on Monday.
The plea has sought directions to the Centre to stop dissemination of fake news and take strict action against the section of the media spreading bigotry and communal hatred in relation to the Nizamuddin Markaz issue.
In addition to this, there are several fake reports and videos circulating on social media, showing Muslims in bad light, the plea contended.
"It is submitted that such reporting has triggered communal antagonism and has also perpetrated hatred, resulting in fissiparous tendencies gaining foothold, undermining and affecting communal harmony," the plea said.
The petition stated that this "demonisation" of the community has led to serious "threat to life and liberty of Muslims", and has thus led to the violation of their "right to life under Article 21" of the Constitution.
The petition has also sought direction to all sections of the media to strictly comply with the Supreme Court directions asking them to maintain strong sense of responsibility and ensure that unverified news is not disseminated.
https://www.ndtv.com/india-news/jamiat-ulema-e-hind-moves-supreme-court-seeking-end-to-spread-of-fake-news-related-to-delhi-mosque-e-2207304
-------
Nizamuddin cluster: Muslim group seeks apology from Tablighi Jamaat
Kiran Tare
April 7, 2020
Aprogressive Muslim organisation in Maharashtra has sought an apology from the Tablighi Jamaat group, whose markaz in Delhi's Nizamuddin area was the site of a religious congregation now linked to a large cluster of coronavirus cases.
Shamsuddin Tamboli, president of the Muslim Satyashodhak Mandal (MSM), said there was a "feeling of insecurity" among Muslims in India, and called on the Jamaat to apologise to the nation.
"The Shab-e-Barat will be observed on Wednesday. Ramzan is one month away. As per tradition, people do pray at mosques and hug each other. This time, they should avoid gathering in public for their own safety," he said.
Maharashtra Chief Minister Uddhav Thackeray has already banned all types of religious, social and political gatherings until further notice.
As of this writing, Maharashtra has 748 confirmed coronavirus cases, the highest caseload for any state or territory, according to central government data. As many as 45 people have died.
https://www.indiatoday.in/india/story/coronavirus-tablighi-jamaat-muslim-satyashodhak-mandal-1664129-2020-04-07
------
Ramadan in solitude: Indonesia urges Muslims to scrap joint iftar plans, mass prayers amid coronavirus
5 HOURS AGO
JAKARTA (THE JAKARTA POST/ASIA NEWS NETWORK) - Indonesia's Religious Affairs Ministry has issued prayer and worship guidelines for the Muslim fasting month of Ramadan, asking Muslims not to hold joint breakfast gatherings and pray at home instead, as part of the country's physical distancing policy to curb the spread of Covid-19.
Ramadan, expected to start on April 23 and end on May 23, traditionally includes gatherings, such as breaking-of-the-fast dinners known as iftar and nightly prayers known as tarawih, usually done at mosques.
Religious Affairs Minister Fachrul Razi said in a statement on Monday (April 7) that these worship guidelines can help prevent the spread of Covid-19 and protect Muslims in Indonesia from the risks of contracting the disease.
The guidelines, issued in the form of a circular, have been distributed to the ministry's regional offices throughout the archipelago.
As the Covid-19 pandemic ravages the globe, with more than 1.2 million infections and 70,000 deaths, the ministry has advised Muslims to not hold joint iftars and pray at home instead.
Indonesia recorded 218 new coronavirus cases on Monday - its biggest daily increase - bringing the total to 2,491 cases spread out in 32 out of the country's 34 provinces. The country has recorded 209 deaths from the virus so far.
The circular also said halal bi halal gatherings, an Indonesian ritual held following Ramadan as part of the Lebaran - or Hari Raya Aidilfitri - holidays, can be held through video conference or social media platforms.
"Besides containing guidelines for Ramadan and Aidilfitri prayers, the circular also gives directions on zakat (alms) collection and distribution," Mr Fachrul said.
https://www.straitstimes.com/asia/se-asia/ramadan-in-solitude-indonesia-urges-muslims-to-scrap-joint-iftar-plans-mass-prayers
------
Praying in time of COVID-19: How world's largest mosques adapted
by Arwa Ibrahim
20 hours ago
As an increasing number of countries announced lockdowns, so did mosques, with many closing their door completely and others banning congregations and using their speakers to remind people to stay at home.
With the global death toll from COVID-19, the disease caused by the coronavirus, exceeding 70,000 and more than 1.28 million cases of infection confirmed, many mosques are trying to keep their communities engaged by using live-streams and local stations to broadcast sermons and classes.
General view of Kaaba at the Grand Mosque which is almost empty of worshippers, after Saudi authority suspended umrah amid the fear of coronavirus outbreak, at Muslim holy city of Mecca
It remains unclear if this year's Hajj pilgrimage will be held as the threat of the coronavirus continues [File: Ganoo Essa/Reuters]
Worshippers have not been allowed to enter Mecca's Grand Mosque nor the Prophet's Mosque in Medinah, the two main mosques for Muslims, since Saudi authorities suspended prayers on March 19 in an effort to combat the spread of the virus.
The ban followed a series of other measures in Mecca including: an initial ban on worshippers praying near the Kaaba, the cube-shaped structure in the centre of the Grand Mosque's courtyard which Muslims across the world pray towards; and a ban on the Umrah pilgrimage, which seven million Muslims perform every year.
It remains unclear if the Hajj pilgrimage, which every able-bodied Muslim must perform once in their lifetime, will be held this year.
"For several weeks, the call to prayer has included a line at the end asking people to remain home," said Mecca resident Fuad Mohamed.
No prayers nor Friday sermons are held at the Grand Mosque," added Muhamed, noting that some of the city's smaller mosques live-stream their sermons online.
Saudi authorities imposed a 24-hour curfew in Mecca and Medina on April 2, forcing residents to stay home at all times other than to buy food or access medical care.
With more than 2,400 confirmed COVID-19 cases and 35 deaths, Saudi Arabia is the worst affected by the pandemic among Gulf Arab states.
The doors of the mosque and of the adjoining Dome of the Rock were shut a week before implementation of the full ban, allowing worshippers to only gather for prayers in the open areas of the compound.
Al-Aqsa compound is where the al-Haram al-Sharif or the Noble Sanctuary is located. It is the third most sacred site for Muslims and the site they believe Prophet Muhammad began his night journey to heaven.
According to Zeinat Abusbeih, who heads security at Al-Aqsa's female quarters, the compound has been completely shut, with the exception of employees at the mosque
"This has been painful but necessary," Abusbeih told Al Jazeera, adding that a line calling on people to pray at home was added to the end of athaan (call to prayer).
Abusebeih said that while worshippers are not allowed to attend the Friday sermon, it is still held by the imam with employees at the mosque joining in.
"To keep people around the world feeling connected to Al-Aqsa, security personnel have been live-streaming the Friday sermon and prayer," she said.
There are more than 8,600 coronavirus cases in Israel and at least 50 deaths. In the occupied Palestinian territories, the ministry of health has confirmed more than 200 infections.
Fatih Mosque, one of Istanbul largest and most historic mosques has banned congregational prayers to curb the spread of the virus [File: Chris McGrath/Getty Images]
Many mosques have since added a few lines to the end of the athaan, notifying people of the decision and calling on them to pray at home.
While Fatih Mosque, one of Istanbul's largest and most historic mosques built after the Ottoman Sultan Mehmet the Conqueror, has kept its doors open, congregational prayers are banned.
"Any group prayers are strictly prohibited, but many activities, including classes and Quran reading, are still conducted online," said Bunyamin Topcu, an imam at the mosque which is also considered a centre for Islamic studies across the Middle East.
"The athaan continues to be called out without additions or omissions. We do not, however, hold Friday sermons nor prayers," said Topcu, explaining that a single mosque in the capital, Ankara, does that on behalf of the whole country.
Located in Abu Dhabi, the capital city of the United Arab Emirates, the site is the country's largest mosque and the principal place of worship for daily, Friday and Eid prayers.
With about 1,800 cases and 10 deaths so far, the UAE has the second-highest number of COVID-19 infections in the Arab Gulf region.
A man prays inside the closed Moussawi Grand Mosque in Basra on April 3, 2020. - Iraq has confirmed more than 500 COVID-19 cases and 42 deaths from the respiratory disease, but the real numbers are li
As one of Basra's largest and busiest mosques, the Moussawi Grand Mosque continues to broadcast its Friday sermon through al local channel [Hussein Faleh/AFP]
Iraq's top Shia leader Ayatollah Ali al-Sistani has issued several edicts calling on citizens to social distance and avoid religious gatherings in order to curb the spread of the coronavirus.
Like other mosques across the country, the doors of Mousawi Grand Mosque in Iraq's southern city of Basra have been shut to worshippers and visitors.
"The athaan hasn't changed since the onset of the pandemic. But before the athaan or at the end of the day, the mosques always issues a reminder through its speakers that mosques are closed," Hussein Faleh, a Basra-based photojournalist and resident, told Al Jazeera.
As one of its biggest and busiest mosques in the oil-rich city, the mosque has used a local channel to broadcast the Friday sermon and prayers for Imam Hussein, the grandson of the Prophet Muhammad and a central religious figure for Shia Muslims.
"Not all mosques do this, but because Mousawi Mosque is a central one, the broadcast has been an attempt to keep members of the community feeling connected to their place of worship and their spirits high," Faleh said.
A Muslim Imam leads a prayer inside empty National Mosque, after all mosques in the country suspended Friday prayers during the movement control order [File: Lim Huey Teng/Reuters]
According to Siti Syuhada, a Kuala Lumpur resident, the directive has meant that all mosques are closed off to the public, with only the imam and staff members allowed to enter.
At Malaysia's National Mosque, a tourist attraction and key religious hub in the capital, the mosque has continued to make the five daily calls to prayer.
"At the end of the call, the muezzin [caller to prayer] reminds people in Malay to perform their prayers at home," explained Syuhada, adding that many classes are being conducted online via Facebook, YouTube and Zoom.
"Friday prayers are not being held, and as per the movement of control order, people pray at home with their families," she added.
Vigil For NZ Shooting Victims Held At East London MosqueThe UK's largest mosque, the East London Mosque has banned the entry of all members of the public as a measure to curb the spread of the coronavirus [File: Jack Taylor/Getty Images]
After taking an initially restrained approach to curbing the spread of the virus, UK Prime Minister Boris Johnson announced a nationwide shutdown on March 24, closing public spaces and banning people from leaving their homes unless for necessary purposes.
Before the move, Muslim associations including the Muslim Council of Britain (MCB), called on leaders of UK mosques to prepare for a suspension of communal prayers by setting up video links to live-stream sermons and activities.
At the UK's largest mosque in the London Borough of Tower Hamlets, the East London Mosque (ELM) has banned the entry of all members of the public.
But the ELM, one of the largest mosques in Europe, still broadcasts the five daily prayers, as well as the Friday prayer and sermon via its Adhan Radio and YouTube and Facebook pages, according to Abdallah Faliq, a member of the mosque's trust.
"In the athaan, we've replaced hayaa ala al-salah [come to prayer] with the words sallu fi buytutikim (pray in your homes)," said Faliq, adding that ELM is the only mosque in London allowed to broadcast the call to prayer from its minaret.
The Islamic Cultural Center of New York after the Christchurch mosque attack in New Zealand in New York City, New York, U.S. March 15, 2019. REUTERS/Rashid Umar Abbasii
US President Donald Trump issued a travel warning for the hard-hit New York area to limit the spread of the virus [File: Rashid Umar Abbasii/Reuters]
As of March 20, the Islamic Cultural Centre of New York, which is one of the largest mosques in the US city, banned all congregation including Friday prayers as well as weekly and weekend classes, according to its website.
Meanwhile, the building housing New York University's Islamic Centre, which acts as a busy community and student hub for Muslims in New York City, has also been closed.
According to the centre's website, Friday prayers have been suspended, but regular classes and activities are being conducted virtually via Zoom and Facebook Live.
US President Donald Trump issued a travel warning from March 28 for the hard-hit New York area to limit the spread of the virus.
Topping the list of countries with confirmed COVID-19 cases at more than 330,000 cases, the United States has also reported more than 1,500 deaths.
https://www.aljazeera.com/news/2020/04/praying-time-covid-19-world-largest-mosques-adapted-200406112601868.html
-------
Covid-19: Mosque converted into mask factory in virus-hit Iran
Apr 7, 2020
TEHRAN: At a Tehran mosque converted into a factory, women volunteers who would normally attend to visitors to the old battlefields of the Iran-Iraq war have joined the fight against coronavirus.
Lined up like factory workers, around 15 women have taken up positions in front of table-top sewing machines to produce face masks.
But instead of overalls they are clad in black chadors, for they are members of the Basij, a volunteer militia loyal to Iran's Islamic establishment.
And in a sign of the times for Iran, one of the countries worst-hit by the COVID-19 pandemic, almost all of the women are wearing masks. "Our group used to go to the battlefields of the Iran-Iraq war every year to serve visitors," Fatemeh Saidi, a 27-year-old woman involved in the Basij with her husband, told AFP.
https://timesofindia.indiatimes.com/india/covid-19-mosque-converted-into-mask-factory-in-virus-hit-iran/articleshowprint/75021945.cms
-----
Hifazat's Shafi supports govt call to avoid going to mosques amid virus shutdown
06 Apr 2020
Other Muslim-majority countries of the world have closed down mosques. Bangladesh, however, is yet to take a decision in such measures.
The Ministry of Religious Affairs, however, curbed congregation at mosques on Monday and asked people to say their prayers at home. People have been instructed to pray Zuhr at home on Fridays, rather than praying Jumma in congregation.
Jumma prayers in mosques must be restricted to 10 devotees, including mosque khatib, imam, muezzin, and khadem, and regular prayers in mosques must be limited to five devotees, including four of them, according to a press release.
Ahmed Shafi said in a statement on Tuesday that the government instruction was accurate as per the Islamic law.
"The government's instruction to prevent big gatherings, maintaining social distance, restricting the presence in Jumma and regular congregations… is appropriate according to Islamic laws," he said. "It is our duty to value and properly follow the instruction issued by the government."
https://bdnews24.com/bangladesh/2020/04/06/hifazats-shafi-supports-govt-call-to-avoid-going-to-mosques-amid-virus-shutdown
------
Coronavirus crisis: Mosques could go bankrupt in Germany as Muslim leaders plead for state aid
April 06, 2020
Due to the coronavirus crisis, the Islamic Council for the Federal Republic of Germany has requested financial aid for the mosques, many which now allegedly face bankruptcy, according to Junge Freiheit.
The German government's strict measures to prevent the spread of coronavirus, including a ban on gatherings of more than two people, have also brought traditional religious services in the country to a complete halt, including for Christians, Muslims and Jews.
"Due to the loss of daily prayers and Friday prayers, a considerable proportion of the donations were canceled and no suitable replacement has been found," Burhan Kesici, the chairman of the Islamic Council for the Federal Republic of Germany, said in the statement.
Muslims also fear that coronavirus preventative measures will also be in place during the fasting month of Ramadan, which takes place between April 23 and May 24. Donations during that period make up a significant portion of the annual budgets for many mosques.
Currently, there are signs that the restrictions will indeed be in place during that period, which means many mosques would no longer be solvent, according to Kesici.
"Against this background, we call on the federal and state governments to take measures to protect and preserve the mosque communities," he wrote.
Kesici says mosque communities now need urgent financial help and argues that mosques make an important contribution to society.
"The vast majority of Islamrat mosques can look back on decades of tradition. They were built with great effort and with the own resources of the former guest workers. Leaving them and their communities alone in this difficult time would be inappropriate and would not do justice to the life's work of the founding fathers of these mosque communities,"warned Kesici.
Kesici also expressed understanding for preventative measures, saying the Islamic religious community fully supports the measures.
Despite Kesici's claims, not all members of the Muslim community appear to support the ban on religious gatherings. Video from Berlin shows dozens of Muslims gathering at a mosque and chanting "Allahu Akbar" in what was a clear violation of social distancing measures.
https://rmx.news/article/article/coronavirus-mosques-could-go-bankrupt-in-germany-as-muslim-leaders-plead-for-state-aid
------
At 27, Amani Al-Khatahtbeh just made history as New Jersey's first Muslim woman to run for Congress
Lena Felton
April 6,2020
On Saturday, Amani Al-Khatahtbeh, the 27-year-old founder of MuslimGirl.com, made a big announcement to her nearly 77,000 Instagram followers: She is running for Congress. In doing so, she has become the first Muslim woman on the ballot for federal office in New Jersey's history. She's also projected to be the youngest woman to run for Congress in 2020.
The announcement was accompanied by a black-and-white photo showing Al-Khatahtbeh's hair tucked into a hijab, her barrettes bearing the words "Vote 2020" and a tagline promising to "make democracy happen." It was met with thousands of likes and hundreds of comments from other female media heavyweights and high-profile activists, including author Amy Cuddy and Rise founder Amanda Nguyen: "Wish I could vote for you!," "Yes you are!," "Amani!!! Thank you."
Al-Khatahtbeh is running to unseat 16-term incumbent Rep. Frank Pallone Jr. (D), chair of the House Energy and Commerce Committee, in New Jersey's 6th Congressional District. But her followers likely know her as the woman behind MuslimGirl.com, which she started as a blog in 2009 when she was 17. Now, it's an online magazine with a large global audience, and its founder is well-recognized, too: Al-Khatahtbeh founded Muslim Women's Day and created the hashtag #MuslimGirlArmy; was featured in Forbes' "30 Under 30" list; and sat on a panel moderated by former president Bill Clinton.
Sadaf Syed, an author and photojournalist living in Chicago, has been following MuslimGirl.com for several years. She says she wasn't surprised when Al-Khatahtbeh announced her run for office: "She seems to understand that time is of an essence and being a woman of color, and a daughter of a Jordanian immigrant and a Palestinian refugee, she is relatable and will have a lot to offer as a congresswoman," Syed wrote in an email.
Al-Khatahtbeh's announcement comes at a critical moment. As the United States is in the midst of a presidential election year, the coronavirus pandemic is raging across the country — and New Jersey has the second highest case count after New York. Political campaigning is moving online and states are postponing their primaries, and Al-Khatahtbeh is positioning herself as a leader amid the chaos. "This moment is a stark reminder that we can no longer wait for incremental change. Our leadership can and must put the health and well-being of working families and the most vulnerable among us front and center," she said in a statement. Al-Khatahtbeh could not be reached Monday for an interview.
Although the current moment is unprecedented in terms of both campaigning and voting, Al-Khatahtbeh's run does feel reminiscent of the recent past. In 2018, as part of a historic wave of female candidates from diverse backgrounds, Reps. Ilhan Omar (D-Minn.) and Rashida Tlaib (D-Mich.) became the first Muslim women elected to Congress. Al-Khatahtbeh is running on a platform of liberal policies championed by Omar and Tlaib, too, such as the Green New Deal and Medicare-for-all.
Al-Khatahtbeh recognized the resonances in a Saturday interview with Katie Couric, who asked specifically about the influence of congresswomen such as Omar and Tlaib. "I'm very lucky to have incredible examples in Congress already, with the representatives that we do have," Al-Khatahtbeh said. "Us just having elected the most diverse and the highest number of women in Congress in history that have really blown the doors wide open of what the possibilities are."
Still, women remain vastly underrepresented in Congress: They made up only 25 percent of the Senate and 23.2 percent of the House of Representatives in 2019.
And this won't be an easy challenge for Al-Khatahtbeh, according to Debbie Walsh, director of the Center for American Women and Politics (CAWP) at Rutgers University. Al-Khatahtbeh is running in New Jersey's 6th Congressional District alongside three other challengers and Pallone; the primary is set for June 2. The district is where Al-Khatahtbeh, a first-generation American, grew up. It's also where she attended college at Rutgers.
Although New Jersey itself is "well-positioned" to elect a Muslim woman to Congress — it's a "very diverse" blue state, Walsh says — running against incumbents, especially one who's as well-liked as Pallone, would be difficult for anyone. (The 6th District is particularly diverse, with higher-than-average percentages of Asian and Hispanic populations.)
New Jersey's state party also plays a powerful role in the primaries by endorsing candidates, which brings in resources such as get-out-the-vote efforts, polling and mailing.Walsh says that Pallone, who has the backing of the state party, often gets challenged in the district, so he "campaigns hard." That's what sets this race apart from one like Rep. Alexandria Ocasio-Cortez's (D-N.Y.); unlike 10-term incumbent Joseph Crowley, whom Ocasio-Cortez defeated in the 2018 primary, Pallone "has paid a lot of attention to his district," says Walsh.
Even if she loses, Walsh says, it could be a boon if Al-Khatahtbeh "runs this race well in this moment." It may spell a promising future for her in politics: "When women candidates run in these really difficult races, it's about thinking what's the goal. Obviously the goal is to win, but you also think about what someone can get out of this beyond this one race."
Historic, age-defying elections are continuing to happen across the country. Take Nadia Mohamed, a 23-year-old Muslim refugee who came to the United States when she was 10. Mohamed decided to run for City Council in St. Louis Park, Minn., last year, inspired by women like Omar, who had been successful on the national stage. Mohamed won — and made history as her city's first Muslim and first Somali member.
The most important thing young women of color interested in running for office can do is believing themselves that they're capable, Mohamed says:
Even as she began campaigning while she was finishing up college, she had to convince herself, and others, that she deserved to win.
Watching the votes come in live on election night "was insane," Mohamed says. "The little girl who came to America 13 years ago would just be looking at me in awe."
Of course, the usual tactics that a little-known, young candidate might employ aren't available to Al-Khatahtbeh during the pandemic. Walsh, of CAWP, says that political advisers would usually tell candidates like her to go door-to-door and get name recognition that way. Experts are "very uncertain" about what the campaigning landscape will look like. For now, Al-Khatahtbeh's campaign said it will launch a digital "Campaign Quaran-Tour" live-stream schedule.
Al-Khatahtbeh's large following certainly can't hurt, either; the outpouring of support from other Muslim women has been obvious. As Syed, the MuslimGirl.com fan, puts it: "I'm a sucker for women who chase after their dreams and make it a reality."
https://www.thelily.com/at-27-amani-al-khatahtbeh-just-made-history-as-new-jerseys-first-muslim-woman-to-run-for-congress/
-----
India
Tablighi fallout: Fake videos across social media affecting Muslim vendors in Hyderabad
07th April 2020
HYDERABAD: Post the Tablighi incident, several fake videos are being widely circulated on Whatsapp, Facebook and other social media platforms, claiming that Muslims in the city are spreading COVID-19 by licking or spitting on fruits, vegetables, delivery food and utensils.
Sharing these videos, many urged people not to buy supplies from Muslim vendors, prompting discrimination and boycott of those who are already losing out on their business.
A 45-second video of an employee at a restaurant packing food has been shared with the claim that a Muslim man is spitting on the food before delivering it to customers.
Roop Darak, Bharatiya Janta Yuva Morcha (BJYM) Telangana State spokesperson tweeted the viral video and called for a boycott of such shops.
This is not an isolated incident, there has been a deluge of such false and malicious posts against Muslims that are going viral with texts such as — "Refrain from eating things from the market and notice the lowliness of those who wear a cap."
Speaking to Express, D Hema, who works as a house help and lives in a Muslim-dominated area near Begumpet, said, "After the Tablighi reports, many such videos are doing rounds on WhatsApp, due to which we are scared of buying supplies from Muslim shops."
When we enquired with Muslim meat and vegetable shop vendors in the city, they seem to be scared and quick to disassociate themselves from Tablighi Muslims.
"We know that these videos and rumours are going around for the last few days, due to which our sales have also seen a dip. But, I hope people will not believe in all those rumours as they have known us for the last many years," a fruit vendor at Prakash Nagar lamented.
https://www.newindianexpress.com/cities/hyderabad/2020/apr/07/tablighi-fallout-fake-videos-across-social-media-affecting-muslim-vendors-in-hyderabad-2126797.html
------
Covid-19: Maharashtra CM Uddhav Thackeray warns against spreading fake news, communal hatred
Apr 04, 2020
Maharashtra Chief Minister Uddhav Thackeray on Saturday warned people against circulating "inflammatory content" about the coronavirus pandemic and said that the "virus" of fake news and communal hatred is threatening social harmony.
"Like Coronavirus, there is another virus that is emerging which is threatening social harmony, the virus of fake news and communal hatred," Thackeray wrote on Twitter. "If someone circulates fake news or inflammatory content, my law will catch up with them. They will not be spared."
Like Coronavirus there is another virus that is emerging which is threatening social harmony, the virus of fake news & communal hatred.
Thackeray added that his government has located people from the state who attended the Tablighi Jamaat congregation in Delhi – the source of more than a 1,000 coronavirus cases across 17 states ­– and placed them under quarantine. "The names of those who attended the Delhi event are in our records and all the participants have been traced," he said. "They have been isolated and quarantined in government facilities."
Thackeray said that unlike Delhi, Maharashtra had assessed the risk of infection and denied permission for the Tablighi Jamaat event. "We didn't let what happened in Delhi happen in Maharashtra," he said, according to Hindustan Times. "The event was permitted earlier, but later looking at the situation we denied permission."
With more than 500 cases of coronavirus, Maharashtra is the worst-affected state in the country. Thackeray said that the government may extend the 21-day lockdown in the state depending on how well people follow orders.
The health ministry on Saturday said that the number of coronavirus cases in India rose to 2,902, with 68 deaths. Of these, 2,650 Covid-19 cases are still active. It added that more than 1,000 cases are linked to last month's Tablighi Jamaat event in Delhi. Around 22,000 Tablighi Jamaat workers and their contacts have been placed under quarantine.
https://scroll.in/latest/958204/covid-19-maharashtra-cm-uddhav-thackeray-warns-against-spreading-fake-news-communal-hatred
------
Covid-19: Maharashtra CM Uddhav Thackeray warns against spreading fake news, communal hatred
Apr 04, 2020
Maharashtra Chief Minister Uddhav Thackeray on Saturday warned people against circulating "inflammatory content" about the coronavirus pandemic and said that the "virus" of fake news and communal hatred is threatening social harmony.
"Like Coronavirus, there is another virus that is emerging which is threatening social harmony, the virus of fake news and communal hatred," Thackeray wrote on Twitter. "If someone circulates fake news or inflammatory content, my law will catch up with them. They will not be spared."
Like Coronavirus there is another virus that is emerging which is threatening social harmony, the virus of fake news & communal hatred.
Thackeray added that his government has located people from the state who attended the Tablighi Jamaat congregation in Delhi – the source of more than a 1,000 coronavirus cases across 17 states ¬– and placed them under quarantine. "The names of those who attended the Delhi event are in our records and all the participants have been traced," he said. "They have been isolated and quarantined in government facilities."
Thackeray said that unlike Delhi, Maharashtra had assessed the risk of infection and denied permission for the Tablighi Jamaat event. "We didn't let what happened in Delhi happen in Maharashtra," he said, according to Hindustan Times. "The event was permitted earlier, but later looking at the situation we denied permission."
With more than 500 cases of coronavirus, Maharashtra is the worst-affected state in the country. Thackeray said that the government may extend the 21-day lockdown in the state depending on how well people follow orders.
The health ministry on Saturday said that the number of coronavirus cases in India rose to 2,902, with 68 deaths. Of these, 2,650 Covid-19 cases are still active. It added that more than 1,000 cases are linked to last month's Tablighi Jamaat event in Delhi. Around 22,000 Tablighi Jamaat workers and their contacts have been placed under quarantine.
https://scroll.in/latest/958204/covid-19-maharashtra-cm-uddhav-thackeray-warns-against-spreading-fake-news-communal-hatred
------
Police 'terrorising' north-east Delhi neighbourhoods in name of probe
By Furquan Ameen
7.04.20
Muslims living in north-east Delhi areas that were rocked by sectarian violence earlier this year have alleged that police were tormenting the community on the pretext of investigations into the riots with several young men being picked up form homes and threatened with forced exposure to those with the cononavirus.
Police have, however, vehemently denied charges of bias and harassment, saying they were only doing their job and that investigations into the February violence in the north-east Delhi neighbourhoods would not be called off due to the lockdown that is in place to prevent the spread of the virus.
Khajoori Khas, Chandbagh, Mustafabad, Gokulpuri and Shiv Vihar bore the brunt of the targeted violence in February that left at least 53 dead and several hundred injured.
A video has surfaced in which a group of women, purportedly Muslims, is seen complaining in anger against police high-handedness.
"Yeh kis baat ka lockdown hai, main mahoday pradhanmantriji se poochna chahti hun… Humare ghar me ghuske zabardasti humare bacchon ko le jate hain (What kind of a lockdown is this, I want to ask the respected Prime Minister… They enter our homes and forcefully take our children)," said a woman in the video, apparently recorded on the night of April 3.
The woman, Imrana, a resident of Mustafabad, said her nephews were picked up by 10-15 policemen in civil dress. She said police were blackmailing families like hers, first by threatening to "infect" them with the coronavirus by herding them with infected patients, and then by asking for money, in the range of Rs 1 lakh and Rs 2 lakh, to free them.
"Yeh Mustafabad me sare aam gundagardi chal rahi hai. Hum lockdown ka palan karna chahte hain aur yeh log lockdown ki aad me hum logon ko pareshan kar rahe hain (This is hooliganism in broad daylight in Mustafabad. We want to abide by the lockdown and these people are harassing us on the pretext of a lockdown)," she says in the video.
"Abhi hum ne uthaya aur abhi aapne poochna shuru kar diya (We've just started picking up people and you are already asking us questions)?" Karawal Nagar police SHO Sajeev Kumar told The Telegraph online on Saturday night.
"Yes, we'll pick them up, we'll take action, we'll interrogate them on the offence," Kumar said, adding that the lockdown would not stop them from doing their work.
There has, however, been no let-up in complaints against the police. In Shiv Vihar, one of the worst affected areas in the violence, police were allegedly picking up complainants to dissuade them from filing FIRs.
A local resident, Hashim Ali, whose house was looted before it was set on fire, registered an FIR at the local police station, accusing some of his neighbours. But late night on Saturday, police picked up 54-year-old Ali and accused him of inciting violence.
According to the president of a residents' welfare association in Mustafabad, as many as 14 boys had been picked from his locality.
In Chandu Nagar, near Khajoori Khas, local residents said at least 10 had been picked up by police. According to a news report, Delhi police had picked up close to 2,000 individuals till March 7 to investigate the riots.
https://www.telegraphindia.com/states/delhi/police-terrorising-north-east-delhi-neighbourhoods-in-name-of-probe/cid/1762831
------
Delhi Cops probe 'ban' on entry of Muslims in Shastri Nagar Area
07th April 2020
NEW DELHI: The Delhi Police has launched a probe after a video that went viral on social media on Monday showed a group of residents, allegedly from Shastri Nagar area, discussing and urging for a ban on entry of Muslims in their neighbourhood in the wake of the Nizamuddin Markaz gathering that has become a Covid-19 hotspot.
In the 1 minute and 52 second-long clip, a person who is not visible in the video, is heard saying, "These people have created a mess. The disease is spreading. No Muslim will be allowed to enter here. No one will be permitted to enter or leave the area without showing Aadhaar card." In later part of the video, another person, also not visible, is heard stopping a vegetable vendor and asking his and his father's name. "Do you have an identity card? Aadhaar card? Don't enter the locality if you don't carry Aadhaar from tomorrow," he is heard, threatening the seller.
The Morning Standard couldn't check the authenticity of the clip independently. However, a senior police officer on condition of anonymity said, "We are verifying the video to check whether it is fake or real and whether this is a recent video or old. After proper probe, we will take appropriate action." Some local residents this newspaper spoke to said they favoured barring the entry of Muslims as they didn't want to 'take chance'. "No 'such' meeting has taken place because lockdown is in force.
The RWA offices are closed. But a video is circulating in which people are seen applying saliva on fruits and doing other such things. So, at this time, we all are being careful. There are many Muslims vendors who sell vegetables outside the colony," said Charan Singh, a member of RWA, Shastri Nagar F Block. A Mukherjee Nagar resident said, "These people are spreading the virus. Even in lockdown many enter our society and attend the azaan."
https://www.newindianexpress.com/nation/2020/apr/07/cops-probe-ban-on-entry-of-muslims-2126757.html
-----
Four held for attack on Muslims in Jind
Apr 7, 2020
JIND: Four persons were arrested in Haryana's Jind district on Monday for attacking their Muslim neighbours who did not honour Prime Minister Narendra Modi's appeal to switch off lights at 9pm on Sunday.
The complainant told the police that he and his brothers were at home in Thathrath village when their neighbours used objectionable language against them. "Our neighbour Meenu and his family members asked us why our electricity was not switched off even when all the neighbours had honoured the PM's advice. He also repeatedly used objectionable language against us. Like everyone, we also have freedom to do what we want," the complainant Sadik Khan, 34, said.
The dispute continued and the man's neighbours attacked him and his three brothers with sharp-edged weapons on Monday morning. "Around one dozen people attacked us and in retaliation we beat them up after snatching their sticks," Khan said, adding that their neighbours had tried to harass them earlier and had accused them of sheltering people who had attended the Nizamuddin congregation.
"We have been living harmoniously in the village since long time but now our every moment is being seen with suspicion lens. Like all, we also have freedom to do what we want," Khan added.
Meanwhile, three persons were arrested in Karnal on Monday for hurting sentiments of a religious community by uploading objectionable videos on a social media platform.
Two of the accused, identified as Monti and Baljinder, are residents of Randauli village under Indri in Karnal district. The third, identified as Deepak alias Bablu, belongs to Jundla village in Karnal district.
https://timesofindia.indiatimes.com/city/chandigarh/four-held-for-attack-on-muslims-in-jind/articleshowprint/75019858.cms
-----
Southeast Asia
Mosques remain closed for another week
April 7, 2020
Azlan Othman
His Majesty Sultan Haji Hassanal Bolkiah Mu'izzaddin Waddaulah ibni Al-Marhum Sultan Haji Omar 'Ali Saifuddien Sa'adul Khairi Waddien, Sultan and Yang Di-Pertuan of Brunei Darussalam has consented for the temporary closure of mosques, suraus and religious halls to be extended for another week starting Subuh or dawn prayer today until Isyak prayer on April 13.
This was said by Minister of Religious Affairs Pehin Udana Khatib Dato Paduka Seri Setia Ustaz Haji Awang Badaruddin bin Pengarah Dato Paduka Hj Awang Othman yesterday.
The decision was made following a meeting held last Saturday based on the Ministry of Health's (MoH) advice as dangers of COVID-19 still persist. It is also in line with the State Mufti's Fatwa on the obligation to limit the outbreak.
Pehin Udana Khatib Dato Paduka Seri Setia Ustaz Haji Awang Badaruddin said the Brunei Islamic Religious Council analysed three options given by the MoH.
The first option is to open places of worship once the nation is wholly free from the outbreak with no new cases for 28 days.
The second option is based on last limited spread involving the last family of Case 131 which falls on April 15.
The third option is by fulfilling health requirements. This involves guidelines to clean mosque, suraus and religious halls continuously, and spacing congregants as permissible by Syarak Law.
Pehin Udana Khatib Dato Paduka Seri Setia Ustaz Haji Awang Badaruddin said the council decided that the mosques, suraus and religious halls will open when there are no more health risks to congregants and the public.
https://borneobulletin.com.bn/mosques-remain-closed-for-another-week/
-----
Zakat payment can still be made in mosques
April 7, 2020
Syazwani Hj Rosli
The issue of Zakat payment during the month of Ramadhan was raised during the COVID-19 press conference at the Ministry of Health's (MoH) Al-'Afiah Hall yesterday.
Minister of Religious Affairs Pehin Udana Khatib Dato Paduka Seri Setia Ustaz Haji Awang Badaruddin bin Pengarah Dato Paduka Haji Awang Othman assured that preventative measures will be implemented at designated mosques, suraus or religious halls for the people to pay their Zakat Fitrah.
According to the minister, the payment of Zakat Fitrah can be carried out physically at the designated venues to appointed Amils by complying to preventive measures as advised by the MoH such as social distancing and crowd control.
https://borneobulletin.com.bn/zakat-payment-can-still-be-made-in-mosques/
-------
Arab world
24-hour curfew in Riyadh, Jeddah and other cities
DEEMA AL-KHUDAIR
April 06, 2020
JEDDAH: Saudi Arabia placed its capital Riyadh and other major cities under a 24-hour curfew on Monday.
The new curfew applies to the cities of Riyadh, Tabuk, Dammam, Dhahran, Hofuf, and the provinces of Jeddah, Taif, Qatif and Alkhobar, a statement from the Interior Ministry said.
Entry to or exit from those areas will not be allowed, except for vital workers. Residents are allowed to leave their homes for medical or food needs inside their residential area and between 6 a.m. and 3 p.m. only.
Fifteen government agencies are coordinating to facilitate the repatriation of Saudi citizens from abroad amid the global outbreak of the coronavirus. During the daily press briefing, Health Ministry spokesman, Dr. Mohammed Al-Abd Al-Aly, said that his ministry was cooperating with the Ministry of Foreign Affairs in its repatriation operations.
In the Kingdom, the total number of confirmed cases is 2,605 with 203 new cases recorded on Sunday. He said that 551 patients have recovered and 2,016 are still being treated. The number of deaths in the Kingdom stands at 38.
Al-Aly said that updates about COVID-19 in the Kingdom with details of its geographical spread can be found at covid19.moh.gov.sa.
Tourism Ministry spokesman Anas Al-Sulai said: "The Ministry of Tourism has provided over 11,000 hotel rooms to accommodate Saudis returning from abroad, as they will be isolated to ensure their safety," Al-Sulai said. The operation includes eight electronic services and the involvement of 15 government bodies that are working 24 hours to ensure the completion of the operation safely.
A spokesman for the Ministry of Municipal and Rural Affairs, Naif Al-Otaibi, said that 22,000 environmental sanitation devices and 15,000 cadres are being used to sanitize and control areas.
According to the Saudi Press Agency, the General Directorate of Passports called on all citizens and residents to activate the feature to receive notifications for its services available through the "Absher" application for electronic services on smartphones.
By doing so, users will be able to receive information about the status of their official documents and the dates of their expiry.
https://www.arabnews.com/node/1654376/saudi-arabia
-------
Saudi employers given green light to cut wages, hours
AISHA FAREED
April 07, 2020
JEDDAH: Saudi private-sector employers whose businesses have been crippled by the coronavirus pandemic have been told they can cut their employees' wages and working hours.
But they may do so only with the employees' consent, and the reduced wages must accurately reflect the number of hours worked, the Ministry of Human Resources and Social Development said.
The ministry also moved to allay fears among some private sector staff, both Saudi and expatriate, that unscrupulous employers could use the coronavirus crisis to exploit their workers.
"Workers can report any violation through the ministry's website, channels and social media platforms," Saad Al-Hammad, director of Human Resources Affairs at the ministry, told
In addition, employers who have benefited from state subsidies, such as the SR9 billion ($2.4 billion) fund created last week to compensate Saudi workers for the effects of the pandemic, may not terminate employment contracts. Employees, however, retain the right to do so.
The ministry said its aim was to protect employees from dismissal or loss of contractual benefits during the pandemic. It would continue to regulate the labor market, mitigate the economic effects of the virus outbreak on the private sector and protect the interests of both parties in the labor relationship, it said.
Saudi legal counsel Dimah Talal Al-Sharif said amending the contractual relationship between employer and employee in this way was permissible under the legal concept known as "force majeure," which applied to the coronavirus pandemic.
"The ministerial decision aims to limit any attempt to tamper with people's rights as employees, and to define the limits that both parties must agree on first, while also reflecting the reality," Al-Sharif told Arab News.
https://www.arabnews.com/node/1654501/saudi-arabia
------
Islamic finance body grants $850mn for combating coronavirus in member states
April 6, 2020
JEDDAH — Societies and economies are being affected by the unprecedented and unpredictable nature of the COVID-19 pandemic. These include a major shift in global trade routes, changes in consumption and extraordinary levels of monetary easing and stimulus packages at a scale never experienced before. The International Islamic Trade Finance Corporation (ITFC) is moving quickly to consolidate efforts to mitigate the socioeconomic risks that the virus poses to all our stakeholders in member countries of the Organization of Islamic Cooperation (OIC).
As we assess how COVID-19 affects the work we do and the impact on member countries, ITFC is engaging closely with government stakeholders, partners, businesses and the financial institutions we work with. That dialogue enables us to respond in a coordinated manner to soften the economic fallout. This is in addition to practical measures that have already been taken.
ITFC has moved quickly to put in place emergency financing measures to ensure that member countries continue to receive the support needed. Our COVID-19 'Rapid Response Initiative' (RRI) has made $300 million immediately available.
ITFC is also responding to the different requests made by Member Countries to provide immediate crisis-related technical assistance programs, including capacity building for medical personnel and capacity enhancement of laboratories. ITFC is also assisting in sourcing medical equipment and medicines from its network.
These funds are being directly funneled towards eligible OIC member countries in most need of support — for critical supplies of energy, healthcare, food security and other life support requirements. ITFC is in continuous consultations with OIC member countries to ascertain their most pressing needs as the pandemic unfolds.
An additional fund — the 'Recovery Response Program' (RRP) — earmarks another $550 million for deployment over the next two years. The RRP is aimed at fixing the socio-economic damage which is expected to last longer than immediate impact of the virus.
ITFC is actively engaging international, regional and local partners as a strategic means of scaling these interim financing measures to contribute to the critical needs of the member countries and where necessary, on the mobilization of trade development support services during the pandemic. This includes helping OIC member countries with strategies for the control and production of healthcare facilities.
ITFC employees continue to work remotely through virtual platforms and other online means of communication, to ensure business is running as usual. We remain fully engaged and responsive to the business and socioeconomic needs of the many millions of people we serve.
Whilst the challenges and impact of COVID 19 continue to evolve, we are certain by uniting and standing in solidarity with our member countries, we will overcome the crisis. — SG
http://saudigazette.com.sa/article/591561/BUSINESS/Islamic-finance-nbspbody-grants-$850mn-for-combating-coronavirus-in-member-states
-----
Egypt to launch virtual tour of Old Cairo mosque complex
Al-Masry Al-Youm
April 6, 2020
The Ministry of Tourism and Antiquities will launch a virtual tour on Monday through its official website of the
The Mosque-Madrassa is a religious complex located on al-Moez Street established by Sultan al-Zahir Barquq, the founder of the Mamluk Burji dynasty rule in Egypt.
The complex is one of the largest architectural heritage collections in the world, consisting of an open courtyard and four iwans (rectangular Islamic hall), the largest of which is the qibla iwan – which includes a marble mihrab, a wooden pulpit, a Quran chair, and a bench.
On top of the entrance facade is a minaret and dome that was renovated in 1310 AH / 1892AD, characterized by written inscriptions in naskh script from Quranic verses which bear the date of its construction and its constructor's name.
The Ministry of Tourism and Antiquities announced earlier in April that it was teaming up with scientific and archaeological institutes to offer a series of virtual and guided video tours of a various museums and archaeological sites across Egypt.
This initiative, recently launched under the slogan "Experience Egypt from Home. Stay Home. Stay Safe", aims to enable people worldwide to embark on a journey through the ancient Egyptian civilization during their home confinement as part of precautionary measures taken to fight the coronavirus outbreak.
In cooperation with the American Research Center in Cairo, the Ministry of Tourism and Antiquities presented on Friday its first tour of these virtual series exploring the Menna Tomb in Theban Necropolis.
The tours are available on the Ministry's official website and social media platforms (Facebook, Instagram, Twitter and Experience Egypt).
https://www.egyptindependent.com/egypt-to-launch-virtual-tour-of-old-cairo-mosque-complex/?__cf_chl_jschl_tk__=a0cfdf273769f60ad23e52d6a84608dcfa4b36fa-1586252824-0-AR4FNy5r-KRoSAXe0eoS7Igq5V44y0wOki6zxLJXP9S6s0iFzTIX1l1PoPsVlTuLpLOCRK4vrCVzQY23EYYZOF-vFwYA-EI_IVoF5UV62kT_8ir1HTFA8cSVRop3mljKCpA08NbZD1kfa8Za_Iw25fVZxn2yCr4LuKm_0_sHSMjkcIbG69Ah-Gt4YhfUzWNGQjc-9XqlrMhaSVia4iHGv_3BYKk-xtZxa1WDtDw6DrM23UVDa06hp5LCMnZ1Kn5N4t47SOxPuXdqv59vjr8hor0XgaOLXyHcsUJgkplffR7dmKit3E7b7pM-C0VFMFfvwxBCPXa0cuVmH7Jn4R_pJ2PgCPJyGGIcGc1jUpq4VVsl
------
Blockchain paves the way for genuine innovation in Islamic finance
April 06 2020
With the coronavirus continuing to ravage the world and close to a fifth of the world's population — or 1.5bn people — being asked or ordered outright to stay home and work remotely as new virus infections soar, the importance of digital technology for our lives in the current situation has become clear even to the technically most uninclined.
There has been a boom in digital services as that the virus is forcing us to use the Internet as it was always meant to be used, to connect, share information and resources and come up with collective new solutions. Applications some of at least the older generations might not even have heard of such as WhatsApp, Instagram, Zoom, Skype, Periscope, Spaces or Oculus found their way in thousands and thousands of households, while schools introduced digital home learning and companies virtual co-working, while personalised businesses such as real estate agencies, gym trainers, cosmetic studios, healthcare services, financial advisers and many others and have turned to virtual reality to stay connected with customers. Even many religious services are now being held via online livestreams rather than in person. All this means that a new digital culture has been established that will likely not go away after the coronavirus has.
What does this mean for Islamic finance? It means that digital innovation will be of massive importance in the future and now is the best time to start focusing on it. There is already a growing number of fintech start-ups in Islamic finance, but most are creating non-core applications such as group lending or equity crowdfunding schemes, charity ecosystems, merchant platforms or certain digital banking services.
However, the most effective innovation in fintech, and also for Islamic finance, is the revolutionary blockchain technology because of the multitude of potential applications, many experts agree. Based on peer-to-peer topology, blockchain is a distributed ledger technology that allows data to be stored globally on thousands of computers and makes the history of any digital asset unalterable, unforgeable and transparent through the use of cryptographic methods, all of which makes it a perfect application for the finance industry. Blockchain has indeed already found its way into Islamic finance, first in a loose relationship through blockchain-based Halal certification schemes or blockchain-powered zakat systems, but the technology as of late has also been identified as an excellent method to automate the execution of Shariah contracts — of which there are plenty in Islamic finance schemes — and minimise the risk of procedural errors. Other uses have been found for the issuance of so-called smart Sukuk and for improving traceability and transparency of zakat and Sadaqah funds in complex humanitarian settings.
One success story is the world's first primary sukuk issuance on public blockchain through the "SmartSukuk" platform of Indonesia-based fintech startup Blossom Finance by Indonesian microfinance institution BMT Bina Ummah last October. The trial micro sukuk used blockchain-based smart contracts, in which all records, assignments, calculations and payments related to the sukuk are managed, leaving an indelible audit trail at every stage of the issuance.
"Our experience with issuing this small trial sukuk on Blossom's platform was very positive and we are already working on our next smart sukuk issuance which should be a considerably larger transaction with a longer tenure," said Ibu Ely Heni, general manager of BMT Bina Ummah.
Other examples of blockchain-based Islamic finance services are, among others, Stellar, a California-founded decentralised payment system that has been certified as Shariah-compliant, another global payment system called Ripple (California), which has already been deployed by a number of large Islamic banks, as well as Waqf Chain, a blockchain-backed crowdfunding system for investments in development projects for existing waqfs developed by Malaysia-based fintech Finterra. There are also a couple of Shariah-compliant, blockchain-based gold trading platforms such as Goldmoney (Canada), OneGram (GCC), HelloGold (Malaysia) and Emergent (California), while a rising number of Islamic banks globally are deploying blockchain solutions to improve security standards in banking, particularly to combat cheque-related fraud. Moreover, the Islamic Corporation for the Development of the Private Sector, a division of the Islamic Development Bank, is developing a blockchain-based platform to facilitate real-time commodity murabaha transactions mainly for trade finance purposes, while the Switzerland-based International Federation of Red Cross and Red Crescent Societies are working on a blockchain application that seeks to improve the traceability and transparency of Islamic social financing.
What blockchain innovations still need, however, is better clarity about their Shariah compliance. Currently, there is no general consensus in the industry on the Shariah qualities of different types of blockchain-based financial assets, and it is left to Islamic banks whose Shariah committees may recognise certain types of blockchain applications as Shariah-compliant or not. Most industry observers say that this fact will continue to pose challenges to Islamic regulatory authorities in the foreseeable future.
https://www.gulf-times.com/story/660181/Blockchain-paves-the-way-for-genuine-innovation-in
------
Emirates NBD and Emirates Islamic donate $1.1m to UAE Ministry of Education
6 Apr 2020
Emirates NBD and Emirates Islamic have donated AED4 million ($1.1m) to the UAE's Ministry of Education in support of its online and distance learning initiatives launched across all the schools during the Covid-19 pandemic.
The contribution - comprising AED2m on behalf of Emirates NBD and AED2m from Emirates Islamic - will help provide laptops to UAE students.
"As a leading local banking group, Emirates NBD and Emirates Islamic are honoured to contribute to the Ministry of Education's distance learning initiatives. Nothing is more important for us than the health, safety and well-being of our colleagues, customers and the community and the development of our future generations," said Hesham Abdulla Al Qassim, vice chairman and managing director of Emirates NBD and chairman of Emirates Islamic.
Last month the UAE's Ministry of Education announced that distance learning for all schools and universities will continue until the end of the current academic year.
The decision applies to all public and private schools and higher education institutions at the state level.
https://www.arabianbusiness.com/banking-finance/444478-emirates-nbd-emirates-islamic-donate-11m-to-uae-ministry-of-education
------
Oil crisis puts 300m livelihoods at risk, says IEA chief
FRANK KANE
April 07, 2020
DUBAI: The jobs and livelihoods of some 300m people are at risk in the current crisis in the global oil business, according to Fatih Birol, executive director of the International Energy Agency (IEA).
Speaking exclusively to Arab News, Birol said the oil industry was going through "perhaps the worst time in its history, and this could have major implications for the global economy, financial markets, and even more for employment.
"Tens of millions of people are going to lose their jobs. In just one example, we (IEA) just calculated that, just in the refinery sector and petrol stations alone, around 50m people are employed, and they are supporting families totaling 250 million people, and most of them will lose their jobs if it continues like this," Birol said.
The COVID-19 pandemic has led to an unprecedented collapse in demand for oil, with more than 20m barrels - around 20 percent of normal consumption - lost over the past few weeks. The oil price has halved.
Birol was involved in the behind-the-scenes talks wth the Saudi Arabian presidency of the G20 group of leading countries to organize a special meeting of energy ministers at the end of this week in a bid to address current levels of over-supply.
"I raised this idea with the Saudi energy minister Prince Abdulaziz Bin Salman, because Saudi Arabia has been a stabilizing factor in the market for many years, and I was hopeful that Saudi would agree with this suggestion, as well as the other 19 G20 countries," Birol said.
https://www.arabnews.com/node/1654611/business-economy
--------
Mideast
Imam Khamenei agrees with withdrawal of €1bn from NDFI for battling coronavirus
April 6, 2020
AhlulBayt News Agency (ABNA): In a letter to the Leader of the Islamic Republic on Monday, Iranian President Hassan Rouhani expressed gratitude for the issued permit by Ayatollah Khamenei, allowing withdrawal of one billion euros from National Development Fund Of Iran (NDFI) to combat the lethal coronavirus in the country.
Rouhani on Monday issued the required instructions for the received financial resources from NDFI, in a letter to Head of Plan and Budget Organization (PBO) Mohammad Bagher Nobakht.
He urged Nobakht to spend the financial resources on meeting the needs of the Health Ministry and supplying medical equipment needs from domestic sources and knowledge-based companies.
As of Monday, the total number of confirmed coronavirus cases in Iran has reached 60,500, with a total death toll of 3,739.
https://en.abna24.com/news//imam-khamenei-agrees-with-withdrawal-of-e1bn-from-ndfi-for-battling-coronavirus_1023163.html
------
Jordan: Muslim group hails Anadolu Agency's 100th year
Laith Al-jnaidi and Safiye Karabacak
06.04.2020
The Muslim Brotherhood in Jordan congratulated Anadolu Agency on Monday on its 100th anniversary.
"Anadolu Agency ranks among the top news agencies in the world with its professionalism, reliability and accuracy in reporting news," the organization's information office said in a message.
The organization also stressed that the agency has a major impact on illuminating issues across the Islamic world and Middle East.
Turkey's flagship news agency is celebrating its 100th anniversary, as it was founded on April 6, 1920 -- 17 days before the Turkish Grand National Assembly convened for the first time.
Since its foundation, Anadolu Agency has worked to disseminate factual news across the globe with confidence, impartiality, professionalism, and speed.
It is viewed as one of the world's most prestigious news agencies, currently producing news in 13 languages and serving 6,000 subscribers in 93 countries with at least 3,000 employees stationed in 100 countries.
https://www.aa.com.tr/en/anadolu-agencys-100th-year/jordan-muslim-group-hails-anadolu-agencys-100th-year/1794953
-----
Turkey's COVID-19 recovery coming at Ramadan's end, coronavirus task force says
APR 06, 2020
Turkey is still in the critical weeks of the COVID-19 outbreak but the situation is not as grim as expected. Indeed, Professor İlhami Çelik says life will likely return to normal by the end of Ramadan, which is a month of fasting for Muslims that will start in late April.
According to Çelik, a member of the Health Ministry's Coronavirus Science Board, the silver lining is the likelihood of a downward trend in infections after it peaks in the third week of April. Speaking to the Turkish language daily, Sabah, he said the higher the public compliance with the board's measures, the earlier normalization will return to Turkey.
The total number of confirmed coronavirus cases surged to 27,069 as 3,135 more people tested positive for the virus, according to data shared by the minister on Twitter.
So far, 1,042 patients have recovered and been discharged from hospitals, while 1,381 patients are currently receiving intensive care, the data shows.
On a positive note, the rate of the increase in coronavirus infections of those tested has fallen to the lowest level of April, according to official data. The rate was announced as 25% on March 31, 15.9% on April 1, 15.7% on April 2, 15.4% on April 3, 14.4% on April 4 and 13.1% on April 5, offering a glimmer of hope for tens of millions of people around the country awaiting positive news as they stay inside and follow the advice of the Health Ministry and other officials.
Çelik says the number of cases and rise in infections are completely normal based on their projections. "The Coronavirus Science Board's purpose is to spread out the pandemic's peak period and relieve the burden on the health care sector. We don't currently see an extra burden on hospitals and the death rate is relatively low. We don't see an extreme surge or drop in cases and hospitals can cope with new infections, even if they dramatically rise. Our hospitals can handle 20 times more cases."
The death toll and infections are lower in comparison to Europe, which Turkey has repeatedly accused of showing a slow response to the outbreak. Çelik says Turkey would face similar consequences to those in Europe, where thousands have died so far if it did not take the matter seriously at its start.
April's first two weeks are critical to minimizing the trend in cases, but Çelik says there are still a few weeks ahead that will determine the course of the outbreak. "We have to act carefully in these weeks, to exert maximum effort to prevent the virus from spreading. It is important to comply with all of our safety measures. If we don't, COVID-19 will linger in Turkey and hospitals will be overwhelmed," he says.
Çelik says people have to comply with government measures in addition to imposing their own, referring to the Health Minister's oft-repeated statement about each citizen needing to create their own quarantine against the pandemic. "If we do this and if temperatures rise, I believe life will return to normal in time for Ramadan Bayram. I am hopeful. Turkey and the world overcame worse pandemics. If humanity defeated other pandemics in the past, there is no reason that it cannot defeat this one," he says.
The absence of a vaccine for the new coronavirus remains a concern, but Çelik says the impact of this virus will decrease even if there is no vaccine available yet. "The more people are subject to a virus, the less its impact will be. The majority of people will likely be infected, recover and develop immunity. Genetic and climate conditions are key. I believe the pandemic will not be as widespread as it is now with the change of climate. Figures show that most cases in warmer regions are those brought by people not living there. Heading into summer, the impact of the virus will be lessened for Turkey," he says.
He says Turkey is trying to develop both a vaccine and successful treatment, pointing to the Turkish Red Crescent's efforts in taking antibodies from recovered patients and transferring them to new patients. "We will see whether it will work," he says while underlining potential obstacles in fighting the outbreak. "We see some countries using medicines for other diseases in the fight against virus and this only hampers the fight. They try anti-viral drugs, like malaria drugs. We see medicine normally used for treating influenza used for COVID-19 treatment, but we don't have sufficient data. It is safe to say that these drugs would cause side effects while trying to treat people," Çelik noted.
Turkey has increased its measures to curb the spread of the virus including a 24-hour curfew for people under the age of 20. A similar quarantine for people above the age of 65 had previously been put into effect.
People are barred from leaving cities in 31 of the country's 81 provinces. Istanbul, Ankara and İzmir, the country's most populated provinces, are included in this quarantine.
Nationwide measures are added almost daily, while municipalities are taking their own additional precautions as well
https://www.dailysabah.com/turkey/turkeys-covid-19-recovery-coming-at-ramadans-end-coronavirus-task-force-says/news
------
Instagram model exploiting virus measures in Istanbul mosques removed by police
APR 06, 2020
On Sunday, an Instagram model who set up her own personal photoshoot in an Istanbul mosque was duly ejected from the building by police.
The woman and her sister, who was tasked with snapping the photos, sneaked into a far corner of the mosque in Istanbul's Avcılar district, taking advantage of how deserted the place was due to the onset of Turkey's anti-coronavirus measures. The girls even brought along a suitcase full of outfits representing various clothing brands in order to upload the images on Instagram.
Police officers who were on duty to halt attempts to circumvent a ban on gatherings in the mosque, ejected the pair, warning them to not make a repeat of the incident. After the police's intervention, the girls packed up their suitcase and moved away from the area.
The Presidency of Religious Affairs (Diyanet), Turkey's top religious authority, announced last month a nationwide ban on prayer gatherings, including Friday prayers, in the wake of the coronavirus outbreak.
https://www.dailysabah.com/turkey/istanbul/instagram-model-exploiting-virus-measures-in-istanbul-mosques-removed-by-police
-------
Pakistani speaker calls for lifting of anti-Iran sanctions
April 6, 2020
AhlulBayt News Agency (ABNA): Speaker of Pakistan's National Assembly Asad Qaiser on Monday called for removal of US sanctions on Iran.
In a letter to his Iranian counterpart Ali Larijani, Qaiser prayed for the good health and long life of his Iranian counterpart.
"On behalf of the National Assembly of Pakistan and my own behalf, I am writing to convey our joint prayers and best wishes for your good health," he said.
He said: As I seek Almighty Allah's blessings for the continued progress and prosperity of entire Muslim Ummah, I also seek His bounties for Your Excellency's personal health and long life.
Asad Qaiser noted the ongoing issue of Coronavirus poses a threat to the well-being of the entire humanity, which is all the more reason the world should come together to combat the pandemic disease for safety of our people.
"It is with this wish that Prime Minister Imran Khan is calling for lifting of sanctions on the Islamic Republic of Iran," he said.
"I assure you my nation's complete support in this difficult situation and pray that the brave people of Islamic Republic of Iran will soon overcome this problem," said Qaiser.
Earlier Chairman and deputy Chairman of Pakistan's Senate expressing solidarity with the people and government of Iran on coronavirus outbreak prayed for early recovery of Speaker Ali Larijani.
Majlis' News Department in a statement on Thursday said that Speaker Ali Larijani has been tested positive for coronavirus and is in quarantine.
After certain symptoms emerged, he underwent coronavirus testing and he tested positive for COVID-19. He is currently in quarantine receiving medical treatment.
https://en.abna24.com/news//pakistani-speaker-calls-for-lifting-of-anti-iran-sanctions_1023147.html
-----
South Asia
Taliban warn deal with US in Afghanistan near breaking point
April 6, 2020
AhlulBayt News Agency (ABNA): The Taliban has said the deal with the United States aimed at bringing peace to Afghanistan was nearing a breaking point, accusing Washington of violations that included drone attacks on civilians, while also chastising the Afghan government for delaying the release of 5,000 Taliban prisoners promised in the agreement.
The Taliban said it had restricted attacks against Afghan security forces to rural outposts and had not attacked international forces or Afghan forces in cities or military installations.
The group warned of more violence if the US and the Afghan government continue alleged violations of the deal, adding that continued violations would "create an atmosphere of mistrust that will not only damage the agreements, but also force mujaheddin to a similar response and will increase the level of fighting".
"We are seriously asking the Americans to abide by the contents of the agreement and to alert their allies to fully abide by the agreement," the Taliban statement read.
The Taliban has accused the Afghan government of using "indefensible arguments" to explain the repeated delays in releasing a promised 5,000 Taliban prisoners in exchange for 1,000 government personnel.
The US military in Afghanistan rejected the Taliban's claim, saying it had upheld the military terms of the agreement and that Taliban's assertions were "baseless".
"USFOR-A has been clear - we will defend our ANDSF (Afghan National Defense and Security Forces) partners if attacked, in compliance with the agreement," US Forces Afghanistan spokesman Colonel Sonny Leggett tweeted.
https://en.abna24.com/news//taliban-warn-deal-with-us-in-afghanistan-near-breaking-point_1023136.html
-----
Bangladesh bans more than 5 people in mosques over virus
April 06 2020
Bangladesh has put restrictions on worshippers attending obligatory daily prayers at more than 250,000 mosques nationwide as the number of novel coronavirus cases has surged, officials said yesterday.
"No more than five persons at a time will be allowed to attend the congregations for the daily prayers," the Religious Affairs Ministry said in an order.
Only the imam, muezzin – who summons to prayer five times a day – and other mosque officials will be allowed to say their prayers inside the mosque, it added.
A maximum of 10 people can attend Friday prayers, which usually draw bigger crowds, the order said, asking people to say their prayers at home instead.
Many residents have been posting questions on social media as to why Bangladesh, with a population of more than 160mn and over 90% Muslim, was allowing praying in large groups when many other Islamic states had banned it due to the novel coronavirus pandemic.
Soon after the order was issued, many mosques in Dhaka were heard telling people through public announcement systems not to turn up at mosques and offer prayers at home instead.
The South Asian country, which put general restrictions on non-essential offices, public transport and schools on March 26, has reported 123 Covid-19 cases with 12 deaths.
Among them, 35 five cases of infections and three deaths were reported in the last 24 hours ended yesterday morning.
On Sunday, thousands of garment workers were ordered home voicing concerns about loss of income after arriving at work to find factories shut after the cancellation of Western orders due to the coronavirus pandemic.
Although official numbers were not available, labour leaders said the majority of the workers they had spoken to had either been temporarily laid off or sent on leave. A smaller section of workers complained of being sacked.
Bangladesh, which ranks behind only China as a supplier of clothes to Western countries, relies on the garment industry for more than 80% of its exports, with some 4,000 factories employing about 4mn people, mostly women.
Many top Western fashion brands manufacture clothing in Bangladesh but cancellations were increasing daily amid coronavirus-driven lockdowns globally.
The workers went to factories in Dhaka hoping to get paid for March and resume work after a 10-day break enforced by the government to tackle the spread of the coronavirus.
Although the government later extended the shutdown to April 14, workers said their owners asked them to return by April 5.
"When they reached the factories this morning, most of the workers were told that they were laid off or that the factory would resume after the shutdown," said Khadiza Akter, vice president of the union Sommilito Garments Sramik Federation.
Garment worker unions are calling on the government, buyers, or factory owners to pay workers who will struggle to feed themselves and their families with no income.
Bangladesh's Ministry of Labour and Employment has asked garment factory owners not to sack workers and pay them full salaries for March by April 12.
https://www.gulf-times.com/story/660185/Bangladesh-bans-more-than-5-people-in-mosques-over
------
Taliban halts negotiations with Afghan government over release of prisoners
07 Apr 2020
The Taliban group announced that it has stopped negotiations with the Afghan government over the release of Taliban prisoners with effect from today.
"We sent a technical team of the Prisoner's Commission to Kabul for verification and identification of our prisoners as release of prisoners was to start as per the signed agreement and the promise made (to us)," Suhail Shaheen, a spokesperson for Taliban's political office said in a Twitter post.
Shaheen further added "But, unfortunately, their release has been delayed under one pretext or another till now. Therefore, our technical team will not participate in fruitless meetings with relevant sides starting from tomorrow."
The director of the Independent Directorate for Local Governance Abdul Mateen Baig had earlier said the Taliban group is attempting to release those Taliban commanders who had major role in suicide attacks.
Speaking to reporters in Kabul, Mr. Baig said the Taliban group has presented a list of 15 prisoners and demand their release in the first phase of the release of prisoners.
Baig further added that some of the prisoners have serious cases and were involved in some major attacks including in the attacks on Intercontinental Hotel and the NDS Hospital in Kabul.
The Taliban delegation arrived in Kabul late last month to negotiate the release of 5,000 prisoners which was included in the peace deal between the United States and Taliban.
https://www.khaama.com/taliban-halts-negotiations-with-afghan-government-over-release-of-prisoners-04624/
------
Taliban militants suffer heavy casualties as Afghan forces repulse attack in Helmand
07 Apr 2020
The Afghan Special Forces inflicted heavy casualties on Taliban militants by repulsing an attack in southern Helmand province.
The Special Operations Corps in a statement the Taliban militants were looking to carry out an attack against the Strike Force of the Special Operations Corps in Washer district.
The statement further added that the Special Forces repulsed the attack and killed 15 militants during the operation.
The Special Forces also arrested one of the key commanders of the group during the raid, the Special Operations Corps said, adding that some weapons and munitions of the Taliban were also confiscated.
https://www.khaama.com/taliban-militants-suffer-heavy-casualties-as-afghan-forces-repulse-attack-in-helmand-04623/
-------
Europe
We stopped EU "imposing foreign culture of Islam on us", says Polish minister following ECJ ruling
APR 6, 2020
The Polish justice minister has hit out at the EU after the European Court of Justice last week ruled that Poland, Hungary and the Czech Republic had breached their obligations under European law by refusing to take in refugees.
"Some EU institutions are completely detached from reality," said Zbigniew Ziobro on Sunday. "Poland was right not to accept refugees. We defended our sovereignty against the foreign culture of Islam that they wanted to impose on us."
Ziobro, speaking to state broadcaster TVP, described the ECJ's decision as an "absurd ruling" that has a "political character". He argued that the European treaties did not oblige member states to accept the quotas of refugees.
Last Wednesday's ECJ ruling related to a programme set up by the EU at the height of the migration crisis in 2015. The system – agreed on by member states, including Poland, which was then under a different government – created mandatory quotas of refugees to be relocated to each country in order to relieve pressure on Italy and Greece.
Under the scheme, Poland was allocated 7,082 refugees (all from Syria, Iraq and Eritrea), the Czech Republic 2,691 and Hungary 1,294. All of the candidates for relocation were to be vetted by EU officials and then by member states themselves, who would receive €6,000 for each person they accepted.
However, the new conservative government elected in Poland in October 2015, and which remains in power, subsequently refused to accept a single refugee from the quota. Hungary likewise took in none, while the Czech Republic admitted only 12.
Consequently, the European Commission launched legal proceedings against the three countries. These reached their conclusion last week, when the ECJ ruled that the "member states had failed to fulfil their obligations under European Union law".
The court rejected Poland and Hungary's argument that they could reject their quotas on the grounds of safeguarding internal security. Such a justification could only be legitimately applied by providing "specific evidence that…[a certain refugee] represents an actual or potential danger", wrote the ECJ, rather than simply claiming preemptively that accepting any of the refugees would be a threat.
In response to the ruling, Poland's government accused the EU of "unequal treatment" of eastern member states. Spokesman Piotr Müller, speaking to PAP, noted that "relocation decisions were not fully enforced by most member states, but the Commission lodged complaints against only three".
Ryszard Czarnecki, a senior MEP from the ruling Law and Justice (PiS) party, agreed that the ruling "shows a deep division in the EU". He also criticised the EU for focusing on this issue in the midst of a "pandemic situation when thousands of people are dying every day", reported TVP Info.
In fact, the Commission submitted the case against Poland, Hungary and the Czech Republic in December 2017. Last week simply marked the final ruling being issued by the ECJ.
Meanwhile, the main evening news on state broadcaster TVP, which is a mouthpiece for the government and has often stirred fears over refugees, declared in a headline that the ECJ had decided that "ideology is more important than the safety…of inhabitants of the community".
The report falsely suggested that the ruling now obliges Poland to accept refugees, whereas in fact it does not. The relocation scheme ended in 2017, having only relocated around 20% of the refugees it intended to. Many senior EU figures have subsequently criticised the scheme, including former European Council president Donald Tusk.
"The naive approach of total humanitarianism" has allowed leaders in places such as Poland and Hungary to "brutally exploit the situation for their own political purposes", Tusk said in November. "Leaders' primary responsibility to citizens is to give them a sense of security."
Poland's opposition have, however, remained quiet about the latest ECJ ruling. When questioned by TVP, Dariusz Joński of the centrist Civic Coalition (KO) claimed that he "hadn't looked at the ruling" because he was too busy dealing with the fallout of the coronavirus epidemic.
Civic Platform, the main party within KO, led the government that initially agreed to the relocation scheme in 2015. It has subsequently struggled to formulate a coherent response to the public and political backlash against the decision, often oscillating between different positions.
This was recently exemplified by the party's presidential candidate, Małgorzata Kidawa-Błońska, who last month called on the government to "secure the borders" and "stop migrants". Yet two days earlier she had described migration as a "non-existent problem" that was "created" by PiS to "spook us".
https://notesfrompoland.com/2020/04/06/polish-minister-accuses-eu-of-trying-to-impose-foreign-culture-of-islam-on-us-following-ecj-ruling/
------
'School closures affect Muslims more than most'
By Harris Bokhari
06 April 2020
A little over two weeks ago, the government announced that schools should close to all, except for children who are vulnerable and those whose parents are key workers "critical to the Covid-19 response". It was the right decision, bearing in mind the potential for schools to become hotbeds of Covid-19 transmission.
However, it is also important to consider the disproportionate impact this decision will have on black and minority ethnic families, and Muslims in particular.
BAME children are more likely to live in extended family structures, with their grandparents and other elderly relatives. These children are now more likely to be in sustained close proximity with these elderly relatives, who are at greatest risk of experiencing fatal symptoms due to Covid-19.
We have already seen the heightened risk facing the Muslim community in particular, with the suggestion that up to a third of Covid-19 deaths so far have been from within the Muslim community. No doubt, this is in large part influenced by the tightly knit family structures that tend to dominate in the BAME groups that predominantly constitute the Muslim community.
One has to wonder about the impact of these death rates on the children themselves. With the month of Ramadan approaching, Muslim families will have been preparing for a time of greater community spirit, with adults and children gathering in the evenings in mosques to share food and prayer; enjoying the solidarity of fasting and eating together. Instead, they will have to contend with greater isolation at home, and potentially seeing their loved ones dying.
Due to restrictions on funeral rites, in place to prevent transmission of the virus, saying goodbye to loved ones will be bereft of the usual closure provided by the elaborate Islamic burial rituals. I fear that this will be fertile ground for mental health issues to take root. Given that mental health awareness is still a work in progress in some BAME communities, this is of particular concern.
The government's latest lockdown measures are unquestionably the right decision, given their effectiveness in slowing the spread of the disease. Nonetheless, they will entail greater disruption for BAME children and families. For many BAME parents, extracurricular faith and community schools can also provide an important social, cultural and moral education for their children.
These evening and weekend schools closing, although the right move, will increase burdens on parents and potentially bring more vulnerable elderly relatives into childcare roles. Not to mention that these schools form an important part of the routines of many children, giving them the opportunity to build their confidence and feel a part of community life. Losing this will be a further blow, again with potential implications for their mental health.
Economics will also play a role in exacerbating these issues. With some exceptions, BAME children are more likely to be eligible for free school meals. Many of these children are in effect dependent on their schools to receive adequate nutrition. A closure of schools will put BAME households under greater pressure to ensure that their children are well fed. These households are less likely to own a house or have any savings, and more likely to use food banks. This makes them extra vulnerable to shocks to their income, or increased pressure on food banks and other public services that they are reliant on. I was pleased, therefore, to see education secretary Gavin Williamson's guarantee that children eligible for free school meals will continue to be provided for while their schools are closed – and into the Easter holidays. This will prevent many children from going hungry in the coming weeks and months.
The government has demonstrated a laudable awareness of how measures taken in response to the Covid-19 threat will impact the most vulnerable. During these challenging times, we must also ensure that we remain sensitive to the needs of the most vulnerable children, many of whom come from BAME backgrounds.
https://www.tes.com/news/school-closures-affect-muslims-more-most
-----
North America
Coronavirus is changing how American Muslims hold funerals
6 April 2020
Attendance at funerals is considered a collective obligation (fard qifayah) that must be carried out by a sufficient number of people.
The faithful are expected to head to mosques to perform funeral prayers (salat-ul janazah) and to the deceased person's home to offer their condolences ('Azza).
But as the coronavirus claims more lives every day, leading Muslim scholars and imams in the United States have issued new guidance on how to deliver funeral rites for those who have succumbed to the disease.
In the suburbs of northern Virginia, Daoud Nassimi - a volunteer imam who has been approaching families to better explain how funerals should proceed during the pandemic - said he saw both "patience and pain" on the faces of a family who had someone pass away recently, due to the restrictions placed on them.
Usually, when a person passes away, they are washed with water - a ritual called ghusl - and then a communal prayer is performed before they are buried.
For those that have died from the disease, officially known as Covid-19, their bodies are not allowed to be washed with water out of fear that it will spread the virus.
The Centers for Disease Control and Prevention (CDC) says that the body of someone who has died from the coronavirus should not be touched, due to concerns the illness could spread.
Any type of cleaning and interaction with the body has to be done using the proper personal protective equipment (PPE), the federal agency advised.
Since some states and areas in the country have stopped performing the ritual bath, Muslims have turned to another Islamic method, tayammum, which consists of cleaning the dead body with either sand or dust.
We've changed our procedures from washing [the body] to tayammum," said Nasir Saleh, who runs Alfirdaus Janazah Services, a Muslim funeral and burial service, in Lorton, Virginia.
The council has advised the community to follow all routine procedures in burying the dead, but if they encounter problems due to local government restrictions, they can perform alternatives.
"The default [position] is that the deceased should still be given full ghusl if PPE procedures are followed," said Yasir Qadhi, the Dean of Academic Affairs at the Al-Maghrib Institute in Texas and a member of the council.
"In case even this cannot be done and there is a genuine danger or reasonable doubt regarding harming the health of those around the corpse, tayammum can be done, in which case the one in charge of the corpse may, even while wearing gloves, wipe the face and hands of the deceased after touching some sandy surface."
The US federal government has also advised that any public gatherings not exceed 10 people, which has forced many Muslim Americans to scale back funeral services.
"The staff at the cemetery were not even allowing more than four people to be at the grave while the body was being buried," Nassimi told Middle East Eye.
"In funerals and janazah processes in non-Muslim countries such as the US, there were already some limitations - but now there are far more."
'Islam has given us quite a bit of flexibility, and understanding that flexibility and following that flexibility makes it all much easier'
Nassimi, who is also an associate professor of Islam and world religions at Northern Virginia Community College, said that while the restrictions caused distress for family members, Islamic law (shariah) is flexibile and has rules governing situations such as plagues and pandemics.
According to the four main schools of Sunni Islam, the funeral prayer, salat-ul janazah, doesn't require a fixed number of people in attendance and can be performed at any location. It can even be performed at the burial site.
The Fiqh Council of North America has also permitted funerals to be broadcast online, allowing those who are not able to attend to view it, as well as allowing for prayers in absentia to be carried out if the deceased is in another country.
"I was trying to explain to the people [at a recent funeral] that it's okay if we pray the janazah while people are not standing next to each other. It's okay if we do the burial while most people stand at a distance," Nassimi said, referring to a principle in Islam that Muslims should pray in straight lines and stand shoulder-to-shoulder.
The UK recently issued an amendment to its coronavirus bill which would allowed for mandatory cremations should death continue to spike from the disease.
"We all know with our ability to cope with a large influx of deaths, especially for Muslims with the amount process that are required and the sacredness of the body, that this is a major area of concern," he said in a video.
The CDC in the US has said that individuals who have passed away, including those from Covid-19, can be either cremated or buried according to the family's preference.
"We hope that the government also cooperates and makes an exception for religious communities, like Muslims, to allow them to do it their way," he said.
For now, the faith community is adapting to the changes, and while they are causing difficulties, the key is making sure everyone understands the situation, Nassimi said.
"Islam has given us quite a bit of flexibility, and understanding that flexibility and following that flexibility makes it all much easier."
"When people understand, then they follow. And I don't see any resistance or anyone having any issues with it."
https://www.middleeasteye.net/news/coronavirus-muslims-change-funeral-practices-covid-19-pandemic
--------
Coronavirus and Ramadan: How the Muslim month of fasting will differ this year
By Nadda Osman
6 April 2020
With the spread of Covid-19 impacting millions of people worldwide, the holy month of Ramadan, which is scheduled to begin on or around Thursday 23 April, may look very different this year.
For Muslims around the world, Ramadan is one of the most revered months of the year. It is believed that during this ninth month of the Islamic calendar, God revealed the first verses of the Quran, the holy book, to the Prophet Muhammad.
Many of the world's estimated 1.6 billion Muslims will fast every day, abstaining from food and drink from sunrise to sunset as an act of worship. Islam follows the lunar calendar, which means the dates of Ramadan change every year. Muslims believe that through fasting, they are able to strengthen their relationship with God, practise willpower and empathise with the less fortunate.
Every day of the month, practising Muslims will also try to reconnect with their faith through acts of worship, such as praying, reading the Quran and charitable giving, as well as rekindling relationships with friends and family.
The breaking of the fast, or iftar, at sunset is usually a communal affair for Muslims in Ramadan, with people gathering either at home or in large public spaces to eat together.
The hours of fasting depend on sunrise and sunset, which affects its length from place to place: this year, for example, the fast will last longer in London than in Sydney. Only those who are physically able are expected to fast, meaning Muslims who are unwell may be exempt.
Those observing fasts will often stay up late to maximise hours when eating and drinking is permitted. It is traditional to wake up for suhoor, a pre-dawn meal, which serves as an alternative to the breakfast which would otherwise be missed.
It is believed that the Quran was revealed to the Prophet Muhammad on one of the last 10 nights of Ramadan, known as the "Night of Power". Some Muslims choose to live and sleep in a mosque during these final days, to focus entirely on increasing their religious knowledge.
Muslims observing Ramadan use the weeks in the run-up to ensure their kitchens are stocked with ingredients for traditional meals.
In the Middle East and elsewhere it is high season for shopping as stores stock traditional treats and themed decorations. Streets are laced with festive lanterns and colourful lights, while residents decorate their homes with ornaments, some shaped as crescents and stars, to mark the start of the month.
This year, curfews and lockdowns imposed in some countries, as well as reduced opening hours, mean that many Muslims will struggle to prepare as usual for the month ahead: in Egypt, for example, the government has imposed a curfew from 7pm to 6am.
Many shops have seen food shortages as shelves have been cleared of essentials. Some store owners have also rationed the number of products each customer can purchase, making shopping for larger families difficult.
Businesses will also be impacted by the change - many have experienced lowered profits as a result of orders to self-isolate at home, and some have had to close indefinitely. New measures to deal with the pandemic include reducing staffing levels and limiting stock, as businesses struggle to source supplies from wholesalers.
Independent businesses and market sellers are likely to be some of the hardest hit by the pandemic as Ramadan is typically a key period for bakeries, restaurants and craft sellers. During the holy month, menus include seasonal treats, while markets sell produce unique to the month, including nuts and dates.
Fasting during Ramadan is obligatory. Exemptions are made for children, women who are pregnant, menstruating, nursing and people who are ill or travelling. Those who are experiencing Covid-19 symptoms may not have to fast during Ramadan, if they are not physically able.
The Ramadan day usually begins in many communities before the break of dawn. In narrow alleyways across the Middle East during Ramadan, a beating drum can sometimes be heard during the early hours. This is the musaharati, who wakes up residents in time for the pre-dawn suhoor and wishes residents a blessed month. In some close-knit neighbourhoods, the musaharati even call children by their individual names. This year the sound of the musaharati may be silenced as they abide by lockdown regulations.
But the coronavirus pandemic has forced thousands of schools to shut and millions of people to work from home. This could bring some relief to some of those who are fasting: the hours usually spent travelling to and from work can instead be used to be catch up on sleep lost during the late nights.
Iftar - literally translated as "breaking the fast" - is a highly anticipated meal often shared with extended family, and friends.
The spread of Covid-19 will likely stop larger families and groups from gathering, as governments worldwide urge people to physically distance from one another. It may also prevent those living in smaller households, who are often invited to join a larger gathering, from doing so.
Often charitable organisations or individuals erect large tents where Muslims can gather and break the fast: these are open to all, allowing the less fortunate to also share a meal. It is not known what will happen to these.
Also likely to be affected are the pre-dawn suhoors, which some Middle East organisations use to replace office socials or press events that would otherwise take place during the day.
To get around the social distancing restrictions, some organisations and mosques have set up online webinars and video conferences. One such example is the UK's Ramadan Tent Project, which usually hosts an outdoor open iftar every Ramadan: this year it will host online webinars to address spiritual questions and offers advice on how to benefit from the holy month.
Every evening during Ramadan, extended prayers, called tarawih, take place in mosques around the world. These communal acts of worship are held in the belief that there is greater reward for prayers made in congregation.
Mosques fill with worshippers during this time: the more popular venues are filled to overflowing, with the faithful following prayers from the courtyard and surrounding streets.
But this year, many mosques in the Middle East, such as the Masjid An Nabawi in Saudi Arabia, have already closed their doors to curb the spread of the virus.
In the UK, the Muslim Council of Britain (MCB) has issued a statement saying there should be an immediate suspension of prayer services if the outbreak continues at the projected rate. In the US, the All Dulles Area Muslim Society said all five daily congregational prayers would be cancelled at its 10 mosques amid the threat of the virus.
The months before and during Ramadan are some of the busiest for travel to the holy city of Mecca, the birthplace of the Prophet Muhammad, in Saudi Arabia. It attracts millions of Muslim from around the world, who often save for years to complete Umrah, an optional pilgrimage, that allows them to reconnect with their faith, seek forgiveness and pray for their needs.
Usually pilgrims need to provide proof of a meningitis vaccination when entering the kingdom - but the spread of coronavrius has increased the number of measures.
Worshippers have been temporarily banned from visiting the holy sites in Mecca and Medina, where the mosques were seen empty for the first time in centuries (AFP)
On 27 February, Saudi Arabia temporarily suspended travel to the country's holiest sites amid fears it would encourage spread of the coronavirus, leaving travel agents to scramble around and rearrange bookings. Many pilgrims have simply cancelled their trips.
Some Muslims gather regularly to further knowledge of their faith in a study circle known as a halaqah. The practice goes back to the time of the Prophet, when a tradition of shared knowledge allowed Muslims to learn and ask questions.
These increase in frequency during Ramadan. Discussions are tailored to fit the demographic of the attendees. Prayers and supplications also usually take place in congregation during the meetings.
Many mosques will offer online alternatives, such as video conference platforms or live streaming, as a substitute for the centuries-old tradition.
Central to the month of Ramadan are acts of charity and helping those who are less fortunate. Muslims believe this is key to their faith and that there are increased blessings for acts of kindness during the month.
Usually, volunteers gather donations to pack Ramadan food bags for the less fortunate. This year, shortages of essential food items such as rice, pasta and lentils, as well as restrictions on movement, mean that households with little or no income will likely suffer. In certain countries hit by economic crises, such as Egypt, Ramadan is often the only time of year that some families get to eat meat if, for example, pieces of chicken are mixed in with the rice.
The number of viewers can skyrocket, as followers find distraction while waiting to break their fast. Gripping daily dramas, with big-name casts, are specially produced for broadcast during the month, anticipating a large global audience.
But Ramadan TV has a short lead-in time, with around 70 percent of all TV series not finished shooting at the time of publication, according to an industry insider, who said that many series continue to film during the festival itself.
Hotels in MENA also host huge iftars, followed by entertainment, while concerts and festivals are likewise key features of the month. Expect these also to be hit.
Early congregational prayers, held on the first morning of Eid, bring communities together to meet, pray and eat during daylight for the first time in a month.
In much of the Middle East, Eid is a national holiday, a time for food and festivities, when children wear new clothes, receive money or presents and eat sweets. Families typically organise days out, filled with activities for children and social gatherings for adults.
But due to the coronavirus pandemic, Eid is likely to be affected more than Ramadan this year. While the basic Ramadan traditions can be observed at home, including congregational prayers via streaming, Eid is typically when Muslims go out to celebrate, visit family and friends and return to normal daily life.
Given how religious authorities and governments are likely to ban large gatherings, in keeping with lockdown measures, expect Eid to be more muted and reflective this year.
https://www.middleeasteye.net/discover/coronavirus-ramadan-affect-update-fasting-eid-covid-19
-------
NJ car dealership discriminated against the disabled, women, Muslims: suit
April 6, 2020
Former employees of a New Jersey car dealership claim their bosses were appallingly prejudiced — mocking a mentally challenged man, sexually harassing female workers and taunting a Muslim salesman, according to a lawsuit.
General Manager Solomon Faizi of 23 Auto Mall in Butler, N. J. constantly talked about sex at work, referred to female employees and customers as "whores" and "c—s" and referred to ex-sales rep Jannelly Peralta's butt as "fat," a lawsuit filed in Passaic County last week alleges.
Peralta says in the suit that Faizi was "a perverted and abusive boss," who constantly probed her about her sex life and dished to her about his own.
Once in December, she was on a ladder setting up a Christmas tree and Faizi allegedly told her customers left the Ford dealership because her "big ass was a distraction," the court papers allege.
Faizi also allegedly made fun of a mentally disabled man, they knew as Mark, who frequently came into the dealership just because he liked cars, the suit claims.
Faizi and another colleague would ask Mark vulgar and sexully explicit questions about a sex doll they referred to as that "white b—h," the court documents allege.
Jason McKeown, the used car manager at 23 Auto Mall, gave Mark money just to get him to leave the store, the court filings claim.
One time, Faizi allegedly told Peralta as she was leaving work that Mark might use his "retard strength" to "try something" with Peralta, the court papers say.
"Yusuf, my wife made the most delicious pork roast last night mmmmmmmmm! I have two pork sandwiches for lunch today, want one?" the suit alleges McKeown said to Rimawi.
McKeown also asked Rimawi to defend Islamic terrorists asking why they "are the only people on earth who 'commit terrorism,'" the suit alleges.
McKeown complained "on a daily basis about 'f—ing immigrants' and African Americans, knowing full well that Ms. Peralta is a dark-skinned immigrant to the United States from the Dominican Republic," the lawsuit alleges.
And another female worker also endured sexual harassment when there was a "vicious" rumor spreading around the company that she was a stripper on the side. The President of 23 Auto Mall allegedly offered a $500 bonus to the salesman who discovered where she danced, the court papers claim.
The suit also alleges the company was scamming customers into buying $2,500 pre-owned vehicle certifications for cars that already had the certifications through Ford. The company also allegedly cheated workers out of their commissions, according to the lawsuit.
Peralta was laid off when her department was closed in February and Rimawi was forced to quit January 2019 after he was retaliated against for complaining to Human Resources about his treatment and for blowing the whistle about the alleged pre-certification and commission scams, the court papers say.
"Plaintiffs Peralta and Rimawi bring this lawsuit … to assert their individual and collective right to work in an environment free from sexual harassment, racial
"This type of conduct alleged in the complaint has no place in a civilized society," Peralta and Rimawi's lawyer Christian McOmber said. "The unlawful and discriminatory conduct undertaken by Route 23 Auto Mall against our clients needs to be exposed."
https://nypost.com/2020/04/06/car-dealership-discriminated-against-the-disabled-women-muslims-suit/
------
Africa
Mali's Army contains attack with high casualties
07-04-2020
Bamako, April 6 (Prensa Latina) Mali's Army contained this Monday the attempt of unknown attackers of controlling its base on Bamba locality (north) despite suffering high casualties, hours later an anti-Islamist offensive in Chad lake.
A group of men carrying weapons of medium caliber attacked the base while soldiers were complying with the Muslim prayer of Fajr (Dawn), the first of the five prayers comprising the Islam's precepts for their believers, according to unofficial reports spread by media, which have not been denied either.
In Mali, several extreme Islamist groups operate, including the Group to Support Islam and Muslims, a subgroup of Al Qaeda; the Islamic State in the Great Sahara and the Islamic State of Western Africa (ISWA), both branches of Iraq's Islamic State and the ISIS, the most popular worldwide.
Today's attack can be a response to the reinforced offensive of Chad's, Nigeria's and Niger's armies whose command assured hours ago to have unsettle from their bases in the inlands of Chad lake to members of Nigeria's Islamist group Boko Haram, loyal to the ISIS since 2015.
Boko Haram is an armed entity, which has its general barracks in the northeast of Nigeria, whose central government is the main nightmare operating in Cameron, Niger and Chad.
In the islands of Chad lake, there are not members of Boko Haram, I checked it in during a visit to the Kaiga-Kindjiria zone; I applaud defense and security forces that cleaned the insular area, stated the president and commander in chief of the armed forces to local press.
He added that occupied areas by Islamists are controlled by security forces and remnants who managed to escape returned to their bases in Cameron, Niger and Nigeria, and are still persecuted by the military who pursue the search and capture in the interior of those countries.
https://www.plenglish.com/index.php?o=rn&id=54281&SEO=malis-army-contains-attack-with-high-casualties
------
CJP bemoans closure of OPDs for non-corona patients
April 07, 2020
Nasir Iqbal
ISLAMABAD: Chief Justice of Pakistan Gulzar Ahmed on Monday bemoaned the government's decision to shut down health facilities for people suffering from ailments other than Covid-19 by closing out-patient departments (OPDs) in all hospitals across the country in the wake of the coronavirus pandemic.
"Patients suffering from other ailments have been left at the mercy of God," the chief justice regretted. "What kind of medical emergency is this where even people suffering from diabetes or those having a heart condition can go neither to government-run hospitals nor to private clinics," Justice Gulzar observed.
He made these remarks during the hearing of a petition challenging the exercise of suo motu powers by the Islamabad High Court (IHC) through its March 20 order to grant bail to under-trial prisoners (UTPs) in view of the Covid-19 outbreak.
Punjab Advocate General Shan Gul dropped a bombshell before the Supreme Court when he disclosed that 50 inmates at the Lahore Camp Jail had tested positive for Covid-19.
An inmate of the same jail had tested positive earlier. That person came in contact with 494 other prisoners, who were subjected to the coronavirus test. Fifty of the tests turned out to be positive, he said, adding that now the Lahore camp jail had been declared a dedicated quarantine centre for prisoners. But most of the OPDs in Punjab were functioning now, the advocate general said.
The federal minister for human rights, Shireen Mazari, came forward to support what Attorney General Khalid Jawed Khan had proposed to the apex court on the release of UTPs on bail.
"Everybody is waiting for handouts and distributing rations, but has no idea about any stocks or inventories at a time when local manufacturing of essential equipment should have started," the chief justice regretted
"We have received a letter from the government asking us to close the dispensary at the Supreme Court. What is the rationale behind the idea?"
The court, however, asked the federal government to take preventive measures on the border crossing points at Taftan, Chaman and Torkham.
At the same time the chief justice asked the AGP to suggest to that the government use parliament at this crucial juncture and develop consensus on the coronavirus crisis.
But public representatives are afraid to turn to parliament at this time when many countries in the world have not only come out with new laws and rules to cope with changed circumstances, but also had enforced the same, the chief justice observed.
The AGP however highlighted the need for striking a balance, conceding that essential services like OPDs should not be closed at all. He assured that hospitals would be opened.
The chief justice also pointed to the strange environment being created where people were trying to instill fear through doomsday-like predictions. "People will die after hearing such frightening remarks."
Instead of looking towards other countries, local manufacture of essential items like ventilators should have started in the country "since no one will come to help us if the situation deteriorates", Justice Gulzar said.
When the chief justice emphasized the need for local manufacturing of equipment, the AGP invited the court's attention to the development of ventilator by NUST.
Sindh Advocate General Salman Talibuddin told the court that the Sindh High Court's registrar had conveyed directives for the release of 519 prisoners verbally.
The chief justice observed that the Special Assistant to Prime Minister on health, Dr Zafar Mirza, was only projecting himself.
Justice Umar Ata Bandial emphasised the need for "balancing the scales", saying one should try to imagine the reaction of victims' families if their tormentors were released.
The court was informed that not a single accused facing allegations of corruption by NAB had been released as a consequence of the March 20 IHC judgement.
The Parliamentary Secretary for Law, Barrister Maleeka Ali Bokhari, in her synopsis suggested that the prime minister be requested to advise the President to exercise powers under Article 45 of the Constitution to suspend the sentence of convicts in a "structured manner".
https://www.dawn.com/news/1547074/cjp-bemoans-closure-of-opds-for-non-corona-patients
-----
President directs authorities to improve internet connectivity for students
April 07, 2020
Kashif AbbasiU
ISLAMABAD: President Dr Arif Alvi has directed the concerned authorities to take measures to improve internet connectivity for students while discussing online university classes held in the wake of the coronavirus pandemic.
Many universities are offering online classes, but a large number of students are facing internet connectivity issues or lack laptop computers and other such facilities, sources said.
"There are a number of students in the country who have no computer, laptop or Android mobile phone, what to talk about internet connectivity issues," a teacher at the International Islamic University Islamabad (IIUI) said.
He added that universities should have made sure students had the necessary facilities before they began offering online classes.
Students have raised concerns regarding the situation on social media, even demanding the suspension of the ongoing semester.
According to a press release issued by the presidency, Dr Alvi chaired a meeting to discuss bandwidth issues in the wake of the coronavirus pandemic on Monday. He was briefed on issues facing internet users, particularly students, due to the pressure on the existing internet infrastructure since people have begun working from home and students studying online.
The statement said that in order to facilitate students and improve internet accessibility, Dr Alvi has directed the relevant quarters to take necessary measures to enhance internet connectivity so that the students could continue their education uninterrupted. He also directed to improve internet coverage in areas that currently lack internet facilities.
Minister for Federal Education and Professional Training Shafqat Mahmood, Special Assistant to Prime Minister on Digital Pakistan Tania Aidrus, Information Technology and Telecommunications Secretary Shoaib Siddiqui, Pakistan Telecommunication Authority Chairman retired Maj Gen Amir Azeem and Ministry of Finance Additonal Secretary Ahmed Mujtaba Memon attended the meeting.
Higher Education Commission spokesperson Ayesha Ikram said that the commission has been providing universities support and guidance on online classes. She said universities have been asked to address connectivity and accessibility issues.
To a question, she said that students who do not have facilities such as laptop computers through which to attend online classes would likely be provided coursework on flash drives or CDs.
"Through online classes, that too only in those universities which showed willingness, we are taking steps to mitigate the educational loss of students," she said, adding that complaints regarding online classes led the HEC to ask for detailed information on courses in order to inspect the quality of their content, delivery and connectivity.
In order to avoid system problems from a single 'big bang launch', the HEC has allowed digitally advanced universities to start offering online courses as soon as they are ready. However, clear instructions have been given that the quality of education should not suffer at any cost. In case a university needs time to establish their learning management system, they will have until May 31 to do so.
https://www.dawn.com/news/1547032/president-directs-authorities-to-improve-internet-connectivity-for-students
------
Second test suggests deceased Hyderabad patient was wrongly declared Covid-19 positive
Mohammad Hussain Khan
April 07, 2020
HYDERABAD: The second laboratory test report of a resident of Hussainabad — who died on April 3 as coronavirus patient — from a known private laboratory turned out to be negative for the virus. It perhaps points to defective sample technique of technicians in the hospital or where they are collected.
The 54-year-old patient was brought to the Liaquat University Hospital (LUH) emergency ward and then shifted to intensive care unit (ICU). Before being diagnosed with coronavirus, his sample was collected in the LUH's general ICU by a woman doctor from the medicine department.
Hospital sources said the man was paralysed and suffering from multiple ailments. He was shifted to the LUH from a private hospital where he had been under treatment of a neuro-physician for about one year after paralysis, they added.
After his sample — analysed in the diagnostic and research laboratory (DRL) of Liaquat University of Medical and Health Sciences (LUMHS) — confirmed him to be infected with coronavirus, he was shifted to LUH's isolation ward immediately.
"The female doctor who had examined him almost fainted for fear of being infected. She was very much depressed and frightened. Other doctors had started thinking to leave their duties in the ICU forthwith," said a doctor from the university. After his shifting to the isolation ward, he died there on April 3 evening. "But before that another sample of same patient was obtained by the same technician for a laboratory test that was sent to a famous private laboratory," said a hospital source.
Given the fear prevalent in the hospital, everyone, including paramedics and doctors, were genuinely worried about their safety while performing their duties in isolation or other related wards in the absence of personal protective equipment (PPE).
The second test report received the next day turned out to be negative and it was shared by his traumatised family members on social media and with reporters.
Nobody is willing to give an official view about the two different reports — positive and negative — of the same patient. His family's grievance was that they were denied a decent burial for their loved one by the administration and police. Even the SHO of the Hussainabad police station was suspended by the SSP of Hyderabad for his failure to control over a dozen people who gathered in the graveyard.
"In fact it is great injustice if the patient was not a Covid-19 victim and his family was denied a decent burial," said an official. He said the body was perhaps handed over to police and some lower level administration officials who managed the funeral.
According to victim's cousin, Irfan Baig, the patient who was hypertensive and diabetic had indeed developed high fever. "We have not been able to get hard copy of the two reports but obtained their soft copies through social media. The test reports of deceased's wife, a son, three daughters and another relative turned out to be negative," he said and added that they would approach the LUH administration over the two reports and discuss the case in detail. "Only a few male members were present in the graveyard, but his wife, daughters couldn't see him. We are not sure whether he was given ghusl or not," said Irfan.
The hospital Medical Superintendent (MS) Dr Mazhar Kalhoro, to a question, only mentioned that "Yes, there are two different reports of the patient whose sample was obtained by the same technician." He said that doctors were indeed frightened of performing in the LUH isolation ward because everyone knew that they were "front-line soldiers in the ongoing battle against coronavirus". He, however, did not explain reasons as to how two different reports were generated from two different laboratories if the same collection was not defective.
Some university and hospital doctors shared their views in a background conversation on Monday. "The patient had all strong symptoms like high-grade fever, shortness of breath and cough. His own doctor had recommended him to the LUH as a highly suspected patient of coronavirus," said a doctor.
A LUMHS official claimed that there was no logic to go for the second test in less than 24 hours of the first test when the patient with multiple ailments and strong symptoms of coronavirus was already admitted in the isolation ward. "Even if the second report was necessary, it should have been done after five days for a repeat check as per protocol," he said. "Different studies showed even if PCR is negative and patient is highly suspected case of Covid-19 disease, it doesn't exclude the disease," he added. As per studies, he said, CT scan was superior than other tests.
One laboratory official mentioned that there was strong possibility of obtaining the sample with a flawed technique. "And this defective sample probably was the result of fear," he said and pointed out that a correct sample with swab was to be obtained from posterior nasopharyngeal wall of the patient through viral transport medium (VTM). "If this sample is not proper, it means it is collected from the initial part of the nostrils; it is quite likely that result may strongly vary," he added.
Prior to this report, the result of the MS of Kohsar Hospital Latifabad had also varied as DRL's report detected the virus while in a private laboratory it remained undetected. But the test of the same sample of swab was repeated and both reports remained same — negative.
https://www.dawn.com/news/1546975/second-test-suggests-deceased-hyderabad-patient-was-wrongly-declared-covid-19-positive
-----
NAB urged to act against those behind sugar, wheat crises
April 07, 2020
Iftikhar A. Khan
ISLAMABAD: The opposition has asked the National Accountability Bureau to act against those members of the ruling elite who created recent sugar and wheat shortage in the country by exporting these two commodities which led to massive increase in prices of these commodities. It has also criticised FIA reports which are silent on critical aspects of the entire racket.
Speaking at a press conference here on Monday, PML-N vice president Shahid Khaqan Abbasi questioned as to how and why the export of sugar was allowed when the production was just around the estimated domestic consumption. He said that the ministries of national food security and industries and production had opposed the idea of allowing exports of sugar in 2018, but the permission for export of one million tonne of sugar was given in October 2018.
He said this export permission formed 20 per cent of the domestic requirement of the commodity in the country. He said that export of another one million tonne of sugar was allowed in December 2019 at a time when the man-made shortage of the commodity had already started financially hitting the masses across the country because of the massive price increase.
He said the Punjab government also started giving subsidy of Rs5.5 per kilogramme and inland freight of Rs1 per kilogramme. He said the two sugar mills owned by those having the role in policy-making had been given Rs3 billion in the subsidy.
Abbasi asks why sugar export was allowed when output was just enough to meet domestic needs
"The report is silent on the reason for this," the PML-N leader said and asked Punjab Chief Minister Usman Buzdar what was he doing.
Mr Abbasi, however, said that the amount paid in the subsidy was only a small fraction of the fast buck made under the game plan, which came to around Rs100 billion. He said that exports of sugar and wheat had been allowed under a scheme meant to escalate prices of these commodities in the country so as to benefit mill owners and the middlemen of the two commodities.
He said the calculation based on a mere Rs15 per kilogramme increase meant that the two groups earned Rs20 and Rs15 billion in excess of the routine profit through the manipulative change in the government's policy.
The PML-N leader said that the approval for permission of export of sugar had been given by the ECC and the federal cabinet, headed by the finance minister and the prime minister, respectively.
"The prime minister himself is the head of the mafia. He will have to accept the responsibility," the PML-N leader said, adding that those responsible should be handed over to NAB for their trial in the court of law.
He said that reports on sugar and wheat crisis were meant to save actual thieves and the commission formed for a probe would also be headed by author of the reports.
Mr Abbasi said the report on sugar had tried to create an impression that Mr Nawaz Sharif and Mr Shahbaz Sharif were among beneficiaries of the subsidy which was not true.
He said that Sharif brothers owned three sugar mills, one of which, the Chaudhry Sugar Mill, had remained closed for the last three years while the other two mills, the Ramzan Sugar Mills and Al-Arabia Sugar Mill, had received no subsidy during the present government's term.
He said the PML-N government had also allowed export of sugar and given subsidy during its tenure, but under entirely different circumstances. He said the production of the sugar during the PML-N tenure was 2.1 million tonnes and 1.6 million tonnes of sugar was in excess of the domestic requirement in 2016-17 and 2017-18, respectively.
Meanwhile, PPP leader Mian Raza Rabbani has said that the Sugar Inquiry Report has exposed vested interests of the country's ruling elite.
"The report has exposed that for economic gains and to further their vested interests, the ruling elite of the country has the common agenda and the report has exposed the class-oriented politics in the country," Mr Rabbani said in a statement.
He said that in the light of the report, the government must act against the cartel and the stranglehold of the vested interests and the ruling elite on the rights and economy of the country must be broken.
The government must ask its ministers concerned and the chief minister involved in the scam to resign and NAB should start investigations against those members of the ruling party that benefited from the racket.
https://www.dawn.com/news/1547069/nab-urged-to-act-against-those-behind-sugar-wheat-crises
----
Imran wants PPE given to health professionals
Ikram Junaidi
April 07, 2020
ISLAMABAD: With a sharp spike in cases of novel coronavirus reported in the past 24 hours, Prime Minister Imran Khan on Monday directed that personal protective equipment (PPE) be provided to health professionals as they are frontline soldiers in the fight against the deadly virus.
He also directed the authorities concerned to ensure that the lower class get benefit of the recently announced major tax relief for the construction sector which has been given the status of industry.
The prime minister issued the directives while presiding over a meeting on the Covid-19 situation. It was attended by federal ministers Asad Umar, Khusro Bakhtiar and Hammad Azhar, PM's special assistants Dr Firdous Ashiq Awan, Dr Abdul Hafeez Shaikh, Dr Zafar Mirza and Dr Moeed Yusuf and National Disaster Management Authority (NDMA) chairman Lt Gen Muhammad Afzal.
Dr Mirza and Lt Gen Afzal informed the meeting that there were 3,300 ventilators in 137 hospitals across the country and a direct link had been established with hospitals to provide personal protective equipment (PPE). Moreover, 49,500 testing kits were provided to the provinces and more kits would be provided in the next few days.
The meeting was informed that sufficient PPE and masks were available in the country, but efforts were being made to arrange more ventilators.
At another meeting, special assistant Usman Dar informed the prime minister that a decision had been made to bring live update of the Tiger Force into the knowledge of the public. The meeting was told that people would be able to check live update at http://crt.covid.gov.pk and over 739,000 persons had got themselves registered as members of the force.
Meanwhile, speaking at a news conference, Dr Zafar Mirza said that as many as 500,000 N95 masks had been provided to the provinces and claimed that the number was more than their requirements. "As per our estimates there was requirement of 1,162 PPEs in Balochistan, but we provided 5,600 PPEs to the province. However, we are still getting complaints that the number of PPEs, provided to the provinces, is not sufficient. Unfortunately, PPEs are being used by those persons who don't need them," he claimed.
The PM's assistant said a guideline would be announced on April 8 for use of PPE, adding that only health professionals working in isolation wards should wear N95 masks, while sanitary staff should wear surgical masks even in isolation wards.
"If irrational use of PPE continues, we will never be able to have ample stock of the equipment. Moreover, as new ventilators are being imported and manufactured in Pakistan, a committee of experts has been constituted to look into the efficacy of ventilators and diagnostic kits," he said.
Dr Mirza said that 397 Covid-19 cases were reported in Pakistan during the last 24 hours. However, he said the mortality rate in Pakistan was much lower i.e. 1.53 per cent as compared to the global rate of 5.45pc.
Earlier, briefing a parliamentary committee, the NDMA chairman said that 500 ventilators would reach Pakistan on April 9 and arrangements were being made to import 2,000 more ventilators. He said 29,000 testing kits had been provided to the provinces and 137 hospitals across the country were dedicated for the Covid-19 patients. He said that as many as 35,000 tests had been conducted across the country.
According to reports, 3,662 Covid-19 cases have been confirmed in Pakistan — 1,816 in Punjab, 932 in Sindh, 405 in Khyber Pakhtunkhwa, 210 in Gilgit-Baltistan, 202 in Balochistan, 82 in Islamabad and 15 in Azad Kashmir. As many as 52 deaths have been reported and 257 patients recovered.
https://www.dawn.com/news/1547061/imran-wants-ppe-given-to-health-professionals
------
Capital to remain under lockdown for another eight days until April 14
Munawer Azeem
April 07, 2020
ISLAMABAD: The capital administration extended the lockdown of the city for another eight days as the number of Covid-19 patients rose to 82 on Monday.
Seven more cases surfaced in the city. Besides 22 of the 200 people belonging to various cities, who arrived from Turkey three days ago, also tested positive.
Deputy Commissioner Islamabad Mohammad Hamza Shafqaat confirmed to Dawn that the number of coronavirus cases had increased to 82.
A notification issued by the deputy commissioner said Section 144 imposed on March 24 on public gathering and social distancing has been extended till April 14 with exemptions given from time to time by the district magistrate.
About the new cases, the deputy commissioner said they were reported from E-11, G-10 and Tramri. Samples of the patients' family members were sent for tests and their results were awaited, he said, adding that the houses of the patients were sealed and declared quarantine centres for them as well as their families.
About the 22 passengers who tested positive, Mr Shafqaat said they were being kept in quarantines in different hotels of the city.
The other people were allowed to go to their respective areas with the direction to self-isolate themselves at their homes for two weeks, he added.
Meanwhile, the capital administration decided to delay the de-sealing of Bhara Kahu and Shahzad Town on the advice of the health department.
"So far screening of 80 to 90pc of the residents living in these areas has been completed and samples of suspected patients, including seven in Bhara Kahu, have been sent to laboratory for tests," Mr Shafqaat said, adding that the health department has advised not to de-seal these areas until it cleared them.
On the other hand, branches and outlets of exchange companies licensed by the State Bank of Pakistan were allowed to continue their operations.
Another notification issued by the deputy commissioner said: "I notify that branches/outlets of exchange companies licensed by State Bank of Pakistan are allowed to continue their operations keeping in view these are essential financial service providers."
The branches and outlets of the exchange companies and optical shops would strictly abide by the precautions issued on March 24. They would also ensure measures required for maintaining social distance by customers and employees.
https://www.dawn.com/news/1547036/capital-to-remain-under-lockdown-for-another-eight-days-until-april-14
-----
19 relatives of 2 patients contract Covid-19 in Gujar Khan
Mohammad Asghar
April 07, 2020
GUJAR KHAN/RAWALPINDI: Nineteen more relatives of two coronavirus patients tested positive in Gujar Khan after their test reports were released on Monday, Chief Executive Officer Health Rawalpindi Dr Sohail Chaudhry said.
The new cases were close relatives of two Pakistanis who had returned from the UK and France. A woman, who had returned to Ferozaal village from France had tested positive and is still under treatment at a Rawalpindi hospital.
Another patient was an 86-year-old man who had returned from UK and died in a hospital in Rawalpindi. He was buried in his native village Parian Thathi union council last week.
Meanwhile, Deputy Commissioner Rawalpindi Captain retired Anwarul Haq reached Gujar Khan after confirmation of new cases and visited a quarantine centre. He also visited Ferozaal village and issued necessary instructions to the relevant authorities.
In Rawalpindi, the four members of the Tableeghi Jamaat, who had been quarantined, were shifted to the hospital after they tested positive for coronavirus, Dr Sohail Chaudhry told Dawn.
He said there were 69 confirmed cases till Sunday and now the total number has increased to 93 with the addition of 24 cases.
Mr Chaudhry said four patients were discharged from Rawalpindi Institute of Urology after they recovered. At present, there are 236 patients quarantined in Rawalpindi.
Meanwhile, the chief executive officer health regretted that profiteers were not hesitating to create an artificial shortage of essential items.
He pointed out that sanitisers were being sold at higher rates and some local manufacturers were supplying substandard mixtures in the markets.
Mr Chaudhry also said medical officers were in the dire need of N-95 masks that were earlier available in the open market for Rs200 but are now being sold at an exorbitant price of Rs2,000 to Rs3,000.
https://www.dawn.com/news/1547035/19-relatives-of-2-patients-contract-covid-19-in-gujar-khan
-----
PDMA to regulate philanthropy in Punjab
Mansoor Malik
April 07, 2020
LAHORE: The Punjab government on Monday extended lockdown in the province for another seven days from April 7 to 14 (Tuesday) 5pm believing that the number of coronavirus cases is rapidly increasing that is alarming and highly dangerous for the health of the people.
In another development, the Provincial Disaster Management Authority has decided to regulate philanthropic activities so that [social distancing] protocol could not be breached.
The lockdown extension order issued by the Punjab additional chief secretary (home) says it is mandatory to take all pragmatic and possible measures to contain and counter the further spread of coronavirus on a war footings.
According to the updated data of Covid-19 patients, the Punjab home department has reported 9,059 suspects, 1,422 positive patients, 13 deaths and 31 people recovered.
It merits mentioning that the Chinese doctors and specialists, who met Usman Buzdar on Sunday, had called for completing lockdown in the province for 28 days and later gradually and cautiously start lifting restrictions while taking into account the prevailing conditions.
The Punjab province is currently undergoing a 14-day lockdown till Tuesday (today) 9am as an immediate preventive and speedy remedy to ensure public safety.
The Punjab government's order under Section 144 had called for shutting down public and private offices, stopping public transport and completely banning movement of people by public transport to save people from the coronavirus spread threat that could lead to some kind of catastrophe.
The government had also imposed a complete ban on gatherings of all kinds for social, religious or any other purpose at any place, public or private. Though the government had not announced closure of mosques in the March 23 order, it realised later that social distancing was not being observed during prayers particularly Juma prayers and ordered closure of mosques in consultation with the ulema belonging to all sects. Ban on pillion riding is still operative.
By the end of the last month, the Punjab government had also reviewed its decision and further squeezed all grocery and general stores' timings from 9am to 5pm and allowed only milk and yogurt shops to stay open till 8pm.
The medical stores, kiryana outlets, fruit and vegetable markets and bakeries are also open to meet masses' day-to-day needs.
While the Punjab government was compelled to go for 14-day lockdown as the people had only restricted movement, where banned, but voluntary social distancing was not observed, the Punjab government had now learnt the social distancing was not again observed at places, where ration was being distributed by the philanthropists.
A number of cases have been reported that people, in need of food, throng the places where food items were being distributed and just forget social distancing protocols. The situation was instrumental in increasing the number of suspected and positive cases of Covid-19 that may have devastating effects on human lives. The situation warranted taking all possible measures to contain further spread of coronavirus.
Identifying that widespread philanthropic activity in the province violated and compromised the public health safety and social distancing protocols, Punjab Relief Commissioner Babar Hayat Tarar has ordered that "any philanthropic activity by any individual, organisation or any other entity in the province shall be routed through the Provincial Disaster Management Authority (PDMA). This authority will organise the ration distributing activities under the standards and protocols set by the Punjab government".
The relief commissioner has also offered an option to the individuals, organisations or other entities in the province that intend to undertake philanthropic activity on their own, to submit an application to the deputy commissioner concerned, who will determine the mode, mechanism, area and extent of the philanthropic activity with appropriate checks for conformity with the Punjab government guidelines regarding Covid-19, under intimation to the PDMA.ReplyForwardDisplaying A5.jpg.
https://www.dawn.com/news/1547019/pdma-to-regulate-philanthropy-in-punjab
-----
URL: https://www.newageislam.com/islamic-world-news/jamiat-ulema-e-hind-moved/d/121513
New Age Islam, Islam Online, Islamic Website, African Muslim News, Arab World News, South Asia News, Indian Muslim News, World Muslim News, Women in Islam, Islamic Feminism, Arab Women, Women In Arab, Islamophobia in America, Muslim Women in West, Islam Women and Feminism