New Age Islam News Bureau
1 Jun 2018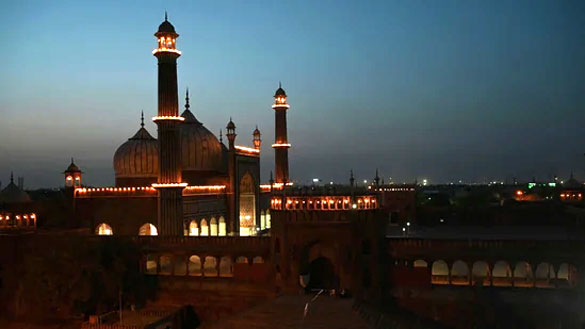 An Indian Muslim family breaks their fast during sunset of the first day of the holy Islimc month of Ramadan at the Jama Masjid Mosque in New Delhi on august 2, 2011 (AFP Getty Images)
-----
• Jamat-e-Islami Hind, Mumbai Launches Campaign To Change the 'Negative Image' Of Islam, Opens Doors of Masajid for Non-Muslims
• Israel 'Selling Nuclear Information' To Saudi: Israeli Expert
• Sikhs Boycott All Govt Committees in Protest against Activist's Murder
• Taliban and Islamic State Target Religious Opponents in Afghanistan
• Muslims Are Free To Practise Islam in China, Says Envoy
India
• Jamat-e-Islami Hind, Mumbai Launches Campaign To Change the 'Negative Image' Of Islam, Opens Doors of Masajid for Non-Muslims
• Mass Iftar for People from All Faiths at Delhi's Jama Masjid Shows the Spirit of Ramadan
• Kashmiri Muslims Sing Pandits' Poetry
• 12 Terrorists Sneak Into Kashmir, Delhi On High Alert
• As Assam Counts Its Citizens, Muslims Fear They May Be Left Out
• Jammu-Kashmir: Security forces put on high alert following reports of infiltration
--------
Mideast
• Israel 'Selling Nuclear Information' To Saudi: Israeli Expert
• Muslim and Jewish Neighbours in Jerusalem Spar over Ramadaan Singers
• Will Egypt Implement Ban on Youtube Over Anti-Islam Video?
• Ankara-Backed Terrorists Engage in Heavy Infighting at Borders with Turkey
• UN postpones vote on protecting Palestinians: diplomats
• EU slams Israeli decision to demolish West Bank Bedouin village
• Families return to their homes in Kataf after liberation from Houthis
• Yemen army advances in Houthi stronghold of Saada
--------
Pakistan
• Sikhs Boycott All Govt Committees in Protest against Activist's Murder
• New Security Policy Focusing On Mosque Reforms to Be Launched
• Ahsan urges political leadership not to spread hate, extremism in elections
• PTI, Jamaat demand Fata, general polls together
• Suspension of Musharraf's CNIC, passport ordered
• KP concerned over presence of terror group on Afghan border
--------
South Asia
• Taliban and Islamic State Target Religious Opponents in Afghanistan
• Over 50 Taliban Leaders Killed In US Operation
• Government rejects US report on Myanmar religious freedom
• Taliban leader killed over sexual assault attempt in Nangarhar province
• Coalition Forces release details of recent airstrikes against Taliban leaders
• ISIS militants suffer heavy casualties in US airstrike in Nangarhar
• Rohingyas at ICC Demand Justice Over Myanmar Deportations
• UN, Myanmar agree on first steps for safe return of Rohingya
--------
Southeast Asia
• Muslims Are Free To Practise Islam in China, Says Envoy
• Housewife among 15 Terrorism Suspects Arrested In Malaysia
• Jakim Must Stop Funding Tahfiz Schools, Says Siti Kasim
--------
Arab World
• For Displaced Syrians, Plentiful Ramazan Cannot Erase Loss
• Tens of Civilians Killed, Wounded In US Airstrikes, SDF Attacks in Deir Ezzur
• Terrorists in Southern Syria in Panic over Army's Imminent Operations
• Assad threatens force against US-backed Kurds
• ISIL Heavily Defeated in Failed Attack in Homs
• Hama: Syrian Army Gives Ultimatum to Militants, Smashes Terrorists' Convoy
• Over 9,000 Popular Forces Join Syrian Army in Eastern Ghouta of Damascus
• Tensions Likely to Increase in Manbij Due to US Continued Support for Kurds
• Beirut, Damascus working together for return of Syrian refugees
--------
Europe
• The 'Lone Mujahid,' Who Threatened Prince George, Pleads Guilty
• Muslim Leaders Urge Investigation into 'Tory Islamophobia' Claims
• Britain's Ruling Conservative Party Accused Of Islamophobia
• Six ways the French government will enforce secularism in schools
--------
Africa
• Clerics Urged To Promote Positive Image of Islam
• UN reports unprecedented fighting in Libyan city of Derna
• Clerics Urge Buhari to Boost Employment, Islamic Teaching in Schools
• Al-Shabaab execute 2 Kenyans over spying
• Five Nigerian soldiers killed in Boko Haram ambush – Official
--------
North America
• US Will 'Unquestionably' Veto UN Resolution on Palestine-Israel Conflict: Nikki Haley
• Calls for ouster of new US national Security Council chief of staff
Compiled by New Age Islam News Bureau
URL: https://www.newageislam.com/islamic-world-news/jamat-e-islami-hind-mumbai/d/115419
--------
Jamat-e-Islami Hind, Mumbai Launches Campaign To Change the 'Negative Image' Of Islam, Opens Doors of Masajid for Non-Muslims
May 31, 2018
Mumbai: Aiming at eliminating the misconceptions about Islam among people of other religions, the Jamat-e-Islami Mumbai has opened doors of masajid for non-Muslims who have misconceptions about Islam. Jamat-e-Islami Hind, Mumbai persuaded people of other religion to come close to Islam; in order to do so, it opened the doors of masajid for non-Muslims.
A youth named Shubham told that he had developed negative image against Islam since his childhood. But when he started going to masjid he came to know about the veracity and purity of Islam. He said he had several doubts regarding Muslims whenever something wrong happens he used to think that it was the handiwork of Muslims. After coming to masjid his thinking about Muslims changed.
By opening the door of masajid for non-Muslims Haseeb Bhatkar of Jamat-e-Islami Hind, Mumbai contacted youth of other religions and eliminated misconceptions regarding Islam.
https://www.siasat.com/news/jamat-e-islami-launches-campaign-change-negative-image-islam-1363038/
--------
Israel 'Selling Nuclear Information' To Saudi: Israeli Expert
May 31, 2018
Israel is selling Saudi Arabia information that would allow the kingdom to develop nuclear weapons, a senior Israeli nuclear expert has revealed.
Ami Dor-On, a senior nuclear commentator with the Israeli military organization iHLS, said the cooperation has been made possible in the wake of the widening ties between Saudi Crown Prince Mohammad bin Salman and Israeli Prime Minister Benjamin Netanyahu, and is indicative of an emerging nuclear arms race in the region.
"This information should shock us as we see the world is changing for the worse, following the race for the possession of nuclear weapons that pass right over our heads in the Middle East," the Middle East Monitor quoted the expert as saying on Thursday, citing a report by Arabi21.
According to the Israeli writer, the Tel Aviv regime is aware that Saudis would eventually make the move for developing nuclear weapons and want to make sure they would not go to other regional players such as Pakistan to obtain the know-how.
"It can be assumed that Israel may take the initiative to develop Saudi Arabia's efforts to acquire nuclear weapons and not leave it solely to Pakistan, given the growing Saudi-Israeli relations," the expert added.
Dor-On claimed that Pakistan has already signaled its willingness to transfer the expertise to Saudi Arabia "within a month" should the arms race intensify.
Saudi Arabia has already asked the US for permission to expand its nuclear program to include uranium enrichment, a move that experts warn is not to be taken lightly considering the Riyadh regime's never-ending thirst for political and military dominance in the region.
The kingdom is widely viewed as the financier of Pakistan's nuclear program. Ironically, Saudi royals took the first steps in the 1970s after finding out that Israel and India had already taken major steps towards developing nuclear weapons.
A few years after jump-starting Pakistan's weapons program, Saudis followed their own nuclear ambitions by secretly procuring Chinese ballistic missiles already capable of delivering nuclear payloads.
The trend continued to the point that the kingdom designated the Royal Saudi Strategic Missile Force as one of the five branches of the Royal Saudi Arabian Armed Forces.
Experts have called on the international community to prevent Saudi Arabia from acquiring nuclear weapons, as Riyadh faces an uncertain future amid ongoing power clashes, the poor judgment of Saudi leaders and their promotion of extremist ideologies.
http://www.presstv.com/Detail/2018/05/31/563499/Israel-Saudi-Arabia-Ami-DorOn-iHLS-Pakistan
--------
Sikhs boycott all govt committees in protest against activist's murder
June 01, 2018
PESHAWAR: A protest against the murder of Sikh community leader Sardar Charan Jeet Singh was arranged in front of Peshawar Press Club (PPC) on Thursday, during which Radish Singh Tooni announced a boycott of all government committees and bodies.
Amidst sizzling heat, a large number of people from different walks of life and civil society organisations assembled in front of the press club. Amongst them, a large number of youths from the Sikh community were also present.
The protesters chanted slogans against the failure of government and law enforcement agencies. The gathering was addressed by Sana Ijaz, Radish Singh Toni, Augustan Jacob, former Member National Assembly (MNA) Jamila Gillani, Advocate Fazal Khan, Advocate Shahab Khattak and others.
The speakers termed Singh's assassination a great loss for both the Sikh community and the nation. They recalled that Sardar Charan Jeet Singh had always advocated peace and tranquillity, besides making valuable contributions to interfaith harmony in Pakistan.
Similarly, Sardar Charan Jeet Singh had always denounced terrorism and extremism. He had backed the government's National Action Plan (NAP), as well as, the efforts of security forces for peace and normalcy.
On behalf of the Sikh community, Radish Singh Tooni announced a complete boycott of all government committees and bodies until the culprits involved in Sardar Charan Jeet Singh's brutal murder are arrested, as well as, the constitution of a judicial commission to probe into all the killings of his community members. He also demanded of the government to take steps for ensuring safety and security to people from all non-Muslim minority communities in Peshawar and other parts of Khyber Pakhtunkhwa (KP).
https://www.pakistantoday.com.pk/2018/05/31/sikh-community-boycotts-all-govt-committees-and-bodies-during-protest-at-peshawar/
--------
Taliban and Islamic State target religious opponents in Afghanistan
May 31, 2018
The State Department's "International Religious Freedom Report for 2017," which was published online earlier this week, offers a striking description of the Taliban's totalitarian tactics. At a time when the US is seeking to negotiate a peace deal with some Taliban leaders, Foggy Bottom reports that the group "continued to assassinate and threaten religious leaders with death for preaching messages contrary to the Taliban's interpretation of Islam or its political agenda." As part of its widespread assassination campaign, "Taliban gunmen killed imams and other religious officials throughout the country."
The situation has become so problematic that the Afghan President's Office and the Ministry of Hajj and Religious Affairs (MOHRA) "estimated the pace of killings by the Taliban had increased and would likely exceed the 150 religious officials killed in 2016." Not all clerics stand in the Taliban's or the Islamic State's way, of course, as "some mullahs in unregistered mosques continued to preach in support of the Taliban or [Islamic State – Khorasan Province] in their sermons."
But the killings are undoubtedly intended to tip the scales of religious authority in the jihadists' direction, weakening any ideological challenge to their own authoritarian rule. Both the Taliban and the Islamic State's Afghan branch seek to impose their own brands of medieval sharia law on the Afghan populace, and well-respected clerics could stand in their way.
The Taliban's campaign of ideological terror includes intimidation, as the jihadists "continued to warn mullahs not to perform funeral prayers for government security officials." According to "the director of madrassahs at MOHRA," this resulted in Afghan imams being afraid of performing funeral rites "for Afghan National Security Forces and other government employees" – that is, the very same government forces opposed to the Taliban. MOHRA "also reported difficulty in staffing registered mosques in insecure areas because of Taliban threats."
The Taliban's threats are hardly empty. The State Department provides some examples.
On Mar. 22, 2017, for instance, "suspected Taliban gunmen assassinated an imam and former provincial council member in Laghman Province."
Then, on May 7, a "cleric and media adviser to the Kandahar government" who had called the Taliban's jihad "illegitimate" was gunned down.
The Taliban "claimed responsibility" for a May 9 improvised explosive device (IED) bombing that killed the "Parwan Provincial Ulema chief, who had been publicly critical of the Taliban." Six children who were attending the chief's school were also killed in the blast.
The wave of targeted killings continued on May 22, 2017, when "suspected Taliban gunmen shot and killed the deputy head of the Logar Ulema council while he was walking to his mosque."
Days later, on May 28, "suspected Taliban gunmen shot and killed a provincial Ulema council member in Paktika Province."
Another attack on worshippers was carried out on June 10, when "Taliban gunmen entered a Sunni mosque in the Gardez district of Paktiya Province and killed three worshippers."
The Taliban also "claimed responsibility for the assassinations of the deputy director of Islamic education in Kapisa Province on July 1 and of a progovernment cleric in Nangarhar Province on July 15."
On Nov. 27, "the Taliban shot and killed the imam of a mosque in Nangarhar Province, accusing him of supporting the government."
Abu Bakr al-Baghdadi's loyalists employ similar tactics. For example, they killed "an imam in Sar-e Pul for committing sorcery by offering traditional Afghan talismans to worshippers."
Meanwhile, still other attacks on religious officials have gone unclaimed.
The State Department cites "reports" indicating that both the Taliban and the Islamic State's Wilayah Khorasan (or Khorasan "province") are "monitoring the social habits of local populations in areas under their control and imposing punishments on residents according to their respective interpretations of Islamic law."
Women accused of adultery are beaten or stoned to death, while others are punished for additional alleged "moral crimes." In addition, there "were continued reports of the Taliban and the [Islamic State – Khorasan Province] taking over schools in areas under their control and imposing their own curricula."
The Sunni jihadists are not just targeting their Sunni rivals, of course. The Islamic State's men especially relish the opportunity to kill Shiites, as the so-called caliphate has made this sectarian bloodsport a key part of its overall program.
Citing statistics compiled by the United Nations Assistance Mission in Afghanistan (UNAMA), State notes that "499 civilian casualties (202 deaths and 297 injured) from 37 attacks" on religious targets were documented in 2017 – triple the number recorded for 2016. These operations hit "places of worship, religious leaders, and worshippers," and the methods of terror employed included "killings, abductions, and intimidation." The majority of the victims (83 percent) were Shiites, with the prime driver of this casualty figure being the 18 attacks claimed by the Islamic State. However, the Taliban also "claimed 20 attacks, up from seven attacks in 2016." (State's figures indicate that there were 38 total claimed attacks, not 37. It is not clear why there is a discrepancy.)
State also references an Aug. 6, 2017 attack in a Shiite village in the northern Sar-e Pul Province that it says was carried out by gunmen linked to the Taliban and the [Islamic State's Khorasran Province]." At "least 50 civilians, including women and children," were killed during the raid.
The State Department's report helps to illuminate a facet of the Afghan War that is often ignored. The Taliban's violence is often targeted at the group's Afghan rivals – especially religious figures opposed to its agenda.
https://www.longwarjournal.org/archives/2018/05/taliban-and-islamic-state-target-religious-opponents-in-afghanistan.php
--------
Muslims Are Free To Practise Islam In China, Says Envoy
Obaid Abrar Khan
June 1, 2018
Islamabad: Chinese Ambassador Yao Jing has said that Chinese government has given full freedom to the Muslims and allowing them to observe fasting in Ramazan. Muslims in China have full rights to practice Islam.
In an exclusive interview with 'The News' Chinese Ambassador Yao has said that western media is showing totally different picture that Muslims in China don't have freedom to follow Islam whereas situation on ground is totally different.
He said in China everyone is free to follow his religion in China because law gives them full protection to practice religion no mater one is Muslim, Christian or follow any other religion. Chinese ambassador said there is no restriction by the government even for government employees. "Muslims are free to follow Islam like in Pakistan," he added.
Ambassador told that Xinjiang is the Muslims majority region of China and they have around 24,400 mosques and many religious colleges in which number of Muslims are getting Islamic education. Not only this during Eids and traditional festivals, Muslims enjoy holidays here, which shows they are free to practice Islam in China.
Chinese ambassador further told that like other parts of the world a number of religious believers provide free 'iftar' to fasting people and the local governments help them to arrange religious activities go in order.
"Every year number of Chinese Muslims performs Haj and Xinjiang government helps them to get medical treatment and other facilities," Chinese ambassador told. Chinese Ambassador said that China is growing economy in the world and some unhealthy minds are not happy with its development that's why western media is doing this propaganda that Muslims in China are not allowed to practice Islam.
Xinjiang province has distributed 43 Islamic publications in different languages of minority ethnic groups, totalling over one million copies, including over 230,000 copies of new Koran and over 29,000 copies of Basic Knowledge of Islam, both in the Uygur language. Thousands of books have been translated and published on Quran and Selections from Al-Sahih Muhammad Ibn-Ismail al-Bukhari in different languages, which are available in open market. Every year Xinjiang sent number of Chinese Muslims students to Pakistan, Egypt and other Muslim countries for further studies, and to improve their religious knowledge.
https://www.thenews.com.pk/print/324026-muslims-are-free-to-practise-islam-in-china-says-envoy
--------
India
Mass Iftar for People from All Faiths at Delhi's Jama Masjid Shows the Spirit of Ramadan
31 May 2018
The Old Delhi Jama Masjid in India's capital is a marvelous Mughal monument that has withstood the test of time.
During the month of Ramadan, it becomes a place where all and sundry can walk in and break their fast, thanks to Iftar organizers with a missionary zeal.
Devotees throng the Jama Masjid throughout the month empty handed with the hope of Iftar platters. Groups organizing mass Iftars take care of them.
Private and government bodies in the Middle East, the US and the UK usually provide resources for such mass Iftar programs. People in the neighborhood also contribute by hosting devotees in neighborhood mosques.
All faiths and ethnicities
You don't have to be a Muslim or observe fast to be able to relish Iftar meals. People from all faiths, ethnicities and states are welcome here. One such Iftar organizer, Rafeequddin, said he is continuing the tradition started by his maternal grandfather before Independence (1947).
Another organizer, Mohammad Uzair, said they tend to a lot of local tourists and traders. "For example, people who are in Delhi during day time and have to return to their home towns by evening trains. They break their fast with us almost everyday," he said.
There are also those who come to Jama Masjid to have Iftar every day. "The spirit of unity and harmony is amazing over here," says one such devotee.
https://english.alarabiya.net/en/variety/2018/05/31/VIDEO-Mass-Iftar-at-India-s-ancient-Mughal-mosque-shows-the-spirit-of-Ramadan.html
--------
Kashmiri Muslims sing Pandits' poetry
Peerzada Ashiq
SRINAGAR, JUNE 01, 2018 00:20 IST
Ramzan cultural event aimed at bridging the divide between the communities
It may seem hard to believe given the current reality in the Kashmir Valley, but not too long ago some Kashmiri Pandit poets were writing verses in praise of Prophet Muhammad. On Thursday, Srinagar witnessed a rare Ramzan cultural event where many of these poems were celebrated and sung by Muslim vocalists.
The Valley's leading singers, Waheed Jeelani, Muneer Ahmad, Qaiser Nizami, Raja Bilal, Altaf Sahil, Tehseena Shafi, Shazia Bashir, Qazi Rafi and Gulzar Ganai lent their voices to poems written by Pandit poets such as Dina Nath Nadim, Pyare Hatash, Prem Nath Shad, Pitambar Nath Fani, and Prakash Ram.
The event, titled 'Naatiya poetry of Kashmiri Pandits', was organised by the Cultural Academy at the Tagore Hall auditorium. The programme is a bid to revisit old bonds and create new ones between the two divided communities.
"This is an attempt at a cultural renaissance aimed at educating our new generation about our rich and glorious past," said Jammu and Kashmir's Culture Minister Naeem Akhtar.
Listeners enchanted
The hundreds of fasting Muslims in the audience were bowled over by the poetry, which had been written prior to the exodus of Kashmiri Pandits in the 1990s when militancy broke out. "I belong to an unlucky generation who didn't see Pandits in Kashmir. We saw them either on TV or on Twitter and Facebook. Today when naats (devotional poems) of the great poets were being celebrated, I realised what was lost," said Shah Faesal, managing director of J&K State Power Development Corporation.
Full report at:
Source: thehindu.com/news/national/other-states/kashmiri-muslims-sing-pandits-poetry/article24050626.ece?utm
--------
12 Terrorists Sneak Into Kashmir, Delhi On High Alert
June 01, 2018
At least 12 Jaish-e-Mohammed terrorists have entered Jammu and Kashmir and could be planning large-scale attacks, a security official said, adding that the forces are on high alert in the state and the national capital Delhi.
The official said that the terrorists have split into groups and, according to the intelligence inputs, could be planning large-scale terror strikes on Saturday - the 17th day of Ramzan and the anniversary of Battle of Badr, the first battle of Islam which took place in March 624 AD.
The security forces have been asked to remain on a high alert and maintain vigil around sensitive security installations across the state and in Delhi, they said.
Meanwhile, terrorists attacked a vehicle of security forces in south Kashmir's Pulwama. Security forces have also recovered three bags containing suspected improvised explosive devices or IEDs in Pulwama.
Last year too, the terrorists carried out series of attacks in Kashmir on the Badr anniversary. All the attacks then were claimed by the Jaish terror group.
Earlier this week, three soldiers were injured after terrorists triggered an improvised explosive device (IED) blast targetting an Army vehicle (Casspir) in Jammu and Kashmir's Shopian district.
On Sunday, a soldier was killed after terrorists attacked an Army camp at Kakpora in Jammu and Kashmir's Pulwama district. In the cross-firing a civilian was also killed. This was the first major attack on the army in Kashmir after the government announced unilateral ceasefire during the Muslim holy month of Ramzan.
Earlier, state police and Home ministry officials had said that ceasefire is having a positive impact in Kashmir and both terrorist activities and stone throwing incidents have drastically come down.
Officials had even hinted at extending ceasefire beyond the month of Ramzan if the situation shows signs of improvement.
Full report at:
https://www.ndtv.com/india-news/12-terrorists-sneak-into-kashmir-security-forces-on-high-alert-1860759
--------
As Assam Counts Its Citizens, Muslims Fear They May Be Left Out
By Saif Khalid
20 hours ago
Assam, India - Bimala Begum is worried. She is among nearly three million married women in India's northeastern state of Assam who have been asked to prove their citizenship.
"Since I received the notice, I have gone to two neighbours and asked them what to do. I am really worried," said Begum, 37, showing the two-page government notice in the local Assamese language.
The state is currently updating the National Register of Citizens (NRC) - the first time since 1951 - as part of a government campaign to identify undocumented immigrants from neighbouring Bangladesh.
The 2.9 million women, most of whom are Muslim, and nearly 4.5 million others are part of about 13 million people who were left out from the first draft NRC published on December 31 last year.
The authenticity of documents submitted by more than 7 million people, including 2.9 million married women, are now being verified by authorities to decide whether they are Indian citizens or immigrants.
The first list designated about 19 million people as legal citizens out of the total population of 32 million.
The country's Supreme Court (SC), which is supervising the entire process, has set June 30 as the deadline to verify the documents.
But activists accuse officials of creating hurdles in the verification process.
"Women who used the panchayat certificate are being subjected to harassment," said Rejaul Karim Sarkar, president, All Assam Minority Students Union (AAMSU).
"Though all the communities have to fill up the form for the NRC updating, the verification process has particularly been made very tough for Muslims and Bengali Hindus," he said.
The state's indigenous communities are exempted from the rigorous documentation process.
Rohingya-like situation?
Sarkar fears a large number of genuine Indian citizens might be dropped from the NRC list, which is slated to be published next month.
"If actual foreigners are weeded out, no one will oppose... But if genuine Indian citizen's names are dropped in such a large number, people will come to the streets and start a movement," he said.
Activists say the NRC is not going to decide on the fate of more than 300,000 people who have either been declared foreigners or have cases pending against them in special courts called as Foreigners Tribunal (FT).
Abdul Batin Khandakar, an activist based in the capital, Guwahati, pointed out that their family members will also be excluded from the NRC process.
A total of 245,057 cases are pending in FTs, while 90,206 people have been declared foreigners, according to government data.
"An amendment to the Citizenship Act in 2003 said that for a person born in India both the parents must be legal Indian citizens," Khandakar, executive president of the Brahmaputra Valley Civil Society, said.
Activists and experts fear that tens of thousands who do not find their names in the NRC list will be thrown in detention centres and may be rendered stateless - similar to the Rohingya people in Myanmar.
"We want the process to be judicious and as per guidelines. There is every likelihood of the creation of new humanitarian crisis in this part of India," Khandakar said.
Like most people in riverine areas, Begum is a farmer and never went to school. In the absence of school certificates or any other government certificates, they obtained domicile certificates from the panchayat (village council).
But initially, the authorities refused to admit the panchayat certificate as a legal document, after which the country's top court had to intervene.
Panchayat certificates
Begum, a resident of Mazidbhita char, a river island in Barpeta district, is nervous because she has heard many stories of people losing their citizenship or sent to detention centres after marked as 'Doubtful' or 'D' voters.
The concept of 'D' voters was introduced in 1997 by the election commission of India. Those marked as 'D' lose their citizenship rights and are barred from exercising their voting rights until cleared by special courts FT.
"One of my neighbours told me that if you can't answer properly for three times, at four they strike off your name from the voters list. Is it that easy to strike off a name from voters' list?" she asked.
Sabura Khatun from Fulora Char village in Barpeta district says she also used panchayat certificate for updating her personal details in the NRC.
"All those who have submitted panchayat certificates are now being called for verification. I couldn't eat and sleep well as I was frightened," Khatun, 25, said.
Begum and Khatun are among millions of Bengali origin people who have lined up at thousands of centres across the state as part of the mammoth exercise to determine who is a genuine Indian citizen.
Khandakar says officials at district level are asking for additional documents. "Not accepting the legal validity of a panchayat certificate is a clear violation of the Supreme Court guidelines.
"The guidelines are being violated in Nagaon and Bongaigaon districts in particular and throughout Assam in general," he says.
Prateek Hajela, the NRC Coordinator, however, denied the accusations that people were being harassed. The verification process was being carried out "as per the provisions of the judgment of the honourable Supreme Court passed on December 5 last year", he told Al Jazeera.
"We will ensure that the works will be carried out as per the [SC] guidelines.
"We have assured them [AAMSU] all the guidelines will be followed by all our officers – both at the senior and lower level," he said.
Along with the domicile certificates, applicants have to also prove that their families lived in Assam prior to March 24, 1971 - the cut-off date to be eligible for Indian citizenship.
The politics of xenophobia
Migration to Assam by people of Bengali origin, which predates India's independence in 1947, has dominated the politics of this northeastern border state for decades.
The arrival of tens of thousands of Bengali refugees - both Muslims and Hindus - in Assam during the 1971 Bangladesh liberation war brought the issue into national focus.
The rhetoric of xenophobia reached its crescendo in the late 1970s and early 1980s, when Bengali origin Muslims were attacked during mass anti-immigrant agitation called the Assam Movement.
In the Nellie village of Nagaon district, nearly 2,000 Muslims were massacred at the height of the anti-foreigner agitation in 1983.
The widespread violence ended after the government signed the Assam Accord with protesters led by All Assam Students Union (AASU) in 1985.
There's a rare consensus around the NRC process, with almost all political groups, intellectuals and ethnic groups hoping it will settle the contentious citizenship issue.
"Whether NRC will bring solutions or not, we do not know yet. It has lots of complexities," said Akhil Ranjan Dutta, professor of political science at Guwahati University.
"But popular perception is this; it will bring a solution at least in terms of detection of foreigners," Dutta said.
Himanta Biswa Sarma, Assam's finance minister and number two in the state government, believes the NRC will settle the issue of undocumented immigrants. "An updated NRC will help get a sense of how many foreigners Assam has," he said.
"Those whose name won't appear in the NRC will be foreigners and those whose name will appear won't be questioned. Nobody can go to their place asking for documents again and again," he said.
The NRC, he added, will end the harassment of normal citizens and "restore the dignity of people".
Detection and deportation of undocumented immigrants who came after 1971 were one of the main provisions of the Assam Accord, but successive governments failed to determine the exact number of foreigners in the state.
Politicians have quoted wild figures on the number of actual migrants in Assam without proper sourcing. In 2004, former deputy Home Minister Sri Prakash Jaiswal said in parliament that there were 5 million Bangladeshis in Assam. He later withdrew his statement because he could not back up his claims.
Muslims, who form nearly a third of the state's 32 million population, have often complained of harassment at the hands of police, in many cases genuine Indian citizens have been declared foreigners or 'D' voters.
Hindu vs Muslim refugees
As the NRC process winds down, proposed changes to the Citizenship Act 1955, pushed by the central government led by the right-wing Bharatiya Janata Party (BJP) have created a major controversy.
The Citizenship (Amendment) Bill 2016, if approved, will allow religious minorities - Hindus, Sikhs, Buddhists, Jains, Parsis and Christians - from Bangladesh, Afghanistan and Pakistan to obtain Indian citizenship.
The move by the BJP, which also runs the government in Assam, has riled the indigenous groups in Assam.
The AASU, which led the Assam agitation in the 1970s and early 1980s, has protested against the move that will make about 1.5 Bangladeshi Hindus residing in the state eligible to become Indian citizens.
The proposal also contradicts the Assam Accord that set March 24, 1971, as the cut-off date.
On Monday, several groups, including AASU, organised protests across the state and burned effigies of Prime Minister Narendra Modi and the state Chief Minister Sarbananda Sonowal.
Dutta from the Guwahati University says the citizenship amendment bill is against the basic tenets of India's secular constitution.
"The Citizenship Amendment bill will not only create religious tension but also create linguistic tensions," he said.
When British colonial rulers imposed Bengali as the official language of Assam in 1837, it was vehemently opposed. It took nearly four decades for the decision to be reversed.
"The BJP's campaign slogan in 2016 was rights of the indigenous people: jati, mati, bheti (community, land and hearth). They talked about a rainbow coalition of various indigenous communities," Dutta said.
"Once they came to power, they started playing Hindutva [Hindu supremacist agenda] card."
The BJP leaders have publicly called Muslims "Bangladeshi infiltrators", who should be sent back, while defending the granting of citizenship to Hindu Bangladeshis on the ground that they face persecution.
Backing the BJP proposal, Sudip Sharma Chowdhury, the spokesperson of All Assam Bengali Youth Students' Federation, said India is "the natural homeland for all the Hindus from across the globe".
"We wholeheartedly support the bill and it should be passed at the earliest. If Hindus face persecution in their respective countries, where will they go? Asked Chowdhury, sitting in his office in Guwahati.
Top BJP leaders, including finance minister Sarma, have come out in the defence of the bill.
"India has a history of taking refugees. Why the 1971 cut-off? he asked.
Amid the political uproar over the issue, the state Chief Minister Sonowal said last week that he would resign "if he failed to protect the rights of the citizens of Assam".
"If the interests of the state and its people are not secure, then what is the meaning for me in continuing as the chief minister of the state. That is why we will sincerely work for safeguarding the interests of the people of Assam. This is certain," he said at a press conference on Saturday.
Samujjal Bhattacharyya, the AASU adviser, says his organisation, along with 28 other ethnic bodies, are vehemently opposing the BJP move that seemingly makes a distinction between Hindu and Muslim refugees.
"They say that those who have come due to religious persecution should be given Indian citizenship. Is there any report that has been submitted to the government, which says that they are persecuted? The government of India should be very transparent on that part," said Bhattacharya.
"It's a question of identity. This is our motherland, we must have right to rule over our own people," he said referring to fears that Assamese language speakers might be outnumbered by the Bengali origin population.
The main opposition party in the state, the Congress Party, has also opposed the amendment to the bill.
"We do not think foreigners should be defined on the basis of religion," said Pradyut Bordoloi, vice president of Assam state Congress.
Full report at:
https://www.aljazeera.com/indepth/features/assam-counts-citizens-muslims-fear-left-180530080633948.html
--------
Jammu-Kashmir: Security forces put on high alert following reports of infiltration
June 1, 2018
Security forces in Jammu and Kashmir have been put on high alert following reports of large-scale infiltration of militants in the Valley from across the Line of Control, officials said in Srinagar Friday. There are reports of infiltration of over 20 militants into Kashmir from Pakistan-occupied Kashmir (PoK) recently, the officials said.
They said most of the militants are believed to be affiliated to Jaish-e-Mohammad outfit headed by Maulana Masood Azhar. The security grid is apprehending a spike in militant attacks in the state, particularly in the Valley, the officials said.
The security forces have been asked to remain on a high alert and maintain vigil around sensitive security installations across the state, they said. The officials said it is rare for such a large number of militants to infiltrate in one go and indicated the desperation of their handlers across the LoC to keep the Kashmir pot boiling.
http://indianexpress.com/article/india/jammu-kashmir-security-forces-put-on-high-alert-following-reports-of-infiltration-5199701/
--------
Mideast
Muslim and Jewish neighbours in Jerusalem spar over Ramadaan singers
31 MAY 2018
In Jerusalem's Old City, a group of young Palestinians are marching through the streets singing and drumming at 3 in the morning. They are carrying on a generations-old Ramadaan tradition, to the dismay of their sleeping Jewish neighbours, but now police are cracking down.
Jerusalem - It's 3 am in Jerusalem's Old City, and a 15-year-old boy is banging a drum with all his might.
The beating of the drum, along with the melodic Arabic singing of his friend, bounces off the walls of the narrow stone alleyways, magnifying their presence as they march through the holy city.
The singers are continuing the tradition of the "mesaharaty," those who call on Muslims to wake, pray and eat their pre-dawn meal during the holy month of Ramadaan, when Muslims fast during the day.
While mesaharaty are no longer as necessary as they once were centuries ago, before alarm clocks and cellphones, they have evolved into a beloved Ramadaan tradition.
But in Jerusalem's Old City, sleeping Jewish neighbours see a month of early morning drumming and singing as a nuisance. They have turned to police, who have subsequently detained and fined the mesaharaty, putting the future of Jerusalem's late-night singers in limbo.
After US President Donald Trump declared Jerusalem as Israel's capital and moved the embassy there in May, the singers say they are being confronted with a newly stringent crackdown not seen in previous years.
"The police arrested me and told me not to sing one more time because we are annoying the settlements," says Mohammed Hajaj, 26, the leader of the early morning marches, referring to Jewish residents in the Muslim Quarter.
Hajaj has been belting out the Islamic carols for three years. He wears a traditional embroidered vest and carries a string of prayer beads in his left hand as he calls out by name Palestinian families in the Old City.
"O you are sleeping, your God is looking for you," he sings through the alleyways illuminated with colourful Ramadaan lanterns and lights. "Wake up, eat, pray, and then go to sleep," he calls.
Children peek out from their front doors to watch Hajaj and his companions go past, followed by about 10 teenagers trailing behind.
But as the group approaches one of the few Jewish buildings in the Muslim Quarter, they fall silent. Hajaj has already been arrested and fined three times after disgruntled Jewish residents complained, he says, and he does not want to incur more fines.
Jerusalem's Old City is divided into quarters - Muslim, Jewish, Armenian and Christian. The Muslim Quarter is the largest, with an estimated population of anywhere from 25,000 to more than 30,000 residents, compared with a few thousand in the Jewish Quarter.
The singers and drummers do not walk through the Jewish Quarter; their spat is with the some 85 Jewish families, around 1,000 people, who live in heavily guarded enclaves throughout the Muslim Quarter.
These families belong to a nationalist-religious strain of Israelis who hope to increase the Jewish population in the Old City and the rest of East Jerusalem, which Palestinians want as their future capital.
Israel captured the eastern half of Jerusalem, including the Old City and all the major holy sites, in the 1967 Six-Day War, and later annexed the territory in a move that was not internationally recognized.
"It bothers me," says Rute, a Jewish teacher who has been living in the Muslim Quarter for the past year, of the noise.
Rute, 30, who declined to give her last name, says it's strictly a noise issue and has nothing to do with religion or politics.
"If I want to have a party after 11 at night, they won't let me, they will arrest me. It's the same thing. This is normal life, it's not connected to Jews or Arabs," she says.
But some Palestinians argue that the police enforcement efforts are part of a larger crackdown on Palestinian activity since Trump's Jerusalem move.
"The Israelis are trying to let the world know that Jerusalem is the capital of Israel, they are trying to make everything hard on us," says Nasser Qous, a Jerusalem activist who has been assisting the singers.
So far, five mesaharaty have been arrested, fined and released this Ramadaan, says Qous.
For their part, the police say they are "determined" to crack down on the phenomenon while maintaining "the delicate balance between ensuring freedom of religion and worship, and ensuring public order and quality of life for all citizens."
Noise offences are "one of the prominent nuisances that harm the quality of life for the country's residents," the police added in a statement.
With the threat of arrest and fines dampening the merriment, Hajaj says that some parents are forbidding his teenage comrades from participating in the night walks.
While the mesaharaty are seen as an essential Ramadaan tradition, the volunteer band of youth in the Old City has no formal backing. Some do it simply for fun, a nice excuse to walk the alleyways with friends at night.
At the end of Ramadaan, they will sing a last time asking for sweets and a tip for their early morning work, but a potential 450-shekel (125-dollar) fine outweighs any small financial gain.
Still, the 26-year-old says he is not bound by his parents' warnings and will continue the ritual.
"We inherited this from our old men," Hajaj says. "Generations give this to other generations, so it will never stop."
https://www.iol.co.za/news/world/muslim-and-jewish-neighbours-in-jerusalem-spar-over-ramadaan-singers-15254205
--------
Will Egypt implement ban on YouTube over anti-Islam video?
Muhammed Magdy
May 31, 201
CAIRO — Egypt's Supreme Administrative Court, headed by Judge Ahmed Abu al-Azm, the president of the Egyptian State Council, issued May 26 a final ruling obliging the Egyptian National Telecommunications Regulatory Authority (NTRA) to block YouTube for one month. The ruling came in response to YouTube hosting promotional trailers from June 2012 of a film that disparages the Prophet Muhammad. Yet questions remain about whether or not the Egyptian government will implement the ban.
The film, called "Innocence of Muslims," is produced by Nakoula Basseley Nakoula, an Egyptian-born Coptic Christian who resides in the United States. Segments of the film were first released on YouTube in June 2012, which prompted Egyptian lawyer Mohammed Hamed Salem to file a lawsuit against the website. While an initial ruling was issued on Feb. 9, 2013, to shut down YouTube for a month, the government appealed the ruling.
Five years later, the Supreme Administrative Court, which is the highest court in the country and whose rulings are binding on the government, has now supported the initial ruling of Egypt's Administrative Court to close Google's YouTube site, as the video sparked a storm of violent protests in the country, leaving hundreds injured.
Salem told Al-Monitor that the ruling is an act of revenge for the dignity of the Egyptians.
The Supreme Administrative Court explained the reasoning behind its ruling, saying, "The hosting of the video on YouTube affected national security, as seditionists exploited it to feed sectarianism and deal a blow to national unity in the country. Protests and violence swept across many parts of the country to denounce this offensive video."
The court said the ruling will act as a "deterrent and a warning to such sites and to anyone who might be tempted to tamper with the Egyptian people's religious and spiritual beliefs and tenets under the pretext of freedom of thought and expression. This causes hatred and conflicts among sects and factions …"
On Sept. 12, 2012, armed men attacked the US Consulate in Benghazi to protest the American-made anti-Islam movie. The attack led to the killing of US Ambassador to Tripoli J. Christopher Stevens along with three other Americans.
Salem said that YouTube content is not sufficiently controlled, and stressed the need for greater controls that would ensure respect for people's cultures and beliefs.
Asked about the implementation of the ruling, Salem said that the Egyptian government is bound to block the website and prevent its 70 million Egyptian users from having access to it.
"The government refused to block the website when the initial ruling was issued in 2013 under the pretext that it was tough to implement, but it can block it now just like it did with other websites accused of incitement against the state," he added.
Up until December 2017, the Egyptian authorities blocked more than 400 websites, including news and human rights websites, including the Human Rights Watch website, which is accused of incitement against the state, according to the Egyptian Commission for Rights and Freedoms.
Of note, the Egyptian government and the NTRA, which is responsible for implementing the ruling, have yet to issue an official stance on the ruling and its implementation mechanisms.
However, the local Youm7 website quoted the head of the NTRA as saying that they are waiting for the official version of the ruling to discuss its implementation.
While the government is obliged to implement the ruling as soon as it receives its official version in about a month, observers and communications experts told Al-Monitor that they do not expect the government to block YouTube.
Walid Hajjaj, a researcher focusing on information security at Egypt's Nile University, told Al-Monitor that technically the NTRA can block YouTube just like it blocked a lot of websites over the past year. However, he said that for more reasons than one, he does not think the Egyptian government would take such a step.
He added that unlike China or the United States, Egypt is not an economic, technological or political hub, and it cannot place pressure on such companies. He also said that blocking YouTube would disrupt Google's internet search engine.
Hajjaj said that Google and YouTube provide many services to users and governmental institutions in Egypt, and there is no other alternative in Egypt.
"I hope we will be able to implement the ruling in order to place pressure on the company providing this service to prove that we are able to punish it when it makes mistakes that harm the state, but things on the ground do not seem to be going in this direction," he added.
Hisham Abdel Ghaffar, a communications expert who has worked for various tech companies, told Al-Monitor that the implementation of the ruling requires a political decision. "Will the government institutions be able to afford the political, social and economic cost that would ensue? Of course not," he said.
He added that YouTube has an overwhelming impact on Egyptians, and the ruling is not compatible with the reality on the ground. A lot of people use YouTube as a business tool that allows them to make large investments.
Abdel Ghaffar said that the Egyptian government contacted YouTube following the release of the anti-Islam video and explained its stance to the company, which was very cooperative and deleted most of its links.
With the rise of extremism in the world, YouTube faced a wave of criticism and political pressure that led it to use artificial intelligence techniques to monitor and delete prohibited content such as incitement to violence, hatred and extremism.
Said Sadek, a professor of political sociology at the American University of Cairo, told Al-Monitor that the ruling cannot and will not be implemented by the government. He stressed that the government and its institutions will be severely affected in the event YouTube is blocked. Even at university, YouTube has become an essential teaching tool, he said.
Sadek stressed that there are other ways to face such videos, and these include carrying out large awareness campaigns across the country and increasing young people's awareness.
Full report at:
https://www.al-monitor.com/pulse/originals/2018/05/anti-islam-youtube-video-egypt-ruling-court-prophet-block.html
--------
Ankara-Backed Terrorists Engage in Heavy Infighting at Borders with Turkey
May 31, 2018
Local sources in Jarabulus reported on Thursday that a group of Ahrar al-Sham terrorists engaged in heavy clashes with militants of Liwa al-Shamal and its affiliated fighters at several points of Jarabulus in Northeastern Aleppo on Wednesday.
They added that the terrorists targeted each other with mortar attacks, noting that a number of militants of both sides as well as civilians were killed and wounded in the clashes.
Meantime, a bomb-laden motorcycle was detonated in the main street of Jarabulus, killing and wounding over 14 people.
Also, reports said that a group of militants of what is called the 'Free Police' engaged in clashes with the terrorists stationed in the town of al-Bab near Jarabulus.
In a relevant development earlier this month, infighting between Ankara-backed militants left a number of gunmen from both warring sides dead in the town of Jarabulus in Northeastern Aleppo.
The Kurdish-language Hawar news reported that Soqour al-Jabal and Sultan Murad terrorist groups, affiliated to the Turkish army, exchanged heavy fire in al-Qandoureh region in Jarabulus, leaving casualties on both warring sides.
Also, Hawar news said that the infighting in Afrin region is due to rival militants' differences over distribution of assets they have looted from civilians' houses and shops.
Full report at:
http://en.farsnews.com/newstext.aspx?nn=13970310000671
--------
UN postpones vote on protecting Palestinians: diplomats
31 May 2018
The UN Security Council has postponed a vote on a draft resolution calling for the protection of Palestinians in Gaza and the West Bank after the United States sought changes, diplomats said Thursday.
"We received very late amendments from a member-state, but we have to consider them," said Kuwait's Ambassador Mansour al-Otaibi, who presented the draft resolution. He specified that the amendments were from the United States.
Ambassador Al-Otaibi had earlier told reporters that the vote was scheduled for 6:00 pm (2200 GMT). Kuwait represents Arab countries at the council.
But diplomats had said that the measure was expected to be vetoed by the United States.
Kuwait presented the draft two weeks ago, initially calling for an international protection mission for the Palestinians as protests turned violent on the Israeli-Gaza border.
The final version however urges "the consideration of measures to guarantee the safety and protection" of Palestinian civilians and requests that UN Secretary-General Antonio Guterres present a report on a possible "international protection mechanism."
US signals opposition
At a Security Council meeting on Wednesday, US Ambassador Nikki Haley signaled that Washington would oppose the proposals for Palestinian protection.
"The people of Gaza do not need protection from an external source. The people of Gaza need protection from Hamas," she said.
The vote comes after an exchange of fire between Israel and Palestinian militants in the Hamas-ruled Gaza Strip this week that was the worst flare-up since the 2014 war.
At least 122 Palestinians have been killed by Israeli fire in the unrest since the end of March. No Israelis have been killed.
Haley has been a strong supporter of Israel at the United Nations, arguing that Israel was resorting to legitimate defense against Hamas militants.
Full report at:
https://english.alarabiya.net/en/News/middle-east/2018/05/31/UN-Security-Council-set-to-vote-on-protecting-Palestinians-.html
--------
EU slams Israeli decision to demolish West Bank Bedouin village
1 June 2018
The European Union on Thursday urged Israel to reconsider its decision to demolish a Palestinian Bedouin village in the occupied West Bank, saying it undermines "prospects for a lasting peace".
A statement from the EU denounced the intended destruction of the Khan Al-Ahmar village which comes at the same time as the construction of more Israeli settlements on occupied land.
"Building new settlements for Israelis while demolishing Palestinian homes in the same area will only further entrench a one-state reality of unequal rights, perpetual occupation and conflict," the statement said.
The EU referenced a decision made Wednesday to build nearly 2,000 settlement units in the West Bank, while demolishing Khan Al-Ahmar, "the main land reserve of a viable and contiguous Palestinian state".
Israel says the village in Area C, which has 180 inhabitants and is located near several Israeli settlements east of Jerusalem, was built without a permit.
"These developments, alongside a number of other related actions taken in recent months, seriously undermine the viability of a negotiated two-state solution and the prospects for a lasting peace," the statement said.
"In line with our long-standing position on Israel's settlement policy, illegal under international law, and actions taken in that context, such as forced transfers, evictions, demolitions and confiscations of homes, the EU expects the Israeli authorities to reconsider and reverse these decisions."
Full report at:
https://english.alarabiya.net/en/News/middle-east/2018/06/01/EU-slams-Israeli-decision-to-demolish-West-Bank-Bedouin-village-.html
--------
Families return to their homes in Kataf after liberation from Houthis
1 June 2018
Dozens of families returned to their homes in Kataf, east of Saada Governorate in Yemen, the main stronghold of the Houthi militia, after its liberation and clearance of mines planted by the militias.
The commander of the 84th Infantry Brigade in the Yemeni Army Brigadier General Raddad al-Hashemi stressed the importance of normalizing the situation in the region and the various areas of the liberated governorate and preparing it for the safe and stable return of the residents to their homes.
He praised the efforts exerted by the National Army forces with the support of the Arab Coalition to liberate large parts of the province.
In turn, the representative of the joint operations of the coalition to support legitimacy in the Green Zone, Colonel Badr bin Nasser, said that the efforts of the Kingdom and the Arab coalition partners to support their Yemeni brothers will not stop until the return of security and stability and the liberation of Yemen from the Houthi militia.
He stressed that humanitarian assistance will be provided urgently to the families returning to their areas, as a brotherly and humanitarian duty after their long suffering from oppression and injustice of the militia, expressing his happiness that the families are return to their homes.
Full report at:
https://english.alarabiya.net/en/News/gulf/2018/06/01/Families-return-to-their-homes-in-Kataf-after-liberation-from-Houthis.html
--------
Yemen army advances in Houthi stronghold of Saada
June 01, 2018
The Yemeni army on Friday made progress in Kataf district of Saada province, the main stronghold of the Houthi militia.
The government forces were able to liberate a number of sites and cut the supply routes of militia leading to Jabal Mahjuba and the area of Adayak, according to the official website of the army.
"Today, the army has regained full control of Wadi Al-Atifin and a number of highlands surrounding it, following violent confrontations that resulted in the deaths of at least 30 members of the armed militia," Brigadier Obeid Al-Athlah, was quoted as saying.
He added that the army had recovered a quantity of heavy weapons from the militia as well as various ammunition.
Full report at:
http://www.arabnews.com/node/1313546/middle-east
--------
Pakistan
New security policy focusing on mosque reforms to be launched
Kalbe Ali
June 01, 2018
ISLAMABAD: The National Internal Security Policy (NISP) released on Thursday for the first time focuses on 'mosque reforms' which will be initiated from Islamabad.
The reform programme includes an audit of all funds raised for setting up, maintenance or expansion of mosques by the government to ensure transparency.
Read: Mosque versus state
Deputy Commissioner Islamabad retired Capt Mushtaq Ahmed expressed the confidence that the policy would be successfully implemented.
"There cannot be any abrupt change in society but there will be gradual transformation, and many clerics are coming up to cooperate with the authorities."
He called upon the citizens to lodge complaints at the DC office if there is any illegal construction or establishment of mosques.
The policy says religion-based killings were the key source of terrorism in the country. Many terrorist groups remain active in the country with the stated aim of imposing their own interpretation of religion and establishing a global caliphate while discrediting democratically elected governments, civil and military institutions.
"Most of these terrorist outfits stand either proscribed or eliminated already by Pakistan but comprehensive action is required to remove their traces entirely and choke any financing that they may draw from the country."
The second most serious form of terrorism in the country, it states, was 'sectarian terrorism' as several sectarian outfits originated in Pakistan and continued to have a presence and often used violent means to target prominent personalities, festivals and places of worship belonging to other sects.
The other two are 'ethno-political terrorism' and 'sub-national terrorism'.
The policy focuses heavily on mosque reforms claiming that the federal government would work with provinces and religious leaders to initiate wide ranging reforms to make the mosques centres of learning and religious guidance for the citizens.
It has also been stated that a phased programme will be initiated from Islamabad along several lines which included setting up of a committee of religious scholars with representation from all schools of thought to formulate recommended syllabi and training for Imams.
The policy also suggests offering specialised training to Imams under the supervision of the committee of religious scholars and administered by the Ministry of Religious Affairs.
The policy calls for granting incentives to Imams through a monthly stipend paid by the government.
The local administration is already working on the recommendation of the policy regarding Friday sermons.
"We have worked out a policy with clerics that there will not be any controversial sermon during Friday prayers - controversial in any way," the deputy commissioner said.
He added that a committee had been set up under the deputy director Auqaf and consisting of officers from Special Branch to monitor the sermons.
"It has been agreed that we will only give topics to the clerics and not any written khutba," the DC added.
The capital administration will work along with the CDA to review and reconstitute the mosque committees.
One of the key reasons for focus on religion and sectarian-based terrorism in the policy is threats of Daesh.
"The emergence of Daesh in close proximity to Pakistan has raised new internal security challenges. Recent reports suggest that Daesh is establishing a footprint in the Afghan provinces bordering Pakistan."
The policy also says there were potentials of [Daesh's] spillover in Pakistan with the support and collaboration of the outlawed Tehreek-i-Taliban Pakistan (TTP) and its offshoots. The situation has been compounded by the return of battle-hardened militants from Syria and Iraq, it adds.
According to the NISP, there is adequate evidence that radicalisation and militancy is no longer limited to religious seminaries alone as young people from relatively affluent and middle-class backgrounds were also vulnerable to extremist ideas.
The interior ministry has acknowledged that despite success in curbing terrorism, little has been done to eradicate extremism. The diffusion of violent ideologies in a cross-section of society has given rise to intolerance and extremism that provides a breeding ground for a new generation of terrorists.
The NISP says extremism is harder to fight given that it is a mindset and can only be defeated by the inculcation of an alternative value system in society. Steps, however, are urgently required to deal with prevalent extremism to realise the dream of a tolerant, peaceful and harmonious Pakistan.
Besides, the recently established Cyber Patrolling Unit of the FIA will be resourced and empowered to monitor the social media, including Facebook, WhatsApp and Twitter to curb their misuse for unlawful activities. The policy also suggests steps pertaining to hate speech, fake news, racial prejudice and glorification of terrorism and terrorist organisations.
https://www.dawn.com/news/1411238/new-security-policy-focusing-on-mosque-reforms-to-be-launched
--------
Ahsan urges political leadership not to spread hate, extremism in elections
June 01, 2018
ISLAMABAD: Minister for Interior Professor Ahsan Iqbal on Thursday urged the political leadership not to spread hate and extremism in the upcoming general election and focus on their manifesto to ensure peaceful election.
Talking to media person after inaugurating the Citizen Service Centre of Islamabad Police, the minister said that it was the responsibility of the political leadership to maintain political stability in the country.
Ahsan Iqbal said joint efforts are needed to root out the extremism from the country, adding that "I was also attacked on May 6 due to this chain of extremism."
"We have divided Pakistan of Quaid-e-Azam into different sections and joint efforts are required to address the issues of the terrorism and extremism," the minister added.
He said that it was the responsibility of the state to punish or reward, adding that after the terrorism incident "I am committed to work for the promotion of love and brotherhood".
To a question about the performance of the government, the minister said the government had presented better Pakistan to the masses as compared to that of 2013.
Ahsan Iqbal said the government was almost eliminating the menace of terrorism from the country with the help of operation Zarb-e-Azb and Raad-ul-Fasaad and there was hardly a single minor terrorist incident in a month.
The minister said the economic growth had increased from 3 percent to 6 percent due to the concrete steps of the present government, adding improvements in macroeconomic indicators could be seen in all the fields.
Ahsan Iqbal said that in 2013, the masses were facing 18 to 20 hours load shedding but present government has added 10,000 megawatt electricity in the national grid with its own resources.
The minister said that no government had ever produced such quantity of electricity in the history which was produced by the present government, adding that country has enough electricity to use.
"The present government has fulfilled the promise of zero load-shedding in the country but there is dire need to improve the transmission and distribution system," the minister said.
He said the government has formulated the Water Policy with the help of provincial government, adding that it had also initiated work on two dams including Diamer Bhasha Dam and Munda Dam with consensus.
To another question, the minister said that there is no confusion in the policy of Exit Control List (ECL) as per in the light of the decision of the Supreme Court, no name can be entered or exit without the approval of Cabinet.
Ahsan Iqbal said that it was in the larger interest of the country to hold upcoming general elections on July 25 and hoped that it will be held in time.
The minister congratulated the public of the federal capital for the establishment of Citizen Service Centre to fastest response, real time processing, one window operation, and automation of essential citizen.
He said that the government has introduced the system of model police stations under which seven have been upgraded in the first phase while seven more will be upgraded for which budget has been allocated.
While congratulating the residents of the Islamabad, he said it was a great achievement of the government for the establishment of the 21st century latest police facilitation centre.
Ahsan Iqbal said that funds have been allocated for the establishment of new Anti Riots Force which will be consisted of 1000 policemen to stop the sit-ins also and maintain peace in the capital.
The minister said the height of these Jawans will be 5 feet and 11inches and they will be trained on a scientific basis.
Ahsan Iqbal said that for the establishment of Police Hospital an amount of Rs 2 billion was allocated in the budget that will not only facilitate the police of the federal capital but also the policemen across the country.
He appreciated the efforts of Inspector General of Police Dr Sultan Azam Temuri for implementing the vision of present government and his hard work and commitment for the welfare of police.
Full report at:
https://www.pakistantoday.com.pk/2018/05/31/ahsan-urges-political-leadership-not-to-spread-hate-extremism-in-elections/
--------
PTI, Jamaat demand Fata, general polls together
June 01, 2018
PESHAWAR: Khyber Pakhtunkhwa Chief Minister Pervez Khattak and Jamaat-i-Islami provincial chief Senator Mushtaq Ahmad Khan have asked the Election Commission of Pakistan to hold polls for the provincial Assembly seats in Fata along with the upcoming general elections.
Elections in the tribal region, which is now part of KP, will take place within a year after the 2018 general elections are held.
Sources in the PTI told Dawn that Mr Khattak wrote a letter to the chief execution commissioner two days ago saying the 31st Constitutional Amendment had received the requisite concurrence of parliament and provincial assembly for the purpose.
The CM said the amendment in Article 106 of the Constitution had changed the existing composition of the KP assembly and under Section 106 (1), the provincial legislature new strength would stand at 145 members including 115 general seats, 26 women reserved seats for women and four seats for non-Muslims.
Of this, 14 general seats, four women seats and a non-Muslims seat would represent the Fata in the KP assembly.
In the letter, he noted that Clause 106(1A) of the Constitution, which allocated 21 seats to the Fata in KP Assembly, had added a new sensitivity to the historical tradition.
The CM said the 21 seats allocated to the newly added areas would have definite impact on the complexion of the provincial assembly and hence for the elected government.
"There is a strong probability of political uncertainty in the province after general elections and till the conclusion of the elections in tribal belt," he said.
Mr Khattak said the holding of fair and transparent elections in the areas of the Fata would be difficult during the incumbency of political regime in the province.
He said KP needed political stability ever more in the view of the paramount requirements and manifestation of 31st Amendment in the Constitution.
"Any and every wrangling and instability will have negative imprints on the strategic gains and dividends achieved after the integration and merger of tribal areas in the province of the KP," he said.
The CM said delay in elections for 21 seats allocated to Fata would have serious consequences and needs to be addressed on priority in the larger national interest.
He said conducting elections later on, after the installation of the new government, was likely to attract the usual criticism, allegations and counter allegations, regarding influencing of the process by the ruling party which would be potential flashpoint of discord that this region could ill afford.
The CM said if it was not possible to hold elections as proposed by the KP government, the ECP could put in place a modality to preclude possibility of any political instability in the province of KP consequent upon induction of large number of members of provincial assembly to be elected subsequently, by tipping the balance against the party in power.
In a statement issued here, a spokesman for the PTI said Mr Khattak's letter was the reflection of local situation and any issue including Fata merge could not be used delay elections.
"The PTI is ready for elections," he said.
Meanwhile, JI provincial chief and Senator Mushtaq Ahmad Khan told a party function here that the ECP should hold elections for the provincial assembly in Fata along with the general elections instead of conducting separate exercise in 2019.
A statement, Mr Mushtaq said the party would contest general elections in Fata from the platform of Muttahida Majlis-i-Amal under the symbol of book.
He said the five-party religious alliance would win elections in KP and Fata with overwhelming majority.
The JI provincial chief said the meeting discussed situation in Fata in the backdrop of the passage of constitution amendment under which the tribal area would be merged with Fata.
He said war on terrorism had caused widespread damages to infrastructure in tribal area therefore the government should pay Rs110 billion as compensation and announce additional package for the area.
Mr Mushtaq said Fata should get three per cent of the total share of National Finance Commission Award and give tribal area exemption from all taxes for 70 years.
Full report at:
https://www.dawn.com/news/1411262/pti-jamaat-demand-fata-general-polls-together
--------
Suspension of Musharraf's CNIC, passport ordered
Kalbe Ali
June 01, 2018
ISLAMABAD: In compliance with the order of a special court, the interior ministry has asked the National Database and Registration Authority (Nadra) and the Directorate General of Immigration & Passports to suspend the computerised national identity card and passport of former military ruler retired Gen Pervez Musharraf, sources said.
However, a Nadra official said they had received verbal directives in this regard and were only informed about the letter being sent by the ministry.
After the suspension of his CNIC and passport, the former president's bank accounts would be frozen and his international travelling restricted.
The special court hearing a high treason case against Mr Musharraf had on March 8 directed the interior ministry to suspend his passport and CNIC. However, implementation of the order was delayed since there was a certain time limit granted to the former president to comply with the court's earlier directives.
The special court had also ordered the interior ministry and other departments, divisions and agencies to take steps for the arrest of Mr Musharraf and attachment of his properties abroad if he failed to submit a written request for security during his appearance before the court within seven days.
The former military ruler is facing the treason trial for subverting the Constitution by declaring the state of emergency in November 2007.
A spokesman for Nadra neither confirmed nor denied the move to block Mr Musharraf's CNIC on the last day of the Pakistan Muslim League-Nawaz government.
Full report at:
https://www.dawn.com/news/1411268/suspension-of-musharrafs-cnic-passport-ordered
--------
KP concerned over presence of terror group on Afghan border
Mohammad Asghar
June 01, 2018
RAWALPINDI: The Khyber Pakhtunkhwa (KP) government has expressed concerns over strengthening of militant Islamic State (IS) group in the border areas of Afghanistan and termed its activities an indicator of unrest in the region.
However, the provincial authorities claimed that the security situation in KP was satisfactory.
A premier intelligence agency has already intimated to the government that Jammatul Ahrar, militant Islamic State (IS) group and Tehreek-i-Taliban Pakistan (TTP) have been a serious threat to security of the country.
According to sources, the concern about strengthening of IS on the border areas was shown by Inspector General of Police (IGP) KP Salahuddin Mehsud Khan during a briefing to the National Counter-Terrorism Authority (Nacta) in Islamabad recently.
However, the government has been denying the presence of IS militants in any part of the country.
The IGP said the law and order situation in the province was under control but the worsening security situation in Afghanistan and strengthening of the IS militants in the border areas of the neighbouring country were an indicator of unrest in the region. He also informed Nacta that the IS had been seeking recognition in areas from Bajaur Agency to Kurram Agency.
The IGP sought better coordination among all law enforcement agencies to handle the situation.
He appreciated the role of the Counter-Terrorism Department (CTD) and expressed the hope that its capacity and strength would be enhanced.
When contacted, Mohammad Amir Rana, security and political analyst and director of Pak Institute for Peace Studies (PIPS), said law enforcement agencies already knew about surging of IS terror group in major parts of Afghanistan.
"Pakistani security and law enforcement agencies are already after Daesh and IS fighters but after recent suicide bombing in Attock the law enforcement agencies, including the police, need to be more careful and take all possible measures to check them. Attock bombing was alarming for our law enforcement and intelligence agencies."
He said though none of the militant groups, including IS and TTP, had claimed responsibility for the Attock suicide attack, these groups could be behind the attack in which two people were killed and several others injured.
However, Ihsan Ghani, the national coordinator for Nacta, told the briefing that the threat of terrorism was increasing as political activities for the upcoming general elections were about to start.
Full report at:
https://www.dawn.com/news/1411219/kp-concerned-over-presence-of-terror-group-on-afghan-border
--------
South Asia
Over 50 Taliban leaders killed in US operation
June 01, 2018
WASHINGTON - US forces killed over 50 Taliban leaders in a series of strikes against those behind a recent attack in the Helmand provincial capital of Farah, US military and NATO commander General John Nicholson said Wednesday.
After pushing out fighters in Farah, Afghan and US forces continued to pursue them, Nicholson told reporters at the Pentagon via video link.
Under surveillance by the Marines, the Taliban fighters returned to their Helmand stronghold, a centre for poppy cultivation. On May 24, they were spotted in a known Taliban command centre in Musa Qala. "What it looks like is it was a group of commanders, meeting in part to discuss the operation in Farah that many of them had just participated in," said General Nicholson.
"And they obviously thought they were meeting in relative safety in Musa Qala, but our intelligence was able to identify the group and effectively conduct the strike." The group was involved in drug trafficking, Nicholson added.
"I would not call it strategic significance, but it definitely has a significant local significance in terms of the fight in Southern Afghanistan," he said.
In a statement, the US command in Afghanistan said the strike resulted in "more than 50 casualties," among them the number two Taliban leader in Helmand, Abdul Manan, and several district governors and local leaders in Kandahar, Kunduz, Herat, Farah, Uruzgan and Helmand provinces.
https://nation.com.pk/01-Jun-2018/over-50-taliban-leaders-killed-in-us-operation
--------
Government rejects US report on Myanmar religious freedom
AUNG KYAW MIN
01 JUN 2018
The government on Thursday said the US report on religious freedom in Myanmar ignores reality in the country where most people of different ethnic races and beliefs are living together peacefully.
U Aung San Win, spokesperson from the Ministry of Religion Affairs and Culture, rejected the allegations in the report, which cited widespread "abuses and discrimination against religious minorities by government and societal actors" in the country.
"We reject the report," he said. "We are always explaining the condition of the state. It's politically targeting Myanmar."
U Nyunt Maung Shane, a leader the Myanmar Islamic Council, said the US Commission on International Religious Freedom – which prepared the report – has not met with interfaith religious leaders in the country to discuss the issue.
He blamed the negative report on the Myanmar government's inability to release timely information about the situation in the country.
"The Myanmar government should openly release information and should allow media access to Rakhine and Kachin states (which were cited in the report)," U Nyunt Maung Shane said.
"It was one-sided… and they can't deny it," he added.
"The government should respond to it based on the current situation. This accusation would not happen if they responded and allowed (media) access and released information on time. It's the consequence of a lack of transparency by the government," the Muslim leader said.
Father Joseph Maung Win, head of the office of Yangon Archdiocesan Commission for Ecumenism and Interfaith, said the distinction should be made between the religious hierarchy and the actions of some of their followers.
"There is harmony among the different religions in Myanmar, there are no religious conflicts, but there are some followers of some religions who create controversies," he said. "It's just a conflict among some followers."
This has also raised concerns about the definition of religious conflict.
Sayadaw Ashin Aria Bhivamsa, of the Myawaddy Mingyi monastery in Mandalay, welcomed the report of the US commission, saying it should keep the government on its toes.
He said the report showed the international community is closely watching what is happening in Myanmar.
"It might be because Myanmar's political condition is very complicated and the 2008 constitution is also in question," he said.
"What happened in Rakhine and Kachin have reached a point where it has become a particular concern," he said.
The US report, which was released on Tuesday, alleged there is continued "ethnic cleansing" targetting the Muslim minority in northern Rakhine, which the government of Myanmar has repeatedly denied.
The report also noted that in April, Yangon authorities forced the closure of two Islamic schools following protests by Buddhist nationalists.
"In other areas, non-Buddhist minorities, including Christians, Hindus, and Muslims, reported incidents in which authorities unduly restricted religious practice, denied freedom of movement to members of religious minorities, destroyed religious property and texts, denied or failed to approve permits for religious buildings and renovations, and discriminated in employment," the report said.
Sam Brownback, US ambassador-at-large for International Religious Freedom, noted that not much has changed in Myanmar since the outbreak of violence in northern Rakhine last year, which led to the exodus of over 700,000 Muslim residents to neighbouring Bangladesh.
Rather than changing course, Brownback said, Myanmar authorities were "doubling down" by opening a new front in Kachin.
Full report at:
https://www.mmtimes.com/news/government-rejects-us-report-myanmar-religious-freedom.html
--------
Taliban leader killed over sexual assault attempt in Nangarhar province
May 31 2018
A local Taliban leader was killed as he was attempting to sexually assault a woman in eastern Nangarhar province of Afghanistan.
The provincial government media office said the Taliban leader Mirwais alias Ghobli was killed as he was attempting to intrude into a house in Ghani Khel district.
The statement further added that Mirwais was shot dead by the owner of the house shortly after he intruded into to the house.
According to the provincial government, Mirwais was one of the key Taliban commanders who was involved in major terrorist related activities in different parts of Ghani Khel.
The anti-government armed militant groups including Taliban insurgents have not commented regarding the report so far.
Nangarhar is among the relatively calm provinces in East of Afghanistan but the Taliban and militants affiliated with the ISIS terrorist group are active in some of the remote districts of Nangarhar.
Full report at:
https://www.khaama.com/taliban-leader-killed-over-sekual-assault-attempt-in-nangarhar-province-05283/
--------
Coalition Forces release details of recent airstrikes against Taliban leaders
May 31 2018
The Coalition Forces released the details of the recent airstrikes which were carried out against the senior Taliban leaders in southern Helmand province.
According to a report by Taskforce Southwest, the largest of these strikes came, May 24, when four High Mobility Artillery Rocket System (HIMARS) rockets destroyed a known Taliban command and control node in Musa Qal'ah during a high-level meeting of Taliban commanders. Among the more than 50 casualties was the deputy shadow governor of Helmand, multiple Taliban district governors, intelligence commanders and key provincial-level leadership from Kandahar, Kunduz, Herat, Farah, Uruzgan and Helmand provinces.
The report further adds that in a separate airstrike the same day, U.S. Air Force A-10s struck a Taliban Red Unit commander for Helmand and an associate while they were transiting in Sangin district.
U.S. Air Force A-10s also killed a shadow district governor and destroyed a shadow district headquarters in Nahr-e-Saraj, May 25, the report adds.
According to the report "On May 26, an MQ-1C Gray Eagle killed a senior improvised explosive device facilitator, who has been coordinating improvised explosive device operations against Afghan National Defense and Security Forces, international forces and the people of Afghanistan for the last 13 years."
Full report at:
https://www.khaama.com/coalition-forces-release-details-of-recent-airstrikes-against-taliban-leaders-05287/
--------
ISIS militants suffer heavy casualties in US airstrike in Nangarhar
May 31 2018
The US Air Force carried out an airstrike on a main compound of the ISIS militants in eastern Nangarhar province of Afghanistan, leaving at least 17 militants dead.
The provincial government media office in a statement said the latest airstrike was carried out in the vicinity of Haska Mina district.
The statement further added that a key hideout of the terror group was targeted in the airstrike by US Air Force fighter jets.
In the meantime, the 201st Silab Corps in the East, said the airstrike was carried out using unmanned aerial vehicles.
According to the provincial government, the hideout of the terror group was targeted late on Wednesday night in the vicinity of Awghaz area.
The provincial government also added that several weapons and munitions belonging to the terror group were also destroyed in the airstrike.
Nangarhar is among the relatively calm provinces in the East but the anti-government armed militants including Taliban and ISIS loyalists are actively operating in some of its districts.
Full report at:
https://www.khaama.com/isis-militants-suffer-heavy-casualties-in-us-airstrike-in-nangarhar-05286/
--------
Rohingyas at ICC Demand Justice Over Myanmar Deportations
June 01, 2018
The Hague. Hundreds of Rohingya victims have appealed to judges at the International Criminal Court to grant prosecutors jurisdiction to investigate deportations from Myanmar to neighboring Bangladesh, an ICC official said on Thursday (31/05).
The world's first permanent war crimes court does not have automatic jurisdiction in Myanmar because it is not a member state, but the prosecutor in April asked the court to look into the Rohingya crisis and a possible prosecution through Bangladesh, which is a member.
Since August, nearly 700,000 Rohingya Muslims have fled a military crackdown in mainly Buddhist Myanmar, the United Nations and aid agencies have said.
Refugees have reported killings, rape and arson on a large scale; some countries compared the situation to the widespread ethnic cleansing seen during the Balkan wars of the 1990s.
"We are of Rohingya identity and we want justice," the group said in a letter, demanding that the court take action. "We have been raped, tortured and killed."
It was signed with fingerprints of the victims, mostly illiterate women from rural communities.
A submission on behalf of 400 victims was handed to the court on Wednesday, backing the earlier request from the ICC prosecutor for jurisdiction, spokesman Fadi El Abdallah said.
The families asked the court to examine allegations not only of deportation but persecution and what they called genocide by the Myanmar military against the Muslim Rohingya minority.
Myanmar has rejected the efforts to establish international jurisdiction over the matter.
Lawyers representing a group called Shanti Molhila, or Peace Women, said the court should hear the case because some of the crimes were committed across the border in Bangladesh.
Full report at:
http://jakartaglobe.id/international/rohingyas-icc-demand-justice-myanmar-deportations/
--------
UN, Myanmar agree on first steps for safe return of Rohingya
June 01, 2018
YANGON, Myanmar: Myanmar and the UN agreed to take steps to create conditions for the safe return of about 700,000 Rohingya Muslims who have fled military-led violence into Bangladesh.
The agreement announced by the government and two UN agencies on Thursday calls for a framework of cooperation that will lead to the "voluntary, safe, dignified and sustainable" repatriation of Rohingya refugees "to their places of origin or of their choosing."
The UN refugee agency said that the conditions for voluntary return are not conducive yet. The memorandum of understanding — which is expected to be signed next week — "is the first and necessary step to support the government's efforts to change that situation and is also intended to support recovery and resilience-based development for the benefit of all communities living in Rakhine state," UNHCR said in a statement.
Myanmar and Bangladesh agreed in November to begin repatriating the Rohingya, but the refugees expressed concern that they would be forced to return and would face unsafe conditions in Myanmar if the process is not monitored by international aid groups.
The government said in a statement that it initialed the agreement with the UN Development Program and UNHCR for their assistance so that verified displaced people "can return voluntarily in safety and dignity."
The UN said the agreement also provides for the two agencies to be given access to western Rakhine state, where most of the violence against the Rohingya has occurred since August.
It said that will allow the refugee agency to assess the situation, carry out protection activities, and provide information to refugees about conditions in their home areas so that they can better decide whether they want to return.
Myanmar's security forces have been accused of rape, killing, torture and the burning of Rohingya homes. The UN and the US have described the army crackdown as "ethnic cleansing." The government has denied the accusations, instead blaming the violence on Rohingya insurgents who attacked security posts that triggered the reprisals and the latest exodus of the population that has long been denied citizenship and other basic rights.
The government of predominantly-Buddhist Myanmar says Rohingya are illegal migrants from Bangladesh, even though some have lived in the country for generations.
Full report at:
http://www.arabnews.com/node/1313561/world
--------
Southeast Asia
Housewife among 15 terrorism suspects arrested in Malaysia
Nadirah H. Rodzi
June 01, 2018
KUALA LUMPUR - She looks like a normal middle-aged woman who would spend her day looking after her husband and children.
But underneath the housewife persona is a woman who allegedly planned to carry out a suicide mission on behalf of the Islamic State of Iraq and Syria (ISIS) in Malaysia.
The 51-year-old, whose identity has been withheld by Malaysian authorities, was among 15 people arrested in the latest series of terror swoops. They were conducted between March 27 and May 9 in five states - Kuala Lumpur, Selangor, Johor, Kelantan and Sabah.
"The woman was arrested in Puchong, Selangor on May 9. She had plans to launch attacks on non-Muslims by using her car to run over them at polling centres during the 14the general elections," said national police Mohamad Fuzi Harun in a statement.
"She had also planned to crash into non-Muslim places of worship with her vehicle, carrying a gas cylinder used as a detonator."
Investigators are also probing whether her family was also involved with terror activities.
Last year, a Singaporean housewife who planned to join ISIS was detained without trial under the city-state's tough security laws. Munavar Baig Amina Begam, 38, a naturalised Singapore citizen originally from India, was radicalised online by a contact who convinced her the ISIS group was fighting to defend Sunni Muslims in the conflict zone.
Malaysian police also arrested a 17-year-old schoolboy who had pledged his alliance with the terror group. The boy was arrested on April 20 in Petaling Jaya.
"He made six molotov cocktails and has tested one of them at an open space in Damansara Damai. He had also recced several locations to launch his lone wolf attacks on non-Muslim houses of worship," Tan Sri Fuzi said.
Apart of making the explosives, Mr Fuzi said the teenager recorded a video in which he threatened to launch attacks.
"The video was uploaded on three ISIS-affiliated Whatsapp and one Telegram groups," he said.
On April 27, The Straits Times reported that a 17-year-old boy was detained in Malaysia after appearing in a video threatening to launch attacks in the country on behalf of the ISIS.
Wearing a balaclava, the youth is seen addressing viewers while holding an object believed to be a Molotov cocktail.
"To all un-Islamic security forces and governments, we will launch attacks on entertainment outlets. We will do it soon and we will win," he said in Malay.
An intelligence source told The Straits Times that the boy was not a scapegoat, which authorities had earlier believed, as he appeared "strong-willed".
"He did his homework, he learnt to make the explosives just to launch the attacks," the source said.
Among other suspected terrorists arrested in the latest operations were four Malaysians, six Filipinos - two of whom hold permanent resident status, a married couple from a North African country and a Bangladeshi.
The first to be arrested was a Malaysian man on March 27, nabbed at KL International Aiport after he was denied entry to Turkey. The 33-year-old had previously worked as a cleaner for a local council in Selangor.
"The man left for Turkey on Jan 31 and was later denied entry by the authorities there before being deported back to Malaysia on suspicion of attempting to slip into Syria to join ISIS," the top cop said. (who are you referring to? can you use his name instead?)
The young foreign (African?) couple were arrested on April 2 in Gombak. The duo are on their country's wanted list for their alleged involvement with ISIS. According to Mr Fuzi, they sneaked into Malaysia on March 16 and wanted to use the country as a transit point before leaving for another destination.
On April 2, the 41-year-old Bangladeshi, who owns a restaurant in Bukit Bintang, was arrested on suspicion on involvement in smuggling firearms to be used by international terrorists. "He was also flagged under Interpol's red notice," Mr Fuzi said.
On April 20, the Malaysia police also nabbed two of four individuals wanted for allegedly planning to attack non-Muslim places of worship and kidnap and kill policemen.
Meanwhile, seven suspects - a Malaysian and six Filipinos of which two hold permanent resident status - were arrested in Sabah on April 20 and 26.
Mr Fuzi said the terror cell was planning to collect firearms in Sabah to wage "jihad" in Marawi City in the Philippines.
Malaysia has arrested nearly 400 people for suspected links to terrorism since 2013.
The Muslim-majority nation faces threats from self-radicalised ISIS sympathisers at home, as well as from regional militant groups which have sought funding and refuge in South-east Asia.
The country's first and only terrorist attack took place in June 2016, when two men on a motorcycle lobbed a grenade into a nightclub in Selangor, injuring eight people. The men were sentenced to 25 years' jail.
https://www.straitstimes.com/asia/se-asia/housewife-among-15-terrorism-suspects-arrested-in-malaysia
--------
Jakim must stop funding tahfiz schools, says Siti Kasim
Sheith Khidhir Bin Abu Bakar
June 1, 2018
PETALING JAYA: Lawyer Siti Kasim wants the government to ensure that money given to the Malaysian Islamic Development Department (Jakim) is not used to fund tahfiz schools if Putrajaya decides to maintain the religious body.
She claimed that "hundreds of tahfiz schools" had popped up and were using money channelled through Jakim, adding that the schools had not undergone proper checks and procedural measures before getting the funds.
"Any other school would have to go through a lot of procedures before being permitted to take in children," she told FMT.
She added that tahfiz schools which were furnished with money were more easily set up.
Siti, who maintains that religion and politics should be kept separate, said parents who wanted to send their children to tahfiz schools had the right to do so. However, she added, they should pay for this themselves.
"People of other religions have to do that. Their religious schools are not being funded by the government," she said.
"On top of that, they're also taxpayers, which means that their money is also going to these tahfiz schools."
Siti's comments follow Putrajaya's announcement that a committee will be appointed to decide whether Jakim should continue with its current role or "revert to its original purpose".
Frequent Jakim critic, Tawfik Ismail, had remarked on the announcement, saying the department should be shut down.
Agreeing with Tawfik, Siti questioned the purpose of Jakim in the first place.
"Some people say that in the beginning, Jakim was set up to counter PAS.
"Why? Ignore PAS. The government has the vehicles and the machinery to tell the public, especially the Malays, what real Islam is, not the kind of Islam PAS or these so-called ulamaks (religious scholars) are preaching."
Full report at:
http://www.freemalaysiatoday.com/category/nation/2018/06/01/jakim-must-stop-funding-tahfiz-schools-says-siti-kasim/
--------
Arab World
For displaced Syrians, plentiful Ramazan cannot erase loss
June 01, 2018
Omar Haj Kadour - After years of Syrian government siege, Umm Samer can finally prepare an appetising spread to end her family's daily Ramazan fast. But war has given the holy month a bitter aftertaste.
Crouched near a tiny gas stove in the mud hut that is now her home in northwest Syria, the 51-year-old from Eastern Ghouta slices a juicy aubergine into large chunks for the evening meal.
"Yes, there's plenty of food here, but being far away from home is really hard for us," Umm Samer says of her hometown of Zamalka, in the former rebel enclave.
Umm Samer, her husband and five children - two of them disabled - fled Ghouta around two months ago as it came under government control, setting up near the town of Maaret Masrin in Idlib province. Their memories of life in Ghouta are stained with siege: during the government's five-year encirclement, medicine was hard to find and child malnutrition rates soared as affordable food became scarce. very day, Umm Samer did her best to stave off her children's hunger with a meagre diet of radishes, spinach and parsley.
When they could, they ate small portions of bulgur wheat or barley bread, which often gave them stomach aches.
When the month of Ramazan came around, the family would observe the day-long fast like millions of other Muslims around the world. But instead of breaking their fast at sundown with traditional multiple-course meals and desserts, Umm Samer's family gathered around the same sparse spread.
"We'd eat it all with spoons because there was no bread. We couldn't even get biscuits for the kids," she recalls. "Sometimes we'd wait two days before breaking our fast because there was nothing to eat," she says.
Donated meals
Across the Islamic world, Ramazan is a month of prayer and remembering the less fortunate, but also a time of endless gatherings with loved ones.
In Ghouta, says Umm Samer, the heavy raids made that impossible. "We wouldn't dare meet up for iftar anymore," she says, referring to the fast-breaking sunset meal. "This year in Idlib it's very different. There's rice, meat, vegetables, fruit and sweets," says Umm Samer, sitting down cross-legged on a simple mat for iftar.
They begin with sips of chilled water, then dig into dishes of turmeric-flavoured rice, salad and stewed vegetables. The meal is plentiful compared with what they were eating just a year ago, but Umm Samer says starting a new life for a seven-member household is tough. "Over there, you're fine because it's your hometown, your home and your land," she says. "None of us work here. The relief groups help us but it's limited," she worries. Like in Muslim communities around the world, aid groups in Idlib are distributing iftar meals to families in need.
One of them, Al-Bunyan Al-Marsous, prepares dozens of sealed packages of rice and meat every day. Men and women line up outside their centre to pick up the food packages.
Missing loved ones
Such meals are life-changing for Umm Mohammed, 53, who was displaced from Ghouta a month ago with her husband, two daughters and two sons.
They too resettled in the camp of earthen huts in Maaret Masrin, but siege is still on their mind. "We once spent 11 days without me putting a single pot on the fire", says Umm Mohammed.
Cooking radishes was unheard of before Syria's war erupted, but it became a stable in Ghouta: "We were under siege and whatever was available, we would cook." She crouches down on a wool carpet as her husband pours her a glass of juice to break her fast, before they begin a donated iftar of rice, chicken and meat pies.
More than 350,000 people have been killed and millions displaced since Syria's war started in 2011 with the brutal repression of anti-regime protests.
Two of Umm Mohammed's sons, both fighters in Ghouta, were killed last year. "There's a huge difference between this Ramazan and last," she says. "Most of all I miss my sons."–AFP
https://nation.com.pk/01-Jun-2018/for-displaced-syrians-plentiful-ramazan-cannot-erase-loss
--------
Tens of Civilians Killed, Wounded in US Airstrikes, SDF Attacks in Deir Ezzur
May 31, 2018
Field sources reported on Thursday that the US fighter jets' attacks on the town of al-Souseh in Southeastern Deir Ezzur killed a civilian and wounded a number of others.
Also, the Arabic-language al-Watan newspaper reported that tens of civilians were killed and injured after the SDF opened heavy fire on protesting civilians near al-Sayad oil field in Northern Deir Ezzur, adding that some of the wounded are in critical conditions.
The civilians set fire at the field after the SDF attack, forcing the Kurdish forces to flee the scene.
Meantime, field sources said that a number of residents of the village of al-Sajar near al-Sayad region were wounded in tensions and clashes between the civilians and Kurdish forces.
In a relevant development last Thursday, the US fighter jets continued strikes against Syria, killing a number of civilians in Southeastern Deir Ezzur.
Local sources in Deir Ezzur province reported on Thursday that the US warplanes attacked the village of al-Souseh in Southeastern Deir Ezzur, killing and wounding several civilians.
Full report at:
http://en.farsnews.com/newstext.aspx?nn=13970310000719
--------
Terrorists in Southern Syria in Panic over Army's Imminent Operations
May 31, 2018
Four terrorists were killed and a number of others were wounded after a bomb was detonated in a car carrying Jeish al-Ababil Hourn-Free Syrian Army (FSA) militants near the strongholds of Ansar al-Islam Front, affiliated to the FSA, in the village of all-Bariqeh in Quneitra.
Local sources in Quneitra reported that the Syrian army's dispatch of forces and equipment to the region has started fear and horror among the terrorists, adding that they accuse each other of betrayal and attempt to flee to the army-led areas to receive amnesty from the Syrian government.
A number of FSA forces have surrendered themselves to the Syrian army forces in the past week.
Meantime, the Syrian observatory for human rights reported that 13 people have been killed during assassination operations in Dara'a after increased tensions and insecurities in Southern Syria and the Syrian government's May 25 ultimatum to the militants to leave the region.
The Syrian army sent more troops and military equipment to Quneitra province on Wednesday to pave the ground for an imminent anti-terrorism operations in the Southern part of the country.
The army dispatched a large number of forces of the Fourth Division and President Guard Force along with a large volume of military equipment to Hadhar region in Quneitra.
The army is preparing to launch a large-scale operation in Southern Syria if reconciliation talks with militants fail.
The army's operation is expected to be launched in Northern Quneitra and later continues in Dara'a province.
Terrorist groups in the Southern provinces of Dara'a and Quneitra formed a new coalition on Sunday amid the Syrian Army's preparedness to launch an imminent large-scale operation to end militancy in the Southern part of the country.
The army dispatched a large number of fresh forces and a large volume of military hardware to Dara'a city and its countryside and Quneitra province in recent days as a prelude for kicking off an imminent operation against the terrorist groups in Southern Syria.
In the meantime, the army issued last warnings to the terrorists, calling on them to lay down arms and join reconciliation plan.
Full report at:
http://en.farsnews.com/newstext.aspx?nn=13970310000650
--------
Assad threatens force against US-backed Kurds
June 01, 2018
DAMASCUS : Syrian President Bashar al-Assad has warned US-backed Kurdish forces he would not hesitate to use force to retake the third of the country they control.
"The only problem left in Syria is the SDF," Assad told Russia Today in an interview aired Thursday, referring to the Kurdish-led Syrian Democratic Forces which has spearheaded battles against Islamic State group (IS) jihadists. "We're going to deal with it by two options," he said.
"The first one: we started now opening doors for negotiations. Because the majority of them are Syrians, supposedly they like their country, they don't like to be puppets to any foreigners," Assad said in English. "We have one option, to live with each other as Syrians. If not, we're going to resort... to liberating those areas by force."
The Kurds in oil-rich northeastern Syria have long pushed for increased autonomy in their heartland but Damascus has insisted it intends to reassert its authority over the entire country.
The SDF, dominated by the militia of a self-proclaimed Kurdish autonomous administration, has air support from the US-led coalition against IS and operates on the ground with US and French special forces.
"It's our land, it's our right and it's our duty to liberate it," Assad said. "The Americans should leave. Somehow they're going to leave."
An SDF spokesman told AFP the group's military command was aware of the interview but had no immediate comment. Colonel Sean Ryan, spokesman for the US-led coalition, declined to specify how the body would react if government forces attacked the SDF.
"The SDF has done an amazing job helping get Daesh off the battlefield and they should be commended, not threatened," he told AFP on Thursday, using the Arabic acronym for IS.
Both the SDF and Russian-backed Syrian troops are engaged in separate operations against IS in east Syria, creating a highly volatile situation, where de-confliction mechanisms have already been tested several times.
The SDF has clashed with Syrian regime fighters on the ground, and the coalition has bombed government forces and their allies on multiple occasions. Assad said a confrontation between Russia and US forces over Syria had also been narrowly avoided.
"We were close to have direct conflict between the Russian forces and the American forces," he said.
"Fortunately, it has been avoided, not by the wisdom of the American leadership, but by the wisdom of the Russian leadership." A US-led wave of Western missile strikes on Syrian government targets across the country last month raised fears of a Russian response and full-blown internationalisation of the conflict.
More strikes by US ally Israel have further raised fears that the devastating seven-year war could still escalate.
Israel has claimed that it is targeting military infrastructure run by its archfoe Iran, which has been Damascus's other key ally in the conflict.
But Assad denied that Tehran had any active troops in Syria: "The most important fact regarding this issue, is that we don't have Iranian troops." "We could not hide it, and we would not be ashamed to say that we have. We invited the Russians, we could have invited the Iranians," he told RT.
Assad said there were Iranian officers working alongside the Syrian army, but that they were not combat troops. The Syrian Observatory for Human Rights, a Britain-based monitoring group, has repeatedly recorded Iranian deaths in Syria, including in Israeli strikes.
Syria's army has been bolstered by fighters from Iran, Iraq, Lebanon and local militias, but it was Russia's vast 2015 military intervention that turned the tide in Assad's favour.
He has since reconquered large parts of the country with a mix of military pressure and "reconciliation" deals, which he touted again on Thursday.
"You have to open the doors and you have to distinguish between different kinds of people," he told RT.
"The majority of the people who were against the government... in the different liberated areas, actually in their hearts they are with the government," Assad said.
"They could tell the difference between having a government and having chaos."
Syria's conflict broke out in 2011 with protests calling on Assad to step down, but it evolved into a brutal conflict that has left more than 350,000 people dead.
Full report at:
https://nation.com.pk/01-Jun-2018/assad-threatens-force-against-us-backed-kurds
--------
ISIL Heavily Defeated in Failed Attack in Homs
May 31, 2018
The Syrian army units engaged in fierce clashes with the ISIL terrorists who had attacked their positions in Eastern Badiyeh of Homs near Hamimeh region and T3 Station on Thursday.
Meantime, the Syrian air force launched airstrikes on the terrorists' positions in the Eastern parts of T3 Station and other regions of clashes.
Field sources also said that the army repelled the terrorists' offensive, inflicting heavy tolls on the militants and destroying their military equipment.
In a similar development last week, the Syrian army troops engaged in fierce clashes with ISIL in a desert-like region between Western Deir Ezzur and Eastern Homs and fended off terrorists' heavy offensive, killing or wounding a large number of the gunmen.
The army men exchanged fire with ISIL after the terrorists tired to break through the government forces' positions in Badiyeh near the town of al-Mayadeen and another Badiyeh near the villages in the Northern countryside of the town of Albu Kamal in Southeastern Deir Ezzur near the border with Iraq, and managed to repel the terrorists' heavy offensives.
Terrorists suffered tens of casualties in the failed attacks.
In the meantime, other units of the army clashed with the ISIL near an army positions near Oweiraz Dam Southeast of T3 Station in Southeastern Badiyeh of Homs, repelling the terrorists' attack after killing and injuring a large number of them.
Full report at:
http://en.farsnews.com/newstext.aspx?nn=13970310000409
--------
Hama: Syrian Army Gives Ultimatum to Militants, Smashes Terrorists' Convoy
May 31, 2018
The sources said that the Syrian army helicopters distributed leaflets over the towns and villages of Northern Hama, calling on the terrorists to lay down arms and surrender to the army forces.
Meantime, the Syrian army's artillery and missile units in the village of Tal Malah in Northern Hama targeted the terrorists in the village of al-Jaisat who were approaching the army positions.
The sources also said that the Syrian forces destroyed several military vehicles of the terrorists, killing a large number of them.
In a relevant development on Wednesday, a number of terrorists' positions, including arms depots, were destroyed in heavy assaults of the Syrian Army troops and Air Force in Northern Hama.
The fighter jets pounded terrorists' positions and movements in the towns of Kafr Naboudeh and al-Latamina in Northern Hama.
The air raids were launched to retaliate terrorists' attack on Mahradah thermal Power Plan and the town of Sahlab and its outskirts in Hama province.
Terrorists' arms and ammunition depots were targeted and destroyed in the airstrikes.
Also, the artillery and missile units launched a heavy shelling on the positions of Tahrir al-Sham Hay'at (the Levant Liberation Board or the Al-Nusra Front) near the towns of Morek, Kafr Zita and al-Latamina, killing and wounding a large number of terrorists and destroying their military hardware.
Full report at:
http://en.farsnews.com/newstext.aspx?nn=13970310000335
--------
Over 9,000 Popular Forces Join Syrian Army in Eastern Ghouta of Damascus
May 31, 2018
The Arabic-language al-Watan newspaper reported on Thursday that over 8,000 popular forces have joined the army after the end of military operations in Eastern Ghouta.
Also, nearly 1,200 militants have gone to the army's peace centers in Eastern Ghouta and demanded amnesty from the government and urged to join the Syrian army.
The Syrian army regained full control of Eastern Ghouta of Damascus in mid April.
Hundreds of ex-militants that had earlier handed over their weapons received government's pardoning in Bebeila region on Wednesday approximately 20 days after the Syrian Army imposed control over Southern Damascus.
A sum of 800 militants that had laid down their arms and endorsed the peace agreement with the army in Bebeila received government's amnesty.
Full report at:
http://en.farsnews.com/newstext.aspx?nn=13970310000265
--------
Tensions Likely to Increase in Manbij Due to US Continued Support for Kurds
May 31, 2018
The Kurdish-language Hawar news quoted Spokesman of Manbij Military Council Sharwan Darwish as saying on Thursday that reports on the withdrawal of the US military forces from Manbij to pave the ground for the Turkish forces' deployment are not true.
He added that the meeting between the US and Turkey has not yet reached any results, noting that the Manbij military council is still running coordination with the US-led international coalition.
Darwish said that a delegation of the US state department in a meeting with Manbij military council officials has voiced Washington's support for the Kurds.
Meantime, reports said that the US forces have strengthened their positions in Manbij in the past month in preparation for any possible confrontation.
This is while Turkish Foreign Minister Mevlut Cavusoglu has said Washington and Ankara have reached an agreement on Syria's Manbij issue.
The top diplomat stated that details of the roadmap regarding the withdrawal of Kurdish fighters from Manbij will be made public during the meeting with US Secretary of State Mike Pompeo.
Meantime, the US state department announced on Tuesday that the US doesn't have any agreements yet with Turkey on Manbij, northern Syria.
"We don't have any agreements yet with the government of Turkey. We announced previously that the United States and the Turkish working group met...in Ankara on Friday of last week," State Department Spokesperson Heather Nauert said during a daily press briefing.
Full report at:
http://en.farsnews.com/newstext.aspx?nn=13970310000210
--------
Beirut, Damascus working together for return of Syrian refugees
May 31, 2018
Lebanese and Syrian officials are working together to facilitate the return of thousands of refugees who want to return to Syria, a Lebanese official says.
"There are contacts with the Syrian authorities about thousands of Syrians who want to return to Syria," Lebanon's head of the General Security agency Major General Abbas Ibrahim told reporters on Thursday.
"The stay of Syrians in Lebanon will not go on for a long time. There is intensive work by the political authority," he added.
The official did not give a timeframe for the return of refugees, but noted that some part of the plan will take place in the short term.
Nearly 1.5 million Syrian refugees have been living in Lebanon since 2011, making up a quarter of the country's population.
Last December, the UN refugee agency, UNHCR, said more than 50 percent of the Syrian refugees in Lebanon live in extreme poverty and are highly vulnerable than ever before.
Many Lebanese officials, including President Michel Aoun, are demanding that the government facilitate the return of the Syrian refugees, arguing that the Syrian government has managed to purge many areas of terrorists and the refugees can now safely return to their homes.
Meanwhile, Lebanese Prime Minister Saad al-Hariri has expressed opposition to any forced eviction of refugees.
The UNHCR said it was "aware of several return movements of Syrian refugees being planned to Syria."
"UNHCR is in regular contact with the General Directorate of the General Security [of Lebanon] on this issue," the UN agency said in an emailed statement in response to a question from Reuters.
In April, several hundred Syrian refugees returned to Syria from the Shebaa area of southern Lebanon under the supervision of Lebanon's General Security in coordination with Syrian officials.
Aid agencies, however, have said it is too early for returns to begin.
Full report at:
http://www.presstv.com/Detail/2018/05/31/563492/Syria-Lebanon-refygee
--------
Europe
The 'Lone Mujahid,' Who Threatened Prince George, Pleads Guilty
By Alan Cowell
May 31, 2018
LONDON — In a surprising courtroom reversal, Husnain Rashid, a self-described jihadist accused of encouraging a terrorist attack on the school of 4-year-old Prince George, the third in line to the British throne, changed his plea on Thursday and admitted a series of terrorism offenses that could bring life imprisonment.
The case fused two conflicting themes in the nation's public life: its enduring preoccupation with the royal family — witnessed most recently in the marriage this month of Prince Harry and the American actress Meghan Markle — and the struggle to avert terrorism a year after a suicide bombing in Manchester followed by attacks on bridges over the River Thames in London.
According to court testimony, Mr. Rashid used an online messaging service in October to publish a photograph of Prince George's school in London, with silhouettes of jihadists superimposed on it. He also gave details of the school's address and a warning that, "Even the royal family will not be left alone. School starts early."
While that threat inspired many headlines, prosecutors said the royal family was only one of many targets suggested by Mr. Rashid, 32, including soccer stadiums, British Army bases, Jewish institutions, polling booths, the Wimbledon tennis tournament and concert sites. He had also called for ice cream and fruit to be poisoned.
"His proposals were indiscriminate and made no distinctions between adult and child, between members of fighting forces and civilians," Annabel Darlow, the prosecutor, told the court when the case opened earlier this month.
He also provided guidance, the prosecution said, on the use of bombs, poisons, knives and martial arts as part of what Ms. Darlow called an "e-toolkit for terrorism."
Styling himself online as the "Lone Mujahid," his message toward Britain's royal family was clear, Ms. Darlow said: "Prince George and other members of the royal family should be viewed as targets."
The 4-year-old prince, who started at his first school in September, is the eldest child of Prince William and the former Kate Middleton, the Duchess of Cambridge. His grandfather, Prince Charles, is the heir to the throne, followed by Prince William. Under the laws of succession, George is the third in line, after his grandfather and father.
While there was no suggestion that Mr. Rashid's prolific advice had inspired actual attacks, he faced charges relating to encouraging terrorism and preparing acts of terrorism.
Mr. Rashid was arrested in November at his home in northwest England, and his trial opened a week ago, when he pleaded not guilty to all the charges. On Thursday, though, he changed his plea to guilty, and will now be sentenced next month.
"You have admitted these allegations of encouraging others to commit terrorist activities and publishing statements to encourage the killing of others," the judge, Andrew Lees, told him. "It is inevitable that you will receive a very lengthy prison sentence and there will be a consideration of a life prison sentence."
https://www.nytimes.com/2018/05/31/world/europe/uk-terrorism-prince-george-husnain-rashid.html
--------
Muslim leaders urge investigation into 'Tory Islamophobia' claims
31 May 2018
The Muslim Council of Britain (MCB) has written to the Conservative chair, Brandon Lewis, calling for an independent investigation into Islamophobia in the party. The letter lists what it says are nine instances in the past two months, and also cites the actions of one MP, Bob Blackman. These are the details of the cases.
Bob Blackman
The MCB letter says Blackman, the Harrow East MP, has "shown a consistent record of endorsing Islamophobia", citing his membership of Islamophobic Facebook groups, his re-tweeting a message by the anti-Islam activist Tommy Robinson, and his decision to host an event in parliament for the hardline Hindu nationalist Tapan Ghosh.
Blackman said he had not been aware of Ghosh's anti-Islam views at the time. Around the same time as the event, in October last year, Ghosh appeared on Robinson's YouTube channel, saying it was "pure ignorance" to believe Islam could be peaceful.
In February the previous year Blackman had re-tweeted a comment by Robinson in which the English Defence League (EDL) founder mentioned an attack on a Hindu temple in Bangladesh, calling this "the reality of being a minority surrounded by Islam".
Blackman has faced no disciplinary action. He has said he shared the Robinson tweet in error, and that he was added to the Islamophobic Facebook groups without his knowledge.
Mike Payne
The Calderdale councillor was suspended by the party in April, ahead of local elections, when it emerged that in 2013 he had shared on social media an article saying France had reduced benefits for "Muslim parasites", which said many French Muslims "are content to live off the state and breed like rabbits".
Payne said his posts "stated nothing of a racist nature" and initially defended his actions, saying his family was half French, that there was a "specific problem" of immigration in France and that he was referring to the "actions of the socialist government in France".
Alexander van Terheyden
Also in April it emerged that the Hackney council candidate had attended a rally addressed by Robinson, and posted a social media message calling Islam "a political ideology that was born out of violence", calling the crusades "a response to Islam spreading through Europe by the sword".
When contacted by journalists Terheyden said he is not anti-Muslim, only anti-Islam and attended the Robinson rally because he supported free speech. He has been suspended by the Conservatives.
Darren Harrison
Ahead of the local election, Harrison was suspended as a Tory candidate in Watford after reports said he supported the European white supremacist organisation Generation Identity (GI), and had associated with Tommy Robinson.
Harrison said he did not back GI, one of whose leaders has been banned from entering the UK, but supported "their right to have their views".
Philippa Auton
Auton, a prospective Tory candidate for Hounslow council in west London stood down after it emerged she had also re-tweeted a post from Robinson, and had replied to a Guardian tweet asking what could be done to prevent further city-centre terror attacks by saying: "Revoke Muslim immigration, repatriate and secure European borders, keep Europe safe." Auton told local new outlet Get West London she stood by her tweets and retweets, saying: "I support free speech and the Conservative party is a broad church." Peter Lucey
In April, Lucey, the Conservative mayor of Wokingham in Berkshire resigned from his post and the party after his local newspaper asked him about Islamophobic social media comments, and why he followed groups such as the EDL, also deleting his Twitter account.
The council said Lucey had resigned "for personal reasons". Lucey said: "Some past social media posts came to light and those are not appropriate for the Town Mayor. I resigned for that reason, and I fully apologise to everyone involved."
Nick Sundin
The prospective Newcastle council candidate, a student, was suspended in April after tweets emerged in which he called Mohammed "a fucking paedophile" and other abusive terms.
Karen Sunderland
Immediately before the local election, the Tory candidate for Lewisham council in south-east London was suspended from the party over tweets from 2017 including one that said: "Religion is totalitarian. Islam has become the new Nazism."
David Boston
Also just before the local polls, Boston, standing for the Conservatives for Enfield council in north London, was suspended for an Islamophobic Facebook post.
Boston posted a photograph of a rasher of bacon hanging on a door handle with the message: "Protect your house from terrorism. Stay safe lads."
Stephen Goldsack
Last week Goldsack, who had been elected as a Tory councillor in North Lanarkshire in 2016, was expelled from the party for prior links to the far right BNP.
Full report at:
https://www.theguardian.com/politics/2018/may/31/muslim-leaders-urge-investigation-into-tory-islamophobia-claims
--------
Britain's ruling Conservative party accused of Islamophobia
May 31, 2018
One of the UK's largest Muslim groups on Thursday accused the country's ruling Conservative party of Islamophobia and called on the party chair to launch an investigation and a "full audit" to remove racists and bigots from its fold.
Muslim Council of Britain (MCB) used the appearance of a controversial speaker from West Bengal, Tapan Ghosh, at a seminar in the UK Parliament complex last year as an example of anti-Muslim activities by some Tory MPs.
"No action has been taken against Bob Blackman MP who has now shown a consistent record of endorsing Islamophobia. Blackman re-tweeted an anti-Muslim post by the far-right extremist Tommy Robinson, hosted the anti-Muslim extremist Tapan Ghosh in Parliament, shared an anti-Muslim post on Facebook and this week was found to have been a member of a number of Islamophobic Facebook groups," notes the open letter from MCB Secretary General Harun Khan addressed to Conservative party chair Brandon Lewis.
Blackman, MP for Harrow East – a heavily Indian-origin constituency in north London, has previously distanced himself from comments made by Ghosh, founder of the extremist Hindu Samhati group, at a seminar hosted by him as chair of the All Party Parliamentary Group (APPG) for British Hindus in October last year.
"I did not host Tapan Ghosh in Parliament. He was invited by an organisation without my knowledge. In the past I shared a social media post in error which I apologised for at the time," Blackman said in a statement today.
On the wider allegations, he stressed that he condemned Islamophobia, adding: "I utterly refute this allegation. I was added to Facebook groups without my knowledge or permission and immediately removed myself from them when I became aware I had been added."
MCB goes on to list out other instances of alleged anti-Muslim activities by Tory MPs, claiming "weekly occurrences of Islamophobia" from candidates and representatives of the Conservative party. The nine incidents listed in the letter range from sharing allegedly anti-Muslim posts and articles on social media to membership of far-right, anti-Islamic organisations.
"These cases are just the tip of the iceberg and what is in the public domain. Whilst they were thankfully dealt with once they were brought to public light, these cases suggest a wider problem," the letter claims.
Its list of recommended steps for the Tory party include launching a "genuinely independent inquiry" into Islamophobia within the members, structures, electoral campaigns and public representatives of the party, publishing a list of incidents of Islamophobia within the party where action has already been taken, adopting a programme of education and training on Islamophobia, and publicly reaffirming from the highest levels a commitment against bigotry.
In its response to MCB's letter, the Conservative Party said: "We take all such incidents seriously, which is why we have suspended all those who have behaved inappropriately and launched immediate investigations."
Full report at:
http://indianexpress.com/article/world/britain-ruling-conservative-party-accused-of-islamophobia-5199030/
--------
Six ways the French government will enforce secularism in schools
31 May 2018
The French government has issued a new 80-page guide on how to ensure the treasured principle of securalism (laicité) is respected in schools in France. From long skirts and sex education here are six of the main rules.
This week, every teacher in France received a copy of the government's new secularism guidelines for French schools.
The whopping 80-page report, which is twice as big as its 2015 predecessor, aims to help teachers apply the principles of secularism (laicité) in school and deal with any problems when they occur.
Strict laws on secularism apply to the country's public schools ever since France became secular when the church and state separated in 1905.
But as France struggles to balance its cherished ideal of 'laicité' with the practicalities of an increasingly multicultural society including Europe's largest Muslim population, these tensions sometimes spill over into the nations schools.
"You can't prevent all the problems that may arise," French education minister Jean-Michel Blanquer told L'express. "You also need to bring answers, explain things and hand out punishments if necessary whenever secularism is threatened and when these problems couldn't be prevented. On these questions, we have to make it clear what is expected and what is an offense, so that the rules are clear."
In 2004, after a series of incidents including the case of three schoolgirls being banned from schools for wearing Muslim headscarves, France introduced a law against all "ostentatious" religious symbols – including Islamic hijab headscarves , the Jewish kippah and "large" Christian crosses – in classrooms. But applying the rules can be a minefield for teachers, Blanquer explained.
"Teachers sometimes struggle when faced with situations they don't know how to deal with," he said. "To avoid this uncomfortable situation, two actions are necessary. First of all, there is training. Teachers must be given a clear body of information both regarding content and the right attitude to take, for example when a science is questioned in the name of religion. Secondly, teachers musn't feel alone."
Here are the six top rules from the government's new manual:
Medical certificates:
If a female student cannot go swimming, do gym or another sport on religious grounds and has a doctor's certificate to prove it, schools will now be able to ask for a second opinion from the school doctor.
"Selective absenteeism for religious reasons will not be tolerated. For physical education, medical certificates - which are thought to be suspicious - will be reviewed by the school doctor", the manual states.
Rules of politeness:
Religion can never be used to justify breaking the rules of equality between men and women. If a member of staff refuses to shake hands with a woman for religious reasons, or does want to be managed by one, he will be sanctioned.
Sex education:
The manual reminds teachers that sex education is obligatory in schools, from primary throughout secondary. But despite the 2001 law stating this, sex education sometimes isn't taught at all, or very little, because teachers don't want to, or parents or pupils contest it.
Muslim mothers on school outings:
Muslim mums who wear the hijab headscarf have frequently been banned from accompanying their children on school trips in France. While they are not actually banned by the law there have been various attempts to do so and there is much confusion around the matter.
The Education Minister has moved to clarify the matter. Mothers who wear the veil or other religious symbols are allowed to accompany their kids' class, as long as they do not "preach" their religion, the manual said.
Religious symbols and long skirts
This guideline expands on the 2004 law that bans 'ostentatious religious symbols' in schools: "any sign or outfit which isn't explicitly religious can be banned if it is worn in a way that isn't merely for looks but to show belonging to a particular religion".
Pupils who wear long skirts in dark colours for religious reasons and who refuse to change their outfits, or who persistently wear bandanas to cover part of their heads as a form of hijab and refuse to take them off would be breaking the rules.
There have been numerous cases in recent years of schoolgirls in France being sent home by the headteachers, who considered that their long skirts were an ostentatious religious symbol.
Celebrating Christmas and other religious festivals:
Religious festivals like Christmas are not a big deal in French schools, as - being secular - such events are banned, although it depends on how they are celebrated, the manual explains.
Full report at:
https://www.thelocal.fr/20180531/six-rules-from-the-french-governments-new-school-secularity-guidelines
--------
Africa
Clerics urged to promote positive image of Islam
June 1, 2018
Ansar-ud-deen Society of Nigeria has called on Muslim clerics to apply their knowledge in activities that would sustain the positive image of Islam and shun materialism which is likely to prevent them from adhering to the tenet of Islam.
The President of Ansar-ud-deen College Isolo Old Students Association, RTD AVM, S.O Smith said the holy month of Ramadan is for spiritual purification and blessings from Allah.
"This is a period for us to increase our worship, faith, and piety as revealed in the Holy Quran and practiced by Prophet Muhammad (SAW).
He said the theme of the lecture was carefully chosen to educate Muslims on the moral principles and behaviour of Muslims in the society.
"The time of Ramadan is to reflect on the past year, repent from our wrong doings and draw closer to Almighty Allah" he said.
The guest speaker and Chief Imam of Nawar-Ud-Deen Society of Nigeria, Abuja Branch, Dr. Nurain Taiwo Dindi, said the role of Nigerian clerics in sustaining positive image of Islam transcends from spiritual to temporal in the form of economic, political, social and even personal issues.
"As Muslims, we are bound to fashion our lives in line with teachings of Islam. It is also the fundamental responsibility of Islamic scholars to protect the religion from corruption, defend it from aggression and protect its sanctity and purity," he said. He urged Islamic scholars to also serve as protectors of justice and uphold it; protect and support the weak in the face of aggression.
Dindi noted that sustaining positive image of Islam should not be seen as the responsibility of the clerics alone but the collective responsibility of all Muslims.
According to him, the major role of scholars includes updating knowledge of Islam through teaching; reminding the Muslims of their obligation to Allah and humanity through preaching and participating in the government of the day by monitoring and counselling the government, even if not consulted.
Nothing that majority of scholars are not painting Islam in a positive light through their method of preaching which focuses on wealth, fame and worldly position, he said many scholars can go to any length to get rich quickly; acquire properties by any means; and secure political benefit in a most ignominious manner.
These categories of the scholars, he said, are described in the Holy Quran as 'some who wrong their own souls'.
http://thenationonlineng.net/clerics-urged-to-promote-positive-image-of-islam/
--------
UN reports unprecedented fighting in Libyan city of Derna
31 May 2018
Fighting in the Libyan city of Derna has reached unprecedented levels, with air raids, shelling of residential areas and heavy ground clashes, the United Nations humanitarian office said in a report on Thursday.
There were severe water, food and medicine shortages, and electricity and water were completely cut off for the approximately 125,000 residents of Derna, which has been encircled since July 2017 by the Libyan National Army, it said.
https://english.alarabiya.net/en/News/north-africa/2018/05/31/UN-reports-unprecedented-fighting-in-Libyan-city-of-Derna.html
--------
Clerics urge Buhari to boost employment, Islamic teaching in schools
JUNE 1, 2018
Muslim Clerics have urged Federal Government to introduce strategies that would boost employment and teaching of Islamic studies in schools, to address persistent herdsmen attack and other criminalities crippling peace and harmony in Nigeria. They made the appeal at annual pre-Ramadan lecture organised by Secretariat Community Central Mosque, SCCM, Alausa, Ikeja, stressing that reducing unemployment and intensify teachings of Islamic religion would end Boko Haram, herdsmen attacks and other vices across the country. Read more at: https://www.vanguardngr.com/2018/06/clerics-urge-buhari-boost-employment-islamic-teaching-schools/ Read more at: https://www.vanguardngr.com/2018/06/clerics-urge-buhari-boost-employment-islamic-teaching-schools/
Proprietor of ZamZam Islamic Academy, Dr. Munirudeen Arriyady, argued that for Nigeria to sustain its status as Africa's role model, the country must boost education especially Islamic studies, to provide the required benefit. Arriyady, who stated this while delivering his lecture titled: Total Submission to the will of Allah-An excellent panacea to our national crises, stated that almighty Allah has ordered that education be considered first in every endeavours. "We need to concentrate on the education of our children because it was due to our negligence in the education sector that resulted into the current challenges facing the country. "Those killing today do not understand the tenets of Islam. If you remember they started with claim that Nigerians should not enrol their children in schools. And later they claimed to kill for almighty ALLAH but the creator in his book stressed that we should love our brother. But if the new generation is well educated and made to understand piety of almighty Allah, the country will have done a lot in making everyone understand the right of their siblings, parents and neighbours," he added. While lamenting state of the country's economy, the proprietor noted that governments should consider the needy in Nigeria and introduce policies that would reduce their suffering. Also, Chairman, Alausa Secretariat Central Mosque, Saheed Animashaun, stressed that knowledge was very important in whatever endeavour one set to achieve.
Full report at:
https://www.vanguardngr.com/2018/06/clerics-urge-buhari-boost-employment-islamic-teaching-schools/
--------
Al-Shabaab execute 2 Kenyans over spying
May 31, 2018
Al-Shabaab terror group on Monday executed two Kenyans they accused of spying for Somalia and Kenyan intelligence services in Fino town, Lower Shabelle region.
The two, Shukri Ali, 22, from Garissa and Farah Godane from Lamu were executed by dagger wielding militants in front of locals forcefully gathered to witness.
Residents of Al-Shabaab controlled areas have witnessed regular executions carried out by the militant group. The executions are mainly by firing squad, throat slitting and stoning.
A source further confirmed to Citizen Digital that later that evening of May 28, five other Kenyans and two Tanzanians were tortured over allegations of ISIS connections.
According to the source, the seven were found reading online content that the leader of the camp said was related to ISIS.
Ailing leader of the terror group, Abu Ubeidha, released an audio message on May 20, 2018, reaffirming the group's allegiance to millitant group Al-Qaeda.
Rumour has also been rife within Al-Shabaab circle over a hostile take-over by Ubeidha's two deputies, Mahata Karate and Maalim Osman.
Analysts believe that by torturing the foreign fighters, the leader was sending a message of reassurance to the Al-Qaeda leader that he is still with him.
The foreign Al-Shabaab fighters mainly from Kenya have witnessed rampant executions by the group who accuse them of being moles within the group.
Full report at:
https://citizentv.co.ke/news/al-shabaab-execute-2-kenyans-over-spying-202469/
--------
Five Nigerian soldiers killed in Boko Haram ambush – Official
June 1, 2018'
The Nigerian Army on Thursday said five soldiers died along the Pridang-Bita road in Borno after their vehicle stepped on Improvised Explosive Devices (IEDs).
The army spokesman, Texas Chukwu, said in a statement that the incident, which occurred in Gworza Local Government Area, happened when troops of 271 Task Force Battalion fought through an ambush staged by Boko Haram terrorists.
"Sadly, five military personnel paid the supreme price as a result of the Improvised Explosive Device attack," Mr Chukwu said.
He, however, said that the troops killed a number of the terrorists, while others fled with gunshot wounds.
Mr Chukwu also said that troops had rescued nine people held by the terrorists during a clearance operation in six villages in Borno.
He named the villages as Jaje, Angwa Audu, Major Ali, Dabu Abdullahi, Dabu Wulkaro and Gori Jaji.
According to the spokesman, those rescued include two aged men, two females and five children.
"They are currently receiving medical attention at the military facility and will be handed over to the appropriate authority soon," he said.
The army has been battling to defeat the Boko Haram, whose activities have caused about 100,000 deaths since 2009, according to the Borno government.
Efforts by security agencies have successfully limited the insurgents to the three North-eastern states of Adamawa, Borno and Yobe. In the past, the terror group carried out attacks and bombings in other parts of Northern Nigeria including Abuja and Kano.
Full report at:
https://www.premiumtimesng.com/news/headlines/270612-five-nigerian-soldiers-killed-in-boko-haram-ambush-official.html
--------
North America
US will 'unquestionably' veto UN resolution on Palestine-Israel conflict: Nikki Haley
JUNE 1, 2018
The United States will "unquestionably veto" a UN draft resolution calling for the protection of Palestinians in Gaza and the West Bank, US Ambassador Nikki Haley said on the eve of a Security Council vote on Friday.
Haley described the text put forward by Kuwait on behalf of Arab countries as a "grossly one-sided approach that is morally bankrupt and would only serve to undermine ongoing efforts toward peace between the Israelis and Palestinians."
The vote is scheduled for 3:00 pm (1900 GMT) on Friday.
The United States circulated its own rival draft resolution blaming Hamas for the recent flare-up in Gaza and demanding that Hamas and Islamic Jihad "cease all violent activity and provocative actions, including along the boundary fence", according to the text seen by AFP.
It was unclear whether there would be a vote on the US text, which could fail to garner enough support.
Kuwait presented its draft two weeks ago, initially calling for an international protection mission for the Palestinians as protests turned violent on the Israeli-Gaza border.
At least 122 Palestinians have been killed by Israeli fire in the unrest since the end of March.
A final, watered-down version however urges "the consideration of measures to guarantee the safety and protection" of Palestinian civilians and requests a report from Secretary-General Antonio Guterres on a possible "international protection mechanism."
"The United States will unquestionably veto Kuwait s draft resolution," Haley said in a statement.
It would be the second time that Haley has resorted to US veto power to block a UN measure on the Israeli-Palestinian conflict.
In December, Haley vetoed a measure that rejected President Donald Trump's decision to move the US embassy to Jerusalem after all 14 other council members supported it.
The council has been deadlocked for weeks over how to respond to the violence in the Gaza Strip — even as a UN envoy warned this week that the crisis could escalate into all-out war.
"The resolution calls on Israel to immediately cease its actions in self-defense, but makes no mention of Hamas's aggressive actions against Israeli security forces and civilians," Haley said in a statement.
She also delivered a blunt warning to European countries and other council members that choosing to "vote in favor of this resolution will clarify their own lack of fitness to take part in any credible negotiations between the two parties."
The UN envoy for the Middle East, Nickolay Mladenov, this week warned the Security Council that Gaza was "close to the brink of war" following a serious escalation between Israel and Palestinian militants in the Hamas-ruled enclave.
An exchange of fire on Tuesday and into the early hours of Wednesday began with a barrage of rocket and mortars into Israel from Gaza, prompting Israel to respond with strikes on 65 militant sites in the Gaza Strip.
It was the worst flare-up since the 2014 war in Gaza.
Diplomats have said the Palestinians may turn to the UN General Assembly to win support for the measure if the vote fails at the Security Council as expected.
A draft resolution requires nine votes to be adopted in the 15-member council and no veto from the five permanent members — Britain, China, France, Russia and the United States.
https://dailytimes.com.pk/247428/us-will-unquestionably-veto-un-resolution-on-palestine-israel-conflict-nikki-haley/
--------
Calls for ouster of new US national security council chief of staff
May 31, 2018
Calls are mounting for the ouster of Fred Fleitz, the newly named chief of staff to the Trump White House's national security council, for his links to a group that openly touted the bizarre theory that Islamists have infiltrated the government in a plot to take over the US.
Till his appoint to the NSC, Fleitz was a senior official of the Center for Security Policy, which has been called a hate group that is "a conspiracy-oriented mouthpiece for the growing anti-Muslim movement in the United States."
"An individual who held a leadership position in a notorious hate group should not be placed in a policy-making post in the White House," said Robert McCaw of the Council on American-Islamic Relations (CAIR), in a statement.
"We urge the Trump administration to drop Mr Fleitz and to remove all other staffers who espouse bigoted views or back discriminatory and unconstitutional policies."
Fleitz has also promoted a theory that there was a "clash of civilizations" between Islam and America.
A report he co-authored in 2014 argued that "the majority of Muslims and Islamic authorities . . . promote or at least support jihad and shariah supremacism."
Full report at:
https://www.hindustantimes.com/world-news/calls-for-ouster-of-new-us-national-security-council-chief-of-staff/story-Y5QVRCUtxN3mQLsAzeJN1I.html
--------
URL: https://www.newageislam.com/islamic-world-news/jamat-e-islami-hind-mumbai/d/115419
New Age Islam, Islam Online, Islamic Website, African Muslim News, Arab World News, South Asia News, Indian Muslim News, World Muslim News, Women in Islam, Islamic Feminism, Arab Women, Women In Arab, Islamophobia in America, Muslim Women in West, Islam Women and Feminism