New Age Islam News Bureau
3 Feb 2018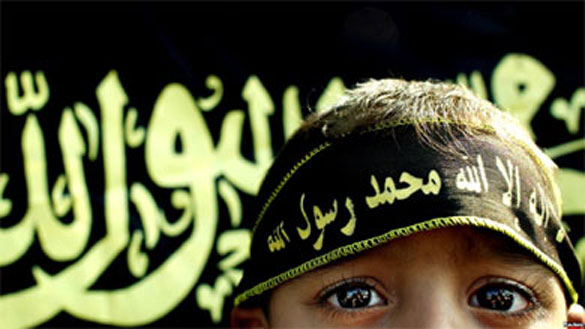 FILE - A boy stands before an Islamic jihad flag. Concern is growing in Germany and other countries that the Islamic State group, now largely weakened, is actively recruiting children to carry on their jihadist legacy.
------
• Jama'atu Nasril Islam Declares Violence, Street Begging Un-Islamic
• Germany Alarmed by 'Kindergarten Jihadists'
• Mynamar Soldiers 'Burning Rohingya Muslim's Faces Off With Acid' To 'Hide Genocide'
• We'll Continue Using Allah in BM Bibles, Says Sabah BN Leader
• Muslims Opposing Ram Temple Must Go To Pak, Bangladesh: UP Shia Waqf Board Chief
Africa
• Jama'atu Nasril Islam Declares Violence, Street Begging Un-Islamic
• Boko Haram: 41 Terrorists, 3 Soldiers Killed In Borno
• 90 migrants feared dead as boat capsizes off Libya
• 60 returnees recount pain at the hands of Al Shabaab
--------
Europe
• Germany Alarmed by 'Kindergarten Jihadists'
• Mothers Schools Help Muslims Spot Potential Jihadis At Home
• UK Fascists Modelled On Jihadis Are Prepared To Kill, Say Campaigners
• Russian Who Helped Son Leave Islamic State Arrested
• London mosque attack survivors call for governments to tackle far-right propaganda
• Tariq Ramadan jailed in Paris after being charged for rape
--------
South Asia
• Mynamar Soldiers 'Burning Rohingya Muslim's Faces Off With Acid' To 'Hide Genocide'
• Afghan President Ghani Tells Country That Pakistan Was Behind Recent Deadly Attacks
• Mohammed Bin Salman's Lessons for Bangladesh
• Afghan forces uncover Islamic State hideout in Kabul district
• ICC judges consider Afghan war crimes inquiry
• Myanmar government denies AP report of Rohingya mass graves
• ISIS militants suffer casualties during a clash with the Afghan forces in Kunar
--------
Southeast Asia
• We'll Continue Using Allah in BM Bibles, Says Sabah BN Leader
• Padmaavat Banned Due To Depiction of 'Cruel' Muslim Ruler, Says Putrajaya
• Penang vows action if mosques are misused for politics
• Malaysia forms special department to harmonise Sharia, civil law
• US Judge Gives Indonesian Illegal Immigrants Deportation Reprieve
--------
India
• Muslims Opposing Ram Temple Must Go To Pak, Bangladesh: UP Shia Waqf Board Chief
• Terror Funding: Court Takes Cognizance of Chargesheet against Hafiz Saeed, Others
• A DG in Uttar Pradesh Pledges To Build Ram Temple in Ayodhya Earliest
• Letter from a PM Ties Pakistan to J&K Terror: NIA
--------
Arab World
• OIC Human Rights Commission Calls For Respecting Cultural And Religious Diversity
• Al-Muhaysini Confirms Terrorists' Heavy Defeats in Idlib, Aleppo
• One dead after rockets from Syria hit Turkish border town
• SDF Continues Forced Recruitment in Northeastern Syria
• Terrorist Groups Kick off Operation on ISIL in Southern Syria
• Syrian Army Repels Terrorists' Heavy Offensive in Northern Homs
--------
Pakistan
• Pakistan Concerned On US Decision to Authorise Strikes against Militant Safe Havens
• Peaceful Dialogue Vital For Elimination of Terrorism, Extremism: IIUI Seminar Speakers
• NSC meeting: Civil-mil leadership for effective choking on terror financing
• Hafiz Saeed Takes U-Turn, Claims Govt Detained Him for Raising Kashmir Issue
• Gulalai bashes Sindh, KP police for inability to protect citizens
• SC highlights loopholes in present counter-terror system
• 11 Pakistanis among 90 migrants feared dead in shipwreck off Libya
--------
Mideast
• Houthi: Saudi, UAE Serve US, Israeli Interests
• US Move Turns Spotlight On Al Sabreen Movement, the Arms of Iran In Palestine
• US missile show ridiculous political spectacle: Iran MP
• Saudi Arabia, allies killed 68 Yemeni children in 3 months: Report
• Germany grants asylum to four former Turkish military forces amid soured ties
• Israel strikes 'Hamas position' in north Gaza
• US deploys troops to occupied territories for joint war games with Israel
--------
North America
• Trinidad's Jihadis: How Tiny Nation Became Isis Recruiting Ground
• WH Shows 15 Jihadis Who Got Visas by Lottery or Chain Migration
• US has no evidence of sarin gas used in Syria: Pentagon chief
• A Conversation on Why Catholics Need To Dialogue with Muslims
Compiled by New Age Islam News Bureau
URL: https://www.newageislam.com/islamic-world-news/jamaatu-nasril-islam-declares-violence/d/114158
--------
Jama'atu Nasril Islam Declares Violence, Street Begging Un-Islamic
February 3, 2018
The Jama'atu Nasril Islam (JNI) on Thursday said street begging had nothing to do with Islam and the act was clearly prohibited because it inflicted pain on the children.
Dr Khalid Abubakar, the Secretary-General of JNI, made the statement in Kaduna at a National Conference with the theme "Ending Violence Against Children (VAC) in Nigeria".
The programme was jointly sponsored by USAID and UNICEF.
Abubakar said that a child's upbringing was a collective responsibility of members of the community and society at large.
"In Islam, it is the responsibility of parents to ensure proper upbringing of the child, right from birth up to maturity, especially in the first six years of child's formation.
"A child in Islam has right to education, proper feeding, protection against aggression and child labour as well as any other form of inhumane treatment,'' he said.
According to him, children are integral part of the family and the community.
"For them to have that sense of belonging and social inclusions, they should be honored and treated with decency.''
The JNI scribe said that it was the right of a child in Islam to be protected against any form of violence.
"Islam sanctions right and privileges to be accorded them,'' Abubakar said.
He listed some acts of violence against children prohibited by Islam to include starvation, excessive punishment, discrimination as well as infliction of fear and terror in them.
The secretary also condemned the practice of parents leaving their children in the care of house maids or nannies.
Earlier, Dr Olasunbo Odebode, the Coordinator VAC, UNICEF, said that the objective of the conference was to sensitise religious leaders to the scale, manifestation and impact of violence against children at national and state level.
"And to explore methods of engaging campaigns to end VAC through the fulfillment of listed roles of religious bodies in preventing and responding to VAC at national level," she said
The conference was organised for Muslim leaders in northern part of Nigeria.
https://www.pmnewsnigeria.com/2018/02/02/jni-declares-violence-street-begging-un-islamic/
--------
Germany Alarmed by 'Kindergarten Jihadists'
February 02, 2018
"Put on a thick jacket," the 18-year-old son of Albanian immigrants instructed the 12-year-old German-Iraqi boy over the Internet on how to carry out a Christmas market attack last year in the Rhineland town of Ludwigshafen.
"Then go behind a hut and light and run," he advised.
Fortunately, the crude nail-bomb device failed to work and the 12-year-old was arrested by police in December trying for a second time to pull off an attack, this time outside Ludwigshafen's city hall.
The chilling mentoring by the 18-year-old from his home in neighboring Austria was detailed last month in court papers.
And now the head of Germany's domestic intelligence agency is lobbying for a repeal of laws restricting security surveillance of minors under the age of 14, arguing that the country is facing grave risks from what the German media dubs "kindergarten jihadists."
In a media interview midweek, Hans-Georg Maassen, head of the Office for the Protection of the Constitution, warned that the Islamic State and the terror group's followers are continuing to target children in Germany online. "Islamic State uses headhunters who scour the internet for children who can be approached and tries to radicalize these children, or recruit these children for terrorist attacks," he warned.
'Massive danger'
Maassen said he was alarmed also at the risks posed by returning "brainwashed" Islamic State women and their children, who he warned pose a "massive danger" to the country. He described the children of jihadist parents as "ticking time bombs."
An estimated 1,000 German recruits joined IS.
"There are children who have undergone brainwashing in the ISIS [Islamic State] areas and are radicalized to a great extent," he said. "We see that children who grew up with Islamic State were brainwashed in the schools and the kindergartens of the Islamic State. They were confronted early with the ISIS ideology ... learned to fight, and were in some cases forced to participate in the abuse of prisoners, or even the killing of prisoners."
Only a handful of the 290 children and toddlers who left Germany with jihadist parents — or who were born in Syria or Iraq — have so far returned to Germany. And some rights activists have warned that Germany should not over-react and be too quick to alter civil liberty protections, questioning whether the danger is being over-stated.
The threat posed by the radicalization of minors has become a major political issue in Germany. Three out of five radical Islamist attacks in the country in 2016 were carried out by minors.
This is the second time Maassen has sounded a public alarm about child recruits — he last did so in October, saying he was worried about a new generation of jihadists being raised in Germany. He urged Germans to "take a very serious look" at the threat, and to call police if they noticed anything suspicious.
Last year, de-radicalization experts warned that Western governments were not giving enough thought about what to do with so-called "cubs of the caliphate" — both the offspring of foreign recruits as well as Syrian and Iraqi children enlisted into the terror ranks.
IS leaders made no secret of their earmarking of the young to be "the generation that will conquer Baghdad, Jerusalem, Mecca and Rome," grooming youngsters to be the deadly legacy of a murderous caliphate on the brink of military defeat. As the terror group's territory shrank in the face of offensives on IS strongholds in the Levant, the militants highlighted in a series of gloating videos what they hoped would be in store for their enemies.
Other countries share worries
German intelligence officials aren't alone in expressing worries about the offspring of IS foreign fighters — or the continuing efforts of jihadist recruiters. On Thursday, the head of London's police's counter-terrorism command, Dean Haydon, warned of children trained by Islamic State coming back to Britain to carry out attacks.
"Some terror groups are training children to commit atrocities," he said as he outlined the risks posed by returnees. "We need to not just understand the risk the mother poses but the risk that any child poses as well. We look at them on a case-by-case basis and they may be arrested," he told a London newspaper. Last month a 27-year-old British woman returning from Syria was arrested at Heathrow airport under terrorism laws. She had a two-year-old with her.
Haydon revealed that police are DNA-testing children who have been brought to Britain by 'jihadist' parents after being born in Syria or Iraq to establish their identity. "If a mother turns up with a stateless child, born in Syria, we need to be satisfied that that child actually belongs to that mother because we have had instances of kids trying to be smuggled back into the UK but not actually belonging to that parent," he said.
De-radicalization experts say child recruits can be rehabilitated but warn they are battling a prevalent attitude among Western officials that 'cubs of the caliphate' are different from child soldiers from other wars.
In an interview with VOA last year, Mia Bloom, a Canadian academic, who's co-authoring a book on jihadist child soldiers, said: "It would be a terrible mistake to think that because someone was a cub for a year or two, they are lost forever - they can be saved and rehabilitated." She highlighted a de-radicalization program funded partly by the Pakistani army that has proved highly successful.
https://www.voanews.com/a/germany-alarmed-by-threat-posed-by-child-jihadists/4236346.html
--------
Mynamar Soldiers 'Burning Rohingya Muslim's Faces Off With Acid' To 'Hide Genocide'
February 03, 2018
Witnesses claim that in Rakhine state, Mynamar, attackers of the minority and much persecuted Muslim community deliberately used acid to burn off the faces of the dead. UN special envoy on human rights in Mynamar Yanghee Lee said: "These are part of the hallmarks of a genocide. You can see it's a pattern." Mohammad Rayes, 23, a teacher who watched the atrocity said: "People were screaming, crying, pleading for their lives, but the soldiers just shot continuously."...
By Matt Drake
Feb 2, 2018
Evidence of a previously undocumented attack in August emerged yesterday with one UN expert declaring it showed the "hallmarks of genocide".
Witnesses claim that in Rakhine state, Mynamar, attackers of the minority and much persecuted Muslim community deliberately used acid to burn off the faces of the dead.
UN special envoy on human rights in Mynamar Yanghee Lee said: "These are part of the hallmarks of a genocide. You can see it's a pattern."
Mohammad Rayes, 23, a teacher who watched the atrocity said: "People were screaming, crying, pleading for their lives, but the soldiers just shot continuously."
Commanders carried out what they call "clearance operations" after lightly armed militants of the Arakan Rohingya Salvation Army attacked military and police posts on August 25.
Two days later 200 soldiers entered the village of Gu Dar Pyin armed with rifles, knives, rocket launchers and grenades.
Witnesses say the Burmese army, known as the Tatmadaw, moved from house to house stealing possessions of Rohingya Muslims and shooting anyone they found.
Shocking claims also suggest ordinary Burmese civilians followed, burning houses as well as shooting and stabbing women and children.
They then disfigured the corpses before burying them in mass graves, it has been reported.
Mohammad Lalmia, 20, a farmer who fled over the border to Bangladesh, said: "There were so many bodies in so many different places, they couldn't hide all the death."
Villagers who snuck back into the abandoned village in the days after the massacre found it littered with bodies, some of which in hastily dug graves.
Noor Kadir, 24, said he was only able to recognise six friends from the colour of their shorts.
He said: "It was a mixed-up jumble of corpses piled on top of each other.
"I felt such sorrow for them."
A woman named Rohima Khatu, 45, told the Associated Press: "There were dead bodies everywhere, bones and body parts, all decomposing, so I couldn't tell which one was my husband.
"I was weeping while I was there. I was crying loudly, 'Where did you go? Where did you go?'
"I have lost everything."
Mohammad Karim, 26, filmed some of the mass graves on his phone. The footage shows skeletal remains that appear to have been burned with acid.
The Nobel Pace prize-winning leader of Mynamar Aung San Suu Kyi's home was petrol bombed.
There was no damage to the property and Ms Suu Kyi was in the capital.
She has been heavily criticised for failing to speak out against the violence done by her forces.
Ms Lee has demanded "responsibility and accountability" from the Mynamar Government.
Source: express.co.uk/news/world/913705/Rohingya-Muslim-genocide-burning-face-acid-massacre-Myanmar-Burma-human-rights-news
--------
We'll continue using Allah in BM Bibles, says Sabah BN leader
Tracy Patrick
February 3, 2018
KOTA KINABALU: Christians in Sabah and Sarawak will continue using the word "Allah" in their Bibles and worship, said United Pasok Momogun Kadazandusun Organisation (Upko) acting president Wilfred Madius Tangau.
Speaking to reporters after handing over Bible Knowledge textbooks to schools here yesterday, Tangau said the Malay version of the Bible, or Al-Kitab, will remain in circulation for use by Christians in the Bornean states.
"There is also now a Borneo version Bible published through the initiative of the Borneo Evangelical Church (SIB). The Bible is using Bahasa Melayu Borneo and was published and printed in South Korea before being brought here.
"I think this is good progress because we are sticking to the 10-point solution, which means we can publish and print our books here, even those using the word Allah in the texts," he said, alluding to how previously the Bibles, or Al-Kitab, had to be imported from Indonesia.
The government came up with a 10-point solution shortly before the Sarawak state election in 2011, to allow bibles in the Malay and indigenous languages to be distributed freely in Sabah and Sarawak.
The negotiation to come up with the solution came about after a few thousand books meant for Bumiputera Christians in Sarawak had been seized by the home ministry.
Bumiputera Christians, who form about 64% or close to two-thirds of the Christian community in Malaysia, have used the word "Allah" when praying and speaking in the national language and their native tongues for centuries.
Earlier, Tangau presented Bible Knowledge textbooks to 18 schools for students who are taking up the subject for SPM this year.
The science, technology and innovation minister said it is one of Upko's initiatives to help students have easy access to the books and also to encourage more students to take up the subject.
He said it is disheartening to know that the number remains low, mostly because the subject is in English.
Currently, the subject is taught after class instead of during school hours which some complained is inconvenient because it means teachers have to work overtime.
"On this issue, we will continue to have dialogue with the education ministry. But I think, first and foremost, parents must encourage students to take up the subject.
"There is no point pushing for the subject to be taught during normal school hours if nobody is taking the subject," he said.
He recalled that there was a time when there were only 200 students taking the subject nationwide and the highest number was in 2010 when there were more than 1,000 students taking it.
Tangau said he believed if the number continues to rise, then the government will be more open to suggestions, including teaching the subject during normal school hours.
The SPM Bible Knowledge syllabus requires a minimum of two hours of instruction per week over a period of two years.
It provides for the study of the life and teachings of Jesus Christ as found in the Gospel according to Luke, and of the growth of the Early Church as contained in the Acts of the Apostles.
http://www.freemalaysiatoday.com/category/nation/2018/02/03/well-continue-using-allah-in-bm-bibles-says-sabah-bn-leader/
--------
Muslims opposing Ram temple must go to Pak, Bangladesh: UP Shia Waqf board chief
February 3, 2018
In a bizarre statement, Uttar Pradesh Shia Waqf Board Chairman Waseem Rizvi has suggested that Muslims who are against building Ram temple in Ayodhya "must go to Pakistan and Bangladesh". Rizvi offered Friday prayers at the disputed site in Ayodhya and also met the chief priest of the Ram Janambhoomi, Acharya Satyendra Das. The Supreme Court is scheduled to hear the Babri Masjid-Ram Janmabhoomi dispute from February 8.
"Those who are opposing the Ram temple in Ayodhya and want to build the Babri Mosque there… People having such fundamentalist mentality should go to Pakistan and Bangladesh. Such Muslims do not have any place in India." "Those who want to spread Jihad in the name of the mosque must go and join the forces of Abu Bakr al-Baghdadi, the ISIS chief," Rizvi was quoted by PTI as saying.
Rizvi alleged that fundamentalist Muslim clerics are trying to destroy the country and they must migrate to Pakistan and Afghanistan. Meanwhile, reacting to Rizvi's remarks, Shia clerics demanded his arrest for attempting to vitiate the atmosphere. President of Shia Ulema Council Maulana Iftekhar Hussain Inquilabi alleged, "Rizvi is a criminal involved in grabbing and illegal selling of Waqf properties."
"He has been charge-sheeted by the CB-CID and to save himself from the law he is enacting a big drama," he told PTI. "During the rule of the Samajwadi Party in Uttar Pradesh, he was patronised by Mulayam Singh Yadav and then minister Azam Khan. Now, during the BJP government, he wants to be spared," Inquilabi claimed.
http://indianexpress.com/article/india/muslims-opposing-ram-temple-must-go-to-pakistan-up-shia-waqf-board-chief-5049824/
--------
Africa
Boko Haram: 41 terrorists, 3 soldiers killed in Borno
February 3, 2018
By Maina Maina
Troops of 25 Task Force Brigade, 7 Division Nigerian Army on Operation LAFIYA DOLE on Friday encountered fleeing Boko Haram terrorists during clearance operation at Dulsa and Buk, Damboa Local Government Area of Borno State.
At Dulsa, the troops cleared the hideout of the terrorists during which they neutralized 6 Boko Haram terrorists, recovered 1 Light Machine Gun, 2 Rocket Propelled Grenade Tubes and 1 Extra Anti-Aircraft Gun Barrel.
The troops also encountered Boko Haram terrorists' camp at Buk where they were engaged by the terrorists.
During the encounter, the troops neutralized 35 of the Boko Haram terrorists and wounded several others.
According to Brigadier General Sani Kukasheka Usman, Director Army Public Relations, "They also made an unprecedented recovery.
"The items recovered include 9 AK-47 rifles, 3 Fabrique Nationale rifles, 2 Rocket Propelled Grenade Bombs, 1 Mortar Tube, 1 Shilka, 1 Gun truck mounted with Anti-Aircraft Gun and 2 Hilux vehicles.
"Unfortunately however, 3 soldiers paid the supreme price, while 5 others were wounded in action. Similarly, 1 Mine-Resistant, Ambush-Protected vehicle belonging to the Brigade was badly damaged.
"The bodies of the late soldiers and those that sustained injuries have since been evacuated by the Nigerian Air Force.
"The wounded soldiers are in stable condition."
http://dailypost.ng/2018/02/03/boko-haram-41-terrorists-3-soldiers-killed-borno/
--------
90 migrants feared dead as boat capsizes off Libya
2 February 2018
At least 90 people were feared dead on Friday in the latest migrant tragedy in the Mediterranean Sea off the coast of Libya, the UN migration agency said.
"At least 90 migrants are reported to have drowned, when a boat capsized off the coast of Libya this morning", the International Organization for Migration said in a statement, adding "that 10 bodies are reported to have washed up on Libyan shores".
https://english.alarabiya.net/en/News/north-africa/2018/02/02/90-migrants-feared-dead-in-boat-capsize-off-Libya.html
--------
60 returnees recount pain at the hands of Al Shabaab
February 3rd 2018
More than 60 Al Shabaab returnees including former university students are undergoing rehabilitation at undisclosed camps after surrendering to Kenyan security agents.
Most of the returnees fled their homes with the hope of a better life only to be turned into sex slaves and combatants by the militants. Ciku*** (not her real name ) began her arduous journey to an Al Shabaab camp hoping to find acceptance after false belief that her parents didn't like her. Her quest for attention from parents she thought treated her like a black sheep led her to a Facebook page "A place to belong" with images of physically fit women holding guns. She was attracted by regular messages of self actualisation and liberation which represented what she thought she really needed to have. Ciku was lured by a woman and taken to Somalia where she was turned into a sex slave. Ahmed and Ali had been made to believe they were going to help their Muslim brothers in the Jihad war only to be put on the front line during battle. The duo who hail from Kwale County, joined Al Shabaab in December 2014 after being recruited by their cousin. An intelligence report by security agencies on the operation against Al Shabaab terror reveals that some returnees are helping the government counter the insurgents.
They are undergoing intensive psychological and medical support before they are finally reunited with their families and reintegrated back into the society. "At this point, most of the returnees do not want to face their parents because they are burdened with guilt, so this rehabilitation process that cannot be rushed and has to wait until when they are ready. There is great need for creating awareness about the real situation these girls encounter in the hands of the terrorists. The false Jihad and revolution narrative is a myth that needs to be demystified before we loose more of these girls," a counsellor at the rehabilitation centre says. At least 54 university students abandoned their studies to join terrorist groups in Somalia, Libya and Syria in 2016 and 2017. Some have been lucky to escape while other Kenyan youths who joined ISIS in Libya or Syria and al Shabaab in Somalia have been killed in counter-terrorism operations by security officers. The report further says that sustained counter-terrorism efforts involving various security agencies in the country have disrupted terrorist plots through arrests and prosecution of suspects. They have also managed to infiltrate and disrupt of terror cells in parts of the country. The report further shows that terrorists have exploited social media and other platforms like Whatsapp to lure university students. "Through various portals put up by Al Shabaab, ISIS among other terror groups, propaganda is easily disseminated into the hands of students and readily shared among their peers through user-friendly platforms like WhatsApp."
Students are also recruited by family members, radicalised through extremists and radical religious leaders while some voluntarily join terror groups. However, there has been a decline of students joining these groups in 2017 with only 14 recorded compared to 44 in 2015 and 2016. This has been attributed to counter terrorism strategies and initiatives by the Kenyan government, Non-Governmental Organisations an religious organisations. "Following the shocking numbers of recruited students from the previous years, intentional counter-terrorism efforts were initiated by the government that geared towards close working relations between the security agencies and the public. This relationship has greatly improved the voluntarily sharing of information by the public with security personnel. This has helped us save,'' said a security officer. The report raised concern about the country's future with the continued recruitment of youth into terrorism. Among the known university students recruited into terrorism is Moi University's Jared Mokaya Omambia, who was executed by Al Shabaab militants in 2016 on spying charges. Many others have however been killed by Amisom and US forces in Somalia and Libya. Former Kitale hospital interns Farah Dagane Hassan, 26 and Hiish Ahmed Ali, 25 were killed in US airstrike on an ISIS camp in Libya. Slain terrorist Abdirahim Abdullahi, a law graduate from Nairobi University student was in 2015 killed by security agents during the Garissa University College terror attack. In May last year, three Kenyans - Adan Mohamed Sheikh, Said Ahmed Dabow, Mohamed Abdi Mohamed - and a Somali, Abdiqan Abdishakur Shobay, suspected to have been traveling to join ISIS in Libya, were arrested in Juba.
Full report at:
https://www.standardmedia.co.ke/article/2001268291/60-returnees-recount-pain-at-the-hands-of-al-shabaab
--------
Europe
Mothers Schools Help Muslims Spot Potential Jihadis At Home
February 3, 2018
Journalist Maynat Kurbanova fled Chechnya after receiving death threats for reporting on the atrocities that Russian security forces committed against her people.
Fourteen years on, Kurbanova lives in exile in Vienna and helps other Chechen women fight a different threat – the lure of radical Islam to a generation of children growing up far from their troubled Caucasus homeland.
She is a trainer in the groundbreaking "Mothers Schools" that have taught more than 2,000 women around the world how to spot and tackle signs that their children may be falling prey to extremist preaching or online jihadi propaganda.
It is five years since Austria-based Women Without Borders ran a pilot Mothers School in Tajikistan, paving the way for the programme to be launched in about a dozen countries from Indonesia to Nigeria and from Jordan to Britain.
"We help mothers recognise that their children may be becoming radicalised, alienated, or attracted by criminal groups," Kurbanova said as a group of Chechen and Afghan women received their Mothers School diplomas recently in Vienna.
"We give women the tools to help them react – what to say, how to behave, who to approach for help – and we create a network of mothers who can support each other, so they don't feel they have to deal with this alone."
Chechen fighters
In recent years, about 300 people from Austria went to Syria and Iraq to fight with Islamic State; among European Union countries, only Belgium was a bigger per capita source of volunteers for the group.
About half the recruits from Austria came from its 30,000-strong Chechen community, which has grown rapidly during 20 years of war and terror in the republic waged by Russian troops, militants and Kremlin-backed local leader Ramzan Kadyrov.
Kurbanova said some Chechens viewed Syria as a place to fight Russia and its president, Vladimir Putin, who sent forces to prop up Syrian leader Bashar al-Assad.
"They see Assad as the enemy of Chechens because he is Putin's friend. Russia has basically been fighting the Chechens for 400 years, and young Chechens who can't fight Putin directly saw the war in Syria as a way to get revenge."
Chechens were also influenced by radical preaching at small mosques and prayer houses, some of them secret, and by videos and recruiters online.
"Mothers can notice a change in how their children behave," Kurbanova said.
"They might stop sharing details about their life, become more closed, suddenly start using Islamist phrases and break off contact with former friends. We help them learn how to talk to these children, to win their trust and to not cause panic or put pressure on them," she added.
"If that doesn't work and their child has already been indoctrinated, we teach mothers how to influence them and who to approach for help. And we tell them to talk about it, to not be ashamed."
Melanie – who changed her name when she came to Austria from Grozny a decade ago – said Chechnya's turmoil had uprooted its young people and made them susceptible to recruiters who offer them a sense of purpose, adventure and glory. "They got this idea from the wars in Chechnya that they can become a hero somewhere," she said after receiving her certificate as a Mothers School graduate.
"There are some very religious people in the Chechen community who will quickly go and help someone in need. The internet is overflowing with videos saying that women and children and the elderly [in the Middle East] need help. Young people believe they are going to save civilians and they get pulled into things that way."
Line of defence
Edit Schlaffer, a social scientist who founded Women Without Borders in 2002, got the idea for this programme while discussing radicalisation in Tajikistan.
"One of the women said: 'What I learned today is that we mothers need to go back to school.' That was the moment when this concept started working in my head," Schlaffer recalled.
She set out to "create a movement of those who are at the first line of defence. They are the mothers. And they often don't have a voice in their societies, so how can they break through this stigma and isolation and disempowerment?"
Mothers Schools were her response, and when significant numbers of people from Europe started joining Islamic State, she launched them in Belgium, Germany, Austria and England.
"Some women come in and tell the mothers how their own sons were killed in the Middle East. It's not just a technical thing about training – it's a movement of mothers," Schlaffer said.
"We are trying to build this bottom-up security idea, so that all of us understand – and mothers understand – that we are all part of a sustainable security pyramid."
With Islamic State in retreat in Iraq and Syria, Europe now faces the prospect of hundreds of jihadi fighters trying to return home.
"I think it's smart to bring in these mothers as security stakeholders . . . so we learn more about the mechanisms [of recruitment] and learn when kids might come back and what will happen to them," Schlaffer said.
"In terms of rehabilitation, we need to strengthen the place these kids come back to. In the best-case scenario – after a prison term – that will be the family. So the family has to be prepared," she added.
"Usually, mothers would support anything to have their children back. They say it's better that their child is in prison, than dead."
https://www.irishtimes.com/news/world/europe/mothers-schools-help-muslims-spot-potential-jihadis-at-home-1.3378003
--------
UK Fascists Modelled On Jihadis Are Prepared To Kill, Say Campaigners
Feb 2018
A hard core of fascist extremists in Britain are prepared to murder and commit acts of terror, and have strong links to groups overseas, observers of the domestic far-right have told the Guardian.
As the governments joint terrorism analysis centre reportedly begins a review of the threat posed by British rightwing extremists, spurred by the conviction of Darren Osborne, between 50 and 60 people remain prepared to carry out acts of violence, one expert says.
Matthew Collins, the head of research at Hope Not Hate, said groups such as National Action had evolved beyond neo-Nazi ideology to espouse a violent extremism influenced by the Islamist terrorism they purport to oppose.
"They model themselves on jihad, that's quite clear," Collins said. "We no longer believe that they are neo-Nazis, although they are certainly still racists. We believe that they are nihilists, partly because they are so obsessed by terror and the secrecy of terror."
According to Hope Not Hate's research, National Action has also drawn from the methods and ideas of the leftwing Baader-Meinhof gang, and studied IRA cell structures. "They started off like naughty boy scouts, but they had a massive schism in 2016," Collins said.
"A group broke away who said they were acting like terrorists, talking like terrorists and being painted like terrorists, so why don't [they] become terrorists."
Collins said he believed the police and security services had little understanding of the nature of National Action and related groups. But Gerry Gable, the editor of Searchlight magazine, which tracks the far-right, said he believed that MI5 and MI6 knew more than they had let on.
Full report at:
https://www.theguardian.com/world/2018/feb/02/uk-fascists-modelled-on-jihadis-are-prepared-to-kill-say-campaigners
--------
Russian Who Helped Son Leave Islamic State Arrested
Feb. 2, 2018
By Maria Tsvetkova
MOSCOW (Reuters) - A man from Russia's Muslim Dagestan region has been charged with links to an illegal armed group, a court official in Dagestan said, years after he began helping families persuade sons recruited by Islamic State to renounce the militants and leave Syria.
Kazim Nurmagomedov, 63, was detained in Moscow on Wednesday and transferred to Dagestan where he was formally arrested on Thursday on charges of assisting in a crime related to an illegal armed group in Russia or abroad, the official confirmed.
Nurmagomedov has gained prominence by dissuading young men from joining Islamic State and helping families persuade their sons to leave the group's ranks in Syria. He also helped his own son Marat quit Islamic State and leave Syria.
Marat, 33, told Reuters in July from Ukraine that he had joined Islamic State in 2013, but two years later had changed his mind.
He walked across the Syrian border into Turkey and finally settled in Ukraine, he said, slipping in unnoticed thanks to a breakdown in intelligence-sharing between Moscow and Kiev after Russia annexed Crimea in 2014.
Everyone in the family had tried to convince Marat, who told Reuters that he had now renounced violent Islamism, to leave Islamic State.
But Marat's brother Shamil, a businessman in the Moscow region, was arrested for sending money to help him get out of Syria and charged with financing terrorism.
On Wednesday, Kazim Nurmagomedov was detained as he was leaving Shamil's trial in Moscow, which is still going on, another of his sons, Imagadji, told Reuters.
"Naturally, he (Kazim Nurmagomedov) denies he is guilty," Imagadji said.
Denis Sokolov, an expert on the northern Caucasus region, said that Kazim appeared to have been arrested at least in part because he had gained prominence with his attempts to dissuade others from joining IS, throwing a spotlight on an issue that might be uncomfortable to Russian authorities.
He said Kazim had befriended many families and encouraged or helped them to try to bring home children who had gone to join Islamic State.
"I don't know anyone else who has extracted that many people from Islamic State, or stopped such a large number from going to join them in the first place," Sokolov said.
Full report at:
https://www.usnews.com/news/world/articles/2018-02-02/russian-who-helped-son-leave-islamic-state-arrested
--------
London mosque attack survivors call for governments to tackle far-right propaganda
February 3, 2018
Survivors of the Finsbury Park terrorist attack in London are urging countries across the world, including Australia, to make sure they are combatting the threat posed by far-right extremism.
Overnight, 48-year-old Darren Osborne from Cardiff was jailed for life and will spend a minimum term of 43 years behind bars for ploughing a van into a crowd of worshippers near a mosque in June.
The attack killed Makram Ali, 51, and injured nine others.
In sentencing, Justice Cheema-Grubb said Osborne was "rapidly radicalised over the internet by those determined to spread hatred of Muslims".
"Your use of Twitter exposed you to racists and anti-Islamic ideology," she said.
Muslim leaders say authorities in western countries cannot afford to dismiss the attack as an isolated case and they want more done to tackle far-right propaganda online.
"The Government has to do something about what goes on social media," said Khalid Oumar from the Finsbury Park Attack victims' voice forum.
"It's quite relevant to the rise of hate crime.
"We get a lot of calls and threats in the community."
'Flashbacks are constant': survivor
Abdirahman Ibrahim was injured during the attack.
His physical wounds have healed but the mental scars remain, and he is still coming to terms with how lucky he is to be alive.
"I wouldn't wish this on anyone," he said.
He believes governments across the world need to put more resources into education to ensure different religious and ethnic communities understand each other.
"Everyone needs to come together. All politicians, all leaders," he said.
Full report at:
http://www.abc.net.au/news/2018-02-03/finsbury-park-attack-survivors-condemn-far-right-propaganda/9393044
--------
Tariq Ramadan jailed in Paris after being charged for rape
2 February 2018
Prominent Islamic scholar Tariq Ramadan was charged with rape on Friday and jailed in Paris after two days in police custody, a judicial source said, according to AFP.
French authorities say Ramadan is being investigated for allegedly raping two women and could be held in long-term custody while the probe continues.
According to an AP report, a judicial official said the Paris prosecutor's office opened a formal inquiry on Friday based on complaints against Ramadan the women filed last year. Ramadan has been in custody for questioning in Paris since Wednesday.
After two days of questioning by investigators, the 55-year-old Oxford professor was brought before three magistrates who have been assigned to the case, suggesting that he is facing an extensive investigation, judicial sources said.
The official says Ramadan could be handed preliminary charges of rape in one case, relating to a 2009 incident, and rape of a vulnerable person in the second case, involving an incident in 2012.
The judicial official was not authorized to be publicly named and requested anonymity.
The prosecutor's office is asking judges to keep Ramadan in custody, likely because of concerns he could leave the country.
Ramadan, who is Swiss, strongly denies wrongdoing and has filed his own suit for false allegations. He is on leave from Oxford University, where he is a professor of contemporary Islamic studies.
Full, open-ended investigation
Friday's announcement by French authorities turned the preliminary inquiry into a full, open-ended investigation where French magistrates stated goal is to establish whether Ramadan should stand trial.
In France, the launch of a full investigation implies that initial findings justify further pursuit in the view of the investigating magistrates but does not mean the matter is sure to go to trial.
Ramadan is a grandson of Hasan al-Banna, an Islamist thinker and activist who founded the Muslim Brotherhood. He enjoys a substantial following among young Muslims and has challenged French restrictions on wearing veils.
Ramadan, who travels frequently and has written numerous books on Islam and the integration of Muslims in Europe, is being investigated by French authorities because the rapes are alleged to have taken place in Paris and Lyon.
Earlier, French police were granted another 48 hours to question the 55-year-old Islamic Studies Professor at Oxford, and had been handed over to Paris Prosecution department, news reports had revealed.
The British Express newspaper, quoting a judicial source, confirmed on Thursday that Prof Ramadan's custody had been extended for a further 48 hours in order to give Paris police more time to question the suspect.
Following this period, he should either be freed, formally charged, or made an "assistant witness", meaning police do not believe he committed an offence, the report revealed.
Slander complaint
The report said that Prof Ramadan took a leave of absence from Oxford after the allegations came to light but has vehemently denied raping the two women. He has also filed a complaint for slander against feminist author and former Salafist Henda Ayari, who happens to be one of his accusers.
According to the report, Ayari said the sex scandal involving Hollywood producer Harvey Weinstein had encouraged her to "name and shame" her alleged abuser and file an official complaint with police.
Ramadan is the most high-profile figure to be held in France over the sexual assault and harassment claims that have rippled around the world as a result of the "Me Too" campaign.
Another woman who has claimed that she was raped by Ramadan said that they met at a bar in Lyon where he told her that a Maghrebi person - who worked at the reception - knew him.
Full report at:
https://english.alarabiya.net/en/News/middle-east/2018/02/02/US-sanctions-six-people-seven-firms-under-rules-targeting-Hezbollah.html
--------
South Asia
Afghan President Ghani tells country that Pakistan was behind recent deadly attacks
By Pamela Constable
February 2, 2018
KABUL — Afghanistan's president forcefully accused Pakistan on Friday of sheltering Taliban insurgents, blaming the neighboring Muslim country for a recent wave of urban terrorist attacks that has roiled the nation and raised questions about his government's ability to protect the populace.
In a televised address, President Ashraf Ghani described Pakistan as the "center of Taliban terrorism" and demanded that Pakistani officials take swift, substantive steps to drive insurgents from their country. "The Afghan nation is waiting for clear action" from Pakistan, he said.
Pakistani officials immediately denied the allegations that they are harboring Taliban groups, including the Haqqani network, which claimed to have carried out several of the recent attacks. A Foreign Ministry statement in Islamabad said Afghanistan should focus on its domestic security lapses rather than blaming its neighbor.
Pakistan has repeatedly rejected similar accusations from U.S. officials, but the Trump administration recently suspended all military aid to the longtime security ally after saying Pakistan has not done enough to rein in the Haqqanis and other militant groups.
"We reject any allegations of support to the Haqqani network or the Taliban or them using our soil," Foreign Ministry spokesman Mohammad Faisal said in Islamabad. He said that "vast swaths" of Afghan territory are being used by terrorist groups as a sanctuary. "Blaming Pakistan for security lapses inside Afghanistan is unfair."
Despite their denials, Pakistani officials said they still intend to send a delegation of officials here in the next several days to discuss the issues.
Ghani, flanked by Muslim clerical leaders, reiterated charges made by two top security aides Thursday after they traveled to Pakistan. The Afghan interior minister and intelligence chief said they had shown officials there "undeniable evidence" that the attackers who staged several bombings and shooting raidsattacks in Kabul were trained and launched from Pakistan.
The aides said they gave Pakistani officials a list of individuals who orchestrated the attacks, as well as the locations of religious and training facilities for them. They said the information was gained in part from suspects arrested during the recent wave of violence, which left more than 130 people dead and hundreds wounded.
Ghani and his government have come under harsh new criticism for failing to provide security for civilians, who were deliberately targeted in most of the attacks. The president said Friday that he has ordered a broad review of security in the capital, and he recently said his new top priority was making changes in the security sector.
Critics have accused Ghani, who is expected to seek reelection next year, of letting political rivalries distract him from the more pressing issue of security. Former president Hamid Karzai, one of Ghani's sharpest critics, tweeted Friday that while the country is "under serious terrorist siege and threat, the government is focusing more on its political rivals to rid them ahead of the elections."
Groups of protesters gathered in the capital this week, denouncing both the Afghan and Pakistani governments, as frustration and anger exploded on social media. Many people and some opposition leaders have called on senior government officials to resign.
https://www.washingtonpost.com/world/afghan-president-ghani-tells-country-that-pakistan-was-behind-recent-deadly-attacks/2018/02/02/abcf4cda-082a-11e8-aa61-f3391373867e_story.html?utm_term=.45b1b6061f14
--------
Mohammed Bin Salman's Lessons for Bangladesh
February 02, 2018
If Saudi Arabia can move in a more progressive direction, why not us?
The modern crown prince of Saudi Arabia has been in the news in recent weeks for his progressive moves, moving out of the strict Islamic strictures or even taboos.
Women have been allowed into stadiums to watch matches and to drive cars in this desert kingdom, where oil is slowly drying up. And the future king, it appears, has set his target of turning around the country to match the present world.
The other move that stole front pages of many newspapers across the world has been the detention of and heavy financial penalties given to other royals as well as bureaucrats, who have amassed massive wealth at home and abroad, London being their favourite destination.
The atmosphere is so relaxed, that the LGBT community in hiding has started to come out of their closets, with one report suggesting two men getting married openly. Here in Bangladesh two LGBT activists were brutally killed for their sexual orientation.
Crown Prince Mohammed bin Salman has reasons to be happy, as his anti-graft drive has not only exceeded his target of $100 billion by seizing $24bn more, but these figures might be higher as exact figures have not been released by the Saudi government.
The drive comes amidst a higher national budget of about $60bn and low oil earnings, which has been putting pressure on its coffers.
I just loved the way the 32-year-old little known crown prince has made his mark: Not only did he tighten his grip on power politics, but has also slowly started to take his country towards a more modern Saudi Arabia. I welcome this development as a signal to countries like Bangladesh, where progressive forces have been sidelined since the 1975 assassination of Bangabandhu Sheikh Mujibur Rahman.
First, General Ziaur Rahman lifted the ban on political groups like Jamaat-e-Islami and fanned the flame for orthodox Islam to stay in power. The progressive modern Bangladesh started changing as far as the rulers were concerned and the moderate Muslims too — the ones who practiced Islam, but not the way it has been in some Middle Eastern countries, especially in Saudi Arabia.
General Hussein Muhammad Ershad followed suit and imposed Islam as the country's state religion, taking out the spirit of the Independence War out of a secular Bangladesh. Meanwhile, Begum Khaleda Zia's BNP-Jamaat alliance bared its fanatic and un-Islamic beliefs by attacking, raping, and torching the homes of Hindus when they returned to power in 2001.
The Hindu minorities who have lived in absolute harmony with their Muslim brothers since then have been targeted violently, to either send them away or grab their properties. Media reports suggest that despite the government's best efforts to halt these crimes, the Hindu community still faces difficulties.
Many of them have left for safety, which is sad. For me, my parents never singled out such ugly religious divisions, but taught us to respect all. They grew up with Hindu teachers or "master moshais" and enjoyed the festivities of all religions.
I grew up enjoying the religious festivals of four religions — Islam, Christianity, Hinduism, and Buddhism. So much fun, and what varied tasteful delicacies. Most Bengalis were the same, except for a few who pursued a more orthodox Islamic lifestyle.
The Jamaat-e-Islami and few other such groups were backed by Middle Eastern countries, especially Saudi Arabia. The mollahs always referred to Saudi Arabia for its religious practices, including all the rage for the hijab.
Thus, Muslim-majority Bangladesh can ask the Saudi crown prince to send religious emissaries to explain how they have allowed women to watch matches in the stadiums and drive cars along with men.
The anti-corruption drive is unique in its own way, and we can take lessons from that too to get some of the booty back to the national exchequer.
The 1/11 caretaker government was military-backed and thus, the show of catching the corrupted was more for public support than for any practical reason. Where are those bureaucrats and businessmen now?
The government of Prime Minister Sheikh Hasina can follow the Saudi crown prince in secretly identifying the corrupt politicians and bureaucrats and haul them into the MP hostel in Sher-e-Bangla Nagar until fines imposed are realized. The figure might give us many Padma bridges, if we take into account watchdog reports.
Otherwise, the steps of the Anti-Corruption Commission will never be enough, and the thieves will continue to get away with our money with a total loss to the exchequer.
Full report at:
http://www.dhakatribune.com/opinion/2018/02/02/mohammed-bin-salmans-lessons-bangladesh/
--------
Afghan forces uncover Islamic State hideout in Kabul district
February 2, 2018
KABUL, Afghanistan — Afghan security forces uncovered an Islamic State hideout packed with explosives and suicide vests this week in a poor western neighborhood of the capital, Kabul.
An intelligence official told The Associated Press that the IS refuge, hidden behind 10-foot green metal doors in the Qala-e-Wahid neighborhood was packed with explosives, weapons and suicide vests when security forces found it. The official spoke on condition of anonymity in line with his agency's regulations.
He said the security forces were led to the house by an insurgent who was captured during Monday's IS attack on a military academy in Kabul in which 11 soldiers died. Afghanistan's IS affiliate, which calls itself Khorasan Province, claimed the attack in a statement carried by its Aamaq news agency.
From their safe house in Qala-e-Wahid the insurgents were plotting to carry out three more large attacks in Kabul, the intelligence official said without providing further details.
Khan Mohammed, a resident of Qala-e-Wahid, told the AP Friday that locals rarely see a police patrol in their neighborhood and stay at home after dark because of marauding gangs of thieves. They say the government can't provide security.
"It is dangerous for all the people of Qala-e-Wahid that Daesh was here, but they came here because it is an insecure area," said Mohammed, whose home is located across the lane from the IS hideout, using the Arabic acronym for the extremist group, "For Daesh this was the perfect area because you can bring everything here from anywhere."
The streets that weave through Qala-e-Wahid are rutted and ankle deep in mud. A wide open sewer runs the length of the lanes. It is clogged with garbage bags, mounds of trash and human waste. Some residents eye foreigners with suspicion and refuse to identify the IS house. There are whispers that IS may have sympathizers in the neighborhood. Others, who were willing to talk, say the dangers in their neighborhood come from many places because the security services are non-existent.
Fifteen year old Zikarullah, who lives in a mud and straw house directly opposite the IS hideout, said the occupants, three men and a woman, had moved in about 25 days earlier. They engaged freely with the residents.
"One of them asked me if I liked cricket and said he would buy me a new cricket ball and bat," said Zikarullah, who used just one name. The occupants were young and the woman always wore the all-enveloping burqa that hid her from head to toe.
Another neighbor, 16 year-old Samsor said the woman carried the explosives and weapons under her burqa.
"The police told us this after they arrested them and they told us they were from Nangarhar," said Samsor.
Afghan Security Forces, aided by the U.S.-led coalition have been targeting suspected IS hideouts in Afghanistan's eastern Nangarhar province, where they are believed to have established their most extensive bases. The United States last year dropped its largest non-nuclear bomb targeting IS hideouts in a remote mountainous region of Nangarhar province.
Afghanistan has been battered by a series of audacious attacks in recent weeks that have killed nearly 200 people, wounded hundreds more and angered citizens frustrated by the deteriorating security, which they blame on their feuding government as well as inadequate intelligence gathering and poor policing.
Afghan President Ashraf Ghani under pressure for security lapses went on national television Friday to blame Pakistan for harboring Taliban, saying its neighbor was the hub for Taliban, an accusation Islamabad routinely denies.
"What kind of government do we have that they are fighting with each other"? There is no security in this country," said Mohammad Hajan, standing nearby the padlocked IS house. "In the morning I wake up and I don't know if I will be alive in the evening." Ghani's National Unity Government has been paralyzed by a protracted feud with powerful warlords, including his vice-president Uzbek warlord, Rashid Dostum, who is currently in Turkey and prevented by the government from returning to Afghanistan. Ghani has also fired the powerful Tajik warlord Atta Mohammed as governor of northern Balkh province, who has refused to step down.
Full report at:
https://www.seattletimes.com/nation-world/afghan-forces-uncover-is-hideout-house-in-kabul-district/
--------
ICC judges consider Afghan war crimes inquiry
February 03, 2018
Secunder Kermani - Judges at the International Criminal Court (ICC) are deciding whether to authorise an official war crimes inquiry into events in Afghanistan.
They are due to begin examining written submissions from victims in Afghanistan about whom and what any potential investigation should focus on.
In 2017, ICC prosecutor Fatou Bensouda said there was a "reasonable basis to believe" war crimes had been committed. Possible perpetrators included the Taliban, CIA and Afghan forces.
The BBC has learnt that one of the most high-ranking officials to be named in the submissions to the court is Gen Abdul Rashid Dostum. Claims of human rights abuses have dogged the current vice-president of Afghanistan for decades. He is currently in Turkey in de facto exile after one particularly grim allegation.
In late 2016, Ahmad Eshchi, a political rival of Gen Dostum, said he had been beaten and sodomised on his orders. "He told his guards, 'Rape him and film it'," Mr Eshchi told the BBC.
Gen Dostum refused to appear in court in Afghanistan. In May 2017 he travelled to Turkey for medical treatment. Some analysts believe the Afghan government pressured him to leave.
Gen Dostum attempted to return to Afghanistan in July of last year but his plane was refused permission to land. Because he is still in Turkey, Mr Eshchi believes the ICC needs to step in.
"It's been 14 months and Dostum still hasn't answered any questions about this," he said. "As time goes on I am losing hope that the government here will ever bring him to justice."
Gen Dostum's spokesman has previously denied that Mr Eshchi was detained or sexually assaulted by anyone connected to Dostum.
Bereaved by the Taliban
Others in Afghanistan are hoping the ICC can help hold the insurgent groups in the country to account. Samara, 32, was a cook at an orphanage in Kabul. She died after being caught in a Taliban suicide bombing in July 2017. Her daughter, 17-year-old Fatima, told the BBC about the moment she found out: "I heard on the news that there had been a suicide attack. I called my mum's phone but a policeman answered. He said he had found it at the scene of the blast."
Fatima is one of those who have written to the ICC . She does not believe the Afghan authorities will give her family justice. "Whenever they announce on the TV they've arrested someone and brought him to court, they release him a few days later, and the bombings continue," she says.
Despite the risks, Fatima says she is not afraid of speaking out. "My mother fought against my other relatives and social pressure to let me join a football team, and to learn the guitar," she says. "She did so much for me. Now it's my turn to fight for her." Fatima also wants the ICC to investigate the Afghan government for its failure to stop the attacks. It seems unlikely that that would fall under the remit of the ICC though. And bringing the Taliban to justice would not necessarily be an easy task.
Guantanamo submissions
Philippe Sands QC is the director of the Centre on International Courts and Tribunals at University College London.
"You have got to catch the Taliban and you need evidence," he says. "Evidence comes in the form of documents, in the form of witness statements and that gathering exercise for an institution without its own police force is incredibly problematic. "The court has a policy of only going after upper-echelon individuals - they don't want the foot soldiers. So you've got to apprehend those people." The proposed investigation by the ICC would cover events from May 2003 onwards, when Afghanistan signed up to the court. Any alleged crimes committed in the country after that date are eligible to be investigated, even if by foreign nationals.
That means the alleged torture of some prisoners in Bagram detention centre before they were transferred to Guantanamo Bay would also be covered. The detention centre was originally built and run by the Americans but later handed over to Afghan control.
The charity Reprieve is making submissions to the ICC on behalf of a number of current and former Guantanamo Bay detainees.
Maya Foa, director of Reprieve, told the BBC the alleged abuses detainees suffered at Bagram included "Russian roulette with guns, men held in stress positions for days… Abuses which destroyed the men both physically and mentally".
"These abuses were perpetrated at the behest of top commanders," she said. "The kinds of people the ICC are trying to target."
American officials have said that whilst they support attempts to bring the Taliban to justice, they believe an ICC investigation would be "unwarranted and unjustified". The United States is not a signatory to the ICC . In 2002 Congress passed the American Service-Members Protection Act, which allowed the US authorities to "free" US personnel detained for trial in the ICC by "all means necessary". That makes successful prosecutions of American officials extremely difficult. But the ICC is under pressure to show that it can take on politically sensitive cases. Up until now it has focused on incidents in Africa.
Why only Africans?
UCL's Philippe Sands told the BBC: "On the website of the ICC everyone indicted is African and black or both. "That's a problem because Africans don't have a monopoly on international crime. "That has caused a backlash. African countries are saying, 'Why focus on us? Look at what is going on around the world.'"
Full report at:
https://nation.com.pk/03-Feb-2018/icc-judges-consider-afghan-war-crimes-inquiry
--------
Myanmar government denies report of Rohingya mass graves
Feb. 2, 2018
YANGON, Myanmar – Myanmar's government has denied a report by The Associated Press documenting at least five mass graves containing Rohingya Muslim civilians killed by the military with help from Buddhist neighbors, saying that only "terrorists" were killed and they were "carefully buried."
The AP reported on Thursday that the mass graves in the village of Gu Dar Pyin were confirmed through multiple interviews with more than two dozen survivors who had fled to refugee camps in neighboring Bangladesh, and through time-stamped cellphone videos. Satellite images and video of destroyed homes also showed that the village had been wiped out.
The Myanmar government's information committee said in a statement Friday that 17 government officials including Border Guard Police went to Gu Dar Pyin to investigate the AP report and were told by villagers and community leaders that "no such things happened."
According to the government statement, a group of Rohingya "terrorists" skirmished with security forces in the village during "clearance operations" by the military. It said about 500 villagers attacked the security forces with weapons such as knives, sticks and wooden spears, and the security forces were forced to shoot in self-defense.
It said 19 "terrorists" died and their bodies were "carefully buried" by the security forces.
"The Myanmar government will not deny any human rights violations and will investigate if there is strong evidence. And if there are human rights violations after an investigation, prosecutors will take actions according to the law," the government statement said.
In regard to Gu Dar Pyin village, "the preliminary result of the examination has proven that AP's report is wrong," it said.
"The AP stands by our reporting," spokeswoman Lauren Easton said.
More than 680,000 Rohingya have fled Myanmar's northwestern Rakhine state to Bangladesh to escape a crackdown by Myanmar's military that began following attacks by a Rohingya militant group on Aug. 25. The United Nations and the United States have described the crackdown as "ethnic cleansing." The U.N. human rights chief has also suggested that it may be genocide.
Many Rohingya refugees have accused Myanmar troops of a rampage of murder, rape and arson to drive them out of their homes and the country. The government has blocked international media from traveling to Rahkine state to investigate reports, and has not heeded calls by the U.N., U.S. and others for an independent investigation.
Gu Dar Pyin was one of at least four large massacres that are known of in Myanmar since August, and many smaller-scale killings have been reported.
Survivors told the AP that hundreds of soldiers swept into the village Aug. 27 firing weapons, including hand grenades and rocket launchers, and burning down houses. They said Buddhists from neighboring villages joined the soldiers, cutting the throats of the injured and helping to throw small children and the elderly into the fires.
Community leaders from Gu Dar Pyin in the refugee camps in Bangladesh have compiled a list of 75 dead so far, and villagers estimate the toll could be as high as 400, based on testimony from relatives and the bodies they've seen in the graves dug by the soldiers and strewn about the area.
Full report at:
http://www.spokesman.com/stories/2018/feb/02/myanmar-government-denies-report-of-rohingya-mass-/
--------
ISIS militants suffer casualties during a clash with the Afghan forces in Kunar
Feb 02 2018
The militants affiliated with the Islamic State of Iraq and Syria (ISIS) terrorist group suffered casualties during a clash with the Afghan forces in Kunar province.
The 201st Silab Corps of the Afghan military in the East said the clash took place late on Thursday night in the vicinity of Wata Pur district.
The Silab Corps officials said at least one insurgent of the terror group was killed and two other were wounded during the clash.
The anti-government armed militant groups including the ISIS terrorist group has not commented regarding the report so far.
Kunar is among the relatively volatile provinces in East of Afghanistan where the anti-government armed militants including the Taliban and ISIS insurgents are actively operating in some of its and often carry out insurgency activities.
The ISIS militants also launched a large scale attack in Suki district of Kunar earlier last month which was repulsed the security forces.
Full report at:
https://www.khaama.com/isis-militants-suffer-casualties-during-a-clash-with-the-afghan-forces-in-kunar-04404
--------
Southeast Asia
Padmaavat banned due to depiction of 'cruel' Muslim ruler, says Putrajaya
February 2, 2018
GEORGE TOWN: Putrajaya today defended its decision to ban "Padmaavat", saying the Bollwood film's depiction of a Muslim ruler gives a bad impression of Islam.
This comes after the Film Appeal Committee rejected an appeal by the movie's Malaysian distributors to lift the ban.
Padmaavat, which stars Bollywood actress Deepika Padukone, tells the love story of a Hindu queen and a Muslim ruler in medieval India.
The government said the character of Sultan Alauddin Khilji in the movie was depicted as "arrogant, cruel and inhumane".
This, said the home ministry, was bad for Islam's image as the sultan was shown as representing an Islamic sultanate.
Sultan Alauddin was from the Khilji dynasty that ruled India between 1296 and 1316.
Padmaavat was scheduled for release in over 90 cinemas nationwide on Jan 25.
Antenna Entertainments had reportedly estimated RM5 million in box-office takings in Malaysia.
Last week, the Film Censorship Board announced the movie would not be allowed to be screened in local cinemas.
The movie also drew protests from Hindu fundamentalist groups in India, who said the filmmakers were "distorting history" by showing Muslim ruler Sultan Alauddin as the "lover" of Padmavati, who belonged to the Rajput warrior clan.
India's censorship board has however passed the film, after asking for its title to be changed to Padmaavat from the original Padmavati. It said the change was to show that the movie was a fiction.
http://www.freemalaysiatoday.com/category/nation/2018/02/02/padmaavat-banned-due-to-depiction-of-cruel-muslim-ruler-says-putrajaya/
--------
Penang vows action if mosques are misused for politics
2 Feb 2018
THE Penang government today said it will take action against mosque administrators, speakers and khatib (people who deliver sermons) if the houses of worship are misused for politics.
State Islamic affairs exco Abdul Malik Abul Kassim said the state government took the issue seriously, and warned that state mosques were off limits to politics.
"Mosques cannot be used for party politics, what more, to hurl verbal abuse and play up racial and religious issues.
"Sermons and religious lectures are also not to contain elements that disrupt racial harmony in the state.
"We expect more issues like this with the general election coming," he said today.
Malik said the state government had, all this while, been open about mosque programmes and lectures.
But, he said, there were some quarters taking advantage of the state's openness.
"So far, we have advised and sent show-cause letters to the individuals involved.
"We are also monitoring several individuals, to take action against them. They will either have their accreditation revoked or be banned from teaching religion in Penang."
The conditions for teaching Islam with accreditation in the state include not spreading understanding or thinking that is against Sunnah Wal Jamaah beliefs, and not offending the races, religions, cultures and practices of locals, which could lead to racial and religious tension.
Those who teach Islam in Penang must also not touch on matters involving the Agong and sultans, who are the heads of the religion; the personality of other private individuals; and, the differences in opinion regarding the four schools of thought in Islam.
Malik said he would meet the state Religious Affairs Department on monitoring and enforcement matters.
Full report at:
https://www.themalaysianinsight.com/s/35803/
--------
Malaysia forms special department to harmonise Sharia, civil law
02 FEBRUARY, 2018
KUALA LUMPUR — Putrajaya has formed a special department to address issues relating Islam and Sharia law, days after Malaysia's apex court declared the unilateral conversion of a Hindu woman's children to Islam nearly a decade ago by her Muslim convert ex-husband null and void.
The Attorney-General's Chamber (AGC) said on Friday (Feb 2) that the Sharia and harmonisation law division will focus on issues "pertaining to legal advice, drafting and coordination of Sharia law, ratifying an international convention which has an impact on Sharia, and the harmonisation between civil law and Sharia law to overcome conflicts of jurisdiction between both courts."
The AGC said this is based on Clause (2) Article 145 of the Federal Constitution, where it is the duty of the Attorney-General to advise the King or the Cabinet or any minister on legal matters.
The AGC said the the establishment of the division is "important" as it would serve as a "focal point" on Sharia-related issues.
It further added that the division would help the AGC address Sharia-related issues "more effectively and in line with the current requirements".
In a landmark ruling, the Federal Court on Monday declared that the conversion of M Indira Gandhi's three children by her Muslim convert ex-husband in 2009 was null and void, saying that such conversions would need the consent of both parents.
The judgment is seen as a victory for ethnic and religious minorities in the Muslim-majority nation who are pushing for greater recognition of their rights, amid what critics see as growing Islamic conservatism in its government.
The ruling closed a nearly decade-old case which has seen different twists and turns, and settled once and for all the legal ambiguities related to religious conversions of minors — a controversial issue that has dogged Malaysia for years.
Until now, the unilateral conversion of minors by Muslim converts had left women with little recourse, as their complaints would be referred to a Sharia court, where non-Muslims have no standing to make claims.
Muslims make up about 60 percent of a population of about 30 million, although Buddhists, Christians and Hindus account for a significant minority.
Lawyers and civil groups have welcomed the Federal Court's ruling, saying that it sets a precedent that civil law prevails over Sharia law.
A Muslim scholars' group, however, have attacked the ruling, saying religious violence may erupt in the country if police continue hunting the ex-husband and Ms Gandhi's youngest child, taken away by her ex-husband, Muhammad Riduan Abdullah, in 2009, when she was 11 months old.
Full report at:
http://www.todayonline.com/world/malaysia-forms-special-department-harmonise-Sharia-civil-law
--------
US Judge Gives Indonesian Illegal Immigrants Deportation Reprieve
February 02, 2018
Boston. A federal judge on Thursday (01/02) blocked the deportation of 50 Indonesian Christians who have been living illegally in New Hampshire while they seek to reopen their immigration cases to argue they would likely face religious persecution in their home country.
The group includes people who fled violence in that country two decades ago and had been living openly for years in New England under an informal deal with Immigration and Customs Enforcement until President Donald Trump's administration last year ordered an end to the arrangement.
US District Judge Patti Saris in Boston ruled that ICE cannot move forward with deportation until the Indonesians have a chance to make their cases for legal residence by arguing they would face persecution or violence if sent back.
She ruled that processes used by the US Board of Immigration Appeals were not adequate to protect their rights as they could be deported while their cases were still pending to the world's largest majority-Muslim nation.
"Thus, under this Kafkaesque procedure, they will be removed back to the very country where they fear persecution and torture while awaiting a decision on whether they should be subject to removal because of their fears of persecution and torture," Saris wrote.
Saris, who previously temporarily blocked their deportation pending her latest ruling, issued a preliminary injunction preventing the Indonesians' removal until after the board ruled on whether to reopen their cases.
Sandra Pontoh, pastor of the Madbury Maranatha Indonesian Fellowship in Madbury, New Hampshire, who has been working on the immigrants' behalf welcomed the news.
"That's what we were hoping she would say," Pontoh said in a phone interview. "My friends will have enough time and their lawyers will have enough time to work on their cases."
The US Justice Department declined to comment.
Members of the Indonesian community, who live along New Hampshire's seacoast began receiving orders to return in August, as they showed up for routine ICE check-ins.
In September, they sued, contending their removals violated their due process rights under the US Constitution. Federal officials contend they have always had the authority to deport them.
Federal courts do not have direct authority over immigration matters. But over the Justice Department's objections, Saris in October ruled that she had jurisdiction.
Full report at:
http://jakartaglobe.id/news/us-judge-gives-indonesian-illegal-immigrants-deportation-reprieve/
--------
India
Terror Funding: Court Takes Cognizance of Chargesheet against Hafiz Saeed, Others
Feb 2, 2018
NEW DELHI: A special court here on Friday took cognizance of the NIA chargesheet against LeT chief and 26/11 Mumbai attack mastermind Hafiz Saeed, Hizbul Mujahideen head Syed Salahuddin and others in the terror funding case.
They have been accused by the NIA of "conspiring to wage war against the government" and fomenting trouble in the Kashmir Valley.
Additional Sessions Judge Tarun Sherawat directed the anti-terror probe agency to hand over copies to the accused persons, and posted the matter for March 8 for scrutiny of documents.
It posted for February 15 the bail petition of freelance photo-journalist Kamran Yusuf, arrested last year for alleged stone-pelting and other offences. The NIA has alleged that Yusuf was acting as a conduit for those funding terrorist activities in Jammu and Kashmir.
The 12,794-page chargesheet and annexure, also alleged that officials of the Pakistan High Commission here were passing on money through businessman Zahoor Watali, who has been arrested, to separatists. The separatist leaders have been accused of taking a cut before handing over the money to foment trouble.
Saeed has been accused of using the services of Watali for passing on the money to separatists and some individuals who were actively indulging in stone-pelting in various areas of the Valley, the NIA said in the chargesheet.
The agency has charged Pakistan-based terrorists Saeed and Salahuddin, besides 10 others with criminal conspiracy, sedition, and under stringent provisions of the Unlawful Activities (Prevention) Act.
It said 60 locations were raided and 950 incriminating documents seized. There are 300 witnesses in the case.
Besides Saeed, Salahuddin, Watali and Yusuf, the agency has also named hardline pro-Pakistan separatist Syed Ali Shah Geelani's son-in-law Altaf Shah alias Altaf Fantoosh, Bashir Ahmad Bhat and Javed Ahmad Bhat, who was identified along with Yusuf as a stone-pelter.
Hurriyat Conference leaders Nayeem Ahmad Khan, Farooq Ahmad Dar alias Bitta Karate, Mohammad Akbar Khanday and Raja Mehrajuddin Kalwal have also been charged by the agency in the terror funding case.
All the 10 arrested accused are currently in judicial custody.
The agency has charged the Hurriyat leaders with acting under the overall guidance of and instructions from Saeed and Salahuddin, and their "Pakistani handlers". They have been accuse of plotting strategies to launch violent protests.
Saeed, Salahuddin and their Pakistani handlers informed people about the agenda of violence through "protest calendars", the NIA said. These calendars were released through newspapers, social media and religious leaders, it said.
These acts were aimed at creating an atmosphere of terror and fear in Jammu and Kashmir, the NIA alleged in the charge sheet.
It claimed money was also routed through fake and bogus companies floated abroad and remitted to the Hurriyat leaders in Jammu and Kashmir.
https://timesofindia.indiatimes.com/india/terror-funding-court-takes-cognizance-of-charge-sheet-against-saeed-others/articleshow/62761495.cms
--------
A DG in Uttar Pradesh pledges to build Ram temple in Ayodhya earliest
February 3, 2018
An IPS officer heading the Uttar Pradesh Home Guard has been captured on video taking a pledge to work for the construction of the Ram temple in Ayodhya "as soon as possible". The video comes days after the state government drew flak over the failure to control communal clashes in Kasganj, where a 22-year-old man was killed.
The video, purportedly shot during an event at Lucknow University on January 28, shows Surya Kumar Shukla, Director General, Home Guard Headquarters, as saying: "Aaj is karyakram ke dauran, hum sab ye sankalp lete hain ke jaldse jald Ram Mandir ka bhavya nirmaan ho… Jai Shri Ram (Today, at this programme, all of us take a pledge that the Ram temple is made as soon as possible… Jai Shri Ram)."
Officials said the event 'Ram Mandir Samasya aur Samadhan' was organised by various outfits under the Akhil Bhartiya Samagra Vichar Manch and held at the Department of Public Administration's building in Lucknow University.
Speaking to The Indian Express, Shukla, who is scheduled to retire in August, said: "The issue is being blown out of proportion. This was a seminar to facilitate a consensus among Hindu and Muslim communities over the issue of the Ram temple. The Supreme Court, too, has directed that a solution be found through discussions. This event was an effort by some Muslims and I had gone there after being invited as I felt it was a good move. I do not find anything wrong with being part of the programme."
Asked about the pledge, Shukla said, "What is wrong? I just said 'Ram Mandir ka nirman ho'."
Later, a statement issued on behalf of Shukla by the Central Training Institute, Home Guards, said that "it would be appropriate to build the Ram temple in the future" and that "everybody pledged to find out solution of this problem in future".
Asked about Shukla taking the pledge, UP's Principal Secretary (Home), Arvind Kumar, said, "The DG has given a clarification over the matter and there is no need to seek any further explanation." However, the central IPS Association sought to distance itself from Shukla's "act".
"We disassociate ourselves from the act of a senior IPS officer as shown in the video & reiterate that it is against the ethos of neutrality, fairness and uprightness that Indian Police Service stands for," the association posted on its official Twitter account.
Officials said organisations such as RSS-backed Muslim Rashtriya Manch, Sanatan Mahasabha, Karyasevak Muslim Manch, Bajrangbali Samajik Seva Sansthan and Bhagwa Raksha Vahini were part of the event.
Raza Rizvi, national convener of the intellectual cell of Muslim Rashtriya Manch, said, "I attended the event because all we want is the welfare of everyone. This dispute of Ramjanmabhoomi should end, and a Ram temple be made there. This event was organised to discuss the issue and its solution. The motive was to bring together people from the Hindu and Muslim communities who want a solution."
Full report at:
http://indianexpress.com/article/india/up-ips-officer-lands-in-controversy-after-video-shows-him-taking-pledge-to-build-ram-temple-in-ayodhya-5049192/
--------
Letter from a PM ties Pakistan to J&K terror: NIA
Feb 3, 2018
NEW DELHI: Among the documents cited as evidence to prove a nexus between Pakistan government, ISI and Hurriyat leaders, the National Investigation Agency has submitted in court a letter written by a Pakistani Prime Minister to main hawala conduit and chargesheeted businessman from the Valley, Zahoor Ahmad Shah Watali. Part of court documents in NIA's Jammu and Kashmir terror funding chargesheet+ , the letter was recovered from Watali's residence last year.
NIA officials refused to divulge which Prime Minister of Pakistan had written to Watali as this letter is part of sealed documents.
However, sources said that the businessman is known to have met former Pak PM Nawaz Sharif while former PM of Pakistan-occupied Kashmir (PoK) Sultan Mahmood Chaudhari had attended his son's wedding around seven years back.
Charged for bringing in several crores illegally through hawala and other means, Watali is also close to Pakistani spy agency ISI.
NIA says in its chargesheet that it recovered a list of ISI officials from his residence, apart from a letter written by Tariq Shafi, proprietor of Al Shafi Group of Companies addressed to Pakistani high commissioner in New Delhi recommending grant of visa to Watali. "It shows his proximity with Pakistani establishment," says the NIA chargesheet.
Pakistan-based Al Shafi Group has business interests in the field of sugar, iron etc.
NIA says that Tariq Shafi's name figures in the document of foreign contribution, used for anti-India activities, seized from Watali's cashier-cum-accountant Ghulam Mohammad Bhat.
The anti-terror agency has used the testimony of Watali's son Yasir Shah Watali and that of Naim-ul-Zaffar Geelani, son of Syed Ali Shah Geelani, among others to nail the conspirators.
Among eight most crucial witnesses are close aides of Hurriyat leaders, whose statements have been recorded under Section 164 of CrPC. NIA has given them pseudonyms in court documents — "Harry", "Potter", "Charlie", "Romeo", "Alpha", "Gama" and "Pie" —to protect their identities.
These witnesses have explained how Hurriyat conference, outfits like LeT, Hizbul Mujahideen, stone pelters are orchestrating violence in J&K under overall patronage and financial support of Pakistani establishment and agencies.
Talking about the funding of separatists, NIA has claimed that while funds were channelised through hawala, LoC trade and other means, sometimes funds are provided directly by Pakistan High Commission in India.
According to NIA, Syed Ali Shah Geelani's son-inlaw, Altaf Ahmad Shah alias Funtoosh is another crucial link in the case.
Full report at:
https://timesofindia.indiatimes.com/india/letter-from-a-pm-ties-pakistan-to-jk-terror-nia/articleshow/62762606.cms
--------
Arab World
OIC Human Rights Commission Calls For Respecting Cultural And Religious Diversity
MOHAMMED AL-SULAMI
3 February 2018
RIYADH: The OIC Independent Permanent Human Rights Commission (IPHRC) has called for respect for cultural and religious diversity to protect and promote human rights for sustainable development projects.
The IPHRC stressed the need for mutual understanding, cooperation and the need for dialogue among different faiths and religions and respect for diversity in all its forms, to achieve sustainable and equitable development for the creation of peaceful societies.
In a statement, the IPHRC added that as societies embraced new cultures and diversity, there were obvious differences and frictions, which at times led to divisive political populism and extremism.
But despite the existence of cultural differences, the official added, the homogenizing effect of globalization has led to the emergence of a global culture of human rights values that brings people closer and eliminates harmful traditional practices for the common good of humanity.
"Hence, the respect for cultural diversity represents respect for the shared human values which form the bedrock of the universality of human rights and fundamental freedoms," the IPHRC said.
The organization has always been committed to promoting and protecting cultural and religious diversity through dialogues and development among the OIC member countries and beyond, the official added.
The IPHRC strongly believes that cultural and religious diversity can be a powerful tool for sharing knowledge and overcoming differences between nations and societies. To this end, it calls for activating the media, in particular social media organizing bodies that have become effective platforms for forming public opinion.
The IPHRC is urging the media to use its influence to promote mutual respect and acceptance of diversity to build multicultural societies.
The commission is encouraging member states to actively involve women, youth and imams in promoting interfaith harmony, which will lead to better understanding and tolerance.
The commission has also emphasized that interfaith harmony is the cornerstone of achieving a lasting reconciliation based on peace and a sustainable development for inclusive societies.
http://www.arabnews.com/node/1238461/saudi-arabia
--------
Al-Muhaysini Confirms Terrorists' Heavy Defeats in Idlib, Aleppo
Feb 02, 2018
Al-Muhaysini confirmed in his twitter account that the Syrian Army has inflicted heavy defeats on Tahrir al-Sham Hay'at in Aleppo and Idlib provinces, admitting that the terrorist group is in very bad condition now.
Al-Muhaysini said that Tahrir al-Sham's failures are rooted in differences and tensions among terrorist groups, mainly between Tahrir al-Sham and Ahrar al-Sham and the terrorists' lack of intention in battle against the army.
He further pointed to the failure of a plan to form a Joint Operation Room against the army, saying lack of such Operation Room is behind the collapse of the militants' front.
Relevant reports said on Thursday that Al-Nusra Front terrorists were in fear and panic due to the Syrian army forces' rapid advances in Southeastern Idlib towards the strategic town of Saraqib.
The Syrian army units continued clashes with al-Nusra terrorists in Southeastern Idlib, regaining control of the villages of al-Husseiniyeh al-Moshirfeh, Tal Khartah and Jabal al-Tawil.
Meantime, the Syrian air force targeted the terrorists' positions and moves in Saraqib and the nearby areas, destroying them and killing a number of militants.
Full report at:
http://en.farsnews.com/newstext.aspx?nn=13961113000261
--------
One dead after rockets from Syria hit Turkish border town
February 02, 2018
One person was killed and several others wounded on Friday in a Turkish border town by rockets fired from Syria , local authorities said, as Turkey continues its offensive against a Syrian Kurdish militia.
Three rockets hit several neighbourhoods of Reyhanli in southern Turkey and 68-year-old Rifat Sinirli died in hospital, the state-run news agency Anadolu reported.
Huseyin Sanverdi, mayor of Reyhanli, wrote on Twitter that the man was killed by a rocket fired from Syria 's Afrin region, a Kurdish enclave where the Turkish army has launched its offensive against the YPG militia deemed "terrorists" by Ankara.
Two rockets also hit the nearby border town of Kilis, one striking a street and the other an empty field near the state hospital, according to Anadolu.
There were no casualties in Kilis and the Turkish artillery fired in response, the agency reported.
Turkish Prime Minister Binali Yildirim said 82 rockets have hit the Turkish border provinces of Kilis and Hatay, including the town of Reyhanli, since the start of the Turkish operation on January 20, killing five people and injuring more than 100.
Turkey says the YPG is an offshoot of the outlawed Kurdistan Workers' Party (PKK) which has waged a three-decade insurgency against the Turkish state.
Full report at:
https://nation.com.pk/02-Feb-2018/one-dead-after-rockets-from-syria-hit-turkish-border-town
--------
SDF Continues Forced Recruitment in Northeastern Syria
Feb 02, 2018
Local sources in Hasaka province confirmed that the Kurdish forces have arrested a large number of civilians in Mabrouga camp near the town of Ra'as al-Ein, forcing them to join the SDF fighters.
In the meantime, scores of civilians were arrested by the SDF for the same purpose in the neighborhoods of al-Nashwa and al-Naseriyeh in Hasaka city.
In a relevant development last month, local sources reported that the SDF arrested a number of young people in Northern Raqqa, forcing them to join the group amid fierce clashes between the Kurdish fighters and Turkish army and its allied militants in Northwestern Aleppo.
The sources said that the SDF has embarked on arresting a number of residents in the town of Ein Issa in Northern Raqqa to force them to join the SDF.
Full report at:
http://en.farsnews.com/newstext.aspx?nn=13961113000271
--------
Terrorist Groups Kick off Operation on ISIL in Southern Syria
Feb 02, 2018
The websites said that the terrorists of the Ahl al-Ardh and Sad al-Baqa Operation Rooms have started a joint attack codenamed al-Fatehin against ISIL in Hawz al-Yarmouk region in Western Dara'a.
The website said that the Israeli missile units, deployed in Tal al-Faras near the border with Syria, targeted ISIL's positions in Western Dara'a three times by guided missiles.
The websites had reported on January 23 that the terrorists in Dara'a met with representatives of Israel over expansion of Israeli forces' present in region and creation of safe zone from occupied Golan Heights up to the depth of two provinces of Quneitra and Dara'a.
Some of the analysts believe that the terrorists' operation against ISIL is in line with Israel's plan to interfere militarily in Southern Syria.
Dissident-affiliated websites reported on Wednesday that a notorious commander of the Free Syrian Army (FSA) was killed and another FSA commander was injured in remote-controlled bomb blasts in their vehicles in Dara'a province.
The news websites reported that a field commander of the FSA-affiliated Jeish al-Thowrah was killed in a remote-controlled bomb planted in his car as he was driving on a road near the town of Seida in Eastern Dara'a.
The websites further said that Hossein Mahamid nom de guerre Abu Ali Dushka (DShK), a field commander of Ferqa Aswad al-Sunna affiliated to the FSA, was also critically injured after a remote-controlled bomb in his car went off in Dara'a al-Balad district in Southern part of Dara'a city.
Full report at:
http://en.farsnews.com/newstext.aspx?nn=13961113000309
--------
Syrian Army Repels Terrorists' Heavy Offensive in Northern Homs
Feb 02, 2018
The army men clashed with terrorists West of the village of Aqrab near the town of al-Houla in Northern Homs, fending off their attack, the sources said, adding that the terrorists suffered heavy casualties and retreated from the battlefield.
In the meantime, the terrorist groups targeted the army's positions in the de-escalation zone in Northern Homs, including regions near Tir Ma'la, South of the town of Talbiseh, near the villages of al-Sa'an, Hawsh Hajwa and Taldou in al-Houla region, violating ceasefire, the sources said.
They further said that the army's artillery units in response targeted the terrorists' positions in the region, killing and wounding a number of gunmen.
The Syrian fighter jets last month targeted the ISIL positions in al-Sarayem region near Humeimeh as well as the terrorists' moves near the joint borders between Deir Ezzur and Homs provinces, killing a number of militants and destroying several of their vehicles and military equipment.
Full report at:
http://en.farsnews.com/newstext.aspx?nn=13961113000283
--------
Pakistan
Pakistan concerned on US decision to authorise strikes against militant safe havens
Feb 3, 2018
NEW YORK: Defence Minister Khurram Dastgir Khan on Friday expressed concern over a White House statement, saying the United States (US) military has been given the authority to eliminate militant safe havens in both Pakistan and Afghanistan.
In an interview with the Urdu service of Voice of America (VOA), the defence minister said he had taken the statement "very seriously".
The White House statement was released in an e-mail late Tuesday that listed President Donald Trump's foreign policy accomplishments during his first year in office. "President Trump's conditions-based South Asia Strategy provides commanders with the authority and resources needed to deny the terrorists safe havens in Afghanistan and Pakistan," the White House statement read.
Reacting to the statement, Dastgir Khan told VOA, "We want to make it clear to the US that Pakistan is a sovereign country and its sovereignty must be respected." He also said, "Instead of using these words, which can be interpreted in any way, Pakistan should be consulted." He added, "Statements like these are taking us away from our mission for establishing peace in Afghanistan."
At a Pentagon press briefing on Thursday, Joint Staff Director Marine Corps Lieutenant General Kenneth McKenzie said the US military did not "contemplate military operations inside Pakistan."
"Through a variety of measures, we look to gain Pakistani cooperation and assistance as we pursue operations in Afghanistan, but no, we're not planning to conduct military operations inside Pakistan," McKenzie said.
Pakistan-US relations have been deteriorating rapidly over the last few years and received further dents last month when the Trump administration decided to cut all security aid to Islamabad until the country took strong steps to deal with terrorist networks allegedly operating from its territory.
The US had long accused Pakistan of providing safe havens to the leaders of Afghan Taliban and other militant organisations. But Pakistan had always denied the accusation on different forums.
According to media reports, US officials were also discussing the possibility of expanding the scope of drone strikes conducted inside Pakistan. Since 2004, the US had carried out hundreds of drone attacks, mostly along the Afghan border in northwest Pakistan. The intensity of the attacks had subsided in recent years.
In his State of the Union address, Trump did not mention Pakistan directly but he did say that he had asked the Congress to pass legislation to help ensure that US assistance in dollars "always serve American interests, and should only go to America's friends."
https://www.pakistantoday.com.pk/2018/02/02/pakistan-concerned-on-us-decision-to-authorise-strikes-against-militant-safe-havens/
--------
Peaceful dialogue vital for elimination of terrorism, extremism: IIUI seminar speakers
Feb 3, 2018
ISLAMABAD: Speakers at a national seminar, titled 'Role of Dukhtaran-e-Pakistan in Reconciliation and Peace Building in Continuation with Paigham-e-Pakistan', on Friday vowed that a peaceful dialogue in the light of Islamic education was mandatory for the elimination of terrorism/extremism from the society and said that women can play a vital role in this connection.
The women speakers, including parliamentarians and Wafaq ul Madaris representatives, stated that women could play an important role in building a peaceful society. The seminar was organised by Iqbal Research Institute (IRI) of International Islamic University Islamabad (IIUI).
The seminar recommendations were presented by the Council of Islamic Ideology (CII) Chairman Dr Qibla Ayaz. Participants maintained that the points would be sent to the legislative quarters and this communiqué would be part of the next edition of Paigham-e-Pakistan.
The speakers recommended that opportunities for personal identity must be provided to women. In the four-panel discussion sessions, the speakers said that the role of the media was important for characterisation of women and children and special programmes should be organised in this regard. They also said that national educational curriculum should be prepared according to the modern needs of the society.
Speaking on the occasion, Balochistan Assembly Speaker Rahila Durrani said there was lack of implementation of women rights in the society. She said that practical measures were needed for the safety of women rights and for their meaningful role. In this regard, she said that a bill was being presented in the assembly to prevent premature marriages.
IIUI Rector Dr Masoom Yasinzai stressed the need for imparting modern education based on critical thinking and characterisation integrated with Islamic teachings. He said that there was no place for terrorism in Islam, while adding that IIUI took the responsibility to provide a narrative to the nation to remain clear about the true message and teachings of Islam to ensure peace in the society.
Addressing the participants, IIUI President Dr Yousif Al Draiweesh said that Islam was the only religion which gave complete rights to women. He called upon the Muslim societies to work towards granting rights to women per Islamic teachings. He maintained that the university was making honest efforts for women empowerment and said that the varsity's separate campus established for females was a visible example of the cause to empower around 14,000 women who were receiving a quality education in the university. He added that the number of women scholars was more than men scholars at the university.
Meanwhile, IRI Director General Dr Ziaul Haq elaborated upon the journey of Paigham-e-Pakistan and said that its journey truly started after religious scholars at IRI announced a decree against terrorism in an effort to bring reforms to the society. He added that the decree was endorsed by scholars belonging to all religion in a programme held at IIUI and the same was also endorsed by the vice chancellors of more than 80 universities. He said that the ongoing programme was a continuation of Paigham-e-Pakistan initiative.
Full report at:
https://www.pakistantoday.com.pk/2018/02/02/peaceful-dialogue-vital-for-elimination-of-terrorism-extremism-iiui-seminar-speakers/
--------
NSC meeting: Civil-mil leadership for effective choking on terror financing
Feb 3, 2018
ISLAMABAD: Pakistan on Friday expressed satisfaction over its campaign against proscribed organisations and decided to speed up the action by certain ministries on "few outstanding" areas to ensure an effective check on terror financing and money-laundering by proscribed organisations, particularly Jaish-e-Mohammad (JeM), Jamaatud Daawa (JuD) and Tehreek-e-Taliban Pakistan (TTP).
The decision was taken during the eighteenth meeting of the National Security Committee (NSC) chaired by Prime Minister Shahid Khaqan Abbasi, which was attended by Foreign Minister Khawaja Asif, Interior Minister Ahsan Iqbal, Joint Chief of Staff Committee (JCSC) Chairman General Zubair Mehmood Hayat, army chief General Qamar Javed Bajwa, National Security Advisor Nasser Khan Janjua among other civil and military officials.
"The meeting reviewed the actions taken by the government of Pakistan and provincial governments to fulfil the country's international responsibilities under the Financial Action Task Force (FATF) framework," said an official handout issued following the meeting.
"The committee expressed satisfaction over the objectives achieved so far and directed the concerned ministries to complete the few outstanding actions at the earliest. The committee directed that the achievements made by Pakistan in fulfilling its international obligations should be fully shared with the FATF, and expressed its hope that the FATF will not be politicised by a few countries," the statement said.
Sources privy to the minutes of the meeting said that Pakistan had been taking measures against proscribed organisations, prominent among them Hafiz Saeed's charity JuD as well as the JeM.
The sources said that Pakistan reviewed its strategy in wake of the plenary meeting of the Paris-based FATF later this month. The official website of the FATF shows October 2018 for a possible on-site visit to Pakistan.
It merits mention that FATF keenly monitors countries hit by terrorism with a specific focus on areas like money laundering and terrorist financing. Of late, Securities and Exchange Commission of Pakistan (SECP) sent out warnings to companies against "donating cash to the entities and individuals listed under the United Nations Security Council sanctions committee's consolidated list".
The FATF in the past has said that it remained "concerned" about the ML/FT risks posed by terrorists to Pakistan and reaffirmed its public statement of February 28, 2008, regarding these risks.
The FATF meeting has an added significance in the wake of President Donald Trump's January 1 policy tweets, threatening Pakistan of looking away from terrorists operating from its soil. The US has at FATF's annual meetings singled out Pakistan for being involved in terrorist funding.
PAKISTAN TO ATTEND SATURDAY'S DIALOGUE IN KABUL:
In its first official reaction to the harsh reaction coming from Afghanistan over the recent deadly terrorist attacks, Pakistan said that the reaction of the Afghan government was based on "misconceptions created by certain foreign elements", vowing to go ahead with its planned dialogue in Kabul on Saturday.
The announcement came in the wake of Afghan media reports that Afghanistan President Dr Ashraf Ghani had refused to take a condolence call made by Prime Minister Shahid Khaqan Abbasi last week over a terrorist attack in Kabul at a military training facility.
"The Committee emphasised that the people of Pakistan understand the pain and anguish of the people of Afghanistan very well since they are themselves the greatest victims of terrorism," said the statement.
The Committee reviewed the security situation in the region and strongly condemned the recent spate of terrorist attacks in Kabul and observed that the government and people of Pakistan shared the grief and sorrow of their Afghan brethren and stood by their side in complete solidarity.
"It expressed the resolve to forge ahead, despite difficulties, with positive engagement with Afghanistan, including the already planned visit of the Pakistani delegation to Kabul on February 3, 2018, for discussions on Pakistan's proposed 'Afghanistan-Pakistan Action Plan for Solidarity'," the statement said.
Full report at:
https://www.pakistantoday.com.pk/2018/02/02/nsc-meeting-civil-mil-leadership-for-effective-choking-on-terror-financing/
--------
Hafiz Saeed Takes U-Turn, Claims Govt Detained Him for Raising Kashmir Issue
Feb 3, 2018
LAHORE: Jamaatud Dawa (JuD) chief Hafiz Saeed on Friday backtracked from his earlier statement about the alleged role of India and the US in his house arrest, claiming he was detained by the Pakistan government to stop him from raising the Kashmir issue.
"It was not the Modi government…but our own Pakistani government that had detained me for 10 months. The Pakistani government wanted to stop me from raising the Kashmir issue," Saeed said while speaking at the Nazria Pakistan Trust in Lahore.
"Rulers are not sincere in resolving the Kashmir Issue. Last year, when we announced to observe the year 2017 for Kashmiris, I was detained for 10 months in Pakistan and Syed Ali Gilani, Aasia Andrabi and other Kashmiri leaders were detained in Indian Occupied Kashmir (IOK). However, now we have decided to again observe the year 2018 for Kashmir and started programmes to express solidarity with Kashmiris," he claimed.
It may be mentioned here that Saeed at various times had blamed India and the US for his detention, saying the Pakistani government had put him under house arrest under pressure from India and the US. He was released from house arrest last November after the court's orders.
The 2008 Mumbai attack mastermind further said the Pakistan government should not ignore the "atrocities" in Kashmir and play its role to help the Kashmiri people secure freedom.
"I fail to understand as to why Islamabad is ignoring the sacrifices of Kashmiri people. Prime Minister Shahid Khaqan Abbasi should stage a sit-in along with at least five members of his Cabinet outside the office of the UN on February 5 to express solidarity with the Kashmiri people," he said.
Saeed, the founder of the Lashkar-e-Taiba, has a bounty of USD 10 million on his head.
Full report at:
https://www.pakistantoday.com.pk/2018/02/02/hafiz-saeed-takes-u-turn-claims-govt-detained-him-for-raising-kashmir-issue/
--------
Gulalai bashes Sindh, KP police for inability to protect citizens
Feb 3, 2018
KARACHI: Disgruntled Pakistan Tehreek-e-Insaf (PTI) member MNA Ayesha Gulalai on Friday criticised the police forces of Sindh and Khyber Pakhtunkhwa, saying that the police have failed to protect the citizens.
Pointing out the ineptness of the KP police, Gulalai said: "Asma Rani's family went to the police multiple times and asked for an FIR to be registered against the accused. The police did not register the FIR and eventually, she was killed."
"Similarly, four-year-old Aasma's murder has not been arrested yet," she continued to bash the KP police. She said that the police force in KP protects the powerful, and the fact was evident with recent cases in the province.
While referring to the cases of Kohat's Asma Rani, Mardan's four-year-old Aasma and Naqeebullah Mehsud, Mashal Khan and others, Gulalai demanded that the cases be referred to military courts in order to dispense speedy justice.
"I have to ask for military courts as I see no other option as the common man does not get justice through the present system," said the disgruntled PTI member.
She also demanded that judicial reforms should be introduced in order to ensure justice to all.
On the occasion, she also appreciated the chief justice for taking suo motu on the cases.
Referring to the political leaders of PPP and PTI, she said that while Asif Ali Zardari is the thief in Sindh, similarly, Imran Khan is the thief in KP.
Full report at:
https://www.pakistantoday.com.pk/2018/02/02/gulalai-bashes-sindh-kp-police-for-inability-to-protect-citizens/
--------
SC highlights loopholes in present counter-terror system
Feb 3, 2018
ISLAMABAD: Highlighting loopholes and deficiencies in the present system to counter terrorism activities, the Supreme Court (SC) has ruled that "simply and exclusively relying on the armed forces and semi-armed forces killing terrorists in an encounter is not a complete solution to the elimination of the monster evil of terrorism".
The remarks were made in the detailed judgment regarding the acquittal of four accused in the 2008 attack on former military ruler Pervez Musharraf in Rawalpindi. The case was heard by a three-judge bench headed by Justice Asif Saeed Khosa and comprising Justice Dost Muhammad Khan and Justice Mazhar Alam Miankhel.
The 18-page order authored by Justice Dost stressed that "The most effective tool is the prevention of such crime". It adds that effective and skillful investigation of the crime and efficient prosecution of the terrorist in judicial process before the Anti-Terrorism Courts (ATC) would suppress and eliminate the menace of high magnitude.
The court observed that equipping ATC with modern gadgets and facilities and providing full protection to presiding judges, prosecutors, investigators and prosecution witnesses would provide enough safeguards in recording convictions keeping in view the emerging situation in the country.
The bench noted that if the intelligence network is properly organised and combined together, it would effectively plug the funding and secret financial sources now falling into the hands of terrorist organisations. "The impossible would become possible if the outreach of the agencies/law enforcing authorities is made formidable and extraordinarily effective. The present system suffers from many loopholes and deficiencies in many ways to counter the menace of terrorism."
The judgement said that government and state institutions responsible for security are required to chisel out the blunt tools i.e. the investigating agencies and the prosecution to come to the expectations of the people in the changed scenario.
"This requires allocation of sufficient funds for the purpose to impart high skill and knowledge to these agencies including training through foreign experts. At the same time, modern digital forensic labs/center of excellences in the provinces and Federal Capital be established on urgent basis with highly qualified staff on the subject of forensic science so that the real culprits involved in such ruthless and detestable crimes are timely punished for the crimes they commit," the order reads.
Highlighting the process of convicting, the judgment adds that judicial obligation must be performed in a strict judicial manner observing safeguards and precautions laid down in the high court rules and orders. It added that printed proforma containing questionnaire is not to be used as it amounts to filling the blanks and is not in accord with the requirements of law and rules.
"In view of the changing trend of investigation, particularly in sensitive cases and keeping in view the phenomenon of forced disappearance of people and because in some cases the accused are not kept in the lock-up of the notified police station therefore, the following additional questions may be put to accused person, when a situation of this nature arises, like (i)When and by whom you were arrested and from which place. (ii)Where you were kept during custody by the police/investigating agency. (iii)Whether previously you were produced before any other Magistrate for recording confession and you had refused to confess."
The order further notes that mobile, digital forensic laboratory be provided as a backup force to reach any place well in time to collect forensic evidence from the crime scene and the surroundings.
The bench observed that combined network of all intelligence agencies put to correct channel to timely share data shall be needed to prevent the occurrence of such crimes. If the intelligence network is properly organised and combined together it would effectively plug the funding and secret financial sources now falling into the hands of the terrorist organisations.
Full report at:
https://www.pakistantoday.com.pk/2018/02/02/sc-highlights-loopholes-in-present-counter-terror-system/
--------
11 Pakistanis among 90 migrants feared dead in shipwreck off Libya
EBRUARY 3, 2018
GENEVA: At least 90 people, including 11 Pakistanis, were feared dead on Friday in the Mediterranean Sea off the coast of Libya as they tried to undertake the treacherous journey in search of employment.
A boat carrying the migrants capsized off the coast of Zuwara in the early hours Friday, International Organization for Migration spokeswoman Olivia Headon told reporters in Geneva by phone from Tunis. "At least 90 migrants are reported to have drowned, when a boat capsized off the coast of Libya this morning", the agency added in a statement.
It said that "10 bodies are reported to have washed up on Libyan shores", including two Libyan nationals and eight Pakistanis.
Two survivors from the disaster had swum to shore, while another was rescued by a fishing boat, it added.
But Foreign Office (FO) spokesman Dr Mohammad Faisal confirmed that up to 11 Pakistani citizens were among those who drowned.
Faisal told The Associated Press that Pakistani diplomats had reached Libya's coastal area to collect more details. He said that Pakistani authorities will try to bring back the bodies of Pakistanis killed in the tragedy.
The agency has repeatedly issued warnings over the extreme dangers facing migrants who try to reach Europe via the so-called central Mediterranean route, which connects Libya to Italy.
Full report at:
https://dailytimes.com.pk/194391/11-pakistanis-among-90-migrants-feared-dead-shipwreck-off-libya/
--------
Mideast
Houthi: Saudi, UAE serve US, Israeli interests
Feb 2, 2018
Leader of Yemen's Ansarullah movement Abdul-Malik al-Houthi has reiterated that Saudi Arabia and the United Arab Emirates (UAE), which are engaged in the war on Yemen, are serving the interests of the United States and Israel.
Houthi said in a speech on Friday that the latest incidents in the southern port city of Aden were indicative of how the regime in Riyadh and the government of the UAE behaved in favor of Tel Aviv and Washington.
On January 28, separatists backed by the UAE launched an assault in Aden, taking control of a number of sites and military camps run by forces loyal to Yemen's former President Abd Rabbuh Mansur Hadi following intense clashes. They swiftly seized the presidential palace in the southern port city.
The UAE has played a key role in the Saudi campaign against Yemen, which was launched in March 2015 with the aim of reinstalling Hadi's government and crushing the Houthi movement, which currently runs state affairs.
Prior to the offensive, Hadi had resigned and fled to Riyadh. The Saudi regime and its allies later managed to seize Aden.
Given its economic importance, Aden's control would lend considerable leverage to any side exercising ultimate control over the port.
Houthi said unrest in Aden did not benefit freedom-loving Yemenis. He emphasized that Saudi-led aggressors sought to use Yemenis to push their agendas. "Our choice is to counter the aggression," he said.
Houthi also reiterated his support for the Palestinian cause and the Palestinians, saying the Saudi aggression aimed to liquidate the cause.
At least 13,600 people have been killed since the onset of Saudi Arabia's campaign. Much of the country's infrastructure, including hospitals, schools and factories, has been reduced to rubble due to the war.
http://www.presstv.com/Detail/2018/02/02/551057/Houthi-Saudi-UAE--US-Israel
--------
US move turns spotlight on Al Sabreen movement, the arms of Iran in Palestine
2 February 2018
The Palestinian Al Sabreen movement, active in Gaza and the West Bank, was in the news again when the State Department on Wednesday announced that it was listing the organization on its terror black list.
The Al Sabreen movement was founded by dissident Shiite leaders of the Palestinian Islamic Jihad (PIJ) in April 2014, has taken ideological inspiration from the Iranian Revolutionary Guard, as well as the Lebanese "Hezbollah" militia, calling publicly for the Iranian expansion project in the region and promoting Iran as the main defender of Islam and the only country that is concerned for the Palestinian case.
Sabreen movement
Mashreq News site which is close to the Iranian Revolutionary Guard has revealed in a special report seen by Al Arabiya.Net, that Al Sabreen movement received funds from Iran. According to the report, Iranian charity organizations used a great opportunity for the Shiite ideas to spread among the Palestinians in Gaza. After a while, a large number of them declared their conversion to Shiism, which paved the way to establish the first Palestinian political Shiite group in Gaza under the name of the Al Sabreen movement.
Mohamed Harb, one of the activists involved in the movement in Rafah, talked about the reasons behind the split in a previous interview on The Monitor site, where he revealed that the Al Sabreen movement was established in 2010 as a reformative movement and as part of the Islamic Jihad movement calling for the revival of Fathi Shiqaqi tought, the first founder of the Islamic Jihad, that called for an Islamic revolution following the Khomeini and the Iranian revolution.
Expansion
Al Sabreen movement activity expanded in Gaza when it was under the control of Hamas, but they have their disagreements since July 6, 2015. Press sources reported that a decision by Hamas leadership to prohibit and end the Al Sabreen movement, because it was proven that the movement was involved in acts that went against the beliefs of the people of Gaza , but apparently this could not be done because of Iranian pressure on Hamas.
Full report at:
https://english.alarabiya.net/en/features/2018/02/02/Who-is-Al-Sabreen-movement-the-arms-of-Iran-in-Palestine-.html
--------
US missile show ridiculous political spectacle: Iran MP
Feb 2, 2018
A senior Iranian lawmaker says US accusations about the Islamic Republic providing Yemen's Houthi Ansarullah fighters with ballistic missiles are just a political and ridiculous show.
"The US move to display the missiles and attribute them to Iran is a political and ridiculous show…which follows two purposes," Chairman of the Iranian Parliament's Committee on National Security and Foreign Policy Alaeddin Boroujerdi told IRNA on Friday. On December 14, US Ambassador to the UN Nikki Haley presented a charred tube and other material that she claimed were from an Iranian-made ballistic missile fired from Yemen at the King Khalid International Airport near the Saudi capital, Riyadh, on November 4. She claimed that that "evidence" proved Iran's violation of United Nations resolutions banning the transfer of weapons to the Houthi Ansarullah fighters.
Both Iran and the Houthis have denied that the missile fired was Iranian.
Citing the two objectives of the US, Boroujerdi said US President Donald Trump aims to undermine the Islamic Republic's missile capabilities and prepare the ground for involvement in the issue which "is definitely a red line for the Islamic Republic of Iran."
"They [the US] also seeks to put a lid on Saudi Arabia's massive crimes [in Yemen]," the Iranian legislator said.
The US made the missile claims against Iran to distract the world public opinion from Saudi Arabia's brutal killing of tens of thousands of innocent people in Yemen, he said.
Despite denial of Iran and the Houthis, the US has not stopped making that far-fetched pitch. On January 29, the US hosted UN Security Council envoys to show them the purported missile parts.
Immediately after the Monday meeting, Iranian Foreign Minister Mohammad Javad Zarif said President Trump is resorting to "fake evidence" to spread Iranophobia.
"In the fake news department, Trump & Co. attempt to create an Iranphobic narrative at the UN Security Council -- through wining and dining and fake evidence provided by a warring neighbor," Zarif said in a post on his official Twitter account.
During the meeting, British deputy permanent representative to the UN, Jonathan Allen, shared an image showing what seemed to be a visibly intact cable with the writings "Made in Iran" and the emblem of the Institute of Standards and Industrial Research of Iran (ISIRI) on it.
In a post on his own official Twitter account on Tuesday, Foreign Minister Zarif used the picture used by Allen next to one of a packet of Iranian-made cheese puffs with the same ISIRI logo.
Zarif posted another tweet later, reminding that the ISIRI seal is used on Iranian consumer goods, not weapons.
A senior Iranian official also on Monday rejected unfounded US missile accusations against the Islamic Republic, saying Washington would never achieve any success in its "puppetry" against Tehran.
"They [US officials] directly accuse Iran of meddling in Yemen while they are indirectly denying the bravery, resistance and self-sacrifice of the Yemeni nation," Ali Akbar Velayati, a senior advisor to Leader of the Islamic Revolution Ayatollah Seyyed Ali Khamenei on international affairs, said in an interview with the IRIB.
The chief commander of Iran's Islamic Revolution Guards Corps (IRGC), Major General Mohammad Ali Jafari, in January dismissed the allegations leveled by the US and its allies about the Islamic Republic's provision of missiles to Yemeni forces.
Full report at:
http://www.presstv.com/Detail/2018/02/02/551020/Boroujerdi-missile-Trump-Houthi
--------
Saudi Arabia, allies killed 68 Yemeni children in 3 months: Report
Feb 3, 2018
Saudi Arabia and its allies killed 68 children in impoverished Yemen in the course of three months last year, a new report says.
According to a confidential document obtained by al-Jazeera news broadcaster, the Saudi-led military coalition killed 68 children and wounded 36 others in war-torn Yemen from July to September 2017.
The report said on Friday that the figures from excerpts it had obtained from a confidential report by the UN Office on Children and Armed Conflict (CAAC) was sent to the UN Security Council on January 19.
Furthermore, the document found that there were at least 20 Saudi-led coalition airstrikes on different localities in Yemen, some targeting schools and homes, on a daily basis.
According to the UN children's aid agency, UNICEF, more than 5,000 children have lost their lives or sustained injuries in the imposed war -- an average of five children a day -- since the Saudi war began some three years ago. It has also warned that over 11 million Yemeni children are in need of humanitarian aid.
In early June 2016, the CAAC reported that the Saudi coalition was responsible for 60 percent of child casualties in Yemen during the previous year, when it killed 510 children and injured 667 others. It added that the Saudi military conducted half of its aerial attacks against schools and medical facilities.
The appalling report prompted the UN to swiftly blacklist Riyadh for overwhelmingly violating children's rights in Yemen. However, then-UN chief Ban Ki-moon removed Saudi Arabia from the list a few days later, acknowledging that he had been forced to do so after the regime and its allies threatened to cut off funding to many UN programs.
Since March 2015, the Saudi regime, together with a coalition of its allies, has been heavily bombarding Yemen as part of a brutal campaign against its southern neighbor in an attempt to reinstall Yemen's former president Abd Rabbuh Mansur Hadi, a staunch ally of Riyadh.
The Saudi campaign has killed at least 13,600 people since its onset. Furthermore, much of the country's infrastructure, including hospitals, schools, and factories, has been reduced to rubble in the Saudi war.
Full report at:
http://www.presstv.com/Detail/2018/02/03/551067/Yemen-UN-Saudi-Arabia-children-UN-alJazeera-Hadi-Houthis
--------
Germany grants asylum to four former Turkish military forces amid soured ties
Feb 2, 2018
Germany has granted asylum to four former Turkish military forces, including one whom Ankara accuses of assuming a leading role in the country's 2016 failed coup, amid ongoing tensions between the two countries.
Turkey accuses former Turkish colonel and then head of the Ankara military academy Ilham P., whose surname cannot be disclosed under the German law, of being a leader of the coup, weekly magazine Der Spiegel reported.
Germany's Interior Ministry said it cannot provide comment with regard to the issue for protection of data and privacy of individuals.
Ties between Turkey and Germany soured over a host of issues after the July 2016 coup attempt against the government in Turkey, with Berlin critical of Ankara's post-coup crackdown and the arrest of German citizens in Turkey.
In early January, Turkish Foreign Minister Mevlut Cavusoglu visited Germany following months of dispute between the two countries. During the trip, Cavusoglu and his German counterpart Sigmar Gabriel agreed to devote all efforts to mending bilateral ties. Turkey, which remains in a state of emergency since the coup, has been engaged in suppressing the media and opposition groups suspected to have played a role in the failed coup.
In the post-coup crackdown, Turkey has suspended or dismissed more than 150,000 judges, policemen, teachers, and civil servants and arrested over 55,000 others.
Turkey has accused Germany of harboring "terrorist" organizations opposed to Turkish President Recep Tayyip Erdogan.
The two countries have also clashed over Germany's alleged support for Kurdish opponents of the Turkish government and its opposition to a controversial referendum in Turkey in April 2017, which gave Erdogan new sweeping powers. German authorities at the time prevented some pro-Erdogan campaigns in the country, a move that infuriated the Turkish president.
One of the disputes between Ankara and Berlin revolves around Turkey's arrest of several Germans. Germany believes Turkey has detained seven Germans, four of whom have dual nationalities, for political reasons.
Germany-Turkey economic cooperation has also been hit as a result of the tense political relations.
Full report at:
http://www.presstv.com/Detail/2018/02/02/551059/Turkey-Germany-coup-asylum-Ilham-P
--------
Israel strikes 'Hamas position' in north Gaza
Feb 2, 2018
Israel says its warplanes have hit a target belonging to the Palestinian resistance movement of Hamas in the northern Gaza Strip.
The attack took place on Friday against "a Hamas observation post," AFP reported, citing an Israeli military statement. The spot hit was situated near the city of Beit Hanoun in the coastal enclave's extreme northeast.
No casualties have been reported so far, but the offensive inflicted damage to some residential structures. The agency cited local resident Mohamed Abu Jarad as saying that he and his family had been forced to flee their home after the aircraft released two missiles onto the ground target.
The report said the strike had come hours after a rocket was allegedly fired at Israel from Gaza.
Israel has launched several wars on the Palestinian coastal sliver, the last of which began in early July 2014. The military aggression, which ended on August 26, 2014, killed nearly 2,200 Palestinians.
Full report at:
http://www.presstv.com/Detail/2018/02/02/551003/An-elderly-Palestinian-man-is-seen-inside-his-apartment-which-was-damaged-after-an-attack-carried-out-by-the-Israeli-Army-near-the-city-of-Beit-Hanun-in-the-northern-Gaza-Strip-on-February-2-2018-Photo-by-AFP
--------
US deploys troops to occupied territories for joint war games with Israel
Feb 2, 2018
The US has deployed military forces to the Israeli-occupied territories ahead of a joint war game with Tel Aviv as the regime ramps up its threats of a new war against Lebanon.
Israeli media outlets announced the arrival of the American troops on Thursday in preparation for the so-called Juniper Cobra biennial military drills, which will start next week.
The last edition of the drills enlisted more than 3,000 forces from the two sides.
The sources said the maneuvers simulate engagement with the countries lying to the north and south of the occupied territories, including Lebanon.
Israel and Lebanon are technically at war since 1967 when the regime occupied the country's Shebaa Farms.
Israel staged two wholesale wars against Lebanon in 2000 and 2006 to defeat the country's resistance movement of Hezbollah, which is Lebanon's de facto military power.
Tel Aviv fell short of the ambition in both cases in the face of strong resistance by Hezbollah, backed by the national army, and instead saw its myth of invincibility being dealt a serious blow.
On Wednesday, the Israeli minister for military affairs, Avigdor Lieberman, renewed the threat of a new war against Lebanon, saying Beirut would "pay the full price" for its ties with Tehran in a future military offensive.
Lieberman also warned companies not to engage in oil and gas exploration activities with Lebanon.
Hezbollah responded by saying the group would "decisively confront any assault on our oil and gas rights."
Prime Minister Sa'ad al-Hariri and other Lebanese statesmen also reacted, with Hariri saying Lieberman's remarks were one of several "threatening messages" from Israel over the previous days.
Hariri had on January 25 called Israel the greatest threat to Lebanon's stability amid similar indications that the regime could be contemplating new military offensive against his nation.
"The only threat I see is Israel taking some kind of action against Lebanon, out of a miscalculation," Hariri told an audience at the World Economic Forum in Davos, Switzerland. "And this is the real threat, I believe. I think the other issues are challenges, yes ... But when Israel decides to launch a war against Lebanon, this is something that is unexplainable," he added.
Lieberman suggested that a war with Lebanon would also likely involve Syria.
"Israel's northern front extends to Syria; it is not just Lebanon. I am not sure that the Syrian government can resist Hezbollah's attempts to drag them into a war with Israel," he said.
Full report at:
http://www.presstv.com/Detail/2018/02/02/550985/Israel-United-States-war-games-Lebanon-Hezbollah-Syria
--------
North America
Trinidad's jihadis: how tiny nation became Isis recruiting ground
2 Feb 2018
Five years ago, Tariq Abdul Haqq was one of Trinidad and Tobago's most promising young boxers, a Commonwealth Games medallist with Olympic dreams.
Now he lies dead somewhere in Iraq or Syria, buried in the ruins of the self-declared caliphate, along with dozens of his countrymen. Together they formed one of the most unlikely, and most underreported groups of fighters drawn to Isis.
The tiny Caribbean nation, with a population of just 1.3 million, lies about 10,000km from the former Isis capital in Raqqa. Yet at the bloody peak of the group's power, Trinidad and Tobago had one of the highest recruitment rates in the world.
More than 100 of its citizens left to join Islamic State, including about 70 men who planned to fight and die. They were joined by dozens of children and women, the latter including both willing and unwilling companions, security officials say.
By way of comparison: Canada and the US, with populations many times larger, are each thought to have produced fewer than 300 recruits who made the journey east.
The power of this story – the flight from a balmy Caribbean island state rich in oil and gas to the frontlines of a desert war – was not lost on the propagandists of Isis.
Their Dabiq magazine, aimed at potential recruits and sympathisers, featured a long interview with fighter Abu Sa'd al-Trinidadi – formerly Shane Crawford – in the summer of 2016. He detailed his conversion, his trip to Syria and ended threatening death to Christians and bloodshed in the streets of his former home.
An unnerved Trinidad government raced to introduce new controls on travel and finance that would make the journey to any new jihadi project harder, and would track anyone attempting to return.
There has never been a terror attack on the islands, a plot uncovered, or even any formal Isis threat against Trinidad and Tobago.
But the country now faces the possibility that citizens trained by Isis could return to radicalise a younger generation – or that would-be recruits no longer able to make that dark pilgrimage will seek other targets for extremism.
The island has a thriving international oil and gas industry, and for the US there are potential worries about a more direct threat. Trinidad's citizens can travel through the Caribbean without visas, and a Trinidadian has already been jailed for his role in a 2007 plot to attack New York's JFK airport.
Within a month of taking office, Donald Trump called Trinidad's prime minister, Keith Rowley, to discuss terrorism. The UK government has also recently warned of possible terrorist attacks in the country – although it issued similar travel warnings for countries including Spain and France.
Trinidad's Muslims make up around one in 10 of the country's population, and the overwhelming majority follow moderate forms of Islam.
But a tiny minority have been drawn to a more extreme creed. In 1990 a group called Jamaat al Muslimeen launched the western hemisphere's first and only Islamist coup attempt, taking the prime minister and legislators hostage for several days.
Eventually the army regained control, but the imam behind the coup, Yasin Abu Bakr, was released from jail within a couple of years under an amnesty deal and has resumed preaching.
At a sermon recently attended by the Guardian, Abu Bakr argued that European nations had no moral grounds to criticise Isis beheadings, because of the use of the guillotine during the French revolution.
The attorney general, Faris Al Rawi, denied that Trinidad had a particular problem with Isis recruitment or religious extremism.
"The number may look larger than somewhere else, but I don't accept for one moment that we have a problem that is much larger than anywhere else," he said in an interview. "I don't think that we are any more vulnerable than any other country is."
For many Trinidadian Isis recruits, religion was more excuse than driving motivation, said anthropologist Dylan Kerrigan, a lecturer at the University of the West Indies.
Young men, many of them recent converts, were drawn to the caliphate mostly by promises of money and a sense of community – an appeal similar to that of gangs in an increasingly violent country, he said.
"[A gang] provides a family, male role models, social order and it promises access to what many young men might think they want: money, power, women, respect," said Kerrigan who has researched extremism for UN counter-terrorism units.
"[One] imam told me that instead of joining a local gang, some see traveling to the Middle East as like joining another gang."
Al Rawi said a string of new measures, including intelligence sharing with the US, UK and Israel, mean it will be very hard for those who have left to slip back into Trinidad undetected.
People who knew some of the Isis volunteers say most of them – and some of their dependents – are dead. The only Trinidadians known to have returned to the island were a family group picked up from a Turkish refugee camp, after apparently trying and failing to reach Isis-held territory. They are now under close surveillance, Faris said.
He dismissed concerns about further radicalisation, arguing that many of those who travelled to Syria were simply criminals looking to return with an extra edge over rivals.
"There are many people who are willing to make a trip to a war-torn area just to say you have been there – for the 'cred'," he said. "You have to disaggregate the genuine jihadi – who may potentially die as a martyr for a cause – from a pure criminal borrowing the look and persona of terrorism."
Joining Isis may also have offered a practical escape to those facing the law. Before he was lionized in Dabiq, Shane Crawford, was a petty criminal who had been detained several times including on suspicion of planning to assassinate the then prime minister. He travelled to Syria with two friends who had been released from jail pending an investigation.
But some members of prominent families were drawn in too – perhaps none more high-profile than boxer Tariq Abdul Haqq. His aunt, Pamela Elder, is one of the country's most respected lawyers and his father Yacoob Abdul Haqq had been a senior boxing official until his 2012 death.
Abdul Haqq was also an acquaintance of Fuad Abu Bakr, the son and heir apparent of the 1990 coup leader Abu Bakr.
The schools, clinics, soup kitchens and factories that filled Jamaat al Muslimeen's compound were mostly destroyed after Abu Bakr senior's arrest, but the government spared his large, airy mosque, where both father and son now teach. There is space for hundreds of men to pray from the main floor, and dozens of women to gather on a balcony to hear Friday sermons.
A preacher and politician, Fuad appears to have inherited his father's extreme religious views along with his imposing height and charisma.
In an interview with the Guardian he described the men who went to fight for Isis in glowing terms, and slammed a new law banning child marriage as a violation of religious rights.
He dismissed reports of Isis brutality, denied that the jihadi group's widely documented revival of sexual slavery was real, and compared the organisation's self-declared caliphate to Israel and the Vatican.
"They want independence and an Islamic State, and they have the right to self-determination … so how can you say to these people that you cannot have an Islamic State because that is not an acceptable political status? There is a Jewish State, there is a Catholic state."
Bakr said he knew several of those who travelled to Syria. Saying that he had to choose his words carefully when discussing their journeys, to avoid violating Trinidadian laws against supporting terrorism, he was still open in his admiration.
"They are not bad people, they are some of the most excellent people I knew, some of them," he said. "People from all walks of life, businessmen, who just decided this is the right thing to do."
Then, in an extraordinary invocation of one of the greatest champions of non-violent resistance, he paraphrased lines from a 1963 speech by Martin Luther King Jr in tribute to the Trinidadians who signed up for Isis's project of extreme violence.
"Martin Luther King said a man who is not willing to die for something is not really fit to live, and I respect someone who is willing to sacrifice themselves for the betterment of their fellow man, and that is what those individuals think they are doing."
https://www.theguardian.com/world/2018/feb/02/trinidad-jihadis-isis-tobago-tariq-abdul-haqq
--------
WH Shows 15 Jihadis Who Got Visas by Lottery or Chain Migration
2 Feb 2018
White House officials rolled out a list of 15 visa-lottery jihadis and chain-migration terrorists to pressure Democrats towards a compromise on the president's "framework" amnesty-and-immigration plan.
The February 2 list of jihadis includes a senior leader in the Islamic counter-attack against personal freedom, Mousa Mohammed Abu Marzook. He is an "alleged United States Hamas leader [who] received his green card through a predecessor program to the visa lottery," said the statement. "Marzook was deported in 1997 for terrorist activities."
The statement backs up Trump's speech in the State of the Union speech, where he urged elimination of the visa lottery and chain migration programs, saying:
It is time to begin moving towards a merit-based immigration system, one that admits people who are skilled, who want to work who will contribute to our society and who will love and respect our country.
The jihadis include seven "mujahids" who arrived via the visa lottery and six "jihadis" who arrived via chain migration. They include:
Sayfullo Saipov, a national of Uzbekistan, entered the United States in 2010 through the visa lottery program. On October 31, 2017, Saipov was arrested after he allegedly used a truck to run down numerous pedestrians on a bike lane on the west side of Manhattan, killing eight individuals.
Hesham Mohamed Ali Hedayet, a national of Egypt, was able to claim Lawful Permanent Resident status through a family member who received their status via visa lottery in 1997. In July 2002, Hedayet opened fire at the El Al Airlines ticket counter at LAX airport, murdering two ticket agents and wounding three others.
Ahmed Amin El-Mofty, an Egyptian national, entered the United States through a distant relative (chain migration) and became a United States citizen after arriving. Last month, El-Mofty was killed during a shootout after allegedly opening fire and targeting police at multiple locations in Harrisburg, Pennsylvania.
Akayed Ullah, a Bangladeshi national, entered the United States in 2011 through chain migration. Ullah was allowed to enter the country as the family member of a visa lottery winner. On December 12, 2017, Ullah allegedly attempted to detonate a homemade pipe bomb in the New York City Port Authority Bus Terminal. The failed explosion injured himself and four bystanders.
The believers in Islam's jihad doctrine arrived as far back as 1980, although only one — Marzook — acted against American "kaffirs" before 2001.
Trump's four-part amnesty-and-immigration plan would provide an amnesty for at least 1.8 million 'dreamer' illegals. But it would not reduce chain migration for more than ten years because Democrats and business-first GOP leaders — such as Texas Sen. John Cornyn — persuaded Trump to accept all of the four million worker/consumers who are in the line.
Many of the 15 jihadis announced February 2 were cleared to become citizens under Presidents George W. Bush and Barack Obama, even though the citizen-application document — the N-400 — asks people:
Have you even been a member of, or in any way, associated (either directly or indirectly) with A. The Communist Party B. Any other totalitarian organization C. A terrorist organization
Have you ever advocated (either directly or indirectly) the overthrow of any government by force or violence?
Have you ever persecuted (either directly or indirectly) any person because of race, religion, national, origin, membership in a particular social group, or political opinion?
The 15 people on the new list are only a small share of the jihadis convicted in the United States. For example, by July 2016, 101 people named "Muhammad" or a derivative have been convicted of jihad-related crimes.
Under Trump's first executive order directed against jihadis, he sought to exclude people with "hateful attitude" from citizenship. That section was removed under amid a huge wave of hatred from pro-diversity advocates and progressive judges.Here is the critical passage from Trump's January pro-American immigration policy:
In order to protect Americans, the United States must ensure that those admitted to this country do not bear hostile attitudes toward it and its founding principles. The United States cannot, and should not, admit those who do not support the Constitution, or those who would place violent ideologies over American law. In addition, the United States should not admit those who engage in acts of bigotry or hatred (including "honor" killings, other forms of violence against women, or the persecution of those who practice religions different from their own) or those who would oppress Americans of any race, gender, or sexual orientation.
Polls show the public strongly supports Trump's push to exclude "hostile attitudes."
Islam is an ideology with violent ideals and its endorsement of violence against non-Muslims is significant for U.S. security officials. For example, Islam's scriptures say Islam's founder, Muhammad, launched many wars and killed numerous people – including female critics and poets – during his lifetime. The dead poets include 'Asma' bint Marwan, Abu Afak, Al Nadir ibn al-Harith, Ka'b ibn al-Ashraf and Abu Rafi' ibn Abi Al-Huqaiq, according to Islamic scriptures. He's also a source for the Islamic commandment to murder homosexuals.
Full report at:
http://www.breitbart.com/immigration/2018/02/02/wh-shows-jihadis-who-got-visas-via-lottery-chain-migration/
--------
US has no evidence of sarin gas used in Syria: Pentagon chief
Feb 2, 2018
Defense Secretary James Mattis says the United States has no evidence to confirm reports that the Syrian government used the chemical nerve agent of sarin against its civilians.
Mattis made the announcement on Friday, saying that Washington was "concerned" about the use of sarin in Syria but could not confirm reports from NGOs and militant groups regarding the issue.
"We are even more concerned about the possibility of sarin use... I don't have the evidence, what I am saying is, that other groups on the ground … have said that sarin has been used, so we are looking for evidence," the Pentagon chief said.
Sarin is a colorless and tasteless toxin that can cause respiratory failure leading to death.
Accusing the government of Syrian President Bashar al-Assad of using chemical weapons against civilians, the US launched several dozen Tomahawk cruise missiles at a Syrian air base last April after a sarin gas attack on Khan Shaykhun in Idlib Province claimed at least 80 lives.
"We are on the record and you all have seen how we reacted to that, so they would be ill-advised to go back to violating the chemical (weapons) convention," Mattis added.
Mattis made the remarks after senior US officials claimed President Donald Trump was set to launch a military action if necessary against the Syrian government which they say is possibly developing new types of chemical weapons.
The officials, speaking on condition of anonymity, said that Syrian armed forces "evolved" their chemical weapons and made continued occasional use of them in smaller amounts since last April.
Full report at:
http://www.presstv.com/Detail/2018/02/02/551058/James-Mattis-sarin-gas-Syria
--------
A Conversation On Why Catholics Need To Dialogue With Muslims
February 02, 2018
"It is not possible to build bridges between people while forgetting God," Pope Francis said early in his pontificate. "But the converse is also true: it is not possible to establish true links with God, while ignoring other people."
Many U.S. Catholics have not only ignored their Muslim brothers and sisters but harbor discriminatory views about Muslims at alarming rates.
Georgetown University's Bridge Initiative, "a multi-year research project that connects the academic study of Islamophobia with the public square," released a report in 2016 that documented how U.S. Catholics view Muslims. America's national correspondent, Michael O'Loughlin, reported then:
When asked, "What is your overall impression of Muslims?" 30 percent of those Catholics polled said they held unfavorable views, 14 percent said favorable and 45 percent said they held neither favorable nor unfavorable views... Forty-five percent of Catholics said that Islam encourages violence more than other religions while 24 percent said it encourages violence as much as other religions.
Jordan Denari Duffner, an associate at the Bridge Initiative and author of the new book, Finding Jesus Among Muslims: How Loving Islam Makes Me a Better Catholic, joins us on this week's episode of Jesuitical. Jordan discusses why she felt called to work in Catholic-Islamic dialogue, and why it's an essential part of the Christian vocation.
Full report at:
https://www.americamagazine.org/faith/2018/02/02/conversation-why-catholics-need-dialogue-muslims-0
--------
URL: https://www.newageislam.com/islamic-world-news/jamaatu-nasril-islam-declares-violence/d/114158
New Age Islam, Islam Online, Islamic Website, African Muslim News, Arab World News, South Asia News, Indian Muslim News, World Muslim News, Women in Islam, Islamic Feminism, Arab Women, Women In Arab, Islamophobia in America, Muslim Women in West, Islam Women and Feminism