New Age Islam News Bureau
16 Jun 2018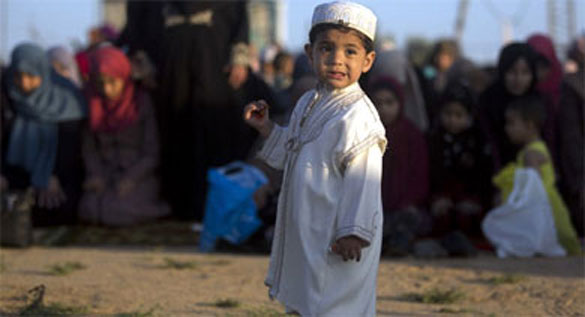 A Palestinian boy wearing a traditional uniform stands in front of Muslim women performing Eid al-Fitr prayers, marking the end of the holy fasting month of Ramadan, in Eastern Gaza City, Friday, June 15, 2018. (Khalil Hamra/Associated Press)
-----
• Jamaat-Ud-Dawah Chief Hafiz Saeed Leads Eid Prayers In Pakistan Despite Ban On Jud
• Clashes Mar Eid Celebrations In Kashmir; One Civilian Killed In Grenade Blast
• Bangladesh's Awami League Leader Farhad Hossain Shot Dead
• Gaza Residents Pray Near Israel, As Muslims Mark Major Feast
-----
Pakistan
• Jamaat-ud-Dawah chief Hafiz Saeed leadsEid prayers in Pakistan despite ban on JuD
• Pakistan: Killing of Pakistan Taliban chief 'significant'
• Gunmen kill 3 Pakistani troops in Quetta city
• Three soldiers martyred, five terrorists killed in cross-border attacks
• Bengalis of Karachi demand urgent resolution to identity problem
-----
India
• Clashes mar Eid celebrations in Kashmir; One civilian killed in grenade blast
• Shujaat Bukhari murder: JeM is the prime suspect
• Shujaat Bukhari killing: PM Modi holds meeting with Rajnath Singh to discuss situation in Kashmir
• Indian soldier killed as Pakistan violates ceasefire along LoC on Eid
----
South Asia
• Bangladesh's Awami League leader Farhad Hossain shot dead
• Ghani discuss Fazlullah's killing, Pak-based Taliban leaders with Pakistan officials
• NATO Commander reaffirms support to Afghan President's ceasefire initiative, peace offer
• Airstrike target ISIS weapons, munitions depot in Nangarhar, 3 militants killed
------
Mideast
• Gaza residents pray near Israel, as Muslims mark major feast
• Yemen war: Government troops 'capture Hudaydah airport'
• UAE reinforcements in Eritrea ready to join Hudaydah battle
----
Arab World
• Worshippers flocked to Eid Al-Fitr prayers at the Grand Mosque in Makkah
• Syrian regime's shelling kills 6 civilians; Assad appears at mosque near capital
• Graffiti boys who lit Syria war brace for regime attack
• IMF praises Saudi Arabia, Kuwait, UAE support for Jordan
• KSRelief distributes food baskets in Hodeidah
----
Europe
• Eiffel Tower perimeter fence built to stop terrorism
• French President Emmanuel Macron meets Italy PM as migrant crisis splits Europe
-----
North America
• US child migrants: 2,000 separated from families in six weeks
----
Africa
• Ethiopia pardons hundreds sentenced on 'terrorism' charges
----
Compiled by New Age Islam News Bureau
URL: https://www.newageislam.com/islamic-world-news/jamaat-ud-dawah-chief-hafiz/d/115557
------
Jamaat-ud-Dawah Chief Hafiz Saeed Leads Eid Prayers In Pakistan Despite Ban On JuD
PTI LAHORE:, JUNE 16, 2018
Amid high security, the 26/11 mastermind delivers a sermon at the Qaddafi Stadium, exhorting people to support Kashmiri people.
Mumbai attack mastermind Hafiz Saeed on Saturday led Id-ul-Fitr prayers at the Qaddafi Stadium here amid high security even though the Pakistan government has outlawed his organisation Jamaat-ud-Dawah (JuD).
Police personnel and Saeed's own security men were deployed in and outside the stadium to secure the area.
The JuD chief also delivered a sermon on the occasion and asked Pakistani citizens to extend their full support to the people of Kashmir.
Saeed has been allowed to hold public rallies and lead gatherings in Pakistan even though his organisation is banned in the country. His JuD was declared as a foreign terrorist organisation by the US in June 2014.
He carries a USD 10-million American bounty on his head for his role in terror activities.
Pakistan last year promulgated an ordinance to amend the country's Anti-Terrorism Act to list JuD and the Falah-e-Insaniat Foundation (FIF) as terror organisations.
Lashkar front
The JuD is believed to be the front organisation for the LeT which is responsible for carrying out the Mumbai attack that killed 166 people.
Source: thehindu.com/news/international/saeed-leads-id-prayers-in-pakistan-despite-ban-on-jud/article24179821.ece?homepage=true
----
Clashes Mar Eid Celebrations in Kashmir; One Civilian Killed In Grenade Blast
PTI SRINAGAR, JUNE 16, 2018
A man was killed reportedly in a grenade blast during one of several clashes on Saturday between protesters and security forces in Kashmir, marring Eid festivities and prayers in Kashmir Valley.
In a separate incident, a 21-year-old Army jawan, Bikas Gurung, was killed when Pakistani troopers targeted a patrol party along the Line of Control in Rajouri district of Jammu and Kashmir.
Militants also fired at a security forces party at Lasjan on the outskirts of the city, injuring a CRPF jawan. Dinesh Paswan, the injured CRPF Constable, has been shifted to 92 Base Hosptial at Army's Badamibagh in Srinagar.
The grenade blast which killed a protester took place at Brakpora village in Anantnag district of south Kashmir. "Preliminary investigation reveals that a hand grenade exploded resulting in the death of Sheraz Ahmad due to splinter injuries," a police spokesman said.
Ahmad's right hand was severely damaged, the spokesman said.
One person sustained injuries in the clashes in Safakadal area of Srinagar city soon after the prayers, a police official said.
Clashes between protesters and law enforcing agencies were reported from Sopore and Kupwara areas in north Kashmir, the official said, adding the situation in other parts of the Valley was peaceful so far.
Eid celebrated with traditional fervour
Muslims from all walks of life made a beeline for Eidgahs (prayer ground) and mosques to offer Eid prayers as a thanksgiving for the month-long fasting of Ramadhan.
Officials said the biggest gathering was witnessed at Hazratbal shrine where thousands of faithful offered Eid prayers. The second largest gathering was held at Eidgah in the old city.
Big gatherings of Eid prayers were also held in Sonawar and Soura Shrines in the heart of the city, they said, adding similar gatherings were held at all districts headquarters and major towns of the Kashmir Valley.
Source: thehindu.com/news/national/other-states/one-civilian-killed-in-clashes-amid-eid-celebrations-in-kashmir/article24179942.ece?homepage=true
-----
Bangladesh's Awami League Leader Farhad Hossain Shot Dead
15th June 2018
DHAKA: A leader of the country's ruling Awami League party was shot dead on Friday by unidentified men while he was heading home after offering prayers in a mosque in Dhaka.
Farhad Hossain, 52, General Secretary of the Awami League's Badda Union wing, was sprayed with bullets as he came out of Baitus Salam Jame Mosque after offering Jumma prayers, bdnews24.com reported.
He sustained bullet wounds in his head and chest. Badda area is known for gangland violence and turf wars.
"Farhad Hossain was shot dead on the spot when he was leaving the mosque after Jumma prayers," said Police Inspector Abul Kalam Azad. The police did not immediately confirm the motive for the killing.
Police said two men opened fire on Hossain from their motorbike and sped away.
Another report said that criminals opened fire on police at Gudaraghat checkpost on Badda-Gulshan Link Road while passing the area in a CNG-run auto-rickshaw after the murder.
The latest killing mirrors the murder of another Awami League activist in April over an internal conflict in the same area.
Source: newindianexpress.com/world/2018/jun/15/bangladeshs-awami-league-leader-farhad-hossain-shot-dead-1828645.html
-----
Gaza Residents Pray Near Israel, As Muslims Mark Major Feast
By Wafaa Shurafa ASSOCIATED PRESS JUNE 15, 2018
GAZA CITY — Several thousand Gaza worshipers knelt on prayer rugs spread on sandy soil, near the perimeter fence with Israel, joining hundreds of millions of Muslims around the world Friday in marking the holiday that caps the fasting month of Ramadan.
The three-day Eid al-Fitr holiday is traditionally a time of family visits and festive meals, with children getting new clothes, haircuts, and gifts. In the Middle East, celebrations were once again marred by prolonged conflict in hot spots such as Syria, Afghanistan, and the Gaza Strip.
In Syria, two people visiting graves of relatives during the holiday were killed in government shelling of a cemetery, activists said.
Source: bostonglobe.com/news/world/2018/06/15/gaza-residents-pray-near-israel-muslims-mark-major-feast/0n7aLDgSjr92LVzP8tK2ZP/story.html?
----
Pakistan
Pakistan: Killing Of Pakistan Taliban Chief 'Significant'
AP
June 16, 2018
ISLAMABAD (AP) — Pakistani caretaker Prime Minister Nasir-ul-Mulk has described the killing of Pakistani Taliban chief Mullah Fazlullah in a U.S. drone strike in Afghanistan as a "significant development in the fight against terrorism."Mulk made the comment in a telephone conversation with Afghan President Ashraf Ghani and thanked him for sharing information about Fazlullah's killing. The call was initiated by Ghani.
A government statement says an "action had finally been taken against an enemy of the people and state of Pakistan."
Mulk told Ghani the news about Fazlullah's death would be received throughout Pakistan with relief as Pakistanis had borne the brunt of terrorist attacks by the Tehrik-e-Taliban Pakistan, which Fazlullah headed.
Fazlullah, who was killed in Afghanistan's northeastern Kunar province, had ordered the assassination of Nobel Peace Prize winner Malala Yousafzai.
Source: arabnews.com/node/1322511/world
----
Gunmen kill 3 Pakistani troops in Quetta city
AP
June 16, 2018
QUETTA, Pakistan: A senior Pakistani police official says gunmen riding on motorcycles have opened fire on a vehicle carrying paramilitary soldiers in the country's southwestern city of Quetta, killing three troops before fleeing.
Officer Naseeb Ullah says Saturday's attack took place in the city's Saryab Road neighborhood when residents were celebrating the three-day Eid Al-Fitr holiday. No one claimed responsibility for the attack and Ullah says police transported the bodies to a nearby hospital.
Quetta is the capital of Baluchistan and has been the scene of a low-level insurgency by Baluch separatist groups, who demand a greater share of the province's resources.
Islamic militant groups also operate there and often target security forces.
Also late Friday, militants killed three Pakistani soldiers in a cross-border attack in the North Waziristan region bordering Afghanistan.
Source: arabnews.com/node/1322486/world
----
Three soldiers martyred, five terrorists killed in cross-border attacks
Agencies
JUNE 16, 2018
As many as five terrorists were killed as the Pakistan Army repulsed multiple cross-border attacks and fire raids on its posts along Pakistan-Afghanistan border area in North Waziristan on Friday, according to the Inter-Services Public Relations (ISPR).
"Terrorists from across the Pak-Afghan border attempted multiple physical and fire raids on Pakistan Army posts in Shawal, North Waziristan Agency," the ISPR, the military's media wing, said in a statement.
"Security forces valiantly repulsed all attempts to overrun posts and inflicted major damage."
During the exchange of fire, three Pakistan Army soldiers also embraced martyrdom, the ISPR added.
The martyrs included Havaldar Iftikhar, resident of Sargodha, Sepoy Aftab from Chitral and Sepoy Usman resident from Gujarat.
Source: dailytimes.com.pk/254226/three-soldiers-martyred-five-terrorists-killed-in-cross-border-attacks/
----
Bengalis Of Karachi Demand Urgent Resolution To Identity Problem
Bilal Karim Mughal | Zehra Naqvi
June 16, 2018
KARACHI: An overwhelming number of Karachi's Bengali community remains out of the finalised electoral rolls for the general elections because they do not possess a CNIC, a prerequisite for being on the electoral rolls as per Elections Act 2017.
The community, whose strength in Karachi is estimated to be around two million, has a sizable number of people who either do not possess a government-issued ID or their CNICs have been revoked on suspicion of being illegal immigrants from Bangladesh. Social and political activists belonging to the Bengali community of Karachi estimate this number to be around 1.2m.
Explore: The woes of Bengalis, Burmese and Iranians of Karachi
Three sisters — Ameena, Rukhsana, and Zareena — are among those of the Bengali community who remain without a CNIC despite their claimed eligibility.
Residents of Zaman Town in Korangi, the sisters say that they have not been issued CNICs despite filing applications several times at the local Nadra centre in Korangi-4.
"The officers there tell us that Bengalis cannot get a CNIC. They ask us to prove that we were born here, and that our parents had been living in what was then West Pakistan before 1971," says Zareena, who then shows their father's employment cards and documents which demonstrate that the family has been living and working in Karachi prior to Dec 16, 1971.
"We have provided all these documents but our identity card requests remain at a standstill," she adds.
The Pakistan Citizenship Act 1951 stipulates that people who were residing in territories that now comprise Pakistan prior to Dec 16, 1971, would continue to be citizens of Pakistan, and their children would be considered citizens of Pakistan by virtue of their descent.
Call for issuance of CNICs
Also, Nadra's own guidelines on the process of verifying and revoking CNICs state that the authority would accept a person to be a Pakistani citizen if the person can prove he/she has been residing in Pakistan prior to 1978 — providing an approximately seven-year extension to the date set in the citizenship act.
Apparently, the cut-off year is kept at 1978 to differentiate between Bengalis who are legally entitled to residence in Pakistan and those who emigrated from Bangladesh in search of a livelihood.
Social activists, however, estimate that over the years, economic migrants have mostly moved out because it is no longer profitable to work and earn in Pakistan due to the rupee being weaker than the Bangladeshi taka.
Many of the Bengali-speaking residents of Karachi who have been unable to obtain CNICs possess identification and other kinds of documents issued by Nadra and different wings of the government, proving that they qualify for a CNIC. Baqir Hussain is one such person.
A resident of Machhar Colony in Karachi, Baqir was issued a CNIC by Nadra in 2002. Prior to that, he had a B-Form of his own. He subsequently married, was issued a nikah certificate by the government of Sindh and his children were issued B-Forms by Nadra. In 2013, however, his CNIC was blocked by Nadra on pretext of being an alien. Since then, he has not been able to get his name removed from the so-called 'foreigners' list.
He questions the entire episode which has stripped him of his nationality.
"If I were an alien, and now I have been found to have illegally arrived in Pakistan, how and why was I issued a CNIC earlier?" he says, adding that he has legal proofs of being born in Pakistan but Nadra officials do not pay heed to it.
Baqir, who now holds an alien registration card issued by the National Aliens Registration Authority (Nara, now merged with Nadra) lists the consequences that follow after revocation of a CNIC.
"I won't be able to vote in the elections for my favourite political party because I don't have a CNIC. My children will be deprived of their right to education because they also will not be classified as Pakistani citizens now," he complains.
Bengali community activists allege that Baqir's case is not isolated, saying that scores of people from their community have had their CNICs revoked and were 'forcefully issued' alien registration cards classifying them as non-citizens.
A senior official of the now-defunct Nara, who is presently associated with Nadra, explains the reasoning behind it.
"Our body was formed with the purpose of registering aliens, and we did just that. There might have been isolated incidents of misjudgements, but Nadra verification boards are there for settling these disputed claims," he says while requesting anonymity.
Shaikh Mohammad Siraj, a community advocate and the chairman of the Action Committee for Pakistani Bengalis, believes that the citizenship issues his community faces can be resolved through legislation.
In July 1999, a special committee was formed in the National Assembly to probe into allegations of harassment and discrimination faced by Bengali citizens of Pakistan. In February 2018, Siraj along with other community leaders met with former federal minister for law and justice Bashir Mehmood Virk and former MNA Qaisar Ahmed Shaikh, both belonging to the PML-N, who assured the community that they would do their best to resolve the matter. No progress was however seen on the matter.
Siraj further says, "The parliament mainstreamed the Federally Administered Tribal Areas but the plight of Pakistani Bengalis gets no serious consideration. We will have to make renewed efforts to bring our case to attention when the next parliament is sworn in."
Muttahida Qaumi Movement-Pakistan's spokesman Aminul Haq says the parliament should take necessary steps to mainstream the Bengali community. "Our party supports the idea of granting them citizenship," he says.
Jamaat-i-Islami's Karachi chief Hafiz Naeemur Rahman echoes his views.
"Successive governments and all major political parties have not paid attention to the Bengali community's problem. The citizenship act should be amended as it is very hard for applicants to produce the proofs dating back to 1971 or 1978," he says.
However Ayaz Latif Palijo, president of the Qaumi Awami Tehreek (QAT), says that the government, while deciding the citizenship cases of a community or a group of people, must keep in view the Liaquat-Nehru Pact of 1950 which provided for the legal movement of migrants between India and Pakistan only up to 1956.
"There may be legitimate cases of Bengalis who were residing in Pakistan before that, but we want the government to make sure that no one is granted citizenship in violation of the 1950 pact," he says, adding that arbitrary time limits like that of 1978 were unacceptable and have no legal basis, whereas application of Pakistan Citizenship Act 1951 should also be done in accordance with the Liaquat-Nehru Pact.
He is not alone in having these views. On May 16, the Sindh Action Committee, an alliance of 10 nationalist parties, staged a protest demonstration at the Karachi Press Club, calling for stopping the issuance of CNICs to 'foreigners'.
Source: https://www.dawn.com/news/1414503/bengalis-of-karachi-demand-urgent-resolution-to-identity-problem
-----
India
Shujaat Bukhari Murder: JeM Is The Prime Suspect
Vijaita Singh NEW DELHI, JUNE 15, 2018
Police say it could also be the handiwork of a combination of other terror outfits
The police say Pakistan-based terrorist outfits are behind the killing of journalist Shujaat Bukhari, shot dead in the heart of Srinagar on Thursday.
Mr. Bukhari, 50, Editor of the Rising Kashmir newspaper and contributor to the Frontline magazine, was shot dead outside his office by suspected terrorists on Thursday evening ahead of Id-ul-Fitr.
"The prime suspect is Jaish-e-Mohammad (JeM), but it could be the handiwork of a combination of other terror outfits. We will nail Pakistan on this," a top government official told The Hindu.
Mr. Bukhari had been The Hindu's correspondent in Srinagar from 1997 to 2012.
Another government official said Mr. Bukhari could have become a target for supporting the "cease-ops", or suspension of operation (SoO), announced by the Centre ahead of Ramzan on May 16. His two personal security officers were also killed in the attack.
The police said he had not complained of any threat in the past few days. "It was a meticulously planned attack. He was attacked at a spot close to his office where there was no CCTV coverage," the official said. He said they had definite leads and would crack the case soon.
On Friday, Union Home Minister Rajnath Singh met Prime Minister Narendra Modi. The agenda of the meeting was not known, but officials said that Mr. Bukhari's killing and the prospects of the extension of the SoO or otherwise were discussed.
Mr. Singh had told The Hindu on Thursday that "there is not an iota of doubt" that terrorists killed Mr. Bukhari.
The SoO is effective till Saturday and officials said that any formal decision on it would be conveyed on June 17.
A Cabinet Minister who did not wish to be identified said that all limits had been crossed with Mr. Bukhari's killing. "We have reached a threshold, now there will be crackdown," he said.
On Friday, JeM released a video clip of Aurangzeb, a rifleman attached to the Rashtriya Rifles. He was abducted and killed by terrorists in Gasu village of Pulwama while on his way home on leave to celebrate Id with his family on Thursday. The video that was shot before he was killed shows him sitting under a tree. The person who is shooting the video asks Aurangzeb whether he was part of the team led by Major Rohit Shukla that killed Hizbul Mujahideen commander Sameer Tiger in April.
Source: thehindu.com/news/national/other-states/shujaat-bukhari-murder-jem-is-the-prime-suspect/article24175703.ece
----
Shujaat Bukhari Killing: PM Modi Holds Meeting With Rajnath Singh To Discuss Situation In Kashmir
16th June 2018
By Express News Service
NEW DELHI: In the wake of the killing of senior journalist Shujaat Bukhari and security personnel, the government is bracing up to toughen its stand against terrorists. Prime Minister Narendra Modi on Friday went into a huddle with Union Minister for Home Affairs Rajnath Singh to discuss the situation.
The government is taking a grim view of extending the ceasefire beyond the Ramzan month, which concludes with Eid on Saturday. "Modi and Rajnath had a one-on-one meeting for about an hour. Before heading for the meeting, Rajnath had collated inputs from security agencies," sources said. BJP chief Amit Shah and party national general secretary Ram Madhav later joined them. Sources said Shah and Madhav pushed for revoking the truce and going back to the muscular policy of taking on terrorism in the state.
Source: newindianexpress.com/nation/2018/jun/16/shujaat-bukhari-killing-pm-modi-holds-meeting-with-rajnath-singh-to-discuss-situation-in-kashmir-1828847.html
-----
Indian Soldier Killed As Pakistan Violates Ceasefire along LoC on Eid
Jun 16, 2018
Hindustan Times, Jammu
The Pakistan army killed an Indian soldier along the line of control (LoC) in Nowshera sector of Rajouri district on Saturday morning, even as residents of both the countries celebrated peace and brotherhood on the occasion of Eid ul-Fitr.
Defence spokesperson Col NN Joshi said the incident occurred when the Pakistan army resorted to unprovoked and indiscriminate firing of mortars in Pukherni area, around 700 metres inside Indian territory. "Rifleman Bikas Gurung, who was grievously injured in the exchange of fire, died soon afterwards. Aged 21 years, he belonged to Khunka Khuki village in Manipur. He is survived by his mother, Beana May Gurung," said Col Joshi.
This was a case of ceasefire violation, not a trans-border raid, he clarified.
Another senior army officer termed the violation of the ceasefire on the occasion of Eid ul-Fitr as "highly unethical and unprofessional".
"Our troops have exercised maximum restraint in spite of grave provocation. However, we will now give them a befitting response at a time and place of our choosing," he said, adding that the practice of exchanging sweets between Indian and Pakistani soldiers on the occasion of Eid stands cancelled in view of the ongoing hostilities.
In a related incident, Pakistan Rangers opened small arms fire at the Pittal post of the Border Security Force (BSF) in the Arnia sub-sector of Jammu's RS Pura on the intervening night of Friday and Saturday. No casualties were reported.
Pakistani nationals arrested
BSF personnel nabbed two Pakistani nationals who reportedly strayed into Indian territory in Samba district on Friday evening.
They were identified as 22-year-old Ahmed, son of Allah Rakha, and 31-year-old Sohail Qamar, son of Mhammed Sharif, residents of Chamana Kalan village in Pakistan's Sialkot region. Both of them insisted that they were labourers in the neighbouring country.
"The two were apprehended by the 80 Battalion of the BSF near Chak Faqira post around 7.10 pm on Friday," an intelligence officer said.
BSF personnel recovered Rs 100 in Pakistani currency, besides a mobile sim-card, from their possession.
Source: hindustantimes.com/india-news/indian-soldier-killed-as-pakistan-violates-ceasefire-along-loc-in-on-eid/story-2xCtJO7WS8cR7XeR51tZcK.html
-----
South Asia
Ghani Discuss Fazlullah's Killing, Pak-Based Taliban Leaders With Pakistan Officials
By KHAAMA PRESS - Sat Jun 16 2018
The Afghan President Mohammad Ashraf Ghani discussed with the Pakistani officials the killing of Mullah Fazlullah and the Pakistan-based Afghan Taliban leaders.
"I spoke with Prime Minister of Pakistan Nasirul Mulk and Chief of Army Staff General Qamar Javed Bajwa and confirmed the death of Mullah Fazlullah," President Ghani said in a statement.
President Ghani further added that the death of Mullah Fazlullah is the result of tireless human intellience led by Afghan security agencies.
"I urged the PM and COAS to take practical steps to bring Afghan Taliban residing in Pakistan to the negotiation table. The PM and COAS congratulated me on the success of the ceasefire and called it a great achievement that both sides observed the ceasefire with full compliance," he added.
According to President Ghani, they also assured me that the death of Fazlullah is a great step toward building trust between the two nations and promised to support Afghan led and Afghan owned peace process.
Mullah Fazlullah was reportedly killed during a US drone strike in Marwara district of eastern Kunar province on Wednesday.
Source: khaama.com/ghani-discuss-fazlullahs-killing-pak-based-taliban-leaders-with-pakistan-officials-05379/
-----
NATO Commander reaffirms support to Afghan President's ceasefire initiative, peace offer
By KHAAMA PRESS - Fri Jun 15 2018
The Commander of the NATO-led Resolute Support Mission and the US Forces in Afghanistan General John Nicholson reaffirmed the international community and coalition forces support to President Asrhaf Ghani's ceasefire initiative and offer for peace talks.
"The international community and coalition forces respect and strongly support H.E. President Ghani's ceasefire initiative during these holy days and the offers of peace talks," Gen. Nicholson said in a statement released on the eve of Eid Al-Fitr.
He said "We hope these steps by the National Unity Government will be an opportunity towards bringing peace, stability, and prosperity to the great nation of Afghanistan."
"We believe this is the best opportunity for the Taliban to accept the peace offer, end the bloodshed, and be part of the solution to bring peace and a better life to his nation and the children of this country," the NATO commander added.
This comes as both the Afghan government and the Taliban militants announced temporary ceasefire on the occasion of Eid Al-Fitr.
The Taliban group on Saturday announced that the leadership of the group has decided to declare a ceasefire on three days of Eid Al-Fitr, an announcement which was apparently made in response to President Ghani's ceasefire declaration late last week.
The announcements regarding ceasefire was widely welcomed in Afghanistan as well as on international level as efforts are underway to end the ongoing conflict through peaceful means.
Source: khaama.com/nato-commander-reaffirms-support-to-afghan-presidents-ceasefire-initiative-peace-offer-05377/
------
Airstrike target ISIS weapons, munitions depot in Nangarhar, 3 militants killed
By KHAAMA PRESS - Fri Jun 15 2018
At least three militants affiliated with the Islamic State of Iraq and Syria Khurasan (ISIS-K) were killed in an airstrike in eastern Nangarhar province of Afghanistan.
The Ministry of Defense (MoD) in a statement said the airstrike was carried out in the vicinity of Achin district.
The source further added that a weapons and munitions depot of the terror group was targeted in the airstrike and as a result at least three militants were killed.
According to the Ministry of Defense, several weapons, munitions, and explosives were also destroyed during the airstrike.
Nangarhar has been among the relatively calm provinces in East of Afghanistan but the anti-government armed militants have been attempting to expand their insurgency in this province during the recent years.
Militants belonging to the Taliban group as well as the ISIS Khurasan are active in some remote districts and parts of the province.
In the meantime, counter-terrorism involving airstrikes, both from the Afghan and US forces are underway to suppress the activities of the anti-government armed militants in this province.
Source: khaama.com/airstrike-target-isis-weapons-munitions-depot-in-nangarhar-3-militants-killed-05376/?utm_source=feedburner&utm_medium=email&utm_campaign=Feed%3A+khaama+%28KHAAMA+PRESS+%7C+Afghan+Online+Newspaper+%26+Magazine%29
------
Mideast
Yemen War: Government Troops 'Capture Hudaydah Airport'
16 June 2018
Yemeni forces backed by a Saudi-led coalition say they have captured the airport of the main port city of Hudaydah from Houthi rebels.
The military said engineers were now checking the surrounding area for mines. The Houthis have not acknowledged losing the airport.
There has been no fighting in the city centre or port, seen as a lifeline for millions of Yemenis at risk of famine.
Hudaydah is the only major port controlled by the Houthis.
UN special envoy Martin Griffiths arrived in the capital Sanaa on Saturday for emergency talks on the situation at the port, AFP reported.
He is expected to propose to the Houthis, who control Sanaa, that they cede control of Hudaydah to a UN-supervised committee to avoid further fighting.
The Hudaydah offensive, which is being directed by the United Arab Emirates, began on Wednesday.
The government has said it will not attack the port and will seek to preserve key infrastructure.
Meanwhile UAE military sources say a major force of Yemeni, UAE and Sudanese troops is on standby in Eritrea to take part in a final effort to capture Hudaydah.
Quoted by Reuters, the media office of the Yemeni military said on Twitter: "Army forces backed by the resistance and the Arab alliance freed Hudaydah international airport from the grip of the Houthi militia."
Yemen has been devastated by a conflict that escalated in early 2015, when the Houthis seized control of much of the west of the country, including the capital Sanaa, and forced President Abdrabbuh Mansour Hadi to flee abroad.
Alarmed by the rise of a group they saw as an Iranian proxy, Saudi Arabia and eight other Arab states intervened in an attempt to restore Mr Hadi's government.
Almost 10,000 people - two-thirds of them civilians - have been killed and 55,000 others injured in the fighting, according to the United Nations.
The conflict and a partial blockade by the coalition have also left 22 million people in need of humanitarian aid, created the world's largest food emergency, and led to a cholera outbreak that is thought to have killed 2,290 people.
The International Committee of the Red Cross (ICRC) said it expected tens of thousands of people to flee the city in the coming days. Those who planned to stay were stocking up on food and fuel in anticipation of a siege, it added.
In addition to being one of Yemen's most densely populated areas, with an estimated population of 600,000, Hudaydah is the single most important point of entry in Yemen for the food and basic supplies needed to prevent a famine.
The UN has warned that in a worst-case scenario, the battle for the city could cost up to 250,000 lives, as well as cut off aid supplies to millions of people elsewhere.
Source: bbc.com/news/world-middle-east-44505440
------
UAE Reinforcements In Eritrea Ready To Join Hudaydah Battle
By Frank Gardner
BBC security correspondent
15 June 2018
Military sources here in the United Arab Emirates (UAE) have told the BBC that a major force of Yemeni, UAE and Sudanese troops is on standby in Eritrea to take part in a final push to retake Hudaydah port from Houthi rebels.
The military campaign to drive out the Iranian-backed rebel militia from the key Red Sea port is being directed, funded and led by the UAE.
Officials here have responded to international objections to the campaign by emphasising that Hudaydah port remains open and that maintaining the flow of aid is a top priority.
Why the battle for Hudaydah matters
Over the last two days a ground force of three Yemeni brigades has been advancing northwards towards the outskirts of the city, supported by UAE air strikes and helicopter gunships.
"They have punched through the green zone (of fertile land) relatively quickly to reach the gates of the airport" an unnamed spokesman said on Friday.
He added that the Houthis had laid multiple mines along the coastal strip as well as Improvised Explosive Devices (IEDs) that he said bore similarities to Iranian and Hezbollah devices used in Iraq and Lebanon.
Emirati soldiers flying over the Yemeni desert
Around two thirds of Yemen's much-needed aid arrives through the rebel-held city and there have been international calls to halt the military operation for fear of disrupting the flow of aid.
But UAE officials say the delivery of humanitarian aid has always been an integral part of their planning which began two years ago. On Thursday they announced a 5-point plan to keep aid flowing in despite the military campaign.
Hudaydah has been in rebel hands for the last three years and the UAE believes it provides the Houthis with up to $40 million (£30m) a month in revenues.
The UAE also accuses the rebels of smuggling in arms from Iran, including ballistic missile parts, which both Iran and the Houthis deny. A UN report found that some weaponry had been supplied by Iran but could not determine when.
The coalition believes that if it can deprive the Houthis of these funds then they will quickly capitulate and negotiate a peace deal that ends Yemen's disastrous civil war.
But previous estimates of Houthi weakness have been misplaced and after more than three years of war the rebels still control most of the heavily populated areas in Yemen.
UAE military sources also said they had been deploying a deception plan with more actions to come. They said this had involved luring the Houthis into believing they were being attacked from the sea to the north of the city when in fact the coalition ground force was advancing up from the south.
But this has come at a cost. They said an anti-ship missile fired by the Houthis at a cluster of UAE naval vessels 24 nautical miles offshore killed 4 Emirati navy personnel.
Meanwhile on the UAE-leased base in Eritrea a "significant" force of UAE F16 and other military aircraft is poised to carry out more air strikes.
The UAE spokesman said "you are not going to see a Mosul situation where air power will flatten whole city blocks".
Yet air strikes by the Saudi-led coalition have already caused high casualties in Yemen while failing to dislodge the Houthis from most major cities.
On Friday the CEO of the International Rescue Committee (IRC), David Miliband, told the BBC that out of 100,000 air strikes over the last 3 years, around 4,500 had hit civilians.
Source: bbc.com/news/world-middle-east-44500455
----
Arab World
Worshippers Flocked To Eid -al-Fitr Prayers At The Grand Mosque In Makkah
ARAB NEWS
June 16, 2018
It is home to the Holy Kaaba, which is the "Qibla," toward which all Muslims face when praying
In the year 692, the mosque underwent its first extensive renovation
Worshippers flocked to Eid Al-Fitr prayers at the Grand Mosque in Makkah early on Friday morning. More than two million people gathered to attend the last night of the Qur'an recitation during the holy month of Ramadan. The Grand Mosque, also called Al-Haram Mosque, or the Sacred Mosque, is the largest in the world and is located in the heart of Makkah, Saudi Arabia. It is home to the Holy Kaaba, which is the "Qibla," toward which all Muslims face when praying. An estimated 900,000 worshippers visit the mosque each day, with that number rising to 4 million during the Hajj season. The late King Abdullah initiated a major extension project in 2007 to raise the mosque's capacity to two million. Long before that, in the year 692, the mosque underwent its first extensive renovation. Previously, the Grand Mosque was made up of an open space with the Kaaba at its center, but Abd AlMalik ibn Marwan, the fifth Umayyad caliph, asked for the mosque's columns to be switched from wood to marble. Additionally, he ordered the addition of a minaret. The second major reconstruction of the mosque happened in 1570, during the Ottoman era, when calligraphy-inscribed domes were added, along with additional columns — still stand-out features of the mosque today. The Grand Mosque is also home to the Well of Zamzam, which Muslims have used since Prophet Ibrahim's era, and still supplies many Muslims and pilgrims with water. The site also includes other important areas such as the Black Stone, the Station of Ibrahim, and the hills of Safa and Marwa.
Source: .arabnews.com/node/1322391/saudi-arabia
----
Syrian Regime's Shelling Kills 6 Civilians; Assad Appears at Mosque near Capital
16 June 2018
AFP
June 16, 2018
BEIRUT: Syrian regime shelling on an opposition-held southern region has killed at least six civilians, hours after US warning not to jeopardize talks on the area's fate, a monitoring group said Friday.
The Syrian Observatory for Human Rights said the casualties, who included two children, were killed in shelling on two villages in the north of Daraa province.
The Britain-based monitor, which relies on a large network of sources inside Syria, said the shelling came from army positions that had recently received reinforcements.
The US State Department had on Thursday warned Damascus against any military action that could scupper ongoing talks aimed at finding a settlement for the complex southern front.
"We reiterate that any Syrian government military actions against the southwest de-escalation zone risk broadening the conflict," spokeswoman Heather Nauert said in a statement.
"We affirm again that the United States will take firm and appropriate measures in response to Syrian government violations in this area."
The United States, Russia and Jordan agreed to a de-escalation deal in the southern province, and negotiations are continuing in a bid to reach a deal that would remove the need for a government offensive.
The Observatory said Friday's shelling had caused the highest civilian toll since the de-escalation deal, reached almost a year ago.
The region borders Jordan and the Israeli-annexed Golan Heights.
Rebel groups, who still control about two thirds of Daraa, have so far refused to negotiate with the Syrian regime.
In an interview with Iran's Al-Alam television channel earlier this week, Syrian President Bashar Assad said contacts were ongoing between Russia, the US and Israel over the southern front.
"We are giving the political talks a chance, but if they fail, there will be no choice but liberation by force," he said.
The regime wants rebels to withdraw from the area either by force or under a deal.
Also at stake in the current talks are the future of a US military base in southeastern Syria and the presence of Iranian and allied forces in southern parts of Syria near the border with Israel.
Meanwhile, Assad attended a mosque in the country's west on Friday for prayers marking the end of Ramadan, in a rare appearance outside Damascus, images on his social media showed.
"President Assad performs the Eid Al-Fitr prayer at the Sayyida Khadija Mosque in the city of Tartus," a caption read.
In one picture, he was seen praying alongside the country's top Muslim cleric and its Islamic endowments minister.
Another image showed him surrounded by dozens of worshippers who appeared to be offering him Eid greetings.
Assad has rarely appeared in public outside Damascus since Syria's conflict broke out more than six years ago.
The coastal city of Tartus is the site of a naval base belonging to Assad's key backer Russia, which has helped his forces retake swathes of opposition-held territory.
Like neighboring Latakia province, from which Assad's clan hails, Tartus is a stronghold of his Alawite sect.
The region has largely escaped the destruction that has blighted other areas of Syria but it has suffered a heavy human toll from military service in the conflict that has killed 350,000 people since 2011.
Russian and Iranian-backed regime forces now control around 60 percent of Syrian territory.
Source: arabnews.com/node/1322421/middle-east
-----
Graffiti Boys Who Lit Syria War Brace For Regime Attack
AFP
June 16, 2018
DARAA: "Your turn, Doctor." Seven years after scribbling the anti-Assad slogan that sparked Syria's war, activists-turned-rebels Moawiya and Samer Sayasina are bracing themselves for a regime assault on their hometown Daraa.
They were just 15 when they and friends, inspired by the Arab Spring revolutions they saw on television, daubed a groundbreaking message on one of the southern city's walls in the spring of 2011.
"We'd been following the protests in Egypt and Tunisia, and we saw them writing slogans on their walls like 'Freedom' and 'Down with the regime'," said Moawiya, now 23.
"We got a can of spray paint and we wrote 'Freedom. Down with the regime. Your turn, Doctor'," referring to President Bashar Assad, a trained ophthalmologist.
Within two days, security forces stormed their homes and detained the boys, who are unrelated but share a common family name.
"They tortured us to find out who had provoked us to write it," Moawiya said.
The teenagers' detention prompted a wave of angry protests demanding their release, in what many point to as the spark to Syria's nationwide uprising.
"I'm proud of what we did back then, but I never thought we'd get to this point, that the regime would destroy us like this. We thought we'd get rid of it," he said.
The words that sparked the revolution more than seven years ago are no longer visible today, covered up under a coat of black paint.
Samer, also now 23, remembers emerging from detention in March 2011 to find his whole country in uproar against the government.
"We were in jail for about a month and ten days. When we got out, we saw protests in Daraa and all over Syria," he said.
Violently smothered, the demonstrations evolved into a conflict that has since killed more than 350,000 people and thrown millions out of their homes.
"In the beginning, I was proud of being the reason for the revolution against oppression. But with all the killing, the displacement and the homelessness over the years, sometimes I feel guilty," said Samer.
"Those people who died or fled, all this destruction — it all happened because of us."
During the first months of protests, security forces rounded up dozens of people in Daraa, including 13-year-old Hamza Al-Khatib.
After he was tortured to death, according to his family, he became one of the early symbols of the Damascus regime's brutal repression.
With protests melting into civil war and rebels seizing territory, Moawiya and Samer took up arms in 2013.
But the rebel movement has since fragmented and suffered a string of devastating blows, with the regime with Russian support retaking more than half the country.
Last month, the army regained full control of Damascus for the first time since 2012, and Assad has now turned to the cradle of the uprising against him.
In a recent interview, the president gave Daraa's rebels two options: negotiated withdrawal or full-fledged attack.
But the young men who first demanded he step down remain determined to fight, as they once wrote, until the regime falls.
"The regime's threats of entering Daraa don't scare me," Moawiya said.
"Assad's regime may have weapons, but so do we. The only difference is he has warplanes and we have God Almighty."
He refuses any settlement for Daraa like those that have preceded it for the armed opposition to evacuate other parts of Syria.
"I'd prefer death to Bashar Assad's reconciliation," he said.
Going out on patrol, Moawiya swapped his civilian clothes for grey military-style trousers and a black sweater.
He moved between destroyed buildings with just sandals on his feet, a Kalashnikov in his hand and his eye trained on the horizon for any movement.
Moawiya and Samer lost many friends to the war, including classmates from school who became their cellmates in jail.
"We were a group of young guys," recalled Samer.
"Some are dead now. Some fled. Some are still fighting," he said, counting off friends who died in clashes in 2015 or subsequent bombing raids on Daraa.
Moawiya too struck a nostalgic tone.
"We grew up on revolution, on weapons and on fighting. We started to lose friends, to bury them with our own hands. We grew up on war and destruction," he said.
Despite the losses, he insisted: "My opinion of the revolution hasn't changed. For us, the revolution continues."
"When I get married and have a son, I'll tell him what happened to me. I'll teach him to write on the wall whenever he sees injustice — not to be afraid of anyone, and to write it all."
Source: arabnews.com/node/1322456/middle-east
-----
IMF Praises Saudi Arabia, Kuwait, UAE Support for Jordan
16 June 2018
ARAB NEWS
JEDDAH: The International Monetary Fund (IMF) described as a "positive step" the decision by Saudi Arabia, the UAE and Kuwait to provide an economic aid package worth $2.5 billion to crisis-hit Jordan over the next five years.
The IMF expressed its hope that the package would enable Jordan to implement "bold" reforms to tackle high unemployment and stimulate economic growth while protecting the poor and the middle class.
The fund urged the international community and regional donors to help shoulder the burden arising from Jordan hosting more than 1 million Syrian refugees, which has put exceptional pressure on the country's resources.
The IMF repeated its calls for the international community to give Jordan greater financial support, preferably in the form of grants.
Source: arabnews.com/node/1322361/middle-east
----
KSRelief Distributes Food Baskets In Hodeidah
16 June 2018
ARAB NEWS
June 15, 2018
The King Salman Humanitarian Aid and Relief Centre (KSRelief) has distributed food baskets to 360 Yemenis at a camp for internally displaced people in the city of Al-Khokha in the western province of Hodeidah.
The baskets are part of a total of 22,273 allocated to the province. Their distribution is part of the Kingdom's 262 humanitarian aid projects for the Yemeni people.
KSRelief is working on implementing an emergency plan that includes providing humanitarian and relief aid through Yemeni ports.
The aid, which will include food and medical items, will be delivered by ship from Jizan port to Hodeidah port. AN Jeddah
Source: arabnews.com/node/1322371/saudi-arabia
----
Europe
Eiffel Tower Perimeter Fence Built To Stop Terrorism
15 June 2018
Paris is to unveil its newly built perimeter defences around the Eiffel Tower to protect against terror threats.
Temporary barriers were placed around the tower in June 2016, and are now being replaced with more permanent measures.
Set to be completed in mid-July, the fences cost nearly €35 million ($40.1m; £30.1m).
More than 240 people have died in terror attacks in France since 2015.
Bernard Gaudillère, president of the Société d'Exploitation de la Tour Eiffel (SETE) which runs the iconic monument, said the new walls were "rock-solid for absolute security".
Glass walls measuring 6.5cm (2.5in) thick will form two sides of the square, with the other two blocked off by 3.24m (10.6ft) high metal barriers, exactly one-hundredth the height of the tower.
To prevent vehicle attacks, 420 blocks will be placed in front of the glass walls as an added protection.
The forecourt under the Eiffel tower has been closed to the public since June 2016, with anti-terror troops regularly patrolling the site.
Mr Gaudillère said the temporary walls would be replaced with something "infinitely nicer and more romantic", as part of a €300m renovation of the tower ahead of the 2024 Olympic Games in Paris.
Up to seven million tourists are expected to visit the tower in 2018 alone.
A group called Les Amis du Champ de Mars posted a statement online in May last year complaining about the lack of consultation with residents, the "exorbitant cost" of the fences, and the difficulty of access for buses and people with disabilities.
They also allege the city used special measures afforded it by the state of emergency to push through the security changes without assessing their impact or the public interest.
The country introduced tough anti-terror laws in October 2017 after almost two years of the national state of emergency imposed by then-President Francois Hollande in the wake of the Paris attacks.
Sauce: https://www.bbc.com/news/world-europe-44502949
----
French President Emmanuel Macron Meets Italy PM As Migrant Crisis Splits Europe
15th June 2018
PARIS: French President Emmanuel Macron met Italy's new premier Giuseppe Conte Friday to try to patch up relations after sparks flew between the two countries over Rome's rejection of a migrant rescue ship.
Conte arrived at the Elysee Palace in Paris for afternoon talks ahead of a press conference, with both smiling as Macron greeted the Italian leader.
Despite efforts by both sides to play down testy exchanges in recent days, the clash underscores deep divisions in Europe over how to handle the massive influx of migrants from across the Mediterranean in recent years.
In Germany, Chancellor Angela Merkel is embroiled in a showdown with the right wing of her governing coalition, which is demanding that she immediately ditch her liberal migration policy and tighten border controls.
An opinion poll by Infratest Dimap suggests 62 percent of Germans back the tougher stance favoured by her interior minister, including turning back undocumented migrants at the border and deporting rejects faster.
Merkel has pleaded for more time to negotiate with her European partners on a common response ahead of an EU summit on June 28-29.
But there are few signs that European leaders are anywhere near being ready to coordinate their policies despite a looming end-of-June deadline to change the EU's current asylum rules.
Italy 'pushed around' -
The Aquarius rescue vessel at the centre of this week's row was continuing on Friday to make its way across the Mediterranean to Spain, which agreed to take the 629 migrants aboard after Italy and Malta refused the ship permission to dock.
Italy's hardline new interior minister Matteo Salvini said he hoped the boat would get "a rousing welcome" in Spain, adding that his country was set to present ideas for migration reform to European partners.
"I have already shared a fundamental idea with the Germans and the Austrians -- that of defending external borders with men and money, including the Mediterranean," he said.
"We have had enough of being pushed around by others," he told residents in the northern Italian city of Genoa.
Prime Minister Pedro Sanchez of Spain, where the Aquarius is expected to arrive on Sunday, called on Twitter for "a new Europe where national egoism does not prevail".
Under the EU's Dublin Agreement, which is currently up for review, migrants hoping to apply for asylum must do so in the first country they enter, a policy which has placed a huge burden on Italy in particular.
The influx has encouraged the rise of far-right and populist parties -- leading most recently to an anti-migrant coalition government taking power in Italy.
"We need to work on reform of the Dublin Agreement," Conte stressed ahead of his Paris visit.
Earlier this week Salvini joined forces with the German and Austrian foreign ministers in an "axis of the willing" to combat illegal immigration.
Other countries meanwhile, such as Hungary, Poland, the Czech Republic and Slovakia, have either refused outright or resisted taking in refugees under a contested EU quota system.
'Hypocritical lessons' -
The spat between France and Italy erupted this week after Macron accused Rome of "cynicism and irresponsibility" for refusing to let the Aquarius dock.
Italy's new government hit back, accusing Paris of giving "hypocritical lessons" and threatening to pull out of the meeting with Macron.
Rome also summoned the French ambassador over the dispute -- the second time it has done so over the migrant crisis in two months.
Macron's critics said he was hardly in a position to lecture, noting that France had taken in far fewer migrants since the start of the crisis than the likes of Germany and Sweden, and has sealed off its border to most migrants trying to cross into the country from Italy.
The French leader, who has taken a tough line on migration from African countries that are not at war, said Thursday that "none of his comments were intended to offend Italy".
In a further gesture of reconciliation the French foreign ministry said it was ready to welcome migrants aboard Aquarius who "meet the criteria for asylum" after they arrive in Spain.
Italy itself has appeared eager to avoid too harsh a response. After turning the Aquarius away, it allowed a coast guard ship carrying over 900 migrants land on Sicily on Wednesday.
And on Thursday, the Italian coast guard brought fresh supplies to the Aquarius as it made its way past Sardinia.
Source: http://www.newindianexpress.com/world/2018/jun/15/french-president-emmanuel-macron-meets-italy-pm-as-migrant-crisis-splits-europe-1828653.html
-----
North America
US child migrants: 2,000 separated from families in six weeks
15 June 2018
Almost 2,000 migrant children were separated from their families at the US border over six weeks, officials say.
Following a Trump administration crackdown on illegal border crossings from Mexico, adults are being detained, meaning the children with them are removed from their care.
The issue is causing a growing political storm in the US.
On Thursday Attorney General Jeff Sessions cited the Bible to defend the "zero tolerance" approach.
It means that those entering the US irregularly are criminally prosecuted, a change to a long-standing policy of charging most of those crossing for the first time with a misdemeanour offence.
As the adults are being charged with a crime and detained, the children that travel with them are being separated and classed as unaccompanied minors.
What do we know about the children?
Figures from the US Department of Homeland Security show that 1,995 children were separated from 1,940 adults who are being held between 19 April and 31 May.
No information was given on the age of the separated children.
The children are passed into the care of the US Department of Health and Human Services. They are transferred to government detention facilities or foster care while officials try to resolve their case.
The United Nations has called on the US to immediately halt the separations.
Mr Sessions said having children would not shield border-crossing migrants from prosecution.
The attorney general quoted a verse from St Paul's Letter to the Romans on obeying the laws of government.
Critics say that verse was once used to justify slavery.
What has been the political response?
The Trump administration policy is supported by some Republicans, but others have expressed misgivings.
Speaking to reporters on Thursday, House Speaker Paul Ryan, Congress' highest-ranking Republican, said he was not comfortable with the tactics.
This week, House Republicans pitched draft immigration legislation that would end the separation of children and parents at the border.
Under the plan, families would be detained together.
Also in the proposal are provisions to protect 1.8 million Daca 'Dreamers', eliminate the diversity lottery, and add $25bn (£18bn) for border security.
The bill, a compromise between moderates and conservatives, is expected to be voted on next week. So will another, more hard line bill.
President Donald Trump said on Friday he would not sign the compromise bill, despite Republican lawmakers having said he supported it.
His remark sent legislators on Capitol Hill scrambling, but the White House later said the president had misspoken and he would back both measures.
The administration says it has selected a site in Texas to house the migrant children in tents.
Source: bbc.com/news/world-us-canada-44503318
----
Africa
Ethiopia pardons hundreds sentenced on 'terrorism' charges
More than 1,000 prisoners have been pardoned since Abiy Ahmed took over as prime minister in April [File: Tiksa Negeri/Reuters]
The government of Ethiopia has said it will release more than 304 prisoners, including 289 convicted on "terrorism" charges, according to state media.
The move is part of a raft of reforms pledged by authorities after violent unrest broke out three years ago, sparked by an urban development plan for the capital, Addis Ababa, that critics said would trigger land seizures in the surrounding Oromia region.
The demonstrations quickly spread to other parts of the country, with protesters demanding wider political freedom and equality, as well as an end to human rights abuses.
Those pardoned on Friday include three Kenyans, who were released following an agreement between the two countries to strengthen bilateral relations, according to a statement sent to state-affiliated Fana by Ethiopia's attorney general.
More than 1,000 prisoners have been released or slated for release since Prime Minister Abiy Ahmed came to power in April.
Abiy took office after his predecessor, Hailemariam Desalegn, abruptly resigned amid widespread anti-government protests that claimed the lives of several hundred people, mainly in the restive Oromia and Amhara regions.
Among those freed in recent months are several senior opposition leaders accused of charges such as "terrorism" or incitement to topple the government.
One of them is Andargachew Tsige who was found guilty of "terrorism" and sentenced to death in absentia in 2009 over his role in the opposition group Ginbot 7.
The father of three was arrested during a stopover at a Yemen airport in June 2014 and taken to Ethiopia.
Last month, Ethiopia lifted its state of emergency and Abiy has been making numerous changes in a country considered highly repressive by rights groups
The East African state has also made moves towards repairing relations with rival and neighbour, Eritrea.
Source: aljazeera.com/news/2018/06/ethiopia-pardons-hundreds-sentenced-terrorism-charges-180615162548089.html
----
URL: https://www.newageislam.com/islamic-world-news/jamaat-ud-dawah-chief-hafiz/d/115557
New Age Islam, Islam Online, Islamic Website, African Muslim News, Arab World News, South Asia News, Indian Muslim News, World Muslim News, Women in Islam, Islamic Feminism, Arab Women, Women In Arab, Islamophobia in America, Muslim Women in West, Islam Women and Feminism\