New Age Islam News Bureau
15 Nov 2013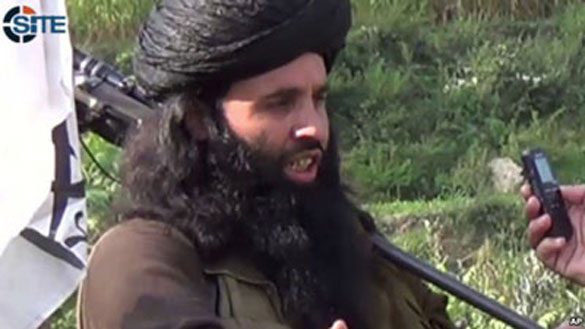 Mullah Fazlullah, the new leader of the Pakistani Taliban (AP Photo/SITE Intel Group)
------------
South Asia
• Jamaat-e-Islami, Islami Chhatra Shibir and Others Identified As Financers of Bomb-Making in Bangladesh
• North Korea denies aiding Syria in fight against rebels
• Maldives President Waheed steps down
• Islam the core theme as PPM, MDP hold final rallies
• Tribunal accepts war crimes charges against Qaisar
• 'Block-Buster' truck bomb seized in Afghanistan
Africa
• Ethiopian Illegals Block Traffic, Terrorise People in Saudia
• Nigerian envoy opposes Boko Haram's US 'terrorist' tag
• Islamic faith is steadily growing in Zambia for its peaceful teachings
• Attacks in Libya's Benghazi kill two
• Libya expels 915 Gaddafi loyalists from new army
Pakistan
• With Fazlullah away, Khalid Haqqani to oversee TTP operations
• Pak envoy: Obey Saudi laws
• Jamaat all the more important in KP
• Resolve, right path key to making Pakistan a welfare state: PM
• KP ministers not to join PTI's NATO sit-in
• Hand grenade injures three policemen in Karachi
• Busted: Two 'terrorists' arrested in DG Khan
Arab World
• Egyptian forensic team says August raid on pro-Morsi camps killed 398
• Al Qaeda linked Syrian rebels decapitate the wrong man
• Syria conflict: Central Damascus attacks 'kill three'
• Syrian air raid kills rebel commander in Aleppo, activists say
• Saudi anti-migrant operation creates a mess
Mideast
• Child marriages denounced by Turkey's religious directorate's head
• Turkey to sign Euro human rights protocol
• Yemen's fighting could deepen sectarian divisions
North America
• New Leader of Pakistani Taliban Could Splinter Group: VOA
• U.S. court rules in favour of Arkansas prison inmate's beard case
• American Jewish Community Steps Up To Help Syrian Refugees
• Official: al-Qaida in Iraq strongest since 2006
• US disputes Amnesty report on drones
• Newly-released CIA profile of Sadat praises 'realist' president
• FBI: Cyber-attacks surpassing terrorism as major domestic threat
India
• Meeting between Aziz, Kashmir separatist leaders was 'stormy'
• India should be a permanent UNSC member, says Cameron
• Engineer who was branded terrorist and took on Infosys finds his calling
Southeast Asia
• Jakim calls for internet censorship to ward off attacks on Islam
• Muslim countries also pressing Malaysia to do more for human rights, says lawyer
• Bandung Ashura Location Changed at Last Minute
Europe
• ICC prosecutor: Libya must hand over Qaddafi's son
• Russian President Putin holds first talks with al-Assad in two years
• Russia offering Egypt helicopters, air defence systems
• Iraq forces need 'massive' rights re-training: UN envoy
• Norway to send ships to Syria to ferry weapons out
• Greek consortium wins tender to build first mosque in Athens
Compiled by New Age Islam News Bureau
URL: https://www.newageislam.com/islamic-world-news/new-age-islam-news-bureau/jamaat-e-islami,-islami-chhatra-shibir-and-others-identified-as-financers-of-bomb-making-in-bangladesh/d/24439
-----------
South Asia
Jamaat-e-Islami, Islami Chhatra Shibir and Others Identified As Financers of Bomb-Making in Bangladesh
57 political leaders identified as financers of bomb-making
Nov 15 2013
24 importers bringing bomb-making materials through Myanmar, India, Pakistan
Following investigation and a series of raids against the use and production of explosives, intelligence agencies have identified 57 suspected political leaders as financers of the "explosive traders."
Amongst the 57 names, 40 belonged to leaders of the BNP, Juba Dal, Chhatra Dal, Swechchhasebok Dal, Jamaat-e-Islami and Islami Chhatra Shibir, while the rest of the suspects were members of the ruling party's local units.
The suspects were allegedly involved in the profitable business as there was a high demand of explosives during the ongoing political turmoil.
Twenty-four traders in the capital have reportedly been commercially importing bomb-making materials and illegally selling the products at the local market. The materials then reach a number of bomb-making groups, who produce the final product and supply on demand.
The suspects were identified following a joint investigation of intelligence officials with the 49 police stations of the capital. However, the officials did not disclose the suspects' names because of the ongoing nature of the investigation.
Jahangir Hossain Matubbor, deputy commissioner of Detective Branch, told the Dhaka Tribune: "The bombs seem to be readily available nowadays. We are working to trace the criminals fast and have also traced some people who are involved in the racket," he said.
The senior DB official also said some key explosive selling spots have been identified, which include Lalbagh, Kamrangirchar, Shaympur, Keraniganj, Tongi and Beribadh area.
Intelligence officials said most of the bomb-making materials came through the Myanmar border, while the rest come from India and Pakistan. The prime importers are set to be arrested and the trafficking routes would be stopped, they added.
Earlier on Monday, police recovered 167 crude bombs and a huge quantity of bomb-making material during a raid at a house in the capital's New Paltan area of Azimpur.
"The bombs are powerful. We have also found a kilo of two types of gunpowder," said Officer-in-Charge of Lalbagh police station Nurul Mottakim.
Police had information that more than 70 cocktails were made daily and supplied from the house, while the recovered ingredients were enough to make 100 more.
On Monday noon, at least 18 "abandoned" crude bombs were recovered from Tin Netar Mazar (Three Leaders' Tomb) at the Dhaka University area in a vacant shoebox.
In a separate drive on Sunday, police recovered about 200 homemade bombs and bomb-making material and arrested four alleged Jamaat-Shibir activists from a Kathhalbagan house.
According to intelligence sources, the bomb makers usually rented mess houses in the capital normally in the guise of students and service-holder bachelors.
"These bomb-makers produce bombs on order. There are also groups affiliated with them who hurl the bombs on contract. Some group leaders keep contact with local-level political leaders who give them 'assignments' to detonate them at certain areas," an intelligence source said.
Seeking anonymity, the source said the "cocktail making and hurling" business has been booming over the last few months, especially during the political turmoil.
Meanwhile, the prices of crude bomb or cocktails have reportedly risen significantly, with small-sized cocktails being sold at Tk400-500 from their earlier price of Tk300, while regular-sized cocktails, which used to cost Tk500-700, are now being sold at Tk1000-1200.
Sanowar Hossain, additional deputy commissioner of Detective Branch's bomb disposal unit, told the Dhaka Tribune that a crackdown had already began on cocktail detoNATO rs' hubs, while the people who were backing them would also be identified and arrested.
http://www.dhakatribune.com/bangladesh/2013/nov/15/57-political-leaders-identified-financers-bomb-making#sthash.L93gtyKt.dpuf
-----------
North Korea denies aiding Syria in fight against rebels
2013-11-15
SEOUL: North Korea denied it was sending military aid to the Syrian government, one of its few close allies, in its battle against rebel forces after media reports said that Pyongyang had sent advisors and helicopter pilots.
"Some foreign media are floating misinformation that the DPRK (Democratic People's Republic of Korea) supplied war equipment to Syria, its airmen are directly involved in air-raids on insurgent troops in Syria," the North's state run KCNA news agency said late on Thursday.
The Jerusalem Post reported in October that 15 North Korean helicopter pilots were operating in Syria "on behalf of President Bashar Assad's regime" and said the report had been confirmed by the Syrian Observatory for Human Rights.
Other reports have identified North Korean artillery officers as being in Syria, although they were said not to be directing fire.
North Korea has long-standing ties with Syria and constructed a plutonium reactor there that was destroyed by an Israeli strike in 2007. It also has links with Syria's chemical weapons program.
Under a deal brokered by Russia and the United States, Assad agreed to destroy all Syria's chemical weapons after Washington threatened to use force in response to a sarin gas attack that killed hundreds of people on August 21.
Japanese media reports in August said Turkey had intercepted a shipment of gas masks and small arms from North Korea to Syria.
The North is under United Nations sanctions for its nuclear weapons and missile program and its role in proliferating nuclear and missile technology.
http://www.dawn.com/news/1056528/north-korea-denies-aiding-syria-in-fight-against-rebels
-----------
Maldives President Waheed steps down
Nov 15 2013
Maldives President Mohamed Waheed on Friday stepped down as President as the country prepared to hold the second round of the Presidential election.
In a farewell speech, Mr. Waheed said one of the priorities during his tenure was to enhance the area of foreign relations, adding that the long standing non-aligned, independent foreign policy with an Islamic character was changed by the then (Nasheed) government, Xinhua reported.
"Because of this, in global currents, the country's own say was weakened by manifolds. The country was under a position where it could be forced, by changing the Constitution, to do things that its legal framework didn't allow. The government and senior leadership were being asked to resign within few hours, to flout the orders of court, and to stand against those orders," the outgoing President said.
However, he said the government refused to bow down to foreign pressure, but instead upheld the legal framework and the orders of the constitutional institutions of the country.
The second round of the Presidential election will take place on Saturday with the Maldives Democratic Party candidate and former President Mohamed Nasheed being the frontrunner.
Meanwhile, addressing a rally of the largest political grouping, including Jumhoori Party, formed to lead a coalition in Saturday' s polls, former President Maumoon Abdul Gayoom said if the coalition candidate was elected to office, the government would withdraw its membership from the Commonwealth.
"Times have changed and so has the values to which the Commonwealth once ascribed to. Today, the Commonwealth is used by larger member nations to bully small nations and use it as a platform to interfere in the internal politics of smaller and vulnerable member states," he said.
http://www.thehindu.com/news/international/south-asia/maldives-president-waheed-steps-down/article5354560.ece
-----------
Islam the core theme as PPM, MDP hold final rallies
By Zaheena Rasheed | November 15th, 2013
The parties contesting Saturday's presidential run offs have held final campaign rallies focusing on Islam in Malé tonight.
The Progressive Party of the Maldives (PPM) promoted itself as the only choice to preserve the Islamic faith and sovereignty of the Maldives and heavily criticised international pressure following delays in presidential polls.
"When you go to vote next Saturday, think for yourselves, do you want Islam in the Maldives or do you want to allow space for other religions in the Maldives," PPM presidential candidate Yameen Abdul Gayoom said.
President of 30 years and Yameen's half-brother, Maumoon Abdul Gayoom, called on the Maldives to leave the Commonwealth after the organisation placed the Maldives on its formal agenda pending the conclusion of presidential polls.
The Maldivian Democratic Party (MDP), meanwhile, defended its track record on Islamic Affairs during its three year stint in government and described Saturday's vote as a decision between progress or the torture of Maldives' authoritarian past.
Criticising the PPM's sustained negative campaign, MDP presidential candidate Mohamed Nasheed said: "In this long campaign, they have used Islam as a tool to play with Maldivian hearts. They are spreading lies in this country, describing us as irreligious, and saying there are those who will allow the opportunity for other religions in this country. I assure you, as long as we breathe, there will be no space for another religion in the Maldives."
The MDP and PPM gained 46.93 and 29.73 percent of the vote respectively. The third placed Jumhoree Party with 23.34 percent decided to back the PPM on Wednesday.
Foreign interference
Speakers at the PPM's rally – held at Alimas Carnival – celebrated the alliance with the JP, praised President Dr Mohamed Waheed Hassan for staying in power beyond his term and condemned international criticism as undue interference in the Maldives' domestic affairs.
Speaking to hundreds of supporters, Gayoom criticised foreign ambassadors' pressure on Dr Waheed to hand over power to the People's Majlis Speaker Abdulla Shahid at the end of the current presidential term on November 10.
Ambassadors without "any manners" had "disrespected" Waheed by "turning up unannounced 10–12 times in a single day" at the President's Office, demanding appointments and pressuring the president to resign, Gayoom said.
An hour before the expiry of the presidential term, Waheed declared he would stay on as president until the conclusion of presidential polls on November 16, but left the country indefinitely tonight on a private visit to Singapore. The Finance Ministry today confirmed Waheed had withdrawn MVR 525,000 (US$34,000) from the treasury for a supposed state visit to Malaysia and Hong Kong.
Gayoom went on to censure the Commonwealth for interference in Maldives' domestic affairs and called on a new president-elect to "take steps to leave the Commonwealth."
Defense Minister Mohamed Nazim said the Maldives was at present in a "vulnerable state" due to foreign interference and slammed the international community for pressuring Dr Waheed to hand over power to the Speaker.
He also called on the police and military to vote for Yameen.
JP leader Qasim Ibrahim accused the international community of backing a specific candidate in order to dictate the Maldives' domestic policies. He also criticised at length Nasheed's privatisation policies, particularly the decision to grant Ibrahim Nasir International Airport to India's infrastructure giant GMR.
Dr Waheed declared the concession agreement void in November 2012.
"My appeal to you, to anyone I have helped, I am not asking for payment in kind, but save this Ummah. I am begging you to vote for Yameen," Gasim said.
MDP's final campaign rally
Speaking at the final campaign rally to a crowd of around 6000, Nasheed expressed confidence that "a government of the people will be established next Saturday."
The new government will "fulfill your hopes, work for the people, provide social security, develop the economy at a rapid pace, increase the country's finances and treasury again, and establish justice and fairness once again," the MDP presidential candidate said.
"We didn't hear anywhere, on any island, what PPM would do for this country. Their pledges were not budgeted or costed," he said.
As Islam was "accorded the highest place in the hearts of Maldivians," Nasheed said his opponents "used Islam as a weapon" to slander MDP with the label of "laadheenee" (irreligious or secular).
"I assure you, God willing, there will not be any room for another religion in this country as long as we draw breath," he said.
Nasheed highlighted to the MDP government's track record on Islamic affairs, which saw the formation of an Islamic Ministry and a Fiqh academy as well as the opening of an Islamic Bank.
"I had the good fortune of being the [Islamic] Bank's first customer," he said.
The MDP government also secured foreign financial assistance to upgrade the Faculty of Shariah and Law, constructed a new building for the Arabiyya School and trained Quran and Islam teachers to fill 150 vacancies in schools, Nasheed continued.
On the third day of the MDP government, Nasheed said, the government authorised scholars to deliver their own Friday sermons, which were previously "written only by President Maumoon and [former Chief Justice] Sheikh [Mohamed] Rasheed."
"As you know, before our government, these scholars were in shackles in solitary confinement," he said, adding that the MDP government secured the right for religious scholars to preach without fear of persecution.
While 55 mosques were built in the 30-year reign of President Gayoom, Nasheed said 42 mosques were built during the MDP's three years in government.
The 96,000 votes that the MDP won in the first round was proof that the allegations of "secularism" were not damaging to the party, Nasheed said.
However, the persistent allegations were creating doubts in the minds of younger generation, he contended.
The MDP's policies for the next five years included training 300 Quran teachers to first degree level, conducting an international Islamic conference with renowned foreign scholars and the construction of an "Islamic Knowledge Centre" with a library, lecture halls, and a mosque with a capacity of 500 worshippers.
Nasheed went on to say that the goal of the MDP was seeking "the proud Maldivian" who can stand tall and provide for his family through honest work.
The MDP government would "build a completely new nationhood based on Islam, human rights, social security and economic opportunity," he said.
The government would secure a better income for fishermen and promote mariculture, he said.
Nasheed pledged to provide housing to every applicant of the MDP government's flagship "Veshi Fahi Male'" de-congestion programme.
Nasheed also vowed to reform the judiciary for the public to have confidence in the justice system and Maldivian courts.
Referring to the MDP government's "Second Chance" programme, Nasheed said he would not forget "youth languishing in jails."
"Our country is at a crossroads, on the edge of a razor blade. We can reach a safe shore or go down the path of ruin. I am certain that the people of the Maldives will choose saving the country. I know the the Maldivian people will want a prosperous life. I am certain that the Maldivian people will want once again for a Maldivian Democratic Party government to be formed, for social security, for a better way," he concluded.
Speaking at tonight's rally, former Islamic Minister Dr Abdul Majeed Abdul Bari – who joined MDP today - said there were more than 300 religious scholars in the Maldives and many supported MDP. Bari also praised MDP's "landmark" Islamic policies.
Meanwhile, JP Council Member Moosa Rameez said he had decided to back Nasheed against his party's decision not because he did not love Gasim. Rameez recounted security officers invoking God's name when they beat him in his genitals and said he could not support a return to 30 years of torture.
http://minivannews.com/politics/islam-the-core-theme-as-ppm-mdp-hold-final-rallies-71697
-----------
Tribunal accepts war crimes charges against Qaisar
November 15, 2013
The International Crimes Tribunal-2 yesterday accepted the war crimes charges levelled against Syed Mohammad Qaisar, a former state minister in military dictator HM Ershad's cabinet.
The prosecution on Sunday pressed 18 charges against Qaisar, an alleged Razakar commander and member of Peace Committee in Habiganj, for his "wartime role" in 1971.
Tribunal-2 took the charges into cognisance as it found "prima facie of offences" considering the formal charges, statements of witnesses, and other documents submitted by the prosecution.
Full report at:
http://www.thedailystar.net/beta2/news/tribunal-accepts-war-crimes-charges-against-qaisar/
-------------
'Block-Buster' truck bomb seized in Afghanistan
November 15, 2013
NEW YORK - A massive vehicle-borne improvised explosive device (VBIED), also known as a truck bomb, was intercepted by Afghan security forces near the Pakistan-Afghan border recently, reported ABC News on Wednesday.
The truck driver was allegedly a Pakistani and he set off a grenade in the cab of the truck. When later taken to a hospital, he detonated a suicide vest, killing himself, stated Afghan sources.
The truck bomb was loaded with 61,500 pounds of explosives. In comparison, the truck bomb used in the 1995 Oklahoma City bombing – in which 168 people were killed – made use of 5,000 pounds of explosives.
Full report at:
http://www.nation.com.pk/pakistan-news-newspaper-daily-english-online/national/15-Nov-2013/block-buster-truck-bomb-seized-in-afghanistan
--------
Africa
Ethiopian illegals block traffic, terrorise people in Saudia
Nov 15 2013
Jeddah police arrested 20 illegal workers from Ethiopia for creating chaos and blocking traffic on a key artery on Thursday morning.
Police said the workers blocked traffic on King Fahd Road in Sharafiyah district, close to Mahmoud Saeed (Oasis Mall).
Lt. Nawaf Al-Bouq, Jeddah police spokesman, said the police received first reports about the troublemakers at 8:30 a.m.
The workers tried to prevent the police from reaching the scene. The miscreants, carrying sticks and stones, were seen arguing with angry motorists.
Al-Bouq said the Ethiopians had incited other workers to join them.
All the instigators were arrested and transferred to the Kandara police station in preparation for their referral to the Bureau of Investigation and Prosecution for further interrogation, he said.
Full report at:
http://www.arabnews.com/news/477801
-----------
Nigerian envoy opposes Boko Haram's US 'terrorist' tag
November 15, 2013
Nigerian Ambassador to the U.S. Ade Adefuye has said his government opposed Washington's designation of Boko Haram as a "terrorist organization," fearing a possible backlash on law-abiding Nigerians abroad.
"We had resisted pressures from many organizations who wanted Boko Haram designated a terrorist organization," Adefuye told Anadolu Agency on Thursday by phone.
"Our reasons are that such a step would send wrong signals to the outside world," he added.
On Wednesday, the U.S. officially designated Nigeria's Boko Haram and the Ansaru splinter group - known for kidnapping and bank robberies - as "foreign terrorist organizations" and "specially designated global terrorists."
Full report at:
http://www.worldbulletin.net/?aType=haber&ArticleID=122952
-------------
Islamic faith is steadily growing in Zambia for its peaceful teachings
Zambia's growing Islam
Nov 15 2013
The Islamic faith is steadily growing in Zambia, with many new converts crediting the religion's peaceful teachings for steering them away from vice and crime.
"Islam isn't a complicated religion. Unlike other religions in Zambia, Islam is easy to master," new convert Hanif Mumba told Anadolu Agency.
He asserted that many youths like himself had turned to Islam in hopes of attaining spiritual growth.
"In Islam, there aren't complicated rituals; it's based on discipline. Provided a person masters the art of pleasing Allah, he will then be happy," Mumba said.
"I have come to learn that, in life, a person cannot do everything, because life is too short," he noted.
Full report at:
http://www.worldbulletin.net/?aType=haber&ArticleID=122789
-----------
Attacks in Libya's Benghazi kill two
Nov 15 2013
Two attacks in Libya's Benghazi Thursday killed an air force chaplain and a former police officer, a security official said, the latest in a wave of violence targeting soldiers and police.
Sheikh Muftah al-Fitouri, who preached at the city's Benina air base, was killed when an explosive device attached underneath his car detonated on Thursday morning, the official said.
Full report at:
http://english.ahram.org.eg/NewsContent/2/8/86505/World/Region/Attacks-in-Libyas-Benghazi-kill-two.aspx
-----------
Libya expels 915 Gaddafi loyalists from new army
Nov 15 2013
A total of 915 personnel of all ranks have been stripped of their uniform by the Commission for the Integrity and Reform of the Armed Forces, general staff spokesman Ali al-Sheikhi said.
He said all of those drummed out were veterans who had been wounded in action and whose injuries had been recognised by Gaddafi's defence ministry.
The presence of Gaddafi loyalists in the ranks of the new army has been cited as a pretext for not joining by the myriad of former rebel militias that hold sway over large swathes of the country.
Full report at:
http://english.ahram.org.eg/NewsContent/2/8/86483/World/Region/Libya-expels--Gaddafi-loyalists-from-new-army.aspx
-----------
Pakistan
With Fazlullah away, Khalid Haqqani to oversee TTP operations
November 15, 2013
Days after the Tehreek-e-Taliban Pakistan (TTP) announced Mullah Fazlullah as its new chief, newspaper reports on Thursday said that the faction's deputy chief Sheikh Khalid Haqqani would in fact be its operational head in Pakistan.
With the death of former chief Hakimullah Mehsud, and the remoteness of new chief Fazlullah who is currently in Afghanistan, Haqqani has been appointed the functional chief responsible for the organisation's day-to-day undertakings.
Haqqani hails from Khyber-Pakhtunkhwa's Swabi district. With Fazlullah, a Swat Valley native, and now Haqqani at the helm of the TTP's affairs, it is the first time that the group's leadership comprises men from urban areas and not from Fata.
Full report at:
http://tribune.com.pk/story/632197/leadership-mantle-with-fazlullah-away-khalid-haqqani-to-oversee-ttp-operations/
-----------
Pak envoy: Obey Saudi laws
Nov 15 2013
Pakistan's Ambassador to the Kingdom Muhammad Naeem Khan has urged his countrymen to respect the laws of the host country and stay calm in the wake of the ongoing police raids to apprehend undocumented workers.
Khan was speaking at function organized by Pakistan Writers Club (PWC) in Riyadh to commemorate the 136th birth anniversary of poet philosopher Allama Iqbal.
The envoy, outlining the measures taken by his mission in Riyadh and Jeddah to help those who had failed to regularize their status during the amnesty period, said: "We have devised a new form to register all such workers. The idea is to know the number of such cases and the nature of their status."
Full report at:
http://ww.arabnews.com/news/477731
----------
Jamaat all the more important in KP
Nov 15 2013
PESHAWAR: Qaumi Watan Party is hurt, while Pakistan Tehreek-i-Insaf is uncompromising.
The abrupt end to their apparently ill-conceived political bonhomie has bolstered Jamaat-i-Islami.
And why should not JI feel emboldened? It has already been patted on the back by the man in full control of Khyber Pakhtunkhwa's politics.
PTI chief Imran Khan in his brief communiqué on Wednesday last through which he announced his decision of pulling out of alliance with QWP, appreciated the JI-backed provincial ministers' 'exemplary' commitment to 'anti-corruption' endeavour of the PTI-led provincial government.
Full report at:
http://www.dawn.com/news/1056448/jamaat-all-the-more-important-in-kp
-----------
Resolve, right path key to making Pakistan a welfare state: PM
2013-11-15
ISLAMABAD: In a message to the nation on the occasion of Ashura, the day of martyrdom of Hazrat Imam Hussain (RA), Prime Minister Nawaz Sharif said the event was reminiscent of the immense sacrifices rendered by the martyrs of Karbala in order to uphold the spirit of Islam.
Paying homage to the martyrs, the premier said that Hazrat Imam Hussain's sacrifice showed that truth was always victorious, adding that people should learn from his example.
Prime Minister Sharif said staunch faith in Allah and strong willpower would undermine the enemies of Islam. "In order to make Pakistan a prosperous Islamic welfare state, we should remain determined and follow the right path," said a statement issued from the premier's office.
Full report at:
http://www.dawn.com/news/1056520/resolve-right-path-key-to-making-pakistan-a-welfare-state-pm
-----------
KP ministers not to join PTI's NATO sit-in
2013-11-15
PESHAWAR: Khyber Pakhtunkhwa cabinet ministers will not participate in a sit-in organised by the Pakistan Tehrik-i-Insaaf (PTI) to block NATO supplies going via the province, DawnNews reported.
Earlier, PTI chief Imran Khan had vowed to block NATO supplies from crossing through Khyber Pakhtunkhwa in response to the US drone strike that killed Pakistani Taliban chief Hakimullah Mehsud on November 1 and 'sabotaged' peace talks.
Khyber Pakhtunkhwa is one of the two key routes NATO supplies move in and out of Afghanistan and is seen as crucial as US-led allied forces prepare to draw down from the war-torn country in 2014.
Full report at:
http://www.dawn.com/news/1056524/kp-ministers-not-to-join-ptis-NATO -sit-in
-----------
Hand grenade injures three policemen in Karachi
November 15, 2013
KARACHI: A hand grenade exploded near Zainul Abideen Imambargah in North Nazimabad, Karachi injuring three policemen, Express News reported on Friday.
The three injured men were sent to a hospital for treatment.
Security in Karachi is being monitored from Hassan Square and Nishtar Park by around 200 cameras placed throughout the city.
The East SSP Syed Pir Muhammad Shah said that full proof security was organized for processionists.
Mobile phone services have been suspended for a second day in the city.
Muharram 9
Full report at:
http://tribune.com.pk/story/632306/hand-grenade-injures-three-policemen-in-karachi/
-----------
Busted: Two 'terrorists' arrested in DG Khan
November 15, 2013
MULTAN: Police on Wednesday arrested two people in Dera Ghazi Khan and claiming to have foiled a major attempt at sectarian violence.
Regional Police Officer Akhtar Omar Laleka told The Express Tribune that the two men belonged to Kohat and Bajaur. He said they had both been shifted to an undisclosed location.
He said both the men had entered DG Khan disguised as missionaries. They had been staying at a mosque. He said on Wednesday, they had arrived at the mosque in a truck, which they told people, was loaded with second-hand clothes.
Full report at:
http://tribune.com.pk/story/632099/busted-two-terrorists-arrested-in-dg-khan/
-----------
Arab World
Egyptian forensic team says August raid on pro-Morsi camps killed 398
Nov 15 2013
Egyptian forensic authorities announced for the first time on Thursday a breakdown of the figures for those killed and injured during the violent dispersal of two protest camps on 14 August.
The dispersal of the camp in eastern Cairo's Rabaa Al-Adawiya Square left 377 dead, while the camp in Giza's Nahda Square resulted in 21 deaths, forensic officials told reporters.
The camps had been set up by supporters of Mohamed Morsi, who was removed from the presidency in July after mass protests.
A total of 726 protesters were killed nationwide in the period between 14 August and 13 November, Egypt's forensic medicine authority said.
Officials put the total number of police killed nationwide in the unrest on 14 August at 55, with 10 deaths occurring in the capital.
Full report at:
http://english.ahram.org.eg/NewsContent/1/64/86476/Egypt/Politics-/Egyptian-forensic-team-says-August-raid-on-proMors.aspx
-----------
Al Qaeda linked Syrian rebels decapitate the wrong man
November 15, 2013
Al-Qaeda linked rebels in Syria have asked for "understanding and forgiveness" after admitting to mistakenly decapitating a wounded fellow rebel soldier.
In a gruesome video posted online earlier this week, two men claiming to be members of Islamic State of Iraq and al-Sham (ISIS), are shown displaying the head of a bearded man in front of a crowd of people taking photographs.
"He is an Iraqi Shiite volunteer fighter in Bashar al-Assad's army," the man declares.
But, after the footage was made public, the victim was recognised by an extremist as a fellow rebel fighter who had been wounded during a battle.
Full report at:
http://voiceofrussia.com/news/2013_11_15/Al-Qaeda-linked-Syrian-rebels-decapitate-the-wrong-man-2737/
-------------
Syria conflict: Central Damascus attacks 'kill three'
Nov 15 2013
Three people have been killed by bombs and mortar fire near the historic Old City of the Syrian capital Damascus, according to state-run media.
Two bombs exploded near the capital's famous Hamidiyeh market, according to the state-run al-Ikhbariya TV station.
Another seven people were wounded, official media reported.
Also on Thursday, Russian President Vladimir Putin phoned Syrian President Bashar al-Assad to discuss a planned peace conference.
The Syrian Observatory for Human Rights, a UK-based activist group, said it had also seen "initial reports" of Thursday's deaths in Damascus.
Central Damascus has experienced increasing violence recently as clashes between government forces and rebels in its suburbs continue.
Full report at:
http://www.bbc.co.uk/news/world-middle-east-24945626
-----------
Syrian air raid kills rebel commander in Aleppo, activists say
Nov 15 2013
A Syrian rebel commander in a main Islamist brigade was killed and two others were injured in an air strike by President Bashar al-Assad's forces on Aleppo, activists said on Friday, in a setback to rebels defending the city against a loyalist attack.
Aleppo, Syria's commercial hub and most populous city before the uprising against Assad erupted in 2011, has been witnessing heavy fighting since Assad's forces, backed by Shi'ite militia from Iraq and the Lebanese party Hezbollah, launched an offensive two weeks ago to retake rebel-held areas in the city.
Full report at:
http://english.alarabiya.net/en/News/middle-east/2013/11/15/Syrian-air-raid-kills-rebel-commander-in-Aleppo-activists-say-.html
-----------
Saudi anti-migrant operation creates a mess
AP | Nov 15, 2013
RIYADH: Garbage is piling up on streets around the mosque housing the burial site of the Prophet Muhammad. Grocery stores have shut their doors and almost half of Saudi Arabia's small construction firms have stopped working on projects. The mess is because foreign workers on which many businesses rely are fleeing, have gone into hiding or are under arrest amid a crackdown launched November 4 targeting the kingdom's 9 million migrant labourers.
Decades of lax immigration enforcement allowed migrants to take low-wage manual, clerical and service jobs that the kingdom's own citizens shunned for better paying, more comfortable work.
Full report at:
http://timesofindia.indiatimes.com/world/middle-east/Saudi-anti-migrant-operation-creates-a-mess/articleshow/25783934.cms
---------
Mideast
Child marriages denounced by Turkey's religious directorate's head
Nov 15 2013
The head of the Religious Affairs Directorate, Mehmet Görmez, has denounced child marriages, saying that searching for historical evidence of such marriages in Islam harms both minors and Islam.
"The issue of child brides is being discussed. If the girl doesn't have maternal capacity, and is being forced to marry an older man by her family without her consent, how can one discuss the issue separate from Islam? Those who attempt to find evidence of such mercilessness in Islam are doing an injustice both to this religion and to the girl. This is why it is necessary for us to discuss these issues again and share them with society," said Görmez, speaking at an Ankara training seminar for personnel who provide religious support in the social services.
Full report at:
http://www.hurriyetdailynews.com/child-marriages-denounced-by-turkeys-religious-directorates-head-.aspx?pageID=238&nID=57938&NewsCatID=341
---------
Turkey to sign Euro human rights protocol
Nov 15 2013
urkey will sign Protocol 16 to the European Convention on Human Rights, which aims to increase interaction between the European Court of Human Rights (ECHR) and local courts. The signing is expected in a couple of days, a Turkish official has told the Hürriyet Daily News.
The Protocol introduces the possibility for the highest national courts to ask the ECHR for an advisory opinion and is a product of the ongoing reform process of the court.
Full report at:
http://www.hurriyetdailynews.com/turkey-to-sign-euro-human-rights-protocol.aspx?pageID=238&nID=57946&NewsCatID=339
-----------
Yemen's fighting could deepen sectarian divisions
Nov 15 2013
DUBAI — A deadly assault by Shiite Houthi rebels on a Salafi Islamic school planted in their mountain heartland could ignite wider sectarian conflict in Yemen, where instability has already helped Al Qaeda militants to take root.
The Houthis, who belong to the Zaydi branch of Shiite Islam, have bombarded the sprawling Dar Al-Hadith seminary in Dammaj village for two weeks, killing at least 100 people.
Recently, Al Qaeda in the Arabian Peninsular (AQAP) pledged revenge for the assault. Political rivalries may have helped to start the violence.
Full report at:
http://www.saudigazette.com.sa/index.cfm?method=home.regcon&contentid=20131115186745
-----------
North America
New Leader of Pakistani Taliban Could Splinter Group: VOA
Nov 15 2013
WASHINGTON — The suspected U.S. drone strike that killed the leader of Pakistan's Taliban (Tehrik-i-Taliban), Hakimullah Mehsud, has set off a power struggle within the militant group, and has exposed sharp divisions that analysts say could further destabilize the region as NATO combat forces leave neighbouring Afghanistan in 2014.
Taliban sources and local journalists in turbulent North Waziristan and South Waziristan in Pakistan told VOA that the selection of hard-line cleric Mullah Fazlullah as the new chief has left the group in disarray that may result in a splintering to smaller, difficult-to-control factions.
Full report at:
http://www.voanews.com/content/new-leader-of-pakistani-taliban-could-splinter-group/1790551.html
-----------
U.S. court rules in favour of Arkansas prison inmate's beard case
World Bulletin / News Desk
November 15, 2013
The U.S. Supreme Court on Thursday said an Arkansas prison inmate should be allowed to maintain a beard while he contests the prison's grooming policy.
In an unusual order, the court said that Gregory Holt, 38, should be allowed to grow a beard of up to one-half of an inch in length in accordance with his Muslim beliefs.
The court was responding to a handwritten request filed by Holt, who recounted his lengthy and unsuccessful attempt to fight the grooming policy.
Full report at:
http://www.worldbulletin.net/?aType=haber&ArticleID=122971
-------------
American Jewish Community Steps Up To Help Syrian Refugees
Nov 15 2013
The crisis of the Syrian civil war long ago reached beyond those engaged in battle to become one of the most pressing issues confronting anyone in the region and, ultimately, the global community. With 2.2 million refugees now beyond Syria's borders, and 6.5 million internally displaced persons within them, well more than a third of Syria's population has fled the violence that consumes their country. The collapse of the nation's health care system has led to an outbreak of polio, and no matter where the the flood of humanity turns, they arrive hungry, largely bereft of belongings, and often badly wounded.
Full report at:
http://www.thedailybeast.com/articles/2013/11/14/american-jewish-community-steps-up-to-help-syrian-refugees.html
-----------
Official: al-Qaida in Iraq strongest since 2006
2013-11-14
WASHINGTON: The head of the US national counterterrorism center said Thursday the al Qaeda affiliate in Iraq is the strongest it's been since a peak in 2006.
Matt Olsen told a Senate committee hearing on the current terror threat to the US that al Qaeda in Iraq, also known as the Islamic State of Iraq and the Levant, has increased the pace of attacks this year.
''The group is exploiting increasingly permissive security environments in Iraq to fundraise, plan and train for attacks,'' Olsen said in testimony prepared for delivery.
Olsen did not say that al Qaeda in Iraq poses a direct threat to the US, and he noted it also continues to operate in Syria as one of the dozens of increasingly radicalised groups who have joined the original rebels seeking to overthrow the government of President Bashar Assad.
Full report at:
http://www.dawn.com/news/1056353/official-al-qaida-in-iraq-strongest-since-2006
--------
US disputes Amnesty report on drones
PTI | Nov 15, 2013
WASHINGTON: The US has disputed a recent report by a prominent human rights group that by using drones it has acted contrary to international law.
The United States "takes extraordinary care" to make sure that its counter terrorism actions are in accordance with all applicable domestic and international law, and that they are consistent with US values and policy, state department spokeswoman Jen Psaki told reporters.
Full report at:
http://timesofindia.indiatimes.com/world/us/US-disputes-Amnesty-report-on-drones/articleshow/25816774.cms
-----------
Newly-released CIA profile of Sadat praises 'realist' president
Nov 15 2013
The American Central Intelligence Agency (CIA) this week released more than 250 previously classified documents concerning the US-mediated negotiations between Egypt and Israel that led to a peace treaty between the two countries in 1979.
The 1,400 pages tackle the diplomatic efforts of former US President Jimmy Carter's administration to finalise the peace deal, from the period of January 1977 to March 1979.
"The declassified documents detail diplomatic developments from the Arab peace offensive and President Sadat's trip to Jerusalem through the region-wide aftermath of Camp David," the CIA said on its website.
Full report at:
http://english.ahram.org.eg/NewsContent/1/64/86519/Egypt/Politics-/Newlyreleased-CIA-profile-of-Sadat-praises-realist.aspx
-----------
FBI: Cyber-attacks surpassing terrorism as major domestic threat
November 14, 2013
Cyber-attacks are increasingly becoming the primary threat against the United States, according to the head of the FBI.
During his first testimony as the new FBI director, James Comey told Congress on Thursday that while the threat of traditional terrorist strikes inside the United States is now lower than it was before 2001, the potential threat from cyber-attacks continues to rise.
"That's where the bad guys will go," Comey said, as quoted by the Guardian. "There are no safe neighborhoods. All of us are neighbors [online]."
Comey's comments were echoed by Rand Beers, the acting secretary for the Department of Homeland Security, and Matt Olsen, the director of the National Counterterrorism Center, both of whom also testified before the Senate Homeland Security and Government Affairs Committee.
Full report at:
http://rt.com/usa/fbi-cyber-attack-threat-739/
-------------
India
Meeting between Aziz, Kashmir separatist leaders was 'stormy'
Nov 15 2013
New Delhi: THE meeting between Pakistan Prime Minister's Foreign Affairs Adviser Sartaj Aziz and Kashmiri separatists was "stormy", with separatist leaders led by JKLF chairman Yasin Malik expressing "displeasure" at the manner in which Pakistan has handled Kashmir, according to an analysis by the Ministry of Home Affairs (MHA) based on inputs provided by intelligence agencies.
Apart from Malik, chairman of moderate Hurriyat Conference Mirwaiz Umer Farooq and hard-line Hurriyat chairman Syed Ali Shah Geelani attended the meeting held at the Pakistan High Commission. Malik is learnt to have raised the issue of Kashmir with Aziz and told him that Pakistan has only been selling dreams of 'Azadi' to Kashmiris without actually doing anything about it. It is also learnt that separatist leaders rejected Pakistan's demand to raise the issue of Kashmir at the UN General Assembly. Pakistan has, of late, tried to internationalise the Kashmir issue by raising it at the UN General Assembly meeting this year.
Full report at:
http://www.indianexpress.com/news/meeting-between-aziz-kashmir-separatist-leaders-was--stormy-/1195163/
-----------
India should be a permanent UNSC member, says Cameron
Nov 15 2013
British Prime Minister David Cameron said here on Thursday that the United Nations Security Council should be modernised and India made a permanent member of the body. "The Security Council ought to include India as their permanent member there is no doubt about it," Mr. Cameron said at an interaction with students at the Indian Institute of Management, Calcutta.
However, he said, the political will of "deciding to act and deciding take a stand" mattered more than issues such as reforming the Council.
Referring to the intervention of the United Nations in Libya, Mr. Cameron said it "took a stand and took a view" and allowed change to happen. "Don't just think about reforming institutions but think about how you behave in it, when you take up a stand what you stand for," he told students.
Full report at:
http://www.thehindu.com/news/national/india-should-be-a-permanent-unsc-member-says-cameron/article5351930.ece
---------
Engineer who was branded terrorist and took on Infosys finds his calling
Nov 15 2013
Jaipur: He first shot into prominence as "the engineer who was branded a terrorist and took on Infosys". Today he is active in politics, which he had always been interested in.
Rashid Hussain took over two months ago as the Rajasthan president of the Welfare Party of India, launched in 2011 as the political wing of the Jamaat-e-Islami Hind. He operates out of an office in the basement of an apartment in Jaipur. As office-bearers draft a press release in English on the final list of four candidates that the party will field, Hussain's help is sought to correct grammatical errors.
Full report at:
http://www.indianexpress.com/news/engineer-who-was-branded-terrorist-and-took-on-infosys-finds-his-calling/1195078/
-----------
Southeast Asia
Jakim calls for internet censorship to ward off attacks on Islam
Nov 15 2013
The Federal Department of Islamic Development (Jakim) urged Putrajaya in its Friday sermon today to consider internet censorship to stop attacks against Islam.
The sermon stated that given the challenges posed by anti-Islam groups through information technology, it was important that the Muslim community used whatever reasonable strategy available including social media to counter, answer and ward off the propaganda of the enemies of Islam.
Full report at:
http://www.themalaysianinsider.com/malaysia/article/jakim-calls-for-internet-censorship-to-ward-off-attacks-on-islam
-----------
Muslim countries also pressing Malaysia to do more for human rights, says lawyer
Nov 15 2013
Apart from Western nations, Muslim countries also want Malaysia to protect the rights of ethnic and religious minorities, and to do more for freedom of expression and assembly by signing on to more United Nations conventions on human rights, a Malaysian lawyer has revealed.
Bar Council human rights committee member Andrew Khoo (pic, top left) said the message to Malaysia from countries such as Egypt, Tunisia and Algeria is that these conventions do not threaten the position of Islam in Malaysia.
Full report at:
http://www.themalaysianinsider.com/malaysia/article/muslim-countries-also-pressing-malaysia-to-do-more-for-human-rights-says-la
--------
Bandung Ashura Location Changed at Last Minute
Nov 15 2013
Bandung/Jakarta. Shi'ite Muslims in Bandung, West Java were forced to move their Ashura ceremony from Kana Palace, Bandung to a small school hall, causing them to incur Rp 250 million ($21,808) in losses and leaving thousands of followers unable to attend the event due to the move's short notice.
The Shi'ites, which are grouped under the Association of Jamaah Ahlul Bait Indonesia (Ijabi), said they are planning to send a subpoena to the West Java Police for the discrimination.
Ijabi's chief advisor Jalaluddin Rakhmat said that they wanted to know what legal grounds the police used to try to stop them from commemorating the religious day.
Full report at:
http://www.thejakartaglobe.com/news/bandung-ashura-location-changed-at-last-minute/
-----------
Europe
ICC prosecutor: Libya must hand over Qaddafi's son
Nov 15 2013
International Criminal Court prosecutor Fatou Bensouda on Thursday renewed a demand that Libya hand over Muammar Qaddafi's son to face crimes against humanity charges.
But Libya said that letting Seif al-Islam Qaddafi go on trial outside the country would worsen unrest gripping the country and would even be a threat to his life.
Bensouda called on the U.N. Security Council to press Libya over the deceased strongman's son, and also for international help including "telephone intercepts" and information on money transfers linked to the Qaddafi family and their associates.
The ICC and Libyan government have been wrangling over Seif al-Islam since the overthrow and killing of his father in October 2011.
The ICC ruled this year against letting Libya put Qaddafi's son on trial at home.
Seif al-Islam is held by a brigade of former rebel fighters and many rights groups say he will not get a fair trial in Libya where the authorities face mounting security concerns amid attacks on government and judicial targets.
Full report at:
http://english.alarabiya.net/en/News/middle-east/2013/11/15/ICC-prosecutor-Libya-must-hand-over-Qaddafi-s-son.html
-----------
Russian President Putin holds first talks with al-Assad in two years to discuss Syrian peace moves
Nov 15 2013
Russian President Vladimir Putin on Nov. 14 held his first telephone talks with Syrian President Bashar al-Assad in two years, praising his readiness to send delegates to peace talks and destroy chemical arms, the Kremlin said.
Putin "positively assessed" the readiness of al-Assad's government to send a delegation to planned peace talks in Geneva and "expressed satisfaction" with Damascus's cooperation in the destruction of its chemical weapons arsenal, the Kremlin said in a statement.
It said that in the conversation "the hope was expressed that the main opposition groups will show a constructive approach and take part" in the Geneva conference.
Full report at:
http://www.hurriyetdailynews.com/russian-president-putin-holds-first-talks-with-al-assad-in-two-years-to-discuss-syrian-peace-moves.aspx?pageID=238&nID=57957&NewsCatID=359
-----------
Russia offering Egypt helicopters, air defence systems
Nov 15 2013
Russia is offering to sell Egypt modern helicopters and air defence systems in a landmark deal reportedly worth $2 billion that would mark a revival of large-scale military cooperation, a Russian official said Friday.
Russian Foreign Minister Sergei Lavrov and Defence Minister Sergei Shoigu visited Egypt on Thursday seeking lucrative contracts with the government after the ousting of Islamist president Mohamed Morsi.
Lavrov confirmed that military collaboration was discussed in talks between Shoigu and his Egyptian counterpart General Abdel Fattah al-Sisi but gave no further details.
Full report at:
http://english.ahram.org.eg/NewsContent/1/64/86520/Egypt/Politics-/Russia-offering-Egypt-helicopters,-air-defence-sys.aspx
-----------
Iraq forces need 'massive' rights re-training: UN envoy
Nov 15 2013
Iraq's security forces require "massive amounts of re-training" in human rights to better conduct operations and combat the country's worst violence since 2008, the UN's new envoy to Baghdad said.
Nickolay Mladenov, UN chief Ban Ki-moon's special representative, also said he did not expect any long-term political problems to be addressed before elections due April 30, but voiced hope that authorities could make progress on key issues such as the delivery of basic services.
"There is a culture within the security forces, and the way they do things, which needs to change," Mladenov told a group of foreign journalists in Baghdad.
Full report at:
http://english.ahram.org.eg/NewsContent/2/8/86515/World/Region/Iraq-forces-need-massive-rights-retraining-UN-envo.aspx
-----------
Norway to send ships to Syria to ferry weapons out
Nov 15 2013
Norway on Thursday became the first country to confirm it will send military servicemen to Syria and help the U.N. eliminate the Assad government's chemical weapons arsenal.
Norwegian Foreign Minister Borge Brende said his country would dispatch a civilian cargo ship and a Navy frigate to Syrian ports to pick up the stockpiles and carry them elsewhere for destruction.
In an interview with The Associated Press, Brende described destroying Assad's arsenal as a Norwegian obligation. Fifty servicemen usually accompany a Norwegian frigate and Brende acknowledged the operation is "not risk-free."
Full report at:
http://english.alarabiya.net/en/News/middle-east/2013/11/15/Norway-to-send-ships-to-Syria-to-ferry-weapons-out.html
-----------
Greek consortium wins tender to build first mosque in Athens
Nov 15 2013
The long-stalled construction of a state-funded mosque in Athens came a step closer on Nov. 14 with the announcement that a consortium of Greek companies had won the tender to build it.
Athens has not had a formal mosque since Greece won independence from occupying Ottomans in 1832 and has been criticised by human rights groups such as Amnesty International - as well as Turkey - for being one of the few European capitals without a worship place for Muslims.
Full report at:
http://www.hurriyetdailynews.com/greek-consortium-wins-tender-to-build-first-mosque-in-athens.aspx?pageID=238&nID=57958&NewsCatID=351
-------
URL: https://www.newageislam.com/islamic-world-news/new-age-islam-news-bureau/jamaat-e-islami,-islami-chhatra-shibir-and-others-identified-as-financers-of-bomb-making-in-bangladesh/d/24439