New Age Islam News Bureau
5 Oct 2013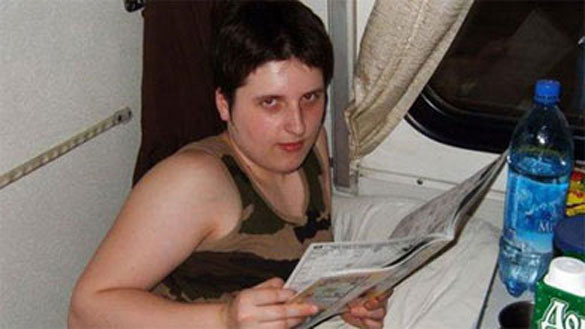 'Qaddafi groupie girl' triggered Russian embassy attack in Libya Photo from ossuley.livejournal.com
----------
Pakistan
• Jamiat Ulema-e-Islam Sami ul Haq demands emergency talks with Taliban
• Farewell to arms: 18 Bugti fighters surrender, gain amnesty
• Quetta operation: 2 killed, but kidnapped cardiologist not found
• TTP categorically denies involvement in Peshawar church bombing
• Pakistan says evidence of Balochistan interference shared with India
• Crackdown brings apparent lull in Karachi violence
• Right to Information Ordinance promulgated
Africa
• Riots in Kenya after Muslim cleric, 3 others killed
• Libyan checkpoint ambush kills 15 soldiers
• Tunisia's ruling Islamists start crisis talks with opposition
• Libya militias add to perils on migrant path
• Somali group says 'Westerners' attacked base
• Hundreds march for 'freedom' in Sudan
• Kenyan military names mall attackers
Arab World
• 19 killed as Syrian rebel groups battle each other
• Qaeda in Syria wants to dominate Iraq, Turkey border zones
• Five killed as Egypt protesters clash with police
• Egypt Islamists call for 1973 war anniversary protests
• Report: Hezbollah withdraws some of its troops from Syria
• Turkey wrong to think terrorists it is breeding won't bite it back: Assad
• Saudi Arabia pledges Rs 20 million aid to Balochistan's quake affected areas
• 'Saudi Arabia proud of its Islamic heritage'
Europe
• 'Qaddafi groupie girl' triggered Russian embassy attack in Libya
• Taliban plotted to capture Prince Harry in Afghanistan
• Standoff between police, Syrian migrants in France
• Norway may help destroy Syrian chemical arms
• Most Israelis support Iran strike: Poll
Southeast Asia
• Sabah government: Race and religion are separate entities
• Filipino under probe over links with terrorist group
• Mufti Bungsu Aziz Jaafar must pay for calling Kadazans 'invented race', says Sabah MP
• China's Xi Courts Malaysia in Regional Charm Offensive
Mideast
• Khamenei: Rouhani diplomatic push OK but US not trustworthy
• Turkish President Gül warns of 'Islamic Middle Age darkness'
• Cleric says Iran, U.S. must work hand in hand to end sanctions
• Erdogan ready to run for president
• Politics in Yemen affects US anti-terrorism efforts
North America
• Pakistan may face sanctions over gas pipeline with Iran: US
• U.S. judge orders release of Sudanese prisoner at Guantanamo
• No lifting of Iranian sanctions for now: US
India
• No UDF Backing For Low Marriageable Age for Muslim Girls
• Another infiltration bid foiled in J&K's Keran sector, 4 militants killed
• 'IM men carried out blasts, not HuJI'
• Indo-Bangla power transmission plant inaugurated
South Asia
• Jamaat has no right to do politics in Bangladesh: Son of Jamaat founder
• Children among five Afghans killed in NATO airstrike: officials
• Latest Myanmar violence blamed on religious and ethnic extremists
• Maldives airport to be sold to the people
• Hasina calls for saving Islam's sanctity
• Religion 'centrepiece of politics' in South Asia
Compiled by New Age Islam News Bureau
URL: https://www.newageislam.com/islamic-world-news/new-age-islam-news-bureau/jamaat-e-islami-has-no-right-to-do-politics-in-bangladesh--son-of-syed-abul-aala-maudoodi/d/13856
-----------
Jamaat-e-Islami Has No Right to Do Politics in Bangladesh: Son of Syed Abul Aala Maudoodi
October 5, 2013
'Jamaat-e-Islami in Bangladesh and Pakistan are just the left and right hands of the same person – there is only one head controlling the both'
A son of Jamaat-e-Islami founder Syed Abul Aala Maudoodi believes that the religion-based party should not be allowed to continue politics in Bangladesh since it opposed the country's birth.
In an exclusive interview with the Dhaka Tribune last night, Syed Haider Farooq Maudoodi, one of Maudoodi's nine children, said parties that opposed a nation's birth should not have the right to do politics in that country.
"Rightfully, Jamaat does not have the right to do politics in Bangladesh since it opposed the birth of this country," said Haider Farooq, who along with all his siblings has never been involved with Jamaat's politics in Pakistan although their father founded the Islam-based communal political party in 1941.
Haider, who was a civil pilot and is now a columnist in Lahore, Pakistan, arrived in Dhaka on Thursday for the first time after Bangladesh's independence to attend an international conference on religion and politics that began on Friday.
He insisted on giving the interview in Urdu, saying: "I hate English."
Haider said their father had always kept them away from politics for some reasons but never explained them. He, however, talked about many issues, including politics, use of religion in politics, radicalism, war crimes of 1971 and the ongoing trial of war criminals in Bangladesh.
"As locals you also had a duty to not let them [those who were against the birth of Bangladesh] do politics here. But when Sheikh Shaheb [Bangabandhu Sheikh Mujibur Rahman] was gone, the party in power used them and they are backing them even today," he said.
One of the independent Bangladesh government's first decisions was to ban five political parties, including Jamaat-e-Islami, which not only opposed the nation's independence but also actively helped Pakistani occupation forces commit genocide and other war crimes.
The four other political parties were the Muslim League and all its factions, the Pakistan Democratic Party, Nezam-e-Islam, and Pakistan People's Party.
Soon after the assassination of Bangabandhu Sheikh Mujibur Rahman in 1975, military ruler Ziaur Rahman opened politics for all in the name of introducing multi-party democracy, which gave Jamaat the opportunity to enter Bangladesh's political arena again.
Asked if Jamaat in Bangladesh and Pakistan had any relation between them even after 42 years of Bangladesh's liberation, Haider Farooq said the two parties in the two countries were "just the left and right hands of the same person there is only one head controlling the both."
He vehemently opposes the idea of having a state religion and using of religion in politics.
"It is very dangerous when there is a state religion. The state is a roof under which every sort of people from different religions can stay," he said.
"If a country wants to practise democracy, it cannot have a state religion. If a state has a state religion, then it is practising something else, not democracy."
Haider said: "Whenever religion was interpreted politically, it killed humans, and it ruined humanity."
The son of the religious preacher said: "Religion helps a person become a better one. Every religion Buddhism, Hinduism, Sikhism, Islam they teach individuals to be better.
"Religion also teaches us to understand that all of our forefathers were one and we should not hate one another. The Holy Qur'an talks for humankind so that one can be better.
"The only aim of using religion in politics is to exploit people's emotion. All they [politicians who use religion] want to achieve is their own goals by using people's religious sentiments."
About the ongoing trial of 1971 war criminals at the Dhaka tribunals, Haider Farooq said: "No one should go unpunished, particularly when they committed crimes against humanity.
"If it is proved that they did atrocities in Bangladesh, they should be punished. It is needed to establish the rule of law."
Asked if he thought Jamaat in Bangladesh and Pakistan had contribution to Islamic radicalism, terrorism and militancy, Haider said: "The two parties have only contributed to making Islam controversial and all these people have the same goal."
When asked about his views about Islamist parties' claim that Islam is all about politics, Syed Haider Farooq Maudoodi posed a counter question: "If Islam is politics, then those who are not casting votes for Islamist parties are they kafirs?"
http://www.dhakatribune.com/politics/2013/oct/05/jamaat-has-no-right-do-politics-bangladesh-son-jamaat-founder
-----------
Pakistan
Jamiat Ulema-E-Islam Sami Ul Haq Demands Emergency Talks With Taliban
October 5, 2013
ISLAMABAD: Religious parties including Jamiat Ulema-e-Islam Samiul Haq (JUI-S) on Friday demanded that the government immediately initiate peace talks with Taliban as per the mandate of the All Parties Conference (APC).
JUI-S chief Maulana Samiul Haq accused the government of not being sincere in pursuing peace talks.
"It seems the peace talks' offer is meant only to buy time before the military can launch an operation against the Taliban," alleged Sami.
He was speaking at an event to mark the death anniversary of Maulana Azam Tariq, the slain leader of the outlawed Sipah Sahaba Pakistan (SSP). Ahle Sunnat Wal Jamaat (ASWJ) had organised the programme.
Sami said he was ready to play his role in helping the peace process only if the government was serious in pursuing it. "Drone attacks are the biggest hurdle in the way to peace in Pakistan," he said.
"Peace cannot be established until the government stops taking foreign diktats on its foreign policy matters," Sami said, adding that the military operation would only worsen the situation.
Supporting Sami's point of view, the ASWJ chief Maulana Muhammad Ahmed Ludhianvi demanded that the government announce a timetable for talks with Taliban. He said the process should not be further delayed.
"The government should form a committee for talks with Taliban. And it should also seek advice from religious scholars," said Ludhianvi. He also demanded that the government arrest the killers of ASWJ leaders and provide security to those facing threats.
http://tribune.com.pk/story/613839/peace-process-jui-s-demands-emergency-talks-with-taliban/
-----------
Farewell to arms: 18 Bugti fighters surrender, gain amnesty
October 5, 2013
QUETTA: Some 18 Bugti fighters have turned themselves in to the inspector general of Frontier Corps (IG FC) in the presence of tribal elders at Dera Bugti on Friday.
The rebels, who were watched by their families, resolved to live as a peaceful citizen in future, according to a statement released by the FC spokesperson.
They expressed satisfaction about the amnesty and the package of facilities offered by the provincial government.
The rebels were fervent in fighting with the security forces and involved in various acts of terror in the province like destroying power pylons, government buildings and other government properties.
IG FC Major General Ejaz Shahid welcoming the decision of the rebels to give up arms, urged other fighters living in mountains and in foreign countries to surrender and work for the peace and prosperity of the province.
"The people should not be swayed by the provocative statements of insurgents, but work with the government institutions for the prosperity of the country." FC IG said.
The FC inspector general has appreciated the performance of the Sui Rifles and said the law and order situation of the province was improving on account [ positive efforts of the government.
http://tribune.com.pk/story/613799/farewell-to-arms-18-bugti-fighters-surrender-gain-amnesty/
-----------
Quetta operation: 2 killed, but kidnapped cardiologist not found
October 5, 2013
QUETTA: In order to recover prominent cardiologist Dr Munaf, who was kidnapped in Quetta in September, the Anti-terrorism force conducted an operation at Chaman Road, Gulistan after receiving information, Express News reported.
During the raid the kidnappers started firing at the forces which led to a standoff between the two, resulting in the death of one security personnel and several others being injured.
The injured were taken to a nearby hospital.
Full report at:
http://tribune.com.pk/story/613869/quetta-operation-2-killed-but-kidnapped-cardiologist-not-found/
-----------
TTP categorically denies involvement in Peshawar church bombing
2013-10-05
KARACHI: The spokesperson for the Tehrik-i-Taliban Pakistan, Shahidullah Shahid, has claimed that the recent attack on a church in Peshawar was carried out in accordance with Shariah laws and that neither the proscribed militants organisation nor any of its umbrella groups were behind the blasts, the BBC Urdu website reported.
Talking about the possibility of the involvement any member of the Taliban's umbrella groups's in the Peshawar church bombings, Shahid said that verification was carried out within the militant outfit before he had given a statement in the media denying the group's involvement in the attack.
Full report at:
http://www.dawn.com/news/1047613/ttp-categorically-denies-involvement-in-peshawar-church-bombing
-----------
Pakistan says evidence of Balochistan interference shared with India
2013-10-05
ISLAMABAD: Pakistan has shared with India evidence of foreign interference in Balochistan and has raised the issue at every relevant forum, foreign secretary Jalil Abbas Jilani said Saturday.
Speaking to reporters after a briefing of the Senate Standing Committee on Foreign Affairs, Jilani on Saturday said that there was evidence of Indian interference in Balochistan, and that it was being raised at all forums.
He said that the issue was also raised by the Prime Minister Nawaz Sharif with his Indian counterpart Manmohan Singh during their meeting in New York.
The foreign secretary pointed out that there were reservations with India over the issue of terrorism. He said terrorism was a concern not only for Pakistan but for India as well, but stressed that pointing fingers and hurling accusations was not a solution.
Pakistan wants to resolve all outstanding issues with Indian, including Kashmir, through the process of dialogue, he said.
Full report at:
http://www.dawn.com/news/1047628/pakistan-says-evidence-of-balochistan-interference-shared-with-india
-----------
Crackdown brings apparent lull in Karachi violence
AFP
2013-10-05
Rampant violence has terrorised Karachi, Pakistan's biggest city and economic heartbeat, in recent years, but a recent security crackdown seems to have brought a lull in the bloodshed.
Kidnappings for ransom, sectarian attacks and gang warfare have spiralled since 2008, terrifying the city's 18 million inhabitants and prompting tens of thousands of businessmen to flee to the safety of Punjab province.
The city claimed a grisly record last year as 2,124 people were murdered on its streets, according to the Citizens-Police Liaison Committee (CPLC), the highest number since records began nearly 20 years ago.
Full report at:
http://www.dawn.com/news/1047615/crackdown-brings-apparent-lull-in-karachi-violence
-----------
Right to Information Ordinance promulgated
INTIKHAB HANIF
2013-10-05
LAHORE: The governor on Friday promulgated the Punjab Transparency and Right to Information Ordinance, 2013, allowing people to open up secrecy doors of the government for the first time in history.
"The law has given the constitutionally granted basic right to people to know what the government and its functionaries do. Earlier everything of the government was a secret. Now except for real secrets, everything else is open to public scrutiny," a senior official said.
The law was important as it would also lead to perfect record keeping by every government department. "Right now no-one bothers to properly maintain record," he said.
Full report at:
http://www.dawn.com/news/1047557/right-to-information-ordinance-promulgated
-----------
Africa
Riots in Kenya after Muslim cleric, 3 others killed
October 5, 2013
NAIROBI — Gunmen killed a Muslim cleric and three others in a hail of bullets in the Kenyan port city of Mombasa, a year after the imam's predecessor was killed in the same manner and on the same road and nearly the same spot. The killings triggered street violence by youths on Friday who blamed police for the homicides, and four more people were killed in the mayhem.
The shooting death late Thursday of Sheik Ibrahim Ismael may be a reprisal by Kenyan security forces for the Sept. 21 attack on Nairobi's Westgate Mall that killed more than 60 people. Ismael's predecessor at the Masjid Musa Mosque, who was gunned down in August 2012, had been accused of aiding extremist group Al-Shabab, including recruiting youths for the Somali group.
The dark four-door car that Ismael was riding in was riddled by bullets. People gathered around the car, taking photographs and staring at the bodies as weeping relatives of the dead approached.
Full report at:
http://www.saudigazette.com.sa/index.cfm?method=home.regcon&contentid=20131005182645
-----------
Libyan checkpoint ambush kills 15 soldiers
October 5, 2013
TRIPOLI: Gunmen killed at least 15 Libyan soldiers in an attack on a checkpoint near the city of Bani Walid, a former stronghold of supporters of Muammar Qaddafi, security officials and a local news agency said on Saturday.
Two years after Qaddafi was overthrown and killed in a civil war, the North African country's fragile central government is struggling to control rival militias competing for influence in the aftermath of the conflict.
Full report at:
http://www.arabnews.com/news/466793
-----------
Tunisia's ruling Islamists start crisis talks with opposition
Reuters | Oct 5, 2013
TUNIS: Tunisia's ruling Islamists and their secular opponents on Saturday began crucial talks meant to make way for a transitional government and end political deadlock in the North African country.
Tunisia, where an uprising two years ago began the " Arab Spring" revolts, has been in crisis for weeks after the assassination of an opposition leader triggered protests.
http://timesofindia.indiatimes.com/world/rest-of-world/Tunisias-ruling-Islamists-start-crisis-talks-with-opposition/articleshow/23588652.cms
--------
Libya militias add to perils on migrant path
October 5, 2013
TRIPOLI: Before many African migrants can even begin the perilous sea crossing to Europe they must pass through Libya, where they face exploitation or arrest by often brutal militias.
The feared drowning of some 300 African asylum-seekers in a shipwreck off Italy this week has underscored the dangers that desperate migrants from Sub-Saharan Africa face as they seek a better life in Europe.
But before many can even cast off, they must make their way across Libya, a vast desert country dominated by a patchwork of militias which emerged during the 2011 uprising that toppled Muammar Qaddafi.
Full report at:
http://www.arabnews.com/news/466749
-----------
Somali group says 'Westerners' attacked base
05 Oct 2013
Somali armed group al-Shabab has said that a group of "Westerners" who arrived in boats attacked a house in one of its coastal bases under the cover of night, drawing gunfire from rebels and killing one.
Foreign forces landed on the beach at Barawe, about 180 km south of the capital Mogadishu, and launched an assault that al-Shabab attempted to repel, Sheikh Abdiasis Abu Musab, spokesman for the group's military operations, told Reuters news agency.
"Westerners in boats attacked our base at Barawe beach and one was martyred from our side," Musab said. "No planes or helicopters took part in the fight. The attackers left weapons, medicine and stains of blood. We chased them."
Full report at:
http://www.aljazeera.com/news/africa/2013/10/somali-group-says-westerners-attack-base-201310551824260948.html
-----------
Hundreds march for 'freedom' in Sudan
October 5, 2013
KHARTOUM: Hundreds of men and women marched for "freedom" in the Sudanese capital on Friday despite the deployment of militia, troops and riot police, AFP correspondents reported.
One of the largest rallies occurred in the poor Shambat area of North Khartoum, where several hundred residents marched along the dirt roads between their houses.
They tried to make their way to a large lot but were blocked by uniformed security officers armed with rifles.
Full report at:
http://www.arabnews.com/news/466750
-----------
Kenyan military names mall attackers
AMAN SETHI
Oct 05 2013
New surveillance footage, released to Kenyan TV channels a week after the horrific mall siege, contradicts claims that 10 to 15 militants participated in the attack.
The four young men stroll through the besieged Westgate mall in Nairobi with Kalashnikovs slung across their shoulders. They chat on their phones, browse the aisles at the Nakumatt supermarket, and explore an electronics warehouse.
New surveillance footage, released to Kenyan TV channels a week after the horrific mall siege that left more than 60 dead and hundreds injured, contradicts claims that 10 to 15 militants participated in the attack and raises fresh questions over the competence of the Kenyan response.
Full report at:
http://www.thehindu.com/news/international/world/kenyan-military-names-mall-attackers/article5204360.ece
--------
Arab World
19 killed as Syrian rebel groups battle each other
(AP) / 5 October 2013
Al Qaeda militants battled fighters linked to the Western-backed opposition along with Kurdish gunmen in Syrian towns along the Turkish border on Friday, in clashes that killed at least 19 people, activists said.
The violence is part of an outburst of infighting among the myriad rebel groups opposed to President Bashar Al Assad for control over prized border areas. Extremist fighters and more mainstream rebels are increasingly turning their guns on each other in what has effectively become a war within a war in northern and eastern Syria, leaving hundreds dead on both sides.
Full report at:
http://www.khaleejtimes.com/kt-article-display-1.asp?section=middleeast&xfile=data/middleeast/2013/October/middleeast_October43.xml
-----------
Qaeda in Syria wants to dominate Iraq, Turkey border zones
October 5, 2013
BEIRUT: Al-Qaeda in Syria is fighting to drive rivals out of areas bordering Turkey and Iraq in a bid to control territory stretching from Iraq into northern Syria, various sources say.
Across the north and east, the Islamic State of Iraq and the Levant (ISIL) has set up checkpoints on roads to border crossings, and opened fronts to crush other rebel groups fighting to oust President Bashar al-Assad.
Residents have told AFP of a strategy that involves ISIL taking over resources and routes using brutal methods aimed at forcing the population into submission.
Analysts and activists on the ground have also noted the tactic.
"ISIL has been acting in such a way as to aggressively assert itself within the complex multi-dimensional insurgent theatres in northern and eastern Syria," said Charles Lister of IHS Jane's Terrorism and Insurgency Centre.
Full report at:
http://www.dawn.com/news/1047616/qaeda-in-syria-wants-to-dominate-iraq-turkey-border-zones
-----------
Five killed as Egypt protesters clash with police
October 5, 2013
CAIRO — Five people were killed in clashes on Friday as supporters of deposed president Mohamed Morsi took to the streets of Cairo and other cities to demand the end of army-backed rule.
The marches were the most ambitious attempt by the Muslim Brotherhood to press its demands since Aug. 14, when authorities smashed two pro-Morsi sit-ins in Cairo and then declared a state of emergency and imposed a curfew.
An Egyptian army vehicle fired live rounds in the direction of Brotherhood supporters who had been pushed away from Cairo's Tahrir Square by security forces, a Reuters witness said.
Four people were shot dead in clashes in the southern city of Assuit, medical and health sources said. It was not clear which side they were on.
Full report at:
http://www.saudigazette.com.sa/index.cfm?method=home.regcon&contentid=20131005182644
-----------
Egypt Islamists call for 1973 war anniversary protests
5 October 2013
Supporters of the deposed Egyptian president Mohammad Mursi are calling for new protests on the 1973 Arab-Israeli war anniversary on Sunday after the deadliest violence in weeks.
"The Egypt Anti-Coup Alliance repeats its call to all Egyptians to continue their protests in every part of Egypt, and to gather in Tahrir Square on Sunday, October 6, to celebrate the army of that victory and its leaders," the Islamist group said.
The announcement comes a day after deadly protests left at least four people dead in Cairo as Mursi supporters mounted their boldest marches since troops crushed their protest camps demanding his reinstatement on Aug. 14.
Full report at:
http://english.alarabiya.net/en/News/middle-east/2013/10/05/U-N-s-Ban-Ki-Moon-expresses-deep-concern-over-Egypt-s-violence.html
-----------
Report: Hezbollah withdraws some of its troops from Syria
October 5, 2013
Lebanese Shiite guerilla group, Hezbollah, has begun withdrawing some of its fighters battling alongside President Bashar al-Assad's troops against Syrian rebels, after pressure from the government in Beirut, according to media reports.
Citing diplomatic and intelligence sources, The Times reported that Hezbollah has started scaling down its presence in Syria, giving in to pressure from the government, which sees itself as being increasingly alienated by regional governments.
Full report at:
http://english.alarabiya.net/en/News/middle-east/2013/10/04/Report-Hezbollah-withdraws-some-of-its-troops-from-Syria.html
---------
Turkey wrong to think terrorists it is breeding won't bite it back: Assad
Oct 04 2013
Istanbul (Turkey) : Syrian President Bashar al-Assad has told Turkey it will pay a heavy price for backing rebels fighting to oust him, accusing it of harbouring "terrorists" along its border who would soon turn against their hosts.
In an interview with Turkey's Halk TV due to be broadcast on Friday, Assad called Turkish Prime Minister Tayyip Erdogan "bigoted" and said Ankara was allowing terrorists to cross into Syria to attack the army and Syrian civilians.
Full report at:
http://www.indianexpress.com/news/turkey-wrong-to-think-terrorists-it-is-breeding-wont-bite-it-back-assad/1178403/
-----------
Saudi Arabia pledges Rs 20 million aid to Balochistan's quake affected areas
2013-10-04
ISLAMABAD: The first tranche of aid by Saudi Arabia for Pakistan's earthquake affected areas was sent to Balochistan on Friday, DawnNews reported.
Eight containers carrying a total of 4000 packets of eatables were dispatched for the survivors of the earthquake today.
As its aid to the affected southwestern province, Saudi Arabia has decided to send aid of more than 20 million rupees for the victims of the earthquake.
Speaking to the media representatives at a press conference officiating the event, Saudi Arabia's Ambassador to Pakistan Dr Abdul Aziz Ibrahimul Ghadir said his country stood beside Pakistan in the face of every hardship and challenge.
Full report at:
http://www.dawn.com/news/1047426/saudi-arabia-pledges-rs-20-million-aid-to-balochistans-quake-affected-areas
-----------
'Saudi Arabia proud of its Islamic heritage'
October 5, 2013
Saudi Arabia has been a meeting point of cultures and civilizations for centuries and is proud of its stature as the heartland of Islam, said Prince Sultan bin Salman, president of the Saudi Commission for Tourism and Antiquities (SCTA).
He made the comment in the keynote address at the opening ceremony of a Saudi heritage show at the Vittoriano Museum in Rome on Thursday.
"Saudi Arabia is not simply a land of oil. Of course, it is blessed with a lot of natural resources and the government has been using this wealth for the welfare of its citizens. It's also the birthplace of Islam and the land of the Two Holy Mosques," he said.
Prince Sultan criticized those who underestimate Saudi Arabia's cultural significance. "They are like people who are ignorant of Italy's great history and culture and say it's merely a country of fashion and sports cars," he said.
Full report at:
http://www.arabnews.com/news/466769
-----------
Europe
'Qaddafi groupie girl' triggered Russian embassy attack in Libya
5 October 2013
Described as a "groupie" of slain Libyan leader Muammar Qaddafi, a Russian woman is believed to have triggered an attack on the Russian embassy in Tripoli this week after she killed a Libyan air force officer, local officials said on Friday.
The woman, identified as Yekaterina Ustyuzhaninova by the Russian Foreign Ministry, is believed to have machine-gunned air force engineering official Mohammad Alsusi in his Tripoli home earlier this week.
The 24-year-old Siberian power lifter, described by the Russia Today news site as a "Russian Qaddafi groupie girl," has now been arrested by Libyan authorities in connection with the murder.
Full report at:
http://english.alarabiya.net/en/variety/2013/10/05/Qaddafi-groupie-Russia.html
-----------
Taliban plotted to capture Prince Harry in Afghanistan
PTI | Oct 5, 2013
LONDON: Prince Harry was the prime target of the Taliban during his stint with British troops in Afghanistan and there were many plans to capture him but his "good luck" saved him, a top militant commander has claimed.
The rebels were determined to capture Britain's fourth-in-line to the throne during his tour of duty in Afghanistan, commander Qari Nasrullah said in an interview with the Daily Mirror at a heavily guarded compound near Peshawar in northwest Pakistan.
Nasrullah, a Taliban commander from the Afghan province of Kunnar, revealed how Prince Harry was the No 1 target during his stint in the war-torn country as a British Army officer.
"When your Prince came here and flew his Apache helicopter and bombarded the mujahideen it meant that our fighters did not exactly have a soft spot for him," he was quoted as saying by the daily.
Full report at:
http://timesofindia.indiatimes.com/world/uk/Taliban-plotted-to-capture-Prince-Harry-in-Afghanistan/articleshow/23584936.cms
----------
Standoff between police, Syrian migrants in France
October 5, 2013
A migrants' association in northern France says security forces are in a standoff with several dozen Syrians staging a protest in a northern port in hopes of reaching Britain.
Mael Galisson of Migrant Services Platform says the migrants have occupied a gangway at the Calais ferry terminal since Wednesday, and on Friday police moved to evacuate them. But two among the group of Syrians climbed onto the roof and threatened to jump if their demands were not met, and police backed off.
Full report at:
http://www.thehindu.com/news/international/world/standoff-between-police-syrian-migrants-in-france/article5200722.ece
-----------
Norway may help destroy Syrian chemical arms
(AFP) / 5 October 2013
Norway has been asked to help destroy Syria's chemical arsenal as part of UN efforts to rid the country of its weapons of mass destruction, a report said Saturday.
Both US and Russian officials have approached Norway with oral requests for help in dismantling the weapons, Norwegian public broadcaster NRK said on its website.
Both countries consider Norway a suitable location for the dangerous work, as it is politically stable and has large amounts of water, which is needed for the task, according to NRK.
According to UN Security Council Resolution 2118, adopted late last month, Syria has until the end of June 2014 to destroy its chemical weapons.
Full report at:
http://www.khaleejtimes.com/kt-article-display-1.asp?xfile=/data/middleeast/2013/October/middleeast_October45.xml&section=middleeast
-----------
Most Israelis support Iran strike: Poll
AFP | Oct 4, 2013
JERUSALEM: A majority of Israelis would support unilateral military action against Iran, according to a poll published today after Prime Minister Benjamin Netanyahu said his government was ready to act alone.
Some 65.6% of 500 Jewish Israelis surveyed by the pro-government Israel HaYom newspaper said they would support military strikes to halt Iran's nuclear programme, and 84% believed the Islamic republic had no intention of reining in its alleged drive to build a bomb.
Israel and many Western countries accuse Tehran of trying to develop a nuclear warhead, a charge Iran denies.
Full report at:
http://timesofindia.indiatimes.com/world/middle-east/Most-Israelis-support-Iran-strike-Poll/articleshow/23536217.cms
-----------
Southeast Asia
Sabah government: Race and religion are separate entities
October 5, 2013
KOTA KINABALU: The Sabah government is of the view that race and religion are separate matters, said Chief Minister Datuk Seri Musa Aman in responding to a controversial statement made by the state Mufti, Bungsu @ Aziz Jaafar.
Musa said an indigenous Dusun could not be considered a Malay just because the person's religion is Islam.
A person's race is inherent, he added when responding to Bungsu's suggestion that members of Sabah's ethnic communities who were Muslims could consider themselves as Malay. Musa was reported to have said that the situation was just the opposite of what was happening in the peninsula where ethnic Javanese and Bugis identified themselves as part of the Malay race.
Full report at:
http://www.thestar.com.my/News/Nation/2013/10/05/Musa-Race-and-religion-are-separate-entities.aspx
-----------
Filipino under probe over links with terrorist group
October 5, 2013
KOTA KINABALU: A Filipino prisoner currently serving jail term for encroaching on the state forest reserve is being investigated on suspicion of being linked to the Sulu terrorist group involved in the intrusion in Lahad Datu last February.
The 43-year-old man had been sentenced to 18 months' jail on Sept 9 for encroaching on a forest reserve in Sabah's east coast Lahad Datu district.
However, after the court ordered for the house that the man occupied before his arrest to be demolished, fresh leads surfaced, Sabah Crime Investigation Department Chief Senior Assist Comm Omar Mammah said.
Full report at:
http://www.thestar.com.my/News/Nation/2013/10/05/Filipino-under-probe-over-links-with-terrorist-group.aspx
-----------
Mufti Bungsu Aziz Jaafar must pay for calling Kadazans 'invented race', says Sabah MP
October 5, 2013
KUALA LUMPUR, Oct 5 — Sabah Mufti Bungsu @ Aziz Jaafar should be tried in the state's Native Court and be made to pay for calling Kadazans an "invented race", Penampang MP Darell Leiking has demanded for the perceived slur.
The senior Islamic cleric must also apologise to Sabahans for pushing a personal agenda to make Malay the state's Bumiputera Muslims, the opposition lawmaker told The Malay Mail Online.
"The state mufti should apologise now especially since the chief minister and government made it clear that this is the state mufti's personal view.
"He has insulted the Kadazans when he mentioned that the Kadazan is an invented term, he said it very happily and looked so convinced by it," Leiking said when contacted over the phone yesterday.
Full report at:
http://www.themalaymailonline.com/malaysia/article/mufti-must-pay-for-calling-kadazans-invented-race-says-sabah-mp#sthash.GxY95gQa.dpuf
-----------
China's Xi Courts Malaysia in Regional Charm Offensive
October 5, 2013
KUALA LUMPUR: Chinese President Xi Jinping held talks with Malaysia's leader Friday as part of a Southeast Asian charm offensive, with analysts saying he had the floor to himself after Barack Obama scrapped his own Asia tour.
Xi's visits to Indonesia and Malaysia and his scheduled attendance at a regional summit next week have taken on added significance with the US president's decision to stay put due to the budget impasse in Washington.
Some Southeast Asian countries have accused Beijing of increasingly aggressive behaviour in asserting its claims to waters and islands in the South China Sea.
But Xi, addressing reporters after meeting Malaysian Prime Minister Najib Razak, said China was committed to closer cooperation with the 10-member Association of Southeast Asian Nations (ASEAN).
Full report at:
http://www.arabnews.com/news/466745
-------
Mideast
Khamenei: Rouhani diplomatic push OK but US not trustworthy
October 5, 2013
DUBAI: Iranian Supreme Leader Ayatollah Ali Khamenei said on Saturday he supported moderate President Hassan Rouhani's diplomatic initiative at the UN General Assembly last week but that some of what occurred there was "not proper."
In his first comments since Rouhani, committed to easing Iran's international isolation, spoke by telephone with US President Barack Obama, Khamenei also emphasized that he does not trust the United States as a negotiating partner.
The phone call between Rouhani and Obama, the highest-level contact between the two deeply estranged countries since 1979, capped off a week of overtures by Rouhani and his foreign minister Mohammad Javad Zarif to the West.
Full report at:
http://www.arabnews.com/news/466792
-----------
Turkish President Gül warns of 'Islamic Middle Age darkness'
October 5, 2013
President Abdullah Gül has issued a stark warning over the turmoil across the Middle East, saying ethnic and sectarian identity politics could presage an era of medieval darkness across the Muslim world similar to Europe's Middle Ages.
Speaking at the Istanbul Forum organized by the Center for Strategic Communication (STRATİM) on Oct. 4, Gül warned against the possibility of a clash "within civilizations" that will be more detrimental than a clash of civilizations in the Middle East, describing it as a doomsday scenario.
Full report at:
http://www.hurriyetdailynews.com/turkish-president-gul-warns-of-islamic-middle-age-darkness.aspx?pageID=238&nID=55717&NewsCatID=338
---------
Cleric says Iran, U.S. must work hand in hand to end sanctions
4 October 2013
Reuters, Dubai
A senior Iranian cleric urged Washington and Tehran on Friday to "join hands" to end sanctions, local media reported, underlining the support of Iran's influential religious establishment for President Hassan Rowhani's diplomatic offensive.
Rowhani made overtures to the West last week during a visit to the U.N. headquarters in New York and then spoke by telephone with U.S. President Barack Obama in the highest-level contact between the two countries since 1979.
Full report at:
http://english.alarabiya.net/en/News/middle-east/2013/10/04/Cleric-says-Iran-U-S-must-work-hand-in-hand-to-end-sanctions-.html
-----------
Erdogan ready to run for president
October 5, 2013
ANKARA — Turkish Prime Minister Recep Tayyip Erdogan would run for president next year if his party asked him to, he said, but dismissed suggestions of a rift with incumbent Abdullah Gul.
Erdogan, who has dominated Turkish politics for a decade, cannot run again as prime minister in a general election in 2015, according to the rules of his AK Party. He has long been expected to stand for a new executive presidency, although his plans to establish such an enhanced role have stalled.
"I have not made such a decision for sure yet. If I had made such a decision for sure, I would announce it," Erdogan said in an interview with Turkish broadcaster A Haber late on Thursday.
Full report at:
http://www.saudigazette.com.sa/index.cfm?method=home.regcon&contentid=20131005182687
-----------
Politics in Yemen affects US anti-terorrism efforts
October 5, 2013
GHAIL BAWAZIR, Yemen — The tanks rolled into the rural Yemeni town in the Hadhramaut region at dawn. Helicopters and fighter jets circled overhead before the electricity went down and terrified residents cowered in their homes.
But on closer inspection, the massive show of force, ostensibly against Al-Qaeda, may have had less to do with the US war on terror than it would appear, and demonstrates how local politics in Yemen could be complicating US counterterrorism efforts there.
Arrested a day after the bombing of his hometown of Ghail Bawazir began, Omar Ashour — a customs official whose central role involved leading a crackdown on the smuggling of goods across Yemen's northern border with Saudi Arabia — was charged with being Al-Qaeda's local commander, or emir.
Full report at:
http://www.saudigazette.com.sa/index.cfm?method=home.regcon&contentid=20131005182689
-----------
North America
Pakistan may face sanctions over gas pipeline with Iran: US
Oct 04 2013
Washington : Pakistan could face tough US sanctions if it goes ahead with the multi-billion Iran-Pak gas pipeline, a top American diplomat has said.
The Obama Administration is having discussions in this regard with Pakistan, Under Secretary of State for Political Affairs Wendy Sherman told lawmakers at a Congressional hearing.
"On Pakistan, we have had those discussions (on Iran-Pak gas pipeline) and will continue with the Pakistani government. My own assessment is it's not going anywhere anytime soon," Sherman told members of the Senate Foreign Relations Committee.
"But they (Pakistan) certainly understand where we are and what our sanctions require should it proceed," she said.
Full report at:
http://www.indianexpress.com/news/pakistan-may-face-sanctions-over-gas-pipeline-with-iran-us/1178310/
-----------
U.S. judge orders release of Sudanese prisoner at Guantanamo
5 October 2013
A U.S. judge ordered the release of a 50-year old Sudanese prisoner at Guantanamo Bay who had suffered from severe mental illness since he arrived to the naval base 11 years ago, reported Reuters news agency.
Ibrahim Idris has been held as an enemy combatant but was not formally charged.
His release decision came after the U.S. Department of Justice filed court papers on Wednesday indicating the government would no longer oppose his release.
Idris' lawyer had previously argued that his client was quite severe that he could not post a threat to security, but the court papers from the U.S. Department of Justice did not specify why the government decided to drop its objection.
Full report at:
http://english.alarabiya.net/en/News/world/2013/10/05/U-S-judge-orders-release-of-Sudanese-Guantanamo-prisoner.html
-----------
No lifting of Iranian sanctions for now: US
Oct 04 2013
Washington : The US has ruled out lifting or easing of any of its sanctions against Iran asserting that only 'concrete and verifiable steps' by the country on its nuclear programme can offer it a relief.
"We've been clear that only concrete and verifiable steps can offer a path to sanctions relief. We are going to be clear that we will continue to vigorously implement and enforce the sanctions that are in place as we explore this negotiated resolution," State Department spokesperson, Marie Harf.
Full report at:
http://www.indianexpress.com/news/no-lifting-of-iranian-sanctions-for-now-us/1178247/
-----------
India
No UDF Backing For Low Marriageable Age for Muslim Girls
October 5, 2013
Kozhikode: Congress leader and power minister Aryadan Mohamm­ad said that no constituents in the United Democratic Front in Kerala would support the demand for reducing the minimum marriageable age for Muslim girls.
Aryadan told reporters in Kasargode on Thursday that even the Indian Union Muslim League would not support such a demand.
The IUML members in the parliament including its president supported the prohibition of Child Marriage Act passed by the parliament in 2006, he said. The minister also reiterated that he was firm about his decision to implead himself in a case which would challenge the validity of the act in the SC.
Full report at:
http://www.deccanchronicle.com/131004/news-politics/article/no-udf-backing-low-marriageable-age
-----------
Another infiltration bid foiled in J&K's Keran sector, 4 militants killed
TNN | Oct 5, 2013
NEW DELHI: Army foiled yet another infiltration bid on Saturday in Fateh Gali region of Keran sector in Kashmir. According to reports, four militants have been killed in the encounter. Seven infiltrators have been killed by security forces in the last 24 hours in the region.
Six AK 47 rifles, pistols and ammunition were recovered from the infiltrators who were shot down, Times Now reported.
"An infiltration bid was foiled in Fateh Gali area of Keran sector, 25 kms west from Shalbhati village. Four militants have been killed in the operation," a defence spokesman said.
The Army's ongoing "Operation Shala Bhata" against the large group of intruders in the Keran sector in J&K has been on more than 10 days now.
Full report at:
http://timesofindia.indiatimes.com/india/Another-infiltration-bid-foiled-in-JKs-Keran-sector-4-militants-killed/articleshow/23564766.cms
-----------
'IM men carried out blasts, not HuJI'
Oct 05 2013
Lucknow : Top Indian Mujahideen (IM) operative Yasin Bhatkal and his key associate Asadullah Akhtar alias Haddi has reportedly claimed that it was their group that carried out five blasts — at Varanasi, Jaunpur, Gorakhpur, Lucknow and Faizabad — in Uttar Pradesh between 2005 and 2007 and not the Harkat-ul-Jihad-e-Islami (HuJI), as claimed by the state police.
Eight alleged HuJI operatives are currently lodged in jail and are facing trials in these cases as per chargesheets filed by the UP Police.
Obedur Rahman alias Babu Bhai, Hilal alias Hilaluddin, Nafikul Vishwas and Mohammad Alam Giri alias Rony, all alleged HuJI men, are facing trial in the Shramjeevi Express blast case (2005). Another HuJI man, Waliullah, is a key accused in the Varanasi's Sankatmochan temple and Cantonment railway station case in 2006.
Full report at:
http://www.indianexpress.com/news/-im-men-carried-out-blasts-not-huji-/1178758/
--------
Indo-Bangla power transmission plant inaugurated
October 5, 2013
Sheikh Hasina and Manmohan Singh jointly lay foundation stone of Rampal power plant of the Sunderbans
Prime Minister Sheikh Hasina and Indian Prime Minister Manmohan Singh jointly inaugurated the Bangladesh-India Power Transmission plant at Bheramara, Kustia on Saturday.
The two prime ministers also jointly laid the foundation stones of Moitree Super Herbal Power Project and Rampal Power Plant of the Sunderbans.
Later, Sheikh Hasina laid the foundation stone of Bheramara 360MW Combined Cycle Power Plant.
Full report at:
http://www.dhakatribune.com/development/2013/oct/05/indo-bangla-power-transmission-plant-inaugurated
-----------
South Asia
Children among five Afghans killed in Nato airstrike: officials
2013-10-05
JALALABAD: At least five civilians, including three children, were killed overnight in a Nato airstrike in eastern Afghanistan, officials said Saturday.
The civilians, aged between 12 and 20, were killed while they were out hunting birds in the area of Saracha, a few kilometres from Jalalabad city, the capital of eastern Nangarhar province, provincial police spokesman Hazrat Hussain Mashreqiwal told AFP.
A Nato spokesman said he was aware of the airstrike but could not confirm any casualties.
"Last night around 11 pm, five civilians aged between 12 and 20 carrying air guns wanted to go hunting birds some eight kilometres (five miles) from the centre of the city of Jalalabad. They were targeted and killed by a foreign forces airstrike," Mashreqiwal said.
Their bodies were brought to the central hospital, he said.
Full report at:
http://www.dawn.com/news/1047617/children-among-five-afghans-killed-in-nato-airstrike-officials
-----------
Latest Myanmar violence blamed on religious and ethnic extremists
Reuters
October 5, 2013
THANDWE, Myanmar — The Buddhist mob mutilated and burned Khin Naing so severely his son couldn't recognize the body, one of series of attacks that suggest a resurgence of a monk-led movement in Myanmar accused of stoking violence against Muslims.
Flies were buzzing around the bloodied patch of earth outside a ransacked mosque in Tha Phyu Chai village where police removed Khin Naing's body after he was hacked to death by ethnic Rakhine Buddhists.
"He couldn't run fast enough from the Rakhine people," said his son, Tun Tun Naing, 17, who emerged from hiding to identify his father's corpse from what remained of his charred clothing.
Full report at:
http://www.saudigazette.com.sa/index.cfm?method=home.regcon&contentid=20131005182637
-----------
Maldives airport to be sold to the people
R. K. RADHAKRISHNAN
October 05, 2013
The Maldivian government has decided to sell of part of its gateway airport, the Ibrahim Nasir International Airport, in capital Male, to its citizens. The airport was developed by Indian infrastructure major, GMR.
A government source confirmed the development, and added that the process will be set in motion "sometime next week". Asked if the people will hold majority stake, the official said that the modalities had to be worked out, but the government will hold most of the shares of the airport.
Full report at:
http://www.thehindu.com/news/international/world/maldives-airport-to-be-sold-to-the-people/article5201878.ece
-----------
Hasina calls for saving Islam's sanctity
October 5, 2013
Prime Minister Sheikh Hasina yesterday urged all concerned to work in unison to protect the sanctity of Islam and preach for its expansion "so that the people could know about its main message and teachings".
She was talking to a Bangladesh Jamiat ul Modarresin delegation which called on and congratulated her at her Gono Bhaban residence for passing the Islamic Arabic University Bill, 2013 on September 18.
Islam is a most liberal religion and no other belief provides people such dignity, she said, adding that only Islam ensured women's rights to both the husband's and father's property but this has been wrongly explained.
Full report at:
http://www.thedailystar.net/beta2/news/hasina-calls-for-saving-islams-sanctity/
-----------
Religion 'centrepiece of politics' in South Asia
October 5, 2013
'Secularism is not against religion. It is a way of life promoting fraternity and pluralism and accommodation of all belief-systems'
Speakers at an international conference in the capital said religion had become the "centrepiece of politics" not just in Bangladesh, but the entire South Asian region, threatening to shake the very foundations on which the so-called secular states stand.
To make matters worse, they observed, the states, instead of safeguarding the rights of all citizens irrespective of their faiths and convictions, are compromising with the reactionary elements triggering sectarian divides and conflicts.
Full report at:
http://www.dhakatribune.com/politics/2013/oct/05/religion-%E2%80%98centrepiece-politics%E2%80%99-south-asia
--------
URL: https://www.newageislam.com/islamic-world-news/jamaat-e-islami-has-no-right-to-do-politics-in-bangladesh--syed-haider-farooq-maudoodi,-a-son-of-syed-abul-aala-maudoodi/d/13856