New Age Islam News Bureau
28 December 2020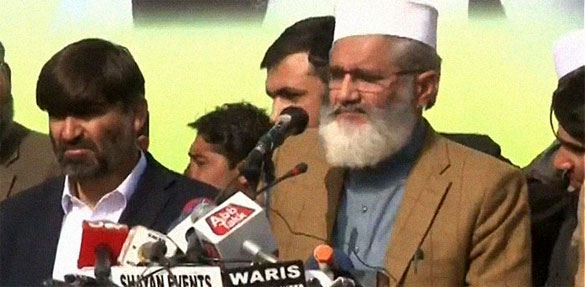 JI chief Sirajul Haq speaks at a rally in the Qila Ground of Sarai Naurang town in Lakki Marwat, Bannu, Pakistan, December 27, 2020. Geo News/via The News
-----
• Woman Has the Choice to Live Her Life on Her Own Terms and With Her Husband, Without Any Hindrance by Others, Says Allahabad High Court
• US President Donald Trump Continues To Pardon War Criminals In Iraq, Afghanistan
• Kabul Calls for International Efforts to Bring Peace to Afghanistan
• Malaysian Queen Expresses Love for Turkish Art, Culture
• Rocket attack against US embassy in Iraq mere fabrication by Washington: Kata'ib Hezbollah
• Moroccans Protest Normalization Deal with Israel, Voice Solidarity with Palestine
Pakistan
• Jamaat-e-Islami Demands Islamic System in Pakistan as PDM, PTI 'Pursuing Agenda of British Imperialism'
• Two killed, eight injured in Panjgur blast
• 7 soldiers martyred in terrorist 'fire raid' on FC post in Balochistan's Harnai: ISPR
• 9 soldiers, 2 army pilots killed in separate incidents in Pak
• Militants attack Pakistan checkpoint in Balochistan, killing 7 soldiers
• Pakistan 'concerned' by Afghan doubts over its commitment to peace
--------
India
• Woman Has the Choice to Live Her Life on Her Own Terms and With Her Husband, Without Any Hindrance by Others, Says Allahabad High Court
• Not In Favour Of Laws Against Conversion For Marriage: JDU On 'Love Jihad'
• Terror plot to attack J&K temples foiled, trio arrested
• Shiv Sena speaking like Muslim league: BJP's Shahnawaz Hussain
--------
North America
• US President Donald Trump Continues To Pardon War Criminals In Iraq, Afghanistan
• FBI at home of possible person of interest in Nashville bomb
• US sanctions on Turkey was long over-due
• Twitter suspending Turkish group 'unacceptable': envoy
--------
South Asia
• Kabul Calls for International Efforts to Bring Peace to Afghanistan
• Next round of Afghan peace talks will begin on January 5 in Doha: Official
• Afghan police officers latest victims of bombings in capital
• Afghanistan bars local government spokesmen from speaking to media
• Hefazat-e-Islam gets Nurul Islam as new acting secretary general
• Bangladesh to ship new group of Rohingya refugees to remote island
• Taliban Abducts '15 Passengers' in Ghazni Province
--------
Southeast Asia
• Malaysian Queen Expresses Love for Turkish Art, Culture
• Malaysia's Islamic authorities allow use of Covid vaccine, make it mandatory for some
• Jakim tightening enforcement, SOP for halal certification for imported goods, says religious affairs deputy minister
--------
Arab World
• Rocket attack against US embassy in Iraq mere fabrication by Washington: Kata'ib Hezbollah
• Saudi Arabia's KSRelief to rebuild Syrian refugee camp burned down in Lebanon
• Turkey says it killed 15 Kurdish militants preparing attack in northeast Syria
• Coronavirus: Saudi residents recount COVID-19 vaccine experience in Riyadh
• Nasrallah: Hezbollah's precision missiles doubled in a year
--------
Africa
• Moroccans Protest Normalization Deal with Israel, Voice Solidarity with Palestine
• Netanyahu speaks with Morocco's king, invites him to Israel
• Top Egypt officials visit Libya capital for first time in years
• Libyan National Army will be seen as 'targets' if they attack Turkish forces: Turkey
• Libya's rival leaders start UN-brokered prisoner exchange: Officials
• Haftar forces 'legitimate targets' if Turkish troops attacked: Ankara
• Sudan says took back border land from Ethiopia
• UN hails prisoner exchange between Libyan parties as part of Geneva ceasefire deal
--------
Europe
• Britain Says It Will Sign Free Trade Deal With Turkey This Week
• Hundreds of migrants freezing in heavy snow at Lipa camp in northwest Bosnia
• Russia reinforces Syrian area where Turkey-backed fighters clashed with Kurdish forces
Compiled by New Age Islam News Bureau
URL: https://www.newageislam.com/islamic-world-news/jamaat-e-islami-demands-islamic/d/123903
--------
Jamaat-e-Islami Demands Islamic System In Pakistan As PDM, PTI 'Pursuing Agenda Of British Imperialism'
December 27, 2020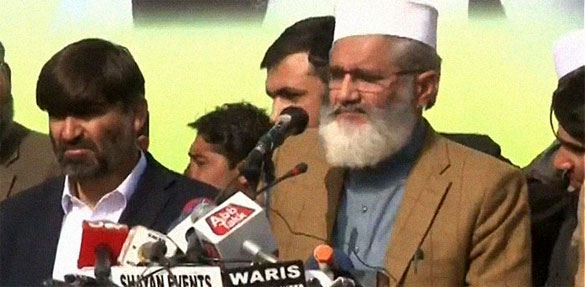 JI chief Sirajul Haq speaks at a rally in the Qila Ground of Sarai Naurang town in Lakki Marwat, Bannu, Pakistan, December 27, 2020. Geo News/via The News
-----
SARAI NAURANG: The Jamaat-e-Islami (JI) "demands" an Islamic system in Pakistan as the ruling PTI, as well as the Opposition-led Pakistan Democratic Movement (PDM), are "pursuing the agenda of British imperialism", party chief Sirajul Haq said Sunday.
Speaking at a rally in Qila Ground in Sarai Naurang town, Lakki Marwat, Senator Sirajul Haq said the JI did not believe in caste, ethnicity or heredity but that "we are trying to implement the Islamic system" and that his party's politics was different from that of the PDM.
"Islam cannot be implemented" if there was PPP Chairperson Bilawal Bhutto-Zardari on one side and PML-N Vice President Maryam Nawaz on the other, he said, adding that the biggest reason the JI did not join the Opposition's coalition and its campaign against the PTI regime was because they "deceive the people".
In Pakistan, killers were not punished but rather protected by the system, Haq added, lambasting the authorities for failing to arrest to date the killers of "honourable and courageous Naqeebullah Mehsud", a 27-year-old native of Waziristan shot dead during a "police encounter" in Karachi in January 2018.
"The police killed 400 people in Karachi. This system is for the killers, the oppressors, the sugar mafia, the land mafia, and the flour thieves," he noted. "No one can punish these oppressors here.
"We want an Islamic system where the law is the same for all," he added.
'Ignoramus student failing despite cheating'
Blasting Prime Minister Imran Khan, Sirajul Haq termed him an "ignoramus student [who is] failing despite cheating" and underlined that when the PTI chief had confessed to not being prepared, "then why did he sit for the exam"?
"If he was not prepared, then why did he take the Prime Minister's Office? This ignoramus student Imran Khan and his cabinet have failed despite cheating."
The JI chief said that "clouds of danger hung above Pakistan," as the country, according to him, has been "under the pressure to recognise Israel".
'Will eliminate interest system from Pakistan'
"Imran Khan had said he would become the ambassador of Kashmir [but] the ambassador of Kashmir has handed over Kashmir to [Indian Prime Minister Narendra Modi]," he said.
The senator added that the International Monetary Fund (IMF) was putting pressure on Pakistan due to which electricity and gas were becoming more expensive by the day.
"The government stands with its feet on people's necks. If we get a chance, we will eliminate the system of interest from the country," Haq vowed.
https://www.thenews.com.pk/latest/765258-sirajul-haq-demands-islamic-system-as-pdm-pti-pursuing-agenda-of-british-imperialism
--------
Woman Has the Choice to Live Her Life on Her Own Terms and With Her Husband, Without Any Hindrance by Others, Says Allahabad High Court
Omar Rashid
Lucknow, December 27, 2020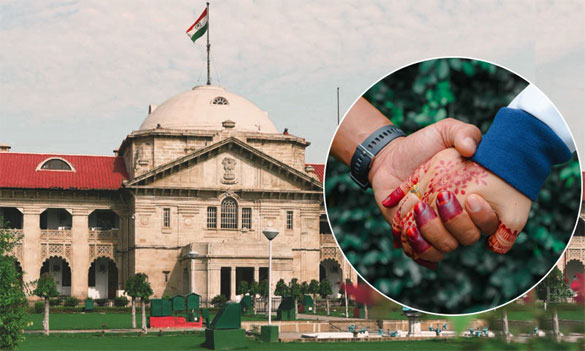 The Allahabad High Court has reunited an interfaith couple in Etah, observing that since the woman had attained the age of majority, she has a choice to live her life on her own terms and with her husband without any restriction or hindrance by others.
A Division Bench of Justices Pankaj Naqvi and Vivek Agarwal also quashed the FIR lodged against the woman's husband.
A Chief Judicial Magistrate (CJM) court had earlier sent the woman to a Child Welfare Committee (CWC) and then to the custody of her parents. The woman Shikha's husband Salman alias Karan had filed a habeas corpus writ pleading that she had been sent to her parents house by the CWC against her wishes.
The Bench interacted with the woman, who submitted that she was a major, born in 1999, and had entered into wedlock with Salman. "As the corpus has attained the age of majority and she has a choice to live her life on her own terms and she has expressed that she wants to live with her husband Salman @ Karan she is free to move as per her own choice without any restriction or hindrance being created by third party," the HC noted in an order dated December 18.
The CJM Etah, in an order dated December 7, had handed over the woman to the custody of the CWC, which a day later handed her over to her parents, "without any application of mind and against her wish," the court noted. "The act of the CJM and the CWC Etah reflects lack of appreciation of legal provisions," the judges said.
The court quashed the FIR registered on September 27 under Section 366 of the Indian Penal Code (kidnapping, abducting or inducing woman to compel her marriage) at Kotwali Dehat Police Station.
The court had also directed the investigating officer of the case to ensure that appropriate protection was granted to the couple till they returned to their residence, and directed the police chief of Prayagraj to provide necessary police security for their safe passage.
https://www.thehindu.com/news/national/other-states/allahabad-hc-reunites-interfaith-couple-in-etah/article33431223.ece
-----
US President Donald Trump Continues To Pardon War Criminals In Iraq, Afghanistan
Ovunc Kutlu
25.12.2020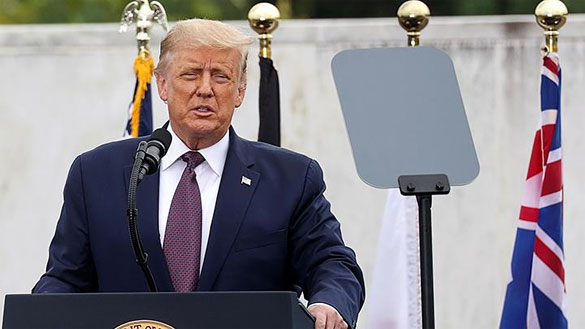 US President Donald Trump announcing this week a wave of pardons was the latest in a series of wielding his clemency powers over the years for war criminals that were convicted of killing civilians in Iraq and Afghanistan.
As US presidents have used their authority for more than two hundred years to offer second chances to some Americans, Trump has issued 70 pardons during his time in the White House as of Wednesday.
Trump's executive clemency, however, keeps adding controversial military figures after he pardoned four employees of an American private military company who killed civilians in Iraq and were found guilty by a US court in 2014.
Employees of Blackwater Security Consulting, now known as Academi, shot at Iraqi civilians, killing 17 and injuring 20 in Nisour Square, Baghdad on Sept. 16, 2007 as they were escorting a US embassy convoy.
The incident caused five investigations. The FBI found that at least 14 of the 17 Iraqis killed were shot without any cause, including 9- and 11-year-old boys.
Thirty witnesses from Iraq, the largest group of foreign witnesses to travel to US for a criminal trial, had described in the court that the four American men initiated unprovoked shooting at Iraqi civilians with heavy gunfire and grenade launchers.
In the 2014 trial, Nicholas Slatten from the state of Tennessee, a sniper, was found guilty of first-degree murder as prosecutors had said he started the incident by opening fire.
Paul Slough from Texas was found guilty of 13 counts of voluntary manslaughter and 17 counts of attempted manslaughter. Evan Liberty from New Hampshire was found guilty of eight counts of voluntary manslaughter and 12 counts of attempted manslaughter.
And, Dustin Heard from Tennessee was found guilty of six counts of voluntary manslaughter and 11 counts of attempted manslaughter.
While a murder charge carries a mandatory sentence of life in prison, each voluntary manslaughter count carries a maximum sentence of 15 years, and attempted manslaughter counts carry seven-year maximum sentences.
"Seven years ago, these Blackwater contractors unleashed powerful sniper fire, machine guns and grenade launchers on innocent men, women and children," Ronald Machen, the US Attorney for the District of Columbia, said in his 2014 statement.
Blackwater had a $1 billion government contract to protect American diplomats during the war in Iraq. In a 2007 congressional hearing on Blackwater misconduct, then-owner Erik Prince refused his employees to be defined as "mercenaries" and did not share information about his "private" company.
Blackwater was renamed as Xe Services in 2009, and known as Academi since 2011 after it was acquired by a group of private investors for around $200 million.
Stabbing wounded prisoner
Trump in December 2019 ordered the US Navy not to remove Chief Petty Officer Edward Gallagher from its elite SEALs special operations force, and reversed his July 2019 court-martial demotion, saying: "This case was handled very badly from the beginning."
Gallagher was charged in September 2018 with 10 offenses, some of which included murder, attempted murder, and other war crimes tied to his deployment to Mosul, Iraq.
He was found guilty on a single charge -- stabbing to death a wounded 17-year-old Daesh/ISIS prisoner of war with a hunting knife, and posing with his corpse and sending the photo to his friends.
Gallagher, whose nickname was "Blade", was also accused by fellow Navy SEAL snipers of randomly shooting two Iraqi civilians, a schoolgirl and an elderly man, while veterans reported his conduct to military investigators as being "OK with killing anybody that was moving" and "freaking evil".
Navy Secretary Richard Spencer was ousted by the White House after he criticized Trump's intervention in Gallagher's case.
Pardons in past
Trump also pardoned in 2019 three Army officers, two of them accused of war crimes in Afghanistan -- 1st Lt. Clint Lorance and Maj. Mathew Golsteyn.
Lorance in 2012 was charged with two counts of second-degree murder after he ordered his men to open fire on three Afghan men who were on a motorcycle. He was found guilty by a court-martial in 2013 and sentenced to 19 years in prison serving six before receiving Trump's pardon.
Golsteyn, an Army Green Beret, was charged with murder after killing an Afghan civilian in 2010 who he claimed was a bombmaker for the Taliban killing two Marines. The army closed the case in 2013 but reopened it in 2016.
Trump in May 2019 had pardoned Army 1st Lt. Michael Behanna who was convicted of murder of an Iraqi man in 2008. He was sentenced to 25 years imprisonment, which was later reduced to 15 years, and granted parole in 2014 after serving less than five years of his sentence.
https://www.aa.com.tr/en/americas/us-continues-to-pardon-war-criminals-in-iraq-afghanistan/2088191
--------
Kabul calls for international efforts to bring peace to Afghanistan
26 December 2020
Afghanistan has called on regional and international players to step up efforts to bring peace and stability to the war-torn country.
First Vice President Amrullah Saleh says there would be no peace and stability in Afghanistan unless with close regional and international cooperation.
Addressing the second meeting of Afghanistan's National Reconciliation Council, Saleh said the war in Afghanistan is fueled by certain sides which benefit from war.
A sharp increase in violence has shocked the entire nation and even prompted the UN mission in Afghanistan to react.
Media workers, political activists and government employees have turned into the most frequent targets for assassination mainly over the past two months.
So far regional and international players such as Iran and Pakistan as well as the UN have pledged commitment to peace efforts in Afghanistan.
https://www.presstv.com/Detail/2020/12/26/641571/Afghanistan-Kabul-peace
--------
Malaysian queen expresses love for Turkish art, culture
DEC 26, 2020
The cultural and historical jewels of Turkey have a big fan halfway around the world, namely a member of Malaysia's royal family.
"I am an admirer of Turkish arts and crafts as well as Turkish history and culture," Malaysian Queen Tunku Azizah Aminah Maimunah Iskandariah told Anadolu Agency in an emailed interview.
"I really appreciate rich Turkish embroidery and the regal designs which are used in the Turkish palaces and historical buildings."
Tunku Aziziah, the queen consort of Malaysia's King Al-Sultan Abdullah Ri'ayatuddin Al-Mustafa Billah Shah, also said she is a great fan of Turkish TV series, particularly "Kuruluş: Osman," "Diriliş Ertuğrul" and "1,001 Nights."
The queen, who was honored with the 2019 Craft Icon of the Year by the World Craft Council, said "I also adore how distinct Islamic influences are incorporated into Turkish designs, and many may not know about the close historical relationship between the (Malaysia) Johor royal family and the Turkish royal family."
Her great-great-grandfather, the late Sultan Abu Bakar, married a Turkish woman, the late Sultanah Khatijah, she said.
He was also close to the late great Ottoman Sultan Abdul Hamid II who reigned from 1876 to 1909. She said, "So much so that when my great-great-grandfather Sultan Abu Bakar passed away in London (in 1895), Sultan Abdul Hamid sent his mufti and Turkish dignitaries to perform the burial rites before the body was sent back to Johor."
The queen said she gets "excited" when she watches "The Last Emporer: Abdul Hamid II," a famous Turkish TV series about the life of the Ottoman sultan. "Because I get to recognize my ancestors and their beautiful customs," she explained.
"In fact, it is also a way of bonding with my sisters when we discuss Turkish TV series."
Turkish cuisine
The queen also likes Turkish cuisine and loves watching Turkish cooking videos.
"I wish I spoke and understood Turkish because I also like to watch Turkish cooking videos. But most of all I enjoy watching Diriliş and Kuruluş," she added, mentioning the two popular Turkish TV series.
Tunku Azizah is so passionate about Turkish arts and crafts that every year for the Muslim holy month of Ramadan, she orders "Turkish products as gifts for family and dignitaries from Prenses Sipariş," a Turkish fashion designer.
She added that she had started planning to visit Turkey multiple times "but haven't yet had the opportunity to do so."
"It is one of my dreams to stay and explore Turkey for one month and visit all the historical and cultural sites. When the president of Turkey came to visit, we had already planned to travel to Turkey but it had to be postponed due to the pandemic," she explained.
https://www.dailysabah.com/arts/malaysian-queen-expresses-love-for-turkish-art-culture/news
--------
Rocket attack against US embassy in Iraq mere fabrication by Washington: Kata'ib Hezbollah
27 December 2020
Iraq's anti-terror group, Kata'ib Hezbollah, has called the last week's rocket attack against the US embassy in Baghdad a false-flag strike and a plot hatched by Washington.
Muhammad Mohi, the spokesman for Kata'ib Hezbollah, which is part of the country's Popular Mobilization Units (PMU), made the comments in an interview with the Al Jazeera news broadcaster, saying Washington is the "sole beneficiary" of the so-called attack as it "wants to increase pressure on Iraqi resistance groups."
On December 20, a series of Katyusha rockets landed near the US embassy complex, which is inside Baghdad's heavily-fortified Green Zone. The attack caused minor damage to buildings there.
Mohi said the pressure by the US comes as Iraqis are preparing to commemorate the first anniversary of the Trump-authorized assassination of Iran's top anti-terror commander Lieutenant General Qassem Soleimani, and Abu Mahdi al-Muhandis, deputy head of the PMU, in a US airstrike near Baghdad airport on January 3.
After the terrorist act, the Iraqi parliament voted overwhelmingly in favor of a resolution calling for the expulsion of US forces from the Arab country.
Anti-American sentiments have run even higher in the past few days as Iraqis are outraged by the US president's decision to pardon four war criminals. The Blackwater contractors had been jailed for killing of unarmed Iraqi civilians in Baghdad in 2007.
The US embassy has been targeted several times this year amid heightened anti-American sentiments in Iraq in the aftermath of the assassinations of General Soleimani and al-Muhandis.
Washington claims it fears another attempt against its diplomatic missions and military bases in Iraq as the first anniversary of the martyrdom of the two popular anti-terror commanders nears.
"Washington fears demonstrations near its embassy or any kind of popular activities aimed at exposing the US role in Iraq, and this concern has prompted the American leaders to launch these (fake) strikes against their [own] embassy," further said the spokesman of the Kata'ib Hezbollah group.
Mohi added that the outgoing Trump administration is trying to push Iran and the resistance groups to give "a reckless response" by exerting pressure and creating a crisis, "but we are aware of this plot."
The targeting of the US embassy has already sparked a war of words between Washington and Tehran, with Trump blaming Iran for the attack and warning of retaliation if "one American is killed."
In response, Iranian Foreign Minister Mohammad Javad Zarif suggested that Trump's remarks – which were made via Twitter – were reminiscent of the Bush administration's accusations against Iraq, which led to the 2003 invasion of Iraq.
https://www.presstv.com/Detail/2020/12/27/641624/Iraq-US-Kata-ib-Hezbollah-rockets-embassy-Soleimani-Trump
--------
Moroccans protest normalization deal with Israel, voice solidarity with Palestine
27 December 2020
Hundreds of people have reportedly staged demonstrations across Morocco to express solidarity with the Palestinian cause and denounce Rabat's agreement to normalize relations with the Israeli regime in a deal brokered with the help of the administration of US President Donald Trump.
On Saturday night, a large crowd took to the streets in the North African country's largest port city of Casablanca, waving Palestinian flags and chanting slogans in condemnation of the "shameful" Israel-Morocco normalization agreement.
They also slammed the Tel Aviv regime's ongoing crimes against Palestinian people.
This came after it was announced that a delegation from Morocco will visit Israel over the weekend to work on advancing bilateral diplomatic ties.
Prime Minister Benjamin Netanyahu said in a video statement on Saturday that the sides will discuss reopening liaison offices, establishing embassies and launching direct flights between Tel Aviv and Rabat.
The Moroccan delegation will arrive in Israel on Sunday evening, according to the Israeli Foreign Ministry.
During a "warm and friendly" telephone conversation on Friday, Netanyahu extended an invitation for Morocco's King Mohammed VI to visit Israel and the two agreed to continue contacts in order to advance the normalization agreement in the weeks ahead, a statement from the Israeli premier's office said.
It noted that the two leaders congratulated each other over the renewal of mutual ties, the signing of the joint statement with the United States as well as bilateral agreements.
Israel and Morocco agreed on December 10 to normalize relations in a deal brokered by the United States, making the North African country the fourth Arab state this year to strike a deal aimed at establishment of relations with Israel. The others were the United Arab Emirates, Bahrain and Sudan.
Trump sealed the agreement in a phone call with Morocco's King Mohammed VI. As part of the agreement, the US president agreed to recognize Morocco's sovereignty over the Western Sahara region.
The Algerian Foreign Ministry later rejected Trump's stance, saying the US decision "has no legal effect because it contradicts UN resolutions, especially UN Security Council resolutions on Western Sahara."
"The proclamation would undermine the de-escalation efforts made at all levels in order to pave the way for launching a real political process," the ministry said in a statement.
Additionally, Hazem Qassem, a spokesman for the Palestinian Hamas resistance movement, reacted to announcement that Morocco will normalize relations with Israel, denouncing the deal.
"This is a sin and it doesn't serve the Palestinian people. The Israeli occupation uses every new normalization deal to increase its aggression against the Palestinian people and increase its settlement expansion," he said at the time.
Israeli envoys arrived in Morocco on December 22 to meet its king and hammer out the upgrade in ties.
The Israeli delegation, led by national security adviser Meir Ben-Shabbat, was accompanied by Jared Kushner, Trump's son-in-law and architect of normalization deals with Israel.
Four bilateral deals were signed between Israel and Morocco, centering on direct air links, water management, connecting financial systems and a visa waiver arrangement for diplomats.
https://www.presstv.com/Detail/2020/12/27/641615/Moroccans-normalization-deal-Israel-protest
--------
Pakistan
Two killed, eight injured in Panjgur blast
Behram Baloch
27 Dec 2020
GWADAR: Two people were killed and eight others injured in a bomb blast in the Panjgur area of Makran on Saturday.
Police said the blast occurred in the parking area of Aftab Shaheed Football ground soon after a match had ended.
Panjgur Deputy Commissioner Abdul Razzaq Sasoli said two people were killed on the spot in the explosion. "It was a powerful blast that rocked the district headquarters," he added.
Mr Sasoli said the blast occurred soon after the football match concluded.
However, no player was injured in the blast.
IED goes off soon after a football match
Police and personnel of Frontier Corps rushed to the site soon after the blast and cordoned off the area and took the dead and the injured to the district hospital.
Initial investigation revealed that an improvised explosive device was detonated by remote control.
It seems the deceased who were sitting in car after watching the football match were the target of the blast.
Several cars and motorcycles were damaged in the explosion while nearby houses were also affected by its impact.
The bomb disposal squad collected the evidence from the blast site.
The deceased were identified as Rahim Jan and Hasan Jan. Both were residents of Bonistan, a locality on the outskirts of Panjgur town.
The injured included Mohammad Sameer, Zahid, Javed Ahmed, Jalal, Mehmood, Asad Ali, Murad Ali and Ali Bakhsh.
The bodies were handed over to the families after completing medico-legal formalities.
No one claimed responsibility for the blast.
https://www.dawn.com/news/1598077/two-killed-eight-injured-in-panjgur-blast
--------
7 soldiers martyred in terrorist 'fire raid' on FC post in Balochistan's Harnai: ISPR
Naveed Siddiqui
27 Dec 2020
Seven soldiers were martyred in a gun attack on a Frontier Corps (FC) Balochistan post in Harnai district of Balochistan, the military's media wing said on Sunday.
The "terrorist fire raid" targeted an FC post located in Shahrag area of Harnai late on Saturday.
"During [an] intense exchange of fire, seven brave soldiers embraced shahadat while repulsing raiding terrorists," an Inter-Services Public Relations (ISPR) statement said.
It said the area had been cordoned off and escape routes blocked to apprehend the fleeing miscreants.
A large scale search and clearance operation was in progress in the area.
"Such cowardly acts by inimical elements backed by anti-state forces will not be allowed to sabotage hard-earned peace and prosperity in Balochistan," the ISPR said, adding that security forces were determined to "thwart their nefarious designs at all costs".
In a tweet, Prime Minister Imran Khan said he was "saddened to hear of" the soldiers' martyrdom in the attack.
"My heartfelt condolences & prayers go to their families. Our nation stands with our courageous soldiers who face attacks from Indian backed terrorists," he wrote.
Education minister Shafqat Mahmood also said he was "very grieved to learn about the martyrdom of 7 of our soldiers defending the motherland".
The martyred personnel were identified as Naib Subedar Gulzar, resident of Mianwali; Sepoy Faisal, resident of Hafizabad; Sepoy Abdul Wakeel, resident of Pishin; Sepoy Sher Zaman, resident of Kohat; Sepoy Jamal, resident of Dera Bugti; Abdul Rauf, resident of Dera Ghazi Khan; and Faqeer Muhammad, resident of Muzaffargarh.
The incident comes five days after 10 suspected terrorists were killed in a gun battle with security forces during an intelligence-based operation in Balochistan's Awaran area.
"These terrorists were involved in firing on security forces, which resulted in martyrdom of Lance Naik Mohammad Iqbal on Dec 20 in the Awaran area," the ISPR had said at the time.
Earlier in October, 14 security men — seven personnel of the Frontier Corps and as many civilian guards employed by the OGDCL — were martyred in an armed attack on their convoy on the Coastal Highway in the Ormara area of Gwadar district.
The encounter took place between security forces and a large number of terrorists on the Coastal Highway near Ormara when a convoy of the Oil and Gas Development Company Limited (OGDCL) staff was being escorted from Gwadar to Karachi.
https://www.dawn.com/news/1598158/7-soldiers-martyred-in-terrorist-fire-raid-on-fc-post-in-balochistans-harnai-ispr
--------
9 soldiers, 2 army pilots killed in separate incidents in Pak
Dec 27, 2020
ISLAMABAD: At least seven Pakistan soldiers were killed in a gun attack on a post of Frontier Corps (FC), a paramilitary force, in Harnai district of the country's restive southwestern Balochistan province, while four army personnel, including two pilots, died in a chopper crash in Gilgit-Baltistan, the military's media wing said on Sunday.
The Inter Services Public Relations (ISPR) said that "terrorists' fire raid" targeted an FC post located in Shahrag area of Harnai late on Saturday.
"During an intense exchange of fire, seven soldiers lost their lives while repulsing raiding terrorists," a statement issued by ISPR read.
It said the area had been cordoned off and escape routes blocked to apprehend the fleeing terrorists.
"Such cowardly acts by inimical elements backed by anti-state forces will not be allowed to sabotage hard-earned peace and prosperity in Balochistan," the ISPR said, adding that security forces were determined to "thwart their nefarious designs at all costs".
Balochistan is Pakistan's largest but least populous province. The Baloch people, who have been fighting for their rights for decades, complain that they do not receive a fair share of their province's extracted mineral and petrochemical resources.
The $60-billion China Pakistan Economic Corridor (CPEC) project, an extremely unpopular initiative among the people of Balochistan, has brought renewed attention to the province. The CPEC, launched in 2015, is a planned network of roads, highways, railway lines and energy projects linking China with the Arabian Sea through a deep sea port in Gwadar, Balochistan.
In the second incident, at least four soldiers were killed when their helicopter crashed in the disputed northern region of Gilgit-Baltistan on Saturday night.
According to an army statement, the helicopter crashed due to technical reasons during a casualty evacuation operation in the Minimarg area of Gilgit Baltistan.
The four deceased soldiers have been identified as Maj Muhammad Hussain, Maj Ayaz Hussain (both pilots), Naik Inzimam Alam and soldier Muhammad Farooq, the ISPR confirmed.
The military chopper was on a mission to evacuate the body of a soldier, Abdul Qadeer, to Combined Military Hospital in Skardu hill-station when it crashed.
In April this year, two pilots were killed when an army aircraft crashed in the northeastern Punjab provin
https://timesofindia.indiatimes.com/world/pakistan/9-soldiers-2-army-pilots-killed-in-separate-incidents-in-pak/articleshow/79981118.cms
--------
Militants attack Pakistan checkpoint in Balochistan, killing 7 soldiers
Dec 27, 2020
KARACHI: At least seven Pakistani soldiers were killed in a terrorist attack in the country's restive Balochistan province, the Army said on Sunday.
The militants fire-raided a Frontier Corps (FC) outpost in Harnai region of the province late last night, it said.
During the intense exchange of fire, seven soldiers were killed, it said.
The area was cordoned off and escape routes blocked to apprehend the fleeing militants, while a large-scale search and clearance operation was underway.
"Such cowardly acts by inimical elements backed by anti-state forces will not be allowed to sabotage hard earned peace and prosperity in Balochistan," the Army said.
Commenting on the attack, Prime Minister Imran Khan said that he was "saddened" over the loss of lives.
"My heartfelt condolences & prayers go to their families," he said.
The attack followed the killing of 10 terrorists by the security forces five days ago in the province.
Terrorists and militants belonging to separatist groups frequently launch attacks on security forces and civilians working on the China-Pakistan Economic Corridor projects in the province.
In October, seven Frontier Corps soldiers and as many civilian guards employed by the Oil and Gas Development Company Limited (OGDCL) were killed in an armed attack on their convoy in Gwadar district.
https://timesofindia.indiatimes.com/world/pakistan/militants-attack-pakistan-checkpoint-in-balochistan-killing-7-soldiers/articleshow/79980065.cms
--------
Pakistan 'concerned' by Afghan doubts over its commitment to peace
December 28, 2020
ISLAMABAD: Pakistan on Sunday said it was "concerned about some negative comments" from Afghanistan about its commitment to the peace process and accusations that it was hosting Taliban leaders on its soil.
A video released on social media last week showed the deputy Taliban leader Mullah Abdul Ghani Baradar meeting with purported senior members of the armed group in Karachi.
Afghanistan's Foreign Ministry on Friday said the development was posing a "serious challenge to achieving sustainable peace" in
the country.
But, following Arab News' request for comment, Pakistan's Foreign Ministry said the country remained committed to the peace process.
"While Pakistan's efforts are acknowledged and appreciated by Afghan society and the international community, we are concerned about some negative comments which continue to emanate from certain official as well as unofficial Afghan circles," a spokesman for Pakistan's Foreign Ministry, Zahid Hafeez Chaudhari, said.
Baradar was in Pakistan with other Taliban delegates in mid-December to meet top officials to push forward stalled peace talks between the group and Kabul to end decades of war. When Taliban representatives arrived in Pakistan on Dec. 16, Kabul said the visit was taking place in consultation with the Afghan government.
Following the viral video, however, Kabul said that while the visit had initially "raised further hopes for taking practical steps toward stopping the bloodshed and bringing about sustainable peace in Afghanistan," the footage "disclosed" the presence of Taliban leaders in Pakistani territory.
Chaudhari said that Pakistan would like to "reiterate its firm commitment" for lasting peace and stability in Afghanistan.
The "public blame game" was detrimental to the Afghan peace process and efforts to enhance bilateral cooperation, which were strengthened during Pakistani Prime Minister Imran Khan's visit to Kabul in November, he added.
"We would continue to emphasize the mutually agreed on fundamental principle that all bilateral issues, including security and intelligence matters, should be addressed through relevant bilateral forums and channels."
Pakistan was ready to extend to Afghanistan all possible cooperation in the area of security,
he added.
Peace talks in Doha between Kabul and the Taliban are due to restart on Jan. 5, and Chaudhari said they would be a "delicate phase" of intra-Afghan negotiations. "It is important for the negotiating parties to avoid accusations and to demonstrate wisdom, sagacity and vision for the larger objective of lasting peace and stability in Afghanistan," he added.
The talks follow a landmark deal signed between the US and the Taliban in February, with Pakistan considered key in getting the group to the negotiation table with US delegations and to ultimately participate in intra-Afghan talks.
https://www.arabnews.com/node/1783751/world
--------
India
Not in favour of laws against conversion for marriage: JDU on 'Love Jihad'
28th December 2020
PATNA: At a time when BJP ruled states are making legislation against conversion for marriage, the Janata Dal (United), an ally of the saffron party in Bihar, on Sunday asserted that such laws will create social hatred and division in the society which it does not approve of.
"An atmosphere of hatred and division is being created in the society in the name of Love Jihad," Tyagi told reporters after the party's national executive meeting here.
The term "love jihad" is used by right-wing activists to refer to the alleged campaign of Muslims forcing Hindu girls to convert in the guise of love.
"Provisions of the Constitution and CrPC give freedom to two adults to choose life partners of their choice irrespective of one's religion, caste or region," Tyagi said.
Socialists have upheld the right of adults to marry irrespective of caste and creed since the days of Dr Ram Manohar Lohia, he said.
Lohia was a socialist ideologue.
The Cabinet in BJP governed Madhya Pradesh on Saturday passed a Bill which provides for prison term of up to 10 years and fine of Rs 1 lakh for conversion through marriage or by any other fraudulent means.
The bill in some ways is similar to an Ordinance notified by the BJP government in Uttar Pradesh last month.
In UP, a PIL has been filed in the Allahabad High Court challenging the ordiance, contending that it impinges upon the fundamental right to choice and right to change of faith.
https://www.newindianexpress.com/nation/2020/dec/28/not-in-favour-of-laws-against-conversion-for-marriage-jdu-on-love-jihad-2242150.html
--------
Terror plot to attack J&K temples foiled, trio arrested
Dec 27, 2020
JAMMU: Police on Sunday claimed to have foiled a terror plot to attack temples in the border district of Poonch with the arrest of three Pakistan-linked terrorists, besides recovering six grenades from them. The trio is said to be affiliated to J&K Ghaznavi Force, a newly floated terror outfit.
Two foreign terrorists of the outfit were slain in an encounter in Poonch's Dogrian on December 20.
"Acting on intelligence inputs, a joint team of Army's 49RR, J&K Police's special operations group and Poonch Police set up a checkpoint at Basooni late Saturday and intercepted a vehicle driven by Mustafa Khan, a terror suspect, who was questioned for his suspicious movement. Mustafa confessed to his involvement in terror-related activities, based on which, two of his associates — Mohammad Yaseen and Rayees Ahmed, both residents of Dabbi, Balakote — were arrested," Poonch SSP Ramesh Angral said.
After sustained questioning of the trio, security forces got vital clues and raided Mustafa's residence in Mendhar's Galutha Harni area from where six grenades and other incriminating evidence, including posters of J&K Ghaznavi Force, were recovered.
The SSP said the three were in regular contact with their Pakistan-based handlers, who instructed them to carry out terror strikes. "Interrogation further revealed that they were planning terror attacks at religious places in Poonch in a bid to trigger communal tension in the region," he said, adding that some videos about handling grenades were found in the mobile phones of the accused.
"With the arrests, security forces unearthed a nexus involving local terrorists engaged in ferrying war-like stores and narcotics," Jammu-based defence spokesperson Lt Col Devender Anand said, adding that searches were still underway in the area.
On Saturday, Jammu Police busted a module of The Resistance Front and arrested two affiliates besides recovering a huge cache of arms and ammunition. Earlier in November, four Jaish-e-Mohammad ultras were killed near Nagrota on the Srinagar-Jammu National Highway in an anti-terror operation.
https://timesofindia.indiatimes.com/india/terror-plot-to-attack-jk-temples-foiled-trio-arrested/articleshow/79981045.cms
--------
Shiv Sena speaking like Muslim league: BJP's Shahnawaz Hussain
Dec 27, 2020
NEW DELHI: Bharatiya Janata Party (BJP) on Sunday hit back at Shiv Sena for its editorial piece in its mouthpiece Saamna in which it alleged that the relations between the Centre and States are worsening.
BJP spokesperson Shahnawaz Hussain told ANI, "Shiv Sena is speaking like Muslim League. They are in coalition with Congress and I think they are getting impacted by the ideology of Congress party and 'tukde tukde gang'."
Hussain said that Shiv Sena "cannot even run Maharastra and they are using this kind of language. It is not acceptable."
Through its mouthpiece Saamna, the Shiv Sena said that the relations between the Centre and States are worsening and cautioned that "it will not take much time for states in our country to break away like the Soviet Union".
"If the Central government does not realise that they are harming people for political gains, it will not take much time for States in our country to break away like the Soviet Union. The year 2020 has to be looked at, creating a question mark on the capacity and credibility of the central government," it said.
https://timesofindia.indiatimes.com/india/shiv-sena-speaking-like-muslim-league-bjps-shahnawaz-hussain/articleshow/79978047.cms
--------
North America
FBI at home of possible person of interest in Nashville bomb
December 27, 2020
NASHVILLE, Tennessee: Federal agents converged Saturday on the home of a possible person of interest in the explosion that rocked downtown Nashville as investigators scoured hundreds of tips and leads in the blast that damaged dozens of buildings on Christmas morning.
More than 24 hours after the explosion, a motive remained elusive as investigators worked round-the-clock to resolve unanswered questions about a recreational vehicle that blew up on a mostly deserted street on a sleepy holiday morning and was prefaced by a recorded warning advising those nearby to evacuate. The attack, which damaged an AT&T building, continued to wreak havoc Saturday on cellphone service and police and hospital communications in several Southern states.
Investigators from multiple federal and local law enforcement agencies were at a home in Antioch, in suburban Nashville, after receiving information relevant to the investigation, said FBI Special Agent Jason Pack. Another law enforcement official, who was not authorized to discuss an ongoing investigation and spoke to The Associated Press on condition of anonymity, said investigators regard a person associated with the property as a person of interest.
Federal agents could be seen looking around the property, searching the home and the backyard. A Google Maps image had shown a similar recreational vehicle parked in the backyard when the photo was captured in May 2019; an AP reporter at the scene did not see the vehicle at the property in the late afternoon Saturday.
There were other signs of progress in the investigation, as the FBI revealed that it was looking at a number of individuals who may be connected to it. Officials also said no additional explosive devices have been found — indicating no active threat to the area. Investigators have received around 500 tips and leads.
"It's just going to take us some time," Douglas Korneski, the special agent in charge in charge of the FBI's Memphis field office, said at a Saturday afternoon news conference. "Our investigative team is turning over every stone" to understand who did this and why.
Beyond that, the only known casualties were three injured people. The infrastructure damage, meanwhile, was broadly felt, due to an AT&T central office being affected by the blast. Police emergency systems in Tennessee, Kentucky and Alabama, as well as Nashville's COVID-19 community hotline and a handful of hospital systems, remained out of service.
The building contained a telephone exchange, with network equipment in it — but the company has declined to say exactly how many people have been impacted.
Asked whether the AT&T building could have been a possible target, Korneski said, "We're looking at every possible motive that could be involved."
Investigators shut down the heart of downtown Nashville's tourist scene — an area packed with honky-tonks, restaurants and shops — as they shuffled through broken glass and damaged buildings to learn more about the explosion.
Mayor John Cooper has enforced a curfew in the downtown area until Sunday via executive order to limit public access to the area. More than 40 buildings were affected.
AT&T said restoration efforts are facing several challenges, which include a fire that "reignited overnight and led to the evacuation of the building." This has forced their teams to work with safety and structural engineers and drilling access holes into the building in order to reconnect power.
"Our teams continue to work around the clock on recovery efforts from yesterday morning's explosion in Nashville," the company said in a Saturday statement. "We have two portable cell sites operating in downtown Nashville with numerous additional portable sites being deployed in the Nashville area and in the region."
Ray Neville, president of technology at T-Mobile, said on Twitter that service disruptions affected Louisville, Nashville, Knoxville, Birmingham and Atlanta. "We continue to see service interruptions in these areas following yesterday's explosion. Restoration efforts continue around the clock & we will keep you updated on progress," he said in a tweet Saturday.
The outages had even briefly grounded flights at the Nashville International Airport, but service was continuing normally as of Saturday. The Federal Aviation Association has since issued a temporary flight restriction around the airport, requiring pilots to follow strict procedures until Dec. 30.
According to Metro Nashville Police Chief John Drake, police officers responded on Friday to a report of shots fired when they encountered the RV blaring a recorded warning that a bomb would detonate in 15 minutes. Police evacuated nearby buildings and called in the bomb squad. The RV exploded shortly afterward.
https://www.arabnews.com/node/1783401/world
--------
US sanctions on Turkey was long over-due
By Himanshu Sharma
December 28, 2020
American sanctions have signalled to Erdogan the consequences of undermining the national security of America and its NATO allies
The Ottoman Empire perished a century ago in the second decade of the Twentieth Century. Turkey's President Erdogan dreams of reviving the Empire again in the Twenty-First Century. As he claims the Ottoman Empire boundaries, his misadventures send jitters and nightmares to Americans and Arabs alike. The new Caliph aspires to be the leader of the Ummah – the Muslim world – by elbowing aside current leader Saudi Arabia.
Erdogan-the Islamic toughie and the new rogue in the town-is doing all nasty things: arousing sectarian conflicts in Syria, Libya, Egypt and Yemen, and morally downgrading Saudi Arabia's Crown Prince Mohammed Bin Salman (MBS) over journalist Khashoggi's killing to tarnish Saudi image for unchallenged leadership of the Ummah.
In 1974, Turkey invaded Cyprus and established Islamic Turkish Cyprus in north. In 2020, Erdogan instigated Azerbaijan to open up old conflict with Armenia, provided deadly missiles, army units, mercenaries and ran over Nagorno-Karabakh. He did not listen to America and Russia! Erdogan estranged Pakistan from long time mentor and benefactor Saudi Arabia, promised help in Islamabad's evil designs on Kashmir and made enemies of France and India.
On December 14, the United States imposed sanctions on Turkey under the Countering America's Adversaries Through Sanctions Act (CAATSA) over purchase of Russian missile systems-using the CAATSA for the first time against a fellow NATO member. The EU and the UK sanctions may follow. Erdogan's unwanted caustic comments on French President Macron could trigger Turkey's expulsion from the NATO. Turkey's geopolitical ambitions is punching much above its economic weight, like erstwhile Yugoslavia! Erdogan, the dictator, is spreading himself too thin over myriad Islamist issues. Sanctions serves Erdogan right but risks swerving Turkey away from the NATO towards Russia and China.
Turkey has cordial relations with the US, Russia, China, Israel and the Middle-East. Was there any need for the Russian S-400 missile defence system it acquired in mid-2019 disregarding threats to NATO allies, danger to the security of the US military technology and personnel and enrich Russia's defence sector? Ankara rejected the US suggestions. American sanctions have signalled to Erdogan the consequences of undermining the national security of America and its NATO allies.
An Asian alliance consisting of Iran, Pakistan, and Turkey is crystalizing in close ties with China and Russia. Turkey is a natural choice in the high table of rogue countries.
Pakistan and Turkey try an 'alternate' Islamic block – the new OIC – which is crashing down. Malaysia pulled out long ago and now Turkey is collapsing. Ankara bit more than it can chew. China has a considerable Muslim population in Xinjiang but it does not acknowledge Muslims!
Turkey and China have troubles with Americans. Pakistan has issues with neighbours India, Afghanistan and the Gulf countries. India is steadily warming its way into the Gulf geo-politics. Turkey, aligned with China, is needling India on Pakistan's behalf.
India is not a NATO member, nor purchased F35, nor shares military technology with other NATO countries, hence free to buy arms from anywhere. It purchased S-400 system with Trump's waiver. India-US relationship is transactional and strategic. But Turkey shares military technology with the NATO-a different ball game all together-hence its purchase of Russian missiles and technological transfers undermines the Integrated Aerial Defence Systems of the NATO and the security of F35.
The NATO needs Turkey-its second biggest ally-more than Turkey needs the NATO. Turkey can keep refugees away, hem Arabian nations, provide access to the East and help NATO expand and consolidate along the Balkans, Easter Mediterranean and the Middle East. Turkey also heaps troubles on NATO which will be better off without Turkey.
Erdogan has converted Turkey-a secular country-into a bastion of Islam through virulent political Islam, ushering in turmoil and war. Erdogan is making Turkey a "Real Turkey," ready to be roasted. Trying to benefit from both the Russian and American systems, Turkey attracted American sanctions. A coup may get rid of dictator Erdogan.
Erdogan has become an Islamic fundamentalist rogue, designing a Caliphate and ruining Turkey. Another Saddam, Gaddafi or Baghdadi? Turkey cannot qualify for the EU membership, hence adventuring in the Mediterranean and inching closer to Russia and China for strategic and political benefits.
Other than Arabs, no other Muslim country has the financial resources to fight wars. Turkey under Erdogan is fast descending into anarchy. One bad apple can ruin the orchard. Turkey's history is littered with such examples where some ambitious leaders have set the country back by many decades.
https://www.newdelhitimes.com/us-sanctions-on-turkey-was-long-over-due/
--------
Twitter suspending Turkish group 'unacceptable': envoy
Islam Dogru, Zuhal Demirci
26.12.2020
NEW YORK/ANKARA
Turkey's envoy in the US said Friday that the suspension of a Twitter account of a Turkish group in America because of manipulation by the Fetullah Terrorist Organization (FETO) was "unacceptable and a violation of freedom of speech."
"TASC [Turkish American National Steering Community] is a respectable organization that represents distinguished members of Turkish American Community. It constitues a legitimate forum where they share their views," Serdar Kilic said on Twitter.
"The unacceptable decision to suspend TASC account is a clear violation of freedom of speech and should be reversed asap," Kilic stressed.
Turkey's Deputy Foreign Minister Yavuz Selim Kiran said the suspension of the accounts and its representatives is "unacceptable".
"This is a blatant violation of freedom of expression discrediting the social media's role in this very age of communication," Kiran said on Twitter.
Halil Mutlu, a co-chair of TASC, told Anadolu Agency, the group will initiate a legal procedure on the incident.
He condemned the gathering of FETO supporters on social media platforms who manipulate realities. "Those, who carry out smear campaign against Turkey under free media discourse, reveal their true face in front of the slightest criticism against them," he said. "Trying to discredit our social media account in the communication age is a clear violation of freedom of expression."
Gunay Evinc, the co-chair of the institution, also said on Twitter: "Twitter provided no notice of suspension, no reason, and has not responded to TASC's inquiry, despite Twitter's own policies. We wait, as free speech in this privately owned public forum is muted."
TASC's deputy head Israfil Demir said the group was under cyberattack because it wrote the truth about NBA player Enes Kanter, who is wanted as a terrorist in Turkey for his links to FETO.
FETO and its U.S.-based leader, Fetullah Gulen, orchestrated the defeated military coup July 15, 2016, which killed 251 people and injured nearly 2,200.
Turkey accuses FETO of being behind a long-running campaign to overthrow the state by infiltration into Turkish institutions, particularly the military, police and judiciary.
Demir said between Dec. 18 and Dec. 23, accounts of TASC were attacked more than 2,200 times.
He noted the attacks were directed at the group because it revealed Kanter's close relationship with the terror group's ringleader.
Following TASC's tweet on Kanter, many FETO supporters started a social media campaign on Facebook and Twitter to have accounts removed.
While Facebook contacted TASC about the issue, Twitter suspended the accounts.
https://www.aa.com.tr/en/americas/twitter-suspending-turkish-group-unacceptable-envoy/2089060
--------
South Asia
Next round of Afghan peace talks will begin on January 5 in Doha: Official
27 December 2020
The next round of negotiations between the Taliban and the Afghan government will be held in Qatar from next month, a top official said Sunday, despite President Ashraf Ghani's recent calls for them to be moved home.
Peace talks began on September 12 at a luxury hotel in Doha, but negotiations are currently on a break until January 5.
"The second round of talks will begin on January 5 in Doha," said Faraidoon Khwazoon, spokesman for Afghanistan's High Council for National Reconciliation, which is leading the overall peace process in the country.
"The leadership committee of the council ... decided to hold the talks in Doha," he tweeted, adding that many of the countries that had earlier volunteered to host the talks withdrew their offers because of COVID-19.
In a separate statement, the presidency tweeted that Ghani and Abdullah Abdullah, who heads the council, held a meeting on Sunday.
The two "discussed the venue for the next round of talks" after which Ghani announced the government's support for a second stage of talks with the Taliban, the presidency said.
Earlier in December, negotiators from both sides decided to take a break after months of often frustrating meetings which were bogged down by disputes on the basic framework of discussions and religious interpretations.
Prior to going on the break, negotiators finally announced they were ready to proceed on preliminary lists of agenda items when talks resumed on January 5.
But Ghani and some other top Afghan officials immediately called for the next round of meetings to be held in Afghanistan.
"It is not appropriate to insist on holding talks in luxurious hotels. It is necessary that the people see how the talks happen, which issues are focused on and why," Ghani said soon after the break in talks was announced.
The Taliban did not comment on Ghani's call, but they have in the past always refused to hold the negotiations in Afghanistan.
The insurgent group has a political office in Doha and its negotiating team resides there.
The talks follow a landmark troop withdrawal deal signed in February by the Taliban and Washington, which will see all foreign soldiers leave the violence-wracked country by May next year.
Plans for renewed negotiations come amid a surge of violence across Afghanistan in recent months, including in Kabul, which has seen regular bomb attacks and targeted killings of prominent figures.
https://english.alarabiya.net/en/News/world/2020/12/27/Next-round-of-Afghan-peace-talks-to-take-place-in-Doha-from-next-month-Official
--------
Afghan police officers latest victims of bombings in capital
26 December 2020
These past couple of days have been deeply disturbing for Afghanistan's capital.
In the latest incident of a series of attacks four people, including two police officers, were killed in bombings on Saturday.
"A sticky bomb attached to a police vehicle" detonated in western Kabul, police spokesman Ferdaws Faramarz said.
Two officers were also wounded in a similar bomb attack in southern Kabul earlier in the day, the official added.
That was not the end of the Saturday mini saga in Kabul.
A third attack in the east had been meant to take a deadly toll but it caused no casualties, said Maooma Jafari, deputy spokeswoman for the Afghan Health Ministry.
Moreover, two blasts hit other parts of the city but police provided no immediate details.
Elsewhere in the northern province of Balkh, a roadside bomb hit a police vehicle. A senior army officer died there, said Arif Iqbali, a district police chief.
No group has claimed responsibility for the attacks.
Since December 20, more than a dozen people have been killed in acts of terror only in Kabul.
Intensified violence has given Afghanistan, its capital in particular, a thicker air of insecurity.
Afghans go through the current circumstances even though government negotiators and the Taliban militant group are in talks for peace. Progress has been slow, however.
The intra-Afghan negotiations began in the wake of a deal reached between the United States and the Taliban in Doha, Qatar, in February.
Under the Taliban-US deal, Washington promised to pull out all its troops by mid-2021 in return for the Taliban to stop their attacks on US-led occupation foreign forces in Afghanistan.
The deal was intended to result in the reduction of bloodshed, but Taliban militants have continued attacking Afghan security forces and civilians.
https://www.presstv.com/Detail/2020/12/26/641554/Afghan-police-officers-bombings-Kabul
--------
Afghanistan bars local government spokesmen from speaking to media
December 26, 2020
KABUL: The Afghan government confirmed on Saturday that it had barred provincial government spokesmen from sharing information with the media, raising concerns among lawmakers and journalists that the move will be a major setback for press freedom in the country.
The decision comes two months after the dismissal of Takhar province Spokesman Jawad Jawhari, who revealed to the media that 12 children had been killed in a government airstrike, which the government had categorically denied. Jawhari's account was later confirmed by Afghanistan's Human Rights Commission.
"From now onward, governors will take the responsibility of providing efficient information to the media and the public, and spokesmen will continue their duties as public affairs officers on the basis of their working regulation," Rahmatullah Andar, spokesman for President Ashraf Ghani's National Security Adviser, told Arab News.
Dawa Khan Menapal, a spokesman for Ghani, explained the decision was made "because some spokesmen had talked about some issues that had no truth and were against the policy."
He added that the role of provincial spokesmen will now be to pass on media's questions to governors. District chiefs will also be barred from media interaction.
Najiba Ayoubi, who runs a famous radio station in Kabul, described the government's decision as a "systematic move to suffocate voices and deprive people of information."
"For years, the government enticed us with slogans of freedom of media and expression and now openly and brazenly impose restrictions," she told Arab News.
Freedom of the press has been touted by Afghan leaders and international donors as the country's "major achievement" since the ousting of the Taliban in a US-led invasion in late 2001.
But in recent years, journalists have been increasingly frustrated over limited access to senior government and military officials across the country over issues such as corruption and civilian casualties of operations by both Afghan and US-led troops.
Provincial spokesmen in many regions were the only official sources of information to the media in Afghanistan, which has become one of the world's most dangerous places for journalists. At least four journalists have been killed in the country in the past two months alone.
Nasir Ahmad Noor, head of local media watchdog NAI, said the ban will lead to the "spread of rumors and sometimes false information."
"When you do not have access to spokesmen and it is highly difficult to get to the governors, then you have to rely on accounts from unnamed sources," he said.
Hamidullah Tokhi, a lawmaker from the southern Zabul province, told Arab News that the parliament will debate the decision on Monday. With the ban, he said, Afghanistan is moving toward "dictatorship and totalitarianism, as the government wants to hide information and truth from the public."
https://www.arabnews.com/node/1783221/world
--------
Hefazat-e-Islam gets Nurul Islam as new acting secretary general
Anwar Hussain, Chittagong
December 26th, 2020
He will replace Nur Hossain Kasemi who passed away at a hospital in Dhaka on December 13
Nurul Islam, Secretary General of Tahaffuz Khatm-e-Nabuwwat and Principal of Khilgaon Jamia Islamia Makhjanul Uloom Madrasa, has been selected as the new acting secretary general of the Qawmi madrasa-based radical Islamist platform Hefazat-e-Islam Bangladesh.
Hefazat-e-Islam Bangladesh Central Publicity Secretary Zakariya Noman Foyezi confirmed the appointment to Dhaka Tribune.
"On December 23, Hefazat-e-Islam Bangladesh held a special meeting at Hathazari Madrasa and Nurul Islam was selected for the post of acting secretary general of the platform," said the Hefazat leader.
Nurul Islam will replace Nur Hossain Kasemi, who passed away at a hospital in Dhaka on December 13.
Hefazat was formed in 2010 and came to prominence by mobilizing opposition to the Shahbagh Movement in early 2013. It was then that its leaders issued their now infamous 13-point charter, which included demands for death penalty for atheists and certain restrictions on social gathering between men and women.
https://www.dhakatribune.com/bangladesh/nation/2020/12/26/hefazat-e-islam-gets-nurul-islam-as-new-acting-secretary-general
--------
Bangladesh to ship new group of Rohingya refugees to remote island
28 Dec 2020
Bangladesh will move a second group of Rohingya refugees to a low-lying island in the Bay of Bengal on Tuesday, officials said, despite calls by rights groups to stop the relocation on safety grounds.
More than 1,100 Rohingya refugees, members of a Muslim minority who have fled Myanmar, will be moved from a refugee camp near the Myanmar border to Bhasan Char island, two officials with the knowledge of the issue said.
Authorities moved the first batch of more than 1,600 early this month.
"Buses and trucks are ready to carry them and their belongings to Chittagong port today. Tonight, they will stay there. Tomorrow they will be taken by naval ships to the island," one of the officials said on Monday.
The officials declined to be identified as the issue has not been made public.
Humanitarian agencies and rights groups have criticised the relocation, saying the island, hours by boat from the mainland, is flood-prone, vulnerable to frequent cyclones and could be completely submerged during a high tide.
Bangladesh says it is only transferring people who are willing to go and the relocation will ease chronic overcrowding in camps that are home to more than 1 million Rohingya.
Mohammed Shamsud Douza, the deputy government official in charge of refugees, said a 12 km long embankment had been built to protect the island from floods along with housing for 100,000 people. Relocation was voluntary, he said.
"No one is forced to go there," he said, adding that people can live a better life there with greater access to healthcare and education.
But refugees and humanitarian workers say some of the Rohingya had been coerced into going to the island, which emerged from the sea 20 years ago and has never been inhabited.
More than 730,000 Rohingya fled Myanmar in 2017 following a military-led crackdown that the United Nations has said was executed with genocidal intent. Myanmar denies genocide and says its forces were targeting Rohingya militants who attacked police posts.
Several attempts to launch a process to repatriate Rohingya to Myanmar have failed because the refugees refused to go back, fearing more violence.
The United Nations has said it has not been allowed to conduct a technical and safety assessment of Bhasan Char and was not involved in the transfer of refugees there.
https://www.livemint.com/
--------
Taliban Abducts '15 Passengers' in Ghazni Province
By Mohammad Haroon Alim
28 Dec 2020
Taliban have abducted 15 passengers on the Qarabagh Highway in the Ghazni province on Sunday.
According to the local officials, the Taliban militants stopped a vehicle carrying 15 passengers.
These abductees were on their way from the Jaghori district to the Qarabagh district of Ghazni province.
On the other hand, Ghazni's representative in the parliament, Arif Rahmani confirmed to Khaama Press, that Taliban militants have abducted 15 passengers in Qarabagh of Ghazni province.
Adding that these militants have previously abducted six other passengers, so far they were not released.
Reports indicate, that this is not the first time that Taliban militants have taken passengers on their way to Ghazni.
Earlier, the militants have also abducted passengers on the Maidan Wardak and Ghazni highway, specifically in the Jalriz district.
Taliban have not yet commented over the abduction of the passengers.
https://www.khaama.com/taliban-abducts-15-passengers-in-ghazni-province-556655/
--------
Southeast Asia
Malaysia's Islamic authorities allow use of Covid vaccine, make it mandatory for some
HADI AZMI and ANISAH SHUKRY
23 December, 2020
Kuala Lumpur: Malaysia's religious authorities have decided that the Covid-19 vaccine is allowed and is mandatory for some groups.
This view has been relayed to the Council of Rulers, Religious Affairs Minister Zulkifli Mohamad Al-Bakri said in a statement on Wednesday, amid concern among local Muslims that the shots could contain substances forbidden by Islam.
The use of vaccines to protect Muslims from fatal diseases was not unusual in Islamic law, the minister said. He cited six instances between 1988 and 2013 when they were given to prevent infections from Hepatitis B to Meningitis Menveo.
The Special Muzakarah Committee of the National Council for Malaysian Islamic Affairs, which met on Dec. 3, is of the opinion that the Covid vaccine must be given to groups identified by the government, Zulkifli said.
"As such, I urge all Malaysians, especially Muslims, to abide by and give full trust to the government to manage the Covid-19 pandemic through the use of vaccines," he said.
Malaysia is struggling to stem a fresh wave of cases that emerged in September. Daily cases hit a record 2,234 on Dec. 10, with the outbreak spreading to facilities of companies including Top Glove Corp. and Karex Bhd., the world's biggest maker of condoms. The nation added 1,348 new infections on Wednesday.- Bloomberg
https://theprint.in/world/malaysias-islamic-authorities-allow-use-of-covid-vaccine-make-it-mandatory-for-some/572612/
--------
Jakim tightening enforcement, SOP for halal certification for imported goods, says religious affairs deputy minister
26 Dec 2020
KOTA BARU, Dec 26 — The Department of Islamic Development Malaysia (Jakim) will tighten enforcement and the standard operating procedure (SOP) for halal certification for imported goods including meat brought in by cartels.
Deputy Minister in the Prime Minister's Department (Religious Affairs), Ahmad Marzuk Shaary said this was to ensure that everyone, especially Muslims could obtain the supply of halal and clean flood, based on Islamic rulings.
"God willing, with it (meat cartel scandal) being exposed, the government including Jakim will improve the SOP and monitoring for compliance, and if needed, to increase its (Jakim) manpower."
He said this to reporters after attending the Pengkalan Chepa-level circumcision ceremony at Dewan Pusat Asuhan Tunas Islam, near here, today.
The media had reported the cartel's evil tactic of smuggling frozen kangaroo and horse meat from certain countries and passing it off as beef by repackaging the meat and using the halal logo before selling it to supermarkets across Malaysia.
Ahmad Marzuk said following this discovery, Jakim would step up collaboration with the relevant agencies including the Domestic Trade and Consumer Affairs Ministry to resolve the issue. — Bernama
https://www.malaymail.com/news/malaysia/2020/12/26/jakim-tightening-enforcement-sop-for-halal-certification-for-imported-goods/1935054
--------
Arab World
Saudi Arabia's KSRelief to rebuild Syrian refugee camp burned down in Lebanon
Rawad Taha
27 December 2020
The King Salman Humanitarian Aid and Relief Center (KSRelief) has begun covering the needs of refugee residents of the Syrian refugee camp that was burned in the north of Lebanon on Saturday.
Hundreds of Syrian refugees fled their makeshift camp in north Lebanon after their tents were torched when fighting broke out between local youths and camp residents.
KSRelief confirmed it will be rebuilding the camp and secure housing for those affected.
Lebanon is among more than 22 Asian countries that have benefited from KSRelief programs and projects.
Reslan Malas, President of Sobol al-Salam non-governmental organization cooperating with KSRelief on rebuilding efforts said that all properties at the camp were burned and that nothing was left.
"No human casualties were recorded, but only material damage," added Malas.
"The King Salman Center already started distributing the supplies, blankets, and clothes to those affected, and the center will distribute aid to all families. There are around 100 families who used to live in this camp," he added.
"During the conflict and the fire, al-Salam ambulance, which is funded by King Salman Center, transferred injured people from the camp to nearby hospitals. We are following on the needs of the Syrian brothers," he added.
Lebanon has over one million Syrian refugees who fled since the beginning of the conflict in 2011.
https://english.alarabiya.net/en/News/middle-east/2020/12/27/Saudi-Arabia-s-KSRelief-to-rebuild-Syrian-refugee-camp-burned-down-in-Lebanon
--------
Turkey says it killed 15 Kurdish militants preparing attack in northeast Syria
27 December 2020
Turkey said on Sunday its military killed 15 militants from the Syrian Kurdish YPG militia, which it said was preparing to carry out an attack in a region of northeast Syria controlled by Turkey and its Syrian armed factions.
In an offensive last year dubbed the Peace Spring Operation, Turkey seized a 120-km (75-mile) stretch of border territory in northeast Syria from the YPG, which it considers a terrorist organization linked to the outlawed Kurdistan Workers Party (PKK) militia.
"Our heroic commandos dealt another heavy blow to the PKK/YPG terrorist organization. Fifteen PKK/YPG terrorists trying to infiltrate the Peace Spring region from the south to carry out an attack were neutralized with the successful intervention of our commandos," Turkey's Defense Ministry said on Twitter.
Turkey halted its offensive, which was widely condemned by Ankara's Western allies as the YPG was a key US ally in the fight against ISIS, after striking deals with Russia and the United States.
Moscow has said the YPG withdrew to at least 30 km (18 miles) from Turkey's border, but Ankara has been skeptical and held out the possibility of new attacks if militants remain. US support for the YPG has been among the main issues between Ankara and Washington, NATO allies.
Turkey backs armed factions looking to oust Syrian President Bashar al-Assad, while Russia and Iran support Assad's forces. Since 2016, Turkey has seized swathes of northern Syria in four cross-border offensives to drive back ISIS and the YPG, and prevent a fresh influx of migrants from Syria.
https://english.alarabiya.net/en/News/middle-east/2020/12/27/Turkey-says-it-killed-15-Kurdish-militants-preparing-attack-in-northeast-Syria
--------
Coronavirus: Saudi residents recount COVID-19 vaccine experience in Riyadh
Ismaeel Naar
27 December 2020
Residents living in Saudi Arabia have recounted their experience receiving the COVID-19 vaccine in the capital Riyadh, telling Al Arabiya that the process went smoothly from registration until vaccination.
"I'm extremely impressed with the organization of the whole issue. Like having a vaccine was supposed to be a long procedure. But in reality, I noticed that everything was perfectly organized, getting to the parking, and then the people telling me where to go, and then the way the respect which they have for every single citizen," one resident told Al Arabiya.
Saudi Arabia's Ministry of Health confirmed 163 new COVID-19 cases on Friday, bringing the total number of confirmed infections in the Kingdom to 362,066.
Health officials also said 189 more patients have recovered over the past 24 hours, raising the total number of people recovering from the coronavirus to 353,004.
"I was little bit scared to take the vaccination but when I saw here, any people are very happily they're taking, receiving the vaccination. And the Saudi government, Saudi health ministry gave me an opportunity to take the vaccination, I'm very thankful to them," one Indian resident said.
"There's no difficulty for me to find a place and a lot of nurses and personnels will go and assist you. So it's very systematic. The facilities very clean and they will not they will provide you a very, very good service so nothing to worry about this vaccine," another Filipino resident of the Kingdom said.
"I thought it was outstanding, it was so efficient, and so easy. And the whole process from registering interest to being, to being advised that it was pending, to be advised that it was approved, and to make an appointment was just so smooth and seamless. It was too good," one foreign couple told Al Arabiya.
Saudi Minister of State and member of the Council of Ministers of Saudi Arabia, Ibrahim al-Assaf, also received the COVID-19 vaccine on Saturday, according to the Saudi Press Agency (SPA).
https://english.alarabiya.net/en/coronavirus/2020/12/27/Coronavirus-Coronavirus-Saudi-residents-recount-COVID-19-vaccine-experience-in-Riyadh
--------
Nasrallah: Hezbollah's precision missiles doubled in a year
28 December 2020
Hezbollah's secretary-general says the Lebanese resistance movement has, within the space of just one year, doubled the size of its missile arsenal, and has the entire occupied territories inside the range of the precision projectiles.
Speaking to Lebanon's al-Mayadeen television network late Sunday, Seyyed Hassan Nasrallah said, "The number of precision missiles at the resistance's disposal has now doubled what it was a year ago."
"Any target across the area of occupied Palestine that we want to hit accurately, we are able to hit accurately," he told well-known Arab journalist Ghassan bin Jiddo.
The movement fought off two wholesale wars against Lebanon in the 2000s, forcing the Israeli military into humiliating retreat on both occasions.
Nasrallah said Hezbollah is determined to avenge Israel's killing of one of its members, Ali Kamel Mohsen Jawad, in an airstrike in Syria on July 20.
Since the attack, the Israeli military has been on high alert near the Lebanese border, fearing retaliation by Hezbollah. Experts say several trigger-happy actions by Israeli troops near the border have exposed the extent of qualm in the regime.
In his interview, the Hezbollah chief said the incessant flight of Israeli drones in Lebanese skies reflects the regime's "confusion." Hezbollah, he said, has adequate weapons against the drones and fired at them on several occasions.
"The flight of Zionist drones in Lebanon's airspace shows a strong fear of the response by the resistance. The Israelis know that we fired the right weapon at their drones without disclosing it," Nasrallah said.
Nasrallah also touched on US-induced normalization agreements between several Arab states and Israel, which have seen the United Arab Emirates, Bahrain, Sudan, and Morocco embrace Tel Aviv.
Nasrallah said the normalization spree came as no surprise since "most of the Arab regimes used to sell the Palestinians only words."
"Nothing in the world justifies…giving up Palestine," he said.
The normalization agreements, Nasrallah said, only helped end a period of "hypocrisy" and indicated that "the masks have fallen" and the real nature of these regimes have been exposed.
https://www.presstv.com/Detail/2020/12/28/641673/Lebanon-Hezbollah-missiles-precision-strike-Israel-occupied-Palestine-Nasrallah-Soleimani-Arab-normalization
--------
Africa
Netanyahu speaks with Morocco's king, invites him to Israel
26 December 2020
Israeli Prime Minister Benjamin Netanyahu spoke on Friday with Morocco's King Mohammed VI and invited him to visit Israel, Netanyahu's office said.
The two leaders spoke about moving forward with a US-brokered agreement announced earlier this month to normalize bilateral ties, according to the Israeli statement.
Netanyahu also thanked King Mohammed for hosting an official Israeli delegation this week.
King Mohammed underscored the close ties between the Moroccan Jewish community and the monarchy, the Royal Court said in a statement.
While welcoming the resumption of relations with Israel, the King said Morocco's position regarding Palestine remains unchanged.
Rabat advocates the two-state solution and the unique character of Jerusalem as a city of three religions.
https://english.alarabiya.net/en/News/middle-east/2020/12/26/Netanyahu-speaks-with-Morocco-s-king-invites-him-to-Israel
--------
Top Egypt officials visit Libya capital for first time in years
28 December 2020
Senior Egyptian security officials visited the Libyan capital Tripoli for the first time in years on Sunday and held talks with officials from the Government of National Accord (GNA), the Libyan interior ministry said.
The visit was the first for senior Egyptian officials to Tripoli since 2014 when the country entered a civil war between the GNA, based in the capital, and the eastern-based Libyan National Army (LNA), led by Khalifa Haftar.
For all the latest headlines follow our Google News channel online or via the app.
Libya descended into chaos after the NATO-backed overthrow of leader Muammar Gaddafi in 2011, and Egypt is concerned about instability in its neighbor and Turkey's support for Tripoli forces.
GNA Interior Minister Fathi Bashagha and Head of the Intelligence Service Emad Trabelsi discussed "ways to support the ceasefire agreement and discuss the outputs of the 5+5 committee" with the Egyptian delegation, the Libyan interior ministry said in a statement.
It was referring to a truce agreed on in late October between Libyan warring factions and the so-called 5+5 meetings, involving five senior officers appointed by each side.
Bashagha, who visited Cairo last month, said on twitter that the meeting was "fruitful and constructive" and described the relations with Cairo as "very important."
The Egyptian delegation includes deputy head of the intelligence service and top officials from the foreign and defense ministries, an Egyptian intelligence source told Reuters.
The delegation also met GNA Foreign Minister Mohamed Taher Siala and promised to reopen the Egyptian embassy in Tripoli "at the earliest time," said Mohamed Elgeblawi, the GNA foreign ministry spokesman on Twitter.
The visiting officials would inspect the Egyptian embassy in Tripoli which has been closed since 2014, Egyptian state newspaper Ahram reported.
The two sides also agreed on taking steps towards resuming Libyan flights to Cairo, Elgeblawi said.
https://english.alarabiya.net/en/News/north-africa/2020/12/28/Top-Egypt-officials-visit-Libya-capital-for-first-time-in-years
--------
Libyan National Army will be seen as 'targets' if they attack Turkish forces: Turkey
27 December 2020
Turkish Defense Minister Hulusi Akar warned on Sunday that the Libyan National Army (LNA) forces led by Khalifa Haftar and their supporters based in eastern Libya would be viewed as "legitimate targets" if they attempted to attack Turkish forces in the region.
Speaking during a visit to Turkish troops in Tripoli, Akar said LNA forces and his supporters would have "nowhere to run" if they attacked Turkish forces, adding they would become targets for Ankara "everywhere".
Turkey is the main foreign backer of Libya's Government of National Accord (GNA) based in Tripoli, which for years has been fighting the LNA.
In October, the GNA and LNA signed a ceasefire agreement and the United Nations has been pushing a political dialogue aimed at elections next year as a solution.
https://english.alarabiya.net/en/News/north-africa/2020/12/27/Turkey-s-Defense-Minister-threatens-Libyan-National-Army-leader-supporters
--------
Libya's rival leaders start UN-brokered prisoner exchange: Officials
26 December 2020
Libya's rival leaders kicked off a UN-brokered prisoner exchange, United Nations and Libyan officials said Saturday, which was part of a preliminary cease-fire agreement between the warring Libyan groups.
The exchange of a first batch of prisoners, supervised by a joint military committee, took place Friday in the southwestern village of al-Shwayrif, according to the UN Support Mission in Libya, or UNSMIL.
Libya is split between a UN-supported government in the capital, Tripoli, and rival authorities based in country's east. The two sides are backed by an array of local militias as well as regional and foreign powers.
The oil-rich country was plunged into chaos after the 2011 NATO-backed uprising that toppled and killed former Libyan President Muammar Gaddafi.
In April 2019, east-based commander Khalifa Hafter and his forces launched an offensive to try and capture Tripoli, a campaign that collapsed after Turkey stepped up its military support of the UN-supported government.
The two sides signed a nationwide, UN-brokered cease-fire deal in October that included an exchange of all war prisoners.
UNSMIL announced the prisoner exchange without giving details on how many prisoners were freed for each side. It called for both sides to speed up the implementation of the cease-fire deal, including the exchange of all prisoners.
Fathi Bashaga, the powerful interior minister of the UN-supported government, hailed the exchange in a tweet, attaching photos of released prisoners.
The Tripoli Protection Unit, a militia allied with the capital-based government, also posted a 31-second video apparently showing the prisoner exchange, with an official reading the names of those released.
The cease-fire deal also included the departure of foreign forces and mercenaries from Libya within three months.
However, no progress was announced on the issue of foreign forces and mercenaries two months after they inked the deal.
Thousands of foreign fighters, including Russians, Syrians, Sudanese and Chadians, have been brought to Libya by both sides, according to UN experts.
Meanwhile, Turkey's Defense Minister Hulusi Akar, the military chief of staff Yasar Guler and other military commanders arrived in Tripoli Saturday, where they were meeting with their allies in the UN-supported government, according to the Turkish state-run Anadolu news agency.
The unannounced visit has underscored the close ties between the Tripoli government and Ankara. Akar and Guler also visited Libya in July.
Saturday's visit by Akar and other military officials came after the Turkish parliament on Tuesday extended for 18 months a law that allows the deployment of Turkish troops to Libya.
The Turkish decision comes despite the cease-fire deal that envisioned the departure of foreign forces and mercenaries within three months.
The cease-fire deal also called for "military deals on training inside Libya" to be frozen and for foreign trainees to leave the country. It did not name a particular country but apparently referred to Turkey, which has struck military and disputed maritime deal with the Tripoli administration.
https://english.alarabiya.net/en/News/north-africa/2020/12/26/Libya-s-rival-leaders-start-UN-brokered-prisoner-exchange-Officials-
--------
Haftar forces 'legitimate targets' if Turkish troops attacked: Ankara
27 December 2020
Turkey's defense chief has warned that forces loyal to Libya's renegade general Khalifa Haftar would become "legitimate targets" if they attacked Turkish troops in the North African country.
"A war criminal, murderer Haftar and his supporters must know that they will be seen as a legitimate target in case of any attack on Turkish forces," Hulusi Akar said in an address to Turkish armed units in the Libyan capital of Tripoli late on Saturday.
The remarks were made available to media on Sunday.
Libya descended into fresh chaos last year after the so-called Libyan National Army (LNA) under Haftar's command moved toward Tripoli to seize the capital. The offensive was repelled by Libyan government forces.
The conflict has since escalated into a regional proxy war fueled by foreign powers pouring weapons and mercenaries into the country.
Ankara has been propping up the United Nations-backed Government of National Accord (GNA) against Haftar forces, which are being backed by the United Arab Emirates, Egypt, Jordan and France.
This year, the Turkish support again dashed Haftar's hopes of capturing the capital, something that his troops had been trying to achieve for 14 months. Following the setback, the warlord's side was forced to strike a deal with the GNA.
On Thursday, however, Haftar issued vocal threats against Turkey.
There would be "no peace in the presence of a colonizer on our land," he said, referring to Turkey. He also claimed that his forces would "prepare to drive out the occupier by faith, will, and weapons" in another reference to Ankara's forces.
The Turkish minister, however, said, "If they take such a step, they will be unable to find any place to flee to."
"Everyone should come to their senses," he said, adding, "What matters here is that everyone should contribute to a political solution. Any action other than that would be wrong."
In addition to lending military support to the GNA, Turkey has been engaging in talks with Russia for a solution to the conflict between the warring sides.
Libya has been grappling with unchecked violence since the overthrow of former dictator Muammar Gaddafi in 2011 during an operation backed by the Western alliance of NATO.
https://www.presstv.com/Detail/2020/12/27/641609/Turkey-warning-Libya-Haftar
--------
Sudan says took back border land from Ethiopia
27 December 2020
The Sudanese government says the country's military forces have taken control of most of the agricultural land allegedly occupied by Ethiopians near the border between the two countries.
Tensions have flared since the outbreak of a conflict in Ethiopia's northern Tigray region last month and the arrival of thousands of mainly Tigrayan refugees in eastern Sudan.
The dispute between the two countries has been revolving around the agricultural land in al-Fashqa area, which falls within Sudan's international boundaries but has long been settled by Ethiopian farmers.
The row has culminated in armed clashes between Sudanese and Ethiopian forces in recent weeks, with both sides accusing the other of instigating the violence.
"We believe in dialog to solve any problem," Sudan's Information Minister Faisal Salih said Saturday. "But our army will do its duty to take back all our land. Currently our army has taken back between 60% and 70% of Sudanese land."
Stressing that the clashes had subsided in the past two days, Salih blamed the escalation on the Ethiopian army and said, "Sudanese intelligence reports confirmed that the organization, training and arming of the forces that attacked were not militias but regular forces."
Sudan hosted authorities from Ethiopia to hold talks this week in Khartoum over the issue of the disputed agricultural land, with Sudanese officials saying the border was demarcated in the first years of the 20th century and that the ongoing negotiations were limited to talks over placing additional markers on the land at 2km rather than 10km intervals.
Ahead of the talks this week, Ethiopia's Foreign Minister Ato Demeke Mekonnen said the Sudanese military had carried out attacks, plundering farm products and exerting violence against Ethiopian refugees.
"Agricultural products of Ethiopian farmers are looted, their camps are vandalized, and they are also hampered from harvesting their own farms. A number of civilians have been murdered and wounded," he claimed.
Ethiopian Prime Minister Abiy Ahmed also blamed in a statement "parties with hidden motives to create hostility and suspicion between peoples" for the violence.
The African nation has been grappling with outbreaks of deadly hostilities since Abiy was appointed in 2018 and loosened the central government's iron grip on regional rivalries.
Abiy, the winner of the Nobel Peace Prize 2019, has accused rebel forces loyal to the Tigray People's Liberation Front (TPLF), the region's ruling party, of launching deadly attacks on a pair of federal military camps in the region. He has also accused the party of defying his government and seeking to undermine it.
The Ethiopian military has so far carried out a number of massive attacks against the purported positions of rebel forces loyal to the TPLF in the Tigray region. The violence, however, has forced a large number of people to flee the region and cross the border into neighboring Sudan, which itself struggles with severe economic problems.
The United Nations and aid agencies have been pressing for safe access to Tigray, which is home to more than 5 million people and where 600,000 were dependent on food aid even before the conflict began last month.
Thousands are feared dead and the UN estimates that more than 950,000 people have been displaced by the conflict, nearly 50,000 of them into neighboring Sudan.
General elections scheduled to be held next year have further inflamed rivalries over land, power, and resources in the impoverished African country.
https://www.presstv.com/Detail/2020/12/27/641596/Sudan-Fashqa-area-agricultural-land-Faisal-Salih-Tigray-region-
--------
UN hails prisoner exchange between Libyan parties as part of Geneva ceasefire deal
26 December 2020
The United Nations Support Mission in Libya (UNSMIL) has welcomed the exchange of prisoners between warring parties as part of a ceasefire agreement inked more than two months ago in Geneva.
The UNSMIL said on Saturday that the exchange of a first batch of prisoners kicked off on Friday under the supervision of a joint military committee in the southwestern village of al-Shwayrif.
"UNSMIL welcomes the remarkable success registered today by the exchange of prisoners from both sides under the supervision of the Joint Military Commission (5+5), and thanks to the good offices of the tribal sheikhs and elders," the UN body said on Twitter.
"The Mission takes this opportunity to urge both parties to accelerate the full implementation of the comprehensive ceasefire agreement, signed on October 23, 2020 in Geneva, including the exchange of all prisoners," it added.
Libya's rival sides eventually agreed to sign a permanent ceasefire agreement in October in all areas, to bring an end to months of deadly fighting in the North African nation.
Libya, which sits atop the largest oil reserves in Africa, descended into chaos last year after the so-called Libyan National Army (LNA) under rebel commander Khalifa Haftar moved toward Tripoli to seize the city, which was repelled by Libyan government forces.
The conflict has escalated into a regional proxy war fueled by foreign powers pouring weapons and mercenaries into the country.
Haftar forces were fighting to unseat the government with support from the United Arab Emirates, Egypt, and Jordan.
But government forces have pushed them as far back as Sirte, on the Mediterranean coastline, with crucial help from Turkey.
Late in November, representatives of the warring sides in Libya concluded their latest round of peace talks in Morocco and agreed to "ending the division" that undermines the sovereignty of the North African country.
The agreement was reached after five days of negotiations in the Moroccan port city of Tangiers, where deputies from Libya's internationally-recognized government and rebel forces, under the command of renegade General Haftar, declared their commitment to abandon "hate speech" and end political divisions.
In a final statement, the participants indicated "commitment to holding parliamentary elections and ending the transitional phase as soon as possible."
In August, the rival administrations announced separately that they would cease all hostilities and hold nationwide elections, drawing praise from world powers.
https://www.presstv.com/Detail/2020/12/26/641559/Libya-prisoner-swap-Support-Mission-UNSMIL-ceasefire-agreement
--------
Europe
Britain says it will sign free trade deal with Turkey this week
28 Dec 2020
Britain and Turkey are set to sign a free trade deal on Tuesday, the UK trade ministry said on Sunday, the first since Prime Minister Boris Johnson secured a new trade agreement with the European Union.
The two nations will sign a deal that replicates the existing trading terms between Ankara and London, but British trade minister Liz Truss said that she was hopeful a bespoke deal between the countries could be struck soon.
"The deal we expect to sign this week locks in tariff free trading arrangements and will help support our trading relationship. It will provide certainty for thousands of jobs across the UK in the manufacturing, automotive and steel industries," Truss said in a statement.
"We now look forward to working with Turkey towards an ambitious tailor-made UK-Turkey trade agreement in the near future."
The trading relationship was worth $25.25 billion in 2019, and Britain said it was the fifth biggest trade deal the trade ministry had negotiated after agreements with Japan, Canada, Switzerland and Norway.
Britain has now signed trade agreements with 62 countries ahead of the end of the Brexit transition period on Jan 1, when it leaves the EU's trading arrangements.
It clinched its narrow trade deal with the EU, its biggest trading partner, last week.
https://www.dawn.com/news/1598314/britain-says-it-will-sign-free-trade-deal-with-turkey-this-week
--------
Hundreds of migrants freezing in heavy snow at Lipa camp in northwest Bosnia
26 December 2020
Hundreds of migrants on Saturday were stranded in a burnt-out squalid tent camp in Bosnia as heavy snow fell in the country and temperatures suddenly dropped amid a wintry spell of bad weather.
Migrants at the Lipa camp in northwest Bosnia wrapped themselves in blankets and sleeping bags to protect against biting winds in the region, which borders European Union member Croatia.
A fire earlier this week destroyed much of the camp near the town of Bihac that already was harshly criticized by international officials and aid groups as inadequate for housing refugees and migrants.
Authorities have failed to find new accommodation for the migrants at Lipa, leaving around 1,000 people stuck in the cold, with no facilities or heating and on meager food parcels provided by aid groups.
"Snow has fallen, sub-zero temperatures, no heating, nothing," the International Organization for Migration's chief of mission in Bosnia, Peter Van Der Auweraert, tweeted. "This is not how anyone should live. We need political bravery and action now."
Bosnia has become a bottleneck for thousands of migrants hoping to reach Western Europe. Most are stuck in Bosnia's northwestern Krajina region as other areas in the ethnically divided nation have refused to accept them.
The EU has warned Bosnia that thousands of migrants face a freezing winter without shelter, and it urged the country's bickering politicians to set aside their differences and take action to accommodate thousands sleeping rough.
On Saturday, migrants crowded at the camp to receive water and food provided by Bosnia's Red Cross as police sought to maintain order. Some migrants wore face shields to protect them from the new coronavirus.
Plans to relocate the migrants temporarily to a closed facility in central Bihac have prompted protests by residents.
Left without a solution, migrants put down carboard on the floor and set up improvised barriers for a piece of privacy inside the only standing tent at the Lipa camp.
Some people held up their wet feet above the small fires migrants lit outside to warm up, while others held blankets tight next to their bodies for warmth. Many migrants were wearing sneakers despite the snow.
To get to Croatia, migrants often use illegal routes over a mountainous area along the border. Many have complained of violence and pushbacks by the Croatian police.
https://english.alarabiya.net/en/News/world/2020/12/26/Hundreds-of-migrants-freezing-in-heavy-snow-at-Lipa-camp-in-northwest-Bosnia
--------
Russia reinforces Syrian area where Turkey-backed fighters clashed with Kurdish forces
December 28, 2020
MOSCOW: Russia said late on Sunday it had sent more military police to an area in northern Syria where fighters backed by Turkey have clashed with Kurdish forces near a strategic highway patrolled by Russian and Turkish troops.
The deployment comes ahead of talks in southern Russia on Tuesday between Russian Foreign Minister Sergei Lavrov and his Turkish counterpart Mevlut Cavusoglu.
Syria, where Moscow and Ankara have backed different sides, is one of the topics the two diplomats will discuss.
Battles between Turkey-backed fighters and Kurdish forces broke out near the town of Ain Issa in northern Syria earlier this month. The town Ain Issa sits along the M4 highway that links major Syrian cities and where Russian-Turkish patrols usually take place.
Turkish forces and their Syrian insurgent allies seized territory in the region in an offensive last year against the Kurdish YPG militia which holds swathes of north and east Syria.
The Russian defence ministry said in a statement it had sent more military police to the area on Sunday.
https://www.arabnews.com/node/1783971/middle-east
--------
URL: https://www.newageislam.com/islamic-world-news/jamaat-e-islami-demands-islamic/d/123903
New Age Islam, Islam Online, Islamic Website, African Muslim News, Arab World News, South Asia News, Indian Muslim News, World Muslim News, Women in Islam, Islamic Feminism, Arab Women, Women In Arab, Islamophobia in America, Muslim Women in West, Islam Women and Feminism