New Age Islam News Bureau
23 Nov 2013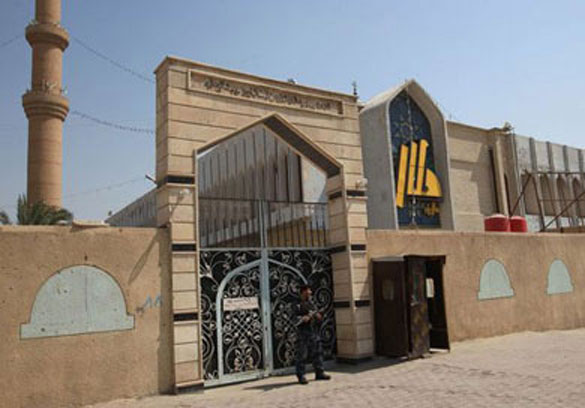 An Iraqi policeman stands guard outside the Sunni Al-Hassan Mosque in Basra. (Photo: Nabil al-Jurani, AP)
---------
South Asia
• Jamaat-e-Islami Bangladesh Threatened To Unleash a Reign Of Terror, If Demands Not Met
• Karzai to advise delaying US-Afghan pact in closing speech - spokesman
• Three Hizb-ut Tahrir men held
• Maldives President to 'prioritise' relations with India
• Iran nuke talks at final moment: China
Europe
• Corruption rife among ethnic groups, especially Pakistanis: UK attorney general
• Internet founder warns growing surveillance 'threatens democracy'
• Russia sees 'real opportunity' for Iran nuclear deal
Southeast Asia
• PAS's delicate balancing act of visions for an Islamic state
• National Laws Trump Shariah, Activists Say
Arab World
• Syria air raids kill 29 in and around Aleppo: NGO
• Fresh attacks across Iraq leave nine dead
• Baghdad Sunnis: Mosques closed to protest Sectarian attacks
• Clashes in Egypt as Islamists protest; 2 killed
• Islamist Rebels Report Capture of Largest Syrian Oil Field
• Syrian civil war refugees held in Egypt begin hunger strike
• Egypt selected to coordinate Islamic heritage committee
• Egypt asks Turkish ambassador to leave, cites threat to stability
Pakistan
• Religious Parties Rally in Lahore for Restricting Religious Processions
• At least seven dead in two blasts in Karachi
• PTI protest: Peace cannot be attained till drone strikes are stopped, says Imran
• Eleven polio workers kidnapped from Khyber Agency
• TTP claims responsibility for twin bomb attacks in Karachi
• Malik asks Turkish educationists to expand work to remote areas of Balochistan
• Baradar met Afghan peace delegation in Islamabad
• UK aiding Pakistan quell terrorism: HC
• JI to support KPK govt in stopping NATO supplies
North America
• Pak's illegal nuclear procurement exposed in 1987
• Canada wants political stability in Bangladesh
• Afghanistan risking world aid if no security deal: US
Mideast
• Israel builds new synagogues beneath Al-Aqsa mosque
• Israel Defense Minister: Nuclear Iran could plant dirty bomb anywhere in West
• I am ready to talk in the Knesset but Netanyahu won't hear me – Mahmoud Abbas
• Turkey and US almost in consensus on Syria and Iraq, says Arınç
• Turkish governor denies comments on Hizbullah
• Iran to oppose 'excessive demands' in nuclear talks: Zarif
Africa
• Obama Must Press Moroccan King Over 'Rape and Kissing' Laws
• Fears over Election Security in Mali Rebel Stronghold
• Tripoli demands militias leave
India
• India ahead of China, Pakistan in Internet freedom: Study
• Muzaffarnagar village opposes rehabilitation of riot victims
• Terrorists may attempt to disrupt Lok Sabha, assembly polls: PM Manmohan Singh
Compiled by New Age Islam News Bureau
URL: https://www.newageislam.com/islamic-world-news/new-age-islam-news-bureau/jamaat-e-islami-bangladesh-threatened-to-unleash-a-reign-of-terror,-if-demands-not-met/d/34562
----------
South Asia
Jamaat-e-Islami Bangladesh Threatened To Unleash a Reign Of Terror, If Demands Not Met
Jamaat: Sitakunda incident was a sample
November 23, 2013
The BNP-led 18-party alliance on Friday threatened to unleash a reign of terror and paralyse the country if the government did not give in to their demands. Jamaat-e-Islami, the key ally of the BNP, threatened to set the whole country on fire. BNP acting secretary general Mirza Fakhr ul Islam Alamgir warned that the alliance would cripple the country from the moment the Election Commission announced polls schedules without settling the issue of the non-partisan government. Issuing a threat, Jamaat leader Abdullah Mohammad Taher said Sitakunda incident was "just a sample": "If the government tries to hold a one-sided election, the whole country will turn into Sitakundu." "If anything wrong goes with the Quader Molla verdict, the entire 56,000 square miles of the country will be set on fire," growled another Jamaat leader Shafiqul Islam Masud at a rally at Suhrawardy Udyan in the capital. The rally was organised to protest the newly formed polls-time cabinet. Addressing the rally, Mirza Fakhr ul termed the new cabinet illegal and demanded unconditional release of the arrested senior leaders of his party. The opposition combine announced that it would stage demonstrations in district and Upazila headquarters across the country on Sunday. Fakhrul said he heard that the Election Commission was going to announce the polls schedule next week. He said: "If the Election Commission announces the schedules without resolving the issue of the caretaker government, we will paralyse the country." Terming the EC subservient to the government, Fakhrul said it was formulating laws one after another to help the ruling party win the polls. The BNP leader alleged that the government had shunned the path of negotiations to resolve the prevailing political crisis by forming the "illegal" cabinet. "The leader of the opposition went to the president to resolve the crisis but as of now he has not taken any initiative," he said, adding that the government was trying to establish a one-party BAKSAL rule rather than considering people's expectations and aspirations. Slamming the government for banning rallies and meetings, the BNP spokesperson said the police had cordoned off the party's Nayapaltan headquarters and barred them from holding rallies and meetings in the capital. "Is it the sample of democracy?" Branding the government as killer, corrupt and illegal, Fakhrul said it had no right to stay in power. He called upon people to come on to the streets to oust the government. Fakhrul urged the people of Dhaka city to "wake up" and intensify the party's movement and take to the streets to compel the government to step down. "If the government retains to power, the country's independence and sovereignty will be at stake." Referring to the trial of war crimes, Fakhrul said: "International community has raised questions about the trials." Abdul Moyeen Khan, a Standing Committee member of the party, said the government wanted to hold a lopsided election as it wanted to control the election results. Redwan Ahmed, general secretary of Liberal Democratic Party, said: "The autocrat and the national betrayer has formed alliance [with the government] to hold the elections and they are giving lucrative offers to split the 18-party alliances. But it will not work as our unity is strong enough." Dhaka city unit BNP President Sadeque Hossain Khoka chaired the rally where other senior leaders of the BNP and the 18-party alliance also spoke.
http://www.dhakatribune.com/bangladesh/2013/nov/23/jamaat-sitakunda-incident-was-sample#sthash.MBdt4nsl.dpuf
----------
Karzai to advise delaying US-Afghan pact in closing speech - spokesman
November 23, 2013
Afghanistan's President Hamid Karzai will advise delaying a security pact with the United States until after an April election when he gives a closing speech to a grand assembly that will decide on the deal, his spokesman said on Saturday.
The United States has repeatedly said it cannot wait until the election next year for Afghan approval of the pact and it must be signed by the end of this year.
"On the last day of the Loya Jirga, in his speech, the president will explain in full details his reasons to the people, why he wants the signing of this document to be after the elections," the president's spokesman, Aimal Faizi, said.
The dispute over the timing of the pact has overshadowed the four-day meeting of elders and other leaders, known as a Loya Jirga, which is due to end on Sunday.
The Loya Jirga is widely expect to reflect Karzai's wishes in its vote.
http://voiceofrussia.com/news/2013_11_23/Karzai-to-advise-delaying-US-Afghan-pact-in-closing-speech-spokesman-7773/
----------
Three Hizb-ut Tahrir men held
November 23, 2013
Police detained three activists of banned Islamist organisation Hizb-ut Tahrir in the port city's Panchlaish area on Friday. Shah Mohammad Abdur Rouf, assistant commissioner of Panchlaish circle of Chittagong Metropolitan Police, told the Dhaka Tribune they caught the trio around 3:30pm as they were distributing leaflets containing anti-government statements in the Hill View Residential Area. The detainees are Farhad Alam, 23, master's student of Statistics Department of Chittagong University; Ataul Islam, 24, fourth year student of the same department; and MM Iftekhar Uddin, 30. A case was lodged with Panchlaish police station in this connection, said the police official.
http://www.dhakatribune.com/law-amp-rights/2013/nov/23/three-hizb-ut-tahrir-men-held#sthash.PzLcPdbT.dpuf
----------
Maldives President to 'prioritise' relations with India
Nov 23 2013,
Days after winning the Maldives elections, President Abdulla Yameen Abdul Gayoom has conveyed to PM Manmohan Singh that he will "prioritise" relations with India, and is keen on finding ways to enhance ties between the two countries.
In a letter sent on November 20 in response to Singh's congratulatory message of November 17, Yameen said India's interest in strengthening ties is both "heartening" and "encouraging". He also thanked Singh for his "sincere sentiments".
He also invited Singh to visit Maldives "at a time of your soonest convenience". Yameen's letter is being seen as an attempt to reach out to New Delhi following Singh's message.
http://www.indianexpress.com/news/maldives-president-to--prioritise--relations-with-india/1198583/
----------
Iran nuke talks at final moment: China
Press Trust of India Posted online: Sat Nov 23 2013
Beijing: Negotiations in Geneva over Iran's controversial nuclear programme have "reached the final moment", Chinese Foreign Ministry said today. Foreign Ministry Spokesman Hong Lei said in statement here that Geneva international talks on the Iranian nuclear issue have reached the final moment.
Full report at:
http://www.indianexpress.com/news/iran-nuke-talks-at-final-moment-china/1198655/
----------
Europe
Corruption rife among ethnic groups, especially Pakistanis: UK attorney general
PTI | Nov 23, 2013
LONDON: A top British official said especially Pakistanis corruption is rife among some ethnic groups in the country, especially Pakistanis, sparking angry reactions from community leaders.
"Some minority communities come from backgrounds where corruption is endemic. We as politicians have to wake to up to it," attorney general Dominic Grieve told the Daily Telegraph in an interview.
Asked if he was referring to the Pakistani community in his remarks, he said: "Yes, it's mainly the Pakistani community, not the Indian community.
"I wouldn't draw it down to one. I'd be wary of saying it's just a Pakistani problem."
But a Pakistani Labour Party MP branded Grieve's comments as divisive.
Khalid Mahmood, who came to the UK from Pakistan as a child, said the attorney general was marking out the Pakistani community as "more corrupt" than other minority groups and trying to "divide and conquer" within communities.
Full report at:
http://timesofindia.indiatimes.com/world/uk/Corruption-rife-among-ethnic-groups-especially-Pakistanis-UK-attorney-general/articleshow/26266744.cms
-----------
Internet founder warns growing surveillance 'threatens democracy'
November 23, 2013
LONDON: The growing surveillance and censorship of the Internet "threatens the future of democracy", the inventor of the world wide web said.
Tim Berners-Lee was speaking at the launch of his World Wide Web Foundation's second annual index measuring the Internet's contribution to social, economic and political development and human rights.
"One of the most encouraging findings of this year's Web Index is how the web and social media are increasingly spurring people to organise, take action and try to expose wrongdoing in every region of the world," said Berners-Lee.
Full report at:
http://tribune.com.pk/story/635907/internet-founder-warns-growing-surveillance-threatens-democracy/
----------
Russia sees 'real opportunity' for Iran nuclear deal
November 23, 2013
MOSCOW: Russian Foreign Minister Sergei Lavrov sees a "real opportunity" for the six-party talks with Iran to reach a deal on Tehran's disputed nuclear programme, the foreign ministry said Saturday.
In a statement released after Lavrov spoke with Iranian Foreign Minister Mohammad Jarad Zarif in Geneva on Friday evening, the Russian ministry called the meeting "a comprehensive and interested exchange of opinions" about how to end disagreements in the negotiations.
"Lavrov underlined that for the first time in many years, the '5+1′ and Iran have a real opportunity to come to agreement," the statement quoted Lavrov as saying at the meeting.
Lavrov is to join his counterparts from the P5+1 group – comprising the United States, Britain, France, Russia, China and Germany – in Geneva on Saturday in a bid to reach an interim accord with Iran on its nuclear programme after a decade of failed efforts.
Full report at:
http://tribune.com.pk/story/635937/russia-sees-real-opportunity-for-iran-nuclear-deal/
----------
Southeast Asia
PAS's delicate balancing act of visions for an Islamic state
November 23, 2013
Since its formation in 1951, PAS has been promoting the setting up of an Islamic state in Malaysia. The Islamist party, however, suddenly shifted the call to the aim of creating a benevolent state two years ago.
Yesterday, the party offered a new twist to its aim.
While reaffirming that upholding Islam is still the party's ultimate agenda, the PAS leadership said they would embark on a mission to spread the message of love and peace to all Malaysians, while striving to become "a movement that brings about reforms and the revival of the true Islamic teachings to the nation."
"These are not empty promises. Our agenda is Islam, as mentioned in Clause 3 of our party constitution," said party president Datuk Seri Adul Hadi Awang in his policy speech at the 59th PAS Muktamar, themed "Blessings For All".
Full report at:
http://www.themalaysianinsider.com/malaysia/article/pass-delicate-balancing-act-of-visions-for-an-islamic-state
----------
National Laws Trump Shariah, Activists Say
November 23, 2013
Rights activists are demanding the central government re-evaluate the implementation of shariah law in Aceh following a string of violations committed by the province's moral guardians, the Shariah Police.
"The biggest problem with the Wilayatul Hisbah [Shariah police] in Aceh is that they are operating on the grounds of morality instead of universal laws, so their enforcement activities only center on unimportant matters," Arimbi Heroeputri, a commissioner of the National Commission on Violence Against Women (Komnas Perempuan) told the Jakarta Globe on Friday.
The statement followed the arrest by Banda Aceh Police of the head of the province's Shariah police on suspicion of embezzlement.
Arimbi said Komnas Perempuan has been asking the government to review shariah law in Aceh, known as Qanun Jinayat and Qanun Acara Jinayat, the criminal code and criminal procedures bylaws.
Full report at:
http://www.thejakartaglobe.com/news/national-laws-trump-shariah-activists-say/
----------
Arab World
Syria air raids kill 29 in and around Aleppo: NGO
November 23, 2013
At least 29 people were killed on Saturday in Syrian regime air strikes on the northern town of Aleppo and surrounding areas, the Syrian Observatory for Human Rights said.
The Britain-based monitoring group said at least 14 people had been killed in Aleppo city's Tariq al-Bab district, with 15 others killed in raids in the nearby town of Al-Bab and the area of Tadef.
http://english.ahram.org.eg/NewsContent/2/8/87264/World/Region/Syria-air-raids-kill--in-and-around-Aleppo-NGO.aspx
----------
Fresh attacks across Iraq leave nine dead
November 23, 2013
At least nine people have been killed in a series of bombings and shootings across Iraq, officials say.
Five died when bombs exploded at a market in a south-eastern suburb of Baghdad and beside pro-government Sunni militiamen in Tarmiya, to the north.
Militants also attacked a police station and an army patrol near the northern city of Mosul, leaving two policemen and two soldiers dead.
Sectarian violence has surged across the country in recent months.
The UN says 979 people - including 158 police and 127 military personnel - were killed in violent attacks in October. More than 6,500 civilians have died since January, the highest annual toll since 2008.
Full report at:
http://www.bbc.co.uk/news/world-middle-east-25053521
----------
Baghdad Sunnis: Mosques closed to protest Sectarian attacks
November 23, 2013
Sunni religious leaders say they have decided to close down the sect's mosques in Baghdad indefinitely to protest attacks targeting clerics and worshippers, highlighting Iraq's deepening sectarian rift.
Sheik Mustafa al-Bayati, member of the Iraqi Doctrine Council where senior Sunni scholars sit to issue religious edicts, says the decision was taken on Thursday and came into effect on Saturday.
Full report at:
http://english.ahram.org.eg/NewsContent/2/8/87250/World/Region/Baghdad-Sunnis-Mosques-closed-to-protest-attacks.aspx
----------
Clashes in Egypt as Islamists protest; 2 killed
AP | Nov 23, 2013
CAIRO: Clashes erupted Friday as thousands of supporters of the Muslim Brotherhood around Egypt held protests marking the passage of 100 days since the start of a bloody crackdown against them in the wake of the ouster of Islamist President Mohammed Morsi. The violence left two dead including a 10-year-old boy.
The marches in multiple districts of Cairo and other cities were commemorating the Aug. 14 storming by security forces on two pro-Morsi protest camps in the capital that killed hundreds of Islamists.
Full report at:
http://timesofindia.indiatimes.com/world/middle-east/Clashes-in-Egypt-as-Islamists-protest-2-killed/articleshow/26226589.cms
----------
Islamist Rebels Report Capture of Largest Syrian Oil Field
November 23, 2013
Islamist rebels led by al Qaeda-linked fighters seized the largest oil field in eastern Syria on Saturday, activists said, a raid which would cut off President Bashar Assad's access to almost all local crude reserves.
There was no immediate comment from the government. Losing the al-Omar oil field would mean Assad's forces would be almost completely reliant on imported oil in their highly mechanized military campaign to put down a 2-1/2-year uprising.
It was not yet clear how much the loss of the field in Deir al-Zor province would affect Assad's government or battlefield abilities. But the pro-opposition Syrian Observatory for Human Rights monitoring group said it would prove a major blow.
Full report at:
http://www.jpost.com/Syria-Crisis/Islamist-forces-say-theyve-seized-crucial-Syrian-oil-field-332730
----------
Syrian civil war refugees held in Egypt begin hunger strike
By REUTERS
November 23, 2013
CAIRO - Dozens of refugees from Syria detained in an Egyptian police station began a hunger strike on Friday to draw attention to their plight, several of them said.
The United Nations refugee agency confirmed that 52 refugees of Syrian and Palestinian origin had refused to receive food delivered by a UNHCR-funded charity to the police station where they are held in the coastal city of Alexandria.
Among the detainees are 21 children, including 14-month-old twin girls, and eight women.
"We will not eat until we die or until we are allowed to go to any country that will accept us," a 52-year-old man said by phone from the police station in the coastal city of Alexandria.
Like about half the refugees in the police station, the man, who asked not to be named, is a Syrian-born Palestinian.
Full report at:
http://www.jpost.com/Middle-East/Syrian-civil-war-refugees-held-in-Egypt-begin-hunger-strike-332690
----------
Egypt selected to coordinate Islamic heritage committee
November 23, 2013
Members of the Islamic Educational Scientific and Cultural Organization (ISESCO) have elected Egypt to be coordinator of the Islamic World Heritage Committee (IWHC).
The selection came during the ISESCO's fourth annual session, held in Yemen.
Minister of State for Antiquities Mohamed Ibrahim said that the vote was the result of the recognition of Egypt's importance in archaeological and cultural heritage and its role in preserving and protecting the country's tangible and intangible cultural heritage.
The fifth session of the IWHC will be held in Egypt next year at the Nubia museum in Aswan.
http://english.ahram.org.eg/NewsContent/9/43/87215/Heritage/Islamic/Egypt-selected-to-coordinate-Islamic-heritage-comm.aspx
----------
Egypt asks Turkish ambassador to leave, cites threat to stability
AFP | Nov 23, 2013
CAIRO: Egypt decided on Saturday to expel Turkish ambassador Huseyin Avni Botsali after remarks made by Prime Minister Recep Tayyip Erdogan that Cairo deemed as being "provocative," the foreign ministry said.
Ministry spokesman Badr Abdelatty said Cairo took three decisions on Saturday concerning its diplomatic ties with Ankara.
"First to expel the Turkish ambassador and downgrade our ties to the level of charge d'affaires, second to declare the Turkish ambassador persona non grata and third we will not send our ambassador to Turkey," Abdelatty said.
Full report at:
http://timesofindia.indiatimes.com/world/middle-east/Egypt-asks-Turkish-ambassador-to-leave-cites-threat-to-stability/articleshow/26263751.cms
----------
Pakistan
Religious Parties Rally in Lahore for Restricting Religious Processions
November 23, 2013
LAHORE - Various religious parties took to the streets on Friday to condemn the Rawalpindi incident, terming it an attempt to ignite sectarian violence and dismantle the country's social fabric.
In Lahore, different religious parties organised rallies which were participated by a large number of people from all walks of life. The participants demanded the government for immediate arrest of the culprits involved and award them exemplary punishment. They asked the government to unmask the real go-getters behind the tragedy, besides announcing compensation for the victim families and traders whose shops were burned to ashes. They said that the madrassa students who had gone missing on the day of incident should be recovered; otherwise, they would continue their protests.
Full report at:
http://www.nation.com.pk/pakistan-news-newspaper-daily-english-online/lahore/23-Nov-2013/lahore-rallies-for-restricting-religious-processions
----------
At least seven dead in two blasts in Karachi
2013-11-23
KARACHI: Back to back bomb blasts on a busy street in Karachi's Ancholi area on Friday night left at least seven people, including a boy, dead. At least 28 people suffered injuries while a number of shops and vehicles were badly damaged.
The deafening explosions were heard miles away, sowing fear in the city hours after demonstrations were held under tight security to denounce the Rawalpindi violence on Ashura day.
The blasts occurred at some distance from an Imambargah in Ancholi, Federal B. Area.
"We received five bodies, including that of a little boy, at Abbasi Shaheed Hospital," said police surgeon Dr Jalil Qadir.
Full report at:
http://www.dawn.com/news/1057871/at-least-seven-dead-in-two-blasts-in-karachi
----------
PTI protest: Peace cannot be attained till drone strikes are stopped, says Imran
November 23, 2013
PESHAWAR: Pakistan Tehreek-e-Insaf (PTI) Chairman Imran Khan, addressing a protest rally in Peshawar on Saturday, maintained that peace cannot be attained till the US drone strikes are stopped.
"Before the elections, we promised to bring peace to the country. But without drones being stopped, peace cannot be attained.
"For the first time in the history of Pakistan, a democratic government along with all other parties had agreed that the time for war has ended, and it is time for dialogue," Imran said, adding that the drone strike which killed Tehreek-i-Taliban Pakistan (TTP) leader Hakimullah Mehsud sabotaged the peace process.
Full report at:
http://tribune.com.pk/story/635944/pti-protest-against-drone-strike-in-hangu-commences-in-peshawar/
----------
Eleven polio workers kidnapped from Khyber Agency
November 23, 2013
BARA: Eleven teachers carrying out polio vaccinations were kidnapped from Khyber Agency on Saturday, Express News reported.
The incident took place in Sipah area of Bara.
The victims have been taken to an undisclosed location.
Previous attacks
On October 10, three khasadar officials of Khyber Agency, who were providing security to polio vaccinators, sustained injuries when a roadside bomb targeted their vehicle on Ring Road near Achini in Peshawar.
On October 7, two people were killed and over a dozen – including two polio workers – were injured in a bomb blast outside a dispensary in a village on the edge of Peshawar. They were scheduled to finalise security arrangements for the ongoing polio vaccination campaign in the area.
Full report at:
http://tribune.com.pk/story/635928/eleven-polio-workers-kidnapped-from-khyber-agency/
----------
TTP claims responsibility for twin bomb attacks in Karachi
2013-11-23
KARACHI: The Tehrik-i-Taliban Pakistan (TTP) claimed responsibility Saturday for twin bomb attacks in Karachi overnight that killed at least seven people and wounded at least 28 others.
Shahidullah Shahid, a spokesman for umbrella group TTP, told AFP that the attacks in Karachi were carried out in revenge for violence in Rawalpindi on November 15.
He said the attacks were aimed at Shias in Karachi, and vowed further violence.
"It was to avenge the Rawalpindi incident, we will carry out more such attacks to avenge the killing of Sunnis," Shahid told AFP by telephone from an undisclosed location.
Fighting erupted in the garrison-city of Rawalpindi, which neighbours the capital Islamabad, earlier this month when a procession by Shia Muslims to mark the most important day of the mourning month of Muharram coincided with a sermon at a nearby Sunni mosque.
The groups clashed with each other, TV cameramen and security forces.
Full report at:
http://www.dawn.com/news/1058047/ttp-claims-responsibility-for-twin-bomb-attacks-in-karachi
----------
Malik asks Turkish educationists to expand work to remote areas of Balochistan
SALEEM SHAHID
2013-11-23
QUETTA, Nov 22: Balochistan Chief Minister Dr Abdul Malik Baloch on Friday asked educationists belonging to a Turkish organisation working for promotion of education in the province to extend their services to backward and far-flung areas.
The chief minister was talking to a delegation of Pak-Turk International Schools and Colleges led by its Principal Osman Irsalahan, which called on him at the Chief Minister House.
On the occasion, the delegation told the chief minister that Turkey had been playing an important role in promoting quality education in Pakistan since 1995. Similarly, he said, Pak-Turk schools had been educating children in Balochistan for the past 13 years and over 1,000 students were now getting quality education in two separate branches of Pak-Turk schools.
"Over 150 students have been provided hostel facilities," the delegation said, adding that Pak-Turk school gave admissions to students coming from far-flung areas purely on merit, including Jaffarabad, Kharan, Zhob and Mastung. Apart from it, it said shining students were also offered scholarships.
Full report at:
http://www.dawn.com/news/1057988/malik-asks-turkish-educationists-to-expand-work-to-remote-areas-of-balochistan
----------
Baradar met Afghan peace delegation in Islamabad
ASIF MEHMOOD
2013-11-22
KARACHI: A high-ranking peace delegation from Kabul met former Afghan Taliban No. 2 Mullah Abdul Ghani Baradar in Islamabad to kick-start the Afghan peace process, senior Pakistani officials told Dawn.com on Friday.
A five-member delegation of Afghanistan's High Peace Council (HPC) led by its Chairman Salahuddin Rabbani visited Pakistan from November 19 to 21.
Highly placed officials confirmed that during the meeting, which lasted almost three hours, Baradar handed a special message from the Taliban shura (council) to the delegation representing Afghanistan's High Peace Council.
Full report at:
http://www.dawn.com/news/1057865/baradar-met-afghan-peace-delegation-in-islamabad-officials
----------
UK aiding Pakistan quell terrorism: HC
November 23, 2013
LAHORE - Outing British high commissioner Adam Thomson stated on Friday both the United Kingdom and Pakistan were faced with the problem of terrorism and that his country was providing Pakistan with technical assistance to curb this menace.
"Some of the terrorism in the UK has linkage with terrorism in Pakistan," Thomson commented during a farewell meeting with senior journalists here. Philip Barton will be replacing Thomson in January next year.
To a question about Britain's role in fight against terrorism after withdrawal of NATO forces from Afghanistan, the outgoing envoy said his country was assisting the two countries through different means to overcome the scourge of terrorism.
Full report at:
http://www.nation.com.pk/pakistan-news-newspaper-daily-english-online/editors-picks/23-Nov-2013/uk-aiding-pakistan-quell-terrorism-hc
----------
JI to support KPK govt in stopping Nato supplies
November 23, 2013
LAHORE - Jamaat e Islami chief Syed Munawar Hasan has said that if the killings of innocent people through drone attacks could be stopped at the risk of a provincial government, it won't be a bad bargain.
Addressing the Friday congregation at Mansoora mosque, he said that JI would stand shoulder to shoulder with the PTI in stopping the NATO supplies.
Munawar said if the Federal government wanted the KPK govt to follow its policies, it would have to guarantee the security of the life and property of the people and take decisions in line with the national honour, abandoning US slavery. He said after the drone attack in Hangu the KPK government had the right to stop NATO supplies for ending drone attacks. He said that the Federal government was stating in vague terms that no provincial government could go against the Federal government policies.
Full report at:
http://www.nation.com.pk/pakistan-news-newspaper-daily-english-online/lahore/23-Nov-2013/ji-to-support-kpk-govt-in-stopping-nato-supplies
---------
North America
Pak's illegal nuclear procurement exposed in 1987
PTI
Washington, November 23, 2013
Pakistan's illegal nuclear procurement was exposed as early as 1987 with the arrest of a Pak national, resulting in sharp divisions in US government, but then Regan Administration decided to ignore it in lieu of the Islamabad's contribution in Afghanistan against the Russians, the latest set of declassified documents revealed.
NSA released a set of declassified documents yesterday related to the arrest of Arshed Pervez in July 1987 on charges of illegal nuclear procurement, which among others reflects the divisions within the then Ronald Reagan administration.
"The Pervez case demonstrates how US government agencies, including the Customs Bureau and ACDA, sought to monitor and disrupt Pakistan's nuclear procurement activities. For its part, the Reagan White House used loopholes in US nonproliferation laws to avoid the enforcement of sanctions against Pakistan," the National Security Archive (NSA) said.
The documents revealed a record of meetings on 5 August 1987 between the then Pakistani ruler General Zia ul-Haq and the US Under Secretary Armacost.
Full report at:
http://www.hindustantimes.com/world-news/pak-s-illegal-nuclear-procurement-exposed-in-1987/article1-1154725.aspx
----------
Canada wants political stability in Bangladesh
November 23, 2013
The staging of free, fair and credible elections are key to creating the political stability Bangladesh needs to move forward socially and economically, according to a report prepared by two Canadian lawmakers. Russ Hiebert and Joe Daniel released their pre-election observation report on the national political situation in Bangladesh on Friday. The South Asia Democratic Forum (SADF) pre-election observation mission visited Dhaka from November 12-14 and met with a wide cross-section of society including religious leaders, journalists, lawyers, academics, former government and military officials, and representatives of various civil society organisations.
Full report at:
http://www.dhakatribune.com/foreign-affairs/2013/nov/23/canada-wants-political-stability#sthash.ohRPtIbK.dpuf
----------
Afghanistan risking world aid if no security deal: US
AFP | Nov 23, 2013
WASHINGTON: US officials bleakly warned Afghan leaders on Friday that the failure to sign a new security pact this year with the United States could jeopardize crucial aid to the war-torn country.
"We have long made clear that we need to get a Bilateral Security Agreement done this year," White House spokesman Jay Carney told reporters.
"We've made clear that it's imperative that we do it as soon as possible, and further delay is not practical nor tenable," he said, renewing calls for the pact to be signed "as soon as possible."
Full report at:
http://timesofindia.indiatimes.com/world/us/Afghanistan-risking-world-aid-if-no-security-deal-US/articleshow/26226627.cms
----------
Mideast
Israel builds new synagogues beneath Al-Aqsa mosque
Nov 23, 2013
A specialist in Jerusalem's history, Khalil Ibrahim, has claimed that the Israeli authorities built three new Jewish synagogues to practice biblical prayers, including chambers to host women's prayers, inside the tunnels that are scattered beneath the Al-Aqsa Mosque. Ibrahim, who also works as a tour guide, told Palestine Online: "We only saw these synagogues during our tours; otherwise we would not have known anything about them. They were built quietly under the ground. These synagogues are an extension of other religious sites that Israel is building in occupied Jerusalem, especially around the Al-Aqsa Mosque, to impose new realities on the ground. The constructions have political backing in an effort to Judaise the city." Ibrahim explained that the Israeli government aims to encircle the Al-Aqsa Mosque with a belt of settlements and structures that carry alleged religious titles, including synagogues. Ibrahim also revealed that: "inside these synagogues, the Jews are using Psalms to model and demonstrate the Temple's structure under the Al-Aqsa Mosque. Other facilities including schools, libraries and synagogues are being built in an attempt to undermine and erase the Islamic and Arab heritage in the holy city and to construct a Jewish heritage in its place."
http://www.middleeastmonitor.com/news/middle-east/8452-israel-builds-new-synagogues-beneath-al-aqsa-mosque#sthash.byjLzcSn.dpuf
------------
Israel Defense Minister: Nuclear Iran could plant dirty bomb anywhere in West
November 23, 2013
Israel is very concerned by the proposed initial deal between the international community and Iran that is on the table in Geneva, Defense Minister Moshe Ya'alon told US Secretary of Defense Chuck Hagel in Canada on Friday.
The two met during a conference of defense minister in Halifax.
"The Middle East is a place of ongoing instability, and it is expected to remain like this in the coming years. We are very concerned by developments in negotiations with Iran. We believe that the deal placed on the table is very bad, and even if such a deal is signed, there is still much to accomplish to bring the regime in Iran to the dilemma of choosing between a bomb or survival," he continued.
Full report at:
http://www.jpost.com/Iranian-Threat/News/Yaalon-to-Hagel-Nuclear-Iran-could-plant-dirty-bomb-anywhere-in-West-332716
----------
I am ready to talk in the Knesset but Netanyahu won't hear me – Mahmoud Abbas
November 23, 2013
Palestinian President Mahmoud Abbas told the Voice of Russia about his plans to visit Moscow before the end of the year. In an exclusive interview with VoR's regular contributor, Elena Suponina, the Palestinian leader spoke of the agenda for his upcoming meeting with Russian President Vladimir Putin. Also, through our radio station, he actually gave his reply to Israeli President Benjamin Netanyahu's invitation to speak in the Knesset.
Mr. President, what questions will be on the table during your December visit to Moscow?
There are several topics that we would like to discuss with the Russian leadership. First, it's the course of the negotiations between us, the Palestinians, and the Israelis. We have always had very good and trustful relations with Russia. We are long-standing friends. And therefore, we conceal nothing from our friends. On the contrary, we want to inform the Russian leadership about the course of the talks.
Full report at:
http://voiceofrussia.com/2013_11_22/I-am-ready-to-speak-in-the-Knesset-but-not-what-Netanyahu-wants-to-hear-Mahmoud-Abbas-7647/
----------
Turkey and US almost in consensus on Syria and Iraq, Arınç says after meeting with Biden
November 23, 2013
Ankara and Washington are in agreement regarding Syria and Iraq, Turkish Deputy Prime Minister Bülent Arınç has said following a meeting with U.S. Vice President Joe Biden at the White House on Nov. 22.
"Mr. Biden is an excellent politician who is a friend of Turkey and possesses a well-knowledge about what is happening in our region. His analysis has been very stimulating for us. In fact, Turkey and U.S. are not in disagreement regarding Syria, Iraq or any other issue; on the contrary, [both countries] are almost in consensus," Arınç said after the 1.5-hour-long meeting, adding that the differences were not substantial.
Full report at:
http://www.hurriyetdailynews.com/turkey-and-us-almost-in-consensus-on-syria-and-iraq-arinc-says-after-meeting-with-biden.aspx?pageID=238&nID=58411&NewsCatID=359
----------
Turkish governor denies comments on Hizbullah
November 23, 2013
The governor of the southeastern province of Batman has denied a report by The Economist which quoted him as saying that Iran was using Hizbullah against Turkey.
"The statements that are written under my name do not belong to me. General issues about the region were discussed during a meeting with the journalist who wrote this story [Amberin Zaman] and I have not made any statement that can have any political connotations," said Yılmaz Arslan, governor of Batman province in a written statement sent to the Hürriyet Daily News today.
Full report at:
http://www.hurriyetdailynews.com/turkish-governor-denies-comments-on-hizbullah.aspx?pageID=238&nID=58401&NewsCatID=338
----------
Iran to oppose 'excessive demands' in nuclear talks: Zarif
November 23, 2013
Iran will not bow to "excessive demands" in nuclear talks with the major powers, Foreign Minister Mohammad Javad Zarif said on Saturday, adding that negotiations had entered a critical stage.
"We will definitely oppose excessive demands," Zarif said as the talks in Geneva stretched into a fourth day in the search for an elusive deal.
The talks had entered a "very difficult stage," following the arrival to join them of the foreign ministers of all six powers, he added.
http://english.ahram.org.eg/NewsContent/2/8/87262/World/Region/Iran-to-oppose-excessive-demands-in-nuclear-talks-.aspx
----------
Africa
Obama Must Press Moroccan King Over 'Rape and Kissing' Laws
November 23, 2013
US President Barack Obama must urge Moroccan King Mohammed VI to scrap laws which see women and girls forced to marry their rapists, and teenagers facing jail for kissing in a public place, Amnesty International said ahead of a meeting between the two heads of state on Friday.
Several teenage survivors of sexual violence have committed suicide in recent months.
Public pressure to protect survivors of sexual violence had peaked in March 2012 when 16-year-old Amina Filali swallowed rat poison and killed herself, after being forced to marry the man she said had raped her.
Full report at:
http://allafrica.com/stories/201311220662.html
----------
Fears Over Election Security in Mali Rebel Stronghold
November 23, 2013
Bamako. Kidal, the sand-swept desert home of numerous armed factions in the most isolated, inhospitable corner of Mali, is preparing for legislative elections on Sunday under the ever-present threat of bloodshed.
Capital of the harsh Saharan region of the same name and the cradle of the nomadic Tuareg, the town has slipped from the regimented control of separatist rebels into a state of lawless anarchy that allowed the recent murders of two French journalists by Islamists.
"The Malian army, the Tuareg rebels, the UN force and the Islamists are all armed in Kidal," said a local government employee on condition of anonymity.
Full report at:
http://www.thejakartaglobe.com/international/fears-over-election-security-in-mali-rebel-stronghold/
----------
Tripoli demands militias leave
November 23, 2013
TRIPOLI: Residents of Libya's capital were turning out Friday to press militias remaining in the city to follow others and withdraw, aiming to keep up the momentum following deadly clashes last weekend.
The city council and students union called for a "large demonstration," while the authorities urged people not to march on sites occupied by militias, to avoid confrontations, and vowed to ensure security.
Some militias, made up of fighters who helped oust dictator Muammar Qaddafi in 2011, have already pulled out, but there are questions about whether this is in earnest or just for show. "This is too good to be true," a woman called Asma wrote on Twitter.
Full report at:
http://www.arabnews.com/news/481596
----------
India
India ahead of China, Pakistan in Internet freedom: Study
PTI Posted online: Fri Nov 22 2013
New Delhi : India has scored higher than neighbouring China and Pakistan in terms of Internet freedom and openness, says a study by World Wide Web Foundation.
India's web index score at 32.4 is ahead of China (31.1) and Pakistan (10.4), shows the 2013 study by World Wide Web Foundation. The organisation was established in 2009 by Web inventor Sir Tim Berners-Lee.
The Web Index is a composite measure that summarises in a single (average) number the health and social utility of the Web in various countries. The index score captures universal access, freedom and openness, relevant content and empowerment in the context of Internet.
Full report at:
http://www.indianexpress.com/news/india-ahead-of-china-pakistan-in-internet-freedom-study/1198376/
----------
Muzaffarnagar village opposes rehabilitation of riot victims
Nov 23, 2013
S Raju, Hindustan Times Meerut, November 22, 2013Efforts to revive communal harmony in the riot-hit Muzaffarnagar district got a jolt when members of a community opposed the rehabilitation in their neighbourhood of some of the families who had taken refuge in a relief camp.
Inhabitants of Palda and a few other villages of Budhana area are averse to rehabilitating the minority community families currently staying at Basikalan relief camp on the outskirts of their village.
The villagers conveyed their opposition to the inspector general of police Ashutosh Pandey and district magistrate Kaushalraj.
"If you settle these people near the place from which they fled because of atrocities, it will become a spot of hatred for both communities," said Rajeev Saini of village Palda, who has been leading the opposition.
Full report at:
http://www.hindustantimes.com/india-news/muzaffarnagar-village-opposes-rehabilitation-of-riot-victims/article1-1154567.aspx
----------
Terrorists may attempt to disrupt Lok Sabha, assembly polls: PM Manmohan Singh
PTI | Nov 23, 2013
NEW DELHI: Prime Minister Manmohan Singh on Saturday warned that terrorist groups may try to disrupt the forthcoming Lok Sabha and assembly polls and asked security forces to remain alert.
Voicing concern over a "substantial increase" in the number of communal incidents in some states, he said they must be tackled with utmost firmness, without prejudice, fear or favour.
"There is a likelihood of attempts (by terror groups) to disrupt the forthcoming Lok Sabha and assembly elections. The security forces need to be careful," the Prime Minister said while addressing a conference of country's top police brass here.
Full report at:
http://timesofindia.indiatimes.com/india/Terrorists-may-attempt-to-disrupt-Lok-Sabha-assembly-polls-PM-Manmohan-Singh/articleshow/26248587.cms
----------
URL: https://www.newageislam.com/islamic-world-news/new-age-islam-news-bureau/jamaat-e-islami-bangladesh-threatened-to-unleash-a-reign-of-terror,-if-demands-not-met/d/34562