New Age Islam News Bureau
29 Dec 2012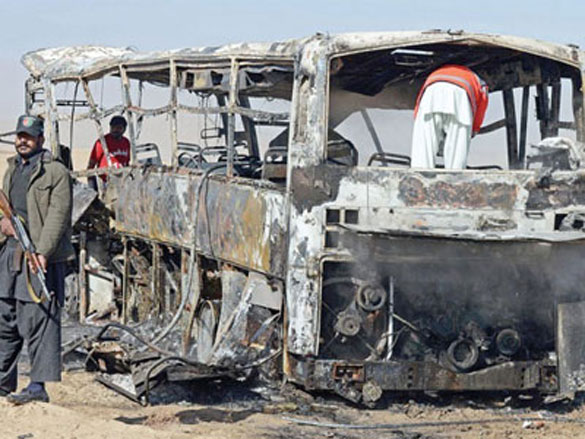 Pakistan
• Jaish-Ul-Islam Claims Responsibility: 20 Shia Pilgrims Killed In Mastung Attack
• Twenty-one kidnapped Levies killed by Pakistani Taliban
• Pakistan 'defers' MFN status to India
• Pakistan reopens Torkham border
• Blast outside cinema house injures one in Peshawar
• Earthquake strikes Pakistan, Afghanistan: USGS
• Drone War Spurs Militants to Deadly Reprisals
• Cellphone service ban on New Year eve sought
• Sherry Rehman calls on prime minister
• Man seeks PHC help for arrest of son's killers
• Polls postponement intolerable: Jamaat
• Swine flu kills nine Palestinians
• Georgian soldier found dead in Afghanistan
• Jatoi, Nawab Salahuddin discuss politics
• Police will remember IGP Habib-ur-Rehman forever
• Nizami offers fateha for Pakistan Movement vet
------------
Africa
• At least 15 killed in sect attack in north Nigeria
• South Sudan says president ready to meet Bashir
------------
Arab World
• Al-Qaida in Yemen offers bounty for US ambassador
• Tehran hangs 5 drug traffickers, rapists
• Assad forces take district of Syria's Homs: NGO
• Syria peace envoy in Moscow as Russia pressures Assad
• Record surplus budget unveiled
• Egypt's Morsi says Assad regime has no future in Syria
• Egypt's Mursi downplays economic crisis
• Sharjah phone scam suspects arrested
• Kingdom's revenue for 2012 projected at SR 1.23 trillion
• 'Technology oasis' in Taif planned
• SR 60 billion approved for Makkah Metro
• Egypt president warns against new unrest
• Egypt's Shura Council to plunge into busy legislative schedule
• Haniyeh embraces Egypt's Gaza construction aid
• Arab League chief arrives in West Bank
• Brahimi urges political fix in Syria
• Police warn NY revellers on the road
• FNC ministry opens Twitter account
• New Egypt charter guarantees equality: Mursi
• Iraqis stage large anti-government rallies
------------
South Asia
• 5 To Walk Gallows in Bangladesh for Killing Saudi Embassy official
• Missing Georgian soldier found dead in Afghanistan: minister
• Tahrir activists clash with cops
• Winter's Deadly Bite Returns to Refugee Camps of Kabul
• A lesson for Bangladesh
• Myanmar to lift newspaper ban
------------
India
• NIA nabs 1 for Malegaon blast
• Another filthy barb from CPM leader Anisur Rehman
• India helps two rescued Pak seafarers to return home
• 'Muslims have lowest literacy rate'
• Old Haj pilgrims' retreat turns hundred
------------
Mideast Asia
• Iran starts navy drills in Strait of Hormuz
• Iranian cargo ship sinks off UAE
• Middle East: don't rely on the past to predict its future
------------
Southeast Asia
• Jakarta Fire and Fire-Related Deaths Increase in 2012
• Philippine storm death toll rises to 20
• Indonesia Rushes Repatriation of Citizens from Syria
• Indonesia Receives Mixed Review from Advocates
------------
Europe
• Russia sees chance of Syria solution but Assad defiant
• Insisting on Assad's Exit Will Cost More Lives, Russian Says
• Russian airliner skids off Moscow runway
• Hopes for Syria breakthrough faint as U.N. envoy visits Russia
Compiled by New Age Islam News Bureau
Photo: Volunteers search for victims in a destroyed pilgrims bus Photo by AFP
URL: https://www.newageislam.com/islamic-world-news/new-age-islam-news-bureau/jaish-ul-islam-claims-responsibility--20-shia-pilgrims-killed-in-mastung-attack/d/9841
------------
Pakistan
Jaish-ul-Islam claims responsibility: 20 Shia pilgrims killed in Mastung attack
Saleem Shahid
QUETTA, Dec 31: A car bomb hit a convoy of three Iran-bound buses in Mastung district on Sunday, setting one of the buses on fire and killing at least 20 Shia pilgrims and injuring 25 others.
The pilgrims belonged to different parts of Punjab. The other two buses were partially damaged.
According to official sources, the bomb hit the convoy on the RCD Highway in the Dringer area, some 60km from here.
A hitherto unknown organisation, Jaish-ul-Islam, has claimed responsibility for the attack in phone calls made to reporters by its spokesman Ghazi Haq Nawaz from an unspecified place.
Witnesses and government officials claimed it was a suicide attack because the driver of the car had rammed his vehicle into one bus in the convoy.
But some other officials said the explosion had been triggered by a remote-controlled device. The bomb disposal squad held the same view.
Balochistan Home Secretary Capt (retd) Akbar Hussain Durrani said criminals had planted explosives in a small car and parked it on the highway in Dringer area.
"They detonated the explosives with a remote control when the convoy reached there," he said.
He said the bus which bore the impact of the blast carried 43 pilgrims and 20 of them were burned to death.
"Their bodies have been charred beyond recognition."
He said 20 bodies and 25 injured had been taken to hospitals.
He also said a contingent of Levies escorting the three buses had not been affected.According to the bomb disposal squad, 80kg to 100kg of explosives were used in the explosion.
"The three buses were overtaking the car when we suddenly heard a huge blast and the bus next to ours caught fire," Hussain Ali, a pilgrim said. He said people in the other two buses had tried to rescue the pilgrims in the burning bus they were deterred by heat generated by the fire.
Officials said some of the injured were in critical condition and they were referred to Combined Military Hospital in Quetta.
The bodies were taken to Bolan Medical Complex in Quetta and later to Nichari Imambargah after legal formalities.
Subsequently, the bodies were sent to Punjab.
Source in the BMC said 18 bodies and 23 injured had been brought to the hospital.
The injured were identified as Shafiq Abbas, Ghulam Abbas, Sydo, Wasee Haider, Syed Khizar Hayat, Farhat Manzoor, Muhammad Aslam, Tahir Ali, Sher Hyat, Muhammad Iqbal, Syed Jaffar, Syed Safir Hussian, Sarfaraz Ali, Hurmat Iqbal, Sajid Ali, Muhammad Israr, Muhammad Latif, Pervin Akhtar, Shamim Batool, Kalsoom, Tahira Bibi, Shehzad, Yasir, Abbas Shah and
Muhammad Nawaz.
The dead and the injured are said to be from Gujranwala, Gujrat, Sargodha, Lala Musa, Chiniot, Jhang, Multan and Lahore.
Earlier in June, a suicide bomber had attacked a bus in the Hazarganji area of Quetta when it was returning from the border town of Taftan. At least 13 people, including Shia pilgrims and policemen, were killed and 20 others injured.
Besides, several people belonging to the local Hazara Shia community were killed or injured in terrorist attacks in the city.
http://dawn.com/2012/12/31/jaish-ul-islam-claims-responsibility-20-shia-pilgrims-killed-in-mastung-attack/
-------------
Twenty-one kidnapped Levies killed by Pakistani Taliban
Zahir Shah Sherazi
December 30, 2012
PESHAWAR: Pakistani Taliban executed twenty one of the 23 Levies personnel kidnapped earlier this week, police sources told Dawn News in wee hours of Sunday.
The political administration of Frontier Region (FR) Peshawar have confirmed that 21 Levies officials were shot dead by the militant group in a cricket ground near Peshawar's Jan-e-Khawarr area.
Meanwhile, one kidnapped official who survived the ordeal has been transferred to Lady Reading Hospital in critical condition while another reached home safely after managing to escape from captivity.
On Thursday, 23 personnel were kidnapped after an attack on two levies posts by militants in the Frontier Region Peshawar, police said. The attackers were wearing security forces' uniforms and were armed with rocket-propelled grenades and automatic weapons, sources added. Two policemen were also killed in the attacks.
Later, a Taliban spokesman for Dara Adamkhel, Mohammad Afridi, had told Dawn newspaper by phone that his group had carried out the attack.
Afridi had claimed that eight personnel had been killed and 23 had been kidnapped.
The government was seeking local tribal elders' help to rescue the kidnapped officials and a local Jirga was conducting dialogues with the militant group. However, the talks did not succeed.
http://dawn.com/2012/12/30/twenty-one-kidnapped-levies-killed-by-pakistani-taliban/
------------
Pakistan 'defers' MFN status to India
By: Imran Ali Kundi
December 30, 2012
ISLAMABAD - Pakistan has failed to abolish the negative list and has deferred the announcement of granting Most Favoured Nation (MFN) status to India due to 'extreme pressure' from trade lobbies, it was learnt on Saturday.
The government had announced in October 2011 that it will grant MFN status to India from January 1, 2013 by converting the negative list into positive list by the end of 2012 – a step that would have automatically granted MFN status to India.
Though trade relations have improved significantly between the two countries and India granted MFN status to Pakistan in 1996, but non-tariff barriers remained intact on exports from Pakistan and both sides did not make much of progress towards trade liberalisation. India at present can export all items to Pakistan other than those 1,209 items put on the negative list.
"The status of MFN to India is to be granted by the cabinet, which did not meet last week due to Quaid-e-Azam Day and death anniversary of Benazir Bhutto," said a top official of the commerce ministry while talking to The Nation. Some other government officials said the next possible federal cabinet meeting will be held on January 2, 2013 but revealed that the issue of granting MFN status to India was not on the agenda.
The commerce ministry official however said that the ministry has finalised its homework and would issue notification of granting MFN to India after getting approval from the cabinet. He said that the government has already decided in principle to grant MFN status to India and the cabinet would take final decision in this regard soon.
But other sources maintained that announcement of granting MFN status to India might be delayed for some time as certain forces are pressing the government to avoid doing this. They said various trade and industry sectors, including automobile, pharmaceutical, and agriculture and auto parts, are bitterly opposed to giving the MFN status to India. They fear that the local markets would be flooded with Indian goods, which are cheap, because of low input cost in India.
http://www.nation.com.pk/pakistan-news-newspaper-daily-english-online/national/30-Dec-2012/pakistan-defers-mfn-status-to-india
------------
Pakistan reopens Torkham border
December 29, 2012
ISLAMABAD: Pakistan reopened its border with Afghanistan at Torkham on Saturday after it was closed earlier in a protest over incidents of torture to Pakistani truck drivers by Afghan forces.
Afghanistan ambassador to Pakistan Mohammad Omar Daudzai was summoned to the Foreign Office (FO) regarding the incidents where the Afghan envoy assured Pakistan that its government would investigate the matter and the culprits would be punished.
He also reassured that the Afghan government would ensure that such incidents do not recur in the future.
Pakistani security guards had shut the border crossing on Friday for the second time in a week to register their protest against 'illegitimate treatment' of Afghan police with Pakistani nationals in Afghanistan.
http://www.thenews.com.pk/article-81618-Pakistan-reopens-Torkham-border-after-Afghan-assurance
------------
Blast outside cinema house injures one in Peshawar
December 30, 2012
PESHAWAR: A blast at the gate of a cinema house in Peshawar's Faqirabad area injured one person early on Sunday, Dawn News reported.
The blast occurred at the gate of Shama Cinema near Bacha Khan Chowk in Faqirabad area of Peshawar, according to police sources.
No casualties or major damage was reported after the blast.
Full report at:
http://dawn.com/2012/12/30/blast-outside-cinema-house-injures-one-in-peshawar/
------------
Earthquake strikes Pakistan, Afghanistan: USGS
December 30, 2012
KABUL: A 5.8-magnitude earthquake struck the Hindu Kush region of Afghanistan Saturday, the United States Geological Survey (USGS) said, with the quake felt in the capital Kabul and parts of Pakistan.
The earthquake struck in the late evening at a depth of 115 kilometres (70 miles), some 140 kilometres north of Afghanistan's eastern city of Jalalabad and 130 kilometres west of Chitral in neighbouring Pakistan.
Full report at:
http://dawn.com/2012/12/30/earthquake-strikes-pakistan-afghanistan-usgs/
------------
Drone War Spurs Militants to Deadly Reprisals
By DECLAN WALSH
December 29, 2012
ISLAMABAD, Pakistan — They are dead men talking, and they know it. Gulping nervously, the prisoners stare into the video camera, spilling tales of intrigue, betrayal and paid espionage on behalf of the United States. Some speak in trembling voices, a glint of fear in their eyes. Others look resigned. All plead for their lives.
"I am a spy and I took part in four attacks," said Sidinkay, a young tribesman who said he was paid $350 to help direct C.I.A. drones to their targets in Pakistan's tribal belt. Sweat glistened on his forehead; he rocked nervously as he spoke. "Stay away from the Americans," he said in an imploring voice. "Stay away from their dollars."
Al Qaeda and the Taliban have few defenses against the American drones that endlessly prowl the skies over the bustling militant hubs of North and South Waziristan in northwestern Pakistan, along the Afghan border. C.I.A. missiles killed at least 246 people in 2012, most of them Islamist militants, according to watchdog groups that monitor the strikes. The dead included Abu Yahya al-Libi, the Qaeda ideologue and deputy leader.
Despite the technological superiority of their enemy, however, the militants do possess one powerful countermeasure.
Full report at:
http://dawn.com/2012/12/30/cellphone-service-ban-on-new-year-eve-sought/
------------
Sherry Rehman calls on prime minister
December 30, 2012
karachi - The Pakistan Ambassador at the United States, Sherry Rehman, called on Prime Minister Raja Pervaiz Ashraf, at the Governor House here on Saturday. During the meeting, the Pak-US relations came up under discussion. Chairman Board of investment Saleem Mandviwala also called on the Prime Minister.
Full report at:
http://www.nation.com.pk/pakistan-news-newspaper-daily-english-online/national/30-Dec-2012/sherry-rehman-calls-on-prime-minister
------------
Man seeks PHC help for arrest of son's killers
December 30, 2012
PESHAWAR – An elderly man, Syed Jalal Shaikh of Pushtakhara area, appealed to Chief Justice, Peshawar High Court, Dost Muhammad Khan, on Saturday to provide him with justice by arresting the influential killers of his innocent son.
Addressing a news conference here at Peshawar Press Club, the distressed Syed Jalal alleged that last year in the month of Ramadan his young innocent son was killed by certain influential of the area including Farooq, Shoaib, Faiq, and Iftikar of Gujar family, but still police didn't arrested the killers. "I had also registered an FIR against the accused in Sarband police station and also visited different government offices for justice but to no avail, he lamented.
Full report at:
http://www.nation.com.pk/pakistan-news-newspaper-daily-english-online/national/30-Dec-2012/man-seeks-phc-help-for-arrest-of-son-s-killers
------------
Polls postponement intolerable: Jamaat
December 30, 2012
MULTAN - Jamaat-e-Islami Punjab Amir Dr Syed Waseem Akhtar has said that postponement of elections is intolerable, asking the government to make arrangements for holding free, fair and transparent polls.
Talking to the journalists here on Saturday, he said that the government should offer financial autonomy to the election commission besides offering all other kinds of assistance including support from Army. He pointed out that massive funds were being given to the members of national and provincial assemblies which were being spent on buying the opinion of voters. He asked the election commission to take notice of misuse of development funds and launch action against those involved in misuse. "The development projects must continue but the projects launched on behalf of members of assemblies should be stopped," he demanded.
He said that his party condemned target killing in Karachi. "MQM is responsible for entire lawlessness, killings and extortion in Karachi," he alleged. He said that it was MQM that introduced the tradition of target killing and dead bodies in sacks in Karachi. He asked all political and religious parties to unify at one platform for the restoration of peace in Karachi.
Full report at:
http://www.nation.com.pk/pakistan-news-newspaper-daily-english-online/national/30-Dec-2012/polls-postponement-intolerable-jamaat
------------
Swine flu kills nine Palestinians
December 30, 2012
RAMALLAH - Nine Palestinians have died in an outbreak of the H1N1 influenza strain known as swine flu, the office of Palestinian prime minister Salam Fayyad said on Saturday. "Latest figures and information...show that 187 cases have so far been recorded, the majority of which are in the northern West Bank," it said in a statement. "The number of recorded deaths... stands at nine until now." It added that the Palestinian health ministry "has the necessary medicines, testing kits and equipment to deal efficiently with the spread of the virus". The virus has affected Israel and the Palestinian territories in the past, killing dozens of people.
Full report at:
http://www.nation.com.pk/pakistan-news-newspaper-daily-english-online/international/30-Dec-2012/swine-flu-kills-nine-palestinians
------------
Georgian soldier found dead in Afghanistan
December 30, 2012
TBILISI: A Georgian soldier, who went missing in southern Afghanistan last week, was found dead on Saturday, Georgia's defence minister said.
Minister Irakli Alasania gave no details about the soldier's death which brings to 19 the number of Georgian troops in the US-led Nato forces killed in Afghanistan over the past three years.
"Sergeant Giorgi Kikadze has been found dead today in Afghanistan,"Alasania said in a televised statement.
Kikadze, who went missing on December 19 is believed to be the first soldier from the Nato- Full report at:
http://dawn.com/2012/12/30/missing-georgian-soldier-found-dead-in-afghanistan-minister/
------------
Jatoi, Nawab Salahuddin discuss politics
December 30, 2012
AHMEDPUR EAST - National People's Party (NPP) Chairman Ghulam Murtaza Jatoi phoned Bahawalpur National Awami Party (BNAP) Chief Nawab Salahuddin Abbasi and discussed with him issues pertaining to new provinces issues and prevailing political situation in South Punjab and Interior Sindh.
Both the leaders decided to meet soon. Nawab Salahuddin Abbasi highlighted the background of the restoration of former provincial status of Bahawalpur movement and launching of Bahawalpur National Awami Party.
Full report at:
http://www.nation.com.pk/pakistan-news-newspaper-daily-english-online/lahore/30-Dec-2012/jatoi-nawab-salahuddin-discuss-politics
------------
Police will remember IGP Habib-ur-Rehman forever
December 29, 2012
LAHORE – Inspector General of Police (IGP) Punjab Muhammad Habib-ur-Rehman has said that the police successfully improved the sense of security not only among the business community but also among the ordinary citizens.
According to an official handout issued from the Central Police Office (CPO) on Friday, the provincial police chief stated this during his farewell address to the Police Darbar at the Faisalabad Police Lines.
Earlier, the IGP inaugurated a police post Maniawala in Millat Town police station area.
In an industrial City like Faisalabad, the considerable decrease in the crimes rate is the result of untiring efforts of Faisalabad police and the policy of aggressive policing, the IGP said. RPO Faisalabad Aftab Cheema and senior police officers of Faisalabad Region were also present on this occasion.
Full report at:
http://www.nation.com.pk/pakistan-news-newspaper-daily-english-online/lahore/29-Dec-2012/police-will-remember-igp-habib-ur-rehman-forever
------------
Nizami offers fateha for Pakistan Movement vet
December 29, 2012
LAHORE – Tributes kept pouring in for Pakistan Movement veteran Brig (r) Zafar Iqbal Ch. "He was flag bearer of Nazaria Pakistan who spent his life for the protection of ideological and geographical boundaries of Pakistan. His thoughts and acts are guiding star for the new generation," NPT Chairman Majid Nizami said. Flanked by Vice Chairman Prof Dr Rafique Ahmad and Shahid Rasheed, Nizami visited the residence of Iqbal on Friday to condole his death with family.
Full report at:
http://www.nation.com.pk/pakistan-news-newspaper-daily-english-online/lahore/29-Dec-2012/nizami-offers-fateha-for-pakistan-movement-vet
------------
Africa
At least 15 killed in sect attack in north Nigeria
December 29, 2012
Gunmen suspected to belong to a radical Islamist sect attacked a village in northeast Nigeria, tying up men, women and children before slitting their throats, killing at least 15 in the troubled region's latest attack, witnesses said Saturday.
The assault happened early Friday morning in the village of Musari on the outskirts of Maiduguri, the city where the sect known as Boko Haram first launched its guerrilla campaign of shootings and car bombings against Nigeria's weak central government. The gunmen shouted religious slogans and later ordered those there to be gathered up into a group, said Mshelia Inusa, a primary school teacher in the village.
"We heard some people chanting, 'God is great, God is great' amid sounds of banging on doors of houses at about 1 a.m.," the teacher said. "A voice was heard ordering people to be slaughtered and also voices of children were heard screaming."
Inusa said he and others later saw corpses with their hands tied behind their backs and their throats cut.
Later Friday morning, an ambulance arrived at the State Specialists Hospital in Maiduguri, accompanied by a group of military vehicles, a security guard said. Agitated soldiers ordered people away, but the guard said he counted at least 15 bodies being brought into the facility's morgue.
The guard spoke on condition of anonymity out of fears of angering either the military or the sect.
Full report at:
http://www.nation.com.pk/pakistan-news-newspaper-daily-english-online/international/29-Dec-2012/at-least-15-killed-in-sect-attack-in-north-nigeria
------------
South Sudan says president ready to meet Bashir
29 Dec 2012
South Sudan's President Salva Kiir is willing to meet Sudanese counterpart Omar Al-Bashir to resolve conflicts and resume vital oil flows, a South Sudan minister said Friday after Bashir agreed to hold a summit.
The neighbours agreed in September to set up a demilitarised border zone and resume oil exports from landlocked South Sudan through Sudan. Oil is the lifeline of both economies.
Neither country has yet withdrawn its army from its side of the border, a precondition to resume oil flows. Both sides accuse the other of supporting rebels on the other's territory.
South Sudan initially planned to resume exports by year-end after shutting down its output of 350,000 barrels a day in January after failing to agree an export fee with Sudan.
On Wednesday, Bashir said he was ready to meet Kiir after the African Union urged both to hold a summit as soon as possible. Ethiopian Prime Minister Hailemariam Desalegn visited Khartoum and Juba this week to mediate between the presidents.
Full report at:
http://english.ahram.org.eg/NewsContent/2/8/61446/World/Region/South-Sudan-says-president-ready-to-meet-Bashir.aspx
------------
Arab World
Al-Qaida in Yemen offers bounty for US ambassador
Reuters |
DUBAI, Dec 31, 2012,: The Yemen-based branch of al-Qaida has offered a bounty for anyone who kills the US ambassador to Yemen or an American soldier in the impoverished Arab state, a group that monitors Islamist websites said.
Al-Qaida in the Arabian Peninsula (AQAP) said it was offering three kilograms of gold for the killing of the US ambassador in Sanaa, Gerald Feierstein, the US-based SITE Intelligence Group said, citing an audio released by militants.
AQAP will also pay 5 million rials ($23,350) to whoever kills any American soldier in Yemen, it said.
The offer, valid for six months, was made "to encourage our Muslim Ummah (nation), and to expand the circle of the jihad (holy war) by the masses," SITE said, citing the audio.
AQAP, mostly militants from Yemen and Saudi Arabia, is regarded by the United States as the most dangerous branch of the network founded by Osama bin Laden.
In September, AQAP urged Muslims to step up protests and kill US diplomats in Muslim countries over a film denigrating the Prophet Mohammad, which it said was another chapter in the "crusader wars" against Islam.
The film provoked an outcry among Muslims, who deem any depiction of the Prophet as blasphemous and triggered violent attacks on embassies in countries in Asia and the Middle East.
Four US officials including the ambassador to Libya were killed in the aftermath. The Pentagon said it had sent a platoon of Marines to Yemen after demonstrators stormed the US Embassy in Sanaa.
A US ally, Yemen is struggling against challenges on many fronts since mass protests forced veteran leader Ali Abdullah Saleh to step down in February after decades in power.
President Abd-Rabbu Mansour Hadi's government is trying to re-establish order and unify the army.
Washington, which has pursued a campaign of assassination by drone and missile against suspected al-Qaida members, backed a military offensive in May to recapture areas of Abyan province. But militants have struck back with a series of bombings and killings.
http://timesofindia.indiatimes.com/world/middle-east/Al-Qaida-in-Yemen-offers-bounty-for-US-ambassador/articleshow/17828686.cms
-----------
Tehran hangs 5 drug traffickers, rapists
December 30, 2012
TEHRAN - Iran on Saturday hanged an Afghan drug trafficker and four Iranians, three of them convicted of rape, local media reported. The 27-year-old Afghan from Herat, identified only by his initials MM, was sent to the gallows in the northern city of Damghan after being convicted of selling around two kilos (four pounds) of crack cocaine. Three Iranian men convicted of rape and another of smuggling heroin and opium, were hanged in the central city of Yazd. The Islamic republic, where murder, rape, armed robbery, drug trafficking and adultery are punishable by death, has one of the highest annual execution counts in the world, alongside China, Saudi Arabia and the United States.
Full report at:
http://www.nation.com.pk/pakistan-news-newspaper-daily-english-online/international/30-Dec-2012/tehran-hangs-5-drug-traffickers-rapists
------------
Assad forces take district of Syria's Homs: NGO
December 30, 2012
BEIRUT: Forces loyal to Syria's President Bashar al-Assad on Saturday seized a district of the central city of Homs after a fierce assault that sparked a humanitarian crisis, a monitoring group said.
"The army launched an offensive several days ago on the neighbourhood of Deir Baalbeh with heavy bombing, and the fighting and attacks continued until the rebels withdrew," said the Syrian Observatory for Human Rights.
The Britain-based watchdog, which relies on a large network of activists and medics on the ground, said it was unable to provide any casualty figures for the battle because of communication difficulties.
Full report at:
http://dawn.com/2012/12/29/assad-forces-take-district-of-syrias-homs-ngo/
------------
Syria peace envoy in Moscow as Russia pressures Assad
December 30, 2012
MOSCOW: The UN-Arab League peace envoy for Syria, Lakhdar Brahimi, was to hold talks in Moscow Saturday to find a way out of the Syria conflict after Russia upped the pressure on President Bashar al-Assad to open talks with the rebels.
Brahimi was due to meet Foreign Minister Sergei Lavrov amid signs that Russia – the only world power with close ties to the Damascus regime – was playing a more active role in finding an end to the bloody crisis that has claimed over 45,000 lives.
His trip came amid a flurry of diplomatic activity in Moscow on the Syria conflict that this week also saw a rare visit by the Syrian deputy foreign minister as well as Egypt's top diplomat.
Full report at:
http://dawn.com/2012/12/29/syria-peace-envoy-in-moscow-as-russia-pressures-assad/
------------
Egypt's Morsi says Assad regime has no future in Syria
29 Dec 2012
Egyptian President Mohamed Morsi said on Saturday his country supported the Syrian revolution and that President Bashar al-Asasd's administration had no place in Syria's future.
Morsi said Egypt's priority was to halt the bloodshed and to work, with "Arab, regional and international support and consensus", for a political solution that would allow "the Syrian people to replace the current regime" with elected leaders.
"All of that while preserving the unity of Syria," Morsi, an Islamist, said during a televised speech to Egypt's Shura Council, or upper house of parliament. "There is no place for the current regime in the future of Syria."
Assad has been losing ground to rebels waging a 21-month-old uprising. Egyptians ousted their longtime authoritarian president, Hosni Mubarak, in a popular revolt in February 2011. Morsi won office in a free election earlier this year.
Full report at:
Assad-regime-has-no-future-in-Sy.aspx
------------
Egypt's Mursi downplays economic crisis
December 30, 2012
CAIRO (AFP) - Egypt's President Mohamed Mursi downplayed on Saturday the country's teetering economy before a newly-empowered senate, and insisted that a new constitution that fuelled protests guaranteed equality.
Since the constitution's acceptance in a two-stage referendum this month following weeks of often violent protests, the Islamist Mursi's government has sought to downplay fears of a downturn amid a declining Egyptian pound.
In his address to the senate, which the constitution invests with legislative powers until a new parliament is elected in two months, Mursi insisted there had been gains as well as losses in the battered economy.
"General indicators for the social and economic situation have shown some noticeable progress," Mursi said, blaming the weeks-long protests in November and December for damaging tourism.
Full report at:
http://www.nation.com.pk/pakistan-news-newspaper-daily-english-online/international/30-Dec-2012/egypt-s-mursi-downplays-economic-crisis
------------
Sharjah phone scam suspects arrested
By Aghaddir Ali
December 30, 2012
Sharjah: Police have arrested a 17-member Asian gang for making calls to people asking them to transfer money to their telephones in return for valuable prizes.
Once the transfer was made, police said the suspects would then sell the mobile credit to other people. Fraudsters claimed to be calling from a well-known company.
The Criminal Investigation Department at Sharjah Police formed a team after receiving a tip off about the illegal activity of cheating people and selling their mobile credit to other people.
Full report at:
http://gulfnews.com/news/gulf/uae/crime/sharjah-phone-scam-suspects-arrested-1.1125254
------------
Kingdom's revenue for 2012 projected at SR 1.23 trillion
P.K. ABDUL GHAFOUR
30 December 2012
JEDDAH: The Ministry of Finance yesterday projected the Kingdom's total revenue for 2012 at SR1239.5 ($330.5) and expenditure at SR 853 ($227.5) billions. The increase of actual over budgeted expenditures of SR 163 ($43.5) billions are due to the 13th month salary, increasing the capital and resources of the Real Estate Development Fund and Saudi Industrial Development Fund, additional expenditures on projects in the Two Holy Mosques, increase in expenditures on the unemployment benefit program (Hafiz), and the increase in wages bill as a result of providing regular civil service jobs for those who were employed on temporary base, it said.
"Preliminary estimates indicate that the public debt will decline from SR 135.5 (US $36.1) billions at the end of 2011 to SR 98.8 (US $26.3) billions at the end of 2012, which represents (3.6) percent of projected GDP for 2012. The stock of public debt is entirely domestic," the ministry said in a statement on the occasion of 2013 budget announcement.
Full report at:
http://www.arabnews.com/kingdoms-revenue-2012-projected-sr-123-trillion
------------
'Technology oasis' in Taif planned
30 December 2012
JEDDAH: Makkah Gov. Prince Khaled Al-Faisal ordered the designing of a 'technology oasis' in Taif.
A consultancy company will undertake the study and planning of the oasis, Taif Mayor Muhammad bin Abdul Rahman Al-Mukhrej said.
"The oasis will be constructed in the area between the northern side of Taif University campus and Souk Okaz. The study will be submitted to Custodian of the Two Holy Mosques King Abdullah for endorsement after getting the approval of the Higher Committee," Al-Mukhrej said.
This first-ever technology oasis project in the Kingdom is also an initial step toward building a model smart city in Taif. It will create plenty of jobs that would minimize unemployment among Saudi graduates, as it will have a number of research centers and technology incubators, Al-Mukhrej said.
The preliminary steps for the materialization of the project included signing of a memorandum of understanding between Prince Khaled and the King Abdulaziz City of Science and Technology.
Full report at:
http://www.arabnews.com/%E2%80%98technology-oasis%E2%80%99-taif-planned
------------
SR 60 billion approved for Makkah Metro
30 December 2012
JEDDAH: The Cabinet approved a SR 60 billion plan for the implementation of a metro rail network in Makkah, which would link the Makkah Metro and the Two Holy Mosques Express Train to facilitate access to the Grand Mosque.
The first of four stations will be located in the Ajyad area in front of Al-Shohada Hotel, the second in Mount Madafea, the third in Shoab Amer at Gaazh region, and the forth in the Misfalah area, said Abbas Qattan, assistant deputy director for Construction and Projects, and chairman of the Committee for the Development of Makkah municipality. Qattan also pointed out that there would be 1,800 property expropriations for building these four stations.
"The committee of the assessment and evaluation of real estate, which consists of the governorate of Makkah, Makkah Municipality, the Ministry of Justice, the Ministry of Finance in addition to two expert real estate agents has completed estimating Shoab Amer's real estate after the completion of a cadastral survey in the area. Accordingly, the Saudi Electric Company has also been instructed to disconnect the power supply to these properties" said Qattan.
Full report at:
http://www.arabnews.com/sr-60-billion-approved-makkah-metro
------------
Egypt president warns against new unrest
29 December 2012
CAIRO: Egypt's Islamist president has warned against any unrest that could harm the drive to repair the country's economy in a sharply worded speech pushing the opposition to work with his government.
Muhammad Mursi has made the comments in his first speech to the newly convened upper house of Parliament, saying it was time for the nation to turn to "production, work, seriousness" after two years of turmoil. The past month saw a surge in unrest when the opposition launched a wave of protests against a new constitution, and Islamist supporters of the president held counter-rallies.
Full report at:
http://www.arabnews.com/egypt-president-warns-against-new-unrest
------------
Egypt's Shura Council to plunge into busy legislative schedule
Gamal Essam El-Din
29 Dec 2012
After 90 of its newly-appointed members swore in on 26 December and gathered to listen to a speech by President Mohamed Morsi on 29 December, the Islamist-dominated upper house of parliament, the Shura Council, will soon plunge into business.
According to Article 230 of the recently-approved constitution, the Shura Council shall take charge of the power of legislation once the constitution goes into effect and until a new House of Representatives (formerly the People's Assembly) is elected in about two or three months.
In his speech before the Shura Council on 29 December, Islamist President Morsi indicated that not only would the Shura Council take charge of drawing up Egypt's legislative map in the next period, it will also be tasked with overseeing independent supervisory institutions and selecting their chairmen.
Full report at:
http://english.ahram.org.eg/NewsContent/1/64/61492/Egypt/Politics-/Egypts-Shura-Council-to-plunge-into-busy-legislati.aspx
------------
Haniyeh embraces Egypt's Gaza construction aid
Ahmed Abdallah
29 Dec 2012
Gaza Prime Minister Ismail Haniyeh announced Saturday that Egypt intends to supply construction materials to the Gaza Strip via the Rafah Crossing.
Haniyeh congratulated Egypt for the unprecedented step, adding that it has come in light of Full report at:
http://english.ahram.org.eg/NewsContent/2/8/61468/World/Region/Haniyeh-embraces-Egypts-Gaza-construction-aid.aspx
------------
Arab League chief arrives in West Bank
29 Dec 2012
Arab League Secretary General Nabil Al-Arabi arrived in Ramallah Saturday for a visit to the West Bank, an AFP correspondent said.
Arabi will be joined by 10 Arab foreign ministers, according to the Palestinian Authority's (PA) top diplomat Riyad Al-Malki.
Chief Palestinian negotiator Saeb Erakat said last week he expected the League would imminently pay the first installment of a promised fiscal "safety net" of $100 million, promised in the event of Israeli financial sanctions on the PA.
On 2 December, Israel said it would not transfer tax and customs funds it collects for the Palestinians this month in response to their successful bid for upgraded UN observer state status.
Full report at:
http://english.ahram.org.eg/NewsContent/2/8/61463/World/Region/Arab-League-chief-arrives-in-West-Bank.aspx
------------
Brahimi urges political fix in Syria
30 Dec 2012
UN-Arab League peace envoy Lakhdar Brahimi has said that Syria faces a choice between "hell or a political process", urging the international community to work tirelessly to bring about a political solution to the crisis.
"If the only alternative is hell or a political process, then all of us have to work continuously toward the political process," Brahimi said after talks with Russian Foreign Minister Sergei Lavrov in Moscow on Saturday.
He warned that Syria could turn into a failed state if action is not taken soon.
On his turn, Lavrov said that Syrian President Bashar al-Assad was insisting on staying in power and nothing could be done to persuade him to step down.
"Regarding Bashar al-Assad, he repeatedly said, both publically and in private... that he is not planning to leave, that he will remain in his post," Lavrov said alongside Brahimi.
Full report at:
http://www.aljazeera.com/news/middleeast/2012/12/201212298659734891.html
------------
Police warn NY revellers on the road
30 December 2012
The police have issued strict warnings to motorists on New Year's Eve celebrations, in a bid to keep road related incidents to a minimum.
The General Department of Traffic of the Dubai Police has called on all motorists to abide by the traffic laws while celebrating in the city to ensure road safety on Dubai roads.
Colonel Saif Muhair Al Mazroui, Deputy Director of the Traffic Department, made the announcement saying road safety would be achieved through collective responsibility.
Al Mazroui said that the behaviour of motorists in Dubai has been very good of late and he expressed his wish that all will cooperate with the police.
He added that the Dubai Traffic Department has set up plans to organise traffic movement and avoid traffic obstruction as large numbers of cars will be moving in the area during the end of year celebrations.
Full report at:
http://www.khaleejtimes.com/nation/inside.asp?xfile=/data/nationgeneral/2012/December/nationgeneral_December494.xml&section=nationgeneral
------------
FNC ministry opens Twitter account
30 December 2012
The Ministry of Federal National Council Affairs has launched a Twitter account to enhance the culture of political participation and reach its target audience effectively.
Full report at:
http://www.khaleejtimes.com/nation/inside.asp?xfile=/data/government/2012/December/government_December69.xml&section=government
------------
New Egypt charter guarantees equality: Mursi
29 December 2012
CAIRO - Egypt's President Mohamed Mursi on Saturday said a disputed new constitution guaranteed equality for all Egyptians, and downplayed the country's economic woes in an address before a newly empowered senate.
Egyptians voted in a December referendum in favour of the charter, which was rushed through by an Islamist-dominated council amid political turmoil and became the focus of the country's worst crisis since Mursi 's election in June.
The senate has been invested with legislative powers under the new charter until a parliament is elected in two months' time.
Full report at:
http://www.khaleejtimes.com/kt-article-display-1.asp?xfile=/data/middleeast/2012/December/middleeast_December475.xml&section=middleeast
------------
Iraqis stage large anti-government rallies
29 Dec 2012
Tens of thousands of Iraqi protesters have poured onto the streets against Prime Minister Nouri Al-Maliki, keeping up a week-long blockade of a major highway in Iraq.
Around 60,000 people blocked the main road through Falluja, 50 kilometres (30 miles) west of Baghdad, after Friday prayers, setting fire to the flag of Iran and shouting "Out, out Iran! Baghdad stays free!" and "Maliki you coward, don't take your advice from Iran!"
Many Sunni Iraqis accuse Maliki of being sectarian, of refusing to share power and of being under the sway of Iran. "We will not leave this place until all our demands are fulfilled, including the toppling of the Maliki government," said 31-year-old Omar Al-Dahal at a protest in Ramadi, where more than 100,000 protesters blocked the same highway as it leads to neighbouring Syria and Jordan.
Activists' demands include an end to the marginalisation of Sunnis, the abolition of anti-terrorism laws they say are used to target them, and the release of detainees.
Protests flared last week in Al-Anbar province, the Sunni stronghold in western Iraq where demonstrators have mounted the blockade, after troops loyal to Maliki, Shia, detained the bodyguards of his finance minister, a Sunni.
Full report at:
http://english.ahram.org.eg/NewsContent/2/8/61456/World/Region/Iraqis-stage-large-antigovernment-rallies.aspx
------------
South Asia
5 To Walk Gallows in Bangladesh for Killing Saudi Embassy official
December 30, 2012
A speedy trial tribunal of Dhaka on Sunday awarded death penalty to five people in Saudi Embassy official Khalaf Al Ali murder case.
The condemned convicts are: Mohammad Al Amin, Saiful Islam Mamun, Rafiqul Islam Khokon, Akbar Ali Lalu and Selim Chowdhury.
Khalaf, 45, an official at the consular section of the Saudi Embassy in Dhaka, was shot dead near his Gulshan house in the capital's diplomatic enclave on March 6 this year.
Judge Mohammad Motahar Hossain of the Speedy Trial Tribunal-4 in Dhaka pronounced the verdict Sunday afternoon.
Saudi Ambassador to Bangladesh Dr Abdullah Bin Naser Al-Busairi and one of Khalaf brothers were present during the verdict.
Of the condemned killers, Al Amin, Mamun, Khokon and Lalu are behind the bars while Selim is on the run.
Full report at:
http://www.thedailystar.net/newDesign/latest_news.php?nid=43560
------------
Missing Georgian soldier found dead in Afghanistan: minister
December 30, 2012
TBILISI: A Georgian soldier, who went missing in southern Afghanistan last week, was found dead on Saturday, Georgia's defence minister said.
Minister Irakli Alasania gave no details about the soldier's death which brings to 19 the number of Georgian troops in the US-led Nato forces killed in Afghanistan over the past three years.
"Sergeant Giorgi Kikadze has been found dead today in Afghanistan,"Alasania said in a televised statement.
Kikadze, who went missing on December 19 is believed to be the first soldier from the Nato-led Isaf mission to have gone missing since Bowe Bergdahl was taken on June 30, 2009 in the southeastern province of Paktika.
Full report at:
http://dawn.com/2012/12/30/missing-georgian-soldier-found-dead-in-afghanistan-minister/
------------
Tahrir activists clash with cops
December 30, 2012
Law enforcers yesterday detained 39 suspected activists of banned Islamist outfit Hizb ut-Tahrir following a clash with them before the Jatiya Press Club in the capital.
During the clash, police fired rubber bullets and tear gas and charged batons to break up the Tahrir men, who retaliated with exploding hand-made bombs and throwing brick chips.
The skirmish left at least 10 people including several pedestrians and police injured.
Witnesses said around 200 members of the outlawed group brought out a procession before the Bangladesh Medical Association (BMA) building (opposite to the Jatiya Press Club) on Topkhana Road around noon.
Full report at:
http://www.thedailystar.net/newDesign/news-details.php?nid=263152
------------
Winter's Deadly Bite Returns to Refugee Camps of Kabul
By ROD NORDLAND
December 29, 2012
KABUL, Afghanistan — The snow that fell on a refugee camp in Kabul last week left thick powder piled voluptuously on the sagging roofs of huts and skinny tree branches, turning the squalor into a winter wonderland. The mistake of a toddler named Janan was to play in it.
By nightfall Thursday, Janan, 3, was sick. On Friday, he never woke up.
He became the first known victim to freeze to death this winter in the mud and tarpaulin warrens of Kabul's 44 refugee camps, where more than 100 children died of cold last winter.
His father, Taj Mohammad, 32, fears Janan may not be the last. "I am worried that more of my children will die," he said.
When the children died here last winter, the question was, how could this happen in the capital city, home to 2,000 aid groups, recipient of $58 billion in development aid and at least $3.5 billion in humanitarian aid over the past 10 years?
The question this winter is, how could it happen again?
The answer appears to be a combination of stubbornness, by the Afghan government and the refugees themselves; inadequate deliveries of aid as winter sets in; and, in some cases, desperate families who sold their winter clothes and blankets in the summer to get food.
Full report at:
http://www.nytimes.com/2012/12/30/world/asia/deadly-bite-of-winter-returns-to-ill-prepared-refugee-camps-of-kabul.html?ref=world&gwh=580EBEF99AA08E7D8415DABC9201DADA
------------
A lesson for Bangladesh
December 30, 2012
Rights leaders have joined in the call of the neighbouring India for an end to crimes against women. The December 16 gang rape of a medical student in New Delhi triggered violent public protests over attitude towards women in the country and raised a unanimous demand that actions be taken to strengthen laws against sexual violence.
"Incidents like rape and gang rape are frequent in our country too," Salma Ali, executive director of Bangladesh National Women Lawyers' Association (BNWLA), said. Except for some individuals and women rights activists, no one protests such crimes and discrimination against women in Bangladesh, she added.
Talking to The Daily Star, a number of women rights activists yesterday said a significant change was necessary in the perspective of the man-dominating society to ensure women's safety. Tougher legal measures should also be taken.
They voiced their concern over women's protection after the 23-year-old rape victim died at a hospital in Singapore.
The gang rape had triggered huge revulsion and anger across India. Protesters had marched in central Delhi and other major cities, demanding that no one else was made victim of such barbarism.
Full report at:
http://www.thedailystar.net/newDesign/news-details.php?nid=263133
------------
Myanmar to lift newspaper ban
December 30, 2012
Myanmar will allow private newspapers to publish daily from April 1, ending a decades-old ban in a further easing of the country's draconian censorship regime, the government said Friday.
Currently state-owned newspapers are the only dailies allowed, prompting many private companies to provide news via the Internet for a population hungry for information after years of restrictions.
Full report at:
http://www.thedailystar.net/newDesign/news-details.php?nid=263172
------------
India
NIA nabs 1 for Malegaon blast
By Abhishek Bhalla in New Delhi
December 30, 2012
THE first arrest made by the National Investigation Agency ( NIA) in connection with Maharashtra's 2006 Malegaon blast has exposed the investigation of Maharashtra anti terror squad that had arrested nine Muslim youths for the explosion.
The role of the right- wing Hindu groups came to light with the nabbing of Swami Aseemanand last year.
According to NIA sources, the man arrested has been identified as Mohan, who is alleged to be part of the criminal conspiracy and touted as the planter of explosives in communally- sensitive town of Malegaon on September 8, 2006 that killed 35 people.
He was arrested from Hatod area of Indore district in Madhya Pradesh and has been taken to Mumbai on a transit remand where he would be produced before the court, officials said. Mohan's role came to light before the NIA during the interrogation of Rajesh Chowdhry, an alleged bomber of the Samjhauta train blast, who had claimed to be part of the conspiracy involved in bombing of Malegaon.
Full report at: Mail Today
------------
Another filthy barb from CPM leader Anisur Rehman
Dec 30, 2012
KOLKATA: Barely a couple of days after he was censured by his party and forced to apologise for his sexist remarks against chief minister Mamata Banerjee, CPM leader Anisur Rehman was at it again on Saturday.
This time round, the former minister dragged in Amitabh Bachchan and Shah Rukh Khan, who were present at the inaugural ceremony of the Kolkata Film Festival earlier this year.
Addressing a public meeting at Shyampur in Howrah on Saturday, Rehman said: "Ami jiggesh korte pari Mamata Banerjee ke, onyo kaaj to dibbi cholchhe. Shahrukh Khan Didi'r mathae ektu chumu debe, tar jonyo to tar khoroch korte bandhe na. Amitabh Bachchan asbe, gaye ektu haath diye sohag diye jabe, tar jonyo to bandhe na (She says that there are no funds for development. Can I ask Mamata Banerjee how other things are going on? She doesn't bother about expenses while inviting Shahrukh Khan and Amitabh Bachchan)."
A few days ago, Rehman had mocked the state government's rape-compensation policy, saying: "I would like to ask didimoni (Mamata) what her fee will be if someone gets Rs 20,000 after being raped."
Full report at:
http://timesofindia.indiatimes.com/city/kolkata/Another-filthy-barb-from-CPM-leader-Anisur-Rehman/articleshow/17814302.cms
------------
India helps two rescued Pak seafarers to return home
Dec 30, 2012
NEW DELHI: In a humanitarian gesture, two Pakistani seamen, who were rescued from Somali pirates, were lent a helping hand by Indian officials as they returned home.
MEA sources said Indian officials bringing back five Indian seamen of MV ICEBERG -I, who were rescued from Somali pirates in Puntland, also helped two Pakistani seafarers.
The aircraft sent to bring back the Indians also brought along the Pakistani seafarers till Salalah in Oman, the last stop for the aircraft outside India. "Pakistani authorities were informed through the Indian High Commissioner in Islamabad Sharat Sabharwal and requested to send their officials to take over their nationals at Salalah," said an official from the ministry of external affairs. Pakistan does not have a consulate in Salalah.
Full report at:
http://timesofindia.indiatimes.com/india/India-helps-two-rescued-Pak-seafarers-to-return-home/articleshow/17814510.cms
------------
'Muslims have lowest literacy rate'
Dec 30, 2012
HYDERABAD: The Muslims have the lowest literacy rates among all religious communities in the country as the UPA government has failed to implement educational schemes for them, said All India Majlis Ittehadul Muslimeen (AIMIM) supremo Asaduddin Owaisi on Saturday. Highlighting the yawning gap between the national literacy rate and that of Muslims, Owaisi said Muslims lagged behind with a literacy rate of only 67.6% as against the national rate of 74%. Muslim OBCs, he said recorded a negative growth of 2% in literacy.
Addressing a large gathering comprising educationists and activists at the India Education Conclave - 2012 organised by Muslim Educational Social and Cultural Organisation (MESCO) at Park Hotel, Owaisi pointed out the lacunae in various government schemes. "In Medak district, Kasturba Gandhi Balika Vidyalayas (KGBV) are being operationalised where there are no Muslims. This means that education opportunities have not reached them. The target for KGBVs in districts with a substantial minorities' population in 2011-12 was 109 but the achievement was only 32. The enrolment of Muslims here accounts to a meagre 9% whereas that of SCs is 27% and STs is 28%," he said.
While maintaining that the government had no constitutional bar on making education scholarships demand-driven, Owaisi observed that the Rs 17,323 outlay for minorities in 12th Five Year Plan was inadequate as Rs 28,274 crore alone were needed for various scholarships. He said that the target of 1,47,900 beneficiaries for pre-matric scholarships in Assam was not achieved as only 81,306 were handed out. Similarly, in Bihar only 1,93,768 scholarships of the available 2,46,160 were disbursed.
Full report at:
http://timesofindia.indiatimes.com/city/hyderabad/Muslims-have-lowest-literacy-rate/articleshow/17813189.cms
------------
Old Haj pilgrims' retreat turns hundred
By Mohammed Wajihuddin
Dec 30, 2012
MUMBAI: It was once called the Gateway to Mecca. But today, the crowds passing mechanically through the ancient arched gates of this heritage structure in Crawford Market are unaware of its legacy. Before Haj House opened its doors to pilgrims in the mid-1990s, it was the four-storey Mohammed Haji Saboo Siddique Musafirkhana that would host Haj pilgrims from across the country. Recently, this iconic building turned 100.
Comprising 89 rooms and a mosque on the ground floor, the building is testimony to the generosity of the philanthropist whose name it bears. In an age when no Indian Haj pilgrim travels by sea and Haj flights from many cities have substantially reduced the number of pilgrims reaching Mumbai, Musafirkhana is fighting its own irrelevance. While a part of it is still being used as a retreat for patients seeking treatment in Mumbai and for a few Haj and umrah (mini-Haj) pilgrims, the building is largely used as a hostel, a school and a centre for vocational courses. "We have to make use of the rooms for the benefit of the community," says Bashir Patel, chairman of the Musafirkhana Trust.
Full report at:
http://timesofindia.indiatimes.com/city/mumbai/Old-Haj-pilgrims-retreat-turns-hundred/articleshow/17813408.cms
------------
Mideast Asia
Iran starts navy drills in Strait of Hormuz
29 Dec 2012
Naval commander Habibollah Sayyari said the "Velayat 91" drills would last until Wednesday across an area of about 1 million square kilometers in the Strait of Hormuz, the Gulf of Oman and northern parts of the Indian Ocean, IRNA said.
Sayyari said the goal of the maneuvers were to show "the armed forces' military capabilities" in defending Iran's borders as well as sending a message of peace and friendship to neighboring countries.
Iranian officials have often said Iran could block the strait - through which 40 percent of the world's sea-borne oil exports pass - if it came under military attack over its disputed nuclear program.
Full report at:
http://english.ahram.org.eg/NewsContent/2/8/61484/World/Region/Iran-starts-navy-drills-in-Strait-of-Hormuz.aspx
------------
Iranian cargo ship sinks off UAE
December 30, 2012
dubai - An Iranian cargo ship sank in UAE waters due to rough weather, while its crew of six was airlifted to safety by a rescue helicopter. The Al-Jasourah went down some 10 nautical miles off the coast of the northern emirate of Umm Al-Quwain soon after it had left Sharjah, said Gulf News. esponding to a distress call, the emirati coastguard deployed a helicopter to airlift the all-Iranian crew to safety, it said.
The size of the ship and the nature of its cargo were unknown.
Full report at:
http://www.nation.com.pk/pakistan-news-newspaper-daily-english-online/national/30-Dec-2012/iranian-cargo-ship-sinks-off-uae
------------
Middle East: don't rely on the past to predict its future
Peter Beaumont
30 December 2012
Recent reports from inside Syria paint a grim picture on both sides. In Aleppo, as my Guardian colleague Ghaith Abdul-Ahad described in a vivid report last week, the armed opposition to President Bashar al-Assad remains as split as ever, looting is commonplace and rivalries are multiplying. In Damascus, the situation for Assad and his inner circle continues to deteriorate. The president himself, suggest some accounts, is "isolated and fearful", almost invisible and unwilling to venture outside. The operational capacity of the forces closest to him to mount operations is also declining even as Russia seems to be moving to distance itself from Assad, if not from Syria itself.
In all likelihood, some end to the regime appears inevitable, if not immediately, then in the not very distant future. The question now being posed is: what happens next? And while the desire to predict and second-guess is hard-wired into our natures, not least the nature of journalists and analysts, it's probable that we will get it badly wrong.
Full report at:
http://www.guardian.co.uk/commentisfree/2012/dec/30/dont-rely-past-predict-middle-east
------------
Southeast Asia
Jakarta Fire and Fire-Related Deaths Increase in 2012
December 29, 2012
There were 1,008 fire cases across Jakarta this year, up 6 percent from 2011, data from the city's fire and disaster mitigation agency revealed.
Paimin Napitupulu, head of the Jakarta Fire and Disaster Mitigation Agency, said 30 people died from fires this year, compared to just 18 in 2011.
East Jakarta saw the highest number of fires with 258 cases, followed by West Jakarta with 218, South Jakarta with 212, North Jakarta with 196 and Central Jakarta with 123 cases.
Paimin said the fires caused an estimated Rp 290 billion ($30 million) in losses, compared to Rp 217 billion in the previous year.
Electrical short circuits accounted for 663 cases, followed by exploding stoves, which accounted for 46 cases.
Cigarettes and cars catching alight were among the other causes behind fires.
"Every year, electrical short circuits are the main cause of fires in Jakarta," Paimin said.
"The abundance of illegal connections and power theft is the main trigger for these short circuits."
Full report at:
http://www.thejakartaglobe.com/jakarta/jakarta-fire-and-fire-related-deaths-increase-in-2012/563931
------------
Philippine storm death toll rises to 20
December 30, 201
MANILA: The death toll from a tropical storm that hit the central Philippines on Christmas Day has risen to 20, with more than 20,000 others left homeless, the government said Sunday.
More drowning victims as well as the body of an elderly man crushed by a fallen tree had been found on Panay island along with that of an electrocution victim, raising the number of dead by nine, the civil defence office said. Four other people were missing after Tropical Storm Wukong hit the island on Tuesday, it said in an updated bulletin.
The government agency said Wukong wrecked about 5,000 houses, driving entire communities into government-run shelters. More than 23,000 people remained in these camps Sunday, it added.
Full report at:
http://www.thenews.com.pk/article-81685-Philippine-storm-death-toll-rises-to-20-
------------
Indonesia Rushes Repatriation of Citizens From Syria
Dessy Sagita & Erwida Maulia
December 29, 2012
The Indonesian government will pull all citizens out of Syria as the situation continues to worsen, the Ministry of Foreign Affairs said.
"The worsening security situation in Syria has pushed the central government to pull all Indonesian citizens out of Syria" spokesman PLE Priatna said in a press statement sent to the Jakarta Globe.
The Indonesian government has come under fire for failing to provide a safe exit for the nearly 13,000 Indonesians living in Syria. The strife-ridden country has been embroiled in an escalating civil war for some 21 months as rebel groups attempt to overthrow President Bashar al-Assad's regime.
Full report at:
http://www.thejakartaglobe.com/home/indonesia-rushes-repatriation-of-citizens-from-syria/563973
------------
Indonesia Receives Mixed Review From Advocates
December 30, 2012
Rights advocates on Saturday gave a poor review of Indonesia's performance in 2012 in terms of tackling corruption and securing human rights and press freedom.
The Indonesian Advocates Association (Ikadin) and the Alliance of Independent Journalists (AJI) both expressed disappointment with the government's efforts in these areas in the past year.
Prominent lawyer Taufik Basari said on behalf of Ikadin that while the quantity of corruption cases addressed had increased, the quality of the handling of such cases had not improved.
"In terms of quality, there is still room for improvement. The KPK [Corruption Eradication Commission], police and judiciary still have an important role to play in probing, investigating and capturing big cases that harm state finances," Taufik said on Saturday.
Taufik blamed corruption, a lack of cooperation and professionalism, and the infiltration of a "legal mafia" into the justice system for its failings in 2012.
Full report at:
http://www.thejakartaglobe.com/home/indonesia-receives-mixed-review-from-advocates/563998
------------
Europe
Russia sees chance of Syria solution but Assad defiant
29 Dec 2012
Russia said Saturday there was still a chance of finding a political solution to the Syrian conflict while acknowledging that President Bashar al-Assad would not be persuaded to leave power.
Moscow's caution came as forces loyal to Assad seized a district of the strategic central city of Homs after a fierce assault that a Britain-based watchdog said sparked a humanitarian crisis.
The latest diplomatic push saw Russian Foreign Minister Sergei Lavrov meet UN-Arab League peace envoy Lakhdar Brahimi for talks that represented a final end-of-year bid to accelerate moves to halt 21 months of bloodshed.
The meeting came amid emerging signs that Russia was beginning to distance itself from Assad's government and urgent efforts by Brahimi to resurrect a failed peace initiative that world powers agreed to in Geneva in June.
Brahimi bluntly stated that Syria was facing a choice between "hell or the political process" while urging the world to work tirelessly to bring about a diplomatic solution.
"It is really indispensible that the conflict finishes in 2013 and really the beginning of 2013," Brahimi said after the 90-minute talks.
Full report at:
http://english.ahram.org.eg/NewsContent/2/8/61482/World/Region/Russia-sees-chance-of-Syria-solution-but-Assad-def.aspx
------------
Insisting on Assad's Exit Will Cost More Lives, Russian Says
By ELLEN BARRY
December 29, 2012
MOSCOW — Russia's foreign minister, Sergey V. Lavrov, said Saturday that there was "no possibility" of persuading President Bashar al-Assad to leave Syria, leaving little hope for a breakthrough in the standoff. He also said that the opposition leaders' insistence on Mr. Assad's departure as a precondition for peace talks would come at the cost of "more and more lives of Syrian citizens" in a conflict that has already killed tens of thousands.
Moscow has made a muscular push for a political solution in recent days, sending signals that the Kremlin, one of Mr. Assad's most important allies, sees a pressing need for political change. As an international consensus forms around the notion of a transitional government, it has been snagged on the thorny question of what role, if any, Mr. Assad would occupy in it.
But after talks in Moscow on Saturday with Lakhdar Brahimi, the United Nations and Arab League envoy on Syria, Mr. Lavrov said that Russia could not press Mr. Assad to give up power. Mr. Lavrov has said that Russia "isn't in the business of regime change," but his characterization of Mr. Assad's stance on Saturday sounded more definitive.
Full report at:
http://www.nytimes.com/2012/12/30/world/middleeast/syria.html?ref=middleeast&gwh=7F3F35402C2E1D1AF67DFCCEF75B98E0
------------
Russian airliner skids off Moscow runway
30 Dec 2012
A passenger airliner has skidded off the runway at Russia's third-busiest airport while landing, broke into pieces and caught fire, killing at least four people.
Officials on Saturday said there were eight people aboard the Tu-204 belonging to Russian airline Red Wings that was flying back from the Czech Republic without passengers to its home at Vnukovo Airport.
Emergency officials said in a televised news conference that four people were killed and another four severely injured when the plane rolled off the runway into a snowy field and disintegrated.
Russia's state television showed photos of the plane's wreckage, with the cockpit sheared off from the fuselage and a large chunk gashed out near the tail.
The crash occurred amid light snow, but other details were not immediately known.
Vnukovo airport spokeswoman Yelena Krylova said it had enough personnel and equipment to keep the runway fully functional. The airport resumed receiving planes after a break of several hours.
Full report at:
http://www.aljazeera.com/news/europe/2012/12/20121229134131312531.html
------------
Hopes for Syria breakthrough faint as U.N. envoy visits Russia
29 Dec 2012
The international mediator seeking to end the 21-month-old conflict in Syria met Russia's foreign minister in Moscow on Saturday after talks in Damascus but expectations of progress toward a negotiated solution were low.
U.N.-Arab League envoy Lakhdar Brahimi's talks with Sergei Lavrov occurred a day after the main Syrian opposition group rebuffed diplomatic advances by Russia and firmly reiterated it would not negotiate with President Bashar al-Assad's government.
Brahimi is trying to build on an agreement reached in Geneva in June by world powers, including the United States and Russia, that called for the creation of a transitional government but left Assad's role unclear.
The mediator, who met Assad and others on a five-day trip to Syria, is to meet together with senior U.S. and Russian diplomats in the coming weeks, after two such meetings this month that produced no signs of a breakthrough.
Full report at:
http://english.ahram.org.eg/NewsContent/2/8/61455/World/Region/Hopes-for-Syria-breakthrough-faint-as-UN-envoy-vis.aspx
------------
URL: https://www.newageislam.com/islamic-world-news/new-age-islam-news-bureau/jaish-ul-islam-claims-responsibility--20-shia-pilgrims-killed-in-mastung-attack/d/9841