New Age Islam News Bureau
24 Sept 2019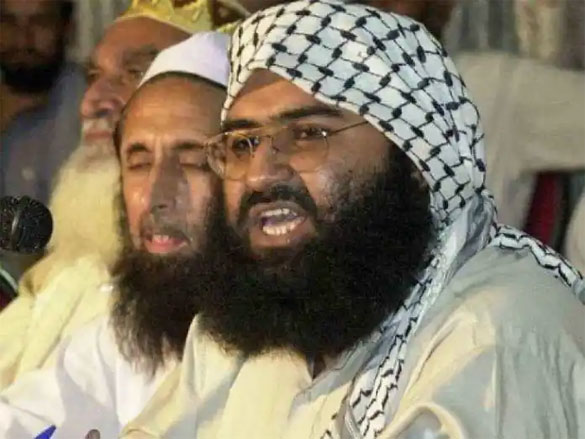 Jaish-e-Mohammad chief Masood Azhar
------
• Zakir Naik One Step Away From Being Labelled Fugitive As ED Moves Court
• Emirati-Jordanian Islamic Preacher Calls Muslim Brotherhood 'Khawarij' People Who Went Out Of Islam
• A Young Life Ends After 4 Steps on Video, and Afghans Can't Stop Watching
• Pakistan Committed One of the Biggest Blunders by Joining US after 9/11: Imran Khan
• Blindfolded and Shackled 'Muslim' Prisoners Held In Xinjiang, Prompted Widespread Condemnation
• After Trump Tells U.N. 'Protecting Religious Freedom' Is High Priority, Twitter Reminds President of Muslim Ban
• Fez Festival of Sufi Culture in October to Honor All Things Sufi
• Why Isn't the Media Covering Turkish President Erdogan's Ties to ISIS
India
• Jaish-e-Mohammed Changes Its Name to Majlis Wurasa-e-Shuhuda Jammu wa Kashmir, Calls for Renewed Jihad Against India
• Zakir Naik One Step Away From Being Labelled Fugitive As ED Moves Court
• "Even Muslims Say Ayodhya To Hindus Is Like Mecca To Them": Supreme Court
• Kashmir in focus at Muslim Day Parade in New York
• Muslim man in India killed by mob after being accused of cow slaughter
• Communal harmony: Muslims welcome nagar kirtan in Malerkotla
• Three Hizbul militants arrested for murder of BJP, RSS leaders in J&K's Kishtwar
• Balakot JeM Camp, Bombed In IAF Airstrike, Reactivated By Pakistan: Army Chief Bipin Rawat
• Mobile app to count Indians in next Census
• Indian-American Coalition Protests 'Bigoted and Oppressive' Modi, Trump in Houston
• In PM Narendra Modi's address on terror, a veiled reference to China's support for Pakistan
--------
Arab World
• Emirati-Jordanian Islamic Preacher Calls Muslim Brotherhood 'Khawarij' People Who Went Out Of Islam
• UAE Urges Qatar to Stop Rhetoric of Hatred
• 'Syria respects political solution, but fight to continue'
• Iraqi security forces kill Islamic State suicide bomber in Baghdad
• 3 IS militants killed in anti-IS operation in central Iraq
• Military announces discovery of ISIS drone on an island in an Iraqi lake
• Egyptian officials say police kill 15 militants in Sinai
• Furious Tribesmen Start Attacking US-Backed SDF in Northeastern Syria
• Two rockets hit near US embassy in Baghdad, according to security sources
• China's Xi says disputes in Gulf should be resolved peacefully
--------
South Asia
• A Young Life Ends After 4 Steps on Video, and Afghans Can't Stop Watching
• At Least 40 Civilians Killed By Afghan Forces In Southern Helmand Province
• Afghan Officials: Taliban Suffers Heavy Casualties In Several Provinces
• Afghanistan's Taliban meets Chinese government in Beijing
• Dozens of foreign terrorists fighting for Taliban group killed, detained in Helmand
• Afghan forces foil rocket attack on Kabul city, seize multiple rounds of BM1 rockets
• 12 children killed, wounded in Parwan IED explosion
• Special Forces detain Taliban militants; destroy cache of weapons in Kabul
• Pentagon awards new contract in support of UH-60 helicopters of the Afghan Air Force
• 3 NATO service members wounded in an apparent failed 'Green on Blue Attack' in Afghanistan
--------
Pakistan
• Pakistan Committed One of the Biggest Blunders by Joining US after 9/11: Imran Khan
• Pakistan Rejects Indian Army Chief's Statement on Balakot
• PM Imran discusses Kashmir, bilateral ties in meeting with Erdogan
• Trump complains he deserves Nobel Prize during meeting with PM Imran
• PM Imran Khan meets UK PM Boris Johnson on sidelines of UNGA
• Trump reiterates Pakistan, India mediation offer in meeting with PM Imran
• JUI-F's long march on capital: PML-N presses for extension of protest timing
• After Ghotki, Pakistan Should Abandon its Glorification of Temple Vandalizers
--------
Southeast Asia
• Blindfolded and Shackled 'Muslim' Prisoners Held In Xinjiang, Prompted Widespread Condemnation
• Iraq To Join China's Belt And Road Project: PM
• Oldest Quranic manuscript on display at Medan's new Quran History Museum
• Police Anti-Terror Unit Arrests Islamic State-Affiliated Militants in Separate Raids
• Will Anwar's olive branch to ex-Sabah Umno strongmen pay off?
• Couples flogged for public affection in Indonesia's Aceh
• Indonesian police arrest 9 accused of planning attack
• Singapore detains Indonesian maids for 'funding IS'
--------
North America
• After Trump Tells U.N. 'Protecting Religious Freedom' Is High Priority, Twitter Reminds President of Muslim Ban
• Trump Suggests He Deserves Nobel Peace Prize
• Tech Companies Join Muslim Groups In Support Of Historic Bill to End Travel Ban
• DHS: Domestic Terrorism, Particularly White-Supremacist Violence, As Big a Threat as ISIS, al-Qaeda
• U.S. jazz singer 'blessed' to be Muslim
• When Trump smacked Pakistani reporters
• Rouhani faces travel restrictions in New York
• Trump on Iran meeting: 'We'll see what happens'
--------
Europe
• Fez Festival of Sufi Culture in October to Honor All Things Sufi
• Islam and Judaism In Morocco: A History Of Cultural Communion
• Macron to meet Trump, Rouhani to push mediation efforts
• Moscow mosque marks 115th birthday
• Finding a mosque for Germany's first gay imam
--------
Mideast
• Why Isn't the Media Covering Turkish President Erdogan's Ties to ISIS
• US turned blind eye to Israeli nuclear test in 1979: Foreign Policy
• A Year Later, Iran Finds Evaporating Sympathy at the U.N.
• Israel Blames Iran for Explosives-laden Drone Captured by Syria Near Israeli Border
• Iran Says British Tanker Is Free to Go After 2 Months of Detention
• Erdogan: 'Jerusalem Issue is Muslim, not Palestinian'
• Netanyahu, Gantz in unity talks; may rotate as Israel PM
• Israeli president to wrap up talks on forming new government
• Iran president in New York to convey 'message of regional peace'
• UN headquarters held hostage by Washington: Iran
• Abandon illusion that Iran can be defeated by pressure: Zarif to US
• Saudi Arabia stands firm in supporting Palestinian cause
--------
Africa
• Al-Shabab Attack Kills 20 Somali Soldiers
• Targeting militants, Nigeria to require ID cards in the northeast
• Boko Haram: Govt hires 200 special hunters to fight terrorists in Borno
• Jordan's King: We are committed to Saudi Arabia's defense
Compiled by New Age Islam News Bureau
URL: https://www.newageislam.com/islamic-world-news/jaish-e-mohammed-changes-its/d/119823
--------
Jaish-e-Mohammed Changes Its Name to Majlis Wurasa-e-Shuhuda Jammu wa Kashmir, Calls for Renewed Jihad Against India
SEPTEMBER 24, 2019
The Pakistan-based terror organisation Jaish-e-Mohammed (JeM) has changed its name to evade the international pressure and evade the agencies as it continues its terror activities against India and world at large. According to a report by Hindustan Times, JeM has changed its name to Majlis Wurasa-Shuhuda Jammu wa Kashmir (gathering of the descendants of martyrs of J&K).
The report cites counter terrorism agencies in India and states that while the name of the terror organisation has changed, the cadre and the leadership remains the same. Earlier it was known as Khudam-ul-Islam and Al Rehmat Trust. JeM's new flag is the same as previous one where 'Al Jihad' is replaced with 'Al Islam'.
The move comes to evade international scrutiny and pressure so that they can continue their jihadi training activities in Pakistan. Mufti Abdul Rauf Asghar, JeM chief and globally designated terrorist Masood Azhar, is now heading the newly named terror outfit, the report states. Masood Azhar, is reportedly 'terminally ill' at Markaz Usman-o-Ali in Bahawalpur, Pakistan. It is believed that JeM shifted its operations here after Indian Air Force targeted the Balakot terror camps following the Pulwama terror attack earlier this year.
As per the report, Maulana Abid Mukhtar has called for a jihad against India already. He has also held rallies calling for jihad against Israel and the United States as well. 30 suicide attackers are already ready to attack India, especially the military installations, convoys of Indian security forces and cantonments.
Earlier this week, Indian Army chief General Bipin Rawat had informed that Pakistan has also reactivated the Balakot terror camp, which was destroyed by Indian Air Force. Now the new reports suggest that Masood Azhar's brother Rauf Asghar has not only reactivated the Balakot training camps but also motivating the new recruits at new training facilities in Bahawalpur and Sialkot to attack Indian security establishments.
Madarsas which specialise in training and radicalising youth to carry out terror activities have also been operational since Indian government abrogated Article 370 making Jammu & Kashmir an integral part of India without any riders. The main training centres have also been given instructions to prepare for an 'all out confrontation' between India and Pakistan and jihadi in Kashmir. Intelligence reports suggest that Pakistan will try to infiltrate as many terrorists as possible before the snowfall starts in October in the valley.
In Houston at the 'Howdy, Modi!' event on 22nd September, Sunday, PM Modi had talked about a 'decisive war' against terror. He had said that the time had come for a decisive war against terror. Addressing the same event, US President Donald Trump has also raised the issue of 'radical Islamic terrorism', the brand of terrorism that Pakistan specialises in.
https://www.opindia.com/2019/09/jaish-e-mohammed-change-its-name-rename-majlis-wurusa-masood-azhar/
--------
Zakir Naik one step away from being labelled fugitive as ED moves court
Munish Chandra Pandey
September 23, 2019
The Enforcement Directorate (ED) on Monday filed an application before the designated court in Mumbai to declare the controversial Islamic Preacher Zakir Naik a 'fugitive' under the Economic Offenders Act, officials said.
This development will help India in the extradition process of Zakir Naik, who is currently based in Malaysia.
Under the Fugitive Economic Offenders Act, 2018, effective action can be taken against economic offenders who have fled Indian jurisdiction. It provides for attachment and confiscation of property of fugitive economic offenders and disentitles them from defending any civil claim.
If declared fugitive, the ED will also have the power to attach his overseas properties.
A Mumbai court has already issued a fresh non-bailable warrant (NBW) last week against Zakir Naik in the 2016 alleged money laundering case.
Last week, Naik had moved a plea through his lawyer seeking time for two months to appear before the court, which was rejected.
The ED has claimed to have identified Rs 193.06 crore as the proceeds of crime in the 2016 case.
The Islamic Preacher, who has been recently banned even in Malaysia to deliver any religious speech, is facing charges of promoting terrorism and disrupting communal peace in society.
The investigative agencies have also alleged that Zakir Naik was involved in forceful conversions of people from different religions to Islam.
The National Investigative Agency (NIA) and Enforcement Directorate have filed a chargesheet against Zakir Naik and have been trying to bring him back to India from Malaysia.
https://www.indiatoday.in/india/story/zakir-naik-one-step-away-being-labelled-fugitive-offender-as-ed-moves-court-1602335-2019-09-23
--------
Emirati-Jordanian Islamic Preacher Calls Muslim Brotherhood 'Khawarij' People Who Went Out Of Islam
Sep. 23, 2019
CAIRO – 23 September 2019: Emirati-Jordanian Islamic preacher Wassim Youssef has repeated Egypt's Ministry of Endowments' remarks against Muslim Brotherhood group, designated by the Egyptian state as terrorist, calling them "Khawarij."
Khawarij refers to a group of political dissenters who announced their disobedience especially after the death of Islam's Prophet Muhammad, and killed their leaders. Khawarij killed Prophet Muhammad's cousin, son-in-law and fourth caliph, Imam Ali Ibn Abi Taleb, during his term (c. 656-661).
Youssef, in an interview with Kuwaiti Al-Shahed TV, said that the Muslim Brotherhood is an extremist group, not a group of ideology, and that they resemble Al-Khawarij who use weapons to achieve their illegitimate purpose.
He asserted that the outlawed group members turn against each other and always rejects calls for ideological debate.
All armed parties stem from the ideology of the Muslim Brotherhood group, Youssef asserted.
Egypt has designated the Muslim Brotherhood group as terrorist since late in 2013, after former President Mohamed Morsi, who also served as head of the "terrorist" group, was ousted. Morsi died in June this year after he collapsed in court during his trial.
A voice message, believed to be recorded by fugitive Hani Sabry, allegedly a Muslim Brotherhood "terrorist" group member, has asked others who he called "youth" to send him links of Facebook accounts, few days ago, as part of a systematic campaign attempting to oust the president.
Moreover, MBC Masr satellite channel broadcast on Friday a footage, which showed one of the "Muslim Brotherhood" leaders calling on supporters to gather near their houses and then fill the cities' squares.
https://www.egypttoday.com/Article/1/75103/Preacher-calls-Muslim-Brotherhood-Khawarij-people-who-went-out-of
--------
A Young Life Ends After 4 Steps on Video, and Afghans Can't Stop Watching
By Mujib Mashal
Sept. 21, 2019
KABUL, Afghanistan — At first, the man was just walking across the street. Then he was running for his life. He managed four steps before the blast from the car bomb caught him.
Since then, the last few seconds of Akbar Fazelyar's life, captured on video during a Taliban attack on Sept. 5, have become one of the most scrutinized moments in Afghanistan, slowed down and watched frame by frame on countless mobile phones and computer screens.
Though violent deaths are appallingly common in this country, Afghans have been seized with fascination and dread by the clip's reminder of how little separates life from death.
In the United States, the Taliban attack in Kabul, the Afghan capital, was noted because President Trump cited it, along with the death of American and NATO soldiers in the blast, as the reason for calling off negotiations with the insurgents.
In Kabul, it was another painful example of how any corner of the capital — wedding halls, mosques, tuition centers — could suddenly become a battlefield, and of how seemingly everyday decisions could have momentous consequences, bringing disparate lives together at their end.
Alongside the 11 others who lost their lives in the attack that day, what had brought Mr. Fazelyar to his death? A kindness to one of his employees, and the time between one and two cups of tea.
Mr. Fazelyar owned a small shop selling and installing computer and networking equipment. He took life slowly and simply, devout in his religious observances. Single in his mid-30s, his main hobbies were watching cricket and going for a weekly swim in an indoor pool a short walk from his store, his friends say.
Mr. Fazelyar had clients across Kabul, and on the Thursday that he died he had brought an invoice for about $200 to one of them. Usually his assistant, Muhammad Atif, would deliver the invoices. But Mr. Fazelyar decided to take this one himself; the client was a friend he had not seen for awhile.
After presenting the invoice to his friend and client, Ahmadshah Meraj, the two men caught up over a cup of green tea. Mr. Meraj recalled offering Mr. Fazelyar another cup of tea and a car ride to his next stop. Mr. Fazelyar, feeling pressed, apologized for refusing the second cup but accepted the ride — though just to a nearby junction where he could catch a taxi.
Here, security cameras recorded the arrival of more of those whose lives were about to intertwine for a few seconds before their deaths.
At the junction, inside a white S.U.V. waiting to pass through a security checkpoint leading toward the coalition military headquarters, was an American soldier, Sgt. First Class Elis A. Barreto Ortiz, along with a Romanian corporal, Ciprian-Stefan Polschi.
The soldiers were stuck in traffic just as Mr. Fazelyar walked up to the junction after being dropped off there by his friend.
A nondescript van was there, too, inching along near the S.U.V. It looked like any of the gray, private Toyota Town Ace vans that shuttle residents around Kabul in the absence of proper public transport. But this van had no passengers, just a driver who was ready to kill and die, and a payload of explosives.
Suddenly the van swerved to the right through a plastic lane divider. As seen in the video, Mr. Fazelyar seemed to intuit the danger. He took one, two rushed steps, then veered to break into a run. Two steps later, the van struck the white S.U.V., engulfing everything in a ball of fire.
When the smoke cleared, surveillance camera footage — from the American blimps in the sky and Afghan security cameras across the road — showed little left intact at the site of the blast.
The explosion was powerful enough that passengers in vehicles many yards away were seriously injured. Cameras captured the rescue of one of them: Sulaiman Layeq, an 89-year-old poet and former cabinet minister.
Mr. Layeq had survived revolution, purges, war. He fled Afghanistan after the communist government was toppled by mujahedeen fighters backed by the C.I.A. and Pakistan, returning years later to take his place as a cherished Pashto-language poet. The blast nearly brought it all to an end, leaving him deeply dazed and bleeding badly.
The videos show soldiers trying to pry open the door to Mr. Layeq's car. One emergency worker in a white coat reached in through a window to help stanch his bleeding until he was freed from the car. A soldier lifted the poet onto his back, rushing him to an ambulance.
Days later in the hospital, Mr. Layeq would tell his son over and over that he was proud to have miraculously survived another act of violence by his enemies. Before his brush with death, his morning had started like any other: a breakfast of milk tea and toast in his lonely third-floor apartment.
And Mr. Fazelyar, who did not survive?
"It was as if God was inviting him to himself," Mr. Atif, the assistant who survived because Mr. Fazelyar took the invoice himself, said outside the shop two days after the bombing.
The store was closed, with a notice in the window showing information about Mr. Fazelyar's funeral services and his picture. Salesmen gathered outside the shop and consoled each other.
"God only invites the best to himself," one added.
Often the most difficult task after a bombing is figuring out whether someone is dead or alive, and trying to identify a loved one among bodies that are unidentifiable, looking for a hint of cloth, a ring, a watch.
Immediately after the explosion, Mr. Fazelyar's assistant and fellow salesmen began calling his phone repeatedly to see if was safe. Eventually, it was answered by an intelligence officer who had helped clear the blast site. He broke the news. Mr. Fazelyar's friends found his body in the morgue, recognizable because in sprinting away from the attack his back had borne the brunt of the damage.
At the site of the attack the next morning, traffic was running as usual. Electricians repaired scorched wiring, residents in a nearby Soviet-built apartment block swept broken glass just like they had many times before, and just like they would again after another bombing the following week. Part of the American S.U.V.'s roof dangled from the branches of a pine tree about 200 yards away. Near a ditch was the gutted pouch of a soldier's meal — "Grilled Jalapeño Pepper Jack Flavored Beef Patty."
Mr. Fazelyar was buried in his home village in Parwan Province, north of Kabul. Funeral services were held for him in Kabul two days after, at a crowded mosque that hosted nine funerals at the same time, at least two of them victims of the war.
Since then, the security camera footage of his last moments has gone viral around the country, shared compulsively among a people who feel stalked by death.
"The whole of Afghanistan saw the video," said one man, Ezatullah, who was at the mosque for one of the other funerals. "He even ran from it a few steps, but death sucked him right back in."
Fatima Faizi contributed reporting.
https://www.nytimes.com/2019/09/21/world/asia/afghanistan-bombing-video.html
--------
Pakistan committed one of the biggest blunders by joining US after 9/11: Imran Khan
Sep 23, 2019
NEW YORK: Prime Minister Imran Khan admitted on Monday that Pakistan committed "one of the biggest blunders" by joining the US after the 9/11 attacks, saying the previous governments "should not have pledged what they could not deliver."
Speaking at the Council on Foreign Relations (CFR) think-tank here, Khan also said the least he expects the international community to do is to urge India to lift the curfew in Kashmir.
Responding to a question, Khan said he had urged his Indian counterpart Narendra Modi to "reset" bilateral ties and his government waited to resume talks until after the elections in India were over but then it found that "India is pushing us in the blacklist of the Financial Action Task Force to bankrupt us."
He said that by abrogating Article 370, India had cast aside the UN Security Council resolutions, the Simla accord and its own Constitution.
Khan said he would ask the UN to play its role on the Kashmir issue.
Pakistan has been trying to internationalise the Kashmir issue but India has asserted that the abrogation of Article 370 was its "internal matter". New Delhi has also asked Islamabad to accept the reality and stop its anti-India rhetoric.
When asked about former US defence secretary James Mattis' remark that he considered Pakistan to be "the most dangerous" among all countries he had dealt with, Khan said: "I do not think Mattis fully understands why Pakistan became radicalised."
Khan said Pakistan "committed one of the biggest blunders" when it joined the US war on terror after the 9/11 terror attacks by the al-Qaida.
"I think the Pakistani government should not have pledged what they could not deliver," Khan said, referring to the then military dictator General Pervez Musharraf's decision to side with the US.
Pakistan was one of the three countries which recognised the Taliban government in Afghanistan before the US invasion in 2001 there. After the US invasion of Afghanistan following the 9/11 attacks, Pakistan extended support to American forces against the Taliban.
"In the 1980s, when the Soviets invaded Afghanistan, Pakistan, helped by the US, organised the resistance to the Soviets. The ISI (Inter-Services Intelligence) trained militants who were invited from all over the Muslim world to do jihad against the Soviets," Khan said in response to a question.
"And so we created these militant groups to fight the Soviets ... Jihadis were heroes then. Come 1989, Soviets leave Afghanistan, the US packs up and leaves Afghanistan ... and we were left with these groups," he added.
"Then comes 9/11, and Pakistan again joins the US in the war on terror and now we are required to go after these groups as terrorists. They were indoctrinated that fighting foreign occupation in jihad but now when the US arrived in Afghanistan, it was supposed to be terrorism," Khan added.
"So Pakistan took a real battering in this," the prime minister said, adding that Pakistan should have stayed neutral in the conflict.
He insisted that there could be no military solution in Afghanistan and said he will urge President Donald Trump to resume peace talks. "For 19 years if you have not been able to succeed, you are not going to be able to succeed in another 19 years," he added.
On Pakistan's fragile economy, Khan said his government had inherited "the biggest current account deficit" in the country's history and "so the first year has been a real struggle."
Khan thanked China for helping "when we were at the rock bottom".
"China has given us a great opportunity to lift ourselves up from where we are right now," he added.
https://timesofindia.indiatimes.com/world/pakistan/pakistan-committed-one-of-the-biggest-blunders-by-joining-us-after-9/11-imran-khan/articleshow/71265201.cms
--------
Blindfolded and Shackled 'Muslim' Prisoners Held In Xinjiang, Prompted Widespread Condemnation
Zamira Rahim
September 24 2019
Footage which appears to show blindfolded and shackled Muslim prisoners held in Xinjiang, China, has prompted widespread condemnation after it was posted anonymously online.
International human rights groups are investigating the clip published by a YouTube channel named War on Fear and is titled "Xinjiang: A New Explanation."
China has detained at least a million Uighur and other Muslim minority people in the western region.
The clip was also published on Twitter by an account with the same name.
Dozens of young men, blindfolded and handcuffed, can be seen waiting at a train station in the footage.
Their heads are shaved and many wear identical purple vests. Guards, dressed in black uniforms, can be seen keeping watch.
"This video is deeply concerning," a spokesperson from the UK's Foreign and Commonwealth Office said.
"There is a growing body of evidence on the disturbing situation that Uyghurs and other minorities are facing in Xinjiang.
"Ministers and senior officials have raised our concerns directly with the Chinese authorities and the UK has consistently highlighted the issue at the UN Human Rights Council."
The footage appears to have been filmed from an overhead drone.
"Chilling footage of blindfolded and bound men hardly makes the mass detention of Muslim [mostly Uighur] seem like the benign "vocational training" that China, against all the facts, pretends it is," Kenneth Roth, the executive director of Human Rights Watch, said on Twitter.
Nathan Ruser, a researcher with the Australian Strategic Policy Institute's International Cyber Policy Centre, said on Twitter that he believed the video was genuine.
Mr Ruser added that he thought the clip had been filmed in August 2018.
His comments on Twitter spread quickly online, prompting a response from Marise Payne, Australia's foreign minister.
"I am aware of the deeply disturbing video that has been published online," she said, according to news.com.au.
"I have previously raised Australia's concerns about reports of mass detentions of Uighurs and other Muslim peoples in Xinjiang."
An unnamed European security source told Sky News that the clip was believed to be genuine and filmed earlier in 2019.
Researchers from Amnesty International's China team are understood to be examining the video.
Human rights officials have previously claimed the Xinjiang detention centres are being run like "wartime concentration camps" as part of a systematic campaign of social re-engineering and cultural genocide.
The Chinese government however has described them as "boarding schools", offering vocational training and rejected allegations of torture and other abuses as "fake news".
Former detainees have alleged that they were beaten and electrocuted as well as being forced to eat pork, attend political re-education lessons and sing political songs.
Research published in July also alleged that thousands of children, whose parents have been detained, were enrolled in "compulsory" re-education facilities.
China has claimed its detention centres are meant to combat extremism. This explanation has been repeatedly dismissed by the UN and human rights experts.
Mike Pompeo, the US secretary of state, said Beijing's detention of Muslims had nothing to do with terrorism, but was an attempt "to erase" minority cultures and religions.
"I want to make clear that China's repressive campaign in Xinjiang is not about terrorism," he said after a meeting in New York on Sunday.
"It's about China's attempt to erase its own citizens."
Beijing has attempted to pressure countries to which Uighur people have fled, to send them back to China, but Mr Pompeo urged such nations to resist.
"We call on all countries to resist China's demands to repatriate the Uighurs," he said.
The Independent has contacted the Chinese embassy in London for comment.
https://www.independent.co.uk/news/world/asia/china-xinjiang-prisoners-beijing-muslim-uighur-camps-video-a9116861.html
--------
After Trump Tells U.N. 'Protecting Religious Freedom' Is High Priority, Twitter Reminds President Of Muslim Ban
By Aila Slisco
9/23/19
Critics reacted with raised eyebrows as President Donald Trump praised himself as a champion of religious freedom at an event at the general assembly of the United Nations on Monday.
"As President, protecting religious freedom is and always has been one of my highest priorities," Trump told the crowd gathered the U.N.'s "Global Call to Protect Religious Freedom."
Trump opponents on Twitter were quick to point out what they claim is the hypocrisy of the president, who shortly after entering office in 2017 had advocated for a "Muslim ban," and signed an executive order suspending entry into the United States for citizens of several Muslim-majority countries.
"Remember when this man proposed banning all Muslims from entering the country?" tweeted writer Parker Molloy.
Remember when this man proposed banning all Muslims from entering the country? https://t.co/6KwAZIu8Al
— Parker Molloy (@ParkerMolloy) September 23, 2019
Actor Jon Cryer joined in by tweeting, "Sorry, but the guy behind the Muslim Ban doesn't ever get to talk about #ReligiousFreedom."
Sorry, but the guy behind the Muslim Ban doesn't ever get to talk about #ReligiousFreedom https://t.co/EbCEJrdMxt
— Jon Cryer (@MrJonCryer) September 23, 2019
A supportive tweet by the president's daughter Ivanka Trump repeated a statistic from the speech, stating "80% of the world's population live in countries where religious liberty is threatened, restricted, or even banned. While religious freedom is protected in the United States, sadly it is rare and under attack in many areas of the world. #UNGA"
U.S. Representative Judy Chu (D-CA), who earlier this year introduced the "NO BAN Act," an effort to neutralize Trump's ability to impose "Muslim bans," replied to Ivanka Trump's tweet with "Fun fact: after trying to ban Muslims, your dad's Administration just threatened Duke University for teaching classes that are "too positive" towards Islam. We are smart enough to judge you and your father by your actions, not your lies. #NoBanAct #RepealTheBan"
The president also appeared to suggest conflict between the ideas of religious freedom and diversity in his speech.
"Too often people in positions of power preach diversity while silencing, shunning or censoring the faithful. True tolerance means respecting the right of all people to express their deeply held religious beliefs," Trump said.
Some critics doubted the sincerity of the president's claims to support religious freedom, instead claiming that president's true intent is to the favor the rights of Christians alone, including at the expense of others.
"Religious freedom is code for allowing Christians to discriminate against others," said Twitter user @jase0910.
Television writer and producer Bill Prady agreed, saying "Trump's protection of 'religious freedom' extends to conservative Christians and not much further. Trump approved using your tax dollars to discriminate against Jews among other egregious examples."
Trump declined to mention any alleged religious intolerance in countries strategically allied with the United States, such as Saudi Arabia.
The Kingdom of Saudi Arabia has been repeatedly accused of religiously motivated human rights abuses and "religious apartheid" by critics, with crimes such as blasphemy, witchcraft and apostasy being punishable by death in the country. In 2014, Saudi Arabia issued a royal decree which deemed all atheists "terrorists," and labelling anyone who "calls into question the fundamentals of the Islamic religion" with that same distinction.
https://www.newsweek.com/after-trump-tells-un-protecting-religious-freedom-high-priority-twitter-reminds-president-1460868
--------
Fez Festival of Sufi Culture in October to Honor All Things Sufi
By Juliette Owen-Jones
Sep 23, 2019
Rabat – The 12th Fez Festival of Sufi Culture will take place from October 19 to 26, 2019. The Fez Festival of Sufi Culture aims to honor all things Sufi and "to make Moroccans discover or rediscover a culture that is theirs and offer them access to this artistic, intellectual and spiritual wealth."
Sufism is a mystical Islamic belief and practice in which Muslims seek to find the truth of divine love and knowledge through direct personal experience of God.
The festival, which has been held under the patronage of King Mohammed VI since its first appearance in 2007, will follow the theme "Sufi culture, a spiritual humanism for our time" this year.
The combination of spiritualism and humanism, a movement typically associated with Western atheism may seem strange to some, a statement from the festival points out.
However, Faouzi Skali, the president of the festival, believes that "the unforeseen relationship between the two can indeed be fruitful at a time when religions also know the excesses of a desiccating formalism that comes to deny the most obvious values of our humanity."
"It is the conjunction between these two dimensions that we would like to address during the festival through the culture of Sufism," said Skali.
Opening weekend of the Fez Festival of Sufi Culture
As well as having a particularly interesting theme this year, the festival is offering a jam-packed program this October. The first day of the festival, Saturday, October 19, will kick off with a conference and the official opening ceremony at the Salle de Prefecture in the Fez medina.
Following that is performances from a variety of international singers: French-Moroccan Francoise Atlan, Spanish flamenco singer Curro Pinana, Moroccan singer Marouane Hajji, and the Moroccan ensemble Al Shushtari. Moroccan Sufi singer Mostafa Amri will finish off the night.
Day 2, Sunday, October 20, promises plenty of intellectual stimulation to get the brain going. The day will start early with a roundtable discussion of this year's theme at the Merdesa Bouananiya.
Afterwards will be a private showing and meet and greet with artist Sami-Ali and then a musical and poetic performance from Amal Ayouch. Sami-Ali will then be present at another roundtable. Organizers have not yet determined the location of both the private show and roundtable.
A week full of musical performances and intellectual stimulation
Monday, October 21, promises yet more treats for anyone interested in Sufi culture. The day will start with a roundtable discussing how Sufi culture can revive the spirit of Fez, often referred to as Morocco's cultural and spiritual capital.
Later that afternoon, another roundtable will cover an equally fascinating topic: Societal and spiritual challenges in the face of transhumanism. Both roundtables will again be at the Bouananiya Medersa.
The day will end on a musical note, with a performance from Moroccan Sufi singer Tariqa Sharqawiya at Fez's famous Jnan Sbil Park.
The next day, Tuesday, October 22, will begin with a roundtable on "the practice of
non-violence in daily life."
Following that will be a tour of Fez's historical sites, in order to learn about the city's great spiritual history. The day will end with a performance from Sufi singer Tariqa Rissouniya at Jnan Sbil Park.
Day 5 of the festival, Wednesday, October 23, will kick off with another roundtable, this time on the relation between Islam and human rights. That evening, attendees will experience a poetic and musical Azzedine concert at the Glaoui Palace.
The next day, Thursday, October 24, will begin with a roundtable on the spiritual interpretation of the Qur'an according to Ibn Ajiba. A musical performance will follow from Leili Anvar and Farzaneh Joorabchi at the French Institute, who will be debuting their act "The Tales of the Persian Sages."
Following that will be a performance from Tariqa Sqalliya and Tariqa Halvetiya Ussakiya at Jnan Sbil Park.
A closing weekend well worth attending
Day 7 of the festival, Friday, October 25, promises an especially packed program. The day will begin with a roundtable on the subject of prayer, followed by a conference from Leili Anvar on "The musk of secrets: perfume and desire in Persian poetry."
After that will be a master class and workshop with master perfumer Abderezzak Benchaabane, location yet to be determined, and a performance from Tariqa Wazzaniya at Jnan Sbil Park.
The eighth and final day of the festival, Saturday, October 26, will be equally packed full of enticing events. The day will begin with a particularly important roundtable, discussing the creation of a platform for Sufi culture.
Then, that evening, the festival will finish with a bang with a well-crafted closing ceremony. The ceremony will focus on "The Secret Language of Flowers and Perfumes," with performances from Moroccan singer Fatima-Zohra Qortobi, Iranian singer Farzaneh Joorabchi, and Turkish singer Ferhat Oguz Korc.
A full pass to the eclectic festival is available for purchase online for MAD 1,000. Other ticket options are available if you only wish to attend specific events.
https://www.moroccoworldnews.com/2019/09/283208/fez-festival-of-sufi-culture-2019/
--------
Why Isn't the Media Covering Turkish President Erdogan's Ties to ISIS
September 21, 2019
Turkish President Recep Tayyip Erdogan has pitched his tent at New York's glitzy Peninsula Hotel this week, where he will be dining (but not wining) American Muslim leaders on the sidelines of UN meetings.
During his 2017 New York visit, Erdogan met with then-freshman U.S. Rep. Ilhan Omar (D-MN). This past July, state-run media chiefs called on Turks around the world to donate to her re-election campaign, which is illegal if they are not U.S. citizens or green-card holders.
But what should disturb Americans most about Erdogan is not his efforts to influence Congress, his abysmal record as a jailer of journalists, his genocidal war against the Kurds, or even the $100 million mosque he has constructed in Lanham, Maryland.
It's Erdogan's commitment to global jihad, and specifically, to ISIS terrorists. Since 2012, the Turkish intelligence service, MIT, under Erdogan's direction, has been providing resources and material assistance to ISIS, while Turkish Customs officials turned a blind eye to ISIS recruits flowing across Turkey's borders into Syria and Iraq.
Scores of ISIS fighters captured by pro-U.S. Kurdish forces in northern Syria showed Turkish exit stamps on their passports, and otherwise boasted of the direct assistance they had received from Turkish authorities.
"Turkish intelligence knows everything," one captured ISIS fighter told his Kurdish captors recently.
Many former ISIS fighters have now joined the Turkish-backed forces that have occupied the Syrian Kurdish city of Afrin, where they have engaged in ethnic cleansing.
Two Turkish intelligence officers, captured by Kurdish guerilla fighters in northern Iraq in 2017, provided insider accounts of Turkish government assistance to ISIS and other jihadi groups operating in Syria and Iraq.
Turkey's assistance to ISIS starts right at the top. In 2016, Wikileaks published an archive of 58,000 emails documenting the involvement of Erdogan's son-in-law, Berat Albayrak, in helping ISIS market oil stolen from Syria and Iraq.
Until the publication of the emails, Albayrak had denied any involvement in the illicit oil trade.
Sümeyye Erdogan, daughter of the Turkish president, reportedly set up an entire medical corps, including a hospital to treat wounded ISIS fighters in Sanlurfa, a city in Southeastern Turkey close to the Syrian border.
ISIS evacuated severely wounded fighters across the border into Sanliurfa in Turkish army trucks without undergoing Customs inspection.
The evidence of Erdogan's direct, personal and institutional support for ISIS and related jihadi groups is so extensive, the wonder is why the American media is not paying more attention to it.
This week a new group, the Turkey-ISIS Research Project, is sponsoring bus-billboards to roam the Big Apple. The message is clear: "Erdogan, the Godfather of Jihadist Terrorists, is Not Welcome in the United States."
https://nypost.com/2019/09/21/why-isnt-the-media-covering-turkish-president-erdogans-ties-to-isis/
--------
India
"Even Muslims Say Ayodhya To Hindus Is Like Mecca To Them": Supreme Court
September 24, 2019
NEW DELHI: It would be difficult to question the faith of Hindus with regard to Ayodhya as the birthplace of Lord Ram. Even some Muslim witnesses have termed it as sacred for the Hindus as Mecca is for them, the Supreme Court said on Monday.
A 5-judge Constitution bench headed by Chief Justice Ranjan Gogoi was questioning senior advocate Rajeev Dhavan, appearing for the Muslim parties, on whether the divinity and the "exact form" of an idol or a deity were necessary to hold that they have "juristic personality".
"Even Muslim witnesses (during the trial) have said that Ayodhya to Hindus is as sacred as Mecca is for them. It will be difficult to rebut the belief of the Hindus," said the bench which also comprised Justices SA Bobde, DY Chandrachud, Ashok Bhushan and SA Nazeer.
Mr Dhavan, arguing for Sunni Waqf Board and others including original litigant M Siddiq, said that only belief cannot be the basis to claim title and accord juristic status to the 'janmsthan' (birth place).
He, however, strongly pitched for granting respect to Lord Ram and Allah in a diverse country like India on the 29th day of the hearing in the politically sensitive case.
"If Lord Ram and Allah are not respected then this great nation will split apart," said the senior lawyer but strongly objected to the move to make the birthplace as a party to the lawsuit filed on behalf of deity 'Ram Lalla Viarajman' for claiming juristic status for the sacred land.
At the outset, Mr Dhavan tried to distinguish between the legal status of the deity and the birth place and said that the latter has been made a party with a sole aim to make a Ram temple at the site and to ensure that impediments such as law of limitation, adverse possession and acquisition do not come in the way.
"They just say Lord Ram was born here. None of the contours of the area are mentioned anywhere in the plaint. The suit is thus merely a vehicle to destroy and build a temple," Mr Dhavan said.
"They have argued that all existing structures be demolished at Ram Janmabhoomi and a new Temple be constructed there," he said.
The bench referred to vehement submissions of Mr Dhavan that belief is a very "tenuous" evidence and the Hindus should establish the long worship instead.
"Your (Rajeev Dhavan's) first claim is that belief is tenuous as an evidence. But your second argument is that belief should be manifested by way of an object. What exactly is the object you are talking about," the bench asked. "Is it necessary for a deity or an idol to have divinity so as to make it a juristic personality".
The senior lawyer said there should be "some" kind of physical manifestation of a deity or an idol and even if we concede to Hindus' belief, then where are the "objective" aspects to support it.
The bench also asked Mr Dhavan to provide a list of deities or idols which, as per earlier judgements, have been granted status of juristic personalities. He, however, expressed inability to do so saying that he will have to write 18 research papers for doing it.
"Assume that it (land) is the juristic personality and then what will be the consequences. Even assume that it does not have the juristic personality, then what will be the consequences," the bench asked, adding whether same logic would apply in the case of public Muslim graveyards.
"The dedication and the long use are the two criteria. A public wakf can be created on these two grounds," Mr Dhavan said.
He said that in the present case, the issue was whether the belief can be attached to an area to make a "vague" title claim and can it be said that the mosque was illegal just because it was built on the 'janmbhoomi'.
He asked the bench to lift the veil to see whether the birthplace can be treated as juristic person and reiterated his submissions that Hindus never had the access to the inner courtyard and they were praying at 'Ram Chabutara' in outer courtyard.
He rebutted the submissions that the lawsuit filed by the Sunni Wakf Board on December 18, 1961, was barred by limitation and said that the cause of action, if any, to file the case arose only on the intervening night of December 22-23, 1949 when the idols were allegedly placed below the central dome.
Mr Dhavan also opposed the plea of some Hindu parties that they acquired title over the site on account of legal doctrine of "adverse possession" and said it presupposes the fact that the Muslims were the legal owner and Hindus were having "adverse possession" of the place.
"There was no idol in the inner area till 1949," Mr Dhavan alleged, adding that "The mosque was never an abandoned mosque at any point of time. It might have, at best, been unused for some time. That is their (the Hindus') best case."
Mr Dhavan then summarised his rebuttal to the lawsuit filed on behalf of the deity.
"The entire argument was based on belief from scattered sources such as Travellers accounts and Gazetteers which have been found to be inconsistent and inconclusive," he claimed.
The bench will resume hearing today.
The Allahabad High Court, in its judgment of 2010 on four civil lawsuits, had partitioned the 2.77-acre disputed land equally among Ram Lalla, Nirmohi Akhara, and Sunni Waqf Board. Fourteen appeals have been filed in the Supreme Court against the verdict. https://www.ndtv.com/india-news/even-muslims-say-ayodhya-to-hindus-is-like-mecca-to-them-supreme-court-2106075
--------
Kashmir in focus at Muslim Day Parade in New York
by Samira Sadeque
September 24 2019
New York, United States - The 35th annual Muslim Day Parade marched down New York's Madison Avenue on Sunday afternoon, with a strong focus on Kashmir and Muslim unity.
Organisers estimated that nearly 3,000 people attended the parade, which celebrated Muslim Americans of different heritage.
"The Muslim Day Parade's goal has been to celebrate all the accomplishments, highlight the achievements, show the vibrant cultures and the diversity that is embellished in our religion," Farris Fayyaz, chairman of the parade, told Al Jazeera.
Adams Fofana, from Ivory Coast, who has been attending the parade for six years, said he loves coming here because it is a reminder of the diversity of the Muslim community. "Every time we come here, I see the different ways about the Muslim [communities]," he said.
"I love it; even the clothing like a hat, when I see an Arabian hat or an African hat, it's a lot of differences, but I love it."
Fofana's sentiments resonated with others at the protest who said they come here for the unification of the diverse Muslim communities coming from South Asia, Indonesia and Africa, among others.
"I was born right after 9/11 so growing up as a kid, that was all around me, that was all that I knew about Muslim Americans in this country," Rida Khan, 17, said as she marched down the street.
"So I just think it's important for us to come together and to show each other love and support, because it's rare to find moments like that here."
Spirit of unity
Many who marched nearly 12 blocks down Madison Avenue spoke out against Islamophobia as well as oppression of Muslim communities - from Indian-administered Kashmir to the United States.
For the past 50 days, Kashmir has been under security lockdown and thousands have been jailed after its special status was removed by India.
"This year we're focusing on Kashmir because that is a great concern," Fayyaz said. "Unfortunately, the international community for the most part is quiet and are just appeasing the Indian government."
Amna Akhoon, who was attending to protest against the current crisis in Kashmir, says the parade gives the opportunity for non-Muslims to see the diversity of Muslim Americans, and can help undo the hate spewed under the current administration.
"In New York especially, there's a huge diversity where there's all kinds of people," she said. "When other groups don't know about a specific Muslim community, then they create assumptions and hate … which is why I think it's so important to have a parade like this where they can see what we stand for."
Numerous protesters were seen carrying placards calling for the human rights of Kashmiris to be restored and calling out Indian Prime Minister Narendra Modi's actions.
This was especially crucial as the march, which began after Dhuhr prayers on Sunday at 1pm in New York, coincided with Modi's arrival to the US, where he was greeted at a rally in Houston, Texas, attended by nearly 50,000 Indian Americans.
While Kashmiris' rights were at the forefront of the issue, it is intricately linked to the fear many Muslims continue to have under the current US administration, given the leaders of both countries are known for their anti-Muslim stances.
At the Houston rally, also attended by US President Donald Trump, Modi explicitly celebrated Trump's "make America great again" campaign.
"Trump [is] no good not for just Muslims, he's no good for a lot of diverse communities in America," said Akhoon, noting the president's policies against the Latino and African American communities.
"The things that he's been saying is unacceptable so this parade stands for unity, let's all other people know, the officials who are making rules, [that] we exist here too, we want peace as well, we want to live just how everybody else wants to live - we want the American dream too."
Opportunity for Muslims
Meanwhile, others said they feel that this parade is an opportunity for Muslim Americans to show up despite a series of attacks from the Trump administration, including a ban on Muslim entry into the US.
Many at the parade said they began attending it three years ago, which coincided with Trump's campaign trail which he built on negative rhetoric around the Hispanic community, immigrants, and Muslims.
"It's important for American Muslims not to cower into the shadows and to come out as one united community and to show not only New York but the world that we exist and we're not going anywhere," Ahmed Mohamed, litigation director of Council of American Islamic Relations in New York, told Al Jazeera.
"The current political climate motivates us, motivates others to rally for the causes that are important to us."
Full report at:
https://www.aljazeera.com/news/2019/09/kashmir-focus-muslim-day-parade-york-190923052446744.html
--------
Muslim man in India killed by mob after being accused of cow slaughter
September 23, 2019
A mob in India killed a man after accusing him of butchering a cow, police said on Monday, in the latest case of violence involving the animals considered sacred to the country's Hindu-majority population.
M.L. Meena, a senior police official in eastern Jharkhand state, told Reuters a crowd of 10-15 people attacked three men on Sunday, accusing them of butchering a cow in a forest about 50 km (30 miles) from the state capital Ranchi.
The villagers beat them "severely", Meena said. One of trio died and the others sustained injuries. One of the men is still undergoing treatment in hospital, while the remaining victim suffered minor injuries.
Police have detained eight people in connection with the lynching in the rural Khunti district, he added.
"Police are investigating the matter. We are addressing this murder case," Meena said.
Full report at:
https://www.yenisafak.com/en/world/muslim-man-in-india-killed-by-mob-after-being-accused-of-cow-slaughter-3501243
--------
Communal harmony: Muslims welcome nagar kirtan in Malerkotla
Sep 23, 2019
Malerkotla: In a show of communal harmony, members of Muslim community welcomed a nagar kirtan from Patiala on way to Sultanpur Lodhi, to mark the 550 birth anniversary of Guru Nanak Dev, here on Sunday. As it arrived in this Muslim majority town, children showered flowers on the participants.
"The nagar kirtan reached here around 2.15pm. We welcomed the devotees at the entry point on Malerkotla-Nabha road. We had around 15 children from the community, who showered flowers on the nagar kirtan. Besides, a group of around 200 Muslims were present on the spot. We also had refreshments for the participants of the nagar kirtan and served them water, tea, bread and halwa," said Dr Naseer Akhter, founder chairman of Sikh Muslim Sanjhan, which, along with its volunteers, organized the welcome event. "We also gifted shawls to the Panj Piaras."
"Our town is known for communal harmony and peaceful co-existence and we have never experienced any sort of problems between various communities. It is a wonderful experience to welcome Sikh brothers who were part of the nagar kirtan," said Muhammad Shafiq, a senior citizen from Kamal Cinema road.
Full report at:
https://timesofindia.indiatimes.com/city/ludhiana/communal-harmony-muslims-welcome-nagar-kirtan-in-malerkotla/articleshow/71250660.cms
--------
Three Hizbul militants arrested for murder of BJP, RSS leaders in J&K's Kishtwar
by Arun Sharma
September 24, 2019
With the arrest of three Hizbul Mujahideen militants and an over-ground worker, the Jammu and Kashmir Police said Monday that it had solved four incidents of terror, including the killing of a senior BJP leader and an RSS functionary in Jammu's Kishtwar.
IGP (Jammu zone) Mukesh Singh identified the arrested militants as Nissar Ahmed Sheikh, Nishad Ahmed and Azad Hussain, and the over-ground worker (OGW) as Rustam. Searches are continuing for others, including Jahangir Saroori, the longest surviving militant in Chenab Valley.
The arrests were made nearly 10 days after militants locked Kishtwar PDP district president Sheikh Nasir and his family inside his house for the entire night on September 12-13 before decamping with an AK-47 rifle.
On November 1, last year, BJP state secretary Anil Parihar and his brother Ajit were shot dead by militants in Tapal Mohalla. Nearly four months later, militants snatched an AK-47 rifle from the personal security officer (PSO) of Kishtwar Deputy Commissioner Angrez Singh Rana. This was followed by the killing of RSS functionary Chanderkant Sharma and his PSO in April.
The killings, Singh said, were part of a conspiracy by Saroori in 2017-18 to revive militancy in Chenab Valley. Nissar Ahmed Sheikh, Zahid and Osama — also Hizbul terrorists — among others, were also part of the conspiracy, he said.
Full report at:
https://indianexpress.com/article/india/three-hizbul-militants-arrested-for-murder-of-bjp-rss-leaders-in-jks-kishtwar-602060/
--------
Balakot JeM camp, bombed in IAF airstrike, reactivated by Pakistan: Army Chief Bipin Rawat
September 23, 2019
Nearly seven months after the Indian Air Force conducted airstrikes in Pakistan's Balakot, Army Chief General Bipin Rawat on Monday said that the Jaish-e-Mohammad (JeM) terror facility has been reactivated. He also added that about 500 infiltrators were waiting to enter India.
"Balakot has been reactivated by Pakistan very recently. That shows that Balakot has been affected. It had been damaged and destroyed. And that is why people have got away from there and now it has been reactivated," he told reporters at the Officers Training Academy in Chennai.
In the aftermath of Pulwama attack, India had struck the "biggest training camp" of the JeM in Balakot in Khyber Pakhtunkhwa in February, in which "a very large number" of JeM terrorists and their trainers were "eliminated."
The training camp is described as being spread over six acres, with enough space to accommodate 600 cadre. The last "passing out" of militant recruits at Balakot, according to intelligence officials, was attended on April 1, 2018, by Mufti Abdul Rauf Asghar, the brother of Jaish founder Maulana Masood Azhar.
An Indian Air Force review of its February 26 airstrike on Balakot in Pakistan has shown that its aircraft hit five of six designated mean point of impact (DMPI) on buildings in the Jaish-e-Mohammad terror training complex.
Full report at:
https://indianexpress.com/article/india/balakot-bombed-in-iaf-airstrike-has-been-reactivated-by-pakistan-army-chief-bipin-rawat-6020371/
--------
Mobile app to count Indians in next Census
Sep 24, 2019
New Delhi: Census 2021 would be conducted entirely digitally through a mobile app instead of the conventional pen and paper method. While announcing this on Monday, Union home minister Amit Shah also said that India could have a "single multi-purpose identity card" which will be used as an identity card, voter card, passport and also as a PAN.
Mr Shah said that the reference date for the census will be March 1, 2021, while for the snow-infested states of Uttarakhand, Himachal Pradesh and Jammu and Kashmir, it will be October 1, 2020. The entire exercise to be conducted in 16 languages will cost a whopping `12,000 crores. Speaking during the laying of the foundation stone of a new building of the Registrar-General of India and Census Commissioner in New Delhi, the minister also pitched for a single multi-purpose identity card for all public utilities like Aadhaar, passport, driving licence and bank accounts.
This is the first time that census data will be collected through a mobile app. Mr Shah said the census data will help in better planning and execution of public welfare schemes and development initiatives.
"The public needs to be informed about the benefits of the census exercise as the data contributes significantly in the country's progress. The data collected is mutli-dimensional, with several benefits," the minister said. It can also be used for the delimitation exercise for Lok Sabha and Assembly constituencies, along with the municipal wards. He that earlier governments did no comprehensive planning for development work, but this approach changed completely after Narendra Modi became Prime Minister in 2014. He said the Modi government, on basis of the 2011 Census, planned 22 welfare schemes. Most of these were related to providing every house electricity, gas connections, construction of roads, through trucks after its procurement from the Jhelum river, are going on.
"You can go to apple orchards and you can see heaps of apples that have been plucked and packed into boxes and being transported out of Valley... hundreds of trucks have come out. Who is plucking these apples? Who is packing them in boxes, who is loading them into these trucks? And who takes the trucks out from the Valley?" he asked.
He said that flights are operating in and out of Srinagar, and shops, which have downed their shutters because of threats from terrorists, are operating from the backdoor.
Flights were being operated in and out of Srinagar and other modes of transport like taxis were functional, he said and wanted to know if these could happen in a clampdown scenario.
Asked about India's response to the reactivation of the Balakot camp, and if another surgical strike may be expected, he said, "Why must you expect repeat of a similar thing? Earlier we did something, then we did Balakot, why must we repeat...? Why not keep the other side guessing as to what we will do; why tell him what we are going to do? …Why say repeat, why not something beyond that."
The Chief of the Army Staff also asserted that the wrong interpretation of Islam by some elements who wanted to create disruption, is spreading. "I feel the interpretation of Islam by some elements who possibly want to create disruption is being fed to large number of people. It is not that the religion is bad but the manner in which it is being interpreted for whatever reason is what is affecting the people who listen to those messages. I think it is important that we have preachers who convey the correct meaning of Islam in whatever form it was written by those who wanted Islam to be preached in proper manner," he said.
Full report at:
https://www.asianage.com/india/all-india/240919/mobile-app-to-count-indians-in-next-census.html
--------
Indian-American Coalition Protests 'Bigoted and Oppressive' Modi, Trump in Houston
September 24 2019
New Delhi: Even as thousands cheered Prime Minister Narendra Modi and US President Donald Trump at a Houston rally, another group of people gathered at the venue to protest mob violence, Hindutva and the continued blockade in Kashmir.
The Alliance for Justice and Accountability (AJA), a "bona fide group of Indian Americans" were protesting "the undemocratic, anti-people and anti-minorities agenda" of the Modi government and the BJP. The coalition comprises groups of Indian-Americans across religions, such as Hindus for Human Rights (HHR), the Indian American Muslim Council and the Organisation for Minorities of India. The coalition does not have any connections with any other "nationality or separatist causes", the AJA said.
Those present at the protest highlighted issues such as the rising instances of mob lynching, the dilution of Article 370 that granted Jammu and Kashmir special status, the National Register of Citizens in Assam, extra-judicial killings, religious persecution and caste oppression. One placard raised the conviction of IPS officer and whistleblower Sanjiv Bhatt, while another drew inspiration from the movie Apollo 13 to say, "Houston we have a problem. It's Modi."
Speaking to The Wire, HHR co-founder Sunita Vishwanath said it was "extremely gratifying to gather such a diverse group of organisations and communities" to protest against two "bigoted and oppressive" world leaders.
She said the protest represented an intersectional and inclusive coalition, as people from organisations such as including Jewish Voice for Peace and Black Lives Matter had also participated in the protest. "We even had the co-founder of Black Lives Matter Houston saying that his struggle is ours, and our struggle is his," she said.
Viswanathan said that during Modi's speech, the prime minister tried to portray a false picture of the developments in India. "We know that there is an actual siege and communications blackout in Kashmir, regular mob lynchings of Muslims and Dalits, and a new program – the NRC – targeting Muslims to take away their citizenship and put them in detention camps, ten of which are being constructed," she said.
She said the rally showed that the ideologies of Trump and Modi align. "They shared the stage in such warmth and camaraderie. Modi also endorsed Trump for re-election," she said.
On Trump's assertion at the rally that he wants to work for the "4 million legal immigrants from India", not the "illegal immigrants from Mexico", Viswanathan said that a rise in racist and anti-immigrant governments across the world will only see more people seeking refuge in the US or other countries.
"There are increasing numbers of Indians among the people crossing the border into the US and seeking asylum. These are Indian minorities fleeing religious persecution and other oppression in India. The NRC process, which may be extended nationwide, will add millions to the world's refugee crisis," she said.
Full report at:
https://thewire.in/rights/howdy-modi-protests-houston-trump
--------
In PM Narendra Modi's address on terror, a veiled reference to China's support for Pakistan
Sep 24, 2019
Prime Minister Narendra Modi, in his address at a UN dialogue of terrorism, made a veiled reference to China and said that terrorists should not be allowed funding and arms.
"The PM said terrorists should not be allowed to get funds and arms. For this objective to be realised, we need to avoid politicisation of mechanisms like UN listings and Financial Action Task Force (FATF). These mechanisms need to be enforced," said Gitesh Sarma, MEA Secretary (West).
PM Modi's comments came during his speech at the 'Leaders' Dialogue on Strategic Responses to Terrorist and Violent Extremist Narratives' at the UN headquarters.
Pakistan has failed to deliver on most compliance parameters set by FATF, the global terror financing watchdog. In August this year, Pakistan was moved to a list that calls for close monitoring by FATF.
Raveesh Kumar
✔
@MEAIndia
Time for a global call #HealthForAll
PM @narendramodi highlights India's bold initiatives towards Universal Health Coverage at the UN High Level Meeting, highlighting #AyushmanBharat & other initiatives, transforming the lives of millions in India. http://mymea.in/edc
View image on TwitterView image on TwitterView image on TwitterView image on Twitter
1,022
11:26 PM - Sep 23, 2019
Twitter Ads info and privacy
172 people are talking about this
The FATF, in its October plenary, will decide if Pakistan should continue in the grey list or be downgraded to the black list which involves stricter financial sanctions.
The prime minister called for global solidarity against terrorism in the same way that it is fighting challenges such as climate change. "He (PM Modi) said a terrorist attack, anywhere in the world should be considered as terrorism, not good or bad terrorism," Sarma added.
The FATF's plenary is scheduled in October but the chances of Pakistan being downgraded to the blacklist at the plenary are slim. China took over FATF's presidency and it is unlikely it will support any action against Pakistan, its all-weather friend.
Full report at:
https://www.hindustantimes.com/india-news/in-pm-modi-address-on-terror-a-veiled-reference-to-china-s-support-for-pakistan/story-NOhMbAZdEplhmKsiQSfIcO.html
--------
Arab World
UAE urges Qatar to stop rhetoric of hatred
Sep 21, 2019
The United Arab Emirates, UAE, has urged Qatar to stop programmes that promote hate rhetoric and incitement of hatred in its local media, saying the trend threatens the security of countries in the region, including Qatar itself.
While delivering the UAE statement before the forty-second regular session of the Human Rights Council held in Geneva to discuss the Universal Periodic Review, UPR, of Qatar, Amira Al Amri of the Ministry of Foreign Affairs and International Cooperation, said the UAE had taken note of conclusions made by the UPR team of experts and urged Qatar once again to pay proper attention and care to 92 recommendations, including those presented by the UAE, regarding unlawful practices by Qatar in harbouring and supporting terrorist groups.
The UAE considers these acts as a violation of human rights, she added.
Al Amri expressed the UAE hope that Qatar would have channelled funds that went to these groups into meeting the needs of its citizens who according to the Qatari regime were suffering from negative effects of a crisis which Qatar itself was the main trigger of it.
The UAE called Doha to review its practices, activities and national laws in relevant to terrorism issues.
''The UAE hopes that Qatar would heed appeals issued by thousands of members of Al Ghufran tribe whose citizenship were stripped and would cease expelling some tribes, including children, without consideration to any principles of the international humanitarian law,'' she concluded.
https://www.thenational.ae/world/mena/uae-urges-qatar-to-stop-rhetoric-of-hatred-1.913036
--------
'Syria respects political solution, but fight to continue'
Sep 23, 2019
Syrian Foreign Minister Walid al-Muallem has held a "positive and constructive" meeting with the United Nations special envoy for Syria, Geir Pedersen, in Damascus.
During the meeting on Monday, Muallem reiterated Syria's adherence to the political process, and reaffirmed his country's readiness to continue cooperation with the UN special envoy in order to reach a political solution through intra-Syrian dialogue, official news agency SANA reported.
Syria's top diplomat also stressed that Syria preserves the right to fight terrorism, and stressed that the counter-terrorism operations will go on in parallel with the political process.
According to SANA, the two sides discussed the formation of a constitutional committee that could pave the way for a political solution to the country's eight-year conflict, and mechanisms that would guarantee its effectiveness.
Damascus reiterated that the constitutional committee should be a purely Syrian affair to be decided by the Syrian people alone without any foreign interference.
Writing a new constitution for a post-war Syria is part of a potential political solution to end the eight-year crisis in the Arab country.
To that end, an agreement was made in the Russian town of Sochi last year for the formation of a UN-backed Constitutional Committee composed of 50 members from the incumbent Damascus government, 50 opposition members, and another 50 independent figures chosen by the world body.
SANA reported that the meeting was "positive and constructive," adding the two sides agreed that only the Syrian people have the right to lead the constitutional process.
They also agreed that the Syrians should decide their future without any foreign interference or pressure in order to achieve a progress in the political process and subsequently restore security and stability to all the Syrian areas.
The two sides also stressed the necessity of respecting Syria's sovereignty and its territorial integrity, and affirmed their utter rejection of all forms of terrorism.
For his part, Pedersen hailed the progress made in the political process, stressing his readiness to make all efforts to facilitate the intra-Syrian dialogue.
Earlier this month, Iranian Foreign Minister Mohammad Javad Zarif said the United States was throwing a wrench in efforts to form a UN-backed constitutional committee in Syria.
Full report at:
https://www.presstv.com/Detail/2019/09/23/606916/Syrian-FM-holds-positive-meeting-UN-envoy
--------
Iraqi security forces kill Islamic State suicide bomber in Baghdad
by Mohammed Ebraheem
Sep 22, 2019
Baghdad (IraqiNews.com) – Iraqi security forces have killed an Islamic State suicide bomber in al-Tarmia district, north of Baghdad.
According to a statement by the Baghdad Operations Command, the suicide bomber was wearing an explosive belt and carrying grenades.
He was gunned down in al Ghozailia district in Baghdad, the statement read.
Violence in the country has surged further with the emergence of Islamic State extremist militants who proclaimed an "Islamic Caliphate" in Iraq and Syria in 2014.
Full report at:
https://www.iraqinews.com/iraq-war/iraqi-security-forces-kill-islamic-state-suicide-bomber-in-baghdad/
--------
3 IS militants killed in anti-IS operation in central Iraq
2019-09-22
BAGHDAD, Sept. 21 (Xinhua) -- The Iraqi Counter-Terrorism Service (CTS), backed by the U.S.-led coalition aircraft, on Saturday carried out a large-scale operation in the central Salahudin province, killing three Islamic State (IS) militants and destroying several hideouts.
The CTS operation was conducted in the mountains of Makhoul and Khanouga and the areas between the towns of Baiji and al-Shirqat in the northern part of the province, Mohammed al-Bazi from the provincial police told Xinhua.
During the operation, the CTS troops killed three IS militants and destroyed dozens of IS tunnels and hideouts, as well as seizing different weapons and ammunition, al-Bazi said.
Iraqi security forces repeatedly carried out operations to clear rugged and mountainous areas in eastern and northern parts of Salahudin province, but the vast areas and hard terrain have made it difficult for them to completely clear the area of the extremist militants.
The security situation in Iraq was dramatically improved after Iraqi security forces fully defeated the extremist IS militants across the country late in 2017.
Full report at:
http://www.xinhuanet.com/english/2019-09/22/c_138411178.htm
--------
Military announces discovery of ISIS drone on an island in an Iraqi lake
September 20-2019
ERBIL (Kurdistan 24) – Iraqi security forces announced on Friday that they had discovered and confiscated an Islamic State drone on an island in a lake in Diyala province.
According to a statement released by the Iraqi Security Media Cell, joint forces from Iraqi intelligence services, local security, and Popular Mobilization Forces (PMF) "found a drone belonging to the ISIS terrorist gangs hidden on an island in Hamrin Lake during a raid on hideouts of the terrorist organization."
Iraq's military provided no additional details.
The accuracy of the statement could not be confirmed, nor do the photographs released with it conclusively show a working unmanned aerial vehicle that is connected to Islamic State militants.
On Sept. 10, the US-led coalition dropped over 36,000 kilograms of bombs on Islamic State positions on an island in an Iraqi river, the US-led coalition spokesperson said on Tuesday, adding that it was done "to disrupt Daesh [Islamic State] the ability to hide in the thick vegetation."
According to a statement from the US Central Command (CENTCOM), the airstrikes were part of an operation by the US-led coalition and the Iraqi Counter-Terrorism Service against Islamic State positions in Qanus Island, located in Iraq's Salahuddin province.
Yahya Rasoul, a spokesperson for the Iraqi army, said that such operations aim to prevent cross-border movement of Islamic State members between Syria and Iraq.
Despite nearly two years having passed since Baghdad declared a final victory over the Islamic State, the group continues to conduct attacks in areas it once controlled, embarking on a wave of kidnappings, assassinations, and bombings that have raised fears of a new stage of heightened insurgency.
Early on Friday, three farmers were wounded when an improvised explosive device (IED) went off under a tractor in the disputed district of Jalawla, located in Diyala province not far from Hamrin Lake.
Full report at:
https://www.kurdistan24.net/en/news/c84a65da-5dcb-4f37-9ab8-3ee0f996b643
--------
Egyptian officials say police kill 15 militants in Sinai
Sep 23, 2019
Egyptian security forces say police have killed 15 suspected militants in a shootout in the restive northern part of the Sinai Peninsula.
They say the shootout took place on Sunday when police raided the militants' hideout west of the Mediterranean city of el-Arish.
Security officials say they found weapons and explosive materials in the hideout, and the bodies were taken to a nearby hospital for identification.
Separately, they say six security forces were wounded when an explosive device hit their vehicle in the nearby town Sheikh Zuweid.
Officials spoke on condition of anonymity because they were not authorized to brief the media.
Full report at:
https://abcnews.go.com/International/wireStory/egyptian-officials-police-kill-15-militants-sinai-65794525
--------
Furious Tribesmen Start Attacking US-Backed SDF in Northeastern Syria
Sep 23, 2019
The Arab tribesmen of the town of Tal Hamis, North-East of Hasaka in Northeastern Syria attacked an SDF patrol vehicle, but let free the militants on board.
The Kurdish militias came under attack after they continued to forcefully recruit the youth in Tal Hamis and dispatched them to the battlefronts.
The residents of Tal Hamis showed protest by massive protests in support of the Damascus government while chanting slogans in condemnation of the SDF, which ended in clashes between the local population and the Kurdish militias.
The Arabic-language al-Watan newspaper reported that Tal Hamis residents have raided and seized an SDF vehicle.
The al-Akidat tribe also declared that the SDF has murdered two young tribesmen and called for expulsion of SDF militias from the areas under their control.
Meantime, the pro-militant Jisr News Website announced that about 100 well-known figures and sheikhs of al-Akidat have held an emergency meeting in the town of Ziban in Deir Ezzur countryside.
Jisr noted that the meeting was held to review the death of two young tribesmen from al-Akidat tribe, namely Majid Jamil Jadan al-Hafl and Ghias Fuzzi Abd al-Mohsen al-Hafl.
The tribesmen attending the meeting issued a statement to condemn the killing of the two young tribesmen by the SDF.
A number of armed al-Akidat tribesmen attended the meeting and called on their tribesmen to drive the Kurdish militias out of those regions.
In a relevant development last week, the SDF backed by the occupying US Army troops conducted a series of arrests in Eastern Syria, and abducted a large number of civilians to make them join the fight against the Syrian Army.
The SDF has arrested or kidnapped many more Syrian citizens in areas under its control in Hasaka and Deir Ezzur provinces, the Arabic-language SANA news agency quoted local sources as saying.
The sources noted that the SDF's measures have been taken on the pretext of fighting terrorism or with the goal of forced recruitment of soldiers by the Kurdish militia to take part in the upcoming battle against the Syrian Army.
Residents of Deir Ezzur and Hasaka have, in response, held protest rallies against the SDF's measures and presence there.
In a relevant development earlier in September, the residents of Deir Ezzur held massive rallies against the Kurdish militias in Eastern Syria, calling for the expulsion of the SDF from the region, the Arabic-language media outlets and sources said.
The local sources in Deir Ezzur province reported that a large number of residents of al-Moizlieh and al-Azabeh in Northeastern Deir Ezzur closed the roads and protested against the SDF and the US.
The Arabic-language al-Watan newspaper reported that the civilians called on the Kurdish militia commanders to hand over the areas under their control to the indigenous population before protests spiral out of control.
Full report at:
https://en.farsnews.com/newstext.aspx?nn=13980701000658
--------
Two rockets hit near US embassy in Baghdad, according to security sources
24 September 2019
Two rockets landed near the US embassy in Baghdad overnight, security sources told AFP early Tuesday, with foreign diplomats there reporting emergency sirens repeatedly going off.
The latest attack within the walled-off Green Zone, which hosts foreign embassies and Iraqi government buildings, comes amid heightened tensions between Baghdad's two main allies, Tehran and Washington.
A foreign security source inside the Green Zone said two rockets hit near the embassy and a third fell into the Tigris River, which the US embassy overlooks.
"One hit about three meters (ten feet) inside a gate on the embassy compound," the source told AFP.
An Iraqi security source confirmed to AFP that at least one Katyusha rocket landed near the embassy shortly before midnight and was found to have been fired from an area south of Baghdad.
The Iraqi military said two projectiles hit the edges of the Green Zone.
Full report at:
https://english.alarabiya.net/en/News/middle-east/2019/09/24/Two-rockets-hit-Baghdad-s-Green-Zone-no-casualties-.html
--------
China's Xi says disputes in Gulf should be resolved peacefully
23 September 2019
Disputes in the Gulf should be resolved peacefully via talks, and all sides should remain calm and exercise restraint, Chinese President Xi Jinping told Iraq's visiting prime minister on Monday, state television reported.
"At present the situation in the Gulf region of the Middle East is complex and sensitive," the report cited Xi as saying, without directly mentioning the attacks on Saudi Arabia's oil facilities.
Full report at:
https://english.alarabiya.net/en/News/gulf/2019/09/23/China-s-Xi-says-disputes-in-Gulf-should-be-resolved-peacefully.html
--------
South Asia
At least 40 civilians killed by Afghan forces in southern Helmand province
23 September 2019
An Afghan official says that at least 40 civilians have been killed during an Afghan special forces raid and airstrikes conducted against of Taliban in southern Helmand province.
Abdul Majed Akhand, deputy provincial councilman, says that the majority of the dead are women and children who were at a wedding ceremony in Musa Qala district.
Akhund said that 12 other civilians were wounded and are in the hospital in Lashkar Gah, the capital of the province.
https://english.alarabiya.net/en/News/world/2019/09/23/At-least-35-civilians-killed-by-Afghan-forces-in-southern-Helmand-province.html
--------
Afghan Officials: Taliban Suffers Heavy Casualties In Several Provinces
September 22, 2019
Afghan authorities say Taliban militants have suffered heavy casualties in the latest security operations in several provinces across the country.
A Taliban commander and six other militants were killed in clashes in Parwan Province north of the capital, Kabul, provincial police chief Muhammad Mahfooz Walizada said on September 22.
Walizada identified the Taliban commander as Mullah Qudus. He said the militants were killed in an operation near the provincial capital, Charikar, late on September 21.
Military officials in Ghazni Province said at least 16 Taliban fighters were killed and more than 25 others wounded in overnight operations in Muqur, Rashidan, and Waghaz districts.
A Taliban shadow district chief was killed in the northern district of Zari in Balkh Province, Afghan officials said in a statement.
Mawlawi Gul Ahmad and other eight other Taliban militants were killed in clashes late on September 21, the statement added.
It said the clashes began after a group of militants led by Gul Ahmad attacked security forces deployed in the area. The troops, backed by air strikes, repelled the assault, the statement said.
Two pro-government militia fighters were also killed and four soldiers were wounded in the clashes.
There was no immediate comment from the Taliban.
After heavy fighting in early September, the Taliban announced that it had overran Zari, but Afghan officials rejected the claim, saying the district remained under government control.
Full report at:
https://www.rferl.org/a/afghan-officials-taliban-suffers-heavy-casualties-in-several-provinces/30177823.html
--------
Afghanistan's Taliban meets Chinese government in Beijing
Abdul Qadir Sediqi, Rupam Jain
SEPTEMBER 22, 2019
KABUL (Reuters) - A Taliban delegation met China's special representative for Afghanistan in Beijing to discuss the group's peace talks with the United States, a spokesman for the Islamist insurgency said.
The meeting, on Sunday, comes after U.S. President Donald Trump's 11th-hour cancellation earlier this month of negotiations with the Taliban, which many had hoped would pave the way to a broader peace deal with the Afghan government and ending an 18-year war.
The Taliban's nine-member delegation traveled to Beijing and met Deng Xijun, China's special representative for Afghanistan, said Suhail Shaheen, the Afghan group's spokesman in Qatar, on his official Twitter account on Sunday.
Qatar was where the Taliban and the United States held peace talks over the past year.
"The Chinese special representative said the U.S.-Taliban deal is a good framework for the peaceful solution of the Afghan issue and they support it," Shaheen wrote.
Mullah Baradar, the Taliban delegation's leader, said they had held a dialogue and reached a "comprehensive deal", Shaheen tweeted.
"Now, if the U.S. president cannot stay committed to his words and breaks his promise, then he is responsible for any kind of distraction and bloodshed in Afghanistan," Baradar said, according to Shaheen.
Speaking in Beijing on Monday, Chinese Foreign Ministry spokesman Geng Shuang confirmed that Baradar and several of his assistants came to China for exchanges in recent days.
"China's relevant foreign ministry official exchanged opinions with Baradar regarding the situation in Afghanistan and promoting Afghanistan's peace and reconciliation process," Geng said.
Afghanistan will this coming week hold its fourth presidential elections since U.S.-led forces toppled the Taliban from power in 2001.
Those elections have gained importance since the collapse of the peace talks, as the negotiations could have led to the creation of an interim government, now a more distant prospect.
In June, before the peace talks fell apart, another Taliban team went to China to meet with the government.
At the time, a foreign ministry spokesman said China supported Afghans resolving their problems themselves through talks, and the visit was an important part of China promoting such peace talks.
China's far western region of Xinjiang shares a short border with Afghanistan.
China has long worried about links between militant groups and what it says are Islamist extremists operating in Xinjiang, home to the mostly Muslim Uighur people, who speak a Turkic language.
U.S. Secretary of State Mike Pompeo on Sunday called on all countries to resist China's demands to repatriate ethnic Uighurs, saying Beijing's campaign in the western Chinese region of Xinjiang was an "attempt to erase its own citizens".
Geng said Pompeo had slandered China, and that its policies in Xinjiang were fundamentally no different than what other countries had done to guard against extremism and terrorism.
U.N. experts and activists say at least 1 million Uighurs, and members of other largely Muslim minority groups, have been detained in camps in the remote Xinjiang region.
Full report at:
https://www.reuters.com/article/us-afghanistan-taliban-china/afghanistans-taliban-meets-chinese-government-in-beijing-idUSKBN1W70I3
--------
Dozens of foreign terrorists fighting for Taliban group killed, detained in Helmand
23 Sep 2019
The Ministry of Defense and Provincial Governor of Helmand confirmed that the Special forces killed or detained dozens of foreign terrorists who were fighting for the Taliban group in Helmand.
The Ministry of Defense said in a statement the Special Forces killed 22 foreign terrorists who were fighting for the Taliban group in Musa Qala district of Helmand.
The statement further added that the Special Forces also arrested 14 foreign terrorists including many Pakistani and Bangladeshi citizens during the same operation.
Meanwhile, the Governor's Office of Helmand said in a statement said the Special Forces also killed Farhad, the shadow district chief of Taliban and Ehsanullah Nabil, the senior Taliban military commander.
Full report at:
https://www.khaama.com/dozens-of-foreign-terrorists-fighting-for-taliban-group-killed-detained-in-helmand-04109/
--------
Afghan forces foil rocket attack on Kabul city, seize multiple rounds of BM1 rockets
21 Sep 2019
The Afghan forces foiled rocket attack on Kabul city by arresting a terrorist and confiscating multiple rounds of BM1 rockets.
The Ministry of Interior (MoI) said in a statement that the security forces arrested the terrorist in 8th district of Kabul city.
The statement further added that the terrorist was looking to transport multiple rounds of BM1 rockets in a bid to fire them on Kabul city.
However, the interior ministry said the security forces identified the terrorist as he was crossing the check post and confiscated multiple rounds of BM1 rockets, an RPG rocket launched, a pistol and a vehicle.
Full report at:
https://www.khaama.com/afghan-forces-foil-rocket-attack-on-kabul-city-seize-multiple-rounds-of-bm1-rockets-04092/
--------
12 children killed, wounded in Parwan IED explosion
22 Sep 2019
An explosion in northern Parwan killed or wounded at least 12 children late on Saturday afternoon, the security officials said.
Nasrat Rahimi, a spokesman for the Ministry of Interior said an improvised explosive device went off at around 4:20 pm local time on Saturday in Shah Mast Qalandar Village.
Rahimi further added that the explosion killed a child and wounded at least 11 others.
Furthermore, Rahimi blamed the Taliban group for planting the improvised explosive device but the Taliban militants have not commented regarding the incident so far.
Taliban militants frequently use improvised explosive devices to target the security forces and government officials.
Full report at:
https://www.khaama.com/12-children-killed-wounded-in-parwan-ied-explosion-04100/
--------
Special Forces detain Taliban militants, destroy cache of weapons in Kabul
24 Sep 2019
The Afghan Special Forces detained two Taliban militants during separate operations in Kabul.
The military officials said Tuesday the Special Forces arrested a Taliban militant during a raid in Sarobi district of Kabul.
The officials further added that the Special Forces also destroyed a small cache of weapons during the raid.
Full report at:
https://www.khaama.com/special-forces-detain-taliban-militants-destroy-cache-of-weapons-in-kabul-04112/
--------
Pentagon awards new contract in support of UH-60 helicopters of the Afghan Air Force
24 Sep 2019
The Department of Defense (Pentagon) awarded a new contract in support of UH-60 Black Hawk helicopters of the Afghan Air Force.
The Defense Department said in a statement it awarded a contract worth $54,931,995 to Science and Engineering Services LLC.
The statement further added the company will perform the maintenance work on Afghan Air Force UH-60 Black Hawk helicopters in Kandahar.
Furthermore, the Defense Department said the company will perform the work until 31st of December 2020.
This comes as Efforts are underway to bolster the capabilities of the Afghan Air Force.
Full report at:
https://www.khaama.com/pentagon-awards-new-contract-in-support-of-uh-60-helicopters-of-the-afghan-air-force-04111/
--------
3 NATO service members wounded in an apparent failed 'Green on Blue Attack' in Afghanistan
23 Sep 2019
Three NATO service members sustained non-life-threatening injuries in an apparent failed 'Green on Blue Attack' in South of Afghanistan on Monday.
"This afternoon a Resolute Support convoy was fired on in Kandahar province by a member of the Afghan Civil Order Police," the alliance said in a statement.
The statement further added "Three Resolute Support service members in the convoy sustained non-life-threatening injuries."
The alliance also added that the Resolute Support forces killed the attacker in return fire.
Full report at:
https://www.khaama.com/3-nato-service-members-wounded-in-an-apparent-failed-green-on-blue-attack-in-afghanistan-04110/
--------
Pakistan
Pakistan rejects Indian army chief's statement on Balakot
September 24, 2019
Islamabad: Pakistan on Tuesday rejected Indian army chief's statement regarding terror camps in Balakot as an attempt to divert attention from atrocities being committed in Occupied Kashmir.
Reacting to Gen Bipin Rawat's remarks that terror camps have been reactivated in Balakot, the Foreign Office said India would not succeed in hiding state terrorism in Kashmir by levelling allegations against Pakistan.
It said India would fail to mislead the international community with the baseless allegations.
Tensions run high between Islamabad and New Delhi since August 5 after India revoked the special status of Occupied Kashmir.
India has deployed tens of thousands of additional troops in the Muslim majority region, cutting all means of communications.
India had conducted aerial strikes in Balakot in February and received a tit-for-tat response a day later when Pakistan Air Force brought down an Indian fighter jet.
Pakistan arrested an Indian pilot and released him the next day as a good will gesture.
https://www.thenews.com.pk/latest/531436-pakistan-rejects-indian-army-chiefs-statetment-on-balakot
--------
PM Imran discusses Kashmir, bilateral ties in meeting with Erdogan
September 24, 2019
NEW YORK: Prime Minister Imran Khan Monday called on Turkish President Recep Tayyip Erdogan on the sidelines of 74th session of the United Nations General Assembly in New York.
Both the leaders discussed the human rights violations in Indian occupied Jammu and Kashmir, bilateral ties and matters of mutual interests in the meeting.
The premier will hold several more meetings with his counterparts from various countries and participate in high-level UN summits on climate change, sustainable development, universal health coverage and financing for development.
Full report at:
https://www.thenews.com.pk/latest/531416-pm-imran-discusses-kashmir-bilateral-ties-in-meeting-with-erdogan
--------
Trump complains he deserves Nobel Prize during meeting with PM Imran
September 24, 2019
US President Donald Trump and Prime Minister Imran Khan on Monday met in New York City ahead of the 74th session of the United Nations General Assembly opening on Tuesday (today).
Addressing a joint press conference alongside Prime Minister Imran Khan, Trump reiterated to mediate between Pakistan and India on the Kashmir issue.
"If I can help, I will certainly do that," he said. "If both (Pakistan and India) want, I am ready, willing and able to do it."
In a joint question and answer session, Trump said he probably deserves the Nobel Peace Prize for his efforts on the world stage.
"I think I'm going to get a Nobel Prize for a lot of things — if they gave it out fairly, which they don't," US President said.
Trump went on to question the awarding of the one of the world´s most prestigious accolades in 2009 to former US president Barack Obama.
Obama was given the peace prize for extraordinary efforts to strengthen international diplomacy and cooperation between people.
"They gave one to Obama immediately upon his ascent to the presidency and he had no idea why he got it. You know what? That was the only thing I agreed with him on," said Trump.
Full report at:
https://www.thenews.com.pk/latest/530953-trump-complains-he-deserves-nobel-prize-during-meeting-with-pm-imran
--------
PM Imran Khan meets UK PM Boris Johnson on sidelines of UNGA
September 23, 2019
NEW YORK: Prime Minister Imran Khan met on Monday his counterpart from the United Kingdom Boris Johnson on the sidelines of the United Nations General Assembly's 74th session to be held in New York.
According to Foreign Office Spokesman Dr Mohammad Faisal, PM Imran met with the British prime minister today.
Dr Mohammad Faisal
✔
@ForeignOfficePk
PM Khan met PM UK Boris Johnson on the sidelines of 74th UNGA Session at New York today.
View image on Twitter
1,364
6:16 PM - Sep 23, 2019
Twitter Ads info and privacy
278 people are talking about this
Prime Minister Imran Khan is currently on a visit to the US, where he will address the United Nations General Assembly on September 27.
PM Imran will hold an important meeting with United States President Donald Trump today during which the situation in the Indian-occupied Kashmir (IoK) is expected to come under discussion.
Full report at:
https://www.thenews.com.pk/latest/530915-pm-imran-khan-meets-uk-pm-boris-johnson-on-sidelines-of-unga
--------
Trump reiterates Pakistan, India mediation offer in meeting with PM Imran
September 23, 2019
ISLAMABAD: Prime Minister Imran Khan, who is on a week-long visit to the US, met with President Donald Trump on Monday.
In a joint question and answer session today, US President Trump reiterated the offer to mediate between Pakistan and India.
The two leaders about the ongoing situation in the Indian-occupied Kashmir, with PM Imran telling Trump that he felt that it was "the beginning of a crisis".
Addressing the US president and the reporters, he said: "Trump heads the most powerful country in the world. And the most powerful country in the world has a responsibility.
"I honestly feel that this crisis could become much bigger. We look to the US to put out flames in the world," the PM said.
Trump, on the other hand, noted that "many countries wanted to meet with me and we were unable to meet with them". He added: "I will tell you this: You have a great leader. He's a good man, a nice man. Happens to be a great athlete."
The US president expressed hope that India and Pakistan will come together and resolve issues.
The meeting came a day after Donald Trump attended a rally organised by Indian prime minister Narendra Modi amid massive anti-India protests in the city of Houston.
This is be the second meeting between the two leaders since July, where the US president offered to mediate on Kashmir dispute. Trump also held telephone talks with the leaders of Pakistan and India in August amid lockdown in IoK.
Today, the prime minister also meet with his British counterpart Boris Johnson over breakfast, and later Chinese Foreign Minister Wang Yi called on the PM.
Other important engagements of PM Imran include meetings with Turkish President Recep Tayyip Erdogan, Swiss President Ueli Maurer, World Bank President David Malpass and Italian Prime Minister Giuseppe Conte.
Full report at:
https://www.thenews.com.pk/latest/530900-pm-imran-to-president-trump-today
--------
JUI-F's long march on capital: PML-N presses for extension of protest timing
Tariq Butt
September 24, 2019
ISLAMABAD: The Pakistan Muslim League-Nawaz (PML-N) is hopeful that Jamiate Ulema-e-Islam-Fazl (JUI-F) chief Maulana Fazlur Rehman will agree to extending his scheduled long march on Islamabad by a few weeks.
"We have told him that you have mobilised your workers for several months and are fully geared up while the PML-N has not done so. Therefore, we need a few weeks to do the necessary mobilisation," a senior PML-N leader, who is part of the high-level consultations between the two parties, told The News on condition of anonymity.
Maulana Fazlur Rehman has held at least two sessions with PML-N President Shahbaz Sharif and senior party leaders in which the discussions focused on the impending long march. At the same time, incarcerated deposed prime minister Nawaz Sharif has conveyed to the JUI-F chief through his son-in-law Capt (retd) Muhammad Safdar that the PML-N will certainly join the protest. The PML-N leader said the JUI-F head has been told that they want the protest to be held in November instead of October as announced by him. He said Fazlur Rehman was so far inflexible but expressed the hope that he would come around their proposal so that cooperative relationship between the two parties remain smooth and unhindered.
According to the PML-N stalwart, the meeting of the party's Central Working Committee (CWC), on Sep 30, will take a decision on the long march. He said Fazlur Rehman led delegation has been requested to attend the CWC session for direct interaction with its members. He said the JUI-F supremo had reminded them that his party had unilaterally announced on its own the decision to protest, which was to be taken by the All Parties Conference (APC). The PML-N leader said the JUI-F chief argued that his party would hold the protest regardless of the participation of any opposition party in it. He said Fazlur Rehman is in no mood to tolerate the present government any further.
He said Fazl suggested that it would be advantageous for all the opposition parties if the issue of protest was put before the APC for a decision, and then every component should adhere to it. Or, it should be presented to the "Rehber committee" for a decision. Fazlur Rehman has told the PML-N and other opposition parties, who have reservations over his planned agitation, that he has enough street power to make the protest a success single-handed and all what he needs is their moral support.
However, the JUI-F head, another PML-N leader said, is disappointed with the knee jerk decision of the Pakistan People's Party (PPP) that it would not participate in any protest where the "religion card" would be used. He said that the PML-N sought Fazlur Rehman about the precise objectives of the agitation. "If Islamabad is choked, whole Pakistan will suffer," he said adding the PML-N always avoids political tactics that damage economy and disturb the daily life of ordinary people. "We have to avoid the kind of agitation that the Pakistan Tehreek-e-Insaf (PTI) introduced inflicting Pakistan with monumental losses."
Full report at:
https://www.thenews.com.pk/print/530959-jui-f-s-long-march-on-capital-pml-n-presses-for-extension-of-protest-timing
--------
After Ghotki, Pakistan Should Abandon its Glorification of Temple Vandalizers
By Kunwar Khuldune Shahid
September 23, 2019
Last week, an Islamist mob vandalized three temples, and damaged a school and houses belonging to the Hindu community in Ghotki, after the principal of the local Sindh Public School had been accused of blasphemy by a student.
The principal was taken into custody and a First Information Report (FIR) was registered by the police under Section 295-C of the Pakistan Penal Code, which establishes the death penalty for offending Islam.
Despite the arrest of the principal, who has since been shifted to an undisclosed location for his own safety, communal tension gripped Ghotki, with the local Hindu community fearing more aggression from Islamist mobs in a country where outraged sentiments have resulted in entire localities belonging to religious minorities being razed.
Where Christian communities are largely targeted in Punjab owing to the demographic distribution, local Hindus are often attacked in Sindh, where they're more densely populated.
In May, mob violence broke out in Mirpurkhas where a Hindu doctor had been accused of blasphemy. In February, the Sham Sundar Shewa Mandli Temple in Kumb was the target of an arson attack, where idols and religious scriptures – including Bhagwat Geeta and Guru Granth Sahib – were set ablaze.
Enjoying this article? Click here to subscribe for full access. Just $5 a month.
Ghotki was the scene of violence in July 2016 as well, when a 17-year-old Hindu boy was shot dead after being accused of desecrating the Quran. In March 2014, a Hindu temple and dharamshala were set on fire in Larkana for similar blasphemy allegations.
When the temples aren't being torched by Islamist mobs, they are often demolished under the auspices of the Evacuee Trust Property Board, with local municipal administrations razing temple sites to facilitate construction of commercial centers and private properties.
A 2014 survey revealed that 95 percent of the places of worship belonging to religious minorities in Pakistan no longer exist, with many of them having been converted to "toy stores and restaurants."
Indeed, the mob killings and destruction of temples isn't the only way the Hindu community is violently marginalized in Pakistan. Over 1,000 non-Muslim girls, a vast majority of them Hindus, are forcibly converted to Islam annually, according to the Human Rights Commission of Pakistan.
Member of the National Assembly, and the head of the Pakistan Hindu Council, Dr. Ramesh Kumar Vankwani revealed in 2014 that on average 5,000 Pakistani Hindus migrate to India every year.
Historically, the persecution of Hindus in the country has emanated from the circumstances of the state's creation and its founding ideology called the Two Nation Theory, designed by the founders of Pakistan to underline the differences between Muslims and Hindus of the subcontinent.
Since the creation of Pakistan, that founding antagonism against Hindus was gradually etched in the national narrative as illustrated by the school curricula.
"Hindus have tried all their means to harm Muslims… The foundation of [the] Hindu set up was based on injustice and cruelty… Hindus… used all means to weaken and harm Pakistan…" are examples of how the community is often referred to in government textbooks.
Similarly, among those glorified as part of the "history of Pakistan" are the likes of Muhammad bin Qasim who "saved the people of Sindh" from the "atrocities of Hindu Raja," as described in the Civics Class IX & X book from the Punjab Textbook Board, Lahore, 2001.
Among those lauded as heroes of Pakistan are Tipu Sultan who in a 1790 letter to then Bekal Governor Budruz Zuman Khan took pride in forcibly converting 400,000 Hindus. Prime Minister Imran Khan has often touted Tipu Sultan as his hero.
What often united Muslim invaders from the millennium leading up to the Indo-Pak Partition was their vandalizing of Hindu temples. The destruction of the Somnath temple at the hands of Mahmud Ghaznavi in 1024, continues to be celebrated as a "Muslim conquest over Hindus," despite many historians questions the credibility of the claims made as part of later traditions.
Even so, the demolition of Somnath temple remains etched in the Islamist folklore in Pakistan to such an extent that the country has named nuclear warheads carrying missiles after Ghaznavi – ostensibly emblematic of "Muslim Pakistan" intimidating "Hindu India."
In Pakistan, Ghaznavi doesn't just symbolize Muslim supremacy over Hindus, but also Sunni supremacism given his attempted cleansing of the Ismaili Shia population in Multan in the year 1005.
This misplaced glorification of genocidal invaders, the legal sanction to Islamic supremacy and the state's capitulation to religionist groups, facilitate mob vandalism as witnessed in Ghotki last week.
While abandonment of the Islamist narrative has long been an existential question for Pakistan, there is hope that the country might take the requisite steps to finally turn the corner.
That hope emanates from the local Muslims guarding the temple in Ghotki against further destruction as an expression of solidarity with their Hindu neighbors, with civil society protests against the mob eventually culminating in cases being registered against the vandalizers.
Prime Minister Khan's insensitive reaction to the Ghotki incident notwithstanding, the government set a progressive example by sacking a minister for anti-Hindu bigotry in March this year. Even the historic Holi address of Khan's predecessor Nawaz Sharif in 2017, where he endorsed pluralism, suggested that an Islamist interpretation of history was being revamped, albeit with the requisite revisionism.
For Pakistan, overcoming the Islamist inertia and embracing religious pluralism isn't merely about righting the societal wrongs, it is also critical for its global standing.
At a time when Khan is looking to fight Pakistan's case at the United Nations General Assembly, he needs to realize that any support on Kashmir hinges on the abandonment of its wrongs from the past, many of which were founded on radical Islam and the masochistic penchant for jihad.
While leaders condemn the rise of Hindu nationalism in India, it is important to differentiate its opposition to Hindutva ideology from bigotry against Hindus.
Full report at:
https://thediplomat.com/2019/09/after-ghotki-pakistan-should-abandon-its-glorification-of-temple-vandalizers/
--------
Southeast Asia
Iraq to join China's Belt and Road project: PM
Sep 24, 2019
BEIJING: Iraq will join China's signature "Belt and Road" infrastructure investment project, the country's prime minister said on Monday in Beijing.
Adel Abdel Mahdi made the announcement in a meeting with Chinese President Xi Jinping during a state visit. "Iraq has gone through war and civil strife and is grateful to China for its valuable support," said Mahdi, in comments broadcast on Chinese state media outlet CCTV. "Iraq is willing to work together in the 'One Belt, One Road' framework," he added.
Xi said that the two countries would cooperate on oil and infrastructure projects. "China would like, from a new starting point together with Iraq, to push forward the China-Iraq strategic partnership," said Xi. Trade last year between China and Iraq was more than $30 billion, according to state news agency Xinhua. Beijing is Baghdad's biggest trade partner, while Iraq is China's second biggest oil supplier.
The Belt and Road Initiative is a massive global network of ports, railways, roads and industrial parks spanning Asia, Africa, the Middle East and Europe, which will see trillions invested in new infrastructure. It has faced criticism for swaddling poor nations with crippling debt.
https://timesofindia.indiatimes.com/world/china/iraq-to-join-chinas-belt-and-road-project-pm/articleshow/71268667.cms
--------
Oldest Quranic manuscript on display at Medan's new Quran History Museum
September 23, 2019
The Quran History Museum was officially launched in Medan, North Sumatra, on Sunday.
It hosts a collection of at least 22 ancient mushaf (manuscripts), including the oldest one in the country.
North Sumatra Governor Edy Rahmayadi said the province kept many ancient Quranic mushaf, including in Barus district in Central Tapanuli regency, where Islam first entered North Sumatra, and in Simalungun regency.
"After exploring some regions in North Sumatra, we found several ancient Qurans that are more than 250 years old. All of them are now on display at the Quran History Museum," Edy said during the museum's opening on Sunday, adding that he hoped the public could help preserve the mushaf and educate the younger generations.
Edy, in particular, expressed his appreciation toward historian Ichwan Azhari who discovered the mushaf and initiated the museum.
"There are still many mushaf available in North Sumatra; we have to look for them alongside the expert team. [The administration will] provide the budget; we must preserve the history and icon of our province," Edy said.
Ichwan said the oldest mushaf displayed at the museum was created in the year 1070 of the Islamic calendar, or 1660.
Full report at:
https://www.thejakartapost.com/life/2019/09/23/oldest-quranic-manuscript-on-display-at-medans-new-quran-history-museum.html
--------
Police Anti-Terror Unit Arrests Islamic State-Affiliated Militants in Separate Raids
BY TELLY NATHALIA
SEPTEMBER 23, 2019
Jakarta. Police anti-terror unit Detachment 88 raided several hideouts in Bekasi in West Java and Jakarta on Monday morning, arresting eight people linked to the Islamic State-affiliated militant group Jamaah Ansharut Daulah, or JAD, as well as seizing explosive materials belonging to the group.
Seven of the militants were arrested in Bekasi, West Java, and one in Cilincing in North Jakarta.
"We have arrested eight people from the IS-affiliated group JAD," Jakarta Police spokesman Chief Comr. Argo Yuwono told Metro TV on Monday.
Police have not given any further details about the eight suspected terrorists.
Full report at:
https://jakartaglobe.id/context/police-antiterror-unit-arrests-islamic-stateaffiliated-militants-in-separate-raids
--------
Will Anwar's olive branch to ex-Sabah Umno strongmen pay off?
24 September 2019
BY JULIA CHAN
KOTA KINABALU, Sept 24 ― PKR president Datuk Seri Anwar Ibrahim's visit to Sabah recently was likely an attempt to shore up support while testing the waters with two senior Muslim Bumiputera leaders here amid rumours of them joining the party.
While analysts agree that his planned visit to the hometown of former Umno members Tan Sri Pandikar Amin and Datuk Seri Salleh Said Keruak was to bolster Anwar's support base, they are undecided as to whether the move will bring any tangible impact to the prime minister-in-waiting just yet.
Oh Ei Sun, a senior fellow with the Singapore Institute of International Affairs said it was "open season" for former Umno leaders as they look for options for the future.
"They are wagering on Anwar becoming next PM, and that may or may not pay off. They have no MP seats with them, but for Anwar it's better than no harvest at all," he said.
Universiti Utara Malaysia Mohd Azzizudin Mohd Sani said that the current development would benefit the two Sabahans as much as it would Anwar.
"Salleh and Pandikar had both wanted to join Bersatu. Perhaps, somewhere along the way, their membership got rejected. Now I guess they are meeting with Anwar, for their political survival," he said.
Pandikar is the former Parliament speaker while Salleh is the former minister of multimedia and communications, before the switch in government after GE14.
When news of Anwar's visit to Sabah post-Malaysia Day first spread, rumours were abound that the two would be joining PKR but they denied the rumours, saying that their invite was on behalf of the United Sabah Bajau Organisation, a non-political platform. On the day of the visit, Anwar had visited Kota Belud and photos were taken of Pandikar and Anwar holding hands on the beach in traditional Bajau gear, spurring talk of a blossoming relationship.
"I am not sure but if they can bring support to PKR, they might be useful for Anwar. By support, I mean there are many forms. Can be through machinery, funding etc. They have to really convince Anwar what they can contribute. If not, its difficult for Anwar to accept them," he said.
Universiti Malaysia Sabah lecturer Lee Kuok Tiung said that the two had their own comeback agendas.
He said that Pandikar may be looking for a bigger platform after his involvement with United Sabah National Organisation (Usno Baru) which as a new party, takes a lot of effort and commitment to establish while Salleh, who has been silent since he and his former comrades in Umno quit last year is nearing the end of his self-imposed one year sabbatical leave.
"With the current uncertainty in the political landscape, there's room for him to make a comeback. Salleh's political background history shows he doesn't aim to become the top leader in the political party that he joins. He's a loyalist who follows the party's leader. A party-man," he said.
"Of course if both of them choose to join PKR, certain people in PKR will be unhappy. But for Anwar I'm sure he'll try to avoid siding with any group and prefer to see Sabah PKR united.
Lee said that the advantages of having Salleh and Pandikar would be in tackling the factions in PKR, both at the national and state level.
"I'm pretty sure they have their own hardcore supporters behind each of them. And that numbers of supporters can be crucial as a decider in seats where Bajau and Iranun seats like in Kota Belud. There's no harm in having extra support," he said, adding that it was still speculation whether they will or would not join.
"Personally the both of them should wait and see first as there are too many uncertainties in Malaysian politics now. No harm in waiting till next year to decide," said Lee.
Both Lee and University Malaysia Sarawak political science lecturer Arnold Puyok feel that it may be premature for them to join PKR as a strategic move.
"At this stage maybe it's too early for PKR to accept them. Even though both have the potential to bring more people to PKR and strengthen the party, why jolt the party unnecessarily?," said Puyok.
Puyok also said there were pros and cons of the two cosying up to Anwar and joining the party.
"It can both strengthen and polarise the party members at the same time. PKR has no strong local leaders at the moment. Anwar needs local figures to make PKR more politically tenable as Sabah politics is still very much personality-based," he said.
However, it can also polarise the party if the duo's entry is done in haste and before Anwar becomes prime minister.
Another observer who declined to be named was less than optimistic of the development and described the two as more of a liability due to their background and credibility in national politics.
"The upside is they will have Muslim Bumiputera names, but it is obvious they are looking out for their own political survival. They were rejected by the people and PPBM. They need Anwar more than Anwar needs them.
The analyst said that the narrative they can peddle is that Anwar is the "saviour" who can back Sabah in the battle against Putrajaya who is seen to be sidelining the state again, meanwhile backing Anwar in the event he has to face Dr Mahathir again.
Full report at:
https://www.malaymail.com/news/malaysia/2019/09/24/will-anwars-olive-branch-to-ex-sabah-umno-strongmen-pay-off/1793592
--------
Couples flogged for public affection in Indonesia's Aceh
Sep. 20, 2019
A trio of canoodling couples were publicly flogged in Indonesia's Aceh province on Thursday, charged with breaking local Islamic law that outlaws public displays of affection.
Despite international condemnation, whipping is a common punishment for a range of offenses in the deeply conservative region on Sumatra island, including gambling, drinking alcohol, and having gay or pre-marital sex.
Aceh is the only region in the world's biggest Muslim-majority country that imposes Islamic law.
On Thursday, a masked sharia officer rained down between 20 and 22 strokes from a rattan cane each on three men and three women caught behaving amorously. They had all served several months in prison.
One woman winced and fell over from the painful punishment, which was carried out in front of a mosque in the provincial capital Banda Aceh. Dozens of onlookers, including some visiting Malaysian students, watched the spectacle.
"I'm nervous because this is the first time I've seen something like this," said visitor Muhammad Rushdy. "But it can serve as an important lesson for us from other countries to comply with local regulations."
Banda Aceh's mayor Aminullah Usman repeated his long-held claim that the punishment is a deterrent.
"But we keep telling visitors not to be afraid to visit Banda Aceh... because you won't be flogged if you don't break the law," he said.
Full report at:
https://japantoday.com/category/world/couples-flogged-for-public-affection-in-indonesia's-aceh
--------
Indonesian police arrest 9 accused of planning attack
Sep 23, 2019
Indonesia's counterterrorism squad on Monday arrested nine suspected militants accused of plotting a suicide bomb attack on police using high-explosive materials, police said.
Six people were arrested in Jakarta's satellite city of Bekasi, two others in northern Jakarta and another in western Jakarta, said National Police spokesman Dedi Prasetyo.
He said the group of nine, aged between 18 and 28 and led by a militant cell leader, Abu Zee Ghurobah, are believed to be linked to Jemaah Anshorut Daulah, a local militant network affiliated with the Islamic State group.
"They have been preparing themselves to attack police with military-style training in several places," Prasetyo said.
He said authorities defused a powerful bomb from one of the suspects, Muhammad Arshad, when they raided his house in northern Jakarta.
Separately, the North Jakarta police chief, Budhi Herdi Susianto, said they also found a goodbye letter written by Arshad, who allegedly planned an imminent suicide attack using the explosive at a police station.
Susianto said police seized a rifle, a gun, two knives, military-style uniforms, jihadi books and bomb devices from the suspects.
Prasetyo said police were questioning the group to determine whether they had links to extremist networks in Indonesia affiliated with the Islamic State group.
Indonesia, the world's most populous Muslim nation, has carried out a sustained crackdown on Islamic militants since bombings on the tourist island of Bali in 2002 killed 202 people, mostly foreigners.
Full report at:
https://abcnews.go.com/International/wireStory/indonesian-police-arrest-accused-planning-attack-65795745
--------
Singapore detains Indonesian maids for 'funding IS'
September 24, 2019
Singapore has detained three Indonesian maids without trial under tough security laws over allegations they donated funds to support the Islamic State (IS) group, authorities said.
It is the latest case of allegedly radicalised foreign domestic helpers arrested in the city-state, and the government said it highlighted the continued appeal of the jihadists' "violent ideology".
The trio, who worked as maids for between six and 13 years in Singapore, became supporters of IS after viewing online material last year, including videos of bomb attacks and beheadings, the interior ministry said.
Anindia Afiyantari, 33, Retno Hernayani, 36, and 31-year-old Turmini became acquainted around the time they were radicalised and developed a network of foreign contacts online who shared their pro-IS ideology.
"The three of them actively galvanised support online for ISIS," said the ministry in a statement late Monday, using an alternative name for IS.
"They also donated funds to overseas-based entities for terrorism-related purposes, such as to support the activities of ISIS and JAD. Turmini believed that her donations would earn her a place in paradise."
Officials did not say how much they contributed.
JAD refers to Indonesian militant outfit Jamaah Ansharut Daulah, which has pledged allegiance to IS.
The women are being held under the city-state's Internal Security Act, which allows for detention without trial for up to two years.
IS lost the last scrap of its self-declared "caliphate" this year but remains influential. There are fears that foreign fighters returning from the Middle East could rejuvenate terror networks elsewhere, including in Southeast Asia.
There has been a steady stream of such cases reported in Singapore, which is majority ethnic Chinese but has a sizeable Muslim minority.
Full report at:
https://www.thejakartapost.com/seasia/2019/09/24/singapore-detains-indonesian-maids-for-funding-is.html
--------
North America
Trump suggests he deserves Nobel Peace Prize
Sep 23, 2019
US President Donald Trump says he would get a Nobel Peace Prize "if they gave it out fairly."
He made the comments among Pakistani reporters shortly before a meeting with Pakistani Prime Minister Imran Khan on the sidelines of the United Nations General Assembly on Monday.
"I do appreciate the tremendous spirit of the press," Trump said. "I don't see that with us — ours always tear our country down. With your press they want to see something positive in the country."
One of the reporters suggested that the US president would deserve a Nobel Peace Prize if he could help solve the conflict between Pakistan and India over Kashmir.
"I think I'm gonna get a Nobel Prize for a lot of things, if they gave it out fairly, which they don't," Trump said.
He further censured giving the award to former President Barack Obama.
"They gave one to Obama immediately upon his ascent to the presidency, and he had no idea why he got it," Trump said. "And you know what? That was the only thing I agreed with him on."
Obama received the award despite being the only US president to serve two complete terms with his country at war.
Critics say Trump does not deserve the prize either as he has so far scrapped the Iran nuclear deal despite global condemnation, stepped up unauthorized US military interventions in Syria, Afghanistan and a number of African countries.
Should he win the award, Trump will be the fifth American president bestowed with the honor after former Presidents Theodore Roosevelt, Woodrow Wilson, Jimmy Carter and Obama.
https://www.presstv.com/Detail/2019/09/23/606961/Trump-I-would-get-Nobel-if-they-gave-it-fairly
--------
Tech companies join Muslim groups in support of historic bill to end travel ban
September 23, 2019
Aysha Khan
(RNS) — Ahead of a congressional hearing this week on the Trump administration's travel ban, more than a dozen leading technology companies, including Twitter and Airbnb, have thrown their support behind a congressional bill to end the controversial measure.
"As a platform that connects people from all walks of life, to the tastes, scents and goods that power our communities, the Muslim Ban goes against America's core values and risks undermining neighborhood prosperity," said Vikrum Aiyer, vice president of global public policy at Postmates, a popular local food delivery company.
The hearing, scheduled for Tuesday (Sept. 24), held jointly by the House Foreign Affairs Subcommittee on Oversight and Investigations and the House Judiciary Subcommittee on Immigration and Citizenship, is expected to discuss the impact of the ban on Muslim families, as well as the NO BAN Act, a bicameral bill to end the ban.
President Trump issued the first version of his executive order banning entry from seven Muslim-majority countries in 2017, shortly after taking office. After being blocked in lower federal courts, revised and blocked again, a divided Supreme Court upheld a version of the ban last year.
In a letter endorsing the no-ban bill, 13 corporations — Twitter, Pinterest, Airbnb, Uber, Lyft, Spotify, Slack, Postmates, Upwork, Remitly, Okta, Thumbtack and Eventbrite — noted that the ban has hurt their ability to conduct business across borders and hire top talent.
"With the ban in place, it is more difficult for companies to conduct business in the United States," the companies wrote in a letter to Sen. Chris Coons and Rep. Judy Chu, who sponsored versions of the bill in the House and Senate.
"Additionally, the ban hurts America's global reputation and separates families," they wrote. "The ban not only limits our ability to prosper, but also undermines America's core value: inclusivity."
The bill has also been endorsed by a coalition of more than 400 civil rights, faith-based and community groups, including Church World Service, Amnesty International USA, Evangelical Lutheran Church in America, Presbyterian Church (USA), T'ruah, Jewish Voice for Peace, National Sikh Campaign and other groups.
"Regrettably, the Muslim Ban validates the worst stereotypes about Muslims; that they are inherently foreign and violent and pose such a threat to the United States they should be banned," the coalition wrote in an open letter to members of Congress. "Congress now has an opportunity to take action against the Muslim Ban and this troubling history by sending a strong message that our nation rejects religious bigotry."
If passed, the bill would be the first legislation to focus specifically on Muslims' rights. This week's hearing is only the second time Congress has held a proceeding on the rights of Muslims. (In 2011, Democratic Sen. Dick Durbin chaired a hearing focused on rising anti-Muslim bigotry and Muslims' civil rights.)
The bill has 170 co-sponsors in the House and 34 in the Senate, all Democrats.
But Muslim activists noted that nearly 70 House Democrats, including House Speaker Nancy Pelosi, have not signed on to the bill.
"As one of the defining moments for Muslim Americans over the last few years, the Muslim Ban has been the source of unnecessary hardship for hundreds of parents, children, and families that have been separated from their loved ones," said Wa'el Alzayat, head of Muslim advocacy group Emgage, calling on the remaining House Democrats to sponsor the NO BAN Act.
Witnesses scheduled to testify at the hearing about the ban's personal impact on their families include Ismail Alghazali, a U.S. citizen who works in a Brooklyn bodega while his wife and young children are stuck in Yemen; and Abdollah Dehzangi, a Morgan State University professor and U.S. permanent resident who is separated from his wife even though she secured a U.S. job as a researcher.
Full report at:
https://religionnews.com/2019/09/23/tech-companies-join-muslim-groups-in-support-of-historic-bill-to-end-travel-ban/
--------
DHS: Domestic terrorism, particularly white-supremacist violence, as big a threat as ISIS, al-Qaeda
By Ellen Nakashima
September 21, 2019
Domestic terrorism and mass attacks are as great a threat to the United States today as foreign terrorism, the Department of Homeland Security said in a new strategy report unveiled Friday.
The strategy recognizes that foreign terrorist groups continue to plot against the United States but notes there has been a disturbing rise in attacks motivated by domestic terrorist ideologies — and that white supremacy is one of the most potent drivers. "In our modern age, the continuation of racially based violent extremism, particularly violent white supremacy, is an abhorrent affront to the nation," acting homeland security secretary Kevin McAleenan said in a speech Friday in Washington, saying the trend "has no place in the United States of America, and it never will."
Read the document: DHS Strategic Framework for Countering Terrorism and Targeted Violence
The report's framework builds on a 2018 White House national counterterrorism strategy, describing the evolving threat and fleshing out DHS's role in preventing terrorism and "targeted violence" — attacks that lack a clear political or ideological motivation.
What's changed since 9/11 is the diversity of terrorist threats — from al-Qaeda and the Islamic State to ethnically motivated and anti-authority violent extremism, dangers on the digital landscape, and more sophisticated and easily available weapons such as drones.
The strategy document places the growing threat of white supremacy in a transnational context. It notes that, similar to how the Islamic State inspired and connected with potential recruits online, violent white supremacists link with like-minded individuals on the Internet. Conspiracy theories about the "ethnic replacement" of whites as the majority ethnicity in Western countries are prominent on social media platforms such as Gab, 8chan and EndChan, it said.
Arrests in domestic terror probes outpace those inspired by Islamic extremists
"DHS's new strategy represents a notable step forward in reflecting evolving threats of violence to Americans," said Joshua Geltzer, a White House senior counterterrorism director under President Barack Obama.
"The clear recognition of today's white-supremacist threat in an official U.S. government strategy is significant," Geltzer said, noting recent mass shootings in Pittsburgh and El Paso that were allegedly fueled by anti-Semitic and anti-immigrant sentiment. "Addressing the threat demands candidly characterizing it — and this document is an important step in doing so."
The strategy also seeks to deal with mass attacks that are not driven by any apparent ideology, such as the October 2017 shooting rampage in Las Vegas that killed 58 people. A Secret Service study last year that reviewed mass attacks found most attackers used firearms, the strategy said.
A former top counterterrorism adviser to President Trump, Christopher Costa, praised the department for "embracing this notion of targeted violence — and acknowledging the problems with firearms and weapons." Such targeted violence "does not fall under the rubric of domestic terrorism," he said, so "DHS is trying to fill a gap with the term and say, 'Now we have to ensure we address that.' "
FBI faces skepticism over its efforts against domestic terrorism
In terms of prevention, the strategy advocates a "whole-of-society" approach with federal, state and local agencies working together to boost societal resiliency and, it is hoped, reduce the number of individuals likely to radicalize. The aim is to intervene with potential extremists before they can commit violent acts, it said.
McAleenan first joined DHS as the head of Custom and Border Protection's counterterrorism office shortly after the 9/11 attacks. "Then, as now," he said in his speech, "our first priority is to defend the country against terrorism."
He became acting secretary in April and in his first week asked for a review of DHS's actions to counter domestic terrorism. In his third week, a gunman opened fire at a synagogue in Poway, Calif., killing one and injuring three others. And in the middle of efforts to develop a strategic framework to incorporate lessons learned from countering foreign terrorist organizations, gunmen struck again — in one weekend killing more than 30 people in El Paso and in Dayton, Ohio.
In El Paso, "the attacker sought to kill Hispanics, and his online manifesto was rife with references to multiple hate-based ideologies," McAleenan said, speaking at an event co-hosted by the Brookings Institution and Heritage Foundation. The tragedies "reinforced our confidence in the focus of the strategy," he said.
The department will follow up with a public action plan, explaining in greater detail how it plans to accomplish its goals. For instance, it will support countermessaging efforts by technology companies and civic partners to steer people away from violent messages online.
Full report at:
https://www.washingtonpost.com/national-security/domestic-terror--particularly-white-supremacist-violence--as-big-a-threat-as-isis-al-qaeda-dhs-says/2019/09/20/dff8aa4e-dbad-11e9-bfb1-849887369476_story.html
--------
U.S. jazz singer 'blessed' to be Muslim
Fatih Hepokur and Levent Kisi
23.09.2019
A U.S. jazz singer Muslim convert who has worked with global stars including Michael Jackson and Whitney Houston said she was very blessed to meet Islam.
"Islam is an education. Education of the truth. I am very blessed to become a Muslim," Della Miles told Anadolu Agency after a concert in the Manavgat district of the Mediterranean city of Antalya in southern Turkey.
Saying she decided to live in Turkey since she loves Turkish people and culture, Miles expressed her happiness to live in the Dalyan district of the southwest province of Mugla saying: "Dalyan is a wonder of nature."
Miles performs in TV programs and projects in the country, and has also planned duets with Turkish singers.
She added that she would perform in the Bodrum district of Mugla.
Highlighting the importance of working with professional singers such as Michael Jackson and Whitney Houston, Miles said she was highly influenced by Houston.
"Whitney Houston was a great singer and gave everything to the stage. I learned a lot from her," she added.
Referring to her conversation with Turkey's President Recep Tayyip Erdogan, Miles said this meeting was pleasing.
He behaved like we were close friends and showed his amity, she added.
The youngest of six children, Miles was born into a musical family. Her mother sang and directed music in church while her father was a jazz enthusiast and owner of a music venue.
Also a songwriter, Miles took to the stage with German actor and musician Marius Muller-Westernhagen. In 2012, she took a leading role in the American opera Lulu and later portrayed the wife of former U.S. President Barack Obama in Hope - The Obama Musical Story.
Full report at:
https://www.aa.com.tr/en/culture/us-jazz-singer-blessed-to-be-muslim/1591837
--------
When Trump smacked Pakistani reporters
Sep 24, 2019
NEW YORK: As Donald Trump tried to walk a delicate line between his rousing endorsement of India on Sunday and trying not to offend Pakistan, whose help the US needs in Afghanistan, Pakistani reporters surpassed Imran Khan in flattery and trying to put words into the US President's mouth.
Trump smacked down on one reporter who came up with a lengthy preface describing India as an aggressor and Pakistan as a peace maker, asking Khan "Where do you find reporters like this?" "Are you from his (Imran Khan) team? You are saying things that you think. Yours is not a question but a statement," Trump said.
Ahsen Khaaan
@AhsenKhaaan
Pakistani patriotic journalists hats off to them..
Evn trump asked khan where u find reporters like them...#ModiKilling_Kashmiris
Embedded video
12
6:46 AM - Sep 24, 2019
Twitter Ads info and privacy
39 people are talking about this
When another reporter tried flattery saying Trump will be deserving a Nobel Prize if he resolved the Kashmir issue, he replied, "I think I'm going to get a Nobel Prize for a lot of things if they gave it out fairly, which they don't. They gave one to Obama..."
https://timesofindia.indiatimes.com/world/us/when-trump-smacked-pak-reporters/articleshow/71269326.cms
--------
Rouhani faces travel restrictions in New York
September 24, 2019
UNITED NATIONS: Iranian President Hassan Rouhani landed in New York on Monday for the UN General Assembly, but he won't be allowed to see much of the Big Apple while he is here.
Iran's president is subject to the same strict travel restrictions imposed on staff at the Iranian mission to the United Nations in July.
Under the restrictions, Rouhani cannot venture far from the UN headquarters, which sit on the East River on the eastern side of Manhattan island.
The US government has granted him special authorisation to stay at a hotel, however.
Rouhani is due to address the General Assembly and hold a press conference on Wednesday.
The Iranian leader is limited to an area bound by First Avenue, where the UN headquarters are, and East 42nd street to the south and East 48th street to the north.
Full report at:
https://www.dawn.com/news/1507044/rouhani-faces-travel-restrictions-in-new-york
--------
Trump on Iran meeting: 'We'll see what happens'
23 September 2019
US President Donald Trump, arriving at the United Nations General Assembly (UNGA) on Monday, was asked about the possibility of meeting Iranian leader Hassan Rouhani after tensions over an attack on Saudi oil facilities.
"We'll see what happens," Trump told reporters
President Rouhani said on Monday ahead of the UN General Assembly that Iran's "Coalition for Hope and Hormuz Peace" initiative will call for regional peace materialized by "collective cooperation from Arabian Gulf countries."
President Trump on Friday had announced new sanctions on Iran's central bank, calling the measures the toughest ever imposed on another country by the United States.
US Treasury Secretary Steven Mnuchin, also speaking to reporters, said the bank was Tehran's last source of funds.
Full report at:
https://english.alarabiya.net/en/News/middle-east/2019/09/23/Trump-on-Iran-meeting-We-ll-see-what-happens-.html
--------
Europe
Islam And Judaism In Morocco: A History Of Cultural Communion
September 24, 2019
Dr. Mohamed Chtatou
Morocco is one of the most culturally rich countries in the world due to its extensive history; one major reason for its rich cultural heritage is due to the fact that numerous empires controlled the country over the centuries, and each ruler established different policies toward the foreign communities occupying the territory.
Because of this history, Morocco today is an infusion of numerous different peoples, religions, cultures, and traditions from throughout the world, and these diverse cultures are still evident in the culture today. These cultures include the native North African Amazigh/Berber people, the Gnawa people who came from Sub-Saharan Africa, Arabs, Europeans, and until recently a large Jewish population.
Plural Morocco
This unusual cultural infusion which is at the origin of the Moroccan proverbial sense of tolerance, communion and togetherness is reflected in the Moroccan hospitality concept mrahba and acceptance of the other in his otherness.
Over 5,000 years of its known history, the country has always been the crossroad of many cultures and religions that it has adapted in its millennial civilization with a great sense of pride. In the northeastern part of Morocco, in the village of Tatoft, there lives a music "rock" band: The Master Musicians of Jajouka, considered to be 4,000 years old and the infusion result of Greek and Roman deities, pagan in nature, Judeo-Amazigh mystic trance music and Islamic Sufi influence. Today, Jajouka, an icon of world music reflects faithfully the plural aspect of Moroccan culture.
But that is not all, this multiculturalism has been inscribed in gold in the post-Arab Spring constitution of 2011 through the integration of ethnic communities:(1)
The Moroccan cultural pluralism is reflected faithfully more in the religious attributes of the monarch. He is and has been, since the Idrissid dynasty of the 9th century, amir al-mu'minin "Commander of the Faithful" and not the "Commander of Muslims: exclusively, as one would probably expect (2):
Accompanying this diverse population of people were the religions of Islam, Judaism, and to some extent repercussions of Christianity from Europe. Because these cultures and religions coexisted in close proximity for such a long period of time, in the long run they came to share mutual practices that all sects claimed to own; one major area which shared commonalities among the different religions and peoples are Morocco's saints and spirits (3).
When the Megorashim Jews were kicked out of Spain after the Reconquista, they were received with open arms by the Amazigh dynasty of the Wattasid bearing in mind that Morocco was already the home of the Tovashim Jews that came in the year 70 AD, after the destruction of the Second Temple by the Romans.
These early migrant Jews were welcomed by the Amazigh/Berber native inhabitants with whom they shared such social traits as tribalism and matriarchy. The Jews soon "melted" into the Moroccan culture and, as a result, of their tolerance and togetherness, they are responsible with the Amazigh/Berber people for the inception of values of tolerance, still strong today, thanks to the Judeo-Amazigh Cultural Substratum, a cultural concept unique to Morocco in the region.
On the Moroccan religious tolerance and the endeavors of the country to rehabilitate its Jewish legacy, The Economist writes (4):
Shared Mysticism
Two major religions that shared spiritual and cultural practices and still continue to do so today are Islam and Judaism. Although in the 20th century many of the Moroccan Jews moved out of the country to either Israel to Europe, they still maintain rich cultural traditions that date back to ancient times in Morocco (5). According to Moroccan Muslim collective memory, Moroccan Jews are native to the country, pre-dating the arrival of Islam, and essentially going back to the beginning of recorded history, a status rarely enjoyed by Jews elsewhere. The ancient history of Jews of North Africa, in general, and Morocco, in particular, is underpinned by a corpus of legends drawing on very old and rich oral traditions (6).
One major area in which Judaism and Islam shared commonalities and still do today is in the arena of spirituality and sainthood. These common attributes are visible in numerous ways, including mystical practices, the worshipping of saints, as well as Moroccan folklore; they are all evident amongst the Arab, Amazigh/Berber, Gnawa and Jewish populations. The analogous mental structures of the Jewish and Muslim (Arab and Amazigh/Berber) populations have given rise, in the Maghreb, to a literature and a folklore in which the Jewish cultural substratum and the Arab-Amazigh/Berber heritage combine together in an original creation (7).
Today, saints are still a popular part of Moroccan culture, and many saints are shared in both the Islamic and Jewish traditions; presently, Moroccans worship over 100 saints that are considered holy in Islam and Judaism and whose origins can be traced from Jewish tradition (8).
One great example of this phenomenon that still exists today is a Rabbi of Moroccan origin that is credited with founding the Chavrei Babakuk community, which transformed into a Jewish religious sect called Moroccan Hassidism; this group is still present in Israel today (9). This Rabbi is considered a saint in the Moroccan Hassidic tradition, and Jews as well as many Muslims consider him as holy, for he "embodies simultaneously images of Moroccan saints and Ashkenazi Hassidic rabbis" (10).
One interesting aspect of this saint in particular is the culture of pilgrimage that surrounds his followers both in Morocco and Israel.
Although it is not explicitly stated that this rabbi is a declared saint in the Islamic tradition, many aspects of worship that surround him in the Muslim community are common to the worship of other Muslim Moroccan saints.
Additionally, the concept of the veneration of saints is common to both Jews and Muslims in Morocco, and the way the practice is carried out is explicit and unique to North Africa. In order to fully understand this concept of saints and veneration, it is important to define what a saint is in Moroccan culture, in order to not confuse this conception with other interpretations of sainthood in different religious traditions:
An example of the good interfaith dialogue and understanding in Morocco can be witnessed in the city of Sefrou (13), situated thirty kilometers south of Fes (14). In Sefrou, Muslims and Jews lived side by side in harmony for centuries, and often practiced their religious rituals in such harmony with each other that it was difficult to tell what was Islamic and what was Jewish (15).
They even venerated the same man, whom many considered a saint, buried in a grotto in a neighboring mountain. The site was tactfully called Kaf al-moumen (the grotto of the faithful) because it was a religious sanctuary for both Muslims and Jews, and times for worshipping in this area were equally divided, the year around. However, many local people believe that it is the same saint and not two different saints and this examplifies beautifully the sense of togetherness and communion among the two religious communities As such, the Amazigh/Berbers, Arabs and Jews of this mythical city and capital of religious coexistence are the forfathers of the Judeo-Amazigh/Berber cultural substratum, which is origin and inspiration of the Moroccan tolerance.
The example of Sefrou is not unique (16); it is found in other places such as Debdou, Azrou, Fes, Rabat, Meknes, and Marrakesh, among others. Communities of Jews lived and practiced their faith in all these places in complete peace and harmony. They were, in principle, full Moroccans, and as such enjoyed the full rights and obligations like their Muslim brethren.
In what regards such aspects of tolerance and coexistence Hind Al-Subai Al-Idrisi writes in Qantara (17):
Relevance Of Saint Reverence: Maraboutism
In his article regarding saint shrines throughout Morocco, Paul Freeman from the University of California names this culture of sainthood as "The Marabout Cult in Morocco." (19) He further explains in his essay that Marabout shrines are common sights when traveling in Morocco, and are located in cities, mountains, villages, and along rivers that lead down towards the Sahara. These shrines are identifiable due to their uniform appearance, which is that of a small and windowless white dome that often is surrounded by a wall (20).
People travel to these sights to visit for days or weeks at a time, and often many of these visitors suffer from physical or mental disease; these calamities are thought to be caused by evil forces, so the afflicted visit these shrines in hopes of gaining the grace needed to ward off the evil spirits and therefore become healthy (22). Today, many of the saints that are worshiped by both Jews and Muslims are located in cities that historically had large Jewish populations, like Fez and Marrakesh. However, the tombs of many deceased saints can be seen in numerous cities throughout Morocco, including Rabat.
In addition to pilgrimage being a unique aspect of spirituality in Morocco, the veneration of saints also plays a large role in Moroccan sainthood.
In his article about saint veneration among the Jews in Morocco, Issachar Ben-Ami states that he has found 25 female saints throughout the country that are mutually celebrated by both Muslims and Jews (23).
One thing that both Judaism and Islam share in common regarding Moroccan saints is the categorization of said saints into three groups. The first are saints that are declared as saints only after they have died; the second are saints who were canonized while still living, and the third are saints who appeared to people in dreams and other forms after death and were therefore declared holy (24).
Other than this categorization, there is also a hierarchy of saints regarding their locations within the country. There are local saints, who are worshipped by small villages that historically hold a special connection and affinity for this person; after this there are regional saints who are worshipped by a number of villages or an entire city, and finally there are national saints that are venerated uniformly by all Jews and a large number of Moroccan Muslims, and many people from all around the country go on pilgrimages to venerate their graves (25).
Because of this shared hierarchy and types of saints, the concept of sainthood has been crucial to both Muslims and Jews living within the region; due to this fact, both religions tend to claim ownership of the saints in their respective religious traditions.
Importance Of Gnawa Culture And Trance Music
Another party that plays a large role in the belief of spirits and thus has influenced Jewish and Muslim culture in Morocco is that of the Gnawa (26) people. Although they do not have much influence in regards to sainthood in Morocco, they have heavily influenced the spiritual culture that exists among different religions and cultures in the region. These people are indigenous to Africa and were forcibly brought to Northern Africa from Timbuktu in the sixteenth century as slaves; thus many of them settled in Morocco (27). This ethnic group of people did not adhere to Islam, although once living and assimilating to Morocco many of them did convert. Despite this fact, the Gnawa people did not abandon many of the cultural practices and beliefs they had held for centuries, including that of spirits.
The Gnawa people often expressed their belief in spirits through their infamous musical genre of "Gnawa music". This music is characterized by its rhythmic and repetitive beat and is often referred to as trance music because listeners have been known to enter into a transient state while listening to it. The trance begins as a type of invasion, like an unwelcome visitor that violates and takes over the person's body. (29)
In her article about Gnawa trance music, Margaret A. Mills explains that this spirit possession "invokes the historical affliction of slavery", this affliction being the slavery and emasculation of the Gnawa people. (30) However, after this initial affliction the person begins to understand how to master the spirit successfully in order to enter into a transient joy instead of spiritual torment. (31)
Gnawa music and spiritual traditions not only had an influence on Jewish mystical practices, but they, also, had a profound impact on Sufi practices within the region; in fact, many of the people that adhere to Sufism listen to Gnawa music for its trance effects. Considered the mystical side of Islam, Sufism is known for its many ritual practices that have affected the spiritual landscape of Morocco for centuries.
Infusion Of Mysticism
A perfect example of the infusion of Sufi mystical practices, Gnawa music, Jewish tradition, and Islamic practices all into one entity can be found in the historic city of Fez. Every year Fez holds an annual Sufi music festival called "The Festival of World Sacred Music" in which numerous musical talents from around the world perform (33). The festival is in honor of Moulay Idriss who founded Fez in 809 (34).
There is a traditional Moroccan gravesite to commemorate the sainthood of Moulay Idriss in Fez, and this is particularly interesting because Fez was a historically Jewish city. Among the groups who perform include specialists in Gnawa music, and additionally Sufi recitations of the Koran called "dhikr" are among the music selection; this process of recitation is strikingly similar to Gnawa trance music, for the participants are known to enter into a state of ecstasy as the music and chant increases in time, tempo and rhythm (35).
In addition to Fez, each year there is a similar music festival that is held in Essaouira, however the main attraction of the event is Gnawa music. Many Sufis attend this, as well, and the festival is widely known for its infamous trance music in which the audience gradually enters into a trance state while listening to the rhythmic beat of the music. Many people are unable to explain how this happens and attribute this occurrence to an unexplainable phenomenon, as stated previously, here above, by Margaret A. Mills in her article on Gnawa music.
Morocco's immense cultural history is evident in the Jewish, Gnawa, and Islamic population. Despite the diversity of the region however, all three groups share similar practices regarding spirituality that they have developed over the centuries as a result of coexisting together. Both Judaism and Islam share the same conception of sainthood, and even share many saints whose tombs can be seen throughout the country; both religions, also, share the concept of veneration and pilgrimage to these holy sites, as well as a belief in baraka. The best infusion of the different cultures and religions is evident in the Sufi music festival in Fez, a Jewish city, with Gnawa Music as one of its main attractions. History may never know where many of the saints and spirit beliefs originated, however they are fully aware that they have, equally, impacted all the cultures and religions of Morocco, a plural country, par excellence.
To Conclude
Synagogue in Marrakesh
Synagogue in Marrakesh
Morocco, which has a long history of religious diversity and tolerance, is known and recognized for the harmonious coexistence of Muslims, Jews and Christians. The freedom of religion is guaranteed by the Constitution and religion embraces all cults and all races in a framework of fraternity, love, respect, tolerance, forgiveness, human rights and freedom, values that the Kingdom has been appropriating for ages and continues to promote today.
Very much like Islam, Judaism has left an undeniable and indelible imprint on the subconscious and conscious cultures and way of life of all Moroccans. Jews have left Morocco in the 20th century, but their cuisine, music, embroidery, celebrations, beliefs, monuments are part of the Moroccan spirit known as tamaghrabit, for life. The Jews have moved physically to others lands but their spiritual presence remains very strong in Morocco and part and parcel of Morocco for eternity and that is the best example of religious infusion and coexistence.
You can follow Professor Mohamed CHTATOU on Twitter: @Ayurinu
Endnotes:
https://www.constituteproject.org/constitution/Morocco_2011.pdf. P. 3
https://www.constituteproject.org/constitution/Morocco_2011.pdf. P. 13
Cf. Chtatou, M; "Saints and spirits and their significance in Moroccan cultural beliefs and practices: an analysis of Westermarck's work" in Morocco: the journal of the Society for Moroccan studies. – N. 1, 1996, p. 62-84.
https://www.economist.com/news/middle-east-and-africa/21730897-essaouira-sets-example-rest-middle-east-moroccos-little-idyll
https://www.eurasiareview.com/05032018-emigration-of-jews-of-morocco-to-israel-in-20th-century-analysis/
Bruce Maddy- Weitzman and Samir Ben- Layashi, "Myth, History and RealPolitik: Morocco and its Jewish Community," Journal of Modern Jewish Studies (2010): 90
Haim Zafrani, "The Judeo- Muslim Cultural World in Morocco: Written and Spoken," Diogenes (1999): 73- 74
Ben Ami, Issach, "Saint Veneration Among the Jews in Morocco," Wayne State University Press (1998): 2
Gil Daryn, "The Chavrei Habkuk Community and Its Veneration of Saints," Ethnology, Vol. 37 Number 4 (1998): 351
"The Chavrei Habkuk Community and Its Veneration of Saints" (1998): 352
"The Chavrei Habkuk Community and Its Veneration of Saints" (1998): 352
"The Chavrei Habkuk Community and Its Veneration of Saints" (1998): 353
Geertz, C. ; Geertz, H. ; Rosen, L . ; & Hyman, P . 1979. Meaning and order in Moroccan society : three essays in cultural analysis. Cambridge : Cambridge university press. It is a collective anthropological work that deals with : social identity and points of attachment: approaches to social organization ( Rosen, Lawrence,) Suq: the bazaar economy in Sefrou ( Geertz, Clifford,) the meanings of family ties ( Geertz, Hildred) and a photographic essay by Paul Hayman (510 pages ).
Norman A. Stillman, Jewish Social Studies, Vol. 35, No. 3/4 (Jul. – Oct., 1973), pp. 255-263
Stillman, . 1988. The language and culture of the Jews of Sefrou, Morocco: an ethnolinguistic study. University of Manchester, – History – 172 pages
https://www.africanexponent.com/bpost/5003-is-morocco-a-haven-for-multiculturalism
https://en.qantara.de/content/interreligious-dialogue-in-morocco-peaceful-co-existence-between-divine-religions
Maraboutisme is a French word meaning "veneration of saints" that originated from the Arab word mourabit " a religious man living in a secluded lodge."
Paul Freeman, "The Marabout Cult in Morocco," Transcultural Psychiatry (1999) Vol. 36 Number 4: 531
"The Marabout Cult in Morocco," (1999): 351
"The Marabout Cult in Morocco," (1999): 352
"The Marabout Cult in Morocco" (1991): 351
Issachar Ben- Ami, "Saint Veneration Among the Jews in Morocco." Wayne State University Press (1998): 388
"Saint Veneration Among the Jews in Morocco," (1991): 312
"Saint Veneration Among the Jews in Morocco," (1991): 313
The work on the cult of Maghreb saints attempted to identify the origin of this community and its ritual practices by exploring the origin of the word Gnawa. The explanation provided by Maurice Delafosse in 1924 remained for a long time the only etymological reference of the word and was adopted by generations of researchers. According to Delafosse, the Berber expression akal-n-iguinaouen which means country of the Blacks, would have given birth to the words Guinea and Ghana and subsequently to the word gnawa by phonetic resemblance. Gnawa, therefore, would mean, by extension, a black man or from the country of black men, that is, sub-Saharan Africa.
Tom McIntyre, "Music from the Middle East- Gnawa Music of Marrakesh/ Night Spirit Masters," The Whole Earth Review (1995): 35
Chouki El Hamel, "Constructing a Diasporic Identity: Tracing the Origins of the Gnawa Spiritual Group in Morocco," The Journal of African History, Vol. 49 Number 2 (2008): 249
Margaret A. Mills, "Traveling Spirit Masters: Moroccan Gnawa Trance and Music in the Global Marketplace," Journal of American Folklore, Vol. 27 Number 503 (2014): 1
"Traveling Spirit Masters: Moroccan Gnawa Trance and Music in the Global Marketplace," (2014): 1
"Traveling Spirit Masters: Moroccan Gnawa Trance and Music in the Global Marketplace," (2014): 2
Jamal J. Elias, "Sufism" Iranian Studies, Vol. 31 Number ¾ "A Review of the Encyclopedia Iranica" (1998): 595
Dr. Bruce Cook, "The 2001 Festival of World Sacred Music: An Annual Musical Event in Morocco Embodies and Reflects Sufi Traditions and Spirit," International Journal of Humanities and Peace (2001): 54
"The 2001 Festival of World Sacred Music: An Annual Musical Event in Morocco Embodies and Reflects Sufi Traditions and Spirit" (2001): 55
"The 2001 Festival of World Sacred Music: An Annual Musical Event in Morocco Embodies and Reflects Sufi Traditions and Spirit" (2001): 54
https://www.eurasiareview.com/24092019-islam-and-judaism-in-morocco-a-history-of-cultural-communion-analysis/
--------
Macron to meet Trump, Rouhani to push mediation efforts
23 September 2019
French President Emmanuel Macron said he would meet Iranian President Hassan Rouhani on Monday and US President Donald Trump on Tuesday as he seeks to defuse tensions between Washington and Tehran.
An attack on Saudi oil facilities on Sept. 14, which the United States and Saudi Arabia blamed on Iran, was a turning point, Macron told reporters.
Iran has denied involvement.
Trump, arriving at the United Nations General Assembly (UNGA) on Monday, was asked about the possibility of meeting Iranian leader Hassan Rouhani after tensions over an attack on Saudi oil facilities.
"We'll see what happens," Trump told reporters
Full report at:
https://english.alarabiya.net/en/News/middle-east/2019/09/23/Macron-to-meet-Trump-Rouhani-to-push-mediation-efforts.html
--------
Moscow mosque marks 115th birthday
Elena Teslova
23.09.2019
MOSCOW
The main mosque in Russia's capital celebrated its 115th birthday on Monday.
Opened in 1904, the Moscow Cathedral Mosque never closed its doors, even during the two world wars and the Russian civil war of the 1930s.
The mosque was completely renovated four years ago, with significant contributions from Turkey, and Turkish President Recep Tayyip Erdogan took part in the opening ceremony on Sept. 23, 2015.
"We thank the Turkish Republic, Turkish people, and Turkish President Recep Tayyip Erdogan for their contributions to the restoration, and pray for them," Supreme Mufti Ravil Gainutdin said at Monday's anniversary ceremony.
Full report at:
https://www.aa.com.tr/en/europe/moscow-mosque-marks-115th-birthday/1591760
--------
Finding a mosque for Germany's first gay imam
Anna Fries
23.09.2019
Men of all ages slip their shoes off at the entrance to the mosque and find a place on the floor, which is spread with colourful rugs. The rugs point towards Mecca. At the front, Imam Amir Aziz leads the prayers, as the mosque fills up. Only one woman arrives; she disappears into a corner behind a wooden screen. There is a box of scarves back there for women to cover their heads with during Friday prayers. Narrow gaps in the screen give a vague idea of what is happening in the mosque's main room.
"We won't do this in our mosque," says Christian Awhan Hermann. The separation of the sexes doesn't fit his idea of Islam. The 49-year-old Berliner is visiting Friday prayers at the Lahore Ahmadiyya congregation. He converted to Islam two years ago, and describes himself as Germany's first openly gay imam.
He aims to use his newly-founded Kalima association to give a voice to Muslims who face discrimination, in particular those who are gay, queer or transgender, for whom there are hardly any support services within their religion. But women are explicitly welcome, too. They are to have equal rights in all functions, from communal prayers to becoming imams themselves.
Reconciling faith and sexuality
Gay and Muslim – for many Muslims brought up the traditional way, the two things don't go together. All their lives, they have been taught that homosexuality is "haram", forbidden. That was the experience of a young man from Bangladesh, who is studying in Berlin and came across Hermann on the Internet. His conversations with the imam helped him to reconcile his faith and his sexuality, he says.
But many other gay Muslims have the impression that they must choose one identity or the other. Some feel excluded and turn away from their religion, while others follow an even stricter version of the religious rules because they believe their sexuality means that God doesn't love them. Hermann calls that brainwashing.
A lot of his advice centres on the issue. "These men have firmly internalised the idea that it's not okay to be the way they are." But the Koran doesn't explicitly forbid homosexuality, he says.
Some Muslims take a different view. They point to the Koranic story of Lot, and put the city of Sodom and Gomorrah's destruction down to the obscene behaviour of its male inhabitants. The Central Council of Muslims in Germany takes a similar line: homosexuality is "not permissible" in Islam.
Islam's take on homosexuality "unclear"
Many interpreters don't class homosexuality itself as a transgression, however; the sin lies in practicing it "actively and openly", according to the Central Council. And although that may not have any worldly consequences, it comes "between man and God". "The sources don't say anything that clear," says the imam. His title gives him authority, even if he isn't recognised by all Muslims. Hermann was trained by the French imam Ludovic-Mohamed Zahed, who is also gay. He has come in for a lot of criticism online. "Yesterday gay, today supposedly an imam," reads one comment.
But he mainly gets hostility from right-wingers, says Hermann. It is possible to have a dialogue with conservative Muslims, where he can score points with his expert knowledge. But perhaps, he says, he just isn't famous enough yet to provoke a lot of opposition. His Facebook page has around 650 "likes" and some 720 followers. It's hard to estimate how many people he reaches.
Hermann is – as yet – an imam without a mosque, his community scattered right across Germany. He attends Friday prayers as a guest at a different mosque in Berlin every week, getting to know various imams and communities.
Creating change within the Muslim community
He wants to make his presence known with the label "gay imam", looking to have that conversation with people and create change from within the Muslim community. At the same time, he sees himself as someone for gay Muslims to speak to, and is spending a lot of time building up a network in Berlin's LGBTQI scene.
The Islamic studies scholar Andreas Ismail Mohr is interested in Hermann's work, and regularly publishes on the topic of homosexuality in Islam himself. Hermann has honest intentions, he says, and is doing some good work – but in Mohr's eyes, he isn't an imam. "An imam is someone who regularly leads prayers with a group and has theological expertise." The title isn't protected, but he would still advise Hermann to distance himself from it. That would also leave him less open to attack.
The activist life suits him; he likes to stand out with his full grey-brown beard and traditional Pakistani dress, a beige-brown striped tunic and trousers, and blue trainers with orange laces. During prayers he wears a taqiyah, the Muslim head-covering for men. He has largely abandoned his jeans and t-shirts. He says this is because he feels "connected to the east". He pulls his "mobile mosque" around with him: a blue-checked suitcase with wheels, containing a laptop, prayer mats and textbooks for religious instruction.
From Hermann's appearance, few people would guess that he only converted two years ago. He left school at 18 and did an apprenticeship as an industrial management assistant. After taking one look at church-tax salary deductions, he left the Protestant church. But God has always played a role in his life, he says.
He found his way to Islam in 2017, in the Ibn-Rushd-Goethe mosque of women's rights activist and female imam Seyran Ates, one of the loudest critics of conservative Islam in Germany. In her mosque, men and women pray together, and she welcomes both gay people and Muslims of different denominations.
He is grateful to Ates for this, he says – even though the two of them fell out and went their separate ways a year ago. Hermann looks disappointed. "The points Seyran makes are too hard for a dialogue between the Muslim groups to be possible with her." She is more interested in high-impact media appearances than in religious content, he claims.
After Friday prayers in the Wilmersdorf mosque, a young couple approaches Imam Amir Aziz and asks him to marry them. She is from Syria; he's from Iran. Ten minutes later, they're married. Two men from the congregation serve as witnesses, the mother of the bride gives her consent via video chat, and the imam signs the certificate.
For a contemporary Koranic interpretation
"Muslim marriage is a contract in civil law, not a sacrament," Hermann explains. He is most often approached by women who want an Islamic divorce: without the husband's agreement, there are very few imams in Germany who will pronounce a divorce. But in exceptional cases, a marriage can be dissolved unilaterally, Hermann explains – if a husband is violent or has been unfaithful, for example.
In Hermann's eyes, a good imam is not primarily a prayer leader or scholar, but an approachable pastoral adviser who is an expert on the Koran. His criticism is not directed at Islam, but against the hard lines of some "literal interpretation fanatics". His religious instruction centres on a contemporary interpretation of the Koran.
Until he gets his own mosque, lessons take place in the kitchen of one of Hermann's friends. A mind-map on discrimination hangs on the kitchen door. In a corner, a picture of the Virgin Mary and some model angels stand on the piano; surrounded by candles and fairy lights, the arrangement is a little like an altar.
Two participants sit at the table, and another two are taking part in the evening via Skype. They are talking about the "fourth pillar" of Islam, fasting and Ramadan, discussing whether giving up plastic or meat in Ramadan might count as fasting, or how to view meat that fulfils all the "halal" criteria and is therefore allowed, but which comes from intensive farming.
Hermann likes to talk about Islam, the Koran and the Prophet Muhammad, whose practical solutions to the problems of his time he finds impressive. But he is still grateful not to have been born into the faith, thereby sparing himself a "double coming-out" as a gay Muslim.
Full report at:
https://en.qantara.de/content/profile-christian-awhan-hermann-finding-a-mosque-for-germanys-first-gay-imam?nopaging=1
--------
Mideast
US turned blind eye to Israeli nuclear test in 1979: Foreign Policy
Sep 23, 2019
A new report has revealed that former US President Jimmy Carter's administration covered up an Israeli nuclear test back in 1979, a policy that has continued under the subsequent administrations.
An American reconnaissance satellite known as Vela 6911 recorded a double flash, an "unmistakable pattern produced by a nuclear explosion", over the South Atlantic on September 22, 1979, Foreign Policy said on Sunday.
On the 40th anniversary of the nuclear test, the American magazine used a series of articles to analyze the incident.
Foreign Policy said that a US panel of experts established by Carter back then found that "the September 22 signal was probably not from a nuclear explosion."
Carter, however, knew this was not the true story.
According to the report, Carter wrote in his diary on February 27, 1980, "We have a growing belief among our scientists that the Israelis did indeed conduct a nuclear test explosion in the ocean near the southern end of Africa."
"The Carter administration was so afraid to enforce the Partial Test Ban Treaty against Israel's 1979 violation that it did what it could to erase or keep hidden evidence of its detection of a test," Foreign Policy said.
"Subsequent administrations, Republican and Democratic alike, went along with this, and the US government still pretends it knows nothing about any Israeli nuclear weapons."
The cover-up reportedly aimed to avoid any negative impact on the Carter-mediated Camp David Accords, which was signed between Israel and Egypt a year earlier, and to avoid imposing sanctions against Israel.
"Now, 40 years later, there is a scientific and historical consensus that it was a nuclear test and that it had to be Israeli," Avner Cohen, a professor and senior fellow at the Middlebury Institute of International Studies and a global fellow at the Wilson Center, told Israel's newspaper Haaretz.
Among the articles published by Foreign Policy on Sunday is one headlined "Politicians May Lie. The Archives Don't" by Cohen and William Burr, the director of the Nuclear Documentation Project at the National Security Archive at George Washington University.
It lists several arguments the authors say confirm that Israel was responsible for the nuclear test even though "no public smoking gun has surfaced that conclusively ties Israel to the Vela [satellite] event, and no credible and identifiable Israeli source has ever openly confirmed an Israeli test."
In the article, Cohen and Burr said after the 1973 Arab–Israeli War or Yom Kippur War, "top [Israeli] leaders and their nuclear advisers" recognized that Israel's "small nuclear arsenal ... was inappropriate and perhaps even irrelevant to the military situation in which Israel found itself during the early stages of the Yom Kippur War."
Thus, the authors say, Israel conducted a nuclear test.
They also referred to the 1976 sacking of scientist Shalhevet Freier, the director general of the Israel Atomic Energy Commission, as possible proof of an Israeli test, as he opposed such a trial.
The Foreign Policy said, "We believe, based on a great deal of documented and anecdotal evidence, that the Vela event was indeed the detection of a low-yield Israeli nuclear test."
https://www.presstv.com/Detail/2019/09/23/606892/US-turns-blind-eye-Israeli-nuclear-weapons
--------
A Year Later, Iran Finds Evaporating Sympathy at the U.N.
By David E. Sanger and Farnaz Fassihi
Sept. 24, 2019
When Iran's president and foreign minister arrived in New York a year ago for the opening of the United Nations General Assembly, they were riding high. At news conferences and in television appearances, they cast President Trump as an untrustworthy deal-breaker, and European leaders largely sided with the pair in a desperate effort to preserve the 2015 nuclear agreement after the United States renounced it.
This year could not be more different.
Suddenly, President Hassan Rouhani and his witty, often biting American-educated foreign minister, Mohammad Javad Zarif, are on the defensive. They are denying any Iranian involvement in the destruction of two major Saudi oil facilities, an assertion that even former Secretary of State John Kerry, who negotiated the nuclear accord four years ago and has become its biggest defender, finds far-fetched. Iran, he said, was behind the attack "one way or the other."
Iran is now admitting how much damage the American-led sanctions have done to its economy — crashing the currency and turning a boomlet into a recession.
Mr. Zarif, while reserving most of his anger for Secretary of State Mike Pompeo, who he has called a "warmonger," has now turned on the Europeans. After committing to preserving the nuclear deal by compensating for much of the revenue Iran was losing, the Europeans "have failed in every single one" of their specific commitments, he said in a meeting with reporters on Sunday.
"They think they need some green light from the U.S.," said Mr. Zarif, suggesting that Britain, France and Germany had strung him along with promises that they had little intention of fulfilling if it meant further straining their testy relationship with the Trump administration.
On Monday evening Iran's predicament was further complicated when Britain, France and Germany issued a joint statement that blamed the Iranians for the attacks on Saudi Arabia and called on Iran to begin negotiating on broader issues than its nuclear program.
The statement, which aligned with Washington's position on both the Saudi attacks and the need to strengthen the nuclear accord, was issued after leaders of the three countries met at the United Nations. It represented a significant shift in Europe's position of tolerance toward Iran.
"The time has come for Iran to accept a long-term negotiation framework for its nuclear program, as well as regional security issues, which include its missile programs," the statement said.
Last year, three months after Mr. Trump exited the nuclear deal, Iran came to the General Assembly attempting to insert a wedge between the United States and its European allies.
But "Iran has come to this year's U.N.G.A. with a real wake-up call that what they are able to get from Europeans is no more than some limited political cover for support of the nuclear deal," said Ellie Geranmayeh, the deputy head of Middle East and North Africa studies for the European Council on Foreign Relations.
Iranian officials, she said, have arrived in New York discovering that the Europeans cannot offer any substantive economic relief, and that even a French-led initiative to issue a credit line of $15 billion, essentially an advance payment on Iranian oil shipments, is likely to fail. Washington will most likely not issue waivers, and European banks are unwilling to join the effort if they believe they will be banned from clearing transactions in American dollars.
Brian Hook, the State Department's special representative for Iran, made clear on Monday that the United States would be pushing the United Nations Security Council to penalize the Iranians. In an appearance at the Asia Society in New York, he called on the 15-member council to extend its arms embargo on Iran, set to expire in a year under the nuclear deal.
He also said Europe should impose sanctions on Iranian entities and individuals involved in the country's drones and missile programs. Mr. Hook said he expected action by the United Nations and European Union after the investigations of the attacks in Saudi Arabia are complete. "The international community needs to re-establish deterrence," he said. "We are one missile attack away from a regional war."
Two weeks ago, it appeared that Iran might find a way out, taking Mr. Trump up on his offer of negotiations. But the attacks on Saudi Arabia, and the American accusations of Iranian involvement, have all but killed that possibility, American officials said.
Jean-Yves Le Drian, the French foreign minister, told reporters on Sunday that President Emmanuel Macron's mediation looked promising until the oil facility attacks, which he called a "game changer."
France's priorities have shifted from brokering a meeting between Tehran and Washington aimed at restarting a dialogue to just trying to prevent a military conflict.
"The meeting between Trump and Rouhani is not the No. 1 subject," Mr. Le Drian said. "The priority subject is whether we can restart a de-escalation path with the different actors."
Mr. Zarif said that the decision on Friday by the Americans to designate Iran's central bank as a financier of terrorism, making it virtually impossible for international institutions to do business with it, meant that Mr. Trump "knowingly or unknowingly closed the door to negotiations."
All this may be posturing, of course, on both sides. For months now, Iranian elites have been signaling that the country would have no choice but to deal with Mr. Trump — Mr. Zarif, who has spent much of his life in the United States, now predicts that the president is more likely than not to be re-elected.
And Mr. Trump gyrates between threatening military action and repeating his assertion that the Iranians really want "a deal." His aides say Mr. Trump episodically envisions the kind of leader-to-leader negotiations he has conducted with Kim Jong-un, though as one senior American diplomat noted recently, unlike Mr. Kim, Iran's supreme leader, Ayatollah Ali Khamenei, "doesn't hug and doesn't write" complimentary letters. (Mr. Trump's effort, through Senator Rand Paul of Kentucky, to invite Mr. Zarif to the Oval Office several months ago failed; Mr. Zarif said he would meet American leaders only for a deeply substantive conversation, "not a photo-op" of the kind held with Mr. Kim.)
But such a moment may have already passed.
The hawkish Mr. Pompeo clearly senses that the attacks on the Saudi oil facilities, for which he blamed the Iranians before any forensic evidence had been gathered, have fundamentally changed the negotiating dynamics. He finally has the opportunity he has sought for 18 months: a chance to kill Europe's effort to neutralize sanctions.
Mr. Pompeo doubled down on his critique on Sunday, saying the Iranians are "bloodthirsty and looking for war," and suggesting that as the sanctions cut deeper, the Iranian people will demand changes in their government — though he stopped just short of demanding regime change.
"They're operating today in five countries," Mr. Pompeo said of the Iranians on Sunday on CBS News's "Face the Nation." "It's expensive. They've already had to make difficult decisions about whether they're going to feed their people, provide medicine to their people, or they're going to launch missiles into Saudi Arabia."
Over the next few days, both sides will have to show their hands. When Mr. Rouhani arrives to speak to the General Assembly on Wednesday, Mr. Zarif said, the Iranian president will announce a "Coalition for Hope" and will invite a wide variety of nations — including the Sunni Arab states that view Iran as a mortal enemy — to join forces on "freedom of navigation and energy security."
It seems highly unlikely that the proposal will gain any traction. But then again, Mr. Pompeo has also found few takers for an international coalition to patrol the Persian Gulf and surrounding waters to protect oil shipments.
On Wednesday morning, Mr. Zarif will join the nations that agreed to the 2015 nuclear deal — with the conspicuous exception of the United States — at a meeting about the future of the agreement. Mr. Pompeo, he said, "is welcome to join," but to do so he must first sign back up to the terms of the old accord before negotiating a new deal.
"We can make the J.C.P.O.A. even better," he said, using the formal abbreviation for the deal, known as the Joint Comprehensive Plan of Action.
But Mr. Pompeo will not be there. Instead, he will be addressing a group called United Against Nuclear Iran, a vociferous critic of the 2015 deal.
The reality is that the accord is now on life support. While European officials say privately that they believe Iran is striking out at shipping and Saudi facilities only because of the American sanctions, they concede that the Saudi attacks most likely undermined their last hope for an agreement that would restore oil revenues to Tehran.
"For the U.S. to be part of any negotiation with Iran, it has to show it is a trustworthy partner,'' Mr. Zarif said. Picking up on an American term of art, he said he would not "buy the same horse twice."
"I bought the horse already," he said of his efforts in 2015 to convince skeptical leaders in Iran, especially in the military, that the country would be better off signing on to the deal and ending much of its nuclear activity than continuing a relationship of hostility.
The stalemate contrasts dramatically with last year's events. Back then, Mr. Zarif and the European Union foreign policy chief, Federica Mogherini, announced a complex European plan to neutralize the American sanctions with a barter system. Iran appeared to still be in full compliance with its commitments under the agreement, bolstering its effort to seem more invested in the international system than the United States.
Mr. Trump even dropped the idea of focusing explicitly on Iran last year, for fear that other members of the Security Council would say that Mr. Trump had, for reasons of ego, disassembled an international agreement largely because his predecessor had negotiated it.
This year could not look more different. Iran this spring began eschewing its commitments under the accord, exceeding the limits on how much nuclear material it can produce and increasing the level of enrichment beyond what was allowed. Mr. Rouhani has promised a carefully calibrated and easily reversible program of further violations, until the Europeans pay up. But the further he goes, the more the agreement gets hollowed out.
Full report at:
https://www.nytimes.com/2019/09/23/world/middleeast/iran-un-rouhani.html
--------
Israel Blames Iran for Explosives-laden Drone Captured by Syria Near Israeli Border
Sep 21, 2019
An explosives-laden drone captured by Syrian authorities was not Israeli and was likely Iranian, the Israeli military's Arabic-language spokesman said Saturday.
"Today we see proof that [the Revolutionary Guards' Quds Force leader] Qassem Soleimani does whatever he wants in Syria and certainly doesn't tell the Assad regime," said the Israel Defense Forces' Avichay Adraee. According to Adraee, the drone's location was in the area from which the Quds Force attempted to launch a drone attack on Israeli targets last month.
Syria's state news agency said earlier Saturday that authorities had captured and dismantled a drone rigged with cluster bombs near the border with the Golan Heights.
The drone, SANA said, was intercepted by Syria's aerial defense system in the Hermon region, in northern Quneitra.
According to the report, the drone was downed after entering Syrian airspace from the west and passing over the village of Erneh, southwest of Damascus.
The report quoted a Syrian military source, who said that an investigation of the drone uncovered cluster bombs in addition explosive materials, to be used to detonate and destroy the drone in the event of capture.
The incident came two days after another drone was destroyed over the Damascus suburb of Aqraba.
No one claimed responsibility for the drones.
Israel frequently conducts airstrikes and missile attacks inside war-torn Syria but rarely confirms them. Israel says it targets mostly bases of Iranian forces and the Lebanese militant group Hezbollah in Syria.
In neighboring Lebanon, a government investigation concluded Thursday that two Israeli drones were on an attack mission when they crashed in the capital last month, one of them armed with 4.5 kilograms (10 pounds) of explosives.
Full report at:
https://www.haaretz.com/middle-east-news/syria/israel-blames-iran-for-explosives-laden-drone-captured-by-syria-1.7870532
--------
Iran Says British Tanker Is Free to Go After 2 Months of Detention
By Richard Pérez-Peña and Daniel Victor
Sept. 23, 2019
A British-flagged tanker that Iran seized in July is now free to leave, Tehran said on Monday, more than a month after the British authorities released an Iranian tanker that had been detained off Gibraltar.
The news offered a rare sign of comity at a time when Iran has been in an escalating cycle of confrontation with its Persian Gulf neighbors and with the United States, including the shooting down of drones, the seizure of tankers and, most recently, an attack on major oil installations in Saudi Arabia.
Officials of the United States and Saudi Arabia, Iran's chief rival in the region, have blamed Tehran for the Sept. 14 attack on oil centers in the kingdom, raising the prospect of retaliatory strikes and even war. But so far, the only apparent action they have taken against Tehran is a tightening of economic sanctions.
Iran had accused the British-flagged tanker, the Stena Impero, of violating maritime regulations in the Strait of Hormuz, but the seizure on July 19 was widely seen as retaliation for the detention of the Iranian vessel.
The legal proceedings against the Stena Impero have concluded, and Iran has decided to waive the allegations of violations, an Iranian government spokesman, Ali Rabiyee, said at a news conference, according to Iranian and Western news agencies that were present.
The ship had not left Bandar Abbas, a port in southern Iran, as of midday, and it was not clear how quickly it would set sail. Erik Hanell, chief executive of the tanker's owner, the shipping company Stena Bulk, told SVT, a Swedish television station, that he hoped it would be a matter of hours.
Iran detained the 23-member crew along with the ship. It released seven of them this month, but the others have remained with the vessel.
The decision to release the ship comes a little more than a week after the attack on the Saudi oil installations. Iran has denied any responsibility for the attack, a sophisticated operation involving some two dozen drones and cruise missiles. The aerial strikes damaged infrastructure and temporarily cut Saudi oil production in half, sending tremors through world markets, but they caused no reported casualties.
The Houthi rebel faction in Yemen's civil war, a group that is known to use weapons supplied by Iran, has said it carried out the attack against Saudi Arabia, which has been bombing in Yemen for more than four years, killing thousands of people.
Prime Minister Boris Johnson of Britain said early on Monday that there was "a very high degree of probability" that Iran was responsible for the strikes in Saudi Arabia, and he did not rule out British participation in military retaliation. The topic is sure to be aired this week at the United Nations General Assembly's annual gathering of heads of government, which will be attended by Mr. Johnson, President Trump and President Hassan Rouhani of Iran, among many others.
In May and June, several tankers operating near the Strait of Hormuz were damaged in what the United States said was sabotage by Iranian forces — which Iran also denied. Iran also detained several ships for varying periods of time, notably the Stena Impero, and shot down an American surveillance drone.
Analysts have characterized the attacks — whether carried out by Iran or by one of the armed factions it supports in the Middle East — and ship seizures as Tehran's demonstration that it has the power to cut off a large part of the world's energy supplies.
Iran wants relief from punishing sanctions imposed by President Trump since he withdrew the United States from a 2015 deal that restricted the Middle Eastern country's nuclear program. Relations have grown worse since then, as the United States has steadily added more economic penalties, seeking to choke off Iran's oil sales, the life blood of its economy. In recent months, Iran has taken a series of steps to go beyond the limits imposed by the nuclear accord.
While many other nations, including key American allies, have sided with Iran on the nuclear deal and the sanctions, there is less sympathy for Iran internationally than there was before the recent provocations.
The direct confrontation with Britain began on July 4, when British marines and Gibraltar port officials seized an Iranian tanker, Grace 1, which has since been renamed the Adrian Darya 1. They said the ship was carrying oil to Syria, in violation of a European Union embargo.
Iran denied the allegation and accused the British of concocting the story to act against Tehran at the behest of Washington, though Britain formally opposes the American sanctions.
Full report at:
https://www.nytimes.com/2019/09/23/world/middleeast/iran-british-tanker-release.html
--------
Erdogan: 'Jerusalem Issue is Muslim, not Palestinian'
By Aryeh Savir
September 23, 2019
Turkish President Recep Tayyip Erdogan has again framed the issue of sovereignty and control of Jerusalem as a religious issue, for which a religious battle must be waged.
"No force or threat can dissuade our country from its activities to protect and defend the rights of Palestine and Jerusalem," Erdogan said at a meeting with Turkish and Islamic organizations in New York on the sidelines of the annual United Nations' General Assembly.
Erdogan emphasized that the issue of Jerusalem is not just about Muslims at the Temple Mount, but about "touching the dignity of 1.7 billion Muslims in the world."
Erdogan has previously called on Muslims to march on Jerusalem.
In November 2016, he urged "all Muslims" to defend Jerusalem from Israel and stand for the Palestinian cause.
"It is the common duty of all Muslims to embrace the Palestinian cause and protect Jerusalem," he declared.
In May 2017, Erdogan accused Israel of "racist and discriminatory" policies against Arabs and discussed the need to "protect Jerusalem against attempts of Judaization."
Responding to the allegations, President Reuven Rivlin noted that the Jewish majority in Israel's capital dates to the Ottoman period.
"We have heard voices which attack Israel for building Jewish life in Jerusalem. I must tell these people, for the last 150 years there has been a Jewish majority in Jerusalem. Even under the Ottoman Empire, there was a Jewish majority in Jerusalem," he pointed out.
Full report at:
https://www.jewishpress.com/news/israel/jerusalem/erdogan-jerusalem-issue-is-muslim-not-palestinian/2019/09/23/
--------
Netanyahu, Gantz in unity talks; may rotate as Israel PM
24 September 2019
Prime Minister Benjamin Netanyahu and his rival Benny Gantz launched negotiations on Monday over a proposed Israeli unity government and a key politician said the focus was on who would lead it first under a rotation deal.
After failing to secure a clear victory in the second election in six months, Netanyahu, Israel's longest-serving premier, seems to reckon he can stay in power only by sharing it.
Going solo, neither he nor ex-general Gantz have enough support from respective allies for a majority in the 120-member parliament.
Gantz, head of the centrist Blue and White Party, has been publicly resistant to the idea of allying with Netanyahu's right-wing Likud, citing looming corruption charges against the incumbent.
President Reuven Rivlin, tasked with picking a candidate best-placed to try to form the next governing coalition, has spoken in favor of unity and, on Monday, summoned Netanyahu and Gantz for closed-door talks.
Gantz met earlier with Avigdor Lieberman, a political free agent and likely kingmaker thanks to his eight seats in parliament.
"Happily, the two big parties have internalized the pressing necessity of setting up a unity government with a rotating premiership," Lieberman said on Facebook.
Concluding their meeting at Rivlin's Jerusalem office, Netanyahu and Gantz issued a joint statement saying they had "discussed moving forward with unity'. It did not elaborate.
"The entire argument right now is over the question of who will serve first as prime minister, and who second," said Lieberman.
Such a rotation has a precedent in the 1984-88 unity government of left-leaning Shimon Peres and right-winger Yitzhak Shamir, who took turns as prime minister.
If a power-sharing deal is forged, it could be imperative for Netanyahu to serve as prime minister first should he seek to avoid prosecution.
Immunity
Next month, Israel's attorney-general will hold a pre-trial hearing on his announced intention to indict the Israeli leader on fraud and bribery charges in three corruption cases. Netanyahu, who denies any wrongdoing, can argue against an indictment at the hearing.
As prime minister, Netanyahu would be under no legal obligation to resign if formal charges are filed. But any other cabinet post might not offer him that protection.
The candidates' negotiating teams would confer on Tuesday ahead of another possible Rivlin-hosted meeting of Netanyahu and Gantz on Wednesday, the statement said.
Likud won 31 parliament seats to Blue and White's 33 in Tuesday's election, near-complete results show.
On paper, Netanyahu has a slim lead over Gantz in building a parliamentary bloc, with pledges of support from 55 members of a right-wing grouping to 54 for Gantz from left-leaning and Arab parties. Both are short of a 61-seat majority.
Netanyahu's slight edge might move Rivlin to ask him to try to build a narrow coalition if a unity government proves impossible. A nominee gets 28 days to do so, with a possible 14-day extension, before Rivlin can turn to someone else.
Gantz had appeared to have 57 backers but three of the Arab Joint List's 13 members on Monday withdrew support they had pledged to him a day earlier.
Lieberman, of the far-right Yisrael Beitenu party, wants an alliance with Likud and Blue and White. But he has refused to commit to either Netanyahu or Gantz, citing his own policy differences with Likud's Jewish ultra-Orthodox allies and Blue and White's Arab backers.
Netanyahu and Gantz appear close on many important issues, such as relations with the United States, the regional struggle against Iran and the Palestinian conflict.
Gantz, however, has called for a 'liberal' administration, political shorthand for one that does not include Netanyahu's ultra-Orthodox partners. After the election, Netanyahu swiftly signed a new alliance with them.
Full report at:
https://english.alarabiya.net/en/News/middle-east/2019/09/24/Netanyahu-Gantz-in-unity-talks-may-rotate-as-Israel-PM.html
--------
Israeli president to wrap up talks on forming new government
23 September 2019
Israel's president is holding his second and final day of crucial talks to find a new prime minister and way out of political deadlock, as he meets with the smaller parties elected in last week's vote.
Reuven Rivlin will hear from the remaining party leaders on Monday their recommendations for his choice to head a government.
The largely ceremonial president is playing a key role after an almost tied election result. He is expected to announce his choice Wednesday.
Rivlin will likely pick the candidate with the most recommendations — either Blue and White's Benny Gantz or Prime Minister Benjamin Netanyahu.
Full report at:
https://english.alarabiya.net/en/News/middle-east/2019/09/23/Israeli-president-to-wrap-up-talks-on-forming-new-government.html
--------
Iran president in New York to convey 'message of regional peace'
Sep 23, 2019
Iranian President Hassan Rouhani has arrived in New York to attend the 74th meeting of the UN General Assembly, where he plans to convey the message of Middle East peace to the world.
"We hope in the very sensitive situation of the region today we would be able to convey the message of our regional nations, which is the message of regional peace and end of any interference in the sensitive regions of Persian Gulf and the Middle East," Rouhani said upon arrival in New York on Monday.
He said he is also carrying the "message of the great nation of Iran, which is under the pressure of a cruel economic war."
"Our nation is a nation of resistance, perseverance, and wants all sides to return to their commitments and to the law," he noted, expressing the hope that he would be able to convey the Iranian nation's message to the international community at the UN General Assembly.
Before leaving for New York, Rouhani told reporters at Tehran's Mehrabad Airport that the peace initiative that he will soon unveil at the United Nations General Assembly is aimed at establishing long-term peace in the Persian Gulf, something he said is simply not achievable as long as outsiders are present.
Rouhani said his Hormuz Peace Initiative (HOPE) is designed to include all countries of the region and aims to expand cooperation beyond regional security.
"This plan is about collective work within the Persian Gulf region and we want all countries of the region to partake in it," Rouhani said. "Of course, the plan that will be laid out at the United Nations won't be just about security, but rather economy and other issues, all in line with security matters."
"We believe the solution for the region comes from inside the region and those who come from the outside can never bring peace and security," he said Monday morning.
Citing America's military interventions in the Middle East as an example, Rouhani said since entering the region in 2001, the United States has failed to bring back calm to any of the countries that it has deployed forces to.
Full report at:
https://www.presstv.com/Detail/2019/09/23/606960/Rouhani-newyork-hope-initiative-hormuz-peace
--------
UN headquarters held hostage by Washington: Iran
Sep 23, 2019
Iran says Washington's obstructing the issuance of visa for Iranian officials to attend the United Nations General Assembly indicates the fact that the international body has been taken hostage by the White House.
Speaking at a press conference on Monday, Ali Rabiei, the spokesman for the Iranian administration, pointed to the failed US attempts to prevent the attendance of Iranian President Hassan Rouhani and Foreign Minister Mohammad Javad Zarif at the 74th session of the General Assembly in New York, saying that Washington was finally compelled to issue visas for them under UN pressure.
"The American authorities' action [to issue visas for the Iranian president and foreign minister] was against their desire and the US administration was forced to do so under pressure from the United Nations," Rabiei said.
He added, "One reason is that the US meant to deter the Iranian delegation from attending the General Assembly since their presence in America could be constructive (which would not have been in the interests of the US), and the other is that the United States has for years taken the UN headquarters hostage."
The Iranian spokesman said the United States, despite having a huge media empire under its control, has tried to stop Iranian officials from speaking on its soil.
"The US administration shortlisted the Iranian delegation and crossed out the media as they could report from the United States. This is while we receive foreign media visiting Iran with open arms," Rabiei added.
Also in his remarks on Monday, the spokesman for the Iranian administration said if Washington was prepared to suspend all the sanctions on Iran and return to the 2015 nuclear deal, known as the Joint Comprehensive Plan of Action (JCPOA), then Tehran would be "open to talks."
Ever since quitting the landmark 2015 deal with Iran in May 2018, US President Donald Trump has been running what he refers to as a "maximum pressure" campaign, which seeks to force Iran into negotiating a new deal that addresses its ballistic missile program and regional influence.
British tanker 'free' to go
Pointing to the lifting of seizure from a British tanker impounded by Iranian forces in the Persian Gulf, Rabiei said the legal proceedings concerning the UK-flagged Stena Impero tanker have terminated and preparations have been made for its release; therefore, the vessel is free to sail.
Iran's Ambassador to the UK Hamid Baeidinejad also confirmed in a post on Twitter on Monday that the judicial and legal process for the British tanker had been completed and was "now free to leave."
On July 19, Iran confiscated the 30,000-tonne tanker, which was violating international maritime rules while passing through the Strait of Hormuz.
On Sunday, An Iranian maritime official says the Stena Impero, the British-flagged tanker detained by Iran's Islamic Revolution Guards Corps (IRGC) in July in the Persian Gulf for violating international maritime law, will be released soon.
Noting that legal procedures for the tanker's exit from Iranian waters are underway and the results would be announced later, the official, however, added that the case related to the ship's infractions of the maritime law is still open.
Full report at:
https://www.presstv.com/Detail/2019/09/23/606947/UN-hostage-iran
--------
Abandon illusion that Iran can be defeated by pressure: Zarif to US
Sep 23, 2019
Iran's Foreign Minister Mohammad Javad Zarif has slammed the United States' aggressive behavior towards the Islamic Republic, as characterized by Washington's economic war against Tehran through the re-imposition of tough sanctions, noting that Iranians cannot be brought to their knees through such pressures.
Zarif, who is currently in New York to attend the 74th session of the United Nations General Assembly, made the remarks in an interview with the National Public Radio (NPR) on Sunday, whose text was published on the NPR's website on Monday.
"Abandon the illusion that Iran can be defeated by pressure," Zarif said, adding, "We are resisting an unprovoked aggression by the United States."
Iran's top diplomat then emphasized, "I can assure you that the United States will not be able to bring us to our knees through pressure."
Tensions have been running high between Iran and the United States since May 2018, when US President Donald Trump unilaterally withdrew his country from a multilateral nuclear deal with Iran, officially known as the Joint Comprehensive Plan of Action (JCPOA), and unleashed the "toughest ever" sanctions against the Islamic Republic.
Trump is a stern critic of the deal, which was clinched in 2015 by Iran and six world powers, including the United States, France, Britain, China, Russia, and Germany. Under the agreement, nuclear-related sanctions put in place against Iran were lifted in exchange for curbs on Tehran's nuclear program.
In response to the US move, Tehran has so far rowed back on its nuclear commitments three times in compliance with articles 26 and 36 of the JCPOA, but stressed that its retaliatory measures will be reversible as soon as Europe finds practical ways to shield the mutual trade from the US sanctions.
Trump's goal has been to get another deal as he has already described the JCPOA as "the worst deal ever negotiated." The White House position has been that maximum pressure will continue until Iranian officials accept to sit at the negotiating table.
Iranian officials, however, say it was Washington that left the JCPOA last year although the international and multilateral deal was endorsed by the UN Security Council in the form of a resolution. Tehran says talks with Washington are impossible as the latter is pressing ahead with its hostile policy and refuses to lift sanctions against the Islamic Republic.
In an interview with Malaysia's official news agency Bernama in August, the Iranian foreign minister said the country will not renegotiate its 2015 nuclear deal with world powers, but is open to talks on finding ways to implement the existing accord.
"We are ready to talk and consult with others on how to best implement this deal. We are talking about Europe coming to comply with its own obligations under the deal," Zarif said.
Elsewhere in his interview with the NPR, Iran's foreign minister said, "The United States can have a much better deal with Iran if they started talking to us based on respect, based on mutual respect and based on moving forward."
Referring to a forthcoming meeting between Iran and the four remaining members of the P5+1 group – the UK, France, Russia, and China plus Germany – next Wednesday, Zarif said, "Four of the five permanent members [of the UN Security Council] plus Germany will be seated around the table along with me and the High Representative of the European Union."
He added, "There is an empty chair there for the United States, but there is a ticket for that chair and that is to be law abiding."
Leader of the Islamic Revolution Ayatollah Seyyed Ali Khamenei said last week that Iran will not engage in negotiations with the United States "at any level," and that Washington's "maximum pressure" campaign against the Iranian nation has failed to achieve its goals.
Full report at:
https://www.presstv.com/Detail/2019/09/23/606940/Zarif-NPR-Iran-US-sanctions-New-York
--------
Saudi Arabia stands firm in supporting Palestinian cause
September 23, 2019
GENEVA: Saudi Arabia has renewed its condemnation of Israeli Prime Minister Benjamin Netanyahu's vow to annex part of the occupied West Bank if he wins elections.
The Kingdom also called on the international community to push for a full Israeli withdrawal from Palestinian and Arab territories occupied since 1967. Dr. Abdul Aziz Al-Wasel, Saudi ambassador to the UN in Geneva, told a meeting that Netanyahu's victory pledge to apply Israeli sovereignty over the Jordan Valley and northern Dead Sea was "a very dangerous escalation" of the situation.
Speaking about human rights in the occupied Palestinian territories, the envoy described the Israeli premier's planned move as a "flagrant violation" of the Charter of the UN and the principles of international law and norms.
Al-Wasel affirmed the entitlement of the Palestinians to regain their occupied territories and national rights and noted that Israel's policy of trying to impose a fait accompli would not succeed "in obliterating the inalienable rights of the Palestinian people."
He said that Saudi Arabia stood firm in fully supporting the Palestinians and rejecting injustice, and that the Palestinian cause remained one of the Kingdom's foreign policy priorities.
Full report at:
https://www.arabnews.com/node/1558676/saudi-arabia
--------
Africa
Al-Shabab Attack Kills 20 Somali Soldiers
By Harun Maruf
September 22, 2019
At least 20 Somali government soldiers were killed and 18 others were wounded when al-Shabab raided a military base south of Mogadishu, security sources told VOA Somali.
The sources said militants detonated a suicide car bomb at the El-Salin military base followed by an infantry attack in the early hours of Sunday.
The militants briefly took over the base, a regional official told VOA Somali.
A spokesman for Somali special forces said the militants attacked the base "in large numbers."
Mowlid Ahmed Hassan said the fighting lasted about 40 minutes, insisting the troops 'defended" the base. He said reinforcements have been sent to the base.
Hassan said the troops killed 13 militants, but declined to comment on the number of government soldiers killed in the attack.
Somali troops seized the El-Salin base from al-Shabab on August 6. It was one of four bases in Lower Shabelle region recaptured following an offensive by the Somali military.
https://www.voanews.com/africa/al-shabab-attack-kills-20-somali-soldiers
--------
Targeting militants, Nigeria to require ID cards in the northeast
SEPTEMBER 22, 2019
ABUJA/MAIDUGURI, Nigeria (Reuters) - Nigeria will require anyone moving through three northeastern states to carry identification cards in an effort to root out members of Boko Haram and Islamic State, the army said on Sunday.
The new requirement follows credible information that members of the two militant groups were hiding among civilians in the towns and villages of the states, an army statement said.
The army said it would "strictly check" the identification cards of those moving or passing through the states of Adamawa, Borno and Yobe.
Those found without identification would "attract further scrutiny and comprehensive investigation to determine his or her activities with the insurgents or otherwise", it said.
Last week, the army forced non-profit Action Against Hunger to close its office in the region, accusing it of aiding groups such as Boko Haram and Islamic State by providing members with food and medicine.
Full report at:
https://uk.reuters.com/article/uk-nigeria-security/targeting-militants-nigeria-to-require-id-cards-in-the-northeast-idUKKBN1W706O
--------
Boko Haram: Govt hires 200 special hunters to fight terrorists in Borno
September 22, 2019
By Maina Maina
Worried by the increasing Boko Haram attacks on Gubio town and its environs, the Caretaker Chairman of Gubio Local Government Area of Borno State, Hon Zanna Modu, has hired the services of 200 special hunters from some parts of Adamawa, Gombe, Katsina and other states in Northern Nigeria to complement effort of the military and other security agencies and nip the crisis in the bud.
Modu also said five patrol Hilux vehicles were newly procured and would be handed over to these special set of hunters who are to work hand in hand with the security agencies and members of the Civilian Joint Task Force (CJTF).
This was disclosed on Sunday by the Chairman while interacting with some journalists on the modalities put in place to end incessant attacks.
Gubio is about 100km drive and North from Maiduguri, the state capital which has been witnessing series of attacks and destruction of properties in the last one month.
Modu said, the measure to hire these special squad of hunters who are to be deployed for three months period is to ensure peace and resilience of fleeing residents return back to their communities.
Recall that the renewed attacks by insurgents, which led to the abduction of one member of Civilian Joint Task Force and killing of one of its Commanders, have rendered hundreds displaced, with some taking refuge in Maiduguri Internally Displaced Persons (IDPs) camp.
Briefing journalists, the Caretaker Chairman said, "All modalities have been concluded for the arrival of the special squad of the hired hunters to the state on Sunday 22nd September, 2019 for onward movement to Gubio and its environs.
" Apart from other logistics, Governor Professor Babagana Umara Zulum has given approval for procurement of five new patrol vehicles. As it is, we have procured additional five new Hilux patrol vehicles which are to be handed over to these hunters any moment from now."
Full report at:
https://dailypost.ng/2019/09/22/boko-haram-govt-hires-200-special-hunters-fight-terrorists-borno/
--------
Jordan's King: We are committed to Saudi Arabia's defense
24 September 2019
Jordan's King Abdullah II said on Monday that his country is committed to the defense of Saudi Arabia, amid heightened escalation in the region.
In an exclusive interview with MSNBC, King Abdullah said, when asked about the escalating conflict in the Arabian Gulf and the stalemate of Middle East Peace between Israel and the Palestinians: "We have had our issues and challenges with Iran, and again for us the attacks on Saudi Arabia is of tremendous importance to Jordan. We have an outstanding relationship with the Saudis and we are committed to their defense."
The Jordanian King who is in New York to attend the UN General Assembly, told MSNBC veteran journalist Andrea Mitchel that in the past six months "if not more" many countries, including Jordan, "have been trying to caution escalation and calm things down."
"Obviously, the attack on Aramco has upped the ante and this is a very important week in New York, where all of us are trying to figure out how to step away from the brink of war," said Jordan's King.
Full report at:
https://english.alarabiya.net/en/News/middle-east/2019/09/24/Jordan-s-king-We-are-committed-to-Saudi-Arabia-s-defense.html
--------
URL: https://www.newageislam.com/islamic-world-news/jaish-e-mohammed-changes-its/d/119823
New Age Islam, Islam Online, Islamic Website, African Muslim News, Arab World News, South Asia News, Indian Muslim News, World Muslim News, Women in Islam, Islamic Feminism, Arab Women, Women In Arab, Islamophobia in America, Muslim Women in West, Islam Women and Feminism