New Age Islam News Bureau
11 Nov 2016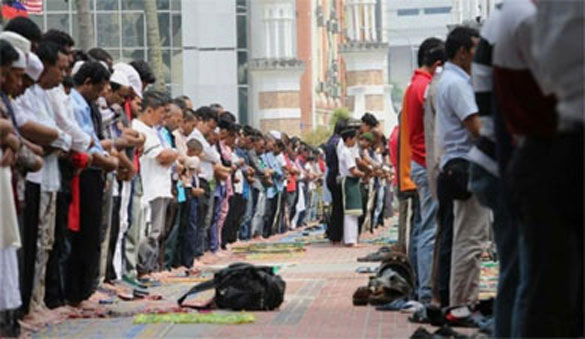 In recent years, Malaysia which endorses only the Sunni denomination of Islam, has stepped up its campaign against followers of other teachings and denominations which are viewed as heretics. — Picture by Choo Choy May
--------
• Jais Starts Survey to Weed out 'Deviant' Teachings among Muslims
• Myanmar Anti-Muslim Groups Wax Lyrical On Donald Trump Victory
• 75 Al-Nusra Terrorists Killed in Failed Attack on Golan Heights
• Washington Students Set American Flag on Fire to Protest Trump's Victory
• Pakistanis Worry That President Donald Trump May Favour India
Southeast Asia
• Jais Starts Survey to Weed out 'Deviant' Teachings among Muslims
• Indonesia Plays down Fears Ignited by Trump's Anti-Muslim Rhetoric
• Conceding Hudud impossible, Hadi presses non-Muslims not to block Shariah Bill
• Jakarta governor slips in polls after hard-line Islamist protest
• Authorities Probe Reported Death of Indonesian Islamic State Leader
• Ahok and Indonesia's secular identity
• President reaches out to more Islamic groups
--------
South Asia
• Myanmar Anti-Muslim Groups Wax Lyrical On Donald Trump Victory
• 4 Killed, Over 100 in Attack On German Consulate In North Of Afghanistan
• US airstrike kill 11 ISIS loyalists in Nangarhar province of Afghanistan
• Ruling Awami League MP's supporters attacked Hindus in Bangladesh
• Karzai hope Trump administration focus on main terrorism sanctuaries
• Ghani received final list of nominees for membership of election commissions
• Taliban attack German consulate in Afghanistan
--------
Arab World
• 75 Al-Nusra Terrorists Killed in Failed Attack on Golan Heights
• Kurdish-led Fighters Marching against Daesh near Syria's Raqqa
• Battle for Mosul Nears Ancient Nimrud
• Iraq forces accused of killing, torturing civilians
• Syria recounts crimes of foreign-backed terrorists in letters to UN
• Terrorists in Northern Aleppo Equipped with Turkish M60 Tanks
• Syrian Air Force Launches Heavy Airstrikes in Idlib to Block Terrorists' Supply Routes
• Two convicted of terrorism and jailed for 10, 7 years each
• Egypt says foils Muslim Brotherhood plot on eve of planned protests
• Iraq troops slow Mosul advance as they clear neighbourhoods
--------
North America
• Washington Students Set American Flag on Fire to Protest Trump's Victory
• Trump Will Find Great Partner in India Against Radical Islam, Says Adviser
• Dozens Arrested as Thousands Protest Donald Trump in New York City
• US strikes may have killed 119 civilians in Iraq, Syria: Pentagon
• US: California police investigate attacks on Muslim students
• Trump campaign restores 'Muslim ban' proposal on website
• His Family Left the Country Because of Islamophobia, but this Muslim Is 'Happy' Trump Won
--------
Pakistan
• Pakistanis Worry That President Donald Trump May Favour India
• 'No To Musharraf' Wall-Chalking Appears In Karachi, Hyderabad
• Muslim World in Denial about HIV Spread: Expert
• 20 suspects held in 'combing' operation around Shahbaz airbase
• Turkmenistan interested in laying electricity, rail lines with Pakistan
• Pak-Saudi Arabia relations 'deep-rooted'
• Peace crucial for prosperity, says Shehbaz
• News leaks: Sheikh Rasheed rejects investigation team in letter to Nisar
--------
Mideast
• Palestinian President Says He Knows Who Killed Yasser Arafat
• Time for US to End Backing Israel's Perpetual Crimes: Hamas
• Erdogan lauds Ataturk on death anniversary
• Iran says has options if nuclear deal fails
• Yemeni FM calls UN Envoy to put forward new roadmap
• No 'legal reason' US could not opt out of Iran deal
• Houthi projectiles leave 13 Saudis injured
• UN official 'very concerned' about use of Israeli lethal force against Palestinians
• Bomb wounds three at governor's office in Turkey
--------
India
• Indian fighters Among FSA and Islamic Rebel Factions under Siege in Aleppo
• Three-Day State Conference of the Muslim Youth League Adopts Six Resolutions on Contemporary Issues
• SIMI encounter threatens to widen Hindu-Muslim divide
• Indus Waters Treaty: Another India-Pakistan showdown over hydro projects?
• Mirwaiz in house arrest, Yasin Malik moved to jail
--------
Africa
• US Airstrike in Somalia Killed Local Militia, Not Al-Shabab
• 'Tombs of saints' inspire and divide in northern Nigeria
• Demolitions, riots leave 30,000 homeless in Nigeria's Lagos: Rights group
--------
Europe
• Europe Turns Young Again - Due To Muslim Migrants
• Rise of extremism cause of concern among Muslims in Netherlands
• Why Russia rejected UN Aleppo request
• York Region principal apologizes for 'inappropriate' Facebook posts on Islam, refugees
Compiled by New Age Islam News Bureau
URL: https://www.newageislam.com/islamic-world-news/new-age-islam-news-bureau/jais-starts-survey-to-weed-out-'deviant'-teachings-among-muslims/d/109075
--------
Jais Starts Survey to Weed out 'Deviant' Teachings among Muslims
By Shazwan Mustafa Kamal
November 11, 2016
KUALA LUMPUR, Nov 11 — The Selangor Islamic Religious Department (Jais) is currently conducting a statewide survey on non-mainstream Islamic teachings among Muslims, as shared by state executive councillor in charge of religious affairs Datuk Dr Ahmad Yunus Hairi on his Facebook account this week.
The survey purportedly aims to monitor and gather feedback on the spread of non-mainstream Islamic teachings among Muslims, and to possibly collect relevant data to be used in the future in the event of any legal cases.
"The main purpose [of this survey] is to see the understanding of Muslims about the Sunni teachings. The research and development division, and the enforcement division of Jais are always monitoring, and there is proof of the spread of teachings besides Sunni in Selangor," Yunus told Malay Mail Online.
"The prosecution division of Jais can take it to court when there is proof of the spread of deviant teachings or Islamic teachings besides what is practised in Selangor," he added.
The survey, titled "Research on the faith of Ahli Sunnah Wal Jamaah followers among Muslims in Selangor", however appears vague and devoid of details needed to form a more comprehensive understanding of the different schools of thought within Islam.
Followers of Sunni, Islam's largest denomination, are also called Ahli Sunnah Wal Jamaah in Malay.
The survey comprises eleven questions with multiple choice answers and tests respondents on their knowledge of Sunni Islam, such as the source of its teachings.
In another, respondents are asked if know they know the importance of Islamic scholars such as theologian Abu Hasan Al-Asy'ari and jurisprudence expert Abu Mansur Al-Maturidi in forming the basis of Sunni teachings.
When contacted, Jais director Datuk Haris Kasim confirmed the study, but declined to provide details as to what the Islamic authority intends to do with the findings.
"This is a study, yes? Study is to gain enlightenment, which is knowledge. Knowledge is for guidance. Guidance has a lot of uses, there is not one form of knowledge which is of no use," he told Malay Mail Online.
But independent Islamic preacher Wan Ji Wan Hussein believes that such focus is problematic, and said that Jais should strengthen its engagement efforts with followers of non-mainstream Islamic teachings instead of monitoring or punishing them.
"Jais should be increasing its knowledge in the Sunni denomination through debates, talks and engagement with other branches [of Islam]. It seems like Jais and the mufti's department is more inclined towards punishing those who differ in opinions and teachings," he told Malay Mail Online.
Wan Ji recounted a closed door session with representatives from the state's mufti department a few years back, relating that there were some members of its fatwa committee who themselves did not have an in-depth understanding of several issues concerning Islam.
"In my view, Jais' approach should not be a punitive one, but one which preaches and moves forward in strengthening knowledge.
"Create a harmonious relationship with those who are of other faiths, not create prejudice among Malaysians because of differences in opinions, teachings and religion," Wan Ji added.
Besides Sunni, Islam is divided into several branches such as Shiah, Ahmadiyyah, and Sufi — and further divided into numerous schools of jurisprudence and theology.
In recent years, Malaysia which endorses only the Sunni denomination of Islam, has stepped up its campaign against followers of other teachings and denominations which are viewed as heretics.
http://www.themalaymailonline.com/malaysia/article/jais-starts-survey-to-weed-out-deviant-teachings-among-muslims
--------
Myanmar anti-Muslim groups wax lyrical on Donald Trump victory
November 11, 2016
Myanmar's anti-Muslim hardliners cheered Donald Trump's election as US president in prose and poetry on Thursday, hailing the divisive billionaire's triumph as a victory in the fight against "Islamic terrorism".
Trump's shock ascent to the White House topped a vitriolic campaign in which he promised to ban Muslims from entering the US and pledged to establish a database of those living in the country.
Muslims around the world were left reeling from his surprise win on Tuesday, with many fearing he would bring in anti-Islam policies that could help bolster extremists like the militant Islamic State group.
But in Buddhist-majority Myanmar, a country simmering with religious tensions, hardline anti-Muslim groups waxed lyrical about his victory.
Firebrand monk Wirathu, once dubbed the "face of Buddhist terror" for his anti-Muslim sermons, celebrated with a four-line poem on Facebook.
"Public security is the most important consideration/Donald Trump is the real leader/People love him so much/Nationalism is the priority," he wrote.
"May US citizens be free from jihad. May the world be free of bloodshed," he added in a statement underneath.
Anti-Muslim sentiment has billowed in Myanmar in recent years, erupting into bouts of bloodshed and leaving a stain on the country's recent democratic transition.
More than a million of Myanmar's Muslims are Rohingya, a stateless ethnic group reviled by many Buddhists who insist they are illegal immigrants from Bangladesh.
Myanmar's president has accused Rohingya militants of attacking police border posts in western Rakhine state last month, an incident that sparked a deadly military crackdown in the border region.
Independent investigators have been prevented from carrying out enquiries into the allegations that Rohingya extremists carried out the deadly raids.
But ethnic Rakhine Buddhist nationalists, who have long railed against the Rohingya, have seized on the attacks as evidence the oppressed minority is launching a new front for terrorism.
"Being engulfed in Islamisation and illegal immigration problems, we the Arakanese (Rakhine) people look up to you as a new world leader who will change the rigged system being infested with jihadi infiltrators," said Aye Maung, chairman of the Arakan National Party, in an open letter to Trump.
"We… hope your leadership will steer the US and the world into a safer place without radical Islamic terrorism."
http://www.pakistantoday.com.pk/2016/11/10/foreign/myanmar-anti-muslim-groups-wax-lyrical-on-donald-trump-victory/
--------
75 Al-Nusra Terrorists Killed in Failed Attack on Golan Heights
Nov 10, 2016
"The al-Nusra militants attacked the Syrian army positions in Hadar town in the Golan Heights with hundreds of fighters and from several sides but the Syrian forces could repel the heavy offensive," a military source said on Thursday.
According to the source, at least 75 terrorists were killed in the clashes and tens of others were wounded.
Other militants also fled the scene, the source added.
The al-Nusra terrorists' offensive was launched after the Israeli forces attacked a Syrian military position in the Golan Heights on Wednesday.
The Israeli army did not hide its artillery attack on Syria, but claimed that it had earlier been hit by a shell that had gone astray.
"In response to the projectile which hit Israel earlier today, the IDF (Israel Defense Forces) targeted an artillery position of the Syrian regime in the northern Syrian Golan Heights," a statement said.
The rocket was believed to be stray fire from fighting between the Syrian government forces and rebels, it claimed.
It caused no casualties, the army said, and was "most likely a result of the internal fighting in Syria".
The Israeli Army says it holds the Syrian government accountable for any fire from its territory, regardless of the source, but it never explains then why it helps the al-Nusra Front terrorists and treats wounded militants at its hospitals.
Israel seized 1,200 square kilometers (460 square miles) of the Golan from Syria in the Six-Day War of 1967 and later annexed it in a move never recognized by the international community.
http://en.farsnews.com/newstext.aspx?nn=13950820000536
--------
Washington Students Set American Flag on Fire to Protest Trump's Victory
Nov 10, 2016
The students burned an American flag, chanting "Hey-hey! Ho-ho! White supremacy's got to go!" the footage shared by NBC Washington showed, Sputnik reported.
Hashtags #NotMyPresident and #StillWithHer went viral on Twitter in support for Democratic candidate Hillary Clinton.
Since Wednesday morning, anti-Trump demonstrations have taken place in US states of California, Oregon and Washington, as well as in New York City.
A group of protesters had also gathered in front of the White House in the US capital. Trump secured 289 Electoral College votes, 19 more than the required to win the US presidency.
http://en.farsnews.com/newstext.aspx?nn=13950820000881
--------
Pakistanis worry that President Donald Trump may favour India
Nov 10, 2016
ISLAMABAD: Donald Trump's surprise election+ as US president+ has Pakistanis wary that he may accelerate what they see as a shift in American policy to favour India+ , analysts said on Wednesday.
Historical allies in the region, Islamabad and Washington have seen relations sour over US accusations that Pakistan shelters Islamist militants, a charge Pakistan denies.
They hit new lows in May when a US drone killed the leader of the Afghan Taliban movement on Pakistani territory.
At the same time, Pakistan's ties with India have also deteriorated this year, with India saying Pakistan-based militants killed 19 of its soldiers in a September attack on an Army base in Kashmir.
To many Pakistanis, Trump's anti-Muslim rhetoric - he once proposed banning Muslims entering the United States - and business ties to India are signs that his administration could shift further toward New Delhi.
"America will not abandon Pakistan, but definitely, Trump will be a tougher president than Hillary Clinton for Pakistan," said Hasan Askari Rizvi, Lahore-based foreign policy analyst.
"I think India will have a better and smoother interaction compared to Pakistan."
Trump has yet to lay out a detailed policy for South Asia+ , although he recently offered to mediate between India and Pakistan over Kashmir.
He also told Fox News in May he would favour keeping nearly 10,000 US troops in Afghanistan "because it's adjacent and right next to Pakistan which has nuclear weapons."
Congratulations, assurances
On Wednesday, a US diplomat in Pakistan sought to assure the country that Trump's election did not signal a drastic policy change.
"Our foreign policy is based on national interest and they don't change when the government changes," Grace Shelton, US Consul General in Karachi, told Geo News television.
Pakistani Prime Minister Nawaz Sharif congratulated Trump.
"Your election is indeed the triumph of the American people and their enduring faith in the ideals of democracy, freedom, human rights and free enterprise," Sharif said in a statement.
Still, the uncertainty of a Trump presidency has many Pakistanis on edge, even if the country has leaned towards China in recent years for investment and diplomatic support.
"Trump is a bit of a wild card," said Sherry Rehman, a Pakistani senator and former ambassador to the United States.
"Pakistan obviously cannot rule out engaging with whomever America elects, but his anti-Muslim rhetoric may cast a shadow on relations in times of uncertainty."
India hopeful
Indian Prime Minister Narendra Modi also congratulated Trump on Wednesday.
"We look forward to working with you closely to take India-US bilateral ties to a new height," Modi said in a tweet.
Trump has partnered with Indian businessmen on a handful of real estate ventures, but apart from courting the Indian-American vote he has not articulated how he would develop the bilateral relationship.
India-US ties have flourished under President Barack Obama and Modi, who came to power in 2014, with the two countries striking key defence agreements this year.
Modi's government has also waged a campaign to isolate Pakistan diplomatically.
Shaurya Doval, director of the India Foundation, a think-tank close to Modi's government, called Trump's election "a very positive development", but added that India and the United States would have continued to grow closer under a Hillary Clinton presidency as well.
"My sense is that India-US relations are not dependent on individuals - there are strong institutions and processes there," he said.
Afghanistan war
Trump will also have to decide whether to maintain the number of US troops in Afghanistan or change the scope of the mission, 15 years after a US-led campaign toppled the hardline Islamist Taliban government.
The United States has spent some $115 billion in aid for Afghanistan since 2002, but the country is still caught in conflict, with a third of the country out of government control and thousands of Afghan civilians, soldiers and police dying every year.
Afghan officials have voiced concern that the conflict is being forgotten in Washington, and warned privately that the West will pay a huge price if that continues.
"The people of Afghanistan are tired of war. We want (Trump) to invest heavily in bringing peace to war-torn Afghanistan and stabilize our region," said Umer Daudzai, former Afghan minister of interior.
Obama's original aim of pulling out of Afghanistan entirely has been put on hold in the face of mounting gains by Taliban militants, with US air power and special forces still regularly involved in combat.
As recently as last week, two US Green Berets were killed near the northern city of Kunduz.
Although Afghan security forces have been fighting largely alone since the end of the main NATO-led combat mission in 2014, their performance has been patchy and they continue to rely heavily on US air power.
The Taliban on Wednesday urged Trump to withdraw all US troops.
"They should not cause damage to their economy and their military in this failed war," Taliban spokesman Zabihullah Mujahid said of the American government in a statement.
http://timesofindia.indiatimes.com/united-states-elections-2016-us-elections-news-results-polls/Pakistanis-worry-that-President-Donald-Trump-may-favour-India/articleshow/55351812.cms
--------
Southeast Asia
Indonesia plays down fears ignited by Trump's anti-Muslim rhetoric
10 Nov 2016
JAKARTA: Indonesian authorities on Thursday (Nov 10) expressed confidence that the Trump administration would uphold and maintain a sense of order towards Indonesians living in the United States.
"We are confident that the US will continue to be a country that respects tolerance, pluralism and all the principles of democracy," said Mr Arrmanatha Nasir, spokesperson for Indonesia's Foreign Affairs Ministry at a press briefing.
Mr Arrmanatha's comments came a day after Donald Trump was named 45th President of the US, amidst rising concern in Indonesia over his anti-Muslim comments. Mr Trump has previously suggested banning Muslims from travelling to the US.
He added that the anti-Muslim sentiments expressed by Trump could be regarded as campaign rhetoric.
"We have yet to see his policies," said Mr Arrmanatha.
An earlier report cited an official at Indonesia's top clerical body as saying that Trump's victory could create fresh tension between the United States and the Islamic world. Some analysts have echoed this view.
Dr Siswanto, an analyst from the Centre of Political Studies at Indonesia's Institute of Sciences (LIPI), said that anti-islamic sentiments will not bode well with Indonesians and this could sour diplomatic relations between the two countries.
"The government of the United States must take this into consideration," said Dr Siswanto, who expressed hope that Mr Trump's advisors would intervene and encourage the President-elect to boost ties before the rhetoric becomes a permanent issue.
"Perhaps they could co-operate on security issues to tackle terrorism, especially against threats like the Islamic State," he said.
Indonesia, the world's most populous Muslim nation, has enjoyed strong diplomatic and trade relations with the outgoing President Obama's administration as he looked to rebalance his strategy towards Asia.
Indonesia-US trade for goods and services hit close to US$30 billion in 2015, and a recent joint study by the US chamber of commerce and the American Chamber of Commerce Indonesia projected the total value of the trade to exceed US$131 billion in 2019.
According to Dr Siswanto, Indonesia could lose out on trade with the US with Donald Trump at the helm if he were to upend current trade policies with what could be labelled as the "protectionist" terms he has campaigned with.
But President Joko Widodo has said that Indonesia and the US will still maintain close ties.
"Our relations will continue to be good," the President said in his congratulatory message to Trump on Wednesday.
http://www.channelnewsasia.com/news/world/usvotes2016/indonesia-plays-down-fears-ignited-by-trump-s-anti-muslim/3277654.html
--------
Conceding hudud impossible, Hadi presses non-Muslims not to block Shariah Bill
November 11, 2016
KUALA LUMPUR, Nov 11 — PAS president Datuk Seri Abdul Hadi Awang has implored non-Muslims not to interfere with his private member's Bill to upgrade the Shariah courts, after admitting today that it is impossible for hudud to be implemented in the country.
Citing constitutional provisions on religious freedoms, the Marang MP warned non-Muslims against meddling in Islamic affairs and declared that those who oppose his Bill are purposely making enemies of Islam and its adherents.
"Non-Muslims should celebrate this matter and respect their brethrens of a plural society and same country and motherland, in matters that has no relations with their affairs.
"Do not purposely find ways to arouse conflict in a plural and harmonious society by suddenly opposing RUU355 that is aimed at upgrading the status of the Shariah Court," he said in a statement, referring to his Bill on the Shariah Courts (Criminal Jurisdiction) Act 1965 that is also known as Act 355.
"There is no legal or political excuse to oppose RUU355 except to wanting to be enemies against Islam and its adherents, or selling oneself to become a tool to enemies of Islam at a cheap price," Hadi warned later in his statement.
Hadi reiterated his claim that the Bill has nothing to do with hudud, and then conceded that the controversial Islamic penal code cannot be implemented in Malaysia due to constitutional safeguards and legislative hurdles.
"However, hudud cannot be implemented in Malaysia because there are many obstacles," Hadi said.
He listed the Ninth Schedule of the Federal Constitution that specifies that legislating crime falls under the federal administration, while Article 76(A) specifies that the Parliament needs to pass an Act before state governments can implement a law.
The PAS president also rejected claims by Kuching MP Chong Chieng Jen in Parliament, denying that the Bill will affect non-Muslims, and the rights of Sabah and Sarawak.
Hadi's Bill seeks to amend Act 355 and empower Islamic courts to enforce any punishment ― except for the death penalty ― provided in Shariah laws for Islamic offences listed under state jurisdiction in the Federal Constitution.
Full report at:
http://www.themalaymailonline.com/malaysia/article/conceding-hudud-impossible-hadi-presses-non-muslims-not-to-block-shariah-bi
--------
Jakarta governor slips in polls after hard-line Islamist protest
November 11, 2016
JAKARTA: The governor of Indonesia's capital Jakarta, the first ethnic Chinese and Christian in the job, is losing support in his bid for reelection as allegations that he insulted the Koran increasingly put off Muslim voters.
An opinion poll published on Thursday showed support for Basuki Tjahaja Purnama, also known as "Ahok", plunged from 60 percent in March to 25 percent in the latest survey.
Over 100,000 Muslims marched through Jakarta last week to demand his resignation and urge voters not to re-elect him in February, raising concerns over the rise of hardline Islamists in the world's largest Muslim-majority nation.
Last month's survey by pollster Lingkaran Survei Indonesia, taken before the protest, showed him at 31 percent support.
"The controversy over the comments on the Koran is a factor affecting his electability and resistance is rising against a non-Muslim leader," said Adjie Alfaraby of LSI.
The vast majority of Indonesians practice a moderate form of Islam and faith is not often a determining factor in elections, especially in a cosmopolitan city like Jakarta. But the poll showed changing opinions among the city's Muslim voters.
"There would be religious sentiment in the election, but it wouldn't be so strong were it not for the (blasphemy) case," Alfaraby said. "We are seeing less rational voters, and more voters choosing based on other factors."
Full report at:
http://www.freemalaysiatoday.com/category/world/2016/11/11/jakarta-governor-slips-in-polls-after-hardline-islamist-protest/
--------
Authorities Probe Reported Death of Indonesian Islamic State Leader
11th November, 2016
Indonesian authorities are investigating the reported death in Iraq of a prominent Islamic State leader from Indonesia, who was defending the militant stronghold of Mosul during a U.S. backed military effort to dislodge the group.
A police spokesman in Jakarta told reporters on Thursday that Salim Mobarok al-Tamimin, also known as Abu Jandal al-Yemeni al Indonesi, was confirmed dead by his wife in Iraq, and relatives in Pasuruan in East Java. Abu Jandal, as authorities refer to him, was considered a key IS recruiter in Southeast Asia.
"We are making efforts to bring his body back," Boy Rafli Amar, an inspector general of police, said in Jakarta.
According to initial information obtained by Indonesian authorities, Abu Jandal was killed in Mosul on Saturday. But the authorities have not determined the circumstances of his death.
A Kurdish military intelligence official in northern Iraq and a Mosul provincial council member declined VOA's request for an interview. Indonesian counterterrorism officials say they have sent authorities to Iraq to gather more information.
"We know it is difficult to coordinate these efforts in a battlefield," Amar said. "Coordination efforts with the authorities there (in Mosul) is also not that easy."
The Indonesian foreign ministry is also attempting to gather more information in Iraq and Syria, where Abu Jandal reportedly operated under IS since 2014.
"None of the foreign missions (including in Indonesia's) is operating," said Arrmanatha Nasir, a spokesperson for the Indonesian foreign ministry.
"Besides, he never registered his arrival with the Indonesian Embassy in Baghdad or Damascus."Abu Jandal, 39, traveled with his wife and two children to join the Islamic State in Syria in July 2014, with stops in Malaysia and Turkey, according to media reports.
Full report at:
http://www.malaysiasun.com/index.php/sid/249302197
--------
Ahok and Indonesia's secular identity
November 11, 2016
Given the political earthquake that's just rocked the United States, it is timely perhaps to turn the gaze to one's own neighbourhood, where Indonesia has just come through a period of tumult after witnessing the kind of uprising that's provided fodder for the likes of Mr Donald Trump to score easy points against extremist Muslims.
More than 100,000 demonstrators in white, and waving black flags - some say the number was at least twice that - descended on Jakarta last week to demand the arrest of its popular governor, Mr Basuki Tjahaja Purnama, alleging he blasphemed the Quran. Mr Basuki's fault was to lightheartedly cite a verse to show there was nothing in the Holy Book that proscribed Muslims from choosing a non-Muslim leader.
Mr Basuki, who goes by the popular name Ahok, is a minority figure twice over in the world's biggest nation of Muslims - he is not only ethnic Chinese but the first Christian to hold the post in five decades. As a deputy to President Joko Widodo when Mr Joko himself was governor of Jakarta, he remains a presidential confidant - the two speak several times a week, usually over the telephone.
The efficient Mr Basuki is also notoriously blunt in word and deed, evicting squatters and displacing fishermen for development projects, contracts for some of which have gone to ethnic Chinese Indonesians. It appears only about a third of the displaced have been given alternate accommodation and this has stoked resentment.
If all this wasn't enough of an incendiary mix, Mr Basuki, who is hugely popular despite his background, complicated things by indicating he will run for re-election in February. That runs smack into the political ambitions of two men backed by powerful interest groups: Mr Anies Baswedan, a former minister of education, and Mr Agus Harimurti Yudhoyono, a former army officer and son of Dr Susilo Bambang Yudhoyono, who was president from 2004 to 2014.
There are suspicions, endorsed by no less than President Joko, that elements that want to see Mr Basuki dislodged from his key perch forked out the US$1 million (S$1.4 million) or so estimated expense of busing the militants into central Jakarta and keeping them there for a day.
Given his proximity to the President and Indonesia's tradition of shadow play, knocking Mr Basuki is seen as another way of chipping away at Mr Joko's power edifice before the next presidential election in 2019. After all, it took Mr Joko just two years to vault from being picked as Jakarta governor to be elected president of the republic.
With the protesters threatening to return for a fresh round on Nov 25, it is useful to take stock of where Indonesia is headed.
For most Indonesians, the multi-layered and pluralistic character of their society and culture is a prized possession. Visit the Sultan's Palace in Yogyakarta, central Java, and you see the various influences in the architecture, including the familiar Chinese dragon. Tolerance runs deep in the psyche and is enshrined in the Pancasila state code. To the world, Indonesia is a strong beacon for the peaceful face of the Islamic faith.
But like moderate Islam everywhere, including large population nations such as Pakistan and Bangladesh, the faith is under stress from the hardline elements at its fringes. Wahabi Islam particularly, spread by Saudi Arabia with its oil money, has had its impact on Indonesia in recent decades, witnessed in the sprouting of religious schools and growing intolerance for alcohol use.
Last week's protest, whose scale clearly left the President unnerved and caused him to postpone a visit to Australia, was organised by the Defenders of Islam Front (FPI), a vigilante outfit, together with a number of other hardline Islamist groups. Though not thought to be a Wahabi outfit, FPI has a history of exploiting economic and political tensions on the ground, and turning them into religious issues. It also is known to attack Shi'ite Muslims and at one time, had opposed President Megawati Sukarnoputri, saying Islam forbids women leaders.
Given its muscular approach, compared with groups such as Nahdlatul Ulama (NU), politicians have often found it convenient to occasionally borrow its skills for the strong-arm needs of their craft. Mr Basuki has been particularly severe with FPI in the past, demanding it be banned. That Indonesia's moderate Muslim groups such as the Muhammadiyah and NU have gone largely silent and hesitated to come to Mr Basuki's defence creates opportunities that have helped it gain traction.
"Three elements are at play here," Mr Fitriyan Zamzami, national affairs editor of the prominent Jakarta newspaper Republika, told me recently. "The first, undoubtedly is rising Islamic conservatism. Second, resentment against Mr Basuki's uprooting of people. But it also cannot be denied that the middle class feels that moderate groups like Muhammadiyah and NU have failed to voice their grievances. This gives the opening for fringe ideology to come to the fore."
Full report at:
http://www.straitstimes.com/opinion/ahok-and-indonesias-secular-identity
--------
President reaches out to more Islamic groups
November 10 2016
President Joko "Jokowi" Widodo tried to reach out to more Muslim groups on Wednesday to seek their support in lessening the anger over the blasphemy allegedly committed by Jakarta Governor Basuki "Ahok" Tjahaja Purnama.
The allegation sparked nationwide protests last Friday, forcing the President to postpone a state visit to Sydney and Canberra, Australia.
After visiting Nahdlatul Ulama (NU) on Monday and Muhammadiyah on Tuesday, Jokowi invited 17 other Islamic organizations to the State Palace for a dialogue.
The groups — among others, Al-Washliyah, the Tarbiyah Islamiyah Association (Perti), the Indonesian Islamic Preaching Council (DDII), the Islam Union (Persis), Al-Irsyad Al-Islamiyyah and Syarikat Islam — were established before independence and played a part in the nation's history.
"Because the President believed there are [Muslims] who still feel the pain and [such a feeling] is normal, we are trying to calm them [as] the President has promised to be fair [in this matter]," Yusnar Yusuf of Al-Washliyah said.
"[The President] indeed showed seriousness in the meeting," said Yusnar, who revealed that initially he doubted Jokowi would act fairly.
The Wednesday meeting at the palace did not involve the Islam Defenders Front (FPI) or the Muslim Students Association (HMI). The FPI had spearheaded the anti-Ahok rally in Jakarta, which saw more than 100,000 people swarming Jakarta's streets, while HMI members have been charged with instigating violence during the rally.
The President has instructed the National Police to conduct a fair and transparent investigation, as rumors were rife that another protest would be held on Nov. 25.
Yusnar said he could not promise there would not be another rally and that the groups have yet to hear information about one. "We should see first [if another rally occurs]. What actions could we take? What would be the problem, the demands and the goals [of the rally]?" Yusnar asked.
The President said he was hoping the ulema (muslim scholars) could help calm the public over the blasphemy brouhaha.
"Currently, we need calming statements from ulema that will cool down [the situation] amid the various issues and statements that are actually sharpening differences among members of the public," Jokowi, who earlier expressed hope that there would be no more such rallies in the near future, said in Wednesday's meeting.
Jokowi has said that he will not tamper with the ongoing police investigation into Ahok's case.
Full report at:
http://www.thejakartapost.com/news/2016/11/10/president-reaches-out-more-islamic-groups.html
--------
South Asia
4 killed, over 100 in attack on German consulate in north of Afghanistan
Nov 11 2016
At least four people were killed over and one hundred others were wounded in a suicide attack on the German consulate in northern Balkh province of Afghanistan.
According to the local security officials, a suicide bomber rammed a Vehicle-borne Improvised Explosive Device (VBIED) into the German consulate late on Thursday night.
Gen. Hasibullah Quraishi, the commander of the public order police forces in Balkh, said the Afghan and German forces arrived in the consulate compound shortly after the suicide attack.
He said the suicide bomber detonated the VBIED in front of the entrance gate of the Germany consulate.
The provincial acting governor Ata Mohammad Noor condemned the attack in strongest words and said at least 2 people were killed and over 50 others were wounded, citing the preliminary reports.
Noor further added that women and children were among those wounded in the attack.
However, an official in the provincial hospital, said at least 110 people wounded in the attack were taken to the hospital.
The Taliban militants group in Afghanistan claimed the responsibility behind the attack.
http://www.khaama.com/2-killed-over-100-in-attack-on-german-consulate-in-north-of-afghanistan-02251
--------
US airstrike kill 11 ISIS loyalists in Nangarhar province of Afghanistan
Nov 10 2016
At least 11 loyalists of the Islamic State of Iraq and Syria (ISIS) terrorist group were killed in an airstrike in eastern Nangarhar province of Afghanistan.
The provincial police commandment in a statement said the airstrike was carried out by the US forces based in Afghanistan, using an unmanned aerial vehicle to target the loyalists of the terror group.
The statement further added that a Dshk heavy machine belonging to the loyalist of the terror group was also destroyed when they were targeted in Achin district.
The local residents did not suffer any casualties in the airstrike, the provincial police commandment added.
Full report at:
http://www.khaama.com/us-airstrike-kill-11-isis-loyalists-in-nangarhar-province-of-afghanistan-02250
--------
Ruling Awami League MP's supporters attacked Hindus in Bangladesh
2016-11
Supporters of Brahmanbarhia Awami League President RAM Obaidul Muktadir Chowdhury MP carried out the attacks on Hindu temples, homes and businesses in Nasirnagar in a bid to put their rivals in the ruling party in a tight spot, locals say.
bdnews24.com investigations have revealed that the feud of Nasirnagar MP Muhammed Sayedul Hoque, who is the fisheries and livestock minister, with Muktadir and Brahmanbarhia Awami League General Secretary Al Mamun Sarker fuelled the assault on the religious minority.
According to local Awami League leaders, the dispute between the party's Brahmanbarhia district unit and Nasirnagar Upazila unit is longstanding. The minister, being the Nasirnagar MP, controls everything in the Upazila.
The feud rose to a boiling point during the last union council election in March this year.
As a result of the conflict, the district unit committee had recommended that Sayedul be expelled from its advisory panel.
Rafi Uddin, a follower of Sayedul, was expelled as Nasirnagar Awami League president at that time.
"This attack was clearly designed to put the minister in trouble," Nasirnagar Sadar Union Awami League President Hajji Abdul Gaffar told bdnews24.com.
The bdnews24.com investigations found that Haripur Union Parishad Chairman Dewan Atiqur Rahman Ankhi is the main culprit behind the attack.
Mobs riding over a dozen of trucks from his area unleashed atrocities on the Hindus in the neighbourhood, a few kilometres away from that of Ankhi.
He got the Awami League ticket to run for the UP chairman after the party amended the list of candidates sent by its Sayedul-controlled Nasirnagar unit following the district unit's objection.
Following the second attack in a span of five days, Nasirnagar Sadar Union Parishad Chairman and its Awami League unit Assistant Secretary Abul Hashem, Haripur unit president Faruk Mia and Chapartala union president Suruj Ali were suspended from the party.
Gatherings at Haripur before the attacks Gatherings at Haripur before the attacks bdnews24.com found no evidence of their direct link to the attacks.
The party's local leaders alleged Muktadir initiated the action against the trio only because of their loyalty to Sayedul.
Freedom fighter Muktadir was the prime minister's personal secretary when Awami League chief Sheikh Hasina was the prime minister in 1996. He is a brother-in-law of Food Minister Qamrul Islam.
Muktadir has denied his link with Ankhi.
"The minister is all in all in Nasirnagar. I had no connection with Ankhi. When he was nominated, I was out of the country," the member of Awami League's Central Working Committee told bdnews24.com.
Brahmanbarhia Awami League General Secretary Mamun admitted that the district unit is at loggerheads with the Nasirnagar Upazila unit.
"The MP (Sayedul) rules there. They (Upazila unit) do not take part in any programme organised by the centre and the district unit. They do not hold any programme without the MP's presence. They do not even hold programmes marking the National Mourning Day, Victory Day and Independence Day," he said.
Attack from Ankhi's area
The mobs that carried out the attacks on Hindus in Nasirnagar were taken to Haripur union by 14 to 15 trucks.
Full report at:
http://bdnews24.com/bangladesh/2016/11/11/ruling-awami-league-mp-s-supporters-attacked-hindus-in-bangladesh
--------
Karzai hope Trump administration focus on main terrorism sanctuaries
Nov 10 2016
The former Afghan President Hamid Karzai congratulated the American nation for the election of Donald Trump as the new US President.
Karzai issued a statement after Trump was declared the winner of the presidential election on Wednesday, saying "With respect to the will of the American people for bring political changes, the Afghan people hope that the approach of the country towards the Afghan people and fight against terrorism will change based on the realities and coordination with the demand of the Afghan people."
The former Afghan president further added that the Afghan people expect that the fight against terrorism will concentrate on the sanctuaries of the terrorists and will lead to an end to the killing of the Afghan people.
He said the main expectation of the Afghan people during the past several years has been the realization of a long term peace.
Full report at:
http://www.khaama.com/karzai-hope-trump-administration-focus-on-main-terrorism-sanctuaries-02249
--------
Ghani received final list of nominees for membership of election commissions
Nov 10 2016
President Mohammad Ashraf Ghani has received a final list of nominees to be elected as members of the election commissions.
The final list of the nominees was handed over to President Mohammad Ashraf Ghani by the Selection Committee which was formed to select new members for the election commissions of the country
The committee members met with President Mohammad Ashraf Ghani in ARG Presidential Palace on Wednesday evening to deliver the final list of the nominees.
The meeting was also attended by Chief Executive Abdullah Abdullah, Second Vice President Sarwar Danish and Afghan Attorney General Farid Hamidi.
President Ghani said the new members of the election commission will be picked after the final list has been thoroughly studied to ensure transparency and accuracy.
He called the finalization of the nominees list an important step that will pave the way for the organization of the elections.
Full report at:
http://www.khaama.com/ghani-received-final-list-of-nominees-for-membership-of-election-commissions-02248
--------
Taliban attack German consulate in Afghanistan
November 11, 2016
MAZAR-I-SHARIF: A powerful Taliban truck bomb struck the German consulate in the northern Afghan city of Mazar-i-Sharif late Thursday, killing at least two people and wounding 32 others, officials said.
The Taliban called it a "revenge attack" for a US airstrike in Kunduz earlier this month that left up to 32 civilians dead.
"The suicide attacker rammed his explosives-laden car into the wall of German consulate in the city," local police chief told AFP. At least two dead bodies and 32 wounded people had so far been brought to the city hospital, said Noor Mohammad Fayez, the head doctor.
US forces conceded last week that its air strikes "very likely" resulted in civilian casualties in Kunduz, pledging a full investigation into the incident which triggered angry protests.–AFP
Full report at:
http://nation.com.pk/national/11-Nov-2016/taliban-attack-german-consulate-in-afghanistan
--------
Arab World
Kurdish-led fighters marching against Daesh near Syria's Raqqa
11 November 2016
BEIRUT: A Syrian Kurdish-led force fighting the Daesh group north of the country is on the verge of surrounding a wide area north of the IS stronghold of Raqqa, a spokeswoman for the group said Thursday.
Cihan Ehmed of the US-backed Syria Democratic Forces told The Associated Press that its fighters are advancing on two fronts north of Raqqa, the de facto capital of Daesh's self-declared caliphate. The push from Ein Issa and Suluk north of Raqqa has been ongoing for days under the cover of airstrikes by the US-led coalition.
The SDF, which includes Kurdish, Arab, Syriac and Turkmen fighters, say they have committed 30,000 fighters to the offensive aiming to eventual recapture the city of Raqqa, which was announced on Sunday. Iraq is meanwhile waging a major offensive to drive Daesh from the northern city of Mosul.
Ehmed said once the forces coming from the two directions meet north of Raqqa, they will surround 550 square kilometers (212 square miles) of territory controlled by the extremists.
"The operations are ongoing according to the plan," she said.
The Britain-based Syrian Observatory for Human Rights said many people are fleeing areas of fighting north of Raqqa. It added that SDF fighters have advanced north of Raqqa, capturing new areas and raising to 17 the number of villages and farms taken from Daesh since the offensive began.
Later on Thursday, the SDF said on social media that its fighters have captured three farms, a village, and have approached the village of Hayes where intense clashes are ongoing.
The operation to recapture Raqqa has been dubbed "Euphrates Rage" and a joint operations command has been set up to coordinate various factions taking part in the battles.
Elsewhere in Syria, a rocket fired by rebels struck a school in the capital Damascus' central Al-Mohajireen neighborhood wounding three children, state media said without providing further details. In the rebel-held Damascus suburbs of Douma and Saqba, government airstrikes killed at least 11 civilians, including four children and three women, according to the Syrian Civil Defense in Damascus suburbs. The Observatory also said 11 were killed, but said they included four women.
In the northern city of Aleppo, seven people were wounded, some critically, when rebels shelled two government-held neighborhoods, state news agency SANA said. Later on Thursday, pro-government media also said allied troops moved in on new rebel advances in the western part of the city, regaining control of parts of the strategic Assad district amid intense clashes.
The rebels had seized a couple of strategic areas in western Aleppo since they launched an offensive on government-held parts of Aleppo on Oct. 28 in an attempt to break the siege imposed on areas they have controlled since July. The siege on eastern Aleppo was coupled with a punishing bombing campaign by Syrian aircraft and supported by Russia, which has been backing the government of President Bashar Assad. Since late October, Russia said it would halt the airstrikes, amid rising civilian casualties, urging rebels to leave the territory.
A statement by Russian Defense Ministry Thursday said such halts would continue. Russia had earlier bristled at extending the breaks in the fighting in Aleppo, saying it would play into the hands of the insurgents.
"The humanitarian pauses are undoubtedly needed," said Spokesman Maj. Gen. Igor Konashenkov. "But we believe that simply extending their duration without offering real assistance to civilians, and allow the terrorists to restore their capabilities, would be unproductive and defy common sense." Russia and Syria's government refer to all armed opposition as "terrorists."
Insurgents have refused to leave, saying the halts are not supervised by the UN and lack safety guarantees for evacuation. The UN has failed to secure humanitarian aid to the besieged Aleppo districts during the halts. During the last Russian-declared "pause" on Friday, rebels fired at one of the corridors, wounding two Russian servicemen and a Syrian journalist.
http://www.arabnews.com/node/1009016/middle-east
--------
Battle for Mosul nears ancient Nimrud
10 November 2016
The battle for Iraq's second city Mosul neared the remains of ancient Nimrud on Thursday, the military said, raising fears for the famed heritage site already ravaged by militant bombs and sledgehammers.
Troops and allied militia were advancing on two villages held by the ISIS group near the ancient site some 30 kilometres (20 miles) south of Mosul, the Joint Operations Command said.
"Units of the 9th Armored Division and the Hashed al-Ashaeri (tribal militia) are beginning to advance to liberate the villages of Abbas Rajab and Al-Nomaniyah, toward Nimrud," it said.
Nimrud was the one of the great centers of the ancient Middle East. Founded in the 13th Century BC, it became the capital of the Assyrian empire, whose rulers built vast palaces and monuments that have drawn archaeologists from around the world for more than 150 years.
Many of its monumental stone sculptures and reliefs were taken way for display in museums around the world but some of the more massive structures remained in place when the militants swept through in mid-2014.
In April last year, ISIS posted video on the internet of its fighters sledgehammering monuments before planting explosives around the site and blowing it up.
It was part of a campaign of destruction by the militants against heritage sites under their control that also took in ancient Nineveh on the outskirts of Mosul, Hatra in the desert to the south and Palmyra in neighbouring Syria,
ISIS says the ancient monuments are idols that violate the teachings of its extreme form of Sunni Islam.
Full report at:
https://english.alarabiya.net/en/News/middle-east/2016/11/10/Battle-for-Mosul-nears-ancient-Nimrud.html
--------
Iraq forces accused of killing, torturing civilians
November 11, 2016
BAGHDAD - Iraqi government forces killed and tortured civilians south of Mosul, rights groups said on Thursday, the first such reports of alleged abuse in a US-backed campaign to retake the city from Islamic State.
Amnesty International said "up to six" people were found dead last month in the Shura and Qayyara sub-districts who security forces suspected of ties to the ultra-hardline militant group which seized a third of Iraqi territory in 2014.
"Men in federal police uniform have carried out multiple unlawful killings, apprehending and then deliberately killing in cold blood residents in villages south of Mosul," said Lynn Maalouf, deputy director for research at Amnesty's Beirut office.
Human Rights Watch (HRW) said at least 37 men suspected of being affiliated with Islamic State had been detained by Iraqi and Kurdish forces from checkpoints, villages, screening centres and camps for displaced people around Mosul and Hawija, further south.
Relatives said they did not know where most of the men were being held and had not been able to contact any of them while in detention, according to the report.
HRW warned that such conduct "significantly increases the risk of other violations", including torture.
An Interior Ministry spokesman denied there had been any violations and said Iraqi forces respect human rights and international law. A spokesman for Iraq's federal police could not be reached for comment.
A spokesman for the Kurdish regional government denied the HRW report, saying any delays in informing families were limited and due to limited resources.
"Nobody has been kept in unknown facilities. They are kept in identified facilities," said Dindar Zebari.
The Mosul operation, involving a 100,000-strong alliance of troops, security forces, Kurdish peshmerga and Shi'ite Muslim militias and backed by US-led air strikes, has entered its fourth week but has so far gained just a small foothold in the city.
Amnesty's report described several incidents on or around Oct. 21 in which separate groups of men were beaten with cables and rifle butts before being shot to death. In one case, a man's head had been severed from his body, it said.
Amnesty said that, without accountability, the alleged abuses risked being repeated in other towns and villages as the Mosul offensive continues.
Meanwhile, the battle for Iraq's second city Mosul neared the remains of ancient Nimrud on Thursday, the military said, raising fears for the famed heritage site already ravaged by militant bombs and sledgehammers.
Troops and allied militia were advancing on two villages held by the Islamic State group near the ancient site some 30 kilometres (20 miles) south of Mosul, the Joint Operations Command said.
"Units of the 9th Armoured Division and the Hashed al-Ashaeri (tribal militia) are beginning to advance to liberate the villages of Abbas Rajab and Al-Nomaniyah, toward Nimrud," it said, later announcing that Abbas Rajab had been retaken.
Nimrud was the one of the great centres of the ancient Middle East. Founded in the 13th Century BC, it became the capital of the Assyrian empire, whose rulers built vast palaces and monuments that have drawn archaeologists from around the world for more than 150 years.
Many of its monumental stone sculptures and reliefs were taken away for display in museums around the world but some of the more massive structures remained in place when the militants swept through in mid-2014.
Full report at:
http://nation.com.pk/international/11-Nov-2016/iraq-forces-accused-of-killing-torturing-civilians
--------
Syria recounts crimes of foreign-backed terrorists in letters to UN
Nov 11, 2016
Syria has written to the UN on the crimes perpetrated against the country by the terror groups backed by Israel, Saudi Arabia, Turkey and Qatar, saying terrorism would only be eradicated if those countries dropped their support for the militants.
Syria's Foreign and Expatriates Ministry recounted the atrocities of the foreign-sponsored militants on Thursday in two letters sent to UN Secretary General Ban Ki-moon and the world body's Security Council, the official Syrian Arab News Agency reported.
On the back of foreign support, Takfiri terrorists recently killed 17 people and injured 27 women and children in a single day in Syria, the letters read.
The letters further said the bloodshed did not move the terror supporters, who "boast of their civilization and respect for human rights," to offer as much as an apology.
In another act of violence, Saudi-backed Jaish al-Islam terror outfit shelled the countryside of the capital Damascus, killing one and injuring three others, according to the letters.
The letters further said the regime in Israel is an ally of Jabhat Fateh al-Sham, formerly known as al-Nusra Front, the second most brutal Takfiri terror group ravaging Syria after Daesh.
Full report at:
http://www.presstv.ir/Detail/2016/11/11/493073/Syria-Saudi-Arabia-Israel-Turkey-Qatar-United-Nations
--------
Terrorists in Northern Aleppo Equipped with Turkish M60 Tanks
Nov 10, 2016
According to Kurdish-affiliated Hawar news, several footage and images have been released by the terrorist groups in different websites which show that they are using the Turkish army's armored vehicles in Tal Jorji village in al-Bab region.
The images show that the terrorists are using M60 tanks.
Turkey has deployed a large number of its tanks and armored vehicles in Northern Syria after the start of the Euphrates Shield operation by Ankara.
The Turkish forces, backed by US-led coalition aircraft, started the Euphrates Shield military operation in August, claiming that they intend to purge terrorists from Syria's Northern territories and create security zones for accommodation of refugees.
Media activists said earlier this month that the Turkey-backed militants operating in Northern Syria within the framework of the Euphrates Shield operation retreated from 13 strategic villages near al-Bab in Aleppo to open way for the ISIL's operations.
According to the Lebanese al-Safir newspaper, the ISIL occupied Bor'an, al-Wash, Tanouza, Salsana, Job al-Asi, Dawir al-Hawa, Houmad, Salasina, al-Barouza and a number of other villages in a surprise attack on Tuesday following a rapid withdrawal of the Euphrates Shield operation forces.
Full report at:
http://en.farsnews.com/newstext.aspx?nn=13950820000823
--------
Syrian Air Force Launches Heavy Airstrikes in Idlib to Block Terrorists' Supply Routes
Nov 10, 2016
The airstrikes were launched concurrent with the army's continued operations to establish security in Aleppo's Western fronts.
"The Syrian warplanes bombed the terrorists' positions in Jisr al-Shaqour, Ma'arat al-Nu'aman, Saraqib, Jonoudiyeh, Khan Sheikhoun and Afis in Idlib," a military source said on Thursday.
According to the source, the air force continues reconnaissance flights in the region to monitor the terrorists' supply routes which link Idlib to Aleppo.
Reports said on Tuesday that the Syrian and Russian fighter jets targeted terrorist groups' positions badly in Southern Idlib to prevent them from dispatching arms, ammunition and fresh forces for their comrades in Aleppo battlefields.
Simultaneous with the start of the Syrian army operation to reinvigorate the security situation in the Western parts of Aleppo city, the Syrian and Russian warplanes carried out tens of combat flights over terrorists' centers in the towns and villages of Khan Sheikhoun, Saraqib, surroundings of Banish, Taftnaz and Ma'arat al-Nu'aman to prevent militants to transfer arms, ammunition and fresh forces to Aleppo battlefields.
Full report at:
http://en.farsnews.com/newstext.aspx?nn=13950820000588
--------
Two convicted of terrorism and jailed for 10, 7 years each
11 November 2016
JEDDAH: The Special Criminal Court on Thursday convicted a Saudi national of promoting extremist ideology that violates the teachings of the Qur'an and the Sunnah, as well as for insulting the rulers and security authorities of the country.
Other charges against him included pledging allegiance to the Daesh leader and joining local groups belonging to the terrorist organization, sending his contacts to be handed to a Daesh official, planning to commit crimes in the Kingdom, funding terrorism and receiving suspicious funds that he delivered to a suspected criminal.
Charges also include sending information that imperils public order through social media and his phone, as well as an attempt to travel to Syria to take part in the killings there and showing lack of respect for religious scholars in the Kingdom.
The court sentenced the defendant to 10 years in prison, starting with the date of his arrest, six months ago, in accordance with Article 6 of the anti-IT crimes regulations, as well as one year as per Article 16 of the anti-money laundering regulations, and four years as per Royal Order A/44. The defendant will remain in jail for the rest of his sentence, and will be banned from traveling for another 10 years starting from the date he gets out of prison. The court also decided to confiscate the mobile phone of the defendant, as per article 13 of the anti-IT crimes regulations.
In another case, the court convicted a citizen previously convicted a citizen of promoting extremist ideology, and supporting Daesh and its leader.
The court sentenced him to seven years in prison, as well as a 7-year travel ban starting immediately after the ban handed out in his previous sentencing, as per Article 6 of the travel documents regulations.
Meanwhile, Riyadh police arrested three young men and a young woman for circulating videos on social media showing them committing immoral acts. The videos were met with condemnation by member of society who asked that authorities find and arrest the four in question.
Spokesman for Riyadh police Col. Fawaz bin Jameel Al-Maiman said the police, who monitor all posts on social media, saw the video clips of the four engaged in acts that contravene public morals and values.
Full report at:
http://www.arabnews.com/node/1009331/saudi-arabia
--------
Egypt says foils Muslim Brotherhood plot on eve of planned protests
11 November 2016
CAIRO: Egypt said on Thursday police had uncovered a stash of weapons that supporters of the outlawed Muslim Brotherhood were plotting to use ahead of planned protests against deteriorating economic conditions.
A little-known group calling itself Movement of the Poor called in recent months for Egyptians to protest on Nov. 11 against rising prices and deepening austerity.
The call gained traction on social media after Egypt floated its pound and raised fuel prices last week, a move hailed by bankers but bemoaned by ordinary people as the latest blow to their dwindling spending power.
But the Movement of the Poor said on its Facebook page on Wednesday it canceled the protests due to a police crackdown.
Having won little support from activist groups, it was unclear if protests would go ahead on Friday. But in a country where street politics helped unseat two presidents within two years, authorities are taking no chances. Dozens of people were detained in recent weeks for allegedly inciting unrest.
Full report at:
http://www.arabnews.com/node/1009041/middle-east#
--------
Iraq troops slow Mosul advance as they clear neighborhoods
11 November 2016
BAGHDAD: Iraqi troops fired at positions held by the Daesh group in and around the northern city of Mosul on Thursday but did not advance as they regrouped and cleared neighborhoods once occupied by the extremists, military officials said.
Troops are screening residents fleeing from Mosul, searching for any Daesh militants trying to sneak out among the more than 34,000 civilians fleeing to displacement camps and host communities in nearby provinces.
Amnesty International reported allegations against security forces of arbitrary detention, forced disappearances and ill-treatment of prisoners, including an account that up to six people were "extrajudicially executed" in late October over suspected ties to Daesh.
The London-based rights organization said the alleged killings took place near the area of Shoura and Qayara outside Mosul, and it urged the government to investigate.
"Men in Federal Police uniform have carried out multiple unlawful killings, apprehending and then deliberately killing in cold blood residents in villages south of Mosul," said Lynn Maalouf, deputy director for research at Amnesty's Beirut office.
"In some cases the residents were tortured before they were shot dead execution-style," she said, adding that it was "crucial" for Iraqi authorities to bring those responsible to justice.
"Without effective measures to suppress and punish serious violations, there is a real risk that we could see war crimes of this kind repeated in other Iraqi villages and towns during the Mosul offensive," Maalouf added.
Prime Minister Haider Al-Abadi denied the report, calling it "incorrect information," and saying in a statement that IS fighters were the ones responsible for the killing of civilians.
Since the offensive to retake Iraq's second-largest city began Oct. 17, the Shiite-led government has tried to prevent revenge attacks against the mainly Sunni residents of Mosul and surrounding areas. State-sanctioned Shiite militias and Kurdish forces say they won't enter the city, and the government has vowed to investigate any human rights violations and hold people accountable.
In late October, an Iraqi manning a checkpoint south of Mosul with soldiers, Federal Police and local militiamen told The Associated Press that he personally killed two men he said he knew to be IS militants because he saw them commit crimes. The AP could not independently confirm his account.
Full report at:
http://www.arabnews.com/node/1008966/middle-east
--------
North America
Trump will find great partner in India against radical Islam, says adviser
November 10, 2016
The US president-elect will be "best friends" with Indian Prime Minister Narendra Modi, an adviser to Donald Trump told Reuters in a telephone interview.
Shalabh Kumar, who spoke to Reuters a day after Trump's election as the 45th US president, said: "They will be best friends - not only the two nations will be best friends, but these two guys will be best friends. Donald Trump knows about Modi through me. He is very keen to learn about Modi."
"He [Trump] calls out the camel in the room when nobody else does. He already talks about cross-border terrorism - he is the first president to do so, essentially acknowledging that Pakistan is a perpetrator of terrorism," said Kumar while commenting on Trump's policy on South Asian security in the context of India's rivalry with Pakistan.
"What I expect from him is a full expression of support for the surgical strikes that Modi ordered. The war against radical Islam is going to be properly prosecuted. He is going to find great partnership with India in that," Kumar added.
Commenting on a possible Trump-Modi meeting, Kumar said, "A meeting would come a little bit later - he has too much of an aggressive agenda, too many wrongs have been done to the nation that need to be sorted out."
Kumar said he believed trade with India under the new US administration would increase.
"My belief is that trade with India is going to increase when you have a fair trade deal. Business that supports him is innovative and creative in expanding trade with India. I expect trade to double to $250 billion within one to two years."
Kumar, an Indian émigré businessman, is Trump's point person for outreach to Indian-American voters.
The Chicago-based Kumar emigrated from India in 1969 and founded the Republican Hindu Coalition, a political interest group, last year.
http://nation.com.pk/international/10-Nov-2016/trump-will-find-great-partner-in-india-against-radical-islam-says-adviser
--------
Dozens Arrested as Thousands Protest Donald Trump in New York City
Nov 10, 2016
The river of anti-Trump sentiment washed over midtown a day after the Republican's stunning victory over Democratic rival Hillary Clinton, a win that sparked demonstrations across the US Protesters shut down Fifth Avenue outside Trump Tower, where the president-elect works and lives, to send a message that they don't support him or his policies, NBC reported.
"America is not voting for Donald Trump's policies, which don't exist," one man said.
The protesters chanted "Not my president" and "hey, hey, ho, ho Donald Trump has got to go." They held signs that read "Trump Makes America Hate" and "Impeach Trump." A few climbed vehicles and light poles.
There was anger and fear among many. Some said they worried about what the new president's policies could mean for them.
"I was afraid this morning. I'm still afraid today, you know. As a black woman, I'm afraid. But I'm not going to let my fear hold me back," a woman said.
One group began at Union Square Wednesday night, while another started at Columbus Circle. Splinter groups of protesters then streamed into the streets causing massive gridlock as police mobilized to contain them under a light rain.
Police installed barricades outside Trump Tower to keep the demonstrators at bay as they burned American flags and effigies of Trump. Officers made dozens of arrests, mostly for disorderly conduct and resisting arrest.
Some of the protesters cursed out key battleground states that Trump had won to secure victory. Others vowed that their fight had only just begun.
The impact of the protests was felt by traffic and witnessed by pedestrians. Buses were jammed in the middle of intersections and trucks were stuck as police tried to help them maneuver around demonstrators.
Steve Dumerve said the protests kept him and a friend from Trump International Hotel.
"Our original intention was to be at the Trump Hotel. But that's not going to happen apparently. We have reservations. It's not happening tonight," Dumerve said.
Some residents of midtown said that the spectacle and resulting slowdown was worth it for freedom of speech.
Full report at:
http://en.farsnews.com/newstext.aspx?nn=13950820000857
--------
US strikes may have killed 119 civilians in Iraq, Syria: Pentagon
Nov 11, 2016
Palestinian President Mahmoud Abbas says he knows who was behind the mysterious death of Yasser Arafat, the former leader of the Palestine Liberation Organization (PLO).
"You ask me who killed him, I know, but my testimony alone is not enough," Abbas said addressing thousands of mourners in the occupied West Bank city of Ramallah as they marked 12th anniversary of Arafat's death.
"I do not want to mention names, because these names do not deserve to be remembered," he said.
He did say, however, that an inquiry was seeking to identify Arafat's killers.
"A commission of inquiry is digging into that, but you'll find out at the earliest opportunity and be amazed when you know who did it," he said intriguingly.
Arafat, who led an armed struggle against Israel in the late 1960s, died of unknown causes at a hospital near the French capital, Paris, on November 11, 2004. He was 75.
In 2012, Arafat's widow, Suha, filed a legal complaint in France, claiming that her husband had been assassinated while staying at the Mercy military hospital near Paris in 2004. He had been moved to the hospital the previous month for diarrhea and vomiting.
According to French doctors, he died of a massive stroke, although the origin of his illness was unknown.
Full report at:
http://www.presstv.ir/Detail/2016/11/11/493085/Palestine-Mahmoud-Abbas-Yasser-Arafat-killers-Ramallah-speech
--------
US: California police investigate attacks on Muslim students
November 11, 2016
California authorities were investigating a reported attack on a college campus of a Muslim student wearing a headscarf as a hate crime Thursday. San Diego State University's police department said two suspects who assaulted the student on campus Wednesday had targeted her because of her faith and made comments about Donald Trump's election. The woman was not hurt. Authorities said the assault occurred in a parking complex while the woman was wearing a hijab. The suspects stole her car keys, and the vehicle was later reported missing, authorities said.
"We condemn this hateful act and urge all members of our community to join us in condemning such hateful acts," SDSU President Elliot Hirshman said in a statement.
A similar report came from Northern California, where a woman said she was walking in a parking garage at San Jose State University when a fair-skinned man in a hooded sweatshirt came up behind her and pulled at her head scarf, the university said in a statement. The victim was briefly choked and lost her balance before the suspect ran away, the statement said.
California Attorney General Kamala Harris on Thursday issued an information bulletin to law enforcement agencies, outlining laws that prohibit hate crimes. Meanwhile, a Louisiana student acknowledged she fabricated a reported attack by two men, one she said wore a "Trump" hat.
In the Louisiana case, the Lafayette Police Department said in a statement that it is no longer investigating the 18-year-old woman's claims, which were made within hours of Trump's presidential victory.
Police said the student told investigators she was walking near the University of Louisiana at Lafayette's campus Wednesday morning when she was accosted by two white men who drove up in a gray sedan. Police added the student had claimed the men shouted racial obscenities as they knocked her down and stole her wallet and the headscarf.
Charlie Bier, a spokesman for the university, said a federal privacy law prohibits him from saying whether the student could be disciplined.
Full report at:
http://indianexpress.com/article/world/world-news/us-california-police-investigate-attacks-on-muslim-students-4369133/
--------
Trump campaign restores 'Muslim ban' proposal on website
November 11, 2016
Some of the most controversial proposals Donald Trump made while running for US president disappeared from his campaign website on Thursday, but a spokesperson said what some observers took as a softening of Trump's policies was due to a technical glitch. The link to Trump's December 7 proposal titled, "Donald J. Trump statement on Preventing Muslim Immigration," in which he called for "a total and complete shutdown of Muslims entering the United States" vanished temporarily from the website but later reappeared.
So too did a list of Trump's potential Supreme Court justice picks as president and certain details of his economic, defence and regulatory reform plans. "The website was temporarily redirecting all specific press release pages to the home page," Trump spokesperson Steven Cheung said in an email.
Links to Trump's policy proposals, including the Muslim ban, were working again by 3:30 p.m. EST (2030 GMT). The links, which had redirected readers to a campaign fundraising page, appeared to have been removed around Election Day on Tuesday, when Trump won a historic upset against Democratic rival Hillary Clinton, according to a website that records historic snapshots of web pages.
In an appearance on CNBC on Thursday, Saudi Prince Alwaleed bin Talal praised Trump for removing the Muslim ban proposal from his website and also said Trump had deleted statements offensive to Muslims from his Twitter account. The prince could not be reached for comment after the links were restored.
Several tweets attacking Muslims that Trump sent while campaigning for president remained in his feed on Thursday, including a March 22 tweet in which Trump wrote:
"Incompetent Hillary, despite the horrible attack in Brussels today, wants borders to be weak and open-and let the Muslims flow in. No way!"
After initially praising the removal of the Muslim ban proposal at a news conference with other civil rights leaders on Thursday, Samer Khalaf, president of the American-Arab Anti-Discrimination Committee, said in a follow-up interview the group was hoping to see better behaviour from Trump.
Full report at:
http://www.pakistantoday.com.pk/2016/11/11/foreign/trump-campaign-restores-muslim-ban-proposal-on-website/
--------
His Family Left the Country Because of Islamophobia, But this Muslim Is 'Happy' Trump Won
November 11, 2016
Zeeshan Usmani — a 38-year-old Pakistani national and Muslim who works in the United States — is "happy" that Donald Trump has won the presidency.
Earlier this year, Usmani's wife and three children moved from North Carolina to Pakistan after his seven-year-old son was beaten at school. Usmani posted about the incident on Facebook, saying that his family would wait until after the election to decide whether or not to return to the United States. The post became viral.
Usmani, who works in Berkeley, California, sees a Trump presidency and the anti-immigrant sentiment that he expects to come along with it as a way for the world to focus on its own problems and build relationship with other nations as the U.S. grows insular and heads "south," he said.
"My country will be left alone to solve its own problems," he told NBC News. "We will go globalized to solve regional problems — become closer to Russia, China, Bangladesh."
A Pakistani national, on paper, Usmani had lived the American dream.
Born in a small village, he came to the United States in 2004 on a Fulbright grant to work toward a graduate degree in computer science at the Florida Institute of Technology. He ended up staying for six years, earning the graduate degree, a Ph.D., and working in Chicago and New York City, he said. In his time in the states, he went from not knowing much about the country to enjoying it, even writing a book in urdu about his experiences.
"People here are like people everywhere," he said. "They love their family; they want to work. I became a very promotional speaker for America back home."
He went back to Pakistan in 2010, he said, and returned to the United States in 2012 as an Eisenhower Fellow. But once he returned, the country he had grown to like had changed, he said — in part because of the rise of Donald Trump.
One day, one of his sons came home upset because his classmates called Usmani a terrorist because of his beard, he said. The mosque Usmani attended was vandalized and one that he had gone to while living in Florida was burned in an arson fire. A neighbor in his apartment complex cursed at his family, he said.
"We became very cautious," Usmani said. "I was walking with my wife one day, and we were harassed. We made a rule that when Trump appeared on television, we wouldn't go outside for a few hours."
Full report at:
http://www.nbcnews.com/news/asian-america/his-family-left-country-because-islamophobia-muslim-happy-trump-won-n682186
--------
Pakistan
'No to Musharraf' wall-chalking appears in Karachi, Hyderabad
November 11, 2016
KARACHI/HYDERABAD – Wall-chalking against former president Pervez Musharraf and in support of founder MQM Altaf Hussain has been witnessed in different areas of Hyderabad and Karachi.
The wall-chalking with slogans "No to Musharraf" carried out by an unknown person in Sharifabad area, FB Area, North Karachi and other areas of Hyderabad on Thursday.
Additionally, several walls chalking slogans in favour of MQM founder Altaf Hussain were also observed in different areas.
"Musharraf na Manzoor"(Musharraf not acceptable), our only leader is Altaf Hussian", the slogans read.
"The move came when Ahmad Raza Khan Kasuri, a central leader of All Pakistan Muslim League (APML), demanded MQM-Pakistan to choose former President Musharraf as its head", media reports said.
https://en.dailypakistan.com.pk/pakistan/no-to-musharraf-wall-chalking-appears-in-karachi-hyderabad/
--------
Muslim world in denial about HIV spread: expert
FAIZA ILYAS
November 11, 2016
KARACHI: The incidence of Human Immunodeficiency Virus (HIV) is on the rise in the Muslim world, which is still living in denial over the reality of a potentially deadly infection, said South Africa-based paediatrician with interest in HIV research Dr Akhtar Hussain, who is on a visit to Karachi to attend the 32nd PMA biennial medical conference starting on Friday.
Speaking to Dawn at a hotel on Thursday, Dr Hussain said South Africa had the world's largest burden of HIV disease with an estimated 5.6 million infected people. "Of this, 40 per cent to 42pc cases constituted mother-to-child HIV transmission, but the country is now on the road to bring this number to zero, as we have already reduced cases of mother-to-child transmission to 0.8pc," he added.
Working for the prevention of mother-to-child transmission of HIV for the past 25 years in South Africa, Dr Hussain said he was shocked to hear the data shared by experts representing various Muslim countries at an international conference in Durban on HIV/AIDS a few months ago. "The gist of their speeches was that HIV/AIDS is increasing in Muslim countries especially along the Syria-Turkey border, in refugee camps, Turkey, Egypt, Tunisia, Lebanon, Saudi Arabia, Pakistan, Afghanistan and Somalia," he observed.
According to him, the presence of HIV/AIDS in some of these countries had been unheard of only a decade ago but they all are reporting an increase of this infection. As mentioned in the conference, the HIV infection rate varied between three to 10 per cent in the countries, he said.
About the causes for the rise in HIV/AIDS, he said: "Muslim countries are in denial. They think it's a problem of sex workers or the transgender community. In reality, however, the virus has nothing to do with religion, low-socio economic status or cast and it can infect anyone; irresponsible sexual behaviour that includes being heterosexual, bisexual or having multiple sexual partners, drug addiction, violence against women etc all increase vulnerability to HIV infection."
The situation, he said, was complicated given the low social status accorded to women in these societies. "Muslims in Arab countries especially along the Syrian border exchange sex for money and food in refugee camps," he added.
He said the practice of having multiple sexual partners was very common in Pakistan, though often kept secret. "Out of 400 Pakistanis tested for HIV at two medical camps in South Africa, six boys tested positive. Only one showed willingness for treatment and survived while the rest later died." The sexually transmitted diseases increased HIV risk by 50pc to 60pc, he added.
South Africa winning
On teenage pregnancy in South Africa, he said it was like an epidemic involving mostly school and college girls. "The HIV incidence rate is 20pc to 25pc in teenage girls that also reflect higher incidence of HIV infection in sexually transmitted diseases. The psycho-social consequences of teenage pregnancies are huge; often girls are forced to leave education while there is little social and family acceptance for the unwanted baby," he said.
Teenage pregnancy carried high risk for both mother and the baby as mothers' body was not fully developed, he added. "Such pregnancies also destroy the family structure and often the girl is left alone to look after the baby."
Myths and social stigmas posed a great challenge in battling HIV. "For instance, there is myth in African society that if you have sex with a young virgin, you will get cure from HIV. Also, we have 'sugar daddies' who exploit young women," he said, adding alternative therapies looked as cure for HIV worsened patient condition.
Full report at:
http://www.dawn.com/news/1295539/muslim-world-in-denial-about-hiv-spread-expert
--------
20 suspects held in 'combing' operation around Shahbaz airbase
November 11, 2016
SUKKUR: More than 20 suspects were rounded up and detained at various police stations in what was described as a 'combing' operation carried out in different villages around the Shahbaz airbase in Jacobabad, police said on Thursday.
They said that officers and personnel of the district police and other law enforcement agencies carried out raids on houses, hotels and other places to apprehend suspects late on Wednesday evening and the following day. A house-to-house search was also conducted during the operation, they added.
Jacobabad SSP Sajid Hussain Khokhar, who led the operation, told Dawn that the operation was aimed at pre-empting acts of terrorism amid reports about movement of suspected elements in certain areas of Jacobabad district, which had already witnessed some of the worst ever terrorist attacks in Sindh.
MIRPURKHAS: At least seven suspects were picked up during a search operation, said to carried out under the National Action Plan, in Kot Ghulam Mohammed and Digri towns on Thursday.
Full report at:
http://www.dawn.com/news/1295534/20-suspects-held-in-combing-operation-around-shahbaz-airbase
--------
Turkmenistan interested in laying electricity, rail lines with Pakistan
November 11, 2016
RAWALPINDI - Minister for Defence and Secretary of National Security Council of Turkmenistan Col-Gen Berdiyev Yaylym Yagmyrovich alongwith his delegation called on Federal Minister for Defence Khawaja Asif at the Ministry of Defence Rawalpindi on Thursday, said a Press release.
The Defence Minister welcomed the dignitary and congratulated him on completion of 25 years of independence of Turkmenistan.
He also conveyed warmest congratulations to the leadership of the brotherly people of Turkmenistan.
Asif said that Pakistan attaches great value to the friendly relations with Turkmenistan and is looking forward to further strengthening the friendship.
The Turkmenistan Defence Minister highlighted the importance of the TAPI gas pipeline and said that they have started work on the project inside Turkmenistan. He said that Turkmenistan is rich in national resources which can be exploited through cooperation with brotherly countries like Pakistan. He said that Turkmenistan is also interested in laying electricity supply lines and Rail and road connectivity with Pakistan through Afghanistan.
Referring to the internal problem of Afghanistan, he said that Turkmenistan is providing all possible help and assistance to the people and government of Afghanistan to reduce their problems.
"In order to make TAPI a success all relevant sides will have to work jointly and take practical steps," he said ,adding. that security of TAPI project is quite important.
The Defence Minister of Turkmenistan said that in January 2017 Turkmen Armed Forces are going to celebrate their 25th anniversary. In this regard, he highly applauded the assistance provided by the Armed Forces of Pakistan in various directions and expressed the hope that this cooperation will continue and grow further.
Asif said that Pakistan is looking forward to enhancing the existing military and defence cooperation with Turkmenistan especially providing various types of military and counter-terrorism training to the Turkmenistan Armed Forces. He said that Pakistan Army was fighting and countering terrorism in an effective manner.
Full report at:
http://nation.com.pk/national/11-Nov-2016/turkmenistan-interested-in-laying-electricity-rail-lines-with-pakistan
--------
Pak-Saudi Arabia relations 'deep-rooted'
November 11, 2016
ISLAMABAD - Minister of State for Information, Broadcasting and National Heritage Marriyum Aurangzeb on Thursday said that both Pakistan and Saudi Arabia enjoy excellent relations which are deep rooted in common faith and culture.
She stated this during a meeting with Ambassador of Saudi Arabia Abdullah Marzouk Al-Zahrani, who called on her.
She said that Pakistan considers Saudi Arabia a strategic partner because it has not only supported Pakistan on matters of strategic interest but also gave generous economic and financial assistance at times of crisis.
Full report at:
http://nation.com.pk/national/11-Nov-2016/pak-saudi-arabia-relations-deep-rooted
--------
Peace crucial for prosperity, says Shehbaz
November 11, 2016
LAHORE - Punjab will soon be safer, peaceful and a prosperous province, Chief Minister Shehbaz Sharif said yesterday.
He was presiding over a meeting at Punjab Safe Cities Project Headquarters Qurban Lines yesterday to review law and order situation in the province. Progress of Punjab Safe Cities Project for the protection of life and property of the citizens also came under discussion during the meeting.
Addressing the meeting, the chief minister said that provision of peaceful and safe environment to the masses is responsibility of the state. "Punjab Safe Cities Project is a revolutionary step towards peaceful, secured and prosperous Punjab," he added.
Shehbaz said the Punjab Safe Cities Project is an important step for providing safer atmosphere to the citizens through modern technology, adding that latest technology is greatly helping overcome the crime.
That is why; besides Lahore, the Punjab government has decided to launch this project in six big cities of the province including Multan, Rawalpindi, Faisalabad, Gujranwala, Bahawalpur and Sargodha, he said during the meeting.
Shehbaz Sharif directed the authorities to complete the building of Punjab Safe Cities Project soon in Qurban Lines and said that a third party audit of civil work be conducted at the earliest. He further stressed that action should be taken in letter and spirit on the decisions taken during the meeting.
The CM also gave approval to setting up of Procurement Cell in Punjab Police and said that services of the experts belonging to private sector will be acquired for Procurement Cell. Purchase of different equipments and machinery for police through this cell will help make the process more transparent and simple, he added.
The process of recruitment for the project should be completed transparently through NTS and best staff be selected and sent to London for training, he further directed.
"Present emergent situation demands emergent measures; therefore, duties should be performed efficiently and in a coordinated manner for foiling the nefarious designs of enemies of the peace."
Directing to make foolproof security arrangements for the protection of life and property of the people, he advised the authorities to evolve a comprehensive system for monitoring the officials performing duties. Senior officers should personally review the performance of the officials performing duties at important places, he added.
Provincial law minister Rana Sanaullah, Special Assistant Rana Maqbool Ahmed, MPA Jehangir Khanzada, chief secretary, IGP Mushtaq Sukhera, home secretary, and officials of Punjab Safe Cities Authority were present on the occasion.
Shell shows interest in Punjab
Separately, Vice President International Company Shell for South Asia, Asada Harnsuit met Chief Minister Shehbaz Sharif and expressed interest in enhancing investment in Punjab.
"Pakistan has become a peaceful country and the confidence of investors has restored," the CM told the Shell official. "Now people from all over the world are investing in different sectors and various international companies are working on different projects. CPEC has also expanded new opportunities of investment in Pakistan," he added.
Full report at:
http://nation.com.pk/lahore/11-Nov-2016/peace-crucial-for-prosperity-says-shehbaz
--------
News leaks: Sheikh Rasheed rejects investigation team in letter to Nisar
10 November,2016
RAWALPINDI/ISLAMABAD: (Dunya News) – Awami Muslim League (AML) leader Sheikh Rasheed Ahmad has on Thursday rejected the team set up for investigating the leaked news in a letter to Interior Minister Chaudhry Nisar Ali Khan, reported Dunya News.
In his enthusiasm to hurl allegations at the government, Sheikh Rasheed also exposed his ignorance in this regard. While he stated in his letter that the family-members of Prime Minister (PM) Nawaz Sharif were involved in leaking the news and that was why the team constituted only of 'favourites', the AML leader also exposed his own ignorance as he mentioned Federal Investigation Agency (FIA) Punjab Director Usman Anwar as Punjab Sports Board Director General.
Full report at:
http://dunyanews.tv/en/Pakistan/360436-News-leaks-Sheikh-Rasheed-rejects-investigation-t
--------
Mideast
Palestinian president says he knows who killed Yasser Arafat
November 10, 2016
Palestinian president Mahmud Abbas gives a speech during a rally marking the 12th anniversary of the death of Yasser Arafat in Ramallah on November 10, 2016More
Palestinian president Mahmud Abbas said Thursday he knows who killed Yasser Arafat as he marked the 12th anniversary of the former leader's death but stopped short of giving a name.
Speaking in front of thousands, Abbas said "you ask me who killed him, I know -- but my testimony alone is not enough."
"A commission of inquiry is digging into that, but you'll find out at the earliest opportunity and be amazed when you know who did it."
"I do not want to mention names, because these names do not deserve to be remembered," he added.
Arafat rose to become the leader of the Palestinian movement in the late 1960s, leading an armed struggle against Israel.
He died on November 11, 2004 at a hospital near Paris from unknown causes at the age of 75.
More than a decade after his death, he remains a towering figure in Palestinian culture, politics and society.
The Palestinians have long accused Israel of poisoning him, charges the Israeli government firmly denies.
His body was exhumed in 2012 for tests but a subsequent French investigation found no proof of poisoning.
The Palestinians rejected that report, citing apparent inconsistencies between the French findings and separate ones from Switzerland and Russia that gave currency to alleged poisoning by polonium.
Abbas and his longtime rival Mohammed Dahlan have both accused each other of complicity in Arafat's death in the past.
Abbas's comments came with some Arab countries reportedly pressuring the 81-year-old to allow Dahlan, who has been in exile in the United Arab Emirates, to return to the West Bank.
Those moves come amid talk of who will succeed Abbas.
Sources in Abbas' Fatah movement said Arafat's death could be discussed at the party's seventh annual conference, with the commission of inquiry potentially announcing its conclusions.
http://nation.com.pk/international/10-Nov-2016/palestinian-president-says-he-knows-who-killed-yasser-arafat
--------
Time for US to end backing Israel's perpetual crimes: Hamas
Nov 11, 2016
The political bureau chief of the Palestinian resistance movement Hamas has called upon US President-elect Donald Trump to withdraw the longstanding American support for Israel, stating that the Tel Aviv regime is a "burden" for Washington.
"Now is the time to acknowledge that Israel has become a burden on you [the US]… We call on you to deal fairly with the Palestinians and end your policy of overlooking Israel's perpetual crimes," Khaled Meshaal said in a speech delivered via video conference at a rally in Turkey's most populous city of Istanbul on Thursday.
"It would be wrong of Trump to give the green light to Israel to do as it pleases in Palestine… We urge him to reconsider his country's policy of unqualified bias toward Israel," Meshaal added.
The Hamas leader noted that "there can be no stability in the [Middle East] region without recognizing the rights of Palestine."
Earlier, Hamas spokesman Sami Abu Zuhri (seen below) had asked Trump to "bring justice to the Palestinians."
"The Palestinian people are not very much concerned about the changes in American policies towards the Palestinian cause because such a policy is constant and is based on bias in favor of the Israeli occupation. However, we urge the American president to re-evaluate this policy and to work on bringing justice to the Palestinians," he commented.
This comes as Trump's top Israel adviser Jason Greenblatt told Israel's Army Radio on Thursday that the US president-elect was not going to condemn Israel's land expropriation policies, and did not view illegal settlements in the occupied West Bank an obstacle to peace between Israel and the Palestinians.
The comments came a day after Israeli Prime Minister Benjamin Netanyahu described Trump as Israel's "great friend" in a congratulatory message on his election victory.
"You are a great friend of Israel. Over the years, you've expressed your support consistently and I deeply appreciate it," Netanyahu said, expressing optimism that "the great alliance between" the US and Israel would be taken to "even greater heights" during Trump's time in office.
Full report at:
http://www.presstv.ir/Detail/2016/11/11/493062/Hamas-Khaled-Meshaal-US-Trump-Israel-Palestinians
--------
Erdogan lauds Ataturk on death anniversary
November 11, 2016
ISTANBUL - President Recep Tayyip Erdogan on Thursday hailed the founder of modern Turkey Mustafa Kemal Ataturk on the 78th anniversary of his death but added the country's influence should go well beyond the borders of the state he created.
Ataturk, who died on November 10, 1938, founded Turkey as a secular republic in 1923 out of the ruins of the Ottoman Empire and defeat in World War I.
He remains a hero for many modern Turks and, as is traditional, life across the country again came to a halt for two minutes from 9:05 am (0605 GMT) to mark his passing, with sirens wailing and traffic stopping on the Bosphorus bridge in Istanbul.
Thousands of people meanwhile thronged Ataturk's Anitkabir mausoleum in Ankara - where he was laid to rest after dying in the imperial-era Dolmabahce Palace in Istanbul - to pay their respects.
Erdogan has been accused by critics of eroding Ataturk's secular legacy with a creeping Islamisation and taking Turkey further from Europe.
But the president, who has overseen a relentless crackdown in the wake of the failed July 15 coup, heaped praise on Ataturk at a conference in Ankara commemorating him.
"We will reinforce more and more the independence of the Republic of Turkey that Mustafa Gazi described as his greatest work and left us as his legacy," said Erdogan.
Erdogan often describes Ataturk as Gazi - warrior - in recognition of his victory in the War of Independence that many Turks see as ensuring the existence of the country.
But in an emotionally-charged address, Erdogan also returned to a favourite theme that "Turkey is bigger than Turkey" and its influence must go well beyond its physical borders.
The Ottoman Empire at its peak covered a territory many times the size of modern Turkey, extending into the Balkans to the west and Arabia to the east.
Full report at:
http://nation.com.pk/international/11-Nov-2016/erdogan-lauds-ataturk-on-death-anniversary
--------
Iran says has options if nuclear deal fails
November 11, 2016
BRATISLAVA - Iran wants all parties to stick to an international nuclear deal but has options if that does not happen, its foreign minister said on Thursday after the US election victory of Donald Trump, who has vowed to pull out of the pact. "Of course Iran's options are not limited but our hope and our desire and our preference is for the full implementation of the nuclear agreement, which is not bilateral for one side to be able to scrap," Foreign Minister Mohammad Javad Zarif said.
President Barack Obama's outgoing administration touted the July 2015 deal reached between Iran and six world powers as a way to pre-empt Tehran's suspected drive to develop atomic weapons by curbing its enrichment of uranium. In return Obama, a Democrat, agreed to a lifting of sanctions on Iran.
The Republican Trump called the nuclear pact a "disaster" and "the worst deal ever negotiated" during his election campaign and said it could lead to a "nuclear holocaust".
The accord removed sanctions in return for Iran reducing the number of its uranium-enrichment centrifuges by two-thirds, capping its level of uranium enrichment well below the level needed for bomb-grade material, reducing its enriched uranium stockpile, and accepting UN inspections to verify compliance.
"Our strong preference as a party that has remained fully committed and implemented its side of the bargain (...) is for every member and participant and for international community to continue to remain committed to the agreement," Zarif a news conference in Bratislava after meeting his Slovak counterpart Miroslav Lajcak.
"But it doesn't mean we don't have other options if the USA unwisely decides to move away from its obligations under the agreement," he said when asked whether Tehran would start enrichment again if the Trump administration ditched the deal.
When asked whether he hoped for a similarly good working relationship with Trump's future secretary of state as he had with the outgoing John Kerry, Zarif said it would not be necessary.
Full report at:
http://nation.com.pk/international/11-Nov-2016/iran-says-has-options-if-nuclear-deal-fails
--------
Yemeni FM calls UN Envoy to put forward new roadmap
11 November 2016
Yemeni Deputy Premier and Foreign Minister (FM) Abdulmalik Al-Mikhlafi called on the Special Envoy of the UN Secretary General to Yemen Ismail Ould Cheikh to put forward a fresh roadmap to bring about peace, in Yemen, contrary to a recently presented and rejected one by the legitimate government.
Full report at:
https://english.alarabiya.net/en/News/middle-east/2016/11/11/Yemeni-FM-calls-UN-Envoy-to-put-forward-new-roadmap.html
--------
No 'legal reason' US could not opt out of Iran deal
11 November 2016
The Iran nuclear deal would fall apart if a US administration walked away from it, as President-elect Donald Trump has vowed to do, the State Department said Thursday. Iran's President Hassan Rowhani had argued on Wednesday that the deal – which saw world powers lift sanctions on Tehran in return for controls on its nuclear program – has been enshrined in international law.
The outgoing US administration is proud of the agreement and has no intention of dropping it, but Trump said several times during his campaign that moving away from it will be a priority once he takes power in January.
"Any party – and I'm speaking very hypothetically here, because I don't want in any way to attempt to hypothesize about what the incoming administration's going to do – I'm just talking purely about an agreement that any party can walk away from," State Department spokesman Mark Toner said.
"And that will have profound consequences on the integrity of the agreement." Toner said that the Iran deal was not a legally binding treaty, but that the current US administration believes it is in Washington's interest to continue it.
Asked whether if the US withdraws support for the deal whether Iran might start building a nuclear weapons program, Toner said: "Yes. That's the reality of the situation." "This is why we believe it to be in everyone's interest, including the world's interest, that if Iran abides by this agreement, and all the parties abide by the agreement, then we have shut-off Iran's path to a nuclear weapon," he said.
Full report at:
https://english.alarabiya.net/en/News/middle-east/2016/11/11/No-legal-reason-US-could-not-walk-away-from-Iran-deal.html
--------
Houthi projectiles leave 13 Saudis injured
10 November 2016
Projectiles fired by Houthi militias in Yemen left at least 14 people injured in the Saudi city of Dhahran, South of the Kingdom, Saudi Civil Defense reported.
The Civil Defense Directorate announced on its Twitter account, that 13 Saudi citizens and one expat were injured in the attack that simultaneously damaged three houses.
Full report at:
https://english.alarabiya.net/en/News/middle-east/2016/11/10/Houthi-projectiles-leave-13-Saudis-injured-in-Dhahran.html
--------
UN official 'very concerned' about use of Israeli lethal force against Palestinians
Nov 11, 2016
The United Nations' special rapporteur on human rights in Palestine says he is "very concerned" by Israel's use of live ammunition in dealing with alleged Palestinian attackers.
"Lethal force is supposed to be used as a last resort," said Stanley Michael Lynk, who took over in March as special rapporteur on the situation of human rights in the occupied Palestinian territories, on Thursday.
This principle was "being neglected" by the Israeli regime forces, added Lynk, who has so far been denied a visa by Israeli authorities to visit occupied Palestinian territories.
The UN rapporteur compared and contrasted the manner of tackling alleged Palestinian assailants with the way an extremist Israeli was subdued after stabbing six people at a march by homosexuals in Jerusalem al-Quds in 2015.
"He (the Israeli assailant) was actually brought down and wasn't actually physically harmed in any way," Lynk said, adding, "If that kind of force can be used to neutralize an attacker with a knife, why can't that be used with most of the alleged Palestinian assailants in similar circumstances?"
Elsewhere in his remarks, Lynk said the purported attacks against Israeli forces were driven by a growing hopelessness at the Palestinians' political and economic situation.
Full report at:
http://www.presstv.ir/Detail/2016/11/11/493075/Palestine-Stanley-Michael-Lynk-Israel-i-live-fire
--------
Bomb wounds three at governor's office in Turkey
11 November 2016
DIYARBAKIR: A bomb exploded outside the district governor's office in the southeastern Turkish province of Mardin on Thursday and wounded three people including the governor, the provincial governor's office said in a statement.
District governor Muhammed Fatih Safiturk, who suffered second-degree burns, was appointed additionally in July to run the local municipality as part of a series of moves to replace officials from the Democratic Regions Party (DBP), a sister party of the pro-Kurdish Peoples' Democratic Party (HDP).
The government accuses the HDP, parliament's second biggest opposition party, of links to the outlawed rebel Kurdistan Workers' Party (PKK), which is fighting for autonomy in largely Kurdish southeast Turkey. The HDP denies any direct links and says it is working for a peaceful resolution of the conflict.
There was no claim of responsibility for Thursday's attack but the PKK often carries out bomb and rocket attacks in the southeast, where violence has raged since a two-year-old PKK cease-fire collapsed in July last year.
Last week, a car bomb in the mainly Kurdish city of Diyarbakir killed 11 people and wounded at least 100, hours after authorities detained the HDP's leaders and some of its members of parliament.
Full report at:
http://www.arabnews.com/node/1009031/world
--------
India
Indian fighters Among FSA and Islamic Rebel Factions under Siege in Aleppo
Peer Viqar Ul AslamBy Peer Viqar Ul Aslam -
November 10, 2016
Syrian Arab Army sources have confirmed there has been a recent surge in the number of dead Indian fighters near the ancient city of Palmyra in Syria.
ISIS had recently launched a new propaganda video showing off a large group of Kalashnikov-wielding jihadists allegedly from India fighting against Syrian forces in the province of Homs.
The video is part of an ISIS propaganda campaign highlighting foreign fighters in their ranks. In a quote regarding the release of the video, US-based private SITE Intelligence Group had this to say:
"The terror group's division in Homs released the video on Indian fighters aimed at recruiting jihadists from the country to fight against the Syrian government forces."
"The interviewed ISIS fighters called on Indians to leave their country and join the 'jihad' in Syria against the 'kuffar' (infidels)," Al-Masdar News today reported
In following these reports it was revealed that Indian fighters have not only joined ISIS but many Free Syrian Army and Non- FSA affiliated Rebel factions fighting against Bashar Al Assad such as Jaysh Al Islam, Ahrar Al Sham and Jabhat Fatah Sham earlier known as Jabhat Al Nusra which is known as arch rival of ISIS in Syria. According to sources most of these Indian fighters are in besieged Aleppo, surrounded by Syrian Government forces and their prime ally the Russian Special Forces. Most of these Indian nationals, believed to be in good numbers, are thought to be foot soldiers with not much authority who either travelled directly to take part in the fighting or who were already present within Syria before the uprising began.
Bilal Abdul Kareem, a journalist reporting for On The Ground News from Aleppo, confirmed in an OGN live feed that he has seen many fighters from India within rebel ranks and that they were mixed with other foreign fighters trying to help the rebels break the siege. According to Kareem rebels are planning a strong strategy to break the siege that has been harshly imposed by Syrian Government forces and Russian Special Forces with additional assistance allegedly provided by Hezbollah and Iranian armed groups.
"There are lot of fighters from India here, some came directly and some from other countries, to say they're part of one particular faction isn't right as I see them spread out."
In response to being asked about which intelligence groups are working currently in Aleppo, the journalist had this to say, "All of them, that's the reality. Every country who has got their stakes in Syrian war has got their spies out somewhere here."
When asked about Moroccan fighters in Aleppo, Kareem responded this way, "Moroccan nationals are also present in Aleppo, Syria in same pattern as Indian fighters, Spread out not just in one faction."
It is estimated that Moroccans account for the third largest foreign fighting force within ISIS with 2500 fighters, just behind Russia with 2755 and 3000 Saudis.
This is the first time we have confirmed reports of Indian Fighters fighting for the rebel faction not associated with ISIS, earlier in June India's National Intelligence Agency, the NIA, arrested 5 men it alleged were members of an Islamic State cell operating under the command of Muhammad Shafi Armar, head of a group of Indian jihadists based out of Raqqa in Syria.
According to an inside source at the NIA, it is believed, "There are indeed many groups in Syria. But our experience has been that most people from India, who have travelled to Syria or wanted to, had their eyes set on the IS, not the other groups," offered an NIA official, after being promised anonymity as communication with the media is not allowed.
It is believed that Al Qaeda operates in Indian administrated Kashmir through its affiliate group Lashkar e Taiba (LeT). The outfit claimed that it had assisted the Taliban militia and Osama bin Laden's al-Qaeda network in Afghanistan during November and December 2002 in their fight against the US-aided Northern Alliance. Most Indian fighters have joined Al Qaeda affiliates like Jabhat Fateh Sham (Formerly known as Al Nusra Front or Al Qaeda in Syria), Jund Al Aqsa, Jaish Al Muhajireen wal Ansar, Khorasan Group and Tehreek e Taliban Pakistan.
In august Indian Minister of Foreign Affairs M.J Akbar Visited Damascus and was received by Bashar Al Assad Himself.
Assad emphasized: "India has a role to play in meeting the challenge of terrorism" while Akbar noted that so much destruction in Syria was now going to pave the ground for "an era of re-construction".
ISIS carried out a major attack in neighboring Bangladesh last July that led to the killing of 28 citizens, including an Indian national. This set alarm bells ringing in New Delhi about the need to do more in the global war on terrorism, before ISIS strikes at the heart of India. Their prime concern is Shafi Armar, also known as Yousuf Al Hindi, the main Daesh recruiter in India who has been hunting young Muslim teens and sending them to the battles of Aleppo.
Damascus has agreed to provide the names of Indian citizens involved with terrorist organizations fighting in the Syrian north, notably Al Qaeda affiliate Jaish Al Mujahideen Wa Al Ansar and the so-called Islamic State, or Daesh.
https://www.moroccoworldnews.com/2016/11/201034/indian-fighters-among-fsa-islamic-rebel-factions-siege-allepo/
--------
Three-Day State Conference of the Muslim Youth League Adopts Six Resolutions On Contemporary Issues
November 11, 2016
Adopts six resolutions on contemporary issues
The three-day State conference of the Muslim Youth League (MYL) commenced on a positive note here on Thursday with the delegates' session adopting six resolutions on contemporary issues facing the country and the Muslim community at large.
One of them pertained to the victory of Donald Trump in the US presidential polls. It said the results had given rise to serious apprehensions among the marginalised people in the world. Another resolution was against the growth of fascism in India allegedly supported by the ruling party at the Centre and pointed out many incidents, including the mysterious disappearance of JNU student Najeeb, that supported this allegation.
A resolution was moved against the violent politics reportedly practised by the Social Democratic Party of India and the CPI(M) in rural Kozhikode, especially in Nadapuram. It called upon the State police to act impartially and take corrective measures such as to arrest the culprits involved in criminal activities.
Full report at:
http://www.thehindu.com/news/cities/kozhikode/myl-state-meet-begins/article9331991.ece
--------
SIMI encounter threatens to widen Hindu-Muslim divide
Ranjan, Bhopal
Nov 11, 2016
Mohd Mahir, MP state convenor of the Muslim Vikas Parishad, believes there's more to the SIMI encounter than what meets the eye.
"This is not an incident related to the functioning of the Madhya Pradesh government or its police alone. This incident contains a message to the country's Muslim community, plainly telling us that we should either accept the diktats of the government on common civil code, triple talaq, etc, or face the consequences," he says, demanding a judicial probe by a sitting apex court or high court judge into the encounter.
Mahir is not the only member of the Muslim community who smells something fishy in the administration's encounter theory. Recently, as many as 18 Muslim leaders, including Shahar Qazi Bhopal Mushtaq Ali Nadvi, also sought a judicial probe into the matter. Last Friday, many Muslims had gathered in several parts of the state to protest against what they believed was the staged encounter killing of eight SIMI operatives in the outskirts of Bhopal. They just couldn't see the incident as a simple act of some prisoners escaping from a jail, and then getting gunned down by police personnel. According to them, this was a cold-blooded murder executed as part of a larger conspiracy to teach Muslims a lesson.
Even if their understanding of the situation is misplaced, the SIMI issue only threatens to further aggravate the Hindu-Muslim divide in the state.
On Monday, about 200 right-wing activists turned up at former advocate general of the state Anand Mohan Mathur's residence in Indore and shouted slogans against him for questioning the authenticity of the encounter. Police personnel deployed at his house foiled their attempts to throw stones and cow dung at Mathur's house.
Mathur was placed under house arrest on Saturday for trying to stage a demonstration against the encounter. In a letter to chief minister Shivraj Singh Chouhan, the 90-year-old former advocate general had demanded that the government drop retired high court judge SK Pande as the head of the judicial commission on account of his alleged right-wing leanings, and appoint a senior Supreme Court judge instead.
Professor Zameeruddin, retired professor and president of the Guardians Guild, Bhopal, says: "What happened in Bhopal was glaring. The Muslims are being driven against the wall. But I am not worried (only) about what will happen to Muslims. Ultimately, the religious bigotry being practised here will lead the country to a place where Pakistan stands now. And history will not forgive us."
Full report at:
http://www.hindustantimes.com/bhopal/simi-encounter-threatens-to-widen-hindu-muslim-divide/story-LAvLAy8m5uLadxTmrHHh5O.html
--------
Indus Waters Treaty: Another India-Pakistan showdown over hydro projects?
Moushumi Das Gupta and Jayanth Jacob
Nov 11, 2016
India and Pakistan are possibly headed for another showdown on water after New Delhi said on Thursday it wouldn't be party to a court of arbitration process on Kishenganga and Ratle hydroelectric projects – a demand by Islamabad that has been accepted by World Bank.
The World Bank had brokered the Indus Waters Treaty in 1960 and has a specific role in the resolution of differences.
Kishengaga is a tributary of the river Jhelum and the Rs 57.8 billion run-of-the-river project is coming up in Bandipora in Jammu and Kashmir.
The 860 MW Ratle project is on the Chenab in Doda district.
India sought for the neutral experts looking into the bilateral differences over the technical aspects of the projects, while Pakistan asked for a court of arbitration.
Read: Indus water tussle heats up between India and Pakistan
The World Bank decided to proceed with both steps, and India says the movie is not in accordance with the Indus water treaty.
"Inexplicably, the World Bank has decided to continue to proceed with these two parallel mechanisms simultaneously. India cannot be party to actions which are not in accordance with the Indus Waters Treaty," external affairs ministry spokesperson Vikas Swarup said.
He said the government will examine further options and take steps accordingly. India's grouse is that the World Bank hasn't followed the procedures laid out in the treaty.
India says Pakistan's objections are technical in nature and the bilateral Permanent Indus Commission (PIC) can address these technical 'questions'.
If PIC can't resolve the matter, it is termed 'difference', which is addressed by a neutral expert(NE) appointed on request by either Party to the World Bank.
If the neutral expert decides so, he or she can refer a part of a difference or the whole of it for resolution by a court of arbitration (COA).
The COA has seven members, two arbitrators each to be appointed by India and Pakistan, and three 'Umpires' nominated by certain global dignitaries. If parties can't agree on who will nominate the 'umpires', a draw of lots decides which three of these global dignitaries will nominate one 'umpire' each.
India points out Pakistan had lost its case in a COA in 2013 when it said the Kishenganga project couldn't be built in a way which would lead to diversion of water in tributary of the river. This objection was overruled.
Full report at:
http://www.hindustantimes.com/india-news/indus-waters-treaty-india-pakistan-headed-for-another-showdown-over-hydro-projects/story-LS43rp7BfFt28Cm9dyZKlJ.html
--------
Mirwaiz in house arrest, Yasin Malik moved to jail
November 10, 2016
Srinagar: Ahead of Friday's separatist called protest here, authorities on Thursday placed Hurriyat leader Mirwaiz Umer Farooq under house arrest and arrested JKLF leader Muhammad Yasin Malik and shifted to jail.
Sources close to the Mirwaiz said he was informed by police that he should not move out of his uptown Nigeen residence as he was under house arrest.
A police party arrived at the uptown Maisuma residence of the Jammu and Kashmir Liberation Front (JKLF) chief and took him into custody.
A group of his supporters tried to resist Malik's arrest but were prevented by police from doing so. Malik was taken to the Srinagar Central Jail.
He had been released from the jail two weeks back as he had developed an abscess in his arm.
Full report at:
http://www.siasat.com/news/mirwaiz-house-arrest-yasin-malik-moved-jail-1062420/
--------
Africa
US airstrike in Somalia killed local militia, not Al-Shabab
11 November 2016
WASHINGTON: A September US airstrike in Somalia killed local militia forces and not Al-Shabab militants as the Pentagon had initially believed, the US military acknowledged in a draft statement obtained by Reuters on Thursday.
The Sept. 28 strike in Somalia's Galkayo area killed 10 fighters and wounded three, the statement said. No civilian casualties were caused by the strike, it said.
Somalia's government had asked the United States to explain the strike, which it said had been conducted against forces of the semi-autonomous, northern region of Galmudug.
The errant strike illustrated the perils of Washington's efforts to battle Al-Shabab, an Al-Qaeda-aligned group, by working with armed Somali factions that are often feuding.
Shabab has been responsible for numerous attacks, including the September 2013 siege of Kenya's Westgate shopping mall that left at least 67 dead.
The day after the Sept. 28 US strike in Somalia, officials in Galmudug accused a rival region, Puntland, of duping the United States into believing members of its security forces were in fact rebels.
An Al-Shabab spokesman told Reuters at the time it did not have any fighters in the area of the strike.
The draft statement by the US military's Africa Command said the air strike was carried out at the request of Puntland Security Forces "and our own assessment of the situation."
A PSF-led patrol had come under attack by a group of armed fighters and in response, "the US conducted a self-defense strike to neutralize the threat, killing 10 armed fighters and wounding three others," the statement said.
A review of the strike, which began Oct. 4, determined that "The armed fighters were initially believed to be Al-Shabab but with further review it was determined they were local militia forces," it said.
"Operating under legal authorities, US forces lawfully utilized self-defense to support the PSF in response to hostile actions conducted by the armed group against a partnered force," the review concluded. "No US forces were killed or injured as a result of this incident."
http://www.arabnews.com/node/1009076/world
--------
'Tombs of saints' inspire and divide in northern Nigeria
November 10th, 2016
Sokoto (Nigeria) (AFP) – Pilgrims must walk through three rooms, a foyer and a 200-metre-long corridor before accessing the dimly-lit chamber where Usman dan Fodio and two of his sons are buried in Sokoto, northern Nigeria.
Old women sit against the plastered white mud walls begging for money. Inside the tomb, more than a dozen visitors sit with their palms cupped and lifted upwards in prayer, seeking dan Fodio's blessing.
Textile trader Sammani Yusuf is one of them. He drove more than 500 kilometres (300 miles) from the city of Kano to visit the graves and ask for his bed-ridden mother to get better and his business to pick up.
"Allah is everywhere but tombs of saints have sacred status and one's prayers are more readily answered by Allah through their intercession," Yusuf told AFP.
"I'm very optimistic that Allah will grant my needs by the sacredness of the saint lying in this tomb," he added.
Asma'u Lawwali believes her prayers for a child were granted on a previous visit to the tomb of dan Fodio, also called "Shehu."
"I'm here with more requests to God through Shehu's intercession and I'm confident they will be granted in the same way my request for a child was answered," she said.
Tour guide Isa Abubakar said Yusuf and Lawwali were not alone in their conviction.
"Any person you see here has come for dan Fodio's intercession," Abubakar said. "By his sanctity, when you pray to Allah (at the tomb) your request is granted."
– Revered figure –
Usman dan Fodio is one of the most famous names in Nigerian history — a fact borne out by the steady stream of visitors who still flock to his final resting place in the heart of the ancient city.
Nigeria's Vice-President Yemi Osinbajo cited dan Fodio in a recent speech, saying his condemnation of corruption and extremism were still relevant today.
Two centuries ago, the reformist scholar, who is considered a saint by many in Nigeria and West Africa, declared jihad or holy war against tyrannical local rulers in the Muslim-majority region in 1804.
The result was the creation of an Islamic state — the Sokoto Caliphate — which covered most of modern-day northern Nigeria and parts of neighbouring Niger and Cameroon.
Abubakar Shekau, the leader of the radical Islamist group Boko Haram, whose insurgency has devastated northeast Nigeria in the last seven years, has name-checked dan Fodio in several of his messages.
Shekau himself declared a caliphate in 2014 after his fighters captured swathes of territory in the region.
But the comparisons end there.
And despite reverence for dan Fodio himself, pilgrimages to his tomb have come under attack from religious conservatives, in a sign of the complex mix of Islamic ideologies and affiliations in the region.
Nigeria's north is mainly Muslim and predominantly Sunni but there have been increasing tensions in recent months with minority Shiites.
– Ideological tensions –
The conservative Wahhabist ideology, which is dominant in Saudi Arabia, made inroads in northern Nigeria in the early 1980s. Until then, it had been dominated by the mystical Sufi tradition.
Full report at:
http://ukzambians.co.uk/home/2016/11/10/tombs-of-saints-inspire-and-divide-in-northern-nigeria/
--------
Demolitions, riots leave 30,000 homeless in Nigeria's Lagos: Rights group
Nov 10, 2016
A series of state-ordered demolitions and riots among slum dwellers have made some 30,000 people homeless in Nigerian megacity Lagos, a rights group and residents say.
The Justice and Empowerment Initiatives (JEI), a Lagos-based rights group, said in a statement on Thursday that bulldozers escorted by police arrived late on Wednesday to raze the makeshift housing in Lekki island and other up-market districts.
The rights group noted that officers had gone ahead with demolitions despite a court order to stop such plans, pending a hearing.
The group has also published videos showing people fleeing in boats. JEI's account has been confirmed by witnesses and residents.
A worker told Reuters that he fled with his family after their house was destroyed in the troubled area.
"Police came at 11 p.m. and ordered us to go. We left by boat," the workers said, adding, "We have nowhere to go now."
A spokeswoman for Lagos police, however, denied claims that the police had demolished buildings.
She instead stressed that officers had detained several people for setting on fire makeshift houses in Lekki district.
Full report at:
http://www.presstv.ir/Detail/2016/11/10/493045/Nigeria-Lagos-JEI--Lekki-Benin-UN
--------
Europe
Europe turns young again - due to Muslim migrants
10/11/16
"I think I'm the last German, " German writer Botho Strauss wrote in Der Spiegel magazine not long ago. "I would rather live in a society that is dying than in one that, out of economic and demographic speculation, is being mixed together with foreign peoples and made young again".
However, Germany has not followed the advice or bent to the will of the septuagenarian writer. The birth rate in Germany has reached its highest level in 33 years, boosted because of the children born to migrant Muslim families.
This was revealed by the German Federal Office of Statistics. The birth rate stood at 1.5 births per woman in 2015, the highest figure since 1982 when it was 1.51. It is also the highest birth rate since the reunification of Germany in 1990.
Europe's demography is already changing drastically thanks to Muslim migrants.
Sweden's population grew by 55,300 units in the first half of this year. Immigration has accounted for much of the growth. The population of Sweden is now 9,906,331 people. And the magic number of 10 million will be achieved in 2017 thanks to the new arrivals.
The Netherlands also has experienced its highest population growth since decades. If the Dutch numbers would be applied to the UK, which has a population four times that of the Netherlands, the increase would amount to the creation of a new city the size of Oxford. Today 22 percent of the Dutch population is of foreign origin. Sweden and the Netherlands are two examples of welcoming countries in which we can measure clearly immigration their demographic weight.
An analysis by the Pew Research Center explains that the immigrant population has increased by more than one percentage point in many European countries, pointing out that it took "a decade" of immigration to the United States to do the same. For Europe it took just one year.
Add to that the 1.3 percent increase in Hungary which triggered hostile reactions from the population and the authorities. The same is true for Germany.
A scenario confirmed by Eurostat for the first time this year is that the number of deaths exceeded that of births. It has never happened before, but it is a result of the demographic collapse of many of the EU member countries. In Germany, the death rate was one quarter higher than the birth rate; in Italy even a third higher. Yet, this year there was also a growth of the EU population, which went from 508,000,000 to 510.1000000, attributable to migration flows.
The demographics of Europe will soon return to budding. The new European is young and religious, the old one is gray and skeptical.
http://www.israelnationalnews.com/Articles/Article.aspx/19747
--------
Rise of extremism cause of concern among Muslims in Netherlands
November 11, 2016
The Netherlands is known world over for its liberal policies and tolerance, with marijuana and prostitution regarded legal in parts of Amsterdam while gay and lesbian couples have right to marriage and have children through adoption or insemination at a laboratory. Throughout its history, Holland has also been one of the most tolerant countries towards migrants, including Surinamese, Indonesians and Turks.
Things, however, have changed over the recent years and the situation continues to deteriorate. Muslims have categorically been targeted and with little to no exemplary punishment handed down to the perpetrators.
Foundation for Political, Economic and Social Research (SETA) in a 2015 report covered Islamophobia in Europe. The report stated that Holland in 2015 experienced some 279 religion-based discriminatory attacks, out which 206 were carried out against Muslims, a significant increase from 150 in 2013.
Doamuslims.org, a webpage that documents Islamophobic attacks, reported that in 2015 alone 39 percent of all mosques in Holland have had experienced discriminatory aggression while 68 percent among that group suffered physical attacks, smashing of windows being the main style of attack.
Although 81 percent of these attacks were reported to the police, 51 percent of the institutions felt that they received enough help from the law enforcers.
Radio Netherlands Worldwide also reported that there were some 117 attacks on mosques in Holland between 2005 and 2010, more than any other country. It said that in 2011, only 290 discriminatory comments were detected on the Internet however with the rise of social media that number has become uncountable.
Ineke van der Valk, a professor at Amsterdam University, has written one of the most comprehensive books on islamophobia in Holland, entitled Islamofobie en discriminatie (Islamophobia in the Netherlands).
In her book, van der Valk notes a few incidents among many as the main causes behind the rise of Islamophobia, including the 9/11 incident and the murder of Theo Van Gogh, who was assassinated by a Moroccan-Dutch man in 2004 after he made a film, criticizing Islam's treatment against women.
Full report at:
http://www.dailysabah.com/europe/2016/11/11/rise-of-extremism-cause-of-concern-among-muslims-in-netherlands
--------
Why Russia rejected UN Aleppo request
11 November 2016
Russia rejected a U.N. request to extend future ceasefires to permit the delivery of aid into Aleppo, as the international organization warned that it was delivering the last remaining food assistance.
Speaking in Geneva, Jan Egeland, the special adviser to the U.N. envoy for Syria, said the last time the over a quarter of million people inside east Aleppo received any humanitarian aid was at the beginning of July.
"The reports we have now from within east Aleppo is that the last food rations are being distributed as we speak. There will not be more to distribute next week. Some families have not had any distributions, families in need of relief, have not had any distributions for several weeks already," Egeland said.
The Russian Defense Ministry said Thursday that Egeland had sent a request for longer truces to get aid to the eastern area of the city that still hosts more than a quarter of a million people.
Full report at:
https://english.alarabiya.net/en/News/middle-east/2016/11/11/Why-Russia-rejected-UN-Aleppo-request.html
--------
York Region principal apologizes for 'inappropriate' Facebook posts on Islam, refugees
Nov 10, 2016
An elementary school principal in the York Region District School Board (YRDSB) has apologized for putting up a series of Facebook posts that offended students and parents.
Ghada Sadaka, principal of Sir Wilfrid Laurier Public School in Markham, issued a statement Thursday apologizing for the things she'd shared online.
Her Facebook posts addressed Islam and refugees, including one that suggested that burkas should be banned in Europe since bikinis are banned in Muslim countries.
The posts were pulled down after complaints surfaced in September.
"In the last two months, I have … learned a number of lessons about how sharing inappropriate posts on social media has affected those around me," she wrote in the statement.
"Upon reflection, I accept sharing the posts was discriminatory, and should not have occurred."
Sadaka's statement was released within another statement by J. Philip Parappally, YRDSB's director of education.
"I appreciate Ms. Sadaka's statement, and believe all of us within the Board can use this as an opportunity to learn and grow," he wrote.
Apology comes after education minister stepped in
The apology came after a Thursday meeting between Education Minister Mitzie Hunter and YRDSB leadership.
In a statement from Hunter's office, a spokesperson wrote that "she used this opportunity to discuss her expectations of Ontario's publicly-funded education system to be one of inclusion."
Hunter had pledged to meet with the board after receiving an open letter signed by community leaders, community members and the Ontario Federation of Labour criticizing the school board's handling of the issue.
Anger had mounted over the course of the fall among parents and community members over what they felt was a lack of transparency.
The YRDSB confirmed to CBC News in October that an investigation into Sadaka's posts had taken place, but declined to disclose the results. In an email, Trustee Billy Pang said because the probe was of "a personnel nature," he was not in a position to share any details.
Licinio Miguelo, the school board's spokesperson, reiterated that on Thursday and declined to share if Sadaka had faced any consequences or undergone any sensitivity training as the result of her social media posts.
Full report at:
http://www.cbc.ca/news/canada/toronto/ghada-sadaka-principal-apologizes-facebook-1.3845384
--------
URL: https://www.newageislam.com/islamic-world-news/new-age-islam-news-bureau/jais-starts-survey-to-weed-out-'deviant'-teachings-among-muslims/d/109075
New Age Islam, Islam Online, Islamic Website, African Muslim News, Arab World News, South Asia News, Indian Muslim News, World Muslim News, Womens in Islam, Islamic Feminism, Arab Women, Womens In Arab, Islamphobia in America, Muslim Women in West, Islam Women and Feminism, Moderate Islam, Moderate Muslims, Progressive Islam, Progressive Muslims, Liberal Islam