New Age Islam News Bureau
19 Jan 2016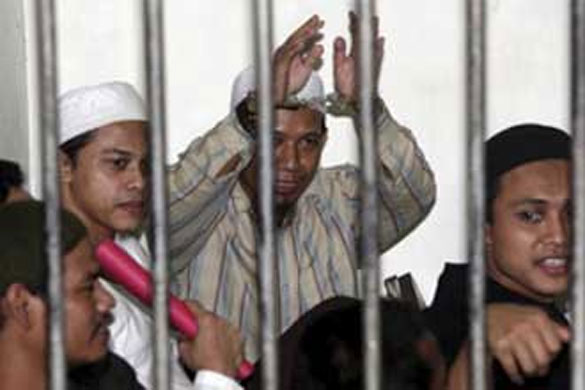 Photo: File picture shows radical Muslim cleric Aman Abdurrahman, also known as Oman Rochman, raising his hands in a holding cell as he waits with other militants for their trial in Jakarta
------------
Southeast Asia
• Jail to Jihad - Indonesian Prisons A Breeding Ground For Militancy
• Islamic State Eludes Southeast Asian Authorities with Telegram App
-----------
Europe
• 'ISIS Is Not True Islam,' Teen Tells MLK Day Audience in Morristown
• Study: Christianity Dying in Britain, Only Islam Growing
-----------
India
• 'ISIS Letter' Threatens Killing PM, Defence Minister for Banning Beef in India
• Pak Has Taken No Action against Masood Azhar, Jaish: Intelligence Sources
-----------
Arab World
• Syrian Army Repels ISIL Attack in Deir Ezzur, Kills Scores of Terrorists
• Five Starve to Death, Dozens More at Risk, In Syria's Madaya
• About 3,500 Slaves Held By IS In Iraq: UN Report
• Syrian Army Kills Senior Militant Commander North of Dara'a Province
• Senior Militant Commander Killed by Syrian Army Southwest of Hama
• ISIL's Senior Commander Killed by Syrian Army West of Deir Ezzur
• Syrian Army Continues to Crush Militants across Aleppo Neighbourhoods
• Putin hosts Qatar's ruler for Syria-focused talks
• Syrian Army Targets Militants' Convoy in Dara'a Province
-----------
South Asia
• 23 Militants Killed, 14 Wounded In Past 24 Hours: MoD
• Daesh's Recruitment Team Busted in Nangarhar
• Nine Afghan police killed in insider attack, officials say
• Four-nation meeting in Kabul seeks to revive Taliban talks
• Bangladesh makes record $10.5 million drug bust
• Afghanistan turns US military base into rehab centre
• Afghan parliamentary elections scheduled for 15th October
-----------
Pakistan
• 10 Killed In Blast Targeting Security Forces Vehicle in Khyber
• Boy's Response to Blasphemy Charge Unnerves Many In Pakistan
• Sartaj Aziz blames U.S. for regional instability
• Saudi-Iran row: PM Nawaz and Gen Sharif arrive in Tehran
• Worst of 186 countries, Pakistan has highest stillbirth rate
-----------
Africa
• Bomb Attack at Cameroon Mosque Claims Four Lives
• Libya Announces New Unity Government under UN Plan
• Morocco arrests Belgian with 'direct links' to Paris attackers
-----------
North America
• Muslim Youth Association Offers Event to Speak Out against Terrorism, Explain Religion
• US vows to make Iran free ex-FBI agent
• Obama celebrates return of prisoners, announces sanctions on Iran
-----------
Mideast
• Six Million Afghanis Missing From the Education Directorate of Daikundi
• Iran to Start Construction of 2 N. Power Plants Soon
• Iraqi police confirm three US citizens missing in Baghdad
• Iran to boost oil output by 500,000 barrels
• Video of U.S. sailors released by Iran made Kerry angry, frustrated
• Leader Calls on President to Keep Watchful Eye on US Compliance with Undertakings
• 2 policemen, 1 soldier killed in PKK attacks
• President Erdoğan sues main opposition leader over dictator remark
Compiled by New Age Islam News Bureau
URL: https://newageislam.com/islamic-world-news/new-age-islam-news-bureau/jail-to-jihad---indonesian-prisons-a-breeding-ground-for-militancy/d/106046
-----------
Southeast Asia
Jail To Jihad - Indonesian Prisons A Breeding Ground For Militancy
JAKARTA | BY RANDY FABI AND KANUPRIYA KAPOOR
JAKARTA (Reuters) - Afif was an inmate in a high-security Indonesian jail when he transformed from aspiring radical Islamist to soldier for Islamic State, ready to sacrifice his life for a group based thousands of miles away in the Middle East.
His journey ended with his death last week on a busy intersection in central Jakarta, after the gun and suicide bomb attack he launched with three other militants that brought Islamic State's brand of violence to Southeast Asia for the first time.
Afif's graduation from jailbird to jihadi shines a light on a prison system where staff shortages, overcrowding and corruption have allowed extremists to mingle and emerge as determined killers in the name of Islam.
Security officials say Afif, also known as Sunakim, was sentenced to seven years in prison for taking part in a militant training camp in the province of Aceh, where Islam is generally practiced in a stricter form than other parts of Indonesia.
Once behind bars, he refused to follow deradicalization programs, the officials added.
Akbar Hadi, spokesman for the Ministry of Law and Human Rights, declined to comment on whether Afif's activities were monitored after he was released last August.
Police said he planned the Jakarta siege with the three other attackers, one of whom was also a former convict. Four civilians died in the attack along with the militants.
A report by the Institute for Policy Analysis of Conflict (IPAC) last year said that 26 prisons across Indonesia housed about 270 "convicted terrorists", but Islamic State supporters accounted for only a small minority of them.
National Police Chief Badrodin Haiti told Reuters that at least five jailed militants were believed to have been in communication with the plotters in the lead-up to the attack.
While inside Jakarta's Cipinang prison, Afif was one of some 20 convicts heavily influenced by fellow convict and firebrand Islamist cleric Aman Abdurrahman, experts said.
From behind bars, Abdurrahman heads an umbrella organization formed last year through an alliance of splinter groups that support Islamic State.
"They shared the same cells, they prayed together, they cooked together," said Taufik Andrie, Jakarta-based executive director of the Institute for International Peacebuilding.
Abdurrahman regularly spread "takfiri" doctrine, a belief among Sunni militants who justify their violence by branding others as infidels, through his sermons and lectures.
Abdurrahman was moved to a maximum security prison in Nusakambangan in Central Java in 2013, but continued to communicate with Afif and a growing group of around 200 followers using couriers and cell phones.
A lawyer for Abu Bakar Ba'asyir, another high-profile radical inmate at Nusakambangan, told Reuters it is easy to convey messages to the outside world from inside prison.
"Any kind of visitor is allowed and even if they don't exchange any cell phones, there is still an exchange of information and the visitor can interpret that," said Achmad Michdan.
SOCIAL MEDIA A KEY TOOL
Experts say radical inmates like Abdurrahman still get away with disseminating sermons by email, Facebook, and hard copies. Despite being behind bars, Abdurrahman was able to make an online pledge of allegiance to Islamic State in 2014.
"Those with more radical thinking can also hold religious sermons on a regular basis and it is very easy to convey radical ideas to others," said Farihin, a former militant who participated in a government deradicalization program during his time in a prison in Palu on the island of Sulawesi.
Indonesia's counter-terrorism chief, Saud Usman Nasution, told Reuters in November that prison officials were unable to halt this type of communication because of overcrowding.
"We are aware that there is a problem with convicts being allowed to communicate using the Internet and cell phones. There is definitely room for improvement," said Ministry of Law and Human Rights spokesman Hadi, adding that inmates cannot be forced to join deradicalisation programs.
Experts say access to social media and messaging apps like Telegram is a large part of the problem.
Police believe the alleged mastermind of the Jakarta attack, an Indonesian fighting with Islamic State in Syria called Bahrun Naim, used social media to communicate his radical ideas to followers in Indonesia.
He may also have transferred thousands of dollars to accounts here, police said.
Since the attack, Indonesia has blocked websites and sent letters to social media networks Twitter, Facebook and Telegram, asking them to take down radical content.
(Additional reporting by Aubrey Belford; Editing by John Chalmers and Mike Collett-White)
http://www.businessinsider.com/r-jail-to-jihad-indonesian-prisons-a-breeding-ground-for-militancy-2016-1?IR=T
-----------
Islamic State Eludes Southeast Asian Authorities With Telegram App
Updated Jan. 19, 2016
Communications app Telegram Messenger is in the spotlight after the deadly terrorist attacks in Jakarta last week, with experts in Indonesia and Malaysia saying Islamic State radicals in Syria have used the platform to recruit members from Southeast Asia.
The revelations underscore both the apparent popularity of the Berlin-based app among members of the terror organization and the challenges it poses to authorities in tracking its private, encrypted chats.
Malaysian police on Saturday said its counterterrorism unit last week arrested four suspects, three of whom were recruited to join Islamic State in Syria by a Malaysian national via Telegram and Facebook Inc.'s social-networking platform.
Telegram, which in November said it blocked 78 of its public channels across 12 languages related to Islamic State, was one of the first apps to explicitly cater to privacy enthusiasts after reports in 2013 alleging widespread surveillance by U.S. intelligence.
Islamic State has used Telegram, a free platform that can be accessed via mobile devices and desktop computers, to disseminate public statements, such as its claim of responsibility for the November attacks in Paris.
Advertisement
Law-enforcement agencies have warned that encrypted platforms that may have originally been built for legitimate commercial and gaming purposes are being used by violent groups to stay hidden. Islamic State even has tutorials about the most secure and least expensive ways of communicating while avoiding surveillance.
"All reported public content by ISIS gets removed promptly," Telegram spokesman Markus Ra told The Wall Street Journal, referring to another name for the terror group, adding that removal is usually done within 24 hours.
Pavel Durov, the app's founder, said in a tweet Friday that more than 600 public Islamic State-related channels have been removed since November, and that between five and 10 are banned every day.
Mr. Ra declined to comment on Malaysian authorities' statements about the alleged use of Telegram.
"There is no place for terrorists on Facebook," said a Facebook spokeswoman. "We work aggressively to ensure that we do not have terrorists or terror groups using the site, and we also remove any content that praises or supports terrorism."
Despite the November crackdown, Islamic State-related material on Telegram remains widespread, according to Steve Stalinsky, executive director of the Washington, D.C.-based Middle East Media Research Institute.
"We've been monitoring terrorists' use of the Internet for 10 years," he said, adding that terrorists first flocked to blogs and web forums, then Twitter, and are now taking to encrypted messaging apps—Telegram chief among them.
Mr. Stalinsky said he is aware of roughly 200 Telegram channels that are in operation, some attracting 500 or 1,000 individuals each.
In the wake of terror attacks in Paris and California, the Federal Bureau of Investigation has been pushing technology firms to allow investigators to decrypt private communications during terror probes.
Many in the tech industry, however, argue that strong encryption is needed to protect users' privacy.
Indonesian police say a local man named Bahrun Naim, an Islamic State adherent now based in Syria, sent money to the terrorists who carried out bomb and gun attacks in Jakarta last week, leaving eight people dead, including the four attackers.
Police have said Mr. Naim communicated with the men via the Internet, but have declined to give specifics.
Mr. Naim used Telegram to communicate with pro-Islamic State supporters in Indonesia he was trying to rally as followers, said Sidney Jones, head of the Jakarta-based Institute for Policy Analysis of Conflict, based on her knowledge of interviews with militants whom police arrested in August and December on suspicions they were planning a series of attacks in Indonesia.
"One of the things it tells you is we have a real problem with the fact that this is an encrypted service that no one can intercept," Ms. Jones said.
The difficulty of stopping the spread of Islamic State propaganda on the Internet was highlighted after a blog appearing to belong to the alleged mastermind of the attacks resurfaced five days after it was blocked by the government.
The domain name bahrunnaim.site was changed from .co to .site and had two fresh posts stamped Monday in Mr. Naim's name.
"It's easy to restore a website after it is blocked," said Andika Triwidada, a cybersecurity expert with Indonesia's Computer Emergency Response Team.
The author denounced Indonesia's antiterror police and said the Jakarta attack was carried out in retaliation for aggression against Muslims in Indonesia and around the world.
The ministry couldn't be reached for comment, but access to the blog appeared to have been blocked Tuesday afternoon.
Indonesia's Ministry of Communication and Information Technology has in the past year blocked access to dozens of websites it said contained radical content, including 11 in the wake of Thursday's attacks.
But Minister Rudiantara, who like many Indonesians goes by one name, said the country isn't planning to ban access to messaging platforms and social networks.
"I don't think we are in a situation that requires such a move," Mr. Rudiantara said.
In Malaysia, the Ministry of Communications said in a written response to questions that the government "views seriously the abuse of such technologies…We shall take stern action in such instances and review the use of the application if it is proven to facilitate acts of terrorism in this country."
—Celine Fernandez and Sara Schonhardt contributed to this article.
http://www.wsj.com/articles/islamic-state-eludes-southeast-asian-authorities-with-telegram-app-1453173661
-----------
Europe
'ISIS is not true Islam,' teen tells MLK Day audience in Morristown
January 18, 2016
By Kevin Coughlin
Radical Islam is not "true Islam," a teen told a Martin Luther King Day service in Morristown on Monday.
"Islam's reputation has been tarnished," Sahar Dossal, a member of Boonton's Jam-e-Masjid Islamic Center, told listeners at the Calvary Baptist Church.
"These terror attacks by, dare I say, radical Islamic groups such as ISIS and al-Qaeda, that's not true Islam. Islam is about peace," Dossal said.
She said the Koran advises Muslims to treat neighbors–of any religion–better than one's own family. She shared a story about the Prophet Muhammad's compassion for a neighbor who heaped him with garbage.
Radical Islam, Dossal said, "is completely contradictory to the actual teachings of what Muslims are taught."
Youths were invited to the service to reflect on Martin Luther King Jr.'s writings. Another teenaged speaker drew parallels to her Jewish heritage.
"My freedom to live Jewishly is both a gift and a responsibility," said Erika Lilienfeld, a member of Morristown's Temple B'Nai Or.
http://morristowngreen.com/2016/01/18/isis-is-not-true-islam-teen-tells-mlk-day-audience-in-morristown/
--------
Study: Christianity Dying in Britain, Only Islam Growing
18 Jan 2016
Long known for its indifference to religion, Britain continues to become less and less religious, with a record 46 per cent of the UK adult population now espousing no religion whatsoever.
A new survey by researchers at Lancaster University reveals that only 42 per cent of Brits identify as Christians, despite the fact that England remains one of the last confessionally Christian nations in the world, with the Anglican communion enjoying official status as the state religion.
Britain, in fact, is one of only a handful of countries in the world that is swiftly moving from having a Christian majority to a 'no religion' majority, with only the Muslim faith bucking the trend toward implosion.
While the Church of England is only "one generation away from extinction," as Lord Carey, the former Archbishop of Canterbury, warned earlier this year, Islam is quickly coming forward to take its place.
During the past two years the Church of England lost two million followers, whereas the number of Muslims in Britain grew by a million, according to NatCen's British Social Attitudes Survey.
Full article here: http://www.breitbart.com/national-security/2016/01/18/poll-in-the-already-irreligious-uk-faith-falls-further/
-----------
India
'ISIS Letter' Threatens Killing PM, Defence Minister for Banning Beef in India
Murari Shetye | TNN | Jan 19, 2016
PANAJI: Goa police has started investigations into an anonymous letter signed by ISIS that says the terror outfit will kill PM Narendra Modi and defence minister Manohar Parrikar for banning beef in India.
"Since you are not allowing to eat beef, you will be taken care of," the postcard said while referring to Modi and Parrikar.
The letter was received at the home and general administrative departments.
Speaking to TOI, IGP V Renganathan said that they have initiated an inquiry into the matter. He also said that in the letter it was stated that since you have banned cow killing, we will see you (Modi and Parrikar).
Renganathan confirmed the probe by the anti-terror squad and added that the postcard was posted locally.
Police also said that they have decided to step up Parrikar's security in the state.
http://timesofindia.indiatimes.com/india/ISIS-letter-threatens-killing-PM-Modi-Parrikar-for-banning-beef-in-India/articleshow/50637308.cms
-------
Pak has taken no action against Masood Azhar, Jaish: Intelligence sources
Bharti Jain | TNN | Jan 19, 2016
NEW DELHI: India doubts that Pakistan has taken action against anybody of any consequence in Jaish-e-Muhammed, the terror group which allegedly carried out the attack on the Pathankot airbase, a suspicion which may have a bearing on when the Modi government agrees to hold the foreign secretary-level dialogue.
Sources in the intelligence establishment here told TOI that, contrary to claims in the Pakistani media, Maulana Masood Azhar, the India-hating chief of Jaish, has not been detained. In fact, information trickling in suggests that though three Jaish operatives were detained in Pakistan, it is not for any direct role in the Pathankot attack but because literature on Jaish was found in their possession.
Full article here: http://timesofindia.indiatimes.com/india/Pak-has-taken-no-action-against-Masood-Azhar-Jaish-Intelligence-sources/articleshow/50633115.cms
-----------
Arab World
Syrian Army Repels ISIL Attack in Deir Ezzur, Kills Scores of Terrorists
Jan 19 2016
TEHRAN (FNA)- The Syrian Army fended off an ISIL offensive in the Western part of Deir Ezzur province, killing at least 70 militants, army announced a few minute ago.
"The Syrian army troops thwarted the ISIL assault to infiltrate into the government forces' defense lines near the village of al-Baqaliyeh and killed at least 70 of them, while so many more were wounded as a result of the army's heavy fire," the army said.
"The ISIL left behind scores of dead and wounded members and fled the battlefronts," the army added.
The Syria armed forces have been heavily pounding the ISIL positions across the province in recent weeks.
On Monday, the army also said that its troops alongside popular forces have pushed back the ISIL from more territories in the Eastern province of Deir Ezzur and retook full control over more strategic heights after a heavy battle.
"The ISIL withdrew forces from its positions near al-Ruwad heights after the army and the National Defense Forces stormed them and killed many of the terrorists," the army said.
"Al-Ruwad heights and its surroundings are now under full control of the Syrian government forces," the army added.
http://en.farsnews.com/newstext.aspx?nn=13941029000809
-------
Five starve to death, dozens more at risk, in Syria's Madaya
Jan 19 2016
Five people have starved to death in the last week in the Syrian town of Madaya, where a single biscuit sells for $15 and baby milk costs $313 per kilo, despite two emergency United Nations aid deliveries to the besieged town, a UN report said.
Local relief workers have reported 32 deaths of starvation in the past month, and last week two convoys of aid supplies were delivered to the 42,000 people living under a months-long blockade.
Dozens more people need immediate specialized medical care outside Madaya if they are to survive, but aid workers from the UN and Syrian Arab Red Crescent have managed to evacuate only 10 people, the report said.
"Since 11 Jan. 11, despite the assistance provided, five people reportedly died of severe and acute malnutrition in Madaya," said the UN humanitarian report, published late on Sunday.
Full article here: http://www.todayszaman.com/world_five-starve-to-death-dozens-more-at-risk-in-syrias-madaya_409939.html
-------
About 3,500 slaves held by IS in Iraq: UN report
Jan 19 2016
GENEVA: An estimated 3,500 people, mainly women and children, are believed to be held as slaves in Iraq by the militant Islamic State (IS) group who impose a harsh rule marked by gruesome public executions, the United Nations (UN) said on Tuesday.
The militant group, which also controls large parts of neighbouring Syria, has committed widespread abuses that may "in some instances, amount to war crimes, crimes against humanity, and possibly genocide", the report said.
The UN Assistance Mission for Iraq and UN human rights office estimated that 3,500 people were "currently being held in slavery by ISIL numbers".
"Those being held are predominantly women and children and come primarily from the Yezidi community, but a number are also from other ethnic and religious minority communities," said the joint report issued in Geneva.
http://www.dawn.com/news/1233999/about-3500-slaves-held-by-is-in-iraq-un-report
-------
Syrian Army Kills Senior Militant Commander North of Dara'a Province
Jan 19 2016
TEHRAN (FNA)- Several Jeish al-Islam terrorist group, including one of their notorious commanders, were killed in the Syrian army offensive North of Dara'a province, provincial sources said Tuesday.
"Abu Joulan, one of the Jeish al-Islam's commanders in the battlefields near Sheikh Meskeen, was killed as a result of the Syrian army troops' attack," the sources said.
It is more than three months that the Syrian army and its popular allies have gained upper hand against the militant groups in the Southern battlefields of Syria.
On Monday, the Syrian army engaged in a heavy battle with the terrorist groups in the Eastern territories of Dara'a province, leaving many terrorists dead and many more critically wounded.
"The Syrian army troops stormed the Takfiri militants' defense lines near the town of al-Naymah, killed or wounded many terrorists and destroyed their military grid," the army said.
http://en.farsnews.com/newstext.aspx?nn=13941029000741
-------
Senior Militant Commander Killed by Syrian Army Southwest of Hama
Jan 19 2016
TEHRAN (FNA)- A senior commander of the militant groups alongside 24 of his comrades were killed in the Syrian Army's ambush Southwest of Hama province, army said Tuesday.
"Abdulrahman al-Mustafa, leader of al-Morabetin Battalion terrorist group, and at least 24 of his forces were killed after the army attacked them in an ambush operation near the village of Talf," the army said.
"In the meantime, the Syrian fighter jets tracked and targeted the militant groups' concentration centers near Kafr Naboudeh and Kafr Zita, which ended in the killing and wounding of many terrorists," the army added.
In relevant developments on Monday, the Syrian fighter jets razed down the positions and supply routes of the militant groups in the Southwestern territories of Hama province, inflicting heavy losses on the terrorists.
"The militant groups' lines of supply and positions near Kafr Naboudeh, Kafr Zita and Talf came under the heavy bombardment of the Syrian air fleet," the army said.
It also added that the raid destroyed several military vehicles loaded with weapons and ammunition.
http://en.farsnews.com/newstext.aspx?nn=13941029000672
-------
ISIL's Senior Commander Killed by Syrian Army West of Deir Ezzur
Jan 19 2016
TEHRAN (FNA)- One of the senior security commanders of the ISIL terrorist group was killed in the Syrian Army attack in al-Baqaliyeh West of Deir Ezzur on Tuesday.
"Ebrahim Hossein al-Da'yeri was killed in clashes with the Syrian army in al-Sho'eitat region," several independent sources said.
"In the meantime, the ISIL strongholds near the villages of al-Khassan and al-Janiniyah in the Western side of Ayyash came under massive bombardments of the Syrian fighter jets, which ended in the destruction of the militant group's military hardware," the sources said.
On Monday, the Syrian army continued to hunt the ISIL terrorists in at least three neighborhoods of the Eastern city of Deir Ezzur.
The Syrian army troops stormed the ISIL gatherings in the neighborhoods of al-Roshdiyeh, al-Jabileh and al-Mowadhefin, killed or wounded many of the terrorists and destroyed their weapons and military equipment.
"The ISIL left behind scores of the dead and injured members and fled the battlefields to evade more casualties," a source in the city said.
"The army also continued to advance against the ISIL in the village of al-Baqaliyeh and pushed the militant back from al-Ruwad residential units," he added.
http://en.farsnews.com/newstext.aspx?nn=13941029000836
-------
Syrian Army Continues to Crush Militants across Aleppo Neighborhoods
Jan 19 2016
TEHRAN (FNA)- The Syrian Army announced on Tuesday that its soldiers engaged in heavy clashes with the militant groups in at least five neighborhoods of the Northern city of Aleppo and inflicted major losses on the terrorists.
"The militant groups' strongholds in the neighborhoods of al-Lairamoun, Bustan al-Basha, the Old City, al-Jaberiyeh and al-Sheikh Saeed came under attacks of the Syrian army, which not only left tens of the militants killed or wounded but destroyed their military hardware," the army said.
"Scores of the militants were also killed or wounded in the army's offensive near the village of al-Mansoura in the Western countryside of Aleppo city," the army added.
The Syrian army troops have intensified their attacks on the militant centers in different districts in Aleppo city in the recent weeks and have been successful to pin them down behind their defense lines.
The Syrian army and its allies have also won battles outside the Aleppo city.
On Monday, the Syrian Army and popular forces hit the militant groups' positions in the Northern and Southern parts of Aleppo province heavily, inflicting dozens of casualties on the terrorists.
The militant groups' concentration centers in Tal Hadiyeh in the Southern part of province were massively shelled by the Syrian army's missile units.
The army attacks near the neighborhoods of al-Family House and al-Rashedin 1 pinned down the militant groups behind their defense lines, an army source in the region said.
http://en.farsnews.com/newstext.aspx?nn=13941029000974
-------
Putin hosts Qatar's ruler for Syria-focused talks
AP | Jan 19, 2016
MOSCOW: Russia and Qatar sought to narrow their differences on Syria on Monday, a week before the scheduled Syrian peace talks in Geneva.
On his first visit to Moscow, Qatar's Emir Tamim bin Hamad Al-Thani emphasized Russia's role in the region and voiced hope for finding a peaceful solution at the start of his negotiations with Russian President Vladimir Putin.
Russia and Qatar have stood on the opposite sides of the Syrian conflict since it erupted in 2011, with Moscow staunchly backing Syrian President Bashar Assad and Doha supporting his foes.
Full article here: http://timesofindia.indiatimes.com/world/rest-of-world/Putin-hosts-Qatars-ruler-for-Syria-focused-talks/articleshow/50630363.cms
-------
Syrian Army Targets Militants' Convoy in Dara'a Province
Jan 19, 2016
TEHRAN (FNA)- The Syrian Army attacked a column of the militant groups' vehicles driving on a road from the East towards one of the Southern neighborhoods of Dara'a city, informed sources said Tuesday, adding the convoy sustained major damage in the attack.
"The Syrian army troops opened fire at an approximately long convoy of the militant groups' vehicles driving on the road connecting al-Naymah in the Southeast part of Dara'a and Dara'a al-Balad in the Southern side of Dara'a city, destroying at least four of the vehicles, loaded with weapons and ammunition," the sources said.
"Two of the vehicles, mounted with mortar-launching pads, were also destroyed in the attack," the sources said.
In relevant developments on Monday, the Syrian army engaged in a heavy battle with the terrorist groups in the Eastern territories of Dara'a province, leaving many terrorists dead and many more critically wounded.
"The Syrian army troops stormed the Takfiri militants' defense lines near the town of al-Naymah, killed or wounded many terrorists and destroyed their military grid," the army said.
http://en.farsnews.com/newstext.aspx?nn=13941029000950
-----------
South Asia
23 militants killed, 14 wounded in past 24 hours: MoD
By KHAAMA PRESS - Tue Jan 19 2016
At least 23 anti-government armed militants were killed during clearing operations by the Afghan armed forces during the past 24 hours.
The Ministry of Defense (MoD) said the operations were jointly conducted by the Afghan National Army (ANA) forces in conjunction with the security personnel belonging to the other security institutions.
A statement by MoD said at least 14 militants were also wounded during the operations and 6 suspected militants were detained by the security forces.
The statement further added that the Afghan security forces confiscated various weapons and explosives during the operations conducted in Baraki Barak district of Logar, parts of Kunduz, Zabul, Paktika, and Helmand provinces.
According to MoD, a member of the Afghan National Army (ANA) also lost his during the operations.
The anti-government armed militant groups including the Taliban militants have not commented regarding the report so far.
The operations are being conducted as the Taliban-led insurgency have been rampant during the recent months as efforts have been put in place to encourage the militants to join the reconciliation process.
http://www.khaama.com/23-militants-killed-14-wounded-in-past-24-hours-mod-0019
-------
Daesh's recruitment team busted in Nangarhar
By KHAAMA PRESS - Tue Jan 19 2016
Police in eastern Nangarhar province have busted a recruitment team of the terrorist group of Islamic State (IS) or Daesh.
Officials say the three member group was busted during a raid in Buland Ghar area of Behsood District yesterday.
Security agencies are questioning the terrorists to get to other recruiters of the group.
Daesh that emerged in Nangarhar about a year ago has been attempting to expand by recruiting more people.
The group is more focusing on brainwashing the youths and indoctrinate them with radical ideologies.
They have been using the recruitment tactics of Taliban but their way of execution is more horrible than the Taliban.
http://www.khaama.com/daeshs-recruitment-team-busted-in-nangarhar-4497
-------
Nine Afghan police killed in insider attack, officials say
REUTERS — PUBLISHED ABOUT 6 HOURS AGO
KANDAHAR: Afghan police are looking for rogue policemen who are accused of shooting dead nine colleagues in a so-called insider attack and then stealing their weapons before fleeing to join the Taliban, local officials said on Monday.
The gunmen shot the men at a police checkpoint on Sunday evening in the volatile southern province of Uruzgan, Dost Mohammad Nayab, a spokesman for the provincial governor said.
"A preliminary investigation shows that up to four policemen carried out the attack," he said. "An operation is underway to arrest those responsible."
Full article here: http://www.dawn.com/news/1233984/nine-afghan-police-killed-in-insider-attack-officials-say
-------
Four-nation meeting in Kabul seeks to revive Taliban talks
AFP | Jan 18, 2016
KABUL: A second round of four-country talks aimed at reviving peace negotiations with the Taliban was held in Kabul Monday, even as the insurgents wage an unprecedented winter campaign of violence across Afghanistan.
Delegates from Afghanistan, Pakistan, China and the United States convened in the Afghan capital for a one-day meeting seeking a negotiated end to the bloody 14-year insurgency.
"The people of Afghanistan will not accept a prolonged peace process with no results," Afghan Foreign Minister Salahuddin Rabbani said at the meeting.
"On behalf of the people and government of Afghanistan, I urge all Taliban groups to accept our peace message and come to the negotiating table and resolve our differences politically."
Full article here: http://timesofindia.indiatimes.com/world/south-asia/Four-nation-meeting-in-Kabul-seeks-to-revive-Taliban-talks/articleshow/50628554.cms
-------
Bangladesh makes record $10.5 million drug bust
PTI | Jan 18, 2016
DHAKA: In a record drug bust, Bangladesh has seized 2.8 million methamphetamine tablets from Myanmar with a street value of around USD 10.5 million and arrested three persons as the country struggles to tackle the problem of drug abuse.
Contraband yaba tablets often referred to as 'horse drug' were seized in near simultaneous security clampdowns in the capital and northeastern port city of Chittagong.
Elite anti-crime Rapid Action Battalion (RAB) called it the country's biggest-ever drug and arrested three suspected drug peddlers.
Full article here: http://timesofindia.indiatimes.com/world/south-asia/Bangladesh-makes-record-10-5-million-drug-bust/articleshow/50627624.cms
-------
Afghanistan turns US military base into rehab centre
Omar Al Saleh | 19 Jan 2016
Afghanistan's government has turned Kabul's largest US military camp into a centre to treat drug addicts.
The country is the world's biggest supplier of heroin, and illegal drugs are cheap to buy.
The former military camp is now the largest rehabilitation centre in the country serving mostly homeless addicts. There are usually around 600 patients in the centre.
As well as receiving medicine and counselling, they receive three meals a day, new clothes and haircuts.
Sayyid Walid, a patient, told Al Jazeera: "I have been using drugs for 22 years. I am tired of this dark life. I want to start a new one."
Full article here: http://www.aljazeera.com/news/2016/01/afghanistan-drug-rehab-160119065418362.html
-------
Afghan parliamentary elections scheduled for 15th October
By KHAAMA PRESS - Mon Jan 18 2016
The Independent Election Commission of Afghanistan (IEC) on Monday announced the schedule for the parliamentary and district councils elections.
The elections date scheduled for 15th October was announced by the Independent Election Commission (IEC) Chief Ahmad Yousuf Nuristani during a press conference in Kabul today.
Nuristani further added that the elections would be organized on time provided that the government takes necessary steps in arranging the budget, security for the candidates and electoral workers and ballot boxes.
Full article here: http://www.khaama.com/afghan-parliamentary-elections-scheduled-for-15th-october-0017
----------
Pakistan
10 killed in blast targeting security forces vehicle in Khyber
ALI AKBAR — UPDATED ABOUT 3 HOURS AGO
PESHAWAR: At least 10 people were killed and over 20 wounded when a bomb exploded near a security checkpost situated close to the Karkhano Market area here on Tuesday, rescue officials said.
Most of the dead include personnel from the Khyber Khasadar Force, rescue sources said. Tehreek-i-Taliban Pakistan (TTP) Fazlullah group claimed responsibility for the attack.
The blast, which targeted a vehicle of the Khasadar Force, also killed the Assistant Line Officer Nawabshah and president of the Tribal Union of Journalists Mehmoob Shah.
"Although the exact nature of the blast is being ascertained, it appears to be a suicide attack," said political agent Khyber Agency Shahab Ali Shah.
He said 10 people were confirmed to have died in the blast that targeted Khasadar personnel.
Full article here: http://www.dawn.com/news/1233981/10-killed-in-blast-targeting-security-forces-vehicle-in-khyber
-------
Boy's response to blasphemy charge unnerves many in Pakistan
Rod Nordland & Waqar Gillani | NYT News Service | Jan 19, 2016
LAHORE: Late one night, the imam Shabir Ahmad looked up from prayers at his mosque to see a 15-year-old boy approaching with a plate in his outstretched left hand. On it was the boy's freshly severed right hand.
Ahmad did not hesitate. He fled the mosque and left the village, in eastern Punjab province.
Earlier that night, January 10, he had denounced the boy as a blasphemer, an accusation that in Pakistan can get a person killed — even when the accusation is false, as it was in this case.
The boy, Anwar Ali, the devout son of a poor laborer, had been attending an evening prayer gathering at the mosque in the village of Khanqah when Ahmad asked for a show of hands of those who did not love the Prophet Muhammad. Thinking the cleric had asked for those who did love the prophet, Anwar's hand shot up, according to witnesses and the boy's family.
Full article here: http://timesofindia.indiatimes.com/world/pakistan/Boys-response-to-blasphemy-charge-unnerves-many-in-Pakistan/articleshow/50638330.cms
-------
Sartaj Aziz blames U.S. for regional instability
By KHAAMA PRESS - Tue Jan 19 2016
Pakistani Prime Minister Mohammad Nawaz Sharif's Security Adviser has blamed the United States for regional instability.
Sartaj Aziz has further said that U.S. created 'holy warriors' in the tribal built during the Jihad era and left them as soon as the war was over.
"Pakistan's answer to instability is the strengthening democracy in the country. The US created 'holy warriors' in our tribal areas during the 'Afghan Jihad' and then left them as soon as the war was over, a factor which contributed to decades of instability in Pakistan and the region," Aziz is quoted by Pakistan's ARY news as saying.
Sartaj has also said that as per Pakistan's new policy, they would not take part in other countries' wars and would not interfere in conflicts.
"We have decided that we are not going to indulge in fighting other countries' wars now, and this policy is being pursued vigorously by the government. Pakistan has also taken a strong stance against terrorism. Operation Zarb-e-Azb in tribal areas and the operation against criminals in Karachi have helped improve the internal security situation of the country," states second quote of Aziz.
http://www.khaama.com/sartaj-aziz-blames-u-s-for-regional-instability-4497
-------
Saudi-Iran row: PM Nawaz and Gen Sharif arrive in Tehran
Jan 19, 2016
TEHRAN: Prime Minister Nawaz Sharif and Chief of Army Staff General Raheel Sharif arrived in Tehran Tuesday ─ a day after holding meetings with Saudi leadership in Riyadh ─ where they are expected to hold meetings with Iranian leaders as part of efforts to diffuse rising tensions between the kingdom and the Islamic Republic.
The premier and the army chief are slated to meet with Iran's President Hassan Rouhani and are also expected to call upon Iranian grand spiritual leader Ayatollah Khamenei.
After arrival Gen Raheel met Iran's Defence Minister Hossein Dehghan, said a statement issued from the Inter-Services Public Relations (ISPR).
In the meeting with the minister, the army chief reiterated that "Pakistan takes Iran as a very important neighbouring Muslim country and the people of Pakistan have a great affinity with their Iranian brothers," added the statement.
Full article here: http://www.dawn.com/news/1233996/saudi-iran-row-pm-nawaz-and-gen-sharif-arrive-in-tehran
-------
Worst of 186 countries, Pakistan has highest stillbirth rate
Jan 19, 2016
PARIS: Pakistan had the highest rate of stillbirths in 2015 making it the worst performer out of 186 countries, a quintet of studies published by The Lancet on Tuesday reveals.
The medical journal says Pakistan has 43.1 stillbirths per 1,000 total births ─ a rate higher than that in Nigeria, Chad, Niger, Guinea-Bissau, Somalia, Djibouti, Central African Republic, Togo and Mali, which are the other countries in the bottom 10.
The average rate of stillbirths globally is 18.4 deaths for every 1,000 total births. The figure is a meagre drop compared to a figure of 24.7 per 1,000 births from 2000 to last year, The Lancet reported.
About 7,200 babies are stillborn every day ─ some 2.6 million per year ─ and half of these deaths occur during delivery, according to a quintet of studies published by The Lancet on Tuesday.
Full article here: http://www.dawn.com/news/1233983/worst-of-186-countries-pakistan-has-highest-stillbirth-rate
-----------
Africa
Bomb attack at Cameroon mosque claims four lives
Mon Jan 18, 2016
At least four people have lost their lives and two sustained injuries in a bomb attack targeting a mosque in Cameroon's volatile northern region, a security source says.
"The toll of this attack is four dead and two injured," said the source who was at the scene of the attack on Monday, adding that the incident occurred at around 6:00 a.m. local time (0500 GMT) in the village of Nguetchewe in Cameroon's far northern region, bordering Nigeria.
According to the source, whose name was not cited in reports, a witness had noticed the suspicious behavior of a young boy arriving in the village on foot and had tried to intercept him.
Full article here: http://www.presstv.ir/Detail/2016/01/18/446294/Cameroon-mosque-Takfiri-Boko-Haram-Nguetchewe/
-------
Libya announces new unity government under UN plan
19 Jan 2016
The UN-backed deal was brokered in Tunisia, though many members of both Libyan parliaments rejected the terms [AP]
Libya's Presidential Council has announced a new government of national accord aimed at uniting the country's warring factions under a UN-backed plan.
The Tunis-based council had pushed back the deadline for naming the government by 48 hours, amid reports of disputes over the distribution of ministerial posts, before Tuesday's announcement came.
Inside story - Are Libyan groups forced to sign UN-brokered deal?
Only seven of the council's nine members had signed the document, which named a total of 32 ministers. One female minister was named.
Full article here: http://www.aljazeera.com/news/2016/01/libya-unity-government-160119093015333.html
-------
Morocco arrests Belgian with 'direct links' to Paris attackers
AFP | Jan 18, 2016
RABAT: Morocco said on Monday it had arrested a Belgian man of Moroccan descent who it said was directly linked with some of those behind the jihadist attacks in Paris in November.
The interior ministry said in a statement that the suspect, arrested on Friday in the town of Al-Muhammadiyah near Casablanca, had "direct links with some" of the Paris attackers and had travelled to Syria where he joined the Islamic State group.
http://timesofindia.indiatimes.com/world/europe/Morocco-arrests-Belgian-with-direct-links-to-Paris-attackers/articleshow/50628835.cms
-----------
North America
Muslim youth association offers event to speak out against terrorism, explain religion
By Terry Bridge, Sarnia Observer
January 18, 2016
A Muslim youth association is attempting to demystify Islam with open houses across the country, including one in Sarnia this weekend.
On the heels of terrorist attacks in Jakarta, Istanbul, San Bernardino, Paris, and, most recently, Burkina Faso, the Ahmadiyya Muslim Youth Association (AMYA) is aiming to change the conversation by speaking out against these acts and deliver the true message of the Quran, explained event spokesperson Imam Hanan Sobhi.
"These terrorist groups, they've left this mark," he said Monday. "They've painted this very negative picture of Islam."
Full article here: http://www.theobserver.ca/2016/01/18/muslim-youth-association-offers-event-to-speak-out-against-terrorism-explain-religion
-------
US vows to make Iran free ex-FBI agent
AFP | Jan 19, 2016
WASHINGTON: While five American citizens were freed from detention in Iran this weekend, the US government vowed on Sunday to work tirelessly for the release of another missing for nine years.
Ex-FBI agent Robert Levinson disappeared in mysterious circumstances in March 2007 during a visit to the Iranian island of Kish. He was reportedly investigating cigarette counterfeiting in the region. Levinson, 67, is considered to be the longest-held hostage in US history, if still alive.
Full article here: http://timesofindia.indiatimes.com/world/us/US-vows-to-make-Iran-free-ex-FBI-agent/articleshow/50632392.cms
-------
Obama celebrates return of prisoners, announces sanctions on Iran
AP | Jan 18, 2016
WASHINGTON: The United States on Sunday imposed sanctions over Iran's ballistic missile testing even as President Barack Obama hailed the release of five Americans from Tehran's custody and the implementation of a nuclear deal he hopes will stand among his lasting foreign policy achievements.
Obama pledged to counter vigorously Iran's ``destabilizing behavior'' across the Mideast even while the U.S. engages with the Islamic Republic. After the Americans had been freed, Obama announced economic sanctions against 11 individuals and entities as a result of a ballistic missile launch in October.
``We're not going to waver in the defense of our security or that of our allies and partners,'' Obama said.
Full article here: http://timesofindia.indiatimes.com/world/us/Obama-celebrates-return-of-prisoners-announces-sanctions-on-Iran/articleshow/50628078.cms
-------
Mideast
Six million Afghanis missing from the Education Directorate of Daikundi
By KHAAMA PRESS - Tue Jan 19 2016
Afghan-currencySix million Afghanis have gone missing from the Education Directorate of central Daikundi province.
Clerk of the Education Directorate had reportedly withdrawn six million Afghanis from the bank a few days before who has been missing since then.
Sayed Mustafa Musawi, Finance Manager at the Education Directorate says that the clerk's cell phone is also not working.
Meanwhile, Governor of Daikundi province has said that security agencies are looking into the incident.
According to Masuma Muradi, those responsible for the theft would be arrested sooner and the issue would be resolved.
A similar incident took place in eastern Nangarhar province about a year ago where salaries of instructors were snatched on way.
Several officials of Nangarhar University were then arrested on suspicion and sent to jail.
Although, security agencies have not yet concluded their investigation into Daikundi's incident but it is possible that other officials of the Education Directorate are also involved into the theft.
http://www.khaama.com/six-million-afghanis-missing-from-the-education-directorate-of-daikundi-4498
-------
Iran to Start Construction of 2 N. Power Plants Soon
Jan 19 2016
TEHRAN (FNA)- Head of the Atomic Energy Organization of Iran (AEOI) Ali Akbar Salehi announced that the country will start building two new nuclear power plants in the near future.
"Construction of two 1000-MW power plants will start soon," Salehi told reporters in Tehran on Tuesday.
"We will build two other small power plants too in cooperation with China," he added.
Asked about cooperation with different countries to develop Iran's nuclear industry after implementation of the July nuclear agreement, Salehi said, "Certain European and Asian states, including China, Japan and South Korea, are ready for cooperation, and conditions have changed compared with the past."
Full article here: http://en.farsnews.com/newstext.aspx?nn=13941029000570
-------
Iraqi police confirm three US citizens missing in Baghdad
Reuters | Jan 19, 2016
BAGHDAD: Iraqi police confirmed on Monday that three US nationals had been reported missing in Baghdad, and that it was investigating reports they were kidnapped.
Iraqi security forces set up checkpoints early on Monday in the Dora neighborhood southeast of Baghdad, where media reports have said three US nationals were abducted on Friday, witnesses said.
"We have no clear indication about the circumstances of their disappearance," a senior police officer said on condition of anonymity.
Two Iraqi army helicopters were seen hovering over the district while police SUVs patrolled the streets.
The US State Department said on Sunday it was working with Iraqi authorities to locate Americans reported missing, without confirming that they had been kidnapped.
Dubai-based news channel Al Arabiya reported on Sunday that three US nationals had been kidnapped in Dora on Friday. Citing its own sources, it said the Americans were "contractors or trainers" employed by US companies at the Baghdad airport.
http://timesofindia.indiatimes.com/world/middle-east/Iraqi-police-confirm-three-US-citizens-missing-in-Baghdad/articleshow/50632402.cms
-------
Iran to boost oil output by 500,000 barrels
January 19th, 2016
TEHRAN: Iran is aiming to increase its oil production by 500,000 barrels per day now that sanctions have been lifted under a landmark nuclear deal with world powers, a top official said.
In comments posted on the Oil Ministry's website Monday, Deputy Oil Minister Roknoddin Javadi said Iran is determined to retake its share of the oil market, which plunged after crippling sanctions were imposed in 2012.
The UN nuclear agency certified Saturday that Iran has met all its commitments under last summer's agreement, prompting the lifting of a broad range of economic sanctions, including those covering the oil industry. Other sanctions unrelated to Iran's nuclear program remain in place.
Full article here: http://www.dawn.com/news/1233853/iran-to-boost-oil-output-by-500000-barrels
-------
Video of U.S. sailors released by Iran made Kerry angry, frustrated
By KHAAMA PRESS - Tue Jan 19 2016
U.S. Secretary of State John Kerry has said that the video of American sailors released by Iran made him angry and frustrated.
Video footage showed the US Navy personnel kneeling with their hands behind their heads as they were apprehended, something Kerry made clear he was deeply unhappy about.
"I was very angry. I was very, very frustrated and angry that that was released," Kerry told John Berman on CNN's "New Day." "I raised it immediately with the Iranians. It was not put out by the Ministry of Foreign Affairs or the government directly, it was put out I think by the military over there, the (Revolutionary Guard), who is opposed to what we are doing."
Full article here: http://www.khaama.com/video-of-u-s-sailors-released-by-iran-made-kerry-angry-frustrated
-------
Leader Calls on President to Keep Watchful Eye on US Compliance with Undertakings
Jan 19 2016
TEHRAN (FNA)- Supreme Leader of the Islamic Revolution Ayatollah Seyed Ali Khamenei in a letter on Tuesday called on President Hassan Rouhani to make industrious efforts to make sure that the US is complying all its undertakings under the July nuclear deal.
"I express my pleasure that the great Iranian nation's resistance against the cruel sanctions, the nuclear scientists' efforts to promote this important industry and the relentless efforts of the negotiators made the other sides, some of them famous for enmity towards the Iranian nation, withdraw and remove a part of the bullying sanctions, and appreciate you, the negotiating team, the foreign minister and all others involved" in these efforts, Ayatollah Khamenei said in his response to an earlier letter sent to him on Monday by President Rouhani.
Full article here: http://en.farsnews.com/newstext.aspx?nn=13941029001000
-------
2 policemen, 1 soldier killed in PKK attacks
January 18, 2016
Two police officers were killed and 10 others were injured when members of the terrorist Kurdistan Workers' Party (PKK) attacked a police bus in the southeastern province of Şırnak on Monday while a special sergeant was killed in a separate attack in Diyarbakır.
A statement released by the Şırnak Governor's Office said terrorists attacked a police bus with rockets around 6: 30 p.m. on Monday in the Yenimahalle neighborhood. The vehicle was seriously damaged in the attack and two policemen in the vehicle were killed. Ten others police officers who were also travelling in the bus were injured, the statement said.
Full article here: http://www.todayszaman.com/national_2-policemen-1-soldier-killed-in-pkk-attacks_409979.html
-------
President Erdoğan sues main opposition leader over dictator remark
January 18, 2016
President Recep Tayyip Erdoğan has filed a lawsuit against main opposition Republican People's Party (CHP) leader Kemal Kılıçdaroğlu, seeking TL 100,000 in damages for his statements calling Erdoğan a "tinpot dictator" during a speech last Saturday.
According to a story by the Cihan news agency on Monday, Erdoğan's lawyers submitted the lawsuit to the Civil Court of First Instance in Ankara on Monday over Kılıçdaroğlu's remarks, and said his remarks cannot be considered to be covered by freedom of expression.
Full article here: http://www.todayszaman.com/national_president-erdogan-sues-main-opposition-leader-over-dictator-remark_409926.html
URL: https://newageislam.com/islamic-world-news/new-age-islam-news-bureau/jail-to-jihad---indonesian-prisons-a-breeding-ground-for-militancy/d/106046
New Age Islam, Islam Online, Islamic Website, African Muslim News, Arab World News, South Asia News, Indian Muslim News, World Muslim News, Womens in Islam, Islamic Feminism, Arab Women, Womens In Arab, Islamphobia in America, Muslim Women in West, Islam Women and Feminism, Moderate Islam, Moderate Muslims, Progressive Islam, Progressive Muslims, Liberal Islam, Liberal Muslims