New Age Islam News Bureau
5 Oct 2019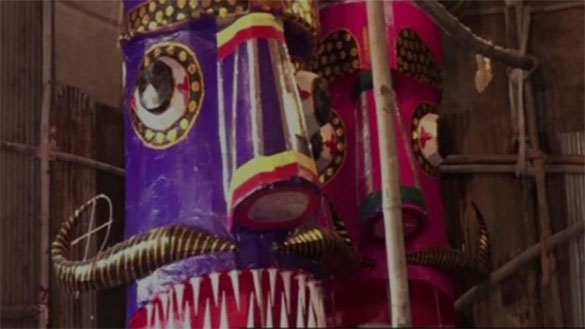 Effigy made by Jafar Ali (Photo/ANI)
--------
• Hindu Nationalists Open Self-Styled Religious Courts As A Rebuke To Sharia Law
• Police In Pakistan's Northwest Detained At Least Four Barbers For Trimming Beards In 'Un-Islamic' Fashion
• Pak SC Seeks Report On Framework For Protection Of Minorities
• US Senator Keen To See Kashmir 'First Hand', Denied Nod
• Somalia Hopes To Counter Al Shabaab With New Education Curriculum
• Powerful Cleric Al-Sadr Urges Iraq Government To Quit As Protests Rage
• Pakistan, Afghan Taliban Call For Resumption Of Peace Talks
India
• Jafar Ali, UP Muslim Man, says, Making Vijayadashami Effigies Is Our Religion, Political Leaders Divide People In The Name Of Religion, For Us, Hindus And Muslims Are Same
• Hindu Nationalists Open Self-Styled Religious Courts As A Rebuke To Sharia Law
• National Register of Citizens: 'Political Gimmick And Diversionary Tactic', No Need To Panic, Say Muslim Community Leaders
• Ayodhya Hearing: Mediation Details Leaked On Twitter, Claims Lawyer Of Muslim Parties
• India Hits Back At Turkey, Malaysia For Buying Pakistan Narrative, Advises Proper Understanding On Kashmir
• SC advances deadline to end hearing on Ayodhya case to Oct 17
• Sheikh Hasina to hold bilateral discussions with PM Modi
• NIA to probe Pak drones' weapon-drop
• NIA supplementary chargesheet against Yasin Malik, four others
• Pak mission supporting separatists for Kashmir unrest: NIA
--------
Pakistan
• Police In Pakistan's Northwest Detained At Least Four Barbers For Trimming Beards In 'Un-Islamic' Fashion
• Pak SC Seeks Report On Framework For Protection Of Minorities
• Ailing Musharraf plans to return to politics on October 6
• JUI-F chief won't be able to exploit 'religious card': PM
• Canadian bus tour to Kartarpur reaches Paris
• ATC acquits 'TTP commander' in explosives, illegal weapons cases
• US Afghanistan envoy Khalilzad meets Taliban in Pakistan: report
• British royal couple 'look forward to build a lasting friendship' with Pakistan
• Fazl should 'raid' LoC instead of taking out 'Azadi march': Awan
• UAE to invest $5bn in refinery project in Pakistan by end of 2019
--------
North America
• US Senator Keen To See Kashmir 'First Hand', Denied Nod
• How Canada's Far Right Is Using Anti-Muslim Propaganda To Target Trudeau
• U.S., allies urge Facebook for backdoor to encryption as they fight child abuse
• US sanctions squeezing Iran-backed Hezbollah in Lebanon
• Arizona man accused of terrorism out of jail until his trial
• US deploys hundreds of truckloads of equipment in Syria
--------
Africa
• Somalia Hopes To Counter Al Shabaab With New Education Curriculum
• Africa holds the key to defeating terrorism
• Malian government urges unity as number of troops killed in extremist attacks rises
• Attack on U.S. Base and EU Trainers in Somalia Underlines al-Shabaab's Resilience
• Boko Haram invade Chibok, set houses on fire
--------
Arab World
• Powerful Cleric Al-Sadr Urges Iraq Government To Quit As Protests Rage
• Iraq's Unrest: 79% of Hashtags Coming from Saudi Arabia
• Iraq protest toll reaches 60 dead: Iraqi Human Rights Commission
• Iraq's Shia religious authority endorses ongoing protests
• Demonstrator says shooters of Iraqi protesters 'Iranians speaking Farsi'
• Iraqi forces bust terror cell plotting to assassinate Ayatollah Sistani: Report
• Syrian opposition vows to back any Turkish operation into northeast
--------
South Asia
• Pakistan, Afghan Taliban Call For Resumption Of Peace Talks
• Pakistan's hosting of Taliban leaders angers Afghanistan
• Afghan Air Raids Kill 8 Taliban Fighters In Northern Balkh Province: Official
• Rohingya youths form football team in Japan, appeal for peace
• Afghan Special Forces rescue 10 people from a Taliban prison in Helmand
• Women among 8 killed, wounded in Kapisa roadside bomb explosion
--------
Mideast
• Palestinian Footballers Praise Saudi Arabia Decision To Play Match In West Bank
• Altun: 'Media center against anti-Muslim sentiment to be global brand'
• Palestinian killed by Israeli fire in border clashes: Gaza ministry
• Palestinians to receive $430 mln Israeli transfer, say officials
• US-Saudi-Israeli alliance against Iran floundering in crisis: Haaretz
• Iraq's top Shia cleric urges security forces, protesters to avoid violence
• Yemenis rally to express support for recent anti-Saudi operation
--------
Europe
• UK Uses 3rd Country To Settle Iranian Bank's $1.6bn Damage Claim: Report
• After Waiting For Decades, Muslims In Athens Finally Get A Mosque
• 'We Must Take Responsibility': Parents Of Europe's IS Fighters In Struggle To Repatriate Loved Ones
• Knife Attack at Paris Police Headquarters Leaves 4 Dead
• In Spain, summer surveillance triggers alerts for returning jihadists
• Germany's new military sales to UAE draw criticism
• 'EU Commission should adopt fairer Turkey policy'
• 'EU must keep pledges on migration deal, as Turkey did'
• Greece says Turkey can and must control migrant flows to Europe
--------
Southeast Asia
• Thai Army Charges Opposition For Speaking In Favour Of Malay-Muslim Region
• Malaysian Leaders Discuss Human Rights Issues with UN High Commissioner
• Poachers could get up to 100 strokes of cane in Indonesia's Aceh province
• Radicalized Policewoman Arrested by Detachment 88
• Seven Philippine former Muslim rebels killed by Daesh-linked gunmen
Compiled by New Age Islam News Bureau
URL: https://www.newageislam.com/islamic-world-news/jafar-ali-up-muslim-man/d/119922
--------
Jafar Ali, UP Muslim Man, says, Making Vijayadashami Effigies Is Our Religion, Political Leaders Divide People In The Name Of Religion, For Us, Hindus And Muslims Are Same
October 5, 2019
Ahead of Vijayadashami or Dussehra, a Muslim man is busy preparing the effigies to be used on the occasion that is majorly celebrated across India to mark the victory of Lord Rama over Ravana, the demon king of Lanka.
Jafar Ali, who hails from nearby Mathura said that his family has been doing this work for the past three generations and is an example of communal harmony and brotherhood in the country.
"Our family has been for generations making the Ravana effigy. We do it to show Hindu-Muslim unity. Yes, we are Muslim but we do it," Ali told ANI.
This year, he is preparing a 100-foot high effigy of Ravana which will be burnt near the city's Ramlila ground.
Dussehra is celebrated by conducting pujas and plays of the events of the Ramayana (Ramlila) over the nine-day Navaratri and burning effigies of Ravana, Kumbhkaran and Meghnad along with fireworks on the tenth day to commemorate the destruction of evil.
Aamir, a worker who works with Jafar Ali said that effigy making is his religion and he finds no distinction in Hindus and Muslims, only political leaders divide people in the name of religion.
"This work is our religion. My father also used to make Ravana effigy. For the past 40 years, I have been doing this work. Political leaders divide people in the name of religion. For us, Hindus and Muslims are same," he said.
https://www.indiatoday.in/india/story/up-muslim-man-keeps-alive-family-tradition-of-making-dussehra-effigies-1606451-2019-10-05
--------
Hindu Nationalists Open Self-Styled Religious Courts As A Rebuke To Sharia Law
October 4, 2019
ALIGARH, India (RNS) — At her self-styled Hindu court in this city noted for its large Muslim minority, Pooja Shakun Pandey, a 37-year-old Hindu ascetic with a radical hate for Mohandas Gandhi, dispenses justice.
Draped in a saffron sari, Pandey, who considers herself a disciple of Nathuram Godse, the assassin of Gandhi who shot him at point-blank range in 1948, chants mantras before a ritual fire on the grounds of the local headquarters of Hindu Mahasabha, India's oldest right-wing Hindu Nationalist Party.
On completing her rituals, Pandey opens her courtroom — splashed with images of the Hindu deity Lord Ram in his battle-ready avatar — for the day's first hearing.
"Since August last year, we've intervened in over 60 cases related to dowry, marriage and property disputes," said Pandey. "If Muslims can have their Sharia courts, so can we."
Last year in July, the Hindu Mahasabha Party petitioned India Prime Minister Narendra Modi demanding closure of all Muslim Sharia courts in India, which act as mediators in small disputes, though they have no legal sanction.
When their petition was denied, the Hindu Mahasabha set up five unsanctioned courts of their own across the state of Uttar Pradesh, based on Hindu principles of justice.
Claiming that modern secular laws favor the privileged classes, the Hindu court mediators rely on an "ethical system of justice," according to Pandey. They conduct secret inquiries and background checks on "suspicious people" and reform deviants using practices they claim were prevalent in ancient India, such as cow protection, farm work, social service and caring for the elderly.
"We want to bring back the ancient Indian legal system, which was overthrown by the British rulers," said Pandey, who has a Ph.D. in mathematics but no legal training and draws from classical Hindu texts such as the Gita and Manusmriti. "Soon, we'll have 15 more such courts across India."
The Hindutva mediators charge no fees but claim to "cleanse the minds of the people, implant fear in them and bring the deviants back to the inner core of Hinduism."
The Hindutva courts often deal with cases that concern inter-religious romance. Love affairs between Muslim men and Hindu women are perceived as conspiracies to convert Hindus to Islam.
"We do puja to cleanse the girl's mind and even get the police involved," said Pandey. "Hindus need to become stronger to stop such manipulations."
"We stand with them and are looking for like-minded people who will support the cause and take action without fear," said Brijesh Baghel, a resident of the city who approached the Hindu court six months back to "free his daughter from a Muslim man."
Many communities in India have traditional dispute-resolution systems that derive their legitimacy from the conventional values of the community and are more popular than official legal avenues due to their informal setup and more immediate results.
The punishments handed out include public humiliations, beatings and ritual expiations. (In the worst scenarios, judgments can result in honor killings or punitive rapes.)
Though the Hindu courts' backers believe that their form of justice will also appeal to people's emotions instead of a cut-and-dry legal system, Hindu Mahasabha projects itself not merely as a custodian of culture and public morality, but also as a striver for a new constitution where Hindu laws would govern all citizens as in "the kingdom of Lord Rama."
"We are not going against the Indian penal code," said Gajendra Singh Arya, a lawyer who also practices at Aligarh's official civil court. "We are only hoping for a uniform civil code where an overarching Hindu law will dominate the country and ensure an ethical system of justice."
Arya said Hindutva advocates are in the process of drafting a comprehensive Hindu system of justice.
That ambition has drawn the ire of the ruling Bharatiya Janata Party, a competitor for the loyalty of Hindu nationalist voters.
Manav Mahajan, the BJP's general secretary in Aligarh, said a parallel system of justice is unsustainable. "They are asking for their own court, later they will ask for their own school, college and hospital. This happens when a person starts seeing herself as god," said Mahajan, referring to Pandey.
Aligarh's member of parliament, Satish Gautam, a radical Hindutva advocate, said Pandey has risked arrest for holding her court and is the subject of several government lawsuits.
Not all observers see the courts as a threat. Abdul Waheed, a sociology professor at Aligarh Muslim University, said informal methods of redressing grievances like Pandey's could reduce the burden on the country's courts.
"In India, there are many grassroots-level redressal forums for different communities," said Waheed. "It's up to the government and not the civil society to check malpractices."
Mohammad Sajjad, a history professor at Aligarh Muslim University, believes Hindu courts are an attempt to consolidate Hindu political identity as a means of gaining electoral advantage.
"This is purely politics of majoritarianism," said Sajjad. "By fanning this religio-cultural insecurity, the Hindu Mahasabha is manufacturing the fear of marginalization among Hindus."
In fact, much of the thrust of Hindu Mahasabha's courts seems to be aimed at their long-term goal of ending Islam's informal justice system. In 2014, India's Supreme Court declared Islamic Sharia courts unconstitutional, saying their decisions were not legally binding. Though the decision stopped short of banning them altogether, the verdict drew sharp reactions from Muslim clerics who said the constitution gave them the right to work and act according to the Muslim Personal Law.
"Unless the government bans Sharia courts," said Ashok Sharma, Hindu Mahasabha's national vice president and an ardent Nathuram Godse fan who runs another Hindu court in the neighboring city of Meerut, "Hindus will persist with their aggression."
Many in the party blame Gandhi for pushing his ecumenical vision of India, whose constitution enshrined rights for all faiths.
"Gandhi's divide and rule policy has marginalized Hindus," said Sharma. On the 150th anniversary of Gandhi's birth this week, Sharma made a ritual offering to eradicate the Mahatma's influence on Indians. (For her part, Pandey shot at an effigy of Gandhi to celebrate the anniversary of his death in January, courting another charge against her.)
"We will not stop 'til Hindus regain lost ground in India," Sharma added. "Our constitution needs to be changed, and our laws will be grounded in Hinduism's core values."
"Our popularity is growing even among Muslims who have understood that only one religion dominates the world," said Pooja Shakun Pandey. "That's the power of Hinduism."
https://religionnews.com/2019/10/04/hindu-nationalists-open-self-styled-religious-courts-as-a-rebuke-to-sharia-law/
--------
Police In Pakistan's Northwest Detained At Least Four Barbers For Trimming Beards In 'Un-Islamic' Fashion
Oct 4, 2019
ISLAMABAD: Police in Pakistan's northwest detained at least four barbers for trimming beards in an "un-Islamic" fashion. The arrests were made in Shabqadar tehsil of Charsdadda district in Khyber Pakhtunkhwa (KP), a province where Prime Minister Imran Khan-led Pakistan Tehreek-i-Insaf (PTI) party has been in power since 2013.
Prime Minister Imran Khan has been boasting about his party's government in Khyber Pakhtunkhwa (KP) and claiming that it has made the police an exemplary force through drastic reforms. There is hardly a public event in which Khan does not praise the KP police.
However, the provincial police service was exposed this week in a widely circulated video on social media where law enforcers could be seen arresting hairdressers for designing beards of young men in different fashionable styles. There is an unofficial ban imposed on 'unIslamic' practices by traders, barbers and shopkeepers unions in different parts of Khyber Pakhtunkhwa province.
A president of shopkeepers union, Sameen, was identifying the "violators" (barbers) to police personnel. "Why are you shaping beards in a style forbidden in Islam? How dare you do it despite a ban on it?" Sameen asked a barber in one of the shops in front of the police. The policemen forced the barbers to shut their shops and took them to a police station.
Sameen said that all barbers had already been informed about the ban on such practices a few days ago. "The police imposed Rs 5000 fine on each of the detained barbers and warned them against shaping beards in modern styles," Sameen claimed.
Confirming the detentions, Shabqadar police station said, "The barbers were kept in detention for a few hours and later released after giving assurances that they would not trim beards in French and other cuts anymore."
Local hairdressers informed that a similar decision was taken earlier at a meeting of All Pakistan Hairdressers Union held in Charsadda district. The decision was welcomed by local clerics.
Few months ago, according to media reports, a union of hairdressers in Peshawar had also decided to ban the shaping of customers beards in various styles.
Muhammad Sharif, president of the Frontier Professional Hairdressers Association, the only registered and representative body of local barbers, said following the decision, majority of barbers had agreed not to trim beards in styles which were against Islamic laws and Sunnah (practice of Prophet Muhammad).
The association had also distributed pamphlets in Peshawar and other districts of the province, directing barbers to stop cutting beards in anti-Islamic style. "In Peshawar's Sikandarpura, Circular Road, Hashtnagri and other areas, barbers have displayed pamphlets at the main entrance of their shops saying that they are in agreement with the decision," reported the Dawn.
https://timesofindia.indiatimes.com/world/pakistan/four-barbers-detained-in-pakistan-for-trimming-beards-in-un-islamic-style/articleshow/71444940.cms
--------
Pak SC seeks report on framework for protection of minorities
Oct 4, 2019
ISLAMABAD: Pakistan's Supreme Court has sought a report within a month from the federal and provincial governments over the implementation of its 2014 judgement suggesting a framework for the protection of minorities.
The court also proposed to form a bench to implement its 2014 judgement.
A three-member apex court bench on Thursday resumed hearing the case and sought a report from the federal and provincial governments in the matter within a month.
The Express Tribune reported that the matter for the formation of the implementation bench was later referred to Chief Justice Asif Saeed Khosa.
In its landmark 2014 judgement, authored by then chief justice Tassaduq Hussain Jilani, the apex court had suggested a framework for the protection of minorities.
One of the recommendations in the verdict was the creation of a national council to oversee the matters of the minorities.
The apex court stressed that the commission for minorities' rights should be given a space for its office with all the required staff.
During the hearing, the ruling Pakistan Tehreek-e-Insaf lawmaker and Hindu Council Chairman Ramesh Kumar prayed to the court that "the chairman of the Evacuee Trust Property Board (ETPB) should be from the minority group."
"Some 15 to 23 members of the ETPB are Muslims," he noted.
In Pakistan, around 10 million out of the 220 million population are non-Muslims.
According to the 2017 census, Hindus constitute the largest religious minority (5 million) in Pakistan. Christians make up the second largest religious minority, with almost the same number (4.5 million) and their concentration is mostly in urban Sindh, Punjab and parts of Balochistan.
Ahmadis, Sikhs and Parsi are also among the notable religious minorities in Pakistan.
https://timesofindia.indiatimes.com/world/pakistan/pak-sc-seeks-report-on-framework-for-protection-of-minorities/articleshow/71439751.cms
--------
US Senator Keen To See Kashmir 'First Hand', Denied Nod
by Shubhajit Roy
October 5, 2019
Known for his views on the situation in Jammu and Kashmir, a key US Senator from the Democratic Party wanted to visit Kashmir to see the situation "first-hand", but the Indian government denied him permission to go there.
Chris Van Hollen is the first US Congressman to have been denied the permission by the Indian government after the special status to Jammu and Kashmir was revoked on August 5.
Born in Karachi and having gone to school in Kodaikanal while his father served as an American diplomat in Sri Lanka, Van Hollen has been clued into the Indian politics. Despite being refused permission to visit Kashmir, he came to India and met officials and key members of civil society in Delhi on Thursday and Friday.
Speaking to The Indian Express on Friday, Van Hollen said, "I wanted to visit Kashmir to see first-hand what was happening, but was not allowed by the Indian government. We had approached the government about a week ago, but were told it was not the right time to go there."
Van Hollen, who has travelled across India but never been to J&K, said, "I had thought it would be useful to go there and see the situation myself. My personal view is that if you have nothing to hide, there is nothing to fear by allowing visitors to the state.. I can only conclude that the Indian government doesn't want us to see what's happening out there."
While there was no official response from the Indian government on this, government sources said that foreign dignitaries have been advised not to go there keeping in view their safety and security.
"I have a deep affection for India and support stronger Indo-US relations. And, it's important for the Indian government to address the provisions in the US Senate's Appropriations committee-adopted Bill which includes language on Kashmir," said Hollen.
Van Hollen has served as Chair of the Democratic Senatorial Campaign Committee from 2017 to 2019. As member of the US House of Representatives for Maryland's 8th Congressional district, he has been vocal about the situation in J&K. His constituency, Maryland, has one of the largest Muslim American populations of any US state, with a significant Pakistani and Indian-American Muslim population.
As a member of the House Appropriations Committee, he played a key role in including tough language on J&K in the Appropriations Bill, which was unanimously adopted last week. He said the committee "noted with concern the current humanitarian crisis in Kashmir and called on the Indian government to fully restore telecommunications and Internet services; lift its lockdown and curfew; and release individuals detained…".
https://indianexpress.com/article/india/us-senator-chris-van-hollen-keen-to-see-kashmir-first-hand-denied-nod-6054324/
--------
Somalia Hopes To Counter Al Shabaab With New Education Curriculum
October 5, 2019
Somalia's government is implementing a new curriculum for primary and secondary school students, for the first time since the civil war broke out in 1991.
In the past, schools had to make do with whatever materials came to hand. More than 40 curricula were used across Somalia, creating a hodgepodge of competing education systems in a variety of languages, the government said.
Schools sourced textbooks from more than 10 countries during the civil war and English and Arabic replaced Somali as the language of instruction.
What has changed
Up to 2 million textbooks printed in Somali have been issued to pupils in most of Somalia since August and their schools have synchronised academic terms, the ministry of education said.
The new books cover English, Arabic, Somali, maths, Islamic studies, science, physical education, technology, and social studies.
"Students have coped well with the new curriculum because it is based on their religion, culture and vernacular," said Abdulkadir Mohamed Sheikh, a teacher at Banadir Zone School.
"This new syllabus is better than the old Kenyan syllabus, which was in English. The new curriculum is the best," Shuayb Muhidin said, a student at Banadir Zone School.
Religious education is particularly important, said State Minister of Higher Education And Culture Abdirahman Mohamed Abdulle. The al Qaeda-linked al Shabaab insurgency also regularly launches deadly bomb attacks in Somalia in a bid to impose its own strict version of Islamic law.
The government hopes the new textbooks will help counter their message.
Clerics helped the government train teachers in Islamic ethics and create a syllabus that "will produce students who are sound, who are free from terror ideology, moderate students who have Islamic knowledge as well as other subjects", Abdulle said.
However, challenges remain. Only 22% of Somalia's 30,000 teachers are certified, Abdulle said.
"The quality of students depends on the quality of the quality of teachers," he said.
Somalia has one of the world's lowest enrolment rates, with only four out of 10 children here in school, according to the United Nations. Education accounted for $16 million out of this year's budget of $344 million.
https://www.africanews.com/2019/10/04/somalia-hopes-to-counter-al-shabaab-with-new-education-curriculum/
--------
Powerful Cleric Al-Sadr Urges Iraq Government To Quit As Protests Rage
4 October 2019
One of Iraq's most influential clerics called on Friday for the government to resign as the death toll rose to 65 in three days of violent national protests against official corruption.
Moqtada al-Sadr, a populist political leader who has a huge following on the Iraqi street, said new elections should be held soon.
"Respect the blood of Iraq through the resignation of the government and prepare for early elections overseen by international monitors," a statement from his office said.
Prime Minister Adel Abdul Mahdi called for calm as more than 190 people were wounded in the capital on Friday, but protesters scorned his promises of political reform.
Sadr's intervention appeared likely to encourage them to continue their uprising until the government backs down.
On the streets of Baghdad, police appeared to be targeting individual protesters. Reuters reporters saw one fall to the ground after being shot in the head. He was pronounced dead in hospital.
Elsewhere, a Reuters television crew saw a man critically wounded by a gunshot to the neck after snipers on rooftops opened fire at a crowd. Sporadic shooting could be heard in Baghdad into the late evening.
Police shot dead three people trying to storm the provincial government headquarters in the southern city of Diwaniya, police and medics said.
The violence is the worst since Iraq put down an insurgency by ISIS two years ago. The protests arose in the south, heartland of the Shi'ite majority, but quickly spread, with no formal leadership.
Security and medical sources gave a death toll on Friday of 65 killed and 192 wounded across Iraq in three days, the vast majority of the deaths in the last 24 hours as the violence accelerated.
"It is sorrowful that there have been so many deaths, casualties and destruction," Iraq's most influential cleric, Grand Ayatollah Ali al-Sistani, said in a letter read out by his representative during a sermon.
"The government and political sides have not answered the demands of the people to fight corruption or achieved anything on the ground," said Sistani, who stays out of day-to-day politics but whose word is law for Iraq's Shi'ites. "Parliament holds the biggest responsibility for what is happening."
Sadr, who leads the largest opposition bloc in parliament, ordered his lawmakers to suspend participation in the legislature until the government introduces a programme that would serve all Iraqis.
The speaker of Iraq's parliament called the protests a "revolution" against corruption but urged calm and proposed reforms such as better state housing support for poor people and ensuring Iraqi graduates are included on lucrative foreign projects for energy sector development.
Many government officials and lawmakers are widely accused of siphoning off public money, unfairly awarding contracts in state institutions and other forms of corruption.
'We walk among you'
The violence is an unprecedented test for Adel Abdul Mahdi, a mild-mannered veteran politician who came to power last year as a compromise candidate backed by powerful Shi'ite groups that have dominated Iraq since the downfall of Saddam Hussein in 2003.
In his overnight address, Abdul Mahdi pledged reforms but said there was no "magic solution" to Iraq's problems. He insisted politicians were aware of the suffering of the masses: "We do not live in ivory towers - we walk among you in the streets of Baghdad," he said.
A young man in a crowd fleeing sniper shots at a central Baghdad square was scornful. "The promises by Adel Abdul Mahdi are to fool the people, and today they are firing live gunshots at us," he said.
"Today this was a peaceful protest. They set up these barricades, and the sniper is sitting right there since last night."
Police and medical sources told Reuters the death toll so far included 18 people killed in the southern city of Nassiriya, 16 in Baghdad, four in the southern city of Amara and four in Baquba as unrest spread north of the capital. Deaths were also reported in the southern cities of Hilla and Najaf.
Curfews were imposed in a number of cities. Authorities shut roads into the capital from the north and northeast and were sending reinforcements to Baghdad's densely populated east. Military convoys were being sent to Nassiriya.
Abdul Mahdi said late on Friday that a curfew in Baghdad would be lifted from 5 a.m. local time on Saturday.
'Revolution of hunger'
The protests could grow if they receive formal backing from Sadr, who has long denounced corruption and the political elite. Parliament was set to hold a session dedicated to finding a solution, but Sadr's faction was staying away.
Sadr has not called on his followers to join the protests, but his faction has expressed sympathy with their aims. One senior Sadrist politician, Awad Awadi, described the protests to Reuters as "a revolution of hunger."
https://english.alarabiya.net/en/News/middle-east/2019/10/04/Al-Sadr-asks-allied-lawmakers-to-suspend-participation-in-parliament-.html
--------
Pakistan, Afghan Taliban Call For Resumption Of Peace Talks
By Munir Ahmed
Oct. 4, 2019
ISLAMABAD — Senior Afghan Taliban leaders and Pakistani officials on Thursday called for the resumption of talks on a peaceful resolution to the war in Afghanistan.
The appeal, made during a rare Taliban visit to Islamabad, comes after months-long U.S.-Taliban negotiations collapsed in September and President Donald Trump announced the talks with the insurgents were "dead."
The timing of the Taliban visit _ which coincided with that of Washington's special peace envoy for Afghanistan, who was also in Islamabad on Thursday for "consultations" with Pakistani officials _ appears to indicate Pakistan is seeking to help restart the talks.
In a statement, Pakistan's Foreign Ministry said both sides agreed Thursday that the peace process should be resumed as soon as possible.
Also on Thursday, Trump was asked at the White House about Pakistani officials calling for the talks to resume. The president was noncommittal about whether they would, saying the Taliban's standing with him had not yet been restored from when he called off the talks amid a surge in violence that he claimed the Taliban had orchestrated to increase their leverage at the negotiating table.
"We have a real problem," Trump said, without elaborating. "We've been hitting the Taliban very, very hard. As far as I am concerned, they still haven't recovered from killing 12 people _ one who happened to be a great American soldier from Puerto Rico. They still have not recovered (their standing) and they probably never will."
Pakistani Foreign Minister Shah Mahmood Qureshi met with the 12-member Taliban team, headed by Mullah Abdul Ghani Baradar, a co-founder of the Taliban and head of their political office in Qatar. The Pakistani side also included intelligence chief Lt. Gen. Faiz Hameed, foreign secretary Sohail Mahmood and others.
TV footage showed Hameed hugging members of the Taliban delegation, including Baradar, who was released in 2018, years after he was detained in a joint operation carried out by Pakistan's Inter-Services Intelligence and the CIA. He was released to facilitate the peace process in Afghanistan.
Earlier, in a Foreign Ministry statement, Qureshi "reiterated Pakistan's commitment and continued strong support" for all efforts aimed at resolving the conflict in Afghanistan. It said that during the talks, it was "emphasized that reduction of violence by all parties to the conflict was necessary to provide an enabling environment for resumption of the peace process at an early date."
Qureshi told reporters the Taliban would meet with U.S. envoy Zalmay Khalilzad, who was also in Islamabad, though he didn't say when such a meeting would take place.
"Khalilzad is here and he has been in talks with them. He is fully aware of each and everything (being said) and has played a positive role in this process. God willing, he will also meet with (the Taliban)," he said.
A State Department spokesperson said Khalilzad has spent several days in Islamabad this week for consultations with authorities in Pakistan, which follow up on discussions held between Trump and Pakistan President Imran Khan on the sidelines of the U.N. General Assembly last week. The spokesperson, who spoke only on condition of anonymity according to department guidelines, said these meetings do not represent a re-start of the Afghan peace process.
Later, Qureshi told a gathering at a seminary in the central city of Multan that Pakistan was eager to see the resumption of U.S.-Taliban talks but without naming anyone, warned "there are and there will be spoilers" who prefer unrest and chaos.
Before coming to Pakistan, the Taliban delegation traveled to Russia, China and Iran. Taliban spokesman Suhail Shaheen said the delegation arrived in Islamabad late Wednesday.
Shahbudin Dilawar, an ex-Taliban ambassador to Saudi Arabia, said in a post on the official Taliban website that the talks with Pakistan "will be focused on political issues."
Those issues include education and health care for millions of Afghans living in Pakistan, as well as Taliban demands that an unspecified number of Afghans arrested in Pakistan "whose crimes are not serious" be released.
Khalilzad spent the last year negotiating a peace deal with the Taliban, which seemed imminent until Sept. 7, when the talks collapsed amid a surge in deadly Taliban attacks across Afghanistan _ including one that killed a U.S. soldier _ and Trump declared the talks were over.
Since then, Pakistan has urged both sides to resume the talks. Qureshi on Thursday also vowed that Pakistan would continue to support all efforts to achieve a permanent peace in Afghanistan, which the foreign minister described as essential for Pakistan's own development and progress.
The Taliban-U.S. talks, which Pakistan sincerely backed, had "laid a firm ground for achieving a sustainable peace deal in Afghanistan," Qureshi said, urging their speedy resumption for the good of "peace, stability and prosperity for future generations of Afghanistan".
https://www.washingtonpost.com/world/asia_pacific/senior-taliban-leaders-in-talks-with-officials-in-pakistan/2019/10/03/0e0c22d4-e5aa-11e9-b0a6-3d03721b85ef_story.html
--------
India
National Register of Citizens: 'Political Gimmick And Diversionary Tactic', No Need To Panic, Say Muslim Community Leaders
Afshan Yasmeen
OCTOBER 05, 2019
They have termed the move 'political gimmick and diversionary tactic' by BJP
The State government's plan to extend the National Register of Citizens (NRC) to Karnataka has not come as a surprise to the Muslim community here. Although the formal announcement has triggered anxiety, community leaders have termed it a "political gimmick and diversionary tactic" by the BJP.
While community leaders have already started educating people to keep all their official documents in order, they are also calling upon people not to panic.
In fact, even as the Assam NRC was on, several audio and text messages by community leaders advising people to apply for a Indian passport were widely shared on WhatsApp groups, foreseeing the possibility of such an exercise elsewhere.
'Far-fetched idea'
Advocate Akmal Rizvi from the Movement for Justice said, "It is a far-fetched idea which may not work in the near future going by the Assam experiment, where the NRC was first introduced in 1951. But it definitely it is an agenda of the BJP."
Mohammed Saad Belgami, State president of the Jamaat-e-Islami Hind (JIH), has called upon people not to panic but at the same time ensure that all their identity documents are in order. "Through the Jamaat we are setting up Nagarika Seva Kendras in mosques across the State. These mosques can become nodal centres in facilitating people to obtain their documents."
U. Nisar Ahmed, former Inspector-General of Police who now heads the National Centre for Research and Development, an NGO involved in community development, said a big issue to tackle would be lack of education and awareness. Quoting the 2011 Census, he said not more than 6.3% of the Muslim population has passed matriculation, which means 94% of the people are illiterate. "In such a scenario, how can we expect them to have all documents? We have been working in slums for the past several years and have been helping the residents in obtaining identity documents and availing government schemes," he said.
A senior member of the Karnataka Muslim Muttahida Mahaz pointed out that while the transfer certificate from school can serve as a valid birth certificate for most, lakhs of students going to madrasas would have to get their birth identity documents readied. "Submitting a birth certificate is not a requirement for admission into a madrasa. It would be difficult to produce a birth certificate for most ulemas (Islamic scholars)," he said.
https://www.thehindu.com/news/national/karnataka/nrc-no-need-to-panic-say-muslim-community-leaders/article29599332.ece
--------
Ayodhya hearing: Mediation details leaked on Twitter, claims lawyer of Muslim parties
Aneesha Mathur
October 4, 2019
On the 37th day of the daily hearings in the Ayodhya dispute hearing at the Supreme Court, the Muslim parties claimed that details of the mediation process were leaked and not kept confidential.
Rajiv Dhawan, who is representing the Muslim stakeholders in the Ayodhya land dispute argued in court that some of the issues that were discussed in the mediation process were not kept confidential.
"Evidence and opinions were leaked on Twitter," said Dhawan on Friday during the Supreme Court hearing.
Meanwhile, CJI Ranjan Gogoi, who is retiring in November and has set a deadline for the Ayodhya hearings to conclude on October 18, said that the Constitution bench will not hear the matter on Saturday (October 5).
During Friday's hearing in which the Muslim parties were replying to the submissions made by the Hindu parties, Dhawan argued that the judgment on the Ayodhya matter will have far and wide implications in future as all future cases of disputed mosque sites will be based on this verdict.
"Hypothetically this judgment will affect every case where allegations of a mosque being built on a temple site are there. It has tremendous precedent value," said Dhawan.
Full report at:
https://www.indiatoday.in/india/story/ayodhya-hearing-mediation-details-leaked-on-twitter-claims-lawyer-of-muslim-parties-1606200-2019-10-04
--------
India hits back at Turkey, Malaysia for buying Pakistan narrative, advises proper understanding on Kashmir
October 4, 2019
India on Friday hit back at Malaysia and Turkey for supporting Pakistan on Kashmir at the United Nations and asked both the countries to understand the issue first. Malaysia and Turkey are the only countries that have so far spoken in favour of Pakistan after India revoked special status to Jammu and Kashmir under Article 370 of the Indian Constitution. Malaysian Prime Minister Mahathir Mohamad and Turkish President Recep Tayyip Erdogan even raised the Kashmir issue at recent United Nations General Assembly.
Responding to questions on Turkey and Malaysia raising Kashmir issue at UNGA, MEA spokesperson Raveesh Kumar said on Friday that they should get a proper understanding and desist from making such remarks. "We call upon the Turkey government to get a proper understanding of the situation on the ground before they make any further statements on this issue. It is a matter which is completely internal to India," Kumar said while answering a question on Turkey.
Speaking on Malaysia, he said: "Jammu and Kashmir signed Instrument of Accession like all other princely states, Pakistan invaded and illegally occupied parts of Jammu and Kashmir. Government of Malaysia should bear in mind the friendly relations between the two countries and desist from making such remarks."
The MEA spokesperson also hit out at Pakistan Prime Minister Imran Khan for using "provocative and irresponsible" statements at UN. "I think he doesn't know how to conduct international relationships. The most serious thing is he gave an open call for jihad against India which is not normal," Kumar said.
Imran Khan had raised the Kashmir issue at the UNGA last month. He, however, came across as a leader who had little understanding of the language in which countries operate in the global setup. He talked about Islam, jihad and nuclear war if the world countries did not support its cause in Kashmir. India termed it a hate speech by a terror-sponsoring nation.
Full report at:
https://www.financialexpress.com/india-news/india-responds-turkey-malaysia-article-370-kashmir-pakistan-unga/1726698/
--------
SC advances deadline to end hearing on Ayodhya case to Oct 17
October 5, 2019
Hearing on appeals challenging the Allahabad High Court verdict in the Ayodhya case will conclude on October 17, the Supreme Court said on Friday. This is one day earlier than the October 18 deadline set earlier.
Winding up hearing on Friday, Chief Justice of India Ranjan Gogoi, who heads a five-judge Constitution bench hearing the dispute, asked the parties to finish their arguments by October 16 so that it can hear them on the question of relief the following day and wrap up the proceedings.
With the CJI set to retire on November 17, the bench has a little over four weeks to write and pronounce the judgment on the appeals against the Allahabad High Court verdict, which ordered a three-way division of the disputed property.
The bench also comprises Justices S A Bobde, D Y Chandrachud, Ashok Bhushan and S Abdul Nazeer.
On Friday, senior advocate Rajeev Dhavan, appearing for the Sunni Central Wakf Board, countered the Hindu side's objections to his argument which referred to communal incidents of the past, and illegalities committed on the mosque.
Dhavan said senior counsel C S Vaidyanathan, appearing for Ramlalla Virajman, the deity of Ayodhya, had termed this mischievous, unfortunate and intended to promote communally divisive feelings. Dhavan submitted that "illegalities are central to the determination" of the case, and if anything was communally divisive, it was the demolition of Babri Masjid on December 6, 1992.
The Hindu side has claimed that the janmasthan (birthplace) is also a juristic person. The Muslim side has opposed this saying that mere belief was not enough to attribute juristic personality and there should be some manifestation.
Touching on this, Dhavan said that if belief, spirituality and sacredness are the tests, they would apply to Islam as well.
To this, Justice Bobde asked whether living beings or objects were revered in Islam, unlike Hinduism where manifestations of divinity are revered. Dhavan said both Hindus and Muslims pray to one supreme being.
Intervening, Justice Bobde said that for Muslims, prayers are "only to Allah". Dhavan replied that while for Hindus it is "manifested through multiple forms", for Muslims it is "manifested through multiple prayers".
He said India is a multi-civilisation state and there is a stress on one civilisation now. He also said that there is a certain animosity for Islam today, and what the world forgets is there would have been no western science without Islamic philosophers. Dhavan said no one is questioning that Ram was born somewhere in Ayodhya. "The dispute would not have been there but for the claim that he was born under the central dome of the Babri Masjid — that's when Muslims said prove it." He said this question — Ram's birthplace — "was at the core of the dispute".
At one point, he said both Hindus and Muslims were there at the site. To this, Justice Chandrachud said, "The moment you say that, your claim for adverse possession goes."
The arguments remained inconclusive and will resume when the court reopens after the Durga Puja and Dussehra holidays on October 14.
Full report at:
https://indianexpress.com/article/india/sc-advances-deadline-to-end-hearing-on-ayodhya-case-to-oct-17-6054313/
--------
Sheikh Hasina to hold bilateral discussions with PM Modi
Oct 5, 2019
NEW DELHI: Prime Minister Narendra Modi will hold bilateral talks with his Bangladesh counterpart Sheikh Hasina in New Delhi today on ways to strengthen bilateral ties.
Modi and Hasina had previously met each other on the margins of the United Nations General Assembly in New York last month.
External affairs ministry Spokesperson Raveesh Kumar, in a weekly press conference, said that the talks will revolve around trade and connectivity, development cooperation, people to people contact, culture and other issues of mutual interest.
He also said that the two leaders will jointly inaugurate three projects. India and Bangladesh are likely to sign six-seven agreements in areas like transport, connectivity, capacity building and culture following the talks.
The spokesperson also said that both India and Bangladesh are currently discussing the demarcation of the land boundary agreement.
On Teesta river issue, Kumar said, "The government of Bangladesh is aware of our position in this regard. I think what is important to note is that apart from Teesta, there are at least seven other trans-border rivers and there is an early meeting of the joint water commission which is held at the level of secretary. That meeting is going to take place very soon."
Reacting to Hasina's remark that she is slightly inconvenienced after government of India banned the export of onions, the MEA Spokesperson said, "We did see the statement made by the Prime Minister. We are trying to see how to accommodate the concerns which have been reflected by Prime Minister of Bangladesh."
The Bangladeshi Prime Minister is on a four-day visit to India.
Hasina also addressed the World Economic Forum's 33rd India Economic Summit in New Delhi, as the chief guest, on October 3, wherein the Prime Minister sought for more investments in Bangladesh.
Full report at:
https://timesofindia.indiatimes.com/india/sheikh-hasina-to-hold-bilateral-discussions-with-pm-modi/articleshow/71451209.cms
--------
NIA to probe Pak drones' weapon-drop
Oct 5, 2019
The home ministry has handed over to the NIA the case relating to multiple recoveries of arms and ammunition in Punjab late last month, suspected to have been delivered by drones sent from Pakistan. An NIA officer confirmed the agency has re-registered the case originally filed by Punjab police. "An NIA team reached Amritsar on Thursday for further investigations," the officer told TOI.
Full report at:
https://timesofindia.indiatimes.com/india/nia-to-probe-pak-drones-weapon-drop/articleshow/71449363.cms
--------
NIA supplementary chargesheet against Yasin Malik, four others
October 5, 2019
The NIA has filed a supplementary chargesheet before a Delhi court against JKLF chief Yasin Malik and four others in the 2017 terror funding case.
Besides Malik, the 3,000-page chargesheet names former J&K MLA Abdul Rashid Sheikh, alias Engineer Rashid; founder-president of J&K Democratic Freedom Party Shabir Ahmad Shah; chairman of J&K Muslim League Party Masarat Alam; and Syeda Aasiya Andrabi, founder and self-styled chief of Dukhtaran-e-Millat (DeM), a terror outfit, the NIA said.
The five have been charged under IPC Sections 120B (party to criminal conspiracy), 121 (waging or attempting to wage war against the State), 121A (conspiracy to commit offences) and 124A (sedition), and different Sections of the Unlawful Activities (Prevention) Act, 1967.
The NIA had registered the case on May 30, 2017, and the first chargesheet was filed against 12 people, including Lashker-e-Taiba (LeT) chief Hafiz Saeed and Hizbul Mujahiddin chief Syed Salahuddin, on January 18, 2018.
Following the arrest of the five people, the agency conducted searches at nine locations in J&K during which 400 electronic devices and 85 incriminating documents were seized, according to the agency,. These seized items are part of evidence along with the testimony of 125 witnesses.
The agency claimed to have recovered many SMSes, chats, emails, WhatsApp messages and videos, indicating alleged nexus between the chargesheeted accused and the five accused arrested.
Full report at:
https://indianexpress.com/article/india/nia-supplementary-chargesheet-against-yasin-malik-four-others-6054334/
--------
Pak mission supporting separatists for Kashmir unrest: NIA
October 04, 2019
New Delhi: The National Investigation Agency (NIA) on Friday alleged that the "Pakistan High Commission is supporting separatists to create unrest in (the Kashmir) valley".
"Role of Pakistan High Commission in supporting the separatist and other networks through transfer of funds via financial conduits and in providing directions to continue the unrest in the Kashmir Valley has also been clearly established," a statement from the agency said.
The agency earlier in the day filed a charge sheet against five accused in the terror funding case involving 26/11 mastermind Hafiz Saaed.
The charge sheet named Yasin Malik as well as the founder and President of the Jammu and Kashmir Democratic Freedom Party Shabir Shah, Dukhtaran-e-Millat chief Asiya Andrabi, All Party Hurriyat Conference General Secretary Masarat Alam and former MLA Rashid Engineer.
The agency has also claimed that it has recovered some videos wherein the said accused persons were seen, exhorting general public for illegal acts, sympathising with the militants and seeking direct support from Pakistan.
"Various incriminating chats and emails have been recovered from the email accounts of Yasin Malik and Shabir Shah wherein description of receipt of funds from Pakistan and various other countries have been revealed. It has also been found that Yasin Malik has been getting funds from foreign countries through hawala channels for causing unrest and insurgency in Kashmir," the NIA said.
The agency further states that it has recovered suffiencent evidence against suspected terrorist Masarat Alam.
"Investigations have also established the nexus of Aasiya Andrabi, leader of proscribed organization Dukhtaran-e-Millat with different militant and terrorist organizations and with hawala financial conduit Zahoor Watali," the statement said.
The agency also claimed that the role of Engineer Rashid in the alleged conspiracy to destabilize Kashmir and cause unrest has also been revealed.
Submitting the charge sheet, the agency said fresh material have surfaced in the form of social media evidence, call records, oral and documentary evidence.
"New material shows the relationship of the persons chargesheeted with the cross border accused Hafiz Saeed (co-founder of Lashkar-e-Taiba and the chief of Jama'at-ud-Da'wah) and Syed Salahudeen (the head of Hizb-ul-Mujahideen)," said the NIA.
The court will take cognizance of the matter on October 23.
The NIA in 2017 arrested several separatists belonging to the two factions of Hurriyat Conference led by Mirwaiz Umar Farooq and Syed Ali Shah Geelani, respectively, for terror funding.
In its first charge sheet filed last year, the agency named Geelani's son-in-law Altaf Fantosh, Kashmiri businessman Zahoor Ahmed Shah Watali, Naeem Khan, Raja Mehrajudin Kalwal, Bashir Ahmed Bhat, alias Peer Saifullah, Aftab Hilali Shah, alias Shahid ul Islam, Farooq Ahmed Dar, alias Bitta Karate, Mohammad Akbar Khandey, alias Ayaz Akbar and Javed Ahmed Bhat, among others.
Full report at:
https://www.siasat.com/pak-mission-supporting-separatists-kashmir-unrest-nia-1649080/
--------
Pakistan
Ailing Musharraf plans to return to politics on October 6
Oct 4, 2019
ISLAMABAD: Pakistan's former military ruler Pervez Musharraf plans to return to politics on October 6 after remaining inactive for over an year due to his deteriorating health, according to one of his top aides.
General (retd) Musharraf, 76, who has been living in Dubai since March 2016, is facing the treason case for suspending the Constitution in 2007, a punishable offence for which he was indicted in 2014. A conviction for high treason carries the death penalty or life imprisonment.
Musharraf, the founder of the All Pakistan Muslim League (APML), took a backseat from political activities last year because of his deteriorating health.
He is now planning a comeback following an improvement in his condition, The Express Tribune quoted a party official as saying.
The former president is suffering from amyloidosis, a rare disease caused by a build-up of an abnormal protein called amyloid in organs and tissues throughout the body, according to his family.
Speaking to The Express Tribune, APML General Secretary Mehreen Malik said the former president had received medical treatment at a hospital in London for 12 days last month.
"Now he is feeling better and back at his residence in Dubai," she added.
The APML general secretary said Musharraf had also held a meeting with party officials.
"He will fully resume his political activities with the consultation of doctors," Malik said.
"He is being examined by a team of doctors every day," she added.
She said on Musharraf's instructions, the APML was resuming its political activities across Pakistan.
"He [Musharraf] will address the party's 9th foundation day ceremony in Islamabad through video link on October 6."
The party official said the former president would also make important political announcements soon.
Musharraf, who ruled Pakistan from 1999 to 2008, has been declared a fugitive in the Benazir Bhutto assassination and the Red Mosque cleric killing case.
https://timesofindia.indiatimes.com/world/pakistan/ailing-musharraf-plans-to-return-to-politics-on-october-6/articleshow/71442743.cms
--------
JUI-F chief won't be able to exploit 'religious card': PM
October 05, 2019
ISLAMABAD: Prime Minister Imran Khan on Friday said Jamiat Ulema-i-Islam (JUI-F) chief Maulana Fazlur Rehman would not be able to exploit "religious card" against the government at the behest of the Pakistan Peoples Party (PPP) and the Pakistan Muslim League (PML-N).
Talking to a select group of Pakistan Tehreek-i-Insaf (PTI) leaders who are frequently seen in TV talk shows, the prime minister expressed no fear of the JUI-F's call for Islamabad lockdown on Oct 27.
"The prime minister was of the view that PPP and PML-N are pretending that they are not taking part in the lockdown programme, but in fact both parties are backing him [Maulana Fazl] and providing him money to meet their own designs," a close aide to PM Khan told Dawn after the meeting.
According to him, the prime minister lamented that Maulana Fazl was using innocent children of Madressahs (seminaries) against the government, but he [JUI-F chief] should realise that after the victory of the government's stance on the Kashmir issue in the recently held United Nations General Assembly session, he would not be able to exploit the "religious card".
The PM's aide quoted Mr Khan as saying: "The government believes that students of seminaries are our own children, but they are being misguided by people like Fazlur Rehman."
According to him, the prime minister said the PPP and PML-N were not directly joining the lockdown move because if it failed they would not be blamed, but the JUI-F. He said the meeting agreed that Maulana Fazl had received a heavy amount of money from both PPP and PML-N to fulfil their agendas against the government.
Talking about news of a possible deal between the government and the opposition, the prime minister reiterated that no concession would be given to those who had plundered national wealth. "Khan Sahib will never go for any deal with former rulers," the PM's aide said.
The prime minister apprised the meeting of his forthcoming visit to China on Oct 7-8, which will mainly focus on the revival of stalled projects under the China-Pakistan Economic Corridor.
Steel Mills revival
Blaming former rulers for what he called destruction of the Pakistan Steel Mills (PSM), Prime Minister Khan vowed to revive the country's biggest industrial unit and make it a profitable entity.
Presiding over a meeting on the PSM, the prime minister said leading firms of China and Russia had shown their interest in revival of the mill and various options were under consideration in this regard. "Different options are being considered for the revival of Steel Mills," he said.
Mr Khan said the PSM had become a liability for the government because of ignorance and negligence of the previous regimes. "It is a cruelty on the part of previous rulers that Steel Mills became a burden on the national exchequer," he added.
Full report at:
https://www.dawn.com/news/1509060/jui-f-chief-wont-be-able-to-exploit-religious-card-pm
--------
Canadian bus tour to Kartarpur reaches Paris
Abid Mahmood
October 05, 2019
NAROWAL: A bus of Sikh tourists is coming to Pakistan from Canada for the celebration of 550th birth anniversary of Baba Guru Nanak.
A Canadian Sikh family arranged a special bus to attend the celebrations of 550th birth anniversary of the founder of Sikh religion, according to a video that went viral on social media. The bus has reached Paris. The video shows the bus having facilities of kitchen, dining table, washroom and bedroom.
"Journey to Kartarpur" is written on its front side. It has got the map of the route that the bus is taking from Canada to Sultanpur Lodhi in India via Kartarpur. The map shows the bus crossing the Atlantic in a ship. The map shows the bus going to London, UK, France, Germany, Switzerland, Austria, Turkey and Iran before reaching Kartarpur. It scheduled arrival in Sultanpur Lodhi in India is in November.
The bus started its journey from the city of Brampton in Canada on Sept 3.
The Canadian Sikh family will also attend the opening ceremony of Kartarpur corridor. From Kartarpur, the bus will go to Sultanpur Lodhi, India.
The bus is taking the route to Pakistan through the UK, France, Germany, Austria, Turkey and Iran.
The tour, having about 10 people, is being led by Gurcharan Singh Banwait who, in another video, had the tour was being sponsored by other people and they were looking for more sponsors. The facebook page of "the Journey to Kartarpur & Sultanpur Lodhi" says, "Journey To Kartarpur & Sultanpur Lodhi" is a non-profit initiative led by the International Punjabi Foundation Canada. Launched earlier this year in April, our main mission is to promote World Peace and International Cooperation through a driven Journey that will span half the globe. All of this is in efforts to build a Guru Nanak Mission Centre in Karatrpur for those in need."
DIES: A five-year-old girl died while being shifted to from the Civil Hospital Shakargarh to the District Headquarters Hospital Narowal, triggering a protest by her family who termed the doctors of the civil hospital responsible for the death.
Maryam, the daughter of a trader, Malik Basharat Ali, a resident of Durman Road, Shakargarh, was coming back home from her tuition centre when she got injured as she bumped into a donkey cart.
Maryam was admitted to the Civil Hospital where the staff referred her to District Headquarters Hospital Narowal, instead of giving her first aid.
Basharat Ali said his father had got injury on the forehead as she collided with the donkey cart but she couldn't get the first aid and died on the way to Narowal.
Medical Superintendent Dr Muhammad Riaz said the donkey cart had passed over the abdomen of the child and she had internal bleeding, that's why she was referred to the DHQ Hospital.
"Dr Ihtisham treated the patient for about an hour but we have no equipment to treat such patients." The MS added, "We feared that the relatives of the child will take the law into their hands so we referred her to the DHQ hospital and called the police". District Health Authority Chief Executive Officer Dr Latif Sahi said, "We are holding an inquiry into the matter and the responsibility will be fixed to take those responsible to the task".
Full report at:
https://www.dawn.com/news/1509107/canadian-bus-tour-to-kartarpur-reaches-paris
--------
ATC acquits 'TTP commander' in explosives, illegal weapons cases
Naeem Sahoutara
October 05, 2019
KARACHI: An antiterrorism court on Friday exonerated a man, said to be a 'commander' of the banned Tehreek-i-Taliban Pakistan, in cases pertaining to possessing explosives and illicit arms.
The Counter-Terrorism Depa­rtment arrested Rehman Hussain alias Ustad Jee, said to be associated with the TTP-Swat's Fazlullah group, on the outskirts of the metropolis on Jan 29.
The ATC-XIII judge noted that the prosecution failed to prove the allegations levelled against the accused. He added that there were contradictions in the testimonies of prosecution witnesses and the evidence, thus creating doubts in the case.
The judge directed prison authorities to release the man forthwith if his custody was not required in any other case.
According to the prosecution, Hussain was a TTP commander and had been trained in Afghanistan. He was appointed a commander after the killing of Sher Bahadur and his name was also placed in the CTD's Red Book.
The court framed charges against the accused after the CTD investigating officer, Inspector Shahid Karim, charge-sheeted him for possessing explosives and an unlicensed pistol with an intention to carry out some major terrorist activity in the city. However, the accused had pleaded not guilty and opted to contest.
During the trial, Hussain recorded his statement under Section 342 of the Criminal Procedure Code, denying the allegations and pleaded his innocence.
Defence counsel Saifullah argued that the there were major contradictions in the testimonies of the prosecution witnesses with regard to the timing of the arrest of his client.
He added that there were also contradictions with regard to the alleged recovery of the weapon and a grenade from the possession of the accused.
He pleaded to the court to declare the case as doubtful and acquit his client, who was framed in a false and fabricated case without strong evidence to connect his role with the commissioning of the alleged offence.
Special public prosecutor Ghulam Murtaza Maitlo submitted that the accused rented a house in Frontier Colony, where he was allegedly planning a major terrorism activity.
He added that the circumstantial and ocular evidence fully corroborated the prosecution's case, as recoveries of around two kilograms of explosives, six tennis ball bombs, two pressure-cooker bombs and a hand-grenade were made from his possession.
The prosecutor rested his side after examining around five witnesses and pleaded to the court to punish him according to the law.
Two separate cases were registered under Sections 3/4 of the Explosive Substances Act and Section 23(i)-A of the Sindh Arms Act, 2013 on the complaint of Sub-inspector Syed Safdar Ali at the CTD South police station.
Perween Rahman murder case
The same court, meanwhile, deferred the concluding arguments in renowned social activist Perween Rahman's murder trial following a restraining order issued by the Sindh High Court.
Ms Rahman, the head of the Orangi Pilot Project, was gunned down near her office in Orangi Town on March 13, 2013.
Five accused — Abdul Raheem Swati, his son Mohammad Imran Swati, Ayaz Shamzai alias Swati, Amjad Hussain Khan and Ahmed Khan alias Ahmed Ali alias Pappu Kashmiri — have been charged with the murder.
On Friday, the ATC-XIII judge deferred the hearing due to a restraining order passed by the SHC on Dec 22.
Full report at:
https://www.dawn.com/news/1508997/atc-acquits-ttp-commander-in-explosives-illegal-weapons-cases
--------
US Afghanistan envoy Khalilzad meets Taliban in Pakistan: report
October 4, 2019
ISLAMABAD: US special representative for Afghanistan Zalmay Khalilzad has met a Taliban delegation in Islamabad, according to Reuters on Friday.
Citing official sources, the report said the meeting in Islamabad did not represent a resumption of formal negotiations between the US and the Taliban.
Quoting an official who requested anonymity, the report said "Pakistan played a big role" in arranging the meeting between Zalmay Khalilzad and the Taliban.
The meeting, according to the report, did not involve formal negotiations on the peace process, but aimed at building confidence.
The US embassy in Islamabad and the State Department in Washington declined to comment on whether there had been a meeting between the Taliban and Khalilzad.
A State Department representative said Khalilzad had spent several days in Islamabad this week for consultations with authorities in Pakistan, but his meetings in Islamabad did not represent a restart of the Afghan peace process.
Full report at:
https://www.thenews.com.pk/latest/536252-us
--------
British royal couple 'look forward to build a lasting friendship' with Pakistan
October 5, 2019
ISLAMABAD: Communication Secretary to the Duke and Duchess of Cambridge has said that the Royal couple's visit to Pakistan would largely focus on showcasing how dynamic, aspirational and forward-looking Pakistani nation is.
In a statement, the Communications Secretary said that Prince William and Princess Kate Middleton would undertake an official visit to Pakistan between 14-18 October, at the request of the Foreign and Commonwealth Office.
This will be their first official visit to Pakistan.
"Whilst the Duke and Duchess's visit will pay respect to the historical relationship between Britain and Pakistan, it will largely focus on showcasing Pakistan as it is today – a dynamic, aspirational and forward-looking nation," read the statement.
From the capital Islamabad to the vibrant city of Lahore, the mountainous countryside in the North, and the rugged border regions to the West, the visit will span over 1000km and will take in Pakistan's rich culture, its diverse communities, and its beautiful landscapes.
Throughout the tour, the royal couple will attend programmes which empower young people and organisations that help ensure they have the best possible start in life.
"Access to quality education, particularly to girls and young women is one of the UK's top priorities in Pakistan. The Duke and Duchess are looking forward to meeting young Pakistanis, and hearing more about their aspirations for the future," the statement also read.
The programme will also cover how communities in Pakistan are rapidly responding and adapting to the effects of climate change.
"This is a key area of interest for the Royal Highnesses; they are keen to learn more about the climate change issues affecting Pakistan and our world, and the positive work being undertaken to combat these challenges," the statement added.
The couple will also spend time understanding the complex security picture in Pakistan.
"They will learn more about the challenges and opportunities, both of the past and today. The UK has been a key partner for Pakistan, and Duke and Duchess will meet UK and Pakistan military personnel who are sharing expertise to improve security," the statement added.
Over the course of the visit, the Royal couple will meet a wide variety of people, including children and young people, leaders from government, business and the charity sector, inspiring conservationists, and well-known cultural figures and sporting stars.
Full report at:
https://www.pakistantoday.com.pk/2019/10/04/british-royal-couple-to-undertake-visit-to-showcase-dynamic-aspirational-and-forward-looking-pakistani-nation/
--------
Fazl should 'raid' LoC instead of taking out 'Azadi march': Awan
October 5, 2019
ISLAMABAD: Special Adviser to the Prime Minister on Media and Broadcasting Firdous Ashiq Awan criticised JUI-F chief Fazlur Rehman on Friday, saying that he is merely after self-interest.
Awan also said that Fazl had vast experience on matters pertaining to held Kashmir as he has remained chairman of the Kashmir committee in several governments.
Awan added that "those assuring you [Fazl] of their support are actually trying to make you a scapegoat for their own personal and political gains".
"We will not let innocent Madrassa children be exploited for political gains," she said, adding: "Those who are looking to raid Islamabad should focus on raiding Line of Control (LoC)."
Full report at:
https://www.pakistantoday.com.pk/2019/10/04/fazal-should-raid-loc-instead-of-azadi-march-awan/
--------
UAE to invest $5bn in refinery project in Pakistan by end of 2019
October 5, 2019
ISLAMABAD: The United Arab Emirates (UAE) will invest $5 billion in an oil refinery project in Pakistan by the end of 2019, Arab News reported on Friday.
In an interview with the publication, UAE Ambassador to Pakistan Hamad Obaid Ibrahim Salem Al-Zaabi said: "We are going to launch very soon one of the biggest investments in a refinery project in Hub, Balochistan. It is going to be a $5 billion investment between Mubadala Petroleum Company of Abu Dhabi, Pak Arab Refinery Limited (PARCO) and OMV [OMV Pakistan Exploration Gesellschaft]."
The original plan is to set up a deep-conversion, state-of-the-art refinery that would have an output of 250,000-300,000 barrels per day.
Al-Zaabi said the project was the result of "extensive discussions" between Mubadala Petroleum and petroleum ministry along with PARCO and OMV.
"This project will show the strength of UAE-Pakistan relations and how the UAE is focusing on investment in and [the] future of Pakistan."
"Many meetings have taken place regarding this project," Al-Zaabi said, adding that a UAE delegation, headed by Musabbeh Al Kaabi, the chief executive officer of Mubadala Petroleum, visited Pakistan a few months ago and met with then Board of Investment (BoI) Chairman Haroof Sharif and Petroleum Minister Ghulam Sarwar Khan.
"They have discussed this project in detail. We are going to launch it very soon," he added.
A day earlier, a delegation of Egyptian investors called on Prime Minister Imran Khan and expressed interest in investing $1 billion in the energy sector and government's flagship project Naya Pakistan housing scheme.
Board of Investment, Pakistan
@investinpak
A trade delegation of Egypt called on PM @ImranKhanPTI. The delegation expressed keen interest to invest in multiple sectors of Pakistan Economy.@razak_dawood, @Dr_FirdousPTI, @sayedzbukhari, Chairman BOI @GilaniZubair and other senior officials were present during the meeting.
View image on Twitter
54
23:46 - 3 Oct 2019
Twitter Ads information and privacy
15 people are talking about this
On the occasion, El Sewedy Electric, Egyptian energy giant, expressed its intention of investing $500 million in Pakistan's energy sector.
https://www.pakistantoday.com.pk/2019/10/04/uae-to-invest-5bn-in-refinery-project-in-pakistan-by-end-of-2019/
--------
North America
How Canada's far right is using anti-Muslim propaganda to target Trudeau
Martin Patriquin
4 Oct 2019
The video shows a bearded imam purportedly heralding a plan by Justin Trudeau to implement sharia law in Canada, before cutting to an image of the prime minister sitting cross-legged in prayer amid a group of Muslim men.
Shared widely on anti-Trudeau Facebook pages earlier this year, the clumsy montage was presented as evidence that Canada's 23rd prime minister is bent on subverting the judicial system to please Islamists – probably because he is a closeted Muslim himself.
Trudeau was pilloried when images emerged of at least three instances in which he had donned blackface. Yet as Canada heads toward a general election, the prime minister has also become the subject of racist and Islamophobic conspiracy theories.
And unlike the 2016 US election – in which a significant portion of online misinformation was created on Russian troll farms – much of the anti-Muslim propaganda aimed at Trudeau is produced and disseminated by Canadians.
The video of the YouTube imam, for example, was uploaded by a prominent Ontario anti-Muslim activist, and then viewed, shared and liked on at least three anti-Trudeau Facebook pages with a collective reach exceeding 185,000.
Dozens of videos on these pages are a conspiratorial pastiche in which Trudeau coddles Muslim extremists and throws open Canada's borders at the behest of George Soros. And they have been clicked almost 700,000 times.
The eddies of such online outrage sometimes spread into the real world. At a town hall meeting in January, an audience member accused Trudeau of supporting Sharia law – before intimating that he should be hanged for treason.
More recently, the Conservative party candidate Cameron Ogilvie stepped down after the activist group Press Progress unearthed social media posts in which Ogilvie shared a post accusing Trudeau of wanting to turn Canada into an "Islamic state".
Such conspiracies date back to Trudeau's 2015 campaign pledge to bring in 25,000 mostly Muslim refugees from war-torn Syria by the end of the year.
The move was a dramatic reversal from the previous Conservative government, which only agreed to increase the number of Syrian refugees admitted into Canada, from 1,300 to 10,000, provided Syria's non-Muslim religious and ethnic minorities were prioritized.
Soon after, the anti-Trudeau conspiracies began in earnest, echoing US "birthers" who alleged Barack Obama was ineligible for office or was secretly a Muslim.
By early 2016, a Toronto-based Facebook group was already speculating that Trudeau wanted to flood Canada's borders with immigrants from majority Muslim countries, either because he was ignorant to the dangers of radical Islam – or because he was a radical Islamist himself.
"The best non-confidence statement," one site member opined, would be for Trudeau to be shot. Neither the conspiracy-mongering nor the threats have hampered the site's popularity. In 2016, it had 25,000 followers. Today it has nearly 235,000.
The conspiracies only heightened when the Liberals introduced a non-binding motion condemning "Islamophobia and all forms of systemic racism and religious discrimination" – a move which Trudeau's opponents on the fringe right were convinced was proof of his government's fealty to radical Islam.
Liberal MP Iqra Khalid, the motion's sponsor, was inundated with hate mail and death threats. Meanwhile, Canada's statistical agency, found that police-reported hate crime targeting Muslims increased by 151% in 2017.
Now Muslim groups found themselves in a unique situation: criticizing both Trudeau for donning brownface, as well as his enemies on the far right who say he is secretly Muslim.
"It was disheartening to see the prime minister engage in blackface/brownface," said Mustafa Farooq, Executive Director of the National Council of Canadian Muslims. "That said, mislabelling someone as Muslim to castigate them is despicable. It engages in a longstanding hateful mythology about the Muslim community."
That Canadians should be the source of this should not be a surprise: contrary to prevailing stereotypes, recent polling suggests many Canadians are a politely jingoistic bunch who are inclined to believe that immigrants in general, and Muslims in particular, are too numerous above the 49th parallel.
One poll,found 41% of Canadians believe there are too many immigrants in the country – and more than 60% of self-described Conservatives say there are too many visible minorities here.
Many of the far right's most prominent provocateurs are Canadians, including Faith Goldy, Stefan Molyneux and Lauren Southern – who was banned from Facebook earlier this year.
A 2018 report by the country's intelligence agency found that Canadians who hold extreme rightwing views – including Islamophobia, anti-immigration and white nationalism – actively use chat forums and social media.
"These individuals leverage online chats and forums in attempt to create an online culture of fear, hatred and mistrust by exploiting real or imagined concerns," the report found.
"We strongly expect much of this kind of content to be domestic," said Taylor Owen, director of the Digital Democracy Project, which is monitoring instances of mis- and disinformation ahead of the election. "As in the EU parliamentary elections, domestic groups saw the tools and tactics which worked for Russia in the US election and simply co-opted them."
All of this has kept fact-checkers busy. The CBC, the country's public broadcaster, has devoted seven journalists to fact check stories, ads, posts and other media that could have an impact on the election.
Earlier this year, the Agence France-Presse news agency debunked a widely circulated story which said the Trudeau government had "pleaded" the Nigerian government to send one million immigrants to Canada. (The same site had Trudeau making similar requests of six other countries.)
Yet the tide of anti-Muslim, anti-immigrant rhetoric persists, seemingly spurring the nativist impulses of some mainstream Canadian politicians.
In Quebec, Canada's second-most populous province, the government led by the populist Coalition Avenir Québec has reduced the number of incoming immigrants by 20%, despite the province's aging population and corresponding labour shortage.
The CAQ also passed a "laicity" law banning religious symbols from the bodies of certain government workers, which many see as disproportionately affecting Muslim women in the workplace.
Last fall, the former Conservative MP Maxime Bernier launched a populist party that will field a full slate of candidates in the upcoming election.
Bernier regularly berates Trudeau's "cult of diversity", wants to "make Canada great again" and shares videos from advocates of the baseless "QAnon" conspiracy theory that Donald Trump is battling a global cabal of elite liberal paedophiles.
Bernier recently made the evidence-free claim that Islamic extremists have infiltrated Canadian politics, a contention pushed by one of the largest anti-Trudeau sites in the country.
In less than a year, his thinly concealed dog-whistling has attracted notorious white nationalists and Canada's alt-right movement – as well as 5% of Canadian voters, according to one poll.
https://www.theguardian.com/world/2019/oct/04/canada-far-right-anti-muslim-propaganda-targeting-trudeau
--------
U.S., allies urge Facebook for backdoor to encryption as they fight child abuse
Joseph Menn, Christopher Bing, Katie Paul
OCTOBER 3, 2019
WASHINGTON (Reuters) - The United States, the United Kingdom and Australia have called on Facebook Inc to not go ahead with end-to-end encryption across its messaging services unless law enforcement officials have backdoor access, saying encryption hindered the fight against child abuse and terrorism.
The United States and United Kingdom also signed a special data agreement that would fast track requests from law enforcement to technology companies for information about the communications of terrorists and child predators.
Law enforcement could get information in weeks or even days instead of the current wait of six months to two years.
The latest tug-of-war between governments and tech companies over user data could also impact Apple Inc, Alphabet Inc's Google and Microsoft Corp, as well as smaller encrypted chat apps like Signal.
Washington has called for more regulation and launched anti-trust investigations against many tech companies, criticizing them over privacy lapses, election-related activity and dominance in online advertising.
In an open letter to Facebook and Chief Executive Mark Zuckerberg, the three allies said that while they supported strong encryption, it was necessary to balance the need for secure data with public safety.
They urged Facebook and other companies to "enable law enforcement to obtain lawful access to content in a readable and usable format".
The letter was signed by U.S. Attorney General William Barr, UK Secretary of State for the Home Department Priti Patel and Australian Minister of Home Affairs Peter Dutton.
"Unfortunately, Facebook has not committed to address our serious concerns about the impact its proposals could have on protecting our most vulnerable citizens," the letter reads.
CHILD ABUSE FEARS
Child predators have increasingly used messaging applications, including Facebook's Messenger, to groom their victims and exchange explicit images and videos. The number of known child sexual abuse images has soared from thousands to tens of millions in just the past few years.
Speaking at an event in Washington on Wednesday, Associate Attorney General Sujit Raman said the National Center for Missing and Exploited Children received more than 18 million tips of online child sex abuse last year, over 90% of them from Facebook.
He estimated that up to 75% of those tips would "go dark" if social media companies like Facebook were to go through with encryption plans.
Facebook said in a statement that it strongly opposes "government efforts to build backdoors," which it said would undermine privacy and security.
Zuckerberg said on Thursday he had been aware of child exploitation risks before announcing his encryption plan and acknowledged that it would reduce tools to fight the problem.
Speaking in a livestream of the company's weekly internal Q&A session, he said he was "optimistic" that Facebook would be able to identify predators even in encrypted systems using the same tools it used to fight election interference, like patterns of activity and links between accounts on different platforms.
He also suggested the company might further limit the ways adults can interact with minors on Facebook's platforms.
DIRECT REQUESTS
The bilateral agreement between the UK and the United States would empower the UK government to directly request data from U.S. tech companies, which remotely store data relevant to their own ongoing criminal investigations, rather than asking for it via U.S. law enforcement officials.
Susan Landau, a professor of cybersecurity and policy at the Fletcher School of Law and Diplomacy at Tufts University, said disputes over encryption have flared on-and-off since the mid-1990s.
She said government officials concerned with fighting child abuse would be better served by making sure investigators had more funding and training.
"They seem to ignore the low-hanging fruit in favor of going after the thing they've been going after for the past 25 years," she said.
Full report at:
https://www.reuters.com/article/us-facebook-security-exclusive/u-s-allies-urge-facebook-not-to-encrypt-messages-as-they-fight-child-abuse-terrorism-idUSKBN1WI22L
--------
US sanctions squeezing Iran-backed Hezbollah in Lebanon
By Bassem Mroue 
Oct. 4, 2019
BEIRUT — The conflict between Iran and the U.S. that has created tensions throughout much of the Middle East is now also being felt in Lebanon, where Washington has slapped sanctions on the Iran-backed Hezbollah and warned they could soon expand to its allies, further deepening the tiny Arab country's economic crisis.
The Trump administration has intensified sanctions on the Lebanese militant group and institutions linked to it to unprecedented levels, targeting lawmakers for the first time as well as a local bank that Washington claims has ties to the group.
Two U.S. officials visited Beirut in September and warned the sanctions will increase to deprive Hezbollah of its sources of income. The push is further adding to Lebanon's severe financial and economic crisis, with Lebanese officials warning the country's economy and banking sector can't take the pressure.
"We have taken more actions recently against Hezbollah than in the history of our counterterrorism program," Sigal P. Mandelker, undersecretary for terrorism and financial intelligence at the U.S. Treasury, said in the United Arab Emirates last month.
Mandelker said Washington is confident the Lebanese government and the central bank will "do the right thing here in making sure that Hezbollah can no longer have access to funds at the bank."
Hezbollah, whose Arabic name translates into "Party of God," was established by Iran's Revolutionary Guard after Israel's invasion of Lebanon in 1982. The group, which enjoys wide support among Lebanon's Shiite community, runs institutions such as hospitals, clinics and schools _ but it also has tens of thousands of missiles that Hezbollah's leadership boasts can hit anywhere in Israel.
The group is designated as a terrorist organization by the United States, some Gulf Arab countries and few Latin American nations, while the European Union considers only Hezbollah's military wing of the group to be a terrorist group.
Today, it is among the most effective armed groups in the Middle East with an arsenal more powerful than that of the Lebanese army, and has sent thousands of its fighters to Syria to back President Bashar Assad's forces in that country's civil war. Hezbollah and its allies have more power than ever in parliament and government and President Michel Aoun is a strong ally of the group.
Hezbollah has acknowledged the sanctions are affecting them, but it says it has been able to cope with sanctions imposed by the U.S. for years. The group, however, warned that it is the job of the Lebanese state to defend its citizens when they come under sanctions simply because they belong to the group, are Shiite Muslims, or are Hezbollah sympathizers.
In July, the Treasury Department targeted two Hezbollah legislators, Amin Sherri and Mohammad Raad, in the first such move against lawmakers currently seated in Lebanon's parliament. A month later, the Treasury's Office of Foreign Assets Control sanctioned Jammal Trust Bank for what it called "knowingly facilitating banking activities." The bank, which denied the charges, was forced to close afterward.
Neither Sherri nor Raad responded to requests for comment from The Associated Press.
So far, all the figures who have come under sanctions have been either Hezbollah officials or Shiite Muslim individuals who Washington says are aiding the group.
Hezbollah leader Hassan Nasrallah said the group will "study well our alternatives" now that the U.S. is targeting banks that Hezbollah does not own or deal with, as well as rich individuals and merchants simply because of their religious affiliation.
"We said it in the past that when we are subjected to injustice we can be patient, but when our people are subjected to injustice we should behave in a different way," he said.
Nasrallah said the state and the government should defend Lebanese citizens. In an apparent reference to the Lebanese central bank that implements U.S. sanctions, Nasrallah said: "Some state institutions should not rush to implement the American desires and orders this way."
Walid Marrouch, an associate professor of economics at the Lebanese American University, says Lebanon's economy is 70% dollarized and since Lebanon is using this currency, Beirut has to abide by (U.S.) laws.
"We're already living in a crisis and it will only make it worse," he said of sanctions and if Lebanon decides to stop abiding by U.S. Treasury Department orders.
Antoine Farah, who heads the business section of the daily Al-Joumhouria newspaper, wrote that if Hezbollah's desires turn out to be orders, "we will be facing a confrontation such that no one would want to be in our shoes."
"If Hezbollah decides to fight America with the money of the Lebanese we guarantee a quick collapse and staying at the bottom for a long time, like Venezuela," he wrote.
During a visit to Beirut, David Schenker, the U.S.'s assistant secretary of state for near eastern affairs, said Washington will designate in the future "individuals in Lebanon who are aiding and assisting Hezbollah, regardless of their sect or religion." Schenker did not elaborate in his interview with local LBC TV but local TV stations said Washington could start targeting Christian allies of the militant group, which has 14 members in parliament and three Cabinet ministers, including the Health Ministry.
Health Minister Jamil Jabbak, who is not a member of Hezbollah but is believed to be close to the group's leader, was not granted a U.S. visa to attend the U.N. General Assembly in late September.
Treasury Assistant Secretary for Terrorist Financing Marshall Billingslea visited Lebanon last week and a U.S. Embassy statement said he would "encourage Lebanon to take the necessary steps to maintain distance from Hezbollah and other malign actors attempting to destabilize Lebanon and its institutions."
At the end of his visit, Billingslea met a group of journalists representing local media and told them that the U.S. Treasury was posting a $10 million reward for anyone who provides "valuable information on Hezbollah's finances," according to the Daily Star.
He said the main goal of the U.S. Treasury "was to deprive Hezbollah of all financial support, whether from Iran or through any other means." Billingslea said Iran used to send the group $700 million a year, adding that U.S. sanctions on Iran have "diminished considerably" the cash inflow.
Imad Marmal, a journalist close to Hezbollah who has a talk show on the group's Al-Manar TV, wrote that the group wants the Lebanese state to put forward a national plan to face the "American siege" that will end up affecting not only Shiites but the country's economy generally. He added that those who are being targeted by the sanctions are Lebanese citizens, whom the state should protect.
Full report at:
https://www.washingtonpost.com/world/the_americas/us-sanctions-squeezing-iran-backed-hezbollah-in-lebanon/2019/10/04/8b34e6f6-e66d-11e9-b0a6-3d03721b85ef_story.html
--------
Arizona man accused of terrorism out of jail until his trial
Oct 04, 2019
PHOENIX (AP) - An Arizona man facing a terrorism charge has been released from jail as he awaits trial.
A Maricopa County Superior Court judge on Thursday ordered 18-year-old Ismail Hamad of Fountain Hills be placed on house arrest and get an electronic monitor until his trial starts next year.
The trial had been scheduled to begin later this month, but has been pushed back until May 14, 2020.
Hamad was indicted on two charges of terrorism for allegedly providing assistance to the Islamic State and engaging in an act of terrorism.
Full report at:
https://www.kgun9.com/news/local-news/arizona-man-accused-of-terrorism-out-of-jail-until-his-trial
--------
US deploys hundreds of truckloads of equipment in Syria
Mohamad Misto, Levent Tok and Adham Kako
October 5, 2019
The U.S. has dispatched hundreds of more trucks from Iraq to Syria in a week to provide military and logistic support to the region occupied by the YPG/PKK terror group.
The U.S. forces, providing support for the YPG/PKK terrorists under the pretext of fight against Daesh terror group since 2015, sent 300 more trucks through the Semelka gate at the Iraq-Syria border, a reliable local source told Anadolu Agency on Friday.
The trucks carried resistant ready-mixed concrete blocks named TWall -- which are used in base building --, off-road vehicles, generators, many fuel tankers and box bodies, according to the source, who asked not to be named due to security concerns.
The source added that the box bodies included light and heavy arms, ammunition, signalization and radar equipment.
The convoys entering the region during the week distributed the equipment to various U.S. bases in the region, the source said.
On Sept. 21, Washington also dispatched 200 truckloads of construction equipment, box bodies, prefabricated houses and tanker trucks to the region.
On Sept. 9, it delivered another 55 trucks of four-wheel drive vehicles, excavators and box bodies to Ayn Isa and Shaddadi regions occupied by the terror group, while it also dispatched another 60 trucks to the regions in the north and northeastern of Syria, respectively, on Sept. 4.
18 US military bases in Syria
The U.S. currently has around 2,000 personnel in 18 bases and military locations in Syria.
Despite President Donald Trump's remarks last year -- which said he wanted to withdraw his country's military personnel in Syria --, Washington still continue its presence in the country.
In a July 26 speech, Turkish President Recep Tayyip Erdogan said: "They are giving tens of thousands of truckloads of weapons and ammunition to the PKK/YPG for free. It gives them to whom? The terror group PKK and its supporters.
"Who gives [the support]? Those who appears to be our strategic ally gives [them]."
Erdogan also pointed out that the YPG and the PKK are the same terrorist organization, despite the U.S. efforts to separate them.
The U.S. supports the YPG/PKK under the name of SDF, which is considered by Ankara as the Syrian offshoot of the PKK terror group.
Full report at:
https://www.aa.com.tr/en/americas/us-deploys-hundreds-of-truckloads-of-equipment-in-syria/1602324
--------
Africa
Africa holds the key to defeating terrorism
October 3, 2019
On Somalia's southeast coast, the US outpost of Camp Baledogle is getting a facelift. After al-Shabab militants carried out an attack on the site in September, the US Defence Department has given the green light to "emergency repairs" worth more than $12 million.
The continued threat from al-Shabab is indicative of the importance that Africa, particularly East Africa, plays in the global fight against terrorism. The continent has turned into a hotbed for terror cells, with several groups operating nearly unfettered – a problem that has caught the EU's attention and increased in urgency with the onset of the migrant crisis.
Traditional policy seeks to fight terrorism in the affected regions, although it has become evident that a broader approach is needed. Countermeasures are necessary across all of Africa, and even West African countries like Senegal, Niger and a host of others are stepping up to tackle the issue.
Africa at the heart of counterterrorism
September's attacks in Somalia follow a deadly siege in February, when car bombs exploded in a popular area of Mogadishu and another went off near the home of appeals court chief Judge Abshir Omar. At least 24 people were killed in the incident.
It is no surprise that terrorism in Africa, affecting Africans and Europeans alike, has caught the attention of European lawmakers. Brussels has consequently upped its support for counter- terrorism in East Africa and the Sahel region. Earlier this year, representatives from countries in the Horn of Africa and the EU met to discuss criminal justice responses to terrorism, with a particular emphasis on the multilateral challenge of fighting a modern threat not contained by borders.
Multilateral action
The multilateral challenge of terrorism has thus far been met with a host of multilateral solutions on the continent, all of which have seen some success. The G5 Sahel Joint Force, made up of security forces from Burkina Faso, Mali, Mauritania, Niger and Chad, launched its first regional operation in 2017.
The similarly-tasked African Union Mission (AUM) in Somalia and Multinational Joint Task Force have also been able to report some wins against regional terror groups. The UN Security Council this year extended the authorisation of the AUM ahead of the 2020 national elections, and the Multinational Joint Task Force last month killed several fighters in northeast Nigeria.
France has been especially enthusiastic in helping to facilitate African peace and stability, having developed a range of security and defence cooperation programmes in a number of African countries. More than 4,000 French troops have been deployed to the Sahel to work with regional militaries and directly engage militants, and Paris has called for expanded international funding for regional security efforts.
West Africa stepping up
Still, if the spread of terrorism is to be contained effectively, countries in other regions of Africa need to take action too. In fact, West African countries are beginning to feel the threat as violent extremism has begun to spill over into Benin, Ghana and Togo; the Islamic State in the Greater Sahara (ISGS) is of particular concern in the west. As such, regional leaders last month announced a billion-dollar plan to mobilise against regional jihadism.
Countries like Senegal and Niger have shown particular initiative. At the UN General Assembly in September, Senegal's president Macky Sall called on the international community to "unite and unequivocally condemn all forms of extremist and violent discourse, wherever they come from and regardless of the motivations and the victims."
Sall held the speech in New York against the backdrop of accelerated efforts to curb extremism from spreading in the country and the region. The trial of several individuals exposed the possible existence of Boko Haram sleeper cells, which authorities have now begun to crack down upon. The country also implemented money-laundering and terrorist financing activities to cut off the cash flows sustaining the recruitment activities of terrorist groups.
Moreover, Senegalese law enforcement has strengthened its cooperation with US forces to better stem the threat. Senegal's police officers and gendarmes are receiving tactical training from US instructors via the US State Department's Anti-Terrorism Assistance Programme in Thiès, the first of such training centres in West Africa.
The programme shows that Washington remains a vital security player in the region, and Senegal is not the only country to have expanded its ties to the US in order to increase its own anti-terror capabilities. With six of the seven countries on Niger's border facing some form of crisis, the country has developed into another African hotspot for the anti-terror fight. Both the US and the EU have dedicated centres and personnel there, with particularly France using Niger as a broader operational base across the African continent.
However, unlike Senegal's, Niger's security infrastructure is not yet sufficiently developed to present a viable defence on its own against militant incursions from Mali or Libya. Although the country is involved in international missions like the G5 Sahel task Force, Mali's lawmakers are counting on Western powers to step up.
"It's a miracle that our country is still standing, given these threats," says Niger defence minister Kalla Moutari, "With the disappearance of the Libyan state, Niger is now the border with the west. If Niger falls, there is nothing."
That African leaders are demonstrating a willingness to tackle the threat of terrorism on the continent is a positive sign of future stability – both in Africa, and beyond. The EU and US should expand their support if they hope to increase not only Africa's security, but their own.
https://eastafricamonitor.com/africa-holds-the-key-to-defeating-terrorism/
--------
Malian government urges unity as number of troops killed in extremist attacks rises
Oct 4, 2019
The death toll in two attacks this week on Malian military camps near the Burkina Faso border has risen to 38 soldiers, the Defence Minister said on Thursday, calling for unity.
"I am very proud of these paratroopers, who defended their positions," Ibrahima Dahirou Dembele said on national radio. "But unfortunately, today we buried 38 bodies."
The minister, speaking from Boulkessey, the scene of one of the attacks, said 33 missing soldiers were found alive, eight of whom were receiving treatment.
Mr Dembele did not say if any more were still missing.
An earlier death toll after the attacks on Monday and Tuesday put the number of fatalities at 25 troops, with dozens missing.
"In spite of this hard blow, we have to stick together," Mr Dembele said. "It's a tough, difficult fight. But in the face of this war, we have to remain united behind our leader."
Using heavily armed vehicles, the militants raided two military camps, at Boulkessy and Mondoro.
Fifteen militants were killed in the raids, the government said, which began early on Monday and took more than a day to quell.
The attacks were eventually subdued with the help of Malian special forces and foreign allies, including French warplanes and helicopters.
The militants made off with a large amount of weapons, ammunition and equipment.
Local media reported about 20 vehicles were captured, including some with mounted machineguns.
Three days of national mourning, declared by President Ibrahim Boubabcar Keita, began on Thursday.
Hundreds of angry youths and wives of soldiers demonstrated outside a military camp in the capital Bamako late on Wednesday, where protesters burnt tyres.
"We came here because the government is not telling the truth about the number of dead," one solder's wife told AFP.
"It's our husbands, the red berets, who are at Boulkessy."
Ali Dialite, 15, said: "My father is a soldier. He's at Boulkessy, and I haven't any news of him. They're lying to us. The army is under-equipped."
The losses come as a crushing blow to Mali's armed forces, which are flailing in the face of an extremist revolt that has spread from the arid north to its centre, an ethnically mixed and volatile region.
The operation is also a humiliation for the G5 Sahel anti-terrorist force of 5,000 men from five countries, and for France, which is committed to strengthening security in the fragile region.
Two army helicopters and about a dozen vehicles were burnt in the attack on Boulkessy, AFP reported.
The camp there, which included a Malian battalion that was part of the G5 Sahel, was destroyed.
The force's secretariat said the assailants were members of Ansarul Islam, militants accused of several attacks in northern Burkina Faso.
Militants lost control of northern Mali after the French military intervention, but regrouped as a mobile guerrilla force to carry out hit-and-run raids and mine attacks.
They also moved to the country's central region, where they have inflamed long-standing resentments between ethnic groups, analysts say.
On March 17, the Malian army lost nearly 30 men in an attack on a camp in Dioura, also in the troubled central region.
Full report at:
https://www.thenational.ae/world/africa/malian-government-urges-unity-as-number-of-troops-killed-in-extremist-attacks-rises-1.919064
--------
Attack on U.S. Base and EU Trainers in Somalia Underlines al-Shabaab's Resilience
By Sunguta West
October 4, 2019
An attack on a U.S. military base in Somalia has underlined the persistent threat posed by al-Shabaab, the al-Qaeda affiliate in East Africa.
On September 30, the militant group stormed a base housing U.S. Special Forces and soldiers from the Somali National Army (SNA) in the town of Baledogle in Lower Shabelle region (Daily Nation, September 30).
In an attack widely seen to signify the group's growing confidence, the militants first detonated a vehicle-borne improvised explosive device (VBIED) at the gate, before fighters moved-in on foot. Reports indicate that a U.S. servicemember suffered injuries in the attack, which took place approximately 110 kilometers northwest of the capital, Mogadishu.
On the same day, a separate group of militants attacked a convoy transporting a team of EU military advisors, who had been training soldiers from the SNA in Mogadishu.
The attackers drove a VBIED into one of the vehicles in the convoy as it was returning from the army headquarters. None of the EU soldiers were injured, but the armored vehicles they were using were damaged.
Al-Shabaab claimed responsibility for the two attacks.The group claimed it sent an elite unit of soldiers to raid the heavily fortified base, and that the soldiers engaged the "crusaders" in an intense fight after breaching the perimeter (The Citizen, September 30).
According to reports, the U.S. Special Forces have been using the Baledogle Airfield complex to launch drone attacks against al-Shabaab and more recently, Islamic State (IS). It has also been the training base for commandos in Somalia (Daily Nation, September 30).
In the last two years, the U.S. military has increasingly used aircraft and drone strikes to target the militants in southern Somalia. In 2017, U.S. President Donald Trump issued a declaration that defined southern Somalia as an area of active hostilities, which opened up the territory for airstrikes, the number of which have increased sharply in 2019.
U.S. Africa Command (Africom) has conducted 110 airstrikes since 2017, targeting groups of fighters as well as individual commanders (Standard Digital, February 26).
According to reports, the aim is to reduce al-Shabaab's ability to plan and carry out future attacks, disrupt its leadership networks, and reduce its ability to move within the region (The Star, January 7). Earlier airstrikes killed key leaders including Shaykh Ahmad Abdi Godane. Godane, a co-founder of the Islamist group, died in a strike near the town of Barawe in 2014. Aden Hashi Ayro, the first al-Shabaab leader, was killed in another U.S. airstrike in 2008.
Despite the strikes and the increased onslaught by the SNA and African Union Mission in Somalia (AMISOM) troops, the al-Shabaab threat is far from diminished.
The group has remained the main destabilizing force in the region and the key obstacle to international efforts to reconstruct the Somali state (The African Executive, August 20). It continues to exist as a resilient and tactful force that quickly adapts to new circumstances in Somalia's complex civil war.
With the increasing number of airstrikes, al-Shabaab has responded by avoiding gathering its fighters in large groups. Its fighters have also been moving in small units of three or four people to avoid detection. Gathering in large numbers has been forbidden by al-Shabaab leadership, unless the group is preparing to launch a major attack.
Since its establishment in 2006, the militant organization has maintained a tight grip on most of southern Somalia. In 2011, it lost the capital Mogadishu to AMISOM. The city of Kismayo—a major source of revenue through charcoal trade, taxation, and levies on arms and other illegal imports—was lost the following year.
Al-Shabaab has continued its pattern of violence, however, attacking government installations and buildings in the smaller towns and other areas. The group has assassinated senior government officials and politicians, and kidnapped foreigners, including aid workers. It has employed the use of roadside IEDs, VBIEDs, and suicide bombers to disrupt life in the town and southern Somalia (Daily Nation, March 1).
Through its insurgency, the militant group is seeking to destabilize and overthrow the Federal Government of Somalia, with the aim of installing a government based on sharia (Islamic law) (The Star, October 2, 2018).
Beyond these attacks, al-Shabaab continues to implement some forms of taxation, such as the collecting fines. The group is offering judicial services in the areas under its control, as well as in areas still under government administration.
The attack on the U.S. base and the EU trainers are likely to boost the morale of al-Shabaab's fighters and send a key message to the many forces trying to intervene in the war-torn country.
Full report at:
https://jamestown.org/program/attack-on-u-s-base-and-eu-trainers-in-somalia-underlines-al-shabaabs-resilience/
--------
Boko Haram invade Chibok, set houses on fire
October 5, 2019
Boko Haram insurgents have reportedly invaded Mifa, a village in Chibok Local Goverment Area of Borno State and have set many houses on fire.
A resident of the village, who spoke with TheCable said the insurgents attacked the village around 8pm and set their houses ablaze.
The source said, "They are burning houses as I speak to you, many of them arrived with motorcycles and started attacking the village."
The source also said that the attack has caused panic in the village and neighbouring villages in Chibok, adding that many people have escaped.
"They have burnt so many houses especially because it is night and the terrain of the place.
"We don't know of any casualty yet. The troops just arrived although the insurgents are still inside the villages," he said.
Full report at:
https://www.pulse.ng/news/local/boko-haram-invade-chibok-set-houses-on-fire/3qesm58
--------
Arab World
Iraq's Unrest: 79% of Hashtags Coming from Saudi Arabia
Oct 04, 2019
Iraq has been rocked by a new wave of protests over economic hardships and joblessness since October 01.
However, the timing of the start of the protests with the great march of Arbaeen arouse suspicions, as new findings show that Riyadh is resorting to the cyber space where it is stimulating the public on social media platforms.
A new analysis, released on Thursday, shows that, despite all the claims which try to frame the recent unrest in Iraq as a popular movement with no political intention or affiliation, only 6% of the calls for street demonstrations originated from Iraq and the dominant majority belonged to Saudi Arabia where almost 80% of the social media content is devised and posted.
It is not a new revelation that Saudi Arabia uses dozens of Twitter bots whose job in massive scale is to call protesters to join violent street rallies.
Even the volume of hashtags sent from Kuwait is bigger than Iraq, and 7% of pro-protests tweets are from the tiny Arab country in the South of Iraq.
The UAE, Egypt, the US and Yemen are the other countries which originated the tweets promoting anti-government protests in Iraq.
Qais Khazali, the Leader of Asa'ib Ahl al-Haq Resistance Movement, revealed, in a press conference more than a month ago on August 26, that some political fractions in Iraq in a joint endeavor with some foreign powers are getting prepared for igniting demonstrations, because they are unhappy with Iraq's current foreign policy.
"The problem is the 'Deal of the Century'. They are after making the current administration abide by their demands…. Accordingly, we will witness new demonstrations in Iraq. The demonstrations are scheduled to begin in the tenth month (October). If you liked, record these words of mine. This is not my analysis; it is the information and intelligence I have. They also start with social media to pretend it is public opinion, but in reality they are being led by foreigners," he said.
Also on Wednesday, Lebanon's al-Akhbar newspaper disclosed that Saudi Arabia had handed a plot to the administration of US President Donald Trump to stir unrest in Tehran, Baghdad and Beirut. It shows that the three countries of Iran, Iraq and Lebanon are the main targets of the project which is aimed at stimulating the public opinion through the media in order to instigate street protests which would finally weaken the central government. The Arabic-language al-Akhbar newspaper went on adding that After Saudi Crown Prince Mohammad bin Salman managed to coerce Head of MBC's television network Walid Ibrahim to give in part of the shares of the MBC, through putting him behind the jail, bin Salman gained control over the MBC's board of directors, injected $100 million into the network to spend it against target audience in Lebanon, Iraq and Iran. Many may have not noticed that there were several rallies in Lebanon concurrent with protests in Iraq, but they failed to attract attention similar to what demonstrations in Iraq did. This remarkable synchronization will be noted by shrewd analysts.
Now, the Saudi plot is being materialized in Iraq, and that is why there is no internal political leadership heading it which makes it seem as if the protests were popular and spontaneous while the plot is riding a wave of economic discontent. The current situation in Iraq is very similar to what was supposed to become nationwide in Iran in late 2017 and early 2018. Both of these cases of protests claimed popularity and independence from any political leadership, and at the same time were heavily dependent on arrangements made and announced on social media.
Both senior Iraqi cleric Seyed Muqtada al-Sadr and Ammar al-Hakim (the former Leader of the Islamic Supreme Council of Iraq) have sought to take the lead, but were pushed back by demonstrators.
The US, Saudi, Israeli embassies and governments have thrown their weight behind the protests, raising suspicions of their involvement to yet another level.
https://en.farsnews.com/newstext.aspx?nn=13980712000410
--------
Iraq protest toll reaches 60 dead: Iraqi Human Rights Commission
5 October 2019
At least 60 people have died over four days of bloody protest across Iraq, the Iraqi Human Rights Commission said late Friday, in figures that include 18 deaths registered at a single hospital in the capital Baghdad.
The Commission did not specify how many were civilians or security forces. With more than 1,600 people wounded, the toll may rise further.
Iraqi security forces Friday opened fire on dozens of protesters gathering in Baghdad for a fourth day of demonstrations against corruption, unemployment, and poor public services, an AFP correspondent reported.
Tensions have been exacerbated by a near-total internet blackout as the authorities seek to prevent protesters communicating with each other or posting footage of the chaotic demonstrations.
Full report at:
https://english.alarabiya.net/en/News/middle-east/2019/10/05/Iraq-protest-toll-reaches-60-dead-Iraqi-Human-Rights-Commission.html
--------
Iraq's Shia religious authority endorses ongoing protests
4 October 2019
A statement issued by the Iraqi Shia religious authority on Friday endorsed the ongoing protests in the country and warned of the "serious repercussions" of violence and counter-violence.
Protesters in Baghdad gathered on Friday for the fourth day of demonstrations against corruption, unemployment, and poor public services. Since day one, 44 people have been killed and hundreds injured by the Iraqi forces, who have been firing on protesters.
Full report at:
https://english.alarabiya.net/en/News/middle-east/2019/10/04/Iraq-s-Shia-religious-authority-endorses-ongoing-protests.html
--------
Demonstrator says shooters of Iraqi protesters 'Iranians speaking Farsi'
4 October 2019
Farsi-speaking Iranians, not Iraqi forces, have been shooting at people during Iraq's recent deadly protests, according to a protester interviewed in Baghdad by Reuters.
"There is no work, you come to protest, they fire at you. Live gunfire. They are all Iranian speaking in Farsi. You want to speak to them they answer in Farsi. The Iraqis would not fire at you," an unnamed Iraqi protester told Reuters in a video published on Thursday.
Anti-government protests in Iraq, which began over unemployment and poor services but have escalated into calls for a change of government, have been met with live fire. Over three days of protests, 33 people have been killed and more than 600 wounded.
The mostly leaderless protests have been concentrated in Baghdad and in predominantly Shiite areas of southern Iraq. Demonstrators defied a curfew imposed by security forces on Thursday and continued to protest.
Protestors have been reportedly been shouting slogans against Iran for supporting Shiite militias and groups who have a stranglehold on Iraq's politics.
Iran is influential in Iraq, including military personnel on the ground. Iraqi Prime Minister Adil Abdul Mahdi is a former member of the Supreme Islamic Iraqi Council, a Shiite political party with close ties to Iran.
Many of the Popular Mobilization Units (PMU) militias are loyal to Iran, and the PMU's deputy commander Jamal Jaafar al-Ibrahimi – known by his nom de guerre Abu Mahdi al-Mohandes – is a key Iranian ally. Mohandes is also the leader of Katai'b Hezbollah, the terrorist organization accused of attacking Saudi Arabian oil pipelines in May.
Iran's Islamic Revolutionary Guard Corps (IRGC) is also influential in Iraq. Qassem Soleimani, the commander of the IRGC's Quds Force, has repeatedly travelled to Iraq in violation of UNSCR 2231, which established a travel ban as part of the Iran nuclear deal.
Last week, Iran's ambassador to Iraq said that his country would not hesitate to attack US forces in Iraq if the US or its allies struck Iran, following the September 14 attacks on Saudi Aramco oil facilities which have been widely attributed to Iran.
As Tehran is increasingly isolated due to the US' "maximum pressure" policy, Iran has also tried to use Iraqi companies to bypass US sanctions.
Full report at:
https://english.alarabiya.net/en/News/middle-east/2019/10/04/Demonstrator-says-shooters-of-Iraqi-protesters-Iranians-speaking-Farsi-.html
--------
Iraqi forces bust terror cell plotting to assassinate Ayatollah Sistani: Report
Oct 4, 2019
Iraq's security forces have dismantled a terrorist group as it was planning to assassinate the most prominent Shia cleric Grand Ayatollah Ali al-Sistani in the wake of ongoing demonstrations against corruption, unemployment and poor public services, a report says.
Lebanon's Arabic-language al-Mayadeen television news network, citing Najaf Provincial Governor Luay al-Yassiry, said on Friday that members of the terror outfit actually wanted to kill the revered cleric in the holy city of Najaf, located about 160 kilometers (100 miles) south of the capital Baghdad, and had infiltrated the old part of the city for the purpose.
Meanwhile, the correspondent for the Iran-based Arabic-language al-Alam television news network, Navid Behrouz, reported that the captured terrorists had planned to incite protesters to storm Ayatollah Sistani's office.
Earlier in the day, Grand Ayatollah Sistani urged Iraqi security forces and protesters to avoid violence, expressing sorrow over some sporadic unrest that has led to several casualties.
"It is sorrowful there have been so many deaths, casualties and destruction" from clashes between anti-government protesters and security forces in recent days, he said in a letter on Friday.
In the letter read out by his representative Ahmed al-Safi during a sermon in the holy city of Karbala, the top cleric urged all parties to avoid violence.
He also criticized officials and political sides for failing to answer the demands of the people to fight corruption, urging them to heed the demands of the protesters "before it's too late."
"Lawmakers hold the biggest responsibility for what is happening," Ayatollah Sistani was quoted as saying.
The ongoing unrest in Iraq comes as millions of Shia Muslims are preparing for mourning rituals on Arba'een, which marks 40 days after the anniversary of Ashura, the day of the martyrdom of Imam Hussein, the grandson of Prophet Muhammad.
Imam Hussein was martyred in a battle with the massive army of Yazid ibn Mu'awiya, commonly known as Yazid I, in the desert plains of Karbala along with his 72 companions approximately 14 centuries ago, after refusing allegiance to the tyrant caliph.
The occasion has found additional significance in recent years as it has become a rallying cry for the campaign against Takfiri terrorists, who have frequently targeted the pilgrims.
Full report at:
https://www.presstv.com/Detail/2019/10/04/607847/Iraq-terror-cell-plotting-to-assassinate-top-Shia-cleric-amid-unrest-Report
--------
Syrian opposition vows to back any Turkish operation into northeast
October 05, 2019
BEIRUT: Turkey-backed Syrian opposition fighters pledged on Friday to back a potential cross-border offensive that Ankara has threatened to mount against Kurdish fighters in northeast Syria. The US-led coalition and Turkey conducted on Friday their third joint patrol in northeastern Syria, they said, part of a plan designed to defuse tensions between Washington's two allies — Ankara and the Syrian Kurds.
The two countries have agreed to set up a zone in northeast Syria along the border with Turkey, which wants to expel the Syrian Kurdish YPG militia from the frontier.
The patrol followed a telephone call late on Thursday between Turkish Defense Minister Hulusi Akar and US Defense Secretary Mark Esper in which Akar reiterated that Turkey woul not accept a delay in the creation of what it calls "a safe zone" and would act alone if necessary to set it up.
Turkey has accused the US, which helped the YPG defeat Daesh militants, of moving too slowly to establish the zone.
President Recep Tayyip Erdogan said on Tuesday that given the lack of progress Turkey had no choice but to act alone — his most direct indication yet of a military incursion.
US support for YPG fighters has infuriated Ankara, which sees them as linked to the Kurdish PKK movement that has waged a decades-long insurgency inside Turkey.
"When it comes to the east of the Euphrates (river) ... it is our duty to fight," Salim Idris, an official of the Turkey-backed Syrian opposition, told a news conference in southeast Turkey. "We stand in full force in support of our Turkish brothers in fighting all forms of terrorism represented by the PKK gangs."
With ties between the NATO allies already under strain, diplomats and analysts say Erdogan would be unwilling to anger Washington with a full-scale incursion into northeast Syria, where US forces are stationed alongside the YPG.
But Turkey, which has twice launched military offensives with its insurgent allies in northern Syria in recent years, has been pressing for more efforts to set up the border zone.
US and Turkish troops have so far carried out half-a-dozen joint air missions over northeast Syria and three land patrols, including one on Friday, in what Washington describes as "concrete steps" to address Ankara's concerns.
Turkey, which backs opposition fighters holding tracts of territory in northwest Syria near its border, also has about a dozen military posts in the nearby Idlib region.
Full report at:
https://www.arabnews.com/node/1564336/middle-east
--------
South Asia
Pakistan's hosting of Taliban leaders angers Afghanistan
SAYED SALAHUDDIN
October 05, 2019
KABUL: The Afghan government has slammed Pakistan for hosting Taliban leaders and demanded Islamabad stops sheltering militants on its soil.
A high-level Taliban delegation, led by the group's deputy head Mullah Abdul Ghani Baradar, arrived in Islamabad on Wednesday to hold talks with Pakistani officials, including Prime Minister Imran Khan, Foreign Minister Shah Mahmood Qureshi and the country's intelligence chief.
"Hosting an insurgent group is against all norms and principles among countries," said Sediq Seddiqi, Afghan President Ashraf Ghani's chief spokesman.
Islamabad said on Thursday that it would continue making efforts for "lasting peace in Afghanistan" after holding initial talks with the Taliban leaders.
Taliban spokesperson Zabihullah Mujahid said the meeting with Pakistani officials involved discussions on Afghan refugees, businessmen based in Pakistan and regional security.
The Taliban delegation arrived in Islamabad when the US special envoy for Afghanistan Zalmay Khalilzad was also present and sources in the US Embassy confirmed that a meeting did take place between the two sides.
The development comes weeks after US President Donald Trump abruptly called off peace talks with the Taliban in Qatar after nearly a year of intense engagement that had created high hopes of a deal to restore peace and stability in war-torn Afghanistan.
Trump linked his move to the killing of a US solider in Kabul by the Taliban in a suicide attack which also claimed the lives of 10 Afghans.
Khan, who met with Trump in New York at the UN General Assembly, urged the stalled peace dialogue to resume and offered his country's positive role to help support the two sides.
However, Sediqqi said that the Taliban's recent Islamabad visit would not help the peace process in Afghanistan.
"The peace process can be effective when it is led and owned by the government of Afghanistan and we do not see any sign of commitment for peace from the Taliban group," he said.
"Our usual demand from Pakistan has been to destroy the safe havens of Taliban and terrorists on its soil and play a positive role in the security of the region," he added.
Pakistan was among the few countries to recognize the Taliban's government, which ruled much of Afghanistan from 1996 until it was ousted by US-led troops in late 2001.
Islamabad has been accused by both the Afghan government and US officials for backing and giving shelter to the Taliban on its soil, an allegation Pakistan has vehemently denied.
Ahead of the trip to Pakistan, the Taliban delegation also visited Russia, China and Iran, propagating the group's point of view that it was interested in resuming talks with Washington while blaming Trump for canceling a peace deal that had reached its final stage.
https://www.arabnews.com/node/1564346/world
--------
Afghan air raids kill 8 Taliban fighters in northern Balkh province: official
2019-10-03
MAZAR-E-SHARIF, Afghanistan, Oct. 3 (Xinhua) -- A total of eight militants have been confirmed dead as fighting aircraft struck Taliban hideouts in Chamtal district of the northern Balkh province on Thursday, army spokesman in the northern region Mohammad Hanif Rezai said.
The airstrikes were conducted at 09:20 a.m. local time in Asiab Sharaf area of the troubled Chamtal district, killing eight insurgents on the spot and wounding five others, said the official.
Full report at:
http://www.xinhuanet.com/english/2019-10/03/c_138446475.htm
--------
Rohingya youths form football team in Japan, appeal for peace
October 5, 2019
As the Rohingya refugee crisis continues far away, the ethnic group's youths living north of Tokyo have formed a football team in a bid to prove peace can be achieved between groups regardless of religion and ethnicity.
Salamat FC is led by Mamoru Mizuno, a 16-year-old second-generation Muslim Rohingya in Tatebayashi, Gunma Prefecture, which has become home to refugees fleeing persecution and sectarian violence by the Buddhist majority in Myanmar.
They have played Vietnamese and other Myanmar minorities in Japan, with matches also planned this month against a team of Burmese -- a majority in Myanmar -- and against Koreans in November.
Salamat -- the name is derived from the Arabic word for peace -- counts 15 Rohingyas and some Japanese and Sri Lankans among its 20 players, ranging from elementary-school students to young adults in their 20s, and practices twice a week.
Mizuno, whose Rohingya name is Suhail and who was granted Japanese citizenship in 2015, set up the team to motivate his community in November 2017, after clashes between Myanmar security forces and Rohingya militants three months earlier.
The incident led more than 700,000 Rohingyas to cross the border into Bangladesh, where they remain in refugee camps. His father still worries about his mother -- Mizuno's grandmother -- who still lives back home.
"We want to play at the refugee camps in Bangladesh (in the future) to bring smiles to people there," he said.
The team has already brought some comfort to a 45-year-old Rohingya man who is seeking refugee status in Japan, and trying to cope with the work restrictions imposed on him.
"I lost hope because I am not allowed to work, but watching the team makes me feel better," he said.
Full report at:
https://english.kyodonews.net/news/2019/10/2d3dd512ad0a-rohingya-youths-form-soccer-team-in-japan-appeal-for-peace.html
--------
Afghan Special Forces rescue 10 people from a Taliban prison in Helmand
04 Oct 2019
The Afghan Special Force stormed a Taliban prison in southern Helmand province and rescued ten people during the raid.
The 215th Maiwand Corps said in a statement that the Special Forces stormed the Taliban prison in Nahr-e Saraj district late on Thursday night.
Gen. Zabiullah Mohmand, the Commander of 215th Maiwand Corps said the Afghan forces would destroy all Taliban prisons in South-western parts of the country.
Meanwhile, the freed prisoners said the Taliban militants did not provide them enough food, subjected them to torture and beatings besides preventing them to contact their families.
Full report at:
https://www.khaama.com/afghan-special-forces-rescue-10-people-from-a-taliban-prison-in-helmand-04184/
--------
Women among 8 killed, wounded in Kapisa roadside bomb explosion
02 Oct 2019
A roadside bomb explosion in Kapisa province killed or wounded 8 civilians including women and young girls, the security officials said Wednesday.
Nasrat Rahimi, a spokesman for the Ministry of Interior said a roadside bomb planted by Taliban militants, went off at around 4:20 pm local time in Nijrab district on Tuesday.
Rahimi further added that the bomb went off Baiz Khel Afghania Village as the civilians were crossing the area.
He said the explosion killed 6 civilians including boys, two women and two girls and wounded two others includig a woman.
Full report at:
https://www.khaama.com/women-among-8-killed-wounded-in-kapisa-roadside-bomb-explosion-04171/
--------
Mideast
Palestinian footballers praise Saudi Arabia decision to play match in West Bank
4 October 2019
Palestinian national footballers praised on Thursday Saudi Arabia's decision to play an upcoming match in the occupied Palestinian territories, the first time the teams will face off in the West Bank.
Palestinian national football player Ahmad Qatamesh said the decision by Saudi Arabia to play in the West Bank "is a good step for us as Palestinians."
"It will be an amazing feeling to play for our fans on our land, to show the world we are here to stay," said Qatamesh in an exclusive interview with Al Arabiya English. Qatamesh was born and raised in Tulkarm refugee camp, the second largest refugee camp in the West Bank.
Teammate Yaser Hamed Mayor said that the October 15 match in the Palestinian town of al-Ram will be "historic."
"We are happy to be able to play at home with our fans, receiving the support of our people," said Mayor in an exclusive interview with Al Arabiya English.
Saudi Arabia's Sports Authority announced Thursday that its national football team will play the upcoming World Cup qualifying match against the Palestinian national team in al-Ram's Faisal Al-Husseini International Stadium. Past matches between the two countries' football teams have taken place in third countries.
Saudi Arabia's Prince Abdulaziz bin Turki Al Faisal, chairman of the country's Sports Authority, said the step comes in response to the request of the Palestinian Federation and their desire to host the game.
"At the request of the brothers in the Palestinian Federation, the Saudi Football Federation agrees to play the first team match in the Asian qualifiers in the city of Ramallah in Palestine," Saudi Arabia's Sports Authority said on Thursday in a statement on Twitter.
The decision was also made to ensure that the Palestinian team is "not deprived of playing the game at home among its fans like other countries."
Palestinian leadership said that buses will transport the Saudi team from Amman Airport, which they will arrive to on October 13, to Ramallah in a special arrangement.
https://english.alarabiya.net/en/News/middle-east/2019/10/04/Palestinian-footballers-praise-Saudi-Arabia-decision-to-play-match-in-West-Bank.html
--------
Altun: 'Media center against anti-Muslim sentiment to be global brand'
05.10.2019
The proposed Turkey-Pakistan-Malaysia media and communications center against anti-Muslim racism will be a strong global brand with high-quality content in English, according to Presidency Communications Director.
"We believe that a global brand will be established. Actually, we will establish a media and communication center and a channel to fight Islamophobia. This digital platform will produce videos for social media, make documentaries and video news," Fahrettin Altun said Friday, speaking to Anadolu Agency (AA).
The decision was made during a trilateral meeting between Pakistani Prime Minister Imran Khan, President Recep Tayyip Erdoğan and Malaysian Prime Minister Mahathir Mohamad in the 74th session of the U.N. General Assembly in New York last week.
Altun said the three countries have formed a study group for conceptual works. He added that a framework will be completed before Erdoğan's visit to Pakistan on Oct. 23-24. Altun also said that all digital opportunities and channels will be included for a comprehensive and efficient network.
About the language of the channel, Altun said the channel will use English in the first phase and other languages may be included later. Pointing to Erdoğan's speech at the U.N. General Assembly, Altun said a comprehensive global strategy is needed against anti-Muslim racism.
President Erdoğan earlier highlighted the rise of racism, xenophobia and anti-Muslim discrimination as threats against international peace and stability, underlining the importance of a global strategy to fight such crimes against humanity.
"It is our fundamental duty to adopt inclusive public rhetoric to eradicate this foe [ant-Muslim sentiments] once and for all," he told the international community.
Erdoğan also requested the U.N. to designate March 15, the day marking the violent Christchurch attacks, as "International Day for Solidarity against Islamophobia."
"The television channel project is only one dimension of the fight against Islamophobia and anti-Islam discrimination. Since it is a deep issue, co-initiatives will not be limited to the television channel," Altun said.
He further added that such crimes are adopted by some politicians for their political agendas and warned that if anti-Muslim movements cannot be stopped, they will bring more violence and terrorism. "At that point, we see this television channel as an important opportunity to develop relations between the Islamic world and the Western world and eliminate the biases," he added.
Altun said it is very likely that the television channel will be established in Istanbul and benefit from the experience of Turkish Radio and Television Corporation (TRT).
"Of course, there will be representation offices in other countries' capitals. All the structure a global channel needs will be implemented," he said.
Altun also touched on the expectations from the television channel and media center. He stressed the role of media in the negative depiction of Muslims across the world.
"As our president underlined, Muslims are among the groups most suffer from hate speeches, insults against sacred values and discrimination. As I said, Islamophobia is a new type of racism targeting and discriminating Muslims. At that point, both conventional media and social media play very serious roles about the negative perception of Muslims. Especially in Western media, it is very obvious that Islam and Muslims are approached very negatively," Altun explained.
Considering all these developments, Altun underlined that an international initiative focusing on the fight against anti-Muslim racism was very necessary and added that the planned initiative will also function as "a watch center against Islamophobia."
Pakistani Prime Minister Khan, who indicated that misunderstanding regarding Muslims could be fixed in this way, said that "misperceptions which bring people together against Islam will be corrected; the issue of blasphemy will be properly contextualized; a series and films will be produced on Muslim history to educate and inform our own people and the world, and Muslims will be given a dedicated media presence."
Full report at:
https://www.dailysabah.com/politics/2019/10/05/altun-media-center-against-anti-muslim-sentiment-to-be-global-brand
--------
Palestinian killed by Israeli fire in border clashes: Gaza ministry
4 October 2019
A Palestinian was killed on Friday by Israeli fire during clashes along the Gaza border, the health ministry in the enclave said.
Alaa Hamdan, 28, was shot in the chest by Israeli soldiers near Jabalia in northern Gaza, the ministry's spokesman said, as protesters returned the frontier for renewed demonstrations and clashes.
https://english.alarabiya.net/en/News/middle-east/2019/10/04/Palestinian-killed-by-Israeli-fire-in-border-clashes-Gaza-ministry.html
--------
Palestinians to receive $430 mln Israeli transfer, say officials
4 October 2019
The Palestinian Authority will receive a transfer of 1.5 billion shekels ($430 million) from Israel, officials from the two governments said Friday, in a step towards resolving a months-long standoff between them.
Israel will continue to deduct money from the transfers to account for the PA's payments to prisoners, a decision that sparked the row, but the two sides have agreed to further talks to resolve that issue,
Palestinian civil affair minister Hussein al-Sheikh said.
Shai Babad, director general of Israel's finance ministry, told AFP the transfer would be made on Sunday to the PA government, which is facing a crippling financial crisis caused by the dispute.
Sheikh confirmed they would receive the funds.
In February, Israel decided to withhold about $10 million a month from revenues of some $190 million it collects on the PA's behalf, prompting Palestinian president Mahmud Abbas to refuse all payments - saying he would accept all or nothing.
The money comes from customs duties levied on goods destined for Palestinian markets that transit through Israeli ports and constitutes more than 50 percent of the PA's revenues.
The deduction corresponds to what Israel says the PA paid Palestinian prisoners in Israeli jails, or their families.
Prisoners who have carried out attacks on Israelis are among those receiving the payments, and Israel says the policy encourages further violence.
Palestinians view prisoners as fighting against Israel's occupation and say the money supports families that have lost their main breadwinners.
Sheikh said the two sides had agreed to form a committee to resolve remaining issues, including the money withheld over prisoner payments.
"This is a step towards resolving the crisis but the crisis didn't end," he told AFP.
Full report at:
https://english.alarabiya.net/en/News/middle-east/2019/10/04/Palestinians-to-receive-430-mln-Israeli-transfer-say-officials-.html
--------
US-Saudi-Israeli alliance against Iran floundering in crisis: Haaretz
Oct 4, 2019
An anti-Iran alliance forged between the leaders of the United States, Israel and Saudi Arabia is faltering as each have become overwhelmed by their own dilemmas, Israel's leading daily Haaretz reports.
"The three leaders who have led the anti-Iran line in recent years were each absorbed in his own domestic crisis this week," Haaretz wrote on Thursday.
The Israeli paper pointed to the recently intensified impeachment inquiry surrounding US President Donald Trump and pre-indictment hearings threatening the tenure of Israeli Prime Minister Benjamin Netanyahu during the past week as signs that the two leaders were mired in crisis.
Harretz also highlighted that the "mysterious" death of the long-time personal bodyguard of Saudi Arabia's King Salman bin Abdulaziz Al Saud earlier this week had "embarrassed" Saudi Arabia's Crown Prince Mohammed bin Salman.
Riyadh faces renewed global criticism on the anniversary of the brutal murder of dissident journalist Jamal Khashoggi, Haaretz wrote.
Numbering other setbacks for Riyadh in the past week, Haartez highlighted a major Yemeni operation in the country's northern region of Najran against Saudi-led troops.
The operation led to the death of about 200 Saudi-led forces and the capture of another 2,000 troops.
Iran's 'relaxed week'
The article went on to describe Iran's latest international developments in comparison, claiming that the country had experienced a "relaxed week" despite "pressure of the US sanctions and the country's economic distress."
It wrote that "Iranian President Hassan Rohani received an enthusiastic welcome at the United Nations General Assembly in New York" last week, adding that Trump has been "wooing" the Iranian president in order to get a chance to meet with him.
The daily added that the developments marked a stark contrast with the Trump administration's initial rhetoric against Iran, when Washington withdrew from the 2015 Iran nuclear deal last year and announced a campaign of "maximum pressure" campaign against Tehran.
Also pointing to Riyadh's change in tone towards Iran, the article highlighted that the Saudi crown prince had urged for a "peaceful" solution regarding its tensions with Iran in an interview earlier this week.
The crown prince had stated that a war with Iran would lead to the "total collapse of the global economy."
Haaretz said such developments came despite the fact that Washington and Riyadh had both blamed Iran for being behind a major September 14 Yemeni drone attack on Saudi Arabia's oil installations, an accusation firmly denied by Tehran.
"Not only did the sophisticated and destructive attack on the Saudi oil facilities last month pass without a military response from Riyadh or Washington, but Saudi Arabia even made it clear that it supported dialogue with Tehran," it wrote.
The Saudi crown prince had been previously known for his exclusively bellicose rhetoric against Tehran.
Full report at:
https://www.presstv.com/Detail/2019/10/04/607858/AntiIran-alliance-crisis
--------
Iraq's top Shia cleric urges security forces, protesters to avoid violence
Oct 4, 2019
Grand Ayatollah Ali al-Sistani, the top Shia cleric of Iraq, has urged security forces and protesters to avoid violence, expressing sorrow over some sporadic unrest that has led to several casualties.
"It is sorrowful there have been so many deaths, casualties and destruction" from clashes between anti-government protesters and security forces in recent days, Ayatollah Sistani said in a letter Friday.
In the letter read out by his representative Ahmed al-Safi during a sermon in the holy city of Karbala, the top cleric urged all parties to avoid violence.
He also criticized officials and political sides for failing to answer the demands of the people to fight corruption, urging them to heed the demands of the protesters "before it's too late".
"Lawmakers hold the biggest responsibility for what is happening," Ayatollah Sistani was quoted as saying.
Iraqi Prime Minister Adil Abdul-Mahdi on Thursday expressed regret that the ongoing protests have become violent, saying he is ready to meet with representatives of the protesters to discuss their demands.
Speaking on Thursday night, the Iraqi prime minister said certain elements have been able to derail the protests from their peaceful path.
He said there was no "magic solution" to issues such as graft, unemployment and corruption but he would begin passing a law for basic income to be meted out to poor families.
During the televised address, Abdul-Mahdi also asked the parliament, where his coalition is in majority, to give him support so that he can reshuffle his cabinet to address people's demands.
The unrest comes as millions of pilgrims are preparing to travel to the Iraqi holy cities of Najaf and Karbala to attend Arba'een marking the fortieth day after the martyrdom of their third Imam, Hussein ibn Ali (AS).
On Friday, a senior Iranian cleric said the United States and Israel are stoking unrest in Iraq to disrupt the Arba'een pilgrimage.
"The enemy is now determined against the Islamic nation. America and Zionism ... are targeting Arba'een and Iraq, and causing trouble because it is hard for them to accept the presence of millions (of pilgrims) in Karbala," Ayatollah Mohammad Emami-Kashani said in a sermon in Tehran.
Iran's Foreign Ministry on Thursday urged all pilgrims from the country to postpone their visit to Iraq until calm is restored.
"Stressing the importance of the great march of Arba'een and the necessity of holding this magnificent congregation, the Foreign Ministry calls on the Iranian faithful ... to postpone their visit to Iraq until calm is restored to the country, and to pay close attention to the warnings of political and security officials," the statement said.
Iran, it said, is confident the Iraqi government and nation will work with all groups, parties and personalities, especially the top clerics and other religious authorities and political leaders to calm the current tense situation.
Full report at:
https://www.presstv.com/Detail/2019/10/04/607842/Iraq-protest-sistani-violence-abdulmahdi
--------
Yemenis rally to express support for recent anti-Saudi operation
Oct 4, 2019
Thousands of Yemenis have taken to the streets of the northern Yemeni city of Sa'ada to express support for the country's recent retaliatory military operation against Saudi-led forces in the border region of Najran.
Yemeni authorities speaking at the rally on Friday called for "national reconciliation" and a further deployment of forces against the Saudi aggression, Yemen's al-Masirah news network reported.
Authorities also warned Riyadh that continued aggression and failure to accept a ceasefire proposed by Yemen would result in more serious strikes from Yemeni forces.
During the rally, demonstrators carried images of Yemeni soldiers who had lost their lives during the operation.
Demonstrators also decried "Washington's policies in the region" and called for Muslim and Arab states to unite against the "oppressors", chanting slogans expressing support for the Palestinian cause.
"[We are] headed to al-Aqsa," they chanted, referring to the al-Aqsa Mosque in occupied Jerusalem al-Quds.
Friday's protests came a week after Yemeni forces, led by the popular Houthi Ansarullah movement, announced the conclusion of a major ground operation against Saudi-led mercenaries dubbed "Victory from God Almighty".
Yemeni forces killed some 200 Saudi-backed mercenaries and took 2,000 others prisoner in the offensive.
The operation marked one of Yemen's most successful military operations repelling the Saudi-led aggression against the country.
It also came after a major drone attack on the heart of Saudi Arabia's oil industry, which allegedly shut down more than half of the kingdom's crude production.
Saudi Arabia and a number of its regional allies launched the war on Yemen in March 2015, with the goal of bringing the government of former president Abd Rabbuh Mansur Hadi back to power and crushing the Ansarullah movement.
Full report at:
https://www.presstv.com/Detail/2019/10/04/607839/Yemenis-express-support-for-recent-antiSaudi-operation
--------
Europe
UK uses 3rd country to settle Iranian bank's $1.6bn damage claim: Report
Oct 5, 2019
The United Kingdom has used a third country to evade the US sanctions as it paid Iran's Bank Mellat a settlement in a $1.6 billion damage case, The Times reports.
Back in June, the UK government reached an agreement with Bank Mellat to settle the $1.6-billion damages claim brought by the Iranian bank after 10 years of negotiations.
Now a Times report shows the British government has paid the money to the Iranian bank through a third country and entity in order to evade US sanctions.
"Bank Mellat's claims have been concluded on terms confidential to the parties," the UK Treasury announced.
Iran's Ambassador to London Hamid Baeidinejad confirmed on Friday that the UK government has made the payment to the Iranian side.
He also described the procedure as an important legal success for the Islamic Republic of Iran.
In 2009, the UK Treasury imposed sanctions on Bank Mellat after it claimed that the bank was financing firms involved in Iran's nuclear program. But in 2013, the UK's Supreme Court ruled that the sanctions were unlawful and that the government's response was irrational and disproportionate.
The sanctions – part of the 28-member European Council's freeze of the funds of Iranian financial entities from 2010 – were lifted in 2016 when an international nuclear deal with Iran came into effect.
Bank Mellat argued that the UK's actions "substantially damaged the bank's reputation" and led to the loss of profits, customers and access to international banking services.
The bank says the UK government also lobbied other international authorities to impose financial restrictions, leading to "copycat" sanctions being introduced by the United Nations, the European Union and others.
Bank Mellat had sought 3.2 billion pounds sterling but this fell to 1.25 billion pounds sterling with interest, the Times report said.
https://www.presstv.com/Detail/2019/10/05/607881/Iran-Bank-mellat-UK-government-damage-claim-sanctions
--------
After Waiting For Decades, Muslims In Athens Finally Get A Mosque
Oct 4, 2019
Athens' first official mosque is set to open in the coming months after a decades-long fight for its construction by the country's minority Muslim population as reported by various news media.
"We hope the first prayer will be in September," said Minister of Education and Religion Kostas Gavroglou on Friday.
The minister toured the nearly completed site, which is designed to accommodate some 350 people, on the outskirts of the city center with members of the local Muslim community.
"Athens finally has a house of prayer for Muslims," he said, according to radio broadcaster Athens 984.
Parliament approved final plans to build the mosque in 2016 in partial response to the spread of illegal sites of worship throughout Athens and the surrounding area.
Athens is the only European capital without an official mosque. Fierce opposition from Greek conservatives and the Orthodox Church has frustrated efforts to build one, despite support for the project dating back to the 1890s.
The mosque is designed to accommodate some 150 people.
A government-appointed executive board will oversee the mosque and select its imam. Sermons will only be permitted in Greek, the ministry said, but the prayers are expected to take place in Arabic.
"I would like to start by thanking Allah that we finally have a mosque where we can pray, we can gather, we can talk," said Zaki Mohamed, who will be the mosque's first imam.
More than 200,000 Muslims from countries including Pakistan, Syria, Afghanistan and Bangladesh live in the Greek capital, according to Muslim groups.
Greece has its own Muslim community which represent about two per cent of the population who live mainly in the north where they have their own mosques.
Efforts over the years to build a mosque in Athens sparked protests from fringe groups on the far right; a short distance from the mosque, graffiti scrawled on a wall read "Islam Out".
Full report at:
https://wisconsinmuslimjournal.org/after-waiting-for-decades-muslims-in-athens-finally-get-a-mosque/
--------
'We must take responsibility': Parents of Europe's IS fighters in struggle to repatriate loved ones
03/10/2019
Thousands of families were torn apart when their children left to join the so-called Islamic State terror group and its world of radical ideas and brutal acts. But many of these relatives are now among those fighting to bring the runaways – and their new families – home.
For some who know little about the fate of their loved ones, it has also become a journey to establish the facts around what actually happened after they left.
The story of Quentin
Veronique Roy Burin told Euronews her son Quentin, 22, was "a nice boy" who "simply made a bad decision" when he left France for Syria in 2014.
He was "naive, generous, extremely gentle," she added.
But a Whatsapp message sent to Quentin's parents in January 2016 shattered any hopes of reunification as it confirmed their son had died somewhere between Iraq and Syria.
"It was like the sky fell on us," his father Thierry said.
SPONSORED CONTENT
The 'Kuduro' state of mind
This type of music invented in the capital of Angola is starting to conquer the planet, but its creators say Kuduro is much more than a type of music, it's a state of mind.
in partnership with Infotur
Since receiving the news, Quentin's family have been battling to find out the details surrounding the circumstances of his death.
"Where was he killed?" his mother asked. "How? On what date?
"We don't have a body and his death is not recognised...it's really hard to mourn."
'It starts with a choice'
Veronique's Catholic family have led a quiet existence in the suburbs of Paris. But faced with the fait accompli of Quentin's conversion to Islam, they accepted his new faith – in some ways because of tolerance, but also for fear of losing him.
Veronique said her son became "trapped" as his views later grew extreme, and he was dragged into fundamentalism.
But little by little, Quentin was dragged into radical Islam...
"It starts with a choice. A conviction. He adhered. He bit the hook. He was trapped, hooked." Veronique says.
After his escape, Veronique, her husband Thierry and their eldest son Yannis communicate regularly with Quentin to try and reason with him in an attempt to curb his radicalisation.
Veronique says she was ready to do everything to save him. The family went to the police and told them where their son was. But authorities said Quentin would have to make his way back the same way he had left - on his own.
"Let me tell you that when you're a parent and that your son disappears - be him an adult, Quentin was past 18 when he left - and someone tells you 'we won't pick him up, it's dangerous over there... we don't do anything'. You tell yourself... it's going to be long. It's going to be hard." Veronique went on.
She and Thierry have struggled to have the family recognised as a victim of terrorism and to prevent such a tragedy from happening to others.
"We are in a quest for the truth about the path taken by our children to go there. They seem to leave on their own will. But they don't. These are young people that have been recruited. It's an ideology, it's mental manipulation. But it's true they don't leave on handcuffs. There's no gun pointing to their heads... Well, in fact, what do we know?"
Five thousand Europeans
Quentin was among the over 5,000 young European nationals who, according to the EU, joined terrorist organisations between 2011 and 2016.
According to the UN, the phenomenon of "foreign fighters" − individuals who joined insurgencies abroad and whose primary motivation is ideological or religious rather than financial – involved close to 40,000 citizens from 110 countries.
The issue of what drove them to fight a war that wasn't theirs continues to puzzle many countries today. But the most urgent challenge is perhaps to define what to do with them next.
Thousands of those who survived now languish in improvised prisons in Syria and Iraq and face trials that, rights groups say, are based on evidence obtained through torture.
For families like Veronique's bringing these people back - so that those responsible face justice, and the victims are rehabilitated and reinserted into society - is Europe's responsibility.
"In order to turn the page, we must take responsibility and hear what is not pleasant. We did that work. We heard all that was unpleasant about our child and it was not easy."
Second chance?
Across Europe, thousands of families have been demanding a second chance for their children and grandchildren.
But how to deal with 'returnees' is a daunting question.
Past rehabilitation and reinsertion programs, particularly in Europe, have been plagued by controversy.
Britain's Prevent programme reportedly over-emphasised security rather than rehabilitation.
France's Pontourny Center set up a deradicalisation facility in the middle of nowhere for individuals referred by local authorities. It closed in less than a year after no one agreed to take part in it.
Research suggests that programs that involve returnees' families and local communities are the most successful. The Aarhus model in Denmark and Slotevaart in the Netherlands are good examples.
Returnees can seek services including psychological support, financial guidance, and social bonding through mentoring and counselling.
But those programs have been tested on a limited number of people and questions remain on whether they can be followed on a large scale.
Add to that the fact that investing public funds on former fighters is a controversial issue - "Should we spend money on people who effectively turned their backs on western democracies?" I have heard that question again and again – and you have an explosive political mix.
There's no easy answer.
Authorities have to weigh the danger former fighters pose against the costs of bringing them back.
But for Veronique's family, running the risk of losing track of them forever is a too high a price to pay:
"What is important for us is to, one day, be able to sit around a table to discuss and say... never again in France. This should not happen again. People shouldn't be able to just leave. 2,000 departures are not anecdotal."
It's too late for Quentin. But Veronique, who has written a book about her family's experience with terrorism, says her fight is far from over:
"People don't want to hear that we suffer. We raised our kid well. Our kid is not the result of a family's radicalisation. He is the result and an experience exterior to the family...
He met people he shouldn't meet, that guided him to think about his religion, the religion he chose, a certain way and about politics in the Middle East. He wasn't ready. All this contributed to his departure.
And It's not because our son is dead that we have nothing else to do with this. The government doesn't do anything to bring them back. It's the worst thing that can happen. They think history doesn't repeat itself, but there are similarities...
Full report at:
https://www.euronews.com/2019/10/03/we-must-take-responsibility-parents-of-europe-s-is-fighters-in-struggle-to-repatriate-lov
--------
Knife Attack at Paris Police Headquarters Leaves 4 Dead
By Adam Nossiter, Aurelien Breeden and Elian Peltier
Oct. 4, 2019
PARIS — A veteran police employee in France slipped a knife through security at the heavily guarded Police Headquarters in the heart of Paris on Thursday, killing four of his colleagues before being shot dead in the building's vast courtyard.
The employee, a 45-year-old man who worked in computer services for the intelligence division of the Paris police, moved methodically from his office, up the stairs and back down, killing one woman and three men as he went, police union officials told French television.
The attack immediately raised fears of a return to the waves of terrorism that hit Paris in 2015 and 2016, which included assaults on the police, although officials were looking elsewhere for a motive, at least for now.
Discontent among police officers was already rising before the attack, and the authorities will almost certainly be asked to explain how a man with a knife was able to enter a heavily secured Police Headquarters filled with armed officers and kill four people before finally being brought down.
The unhappiness and disquiet plaguing the French police have led to a record number of suicides and to a mass demonstration by officers through Paris on Wednesday, the biggest in nearly 20 years.
"It might be the expression of a new malaise at the heart of the police, like this wave of suicides," Denis Jacob, a police union official, told French television on Thursday after the attack. An official with another police union said there were morale problems among administrative workers, who were held in low esteem.
The attacker had converted to Islam, according to a police spokesman, who spoke on the condition of anonymity in accordance with police protocols. The spokesman added that that was just one element of the investigation, and that his conversion "doesn't mean that he is radicalized."
Mindful of the deep unease among the police, signaled by the march, the country's top leadership — President Emmanuel Macron, along with his prime minister and interior minister — quickly rushed to Police Headquarters, a massive 19th-century building on the Île de la Cité, adjacent to Notre-Dame cathedral.
Mr. Macron, speaking later on Thursday from southern France, where he was debating his government's pension reforms, called the killings a tragedy and observed a minute of silence with the 500 or so people who had gathered for the discussion.
The attacks began shortly before 1 p.m. Paris time, when the headquarters was bustling with activity: document seekers getting papers signed, police officials piling out of their offices to go to lunch and all around a swirling crowd of visitors who fill the island in the middle of the Seine river.
The building houses not only the offices of the police, but also numerous other agencies, including those regulating the presence of foreigners in Paris. It is where Americans living in Paris, for instance, apply for residency permits.
The suspect, a 20-year-veteran of the force, was not immediately identified by the police. He struck in his own office first before going upstairs to kill two more colleagues, Mr. Jacob, the union official, said. By then, the alarm had been raised. As the attacker entered the sprawling courtyard, traversed by thousands of visitors every day, a police officer took out his weapon and shot him, officials said.
The suspect had not previously exhibited signs of trouble, officials said.
"He set himself on a murderous path," the interior minister, Christophe Castaner, told reporters at the site. "There had never been problems with his behavior." Prosecutors said his home was being searched.
The sound of gunshots was the first warning many in the building had of the attack, and it brought employees rushing out of their offices. The police quickly locked down the island, barring all visitors.
Youssouf Dramé, a human resources employee who worked in the building, was having lunch at his desk when he heard noises in the courtyard. "I heard shouting: 'Drop your weapons! Drop your weapons!'" Mr. Dramé said. He then heard two shots. Two colleagues in the office began to cry.
Employees said they were blocked in their offices and could not get out because the area was cordoned off as officers looked for a potential second assailant. They were able to evacuate a few hours later.
"Everything happened very quickly," said Mr. Dramé. "It seems almost hallucinatory, but at the same time, given everything that's going on with the cops at this point, it's unfortunately not that surprising."
"Still," he added, "we're in deep shock."
It was not immediately clear how the attacker had passed through the metal detectors with his knife. French news outlets suggested that he had evaded detection by carrying a "ceramic knife," a theory that the authorities had not confirmed by midafternoon. "We don't know his motivations," Loïc Travers, another police union official, told reporters near the Police Headquarters on Thursday. "It's obviously someone who blew his top."
Pauline Rossignol, a 28-year-old human resource officer at the police prefecture, was on her lunch break when the attack occurred. She said she had experienced enough "tragedies" affecting her colleagues.
"It's going to be one more minute of silence, after so many," Ms. Rossignol said as she sat sobbing on the stairs by the banks of the Seine, unable to go back to her office.
"There have been too many suicides of police officers, too many of them who died in terrorist attacks," she added. "Police forces suffer a lot; we are a target."
The assault is likely to rekindle security concerns in the French capital after several attacks in and around Paris, most notably two large-scale assaults in 2015: Terrorists attacked the satirical newspaper Charlie Hebdo, killing 12 people including a police officer, and then carried out a coordinated, nighttime rampage across the city that left more than 100 dead.
In 2016, an Islamic State assailant fatally stabbed a police officer and his companion at their home in a town about 35 miles west of Paris, while their child was present. In 2017, a veteran police officer, Xavier Jugelé, was shot and killed by a gunman on the Champs-Élysées.
Indeed, at Wednesday's march, officer after officer talked about a crisis of morale in the 150,000-strong national police force after a year of putting down Yellow Vest protests, public criticism over the severity of police tactics, budget cuts and a feeling of government neglect.
There were ghoulish commemorations of the officers who have killed themselves this year — more than 50, well on the way to a record — including a mannequin hanged in effigy, and 51 cardboard coffins.
Full report at:
https://www.nytimes.com/2019/10/03/world/europe/paris-attack-police.html
--------
In Spain, summer surveillance triggers alerts for returning jihadists
3 OCT 2019
Between mid-July and mid-September, Spanish police monitoring travel across the Strait of Gibraltar detected 46 individuals suspected of being returning jihadists, according to a European Commission report. Part of a border control effort dubbed Operation Minerva, the 46 anti-jihadist alerts did not result in any arrests as there were no existing warrants against the suspects.
As part of Operation Minerva, officers from the National Police and Civil Guard were deployed at Spain's busy seaports of Algeciras, Tarifa and Ceuta, a Spanish exclave city located on the northern coast of Africa. Law enforcement experts from 16 other EU states and observers from the United States were also present.
The report underscores that the operation also served to open new lines of investigation into terrorist activities, after officers detected 46 individuals suspected of being returning jihadists, known by the police as foreign terrorist fighters.
Although no arrests were made, surveillance measures were introduced in some cases. "Often, databases alert us to the fact that another country is requesting information about the arrival of a suspect, or even ask us to have him discreetly followed. Sometimes we are simply asked for all possible information on the individual, to either follow up or rule out any further action," explains a high-ranking counter-terrorism official. This source said that the 46 alerts were made because of information fed into shared databases by neighboring countries, not by Spain.
According to the counter-terrorism official, Operation Minerva triggered 53 alerts in 2018. "Among other goals, these operations aim to detect the movements of terrorists returning from combat zones following the defeat of the Islamic State," he notes.
Operation Neptune 2
Another European surveillance operation, Neptune 2, identified 12 other suspects, nine of whom were headed for Spain. This operation, which was coordinated by Interpol and supported by Spain, France, Italy, Morocco, Algeria and Tunisia, focused "on the threats posed by suspected foreign terrorist fighters potentially using maritime routes between North Africa and Southern Europe during the busy summer tourist season," according to a release by Frontex, the European border and coast guard agency.
During Operation Neptune 2, officers inspected passengers on ships, ferries and cruise liners departing or arriving at seven ports of the Western Mediterranean, including Alicante and Motril (Granada) in Spain.
"Officials carried out more than 1.2 million searches across Interpol's databases for stolen and lost travel documents, nominal data and stolen vehicles. These resulted in 31 active investigative leads, with more than 12 of these linked to the movement of terror suspects," said Frontex in a press release.
Full report at:
https://elpais.com/elpais/2019/10/03/inenglish/1570087795_046765.html
--------
Germany's new military sales to UAE draw criticism
Ayhan Şimşek
04.10.2019
BERLIN
Germany's new military sales to the United Arab Emirates (UAE), despite Gulf country's involvement in the Yemen conflict, has drawn sharp criticism from the opposition and voluntary groups.
Describing arms transfer an "irresponsible policy" pursued by the Chancellor Angela Merkel, German opposition, the Left party (Die Linke) criticized the deal.
"The federal government has shown once again that it is not taking its own principles seriously," the party said in a statement, recalling that the 2018 agreement between ruling partners Christian Democrats and Social Democrats, had mentioned to stop arms sales to countries involved in the Yemen war.
German news agency DPA reported on Friday that the government has recently approved the sale of generators produced by a German company to the UAE for its air defense system deployed in the country.
International human rights watchdog Amnesty International also criticized German government's move to ease curbs on arms sales to the UAE.
"The arms deal with the UAE, which used German armaments in Yemen war, is extremely worrying for the human rights," Amnesty International's Saxony office said on Twitter.
The Spokesperson of Germany's Economy Ministry Beate Baron declined to comment on the reports during a regular press conference on Friday, stressing that Federal Security Council's decisions are confidential.
Merkel's coalition government has adopted a restrictive policy on the arms exports. But, has approved various controversial export licenses, based on foreign and security policy considerations.
The UAE has been a leading member of the Saudi-led coalition, fighting in Yemen against Iran-backed Houthi rebels.
The country plunged into a civil war in 2014 when Houthi rebels overran much of the country, including the capital Sanaa.
Full report at:
https://www.aa.com.tr/en/europe/germany-s-new-military-sales-to-uae-draw-criticism/1602557
--------
'EU Commission should adopt fairer Turkey policy'
Mumin Altas
04.10.2019
Turkey expects the new European Commission to adopt a more objective, fair and visionary policy towards itself, the country's vice president said on Friday.
"We expect the newly-elected European Commission to form a more objective, fair and visionary Turkey policy," Fuat Oktay said, adding that the commission will take the office on Nov. 1.
Oktay received EU Commissioner for Migration, Home Affairs and Citizenship Dimitris Avramopoulos, German Interior Minister Horst Seehofer, and French Ambassador to Turkey Charles Fries at the presidential complex in Turkish capital Ankara.
Oktay stressed that Turkey is home to around 4 million displaced people, undertaking a heavy burden.
"It is not an accurate and fair approach to expect Turkey to undertake the burden of irregular migrants on its own," he noted, urging the EU and its member states to take necessary responsibility about the issue.
"If Turkey had not made the efforts, millions of people would have passed to Europe," he said, and added that the management of the migration crisis required "a fair burden sharing".
On establishment of safe zone in northern Syria, Oktay reiterated that Turkey foresees voluntary resettlement of around two million Syrians to the region.
Resettlement would be possible after building the infrastructure, temporary and permanent accommodation places, hospitals and schools, he said, and added: "Our projects are ready but we need the support of all actors in the region, especially the EU."
On Aug. 7, Turkish and U.S. military officials agreed to set up a safe zone in northern Syria and develop a peace corridor to facilitate the movement of displaced Syrians who want to return home. They also agreed to establish a joint operations center.
Turkey has long championed the idea of terrorist-free safe zones in Syria. It has stressed ridding the area of the terrorist YPG/PKK, the Syrian branch of the PKK, as well as resettling Syrian migrants currently sheltered in Turkey.
Full report at:
https://www.aa.com.tr/en/europe/eu-commission-should-adopt-fairer-turkey-policy/1602458
--------
'EU must keep pledges on migration deal, as Turkey did'
Tugrul Cam and Tevfik Durul
04.10.2019
Turkey sees that the EU wants to forge better cooperation on migration, but it must keep its promises, as Turkey has done, the Turkish foreign minister said on Friday.
"We said that migration is a humanitarian issue and our cooperation should continue. Also, we laid out our expectations from the EU," Mevlut Cavusoglu told reporters in the capital Ankara after meeting visiting officials from the European Union and EU heavyweights Germany and France.
The gathering was fruitful, with a general discussion of migration and Turkish-EU relations, said Cavusoglu after meeting with German Interior Minister Horst Seehofer, EU Commissioner for Migration, Home Affairs and Citizenship Dimitris Avramopoulos, and French Ambassador to Turkey Charles Fries.
Fries attended in lieu of French Interior Minister Christophe Castaner, who had to cancel after Thursday's attack on French police in Paris.
Cavusoglu stressed how Turkey is implementing the requirements of the 2016 refugee deal with the EU and reiterated Turkey's expectation that the EU do the same.
Under the deal, the EU not only has obligations on migration, but also ones concerning Turkey's accession negotiations, the Customs Union update, and visa liberalization for Turkish citizens, he added.
Cavusoglu also criticized remarks by French President Emanuel Macron on Turkey's migration management and policy.
"Instead of such accusations, we should focus on solving the problem," he said.
Under the March 2016 Turkey-EU refugee deal, the EU pledged €6 billion ($6.6 billion) in aid to improve living conditions of Syrian refugees in Turkey, but as of this June, only €2.22 billion has been disbursed.
It additionally pledged visa liberalization for Turkish citizens traveling to EU Schengen states, talks on updating the Customs Union trade deal, and a re-energized commitment to Turkey's accession process.
It has fulfilled none of those.
Falling short on pledges, fighting terrorism
The EU member states also pledged that for every Syrian returned to Turkey from Greek islands, another Syrian will be resettled from Turkey to the EU as part of a resettlement plan.
But the pace of returns to Turkey from the Greek islands under the agreement has been slow largely due to lengthy legal processes and administrative problems in Greece.
The EU member states only accepted around 20,000 Syrian refugees from Turkey since 2016.
Turkey currently hosts some 3.6 million Syrian refugees, more than any other country in the world. Ankara has so far spent $40 billion for the refugees, according to official figures.
Cavusoglu also said Germany, France, and the U.K. have taken some measures against the terrorist group PKK, but they fall short of what is needed.
These countries also have not done enough to support the fight against FETO, the terrorist group which attempted a bloody coup against Turkey in 2016, he added.
In its more than 30-year terror campaign against Turkey, the PKK -- listed as a terrorist organization by Turkey, the U.S. and the EU -- has been responsible for the deaths of some 40,000 people, including women, children and infants.
FETO and its U.S.-based leader Fetullah Gulen orchestrated the defeated coup in Turkey on July 15, 2016, which left 251 people martyred and nearly 2,200 injured.
Full report at:
https://www.aa.com.tr/en/europe/eu-must-keep-pledges-on-migration-deal-as-turkey-did/1602191
--------
Greece says Turkey can and must control migrant flows to Europe
Oct 4, 2019
Greece's prime minister accused Turkey on Friday of appearing to "exploit" Europe's migrant crisis for its own ends and said Ankara could and should control migrant flows to the continent.
Greece, the route into the European Union for nearly a million refugees and migrants in 2015, is dealing with a new and steep rise in people crossing the Aegean to its islands from neighbouring Turkey after a relative lull over the last three years.
The influx has piled pressure on its hugely overcrowded migrant camps and prompted the new conservative government to announce a stricter policy to curb the flows, which includes tightening its borders and deporting more people.
"I want to be absolutely clear," Greek prime minister Kyriakos Mitsotakis told parliament. "Turkey... must also assume its responsibility.
"It has the ability to control the flows in the Aegean. It cannot give the impression that it is exploiting this issue for its own geopolitical pursuits," he said.
Flows to Greece slowed to a trickle after the EU and Turkey agreed to seal off the Aegean route in 2016, before picking up again in August and September to the highest monthly numbers in the three years since the deal.
Turkey, which hosts 3.6 million Syrian refugees, has threatened to "open the gates" unless Ankara receives adequate international support for a plan to resettle 1 million refugees in northern Syria.
It effectively controls parts of north Syria where it says 350,000 Syrians have returned. Together with the United States it is setting up a "safe zone" in the northeast, where it says many more could be moved.
Under the 2016 pact, Ankara would take back undocumented migrants and refugees, including Syrians, who cross to Greek islands and do not qualify for asylum.
In return, the EU would take in thousands of Syrian refugees directly from Turkey and reward it with more money and other benefits.
More than 78,000 refugees and migrants have arrived in Europe so far this year, more than half of them to Greece, according to United Nations data.
About 40 per cent of recent arrivals are families from Afghanistan and about 20 percent are Syrian.
Mr Mitsotakis said most "have the profile of an economic migrant and not that of a refugee," and he reiterated plans to deport 10,000 rejected asylum seekers by the end of next year.
"This issue is here to stay," he said.
"Europe will constitute a magnet for people from Africa and the Middle East. The phenomenon will continue and is likely to intensify."
Greece has repeatedly called on other EU countries to share the burden of migrant flows.
Moria, on the island of Lesbos, is Europe's biggest migrant camp. It has swelled in just three years to the size of a small town of more than 12,000 - four times its capacity - and has become notorious for its poor and unsafe conditions.
After meeting Germany's interior minister Horst Seehofer in Athens on Friday, Greek citizen protection minister Michalis Chrisohoidis described Moria as "a stain on Europe".
Mr Seehofer said Europe needed to do more to protect its borders and support frontline countries, which also include Spain and Italy, "something we have not yet done sufficiently".
Full report at:
https://www.thenational.ae/world/europe/greece-says-turkey-can-and-must-control-migrant-flows-to-europe-1.919287
--------
Southeast Asia
Thai army charges opposition for speaking in favour of Malay-Muslim region
October 4, 2019
BANGKOK: The Thai army has filed sedition charges against six key opposition party leaders who debated possible devolution of some powers to the nation's violence-hit south.
More than 7,000 people have been killed in 15 years of violence in Thailand's 'Deep South' provinces that border Malaysia.
Militants want greater autonomy for the culturally distinct Malay-Muslim region, annexed by Buddhist-majority Thailand more than 100 years ago.
But the demand is incendiary to Thai nationalists and successive governments have refused to cede ground on any decentralisation of power in rounds of peace talks.
A seminar on Saturday, held in Pattani city and attended by academics and opposition politicians headed by the radical billionaire Thanathorn Juangroongruangkit, discussed the possibility of amending the army-written Thai constitution.
The army filed the charges after the debate, which also explored ways to end the violence in the south and devolve some powers, was aired online.
"Parts of the debate contained distorted facts which could lead to chaos, public disobedience, or even unrest in the kingdom," a legal expert for the army, Burin Thongpraphai, told AFP, after the sedition charges were filed.
Sedition carries up to seven years in jail.
Five other leaders from Thailand's opposition bloc were also among those charged, as well as several academics.
One of those charged, Paradorn Pattanathabut a member of the anti-junta Pheu Thai party, said the move showed the continued choking of "free expression" despite the end of formal junta rule.
Thanathorn's Future Forward Party stunned observers by emerging from nowhere to take third place in March elections, powered by millions of millennial votes and a radical anti-military agenda.
His party is a leading voice in calls for the constitution to be changed to curb military influence, but has been battered by legal cases.
Thanathorn could also be banned from politics and jailed if found guilty of holding media shares while running for office.
Thailand's junta returned to power as a civilian government after the March election.
Critics say the constitution scripted election rules that skewed votes towards army-linked parties, while rivals were banned or tied-up in legal cases.
https://www.freemalaysiatoday.com/category/world/2019/10/04/thai-army-charges-opposition-for-speaking-in-favour-of-malay-muslim-region/
--------
Malaysian Leaders Discuss Human Rights Issues with UN High Commissioner
2019-10-04
Prime Minister Mahathir Mohamad said he discussed concerns about the Rohingya Muslim minority and the impact of climate change with U.N. High Commissioner for Human Rights Michelle Bachelet on Friday during the first-ever visit to Malaysia by a top rights official in the world body.
Their 90-minute meeting was closed to the media and neither spoke afterward. Bachelet made Malaysia her first visit to Southeast Asia since her appointment in September 2018 as the U.N.'s human rights chief.
Mahathir, who raised similar concerns when speaking at the United Nations General Assembly in New York last week, posted a tweet to his official account after Friday's meeting.
"Had the pleasure of receiving U.N. High Commissioner for Human Rights Michelle Bachelet today. We discussed Malaysia's effort during UNGA last week in highlighting human rights issues such as the plight of the Rohingya and how climate change will affect human rights," he tweeted.
Earlier Friday, Bachelet, who was on a four-day visit to Malaysia, met with Foreign Minister Saifuddin Abdullah, who had extended an invitation to her to visit Malaysia on the sidelines of a human rights event in Geneva in February.
In addition to their meeting, Bachelet and Saifuddin visited a school for 41 Rohingya children founded by a Muslim NGO outside Kuala Lumpur. The Muslim-majority country is a top destination in Southeast Asia for Rohingya, whose persecution in Myanmar had forced them to flee overseas, mainly to Bangladesh.
About one million Rohingya refugees are sheltering in Bangladesh. Most of them fled after Myanmar government security forces launched a brutal crackdown in August 2017 in the wake of deadly attacks by Rohingya insurgents on police and army posts in Rakhine state. Various U.N. and international agencies and NGOs described the campaign as ethnic cleaning, if not genocidal.
Efforts to repatriate them back to Myanmar had failed because the Rohingya were worried about their security.
At the U.N. General Assembly in New York last month, Mahathir criticized the Myanmar government, led by Nobel Peace Prize laureate Aung San Suu Kyi, for dragging its feet to resolve the Rohingya crisis and U.N. for its "deafening" silence.
Bachelet posted a tweet on her account following the visit: "Everyone has a right to #education. Everyone deserves the chance to learn skills to build a better future. It was a pleasure to visit the #Rohingya Integrated School of Excellence, an alternative learning center in #Malaysia for #refugees from #Myanmar."
Saifuddin said that Mahathir's government welcomed visits by U.N. officials to the country.
"Prior to this, the government did not have an open invitation. There were also times when U.N. high commissioners' or rapporteurs' requests to visit in Malaysia were even turned down," he told reporters.
Malaysia is transparent and the high commissioners and U.N. rapporteurs who come to the country are free to write reports and make suggestions, Saifuddin added.
"The present government has nothing to hide and if there are weaknesses in the administration, we are prepared to improve as we are really open." he said.
Full report at:
https://www.benarnews.org/english/news/malaysian/UN-rights-chief-10042019170428.html
--------
Poachers could get up to 100 strokes of cane in Indonesia's Aceh province
October 5, 2019
JAKARTA • Poachers who threaten endangered orang utans, tigers and other wildlife could receive up to 100 lashes under new rules in Indonesia's Aceh province, which usually reserves whipping for morality crimes under Islamic law.
Despite international condemnation, public flogging is a common punishment for a range of offences in the conservative region on Sumatra island. Such offences include gambling, drinking alcohol and having gay or premarital sex.
Aceh is the only region in Indonesia, the world's biggest Muslim-majority country, that imposes religious law.
But the new rules, adopted last week, mark the first time that crimes against wildlife fall under Aceh's strict syariah code.
The punishment, expected to come into effect early next year, could see people convicted of endangering or exploiting wildlife receive up to 100 strokes of a rattan cane, said officials.
This is on top of any prison time under national laws.
Civil servants who are charged with protecting animals could be whipped as many as 60 times if they are found to be negligent in their duties.
In July, three people were flogged 100 times each for having premarital sex.
Two men caught having sex with underage girls were also whipped 100 times last year.
Other offences tend to carry dozens or even fewer lashes.
Aceh lawmaker Nurzahri said the harsh new punishment underscored efforts to clamp down on poaching and other threats to local wildlife, including birds endemic to jungle-clad Sumatra.
"Maintaining nature and its balance is part of Islamic law," said the politician, who goes by one name, yesterday.
"Aceh is the centre of biodiversity in Sumatra and it's the habitat of some animals such as Sumatran orang utans, rhinoceros, elephants and tigers," he added.
Full report at:
https://www.straitstimes.com/asia/poachers-could-get-up-to-100-strokes-of-cane-in-aceh
--------
Radicalized Policewoman Arrested by Detachment 88
BY FAROUK ARNAZ
OCTOBER 04, 2019
Jakarta. Police anti-terror unit Detachment 88 arrested a policewoman in Yogyakarta who they say has been radicalized by Islamic State supporters in Yogyakarta.
The policewoman, identified as Sergeant N.O.S. a.k.a. Nesti, had been arrested earlier in Surabaya, East Java, for traveling using a fake identity from Ternate in North Maluku where she was assigned.
She was interrogated for leaving her station without a permit, but was later released.
On Friday last week, Detachment 88 arrested her again in Yogyakarta, National Police spokesman Chief Comr. Asep Adi Saputra said on Thursday.
"We suspect she has been heavily influenced by radical ideology and IS [Islamic State]. She will face dismissal if our suspicion is proven in an ethical trial," Asep said.
Police believe the policewoman is part of a network of IS supporters in Indonesia led by a man named Wawan Wicaksono who was arrested in Salatiga, Central Java, on the same day Nesti was rounded up by Detachment 88.
Full report at:
https://jakartaglobe.id/context/radicalized-policewoman-arrested-by-detachment-88
--------
Seven Philippine former Muslim rebels killed by Daesh-linked gunmen
October 05, 2019
MANILA: Seven former Muslim rebels have been killed in the southern Philippines, military and police authorities said Saturday, in an attack claimed by the Daesh group.
They said the dead were all members of the Moro Islamic Liberation Front (MILF), formerly the country's largest guerrilla group but which began decommissioning weapons last month under the terms of a 2014 peace treaty.
A pro-Daesh armed group called Dawlah Islamiyah attacked an MILF camp near the town of Shariff Saydona on Friday, sparking fighting lasting several hours, said Lt. Col. Ernesto Gener, commander of a local army battalion.
Daesh claimed responsibility in a communique seen by SITE Intelligence Group, which monitors militant activity.
The militants said eight MILF members were killed, but local police commander Lt. Col. Arnold Santiago told reporters the authorities were only aware of seven deaths.
Locals said they saw seven bodies being loaded onto a boat at a riverbank in Shariff Saydona, about 900 kilometers south of Manila.
MILF spokesman Von Al-Haq declined to comment.
The MILF peace pact ended decades of Muslim rebellion that had claimed 150,000 lives by government estimates in the Mindanao region, home to the Catholic nation's large Islamic minority.
The MILF was put in charge of a Muslim autonomous region as part of the peace accord, but Philippine President Rodrigo Duterte said Daesh is attempting to set up a Southeast Asian stronghold there.
Hundreds of pro- Daesh gunmen seized the Mindanao city of Marawi in May 2017, sparking a five-month battle that left more than 1,000 people dead.
Full report at:
https://www.arabnews.com/node/1564386/world
--------
URL: https://www.newageislam.com/islamic-world-news/jafar-ali-up-muslim-man/d/119922
New Age Islam, Islam Online, Islamic Website, African Muslim News, Arab World News, South Asia News, Indian Muslim News, World Muslim News, Women in Islam, Islamic Feminism, Arab Women, Women In Arab, Islamophobia in America, Muslim Women in West, Islam Women and Feminism