New Age Islam News Bureau
9 Nov 2017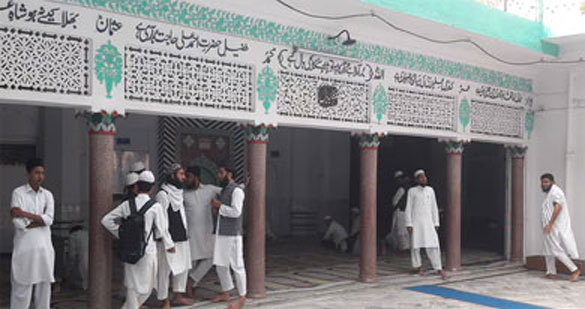 Boys at the Jame-Ul-Uloom Furqania madrasa in Uttar Pradesh, where many pupils eschew the opportunity to take maths and science subjects. Photograph: Amrit Dhillon
-----
• 'It Will Help Future Generations': Muslim Schools in North India Set To Modernise
• Osama Bin Laden's Son Calls for Terrorists to Avenge His Father's Death
• US To Give $500,000 to Any NGO That Promotes Religious Freedom in India
• Sikh Pilgrimage Transcends Pakistan-India Tensions
• "Islam" And "Afghan" In ID Cards Our Red Line: Kabul Rally
India
• 'It Will Help Future Generations': Muslim Schools In North India Set To Modernise
• Muslim Leaders Want Purge After Swoop For Final Clean-Up Of Mess
• Muslims turn up in large numbers at Rupani rally
• Not all seized notes linked to terror funding case, says NIA
--------
Arab World
• Osama Bin Laden's Son Calls for Terrorists to Avenge His Father's Death
• Muslim World League Chief Lauds Saudi Arabia For Opposition To Extremism
• Syria: Over 100 Gunmen in Homs Province Granted Gov't Amnesty
• Syrian forces along with Lebanon's Hezbollah capture Daesh's last stronghold
• Daesh militants besiege 10,000 civilians in western Iraq: UN
• Egypt not mulling measures against Lebanon's Hezbollah: Sisi
• Egypt's El-Sissi warns Iran to stop "meddling" in region
• Saudi channel retracts Twitter posting on Salman rise to throne
--------
North America
• US To Give $500,000 to Any NGO That Promotes Religious Freedom in India
• An American Muslim Guide in the Aftermath of National Tragedy
• US defence chief meets NATO to discuss IS, Afghanistan
--------
Pakistan
• Sikh Pilgrimage Transcends Pakistan-India Tensions
• No Terrorist Sanctuaries In Pakistan, Claims Pak's Foreign Secretary
• 'Poet Of The East': Pakistan Remembers Allama Iqbal On 140th Birthday
• Attack on Saudi Arabia tantamount to attack on Muslim world: Tahir Ashrafi
• 1 killed, 6 including senior police official injured in blast in Quetta
• PA passes resolution urging govt to aid persecuted Rohingya Muslims
• Pakistan rejects suggestions for new UN Security Council seats
• Musharraf quick to welcome newly formed MQM-PSP alliance
• Banned Baloch outfits set to congregate in Geneva on 18th
--------
South Asia
• "Islam" And "Afghan" In ID Cards Our Red Line: Kabul Rally
• Suicide Attack Leaves Local Elder Dead In Mazar-e-Sharif City
• Hekmatyar conditional support to Taliban and their legitimate demands
• RAB arrests two Ansar al-Islam members
• Afghanistan air strike killed civilians: UN
• Ghani and pence discuss US strategy impact on Afghan forces and Taliban
--------
Mideast
• Rouhani Urges Saudis to End Hostilities, Befriend Iran Instead Of US
• Israel Approves Construction of 240 East Jerusalem Al-Quds Settler Units
• Hamas must disarm under unity deal: Palestinian police chief
• Rouhani warns Saudi Arabia of Iran's 'might'
• Turkey, US must focus on future in ties: PM
• Mattis reaffirms US support for Turkey in combatting terrorism
--------
Europe
• Chechnya Could Force Russia's Hand on the Rohingya Crisis
• British PM Hit by New Scandal over Minister's Israel Meetings
• Islamic Terror Attack Foiled in Nice as French Police Raid Cell, Arresting Nine People
• Major arms exporter France sides with US over Iran's alleged support for Yemen fighters
• Russia, Syria question validity of OPCW report on Idlib sarin attack
• UK minister Priti Patel quits cabinet over secret Israel meetings
• Turkey signs missile accord with Paris and Rome
--------
Southeast Asia
• Malaysia Will Deport Muslim Preacher If India Seeks Extradition
• Bank Indonesia gives stage to halal businesses in Sharia Economic Festival
• Malaysia's Petronas Asked to Exit Myanmar in Protest of Rohingya Crisis
• DPM: Zamihan successful in rehabilitating Islamic State militants
• 'Restricting foreign Islamic experts stunts intellectual development'
--------
Africa
• Gunmen Kill 11 Traders in Central Nigeria
• Tanzania: 5 pupils dead, 43 injured in grenade blast
• Senegal permits Turkish foundation to run schools
Compiled by New Age Islam News Bureau
URL: https://www.newageislam.com/islamic-world-news/it-help-future-generations-muslim/d/113168
--------
'It Will Help Future Generations': Muslim Schools In North India Set To Modernise
9 November 2017
Muslim faith schools in Uttar Pradesh will be required to teach English, maths and science subjects to secondary-school level in an attempt to equip students more effectively for the modern world, the Indian government has said.
The move was announced by Laxmi Narayan Chaudhary, state minority welfare minister for Narendra Modi's Hindu nationalist Bharatiya Janata party (BJP), which won a landslide victory in India's most populous state earlier this year.
Uttar Pradesh has an estimated 19,000 faith schools, or madrasas, but most teach only Islamic theology. Even madrasas that do teach these subjects – many are trying to modernise their curricula – make them optional at secondary school.
"The state government is working to introduce changes in the curriculum to ensure that students coming from madrasas can compete with others in professions like [medicine] as well as engineering," said Chaudhary.
Millions of Muslim children will be affected by this proposal.
Of all India's religious communities, Muslims have the highest illiteracy rate (42.7%), the lowest share of people in work (33%), and the lowest level of enrolment in higher education (4.4%) – even though they comprise 14% of India's population.
Madrasas are a particular point of contention between Hindus, the BJP and Muslims. Madrasas have been called breeding grounds for Islamic extremism by some BJP members. Meanwhile, staff at the schools accuse the BJP of attempting to meddle with their traditions and bring them to heel.
The Jamea Tus Salehat madrasa in Rampur, Uttar Pradesh, welcomed the move to make the subjects compulsory. Soofia Azhar, an English teacher, said these subjects were not taught in secondary school because Arabic takes up a lot of time.
"I welcome the move. But will the government help us in hiring the extra teachers? And the government textbooks for these subjects need to be translated into Urdu, the medium of instruction here. We need to find out about that," said Azhar during a tour of the girls' school, which has more than 2,000 pupils.
All the school's teachers are women, except for the four men who teach Islamic studies. The syllabus includes English, Hindi, maths, science, history, computer studies, PE and social sciences.
A modern education is fused with a culturally orthodox ethos. When teachers, already in abayas, leave the main building for the Islamic studies wing they have to use scarves to cover their heads and faces.
Muslims are the majority in Rampur, which is rare. Although 20% of Uttar Pradesh's population is Muslim, only a handful of towns have a Muslim majority.
Shaair Ullah Khan Wajeehi, joint secretary of the Jame-Ul-Uloom Furqania madrasa, a few kilometres from the girls' school, said a modern curriculum is taught to the boys alongside the classical Islamic education. But because maths and science are non-mandatory at secondary level, many students opt out. When they enter the job market, they are at a disadvantage, he said.
"The government needs to make an extra allocation for the extra teachers, books and equipment. Let the government commit money to this announcement to make it work and we will be happy. This move will help future generations," said Wajeehi.
A Muslim women's activist, Zakia Soman, said the plan was not only welcome but imperative. "Muslims are so poor … we urgently need a modern education. Studies have shown that the overwhelming majority of parents want a modern curriculum for their children," she said.
https://www.theguardian.com/global-development/2017/nov/09/muslim-schools-in-north-india-modernise-uttar-pradesh
--------
Osama Bin Laden's Son Calls for Terrorists to Avenge His Father's Death
Nov 9, 2017
Osama bin Laden's son has called for jihadis to avenge his father's death with terror attacks targeting the US in a new speech.
"I invite Muslims generally to take revenge on the Americans, the murderers of the Sheikh [Bin Laden], specifically from those who participated in this heinous crime," he said in an audio recording released by al-Qaeda's propaganda channels.
Hamza's brother Khalid was killed alongside his father and three others during Sea Team Six's raid on Bin Laden's compound in Pakistan in 2011.
The operation, at the end of a decade-long hunt for the al-Qaeda leader behind the 9/11 terror attacks, was celebrated as a major blow to jihadi terrorism.
But there are fears that extremists could find a new figurehead in Hamza as Isis continues to lose territory and fighters across Syria and Iraq.
In his lengthy speech, the younger Bin Laden hailed his father as a hero of Muslims worldwide, saying he had "revised the spirit of jihad".
While praising the Afghan Taliban, Hamza made no mention of Isis, which was spawned from al-Qaeda in Iraq but split following a power struggle in 2014.
He called on Muslims to "liberate their lands…from Crusader hegemony" and establish Sharia law – the same conditions Isis claimed to have fulfilled when it declared its supposed caliphate three years ago.
Hamza claimed that the Arab Spring uprisings, which triggered the Syrian and Libyan civil wars as well as government overthrows in Egypt and elsewhere, had been "assailed by enemies and derailed from their path".
He called on the "oppressed Muslims masses" to "rise in rebellion against oppression and tyranny" and "revolt against the agents of the Americans", according to a translation by the Long War Journal.
Jean-Marc Rickli, a research fellow at the Geneva Centre for Security Policy and King's College London said the statement was well-timed as al-Qaeda looks to soak up former Isis fighters dispersing from its rival's former territories.
"Al-Qaeda could use this time of serial defeat for Isis to rise again, attract and co-opt Isis supporters and operative," he told The Independent.
"Some speculate that Hamza Bin Laden could even have contributed to the emergence of a new group called Ansar al-Furqan, comprising some high level al-Qaeda operatives, in Syria last October."
Dr Rickli said Hamza's focus on America for his threats was a "persistent" theme from al-Qaeda, diverging from Isis' incitement of global attacks even in Muslim-majority countries like Egypt.
Analysts have long warned that al-Qaeda has been amassing strength and local support while international fire has been turned upon Isis, presenting itself as a slightly more moderate Islamist alternative in Syrian territories it controls.
There are concerns that it could profit from resistance to the presence of US-backed Kurdish forces in former Isis strongholds, who have been met with protests and seen clashes between Kurdish and Sunni Arab fighters.
While al-Qaeda recent activity has concentrated dominantly on local insurgencies, such as by al-Shabaab in Somalia and its branch in Yemen, many have warned that the terrorist group has not lost its ambition to attack the West.
"In the future it is possible that we will see attacks in the West by both Isis and al-Qaeda supporters," Dr Rickli warned.
"We shouldn't dismiss the rising threat of al-Qaeda that has been rebuilt and will now probably strike again in the West."
Adam Deen, the executive director of counter-extremism group Quilliam, previously told The Independent the death of Bin Laden led to a "sense of false victory" against Islamist extremism.
"It's not just about censorship [off terrorist propaganda], it's about providing a counter-narrative because they'll go to black social media sites," he added. "The alternative is where we're struggling."
http://www.independent.co.uk/news/world/middle-east/osama-bin-laden-son-revenge-terror-attacks-calls-hamza-avenge-fathers-dead-al-qaeda-resurgence-a8044571.html
--------
US To Give $500,000 to Any NGO That Promotes Religious Freedom in India
Nov 08, 2017
The US has announced a grant of nearly $500,000 for a non-governmental organisation to come up with proposals to develop early warning systems for "reducing religiously-motivated violence and discrimination" in India.
The US State Department also announced a similar grant for Sri Lanka.
The Department of State, Bureau of Democracy, Human Rights and Labor, in its notice of funding opportunity, said through its $493,827 India programme, it seeks to "reduce religiously-motivated violence and discrimination in India".
The State Department said the NGOs applying for the grant should come out with proposals to develop and implement early warning systems to mitigate large-scale violence and implement conflict mitigation programmes between minority and majority groups.
The applicants also need to come out with ideas for successful programme activities to counter hateful or discriminatory public messages with positive messages.
They should also have proposals to educate civil society and journalists about legal protections for religious freedom, particularly for members of religious minorities; document and report religious freedom violations to authorities; and educate law enforcement on human rights standards.
Among other proposals could be ideas to engage law enforcement to better protect rights of religious minorities, including preventing incidents of discrimination and violence and holding perpetrators accountable, the State Department said.
The State Department did not respond immediately to a set of questions on the necessity of such a grant amounting to nearly $500,000.
Recipients of grants for India and Sri Lanka would be announced after screening of applications.
According to the information available on the State Department website, the Bureau of Democracy, Human Rights and Labor supports over 28 democracy, human rights and labour programmes in South and Central Asia (SCA).
Current funding for these programmes in South and Central Asia exceeds $17 million.
Programme topics include media innovation and development, gender advocacy and equality, and improving protections for political, labour and human rights.
India is not among the countries listed by the State Department as recipient of these funding programmes.
The countries currently receiving grants from US in the region are Afghanistan, Bangladesh, Kazakhastan, Kyrgyzstan, Nepal, Pakistan, Tajikistan, Turkmenistan and Uzbekistan.
For Sri Lanka, the State Department notice of funding opportunity said it seeks to ensure that authorities at all levels of government in Sri Lanka effectively implement national laws and policies protecting religious freedom.
Non-Buddhist religious groups have reported discriminatory restrictions imposed by local government officials on religious minorities, the State Department said.
In its latest International Religious Freedom report, the State Department said Christian and Muslim activists stated the government was not doing enough to protect them against religiously motivated attacks.
There were reports of religiously motivated killings, assaults, riots, discrimination, vandalism and actions restricting the right of individuals to practice their religious beliefs and proselytise, it said.
There was an increase in violent incidents by cow protection groups against mostly Muslim victims, including killings, mob violence, assaults, and intimidation. Hindus threatened and assaulted Muslims and Christians and destroyed their property, it added. During his confirmation hearing last month, the new US Ambassador-designate to India, Ken Juster said that human rights and religious freedom would be one of his priority areas during his assignment in New Delhi. Juster was confirmed by the Senate last week.
http://www.hindustantimes.com/india-news/us-announces-500-000-to-any-ngo-that-promotes-religious-freedom-in-india/story-5kO2OE6FqhHrmusoRee5CJ.html
--------
Sikh pilgrimage transcends Pakistan-India tensions
By Sabrina Toppa
Nov 9, 2017
Nankana Sahib, Pakistan - If Balwant Singh, a 73-year-old retired teacher from India, had the option seven decades ago, he would never have left Pakistan. When British India was partitioned in 1947 to create two new nations - India and Pakistan, Singh fled with his family from their ancestral home in the Punjab state that became part of Pakistan.
Now, Singh's only way to visit the birthplace of Sikhism's founder, Guru Nanak, is on a religious pilgrimage arranged by the Pakistani government.
Singh, however, is effusive in his praise for the Pakistani government's upkeep and maintenance of some of Sikhism's holiest sites. He, along with more than 2,600 other Indian yatris (pilgrims) arrived in Pakistan last week for festivities surrounding the birth of Guru Nanak, the founder and first guru of Sikhism, who was born in Rai-Bhoi-di Talwandi (now known as Nankana Sahib) in modern-day Pakistan.
In addition to their Indian counterparts from North America and Europe, the pilgrims arrived via the Wagah border between Pakistan and India on November 2.
The pilgrims will stay in the South Asian country until November 11, visiting sacred sites like Gurdwara Panja Sahib in Hasanabdal, Dera Sahib in Lahore, and Gurdwara Kartarpur Sahib in Narowal, where Guru Nanak remains buried today.
"I am more loved in Pakistan," Singh tells Al Jazeera.
In addition to retracing the steps of Guru Nanak, Singh located the exact home he had occupied as an infant before his parents relocated to India.
Historic gurdwaras restored
To this day, when he visits the home his parents fled – now occupied by a Muslim family – he is greeted with respect, offered hospitality, and seen as one of their own, Singh says. "People want to go to the other side of the border," Singh adds. "We are brothers with a common history."
Pakistan is home to approximately 20,000 Sikhs, though the real figure is unknown, as the group was excluded from the most recent population census.
Unlike the global Sikh community, Pakistan's Sikh population is predominantly Pashtun, dwelling in the northwest Khyber Pakhtunkhwa region and tribal areas.
After the 1947 Partition of the Indian subcontinent, most of the community migrated to modern-day India, leaving behind abandoned gurdwaras, property, and businesses that were occupied, confiscated, or destroyed.
India and Pakistan reopened cross-border travel under the 1972 Simla Agreement, and, two years later, they signed a formal visa agreement, enabling pilgrims to visit each other's religious shrines.
In recent years, the Pakistani government has promoted and restored historic gurdwaras, realising their commercial value as pilgrimage sites.
"We believe in the fundamental rights of all religions and we are here to support every human being that wants to come for yatra or pilgrimage to Pakistan," says Siddiqul Farooq, Chairman of the Evacuee Trust Property Board, the government body tasked with maintaining Sikh and Hindu heritage sites.
'Pakistan is the first home of the Sikhs'
Although Pakistan titles itself as an Islamic Republic, the country still strives to uphold warm relations with its religious minorities, Farooq adds. "There is sometimes enmity which gives birth to intolerance, and that you can't even stop in Europe or the US," he tells Al Jazeera.
The divided state of Punjab, splintered in two by India and Pakistan, is the cultural and spiritual home of the globe's Sikh community. In particular, the city of Nankana Sahib offers echoes of South Asian religious syncretism.
Although majority-Muslim today, even during the festival period, Sufi Muslims, Sindhi Hindus, and Sikhs gather in front of the Gurdwara Janam Asthan to pay their respects to Guru Nanak, who was a revered figure beloved by Pakistanis of all religious stripes.
Today, Muslim cooks like Muhammad Rafique and Muhammad Mushtaq stir large metal pots of rice, vegetable curries, and daal (lentils) offered in langars (communal kitchens), and Nanakpathi Hindus from Pakistan's Sindh province arrive in large numbers, eager to commemorate Baba Guru Nanak, whose image often adorns their own temples.
For 36-year-old pilgrim Ramandeep Kaur from New Delhi, encountering Pakistan's Sikh population is like coming home. "Last April I came here, and I loved it so much that I returned."
"Pakistan is the first home of the Sikhs, wherever they are in the world," says Jasvendar Singh, a Sikh who lives in Pakistan's Sindh province.
For Canadian Sikh Rupinder Singh Kahlon, who travelled more than 10,000 miles (approximately 16,000km) to attend the ceremonies in Nankana Sahib, the homecoming was emotional.
The 63-year-old retired mechanical technician made an effort to find his ancestors' village, which his forebears had left in 1947.
"There was a time when my parents left this village forever on pull-carts. My parents never thought I would come back here."
"I even gave some money to the [village] mosque
"I'm now thinking to visit each year," Kahlon says about the journey.
Festivities interrupted by tensions
Periodically, however, festivities have been interrupted by a breakdown of relations between Pakistan and India. Earlier this year, India accused Pakistan of failing to provide pilgrimage trains for Sikh yatris, while India stopped more than 300 Sikhs from travelling to pilgrimage sites across Pakistan as tensions simmered between the two archrivals.
For the global Sikh diaspora, the allure of Pakistan's Sikh legacy is clear, yet some point out that Pakistan's own citizens fail to understand previous Sikh rule over modern-day Pakistan.
Sikh history is hardly mentioned in Pakistani textbooks, says Haroon Khalid, author of Walking with Nanak: Travels in his Footsteps. "Sikh rule is viewed as bad and chaotic. It's presented in the context of 'Sikhs destroyed Mughal heritage,'" he adds.
The government, for its part, is easing visa restrictions and promoting Sikh tourism, but has yet to update the educational curriculum to give Sikh heritage its proper credit.
Despite this, some Pakistanis are eager to revive the lost heritage of Sikhs in Pakistan.
"There is a generation of younger, more urban and globally-connected Pakistanis, who are interested in the pluralistic heritage of Pakistan," says Jahandad Khan, the founder of tourism company Indus Heritage Club.
His company is hoping to increase domestic heritage tourism to Sikh sites, while also bringing North American and European Sikhs to Pakistan next year.
Pakistan's international tourism potential, however, has long gone unrealised, with Pakistanis rarely marketing their non-Muslim heritage to visitors. Khan says that social media may be the most effective tool to improve the way Pakistan's forgotten Sikh history is remembered and celebrated.
"Is Pakistan telling its story right? The biggest issue is a branding and marketing one, and there's a lot to learn from India."
In recent years, Pakistan has sought to make life easier for non-Muslims. It instituted a five percent job quota and reserved seats in parliament for religious minorities, allowing Christians, Hindus, and Sikhs to compete on equal footing.
"Sikhs might be a well-looked-after minority, but I would say that with some qualification," Khalid says.
"With the renovation of gurdwaras, you see a certain empowerment of the local community. You can see their economic situation improving, but there are still issues of social discrimination," Khalid points out, adding that Sikhs can never assume the office of president or prime minister, who are legally required to be Muslim under Pakistani law.
Despite this, Sikhs in Pakistan are hopeful about where they stand. "In Pakistan, we have freedom to carry out our religious activities," says Inderjeet Singh, a Pakistani Sikh living in Nankana Sahib.
"We live here in freedom after Partition."
http://www.aljazeera.com/indepth/features/2017/11/sikhs-pilgrimage-transcends-pakistan-india-tensions-171107134244195.html
--------
"Islam" and "Afghan" in ID cards our red line: Kabul rally
ByAhmad Shah Erfanyar
Nov 08, 2017
KABUL (Pajhwok): Hundreds of people on Wednesday staged a protest demonstration in central capital Kabul, demanding words "Afghan" and "Islam" to be mentioned in the computerized identity cards.
The protestors included members of Afghanistan Milli Tehreek, Joint Council of the Peoples of Maidan Wardak, Shinwari tribal council, 16th district Guzar representatives council and Kabul's Qala Zaman Khan youth council.
They started marching from Allauddin Park in the limits of the third police district of Kabul city and reached the Parliament building, covering a two-kilometer distance.
Carrying banners inscribed with various slogans and the national flag, the protestors also accused some lawmakers of working as foreign spies.
The demonstration comes days after the Wolesi Jirga or lower house of parliament rejected a presidential decree adding two words religion and ethnicity to the ID cards in the Population Registration Law.
It also comes a day after the government asked the Wolesi Jirga to reconsider the decree and approve it.
In March, 2013, the Ministry of Justice (MoJ) shared a draft population registration law in seven chapters and 39 articles with the lower house, which approved the draft within a month.
However, many people around the country opposed the law and demanded addition of nationality and tribe in new computerized identity cards after the president approved the law in September 2014.
On March 2, 2016 following protests, the president approved amendment to Article sixth of the law about distribution of electronic ID cards. Based on the presidential decree, nationality and tribes would also be mentioned in identity cards.
At Thursday's demonstration in Kabul, the angry protestors chanted "death to anti-Afghan lawmakers," "death to anti-Islam lawmakers" and "writing words Afghan and Islam is our red line."
Milli Tehreek leader Ismail Yun said they would allow no one to play with the nationality and religion of the Afghans. "It is Afghanistan, all who live here are Afghans, it is our nationality and no one can snatch it from us," he said.
Another protestor, Dr. Faiz Mohammad Zalan, a teacher at the Kabul University, said the Wolesi Jirga's decision removing Afghan and Islam from the ID cards was illegal. He said lawmakers who had voted against the presidential decree were "puppets."
The demonstrators handed over a resolution letter to a Wolesi Jirga delegation that visited them. The resolution said no Afghan accepted the illegal and unconstitutional decision of the lower house.
The letter warns: "Writing words Afghan and Islam in ID cards is our red line and we cannot ignore our values."
The letter also asked the parliament to make its stance known on the fencing of the Durand Line and allow no one to make irresponsible statements.
The protestors threatened to continue their demonstration if their demands were rejected and would move the judiciary against the Wolesi Jirga's decision.
The Wolesi Jirga delegation that received the resolution letter from the protestors was headed by secretary Abdul Qadir Zazi. Other members of the panel were Aryun Yun, Nasima Niazi, Razia Sadat Mangal, Qudratullah Sahak and Haider Jan Naeem.
MP Zazi told the protestors that they too were against the Wolesi Jirga's decision, which he said had been rejected by the Meshrano Jirga and now a joint commission of the two houses would decide on the matter.
https://www.pajhwok.com/en/2017/11/08/"islam"-and-"afghan"-id-cards-our-red-line-kabul-rally
--------
India
Muslim Leaders Want Purge After Swoop For Final Clean-Up Of Mess
Nov 9, 2017
CHARMINAR: Muslim leaders and common people welcomed the midnight raid on waqf board, describing it as bold and courageous. However, they feel a simple raid can't clear the mess and sought political will.
Telangana state waqf board is one of the richest Muslim endowment bodies in India, but its control over properties is negligible as land parcels attached to most waqf institutions in Hyderabad and other parts of the state are under encroachment or caught in legal battle.
Muslim leaders demanded the state government dissolve the waqf board, if it was sincere in protecting the institutions. Only persons with impeccable character and proven track record should be appointed board chairman and members.
The government should also conduct a thorough background check while appointing or deputing senior officials, including chief executive officer. They also seek an amendment to the Waqf Act to ensure no MLA or MP or person with political background is appointed or elected to the board.
Olympian and community elder Syed Mohammad Jeelani Pairak said CM K Chandrasekhar Rao should be commended by allowing revenue authorities to conduct raid on waqf board office. "It is a welcome step," he said, adding KCR should concentrate on freeing waqf properties from encroachments. The state government should appoint only sincere people to the Muslim endowment body as its primary purpose is to help orphans, widows, destitute and the needy.
National Students Union of India national secretary Aamer Javed too welcomed the raid. But he felt the raid should be followed by action against encroachers. "Thousands of acres of prime waqf properties are under illegal occupation.
Several influential people are involved. Properties should be restored to the board by launching a mega drive against encroachments," he said.
Waqf activist Athar Moin is of the view the government exceeded its executive powers to conduct raid on the waqf board.Various Muslim groups, including Islamic scholars too welcomed the government's midnight swoop on the board office.
https://timesofindia.indiatimes.com/city/hyderabad/muslim-leaders-want-purge-after-swoop-for-final-clean-up-of-mess/articleshow/61572347.cms
--------
Muslims turn up in large numbers at Rupani rally
Nov 9, 2017
AHMEDABAD: Muslim community members turned up in large numbers in chief minister Vijay Rupani's maiden 'Gujarat Gaurav Maha-Sampark Abhiyan' roadshow which took off from Khadia-Jamalpur on Wednesday.
Rupani began his first direct voter contact on the campaign trail for 2017 assembly elections. Twin slogans of 'Allah-hu-Akbar' and 'Bharat Mata ki Jai' rent the air as a large number of Muslims joined Rupani's campaign in the constituency which has 62 per cent Muslim voters. The CM walked the meandering bylanes snaking across every nook of the more than 600-year-old Walled City, accepting greetings on the way from men and women.
Interestingly, the CM's campaign trail received a response that was more overwhelming in Muslimdominated Jamalpur than even in the Hindu-dominated Khadia area.
It was in 2009 that Jamalpur and Khadia were merged into one constituency after delimitation. "The warm response from the Muslim community in Jamalpur is proof that they have accepted PM Modi and BJP's 'Sauno Saath, Sauno Vikas' mantra," Rupani said. He added, "Muslims have understood that they have been used by Congress as vote bank.''
Most of those present at Rupani's rally belonged to the Chippas, Bohras, Sargara and other Muslim groups. Samina Chippa, a home maker who came to greet Rupani said, "We are happy that for the first time a CM has visited our area. We hope that our area will get development."
There are 1.97 lakh voters in the constituency of which 98,000 are Hindus, mainly concentrated in Raikhad and Khadia municipal wards, which are BJP's traditional vote bank.
Full report at:
https://timesofindia.indiatimes.com/india/muslims-turn-up-in-large-numbers-at-rupani-rally/articleshow/61569480.cms
--------
Not all seized notes linked to terror funding case, says NIA
November 9, 2017
A day after arresting nine people in a case of alleged terror funding for carrying demonetised currency worth more than Rs 36 crore, NIA sources on Wednesday claimed that not all of the seized currency was related to people associated with terror funding. An NIA officer said that part of the seized currency had come from J&K and was associated with some separatist elements who wanted to get it exchanged.
Agency sources claimed the racket was being run by one Deepak Taurani of Mumbai in association with Delhi-based property dealer Pradeep Chauhan and Delhi Police constable Bhagwan Singh. Taurani allegedly claimed to be a senior official of the Directorate of Revenue Intelligence with contacts in the banking sector. He allegedly promised several people to get their currency exchanged past all cut-off dates fixed by the government.
http://indianexpress.com/article/india/not-all-seized-notes-linked-to-terror-funding-case-says-nia-4928924/
--------
Arab World
Muslim World League chief lauds Saudi Arabia for opposition to extremism
9 November 2017
RIYADH: The secretary-general of the Muslim World League (MWL), Mohammed bin Abdul Karim Al-Issa, said on Wednesday that Saudi Arabia has established itself as "an international platform to fight extremist ideas" and that the Kingdom has put into place "strong and effective procedures" to prevent the funding of terrorism.
Al-Issa — who is also the Kingdom's minister of justice — was speaking to a high-level diplomatic delegation from Belgium headed by Deputy Foreign Minister Derek Ashton, in the presence of Belgian Ambassador to the Kingdom, Geert Criel.
Al-Issa briefed the delegation on the MWL's own efforts to combat extremism, support moderation and strengthen cultural ties among people, stressing the League's adoption of programs that promote civilized communication between the Islamic World and those with different political, religious, intellectual and cultural views, in accordance with its new vision.
He described the League as "a global umbrella for Islamic people that promotes the principles and values of peace, forgiveness, co-existence, and humanitarian cooperation."
Al-Issa discussed June's meeting in Makkah — organized by the MWL — of Islamic community leaders from around the world. The historic meeting, he said, resulted in an important report ascertaining that the League promotes religious, intellectual and cultural awareness and positive integration among Muslim minorities, and rejects extremism.
Al-Issa explained that while terrorists and extremists come from different intellectual and religious backgrounds, and some have no link to religion at all, they have unfortunately chosen Islam to be "the umbrella for their crimes that have nothing to do with religion."
For his part, the Belgian deputy foreign minister praised the League's new vision, its transparent approach and its efforts to support cultural integration programs.
http://www.arabnews.com/node/1190496/saudi-arabia
--------
Syria: Over 100 Gunmen in Homs Province Granted Gov't Amnesty
Nov 08, 2017
The sources said that a sum of 120 gunmen that had surrendered to the army forces in the towns of Talbiseh and al-Rastan in Northern Homs received government amnesty and went back to everyday life within the framework of the reconciliation plan in the war-hit country.
In a similar development in Homs province on Tuesday, the Russian Reconciliation Center for Syria and militant groups reached a ceasefire agreement which allows the reopening of the M-5 Homs-Hama highway.
A source said that a delegation from the Russian Reconciliation Center for Syria traveled to Northern Homs to meet with militant groups' commanders earlier today.
The meeting was held in the town of Dar al-Kabira in Northern Homs, the source said, adding that new revelations confirmed that five militant commanders from various groups attended the talks although the outcome of the negotiation was yet to be revealed. The Russian Army was to establish checkpoints along the M5 Highway to allow trade to flow more easily between the cities of Hama and Homs.
http://en.farsnews.com/newstext.aspx?nn=13960817001011
--------
Syrian forces along with Lebanon's Hezbollah capture Daesh's last stronghold
Nov 8, 2017
The Syrian forces along with allied fighters from Lebanon's Hezbollah resistance movement have liberated Bukamal, the last major Daesh-held town in Syria.
"The last stronghold of Daesh, Bukamal, is free of the Daesh organization," said the Syrian commander of the operations on Wednesday night.
Hezbollah fighters were "the foundation in the battle" he noted, adding that hundreds of the elite forces took part in the liberation operation.
Meanwhile, Syrian army units have reached Iraqi government stationed along the border of the town.
Reuters initially reported that Iraq's Popular Mobilization Units (PMU) also had a significant role in capturing of the city but later retracted the statement after it was denied by the Iraqi forces.
"Our movements are carried out under orders from the commander in chief of the armed forces and our key objective is to liberate Iraq's territories from Daesh. We have no orders to cross the borders," said spokesman Ahmed al-Asadi said.
Earlier, the Lebanon-based Arabic-language al-Manar television network reported that the Iraqi army and their allies crossed into the city, which is located in the country's eastern province of Dayr al-Zawr.
The Syrian army and its allies broke Daesh's three-year-old siege on Dayr al-Zawr in September and fully liberated it on Friday.
Dayr al-Zawr is the capital of an oil-rich Syrian province of the same name, which borders Iraq. The city used to serve as the main Daesh stronghold in Syria after the terror group left Raqqah in the north to US-backed Kurdish militants.
Full report at:
http://www.presstv.com/Detail/2017/11/08/541500/syria-bukamal-pmu-daesh-hezbollah
--------
Daesh militants besiege 10,000 civilians in western Iraq: UN
Nov 8, 2017
The Office of the United Nations High Commissioner for Human Rights (OHCHR) says members of the Takfiri Daesh militant group have laid siege to a town in Iraq's western province of Anbar, as army soldiers, backed by allied fighters from the Popular Mobilization Units, are engaged in a multi-pronged operation to retake the last remaining militant bastions in the country.
The UN agency, in a statement released on Wednesday, announced that the Takfiris have taken about 2,500 families, equivalent to 10,000 individuals, hostage in Rawah, located about 300 kilometers (186 miles) northwest of the capital Baghdad, to block the progress of Iraqi forces.
The OHCHR also appealed to the Iraqi government and security forces involved in the Rawah liberation operation to intensify humanitarian efforts and open safe exit routes for civilians to frustrate terrorist schemes aimed at using ordinary people as human shields.
Late last month, Iraqi Prime Minister Haider al-Abadi formally ordered the launch of operations to purge the towns of Rawah and Qa'im from Daesh terrorists.
Abadi visited the newly-liberated town of Qa'im and the nearby Husaybah border crossing in far western Iraq on Sunday, and raised the Iraqi flag at the border crossing.
Meanwhile, the Iraqi Joint Operations Command (JOC) stated that army soldiers and fighters from the Popular Mobilization Units, commonly known by the Arabic name Hashd al-Sha'abi, have launched a joint offensive to retake the Rumana subdistrict from Daesh terrorists.
Separately, Hashd al-Sha'abi bomb disposal units have cleared 20 booby-trapped houses in addition to a power plant in Qa'im, located nearly 400 km northwest of Baghdad near the Syrian border, days after government troops and their allies recaptured it from Daesh extremists.
Full report at:
http://www.presstv.com/Detail/2017/11/08/541458/Daesh-militants-besiege-10000-civilians-in-western-Iraq-UN
--------
Egypt not mulling measures against Lebanon's Hezbollah: Sisi
Nov 8, 2017
Egyptian President Abdel Fattah el-Sisi says his country, a close Riyadh ally, is not considering taking measures against Hezbollah despite Saudi calls for sanctions against the Lebanese resistance movement.
In an interview with the American CNBC network on Tuesday, Sisi called on Middle Eastern nations to maintain stability just as tensions escalate.
Asked whether the time had come for Cairo to mull its own anti-Hezbollah measures, he said, "The subject is not about taking on or not taking on, the subject is about the status of the fragile stability in the region in light of the unrest facing the region."
"The region cannot support more turmoil," he added.
The remarks came days after the Lebanese political scene was rattled by Lebanese Prime Minister Saad Hariri's announcement of resignation in a televised speech from Saudi Arabia.
Hariri, a long-time Riyadh ally, accused Iran and Hezbollah of meddling in Arab countries' affairs.
Saudi Arabia's Minister of State for Persian Gulf Affairs Thamer al-Sabhan said that Lebanese government would "be dealt with as a government declaring war on Saudi Arabia" because of what he described as aggression by Hezbollah.
He further noted the Lebanese "must choose between peace or aligning with Hezbollah."
The Saudi diplomat has also called for "real sanctions" and alliances against the resistance movement, saying Hezbollah should be disarmed and kept out of government.
He had earlier unleashed a series of vitriolic attacks against Hezbollah, saying the group "should be punished... and confronted by force."
Hezbollah is represented in the Lebanese parliament and in the national unity government formed by Hariri last year.
The resistance group has played a critical role in the Syrian military's counter-terrorism operations over the past few years.
In the latest gain against terrorists, Hezbollah and the Syrian military successfully purged Daesh militants from Syria's Qalamoun region on Lebanon's border. The Qalamoun operation came following a similar joint campaign at Lebanon's highlands of Arsal.
Full report at:
http://www.presstv.com/Detail/2017/11/08/541432/Egypt-Saudi-Arabia-Lebanon-Hezbollah
--------
Egypt's El-Sissi warns Iran to stop "meddling" in region
8 November 2017
SHARM EL-SHEIKH, Egypt: Egyptian President Abdel-Fattah El-Sissi said Wednesday that Iran must stop "meddling" in the Middle East and the security of Arab Gulf countries must not be threatened, but he underscored that he does not want war and believes dialogue can resolve the region's crises.
With his comments, El-Sissi threw his support behind Egypt's Gulf ally Saudi Arabia.
Over the weekend, Saudi Arabia blamed Iran for a missile fired toward Riyadh by rebels in Yemen and warned that it could be considered an act of war. At the same time, Saudi officials accused Iran's Lebanese ally Hezbollah of "declaring war."
http://www.arabnews.com/node/1190516/middle-east
--------
Saudi channel retracts Twitter posting on Salman rise to throne
Nov 8, 2017
A Saudi-owned television news channel has retracted a message on Twitter that had said Saudi Crown Prince Mohammed bin Salman would be appointed as the king during a planned ceremony.
Al-Arabiya state television, on its Twitter account, said on Wednesday that it would soon release or broadcast further details about the scheduled ceremony.
However, the channel deleted the tweet hours later.
The regime in Riyadh is apparently seeking to examine public reaction regarding a surprise shift in power.
In early September, the Arabic-language al-Manar daily reported that bin Salman had formed a team of aides to prepare the kingdom for celebrating his succession to power as the new king.
The paper quoted sources close to the royal family as saying that King Salman was due to step down over his health and name his son as the new king. The sources then noted that bin Salman had ordered the kingdom's security officials to increase supervision of royal figures to prevent any coup.
However, the heir to the throne's most ambitious move came late Saturday, when he fired senior ministers and had dozens of the country's richest men detained, ostensibly on the grounds of fighting corruption. The arrests included his cousin and one of the world's richest men, al-Waleed bin Talal.
Human Rights Watch on Wednesday voiced serious concern over the recent arrests in Saudi Arabia.
Confusion also surrounds the whereabouts of Mohammed bin Salman's predecessor as crown prince, Mohammed bin Nayef, who has not been seen publicly since June and is rumored to be under house arrest.
Analysts say the targeting of Saudi Arabia's long-standing elite represents a shift from family rule to a more authoritarian style of governance based around one man.
Since replacing his cousin bin Nayef in June as first in line to succeed his father, the 32-year-old Salman has embarked on a campaign to consolidate power, taking on rivals within the royal family.
Full report at:
http://www.presstv.com/Detail/2017/11/08/541494/Saudi-Arabia-Salman-tweet
--------
North America
An American Muslim Guide In The Aftermath Of National Tragedy
Nov 9, 2017
As soon as there is a tragedy in this country, Muslims are often the ones who get the brunt of the blame, even if they have nothing to do with it. It is not your job to apologize, because it is not your fault. And further, any real Muslim would know that nowhere in the Quran or Islam does it say to kill innocent people. However, it is okay to show your remorse and sadness. This is because ― like all Americans ― American Muslims mourn after any tragedy occurs, as we did after the recent shooting in Las Vegas and the Texas church massacre. We all mourn because the loss of innocent lives is something any sane person would mourn. American Muslims, this article will offer you some talking points that you can use in the aftermath of all national tragedies.
I had the pleasure to reach out to Hiba Rahim, the North-West Regional Coordinator for the Council On American and Islamic Relations in Florida (CAIR FL). CAIR FL is the state's largest Muslim civil rights and advocacy group. They offer victims of discrimination free legal representation, regardless of their faith or ethnicity. Their focus and mission is to create mutual understanding and respect through dialogue, for all of society. Though Rahim is located in Panama City, FL, she oversees the Florida panhandle, which ranges from the Florida capital of Tallahassee all the way to Pensacola. She does outreach and presentations for/with the media, law enforcement, schools, universities and interfaith and civil rights groups, etc.
Last week, I sat in on a conference call led by Rahim. On the call, we reviewed talking points one that offered insightful information on what Muslims should say after a tragedy, if brought up in conversation. The conference call took place the day after the incident in Manhattan, on Halloween 2017.
After these types of tragedies, the majority of Muslims are the ones who are bearing much of the burden. These talking points will help you talk to people when the topic of national tragedy is broached.
Some talking points you could use are as follows:
We are upset and angered by the recent acts of mass violence. An attack on one American is an attack on all of us. We will not stand for violence against innocent people.
Few carry out acts of mass violence. We as a community of logical and intelligent individuals condemn all forms of violence in the most drastic way. When we see repetitious acts of mass violence ranging from Texas to Las Vegas to Manhattan, we must seek to create solutions that will have a lasting impact on our society.
There are leaders that will raise fear in hopes of dividing us. We are smarter than that. The events of Las Vegas and Charlottesville show all too well that violence doe not stem from one faith or political party - this is a tactic that weak individuals use to appear powerful, and to pronounce power where they have no power.
We, as people ― and our leaders ― have significant choices to make: we can play on our strengths or give into fear. America has always been it's strongest when we stand together. Those Americans who would turn against each other or abandon our rights to free speech, free assembly, and freedom of religion would be throwing the greatest thing about America away. Those people will never succeed. As we look back at which our history taught us we renounce our principles with humiliation.
We must stop thinking with fear and be intelligent with how we will tackle the problem of mass violence. We should not blame an entire group of people because of their religion or their race.
https://www.huffingtonpost.com/entry/mourning-and-responding-an-american-guide-in-the-aftermath_us_59fa16b8e4b09afdf01c3fd8
--------
US defence chief meets Nato to discuss IS, Afghanistan
November 09, 2017
BRUSSELS - With the Islamic State group crumbling in Iraq and Syria, North Korea defiant over its nuclear ambitions and Russia looming large, US Defence Secretary Jim Mattis has plenty of pressing issues as he begins talks with Nato allies on Wednesday.
Nato defence ministers are meeting over two days at the alliance's Brussels headquarters as US President Donald Trump arrived in Beijing to press key player China to do more to get Pyongyang to curb its nuclear and ballistic weapons programmes.
The North Korean nuclear crisis will be the focus of a working dinner on Wednesday, where ministers will be joined by the EU's diplomatic chief Federica Mogherini.
Tensions have soared since Pyongyang carried out its sixth nuclear test - its most powerful to date - and Nato Secretary General Jens Stoltenberg said the crisis demanded a united international effort.
"All Nato allies agree that we have to put strong pressure on North Korea because North Korea is responsible for reckless behaviour, irresponsible behaviour developing nuclear weapons and by developing missiles," Stoltenberg said.
"We have to put pressure on North Korea to reach a peaceful negotiated solution. Pressure is the path to peace."
Wednesday's talks will also look at efforts to revamp Nato's command structure to help it better combat the rising threat from Russia.
Mattis will hold a separate meeting on Thursday with partners from the coalition fighting IS in the Middle East, where the jihadists continue to lose territory.
As he flew to Europe, Mattis told reporters that coalition partners are looking to the United States for a clear plan about what follows the physical defeat of IS.
"Maybe three-quarters of the questions I am getting asked now is (about) going forward. It's not about are we going to be able to stop ISIS, are we going to be able to overcome ISIS. They are now saying: 'What's next? How is it looking?'" Mattis said.
Following back-to-back losses, including of their Syrian and Iraqi strongholds of Raqa and Mosul, IS fighters are down to defending their last holdouts along the Euphrates River valley.
America's military involvement in Syria has until now been focused solely on fighting IS, but with the jihadists on the ropes, Washington must articulate its longer-term interests and what role, if any, US forces will play in Syria.
Mattis supports a UN-backed effort in Geneva, which has run in parallel to a Russian and Iranian-led process, to reach a diplomatic solution.
America has armed and trained Kurdish and Syrian Arab fighters who are battling IS on the ground, but the weapons provided to the Kurdish YPG are a source of huge angst for Nato ally Turkey, which views the group as terrorists.
Mattis declined to say whether the US would be asking for those weapons back, though Washington has previously said it keeps tabs on the equipment. Mattis will meet his Turkish counterpart at Nato to discuss ongoing concerns.
Nato has been in Afghanistan since the US-led invasion in late 2001 to dislodge the Taliban in the wake of the September 11 attacks.
Despite a 16-year war and hundreds of billions of dollars in investment in Afghan institutions and security forces, the country remains beset by corruption and an ongoing security crisis that is killing thousands of local soldiers and civilians each year. Nato will boost its training mission to the local soldiers from around 13,000 troops to around 16,000, Stoltenberg said Tuesday.
According to diplomatic sources, the US would contribute around 2,800 troops, while other Nato allies and partner countries would supply around 700 more.
Mattis arrived in Brussels from Helsinki, where he attended a forum called the Northern Group, a little-known meeting of northern European nations focusing on the continent's military and security challenges, particularly from Russia.
Moscow frequently sends warplanes into the skies around the Baltics, and Europe remains anxious about Russia's military intentions, especially after the 2014 annexation of Crimea from Ukraine.
Full report at:
http://nation.com.pk/09-Nov-2017/us-defence-chief-meets-nato-to-discuss-is-afghanistan
--------
Pakistan
No terrorist sanctuaries in Pakistan, claims Pak's foreign secretary
Nov 08 2017
Pakistan's foreign secretary Tehmina Janjua has said no sanctuary of the terrorist groups exist in Pakistan, claiming that the security forces of the country have cleared the country of miscreants.
Briefing the lawmakers in the Senate Standing Committee on Foreign Affairs, Janjua said the terrorist groups have safe havens in the areas where the government has no control, amounting to 40 percent of the territory of Afghanistan.
Janjaur further added that the Tehreek-e-Taliban Pakistan (TTP) and the militant Islamic State were perpetuating terrorist activities against Pakistan.
She also claimed that Indian spy agency was using the Afghan soil to carry out subversive activities in Pakistan.
This comes as pressures are on the rise on Islamabad to take actions against the terror groups having safe havens in the country.
According to reports, the United States last month shared a list of at least twenty terrorist groups with Islamabad which Washington insists use the Pakistani soil for the terrorist activities in Afghanistan and elsewhere, it has been reported.
It is believed that the Haqqani terrorist network is on the top of the list shared with Islamabad as the US officials are saying that the network has safe havens in Fata and uses them to launch attacks into Afghanistan.
http://www.khaama.com/no-terrorist-sanctuaries-in-pakistan-claims-paks-foreign-secretary-03805
--------
'Poet of The East': Pakistan remembers Allama Iqbal on 140th birthday
Nov 9, 2017
LAHORE – Pakistanis is celebrating the 140th birth anniversary of the 'Poet of the East', Allama Muhammad Iqbal, a great Muslim thinker and philosopher who played a key role in the creation of this new Muslim nation.
Sir Muhammad Iqbal was born on November 9, 1877, in Sialkot, Punjab, India.
The poet and philosopher, known for his influential efforts to direct his fellow Muslims in British-administered India toward the establishment of a separate Muslim state, was an aspiration that was eventually realised in the country of Pakistan.
Iqbal was born in a pious family of small merchants and was educated at Government College, Lahore. In Europe from 1905 to 1908, he earned his degree in philosophy from the University of Cambridge, qualified as a barrister in London, and received a doctorate from the University of Munich. His thesis, The Development of Metaphysics in Persia, revealed some aspects of Islamic mysticism formerly unknown in Europe.
On his return from Europe, he gained his livelihood by the practice of law, but his fame came from his Persian- and Urdu-language poetry, which was written in the classical style for public recitation. Almost all the cultured Indian and Pakistani Muslims of his and later generations have had the habit of quoting Iqbal.
His three significant poems, Shikwah ("The Complaint"), Jawāb-e shikwah ("The Answer to the Complaint"), and Khizr-e rāh ("Khizr, the Guide"), were published in 1924 in the Urdu collection Bāng-e darā ("The Call of the Bell"). In those works Iqbal gave intense expression to the anguish of Muslim powerlessness. Hazrat Khizr (Arabic: Khiḍr), who asks the most difficult questions, is pictured bringing from Allah the baffling problems of the early 20th century.
Notoriety came in 1915 with the publication of his long Persian poem Asrār-e khūdī (The Secrets of the Self). He wrote in Persian because he sought to address his appeal to the entire Muslim world. In this work he presents a theory of the self that is a strong condemnation of the self-negating quietism (i.e., the belief that perfection and spiritual peace are attained by passive absorption in contemplation of God and divine things) of classical Islamic mysticism; his criticism shocked many and excited controversies. Iqbal and his admirers steadily maintained that creative self-affirmation is a fundamental Muslim virtue; his critics said he imposed themes from the German philosopher Friedrich Nietzsche on Islam.
The dialectical quality of his thinking was expressed by the next long Persian poem, Rumūz-e bīkhūdī (1918; The Mysteries of Selflessness). Written as a counterpoint to the individualism preached in the Asrār-e khūdī, this poem called for self-surrender.
The second poem completes Iqbal's conception of the final destiny of the self.
Later he published three more Persian volumes. Payam-e Mashriq (1923; "Message of the East"), written in response to Johann Wolfgang von Goethe's West-östlicher Divan (1819; "Divan of West and East"), affirmed the universal validity of Islam.
In 1927 Zabur-e Ajam ("Persian Psalms") appeared, about which A.J. Arberry, its translator into English, wrote that "Iqbal displayed here an altogether extraordinary talent for the most delicate and delightful of all Persian styles, the ghazal," or love poem.
Javid-nameh (1932; "The Song of Eternity") is considered Iqbal's masterpiece. Its theme, reminiscent of Dante's Divine Comedy, is the ascent of the poet, guided by the great 13th-century Persian mystic Jalal al-Din Rumi, through all the realms of thought and experience to the final encounter.
Iqbal's later publications of poetry in Urdu were Bal-e Jibril (1935; "Gabriel's Wing"), Zarb-e kalim (1937; "The Blow of Moses"), and the posthumous Armaghan-e Hijaz (1938; "Gift of the Hejaz"), which contained verses in both Urdu and Persian. He is considered the greatest poet in Urdu of the 20th century.
His philosophical position was articulated in The Reconstruction of Religious Thought in Islam (1934), a volume based on six lectures delivered at Madras (now Chennai), Hyderabad, and Aligarh in 1928–29. He argued that a rightly focused man should unceasingly generate vitality through interaction with the purposes of Allah.
The Muslim community in the present age ought, through the exercise of ijtihād—the principle of legal advancement—to devise new social and political institutions. He also advocated a theory of ijmāʿ—consensus. Iqbal tended to be progressive in adumbrating general principles of change but conservative in initiating actual change.
During the time that he was delivering those lectures, Iqbal began working with the Muslim League. At the annual session of the league at Allahabad in 1930, he gave the presidential address, in which he made a famous statement that the Muslims of northwestern India should demand status as a separate state.
After a long period of ill health, Iqbal died in April 1938 and was buried in front of the great Badshahi Mosque in Lahore.
Full report at:
https://en.dailypakistan.com.pk/pakistan/poet-of-the-east-pakistan-remembers-allama-iqbal-on-140th-birthday/
--------
Attack on Saudi Arabia tantamount to attack on Muslim world: Tahir Ashrafi
NOVEMBER 9, 2017
Islamabad: "A war against Saudi Arabia would be tantamount to a war against the entire Muslim world and Pakistan will not tolerate any attack on Saudi Arabia," said Hafiz Muhammad Tahir Mehmood Ashrafi.
"The Houthi missile attack on Saudi Arabia was condemnable and leadership of Muslim world have to devise a cohesive mechanism to contain militant activities of Houthi tribes," said All Pakistan Ulema Council Chairman Hafiz Muhammad Tahir Mehmood Ashrafi.
Speaking to visiting delegates of different religious and political organisations on Tuesday, Tahir Ashrafi stated that entire Muslim world had been confronting multiple challenges and amidst this chaotic situation, missile attacks on Kingdom of Saudi Arabia were concerning for the entire Muslim Ummah.
Saudi Arabia is the centre of Muslim faith and security forces of Saudi Arabia are playing a vital role to ensure security and sanctity of holy places in Saudi Arabia, said Ashrafi. Security institutions of Saudi Arabia had rendered historic services to foil the conspiracies of the enemies of Islam and Muslims, said Ashrafi.
Tahir Ashrafi also underlined the importance of ongoing anti-corruption drive in Saudi Arabia. He said all those elements aiming to create chaos in Saudi Arabia will not succeed in their nefarious designs. "Making endeavours to purge corruption from an Islamic society is in accordance with the teachings of Quran and Sunnah," he said.
Only those societies and countries make progress that clean their departments of corruption, he said.
Pakistan Ulema Council and other Islamic organisations of Muslim world endorse all initiatives for security and economic stability of Saudi Arabia taken by Saudi King Salman bin Abdul Aziz and Crown Prince Muhammad Bin Salman, said Ashrafi.
Full report at:
https://dailytimes.com.pk/136374/attack-saudi-arabia-tantamount-attack-muslim-world-tahir-ashrafi/
--------
1 killed, 6 including senior police official injured in blast in Quetta
Nov 9, 2017
QUETTA: At least one person was killed and six others including a senior police officer were injured when a bomb targetted a police convoy here on Thursday morning, police reports confirmed.
As per reports, the blast targeted Telecommunications Additional Inspector General (AIG) Hamid Shakil's vehicle when he was leaving his house in Chaman Housing Scheme.
As per reports, the wounded have been shifted to Combined Military Hospital for medical treatment.
The area where the incident took place has been cordoned off and an investigation into the incident is underway. Reports confirmed that DIG's car was badly damaged in the explosion.
https://www.pakistantoday.com.pk/2017/11/09/1-killed-6-including-senior-police-official-injured-in-blast-in-quetta/
--------
PA passes resolution urging govt to aid persecuted Rohingya Muslims
Azeem Samar
November 9, 2017
The Sindh Assembly has unanimously passed a resolution calling upon the government to provide much-needed assistance to the displaced Rohingya Muslims who are facing persecution in their homeland Myanmar and forced to flee to neighbouring countries.
Muttahida Qaumi Movement leader Syed Sardar Ahmed read out the resolution, which was signed by several lawmakers, in the house on Wednesday. The resolution states that Rohingya Muslims have been facing violence, ethnic cleansing, horrific rapes and arson at the hands of Buddhist monks and the Myanmar government. But the persecution had taken a turn for the worse in the last week of August when more than 1,000 Rohingya Muslims, including children, were massacred, women raped and their villages burnt as confirmed by a senior United Nations representative on September 8.
Since then more than 600,000 of them have fled to neighbouring Bangladesh, but even then overloading on the boats and rough seas had claimed even more lives of the fleeing minority community, it added, lamenting that Aung San Suu Kyi, the country's leader, who was awarded a Nobel Peace Prize for resisting the previous regime, had turned a blind eye to their suffering.
The resolution condemned the Myanmar government's atrocities and urged the Pakistani government to approach the United Nations to intervene and send its forces to the country to stop the brutalities against the Rohingya community.
"Exclusively from a humanitarian point of view, the government of Sindh is requested to consider donating some funds, in cash or in kind, as a token relief to the Muslim refugees of Myanmar in Bangladesh who are in great distress," the resolution added.
Zakat funds
Another resolution calling upon the federal government to immediately release due zakat funds for Sindh for the financial year 2017-18 was also unanimously passed by house.
MQM's parliamentary leader Syed Sardar Ahmed had also moved this resolution. In his foreword written on the draft of the resolution, Ahmed stated that the federal government was yet to release zakat funds to the province for this year because of which some 100,000 families who depend on the monthly subsistence provided to them through zakat have been facing hardships.
Moreover, patients who rely on zakat funds for treatment and medicine, and students who depend on them for their academic expenses are also facing a difficult time because of non-availability of the funds.
Petrol prices
The house through a majority vote also adopted another resolution calling upon the government to withdraw a recent hike in prices of petroleum products in the country which came into effect from November 1.
Pakistan Peoples Party lawmaker Khairunnisa Mughal moved the resolution, which faced opposition from the Pakistan Muslim League-Nawaz, which leads the federal government and sits on the opposition benches in Sindh.
Sorath Thebo, a PML-N MPA, said that the federal government had initiated a number of steps to provide assistance to people and was also providing subsidies on the retail prices of petroleum products.
Illegal encroachments
The house was informed that people living in the surrounding area of Karachi Zoological Gardens illegally without authorisation and causing encroachments in the area would have to face action by the authorities concerned. The warning came from Local Government Minister Jam Khan Shoro on a call-to-attention notice moved by MPA of MQM Syed Qamar Rizvi who is the elected lawmaker from the area.
The minister also informed the house that Karachi Metropolitan Corporation was going to start an anti-encroachment drive elsewhere in the city against the same menace of illegal occupants from November 13 and the Sindh government would provide utmost assistance to the KMC for this. He added the government would provide assistance for rebuilding Karachi Zoo along modern lines as well.
Meanwhile, responding to a call-to-attention notice of MQM MPA Kamran Akhtar, Sindh Health Minster Dr Sikandar Mandhro said that the completion of Shaheed Mohtarma Benazir Bhutto Trauma Centre at Civil Hospital Karachi had entered into its final stage and the centre would be equipped with such facilities which would not be available elsewhere in the country.
Full report at:
https://www.thenews.com.pk/print/242893-PA-passes-resolution-urging-govt-to-aid-persecuted-Rohingya-Muslims
--------
Pakistan rejects suggestions for new UN Security Council seats
Masood Haider
November 09, 2017
UNITED NATIONS: Pakistan on Tuesday rejected what it termed "dysfunctional" suggestions for creation of new permanent seats in the so-called reformed Security Council as projected by certain self-appointed pretenders for a permanent seat on the most powerful organ of the world body.
During a debate on the expansion of the Security Council, Pakistan's Ambassador to the UN Maleeha Lodhi said that "permanent seats are contrary to the universally agreed principles of democracy, accountability and transparency".
"After all, permanent membership remains at the core of much that is flawed about the existing Security Council," she said, adding "it is, therefore, counter-intuitive to us that an expansion in the council could be advocated as a means to address its inherent dysfunctionalities".
Drawing the attention of the 193-member General Assembly to the growing and complex challenges to global peace and security, Ambassador Lodhi said this warranted a firm and clear action by the Security Council.
"An enlarged permanent membership, operating on the basis of the least common denominator, will erode the standing of the council and not strengthen its role as some argue besides compromising its efficiency and effectiveness," she said.
The ambassador criticised the position taken by a handful of countries demanding a permanent seat in the Security Council saying these states sought a privileged and unequal status for themselves, anchored in power politics, which was in sharp contradiction to the modern democratic spirit.
"Even more telling, while they remain firmly wedded to their own positions, they ask others to be flexible," she noted.
She argued that it was not a lack of will on the part of the many, but a lack of will on the part of a few that remained the most persistent stumbling block in the way of achieving a more representative, transparent, accountable and effective reform of the Security Council.
Ms Lodhi argued for an expansion in the non-permanent category of membership, based on equitable geographic distribution and a system of fair rotation and said that this solution was both fair and just, and was supported by all member states and groups.
Full report at:
https://www.dawn.com/news/1369334/pakistan-rejects-suggestions-for-new-un-security-council-seats
--------
Musharraf quick to welcome newly formed MQM-PSP alliance
November 08, 2017
Former president Pervez Musharraf, in a video message on Wednesday, welcomed the formation of a political alliance between Muttahida Qaumi Movement (MQM) and the Pak Sarzameen Party (PSP), however, Musharraf did so even before it was formally announced.
The video message was shared on social media from the official account of Musharraf's political party — All Pakistan Muslim league (APML).
Musharraf started the video message by expressing his delight on the merger of political forces representing the Mohajir community. He, however, was quick to clarify that he had no sympathy for MQM and didn't see any future of that party, but it was necessary for the Mohajir community to unite under one political umbrella.
The former president went on to say that he did not support community-based politics and preferred to do politics for the betterment of the country.
"If the factions of APML unite in Khyber Pakhtunkhwa and Balochistan, and join hands with them [the newly formed alliance] then this will give birth to a new national-level political force," Musharraf said while presenting his formula for changing the existing political scenario in the country.
He urged all the communities living in Karachi and rural Sindh to unite under this platform, so that they are able to defeat PPP and form the government in the province.
Alliance or merger?
The announcement of an alliance between the political parties that, until recently, were highly critical of each other attracted mixed reactions on Twitter from politicians. MQM stalwart Ali Haider Abidi announced his decision to quit the party and vacate his NA-251 seat while the press conference was ongoing.
On the other hand, Faisal Sabzwari provided clarification that MQM and PSP had only formed an "alliance" and not announced a merger.
Senior MQM members Nadeem Nusrat and Mustafa Azizabadi did not hold back in hiding their displeasure over the announcement. They lashed out at the "establishment" and praised Abidi for quitting the party. Azizabadi claimed that "Muhajirs" will not accept this alliance.
The leaders of MQM and PSP set aside their bitter rivalry to announce that they were gearing up for the eventual consolidation of their political forces.
Full report at:
https://www.dawn.com/news/1369226/musharraf-quick-to-welcome-newly-formed-mqm-psp-alliance
--------
Banned Baloch outfits set to congregate in Geneva on 18th
Marvi Sirmed
NOVEMBER 9, 2017
ISLAMABAD: Exiled leaders of several proscribed Baloch outfits are set to congregate in Geneva on November 18 to deliberate on the possibility of a joint and peaceful struggle for their demands. Meanwhile, the Balochistan government has completely rubbished the idea saying that the sardars have lost public support in the province.
The proscribed Baloch Republican Party (BRP) is hosting the moot. The list of confirmed participants includes Harbiyar Marri, Mehran Marri, Javed Mengal, and representatives of the Baloch Nationalist Movement and the Balochistan Liberation Front.
In an audio message shared with Daily Times, BRP head Brahamdagh Bugti can be heard saying that the purpose of the moot is to bring together all the groups and parties that are part of the Baloch resistance movement. He says that a meeting was held in Geneva last month in which almost all the key parties and organisations sent their representatives. Harabiyar Marri could not participate because of his busy schedule. BRP spokesperson Sher Muhammad Bugti tells Daily Times that the party has high hopes from the meeting not only because the peaceful Baloch resistance needs a boost but also because solutions need to be sought for problems faced by the common Baloch people who are being crushed between insurgents and security forces.
The efforts to merge all the Baloch resistance parties are not new. In 2004, a similar attempt was made by Akbar Bugti, former Balochistan governor and chief minister.
Many groups had given their consent at that time for a joint platform, but nothing could be materialised till Bugti's death in 2006 in a military operation in Kohlu district.
To a question, Sher Bugti says that his party opposes the current constitutional framework for the federation as well as the parliamentary system of government. He refers to the system as 'highly exploitative and unjust' for the Baloch people.
"We also oppose armed conflict and believe in peaceful political resistance," he says, adding that his party is hopeful that the upcoming gathering will pave the way for a joint struggle for greater provincial autonomy in Balochistan.
Regarding the perception that Baloch separatist groups are in cahoots with terrorist organisations like the TTP and other sectarian militant groups, he says, "All the Baloch nationalist parties are secular. We do not believe in using religion for killing innocent people."
He says all Baloch groups proscribed in Pakistan for continuing their struggle for provincial autonomy consider groups like the TTP as terrorists. "We believe that there are no good or bad Taliban. All of them are terrorists and need to be punished according to the law," he adds.
He dismisses that India or any other state is helping the proscribed outfits in terms of funds or weapons. "If we had foreign support, would we be in a condition that we are in right now?" he asks.
About the possibility of a dialogue with authorities in Pakistan, Bugti says that no one but the security establishment is empowered to have a meaningful dialogue but 'they have shut all the doors on us'. He recalls that a couple of years ago the then chief minister of Balochistan, Dr Abdul Malik Baloch had contacted his party leader and assured to get back on the demands put forward by the BRP head after discussion with the security establishment and the federal government. "Too bad that he never returned to us and the dialogue process was stalled," he says.
Bugti says that any future dialogue will be possible only if Balochistan is granted provincial autonomy and the armed forces are withdrawn from civilian areas.
He said his party will consider coming to the negotiation table only if the constitution is amended to grant greater autonomy to the province, alongside accepting the ownership of Baloch people on the resources of Balochistan.
Meanwhile, Anwar Kakar, the Balochistan government's spokesperson, says, "these elitist sardars are losing public support in Balochistan, which has made them nervous. The gathering reeks of their anxiousness to regain lost relevance in Balochistan's politics and society."
Kakar says Baloch people have totally rejected the narrative peddled by the sardars. "The people want safe, secure and prosperous life in a province where they can educate their children and contribute positively to the progress of the country," he says.
"The BRP and all other groups meeting in Geneva have two faces. All of these so-called political parties have their militant wings engaged in violence and terrorist activities in Balochistan. These wings are involved in killing of innocent citizens especially labourers from Punjab and other provinces. The IEDs installed by these groups in different parts of Balochistan have led to the killing of many innocent citizens including women and children. These sardars quest for power and resources has turned them into hardcore terrorists," he says.
Full report at:
https://dailytimes.com.pk/136340/banned-baloch-outfits-set-congregate-geneva-18th/
--------
South Asia
Suicide attack leaves local elder dead in Mazar-e-Sharif city
Nov 09 2017
An explosion rocked Mazar-e-Sharif city, provincial capital of Balkh province in North of Afghanistan earlier.
The provincial police commander Sher Jan Durani confirmed the incident and said preliminary reports indicate it was a suicide attack.
There are no reports regarding the possible casualties as a result of the incident.
In the meantime, another security official said the target of the attack was a local tribal elder who was killed in the incident.
The source further added that the suicide bomber detonated his explosives close to the elder Haji who was killed and three of his guards were wounded.
No individual or group has so far claimed responsibility behind the incident.
The commander of the 303 Pamir zone in the North Gen. Baba Jan confirmed that the suicide bomber targeted the local elder soon after he arrived to a restaurant for the breakfast.
Balkh is among the relatively calm provinces in northern parts of Afghanistan where insurgency related incidents are reported.
However, the anti-government armed militants have stepped up their efforts to destabilize some parts of the province, specifically attempting to expand their insurgency in some remote districts of the province.
http://www.khaama.com/suicide-attack-leaves-local-elder-dead-in-mazar-e-sharif-city-03806
--------
Hekmatyar conditional support to Taliban and their legitimate demands
Nov 08 2017
The leader of Hezb-e-Islami Gulbuddin Hekmatyar says his party is prepared to support the Taliban and their demands if the group agrees to join peace process.
Speaking during a gathering of the central council of Hezb-e-Islami in Kabul, Hekmatyar said the party will support the Taliban and their demands once they join the reconciliation process.
He also insisted that immediate steps should be taken to disarm all the groups and individuals or movements that preferring to prolong the war in Afghanistan.
According to Hekmatyar, the foreigners and their supporters inside the country do not want the war and violence to end in Afghanistan.
He did not disclose further information regarding the groups or movements but Hekmatyar in the past has harshly criticized the Taliban for waging a baseless insurgency.
In the meantime, Hekmatyar said his party has no intentions to join the government and they are also not supporting the collapse of the current government.
According to Hekmatyar, they will decide to join the government only if they had proper plans to serve the people.
He also insisted that there is no other proper option available to replace the current government.
Full report at:
http://www.khaama.com/hekmatyar-conditional-support-to-taliban-and-their-legitimate-demands-03802
--------
RAB arrests two Ansar al-Islam members
November 09, 2017
RAB claimed that both are active members of Ansar al-Islam (known as Ansarullah Bangla Team)
Rapid Action Battalion (RAB) has arrested two suspected members of Ansar al-Islam from Narayanganj's Siddhirganj and Dhaka's Rampura area.
The arrestees are Sayed Rayhan Kabir alias Rayhan alias Babu alias Nayem alias Syko Marshal, 28, and Md Faysal Rahman alias Moyaj alias Abu Dujana, 29.
RAB claimed that both are active members of Ansar al-Islam (known as Ansarullah Bangla Team).
RAB 11 Senior Assistant Director Shakil Ahmed confirmed the arrests and said acting on a tip-off, RAB conducted a raid at Signboard area in Shiddhirganj and arrested Rayhan around 3:15am on Tuesday.
"We found local weapons, jihadi books and leaflets from his possession."
"Later we interrogated Rayhan and found out that another militant named Faysal was in Rampura area. Another team of RAB carried out a drive and arrested Faysal," he added.
Shakil Ahmed said Rayhan became involved in Ansar al-Islam in 2013 through a man named Rahat.
"He got military training and has been working as a coordinator for the group in Narayanganj and Dhaka's Rampura and Banasri area. He has also collected members and donations for the organisation," he said.
Faysal completed his BBA from a private university in 2011. He was an active member in Hizb ut-Tahrir from 2005 to 2012. Then he joined Ansar al-Islam through Rayhan and he was collecting members and donations in different areas of Narayanganj and Dhaka.
Full report at:
http://www.dhakatribune.com/bangladesh/crime/2017/11/09/rab-arrests-two-ansar-al-islam-members/
--------
Afghanistan air strike killed civilians: UN
November 09, 2017
KABUL: The United Nations mission in Afghanistan said at least 10 civilians may have been killed by an air strike in the northern city of Kunduz last week, despite a U.S. military investigation that found no civilian deaths.
In a series of messages on Twitter, the U.N. Assistance Mission in Afghanistan said interviews with multiple survivors, medics, elders and others gave it strong reason to believe that civilians were among the victims of Saturday's attack.
"Credible reports that at least 10 civilians killed in Kunduz Afghanistan air strike 4 Nov, UNAMA initial findings show," it said.
The statement contradicts a U.S. statement on Tuesday which said that an investigation had found no evidence of civilian deaths.
The episode underlines the lack of clarity over reports of civilian casualties, an issue which is likely to become increasingly prominent as the United States steps up air strikes against the Taliban and other insurgent groups.
On a visit to Kabul in September, U.S. Defense Secretary Jim Mattis said that commanders would be given greater freedom to use American firepower against the Taliban but that "everything humanly possible" would be done to avoid civilian casualties.
Former President Hamid Karzai, who clashed bitterly with the United States over the issue in past years, condemned the air strikes but the government of President Ashraf Ghani has so far made no public comment.
Accounts from some local officials indicated that as many as 13 people were killed in air strikes on Saturday in Chahardara district outside Kunduz city and some other reports said that as many as 65 people were killed.
However Afghan special forces and the local provincial governor denied there had been any civilians killed in the operation in which 48 militants were killed.
In its most recent report, the UN said there had been a 52 percent increase in civilian casualties from air strikes in the first nine months of the year to 205 killed and 261 wounded.
Full report at:
http://nation.com.pk/09-Nov-2017/afghanistan-air-strike-killed-civilians-un
--------
Ghani and pence discuss US strategy impact on Afghan forces and Taliban
Nov 08 2017
The US vice president Mike Pence discussed the seccurity situation in Afghanistan and the impact of the new US strategy on the Afghan forces and the Taliban insurgents.
White House in a statement said Vice President Mike Pence spoke with President Ashraf Ghani of Afghanistan by phone on Tuesday. The statement further added that the Vice President discussed the security situation in Afghanistan and the impact of President Trump's South Asia strategy on the Afghan National Defense and Security Forces' morale, as well as the Taliban's view of their battlefield capabilities.
"Vice President Pence also commended the Afghans for their bravery and sacrifices in fighting the insurgency and international terrorists, such as ISIS and al-Qaida," the statement said.
Full report at:
http://www.khaama.com/ghani-and-pence-discuss-us-strategy-impact-on-afghan-forces-and-taliban-03804
--------
Mideast
Rouhani urges Saudis to end hostilities, befriend Iran instead of US
Nov 8, 2017
Iranian President Hassan Rouhani has called on Saudi Arabia to cease its hostile policies against Tehran, warning against the ramifications of putting trust in the US and Israel.
Speaking at his cabinet meeting on Wednesday, Rouhani reaffirmed Iran's support for the development of regional countries, including Saudi Arabia and said, "There is no way other than brotherhood, friendship and helping each other."
"You are mistaken if you think Iran is not your friend, but the US and Israel are. This mentality is a strategic mistake and miscalculation," added the Iranian president.
"Our path in the region is to establish and promote stability; we want the geographic borders not to change, nations to decide for themselves, and bombardments and aggression against regional nations to be stopped," he added.
The president further reminded the Saudi rulers of Iran's might and influential role in the region, saying, "You are well aware of the power and status of the Islamic Republic of Iran. Those more powerful than you have failed to do anything against the Iranian nation."
"The US and its lackeys mobilized all their equipment and power, but they could not do anything," he added.
Rouhani pointed to the allegations about Iran's interference in regional countries, adding that such claims come while the Islamic Republic has been fighting terrorism in Iraq and Syria upon the request of those countries.
The Iranian president pointed to the track record of the US and Israeli plots against regional countries, saying, "The hegemonic [states] plunder the oil and wealth of the region and, in return, they sell their a variety of weapons to fan the flames" of hostility.
Saudi war on Yemen
Rouhani lashed out at Saudi Arabia for waging a deadly war on its neighbor Yemen since March 2015.
"How should the Yemeni nation respond to bombardment on such a scale? They are told not to use their own weapons. Well, stop the bombing and see whether or not the Yemeni nation responds positively. You do not allow delivery of medicine, food and UN assistance to the Yemenis. Is what you are doing reasonable and Islamic?"
He also slammed Riyadh's hostility towards Iraq and Syria through the proxy of terrorist groups and said, "Why are you hostile towards the people of Syria and Iraq? Why did you create Daesh [terrorist group] and unleashed it on the people in the region?"
Saudi interference in Lebanon
Rouhani pointed to the sudden resignation of Lebanese Prime Minister Saad Hariri in Riyadh on Saturday, calling it a result of the Saudi interference.
"Why are you interfering in Lebanon's affairs and [in its] government? We cannot find an instance throughout history where a country meddling in the affairs of another country by apparently forcing the head of that country to resign. This is unprecedented in the history of the region," he pointed out.
Hariri cited many reasons for his sudden resignation, including the security situation in Lebanon. He also said that he sensed a plot being hatched against his life. He accused Iran and Lebanon's Hezbollah resistance movement of meddling in Arab countries' affairs, an allegation the two have repeatedly denied.
The surprise announcement has sparked a new political crisis at home in Lebanon, fueling speculations that the premier has been forced by the Riyadh regime to announce his resignation.
http://www.presstv.com/Detail/2017/11/08/541426/Iran-Saudi-Arabia-rouhani
--------
Israel approves construction of 240 East Jerusalem al-Quds settler units
Nov 8, 2017
Israeli authorities have approved building permits for 240 new settler units in East Jerusalem al-Quds in flagrant violation of international law and blatant defiance of a United Nations Security Council resolution condemning the Tel Aviv regime's land expropriation and settlement expansion policies in the occupied Palestinian territories.
Jerusalem al-Quds Deputy Mayor Meir Turjeman told AFP on Wednesday that a city planning committee approved 90 units in Gilo and another 150 in Ramat Shlomo settlements.
Less than a month before Trump took office, the United Nations Security Council adopted Resolution 2334, calling on Israel to "immediately and completely cease all settlement activities in the occupied Palestinian territories, including East Jerusalem" al-Quds.
About 600,000 Israelis live in over 230 illegal settlements built since the 1967 Israeli occupation of the Palestinian territories of the West Bank and East Jerusalem al-Quds.
Palestinians want the West Bank as part of a future independent Palestinian state, with East Jerusalem al-Quds as its capital.
The last round of Israeli-Palestinian talks collapsed in 2014. Among the major sticking points in those negotiations was Israel's continued settlement expansion on Palestinian territories.
Trump backtracked on Washington's support for a "two-state solution" earlier this year, saying he would support any solution favored by both sides.
Full report at:
http://www.presstv.com/Detail/2017/11/08/541486/Israel-approves-construction-of-240-East-Jerusalem-alQuds-settler-units
--------
Hamas must disarm under unity deal: Palestinian police chief
8 November 2017
The head of the Palestinian police said Wednesday that Hamas must disarm to allow a landmark reconciliation deal signed last month with rivals Fatah to succeed.
Hazem Atallah's comments came as cracks began to show in the Palestinian reconciliation deal mediated by Egypt over the issue of security control of the Gaza Strip.
The Palestinian Authority (PA) is due to retake control of the Gaza Strip, currently still run by Islamist movement Hamas, by December 1.
"We are talking about one authority, one law, one gun," Atallah told journalists in Ramallah in the occupied West Bank, echoing a line from Palestinian president Mahmud Abbas.
Asked whether he could allow Hamas's armed wing to maintain their weapons while being in charge of police in Gaza, he said: "No way".
"It is impossible. How can I do security when there are all these rockets and guns and whatever? Is this possible? It doesn't work.
"Otherwise how can I be in charge? Who is going to be standing and saying 'I am the chief of police, I am in charge,' if I am not controlling everything?"
He said the 8,000-9,000 Palestinian police who worked in Gaza before Hamas took over in 2007 would return to their posts, rejecting the idea of merging with the existing Hamas-led police.
This, he added, would need major financial support as the police's budget would effectively double.
Hamas seized Gaza in 2007 following a near civil war with Fatah, which currently dominates the PA.
Last month the two political parties signed an Egyptian-brokered reconciliation agreement under which Hamas is meant to hand over control of Gaza by December 1.
The agreement signed in Cairo does not specify the future for Hamas's vast armed wing, the Ezzedine al-Qassam Brigades. Hamas has so far refused to disarm.
On November 1, Hamas handed over control of border crossings in a first key test.
But in a sign of tension, Palestinian prime minister Rami Hamdallah said Tuesday the PA still did not have full control of the crossings, with Hamas dominating the police and security inside Gaza.
Hamas rejected that, with a statement saying it had fully transferred power.
Hamas, which is considered a terrorist organization by the United States and the European Union, has fought three wars with Israel since 2008.
Full report at:
https://english.alarabiya.net/en/News/middle-east/2017/11/08/Hamas-must-disarm-under-unity-deal-Palestinian-police-chief-.html
--------
Rouhani warns Saudi Arabia of Iran's 'might'
November 09, 2017
TEHRAN - President Hassan Rouhani warned Saudi Arabia on Wednesday that it will achieve nothing by threatening the might of Iran , as a war of words between the regional heavyweights intensifies.
His comments came after Saudi Crown Prince Mohammed bin Salman accused Iran of delivering missiles to Yemeni rebels for use against targets in the kingdom that he described as "direct military aggression."
Iran has strongly denied supplying any missiles to the rebels, saying that it would have been impossible to do so in any case in the face of a Saudi-led air and sea blockade.
Tehran has hit back against the increasingly fierce rhetoric from Riyadh with strong words of its own, troubling international oil markets.
"You know the might and place of the Islamic republic. People more powerful than you have been unable to do anything against the Iranian people," Rouhani said at a cabinet meeting in remarks aimed at Saudi leaders.
"The United States and their allies have mobilised all their capabilities against us and achieved nothing."
Rouhani referred to the Iran-Iraq war of 1980-88, in which revolutionary Iran successfully resisted an invasion by Saddam Hussein's regime supported by Gulf Arab and Western governments.
Rouhani reiterated that Iran wanted a peaceful settlement of the conflict between the rebels and the Saudi-backed Yemeni government, and of other wars around the region that have placed it at loggerheads with Riyadh.
"We want the welfare and development of Yemen, Iraq and Syria, and of Saudi Arabia too. There are no other paths forward than friendship, brotherhood and mutual assistance," he said. "If you think that Iran is not your friend and that the United States and the Zionist regime (Israel) are, you are making a strategic and analytical error."
US President Donald Trump has taken a much tougher line against Iran than his predecessor Barack Obama, emboldening Saudi Arabia and its allies.
Trump's administration was quick to express support for the kingdom's claims that Iran has supplied missiles to the rebels.
US ambassador to the United Nations Nikki Haley accused Iran of supplying a missile to Huthi rebels that was fired into Saudi Arabia in July.
The White House called for a UN inquiry into the origins of the rebels' ballistic capabilities that on Saturday saw them fire a missile more than 800 kilometres (500 miles) to near Riyadh international airport where it was intercepted and destroyed by Saudi air defences.
"These missile systems were not present in Yemen before the conflict, and we call upon the United Nations to conduct a thorough examination of evidence that the Iranian regime is perpetuating the war in Yemen to advance its regional ambitions," it said.
"Huthi missile attacks against Saudi Arabia , enabled by Iran 's Islamic Revolutionary Guard Corps, threaten regional security and undermine UN efforts to negotiate an end to the conflict."
Rouhani asked what alternative the rebels had in the face of the devastating bombing campaign waged against them by the Saudi-led coalition since March 2015.
"You... constantly bomb the Yemenis... but when for once they fire back, you say it's unjust. What are the Yemeni people supposed to do?" he asked.
The Iranian president suggested that the tougher foreign policy line from the Saudi crown prince might be a reflection of the internal upheaval he triggered by ordering the arrest of dozens of princes, ministers and a tycoon last weekend.
Full report at:
http://nation.com.pk/09-Nov-2017/rouhani-warns-saudi-arabia-of-iran-s-might
--------
Turkey, US must focus on future in ties: PM
November 08 2017
Turkey and the United States must focus on the future amid an ongoing crisis in ties, Turkish Prime Mnister Binali Yıldırım has said on the eve of a crucial meeting with U.S. Vice President Mike Pence.
"We will openly talk on the situation of our relations and which way should we move on," Yıldırım told a group of Turkish journalists in Washington on Nov. 8, one day before a meeting with U.S. Vice President Mike Pence in the White House.
"Our ties are not currently perfect, but we must focus on the future," Yıldırım said, adding that it would be wrong to expect an immediate result from the meeting.
"The purpose of this trip is to make some progress on the issues that have been problematic for both sides, in a way we can further develop our ties" the prime minister said.
"I believe that our counterparts are not also happy with the current situation. We have the will to improve the relations, and we will do everything we can for this purpose."
Yıldırım said regional issues, such as the situations in Iraq and Syria, and Turkey's objections to the U.S.'s ongoing partnership against the Islamic State of Iraq and the Levant (ISIL) with the People's Protection Units (YPG), which Ankara sees as the Syrian branch of the outlawed Kurdistan Workers' Party (PKK), as well as Turkey's extradition demand for U.S.-based preacher Fethullah Gülen, will also be on the table during the meeting.
"There is no doubt that FETÖ [the Gülen network] is behind the failed coup attempt. We expect the U.S. to take legal steps against Gülen," the prime minister said.
Yıldırım arrived in Washington on Nov. 7 along with Foreign Minister Mevlüt Çavuşoğlu and Energy Minister Berat Albayrak, with the visit being held under extraordinary security precautions.
"The incidents during our president's trip in May may be the reason behind the tight measures," Yıldırım said, adding that the Turkish side did not apply for increased security.
Arrest warrants have been issued against the bodyguards of President Tayyip Erdoğan after forcibly dispersing protesters on U.S. soil during Erdoğan's visit to Washington in May.
Yıldırım also commented on the visa crisis, saying that the latest steps were "in the right direction."
"I believe that we will have this problem over very soon," he said.
His remarks came two days after U.S. diplomatic missions in Turkey announced that they have begun accepting non-immigrant visa applications on a limited basis. The measure was introduced on Oct. 8 after the arrest of Metin Topuz, a Turkish national who has long been serving at the U.S. Consulate in Istanbul, charged with terror offenses and alleged involvement in the July 2016 coup attempt.
Hamza Uluçay, another Turkish national working at the U.S. Adana Consulate, was also arrested earlier this year on charges of having links with the outlawed PKK.
A statement issued from the U.S. Embassy in Ankara said the limited restart of visa processes was only possible after initial high-level assurances were submitted by Ankara that there will be no more arrests or detentions of additional local staff just for doing their job. Ankara then denied giving any assurances, saying it has no power to intervene in independent judicial matters.
US says 'limited assurance given'
During a daily briefing on Nov. 7, U.S. State Department spokesperson Heather Nauert echoed Prime Minister Yıldırım's statement that easing visa measures was a "step in the right direction."
"We have received limited assurances that if something should happen with our staff, if Turkey wants to detain our staff, that we will be given a heads-up. That's among the things that we were assured. We were told that they wouldn't arrest our people simply for doing their jobs," Nauert said.
"We still have two locally employed staff members who have been detained. In terms of Turkey's questioning of our previous statements, I can tell you that the safety and security of our folks is a top issue. The people who were detained, as a natural course of their business, had to engage with law enforcement and the Turkish government. That is an appropriate part of their job, part of their job description," she added.
"We think that for Turkey to put people in jail and claim they are involved in activities when they're simply doing their jobs is incorrect. But nevertheless they've taken some steps in the right direction and we've taken some steps in the right direction," Nauert said.
Meanwhile, Turkish Justice Minister Abdulhamit Gül and U.S. Attorney General Jeff Sessions spoke on the phone late on Nov. 7. The phone conversation took place upon the request of Sessions, Turkey's state-run Anadolu Agency reported.
Turkey's appeals for Gülen's extradition have been not responded to positively so far, and Gül earlier told the media that a new appeal on the basis of new evidence of Gülen's involvement in the coup attempt would be made to U.S. institutions.
Meanwhile, Ankara has also voiced concern over cases against Turkish nationals in the U.S. There is an ongoing case against Iranian-origin Turkish citizen Reza Zarrab and a Turkish public bank official, Hakan Attila, on charges of violating U.S. sanctions on Iran, while there is also an arrest warrant against former Economy Minister Zafer Çağlayan in the same case.
Full report at:
http://www.hurriyetdailynews.com/turkey-us-must-focus-on-future-in-ties-pm-122151
--------
Mattis reaffirms US support for Turkey in combatting terrorism
November 09 2017
U.S. Secretary of Defense Jim Mattis on Nov. 8 reaffirmed Washington's support to Turkey in its fight against terrorist threats, including the outlawed Kurdistan Workers' Party (PKK).
Pentagon chief spokesperson Dana W. White said in a statement that Mattis met with his Turkish counterpart Nurettin Canikli at the NATO meeting of defense ministers in Brussels "to reaffirm the longstanding defense relationship between the United States and its NATO ally, Turkey."
Recalling a previous meeting between the two on Aug. 23 in Turkish capital Ankara, White said "the secretary thanked the minister for Turkey's continued, critical contributions to global security and the fight to defeat ISIS."
"Secretary Mattis acknowledged the threats posed to Turkey, and reiterated that the U.S. will continue to stand with Turkey in its fight against the PKK and all terrorist threats," she added.
Mattis and Canikli also agreed to continue their full range of bilateral defense activities and consultations, looking for ways to further strengthen defense cooperation in the future, according to the statement.
Full report at:
http://www.hurriyetdailynews.com/mattis-reaffirms-us-support-for-turkey-in-combatting-terrorism-122163
--------
Europe
Chechnya Could Force Russia's Hand on the Rohingya Crisis
By Samuel Ramani
November 09, 2017
On September 4, 2017, Chechnya's leader, Ramzan Kadyrov, held a rally in Grozny that mobilized tens of thousands of Chechens against Myanmar's repression of Rohingya Muslims. In his speech to protesting Chechens, Kadyrov described the ongoing violence against the Rohingya as "a Holocaust against Myanmar's Muslim community."
The demonstrations in Grozny gained international attention as they followed Kadyrov's release of an Instagram video on September 2 that scathingly rebuked the Russian government for supplying arms to the Burmese military. In the Instagram video, Kadyrov urged Russia to intervene militarily in Myanmar to protect the rights of Rohingya and threatened a breach in Chechnya's relationship with Moscow if Russian President Vladimir Putin did not express opposition to Myanmar's Rohingya crackdown.
Even though Chechnya's ability to unilaterally shape events in Myanmar is virtually nonexistent, Kadyrov's expressions of solidarity with the Rohingya could eventually prompt a change in Russian policy toward Myanmar. The prospect of Russia distancing itself from Myanmar's government over Chechen unrest is a realistic one for three reasons.
Enjoying this article? Click here to subscribe for full access. Just $5 a month.
First, mass attendance at the pro-Rohingya rally in Grozny signifies deep-seated discontent within Russia's Muslim community about Moscow's resolute support for the Burmese military. Even though Kadyrov's bombastic claims that 1.1 million Chechens joined his demonstration are clearly a fabrication, as Chechnya's population is only 1.4 million, the Rohingya crisis has mobilized Russian Muslims into uncharacteristically large demonstrations.
The presence of an estimated 30,000 protesters in Chechnya, hundreds of demonstrators outside Myanmar's embassy to Moscow, and isolated rallies in Dagestan highlight the extent of the solidarity between Russian Muslims and their Burmese counterparts.
The Russian state media's unwillingness to criticize Myanmar's repression of the Rohingya could result in these demonstrations boiling over into religious violence. Concerns about retributory violence have risen substantially since Kadyrov warned on Instagram that he would be willing to "go against Russia" if Moscow continues to back the Burmese military. The sense of alarm generated from these threats is especially palpable as Russian policymakers did not expect their Myanmar policy to have such a strong backlash in Chechnya.
Even though Russia is unlikely to appease Kadyrov by abandoning its arms contracts with Myanmar, Moscow could assuage outraged Russian Muslims by applying diplomatic pressure on Myanmar's State Counsellor and de facto leader Aung San Suu Kyi to halt the Burmese military's human rights abuses. Achieving tangible progress toward this goal through diplomatic engagement with Yangon would defuse the potential Islamist threat emanating from Chechnya and highlight Russia's arbitration prowess in the Asia-Pacific region.
Second, Chechnya's adoption of similar views to Saudi Arabia on the Rohingya crisis could encourage Russia to distance itself from Myanmar's government, as Kremlin policymakers want to counter the growing alignment between Grozny and Riyadh. Since November 2016, Kadyrov has attempted to strengthen Chechnya's links to Saudi Arabia by emphasizing his role as a defender of Islamic values. As Wahhabi elites in Saudi Arabia provided financial support to Chechen separatists during the 1990s, the Kremlin views an Islamist alignment between Grozny and Riyadh involving criticism of Russian conduct as a potential security threat.
To drive a wedge between Saudi Arabia and Chechnya, Kremlin policymakers will seek to neutralize Islamic values-based solidarity between Kadyrov and the Saudi monarchy. As cooperating with Iran over stability in Syria diluted Chechnya's partnership with Tehran, Russian policymakers could try to emulate this obstruction of Chechen diplomacy through cooperation with Saudi Arabia on the Rohingya issue.
Abstaining from a future UN Security Council resolution against the Burmese government would do little to punish Russia's Southeast Asian ally, as China is almost certain to veto punitive measures against Myanmar. Yet Russia could take this symbolically significant action to demonstrate to Saudi Arabia that it is willing to join the growing international consensus around the unacceptability of Myanmar's human rights abuses.
This move from Moscow would discredit Kadyrov's criticisms of Russian policy toward the Rohingya, and ensure that the anti-Kremlin dimension of Chechnya's Islamic values campaign is muted. Creating good will with Saudi Arabia by expressing solidarity with the Rohingya could also strengthen cooperation between Moscow and Riyadh in other security crises, like Syria and Yemen.
In addition, Russian policymakers could compromise on Myanmar, in exchange for Saudi Arabia rallying support in the Islamic world for Russia's return to the UN Human Rights Council. This is a plausible outcome as Riyadh has used its UN pulpit to aggressively condemn Yangon's persecution of the Rohingya.
Third, if Russia expresses sympathy toward the Rohingya's plight, Moscow-Grozny relations will strengthen considerably. Russian policymakers are keen to improve relations with Chechnya, as tensions have risen between Putin and Kadyrov in recent months. The Kremlin has expressed alarm at Chechnya's recent expansion of Sharia legislation, as Moscow's support for Kadyrov has been contingent on him isolating Islamists from political decision-making.
Condemning the Burmese government would assuage separatist elements within Chechnya's Islamist community. As the Rohingya are primarily Sufi, calling out Myanmar's human rights abuses will improve relations between Chechnya's Sufi majority and the Russian authorities. Taking action on the Rohingya's behalf would likely encourage Kadyrov to continue his praises of Putin's leadership and ensure that Chechens accept the status quo on ideological grounds, rather than just as a consequence of repression.
Even though Russia has faced considerable pressure from its Middle East partners and the UN Human Rights Council to abandon its support for the Burmese government, a shift in Moscow's policy toward the Rohingya is more likely to be a product of discord in Chechnya than international pressure. If Kadyrov can convince Russia to modify its policy towards Myanmar, his Islamic values campaign's international legitimacy will receive a tremendous boost, and Russia's often-fractious relationship with Chechnya will be strengthened for the foreseeable future.
Samuel Ramani is a DPhil candidate in International Relations at St. Antony's College, University of Oxford. He is also a journalist who contributes regularly to The Washington Post and The Huffington Post. He can be followed on Twitter at samramani2 and on Facebook at Samuel Ramani.
https://thediplomat.com/2017/11/chechnya-could-force-russias-hand-on-the-rohingya-crisis/
--------
British PM hit by new scandal over minister's Israel meetings
November 09, 2017
LONDON - Britain's aid minister faced the sack Wednesday over unauthorised meetings in Israel , as she became the latest cabinet member caught up in a whirlwind of scandals rocking Prime Minister Theresa May's government.
May summoned International Development Secretary Priti Patel back from a trip to Africa to explain her talks with Israeli politicians, in which she reportedly raised the possibility of Britain diverting aid to the Israeli army. Patel had apologised on Monday for holding 12 separate meetings - including with Prime Minister Benjamin Netanyahu - during a family holiday to Israel in August, without notifying the Foreign Office or Downing Street in advance.
After a public reprimand from the prime minister , Patel left London on Tuesday on a three-day trip to Uganda, but a government source told AFP she was returning home Wednesday at May's request.
If she is sacked, Patel would become the second cabinet minister in a week to leave May's government, after Michael Fallon quit as defence secretary on November 1 following allegations of sexual harassment. Britain is facing its biggest peacetime challenge in Brexit, but May has struggled to keep her ministers in line since losing her parliamentary majority in a snap June election.
Months of public divisions over the negotiations with the EU have in recent days given way to scandals over foreign affairs and sexual abuse. May's deputy Damian Green is being investigated for groping a journalist in 2014 - which he denies - while a similar probe is underway into the behaviour of junior trade minister Mark Garnier towards his secretary.
Foreign Secretary Boris Johnson has meanwhile been accused of jeopardising the case of a British woman jailed in Iran, after appearing to suggest she was training journalists at the time - something her family strongly denies.
May put off a mooted reshuffle after her election setback, but some MPs have called on her to act to assert her power over a government that looks increasingly adrift.
On Monday, Patel revealed details of her meetings in Israel , which included with NGOs and businesses, and said they were arranged by Lord Stuart Polak, the honorary president of lobbying group Conservative Friends of Israel .
But it emerged late Tuesday there had been another two unauthorised meetings in September, with Israel's Public Security Minister Gilad Erdan in London and senior foreign ministry official Yuval Rotem in New York.
"I don't understand what more she needs to do to be sacked," one unnamed minister told the Daily Telegraph newspaper.
During her meetings , Patel discussed the possibility of British aid being used to support medical assistance for Syrian refugees arriving in the Israeli-occupied Golan Heights, Downing Street said.
Reports suggest however that she did not explain to May that this involved supplying funding to the Israeli army, which has facilitated the treatment of more than 3,100 wounded refugees in Israeli hospitals since 2013.
Britain views the Golan Heights as occupied territory and a minister told MPs on Tuesday that funding the Israeli Defence Forces there was "not appropriate".
In a further development on Wednesday, Israel's Haaretz newspaper reported that Patel visited a military field hospital in the Golan Heights as a guest of the government.
Patel's ministry declined to comment on the report.
Patel was a leading campaigner for Britain to leave the European Union in last year's referendum, and is a prominent figure in May's cabinet.
The daughter of Ugandan Indians, the 45-year-old has been an MP since 2010, and is widely believed to have ambitions on Downing Street.
On Monday, she apologised that her "enthusiasm to engage in this way could be misread, and how meetings were set up and reported in a way which did not accord with the usual procedures".
But the main opposition Labour party has demanded an investigation into whether her behaviour breached the ministerial code.
Shadow minister Jon Trickett said May should explain why "she believes that Priti Patel can stay in post".
The Palestinian ambassador to Britain, Manuel Hassassian, said the revelations were "shocking".
Full report at:
http://nation.com.pk/09-Nov-2017/british-pm-hit-by-new-scandal-over-minister-s-israel-meetings
--------
Islamic Terror Attack Foiled in Nice as French Police Raid Cell, Arresting Nine People
8 Nov 2017
Counterterrorism forces in France have broken up an Islamic terror cell, arresting nine people suspected of planning a jihadist attack on the city of Nice, thanks to intercepted messages among the group.
The Antiterrorist Sub-Directorate, the Inter-Regional Directorate of the Judicial Police of Marseille and the Directorate General of Internal Security coordinated raids on the would-be terrorists after noting "disturbing conversations" on the secure messaging application Telegram. A tenth suspect was apprehended in Lausanne, Switzerland, in collaboration with the Swiss authorities.
Plans for the terror attack were reportedly in an "advanced stage" and according to the French newspaper Nice Matin, the jihadists intended to kill both police and civilians.
The suspects, ranging between the ages of 18 and 65, were apprehended in synchronized arrests in France's southern PACA region as well as the Paris suburbs of Paris Tuesday morning. Reports suggest that the raids cap a months-long investigation into the group for "criminal conspiracy for a terrorist enterprise."
Police are now searching the homes of the suspects, some of whom were known to intelligence services for Islamic radicalization as well as a former French legionnaire who had converted to Islam. There was also one Colombian woman among those arrested. The members had formed an encrypted messaging group on Telegram. Police have reportedly confiscated computer equipment but no weapons have yet been found.
Last March, the European Commissioner of Justice proposed measures to facilitate access to encrypted data, sparking a contentious debate, but no legislation had yet been passed in that regard.
France has been especially hard hit by major jihadist attacks in recent years, and the Ministry of the Interior claims that authorities have foiled 13 more attempted attacks just since the beginning of 2017.
Nice itself has suffered from several attacks, the most lethal being the Bastille Day massacre on July 14, 2016, when a jihadist drove his truck through a crowd on Nice's Promenade des Anglais after a, killing 84 people and injuring over 330. The driver, Mohamed Lahouaiej Bouhlel, was shot dead by security forces.
Last month, French politician Marine Le Pen called for stricter anti-terrorist legislation after an illegal Tunisian immigrant stabbed two young women to death in Marseille while shouting "Allahu Akbar" (god is greater), in a terrorist act claimed by the Islamic State jihadist group.
Such legislation must directly combat Islamist ideology, which "wages war" on the West, said Le Pen, the President of the National Front Party.
Full report at:
http://www.breitbart.com/london/2017/11/08/islamic-terror-attack-foiled-in-nice-as-french-police-raid-cell-arresting-nine-people/
--------
Major arms exporter France sides with US over Iran's alleged support for Yemen fighters
Nov 8, 2017
France says it is taking seriously US allegations that Iran provides missiles to Yemeni fighters, amid Washington's intensified weapons support for Riyadh, which is engaged in over two years of a deadly military campaign against its southern impoverished neighbor.
"We take these American indications seriously and attach utmost importance to Iran's compliance with all of its international obligations, including the weapons' transfer bans provided for in UN Security Council Resolutions 2216 and 2231," French Deputy Foreign Ministry spokesman Alexandre Georgini told reporters in a briefing on Wednesday.
The remarks came a day after US Ambassador to the United Nations Nikki Haley accused Iran of supplying Yemen's Houthi Ansarullah fighters with a missile that was fired into Saudi Arabia in July. She added that a missile shot down over Saudi Arabia on Saturday "may also be of Iranian origin."
Senior Iranian officials have categorically denied as baseless the allegations leveled by the US about the Islamic Republic's provision of missiles to Yemeni forces.
Iran's Islamic Revolution Guards Corps (IRGC) Commander Major General Mohammad Ali Jafari said that Iran had no means of transferring missiles to Yemen, noting that missiles used by Yemeni forces belonged to themselves and they had only increased their range.
Meanwhile, Iran's Defense Minister Brigadier General Amir Hatami also rejected reports about Iran's involvement in the Saturday missile attack on a Saudi airport.
Saudi's major arms suppliers amid Yemen aggression
The allegations of missiles supply to Yemeni forces are leveled against Iran while the Saudi-led coalition itself says it has entirely blockaded Yemen, making impossible any transfer of items whatsoever, be it humanitarian aid or arms supplies.
Moreover, France's supports for the United States, the world's number one arms exporter, comes as a surprise as the European country, alongside the US and the UK, has itself been among the major arms suppliers to Saudi Arabia.
According to the Control Arms Coalition, France, the world's fourth weapons exporter, authorized arms licenses worth $18 billion to Saudi Arabia in 2015 -- the year Riyadh launched its military campaign against Yemen -- followed by the United States at $5.9 billion and Britain's $4 billion.
Saudi Arabia is the primary destination for US arms sales, according to the Council on Foreign Relations.
Back in March, the United States approved resumption in the $300 million sale of US-made precision-guided missiles to Saudi Arabia.
Full report at:
http://www.presstv.com/Detail/2017/11/08/541485/France-supports-US-claim-against-Iran-over-Yemen
--------
Russia, Syria question validity of OPCW report on Idlib sarin attack
Nov 8, 2017
Russia and Syria have censured the findings of a UN-led investigation blaming the Syrian government for a chemical attack on the town of Khan Shaykhun, with Moscow casting doubt on the extension of the probe's mandate before its expiry next week.
In a joint report sent to the UN Security Council on October 26, the UN and the Organization for the Prohibition of Chemical Weapons' Joint Investigative Mechanism (JIM) held the Damascus government "responsible for the release of sarin" gas at Khan Shaykhun in Syria's Idlib Province on 4 April 2017 that killed over 80 people.
Both Damascus and Moscow were quick to reject the report as biased.
The fact-finding mission was formed in 2015 to probe the incidents involving chemicals in Syria. Moscow and Damascus have long been critical of the mission's evidence gathering techniques and the failure of its experts to visit the sites of such alleged attacks.
In mid-October, Russia vetoed a US-sponsored Security Council resolution that would have renewed the experts' mandate for a year, saying it would decide on the extension following the JIM's report on Khan Shaykhun.
Russia and the United States have now put forward competing draft resolutions on renewing the JIM's mandate beyond November 16, when it expires. The Russian draft document prolongs the body's mandate for six months until May 16, 2018, while the US version offers an 18-month extension. Washington revised down the figure from an initially proposed two-year extension.
Speaking at the UN Security Council on Tuesday, Deputy Russian UN Ambassador Vladimir Safronkov said the work of the investigative panel was "deeply disappointing" and questioned the validity of the samples obtained from the scene of the Khan Shaykhun attack.
He also accused the JIM of working "very selectively without … collecting samples, questioning witnesses and gathering evidence directly at the site of the incident."
Experts from the UN body never visited the site of the purported gas attack and only relied on evidence collected by the militant groups controlling the area, he added.
"We are convinced that the mechanism, endowed with such high responsibility, cannot work in this way. Without a comprehensive change, it will become a tool to settle accounts with the Syrian authorities," Safronkov said.
The Russian diplomat further noted that the UN report on the Khan Shaykhun incident was full of "systemic deficiencies" as well as "omissions, inconsistencies and contradictions."
Presenting the report, Edmond Mulet, the JIM head, claimed that the panel's experts had established that sarin was used in a Syrian government airstrike and the chemical matched those samples previously found in Syrian stockpiles.
Safronkov challenged the assumption, emphasizing that "the chemicals could have been produced anywhere to compromise intentionally the authorities of Syria."
Russia had earlier criticized the UN report as an "amateurish" document that is based on selective data.
Additionally on Tuesday, Syria's UN Ambassador, Bashar Jaafari, told the Security Council that the report by the world body "is not neutral, nor is it professional" and its accusations against Damascus are based on "the fabrication of evidence and the manipulation of information."
Syria abides by the Chemical Weapons Convention and "considers the use of chemical weapons an immoral act that must be condemned," he pointed out.
During Tuesday's Security Council session, the Western front, including the US, Britain and France, came out strongly in support of the UN report on Syria.
US Ambassador to the UN Nikki Haley said there could be no higher priority for the Council than extending the JIM's mandate.
"Anyone who prevents us from achieving this goal is aiding and abetting those who have been using chemical weapons," she said.
Following the Khan Shaykhun incident, the US launched a missile attack against Shayrat Airbase in Syria's Homs Province, claiming that the air field had been the origin of the April gas attack.
Damascus described the claim as a fabrication" to justify the subsequent US missile strike.
Full report at:
http://www.presstv.com/Detail/2017/11/08/541400/Russia-UN-Syria-Khan-Shaykhun
--------
UK minister Priti Patel quits cabinet over secret Israel meetings
Nov 9, 2017
British International Development Secretary Priti Patel has resigned following a political storm over her undisclosed meetings with Israeli officials, including Premier Benjamin Netanyahu.
The UK Secretary of State for International Development was ordered back from an official trip to Kenya and summoned to Downing Street by Prime Minister Theresa May after it was revealed that she held 12 separate meetings with senior Israeli politicians and organizations during a family holiday in August, something that can be construed as a significant breach of diplomatic protocol.
Patel herself paid for the trip, during which she also met with Yuval Rotem, a senior Israeli Foreign Ministry official, and Yair Lapid, the head of Yesh Latid, one of Netanyahu's coalition partners, who tweeted about their meeting. The meeting with Netanyahu was organized by Lord Polak, an experienced Tory lobbyist.
She was publicly reprimanded by the prime minister but managed to keep her job. However, Patel's trip to Africa was cut short when reports emerged that she had two other unauthorized previously-undisclosed meetings with Israeli politicians in September as well as a visit to Syria's Golan Heights -- which have been occupied by Israel since 1967.
In her resignation letter, Patel apologized and said, "While my actions were meant with the best of intentions, my actions also fell below the standards of transparency and openness that I have promoted and advocated," adding, "I offer a fulsome apology to you and to the government for what has happened and offer my resignation."
In her reply, May said, "Now that further details have come to light, it is right that you have decided to resign and adhere to the high standards of transparency and openness that you have advocated."
"As you know, the UK and Israel are close allies, and it is right that we should work closely together... But it must be done formally, and through official channels," May said in the letter to Patel.
Patel's resignation from the cabinet is the second in seven days, after Sir Michael Fallon quit Wednesday last week as defense secretary after becoming embroiled in a mounting Westminster sexual harassment scandal.
Full report at:
http://www.presstv.com/Detail/2017/11/09/541512/UK-minister-resigns-secret-Israel-trip
--------
Turkey signs missile accord with Paris and Rome
9 November 2017
Turkey on Wednesday signed a letter of intent opening the way to Ankara buying ground to air missiles from a French-Italian consortium.
The letter signed by the Turkish, French and Italian defense ministers allows the Eurosam consortium to "analyze and define the needs" of the Turkish military, a French source told AFP.
Though the deal is at an extremely early stage, NATO Secretary General Jens Stoltenberg welcomed it as positive cooperation between alliance members, after Ankara caused alarm by agreeing in September to buy Russian S-400 missile systems.
"We welcome always when NATO allies are working together to develop different capabilities," Stoltenberg said.
Also read: European chains profit on back of Syrian refugees in Turkish factories
"This kind of operation is the best way to make sure we have the capabilities different nations need and it's a good way also to make sure that when we have new capabilities they can be fully integrated into air defense systems."
The letter signed on the sidelines of a NATO meeting in Brussels allows the three countries to "show their interest in cooperating in the domain of anti-aircraft defence and surface-to-air missiles", the French source said.
Full report at:
https://english.alarabiya.net/en/News/world/2017/11/09/Turkey-signs-missile-accord-with-Paris-and-Rome.html
--------
Southeast Asia
Malaysia will deport Muslim preacher if India seeks extradition
Nov 9, 2017
KUALA LUMPUR • Malaysia will send controversial televangelist Zakir Naik back to India if its government requests his extradition, said Deputy Prime Minister Ahmad Zahid Hamidi yesterday.
The Muslim preacher from India is a permanent resident in Malaysia, and is believed to be in the country.
Late last month, he was charged by India's National Investigation Agency with inciting terror and delivering hate speeches.
According to the Malay Mail Online, Datuk Seri Zahid, who is also Home Minister, told Parliament that India had not requested extradition yet, but Putrajaya will go ahead with deportation if requested via the Mutual Legal Assistance programme between the two governments.
He added that there is as yet no application from Zakir to become a Malaysian citizen, contrary to earlier reports in the Indian media.
His international passport has been revoked by the Indian government.
Zakir, 52, is accused of inciting youth to take up terror acts and join terror outfits such as the Islamic State in Iraq and Syria.
He has reportedly recommended the death penalty for homosexuals and those who abandon Islam as their faith.
A YouTube video shows him saying that if Osama bin Laden "is terrorising America the terrorist, the biggest terrorist, I am with him".
Zakir has denied the accusations against him and has claimed that he was being targeted by India's Hindu nationalist government because of his popularity.
The preacher has a substantial following in Malaysia, with both Mr Zahid and Prime Minister Najib Razak posting photos taken with him last year on Facebook.
Opposition Parti Islam SeMalaysia had previously urged the government to disregard any potential Indian extradition request, saying that the allegations aim "to block his influence and efforts to spread religious awareness among the international community".
Mr Zahid had told Parliament on Oct 31 that Zakir had not broken any laws or regulations during his stay in Malaysia.
"As such, there is no reason from a legal standpoint to detain or arrest him," he said.
Mr Zahid assured lawmakers yesterday that the government would continue to monitor Zakir's activities in the country and would take action if he got involved in any terrorist activities, reported The Star.
http://www.straitstimes.com/asia/se-asia/malaysia-will-deport-muslim-preacher-if-india-seeks-extradition
--------
Bank Indonesia gives stage to halal businesses in Sharia Economic Festival
November 8, 2017
Indonesia needs to put emphasis on the empowerment of its sharia economic players rather than focusing solely on its sharia finance institutions in order to accelerate the development of the country's sharia economy and finance, Bank Indonesia said.
"We cannot be successful in developing the financial sector such as banks, insurance, and micro finance if we only focus on the financial sector. The economic empowerment must also be pushed," said Bank Indonesia deputy Perry Warjiyo on Wednesday.
Speaking at a press conference of the 4th Indonesia Sharia Economic Festival (ISEF) held by Bank Indonesia in Surabaya, Perry said that the central bank has come to realize the importance of spurring the country's sharia economy players and has therefore invited more sharia businesses to this year's festival.
"It must be done in synergy. That's why, differently to previous years, the conference is not only focused on the financial sector, but also on empowering the economy through small medium and big businesses. We want to start to identify, develop and showcase these businesses," he said.
In the event themed "Fostering Inclusive Economic Growth and Improving Resiliency through Closer Collaboration and Coordination", various businesses, many of which include those run by Islamic boarding schools or pesantren, are given booths to display and promote their products. Moreover, the businesses are given the opportunity to participate in a number of seminars, workshops and meeting to help expand their knowledge and link them with sharia financial institutions.
Indonesia, Perry said, it's the world's largest halal market, but, despite its overwhelming potential, is left behind in terms of being producers and players in the halal industry, which covers various sectors including halal food, fashion, tourism, renewable energy and integrated farming.
He added that Indonesia needs to push all of these sectors, but must focus on one of the sectors in particular which has the best chance of rapid growth and competing globally.
"Based on various discussions, the one which we have competitive edge in is halal food. According to estimates from various parties, in 2015 the total (value) of sharia economic and finance activity almost reached Rp 3,000 trillion. Around 70 percent of it is from halal food," he said.
According to Bank Indonesia head of Sharia Economy and Finance, Anwar Bashori not all halal industry players in Indonesia are fully aware of 'thayyib" in conducting their business.
He said that both halal and thayyib are interesting points to talk about.
It is also important to adopt the principle of thayyib which translate to "goodness" in the halal industry in Indonesia so as allow it to grow. Several countries, especially non-Muslim majority countries, have also adopted the thayyib principle in their respective halal industry, which help them to develop.
He said that hotels should not just focus only on unmarried couples who are staying at the hotel, they should focus on the quality of facilities at their places. For examples, hotels must provide clean water, air, cleanliness and safety.
All stakeholders must work together to make halal industry a success in the country.
With the formation of the Sharia Finance National Committee (KNKS) in July this year, Anwar said that Indonesia is making a significant step in the right direction, as the committee, which is led directly by President Joko Widodo, will facilitate better coordination between institutions. In the past, individual efforts used to play a key role in the development of sharia economy. Now it has changed completely.
Commitment from all stakeholders who collaborate together, but there also should be a committee above, which will allow the collaborations to take place. There will be a regulatory meeting, which will give input for the government to make policy.
Full report at:
http://www.thejakartapost.com/adv/2017/11/08/bank-indonesia-gives-stage-to-halal-businesses-in-sharia-economic-festival.html
--------
Malaysia's Petronas Asked to Exit Myanmar in Protest of Rohingya Crisis
Nov 9, 2017
Kuala Lumpur. Malaysian members of parliament on Wednesday (08/11) asked state energy firm Petroliam Nasional Bhd, or Petronas, to exit its Myanmar operations and investments to protest the violence against the Rohingya Muslim minority.
Petronas is one of the biggest employers in Malaysia, where Islam is the official religion, and the country's only Fortune 500 company. It owns several natural gas blocks in Myanmar along with a cross border pipeline that transports gas to Thailand.
Hundreds of thousands of Rohingya Muslims have fled Rakhine state in Buddhist-majority Myanmar since security forces responded to Rohingya militants' attacks in August with a crackdown that has reportedly caused widespread killings and the burning of Rohingya villages. The United Nations has denounced the crackdown as a classic example of ethnic cleansing.
Over 40 Malaysian members of parliament signed a petition dated Nov. 8 calling upon Petronas to "relinquish any and all participation in any form of operation in Myanmar" from next year onwards unless Myanmar's government "recognizes that ethnic minority Rohingya are legitimate citizens of Myanmar, (and) all manner of intimidation, subjugation, discrimination and crime against them are stopped immediately."
The parliamentary petition followed a statement on Tuesday from a non-profit group called the International Campaign for the Rohingya that said it had sent a petition to Petronas calling for the energy company to exit Myanmar.
Malaysia is one of the strongest critics in the region of the Rohingya crisis, and in September it summoned Myanmar's ambassador to express displeasure over the violence.
Petronas did not immediately respond to a request for comment.
Full report at:
http://jakartaglobe.id/international/malaysias-petronas-asked-exit-myanmar-protest-rohingya-crisis/
--------
DPM: Zamihan successful in rehabilitating Islamic State militants
November 9, 2017
KUALA LUMPUR, Nov 9 — The government still needs the expertise of Muslim preacher Zamihan Mat Zin to help rehabilitate Daesh militant detainees, said Deputy Prime Minister Datuk Seri Dr Ahmad Zahid Hamidi.
He said Zamihan was conducting a rehabilitation programme for Daesh militants at the Tapah Prison in Perak.
Ahmad Zahid, who is also the Home Minister, said Zamihan's expertise was still needed in this area though the Selangor government prohibited him from giving 'ceramah' (talks) in the state.
Zamihan was an expert in rehabilitation and going by records he had been successful, he said to reporters after delivering a keynote address at the Huawei Asia-Pacific 2017 Innovation Day here today.
Ahmad Zahid was asked to comment on a statement by PKR Supreme Council member Latheefa Koya who had asked why the federal government continued to allow Zamihan to conduct rehabilitation programmes for Daesh militant detainees when the Selangor government disallowed his talks.
The Deputy Prime Minister said Zamihan was an officer with the Islamic Development Department of Malaysia seconded to the Home Ministry to inspect religious publications and was now placed in the Prisons Department as a rehabilitation officer for former militants and extremist criminals.
Full report at:
http://www.themalaymailonline.com/malaysia/article/dpm-zamihan-successful-in-rehabilitating-islamic-state-militants#5gLs9wy2q3uwP2O8.97
--------
'Restricting foreign Islamic experts stunts intellectual development'
November 8, 2017
KUALA LUMPUR: Using laws to restrict intellectuals from abroad from discussing Islam will stunt the intellectual development of the country, warned Universiti Malaya Academic Association chairman and law professor Azmi Sharom.
"By not appreciating intellectual development, you are actually being anti-patriotic and you are destroying this nation."
Azmi was responding to a report today that a prominent US academician had cancelled her trip to Malaysia after learning about Turkish-born writer Mustafa Akyol's experience here.
Akyol, who came to Malaysia to deliver a talk, was detained and questioned by religious authorities on suspicion of speaking on Islam without officially recognised credentials.
He claimed he was only released after the intervention of former Turkish president Abdullah Gul, who contacted Malaysian royalty to sort out the matter.
Prof Asma Afsaruddin, from Indiana University, was invited by the Islamic Renaissance Front (IRF) to come to Malaysia to speak on the subject of her book, The First Muslims: History and Memory.
She decided to cancel her trip due to concerns regarding her safety after being informed by Akyol himself of his experience and his book being banned.
"Her decision not to come here shows this country is being ruled and governed by people who do not appreciate intellectual development," Azmi said.
He spoke during a panel discussion at the launch of Lim Teck Ghee's book, Challenging Malaysia's Status Quo, at the KL Regional Centre for Arbitration here today. Lim is Centre for Policy Initiatives chief executive.
Mohd Sheriff Kassim, a former civil servant and member of the G25 group of prominent Malays, who was present, also shared his reflections.
He said the definition used by the Federal Territories Islamic Religious Department (Jawi) meant that if someone was involved in discussions revolving around Islam, that included quotes from the Quran, Hadith or Islamic scholars, they would need tauliah (credentials).
"This is very dangerous for freedom of speech. Those involved in the academia are worried now," said Sheriff.
Former cabinet member Zaid Ibrahim was also against the government not welcoming academics or intellectuals to share their perspectives on issues that revolved around Islam.
"This is one unique Islamic country where they do not welcome academics and intellectuals of a variety they are not able to dictate or control," said Zaid.
"Why take the risk of being deported or humiliated?"
Full report at:
http://www.freemalaysiatoday.com/category/nation/2017/11/08/restricting-foreign-islamic-experts-stunts-intellectual-development/
--------
Africa
Gunmen kill 11 traders in central Nigeria
Nov 8, 2017
Gunmen have killed at least 11 traders in central Nigeria, police said Wednesday, in the latest violence in the region, which has been hit by decades of ethnic and sectarian strife.
The traders were returning from a rural market in the Riyom district of Plateau state when they were ambushed by "unknown assailants" on Tuesday, said police spokesman Tyopev Terna.
"Eleven people who were returning from a weekly village market in Makera village were shot dead at about 7:30 pm (1830 GMT) yesterday", he told AFP.
Four other traders were injured in the attack, which happened some 30 kilometers (19 miles) south of the state capital, Jos, he added.
An investigation has been launched to establish the motive for the attack and to identify the victims, who are believed to be from the Fulani ethnic group.
Plateau state lies in Nigeria's so-called Middle Belt that separates the predominantly Muslim north from the largely Christian south.
It has long been a hotbed of ethnic, sectarian and religious tensions between indigenous Christian farming communities and the Muslim settler Hausa/Fulani cattle herders.
Tensions typically boil over into tit-for-tat violence over access to land and resources, and the struggle for political control.
Riyom district has been hit by waves of violence between farmers and herders.
Last month two people were killed in Jol village in the area after a young herder's body was found nearby. The cattle drivers were blamed.
At least 29 were killed in an attack targeting people sheltered in a rural primary school in nearby Bassa district.
The attack was apparently in revenge for the death of six Fulani herders who were killed by unidentified assailants in the area.
http://www.presstv.com/Detail/2017/11/08/541451/Nigeria-Gunmen-Death-Toll
--------
Tanzania: 5 pupils dead, 43 injured in grenade blast
09 November 2017
At least five pupils died and 42 others and one teacher were injured Wednesday following a hand grenade explosion at the Kihinga Primary School in Ngara, district of Kagera Region in northwestern Tanzania.
Police Commanding Officer Augustine Ollomi confirmed the incident to Anadolu Agency in a phone interview, saying the blast happened as the first-grade students were heading to their classroom.
"Three pupils died on the spot, while two others died at Rulenge Hospital while being attended by medical experts," Ollomi said.
Commenting on the initial investigation reports, Ollomi said one of the pupils found a hand grenade on his way to school and put it in his school bag, thinking it was scrap metal and he could sell it.
The dead students were aged 8 to 13, according to Ollomi.
Rulenge Hospital's principal physician, Dr. Mariagoreth Fredrick confirmed receiving five dead bodies and 42 injured pupils plus one teacher.
Kihinga Primary School is located along the Tanzania-Burundi border post. Burundi has been embroiled in unrest since April 2015 when President Pierre Nkurunziza announced his candidacy for a controversial third term.
Full report at:
http://www.worldbulletin.net/africa/195749/tanzania-5-pupils-dead-43-injured-in-grenade-blast
--------
Senegal permits Turkish foundation to run schools
08 November 2017
The Turkish foundation set up to take control of schools that form a network linked to the Fetullah Terrorist Organization (FETO) has been granted authority to operate in Senegal.
The Maarif Foundation was established in the wake of last year's attempted coup in Turkey, said to have been organized by FETO.
According to a report by the Turkish intelligence agency released in May, FETO controlled around 2,800 schools and educational institutions, companies, foundations, media outlets, NGOs, hospitals, language and culture centers in 170 countries.
Since the July 15 defeated coup attempt, which left 250 people dead, Turkey has called on other governments to shut down FETO entities.
The agreement signed late Tuesday between Foreign Minister Sidiki Kaba and Birol Akgun, head the Maarif Foundation, allows the foundation to takeover closed FETO-linked schools, according to a Maarif statement.
Last month, Senegal ordered the closure all FETO-linked schools in the country.
Akgun said the agreement was "indicative of the trust we have in the Senegalese authorities and the reflection of the Senegalese culture of hospitality".
The statement praised the efforts of President Macky Sall and Turkish President Recep Tayyip Erdogan in promoting cooperation.
"Our relations are experiencing a positive development in the field of education," the statement said. "The creation of Turkey's Maarif Foundation corresponds to the desire for cooperation in the field of education."
Full report at:
http://www.worldbulletin.net/africa/195729/south-african-commuters-hit-by-minibus-taxi-strike
--------
URL: https://www.newageislam.com/islamic-world-news/it-help-future-generations-muslim/d/113168
New Age Islam, Islam Online, Islamic Website, African Muslim News, Arab World News, South Asia News, Indian Muslim News, World Muslim News, Women in Islam, Islamic Feminism, Arab Women, Women In Arab, Islamophobia in America, Muslim Women in West, Islam Women and Feminism