New Age Islam News Bureau
27 May 2017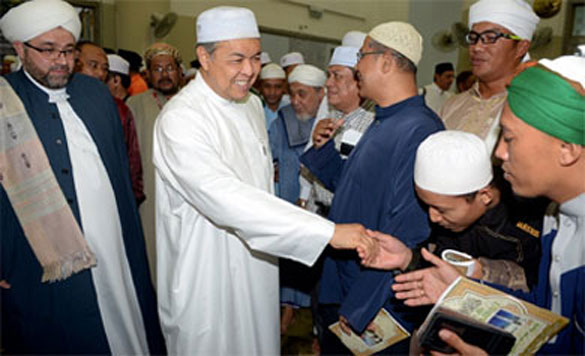 Ahmad Zahid said Islamic radicals did not have solid foundation in religion and were looking for the quickest way to go into heaven. — Bernama pic
----
• It's Not Islam That Drives Young Europeans to Jihad, France's Top Terrorism Expert Explains
• 'Tough Love': US Official Wants Trump to Bomb Terrorists in Pakistan
• Trump in Ramazan Message Urges End to Violence
• New US-Led Syria Strike Kills 80 'Relatives' Of IS Fighters
• Ankara Sacks Over 4,000 Judges Linked To Gulen
Europe
• It's Not Islam That Drives Young Europeans to Jihad, France's Top Terrorism Expert Explains
• Opposition Leader: Manchester Bomber 'Does Not Represent Muslims'
• Britain Arrests 'Large Part' Of Manchester Attack Network
• Letter bomb wounds ex-Greek prime minister
• Greece returns 10 migrants to Turkey under EU deal
• Polish Pm Warns Europe about Accepting More Muslim Migrants
--------
Pakistan
• 'Tough Love': US Official Wants Trump to Bomb Terrorists in Pakistan
• Pakistan Left with Limited Options in Saudi-Led Islamic Military Alliance
• Bilawal urges teachers to imbue students with ideals of tolerance
• Youhanabad lynching case: Prosecutor found guilty of proselytising bid
--------
North America
• Trump in Ramazan Message Urges End to Violence
• Tillerson Declines to Host Ramzan Event at State Department: Sources
• US: Muslim Man Sues Little Caesars over Pork Pizza Labelled 'Halal'
• US: San Diego schools sued over anti-Islamophobia campaign
--------
Arab World
• New US-Led Syria Strike Kills 80 'Relatives' Of IS Fighters
• Arab NATO Plan Being Studied To Fight ISIS, Isolate Iran
• Gunmen Kill 23 Christians on Road to Monastery in Egypt — Official
• Pentagon: Three top ISIS militants killed in Iraq, Syria
• Saudi renews support to Egypt's fight against terrorism after deadly attack
• Struggle to defend religion just started: Bahraini clerics
• Iraqi Popular Forces Continue to Advance against ISIL in Western Nineveh
• US-Led Coalition Jets Bomb Oil Refinery in Northeastern Syria
• Syrian Gov't Forces Nearing Palmyra-Baghdad-Damascus Triangle
• Syrian Soldiers Free Palmyra-Damascus Key Road from ISIL
• Suicide bomber attacks Lebanese army in north: Security sources
• Iraqi forces call on civilians to flee Mosul's ISIS-held Old City
• UN fails to condemn US for civilian deaths in Syria
--------
Mideast
• Ankara Sacks Over 4,000 Judges Linked To Gulen
• Palestinian Hunger-Strikers Reach Deal With Israel, Ending Hunger Strike
• Saudi Army Suffers Heavy Casualties in Yemeni Forces' Attack
• Two cameramen killed in Yemen's Taez
• Russians, Iranians and Turks to draw borders of 'de-escalation zones' in Syria
• Yemeni army closes in on presidential palace in Taiz
• US arms deals will fail to make Saudi secure: Iran FM
• Iran Experts Assembly warns Bahrain of gathering 'storm'
--------
India
• Zakir Naik's Islamic Research Foundation Ban Order Cites Rs 60 Crore Aid, Conversion
• Four Terrorists Killed In Rampur, J&K, As Army Foils another Infiltration Bid
• Ramadan 2017: Along with Saudi Arabia, Kerala to observe their first Roza from Saturday, Indian Muslims from Sunday
• Internet ban ends in J&K as government decides against extending it
• Terrorists attack Army patrol party in Pulwama, counter-op underway
• After Kerala High Court order, kin of Muslim convert forcibly take her home
• Maharashtra CM Fadnavis rescued by Muslim scrap dealer after chopper crashes
--------
South Asia
• Top ISIS Leaders among 7 Killed In Latest Anti-IS Operations in East of Afghanistan
• NATO to Sustain Afghan Mission As Several Allies Pledge More Troops
• Taliban kill 15 Afghan soldiers
• Bangladesh Won't Probe Reported Death of IS Fighter in Mid-East: Minister
• 25 Jamaat men held in Dhaka
• Casualties feared as suicide attack rocks Khost city of Afghanistan
• US approves $76.7 million contract in support of Afghan Air Force
• Taliban's military commission chief killed after rocket attack on Kunduz city
--------
Southeast Asia
• Mosques Play Vital Role As Deradicalisation Centres To Combat Terrorism, DPM Says
• Terengganu Exempts Non-Muslim Restaurants from 3 PM Rule during Fasting Month
• Report: Ex-UM Lecturer Poised To Be Next IS Leader in Region
• DPM confirms two Malaysians killed in Philippine terrorism war
--------
Africa
• Clashes between Rival Libyan Factions Kill 28, Injure 128 in Tripoli
• At Least 13 Killed, Nearly 80 Wounded In Libya Clashes
• Egypt conducts airstrikes against terrorist training camps in Libya: State TV
• Tunisia opens trial over 2015 beach massacre
• Egypt retaliates with strikes at militant locations in Libya
• South Africa: ANC Wishes Muslims Well Over Ramadan
• Divisions, radicalization fears vex Ethiopian Muslims
• Ramadan: Etsu Nupe Cautions Islamic Preachers against Hate Speech
Compiled by New Age Islam News Bureau
URL: https://www.newageislam.com/islamic-world-news/it-islam-that-drives-young/d/111313
--------
It's Not Islam That Drives Young Europeans to Jihad, France's Top Terrorism Expert Explains
May 26, 2017
ANKARA − Salman Abedi, the suicide bomber who killed 22 people at a Manchester pop concert this week, started life advantageously enough: to parents who had fled Gadhafi's Libya for a new life in Britain. But actually it was that kind of dislocation that would send him off kilter two decades later, says Olivier Roy, one of France's top experts on Islamic terrorism.
"An estimated 60 percent of those who espouse violent jihadism in Europe are second-generation Muslims who have lost their connection with their country of origin and have failed to integrate into Western societies," Roy says.
They are subject to a "process of deculturation" that leaves them ignorant of and detached from both the European society and the one of their origins. The result, Roy argues, is a dangerous "identity vacuum" in which "violent extremism thrives."
Born in Britain in 1994, Abedi would later be drawn to violent fundamentalism after a life in limbo. On the one hand, he tried to reconnect with Libya, where he traveled shortly before this week's attack, while on the other, he strove to emulate the same British young people he killed.
"Unlike second generations like Abedi's, third generations are normally better integrated in the West and don't account for more than 15 percent of homegrown jihadis," Roy says. "Converts, who also have an approach to Islam decontextualized from any culture, account for about 25 percent of those who fall prey to violent fundamentalism."
read more: http://www.haaretz.com/world-news/europe/.premium-1.791954
It's a pattern that can be traced from second-generation Khaled Kelkal, France's first homegrown jihadi in 1995, to the Kouachi brothers who attacked satirical magazine Charlie Hebdo in Paris in 2015. The rule also applies to foreign fighters such as Sabri Refla, the Belgian-born son of a Moroccan father and a Tunisian mother who left for Syria at 18 "after espousing an Islam completely unrelated to our background," says his grieving mother Saliha Ben Ali.
With little if any understanding of religion or Islamic culture, young people like Abedi turn to terrorism out of a "suicidal instinct" and "a fascination for death," Roy says. This key element is exemplified by the jihadi slogan first coined by Osama bin Laden: "We love death like you love life."
"The large majority of Al-Qaida and Islamic State jihadis, including the Manchester attacker Abedi, commit suicide attacks not because it makes sense strategically from a military perspective or because it's consistent with the Salafi creed," Roy says. "These attacks don't weaken the enemy significantly, and Islam condemns self-immolation as interference with God's will. These kids seek death as an end-goal in itself."
In his recent book "Jihad and Death: The Global Appeal of Islamic State," Roy argues that about 70 percent of these young people have scant knowledge of Islam, and suggests they are "radical" before even choosing Islam. He dubs them "born again Muslims" who lead libertine lives before their sudden conversion to violent fundamentalism.
"It's the Islamification of radicalism that we need to investigate, not the radicalization of Islam," Roy says, begging the question of why radical youths would choose violent fundamentalist Islam over other destructive creeds to engage in terrorism.
These "new radicals" embrace the Islamic State's narrative as it's the only radical narrative available in the "global market of fundamentalist ideologies," Roy says. "In the past they would have been drawn, for example, to far-left political extremism." Half of violent jihadis in France, Germany and the United States also have criminal records for petty crime, just like Abedi, who appears to have been radicalized without the involvement of the local mosque or religious community, an element that mirrors patterns in the rest of Europe.
According to Roy, while ultraconservative Salafi Islam is certainly a problem − its followers object to the basic values underpinning a tolerant and secular Western society − it shouldn't be conflated with violent extremism. And when evaluating the origins of young men like Abedi, one shouldn't overstate the role of Muslim revanchism in the developing world, a political strand feeding on the West's colonial legacy and interventionism in the Middle East.
"Had he been concerned about acts of Western imperialism, he would have mentioned the British attack in Libya in 2012, making his act political in one way or another," Roy says.
Abedi was very much part of the British youth culture he attacked, "he killed himself as part of that society," Roy says from his office in Florence, where he's a professor at the European University Institute. "Had he been imbued with Islamic culture and bent toward the ambition of establishing an Islamic state in the Middle East, he would have probably not have known about pop singer Ariana Grande," Roy notes, adding that "he would have traveled to Syria or Libya instead."
If comments by French Interior Minister Gérard Collomb are confirmed, Abedi will join the long list of returning jihadis who have struck in Europe after fighting in Syria. But Roy also notes some positive news: Hundreds of foreign fighters from Europe are seeking a safe return to Europe by turning themselves in to their embassies in Turkey, according to the Italian press.
"This means they don't have the suicidal instincts characterizing terrorists like Abedi," Roy says, though he warns that the "hegemony of secularism" and the rejection of "all forms of religiosity" in the West have created a spiritual vacuum that can be a breeding ground for fundamentalism.
http://www.haaretz.com/world-news/europe/.premium-1.791954
--------
'Tough love': US official wants Trump to bomb terrorists in Pakistan
May 26, 2017
A US Congressman said President Donald Trump should consider resuming air strikes on terrorist 'safe havens' in Pakistan, reported Sputnik news.
"We need to frankly look at the consequences and consider doing it - of opening up strikes again," Congressman Adam Kinzinger stated told guests at the Woodrow Wilson Center think tank on Thursday.
He also urged the Trump administration to ask Pakistan for more anti-terror efforts and "get back to some real tough love" when dealing with Islamabad.
"We have to come back to carrots and sticks," he said. "Ultimately we have to make it clear that we are going to cross the border if necessary because they [the Pakistani government] are not doing enough."
Kinzinger's remarks came following a suspected US drone strike on Wednesday, which targeted a compound in Afghanistan, killing three local Taliban militants.
http://nation.com.pk/national/26-May-2017/tough-love-us-official-wants-trump-to-bomb-terrorists-in-pakistan
--------
Trump in Ramazan message urges end to violence
May 27, 2017
WASHINGTON - US President Donald Trump wished Muslims "a joyful Ramazan," on Friday, urging them to use the holy month to reject violence by Islamist extremists.
"On behalf of the American people, I would like to wish all Muslims a joyful Ramazan," said Trump, who is winding up a first overseas trip as president that included a stop in Saudi Arabia.
"This year, the holiday begins as the world mourns the innocent victims of barbaric terrorist attacks in the United Kingdom and Egypt, acts of depravity that are directly contrary to the spirit of Ramazan," said the US leader, who campaigned last year on a pledge to ban Muslims from entering the United States.
"Such acts only steel our resolve to defeat the terrorists and their perverted ideology," he said in his message to the world's estimated 1.6 billion Muslims.
Trump said that when he met dozens of leaders of Muslim countries in the Saudi capital Riyadh, he had vowed to stand with them to counter "terrorism and the ideology that fuels it."
"During this month of Ramazan, let us be resolved to spare no measure so that we may ensure that future generations will be free of this scourge and able to worship and commune in peace," said Trump, whose revised travel ban on half a dozen Muslim-majority countries was once again rejected by a US court this week on grounds of religious discrimination.
"At its core, the spirit of Ramazan strengthens awareness of our shared obligation to reject violence, to pursue peace, and to give to those in need who are suffering from poverty or conflict," he said.
The presidential statement concluded by saying, "I extend my best wishes to Muslims everywhere for a blessed month as you observe the Ramazan traditions of charity, fasting, and prayer. May God bless you and your families."
http://nation.com.pk/international/27-May-2017/trump-in-ramazan-message-urges-end-to-violence
--------
New US-led Syria strike kills 80 'relatives' of IS fighters
May 27, 2017
BEIRUT - A US-led coalition air strike on the eastern Syrian town of Mayadeen early Friday killed at least 80 relatives of Islamic State group fighters, a monitoring group told AFP.
"The toll includes 33 children. They were families seeking refuge in the town's municipal building," said Rami Abdel Rahman, head of the Syrian Observatory for Human Rights. "This is the highest toll for relatives of IS members in Syria," Abdel Rahman told AFP. The latest strike came as the United Nations urged all nations bombing jihadist targets in Syria to better distinguish between civilian and military targets.
UN human rights chief Zeid Ra'ad Al Hussein said "all states" whose air forces are active in the anti-IS missions needed "to take much greater care to distinguish between legitimate military targets and civilians."
The Britain-based Observatory gathered information from civilian and medical sources on the ground in IS-held Mayadeen, which was facing its third day of fierce bombing.
According to the Observatory, 37 civilians were killed in coalition raids on the town on Thursday night, including 13 children, and another 15 had been killed in coalition strikes on Wednesday. The 68-member coalition began bombing IS targets in Iraq in the summer of 2014, and expanded their operations to Syria on September 23 of that year.
This week, the Observatory reported the highest monthly civilian death toll for the coalition's operations in Syria.
Between April 23 and May 23 of this year, coalition strikes killed a total of 225 civilians in Syria, including dozens of children. The US-led alliance is backing twin ground offensives against IS's last main bastion cities: Raqa in northern Syria and Mosul in neighbouring Iraq. On Thursday, a Pentagon investigation concluded that at least 105 civilians died in an anti-jihadist air strike on an IS weapons cache in Mosul in March.
Prior to the new revelation, the US military had said coalition air strikes in Iraq and Syria had "unintentionally" killed a total of 352 civilians since 2014.
Syria army takes control of
Damascus-Palmyra road
The Syrian army is in full control of the highway from Damascus to ancient Palmyra for the first time since 2014 after driving out jihadists, a monitor said on Friday.
Since troops recaptured Palmyra from the Islamic State group in March, the UNESCO World Heritage site had been accessible via Syria's third city Homs, about 150 kilometres (95 miles) to the west. But after major advances on Thursday night, the army now controls the direct road from the capital to Palmyra, the Syrian Observatory for Human Rights said.
With the support of Russian air strikes, regime fighters "pushed IS fighters out of desert territory amounting to more than 1,000 square kilometres (390 square miles)," Observatory head Rami Abdel Rahman told AFP.
"The jihadists were withdrawing because of how intense the Russian air strikes were," Abdel Rahman said.
Palmyra's temples, colonnaded alleys and elaborately decorated tombs - some of the best preserved classical monuments in the Middle East - attracted more than 150,000 tourists a year before civil war broke out in Syria in 2011.
IS fighters first overran it in May 2015, and government troops recaptured it 10 months later.
The jihadist group retook it in late 2016, but Russian-backed Syrian forces wrested back control in March.
A decades-old ally of Damascus, Moscow has been carrying out air strikes in support of President Bashar al-Assad's troops since September 2015.
The Syrian army appears to be conducting a multi-pronged drive towards the oil-rich territory near the country's eastern borders with Iraq and Jordan.
But parts of the frontier are controlled by rebel groups backed by the US-led coalition fighting IS.
Earlier this month, coalition warplanes struck a convoy of pro-government forces headed towards a remote coalition garrison near the Syrian-Jordanian border.
The desert, known as the "Badiya," extends over some 90,000 square kilometres (35,000 square miles) and makes up about half of Syria's territory.
http://nation.com.pk/international/27-May-2017/new-us-led-syria-strike-kills-80-relatives-of-is-fighters
--------
Ankara sacks over 4,000 judges linked to Gulen
May 26, 2017
Turkey has sacked more than 4,000 judges and prosecutors accused of supporting last year's abortive putsch against President Recep Tayyip Erdogan.
The judiciary officials were dismissed from duty after investigation, Turkish Justice Minister Bekir Bozdag said on Friday.
Ankara accuses US-based cleric Fethullah Gulen, who wields huge support in the judiciary, of having a role in the failed coup.
"Over 4,000 judges and prosecutors have been removed from their posts inside the Turkish judiciary over their links to the Fethullah Terrorist Organization (FETO) ," Bozdag said, referring to the name Turkey gives the Gulen movement.
"The investigations have finished. At this moment, there is no judge or prosecutor left that we have not screened," Bozdag said in a speech in Ankara.
He added that there could be further investigations "because of the nature of the organization."
"We are facing a very different kind of terror organization," the Turkish minister said.
Also on Friday, a parliamentary probe blamed FETO for the July 15, 2016 coup attempt that left 250 people dead and about 2,200 injured.
Resat Petek, who chaired the parliamentary probe, said a draft report "clearly reveals" FETO was behind the coup bid.
"Time to time, whether it is the ruling party or coalition parties, this organization finds out a way to use political parties to infiltrate the state's higher institutions, including justice, military and the civil service," he said.
Petek said the fact that there was no advanced information about the coup bid proved "without a doubt…an intelligence failure by the National Intelligence Agency (MIT)." The MIT has been incompetent and needs to be restructured, he said.
FETO exists in 160 different countries, with about 800 schools and universities, 100 dormitories, close to 1,000 NGOs, associations and control over more than 200 media companies, the parliamentary investigation revealed.
"It is estimated that FETO's flow of capital is between $25-50 billion," it said, adding that there were about 3,000 high-ranking FETO officials.
The draft report also warned about the existence of "disguised" FETO members within the Turkish military that could "again quickly turn into an armed terrorist group."
"The organization used people's religious faith to make false promises, eventually exploiting the dreams of younger generations and their future plans," it said.
"If FETO had succeeded in their bid on July 15, the Republic of Turkey would have seen its darkest, most chaotic period ever," the report said.
Gulen, 76, who lives in Saylorsburg, Pennsylvania, and strongly opposes Ankara, denies any involvement in the coup attempt against Erdogan.
A few days after the coup attempt, Turkey imposed a state of emergency, under which over 100,000 people have been sacked or suspended from the public sector including teachers, academics, doctors and members of the armed forces. The state of emergency has been renewed three times.
More than 47,000 people have also been imprisoned on suspicion of having links to the coup and the Gulen movement.
Amnesty International has condemned Ankara's "arbitrary dismissals" of its employees. The rights group asked Ankara on May 22 to implement a "prompt and effective appeal mechanism for those already dismissed."
http://www.presstv.ir/Detail/2017/05/26/523289/Turkey-Ankara-Gulen-Coup
--------
Europe
Opposition Leader: Manchester Bomber 'Does Not Represent Muslims'
26 May 2017
The suicide bomber who killed at least 22 people in Manchester is no more representative of British Muslims than the far-right extremist who murdered a lawmaker last year, opposition leader Jeremy Corbyn said on Friday.
As U.K. election campaigning resumed following Monday's deadly bombing in Manchester, Labour Party leader Jeremy Corbyn used a high-profile policy speech to also draw a link between British foreign policy and terror attacks.
Corbyn said there was a "smarter way to reduce the threat from countries that nurture terrorists and generate terrorism".
Linking terror attacks with military interventions abroad, the Labour leader argued that experts "have pointed to the connections between wars our government has supported or fought in other countries and terrorism here at home".
Corbyn, as one of the staunchest opponents of the 2003 invasion of Iraq, criticized British involvement in Syria and suggested he would refuse a NATO request for more U.K. troops abroad if he becomes prime minister after June 8.
Referring to Monday night's attack which saw a 22-year-old suicide bomber target a pop concert, Corbyn said the killer -- Salman Abedi -- who "unleashed carnage…targeting the young and many young girls in particular" no more represented Muslims than the murderer of Jo Cox spoke for anyone else.
Cox, a fellow lawmaker in Corbyn's Labour Party, was shot and stabbed to death in broad daylight in June 2016 by a right-wing extremist.
http://www.worldbulletin.net/europe/190067/greece-returns-10-migrants-to-turkey-under-eu-deal
--------
Britain arrests 'large part' of Manchester attack network
May 27, 2017
MANCHESTER - Britain has arrested a "large part" of the network behind Manchester's suicide bomb attack, police said on Friday, as the government came under fire for cutting police budgets and election campaigning resumed.
Eight suspects are currently in detention on UK soil in connection with the blast, for which the Islamic State group has claimed responsibility. While police in Libya have detained the father and brother of 22-year-old bomber Salman Abedi.
Mark Rowley, head of Britain's counter-terrorism police, said police had got hold of "a large part of the network" linked to the atrocity in which seven children aged under 18 were among the 22 dead.
"We are very happy we've got our hands around some of the key players that we are concerned about but there's still a little bit more to do," he said.
Police said the eight men ranged in age from 18 to 38, including a 30-year-old arrested in the Moss Side area of Manchester in the early hours of Friday.
"I woke up because I heard the police shouting, they were shouting 'Get down, it's the police, hands on the ground, get on the ground'," said local resident Anita Santonelli, who said she looked out to see around 10 armed police officers.
Opposition Labour leader Jeremy Corbyn said it was the "responsibility" of governments to minimise the risk of terror by giving police the funding they need after cuts made while Conservative Prime Minister Theresa May served as interior minister.
May and Corbyn had suspended campaigning for a snap June 8 election after Monday's attack in which 116 people were also injured.
Washington's top diplomat Rex Tillerson also visited London on Friday in an expression of solidarity after Britain reacted furiously to leaks of sensitive details about the investigation to US media. "We take full responsibility for that and obviously regret that that happened," Tillerson told reporters.
Britain briefly suspended intelligence-sharing with the United States on Thursday over the leaks, but Tillerson said the "special relationship" between the two countries would "withstand this particular unfortunate event".
US President Donald Trump has threatened to prosecute those responsible for the "deeply troubling" security breach.
Monday's bombing at a concert by teen pop idol Ariana Grande was the latest in a series of IS-claimed attacks in Europe that have coincided with an offensive on the jihadist group in Syria and Iraq by US, British and other Western forces.
Britain's terror threat assessment has been hiked to "critical", the highest level, meaning an attack is considered imminent.
Troops have also been sent to guard sensitive sites, an unusual sight in mainland Britain, while armed police are now patrolling the country's trains for the first time.
The issue of security, which was not widely discussed in the general election campaign before the attack, is now expected to feature highly.
A YouGov poll published in Friday's edition of The Times put the Conservatives on 43 percent compared to Labour on 38 percent, far better for Labour than the double-digit margin that had previously separated it from the ruling party.
However, the poll also suggested that 41 percent of respondents believe the Conservatives would handle defence and security best, compared to 18 percent who said the same of Labour.
YouGov polled 2,052 people on Wednesday and Thursday.
At the launch of the UK Independence Party's manifesto on Thursday, deputy leader Suzanne Evans said May "must bear some responsibility" for the terror attack in Manchester this week due to policing budget cuts.
The number of police officers fell by 14 percent, or almost 20,000, between 2009 and 2016, according to the independent Institute for Fiscal Studies think tank.
The Conservatives have been in power since 2010, but Home Secretary Amber Rudd on Thursday said cuts could not be blamed for Monday's attack. "I have asked the head of counter-terrorism whether this is about resources. It is not," she said.
May was at the G7 summit in Sicily on Friday where she emphasised the importance of tackling the spread of terror online by urging internet companies to do more to remove extremist content.
"Make no mistake: the fight is moving from the battlefield to the internet," she told the G7.
Manchester-born Abedi, a university dropout, grew up in a Libyan family that reportedly fled to the northwestern English city to escape the now-fallen regime of Libyan dictator Moamer Kadhafi.
Libyan officials said he and his brother Hashem belonged to the Islamic State group, while their father Ramadan once belonged to a now-disbanded militant group with alleged ties to Al-Qaeda.
Full report at:
http://nation.com.pk/international/27-May-2017/britain-arrests-large-part-of-manchester-attack-network
--------
Letter bomb wounds ex-Greek prime minister
May 26, 2017
Former Greek Prime Minister Lucas Papademos sustained light wounds on Thursday after an envelope bomb blew up in his car in central Athens.
Papademos, 69, also a former central banker who held a senior role in the European Central Bank, sustained superficial wounds to his chest, abdomen, hands, and legs, and underwent surgery, said a statement by the Evangelismos hospital, where he was taken to following the explosion.
The Athens hospital said that Papademos' "condition is stable and there is no reason for concern."
The former prime minister's driver and bodyguard also sustained minor wounds in the blast.
No group or individual has claimed responsibility for the attack, which was the worst act of violence targeting politicians in the crisis-hit country in several years.
"I unequivocally condemn the attack on Lucas Papademos. I wish a speedy recovery to him and the people accompanying him," Greek Prime Minister Alexis Tsipras tweeted from Brussels, where he was attending a NATO summit.
Opposition leaders have issued similar statements, condemning the act of violence. Many Greek politicians and public figures rushed to the hospital to check on Papademos' condition.
In the past, the "Conspiracy of Fire Nuclei" terrorist group has claimed responsibility for the dispatch of a series of booby-trapped envelopes to European leaders. The group is thought to have sent a batch of letter bombs addressed to European public figures and discovered by Greek authorities in March.
Police counter-terrorism squads have launched a full-scale investigation to find out how the letter bomb had passed security checks and reached Papademos.
Full report at:
http://www.presstv.ir/Detail/2017/05/26/523228/Greece-former-prime-minister-Lucas-Papademos-letter-bomb-Athens
--------
Greece returns 10 migrants to Turkey under EU deal
26 May 2017
Greek authorities sent 10 people back to Turkey on Friday in accordance with a Turkey-EU migration deal.
According to a statement issued by the Greek Public Security Ministry, the 10 individuals were taken from Lesbos island in the Aegean Sea and were sent to the Dikili district of Turkey's western Izmir province.
Four of the migrants are from Pakistan, two from Bangladesh and one each from Nepal, Morocco, Congo and Algeria, the statement added.
The total number of people sent back to Turkey under the November 2015 deal has reached 1,081 since the agreement came into force in April last year.
Under the deal, which was struck at the height of the refugee crisis gripping Europe, Turkey agreed to accept the return of some migrants who crossed to the EU from its territory.
In return, the EU agreed to accept Syrian refugees for resettlement.
Full report at:
http://www.worldbulletin.net/europe/190077/greece-returns-10-migrants-to-turkey-under-eu-deal
--------
Polish Pm Warns Europe About Accepting More Muslim Migrants
May 26, 2017
Reacts to threats of sanctions for refusing migrants
WARSAW, Poland (ChurchMilitant.com) - Polish Prime Minister Beata Szydło tells Europe after the Manchester terrorist bombing, "Rise from your knees, from your lethargy or you will be crying over your children every day."
In a speech to Parliament on May 24, Szydło defended Poland's persistent refusal to accept European Union (E.U.) imposed quotas on Muslim refugees. But now, especially in the wake of the May 22 terrorist bombing in Manchester, England, and threats from the European Union, Polish officials are more persistent than ever.
Since 2015, over 160,000 Muslim migrants have flooded Europe, leaving behind a trail of theft, sexual crimes, destruction of religious property, rioting and murder. Italy, Germany and France have borne the burden of accepting the highest numbers of migrants. Sweden has taken in more than its fair share of migrants and is experiencing a skyrocketing number of rapes.
European Union officials determined that Poland was to accept 6,000 migrants, but Hungary and the predominantly Catholic country have refused. Now, the European Union is giving Hungary and Poland until June to accept their quotas or face sanctions.
Unlike other European nations, Poland, Hungary, Slovakia, Austria and the Czech Republic have yet to have any terrorist attacks; and the citizens — for the most part — are pleased with how the migrant situation is handled by their countries.
Interior Minister Mariusz Błaszczak commented on May 17, "We mustn't forget the terror attacks that have taken place in Western Europe; and how — in the bigger European Union countries — these are unfortunately now a fact of life."
The interior minister added, "Remember, that the now very numerous Muslim communities (in Western European countries) started out as relatively small numbers."
But since the terrorist bombing in Manchester, Szydło spoke on Wednesday in more forceful tones, accusing European Union officials in Brussels, Belgium, of having an agenda. "We are not going to take part in the madness of the Brussel elite," she declared. "We want to help people – not the political elites."
Szydło continued, "I have courage, I have courage to say and I have courage to ask all European political elites a question, where are you headed? Where are you headed, Europe? ... Rise from your knees, from your lethargy, or you will be crying over your children every day."
Full report at:
https://www.churchmilitant.com/news/article/polish-pm-warns-europe-about-accepting-muslim-migrants
--------
Pakistan
Pakistan left with limited options in Saudi-led Islamic military alliance
By Imdad Hussain
May 26, 2017
US President Donald Trump, addressing the Arab-Islamic-American summit in the capital of Saudi Arabia, urged Arab leaders to "drive out" terrorism from their countries on Sunday in a speech that put the burden on the region to combat militant groups. Irrespective of the debate about not allowing Prime Minister Nawaz Sharif to speak on this occasion, the outcome of the moot is being considered as a serious setback for Pakistan's foreign policy. Pakistan has to decide, it is willing to jeopardise its relations with Iran for Saudi Arabia.
The two-day Riyadh summit focused on Isolating Iran as it paid attention to countering terrorism. In fact, it portrayed an impression to the world that terrorism and Iranian regimes come together. During the summit, President Trump clearly talked about isolating Iran, which followed a historic $110 billion arms deal with Saudi Arabia. While King Salman, who has also recently established an Islamic Military Alliance to Fight Terrorism (IMAFT), openly blamed Iran for promoting terrorism and insecurity in the region.
Pakistan became a part of the controversial 34-state, Saudi-led military alliance earlier this year, and former army chief General (retd) Raheel Sharif has gotten the nod from the centre to lead IMAFT. Several countries from Asia, Africa and the Arab world are involved in the alliance, but Saudi Arabia's main regional rival Iran is not. IMAFT's joint operations centre has been established in Riyadh.
Observers believe that newest Saudi-led block is to counter Iran's growing influence in Syria, Iraq and Yemen. Iran, which also shares a 900-kilometre border with Pakistan, has serious reservations over General (retd) Raheel's selection as the head of the Saudi-led military alliance of Muslim countries to combat terrorism.
Pakistan's decision to join the alliance was followed by claims that Islamabad would work to create harmony between Riyadh and Tehran. Many at home criticised Pakistan's take on it. The opposition said that joining the IMAFT was against a resolution adopted by the parliament that barred Pakistan from indulging in the ongoing Middle Eastern conflict. In 2015, a unanimous resolution passed by a special joint session of parliament urging it to stay out of the conflict in Yemen, where the Saudi-led coalition was bombing Houthi rebels.
Pakistan Development Fund: Saudi Arabia Islamabad's 'friendly Muslim' lender
Following Trump's address at the Riyadh summit, Iranian President Hassan Rouhani has clarified that stability could not be achieved in the Middle East without Tehran's help.
When it is obvious that the Islamic military alliance is not friendly towards Iran while Syria and Iraq are also not part of it, the dream Muslim countries on one platform against terrorism seems to be a tough task to achieve. US, Russian, and Israeli involvement is further complicating the entire issue.
Dangers for Pakistan
Saudi Defence Minister Mohammed bin Salman has said the new alliance would coordinate efforts against militants in Iraq, Syria, Libya, Egypt and Afghanistan and this should be alarming for Pakistan because to varying reasons.
Firstly, Pakistan cannot afford to corner Iran by damaging its bilateral terms. The geopolitical situation in the region are also creating difficulties for Pakistan as three of its four neighbours – India, Iran and Afghanistan – are accusing Pakistan of letting terrorists use its soils for harbouring attacks in the neighbouring countries. The situation can deteriorate in the near future if they join their hands against Islamabad. Pakistan has always contested US pressure that it was not taking 'adequate action' against terrorist groups.
On May 23, US Defence Intelligence Agency (DIA) Director Lieutenant General Vincent Stewart warned that India was considering punitive actions against Pakistan for its alleged support to cross-border terrorism.
Pakistan, Iran work to heal Saudi alliance rift
Secondly, in the case of a possible division amongst the member Islamic countries, the deal will worsen the Sunni-Shia rift in Pakistan when incidents of sectarian violence are frequent particular in Balochistan province.
Lastly, the entire crisis does not only involve Muslim countries, it has also now dragged Washington into a confrontation with Russia in the six-year-long Syrian war. Here the US-backed Syrian Democratic Forces, the Russian-backed Syrian military, and Free Syrian Army rebels backed by the United States are fighting against the Islamic State. When Iran and Russia want Syrian President Bashar al-Assad to stay in power, Washington struggles for his elimination. The US-Russia relations at a new low since the deadly gas attack in Syria on April 4, 2017.
The Saudis are also suspected of supporting a variety of groups fighting the Assad regime Syria and, under the circumstances, Pakistan will be willing to avoid any involvement in these countries.
Difficulties in Saudi-Iran reconciliation
The rivalry between Saudi Arabia and Iran is fuelling conflicts across the region. The two regional powers have been at loggerheads since the Iranian Revolution in 1979 when the western-backed regime was ousted. The ideology of Iran, coupled with allegedly supporting certain militant elements in the Middle East, has caused a rift between the two nations. Regional conflicts such as in Iraq, Syria and Yemen, can also be blamed for complicating bilateral and diplomatic relations between Saudi Arabia and Iran. Their rift is not religious but it has been manifested along the sectarian lines, desiring a strong influence in the region. Both Saudi Arabia and Iran are being accused of supporting militants in the region.
Pakistan cajoles Iran to join Saudi alliance
Iran's Ambassador Mehdi Honardoost met Army Chief General Qamar Javed Bajwa twice in April in an apparent effort by the two sides to iron out differences on Pakistan's move to allow the former army chief to head the Saudi-led counter-terrorism alliance. Pakistan also cajoled Iran by launching a diplomatic initiative to convince Tehran to join the coalition and bring about a rapprochement between Tehran and Riyadh, but nothing came of it.
In addition, the US and Israel have been considering Iran a global threat. Speaking at the Riyadh summit, Trump had said that Iran was responsible for instability in the region and was funding, arming and training militias that spread destruction and chaos.
Iran-backed Lebanese Shia group Hezbollah on May 25 also criticised Saudi Arabia, saying it was on a losing path to more bloodshed in its struggle with Iran and instead urged Riyadh to seek dialogue and negotiations with Tehran. How Pakistan will deal will both Saudi Arabia and Iran is a real challenge.
Can Pakistan be neutral?
It is tough for Pakistan to convince Saudi Arabia and Iran to keep their ideologies aside and not interfere in each other's affairs, particularly in the presence of influential players like the US and Russia in the region. Pakistan has to decide that whether it should withdrawing from the IMAFT and damages its relations with a close ally like Saudi Arabia, or whether it can annoy Iran by being a part of it.
The Pakistan Muslim League-Nawaz (PML-N) government must adhere to the policy of cooperating against terrorism only in the Saudi-led block being a neutral partner. It should not be a careless decision because Pakistan's position in the region will be at stake. Parliament seems to be the best place to take a unanimous decision about Pakistan future plan.
Saudi Arabia, Iran and other stakeholders must be taken into confidence before using the option of 'neutrality but cooperation against terrorism' for which the chances are slim.
https://tribune.com.pk/story/1419936/pakistan-left-limited-options-saudi-led-islamic-military-alliance/
--------
Bilawal urges teachers to imbue students with ideals of tolerance
May 27, 2017
KARACHI - Pakistan People's Party (PPP) Chairman Bilawal Bhutto Zardari has said that he takes pride in the fact that he is a descendent of Khan Bahadur Hassanally Effendi and Sir Shahnawaz Bhutto.
Hassanally Effendi is the founder of the illustrious Sindh Madressatul Islam University (SMIU) and Shahnawaz Bhutto is one of its finest students who dedicated his life to the fight for Pakistan, he said. "Today, as I stand here, at the threshold of one of the oldest institutions of modern knowledge in the subcontinent, I am both humbled and filled with pride," he said.
Addressing students and faculty at the Sindh Madressatul Islam University (SMIU) at Sir Shahnawaz Bhutto Auditorium of the university here on Friday, Bilawal said the Sindh Madressatul Islam University was the institution that educated some of the most renowned soldiers, dedicated educationalists, fine jurists and visionary leaders who went on to change the course of the history of this nation and its people. And not only that, they changed the very map of the world. For the Quaid-e-Azam Mohammad Ali Jinnah himself studied at this campus, in addition to other luminaries like Sir Abdullah Haroon, Sir Ghulam Hussain Hidayatullah, Khan Bahadur Mohammad Ayub Khuhro and Shaikh Abdul Majid Sindhi, just to name a few.
Talking about the students of SMIU, he said that seeing all these bright eyed young people who were currently pursuing their quest for quality higher education gave him renewed hope for a modern and prosperous Pakistan that could compete with bright minds anywhere in the world whilst simultaneously retaining pride in its own history and culture.
He was of the view that establishment of the SMI University in 2012 was in accordance with the Pakistan People's Party's vision of improved higher education opportunities for Pakistan's youth through institutions that would open new doors for research-based knowledge, coupled with opportunities to practice their newfound skills and knowledge before applying them to the real world. "An educated nation is a progressive nation," he said.
Bilawal said that he praised the efforts of SIMU Vice Chancellor Dr Mohammad Ali Shaikh for creating a learning environment conducive to growth and development of students, the teachers for providing an opportunity to share their knowledge and experiences with the future generations and the students for dedicating their minds and practical skills for bringing Pakistan on a par with developed and modern nations.
Talking about the role of teachers, he said that today the role of the educator had become more important than ever in Pakistan's history. "As we fight the extremist mindset within and outside our borders, it is up to our teachers to imbue into their students the true ideals of tolerance," he said.
Sindh Chief Minister Syed Murad Ali Shah said that SMIU was no stranger to prodigious achievers in its midst, having educated the likes of the Quaid-e-Azam Mohammad Ali Jinnah, Sir Shahnawaz Bhutto and Sir Abdullah Haroon to name a few. He said that he was sure that with a history such as this and having embraced the provision of quality education along with imparting practical knowledge to its students, the institution was all geared up for producing new legends who would make the country proud of their success.
Later, Bilawal Bhutto Zardari inaugurated the Senate Hall at the SMIU and presided over a meeting of vice chancellors of various universities of Sindh. Chief Minister Syed Murad Ali Shah, members of his cabinet, members of statuary bodies of SMIU and senior faculty and officials of SMIU also attended the meeting. SIMU Vice Chancellor Dr Muhammad Ali Shaikh briefed the meeting about higher education in Sindh.
During the interactive session, all vice chancellors talked about the issues of their universities and gave some suggestions. Chief Minister Syed Murad Ali Shah assured the heads of universities that the problems of the universities and their employees would be solved on a priority basis.
Bilawal Bhutto Zardari visited the Jinnah Museum and took keen interest in the relics of Quaid-e-Azam Mohammad Ali Jinnah, Hassanally Effendi and other alumni of the SMIU.
Separately, Bilawal condemned the crackdown on peasants and farmers in Islamabad and termed it a dictatorial action by the Nawaz Sharif government.
Announcing his support for the protest and demands of farmers, the PPP chairman said that peasantry had been destroyed economically by the PML-N government, which had proved the worst enemy of agriculture, which was continuously registering minus growth under the current government.
He said that shelling and baton-charge on innocent farmers were part of the Sharif brothers' anti-farmer policy, as they had been ignoring and even facilitating protests by banned organisations in the capital city. "The brutal torture of farmers in Islamabad has again exposed Interior Minister Chaudhry Nisar Ali Khan as a remnant of dictatorships," he added.
Full report at:
http://nation.com.pk/karachi/27-May-2017/bilawal-urges-teachers-to-imbue-students-with-ideals-of-tolerance
--------
Youhanabad lynching case: Prosecutor found guilty of proselytising bid
May 27, 2017
LAHORE: The prosecutor, who was blamed for asking the undertrial Christian accused of the Youhanabad lynching case to embrace Islam for getting released on bail, has been found guilty of the charge in an inquiry started against him under PEEDA (Punjab Employees Efficiency and Discipline Act).
Prosecutor Syed Anees Shah had allegedly asked the 42 undertrial Christians to embrace Islam after the hearing of the case of lynching of two Muslim men on March 28 this year.
The lynching took place in the aftermath of two suicide bomb attacks outside two churches in Lahore's Christian colony Youhanabad.
The incident had taken place in March 2015 and the case is being tried by a Lahore anti-terrorism court.
"It is my recommendation, the final decision would be made by the competent authority," said Prosecution Department's Director General Monitoring and Evaluation Ashraf Bhatti who was the inquiry officer, confirming on telephone that the prosecutor had been found guilty.
Mr Shah was removed from his post immediately after the allegation was levelled against him. An inquiry was ordered under PEEDA. Punishment under this law is given by the competent authority after hearing an accused.
Officials said under the law, the hearing by the competent authority is held to impose punishment on the basis of the findings of an inquiry.
They rejected the idea that conversion to Islam could benefit any accused in any case being tried by any anti-terrorism or normal court. "No law enforced in Pakistan provides for it," a senior prosecutor said.
Two suicide attacks outside two churches in Youhanabad on March 15, 2015, had sparked off violent protests in the Christian locality. As a result two Muslim men, happened to be in the locality, were burnt to death by the angry mob.
Full report at:
https://www.dawn.com/news/1335531/youhanabad-lynching-case-prosecutor-found-guilty-of-proselytising-bid
--------
North America
Tillerson declines to host Ramzan event at State Department: Sources
May 27, 2017
US secretary of state Rex Tillerson has declined a request to host an event to mark Islam's holy month of Ramzan, two US officials said, apparently breaking with a bipartisan tradition in place with few exceptions for nearly 20 years.
Since 1999, Republican and Democratic secretaries of state have nearly always hosted either an iftar dinner to break the day's fast during Ramadan or a reception marking the Eid ul-Fitr holiday at the end of the month, at the State Department.
Tillerson turned down a request from the State Department's Office of Religion and Global Affairs to host an Eid ul-Fitr reception as part of Ramzan celebrations, said two US officials who declined to be identified because they were not authorized to speak publicly.
According to an April 6 memo seen by Reuters, the office - which typically initiates such events - recommended that Tillerson hold an Eid ul-Fitr reception.
His rejection of the request suggests there are no plans this year for any high-profile Ramzan function at the State Department. The month of fasting and prayer for Muslims gets under way in many countries on Saturday.
When asked by Reuters to comment on Tillerson declining a request to host an Eid al-Fitr event in July for Ramzan, a State Department spokesperson said:
"We are still exploring possible options for observance of Eid ul-Fitr, which marks the end of the month of Ramadan. US ambassadors are encouraged to celebrate Ramadan through a variety of activities, which are held annually at missions around the world." Muslim activists have accused President Donald Trump's administration of having an unfriendly attitude towards Islam, encapsulated by its attempts to ban citizens of several Muslim-majority countries from entering the United States.
The administration says that while it strongly opposes Islamist militants, it has no quarrel with Islam. Aides point to Trump's visit this month to Saudi Arabia, the birthplace of Islam where he addressed the leaders of more than 50 Muslim countries, as evidence of that.
Members of Congress, Muslim civil society and community leaders, diplomats from Muslim countries and senior US officials usually attend the State Department Ramzan event, a symbol of the US government's diplomatic efforts with Muslim countries and people. If Tillerson avoids hosting one this year, that could send a message "that it is not as important to this administration to engage with Muslims," said former US diplomat Farah Pandith, who served in the Bush and Obama administrations and helped plan Ramzan events at the White House and State Department.
Tillerson issued a statement on Friday to mark the start of Ramadan, which he called "a month of reverence, generosity, and self-reflection."
"Most importantly, it is a cherished time for family and friends to gather and give charity to those who are less fortunate," he said.
Past Ramzans
Former secretary of state Madeleine Albright started the tradition 18 years ago of America's top diplomat hosting a public event for Ramadan, a lunar month.
The secretary of state of the time usually gives remarks there on the meaning of Ramzan.
In April, the State Department's Office of Religion and Global Affairs made a request to Tillerson's office that he deliver remarks at an Eid ul-Fitr reception this year, and suggested a two-week range of dates in July. The event would serve to "highlight State Department initiatives and the importance of Muslim engagement," the memo said.
It noted that by hosting a reception just after Ramzan, rather than an iftar - an often sumptuous dinner at sunset - a State Department event could be held any time of the day, thus preventing "a very late evening for the Secretary."
Several weeks later, that office and other offices at the State Department were alerted that Tillerson declined the request, the officials said.
Reuters was told of the request being declined but did not see Tillerson's reply. An official with the Office of Religion and Global Affairs did not respond to a request for comment.
Several prominent Muslim-American groups in the Washington area who are normally invited to the Ramzan event told Reuters this week that they had yet to receive an invitation from the State Department, which they said was unusual.
"If they're having one, we haven't been invited," said Rabiah Ahmed, spokesperson for the Muslim Public Affairs Council in Washington. A representative for her group has been invited to the State Department event in the past, she said.
Fraught relationship
Trump's administration has had a fraught relationship with Muslims. As a presidential candidate, the Republican urged a temporary ban on Muslims entering the United States, called for more surveillance of mosques and warned that radical Muslims were "trying to take over our children."
Trump has since toned down his rhetoric and courts have halted his temporary travel ban on people from six mostly Muslim countries.
White House officials did not respond to a request for comment on whether they would continue the tradition this year of hosting a Ramadan-related event at the White House.
The State Department celebrates other religious traditions though some of those commemorations are not as well-established as the State Department's Ramadan event. In 2014, then-secretary of state John Kerry hosted the first ever celebration at the State Department marking Diwali, the Hindu festival.
The White House also traditionally hosts annual Christmas and Easter events as well as a Seder dinner to mark the Jewish Passover.
Full report at:
http://www.hindustantimes.com/world-news/tillerson-declines-to-host-ramzan-event-at-state-department-sources/story-x66xohw9bLduNq1UggpmnN.html
--------
US: Muslim man sues Little Caesars over pork pizza labelled 'halal'
May 26, 2017
A Muslim man who says Little Caesars served him a pizza with pepperoni made with pork has filed a lawsuit seeking $100 million.
The Detroit Free Press reports the lawsuit filed Thursday in Wayne County Circuit Court says the pizza sold in the Detroit suburb of Dearborn was labeled "halal," meaning it shouldn't contain pork and would be prepared in a way that follows Islamic law.
A Little Caesars statement says the chain "cherishes our customers from all religions and cultures" and believes the lawsuit is "without merit."
The lawsuit seeks class-action status. It says Mohamad Bazzi twice ordered "halal" pizza containing pork.
Full report at:
http://www.hindustantimes.com/world-news/us-muslim-man-sues-little-caesars-over-pork-pizza-labelled-halal/story-98AyGyeBKEVcLwTSvRgZ7I.html
--------
US: San Diego schools sued over anti-Islamophobia campaign
May 26, 2017
Six parents have sued the San Diego school district, alleging that its anti-Islamophobia campaign favors Islam over other religions and grants special protections to Muslim students.
Charles LiMandri, an attorney for the parents, called the campaign a "politically correct solution to a problem that does not exist."
The plan drew little attention when the board approved it 4-0 on April 4, with one member absent. Public comments from staff and community members were uniformly positive. Pushback gradually spread in conservative media and on social media, with many critics calling it an unwanted intrusion of Muslim beliefs and culture.
The San Diego Unified School District said Thursday that it does not comment on pending litigation but district officials have vigorously defended the plan in recent weeks, saying bullying of Muslim students was pervasive and vastly underreported. As criticism mounted, the district posted extensive explanations on its website, saying it wasn't endorsing Islam and that its initiative responded to community concerns expressed last summer about the safety of Muslim students.
The multi-year plan includes ensuring staff calendars include Muslim holidays, reviewing library materials on Muslim culture, providing resources to teachers and engaging in partnerships with the Council on American Islamic Relations.
The district also plans to consider high school clubs that promote American Muslim culture, create "safe spaces" for students and train staff about Muslim culture. The district is reviewing internal staff calendars to make sure Muslim holidays are recognized.
A letter outlining the plans was expected to be sent to staff and parents of the district's 132,000 students before the school year ends.
The lawsuit, filed Tuesday in federal court, says the policy violates the U.S. Constitution by endorsing a religion. It asks a judge to immediately halt the policy while the merits of the claim are considered.
LiMandri said he was open to settlement talks and that an attorney for the school district appeared open to revisiting its partnership with the Council on American-Islamic Relations.
"No one is saying we have to have expensive, protracted litigation," LiMandri said at a news conference Thursday. "There can be a more commonsense approach to this where all students can be protected and no students are being favored to the disadvantage of anyone else."
Hanif Mohebi, executive director of Council on American-Islamic Relations' San Diego chapter, said the lawsuit "seems to be an attempt to have the courts enforce growing Islamophobia in our state and nation, and to strip away much-needed protection for Muslim students who face increasing bullying."
Full report at:
http://www.hindustantimes.com/world-news/us-san-diego-schools-sued-over-anti-islamophobia-campaign/story-RO0wVIhEHzzr3tmvIAB0dL.html
--------
Arab World
Arab NATO plan being studied to fight ISIS, isolate Iran
26 May 2017
A NATO-style alliance for the Middle East was discussed on Thursday during a NATO summit, attended by US President Donald Trump in the Belgian capital Brussels, where leaders agreed to further discuss the so-called "Middle East Treaty Organization" METO that would mainly fight ISIS and isolate Iran, according to Asharq Al-Awsat.
The newspaper quoted a western diplomatic sources as saying that the Trump administration was very enthusiastic about the plan and had brought up the issue with several Arab leaders.
Trump: King Salman is a wise man who wants 'rapid' improvements
He said "The plan is moving forward and is being studied. There has been an agreement to hold further talks concerning its establishment, and to reach a deal concerning its targets, mechanisms and the means to achieve them."
The diplomat added that one issue of dispute is related to the headquarters of METO, before suggesting Brussels.
The aim of the new plan is to achieve joint priorities between Washington and regional states, including the defeat of ISIS, fighting terrorism, in addition to facing the Iranian treats and to draw a new map of regional alliances through establishing joint forces and intelligent information sharing.
https://english.alarabiya.net/en/News/middle-east/2017/05/26/Arab-NATO-plan-being-studied-to-fight-ISIS-isolate-Iran.html
--------
Gunmen kill 23 Christians on road to monastery in Egypt — official
May 27, 2017
CAIRO: Gunmen killed 23 Coptic Christians and wounded 25 others on Friday as they were driving to a monastery in Minya province, south of Cairo, the provincial governor, Essam Al-Bedaiwy, said.
The group was traveling in two buses and a truck through the province, which is home to a sizeable Christian minority, he said.
Coptic Christians, who make up about 10 percent of Egypt's population of 92 million, have been the subject of a series of deadly attacks in recent months.
About 70 have been killed in bomb attacks on churches in the cities of Cairo, Alexandria and Tanta since December.
Full report at:
http://nation.com.pk/international/26-May-2017/gunmen-kill-23-christians-on-road-to-monastery-in-egypt-official
--------
Pentagon: Three top ISIS militants killed in Iraq, Syria
26 May 2017
Three senior ISIS military leaders and planners were killed in coalition attacks in Iraq and Syria over the past two months, the coalition fighting the militants said in a statement released by the Pentagon on Friday.
Mustafa Gunes, an ISIS operative from Turkey, was killed in an air strike in Mayadin, Syria, on April 27, the statement said. Abu Asim al-Jazeri, an Islamic State planner from Algeria, was killed in Mayadin on May 11, it said.
Abu Khattab al-Rawi, an ISIS military leader, was killed in al Qaim, Iraq, on May 18, the statement said. It said all three were foreign fighters but did not identify al-Rawi's home country.
80 relatives of ISIS militants killed
Meanwhile, a US-led coalition air strike on the eastern Syrian town of Mayadeen early Friday killed at least 80 relatives of ISIS fighters, a monitoring group told AFP.
"The toll includes 33 children. They were families seeking refuge in the town's municipal building," said Rami Abdel Rahman, head of the Syrian Observatory for Human Rights.
"This is the highest toll for relatives of ISIS members in Syria," Abdel Rahman told AFP.
The latest strike came as the United Nations urged all nations bombing militant targets in Syria to better distinguish between civilian and military targets.
UN human rights chief Zeid Ra'ad Al Hussein said "all states" whose air forces are active in the anti-IS missions needed "to take much greater care to distinguish between legitimate military targets and civilians."
The Britain-based Observatory gathered information from civilian and medical sources on the ground in ISIS-held Mayadeen, which was facing its third day of fierce bombing.
According to the Observatory, 37 civilians were killed in coalition raids on the town on Thursday night, including 13 children, and another 15 had been killed in coalition strikes on Wednesday.
The 68-member coalition began bombing ISIS targets in Iraq in the summer of 2014, and expanded their operations to Syria on September 23 of that year.
This week, the Observatory reported the highest monthly civilian death toll for the coalition's operations in Syria.
Between April 23 and May 23 of this year, coalition strikes killed a total of 225 civilians in Syria, including dozens of children.
The US-led alliance is backing twin ground offensives against ISIS's last main bastion cities: Raqqa in northern Syria and Mosul in neighboring Iraq.
On Thursday, a Pentagon investigation concluded that at least 105 civilians died in an anti-militant air strike on an ISIS weapons cache in Mosul in March.
Full report at:
https://english.alarabiya.net/en/News/middle-east/2017/05/26/Pentagon-Three-top-ISIS-militants-killed-in-Iraq-Syria-.html
--------
Saudi renews support to Egypt's fight against terrorism after deadly attack
26 May 2017
Saudi Arabia's Foreign Ministry has renewed its solidarity and support to Egypt's efforts in fighting terrorism after a deadly attack that killed 26 Egyptian Coptic Christians, mostly children on Friday, Al Arabiya News Channel.
Saudi condemned the attack and emphasized on the necessary need to consolidate international efforts to fight terrorism.
On Friday, the UAE has also denounced the terrorist attack.
Egypt's Grant Mufti said on Friday that the culprits have violated all of Islam's principles after their target killing of Coptic Christians.
On Friday, up to 12 masked gunmen used their machine guns to open fire at a bus carrying Egyptian Coptic Christians to a monastery south of Cairo on Friday, killing 26 mostly children and injuring 26 others.
Full report at:
https://english.alarabiya.net/en/News/gulf/2017/05/26/Saudi-renews-support-to-Egypt-s-fight-against-terrorism-after-deadly-attack.html
--------
Struggle to defend religion just started: Bahraini clerics
May 26, 2017
Bahraini clerics have hailed the endeavors made by anti-government protesters who resist the Al Khalifah regime's heavy crackdown on dissent, saying their struggle to save their religion has just started.
"The battle for the defense of religion is not over, it has just started," the Bahraini clerics said in a statement released on Friday, adding that Islam and their Persian Gulf island country needed those who would "sacrifice" their lives for this cause.
The statement came three days after the Al Khalifah regime launched a full-scale military raid on the northwestern village of Diraz, situated some 12 kilometers west of the capital Manama, to suppress a growing protest staged in solidarity with the top cleric, Sheikh Isa Qassim, the spiritual leader of Bahrain's Shia majority.
During the raid in Diraz, Qassim's hometown, regime forces killed at least five demonstrators, wounded dozens and arrested over 280 people during the crackdown, which took place shortly after a meeting between US President Donald Trump and Bahraini King Hamad bin Isa Al Khalifah in the Saudi capital Riyadh.
On Sunday, a Bahraini court convicted Sheikh Qassim of illegal collection of funds and money laundering and sentenced him to one year in jail. It also ordered him to pay $265,266 in fines. The court ruling sparked widespread demonstrations across the country.
Qassim also faces expulsion from the kingdom after authorities revoked his citizenship last year. His defense lawyers refused to attend hearings, which they saw as an attack on the country's Shia Muslims.
The clerics also vowed to "continue the path of the martyrs" who lost their lives during the "brutal" crackdown on Diraz inhabitants, the responsibility of which lays not only on the Al Khalifah regime but also on the US for its "complicity" in the regime's crimes against Shias.
They also stressed that Tuesday's raid would only boost Bahraini people's resolve to resist against the Manama regime's brutality.
Elsewhere in the statement, the clerics noted that the parents of those killed have an inalienable right to receive the body of their loved ones and to hold dignified funerals for them. They also said denying bereaved people their right to do so would amount to a "betrayal of God."
"No one can act without permission from the parents' victims, and any violation of this right is haram (forbidden by God) and betrayal of Him and His holy law," they added.
The deadly Diraz raid has drawn angry reactions from prominent human rights groups, with Amnesty International calling for an independent investigation into Manama's use of "excessive force."
Full report at:
http://www.presstv.ir/Detail/2017/05/26/523310/Bahrain-clerics-Al-Khalifah-Sheikh-Isa-Qassim-protest-Diraz-US-Saudi-Arabia
--------
Iraqi Popular Forces Continue to Advance against ISIL in Western Nineveh
May 26, 2017
The sources said that the PMU forces, led by Haider al-Ameri, engaged in a tough battle with demoralized ISIL terrorists and managed to take control of the villages of Tal Ghiza, Hatimyia, Qabosyia, North Kabisa and South Kabisa.
They added that the PMU offensive aims to capture the ISIL's stronghold of al-Ba'aj and push towards the Syrian border, possibly even crossing into the Deir Ezzur province in support of the Syrian Armed Forces.
Relevant reports said on Monday that the Iraqi military engineers installed a new floating bridge across the Tigris river, reconnecting the two halves of Mosul to facilitate troop deployments ahead of a final assault to dislodge ISIL from the Northern city.
All five bridges connecting the two sides of the city bisected by the Tigris were struck by the US-led coalition in order to hinder the militants' movements in the early stages of the campaign to retake Mosul last year, Iraqi News reported.
Seven months on, Iraqi forces removed ISIL from all but a pocket of territory in the Western half of Mosul, including the Old City, where the militants were expected to make their last stand.
It was set to be the most complex battleground yet.
"This floating bridge is very important for deploying reinforcements to the west side rapidly to build up adequate forces to sweep the Old City soon," Colonel Haitham al-Taie told Reuters.
Taie said the bridge in the Hawi al-Kaneesa area would also spare fleeing civilians from making a long journey to the nearest crossing point, about 30 km (20 miles) South of Mosul.
Full report at:
http://en.farsnews.com/newstext.aspx?nn=13960305000467
--------
US-Led Coalition Jets Bomb Oil Refinery in Northeastern Syria
May 26, 2017
The coalition fighter jets bombed heavily an oil refinery near the town of al-Mansoureh West of the ISIL-city of Raqqa, setting fire at one f the oil tanks.
The London-based Syrian Observatory for Human Rights (SOHR) reported meantime that 18 civilians, including two children and five women were killed in the explosion of several landmines in Raqqa and its countryside in the last 48 hours.
In relevant developments on Thursday the US-led fighter jets pounded the Western parts of Raqqa in Syria again, killing 18 civilians, including several children.
The US warplanes launched airstrikes on the village of al-Baroudeh, 15km of West of Raqqa city, inflicting 16 losses on civilians, among them 5 children.
Full report at:
http://en.farsnews.com/newstext.aspx?nn=13960305000346
--------
Syrian Gov't Forces Nearing Palmyra-Baghdad-Damascus Triangle
May 26, 2017
The army forces that had started their operation from the two fronts of Homs-al-Bardah-al-Basireh and Palmyra-Khneifis managed to take control over Khneifis region after hours of non-stop battle, the sources said, adding that the units of the army along with the resistance forces that liberated al-Bardah region near the town of Quaryatayn and Khneifis are now on the verge of entering a strategic region between Homs, Damascus and border with Iraq called the Triangle of Palmyra-Baghdad-Damascus.
In relevant developments in the province on Thursday, the army won control over several other areas in Eastern Homs during military operations in the region.
The army units continued advance in Eastern Homs after stabilizing their positions in al-Bardah region in the Eastern parts of al-Quaryatayn and regained control of the village of al-Bardah.
Full report at:
They killed tens of ISIL militants during the operations and clashes.
http://en.farsnews.com/newstext.aspx?nn=13960305000204
--------
Syrian Soldiers Free Palmyra-Damascus Key Road from ISIL
May 26, 2017
The sources said that the army men engaged in a tough battle with ISIL squads near the village of Khneifis in Homs province, managing to reopen highways between Palmyra and Damascus, killing and wounding a number of terrorists.
In the meantime, the army soldiers managed to drive ISIL out of Jabal (mount) Dali, and the towns and villages of Manqourah, Manqourah Quarries, Thunyat Wadha, al-Anebah Triangle and Khan al-Anebah, following an intense battle with the terrorist groups in the same region.
Relevant reports said on Thursday that the army regained control of several regions and villages during anti-ISIL military operations in Eastern Homs.
The Syrian army forces continued clashes with ISIL militants in the Southwestern parts of Palmyra, retaking control of al-Sawanah region.
They also broke the ISIL defense lines in the region and continued their rapid advance in Southeastern Homs.
Full report at:
http://en.farsnews.com/newstext.aspx?nn=13960305000105
--------
Suicide bomber attacks Lebanese army in north: Security sources
26 May 2017
An ISIS suicide bomber detonated an explosive vest in an attack on a Lebanese army post in the north of the country on Friday, lightly injuring several soldiers, security sources said.
Security forces also seized two cars rigged with explosives before they could be detonated in the same area - near the town of Arsal close to the Syrian border, the sources said.
Lebanon's army has regularly clashed with Islamist militants around Arsal who often come across the porous border with Syria.
The six-year Syrian conflict has sometimes spilled over into its smaller neighbor Lebanon, including bomb attacks in Beirut in 2014 and 2015.
Militants briefly overran Arsal town itself in 2014 before being driven out by the army.
The army says it still regularly stages operations targeting ISIS and former al Qaeda-linked militants in the mountainous border region.
Full report at:
https://english.alarabiya.net/en/News/middle-east/2017/05/26/Suicide-bomber-attacks-Lebanese-army-in-north-Security-sources.html
--------
Iraqi forces call on civilians to flee Mosul's ISIS-held Old City
27 May 2017
The Iraqi air force dropped leaflets on Friday urging residents in the ISIS-held Old City center of Mosul to flee, raising fears among humanitarian groups for the safety of desperate civilians there.
The leaflet drop, announced in an Iraqi military statement, signaled that the decisive offensive to dislodge the militants from their remaining enclave in the northern Iraqi city was imminent.
The US-backed offensive on Mosul, now in its eighth month, has taken longer than planned as the militants are dug in among civilians, fighting back with booby traps, suicide cars and motor-bikes, snipers and mortar fire.
Civilians trapped behind ISIS lines face a harrowing situation with little food and water, no electricity and limited access to hospitals.
"Iraqi air force planes dropped hundreds of thousands of leaflets a short while ago on the non-liberated areas ... urging citizens to exit through safe corridors," an Iraqi military statement said.
Desperate residents
A resident in Farouq, an Old City neighborhood, sounded desperate in a telephone interview. "We're waiting for death at any moment, either by bombing or starving," he said, asking not to be identified for his safety. "Adults eat one meal a day, either flour or lentil soup."
The humanitarian group Oxfam said the leaflets suggested that the Iraqi forces' move on the Old City in Mosul "is imminent ... This could involve an official announcement from the military in the coming days".
"Save the Children is deeply concerned that any calls to leave west Mosul will mean that civilians, particularly children, are in significant danger of being caught in the crossfire," another aid organisation said in a statement.
The militants have laid sheets of corrugated metal over pebbles in the alleys as an early warning system, residents said. The grinding noise produced by treading on it would alert them to any troop movements or civilians trying to escape.
The United Nations last week said up to 200,000 more people could flee Mosul as fighting moves to the Old City.
Residents said millet, usually used as bird feed, is being baked like rice as food prices increased by ten folds. People were seen collecting wild mallow plants in abandoned lots and also eating mulberry leaves and other types of plants.
About 700,000, about a third of the pre-war city's population, have already fled, seeking refuge either with friends and relatives or in camps.
Prime Minister Haider al-Abadi had initially hoped Mosul would be retaken by the end of 2016.
The fall of Mosul would mark the end of Iraqi half of the "caliphate" declared nearly three years ago by ISIS leader Abu Bakr al-Baghdadi, which also covers parts of Syria.
Iraqi military commanders had expressed hope of taking control of the Old City's Grand al-Nuri mosque, from which Baghdadi declared the caliphate, before the fasting month of Ramadan, which starts on Saturday or Sunday in Iraq.
Long drawn-out insurgency
The insurgency is expected to continue in the sparsely populated desert region along the Syrian border even if Mosul is fully captured.
Iranian-backed Shi'ite paramilitary forces are fighting ISIS in that part of the country where Baghdadi is believed to be hiding, according to US and Iraqi officials.
The Iraqi Shi'ite paramilitary force, known as Popular Mobilisation, is theoretically under Abadi's command.
Full report at:
https://english.alarabiya.net/en/News/middle-east/2017/05/27/Iraqi-forces-call-on-civilians-to-flee-Mosul-s-ISIS-held-Old-City.html
--------
UN fails to condemn US for civilian deaths in Syria
May 26, 2017
The United Nations has failed to denounce Washington for the death of over 100 civilians in the latest US-led coalition airstrikes in eastern Syria, merely urging air forces operating in the Arab country to be more cautious.
"The rising toll of civilian deaths and injuries already caused by airstrikes in Dayr al-Zawr and Raqqah suggests that insufficient precautions may have been taken in the attacks," UN High Commissioner for Human Rights Zeid Ra'ad Zeid al-Hussein said in a statement on Friday.
Zeid's remarks came a day after the US-led airstrikes in Mayadin town of Syria's oil-rich eastern province of Dayr al-Zawr killed at least 117 civilians, mostly women and children, according to the so-called Syrian Observatory for Human Rights. Relatives of Takfiri Daesh terrorists were reportedly among the dead.
"There are multiple air forces operating in this part of Syria including the (US-led) coalition, mainly the coalition," Zeid's spokesman Rupert Colville told a Geneva briefing on Friday, adding, "I can't begin to identify who is responsible."
Zeid said that on May 15 over two dozen farm workers, mostly women, had been killed in airstrikes on a village in Syria's Raqqah Province and nearly 60 civilians had lost their lives in air raids on residential areas of Dayr al-Zawr.
The US-led coalition has denied having a role in the airstrikes.
The UN human rights chief referred to the plight of civilians trapped in Daesh-held areas. He said some people had been executed at the site of airstrikes after being accused of providing coordinates for the air raids.
"Unfortunately, scant attention is being paid by the outside world to the appalling predicament of the civilians trapped in these areas," he said.
The United States and allies formed the coalition in 2014 with a purported aim of fighting Daesh in neighboring Iraq, but they later expanded it to include territories in eastern and northern Syria. Damascus, which itself is fighting terrorists on multiple fronts, condemned the decision at the time, saying it violated Syria's territorial integrity.
The US military has admitted that the attacks in Syria have claimed hundreds of civilian lives, although Washington rejects figures provided by monitors on the ground and always tries to cut back on the number of the casualties.
Full report at:
http://www.presstv.ir/Detail/2017/05/26/523283/UN-US-civilian-deaths-Syria
--------
Mideast
Palestinian hunger-strikers reach deal with Israel, ending hunger strike
May 27, 2017
Israeli authorities have agreed to a deal with the Palestinian prisoners who have been on hunger strike in Israeli jails over the past 40 days.
Issa Qaraqe, the head of the Palestinian Committee of Prisoners' Affairs, confirmed the deal on Saturday.
Other informed sources also said that the hunger strikers were now halting their protest action.
More than 1,600 Palestinian prisoners were participating in the hunger strike, dubbed the Freedom and Dignity Strike, which started on April 17. The strike was led by Marwan Barghouti, a jailed leader of the Palestinian Fatah movement.
The hunger strikers were demanding appropriate medical care and treatment in Israeli prisons, as well as an end to solitary confinement and the so-called administrative detention, which is a form of imprisonment without trial or charge.
There had lately been rising concerns about the health conditions of the Palestinian inmates, too; some of them had been taken to hospital with deteriorating health.
Not all of the details of the Saturday deal were immediately clear. Some Israeli media outlets said that, under the agreement, Palestinian prisoners would be allowed two monthly family visits instead of one, but it was not known which of the other demands of the Palestinians had been met.
On Friday, Palestinian demonstrators had turned out on the streets in the occupied West Bank and blockaded Gaza Strip to express their solidarity with the hunger strikers. Israeli forces clashed with the demonstrators.
A Palestinian was injured with a live bullet and 11 others suffered tear gas inhalation during the scuffles in the West Bank town of Beita near the city of Nablus.
Additionally, the West Bank village of Qalandiya and the city of Khan Yunis in the Israeli-besieged Gaza witnessed similar clashes.
Some 6,500 Palestinians are currently being held in Israeli jails, 536 of them arbitrarily, according to figures provided by the Palestinian prisoners' rights group Addameer in January. Palestinian inmates complain that they have been subjected to assault and torture at Israeli prisons.
http://www.presstv.ir/Detail/2017/05/27/523334/Palestine-inmates-
--------
Saudi Army Suffers Heavy Casualties in Yemeni Forces' Attack
May 26, 2017
According to the military source, the Yemeni forces carried out a military operation in the village of Mujazah in Asir that was turned into military barracks by the Saudi Army.
The source pointed out that during the operation, a rocket launcher was destroyed, while also a military vehicle loaded with Saudi soldiers was targeted. The source stressed the vehicle had been destroyed as well, inflicting casualties on the troops who were onboard.
Al-Masirah Net reported on Wednesday that Yemeni forces' artillery units targeted the government complex of Al Rabwa city and gatherings of the Saudi army along with allied mercenaries at Aleeb border-crossing.
Arab media sources said on Wednesday that the Yemeni tribal fighters killed several American troops after they launched a heliborne attack on a village in Yemen's Central province of Ma'rib,.
At least 30 troops from the US and some Persian Gulf states were deployed in the rural area of Khathla and engaged in a gun battle with fighters from two prominent tribes in the village, Yemen's Khabar news agency reported.
Full report at:
http://en.farsnews.com/newstext.aspx?nn=13960305000409
--------
Two cameramen killed in Yemen's Taez
May 27, 2017
ADEN: Two freelance cameramen were killed in rebel shelling of the outskirts of Yemen's third city Taez on Friday as they filmed fighting with government troops, security officials said.
The clashes came after UN envoy Ismail Ould Cheikh Ahmed flew out of the rebel-held capital of Sanaa on Thursday without securing agreement on a ceasefire for the Muslim holy month of Ramadan which begins this weekend.
The government garrison in Taez is almost completely surrounded by Shiite Huthi rebels and their allies, and the city has come under repeated bombardment.
Security officials named the dead men as Takieddin Hutheifi and Wael al-Abassi. Two other cameramen were wounded.
Another 16 civilians, including children, have been killed in rebel shelling since Monday, the city's health services chief Abdel Rahim Samai told AFP.
The rebels overran Sanaa in September 2014 and then seized much of the rest of Yemen, prompting President Abedrabbo Mansour Hadi to flee to neighbouring Saudi Arabia in March 2015.
Full report at:
http://nation.com.pk/international/27-May-2017/two-cameramen-killed-in-yemen-s-taez
--------
Russians, Iranians and Turks to draw borders of 'de-escalation zones' in Syria
26 May 2017
Russian Deputy Foreign Minister Mikhail Bogdanov has recently said that experts from Russia, Iran and Turkey will draw the boundaries of the 'de-escalation zones' in Syria.
Bogdanov said barriers would be built to prevent armed infiltration, adding that task forces would be responsible for ensuring security on the ground.
There will also be demarcations of borders to stop the escalation, he added.
Full report at:
https://english.alarabiya.net/en/News/middle-east/2017/05/26/Russians-Iranians-and-Turks-to-draw-borders-of-de-escalation-zones-.html
--------
Yemeni army closes in on presidential palace in Taiz
26 May 2017
The commander of Taiz front, Major General Khalid Fadel, has confirmed that the Yemeni Armed Forces are few meters away from the presidential palace in the city of Taiz.
The officer made this statement during an inspection visit to the battlefront around the presidential palace.
The official Yemeni news agency quoted Maj. Gen. Fadel as saying that the army forces have seized control of the Central building and medical school, as well as a number of adjacent sites to the presidential palace.
Full report at:
https://english.alarabiya.net/en/News/gulf/2017/05/26/Yemeni-army-closes-in-on-presidential-palace-in-Taiz.html
--------
US arms deals will fail to make Saudi secure: Iran FM
May 26, 2017
Iranian Foreign Minister Mohammad Javad Zarif says the recent US arms deal with Saudi Arabia will fail to guarantee lasting security for Saudi Arabia as claimed by the US Department of State.
On his first overseas trip since taking office, US President Donald Trump attended a signing ceremony on May 20 for almost $110 billion worth of military equipment to be conveyed to support Saudi Arabia's military.
"If past performance is an indicator of future success, another $110 billion worth of weapons will neither reduce 'the burden' on the American military nor support 'the long-term security of Saudi Arabia'," Zarif said in an article in the New York Times on Friday.
He added that Saudis provided billions to the former Iraqi dictator Saddam Hussein to arm his war of aggression against Iran in the 1980s, saying, "Look what that bought them and the world."
The $110 billion arms deal signed by Saudi King Salman and Trump on Saturday was a component of $350 billion in economic and military investments between the two countries over the next 10 years, according to US Secretary of State Rex Tillerson.
The US State Department claimed that the package of military equipment and services supports the long-term security of Saudi Arabia and the Persian Gulf region in the face of the alleged Iranian threat, adding that it also bolsters Saudi Arabia's ability to provide for its own security and continue contributing to counterterrorism operations across the region, reducing the burden on US military forces.
The Iranian foreign minister further said in the best-case scenario, the US president is "extorting our Saudi neighbors" and in the worst one, Trump "could be turning the United States into Saudi Arabia's mercenary in the Middle East."
"Let me be clear: What President Trump called 'lots of beautiful military equipment' won't drain the swamps in which terrorism and extremist militancy fester. Neither will golden chains or glowing orbs provide a magical solution to the socioeconomic and political challenges that drive radicalization," Zarif pointed out.
He stressed the importance of making a genuine effort to forge inclusive engagement among regional countries based on coexistence and the acceptance of futility of military approaches to regional crises.
He added that the recent crackdown on Shia Muslims in Saudi Arabia and Bahrain indicated that the "region's despots feel that they've been given carte blanche to stamp out peaceful dissent."
Bahraini forces raided the northwestern village of Diraz on Tuesday, clashed with people who had gathered to protect Sheikh Isa Qassim, the spiritual leader of the country's Shia majority, and killed five of them, and then stormed into his house.
The top Iranian diplomat urged responsible leaders in regional and world capitals alike to step up efforts to tackle the momentous challenges at hand in order to avoid the spread of terrorism and militant extremism.
He said at a time that Riyadh spends countless millions to promote fear of Iran to distract from its global export of Wahhabism, Iran has been aiding the victims of extremism in Iraq and Syria.
The Iranian foreign minister added that Iran is actively promoting a political solution to the conflicts in Iraq and Syria by helping to prevent Daesh Takfiri militants from seizing Baghdad and Damascus.
Zarif pointed to the two options that the United States and its allies face and said, "They can continue to lend moral and material support, and encourage the perpetrators to intensify their war efforts, though this has proved futile and only brings more death and destruction and further complicates the path to a lasting solution."
Full report at:
http://www.presstv.ir/Detail/2017/05/26/523281/Iran-Saudi-Arabia-US-Mohammad-Javad-Zarif-Donald-Trump-New-York-Times-arms-deal
--------
Iran Experts Assembly warns Bahrain of gathering 'storm'
May 26, 2017
Iran's Assembly of Experts has strongly condemned the Bahraini regime's recent raid on the residence of the spiritual leader of the country's Shia majority.
The Assembly said in a statement on Friday that the inhumane treatment of Sheikh Isa Qassim by the Bahraini Al Khalifa regime, which has been aided by the Saudi regime, would "create a tide and a storm that will not subside except with the toppling of the oppressive Al Khalifah system."
Bahraini forces raided the northwestern village of Diraz on Tuesday, clashed with people who had gathered to protect the sheikh, killed five of them, and then stormed into his house.
Sheikh Qassim faces expulsion from Bahrain after authorities revoked his citizenship last year. Ever since, the public has been staging day-to-day sit-ins in front of his house in Diraz, and the government has placed the village under a siege.
The measure was taken against him over his support for the nation's uprising against the regime, which began in 2011.
Protests escalated on Monday after a court convicted the cleric of what it said were the illegal collection of funds and money laundering and sentenced him to one year in jail suspended for three years. The charges emanate from the collection of an Islamic donation called Khums, a religious practice by a senior cleric in Shia Islam to collect and spend donations in the interests of the needy.
Full report at:
http://www.presstv.ir/Detail/2017/05/26/523261/Iran-Experts-Assembly-Bahrain-Sheikh-Isa-Qassim-Diraz
--------
India
Zakir Naik's Islamic Research Foundation Ban Order Cites Rs 60 Crore Aid, Conversion
By Rahul Tripathi
May 27, 2017
MORE THAN Rs 60 crore received as donation by controversial Islamic preacher Zakir Naik's Islamic Research Foundation (IRF) and its use for conversion to Islam is among the multiple grounds cited in the Union Home Ministry's notification, banning IRF under Unlawful Activities (Prevention) Act (UAPA) for five years. The in-camera proceedings of the Delhi High Court tribunal, which were recently made public, further lists the investigation conducted by the National Investigation Agency (NIA), claiming that it recovered 78 affidavits related to conversion of non-Muslims.
"Many of the conversion documents relate to the persons who were later found to have migrated to Afghanistan to join terrorist organisation ISIS…," states Namrata Patil, SP from NIA (Mumbai) who deposed before the tribunal. The foundation was banned by the home ministry under UAPA in November last year and recently the tribunal upheld the ban.
Relying on the testimonies of police officers, the tribunal ruled that, "the activities of IRF not only incite and encourage the youth to undertake the unlawful activities with an intent to threaten sovereignty, unity, integrity and security of Indian but also causes disaffection against India…"
During the hearing, the tribunal also cross-examined home ministry officials, Mumbai police officers and played speeches delivered by Naik, including 'Every Muslim should be a Terrorist,' which was shared by Rohan Imtiaz, one of the youths who carried out the attack on Holey Artisan Bakery in Dhaka last year.
"Dr Zakir Naik, while defending Osama bin Laden, referred to George Bush, the then US President as a terrorist and stated — 'As far as Osama bin Laden is concerned… I cannot base my answer just on the news reports. But one thing I can say for sure he is called on CNN Prime suspect number one… no proofs… As far as my knowledge, he is not the terrorist at all… Some of the people said that George Bush himself did it… Number one terrorist is George Bush'," the tribunal noted.
On The Peace TV, a channel banned in several countries, the tribunal stated, "Though the channel portrays Dr Zakir Naik for his efforts in promoting unity, social justice, harmony and peace but his activities and propagation reflect differently."
IRF's defence, however, argued, "The incidents, statements and speeches which have been referred by the central government in the notification have been made by him in his individual capacity and not as the President of IRF… Moreover all the speeches or clippings available on YouTube/Internet were either fake or doctored…"
http://indianexpress.com/article/india/islamic-research-foundation-ban-order-cites-rs-60-crore-aid-conversion-4675632/
--------
Four terrorists killed in Rampur, J&K, as Army foils another infiltration bid
May 27, 2017
NEW DELHI: The Army on Saturday killed four terrorists in Jammu and Kashmir, thus foiling yet another infiltration bid alog the Line of Control (LoC), this time in the Rampur sector.
Search operations are underway to determine no other terrorists are hiding in the area.
Troops noticed suspicious movement along the LoC in the early hours, an army official told PTI. He added that a firefight broke out between the infiltrators and the Army.
Infiltration attempts have increased in the past few weeks, no thanks to the onset of summer, which has led to snow-blocked mountain passes opening up making them easier to traverse, the Army said recently.
"With the mercury rising and snow-melting in the valley, the chances of infiltration increase from the Pakistani side. The Army is all geared up to counter such threats," said Major General Ashok Narula earlier in the week.
The Army also said it recently launched "punitive fire assaults" on Pakistani positions across the LoC, inflicting "damage".
Official sources said the assaults were a message to Pakistan that the Army will take stronger action against any infiltration attempts from across the border.
"It was part of the plan to proactively dominate the LoC and counter-terrorism operations to curb infiltration," Major Narula added.
In the meanwhile, the Army on Friday avenged the May 1 beheading of two of its security men by killing two terrorists of Pakistan's Border Action Team (BAT), even as it foiled an attack in Uri by the group that's been accused of raids, assaults and brutality on the Line of Control (LoC).
According to police sources, the bodies of the two slain BAT terrorists were lying in "no man's" land along the LoC.
BAT has attacked Indian personnel and posts several times and even beheaded and mutilated Indian soldiers' bodies.
In a separate incident on Friday, as many as three terrorists were reportedly cornered in Pulwama in Jammu and Kashmir, while they attenpted to attack an Army patrol party.
Full report at:
http://timesofindia.indiatimes.com/india/four-terrorists-killed-in-rampur-jk-as-army-foils-another-infiltration-bid/articleshow/58866150.cms
--------
Ramadan 2017: Along with Saudi Arabia, Kerala to observe their first Roza from Saturday, Indian Muslims from Sunday
By Zeeshan Shaikh
May 26, 2017
Thiruvananthapuram, May 26: In Kerala Muslim clerics today evening announced that the holy month of Ramadan also known as Ramzan, when Muslims fast from dawn-to-dusk, would begin on Saturday. However, in India the moon for the holy month of Ramzan was not visible anywhere, the state of Kerala traditionally follows Saudi Arabia where first Roza (fasting) will start from Saturday, may 27. The Hilal Committee, the body which declares information about moon sighting has cleared that across India, nowhere information on moon sighting had appeared and hence the first Roza will be observed on Sunday, May 28 and first taraweeh (night prayer) will be offered from Saturday night.
The official announcement was made on Friday evening by a team of senior Muslim clerics led by P.V. Suhaib Moulavi who said that the moon was sighted in the region for few minutes.
According to experts, Kerala is the coastal region of India and a sometimes the moon is sighted in that region which appears for a few minute. Kerala usually observes Ramazan and Eid-ul-Fitr on the same day as the Gulf countries every year and not with the rest of India. Muslims in Kerala constitute 88.73 lakh of the 3.30 crore population. Also Read – Ramazan 2017: Moon of Ramadan not sighted in India, Bangladesh and Pakistan till now, first roza from Sunday, says Chand Committee
However, across India, the moon of Ramzan has not been sighted. Bangladesh, Pakistan will also observe the fat from Sunday, Markazi Chand Committee in India said today. In Bangladesh, the Islamic Foundation also said that the first day of the holy month of Ramzan will be observed in the country from May 28, and the taraweeh will start from Saturday night.
"Ramzan moon not sighted till now. 1st Roza will be on May 28, as per current position," Maulana Khalid Firangi Mahali, from Markazi Chand Committee in Lucknow said to news agency ANI.
Full report at:
http://www.india.com/news/india/ramadan-2017-along-with-saudi-arabia-kerala-to-observe-their-first-roza-from-saturday-indian-muslims-from-sunday-2173742/
--------
Internet ban ends in J&K as government decides against extending it
May 27, 2017
NEW DELHI: The month-long ban on social networking web sites in Jammu and Kashmir ended Friday night, with the state government deciding against extending the much-criticised block.
On April 26, the Mehbooba Mufti government in J&K banned 22 social networking sites and applications, including Facebook, WhatsApp and Twitter. It said it was blocking these sites because they were allegedly being misused by anti-national and anti-social elements to foment violence.
The state has been plagued with violence for close to a year now, since the killing of terrorist Burhan Wani. Stone-throwing by protesters has created a host of problems for security forces with allegations of abuses by both sides.
The Mufti government - which is in a coalition with the BJP in the state government - said in its internet-banning order that mischievous elements were exhorting people to violence and spreading hate via social networking sites.
"It was also observed during law and order disturbances of 2016 in the Kashmir valley that anti-national and subversive elements extensively misused social media sites and instant messaging services for vitiating peace and instigating violence, which caused large scale damage to life and property," the order said.
The state government's move was criticized by many, including the United Nations which said the ban had a "disproportionate impact on the fundamental rights of everyone in Kashmir" and also had the "character of collective punishment", Reuters reported in early May.
Full report at:
http://timesofindia.indiatimes.com/india/internet-ban-ends-in-jk-as-government-decides-against-extending-it/articleshow/58867020.cms
--------
Terrorists attack Army patrol party in Pulwama, counter-op underway
May 26, 2017
NEW DELHI: A counter-insurgency operation was launched in Jammu and Kashmir's Pulwama district after terrorists attacked an Army patrol party on Friday.
Security forces cordoned off the area around Saimooh village in Pulwama's Tral and search operations are currently underway.
On Tuesday, security forces called off a similar operation after Lashkar-e-Taiba (LeT) terrorists managed to flee during a gunbattle in the district's Hakripora area.
The operation had been disrupted by protesters who pelted stones at security personnel, which helped the terrorists make their escape.
Read this story in Marathi
There have been several instances of mobs indulging in stone-pelting on the forces to disrupt anti-militancy operations in Kashmir.
At times, the security forces have suffered casualties because of such incidents.
Full report at:
http://timesofindia.indiatimes.com/india/terrorists-attack-army-patrol-party-in-pulwama-counter-op-underway/articleshow/58861654.cms
--------
After Kerala High Court order, kin of Muslim convert forcibly take her home
May 27, 2017
Parents of the Muslim woman convert, whose marriage the Kerala High Court nullified two days ago, forcibly took her home on Friday after she refused to go with them. The court had given the custody of Akhila alias Hadiya to her father, K M Ashokan, while nullifying her marriage with Shefin Jahan (27). It had observed that marriage, the most important decision of her life, could have been taken only with her parents' active involvement.
The court order had come after Ashokan filed a habeas corpus plea. The court had also asked police to help Akhila's parents take her home. Akhila, 25, protested against her parents while being taken out of a hostel in Kochi, where she was lodged as per the court directive. She pleaded to the police to allow her to live as per her will.
Sources said that Akhila had turned violent after hearing about the verdict. "She was not interested in going with her parents. In the past five months she was lodged in the shelter, the court had allowed only her parents to meet her. Even then, they could not win her over or change her decision regarding the marriage,'' a source said.
In a letter to media on Friday, Akhila asked why the court was preventing her from living as per her wishes. "I am a 25-year-old Indian citizen. Why the court put me under house arrest for the last five months? Why the court denied me the right to live as per my faith and likes?'' she asked.
Full report at:
http://indianexpress.com/article/india/after-kerala-high-court-order-kin-of-muslim-convert-forcibly-take-her-home-4675764/
--------
Maharashtra CM Fadnavis rescued by Muslim scrap dealer after chopper crashes
May 26, 2017
When a chopper carrying Maharashtra Chief Minister Devendra Fadnavis and five others came crashing down in Latur on Thursday afternoon, the first person to rush to the rescue was small-time scrap dealer Irfan Shaikh, who shouted "Our king (CM) is trapped in the chopper".
While Shaikh ran towards the chopper to rescue those inside, some others nearby ran away from the aircraft, fearing it might explode.
The chopper came hurtling down from a height of nearly 80 feet in a thick cloud of dust, accompanied by some flashes of light and a loud booming sound.
While others bolted from the chopper, the 28-year-old Shaikh - unmindful of the risk, ran towards the craft to see how he could help the people stuck inside.
"The copter door was jammed and could not be opened... I pushed it but it didn't budge... The Chief Minister then responded by pushing it from inside... Then I managed to force it open from outside... I offered my hand to the CM and helped him step down," Shaikh told a local mediaperson, Govind Ingle of Lokmat Group.
A shaken Fadnavis told Shaikh that he was "fit and ok", and asked him to help the pilots and others on board the chopper even as he walked a few steps away.
Officials of the Chief Minister's Office in Mumbai confirmed the developments on Friday, but declined to say whether Fadnavis would felicitate or honour the scrap dealer for rushing to assist them at a critical time, as the chopper could have exploded.
Full report at:
http://www.hindustantimes.com/mumbai-news/maharashtra-cm-fadnavis-rescued-by-muslim-scrap-dealer-after-chopper-crashes/story-jRRDzBWZd1y8ozOMRqaALM.html
--------
South Asia
Top ISIS Leaders among 7 Killed In Latest Anti-IS Operations In East Of Afghanistan
May 26 2017
At least seven militants affiliated with the Islamic State of Iraq and Syria (ISIS) terrorist group's offshoot in Afghanistan, ISIS Khurasan, including two of their top leaders were killed in the latest anti-IS operations in eastern Nangarhar province of Afghanistan.
The Nangarhar police commandment in a statement said the militants were killed during the Silab-4 and 5 operations being conducted in Chaparhar district.
The statement further added that the two ISIS leaders killed during the operations have been identified as Syed and Shuhrat.
This comes as the 201st Silab Corps of the Afghan National Army (ANA) forces said Thursday that loyalists of the Islamic State of Iraq and Syria (ISIS) terrorist group in Afghanistan have suffered heavy casualties during the Afghan forces joint operations in eastern Nangarhar province of Afghanistan.
A statement by the 201st Silab Corps said at least 14 ISIS affiliates were killed during the operations and 19 others were wounded.
Nangarhar is among the relatively calm provinces in eastern Afghanistan but the anti-government armed militant groups have recently increased their insurgency activities in some parts of the province during the recent years.
This comes as an anti-ISIS operation is underway in Nangarhar to eliminate the presence of ISIS affiliates in this province.
The operations are currently being conducted under the name of Silab operations which was launched nearly a month ago to suppress the loyalists of the terror group in this province.
https://www.khaama.com/top-isis-leaders-among-7-killed-in-latest-anti-is-operations-in-east-of-afghanistan-02835
--------
NATO to Sustain Afghan Mission As Several Allies Pledge More Troops
May 26 2017
The North Atlantic Treaty Organization (NATO) will sustain its mission in Afghanistan as several allies of the alliance pledged more troops contribution.
Speaking to reporters after the meeting of the Heads of the States and Government on Thursday, the NATO Secretary General Jens Stoltenberg said "We reviewed our training mission in Afghanistan, and we agreed that we will continue to sustain our mission."
Stoltenberg further added "I welcome that several Allies came forward today with new troop contributions. And on the basis of our review, we will take further decisions in the coming weeks."
In his statement ahead of the meeting on Thursday, Stoltenberg emphasized on the role of the alliance to train the local forces so that they can fight terrorism.
"Training local forces is one of the best weapons in the fight against terrorism. We are already training Iraqi forces," he added.
The NATO Secretary General admitted that many challenges still persist in Afghanistan.
Full report at:
https://www.khaama.com/nato-to-sustain-afghan-mission-as-several-allies-pledge-more-troops-02834
--------
Taliban kill 15 Afghan soldiers
May 27, 2017
KANDAHAR - At least 15 Afghan soldiers were killed when Taliban fighters attacked their base in Kandahar, officials said Friday, in the third major insurgent assault this week on the military in the southern province.
The assault in Shah Wali Kot district late Thursday comes after hundreds of insurgents stormed other bases in the same area and Maiwand district earlier this week, bringing the death toll among Western-backed troops to around 60.
The attacks highlight a growing insurgent offensive in Kandahar, a Taliban hotbed where security has relatively improved in recent years under the iron grip of police chief and regional strongman General Abdul Raziq.
"The Taliban launched a coordinated assault on an army base last night (Thursday) in Shah Wali Kot," defence ministry spokesman Dawlat Waziri told AFP.
"Fifteen Afghan army soldiers were martyred and five others wounded... but the base remains under the control of our forces."
A provincial official who spoke on the condition of anonymity gave a higher death toll of 20, adding that some soldiers were missing after the attack and the Taliban had seized four military humvees.
At least 30 soldiers were killed in a similar attack in Shah Wali Kot late Monday and two days later, 13 others died in another insurgent raid in Kandahar's Maiwand district, a provincial official told AFP. The Taliban claimed responsibility for the attacks as their annual spring offensive intensifies and the insurgency expands more than 15 years after they were toppled from power in a US-led invasion.
Raziq, arguably the most powerful security commander in southern Afghanistan, has lashed out at the central government in Kabul over the growing insecurity in Kandahar, accusing them of a plot to destabilise his province.
"Some political figures within the National Unity Government are trying to destabilise Kandahar like (neighbouring) Helmand and Uruzgan provinces," Raziq told a public gathering on Thursday.
"Whenever there is an attack in Kandahar, the central government does not help."
His scathing remarks did not immediately provoke a response from Kabul.
The attacks mark another stinging blow for NATO-backed Afghan forces. They come just a month after the Taliban killed at least 135 soldiers in the northern province of Balkh in the deadliest insurgent attack on an Afghan military base since 2001.
The battlefield losses have raised concerns about the capacity of Afghan forces, beset by unprecedented casualties and blamed for corruption, desertion and "ghost soldiers" who exist on the payroll but whose salaries are usurped by fraudulent commanders.
During another deadly Taliban attack on security outposts in southern Zabul province on Sunday, local officials made desperate calls to Afghan television stations to seek attention because they were unable to contact senior authorities for help.
The pleas for attention, a major embarrassment for the Western-backed government, highlighted the disarray in security ranks.
As of February only about 60 percent of Afghanistan's 407 districts were reported to be under government control, with the authorities in Kabul struggling to counter the ascendant Taliban, according to the US watchdog agency SIGAR.
Full report at:
http://nation.com.pk/national/27-May-2017/taliban-kill-15-afghan-soldiers
--------
Bangladesh Won't Probe Reported Death of IS Fighter in Mid-East: Minister
2017-05-26
Authorities in Bangladesh will not investigate the reported death in the Middle East of an Islamic State (IS) fighter of Bangladeshi origin, the country's home minister told BenarNews.
Earlier this month local news outlets reported that Bangladesh-born Taj Rahman was killed by security forces in Iraq at an undetermined date. Rahman had emigrated to Cyprus and then Finland, and was believed to have joined the ranks of IS sometime in 2015, the reports said.
"We have no information about his death," Home Minister Asaduzzaman Khan Kamal said in an interview this week.
"We do not need to investigate it. We are least bothered about it," he added.
Pro-IS media had released a picture of a man they named as Abu Ismail al-Bengali with the words "May Allah accept him," without mentioning the date, location or cause of death, the Bangla Tribune reported on May 12. The Tribune identified Abu Ismail al-Bengali as Taj Rahman.
A relative who spoke to BenarNews on condition of anonymity confirmed that the man in the picture was Taj Rahman, but maintained he was killed in Syria.
He said he had verified the information through other sources but did not notify the police because, as he put it, the family wanted to forget about Taj.
"[O]n May 8 this year, a person came to us, and showed me the IS media report on the death of their member Abu Ismail al-Bangali along with his photos. I recognized that it was … Taj, an IS member. He was killed in Syria," the relative told BenarNews.
"It was a double blow for us. On May 8, the wife of my eldest brother died," the relative said, adding, "This is really strange for me how a cultural boy like Taj turned into an IS militant. You will not understand our pain."
According to the report in the Dhaka Tribune, Rahman, who was in his late thirties, came from a "higher-middle class family" in Dhaka and was a former drummer in a rock band who worked in Finland as a physiotherapist.
'Taj tilted toward prayers'
The source said he had lost touch with Rahman long ago.
He said his relative moved to Cyprus in 2001 or 2002 to complete a course in hotel management. After living there for about a decade, working in restaurants and bars, he eventually moved to Oulu, Finland with a Latvian wife, Dita.
She and Rahman later split and he married a second wife, Samia.
It was in Finland, where Rahman came to know a Bangladeshi expatriate who held "extremist views on Islam," and it was from that point on that Rahman became radicalized, the relative told Benar.
"After seven to eight months in Finland, Taj tilted towards prayers, fasting and other Islamic rituals. Some of his friends informed us that his Islamic views were turning extreme," he said.
"He, along with his [second] wife, their child, father-in-law, and others went to Syria. He was killed in Syria. We do not know about the fate of his spouse, the baby and his father-in-law," the relative added.
'No Bangladeshi joins IS from Bangladesh'
More than 50 Bangladeshis have joined IS in Iraq and Syria, according to security experts. At least eight IS fighters of Bangladeshi origin have been reported killed in the Middle East, said analyst Sakhawat Hossain.
One of those killed in that region was identified as Siful Haque Sujan, an information technology coordinator for IS who had moved to Syria from Britain. He died in a U.S.-led coalition air strike near Raqqa in December 2015, according to the Pentagon.
Since 2015, Bangladeshi officials have denied that the so-called Islamic State group is present in the country. The denials persisted after IS claimed responsibility for a terrorist siege at a café in Dhaka in July 2016 that left 29 dead.
Full report at:
http://www.benarnews.org/english/news/bengali/Taj-Rahman-05262017143425.html
--------
25 Jamaat men held in Dhaka
May 27, 2017
Police also seized 16 computers and some handouts and books from the house
Police has arrested 25 leaders and activists of Jamaat-e-Islami Bangladesh from a house in the capital's Panthapath area.
Dhaka Metropolitan Police (DMP) Deputy Commissioner (Tajgoan division) Biplob Kumar Sarkar told the Dhaka Tribue that the Jamaat men were arrested from a house beside Samorita Hospital in Panthapath area around 3pm.
Full report at:
Police also seized 16 computers and some handouts and books from the house.
http://www.dhakatribune.com/bangladesh/crime/2017/05/27/25-jamaat-men-held-dhaka/
--------
Casualties feared as suicide attack rocks Khost city of Afghanistan
May 27 2017
Several people are feared dead or wounded in a suicide attack in Khost city in Southeast of Afghanistan.
The provincial police commandment confirmed the incident but added that exact information regarding the casualties has not been ascertained so far.
The officials are saying that the incident took place around 8:30 am local time after a suicide bomber detonated his explosives near a military base.
The provincial public health acting director Gul Mohammadin confirmed that 14 people were killed in the attack and at least 8 others wounded in the explosion have been shifted to the hospitals.
He said there are fears that the death toll could rise as a number of those wounded in the attack are in critical condition.
The eyewitnesses are saying that several ambulances have arrived to the area which has been cordoned off by the security forces.
They are saying that the nature of the incident has not been ascertained so far and it is yet not clear if the attack was carried out by a Vehicle-borne Improvised Explosive Device or not.
Full report at:
https://www.khaama.com/casualties-feared-as-suicide-attack-rocks-khost-city-of-afghanistan-02838
--------
US approves $76.7 million contract in support of Afghan Air Force
May 26 2017
The United States has approved a new contract worth $76.7 million in support of the Afghan Air Force as efforts are underway to boost the capabilities of the Afghan National Defense and Security Forces. (Photo: US Defense Forces in Middle East)
A statement by the Department of Defense said "MD Helicopters Inc., Mesa, Arizona, was awarded a $76,700,001 firm-fixed-price foreign military sales (Afghanistan) contract for contractor logistics support for the MD 530F aircraft fleet in support of the Afghanistan Air Force."
The statement further added "One bid was solicited and one bid received. Work will be performed in Mesa, Arizona; and Afghanistan, with an estimated completion date of May 31, 2018."
"Fiscal 2017 other funds in the amount of $37,583,000 were obligated at the time of the award. U.S. Army Contracting Command, Redstone Arsenal, Alabama, is the contracting activity (W58RGZ-17-C-0038)," the statement added.
This comes as efforts are underway by the Afghan government and the international allies of Afghanistan to increase the air power of the Afghan security forces.
The commander of the United States Central Command General Joseph L. Votel requested the US Congress to approve the budget for the Afghan forces Blackhawk program.
In his statement before the Senate Armed Services Committee earlier in March this year, Gen. Votel informed regarding the significant capability gaps in Afghan Air Force, saying "Going forward, transitioning from Russian to U.S. airframes will ensure Afghan forces have a more sustainable fleet that is interoperable with U.S. forces and will enhance the Afghans' ability to operate independently of coalition forces. The U.S. government is considering a critical AAF initiative to replace the unsustainable Russian-manufactured aircraft fleet and make up for combat losses in Afghan transport helicopters by providing U.S. UH-60s."
Full report at:
https://www.khaama.com/us-approves-76-7-million-contract-in-support-of-afghan-air-force-02837
--------
Taliban's military commission chief killed after rocket attack on Kunduz city
May 26 2017
A prominent Taliban leader was killed hours after carrying out a deadly rocket attack on Kunduz city in North of Afghanistan.
The provincial government media office in a statement said Taliban's military commission chief for Kunduz province Mawlavi Mohammad Noor famous as Haqqani was killed in an airstrike late on Thursday night.
The statement further added that Haqqani was killed along with several others in the airstrike which was conducted in Chardara district.
Haqqani was directly involved in the rocket attack on Kunduz city on Thursday morning, the provincial government said, adding that the attack which left a school child was carried out on the instructions of Haqqani.
At least nine civilians including several school children were also wounded in the attack, a spokesman for 808 Spinzar Zone police in North of Afghanistan Mahfuzullah Akbar said.
He said the rocket attack was carried out from Chardara district as the militants were aiming a military base located in the city but one of the rockets landed in a busy part of the city, leaving a school child dead.
The anti-government armed militant groups, particularly the Taliban insurgents are blamed for the majority of the civilian casualties.
The United Nations Assistance Mission in Afghanistan (UANAMA) released its latest civilian casualties report last month, covering a period of three months since the start of 2017.
According to the report, the Anti-Government Elements caused 62 per cent of civilian casualties – 1,353 civilian casualties (447 dead and 906 injured), reflecting a five per cent increase compared to the same period in 2016.
Full report at:
https://www.khaama.com/talibans-military-commission-chief-killed-after-rocket-attack-on-kunduz-city-02836
--------
Southeast Asia
Mosques play vital role as deradicalisation centres to combat terrorism, DPM says
May 26, 2017
ALOR GAJAH, May 26 ― Mosques play a vital role as deradicalisation centres for society especially Muslims so that they will not involve in terrorist activities, said Deputy Prime Minister Datuk Seri Dr Ahmad Zahid Hamidi.
However, he said such an effort needed to be implemented through the "wasatiyyah" (moderation) concept and in a consistent manner to rehabilitate and curb such activities in the country.
"A statuesque mosque should be enlivened with various programmes or activities that are not seasonal. It (the mosque) should serve as a centre for religious rituals, knowledge and the social institution.
"These three elements will be difficult to achieve if there is no commitment from the congregation members and the management of the mosque. No matter how beautiful the mosque is, it will be meaningless if the efforts to enliven the mosque cannot be delivered," he said in his speech for the opening ceremony of the Salmah Khamis Mosque here today.
The RM12 million mosque, which was opened by Melaka Yang Dipertua Negeri Tun Mohd Khalil Yaakob, is built on a 0.8-hectare site and can accommodate a congregation of 1,000.
Also present were Melaka Chief Minister Datuk Seri Idris Haron and Inspector-General of Police Tan Sri Khalid Abu Bakar.
Ahmad Zahid said deradicalisation programmes in the country were implemented ever since the Communist threat surfaced in 1948 and were modified during the time of the Al-Maunah, Jemaah Islamiyah and the Malaysian Mujahideen Movement (KMM) radical groups, which planned at creating an Islamic caliphate.
He said Islamic radicals did not have solid foundation in religion and were looking for the quickest way to go into heaven.
The deputy prime minister also said that the establishment of a regional counter-messaging centre in Malaysia showed the world's community had faith in the country in the fight against terrorism.
Earlier, Ahmad Zahid said the mosque, endowed to Melaka Baitulmal, was named after his mother and father-in-law. ― Bernama
http://www.themalaymailonline.com/malaysia/article/mosques-play-vital-role-as-deradicalisation-centres-to-combat-terrorism-dpm
--------
Terengganu Exempts Non-Muslim Restaurants from 3 PM Rule during Fasting Month
May 27, 2017
KUALA LUMPUR, May 27 — Non-Muslim eateries need not abide by the Terengganu government's ruling requiring restaurants there to only open from 3pm during Ramadan, an official confirmed.
Kuala Terengganu city councillor Monna Ong Siew Siew, who is from MCA, reportedly said the state government has implemented this rule for years to respect the Muslim fasting month.
Local paper Sin Chew Daily reported Ong as saying that eateries operated by non-Muslims would not be affected, but confirmed that fast-food chains, Muslim-operated eateries and Ramadan bazaars would have to comply with the rule.
Ong further confirmed that non-Muslim eateries will face still action if they sell food and drinks to Muslims before 3pm during the fasting month or if they allow Muslims to dine there.
"If non-Muslim operators violate this rule, the Kuala Terengganu city council will suspend their business licences," she said.
Sin Chew Daily also reported Terengganu Religious Affairs Department (JHEAT) deputy commissioner Azhar Jusoh as saying that the religious body will deploy between 150 and 200 patrollers to take action against non-fasting Muslims and Muslim eateries or stalls who start operating before 3pm.
He reportedly said action was taken on six eateries in Chendering, Kuala Terengganu and Gong Badak last year for flouting the rule.
On Tuesday, Terengganu's state exco for Communications, Multimedia and Special Functions Ghazali Taib reportedly said the state government will seal food premises operating before 3pm during the fasting month to avoid immoral activities.
"We only allow the entrepreneurs to be at the business premises at 2.30pm especially at the Ramadan bazaars because they come to prepare the business sites and the earliest that these premises can operate is at 3pm," he was quoted saying by national news agency Bernama.
Full report at:
http://www.themalaymailonline.com/malaysia/article/terengganu-exempts-non-muslim-restaurants-from-3pm-rule-during-fasting-mont
--------
Report: Ex-UM lecturer poised to be next IS leader in region
May 27, 2017
KUALA LUMPUR, May 27 — Former lecturer Dr Mahmud Ahmad is in line to take over an Islamic State (IS) terrorist cell in the southern Philippines and attempt to create a regional terror network, a report claimed.
Bukit Aman Special Branch Counter Ter­rorism Division head Deputy Comm Datuk Ayob Khan reportedly said Mahmud was known to be with the Philippines' IS-affiliated Abu Sayyaf group.
According to local daily The Star, Ayob also confirmed suspicion that Mahmud ultimately plans to lead this IS cell.
Citing unnamed sources, The Star said IS "caliph" Abu Bakr al-Baghdadi is currently trying to find a replacement for Malaysian Muhammad Wanndy Mohamed Jedi, who had led the militant group's South-east Asian faction before he was killed by a drone attack in Syria.
Mahmud was said to have been the only trusted leader in the region to Baghdadi, aside from current Abu Sayyaf chief Isnilon Hapilon who currently head the IS offshoot, but was injured two months ago in an aerial attack in Basilan, southern Philippines.
Isnilon was last year announced as the "emir' of the IS group in the Philippines.
Mahmud is said to be planning to bring together terror cells in the Philippines, Indonesia and Malaysia for an official regional faction for the IS, and is believed to be seeking to fill in the leadership gap if Isnilon dies.
Mahmud, who had previously trained with terror group al-Qaeda and fled to the Philippines from Malaysia in 2014 and is known as Abu Hanadzlah, is believed to be in Marawi City in southern Philippines.
The Star also reported sources as saying two Malaysian men identified as Ustaz Abdurahman Asmawi from Kelantan and Dr Kamsa Yahya from Kedah were killed in clashes between militants and the Philippine government who is hunting down Isnilon.
In a separate report by New Straits Times (NST), Ayob said the names of the two dead men suspected to be Malaysians were released by the Philippine military, but noted further verification was required.
Full report at:
http://www.themalaymailonline.com/malaysia/article/report-ex-um-lecturer-poised-to-be-next-is-leader-in-region
--------
DPM confirms two Malaysians killed in Philippine terrorism war
May 26, 2017
KUALA LUMPUR, May 26 ― Deputy Prime Minister Datuk Seri Ahmad Zahid Hamidi confirmed reports that two Malaysian men were killed in clashes between the Philippine security forces and militant groups in Marawi City, Mindanao.
He added that he had been informed of their identities and background, but will leave it to the police to release further information.
"Bukit Aman will release the intelligence information," he was reported by national news agency Bernama saying after officiating at a mosque in Alor Gajah, Perak.
In a report on its website last night, The Star daily cited unnamed intelligence sources identifying the two dead as Abdurahman Asmawi from Kelantan and Dr Kamsa Yahya from Kedah
The duo were said to be among 13 militants killed in clashes with the Philippine military last Tuesday as the Duterte administration's hunt for Abu Sayyaf leader Isnilon Hapilon.
The Philippine Abu Sayyaf militants are said to have links with Syria-based global terror network Islamic State.
Malaysia's Special Branch police said its intelligence indicates at least five other Malaysians are still in Marawi City and that it will take time to verify the numbers and their identities.
The Abu Sayyaf has extended its web across South-east Asia, with supporters coming in from Malaysia and Indonesia, the world's most populous Muslim country.
Islamist militants have been stepping up attacks in the region, hitting Thailand, Malaysia, Indonesia and the Philippines.
Full report at:
http://www.themalaymailonline.com/malaysia/article/dpm-confirms-two-malaysians-killed-in-philippine-terrorism-war
--------
Africa
Clashes between rival Libyan factions kill 28, injure 128 in Tripoli
May 27, 2017
At least 28 people have been killed and over 128 injured during fresh clashes in the Libyan capital, Tripoli, between forces loyal to the UN-backed unity government and rival militiamen.
The clashes broke out Friday in residential neighborhoods as forces aligned with the UN-backed Government of National Accord (GNA) fought to thwart a major offensive by rival militiamen.
There were reports of loud explosions and heavy artillery fire across the city throughout the day.
The GNA issued a statement and blamed the attack on Khalifa Ghwell, the head of a self-declared "national salvation government" that was set up in 2014, and Salah Badi, an allied militia leader. They are both leaders of the so-called Fajr Libya coalition of militias.
They "have exceeded all limits... Nothing stops them, not faith, not law, not custom and not morals," said the statement. "This is their gift to the people for the month of Ramadan."
Libya's Health Ministry spokesman Anwar Frajallah announced the provisional casualty figures on Friday, but said he could not confirm whether they included any civilians.
A GNA security official identified as Hashem Bishr offered a separate count of casualties, saying 23 loyalist forces were killed and over 29 others injured in the fighting.
A police source said late Friday that the armed group loyal to the GNA seized the al-Hadhba prison holding senior officials of the country's former dictator Moammar Kaddafi, who was toppled and then killed during an uprising in 2011.
In a joint statement released late Friday, GNA's interior and justice ministries declared that all the prisoners had been handed over to them and were "in good health."
More than 30 senior officials of the toppled regime were being held in the prison, including Kaddafi's last Prime Minister Baghdadi al-Mahmudi and his former intelligence chief, Abdullah Senussi. Both were sentenced to death in 2015.
The skirmishes centered around a complex of luxury villas that had served until March as the headquarters for militias loyal to Ghweil, a former prime minister who was ousted after GNA rose to power in March 2016. He has refused to recognize the new government.
Meanwhile, the United Nations Libya envoy Martin Kobler appealed for a halt to the fighting and said, "Voices of reason should prevail for the benefit of the country. Political aims must not be pursued through violence. Civilians must be protected."
Libya has faced a power vacuum since a NATO military invasion following the 2011 uprising.
The country has been grappling with chaos and the emergence of numerous militant groups. The Daesh terror group has also taken advantage of the mayhem to gain a foothold in the country.
The country now has two governments -- one based in Tripoli, where the GNA, led by Fayez al-Sarraj, is ruling, and the other centered in the eastern city of Tobruk, led by Field Marshal Khalifa Haftar's so-called Libyan National Army (LNA).
The UN supervised a series of negotiations in 2015 that led to the establishment of the GNA late that year. However, both Haftar and the allied eastern-based parliament have refused to recognize the UN-backed unity government.
http://www.presstv.ir/Detail/2017/05/27/523336/Libya-Tripoli-GNA-loyalist-troops-rival-militiamen-Anwar-Frajallah
--------
At least 13 killed, nearly 80 wounded in Libya clashes
26 May 2017
At least 13 people were killed and nearly 80 wounded in fierce clashes Friday between forces loyal to the UN-backed unity government and rival militiamen, the health ministry said.
A security official for the Government of National Accord separately gave a toll of 23 loyalist forces killed and 29 wounded, but medical sources were not immediately available to confirm those figures.
https://english.alarabiya.net/en/News/north-africa/2017/05/26/At-least-13-killed-nearly-80-wounded-in-Libya-clashes-.html
--------
Egypt conducts airstrikes against terrorist training camps in Libya: State TV
May 26, 2017
The Egyptian military has carried out several airstrikes against purported terrorist training camps in Libya after unknown gunmen attacked a bus carrying Coptic Christians south of the Egyptian capital Cairo, leaving at least 28 dead.
State television, citing an army statement, reported that Egyptian warplanes carried out at least six airstrikes against "terror camps" in the eastern Libyan city of Derna.
It added that the aerial raids had been carried out after making sure that men from those camps were involved in the bus attack.
"Egypt will not hesitate in striking any camps that harbor or train terrorist elements whether inside Egypt or outside Egypt," said Egyptian President Abdel Fattah el-Sisi on Friday evening in a televised speech hours after the terrorist attack in the country's Minya province.
Sisi went on to say that an airstrike against the camps was being conducted as he spoke, adding that the carnage would not be left unanswered.
According to a statement by the Egyptian Interior Ministry, masked assailants in three pickups stopped the vehicle and opened fire on it as it was heading for the Saint Samuel monastery in the province, over 200 kilometers from Cairo. The attack also injured more than two dozen other passengers. A number of children were among the dead.
There was no immediate claim of responsibility for the Friday morning attack.
Meanwhile, east Libyan forces, led by military strongman Field Marshal Khalifa Haftar, said in a statement that they had participated in the Egyptian airstrikes on Derna. It further said the raids targeted forces allegedly linked to the al-Qaeda Takfiri terrorist group at a number of sites, adding that the aerial raids would be followed by a ground operation.
Haftar's forces have already besieged the militant-held city and conducted occasional airstrikes on the terrorists' positions.
The attack came after church bombings in December and April claimed by Daesh that killed dozens of Egypt's Coptic Christians, who make up about 10 percent of the country's 93-million population. The Takfiri terrorists have threatened more attacks against the Arab country's Christian minority.
Full report at:
http://www.presstv.ir/Detail/2017/05/26/523315/Egypt-Libya-Derna-airstrike-bus-attack-Minya-Coptic-Christians-Sisi-Daesh
--------
Tunisia opens trial over 2015 beach massacre
26 May 2017
A Tunisian court held its first public hearing Friday in the trial of 26 people in connection with a 2015 militants beach massacre that killed dozens of foreign tourists.
A student armed with a Kalashnikov assault rifle and grenades went on a rampage in the Port el-Kantaoui resort near Sousse killing 38 holidaymakers, 30 of them Britons, before being shot dead by police.
It was the second of two deadly attacks on foreigners claimed by the ISIS group that year, which devastated Tunisia's once-lucrative tourism sector.
Security was unusually tight at the Tunis courthouse for Friday's hearing, which lasted around an hour and a half and was attended by British diplomatic officials.
Six of the defendants are policemen accused of failing to assist a person in danger.
The remainder, all Tunisians, are accused of terrorist offences, murder and "conspiracy against the security of the state", the prosecution said.
The prosecution told AFP that 26 people were being tried, revising the number down from its earlier statement that 33 accused were going on trial.
If convicted, they could face the death penalty under a 2015 anti-terror law, despite a moratorium on capital punishment since 1991.
The examining magistrate finished his investigation in July last year.
Lawyers for both the prosecution and the defense had said before the trial that they would ask for an adjournment to give them more time to study the case.
Several defense lawyers applied for bail, telling the judge their clients had "no link" to the attacker.
Tunisian authorities say gunman Seifeddine Rezgui had "mainly" been radicalized on the internet before receiving weapons training in neighboring Libya.
Ines Harrath said her client, Achraf Sandi, was not a "terrorist" but had been arrested "because his brother, who is on the run, is accused of involvement in the case."
Another defense lawyer, Salha Ben Farah, said her two clients had been tortured during interrogation and in prison.
The judge told AFP that the date for the next hearing would be announced Friday afternoon.
There has been widespread criticism of the Tunisian police force's actions during the June 26, 2015 massacre.
British judge Nicholas Loraine-Smith, who held an inquest into the deaths of the Britons among the holidaymakers, said in February that the police response had been "at best shambolic, at worst cowardly".
"Their response could and should have been more effective," he said.
Andrew Ritchie, a lawyer representing 20 victims' families, read out a January 2015 report by a British diplomat, saying there had been "little in the way of effective security to prevent or respond to an attack" at the beach.
Full report at:
https://english.alarabiya.net/en/News/middle-east/2017/05/26/Tunisia-opens-trial-over-2015-beach-massacre.html
--------
Egypt retaliates with strikes at militant locations in Libya
26 May 2017
Egyptian air strikes targeted locations of the Shura Council of Mujahideen in the Libyan city of Derna, Al Arabiya sources reported.
Casualties were reported among militants after Egyptian airstrikes hit extremists' locations in Derna, Libya.
This followed the televised address by Egyptian President Abdel-Fattah al-Sisi on Friday said that Cairo will not "hesitate" to strike "terrorism" anywhere whether it is inside or outside his country after masked gunmen killed 29 Coptic Christians, mostly children.
"Egypt will not hesitate at all to strike terrorist camps anywhere," Sisi said during the TV address, adding that Cairo does not "conspire" against any country, and is keen to full protect its national security.
Sisi did not specify any country, however, he said since the fall of the Libyan regime in 2011, Egypt was watching its borders carefully.
"I say again, any camps being currently used to train terrorists, Egypt will strike," he said. "This message is clear."
He repeated: "We will not hesitate in protecting our people," in what he called "evil."
He also urged US President Donald Trump to "prioritize" crushing terrorism.
"If Egypt fall so the rest of the world," he warned. The Egyptian president said the country's forces have destroyed 300 vehicles being used by "terrorist" elements in the past three months only near the western Libya border.
He further warned "what happened today, will not pass like that" without punishment.
Masked gunmen, who used machine guns, opened fire at a bus carrying Egyptian Coptic Christians to a monastery south of Cairo on Friday, killing 28 mostly children and injuring 24 others, Al Arabiya News Channel reported.
A Church source told Egypt's al-Ahram newspaper that the bus trip was for children to visit a monastery and only three has survived.
Khaled Mujahed, the official spokesman for the Health Ministry, said 12 from the 24 wounded have left the Maghageh hospital after treatment, but one case of a child has been to Al-Minya University Hospital while 11 others to Nasser institute hospital.
The Health Ministry also said that among those injured were two children aged two.
The Christian group was travelling in two buses and a truck through the province, which is home to a sizeable Christian minority, the governor of Egypt's Minya province, Essam al-Bedaiwy, said.
The health ministry said there were between eight and 10 attackers dressed in military uniforms, according to witnesses. Meanwhile, Egyptian sources told Al Arabiya News Channel that there were 10 to 12 gunmen.
Al Arabiya News Channel's correspondent said the Interior Ministry's Special Forces shut down entry points and exits to Minaya to prevent militants from escaping.
Egypt's Interior Ministry also said that the gunmen attacked one bus which was heading to Al-Anba Samuel monastery.
No group immediately claimed responsibility for the attack, which came on the eve of the holy Muslim month of Ramadan.
Meanwhile, Egypt's Grant Mufti denounced the attack, saying the culprits have violated all of Islam's principles. Egypt's Prosecutor General has also ordered an immediate probe after the deadly attack.
The UN Security Council, Arab League, Saudi Arabia, the UAE, Jordan, Kuwait and the UK have all condemned the attack.
After the deadly attack, Egyptian President Abdel-Fattah al-Sisi called for an emergency security meeting.
Full report at:
https://english.alarabiya.net/en/News/middle-east/2017/05/26/Gunmen-attack-Christians-in-Egypt-unknown-number-of-fatalities.html
--------
South Africa: ANC Wishes Muslims Well Over Ramadan
26 MAY 2017
PRESS RELEASE
The African National Congress (ANC) extends its best wishes to the Muslim community as they prepare to observe the month of Ramadan.
Ramadan is the most sacred month on the Muslim calendar and marks the time when Islam's holy book, the Qur'an, was revealed. It also is a time of devotion and reflection when Muslims abstain from food and water from sunrise to sunset.
Adherents to the Muslim faith regarded this holy month as a time for spiritual reflection and performing acts of charity, practicing patience and forgiveness.
The ANC lauds the activities of Muslim charitable organizations such as Gift of the Givers, who are a constant presence in the local philanthropic community- and who provide humanitarian services in South Africa and beyond to the needy, regardless of colour or creed.
The majority of South Africans are people of deep and abiding faith - and the interfaith community has always had an instrumental role in South Africa; not just as a voice of moral authority, but also in working alongside the ANC as it strives to realize a county free of the evils of racism, sexism, poverty and discrimination.
The ANC wishes all Muslims in South Africa as well as our comrades from fraternal political organizations and in the local diplomatic community well over the fast. We further urge our Muslim compatriots to use this opportunity of this blessed month that represents peace, unity and compassion, to once again renew their pursuit of peace and justice for all. We hope that this period of deep introspection serves to unite all South Africans and instill in us a strong sense of love and compassion for our fellow South Africans.
Ramadan Kareem.
As we prepare to usher in Ramadan the ANC calls on South Africans to remember the plight of the Palestinian hunger strikers. For them, this Ramadan will not be a happy time to be spent with family and friends, but in incarceration. The ANC remains steadfast in its commitment to the cause of the Palestinian people and their right to live in freedom in dignity.
Full report at:
http://allafrica.com/stories/201705261097.html
--------
Divisions, radicalization fears vex Ethiopian Muslims
26.05.2017
By Seleshi Tessema
ADDIS ABABA
Ethiopia's traditionally cohesive and tolerant Sunni Muslims on Saturday began the holy fasting month of Ramadan amid growing divisions and fear over what is officially labeled "radicalism and extremism.''
The Horn of Africa country is the second-most populous nation in Sub-Saharan Africa with a population of 99.4 million, according to the World Bank. Population growth in 2015 was 2.5 percent.
Alfadal Ali, secretary of the Ethiopian Islamic Affairs Supreme Council, the main official body, told Anadolu Agency that Ethiopia's Muslim population, which was 33 percent of the 74 million population in the latest 2007 national census, is estimated to have grown since then to 43 million.
"We are the third-largest population in Africa after Nigeria and Egypt," he added.
Changing community
Adem Kalid, an independent researcher in Islamic studies, told Anadolu Agency that the Ethiopian Muslim community over the past couple of decades has transformed itself into a visible and influential element of the majority-Christian society.
"The Islamic intellectual base, moral consciousness, and economic power of individuals have grown, but the majority of rural Muslims who maintain the Islamic faith and tradition are poor," he said.
He added: "Ethiopian Muslims have been stretching out of centuries of marginalizing and subjugation perpetuated by successive Ethiopian states, thanks to the constitutionally guaranteed freedom of worship."
However, he said that all was not perfect: "The implementation of rights has been embedded with recurring institutional problems and theological differences among the elite that have negatively impacted the process of empowerment."
Voices on the streets
On the eve of Ramadan, the streets, markets, and public spaces of the Ethiopian capital, Addis Ababa, were exceptionally colored with men and women clothed in Islamic dress.
A young man who identified himself as Jilalu Adem was one of them. When asked about the changes in the lives of Ethiopian Muslims, he said that Muslims were more assertive and conscious than ever.
"Our generation is proud of its Islamic identity, and we are well aware the place we deserve to have in society," he said.
"But despite some changes, due to the theological differences in our community, it has become increasingly difficult for some to express views which are different from the official point of view."
Jemal, 54, a civil servant, spoke reluctantly to Anadolu Agency, and did not want to provide his last name.
"I am not willing to be fully identified, as there is a real danger of being branded a radical or extremist, and this has serious consequences," he said, sipping his coffee at a coffee shop.
"There has been government interference in our affairs, and those who opposed it are languishing in prison cells," he claimed.
The Ethiopian government denies such accusations.
Existential threat
At a peace education conference organized by the Ethiopian Islamic Council last week in the city of Adama, 175 kilometers southeast of the capital, the head of the Oromia Islamic Council said that radicalism was on the rise.
"Radicalism and extremism, which had been subdued for some time in Ethiopia and particularly in [its state of] Oromia, has now reemerged confidently and is engaged in agitations and fundraising," he said.
"This a critical moment in which we are obligated to maintain our tradition of peace and tolerance, through education," he added.
A house divided against itself
Ethiopian Sunni Muslims have lived for centuries in a deeply entrenched Sufi tradition.
"The tradition is primarily to live in peace and harmony with the other faiths while being at the center of our religion," according to Kalid.
Full report at:
http://aa.com.tr/en/africa/divisions-radicalization-fears-vex-ethiopian-muslims/827103
--------
Ramadan: Etsu Nupe Cautions Islamic Preachers Against Hate Speech
May 27, 2017
By Abu Nmodu, Minna
The Etsu Nupe, Alhaji Yahaya Abubakar, has called on Islamic preachers and scholars to guard against provocative and inciting preaching as the month of Ramadan fasting begins today.
The Royal father made this known yesterday at his Wadata Palace in Bida, Niger State, saying Muslims in the country should use the fasting period to pray for peace and progress for the nation rather than using provocative words during preaching.
"Preach peace and things that will guide Muslim brothers to be on the right path, as well as things that will strengthen our faith in practicing Islam, Fasting is not only for abstaining from drinking and eating but also a time to emulate what Prophet Muhammad (SAW) was sent by Almighty Allah to preach," he said.
The Etsu Nupe, who is also the chairman of Niger State Council of
Chiefs, noted that the two major religions in the country preaches
Full report at:
https://www.nigeriatoday.ng/2017/05/ramadan-etsu-nupe-cautions-islamic-preachers-against-hate-speech/
--------
URL: https://www.newageislam.com/islamic-world-news/it-islam-that-drives-young/d/111313
New Age Islam, Islam Online, Islamic Website, African Muslim News, Arab World News, South Asia News, Indian Muslim News, World Muslim News, Women in Islam, Islamic Feminism, Arab Women, Women In Arab, Islamophobia in America, Muslim Women in West, Islam Women and Feminism