New Age Islam News Bureau
28 Nov 2015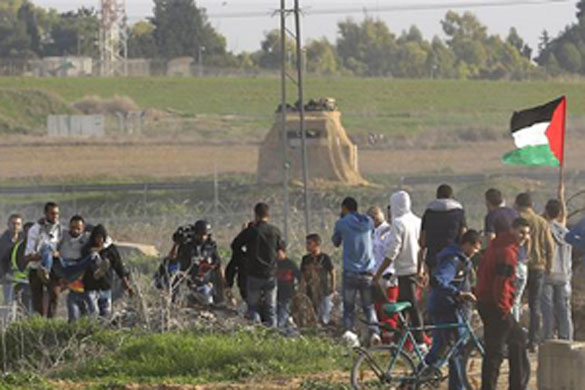 Photo: Palestinian protesters carry an injured comrade (L) during clashes with Israeli troops (unseen) on the eastern outskirts of Gaza City on November 27, 2015. (Photo by AFP)
---------
Mideast
• Israel troops injure 82 more Palestinians in W Bank, Gaza
• Erdogan warns Putin not to 'play with fire'
• Iran never responded to cyber attacks with counter raids: Foreign Ministry
• Russian raids repeatedly hit Syrian Turkmen areas: Moscow data
• No change in UAE position towards Israel, says govt
---------
North America
• Blaming Islam for ISIS: A convenient lie to prepare us for more war
• Drowned Aylan's family to be admitted to Canada
---------
Arab World
• ISIL Positions Destroyed in Aleppo Countryside
• KSA, Russia join forces to expand trade, crush terror
• Syrian Turkmen Commander Who Killed Russian Pilot Turns Out to Be Turkish Ultranationalist
• Gov't Forces in Last Stage to Establish Full Security along Harasta-Damascus Highway
• Army Repels ISIL Attacks in Palmyra
• Nusra Militants Suffer More Losses in Aleppo
• Militants Withdraw from More Lands in Syria's Lattakia Province
• France 'can only' work with Syrian army as part of a power transition
• KSA has 'right strategy' against terror outfits
• Syrian Forces, Allies Launch Quayratayn Liberating Operation in Homs
• Lebanon PM urges presidential vote after new push to find candidate
• Al-Qaeda supporter gets 19 years
• King, MWL hailed for serving cause of Islam
• Bahraini protesters hold fresh anti-regime rallies
---------
Europe
• View from abroad: Islam and the role of Muslim democrats
• Ringleader of Paris attacks planned more strikes, mocked open borders
• Italy to crack down on 'clandestine' mosques
• Russia imposes sanctions on Turkey
• Putin agrees not to bomb pro-West groups fighting IS
• Rights official calls for refugees' direct relocation to EU
• Russian claims over Turkey-ISIL oil trade refuted
• Commonwealth counter-extremism unit set up
• Kremlin doubts West ready to work against ISIL
---------
India
• Government has problems with the word 'secularism': Scindia
• Battling past and present: UP's history of youth radicalisation
• Kiren Rijiju Wasn't The First To Suggest Muslims From South India Get Lured By Islamic State
• Pakistani terrorists have stepped up infiltration attempts: BSF chief
• Mehbooba Mufti says Muslims will stay in India, calls Hindus tolerant
• Intolerance row: Agra Muslims condemn Aamir Khan's statement
• 'ISI agent' held in Meerut, Pak agency paid his kin Rs 50,000/month: Police
• Heat is on Bollywood's Muslims
• Gujarat governor OP Kohli calls for unity between Hindus and Muslims
---------
South Asia
• Taliban hang former district governor in Oruzgan
• Suicide bomber targets Afghan election official in Kabul
• Islam doesn't support militancy
• Hekmatyar seeks comeback in Afghanistan
• 10,000 Kalashnikovs expected to arrive in Kabul from Russia next month
• One killed, two wounded in Kabul suicide attack
---------
Africa
• Attack on U.N. base in northern Mali causes casualties
• Suicide bomber kills 21 at Shia procession in Nigeria
• Nigeria Muslim march suicide attack kills at least 15
• Tunisian attacks were planned in Libya
---------
Southeast Asia
• Indonesia: Muslim group launches global anti-ISIS campaign
• Put UN human rights treaty into practice, says Suaram
• Understand democracy well, Muslim leaders told
---------
Pakistan
• Four arrested MQM men involved in target killing: Rangers
• Shrine desecration: Prompt official action averts violence
• Govt says IS has no presence, intelligence thinks otherwise
• Karachi Hizbut Tahrir chief, two others held: CTD
• Russia, Turkey stand-off cannot impact Pakistan, says Qayyum
• President asks youth to wage jihad against corruption
• Baloch separatists release video of Allah Nazar claiming he's alive
• Climate change serious threat to human life: PM Nawaz
• Cellphone service 'suspended'
• Special court orders re-investigation in treason case
• Sharif, Cameron to work together for security, prosperity
Compiled by New Age Islam News Bureau
URL: https://www.newageislam.com/islamic-world-news/new-age-islam-news-bureau/israel-troops-injure-82-more-palestinians-w-bank-gaza/d/105454
---------
Mideast
Israel troops injure 82 more Palestinians in W Bank, Gaza
Nov 28, 2015
At least 82 Palestinians have sustained gunshot wounds during new clashes between Israeli military forces and Palestinian protesters in the occupied West Bank as well as the blockaded Gaza Strip.
Gaza's Health Ministry spokesman Ashraf al-Qidra said a total of 16 Palestinians were shot by live rounds, while at least two others were hit by rubber-coated steel bullets in the impoverished coastal sliver.
He added that five of those injured by live fire were struck when clashes broke out between Israeli troops and Palestinian protesters near the Nahal Oz border crossing, which lies northeast of Gaza City.
Additionally, a total of 24 Palestinians were shot and wounded by live fire across the West Bank on Friday. As many as 40 people were injured by rubber-coated steel bullets, and more than 100 others suffered tear gas inhalation.
Meanwhile, 14 Palestinians were hit with live fire and 10 others with rubber bullets in al-Khalil (Hebron), situated 30 kilometers (19 miles) south of al-Quds (Jerusalem), on Friday.
Two young Palestinians, identified as 13-year-old Qaisar Jihad and Hamza Mutei, 22, were shot in the legs and lightly injured when Israeli forces opened fire in the town of Kafr Qaddum, located 17 kilometers (10 miles) east of Qalqilya.
In the village of Bil'in, situated 12 kilometers (7.5 miles) west of Ramallah, photojournalist Hamdi Abu Rahma was shot with a rubber-coated steel bullet in the thigh.
Thirteen Palestinians were also injured with rubber-coated steel bullets in the village of Qusra, located 28 kilometers (17 miles) southeast of Nablus. Moreover, two teenagers were shot in the lower extremities by live fire in Nablus.
Tensions between Palestinian protesters and Israeli forces in the occupied West Bank and the Gaza Strip continue unabated. The fresh wave of unrest was triggered by Israel's imposition in August of restrictions on the entry of Palestinian worshipers into the al-Aqsa Mosque compound in East al-Quds.
Full report at:
http://www.presstv.ir/Detail/2015/11/28/439439/Palestinians-Israel-West-Bank-Gaza-Clashes-alAqsa-Mosque
---------
Erdogan warns Putin not to 'play with fire'
Nov 28 2015
As relations between Turkey and Russia heighten over the downed jet, Turkish President Recep Tayyip Erdogan has given a straight warning to Russian President Vladimir Putin not to "play with fire".
"It is playing with fire to go as far as mistreating our citizens who have gone to Russia," According to Reuters news agency, Erdogan told supporters during a speech in Bayburt, in northeast Turkey on Friday. "We really attach a lot of importance to our relations with Russia … We don't want these relations to suffer harm in any way."
To resolve issues, Erdogan has called for a "face-to-face" meeting with Putin at the sideline of the climate change summit in Paris but Russia wants Turkey to apologize for "backstabbing" when it shot down the jet.
Erdogan claims the jet was in Turkish airspace when it was downed but Putin says it was flying over Syria at the time.
Full report at:
http://www.khaama.com/erdogan-warns-putin-not-to-play-with-fire-4362
---------
Iran never responded to cyber attacks with counter raids: Foreign Ministry
Nov 27, 2015
Iran says it has never reciprocated cyber attacks with counter raids, although it has been a victim of such illegal attacks in the past years.
"Iran has never responded to these illegal attacks with reciprocal cyber attacks," Iran's Foreign Ministry spokesman Hossein Jaberi Ansari said on Friday.
He also noted that the Islamic Republic has been the victim of serious cyber attacks, such as the Stuxnet case, in recent years.
The spokesman was referring to the 2010 cyber attacks on Iran's nuclear energy facilities by the Stuxnet computer worm, built jointly by the US and the Israeli regime.
He made the remarks in response to a recent New York Times report, which cited unnamed US officials as claiming that there has been a surge in cyber attacks by Iran against US State Department officials over the past month.
Jaberi Ansari went on to say that the lack of an efficient legal system in the international arena to prevent and prohibit cyber attacks is one of the serious shortcomings in countering cyber raids.
Full report at:
http://www.presstv.ir/Detail/2015/11/27/439413/Iran-cyber-attack-JaberAnsari-US-Stuxnet
---------
Russian raids repeatedly hit Syrian Turkmen areas: Moscow data
27 November 2015
Russian air strikes in northwest Syria have heavily targeted ethnic Turkmen areas, according to a Reuters data analysis that helps explain rising tensions between Moscow and Ankara in the weeks before Turkey shot down a Russian warplane.
Tuesday's incident marked the biggest clash between a NATO member and Russia in half a century, and has drawn threats of economic retaliation from the Kremlin. Turkey says the plane strayed into its airspace, which Moscow denies.
Long before that, Turkey had condemned Russia's bombing of towns and villages in the north of Syria's western Latakia province, areas it says belong to Syrian Turkmen, who are Syrians of Turkish descent.
Russian Defence Ministry data, collated by Reuters, shows the bombing raids have struck at least 17 named locations in Turkmen areas since President Vladimir Putin ordered them to begin on Sept. 30.
Russian missiles have destroyed ammunition bunkers, command points and a suicide bomb factory in towns including Salma, Ghmam and Kesladshuq to the west of Syria's Alawite mountains, according to the data, an area humanitarian groups say is ethnically Turkmen.
Salma, which has a majority Turkmen population, has been bombed on at least eight occasions and has found itself at the center of some of the most geographically concentrated strikes.
Full report at:
http://english.alarabiya.net/en/News/middle-east/2015/11/27/Russian-raids-repeatedly-hit-Syrian-Turkmen-areas-Moscow-s-data-shows.html
---------
No change in UAE position towards Israel, says govt
28 November 2015
The UAE said Thursday that an Israeli office soon to open in the capital Abu Dhabi "does not represent any change" in the government's position.
Israel's mission to the International Renewable Energy Agency (IRENA) in Abu Dhabi "does not represent any change in the position of the UAE or its relations with Israel," according to a statement from the UAE's foreign ministry.
The UAE does not recognize Israel and has no diplomatic ties with it.
"The functions of missions accredited to IRENA… are limited to affairs related to their communications and dealings with the Agency," said spokeswoman Maryam al Falasi in the statement, carried on the UAE foreign ministry's website.
"They do not, under any circumstances, cover any other activities and do not involve any obligation upon the host country with regards to its diplomatic relations or any other relations."
IRENA's headquarters will host an Israeli representative in line with United Nations guidelines, AFP reported.
Full report at:
http://english.alarabiya.net/en/News/middle-east/2015/11/28/No-change-in-UAE-position-towards-Israel-says-govt.html
---------
North America
Blaming Islam for ISIS: A convenient lie to prepare us for more war
27 November 2015
The recent Paris attacks have refocused the American mind on the threat posed by IS. Americans are demanding more boots on the ground, more bombing, more something, more anything – and like a moth drawn to the flame, the US media is trotting out the disgraced Iraq war "architects" and neo-cons of yesteryear to not only tell us what IS wants, but also why our violence will put an end to their violence.
War is always a ratings bonanza for the corporate-owned media class, and we the viewer are addicted to its pyrotechnics, violence and destruction.
"War is the force that gives us meaning," reminds veteran war correspondent Chris Hedges – for war not only interrupts the tedious grind of our daily lives, it also "generates a warm, unfamiliar bond with our neighbours, our community, our nation, wiping out unsettling undercurrents of alienation and dislocation."
Those who sell advertising based on ratings, meaning eyeballs, clicks and page turns, are well prepared to sate our lust for drone strikes, combat and carpet-bombing. But to sell a war, the war buyer must be first reassured the mission is noble, reasonable and democratic – and that the enemy is a figure of its own evil creation, something that is foreign and alienable to our self-righteous sense of morality.
In other words, the media must first make us feel good about ourselves before it can make us violently hostile towards those we wish to bomb, occupy and belittle.
On Monday, the front-page headline to the UK's Sun newspaper read, "1 in 5 Brit Muslims sympathy for the jihadis" – based on a poll that has been debunked as dubious at best, sinister at worst. The Sun is not an outlier. The day after the Paris attacks, two leading CNN anchors told a Muslim rights activists that "all Muslims" "bear responsibility" for the ISIS attack that left 129 mostly Parisians dead. This is not only a heinous accusation, but may go down as one of the most despicable thing ever said by mainstream journalists on live television.
"Following Paris, the Murdoch press behaved like the Murdoch Press. The Daily Mail behaved like the Daily Mail. We shouldn't be surprised. But now we have newspapers in this country right across the board, and that includes serious newspapers that claim to their readers that they have some gravity, some conscience – like The Guardian – being part of this escalation of war in the Middle East," observes veteran UK-based journalist John Pilger.
In America, prominent activist journalist Glenn Greenwald accused CNN of juicing America's "hunger" for war. An appetite that is being primed by absolving the nation's guilt over the social chaos it has wrought on the Middle East.
The absolution of guilt is made possible via the externalisation of evil. Americans are again being told Islam is responsible for the violence and unrest in the Middle East; and that it is Islam that is responsible for the self-proclaimed Islamic State.
If one tuned into Fox News, CNN or MSNBC, one could be forgiven for believing the phony pretence for the Iraq invasion never happened; that the Iraq invasion never happened; that de-Baathification never happened; that bombing Libya and Yemen never happened; and that arming the leading sponsor of terrorism in the region – Saudi Arabia – doesn't happen.
Blaming Islam for ISIS is how Americans forget all the above happened. Blaming Islam for ISIS is how Americans are made to feel good about themselves, and blaming Islam for ISIS is how Americans are easily led into supporting hypnotic but counter-productive military missions.
In March of this year, The Atlantic published an essay titled "What ISIS Really Wants". For those seeking to blame Islam for ISIS, this is the Magna Carta. For neo-cons and right-wing loons, and for those seeking absolution for the Iraq invasion, Graeme Wood's essay is as purifying as holy water.
Full report at:
http://www.middleeasteye.net/columns/blaming-islam-isis-convenient-lie-prepare-us-more-war-757116395
---------
Drowned Aylan's family to be admitted to Canada
28 November 2015
Some surviving relatives of drowned Kurdish toddler Aylan Kurdi, whose beached corpse became a global symbol of the Syrian refugee crisis, will be admitted to Canada, broadcaster CBC reported Friday.
The three-year-old died after his family, sheltering in Turkey from the war in Syria, decided to make a desperate bid to reach Greece in a flimsy inflatable boat.
The sight of Aylan's body, face down on the Turkish shore, was captured by news photographers and galvanized public opinion around the world as hundreds of thousands of refugees arrived in Europe.
Aylan's mother and brother died in the same accident.
Now, according to the boy's aunt Tima Kurdi, who already lives in Canada, authorities have said Aylan's other aunt, uncle and five cousins will be granted asylum as part of a bigger package of arrivals.
"It will happen," she told CBC. "They will bring them."
The boy's uncle had previously made an application for refugee status at the Canadian mission in Turkey, but was refused because of incomplete documentation.
Full report at:
http://www.worldbulletin.net/america-canada/166810/drowned-aylans-family-to-be-admitted-to-canada
---------
Arab World
ISIL Positions Destroyed in Aleppo Countryside
Nov 28, 2015
Syrian forces destroyed a number of vehicles and positions of ISIL Takfiri terrorists in Akoula and the silos of Rasm al-Abd in the Eastern countryside of Aleppo on Friday.
Syrian Army, in a fresh round of attacks on Friday, targeted the gathering centers of al-Nusra Front in at least six neighborhoods across the Northern city of Aleppo.
Concentration centers of the al-Qaeda-affiliated Nusra in al-Ramouseh, Bustan al-Basha, al-Sheikh Bakr, Bani Zaid, al-Rashidin and al-Ameriyeh came under offensives of the Syria forces, and left dozens of the militants dead or wounded.
Sources said earlier on Friday that the intelligence sources disclosed that the Syrian Army and the country's National Defense Forces (NDF) are coordinating to launch a large-scale joint operation in the Southern part of Aleppo province.
Full report at:
http://en.farsnews.com/newstext.aspx?nn=13940907000287
---------
KSA, Russia join forces to expand trade, crush terror
28 November 2015
MOSCOW: Abdullatif Al-Othman, governor of Saudi Arabian General Investment Authority (SAGIA), has stressed the depth of Saudi-Russian cooperation in the fields of development and investment.
In a joint press conference on Friday with Russian Energy Minister Alexander Novak, Al-Othman emphasized the importance of intensifying joint action to support security, wealth and combating terrorism.
"Russia marks progress in several fields enabling the official leading companies to contribute to the qualitative investments in the Kingdom. We have the right economy, ideal location, political stability and the governmental commitment," Al-Othman said.
For his part, Novak highlighted his country's keenness in enhancing cooperation with Saudi Arabia.
A new unified investment plan is being implemented by SAGIA, Al-Othman said earlier at the Saudi-Russian Investment Forum, which he opened jointly with Novak.
The plan includes mechanisms and standards covering all investment fields with a view to lessening imports and enabling the sectors to become more internationally competitive.
The Russian minister considered the resumption of meetings of the Saudi-Russian Joint Committee as a sign of the two sides' determination to further enhance relations between the two countries.
Full report at:
http://www.arabnews.com/featured/news/842311
---------
Syrian Turkmen Commander Who Killed Russian Pilot Turns Out to Be Turkish Ultranationalist
Nov 28, 2015
Alparslan Celik, deputy commander of a Syrian Turkmen brigade turned out to be the son of a mayor of a Keban municipality in Turkey's Elazig province, RT reported.
He also turned out to be the member of The Grey Wolves ultranationalist group, members of which have carried out scores of political murders since 1970s.
Celic came under spotlight after he announced that as the two Russian pilots descended by parachute after the Su-24 jet was downed by Turkish military, both were shot dead by Turkmen forces on Tuesday.
Full report at:
http://en.farsnews.com/newstext.aspx?nn=13940906000721
---------
Gov't Forces in Last Stage to Establish Full Security along Harasta-Damascus Highway
Nov 28, 2015
The sources said that the pro-government forces are advancing against the terrorists groups and after winning this battle, this strategic chunk of the highway will be fully safe and secured.
In the meantime, the army soldiers have defused a large number of the militant-planted explosive devices near the highway since early hours of this morning, the sources further added.
Last week, the Syrian army troops stormed the defense lines of the so-called Jeish al-Islam terrorist group in the Eastern side of Harasta-Damascus highway and forced them to retreat from a number of buildings and farms on Sunday.
Full report at:
http://en.farsnews.com/newstext.aspx?nn=13940907000311
---------
Army Repels ISIL Attacks in Palmyra
Nov 28, 2015
The Syrian forces repelled the ISIL attacks on al-Tawil Mount in al-Bayarat in Palmyra on Friday.
The Syrian army reportedly killed and injured scores of terrorists.
On Thursday, the Syrian air raids hit ISIL positions in the provinces of Aleppo and Homs, inflicting heavy losses on the terrorists.
Full report at:
http://en.farsnews.com/newstext.aspx?nn=13940907000440
---------
Nusra Militants Suffer More Losses in Aleppo
Nov 28, 2015
On Friday, the Syrian army destroyed arms and weapons of al-Nusra Front in al-Ameriyeh village on the Southeastern outskirts of Aleppo city.
The Syrian troops also inflicted heavy losses on terrorists in military operations against their concentration centers in al-Mansoura village in the Western countryside of Aleppo.
Also on Friday, the Syrian Army targeted the gathering centers of al-Nusra Front in at least six neighborhoods across the Northern city of Aleppo.
Concentration centers of the al-Qaeda-affiliated Nusra in al-Ramouseh, Bustan al-Basha, al-Sheikh Bakr, Bani Zaid, al-Rashidin and al-Ameriyeh came under offensives of the Syria forces, and left dozens of the militants dead or wounded.
Sources said earlier on Friday that the intelligence sources disclosed that the Syrian Army and the country's National Defense Forces (NDF) are coordinating to launch a large-scale joint operation in the Southern part of Aleppo province.
Full report at:
http://en.farsnews.com/newstext.aspx?nn=13940907000349
---------
Militants Withdraw from More Lands in Syria's Lattakia Province
Nov 28, 2015
The sources said that the pro-government forces' operations in the Northern part of Lattakia, near border with Turkey, have been successfully carried out in the recent days and the Takfiri militant groups are retreating from most of their position.
The sources further added that the militant groups have suffered heavy death toll and damage on their military grid in the Syrian forces' operations.
On Friday, the Syrian army and popular forces, with the Russian aerial back up, pushed back the militant groups from Tal Sifah and Tal al-Malouha in the Northern countryside of Lattakia province.
Full report at:
http://en.farsnews.com/newstext.aspx?nn=13940907000260
---------
France 'can only' work with Syrian army as part of a power transition
27 November 2015
Working with Syrian government forces to combat ISIS can only happen within the framework of a credible political transition for Syria, French Foreign Minister Laurent Fabius said on Friday.
Earlier Fabius had appeared to suggest President Bashar al-Assad's forces could be used to battle ISIS militants, which would mark a departure in the Western position that the Syrian leader must step down. Syria's Foreign Minister Walid al-Moualem cautiously welcomed Fabius' earlier comments.
In a statement clarifying the French position, Fabius said: "The cooperation of all Syrian forces, including the Syrian army, against Daesh is obviously welcomed, but, as I have constantly said, it will only be possible in the framework of a political transition."
Daesh is another name for ISIS, which controls swathes of territory in Syria and Iraq.
Syrian Foreign Minister Walid Muallem on Friday welcomed the proposal by his French counterpart to include the Syrian army in efforts to battle ISIS jihadist group.
"Better late than never. If Fabius is serious about working with the Syrian army and dealing with the forces on the ground that are fighting Daesh, then we welcome that," Muallem told a press conference following talks with Russian Foreign Minister Sergei Lavrov in Moscow.
Diplomats were not immediately able to clarify Fabius' comments. However, they said he has indicated in the past that Syrian government troops could be used to fight ISIS once a national unity government was in place.
"If we want to go towards a free, united ... Syria, it cannot be he (Assad) who is at the origin of 300,000 deaths and millions of refugees that can lead that... Assad cannot be the future of his people," Fabius also said.
Meanwhile, Fabius said destroying ISIS's Raqqa headquarters is the main objective of the international military campaign.
Fabius said "neutralizing and eradicating Daesh" is an objective that all countries agree upon, referring to ISIS by its Arabic acronym. He spoke after a week of intense diplomacy capped by the French president's meeting with Russian President Vladimir Putin.
ISIS has claimed responsibility for the downing of a Russian passenger plane over Egypt, as well as the Nov. 13 attacks in Paris that killed 130 people.
Fabius said Putin agreed on the need to focus international efforts against the extremist group and France is drawing up a map of other, moderate groups, to protect them from warplanes.
Full report at:
http://english.alarabiya.net/en/News/middle-east/2015/11/27/France-suggests-working-with-Assad-against-ISIS.html
---------
KSA has 'right strategy' against terror outfits
28 November 2015
JEDDAH: The Kingdom has taken the right approach to counter the operations of terrorists groups, which includes cutting off their funding, according to several leading experts.
This comes in the wake of Saudi Arabia blacklisting on Thursday 12 people for supporting and financing Hezbollah's activities in the Middle East. The people were described as "leaders and officials" of Hezbollah, which was declared a terrorist group by the Saudi government in March last year.
Abdulaziz Al-Sager, head of the Gulf Research Center, said Hezbollah was as dangerous as other terrorist organizations operating in Iraq, Kuwait and elsewhere, according to a report in a local publication.
Al-Sager said the Lebanese group was a significant danger to Saudi Arabia and other Arab nations and should be countered in the same way as the Daesh terrorist organization. It would be a "major security mistake" to underestimate Hezbollah, an approach that could only benefit Iran, he said.
"For example, one of the names announced yesterday was Ali Mousa Daqdouq, a key member of the Iranian terror group operating against the Iraqi people." He said Daqdouq was responsible for assassinating a large number of Iraqi military officials, particularly air force officers and scientists.
He was arrested by the American forces in Iraq but the government of former Prime Minister Nuri Al-Maliki released him so that he could travel to Lebanon and work for the Iranian intelligence service.
Full report at:
http://www.arabnews.com/saudi-arabia/news/842291
---------
Syrian Forces, Allies Launch Quayratayn Liberating Operation in Homs
Nov 28, 2015
The sources said that the pro-government forces have thus far been vary fast in pushing back the ISIL terrorists from their positions near the villages of Muntar Armilah and Thaniyah, which are located just a few kilometers from Quayratayn.
The Syrian forces are now in full control of the abovementioned villages.
The ISIL has sustained heavy death toll in the army's operation.
On Monday, the Syrian army and the NDF fighters, backed up by the Russian air force, pushed back ISIL's fresh troops from Maheen in the Eastern part of Homs and completed their control over the strategic town.
Full report at:
http://en.farsnews.com/newstext.aspx?nn=13940907000409
---------
Lebanon PM urges presidential vote after new push to find candidate
28 November 2015
Lebanese Prime Minister Tammam Salam made a new appeal on Friday for the country to choose a president after an ally of Syrian President Bashar al-Assad this week emerged as a strong candidate.
The post has been vacant for 18 months, contributing to a political deadlock that has paralyzed state institutions.
With politicians pushing with renewed urgency for the election of a head of state, local media touted lawmaker Suleiman Franjieh as a candidate.
Franjieh heads the Christian Marada party and has ties with Assad, who is backed by Iran and Lebanese Shi'ite movement Hezbollah.
He is also expected to win the endorsement of Saad al-Hariri, whose Future Movement is backed by Iran's regional rival Saudi Arabia, after the two men met in Paris this week, local media reported.
Two suicide bomb blasts killed 44 people in Beirut on Nov. 12, showing the country remains vulnerable to a spillover of violence from the Syrian civil war across the border.
Prime Minister Salam said condemnation of the bombings from across the political spectrum showed there was "a possibility to build on these positions in order to find the best way out of this political crisis."
Parliamentary speaker Nabih Berri has called at least 30 sessions to elect a new president but, in the absence of a consensus, none has been elected.
The unity government headed by Salam is barely functioning either. It includes both Hezbollah and the Future Movement.
Meetings between rival factions were the best way to "end the state of deadlock," Salam said, quoted by Lebanon's National News Agency.
Full report at:
http://english.alarabiya.net/en/News/middle-east/2015/11/28/Lebanon-PM-urges-presidential-vote-after-new-push-to-find-candidate-.html
---------
Al-Qaeda supporter gets 19 years
28 November 2015
JEDDAH: A special court has sentenced a Syrian national to 19 years in jail for supporting Al-Qaeda and other terror-related activities.
The sentence includes three years for forgery, three years for information technology offenses and 18 months for violating border security regulations, according to a report in an online publication on Friday.
The man was also found guilty on charges of declaring all Arab government officials non-believers, seeking to topple them and the Saudi government, and traveling to Somalia to take part in fighting there.
Full report at:
http://www.arabnews.com/featured/news/842296
---------
King, MWL hailed for serving cause of Islam
28 November 2015
ISLAMABAD: Jamia Ashrafiya President Sheikh Fahad Rahim has lauded the role of Custodian of the Two Holy Mosques King Salman as well as the Muslim World League (MWL) in serving the cause of Islam and uniting Muslims around the world.
He was speaking during a religious conference organized by Jamia Ashrafiya in Islamabad on Thursday night, and attended by MWL Secretary-General Abdullah bin Abdul Mohsin Al-Turki, SPA reported on Friday.
Sheikh Fahad Rahim said that Al-Turki's patronage to the event, in which a large number of Islamic scholars from different parts of Pakistan gathered, is a source of pride to the Islamic university, one of the biggest in the Indian subcontinent.
Prominent Pakistani scholar Mufti Taqi Osmani, who is also a member of the MWL's Islamic Jurisprudence Council, and Pakistan's Minister of Religious Affairs Sardar Mohammed Yousaf addressed the conference and urged more efforts by MWL in the field of unifying Muslims.
Meanwhile, Al-Turki visited the MWL's regional office in Islamabad. He was briefed by the director of the office, Abdu bin Mohammed Otain, on the tasks and efforts being carried out by the body since its inception in 1979 to achieve the goals of MWL.
Full report at:
http://www.arabnews.com/saudi-arabia/news/842261
---------
Bahraini protesters hold fresh anti-regime rallies
Nov 28, 2015
Protesters in Bahrain have staged rallies across the kingdom to demand the release of all political prisoners and the implementation of reforms.
The demonstrations were held in the capital Manama and some other cities and villages after Friday prayers.
Condemning the regime's harsh crackdown on dissent, the protesters insisted on their demands for reforms and equality in the Persian Gulf kingdom.
Amnesty International and other rights groups have repeatedly censured the Bahraini regime for its human rights abuses against opposition activists and anti-government protesters.
Anti-regime protesters have been holding demonstrations on the streets of Bahrain since mid-February 2011, calling for the Al Khalifa ruling family to relinquish power.
Full report at:
http://www.presstv.ir/Detail/2015/11/28/439427/Bahrain-protest-Manama-political-prisoner-Al-Khalifa-
---------
Europe
View from abroad: Islam and the role of Muslim democrats
SHADA ISLAM
Nov 28, 2015
As Brussels began a lockdown last weekend to search for suspected terrorists following the murderous attacks in Paris, I was on my way to Jakarta to attend the second world Forum for Muslim Democrats, a still little-known but potentially powerful platform for reflection on 21st century Islam.
Islam was on the agenda in both cities and on both continents. But with a big difference.
In Brussels and other European capitals, the talk was of militant Islam, the alleged link between Islam and violence and why young European Muslims were being drawn to fight with and for the militant Islamic State group.
The talk was harsh, angry and negative, at times darkly Islamophobic. Europe was hurting and it wanted to know why. What was wrong with its Muslim minority? What was wrong with Islam?
As the Far Right thundered "I told you so", many blamed the refugees streaming in from Syria, others raged against Belgium for "allowing" its towns to turn into hotbeds of jihad. It was nasty and unpleasant but understandable as a first, raw reaction.
The Forum in Jakarta also fretted about IS and its global ramifications and the damaging shadow the terrorist group and its sponsors had cast over the world and over Islam.
But, refreshingly and importantly, discussions were also about renewal and revival of the religion, the importance of democracy and good governance and replacing the IS version with a fresh narrative of Islam as a religion of moderation, tolerance, understanding and inclusiveness.
Although none of the official documents mention Wahabism by name, the message was loud and clear: it was crucial to get Islam out of its Arab stranglehold, to end the equation between Islam and IS. It was time to listen to other voices, other interpretations and to highlight diversity and freedom of thought.
There was consensus that to counter the Wahabi interpretation of Islam, non-Arab Muslim nations would have to take the lead in spotlighting what the organisers of the Forum described as the "true, peaceful and pluralistic nature of Islam".
"Muslim democrats must not allow the deep state or terrorists to continue hijacking the course of history. We must chart a new course," said Anwar Ibrahim, imprisoned Malaysian opposition politician and the Forum's initiator.
In a speech read out by his daughter Nurul Izzah, Malaysian member of parliament, Ibrahim insisted, "we must strive to stamp out bigotry and intolerance within ourselves. Islamophobia begins at home.
"Islamic resurgence is about ensuring the rule of law, clean government, social justice and cultural empowerment where women are not treated as second-class citizens ... and minorities are not marginalised," he underlined.
The message from others, including Surin Pitsuwan, the former Asean secretary general who is from Thailand's small Muslim minority, was that Muslim nations on the "periphery" should have the self-confidence to take ownership of Islam, to take the dominant narrative of the religion "away from the heartland".
As economic power moves to Asia, the continent should also take the lead in crafting and disseminating a different narrative of a religion to challenge existing interpretations. As one participant put it, "let's forget the Middle East for a while and focus on our priorities: good governance, education, science and technology."
"Diversity of opinion is a blessing, we should be critical, curious and question," said Pitsuwan. "There must be an open space for a dialogue among ourselves."
Organised by the Habibie Centre in Indonesia, the Institute for Policy Research in Malaysia, the SETA think tank in Turkey and Japan's Sasakawa Peace Foundation, the Forum illustrated the importance of "track two" civil society initiatives in tackling much-needed global challenges.
Full report at:
http://www.dawn.com/news/1222732/view-from-abroad-islam-and-the-role-of-muslim-democrats
---------
Ringleader of Paris attacks planned more strikes, mocked open borders
November 28, 2015
PARIS: The ringleader behind the Nov. 13 attacks in Paris had plans to strike Jewish targets and to disrupt schools and the transport system in France, according to sources close to the investigation.
Abdelhamid Abaaoud, a Belgian national of Moroccan origin, also boasted of the ease with which he had re-entered Europe from Syria via Greece two months earlier, exploiting the confusion of the migrant crisis and the continent's passport-free Schengen system, the sources said on Friday.
Their comments, confirming excerpts from a confidential police witness statement leaked to a French magazine this week, fleshed out a picture of the Islamic State militant who spearheaded the Nov. 13 attacks targeting cafes, a concert hall and sports stadium in Paris in which 130 people were killed.
The witness statement, quoted in the Valeurs Actuelles weekly magazine, describes how Abaaoud approached his cousin Hasna Ait Boulahcen two days after the killing spree asking her to hide him while he prepared further attacks.
Both Abaaoud and Boulahecen died on Nov. 18 in a shootout with police in St. Denis north of Paris at an apartment where the militant Islamist had been staying.
Speaking of the planned future attacks, Abaaoud told his cousin on Nov. 15 that "they would do worse (damage) in districts close to the Jews and would disrupt transport and schools", the witness statement said.
Full report at:
http://nation.com.pk/international/28-Nov-2015/ringleader-of-paris-attacks-planned-more-strikes-mocked-open-borders
---------
Italy to crack down on 'clandestine' mosques
28 November 2015
The Italian government intends to close down clandestine mosques in the country as part of the fight against terrorism, Interior Minister Angelino Alfano announced Friday.
"In Italy, we have four mosques and over 800 places of Muslim worship," said Alfano.
"We are going to close the clandestine and unregulated places, not to hamper the religion but so that it can be practiced in places which are in order," he added in comments published by the local press.
The minister was speaking at a meeting in the southern town of Lecce on the subject of terrorist risks and the influence of non-registered places of worship where many of the estimated one million Muslims living in Italy go to pray.
Some of these clandestine meeting places are set up after attempts to establish a mosque through the proper channels are thwarted, often due to opposition from local officials.
"Nowhere in the world enjoys zero risk -- this has been demonstrated by the dramatic timeline of terrorism from 2001 to today," Alfano said in other comments.
He added that, so far, preventative measures and intelligence-gathering in Italy had prevailed.
Full report at:
http://english.alarabiya.net/en/News/middle-east/2015/11/28/Italy-plans-to-close-clandestine-mosques.html
---------
Russia imposes sanctions on Turkey
Nov 28, 2015
MOSCOW: Moscow slapped sanctions on Ankara on Friday as the war of words over a downed Russian warplane escalated, with Turkish President Recep Tayyip Erdogan warning Russia not to "play with fire".
Russia announced it was halting a visa-free regime for Turkish visitors, after threatening a raft of retaliatory economic measures to punish the Nato member state.
Tuesday's incident has sent recriminations flying between two rival players in the Syrian war just as countries such as France are pushing for a broader coalition to try to defeat the militant Islamic State (IS) group.
"We advise Russia not to play with fire," Erdogan said in a speech in Ankara, lashing out at Russia's response to the downing as well as its support of the regime of Syrian President Bashar al-Assad.
Erdogan nevertheless said he wanted a direct meeting with Russian counterpart Vladimir Putin when the two leaders are in Paris next week for the UN climate summit.
War of words between Moscow, Ankara escalates
But Moscow responded coolly, saying Turkey has yet to apologise for shooting down the jet near the Syrian border.
Turkey says the Su-24 warplane strayed into its airspace and ignored repeated warnings but Russia insists it did not cross from Syria.
It is thought to be the first downing of a Russian plane by a Nato member in more than half a century.
Russian Foreign Minister Sergei Lavrov said Turkey had "crossed the line of what is acceptable" and warned the incident could severely undermine both its national and regional interests.
Moscow has ruled out any military response, but has pledged broad measures targeting entire sectors of the Turkish economy including tourism, agriculture and possibly key energy projects.
Full report at:
http://www.dawn.com/news/1222869/russia-imposes-sanctions-on-turkey
---------
Putin agrees not to bomb pro-West groups fighting IS
Nov 28, 2015
PARIS: Russian Presi­dent Vladimir Putin has asked France to draw up a map of where pro-West groups fighting the militant Islamic State (IS) operate in Syria in order not to bomb them, France's foreign minister said on Friday.
French President Fran­cois Hollande and Putin agr­ eed during talks in Moscow on Thursday to exchange in­ t­el­ligence on Islamic State and other rebel gro­ups to improve the effectiveness of their aerial bom­bing campaigns in Syria.
"He asked us to draw up a map of forces that are not terrorists and are fighting Daesh (Islamic State). He committed to not bombing them once we've provided that," Foreign Minister Laurent Fabius told a television channel after accompanying Hollande to Moscow.
The West has accused Moscow of targeting mostly pro-West rebel groups fighting Syrian President Bashar al Assad instead of IS.
France has stepped up its aerial bombing campaign of Islamic State targets in Syria since the group claimed responsibility for attacks in Paris on Nov 13 that killed 130 people.
The militants have also claimed the downing of a Russian airliner that broke up over Egypt's Sinai Peninsula on Oct 31, killing all 224 people on board.
"There is now one point which everyone agrees and that is the objective of destroying Daesh," Fabius said, referring to the Arabic acronym for Islamic State. "I think on that we are progressing."
He added that immediate priorities for both sides in the coming weeks would be to free Raqqa, the IS's Syrian stronghold, as well as targeting oil infrastructure controlled by the group. "It is the neurological centre of Daesh, where atta­cks, especially those in Fra­nce, originated," he said.
Full report at:
http://www.dawn.com/news/1222802/putin-agrees-not-to-bomb-pro-west-groups-fighting-is
---------
Rights official calls for refugees' direct relocation to EU
Nov 28, 2015
BUDAPEST: A top European human rights official called on Friday for refugees to be resettled in Europe directly from camps near conflicts zones to prevent them from enduring long and dangerous journeys that are unnecessary anyway.
Nils Muiznieks, human rights commissioner for the Council of Europe, said that since 99 per cent of Syrian refugees and about two-thirds of those from Afghanistan are granted international protects in Europe anyway, it was a "chaotic and inefficient policy" to make them take long journeys by land and sea while relying on human traffickers.
"Why make them go through this suffering? Why not have resettlement directly from in and around the areas of conflict?" Muiznieks said in an interview.
"It would be a much more humane solution". Asylum seekers from the Middle East have been making long treks into Europe through Greece and the Balkans, facing dangerous sea journeys and blocked borders as more and more countries in the region put up barriers.
Macedonia became the latest country o try to block migrants at its border, causing hundreds to be stranded.
On Thursday, hundreds of migrants clashed with Macedonian riot police at as they tried to force their way through the cordon. The International Organisation for Migration said that after the number of people crossing into Europe from Turkey topped 5,000 on Wednesday after dropping to just 155 on Sunday.
Full report at:
http://www.dawn.com/news/1222811/rights-official-calls-for-refugees-direct-relocation-to-eu
---------
Russian claims over Turkey-ISIL oil trade refuted
27 November 2015
Russian claims that Turkey was operating on an ISIL oil trade delivery from Syria, following Turkey's downing of its jet on Tuesday, are manipulative and ridiculous, energy experts affirmed Thursday.
Russian officials claimed that the Russian jet was operating on a ISIL oil trade delivery to Turkey before it was downed.
"The Russian Minister reminded his counterpart about Turkey's involvement in ISIL' illegal trade in oil," a statement by Russian foreign ministry said.
The statement also said oil was being transported through the area where the Russian plane was shot down, and claimed that terrorist infrastructure, arms and munitions depots, and control centers were also located there.
Matthew Bryza, a senior fellow at Atlantic Council and former U.S. ambassador to Baku, refuted such claims asserting that it was ridiculous to lay the blame for Turkey's actions on Tuesday on an incorrect assumption of oil trade from ISIL to Turkey.
"That is a ridiculous claim. That sort of a claim by the Foreign minister strikes me as conspiracy theorists' allegations, which are heard very often in the West, that oil drives all geopolitics. Oil is important, but it doesn't drive all geopolitics," Bryza added.
Noting that Russia repeatedly infringed on NATO territory previously, Bryza said that "It was only a matter of time that one of these Russian provocations led to one of its aircraft getting shot down."
According to a recent report by the European Leadership Network, Russia has caused some 40 incidents in 2014 alone including airspace violations, narrowly-avoided mid-aid collisions and close encounters at sea with NATO member countries.
Bryza also countered that Russian airstrikes were targeting ISIL in the region as he claims the actual aim was in defeating Turkmen fighting against the Assad regime in and around the southern part of Turkey's Hatay province.
Full report at:
http://www.worldbulletin.net/europe/166791/russian-claims-over-turkey-isil-oil-trade-refuted
---------
Commonwealth counter-extremism unit set up
27 November 2015
British Prime Minister David Cameron announced funding for a Commonwealth counter-extremism unit as the organisation's summit in Malta got under way Friday.
Cameron, who joined other heads of government from the 53-country gathering for the first of three days of talks on the Mediterranean island, said sharing expertise would help defeat the "extremist scourge".
Combating radicalisation and extremist violence is one of the main issues expected on the table at the biennial summit.
French President Francois Hollande is due in Valletta, exactly two weeks after extremist attacks in Paris, after attending a memorial event in the city for the 130 dead.
Cameron pledged £1 million ($1.5 million, 1.4 million euros) a year over five years to establish and support a new Commonwealth counter-extremism unit.
It will be aimed at sharing expertise and identifying "new approaches to countering poisonous ideologies", his office said.
The unit will work through governments and civil society networks.
It will work in particular with Commonwealth countries struggling to deal with high numbers of foreign fighters and share technical counter-terror expertise, said Downing Street.
Pakistan and Nigeria in particular are dealing with violent extremists.
"The Commonwealth has a vital role to play in broadening international efforts to counter extremism," Cameron said.
"Its civil society and education networks make it particularly well-placed to complement international efforts to build counter narratives to this poisonous extremist ideology.
"This is the struggle of our generation, but by working together we will defeat this extremist scourge that is a threat to us all."
Cameron also held talks with Pakistani Prime Minister Nawaz Sharif on the sidelines of the summit as it started.
Full report at:
http://www.worldbulletin.net/europe/166787/commonwealth-counter-extremism-unit-set-up
---------
Kremlin doubts West ready to work against ISIL
27 November 2015
The Kremlin said Friday that Western powers were not ready to form a coalition with Russia to fight ISIL extremists in Syria, after talks between President Vladimir Putin and French leader Francois Hollande.
"At the moment, unfortunately, our partners are not ready to work within the format of single coalition," Putin's spokesman Dmitry Peskov told reporters.
Full report at:
http://www.worldbulletin.net/europe/166776/kremlin-doubts-west-ready-to-work-against-isil
---------
India
Government has problems with the word 'secularism': Scindia
Nov 27, 2015
Congress chief whip in the Lok Sabha Jyotiraditya Scindia led a spirited Opposition attack on the government on Friday over the issue of intolerance in India, while he also took on home minister Rajnath Singh for his comments on secularism.
The lawmaker said the government had done nothing to allay the apprehensions of citizens in the prevailing atmosphere of intolerance and accused BJP leaders of trying to "dictate people" what they should wear and eat.
"At this time, it is the responsibility of the government that it should listen to people who are feeling insecure and action should be taken to make them feel secure," he said during a debate on the Constitution and BR Ambedkar.
Without naming them, he took a dig at central minister VK Singh for using a dog analogy when two Dalit children were allegedly burnt alive in Haryana as well as Assam governor PB Acharya for his statements "Hindustan is for Hindus" and "Muslims are free to go to either Pakistan or Bangladesh".
He also criticised BJP's Yogi Adityanath in an indirect reference for comparing artists who returned their awards to LeT founder Hafiz Saeed, and hit out at BJP chief Amit Shah, without naming him, for his comment that crackers would be burst in Pakistan if the party lost the Bihar assembly election.
"You have made all voters anti-national with one stroke of the pen," he said.
Referring to Rajnath Singh's speech initiating the discussion on Thursday, Scindia said the government had problems with the word "secularism" and that it why it was "highlighted".
Singh had said Ambedkar never thought of putting the term "secular" in the Preamble to the Constitution as it was inherent in every Indian. The word was incorporated through an amendment in 1976.
Full report at:
http://www.hindustantimes.com/india/this-government-has-difficulty-with-the-word-secularism-congress/story-9TT9uCKU44Xtipn7jbkY8L.html
---------
Battling past and present: UP's history of youth radicalisation
Rajesh Kumar Singh
Nov 28, 2015
When a dreaded terrorist dies, government officials usually rejoice. But when news broke of Indian Muhajideen commander Baba Sajid's death in Syria this July, intelligence agencies were alarmed.
Sajid was said to have died fighting for the jihadist group Islamic State in Syria's Kobani town and officials were concerned he would be projected as a martyr by jihadi recruiters across Uttar Pradesh and foment communal tensions, especially in his hometown Azamgarh.
"A fugitive, Sajid was the first Muslim youth from UP to join IS ranks," said a senior police officer amid fears that IM sleeper cells across the state may hit back.
Their fears weren't unfounded. Indian Mujahideen (IM) operatives released a video on social networking sites last year, urging Muslim youths to join the Ansar-ut-Tawhid, a jihadist group based in Afghanistan.
The Ansar-ut-Tawhid recruits youths for al Qaeda and trains them in camps located on the Pakistan-Afghanistan border.
"The group might have switched loyalties to the IS after supreme leader Abu Bakr al Baghdadi called upon the radical groups al Qaeda, Taliban, Lashkar-e-Taiba and Jamat ud Dawa to merge with the IS," said a police officer.
Read | Chatting away to jihad: Hyderabad becoming hub for cyber terrorists
Youth radicalisation may have only started spreading its roots in other parts of the country but it has a long history in Uttar Pradesh, beginning with the formation of the Students' Islamic Movement of India (SIMI) in 1977.
In the next four decades, fundamentalist recruiters lured hundreds of Muslim youths and radicalised them, training them to "restore the supremacy of Islam" by waging jihad. The central government banned it in 2006. But the radicalisation hasn't stopped as terrorists have refined their strategies and taken their propaganda online.
Months after security agencies stepped up vigil, a report in October said a 28-year-old youth from Azamgarh, who went to Syria six months ago to join the IS, had called his family from Raqqa and begged his parents to help him return home.
This prompted intelligence agencies to start scanning the activities of IS sympathisers.
State police and intelligence agencies are also monitoring social media, particularly radical websites, and have established two social media laboratories.
"Under the counter-radicalisation effort, the state police will keep a watch on the social networking sites, organise counselling of youths and urge the community elders to persuade the youths who have been attracted to the radical ideology. The intelligence agencies have been also directed to watch the activities of radical groups," said DS Chawdhary, additional director general (law and order).
Authorities have also constituted a committee of influential community leaders in all districts to maintain communal harmony and convince vulnerable youths against joining radical organisations.
All these efforts are aimed at stemming the wave of violence that swept the country after the IM was formed by several radicalised youth who broke away from the SIMI.
The IM went on to orchestrate a series of bomb blasts across the country, killing hundreds of people.
Full report at:
http://www.hindustantimes.com/india/battling-past-and-present-up-s-history-of-youth-radicalisation/story-1NegC2BGfjCoUwcdkor8SO.html
---------
Kiren Rijiju Wasn't The First To Suggest Muslims From South India Get Lured By Islamic State
28/11/2015
New Delhi -- It was reported by various news portals that Kiren Rijiju, union minister of state for home, has said that Muslim youth from south Indian states are most likely to get attracted to radical ideologies and be lured by the Islamic State. Following that, 'South Indian Muslims' started trending on Twitter.
The reports state that during an interview with India Today TV, Rijiju said that India was ready to fight IS, but added that he suspects that Muslim youth may get lured by the group.
Zee News quoted Rijiju as saying, "It's very difficult for me make a comment on that. South India has been having traditionally more links with Middle East so there is more regular exchange of travelling there. But I cannot say that it's the reason. But reports have come more from South India and that's a reality."
However, it wasn't Rijiju who originally suggested that south Indian Muslims are prone to get radicalised more. During the course of the interview, host Karan Thapar cited a report on The Hindu, which hinted that a majority of Muslim youth who get attracted to the IS are from the five southern states and mostly have engineering backgrounds. Here's the report that Thapar may have been referring to.
The report says: "There is no set pattern for the kind of Islamic State sympathisers under watch by Indian agencies, except that most of them are from the southern States, and many have an engineering background."
Full report at:
http://www.huffingtonpost.in/2015/11/28/kiren-rijiju_n_8669720.html
---------
Mehbooba Mufti says Muslims will stay in India, calls Hindus tolerant
Nov 28, 2015
PDP leader Mehbooba Mufti on Friday lashed out at those saying Muslims should "go to Pakistan" asserting that the "nation owns us and we own the nation", even as AIMIM member Asaduddin Owaisi sought that "right to life" of Muslims should be ensured.
Amid the intolerance debate, Mehbooba pointed out that there was tolerance in India as people had spoken out against the Dadri incident where a Muslim was lynched on suspicions of storing beef.
She added that the situation was not so in countries such as Syria and Pakistan where Muslims killed their own community members and nobody spoke about it.
"To those who ask (Muslims) to go to Pakistan, I want to say that the nation owns us and we own the nation," she said in the Lok Sabha while participating in the debate on the Constitution.
Full report at:
http://www.hindustantimes.com/india/mehbooba-mufti-says-muslims-will-stay-in-india-calls-hindus-tolerant/story-Ft8GTIo5t3EuS2BtA6mFoO.html
---------
Intolerance row: Agra Muslims condemn Aamir Khan's statement
November 27, 2015
The opposition of Filmstar Aamir Khan's statement amongst the Muslims of Agra became apparent on Friday, when after the weekly Namaz, a special meeting of the community was held at the local mosque in Mantola area of Agra, where Aamir Khan's statement was condemned by the Muslims in unison.
Also read: Mamata backs Aamir, says he is free to express his views
Talking to India Today following the meeting, Imran Qureshi of Bhartiya Muslim Vikas Parishad said that the Muslims of India were born on this land and will be buried in this land. A talented actor like Aamir Khan should not have made such light comments over a sensitive issue. He said that if Aamir Khan wants to come into politics, he should openly do so like Raj Babbar, Shatrughan Sinha and Vinod Khanna, who are affiliated to political parties and speak the language of their parties.
Full report at:
http://indiatoday.intoday.in/story/intolerance-row-agra-muslims-condemn-aamir-khans-statement/1/533226.html
---------
'ISI agent' held in Meerut, Pak agency paid his kin Rs 50,000/month: Police
Nov 28, 2015
THE UTTAR Pradesh Special Task Force (STF) on Friday arrested Pakistani national Mohammad Eizaz alias Mohammad Kalam for allegedly sending vital information about the Indian Army to Pakistani intelligence agency ISI. He was staying in Bareilly district since December, 2014.
Eizaz, a resident of Islamabad in Pakistan, was arrested from Meerut Cantt area while on his way to Delhi. Police claimed to have recovered several documents related to the Indian Army, cellphone, laptop, pen drives, a fake voter identity card from West Bengal, a fake Aadhaar card with a Bareilly address, a photocopy of Nadar Card (Pakistani identity card) and other items from him.
"During interrogation, the accused revealed that in 2012, he had come in contact with the ISI. It trained him to work in India. He had to send information about the Army from western UP and Uttarakhand," IG (STF) Sujeet Pandey told mediapersons in Lucknow.
The STF had received inputs that a Pakistani had been sent to western UP through Bangladesh to collect information about activities of the Army. "On a tip-off that Eizaz will leave for Delhi from Meerut Cantt station with sensitive and secret information of the Army, the STF team arrested him," the IG said. His identity was ascertained from the documents recovered from him.
STF officials said that during questioning, Eizaz confessed that he worked for the ISI and that he had sent several vital information about the Indian Army to Pakistan, including movements of troops. Eizaz also said that his family in Pakistan were in the business of photography and videography.
"In India, Eizaz was doing photography and videography to collect information and procured a Aadhaar card from Bareilly with help of a local," Pandey said, adding that Eizaz had been paid Rs 5.8 lakh till date and his family was paid Rs 50,000 per month in Pakistan.
Eizaz told the police that he came in contact with ISI officials in 2012 after the death of his father, who used to work at the Agricultural Research Center in Islamabad. The ISI officials trained him to work in India, he claimed. In 2013, he was sent to Dhaka on a Pakistani passport with the name of Mohammad Kalam. He claimed that on reaching Dhaka, he met one Probeen, who took all his documents provided by the ISI.
STF officials said Probeen helped Eizaz cross the border and introduced him to Mohammad Irshad — a resident of South-24 Parganas district in West Bengal. There, Irshad prepared fake documents for Eizaz using Kalam's name with the help of his relative Jahangeer, a resident of Kolkata. The documents prepared there included a voter ID card, a junior high school certificate and ration card.
Full report at:
http://indianexpress.com/article/india/india-news-india/isi-agent-held-in-meerut-passed-on-info-on-army/
---------
Heat is on Bollywood's Muslims
November 28, 2015
Amrit Dhillon
New Delhi: Sitting in his saffron coloured office next to the grandiose Birla temple, a landmark in the capital, Chandra Kaushik is seething. President of the Hindu Mahasabha, the oldest Hindu nationalist party in the country, he had motivated the angry young men who have been staging protests outside the home of Bollywood superstar Aamir Khan this week.
Outraged at Khan's remarks, Kaushik galvanised the young men and ordered them to protest. Now he wants an apology from Khan. Like many conservative Hindus, he is indignant because Khan, a Muslim, said in an interview on Monday that the growing mood of intolerance in India had made his wife, Kiran Rao (who is Hindu) fear for their son and wonder whether the family should leave India.
The comment lit a firestorm that has blazed all week. On social media, on television, in the papers and on Twitter, Indians were divided between those who supported Khan because they believe that the minorities, especially Muslims, are under threat from the Hindu nationalism of the Narendra Modi government and those who flayed him for attacking the nation on specious grounds.
On Wednesday, Khan resumed shooting his latest film in rural Punjab. Tempers were still running so high that extra Punjab police were posted outside his hotel in Ludhiana. This did not stop local members of the Shiv Sena, a militant Hindu party based in Mumbai, from shouting angry anti-Khan slogans and offering 100,000 rupees ($2000) to 'anyone for slapping Khan'.
Security outside his Mumbai residence has also been ramped up. Elsewhere, angry Hindu males have burnt his effigy and garlanded his posters with sandals to demonstrate their fury.
Shahrukh Khan in Sydney in 2013.
Shahrukh Khan in Sydney in 2013. Photo: Getty Images
"You can't speak this way about a nation in which you live, eat, work and have your home. India is such a nation that Muslims have flourished in it and yet he talks ill of it," said Kaushik. "This is a stab in the back. He should apologise to Indians and realise that the same Indians who put him on the pedestal can also drag him off it".
Kaushik is in the camp that has accused Khan of using 'the language of treason' and of being 'unpatriotic'. The other camp has defended his right to express whatever views he wishes.
Often, in this kind of national argument, the fact that in this Hindu majority country, the top three film stars are Muslim – Aamir Khan, Shah Rukh Khan and Salman Khan (they are not related) - is held up as proof of India's acceptance of its 172 million Muslims.
Salman Khan in Mumbai in 2003.
Salman Khan in Mumbai in 2003. Photo: Getty Images
But ancient Hindu-Muslim animosities tend to surface quickly at times of social or political tension and they been on display in the debate that has raged for weeks over tolerance and free expression before Khan even said a word.
The debate was triggered in September when a Muslim man was lynched by a Hindu mob who suspected him of slaughtering a cow. For Hindus, the cow is sacred.
Khan made no reference to the killing in the interview but said that when elected representatives fail to condemn such acts, citizens "feel a sense of insecurity". This was an allusion to Modi taking a fortnight to condemn the murder as "unfortunate" and to some of his ministers equivocating instead of denouncing the murder.
Aamir Khan in Melbourne in 2010.
Aamir Khan in Melbourne in 2010. Photo: Roger Cummins
The debate has been shrill and sharp. When Khan weighed in, the old loathing that the Hindu fringe has for Indian Muslims reappeared. Khan was trolled on social media. He was told to "go to Pakistan". Bollywood was split down the middle. Some of his fans expressed dismay. And on Twitter, an all-out war broke out between his supporters and detractors.
The Khans are often in the news. Salman Khan, the "bad boy of Bollywood", was convicted of manslaughter in a hit-and-run-case earlier this year and is out on bail pending his appeal. Shah Rukh Khan, who owns a cricket team, was denounced by the Shiva Sena in 2010 for a harmless remark about how Pakistani players should participate in the Indian Premier League alongside other nationalities.
Full report at:
http://www.smh.com.au/world/heat-is-on-bollywoods-muslims-20151126-gl9g7a.html
---------
Gujarat governor OP Kohli calls for unity between Hindus and Muslims
Nov 27, 2015
Jaipur: Admiring poet-saints of Bhakti movement for their rationality, Gujarat Governor O P Kohli today said these saints strongly hit out at the hypocrisy of Hindus as well as Muslims and felt the need for unity between the two religions which is also a necessity today.
Kohli, who was addressing a national seminar on the works of poet-saints at Rajasthan University in Jaipur, said Kabir and other saints in medieval era were very rational and had beliefs based on what they saw instead of what they read.
"Saints were very rational and wanted a rational society, therefore they could slam the hypocrisy prevailing in the society at that time. Despite the fact that Muslims were the rulers, they hit out at their hypocrisy and they could dare to do that because they had questioned the hypocrisy of Hindus as
well," he said.
Full report at:
http://www.firstpost.com/politics/gujarat-governor-op-kohli-calls-for-unity-between-hindus-and-muslims-gujarat-governor-2523868.html
---------
South Asia
Taliban hang former district governor in Oruzgan
Nov 28 2015
Taliban militants have hanged to death a former district governor in southern Oruzgan province.
According to reports, insurgents went to Juma Khan's house, ex-governor of Khas Oruzgan District, dragged him out on gun point and took him to an undisclosed location last night.
Noor Agha Kamran, spokesman for the police headquarters of Oruzgan says Juma Khan was later hang from a tree in Kala Khor area of Khas Oruzgan District.
Khamran added that security forces have been dispatched to the area to receive the dead body.
Taliban have not yet commented on the report but they have carried out such executions in the past.
Full report at:
http://www.khaama.com/taliban-hang-former-district-governor-in-oruzgan-4362
---------
Suicide bomber targets Afghan election official in Kabul
Nov 28, 2015
KABUL: A suicide bomber targeted a senior member of Afghanistan's election commission during the morning rush hour in the capital Kabul on Saturday, killing his driver and wounding several passers by.
Abdul Rahman Rodwal, regional director at the country's Independent Election Commission, survived the attack in the Shah Shaheed area of eastern Kabul, police said.
No group has claimed responsibility but Taliban insurgents who are fighting to topple the foreign-backed Kabul government frequently carry out suicide and roadside bombings across the country.
Full report at:
http://www.dawn.com/news/1222900/suicide-bomber-targets-afghan-election-official-in-kabul
---------
Islam doesn't support militancy
November 28, 2015
At Dhaka Metropolitan Police's request, imams of different mosques in the capital yesterday gave sermons during Juma prayers, alerting the mosque-goers to the menace of militancy and criminal activities.
They talked about the negative impact of militancy on the society and requested all to be aware of the people involved in militant and criminal activities.
"There is no space for militancy and terrorism in Islam," said imam of Tejgaon College Hostel Mosque while delivering a sermon.
Reading out a letter he received from Sher-e-Bangla Nagar Police Station, the imam urged the worshippers to help police by providing them with information on those linked with militant and criminal activities.
He also called upon them to give police information about drug addicts living in their localities.
In his address, another imam at a mosque in Tejgaon's Monipuripara echoed the same view while reading out a letter he got from the local police.
In the last couple of months, suspected militants carried out several attacks in and around the capital, killing at least five people, including two policemen, and injuring over hundred others.
Full report at:
http://www.thedailystar.net/frontpage/islam-doesnt-support-militancy-179098
---------
Hekmatyar seeks comeback in Afghanistan
November 28, 2015
After more than 40 years at war, one of Afghanistan's most notorious warlords, designated a "global terrorist" by the United States (US) and blacklisted by the United Nations (UN) along with Osama bin Laden, wants to come out of the shadows.
Gulbuddin Hekmatyar, now in his late 60s, says he wants a "real and fair peace" but with conditions the Kabul government is unlikely to even contemplate, such as the withdrawal of all foreign troops from Afghanistan and new elections in 2016.
The remarks reflect Hekmatyar's attempt to assert influence and gain new leverage in Afghan politics, but what role - if any - the once feared warlord could play is unclear.
"Peace can be established and the fighting can end once the occupation is over, foreign forces leave and the people of the Afghan nation are given the right to choose their own destiny and establish their own choice of government and governance," Hekmatyar said.
The comments were provided to The Associated Press this week after being videotaped in Hekmatyar's hiding place whose whereabouts are unknown after being ejected from Iran following the 2001 US-led invasion of Afghanistan that removed the Afghan Taliban from power.
His associates insist, however, that the warlord is in Afghanistan.
Hekmatyar has led an extreme life; his followers have been responsible for the deaths of thousands during the devastating Afghan civil war.
In his student days, he was known for throwing acid in the faces of women who did not cover up.
He switched allegiances on the battlefields, fighting first the Soviets, for which he received millions in cash and weaponry from Washington, then the Taliban.
In politics, he espoused radicals, served twice as Afghan prime minister and saw Hezb-i-Islami, the party he founded in 1969, fracture and abandon him.
The party's military wing offered bin Laden shelter after the Al Qaeda leader fled Sudan in 1996, according to the State Department.
But history has relegated Hekmatyar to the sidelines and political analyst Haroun Mir describes him today as a "spent force, frozen in time".
"We cannot deny him the status as a prominent leader during the anti-Soviet war," Mir said.
Hekmatyar sees himself "as part of the dialogue, but he lives in a totally different world and does not see the realities on the ground".
Earlier this year, Hekmatyar sent an envoy to Kabul to meet with senior Afghan officials and offer his services as an interlocutor, an associate of his told the AP.
According to the associate and one Afghan official, the envoy met with President Ashraf Ghani and, possibly, other senior leaders.
The president's office did not confirm the meetings had taken place.
Both the associate and the official spoke on condition of anonymity because of the secret nature of the subject.
Hekmatyar talks of an "inter-Afghan dialogue" that pointedly excludes neighbouring Pakistan, which has been a key mediator and host for Taliban-Kabul peace talks.
"If America and the Kabul government want peace, then this is the only way," Hekmatyar said while also ridiculing Ghani's government and claiming the real "authority in Kabul is with the American ambassador and the Nato forces commander.
"
"The defense ministry in Kabul is a mini-Pentagon and the presidential palace is a mini-White House," he added, with sarcasm.
Full report at:
http://nation.com.pk/international/28-Nov-2015/hekmatyar-seeks-comeback-in-afghanistan
---------
10,000 Kalashnikovs expected to arrive in Kabul from Russia next month
Nov 28 2015
The Russian Federation has promised 10,000 Kalashnikovs AK-47 to Kabul for supporting Afghan forces in their fight against terrorism.
Fazal Hadi Muslimyar, speaker of Meshrano Jirga (Upper House of the Parliament) has said that the weapons are expected to arrive in Kabul in next 20 days.
"Luckily, I would say Russia's eagerness towards Afghanistan was higher than before. 10,000 Kalashnikovs have been approved which would be handed over to the interior ministry after arriving in Kabul in next 20 days," Muslimyar told Radio Free Europe (Azadi Radio).
He said that Russian officials have rejected rumors of directly fighting Daesh in Afghanistan, adding that they will extend assistance to Afghan government for eliminating any opponent armed group.
Full report at:
http://www.khaama.com/10000-kalashnikovs-expected-to-arrive-in-kabul-from-russia-next-month-4364
---------
One killed, two wounded in Kabul suicide attack
By ZABIHULLAH MOOSAKHAIL
Nov 28 2015
One civilian has been killed and two others wounded in a suicide attack in capital Kabul.
The bomber wearing a suicide vest targeted the vehicle of a senior official of the Independent Election Commission of Afghanistan in 8th police district of the city around 09:30 am on Saturday.
Sediq Sediqi, spokesman for the Ministry of Interior said target of the bomber was Awal-ur-Rahman Rowdwal but he was not in the vehicle by the time.
He said one civilian has been killed and two others, including a man and woman, sustained injuries in the suicide bombing.
Meanwhile, Rowdwal says the person died in the attack was his driver and the man wounded is his bodyguard.
He said the driver came to pick him up and take him to the office.
Full report at:
http://www.khaama.com/casualties-as-suicide-bombing-rocks-kabul-city-4363
---------
Africa
Attack on U.N. base in northern Mali causes casualties
28 November 2015
Gunmen attacked and fired rockets at a U.N. peacekeeping base in Kidal in northern Mali on Saturday, causing an unspecified number of casualties, a spokesman for the U.N. force in Mali (MINUSMA) said.
"The attack happened at around 4 a.m. (0400 GMT). Four or five rockets landed inside the base. Quite a few people were wounded but it's too early for a precise number," MINUSMA spokesman Olivier Salgado told Reuters.
French troops and the U.N. force are struggling to stabilize the former French colony where militants attacked a hotel in the capital on Nov. 20 and killed 20 people.
Three militant groups - al Qaeda in the Islamic Maghreb (AQMI), its splinter group al Mourabitoun and Massina Liberation Front (MLF) - claimed the attack on the Radisson Blu hotel. Security analysts say they could be collaborating.
Northern Mali was occupied by militant fighters, some with links to al Qaeda, for most of 2012. They were driven out by a French-led military operation, but violence has continued.
Full report at:
http://english.alarabiya.net/en/News/africa/2015/11/28/Unidentified-gunmen-attack-U-N-base-in-northern-Mali.html
---------
Suicide bomber kills 21 at Shia procession in Nigeria
Nov 28, 2015
DAKASOYE: At least 21 people were killed on Friday when a suicide bomber blew himself up in the crowds at a Shia procession near the northern Nigerian city of Kano, in the latest violence to hit the troubled region.
The attack happened in the village of Dakasoye, some 20 kilometres south of the city, during a march by followers of the Islamic Movement of Nigeria (IMN).
"Our procession came under a suicide attack," Muhammad Turi, who was leading thousands of people from Kano to a neighbouring state, told reporters at the scene.
"We lost 21 people and several others have been injured. We are not surprised that we've been attacked because this is the situation all over the country.
"This will not deter us from our religious observance. Even if all of us are bombed the last person will carry on with this duty."
An eyewitness said the road was splattered with bloodstains, but the followers had continued their march.
One organizer said the bomber ran into the crowd before he could be spotted and detonated his explosives.
"He was dressed in black like everyone else. His accomplice was initially arrested and confessed they were sent by Boko Haram," he added.
"They were part of the young men abducted by Boko Haram in (the Borno state town of) Mubi last year and taken to Sambisa forest where they were given some military training.
"They were sent to Kano 11 days ago and kept in a house specifically for this attack."
The bomber detonated his explosives after realising his accomplice had been arrested, the organiser added.
'SYMBOLIC TREK': The IMN followers were on a "symbolic trek" to Zaria, where the group's leader Sheikh Ibrahim Zakzaky is based, to mark the 40th day of Ashura. Their arrival on Dec 3 is designed to coincide with the gathering of pilgrims at Hazrat Imam Hussein's tomb in Karbala, Iraq.
Friday's attack came after a female bomber killed eight in the north-eastern city of Maiduguri last Sunday and four teenage girls blew themselves up in northern Cameroon on Saturday, killing five.
Full report at:
http://www.dawn.com/news/1222794/suicide-bomber-kills-21-at-shia-procession-in-nigeria
---------
Nigeria Muslim march suicide attack kills at least 15
27 November 2015
A suspected Boko Haram suicide bomber detonated himself in the middle of a procession of hundreds of moderate Shiite Muslims, and organizers say he killed at least 15 people.
Aliyu Yusuf Kakaki, spokesman for the Shiite community in Kano, told The Associated Press that 40 people were injured in Friday's attack on the annual Arbaeen procession from Nigeria's second-largest city, Kano, to the ancient Islamic city of Zaria. Kakaki said a second suicide bomber was detained before he could blow himself up and is being interrogated by Shiite leaders.
Full report at:
http://english.alarabiya.net/en/News/africa/2015/11/27/Nigeria-Muslim-march-suicide-attack-kills-21-.html
---------
Tunisian attacks were planned in Libya
28 November 2015
A series of attacks in Tunisia claimed by ISIL was planned in neighboring Libya, a top official said Friday.
ISIL has said it was behind a suicide bombing in the centre of Tunis on Tuesday in which 12 presidential guards died. They have also claimed two attacks earlier this year at the National Bardo Museum in Tunis and on a hotel near the Mediterranean resort of Sousse that killed a total of 60 people, all but one of them foreign tourists.
"Everything is being planned in Libya," Tunisia's secretary of state for national security, Rafik Chelly, told private Mosaique FM radio.
"The commanders of Tunisian terrorist groups are in Libya," he added.
Authorities in Tunisia have detained 30 people suspected of having extremism links after the bombing, and identified the bomber as a local street vendor.
Full report at:
http://www.worldbulletin.net/africa/166808/tunisian-attacks-were-planned-in-libya
---------
Southeast Asia
Indonesia: Muslim group launches global anti-ISIS campaign
27 November 2015
A worldwide anti-ISIS campaign has been launched in Indonesia by Islam's largest organisation, the New York Times reports.
Nahdlatul Ulama has more than 50 million members, and has at its heart a message of tolerance and moderate Islam. The organisation's youth wing has launched a three-day conference in the Indonesian island of Java to campaign against jihadism.
"The spread of a shallow understanding of Islam renders this situation critical," said Mustofa Bisri, the head of Indonesian Muslim organisation. "Highly vocal elements within the Muslim population at large – justify their harsh and often savage behaviour by claiming to act in accord with God's commands, although they are grievously mistaken.
"According to the Sunni view of Islam every aspect and expression of religion should be imbued with love and compassion, and foster the perfection of human nature," he said.
The message will be broadcast online around North America, Europe and Asia as the group looks to take the ideological lead in fighting terror. Indeed experts say the moderate's narrative is the only way to combat extremism as western leaders lack credibility.
"I see the counter narrative as the only way that western governments can deal with the ISIS propaganda, but there is not strategy right now," said Nico Prucha from King's College London.
The conference comes as Justin Welby, the Archbishop of Canterbury, called for a theological and ideological response to ISIS and not just a military one. Welby was responding to the Prime Minister's statement making the case for British air strikes against ISIS in Syria.
One way Nahdlatul Ulama is challenging ISIS' theology is by showing films of atrocities committed by ISIS and overlaying it with a soundtrack demonstrating how their interpretation of the Qur'an and Hadith is mistaken.
"Many who memorise the Qur'an and Haith love to condemn others as infidels while ignoring their own infidelity to God, their hearts and minds still mired in filth," one particular voice-over says.
Full report at:
http://www.christiantoday.com/article/indonesia.muslim.group.launches.global.anti.isis.campaign/71870.htm
---------
Put UN human rights treaty into practice, says Suaram
November 28, 2015
KUALA LUMPUR: The human rights group Suaram has lauded Malaysia's positive vote at the United Nations for a resolution on the protection of human rights defenders, and called for government action to put the resolution into practice.
The group called for an end to all civil action and criminal charges against human rights defenders in Malaysia, and the repeal of the Peaceful Assembly Act, Sedition Act, Communications and Multimedia Act, and other laws.
Suaram called for a moratorium on the use of these laws, and for action against heads of government agencies that actively violated human rights in Malaysia.
Suaram's executive director, Sevan Doraisamy, said the Malaysian government's vote in favour of the UN General Assembly resolution places an obligation on the government to ensure that the resolution was put into practice.
He said the government had prosecuted human rights defenders such as student activist Adam Adli (sedition); Parti Socialis Malaysia's T. Arutchelvan (sedition); civil rights lawyer Eric Paulsen (sedition); Berish chairman Maria Chin Abdullah (peaceful assembly); and countless others, among them Jannie Lasimbang (peaceful assembly), Khalid Ismath (sedition and communications), Lena Hendry (film censorship).
Full report at:
http://www.freemalaysiatoday.com/category/nation/2015/11/28/put-un-human-rights-treaty-into-practice-says-suaram/
---------
Understand democracy well, Muslim leaders told
November 28, 2015
KUALA LUMPUR: Muslim leaders need to learn about democracy in depth and understand how the system could be well administered in their country, said former prime minister Tun Dr Mahathir Mohamad.
He said many of them did not understand the meaning of a democratic government and instead believed the notion that if a country was democratic then it would be well ruled.
Addressing participants of the Kuala Lumpur Summit International Conference (KL Summit), here, yesterday, Dr Mahathir said: "The general impression in the Muslim world is that democracy has worked in Malaysia and Muslim countries want to know why has it succeeded here."
Stating that it was not the perfect system as western countries took 200 years to reach the stage they were in today, he said: "The electorate must be mature enough to choose in the elections.
"They must not choose leaders simply because they belong to the same tribe, or sex but must choose a good candidate, and as for the candidates, they must live up to the promises made during the elections if they govern the country."
Dr Mahathir, who is also the KL Summit chairman, shared that Malaysia's democracy was not like the western democracies of being too liberal which resulted in the collapse of their moral system.
Full report at:
http://www.theborneopost.com/2015/11/28/understand-democracy-well-muslim-leaders-told/
---------
Pakistan
Four arrested MQM men involved in target killing: Rangers
Nov 28, 2015
KARACHI: Pakistan Rangers Sindh on Friday informed an anti-terrorism court (ATC) about 90-day preventive detention of four workers of the Muttahida Qaumi Movement (MQM) arrested earlier this week from Karachi.
Rangers personnel along with their legal team produced before the ATC four MQM workers — Waseem Ahmed alias Shama, Muhammad Ibrahim, Muhammad Waseem and Asghar Yaqoob, said a statement issued by the paramilitary force. The suspects were picked up during raids in the Korangi area, the statement said.
According to the press release, Waseem Ahmed alias Shama is the in-charge of MQM's Korangi sector and has been involved in the target killing of "police personnel and other persons through his target-killing ring."
Suspects Muhammad Ibrahim and Muhammad Waseem have been involved "in various instances of murder, land-grabbing and extortion," said the handout.
Asghar Yaqoob provided weapons to target killers and used to buy "ammunition for the Korangi and Shah Faisal sectors," it said.
The statement added that Yaqoob provided illegal water connections in Landhi, Korangi and Shah Faisal Colony areas in exchange for "hundreds of thousands of rupees."
On Nov 12, the Rangers issued a statement insisting that the paramilitary force-led targeted operation in Karachi had not slowed down after the MQM launched its campaign for the third phase of LG elections scheduled for Dec 5 in Karachi, reopening its party offices, Dawn newspaper reported.
Full report at:
http://www.dawn.com/news/1222901/four-arrested-mqm-men-involved-in-target-killing-rangers
---------
Shrine desecration: Prompt official action averts violence
Nov 28, 2015
GUJRAT: Some unidentified miscreants torched a shrine and a number of copies of the Holy Quran in Bawoli Khurd village of Sara-i-Alamgir Saddar police precincts, some 65km from here, early on Friday morning.
However, a prompt action by the local administration, police and a ruling party MPA averted any violent reaction.
The area people spotted smoke billowing from the shrine of Meray Wali Sarkar when they got up to offer Fajr prayers.
Police reached the spot after getting the report.
Local PML-N MPA Malik Hanif Awan, Gujrat DPO Rai Zameerul Haq and additional SP Kamran Mumtaz also reached there and inspected the site.
Gujrat DCO Liaqat Ali Chattha and Sara-i-Alamgir Assistant Commissioner Shoaib Nissoana also rushed to the village where the official team negotiated with the locals and assured them of tracing the culprits at the earliest. Police registered a case against unidentified miscreants under sections 295, 295 (B) and 436 of the Pakistan Penal Code on the report of Shaukat lumberdar of the village and started investigation.
A senior police official told Dawn that the crime scene unit had got finger prints from the scene whereas call data through geofencing of the area was also being worked out to trace the culprits. He said the act was apparently aimed at sabotaging the peaceful environment of the Gujrat district.
He said the Jhelum incident had occurred last Friday and the miscreants selected another Friday to instigate the local population. He said law-enforcement authorities were looking into the all angles, including the possible involvement of some foreign agency.
Full report at:
http://www.dawn.com/news/1222812/shrine-desecration-prompt-official-action-averts-violence
---------
Govt says IS has no presence, intelligence thinks otherwise
MOHAMMAD ASGHAR
Nov 28, 2015
RAWALPINDI: Citing intelligence, the Punjab Home Department has alerted police and other agencies in the province that the self-styled Islamic State (IS) has planned attacks on civil and military targets.
Dawn has learnt from official sources that, in view of the threat level, divisional police chiefs and the Counter-Terrorism Department (CTD) have been directed to undertake 'foolproof security measures'.
Police patrols, military vehicles and private establishments are supposedly on the hit list of militants affiliated with IS, also known as ISIS, ISIL or Daesh.
These intelligence-based directions seem to contradict the assertions made by the federal government that IS has no presence in Pakistan. Punjab Law Minister Rana Sanaullah, however, described the 'threat alert' to Dawn as being 'a routine matter'.
Know more: IS doesn't exist in Pakistan: Sana
"There is no existence of Daesh in Pakistan, especially in Punjab," the minister said. "There are some troublemakers belonging to banned outfits and the government is making efforts to eliminate these criminals," he said.
Rawalpindi Regional Police Officer Mohammad Fakhar Sultan Raja, on the other hand, is considering "sensitising private establishments" to the threat alert, to discuss "precautionary measures" soon.
Indeed, the Punjab government's alert specifically mentioned that IS-affiliated militants are out to strike army vehicles moving on Jalalpur Jattan Road and police patrols on GT Road in Gujrat district.
Full report at:
http://www.dawn.com/news/1222834/govt-says-is-has-no-presence-intelligence-thinks-otherwise
---------
Karachi Hizbut Tahrir chief, two others held: CTD
Nov 28, 2015
KARACHI: The Counter Terrorism Department (CTD) of police on Friday claimed to have detained the Karachi chief of the banned organisation Hizbut Tahrir and two other suspects in separate raids.
Hisam Qamar, the suspected chief of the Hizbut Tahrir's Karachi chapter, worked in K-Electric as deputy general manager, said CTD SSP Usman Bajwa while addressing a press conference at his office.
The CTD arrested the suspect in a raid conducted in the Gulshan-i-Iqbal area and seized propaganda material from his possession. He was involved in spreading propaganda about his banned outfit among 'influential people'. He also allegedly got some held suspects released on bail. "He was instigating the people associated with important educational institutions and other vital institutions against the country's laws and the mode of governance," said SSP Bajwa.
Full report at:
http://www.dawn.com/news/1222735/karachi-hizbut-tahrir-chief-two-others-held-ctd
---------
Russia, Turkey stand-off cannot impact Pakistan, says Qayyum
November 28, 2015
Sajid Zia
LAHORE - There is no possibility that the current tension between Russia and Turkey has a spill-over effect on Pakistan and impact its friendly ties with both these countries, stated Chairman Senate Committee for Defence Production Senator Lt Gen (Retd) Abdul Qayyum while talking to this scribe yesterday.
In the background of the present stand-off between the two countries, Qayyum ruled out that the situation can impact Pakistan in anyway which has friendly ties with both these countries.
Turkey is a brotherly Muslim country of Pakistan and is keen about the progress and prosperity of this country for which it has made huge investments in various sectors particularly transport, health and energy, he said. Given the renewed economic and strategic interest of Russia in the region, this
major power is also inclined to be a friend of Pakistan for which it has promised Pakistan supply of latest gunship helicopters in addition to offering to rehabilitate debt-ridden Pakistan Steel Mills which it installed in Karachi during ZA Bhutto government, he said.
Qayyum who has deep insight into international politics further stated that Turkey and Russia will never like to take their tension to the point of war or clash. Both the countries are important powers of the world and know well what a catastrophic result their war can bring about in the world, he added.
As such both the countries are themselves striving to mitigate effect of what has happened and hopefully a thaw would come about when leaders of both the countries will meet, he added.
Full report at:
http://nation.com.pk/national/28-Nov-2015/russia-turkey-stand-off-cannot-impact-pakistan-says-qayyum
---------
President asks youth to wage jihad against corruption
November 28, 2015
Islamabad - President Mamnoon Hussain has said that despondency and hopelessness would end by adopting realism.
The President said this while addressing the Convocation 2015 of National University of Modern Languages (NUML) here at Convention Centre on Friday.
The President stated the students should assimilate and make part of their lives the knowledge that they have acquired from their elders and teachers.
"Training is very important along with acquiring education and if attention is not paid on the training of the youth then the nation would face moral degradation," remarked the President.
He expressed optimism that progress and prosperity is destiny of Pakistan.
The President said that due to the wars in the region not only thousands of innocent civilians embraced martyrdom in the country but also law and order deteriorated but now as a result of government's policies and sacrifices by the Armed Forces of the country the law and order is being restored.
Full report at:
http://nation.com.pk/national/28-Nov-2015/president-asks-youth-to-wage-jihad-against-corruption
---------
Baloch separatists release video of Allah Nazar claiming he's alive
Nov 28, 2015
ISLAMABAD: Baloch separatists released a video on Thursday purporting to show that their leader Allah Nazar, who the government believed it had killed in a raid in August, was alive and leading the insurgency.
The violent campaign in Balochistan poses a threat to China's planned $46 billion Pakistani economic corridor (CPEC), which culminates in the province's Gwadar port.
The date of the video released by the Baloch Liberation Front (BLF) could not be independently verified, but BLF spokesman Miran Baloch said it was shot in Balochistan in November.
Nazar who appeared in the video was seated next to an automatic rifle and wearing an ammunition belt.
Two independent sources who have had contact with Nazar, who has been in hiding for years, confirmed it was him in the video, although they did not know when it was filmed.
The BLF is one of several separatist groups that have been fighting against government forces in mineral-rich Balochistan province for almost a decade.
"We have not seen the video so we cannot comment on it," said Balochistan Home Minister Sarfaraz Bugti.
Full report at:
http://www.dawn.com/news/1222446/baloch-separatists-release-video-of-allah-nazar-claiming-hes-alive
---------
Climate change serious threat to human life: PM Nawaz
Nov 28, 2015
VALLETTA: Prime Minister Nawaz Sharif on Saturday said climate change poses a serious threat to human across the globe, reported Radio Pakistan.
While addressing the Commonwealth Summit on Climate Change in Malta, he said Pakistan experienced mighty floods in 2010 and 2011 owing to changing climate in the region. He called for provision of the latest technology and other resources for implementation of decisions during the conference in letter and spirit.
The premier said assistance should be provided to underdeveloped countries to overcome challenges faced due to climate change.
He said Pakistan was facing the brunt of climate change, adding that the Himalayan glaciers were melting faster than those in other parts of the world.
"We are adopting environment-friendly policies to overcome climate degradation."
Also read: Sharif, Cameron to work together for security, prosperity
Prime Minister Muhammad Nawaz Sharif also attended a banquet hosted by Britain's Queen Elizabeth II for the heads of government of Commonwealth countries and their spouses.
Begum Kulsoom Nawaz accompanied the premier at the dinner, which was also attended by members of the Royal family.
Full report at:
http://www.dawn.com/news/1222898/climate-change-serious-threat-to-human-life-pm-nawaz
---------
Cellphone service 'suspended'
KALBE ALI
Nov 28, 2015
ISLAMABAD: Mobile phone services remained suspended in sectors G-6 and G-7 for some time on Friday noon. This coincided with the deadline given by the cleric of Lal Masjid to implement his version of Sharia in the country.
Two weeks ago, Maulana Abdul Aziz had warned the authorities to implement his 10-point Sharia programme by November 27. The demand was reiterated by the cleric in his telephonic address on Friday last.
There was no mobile phone service in the two sectors from 12 noon to 1:30pm during which Friday prayers are held in Lal Masjid.
Maulana Aziz is currently living in Jamia Sumaya in G-7 while Lal Masjid is located in Sector G-6. Last week, Maulana Aziz also delivered the Friday sermon via telephone.
However, mobile network firms denied they were asked by any authority to suspend the service. "Except for queries by the media and some people, we are not even aware of service suspensions," said an official of one such firm. However, he added that if there was any localised blockade, the ICT administration might have placed 'jammers'.
Full report at:
http://www.dawn.com/news/1222836/cellphone-service-suspended
---------
Special court orders re-investigation in treason case
MALIK ASAD
Nov 28, 2015
ISLAMABAD: A three-member special court ordered the federal government on Friday to re-investigate former president retired Gen Pervez Musharraf, former prime minister Shaukat Aziz, former chief justice of the Supreme Court Abdul Hameed Dogar and incumbent Minister for Climate Change Zahid Hamid in the high treason case and submit its report by Dec 17.
The court headed by Justice Faisal Arab turned down a request for including representatives of the Military Intelligence (MI), Inter Services Intelligence (ISI) and Intelligence Bureau (IB) in the joint investigation team (JIT).
The court said in its order that if the JIT could not complete the investigation by Dec 17, a progress report on the probe be submitted at the next hearing on Dec 17.
The four-page order referred to a statement submitted by the federal government to the Islamabad High Court that it was ready to re-investigate the case.
The statement was submitted to the high court during hearing of petitions filed by Shaukat Aziz, Zahid Hamid and Abdul Hameed Dogar against the special court's Nov 2014 order nominating them as co-accused in the treason case.
The special court observed that the request by Barrister Farogh Nasim, the lead counsel for Gen Musharraf, for including the representatives of MI, ISI and IB in the investigation team was contrary to the Federal Investigation Agency (FIA) Act 1974.
Full report at:
http://www.dawn.com/news/1222875/special-court-orders-re-investigation-in-treason-case
---------
Sharif, Cameron to work together for security, prosperity
Nov 28, 2015
VALLETTA: Prime Minister Muhammad Nawaz Sharif and his British counterpart David Cameron agreed on Friday to continue close collaboration in different fields, particularly trade, investment and security.
The two leaders, who met on the fringes of Commonwealth Heads of Government Meeting (CHOGM) in the Maltese capital, expressed long-term commitment to work together for greater security and prosperity of their countries.
The two reaffirmed their commitment to work in partnership for countering the shared threats of terrorism, organised crime and illegal migration.
Mr Sharif said Pakistan considered United Kingdom a close friend and a trusted partner and mentioned that bilateral relations were based on sound footing and strong diaspora linkages.
He expressed satisfaction over the Pakistan-UK cooperation in the realm of Enhanced Strategic Dialogue and said that ties had been strengthened by the refreshed roadmaps on trade, investment, culture, education and security.
He said Pakistan condemned terrorism in all its forms and manifestations and was deeply saddened by the recent terrorist attacks in Paris. He said Pakistan, being itself a victim of terrorism, could feel the pain of French people.
Prime Minister Sharif said Pakistan was taking stringent measures for elimination of terrorism and extremism under its National Action Plan. He mentioned that Operation Zarb-i-Azb was nearing its successful completion after hitting hard on terrorists on the Pakistani soil.
He appreciated the continued support by Britain for the uplift of Pakistan's social sectors, particularly education, and mentioned the assistance provided by the UK's Department for International Development.
Mr Sharif said Pakistan intended to maintain friendly relations with all its neighbours, including India and Afghanistan.
Full report at:
http://www.dawn.com/news/1222893/sharif-cameron-to-work-together-for-security-prosperity
URL: https://www.newageislam.com/islamic-world-news/new-age-islam-news-bureau/israel-troops-injure-82-more-palestinians-w-bank-gaza/d/105454
New Age Islam, Middle East, ISIL, ISIS, Syria, Iraq, Islamic World News, African Muslim News, Arab World News, South Asia News, Indian Muslim News, World Muslim News, Islamic Website, Online Islam