New Age Islam News Bureau
1 Aug 2014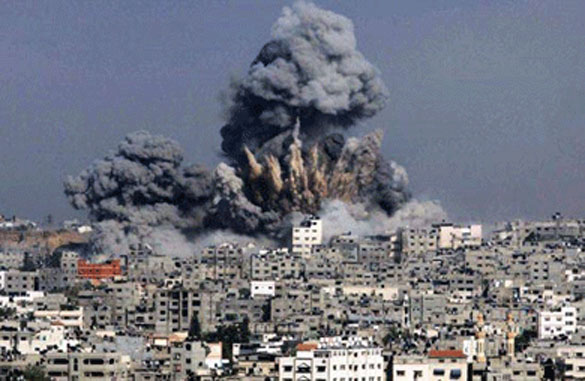 Officials say at least 1,499 Palestinians, mostly civilians, have been killed and 7,000 wounded in the latest Israeli offensive in Gaza
-------------
Mideast
• Israel Killed 318 Palestinians during Muslim Holiday of Eid
• Turkey Fears ISIL Radicalism Could Spill Over From Syria, Iraq
• 40 Palestinians Killed After Collapse of Truce
• Turkish charity using 'ISIL-adopted insignia' shuts down
• Palestinians mull war crime charges against Israel
• Israel, Hamas Agree on 72-Hour Ceasefire From Friday
• Turkey's Hatay became battleground of war in Syria: HDP's Demirtaş
• Iran Slams Int'l Bodies' Indifference to Massacre of Women, Children in Gaza
Arab World
• Islamic State Defector Says Saudi Arabia Next Stop for Group
• Arab Lawyers Union urges trial to Israel's govt on Gaza's crimes against humanity
• 12 killed in Douma as IS orders women to cover up
• Saudi king calls Israeli offensive in Gaza a war crime
• Isis Celebrates Eid with Video of Killing Spree
• 10 killed in Baghdad blast: police
• Islamic State imposes media controls in Syrian province
• Hamas, Islamic Jihad, to attend Cairo talks on Gaza truce
• Syria jihadists fight Kurds, Sunni tribe
India
• Separatist leader Syed Ali Geelani manages to foil Pandits' pilgrimage
• Pak used US anti-terror military aid to fight India: Former diplomat
• India, US ask Pakistan to bring 26/11 attack perpetrators to justice
• Jihadis force govt to set up counterterrorism academy
North America
• Muslim residents sue U.S. over citizenship denials
• US State Department Criticizes Indonesia for Intolerance
• Pakistan needs to prove they are acting against Haqqanis too: US
• Civilian casualties in Gaza 'too high,' Pentagon says
Pakistan
• Taliban factionalisation fuels spate of kidnappings in Pakistan
• No room for politics of slogans, sit-ins: PM Nawaz Sharif
• Panjgur: Gunmen kill 3 including a woman
• Pakistan fires 118 rockets in Kunar province
• Imran can negotiate with TTP but not government: Saad Rafique
• COAS orders 'speedy' action against all terrorists in NWA
Africa
• Protests against militias break out in Libyan capital
• Two Egyptians shot dead in Libya-Tunisia border clash
• 70 illegal workers mostly Ethiopians, escape Saudi detention centre
Europe
• Outrage As Muslim Mayor of Tower Hamlets Orders the Palestinian Flag to Fly Over Town Hall 'In Solidarity with Gaza'
• Israel soon responsible for displaced Palestinians in Gaza: UN
• Europeans must stay in Libya if they want global role
• Interfaith house of prayer to be built in Berlin
South Asia
• Maldives Protestors continue call for Israeli tourism ban
• Imam of China's biggest mosque killed in Xinjiang
• District mayor shot dead by gunmen in Logar province
Southeast Asia
• Pakatan must jump gender hurdle as leadership tussle persists, says Guan Eng
• Leave Pakatan to ward off 'enemies of Islam', Isma tells PAS
• Five OPM Fighters Shot Dead By Indonesian Army in Papua
Compiled by New Age Islam News Bureau
URL: https://www.newageislam.com/islamic-world-news/new-age-islam-news-bureau/israel-killed-318-palestinians-during-muslim-holiday-of-eid/d/98379
-----------
Mideast
Israel killed 318 Palestinians during Muslim holiday of Eid
Aug 1, 2014
Israel killed 318 Palestinians, mostly women and children, and wounded 746 during the three days of the Islamic festival of Eid Al-Fitr, the Palestinian Ministry of Health announced yesterday.
The ministry's spokesman Ashraf Al-Qidra said: "On the first day, the Israeli occupation killed 43 Palestinians and wounded 260, on the second day, the occupation killed 144 and wounded 26, while on the third day, the occupation killed 131 and wounded 460 others."
The total number of Palestinian fatalities to date is 1,674, while a further 7,500 have been injured, according to official ministry figures.
Meanwhile, the Ministry of Housing and Public Work said 166 houses had been totally destroyed over the three day period and a further 1,281 had been partially destroyed. Bringing the total number of houses destroyed to 4,987.
The Euro-Mid Observer for Human Rights said that the Israeli occupation completely destroyed nine mosques during the holiday and destroyed 13 others partially.
The European human rights organisation said that the Israeli occupation hit 26,811 shells and rockets at Palestinian targets in the Gaza Strip. Approximately 1,664 rockets were launched by Israeli warplanes, 6,258 shells were launched by warships and 18,889 were launched by tanks.
https://www.middleeastmonitor.com/news/middle-east/13147-israel-killed-318-palestinians-during-muslim-holiday-of-eid
-----------
Turkey Fears ISIL Radicalism Could Spill Over From Syria, Iraq
Aug 1, 2014
ISTANBUL — With the Sunni jihadist group ISIL stepping up attacks in Syria along the border with Turkey, concern is growing in Turkey that the violence could spill over.
Earlier this month, Istanbul's Jafari Muhamadiye Mosque a mosque belonging to Turkey's Shi'ite Muslim minority was burned down. The attack was blamed on ISIL and is seen as a possible harbinger of future ISIL attacks, which could threaten Turkey's complex social fabric.
Istanbul is home to large numbers of adherents of both Sunni Islam and Shi'ite Islam -- or Jafari Islam, as the latter is known in Turkey. But tensions between the two groups have been rising following the arson attack.
Speaking in the burned out ruins of his mosque, Imam Hamza Aydin said he has no doubt sectarianism was the motive for the attack.
Aydin said that just before the attack, a group of men came to the mosque, and said that Jafaris "worship stones" and threatened to set fire to the mosque.
He said mosque authorities went to the police, but they did nothing.
Turkey's neighbors Iraq and Syria have seen growing sectarian strife between Sunnis and Shi'ites, blamed mainly on the emergence of ISIL, which now calls itself simply the Islamic State. The group regards Shi'ites as heretics.
Analyst Sinan Ülgen of the Carnegie Europe Institute in Brussels said fears are growing that ISIL's sectarian war is coming to Turkey,
"There are allegations that some members of a network that claim to be close to ISIL have engineered this," Ülgen said. "Some of these militants groups have been able to establish their networks over the years, at the time the Turkish government turned (a) blind eye to many of these opposition groups. It just shows you Turkey is not going to be safe from all the instability from Syria."
Turkey's ruling Islamist-rooted AK Party is one of the main supporters of the rebel groups fighting the Syrian regime. The arson attack on the Istanbul mosque has not been the only such incident. Shi'ites in Istanbul claim they have been the target of increasing sectarian violence.
A shopkeeper in one of Istanbul's Shi'ite neighborhoods said that recently, a man shouting he was from ISIL starting attacking Shi'ites outside another mosque in Istanbul.
Electoral politics could be also be a factor behind the rising tensions. Prime Minister Recep Tayyip Erdogan is running for president in next month's elections, and he is rallying his largely conservative Sunni religious base. Critics accuse him of increasingly using sectarian language aimed at Shi'ites. He also resisted calls in the media and from Shiite groups to condemn the Istanbul mosque attack.
But Mehmet Gomez, head of the Diyanet, the state body that administers the Islamic faith in Turkey, did visit the burned out mosque
"We will rebuild the mosque together," he said at the site of the mosque. "We are all Muslims, we use Korans and mosques. We will replace the burned books in the best possible way together, he said, and then we will gather here again and pray together."
Observers say such gestures could prove crucial amid rising tensions and concerns over the growing danger of radical groups like ISIL.
Still, ISIL flags and bandanas are increasingly visible at protests organized by Islamic groups, indicating that at least some Sunnis in Turkey have sympathy for the group. Analysts warn that ISIL's increasing presence is likely to test the cohesiveness of Turkish society.
http://www.voanews.com/content/turkey-fears-isil-radicalism-could-spill-over-from-syria-iraq/1968488.html
-----------
40 Palestinians killed after collapse of truce
1 August 2014
At least 40 Palestinians were killed and 200 others injured in Israeli shelling in southern Gaza Strip after the collapse of the three-day ceasefire which briefly began on Friday morning, medics reported.
Earlier, the Israeli government has informed U.N. Secretary General Ban ki-Moon that the humanitarian ceasefire was over, Al Arabiya correspondent reported. Israel's announcement comes after one of its army tank's fire killed eight people in southern Gaza medics said, just hours after a 72-hour humanitarian ceasefire took effect.
A doctor at a nearby Abu Yusef al-Najjar hospital gave no immediate details of the identities of those killed, but said they had died in a bombardment east of the southern city of Rafah, after an AFP correspondent saw heavy shelling of the area.
Clashes also erupted in Gaza after reports that Palestinians have captured an Israeli army officer.
Israel, meanwhile, accused Hamas of committing "fragrant breach" of Gaza truce.
"Once again the terror organizations in Gaza flagrantly violating the ceasefire to which they committed themselves, this time to the U.S. Secretary of State and the U.N. Secretary General," a statement from Prime Minister Benjamin Netanyahu's office said, without pointing to a specific incident.
The truce went into effect Friday morning after the United States and United Nations announced that Israel and Hamas agreed to the humanitarian ceasefire in Gaza Strip.
In a joint statement, the U.S. and U.N. said they had gotten confirmation that all parties to the conflict had agreed to an unconditional ceasefire, in which they would negotiate a longer truce.
The statement was released in New Delhi, where U.S. Secretary of State John Kerry is now meeting with Indian officials.
Meanwhile, Kerry said he remained hopeful for a ceasefire in the Gaza conflict but declined to predict when.
Kerry said he had remained in close contact on the telephone with players in the Middle East to try to end the Israel-Hamas conflict.
"The United States remains hopeful that it is achievable, and the sooner the better," Kerry said of a ceasefire.
"There is no promise in that, but I think everybody would feel better if there was a bona fide effort," Kerry told a joint news conference with Indian Foreign Minister Sushma Swaraj in New Delhi.
Netanyahu's announcement came a day after the United States confirmed it had restocked Israel's supplies of ammunition, hours after issuing a strong condemnation of an attack on a United Nations school in Gaza.
Dwindling supplies
The Israeli military requested additional ammunition to restock its dwindling supplies on July 20, the Pentagon said. The U.S. Defense Department approved the sale just three days later.
"The United States is committed to the security of Israel, and it is vital to U.S. national interests to assist Israel to develop and maintain a strong and ready self-defence capability," Pentagon spokesman Rear Admiral John Kirby said in a statement.
"This defence sale is consistent with those objectives."
Two of the requested munitions came from a little-known stockpile of ammunition stored by the U.S. military on the ground in Israel for emergency use by the Jewish state. The War Reserve Stockpile Ammunition-Israel is estimated to be worth $1 billion.
Kirby stressed that those munitions had been in WRSA-I stock for "a few years, well before the current crisis."
"All stocks in WRSA-I, as required by law, are 'in excess to U.S. requirements," he added.
Gaza officials say at least 1,361 Palestinians, most of them civilians, have been killed in the battered enclave and nearly 7,000 wounded. Fifty-six Israeli soldiers have been killed in Gaza clashes and more than 400 wounded. Three civilians have been killed in Palestinian shelling in Israel.
U.N. Secretary General Ban Ki-moon was incensed on Wednesday at the deaths of at least 15 Palestinians among thousands sheltering at a school whose U.N. administrator said appeared to have been hit by Israeli artillery.
U.N. human rights chief Navi Pillay on Thursday slammed what she said was Israel's "deliberate defiance" of international law during the Gaza conflict.
Pillay lambasted the country's attacks on homes, schools, hospitals and United Nations facilities in Gaza.
"None of this appears to me to be accidental," she told reporters in statements carried by AFP. "There appears to be deliberate defiance of obligations that international law imposes on Israel.
http://english.alarabiya.net/en/News/middle-east/2014/08/01/Israel-Hamas-agree-72-hour-Gaza-ceasefire.html
-----------
Turkish charity using 'ISIL-adopted insignia' shuts down
Aug 1, 2014
An Istanbul-based Islamic charity organization that created controversy by using an insignia adopted by the Islamic State of Iraq and the Levant (ISIL) has shut down after allegations that it was recruiting militants for the fight in Syria.
"Right now, we are not engaged in any work or activity. HİSADER [Haznedar Islamic Research, Sustenance and Helping Association] has been closed down and stopped its activity," association head Volkan Sağlam said, stressing that the decision was made by the association by "free will."
HİSADER had long campaigned to raise funds for charity work in Syria. Last month, a daily Habertürk report highlighted that the association's logo featured an "ISIL-adopted insignia." The charity was also accused of sending young men to the ranks of radical Islamist fighters in Syria, such as ISIL.
Sağlam rejected the claims as "ignorance" on June 17, stressing that "the stamp of the Prophet Muhammad" has been a popular insignia among Islamic groups, long before ISIL.
As reactions mounted, Sağlam announced July 31 that they decided to shut down HİSADER. "With God's help, we successfully confronted the baseless claims and the attempts to point us as a target. God bless all the Muslims who put an effort in this way. We see that reports and provocations continue. For us, any problem that a Muslim may experience is more important than 10 HİSADERs," he said.
http://www.hurriyetdailynews.com/turkish-charity-using-isil-adopted-insignia-shuts-down.aspx?pageID=238&nID=69819&NewsCatID=341
-----------
Palestinians mull war crime charges against Israel
Aug 1, 2014
Palestinian President Mahmoud Abbas is seeking written pledges of support from all political factions, including rival Hamas, before making any attempt to press for possible war crimes charges against Israel, senior officials said Thursday.
Abbas hesitated in the past because such a step would transform his relations with Israel from tense to openly hostile and could put him on a collision course with the United States.
But with nearly 1,400 Palestinians killed in Israel-Hamas fighting in Gaza in the past 24 days, according to health officials, Abbas is under growing domestic pressure to turn to the International Criminal Court to try to make a case against Israel.
Israeli officials have said Israel is acting in self-defense by targeting Hamas' military arsenal and rocking launching sites and have accused Hamas of using Gaza civilians as human shields.
Earlier Thursday, the U.N.'s top human rights official accused both Israel and Hamas of committing war crimes in the current Gaza fighting.
Full report at:
http://english.alarabiya.net/en/News/middle-east/2014/07/31/Palestinians-mull-war-crime-charges-against-Israel.html
-----------
Israel, Hamas Agree on 72-Hour Ceasefire From Friday
Aug 1, 2014
Gaza City. Israel and Hamas agreed to begin a 72-hour ceasefire from 0500 GMT Friday, alongside a diplomatic push for a more durable end to the bloodshed after almost four weeks of fighting.
Just hours before the ceasefire came into force 14 more Palestinians were reported killed by Israeli tank and air fire in the Gaza Strip.
Meanwhile the Israeli army said that five of its soldiers died in mortar fire near the Gaza border, underlining the need for a negotiated truce.
Hopes of an end to the bloodshed rose early Friday after US Secretary of State John Kerry announced that Israel and Hamas had agreed a three-day ceasefire.
Both sides swiftly confirmed their commitment to a truce, after 25 days of bloody confrontation.
Full report at:
http://www.thejakartaglobe.com/international/israel-hamas-agree-72-hour-ceasefire-friday/
-----------
Turkey's Hatay became battleground of war in Syria: HDP's Demirtaş
Aug 1, 2014
The war in Syria has also spread into Turkey's southern border province of Hatay due to the ruling Justice and Development Party's (AKP) wrong policies, presidential hopeful Selahattin Demirtaş has said, while pledging for peace.
"In these lands on which we have been living together, we want to rebuild the law of fraternity, we want to repair this law that has become tainted," Demirtaş, co-leader of the Peoples' Democratic Party (HDP), said at a gathering with civil society representatives in Hatay on July 31.
"We have been running for presidency out of this need. We are in the middle of a city where an unnamed and unofficial war is going on. The war is not being lived only in Syria. Since the fire fell over Syria, it is also burning here. One of the parties in this war is the AKP government; it is also a part of the war in Hatay. The government's policies have led to the ongoing bloodbath in Syria and Hatay is suffering, too," Demirtaş said.
Full report at:
http://www.hurriyetdailynews.com/turkeys-hatay-became-battleground-of-war-in-syria-hdps-demirtas.aspx?pageID=238&nID=69842&NewsCatID=338
-----------
Iran Slams Int'l Bodies' Indifference to Massacre of Women, Children in Gaza
Aug 1, 2014
Iranian Justice Minister Mostafa Pour Mohammadi slammed the international human rights bodies for their indifference to the heinous crimes committed by the Israeli forces against innocent civilians in the Gaza Strip, and called on the Organization of Islamic Cooperation (OIC) to help put an end to the bloodshed in the blockaded enclave.
In a letter to the OIC on Wednesday, the Iranian minister condemned wide-scale bombardment of Gaza from the air, land and the sea and massacre of over 1,360 civilians, most of whom were women and children.
He further added that inaction of the international tribunals to past crimes of Israel against the Palestinians is the main behind Tel Aviv's current rudeness in killing civilians without any fear to be brought into justice.
He called for utilizing the OIC's entire capacities to stop the Israeli crimes in Gaza.
Israel has been pounding the blockaded Gaza for 24 consecutive days, killing at least 1,360 people and injuring more than 7,600 others.
http://english.farsnews.com/newstext.aspx?nn=13930509000164
--------
Arab World
Islamic State defector says Saudi Arabia next stop for group
Aug 1, 2014
Away from social media networks — especially Twitter, which is the most prominent outlet for jihadists and the most important observatory of their movements and statements — and through reliable mediators, As-Safir had a long phone interview with a Syrian leader who has defected from the Islamic State (IS) and identified himself as Sheikh Maher Abu Ubaida. He said that he was the Wali [ruler] of the desert before he defected from the group.
During the interview, Ubaida appeared indignant with the group, and insisted on calling it "ISIS," which is the term used in the media to identify the group. He explained, "It has deviated from its basic objective and has transformed into a militia of mercenaries that steals oil and derails from the eternal path," he said.
Ubaida explained that he joined the group in early 2013, when he was trained in the Anbar camp in Iraq, and met briefly, on two occasions, with the group's leader, Abu Bakr al-Baghdadi. He confirmed, "Baghdadi is the one who appeared in the recently surfaced video that has raised doubts among the Iraqi intelligence services with respect to its authenticity."
On Baghdadi, Ubaida said, "He is Ibrahim Awad al-Badri, born in 1970, and is a lecturer in Islamic studies. He is married to three women, one of whom hails from Samarra. He was the imam at Ahmad ibn Hanbal Mosque, and preacher at the Great Mosque in Baghdad. He traveled to Afghanistan and established strong ties with Ayman al-Zawahri (the current leader of al-Qaeda), where he spent some time, as some of his close associates told As-Safir. While he was there, he succeeded in establishing a network of good ties with leaders on the ground. Full report at:
http://www.al-monitor.com/pulse/security/2014/07/syria-opposition-is-saudi-arabia.html#ixzz39B7Ld6vL
-----------
Arab Lawyers Union urges trial to Israel's govt on Gaza's crimes against humanity
Aug 1, 2014
The Arab Lawyers Union (ALU) called for putting Israel's government -- including Prime Minister Benjamin Netanyahu and Defence Minister Moshe Yaalon -- on trial for war crimes in Gaza.
In a press statement issued on Thursday, the ALU -- which describes itself as a pan-Arab confederation of bar associations and law societies based in Cairo -- asserted the need to stop the "war and occupation forces' crimes" in Gaza.
ALU's statement also stressed the need for abiding by the 1949 Geneva Convention concerning the protection of civilians in times of war.
The pan-Arab body called for the United Nations and the international community to create a fact-finding committee to investigate the crimes, document them and take the necessary measures against war criminals.
"Resistance is the only option available for liberating Palestine from the Zionist occupation, which signifies an aggression against the whole Arab nation," the statement said.
"All the Arab states are responsible for ending the occupation," noted the statement.
The ALU referred to the necessity of ending the Israeli blockade of the Gaza Strip and pointed out that Israel's position became stronger amid the ongoing "international silence" about the conflict, especially that of the United States.
http://english.ahram.org.eg/NewsContent/2/8/107469/World/Region/Arab-Lawyers-Union-urges-trial-to-Israels-govt-on-.aspx
-----------
12 killed in Douma as IS orders women to cover up
Aug 1, 2014
DOUMA (Syria) Twelve people were killed, among them a child, in army shelling late on Wednesday on Douma, a rebel-held town near Damascus, a monitoring group said as Human Rights Watch (HRW) sharply criticised the Syrian air force for intensifying strikes on Aleppo, despite a UN Security Council resolution ordering all sides in the conflict to stop indiscriminate attacks.
Separately, the Islamic State has imposed a strict dress code for women in eastern Syria, forbidding them from showing any part of their bodies, a monitoring group said on Thursday.
"At least 12 people were killed, among them a child and a woman... in fierce shelling by regime troops on several areas of Douma," said the Syrian Observatory for Human Rights.
"Several dozens more, including children, were wounded," said the Britain-based group, which relies on a broad network of activists, doctors and lawyers for its reports.
Douma is a rebel bastion northeast of Damascus, which has been under suffocating army siege for more than a year.
Full report at:
http://www.omantribune.com/index.php?page=news&id=172048&heading=Other%20Top%20Stories
-----------
Saudi king calls Israeli offensive in Gaza a war crime
World Bulletin/News Desk
Aug 1, 2014
Saudi Arabia's King Abdullah criticised international inaction on Friday over Israel's offensive in Gaza, which he described as involving mass slaughter and "war crimes against humanity", in a speech read out on his behalf on state television.
"This (international) community which has observed silently what is happening in the whole region, was indifferent to what is happening, as if what is happening is not its concern. Silence that has no justification," he said in his speech.
He also said terrorism was threatening strife across the Arab and Muslim world and called on the region's leaders and religious scholars to prevent Islam from being hijacked by militants.
http://www.worldbulletin.net/world/141724/saudi-king-calls-israeli-offensive-in-gaza-a-war-crime
----------
Isis Celebrates Eid with Video of Killing Spree
Aug 1, 2014
The Islamic State, formerly known as ISIS, released a video to celebrate Eid, which marks the last day of Ramadan. The 30-minute video contained clips of the jihadists murdering young men and Iraqi soldiers.
The video, no longer available, was apparently taken down by LiveLeak and YouTube for violating their terms of service.
Eid is a day for Muslims to unite. Yet, the Islamic State celebrated it by showing off the murders of fellow Muslims. The Telegraph reported:
Others are seen standing on a small river jetty before shuffling forward where they are shot in the head and fall into the water. The executions take place in Saddam Hussein's hometown Tikrit.
Another sequence shows ISIS gunmen in a fast car firing on traffic, riddling other vehicles with bullets in an apparently random killing spree.
The 30-minute clip shows tracksuit bottoms being removed from men to reveal combat trousers underneath in an apparent justification that they are soldiers being slain.
Full report at:
http://www.breitbart.com/Big-Peace/2014/07/30/Islamic-State-Celebrates-Eid-With-Video-of-Killing-Spree
-----------
10 killed in Baghdad blast: police
August 1, 2014
BAGHDAD: At least 10 people were killed and 29 wounded Friday in bomb blasts that struck two districts of Baghdad, police and hospital sources said.
The deadliest was a car bomb in the northern Shia neighbourhood of Sadr City, which has been frequently targeted and where security is usually heightened ahead of Friday prayers. At least seven people were killed and 21 wounded in the explosion that rocked one of the large neighbourhood´s main streets, a police colonel and hospital sources said.
Three roadside bombs also went off almost simultaneously near a Shia mosque close to the central Kholani square, killing three people and wounding eight, two police officers said.
Jihadist group the Islamic State seized large parts of Iraq´s west and north in June, before stopping its offensive a few dozen kilometres from Baghdad. But it has continued to wreak havoc in the capital, mainly with suicide attacks, car bombs and improvised explosive devices targeting security forces.
http://www.thenews.com.pk/article-155584-10-killed-in-Baghdad-blast:-police
----------
Islamic State imposes media controls in Syrian province
August 1, 2014
BEIRUT: Islamic State, the Al Qaeda splinter group which has seized parts of Syria and Iraq, has told activists in Syria's Deir al-Zor province they must swear allegiance to it and submit to censorship, a monitoring group said on Friday.
The militant group imposed the rules after a meeting on Tuesday with activists involved in media work, the British-based Syrian Observatory for Human Rights said.
International media organisations have little presence in Syria and rely on activists and other sources to provide information on what is happening in the country.
Islamic State also told the activists they must recognise the caliphate, based on their strict interpretation of Islam, that it has declared in the parts of Iraq and Syria it controls.
It also said they must stop using the term "Daash" to describe the group. "Daash" is the Arabic acronym for the group's previous name, the Islamic State in Iraq and the Levant (ISIL), and is mainly used by people who oppose it.
The Observatory, a Britain-based group which reports on Syria using a network of sources on the ground, said Islamic State also banned activists from working with television channels immediately.
Full report at:
http://www.dawn.com/news/1122634/islamic-state-imposes-media-controls-in-syrian-province
----------
Syria jihadists fight Kurds, Sunni tribe
Aug 1, 2014
Damascus (AFP) - The jihadist Islamic State (IS), which has taken over large swathes of war-torn Syria in just a few months, was Thursday engaged in fighting Kurds and members of a Sunni tribe.
The Syrian Observatory for Human Rights said the well-equipped Kurds, who started fighting IS after it emerged in Syria in spring last year, had Wednesday recaptured several hills surrounding the city of Ain al-Arab (Kobane in Kurdish) in the north.
IS has been trying to take Ain al-Arab -- Syria's third Kurdish city -- and incorporate it into the Islamic "caliphate" it proclaimed last month.
The fighting killed 14 members of the Kurdish People's Protection Units (PYG) and 35 IS members. Dozens of other fighters were wounded, the Observatory said.
The fighting comes two weeks after some 800 Kurdish fighters entered Ain al-Arab from neighbouring Turkey to fight IS.
There are some 3.5 million Kurds in Syria, and with the country swamped in a war that broke out three years ago, they are seeking autonomy in areas where they are a majority.
Eastwards, IS pounded regime positions in Hassakeh, as they tried to surround the city of 200,000 Kurds, Arabs, Armenians and other Christians.
Full report at:
http://news.yahoo.com/syria-kurdish-jihadist-battle-kills-49-ngo-003232910.html
-----------
Hamas, Islamic Jihad, to attend Cairo talks on Gaza truce
Aug 1, 2014
Members of the Palestine Liberation Organisation (PLO), Hamas and Islamic Jihad will attend truce talks in Cairo on Friday over the ongoing Gaza war.
Egypt's foreign ministry announced on Friday that Israel and the Palestinians Authority would send delegates to Cairo for truce talks after both sides agreed to a 72-hour ceasefire in Gaza.
The Palestinian delegation will examine the possibilities of developing the Egyptian initiative for a ceasefire aimed at ending the violence in the Gaza Strip, underway since 8 July.
"Egypt emphasises the importance of both sides committing to the ceasefire so the negotiations can take place in a favourable atmosphere," the Egyptian foreign ministry said in a statement.
Palestinian sources told Ahram Online that the PLO will be represented by Azzam Al-Ahmed, Maged Farag (Fatah); Maher Taher (The Popular Front); Kees Abdel Karem (Democratic Front) and Basem Al-Salhi (People's Party).
Five leading figures will represent Hamas, including Moussa Abu Marzouq, Emad Al-Alami, Khalel Al-Hayah, Ezzat Al-Rasheq and Mohamed Nasr.
Full report at:
http://english.ahram.org.eg/NewsContent/2/8/107499/World/Region/Hamas,-Islamic-Jihad,-to-attend-Cairo-talks-on-Gaz.aspx
-----------
India
Separatist leader Syed Ali Geelani manages to foil Pandits' pilgrimage
M Saleem Pandit,TNN | Aug 1, 2014
SRINAGAR: The Jammu and Kashmir government on Thursday withdrew permission for the Kousar Nag Yatra to Kashmiri pandits.
This comes after prominent separatist leader Syed Ali Geelani had called for a Bandh on Saturday and protests after Friday prayers against it.
Kausar Nag Lake is over 12,000 feet above sea level in Shopian district. A Kasmiri pandit group, the All Parties Migrants' Coordination Committee (APMCC) was to start the pilgrimage next Tuesday and at least 4,000 people were going to participate.
Sources said the Kashmiri Hindus intend to reach Kausar Nag on Wednesday and hold a six-day puja. The glacial lake that is said to be among the Kashmir valley's purest. The state had declared the lake a place of religious significance and made extensive preparations for the pilgrims.
Geelani said the Yatra would "destroy the fragile environment and water resources of Kashmir". He had even said pilgrimage to Kausar Nag was part of an RSS agenda to "eliminate the Muslim identity of the region".
"India is following in Kashmir the policy Israel implemented vis-a-vis Palestine. If this process is not stopped, we will have to face the same humiliation and bloodshed the Palestinian people are facing," he said.
Full report at:
http://timesofindia.indiatimes.com/india/Separatist-leader-Syed-Ali-Geelani-manages-to-foil-Pandits-pilgrimage/articleshow/39383572.cms
-----------
Pak used US anti-terror military aid to fight India: Former diplomat
Press Trust of India | Washington | August 1, 2014
Most of the American military aid to Islamabad for counterinsurgency has gone into buying equipment to fight India, a former US diplomat has told lawmakers as he described Pakistan as a country which is "on the edge in many ways of being a failed state".
Testifying before a Congressional Committee, Ronald Neumann, former US Ambassador to Afghanistan, said the State Department on Terrorism ranks Pakistan as having the highest level of terrorist incidents of any country in the world.
"Almost all of those incidents are not related to any aspect of Afghanistan. Many of them take place in areas that have nothing to do with the FATA area," he said.
"It is an economy which basically faces a crisis because of demographic pressures, because this is a country that spends less on education than virtually every country in the world. It is a country which is always on the edge in many ways of being a failed state," Neumann said.
"It's also a country where we don't seem to tie our strategy in Afghanistan. It virtually went unmentioned in the quadrennial defence review. There's no mention of it in the West Point speech. And we're cutting aid very seriously," he said.
Full report at:
http://indianexpress.com/article/world/asia/pak-used-us-anti-terror-military-aid-to-fight-india-former-diplomat/99/
-----------
India, US ask Pakistan to bring 26/11 attack perpetrators to justice
August 1, 2014
New Delhi, Jul 31 (PTI) India and the US today asked Pakistan to work towards bringing the perpetrators of the 2008 Mumbai attacks to justice even as they vowed to eliminate terrorist safe havens and disrupt terror networks including that of al-Qaeda and Lashkar-e-Taiba.
In a joint statement after marathon talks between visiting US Secretary of State John Kerry and External Affairs Minister Sushma Swaraj, the leaders reiterated their condemnation of terrorism in all its forms. They reaffirmed their commitment to eliminating terrorist safe havens and infrastructure and disrupting terrorist networks including al-Qaeda and the Lashkar-e-Taiba, the statement said.
Full report at:
http://www.india.com/loudspeaker/india-us-ask-pakistan-to-bring-2611-attack-perpetrators-to-justice-107518/
-----------
Jihadis force govt to set up counterterrorism academy
Deeptiman Tiwary,TNN | Aug 1, 2014
NEW DELHI: In the backdrop of global terrorism knocking on India's doors, the government is working on a proposal to set up India's first 'Counter-Terrorism Academy' with an aim to redirect security establishment's focus on training, research and forensics.
"The proposal is in the works. The academy would have a training wing, a centre for excellence in forensics and a think tank which would focus on research in internal security issues. We have no credible think tank in the country that focuses on internal security," said a senior home ministry official.
The move is part of government's larger effort to recalibrate counterterrorism efforts in the face of challenges from outfits such as al-Qaida and ISIS apart from ever metamorphosing domestic outfits such as Indian Mujahideen and SIMI.
Sources in the ministry of home affairs said the proposal is being seriously thought over by the incumbent government and a series of meetings have already taken place.
Full report at:
http://timesofindia.indiatimes.com/india/Jihadis-force-govt-to-set-up-counterterrorism-academy/articleshow/39382035.cms
---------
North America
Muslim residents sue U.S. over citizenship denials
1 August 2014
Five long-time U.S. residents who are Muslim or from Muslim-majority countries sued the federal government on Thursday, saying the Department of Homeland Security was unfairly denying or delaying requests for citizenship and permanent residency on vague security grounds.
The plaintiffs, all immigrants who are either practicing Muslims or are from predominantly Muslim nations, complain their immigration or naturalization petitions were illegally thwarted after they were flagged for potential national security concerns under a federal program.
They complained that the criteria for flagging applications under the Controlled Application Review and Resolution Program (CARRP) were secretive and broader than authorized by the U.S. Congress, essentially creating an immigration blacklist.
"Our clients are long-time, law-abiding residents of the United States who, for years, the government has walled off from becoming citizens and lawful residents of this country without legal authority to do so," said Jennie Pasquarella, an attorney with the American Civil Liberties Union of Southern California, which filed the suit in federal court in Los Angeles.
Full report at:
http://english.alarabiya.net/en/News/2014/08/01/Muslim-residents-sue-U-S-over-citizenship-denials.html
-----------
US State Department Criticizes Indonesia for Intolerance
Aug 1, 2014
Jakarta. The US State Department's 2013 Report on International Religious Freedom accuses the Indonesian government of having failed to ensure religious freedom in the nation.
The report, released on Monday, claims that the government had generally "failed to prevent violence, abuse, and discrimination against individuals based on their religious belief."
It further accused the government of being responsible for having "limited the rights of adherents to minority faiths to worship freely."
The annual report to the US Congress pointed out that there is a willful negligence by law enforcers in Indonesia when it comes to dealing with cases involving religious intolerance.
The report said the police in Indonesia "failed to prevent or sufficiently investigate instances in which militant groups and mobs throughout the country attacked, vandalized, forced to close, or prevented the establishment of places of worship, religious schools, and homes of Muslim groups regarded as unorthodox."
Full report at:
http://www.thejakartaglobe.com/news/us-state-department-slams-indonesia-intolerance/
-----------
Pakistan needs to prove they are acting against Haqqanis too: US
1 August 2014
WASHINGTON- A six-week Pakistani army offensive has succeeded in disrupting the militant groups that had long enjoyed free rein in the rugged North Waziristan tribal region along the border with Afghanistan, Obama administration officials say.
But proof of the operation's success, they say, will be whether groups such as the notorious Haqqani network are allowed to reconstitute themselves in North Waziristan or elsewhere and again plot attacks against US-led forces in neighboring Afghanistan or elsewhere, reported The Los Angeles daily.
Previous Pakistani offensives in the tribal belt have either ignored groups like the Haqqanis — who are blamed for deadly attacks against US-led forces in Afghanistan — or allowed them to return. US military officials believe that top levels of Pakistan's security establishment back the Haqqanis as a proxy force to maintain influence in Afghanistan.
But with most US forces withdrawing from Afghanistan at the end of the year, the U.S. military's ability to battle the Haqqani network is expected to diminish sharply. Obama administration officials have pressed Pakistan's military leaders in a series of meetings this month to ensure the group does not escape the current operation.
Full report at:
http://www.nation.com.pk/national/31-Jul-2014/pakistan-needs-to-prove-they-are-acting-against-haqqanis-too-us
-----------
Civilian casualties in Gaza 'too high,' Pentagon says
Aug 1, 2014
The Pentagon called on Israel on Thursday to do more to protect civilian life during its military operations in Gaza, saying the conflict was taking too high a toll on civilians.
"The civilian casualties in Gaza have been too high. And it's become clear that the Israelis need to do more to live up to their very high standards - their very high and very public standards - for protecting civilian life," Pentagon spokesman Colonel Steve Warren said at a news briefing.
Gaza officials say more than 1,370 Palestinians, most of them civilians, have been killed in the battered enclave. Israel says 56 of its soldiers and three civilians have been killed.
http://english.alarabiya.net/en/News/world/2014/07/31/Civilian-casualties-in-Gaza-too-high-Pentagon-says.html
-----------
Pakistan
Taliban factionalisation fuels spate of kidnappings in Pakistan
August 1, 2014
ISLAMABAD: Growing factionalisation within the Pakistani Taliban has spurred a rise in kidnappings of wealthy businessmen and influential figures, The Wall Street Journal quoted security officials as saying, as separate strands of the militant network seek funds for their terrorist activities.
An officer from the Federal Investigation Agency who works specifically on kidnapping cases said the splintering of the Pakistani Taliban, formally known as the Tehreek-e-Taliban Pakistan or TTP, has led to more such crime in the past two years. "The militant groups are more active in this way," he said.
Security officials also warn that the launch in June of the long-awaited military operation against Taliban strongholds in the tribal areas bordering Afghanistan has sent a new wave of militants into the cities, and that criminal activity there may increase as a result.
Pakistan's commercial hub, Karachi, has long been a notorious centre for kidnapping, but these crimes are now increasingly being committed by Taliban factions or criminals they subcontract. Taliban-linked groups are also extending the practice to parts of the country where kidnappings have been rarer, including the capital, Islamabad.
Full report at:
http://www.dailytimes.com.pk/islamabad/01-Aug-2014/taliban-factionalisation-fuels-spate-of-kidnappings-in-pakistan
----------
No room for politics of slogans, sit-ins: PM Nawaz Sharif
August 1, 2014
JEDDAH/ISLAMABAD/ LAHORE: Prime Minister Nawaz Sharif says there is no room for politics of slogans and sit-ins in the country. He said this while talking to journalists in Jeddah.
The prime minister said several thousand people could not derail democracy established in the country with the help of millions of people.
He said Pakistan has witnessed many revolutions during the last sixty-five years but now if there is a revolution, it will come only through democracy.
The prime minister said August 14 ceremonies would be held during the night and the national flag be hoisted in the morning.
Nawaz said all serious political and religious parties believe in democracy and are acting responsibly. He said political parties had learnt from the past and now they were endeavouring for stabilising democracy. However, he said the doors for talks were always open in democracies.
The prime minister said the focus of the government was on economic stability.
Separately, in an interview, Nawaz said the government was working to bring the country out of economic crisis and resolve people's problems.
Full report at:
http://www.dailytimes.com.pk/national/01-Aug-2014/no-room-for-politics-of-slogans-sit-ins-pm
----------
Panjgur: Gunmen kill 3 including a woman
August 1, 2014
PANJGUR: Some unknown gunmen killed three persons including a woman in the Balochistan district on Friday here, Geo News reported.
Levies Force said that the firing incident occurred at Join in Tehsil Prom, where unknown armed motorbike riders barged into a house and opened indiscriminate firing resulting in the death of three persons including a woman, while the assailants after the firing escaped from the scene.
On information, the district administration personnel reaching the place sent the bodies to District Headquarter Hospital for necessary formalities.
The motive of the killers could not immediately be known, however further investigation being conducted.
http://www.thenews.com.pk/article-155575-Panjgur:-Gunmen-kill-3-including-a-woman-
----------
Pakistan fires 118 rockets in Kunar province
Aug 1, 2014
The Pakistani military fired at least 118 rockets in eastern Kunar province of Afghanistan, local officials said.
The officials further added that the shelling started on Wednesday night from the other side of the Durand line.
Provincial security chief, Gen. Abdul Habib Syed Khel, said the rockets landed in Shegal, Dangam and Marwara districts.
Gen. Syed Khel confirmed that no casualties were incurred to the local residents, but some houses and other properties were damaged following the shelling.
Cross-border attacks have been the main source of diplomatic tensions between the two countries, with Islamabad and Kabul regularly complaining to each other about the incursions.
Full report at:
http://www.khaama.com/pakistan-fires-118-rockets-in-kunar-province-6502
----------
Imran can negotiate with TTP but not government: Saad Rafique
August 1, 2014
LAHORE: Federal Minister for Railways Khawaja Saad Rafique questioned on Friday that if Pakistan Tehreek-i-Insaf (PTI) chief Imran Khan was ready for negotiations with the Tehreek-i-Taliban Pakistan (TTP), then why wasn't he prepared to hold talks with the government, DawnNews reported.
Speaking to media representatives in Lahore, Rafique said decisions concerning the destiny of nations were not made through street protests.
He said the doors of negotiation were always open in politics, adding that issues can only be resolved through a careful understanding of problems.
The minister said the present situation called for unity and not division.
Rafique's statement comes as momentum has picked up over the PTI's million man long march call scheduled for August 14. The party has said that it would march on Islamabad if the government fails to accept within a month its demands relating to fairness of elections.
http://www.dawn.com/news/1122619/imran-can-negotiate-with-ttp-but-not-government-saad-rafique
----------
COAS orders 'speedy' action against all terrorists in NWA
August 1, 2014
RAWALPINDI: Chief of Army Staff (COAS) General Raheel Sharif, while interacting with troops engaged in Zarb-e-Azb operation against terrorists in North Waziristan Agency (NWA), urged them to stay focused on speedy and skilful conduct of the operation against all terrorists.
"Now that their command and communication infrastructure has been disrupted, we will never allow them to return," he added during his visit to NWA to celebrate Eid with troops on the front lines. According to an ISPR press release issued on Tuesday, the army chief stayed overnight at the Miranshah Camp. Upon his arrival, the operation commander briefed the COAS on the progress of the operation. The COAS expressed his complete satisfaction over the achievements and progress of the operation made so far in the agency.
Full report at:
http://www.dailytimes.com.pk/national/01-Aug-2014/coas-orders-speedy-action-against-all-terrorists-in-nwa
----------
Africa
Protests against militias break out in Libyan capital
Aug 1, 2014
Protesters took to the streets of the Libyan capital of Tripoli on Thursday in a show support for the embattled army and to demand the expulsion of Islamist militias from the capital, in the country's worst fighting since the 2011 revolt that overthrew Muammar Qaddafi.
The protest in Tripoli comes after Libya's Islamist militant group Ansar al-Sharia has said that it seized complete control of Benghazi late on Wednesday, declaring the city an "Islamic emirate."
Clashes with artillery and rockets spread on Thursday into two Tripoli districts, where rival militia brigades were battling over the airport.
Close to 200 people have been killed since the violence erupted two weeks ago in Tripoli and also in the eastern city of Benghazi, where a coalition of Islamist militants and former rebels has overrun a major army base in the city.
Tunisia also declared a high alert on its 459km border with Libya, as Prime Minister Mehdi Jumaa held a meeting with the country's ministers of Interior, Civil Defense, Justice and Foreign Affairs, to discuss the security risks on the Tunisia-Libya border.
Full report at:
http://english.alarabiya.net/en/News/middle-east/2014/07/31/Protests-against-militias-break-out-in-Tripoli.html
-----------
Two Egyptians shot dead in Libya-Tunisia border clash
1 August 2014
Two people were shot dead when Libyan border guards opened fire to disperse hundreds of Egyptians trying to cross into Tunisia to flee Libya's growing chaos, the Tunisian state news agency TAP said on Thursday.
Hundreds of Libyan families and foreign workers have fled their homes after two weeks of clashes between rival Libyan militias over Tripoli's airport in the worst violence since the 2011 war to oust Muammar Qaddafi.
Most Libyan airports are closed because of deteriorating security in Tripoli and Benghazi, leaving Tunisia's border one of the few routes out for residents and some foreign diplomats fleeing bloodshed in the capital.
Hundreds of Egyptians were protesting at the border point of Ras Jdir after the Tunisian border guards closed its gates on Thursday, a Reuters reporter at the site said.
"The incident came after Libyan troops fired to disperse the Egyptians," TAP said, citing Tunisian security sources, who said the two victims had been shot.
Full report at:
http://english.alarabiya.net/en/News/2014/08/01/Two-Egyptians-shot-dead-in-Libya-Tunisia-border-clash-state-media.html
-----------
70 illegal workers mostly Ethiopians, escape Saudi detention centre
Aug 1, 2014
Nearly 70 illegal migrant workers, mostly Ethiopians, have fled from a detention centre in the Saudi capital, local media reported Friday, adding that authorities have rearrested 25 of them.
Police have been cracking down on illegal migrants since the expiration in November of a seven-month amnesty during which they had to regularise their status or leave the country, in operations that have sparked deadly clashes.
"Around 70 detainees broke the wall of their cell at a foreigners' detention centre in Al-Marbaa neighbourhood of Riyadh and managed to escape," online news website Sabq.org said, quoting a prisons spokesman, Abdullah al-Harbi.
"Twenty-five of them have been caught and a search is ongoing for the rest," he said.
Al-Hayat daily reported that the inmates dug a hole into the wall of their cell and escaped early on Thursday.
Full report at:
http://english.ahram.org.eg/NewsContent/2/8/107500/World/Region/-illegal-workers-escape-Saudi-detention-centre.aspx
---------
Europe
Outrage As Muslim Mayor of Tower Hamlets Orders the Palestinian Flag to Fly Over Town Hall 'In Solidarity with Gaza'
Aug 1, 2014
Tower Hamlets's Muslim mayor Lutfur Rahman sparked a storm of protest tonight after raising the Palestinian flag over the town hall 'in solidarity with Gaza'.
Barely 24 hours after it emerged Mr Rahman is to face trial over claims he committed widespread voting fraud, he ordered the flag to fly 'in support of a ceasefire and peace'.
Jewish leaders condemned the move as 'destructive' for community relations as local residents said the council should concentrate on 'potholes and bins' and not international conflicts.
Mr Rahman was a member of the Tower Hamlets Labour Party and was its candidate to be the first directly elected mayor of the borough in 2010.
But he was expelled from the Labour party after allegations surfaced about his close links with an Islamic extremist group called the Islamic Forum of Europe.
He is accused of using illegal tactics to win the mayoral election in Tower Hamlets, East London, in May.
Full report at:
http://www.dailymail.co.uk/news/article-2710998/Tower-Hamlets-Mayor-Lutfur-Rahman-orders-Palestinian-flag-fly-town-hall-solidarity-Gaza.html#ixzz39BFly8qN
-----------
Israel soon responsible for displaced Palestinians in Gaza: UN
Aug 1, 2014
As Israel warns more Gaza neighborhoods to evacuate, a top U.N. envoy told the United Nations Security Council on Thursday that Israel would be required under international law to take responsibility for helping Palestinians civilians in any further large-scale displacements.
The United Nations is struggling to cope with a flood of some 220,000 Palestinian civilians into shelters. They have come under fire during three weeks of fighting between Israel and Hamas militants who dominate Gaza.
Speaking from Gaza City, Pierre Krähenbühl, head of the U.N. Relief and Works Agency (UNRWA), said the impoverished enclave of 1.8 million Palestinians was facing a precipice. Krähenbühl said he was alarmed to hear that Israel had warned more neighborhoods in Gaza to evacuate ahead of military action.
"Should further large-scale displacement indeed occur, the occupying power, according to international humanitarian law, will have to assume direct responsibility to assist these people," he told the 15-member Security Council.
Full report at:
http://english.ahram.org.eg/NewsContent/2/8/107475/World/Region/Israel-soon-responsible-for-displaced-Palestinians.aspx
-----------
Europeans must stay in Libya if they want global role
Aug 1, 2014
European nations must stay in Libya if they are serious about tackling major global issues, Italian Prime Minister Matteo Renzi said on Thursday, as renewed fighting triggered mass evacuations of foreigners.
"Staying in Libya signifies trying to have a role in several of the most important geopolitical questions of the coming years: peace, security and immigration," Renzi told members of his Democratic Party.
Italy, which currently holds the rotating presidency of the European Union, has kept its embassy open in Libya, along with Britain.
But with rival militias plunging the North African nation back into serious unrest over the past fortnight, many countries have shut their embassies and evacuated staff, including Germany, Holland, Switzerland and the United States.
Italy has evacuated around 120 of its citizens from Libya in recent days, along with around 30 people of other nationalities, and is contacting remaining citizens in the country to extract them.
Full report at:
http://english.ahram.org.eg/NewsContent/2/9/107478/World/International/Europeans-must-stay-in-Libya-if-they-want-global-r.aspx
-----------
Interfaith house of prayer to be built in Berlin
1 August 2014
A rabbi, an imam and a priest start praying together under the same roof. It may sound like the start of a joke, but hopes are high it will become reality in Berlin.
The three men are working together to build a common house of worship - the "House of One" - in the center of the capital that will include a church, a mosque and a synagogue, as well as a joint meeting hall at the center of the building.
"We have noticed, as a community here in the middle of the city, that a lot of people want to meet people from different backgrounds and religions and that there is a strong desire to show that people from different religions can get along," Pastor Gregor Hohberg of Berlin's St. Petri parish told The Associated Press. "We want to make a point and show that religions can be a cause of peace."
Hohberg came up with the idea for the House of One, and teamed with Berlin Rabbi Tovia Ben Chorin and Imam Kadir Sanci. The trio hope Christians, Jews and Muslims will soon study and pray together.
Full report at:
http://english.alarabiya.net/en/News/2014/08/01/Interfaith-house-of-prayer-to-be-built-in-Berlin.html
---------
South Asia
Maldives Protestors continue call for Israeli tourism ban
Aug 1, 2014
A group of 30 people have held a motorbike rally for the fourth consecutive night in Malé urging the government to ban tourists from Israel.
The group – consisting mostly of men – set off from the Social Center on Majeedhee Magu at 11:00 pm on Thursday night. They carried megaphones and black flags with the Shahadha or the Islamic creed declaring the oneness of Allah and the acceptance of Mohamed as Allah's prophet.
"Expel Israeli tourists!" they chanted and also called for the expulsion of anyone who assists Israel.
The serial protests come in the aftermath of a tourist vandalizing an anti-Israeli placard featuring the swastika along with the Israeli flag on the island of Thulusdhoo on Monday night.
A few hours later, a group of men from from Malé went to Thulusdhoo to demand Israelis be expelled from the country. Subsequently, the Maldives Police Services had to evacuate 34 tourists from the island.
Anti Israeli sentiment has been growing in the Maldives with the mounting death toll in Gaza. Over 1400 people have been killed in the war, Palestinian officials have said.
Protestors in Malé have vowed to continue rallying until the government bans tourists from Israel.
Full report at:
http://minivannews.com/politics/protestors-continue-call-for-israeli-tourism-ban-89188
-----------
Imam of China's biggest mosque killed in Xinjiang
AFP | August 01, 2014
Beijing: The head of China's largest mosque was murdered after conducting morning prayers, the local government in far western Xinjiang said on Thursday, amid intensifying violence in the turbulent region. Jume Tahir, the government-appointed imam of the 600-year-old Id Kah mosque in the city of Kashgar, was killed on Wednesday by three thugs influenced by religious extremist ideology", the Xinjiang government web portal Tianshan said.
Police launched an all-out investigation and shot dead two of the alleged assailants while capturing the other at about noon on Wednesday as they violently resisted with "knives and hatchets," Tianshan said.
Tianshan said Tahir's killing was 'premeditated' and that the suspects intended to commit a 'ruthless murder'. It also said they wanted to "increase their influence through 'doing something big'". Tianshan identified the suspects by their names in phonetic Chinese. The official Xinhua news agency in an English-language report gave their names as Turghun Tursun, Memetjan Remutillan and Nurmemet Abidilimit.
Full report at:
http://www.deccanchronicle.com/140801/world-neighbours/article/imam-chinas-biggest-mosque-killed-xinjiang
-----------
District mayor shot dead by gunmen in Logar province
Aug 1, 2014
Unknown gunmen shot dead district mayor for Mohammad Agha in eastern Logar province of Afghanistan, local officials said.
Provincial governor spokesman, Din Mohammad Darwish, said the incident took place late Thursday night after a group of gunmen attacked the residence of Mohammad Agha district mayor Saifullah.
Darwish further added that three family members of Saifullah including his wife were also injured in the attack.
He said Saifullah did not have any personal enmity with anyone and an investigation has been launched in connection to the incident.
No group including the Taliban militants has so far claimed responsibility behind the incident.
Logar is among the volatile provinces in central Afghanistan where anti-government armed militant groups are actively operating in a number of its districts and frequently carry out insurgency activities.
The district mayor for Mohammad Agha had escaped gunmen attack around three months ago.
http://www.khaama.com/district-mayor-shot-dead-by-gunmen-in-logar-province-6505
-----------
Southeast Asia
Pakatan must jump gender hurdle as leadership tussle persists, says Guan Eng
Aug 1, 2014
GEORGE TOWN, August 1 — DAP's Lim Guan Eng challenged his Pakatan Rakyat (PR) colleagues today to state their support for a woman mentri besar, saying such a stand was the first step to end the protracted Selangor leadership crisis.
The DAP secretary-general, however, dismissed speculation that the three-party pact would break up over disagreement on who would lead Malaysia's richest state.
"This is the first hurdle, I want all the political parties' presidents, not the Youth wing or the Wanita wing, to unequivocally state that they do not oppose a woman as a mentri besar and that a woman is qualified to be a mentri besar," he told a news conference here.
Lim, who is also Penang chief minister, added that the pact can discuss the pros and cons of replacing the incumbent Tan Sri Khalid Ibrahim with PKR president Datuk Seri Dr Wan Azizah Wan Ismail once the "first hurdle" was cleared.
"The main issue is whether there's an objection to Wan Azizah because she's a woman. This is a very important point.
Full report at:
http://www.themalaymailonline.com/malaysia/article/pakatan-must-jump-gender-hurdle-as-leadership-tussle-persists-says-guan-eng#sthash.5NJ78ORv.dpuf
-----------
Leave Pakatan to ward off 'enemies of Islam', Isma tells PAS
AUGUST 1, 2014
KUALA LUMPUR, Aug 1 — Ikatan Muslimin Malaysia (Isma) urged PAS to abandon its pact with Pakatan Rakyat (PR) today, telling the Islamist party that the Malays will benefit hugely from the split in the fight against the "enemies of Islam".
The right-wing group said by colluding with its PR allies, PAS had diluted its principles and struggles, and exiting the opposition pact will return the Islamist party to its original path of championing Islam.
"Nobody can deny, even among PAS members and leaders, that PAS' position in PR has brought more ruin than good," said Isma deputy president Aminuddin Yahaya.
"Although PAS did win more seats, but in the aspect of its identity, the issue is something that needs to be reflected on."
In a statement, Aminuddin also listed down 10 reasons why PAS must leave PR. Among others, he claimed that the party's agenda has been manipulated by members with their own personal vested interests.
Full report at:
http://www.themalaymailonline.com/malaysia/article/leave-pakatan-to-ward-off-enemies-of-islam-isma-tells-pas#sthash.NgqG3vno.dpuf
-----------
Five OPM Fighters Shot Dead By Indonesian Army in Papua
Aug 1, 2014
Jayapura. Five members of Free Papua Organization, or OPM, were shot dead and two Indonesian soldiers were injured in an exchange of gunfire in Lanny Jaya district on Friday morning.
"It's true there has been a shooting in Lanny Jaya district," Papua military commander Maj. Gen. Christian Zebua told the state-run Antara news agency on Friday. "Five OPM Members died and two soldiers were shot."
The incident happened after soldiers and police officers were attacked by OPM members on the way to a military post in Lanny Jaya district.
"Two of our soldiers were shot, one of them is First Private Rohmn Caraka," Christian said.
http://www.thejakartaglobe.com/news/five-opm-fighters-shot-dead-indonesian-army-papua/
-----------
URL: https://www.newageislam.com/islamic-world-news/new-age-islam-news-bureau/israel-killed-318-palestinians-during-muslim-holiday-of-eid/d/98379