New Age Islam News Bureau
4 Aug 2013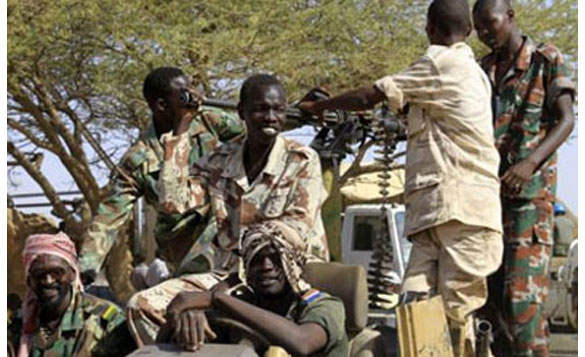 Sudanese soldiers keep watch in the Shangil Tobaya area for displaced people in North Darfur state, on June 18, 2013. A new outbreak of tribal violence in Darfur region has killed nine people, official media said, in fighting that has added to worsening insecurity in the region. (AFP/File)
------------
Europe
• Islamists at Berlin Al-Quds Day Call for Destruction of Jewish State
• Islamic group test ground in calm Ukraine
• US consultant admits role in 'Karachi affair': paper
• Interpol issues global security alert after jailbreaks in Pakistan, Iraq and Libya
• Tony Blair sees silver lining for Middle East conflicts
South Asia
• Deadly attacks foiled in capital Kabul, 7 suicide bombers arrested
• Jamaat turns violent in Bangladesh over HC verdict
• Ex-FBI agent in plot to sell documents on Bangladesh politician
• Taliban supporters in Afghanistan receive $150m in US contracts
• Bomb wounds 16 in eastern Afghan city
• President Waheed hands flats to 'top 50′ police, promises more
India
• India blames Pakistan for Afghanistan suicide attack
• We won't be deterred by this attack and will continue to assist Afghanistan: India
• Indian man wearing dhoti not allowed on Dubai metro
• SIMI man held for Kerala terror camp
• Muslim group vows support to IAS officer Durga
Arab World
• Iraqi general survives blast as attacks kill 24
• Soldiers, judge among six killed in Iraq
• Egypt army chief Abdel Fattah al-Sisi holds talks with Islamists
• Syrian conflict: Many dead in Lebanon border air strike
• 'Morsi supporters using residents as human shields'
• Lebanese suicide bomber, brother 'martyred' in Syria
• Sidon MP says Army entrusted with survival of Lebanon
• Lebanese Christian leader assails Hezbollah for provoking Israel
Pakistan
• Pakistan Taliban commander uncovers DI Khan jail assault plan
• PTI, ANP draw swords while slain MPA's brother draws support
• Saudi Arabia and Pakistan care about each other more in deed than in words: Sharif
• Zardari for Pak-Iran efforts for regional stability, peace
• Drone war rages on despite US talks about ending it
• Falling prey to 'Halal' investments
• Threats from militants: Jail security tightened
• Christians fear violence, flee houses
Africa
• 9 dead in new Darfur tribal clash
• Tunisia presses hunt for jihadists
• Tunisia says "terror" suspect killed in dawn raid
• Libya's deputy PM resigns over 'dysfunctional' govt
Mideast
• 'Some are trying to make an Egypt out of Turkey,' says PM Erdoğan
• Iran's Rouhani tells Syria PM alliance will stay strong
• Israel PM slams Iran's Rouhani
• Yemen ups security at Western missions after US warning
• Israel to free 26 Arab prisoners on August 13: Negotiator
North America
• US embassy in Kabul, MOFA condemn attack on Indian mission
• Al-Qaida terror threat: US increases security, shuts 22 embassies
• Canada shuts Bangladesh mission for Sunday
Southeast Asia
• "Will BN really punish own news media for getting Muhyiddin wrong?"
• Police Search for 7 Migrants Who Escaped Aceh Detention
Compiled by New Age Islam News Bureau
URL: https://www.newageislam.com/islamic-world-news/new-age-islam-news-bureau/islamists-at-berlin-al-quds-day-call-for-destruction-of-jewish-state/d/12885
---------
Europe
Islamists At Berlin Al-Quds Day Call For Destruction Of Jewish State
August 04, 2013
BERLIN – Radical Islamists turned a bustling shopping district in Berlin on Saturday into the center of a pro-Iranian- regime and Hezbollah demonstration commemorating al-Quds Day.
Police officials told The Jerusalem Post that roughly 900 Islamists marched along the Kurfürstendamm shopping strip, calling for the abolition of the Jewish state.
Supporters of Hezbollah and Iran blanketed the area with Hezbollah flags and chants declaring "Zionists are fascists."
The founder of the Islamic Republic of Iran, Ayatollah Ruhollah Khomeini, launched the al-Quds Day demonstration in 1979 as a protest against Israel's right to exist.
Berlin has been the stage for these protests since 1996.
On Saturday, pro-Israel groups mounted a counter-demonstration at Joachimstaler Square and Kurfürstendamm.
Jochen Feilcke, head of the Berlin and Potsdam German-Israel friendship society, told the more than 100 attendees that "there should be no al-Quds demonstrations in the future in Berlin" and that "Holocaust-deniers and enemies of Israel" should be denied access to Berlin streets to protest.
The coalition of pro-Israel groups protested under the umbrella name "No al-Quds Day – Against anti-Semitism, anti-Zionism and Homophobia – Solidarity with the democracy movement in Iran."
Feilcke complained that the police boxed Israel supporters into a gated area and permitted Islamists to march freely.
"I consider it intolerable that the Israel supporters are locked in a cage," he said.
Although there were no Bundestag deputies at the rally to support Israel, a Social Democratic party city council representative was spotted in the crowd. Klaus Lederer, chairman of the German Left party in Berlin, also rallied in favor of Israel. A minority voice within the largely anti- Israel Left party, Lederer has rejected hate directed at the Jewish state and defended its right to self-defense.
Israel supporters at the rally told the Post it was shocking that no members of the Bundestag attended the protest.
Despite the EU's decision in late July to outlaw Hezbollah's military wing, yellow Hezbollah flags featuring the AK-47 rifle were waved at the march.
One young woman wore a small flag as an earring. Berlin authorities and government officials took no action against the show of military propaganda, prompting criticism from the American Jewish Committee.
Deidre Berger, head of the AJC's Berlin office, said on Saturday that "today's Hezbollah demonstration is a provocation and shows that the partial ban of Hezbollah is inadequate," because its members and supporters can display their military symbols without security officers intervening.
According to German intelligence reports from 2012, there are 250 active Hezbollah members in Berlin and 950 across the Federal Republic.
The country is a major source of fund-raising for the group.
The group – the Hezbollah controlled Waisenkinderprojekt Libanon e.V, meaning "Orphans Project Lebanon – sends money to the families of suicide bombers. German authorities have refused to shut down Waisenkinderprojekt's fund-raising operations.
A second pro-Israel demonstration organized by young anti-fascist Germans ran parallel to the coalition of Jewish and non-Jewish groups who turned out at Joachimstaler Square.
The anti-fascist groups first protested at Adenauer Square to confront the start of the al-Quds marchers.
Invoking the slogan "Against anti-Semitism and Islamism: No al-Quds Day," the anti-fascists urged supporters to turn out. According to the website of the anti-fascist groups, 250 activists appeared at Adenauer Square.
Observers said at least 50 antifascists showed up at the rally of the coalition groups.
http://www.jpost.com/International/Islamists-at-Berlin-al-Quds-Day-call-for-destruction-of-Jewish-state-321974
----------
Islamic group test ground in calm Ukraine
Aug 4, 2013
SIMFEROPOL, Ukraine — More than a thousand bearded men, muffled in scarves and accompanied by veiled women, stand under the hot sun, waving black and white flags and chanting "Allahu Akbar!" (God is Greatest).
This is not a scene from the Middle East or Central Asia but a rally of the supporters of the Islamist Hizb ut-Tahrir (Party of Freedom) in Simferopol — the capital of the Ukrainian Black Sea region of Crimea.
Hizb ut-Tahrir seeks to re-establish a Caliphate — a pan-Islamic state based on Islamic rule like in the medieval era — across the Middle East and Central Asia.
Banned in several states, it is now showing surprising strength in Crimea, a balmy seaside holiday resort region which has its own substantial Muslim Tatar minority.
The head of the information office of Hizb ut-Tahrir in Ukraine, Fazyl Amzaev, told AFP that the party's ambition of reviving the Caliphate does not extend to Ukraine and its presence is educational.
"Our work in Ukraine does not mean that we act or will act to change the borders of the state," Amzaev said.
"Achieving the goal of establishing the Caliphate is real only in countries with a predominantly Muslim population. But in Ukraine, we, as Muslims, are obliged to inform the society about Islam in its correct form."
The first devotees of Hizb ut-Tahrir appeared in the Crimea in the early 1990s. Twelve percent, or 250,000 of the nearly two million inhabitants of Crimea are Sunni Crimean Tatars.
Now they number between 2,000 and 15,000 — Hizb ut-Tahrir does not disclose the true number, claiming only a permanent climb in supporters.
"The world is a big village, and everywhere there is a struggle against Islam in favor of liberal-democratic values," Amzaev said, calling on Ukrainian Muslims not to assimilate but to keep their values.
"The Caliphate is not a threat, but on the contrary is the salvation for mankind amid a crisis of capitalism, democracy and liberal values in general."
'Democracy is a system of unbelief'
Hizb ut-Tahrir al-Islami, established in 1953 in East Jerusalem, has been banned in Russia and several Central Asian countries. It is also outlawed in Germany.
The Spiritual Board of Muslims of Crimea — the main umbrella group for Muslims in the region — has already called on the authorities to take a closer look at the group's work in Ukraine.
Its deputy head Aider Ismailov told AFP that Hizb ut-Tahrir's teachings can contradict local religious tradition and practices.
"This party creates a negative image of Islam and Muslims, people are scared of their rallies," he said.
Ismailov is not pushing for the party to be banned in Ukraine, but he considers its ideology harmful.
"We would like to see the government state its position towards a religious-political group which preaches that democracy is a system of unbelief," he said.
Ukraine appears in no hurry to ban Hizb ut-Tahrir, if just because the group simply does not exist in the legal framework of the country — it is not registered either as a party or as a public or religious organization.
Party members themselves do not seek for their formalization, citing ideological reasons.
"Hizb ut-Tahrir in Ukraine does not seek political goals, and our participation in non-Islamic authorities is forbidden by the canons of faith," Amzaev said, saying it neither plans to take part in elections nor seek power.
The authorities so far have taken merely small steps to avoid possible confrontations between Hizb ut-Tahrir members and their opponents, in particular with court decisions trying to ban party rallies.
In June, a court approved a suit from local authorities banning a scheduled rally that could not guarantee order.
Despite the prohibition, the action took place, and the police, as in similar cases in the past, limited themselves to drawing up a protocol on an administrative law violation.
The Crimean members of Hizb ut-Tahrir, however, also behave with extreme care to prevent possible attacks from opponents and punitive actions by the authorities.
In Simferopol, they have no headquarters and their information office is a virtual concept not linked to any postal address. — AFP
http://www.saudigazette.com.sa/index.cfm?method=home.regcon&contentid=20130804175906
---------
US consultant admits role in 'Karachi affair': paper
Aug 4, 2013
PARIS: An American political consultant has admitted being paid by an intermediary in 1994 arms sales for advising the campaign of French presidential hopeful Edouard Balladur, a French newspaper reported on Saturday.
Paul Manafort, who worked for Republican presidential campaigns of the 1980s, also told investigators he had met officials in Mr Balladur's unsuccessful 1995 presidential campaign, Daily Liberation said.
French investigators suspect a web of corruption behind the sale of sub-marines from France to Pakistan, with illegal funds going to the Balladur campaign in a scandal known as the 'Karachi affair'.
Former French president Nicolas Sarkozy, who was a cabinet minister and then prime minister Balladur's spokesman at the time, is linked to the affair.
Mr Manafort, who was questioned in the US state of Virginia according to Liberation, admitted being paid by Abdul Rahman al Assir, one of two intermediaries along with businessman Ziad Takieddine, brought in at the last minute to sign arms deals with Saudi Arabia and Pakistan.
Mr Takieddine admitted in June carrying briefcases stuffed with cash from Switzerland destined for the Balladur campaign, while his wife said Mr Manafort was a "close friend" of Mr Assir's.
"In this regard, Ziad told me Paul Manafort was advising the Balladur presidential campaign," she reportedly told police.
Mr Manafort confirmed her statements but said he was spurned by the Balladur campaign, while the former prime minister's associates have repeatedly denied meeting him.
Investigators say Mr Manafort, his public relations company or his associates received a total of at least $200,000 between September 1994 and August 1995.
Three more transfers from an account of Mr Assir's in Madrid to an account of Mr Manafort's from October 2000 and June 2001 totalling more than $140,000 were later discovered.—AFP
http://dawn.com/news/1033881/us-consultant-admits-role-in-karachi-affair-paper
---------
Interpol issues global security alert after jailbreaks in Pakistan, Iraq and Libya
Aug 4, 2013
PARIS: Interpol issued a global security alert on Saturday advising its members to increase their vigilance against attacks after a series of prison breaks in Iraq, Libya and Pakistan that the agency is investigating to determine if they were linked.
The Lyon, France-based Interpol said given that al Qaeda was suspected to be involved in some of the incidents, it was asking its 190 member countries to watch out for information connected to the prison breaks, with an aim to determine whether they were coordinated and also locate the escaped prisoners.
On Friday, the United States issued a worldwide travel alert warning Americans that al Qaeda may be planning attacks in August, particularly in the Middle East and North Africa.
The State Department travel alert was based on the same intelligence that prompted it to close 21 US embassies and consulates on Sunday, Aug 4, chiefly those in the Muslim world, a US official told Reuters on condition of anonymity.
Britain said it would close its embassy in Yemen on Sunday and Monday. "We are particularly concerned about the security situation in the final days of Ramazan and into Eid," the Foreign Office said in a statement, referring to the Muslim holy month which ends on Wednesday.
France also plans to close its embassy in Yemen on Sunday, a spokesman for the foreign ministry said.
Prison breaks took place in Dera Ismail Khan in Pakistan on July 31 in a Taliban-led operation and in Iraq at the Abu Ghraib prison overnight on July 22.
Some 500 convicts, among them senior al Qaeda operatives, escaped from Abu Ghraib. More than 240 prisoners, among them hardcore militants of the Tehrik-i-Taliban Pakistan (TTP) escaped from the Pakistani prison. More than 1,100 inmates broke out of a prison on the outskirts of Benghazi on July 27.
Interpol also noted that August was the anniversary of several violent attacks over the past years, including in Mumbai and Nairobi.
"Staff at INTERPOL's 24-hour Command and Coordination Centre and other specialised units are ... prioritizing all information and intelligence in relation to the breakouts or terrorist plots in order to immediately inform relevant member countries of any updates," the agency in a statement.
http://dawn.com/news/1033836/interpol-issues-global-security-alert-after-jailbreaks-in-pakistan-iraq-and-libya
---------
Tony Blair sees silver lining for Middle East conflicts
4 August 2013
There are "signs of optimism" in the Middle East, former British Prime Minister Tony Blair wrote in The Observer on Sunday, in reference to resumed peace talks between the Israelis and Palestinians in recent weeks.
The current Special Envoy for the Middle East Quartet expressed hope for peace talks between Israel and Palestine, which he sees as "a test of the region's capacity to forge a different and better future."
He admitted he had worked for the reopening of negotiations "often fruitlessly," and praised the "sheer dogged determination" of U.S. Secretary of State John Kerry, whose diplomatic efforts were instrumental in bringing the two parties back to the negotiating table.
Even in Iraq, where sectarian violence claimed nearly 1000 lives in July, he sees grounds for hope.
Full report at:
http://english.alarabiya.net/en/News/middle-east/2013/08/04/Tony-Blair-sees-silver-lining-for-Middle-East-conflicts.html
---------
South Asia
Deadly attacks foiled in capital Kabul, 7 suicide bombers arrested
Aug 4, 2013
Afghan intelligence — National Directorate of Security (NDS) on Sunday announced, at least seven suspected suicide bombers and militants were arrested in capital Kabul.
The National Directorate of Security following a statement said the suicide bombers were arrested during an operation in Chel Setun area of Kabul city on Saturday.
NDS in its statement further added that two suicide bombers were injured during clashes with the Afghan intelligence forces.
Full report at:
http://www.khaama.com/deadly-attacks-foiled-in-capital-kabul-7-suicide-bombers-arrested-1726
---------
Jamaat turns violent in Bangladesh over HC verdict
August 04, 2013
Fundamentalist Jamaat-e-Islami activists on Saturday held violent demonstrations, exploding several homemade bombs, to protest a Bangladeshi court ruling that barred it from contesting future polls.
Jamaat and its student wing, Islami Chhatra Shibir, held a procession near Mohakhali flyover in Dhaka and resorted to the vandalism and blasts, police said.
They exploded several homemade bombs and vandalised a CNG-run three-wheeler at Mohakhali area. In Bogra, the Islamists hurled explosive devices at police, who retaliated by firing rubber bullets.
Full report at:
http://www.hindustantimes.com/world-news/bangladesh/Jamaat-turns-violent-in-Bangladesh-over-HC-verdict/Article1-1102955.aspx
---------
Ex-FBI agent in plot to sell documents on Bangladesh politician
BENJAMIN WEISER
Aug 4, 2013
A former FBI special agent has been accused of conspiring to sell confidential bureau documents to a Bangladeshi man who was seeking to harm the reputation of a political rival in his native country, the authorities said on Friday.
Robert Lustyik was with the FBI in late 2011 when he began plotting with a childhood friend, Johannes Thaler, according to a criminal complaint unsealed on Friday in U.S. District Court in White Plains, N.Y.
"I will work my magic .... We r sooooooo close," Lustyik wrote in an exchange of text messages with Thaler, the complaint said.
Full report at:
http://www.thehindu.com/news/international/south-asia/exfbi-agent-in-plot-to-sell-documents-on-bangladesh-politician/article4986081.ece
------
Taliban supporters in Afghanistan receive $150m in US contracts
Aug 4, 2013
According to Special Inspector General for Afghanistan Reconstruction (Sigar), companies and individuals in Afghanistan that are known to support the Taliban have been awarded more than $150m (£98m) in contracts by U.S. government.
Companies working in construction, logistics, road building and IT have been awarded multimillion dollar contracts during the past five years, SIGAR has said.
John F Sopko, head of the SIGAR said, "Dating back to 2008, Sigar has identified more than $150m in reconstruction contracts and sub-contracts that have
been awarded to companies known to be providing material support to insurgent and terrorist organisations in Afghanistan."
Full report at:
http://www.khaama.com/taliban-supporters-in-afghanistan-receive-150m-in-us-contracts-2311
---------
Bomb wounds 16 in eastern Afghan city
Aug 4, 2013
JALALABAD: A bomb attack wounded 16 people Sunday in an eastern Afghan city hit a day earlier by a deadly suicide blast targeting the Indian consulate, officials said.
The remote-controlled device exploded in Jalalabad as a vehicle passed carrying state prosecutor Abdul Qayoom, local government spokesman Ahmad Zia Abdulzai told AFP.
The powerful explosion in the city centre wounded Qayoom, his driver and four guards and 10 civilians, Abdulzai said.
Full report at:
http://dawn.com/news/1034041/bomb-wounds-16-in-eastern-afghan-city
---------
President Waheed hands flats to 'top 50′ police, promises more
By Neil Merrett | August 3rd, 2013
President Dr Mohamed Waheed has expressed hope that more housing will be made exclusively available for police and military officers, while speaking at a ceremony to hand over 50 flats on Hulhumale' to law enforcement officials yesterday (August 2).
Speaking at last night's ceremony in Male', the president said the whole nation should recognise the role that the police and Maldives National Defence Force (MNDF) played towards maintaining law, order and national security. He also called on officers to "uphold the constitution" and help ensure a peaceful election next month.
Full report at:
http://minivannews.com/politics/president-waheed-hands-flats-to-top-50-police-promises-more-61870
---------
India
India blames Pakistan for Afghanistan suicide attack
TNN | Aug 4, 2013
NEW DELHI: India strongly reacted against the attack on its consulate at Jalalabad in eastern Afghanistan on Saturday morning, with official sources blaming the attack on Pakistani nationals.
Suicide bombers on Saturday detonated an explosives-laden vehicle near the Indian Consulate in Jalalabad city, bordering Pakistan in eastern Afghanistan, killing at least eight children and wounding 21 others.
Speaking on condition of anonymity, officials in New Delhi said inputs from Kabul revealed late in the evening that the bombers were all Pakistani nationals who stayed in Kunar for seven days. "Last night, they drove to Jalalabad and targeted the Indian consulate. In Kunar, they were hosted by some Arab terrorists," said a source. No Indian was hurt in the incident.
Full report at:
http://timesofindia.indiatimes.com/india/India-blames-Pakistan-for-Afghanistan-suicide-attack/articleshow/21586586.cms
---------
We won't be deterred by this attack and will continue to assist Afghanistan: India
PTI | Aug 3, 2013
NEW DELHI: Hit by yet another suicide bomb attack on its mission in Jalalabad, India on Saturday said "terror machines" that operate from "beyond the borders" was the main threat to the security of Afghanistan and refused to be deterred from its commitment to assist the war-torn country.
At least 12 people were killed in the deadly attack targeting the Indian consulate in Jalalabad city, bordering Pakistan, in the backdrop of reports that the ISI-backed Haqqani network among others were again plotting to attack Indian interests in Afghanistan.
Full report at:
http://timesofindia.indiatimes.com/india/We-wont-be-deterred-by-this-attack-and-will-continue-to-assist-Afghanistan-India/articleshow/21578483.cms
---------
Indian man wearing dhoti not allowed on Dubai metro
August 04, 2013
A 67-year-old Indian visitor to Dubai was stopped from getting on the Dubai metro, apparently for wearing dhoti, India's traditional dress.
According to the victim's daughter Madhumati, a policeman stopped them near the punching gates of the Etisalat metro station last Saturday and told her father that this dress was not allowed and he could not go on the metro wearing it.
Full report at:
http://www.hindustantimes.com/world-news/restofasia/Indian-man-wearing-dhoti-not-allowed-on-Dubai-metro/Article1-1103005.aspx
---------
SIMI man held for Kerala terror camp
Bharti Jain & Deeptiman Tiwary, TNN | Aug 4, 2013
NEW DELHI: The National Investigation Agency (NIA) on Friday arrested SIMI operative Abdul Sathar, chargesheeted in the case relating to a 2007 terror training camp held at Wagamon in Kerala, after he was deported from the United Arab Emirates (UAE).
NIA also suspects Sathar's involvement in other cases, including the 2008 Bangalore blasts and one relating to recruitment of Kerala youth for terror training by the Lashkar-e-Taiba in Pakistan.
Full report at:
http://timesofindia.indiatimes.com/india/SIMI-man-held-for-Kerala-terror-camp/articleshow/21586261.cms
---------
Muslim group vows support to IAS officer Durga
August 04, 2013
Muslims in Greater Noida have vowed support to suspended IAS officer Durga Shakti Nagpal, a move that could cause embarrassment to the Akhilesh Yadav government.
The state government had suspended Nagpal on the grounds that her alleged action of demolishing a mosque could have caused communal tension in the area.
A Muslim social group, Hazrat Saiyad Bure Shah committee, of Greater Noida's Dankaur area has written to the chief minister and Prime Minister Manmohan Singh demanding that Durga's suspension be revoked.
Full report at:
http://www.hindustantimes.com/India-news/uttarpradesh/Muslim-group-vows-support-to-IAS-officer-Durga/Article1-1102594.aspx
--------
Arab World
Iraqi general survives blast as attacks kill 24
3 August 2013
A top Iraqi army officer said he survived a bombing on Saturday that killed nine soldiers during an operation against al-Qaeda militants north of Baghdad, while 15 people died in other attacks.
Iraq is witnessing its deadliest violence since 2008, when it was emerging from a prolonged and bloody sectarian conflict between Sunni and Shiite Muslims.
Staff Lieutenant General Abdulamir al-Zaidi said he and other soldiers from his convoy were on foot when the bomb exploded in an area about 30 kilometers (18 miles) north of the city of Baquba.
"I was targeted directly," Zaidi told AFP by telephone, adding that he was about 50 meters (yards) away from where the bomb detonated but was unharmed.
"This area is a stronghold for al-Qaeda," Zaidi said.
The attack took place during an operation begun on July 28 in Diyala, Salaheddin and Kirkuk provinces that aims to track down militants behind bombings and assassinations during the Muslim holy month of Ramadan.
Full report at:
http://english.alarabiya.net/en/News/middle-east/2013/08/03/Iraq-general-survives-blast-as-attacks-kill-24.html
---------
Soldiers, judge among six killed in Iraq
August 04, 2013
Agence France Presse
BAGHDAD: Attacks Sunday in Iraq killed six people, including three soldiers and a judge, officials said, as authorities struggle to contain the worst violence to hit the country in five years.
Militants opposed to the Iraqi government frequently attack security forces and other government employees with both bombs and gunfire.
The soldiers were killed by a roadside bomb that exploded near their patrol in the northern province of Nineveh on Sunday morning.
Full report at:
http://www.dailystar.com.lb/News/Middle-East/2013/Aug-04/226225-soldiers-judge-among-six-killed-in-iraq.ashx#ixzz2b02JqKtO
--------
Egypt army chief Abdel Fattah al-Sisi holds talks with Islamists
AFP | Aug 4, 2013
CAIRO: Army chief Abdel Fattah al-Sisi met overnight with Islamist leaders to try and resolve the crisis pitting supporters of ousted president Mohamed Morsi against Egypt's new leaders.
Sisi "met with several representatives of the Islamist movements ... and stressed that there are opportunities for a peaceful solution to the crisis provided all sides reject violence," army spokesman Colonel Ahmed Aly said in a statement, without specifying who his interlocutors were.
Full report at:
http://timesofindia.indiatimes.com/world/middle-east/Egypt-army-chief-Abdel-Fattah-al-Sisi-holds-talks-with-Islamists/articleshow/21595870.cms?
---------
Syrian conflict: Many dead in Lebanon border air strike
Aug 4, 2013
At least six people have been killed in a Syrian war plane attack on the town of Yabroud, just across the border from Lebanon, reports from Lebanon say.
Nine people were wounded in the attack near the Lebanese town of Arsal, which hosts many refugees from Syria.
Full report at:
http://www.bbc.co.uk/news/world-middle-east-23561246
---------
'Morsi supporters using residents as human shields'
Aug 4, 2013
JEDDAH – Many of Rabaa Al-Adawiya residents say that protests by Mohamed Morsi supporters have kept them trapped inside their homes since June 28. Many residents who tried to venture out for food or water faced body searches and harassments by the protesters.
Many Cairo residents interviewed on the phone told Saudi Gazette that protesters' camps were blocking their homes, garbage was piling up spreading diseases. Loudspeakers and noise of fireworks keep residents around Rabaa Al-Adawiya Mosque awake at night.
Khadija Abdul Khalik, a resident of in Rabaa Al-Adawiya neighborhood, told Saudi Gazette that Morsi-supporters don't respect the basic rights of residents of the area.
Full report at:
http://www.saudigazette.com.sa/index.cfm?method=home.regcon&contentid=20130804175886
------
Lebanese suicide bomber, brother 'martyred' in Syria
August 03, 2013
By Antoine Amrieh
TRIPOLI, Lebanon: A Lebanese man from the northern city of Tripoli died a "martyr" earlier this week in a suicide bombing that targeted soldiers in Syria, a sheikh from Salafist Hizb Ut-Tahrir said Saturday.
The bomber's brother was killed few hours later in another rebel attack on the same army position, the preacher added.
"We would like to bring the Muslims in Lebanon and Tripoli the good news of the martyrdom of two college boys Abu Moaz and ... Abu Othman who [were part of an attack] on the Abu Zeid checkpoint near Crac des Chevaliers in Homs during a suicide mission," Sheikh Mohammad Ibrahim, a member of Lebanese group, said in a statement.
Full report at:
http://www.dailystar.com.lb/News/Lebanon-News/2013/Aug-03/226170-lebanese-martyred-in-syria-suicide-mission-salafist-preacher.ashx#ixzz2b01iMivq
---------
Sidon MP says Army entrusted with survival of Lebanon
August 04, 2013
BEIRUT: Sidon MP Bahia Hariri said over the weekend that the Army is entrusted with preserving "what is left of the state" and it can take Lebanon out of its crisis.
"You are now entrusted with what's left of the national Lebanese state... and you can rescue the dream of all the Lebanese who want a just and capable state," Hariri said Saturday during an Iftar held in Sidon to honor the Army on the 68th anniversary of its founding.
Full report at:
http://www.dailystar.com.lb/News/Lebanon-News/2013/Aug-04/226195-mp-hariri-says-army-entrusted-with-survival-of-the-state.ashx#ixzz2b01ygryk
---------
Lebanese Christian leader assails Hezbollah for provoking Israel
August 04, 2013
Ethnic tensions in Lebanon are resurfacing over what some say is Hezbollah's destabilizing role in the region.
In a local television interview, Samir Geagea, a prominent Lebanese Christian, accused the Iranian-backed Shi'ite militia on Sunday of "dragging the country into war against the wishes of its leaders," Israel Radio reported.
"Whoever desires stability in Lebanon doesn't send aircraft to fly over Israel and doesn't launch a disastrous war against Israel that is likely to end with heavy casualties," Geagea said.
Full report at:
http://www.jpost.com/Middle-East/Lebanese-Christian-leader-assails-Hezbollah-for-provoking-Israel-321995
---------
Pakistan
Pakistan Taliban commander uncovers DI Khan jail assault plan
August 4, 2013
ISLAMABAD: A senior Tehreek-e-Taliban Pakistan (TTP) commander on Saturday revealed the details of the brazen attack on Dera Ismail Khan jail earlier this week. Some 254 prisoners escaped from the prison on July 29 when it was attacked by heavily armed Taliban fighters.
"We managed to free 47 senior Taliban leaders," said the TTP commander, who claimed he was part of attack's planning phase. They included Abdul Hakeem, Waleed Akbar, Haji Riaz (the TTP president for Dera Ismail Khan), Mansoor and Ahmed Bajauri, and a senior TTP leader from Pishta Kharra area in Peshawar, he added.
Full report at:
http://tribune.com.pk/story/586235/pakistan-taliban-commander-uncovers-di-khan-jail-assault-plan/
---------
PTI, ANP draw swords while slain MPA's brother draws support
August 4, 2013
MARDAN: A tough contest is expected between candidates of the ruling Pakistan Tehreek-e-Insaf (PTI) and the Awami National Party on one of Mardan's constituencies in the by-polls scheduled for August 22.
On the other hand, Jamiat Ulema-e-Islam (JUI-F) workers are faced with internal wrangling that is likely to yield detrimental results for the party's political status.
These internal differences were exacerbated when the JUI-F entered a coalition with the ANP for by-polls on the provincial level, something which party workers of the former had earlier expressed deep reservations on. Despite this, JUI-F leaders withdrew from the race with the polls just around the corner.
Full report at:
http://tribune.com.pk/story/586135/mardan-note-pti-anp-draw-swords-while-slain-mpas-brother-draws-support/
---------
Saudi Arabia and Pakistan care about each other more in deed than in words: Sharif
Aug 4, 2013
MAKKAH – Pakistan Prime Minister Nawaz Sharif has said that relations between Saudi Arabia and Pakistan are not based on political expediency but are etched deep in the heart of every Pakistani and Saudi national.
"We care about each other more in deed than in words," he said during his meeting with Custodian of the Two Holy Mosques King Abdullah here early Saturday.
King Abdullah greeted Nawaz Sharif on his election as prime minister of Pakistan for the third time.
Full report at:
http://www.saudigazette.com.sa/index.cfm?method=home.regcon&contentid=20130804175897
---------
Zardari for Pak-Iran efforts for regional stability, peace
Aug 4, 2013
TEHRAN: President Asif Ali Zardari on Saturday said that Pakistan and Iran needed to work hand in hand not only for the socio-economic betterment of their people and strengthening bilateral relations but also for the stability, peace and development of the region. During his meeting with Iran's president-elect Hassan Rouhani n the Presidential Palace Tehran, Zardari said that the people of the two countries were tied together not only by deep historical, cultural and fraternal affinities but also shared common destinies.
Full report at:
http://www.dailytimes.com.pk/default.asp?page=2013\08\04\story_4-8-2013_pg7_4
---------
Drone war rages on despite US talks about ending it
Aug 4, 2013
LAHORE: There were more drone strikes in Pakistan last month than any month since January and the Obama administration is expected to carry out such attacks well into the future, according to the New York Times (NYT).
It reported that after US Secretary of State John Kerry told Pakistanis on Thursday that the United States was winding down the drone wars there, officials back in Washington quickly contradicted him.
More than two months after President Obama signalled a sharp shift in America's targeted-killing operations, there is little public evidence of change in a strategy that has come to define the administration's approach to combating terrorism, the NYT said.
Full report at:
http://www.dailytimes.com.pk/default.asp?page=2013\08\04\story_4-8-2013_pg7_11
--------
Falling prey to 'Halal' investments
KALBE ALI
Aug 4, 2013
ISLAMABAD: "I was blinded by the false promises made by friends who had invested money in Modaraba (an Islamic investment system) for I was made to believe that by doing so, I would be following the path of the Prophet (PBUH)."
This was how Mohammad Ejaz, who runs a local restaurant in Saddar Rawalpindi, explains who he ended up investing in an illegal investment venture operated by Mufti Ehsanullah of Rawalpindi.
Full report at:
http://dawn.com/news/1033896/falling-prey-to-halal-investments
---------
Threats from militants: Jail security tightened
2013-08-04
BAHAWALPUR, Aug 3: Security at the New Central Jail was tightened and Jail Road was closed for about four hours amid jailbreak threats from militants on Saturday.
It is learnt that jail security was beefed up after militants threatened with an attack on Sukkur jail on Friday night and the government ordered a high alert at jails.
A source said extra police and intelligence personnel were deployed at and around the jail. According to people living around Jail Road, the road was closed for all traffic for three to four hours.
Full report at:
http://dawn.com/news/1033901/threats-from-militants-jail-security-tightened
---------
Christians fear violence, flee houses
2013-08-04
SAHIWAL, Aug 3: Almost half of Christian population living in 38/12-L village near Chichawatni left their houses and moved to safer places on Saturday morning after a tension between Muslim and Christian communities increased over a minor issue.
Removal of a green cloth inscribed with holy verses from a grave in a Muslim graveyard and its use on a grave in a Christian graveyard resulted in the tension between two communities. Some people tried to incite communal violence on the basis of this issue, but elders from both communities intervened and averted a clash.
Full report at:
http://dawn.com/news/1033900/christians-fear-violence-flee-houses
---------
Africa
9 dead in new Darfur tribal clash
Aug 4, 2013
KHARTOUM — A new outbreak of tribal violence in Sudan's Darfur region has killed nine people, official media said on Saturday, in fighting that has added to worsening insecurity in the region.
The deaths occurred during two days of unrest involving Arabs and the non-Arab Fur tribe in Kebkabiya, North Darfur, the SUNA news agency reported.
"Now the situation is stable and under control," SUNA quoted Kebkabiya Commissioner Adam Mohammed Adam Saleh, the senior district official, as saying.
Full report at:
http://www.saudigazette.com.sa/index.cfm?method=home.regcon&contentid=20130804175908
--------
Tunisia presses hunt for jihadists
Aug 4, 2013
Tunisia's army pressed ahead Saturday with operations against Islamists in a remote mountain range after a deadly ambush on its troops heightened a crisis sparked by a political assassination.
On Saturday, a coalition of opposition parties called for a rally to be held on Tuesday to demand the departure of the Islamist-led government and the dissolution of the National Constituent Assembly.
The call by parties from the centre-right to the extreme left chose the date to mark six months since the assassination of opposition politician Chokri Belaid in February.
On July 25 a second opposition figure, MP Mohamed Brahmi, was also shot dead outside his home in a Tunis suburb and authorities have said the same gun was used to kill both men, blaming jihadists for the two murders.
Full report at:
http://english.ahram.org.eg/NewsContent/2/8/78228/World/Region/Tunisia-presses-hunt-for-jihadists.aspx
---------
Tunisia says "terror" suspect killed in dawn raid
4 August 2013
A "terror" suspect has been killed and four have been arrested in a dawn raid on Sunday by Tunisian security forces, the Tunisian Interior Ministry stated.
The interior ministry said the dawn raid targeted a house, in the southern Tunis suburb of Ouardia, where a group of "key terror" suspects were hiding.
The announcement came as the Islamist-led government faces demands to step down after the recent assassination of opposition MP Mohamed Brahmi, the second to be assassinated in six months.
Full report at:
http://english.alarabiya.net/en/News/middle-east/2013/08/04/-Tunisia-terror-suspect-killed-in-dawn-raid.html
---------
Libya's deputy PM resigns over 'dysfunctional' govt
4 August 2013
Libya's deputy prime minister, Awad al-Barasi, resigned on Saturday, saying he was not given enough powers to carry out his duties.
"I cannot work in a dysfunctional government where my powers are lost," al-Barasi told a news conference in Benghazi.
Barasi criticized Prime Minister Ali Zeidan's Cabinet, saying it did not deal with problems in a real manner.
Full report at:
http://english.alarabiya.net/en/News/middle-east/2013/08/04/Libya-s-deputy-prime-minister-resigns.html
---------
Mideast
'Some are trying to make an Egypt out of Turkey,' says PM Erdoğan
August 04, 2013
Turkish Prime Minister Recep Tayyip Erdoğan has hit out at what he described as "attempts to make an Egypt out of Turkey," adding that the ruling Justice and Development Party (AKP) would comply with the results at the ballot box no matter what they were.
"Should we accept if some try to make an Egypt out of Turkey? Never. The people's right in Egypt has been extorted," Erdoğan said, during the opening ceremony of a performance hall in Istanbul Aug. 3.
"If someone respects [the military takeover in Egypt], it is impossible for me as someone who believes in democracy to show him respect," he said.
Deputy Prime Minister Bekir Bozdağ had criticized the U.S. Secretary of State John Kerry Aug. 2 for having stated that the Egyptian military was "restoring democracy." The military toppled elected President Mohamed Morsi July 3 because people were afraid that the country could descend into violence, Kerry had argued, leading Bozdağ to respond through Twitter that "coups don't build democracy."
Full report at:
http://www.hurriyetdailynews.com/some-are-trying-to-make-an-egypt-out-of-turkey-says-pm-erdogan.aspx?pageID=238&nID=51969&NewsCatID=338
---------
Iran's Rouhani tells Syria PM alliance will stay strong
August 04, 2013
DAMASCUS: New Iranian President Hassan Rouhani promised Syrian Prime Minister Wael al-Halqi on Sunday that there would be no change in the two countries' close alliance, Syrian state media reported.
"No force in the world can shake the solid, strategic and historic relations that bind the two countries in friendship," Rouhani told Halqi, who was in Tehran for the Iranian president's swearing-in.
Full report at:
http://www.dailystar.com.lb/News/Middle-East/2013/Aug-04/226221-irans-rouhani-tells-syria-pm-alliance-will-stay-strong.ashx#ixzz2b01lYJWE
-------
Israel PM slams Iran's Rouhani
August 04, 2013
JERUSALEM: Israeli Prime Minister Benjamin Netanyahu lashed out at new Iranian President Hassan Rouhani on Sunday, saying that he shared his hardline predecessor's aim of destroying the Jewish state.
"The president of Iran said the day before yesterday (Friday) that Israel is a wound on the body of Islam," Netanyahu's office quoted him as saying at the start of the weekly cabinet meeting.
"The president of Iran may have been changed but the aims of the regime there have not," Netanyahu said.
Full report at:
http://www.dailystar.com.lb/News/Middle-East/2013/Aug-04/226217-israel-pm-slams-irans-rouhani.ashx#ixzz2b02MvWpT
-------
Yemen ups security at Western missions after US warning
AFP | Aug 4, 2013
SANAA: Yemeni security forces were on high alert on Sunday around Western embassies in Sanaa which are to remain closed following a US warning of a major al-Qaida attack.
Special forces with armoured personnel carriers were stationed outside the US embassy and the missions of Britain, France and Germany, a correspondent reported.
"We are already in a state of alert, but we have doubled our alertness," a police officer said, speaking on condition of anonymity.
Full report at:
http://timesofindia.indiatimes.com/world/middle-east/Yemen-ups-security-at-Western-missions-after-US-warning/articleshow/21595333.cms?
---------
Israel to free 26 Arab prisoners on August 13: Negotiator
August 4, 2013
JERUSALEM: Israel will free the first batch of a promised 104 long-serving Palestinian and Israeli Arab prisoners on August 13, Palestinian negotiator Saeb Erakat said.
"It agreed on releasing 26 of the old prisoners on August 13," Erakat said in the statement, released on Saturday. "The release of veteran prisoners will be in four batches as Israel refused to release them all at once," he said.
Full report at:
http://tribune.com.pk/story/586338/israel-to-free-26-arab-prisoners-on-august-13-negotiator/
---------
North America
US embassy in Kabul, MOFA condemn attack on Indian mission
Aug 4, 2013
The U.S. embassy in Afghanistan condemned the militants attack on Indian consulate in eastern Jalalabad city of Afghanistan that left over 20 people killed or injured.
The embassy in a statement condemned civilian deaths during the holy month of Ramadan and called it an unfortunate act.
The statement further added that militants once again expressed their disregard for the lives of ordinary civilians, and extended it's condolences to the families of the victims.
Afghanistan Foreign Affairs Ministry following a statement also said that the government of Afghanista strongly condemns the cowardly terrorist attack in Jalalabad aimed at the Indian consulate, which resulted in the death and injury of more than 20 innocent Afghan men, women and mostly children.
Full report at:
http://www.khaama.com/us-embassy-in-kabul-mofa-condemn-attack-on-indian-mission-1723
---------
Al-Qaida terror threat: US increases security, shuts 22 embassies
PTI | Aug 4, 2013
WASHINGTON: The US has increased security at all its major airports and railway stations, and has taken a number of measures, that include temporary closure of its 22 diplomatic missions, following a "very specific" al-Qaida threat emanating from the Arabian Peninsula.
President Barack Obama himself is keeping a close tab on the developments and the threat, which the officials did not disclose.
National Security Adviser Susan Rice held a meeting of top US national security officers to review the potential terror threat coming from the Arabian Peninsula.
The President, who early this week, had instructed his national security team to take all appropriate steps to protect the American people in light of the threats, himself is receiving briefings regularly on this issue and keeping a close tab on the developments.
Full report at:
http://timesofindia.indiatimes.com/world/us/Al-Qaida-terror-threat-US-increases-security-shuts-22-embassies/articleshow/21593592.cms
---------
Canada shuts Bangladesh mission for Sunday
Aug 4, 2013
Western countries including the US and Canada plan to shut dozens of embassies in Muslim countries including Bangladesh temporarily following Washington's worldwide travel alert along with Interpol global security warning, different news agencies reported.
22 US embassies will remain shuttered for Sunday in 18 countries while Britain, France and Germany will close their offices in Yemen for at least two days from Sunday.
Canada decided to close down its mission in Bangladesh for Sunday.
Fears that al Qaeda may launch attacks in the Middle East, North Africa and beyond in the coming days prompted the unprecedented move, reported CNN.
Full report at:
http://www.thedailystar.net/beta2/news/canada-shuts-bangladesh-mission-sunday/
--------
Southeast Asia
"Will BN really punish own news media for getting Muhyiddin wrong?"
BY YISWAREE PALANSAMY
AUGUST 04, 2013
The DAP doubts action will be taken against state news agency Bernama and two Umno-run dailies for misreporting Tan Sri Muhyiddin Yassin's remarks on groups against Islam, given that the Barisan Nasional (BN) practices double standards.
DAP secretary-general Lim Guan Eng said the BN government only moved swiftly to punish its opponents, not those who supported them.
"As a victim of repeated lies by these news organisations, I would believe that Muhyiddin is also a victim of such lies.
Full report at:
http://www.themalaysianinsider.com/malaysia/article/dap-doubts-bn-will-act-against-bernama-pro-umno-dailies-for-misreporting-dp
---------
Police Search For 7 Migrants Who Escaped Aceh Detention
Aug 4, 2013
Banda Aceh. Police in Aceh are searching for seven Rohingya asylum seekers from Myanmar who escaped from a shelter where they were being held with 57 other migrants after they were found adrift in a boat off Aceh province last week.
Yatiman Edy, the head of the Aceh Justice and Human Rights Office, said on Saturday that nine migrants, part of the group of 66 comprising members of Myanmar's Rohingya minority who had been detained in Ladong, Aceh Besar district, since last week, had fled the facility.
The nine were said to have escaped just after the pre-dawn meal.
Full report at:
http://www.thejakartaglobe.com/news/police-search-for-7-migrants-who-escaped-aceh-detention/
---------
URL: https://www.newageislam.com/islamic-world-news/new-age-islam-news-bureau/islamists-at-berlin-al-quds-day-call-for-destruction-of-jewish-state/d/12885