New Age Islam News Bureau
11 Apr 2019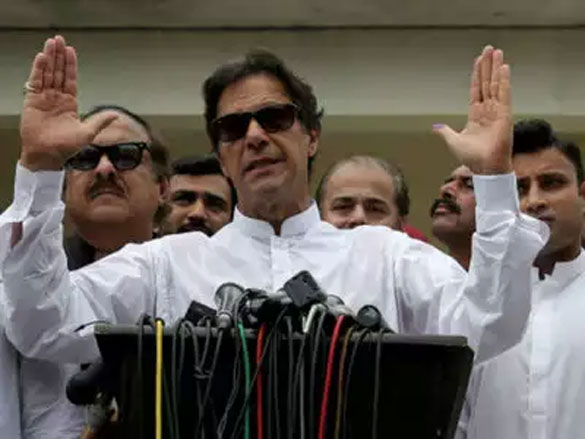 File photo
------
• Islamist Parties Struggle for Relevance in Muslim-Majority Indonesia
• PM Imran Khan Vows to Rid Pakistan of All Militants, Says Has Army Backing
• Asia Bibi To Leave Pakistan Within Weeks: Imran Khan
• Khashoggi's Son: The King And Crown Prince Are Guardians to All Saudis
• Omar Al-Bashir Steps Down, Transitional Government Announced: Al-Arabiya TV
• South Africa's Zuma Denies He Has $30m Of Qaddafi's Cash
• Intra-Afghan Dialogue Delayed As Kabul Fails To Finalise Participants
• Bosnia: Historical Mosque Comes Under Racist Attack
• Media Reluctant To Label Far-Right as Terrorist: Report
• India and Israel Should Lead the Fight on Terrorism
Southeast Asia
• Islamist Parties Struggle for Relevance in Muslim-Majority Indonesia
• Deputy Minister: University's Choice Whether to Host Zakir Naik
• MUI's New Edict To Lure More Sharia Stock Investors
• Putrajaya's Failure to Address Criticism of Rome Statute Spurred Students to Leak Briefing to Rulers
--------
Pakistan
• PM Imran Khan Vows to Rid Pakistan of All Militants, Says Has Army Backing
• Asia Bibi To Leave Pakistan Within Weeks: Imran Khan
• Pakistan Takes Team Of Diplomats To Site Of Balakot Air Strike
• Meeting with Zardari just a normal routine, says Fazlur Rahman
• PML-N won't join street protests against govt, Fazl told
• Foreign journalists given access to madressah near site of Balakot strike
--------
Arab World
• Khashoggi's Son: The King And Crown Prince Are Guardians to All Saudis
• Egypt Pulls Out Of Anti-Iran Alliance Envisioned By US, Allies: Reuters
• US blacklisting of IRGC proves Washington's fiasco in Middle East: Nasrallah
• Iraq offers to try all Daesh foreigners for a fee
• Egypt officials: 4 policemen killed in 2 Sinai attacks
--------
Africa
• Omar Al-Bashir Steps Down, Transitional Government Announced: Al-Arabiya TV
• South Africa's Zuma Denies He Has $30m Of Qaddafi's Cash
• Libya's Haftar Recruiting Child Fighters: Tripoli Gov't
• Sudan rally organizers urge Khartoum residents to throng protest site
• Haftar's army downs Libyan govt. military plane
• Sudan police say 11 killed in Khartoum incidents
• Haftar forces 'capture' military camp south of Tripoli
• Tunisia decries Libyan commander's assault on Tripoli
--------
South Asia
• Intra-Afghan Dialogue Delayed As Kabul Fails To Finalise Participants
• Afghan gov't to have a central role in peace deal with Taliban: Pompeo
• Former Bangladeshi lawmaker charged over death of prominent Catholic
• Food security crisis grows in Bangladesh Rohingya refugee camps
--------
Europe
• Bosnia: Historical Mosque Comes Under Racist Attack
• Media Reluctant To Label Far-Right as Terrorist: Report
• UK Government Adviser Sacked Over Comments On Islamophobia
• Iran, Turkey, Russia lawmakers meet in Moscow
• Saudi cadets get UK training amid Yemen abuse reports
• Syria solution should be political, not military: EU
• German police raid NGO offices for alleged Hamas ties
• Russia calls on Iran and Turkey to help return Syrian refugees
--------
India
• India and Israel Should Lead the Fight on Terrorism
• JKLF chief Yasin Malik to be in NIA custody till April 22
• As Indian elections begin, Pakistan fears tensions could worsen with its nuclear rival
--------
Mideast
• Arab Coalition Strikes Houthi Drone Capabilities In Sanaa
• Erdogan demands annulment of Istanbul election results
• Turkey: Delivery of Russian S-400 may be brought forward
• Pompeo says Israeli-Palestinian peace plan to be presented 'before too long'
--------
North America
• Pompeo Says Iran Tied To Al-Qaeda, Declines to Say If War Legal
• US senators introduce bill to sanction Turkish officials over detentions
• Hezbollah chief condemns US decision on Iran's RGC
• US: Omar condemns TV host's dual-loyalty remark
• US continuing support for terrorist YPG/PKK in Syria
• Pompeo: Egypt would face sanctions over Russian Su-35s
Compiled by New Age Islam News Bureau
URL: https://www.newageislam.com/islamic-world-news/islamist-parties-struggle-relevance-muslim/d/118294
--------
Islamist Parties Struggle for Relevance in Muslim-Majority Indonesia
April 11 2019
Fachrul Sidiq
As a predominantly Muslim country, Islamist representation has been visible in politics since Independence Day, marked by the rise and fall of Islam-based political parties. In the country's first general election in 1955, Masyumi and the Nahdlatul Ulama (NU) were among winners, placing in second and third behind first president Sukarno's Indonesian National Party (PNI).Masyumi was later disbanded for its alleged involvement with Revolutionary Government of the Republic of Indonesia (PRRI) rebel movement in West Sumatra, leaving the NU and three other political parties — the Indonesian Muslims Party (Parmusi), the Indonesian Islamic Union Party (PSII) and the Islamic Education Union (Perti) — to participate in 1971 election.Former president Soeharto later restructured the multi-party system and merged all of the Islamist parties into a party called the United Development Party (P...
https://www.thejakartapost.com/news/2019/04/11/islamist-parties-struggle-relevance-muslim-majority-indonesia.html
--------
PM Imran Khan vows to rid Pakistan of all militants, says has army backing
Apr 10, 2019
ISLAMABAD: Pakistan Prime Minister Imran Khan vowed to rid his country of the militants created and tolerated by the powerful military, including groups carrying out attacks in Jammu and Kashmir.
"We have decided, for the future of our country — forget the outside pressure — we will not allow armed militias to operate anymore," Khan said during an interaction with a small group of foreign journalists in Islamabad on Tuesday. "Those to be dismantled include groups involved in attacks in Jammu and Kashmir," he said.
He added that the Pakistan Army had created these militias in the 1980s when his country and the United States were backing Muslim insurgents in Afghanistan against Soviet forces.
"But there is no use for these groups anymore,'' he said, adding the crackdown had the full support of Pakistan's powerful army.
Khan, according to media reports, promised this new crackdown would go far deeper than previous ones.
https://timesofindia.indiatimes.com/world/pakistan/pm-imran-khan-vows-to-rid-pakistan-of-all-militants-says-has-army-backing/articleshow/68821540.cms
--------
Asia Bibi to leave Pakistan within weeks: Imran Khan
APRIL 10, 2019
Prime Minister Imran Khan, in a meeting with BBC News, uncovered that Chiristian lady Asia Bibi will leave Pakistan in few days.
BBC News World Affairs proofreader, John Simpson, got some information about the present status of the Christian woman who was vindicated by the Supreme Court in obscenity case.
Answering to the inquiry, the PM said she will leave the nation soon.
'It is safe to say that we are discussing days or weeks?'
To this, PM Imran Khan said 'inside weeks' including that there are a few confusions in such manner that couldn't be talked about in media.
However, I guarantee you that she is sheltered, Imran told Simpson.
https://dailytimes.com.pk/375242/asia-bibi-to-leave-pakistan-within-weeks-imran-khan/
--------
Khashoggi's son: The King and Crown Prince are guardians to all Saudis
10 April 2019
Salah Khashoggi, son of late Saudi journalist Jamal Khashoggi, posted a statement on his official Twitter account saying there was no third party authorized to speak on behalf of the Khashoggi family. He called upon anyone with information on the case to bring it forward.
"Jamal Khashoggi was a respectable journalist and a patriotic Saudi citizen. The recent attempts to smear his legacy and draw friction are ill and immoral," said Salah.
"The Custodian of the Two Holy Mosques King Salman bin Abdulaziz and the Crown Prince Mohammed bin Salman are considered and regarded as guardians to all Saudis. Acts of generosity and humanity come from the high moral grounds they possess, not admission of guilt or scandal," Salah said.
Salah added that Jamal Khashoggi's family were brought up "to thank acts of good not disavow [them]."
"We understand the urge to know what transpired regarding the case, and we will be sharing the developments as soon as they are legally admissible and allowed. There are no friends or consultants or any third party authorized to speak on our behalf or claim to be a source of information except us, Jamal's children and Mr. Motasem Khashoggi our attorney," he said in his tweet.
With regard to the trial, Salah said it is still ongoing and "no settlement discussion had been or is discussed." "The people who committed and were involved in this crime will all be brought to justice and face punishment," he added.
"Any information or evidence pertaining to the case is welcomed and encouraged to be brought forward by the righteous. Assisting in justice is a holy and good act that can only be met with respect and admiration. We believe with such pure and honest acts and intentions that Jamal Khashoggi and his family truly obtain justice," the statement said.
https://english.alarabiya.net/en/News/gulf/2019/04/10/Khashoggi-s-son-The-King-and-Crown-Prince-are-guardians-to-all-Saudis.html
--------
Omar Al-Bashir steps down, transitional government announced: Al-Arabiya TV
April 11, 2019
KHARTOUM: The Sudanese army announced on Thursday the formation of a transitional council after the resignaiton of Sudanese President Omar Al-Bashir, Al-Arabiya TV has reported.
The transitional council will be headed by Ahmed Awad Ibn Auf, the First Vice President and Defense Minister of Sudan, the army was reported as saying. The Sudanese Professionals Association, which has spearheaded the protests, said they will only accept the handover of power to a civilian transitional government.
The Sudanese opposition party said they reject any changes that don't meet the demands of the public, also adding how the Sudanese youth have the power to affect change in the country.
Protesters gathered in front of the military headquarters as military vehicles were deployed on key roads and bridges in Khartoum. They were reportedly shouting "It has fallen, we won," Reuters said.
Meanwhile, former and current Sudanese officials including Bashir's former Vice President Ali Osman Taha and acting head of the National Congress Party Ahmed Haroun were reportedly arrested, as well as Bashir's personal guards.
Sources also said the Khartoum airport was closed.
The Sudanese army was Thursday planning to make "an important announcement," state media said, after months of protests against the longtime leader.
Thousands of Khartoum residents flooded the area around army headquarters where protesters have held an unprecedented sit-in now in its sixth day.
"The Sudanese army will issue an important statement soon. Wait for it," the state television anchor said, without giving further details.
The protests, which erupted in December, have become the biggest challenge yet to Bashir's three decades of iron-fisted rule.
"We are waiting for big news," one protester told AFP from the sit-in.
"We won't leave from here until we know what it is. But we do know that Bashir has to go.
"We had enough of this regime — 30 years of repression, corruption, rights abuses, it's enough."
Crowds of demonstrators have spent five nights defiantly camped outside the sprawling headquarters complex, which also houses Bashir's official residence and the defense ministry.
There has been an often festive mood at the sit-in with protesters singing dancing to the tunes of revolutionary songs.
Several military vehicles carrying troops entered the compound in the early hours of Thursday, witnesses said.
And witnesses said many army vehicles carrying troops were deploying in the center of Khartoum early Thursday.
The group spearheading the nationwide demonstrations urged residents of the capital to mass outside army headquarters.
"We call on our people from across the Khartoum capital and the region around to immediately go to the sit-in area and not leave from there until our next statement is issued," the Sudanese Professionals Association said.
http://www.arabnews.com/node/1480936/middle-east
--------
South Africa's Zuma denies he has $30m of Qaddafi's cash
April 10, 2019
JOHANNESBURG: South Africa's ex-president Jacob Zuma has denied allegations by a local newspaper that he is in possession of $30 million (€26.7 million) belonging to the late Libyan dictator Muammar Qaddafi.
The Sunday Times at the weekend reported that before he was captured and killed in 2011, Qaddafi had given the funds for "safe keeping" to Zuma, when he was president of South Africa.
The paper said Zuma had stashed the money at his home in the southeastern village of Nkandla before moving it to neighboring eSwatini, formerly known as Swaziland.
"Former president Zuma is not aware of any money directed to his Nkandla home from former president Qaddafi, nor has he ever received funds from Qaddafi," the ex-president's foundation said in a statement cited Wednesday by South Africa's The Star newspaper.
Zuma himself tweeted sardonically on Tuesday that he was surprised to hear that he was keeping $30 million when he was in need of cash to pay for legal bills to fight graft charges.
"Sigh! I owe millions in legal fees.... I now hear that I have been keeping money belonging to my late brother Qaddafi. Where's this money because His Majesty knows nothing about it?" he tweeted, referring to the king of eSwatini.
Zuma, who was ousted last year over multiple graft scandals, could be liable for the equivalent of $2 million in legal bills.
The eSwatini government spokesman Percy Simelane also refuted the existence of Zuma's money in his country.
"We are not aware of any money secretly stashed anywhere in eSwatini from former South African President Jacob Zuma belonging to former Libyan President Muammar Qaddafi," Simelane told AFP in Mbabane.
South African Foreign Affairs Minister Lindiwe Sisulu on Sunday said "there is no money that we are aware of.
"I have not found any money that belongs to Libyans. If the Libyans make a request for us to investigate this matter, we will."
Under Zuma, South Africa had vociferously opposed the NATO-led military intervention to oust the Libyan dictator.
It also said Qaddafi should have been handed to the international war crimes court after his capture.
http://www.arabnews.com/node/1480771/world
--------
Intra-Afghan dialogue delayed as Kabul fails to finalise participants
Tahir Khan
APRIL 11, 2019
The anxiously awaited intra-Afghan dialogue in Qatar has been delayed for five days apparently after the Kabul administration failed to finalize its delegation for the face-to-face meeting with the Taliban, Afghan and Taliban officials said on Wednesday.
The talks were scheduled to be held on April 14-15 in Doha, the capital of Qatar, where the Taliban have their political headquarters. The talks will now be held on April 19-21, according to Afghan officials.
President Ashraf Ghani met members of a high-level forum and decided to delay the meeting with the Taliban, officials said. Section of the Afghan media reported that several committees, which were assigned to prepare agenda and a list of participants, could not complete their work.
The 37-member Reconciliation Leadership Council decided to meet again on Saturday, a council statement said.
Taliban political spokesman Suhail Shaheen in Qatar also confirmed postponement of the meeting. However, he refused to offer more comments.
Preparations for Doha meeting, completion of the members of the council and the formation of the negotiating team were discussed in the meeting, Tolo TV reported, quoting the Reconciliation Leadership Council's statement.
The assigned committees briefed the council delegates on the formation of government delegation for Doha meeting, an inclusive negotiating team and governments' red lines in the peace talks, the statement said. Taliban and senior political leaders, including former President Hamid Karzai, in Moscow in early February in a major step towards the opening of intra-Afghan dialogue. President Ghani's administration had stayed away from the Moscow meeting and even criticized the move. Qatari officials have encouraged the Taliban to meet representatives of the Afghan government, who will join other politicians in the talks, sources told Daily Times. A senior Qatari official, who is involved in Taliban-US talks, in his visit to Kabul this month also convinced President Ghani to send government representatives for the intra-Afghan talks, the sources familiar with the development said.
Taliban reject 'loya jirga'
Taliban on Wednesday angrily rejected offer by the Kabul administration to join a consultative 'joya jirga' or grand assembly to discuss peace in the war-torn country scheduled to be held in Kabul on April 29.
"The Islamic Emirate – as a representative of the its nation – rejects such fake jirgas and any participation in them and asks all fellow countrymen to not become victims of enemy plots at such a historically sensitive juncture by abstaining from participating in such superficial jirgas," a Taliban statement said. "The Kabul administration and various plots under the name of loya jirgas over the course of 18 years were and are misused as tools for the continuation of occupation and widespread administrative and moral corruption as well as to cement and protect interests of the invaders," it added.
https://dailytimes.com.pk/375516/intra-afghan-dialogue-delayed-as-kabul-fails-to-finalise-participants/
--------
Bosnia: Historical mosque comes under racist attack
Adis Karaca
10.04.2019
A historical mosque in Bosnia and Herzegovina was vandalized with with spray-painted symbols of Nazis and extreme Serb nationalists late Tuesday.
The Arnaudija Mosque was come under racist attack when the assailants spray-painted Nazis' swastika, and "4S" symbol of extreme Serbian nationalist, meaning "Only the unity saves Serbs".
Located in the Banja Luka city of Republika Srpska (RS) entity in northwestern Bosnia and Herzegovina, Arnaudija Mosque was completely demolished by Serb forces during the Bosnian War between 1992 and 1995.
It has currently been under reconstruction of Turkey's General Directorate of Foundations.
Republika Srpska police said on Wednesday that the case is being investigated.
"An investigation has been launched to find the perpetrators of the ugly attack on mosque walls," said a police statement.
Dubbing the attack "extremist and nationalist," the statement also condemned the racist act.
The Arnaudiye Mosque was built in 1595. It was completely demolished by the Serb forces in 1993. Turkey's Directorate General of Foundations started the reconstruction of the historical Ottoman mosque in 2017.
https://www.aa.com.tr/en/europe/bosnia-historical-mosque-comes-under-racist-attack/1448187
--------
Media reluctant to label far-right as terrorist: report
Muhammad Mussa
10.04.2019
LONDON
Muslim extremists are three times more likely to be labelled as terrorists by the media than far-right extremists, according to a recent study.
The research undertaken by Signal AI analyzed media coverage, including radio broadcasts and TV transcripts, on a number of terrorist attacks that had taken place in the last two years and came to the conclusion that there is a consistent reluctance by media organizations to identify right-wing extremists as terrorists.
In a study of over 200,000 global news articles, the analysis found that Muslim extremists were labelled terrorists 78.4% of the time. However, right-wing extremists were identified as terrorists only 23.6% of the time.
"Both in terms of the language used, and the quantity of coverage, media treatment of differing forms of extremism is skewed. A Muslim can be expected to be immediately labelled a terrorist, whilst the media is hesitant to apply this term to white people," the research body said in its publication released on April 3.
In the aftermath of the Christchurch attack in New Zealand, in which 50 Muslim worshippers were slaughtered by a far-right terrorist, Signal AI found that of the articles analyzed, 90,000 articles made no links between the attack and terrorism and over 40% of global coverage had not labelled the attack as an act of terrorism.
The research compared the coverage of the Christchurch attack and five other far-right attacks to those of Muslim extremist attacks in the last 15 months. For far-right attacks, the term "terrorism" was not used 84.1% of times.
The results were described as "striking, if uncomfortably unsurprising" and that it is evident that media coverage on Muslim attacks is largely different to that of far-right attacks.
"The belief that the media treats terrorism unequally depending on the background of the attacker is grounded in the numbers. In the attacks studied, articles on Islamic extremism did not mention terrorism one quarter of the time. Articles on far-right attackers did not mention terrorism three quarters of the time. This is an issue that will apply to media in all topics, not simply terrorism," the analysis said.
"No media outlet can be taken as an impartial source, each weave their own preconceptions and biases into narratives regardless of the topic."
The analysis, however, also found that in the case of the Christchurch attack, media outlets, unusually, were willing to label the right-wing extremist as a terrorist attack as New Zealand Prime Minister Jacinda Ardern had declared the incident an act of terrorism within six hours of it taking place. Such a decision, which has been described as bold, caused the media to follow her lead.
This is in contrast to world leaders, such as U.S. President Donald Trump, who are reluctant to label far-right attacks as acts of terror and as such the media in turn follows suit. One example given is that of the October 2018 Pittsburgh synagogue terrorist incident in which Trump described the attack as an act of murder.
According to research conducted by the Independent newspaper, far-right extremism is growing in the U.K. and white British people are more likely to sympathize with extremism than those of Asian Muslim descent. The government has been warned to not solely focus on Muslim oriented extremism as far-right extremism is an increasing threat.
https://www.aa.com.tr/en/europe/media-reluctant-to-label-far-right-as-terrorist-report/1448150
--------
India And Israel Should Lead The Fight On Terrorism
By Devsena Mishra
APRIL 10, 2019
Repeated terrorist attacks on democratic countries continue to raise questions on their ability to unite against militant Islamic terrorism. While it's true that democracies are not the only targets of terrorist groups, their Islamist leaders openly show their disdain for democracy, as they see this idea as a serious threat to their core concept of world domination. In a scenario where one group is fighting for a common cause and the other is not even able to develop a common consensus, it seems that this clash is going to exist for much longer than the civilized world anticipated.
In 1984, at the "2nd International Conference on Terrorism" organized by the Jonathan Institute, a group of political leaders, parliamentarians, scholars, security officials and senior journalists from the United States, England, France, Italy, Germany, Japan, Australia, Israel and other countries, gathered in Washington to discuss the growth of global terrorism.
In the conference, the historian and father of Prime Minister Benjamin Netanyahu, the late Benzion Netanyahu, raised a serious concern about the attitude of democratic countries toward terrorism, saying, "Our attitude toward terrorism and the way we treat it, the way we are getting conditioned to its horrors, and above all our reactions to the dangers of enslavement represented by the terrorists and their masters, indicate that we are struck with a serious moral sickness that debilitates our capacities to act as free men."
It is an unpleasant reality that after more than three decades, the topics discussed in that conference are still relevant, and the "serious moral sickness" hinted at by Benzion Netanyahu has grown exponentially.
Terrorism has evolved from a national security challenge for some countries to a threat to the entirety of human civilization. Against the thriving evolution of terrorist ideologies and their continuous improvisations, there is a long track record of unsuccessful attempts by the victims of terrorist nations to even develop a mutually agreed definition of terrorism.
In one of his recently published articles, "An International Definition for Terrorism," International Institute for Counter-Terrorism founder & executive director Prof. Boaz Ganor mentioned that the lack of a universal definition for the term "terrorism" enables some states to say they stand against it, while in practice they support it.
He further states, "International counter-terrorism cooperation efforts are dangerously stunted by the lack of global consensus regarding what constitutes the threat. Such consensus is necessary to effectively block terrorist funding sources, disrupt related money-laundering schemes, and foil recruitment efforts."
Over the years, the invention of some clever terms, such as "Islamophobia," "demonization of Islam," and "anti-Muslim prejudice," etc. has created a new kind of chaos. The word "terrorism" itself is becoming more and more complex, and those parts of the world which earlier provided the launching bases to international terrorism are now attempting to reshape the fight against it. Terrorism thrives on hypocrisy.
In 2015, the international hypocrisy reached a new height when the Kingdom of Saudi Arabia announced the creation of an Islamic Military Counter Terrorism Coalition (IMCTC), which they declared as "a unified pan-Islamic front against terrorism." The IMCTC's primary objective, as mentioned in the official document, is to protect Muslim countries from all terrorist groups and terrorist organizations. When this inter-governmental military alliance was announced, some 34 Islamic nations – including the Palestinian Authority and Pakistan – joined the league. As of November 2017, its membership is 41, and most of its participants are the members of Organization of Islamic Cooperation (OIC).
On January 6, 2017, Pakistan's former chief of army staff, Gen. Raheel Sharif, was appointed IMCTC's first commander-in-chief. This is the same general who in 2016 gave a threat to "wipe Israel off the Map." These kinds of anti-terrorism efforts are a serious concern as these can take the fight against terrorism on a different path and can redefine terrorism and global counter-terrorism policies in their own terms.
India and Israel both have suffered a lot due to the international hypocrisy and definitional fuzziness, and both are tackling it in their own unique ways. Israel sees terrorism as a cause which originates mainly from Iran, with a quest for world domination and threats to wipe off Israel from the world map. India considers terrorism a threat to humanity and rejects the idea of an artificial distinction between any of its forms.
Israel has a rich experience, and over the years has developed some crucial operational capabilities in counter-terrorism, which today every country seeks to learn from it. On the other hand, India's rich diversity, plurality, and unique culture of co-existence have enabled it to acquire a wider acceptance, even in the Muslim world, and strengthened its voice in the international forums, which is equally crucial in the fight against radical Islamist ideologies.
According to Prof. Ganor, every counter-terrorism strategy must address two variables – motivation and operational capability. And an effective counter-terrorism strategy is one which has the desire to reduce motivations underlying the phenomenon of terrorism, as well as reduce its operational capabilities. As he mentioned in one of his articles, "Only the correct combination of these two variables and a parallel coordinated struggle can bring the phenomenon of terrorism to its knees, or at least reduce its scale."
India's philosophical traditions – some of which it is pursuing to date in its diplomacy, such as "vasudhaiva kutumbakam," which means the world is one family – and its conflict avoidance approach, have the potential to defeat the idea of terrorism. India to a large extent can help some Muslim-majority nations in their process of deradicalization. Meanwhile, Israel's proven capabilities and rich experience of counter-terrorism can help in effectively limiting the operational capabilities of terrorist regimes. Together, both countries make a perfect combination which is needed to deal with the global menace of terrorism.
A major part of the world is a victim of terrorism, and they are looking for the right direction in their counter-terrorism efforts. It will be interesting to see whether in their next governments India and Israel will explore some possibilities in this direction.
https://www.jpost.com/Opinion/India-and-Israel-should-lead-the-fight-on-terrorism-586442
--------
Southeast Asia
Deputy Minister: University's Choice Whether to Host Zakir Naik
11 April 2019
By Jerry Choong
KUALA LUMPUR, April 11 — Deputy Education Minister Teo Nie Ching said it is Universiti Utara Malaysia's (UUM) prerogative to decide if it should permit controversial Islamic televangelist Zakir Naik to give a talk there.
Speaking to reporters at the Parliament building, she said her ministry's stance was to allow universities to make their own determination in such matters.
"They need to answer that firstly, it is after all part of their (right to) autonomy," Teo said when declining to further comment on the matter.
A flyer for the event circulating online recently asserted that Zakir is set to give a three-hour talk titled "Duty of A Muslim As A Professional" on April 18 at the Mu'azdam Shah Hall in UUM's Changlun campus in Kedah.
The event appears to be organised by the One Centre group, in collaboration with five other Islamic NGOs.
The preacher, a Malaysian permanent resident and Saudi citizen, has been accused in the past of denigrating other faiths and being a threat to Malaysia's multiethnic and multicultural harmony.
He is wanted by India's police on charges of money laundering and hate speech.
https://www.malaymail.com/news/malaysia/2019/04/11/deputy-minister-universitys-choice-whether-to-host-zakir-naik/1742090
--------
MUI's new edict to lure more sharia stock investors
April 11 2019
The capital market may be seeing more Muslim investors after the Indonesian Central Securities Depository (KSEI) received an edict from the Indonesia Ulema Council's (MUI) sharia division on its sharia-based services.The newly issued edict on sharia-based securities transaction settlements and custodial functions complements the council's existing list of edicts on sharia-compliant investments, which have been flourishing in the Muslim-majority country.One of them is an edict issued in 2011 on the Indonesian Stock Exchange's (IDX) sharia-compliant equity trading.KSEI president director Friderica Widyasari Dewi expressed hope that the edicts received by her company and the IDX, along with the Financial Services Authority's (OJK) Islamic securities list, could lure potential investors who were previously worried about whether the nature of the stock exchange was acceptable under Is...
Full report at:
https://www.thejakartapost.com/news/2019/04/11/mui-s-new-edict-lure-more-sharia-stock-investors.html
--------
Putrajaya's failure to address criticism of Rome Statute spurred students to leak briefing to rulers
09 April 2019
BY KENNETH TEE
PETALING JAYA, April 9 — The Pakatan Harapan (PH) government's withdrawal from the Rome Statute led a group of student activists to expose a briefing by a group of academics to the Conference of Rulers.
Gabungan Pembebasan Akademik leader Asheeq Ali Sethi Alivi told Malay Mail that he and eight others decided to leak the briefing's executive summary after Putrajaya failed to directly address the misinformation which led to public confusion.
"Specifically, the leak took place because there was no accountability by the government to solve the confusion and to encourage public discourse for education purposes.
"Now the leak has triggered various academics to come in and provide their views on the matter to an extent educate the public at the same time," he said when contacted.
Besides Asheeq Ali, the other eight students involved in the leak are Ainina Sofia Adnan, Nurhuda Ramli, Suhail Wan Azahar, Ahmad Taqiyuddin Shahriman, Wong Yan Ke, Chong Kar Yan, Nik Azura Nik Nasron and Siti Nurizzah Mohd Tazali.
On Sunday, the nine student activists leaked the executive summary which was allegedly presented at the Conference of Rulers on April 2.
In the document, four academics warned the rulers that the Yang di-Pertuan Agong (YDPA) may be prosecuted by the International Criminal Court (ICC) as he is the supreme commander of the country's armed forces.
The paper was allegedly prepared by Universiti Teknologi Mara's deputy vice-chancellor and dean of Faculty of Law Prof Datuk Rahmat Mohamad, International Islamic University of Malaysia's law lecturer Assoc Prof Shamrahayu Ab Aziz, and Universiti Sains Islam Malaysia's law lecturers Fareed Mohd Hassan and Hisham Hanapi.
Acknowledging that the group took a big risk by leaking the paper, Asheeq Ali said to date no party or even the academics themselves have disputed the document's credibility.
"If it is wrong, they (academics) could have denied it. Since the leak, there has been no denial or a single word from the academics who released the paper.
"So if I was being untruthful, I am ready to be sued in court," he said.
A day before the leak, the group launched an online petition urging the government to reconsider its decision to withdraw from the Rome Statute for the sake of those who died in the MH17 tragedy.
The petition said the alleged perpetrators of the tragedy could not be brought to the ICC because of Malaysia's status as a non-signatory country.
It has garnered almost 8,400 votes as of 7.30pm today.
"We have not decided anything in regards to halting the petition. We will decide whether we should stop or continue further when it reaches our target of 10,000 signatures," Asheeq Ali said.
He said response to the leak was expected but he added he did not expect a former Cabinet minister to disagree with the withdrawal.
Earlier this week, Gua Musang MP and Umno veteran Tengku Razaleigh Hamzah suggested that the Conference of Rulers may have been "ill-advised" about the Rome Statute.
However, Asheeq Ali said he was surprised that not a single representative from the federal government has initiated contact with the group over the leak since Sunday.
"If they are really keen to solve the confusion and educate the public and stop this whole debacle, they should not sweep the Rome Statute under the carpet.
"So we will continuously advocate for the Rome Statute because the government seems uninterested for now," he said.
Last Friday, Prime Minister Tun Dr Mahathir Mohamad said the government was forced to bow to political pressure from opponents who spread unnecessary fear and confusion.
Full report at:
https://www.malaymail.com/news/malaysia/2019/04/09/putrajayas-failure-to-address-criticism-of-rome-statute-spurred-students-to/1741472
--------
Pakistan
Pakistan takes team of diplomats to site of Balakot air strike
April 11, 2019
MORE THAN a month after the Indian Air Force struck at Jaish-e-Mohammad (JeM) terrorist training camps in Balakot, the Pakistan army is learnt to have taken more than two dozen defence attachés to the site on Wednesday.
The diplomats, sources said, were taken early morning and given a tour of the area. According to sources, among the diplomats were five women defence attachés, and Pakistan authorities took them to a madrasa which had nearly 130 children. They were subsequently taken to four surrounding areas where bombs had landed," a source claimed.
Another official familiar with the development said, "Islamabad is trying to deny any damage to Balakot JeM camp and trying to say that there wasn't a terrorist camp but madrasa for children."
The IAF conducted pre-dawn strikes at Balakot on February 26 in retaliation to the terror attack in Pulwama on February 14 that killed 40 CRPF personnel. Earlier, a group of eight journalists were taken to the Balakot strike site by the Pakistan authorities.
India has questioned timing of the visit and said that Islamabad is again trying to peddle propaganda and deny to the world the existence of terror camps in Balakot.
https://indianexpress.com/article/india/pakistan-takes-team-of-diplomats-to-site-of-balakot-air-strike-5669604/
--------
Meeting with Zardari just a normal routine, says Fazlur Rahman
April 10, 2019
ISLAMABAD: Chief of Jamiat-e-Ulema-e-Islam (JUI-F) Maulana Fazlur Rahman met with Co-chairman Pakistan People's Party (PPP) Asif Ali Zardari on Wednesday night.
Earlier on Tuesday, he had a meeting also with Mohammad Nawaz Sharif of Pakistan Muslim League (PML-N).
Talking with media after the meeting with Zardari, Maulana said that it was just a normal routine meeting in which they only had a dinner.
He said that both leaders talked on various national and political matters and there was a complete understanding between them.
Full report at:
https://www.thenews.com.pk/latest/456062-meeting-with-zardari-just-a-normal-routine-says-fazlur-rahman
--------
PML-N won't join street protests against govt, Fazl told
April 11, 2019
Former prime minister and supreme leader of the Pakistan Muslim League-Nawaz (PML-N), Nawaz Sharif has reportedly turned down a request of Jamiat Ulema-e-Islam (JUI) chief Maulana Fazlur Rehman to join the opposition's street agitation against the ruling Pakistan Tehreek-e-Insaf (PTI) government, according to reports.
The JUI-Fazl chief had sought support of the PML-N in the protests announced by the Pakistan People's Party (PPP) and other opposition parties during a meeting with Nawaz at his Jati Umra residence.
Sources privy to the issues discussed in the meeting said that Nawaz refused to give a clear commitment to Fazl regarding his party's participation in street protests, saying he would discuss the matter with other leaders.
However, PML-N leader Muhammad Zubair categorically said that his party will not participate in the street protests called by PPP.
Talking in a TV channel's talk show, Zubair said that the party did not intend to join hands with PPP and other parties in street agitation.
On April 4, while addressing a ceremony on the 40th death anniversary of PPP founder Zulfikar Ali Bhutto, PPP Co-chairman Asif Ali Zardari had announced that he would march towards Islamabad along with his party workers to oust the incumbent government.
"The 'selected' prime minister's bubble has burst. The government does not have funds to run the country. I want to tell him that if he cannot collect funds through the Federal Board of Revenue (FBR) then he should leave," he said, adding that his party cannot give this government any more time as it does not care about the people, therefore, it has decided to march on Islamabad to oust the government.
Addressing reporters after meeting Nawaz, Maulana Fazl said that the opposition should join hands to terminate the government.
The JUI-F chief said he had been in touch with other political leaders, including Pakistan People's Party (PPP) leader Asif Ali Zardari. He added that he will also call on Zardari in the next few days as believes that "internal connections [among opposition parties] should remain intact".
"The agenda of the meeting was limited to inquiring about his [Nawaz Sharif's] health, but we also discussed our shared concerns about towering inflation, which is affecting the common man, and the troubled economy," he said while responding to a question.
Calling Prime Minister Imran Khan a "fake and khala'i [extra-terrestrial]" premier, Rehman described the current regime as an "installed" one. He added that the ruling regime has no knowledge of the ideology of Pakistan, the ground realities of the country and the economy.
He repeated that the JUI-F has completed 10 'million marches' against the government and that they are ready for a decisive one.
"NAB is an institution of revenge. You should not expect accountability or justice from NAB. I think we need to take some strict decisions when it comes to NAB," Rehman said.
Full report at:
https://www.pakistantoday.com.pk/2019/04/09/nab-is-institution-of-revenge-says-fazl/
--------
Foreign journalists given access to madressah near site of Balakot strike
April 10, 2019
A group of international journalists, mostly based in India, as well as the ambassadors and defence attachés of various countries on Wednesday visited the impact site of the Feb 26 Indian airspace violation near Jabba, Balakot, Inter-Services Public Relations (ISPR), the media wing of the Pakistani military, announced late evening.
Director General (DG) ISPR Maj Gen Asif Ghafoor briefed the delegation on the events of the day of the attack, "negating repeated false Indian claims with ground realities".
"Visitors were shown bomb craters of the Indian air strike attempts in barren open spaces with no loss of human life or infrastructure," the ISPR said. "The group also visited a nearby madrassa that India claimed it had struck and killed scores of terrorists at."
The visitors, according to the ISPR, were allowed to interact freely with students and teachers and saw for themselves that the madressah, where "innocent local children were getting education, stood on ground and was untouched".
The DG ISPR reiterated that "India should accept the reality, stay a responsible state for peace in the region and look inwards to identify reasons for the out-of-hand situation in Indian occupied Kashmir."
"The international delegation also visited APS Swat — a state-of-the-art educational facility established by Pakistan Army as a gift for the resilient people of Swat in recognition of their contributions and sacrifices in defeating terrorism as terrorists had specially targeted educational institutions during the unrest," the ISPR press release stated.
The group were also given a tour of Sabawoon, the army-run rehabilitation and deradicalisation centre, where "juvenile offenders are given psychological treatment" and nurtured back to normal life so they can become useful citizens of the society.
Crater caused by 1,000kg bomb was medium-sized: BBC
BBC journalist Usman Zahid, who was a part of the delegation, said that the bomb site was located on a difficult hilly terrain and it took an hour-and-a-half-long trek to access it.
He said that the crater shown by the Pakistan Army was of medium size, as he recalled that the Indian army had claimed to have used a bomb weighing 1,000 kilogrammes.
The BBC representative further said that at the bomb site there was only one house, which had only suffered minor damage. He also found a person who had sustained injuries.
He said that the delegation was also taken to the madressah situated at the summit where they saw between 150 and 200 children, none aged above 12 to 13, getting Islamic education.
One of the teachers was asked specifically if the facility was run by Jaish-e-Mohammed (JeM). "We do not know who this madressah is under the care of," the teacher replied.
The DG ISPR, in an informal interaction, was asked why the visit was arranged now when the incident had taken place in February.
Full report at:
https://www.dawn.com/news/1475189/foreign-journalists-given-access-to-madressah-near-site-of-balakot-strike
--------
Arab World
Egypt pulls out of anti-Iran alliance envisioned by US, allies: Reuters
Apr 11, 2019
Egypt has reportedly turned its back on a US-led initiative to establish a NATO-style alliance of Arab countries primarily aimed at countering Iran out of concerns that such a coalition could increase tensions with the Islamic Republic, among other reasons.
Four sources familiar with the matter told Reuters on Thursday that Cairo had informed the US and the members of what is to be called the Middle East Strategic Alliance (MESA) of the withdrawal plan ahead of their Sunday's meeting in the Saudi capital, Riyadh.
One of the sources, speaking on condition of anonymity, said that Egypt had not sent a delegation to the Riyadh event.
An Arab source stressed that Egypt had pulled out of the so-called "Arab NATO" because of its doubts about the seriousness of the proposal as well as the danger that such an Arab front would increase tensions with Tehran.
Other reasons were uncertainty about whether US President Donald Trump will win a second term in 2020 and whether his successor may scrap the initiative to form an anti-Iran alliance, the Arab source added.
Reuters described Cairo's move as a blow to the Trump administration's anti-Iran strategy.
A Saudi source also confirmed problems with the plan, saying, "It's not moving well."
Meanwhile, two other sources emphasized that the remaining MESA members were moving ahead with the initiative and would press Egypt diplomatically to revoke its withdrawal from the anti-Iran group.
"We all want them back," said one of the sources.
The Arab source, however, noted that Egypt could not be convinced to return to the so-called "Arab NATO," which is comprised of Jordan and six Persian Gulf Arab countries, including Saudi Arabia, the United Arab Emirates, Bahrain, Kuwait, Oman and Qatar.
Egyptian officials have not yet commented on the report.
The alliance was first proposed by Saudi Arabia back in 2017 in a bid to counter Iran as well as Russia and China, according to a classified White House document reviewed by Reuters last year.
It has, however, faced several obstacles such as a diplomatic standoff between Qatar and a Saudi-led quartet of countries and the fallout of the state-sponsored killing of dissident Saudi journalist Jamal Khashoggi.
The problems have delayed a summit in the United States, which would feature the signing of a preliminary accord on the anti-Iran alliance.
The report about Cairo's withdrawal plan came following a meeting between Egyptian President Abdel Fattah el-Sisi and Trump in Washington.
Before the meeting, Trump had said he would exchange views with Sisi on security issues, but it was not clear whether they discussed the MESA issue.
The US and its allies in the Persian Gulf view regional powerhouse Iran as a common "threat." They constantly accuse the Islamic Republic of "regional interference," a claim Tehran vehemently rejects.
Trump – who came to office in early 2017 with a highly belligerent anti-Iran agenda – has been pressing its Arab allies to act on the Saudi initiative and move to form the NATO-like military alliance.
In parallel, the US president has also been encouraging the Arabs to step up their attempts towards normalization with the regime in Israel in favor of a coalition against Iran.
In February, a controversial US-organized summit in Warsaw, Poland, brought together Israeli Prime Minister Benjamin Netanyahu and representatives from a number of Arab states, including Oman, Morocco, Saudi Arabia, the United Arab Emirates, Bahrain, Qatar, Jordan, Egypt, Tunisia and Kuwait, among other participants.
On the sidelines of that event, Netanyahu said the Arab countries participating in the Warsaw forum were "sitting down together with Israel in order to advance the common interest of war with Iran."
Tehran has also repeatedly warned the Persian Gulf littoral states against the US's divisive policies in the Middle East, saying the planned Arab alliance would merely be a tool for the US to fuel tensions in the region and advance its own agenda there.
https://www.presstv.com/Detail/2019/04/11/593133/Egypt-Iran-Arab-NATO
--------
US blacklisting of IRGC proves Washington's fiasco in Middle East: Nasrallah
Apr 10, 2019
The secretary general of the Lebanese Hezbollah resistance movement has censured the United States for designating Iran's Islamic Revolution Guards Corps (IRGC) as a terrorist group, stating that the move is a concrete proof that Washington has miserably failed in its plots in the Middle East.
"US impudence and folly went beyond limits when it branded Iran's IRGC as a terrorist organization. The force has made a great deal of sacrifice in order to stand against the US and Israeli hegemony in the region. We, hereby, condemn the US decision, and express our support for our friends at the IRGC," Sayyed Hassan Nasrallah said as he addressed his supporters via a televised speech broadcast live from the Lebanese capital Beirut on Wednesday evening.
He then described the US as the main source and sponsor of terror in the world, emphasizing that Washington humiliates a whole nation for the sake of the "terrorist" Israeli regime and terror outfits.
Nasrallah also highlighted that resistance fighters have well managed to thwart US plots in the Middle East, noting that the IRGC designation was rooted in America's rancor against the force as it is strong and challenging Washington's conspiracies.
"Blacklisting the IRGC and Hezbollah is a proof of our strength not weakness. It is our fundamental right besides a humanitarian and moral duty to confront all those who threaten us and our achievements. The resistance front has many cards up its sleeve to respond to US sanctions and measures," the Hezbollah chief pointed out.
Nasrallah further noted that the US and Saudi Arabia are doing their utmost in a bid to sow the seeds of discord and division among Muslim nations in the Middle East, emphasizing that the Riyadh regime is helping Washington to liquidate the Palestinian cause so as to appease Israel.
He went on to say that US President Donald Trump offered Israeli Prime Minister Benjamin Netanyahu major concessions in the wake of the regime's general elections.
The Hezbollah leader then lamented the ongoing Saudi-led military aggression against impoverished Yemen.
"What would have happened to Persian Gulf countries and monarchies if totalitarian (Saudi Crown Prince) Mohammed bin Salman had emerged victorious in the war on Yemen? Had Bin Salman won in the war, he would have forced the Palestinians to sign (Trump's so-called) deal of the century," the Hezbollah secretary general commented.
He stressed that the incumbent US administration, Trump in particular, insists on continuation of the Saudi-led onslaught against Yemen.
Elsewhere in his remarks, Nasrallah touched upon the US policy of incitement and sedition in Lebanon, underlining that Washington is still pressing ahead with its fiendish bids despite the failure of Secretary of State Mike Pompeo's visit to the Arab country.
Full report at:
https://www.presstv.com/Detail/2019/04/10/593106/US-blacklisting-IRGC-Middle-East-Nasrallah
--------
Iraq offers to try all Daesh foreigners for a fee
April 10, 2019
BAGHDAD: Iraq has offered the US-led coalition to put hundreds of accused foreign militants on trial in Baghdad in exchange for millions of dollars, three government sources have told AFP.
Western countries have been rocked by fierce public debate over whether to repatriate their citizens who joined Daesh, which held swathes of Iraq and Syria for years before losing its last speck of land last month.
Around 1,000 suspected foreign Daesh militants are in detention in northeast Syria, in addition to around 9,000 foreign women and children in Kurdish-run camps there. Iraq has proposed trying and sentencing the foreign suspects if the US-led coalition covers operational costs, three Iraqi officials have said.
"These countries have a problem, here's a solution," one told AFP, speaking anonymously because he was not authorized to give details to the press. The source said Iraq had proposed a rate of $2 million per suspect per year, calculated based on the estimated operational costs of a detainee in US-run Guantanamo.
"We made the proposal last week but have not gotten a response yet," the source added.
A second official said Iraq had requested $2 billion to try the suspects as "one of several options," and could ask for "more money to cover the costs of their detention."
Iraq has already tried and sentenced several hundred foreign Daesh members, and others are in detention in Baghdad awaiting trial.
They include at least 12 French nationals who were transferred from Syria in February. A third Iraqi official said detainees from as many as 52 countries could be put on trial in Baghdad.
"Iraq proposed to the coalition setting up a special tribunal to try foreigners. There's been a constructive beginning to those discussions," the source said.
But setting up the court could be complicated, the official said, with questions over whether international funding for it would preclude any implementation of the death penalty.
The source added that Iraq had opted to propose the arrangement to the US-led coalition as a whole because it was simpler than negotiating with each country individually.
The US-led coalition did not immediately respond to an AFP request for comment.
Syria's Kurds have called for an international court in northeast Syria to try Daesh militants, but the US says countries should repatriate their own citizens.
Full report at:
http://www.arabnews.com/node/1480861/middle-east
--------
Egypt officials: 4 policemen killed in 2 Sinai attacks
April 10, 2019
EL-ARISH, Egypt: Egyptian security officials say two separate attacks have killed three police conscripts and an officer in the restive northern Sinai Peninsula.
The officials said Wednesday that the first attack took place in the city of El-Arish when an explosive device targeted an armored vehicle, killing a police officer and two conscripts.
Another explosive device hit an armored vehicle in the town of Rafah, killing a conscript and wounding four others.
The officials spoke on condition of anonymity because they were not authorized to brief the media.
No group claimed responsibility for the attacks, which bore the hallmarks of the Daesh group.
The attacks came a day after a Daesh suicide bomber killed four policemen and three civilians, including a child, in the northern Sinai town of Sheikh Zuweid.
Saudi Arabia's King Salman and Crown Prince Mohammed bin Salman sent cables of condolences to President Abdel Fattah El-Sisi.
Full report at:
http://www.arabnews.com/node/1480606/middle-east
--------
Africa
Libya's Haftar recruiting child fighters: Tripoli gov't
Walid Abdullah
10.04.2019
TRIPOLI
Libya's Tripoli-based government on Wednesday accused forces loyal to Khalifa Haftar, who is affiliated with a rival government based in the country's east, of recruiting child soldiers.
In a Wednesday statement, Interior Minister Fathi Bashagha decried the alleged presence of "minors" fighting within the ranks of Haftar's forces, which since last week have been waging a campaign to capture Tripoli.
Describing the ongoing campaign as "illegal" and "unacceptable", Bashagha called on Haftar's forces to leave the capital and its environs, "or we will have no choice but to confront you with all force and firmness".
In a related development, Foreign Minister Mohamed al-Taher Siala has reportedly lodged a complaint with the UN Security Council in which he, too, accused Haftar's forces of recruiting child soldiers.
Last week, Haftar announced the launch of a campaign to capture Tripoli, where Libya's UN-backed government is headquartered.
By Monday, however, the campaign appeared to have lost momentum, with pro-government forces recapturing two military bases near Tripoli after they were briefly seized by Haftar's forces.
The two sides have since continued to trade blows over three strategic airports located on the capital's outskirts.
Libya has remained beset by turmoil since 2011, when a bloody NATO-backed uprising led to the ouster and death of President Muammar Gaddafi after four decades in power.
Since then, the country's stark political divisions have yielded two rival seats of power: one in eastern Libya, with which Haftar is associated, and another in Tripoli, which enjoys UN support.
https://www.aa.com.tr/en/africa/libya-s-haftar-recruiting-child-fighters-tripoli-govt/1448337
--------
Sudan rally organizers urge Khartoum residents to throng protest site
11 April 2019
Organizers of nationwide protests against Sudan's President Omar al-Bashir called on Khartoum residents Thursday to mass at army headquarters as state media said the army would make an "important statement."
"We call on our people from across the Khartoum capital and the region around to immediately go to the sit-in area and not leave from there until our next statement is issued," the Sudanese Professionals Association said.
A sit-in outside army headquarters, which also houses Bashir's residence, entered its sixth day on Thursday with protesters gathered in what the European Union has described as "an unprecedented number."
Meanwhile, Sudanese President Omar al-Bashir is set to step down, Al Arabiya sources confirmed adding that some current and former officials have been arrested.
The months of protests have plunged Sudan into its worst crisis in years. The demonstrations initially erupted last December with rallies against a spiraling economy, but quickly escalated into calls for an end to embattled al-Bashir.
The protests against al-Bashir gained momentum last week after Algeria's President Abdelaziz Bouteflika, in power for 20 years, resigned in response to weeks of similar protests, according to the Associated Press..
Saturday's marches in Khartoum marked the 34th anniversary of the overthrow of former President al-Nimeiri in a bloodless coup. It was one of the largest turnouts in the current wave of unrest.
The military removed Nimeiri after a popular uprising in 1985. It quickly handed over power to an elected government. The dysfunctional administration lasted only a few years until al-Bashir - a career army officer - allied with Islamist hard-liners and toppled it in a coup in 1989.
Al-Bashir has banned unauthorized public gatherings and granted sweeping powers to the police since imposing a state of emergency last month, and security forces have used tear gas, rubber bullets, live ammunition and batons against demonstrators.
Full report at:
https://english.alarabiya.net/en/News/middle-east/2019/04/11/Sudan-rally-organizers-urge-Khartoum-residents-to-throng-protest-site.html
--------
Haftar's army downs Libyan govt. military plane
Apr 11, 2019
The so-called Libyan National Army (LNA), headed by renegade Field Marshal Khalifa Haftar, has shot down a military aircraft operated by the UN-backed government of Libya en route from the city of Misrata, an official says.
"The reports have just emerged that the Libyan National Army shot down a military aircraft that departed from Misrata," LNA spokesman Ahmed al-Mismari said at a news conference in Benghazi on Wednesday.
Media reports say the Aero L-39 Albatros plane, a Czech-made training jet often used in a ground attack role, belonged to the Government of National Accord (GNA) and was shot down over Qasr Bin Ghashir south of Tripoli.
Libya has been the scene of increasing violence since 2011, when former dictator Muammar Gaddafi was killed in a NATO military intervention that followed a popular uprising. Gaddafi's ouster created a huge power vacuum, leading to chaos and the emergence of numerous militant outfits, including the Daesh terrorist group.
The GNA is the internationally-recognized government of Libya seated in Tripoli. But it has been unable to exercise state powers over the entire Libyan territory, where militia groups have been active since an uprising against the then-dictator Muammar Gaddafi in 2011.
Another major power faction that lays a claim to power is based in the city of Tobruk, in Libya's east. It has its own quasi-army, led by self-styled General Khalifa Haftar.
Last week, Haftar ordered his forces to advance on the capital, in what seems to be an attempt to unseat the GNA.
The political process and risks further escalation with serious consequence on their way to Tripoli, Haftar's forces have overtaken several oil fields and towns, but have faced stiff resistance from forces loyal to the GNA near Tripoli, where they have been stopped. The situation is deadlocked, and fighting continues despite international calls for an end to hostilities.
The fighting between rival domestic forces continues near the capital Tripoli and elsewhere, and that prompted the UN to postpone a conference in Libya that had been meant to discuss the possibility of holding elections in the country.
France blocks EU call to stop Haftar's offensive
Meanwhile, France on Wednesday blocked a European Union statement which called on Haftar to halt his forces' offensive in Libya.
The draft statement, seen by Reuters, would have said that the military attack launched by Haftar on Tripoli was "endangering the civilian population, disrupting the political process and risks further escalation with serious consequences for Libya and the wider region, including the terrorist threat."
France and Italy disagree on how to handle the latest escalation in the troubled North African country.
France, which has oil assets in eastern Libya, has provided military assistance in past years to Haftar in his eastern stronghold, Libyan and French officials say.
Full report at:
https://www.presstv.com/Detail/2019/04/11/593125/Libya-haftar-GNA-LNA-army-government
--------
Sudan police say 11 killed in Khartoum incidents
Apr 10, 2019
Sudan's Information Minister has cited a report by Khartoum police as saying that 11 people were killed during security incidents in the capital on Tuesday.
According to a report by the Khartoum state police chief, six members of "state forces" were among those killed in the Tuesday incidents, said the minister, Hassan Ismail.
Ismail, who is also the government spokesman, provided no details on how they died.
But Khartoum witnessed attempts by intelligence and riot forces to disperse a sit-in by protesters opposed to President Omar al-Bashir in front of the country's Defense Ministry headquarters on Tuesday, prompting soldiers guarding the compound, which also includes Bashir's residence and the national security headquarters, to protect them.
The sit-in area, however, expanded slightly on Wednesday, with soldiers being heavily deployed around the sit-in, which began on Saturday.
The demonstrators chanted, "Fall, that's all!," "The people want to build a new Sudan", and "Our army protects us."
"With the army's presence, we feel safe," one of the sit-inners said. "The army is protecting us and we will continue the sit-in until the regime falls," the 23-year-old engineering graduate, Ayman Abdullah, added.
Sudan has been struggling with persisting protests since December 17, when an anti-government campaign erupted over price hikes and shortages of food and fuel. That initial public display of anger quickly spiraled into calls for the 75-year-old Bashir to step down.
The embattled president has declared a state of emergency, dissolved the central government, and replaced state governors with security officials. But the rallies have not stopped.
Full report at:
https://www.presstv.com/Detail/2019/04/10/593101/Sudanese-police-11-killed-Khartoum-incidents
--------
Haftar forces 'capture' military camp south of Tripoli
By Walid Abdullah
10.04.2019
Libyan
TRIPOLI
Forces led by Commander Khalifa Haftar on Wednesday claimed to have captured the Yarmuk military camp, south of the capital, Tripoli, from the UN-backed government.
Haftar forces said in a statement they set control over the camp and are advancing towards Tripoli's center.
Beginning last week, the fighters have carried out a military attack to seize the capital from the UN-backed government.
The Yarmuk military camp is in the Ain Zara area which had been witnessing clashes between the Haftar forces and government forces.
The UN-backed government has not yet issued a statement on the claims.
In another development, airstrikes on Wednesday targeted several sites south of Tripoli, including the El Azizia area -- 28 miles (45 kilometers) south of Tripoli, and former Tripoli International Airport 16 miles (25 kilometers) from Tripoli, Anadolu Agency correspondent reported.
No side claimed responsibility for the airstrikes until 1700 GMT.
While the Haftar forces hold a small part of the former airport, the remaining is mainly controlled by the government forces.
Meanwhile, El Azizia area is mostly held by the Haftar forces.
Last week, Haftar announced the launch of a campaign to capture Tripoli, where Libya's UN-backed government is headquartered.
By Monday, however, the campaign appeared to have lost momentum, with pro-government forces recapturing two military bases near Tripoli after they were briefly seized by Haftar's forces.
The two sides have since continued to trade blows over three strategic airports located on the capital's outskirts.
Libya has remained beset by turmoil since 2011, when a bloody NATO-backed uprising led to the ouster and death of President Muammar Gaddafi after four decades in power.
Full report at:
https://www.aa.com.tr/en/africa/haftar-forces-capture-military-camp-south-of-tripoli/1448448
--------
Tunisia decries Libyan commander's assault on Tripoli
Afra Aksoy
10.04.2019
TUNIS
An ongoing military campaign by renegade commander Khalifa Haftar -- launched with the aim of capturing Tripoli -- is "unacceptable" and must stop immediately, Tunisian President Beji Caid Essebsi said Wednesday.
Essebsi made the remarks during a phone call with Fayez al-Sarraj, leader of Libya's Tripoli-based Government of National Accord (GNA)
"This unacceptable military campaign hurts the stability of Libya and endangers civilian lives," Essebsi told al-Sarraj, according to a statement released by the former's office.
Al-Sarraj, for his part, reportedly voiced his appreciation for Tunisia's "brotherly stance" on the issue, going on to stress that the GNA would continue to resist Haftar's forces.
Last week, Haftar, who is affiliated with a rival government based in the country's east, announced the launch of an ambitious campaign to capture the capital, where the GNA is headquartered.
By Monday, however, Haftar's campaign appeared to have lost momentum, with pro-GNA forces recapturing two military bases near Tripoli that had been briefly seized by Haftar's forces.
Libya has remained beset by turmoil since 2011, when a bloody NATO-backed uprising led to the ouster and death of President Muammar Gaddafi after four decades in power.
Full report at:
https://www.aa.com.tr/en/africa/tunisia-decries-libyan-commander-s-assault-on-tripoli/1448399
--------
South Asia
Afghan gov't to have a central role in peace deal with Taliban: Pompeo
10 Apr 2019
The U.S. Secretary of State Mike Pompeo has assured that the Afghan government will have a central role in a peace deal that would be concluded with the Taliban group.
In his testimony before the Appropriations Committee of the U.S. Senate on Tuesday, Pompeo said that he will make sure that America's counterterrorism interests are protected as well.
In response to a question raised by Senator Lindsey Graham on whether the Afghan government will be a meaningful participant in any pace deal, Pompeo said "More than that, they will be at the center. It will be Afghan-led."
This comes as efforts to find a political solution to end the ongoing war in Afghanistan.
The U.S. Special Representative for Afghanistan Reconciliation Ambassador Zalmay Khalilzad has so far participated in five meetings with the Taliban political leaders in Doha Qatar to find a negotiated settlement to ongoing war in Afghanistan.
https://www.khaama.com/afghan-govt-to-have-a-central-role-in-peace-deal-with-taliban-pompeo-03688/
--------
Former Bangladeshi lawmaker charged over death of prominent Catholic
April 11, 2019
A former Bangladeshi parliamentarian has been charged with the murder of a prominent indigenous Catholic who died five years ago.
Abul Kalam Azad, a former ruling Awami League party MP from the Govindaganj constituency in Bangladesh's north, was charged with 12 others on April 9 with murder over the death of Ovidio Marandy.
Ovidio's brother, Father Samson Marandy from Dinajpur Diocese, filed the case on behalf of his family. Family members had attempted to register a murder case for years.
Partha Bhadra, senior judicial magistrate, accepted the complaint and fixed June 12 as the case's first day of hearing.
At the time of his death Ovidio Marandy, then 32, was assistant commissioner of land in Govindaganj of Gaibandha district.
He was found dead and his motorbike partly damaged on a village road in the area on Jan. 11, 2014. He was reportedly driving to his place of work after spending a weekend at his home in neighboring Naogaon district.
Local authorities declared his death a road accident and hastily buried his body. Six months later, a court ordered his body to be exhumed for a post-mortem examination. The subsequent report has not been made public but Jahidul Islam, officer in charge of Govindaganj police station, told ucanews.com that it supported the claim that Ovidio's death was due to a road accident.
"The police case also recorded it as an RTA (road traffic accident) and detectives also identified it as an accident," Islam said.
But police say they are still investigating the case.
Alleged plot
The court complaint alleges the accused plotted and killed Ovidio because he resisted illegal activities allegedly being committed by Abul Kalam Azad and his men.
Among the criminal activities that Azad was allegedly involved in, the family say, was the grabbing of land from local indigenous peoples.
"Azad conducted a reign of terror in the area for a long time," Father Samson Marandy told ucanews.com. "He grabbed and leased land held by poor people including ethnic communities plus government's tax-free land," he said.
Azad was also allegedly involved in the violent eviction of thousands of ethnic Santal Christians from disputed land in the area in November 2016.
The priest alleged anyone who stood up to Azad put their lives at risk. "My brother clashed with him over the land grabbing issue, so Azad plotted and had him killed," he said.
Azad then used his political position to make it look like a road accident and Ovidio's family was blocked from seeking justice through the courts, the priest alleged.
"He is less powerful now because he is no longer a MP. His party has denied him from candidacy in the last election, so we can now seek justice," Father Marandy said.
Azad became an MP in the 2014 national elections, but he failed to secure his candidacy in last national election in Dec. 30, 2018.
He has denied charges made against him and called them a "political conspiracy."
"It is political vengeance. Ovidio Marandy died in a road accident and a police probe is nearing completion supporting that outcome. I am surprised that the court has accepted a new case in this regard," Azad told Bengali Daily Samakal on April 9.
Bishop Sebastian Tudu of Dinajpur said the Church would support Ovidio's family in seeking justice.
Full report at:
https://www.ucanews.com/news/former-bangladeshi-lawmaker-charged-over-death-of-prominent-catholic/84942
--------
Food security crisis grows in Bangladesh Rohingya refugee camps
April 11, 2019
Report shows refugee settlements and nearby residential areas in Bangladesh face significant food insecurity as Bangladesh police shoot refugee suspects accused of economic crimes.
Areas around Rohingya refugee camps in Bangladesh are facing a worsening food security crisis, according to a report by a UN organised body.
In its annual Global Report on Food Security, The Food Security Information Network (FSNI) said residents of Bangladesh's Cox's Bazar city are struggling for food and other resources due to the huge influx of Rohingya refugees.
Nearly a million members of the largely Muslim Rohingya community have sought refuge in Bangladesh, fleeing acts of genocidal violence by Buddhist gangs and the Myanmar military.
The community has settled in one of the poorest and most vulnerable regions in Bangladesh, where most local households typically derive their livelihood from small farming plots of around a hectare or less, and fishing.
"At least 100 hectares of cropland in Teknaf and Ukhiya have either been occupied by refugee settlements or rendered useless by sandy soil flowing down from the mountain slopes," the FSNI said in the report.
Food security for host communities showed a marked deterioration, with the percentage of households with poor or borderline poor food consumption increasing sharply from 31 percent in 2017 to 80 percent in the August to September period of 2018.
Researchers said that nearly 2,000 hectares of forest reserves have also been damaged due to the settlements, depriving the local community of a means to earn a living from forests.
Around 750,000 kilograms of timber, vegetation, and roots are collected daily by the community from the forest for cooking fuel.
The FSNI is an initiative organised by the UN World Food Programme and others.
Most Rohingya headed to the southeastern region of Chittagong, or to Cox's Bazar to escape persecution and killings by the Myanmar government, which the UN has described as 'textbook' ethnic cleansing.
Refugees become vulnerable to crime
The situation with food scarcity is forcing some Rohingya into petty crime to make ends meet.
Three suspected robbers were shot dead in a gun fight in Cox's Bazar on Saturday, according to the Bangladesh police. The assailants, who were all young Rohingya refugees, were staying in a camp nearby and were hiding weapons on a hill when they encountered the officers.
In March, a female Rohingya refugee was killed during an apparent gunfight with border guards, also in Cox's Bazar.
The troops had come across suspected drug dealers when the firefight erupted.
Full report at:
https://www.trtworld.com/asia/food-security-crisis-grows-in-bangladesh-rohingya-refugee-camps-25729
--------
Europe
UK government adviser sacked over comments on Islamophobia
Apr 10, 2019
The UK government has decided to sack a senior adviser after he suggested in an interview that the problem of Islamophobia is not real.
The government said on Wednesday that Sir Roger Scruton had been removed from his post as chairman of government commission on building better quality housing after he endorsed Islamophobic comments by Hungarian President Viktor Orban who has accused Muslims of trying to invade the West.
Scruton said in an interview with the New Statesman that Islamophobia was a hoax made up by the Muslim Brotherhood, the most popular political party in the Muslim world.
He said Islamophobia was a propaganda word "invented by the Muslim Brotherhood in order to stop discussion of a major issue".
Scruton, a major academic known for his philosophical ideas, is a close friend of Orban, a prominent far-right politician and a committed Islamophobe who has previously referred to refugees coming to Europe to escape war and poverty in the Middle East as "Muslim invaders".
The controversial figure has endorsed Orban's other views, especially those made against American billionaire businessman George Soros who Orban believes is running an empire from his place of birth in Hungary to advance the interests of the Jews worldwide.
Scruton's comments about Islamophobia come amid a clear surge in hate crimes against Muslims in the UK and other Western countries.
Inspired by prominent Islamophobes in Britain, an Australian man massacred some 50 Muslim worshippers in two mosques in Christchurch in New Zealand last month.
The Opposition Labour party called for Scruton's removal from the government, saying his language is instigating hate against the Muslims.
"These comments by Roger Scruton are despicable and invoke the language of white supremacists," said Dawn Butler a senior Labour MP who serves as shadow women and equalities minister, adding, "His claim that Islamophobia does not exist, a few weeks after the devastating attack in Christchurch, is extremely dangerous, and his defence of the prejudice stoked by Viktor Orban's government in Hungary is appalling."
https://www.presstv.com/Detail/2019/04/10/593102/UK-philosopher-Scruton-sacked-Islamophobia-comments
--------
Iran, Turkey, Russia lawmakers meet in Moscow
Apr 10, 2019
The first trilateral meeting between the foreign affairs committees of parliaments of Iran, Turkey and Russia has been held in Moscow. The participants have held talks to promote peace and stability in the region.
https://www.presstv.com/Detail/2019/04/10/593121/Iran-Turkey-Russia-lawmakers-meet-Moscow
--------
Saudi cadets get UK training amid Yemen abuse reports
Ahmet Gürhan Kartal
10.04.2019
LONDON
More than 40 Saudi military cadets have been receiving training in British military colleges amid human rights abuse reports against the Gulf state's forces in Yemen, local media reported on Wednesday.
According to the information received through freedom of information channels by The Guardian, the cadets are being trained at Sandhurst, the Royal Air Force school at Cranwell and the Royal Navy College since 2015.
The British Ministry of Defense declined to inform the daily about the amounts of the contracts, the report said.
Recently, British Foreign Secretary Jeremy Hunt criticized Germany for halting arm sales to Saudi Arabia, following the murder of Saudi journalist Jamal Khashoggi in Saudi Consulate in Istanbul.
Labour MP Lloyd Russell-Moyle is quoted by the newspaper as saying that Britain's training of Saudi officers in the U.K. was "the tip of the iceberg of British enablement of the Saudi war machine to devastate the people of Yemen".
"The government argues that helping Saudi prosecute its war crimes is stabilising the Gulf. This is a cynical, morally bankrupt and, most importantly, erroneous position taken to make money out of human suffering," he said.
The U.K. has sold at least £5.7billion ($7.47 billion) worth of arms to the Saudi-led coalition, which is fighting in Yemen since 2015, according to an analysis released by Sky News last month.
British state has been under criticism for not halting arm sales to Saudi Arabia following multiple reports of human rights abuses and one of the worst human tragedies involving civilian deaths due to hunger in Yemen.
The U.K.'s arm sales have been under scrutiny and came under focus again after the murder of journalist Jamal Khashoggi in Saudi Arabia's Istanbul consulate.
Labour Shadow Secretary Emily Thornberry previously called the killing a "disgraceful murder" and said the Saudi crown prince Mohammed bin Salman "takes his allies for fools," mentioning some of the alleged crimes attributed to him.
Urging the U.K. government to use the Magnitsky powers for anyone involved in the murder, including those who ordered it, Thornberry asked for financial penalties on those responsible and the suspension of U.K.'s sales of arms to this country.
Hunt had said the reports about Khashoggi's death, if they prove true, "are not compatible with our values".
According to the United Nations, Yemen is the world's worst humanitarian crisis. As the conflict enters its fourth year, around 14 million people in Yemen, or half the total population of the country, are at risk of famine, the UN says.
Full report at:
https://www.aa.com.tr/en/europe/saudi-cadets-get-uk-training-amid-yemen-abuse-reports/1448460
--------
Syria solution should be political, not military: EU
Meric Urer
10.04.2019
The solution to the Syria crisis should be a political and not a military one, head of the EU Delegation to Turkey said.
In an interview with Anadolu Agency, Christian Berger said the crisis needs a solution that also includes Syrians in finding a political settlement of the problem.
Berger said that both Turkey and the EU are working together and support the UN-led process in Geneva.
Negotiations for a political transition in Syria began in Geneva in June 2012 under the supervision of the UN.
"If we don't find a political solution, this will continue," he added.
The bloc's ambassador also praised Turkey's fight against the terrorism, saying the country and the EU continue dialogue on counter-terrorism issue.
He said that Turkey is in a "very difficult geographical situation" with a civil war going on in Syria, a conflict in Iraq against the Daesh terrorist organization, as well as fighting against the PKK.
In the last two years, Turkey's Euphrates Shield and Olive Branch operations liberated the region of YPG/PKK and Daesh terrorists, allowing hundreds of thousands of displaced civilians to return to their homes.
In its more than 30-year terror campaign against Turkey, the PKK -- listed as a terrorist organization by Turkey, the U.S. and the EU -- has been responsible for the deaths of nearly 40,000 people, including women and children. The PYD/YPG is its Syrian branch.
"Turkey is an important ally of the international community's coalition in the fight against Daesh," he added.
EU helps Turkey on mine clearance
Berger said that the EU runs a very comprehensive project with Turkey on clearing mines at the eastern borders of the country.
"Mines are instrument of war," he said, adding that Turkey together with the United Nations Development Program (UNDP) runs a mine clearance project which targets to dispose 220,000 land mines.
The "Socioeconomic Development through Demining and Increasing the Border Surveillance Capacity at the Eastern Borders of Turkey" project was developed in 2014 and is funded by the EU.
It is the first partnership of UNDP in Turkey with the Ministry of National Defense, Turkish General Staff and Ministry of Interior in the field of mine clearance, according to the UNDP.
He recalled that many countries -- including Turkey and the EU member states -- are members of the "Convention on the prohibition of the use, stockpiling, production and transfer of anti-personnel mines and on their destruction", also known as the Ottawa Treaty.
Turkey joined the convention in 2004, Berger said, adding that since that time the UN helps to remove the mines that have been laid during the cold war period.
The project volume is about €40 million (around $45.2 million) and co-founded by both the EU and the Turkish government, he said.
Full report at:
https://www.aa.com.tr/en/europe/syria-solution-should-be-political-not-military-eu/1448141
--------
German police raid NGO offices for alleged Hamas ties
Ayhan Simsek
10.04.2019
BERLIN
German police on Wednesday raided offices of several non-governmental organizations, alleging that they provided support to the Palestinian resistance group Hamas.
Around 90 properties across Germany, including offices of WWR Help und Ansaar International, were searched by the police, the Interior Ministry said in a statement.
"There are indications that they have provided financial and propaganda support to Hamas," the ministry said.
Interior Minister Horst Seehofer stressed that Germany will not allow charities to provide support to Gaza-based Hamas group, arguing that German laws prohibit activities that violate the principle of international peaceful understanding.
The European Union keeps Hamas in its terror list, despite strong objections by the Palestinian group, which describes itself as a national liberation movement practicing all types of legitimate resistance against the Israeli occupation.
The German government has been a strong supporter of Israel and repeatedly underlined its "special responsibility" for the Israeli state due to the Holocaust.
Full report at:
https://www.aa.com.tr/en/europe/german-police-raid-ngo-offices-for-alleged-hamas-ties/1448000
--------
Russia calls on Iran and Turkey to help return Syrian refugees
April 10, 2019
A member of Russia's lower house of parliament, Sergei Neverov, has called on lawmakers in Iran and Turkey to coordinate with Moscow to help millions of displaced Syrians return home.
Mr Neverov, deputy chairman of the State Duma aligned with the ruling United Russia party, proposed that lawmakers from Turkey and Iran who are responsible for international affairs should hold a joint conference to help facilitate the return of Syrian refugees displaced by the eight-year conflict.
"I am confident that in the framework of parliamentary diplomacy, we can significantly move forward in solving this serious humanitarian problem affecting the fate of hundreds of thousands of innocent people who are forced to endure hardship and suffering," Mr Neverov said during a meeting in Moscow with the foreign affairs committees of the parliaments of Turkey and Iran.
In July 2018, Russia launched an initiative to repatriate the 5.6 million people who have fled Syria since 2011. Officials in Lebanon, which is hosting more than 1 million Syrian refugees, welcomed the initiative, but have told The National last year that the plans have stalled over a lack of funding.
Yury Vidakas, Russia's Charge D'affaires in the UAE, told The National that the move was part of his country's "practical" approach to the two biggest issues that Moscow sees in the Middle East – regional security and displaced Syrian refugees.
"Once again, this is a different level of our collaboration because we are concerned about the Syrian refugees," he said pointing out that there were already military and senior diplomatic discussions on such topics.
"Our policy is a constant one, Syrian refugees and regional security are of primary concern and [if it's] parliamentary [delegations] or any other instrument but if you make things slightly better and minimize the negatives on the situation then it will be great and it will contribute to peace and the safe return to their country."
As the war in Syria slowly grinds to a halt, Russia has lobbied Western governments to deliver vital funding to facilitate the return of Syrians from Lebanon, Jordan and Turkey. But EU and US officials and humanitarian groups have been reluctant to greenlight further funds over concerns of ongoing fighting in the country and a lack of reforms within the Syrian government.
Mr Vidakas said there is concern in Moscow about Western reluctance to back the return of refugees to Syria and added that "we have to reconstruct Syria and whether you like [President Bashar Al] Assad or no, ok… but the people are suffering and this is one of the ways that we are suggesting.
On Tuesday, Russia's UN Ambassador Vasily Nebenzya said during a meeting on refugees at the UN Security Council that more than 177,000 Syrians had returned since the Russian initiative was launched. However, some Russia analysts have expressed scepticism over figures cited by Russian officials.
The trilateral meetings in Moscow on Wednesday are part of a new format between Russia, Iran and Turkey, which will see the parliamentarians gather later in Ankara and Tehran.
The leaders of Iran, Turkey and Russia met together in the Black Sea resort city of Sochi in southern Russia on Valentine's Day this year to negotiate a resolution to the eight-year conflict in Syria.
Full report at:
https://www.thenational.ae/world/mena/russia-calls-on-iran-and-turkey-to-help-return-syrian-refugees-1.847476
--------
India
JKLF chief Yasin Malik to be in NIA custody till April 22
April 11, 2019
A day after JKLF chief Yasin Malik was brought to Delhi from Jammu, the NIA on Wednesday arrested Malik in connection with a case related to funding of terror and separatist groups in Jammu and Kashmir. He was produced in a special court which remanded him in NIA's custody till April 22.
Malik was shifted to Delhi's Tihar Jail on Tuesday after NIA secured his production remand. He was produced before Special Judge Rakesh Syal.
Malik was brought to the national capital after a special NIA court in Jammu gave the go-ahead for his custodial interrogation by the probe agency. The JKLF chief was taken into preventive custody in February by the J&K police and lodged in Jammu's Kot Balwal jail.
Malik, whose organisation JKLF was banned last month by the Centre, is also facing two CBI cases. These relate to the kidnapping of Rubaiya Saeed, daughter of then Union home minister Mufti Mohammed Sayeed, in 1989, and the killing of four IAF personnel in 1990.
An NIA official said they plan to confront separatist leader Mirwaiz Umar Farooq and Malik regarding the sources of funds allegedly received by them and role of the Joint Resistance Leadership. Mirwaiz is being questioned by the NIA for the past three days in connection with their probe into terror funding.
The agency registered a case on May 30, 2017 against separatist leaders, including unknown members of the Hurriyat Conference, who have allegedly been acting in connivance with militants of proscribed terrorist organisations, including Hizbul Mujahideen, Dukhtaran-e-Millat and Lashkar-e-Taiba.
https://indianexpress.com/article/india/jklf-chief-yasin-malik-to-be-in-nia-custody-till-april-22-5669588/
--------
As Indian elections begin, Pakistan fears tensions could worsen with its nuclear rival
By Pamela Constable
April 10
BALAKOT, Pakistan — The rocky trail to the spot where war almost broke out between Pakistan and India winds upward through alpine meadows dotted with grazing cows. In one pasture is a huge bomb crater, filled with broken boulders. Further above, almost hidden behind the ridge crest, sits a low cinder-block building.
On Wednesday, a rhythmic hum emanated from the structure. Inside, dozens of boys huddled over wooden benches, rocking and chanting to memorize the Koran. One religious teacher recounted the night of Feb. 26, when a series of booms jolted everyone awake. An Indian military jet had just dropped four bombs nearby, according to Pakistani officials.
"It was after 3 a.m. when we heard the sounds. There was total confusion," Mohammed Ajmar, 34, told foreign journalists. He said he had taught at the Madrassa Talim al-Koran since 2012. The visit to the remote site, arranged by the Pakistani army's public relations office, was the first allowed since the bombing.
Indian officials assert that the building was a training center for Jaish-e-Muhammad, a Pakistani militant group that claimed it carried out a Feb. 14 bombing in the nearby Indian-controlled portion of Kashmir. India said its airstrike killed "a very large number" of militant fighters at the center. Pakistan said the Indian plane missed its target, that no human was harmed, and that the building was a seminary with no other purpose.
Whatever happened on that ridge, the reverberations have continued to roil relations between the two nuclear-armed rivals as the polls open Thursday in nationwide Indian elections that could see its Hindu nationalist leader, Narendra Modi, reelected for a second term.
Pakistani Prime Minister Imran Khan, in an interview Tuesday with foreign journalists, expressed concern and sorrow over the deterioration in relations with India. He said the Modi government was unleashing domestic hostility against Muslims, a minority of more than 200 million, and that the very idea of "Muslim-ness" was under attack.
Nevertheless, Khan also suggested that if Modi were to win reelection, his "right-wing" government might actually be more likely to reach a settlement on Kashmir, which both countries have claimed since they were partitioned in 1947. The opposition Congress party, he said, might be "too scared" to move decisively on the issue.
The invitation for foreign journalists to interview the prime minister and military officials and to visit the site of the Indian airstrike came on the eve of the Indian elections and in the midst of a domestic economic crisis that has left Pakistan desperate for international support.
Pakistani Prime Minister Imran Khan attends a military parade to mark Pakistan National Day in Islamabad last month. (Anjum Naveed/AP)
Despite Khan's hopes for peace in Kashmir, some Pakistani and international experts have predicted that if Modi's ruling party makes a strong enough showing, India would probably continue harsh tactics in its portion of the disputed territory, provoking more protests by Kashmiri Muslims. Modi has threatened to revoke several laws that grant Kashmiris certain special rights, such as property ownership.
"Kashmir continues to smolder and remains a nuclear flash point," said Michael Kugelman of the Woodrow Wilson International Center for Scholars in Washington.
Last weekend, Pakistan's foreign minister said there was "reliable evidence" that India might attack Pakistan in the next two weeks, and that it might "stage" another bombing in the disputed Himalayan territory of Kashmir to justify such military action. Indian officials dismissed the claim as "preposterous" and "aimed at whipping up war hysteria."
Kugelman said little is likely to change if Modi is reelected. "We can expect to see the same kinds of repressive policies in Kashmir," as well as anti-Muslim rhetoric and policies that could give Islamist militants a "pretext for attacks on India," he said.
A bomb crater in a meadow in a remote area of Pakistan, left behind after an Indian fighter jet conducted an airstrike. (Pamela Constable/The Washington Post)
Since Khan came to power, his government has taken steps to rid Pakistan of Islamist militant groups, such as the one that claimed the Feb. 14 bombing that killed 40 Indian security forces. After that attack, authorities arrested dozens of members of Jaish-e-Muhammad, though not its top leader, and began seizing financial assets and charities run by such groups. There are plans to begin "rehabilitating" former militant guerrillas, with job training and counseling.
Officials say the government has also begun working to bring Islamic seminaries under the state education system, requiring them to modernize their curriculum and register with the government. Such actions could help assuage Indian fears while complying with an international task force that has strong influence on foreign lending — and that has threatened to blacklist Pakistan in May if it does not do more to crack down on religious extremism.
"Such is the sweep and outreach of some of these groups that one of them, namely Jaish-e-Muhammad, nearly brought two nuclear-armed South Asian countries to the brink of war," Rustam Shah Mohmand, a former Pakistani diplomat and senior official, wrote Tuesday in an essay in the Express Tribune newspaper.
Mohmand and others expressed concern that the crackdown would soon subside, noting that previous efforts have petered out. This was largely because some militant groups enjoy wide public support, especially those that oppose India and support the cause of Kashmiri Muslims there.
Even some past skeptics, though, said Khan and the current army leadership appear to be seriously committed to implementing the proposals in a sweeping national plan against extremism that was adopted but then ignored by the previous government.
India and the United States have repeatedly accused Pakistan of continuing to harbor extremist groups, which it once nurtured to fight proxy wars in India and Afghanistan. But military officials said they now see these groups as a serious threat to Pakistan's stability, economic development and relationships abroad.
In March, Gen. Qamar Bajwa, the chief of army staff, ordered the military to initiate a crackdown on militant groups that are banned by the United Nations. In briefings this week, Brig. Gen. Asif Ghafoor, the army spokesman, said Pakistan had fought and defeated the Pakistani Taliban, whose forces were driven from the northwest border region through military raids in 2014.
"Now that we have eliminated the kinetic threat, we want to root out extremism and the roots of terror," he said.
Although military officials have promised to respond forcefully to any new Indian aggression, they also hinted at a possible sea change in their traditional dominance over foreign and security policy. They spoke about the importance of loyalty to civilian authority, and they echoed almost word for word several comments made by Khan.
Full report at:
https://www.washingtonpost.com/world/asia_pacific/as-indian-elections-begin-pakistan-fears-tensions-could-worsen-with-its-nuclear-rival/2019/04/10/037ffd5c-5a4c-11e9-98d4-844088d135f2_story.html
--------
Mideast
Arab coalition strikes Houthi drone capabilities in Sanaa
April 10, 2019
JEDDAH: The Arab Coalition in Yemen said it had struck Houthi targets in the capital Sanaa, Saudi TV reported early Wednesday.
A Houthi workshop manufacturing unmanned drones and a launchpad were hit in the attack, said the coalition, which is tasked with supporting the internationally recognized government of Yemen against the Iranian-backed Houthi militia that control the capital.
Coalition spokesman Col. Turki Al-Maliki said that at 4:17 a.m. the Joint Forces Command carried out an operation in Sanaa to destroy two legitimate military targets, including a workshop used by the Houthi militia for installing and booby-trapping UAVs and a store for platforms for launching and preparing UAVs to carry out terrorist operations.
He said that the targeting operation was an extension of previous military operations (on Jan. 19, 31 and Feb. 9 and March 23), which were conducted by the Joint Forces Command to destroy an Iran-backed terrorist Houthi militia's integrated network for UAV capabilities and its logistical facilities, in addition to the locations of foreign experts.
Al-Maliki affirmed the commitment of the coalition to preventing access by the Houthi militia and other terrorist organizations to such capabilities, and taking all measures to protect civilians and vital areas from the threat of UAV terrorist attacks in accordance with customary international humanitarian law.
He reaffirmed that the targeting operation was in accordance with customary international humanitarian law, and that the Joint Forces Command had taken all precautionary measures to protect civilians and avoid collateral damage, while the Iran-backed terrorist Houthi militia used residential neighborhoods and civilian facilities as military zones for manufacturing workshops, including ballistic missiles preparation and installation workshops, UAV workshops, mines and improvised explosive device workshops, and weapons storage.
Child protection
The coalition, also represented by the Child Protection Unit of the Joint Forces Command, handed over seven children to the representative of the Yemeni legitimate government.
These children had been deluded and were arrested during military clashes with Iran-backed Houthi terrorist militias in a number of fighting fronts on the Kingdom's borders.
The handing-over ceremony was held at Sharurah Force Command in the presence of a representative of the Yemeni government. The seven children represent the eighth batch where 120 children have been handed over to their families.
Each child received an amount of money as a gift from the Joint Forces Command of the Operation Renewal of Hope in addition to gifts from Sharurah Force Command. Memorial photos were taken. The children were moved by bus to Marib.
Recently, the Houthis sent an unmanned drone toward the southern Saudi city of Khamis Mushayt. The drone was shot down by Saudi forces without causing any casualties. The coalition said that the Houthis were using residential neighborhoods for the manufacturing of ballistic missiles, land mines and advanced bombs.
Saudi Arabia and its Arab allies entered the war in Yemen in 2015 against the Houthis, who drove the internationally recognized government into exile in 2014. The Houthis have fired dozens of missiles into Saudi Arabia in the four-year conflict. Most of the missiles have been intercepted by the Saudi military.
http://www.arabnews.com/node/1480351/saudi-arabia
--------
Erdogan demands annulment of Istanbul election results
Apr 10, 2019
Turkey's president has called on electoral authorities to annul the results of local elections in Istanbul -- the country's economic heartland and his home city -- due to alleged irregularities.
Recep Tayyip Erdogan said the authorities had failed to appoint "civil servants" as ballot box officials at some polling stations in Turkey's largest city during the March 31 elections, Turkey's Daily Sabah paper reported on Wednesday. Instead, the authorities had put "regular people" in those positions, compromising the elections' fairness, he added.
"Our colleagues have established this. Naturally, all this casts doubt. If they take a sincere view, this will lead to annulment," he noted.
The polls saw Turks voting to elect scores of mayors, municipal councils, and other local officials. Erdogan's ruling Justice and Development (AK) Party secured an overall victory with some 51 percent of the votes.
The AK party, however, suffered major defeats in the elections, which handed a victory to the main opposition Republican People's Party (CHP) in the political power base, Ankara, and the third-largest city of Izmir.
Results showed the CHP had narrowly won control of Istanbul, seemingly bringing an end to the AK party's 25-year-old rule there.
Any decision to annul the elections rests with the High Election Board.
The board has already once rejected an AK party appeal to recount the votes cast in 31 of Istanbul's 39 districts. The electoral body has only agreed to a recount of 51 ballot boxes in 21 of the districts.
A senior official was cited by Reuters as saying on Tuesday that the party would demand a new vote in Istanbul now that the board has turned down its appeal.
Erdogan and the AK party had won every election since the party first came to power in 2002.
Full report at:
https://www.presstv.com/Detail/2019/04/10/593059/Turkey-Erdogan-demand-annulment-election-results-Istanbul
--------
Turkey: Delivery of Russian S-400 may be brought forward
Apr 10, 2019
Turkish President Recep Tayyip Erdogan says his country's purchase of Russia's S-400 is a "done" deal, and that the delivery of the missile defense system may happen sooner than the date set.
Erdogan made the remarks to reporters on his plane while returning from a trip to Russia, Turkey's Daily Sabah newspaper reported on Wednesday.
The Turkish president said that he and his foreign minister were frequently asked about Ankara's decision on the purchase of the S-400 system from Moscow.
"We answer that 'this deal is done, everything is settled.' The delivery of the S-400 missile defense system was to be in July. Maybe it can be brought forward," he emphasized.
Erdogan also noted that Turkey's requests for defense support had not received positive responses, leading Ankara to find its own alternatives.
He further accused the US of having double standards on Russian S-400 while countries such as Greece, Bulgaria and Slovakia have similar defense systems.
"Why shouldn't one of NATO's strongest militaries have a strong air defense system?" Erdogan asked.
Turkey has signed a $2.5 billion deal with Russia for the purchase of S-400 batteries with the delivery set to begin in July. It has, at the same time, ordered 30 of the US F-35 stealth fighter jets and plans to buy over 100 in total.
But Ankara's military deal with Moscow has angered Washington, with the latter issuing an ultimatum for Turkey to stop buying the Russian system or risk losing its NATO membership.
Recently, the Pentagon halted the delivery of equipment related to the F-35 to Turkey. Leaders of the US Senate Foreign Relations and Armed Services Committees warned Turkey on Tuesday that it risked tough sanctions if it pursued plans to acquire S-400.
"By the end of the year, Turkey will have either F-35 advanced fighter aircraft on its soil or a Russian S-400 surface-to-air missile defense system. It will not have both," Republican Senators Jim Risch and Jim Inhofe and Democratic Senators Bob Menendez and Jack Reed said in a New York Times opinion column.
Full report at:
https://www.presstv.com/Detail/2019/04/10/593056/Turkey-S400-Russia-Tayyip-Erdogan
--------
Pompeo says Israeli-Palestinian peace plan to be presented 'before too long'
April 10, 2019
WASHINGTON: US Secretary of State Mike Pompeo declined on Wednesday to publicly say the Trump administration still backs a two-state solution to the conflict between Israel and the Palestinians.
"We are now working with many parties to share what our vision (is) as to how to solve this problem," Pompeo told a US Senate hearing where he was pressed for a response on the issue.
Earlier, Donald Trump said Benjamin Netanyahu's election victory had improved the chances of peace between Israel and the Palestinians.
Pompeo said the administration "has been working on a set of ideas" for Middle East peace "that we hope to present before too long," adding that he hoped they would provide a basis for discussions on resolving the Israeli-Palestinian conflict.
Democratic Senator Tim Kaine asked Pompeo, a former Republican member of the House of Representatives, if he thought a peace agreement including one state for Israel and one state for the Palestinians was an outdated idea.
"It's certainly an idea that's been around a long time, senator," Pompeo responded.
"Ultimately the individuals in the region will sort this out," the secretary of state said.
Israeli Prime Minister Benjamin Netanyahu secured re-election on Wednesday, and a record fifth term in office, with religious-rightist parties set to hand him a parliamentary majority, despite a close contest against his main centrist challenger, a vote tally showed.
In a rare turn during the campaign toward the Israeli-Palestinian conflict, Netanyahu alarmed Palestinians by pledging to annex Jewish settlements in the occupied West Bank if re-elected. Palestinians seek a state there and in the Gaza Strip, with East Jerusalem as its capital.
That came after Trump signed a proclamation during Netanyahu's visit to Washington on March 25, officially granting US recognition of the Golan Heights as Israeli territory, a dramatic departure from decades of American policy.
The move, which Trump announced in a tweet days prior, was widely seen as an attempt to boost Netanyahu as he ran for re-election on April 9.
Israel captured the Golan in the 1967 Middle East war and annexed it in 1981 in a move not recognized internationally.
Full report at:
http://www.arabnews.com/node/1480791/middle-east
--------
North America
Pompeo says Iran tied to Al-Qaeda, declines to say if war legal
APRIL 11, 2019
US Secretary of State Mike Pompeo on Wednesday accused Iran of ties to Al-Qaeda and declined to say whether the Trump administration had legal authority to invade the country.
Testifying before the Senate Foreign Relations Committee, Pompeo hedged on whether the authorization of force by the US Congress days after the September 11, 2001 attacks would allow the United States to strike Iran.
"I would prefer just to leave that to lawyers," Pompeo told Senator Rand Paul, a Republican who is critical of US foreign interventions.
"The factual question with respect to Iran's connections to Al-Qaeda is very real. They have hosted Al-Qaeda, they have permitted Al-Qaeda to transit their country," he said.
"There is no doubt there is a connection between the Islamic Republic of Iran and Al-Qaeda. Period, full stop," he said.
But Pompeo denied Paul's suggestion that President Donald Trump's designation Monday of Iran's elite Revolutionary Guards was aimed at making a legal case for war.
"It was not part of the decision-making process. The designation was a simple recognition of reality," Pompeo said, citing US figures that Iran was behind more than 600 deaths of US troops in Iraq after the 2003 invasion when Tehran backed Shiite forces.
Trump has piled pressure on Iran after last year withdrawing from a nuclear accord negotiated under previous president Barack Obama, slapping sweeping sanctions as Washington seeks to roll back the clerical regime's regional influence.
Paul voiced concern that Pompeo had not rejected war with Iran under the 2001 authorization, which has been used to back the war in Afghanistan as well as attacks on Al-Qaeda in countries as diverse as Yemen and the Philippines.
https://dailytimes.com.pk/375477/pompeo-says-iran-tied-to-al-qaeda-declines-to-say-if-war-legal/
--------
US senators introduce bill to sanction Turkish officials over detentions
10 April 2019
Two US senators on Tuesday introduced a bipartisan bill requiring the imposition of sanctions on Turkish officials responsible for the detentions of US citizens and local consulate staff in Turkey, a statement on the legislation said.
The bill, introduced by Republican Senator Roger Wicker and Democrat Ben Cardin, also calls on President Donald Trump to urge Turkey to respect for the fundamental freedoms, saying thousands were victims of politically-motivated prosecution.
"The Turkish government's false imprisonment of Americans and Turkish citizens employed by the United States in Turkey is a gross violation of their human rights," Senator Cardin said in the statement. "Our bill makes clear that the United States will not tolerate years of Turkish recalcitrance on these cases."
The detention of US consulate workers and American citizens is one of many issues dividing NATO allies Ankara and Washington, also at loggerheads over Syria policy and Turkey's planned purchase of Russian missile defenses.
Their detentions prompted Washington in October 2017 to suspend all non-immigrant visa applications from the country, triggering a reciprocal move from Ankara that contributed to a deep crisis in bilateral ties.
The bill introduced Tuesday would require the US administration to impose sanctions on all senior Turkish officials responsible for the "wrongful" detentions of US citizens and staff, including barring the officials from travel to the United States and freezing any US assets.
"While the Turkish government made a step in the right direction with the release of Pastor Andrew Brunson last October, more needs to be done for Turkey to show good faith and act like a NATO ally," said Republican Senator Thom Tillis, one of six original sponsors of Tuesday's bill.
Full report at:
https://english.alarabiya.net/en/News/world/2019/04/10/US-senators-introduce-bill-to-sanction-Turkish-officials-over-detentions.html
--------
Hezbollah chief condemns US decision on Iran's RGC
By Yusuf Hussein
10.04.2019
Lebanon's Hezbollah chief Hassan Nasrallah on Wednesday condemned the U.S.' decision to declare Iran's Revolutionary Guard Corps (RGC) as a "terrorist organization".
"The United States humiliates an entire nation [Iran] for Israel, makes terrorist groups and facilitates them, and then declare defenders of the land and sanctities terrorists," Nasrallah said in a televised speech.
Extending his group's support to Iran, the Hezbollah leader said the Washington's decision reflects "U.S. President Donald Trump's disappointment over the strength and influence of the Iranian Revolutionary Guard Corps".
On Monday, the U.S. administration took the unprecedented step of officially designating Iran's RGC as a "foreign terrorist organization".
The move marked the first time for a government agency to be designated as a "terrorist" entity (although Iran's Quds Force, a component of the RGC, was dubbed a "supporter of terrorism" by the U.S. Treasury in 2007).
Iran's Supreme National Security Council, for its part, responded to the move by officially designating U.S. Central Command (CENTCOM) -- and all affiliated bodies -- as a "terrorist organization".
Iranian Foreign Minister Javad Zarif described the U.S. decision as a "gift" to Israeli Prime Minister Benjamin Netanyahu in advance of Tuesday's Knesset elections (in which Netanyahu's Likud-led coalition won a majority of seats).
Iran's powerful RGC was originally founded to serve as the vanguard of the country's 1979 revolution. It currently enjoys more autonomy than the rest of Iran's military, answering directly to Iran's supreme leader.
Full report at:
https://www.aa.com.tr/en/americas/hezbollah-chief-condemns-us-decision-on-iran-s-rgc/1448481
--------
US: Omar condemns TV host's dual-loyalty remark
Umar Farooq
10.04.2019
WASHINGTON
Congresswoman Ilhan Omar called out a conservative TV talk show host's "dangerous" comments that questioned her loyalty to the U.S.
"This is dangerous incitement, given the death threats I face. I hope leaders of both parties will join me in condemning it," the Muslim lawmaker tweeted. "My love and commitment to our country and that of my colleagues should never be in question. We are ALL Americans!"
The criticism Omar faced was in response to comments she made about the Sept. 11, 2001 terrorist attacks, in which she said Muslim Americans should not be considered second-class citizens because of it.
"Far too long we have lived with the discomfort of being a second-class citizen," Omar said at an event for the Council on American-Islamic Relations (CAIR). "And frankly, I'm tired of it. And every single Muslim in this country should be tired of it. CAIR was founded after 9/11 because they recognized that some people did something, and that all of us were starting to lose access to our civil liberties."
Fox network host Brian Kilmeade of Fox & Friends, responded with "you have to wonder if she's an American first."
Dan Crenshaw, a congressman from Texas, was also critical of Omar, saying her description of the perpetrators of the terrorist attacks as "some people" is unbelievable.
"First Member of Congress to ever describe terrorists who killed thousands of Americans on 9/11 as 'some people who did something'," Crenshaw tweeted. "Unbelievable."
Omar, a Democratic representing Minnesota's 5th district, is one of the first two Muslim lawmakers to be elected into U.S. Congress.
She has been faced by a slew of attacks and death threats in recent weeks, a part of ongoing criticisms and attacks she has faced since she made comments criticizing Israel.
Full report at:
https://www.aa.com.tr/en/americas/us-omar-condemns-tv-hosts-dual-loyalty-remark/1448477
--------
US continuing support for terrorist YPG/PKK in Syria
10.04.2019
The U.S.-led coalition against the Daesh terror group delivered vehicles to depots belonging to the YPG/PKK in Deir-Ez Zor province in Syria, according to local sources who spoke anonymously because of safety concerns.
The engineering vehicles will be used to construct positions, fronts and tunnels in areas occupied by YPG/PKK terrorists in Syria, according to the sources.
A convoy of 100 U.S. trucks were also seen carrying closed chests, tankers and SUVs from Iraq to a YPG/PKK-occupied area in Syria on April 2.
Washington maintains nearly 2,000 troops in Syria following its announcement that only a few hundred would remain after withdrawal efforts.
U.S. President Donald Trump declared victory over the Daesh terror group and signaled a "slow and highly coordinated pullout" of U.S. troops from Syria last December.
The White House announced in February plans to keep 200 troops in northeastern Syria as part of an international peacekeeping force, in addition to 200 others to secure a garrison at a strategic Syrian border town.
Although the date set for the pullout has passed, the U.S. has yet to reduce its military presence in Syria.
On the contrary, 300 trucks were sent to areas occupied by YPG/PKK terrorists in Syria from the Iraqi side at the beginning and the end of February.
On Feb. 4, the U.S. delivered nearly 150 truckloads of armored vehicles and equipment to depots belonging to the YPG/PKK in Harab Isk and Sarrin.
The Pentagon announced March 12 that $300 million would be allocated to the YPG/PKK from its fiscal year 2020 budget.
Turkey has long criticized the U.S. working with and supplying arms and ammunition to the terrorist YPG/PKK to defeat Daesh.
Turkish officials argue that using one terrorist group to fight another makes no sense.
Full report at:
https://www.aa.com.tr/en/americas/us-continuing-support-for-terrorist-ypg-pkk-in-syria/1448320
--------
Pompeo: Egypt would face sanctions over Russian Su-35s
Umar Farooq
10.04.2019
WASHINGTON
The U.S. warned Egypt on Tuesday against purchasing Russian Su-35 multi-role fighter aircraft, saying it would face sanctions should it go through with the procurement.
"We've made clear that if those systems were to be purchased, the CAATSA statute would require sanctions on the regime," Secretary of State Mike Pompeo said at a Senate budget hearing.
"We've received assurances from them that they understand that, and I'm very hopeful that they will decide to not move forward with that acquisition," he added.
The Countering America's Adversaries Through Sanctions (CAATSA) act was passed in 2017 to impose sanctions on Iran, North Korea and Russia. The aim of the legislation is to combat those countries' influences across the globe.
The Senate Foreign Relations Committee's top Republican and Democrat and 15 of their colleagues sent a letter to Pompeo Monday raising a number of issues, including Cairo's decision to reportedly purchase 20 Russian Su-35 fighter jets.
The letter also voiced "serious concerns about the erosion of political and human rights" in Egypt and warned that the country is "unjustly" jailing at least a dozen Americans.
Pompeo did not consider Egypt's leader Abdel Fattah al-Sisi a tyrant after being asked by Senator Patrick Leahy.
"I would not use that characterization," Pompeo said.
"Even though he locked up political opponents and claimed victory after a sham election?" Leahy asked.
"There's no doubt that it's a mean, nasty world out there, but not every one of these leaders is the same. Some of them are trying to wipe entire nations off the face of the earth, and others are working with us to help keep Americans safe," Pompeo said in response.
"You might call them a tyrant, you might call them authoritarian. But there's a fundamental difference in the way the United States should respond."
Pompeo said he had met with Sisi, who arrived in Washington on Monday, and talked to him about "cases concerning U.S. citizens in Egypt," but didn't elaborate.
Sisi has led Egypt since the 2013 ouster of elected President Mohammad Morsi. He was re-elected last year with nearly 98% of the vote after running virtually unopposed, with most major challengers either being jailed or stepping aside under pressure.
Full report at:
https://www.aa.com.tr/en/americas/pompeo-egypt-would-face-sanctions-over-russian-su-35s/1447386
--------
URL: https://www.newageislam.com/islamic-world-news/islamist-parties-struggle-relevance-muslim/d/118294
New Age Islam, Islam Online, Islamic Website, African Muslim News, Arab World News, South Asia News, Indian Muslim News, World Muslim News, Women in Islam, Islamic Feminism, Arab Women, Women In Arab, Islamophobia in America, Muslim Women in West, Islam Women and Feminism