New Age Islam News Bureau
18 March 2021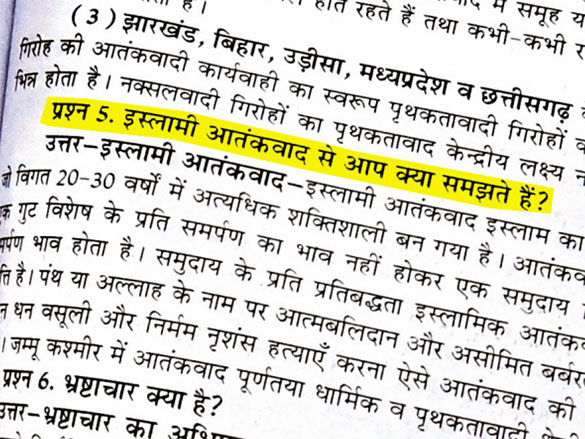 • With Police Help, Extremist Mullahs Demolish Ahmadi Mosque in Pakistan's Gujranwala
• Hardline Hefazat-e-Islam Supporters Attack Hindu Village in Bangladesh: Report
• UN Leaders Speak Out Against Islamophobia and Anti-Muslim Hatred
• Children as Young As 11 Beheaded By Mozambique Militants, Aid Group Says
• 'We Don't Punish State Leaders': Biden Defends Inaction on MBS In Khashoggi Murder
• As 'Allah' Storm Continues, Sarawak CM's Office Maintains Has Always Upheld Freedom For All Religions
• UAE Will Not Get Involved In Israel Elections 'Now or Ever': UAE Official Gargash
• Iran Grants Rights Lawyer Nasrin Sotoudeh Temporary Leave from Jail
India
• 'Islamic Terrorism Is a Form of Islam', Says Rajasthan Class XII Textbook, FIR Lodged
• Mosque Reduces Azaan Volume by Half after Allahabad University VC's Complaint
• Karnataka Waqf Does A U-Turn, Now Allows Loudspeakers in Mosques For Morning Azaan
• Karnataka government to urge mosques to stop using loudspeakers
• Muslim hardliners not amused by Khader's Guruvayur temple visit
• Islamic terror strand ofIslam, says Raj textbook
• Delhi riots: Complainant in mosque vandalism is held, court says absurd
--------
Pakistan
• With Police Help, Extremist Mullahs Demolish Ahmadi Mosque in Pakistan's Gujranwala
• 'Peace with Pak Will Get India Direct Access to Central Asia': Pakistan PM Imran Khan
• Pakistan urges world to fight xenophobia
• Bajwa says Pakistan ready to resolve disputes peacefully
• Pakistan govt mulls contempt case against poll body
• Pakistan Opposition Alliance Unravels Over Strategy Dispute
• Fazl directs JUI-F to continue preparations for long march
• Two civilians embrace martyrdom; terrorist killed in Swat IBO
• PPP says allies failed to convince it on post-resignation strategy
--------
South Asia
• Hardline Hefazat-e-Islam Supporters Attack Hindu Village in Bangladesh: Report
• Afghanistan Abandonment By US To Taliban Will Be Geopolitical Suicide
• Nine Afghan security force members killed after rocket hits helicopter: Sources
• Three killed, 11 wounded in government bus bombing in Kabul: Afghan officials
• Biden warns US may miss deadline to exit Afghanistan
• UN team visits remote Bangladesh Island where Rohingya relocated
• Taliban faces heavy casualties in 3 provinces: MoD
• UN appoints Jean Arnault as Peace Envoy in Afghanistan
--------
Europe
• UN Leaders Speak Out Against Islamophobia and Anti-Muslim Hatred
• Jehovah's Witness Convicted On Extremism Charges In Russia
• Muslim groups boycott review of UK counter-extremism strategy
• Germany: Turkey 'highly reliable partner'
• Turkey, EU need cooperation in civil protection
--------
Africa
• Children as Young As 11 Beheaded By Mozambique Militants, Aid Group Says
• Boko Haram Counters Nigerian Army, Releases Pictures of 16 Killed, Abducted Soldiers
• Gunmen kill at least 58 civilians in attack on Niger convoy
• Niger: UNICEF condemns 'horrific killings' of civilians
• Militants kill 11 Malian soldiers in ambush, 11 others missing
• Sudanese military firm to give up its civilian operations, says information minister
• Tunisia brings extremist-linked families home from Libya jail
• Kenya mourns death of Tanzanian president
--------
North America
• 'We Don't Punish State Leaders': Biden Defends Inaction on MBS In Khashoggi Murder
• Michigan man charged with threatening to kill Biden, Pelosi and Whitmer
• Four people on terror watchlist arrested at southern US border since October
• 'Tough' To Meet May 1 Deadline for Troop Pull-out From Afghanistan: Biden
• US envoy reaffirms need to end Yemen war in calls with PM, regional ambassadors
• US may miss deadline for withdrawal from Afghanistan, Biden says
• Turkey's new US envoy outlines priorities during office
• Turkey's new envoy aims to advance relations with US
• NC 'domestic terrorist' sentenced over failed fire attack on police SUV during George Floyd unrest
--------
Southeast Asia
• As 'Allah' Storm Continues, Sarawak CM's Office Maintains Has Always Upheld Freedom For All Religions
• Baru Bian: 'Allah' case wouldn't have gone to court if Muhyiddin had acted in 2019 as home minister
• Perikatan's appeal of 'Allah' ruling could cost Sabah, Sarawak partners, say analysts
• Don't vilify Christians over 'Allah' ruling, groups say
• Johor's Sultan Ibrahim backs Putrajaya appeal against High Court ruling on 'Allah' use
• Indonesia urged to revoke Sharia-inspired dress rules
--------
Arab World
• UAE Will Not Get Involved In Israel Elections 'Now or Ever': UAE Official Gargash
• Lebanon's president asks PM-designate Hariri to form new government or leave
• Lebanon agrees to imburse WB fund for families in hard currency
• UAE engages in 'destructive' activities in Iraq on US-Israeli order: MP
• Lebanon's UN envoy dismisses Israel's remarks on Hezbollah
• Pentagon worried about situation in Lebanon, studying ways to help army
• Arab Coalition destroys Houthi explosive-laden drone heading towards Saudi Arabia
• Syria to UN: Israel coordinates its acts of aggression with terrorists
--------
Mideast
• Iran Grants Rights Lawyer Nasrin Sotoudeh Temporary Leave from Jail
• Yemeni Army Liberates Ma'rib Area from Grip of Saudi-Led Terrorists
• Mahmoud Abbas won't be the only candidate in upcoming Palestinian elections: Dahlan
• Iran making 'significant developments' in building its weapon arsenal: Israeli media
• Erdogan's nationalist ally welcomes case to close pro-Kurdish opposition
• Erdogan bodyguard commits suicide, cites insults and threats in note: Report
• Turkey's parliament strips pro-Kurdish deputy of seat in blow to third largest party
--------
Australia
• Three Arrested In Melbourne Counter-Terrorism Raids As Police Warn Of Youth Radicalisation Online
Compiled by New Age Islam News Bureau
URL: https://www.newageislam.com/islamic-world-news/islamic-terrorism-form-islam-says/d/124570
-----
'Islamic Terrorism Is a Form of Islam', Says Rajasthan Class XII Textbook, FIR Lodged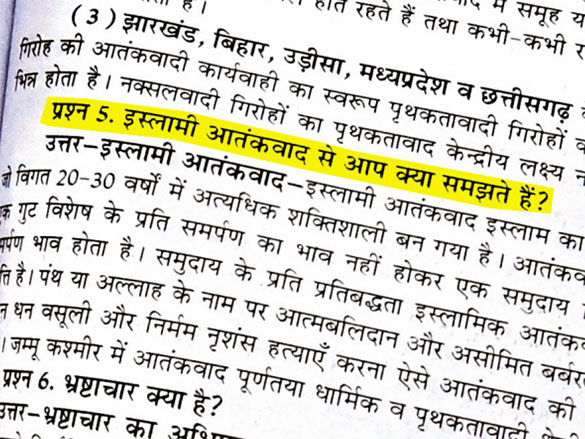 By Hamza Khan | Jaipur
March 18, 2021
The Jaipur police have lodged an FIR after a Class XII textbook by Rajasthan State Textbook Board, and another by a private publishing house, associated Islam with terrorism. The police have also arrested three persons for vandalising the office of the publishing house in Jaipur's old city.
The FIR has been lodged on a complaint by Mohsin Rasheed, state coordinator of Rajasthan Muslim Forum as well as Minority Cell of the ruling Congress party, under IPC sections 295A (Deliberate and malicious acts, intended to outrage religious feelings of any class by insulting its religion or religious beliefs) and 120B (criminal conspiracy).
In a chapter on 'Terrorism, Criminalisation of Politics and Corruption', the Class XII government Political Science textbook allegedly talks about Islamic terrorism. And on page 257, it asks: "Which one of the following is not the main objective of Islamic terrorism?" The options were: "Establishment of Muslim nation in the world; Resistance of western non-Muslim powers through violent activities; Peace in the world; Implement Islamic laws and principles in the world." On the next page, under Short Answer Type Questions, question 5 reads: "What do you think of Islamic terrorism?"
The book has been published by Rajasthan State Textbook Board, Jaipur, for the Board of Secondary Education Rajasthan, Ajmer. The content is said to have been introduced during the tenure of former CM Vasundhara Raje (2013-18). Dr Bhanwar Singh Rathore, Associate Professor at Department of Political Science, government college, Jodhpur, has been listed in the textbook as the Convenor, Author and Translator. Rathore and about a dozen government professors and teachers, listed as members of the board and authors, have also been named in the FIR.
Answering the question in government textbook on Islamic terrorism, an answer-key published by Jaipur-based Sanjiv Prakashan said that "Islamic terrorism is a form of Islam" and elaborated on the topic.
Mohsin Rasheed said that he had bought the textbooks for the library at his home when he came across the text. "By directly associating Islam with terrorism and then repeatedly using 'Islamic terrorism', the books promote hatred towards Islam and defame the religion. They also attempt to provoke Muslim students and the community and hurt their sentiments. It is also an attempt to insult Muslim teachers and students by insulting their religion and humiliating them," Rasheed said in the FIR, demanding action against all the persons responsible for writing and approving the textbook.
Meanwhile, Jaipur police have also arrested three persons, including Muslim Parishad Sansthan president Yunus Chopdar, for vandalising the Sanjiv Prakashan's office on Wednesday.
Congress MLA from Jaipur's Adarsh Nagar, Rafeek Khan, too raised the issue in the Assembly on Wednesday, demanding action against the publishing house. "No religion can be associated with terrorism. The religion is being unnecessarily defamed in the book," he said. In a statement, Jamaat-e-Islami Hind, Rajasthan, condemned the vandalism and demanded that the objectionable content be removed from the textbooks.
In a letter to Naeem Rabbani, who is also associated with Rajasthan Muslim Forum, the publishers have apologised and said that they have asked the wholesalers to stop their sale. "They will be recalled and destroyed at the earliest," Sajiv Prakashan said.
https://indianexpress.com/article/india/rajasthan-class-xii-textbook-links-islam-with-terrorism-fir-lodged-in-jaipur-7234074/
--------
With Police Help, Extremist Mullahs Demolish Ahmadi Mosque In Pakistan's Gujranwala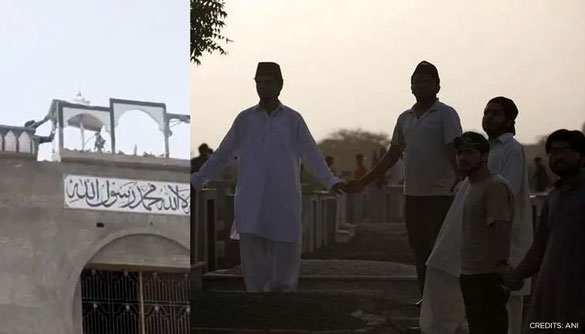 An Ahmadi mosque in Garmola Virkan village, Gujranwala district on Wednesday was demolished by a mob of extremists, with the help of police on Wednesday
-----
Mar 18, 2021
ISLAMABAD: An Ahmadi mosque in Garmola Virkan village, Gujranwala district on Wednesday was demolished by a mob of extremist Mullahs, with the help of police.
The information was shared by the Twitter handle of Bilal Farooqi, a Pakistani journalist who also posted pictures of the demolished mosque.
As per him, a mob of Mullahs, with the help of police, demolished the dome and minarets of an Ahmadi mosque and also desecrated the kalima inscribed on it.
"A mob of extremist mullahs, with the help of police, demolished the dome & minarets of an Ahmadi mosque in Garmola Virkan village, Gujranwala district and also desecrated the kalima inscribed on it. Will the Punjab govt please take action against these goons?" tweeted Bilal Farooqi.
A mob of extremist mullahs, with the help of police, demolished the dome & minarets of an Ahmadi mosque in Garmola… https://t.co/B6XrevHGAw
— Bilal Farooqi (@bilalfqi) 1616014047000
Ahmadis, a four million-strong minority group in Pakistan, have been facing death threats, intimidation and a sustained hate campaign for decades.
Meanwhile, an unverified Twitter account of Mona Farooq Ahmed questioned the State's persecution of the Ahmadis - a marginalised community in Pakistan.
"Police helped a mob to demolish the dome and minarets of an Ahmadi mosque in a village Garmola Virkan, district Gurjranwal Punjab. When State is an accomplice to persecute an already marginalized community, is there any hope left for a progressive Pakistan?" tweeted Mona Farooq Ahmed.
Moreover, he also posted the video of custodians of Khatme Nabbuwat with some people after the desecration of the Ahmadi mosque who were seen shouting, "Inna lillahi wa inna elehi rajioon".
The mob was seen rejoicing at the demolition and desecration of the mosque.
The incident further emphasises Pakistan's persecution of its minorities - Hindus, Christians, Ahmadis.
Last year, a 168-page report by the UK-based All-Party Parliamentary Group (APPG) for the Ahmadi Muslim Community had revealed details about the discrimination the Ahmadi community has been facing in Pakistan.
The report titled "Suffocation of the Faithful - the persecution of Ahmadi Muslims in Pakistan and the rise of International Extremism" categorically says that persecution against the peace-loving community intensified following the partition of the Indian subcontinent and the formation of Pakistan.
"This culminated in the events of 1974 when Prime Minister Zulfikar Ali Bhutto turned the anti-Ahmadi movement into fully-fledged state-sponsored persecution. He enacted a 1974 Constitutional Amendment specifically targeting Ahmadi Muslims, declaring them 'not Muslims for purposes of law and constitution'. It was a watershed moment in Pakistan's history", said the report.
https://timesofindia.indiatimes.com/world/pakistan/with-police-help-extremist-mullahs-demolish-ahmadi-mosque-in-pakistans-gujranwala/articleshow/81562032.cms
--------
Hardline Hefazat-e-Islam supporters attack Hindu village in Bangladesh: Report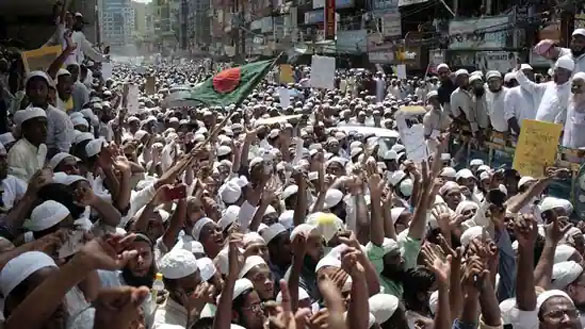 (AP Photo/For Representation Purposes)
-----
MAR 18, 2021
Thousands of hardline Islamist organisation Hefazat-e-Islam supporters on Wednesday attacked a Hindu village in Shalla upazila of Sunamgan district, after a Hindu man criticised the group joint-secretary general Mawlana Mufti Mamunul's speech in social media post.
A young Hindu man from Noagaon, Shalla upazila allegedly made a Facebook post criticizing Mamunul, who opposed the sculpture of Bangabandhu on Tuesday.
After this, a mob with makeshift weapons attacked the village on Wednesday, Dhaka Tribune reported.
Hefazat leaders in the area had already staged a protest on Tuesday night, accusing the social media post of inciting religious violence.
To bring the situation under control, the police arrested the youth the same night.
However, several thousand followers of Hefazat leader Mamunul Haque from Kashipur, Nachni, Chandipur and some other Muslim-populated villages gathered in Noagaon village at around 9 am on Wednesday and attacked the homes of local Hindus.
According to the police, 70-80 houses were vandalized in the incident.
Habibpur union chairman Vivekananda Majumder Bakul said several houses in the village had been attacked.
Many local Hindus fled their homes to save themselves. The followers of Hefazat-e-Islam entered the village, ransacked and looted many houses.
An umbrella platform for ulema (religious scholars), Hefazat-e-Islam was established in 2010 in Chittagong ostensibly to defend Islam from ruling Awami League's allegedly anti-Islamic policies, especially a proposed policy to confer equal inheritance rights to women
In 2013, it mobilized its supporters against surging secular activism in the country.
https://www.hindustantimes.com/world-news/hardline-hefazat-e-islam-supporters-attack-hindu-village-in-bangladesh-report-101616007480061.html
--------
UN Leaders Speak Out Against Islamophobia and Anti-Muslim Hatred
March 17, 2021
UNITED NATIONS: Underlining that "diversity is a richness, not a threat", United Nations Secretary-General Antonio Guterres called for greater investment in promoting social cohesion and tackling bigotry in a message on Wednesday to mark the International Day to Combat Islamophobia.
"We must continue to push for policies that fully respect human rights and religious, cultural and unique human identity," he said in a video broadcast during a commemorative event held online, organised by the Organization of Islamic Cooperation (OIC), in which Pakistan's Foreign Minister Shah Mahmood Qureshi also took part.
"As the Holy Quran reminds us: nations and tribes were created to know one another," the UN chief said.
Nearly 60 countries are members of the OIC, which designated March 15 as the International Day to Combat Islamophobia.
The secretary-general cited a recent report to the UN Human Rights Council which found that suspicion, discrimination and outright hatred towards Muslims had risen to "epidemic proportions".
Examples listed included disproportionate restrictions against the Muslims manifesting their beliefs, limits on accessing citizenship, and widespread stigmatisation of Muslim communities.
The study also highlighted how Muslim women face "triple levels of discrimination" because of their gender, ethnicity and faith, he added, while the media and some persons in power had further compounded stereotypes.
"Anti-Muslim bigotry is sadly in line with other distressing trends we are seeing globally – a resurgence in ethno-nationalism, neo-Nazism, stigma and hate speech targeting vulnerable populations, including Muslims, Jews, some minority Christian communities as well as others," the secretary-general said.
Stressing that "discrimination diminishes us all", the UN chief called for safeguarding the rights of minority communities, many of whom were under threat.
"As we move toward ever more multi-ethnic and multi-religious societies, we need political, cultural and economic investments to strengthen social cohesion and tackle bigotry," he stated.
The secretary-general underscored that fighting discrimination, racism and xenophobia was a priority for the United Nations.
Following a fall-out in relations between many Muslim countries and some Western nations in the wake of the September 11 terrorist attacks in the United States – and subsequent attacks in London, Madrid and Bali – the Organisation established the UN Alliance of Civilisations (UNAOC) in 2005.
Miguel A´ngel Moratinos, the current UNAOC High Representative, recalled the initiative was launched as a "political soft power tool" whose objectives included promoting mutual respect among diverse cultures and religions.
"Despite progress made in building bridges of understanding through the promotion of intercultural and interfaith dialogue, manifestations of anti-Muslim hatred persisted and morphed into different forms," he said.
"Islamophobia cannot be seen in isolation from the worrying increase in xenophobia and hate speech against minorities, including immigrants and other faith communities."
Moratinos said that mutual respect, interfaith harmony and peaceful co-existence could be achieved "when there is broad space for everyone to practice the rituals of their religions or beliefs freely and safely".
For the president of the UN General Assembly, Turkish diplomat Volkan Bozkir, any form of discrimination, including based on religion or belief, "is a deeply personal attack".
He urged countries to re-commit to the UN Charter, the Universal Declaration of Human Rights and other related instruments, expressing hope that they would lay the foundation for national laws to end hate speech and hate crimes.
"Today our conversation is focused on Islamophobia, but the source of this scourge is a source that imperils us all. The answer is solidarity, equality, and respect for the equal dignity and entitlement to fundamental human rights of every individual," he said.
Bozkir added that protecting people from extremism required a global strategy that included defeating all forms of violent ideologies.
He called for building resilience to discriminatory, exclusionary, and intolerant teachings, and developing respect for the religious and cultural practices of others.
Urging tolerance, he looked to young people as a source of hope.
"Young people are the leaders and upstanders of tomorrow – and it is our duty to teach them that every individual is entitled to equal dignity and inalienable human rights," he recommended.
"Beyond formal education, we must instill within them a moral compass to help them navigate difficult situations. I applaud the work of the UN Alliance of Civilizations for their programming which promotes interfaith and intercultural dialogue for young people. I believe this is critical to the progress of humanity."
Underscoring the importance of the Day, Foreign Minister Qureshi said that it would send a clear message against contemporary challenges of racism, racial discrimination, xenophobia, negative stereotyping and stigmatisation, raise international awareness about increasing Islamophobia and anti-Muslim sentiments, and promote the message of tolerance, peaceful co-existence and interfaith and cultural harmony.
"The idea behind commemorating this day is to exhibit unfettered solidarity with humanity, convey a strong message of respect for human dignity, and reiterate our common commitment to 'unity in diversity'," he said, adding, "This day is about uniting, not dividing."
"Let us not allow those who want to divide us, to negatively portray this day as being against any region, religion or country.
"Disinformation and distortion of facts is our common enemy. And it is these tools that purveyors of hate use to nourish their self-serving agendas," Qureshi added.
The tragic events in Christchurch two years ago, in which 51 worshippers lost their lives, were a grim reminder of what the hateful ideologies could accomplish, he pointed out, saying the way the prime minister, the government and the people in New Zealand responded was both emphatic and empathetic.
Noting that the phenomenon of Islamophobia is not new, he said it had grown considerably over the last two decades.
"Today, expressions of Islamophobia are unmistakable in the manifestos of far-right and neo-fascist parties, which openly call for expulsion of Muslims, politicisation of the hijab, frequent mob lynchings by cow vigilantes, discriminatory laws, state-sponsored pogroms, deliberate vandalism of Islamic symbols and holy sites, and attempts to link and equate Islam and Muslims to terrorism," the foreign minister said.
"Covid-19, that should have united us, has led to rise of negative narratives and hate speech in some countries, holding Muslim minorities responsible for spreading the virus," he said.
The latest report of the Special Rapporteur on Freedom of Religion or Belief has revealed that such poli­cies have served to perpetuate, validate and normalize discrimination, hostility and violence towards Muslim individuals and communities.
"The natural reaction of the Muslims to situations like unresolved disputes and festering conflicts, foreign occupation, and denial of the right to self-determination, is political disagreement with specific policies. It should not be taken as or depicted as an 'Islamic' reaction against universal values or freedoms," the foreign minister said.
"Islam is a religion of peace. It should not be judged by acts of a fringe group of extremists who exist in all societies, religions or belief system. "
The world, he said, could not continue on this spiral of hate. It benefitted only extremists on all sides and results in polarized societies and ultimately violence.
"We, Muslims, unequivocally condemn the practice of insulting Prophets (Peace Be Upon Them) of Islam, Christianity and Judaism. Respect for all religions and Prophets (Peace Be Upon Them) is an article of faith with us. Similarly, we oppose all acts of violence on the basis of religion or belief. We only expect empathy and solidarity from others," Qureshi said.
"The way forward is dialogue and understanding. Only if we are able to better understand each other's perspective, will we be able to create peaceful and harmonious societies.
"The United Nations is the best platform to nurture this understanding. The secretary-general should convene a global dialogue on countering rising Islamophobia and promoting inter-faith harmony, as a step to foster engagement," he added.
https://www.pakistantoday.com.pk/2021/03/17/un-leaders-speak-out-against-islamophobia-and-anti-muslim-hatred/
--------
Children as young as 11 beheaded by Mozambique militants, aid group says
By Adam Taylor
March 16, 2021
A new report says that children as young as 11 were beheaded by militants in Mozambique's troubled Cabo Delgado province, where a local Islamist insurgency is battling against the government forces.
Save the Children, an aid group based in Britain, said in a short account released Tuesday that it had spoken to displaced families who gave details of their young children being killed by militants from the local group referred to as al-Shabab.
"That night our village was attacked and houses were burned," a woman referred to as Elsa, 28, told the organization. "When it all started, I was at home with my four children. We tried to escape to the woods, but they took my eldest son and beheaded him.
"We couldn't do anything because we would be killed too," Elsa said. Her son was 12, according to Save the Children.
A 29-year-old woman whose name was given as Amelia also told the group her son was beheaded in similar circumstances. Save the Children did not give the full identity of the witnesses or their real names to protect their identities.
"After my 11-year-old son was killed, we understood that it was no longer safe to stay in my village," Amelia told the organization, explaining that they did not have time to properly bury her child before fleeing.
There have been numerous reports of beheading in the Cabo Delgado conflict, including of children. In November, Police Commander Bernardino Rafael told The Washington Post that at least 50 people had been decapitated in the first half of the month.
Chance Briggs, Save the Children's country director in Mozambique, said that the reports of violence against children in Cabo Delgado "sicken us to our core" and said that staff had been brought to tears when speaking to witnesses.
"While the world was focused on covid-19, the Cabo Delgado crisis ballooned but has been grossly overlooked," Briggs said.
The conflict in Cabo Delgado, a region in the northeast corner of Mozambique that is rich in oil and gas, intensified significantly last year. Much of the worst violence has been attributed to al-Shabab, a local Islamist group that does not have known links to the better known Somali group with the same name.
Security experts have voiced concern about the arrival of foreign fighters who used techniques similar to those found in conflicts in Syria, Afghanistan and Iraq.
U.S. officials said last year that the core Islamic State militant group provides fighters in Mozambique with training and other resources after formally adopting al-Shabab as the Mozambican wing of its Central Africa Province in June.
The Biden administration designated al-Shabab as a "foreign terrorist organization" last week and imposed sanctions on the group. The United States has also pledged to send military specialists to train the Mozambican army.
Of the more than 2,600 people who have died in the conflict since it began in 2017, roughly half were civilians deliberately targeted, according to the Armed Conflict Location and Event Data Project.
It isn't only al-Shabab that has been accused of war crimes. Earlier this month, Amnesty International accused not only the militant group of unlawful killings but also government forces and a private military force allied with them, the Dyck Advisory Group.
Soldiers working with the South African contractor had broken international law by "firing indiscriminately into crowds, attacking civilian infrastructure, and failing to distinguish between military and civilian targets," said Deprose Muchena, Amnesty International's regional director.
Briggs said that now much of the concern was not only about the violence, but the enormous risks being placed on people displaced by the conflict.
"A major concern for us is that the needs of displaced children and their families in Cabo Delgado far outweigh the resources available to support them," Briggs said, adding that nearly a million people were now facing severe hunger as a result of the conflict.
https://www.washingtonpost.com/world/2021/03/16/cabo-delgado-mozambique-beheading/?utm_source=iterable&utm_medium=email&utm_campaign=2112673_
--------
'We don't punish state leaders': Biden defends inaction on MBS in Khashoggi murder
18 March 2021
US President Joe Biden has defended his decision not to impose any sanctions on Saudi Arabia's crown prince in the murder of his critic, US-based journalist Jamal Khashoggi, in a move that rights groups say signals "permanent impunity" for the royal leaders.
US intelligence agencies acknowledged in a report last month that Crown Prince Mohammed bin Salman (MBS) authorized the team of Saudi security and intelligence officials that killed Khashoggi in the country's consulate in Istanbul, Turkey, back in October, 2018.
Biden, however, said he was not going to hold the prince accountable for the murder.
"We held accountable all the people in that organization – but not the crown prince, because we have never, that I'm aware of … when we have an alliance with a country, gone to the acting head of state and punished that person and ostracized him," Biden told ABC News on Wednesday.
The US president, however, claimed that he had "made it clear" to Saudi Arabia's King Salman "that things were going to change."
The king, who is in his mid-80s, has allowed his son broad governing authority.
During his campaign, Biden had promised to make Saudi Arabia a "pariah" state for the Khashoggi killing and other abuses.
The president imposed sanctions on several Saudi individuals involved in the murder but refused to punish the crown prince.
The decision drew strong criticism from rights groups and some news organizations that warned the kingdom's critics about looming threats against them.
Exiled Saudi activists say Biden's decision to let bin Salman off the hook has put them in greater danger.
The release of the report into Khashoggi's murder "is welcomed transparency, but the lack of direct accountability will give MBS permanent impunity, rendering him more dangerous," said Khalid Aljabri, the son of a former senior Saudi official who is living in exile in Canada.
"He is probably thinking he can get away with future assassinations as long as he doesn't leave fingerprints," he added.
Khashoggi was murderd on October 2, 2018, after he entered the Saudi consulate in Istanbul to retrieve papers that would allow him to marry his Turkish fiancée.
Recording and other evidence gathered by Turkish authorities revealed how a team of Saudi agents subdued, killed and then dismembered the journalist inside the diplomatic mission.
Saudi Arabia initially issued conflicting stories about Khashoggi's disappearance, but eventually said that he was killed in a "rogue" operation.
https://www.presstv.com/Detail/2021/03/18/647550/US-Saudi-Arabia-Joe-Biden-Crown-Prince-Mohammed-bin-Salman-Khashoggi-murder
--------
As 'Allah' storm continues, Sarawak CM's Office maintains has always upheld freedom for all religions
18 Mar 2021
BY SULOK TAWIE
KUCHING, Mar 18 — The Sarawak government has always been consistent in upholding religious tolerance for all communities, regardless of whether they are from major or minor faiths, the Chief Minister's Office (CMO) said today.
It was responding to Parti Sarawak Bersatu president Datuk Seri Wong Soon Koh who two days ago accused the Gabungan Parti Sarawak (GPS) government of remaining silent and passive amid federal attempts to restrict the constitutional rights of Christians in the state.
"Our deed in assisting other religions through the Unit for Other Religions (Unifor) is a testimony.
"There has never been a restriction for Christians in Sarawak to use the word 'Allah' with respect," the CMO said in a statement.
It added that Muslims in Sarawak respect the Christians as much as the Christians respect the Muslims, and that it was the same with people of other religions.
It said the state government's policy on religious tolerance has been the same since the leadership of Tun Abdul Taib Mahmud to the administration of the late Tan Sri Adenan Satem until now, under Datuk Abang Johari Openg as chief minister.
The CMO stressed that the GPS government will continue to defend and preserve Sarawak's religious tolerance as it is the core unifying factor for its people.
"It is understandable that certain quarters who are merely pseudo-champions — to use Tok Nan's phraseology — is politicising the issue in view of the impending state elections," it said, referring to Adenan's commitment that there was no law in Sarawak that prevented Christians from using the term 'Allah' to refer to God and that he would not permit such a law in Sarawak as long as he was the chief minister.
The CMO said the GPS leadership trusts that Sarawakians will not be influenced by critics who cast aspersions on its policies to protect religious unity in Sarawak.
Wong, who is a former second finance minister expressed concern on March 16 with the GPS government's silence while the federal government appealed the High Court judgement to quash a 1986 directive banning the use of the word "Allah" by Christians in their publications.
He had said the failure by Putrajaya to respect Sarawak's constitutional right was a fundamental problem today, representing a continuing failure of the administration, where lip-service, not moral leadership, was the order of the day.
Wong also called on the GPS government and Abang Johari to use their "kingmaker" status in the federal government and openly make their stand to preserve Sarawak's secular status.
He added this course of action to let the decision of the High Court stand would be proper in the spirit of the Malaysia Agreement 1963, and also to honour the words and legacy of the late Adenan.
On March 10, the High Court in Kuala Lumpur ruled that the government directive via a December 5, 1986 circular issued by the Home Ministry's publications control division banning the use of the word "Allah" by the Christians was unlawful and unconstitutional.
https://www.malaymail.com/news/malaysia/2021/03/18/as-allah-storm-continues-sarawak-cms-office-maintains-has-always-upheld-fre/1958920
--------
UAE will not get involved in Israel elections 'now or ever': UAE official Gargash
18 March ,2021
The UAE will not get involved in Israeli electioneering, an Emirati official said Wednesday, in pointed comments amid new reports Prime Minister Benjamin Netanyahu is planning to visit ahead of elections next week.
Israel and the UAE established ties last year in a diplomatic coup for Netanyahu brokered by his staunch ally, former US president Donald Trump.
The deal, known as the Abraham Accords, made the UAE only the third Arab state to establish relations with Israel, following Egypt in 1979 and Jordan in 1994.
Netanyahu, in power since 2009, has sought to burnish his credentials as Israel's leading statesman as part of his re-election pitch ahead of March 23 polls.
A UAE visit could have aided that effort.
"From the UAE's perspective, the purpose of the Abrahamic Accords is to provide a robust strategic foundation to foster peace and prosperity with the State of Israel and in the wider region," tweeted Anwar Gargash, adviser to UAE President Sheikh Khalifa bin Zayed.
"The UAE will not be a part in any internal electioneering in Israel, now or ever," he said, without elaborating.
The comments from Gargash, who until recently was the face of UAE diplomacy as its minister of state for foreign affairs, were unusually candid for an Emirati official.
They came after Netanyahu last week cancelled what would have been a historic visit to the UAE, citing a disagreement with Jordan over the premier crossing its airspace.
The UAE had never confirmed the visit, but said the same day that it was setting up a $10 billion investment fund aimed at strategic sectors in Israel.
The decision, the UAE official news agency WAM said, was taken following a "constructive" phone call between Netanyahu and Abu Dhabi Crown Prince Sheikh Mohammed bin Zayed.
There was new speculation Wednesday that Netanyahu could be scheduling a visit again, but there was no official comment from either side.
The Israeli prime minister said last week that he had spoken to Sheikh Mohammed bin Zayed, and that the pair agreed to meet "very soon."
https://english.alarabiya.net/News/middle-east/2021/03/18/UAE-will-not-get-involved-in-Israel-elections-now-or-ever-UAE-official-Gargash
--------
Iran grants rights lawyer Nasrin Sotoudeh temporary leave from jail
18 March ,2021
Jailed Iranian human rights lawyer Nasrin Sotoudeh has been granted a temporary leave of absence from prison on the occasion of the Persian New Year, her husband said Wednesday.
"Nasrin came on leave from Qarchak prison," Reza Khandan wrote on Twitter, posting a photo of the smiling lawyer standing beside him in a car park.
Sotoudeh, 57, was jailed in 2018 after defending a woman arrested for protesting against the requirement for Iranian women to wear the hijab.
A winner of the European Parliament's Sakharov prize, she had returned to prison in December after being granted a leave of absence for less than a month for treatment amid the coronavirus pandemic.
Her new leave of absence was granted on the occasion of the Persian New Year (Nowruz), which Iranians celebrate this year on March 20.
Khandan did not say how long it would last.
In October, Sotoudeh was transferred from Evin prison in northern Tehran to Qarchak, more than 30 kilometers south of the capital, after her husband expressed concern about her health.
She was told in 2018 that she had been sentenced to five years' jail in absentia for espionage, according to her lawyers.
In 2019, she was sentenced again, to 12 years in prison, "for promoting corruption and debauchery."
https://english.alarabiya.net/News/middle-east/2021/03/18/Iran-opposition-Iran-grants-rights-lawyer-Nasrin-Sotoudeh-temporary-leave-from-jail
--------
India
Mosque Reduces Azaan Volume by Half After Allahabad University VC's Complaint
Ismat Ara
March 18, 2021
New Delhi: The mosque committee of Lal Mosque, about which Allahabad University vice-chancellor Sangita Srivastava had written a letter on March 3 to the district magistrate of the area complaining about the azaan (Islamic call to prayer), has decided to reduce the volume by 50% and also change the direction of the speaker away from her house. In the letter, she wrote that she is forced to wake up too early every day due to azaan being recited on a loudspeaker and urged DM Bhanu Chandra Goswami to take action. "The sleep [gets] so disturbed [that it] does not resume even after trying very hard," she wrote in the letter.
"This also results in a headache throughout the day, causing losses in working hours," the letter read. The VC added that no matter how hard she tries, she cannot sleep again after the disturbance. Claiming that she is not against any religion, she suggested that the azaan can be recited even without a loudspeaker.
Srivastava also complained about the announcement of sehri, the morning meal consumed by Muslims in the month of Ramzan. "This practice also creates a disturbance to other people. The constitution of India envisages a secular and peaceful co-existence of all communities, which needs to be practiced in letter and spirit," the letter further said.
Srivastava cited an Allahabad high court judgement from 2020 in her letter that said azaan was an essential part of Islam, but not its recitation through the use of loudspeakers. She appealed to the district magistrate to "restore some peace and tranquility" in the minds of people suffering due to the "loud" call for prayer.
She has also sent a copy of this letter to the Allahabad divisional commissioner, the Inspector General of Police and the senior superintendent of police. Prayagraj IG of police Kavindra Pratap Singh told The Wire that action will soon be taken.
"I will be writing to all SP's, telling them that without permission there should not be any public address at religious places." He added that a meeting will be held to explain this to the concerned parties. "These instructions will be communicated to them and they will be asked to follow them," he said.
Kalimurrahman, caretaker at Masjid e Noor also known as Lal Masjid, against which the VC had written the complaint, told The Wire that they have now reduced the volume of the speaker by 50% and also changed the direction of the speaker facing her house and tilted it towards the road. "The issue could have been solved amicably even if she had come to us once," he said. He also told The Wire that her house is almost 400 metres away from the mosque.
The Wire tried to contact the Allahabad University VC for a comment but she was unavailable owing to a "family function", her office said.
https://thewire.in/religion/mosque-reduces-azaan-volume-by-half-after-allahabad-university-vcs-complaint
--------
Karnataka waqf does a U-turn, now allows loudspeakers in mosques for morning azaan
Mar 18, 2021
BENGALURU/NEW DELHI: Karnataka State Board of Waqf on Friday clarified that the prohibition of use of loudspeakers will not apply for morning azaan, which usually starts around 5am.
On March 9, the Karnataka State Board of Waqf issued a circular asking all mosques and dargahs not to use loudspeakers between 10pm and 6am. The circular, officials said, was based on the guidelines of the Karnataka State Pollution Control Board and the Noise Pollution (Regulation and Control) Rules, 2000.
The state government is now considering restricting the use of loudspeakers during azaan at mosques, contending that it contributes to noise pollution.
Haj and waqf minister Anand Singh told reporters on Wednesday that the government would soon call a meeting of Muslim leaders and maulvis and request them to stop using loudspeakers five times a day.
"It [the discussion] has become necessary as people have filed PILs in the high court, saying that this causes great inconvenience and disturbance to nearby residents. Implementation will be done after consulting all stakeholders and taking the community into confidence," Singh said.
Currently, mosques are not allowed to use loudspeakers between 10pm and 6am. "But we want the use of loudspeakers to stop completely as residents, especially in the cities, are complaining," he said.
Singh emphasised that the move is not against any religion or community. "As times change, practices should also change," he said.
The minister clarified that mosques would be allowed to use loudspeakers during Ramzan, Bakrid and other important occasions. "We absolutely have no problem with it," he added.
In November last year, a letter from the office of the director general and inspector general of police called for "suitable action" on a petition that sought the removal of loudspeakers from mosques. The letter created a stir in the community.
https://timesofindia.indiatimes.com/city/bengaluru/karnataka-waqf-does-a-u-turn-now-allows-loudspeakers-in-mosques-for-morning-azaan/articleshow/81564486.cms
--------
Karnataka government to urge mosques to stop using loudspeakers
Mar 18, 2021
BENGALURU/NEW DELHI: The state government is considering restricting the use of loudspeakers during azaan at mosques, contending that it contributes to noise pollution.
Haj and wakf minister Anand Singh told reporters on Wednesday that the government would soon call a meeting of Muslim leaders and maulvis and request them to stop using loudspeakers five times a day.
"It (the discussion) has become necessary as people have filed PILs in the high court, saying that this causes great inconvenience and disturbance to nearby residents. Implementation will be done after consulting all stakeholders and taking the community into confidence," he said.
Currently, mosques are not allowed to use loudspeakers between 10pm and 6am. "But we want the use of loudspeakers to stop completely as residents, especially in cities, are complaining," Singh said.
He emphasised that the move was not against any religion or community. "As times change, practices should also change," he said. The minister clarified that mosques would be allowed to use loudspeakers during Ramzan, Bakrid and other important occasions. "We absolutely have no problem with it," he added.
On March 9, the Karnataka State Board of Wakf issued a circular asking all mosques and dargahs not to use loudspeakers between 10pm and 6am. The circular, officials said, was based on the guidelines of the Karnataka State Pollution Control Board and the Noise Pollution (Regulation and Control) Rules, 2000.
In November last year, a letter from the office of the director-general and inspector-general of police called for "suitable action" on a petition that sought the removal of loudspeakers from mosques. The letter created a stir in the community.
https://timesofindia.indiatimes.com/city/bengaluru/karnataka-government-to-urge-mosques-to-stop-using-loudspeakers/articleshow/81563157.cms
--------
Muslim hardliners not amused by Khader's Guruvayur temple visit
18th March 2021
KOCHI: Leaders of Sunni organisations, who are traditionally loyal to the Indian Union Muslim League (IUML), have resented party leader KNA Khader's gestures at the Guruvayur temple during a visit in connection with election campaigning. Khader, the sitting MLA from Vengara, is the IUML candidate from the Guruvayur constituency.
In an FB post, Sunni Yuvajana Sangham (SYS) state secretary Abdul Hameed Faizy Ambalakkadavu objected to Khader's deeds and words at the temple. Faizy found Khader's words like "Lord Guruvayurappan will certainly read my mind and has blessed me" and the god "will certainly accept the avilpothi from this Kuchela" un-Islamic. He said there is a chapter in Islamic scriptures titled 'Kithaburiddath' which explains actions that will eject a person from Islam. He said even a cursory reading of the chapter will make one realise the gravity of Khader's actions.
"The deeds of leaders of a Muslim organisation will not only affect thems, but will also send a dangerous signal to followers that such things are acceptable," Faizy said. He said secularism is not taking a bit from all religions."It would amount to what Emperor Akbar did by forming a new religion 'Deen e-Ilahi.' If secularism means accepting customs and beliefs from other religions, we don't need such secularism," he said. "We proudly remember former education minister Abdurabb who refused to light the traditional lamp saying that it is against his beliefs. We also remember late Panakkad Syed Umar Ali Shihab Thangal who took a stern stand against a minister who sported a tilak on his forehead, an alien custom for Muslims," Faizy said.
The incident involving Umar Ali Thangal that Faizy referred to happened around two decades ago. Late Cherkkalam Abdulla, the then minister for local administration, was chided by Thangal for sporting a 'tilak' during his visit to a Hindu Mutt in Kasaragod in 2003. Thangal was the state president of the SYS at the time. Khader remained unavailable for comments. Another Sunni leader, Nazar Faizy Koodathayi also termed Khader's gesture as an unwanted act.
In his FB post, Nazar said not even Hindus would expect a Muslim to accept their beliefs. He said the political bankruptcy of certain Muslim leaders will only create an aversion in the minds of polytheists. He said Panakkad Syed Muhammad Ali Shihab Thangal had rushed to Tali Temple at Angadippuram in Malappuram when he heard about the fire that broke out at the temple. "But Thangal didn't offer prayers there. Yet he was a great religious person and a secularist," he said.
Samastha Kerala Sunni Students Federation leader Onampilly Muhammad Faizy too expressed similar sentiments. Without naming Khader, he cautioned against the tendency to show 'over subservience' in the specific Indian political context and recalled the leaders who valiantly fought for 'honourable cultural existence.'
https://www.newindianexpress.com/states/kerala/2021/mar/18/muslim-hardliners-not-amused-by-khaders-guruvayur-temple-visit-2277999.html
--------
Islamic terror strand ofIslam, says Raj textbook
Mar 18, 2021
Jaipur: Drawing the ire of Muslim organisations in the state, the Class XII political science textbook of the Rajasthan government claims that some experts believe "Islamic terrorism as a strand of Islam".
The texbook, published in 2018 under the former BJP government, has a chapter on 'Terrorism, Criminalization of Politics and Corruption'. Here it quotes anonymous experts stating that "commitment to a particular religion is the main trend of Islamic terrorism", under the heading 'Fanaticism and Terrorism'.
Acting on a complaint by the Rajasthan Muslim Forum, an apex body of Muslims in the state, Lal Kothi police filed an FIR late on Wednesday night against the Rajasthan State Textbook Board and Sanjiv Passbook for the objectionable content. The body had earlier held two meetings with police commissioner Anand Srivastava.
Quoting anonymous experts, the chapter also says that "in Islamic terrorism the terrorist has excessive devotion to Islam rather than any faction or a group". It also says that "it is also believed that Islam, is not a violent or inhuman". The chapter also projected Islam as essentially a political ideology. The writer's comments begin only after the anonymous expert's comments end.
The writer explains Islamic terrorism as "martyrdom, perpetrating unlimited barbarism, forcibly amassing wealth and killing and committing atrocities on innocent people ruthlessly in a most ghastly manner in the name of Allah are some of the features of Islamic terrorism".
It goes on to say that "this form of Islam has killed and intimidated more Muslims than other people".
In a section, 'Nature of Terrorism in India,' it uses terms like Sikh terrorist and Muslim terrorist in Punjab and Jammu and Kashmir demanding a separate state on religious grounds. In the latter part of the section, it says, "In these horrendous attacks there was a direct role of Muslim fundamentalist, the hard-core terrorist, smugglers, and foreign agencies" while describing those behind the Bombay blast in 1993, along with ISI.
On Kashmir, it says Islamic terrorism in Jammu and Kashmir comes under the category of religious separatism. The textbook claims that "Pakistan has been quite successful in fomenting religious discontent discord in the mindset of Kashmir and orienting them towards the tendency of excessive devotion to Islam".
Bansilal Jakhad, former principal of government school, Jodhpur, was one of the three-member committee who authored and translated the chapter into Hindi. "I didn't deal with this section and was not aware until it was published," Jakhad told TOI.
Convenor of the book Bhanwar Singh Rathore, who was an associate professor at a government college in Jodhpur and wrote this portion, died in September 2020.
The present state government has replaced the state textbooks with NCERT textbooks from the 2021 academic session.
https://timesofindia.indiatimes.com/city/jaipur/islamic-terror-strand-ofislam-says-raj-textbook/articleshow/81557983.cms
--------
Delhi riots: Complainant in mosque vandalism is held, court says absurd
By Anand Mohan J
March 18, 2021
A Delhi court has pulled up Delhi Police for arresting the complainant in a case of arson and vandalism at a mosque, which was targeted during the northeast Delhi riots.
The observations were made by Additional Sessions Judge Vinod Yadav, who called the arrest absurd and directed DCP (North­east) to file a status report on the investigation carried out so far. The judge also summoned SHO (Karawal Nagar) on March 25 with the case diaries.
On February 1, a Delhi court had ordered police to register an FIR into the attack on Madina Masjid in Northeast Delhi by armed rioters and to carry out a complete investigation.
Police challenged the order before a Sessions Court. ASJ Yadav, in his order, wrote, "It is really strange that the complaint with regard to burning of house of respondent No. 1 was clubbed with the complaint of one Naresh Chand… and later on the respondent No.1 was arrested in the same matter, meaning thereby that he is not only complainant in the matter, but also an accused, which is an apparent absurdity."
On February 25 last year, rioters broke into the mosque in Shiv Vihar after a power cut in the area and set two LPG cylinders on fire inside, causing an explosion. A saffron flag was later planted atop the mosque by a local, who has been named in the complaint along with two others.
Haji Hasim Ali had earlier filed a complaint regarding arson and loot at his home in Shiv Vihar.
Police clubbed his complaint with another man's, who reported arson at his shop, in which no accused was named. Police registered an FIR and arrested Ali on the basis of CCTV footage, in which the police claimed he was "clearly seen in the footage instigating the mob". He was later granted bail by a court. Police also clubbed the complaint regarding the mosque, of which Ali is the caretaker, with these FIRs.
Ali's advocate, M R Shamshad, then filed an application in court for police to register a separate FIR into mosque attack, since clubbing it with another would make it "irrelevant". The court had said "it would be appropriate that an FIR is registered in this matter (the mosque attack) as well…"
https://indianexpress.com/article/cities/delhi/delhi-riots-complainant-in-mosque-vandalism-is-held-court-says-absurd-7233227/
--------
Pakistan
'Peace with Pak Will Get India Direct Access to Central Asia': Pakistan PM Imran Khan
Mar 18, 2021
ISLAMABAD: Pakistan PM Imran Khan on Wednesday said India will be benefitted economically by having peace with his country as it will enable New Delhi to directly access the resource-rich Central Asia region through Pakistani territory.
Khan also said his government after coming to power in 2018 did everything for better ties with India and it was for India to reciprocate. "India will have to take the first step. Unless they do so, we cannot do much," he said.
India last month said that it desires normal neighbourly relations with Pakistan in an environment free of terror, hostility and violence. India has said the onus is on Pakistan to create an environment free of terror and hostility.
Khan dwelt at length on the issue of peace in the region, including peace between Pakistan and India, saying "the unresolved Kashmir issue was the biggest hurdle between the two countries". "If India gives the Kashmiris their right under the UN (resolutions), it will be greatly beneficial for Pakistan as well as for India," he said and added, "India can access Central Asia after peace".
https://timesofindia.indiatimes.com/india/peace-with-pak-will-get-india-direct-access-to-central-asia/articleshow/81560605.cms
--------
Pakistan urges world to fight xenophobia
March 18, 2021
UNITED NATIONS: Pakistan urged the international community on Wednesday to challenge xenophobia and racism in all its forms as leaders from nearly 60 countries spoke out against Islamophobia and anti-Muslim hatred.
Foreign Minister Shah Mahmood Qureshi, who addressed the high-level event on Pakistan's behalf, stressed the need to "send a clear message against contemporary challenges of racism, racial discrimination, xenophobia, negative stereotyping and stigmatisation".
UN Secretary General António Guterres called for greater investment in promoting social cohesion and tackling bigotry, reminding the world that "diversity is a richness, not a threat".
In his address to this virtual meeting, held to commemorate the International Day to Combat Islamophobia, the UN chief also cited a recent UN report which fou­nd that suspicion, discrimination and outright hatred towards Muslims had risen to "epidemic proportions".
The day was organised by the OIC Group in New York, which established the UN Alliance of Civilisations (UNAOC) in 2005 to deal with the fallout of the Sept 11, 200, terrorist attacks in the United States.
The attacks strained relations between Muslim countries and Western nations and led to attacks on Muslims in some places.
The UN report highlighted how Muslim women face "triple levels of discrimination" because of their gender, ethnicity and faith and how the media had further compounded stereotypes against Muslims.
Foreign Minister Qureshi recalled the tragic events in Christchurch, New Zealand, two years ago, in which 51 worshippers lost their lives, adding that such tragedies were "a grim reminder of what hateful ideologies could accomplish".
"But the way the prime minister, the government and the people in New Zealand responded was both emphatic and empathetic," he added.
Mr Qureshi noted that right-wing parties in some countries were "openly calling for expulsion of Muslims, politicisation of the hijab, and frequent mob lynching by cow vigilantes".
The UN secretary general highlighted this point in his message, noting that "anti-Muslim bigotry is sadly in line with other distressing trends we are seeing globally — a resurgence in ethno-nationalism, neo-Nazism, sti­g­ma and hate speech targeting vulnerable populations, including Muslims and Jews.
"As the Holy Quran rem­inds us: nations and tribes were created to know one another," said the UN chief while urging world leaders to "continue to push for policies that fully respect human rights and religious, cultural and unique human identity".
Miguel Angel Moratinos, the current UNAOC High Representative, recalled the initiative was launched as a "political soft power tool" whose objectives include promoting mutual respect among diverse cultures and religions.
https://www.dawn.com/news/1613149
--------
Bajwa says Pakistan ready to resolve disputes peacefully
March 18, 2021
ISLAMABAD: Chief of the Army Staff (COAS) Gen Qamar Javed Bajwa Thursday renewed the offer of peace to India and said Pakistan was ready to resolve all lingering disputes with its neighbours through dialogue "in a dignified and peaceful manner".
Addressing the gathering on the final day of the two-day Islamabad Security Dialogue, the army chief, who was the chief guest on the occasion, said Pakistan's "choice [to seek a dialogue] is deliberate" and based on reason, and not a result of any external pressure.
A stable relationship between arch-rival neighbours was key to unlocking the potential of south and central Asian regions by way of ensuring connectivity between East and West Asia, he said.
He said it was high time that synergies are created in the region through connectivity, peaceful coexistence and resource sharing to fight common enemies such as hunger, illiteracy, and diseases instead of fighting forever wars.
"The Kashmir dispute is at the heart of it [issues between India and Pakistan]," he said.
The army chief stressed the need to understand that without the peaceful resolution of the Kashmir dispute, the process […] will always remain vulnerable to derailment to politically-motivated bellicosity."
The unresolved disputes in South Asia were dragging the entire region into debt and poverty, he observed.
"Despite being an impoverished region, we end up spending a lot of money on defense which naturally comes at the expense of human development," he said.
Gen Bajwa observed the national security encompassed more than just matters and affairs related to strengthening the country's security forces. "It included development and human security as well," he said.
He also noted that "despite rising security challenges, Pakistan has been one of the few countries that have resisted the temptation of involving itself in an arms race", citing the decrease in the country's defence expenditure.
"Today, the leading drivers of change in the world are demography, economy and technology. However, one issue that remains central to this concept is economic security and cooperation. Frayed relations between various powers centres of the globe and boomeranging of competing alliances can bring nothing but another stint of Cold War."
https://www.pakistantoday.com.pk/2021/03/18/bajwa-says-pakistan-ready-to-resolve-disputes-peacefully/
--------
Pakistan govt mulls contempt case against poll body
Mar 18, 2021
ISLAMABAD: Imran Khan-led government has opened a new battlefront by taking on the Election Commission of Pakistan (ECP), warning to initiate contempt proceedings against the chairman and members of the electoral body if they did not resign from their offices, reports Omer Farooq Khan.
The government's warning came hours after the ECP issued notices to Khan's PTI on Tuesday to appear before it on March 22 to explain its position over keeping secret the documents related to a foreign funding case against the party.
While Khan and his cohorts accuse the ECP of foul play in the recent Senate polls, political pundits and opposition leaders believe PTI's demand for the resignation of ECP members is due to the imminent decision in the foreign funding case against Khan and his party.
https://timesofindia.indiatimes.com/world/pakistan/pakistan-govt-mulls-contempt-case-against-poll-body/articleshow/81560900.cms
--------
Pakistan Opposition Alliance Unravels Over Strategy Dispute
March 17, 2021
By Abubakar Siddique
Nearly six months after major opposition political parties in Pakistan coalesced in a grand coalition to cleanse politics of military interference by pushing Prime Minster Imran Khan out of power, their alliance appears to be disintegrating.
The Pakistan Democratic Movement (PDM), the formal name of the alliance that emerged in September, has postponed its much-touted protest March on Islamabad this week after one major party refused to joined the remaining nine in resigning from the parliament, a move intended to force Khan to relinquish power and spur new elections.
"The Pakistan Peoples Party (PPP) had reservations over the issue of resignations and has asked for some time to consult with its central executive committee," PDM leader Maulana Fazlur Rehman told journalists late on March 16 after a daylong meeting whose deliberations trickled to the Pakistani media, where hardlines screamed of a widening rift and the PPP leader and former President Asif Ali Zardari reportedly argued against resigning from the parliament.
"We will be awaiting their decisions, but until then the Long March protest planned for March 26 should be considered postponed," said Rahman, leader of Islamist Jamiat Ulma-e Islam (JUI).
The development exposed a deep rift among PDM leaders, whose parties recently scored some political victories when they joined forces against Khan's in this month's indirect Senate elections and won most of the byelections across Pakistan earlier this year.
The alliance had postponed the issue of resignations in December after they reportedly accepted Zardari's push to postpone it until after the Senate vote. Rehman's JUI and former Prime Minister Nawaz Sharif's Pakistan Muslim League Nawaz (PML-N) are now unlikely to resign from the parliament or resort to street protests to oust Khan even while claiming that the country's military rigged the 2018 parliamentary vote to propel him into power.
Pakistan's powerful military, however, denies interfering in the country's politics.
Has Khan Survived?
Khan's cabinet members gloated over the PDM's split. "The PDM is a collection of political orphans," Fawad Chaudhry, Khan's science and technology minister, told journalists. "People who have no stake in the [current political] system are clamoring for resignations," he added.
"The Pakistan Peoples Party is a stakeholder in this system," Chaudhry said. The PPP heads the provincial government in the southern province of Sindh. Its leaders are challenging the election for Senate chairman, an important constitutional position that could see one of its top leaders and former Prime Minister Yousaf Raza Gilani head the upper house of the parliament.
In recent weeks, the government was rattled when Khan's party lost an important vote in the National Assembly. In an upset Gilani defeated his finance minister Abdul Hafeez Shaikh. The move forced Khan to seek a vote of confidence to show he still holds a majority sway in the lower house.
"PDM's unity has disintegrated," Foreign Minister Shah Mahmood Qureshi tweeted. "While fighting a war for their interested, the opposition parties have fallen out with each other," he added in apparent jubilation over the rift, which is will provide a much-needed respite for Khan's administration.
Fighting Within Parliament
PPP leader Bilawal Bhutto Zardari is adamant the PDM should focus on removing Khan though a no-confidence vote. "The PDM's struggle has entered the final phase as the government's majority in the upper and lower houses of parliament has been exposed," he told journalists on March 15.
But the mood within the PDM is less optimistic. In late September, the movement began with great fanfare when its leaders vowed to end "the state above the state," which they claimed top army generals had created by controlling the levers of power through installing Khan in a rigged vote. "We cannot live in this country as slaves," Rehaman told supports days after the PDM was formally launched on September 20.
In their vocal protest across Pakistan, the alliance of 10 parliamentary political parties -- many of whom are also electoral rivals -- showed a united front in promising a new era and vowing not to repeat past mistakes.
Competition between the PPP and PML-N defined the 1990s and returned to Pakistani politics following Sharif's efforts to bring down the PPP's government in 2011 after U.S. Special Forces killed Al-Qaeda leader Osama bin Laden in Abbottabad, a garrison town near Islamabad.
What Lies Ahead
A key part of the rift within the PDM appears to be a demand by Zardari who asked Sharif to abandon his exile in London and return to Pakistan to lead the PDM's future agitation.
"The office-holders of the PML-N, its leaders, and its voters do not want to see the life of Nawaz Sharif in danger," Sharif's daughter and heir apparent Maryam Nawaz told reporters as she confirmed the conversation. "The people of Pakistan, too, do not want this because we want to have a leader who is alive," she added.
Most elected leaders in Pakistan were deposed by force in military coups. Some, like PPP leader and former Prime Minister Zulfiqar Ali Bhutto, were executed under what his supporters say were fabricated charges. Benazir Bhutto, his daughter and another PPP leader, was killed in a bomb blast in 2007. The high-stakes game between powerful generals and populist politicians has defined Pakistan's political history for more than 70 years.
In the coming days and weeks, PDM leaders will scramble to bridge their wide differences. Their only hope now seems to be that a population hard done by economic hardship and repression might spark unprecedented protests, which will once more carry them to the corridors of power.
https://gandhara.rferl.org/a/pakistan-democratic-movement-unravels-over-strategy-dispute/31156308.html
--------
Fazl directs JUI-F to continue preparations for long march
March 18, 2021
ISLAMABAD: Jamiat Ulema-e-Islam-Fazl (JUI-F) chief Maulana Fazlur Rehman has directed the party's Khyber Pakhtunkhwa chapter to continue preparations for the March 26 long march to Islamabad, reports said Thursday.
A letter was written to the party's KP leadership on Fazl's directives, directing the leaders not to slow down the preparations. The letter said the long march has only been postponed until Pakistan Peoples Party (PPP) makes its decision on the march.
Nine of the 11 component parties of the Pakistan Democratic Movement (PDM) are ready to participate in the long march while PPP has sought time to make a final decision concerning en masse resignations, the letter said.
The development comes two days after the opposition alliance announced to postpone the long march after PPP linked its resignations from the legislative assemblies with deposed prime minister and Pakistan Muslim League Nawaz (PML-N) supreme leader Nawaz Sharif's return — a condition PML-N termed out of the question.
"Nine parties [of PDM] were in favor of resignations along with the long march but PPP had expressed some reservations," Fazl told reporters on Tuesday, adding the PPP would discuss the matter during its upcoming central executive committee (CEC) meeting.
A day earlier, Fazl held a telephonic conversation with Nawaz and urged him to return to Pakistan, saying with top PML-N leadership living abroad in self-exile, it was difficult to execute decisions taken by the opposition alliance.
After spending a year in prison, Nawaz, 71, secured a conditional bail in November 2019 to travel to London on the pretext of medical treatment and has since refused to return.
His party insists that despite being summoned by the courts, which declared him a proclaimed offender in multiple corruption trials, the former premier will only return after the completion of his medical treatment.
https://www.pakistantoday.com.pk/2021/03/18/fazl-directs-jui-f-to-continue-preparations-for-long-march/
--------
Two civilians embrace martyrdom; terrorist killed in Swat IBO
March 17, 2021
RAWALPINDI: The Security Forces on Wednesday conducted intelligence based operation (IBO) in Kanju area of Swat and killed a terrorist of Tehreek-e-Taliban Pakistan (TTP) Swat faction and apprehended the other whereas two civilians were martyred in response to the firing of the terrorists.
The security forces conducted the IBO in Kanju area on confirmation of presence of terrorists, said an Inter-Services Public Relations (ISPR) media release.
It added that during exchange of fire, terrorist Mukarram was killed while his associate terrorist was apprehended. Due to terrorists' firing two local civilian pedestrians were also martyred.
Both the terrorists of TTP Swat remained involved in terrorists' activities against security forces and law enforcement agencies (LEAs), demolition of schools, extortion and targeting killing.
https://www.pakistantoday.com.pk/2021/03/17/two-civilians-embrace-martyrdom-terrorist-killed-in-swat-ibo/
--------
PPP says allies failed to convince it on post-resignation strategy
Amir Wasim
March 18, 2021
ISLAMABAD: Explaining its stance after being singled out on the issue of en masse resignations from the assemblies, the Pakistan Peoples Party (PPP) on Wednesday rejected the perception that the party had reached some kind of understanding with the establishment and claimed that other parties in the Pakistan Democratic Movement (PDM) failed to provide a clear roadmap and the post-resignation strategy.
Talking to Dawn, PPP secretary general Nayyar Bokhari alleged that the nine parties which had linked the en masse resignations with the long march were repeatedly asked about the strategy which they would adopt after submitting resignations from the assemblies, but "they failed to give replies to our questions".
Mr Bokhari ridiculed the reports that the PPP was running away from the resignations as it had struck a deal with the establishment and said had the party reached any understanding with the establishment, Yousuf Raza Gilani would not have faced such a defeat in the election for Senate chairman office.
"The PDM parties failed to satisfy us on the situation after submission of resignations," he said. It was wrong to blame the PPP for everything as the party was still committed to follow the PDM declaration and the action plan issued after their multi-party conference (MPC) in September last year, he said.
The PPP secretary general said in the action plan, the use of resignations had been mentioned as a last resort after utilising all other options, including vote of no-confidence and long march. He said the PPP was determined to implement the PDM's agenda which included removal of the government.
Another senior PPP leader while talking to Dawn on condition of anonymity said the party was shocked to see violation of the declaration and the PDM's action plan by the other parties by linking en masse resignations with the long march.
On the other hand, Pakistan Muslim League-Nawaz (PML-N) secretary general Ahsan Iqbal denied that they had not provided any post-resignation roadmap, saying they had thoroughly talked about it in the PDM meeting and even the worst-case scenarios were discussed.
Mr Iqbal regretted that the PPP did not honour the opinion of the nine parties having long political and parliamentary experience. He said it was a collective view of the nine parties that the government would collapse after opposition lawmakers submitted their resignations as it would not be possible for it to go for by-elections in more than 450 constituencies.
Moreover, he said, the PPP was told in the meeting that they could consider submitting resignations only from the National Assembly in the first phase, if the party did not want to sacrifice its provincial government in Sindh. Again, Mr Iqbal said, it would not be possible for the government to have by-polls on 161 seats and half-empty opposition-less house would have no legitimacy and it would "create a question of legitimacy of the system."
"You can hold by-elections on 20 or 30 seats, but not on 161 seats," he opined. He said the nine parties believed that the whole system would collapse after the opposition's en masse resignations.
Explaining the worst case scenario, he said first of all the speaker would not be able to hold their resignations for an indefinite or a longer period. He said the situation would become more difficult for the speaker and the government if the opposition members started besieging him daily asking him to accept their resignations and there would be a "drama in the country."
When his attention was drawn to the fact that during the previous PML-N government, the then speaker Ayaz Sadiq had held the resignations of the Pakistan Tehreek-i-Insaf members for almost a year, he said that was just one party, adding that when the entire opposition would come out of the assembly, then the whole system would become questionable.
Secondly, the PML-N leader said, even if the government decided to hold by-elections on the vacant seats and also in phases and according to its own choice of timing and place, then the PDM could again contest the elections jointly as they did in the recent by-elections, but only to resign again from the seats which, according to him, would create a "perpetual crisis".
"At one point of time, you have to take risk. In politics, two plus two is not always four," Mr Iqbal said.
Meanwhile, speaking at a ceremony in Peshawar, PDM president and Jamiat Ulema-i-Islam chief Maulana Fazlur Rehman expressed annoyance over the PPP's attitude, saying it should have respected the opinion and viewpoint of the nine parties. He expressed the hope that the PPP in its Central Executive Committee (CEC) meeting would give consideration and respect to the collective opinion of the nine parties, saying they wanted to keep the PPP within the PDM ranks.
The Maulana, who had left the press briefing on Tuesday after presiding over the PDM meeting apparently to show his displeasure over their failure to reach a consensus, also indirectly criticised the PPP for "leaking the proceedings of the meeting" to the media.
"Discussions in such meetings are always kept secret as a trust. Leaking the proceedings amounts to the breach of trust," said the Maulana in an apparent reference to the media coverage of the PDM meeting containing almost full speech of former president Asif Zardari.
On the other hand, PPP's Nayyar Bokhari said the Maulana's criticism was justified, but the meeting was not held on the PPP's premises and it was hosted by the PML-N. The arrangement of video link was made by the PML-N.
Earlier, speaking at a news conference, PPP leader Raja Pervaiz Ashraf said the party believed in democracy and had defeated every despotic government with its democratic actions. He said it was the PPP which convinced all political parties in the PDM to take part in the by-elections and the PDM won in the four provinces.
He said all decisions taken by the PDM on the advice of the PPP proved correct and mature. He said resignations were not first or second option but the last option to send the government packing. He said the PPP wanted to bring a no-confidence motion in the Punjab assembly.
Mr Ashraf said they had made preparations for the long march but when the resignations were bracketed with the long march, the PPP asked for time to consult its CEC.
https://www.dawn.com/news/1613119/ppp-says-allies-failed-to-convince-it-on-post-resignation-strategy
--------
South Asia
Afghanistan Abandonment By US To Taliban Will Be Geopolitical Suicide
March 18, 2021
By Dr Subhash Kapila
"Geopolitical Suicide" would be the end-result of United States withdrawal of US Military Forces from Afghanistan by May01 2021, robbing United States of an irreplaceable vital "Strategic Perch' which empowers United States to extend power and influence in turbulent Greater South West Asia expanse.
The United Sates unilateral implementation of its ill-conceived and ill-advised Doha Accord with the Afghan Taliban—- much hated within Afghanistan for its medieval Islamist brutalisation of the Afghan people—-without matching cessation of Afghan Taliban terrorism & suicide bombings as pledged to United Sates at Doha is suicidal for US National Security interests.
The United States as a Superpower cannot be globally seen and perceived 'Supping with the Devils' with Islamist Terrorist outfits like the Afghan Taliban. This spectacle is demeaning for United States global image besides spinning on its head the very rationale in the first place of US military intervention in 2001 to displace the Afghan Taliban regime installed in Kabul courtesy Pakistan Army.
'Geopolitical Suicide" it will surely be for the United States as withdrawal of US Military Forces by May01 2021 would generate in its wake three major adversarial factors impacting US National Security interests as follows: (1) United States wilfully generating a 'Strategic Void' in Afghanistan to be exploited by US geopolitical adversaries (2) United States unceremoniously gambling away its 'Strategic Perch' to its confirmed geopolitical adversaries (3) United States would be risking a 'Third Military Intervention' at much greater cost to undo the Civil War hat Afghan Taliban would inflict on Afghanistan following US military exit.
The 'Strategic Void' in Afghanistan wilfully generated by United States honouring Doha Accord will be exploited by China and Pakistan with Russia in tow. China and Russia figure on top of US threat perceptions as Sates adversarial to US primacy and intent on undermining US influence globally and regionally. Pakistan today is China's 'Front Line State' and not that of the United States.
Strategic convergences of China, Pakistan and Russia are markedly visible currently to prompt United States towards a military exit from Afghanistan. Can the United States in the prevailing geopolitical turbulence afford to consign the Kabul Government as a prey to the geopolitical and strategic machinations of confirmed US adversaries?
Afghanistan with sizeable US military presence embedded offers a valuable 'Strategic Perch' for United States for surveillance and possible military intervention if warranted o any adversarial developments to US National Security interests in Greater South West Asia. No alternatives to Afghanistan are alternatively available to United States.
This facet of Afghanistan's strategic utility needs to be seriously considered by United States strictly in the context of checkmating the China Threat. China has a small sliver of border-sharing in the Wakhan Corridor area. Afghanistan also strategically rests on China's western periphery of the vulnerable and turbulent Xingjian Region. Are US policy planners in Washington blind to the great strategic potential that Afghanistan offers to United States as a major strategic pressure point against China?
The above mandates a permanent US Forward Military Presence of about 20,000 troops on the lines of FMP in Japan and South Korea as argued by me in my writings for over a decade.
The United States wilfully attempting to include Afghan Taliban in a Provisional Government in Afghanistan as being advocated by present US Secretary of State Blinken following a Boon-type Meet inherently sows the seeds of yet another Civil War in Afghanistan which any discernible policy analyst can foresee.
The Civil War in the 1990s in Afghanistan was generated by Pakistan Army foisting the Afghan Taliban medieval Islamist regime in Kabul by military means due to the US strategic obliviousness.
The next Civil War following US military exit honouring Doha Accord will be generated by United States wilfully foisting the much hated Afghan Taliban in the Provisional Government envisaged by Washington planners.
What the Afghan Taliban could not achieve victoriously on the battlefield by defeating US Military Forces in Afghanistan is now being handed over by Washington planners on a silver platter to Afghan Taliban.
Ironically it is the Washington policy establishment that seems to be providing a 'Back Door Entry' to the much despised Afghan Taliban in the future governance of Afghanistan. The end-result will be a Civil War.
Any third military intervention in Afghanistan to reclaim Afghanistan for United Sates vital interest would be far more costly than the costs of a US Forward Military Presence embedment.
Concluding Observations
Afghanistan has overwhelming geopolitical and strategic utility for United States continuance as a Superpower now being contested openly by China with its heady military muscle.
Afghanistan is in the crosshairs of China, Pakistan and Russia as the next target of prompting a 'Saigon Unceremonious Exit' of US power and influence in the region. Short of military means this is a no-cost bargain basement option for these adversarial nations of United States to demean United States
Civil War is a surety if the United States wilfully or permissively facilitates Afghan Taliban's inclusion in Provisional Government of Afghanistan.
Would the United States consciously adopt a "Geopolitical Suicide" option in pursuance of temporary political expediencies?
https://www.eurasiareview.com/18032021-afghanistan-abandonment-by-us-to-taliban-will-be-geopolitical-suicide-oped/
--------
Nine Afghan security force members killed after rocket hits helicopter: Sources
18 March ,2021
Nine Afghan security force members were killed in a helicopter crash in central Afghanistan late on Wednesday, according to the defense ministry.
A defense ministry statement on Thursday said they were investigating the crash which took place in Maidan Wardak province and the dead included crew members and special force personnel.
An air force source and a provincial official told Reuters that the helicopter was hit by a rocket while taking off.
It was not clear who fired the rocket and there have been no claims of responsibility.
The defense ministry said it was investigating the crash, which killed the helicopter's crew members as well as special forces on board.
An airforce source said the helicopter had been on a supply mission that included transporting the body of a soldier and wounded members of the military.
https://english.alarabiya.net/News/world/2021/03/18/Nine-Afghan-Military-members-killed-in-helicopter-crash-Defense-ministry
--------
Three killed, 11 wounded in government bus bombing in Kabul: Afghan officials
18 March ,2021
Three people were killed and 11 wounded when a roadside bomb hit a bus carrying Afghan government employees in Kabul on Thursday, officials said.
The bombing comes on the day the Afghan government, Taliban and key countries, including the US and Russia, gather in Moscow to push for a reduction in violence to propel the Afghan peace process forward.
A spokesman for the Kabul police confirmed the casualty figures but gave no further details. Another official said the vehicle was carrying Afghan government employees.
The blast hit a bus which was rented by the Afghan ministry of information and technology to transport employees, said Abdul Samad Hamid Poya, a ministry adviser.
He added that it was unclear at the moment who the victims are.
No one claimed immediate responsibility for the blast, but the Afghan government has blamed the Taliban for running an assassination campaign against government employees, civil society figures and journalists.
The insurgent Taliban has denied being involved in the campaign.
https://english.alarabiya.net/News/world/2021/03/18/Three-killed-11-wounded-in-government-bus-bombing-in-Kabul-Afghan-officials-
--------
Biden warns US may miss deadline to exit Afghanistan
Mar 18, 2021
WASHINGTON: US President Joe Biden has said that it would be "tough" to meet the deadline to withdraw American troops from Afghanistan by May 1, as agreed with the Taliban in a deal secured under Donald Trump.
The Taliban insurgents have largely stuck to a promise not to attack US or other foreign troops since the agreement was struck in February last year, but they say the date to end America's longest war is inflexible.
"Could happen, but it is tough," Biden said when asked about the May 1 deadline in a TV interview broadcast on Wednesday. "I'm in the process of making that decision now."
The Taliban quickly reacted to Biden's comments, with a spokesman telling AFP there would be "consequences" if the United States did not stick to the agreed timetable -- further raising pressure on the fragile peace process.
Biden also took a direct swipe at Trump's Afghanistan policy, saying it "was not a very solidly negotiated deal" that the then-president oversaw.
"The failure to have an orderly transition from the Trump presidency to my presidency... has cost me time and consequences. That's one of the issues we're talking about now, in terms of Afghanistan," he added.
The United States is supposed to pull out all its troops by May 1 in an agreement that saw the Taliban agree to peace talks with the Afghan administration of President Ashraf Ghani.
The insurgents also vowed not to allow territory to be used by "terrorists" -- the original goal of the US invasion following the September 11, 2001 attacks.
But the supposed peace talks held in Qatar since September have made little progress.
Washington wants to jump-start the process and get the Taliban and Afghan government to agree to some form of power-sharing.
Major urban centers in Afghanistan are in the grip of a worsening terror campaign in the form of deadly attacks targeting politicians, civil servants, academics, rights activists and journalists.
The Taliban deny all responsibility but the government says they are to blame -- either directly, or by using proxies.
As the May deadline looms closer, Russia on Thursday is to host a conference featuring high-level delegations from the Taliban and Afghan government -- as well from the United States, Pakistan and China.
At the talks, the insurgents will be led by the Taliban's co-founder and deputy leader Mullah Abdul Ghani Baradar, while the Afghan government side is headed by former chief executive Abdullah Abdullah.
Pakistan, which holds the most outside influence over the Taliban, is represented by veteran diplomat Mohammed Sadiq, while the US sent long-time Afghan envoy Zalmay Khalilzad.
The United Nations, which is not participating in the Moscow talks, meanwhile announced that Secretary-General Antonio Guterres had nomination a new personal envoy, Jean Arnault, to work for peace in Afghanistan.
Analysts suggest a face-saving compromise on the US withdrawal could be hashed out, with Washington saying it has met its obligations while leaving some US experts attached to Afghan forces in advisory roles.
A complete exit of US troops -- given the vital air cover provided to Afghan ground forces -- would further loosen Kabul's tenuous grip on the countryside.
Trump, who dubbed the conflict America's "endless war," cut troop numbers during his final days in office to 2,500 -- their lowest figure since the start of operations 20 years ago.
Afghanistan has been engulfed by a two-decade insurgency by the Taliban since the Islamist militants were ousted by a US-led invasion in 2001 for harboring the Al-Qaeda terror network.
https://timesofindia.indiatimes.com/world/south-asia/biden-warns-us-may-miss-deadline-to-exit-afghanistan/articleshow/81566553.cms
--------
UN team visits remote Bangladesh island where Rohingya relocated
17 Mar 2021
A United Nations delegation is on a three-day visit starting Wednesday to a remote Bay of Bengal island where Bangladesh has moved more than 13,000 Rohingya Muslim refugees since December despite criticism from rights groups.
Bangladesh wants to eventually transfer 100,000 of the more than a million refugees living in overcrowded border camps to Bhasan Char island, which emerged from the sea only two decades ago and is considered vulnerable to floods.
"This initial three-day visit will bring together experts from UN agencies engaged in the Rohingya refugee response in Bangladesh," the UN refugee agency told Reuters in an email.
"The visit will look at the current situation and facilities on Bhasan Char, appraise the needs of the Rohingya refugees relocated there, as well as discuss with the authorities and others currently working on Bhasan Char."
The UN earlier said it had not been allowed to conduct a technical and safety assessment of the island and was not involved in the transfer of refugees there.
Bangladesh says the relocation is voluntary, but some among a first group to be moved spoke of being coerced.
The Rohingya, a minority group who fled violence in Buddhist-majority Myanmar, are not allowed to move off the island, which is several hours' journey away from the southern port.
Bangladesh has dismissed safety concerns over the island, citing the building of flood defences as well as housing for 100,000 people, hospitals and cyclone centres.
It also says overcrowding in refugee camps fuels crime, while some Rohingya said frequent violence in the camps had driven them to relocate.
"We hope it will remove any concerns that the UN has about the relocation and they will get involve in the relocation and provide Rohingya people the support they need," a senior official at the foreign ministry said.
https://www.aljazeera.com/news/2021/3/17/un-team-visits-remote-bangladesh-island-where-rohingya-relocated
--------
Taliban faces heavy casualties in 3 provinces: MoD
18 Mar 2021
Ministry of Defense said that government forces inflicted heavy casualties on the Taliban in three provinces.
MoD in a released statement on Thursday said that Afghan national defense and security forces carried out an operation in Maidan Wardak district of Maidan Wardak province, killing at least 10 insurgents and wounding seven others.
Security forces also prevented seven placed IEDs from exploding in the district.
In another defense operation, 30 Taliban militants were killed and nine others were wounded in the Arghandab, Zherai, Dand, and Panjwai districts of Kandahar province.
ANDSF also discovered and defused 20 IEDs during the operation.
This comes as the Ministry of defense in a separate statement said that 21 Taliban fighters were killed and 14 others were wounded in Helmand province.
ANDSF backed by the air force carried the operation and a large number of weapons and ammunition belonging to the Taliban were also destroyed.
https://www.khaama.com/taliban-battered-in-3-provinces-faces-heavy-casualties-54535555/
--------
UN appoints Jean Arnault as Peace Envoy in Afghanistan
18 Mar 2021
António Guterres, UN Secretary-General on Thursday announced that Jean Arnault from France is appointed as his Personal Envoy on Afghanistan peace and regional matters.
UN in a released statement said, Guterres, has requested Arnault to assist in the achievement of a political solution to the Afghan war.
Arnault will be closely working with United Nations Assistance Mission in Afghanistan (UNAMA).
According to UN Arnault has 30 years of experience in international diplomacy mostly focused on peace settlements and mediation.
The appointed Personal Envoy has an extensive working background in United Nations missions in Afghanistan, Asia, Europe, Latin America, and Africa.
The statement indicated that Arnault has recently worked as Delegate of Secretary-General to Colombia peace talks and Special Representative for Secretary-General from 2015 to 2018.
He also has served as Personal Envoy of the Secretary-General for Bolivia from 2019 to 2020.
This comes as US President Joe Biden has said that it will be "tough" for the US to meet a May 1st deadline to withdraw American troops from Afghanistan, and the complete withdrawal won't take much time.
"It could happen, but it is tough." If the deadline is extended, it won't be by "a lot longer".
"That was not a very solidly negotiated deal that the president, the former president, worked out," President Biden said in an interview with ABC news.
"We're in consultation with our allies as well as the government and that decision is in process now," he added.
The deadline was set under the US-Taliban agreement signed on February 29th, 2020 during the former President Donald Trump's administration.
https://www.khaama.com/un-appoints-jean-arnault-as-peace-envoy-in-afghanistan-5435399/
--------
Europe
Jehovah's Witness Convicted On Extremism Charges In Russia
March 16, 2021
A 77-year-old Jehovah's Witness in Russia's Far Eastern Primorye region has been handed a six-year suspended sentence on extremism charges amid an ongoing crackdown on the religious group that has been banned in the country since 2017.
A district court in the town of Volno-Nadezhdinskoye on March 15 found retired military officer Vladimir Filippov guilty of taking part in the activities of an "extremist organization" and also banned him from taking part in any public groups for three years.
Prosecutors had sought 6 1/2 years in prison for Filippov.
In his last testimony at the hearing, Filippov denied taking part in the activities of any extremist groups.
"I have never participated in extremist affairs, never expressed any hatred towards people of other nationalities and religions.... I did not commit a crime, but only exercised my constitutional right to believe in Jehovah, God," Filippov said.
The United States has condemned Russia's ongoing crackdown on Jehovah's Witnesses and other peaceful religious minorities.
For decades, the Jehovah's Witnesses have been viewed with suspicion in Russia, where the dominant Orthodox Church is championed by President Vladimir Putin.
The Christian group is known for door-to-door preaching, close Bible study, rejection of military service, and not celebrating national and religious holidays or birthdays.
Since the faith was outlawed in Russia, many Jehovah's Witnesses have been imprisoned in Russia and the Russia-annexed Ukrainian Black Sea Crimean Peninsula.
According to the group, dozens of Jehovah's Witnesses were either convicted of extremism or are in pretrial detention.
The Moscow-based Memorial Human Rights Center has recognized dozens of Jehovah's Witnesses who've been charged with or convicted of extremism as political prisoners.
https://www.rferl.org/a/jehovah-witness-convicted-extremism-charges-in-russia/31153515.html?utm_source=iterable&utm_medium=email&utm_campaign=2112673_
--------
Muslim groups boycott review of UK counter-extremism strategy
March 17, 2021
LONDON: A group of over 450 Islamic organizations in the UK will boycott a review of the government's anti-radicalization Prevent program over the appointment of its chairman.
William Shawcross, who led the UK Charity Commission from 2012 to 2018, has been accused of having a track record of hostility toward Islam and Muslims.
Prevent facilitates schools, medical trusts, prisons and local authorities reporting individuals they believe may be at risk of turning to extremist ideologies.
Critics have long said it facilitates discrimination against ethnic and religious minorities in the UK, particularly members of the Muslim community.
Many have called for an independent review of its methods, but the impartiality of that review is being called into question.
The opposition to Shawcross surrounds his time at the Charity Commission where, under his lead, Muslim charities said they were unfairly and disproportionately targeted with investigations into their activities.
Groups including 350 mosques, the Association of Muslim Lawyers, the Muslim Youth Network and Advancing Voices of Women Against Islamophobia released a statement saying: "No serious, objective, critical review can be undertaken by someone with such a track record — rather we should expect him to promote a hardening of policies towards Muslims."
They added: "If Muslim organizations engage with this review, it strengthens its legitimacy and its power to recommend policies more harmful to the community."
Neil Basu, a leading UK counter-terrorism police officer, called it "the most important pillar of our counter-terrorism strategy."
But he warned that a lack of trust from the Muslim community over the appointment of Shawcross to oversee its review risks undoing its progress.
"We will, of course, work with the government's chosen reviewer, because we believe the process will give our Prevent practitioners the opportunity to share their many years of expertise and insight, with the hope of bringing lasting improvement to this vital strategy," he said.
"But we also recognize how important the support and trust of our communities will be if we are to continue to protect vulnerable people, and so it is with great disappointment that I read some key groups plan to boycott the review altogether."
Basu's faith in Prevent is not shared by the signatories of the statement boycotting the review.
Prof. Nasar Meer of the University of Edinburgh said: "Prevent is a bad policy that has only worsened with time. An independent review of its attack on the freedom of speech, curtailment of fundamental liberties and criminalization of communities is long overdue. Sadly, the Shawcross review promises no such thing."
De Montfort University's Dr. Fatima Rajina said: "The presence of Prevent in smaller organizations within local communities that provide essential services … illustrates its perniciousness."
She added: "Prevent is expanding its tentacles into community spaces that ought to remain safe for Muslims but, yet again, it is there to surveil and monitor."
A Home Office spokesperson defended the appointment of Shawcross, saying: "It is absolutely wrong to suggest that Prevent focuses on a particular group, ethnicity or ideology. Unfortunately, some organizations continue to perpetuate falsehoods about Prevent.
"A panel, led by an independent chair, assessed the candidates (for the role of) independent reviewer of Prevent and found that William Shawcross met the criteria and possessed the right range of skills and experience."
https://www.arabnews.com/node/1827126/world
--------
Germany: Turkey 'highly reliable partner'
Ayhan Simsek
17.03.2021
BERLIN
Turkey is a "highly reliable partner" of the EU in addressing the refugee crisis, the government of Chancellor Angela Merkel said on Wednesday.
Deputy government spokeswoman Ulrike Demmer spoke at a news conference in Berlin and expressed Germany's commitment to a 2016 EU-Turkey refugee deal that effectively stopped the flow of Syrian refugees into Europe.
"The EU-Turkey Statement of 18 March 2016 is our joint success, and it is in the mutual interest of the EU and Turkey," according to Demmer who said the EU and Turkey are determined to its continued implementation.
She praised Turkey for hosting nearly 4 million refugees who escaped a civil war in neighboring Syria -- providing essential services, housing, health and educational support.
"What Turkey is doing deserves high recognition," she said.
Demmer said the EU's financial support for Syrian refugees has improved their living conditions, and the agreement has been successful in stemming irregular migration in the Aegean Sea, and it saved the lives of refugees.
Merkel championed the refugee agreement, with hopes of stopping the refugee influx after nearly 1 million refugees arrived in Germany.
The agreement has been successful in significantly reducing the number of crossings in the Aegean Sea, and preventing lives lost. But EU's bureaucratic hurdles and delays in mobilizing promised funds led to sharp criticism by Turkish officials.
The EU promised to deliver €6 billion ($7.1 billion) in 2016 until the end of 2018 to help Turkey care for nearly 2.6 million refugees.
After nearly a two-year delay, the EU concluded the final contracts under the €6 billion package in December 2020. But the amount the bloc spent for Syrian refugees remains below €4.5 billion as of March, according to EU figures.
The remaining amount is expected to be disbursed in coming months, as part of recently contracted projects.
Turkey currently hosts nearly 4 million Syrians, making it the world's top refuge-hosting country. Ankara is also providing protection and humanitarian assistance to nearly 6 million Syrians in northern Syria.
Turkey has spent more than $40 billion from its resources on refugees, and officials underline that the EU should do more to equitably share the burden.
https://www.aa.com.tr/en/europe/germany-turkey-highly-reliable-partner-/2179579
--------
Turkey, EU need cooperation in civil protection
Gokhan Varan
17.03.2021
Turkey and the EU need structured cooperation in the field of civil protection, said the head of the EU Delegation to Turkey on Wednesday.
Speaking at an online meeting marking the 25th anniversary of Turkey's Search and Rescue Association (AKUT), Nikolaus Meyer-Landrut said Turkey and the EU have been cooperating in the fields of disaster management and civil protection for many years.
Stating that the EU is working with Turkey's Disaster and Emergency Management Authority (AFAD), especially in the field of capacity-building, Meyer-Landrut said:
"We see this as bilateral cooperation. We learn from each other as we collaborate and share with each other. We're also pleased that Turkey takes part in the EU Civil Protection Mechanism as a participating country."
The EU sees Turkey as a valuable partner for preparing for disasters well and being able to respond properly, he added.
All countries participating in the EU Civil Protection Mechanism have different experiences with disasters and disaster management, he said, adding that this creates a solidarity and cooperation mechanism.
"Our ultimate goal here is to share practices that will protect our citizens against disasters."
Pointing out that AKUT is an organization registered in the EU Civil Protection Mechanism pool, he said it will also take part as a field partner in a comprehensive earthquake exercise this fall in Turkey's northwestern Tekirdag province.
He added that the EU Module Exercise will last three days and feature experts from the EU and Turkey.
Meyer-Landrut emphasized that it is necessary to prepare for risks by considering worst-case scenarios, and added: "Preparation is extremely important to reduce risks. There is a serious earthquake risk in Istanbul, but earthquake isn't the only risk we face. We also face other risks arising from climate change."
https://www.aa.com.tr/en/europe/turkey-eu-need-cooperation-in-civil-protection/2179311
--------
Africa
Boko Haram Counters Nigerian Army, Releases Pictures of 16 Killed, Abducted Soldiers
MAR 16, 2021
Militants from the Islamic State-backed faction of Boko Haram, the Islamic State West Africa Province (ISWAP), formerly known as Jamā'at Ahl as-Sunnah lid-Da'wah wa'l-Jihād, have released pictures of 15 soldiers killed by the group during an ambush on Nigerian soldiers in Monguno, Borno state.
This is contrary to a statement by the Nigerian army that four soldiers died in the attack.
The Director, Army Public Relations, Brig.-Gen. Mohammed Yerima had on Monday said the encounters, which took place on the Tumbus of Lake Chad's fringes, led to the destruction of the terrorists' gun trucks and recovery of a large cache of arms and ammunition.
He added that the combined troops of Sector 2 advanced and cleared Daban Massara and Ali Sherifti villages among other settlements before they harboured for replenishment and retrofitting along the axis.
"In the course of the hot pursuit which was aided by air cover provided by the Air Task Team of Operation Lafia Dole, several terrorists were neutralised and their gun trucks destroyed.
"Unfortunately, however, one officer and three gallant soldiers paid the supreme sacrifices while those wounded in action are currently receiving medical attention at 7 Division Medical Services and Hospital in Maimalari Cantonment.
"Above is an on-the-spot account of the encounter between Nigerian troops and the Boko Haram/ISWAP terrorists in Mugono area and environs," he had said.
But ISWAP in a statement claimed 33 soldiers were killed by the group during the attack.
Attached to the statement were pictures showing about 15 bodies of dead soldiers.
The group also released pictures showing an abducted soldier and vehicles captured from the Nigerian army and Civilian Joint Task Force (CJTF).
Boko Haram and its offshoot, Islamic State West Africa Province, have killed thousands and displaced millions in northeastern Nigeria.
The Nigerian military has repeatedly claimed that the insurgency has been largely defeated and frequently underplays any losses.
In the past months, soldiers have been targeted by the insurgents.
Hundreds of soldiers and officers have been reportedly killed since January 2021.
At least 33 soldiers were recently killed when two explosive-laden vehicles rammed into a military convoy in Wulgo.
The suicide bombers were identified as Abu Bakr al-Siddiq and Bana Jundullah. The group also claimed four military vehicles were destroyed.
In February, about 20 soldiers were also killed in Malari, Borno State by the insurgents.
SaharaReporters gathered that the soldiers were on patrol to clear some Boko Haram elements in the area following a credible intelligence when they were ambushed by the group.
http://saharareporters.com/2021/03/16/boko-haram-counters-nigerian-army-releases-pictures-16-killed-abducted-soldiers?utm_source=iterable&utm_medium=email&utm_campaign=2112673_
--------
Gunmen kill at least 58 civilians in attack on Niger convoy
16 Mar 2021
Armed men in southwestern Niger have killed at least 58 people when they intercepted a convoy returning from a weekly market and attacked a nearby village, the government said on Tuesday.
The attacks on Monday occurred in the Tillabery region, which is near the border with Mali and Burkina Faso and has seen increasingly deadly attacks by armed groups active across the region with links to ISIL (ISIS) and al-Qaeda.
The announcement was read on Niger state television on Tuesday evening by government spokesman Abdourahmane Zakaria, who declared three days of national mourning for the victims.
The mass killings underscore the enormous security challenges facing Niger's new president, Mohamed Bazoum, who won the election in late February to succeed outgoing leader Mahamadou Issoufou.
'Targeted executions'
Attackers killed at least 100 civilians on January 2 in raids on two villages in Tillabery, one of the deadliest episodes in the country's recent history.
The assailants this time intercepted four vehicles transporting passengers from a weekly market to the villages of Chinagoder and Darey Dey, the government said in a statement.
"These individuals then gutlessly and cruelly proceeded to carry out targeted executions of passengers," it said. "In the village of Darey Dey, they killed people and burned the granaries."
There was no immediate claim of responsibility for Monday's massacres.
The violence is part of a wider security crisis in West Africa's Sahel region. Many of the attacks are concentrated where the borders of Niger, Mali and Burkina Faso meet, a zone that a 5,000-strong French task force has targeted heavily.
Not only are armed groups active in the Tillaberi region, but the counterterrorism offensives against them have helped give rise to ethnic militias, analysts say.
Intercommunal tensions have been exacerbated as a result, particularly near the border between Mali and Niger, with fighting over scarce resources.
Fighters staged mass attacks on Niger's military in the Tillaberi region, killing more than 70 in December 2019 and 89 in January 2020.
https://www.aljazeera.com/news/2021/3/16/gunmen-kill-at-least-58-civilians-in-attack-on-niger-convoy?utm_source=iterable&utm_medium=email&utm_campaign=2112673_
--------
Niger: UNICEF condemns 'horrific killings' of civilians
Rodrigue Forku
17.03.2021
YAOUNDE, Cameroon
UNICEF on Wednesday condemned the "horrific killings" of civilians in Niger after at least 58 people, including six children aged 11-17, were killed in the Tillabery region.
The UN agency said it was deeply saddened and outraged that civilians, including children, were among the casualties late Tuesday.
"The surge in armed violence across the Central Sahel region is having a devastating impact on children's survival, education, protection and development. Mounting insecurity along the borders with Burkina Faso and Mali has exacerbated the needs in the Tillabery region where more than 95,000 people are displaced," said Marie-Pierre Poirier, the group's regional director for West and Central Africa.
"Niger continues to face a combination of quick onset and protracted humanitarian crises that have been exacerbated by the impacts of the COVID-19 pandemic. Some 3.8 million people, including 2 million children, need humanitarian assistance across the country," Poirier added.
The region has been frequently targeted by terrorist groups based in Mali since 2017, with a state of emergency declared in the area.
Niger, Burkina Faso and Mali in the Sahel are at the epicenter of one of the world's fastest-growing displacement and protection crises.
The region hosts 851,000 refugees and nearly 2 million displaced people, according to the UN Refugee Agency.
In January, around 100 people were killed in attacks in two Tillabery villages after the first round of presidential elections.
https://www.aa.com.tr/en/africa/niger-unicef-condemns-horrific-killings-of-civilians/2179600
--------
Militants kill 11 Malian soldiers in ambush, 11 others missing
MARCH 17, 2021
BAMAKO (Reuters) - Eleven Malian soldiers were killed and 11 more are missing after Islamist militants ambushed a patrol in the desert north, the army said on Tuesday.
Fourteen soldiers were also wounded, eight of them seriously, in the attack in the northern region of Gao on Monday, the army said in a statement. It added that seven militants were killed in an ensuing exchange of fire.
Islamist militants, who seized Mali's desert north in 2012 before being pushed back by French-led forces the following year, have stepped up attacks in the north and centre in recent years. Many are linked to al Qaeda or Islamic State.
Last year was Mali's deadliest on record due to attacks by the militants, tit-for-tat violence between rival ethnic groups and killings by security forces, according to data compiled by the Armed Conflict Location & Event Data Project (ACLED).
The militants have also used Mali as a base to extend their operations into neighbouring Burkina Faso and Niger, defying attempts by regional, French and U.N. troops to contain them.
https://www.reuters.com/article/us-mali-security/militants-kill-11-malian-soldiers-in-ambush-11-others-missing-idUSKBN2B832V?il=0&utm_source=iterable&utm_medium=email&utm_campaign=2112673_
--------
Sudanese military firm to give up its civilian operations, says information minister
17 March ,2021
One of Sudan's biggest military firms has agreed to gradually hand over its civilian operations to the finance ministry, with the goal of eventually converting it to a public shareholding company, the information minister said on Wednesday.
If completed, the spin-off of Defense Industrial Systems' civilian business could help reduce tension between the transitional authority's civilian and military elements, which are sharing power until the end of 2023.
Many civilian politicians view the military's opaque business activities as inappropriate and complain that its profits are not included in the state budget.
"This is a new partnership between the military and civilian components that produced the great December revolution," said Information Minister Hamza Balol, in a reference to the ousting of former President Omar al-Bashir, at a news conference at the company's manufacturing complex on the outskirts of Khartoum.
The company hosted Prime Minister Abdalla Hamdok and other ministers on Wednesday in a rare invitation to civilians to tour its facilities.
Sudan's military took power from al-Bashir in April 2019, after months of protests that began the previous December, then the following August agreed to share power with civilians.
Since then, the economy has weakened, with the government suffering from chronically low revenue.
Sudan's military has been under domestic and international pressure to increase its transparency and contribute more to the national economy.
The company, like many other large enterprises owned by the military, has yet to release its finances or disclose its holdings to the public.
"The Sudanese public will now be able to benefit from this company," said Finance Minister Jibril Ibrahim, citing its work in the petroleum, railway and agricultural industries.
"It is important for the company to explain to the people what it does and what it owns and what it hopes to achieve."
https://english.alarabiya.net/News/middle-east/2021/03/18/Sudanese-military-firm-to-give-up-its-civilian-operations-says-information-minister
--------
Tunisia brings extremist-linked families home from Libya jail
17 March ,2021
Tunisia has repatriated at least 16 women and children accused of links to extremist fighters imprisoned in war-ravaged neighboring Libya, rights groups said Wednesday.
Two separate groups of detainees, totaling six women and 10 children, were handed over by Libyan authorities at the Tunisian border earlier in March, said Mustapha Abdelkebir, from the Tunisian Observatory for Human Rights.
News of their release came as Tunisian President Kais Saied visited Libya on Wednesday, his country's first leader to do so for nine years, to meet Libya's newly-sworn in unity government.
Libya descended into chaos after former Libyan President Muammar Gaddaf was toppled and killed in a NATO-backed uprising in 2011, with an array of forces battling to fill the void, creating fertile ground for extremist groups like the ISIS terrorits group to take root.
Extremists used lawless Libya as a staging area for a series of bloody attacks in Tunisia, but a new UN-backed unity government in Libya is seeking to restore stability.
Activists urged Saied to plead for the release of others still in Libyan detention.
"We hope that... President Saied will do his utmost to speed up the returns of those who are still detained," said Mohamed Iqbel Ben Rejeb, of the Rescue Association of Tunisians Trapped Abroad campaign group.
Abdelkebir estimated some 20 Tunisian children remain in detention in Libya, and about 15 women.
The children now in Tunisia, aged between three and 17, have been handed over to social services ahead of their possible return to their families.
The six women are being held at a Tunisian detention ahead of their trial, Abdelkebir said.
The issue of repatriation of citizens who left to fight abroad is hotly debated in Tunisia, after several bloody attacks carried out on home soil by Tunisians trained in Libya.
https://english.alarabiya.net/News/north-africa/2021/03/17/Tunisia-brings-extremist-linked-families-home-from-Libya-jail-
--------
Kenya mourns death of Tanzanian president
Andrew Wasike
18.03.2021
Flags in Kenya and all Kenyan diplomatic missions abroad will be flown at half-mast from March 18 until the burial day of Tanzanian President John Pombe Magufuli who died on Wednesday, said the Kenyan president on Thursday.
"In testimony of the high esteem in which the People of Kenya hold President John Pombe Magufuli, the Republic of Kenya will observe a period of seven days of national mourning," Uhuru Kenyatta said.
"As a symbol of Kenya's enduring respect for Magufuli, as well as Kenya's solemn solidarity with the Nation and People of the United Republic of Tanzania," flags in Kenya and its diplomatic missions will be flown at half-mast, he added.
Kenyatta termed Magufuli as a champion of pan-African ideals.
Magufuli died of a heart condition at the age of 61 on Wednesday, Vice President Samia Suluhu Hassan announced in a televised address.
His death came after two weeks of speculation about his health on suspicion of contracting COVID-19.
Magufuli had declared that COVID-19 was defeated in his country, attributing it "to God's help," even when the World Health Organization asked the cooperation of the government.
But he had recently acknowledged that the virus was still being transmitted when the vice president of semi-autonomous Zanzibar reportedly died of COVID-19.
The Tanzanian vice president will assume office for the remaining period of Magufuli's five-year term.
https://www.aa.com.tr/en/africa/kenya-mourns-death-of-tanzanian-president-/2180147
--------
North America
Michigan man charged with threatening to kill Biden, Pelosi and Whitmer
MARCH 17, 2021
Michigan state prosecutors have charged a 21-year-old man with threatening to kill President Joe Biden, House Speaker Nancy Pelosi and Michigan Governor Gretchen Whitmer, all Democrats, saying he claimed to "be the catalyst" for an American revolution, officials said on Tuesday.
Whitmer previously had been the target of right-wing militia extremists who plotted to kidnap her ahead of last November's election, according to U.S. prosecutors.
The new and separate charges come as U.S. law enforcement officials including FBI Director Christopher Wray have warned of the growing threat of homegrown violent extremism in the United States.
The office of Michigan Attorney General Dana Nessel on Monday charged Joshua Docter, 21, of Holland, Michigan, with threatening terrorism and using a computer to commit a crime. Each count carries a sentence of up to 20 years in prison.
The suspect turned himself in on Monday and faced a judge on Tuesday, Nessel's office said in a statement.
A lawyer for Docter could not immediately be identified.
The FBI, which initiated the investigation, received a tip that Docter posted threats on the social media site iFunny, and the case was later taken over by Michigan State Police, the statement said.
"Michigan Attorney General Dana Nessel has charged a Holland man with crimes for making death threats against President Joe Biden, U.S. Speaker of the House Nancy Pelosi and Michigan Gov. Gretchen Whitmer," the statement said.
"In those posts, Docter stated he would use a gun to shoot and kill the elected officials and would 'be the catalyst' for a new American revolution. Docter also had information on how to make a bomb and where to find the necessary materials on his smart phone," it said.
In the previous plot against Whitmer, federal officials arrested and charged six men here with conspiring to abduct her from her vacation home last summer. One of them has pleaded guilty.
Eight other men accused of taking part in the plot have been charged in Michigan state court with domestic terrorism.
Investigators linked the suspects to an anti-government militia group based in Michigan called the Wolverine Watchmen.
https://www.reuters.com/article/us-michigan-whitmer-idUSKBN2B831H?utm_source=iterable&utm_medium=email&utm_campaign=2112673_
--------
Four people on terror watchlist arrested at southern US border since October
By Kenneth Garger
March 16, 2021
Four people on the FBI's terror watchlist have been arrested at the southern border since October, a report said.
Three of the people are from Yemen, and the other is from Serbia, the Customs and Border Protection agency confirmed to Congress on Tuesday, according to Axios.
The terror watchlist includes people who are "known to be or reasonably suspected of being involved in terrorist activities," the report said, citing the FBI.
The revelation comes as Republican lawmakers touring the border on Monday said some suspected terrorists had been heading to the crossing — along with the tens of thousands migrants typically from Mexico or Central America.
"Individuals that they have on the watchlist for terrorism are now starting to exploit the southern border," Rep. John Katko (R-NY) said. "We need to wake up."
In the past two fiscal years, fewer than four people on the watchlist were busted at the border, sources told Axios. Six people from Yemen and Bangladesh were arrested in fiscal year 2018.
And in fiscal year 2017, more than 3,700 people on the watchlist were stopped by the Department of Homeland Security — mainly at airports, the report said.
https://nypost.com/2021/03/16/four-on-terror-watchlist-arrested-at-border-since-october/?utm_source=iterable&utm_medium=email&utm_campaign=2112673_
--------
'Tough' To Meet May 1 Deadline for Troop Pull-out From Afghanistan: Biden
Anwar Iqbal
March 18, 2021
WASHINGTON: US President Joe Biden said on Wednesday that it would be "tough" to withdraw the remaining US troops in Afghanistan by May 1, as was agreed to by the Trump administration.
In an interview with ABC's Good Morning America, Mr Biden said he was still "in the process" of determining when the forces should leave.
"The fact is that this was not a very solidly negotiated deal that the former president worked out. And so, we're in consultation with our allies as well as the government, and that decision's going to be — it's in process now," he said.
Earlier this week, the Biden administration announced it was sending its special envoy for Afghanistan, Ambassador Zalmay Khalilzad, to an Afghan peace conference in Moscow, which begins on Thursday. Pakistan is also attending the conference.
On Tuesday, Ambassador Khalilzad said in a tweet that he was wrapping up his second, two-day visit to in Kabul during which he discussed "the latest developments on the (Afghan) peace process with President Ashraf Ghani, Abdullah Abdullah, and a wide range of other leaders, including those in civil society and advocates of women's rights.
After his first visit to Kabul last week, Ambassador Khalilzad spent several days in Doha, Qatar, discussing the peace process with senior Taliban leaders. He also visited Islamabad last Sunday where he held a series of meetings with senior civil and military leaders and sought Pakistan's "continued support" for his efforts to seek a peaceful end to the Afghan conflict.
The Biden administration, which assumed power on Jan 20, inherited a peace deal from its predecessors that limits its options for negotiating the end endgame in Afghanistan after almost 20 years of military presence.
Under the deal, signed in February 2020, former President Donald Trump agreed with the Taliban to pull US troops from the country by May 1. In return, the Taliban committed to keep militants out of Afghanistan and hold direct talks with the Kabul government.
In February 2020, the US had more than 12,000 troops in Afghanistan, down from a peak of more than 100,000 in 2011.
Now 2,500 troops remain, although the New York Times reported last week that about 1,000 more Special Operations forces were also in the country.
Asked how long US troops could remain in Afghanistan, President Biden said, "I don't think a lot longer," adding that the May 1 deadline "could happen, but it is tough."
Mr Biden blamed the delay on the Trump administration's reluctance in transferring power after the US election. "The failure to have an orderly transition from the Trump presidency to my presidency... has cost me time and consequences," he said.
Ambassador Khalilzad, who negotiated the deal with the Taliban for the Trump administration, has been retained by the new administration as well.
In a series of tweets after his first visit to the region as Mr Biden's envoy, Ambassador Khalilzad said he was "encouraged by the fact that all political figures endorse efforts to accelerate the peace process."
The Afghan leaders, he said, had also agreed to "attend or send delegates to upcoming international engagements for a lasting political settlement and permanent ceasefire."
However, a US scholar David Andelman told CNN on Wednesday he believed the Biden administration realised that "US troops will need to stay in Afghanistan for a very long time" but was reluctant to share this realization with the American people.
https://www.dawn.com/news/1613155/tough-to-meet-may-1-deadline-for-troop-pullout-from-afghanistan-biden
--------
US envoy reaffirms need to end Yemen war in calls with PM, regional ambassadors
17 March ,2021
Joseph Haboush
US Special Envoy for Yemen Tim Lenderking reaffirmed the need to end the country's yearslong war during a call with the Yemeni premier on Wednesday.
Maeen Abdulmalik Saeed and Lenderking spoke about efforts to improve services and meet the humanitarian needs of all Yemenis, a tweet from the State Department read.
"The PM reconfirmed the Yemeni Government's continued support for peace efforts," Lenderking's office said.
Separately, the US diplomat spoke with the Egyptian and Omani ambassadors to Washington.
Lenderking "continues to believe the time is now to resolve the conflict in Yemen. There is strong regional consensus and close coordination with our Arab partners toward this end," a separate tweet from his office read.
Yemen has been the focus of renewed US attention since President Joe Biden took office. Although he has softened Washington's stance on the Iran-backed Houthis, regional countries, including Saudi Arabia, have continued to voice a willingness to help reach a political solution to the war.
The Houthis, having had their terror list designation removed by Biden, have escalated their offensive on Marib and have been accused of killing 44 African migrants in a fire at a detention center in Sanaa.
Lenderking spoke to the Director-General of UN Migration Antonio Vittorino about the tragic fire. "The importance of an investigation into the causes, and the critical need for aid and protection to reach those in need," the State Department said.
https://english.alarabiya.net/News/gulf/2021/03/17/US-envoy-reaffirms-need-to-end-Yemen-war-in-calls-with-PM-regional-ambassadors
--------
US may miss deadline for withdrawal from Afghanistan, Biden says
17 March 2021
US President Joe Biden says it is "tough" to withdraw all the US forces in Afghanistan by May 1, a deadline agreed upon by the Trump administration and the Taliban.
"I'm in the process of making that decision now as to when they'll leave," Biden said in an interview with ABC News.
The US invaded Afghanistan in October 2001 under the pretext of the so-called war against terror.
Washington has spent more than trillions of dollars waging war on the impoverished country, which has left thousands of Afghan civilians and American soldiers dead.
Last year, former US President Donald Trump signed a deal with the Taliban militant group, which controls large parts of Afghanistan, to withdraw the remaining US troops by the beginning of May this year in exchange for the Taliban to halt attacks on foreign forces.
"The fact is that, that was not a very solidly negotiated deal that the president -- the former president -- worked out. And so we're in consultation with our allies as well as the government, and that decision's going to be -- it's in process now," he added.
Now, the future of the NATO deployment will be largely determined by Joe Biden, who will either stick to the May withdrawal deadline or risk a backlash by staying in Afghanistan.
The US along with its NATO allies invaded Afghanistan in 2001 under the guise of fighting terrorism and dismantling the al-Qaeda terrorist group.
The invasion — which has turned into the longest war in US history — removed the Taliban from power, but the militant group has never stopped its attacks, citing the foreign military presence as one of the main reasons behind its continued militancy.
The White House says it is reviewing the US-Taliban deal, while the Pentagon has accused the group of not fulfilling its promises.
Trump reduced the number of US troops to 2,500 in January, their lowest figure since the onset of the so-called war on terror but a full withdrawal of US troops is yet to materialize.
https://www.presstv.com/Detail/2021/03/17/647523/US-Joe-Biden-Afghanistan-Taliban-Trump
--------
Turkey's new US envoy outlines priorities during office
Servet Günerigök
18.03.2021
WASHINGTON
Turkey's new US ambassador on Wednesday outlined his priorities during his term in office to advance relations between the two countries.
Hasan Murat Mercan, the former envoy to Tokyo, met with Turkish journalists at the embassy's residence and said he would work on political, economic and cultural areas to achieve a better relationship with Washington.
Mercan said relations between Turkey and the US have seen ups and downs in the past and ambassadors are supposed to advance relations in line with the policies determined by both Ankara and Washington.
"Important tasks fall on us," he said, putting political relations first among his priorities, and noted the Turkish embassy will mediate between governments and parliaments, improve mutual political relations and tell their interlocutors about Turkey's theses and position.
"Our dialogue will increasingly continue with the [US] administration, the Congress and some institutions that have an impact on the political establishment, including think-tanks," said Mercan.
With economic relations the second priority, Mercan said an intensified effort is needed to increase the volume of trade between the two countries and discuss "some disputes" on the economy.
"It is essential to rate the performance of an ambassador in line with that. I mean how much the embassy plays a role in advancing political relations, how much does it affect and increase trade volume. You should look at these kinds of things," he said.
Mercan also touched on cultural relations, on which he attaches importance.
"It is important that the peoples of the two countries know each other, understand each other and understand each other's values.
"For me, it will be one of my tasks to tell about Turkey, its culture and history," he added.
Mercan said he has been visiting Washington and New York since 1996 for various political and economic reasons.
He took office on Monday.
https://www.aa.com.tr/en/americas/turkeys-new-us-envoy-outlines-priorities-during-office/2179723
--------
Turkey's new envoy aims to advance relations with US
Servet Günerigök
17.03.2021
WASHINGTON
Turkey's new US ambassador said Tuesday that he aims to advance relations with the US, a day after taking office in Washington, DC.
In a video message addressed to the Turkish American community, Hasan Murat Mercan said transatlantic relations have been important for Turkey and will continue to be of importance.
"It will be among the most important tasks of all of us to carry the existing political, economic and cultural relations between the two countries much further," said Mercan.
During his time in office, he said he would work with members of the Turkish-American community to promote Turkey better in the US and do his part for the development of Turkey.
"You can be sure that we will need your support, participation and advice," he said.
The embassy and consulates in the US will work 24/7 to promote Turkey and explain its interests, he added.
Mercan, Turkey's former ambassador to Japan, arrived in the US on Sunday and officially took office on Monday.
https://www.aa.com.tr/en/americas/turkeys-new-envoy-aims-to-advance-relations-with-us/2178476
--------
NC 'domestic terrorist' sentenced over failed fire attack on police SUV during George Floyd unrest
March 17, 2021
A man from North Carolina – who federal prosecutors deemed a "domestic terrorist" – was sentenced Monday to 30 months in prison for attempting to set fire to a marked police vehicle during demonstrations last summer that erupted in the state capital of Raleigh in reaction to the viral bystander video showing George Floyd pinned beneath Minneapolis officer Derek Chauvin's knee.
Jabari Devon Davis, of Raleigh, was arrested by special agents of the Bureau of Alcohol, Tobacco, Firearms & Explosives (ATF) on June 4, 2020. He was charged and convicted of one count of attempting to damage or destroy by fire a vehicle owned or possessed by an institution receiving federal financial assistance, G. Norman Acker III, acting U.S. attorney for the Eastern District of North Carolina, said in a statement Monday following Davis' sentencing by U.S. District Judge James C. Dever III.
On May 31, 2020, at approximately 12:31 a.m. a fire was discovered coming from the "fuel filler area" of a police vehicle owned by the Raleigh Police Department (RPD) that was parked at the Raleigh Police Southeast District Station (RPSDS), according to court documents.
The fire was discovered and extinguished by an RPD captain who was driving through the parking lot prior to the fire department's arrival. Investigators seized "a charred sock located within the fuel filler of the damaged vehicle, a bottle with the odor of gasoline was located on the sidewalk, behind the damaged vehicle, and another charred sock located between the vehicle and the sidewalk," prosecutors said. The fire caused approximately $5,000 in damage to the police vehicle.
Demonstrations in Raleigh at the time involved crowds setting fires in the street, smashing businesses' windows and some climbing a Confederate monument downtown, tagging it with messages including "Black Lives Matter," WRAL previously reported. North Carolina Gov. Roy Cooper activated 450 National Guardsmen to assist cities including Raleigh and Charlotte.
On June 2, 2020, investigators were notified that a fingerprint was lifted from the seized bottle recovered at the scene and determined the fingerprint belonged to Davis, according to court documents. Law enforcement interviewed Davis at his residence the next day when he allegedly "admitted to being the subject who intentionally set the police vehicle at the Southeast District on fire."
Davis stated that after leaving a demonstration in the city, he and his friend traveled to the RPSDS, where "he retrieved the bottle of gasoline and poured a small amount of gasoline on a sock and put another sock in to the mouth of the bottle," according to court documents. Davis placed the gasoline-soaked sock in the fuel filler of the police vehicle and set it on fire.
But as he ran back toward his friend's vehicle, Davis set the bottle with the sock on fire and threw it toward several parked police vehicles. When he threw it, the burning sock fell out, catching the grass and straw on fire, prosecutors said.
The case was investigated by the Raleigh Police Department and the Bureau of Alcohol, Tobacco, Firearms and Explosives (ATF) and prosecuted by Assistant U.S. Attorney Daniel W. Smith. Though Davis faced a maximum potential penalty of 20 years in prison and a maximum fine of $250,000, the judge only sentenced him to 30 months behind bars, WNCN reported.
Meanwhile, jury selection continues in Minneapolis this week in Chauvin's trial. He is charged with second-degree murder, third-degree murder and manslaughter in connection Floyd's death in custody. Viral bystander video showed Chauvin with his knee pinned to the neck of Floyd, who called out for his mother, explaining that he couldn't breathe.
Minneapolis and Hennepin County officials have invested at least $1 million to fortify the courthouse and police stations in anticipation of repeated protests and rioting seen last summer in response to Floyd's death that sparked a nationwide reckoning on race.
https://www.foxnews.com/us/north-carolina-domestic-terrorist-fire-police-vehicle-george-floyd-unrest-raleigh?utm_source=iterable&utm_medium=email&utm_campaign=2112673_
--------
Southeast Asia
Baru Bian: 'Allah' case wouldn't have gone to court if Muhyiddin had acted in 2019 as home minister
18 Mar 2021
BY SULOK TAWIE
KUCHING, March 18 — The on-going legal battle over the "Allah" ruling could have been settled out of court if Tan Sri Muhyiddin Yassin had agreed to a proposal to amend the 1986 administrative directive when he was home minister, former colleague Baru Bian said today.
He said the proposal was for an administrative resolution to amend the 1986 Administrative Directive dated December 5, 1986 prohibiting the use of the word "Allah".
He said under the amendments to the directive, the word "Allah" is permitted to be used in Christian publications in Sabah and Sarawak unconditionally; while it is permitted to be used in Christian publications in Peninsular Malaysia with the condition that the front cover of the same contains a chop with the symbol of a cross and the sentence "Christian Publication".
"The proposal was based on the 2010 Ten-Point Solution which acknowledged the different circumstances in the Borneo states and the Malayan states.
"I was informed by the lawyer for Jill Ireland and Sidang Injil Borneo (SIB) Sabah that the Senior Federal Counsel of the Attorney General's Chambers (AGC) was amenable to the proposal but had to get the approval of the Ministry of Home Affairs, headed then by the present prime minister," he said, referring to Muhyiddin.
"However, the then minister of home affairs was not in favour of an out-of-court settlement and wanted the court to decide, for reasons best known to himself.
"Now that the court has made a ruling, he should advise the people to respect the decision," said the Selangau MP.
His remarks came following the Gabungan Parti Sarawak Backbenchers Club's allegation that he did nothing to resolve the "Allah" issue when he was in the Pakatan Harapan (PH) government.
Baru said he had brought up the issue in the Cabinet on November 8, 2019, and a Special Committee of Ministers comprising himself, Muhyiddin, Datuk Darell Leiking, the late Datuk VK Liew and Datuk Seri Mujahid Yusof Rawa was formed to discuss and resolve the matter.
Liew was then de facto law minister and Mujahid then minister in charge of religious affairs.
He said sometime in mid-2019 the Cabinet agreed that the issue should be settled outside court and mandated Tun Daim Zainuddin, the Chairman of the Council of Eminent Persons to resolve the matter.
He said this was after he had met lawyers for the Jill Ireland Lawrence Bill and SIB Sabah cases and senior federal counsel (SFC) of the AGC.
"The lawyers had indicated to the SFC representing the federal government that they were prepared to settle the matter outside a court or to work on an administrative resolution of these two cases.
"The court was duly informed and the court's decision was postponed many times pending out-of-court settlement," Baru said, adding that Daim could not move forward as the Cabinet decision mandating him to resolve the issue was not officially communicated to him.
He said the Special Committee of Ministers had its first meeting at the end of November 2019 but Muhyiddin was unable to attend.
"I briefed the Cabinet thereafter and requested for time to look into the matter and how the issue could be resolved on a win-win situation.
"In the meantime, we were told that the matter was further fixed for case management in the latter part of January 2020," he said, adding that he then advised the lawyers for Ireland and SIB Sabah to write officially again to the SFC of the earlier proposal with additional proposals while waiting for a final decision by the Cabinet.
He said the lawyers wrote a letter dated February 12, 2020 to the SFC with the same proposed amendments to the 1986 Administrative Directive and added that in order to facilitate the administrative resolution the applicants were prepared to take two interim steps.
He said the steps were that pending a decision by the Cabinet on the resolution of the matter there should be a moratorium on enforcing the 1986 Administrative Directive; and that the applicants should withdraw the two pending judicial review applications in the High Court.
"Before the Special Committee of Ministers and/or the Cabinet could make a final decision, the PH government collapsed at the end of February 2020.
"The matter was hence out of our hands and was left to be dealt with by the Ministry of Home Affairs under the current government.
"Plainly no resolution was arrived at and the High Court was obliged to hand down its decision," he said.
While some Muslims in Malaysia believe "Allah", the Arabic word for God, to be exclusive to Islam, it was adopted into the national language generations ago and used throughout by Malay-speaking Christians in the country, especially those living in Sabah and Sarawak.
On March 10, the High Court in Kuala Lumpur ruled that the government directive via a December 5, 1986 circular issued by the Home Ministry's publications control division was unlawful and unconstitutional.
This government directive was the one that banned the use of the word "Allah" in Christian publications.
https://www.malaymail.com/news/malaysia/2021/03/18/baru-bian-allah-case-wouldnt-have-gone-to-court-if-muhyiddin-had-acted-in-2/1958821
--------
Perikatan's appeal of 'Allah' ruling could cost Sabah, Sarawak partners, say analysts
18 Mar 2021
BY JULIA CHAN
KOTA KINABALU, March 18 — The Perikatan Nasional government's move to appeal a High Court ruling that effectively allows Christians to use the word "Allah" may have lasting repercussions despite the obvious benefits of shoring up its Malay-based support.
While political analysts believe the appeal was predictable in order to get more majority Malay-Muslim support, it may alienate Sabah and Sarawak voters ahead of an expected early general election.
"Such a move will only affect the non-Muslims Kadazandusun and Dayak support for the Sabah and Sarawak state government," said University Malaysia Sabah political analyst Romzi Ationg.
"Rumours are spreading which suggests that the Bumiputera non-Muslim are increasingly interested in supporting other parties if GRS and GPS are unable to ensure such decision does not further hurt them... this certainly makes them uneasy, thus may make the necessary effort to systematically dealt with the issue," he said.
GRS is an abbreviation for Gabungan Rakyat Sabah while GPS is Gabungan Parti Sarawak. Both are the ruling coalitions in their respective states and aligned with PN.
Romzi said that aside from trying to get the federal government to withdraw the appeal, the state governments have also sought to distract from it by putting the focus on the issue of undocumented migrants and to continue on-going discussion with federal leaders to deal with the issue "systematically."
Despite the possible consequences to PN's allies in Sabah and Sarawak, Singapore Institute of International Affairs Senior Fellow Oh Ei Sun said it was not surprising given how it was received among the country's Muslim majority.
"All three Malay parties in the coalition are calling for the appeal. In East Malaysia, the decision to appeal would likely further alienate the non-Muslims. But the Muslim in East Malaysia appear to be at least tacitly approving of the decision to appeal.
"This could be gleaned from the fact that a recent open letter applauding the High Court decision was signed only by the non-Muslim MPs," Oh said
He said that in Sabah at least, most of the seats and constituencies were becoming Muslim majority, or at least hold significant number of Muslim voters, and this made appealing the decision a "safe" move for PN.
"The Malayan non-Malay component parties are in any case multiculturally decorative with minuscule non-Malay anyway, so it doesn't quite matter how they feel, as long as their senatorial appointments are on the pipeline," said Oh, adding that such issues tended not to deter the rural voters that make up the majority in Sabah and Sarawak.
It is also very likely that whatever the outcome of the appeal, Christians in Sarawak and Sabah will be able to continue their worship with the use of the word "Allah" without issue as it is only in the peninsula that the use will be restricted.
For this reason, Universiti Malaysia socioeconomic analyst Awang Azman Awang Pawi said that the PN government's appeal was just to signal its commitment to upholding Islam and for political mileage when there was no practical significance to the outcome.
"In the end, Sabah and Sarawak are the kingmakers and they need to be appeased. So totally banning the use among non Muslims is unlikely. It is just unrealistic to expect it to change. They made the move to be seen like they are defending Islam to get political mileage," he said.
For Senior Fellow at the Malaysian Council of Professors Jeniri Amir, the cost of getting more Malay Muslim support will ultimately be to the detriment of nation building and national race and religious relations.
"The new ruling and subsequent appeal has put Malaysia in limbo again in terms of racial relations. It has far reaching implications for the non Muslims in Sabah and Sarawak especially with the coming General Election.
He said that the appeal has been perceived in bad light by non-Muslims in the Borneon states and the government needs to make a stand once and for all that can foster national reconciliation.
"Of course, they are facing pressure from the Malay base who form the majority. So the Sabah and Sarawak government of the day have to be careful and mindful.
"After all, in the formation of Malaysia, freedom of religion is guaranteed and the two states Borneon states were allowed to not have an official religion, that was the original tenet. You cannot tell them now that they cannot do what they have been doing for more than a hundred years," he said.
"They have to find an amicable solution to the long-standing issue without causing more tension," but said that restricting the use of "Allah" to just Muslims or to Christians in Sabah and Sarawak only was not a realistic solution.
"But as long as they don't use it to confuse people for their own religious agenda, there should be no need for worry. Non-Muslims in Malaysia are not allowed to convert Muslims, so this is not even a possibility," he said, adding that there was unnecessary fears among the Muslim Malays of Semenanjung which should be cleared by leaders and religious experts.
Jeniri said that Sarawakians were at first relieved and happy at the High Court ruling last week, but this turned sombre with the appeal filed by the federal government a few days later.
"The Sarawakian government has been clear on its multi religious policies and has consistently made assurances that the state will maintain its high tolerance policies. Now Sabah has to be clear also and come out and say it. They cannot keep quiet and sweep the issue under the carpet or this will give rise to more issues in the future," he said.
Awang Azman said that whatever future government is formed after the next general election will likely have to have more multiethnic dynamic cooperation.
"The current PN are seen as Malay-centric despite several token Chinese and Indian representatives are inconsequential to their administration and won't have long standing influence.
"Moving forward, there should not be seen to have a domination of one race. It's not apparent now how this can happen, but perhaps new coalitions are in the works, and a unity government can happen. It is necessary for political stability," he said.
While some Muslims in Malaysia believe "Allah", the Arabic word for God, to be exclusive to Islam, it was adopted into the national language generations ago and used throughout by Malay-speaking Christians in the country, especially those living in Sabah and Sarawak.
On March 10, the High Court in Kuala Lumpur ruled that the government directive via a December 5, 1986 circular issued by the Home Ministry's publications control division was unlawful and unconstitutional.
This government directive was the one that banned the use of the word "Allah" in Christian publications.
https://www.malaymail.com/news/malaysia/2021/03/18/perikatans-appeal-of-allah-ruling-could-cost-sabah-sarawak-partners-say-ana/1958713
--------
Don't vilify Christians over 'Allah' ruling, groups say
18 Mar 2021
BY JERRY CHOONG
KUALA LUMPUR, Mar 18 — A coalition of civil society groups said no party or individual should provoke and spread the unfounded fear that Christians using the word 'Allah' in their prayers would lead to widespread apostasy of Muslims in Malaysia.
Under the aegis of human rights group Pusat Komas, the 66 organisations said there was Muslim suspicion that Christians praying in Bahasa Malaysia and using "Allah", the Arabic word for god, were part of deliberate attempts to convert them.
"In reality Christians who recite Allah in prayers are predominantly Sabahans, Sarawakians and Orang Asli," they said in a statement.
The coalition pointed out that Muslims in Sabah and Sarawak, many of whom have Christians families and friends, are comfortable and not alarmed by Christians praying to Allah, as is the case with Muslims in Indonesia and the Arab world.
"That suspicion against Christians praying to Allah is actually a cultural shock experienced by Peninsular Muslims and the natural outcome of two phenomena.
"Firstly it is the success of the National Language Policy which reversed the decline of Bahasa Malaysia amongst natives in Borneo, and secondly the closer integration of East and West Malaysia as more Sabahans and Sarawakians migrate to the Peninsula for education and employment," they said.
Due to this cultural shock, the coalition said the ban on universal use of the word Allah by the Federal Cabinet in 1986 stemmed from the Muslim community's concerns that they were becoming the target of aggressive proselytisation.
It added that this is incidentally a common concern of all other religious communities in Malaysia.
"Underlying such cultural shock is the ignorance that Christians in Nusantara have been praying to Allah in Bahasa Melayu, Bahasa Iban, Bahasa Bidayuh, Bahasa Lun Bawang, Lun Dayeh, Kelabit, and some other regional languages for as long as 476 years.
"The undisputed fact is that Muslims constitute near or more than 90 per cent of the population in Arab countries and Indonesia, even though Muslims and Christians have shared the word 'Allah' and other religious terms for 1,442 and 476 years respectively," they said.
As such the High Court's decision is restoring the pre-1986 status quo, as well as undoing a restriction on Sabah, Sarawak and Orang Asli Christians. This may be an unfounded threat felt by many Peninsular Muslims but not shared by Sabah and Sarawak Muslims.
"The High Court's decision should be viewed positively for two grounds. Firstly it would strengthen Malaysia when Christians in Sabah and Sarawak can freely pray to Allah as their Christian cousins in Indonesian Kalimantan do.
"Secondly it is reaffirming the status of Bahasa Malaysia as the national language for all. We urge Prime Minister Tan Sri Muhyiddin Yassin to withdraw the Government's appeal against the High Court's decision," said the coalition.
It called upon both the government and rakyat to seize the High Court's decision as the closure of the 35-year-old polemic since the Federal Cabinet's decision to ban its universal use.
"All political parties should not exploit the High Court's decision for narrow political mileage," they said.
Earlier last Wednesday (March 10) the High Court in Kuala Lumpur ruled that the government directive via a December 5, 1986 circular issued by the Home Ministry's publications control division was unlawful and unconstitutional.
Following this, an appeal was filed by Putrajaya on Friday (March 12) against the ruling, which was confirmed by Solicitor-General Datuk Abdul Razak Musa.
https://www.malaymail.com/news/malaysia/2021/03/18/dont-vilify-christians-over-allah-ruling-groups-say/1958943
--------
Johor's Sultan Ibrahim backs Putrajaya appeal against High Court ruling on 'Allah' use
18 Mar 2021
BY BEN TAN
JOHOR BARU, March 18 — Johor Ruler Sultan Ibrahim Sultan Iskandar supports the federal government's appeal against the landmark High Court ruling last week annulling a 1986 directive prohibiting Christians from using the word "Allah" in their religious education and books.
The sultan, who is head of Islam in Johor, called on the federal government to carry on with its appeal, amid calls from lawmakers to desist, especially in Sabah and Sarawak which have large a large Bumiputera Christian population.
"In fact, I will instruct the Johor Islamic Religious Council (MAINJ) to take any necessary and appropriate action to support this appeal," Sultan Ibrahim said in a statement today on his official Facebook account.
The 62-year-old state monarch insists that the word "Allah" is a name specific to the God worshiped by Muslims and the name is not derived from any root word, but a special noun that refers to: "Allah, the One True God, the God worshiped by Muslims."
"Allah SWT's words in Surah Taha Cerse 14 which reads: "Sesungguhnya Akulah Allah; tiada Tuhan melainkan Aku; oleh itu, sembahlah akan Daku, dan dirikanlah solat untuk mengingati Daku" (Surely I am Allah; there is no god but Me; therefore, worship Me, and establish prayer to remember Me)," he quoted in his statement.
Sultan Ibrahim said he is sad that the issue has created controversy and claimed it has negatively affected harmony in Johor.
He referred to a Johor State Fatwa gazetted on June 4, 2009 that states: "The use of the word Allah by non-Muslims is not permitted, not allowed, and prohibited."
"This fatwa means that the use of the word Allah by non-Muslims, which does not coincide with the true meaning as the teachings of Islam, is absolutely not allowed.
"In Johor, we also have the Control and Restriction of the Development of Non-Muslim Religions Enactment 1991 which prohibits the use of words that are reserved exclusively for Muslims and cannot be used by non-Muslims except in circumstances where it is permitted by law," said Sultan Ibrahim.
On March 10, the High Court in Kuala Lumpur ruled that the government directive via a December 5, 1986 circular issued by the Home Ministry's publications control division was unlawful and unconstitutional.
This government directive was the one that banned the use of the word "Allah" in Christian publications.
While some Muslims in Malaysia believe "Allah", the Arabic word for God, to be exclusive to Islam, it was adopted into the national language generations ago and used throughout by Malay-speaking Bumiputera Christians in the country, especially those living in Sabah and Sarawak without causing discord until about 20 years ago.
https://www.malaymail.com/news/malaysia/2021/03/18/johors-sultan-ibrahim-backs-putrajaya-appeal-against-high-court-ruling-on-a/1958847
--------
Indonesia urged to revoke Sharia-inspired dress rules
Ryan Dagur
March 18, 2021
Human Rights Watch (HRW) has urged the Indonesian government to do away with Sharia-inspired dress codes that are used to discriminate against women, including non-Muslims.
Indonesia still applies discriminatory regulations on clothing that have led to widespread bullying of women, the New York-based rights group said in a report titled "I Wanted to Run Away: Abusive Dress Codes for Women and Girls in Indonesia," released on March 18.
This included women being pressured into wearing a hijab, Muslim apparel that covers the head, neck and chest, HRW said.
Those who do not comply have been bullied or forced to leave school while female workers have lost their jobs or resigned to escape constant demands to conform.
"Indonesia's national, provincial and local governments should immediately end these discriminatory practices and let women and girls wear what they choose without sacrificing their right to education or work." said Elaine Pearson, HRW's Australia director.
Since 2001, local authorities have issued more than 60 local and provincial ordinances to enforce what they claimed to be "Islamic clothing for Muslim girls and women," the report said.
The Indonesian government, meanwhile, issued a national regulation on school dress in 2014 that has been widely interpreted to require female Muslim students to wear a jihab as part of their school uniform.
The report said almost 300,000 state schools, particularly in the 24 Muslim-majority provinces, require Muslim girls to wear the hijab from primary school onwards.
Such rules also apply to non-Muslims including Catholics.
"I'm Catholic and since I was in sixth grade I was forced to wear a hijab. My parents spoke to our Catholic priest, who said we could do nothing about it," said the woman who identified herself as Daisy and who works as a civil servant in Klaten district of Central Java.
These regulations are part of a broader attack by conservative religious forces on gender equality and the ability of women and girls to exercise their rights to an education, a livelihood and social benefits, Pearson said.
"The Jokowi [Widodo] administration should enforce a new decree banning mandatory wearing of the hijab, and then go further by ending all regulations that discriminate on the basis of gender at school or the workplace," she said.
The new decree was issued recently after a Christian father complained about his daughter being forced to wear a hijab at a secondary school in West Sumatra. The complaint went viral on social media.
HRW said the decree didn't go far enough as it covered only state schools under the control of local governments and the Education and Culture Ministry.
"It does not affect Islamic state schools and universities under the Religious Affairs Ministry. It also excludes Aceh province, which under a special arrangement has greater autonomy than other provinces and is the only province that officially follows a version of Sharia or Islamic law," according to the report.
Alissa Wahid, a rights activist and coordinator of the Gusdurian Network, said she hoped the report sheds light on the current situation and broadens the discussion on Sharia-related rules for future generations.
"The hijab issue is not only about mandatory or formal regulations but also has consequences related to social pressure on women," she said during the launch of the report.
She said, those who do not wear the headscarf are definitely vulnerable to violence and a loss of self-determination as women.
Father Antonius Benny Susetyo, a member of a presidential unit promoting communal tolerance, said such regulations demonstrate how strong efforts still are to impose religious rules into community life.
"This is a common challenge that this nation will always face," he told UCA News.
Father Susetyo said the government has tried to show it is serious in addressing the issue by issuing a ban on coercion in public schools.
"This approach must go hand in hand not only with the abolition of these regulations but also with healthy dialogue with religious groups such as Muslims," he said.
https://www.ucanews.com/news/indonesia-urged-to-revoke-sharia-inspired-dress-rules/91807
--------
Arab World
Lebanon's president asks PM-designate Hariri to form new government or leave
18 March 2021
Lebanese President Michel Aoun has called on Prime Minister-designate Saad Hariri to make way for someone else if he is unable to form a government.
In a televised speech late on Wednesday, Aoun asked Hariri to visit the presidential palace to form a new cabinet immediately or leave space for others as the country's economic crisis deepens.
"If Prime Minister-designate Hariri finds himself unable to form a government, he should make way for those who are," Aoun said. "My call is determined and truthful to the prime minister-designate to choose immediately one of the two choices, as silence is not an option after today."
The Lebanese president also challenged accusations against him of obstructing the formation of a government.
"There is no use in… blame-shifting if the country collapses and the people become prisoners of despair and frustration," he said. "There is no escape for them but anger. Everything subsides in front of the people's suffering, which has reached levels that they cannot bear."
Hariri was tasked with forming a government for a fourth time in October last year. That was one year after he resigned as prime minister amid mass protests. But he has failed to form a government.
The country has been without a government since the last administration resigned following a devastating explosion at the port in Beirut.
Hariri responded to Auon's plea on Wednesday and said he was surprised to hear the president's comments on the urgency of the formation of the next government.
"After many weeks of introducing an integrated lineup to a non-partisan specialist government capable of implementing the reforms required to stop the collapse and start reconstruction of what was destroyed by the port explosion in Beirut, I am awaiting a call from the president to discuss the proposed lineup," he said in a statement.
Hariri underlined that he had visited the Lebanese president 16 times since being designated to form a new government, and would be honored to visit Aoun for the 17th time to discuss the issue when his schedule permits.
Hariri also said that Aoun should allow early presidential elections if he cannot sign the decrees allowing the formation of a new government.
Lebanon is facing both a political deadlock and an economic crisis, with no new government agreed some seven months after Prime Minister Hassan Diab resigned in the wake of the August 4 Beirut port explosion that destroyed swathes of the capital and left 200 people dead.
Compounded by the COVID-19 pandemic, the country is experiencing its worst economic crisis in decades as prices are skyrocketing and more than half of the population is now living below the poverty line.
People have been staging protests since 2019 as the financial crisis has so far slashed almost 90% of the value of the Lebanese currency and raised the risk of widespread hunger.
President Aoun has ordered an investigation into the fall of the national currency's value and the punishment of those responsible for the potential corruption that has brought about the situation.
https://www.presstv.com/Detail/2021/03/18/647558/Lebanon-s-president-asks-PM-designate-Hariri-to-form-new-government-or-leave
--------
Lebanon agrees to imburse WB fund for families in hard currency
Rawad Taha
17 March ,2021
Lebanon's government and central bank have agreed to imburse international aid and funds to vulnerable Lebanese families and refugees in hard currency following pressure from civil society groups and alternative political parties on the World Bank and international donors.
The World Bank has previously approved a US$246 million new project to provide emergency cash transfers and access to social services to approximately 786,000 poor and vulnerable Lebanese reeling under the pressure of Lebanon's economic and COVID-19 crises.
Lebanon's Central Bank announced earlier that the funds will be distributed at a rate of 6,240 Lebanese liras for each US dollar, while the black-market exchange rate has further depreciated to reach 15,000 Lebanese lira per US dollar.
A letter to the country's finance ministry seen by the, representatives of the European Union, United Nations and World Bank said they "take note of the verbal agreement" on February 22 by the Central Bank chief and deputy prime minister for aid to be disbursed in US dollars, Thomson Reuters Foundation reported.
Economist Dan Azzi said that the "Wollar" rate, which is the term he created for the exchange rate set by the Central Bank for the World Bank loan, is officially dead.
"So, no theft of 30 percent by the Central Bank. Not only that, the old 3900 Lira rate for NGOs & other aid organizations is also dead, so no more theft of 75 percent of the more than a billion US dollars from international charity to the poor," he added.
Researcher at Human Rights Watch Aya Majzoub said that the decision is a "big deal and a big victory."
"International aid to Lebanese and refugees will be given in fresh US dollars rather than Lebanese lira, which had allowed the Lebanon Central Bank and commercial banks to pocket the US dollars and distribute Lebanese liras at a highly depreciated rate," she said.
https://english.alarabiya.net/News/middle-east/2021/03/17/Lebanon-crisis-Lebanon-agrees-to-imburse-WB-fund-for-families-in-hard-currency
--------
UAE engages in 'destructive' activities in Iraq on US-Israeli order: MP
17 March 2021
An Iraqi lawmaker says the United Arab Emirates, at the request of the United States and the Israeli regime, is implementing a "destructive" agenda in Iraq to "destabilize the country."
Kazem al-Sayadi said on Wednesday that the Emirati interference in the Iraqi internal affairs is now an open secret, according to Iraq's Alahednews Agency.
"The UAE received the Iraqi file at the request of the US and the Zionist entity [the Israeli regime] after the Daesh (terrorist group) occupied a number of provinces," he said, noting that Abu Dhabi runs "death squads" in many countries across the world.
Sayadi added that the UAE's National Security Advisor, Tahnoun bin Zayed Al Nahyan, "buys the positions in the (Iraqi) ministries and assign them to corrupt figures" to implement the "destructive" Emirati agenda, which aims to "destabilize the security" in southern and central Iraq and to "target" the Popular Mobilization Units (PMU), better known as Hashd al-Sha'abi.
The PMU is a government-sponsored umbrella organization composed of around 40 factions of volunteer counter-terrorism forces, including mostly Shia Muslim groups, besides Sunni Muslims, Christians and Kurds.
The PMU's formation goes back to the summer of 2014, shortly after Daesh, the world's most notorious terror group, showed its face and managed to occupy swathes of territory in Iraq.
The popular force played a major role in the liberation of the entire Iraqi land from the control of the terrorists in December 2017.
"The Emirati team which will supervise the Iraqi intelligence service aims to control all the security information of Iraq," Sayadi said.
His remarks come as an Emirati security team has reportedly arrived in Iraq to manage the Iraqi intelligence service.
Qais Khazali, the leader of the Iraqi anti-terror movement Asa'ib Ahl al-Haq, has also warned of a conspiracy against Iraq hatched by the Emirati security team.
He referred to the transfer of 300 from the Iraqi intelligence service to the country's customs points, and asked if the transfer is related to the Emirati team's visit.
Sayadi noted that there are attempts to make Iraq a subordinate to the UAE, "which is originally a subordinate to the Zionist entity."
Earlier this year, an American think tank decried the UAE's role in the region, saying it has contributed to humanitarian crises and instability in the Middle East.
https://www.presstv.com/Detail/2021/03/17/647526/Iraqi-lawmaker-UAE-destructive-role-
--------
Lebanon's UN envoy dismisses Israel's remarks on Hezbollah
17 March 2021
Lebanon's ambassador to the office of the United Nations in Geneva has dismissed the Israeli representative's latest remarks about the resistance movement of Hezbollah as baseless allegations and blatant interference in his country's affairs.
Lebanon's al-Mayadeen television network reported on Tuesday that Salim Baddoura condemned recent remarks by the Israeli regime's representative to the UN, in which he has accused Hezbollah of terrorism and alleged that its missile system poses a threat to the Lebanese people.
Baddoura described the comments as "slander and blatant interference by Israel, which is occupying parts of Lebanon."
In January, Baddoura stressed that "Hezbollah is a Lebanese component that represents a large segment of the nation, and is part of the Lebanese resistance against the Israeli occupation and participates in the political life," in response to previous remarks by the Israeli envoy.
He rejected all the Israeli accusations against Hezbollah, especially the allegation of terrorism, as "false" as they are made by an occupying force.
In the 45th session of the Human Rights Council last September, Lebanon's permanent mission to the UN affirmed the nation's right to resist to liberate its land and defend its sovereignty, noting that Hezbollah represents an integral part of the resistance.
Hezbollah was established following the 1982 Israeli invasion and occupation of southern Lebanon.
Since then, the movement has grown into a powerful military force, dealing repeated blows to the Israeli military, including during a 33-day war in July 2006.
Last year, the second-in-command of Lebanon's Hezbollah resistance movement hailed the 2000 liberation of southern Lebanon from the Israeli occupation as a "turning point" in the history of the Middle East, saying the victory put an end to the Israeli military's invincibility myth and helped strengthen the faith of the young generations in resistance and struggles towards liberating Palestine from the Israeli occupiers.
UN Security Council Resolution 1701, which brokered a ceasefire in the 2006 war, calls on Israel to respect Lebanon's sovereignty and territorial integrity.
Lebanon and the occupying entity are technically at war since the latter has kept the Arab country's Shebaa Farms under occupation since 1967.
https://www.presstv.com/Detail/2021/03/17/647504/Lebanon-UN-envoy-dismisses-Israel-remarks-Hezbollah
--------
Pentagon worried about situation in Lebanon, studying ways to help army
Joseph Haboush
17 March ,2021
With the situation in Lebanon deteriorating and the economy in a freefall, Washington's focus has turned to finding ways to support the Lebanese military.
The United States and other European countries have voiced a willingness to help financially, but any type of aid will not materialize before a government independent of the current political elite is formed and specific reforms are implemented.
This was the agreement reached between the international community and Lebanon as far back as 2018 when more than $11 billion in soft loans and grants were pledged at the CEDRE conference.
Lebanese officials took no action, and the coronavirus pandemic, coupled with the Beirut blast, accelerated the country's social, economic and financial collapse.
While the banking sector and the Lebanese army have often been referred to as the two main pillars of Lebanon's stability, the banking sector has all but collapsed.
As for the military, Army Commander Gen. Joseph Aoun unleashed a diatribe against Lebanese officials last week, blaming them for the current situation.
The rank and file soldier's monthly salary is worth less than $100 now with the local currency's plummet.
The country's interior minister also warned of the security situation spiraling out of control.
In Washington, the State Department has been closely monitoring the situation on the ground in Lebanon.
But after the Lebanese army commander's speech, the Pentagon quickly followed suit.
"The Defense Department is closely monitoring the situation. The Lebanese Armed Forces (LAF) remain a critical institution in Lebanon and valued defense partner," Pentagon Spokesperson Commander Jessica McNulty told Al Arabiya English.
With the army struggling to pay salaries sufficient for soldiers and their families, Washington is reportedly looking at ways to help.
However, no provision allows for direct aid in helping pay salaries for a foreign government's army.
Previously the US looked at increasing counterterrorism funding for the Lebanese army; this could help ease the burden on the Lebanese army's budget.
A similar method was used in Iraq years ago.
No comment was provided when asked if the Pentagon was planning to help in this capacity.
"The Pentagon shares concern with the entire US Government regarding the economic crisis in Lebanon and the suffering of the Lebanese people," McNulty said.
She added: "We continually assess US support to the LAF to ensure it is consistent with US interests and values."
https://english.alarabiya.net/News/middle-east/2021/03/17/Lebanon-crisis-Pentagon-worried-about-situation-in-Lebanon-studying-ways-to-help-army
--------
Arab Coalition destroys Houthi explosive-laden drone heading towards Saudi Arabia
17 March ,2021
The Arab Coalition said it destroyed an explosive-laden drone launched by the Iran-backed Houthis from 'Amran in Yemen towards Saudi Arabia on Wednesday.
The coalition confirmed that the drone and the terrorist elements operating were destroyed.
"We deal with the sources of threats firmly to protect civilians from terrorist attacks," the coalition said.
The Houthis have been intensifying their attacks on Saudi Arabia in recent months, and has targeted airports and other civilian objects.
Iran backs the Houthis in their war against the Yemeni government, supplying the group with weapons, such as drones and missiles, that are often used to target civilians.
https://english.alarabiya.net/News/gulf/2021/03/17/Arab-Coalition-destroys-Houthi-explosive-laden-drone-heading-towards-Saudi-Arabia
--------
Syria to UN: Israel coordinates its acts of aggression with terrorists
18 March 2021
Syria says Israel's latest air raid, which coincided with a terror attack against Syrian army troops, proves that the regime commits such aerial acts of aggression in full coordination with the terror groups operating on the ground in the Arab country, calling on the United Nations to act decisively to stop Tel Aviv.
In a letter addressed to the UN secretary general and the president of the Security Council on Wednesday, the Syrian Foreign and Expatriates Ministry drew the world body's attention to the simultaneity of the missile strike on Tuesday near Damascus and a deadly terrorist attack against a bus carrying Syrian government forces in the southwestern province of Dara'a.
This is indicative of "full cooperation and coordination" between Israel and its allied terrorists, on the one side, and the separatist groups, on the other, aimed at prolonging the foreign-backed crisis plaguing Syria, said the letter.
Late on Tuesday, Syria's official SANA news agency reported that the country had confronted a number of Israeli missiles fired from the direction of the occupied Golan Heights towards the areas surrounding the capital, Damascus.
The news agency had reported earlier in the day that a number of Syrian troops were killed in an attack on their bus in Dara'a.
The report did not specify the number of fatalities or how the attack took place, but a war monitor, which calls itself the Syrian Observatory for Human Rights, claimed that at least 21 Syrian forces had been killed in a militant ambush.
Syrian government forces had, on Monday, foiled a "large-scale terrorist operation" by killing at least three terrorists and arresting three others who intended to launch attacks across Damascus.
In the letter, the Syrian Foreign Ministry further reminded the UN that the Israeli missile strike was "in flagrant violation of UN Security Council Resolution No.350 for 1974 regarding the Disengagement Forces treaty."
It called on the Security Council "to assume its responsibility in maintaining the international security and peace, taking swift and decisive measures to prevent Israel from repeating such terrorist attacks, [and] holding it responsible for its crimes in violation of relevant UN Security Council resolutions No. 242, 338, 350 and 497."
The letter said such acts of aggression and "suspicious movements" will not affect Syria's determination to continue fulfilling its constitutional rights and its legitimate war against terrorism.
In recent months, Syrian government forces have dealt heavy blows to terrorists.
In the meantime, Israel and the United States have frequently attacked certain positions inside Syria in what is considered an attempt to prop up anti-Damascus terrorists.
The Tel Aviv regime mostly keeps quiet about the attacks on Syrian territories, which many view as a knee-jerk reaction to the Syrian government's increasing success in curbing terrorism.
The US forces were until recently airlifting members of the Daesh Takfiri terrorist group from one place in Syria to another, under the cover of darkness, in order to save them in the face of advancement and territorial gains by government forces.
https://www.presstv.com/Detail/2021/03/18/647546/Syria-Foreign-Ministry-letter-Security-Council-Israel-Dara%E2%80%99a-terrorists-
--------
Mideast
Yemeni army liberates Ma'rib area from grip of Saudi-led terrorists
18 March 2021
Yemeni army soldiers and allied fighters from Popular Committees have managed to establish full control over a neighborhood in the central province of Ma'rib as they continue to push against Saudi-led mercenaries and terrorists in the strategic region.
Local media reported that the Yemeni forces liberated the mountainous al-Atif area in Ma'rib's Sirwah district on Wednesday night.
The territorial gain came after a heavy battle with al-Qaeda terrorists and the Saudi-led coalition forces, the reports said.
They added that fighting is currently underway between the Yemeni forces and Saudi-affiliated militants in Sirwah's Idat al-Rai area.
Meanwhile, Saudi fighter jets bombarded west of Ma'rib at least 12 times in the past few hours.
The oil and gas-rich province is considered as the last stronghold of Saudi-backed forces in northern Yemen.
Earlier, Mohammed Abdul-Salam, the spokesman of Yemen's popular Houthi Ansarullah movement, said that Ma'rib has turned into one of the most important military bases of the occupiers, and that the battle for its liberation has been going on since the beginning of the war.
Saudi Arabia launched a devastating military aggression against Yemen in March 2015 in collaboration with a number of its allied states, and with arms and logistics support from the US and several Western countries.
The aim was to return to power the former Riyadh-backed regime and crush the Houthi movement which has been running state affairs in the absence of an effective government in Yemen.
The war has failed to achieve its goals, but killed tens of thousands of innocent Yemenis and destroyed the impoverished state's infrastructure. The UN refers to the situation in Yemen as the world's worst humanitarian crisis.
Yemeni forces have gone from strength to strength against the Saudi-led invaders, and left Riyadh and its allies bogged down in the country.
https://www.presstv.com/Detail/2021/03/18/647549/Yemen-Ma-rib-Saudi-terrorists
--------
Mahmoud Abbas won't be the only candidate in upcoming Palestinian elections: Dahlan
17 March ,2021
Ismaeel Naar and Omar Elkatouri
Mohammed Dahlan has said he expected challengers to Palestinian President Mahmoud Abbas ahead of upcoming Palestinian elections, the former leader of Fatah in Gaza told Al Arabiya in a special interview.
"The current institutions will decide who will be on the list of candidates, and if we are going to nominate a specific person for the presidency. But I can guarantee brother Abu Mazen (Mahmoud Abbas) that he will not be the only candidate in the upcoming elections," Dahlan said.
"My words are clear. I don't want to get ahead of events but I can say that he will not be the only candidate," Dahlan added, without confirming or denying that he will nominate himself in either the upcoming legislative or president elections.
Dahlan, long considered a political rival of Abbas, has been living and based in the United Arab Emirates for years since leaving Gaza. He is also considered one of those expected to challenge Abbas in the upcoming presidential elections.
A day earlier, Palestinian rival factions Fatah and Hamas agreed in Cairo to a code of conduct to ensure upcoming elections are run based on "transparency and integrity."
The Palestinian parliamentary and presidential polls are set for May 22 and July 31 respectively.
Dahlan also addressed criticism of his decision to live in exile in the UAE during his special interview with Al Arabiya. He was asked to address critics who recently said his assistance in getting much-needed COVID-19 vaccines to Gaza was done in order to score political points.
"Firstly, the UAE does not have a greedy interest in the Palestinian cause, not in the past, present or in the future. They have private circumstances which led them to take a sovereign and a political stance to normalize ties with Israel. As for their support in history, the UAE is the second Arab country that supports the Palestinian people financially after the Kingdom of Saudi Arabia," Dahlan told Al Arabiya.
Dahlan currently leads a Fatah breakaway movement that is poised to the Gaza Strip after a 14-year absence. Last month, two of the movement's representatives returned to Gaza.
During the interview, Dahlan was asked again whether he would stand in either the local or presidential elections but would not confirm at this time his intentions, saying that he is focused on his "personal and national duty" for now.
"I am not talking about personal achievements. I am talking about a people suffering at least the last 15 years. An increase in poverty rates of the Palestinian people during the past 15 years. An increase in diseases, in stress, and a loss of hope. Therefore, I belong to this group of people who paid the price either in the Palestinian revolution or in building the Palestinian National Authority," Dahlan said.
"I want to fulfill personal and nationalistic duty whether I was in the Palestinian National Authority or not. I have been out of the Palestinian National Authority for the past 15 years nearly. I was not late for day doing my duty and no one handed this duty to me. But, I gave that duty to myself to stand with these people and stand with them during any crisis," he added.
https://english.alarabiya.net/features/2021/03/17/Mahmoud-Abbas-won-t-be-the-only-candidate-in-upcoming-Palestinian-elections-Dahlan
--------
Iran making 'significant developments' in building its weapon arsenal: Israeli media
Jennifer Bell
18 March ,2021
Iran has recently made significant advances in the development of its weapon arsenal, including precision-guided rockets and missiles, cruise missiles and drones, Israeli media reported Wednesday.
According to Amos Harel, one of Israel's leading experts on military and defense issues, Israeli intelligence has observed a rise in Iranian capabilities, which are now being extensively distributed across Iran's radical axis of proxy forces in the Middle East, including Hezbollah in Lebanon, the Assad regime in Syria, the Shia militias in Iraq, and the Houthi militia in Yemen.
Writing in Israel's Haaretz newspaper, Harel citied intelligence officials as stating that, for the first time, the Iranian arms industry has become "an industry encompassing the entire radical axis."
"One unit from the Revolutionary Guards, Unit 340 of the Quds Force, is responsible for the research and development that serves all the terrorist and guerilla organizations operating with Tehran's patronage and financing," said Harel. "The knowhow gained by the Iranians is quickly and effectively relayed to their proxies throughout the region."
Harel explained that Tehran's aim is to enable these organizations to achieve independent production capability in their respective countries, without being dependent upon Iranian smuggling operations. This will help these proxy forces should Israel successfully strike any part of Iran's various smuggling channels.
Last week, Iran blamed Israel for a blast on an Iranian cargo ship in the Mediterranean, with an Iranian Foreign Ministry spokesperson noting that Iran would consider "all options" in response, according to reports in local media.
The container ship Shahr e Kord was hit by an explosive object which caused a small fire, but no one on board was hurt.
"Israel is especially concerned by Hezbollah's acceleration of its "precision project," in which it plans to do a massive upgrade of its arsenal of rockets and missiles so they can strike within just a few meters of their targets," Harel said. "In recent years, in the wake of the Israeli strikes on its smuggling operations, Hezbollah has made several attempts to build facilities in Lebanon to manufacture weaponry and convert arms to precision-guided weapons."
He said, officially, Israel talks about Hezbollah having dozens of precision rockets, but some assessments say that number has surged in the past couple of years and is now reputedly in the hundreds.
"Hezbollah is working on developing several types of improvements for its missiles – greater precision, greater lethal impact and ability to circumvent the active Israeli defense systems," said Harel. "In his speeches, Hezbollah leader Hassan Nasrallah often talks about the level of precision of his organization's weaponry and boasts that in the event of a war, Israel will be surprised by Hezbollah's capabilities."
He said another nearby arena where similar progress has been made is the Gaza Strip.
"Hamas, with Iranian aid, has significantly boosted its production capacity for rockets and drones and conducts very frequent test firings that are directed westward into the Mediterranean."
In the last few years, Hamas members have traveled to Iran and elsewhere for training in weapons development, claimed Harel.
He pointed out that in late February, an Israeli naval operation reportedly destroyed Hamas weapons off the Gaza coast.
This, said Harel, turned out to be a Hamas boat.
The Houthi militia in Yemen, which operates in close consultation with the Revolutionary Guards, have also been "dramatically upgraded," Harel said.
He points that in recent weeks, the Iran-backed Houthis have stepped up their attacks against airfields and oil facilities in Saudi Arabia, firing dozens of drones and missiles at the Kingdom in recent weeks.
"At present, the Houthis are not showing much interest in friction with Israel," said Harel. "They are too preoccupied with the war on the Saudis. But intelligence officials say that in the future, Iran may try to deploy drones and missiles in Yemen that could reach southern Israel."
https://english.alarabiya.net/News/middle-east/2021/03/18/Iran-making-significant-developments-in-building-its-weapon-arsenal-Israeli-media
--------
Erdogan's nationalist ally welcomes case to close pro-Kurdish opposition
18 March ,2021
Turkish President Tayyip Erdogan's nationalist ally on Thursday welcomed a case by a top prosecutor demanding the closure of the pro-Kurdish opposition, saying the party should be shut, "never to be opened again."
A Turkish prosecutor filed a case with the constitutional court on Wednesday demanding a ban on the Peoples' Democratic Party (HDP) over alleged ties to Kurdish militants, the culmination of a years-long crackdown against parliament's third largest party.
Devlet Bahceli, leader of the Nationalist Movement Party (MHP) which led calls for the HDP's closure in recent weeks, said it was a "criminal organization disguised in a political cloak."
https://english.alarabiya.net/News/middle-east/2021/03/18/Erdogan-s-nationalist-ally-welcomes-case-to-close-pro-Kurdish-opposition
--------
Erdogan bodyguard commits suicide, cites insults and threats in note: Report
Ismaeel Naar
18 March ,2021
A security officer working at the presidential protection unit of Turkey's President Recep Tayyip Erdogan has committed suicide, leaving a note saying he had faced insults and threats from work, according to local Turkish media reports.
The bodyguard who worked as part of Erdogan's protection team was identified as Mehmet Ali Bulut by the Cumhuriyet newspaper. His death was ruled a suicide after his colleagues found a note when they discovered his body at his apartment after he had failed to show up at work and his phone was turned off.
"I wish you had treated your employees well and asked them how they are. It must be what you do best to insult your personnel, threaten them, fire them, humiliate them and make them out to be liars," Bulut was reported to have written in his suicide note, according to Ahval newspaper which translated the letter.
"Every man has his pride, and I couldn't stomach those words," Bulut said.
Bulut is now the third officer to commit suicide this year, after two other officers identified as Halil Akkaya and Ethem Dağdeviren killed themselves earlier this year.
"These children, at the prime of their lives, want to become police officers, and then they commit suicide. What pushes them to give up on their own lives?" Ahval quoted Murat Bakan, a deputy from the main opposition Republican People's Party who submitted an inquiry to parliament following the suicides.
https://english.alarabiya.net/News/middle-east/2021/03/18/Erdogan-bodyguard-commits-suicide-cites-insults-and-threats-in-note-Report
--------
Turkey's parliament strips pro-Kurdish deputy of seat in blow to third largest party
17 March ,2021
Turkey's parliament increased pressure on a pro-Kurdish opposition party on Wednesday by stripping a prominent member of his seat over a criminal conviction for spreading "terrorist propaganda" in a social media post.
The move against Omer Faruk Gergerlioglu, a human rights advocate, dealt a new blow to the Peoples' Democratic Party (HDP) which nationalist allies of President Tayyip Erdogan's AK Party (AKP) want banned over what they say are militant links.
Gergerlioglu was the latest among many HDP lawmakers, mayors and officials jailed or forced out in recent years, and is one of many government critics to have expressed concern about an erosion of human rights in Turkey.
He said he would resist the decision and HDP deputies held up placards in parliament supporting him. They chanted "rights, law, justice" and "putchist AKP."
"Enough of so many anti-democratic practices. We will not bow down," Gergerlioglu shouted, adding that the will of the people had been "trampled under foot."
The HDP now has 55 seats in the 600-member assembly. Two HDP lawmakers also lost the right to sit in parliament last year because of convictions against them.
The HDP says Gergerlioglu, who received a 2-1/2 year jail sentence, was punished for sharing on Twitter the link to a news story that included comments from the Kurdistan Workers Party (PKK), which is designated a terrorist group by Turkey, the United States and European Union.
The HDP denies any links to the PKK, and said Gergerlioglu should have been protected by parliamentary immunity.
Erdogan has announced a plan to strengthen rights to a fair trial and freedom of expression in Turkey, but has failed to appease his critics.
Pressure on the HDP has grown since Turkey said 13 captives, including Turkish military and police personnel, were executed by PKK militants in Iraq during a failed Turkish military operation to rescue them last month.
The PKK has fought an insurgency against the state in mainly Kurdish southeast Turkey since 1984. More than 40,000 people have been killed in the conflict.
https://english.alarabiya.net/News/middle-east/2021/03/17/Turkey-s-parliament-strips-pro-Kurdish-deputy-of-seat-in-blow-to-third-largest-party
--------
Australia
Three arrested in Melbourne counter-terrorism raids as police warn of youth radicalisation online
March 16, 2021
Police say they are alarmed by a growing "phenomenon" of young people getting radicalised online, after arresting two men and a 16-year-old boy in a counter-terrorism investigation in Melbourne's north.
The two men — a 19-year-old and 20-year-old from Epping — remain in custody after being arrested at their homes on Wednesday.
A 16-year-old boy from Pascoe Vale was also arrested, but was released pending further inquiries.
Assistant Commissioner Michael Hermans, from Victoria Police's Counter Terrorism Command, said police would offer the boy support and "hopefully divert him away from the activity that saw him come to our attention this morning".
But the two men could be charged with attempted terrorism or committing acts in preparation of terrorism, Assistant Commissioner Hermans said.
Depending on the charge, they could be facing a maximum penalty of life in prison.
Police have said they will allege the 19-year-old attempted to engage in a terrorist act.
Assistant Commissioner Hermans said they were inspired by Islamic "ideology-based, religious extremism".
But he stressed it made "no difference" which religion was involved, as police focused on the crime, not the religion.
Police said the three arrests were made at an early stage and they believed they have successfully contained any immediate threat to public safety.
Further arrests are not expected to be made, but the operation is still ongoing, police said.
Growing online radicalisation threat during pandemic
The counter-terror operation was prompted by investigations into two events: a fire started in bushland in the Epping area on February 18, and an assault in metropolitan Melbourne on March 10, Assistant Commissioner Hermans said.
Police then received intelligence which indicated the investigation was more serious than initially thought.
"We received information that suggested their ideology would be of concern to the Victorian community," he said.
The investigation was then transferred to the Joint Counter Terrorism Team.
Assistant Commissioner Hermans said it was possible that the three men arrested were radicalised online.
Seeing young people getting caught up in extremism was becoming a regular "phenomenon" for police, said Assistant Commissioner Scott Lee, from the AFP's Counter Terrorism and Special Investigations team.
"I think there's a range of factors, but one that can't be underestimated is the magnification of the online environment and what that means for the radicalisation of these young individuals," he said.
"That's certainly what we've seen during the COVID period as people come out of the physical world and have been in isolation and driven into the online environment ... and that's exacerbated some of the radicalisation we've seen.
Assistant Commissioner Hermans said the trend was "very concerning".
"I would say that we're seeing a younger demographic, and that may or may not be on the back of easy access to social media," he said.
https://www.abc.net.au/news/2021-03-17/police-arrest-3-in-melbourne-counter-terrorism-operation/100015184?utm_source=iterable&utm_medium=email&utm_campaign=2112673_
--------
URL: https://www.newageislam.com/islamic-world-news/islamic-terrorism-form-islam-says/d/124570
New Age Islam, Islam Online, Islamic Website, African Muslim News, Arab World News, South Asia News, Indian Muslim News, World Muslim News, Women in Islam, Islamic Feminism, Arab Women, Women In Arab, Islamophobia in America, Muslim Women in West, Islam Women and Feminism