New Age Islam News Bureau
6 Oct 2014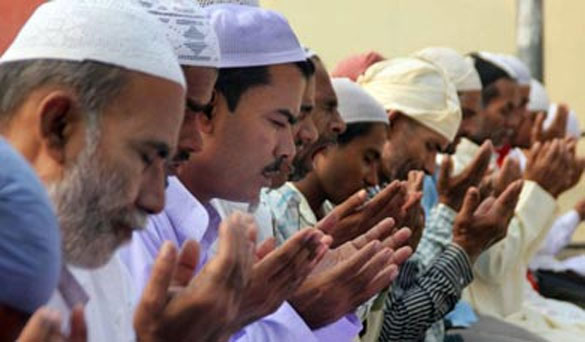 Muslims offer prayers on the occasion of Eid-ul-Zuha on Monday. (Source: Express photo by Gurmeet Singh)
----------
North America
• Islamic State's Ammunition Shown to Have Origins in US and China
• American Hostage 'Scared To Die' In ISIS Captivity
• U.S. works on Asia ties amid Mideast focus
• Auburn Islamic Centre builds mosque and relationships
Arab World
• Kurds Use New Tactic against ISIS with Female Suicide Bomber
• Drones Spot ISIS Slayer 'Jihadi John' In Syria
• Islamic Front kills 50 regime soldiers in Syria
• 28 ISIL Terrorists Killed in Hamren, Diyala
• Scores of Terrorists Killed As They Try to Storm Baalbeck, East of Lebanon
• Clashes with Lebanese Hezbollah kill 16 insurgents
• Iraqi Troops Thwart ISIL Attack on Tikrit University, Kill 8 Terrorists
• Iraqi Forces Foil ISIL Attack Plot on Army Headquarters in Northern Tikrit, Kill 12
• Syrian Kurds vow to fight ISIL to the last man
• Egypt busts cell recruiting Syria militants
• Sinai militants say they have beheaded three
• Extremism is 'perverse' and must be eliminated: Saudi king
• UAE says Biden apologises for any implication it supported militants
India
• Heaviest Pakistani Shelling in Decades Devastates Hamlet in Jammu, 5 killed, 26 Hurt
• Kerala Muslims Now Sponsoring Sacrificial Animals For Needful In North India
• UN member countries must unite to wipe out terrorism: Japanese envoy
Pakistan
• Next Eid Will Be Celebrated In 'Naya Pakistan': Imran
• Zardari Urges Political Forces to Join Hands for Democracy
• Drone strike kills five in South Waziristan
• Three killed, two injured in Khuzdar firing
• MQM Takes Notice of Bilawal's 'Namaloom Afraad' Speech
• Protesters will condemn their own actions in future: Nawaz
• Bilawal asks Imran to learn politics from Bhutto
• Karachi: Two TTP men killed on Northern Bypass
• Qadri takes back legal notice served on Bilawal
Europe
• Suicide bomber kills four police officers in Russia's Chechnya
• Bristol's Muslim community condemn the murder of cabbie Alan Henning
• NATO says will take action to protect Turkey if needed
• Rights group demands UAE reveal whereabouts of Libyans, Emiratis
Mideast
• Gazans pray at Al-Aqsa Mosque for first time since 2007
• 'IS 1 km from Kobane, airstrikes not enough'
• Israel mulls second Al-Aqsa gate for Jewish settlers
• 180 jihadists traded by Turkey for hostages: report
• Israel plans $4bln privatization to enable 'more transparency'
• Cost to rebuild Gaza? $4 billion, political will
• Senior Iranian MP Lauds Ecuador for Supporting Palestine, Syria
South Asia
• China issues white paper on Xinjiang Production and Construction Corps
'• Ongoing peace brightens Bangladesh's image': Sheikh Hasina
• Afghan Air Force MD-530F helicopters to be upgraded to armed version
Southeast Asia
• Indonesia Struggles with Islamic State Recruiting
• Azmin to meet Selangor Islamic bodies over Bible impasse
• We're monitoring social media activity on terrorism, says minister
Africa
• Gaddafi-era intelligence HQ detonated in Benghazi
• Somali troops secure key port after capture from Shebab
• Niger declares mourning for slain peacekeepers
Australia
• Australia, Belgium launch anti-ISIS missions in Iraq
• Crime and gangs: the path to battle for Australia's Islamist radicals
Compiled by New Age Islam News Bureau
URL: https://www.newageislam.com/islamic-world-news/new-age-islam-news-bureau/islamic-state's-ammunition-shown-to-have-origins-in-us-and-china/d/99397
-----------
North America
Islamic State's ammunition shown to have origins in US and China
CJ Chivers, NYT News Service | Oct 6, 2014
In its campaign across northern Syria and Iraq, the jihadist group Islamic State has been using ammunition from the United States and other countries that have been supporting the regional security forces fighting the group, according to new field data gathered by a private arms-tracking organization.
The data, part of a larger sample of captured arms and cartridges in Syria and Iraq, carries an implicit warning for policymakers and advocates of intervention.
It suggests that ammunition transferred into Syria and Iraq to help stabilize governments has instead passed from the governments to the jihadists, helping to fuel the Islamic State's rise and persistent combat power. Rifle cartridges from the United States, the sample shows, have played a significant role.
"The lesson learned here is that the defence and security forces that have been supplied ammunition by external nations really don't have the capacity to maintain custody of that ammunition," said James Bevan, director of Conflict Armament Research, the organization that is gathering and analysing weapons used by the Islamic State.
Providing weapons to the regional proxies, Bevan added, is "a massive risk that is heightened by poorly motivated security forces that are facing great challenges."
Islamic State fighters have proved adept at arming themselves as they have expanded their territory. Analysts and rival rebels say the group has gathered weapons from other anti-government groups in Syria that have joined its ranks, from purchases from Syrian rebels who receive weapons from foreign donors, from battlefield captures and from deals with corrupt members of the security forces in Syria and Iraq.
One Syrian rebel commander said the group, which is also called ISIS or ISIL, has often picked where and when to fight by measuring the potential spoils that might be gained in a local victory.
"When battling against the Syrian army, ISIS chooses to fight in a specific battle on a specific front only when the investment is appealing: there will be warehouses to capture," said Fouad al-Ghuraibi, commander of the Kafr Owaid's Martyrs Brigade, in northern Syria.
After the jihadists seized a Syrian air base near Hama last year, al-Ghuraibi noted, they needed a fleet of heavy trucks to move their haul of captured weapons and ammunition.
He also said that a portion of the Islamic State's ammunition had come from black-market deals with the group's enemies, including the Syrian army, but he added that "the numbers in these deals couldn't be high, as the officers on the regime side have had to keep it low to keep it hidden."
Conflict Armament Research's field survey is part of a continuing project funded by the European Union to identify the militant group's weapons and weapon sources, and display them transparently on a global online mapping system known as iTrace. It appears to confirm and add layers of detail to what has been reported anecdotally.
Its samples included 1,730 cartridges that had been manufactured as far back as 1945 and as recently as this year. Most of the ammunition was for rifles and machine guns, although a small fraction was for pistols, too.
The ammunition was captured last summer by Kurdish fighters or collected by the organization's investigators at recently abandoned Islamic State fighting positions. Each cartridge's manufacturing provenance was then established by documenting its markings, known as headstamps.
Once the tallying was done, the investigators had identified 21 nations as sources of cartridges that were once possessed by Islamic State fighters, showing that these militants, like many rebel or insurgent groups, have diverse sources of supply.
A deeper look pointed to what would seem to be widespread leakage from local security forces.
More than 80 per cent of the ammunition was manufactured in China, the former Soviet Union, the United States, post-Soviet Russia or Serbia. The organization's analysis suggests that much of this ammunition was held by security forces in the region, and then commandeered by militants.
Bevan said that the aged Soviet ammunition appeared to match the contents of the storehouses of the Syrian military, which has long received equipment from the Kremlin.
Another sizable fraction of the cartridges matched ammunition that the United States supplied to Iraq's military and police units for nearly a decade during the occupation after the US-led invasion in 2003.
"We have a lot of ammunition that comes from Iraqi security forces, which was captured on the battlefield, and a lot of ammunition that previously came from Syrian defence forces, which would be captured on the battlefield as well," Bevan said.
Among Conflict Armament Research's findings were that 323 of the cartridges — nearly 19 per cent — were from the United States. These were typically 5.56-millimeter cartridges manufactured from 2005 to 2007 at the Lake City Army Ammunition Plant in Missouri.
The ammunition is the standard cartridge for American M-4 and M-16 rifles, which, along with these classes of rifles, was widely distributed by the United States to Iraqi security forces during the latter years of the occupation.
The sample also included 147 cartridges bearing the distinctive WOLF stamp used by Sporting Supplies International, a US company that sells Russian-manufactured ammunition under its own brand.
The company has provided bulk military ammunition to the US government for distribution to security forces under its training, raising the possibility that an additional 8.5 per cent of the ammunition documented in the Islamic State's possession was sent into the region by the United States.
Conflict Armament Research's investigators also found a small sample of cartridges from Iran in the Islamic State's possession, including ammunition manufactured as recently as 2013.
Iran has been a sponsor of Iraq's beleaguered Shia-led government. Ammunition from Iran, the organization noted, if deliberately transferred to Iraq, would be a violation of UN security council resolution 1737, which in 2006 prohibited Iran from exporting arms.
On one matter, Bevan said, the data pointed to a familiar puzzle: the large proportion of Chinese ammunition — 445 cartridges or nearly 26 per cent of the total.
This was not a surprise, Bevan noted, as "China is a massive supplier" of military-grade ammunition around the world and the presence of its ammunition is a common feature in modern conflicts.
The Chinese ammunition used by the Islamic State fighters, he said, could have originally been provided to Syrian forces, to Iraqi forces or to any number of other countries that then retransferred Chinese-made cartridges to the region.
Determining its routes into the conflict, he said, would require further research, as China's ammunition exports often "are not transparent in any way".
http://timesofindia.indiatimes.com/world/middle-east/Islamic-States-ammunition-shown-to-have-origins-in-US-and-China/articleshow/44469412.cms
-----------
American Hostage 'Scared To Die' In ISIS Captivity
6 October 2014
American hostage Peter Kassig wrote in June that he was "scared to die" at the hands of his Islamic State of Iraq and Syria (ISIS) militant captors, his parents have revealed.
The 26-year-old former U.S. soldier was paraded at the end of an ISIS video released on Friday that showed the murder of British aid worker Alan Henning.
Hostages threatened at the end of four previous, near-identical ISIS beheading videos have subsequently been murdered.
Kassig's letter referred to his conversion to Islam during captivity, which his parents Ed and Paula Kassig said took place voluntarily at some point between October and December 2013 when he shared a cell with a devout Syrian Muslim.
But they noted that Kassig had observed the holy fasting month of Ramadan in July-August 2013 before being taken captive and "spoke of the great impact this spiritual practice had on him."
Kassig also took the Muslim name Abdul-Rahman, and has been following the religion's practices, such as praying five times a day.
"We see this as part (of) our son's long spiritual journey," his parents said in a statement released Saturday.
ISIS has justified killing Western hostages as retaliation for U.S.-led air strikes on the group over swathes of territory it has seized in Iraq and Syria.
"We continue to pressure the government to stop its actions and continue to call on his captors to have mercy and release him," the Kassigs said in releasing portions of their son's June 2 letter.
The text was edited to remove unspecified "sensitive information," though his parents said all words were written by him.
"I am obviously pretty scared to die but the hardest part is not knowing, wondering, hoping and wondering if I should even hope at all. I am very sad all this has happened and for what all of you back home are going through," Kassig writes in the letter.
"If I do die, I figure that at least you and I can seek refuge and comfort in knowing that I went out as a result of trying to alleviate suffering and helping those in need."
Kassig had founded an aid group through which he trained some 150 civilians to provide medical aid to people in Syria. His group also gave food, cooking supplies, clothing and medicine to the needy.
His parents have said he had disappeared in Syria on October 1 last year.
"In terms of my faith, I pray every day and I am not angry about my situation in that sense. I am in a dogmatically complicated situation here, but I am at peace with my belief," Kassig wrote.
The letter ends with a simple: "I love you."
http://english.alarabiya.net/en/News/middle-east/2014/10/06/American-hostage-scared-to-die-in-ISIS-captivity.html
-----------
U.S. works on Asia ties amid Mideast focus
06 Oct, 2014
A military agreement with the Philippines and easing an arms embargo against Vietnam show the Obama administration wants deeper security ties with Asia, even as turmoil in the Mideast has undermined its hope of making Asia the heart of its foreign policy.
The "pivot" was intended to be President Barack Obama's signature push in foreign affairs. As the U.S. disentangled from wars in Iraq and Afghanistan, it would devote more military and diplomatic attention to the Asia-Pacific and American economic interests there.
The world hasn't turned out as planned. Washington is grappling with the chaotic fallout of the Arab spring, a growing rivalry with Russia and the alarming rise of the Islamic State group that is prompting the U.S. to launch airstrikes in Iraq and Syria.
Against this chaotic backdrop, the growing tensions in the South and East China Seas and U.S. efforts to counter the rise of an increasingly assertive China appear peripheral concerns. The pivot gets few people excited in Washington these days.
Obama didn't even mention it in a sweeping foreign policy speech in May, and negotiations on a trans-Pacific trade pact - the main economic prong in the pivot - have been mired by differences between the U.S. and Japan over agriculture and auto market access and by opposition to the pact among many of Obama's fellow Democrats.
But the administration is still chipping away at its grand plan for a rebalance to Asia that began within months of Obama taking office in 2009, when the U.S. signed a cooperation treaty with the 10-nation Association of Southeast Asian Nations.
The U.S. has since ended its decades-long isolation of Myanmar, also known as Burma, in response to democratic reforms there. It has taken a more strident diplomatic stance against Chinese aggression in the South China Sea and some concrete steps to shore up its allies' ability to respond. In April the U.S. signed a 10-year agreement to allow thousands of U.S. troops to be temporarily based in Philippines, 20 years after U.S. bases there were closed.
Like the Philippines, Vietnam has been engaged in standoffs with China over disputed reefs and islands. Tensions spiked between May and July after China deployed a deep-sea oil rig near the Paracel Islands. The vessels of the two sides rammed each other near the rig, and there were deadly anti-China riots in several industrial parks in Vietnam.
On Thursday, the State Department announced it would allow sales, on a case-by-case basis, of lethal equipment to help the maritime security of Vietnam - easing a ban that has been in place since communists took power at the end of the Vietnam War in 1975.
The U.S. won't be rushing to Vietnam's defense, nor does it want to be directly involved in negotiating the territorial disputes themselves, that also involve Brunei, Malaysia and Taiwan. But Washington says it has an interest in the maintenance of peace and stability and equipping nations to defend themselves and deter aggression.
Hanoi welcomed the step, saying it would promote the U.S.-Vietnam partnership.
It was opposed by rights activists, unpersuaded by Washington's argument that Hanoi has shown some improvements on human rights and would be encouraged to make more.
John Sifton, the Washington-based Asia advocacy director for Human Rights Watch, said Vietnam's changes have been superficial and contended that the U.S. is reversing decades of policy for marginal strategic benefit.
Republican Sen. John McCain, who is an arch critic of the Obama administration's foreign policy but supports the rebalance and pushed for the easing of the Vietnam ban, said it would strengthen defense cooperation to the benefit of both countries.
But McCain foreign policy adviser Chris Brose said the U.S. still has to convince Asia that the rhetoric of the pivot can become reality.
"The question is not whether America is doing something. Clearly America is," Brose told a Washington think tank Friday. "The question is whether what America is doing adds up to a set of actions that's fundamentally impacting China's calculus."
http://english.alarabiya.net/en/perspective/analysis/2014/10/05/U-S-works-on-Asia-ties-amid-Mideast-focus.html
---------
Auburn Islamic Centre builds mosque and relationships
06 Oct, 2014
Walking into the Auburn Islamic Centre on a Sunday afternoon, people can find children scurrying around the lobby, bare feet and men preparing to pray.
The women are already upstairs, cleansing and preparing for prayer.
The lobby is a small, carpeted room with nine shelves on one wall, designated for the shoes visitors remove as they enter the building.
The shelves are stacked with a variety of footwear, from dainty, pink flip-flops to Nike tennis shoes.
The chairs surrounding a fold-out table by the window are plastic, and one wall is ordained with a bulletin board with sign-up sheets for Sunday school classes and childcare.
Mark Dougherty, professor in the agricultural engineering department, sits in a white, plastic chair around a table in the kitchen at the Auburn Islamic Centre and talks about the history of the organization and the building.
Two teenage girls wearing Hijabs and sweaters sit around the table as well.
Dougherty serves on the board of directors at the Auburn Islamic Centre.
Dougherty can also officiate an Islamic wedding.
One would not know any of these things about him unless they asked, however, because he is quick to divert attention away from himself and even quicker to talk about the everyday happenings at the centre.
According to Dougherty, the centre has been in Auburn for approximately 25 years, and it was simply a community before that.
Doughtery said the Islamic Centre had an interesting background.
"This building used to be a fraternity house," Dougherty said.
Dougherty said one man, who was a student at Auburn during the days the building was a fraternity house, spent some time there and then returned years later as a devout Muslim.
"It was quite the experience for the man coming back," Dougherty said.
The building, located on Armstrong Street, can be called a mosque, but Dougherty calls it a Masjid.
"Masjid — it comes from the word 'Sajda,' which is to prostrate, which means to go down on your head to pray, so the Masjid is the place where you prostrate," Dougherty said.
Dougherty said he thinks Auburn is a great place to practice his religion.
"We're in a non-Muslim country, so it's no different than any other place," Dougherty said. "We just take care of our business in here. If I would say anything, I'd say it's better here because Auburn is such a progressive place because of the University."
The Masjid is open at any time for members to pray.
It is filled on Sundays with men, women and children. The children attend Sunday school.
Sara Elawad, 13, spoke upstairs in one of the rooms where the women go to pray.
Elawad wore a hijab, a head scarf, a long sweater and jeans.
"We have Islamic studies, like learning the history and the modesty and stuff like that," Elawad said. "Basically, we just learn about their prophets and their history."
Yousra Omer is a 14-year-old Muslim girl and attends the Masjid regularly.
Omer attempted to brag on Dougherty and his role in the Masjid, but Dougherty casually steered the conversation to discuss the building of a new mosque in Auburn.
"The new Islamic Centre, we have a plan," Dougherty said. "We have a property of 5 acres south of town."
http://www.theplainsman.com/view/full_story/25863373/article-Islamic-Center-builds-mosque-and-relationships?instance=home_news_lead_story
-----------
Arab World
Kurds Use New Tactic against ISIS with Female Suicide Bomber
6 October 2014
Kurdish fighters battling Islamic State of Iraq and Syria (ISIS) jihadists for the Syrian town of Kobane employed a new tactic when a female suicide bomber blew herself up in an attack claimed to have killed dozens of militants.
The young woman, a fulltime fighter with the Syria-based Kurdish rebel group the People's Protection Units (YPG), killed herself in the attack on Sunday, Kurdish sources told AFP.
Her name in Kurdish was Dilar Gencxemis but she went under the nom-de-guerre of Arin Mirkan, the YPG said in a statement.
She was from the Syrian town of Afrin of Aleppo province of northern Syria, just south of the Turkish border.
With Kurdish fighters under increasing pressure from the ISIS jihadists seeking to seize Kobane, this is the first time a suicide bomber has been used by Kurdish forces in the conflict.
"I don't know her exact age but she was above 20. She was a fighter from the YPG," Mustafa Bali, a Kurdish official in Kobane told an AFP correspondent in the Turkish border town of Suruc by telephone.
"She threw many grenades at ISIS insurgents. After that, she blew herself up," he said, adding that dozens of ISIS fighters were killed in her assault.
The Britain-based group the Syrian Observatory for Human Rights, which has a wide network of sources inside Syria, also confirmed the attack by the female suicide bomber.
The YPG issued a statement carried by the pro-Kurdish Firat news agency, extolling Mirkan's bravery and indicating more suicide attacks were possible.
"She killed dozens of gang members and demonstrated the YPG fighters' determined resistance," it said.
Full report at:
http://english.alarabiya.net/en/perspective/analysis/2014/10/06/Kurds-use-new-tactic-against-ISIS-with-female-suicide-bomber.html
-----------
Drones spot ISIS slayer 'Jihadi John' in Syria
5 October 2014
Drones have managed to track the militant member of the Islamic State of Iraq and Syria (ISIS) known as "Jihadi John" in Syria but British Special Forces fear a mission to either kill or capture the wanted man may end in failure, the Daily Mail reported on Sunday.
"Jihadi John," believed to be behind the beheadings of two British hostages, was spotted by reaper drones over Raqqa, the militant's stronghold in eastern Syria, the daily reported.
Drones deployed over the group's strongholds are also believed to have identified hostages wearing orange jumpsuits, the newspaper said.
Hostages beheaded by ISIS have all appeared in videos wearing orange jumpsuits resembling those worn by detainees held at Guantanamo Bay, Cuba.
The paper said that despite the intelligence, British top brass have ruled out a rescue operation due to ISIS defenses being too strong.
Full report at:
http://english.alarabiya.net/en/News/middle-east/2014/10/05/Drones-spot-ISIS-slayer-Jihadi-John-in-Syria.html
-----------
Islamic Front kills 50 regime soldiers in Syria
World Bulletin / News Desk
06 Oct, 2014
The Islamic Front forces killed 50 Syrian regime soldiers when they tried to enter the Handarat region, north of Aleppo, on Sunday, spokesman for the Tawheed Brigade of Islamic Front Salih Anadani told Anadolu Agency.
The spokesperson said they had also injured scores of Syrian regime soldiers.
He said that three soldiers were also captured, including one Iranian and one Afghan national. The attack on the regime was carried out in cooperation with other armed opposition forces, he added.
The fighting between the Islamic Front and Syrian regime forces has been ongoing in the region since last Friday.
Anadani said that after intense fighting, the Islamic Front had regained control of Handarat and El Mellehe.
More than 190,000 people have been killed in Syria since the conflict began early 2011, according to latest UN figures published in August.
http://www.worldbulletin.net/todays-news/145711/islamic-front-kills-50-regime-soldiers-in-syria
-----------
28 ISIL Terrorists Killed in Hamren, Diyala
06 Oct, 2014
Iraqi security forces killed 28 terrorists of the Islamic State of Iraq and the Levant (ISIL) group in Diyala province.
Iraqi army forces killed "28 ISIL militants", and destroyed a number of their vehicles during clashes with the terrorists, which resulted in burning the ISIL compound in Hamren, 50 km Northeast of Baqubah, Military Operations Leader Lieutenant General Abdel Amir al-Zaydi said on Sunday.
Meanwhile, a suicide bomber was also killed on Sunday by security forces while passing through a security checkpoint in Northeast of Baqubah.
http://english.farsnews.com/newstext.aspx?nn=13930714000712
-----------
Scores of Terrorists Killed As They Try to Storm Baalbeck, East of Lebanon
06 Oct, 2014
Major attack carried out by takfiri terrorist groups in the Eastern mount of Lebanon at Brital barrens in East of Lebanon.
Al-Manar TV correspondent reported on Sunday that hundreds of terrorist gunmen tried to storm the Ein-Assa' area of Brital barrens on the Lebanese borders with Syria, exactly located over Nabi-Sbat town South of the main city of Baalbeck.
Lebanese army artillery in the region is involved in fighting off the attack and scores of takfiris are left killed and wounded so far.
Clashes are still ongoing in the meantime.
Annahar local newspaper reported that militants of the so-called 'Islamic State of Iraq and the Levant' (ISIL) and Al-Qaeda-affiliate Al-Nusra Front internationally-recognized terrorist groups have moved from the barrens of the Eastern Lebanese town of Arsal where they are located several months ago.
Full report at:
http://english.farsnews.com/newstext.aspx?nn=13930714000460
-----------
Clashes with Lebanese Hezbollah kill 16 insurgents
06 Oct, 2014
At least 16 Sunni Muslim insurgents from al Qaeda's Syrian wing were killed in clashes with fighters from the Lebanese Shi'ite group Hezbollah in eastern Lebanon on Sunday, a source close to Hezbollah said.
Hundreds of insurgents linked to al Qaeda's Syrian wing, the Nusra Front, had launched a major offensive on Sunday on Hezbollah-controlled areas near the Lebanese town of Arsal, close to the Syrian border.
"There are at least 16 dead from Nusra Front," the source said, adding that Hezbollah fighters from other parts of Lebanon had gone to defend the area.
http://english.ahram.org.eg/NewsContent/2/8/112420/World/Region/Clashes-with-Lebanese-Hezbollah-kill--insurgents.aspx
-----------
Iraqi Troops Thwart ISIL Attack on Tikrit University, Kill 8 Terrorists
06 Oct, 2014
Iraqi government troops thwarted an attack by the Islamic State of Iraq and the Levant (ISIL) terrorists on Tikrit University, killing 8 militants during the clashes.
"The security forces foiled an attack by the ISIL terrorists on Tikrit University, and killed 8 of them, and burned their vehicles," an informed source said on Sunday.
http://english.farsnews.com/newstext.aspx?nn=13930714000554
-----------
Iraqi Forces Foil ISIL Attack Plot on Army Headquarters in Northern Tikrit, Kill 12
06 Oct, 2014
Iraqi government forces on Monday foiled an attack plot on the army headquarters in Northern Tikrit by terrorists of the Islamic State of Iraq and the Levant (ISIL) group, and killed 12 of them.
"The security forces foiled an ISIL attempt to target the headquarters of the Iraqi army in Hamra village near Speicher Camp of Northern Tikrit, and killed 12 of them and damaged three of their vehicles," an informed source said.
http://english.farsnews.com/newstext.aspx?nn=13930714000884
-----------
Syrian Kurds vow to fight ISIL to the last man
World Bulletin / News Desk
06 Oct, 2014
Outgunned Kurdish fighters vowed on Monday not to abandon their increasingly desperate efforts to defend the Syrian border town of Kobani from ISIL militants pressing in from three sides and pounding them with heavy artillery.
The al Qaeda offshoot has been battling for more than two weeks to seize the predominantly Kurdish town, driving 180,000 people into neighbouring Turkey.
Air strikes by American and Gulf state warplanes have failed to halt the advance of the fighters, who moved to the outskirts of the town over the weekend and were battling to secure a strategic hilltop in the face of fierce resistance.
Despite the heavy fighting, which has seen mortars rain down on residential areas in Kobani and stray fire hit Turkish territory, a Reuters reporter saw around 30 people cross over from Turkey, apparently to help with defence of the town.
Full report at:
http://www.worldbulletin.net/headlines/145719/syrian-kurds-vow-to-fight-isil-to-the-last-man
-----------
Egypt busts cell recruiting Syria militants
6 October 2014
Egyptian security forces have arrested four suspected members of a militant cell recruiting fighters for the Islamic State of Iraq and Syria (ISIS) group in Syria.
A police official told Egypt's state news agency MENA that members of the cell have confessed, and that the cell is comprised of eight people, four of whom are currently in Syria.
ISIS has attracted a following from Egyptian Islamists on social media sites, according to Reuters news agency. Egyptian security sources estimate that up to 8,000 Egyptians are fighting abroad with militant groups such as ISIS and al-Qaeda.
MENA news agency did not reveal the names of the suspects in the cell, but added that they were jailed pending investigation.
Egypt recently joined a U.S.-led coalition formed to combat ISIS' growing threat in Syria and Iraq.
Full report at:
http://english.alarabiya.net/en/News/middle-east/2014/10/06/Egypt-arrests-militant-cell-recruiting-for-Syria-.html
-----------
Sinai militants say they have beheaded three
5 October 2014
Egypt's most violent Islamist group released a video showing militants beheading three Egyptians whom they accused of being informants for Israeli intelligence.
In a video posted on YouTube, the Sinai-based Ansar Bayt al-Maqdis accused the Egyptian government of collaborating with the Israelis to attack their fighters in Sinai and vowed to hunt down the local informants they rely on.
"These are your sons, continuing to harvest the spies of the Jews," a spokesman for the group says in the video.
The gruesome footage shows the three men confessing before being decapitated by masked men. Their detached heads are then placed on their backs.
A fourth man, shown confessing to being an informant for the Egyptian military, is then mown down by bullets.
Full report at:
http://english.alarabiya.net/en/News/middle-east/2014/10/06/Sinai-militants-say-they-have-beheaded-three-Egyptians-for-spying-for-Israel.html
-----------
Extremism is 'perverse' and must be eliminated: Saudi king
06 Oct, 2014
Religious extremism is a perversion which must be eradicated, Saudi Arabia's King Abdullah said on Sunday, with his air force engaged in a U.S.-led campaign against jihadist militants in Syria.
"Extremism, which has generated terrorism, behooves us to combine our efforts to fight it and defeat it because it has nothing to do with Islam," the king said in an annual address to leaders of delegations from Islamic nations which performed the annual hajj pilgrimage, the official SPA news agency reported.
Saudi Arabia and four other Arab countries have joined an American-led coalition which is conducting air strikes against Islamic State group rebel positions in Syria.
The militants, who have also seized territory in Iraq, have carried out a series of atrocities including crucifixions and beheadings which have been condemned by Muslims worldwide.
Extremism "is a perverse factor which we can only remedy by eradicating," the king said in an address delivered by Crown Prince Salman bin Abdul Aziz, who also holds the defense portfolio.
Full report at:
http://english.alarabiya.net/en/News/middle-east/2014/10/05/Saudi-king-hails-security-forces-for-foiling-extremist-plots.html
-----------
UAE says Biden apologises for any implication it supported militants
06 Oct, 2014
The United Arab Emirates said on Oct. 5 that U.S. Vice President Joe Biden had apologised to the Abu Dhabi crown prince for "any implications" in a speech he made last week that the UAE had supported Islamist militants in Syria.
The call, confirmed by the White House, came after a day after Biden offered a similar apology to Turkish President Tayyip Erdogan..
Biden, who is known for his occasional verbal gaffes, angered U.S. allies when he suggested in a speech at Harvard University on Thursday that Turkey, Qatar and the United Arab Emirates had extended "billions of dollars and tens of thousands of tons of weapons" to Sunni fighters trying to oust Syrian President Bashar al-Assad.
UAE Minister of State for Foreign Affairs Anwar Gargash demanded an official explanation for Biden's remarks, which he said had created "a negative and untrue impression about the role of the UAE", according to state news agency WAM.
Full report at:
http://www.hurriyetdailynews.com/uae-says-biden-apologises-for-any-implication-it-supported-militants.aspx?pageID=238&nID=72582&NewsCatID=359
---------
India
Heaviest Pakistani Shelling in Decades Devastates Hamlet in Jammu, 5 killed, 26 Hurt
PTI | Oct 6, 2014
ARNIA BORDER (Jammu): Blood stained beds, torn off rooftops and windows punctured by bullets and splinters of mortar bombs are a mute testimony to the Pakistani shelling in the border hamlet where smell of cordite and gunpowder hangs in the air.
The overnight attacks by Pakistani forces that has left five people dead have triggered panic among the border villagers.
"We have not seen such an attack of mortar bombs and heavy firing in the past several decades, even not during the August ceasefire violations. It was the worst attack on civilian areas", Kulbushan Kumar, a resident of Arnia town, told PTI.
Such was the intensity of the firing and shelling that 82mm mortar shells landed in Mahasha da Kote and Arnia town, which is around 5km away from the international border in Jammu district.
Carcasses of animals killed due to splinter injuries are also seen strewn in Kaku di Kotha and other areas.
"Arnia town, which we considered a safe place, has also been hit by scores of mortars that killed one person Ram Lal," Kumar said.
Most of the houses in Mahasha Kote, Pindi, Koku di Kotha and Channa village were hit by the bullets and splinters of mortar shells, which tore roof tops and walls of several houses besides breaking windows and doors.
"It is the worst attack. Five people have been killed and 26 others were injured in firing and shelling in Arnia belt," subdivisional police officer Devender Singh told PTI.
Singh, who led the police rescue team and shifted the injured to the hospital even as firing continued, said, "Such firing has not been seen in the past. We have evacuated border villagers to safer places. Pakistan cannot be trusted."
Bamroo Devi, who lost four members of her family in Mahasha Kote village, is seen weeping besides the blood stained beds in the compound of her house which was hit by mortars.
"What was our fault that they killed our family members?" she says.
A pall of gloom prevails in this village with people consoling those who have lost their near and dear ones in the firing.
"The state and central government should learn from this tragedy and ensure permanent relocation of the critical border villages located close to IB," says Sarwan Singh.
The neighbours of Ram Paul, who was killed in the shelling by Pakistani rangers, are still in a state of shock.
"How can the shells reach us here as the area is 6km away from the border? It has triggered fear among us," Hardev said.
The bloodbath in the compound of Ram's house is now haunting the villagers, who are mulling to shift from the area.
"We want to now shift to safer areas," he said. Sunil Kumar, who lost a relative, said, "Around midnight we woke up to the sound of shelling which rattled windows and doors."
"Huddled in one corner of the room, we watched the house being hit by all sides by splinters and some of them pierced the windows but we all escaped unhurt," he said.
http://timesofindia.indiatimes.com/india/Heaviest-Pakistani-shelling-in-decades-devastates-hamlet-in-Jammu/articleshow/44501518.cms
-----------
Kerala Muslims Now Sponsoring Sacrificial Animals For Needful In North India
06 Oct, 2014
Muslims in Kerala are now sponsoring hundreds of sacrificial animals to their poor brethren in North and North-Eastern states on the day of Eid.
Various relief and service organisations of different Kerala Muslim sects collect the fund from community members in Kerala and the amount is handed over to co-coordinators in respective states to buy sacrificial animals.
Kerala-based Relief and Charitable Foundation of India, promoted by prominent Sunni leader Kanthapuram A P Aboobacker Musaliyar, has made arrangements to distribute sacrificial meat to 50,000 families in 15 states.
Its all-India coordinator Muhammed Shafi said there are Muslim families in many North Indian villages which would not get sacrificial meat. "In Kerala, even a mahallu with 500 families would be sacrificing 20 to 30 animals on the day of Eid." "Kerala Muslim families under such mahallu committees would get huge quantity of meat. Lavishness is tangible with a family of five members, sometimes, getting meat of 5 kg or 10 kg on the day. Hence, we thought to help those people who are not lucky to get sacrificial meat. This time, we have focused on flood-hit Kashmir region,'' says Shafi. Shafi said a section of affluent Muslims in Kerala are offering sacrificial animal in Kerala and also outside the state. "Some are sponsoring the sacrificial animal only to our scheme. We want to take two kg of sacrificial meat to a five-member family in the North Indian villages, where the animals sponsored from Kerala would be sacrificed."
Full report at:
http://indianexpress.com/article/india/india-others/kerala-muslims-now-sponsoring-sacrificial-meat-for-needful-in-north-india/#sthash.poYOt9pi.dpuf
--------
UN member countries must unite to wipe out terrorism: Japanese envoy
Daniel P George,TNN | Oct 6, 2014
CHENNAI: Masanori Nakano, Japanese consul general in Chennai, on Monday called for a concerted effort by all member countries of the United Nations to wipe out terrorism.
Speaking to reporters on the sidelines of the eighth Annual Sishya School Model United Nations Conference (SISHMUN 2014) here, Nakano said the recent visit of Prime Minister Narendra Modi to Japan was to further cement ties and take the relationship between the two countries to greater heights.
"During this meeting, India and Japan confirmed the urgent need for a comprehensive reform of the UN Security Council, especially its expansion in both permanent and non-permanent categories,'' he said.
Addressing the large gathering of students, the envoy said Japan had followed the path of a peace loving nation and is now the second largest contributor to the regular budget of the UN, after the US.
Full report at:
http://timesofindia.indiatimes.com/india/UN-member-countries-must-unite-to-wipe-out-terrorism-Japanese-envoy-says/articleshow/44488829.cms
-----------
Pakistan
Next Eid will be celebrated in 'Naya Pakistan': Imran
06 Oct, 2014
ISLAMABAD: Pakistan Tehreek-e-Insaf (PTI) Chairman, Imran Khan said Monday that the next Eid would be celebrated in 'Naya Pakistan.'
Addressing workers at the sit-in on D-Chowk, the PTI chairman said the IDPs would soon return home. He added that the condition of IDPs and flood victims was horrendous.
Khan told workers that by spending their Eid at the sit-in, they had sent a message to Pakistanis that they were willing to sacrifice their happiness for a larger purpose.
http://www.thenews.com.pk/article-161847-Next-Eid-will-be-celebrated-in-Naya-Pakistan:-Imran-
-----------
Zardari urges political forces to join hands for democracy
06 Oct, 2014
LAHORE: Former president and PPP Co-chairman Asif Ali Zardari has asked all the political forces to join hands to strengthen democracy and resolve problems facing the country.
He was talking to PML-Q President Chaudhry Shujaat Hussain and senior party leader Chaudhry Pervez Elahi, who called on him in Lahore on Sunday. Zardari said that "we believe in politics of reconciliation". He said an elected prime minister cannot be forced to resign through unconstitutional means. He urged the PML-Q leadership to play its part for strengthening the democratic system rather than resort to the politics of agitation. Zardari has felicitated Muslims throughout the world on the eve of Eidul Azha.
In his message for Eid, he said, "Eidul Azha has a two-fold theme for the Muslims throughout the world. First the willingness and readiness to offer the highest sacrifice in the cause of Allah and second the unity of the Muslims. I greet the Muslims throughout the world in general and of Pakistan in particular on this auspicious occasion. "Eidul Azha should serve to remind us that we have an obligation to our community through which we attain a higher purpose in life. So while we celebrate and rejoice let us also pause and ponder over the plight of our less fortunate brethren."
Full report at:
http://www.dailytimes.com.pk/punjab/06-Oct-2014/zardari-urges-political-forces-to-join-hands-for-democracy
-----------
Drone strike kills five in South Waziristan
06 Oct, 2014
PESHAWAR: A suspected US drone strike in South Waziristan tribal region's Shawal area on Sunday killed at least five persons.
Official sources say the drone fired two missiles on a compound in Kand Ghar area of Shawal district, which stretches across both North and South Waziristan tribal regions.
Some local sources said that a high level target is among those killed in the attack but the identity is yet to be ascertained.
The drones reportedly hovered above the area for some time, causing panic and fear among the locals.
These details could not be independently verified since the media's access is severely restricted in the troubled region.
South Waziristan is among Pakistan's seven tribal districts near the Afghan border which are rife with homegrown insurgents and are alleged to be strongholds of Taliban and Al Qaeda operatives, among others.
Full report at:
http://www.dawn.com/news/1136422/drone-strike-kills-five-in-south-waziristan
-----------
Three killed, two injured in Khuzdar firing
06 Oct, 2014
QUETTA: At least three people were killed and two others injured in a firing incident in the Khuzdar area of Balochistan on Monday morning.
Levies officials told Dawn that armed men opened fire at a pickup van and killed three people in the Zehri area of Khuzdar.
The injured persons were rushed to a nearby hospital for medical treatment.
The assailants sped away on their motorcycles after the attack.
Levies officials arrived at the site of incident as an investigation into the incident went under way.
Levies officials said that it was not yet confirmed whether the atttack was an incident of targeted killing or the result of a tribal dispute.
Panic prevailed in the area in the aftermath of firing incident.
Khuzdar has been under the grip of violence for more than seven years.
http://www.dawn.com/news/1136562/three-killed-two-injured-in-khuzdar-firing
-----------
MQM takes notice of Bilawal's 'namaloom afraad' speech
06 Oct, 2014
KARACHI: Muttahida Qaumi Movement (MQM) on Monday took notice of Pakistan Peoples Party (PPP) patron-in-chief Bilawal Bhutto Zardari's 'namaloon afraad' speech targeted at the party, and has summoned meetings of its Rabita committee in Karachi and London respectively.
Addressing a gathering of PPP workers earlier in the day, Bilawal had said that MQM chief Altaf Hussain should keep his 'namaloom afraad' in check, adding that if anyone was targeted at PPP's public meeting on October 18, then he would turn to the London Metropolitan police.
Namaloom afraad — which in English translates to unknown persons — is a colloquial term for miscreants.
Not even sparing Pakistan Tehreek-i-Insaf (PTI) Chairman Imran Khan in his fiery speech, Bilawal said that the cricketer-turned politician should learn politics from the Bhutto clan, just like the latter would seek help from him on cricket if needed.
"Politics is not a game, Khan sahib," the PPP leader said in a derisive tone, while addressing a gathering of PPP workers.
Full report at:
http://www.dawn.com/news/1136564/mqm-takes-notice-of-bilawals-namaloom-afraad-speech
-----------
Protesters will condemn their own actions in future: Nawaz
06 Oct, 2014
NAROWAL: Prime Minister Nawaz Sharif on Monday criticized the ongoing protests by Pakistan Tehreek-i-Insaf (PTI) and Pakistan Awami Tehreek (PAT) and claimed the sit-ins had caused great losses to the national economy.
"The protesting parties will condemn their own actions in future," Nawaz said adding that, "Such actions will never get them votes." He was addressing a gathering of flood victims in Punjab's northeastern city of Narowal.
The premier vowed to rebuild the infrastructure damaged by devastating floods and resettle the displaced population.
"Pakistanis have been and are going through the ravages of unprecedented floods that witnessed a surge of public sympathy and sacrifice for the affected," Nawaz said.
"Let me assure all Pakistanis in distress that your resolve has deeply impressed upon us the need to hasten and increase our efforts," he added.
Full report at:
http://www.dawn.com/news/1136567/protesters-will-condemn-their-own-actions-in-future-nawaz
-----------
Bilawal asks Imran to learn politics from Bhutto
06 Oct, 2014
KARACHI: Pakistan People's Party (PPP) Chairman, Bilawal Bhutto Zardari has asked Imran Khan to learn politics from Bhutto, referring to his grandfather Z.A. Bhutto, Geo News reported.
Addressing party workers on the occasion of Eidul Azha at Bilawal House Karachi on Monday, the PPP Chairman also criticized Prime Minister Nawaz Sharif and MQM Chief Altaf Hussain.
Bilawal warned Altaf Hussain to control his "Namaloom Afraad," saying that "Uncle Altaf if my workers get a scratch, forget London police I (Bilawal) will make your life miserable."
Bilawal said although Nawaz Sharif went into exile but had never sacrificed even a 'kitten,' adding that PPP had sacrificed lives for democracy.
"We are BB's Jialas and born in the battle ground," Bilawal said, adding that PPP will continue its family politics.
Bilawal Bhutto Zardai further said: "PPP is like a family. I am Bhutto, you and every worker is Bhutto. Yousuf Raza Gilani and Raja Pervez Ashraf are also Bhutto." He added that the next prime minister will be 'Bhutto.'
http://www.thenews.com.pk/article-161837-Bilawal-asks-Imran-to-learn-politics-from-Bhutto
-----------
Karachi: Two TTP men killed on Northern Bypass
06 Oct, 2014
KARACHI: The personnel of the Sectarian Cell of the Crime Investigation Department (CID) Sindh late on Sunday night gunned down two members of the banned Tehrik-e-Taliban Pakistan, including their Naib Karachi Ameer.
Following a tip-off, Chief of the Sectarian Cell, Khurram Waris along with his team raided the Northern Bypass area late on Sunday night. On seeing the police, the accused opened fire which was retaliated and an encounter took place.
After a brief encounter, police arrested two members of the banned outfit in an injured condition while their associates fled.
The alleged terrorists were shifted to a local hospital where they died. Police also recovered 18 kilograms of explosives, two hand grenades, two launchers, and pistols. Police sources said one of the terrorists, identified as Mufti Jawed, was the Naib Ameer of the banned TTP from Karachi.
http://www.thenews.com.pk/article-161824-Karachi:-Two-TTP-men-killed-on-Northern-Bypass
-----------
Qadri takes back legal notice served on Bilawal
06 Oct, 2014
ISLAMABAD: Pakistan Awami Tehreek (PAT) took back a legal notice served on Pakistan People's Party (PPP) Chairperson Bilawal Bhutto Zardari for his comments against PAT chief Tahirul Qadri, just a few hours after it was served.
Qadri had served a Rs 1 billion legal notice on the PPP chief "for abusive comments on Sunday". The notice was served by PAT's lawyer Ishtiaq Chaudhry on behalf of Tahirul Qadri. It asked Bilawal to either apologise or pay Rs 1 billion within 15 days. On Saturday, while criticising Qadri, Bilawal Bhutto Zardari had called him a cartoon and said that the cleric speaks one thing one day and something completely opposite the next. The decision of withdrawing the legal notice was taken by Qadri, saying that Bilawal Bhutto was like his children. He said that the notice was issued by his lawyer without taking his consent.
Full report at:
http://www.dailytimes.com.pk/islamabad/06-Oct-2014/qadri-takes-back-legal-notice-served-on-bilawal
-------
Europe
Suicide bomber kills four police officers in Russia's Chechnya
06 Oct, 2014
Four police officers were killed and four more were wounded on Sunday when a suicide bomber detonated explosives ahead of celebrations for a local holiday in Russia's volatile region of Chechnya, state news agency RIA cited local police as saying.
There were no immediate reports of civilian deaths or injuries, RIA said.
http://english.ahram.org.eg/NewsContent/2/9/112409/World/International/Suicide-bomber-kills-four-police-officers-in-Russi.aspx
--------
Bristol's muslim community condemn the murder of cabbie Alan Henning
By The Bristol Post
October 06, 2014
BRISTOL's biggest mosques have spoken of their disgust at the latest atrocity committed by the IS terror organisation in Syria.
The beheading of taxi driver and aid worker Alan Henning has caused outrage across the world and comes after a string of similar barbaric acts.
The group say it committed the atrocity after Britain voted to back military action in Syria and Iraq in a bid to flush out the terrorists.
The 47-year-old former taxi driver from Greater Manchester was captured by militants from the extremist group Islamic State in December.
He was shown at the end of a video last month after the murder of fellow British captive David Haines with a warning that he would killed next.
As a result of the murder a statement was issued by the Council of Bristol Mosques.
The statement read: "For the many who pleaded with IS to show mercy and release Alan Henning especially in the time of the Hajj festivities, will now be feeling an utter disgust to know Alan Henning is no longer amongst us.
Full report at:
http://www.bristolpost.co.uk/Bristol-s-muslim-community-condemn-murder-cabbie/story-23050069-detail/story.html#ixzz3FMZPw671
-----------
NATO says will take action to protect Turkey if needed
06 Oct, 2014
The NATO military alliance has the option of moving land troops into Turkey if that proves necessary to protect Turkish security in the face of attacks from Islamic State of Iraq and the Levant (ISIL), NATO Secretary-General Jens Stoltenberg said on Oct. 6.
Clashes have recently intensified in the Kurdish populated Syrian town of Kobane and rising smoke from the clashes can been seen from Suruç.
Bullets fly from Kobane into Turkey
Dozens of mortar shells and bullets have hit houses in Turkish border villages as militants entered the outer neighborhoods of of Kobane.
The Turkish military increased measures and deployed 25 tanks to a hill near Mürşitpınar village on Oct. 6, while a senior Army commander inspected troops positioned near the border.
Full report at:
http://www.hurriyetdailynews.com/nato-says-will-take-action-to-protect-turkey-if-needed.aspx?pageID=238&nID=72600&NewsCatID=359
-----------
Rights group demands UAE reveal whereabouts of Libyans, Emiratis
06 Oct, 2014
An international human rights group on Sunday accused the United Arab Emirates of secretly arresting 10 Libyan citizens and six Emiratis in August and September and called on authorities in Abu Dhabi to reveal their whereabouts.
The UAE made no official comment on the report but a source familiar with legal procedures in the country said the individuals were being held in connection with financing terrorism and facilitating arms shipments to militants.
Human Rights Watch (HRW) said in a statement the circumstances surrounding the detentions appeared consistent with previous cases in which authorities had detained Emirati citizens associated with a local Islamist group and foreign nationals with alleged ties to the Muslim Brotherhood.
Full report at:
http://english.ahram.org.eg/NewsContent/2/8/112416/World/Region/Rights-group-demands-UAE-reveal-whereabouts-of-Lib.aspx
-----------
Mideast
Gazans pray at Al-Aqsa Mosque for first time since 2007
World Bulletin / News Desk
Oct 6, 2014
Around 500 Palestinians left the Gaza Strip on Sunday en route to occupied East Jerusalem to pray at the Al-Aqsa Mosque for the first time since 2007.
Israel has allowed 500 Gazans to pray at the holy site as part of "facilities" offered to Palestinians during the Muslim Eid al-Adha feast, which started on Saturday.
A source in the Palestinian Civil Affairs Ministry had earlier told Anadolu Agency that Israel would allow 500 residents of the Gaza Strip to pray at the Al-Aqsa Mosque for three days starting Sunday.
Ever since Hamas – which Israel deems a "terrorist" organization – won 2006 Palestinian legislative polls, Israel has imposed a tight land and sea blockade on the Gaza Strip.
Israel tightened the blockade on Gaza further after Hamas wrested control of the enclave from the rival Fatah movement one year later.
For Muslims, Al-Aqsa represents the world's third holiest site.
Jews, for their part, refer to the area as the "Temple Mount," claiming it was the site of two prominent Jewish temples in ancient times.
Israel occupied East Jerusalem during the 1967 Middle East War. It later annexed the holy city in 1980, claiming it as the capital of the self-proclaimed Jewish state – a move never recognized by the international community.
http://www.worldbulletin.net/world/145680/gazans-pray-at-al-aqsa-mosque-for-first-time-since-2007
-----------
'IS 1 km from Kobane, airstrikes not enough'
Oct 6, 2014
ANKARA: Islamic State (IS) militants are just one kilometer from the Syrian town of Kobane and air strikes are not enough on their own to stop them, a Syrian Kurdish official said on Sunday.
No IS fighters were yet inside Kobane, according to Idris Nahsen, deputy foreign minister of the region, who spoke to AFP by phone from the besieged town.
"They are one km away in some places and two or three kilometers in other places," he added.
There have been further US-led air strikes aimed at stopping the militants but Nahsen said they would not be enough by themselves to stop the advance of IS.
"They are not enough to defeat terrorist groups on the ground. They (the US-led coalition) have to help with ammunition and weaponry.
"The strikes are helping but we need heavy weaponry, armored vehicles, cannons, rockets. And air strikes need to be more effective," he told AFP.
Kurdish fighters have been battling the advance of IS militants around Kobane for the last two weeks. Some 186,000 refugees have fled to Turkey since the fighting began.
Full report at:
http://www.arabnews.com/middle-east/news/640261
-----------
Israel mulls second Al-Aqsa gate for Jewish settlers
World Bulletin / News Desk
06 Oct, 2014
The Israeli Tourism Ministry is considering dedicating a second gate for Jewish settlers into the Al-Aqsa Mosque compound in East Jerusalem.
According to Israeli army radio, the ministry is studying plans to allow settlers and tourists to enter the holy site through the Al-Qataneen gate.
Currently, Israel allows Jewish settlers into the Al-Aqsa Mosque via the Magharbeh gate.
Officials in the Jordanian-run Awqaf authority, which oversees the mosque, could not be reached for comment.
In recent months, groups of extremist Jewish settlers – often accompanied by Israeli security forces – have repeatedly forced their way into East Jerusalem's flashpoint Al-Aqsa Mosque complex.
Full report at:
http://www.worldbulletin.net/headlines/145716/israel-mulls-second-al-aqsa-gate-for-jewish-settlers
--------
180 jihadists traded by Turkey for hostages: report
06 Oct, 2014
Some 180 jihadists, including two British citizens, were handed over to the Islamic State of Iraq and the Levant (ISIL) in the deal to secure the release of the hostages abducted from Turkey's consulate in Mosul, The Times has reported.
A total of 49 Turkish Embassy staff were held hostage by ISIL for 101 days before being released on Sept. 20.
The Times reported that 18-year-old Shabazz Suleman and 26-year-old Hisham Folkard are thought to be among the 180 jihadists returned in exchange, and are being investigated by British counter-terrorism officers.
The report said it has gained access to the list of the swapped jihadists, which also includes three French citizens, two Swedish citizens, two Macedonians, one Swiss and one Belgian.
Turkey contacted tribes in the region and other armed groups to achieve the deal, it added.
http://www.hurriyetdailynews.com/180-jihadists-traded-by-turkey-for-hostages-report.aspx?pageID=238&nID=72587&NewsCatID=352
-----------
Israel plans $4bln privatization to enable 'more transparency'
6 October 2014
Israel plans to fully or partly privatize a number of state-owned companies in a move aimed at boosting efficiency, reducing the national debt and fighting corruption.
The decision, approved by the ministerial socio-economic cabinet, was expected to add 15 billion shekels ($4.07 billion, 3.26 billion euros) to state coffers over the next three years, the finance ministry said Sunday.
Minority stocks will be issued for firms "in which the state has an interest in retaining long-term governmental control" such as Israel's electricity corporation, aviation, trains, water, mail and natural gas industries, a ministry statement read.
It will also sell companies in which it has "no long-term interest", such as the ports at Ashdod and Haifa, a modified and declassified military industry (with the state retaining the right to determine the ownership), the Dead Sea Works and others.
Full report at:
http://english.alarabiya.net/en/business/economy/2014/10/06/Israel-plans-4bln-privatization-to-enable-more-transparency-.html
-----------
Cost to rebuild Gaza? $4 billion, political will
5 October 2014
More than five weeks after the Israel-Hamas war in the Gaza Strip, tens of thousands of people whose homes were destroyed or badly damaged in the fighting still live in classrooms, storefronts and other crowded shelters.
In some of the hardest-hit areas, the displaced have pitched tents next to the debris that once was their homes.
Yet despite their pressing needs, reconstruction efforts appear stymied by a continued Israeli-Egyptian border blockade of Gaza and an unresolved power struggle between the Islamic militant group Hamas and Western-backed Palestinian President Mahmoud Abbas.
Those involved in rebuilding say the post-war paralysis finally will come to an end next week, with an international pledging conference in Cairo. There, Abbas is to ask for $4 billion for Gaza, including for the rebuilding or repair of more than 60,000 homes and 5,000 businesses.
Once the money is raised, a United Nations deal is to ensure that large amounts of building materials get into Gaza, despite the blockade. Under the arrangement, Israel would gradually ease restrictions, while Abbas - who lost Gaza to Hamas in 2007 - is to regain some control there and make sure cement and steel meant for reconstruction aren't diverted.
But James Rawley, a senior U.N. official involved in the reconstruction, acknowledged the deal is fragile.
Full report at:
http://english.alarabiya.net/en/perspective/features/2014/10/05/Cost-to-rebuild-Gaza-4-billion-political-will.html
-----------
Senior Iranian MP Lauds Ecuador for Supporting Palestine, Syria
06 Oct, 2014
Chairman of the Iranian parliament's National Security and Foreign Policy Commission Alaeddin Boroujerdi in a meeting with Ecuadorian Parliament Speaker Gabriela Rivadeneira appreciated the Latin American state for its principled policies on Palestine and Syria.
"Ecuador's principled positions on Palestine and the Syrian crisis and opposition to the foreign interference in this sensitive region are among the two countries' (Iran and Ecuador) commonalities in area of foreign policy," Boroujerdi said during the meeting in Quito.
He also underlined the necessity for strengthening relations between the two countries in all spheres, specially in parliamentary fields, and said expansion of ties with revolutionary countries is a priority in Iran's foreign policy.
Full report at:
http://english.farsnews.com/newstext.aspx?nn=13930714000507
-----------
South Asia
China issues white paper on Xinjiang Production and Construction Corps
06 Oct, 2014
BEIJING: The Chinese government released a white paper Sunday detailing history and achievements made by the Xinjiang Production and Construction Corps (XPCC) to mark its 60th founding anniversary, highlighting its role in maintaining social stability and enhancing border defense.
"It has been a consistent policy of the central government to support the growth of the XPCC," said the white paper, published by the State Council Information Office under the title "History and Development of the Xinjiang Production and Construction Corps."
At present, Xinjiang is at a critical stage of achieving lasting social and political stability, the white paper said.
"It has been China's long-term strategy to give better play to the unique role of the XPCC in maintaining stability and safeguarding the border," it said. "Under new conditions, the XPCC should never be allowed to weaken, but rather be strengthened."
The white paper elaborated on the founding, development, responsibilities, structure of the XPCC and its roles in promoting economic development, safeguarding the border areas, maintaining stability, and promoting ethnic unity in the western region.
Full report at:
http://www.dailytimes.com.pk/region/06-Oct-2014/china-issues-white-paper-on-xinjiang-production-and-construction-corps
--------
Afghan Air Force MD-530F helicopters to be upgraded to armed version
06 Oct, 2014
Pentagon has awarded MD Helicopters Inc. a maximum $44.2 million firm-fixed-price contract to develop and provide an armament package for the MD-530F helicopters that were already supplied to the Afghan Air Force.
Around 17 of the Afghan Air Force's MD-530F helicpter will be upgraded under the contract which is expected to be completed by the end of September next year.
The delivery of MD-530F helicopters was awarded to MD Helicopters, Inc. in Mesa, in March 2011.
Afghan Air Force has already received 6 MD-530F helicopter and is expecting to receive up to 54 more helicopters under the 4 year contract.
MD-530F helicopters are designed for high altitude and/or hot weather operations, where thinner air costs helicopters some of their lift.
Afghan Air Force is also expecting to receive 20 A-29 Super Tucano light air support aircraft which will replace the Mi-35 attack helicopter that reaches the end of its service life in January 2016.
According to reports, the first of 20 A-29 Super Tucano aircraft arrived here Sept. 26, in preparation for the Afghanistan pilot and maintenance training mission.
The aircrafts will be used to train 30 Afghan pilots and 90 Afghan maintainers as part of a requirement from the International Security Assistance Force to conduct training outside of Afghanistan.
http://www.khaama.com/afghan-air-force-md-530f-helicopters-to-be-upgraded-to-armed-version-6800
-----------
Southeast Asia
Indonesia struggles with Islamic State recruiting
06 Oct, 2014
A businessman who proclaims himself leader of the Indonesian chapter of the Islamic State group says he has personally overseen the departure of scores of fighters from this Southeast Asian nation to Syria and Iraq. Police detained him for a night recently, but were unable to charge him with a crime. Chep Hernawan reflects both the success IS has had in attracting support in the region, and the challenges Indonesia faces in responding.]
The government, home to most of the up to 200 Southeast Asians believed to be fighting in Syria and Iraq, has forcefully spoken out against the Islamic State, as have mainstream Muslim organizations in the country. But translating that into stronger legal tools that could stop suspected militants from traveling abroad, for example, will be a challenge given the fractious nature of the next parliament and other legislative priorities, according to a recent report into the evolution of the Islamic State group by the Institute of Policy Analysis for Conflict.
National Police spokesman Brig. Gen. Boy Rafli Amar said his force could only monitor IS supporters.
"If they have no record of terrorism activities then they can't be charged under our criminal law," he said.
Full report at:
http://indianexpress.com/article/world/asia/isis-threat-indonesia-struggles-with-islamic-state-recruiting/99/#sthash.tQ26a6i9.dpuf
-----------
Azmin to meet Selangor Islamic bodies over Bible impasse
06 Oct, 2014
elangor Menteri Besar Mohamed Azmin Ali is still waiting for the state Islamic authorities to explain the impasse over their seizure of Malay and Iban-language Bibles from the Bible Society of Malaysia (BSM).
"I haven't received an explanation from Jais and Mais. This will be the next issue we address as we have been focusing on the water restructuring agreement and other matters last week," Azmin said when met at his Hari Raya Aidiladha open house in Hulu Kelang today.
Meetings with the Selangor Islamic Religious Department (Jais) and the Selangor Islamic Council (Mais) are in the pipeline, he said, adding that he had to prioritise which of the contentious issues inherited from his predecessor Tan Sri Abdul Khalid Ibrahim to deal with first.
Azmin said he would send a formal written request to the federal government to release the Selangor water agreement from the Official Secrets Act. To date, his administration still has not seen a copy of the agreement signed by Khalid and Putrajaya, although they have been briefed on the documents by the state's investment arm, Kumpulan Darul Ehsan Bhd (KDEB).
Asked whether the Bibles were still in the custody of the religious authorities, Azmin said he did not have that information.
Full report at:
http://www.themalaysianinsider.com/malaysia/article/azmin-to-meet-selangor-islamic-bodies-over-bible-impasse#sthash.ZSmeApp9.dpuf
-----------
We're monitoring social media activity on terrorism, says minister
06 Oct, 2014
The Communication and Multimedia Ministry is gravely concerned about the promotion of violence and terrorism through the internet.
"Hence, we are monitoring activities in the social media closely," said its minister Datuk Seri Ahmad Shabery Cheek (pic).
However, he said, it was not easy to keep track of every social website which could be freely and indiscriminately misused as a tool or platform for undesirable activities.
"Some developed countries may have taken measures to enhance their effectiveness in monitoring the goings-on in the social media.
"Even so, it is not an easy task because social media users are in the hundreds of thousands daily," he told reporters at an Aidiladha function at Padang Kubu, near Kemaman in Terengganu, today.
Full report at:
http://www.themalaysianinsider.com/malaysia/article/were-monitoring-social-media-activity-on-terrorism-says-minister-bernama#sthash.PoJoLh0O.dpuf
--------
Africa
Gaddafi-era intelligence HQ detonated in Benghazi
World Bulletin / News Desk
Oct 6, 2014
Unidentified militants detonated a building belonging to late strongman Muammar Gaddafi-era intelligence service in Libya's eastern Benghazi city on Monday.
No casualties were reported in the blast in Benghazi's Fuwayhat district, according to eyewitnesses.
There has been no claim of responsibility for the blast.
Libya has been dogged by political instability since Gaddafi's 2011 ouster and death, with several militias holding onto their weapons following the bloody uprising.
Benghazi, Libya's second city, has recently turned into a battlefield between troops loyal to renegade general Khalifa Haftar and the Ansar al-Sharia militia, while the Libyan government has remained largely absent from the scene.
Full report at:
http://www.worldbulletin.net/todays-news/145713/gaddafi-era-intelligence-hq-detonated-in-benghazi
-----------
Somali troops secure key port after capture from Shebab
06 Oct, 2014
Somali military commanders Monday celebrated the capture of the last major port held by Islamist Shebab insurgents, as the government secured control of the town for the first time in over two decades.
"Al-Shebab are no longer in Barawe," military commander Abdirisak Khalif Elmi told hundreds of residents Monday, calling on citizens to support the government.
Tanks and armoured vehicles patrolled the town Monday, after the Al-Qaeda linked Shebab retreated late last week ahead of the advance.
The capture of Barawe, with troops entering Sunday but with mopping up operations continuing, removes a key source of revenue for the Islamist militia.
The African Union's AMISOM force, which draws 22,000 soldiers from six nations, said Barawe, 200 kilometres (120 miles) southwest of Mogadishu, fell without "much resistance from the terrorist group."
Full report at:
http://english.ahram.org.eg/NewsContent/2/9/112443/World/International/Somali-troops-secure-key-port-after-capture-from-S.aspx
-----------
Niger declares mourning for slain peacekeepers
World Bulletin / News Desk
06 Oct, 2014
Niger on Sunday declared a three-day mourning period over the killing of nine peacekeepers in neighboring Mali two days earlier.
The Nigerien government said in a statement that flags will be flown at half-mast during the mourning period.
Nine Nigerien troops deployed under the U.N. peacekeeping mission MINUSMA were killed Friday in an attack by gunmen in the southern Malian city of Gao.
The Nigerien government vowed to "stand by the brotherly Malian people" despite the attack.
Since early September, U.N. peacekeepers deployed in northern Mali have been the target of repeated attacks by militants.
Full report at:
http://www.worldbulletin.net/todays-news/145695/niger-declares-mourning-for-slain-peacekeepers
-----------
Australia
Australia, Belgium launch anti-ISIS missions in Iraq
6 October 2014
Australian and Belgian fighter jets have flown their first armed combat mission in Iraq against the Islamic State of Iraq and Syria (ISIS), official sources said on Monday.
"The Super Hornet aircraft conducted an air interdiction and close air support mission over northern Iraq overnight," the Australian Defence Force said in a statement.
"The Super Hornets were on-call to attack targets as identified.
"On this occasion the aircraft did not use their munitions and have returned to base to disarm and prepare for future sorties."
The flights are the first since the Australian government on Friday authorized strikes on ISIS militants in Iraq.
Canberra is also deploying 200 soldiers to Iraq, including special forces, to advise Iraqi and Kurdish troops but has yet to receive the final approval from the Iraqi government.
Australia is part of the international coalition conducting an air campaign against IS that the United States has been building since first launching air strikes in August.
Australian Prime Minister Tony Abbott has spoken strongly against IS, saying the decision to support international operations is in Australia's national interest.
Full report at:
http://english.alarabiya.net/en/News/world/2014/10/06/Australia-Belgium-begin-anti-ISIS-missions.html
-----------
Crime and gangs: the path to battle for Australia's Islamist radicals
6 October 2014
The children of refugees who fled Lebanon's civil war for peaceful Australia in the 1970s form a majority of Australian militants fighting in the Middle East, according to about a dozen counter-terrorism officials, security experts and Muslim community members.
Of the 160 or so Australian militants believed to be in Iraq or Syria, several are in senior leadership positions, they say.
But unlike fighters from Britain, France or Germany, who experts say are mostly jobless and alienated, a number of the Australian fighters grew up in a tight-knit criminal gang culture, dominated by men with family ties to the region around the Lebanese city of Tripoli, near the border with Syria.
Not every gang member becomes an Islamic radical and the vast majority of Lebanese Australians are not involved in crime or in radicalism of any sort. Australian Muslims say they are unfairly targeted by law enforcement, especially after the surge in fighting in Iraq and Syria, and that racial tensions are on the verge of spiraling out of control.
Still, there is a clear nexus between criminals and radicals within the immigrant Lebanese Muslim community, New South Wales Deputy Police Commissioner Nick Kaldas told Reuters.
"It is good training," said Kaldas, himself an immigrant from Egypt and a native Arabic speaker.
Full report at:
http://english.alarabiya.net/en/perspective/features/2014/10/06/Crime-and-gangs-the-path-to-battle-for-Australia-s-Islamist-radicals.html
-----------
URL: https://www.newageislam.com/islamic-world-news/new-age-islam-news-bureau/islamic-state's-ammunition-shown-to-have-origins-in-us-and-china/d/99397