New Age Islam News Bureau
2 Jul 2015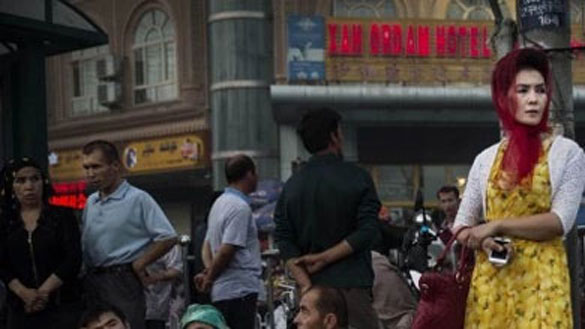 The government says ethnic violence that has killed dozens is terrorism. Uighurs claim government oppression.
------------
Arab World
• Islamic State Weaves Web of Support in Gulf Arab States
• Failure to Report Terrorists a Sin, Says Senior Scholar and Adviser to the Royal Court
• Egypt Kills More Than 100 Militants in North Sinai
• ISIL executes 22 tribesmen near Iraq's Mosul
• Egypt Security Forces Kill Nine 'Armed Men' In Cairo Suburb
• Lebanon army kills 5 al-Nusra militants near Syria
• UNESCO chief warns about militant 'culture cleansing'
• Saudi Warplanes Start Pounding Najran Airport to Make Up for Defeat
• Syrian Army Hits Hard ISIL Leaders' Command Meeting in Deir Ezzur
• Kuwait makes DNA tests mandatory after ISIS bombing
• Syria Kurds regain control of Tal Abyad after ISIS attack
• Kuwait arrests two police officers in crackdown on militants
• Syrian rebels execute Daesh captives in tit-for-tat move
• Egypt's army, police suffer heavy casualties in Daesh attacks
• Syrian Army, Hezbollah Start Advancing towards Zobdani
• Spokesman: Liberating Anbar Province, Huwaija Town Top Priority of Iraqi Popular Forces
• Dempsey: No shortcuts in Syria rebel vetting
• Egypt military 'in full control' of Sinai after clashes
-----------
Pakistan
• Eminent Ulema Endorse Birth Spacing
• Raid Killed Senior Al Qaeda Figure in Lahore
• Pak, Afghan forces in deadly border clash
• PPP suffers another blow in Punjab as Sumsam Bokhari joins PTI
• Rangers claim arrest of MQM men over extortion, party denies charges
• Sindh govt allotted 44,000 acres of land to Bahria Town: Rangers
• DHA standoff gunman is 'trained pilot'
-----------
South Asia
• Nine Soldiers Martyred, 29 Militants Killed In Afghanistan Military Operations
• Special Force Formed To Combat Daesh in Afghanistan
• Afghanistan Leans On 'Abusive' Local Police as Taliban Advance
• Three Afghans detained on terrorism charges in Morocco
• Charges pressed against 7,500 BNP-Jamaat men in Dinajpur
• Afghan court overturns death sentences for mob killers
-------------
India
• Born a Muslim, Trained In Hindu Scriptures, Yogi 'Sri M' Is On the Move
• Maharashtra Dubs Madrasas 'Non-Schools'
• Hindus, Muslims Pelt Stones at Each Other As Violence Erupts Yet Again In Ballabhgarh
• Pakistan Shared No Evidence of India's Involvement in Terrorist Activities inside Its Territory Says US
-----------
Europe
• ISIS Rivals Jaysh Al-Islam 'Turn Militant Group's Tactics against Them' In a Mass Execution Video
• European Police to Target Islamist Radicals on Social Media Accounts
• U.K. Law Targets Extremism in Schools
• UK Police Knew and Did Nothing to Protect Girls from Muslim Predators
• Plans to turn Catholic chapel into Muslim prayer room scrapped
• France Deporting Radical Muslim Imams
• Russia sees a threat in its converts to Islam
------------
Africa
• Tunisia Identifies All 38 Victims of Beach Massacre, 30 British
• Western Powers Urge Libya Rivals To Sign Peace Deal
• Bodies of 8 British victims in Tunisia attack flown home
• Israel cancels West Bankers' Gaza visits after attacks
• Talks on Libya unity deal stall despite UN warnings
• UNSC imposes sanctions on six S Sudan generals
------------
Mideast
• Iran, Oman Stress Immediate Halt to Saudi Airstrikes on Yemen
• Military Expert: CIA Masterminding ISIL's Operations in Hasaka
• U.N. report positive on Iran nuke commitments
• U.N. sets top-level aid emergency in Yemen
• Yemen's president pens letter on country's situation to U.N. chief
• Turkey arrests seven ISIS suspects: media
• IAEA chief heads to Iran as nuclear talks reach last stretch
• CBI Governor: 13 Tons of Iran's Frozen Gold Consignments Back Home
------------
Southeast Asia
• China At War With Islam: Uighurs
• Malaysian PM: Religious Schools Must Also Focus On Other Subjects
• Chinese Army for Bringing 'Modern Civilisation' To Xinjiang
• China upset with Turkey's concern on Ramazan laws
• After latest fuel price hike, Muslim group sees shades of 'Arab Spring'
• Inflation picks up in Indonesia during Muslim holy month
• Indonesia's Islamic banks launch Islamic repurchase agreement
------------
North America
• Saudi Government Funding Private Islamic Schools in Canada, Documents Show
• Arabic Anthem Translates Love for Canada
• America and Europe Muslim Leaders Condemn Islamic State Attacks, Call Holy Month Time For Peace
• US Muslims Urge Muslim Killing Investigation
• Saskatoon Muslim community hosts Canada Day event
Compiled by New Age Islam News Bureau
URL: https://www.newageislam.com/islamic-world-news/new-age-islam-news-bureau/islamic-state-weaves-web-of-support-in-gulf-arab-states/d/103737
-----------
Arab World
Islamic State Weaves Web of Support in Gulf Arab States
Jul 2, 2015
KUWAIT: When a Saudi Arabian man flew to Kuwait in the early hours of Friday to carry out the country's worst militant attack, a bomb vest, Kuwaiti-style Arab robes, a place to prepare, and a car and driver to take him to his target were all lined up for him.
The vest had been ferried across from Saudi Arabia a few days before in a complex operation suggesting Islamic State now commands a capable network of militants, propagandists and sympathisers on the Arabian Peninsula, a security source said.
Among those Fahd Suliman Abdul-Muhsen al-Qabaa contacted when his overnight flight via Bahrain landed, one had a family tie to Islamic State (IS) and another links to Al Qaeda attacks in Kuwait a decade earlier, a security source and Kuwaiti media have reported.
Hours later, CCTV cameras recorded the young man entering Imam al-Sadeq mosque, his figure made portly by the bomb-laden vest concealed beneath his robe. He paused briefly to examine the 2,000 men prostrated in prayer, then detonated the device.
The timing of his entry, when few in the mosque were in a position to ask intrusive questions of a stranger, was another sign of the attention to detail of the cross-border team, which also appears to have coordinated propaganda around the attack.
The killing of 27 people was Kuwait's deadliest militant attack, and the most lethal in any of the six hereditary-ruled Gulf Arab states since bombings in Riyadh killed 35 at the start of an Al Qaeda campaign in Saudi Arabia in May 2003.
The assault has raised concerns about the number of young Saudi men willing to travel to attack Shias in smaller Gulf Arab states and so make good on a threat by Islamic State to step up violence in the holy fasting month of Ramazan.
Officials worry this could be a model for future bombings in the energy-rich Gulf states: A bomber drawn from Saudi Arabia's large pool of radicalised Islamists who flies or drives into a neighbouring state ─ Gulf Arabs enjoy visa free travel between their countries ─ and works with a local cell.
Encrypted messaging
Aimen Dean, a Saudi former Al Qaeda insider who now runs a Gulf-based security consultancy, said Islamic State's cells posed "a more flexible threat" that would be harder to track down than those deployed by Al Qaeda in its 2003-06 campaign.
This was in part due to the spread of encrypted messaging systems, enabling dispersed groups of militants to be directed from abroad, whereas Al Qaeda in Saudi Arabia in 2003-06 was centrally managed and therefore easier to infiltrate, he said.
Friday's bombing was one of three attacks on civilians on three continents that day that drew worldwide condemnation ─ the others were in Tunisia and France ─ and happened almost a year to the day after Islamic State declared a caliphate.
Of the three, the Kuwait attack appears the one mostly clearly directed by the militant network, to judge by Islamic State's rapidity in asserting its role, and possibly by the connections of the individuals allegedly involved.
A source familiar with US investigations into the attack said Qabaa was seen as a serious member of IS' Saudi affiliate.
Kuwaiti officials are studying CCTV footage of the Nuwaiseeb border post, where the vest was brought in from the kingdom.
Responsibility was claimed within hours by the group's "Wilayat of Najd" branch, and a posthumous audio of Qabaa followed shortly after. The Wilayat of Najd had also claimed two bombings of Shia Mosques in Saudi Arabia.
Najd, the central and northern part of Saudi Arabia, is the heartland of the kingdom's ultra-conservative religious traditions and was also the birthplace of Qabaa.
An article about Qabaa, from Qassim region in Najd, published by the Saudi-owned daily al Hayat, paints a picture of a college dropout and loner who took up militant causes.
Qabaa attended demonstrations demanding the release of suspected militants detained by state security ─ rare public protests in the authoritarian kingdom, it said in a report that could not immediately be authenticated independently.
Another participant at such gatherings was Saleh al-Qashami, a 20-year-old man responsible for a suicide bombing that killed 21 in Qatif last month. Both men have relatives in Saudi prisons accused of terrorism and incitement, al-Hayat said.
Qabaa made failed attempts to travel to join militant groups in Iraq and Syria, according to one of his relatives who spoke to al Hayat. He did not have many friends and used to spend a lot of hours in front of his computer, the newspaper reported.
Kuwaiti al-Qabas newspaper reported on Tuesday that five people suspected of involvement in the attack had been referred to the public prosecutor. The five, it said, had confessed to receiving funding from abroad for attacks on places of worship.
Read more: Twitter, YouTube analysis pinpoints IS strategy
Bombing plot
A senior lawyer, Mohammed al-Humaidi, said he understood a defence lawyer had not yet been retained by those sent for public prosecution. Such a step would take some more days.
Newspapers did not identify the five but said they included people accused of close involvement in the plot. Authorities said these included the driver of the Japanese-made car. State media named him as Abdul-Rahman Sabah Aidan.
Aidan was subsequently found by police at a house whose owner, Mohammed Shukhair al-Enizi, had served a prison term for playing a role in an Al Qaeda linked group, the Lions of the Peninsula, active in the mid-2000s, Kuwaiti newspapers said.
Members of that group sought to attack US military bases in Kuwait and took part in shootings in Kuwait City in 2005 that killed nine Islamists and four security force members.
Authorities have named the owner of the car used in the bombing as Jarrah Nimer Mijbil Ghazi. A security source said Ghazi had a brother in Islamic State in Syria and investigators were looking for any link that person might have to the bombing.
One of the more prominent members of the Lions was Muhsin al Fadhli, who later become a leader of the Khorasan group, which US officials have said works with Al Qaeda's Nusra Front in Syria. US officials have said they believe Fadhli survived US air strikes on Al Qaeda in Syria in September 2014.
http://www.dawn.com/news/1191866/islamic-state-weaves-web-of-support-in-gulf-arab-states
------------
Failure To Report Terrorists A Sin, Says Senior Scholar And Adviser To The Royal Court
2 July 2015
JEDDAH: Failing to report what one knows about the presence or plans of terrorists and extremists is a "grave sin" and makes the person who fails to do so an accomplice to the resulting actions, according to Abdullah bin Suleiman Al-Manae, a member of the Council of Senior Scholars and adviser to the royal court.
"We must comply and cooperate with any agency or authority that strives to protect our religion, safety and security. All members of society must play a role in fighting evil and overcoming it," he said.
He condemned the recent bombings in mosques for transforming sacred and safe places into places of fear. He described the acts as "unprecedented in history" and unrepresentative of the peaceful values of Islam.
"As their evil has spread not only across the Islamic and Arab world but also to Europe, we hope that the United Nations will take harsh action and coordinate efforts to overcome these groups who do nothing but promote evil and misrepresent Islam," he said.
As to the role of scholars in denouncing such acts, Al-Manae said no Islamic scholar or authority supports or condones these actions. Many have issued statements and directives to warn people of these deviant and erroneous trends, and the public must combine efforts to become a powerful force against such evil.
إعلان
Regarding the role of families in preventing children from getting involved in these activities, he said parents must guide their children and remove temptations that may guide them in the wrong direction. Educational authorities, such as the Ministry of Education, Ministry of Islamic Affairs, and the Commission for the Promotion of Virtue and the Prevention of Vice (Haia), should intensify guidance and detection efforts in order to protect our children and give them the knowledge to determine who is their enemy and who is their friend. All members of society must report any knowledge of dangerous or suspicious activities or behavior in order to avoid being accomplices of the deviants.
Al-Manae said young people should do more to seek guidance from scholars about the actual Shariah principles, while scholars and experts should stand together and appeal to the young in order to prevent extremists from brainwashing them and instilling distrust for scholars.
As for the presence of suspicious sites as a source of spreading deviant ideas, Al-Manae confirmed that all young people have the "responsibility to ask questions and obtain information from trustworthy sources," as well as ensuring the security, protection and stability of the country in the face of evil.
http://www.arabnews.com/saudi-arabia/news/770501
------------
Egypt Kills More Than 100 Militants in North Sinai
1 July 2015
Egypt's armed forces said that at least 100 militants and 17 soldiers had been killed in a wave of attacks on military checkpoints in the Sinai Peninsula on Wednesday claimed by the Islamic State of Iraq and Syria's branch in Egypt.
The statement, which was aired on state television, said 17 soldiers, including four officers, were killed. Thirteen soldiers were also wounded.
The attack is considered one of the biggest militant strikes in Egypt's modern history.
Earlier on Wednesday, Egyptian army F-16 jets and Apache helicopters struck ISIS positions in the town of Sheikh Zuweid that lies within the Sinai Peninsula, a strategic area located between Israel, the Gaza Strip and the Suez Canal.
Militants have reportedly taken up positions on rooftops and mined streets leading to the town's police station to prevent forces from leaving, according to Al Arabiya News Channel and Agence France-Presse.
The army said five checkpoints were attacked by about 70 militants and that soldiers had destroyed three land cruisers fitted with anti-aircraft guns.
Clashes between militants and soldiers have been going for more than eight hours, marking the biggest onslaught yet.
ISIS' Egyptian affiliate, Sinai Province, claimed responsibility for the Sinai attacks in a Twitter statement.
"In a blessed raid enabled by God, the lions of the caliphate have simultaneously attacked more than 15 checkpoints belonging to the apostate army," the group said in a statement posted on social media websites.
ISIS had urged its followers to escalate attacks during the Islamic holy month of Ramadan which started in mid-June, though it did not specify Egypt as a target.
Security sources speaking to Reuters said the militants had planned to lay siege to Sheikh Zuweid town, where most of the fighting has been concentrated, by hitting all army checkpoints simultaneously.
Witnesses and security sources also reported hearing two explosions in the nearby town of Rafah, which borders Gaza. The sources said all roads leading to Rafah and Sheikh Zuweid were shut down and residents were staying in their homes.
In late April, the army extended by three months a state of emergency imposed in parts of Sinai.
The army has taken several measures to crush the insurgency. Aside from bombardments in the region, they have destroyed tunnels into the Palestinian-ruled Gaza Strip and created a security buffer zone in northern Sinai.
The army was also digging a trench along the border with Gaza in an effort to prevent smuggling.
The measures have stoked resentment among some residents, who say they rely on the smuggling trade through the tunnels and complain of neglect by the state.
The attacks come just two days after the assassination in Cairo of the country's prosecutor-general Hesham Barakat.
Militant attackes in northern Sinai have been stepped up following the July 2013 ouster of Islamist President Mohammad Mursi.
In Cairo, security forces stormed an apartment in a western suburb and killed nine men whom they said were armed, security sources said.
The sources said authorities received information the group was planning to carry out an attack. Among those dead was Nasser al-Hafi, a prominent lawyer for the Muslim Brotherhood and a former lawmaker. The Brotherhood denied the group was armed.
https://english.alarabiya.net/en/News/middle-east/2015/07/01/Egyptian-soldiers-killed-in-Sinai-militant-attack.html
------------
ISIL executes 22 tribesmen near Iraq's Mosul
Jul 1, 2015
The ISIL Takfiri terrorists have executed over 20 members of a tribe near the Iraqi city of Mosul which is under the control of the terrorist group.
Sheikh Mehdi al-Jubouri, a member of al-Jabour tribe, revealed on Wednesday that the Takfiri group executed 22 members of the tribe in the area of Badush west of Mosul because of an altercation between militants and tribal figures.
"ISIL militants arrested 22 members of al-Jabour tribe and executed them in front of their families," Jubouri said.
He further noted that the Takfiri terrorists kidnapped a group of other people and "took them to unknown destinations".
The ISIL terrorists control parts of Iraq and neighboring Syria. They have been committing crimes against humanity in the areas under their control.
The northern and western parts of Iraq have been plagued by violence ever since ISIL militants began their march through the Iraqi territory in June 2014. Army soldiers and volunteer fighters have joined forces and are seeking to take back militant-held regions in joint operations.
UNESCO urges campaign against ISIL
The head of the United Nations cultural organization on Wednesday warned against the "culture cleansing" being committed by the ISIL terrorist group, calling for a campaign against the Takfiri group.
"Extremists don't destroy heritage as a collateral damage, they target it systematically to strike societies at their core," Irina Bokova, the director general of the UN Educational, Scientific and Cultural Organization (UNESCO) said.
Bokova added, "This strategy seeks to destroy identities by eliminating heritage and cultural markers."
In this screen garb from an ISIL video posted on YouTube on April 3, 2015, a militant hammers at a wall in Hatra, a large fortified city recognized as a UNESCO World Heritage site, southwest of Mosul, Iraq. (AP photo)
ISIL took control of the Syrian ancient city of Palmyra in the central province of Homs in May. The city, which is home to a UNESCO World Heritage site, is feared to be looted by the terrorist group, which has locked down the museum there.
In April, ISIL released a video showing its members destroying artifacts at Iraq's northern ancient Assyrian city of Nimrud before blowing up a part of the site. Also in February, the terrorists smashed ancient statues at the Nineveh museum in Mosul, using sledgehammers and drills.
http://www.presstv.in/Detail/2015/07/01/418388/ISIL-ISIS-Mosul-Jabour
-----------
Egypt security forces kill nine 'armed men' in Cairo suburb
1 July 2015
The Interior Ministry says the nine people killed in a raid on a Cairo apartment in the suburb of '6th of October' were fugitive Muslim Brotherhood leaders who had been meeting to plan terrorist plots. It says the group included two people who had previously been sentenced to death.
A statement from the ministry late Wednesday said that in addition to weapons, investigators found 43,000 Egyptian pounds ($5,630) along with documents and memory cards.
The ministry said the group was planning attacks on the army, police, judiciary and media.
Materials seized in the raid would be used in the investigation of the assassination of chief prosecutor Hisham Barakat, who was killed Monday.
When police went to arrest them, the militants opened fire and the nine were killed in the ensuing gun battle, a security official said according to Agence France-Presse.
The Muslim Brotherhood said the dead were leaders from the blacklisted Islamist movement. Among those dead was Nasser al-Hafi, a prominent lawyer for the Muslim Brotherhood and a former lawmaker.
"Egyptian police assassinates 9 Muslim Brotherhood leaders during a meeting to discuss support to families of (political) detainees/martyrs," it said on Twitter in English.
In another tweet, the Brotherhood said the dead also included "Abdul Fattah Ibrahim, head of the committee for supporting families of political detainees & martyrs".
Wednesday's incident took place on the same day that the army was fighting an attack by Islamic State of Iraq and Syria militants in the Sinai and two days after Egypt's public prosecutor was killed by a car bomb in Cairo.
The authorities designated the Brotherhood as "terrorist group" after the ouster of president Mohamed Mursi in July 2013 by then army chief and now President Abdel Fattah al-Sisi.
https://english.alarabiya.net/en/News/middle-east/2015/07/01/Egypt-security-forces-kill-nine-armed-men-in-Cairo-suburb-.html
------------
Lebanon army kills 5 al-Nusra militants near Syria
Jul 1, 2015
The Lebanese army says its forces have killed five Takfiri militants trying to infiltrate the northeastern border town of Arsal from neighboring Syria.
According to an army statement on Wednesday, the Lebanese troops clashed with the militants of the al-Qaeda-linked al-Nusra Front late Tuesday, killing five of them, the Lebanese newspaper The Daily Star reported.
The report added that the terrorists were "ambushed" as they tried to enter Arsal, situated 124 kilometers (77 miles) northeast of the capital, Beirut, through Wadi Ata.
.
A file photo of al-Nusra Front terrorists in Syria
Over the past months, Lebanon has been facing terrorist attacks by al-Qaeda-affiliated militants as well as random rocket strikes, which are viewed as a spillover of the conflict in Syria.
Terrorists affiliated with al-Nusra and the ISIL Takfiri group overran Arsal last August, killing and capturing more than three dozen soldiers and security forces there.
http://www.presstv.in/Detail/2015/07/01/418303/Lebanon-Syria-Takfiri-ISIL
------------
UNESCO chief warns about militant 'culture cleansing'
1 July 2015
The head of the U.N. cultural organization on Wednesday called for a campaign against the "culture cleansing" being carried out by Islamic State of Iraq and Syria (ISIS) militants.
"Extremists don't destroy heritage as a collateral damage, they target it systematically to strike societies at their core," Irina Bokova said in a speech at the Chatham House think tank in London.
"This strategy seeks to destroy identities by eliminating heritage and cultural markers," she said.
Several archaeological sites have been attacked by ISIS jihadists in Iraq and Syria and their recent takeover of an area including the ruins of the ancient city of Palmyra in Syria sparked worldwide concern.
In April, the ISIS group released a video in which militants can be seen using rifles and sledgehammers to destroy artefacts at Hatra.
Earlier the militants also damaged the site of Iraq's ancient Assyrian city of Nimrud and destroyed dozens of pieces from the museum in Mosul.
Full report at:
https://english.alarabiya.net/en/News/middle-east/2015/07/01/UNESCO-chief-warns-about-militant-culture-cleansing-.html
------------
Saudi Warplanes Start Pounding Najran Airport to Make Up for Defeat
Jul 01, 2015
The forces of the Ahrar al-Najran Saudi opposition movement, that declared independence and said it would join the Yemeni troops in the war on Riyadh last month, attacked the airport on Wednesday and seized its full control after killing 30 Saudi military men and injuring dozens more.
Following the Saudi army's defeat, the country's fighter jets bombarded Najran airport and its surrounding areas as well as several districts in Najran.
Abu Jahad, a senior member of 'Ahrar al-Najran', said that the clashes between the movement and the Saudi soldiers are still raging around the airport.
On Tuesday, Ahrar al-Najran announced that its fighters, assisted by tribal forces, had downed a military helicopter of the Saudi army in the Southern parts of the Arab country.
The Saudi opposition movement said it shot down the Saudi army's chopper with the help of local tribal forces.
Ahrar al-Najran said that its air defense system hit the Saudi helicopter as it was on a patrolling mission.
Tribal forces and activists in Saudi Arabia's Najran region formed a military and political opposition movement to the Saudi regime, called 'Ahrar al-Najran' after the region declared earlier this month that it had separated from Saudi Arabia and joined Yemen in the war on Riyadh.
Full report at:
http://english.farsnews.com/newstext.aspx?nn=13940410001452
------------
Syrian Army Hits Hard ISIL Leaders' Command Meeting in Deir Ezzur
Jul 01, 2015
t least 40 ISIL terrorist leaders were killed during the army's raids on their gathering in al-Quriya district of al-Mayadeen city in Deir Ezzur province in Eastern Syria.
According to the military sources, the operation was the result of an inside job by the Syrian spies.
Earlier this month, a large number of ISIL terrorists were also killed in Syrian army's airstrikes against ISIL leaders' gathering centers in Raqqah province.
Syrian fighter jets had hit ISIL positions in Raqqa province and managed to kill tens of high-profile Takfiri commanders in the area.
Early tips from informants in ISIL camps disclosed that a large group of ringleaders, mainly from Saudi Arabia and Tunisia, have been killed in the raid.
Full report at:
http://english.farsnews.com/newstext.aspx?nn=13940410001302
------------
Kuwait makes DNA tests mandatory after ISIS bombing
1 July 2015
Kuwait's parliament, reacting to a suicide bombing last week that killed 26 people, adopted a law Wednesday requiring mandatory DNA testing on all the country's citizens and foreign residents.
The legislation, requested by the government to help security agencies make quicker arrests in criminal cases, calls on the interior ministry to establish a database on all 1.3 million citizens and 2.9 million foreign residents.
Under the law, people who refuse to give samples for the test face one year in jail and a fine of up to $33,000 (29,700 euros). Those who provide fake samples can be jailed for seven years.
Parliament also approved a $400 million emergency funding for spending required by the interior ministry.
"We have approved the DNA testing law and approved the additional funding. We are prepared to approve anything needed to boost security measures in the country," independent MP Jamal al-Omar said.
A suicide bomber blew himself up during Friday prayers last week at a Shiite mosque in the capital, also wounding 227 people, in an attack claimed by the Islamic State of Iraq and Syria (ISIS) group.
ISIS's Saudi affiliate, the Najd Province, claimed the bombing and identified the assailant as Abu Suleiman al-Muwahhid. Kuwaiti authorities said his real name was Fahd Suleiman Abdulmohsen al-Qabaa, saying he was a Saudi born in 1992.
Interior Minister Sheikh Mohammad Khaled al-Sabah told parliament Tuesday security agencies had busted the "terror cell" behind the bombing.
"We are in a state of war. Yes, we have busted this terror cell but there are other cells we are going to strike," Sheikh Mohammad said.
He said the emirate has revised "all security measures, especially around mosques and all places of worship."
Full report at:
https://english.alarabiya.net/en/News/middle-east/2015/07/01/Kuwait-makes-DNA-tests-mandatory-after-ISIS-bombing-.html
------------
Syria Kurds regain control of Tal Abyad after ISIS attack
1 July 2015
Syrian Kurdish forces regained full control of Tal Abyad on Wednesday, expelling Islamic state of Iraq and Syria (ISIS) group fighters who had seized a district of the strategic border town, a monitor said.
"Kurdish fighters expelled ISIS from the Mashur al-Fawqani district that they had captured yesterday (Tuesday)," said Rami Abdel Rahman, head of the Syrian Observatory for Human Rights.
He said at least three fighters of the Kurdish People's Protection Units (YPG) and four ISIS jihadists were killed in clashes on Wednesday.
YPG spokesman Redur Khalil confirmed that the town had been secured.
"The Daesh group that entered the Mashur al-Fawqani district... was eliminated completely and expelled from the area," he told AFP, using an Arabic acronym for ISIS.
He said three ISIS fighters had been killed in the fighting, and a fourth died detonating an explosive belt.
Full report at:
https://english.alarabiya.net/en/News/middle-east/2015/07/01/Syria-Kurds-regain-control-of-Tal-Abyad-after-ISIS-attack.html
------------
Kuwait arrests two police officers in crackdown on militants
1 July 2015
Kuwait has arrested two police officers as part of a security crackdown on Islamist militants launched after last week's deadly bombing on a mosque claimed by ISIS, newspapers reported on Wednesday.
The attack by a suicide bomber on Friday killed 27 people and injured more than 200, prompting the government to declare it was at war with ISIS would strike out at cells believed to be on its soil.
Security forces found weapons, ammunition, maps and slogans supporting ISIS in a raid on the home of a student and another suspect who said they had received the weapons from the officers, al-Rai daily quoted security sources saying.
About 90 people have been detained by authorities investigating the attack on a Shi'ite Muslim mosque in Kuwait City, Al Qabas newspaper said on Wednesday, up from 60 reported by media on the previous day.
The Kuwaiti interior ministry was not immediately available for comment.
Ten suspects -- among them Saudis, Kuwaitis and stateless residents -- had been referred to the public prosecution, it reported, a move that indicates a criminal case has been opened.
Among the 10 are five principal suspects accused of helping the suicide bomber, a Saudi, carry out the attack, it said.
Full report at:
https://english.alarabiya.net/en/News/middle-east/2015/07/01/Kuwait-arrests-two-police-officers-in-crackdown-on-militants-.html
------------
Syrian rebels execute Daesh captives in tit-for-tat move
1 July 2015
BEIRUT: Fighters from a Syrian insurgent group appear to have killed more than a dozen Daesh captives with gunshots to the head, according to a video posted online on Wednesday, which evoked a similar style to the extremist group's own footage.
The insurgents from a group known as Islam Army are shown wearing orange jumpsuits and leading a group of alleged Daesh (Arabic acronym for Islamic State) fighters dressed in black along a road lined by trees. The men are hobbling and bound together with balls and chains. They are made to kneel and then shot dead.
Islam Army was formed by a merger of rebel factions in 2013 and is mainly based in the eastern Ghouta area near Damascus. Its leader Zahran Alloush is one of the most prominent figures of the insurgency and his role has taken him recently to Istanbul and Amman, both hubs for Syrian opposition activity against President Bashar Assad.
Full report at:
http://www.arabnews.com/middle-east/news/770151
------------
Egypt's army, police suffer heavy casualties in Daesh attacks
1 July 2015
EL-ARISH, Egypt: Islamic militants on Wednesday unleashed a wave of simultaneous attacks, including suicide car bombings, on Egyptian army checkpoints in the restive northern Sinai Peninsula, killing at least 50 soldiers, security and military officials said.
The coordinated morning assaults in Sinai came a day after Egypt's president pledged to step up the battle against Islamic militants and two days after the country's state prosecutor was assassinated in the capital, Cairo. The attacks set off fierce fighting between the army and the militants that continued into Wednesday afternoon — the fiercest clashes in decades in the peninsula.
The scope and intensity of the attacks underscored the resilience and advanced planning by the militants who have for years battled Egyptian security forces in northern Sinai but intensified their insurgency over the past two years just as the government threw more resources into the drawn-out fight.
إعلان
A Daesh (Arabic acronym for Islamic State) affiliate in Egypt claimed responsibility for Wednesday's attacks, saying its fighters targeted a total of 15 army and police positions and staged three suicide bombings, two of which targeted checkpoints and one that hit an officers' club in the nearby city of el-Arish.
The authenticity of the claim could not be immediately verified but it was posted on a Facebook page associated with the group.
Except for the attack at the officers' club, the rest took place in the town of Sheikh Zuweid and targeted at least six military checkpoints, the officials said. The militants also took soldiers captive and seized weapons and several armored vehicles, they added, speaking on condition of anonymity in line with regulations.
At least 55 soldiers were wounded, the officials also said. As fighting raged, an army Apache gunship destroyed one of the armored carriers captured by the militants as they were driving it away, the officials added.
Egypt's military spokesman, Brig. Gen. Mohammed Samir, said clashes were still underway in the area between the armed forces and the militants. His statement put the number of soldiers killed so far at 10, but the conflicting numbers could not immediately be reconciled in the immediate aftermath of a major attack.
Samir's statement, posted on his official Facebook page, said some 70 militants attacked five checkpoints in northern Sinai and that Egyptian troops killed 22 of them and destroyed three all-terrain vehicles fitted with anti-aircraft guns.
Later Wednesday, Samir said on his Facebook page that the country's armed forces targeted two militant gatherings in northern Sinai, completely destroying them.
The Egyptian air force is "targeting terrorists on the ground as clashes continue," he said, though he did not give a new figure for militant casualties.
The officials said scores of militants were besieging Sheikh Zuweid's main police station, shelling it with mortars and rocket-propelled grenades and exchanging fire with dozens of policemen inside.
Full report at:
http://www.arabnews.com/middle-east/news/770116
------------
Syrian Army, Hezbollah Start Advancing towards Zobdani
Jul 01, 2015
Al-Zobdani is now the scene of fierce clashes between the Syrian and Lebanese forces and militants of Jeish al-Fath terrorist group.
The Syrian air force and artillery units started pounding the terrorists' positions as the country's troops are advancing on the ground.
Al-Zobdani is located on the Eastern foothills of the Lebanese mountains and is currently under control of Al-Nusra Front and Ahrar al-Sham terrorists.
On May 20, the Syrian army and the Lebanese Hezbollah resistance fighters started their last round of military operations to purge Al-Qalamoun region in Damascus countryside of Takfiri terrorists.
Full report at:
http://english.farsnews.com/newstext.aspx?nn=13940410001474
------------
Spokesman: Liberating Anbar Province, Huwaija Town Top Priority of Iraqi Popular Forces
Jul 01, 2015
"At present, the top priority of the Iraqi popular forces and the military units is the full freedom of al-Anbar province and then Huwaija from the ISIL hands," Spokesman of the Iraqi popular forces Karim al-Nouri told FNA.
He underlined that purging the terrorists from Huwaija town in Kirkuk province is merely possible through coordination with the Kurds.
Nouri said the complicated and difficult nature of conducting operations in certain parts of Iraq cannot dissuade the Iraqi forces from liberating them.
Reports on Monday said that at least 69 ISIL terrorists were killed and injured in the Western province of al-Anbar by the Iraqi army's airstrikes and artillery fire.
Iraqi fighter jets killed and wounded at least 43 ISIL terrorists in Qaem district in the restive province of al-Anbar, the interior ministry said in a statement on Sunday, adding that 5 ISIL ringleaders were also killed.
At least 28 terrorists were killed and 15 others were injured during the operations, and the ISIL ringleader in Mosul and Baghdad Ayad Abusaleh is also seen among the dead, the statement added.
Full report at:
http://english.farsnews.com/newstext.aspx?nn=13940410001269
------------
Egypt military 'in full control' of Sinai after clashes
2 July 2015
Egypt's military spokesman said Wednesday that the situation in North Sinai was back in control following clashes with militants that left more than 100 people dead.
Mohamed Sanir, who was speaking by phone to state television, said that the northern part of the peninsula was "100 percent under control," according to Reuters news agency.
Sanir's statements came shortly after an ISIS-linked militant group struck Egyptian army outposts in the Sinai Peninsula in a coordinated wave of suicide bombings and battles that killed 17 soldiers and more than 100 militants.
Full report at:
https://english.alarabiya.net/en/News/middle-east/2015/07/02/Egypt-military-in-full-control-of-Sinai-after-clashes.html
------------
Pakistan
Eminent Ulema Endorse Birth Spacing
July 02, 2015
ISLAMABAD - Eminent Ulema (religious scholars) of the country have endorsed a declaration allowing the use of all reversible family planning methods that can help families to better plan the timing and spacing of their pregnancies to avoid maternal deaths and improve the health and wellbeing of families.
Speaking at a high-level meeting organised in Islamabad by the Population Council in collaboration with UNFPA, the Ulema unanimously offered their help and support in promoting the provision of birth spacing services thereby creating a healthy and prosperous society.
The religious Leaders and heads of the religious institutions affirmed that Islam declares the preservation and maintenance of human life as an unalienable right of all individuals and families and supports, all measures/means/approaches (that are in conformity to the Islamic teachings) for ensuring the attainment of this basic right.
In her welcome remarks Dr Zeba A Sathar, Country Director Population Council, spoke on the enduring importance of religion and religious scholars in rapidly changing conditions. She cited the examples of various Muslim countries which achieved remarkable success in improving their health indicators by involving religious leaders in health promotion activities.
She said that the empirical evidence collated to the Population Council shows that men in Pakistan are now keen to improve the health and wellbeing of their families and want to plan their families according to the resources available to them so as to improve the living standard of the family. "However, a matter of concern was the high unmet need for adopting family planning methods due to lack of access to services. More importantly there was a lack of clarity regarding the permissibility of using family planning methods in Islam amongst the minds of certain segments of the population." She appreciated the fact that the prominent Ulema had gathered in Islamabad during the holy month of Ramazan to commit their support to a national cause. She said that scientific evidence clearly shows that birth spacing is the most effective ways to dramatically reduce maternal and infant mortality.
Eminent Ulema and Mashaikh spoke on the occasion and extensively quoted from the Holy Quran and sayings of the Prophet Muhammad (PBUH) endorsing the concept of birth spacing and the use of all methods that can help parents to better plan the timing and spacing of pregnancies with the eventual aim of achieving better health outcomes for the entire family.
Maulana Abdul Khabir Azad, Grand Imam of the Badshahi Mosque Lahore, said that the death of 14,000 mothers due to pregnancy related causes was indeed a tragedy as these lives could have been saved if they did not have to endure the strain of repeated pregnancies. He said that according to the teaching of Islam, one life saved is akin to saving the entire humanity.
The Ulema clearly offered their all-out support to the government and relevant departments in helping to provide accurate information on the permissibility of adopting all measures that can help in insuring the wellbeing of the family and society as a whole.
Sarah Masale, Deputy Representative UNFPA, appreciated the efforts of the Population Council in assembling a galaxy of eminent religious leaders of the country. She said that UNFPA was globally engaging with faith based organisations and religious leaders to seek their support in influencing peoples behaviours and inculcating within them a sense of responsible parenthood. She said that religious leaders were also service providers as they were meeting the social needs of the people.
Full report at:
http://nation.com.pk/islamabad/02-Jul-2015/religious-scholars-endorse-birth-spacing
-----------
Raid killed senior Al Qaeda figure in Lahore
July 01, 2015
LAHORE- The head of Al Qaeda in Pakistan was among four militants killed in a police raid near the eastern city of Lahore this week, a provincial official said today.
Shuja Khanzada, home minister for Punjab province, named the Al Qaeda leader only as "Abdali" in a news conference and said he and three other operatives were planning an attack on government figures.
"Their leader who was giving them the briefings, who was leading the entire team, was the head of al Qaeda in Pakistan. His name was Abdali," he told reporters.
The minister later confirmed by telephone that Abdali was one of the four killed on Monday when Pakistani forces raided a hideout in the small town of Ferozwala a few kilometres outside Lahore.
Full report at:
http://nation.com.pk/national/01-Jul-2015/raid-killed-senior-al-qaeda-figure-in-lahore
------------
Pak, Afghan forces in deadly border clash
July 02, 2015
Islamabad - At least two Pakistani security personnel were injured and an Afghan soldier was killed in a border clash early Wednesday.
According to an ISPR statement, an RPG-7 rocket and few rounds of small arms were fired on Angoor Ada gate from Afghan side due to which two Pakistani security personnel were injured.
"Pakistani troops responded and targeted positions from where fire was originated," the statement added.
The border clash also left one Afghan security personnel dead, officials in Kabul said.
Pakistan military spokesman Major-General Asim Bajwa told VoA its soldiers were engaged in a construction activity at the Angoor Adda border area when they came under attack from the Afghan side.
Afghanistan's interior ministry spokesman Sediq Sediqi told reporters in Kabul that the border clash left one Afghan personnel dead.
He said that the government has sent a special team to probe the circumstances leading to the clash.
The latest round of fighting, which took place between the Afghan province of Paktika and the Pakistani region of South Waziristan, began after Pakistan began building a new border installation along the Durand Line, according to officials from both countries.
The disagreement escalated into open combat on Tuesday night, with the two sides trading rockets and small-arms fire for several hours.
Afghan officials claim a Pakistani watchtower was also hit.
Sediqi alleged that the construction the Pakistani forces were undertaking violated mutual understandings and "Afghan forces are authorised to take action to prevent such attempts.
"
Pakistani spokesman General Bajwa, however, rejected the allegation.
"The activity did not constitute violation of the border because it was being undertaken on our side," he added.
He denied Afghan media claims that eight Pakistani soldiers were killed in the clashes.
The army spokesman downplayed the border incident, saying "it does not in any way" change Pakistan's stated policy of helping the Afghan government's efforts aimed at bringing peace to their conflict-torn nation.
While the fighting has stopped, the situation remains tense.
"Pakistan has dispatched more troops to the Durand Line and Afghan security forces are on alert," a senior Afghan official said.
The Pakistanis declined to comment beyond giving basic details about the clash and the building work.
Full report at:
http://nation.com.pk/national/02-Jul-2015/pak-afghan-forces-in-deadly-border-clash
------------
PPP suffers another blow in Punjab as Sumsam Bokhari joins PTI
Jul 2, 2015
ISLAMABAD: Pakistan Peoples Party suffered another blow in Punjab on Wednesday after former minister of state Sumsam Bokhari along with a group of senior party members from Okara shifted their allegiance to the Pakistan Tehreek-i-Insaf (PTI).
Sumsam Bokhari, along with other PPP leaders from Punjab, met Imran Khan at his Bani Gala residence in the federal capital. Senior PTI leaders Shah Mehmood Qureshi and Jehangir Tareen were also present in the meeting.
Talking to media personnel on Wednesday, Bokhari said the PPP had become the ruling PML-N's "B-team" in Punjab as a result of its policy of reconciliation and its role of a friendly opposition. He went on to say that PML-N's governance in Punjab was unacceptable.
Shah Mehmood Qureshi said PTI was gaining popularity each passing day, adding that all those who share the party's vision will be accommodated. "There will be no distinction between old and new members, all those on board the party's manifesto will be treated as equals," said the PTI leader.
Ashraf Sohna, the disgruntled former district president of the PPP who joined the PTI earlier this week, was also present alongside Qureshi and Bokhari. Talking to reporters, Sohna said the PPP was no longer a significant political force, adding that "no sensible person would want to indulge in politics from PPP's platform."
Sohna's resignation had sent the PPP into alarm mode, resulting in an emergency meeting of the party's Okara district chapter presided over by Senior Vice President Rana Gul Nasir, which was attended by party office-bearers from all three tehsils of the district.
The party's District General Secretary Farooq Ashraf Sangoka told the participants former district president Ashraf Sohna had been trying to join the Pakistan Tehreek-i-Insaf for a few months and was disinterested in the party's activities.
Also read: PPP Okara chapter briefed on Sohna's move.
Sohna's departure had led to the PPP leadership approaching two other former federal ministers – one of them Sumsam Bokhari – following reports they too have plans to say goodbye to the party for different reasons.
Full report at:
http://www.dawn.com/news/1191668/ppp-suffers-another-blow-in-punjab-as-sumsam-bokhari-joins-pti
------------
angers claim arrest of MQM men over extortion, party denies charges
Jul 2, 2015
KARACHI: Pakistan Rangers Sindh on Thursday claimed the arrest of 16 members of the Muttahida Qaumi Movement (MQM) for allegedly collecting donations by force from Karachi's Rizvia Society area. The claim was denied by the party in an emergency press conference held after the arrests.
The paramilitary force personnel also claimed to have recovered Rs31,500 from the arrested men along with documents and receipts related to the collection of funds during the operation.
The arrested men will be presented in court, while those proven innocent during investigations would be released, according to a statement issued by the Rangers.
The Rangers' statement further said that law-enforcers will not allow any political party or religious organisation to forcibly collect donations in the name of fitra and added that holding a press conference in defence of those arrested for making forcible collections is tantamount to supporting such elements.
Full report at:
http://www.dawn.com/news/1191852/rangers-claim-arrest-of-mqm-men-over-extortion-party-denies-charges
------------
Sindh govt allotted 44,000 acres of land to Bahria Town: Rangers
MALIK ASAD
Jul 2, 2015
ISLAMABAD: The Sindh government has allotted thousands of acres of government land to Bahria Town owner Malik Riaz, according to a report placed by the Pakistan Rangers during a meeting of the apex committee in May.
The Rangers told the committee that the provincial government had allotted 44,000 acres of government land to Bahria Town.
Military sources told Dawn that the meeting was held on May 14.
Sources told Dawn the land allotted to Bahria Town was along the Super Highway.
Although Dawn made repeated attempts to get in touch with Sharjeel Inam Memon, the provincial information minister, to obtain the Sindh government's version, neither did he pick up the phone nor did he reply to the text message.
The housing firm has rejected the Rangers' claim
On the other hand, Bahria Town flatly rejected the Rangers claim.
A letter issued on June 9 by the organisation's corporate office in Rawalpindi to Maj Gen Bilal Akbar, Director General of Rangers, Sindh, said: "Not a single acre of government land has been allotted / purchased by Bahria Town."
Rejecting the Rangers' claim, the firm further stated: "The above figure of 44,000 acres is incorrect, baseless and frivolous."
The real estate firm said it had purchased the land from private parties and paid all duties and taxes.
Full report at:
http://www.dawn.com/news/1191761/sindh-govt-allotted-44000-acres-of-land-to-bahria-town-rangers
------------
DHA standoff gunman is 'trained pilot'
Jul 2, 2015
KARACHI: A young man who blocked a road in DHA phase-VI on Tuesday evening, fired random shots into the air and held a passer-by family hostage at gunpoint before being arrested by the police is a trained pilot, said a police officer on Wednesday.
"Held accused Kashif Chishti is an educated person, who has done a flying course and is a trained pilot," said Darakhshan police SHO Ghulam Hussain Pirzada.
However, the officer said that he was under the influence of drugs at the time of the committing of the offence.
Tracing the origins of the incident, the Darakshan police officer said that Kashif Chishti visited a petrol station owned by his father somewhere in the city on Monday and demanded money from its cashier. The cashier told him that his father, Arif Chishti, had forbidden him from giving any money to his son. The suspect returned home and had a heated argument with his father and other family members. He even opened fire on his family members, but they remained unhurt. On Monday night he left his home in a car with his wife.
On receiving information about the firing incident, a Darakhshan police team rushed to the spot on Monday night and asked the father if he intended to pursue the case. On Tuesday morning, Arif Chishti visited the police station and lodged an FIR against his son for an attempted murder, said the SHO.
On Tuesday evening, Kashif Chishti parked his car on the main road on Khayaban-i-Ittehad and took out a sub-machine gun and a 9mm pistol.
He fired multiple shots into the air, spreading panic and fear in the area, which resulted in the suspension of vehicular traffic on the road.
Full report at:
http://www.dawn.com/news/1191670/dha-standoff-gunman-is-trained-pilot
------------
South Asia
Nine Soldiers Martyred, 29 Militants Killed In Afghanistan Military Operations
By KHAAMA PRESS - Thu Jul 02 2015
Nine soldiers have embraced martyrdom and 29 militants killed in newest military operations across the country, Ministry of Defense announced on Thursday.
A statement issued by the ministry states that the nine Afghan National Army soldiers lost lives to militant fire and landmine explosions in past 24 hours. The statement, however, does not contain information about the exact location of the incidents.
The statement further states that 29 militants have been killed and 16 others wounded in military operations conducted in 12 provinces also in past 24 hours.
Six suspects were also detained by the security forces during these operations, the statement adds.
Full report at:
http://www.khaama.com/nine-soldiers-martyred-29-militants-killed-in-military-operations-3584
------------
Special Force formed to combat Daesh in Afghanistan
By ZABIHULLAH MOOSAKHAIL - Thu Jul 02 2015
The National Directorate of Security (NDS) has formed a Special Force to combat Islamic State of Daesh in Afghanistan.
Haseeb Sediqi, spokesman for NDS on Wednesday told reporters that the Special Force has been formed based on the anti-Daesh strategy of the government.
He said that the Special Force is comprised of three units, Intelligence, Analysis and Operational Unit.
According to Sediqi, the group has already began operating in parts of the country including Helmand, Nangarhar and Farah provinces.
The NDS spokesman told reporters that as the Special Force began its operation they killed Mullah Abdul Rawouf in southern Helmand province.
He said recently the Special Force arrested a group of six members of Daesh in Achin District of eastern Nangarhar province, noting that one of the six was previously a key commander of Taliban.
Full report at:
http://www.khaama.com/special-force-formed-to-combat-daesh-in-afghanistan-3582
------------
Afghanistan leans on 'abusive' local police as Taliban advance
Jul 2, 2015
KASAB: A peach-fuzzed teenager clad in camouflage fatigues, Mohammad Jawad could be mistaken for a boy scout — but he commands one of hundreds of Afghanistan's local anti-Taliban police units, accused of stoking insecurity.
The US-funded Afghan Local Police (ALP) operate as surrogate village armies to fill a security vacuum in the remote Taliban-infested countryside, supplementing security forces which are stretched on multiple fronts as they face their first fighting season without the aid of Nato troops.
ALP serve as a pivotal first line of defence against the stubborn insurgency, rapidly spreading across the north from its southern hotbeds, but the word "police" is seen as a misnomer — they are widely likened to militias owing to their shady reputation for lawlessness and brutality that is fueling support for the Taliban in some areas.
Jawad, 19, took the reins of the ALP unit in his native Kasab village in the volatile northern province of Kunduz from his father, who was assassinated earlier this year in Kabul.
The 110-strong force is comprised mostly of farmers and shopkeepers.
"You see the white flag there? That's the Taliban," said the high school graduate, pointing a few hundred metres from his fortified base in Kasab, surrounded by wire-topped blast walls and mud-filled trenches that serve as sniper lairs.
"Without ALP the militants will come marching across the field, chop our heads off and turn this village into a Taliban haven," added Jawad, flanked by gun-toting loyalists.
Kunduz has seen weeks of stalemated fighting since the Taliban launched their annual spring offensive in April, with territory passing back and forth between the government and insurgents.
The Taliban, buttressed by battle-hardened Central Asian fighters in their ranks, recently captured the district headquarters of Chardarah, adjoining Kunduz city, triggering fears they would overrun their first provincial capital since the 2001 US invasion of Afghanistan.
It was subsequently retaken by government forces, but the Taliban are targeting major cities in what analysts say is a tactical strategy to be in a position of strength before any possible peace talks with the government.
The bloody stalemate has taken a heavy toll on civilians, forcing tens of thousands to flee their homes.
Kasab, located in Chardarah, is replete with beige-and-green farms and fruit orchards, and littered with the detritus of war — mangled remains of burnt-out vehicles and abandoned houses scarred by bullets.
Cheap but dangerous
Established in 2010, the ALP are deployed in 29 of Afghanistan's 34 provinces, a force of around 30,000 fighters that President Ashraf Ghani's government plans to scale up to 45,000, according to a recent report by the International Crisis Group (ICG).
But the ICG said the proliferation of what it called "cheap but dangerous "village defence forces, seen as a cornerstone of the US exit strategy from Afghanistan, was exacerbating the Taliban insurgency rather than quelling it.
Also read: Afghanistan harnesses anti-Taliban militias as insurgency spreads
With inadequate training, a lack of government oversight and a pervasive culture of corruption and impunity, some ALP units have morphed into brutal criminal gangs.
In the northern province of Faryab, one unit was accused of using a dry well filled with snakes as a torture chamber, the ICG said.
Another used a captive in an open field for target practice. And one band of ALP fighters dragged a village elder, who complained about their abusive behaviour, behind a pick-up truck until he was dead.
Their terrifying tactics including theft, rape and drug trafficking have turned some villages into ghost towns while residents have chased them out of other areas, paving the way for the Taliban.
Full report at:
http://www.dawn.com/news/1191859/afghanistan-leans-on-abusive-local-police-as-taliban-advance
------------
Three Afghans detained on terrorism charges in Morocco
By ZABIHULLAH MOOSAKHAIL - Thu Jul 02 2015
Morocco's Ministry of Interior announced on Wednesday that three Afghans who were using falsified Pakistani passports to reach out to Denmark through Morocco have been arrested by police at Marrakech Menara International Airport.
The Ministry of Interior further states that the detainees were carrying letters "with jihadist content," on them.
It further states that by arresting the group an "international migration network" designed to feed Jihadists is also exposed.
According to Morocco World News, the three terrorist suspects have been put under the watch of Prosecutor General of Marrakech who would later be transferred to Rabat city for further questioning.
Full report at:
http://www.khaama.com/three-afghans-detained-on-terrorism-charges-in-morocco-3583
------------
Charges pressed against 7,500 BNP-Jamaat men in Dinajpur
July 02, 2015
Charges have been pressed against 7,500 Jamaat-Shibir and BNP men in the cases for torching polling centres and the houses of Hindus and AL men in 11 upazilas of the district during the parliamentary elections held on January 5, 2014.
As many as 256 charge sheets in 128 cases were submitted to Chief Judicial Magistrate's Court and Sessions Judge's Court in Dinajpur until June 20 this year.
Assistant Public Prosecutor (APP) advocate Saiful Islam said police submitted two charge sheets in each case--one under the Anti-Terrorism Act and another under the Explosive Substances Act.
Full report at:
http://www.thedailystar.net/country/charges-pressed-against-7500-bnp-jamaat-men-dinajpur-105970
------------
Afghan court overturns death sentences for mob killers
02 Jul 2015
An Afghan appeals court has overturned the death sentence imposed on four men for their part in mob killing of a young woman in the capital Kabul, and sentenced them to 20 years in prison instead.
Last month, the four men were sentenced to death by hanging for their part in the lynching last March of the woman named only as Farkhunda.
Prosecutors alleged that 27-year-old Farkhunda was beaten to death in a frenzied attack sparked by a bogus accusation that she had burned a copy of the Quran.
Farkhunda's killing shocked many Afghans, though some public and religious figures said it would have been justified if she had in fact damaged the Quran. A presidential investigation later found that accusations were false.
The charges against the men included assault, murder and encouraging others to participate in the assault.
Full report at:
http://www.aljazeera.com/news/2015/07/afghan-court-overturns-death-sentences-mob-killers-150702073429591.html
-------------
India
Born a Muslim, Trained In Hindu Scriptures, Yogi 'Sri M' Is On The Move
By Garima Mishra
July 2, 2015
He neither reads Namaz five times a day nor offers prayers at any temple. But he can recite texts from the Holy Quran as well as the Bhagwad Gita with an equal command. "I am neither a Muslim nor a Hindu, I'm just a human being," says Sri M, a spiritual leader, philosopher and educationist who is on a Padyatra, Walk of Hope, during which he will cover 7,500 kms and 11 Indian states in one-and-a-half year under the aegis of Manav Ekta Mission.
Starting from Kanyakumari on January 12, Sri M, who says he is driven by the philosophy that no religion is bigger than humanity, he has already covered over 2,500 kms so far. Covering 25 kms daily, the core group of 70 core people reached Pune on July 1. The padyatris halted at various places like German Bakery, Sadhu Vaswani Chowk, Synagogue Church and Poona College, among others, and interacted with people. "I aim to see a united and an inclusive India at the end of the walk," says the 66-year-old. Sri M, whose original name is Mumtaz Ali, was born in Thiruvananthapuram, Kerala, in an educated Muslim family. His father, a graduate of those days, was a PWD contractor. He does not remember his mother or sister wearing a Burqa. Since a very young age, he was interested in thoughts and philosophy. "The deeper I went into it, I noticed that some people had narrow mindsets. This set me thinking," he says. He had heard from his neighbours that in the Himalayas, one may find yogis who are full of spiritual knowledge. At 19, he left for Himalayas. After wandering for days, he met Maheshwarnath Babaji, who became his guru and trained him in Vedas, Upanishads, meditation and kriya yoga. "After three-and-a-half years, he asked me to go home, get married and lead a normal life," says Sri M, who later got married to a Brahmin girl from whom he has two children. Stressing that he has neither converted his religion nor changed his name, Sri M says, "All my documents such as passport, bank accounts etc. carry my original name Mumtaz Ali. My guru had given me the name Madhukar Nath. Since both the names and even Manav (human) start with 'M' , I chose to be called M. Out of love and respect, some people call me Sri M. I am okay with just M also." So what it is about Hinduism that attracts Sri M, a Muslim by birth and a Hindu by thoughts? "I am interested in the deeper aspects, not the rituals. For instance, one doesn't have to start reading Upanishad with a thought 'I believe'. One says, 'I enquire'. If you don't find it, then discard it. I have found what I was looking for. Similarly, in Islam, it's the Sufi teaching that appeals me, not the daily rituals. According to me, all human beings are forms of divinity. They are walking temples." Sri M is not the usual "spiritual leader" as perceived by most. Minus a long beard or a robe, he can be found in a normal Kurta-Pyjama or a t-shirt and track pants and even in jeans. "The little bit beard that you can see is because I have been travelling and haven't got time to shave," he says, adding that he carries two cellphones, spends time reading news on his i-pad and even indulges in singing old Hindi songs occasionally. "I don't like people gathering around me and put me on a pedestal. In fact, sometime back, I told one of my team members to remove the word 'mahayogi' from the WoH banner."
http://indianexpress.com/article/cities/pune/born-a-muslim-trained-in-hindu-scriptures-yogi-sri-m-is-on-the-move/
------------
Maharashtra dubs madrassas 'non-schools'
Samrat Phadnis
Jul 2, 2015
KOLHAPUR: The Maharashtra government has classified madrassas in Maharashtra as non-schools and has directed the district administrations to declare madrassa students as "out-of-school children".
A letter to this effect has been sent by Jayshree Mukherjee, principal secretary of the minority affairs department, to Nand Kumar, principal secretary, school education and sports department.
The department of school education has planned a massive survey on July 4 to identify out-of-school children in the state and bring them into mainstream education. State chief secretary Swadheen Kshatriya had issued a detailed notification to this effect on May 20, but no mention of madrassas was made.
Ironically, Mukherjee's letter came barely five days after the notification was issued. The letter mentions that though madrassas are not separately mentioned in the notification, students there should be considered "out of school".
When contacted by TOI, minister of state for minority affairs Dilip Kamble agreed with the contents of Mukherjee's letter. "My department has taken the decision. We want these children to take formal education. They must join mainstream education," he insisted.
Kamble said that since the July 4 campaign was only a survey, the state government would not force madrassas to send their children to regular school. "The survey will help us know the exact number of children in the madrassas. We can then decide our next course of action," he said.
According to 2013 data published by the state directorate of minorities, there were 1,889 madrassas in the state imparting education to 1.48 lakh students. Students are admitted at the age of 10 and given a seven-year education in subjects including Arabic, Hindi, Urdu, Maths and Science. After that, they can opt to continue with the madrassa and finish a post-graduation in five years.
Muslim leaders and those involved in running the madrassas were indignant over the state government's letter. "We were called by the government for a meeting on June 7 in which we were told that the survey would be conducted. However, it wasn't mentioned that madrassa students would be considered out of school. I am surprised that the government, which declares crores of rupees for the madrassas, can nullify their existence in education," said Gani Ajarekar, president of Muslim Boarding Kolhapur, an institute that celebrates its centenary next year.
Kolhpaur has as many as 13 madrassas in which around 1,800 children are enrolled. Aslam Sayyad, head of the oldest madrassa in Shiroli, which was established in 1952, claimed that the institutions offer formal education as well.
Full report at:
http://timesofindia.indiatimes.com/india/Maharashtra-dubs-madrassas-non-schools/articleshow/47902687.cms
-----------
Hindus, Muslims pelt stones at each other as violence erupts yet again in Ballabhgarh
July 2, 2015
Violence erupted at Atali in Ballabhgarh once again on Wednesday after Hindus and Muslims in the village pelted stones on three separate occasions. At least four people were injured in the violence, police said. Though police claimed that it was too early to identify the trigger for the violence, residents said the first clash took place in the morning when namaz was being read at the mosque. "We were praying at the mosque when stones were thrown. At the same time, the Hindus in the adjacent temple were participating in a kirtan using loudspeakers and this sparked the violence," Nizam Ali alleged.
The police said that at the time of the initial stone-pelting in the morning, six or seven Muslims were present at the mosque and they took refuge at the residence of a community elder. The violence that ensued lasted about an hour, with individuals from both communities climbing atop buildings and throwing bricks, stones and bottles, the police added. The mosque, which had been burnt during earlier riots, was once again desecrated on Wednesday, police said. While the Muslim community maintained that they were attacked first when they were inside the mosque, the Hindu community in the village denied the charge. "It's completely untrue. They attacked the women of the village, who were at the temple, with stones and two of them were injured," Satish Chaudhury said. The mosque had served as the flashpoint for communal riots in the village on May 26, as 2,000 heavily armed men allegedly set the mosque on fire as well as several Muslim homes and shops in an hour-long rampage. Fifteen people were injured and almost 150 Muslim villagers camped at the Ballabhgarh police station until June 3. While the administration and the police have consistently maintained that the village has been peaceful following the riots, residents claim otherwise. "Ever since we have returned, things have been tense. We were told that we could pray peacefully. But the reality is very different. We have given written complaints to the police about the every day social boycott we are facing, but no action has been taken," Ali said. While seeming sporadic, residents said the violence had followed a strict pattern through the day, coinciding with the timing of prayers at the mosque. "After the initial violence in the morning, two separate incidents of stone-pelting took place when we went to the mosque to pray in the afternoon and again in the evening. We also found that they had desecrated the mosque when we went to pray in the afternoon," Ehsan Mohammad alleged, while adding that the community decided to break their fast for Ramzan indoors and not venture out. Subhash Yadav, Commissioner of Police, Faridabad, said, "We have deployed additional forces at the village and all roofs have been cleared. We have deployed personnel on roofs also." Violence-hit March 25: First day of rioting: At least 17 Muslims' homes allegedly torched. Villagers flee to Ballabhgarh (City) police station. March 27: A 60-year-old man is attacked with axes, village's entire Muslim population flees to police station. March 31: A Faridabad court said the property — where the construction of a mosque became the flashpoint for rioting in the village — had "always been in possession of the Muslim community". June 3: After numerous failed talks, Muslims finally return to the village after being promised protection during Ramzan. June 5: Tension prevails in village after a section of the Jat community approaches a Faridabad court, seeking a stay on the construction of the mosque. June 8: Muslims allege social boycott. CM Manohar Lal Khattar visits Faridabad, gives Atali a miss June 19: First day of Ramzan at riot-hit Atali marred by an altercation between Hindus and Muslims over placement of fans outside the mosque.
http://indianexpress.com/article/cities/delhi/fresh-communal-violence-erupts-in-ballabhgarh-police-patrol-streets/
------------
Pakistan Shared No Evidence of India's Involvement in Terrorist Activities inside Its Territory Says US
Jul 2, 2015
WASHINGTON: So far Pakistan has not shared with the United States any evidence of India's involvement in terrorist activities inside its territory, says the US State Department.
During a recent visit to Washington, Foreign Secretary Aizaz Ahmad Chaudhary had said that Pakistan had evidence of India's involvement in such activities.
"I am not aware of any such delivery," said US State Department spokesman John Kirby when asked at a news briefing if Pakistan had shared those proofs with the United States.
Mr Kirby, however, also refused to comment on India's claim that it had its own evidence to prove that Pakistan was involved in terrorist attacks inside India. Instead, he urged both countries to resolve their differences peacefully.
"We want tensions between India and Pakistan to be reduced. We want them to work together bilaterally to resolve some of these differences," he said.
Mr Kirby said that during a visit to Washington on June 29, Indian Foreign Secretary Subramanyam Jaishankar had met US Deputy Secretary of State Antony Blinken at the State Department.
Full report at:
http://www.dawn.com/news/1191762/pakistan-shared-no-evidence-says-us
------------
Europe
Isis rivals Jaysh al-Islam 'turn militant group's tactics against them' in a mass execution video
01 July 2015
A rival jihadist group battling against Isis in Syria has released a copycat execution video in the style of the so-called "Islamic State" – but reportedly with Isis militants as the victims.
In what was claimed to be a role reversal after Isis publicly executed dozens of its own fighters, Jaysh al-Islam posted the video online showing the slaughter of up to 18 alleged members of the rival militant group.
The propaganda video is a clear attempt to mimic the now infamous style of Isis executions, but with Jaysh al-Islam's own fighters dressed in the orange jumpsuits normally reserved for victims.
Men, who during the 19-minute video are claimed to be Isis fighters of various ranks, are led out in black clothes and masks, dragging ball-and-chains, before they are unmasked and shot at point-blank range with shotguns.
In the video, a Jaysh al-Islam fighter identifies Isis as "khawarij", meaning "those who have transgressed" – the same term that Hamas uses to refer to the group.
"This group claimed to be the mother state and made Takfir [accused of apostasy] on other Muslims, shed their blood and looted their properties and dignities," the fighter says before the executions are shown.
"This is the penalty for what they have committed. We also call on their fellows to repent."
Both Isis and the smaller Jaysh al-Islam are fighting the government forces in Syria, but have also clashed with each other after the latter was formed out of around 60 rebel factions who refused to declare allegiance to Isis's "caliphate".
Previous images in a very different style from Jaysh al-Islam have boasted its military strength, and it is thought to command up to 25,000 fighters.
But far from a victory over Isis in Syria, the new video was viewed by experts as simply another jihadist movement "stooping to Isis's level".
Full report at:
http://www.independent.co.uk/news/world/middle-east/isis-rivals-jaysh-alislam-turn-militant-groups-tactics-against-them-in-mass-execution-video-10357957.html
------------
European Police to Target Islamist Radicals on Social Media Accounts
By STEVEN ERLANGER
JULY 1, 2015
LONDON — Europol, the European police agency based in The Hague, will create a new unit next month to discover and dismantle social media accounts used by Islamist radicals to spread their message and recruit foreigners, the agency announced on Wednesday. The unit will have about 15 officers of Europol and national police forces at first, and will be gradually enlarged over the next year, the agency said. The task is to scour the Internet for accounts set up by radicals, including those from the Islamic State, for propaganda and recruitment.
The number of Facebook, Twitter and other social media accounts connected to the Islamic State is estimated to be in the tens of thousands, the agency said, and the Twitter accounts send out as many as 100,000 posts a day.
In March, the Justice and Home Affairs Council of the European Union mandated that Europol establish such a unit to reduce the level and impact of terrorist and violent extremist propaganda on the Internet.
Rob Wainwright, director of Europol, said the agency would cooperate with member states, national intelligence and police agencies, and with social media and other private companies, to "deliver a determined response" to the problem.
European nations like Britain, France, Belgium and Germany have been especially concerned by recruitment efforts that entice young Muslims to slip away from their families and travel to Syria or Iraq to join the Islamic State, as either fighters or wives. The news media in these countries have fastened on such cases, which tend to exaggerate the scale of recruitment.
National governments have expressed concern that some of those Westerners who go to the Middle East to fight will return home to carry out violent attacks in the name of jihad. Just last week in both France and Tunisia, young men proclaiming allegiance to the Islamic State carried out terrorist attacks that attracted huge publicity.
In Iraq, a 17-year-old Briton recently carried out a suicide bombing for the Islamic State, while three British sisters abandoned their husbands and took their nine children with them to join jihadists in Syria. On Wednesday, the police were investigating the possibility that a missing Muslim family of 12 from Luton, England, including a baby and two grandparents, traveled to Syria after stopping in Turkey on the way home from a monthlong visit to Bangladesh.
Full report at:
http://www.nytimes.com/2015/07/02/world/europe/europol-to-target-social-media-accounts-of-jihadists-islamists.html
------------
U.K. Law Targets Extremism in Schools
July 1, 2015
LONDON—An unusual measure that requires teachers, including at preschools, to report extremist leanings or behavior by students to police took effect Wednesday in the U.K., as the government steps up its efforts to counter terrorism at home and abroad.
The provision applies to all public officials, including health workers and local government employees, requiring them to alert authorities if they suspect someone is at risk of becoming radicalized.
Though avenues exist elsewhere for teachers to report students who they believe may be at risk, experts said they weren't aware of any other countries have implemented a legal requirement to do so.
Many Muslims complained that the new requirement would erode trust between the community and public-sector workers and stifle debate, as students and others could feel like they are under surveillance.
The U.K., like other Western countries, is scrambling to respond to the threat of homegrown extremism leading to terrorist activity, including by trying to stem the spread of radicalization.
But some of the measures Britain is taking—including the new requirement for public-sector workers—go further than other countries.
Prime Minister David Cameron's government is overhauling surveillance laws and plans to introduce legislation to Parliament this fall. Mr. Cameron has said he also plans a counter-extremism bill that would include banning orders for extremist organizations and steps to ensure colleges and universities don't give a platform to extremist preachers.
Mr. Cameron has said the government planned a harder approach to tackling "the radical narrative that is poisoning young minds," saying the attack in Tunisia last week that killed up to 30 Britons showed the need for governments to do more to fight radicalization.
More than 700 people have traveled from Britain to Syria or Iraq since the conflict started; On Wednesday, British police said they suspect that a family of 12 British-Bangladeshis had traveled to Syria to join the self-declared caliphate.
Speaking to Parliament on Wednesday, the prime minister said teachers and other public sector workers "have a duty to deal with radicalization and confront extremism." He added that it was an issue not just for police and the government, but "is an effort for us all."
The government says it has been training public officials to recognize signs of radicalization. According to a training guide, teachers and others should look out for people who show "feelings of grievance and injustice," "a need for identity, meaning and belonging" or "a desire for political and moral change."
The government says the requirement is intended to protect vulnerable people from being drawn into terrorist activity and not about spying on them. A government spokeswoman denied that the U.K. was singling out Muslims. She said the policy seeks to root out radicalization of any sort, whether it be neo-Nazism or Islamic extremism.
But many Muslims say the government's approach makes them feel they are being targeted, alienating the community while adding legitimacy to the narrative of extremists who say that the Muslim world is under threat.
They and some counter-extremist analysts also say the government's approach risks taking a step toward establishing thought crimes. Some law enforcement officials also say the new requirement will be difficult to enforce.
The Muslim Council of Britain, which represents more than 500 Muslim organizations, says the government is unfairly suggesting that Muslim communities are leading young people to extremism. It also disputes the idea that Muslims aren't doing enough to combat radicalization.
Full report at:
http://www.wsj.com/articles/u-k-law-targeting-extremism-in-schools-draws-criticism-from-muslim-groups-1435755146
------------
UK POLICE KNEW AND DID NOTHING TO PROTECT GIRLS FROM MUSLIM PREDATORS
July 2, 2015
Not only do recent revelations concerning the endemic sexual grooming of British girls by Muslim men demonstrate how crippling political correctness is, but they show how political correctness complements the most abusive elements of Islamic law, or Sharia.
According to a June 24 report by the Birmingham Mail, as far back as March 2010, West Midlands Police knew that Muslim grooming gangs "were targeting children outside schools across the city—but failed to make the threat public."
A confidential report obtained under a Freedom of Information Act indicates that police were well aware that British pupils were being targeted by mostly Muslim men. Several passages from the report make this clear:
In one heavily redacted passage, entitled 'Schools', it states: "In (redacted) a teacher at a (redacted) that a group of Asian males were approaching pupils at the school gate and grooming them. Strong anecdotal evidence shows this MO (modus operandi) is being used across the force."
The 2010 report also reveals how these "Asian" gangs used victims to target other girls. For example, by using "a young girl in a children's home to target and groom other residents on their behalf…. The girl's motivation to recruit new victims is often that the provision of new girls provides her a way to escape the cycle of abuse."
Other victims were systematically "forced into prostitution and high levels of intimidation and force are used to keep the victims compliant."
Although police knew all this, the Birmingham Mail said it "is unaware of any police public appeals or warnings from that time"—appeals and warnings that no doubt would have saved many girls from the Islamic sex rings.
So what paralyzed police from any action, even warnings to the community? The report sheds light:
The predominant offender profile of Pakistani Muslim males... combined with the predominant victim profile of white females has the potential to cause significant community tensions…. There is a potential for a backlash against the vast majority of law abiding citizens from Asian/Pakistani communities from other members of the community believing their children have been exploited.
Once again, then, political correctness—this time under the pretext of fear of a "backlash"—was enough to paralyze the police from arresting Muslim sex predators and releasing their victims.
And what if a "backlash" were to occur? Why is it okay for innocent children to be plied with drugs and passed around in kabob shops and taxicabs while police standby—but it's not okay for the so-called "majority of law abiding citizens from Asian/Pakistani communities" to ever experience anything negative?
Maybe if they did, they'd actually reign in the sexual predators of their community—some of whom are, in fact, "pillars of their community." Maybe they'd implore their imams in the UK—the majority of whom reportedly promote the sexual grooming of "infidel" children—to change their tune.
Full report at:
http://www.frontpagemag.com/fpm/259321/uk-police-knew-and-did-nothing-protect-girls-raymond-ibrahim
------------
Plans to turn Catholic chapel into Muslim prayer room scrapped
1 Jul 2015
Plans to turn a Catholic chapel in a Manchester hospital into a Muslim prayer room have been cancelled after an online petition.
Over 6,000 people, including some Muslims, signed the petition started by Fr Ged Murphy of St Patrick's and St Malachy's parish in Collyhurst, to stop the proposal by the Spiritual Care Chaplaincy team at North Manchester General Hospital to close the chapel of Saint Raphael.
The hospital already has two prayer rooms for Muslims, but the one for men does not have washing facilities. But after a meeting yesterday the plan was abolished.
Instead different spaces for worship will be provided for Muslims, Jews and Protestants, and a "quiet room" for non-believers to reflect.
The chapel contains the Blessed Sacrament and Mass is celebrated weekly, with patients, staff and visitors, and has been serving Catholics for 15 years.
Full report at:
http://www.catholicherald.co.uk/news/2015/07/01/plans-to-turn-catholic-chapel-into-muslim-prayer-room-scraped/
------------
France Deporting Radical Muslim Imams
JULY 02, 2015
Are some mosques brewing militant Islam and terrorism? France thinks so, and they are doing something about it.
Over the past three years, France has deported 40 foreign imams for "preaching hatred." A quarter of those have taken place since the January terror attacks in Paris, Interior Minister Bernard Cazeneuve said on Monday.
The minister vowed to clamp down on mosques and preachers inciting hatred after a suspected Islamist beheaded his boss during an attack on a gas factory last week, according to the Radio France International.
Any "foreign preacher of hate will be deported," said Cazeneuve, adding that several mosques were being investigated for inciting terrorism and if found to be doing so, "will be shut down."
Yassin Salhi, 35, on Sunday confessed during interrogation to killing his boss and pinning his head to a fence of the Air Products factory near the eastern city of Lyon.
The severed head was discovered flanked by two Islamic flags and it later emerged Salhi had sent a selfie of himself with the head to a number believed to belong to a French jihadist currently in Syria.
Full report at:
http://www.aleteia.org/en/world/article/france-deporting-radical-muslim-imams-5279162696728576
------------
Russia sees a threat in its converts to Islam
By DAVID M. HERSZENHORN
July 2, 2015
ERZURUM: As a teenager in St. Petersburg, Maksim Baidak hung out with neo-Nazis and right-wing nationalists, but the Russian security services mostly left him alone.
It was not until he abandoned white-Slavic supremacy and instead found God — as a convert to Islam and leader of a group of ethnic Russian Muslims — that he came under near-constant surveillance and was often forced into cars at gunpoint by security agents.
Then, one morning in 2013, masked commandos from a special counter-extremism unit busted into his apartment and arrested him. For two days, he was interrogated, at times with a black hood over his head — "tortured," he said, by choking, electric shock and death threats.
"I was arrested like a terrorist," said Baidak, 28, who now lives in Erzurum, a university town in north-east Turkey, where he fled after a judge released him for lack of any criminal charges. "Look at me, I am a journalist. I am a blogger," he said. "I am a political activist, pro-democratic oriented, Sufi-oriented, but I was arrested like — I don't know — bin Laden."
While nations across Europe are grappling with the relatively recent peril of homegrown Islamic terrorists, Russia has long lived in fear of a militant uprising within its own borders, particularly in the Caucasus, where it fought two brutal wars to suppress Muslim separatists.
For President Vladimir Putin's Russia, Slavic, ethnic Russian converts to Islam like Baidak pose an especially subversive threat, not only by stoking Russia's deep paranoia over separatist extremism, but also by challenging the Orthodox Christian national identity that Putin has used to unite the country in place of Soviet Communism.
The government also worries that ethnic Russian Muslims have shown a willingness to link up with an array of other anti-Kremlin forces, including nationalists, pro-democracy groups and even gay rights organizations.
"I worked with the LGBT society; it's unbelievable for Muslims, yeah?" Baidak said, describing a group, Islamic Civil Charter, now banned in Russia.
"I don't support this orientation of men and women, but I cannot change them," he said in an interview. "If they are agents of freedom and we fight for freedom also, we fight for our common values. Let's fight together, not be divided."
Russia's security services, however, were not about to let that happen.
An aggressive crackdown that began before last year's Winter Olympics in Sochi never ended, leading to widespread arrests not just in the predominantly Muslim Caucasus but throughout European Russia and as far north as Novy Urengoi, just below the Arctic Circle, where the authorities this year demolished a building that had housed a mosque and an Islamic pre-school.
Read:Russia stands with Pakistan in fight against extremism, Army chief told
The pressure by the security services, in the name of combating extremism, has set off a wave of refugees seeking safety and religious freedom, especially in Turkey and the United Arab Emirates.
Full report at:
http://tribune.com.pk/story/913570/russia-sees-a-threat-in-its-converts-to-islam/
------------
Africa
Tunisia identifies all 38 victims of beach massacre, 30 British
1 July 2015
All 38 victims of the Tunisian beach resort massacre have been formally identified, among them 30 Britons, the health ministry said Wednesday.
On Friday, 23-year-old student Seifeddine Rezgui went on a bloody rampage in Port El Kantaoui, shooting 38 foreigners with a Kalashnikov assault rifle at the popular resort's five-star Riu Imperial Marhaba hotel.
"All the bodies have been identified. Among them are 30 Britons," said the ministry's director of emergency services, Naoufel Somrani.
Of the remaining victims, three were from Ireland, two from Germany and one each from Belgium, Portugal and Russia.
Britain was flying home Wednesday the bodies of eight nationals, with more repatriations expected in the coming days.
The three Irish victims were also set for repatriation Wednesday, the Tunisian health ministry said.
Full report at:
https://english.alarabiya.net/en/News/middle-east/2015/07/01/Tunisia-identifies-all-38-victims-of-beach-massacre-30-British-.html
------------
Western powers urge Libya rivals to sign peace deal
1 July 2015
The United States and five European allies on Tuesday called for rival Libyan groups to endorse a deal at U.N.-led negotiations to resolve the country's ongoing crisis.
Britain, France, Germany, Italy, Spain and the United States urged the parties to sign a proposed deal at talks in Morocco and called for peace in the violence-wracked country.
"We urge all Libyan parties to sign in the coming days the political agreement presented by the U.N.," said a joint statement from the nations.
Libya's rival parliaments have been locked in talks in Morocco, and on Monday U.N. envoy Bernardino Leon said he hoped they would endorse his proposals for a unity government this week after they failed to do so at the weekend.
The six countries said they welcomed the proposal and supported the formation of a Government of National Accord.
"We consider this document a thoughtful, well-balanced basis for agreement that meets the urgent expectations of Libyan people and secures the unity of Libya," they said.
Plunged into chaos since the overthrow of Muammar Qaddafi's regime in 2011, Libya has two parliaments -- and two governments -- vying for power, one in Tripoli and one in the eastern port city of Tobruk, which is recognized by the international community.
Rising violence and the growth of extremist organizations, including the Islamic State group, on Europe's doorstep has prompted international pressure to resolve the crisis.
In the statement, the countries expressed "deep concern about the ongoing violence within Libya, and the expansion of terrorism in Libya."
"We reiterate that there is no military solution to this crisis and we underline that the economic and humanitarian situation is worsening every day."
Full report at:
https://english.alarabiya.net/en/News/africa/2015/07/01/U-S-European-allies-call-for-speedy-Libya-deal.html
------------
Bodies of 8 British victims in Tunisia attack flown home
2 July 2015
The bodies of eight of the 30 Britons killed in last week's jihadist attack in Tunisia arrived in Britain on Wednesday to a solemn ceremony reminiscent of the repatriation of fallen soldiers.
The bodies arrived at RAF Brize Norton northwest of London, where white-gloved pall-bearers in air force uniforms linked arms to carry each coffin to a hearse waiting near the runway.
The coffins, including those of three generations of a single family, had been covered with white flowers and flown from Tunisia aboard a Royal Air Force flight on a Boeing C-17 military transport plane.
The Foreign Office confirmed that these are the first bodies to be repatriated, with more expected in the coming days.
"This will be the first of a number of repatriations into RAF Brize Norton," it said in a statement.
On Friday, 23-year-old Tunisian Seifeddine Rezgui pulled a Kalashnikov assault rifle from inside a beach umbrella and went on a bloody rampage at the five-star RIU Imperial Marhaba hotel in Port El Kantaoui, killing 38 people.
The number of Britons identified as dying in the attack has now reached 29, the Foreign Office said Wednesday.
Another victim is believed to be British but police require further time to confirm the identity.
Full report at:
https://english.alarabiya.net/en/News/middle-east/2015/07/02/Bodies-of-8-British-victims-in-Tunisia-attack-flown-home-.html
------------
Israel cancels West Bankers' Gaza visits after attacks
1 July 2015
Israel said Wednesday it was revoking permits for hundreds of Palestinians living in the West Bank to visit relatives in the Gaza Strip, after a series of attacks, some fatal.
The announcement by COGAT, the agency that manages civilian affairs in the Palestinian territories, was the latest reversal to measures easing movement for Palestinians during the Muslim fasting month of Ramadan.
It came as 26-year-old Malachi Rosenfeld, shot dead in the West Bank on his way back from a basketball game Monday, was buried in the Kochav Hashachar settlement where he lived.
Education minister and religious-nationalist Jewish Home party leader Naftali Bennett, speaking in a graveyard eulogy, said "our enemy is not a partner for peace; their way is that of terror and will be treated as such."
Over the past 10 days, there have been a number of violent incidents in which Palestinians have knifed or shot at Israeli security personnel, as well as shot dead an Israeli hiker, in annexed east Jerusalem and the West Bank.
Defence Minister Moshe Yaalon said Tuesday "there was no doubt that one of the significant factors behind the attacks was incitement, specifically of the Palestinian Authority."
The army has not said if it believes whether Monday's shootings were carried out by a lone attacker, a small group or a larger network.
On Wednesday, the Shin Bet internal security agency announced it had arrested 40 members of militant Islamist group Hamas in and around the northern West Bank city Nablus.
They were part of an attempt to set up a network that would enable attacks on Israeli targets, Shin Bet said, and included contact with Hossam Badran, a Qatar-based spokesman for the group, which rules the Gaza Strip.
Those detentions led to the arrest of two Hamas operatives in nearby city Jenin who were preparing an attack, Shin Bet said.
Full report at:
https://english.alarabiya.net/en/News/middle-east/2015/07/01/Israel-cancels-West-Bankers-Gaza-visits-after-attacks.html
------------
Talks on Libya unity deal stall despite UN warnings
Jul 2, 2015
Representatives from one of the conflicting sides in Libya has refused to take part in planned peace talks, despite threats by the United Nations (UN) to impose sanctions on any party delaying the establishment of a unity government in the North African country.
The General National Congress (GNC), based in the Libyan capital of Tripoli, said on Wednesday it would not take part in the talks expected to be held in Morocco later on Thursday.
"The amendments introduced in the latest text submitted by the UN did not include (our own) proposals," the parliament in Tripoli said in a statement, referring to a proposal made by the UN aimed at resolving the current political crisis in the country.
The group, which rejected the proposal by the UN, said it would discuss a new draft.
Meanwhile, the Fajr Libya (Libya Dawn) militia coalition, which seized the capital last year, also slammed the recent UN plan, describing it as "treason," and saying it "sanctions the creation of a fascist dictatorship under the auspices of the UN."
On July 1, dozens of protesters gathered in front of the GNC headquarters in Tripoli to express their opposition to the new UN draft. They also burned pictures of UN envoy Bernardino Leon, who is leading the talks.
This comes a day after the UN Security Council (UNSC) urged the Libyan factions to sign the proposal, which is the fourth of its kind, "in the coming days."
The 15-member body said the establishment of a unity government was in the interest of the Libyan nation "in order to end Libya's political, security and institutional crises and to confront the rising threat of terrorism."
Full report at:
http://www.presstv.in/Detail/2015/07/02/418410/Libya-UN-talks-Bernardino-Leon
------------
UNSC imposes sanctions on six S Sudan generals
Jul 2, 2015
The United Nations Security Council (UNSC) has imposed sanctions on six South Sudanese commanders for fueling the ongoing conflict in the African country.
On Wednesday, the UNSC punished the six generals - three from either side of South Sudan's conflict - with a global travel ban and an assets freeze.
From the government side, the blacklisted men are Major General Marial Chanuong Yol Mangok, Lieutenant General Gabriel Jok Riak and Major General Santino Deng Wol.
From the rebels, the sanctions target Major General Simon Gatwech Dual, Major General James Koang Chuol and General Peter Gadet.
Britain, France and the United States had proposed the six names to a newly formed committee for targeted sanctions.
The South Sudan sanctions committee was established in March after a string of failed ceasefires.
"As the members of the [UN] Security Council demonstrated today, those who commit atrocities and undermine peace will face consequences," US Ambassador to the United Nations Samantha Power said in a statement.
Power called on both sides of the conflict to "put aside their self-serving ambitions, end the fighting, and engage in negotiations to establish a transitional government."
The US envoy further warned against additional sanctions.
South Sudan plunged into chaos in December 2013, when fighting erupted between troops loyal to President Salva Kiir and defectors led by his former deputy and current rebel leader, Riek Machar, around the capital, Juba.
Full report at:
http://www.presstv.in/Detail/2015/07/02/418412/South-Sudan-UNSC-sanctions
------------
Mideast
Iran, Oman Stress Immediate Halt to Saudi Airstrikes on Yemen
Jul 01, 2015
"The Islamic Republic of Iran wants the foreign military attacks against Yemen to come to a halt and the flow of humanitarian aid to the country to be accelerated," Amir Abdollahian said in a meeting with Omani Foreign Minister Youssef Bin Alawi in Muscat on Wednesday.
Amir Abdollahian, meantime, pointed to the status quo of Iran-Oman relations, and said, "The two countries' relations present a successful model for the region."
The Omani foreign minister, for his part, regretted the ongoing crisis in Yemen, and said, "The human conditions in Yemen are very tragic."
Bin Alawi also called on the international bodies to expedite dispatch of humanitarian aids to Yemen.
He, meantime, referred to the Oman-Iran friendly relations, and underlined Iran's constructive role in regional developments.
In May, Iranian Foreign Minister Mohammad Javad Zarif in a meeting with Under-Secretary-General and Emergency Relief Coordinator Valerie Amos expressed regret over the slow trend of the delivery of relief aids to the war-stricken Yemeni people.
During the meeting in Tehran, both sides discussed ways of providing the people of Yemen with relief aid, and stressed expediting the process.
Zarif referred to repeated violations of the cease-fire in Yemen by the Saudi-led coalition, and said that as a result, rapid and complete dispatch of aid has been troubled.
Denouncing the current trend of the international relief aids to Yemen, he added, "Implementation of the UN Security Council's resolution shouldn't hamper the process."
He also suggested establishing safe areas in Yemen where urgent humanitarian aid could be sent.
Full report at:
http://english.farsnews.com/newstext.aspx?nn=13940410001395
------------
Military Expert: CIA Masterminding ISIL's Operations in Hasaka
Jul 01, 2015
"The tactic used by the ISIL in its recent attacks on Hasaka clearly shows that the Takfiri terrorist group has taken orders from the US spy agency as ISIL that relied on deploying a large number of forces in its raids has adopted creative methods this time," Syrian Military Expert Ali Maqsoud told FNA.
The ISIL dispatched fewer forces this time to Hasaka, but this shows that the intelligence services of the enemies of Syria have helped ISIL in its recent raids on Hasaka.
On Sunday, the Syrian government confirmed that the army troops have secured the Northeastern city of Hasaka, rejecting reports that the ISIL terrorists are still in control of the main buildings there.
Full report at:
http://english.farsnews.com/newstext.aspx?nn=13940410001094
------------
U.N. report positive on Iran nuke commitments
2 July 2015
Iran has met a key commitment under a preliminary nuclear deal setting up the current talks on a final agreement, leaving it with several tons less of the material it could use to make weapons, according to a U.N. report issued Wednesday.
Obtained by The Associated Press, the confidential International Atomic Energy Agency report said more than four tons of the enriched uranium had been fed into a pipeline that ends with conversion of it into oxide, which is much less likely to be used to make nuclear arms.
The report indicated that only several hundred pounds of the oxide that is the end product had been made.
But a U.S. official told the AP the rest of the enriched uranium in the pipeline has been transformed into another form of the oxide that would be even more difficult to reconvert into enriched uranium, which can be turned into the fissile core of nuclear arms.
The official said that technical problems by Iran had slowed the process but the United States was satisfied that Iran had met its commitments to reduce the amount of enriched uranium it has stored. He demanded anonymity because he was not authorized to discuss the confidential review process.
Iran's meeting conditions of the preliminary deal is an important benchmark as the talks go into the final stage of talks on an agreement meant to put long-term caps on Tehran's nuclear program in exchange for relief of economic penalties.
Violations by Iran would complicate the Obama administration's argument that U.S. negotiators are holding the line on demands for a verifiable deal that extends the time Iran would need to make a weapon to at least a year. Tehran says its nuclear program is meant only to fuel reactors and for other non-military purposes.
The report did not say where the rest of the material was. But it appeared to confirm the U.S. official's description of the material being somewhere in the conversion line. That's because the figures provided by the IAEA indicated that it was not added to Iran's stockpile of low-enriched uranium.
Low-enriched uranium can be enriched further for weapons purposes. The interim accord capped Iran's low-enriched uranium stockpile at 7.6 tons. If it went over that limit, it would have to convert the remainder into oxide.
The IAEA report said that stockpile was just under that level as of Tuesday.
The report was circulated among the 35-nation IAEA board and the U.N. Security Council as the IAEA chief left for Tehran to meet with Iranian President Hassan Rouhani and U.S. Secretary of State John Kerry met again in Vienna with Iran's foreign minister. In his talks in Tehran on Thursday, IAEA chief Yukiya Amano hopes to "accelerate the resolution of all outstanding issues related to Iran's nuclear program, including clarification of possible military dimensions," the Vienna-based agency said in a statement. Iran's Mehr news agency said Amano will "receive Iran's alternative proposal" to the proposed questioning of its nuclear scientists, a step Supreme Leader Ayatollah Ali Khamenei has called a red line.
An IAEA probe of allegations that Iran worked secretly on nuclear arms has been essentially stalemated for nearly a decade, with Iran dismissing them as phony evidence planted by the U.S. and Israel.
Full report at:
https://english.alarabiya.net/en/News/middle-east/2015/07/02/U-N-report-positive-on-Iran-nuclear-commitments.html
------------
U.N. sets top-level aid emergency in Yemen
2 July 2015
The United Nations on Wednesday declared the situation in Yemen a level-3 humanitarian emergency, the highest on its scale, and urged a step- up in urgently-needed international aid for the war-torn country.
"All agencies agreed to declare the level three for a period of six months," U.N. spokesman Farhan Haq, said, according to Agence France-Presse.
More than 21.1 million people - over 80 percent of Yemen's population - are in need of aid, with 13 million facing food shortages.
Access to water has become difficult for 9.4 million people, according to the U.N.
Ten of Yemen's 22 governorates are classified as food emergencies which is one step below a famine, according to the U.N.'s classification sheme.
Under the emergency plan, the United Nations will try to reach 11.7 million people in Yemen who are the most in need.
"The health system is facing imminent collapse with the closure of at least 160 health facilities due to insecurity, lack of fuel and supplies," he said.
U.N. Secretary-General Ban Ki-moon has repeatedly called for a humanitarian ceasefire to allow badly-needed aid to be delivered to civilians suffering from the air war and the rebel offensives.
Full report at:
https://english.alarabiya.net/en/News/middle-east/2015/07/02/U-N-declares-highest-level-aid-emergency-in-Yemen-.html
------------
Yemen's president pens letter on country's situation to U.N. chief
1 July 2015
Yemen's President Abdrabbu Mansour Hadi on Tuesday sent a letter to U.N. chief Ban Ki-moon highlighting a need for humanitarian aid in his conflict-torn country, according to a copy of the document obtained by Al Arabiya News.
In the letter, Hadi said that there had been a "dangerous escalation" of violence around the government-controlled southern port city of Aden, adding that "the Yemeni government has been coordinating with U.N. humanitarian groups to allow ships carrying aid to dock at Yemeni ports."
The correspondence was confirmed by Yemen's U.N. ambassador Khaled Alyemany, who told Al Arabiya News Channel in a special interview that the president had sent a letter to the U.N. Secretary-General on aid.
In the interview, Alyemany discussed the latest updates of the Yemeni delegation's current visit to Washington during an interview with Talal al-Haj, Al Arabiya News Channel's bureau chief for New York and the United Nations.
Alyemany also said the legitimate Yemeni government submitted a draft peace proposal to Ismail Oud Cheikh Ahmed, the United Nations envoy for Yemen, before he holds talks with Houthi rebels in two days.
He said the government considers the draft principles paper a mechanism to implement United Nations Security Council resolution 2216, which calls for the unconditional end to the violence.
Full report at:
https://english.alarabiya.net/en/News/middle-east/2015/07/01/Yemen-s-president-pens-letter-on-country-s-situation-to-U-N-chief-.html
------------
Turkey arrests seven ISIS suspects: media
1 July 2015
Turkish authorities on Wednesday arrested seven men suspected of fighting alongside the Islamic State of Iraq and Syria (ISIS) group in Syria, state media reported.
The suspects were arrested in raids in the western city of Izmir, southern city of Isparta and in eastern Erzurum province, Anatolia news agency said.
The police seized two pistols and five hunting rifles during the operation, Anatolia added.
The militants are suspected of having been among the ISIS fighters who seized the Kurdish town of Kobane, just inside Syria's border with Turkey, only to be routed by Kurdish forces in January, Dogan news agency said.
The militants are believed to have then fled back across the border to Turkey, Dogan said.
Western states have repeatedly accused Turkey of not doing enough to halt the flow of jihadists across its 911-kilometre (566-mile) border with Syria.
Turkey fiercely rejects the accusations, saying it is making every effort to secure a long border and in turn has accused the West of not playing its part to shoulder the burden of hosting nearly 2 million refugees from Syria.
In an apparent bid to deflect the criticism Turkish authorities have arrested a number of suspected militants in recent months.
Full report at:
https://english.alarabiya.net/en/News/middle-east/2015/07/01/Turkey-arrests-seven-ISIS-suspects-media-.html
------------
IAEA chief heads to Iran as nuclear talks reach last stretch
1 July 2015
The global nuclear watchdog said on Wednesday its boss would fly to Tehran to discuss some of the last big issues that need to be resolved so that Iran and world powers can reach a breakthrough final nuclear deal by a new deadline of next week.
Iran and six world powers gave themselves an extra week on Tuesday to reach an accord that would curb Tehran's nuclear program in exchange for relief from economic sanctions, after it became clear that a June 30 deadline would not be met. Despite the lapsed deadline, diplomats have given upbeat assessments of the prospects for a deal.
U.S. Secretary of State John Kerry and Iran's Foreign Minister Mohammad Javad Zarif held one-on-one talks on Wednesday. Zarif said the talks were making progress and would continue to do so.
Western countries suspect Iran of seeking the capability to make a nuclear weapon. Tehran says its program is peaceful. The effort to resolve the dispute has led to the most intense diplomacy between the United States and Iran since Iranian revolutionaries stormed the U.S. embassy in Tehran in 1979.
A final accord to resolve the standoff would be a major policy achievement for both U.S. President Barack Obama and Iran's President Hassan Rowhani, but both presidents face skepticism from hardliners at home.
Obama said on Tuesday no deal would be agreed unless it blocked all Iranian pathways to developing a nuclear bomb, and ensured a robust monitoring system was in place.
Ministers and officials from the five U.N. Security Council permanent members - Britain, China, France, Russia and the United States - plus Germany have been negotiating with Iran in Vienna at late night sessions.
Among the main sticking points that remain to be resolved are issues that involve the U.N. nuclear watchdog, the International Atomic Energy Agency. The powers want guaranteed access by IAEA inspectors to Iranian military sites and a response to IAEA queries about Tehran's past activities that may
have been related to weapons research.
The global body said in a statement that its chief Yukiya Amano would meet Iranian President Hassan Rowhani and other senior officials on Thursday in Iran.
Discussions would cover "how to accelerate the resolution of all outstanding issues related to Iran's nuclear program, including clarification of possible military dimensions."
Red lines
A senior Iranian negotiator, Deputy Foreign Minister Abbas Araqchi, said of the Vienna talks: "There are still some issues that we have not been able to resolve but the atmosphere of the talks is positive."
Western diplomats say they are nearing a resolution on access for the inspectors. Iranian officials maintain that military sites are off-limits due to a red line set by Supreme Leader Ayatollah Ali Khamenei, who wields more power than Rowhani, the elected president.
Iran has been accused of stonewalling the IAEA probe on its past activities, and Western officials have said some of the sanctions relief would depend on Iran's cooperation.
But diplomats say Iran will be reluctant to open up to IAEA investigators until the punitive sanctions are lifted.
Rowhani said on Tuesday Iran would resume suspended atomic work if the West broke its promises.
Full report at:
https://english.alarabiya.net/en/News/middle-east/2015/07/01/IAEA-chief-heads-to-Iran-as-nuclear-talks-reach-last-stretch.html
------------
CBI Governor: 13 Tons of Iran's Frozen Gold Consignments Back Home
Jul 01, 2015
"A sum of 13 tons of gold that had been purchased before and was deposited in South Africa in the past two years and could not be transferred to Iran due to the sanctions … was delivered to the Central Bank of Iran's treasury last night," Seif said.
He added that the Iranian foreign ministry and the CBI have been working to release the frozen gold assets for long, but they couldn't transfer the cargo to Iran due to the illogical problems that were created under the pretext of the sanctions.
Yet, he said, all the 13 tons returned home as a result of the hard work done by the Iranian team of negotiators during the Vienna talks.
The removal of Iran's sanctions and gaining access to the country's financial and gold resources abroad is one of the main objectives of Iran's negotiating team in the ongoing nuclear talks.
Full report at:
http://english.farsnews.com/newstext.aspx?nn=13940410001438
------------
Southeast Asia
China At War With Islam: Uighurs
01 July 2015
BEIJING – Citing China's ban on fasting the holy month of Ramadan in the Muslim dominant Xinjiang district, the World Uyghur Congress has accused Beijing of launching an "unnamed war against Muslims and Islam."
"Unfortunately the world is still keeping silent," the Vice President of the Congress Seyit Tumturk told Anadolu Agency this week.
Tumturk condemned government restrictions on Ramadan in the far-western Xinjiang district where Muslim party members, civil servants, students and teachers are banned from fasting during the holy month.
He added that the Muslim-dominant area is the "only Muslim region in the world where people are prohibited to practice Ramadan fasting".
According to the government's reports, halal restaurants in Jinghe County, near the Kazakh border, were encouraged by food safety officials to stay open during day hours in Ramadan.
Halal restaurants that will keep its doors open in Ramadan will be rewarded by fewer visits from food safety inspectors, the website stated.
Tougher religious restrictions have been introduced in Maralbexi county, where party officials are forced to give verbal as well as written assurances "guaranteeing they have no faith, will not attend religious activities and will lead the way in not fasting over Ramadan," state media reported.
Chinese authorities imposes restrictions on Uighur Muslim in the northwestern region of Xinjiang every Ramadan.
Earlier this week, the International Union of Muslim Scholars (IUMS) condemned China's ban on fasting during Ramadan in the Muslim dominant Xinjiang district, urging the Asian country to respect Muslim faith.
"It was the same last year," Tumturk claimed.
"Around 3000 Uighur were massacred on the first day of Ramadan fast when they took to the streets protesting the prohibition."
Full report at:
http://www.onislam.net/english/news/africa/488675-china-at-war-with-islam-uighurs.html
------------
Malaysian PM: Religious Schools Must Also Focus On Other Subjects
July 2, 2015
SERDANG: Prime Minister Najib Razak said today the Federal Territory Islamic Religious Council (Maiwp) should make available teachers to teach academic subjects at financially lacking private 'tahfiz' (Islamic religious) schools in Kuala Lumpur.
The prime minister said these schools needed assistance because the lack of finance was one reason they were unable to engage teachers for academic subjects.
He said he had discussed the matter with Minister in the Prime Minister's Department Jamil Khir Baharom, who is also chairman of Maaiwp, so that the students could learn other subjects besides being enriched with religious knowledge.
"These students are intelligent. If they can memorise the Quran, they can also become science scholars or excel in other professions," he said at the presentation of Maiwp Aidilfitri contributions to the poor at the Malaysia Agro Exposition Park here.
Najib said educating the students in a variety of subjects would enable them to excel in their careers and help fellow Muslims.
Full report at:
http://www.freemalaysiatoday.com/category/nation/2015/07/02/pm-religious-schools-must-also-focus-on-other-subjects/
------------
Chinese army for bringing 'modern civilisation' to Xinjiang
Jul 2, 2015
BEIJING: China's military must bring "modern civilization" to the restive southern areas of the Xinjiang region, where Muslim ethnic Uighurs are in majority, and help develop its economy, two senior army officers wrote in an influential journal.
Hundreds have died in violence in Xinjiang in the past few years. The government blames the unrest on Islamist militants and separatists who want to establish an independent state called East Turkestan.
Writing in the latest edition of the bimonthly Communist Party magazine Qiushi, the commander of the southern Xinjiang military region Li Haiyang and its military commissar Miao Wenjiang said that soldiers must "ardently love" the area.
"We must cherish ethnic unity like we take care of our eyes and ... nestle together with people of all ethnic groups as close as pomegranate seeds," they wrote.
Experts say employment discrimination, fuelled by an influx of ethnic majority Han Chinese taking up jobs, has fuelled resentment and unrest among Uighurs in Xinjiang.
Beijing has begun to pay more attention to the region's development, particularly in the southern areas dominated by Uighurs and religious conservatives.
The article said soldiers must help develop the economy in southern Xinjiang, and encourage the people to "move toward modern civilization and move away from religious extremism", by providing villagers access to science, culture, law and health.
Every year all military units must contribute funds to help resolve problems like a lack of drinking water or difficulty in seeing doctors, the article said.
The article also called for greater emphasis on education, saying children should "study, live and grow up" in schools.
Full report at:
http://www.dawn.com/news/1191754/chinese-army-for-bringing-modern-civilisation-to-xinjiang
------------
China upset with Turkey's concern on Ramazan laws
July 02, 2015
BEIJING - China's Foreign Ministry denied restricting religious freedom on Wednesday in a sharp response to Turkey for voicing concern over reports that ethnic Uighur muslims had been banned from worship and fasting during Ramazan.
Some local governments in China's far western region of Xinjiang have stepped up controls on the Islamic faith followed by the Turkic Uighur people ahead of and during Ramazan, including restrictions on fasting.
Turkey's foreign ministry said it had been "saddened" by these reports and passed its concern on to the Chinese ambassador in Ankara.
Chinese Foreign Ministry Spokeswoman Hua Chunying said China wanted to have a good relationship with Turkey.
"China has already demanded that Turkey clarify these reports and we have expressed concern about the statement from the Turkish foreign ministry," Hua told a daily news briefing.
"You should know that all the people of Xinjiang enjoy the freedom of religious belief accorded to them by the Chinese constitution," she added.
"We of course hope that the Turkish side can meet China halfway and ensure the smooth development of ties."
The holy month of Ramazan is a sensitive time in Xinjiang following a rise in attacks blamed by Beijing on Islamist militants over the past three years and hundreds have died in the violence.
Full report at:
http://nation.com.pk/international/02-Jul-2015/china-upset-with-turkey-s-concern-on-ramazan-laws
------------
After latest fuel price hike, Muslim group sees shades of 'Arab Spring'
July 1, 2015
KUALA LUMPUR, July 1 — Putrajaya must ensure that its policies do not beggar Malaysians, said a Muslim group when warning that rising costs could create conditions conducive to a public uprising similar to the 2011 "Arab Spring".
Criticising the up to 20 sen increase to petrol prices today, the Muslim Youth Movement of Malaysia (ABIM) said the hike as well as the Goods and Services Tax (GST) were piecemeal and disorganised attempts to address a systemic issue with the wastage of public funds.
"The economic independence of the public must be based on free incentives (free from political interference) and competitiveness based on efficient fiscal planning. This way, the public will not become 'beggars' and forced to tighten their belts on their own land," the group said today.
"We don't want the tragedy of Mohammad Boauzazi in Tunisia (which sparked the Arab Spring) to happen in our country! If it occurs, it will send the country into a political crisis that would only lead to further suffering among the public."
Boauzazi was a Tunisian street vendor who reportedly immolated himself in 2011 to protest harassment by local authorities and was, according to popular accounts, the trigger of the public uprisings there and elsewhere in the Middle East that were dubbed the "Arab Spring".
The prices of RON95 and RON97 petrol went up by 10 sen and 20 sen respectively today.
The increase prompted PKR MP Rafizi Ramli to press Putrajaya to reintroduce the fuel subsidies it eliminated last year, after he pointed out that pump prices were rising despite oil getting cheaper globally.
Full report at:
http://www.themalaymailonline.com/malaysia/article/after-latest-fuel-price-hike-muslim-group-sees-shades-of-arab-spring
------------
Inflation picks up in Indonesia during Muslim holy month
Jul 2, 2015
Inflation rose in Indonesia in June as tens of millions of Muslims observing the Islamic holy month spent extra cash on food, government data showed Wednesday.
The consumer price index rose 7.26 percent year-on-year, the government's Statistics Agency said. Inflation in May was 7.15 percent.
"The cause of the inflation is basic food commodities, as demand is high during the fasting month and ahead of the Eid al-Fitr," Suryamin, the agency chief who like many Indonesians goes by one name, told reporters.
Food prices typically rise during Ramadan in Indonesia, the world's most populous Muslim-majority country, as people stockpile food both for the less fortunate and to break their daily fast with lavish meals.
Inflation is expected to pick up further next month as the country of 250 million celebrates Eid al-Fitr, the end of the holy month, which falls in mid July.
Despite inflation being higher than the previous month, the June figure was lower than forecast by economists.
Full report at:
http://www.aquila-style.com/ramadan-2015/inflation-picks-up-in-indonesia-during-muslim-holy-month/104678/
------------
Indonesia's Islamic banks launch Islamic repurchase agreement
JAKARTA, JULY 2 | BY NILUFAR RIZKI
A group of Indonesian Islamic banks launched on Thursday a standard contract template for sharia-compliant repurchase agreements, aiming to broaden the liquidity management tools available in the sector.
The standard will serve as an alternative to interest-based repurchase agreements, which are common money market tools used by conventional banks but are largely absent in Islamic finance.
Currently Islamic banks in Indonesia rely on tools provided by the central bank, such as an Islamic overnight deposit facility known as FASBIS, while the new agreement would standardise bank-to-bank transactions and help ensure they are cost-effective.
An initial group of 18 Islamic banks and Islamic banking units are signatories to the master agreement, which allows use of government-issued Islamic bonds (sukuk) as collateral while tenors can be of no more than one year.
"Because we are using underlying (assets), we estimate that the repo rate will be lower (cheaper)," said Ahmad Badawi, head of the Indonesian Islamic Global Market Association.
"There is a possibility that this is above FASBIS for overnight but below interbank financial market price."
Full report at:
http://www.reuters.com/article/2015/07/02/islam-financing-indonesia-idUSL8N0ZI03020150702
------------
North America
Saudi government funding private Islamic schools in Canada, documents show
Jul. 01, 2015
The Saudi government is donating hundreds of thousands of dollars to help finance the expansion of private Islamic schools in Canada, according to newly leaked documents that shine a light on how foreign states are helping finance a growing demand for religious education.
The documents, involving cables between diplomats at the Saudi embassy in Ottawa and government officials in Riyadh, contain conversations from 2012 and 2013 about a $211,000 donation to a school in Ottawa and $134,000 to a school in Mississauga.
The schools confirmed to The Globe and Mail they had sought such donations to help build or buy new facilities for rapidly expanding student bodies.
The memos about the donations were among 500,000 Saudi diplomatic cables that WikiLeaks has begun releasing, yielding unprecedented insights into how the secretive Arab kingdom operates outside its own borders.
Foreign donations to private schools are legal. But Riyadh is frequently accused of spreading a puritanical form of Islam, and its critics allege Saudi dollars can pave the way for Saudi doctrine.
The administrators for the Canadian schools deny any Saudi influence. They say they accept only unconditional donations.
"It's not the way we operate. We are solely Canadian and we have our own way of doing things," said Sharaf Sharafeldin, the executive director of the Muslim Association of Canada (MAC). The association runs several mosques and private Islamic schools, including Olive Grove School in Mississauga, which got the $134,000 Saudi donation.
The cable sent from the Saudi embassy in Ottawa to Riyadh about this donation reads that MAC "needs support and aid to carry out a development and construction project for phase two at the school. There is no observations or anything against it."
One of the top performing academic schools in Ontario, Olive Grove has 1,200 students on its waiting list. Mr. Sharafeldin said the donation was a one-time payment that was insignificant compared with the overall $7-million cost of the school. He added that his organization submitted an application for Saudi financial support after hearing that other Muslim groups in Canada had made similar appeals.
MAC circulated an e-mail to parents of schoolchildren recently as media organizations including The Globe raised questions about Saudi fundraising. "The grant came with no conditions," that e-mail assured parents.
Foreign donations to private Muslim, Sikh, Hindu, Jewish and Christian schools in Canada are rarely highlighted. Faith-based schools that operate outside the public school system do not get taxpayer funds and rely on tuition. But steep tuition fees can mean that religious schools confront donor fatigue within their communities when it comes time to grow.
The Ottawa Islamic School "is currently building an expansion on its property worth approximately $4-million, that will meet a lot of shortage for space," principal Mohamed Sheikh Ahmed said in an e-mailed reply to questions from The Globe.
The Saudi funds related to that project are highlighted in a memo that was circulated in Riyadh by the Saudi Ministry of Finance. Titled "Financial aid to the Ottawa Islamic School," it shows that a $211,000 donation was discussed by several Saudi bureaucrats, including ones involved in their government's Foreign Affairs department and the Preaching and Islamic Affairs Outreach bureau.
Full report at:
http://www.theglobeandmail.com/news/national/saudi-government-funding-private-islamic-schools-in-canada-docs-show/article25223573/
------------
Arabic Anthem Translates Love for Canada
01 July 2015
CAIRO – Expressing true love and devotion to their country, an Arab Canadian institute has produced a new version of the national anthem in Arabic to encourage a larger participation in their country's political life.
"I got shivers and emotional when I first heard the anthem in Arabic. The song was so beautiful to begin with. And hearing it in your mother tongue was an overwhelming moment. It felt very special," Raja Khouri, co-founder and president of the Canadian Arab Institute, told Toronto Star.
"This is an expression of the pride and commitment to Canada from our community, a tribute to Canada's multiculturalism."
The Arabic anthem Ya Canada was produced as an unofficial translation of the Canadian national anthem O Canada.
Although the Canadian anthem has only 10 lines, putting Arabic lyrics to a tune written 135 years ago was no easy task.
Producing the new version, the Canadian Arab Institute showed the anthem as a reflection of the community's love for this country.
"You can't do a word-for-word translation," said Olga Kaddoura, a Toronto-based soprano and biomedical engineer who was consulted to perfect the Ya Canada lyrics, along with volunteer and certified Arab interpreter Fares Badr.
"In Arabic music, you can have millions of scales. You can start with an E major and change to D minor, then to A major. In Arabic, music we have quarter-tones. In western music, you only have semi. So it's more complicated in Arabic," she said.
Full report at:
http://www.onislam.net/english/news/americas/488673-arabic-anthem-translates-love-for-canada.html
------------
America and Europe Muslim Leaders Condemn Islamic State Attacks, Call Holy Month Time For Peace
By Michael Kaplan
July 01 2015
For Muslims worldwide, Ramadan is a time of contemplation, community bonding and religious devotion. But after a recent call from the Islamic State group to its supporters around the globe to launch attacks during the Muslim holy month, Muslim leaders in America and Europe have also been at work trying to repair Islam's troubled image in the West.
Ramadan "is about self-reflection and increased compassion for those in need, and [ISIS] turns that completely on its head," said Ibrahim Hooper, a spokesman for the Council on American Islamic Relations, an advocacy group in Washington, D.C. "It's so diabolical in terms of their call being diametrically opposed to the actual purpose of Ramadan."
Ramadan this year has been marred by a series of terrorist attacks, most of them inspired by ISIS' call for Muslims to expand their war during the holy month. "Make it a month of disasters, defeats and disgrace for infidels everywhere," Shaykh Abu Muhammad al-Adnani, an ISIS spokesman, said in an audio statement at the start of the month-long holiday.
Now Muslim leaders said they are worried that recent terrorist attacks could give the holy month a bad image. They say Ramadan, the month Muslims believe God began to reveal the Quran, should be a time of peace and introspection.
Last Friday saw the deadliest Ramadan attack yet, after an ISIS-inspired gunman open-fired on a Tunisian beach, killing 36 people, mostly tourists; a suicide bomber from Saudi Arabia blew himself up and killed nearly 30 people in a Kuwaiti mosque; and a Frenchman beheaded and then hung his employer's head at the gas plant he was attacking. Since then, ISIS supporters in Israel have released flyers vowing to slaughter Christians in Jerusalem. In Somalia, the al-Qaeda affiliate group al-Shabaab has called for the killing of Christians in Kenya. And in Yemen, a car bomb set-off by alleged ISIS affiliates killed 10 people Monday.
Muslim leaders across Europe and America have called on mosques to issue statements condemning the killings and to open their doors to people of all faiths during the holy month. The Muslim Council of Britain has encouraged Muslims to take part in Friday's national day of silence for the more than 30 British citizens killed in last week's terrorist attack on the Tunisian beach resort.
Full report at:
http://www.ibtimes.com/isis-ramadan-war-muslim-leaders-condemn-islamic-state-attacks-call-holy-month-time-1990904
------------
US Muslims Urge Muslim Killing Investigation
01 July 2015
CAIRO – The shooting of another Muslim in Texas last week has left the Muslim community reeling from increasing hate crimes, demanding a federal investigation into the incident.
"We urge state and federal law enforcement authorities to investigate a possible bias motive for this shooting and to bring appropriate charges if that motive is proven," Mustafaa Carroll, the executive director of Houston office of the Council on American-Islamic Relations (CAIR), told International Business Times.
"We have seen too many cases of anti-Muslim hate, threats and violence recently nationwide to ignore the possibility that Islamophobia led to this terrible incident."
Last Friday, 42-year-old victim Zaid Abu Naim was shot and killed in Texas.
A CAIR representative in Houston said witnesses have attested to Klimek's alleged slur against Naim: "Go back to Islam."
The shooting followed a dispute of over who had the right of way at a four-way stop, according to the Houston Chronicle.
"Words were exchanged," Silva said, "and the victim went to confront the other driver."
Though Robert Craig Klimek, 43, has been charged with aggravated assault with a deadly weapon in Naim's death, Houston police spokeswoman Jodi Silva described the shooting as one of road rage "at its heart."
Full report at:
http://www.onislam.net/english/news/americas/488679-us-muslims-urge-muslim-killing-investigation.html
------------
Saskatoon Muslim community hosts Canada Day event
Jul 01, 2015
The Ahmadiyya Muslim community put on a celebration this afternoon to commemorate Canada Day, and everyone was welcomed with open arms.
Mayor Don Atchison helped raise the flag as a group of festively dressed children serenaded the crowd with "Oh Canada."
"Canada has provided a safe haven for the Ahmadiyya Muslim community to practice their beliefs, practice their religion and freedom, and not fear persecution," said Nasser Malik, president of the Ahmadiyya Muslim community.
Malik said that Canada Day isn't just a day of celebration - it's also a day to reflect on the acceptance this country has offered immigrant families.
"Immigrants actually have a much better appreciation of what Canada stands for and what values Canada has given to people," said Malik. "When you're born in this environment, you don't realize how lucky you are…We're much more thankful tha[a lot] of people."
Full report at:
http://www.cbc.ca/news/canada/saskatoon/saskatoon-muslim-community-hosts-canada-day-event-1.3134604
-----------
URL: https://www.newageislam.com/islamic-world-news/new-age-islam-news-bureau/islamic-state-weaves-web-of-support-in-gulf-arab-states/d/103737