New Age Islam News Bureau
14 Jan 2015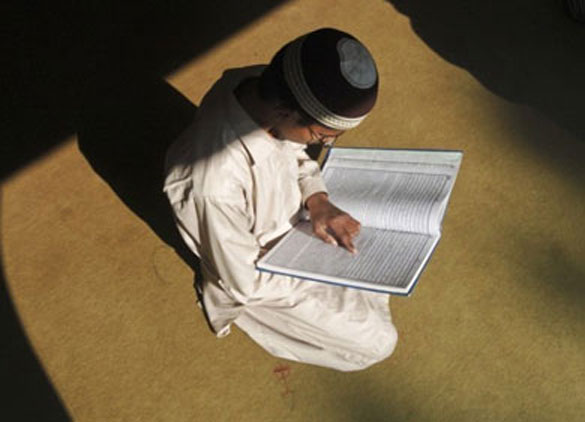 The interior ministry approached the Saudi Embassy in Islamabad for an urgent meeting to discuss matters related to the funding of madrasas/mosques by Saudi philanthropists. PHOTO: REUTERS
------------
Arab World
• Islamic State Video Shows Child Executing Russian Agents
• 14 ISIL Terrorists Killed in Syria's Deir Ezzur
• Jihadists Wage High-Tech War to Win Western Recruits
• Syrian Source: Scores of ISIL Militants Killed in Hasaka
• U.N. aid chief wants more Syria intervention
• France extends air strikes against ISIS in Iraq
• Nusra Militants Withdraw from Beit Sahm, Syria
• Arabic language to serve as a medium for cultural, humanitarian integration
India
• Sharing Objectionable Post on Prophet Lands Class 9 Deoband Boy in Trouble
• Cleric-Led Anti-Drug Drive Covers 3,000 Mumbai Muslim Youth
• Encounter breaks out in North Kashmir's Sopore
• India, Pak should resume dialogue for resolution of issues, Ban Ki-Moon says
Pakistan
• Govt Approaches Saudi Diplomat Over Funding Of Madrasas, Banned Outfits
• Government Won't Be At Ease until Elimination of Last Terrorist: Nawaz
• Fresh Legislation in the Works to Control Hate Speech
• Pakistan Rolls Out Second Media Campaign to Boost Islamic Finance
• Parents stop Imran Khan from entering Peshawar school
• ATC indicts Musharraf in Akbar Bugti murder case
• Sindh, Punjab fail to ensure 5% job quota for minorities
• Lab tests show polio vaccine is not 'Haram'
• PAT announces countrywide protest rallies from Jan 17
• ATC gives death to four in ISI office attack case
• LeJ's Lahori to be hanged on January 17
North America
• NYPD May Have Spied On Muslims Solely Because Of Religion: Us Court
• Us Designates Mullah Fazlullah as a 'Global Terrorist'
• United States Says Nigeria Vote a Factor in Boko Haram Attacks
• '1,000 recruits joining fight in Syria and Iraq each month'
• Jimmy Carter: ICC should pursue war crimes investigation against Israel, Hamas
• US reacts to Turkish president's remarks blasting Netanyahu over Paris rally
• After France attacks, US worried by anti-Semitism in Europe
Europe
'• We Are All Germany', President Tells Muslim Rally
• 'Five Eyes' States to Meet On Anti-Terror Fight
• 'Pak. Should Act against Hafiz Saeed': U.N. Secretary-General
• Paris attacks: Funding, attack weapons came from abroad
• Mass immigration has led to Muslim 'ghettos' in Britain run under Sharia Law, says Farage
• French Muslims feel deeply torn by viral 'I am Charlie' slogan
• France arrests comedian for being 'apologist for terrorism'
• We can't prevent all Islamist attacks: EU anti-terror chief
• Muslim Building in Sweden Vandalized with Graffiti
Mideast
• Islam a European Reality, There To Stay, Turkish PM Says
• Turkish Main Opposition Asks Islamic World to Embrace Secularism
• Police raid press of Turkish daily publishing selection of Charlie Hebdo's new issue
• Israel FM calls Turkey's Erdogan 'an anti-Semitic, neighbourhood bully'
• Al Qaida in Yemen claims responsibility for Paris attack
Africa
• Suicide Bomber Kills 2, Wounds 14 at Mosque in Nigeria
• Suicide Attack Kills 3 Libyan Soldiers
• Morocco cracks down on ISIS backers
• Tunisia deals blows to terrorists
• Libya's warring factions in crunch peace talks
Southeast Asia
• Malaysian Cops on Alert for Religious Extremism after Paris Killings
• Foreign Workers in Indonesia 'Must Take Local Language Test'
South Asia
• We Must Once Again Rise Up To Defend the Constitution: Former Maldives President
• 14- Bangladesh Parties to Form Committees to Resist Subversive Acts
• 13 Militants Arrested in Afghan Mop-up Operations
• China arrests 10 Turks who may have helped terror suspects: Global Times
Compiled by New Age Islam News Bureau
URL: https://www.newageislam.com/islamic-world-news/new-age-islam-news-bureau/islamic-state-video-shows-child-executing-russian-agents/d/101012
----------
Arab World
Islamic State Video Shows Child Executing Russian Agents
Jan 14, 2015
A disturbing new video released by members of the Islamic State on Tuesday shows a young Kazakh boy executing two men described as Russian agents.
In the video, the two men, identified as Jambulat Mamayev and Sergey Ashimov testify that they had attempted to spy on the militants, infiltrate their computer networks and assassinate the group's leaders, Foreign Policy reported Tuesday.
Then a long-haired boy is shown standing next to an Islamic State soldier, behind the two men clad in gray and kneeling on the ground.
The soldier speaks to the camera, saying "Allah has gifted the Islamic State with these two spies," The Daily Mail reported. "By Allah's grace, they are now in the hands of the lion cubs of the Khilafah."
Then the boy steps forward and kills the two men, shooting them in the back of their heads with a handgun.
After killing the two men, the young boy holds his hand up triumphantly before stepping over the corpses and walking off screen.
But some believe that the execution may be staged due to a lack of visible injuries on the men and evidence of blood after the shootings, the Daily Mail reported.
The same child shown in Tuesday's video was featured in a November 2014 Islamic State propaganda video.
The video showed the group's latest adult recruits from Kazakhstan, and the boy, who identified himself as "Abdullah." The November video also showcased the religious and military training that children recruited by the Islamic State undergo.
According to the video, children begin their education by learning Arabic and studying the Koran before moving on to learn hand-to-hand combat and weapons training, Foreign Policy reported.
In the video, when asked how he sees himself in the future, Abdullah says, "I will be the one who slaughters you, O Kuffar [non-believer]. I will be a Mujahid, Insha'Allah," Foreign Policy reported.
The Kazakh government has not yet responded to the new video, but officials did remove the old video from November.
Kazakhstan's National Security Committee estimates that 300 Kazakh citizens have travelled to Syria to join the Islamic State, and at least half of those are thought to be women and children.
The Islamic State has successfully recruited young children to fight by offering them free schooling, teaching the children their extremist ideologies.
Non-state armed groups in Syria have used children as young as 15 to fight in battles, and children as young as 14 in military s
http://www.washingtontimes.com/news/2015/jan/13/islamic-state-video-shows-child-executing-russian-/#ixzz3Opi4NeGG
----------
14 ISIL Terrorists Killed in Syria's Deir Ezzur
January 14, 2015
Syrian Troops killed 14 ISIL terrorists in the Eastern province of Deir Ezzur, media report said.
The army soldiers killed at least 14 Takfiri militants in the towns of Ashara and Swaidan in Deir Ezzur, Xinhua reported.
The troops also captured another six ISIL militants in the aforementioned towns, said the report.
The Syrian troops have carried out several ambushes against the ISIL militants in recent months.
The Deir Ezzur province has a strategic importance owing to its location near Syria's border with Iraq.
http://english.farsnews.com/newstext.aspx?nn=13931024000275
----------
Jihadists wage high-tech war to win Western recruits
14 Jan, 2015
BEIRUT: Jihadist groups tied to the men who attacked France's Charlie Hebdo magazine and a Paris kosher supermarket are waging an increasingly sophisticated propaganda campaign targeting Western recruits, experts say.
Organisations ranging from the Islamic State (IS) group in Iraq and Syria to Al Qaeda and even the Somali Al-Shebab group have sought to exploit the anonymity and reach of the internet to attract Western members.
They urge recruits to come to the battlefield, but also encourage them to carry out violence at home.
Jihadist groups have targeted Western recruits for decades, but the internet has revolutionised their approach, according to Clint Watts, a senior fellow at the Foreign Policy Research Institute.
"Thirty years ago it took a long time to get everyone to Afghanistan" where jihadists were fighting Soviet troops, he said. "Now they propagate through social media, that's why it can happen so quickly, they can rapidly ramp up recruitment."
The three men involved in the France attack appear to be linked to different jihadist groups.
The two brothers who targeted Charlie Hebdo were linked to Al Qaeda in the Arabian Peninsula (AQAP), which is based in Yemen.
The third attacker appears to have pledged allegiance to IS.
Jihadists use a variety of media for their message.
Since 2010, AQAP has produced the English-language Inspire magazine, released periodically in PDF format with articles expounding on its ideology and instructing readers on how to carry out attacks.
IS has 'honed media strategy'
In recent issues it singled out France as a target and put Charlie Hebd''s editor-in-chief Stephane Charbonnier, who was killed in last week's attack, on a "Most Wanted" list.
Al-Nusra Front, Al Qaeda's Syrian affiliate, publishes slickly produced video, as well as photos and statements, through official accounts on Twitter and the video-sharing website YouTube.
And Somalia's Al-Shebab has frequently used Twitter to reach out to potential followers.
But perhaps no group has harnessed the power of the internet as effectively as IS, which eschewed the password-protected forums preferred by Al Qaeda in favour of popular social media sites.
It quickly established a presence on Facebook and Twitter and even allows its fighters to converse publicly with potential recruits on question-and-answer sites like Ask.fm.
"Islamic State has really honed its media strategy," said Charlie Winter, a researcher at the Quilliam Foundation, a counter-extremist think tank.
"It has a standardised format, which makes it easy to identify as official Islamic State propaganda. It is very productive, it has an output rate of four or five videos a week," he said.
The group also relies on "a wide, decentralised network of people who are almost obsessive in their need to share things" to distribute its material, Winter added.
IS and its backers also use high-profile methods, like this week's hacking of the Pentagon's Central Command Twitter feed, to gain notice.
Experts say foreign recruits play a key role in jihadist outreach.
Most prominent jihadist groups now advertise their operations in Western languages and often feature videos of Westerners describing life on the battlefield.
"They are a way to get through to a population that might otherwise be difficult to reach," Winter said.
IS has even used British hostage John Cantlie, a journalist kidnapped in Syria, to present a series of "documentaries" intended to show what life is life in areas under its control.
Urging attacks at home
Though jihadist propaganda is primarily intended to encourage Western recruits to join them in battle, it also urges sympathisers to carry out attacks at home.
Last year, IS spokesman Abu Mohamed al-Adnani singled out France in a message urging followers to kill "disbelievers" in the West.
"The first thing they're going to try to do is to get people to come to them, but they know that there are a lot of barriers," said Watts. "In the absence of a way to get there, they say 'Stay where you are and do attacks at home,' which is why you've seen a lot of these sort of attacks in recent months."
Winter urged governments to work with grassroots groups to address the marginalisation in Western countries that is sending some into the arms of jihadists. "Just arresting people, stripping them of their citizenship, is a tricky and potentially harmful way to move forward, because you could end up alienating more people," he said.—AFP
http://www.dawn.com/news/1156851/jihadists-wage-high-tech-war-to-win-western-recruits
----------
Syrian Source: Scores of ISIL Militants Killed in Hasaka
January 14, 2015
A large number of ISIL terrorists were killed in nearby areas of Hasaka province in a surprise attack launched by the Syrian Army, a security source said.
A senior army official, speaking on condition of anonymity, said the army soldiers staged a series of offensive operations in the areas of Mafraq al-Sideeq, al-Hawouz, Tal Barak, Tal Hamees, and Qamishli, leaving scores of the ISIL terrorists dead and injured.
Also, the Syrian Army repelled an attack by the Takfiri group in the two areas of Khirbet Jaddou' and Tal Ghazal in Hasaka province, and inflicted major losses on them.
Syria has been the scene of insurgency since 2011 when certain western powers and their regional allies voiced loudly that Syrian protests have no diplomatic solution and they started supplying the country's opposition groups with their arms and funds.
In 2014, especially after victory of President Bashar al-Assad in the country's presidential election, the army has gained upper hand in its anti-terrorism campaign, and has been partly successful in sealing borders with Turkey and Jordan.
http://english.farsnews.com/newstext.aspx?nn=13931024000381
----------
U.N. aid chief wants more Syria intervention
14 January 2015
U.N. aid chief Valerie Amos suggested more intervention in humanitarian emergencies as she said some states were aggressively asserting sovereignty rights to stop action being taken to protect civilians.
Amos cited Syria as an example after the United Nations Security Council had to adopt two resolutions to authorize the delivery of cross-border humanitarian aid in a bid to reach millions of people in need as a result of the country's civil war.
"I don't think that the Syrian government has ever forgiven me. They see me as personally responsible for pushing the Security Council to agree to those resolutions," Amos told the Council of Foreign Relations in New York.
Amos, who will step down in March after more than four years, also said the conflict in Syria has been her low point. More than 12 million people in Syria need help, while another 3.2 million have fled the conflict that has killed some 200,000 people.
"Perhaps we could have pressured the Security Council earlier to get the resolutions that we did," she said.
Amos said there was not enough accountability at the United Nations and that while the Security Council has recognized flagrant violations of international humanitarian law around the world, "there is no action after that."
"As millions of people are forced to flee, as there is abuse on an unprecedented scale of girls and women in many countries ... and action is not being taken in relation to this, I ask the question: should we not be more interventionist?" she said.
But Amos said she did not necessarily mean "boots on the ground" intervention.
"I'm asking the question about an architecture that we already have, a body of rules and law that we already have that we are not holding ourselves accountable to. I see this as a significant failure," she said.
http://english.alarabiya.net/en/News/middle-east/2015/01/14/U-N-aid-chief-wants-more-Syria-intervention-.html
----------
France extends air strikes against ISIS in Iraq
14 January 2015
The French lower house of Parliament approve air strikes against the Islamic State of Iraq and Syria (ISIS) in Iraq, reported the Associated Press.
The vote on Tuesday came after France's worst terrorist attacks in decades last week.
A man claiming allegiance to ISIS killed four people in a kosher market and a policewoman in Paris while two brothers claiming ties to Al-Qaeda in Yemen killed 12 people at a Paris newspaper office.
Prime Minister Manuel Valls, speaking to the National Assembly ahead of the vote, said "France is at war against radical Islam" but he insisted "France is not at war against Islam."
France quickly joined the United States in conducting air strikes against the Islamic State last year. French law requires a vote on extending such operations after four months.
http://english.alarabiya.net/en/News/middle-east/2015/01/13/France-extends-air-strikes-against-ISIS-in-Iraq-.html
----------
Nusra Militants Withdraw from Beit Sahm, Syria
January 14, 2015
Al-Nusra terrorists withdrew from the town of Beit Sahm in Damascus countryside as the locals demonstrated, demanding the withdrawal of the group's militants after they killed a number of the citizens.
In a different context, the Syrian Army struck ISIL strongholds in Deir Ezzur province, killing large number of terrorists, Al-Manar reported Tuesday.
The Syrian army also regained the town of Rafraf in Hasakah countryside, inflicting heavy losses upon ISIL militants.
http://english.farsnews.com/newstext.aspx?nn=13931024000280
----------
Arabic language to serve as a medium for cultural, humanitarian integration
January 14, 2015
Minister of Culture and Information Abdul Aziz Al-Khodairy has called for the promotion of the Arabic language saying that it should serve as a medium for cultural and humanitarian integration.
He was addressing the 19th Session of the Conference of Arab Ministers Responsible for Cultural Affairs under the theme, "Arabic language as a platform for cultural and humanitarian integration."
The event was attended by Arab ministers and top education and cultural personalities with the participation of various Arab envoys.
Speaking on behalf of the Custodian of the Two Holy Mosques King Abdullah, Al-Khodairy said: "I hope to meet the high expectations and hopes of the people of the Arab World to have Arabic which is the language of the Holy Qur'an at the forefront of the world's living languages."
Full report at:
http://www.arabnews.com/saudi-arabia/news/689296
--------
India
Sharing Objectionable Post on Prophet Lands Class 9 Deoband Boy in Trouble
S Raju, Hindustan Times Meerut, January 14, 2015
Sharing a post on Facebook landed a Class 9 boy in trouble on Monday. The student in Deoband allegedly shared an objectionable post on Prophet Muhammad, for which the police booked him on charges of stirring religious trouble among communities. He will be produced before a juvenile court on Tuesday.
Hundreds of enraged people gathered outside the Deoband police station, demanding the immediate arrest of the boy. At first, the police tried convincing the crowd that the boy had acted out of ignorance, not malice. But unable to convince them, senior officials directed the police to arrest the boy.
"We have arrested the boy and he will be produced before the juvenile court on Tuesday," said Rajesh Pandey, senior superintendent of police, Saharanpur. He went on to add that the boy shared a very old post that has been doing rounds on social media, causing trouble. The same post had created a problem in Meerut and some other states too.
Police sources said that news of the post spread like wildfire across the town and soon, hundreds of enraged persons gathered outside the police station demanding the boy's arrest. The crowd finally dispersed when the student was booked by the police.
Meanwhile, markets remained shut as the atmosphere in Deoband was tense.
http://www.hindustantimes.com/india-news/fb-post-lands-class-9-deoband-boy-in-trouble/article1-1306155.aspx
--------
Cleric-Led Anti-Drug Drive Covers 3,000 Mumbai Muslim Youth
By Mustafa Shaikh & Jyoti Shelar, Mumbai Mirror | Jan 14, 2015
Campaign aids families, addicts to talk freely about drug abuse; crusade to cover entire city.
A five-month-old campaign against the use of the recreational drugs Methamphetamine and Mephedrone among Muslim youth has reached more than 3,000 young men and women in 10 community-dominated areas in Mumbai and had led to the hospitalisation of 45 addicts. Drugs Free Mumbai, the campaign led by Maulana Syed Moinuddin Ashraf, popularly known as Moin Miyan, head of Jamia Qadriya Ashrafia madrasa in Grant Road, seeks to penetrate all Muslim dominated areas in the city.
Started in August last year, the campaign has reached out to neighbourhoods in Bandra, Sewri, Jogeshwari, Andheri, Oshiwara Malad, Nallasopara, Mira Road and Dongri. "The kind of response we have got is overwhelming. Interestingly, we have been getting more and more curious parents from the community," said psychiatrist Dr. Yusuf Matcheswalla, who has taken on the task of addressing the crowds that the campaign draws.
According to him, 45 drug addicts have sought help thus far and were checked into the rehabilitation facility at the state run GT Hospital. "The youngest is a 14-year-old boy who is extremely hyper all the time. He is now coping well at the de-addiction centre," said Matcheswalla adding, that majority of the addicts young men in their twenties. At least five of the 45 who have appealed for help are women.
Full report at:
http://www.mumbaimirror.com/mumbai/others/Cleric-led-anti-drug-drive-covers-3000-Muslim-youth/articleshow/45877353.cms
----------
Encounter breaks out in North Kashmir's Sopore
Jan 14, 2015
An encounter broke out between militants and security forces in North Kashmir's Sopore town on Wednesday morning.
Police officials said that when the security forces zeroed in on the target house- in Sofi Haman area of the town, militants opened the fire, triggering a gun battle.
"We had cordoned off the area last night. But, the firing started today morning ," said SP Sopore Abdul Qayoom. "The ecounter is on presently and one militant is believed to be inside the house."
There hare no reports of any casualties so far, he said.
Meanwhile, additional forces have been rushed to the encounter site.
http://indianexpress.com/article/india/india-others/encounter-breaks-out-in-north-kashmirs-sopore/
----------
India, Pak should resume dialogue for resolution of issues, Ban Ki-Moon says
Indrani Bagchi,TNN | Jan 14, 2015
NEW DELHI: On the back of frequent cross-border fire in Jammu & Kashmir in recent months, UN Secretary General Ban Ki-Moon has suggested that dialogue between India and Pakistan should continue for both countries to find a "long standing solution".
"I am concerned about what has happened in that area in Jammu & Kashmir. We have seen loss of lives along the Line of Control. I have suggested and strongly recommended to the Prime Minister and foreign minister that there should be continuing dialogue so this can be resolved as soon as possible," said Ban Ki-Moon in an exclusive conversation with TOI.
Wrapping up a visit to India which he said holds a special place in his heart, Ban highlighted the dangers of growing terrorism and extremism in different parts of the world. "It's a very dangerous situation because somehow extremists continue to propagate hate through social media and internet."
Full report at:
http://timesofindia.indiatimes.com/india/India-Pak-should-resume-dialogue-for-resolution-of-issues-Ban-Ki-Moon-says/articleshow/45878696.cms
----------
Pakistan
Govt approaches Saudi diplomat over funding of madrassahs, banned outfits
14 Jan, 2015
ISLAMABAD: In a fresh push to choke terror funding, the government invited a 'brotherly' country's top diplomat on Wednesday, calling for a fresh clampdown on organisations and individuals financing sectarian and banned organisations operating in Pakistan.
Yesterday, on the advice of Prime Minister Nawaz Sharif, the interior ministry approached the Saudi Embassy in Islamabad for an urgent meeting to discuss matters related to the funding of madrassahs/mosques by Saudi philanthropists, officials said.
"A senior Saudi diplomat is meeting Interior Minister Chaudhry Nisar right now. Both are deliberating how to stop financial support of banned outfits from Saudi Arabia, among other issues," a senior official of the interior ministry told The Express Tribune.
He recalled that a group of experts has already recommended to the National Action Plan Committee that Tehran, Riyadh, and the United Arab Emirates (UAE) should be asked to stop funding religious groups that are banned in Pakistan.
Nisar, in light of the NAP committee's proposals, is sharing intelligence agencies' reports on foreign funding to various religious groups banned in Pakistan with the visiting guest, an interior ministry official said.
The minister is also briefing a Saudi diplomat about the behaviour of proscribed organisations, which was gauged by the National Crisis Management Cell (NCMC) and National Counter Terrorism Authority (NACTA), he hoped.
Full report at:
http://tribune.com.pk/story/821693/govt-approaches-saudi-diplomat-over-funding-of-madrassahs-banned-outfits/
----------
Government won't be at ease until elimination of last terrorist: Nawaz
14 Jan, 2015
ISLAMABAD: Prime Minister Nawaz Sharif said on Tuesday there is no room for terrorism or terrorists in Pakistani society, and the government is determined not to be at ease till the elimination of the last terrorist from our country.
Nawaz Sharif chaired a meeting to review progress on the implementation of National Action Plan to eliminate terrorism and extremism from the country, at the PM's House on Tuesday. He was briefed on the legislative and administrative measures as well as the progress on sub-committees regarding implementation of the National Action Plan. The prime minister said all steps necessary are being taken to eliminate terrorism from Pakistan's soil. It was approved that Gilgit-Baltistan and AJK Councils would also adopt the 21st Constitutional Amendment as well as amendment in the Army Act to facilitate formation of military courts in those areas.
The prime minister was informed that since December 23, 2014, 164 cases have been registered in Punjab and Islamabad Capital Territory for use of hate speech and material, while 157 persons have been arrested. 40 printing presses and shops have also been sealed. On the misuse of loudspeakers, 1994 cases have been registered and 1088 persons have been arrested. Information from provinces other than Punjab is still awaited.
http://www.dailytimes.com.pk/national/14-Jan-2015/government-won-t-be-at-ease-until-elimination-of-last-terrorist-nawaz
----------
Fresh Legislation in the Works to Control Hate Speech
January 14, 2015
ISLAMABAD: In an apparent move to accelerate implementation of the National Action Plan, the government plans to introduce new laws to combat hate speech in the country.
Under the proposed 'Hate Speech and Inciting Literature' laws, it will not be permitted to express hatred towards someone based on ethnicity, religion, sect, nationality, race or colour, according to senior officials in the interior ministry and the ministry of law, justice and human rights.
"Under this new legislation, the expression of hate speech, threatening communication and abusive literature will be forbidden," a senior interior ministry official told The Express Tribune. "Clerics will be barred from delivering lectures via loudspeakers in mosques and Madaris."
Full report at:
http://tribune.com.pk/story/821557/clamping-down-fresh-legislation-in-the-works-to-control-hate-speech/
----------
Pakistan rolls out second media campaign to boost Islamic finance
14 January 2015
Pakistan's central bank is launching a second phase of a mass media campaign designed to raise awareness and acceptance of Islamic finance among consumers in the world's second most populous Muslim country.
The campaign is part of the central bank's five-year plan for the industry. The new phase, announced at the end of December, will shift from building the overall visibility of the industry to educating consumers on the value proposition of Islamic finance.
"There is desire among consumers to know more about Islamic banking and address some crucial questions," central bank deputy governor Saeed Ahmad said.
In October, the central bank released a country-wide study showing latent demand for sharia-compliant finance; it highlighted consumer outreach, rural banking and the need for stand-alone Islamic banks as issues to be addressed.
Full report at:
http://english.alarabiya.net/en/business/banking-and-finance/2015/01/13/Pakistan-rolls-out-second-media-campaign-to-boost-Islamic-finance.html
----------
Parents stop Imran Khan from entering Peshawar school
TNN | Jan 14, 2015
PESHAWAR: In a huge embarrassment for cricketer-turned-politician Imran Khan, parents on Wednesday stopped him from entering the Army School in Peshawar where 142 children were killed in a terror strike.
Parents blocked Imran Khan's entry in the school and shouted slogans of "Go Imran Go".
Pakistani children returned on Monday to the school where Taliban gunmen killed 150 of their classmates and teachers last month, clutching their parents' hands tightly in a poignant symbol of perseverance despite the horrors they had endured.
It was the first time the school had reopened since the assault and security was tight. The nation has been reeling from the December 16 terrorist attack in Peshawar — one of the worst Pakistan has experienced. The violence carried out by seven Taliban militants put a spotlight on whether the authorities can end the stubborn insurgency that kills and maims thousands every year.
Full report at:
http://timesofindia.indiatimes.com/world/pakistan/Parents-stop-Imran-Khan-from-entering-Peshawar-school/articleshow/45883666.cms
----------
ATC indicts Musharraf in Akbar Bugti murder case
14 Jan, 2015
QUETTA: An anti terrorism court (ATC) in Quetta on Wednesday indicted former military ruler Gen (retd) Pervez Musharraf in a case pertaining to the murder of Baloch nationalist leader Nawab Akbar Khan Bugti.
Nawabzada Jamil Akbar Bugti, son of Nawab Akbar Khan Bugti, had nominated the former president and other high-ups in the murder of his father. The Balochistan High Court had already issued arrest warrants of the accused persons.
Despite the ATC's repeated orders, the former military dictator did not appear in the court today.
Full report at:
http://www.dawn.com/news/1156954/atc-indicts-musharraf-in-akbar-bugti-murder-case
----------
Sindh, Punjab fail to ensure 5% job quota for minorities
January 14, 2015
ISLAMABAD: The Punjab and Sindh governments have failed to adhere to the 5% job quota allocated for minorities in the police department.
Submitting a report to the Supreme Court on recruitment of minority community members, the Sindh government has admitted that 5% job quota in the police department for minorities has not been maintained from 2010 to 2014, arguing that very few people from the minority groups apply for positions in police.
Additional Advocate General (AAG) Sindh Shafi Muhammad Chandio informed the apex court that 326 people from the minority communities have been appointed so far during the last five years.
For the post of constable, the report reveals that the police department has received 116,661 applications in 2014-15, of which 3,412 applications were from minorities.
In Karachi range, 20,037 people have applied for the post of constable, wherein only 76 applicants belonged to minorities, it adds.
Full report at:
http://tribune.com.pk/story/821550/police-department-sindh-punjab-fail-to-ensure-5-job-quota-for-minorities/
----------
Lab tests show polio vaccine is not 'Haram'
14 Jan, 2015
SLAMABAD: It is official. The polio vaccine being used to fight the crippling disease in our Islamic state is Halal.
A laboratory controlled by the Drug Regulatory Authority of Pakistan (DRAP) has tested the vaccine and certified that, according to information gathered by Dawn from official sources and documents.
Officials of the Ministry of National Health Services (NHS) said polio vaccines were registered in the country only after the expert committee on biological drugs and the Drug Registration Board of DRAP "thoroughly evaluated" them.
Yet, many parents refuse the vaccination to their children under the notion that it is Haram.
Anti-polio campaign documents say the notion has been persisting since 2004 when obscurantist elements in the society spread the concoction that certain human hormones were deliberately added to the oral polio vaccine (OPV) to make children sterile.
Sadly, many polio workers paid with their lives or limbs for daring to carry on the battle against the disease.
Full report at:
http://www.dawn.com/news/1156931/lab-tests-show-polio-vaccine-is-not-haram
----------
PAT announces countrywide protest rallies from Jan 17
14 Jan, 2015
ISLAMABAD: The Pakistan Awami Tehreek has announced holding rallies across the country from the 17th of this month in protest against not getting justice and the non-formation of a judicial commission on the Model Town incident.
This was decided in a high level meeting held at the PAT secretariat here on Tuesday. The rallies will protest and begin a signature campaign against the giving of a job to the main culprit of the Model Town incident Dr. Taqueer Shah, a former principle secretary of the Punjab Chief Minister, a post at the World Trade Organization. This signature campaign will be officially begin at the PAT secretariat on Wednesday.
A PAT press release said that a written complaint will be sent to the WTO giving them a brief of the role Taqueer Shah played in the killing of innocent PAT workers. Along with the complaint will be a document which will bear the signatures of all the families of the deceased and all the injured persons in the Model Town incident. The central president of PAT, Dr. Raheeq Ahmed Abbasi said that the PAT had postponed its protest rallies after the Peshawar incident.
Full report at:
http://www.dailytimes.com.pk/islamabad/14-Jan-/pat-announces-countrywide-protest-rallies-from-jan-17
----------
ATC gives death to four in ISI office attack case
14 Jan, 2015
MULTAN: Anti-terrorism Court No.I handed down death penalty to four terrorists on 22 counts and life imprisonment to another for attacking ISI building in 2009 in the precincts of Cantt police station which claimed 11 lives and injuries to 76 others. The convicts were also awarded 10 years imprisonment each under different sections and directed them to pay Rs 200,000 compensation. The court also imposed fine amounting Rs 50,000 on each terrorists for 76 times each. Those terrorists were awarded death penalty include: Abdur Raheem alias Talha, Muhammad Afzal, Sajjad and Hafiz Suleman while Ejaz was awarded life imprisonment under sections 302 and 7-ATA. Ejaz was involved in facilitating the terrorists. Another four outlaws namely Qari Ubaidullah alias Imran, Zubair alias Farooq, Qari Ziaur Rehman and Muhammad Abdullah are absconder in the case.
http://www.dailytimes.com.pk/national/14-Jan-2015/atc-gives-death-to-four-in-isi-office-attack-case
----------
LeJ's Lahori to be hanged on January 17
14 Jan, 2015
FAISALABAD: Death warrants for convicted sectarian terrorist Ikramul Haq alias Akram Lahori have been re-issued after he dodged his execution by winning an eleventh hour pardon from the victim's family last week, Samaa reported. Lahori's, who was to feel the hangman's noose tightening around his neck on January 8, will now be punished capitally on January 17th at Kot Lakhpat Jail Lahore. Earlier, an anti terrorism court (ATC) declared the compromise agreement between the two parties as null and void for failing to meet the legal requirements. The case is seen as a test of the government's plan to execute convicted terrorists in the aftermath of a school massacre that claimed 150 lives in the country's deadliest terror attack. Haq is a member of banned Sunni outfit Lashkar-e-Jhangvi.
http://www.dailytimes.com.pk/punjab/14-Jan-2015/lej-s-lahori-to-be-hanged-on-january-17
-------
North America
NYPD may have spied on Muslims solely because of religion: US court
14 Jan, 2015
PHILADELPHIA: A federal appeals court appeared concerned that the New York Police Department may have spied on Muslim groups following the Sept 11, 2001, terrorist attacks solely because of their religion.
The three-judge panel questioned whether police had any specific leads to justify the surveillance of Muslim businesses, mosques and student groups in New Jersey following 9/11.
The practice went on from 2002 to at least 2012, according to a lawsuit filed by several Muslim groups.
US District Judge William Martini had thrown the lawsuit out, concluding that police could not keep watch "on Muslim terrorist activities without monitoring the Muslim community itself".
However, the judges on the Philadelphia-based 3rd US Circuit Court of Appeals questioned Tuesday why the surveillance wasn't more targeted.
"You've got to admit there are a lot of people in this country that (became) prejudiced against Muslims after 9/11," US Circuit Judge Jane R. Roth said.
"Whether that includes the people who have instituted the surveillance practice in New York City — how can we know at this point?"
Full report at:
http://www.dawn.com/news/1156949/nypd-may-have-spied-on-muslims-solely-because-of-religion-us-court
----------
US designates Mullah Fazlullah as a 'global terrorist'
14 Jan, 2015
WASHINGTON: The US State Department designated Tehreek-e-Taliban Pakistan (TTP) chief Mullah Fazlullah as a 'global terrorist'.
According to a State Department press release, Fazlullah has been labeled a 'Specially Designated Global Terrorist' under Executive Order (E.O.) 13224, which targets terrorists and those providing support to terrorists or acts of terrorism.
The consequences of these designations include a prohibition against American citizens engaging in transactions with Fazlullah, and the freezing of all property and interests of Fazlullah that are in the United States, or come within the United States or the possession or control of US persons, the statement said.
Fazlullah was elected TTP commander in November 2013, following the death of former leader Hakimullah Mehsud.
Full report at:
http://www.dawn.com/news/1156772/us-designates-mullah-fazlullah-as-a-global-terrorist
----------
United States Says Nigeria Vote a Factor in Boko Haram Attacks
Jan 14, 2015
WASHINGTON, UNITED STATES: Nigeria's election next month is a factor behind the sharp increase in attacks by Boko Haram Islamist militants in the north of the country, the U.S. State Department said on Tuesday.
Spokeswoman Marie Harf said, however, that the Feb. 14 presidential election should go forward despite the violence, which the United Nations and human rights groups say has forced about 20,000 Nigerians to flee to neighboring countries in recent weeks.
Harf said Boko Haram previously used events such as elections to stir up tensions. The election is expected to be a close contest between President Goodluck Jonathan and his leading challenger Muhammadu Buhari.
Full report at:
http://www.ndtv.com/article/world/united-states-says-nigeria-vote-a-factor-in-boko-haram-attacks-648433
---------
'1,000 recruits joining fight in Syria and Iraq each month'
Eric Schmitt & Michael S Schmidt,NYT News Service | Jan 14, 2015
WASHINGTON: For more than a decade, Western governments have struggled to stem the flow of their citizens traveling to fight in war zones in Muslim countries, increasing surveillance of those who have expressed an interest in joining extremists, creating computer programs to track suspicious travel patterns and taking other measures.
But last week's commando-style raids in France — carried out by at least one man who traveled to Yemen in 2011 to train alongside the Qaeda affiliate there — were deadly reminders that those measures have done relatively little to reduce the threat. The number of people traveling abroad to fight continues to grow, with about 1,000 militant recruits joining the fight in Syria and Iraq each month, according to recent United States government figures.
Full report at:
http://timesofindia.indiatimes.com/world/us/1000-recruits-joining-fight-in-Syria-and-Iraq-each-month/articleshow/45879697.cms
----------
Jimmy Carter: ICC should pursue war crimes investigation against Israel, Hamas
Jan 14, 2015
Former US president Jimmy Carter said on Wednesday that the International Criminal Court should probe both Israel and Hamas for possible war crimes committed during Operation Protective Edge.
In an interview with The Huffington Post, the Nobel laureate said that such an investigation would be "good for both sides."
"I think it might be a good thing for the International Criminal Court to take an inquisitive look not only at what the Israelis have done to the Palestinians but vice versa," Carter said.
"I've been to the places in Israel where Hamas rockets land and I have been there and I've condemned the rockets on television, so there are problems both ways. But I think that to expose what has happened on both sides to the world in a very careful and judicial way will probably be good for both sides."
http://www.jpost.com/Breaking-News/Jimmy-Carter-ICC-should-pursue-war-crimes-investigation-against-Israel-Hamas-387698
-----------
US reacts to Turkish president's remarks blasting Netanyahu over Paris rally
14 Jan, 2015
The U.S. State Department has reacted to Turkish President Recep Tayyip Erdoğan's remarks criticizing Israeli Prime Minister Benjamin Netanyahu's attendance of the anti-terror solidarity march in Paris.
State Department spokesperson Marie Harf said she "vehemently disagrees" with Erdoğan's words that accused the Israeli prime minister of being hypocritical of Netanyahu.
The Turkish president said on Jan. 12 he could "hardly understand how he [Netanyahu] dared to go" to the massive Jan. 11 march in the French capital and urged him to "give an account for the children, women you massacred."
"How can you see this individual, who carries out state terrorism by massacring 2,500 people in Gaza, waving his hand?" said Erdoğan.
"He is waving his hand as if people are very enthusiastically waiting for him," added Erdogan, referring to the images of Netanyahu acknowledging supporters in Paris.
"Turkey will continue to fight ... against Israel's reckless actions that do not recognize the law," the Turkish president said.
http://www.hurriyetdailynews.com/us-reacts-to-turkish-presidents-remarks-blasting-netanyahu-over-paris-rally.aspx?pageID=238&nID=76924&NewsCatID=359
-----------
After France attacks, US worried by anti-Semitism in Europe
AFP | Jan 14, 2015
WASHINGTON: The White House voiced alarm Tuesday at a surge in anti-Semitism in Europe and in France, after last week's attack in Paris on a kosher supermarket, which killed four Jewish people.
"The violent assault on the Jewish community in France that took place on Friday afternoon (...) was the latest in a series of very troubling incidents in Europe and around the world that reflect a rising tide of anti-Semitism," White House chief of staff Denis McDonough said at an American Jewish committee event in a Washington synagogue.
"On behalf of the president (Barack Obama) I am here to affirm our nations' solidarity to the French people and the Jewish community in France, and around the world, to condemn in the strongest possible terms the violent attacks of last week" on the market, and at satirical weekly Charlie Hebdo where 12 people were killed. Including a policewoman shot dead in a related incident, 17 people lost their lives in the three-day killing spree all told.
Full report at:
http://timesofindia.indiatimes.com/world/us/After-France-attacks-US-worried-by-anti-Semitism-in-Europe/articleshow/45881809.cms
----------
Europe
'We are all Germany', president tells Muslim rally
14 Jan, 2015
German President Joachim Gauck told the country's Muslim community Tuesday that "we are all Germany" at a rally to condemn the Paris jihadist attacks and take a stand against rising Islamophobia.
About 10,000 citizens, religious leaders and politicians, among them Chancellor Angela Merkel, joined the event, which started with a wreath-laying ceremony at the French embassy and an imam reciting Koranic verses condemning the taking of life.
Gauck used his speech to send a message of reassurance to Germany's four-million-strong Muslim community, a day after a record 25,000 people joined a protest march by a populist anti-Islamic movement.
"We are all Germany," he said.
"We, democrats with our different political, cultural and religious backgrounds; we, who respect and need each other; we, who want to live life... in unity, justice and freedom," Gauck said in his speech at Berlin's Brandenburg Gate.
"The vast majority of Muslims feel they belong to our open society... Germany has become more diverse through immigration -- religiously, culturally and mentally."
"Our answer to the fundamentalism of the Islamist perpetrators of violence is democracy, respect for the law, respect for each other, respect for human dignity. This is our way of life!"
Full report at:
http://www.hurriyetdailynews.com/we-are-all-germany-president-tells-muslim-rally-.aspx?pageID=238&nID=76920&NewsCatID=351
----------
'Five Eyes' States to Meet On Anti-Terror Fight
14 January 2015
The five nations that make up the world's leading intelligence-sharing network will meet in London next month to confer on strategies to fight terrorism in the wake of the Paris attacks, Canada said on Tuesday.
Public Safety Minister Steven Blaney said the so-called Five Eyes - the United States, Australia, Canada, Britain and New Zealand - had scheduled a meeting for Jan 22.
A Canadian government official later said the five would actually meet in London some time in February.
Blaney's comments were unusual, since members of the Five Eyes network rarely talk about its activity.
Full report at:
http://english.alarabiya.net/en/News/middle-east/2015/01/14/-Five-Eyes-countries-to-meet-on-anti-terror-fight-.html
----------
'Pak. should act against Hafiz Saeed': U.N. Secretary-General
Jan 14, 2015
Pakistan must curb Hafiz Saeed, said U.N. Secretary-General Ban Ki-moon in his first remarks about the U.N.-designated global terrorist's public rallies.
"It is very important that the Pakistan government takes necessary and corrective measures in accordance with the U.N. Security Council's counter-terrorism policies," Mr. Ban told The Hindu in an exclusive interview during his visit to New Delhi.
Mr. Ban's comments came in response to a question whether Saeed's rally at Lahore's Minar-e-Pakistan in December constituted a violation of the U.N. mandate by the Pakistan's government.
"I was shocked when the Mumbai terror attacks took place and we all expected that all these terrorists would be put to justice," Mr. Ban said.
"I sincerely hope that the Indian and Pakistani government authorities discuss this matter that all the perpetrators should be punished as terrorists, brought to trial. It is important not to allow room for terrorists, radical groups, armed groups to take such chances with the lapse of the justice system."
Full report at:
http://www.thehindu.com/news/national/pakistan-should-act-against-hafiz-saeed-ban-kimoon/article6785838.ece
----------
Paris attacks: Funding, attack weapons came from abroad
Jan 14, 2015
France's Prime Minister has demanded tougher anti-terrorism measures after the recent deadly attacks in Paris and that may already be leading to a crackdown on liberties in exchange for greater security.
Police told AP that the weapons used came from abroad, as authorities in several countries searched for possible accomplices and the sources of financing for last week's attacks on the satirical newspaper Charlie Hebdo, a kosher market, and police. A new suspect was identified in Bulgaria.
"We must not lower our guard, at any time," Prime Minister Manuel Valls told Parliament on Tuesday, adding that "serious and very high risks remain."
Lawmakers in the often argumentative chamber lined up overwhelmingly behind the government, giving repeated standing ovations to Mr. Valls' address and then voted 488-1 to extend French airstrikes against Islamic State extremists in Iraq.
Full report at:
http://www.thehindu.com/news/international/world/paris-attacks-funding-attack-weapons-came-from-abroad/article6787863.ece
----------
Mass immigration has led to Muslim 'ghettos' in Britain run under Sharia Law, says Farage
Jan 14, 2015
Mass immigration has led to the growth of Muslim 'ghettos' in Britain which are run under Sharia Law, Nigel Farage declared last night.
In an interview with US news channel Fox News, Mr Farage said the authorities had turned a 'blind eye' to the growth of ghettos where 'the police and all the normal agents of the law have withdrawn and that is where Sharia law has come in.'
Communities Secretary Eric Pickles accused Mr Farage of 'pandering to peoples' worst fears' and branded his comments 'irresponsible and wrong'.
The Ukip leader was interviewed yesterday by presenter Sean Hannity on the causes of the Paris massacre, following his comments last week in which he blamed a 'fifth column' and 'gross multiculturalism' for the attacks.
Full report at:
http://www.dailymail.co.uk/news/article-2909185/Mass-immigration-led-Muslim-ghettos-Britain-run-Sharia-Law-says-Farage-Ukip-leader-claims-authorities-turn-blind-eye-TV-interview.html#ixzz3OpcqcKT5
----------
French Muslims feel deeply torn by viral 'I am Charlie' slogan
Jan 14, 2015
GENNEVILLIERS, France — Rather than fall quiet as requested during a national minute of silence last week, three boys in Hamid Abdelaali's high school class in this heavily Muslim suburb of Paris staged an informal protest, speaking loudly through all 60 seconds.
Across France, they were not alone. In one school in Normandy, some Muslim students yelled "God is great!" in Arabic during that same moment. In a Paris middle school, another group of young Muslims politely asked not to respect the minute, arguing to their teacher, "You reap what you sow."
Abdelaali, a 17-year-old high school senior who did observe the quiet minute, said he did so only because he was outraged by the killings in the name of his religion that were carried out at Charlie Hebdo — the satirical French newspaper attacked by Islamist extremists. But he also said he feels disgusted by a newspaper whose provocative cartoons had used the image of the prophet Muhammad for satire — and which continued to do so in its tragicomic first edition hitting newsstands Wednesday morning. "I know some kids who agreed with the attack," he said. "I did not, but I also cannot say that I support what Charlie Hebdo is doing."
Within France's Muslim community of some 5 million — the largest in Europe — many are viewing the tragedy in starkly different terms from their non-Muslim compatriots. They feel deeply torn by the now-viral slogan "I am Charlie," arguing that no, they are not Charlie at all.
Full report at:
http://www.washingtonpost.com/world/europe/they--not-charlie/2015/01/13/7c9d6998-9aae-11e4-86a3-1b56f64925f6_story.html
----------
France arrests comedian for being 'apologist for terrorism'
14 Jan, 2015
PARIS: Notorious French comedian Dieudonne was arrested Wednesday for being an "apologist for terrorism" after writing a Facebook comment suggesting he sympathised with one of the Paris attacks gunmen, a judicial source said.
Prosecutors had opened the case against him on Monday after he posted "Tonight, as far as I'm concerned, I feel like Charlie Coulibaly" — mixing the popular slogan "Je Suis Charlie" used in homage to the journalists killed at magazine Charlie Hebdo, with a reference to gunman Amedy Coulibaly.
Coulibaly killed four people at a Jewish supermarket on Friday and a policewoman the day before.
Full report at:
http://www.dawn.com/news/1156962/france-arrests-comedian-for-being-apologist-for-terrorism
----------
We can't prevent all Islamist attacks: EU anti-terror chief
14 Jan, 2015
BRUSSELS: It is impossible to completely prevent new Islamist attacks like those in Paris, the EU's anti-terror chief said Tuesday, warning that Europe's prisons have become a "massive incubator" for radicalisation.
Gilles de Kerchove told AFP in an interview that the Islamic State group and Al-Qaeda wanted to launch more attacks on the West like the assault on the French capital last week in which 17 people were killed over three says.
"We can't prevent (militant attacks) 100 per cent," said de Kerchove, who met with European, US and Canadian security ministers in Paris on Sunday in the wake of the Charlie Hebdo massacre and linked attacks.
"The threat remains serious," he added.
De Kerchove warned that the Al-Nusra Front, the Al-Qaeda branch in Syria, is also looking for "clean skins," Europeans with no record of radical activity, to mount attacks in Europe.
He also said that weapons from the Balkans and Libya were being sold in Europe and it was extremely difficult to prevent "crazy people" from obtaining them and carrying out attacks if they wanted to.
Full report at:
http://www.dawn.com/news/1156769/we-cant-prevent-all-islamist-attacks-eu-anti-terror-chief
----------
Muslim Building in Sweden Vandalized with Graffiti
January 14, 2015
A building which is used by a Muslim Association in the Swedish town of Boras was vandalized with pig's head left outside and graffiti on an outside wall, media report said.
The facility is used by the local Svenljunga Muslim Association. Police are investigating the incident, RT reported.
The pig's head is offensive for Muslims, as its flesh represents a taboo in Islam.
It's not the first time such an act of vandalism took place in the area. Just over a year ago, a pig's head was left outside a mosque in a nearby town, Limmared.
Swedish mosques were attacked three times over the New Year. A firebomb and a Molotov cocktail were thrown at a mosque in Uppsala on January 1, while five people were injured when a petrol bomb was tossed through the window of a mosque in Eskilstuna on December 25.
The same mosque was attacked in autumn, local newspaper Expressen reported.
http://english.farsnews.com/newstext.aspx?nn=13931024000295
-------
Mideast
Islam a European reality, there to stay, Turkish PM says
14 Jan, 2015
Islam is a European reality and Muslims across the continent are there to stay, Turkish Prime Minister Ahmet Davutoğlu told journalists while returning from Berlin late on Jan. 12.
"There is a settled persuasion that a solution can be found via accepting that Islam is a European reality," Davutoğlu said, commenting on the hot debate over rising Islamophobia in Europe.
"This was very clear in Mrs. [Angela] Merkel's speech today," he said, in remarks that came hours after a meeting with the German chancellor. "However, I doubt how much of this persuasion has spread among some sections, especially among those with prejudices."
"Islam is there to stay in Europe. Everyone sees this," he said, adding that today it was impossible to send back Muslims in Europe as if they are just temporary migrants.
Turks have been living in Germany in large numbers for over 50 years, the prime minister said, noting that a rise in racism is linked to economic crises. He particularly highlighted the Patriotic Europeans Against the Islamization of the West (PEDIGA) in Germany as "sending very dangerous messages."
Full report at:
http://www.hurriyetdailynews.com/islam-a-european-reality-there-to-stay-turkish-pm-says.aspx?pageID=238&nID=76903&NewsCatID=338
----------
Turkish main opposition asks Islamic world to embrace secularism
14 Jan, 2015
Turkey's main opposition party has called on Islamic countries to adopt secularism in order to end the roots of terrorism, denouncing last week's deadly Paris attacks and stressing that "killing innocent people has nothing to do with Islam."
"We are calling on the entire Islamic world: Please adopt secularism. It was described as sacrilege until yesterday, but secularism is the assurance of all faiths; it means no political interventions on people's religions," main opposition Republican People's Party (CHP) head Kemal Kılıçdaroğlu told his parliamentary group on Jan. 13.
"Secularism is the antidote to terror," Kılıçdaroğlu added.
The CHP head said the attacks against satirical weekly Charlie Hebdo revealed once again the importance of secularism, recalling that Turkey's prominent role among Muslim countries was because of its secular state tradition brought about by Mustafa Kemal Atatürk, the founder of modern Turkey.
Full report at:
http://www.hurriyetdailynews.com/turkish-main-opposition-asks-islamic-world-to-embrace-secularism.aspx?pageID=238&nID=76894&NewsCatID=338
---------
Police raid press of Turkish daily publishing selection of Charlie Hebdo's new issue
14 Jan, 2015
Police raided the printing press of Turkish daily Cumhuriyet on Jan. 14, as it prepared to distribute a four-page selection of Charlie Hebdo's new issue in an act of solidarity with the French satirical magazine targeted last week in a deadly attack that claimed 12 victims.
The police also took extreme security measures ahead of the scheduled publication of the supplement.
Police cars were sent to the printer of the daily in Istanbul early on Jan. 14 and halted trucks to prevent the distribution of the Jan. 14 edition. The distribution was eventually allowed after the prosecution made sure that cartoons representing the Prophet Muhammad were not included in the selection.
The editor-in-chief of the daily, Utku Çakırözer, stated earlier that they had decided not to publish a cartoon on the cover featuring the Prophet Muhammad in tears holding a "Je suis Charlie" banner, in reference to solidarity protests with the magazine.
"When preparing this selection, we have been attentive to religious sensitivities as well as freedom of belief, in line with our editorial principles," Çakırözer said via Twitter Jan. 13. "We didn't include the cover of the magazine after a long deliberation."
Death threats
Full report at:
http://www.hurriyetdailynews.com/police-raid-press-of-turkish-daily-publishing-selection-of-charlie-hebdos-new-issue.aspx?pageID=238&nID=76916&NewsCatID=341
----------
Israel FM calls Turkey's Erdogan 'an anti-Semitic, neighborhood bully'
14 Jan, 2015
Europe's silence in the face of Turkish President Recep Tayyip Erdogan's vitriolic attacks against Israel is one of the reasons for the surge of anti-Semitism in Europe, Foreign Minister Avigdor Liberman said Wednesday.
In some of the toughest public comments in memory against Erdogan and Turkey, Liberman told a gathering of Israel's ambassadors to Euro-Asia that Europe's Ignoring the hate and incitement Erdogan cultivates toward Israel has ramifications.
"The silence of the lambs of cultured Europe, politically correct Europe, toward a neighborhood and anti-Semitic bully like Erdogan and his friends brings us back to the reality of the 1930s," he said.
Liberman, who seemed up until now to have been trying to move toward the political center, bucked that trend during the speech, calling for the ouster of Palestinian Authority head Mahmoud Abbas, who he accused of waging "diplomatic terror" against Israel.
Full report at:
http://www.jpost.com/Israel-News/Politics-And-Diplomacy/Liberman-calls-Erdogan-an-anti-Semitic-neighborhood-bully-387704
-----------
Al Qaida in Yemen claims responsibility for Paris attack
14 Jan, 2015
DUBAI - Al Qaida in Yemen claimed responsibility for the attack on French satirical newspaper Charlie Hebdo, saying it was for insulting the Prophet Mohammad, according to a video posted on YouTube.
"As for the blessed Battle of Paris, we, the Organization of al-Qa-da al Jihad in the Arabian Peninsula, claim responsibility for this operation as vengeance for the Messenger of God," said Nasser bin Ali al-Ansi of the Yemeni branch of al Qaeda (AQAP) in the recording.
http://www.jpost.com/Breaking-News/Al-Qaida-in-Yemen-claims-responsibility-for-Paris-attack-387705
-----------
Africa
Suicide Bomber Kills 2, Wounds 14 at Mosque in Nigeria
Jan 14, 2015
ABUJA/BAUCHI - A suicide bomber blew himself up outside a mosque in the north-eastern Nigerian city of Gombe on Tuesday, killing at least two other people and wounding 14 during prayers, a Red Cross official and witnesses said.
"We were holding prayers when we heard a loud explosion," witness Musa Usman told Reuters by phone.
"We rushed out of the mosque. There were so many people injured on the ground."
There was no immediate claim of responsibility.
http://www.jpost.com/Breaking-News/Suicide-bomber-kills-2-wounds-14-at-mosque-in-northeastern-Nigeria-387665
------------
Suicide attack kills 3 Libyan soldiers
January 14, 2015
Benghazi: Three Libyan soldiers were killed and four others wounded in a suicide car bomb attack on a road checkpoint west of the embattled city of Benghazi, a military official said.
The official said an attacker drove an explosives-laden car into the checkpoint, located about 100 km west of Benghazi on the road to Ajdabiya.
Libya has plunged into chaos since the fall of dictator Muammar Qaddafi in Oct. 2011 after a NATO-backed revolt, with rival governments and militias battling to control the oil-rich North African country.
There was no immediate claim of responsibility for Tuesday's attack but government forces have been battling militia for control of Benghazi for months.
The same checkpoint was targeted by a similar attack in October but the attacker's car exploded before reaching the checkpoint and there were no other casualties.
http://www.arabnews.com/middle-east/news/689211
----------
Morocco cracks down on ISIS backers
Jan 14, 2015
Security forces in Morocco recently mounted a campaign of arrests in several cities, targeting suspects who declared their loyalty to the Islamic State (ISIS).
Efforts were focused on metropolitan Casablanca, Fez, Boulemane, Marrakesh, and Nador.
Some were interrogated then released, while others were referred to the public prosecutor on January 7th on terror charges. Sixteen remain in pre-trial detention.
Judicial police in Fez and Nador dismantled small cells working to recruit young people for Daesh.
The suspects were referred to the judicial police for further investigation and to explore their relationship with the cell that was recently dismantled to attract Moroccan women and girls, candidates for marriage to fighters in Iraq and Syria.
Mohamed Akdid, security analyst at the Directorate General for National Security (DGSN), told Magharebia that the arrests were "normal precautionary campaigns to ensure security and find clues about sleeper cells that are preparing for terrorist acts".
Full report at:
http://magharebia.com/en_GB/articles/awi/features/2015/01/13/feature-01
----------
Tunisia deals blows to terrorists
14 Jan, 2015
Tunisia's military and security forces continue to make breakthroughs against terrorists across the country.
Nearly every day, another terrorist plan is unveiled or a militant stronghold is discovered.
"They're suffering and we're hunting them down and giving them hard time around the clock," Defence Ministry Spokesman Belhassen Oueslati said. "They lost the safe havens they used to have in the mountain, and can now expect our strikes at any moment and wherever they are."They are now only able to attacking "unarmed soldiers or security personnel, after they lost hope about launching carefully-planned operations", he added.
The defence ministry on Saturday (January 10th) announced land and aerial combing operations of mountains west of Kasserine on the Algeria border.
"Information was provided by citizens in Hidra in Kasserine province about three terrorists moving in the area," the defence ministry said. Based on that, security and military units moved in, the ministry added.
Full report at:
http://magharebia.com/en_GB/articles/awi/features/2015/01/13/feature-02
----------
Libya's warring factions in crunch peace talks
13 January 2015
The United Nations will host crunch talks between Libya's warring factions from Wednesday in Geneva, amid warnings that this could be the last chance for peace in the battle-scarred nation.
The talks will be overseen by U.N. envoy to Libya and the U.N. chief's special representative Bernardino Leon. A press conference is scheduled on Wednesday afternoon.
The announcement came after the U.N.-backed negotiations looked in doubt on Tuesday after one of the delegations said it would postpone a decision on whether to participate until Sunday.
Western governments hope talks in Geneva this week would ease a crisis in Libya where two rival governments and their forces are vying for control of the North African oil producer three years after the fall of Moammar Qaddafi.
The internationally recognized government of Prime Minister Abdullah al-Thinni has been based out of eastern Libya since the summer after a faction called Libya Dawn took over Tripoli and set up its self-declared government and legislature.
Full report at:
http://english.alarabiya.net/en/News/middle-east/2015/01/13/U-N-to-hold-Libya-peace-talks-in-Geneva-on-Wednesday.html
--------
Southeast Asia
Malaysian Cops on alert for religious extremism after Paris killings
14 Jan, 2015
A recent directive by the militant Islamic State of Iraq and Syria (Isis) to its followers worldwide to wage holy wars in their own countries has put Malaysian police on high alert.
Isis leader Abu Bakr Al-Baghdadi had told supporters that instead of joining their struggle in the Middle East, they should wage holy wars in their own countries, in an announcement widely circulated online.
Authorities are not taking it lightly following the Charlie Hebdo massacre in Paris, France, last week.
On Friday, Defence Minister, Datuk Seri Hishammuddin Hussein had warned that the attack against the French satirical magazine which left 12 dead could occur in Malaysia.
Hishammuddin reportedly said that he had a discussion with intelligence agencies in Paris and London last month, and that the shootings at Charlie Hebdo's Paris offices were not unexpected.
A police source said religious extremism by misguided and deviant individuals could lead to a repeat of the Paris incident in Malaysia.
Full report at:
http://www.themalaysianinsider.com/malaysia/article/cops-on-alert-for-religious-extremism-after-paris-killings#sthash.0crVPK5n.dpuf
----------
Foreign Workers in Indonesia 'Must Take Local Language Test'
14 Jan, 2015
Jakarta. A draft government regulation that will require foreigners to master the Indonesian language before they are able to obtain a work permit here has elicited incredulity and skepticism from members of the local expatriate community, who responded to the announcement with criticism.
Earlier this month, Manpower Minister M. Hanif Dhakiri revealed that soon foreign workers would have to complete the Test of Indonesian as a Foreign Language, which is currently being developed by the ministry along with the University of Indonesia's Language Development Center.
The exam will be part of a new set of requirements that will determine the eligibility of a foreigner to work in the archipelago. It is included in the ongoing revision of a 2013 Manpower Ministry regulation.
"We hope that the revision can be complete in February so we can immediately implement the Indonesian language skill test for foreign workers who wish to work in Indonesia," Hanif was quoted as saying by state-run Antara news agency.
Full report at:
http://thejakartaglobe.beritasatu.com/news/foreign-workers-indonesia-must-take-local-language-test/
----------
South Asia
We Must Once Again Rise Up To Defend the Constitution: Former Maldives President
14 Jan, 2015
Opposition Maldivian Democratic Party (MDP) leader and former President Mohamed Nasheed has stated that the actions of the government are undermining the constitution.
Nasheed listed numerous decisions such as the removal of Supreme Court judges, "violations of the Public Finance Act", "narrowing of fundamental freedoms and rights", rising religious fundamentalism and extremism, and "isolation from the international world community".
The MDP party president gave the brief statement before his departure to meet Prime Minister Ranil Wikramasinghe and officials from the new Sri Lankan administration after the surprise victory of Maithiripala Sirisena in last week's presidential elections.
Nasheed noted that the United National Party (UNP) is a sister party to the MDP through the International Democratic Union and that it is a privilege that a like-minded political party is ruling in "our closest neighbor", with countless cultural, family, and economic ties.
He also expressed confidence in positive assistance and aid from Sri Lanka to the Maldives in general terms, and particularly in consolidating democracy.
Full report at:
http://minivannews.com/politics/we-must-once-again-rise-up-to-defend-the-constitition-says-nasheed-92118
----------
14- Bangladesh Parties to Form Committees to Resist Subversive Acts
14 Jan, 2015
The Awami League-led 14-party alliance will constitute "anti-subversive acts committees" in every ward and localities across the country to hand over anyone involved in acts of terrorism in the name of siege programme to the law enforcement agencies.
Awami League Presidium member Mohammad Nasim, who is also the spokesman for the 14-party alliance, yesterday disclosed the decision to reporters after a meeting of the alliance at party chief Sheikh Hasina's Dhanmondi office, reports BSS.
"In accordance with the announcement of Prime Minister Sheikh Hasina, the anti-subversive acts committees will be constituted across the country including Dhaka. The committees will create awareness among people against all acts of anarchy. The members of these committees will also extend cooperation to the law enforcement agencies," Nasim said.
Calling upon the law enforcers to be tougher in facing all the activities of terrorism, Nasim said: "Question does not arise for any concession to those creators of anarchy. Those who resort to falsehood should not get any concession."
Full report at:
http://www.dhakatribune.com/politics/2015/jan/14/14-party-form-countrywide-committees-resist-subversive-acts#sthash.SUQsuz1y.dpuf
----------
13 Militants Arrested in Afghan Mop-up Operations
January 14, 2015
Afghan security forces arrested 13 militants during mop-up operations in different parts of the country.
A statement issued by the ministry of interior Wednesday morning states that eight militants were also killed and another wounded in confrontations with the security forces erupted during the operations, Khaama Press reported.
Security forces have also seized explosives, weapons and ammunition from the positions of the terrorists, the statement adds.
According to the statement, the operations were conducted in past 24 hours in Paktya, Paktika, Ghazni, Farah and Herat provinces.
The operations were jointly conducted by Afghan National Police, Afghan National Army and the personnel from the National Directorate of Security (NDS), the statement says.
http://english.farsnews.com/newstext.aspx?nn=13931024000502
--------
China arrests 10 Turks who may have helped terror suspects: Global Times
14 Jan, 2015
Police in Shanghai have arrested 10 Turkish nationals suspected of supplying fake passports to ethnic Uighurs from China's far-western region of Xinjiang who were described as terror suspects by state media.
Hundreds of people have been killed in resource-rich Xinjiang, strategically located on the borders of central Asia, in violence in the past two years between the Muslim Uighur people who call the region home and ethnic majority Han Chinese.
Another 11 people, including nine Xinjiang "terror suspects", were also detained in November while trying to leave China after paying 60,000 yuan ($9,700) for altered Turkish passports, the state-run Global Times newspaper reported.
Chinese Foreign Ministry spokesman Hong Lei did not elaborate on the case but told a news conference on Wednesday the report was "extremely accurate".
Full report at:
http://www.hurriyetdailynews.com/china-arrests-10-turks-who-may-have-helped-terror-suspects-global-times.aspx?pageID=238&nID=76922&NewsCatID=356
-------------
URL: https://www.newageislam.com/islamic-world-news/new-age-islam-news-bureau/islamic-state-video-shows-child-executing-russian-agents/d/101012