New Age Islam News Bureau
31 Aug 2014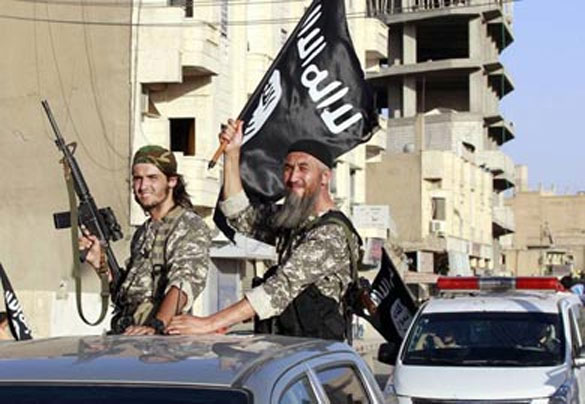 Militants wave flags as they take part in a military parade along the streets of Syria. (Reuter's photo)
---------
Arab World
• Islamic State Trying To Develop Biological Weapons
• Gulf Monarchies Agree To Help Counter Islamic State Jihadists
• Preacher sentenced to prison by a Saudi court for glorifying takfiri organizations
• Iraq breaks months-long jihadist siege in ethnic Turkmen town
• ISIS says forcing detained pilots to train militants: report
• Iraqi, Kurdish forces try to end ISIS siege of town
• Syria jihadists' free 4 Lebanese soldiers, policeman held hostage
• Young Emiratis begin nine months of military life with enthusiasm
Europe
• Islamic State's 'Banker' Was Director of A Private Muslim Primary School In Birmingham
• UK Muslim Leaders Issue Fatwa Condemning Britons Who Join Jihadi Extremists
• Cameron to Unveil Draconian Plans to Stop British Jihadis Returning To the UK
• ICC: Palestine is a state, can file war crimes complaints against Israel if chooses
• Rebuilding Gaza will take 20 years, group says
• German security official warns of terror threat
India
• Sunni Jam-e-ul Ulema Cleric in Kerala Issues Fatwa against ISIS
• Citing 'Love Jihad', Sangh Groups In UP Unite To 'Fight'
• Pakistan should mend its ways, avoid tension with India: Minister
Pakistan
• Zarb-i-Azb: 32 suspected militants killed in Bangidar
• 12 suspected militants killed in Balochistan: FC
• National Assembly's Speaker regrets Imran and Qadri's assault on the Parliament
• Eight protesters died, FIRs to be registered against Sharif and Nisar- Imran Khan
• Imran's move towards PM House prompted by a message: PTI President
• Jamaat-i-Islami chief advises Nawaz to get in touch with Imran
South Asia
• 53 Taliban militants killed during counter-terrorism operations
• Policemen and civilians among 5 killed in Logar explosion
• Nasheed elected uncontested to MDP presidency
Mideast
• Turkish army warns over 'red lines' in Kurdish peace talks
• Yemen clash kills 4 troops, 13 'militants'
• Israel agreed Gaza truce to focus on jihadist threat: Netanyahu
• Number of Yazidi refugees in Turkey swells to 16,000: Official
• Israel shoots down drone from Syria
Africa
• Airport hit, heavy fighting kills 10 in Libya's Benghazi
• Libyan Mufti investigated in UK over 'inciting Islamic insurgency' in Libya
• Tunisia recovers bodies of mostly Syrian migrants
• Large explosion, gunfire at Somalia's intelligence HQ
North America
• US cyber-warriors battling Islamic State on Twitter
• 'Jewish Taliban' leave Guatemala village
• US planes strike militants, drop aid near ethnic Turkmen town
• US Urged To Ensure No Military Coup in Pakistan
Southeast Asia
• PAS cleric wing condemns party lawmakers for backing PKR president
Compiled by New Age Islam News Bureau
URL: https://newageislam.com/islamic-world-news/new-age-islam-news-bureau/islamic-state-trying-to-develop-biological-weapons/d/98821
--------------
Arab World
Islamic State Trying To Develop Biological Weapons
AUGUST 31, 2014
The Islamic State, the organization that has employed brutal methods to take over large swaths of territory in Iraq and Syria, is also trying to develop biological weapons , Foreign Policy reported, citing information found on a laptop computer seized from an IS operative.
Foreign Policy obtained the computer from a moderate Syrian rebel group who seized the laptop in the Idlib province from an Islamic State hideout whose fighters had fled.
The laptop, belonging to a Tunisian operative of the Islamic State, named Muhammed S., with a background in chemistry and physics, included a 19-page document on developing biological weapons and weaponising the bubonic plague.
"The advantage of biological weapons is that they do not cost a lot of money, while the human casualties can be huge," the document says in Arabic, according to Foreign Policy.
Among the files on the seized computer is also a ruling from a Saudi cleric justifying the use of weapons of mass destruction. "If Muslims cannot defeat the unbelievers in a different way, it is permissible to use weapons of mass destruction...Even if it kills all of them and wipes them and their descendants off the face of the Earth."
http://www.jpost.com/Middle-East/Report-Islamic-State-trying-to-develop-biological-weapons-372977
--------------
Gulf Monarchies Agree To Help Counter Islamic State Jihadists
Aug 31, 2014
JEDDAH (Saudi Arabia): Gulf Arab monarchies said on Saturday they were ready to help counter advances by jihadists in Syria and Iraq, after the US called for a global coalition to fight the militants.
However, the six-nation Gulf Cooperation Council said it was awaiting details from Washington and a visit to the region by US secretary of state department John Kerry to discuss anti-jihadist cooperation.
US President Obama admitted on Thursday that he did not yet have a strategy to tackle jihadists from the Islamic State, which has declared a "caliphate" in large swathes of territory it controls in Syria and Iraq.
But Obama said he was developing a broad plan that would involve military, diplomatic and regional efforts to defeat the IS jihadists who have sown terror through crucifixions and gruesome beheadings.
Obama said he would dispatch Kerry to the Middle East to discuss the plan with regional allies, namely in the Sunni-dominated Gulf monarchies.
"We have all heard what President Obama said about a coalition and that he has asked John Kerry to travel to the region to set it up," said Kuwaiti foreign minister Sheikh Sabah Khaled Al-Sabah.
"We are waiting for more details to understand what is needed ... We are waiting for Kerry," he added after chairing a GCC meeting in the Saudi city of Jeddah.
A GCC statement said Gulf monarchies are ready to act "against terrorist threats that face the region and the world".
The foreign ministers of Bahrain, Kuwait, Oman, Qatar, Saudi Arabia and the United Arab Emirates — the six GCC states — also pledged a readiness to fight "terrorist ideology which is contrary to Islam".
"We denounce vehemently the practices of those who use Islam as a pretext to kill and displace en masse Iraqis and Syrians," Sabah said.
He added that the GCC supports a UN Security Council resolution earlier this month aimed at weakening the jihadists.
The mid-August resolution called "on all member states to take national measures to suppress the flow of foreign terrorist fighters", and threatens sanctions against anyone involved in their recruitment.
Kerry, in an op-ed published on Friday in New York Times, said Washington would submit a plan to deal with the jihadists at the Security Council in September.
"What's needed to confront its nihilistic vision and genocidal agenda is a global coalition using political, humanitarian, economic, law enforcement and intelligence tools to support military force," he said.
There is growing alarm that IS jihadists, who this month beheaded US journalist James Foley in Syria, are preparing to carry out attacks in the West.
Saudi King Abdullah underscored the threat posed by jihadists unless there is "rapid" action, in remarks quoted Saturday by Arab media.
"Terrorism knows no border and its danger could affect several countries outside the Middle East," Abdullah was quoted as telling ambassadors, including the US envoy.
"If we ignore them, I am sure they will reach Europe in a month and America in another month," he warned.
Meanwhile the Kuwaiti foreign minister said in Jeddah that the Gulf monarchies have resolved a six-month spat with GCC partner Qatar, which they had accused of supporting the Muslim Brotherhood.
Sabah said differences were settled because unity was needed to face the common threat posed by the radical Sunni IS jihadists.
Relations between Qatar and Saudi Arabia, the UAE and Bahrain sank to a new low in March when the three governments withdrew their ambassadors from Doha, accusing it of meddling in their affairs and supporting the Brotherhood.
Sabah said the ambassadors could return to their posts "at any time", without giving a specific date.
His Omani counterpart, Yussef bin Alawi bin Abdullah, earlier told reporters: "The crisis in the Gulf has been resolved."
http://timesofindia.indiatimes.com/world/middle-east/Gulf-monarchies-agree-to-help-counter-Islamic-State-jihadists/articleshow/41291494.cms
--------------
Preacher sentenced to prison by a Saudi court for glorifying takfiri organizations
31 August 2014
A Saudi court in Riyadh sentenced a preacher to five years in prison after he was convicted of glorifying takfirist (accusing others of apostasy) organizations in a sermon he delivered in 2013, Asharq al-Awsat newspaper reported.
The imam, whose name was not disclosed, was found guilty of inciting against the state through "glorifying" takfiri organizations and leaders of al-Qaeda in the sermon.
He was also convicted on the grounds of exploiting Friday prayers to spread extremist ideas.
According to the Arabic daily, the ministry of Islamic affairs and guidance had barred the preacher from delivering sermons before security forces detained him following a seditious sermon he delivered at the Sheikh Mohammed Bin Abdelwahab Mosque in Riyadh.
In addition to calling upon Muslim scholars and women to urge youths to take arms and mobilize in countries suffering of unrest, he prayed that the "al-Qaeda lady," a Saudi woman serving a 15-year prison term for planning and aiding terrorist activities, to be released.
Although half the term was suspended, the accused was barred from delivering sermons at mosques and public gatherings and will be placed under a five-year travel-ban upon his release.
Both the defense and prosecution have expressed refusal to accept the verdict and plan to appeal the ruling.
The judge alerted the parties that they must submit an appeal no later than 30 days of the issuance of the verdict.
http://english.alarabiya.net/en/News/middle-east/2014/08/31/Saudi-court-sentences-preacher-to-prison-for-glorifying-takfiri-organizations-.html
--------------
Iraq breaks months-long jihadist siege in ethnic Turkmen town
Aug 31, 2014
Iraqi forces broke through to the jihadist-besieged ethnic Turkmen town of Amerli Aug. 31 where thousands of people have been trapped for more than two months with dwindling food and water supplies.
It is biggest offensive success for the Iraqi government since militants led by the Sunni Islamic State in Syria and Levant (ISIL) jihadist group overran large areas of five provinces in June, sweeping security forces aside.
The breakthrough came as America carried out limited strikes outside north Iraq for the first time since its air campaign against militants began more than three weeks ago, and aircraft from several countries dropped humanitarian aid to Amerli.
The mainly Shiite Turkmen residents of the town in Salaheddin province were running desperately short of food and water, and were in danger both because of their Shiite faith, which jihadists consider heresy, and their resistance to the militants, which has drawn harsh retribution elsewhere.
"Our forces entered Amerli and broke the siege," Iraqi security spokesman Lieutenant General Qassem Atta told AFP, an account confirmed by a local official and a fighter from the town.
"It is a very important success," Atta later said on state television, adding that there was still fighting in the area. The operation was launched on Aug. 30 after days of preparations in which Iraqi security forces, Shiite militiamen and Kurdish fighters deployed for the assault and Iraqi aircraft carried out strikes against militants.
But the government's reliance on the thousands of Shiite militiamen involved in the operation poses serious dangers for Iraq, risking entrenching groups with a history of brutal sectarian killings.
The United States announced that it carried out three air strikes in the Amerli area, expanding its air campaign outside the far north for the first time, while Australian, British, French and U.S. aircraft dropped relief supplies for the town.
"At the request of the government of Iraq, the United States military today airdropped humanitarian aid to the town of Amerli," said Pentagon spokesman Rear Admiral John Kirby.
"The United States Air Force delivered this aid alongside aircraft from Australia, France and the United Kingdom, who also dropped much needed supplies." The aid drops came alongside "coordinated air strikes against nearby (ISIL) terrorists in order to support this humanitarian assistance operation," he added.
"The operations will be limited in their scope and duration as necessary to address this emerging humanitarian crisis and protect the civilians trapped in Amerli," Kirby said.
U.S. Central Command said the U.S. supplies dropped included around 47,775 litres (10,500 gallons) of drinking water and 7,000 pre-packaged meals. Three U.S. air strikes destroyed five ISIL vehicles and a checkpoint.
Western aid for Amerli was slow in coming, however, with the burden of flying supplies and launching strikes in the area largely falling to Iraq's fledging air forces.
"The U.S. military will continue to assess the effectiveness of these operations and work with the Department of State, the U.S. Agency for International Development, as well as international partners including the government of Iraq, the United Nations, and non-government organisations to provide humanitarian assistance in Iraq as needed," Kirby said.
The U.S. military also launched air strikes Aug. 30 on ISIL forces near Iraq's largest dam, north of the militant-held northern city of Mosul, the Pentagon said.
Kurdish forces retook the dam after briefly losing it to the jihadists earlier this month, securing the source of much of the power and irrigation water for the region around Iraq's second city.
The jihadist Islamic State and its allies control swathes of both northern and western Iraq and neighbouring northeastern Syria where their rule has witnessed a spate of atrocities that have shocked the world.
Writing in the New York Times, U.S. Secretary of State John Kerry urged "a united response led by the United States and the broadest possible coalition of nations" to combat ISIL.
Kerry said he and Defence Secretary Chuck Hagel would confer with European counterparts on the sidelines of an upcoming NATO summit and then travel to the Middle East to build support "among the countries that are most directly threatened."
U.S. President Barack Obama has acknowledged that Washington has no strategy yet to tackle ISIL, which has declared an Islamic "caliphate" in the territory under its control in Iraq and Syria.
http://www.hurriyetdailynews.com/iraq-breaks-months-long-jihadist-siege-in-ethnic-turkmen-town.aspx?pageID=238&nID=71132&NewsCatID=352
--------------
ISIS says forcing detained pilots to train militants: report
Aug 31, 2014
The Islamic State of Iraq and Syria said in a recent tweet it is forcing detained Syrian pilots to train militant fighters to fly stolen aircraft, CNN Arabic reported on Saturday.
In an account reportedly associated with the militant group, ISIS said in a tweet the pilots were abducted when the group gained control over the Tabqa military airbase in Raqqa Province.
ISIS seized the airbase earlier this month. The major airfield houses warplanes, helicopters, tanks and other artillery and ammunition, which were also confiscated by ISIS, according to several media reports.
ISIS did not provide any information about the nature of the training, according to CNN Arabic.
A U.N. investigation has found that ISIS forces are waging a campaign to instill fear, which includes amputations, public executions and whippings in their northern Syria stronghold.
http://english.alarabiya.net/en/News/middle-east/2014/08/30/ISIS-says-it-forces-abduct-pilots-to-train-fighters.html
--------------
Iraqi, Kurdish forces try to end ISIS siege of town
Aug 31, 2014
Iraqi army and Kurdish forces closed in on fighters belonging to the Islamic State of Iraq and Syria (ISIS) on Saturday in a push to break the Sunni militants' siege of the Shiite town of Amerli, army sources told Reuters news agency.
Two officers said Iraqi troops, militia and Kurdish Peshmerga were advancing from four directions on the northern town, which has been surrounded by ISIS forces for more than two months.
In a separate incident on Saturday, a suicide bomber driving a car packed with explosives killed at least 11 people in a town just south of Baghdad.
Armed residents of Amerli have managed to fend off attacks by the Islamic State fighters, who regard its majority Shiite Turkman population as apostates. More than 15,000 people remain trapped inside.
Full report at:
http://english.alarabiya.net/en/News/middle-east/2014/08/30/Iraqi-Kurdish-forces-bid-to-break-ISIS-siege-of-town.html
--------------
Syria jihadists free 4 Lebanese soldiers, policeman held hostage
Aug 31, 2014
Four soldiers and a police officer kidnapped in the east of Lebanon nearly a month ago were freed late Saturday by the Syrian branch of Al-Qaeda, a security service official told AFP.
The five "taken hostage by the Al-Nusra Front have been freed and have arrived in Arsal," a Lebanese town on the border with Syria, he said.
The national news agency (ANI) confirmed that five hostages had been released, although many other troops seized at the same time remain in the hands of different extremist groups.
The official, who did not want to be named, said the men had been handed over to a religious leader who had acted as a mediator. "They are still not in the hands of the security services," he added.
Full report at:
http://english.ahram.org.eg/NewsContent/2/8/109606/World/Region/Syria-jihadists-free--Lebanese-soldiers,-policeman.aspx
--------------
Young Emiratis begin nine months of military life with enthusiasm
Aug 31, 2014
ABU DHABI // Thousands of young Emiratis say their farewells to family, friends and civilian life today as they embark on the first day of nine months of national military service.
Former schoolmates Ahmed Al Mansoury and Khalifa Al Marar drove together from Abu Dhabi to Seeh Al Hama military camp in Al Ain to begin their first day of boot camp.
It will be three weeks before they see their family, friends and home.
"It's not like I'm sad or upset. Last night I just spent time with my family and got prepared for today," said Mr Al Marar, 18, who has just finished secondary education at Al Ittihad school in Khalifa City and is looking forward to a new experience.
Mr Al Marar, along with a few thousand young Emiratis will arrive at one of five military barracks in Ajman and Al Ain this morning to begin the first three months of training.
This will be followed by another three months starting in November, when cadets will receive further training in the skills at which they have excelled. The officers in charge will take past experience, professions and areas of excellence into account for assignment.
"I'm actually quite excited, to be honest. We've been hearing about it for so long and, now that it's here, I'm ready," Mr Al Marar said.
Full report at:
http://www.thenational.ae/uae/government/young-emiratis-begin-nine-months-of-military-life-with-enthusiasm#ixzz3ByFFeuF4
--------------
Europe
Islamic State's 'banker' was director of a private Muslim primary school in Birmingham
31 Aug, 2013
One of the Islamic State terror group's key financier was director of a Muslim faith school in Birmingham, it emerged today.
Prominent Islamic cleric Dr Nabil al-Awadi, a naturalised Kuwaiti, was partly resident in the UK until last year, living in Brixton, south London.
Until February 2013, the Sunni was a director of the independent Al-Birr school in Nechells, Birmingham, which was founded in seven years ago.
Now he is president of the Kuwait Scholars' Union, which has reportedly channelled tens of millions of dollars to the Islamic State and other jihadi groups in Iraq and Syra.
Earlier this month Dr al-Awadi was stripped of his Kuwaiti citizenship along with nine other Kuwaitis, after the state cited 'security reasons'.
He has also been accused by other prominent clerics in the United Arab Emirates and Saudi Arabia of using donations to fund the Islamic State.
Dr al-Awadi, who is also reportedly close to the Muslim Brotherhood, claims he is part of a collective fundraising campaign for Syria by Kuwaiti charities
In June he said: 'Pressure has been put on me to stop collecting aid to Syria,' adding that directives from the Kuwaiti government 'were clear: Syria is over'.
Full report at:
http://www.dailymail.co.uk/news/article-2738933/Revealed-Islamic-State-s-banker-director-private-Muslim-primary-school-Birmingham.html
----------
UK Muslim leaders issue fatwa condemning Britons who join jihadi extremists
31 Aug, 2013
Muslim leaders have issued a fatwa condemning British jihadis, it was revealed today.
The fatwa, which has been issued by some of the country's top imams, is the strongest condemnation yet by the Muslim community of Britons joining Islamic extremists.
It comes as Britain's terror threat was hiked from 'substantial' to 'severe' in response to conflicts in Iraq and Syria, and the seemingly growing influence of the Islamic State terror group.
Home Secretary Theresa May said the new alert level rated the risk of an attack on the UK as 'highly likely', although she said there was no evidence to suggest one was 'imminent'.
The fatwa has been endorsed by senior Islamic scholars including Sheikh Qamaruzzaman Azmi of the World Islamic Mission, and Sheikh Muhammad Shahid Raza of The Muslim Law Shariah Council UK.
A fatwa, an edict issued by a learned Muslim scholar, may concern any aspect of Islamic life. Technically it cannot be revoked and dies only with the person it is directed against.
Six senior scholars have endorsed the fatwa, describing Britons allied to IS cells as 'heretics'. It has also been backed by former Labour home secretary Jack Straw and former Foreign Office minister Baroness Warsi.
Full report at:
http://www.dailymail.co.uk/news/article-2738934/UK-Muslim-leaders-issue-fatwa-condemning-Britons-join-jihadi-extremists.html
----------
Cameron to unveil draconian plans to stop British jihadis returning to the UK
31 Aug, 2013
Draconian plans to strip British jihadis of their UK citizenship will be unveiled by David Cameron tomorrow.
He will ban them from entering the UK, forcing them to stay in Iraq, Syria or other countries such as Turkey, from where many fly back to Britain.
The Prime Minister will argue that they must be stripped of their passports – and their right to come back to the UK – because they could be plotting terrorist attacks.
The move could land the Government in trouble with human rights judges, however. It is against international law to make an individual stateless – they can be stripped of their citizenship only if they have dual nationality.
The Prime Minister intends to get round this by claiming the ban is temporary – and justified following a warning by intelligence chiefs that the risk of a major terrorist attack on the UK mainland is 'severe.'
Full report at:
http://www.dailymail.co.uk/news/article-2738822/We-passports-Cameron-unveil-draconian-plans-stop-British-jihadis-returning-UK.html
----------
ICC: Palestine is a state, can file war crimes complaints against Israel if chooses
AUGUST 31, 2014
ICC Prosecutor writes in 'The Guardian' that "Palestine could join Rome Statute"; endorsement of possible Palestinian application does not mean for sure Israelis will be indicted.
Confirming officially for the first time what has been implied, International Criminal Court Prosecutor Fatou Bensouda, in a highly unusual op-ed on Friday in The Guardian, wrote that "Palestine" is now sufficiently a state to file war crimes complaints against Israelis if it chooses to join the ICC's Rome Statute.
Ending speculation on the issue, Bensouda explained concisely that her office had concluded that following greater UN recognition in 2012, "Palestine could now join the Rome Statute."
Bensouda's op-ed, is in and of itself a highly uncharacteristic public venue for her to articulate her office's usually closely held official positions. But it appeared to be a response to the unprecedented barrage of criticism following the recent Gaza war from a range of parties that her office was artificially blocking the Palestinians from filing against Israelis.
On August 5, Palestinian Authority Foreign Minister Riad al-Malki met with Bensouda to investigate in greater detail the possibility of Palestine joining the ICC's Rome Statute, which would grant it the right to file war crimes complaints with the court.
Full report at:
http://www.jpost.com/Arab-Israeli-Conflict/ICC-Palestine-is-a-state-can-file-war-crimes-complaints-against-Israel-if-chooses-372979
--------------
Rebuilding Gaza will take 20 years, group says
Aug 31, 2014
An international organization involved in assessing post-conflict reconstruction says it will take 20 years under current levels of restrictions to rebuild the Gaza Strip's battered and neglected housing stock following the Israeli offensive on Gaza.
Most of the new building would be to make up for the current housing deficit, rather than to address damage from the Israel assault.
Meanwhile, appearing in a round of post-war interviews on Israeli TV channels, Prime Minister Benjamin Netanyahu said Israel was not ready to return to the negotiating table with Palestinian President Mahmoud Abbas unless he distances himself from Hamas militants. Hamas and Abbas' Palestinian Authority have a unity government in Gaza.
Netanyahu has regularly condemned the formal Abbas-Hamas relationship.
The housing assessment by Shelter Cluster, chaired by the Norwegian Refugee Council with the participation of the U.N. refugee agency and the Red Cross, underscores the complexities involved in an overall reconstruction program for the Gaza Strip, which some Palestinian officials have estimated could cost in excess of $6 billion.
Full report at:
http://english.ahram.org.eg/NewsContent/2/8/109594/World/Region/Rebuilding-Gaza-will-take--years,-group-says.aspx
--------------
German security official warns of terror threat
AP | Aug 31, 2014
BERLIN: Germany's domestic intelligence chief says he expects Islamic extremists who have traveled to Syria and Iraq will return and commit terror attacks.
Hans-Georg Maassen told Deutschlandfunk radio on Sunday that there was an "increased abstract threat" of attacks in Germany.
Unlike Britain, Germany hasn't raised its national threat level for terrorism recently because of a lack of concrete warning signs.
Maassen says at least 400 people have left Germany to join jihadist groups in Syria and Iraq, and five have died as suicide bombers.
Maassen also wants to improve cooperation with Turkey, a key transit country for Europeans seeking to join extremist groups.
http://timesofindia.indiatimes.com/world/europe/German-security-official-warns-of-terror-threat/articleshow/41334285.cms
--------------
India
Sunni Jam-e-ul Ulema Cleric in Kerala Issues Fatwa against ISIS
Aug 31, 2014
KOZHIKODE: A noted Muslim cleric in Kerala on Saturday issued a fatwa asking his community members to boycott the Islamic Sate also known as Islamic State of Iraq and Syria (ISIS) and other terrorist organizations.
In his religious decree, general secretary of All India Sunni Jam-e-yyathul Ulema, Shaikh Abu Bakr Ahmad said favouring the extremist organizations is antithetical to the Islamic Sharia.
"The Muslim world is in dire need to take cognizance of the threats posed by the anti-Islamic outfits. The militant groups among Muslims are causing harm to Islam in the false garb of Islamists. Any support or endorsement to the extremist and terrorist organizations goes completely against the Islamic Sharia," the Sunni-Sufi Islamic scholar said.
Stating that the ISIS or their self proclaimed Caliphates does not represent Islam by any means, the fatwa said, "They are not just anti-Islamic but are enemies of the humanity."
"Their ruthless activities against people in Iraq and Syria are not meant for helping Muslims but defame Islam. Their anti-western interpretation of Islam is only aimed to serve their political agendas in the wider Muslim world.
"Supporting their activities through any means is forbidden according to the basic principles of Islam. I urge all the Muslims to condemn their activities and to pray for the people who suffer from their merciless activities," it said.
Full report at:
http://timesofindia.indiatimes.com/india/Muslim-cleric-in-Kerala-issues-fatwa-against-ISIS-jihadists-sell-several-dozens-of-Yazidi-women/articleshow/41281217.cms
--------------
Citing 'love jihad', Sangh groups in UP unite to 'fight'
Aug 31, 2014
The Uttar Pradesh BJP unit may have dropped the issue of "love jihad" from its poll agenda, but various Sangh Parivar-linked organisations, including the Vishwa Hindu Parishad, Hindu Jagran Manch, Akhil Bharatiya Vidyarthi Parishad and the Bharatiya Janata Yuva Morcha, are joining hands to set up new fronts, particularly in western UP, to fight such alleged conversions.
The first such organisation has been formed in Meerut — Meerut Bachao Manch — where a former madrasa teacher had alleged forced conversion and gangrape earlier this month. The new front recently organised a peace march in Meerut and submitted a memorandum to the district administration demanding strict action in the case. It also sought measures to curb "love jihad".
RSS sources said such organisations would also be set up in Moradabad, Muzaffarnagar, Bareilly, Bulandshahr, Saharanpur and Baghpat districts.
"So far, one front has been formed in Meerut. Such fronts against 'love jihad' will soon be formed at local levels in all other districts… Patriots will support our crusade against 'love jihad' that is leading the country towards another partition," said VHP national spokesperson Surendra Kumar Jain.
Full report at:
http://indianexpress.com/article/india/politics/citing-love-jihad-sangh-groups-in-up-unite-to-fight/99/
--------------
Pakistan should mend its ways, avoid tension with India: Minister
PTI | Aug 31, 2014
JAIPUR: Expressing concern over frequent ceasefire violations, Union information and broadcasting Minister Prakash Javadekar on Sunday cautioned Pakistan that it should avoid increasing tension along the border as it would not be beneficial to it.
"We fully believe Pakistan should mend its ways, because it would not be beneficial to Pakistan to increase tension with India," Javadekar said at a press conference here.
"They (Pakistan) are holding talks with terrorists, then with us... This will not work... Talks on border is already being continued in flag meetings...," he said, reiterating Prime Minister Narendra Modi's views.
"We are always worried about Pakistan, what is happening in Pakistan. Former Prime Minister Atal Bihari Vajpayee used to say a phrase: you can choose a friend, not a neighbour... Pakistan is our neighbour," Javadekar said.
"We want stability and prosperity in Pakistan because that is how we both (India-Pak) can progress together," he said.
"But unfortunately, the fragility which we are experiencing in Pakistan has made the situation a little difficult. We will try our best for good relations," he said.
"What Pakistan is doing for the last 15 days reflects its domestic situation...," he said.
http://timesofindia.indiatimes.com/india/Pakistan-should-mend-its-ways-avoid-tension-with-India-Javadekar/articleshow/41350838.cms
--------------
Pakistan
Zarb-i-Azb: 32 suspected militants killed in Bangidar
Aug 31, 2014
ISLAMABAD: At least 32 suspected terrorists were killed and three militant hideouts were destroyed by Army Aviation's gunship helicopters in remote area of Bangidar in North Waziristan in a major encounter, Pakistani military claims on Saturday.
"During the fighting, 23 explosive laden vehicles and four ammunition dumps were also destroyed early in the morning," said a statement issued by the Inter Services Public Relations (ISPR).
These claims, however, could not be independently verified as journalists have limited access to the restive tribal agency.
Military operation Zarb-i-Azb was launched by the Pakistan Army on June 15 following a brazen militant attack on Karachi's international airport and failure of peace talks between the government and Tehreek-i-Taliban Pakistan (TTP) negotiators.
Nearly a million people have fled the offensive in North Waziristan, which is aimed at wiping out longstanding militant strongholds in the area, which borders Afghanistan.
http://www.dawn.com/news/1128790/zarb-i-azb-32-suspected-militants-killed-in-bangidar
-----------
12 suspected militants killed in Balochistan: FC
Aug 31, 2014
QUETTA: Security forces claim to have killed 12 suspected militants in Balochistan's volatile Mekran belt, an official said.
Khan Wasey, the spokesman for Frontier Corps (FC), a paramilitary force, said security forces launched an operation against militants operating in the Gomazi area of Turbat. He said 12 suspected militants were killed in the operation whereas one FC soldier was also killed during exchange of fire.
"Huge quantity of arms and ammunition has been recovered from the possession of militants", Wasey said. However, FC's claim could not be verified by independent sources.
The FC Spokesman stated that the militants were involved in attacks on security forces, pro-government personalities and vital national installations. A Levies official who requested anonymity told Dawn that several people were injured during the exchange of fire that continued for more than three hours.
Panic prevailed in the area in the aftermath of fierce battle between security forces and militants in Gomazi area of Turbat. More troops were called into the area to bring the situation under control.
Turbat is considered to be one of the sensitive areas of Balochistan. The area is under the grip of violence for last more than a decade.
http://www.dawn.com/news/1129003/12-suspected-militants-killed-in-balochistan-fc
--------------
National Assembly's Speaker regrets Imran Khan and Tahirul Qadri's assault on the Parliament
August 31, 2014
Islamabad- Speaker National Assembly Ayaz Sadiq has regretted entry of workers of PTI and PAT in the Parliament.
In a statement, he held responsible Imran Khan and Tahirul Qadri for this tragic incident. He said both of them instigated their workers who ruined the dignity of the parliament. Thousands of PAT and PTI workers stormed into lawn of Parliament House by breaking outside fence and gate with help of truck.
http://www.nation.com.pk/national/31-Aug-2014/national-assembly-s-speaker-regrets-imran-khan-and-tahirul-qadri-s-assault-on-the-parliament
--------------
Eight protesters died, FIRs to be registered against Sharif and Nisar- Imran Khan
August 31, 2014
Islamabad- Pakistan Tehreek-e-Insaaf (PTI) Imran Khan Sunday said that more than eight people have died in the clash so far, adding that the government is pressuring hospital admin not to report the total number of casualties.
The official page of PTI tweeted after Imran Khan talked to a media group. According to PIMS hospital spokesperson, one person died in the hospital while a dead body was also brought late night. Khan said that FIRs will be registered against the Sharif brothers and Interior Minister Chaudhry Nisar. He also criticized Nawaz Sharif for for having a dictatorial mindset.
http://www.nation.com.pk/national/31-Aug-2014/eight-protesters-died-firs-to-be-registered-against-sharifs-nisar-claims-khan
--------------
Imran's move towards PM House prompted by a message: PTI President
Aug 31, 2014
ISLAMABAD: Pakistan Tehreek-i-Insaf (PTI) president Javed Hashmi on Sunday addressed a press conference and called on the PTI chief Imran Khan to leave Parliament House.
Hashmi clarified the position on his differences with the party chief saying: "Imran Khan had assured the party of not moving ahead towards the Prime Minister House...until Shaikh Raheed brought a message with someone".
Imran then said that the situation required us to move forward, to which "I had differences", Hashmi said.
He also said that the party was against the decision of moving towards the PM House.
Hashmi said he would rejoin his leader as soon as Imran would get the protesters out of Parliament House.
Hashmi has unhappy over his party's decision to join hands with PAT because he feared it could lead to a violent situation.
Hashmi is of the view that the army should not be dragged in politics no matter who had asked it to become a facilitator.
http://www.dawn.com/news/1129002/imrans-move-towards-pm-house-prompted-by-a-message-javed-hashmi
--------------
Jamaat-i-Islami chief advises Nawaz to get in touch with Imran
Aug 31, 2014
ISLAMABAD: Jamaat-i-Islami (JI) chief Sirajul Haq has advised Prime Minister Nawaz Sharif to get in touch with Pakistan Tehrek-i-Insaf (PTI) chief Imran Khan.
Haq's call comes as clashes are under way in Islamabad between PTI and PAT protests and law enforcement personnel in Islamabad's Constitution Avenue and at least one protester has died as a result.
The clash began when the protesters began to march towards Prime Minister House from D-chowk where they were previously camping.
The situation in the capital is taking on critical proportions with three deaths reported so far among the protesters and the prime minister having left for Islamabad a day before he was originally scheduled to.
Sunday also witnessed a number of attacks on media personnel by personnel from law enforcement agencies.
http://www.dawn.com/news/1128998/sirajul-haq-advises-nawaz-to-get-in-touch-with-imran
--------------
South Asia
53 Taliban militants killed during counter-terrorism operations
Aug 31, 2014
At least 53 Taliban militants were killed and 14 others were injured during military operations by Afghan national security forces in the past 24 hours.
The operations were jointly conducted by Afghan national police, Afghan national army and Afghan intelligence – National Directorate of Security (NDS) operatives.
Interior ministry following a statement said Sunday that the militants were killed or injured in Kunduz, Kandahar, Logar, Paktia and Helmand provinces.
The statement further added that a number of the Taliban commanders were among those killed or injured and at least 2 Taliban militants were also arrested during the operations.
Afghan security forces confiscated various types of light and heavy weapons along with explosives during the operations, interior ministry said.
The statement by interior ministry also added that Afghan national police (ANP)forces discovered and seized 7 rounds of improvised explosive device (IED) during operations in Baghlan, Logar, Khost and Nimroz provinces.
Interior ministry said the improvised explosive device (IEDs) were recently planted by Taliban militants for insurgency attacks.
Taliban militants group has not commented regarding the report so far.
http://www.khaama.com/moi-53-taliban-militants-killed-during-counter-terrorism-operations-8535
--------------
Policemen and civilians among 5 killed in Logar explosion
Aug 31, 2014
At least five people including three policemen and two civilians were killed following an explosion in central Logar province of Afghanistan.
According to local security officials, the incident took place on Saturday afternoon in Pul-e-Alam, the provincial capital of Logar province.
Provincial police chief, Gen. Abdul Hakim Ishaqzai, said three members of the Afghan Local Police (ALP) forces and two civilians were killed following the blast.
Taliban group claimed responsibility behind the incident and said heavy casualties were incurred to the local militia forces.
Zabiullah Mujahid, Taliban group spokesman, said the blast targeted an important compound of the local militia forces in Kalangar area.
Logar is among the volatile provinces in central Afghanistan where anti-government armed militant groups are actively operating and frequently carry out insurgency activities.
http://www.khaama.com/policemen-and-civilians-among-5-killed-in-logar-explosion-8541
--------------
Nasheed elected uncontested to MDP presidency
By Daniel Bosley | August 30th, 2014
Former President Mohamed Nasheed has been elected president of the Maldivian Democratic Party (MDP) after standing uncontested for the position.
Nasheed had taken over the leadership as acting-president of the part following the resignation of chairperson 'Reeko' Moosa Manik after March's disappointing Majlis election results.
After the party won just 26 of the 85 seats in the legislature, MP Reeko resigned, urging new leaders to come forward and current leaders to follow his lead in stepping down.
Nasheed received 33,709 votes from a total of 57,203 eligible voters, while former MP Ali Waheed – a losing candidate in the March polls – secured the chairmanship, also uncontested, with 26,033 votes.
Full report at:
http://minivannews.com/politics/nasheed-elected-uncontested-to-mdp-presidency-89863
--------------
Mideast
Turkish army warns over 'red lines' in Kurdish peace talks
Aug 31, 2014
Turkey's army chief has warned that the army will do whatever is necessary if its "red lines" are not respected in peace talks with Kurdish rebels.
His comments came amid intensified efforts by the government to restart stalled peace talks with the Kurdistan Worker's Party (PKK), which launched an insurgency seeking self-rule in the southeast in 1984.
"We have made clear that we will do and say whatever necessary if our red lines have been crossed..." Turkish armed forces chief of staff Necdet Ozel said late Saturday, adding that these included "territorial integrity".
"We have been fighting this struggle for 30 years," he added during a reception hosted by newly inaugurated President Recep Tayyip Erdogan at the Cankaya presidential palace for Victory Day, a national holiday marking the final battle in the Turkish War of Independence.
Erdogan launched clandestine peace talks with the PKK's jailed leader Abdullah Ocalan in 2012 to end a conflict that has claimed about 45,000 lives over three decades. The military were not included in these talks.
The rebels declared a ceasefire in March 2013, but peace talks stalled in September after the insurgents said they were suspending their retreat from Turkish soil in protest against Ankara's failure to move on reforms.
Full report at:
http://english.ahram.org.eg/NewsContent/2/9/109655/World/International/Turkish-army-warns-over-red-lines-in-Kurdish-peace.aspx
--------------
Yemen clash kills 4 troops, 13 'militants'
Aug 31, 2014
SANAA/ADEN: Clashes in Yemen between the army and militants killed at least 13 suspected militants and four troops Saturday, military officials said.
The officials said the fighting started in the early hours when a suicide car bomber attacked a military camp in the city of Al-Qatn in the southern province of Hadramawt. Militants then assaulted the camp, prompting a gun battle that lasted for more than an hour that killed 10 suspected militants and four troops.
The army also fired artillery at a nearby home believed to hide fighters, killing three suspected militants inside, said the officials, who spoke on condition of anonymity because they were not authorized to brief reporters.
Fighting between the army and the attackers in Qatan carried on "until dawn," while military planes flew overhead, residents contacted by telephone said.
The US considers Yemen's Al-Qaeda in the Arabian Peninsula the most active branch of the group in the world. The US provides assistance to Yemen's security forces and carries out drone strikes in the country against suspected militants.
Full report at:
http://www.arabnews.com/middle-east/news/622831
--------------
Israel agreed Gaza truce to focus on jihadist threat: Netanyahu
Aug 31, 2014
Prime Minister Benjamin Netanyahu said Israel agreed to a permanent truce in its 50-day offensive on Gaza in order to keep focused on the threat from regional militants.
"We fought for 50 days and we could have fought for 500 days, but we are in a situation where the Islamic State is at the gates of Jordan, Al-Qaeda is in the Golan and Hezbollah is at the border with Lebanon," Netanyahu said in an address on public television.
He was referring to Islamic State jihadists in Syria and Iraq -- both neighbours of Jordan -- Al-Qaeda-linked Al-Nusra Front Syria rebels on the Israeli-annexed Golan and Lebanon's Shiite movement Hezbollah.
"We decided not to get bogged down in Gaza, and we could have, but we decided to limit our objective and restore calm to Israeli citizens," Netanyahu added.
His remarks come as the United States, Israel's chief ally, is calling for a global coalition to fight the jihadists who have set up an Islamic "caliphate" in areas they have overrun in Syria and Iraq.
Full report at:
http://english.ahram.org.eg/NewsContent/2/8/109608/World/Region/Israel-agreed-Gaza-truce-to-focus-on-jihadist-thre.aspx
--------------
Number of Yazidi refugees in Turkey swells to 16,000: Official
Aug 31, 2014
The number of refugees from Iraq's Yazidi religious minority who have fled to Turkey from the advance of jihadists has risen to 16,000 and may rise further, a top provincial official was quoted as saying Aug. 30.
The number marks a sharp rise from the figures of several thousand previously given and shows Turkey is dealing with another major influx of refugees as it gives sanctuary to some 1.2 million fleeing the Syria conflict.
The Yazidi refugees have fled to the southeastern Turkish province of Sirnak bordering Iraq to escape the murderous advance of Islamic State in Iraq and Levant (ISIL) jihadists who specifically target their community.
Some 2,000 Yazidi refugees have entered Turkey through legal border crossings and another 14,000 through other routes, Şırnak province Governor Hasan İpek was quoted as saying in a statement by his office.
Full report at:
http://www.hurriyetdailynews.com/number-of-yazidi-refugees-in-turkey-swells-to-16000-official.aspx?pageID=238&nID=71120&NewsCatID=341
--------------
Israel shoots down drone from Syria
31 August 2014
The Israeli military says it has shot down a drone that strayed into Israeli airspace from neighboring Syria.
The military said Sunday's incident occurred near Quneitra in the Golan Heights, the scene of heavy fighting between Syrian government troops and rebels. It says the aircraft was destroyed by a Patriot missile.
Lt. Col. Peter Lerner, a spokesman for the Israeli military, said the drone appeared to have belonged to the Syrian military and had flown accidentally into Israeli airspace.
He said Israel "will respond to any breach of Israel's sovereignty."
http://english.alarabiya.net/en/News/middle-east/2014/08/31/Israel-shoots-down-drone-from-Syria.html
----------
Africa
Airport hit, heavy fighting kills 10 in Libya's Benghazi
31 August 2014
Heavy clashes broke out between the forces of a renegade general and Islamist fighters in Libya's eastern city of Benghazi on Saturday, killing at least 10 people and showering the airport with rockets, medical and military sources said.
Libya is being racked by factional violence as the armed groups which helped topple Muammar Qaddafi in 2011 turn their guns on each other in a struggle to dominate politics and the country's vast oil resources.
In Benghazi, forces of retired general Khalifa Haftar have been fighting Islamist brigades including Ansar al-Sharia, blamed by Washington for an attack on the U.S. consulate in September 2012 in which the U.S. ambassador was killed.
On Saturday, Islamist forces were trying to seize the Benina area, home to a civilian and military airport under the control of Haftar's forces. They have already overrun several army camps this month.
Full report at:
http://english.alarabiya.net/en/News/africa/2014/08/31/Airport-hit-amid-heavy-fighting-in-Libya-s-Benghazi.html
--------------
Libyan Mufti Al-Ghariani investigated in UK over 'inciting Islamic insurgency' in Libya
Aug 31, 2014
The Libyan Grand Mufti is reportedly being investigated in the UK on suspicion of inciting violence and Islamic insurgency in his home country.
UK media reports say Sheikh Sadiq Abdelrahman Al-Ghariani is suspected of using Tanasuh, a UK-based Internet TV channel, to encourage Islamist fighters trying to overthrow the government in Libya.
On the channel website, Al-Ghariani, who is perceived as one of Libya's most influential Islamic spiritual leaders, published an "urgent appeal" to Islamist fighters in Libya to "use iron hand to consolidate the victory that they achieved on the battlefields.'
In his carefully worded appeal to "Libya Dawn," an Islamist militia that has recently taken control of large parts of the Libyan capital Tripoli, Al-Ghariani said there are "those who are enemies of this victory, outlaws who would seek to spoil the victory."
He also strongly advised the militia to "take firm actions against those who damage private property or public institutions, or terrorise the people and take their money by force."
Al-Ghariani is allegedly accused of using Britain as a base to support or orchestrate the takeover of Libya by extremist militias with ideological links to Islamic State fighters in Syria and Iraq.
Full report at:
http://english.ahram.org.eg/NewsContent/2/8/109641/World/Region/Libyan-Mufti-AlGhariani-investigated-in-UK-over-in.aspx
--------------
Tunisia recovers bodies of mostly Syrian migrants
31 August 2014
The Tunisian Coast Guard has recovered more than 41 bodies of mostly Syrian migrants who drowned trying to sail to Europe, the Associated Press reported a Tunisian official as saying on Saturday.
Decomposed bodies washed up on shore Friday, suggesting the sinking of another boat carrying migrants seeking a better life in Europe.
Mustapha Abdel Kebir, the mayor of Ben Guerdane, a border town with Libya, said identity papers recovered from the bodies indicated that most were Syrian, including women and children.
Abdel Kebir said the boat was most likely an overcrowded inflatable raft, that likely sailed from Libya before sinking and the currents washed the bodies up on Tunisian shores.
He added that fishermen reported seeing many more bodies in the sea over the past days.
Tunisian fishermen say they regular fish migrants, both dead and alive, out of the sea, attempting to make their way to Europe and say they have been overcome by this year's flood of Africans and Middle Easterners seeking a new life in Europe.
Full report at:
http://english.alarabiya.net/en/News/middle-east/2014/08/31/Tunisia-recovers-bodies-of-mostly-Syrian-migrants.html
--------------
Large explosion, gunfire at Somalia's intelligence HQ
31 August 2014
Suspected Shebab militants attacked Somalia's intelligence headquarters and detention facility in central Mogadishu on Sunday, setting off a bomb and opening fire on the complex, police and witnesses said.
A large explosion, which police sources said they believed was a car bomb, was followed by a fierce exchange of gunfire. Police sources said the style of attack bore all the hallmarks of the Al-Qaeda-linked Islamist Shebab militia.
The facility, which contains a high-security prison, is located close the Villa Somalia, the complex that houses the office of Somalia's internationally-backed President Hassan Sheikh Mohamud.
Full report at:
http://english.alarabiya.net/en/News/2014/08/31/Large-explosion-gunfire-at-Somalia-s-intelligence-HQ.html
--------------
North America
US cyber-warriors battling Islamic State on Twitter
Aug 31, 2014
The United States has launched a social media offensive against the Islamic State and Al-Qaeda, setting out to win the war of ideas by ridiculing the militants with a mixture of blunt language and sarcasm.
Diplomats and experts are the first to admit that the digital blitz being waged on Twitter, Facebook and Youtube will never be a panacea to combat the jihadists.
But U.S. officials see social media as an increasingly crucial battlefield as they aim to turn young minds in the Muslim world against groups like IS and Al-Qaeda.
For the past 18 months, U.S. officials have targeted dozens of social network accounts linked to Islamic radicals, posting comments, photos and videos and often engaging in tit-fot-tat exchanges with those which challenge America.
At the US State Department, employees at the Center for Strategic Counterterrorism Communications (CSCC), created in 2011, manage an Arabic-language Twitter account set up in 2012, an English-language equivalent and a Facebook page, launched this week.
A senior U.S. State Department official described the strategy as a kind of cyber guerilla campaign. "It is not a panacea, it is not a silver bullet," the official explained. "People exaggerate, people think this is worthless or they think it a magic thing that will make the extremists surrender. It is neither one of those. It is slow, steady, daily engagement pushing back on a daily basis.
Full report at:
http://www.hurriyetdailynews.com/us-cyber-warriors-battling-islamic-state-on-twitter.aspx?pageID=238&nID=71117&NewsCatID=359
----------
'Jewish Taliban' leave Guatemala village
31 August 2014
A community of ultra-Orthodox Jews, dubbed as the "Jewish Taliban" by Israeli media, began leaving a village in western Guatemala after being accused of shunning other villagers and imposing their strict religious customs, the BBC reported on Saturday.
Members of the Lev Tahor community had settled to the village of San Juan La Laguna six years ago but began to move again after the town's elders voted to kick them out, the Associated Press reported.
The town's Elders Council claimed that some of the 320-members community had mistreated other residents and tourists in the lakeside village.
"We are a people of peace and in order to avoid an incident we've already begun to leave," Lev Tahor member Misael Santos told Agence-France Presse.
Most members of the community come from the U.S., Israel Russia and the UK, while around 40 of them are Guatemalan. Almost half are children, according to AFP.
"We act in self-defense and to respect our rights as indigenous people. The [Guatemalan] constitution protects us because we need to conserve and preserve our culture," council spokesman Miguel Vasquez said.
The controversial community is strict with its religious customs. It imposes strict gender segregation, and believes Israel should not exist before the arrival of the Masiyah.
http://english.alarabiya.net/en/News/world/2014/08/31/-Jewish-Taliban-leave-Guatemala-village.html
--------------
US planes strike militants, drop aid near ethnic Turkmen town
Aug 31, 2014
The United States carried out air strikes on Aug. 30 against Islamic State fighters near the besieged Turkmen town of Amerli in northern Iraq and airdropped humanitarian aid to civilians trapped there, the Pentagon said.
President Barack Obama authorized the new military action, broadening U.S. operations in Iraq amid an international outcry over the threat to Amerli's mostly Shiite population.
Aid was delivered by U.S. aircraft as well as planes from Britain, France and Australia, signaling headway in Obama's efforts to draw allies into the fight against Islamic State.
Iraqi army and Kurdish forces closed in on Islamic State fighters on Aug. 30 in a push to break the Sunni militants' siege of Amerli, which has been surrounded by the militants for more than two months.
Armed residents of Amerli have managed to fend off attacks by the Islamic State fighters, who regard its majority Shiite Turkmen population as apostates. More than 15,000 people remain trapped inside.
Full report at:
http://www.hurriyetdailynews.com/us-planes-strike-militants-drop-aid-near-ethnic-turkmen-town.aspx?pageID=238&nID=71115&NewsCatID=352
--------------
US Urged To Ensure No Military Coup in Pakistan
August 31, 2014
NEW YORK - An influential American newspaper, commenting on the lingering opposition-government standoff in Pakistan, Saturday urged the United States to press the Army not to "stage a coup" so as to allow the democratic process to work.
"The United States, preoccupied with crises elsewhere, has shown little urgency in trying to calm the situation, even though Pakistan's stability is crucial to regional order — especially as American troops withdraw from Afghanistan," The New York Times said in an editorial, 'Pakistan, Its Own Worst Enemy'.
"It (US) should be pressing Pakistan's army, in particular, to reject any idea of staging a coup. (Prime Minister Nawaz) Sharif should resolve to govern better while the military focuses on its primary concern, defeating the Taliban threat," the paper added.
The Times said "Pakistan faces very big problems: a failing economy; a Taliban insurgency; and persistent tension with India, which has resulted again in exchanges of cross-border fire. The country's leaders and citizens obviously need to join in common cause to put the country on a steadier course.
Full report at:
http://www.nation.com.pk/national/31-Aug-2014/us-urged-to-ensure-no-mily-coup-in-pakistan
--------------
Southeast Asia
PAS cleric wing condemns party lawmakers for backing PKR president
AUGUST 31, 2014
KUALA LUMPUR, Aug 31 — The Ulema wing of the Selangor chapter of PAS today demanded that the party punish two state lawmakers for breaking ranks in the Selangor mentri besar crisis.
The wing that represents the party's clerics today passed a resolution condemning Selangor assemblymen Saari Sungib and Hasnul Baharuddin for signing statutory declarations expressing support for PKR president Datuk Seri Dr Wan Azizah Wan Ismail's bid to be Selangor mentri besar.
It said the duo had done so without the PAS leadership's knowledge and consent, but said it will leave it to the party's disciplinary board to act upon the two based on Article 82 of the party constitution.
In a hastily-called press conference on August 14, the two PAS lawmakers joined their PKR and DAP counterparts in signing statutory declarations of support for the PKR president to replace the embattled Tan Sri Khalid Ibrahim.
They later said they were willing to be sacked from the party for their act.
PAS had until then withheld its position on the Selangor mentri besar crisis, before insisting on nominating Dr Wan Azizah's deputy, Azmin Ali, as an alternative candidate.
Khalid has since resigned as mentri besar but remains in office in a caretaker capacity; the Selangor Sultan has directed all three Pakatan Rakyat parties to each nominate at least three candidates for his consideration by September 3.
http://www.themalaymailonline.com/malaysia/article/pas-cleric-wing-condemns-party-lawmakers-for-backing-dr-wan-azizah#sthash.AAhbNvni.dpuf
--------------
URL: https://newageislam.com/islamic-world-news/new-age-islam-news-bureau/islamic-state-trying-to-develop-biological-weapons/d/98821